Going green seems to be on everyone's mind as talks of climate change and global warming saturate the news. Don't let this kill your decorating spirit because there is a perfect way to remain loving to the environment while keeping harmony within your home. Bamboo, seemingly referred to as sustainable wood, is a very fast-growing grass that ranges in a variety of colors from beigey blonde to warm and orangey-brown.
21 Bamboo Home Decor Ideas to Bring Harmony and Zen into Your Home

Bamboo is a great alternative to traditional wood flooring. In fact, it has a superb anti-microbial property and since it grows in the rain forest, it is highly resistant to wind and rain. Consider how this versatile element can be used in lieu of hardwood flooring, but also in other ways throughout your home.
For starters, consider bamboo blinds for a different approach to your traditional window coverings. Not only do they provide the same qualities of a regular plastic mini-blind, but they also offer a natural element into your room and give an extra addition of texture too.
Picture frames and wall art pieces are set off in a new way when they are housed within a bamboo frame. It is such a flexible grass that it lends itself quite nicely to bending and shaping in most any way your needs deem necessary. From straight lines to decorative swirls and scrolls, bamboo gives you the opportunity to exercise your creative side as you frame out your favorite pictures.
And it can go much farther than simply accessorizing a room. Bamboo is a wonderful material for use in many pieces of furniture. Whether you are considering a new bed, a seat, or a table, you will certainly find a flood of these pieces in today's market. One of the amazing features of bamboo furniture is its durability while remaining lightweight in nature.
If you are just looking for some small way to add some beautiful bamboo into your home, then perhaps a shelf or decorative piece will serve you best. There are many storage solutions offered by bamboo wall shelving units that range from small to large, depending upon your specific needs. You may choose to use them in the bathroom over the toilet to keep extra rolls and other essentials on hand. Or you may choose to place them in your main living space to hold a treasured trinket and simply serve as a decorative piece.
No matter how you choose to welcome this fast-growing grass into your home, check out this collection of 21 of the most favorable ways to make bamboo a part of your space where zen and harmony are at home.
1. Warm Brown Bamboo Framed Oriental Print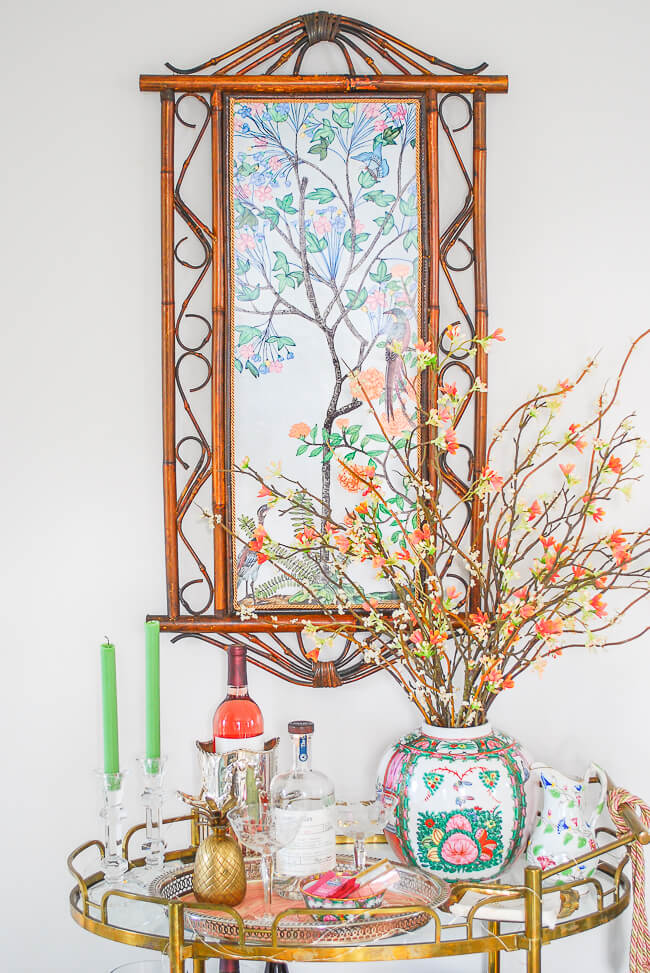 Bring some beauty and grace into your space with this earth-friendly, warm, and inviting bamboo framed print. The gorgeous bamboo pieces range in size and form a rectangular frame with beautiful scroll designs. It is a definite twist on your traditional wood frame and compliments the grace of this oriental print it holds in place. This large work of art capitalizes on the apparent theme of chinoiserie in the serving cart without going overboard. Bamboo's lightweight composition allows for a large piece to be hung on the wall in nearly any place you wish to put it.
2. Natural Light Filtering Bamboo Blinds in Bedroom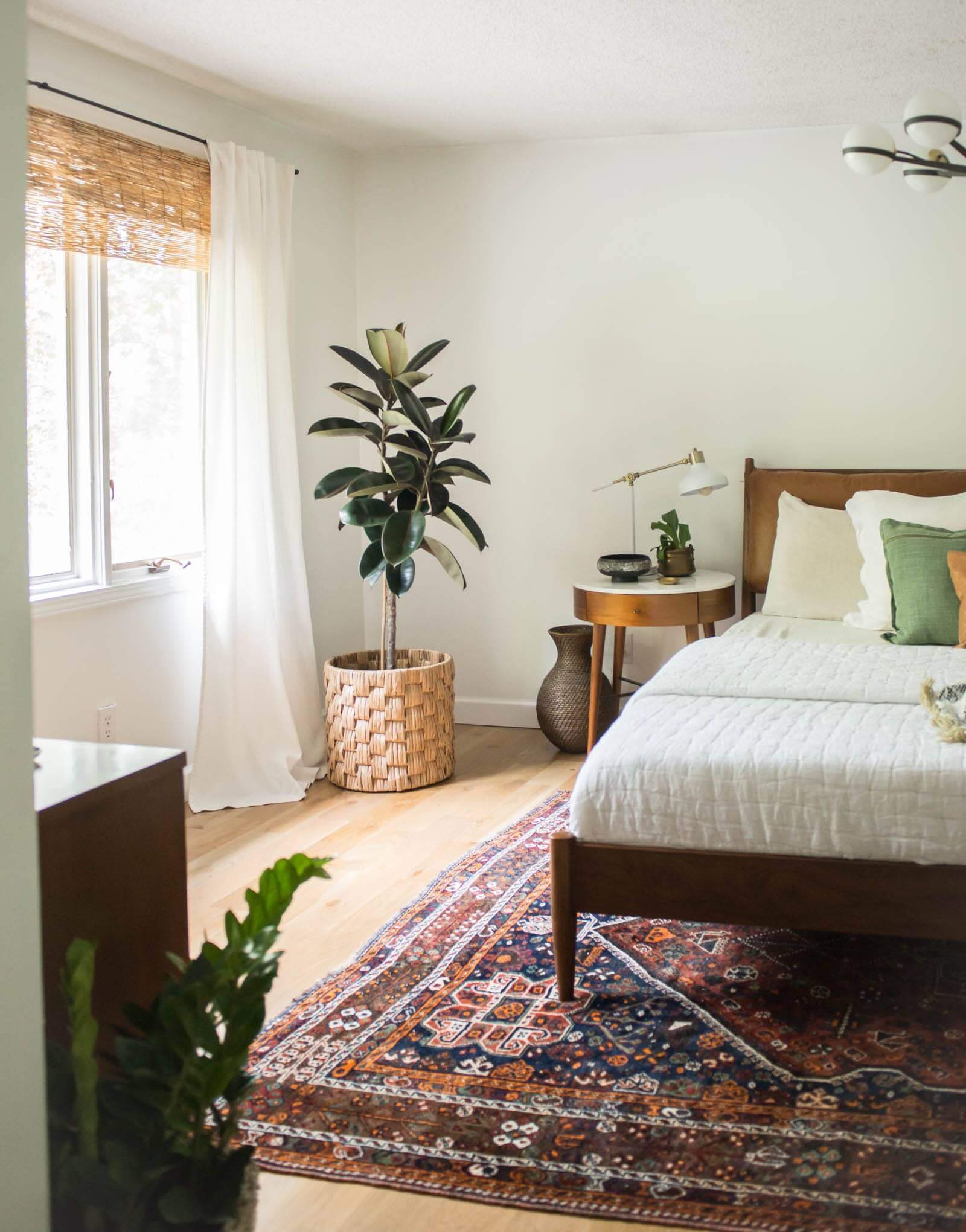 Filter in some natural light for your earthy bedroom with some classic bamboo blinds. Your choice of window covering should resonate with the overall design and feel of your room. In this sophisticated and simply natural bedroom, the use of an old-world rug along with wood elements creates a pleasing aesthetic for the modern minimalist. The texture of the bamboo blinds is carried throughout the room as evident in the large plant base, side table, and bed itself. A fresh coat of white paint accompanied by an all-white duvet makes the earthy wood tones really pop in this design.
3. Indulge in this Personal Bamboo Hammock Swing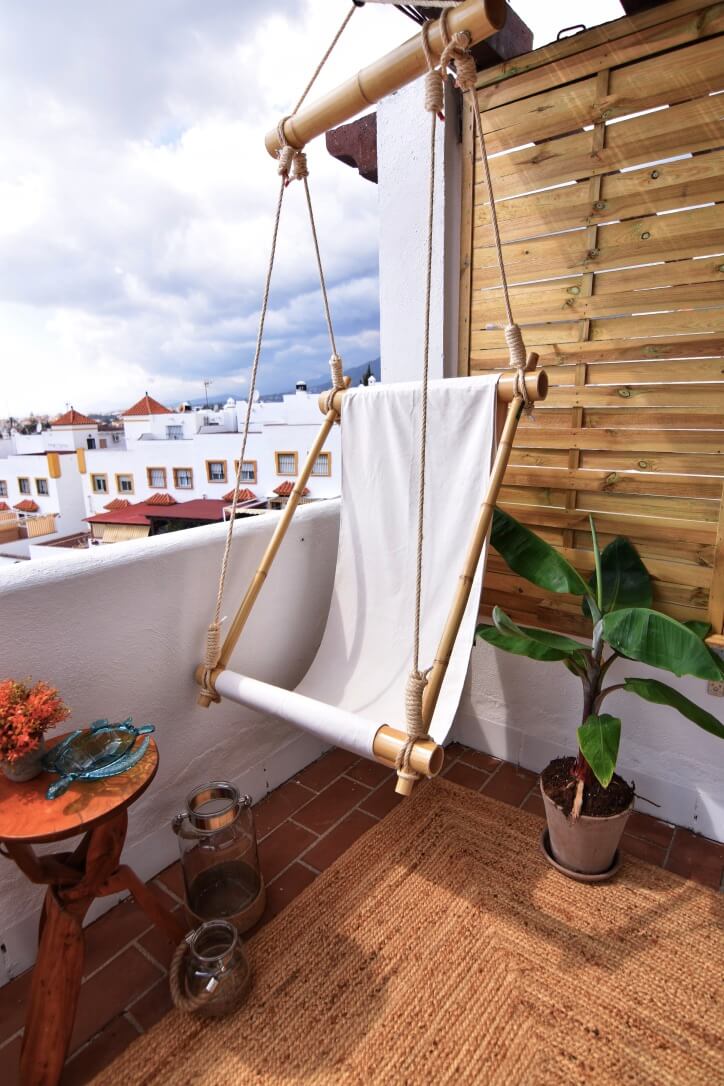 Even if you're short on space, you can incorporate this fun and relaxing bamboo hammock swing. It's destined to become your favorite hang-out and the place in which you look forward to retreating at the end of each day. On your outdoor patio, it gives you a relaxing place to enjoy some fresh air as you sip your morning coffee or an adult beverage after work hours. Keep it simple with a small wooden table to rest your coaster and book so you're ready for all the serenity the fresh air provides.
4. Green and Black Painted Bamboo Table
This light and conveniently sized accent table is an ideal addition to your home. From a bedside table to a hallway accent, this table fits the bill. Painting it in a green and black design adds some style to the traditionally varied brown hues of bamboo. It's just the right size to house a house plant or a cherished framed photo. If you're looking to go green for the earth and your design style, this bamboo accent table is a great choice to achieve both!
5. One-of-a-kind Slated Bamboo Lamp Shade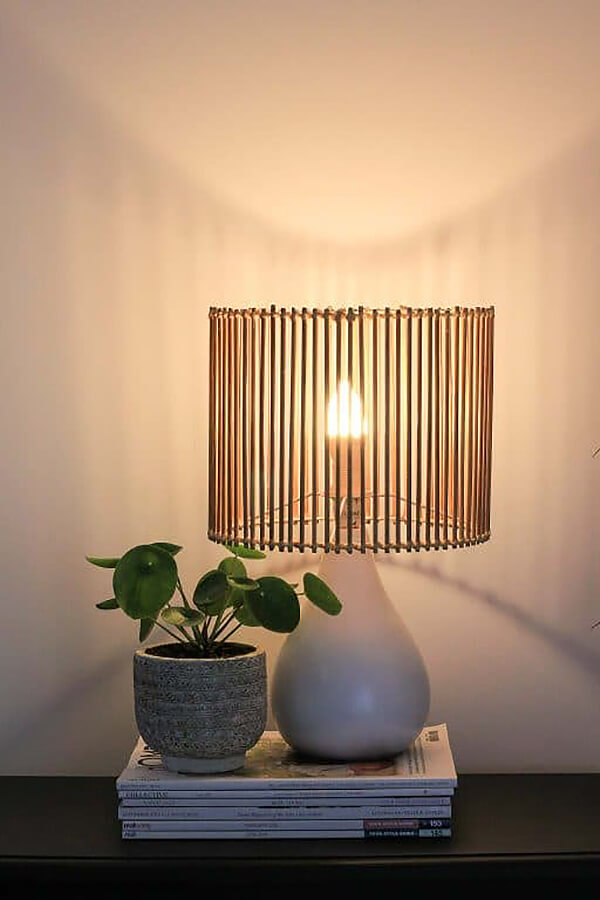 Check out this interesting and unique lampshade constructed from pieces of sustainable bamboo. One of the most environmentally-friendly materials, bamboo works as a great material for nearly any part of your interior design. As a lampshade, it provides a visually interesting contrast from traditional shades and channels the light into the room with a natural and earthy element. Light not only shines from the top and bottom of the lamp, but the slated design allows it to permeate through the strands of bamboo as well.
6. Colorful Containers Created from Bamboo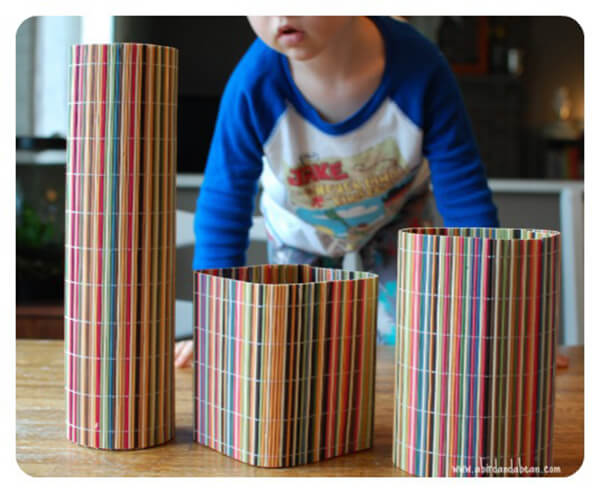 Organize your home and be kind to Mother Nature all at once with these ingenious and colorful bamboo containers. In various shapes and sizes, these containers are the perfect choice for organizing any room of your home from your kitchen to kid's room and even your home office space that's being used now more than ever! The colored bamboo pieces give this product a fun vibe and make for an interesting display as a holder for treats or a caddy for pencils. Amid your counter or on your desk, give your home some extra storage solutions without sacrificing on style.
7. Moon Phases Bamboo Doorway Curtain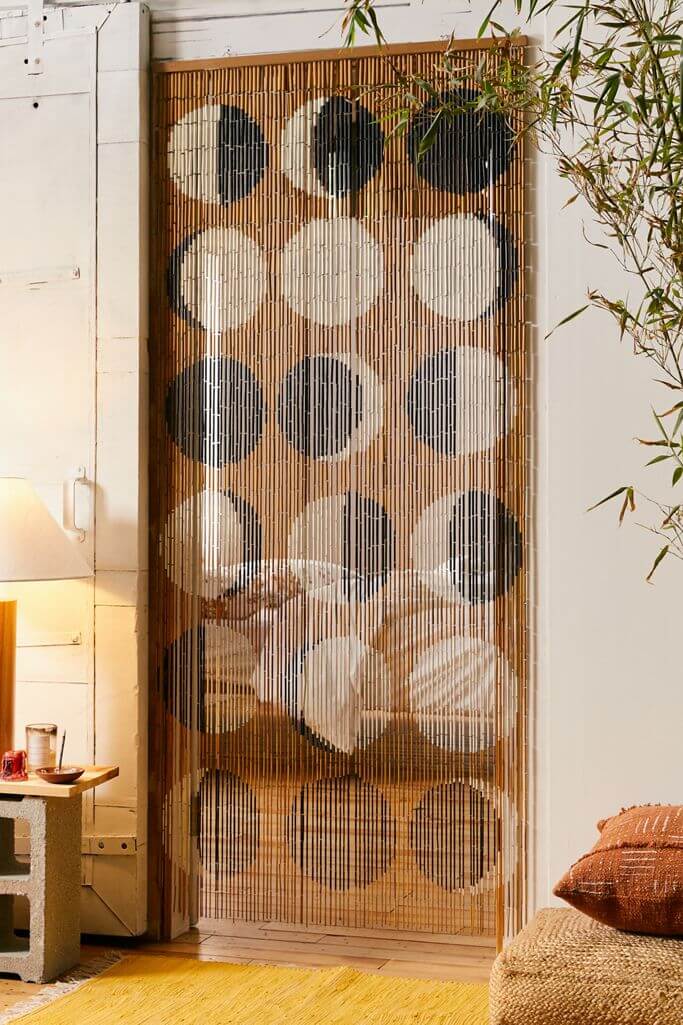 Create a feeling of privacy by defining some of the living spaces within your home. Open concept living is great, but sometimes you need a little room of your own. Without forming a solid and permanent divider between two rooms, consider one of these doorway curtains that give the look and feel of privacy without shutting out the rest of the world. The sheer space between the bamboo strips allows for some light to filter in and keep the space connected to the rest of the home. The moon phase pattern is a fun touch and keeps with a neutral palette as it is set in simple black and white.
8. Bamboo Serving Trays and Platters Wall Art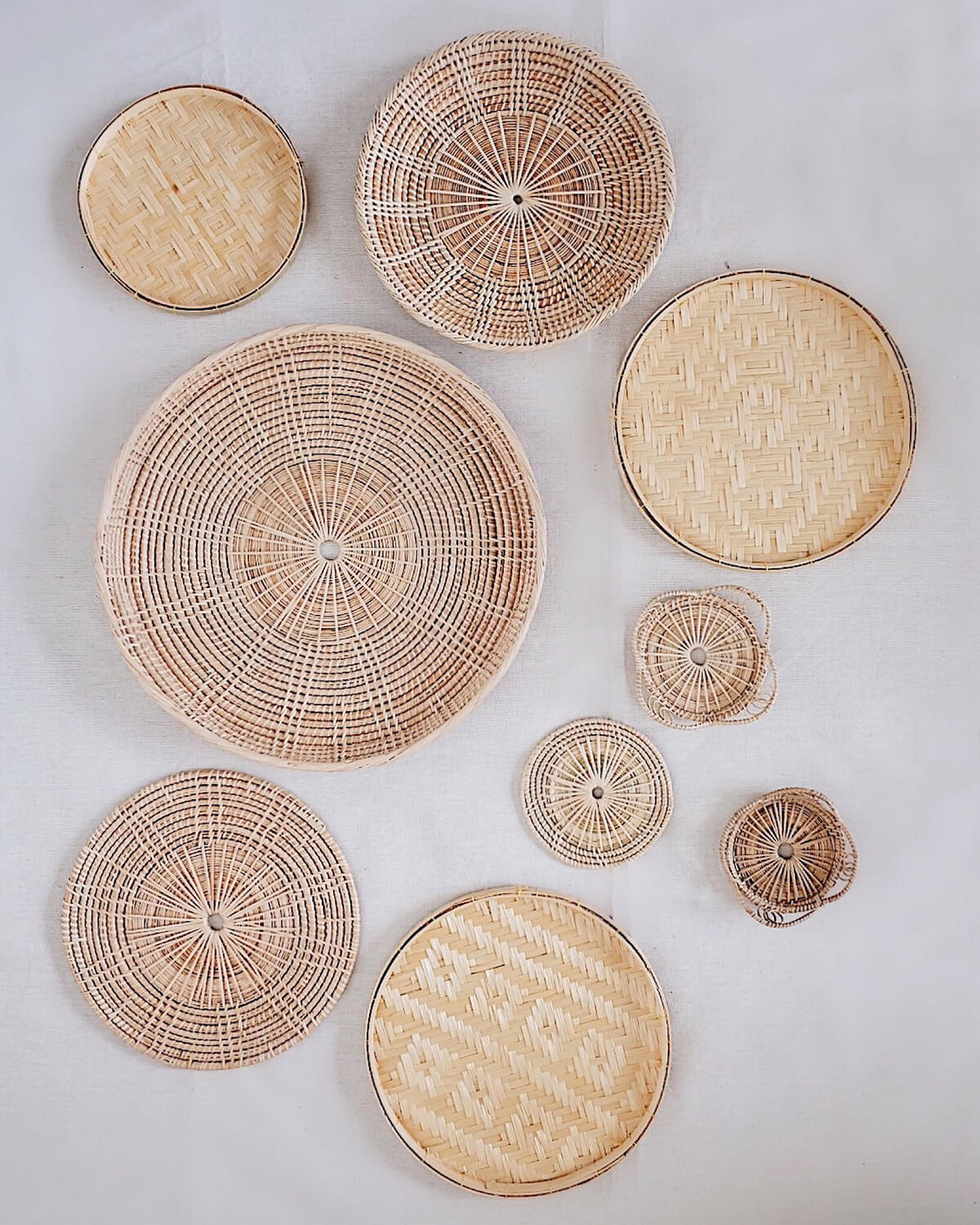 Think outside the box and off the table, as you transform these bamboo serving platters onto your wall to serve as home decorations. Arrange them in a fun pattern and design or simply scatter them aimlessly for a creative feel to your space. The various hues of blondes coupled with the flat or cylinder construction of the bamboo pieces lend for an interesting design. The grainy and woody texture brings some richness onto the wall of your home with little effort.
9. Round and Round We Go Bamboo Mirror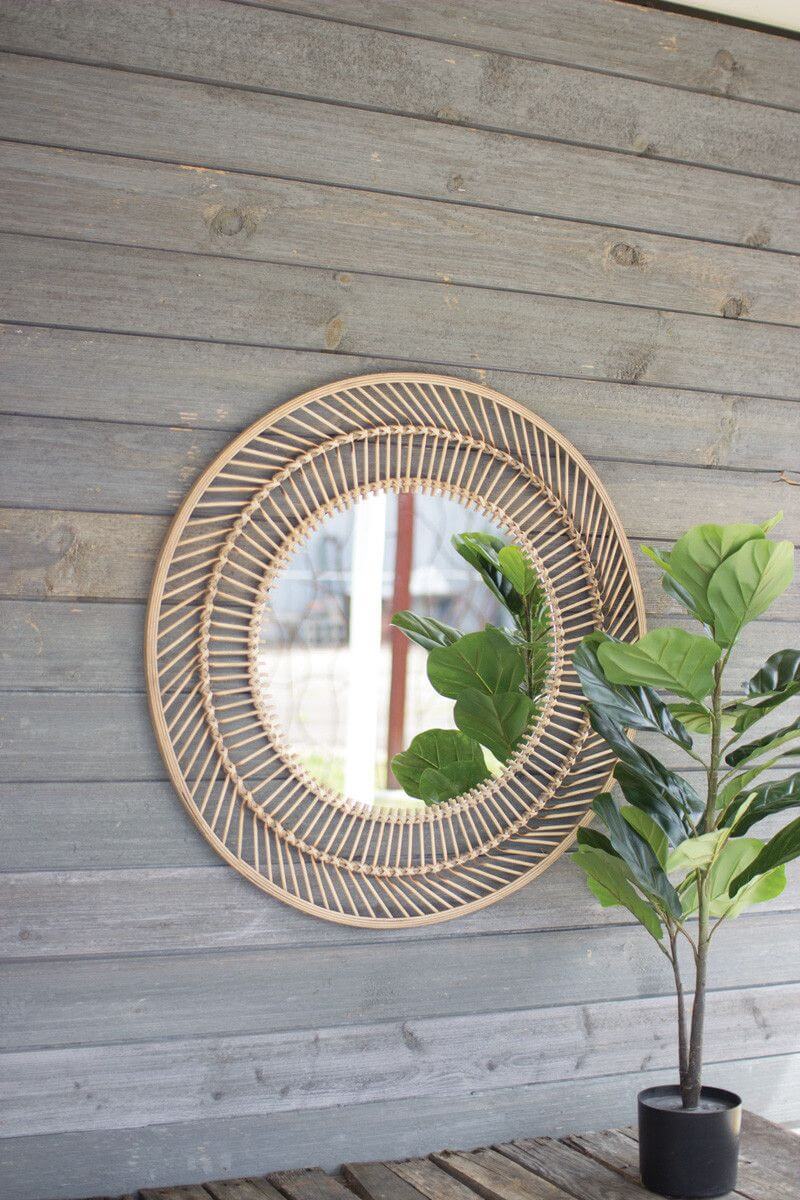 A double ring of bamboo strips creates a fun accessory for this round mirror in your home. It's a great look for welcoming guests at the front entryway of your home or you can hang it at the end of your hallway above a cute accent table. Such a versatile piece, this mirror would look great in your outdoor living space where it would reflect any natural light from the sun or a soft glow from the firepit.
10. Bamboo Magazine Rack and Small Stand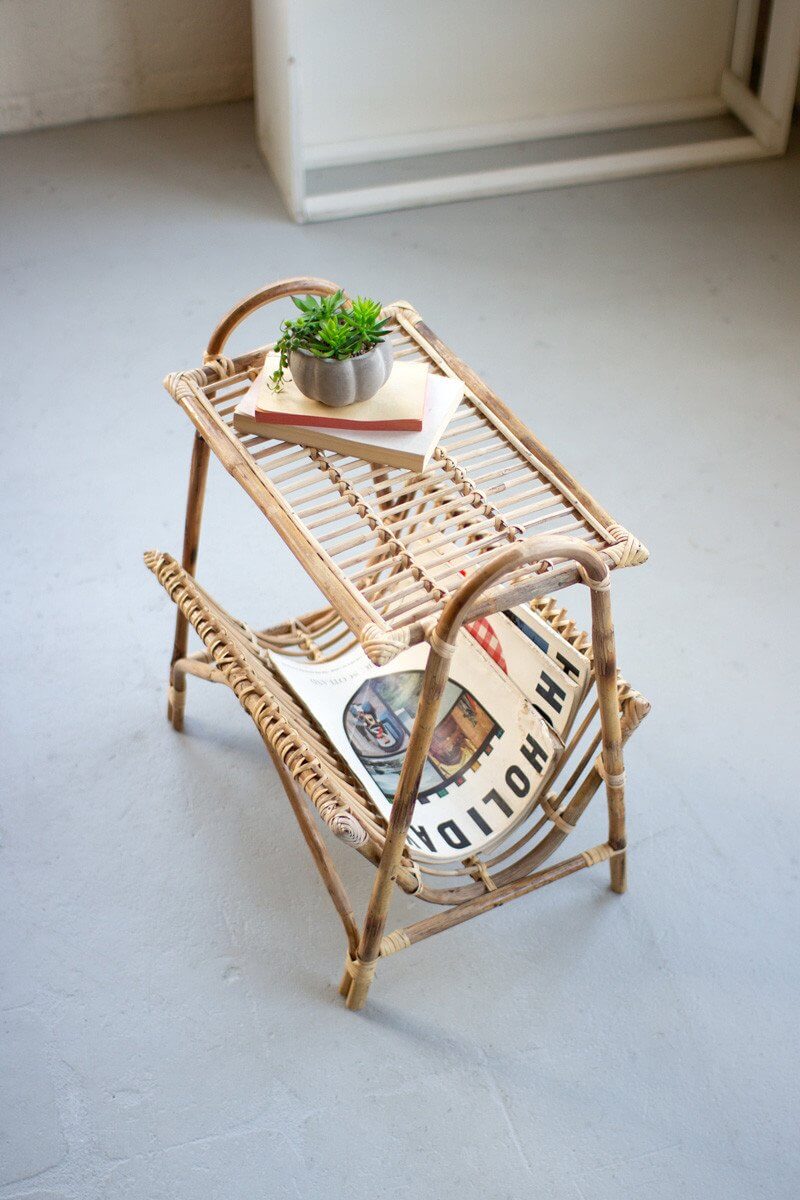 If you don't have a designated space for those magazines and newspapers, have no fear! This cute bamboo crafted rack can get the job done. It's just the right size to meet your needs without taking up too much room in your home. With the tray top, you have the ideal place to lay your reading glasses and a TV remote. Down below, you'll find an amazing stash for all of your reading materials to call home. Seated beside your favorite recliner or at the end of your couch, you will enjoy the organized comfort of having all of your everyday living room essentials in one easy-to-find place.
11. Thick and Beautiful Bamboo Stake Accent Lighting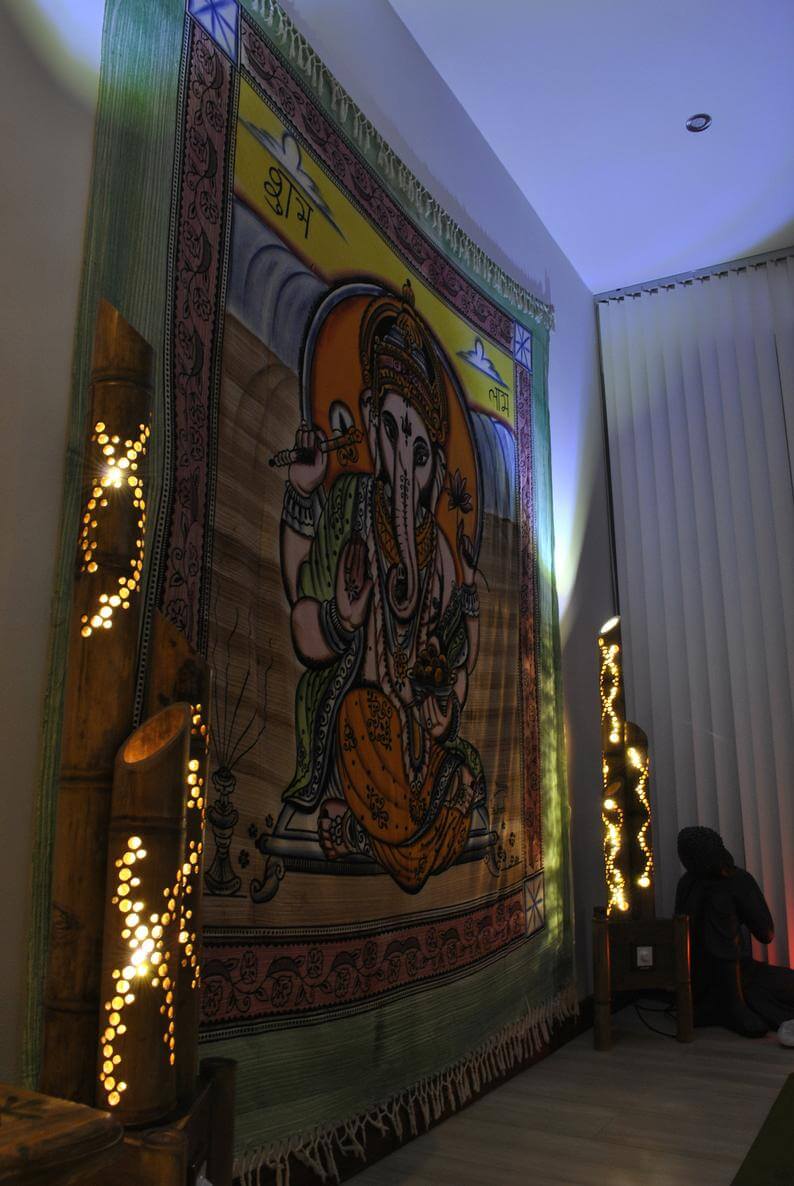 Warm-up the space and make it more inviting than ever before with this set of trio bamboo stakes lighting fixtures. A trio of thick bamboo poles in different heights presents in a magnificent way to make a most-loved lighting accent. Nestle one in a corner of the room to brighten up the space or place a set of them around the front door. Decorate with them on a covered front porch in lieu of the traditional lighted grapevine tree for a modern effect.
12. Freestanding and Beautiful Bamboo Floor Vases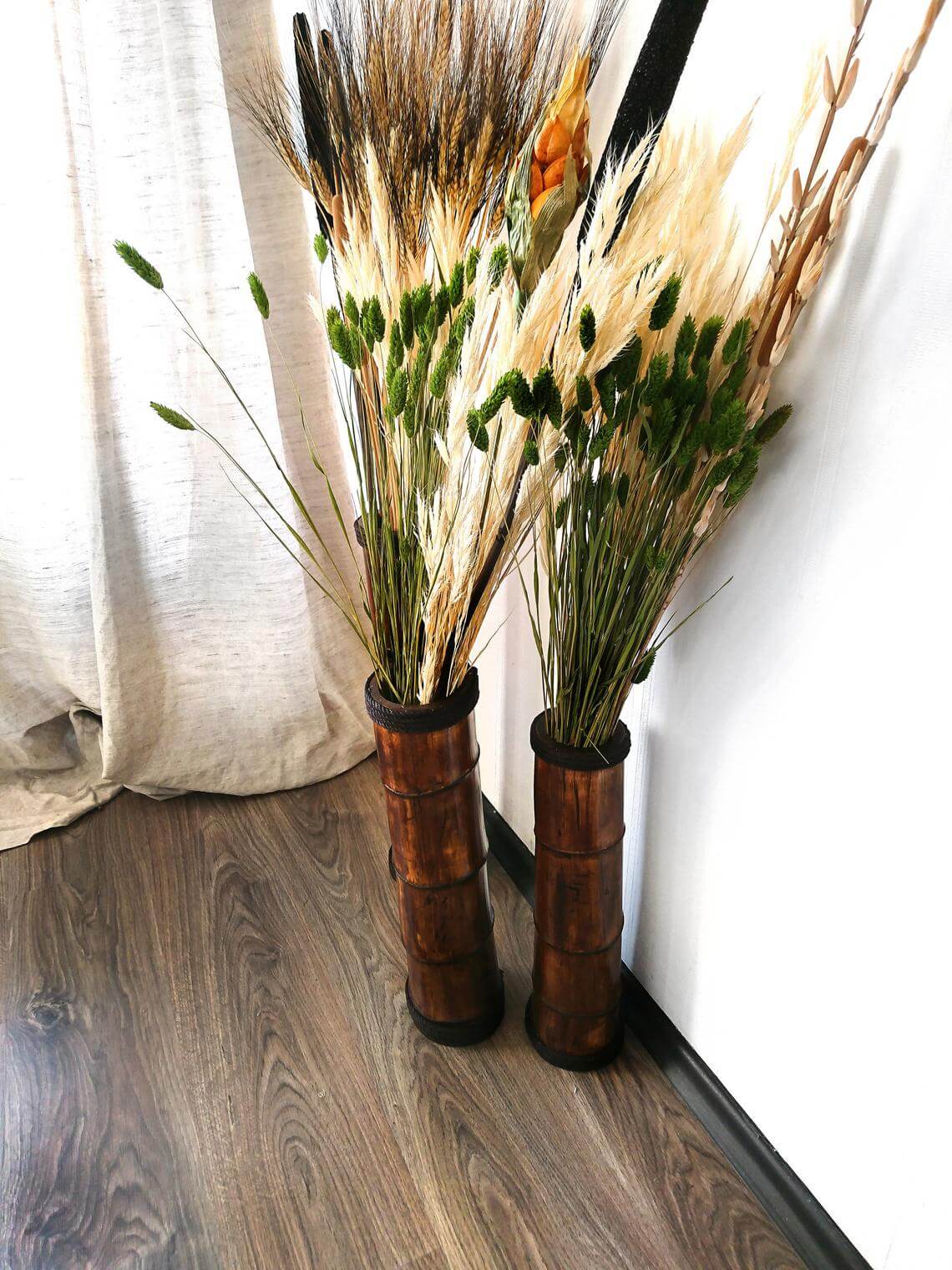 Bamboo ranges in color from a pale blonde to the orange hinted brown showcased here. The rich and lively tones will warm up the corner of your room as you display some of your favorite grains, feathers, or flowers in this unique and simple floor vase. It's an easy way to bring some much-needed color and texture into a small space. Whether you choose to use one vase alone or group them together, you can't go wrong! These would look amazing placed at the end of each aisle when decorating for a wedding as well.
13. Blonde Bamboo Three-Tiered Wall Shelf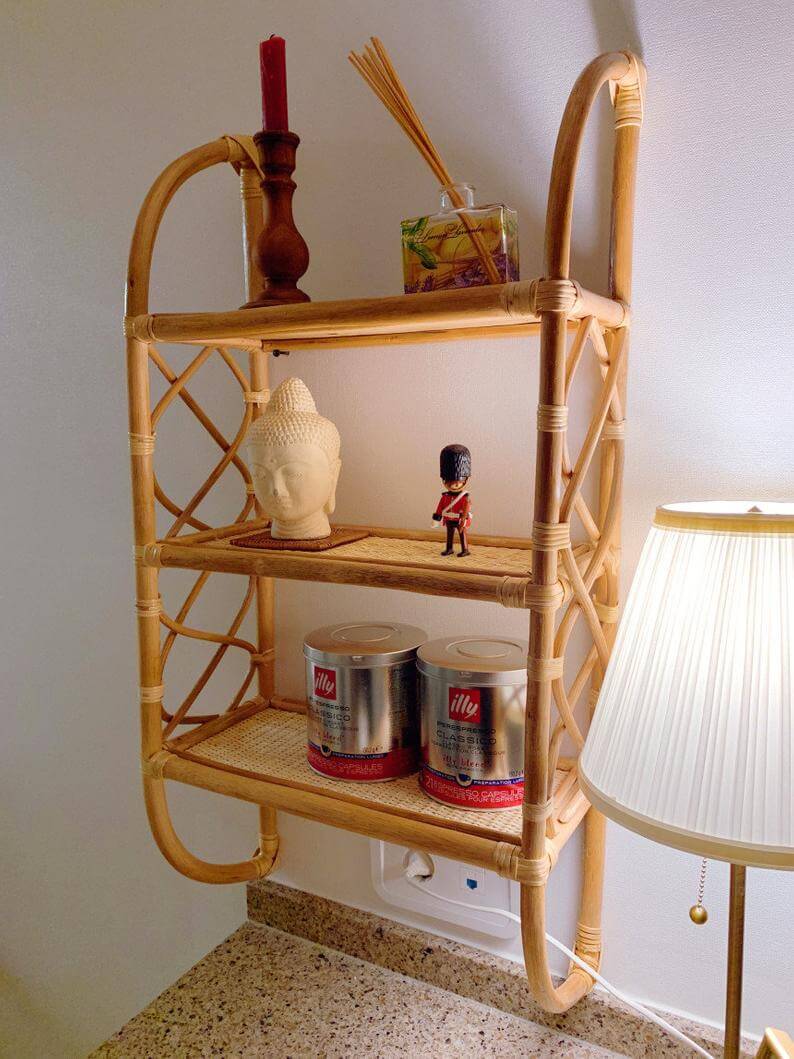 Add some storage solutions to your space in a stylish way with this beautiful blonde bamboo wall shelf. The three tiers provide ample storage space and the separate spaces you'll need to make the organization a breeze! Not only does this wall shelf provide all of the space you typically find in a traditional cabinet, but it also adds an element of style in its unique design. All of your bathroom essentials and extras will find comfort in their new home on this tiered shelf or you may choose to use it as a mere decorative piece in any room of your home.
14. Spectacular Sunburst from Woven Bamboo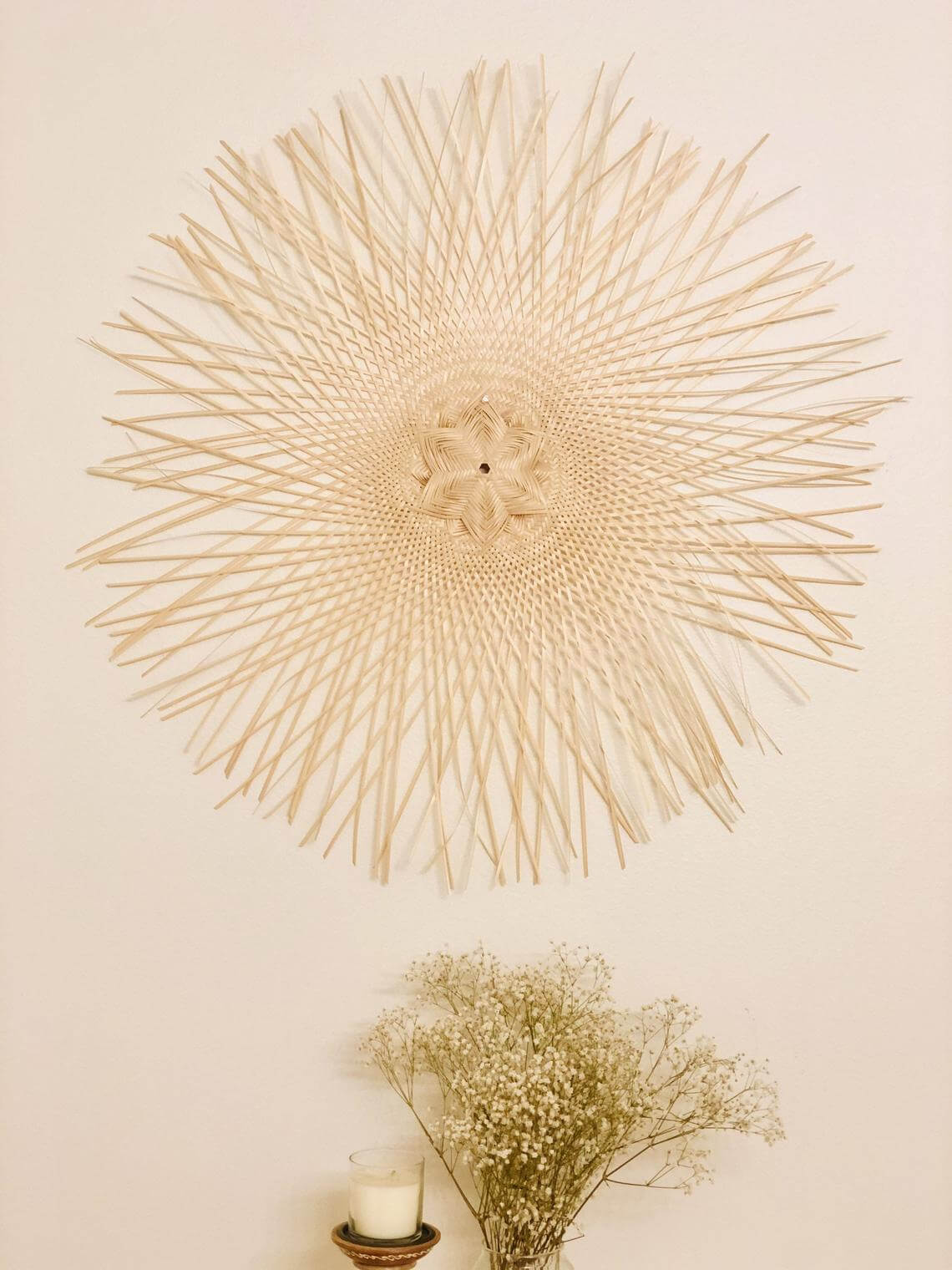 Simply spectacular is how you describe this sunburst that has been creatively fashioned from some light-colored bamboo pieces. In an almost crocheted appearance, the detail in the handiwork of this stunning sunburst is like no other wall art around. Such a versatile piece would work in any bedroom setting, as well as the welcoming entryway of your home. If you have a large enough table, you could always place this in the middle of it to incorporate even more fun into your living space. With loads of texture and style, this unique masterpiece is the perfect addition to any room.
15. Glass Vase Filled with Bamboo Sticks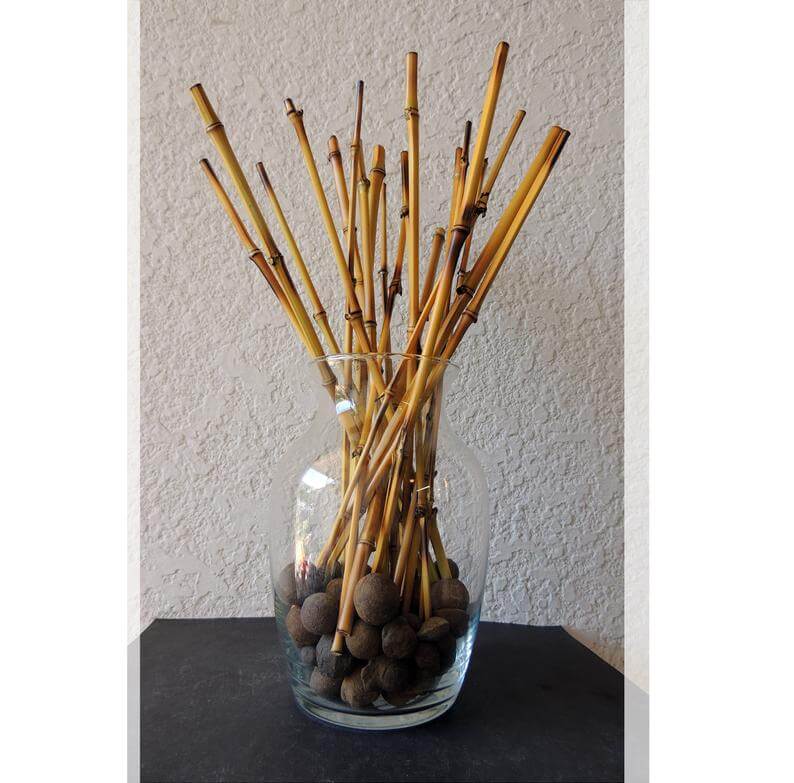 Channel the beauty of rich mustard yellow found in these bamboo sticks into the color palette of your home. These goldenrods are a change of pace from the traditional long-stemmed flowers that seek refuge in the confinements of a vase. Not only do they add continuous color from top to bottom, but they also give unity in their size and shape for an asymmetrical design. Throw a handful of these into your favorite vase or makeshift container and you have an instant and modern decoration for the office or any room of your home.
16. Vibrant and Living Green Bamboo Houseplant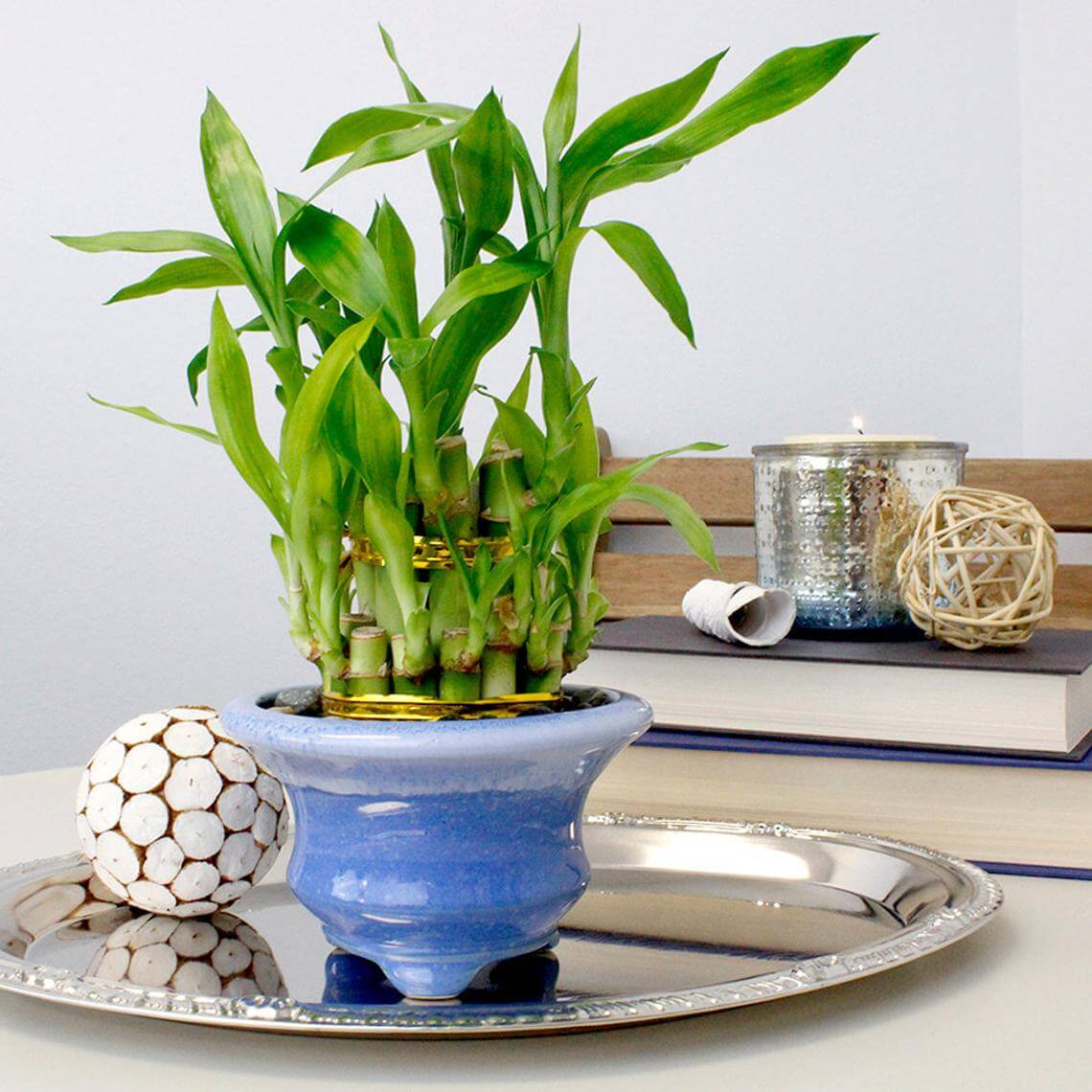 Cultivate some earth-friendly bamboo right in the comfort of your own home and enjoy this lively piece of greenery that is sure to perk up any room of your house. Growing in a small pot and setting on a silver dish, this greenery is more than just a houseplant in that it offers peaceful tranquility with its style and culture. Place it on a side table or freshen up your home office with a much needed natural element. The hearty stalks of green are eye-pleasing and make a perfect house warming gift!
17. Fluted Bamboo Musical Instrument Turned Decoration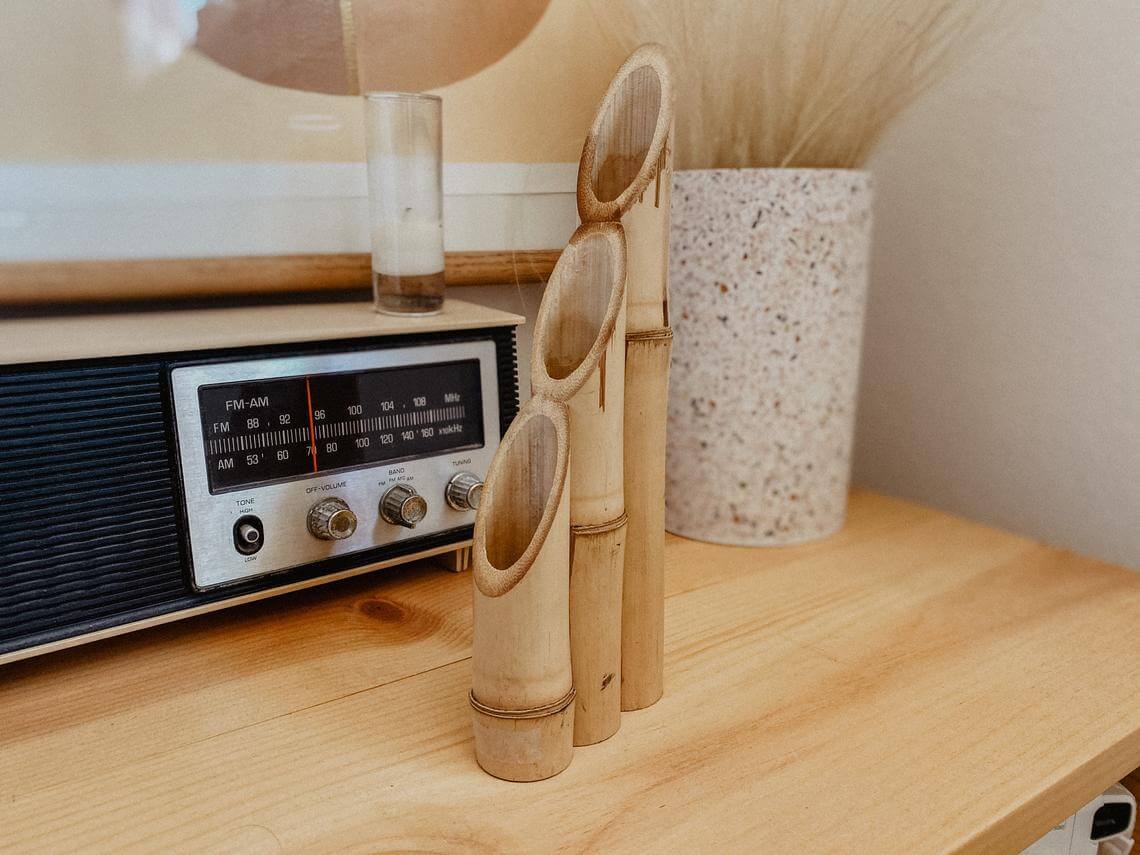 Rest your nodes and notes as you include some music into your interior design with this bamboo fluted pipe trio. The stair-step columns give depth and dimension to the space and add a woody vibe to the room. This three-piece arrangement works on top of the dresser, but would also add some style as an accessory included in your houseplant's basin. Such pipes would also be a fun place to collect all of those pretty flowers your younger darlings have harvested from the backyard.
18. Beautiful and Useful Bamboo Bath Tray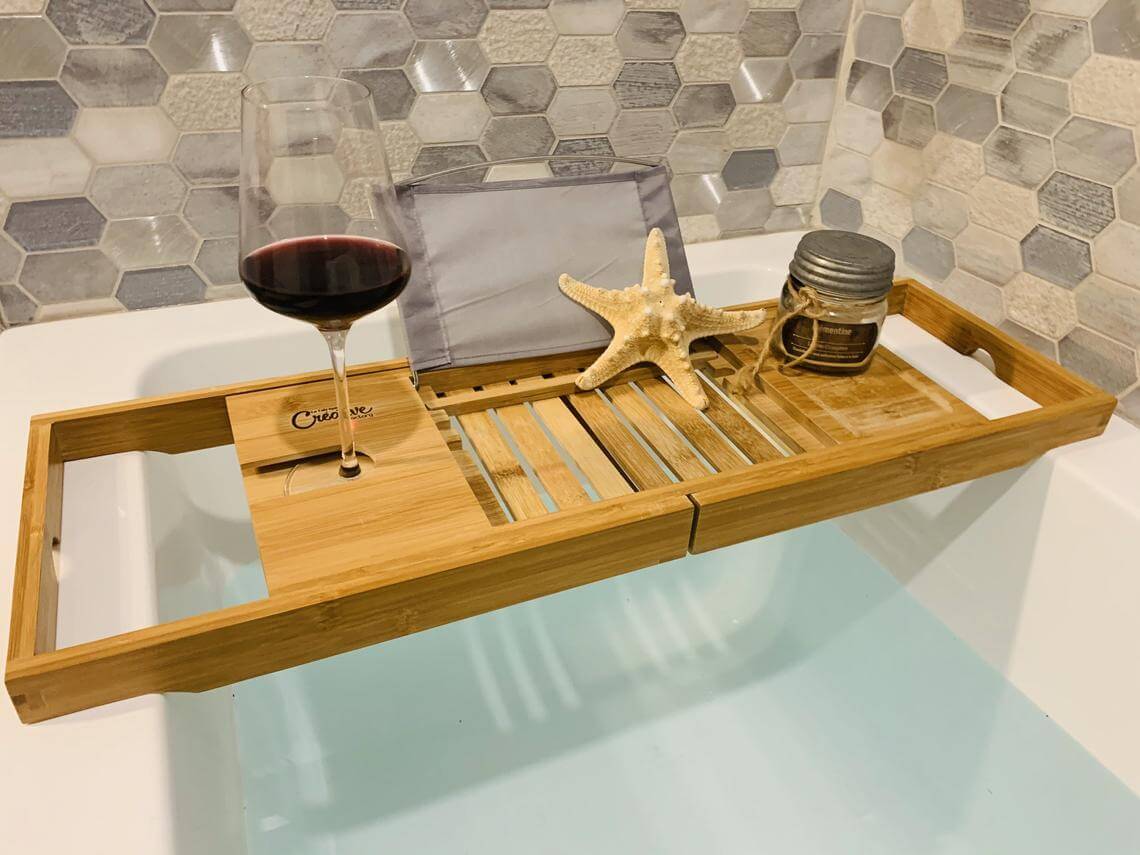 Indulge in the at-home spa you deserve to call your own as you sip your wine from this beautiful bamboo bath tray. The perfect size to fit across a standard tub, this bath tray is crafted from sustainable bamboo and features a convenient place for your glass and all the necessary relaxation materials you need. Add a small, scented candle to create a luminary atmosphere for your end-of-the-day bubble bath.
19. Personalized Bamboo Butcher Block Large Utensil Keeper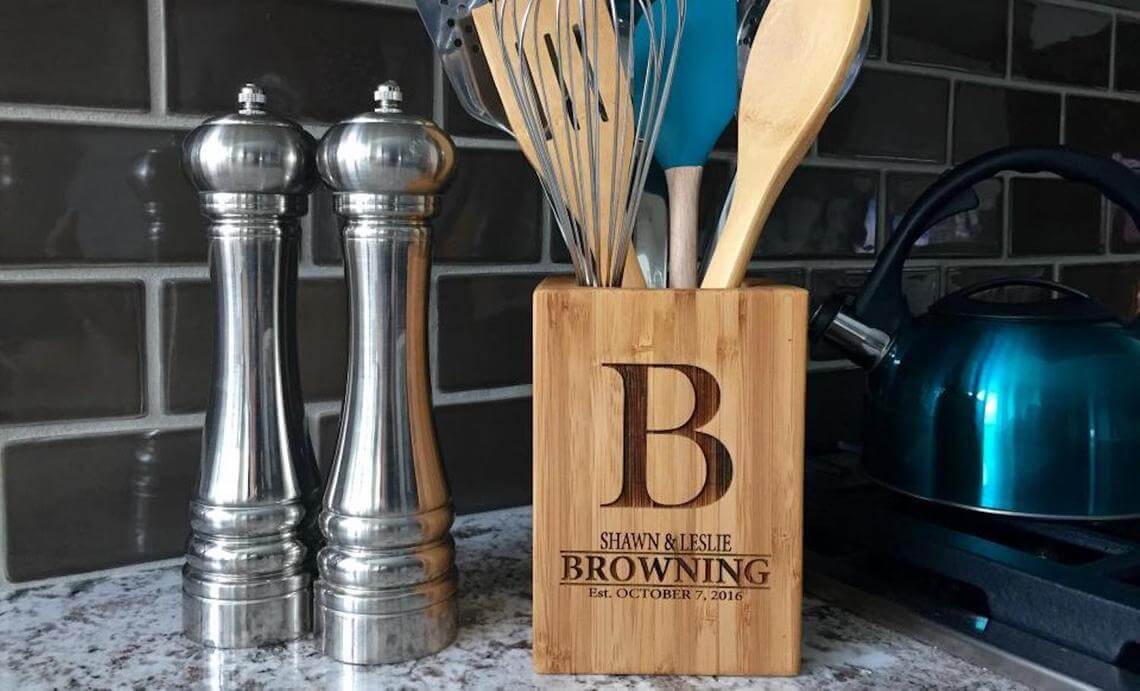 Who says the organization has to look boring? With this bamboo butcher block utensil keeper, all of your large utensils for serving and cooking are gathered neatly in one spot. Perhaps this is the perfect wedding or anniversary gift as you can have it personalized with the couple's name, initial, and/or date of wedded bliss. If cooking and the kitchen isn't their cup of tea, it works great as a caddy for office supplies like pencils, pens, rulers, scissors, and the like. It may even hold your teenage daughter's hair wands and irons in a neat and organized fashion.
20. Woven Bamboo Wall Sconce Shelf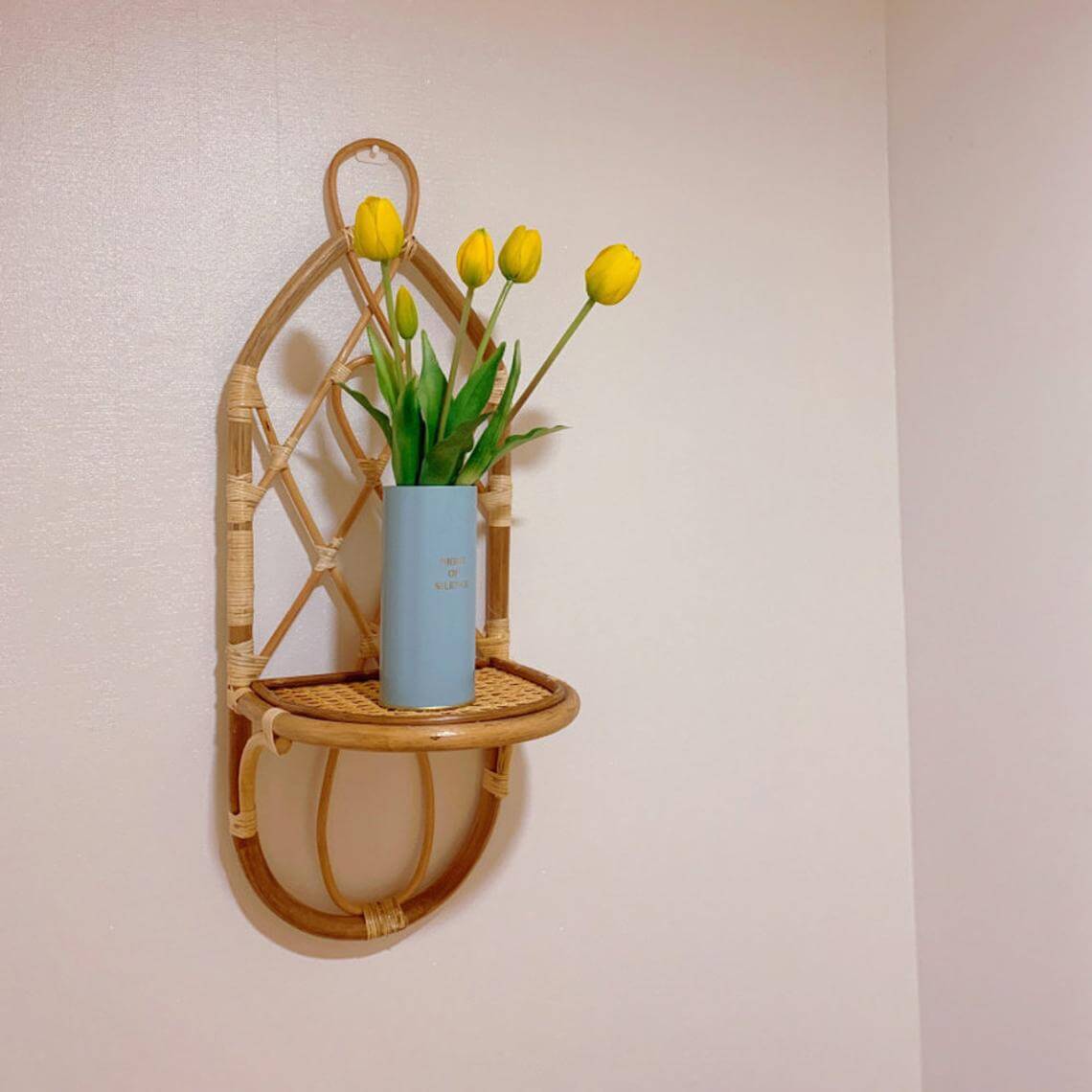 Here's a unique, handcrafted item that would look great on your wall. This woven bamboo wall sconce offers a decorative wall art piece while housing a small shelf to place one of your favorite home decorations upon. Maybe show off a favorite photo or give your fresh vase of flowers a place to hang out where everyone can see them. Up your game and decorate using them as a pair where you can have his and hers on each side of the bed. They would also look nice in the guest bathroom or down the long hallway.
21. All-Natural Bamboo Loveseat for Front Porch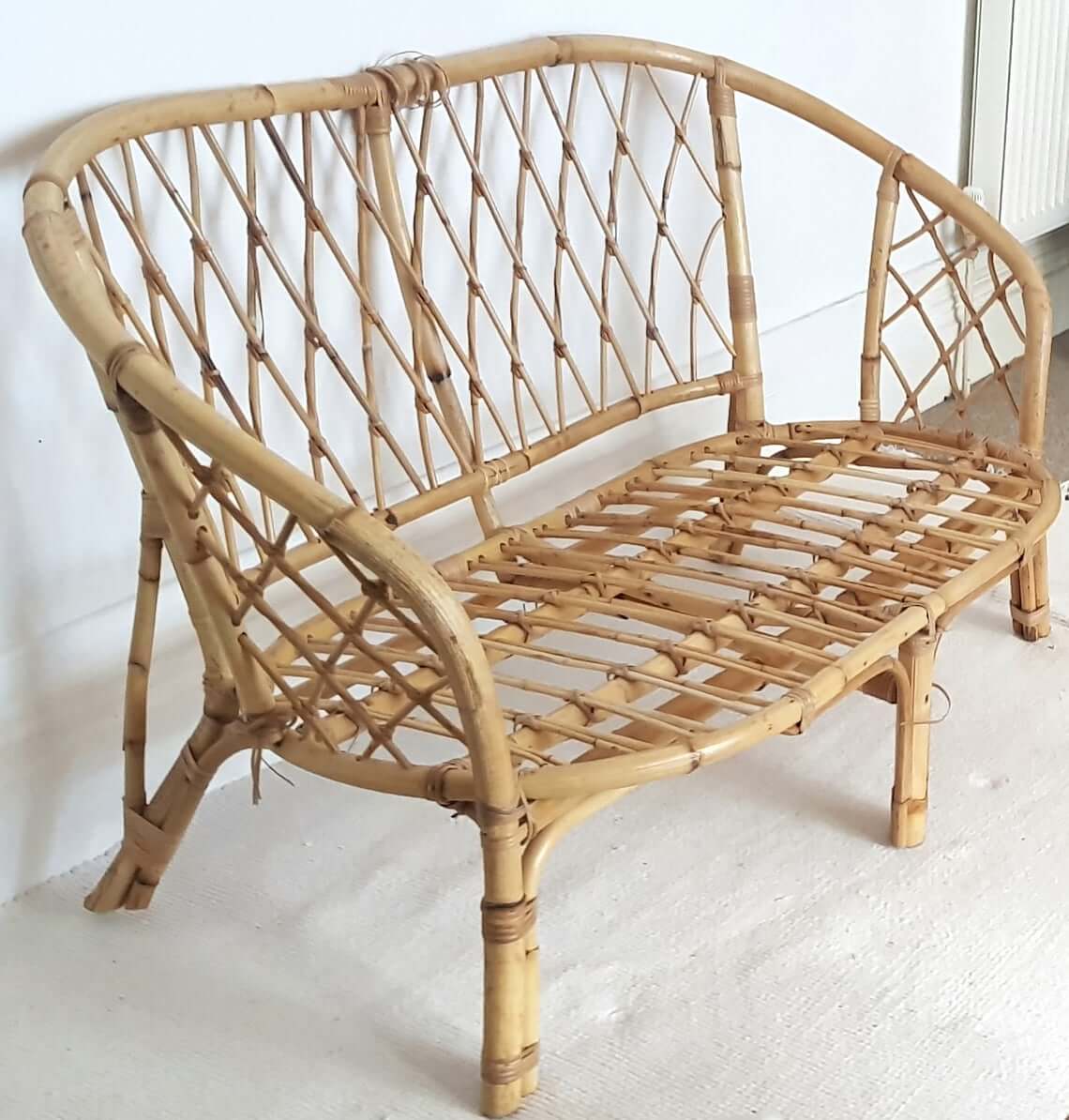 Add this cute and cozy bamboo loveseat to your front porch to add extra seating and style for some fun curb appeal. Surround it with some amazing potted plants and flowers to create your own personal jungle right on your front porch. Since it's just the right size, it can easily fit on almost any sized outdoor verandas from quaint balconies to large patios. You can choose to use this as seating or simply decorate it up for the changing seasons.
21 Amazing Ways to Decorate with Bamboo
That wraps up this collection of 21 amazing ways to use bamboo to decorate your home. It's a perfect choice for those who enjoy earth-friendly ideas as well as keeping an appealing aesthetic alive and well. You don't have to compromise on style to use some more sustainable elements in your home decor.
Maybe you need a new houseplant and want something a little less leafy and a little more interesting. A small potted bamboo is the ultimate fix. It delivers on both! What a great addition to a space that is already thriving with plant life or even a hardcore workspace at the office that needs a little touch of nature!
Another fun way to incorporate bamboo within your design is the amazing frames available that can take your wall art game up to the next level. The easy-to-bend flexible material makes it a wonderful choice for adorning favorite prints and even trimming out a beautiful mirror.
You may even choose to make it a work of art all on its own as it can be woven and shaped into a spectacular sunburst and even decorative plates that serve as interesting pieces of wall art. Both of these choices bring so much needed texture into your design scheme and certainly keep your look more unique and less cookie-cutter.
With the supreme characteristics of bamboo ranging from sustainability to beauty, including some decorative pieces of this great grass is always a good idea. Determine which areas of your home and/or office need a little fresh touch of Mother Nature, then make your selection from one of these 21 refreshing and rejuvenating pieces!