If you're considering remodeling or updating your basement, there are several trending basement ideas that will help bring your space from drab to fab. Having a finished basement means extra space to entertain along with a profitable return if you ever decide to sell your home in the future. If you're looking to update your existing basement into a more livable, functional area for your family, you're in luck.
16 Creative Ideas to Give Your Basement an Updated Look

Whether you want something cool and chic or bold and dramatic, the basement design ideas are limitless. First, you'll want to determine what your basement will be used for. Are you looking for extra storage space or a space your family can relax and enjoy to its fullest potential? Utilizing a basement for alternative living space means an area that feels warm and cozy so finding a style that really pleases you and fits all of your needs is very important. During the planning phase, consider wall colors, seating arrangements and any other plans of how you want your finished basement renovation to look.
Luckily, we've compiled a list of some of the most brilliant ideas for a basement remodel that will expand your space and bring some functionality and practicality to the area all while letting it be your own personal canvas to reflect your own unique style and personality. Do you want a home gym, a bar area, an entertainments space, somewhere for crafting or hobbies, a home office space or something more traditional with just seating and entertainment? The amazing thing about creating your own basement space is that you are in control. You get to choose the décor pieces, fixtures and furnishings that will fit your family and lifestyle the best. To help you get started, here are some of the top trending basement design ideas to give you some ideas and inspiration along the way.
1. A Bright and Airy Organizational Closet for Functionality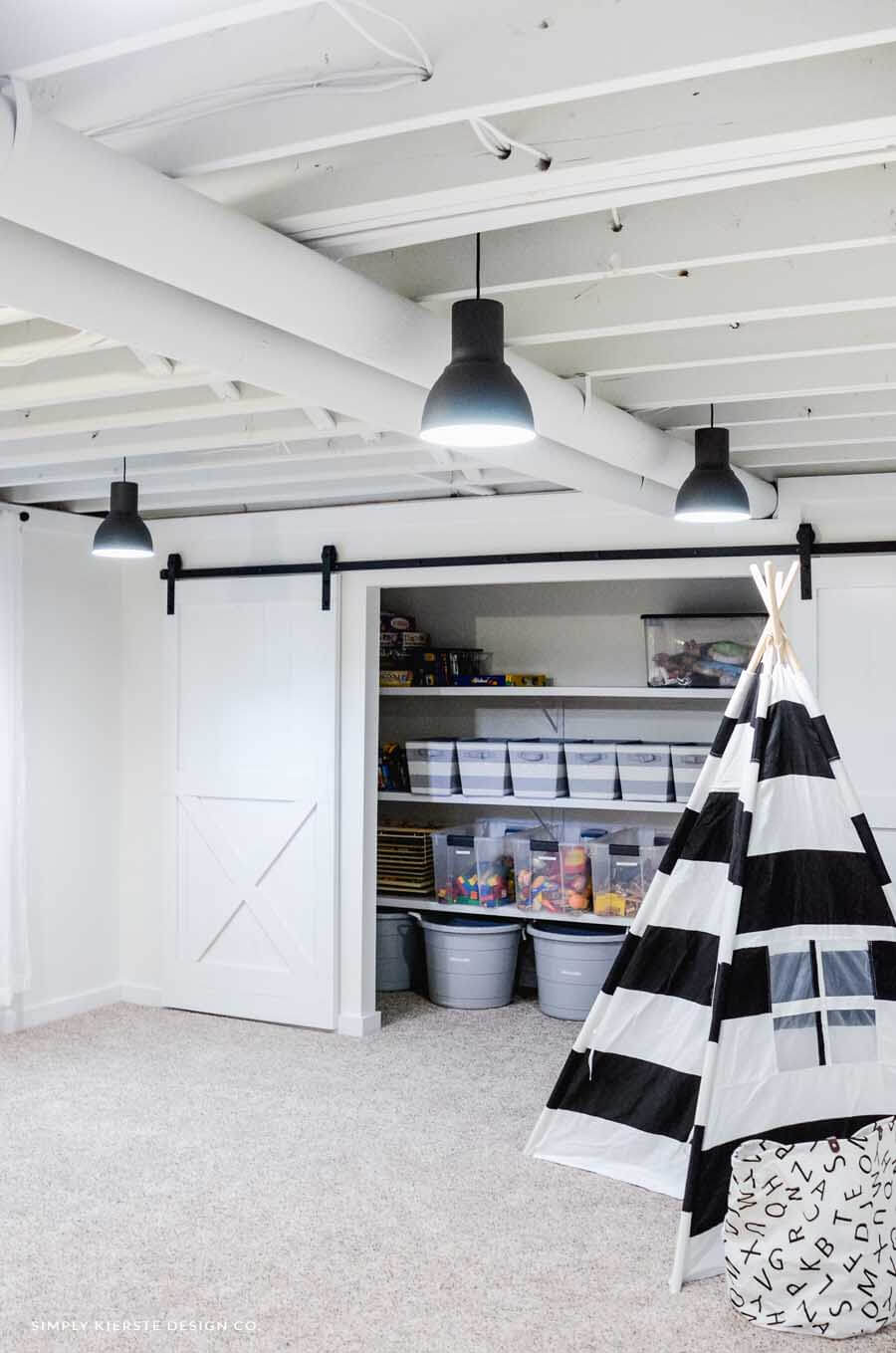 Turn your basement into a functional space for your children to play in. This organized closet system is every parent (and child's) dream. Instead of leaving this closet space closed off and hoarded with junk, it's now an open concept piece for the entire basement. Basement decorating ideas like these provide function, organization and practicality to a once closed off space. Now, this area is exposed with a rustic barn door slider that can slide opened and closed for a beautiful design feature that really ties the whole basement area together perfectly. The storage bins are all neat and tidy and will help children learn how to put away their toys nicely.
2. A Cozy Nook for Entertaining and Relaxation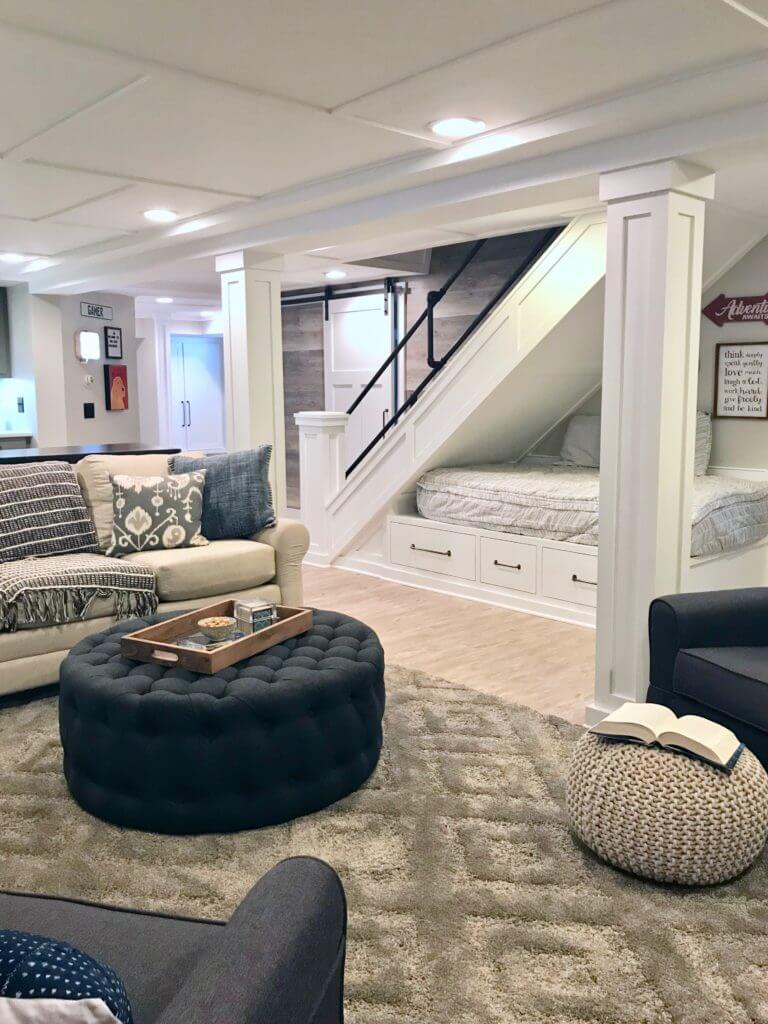 The point of remodeling or updating a basement is to add extra space the whole family can enjoy. This basement design feels so warm and cozy with neutral colors and textures along with ample seating. The ottoman and poufs are great additions in this area and serve as tables, footstools or additional seating all at the same time. The cozy nook underneath the stairs is a wonderful way to maximize space and looks so cozy for reading, resting or relaxing with the rest of the family. This basement design is quite large, yet features minimal décor allowing the homeowners unique style and personality to truly shine.
3. Adding Functional Storage and Comfort to a Cozy Space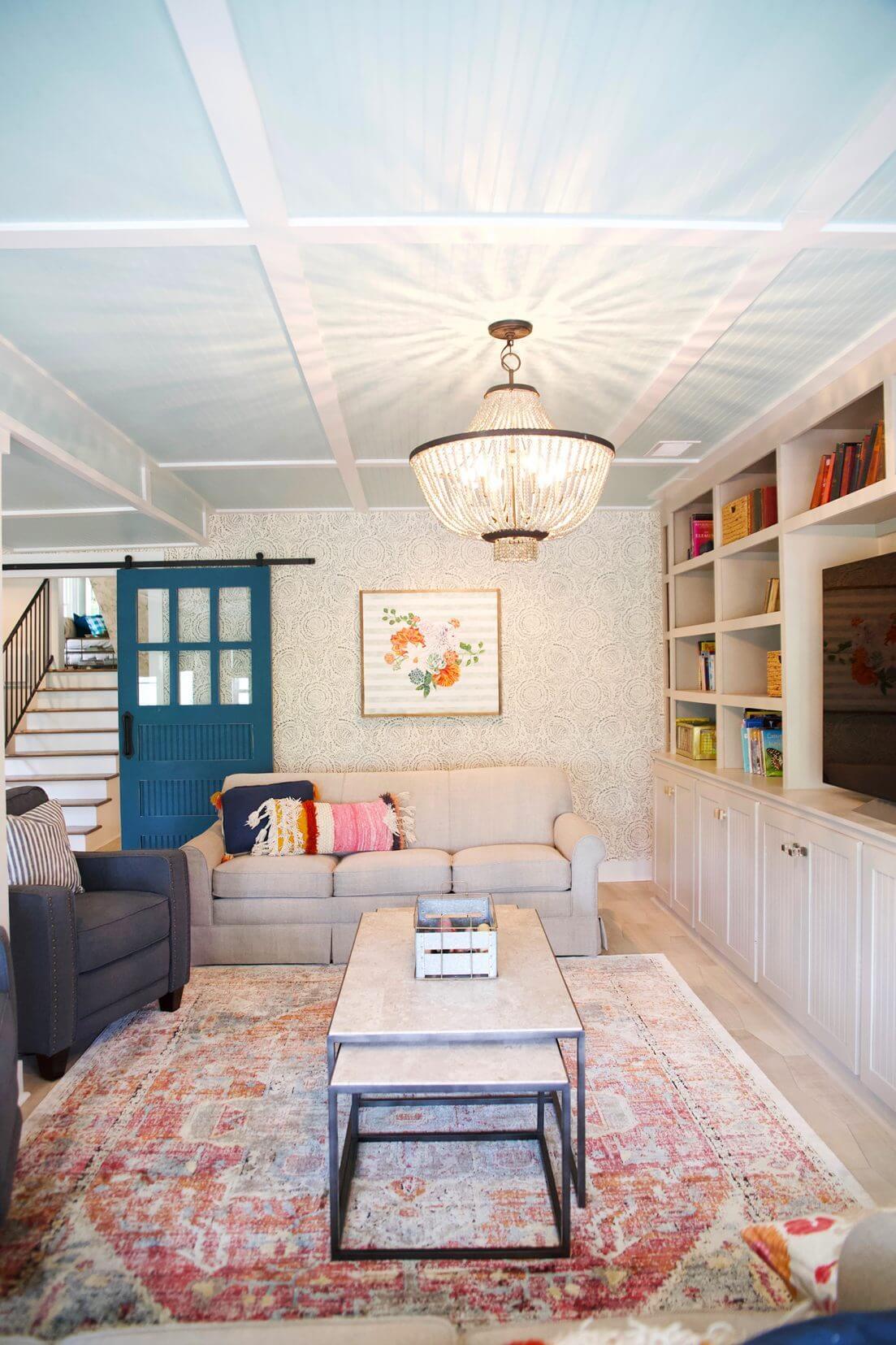 This bright basement features bright colors and an amazing chandelier that adds a charming touch to the overall space. The built-in storage system is perfect for housing the television, books, board games and other essentials. There's ample seating in this bright space for the whole family to gather and play board games, watch their favorite movie or just sit back and enjoy each other's conversation. The area rug, accent pillows, wall art and bold door adds a colorful touch to this cozy and functional basement area. The nesting tables are such a great idea for accommodating more guests when needed.
4. Rustic Farmhouse Aesthetics for the Basement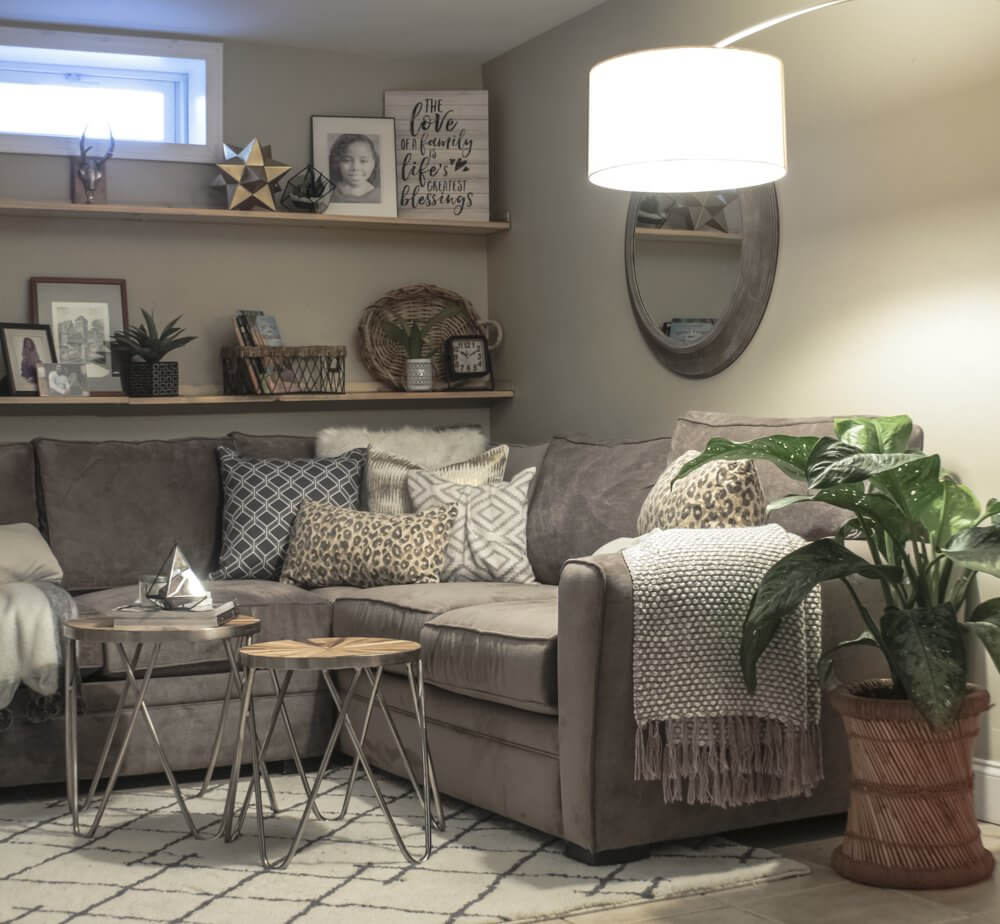 Talk about a cozy corner for relaxing, this corner sofa and rustic farmhouse décor really adds the perfect coziness to this basement area. The natural aesthetics of the plants, wood and metal details allow this space to feel comfortable and really bring in the nature of the outdoors inside the home. The accent pillows feature various prints that really tie in the personality of the family while the wooden floating shelving also adds a personal touch with photos of the family blended with plants and a lovely quote to always remember. Simply by adding these simple décor pieces, you can transform the basement area into a cozy retreat to escape the busy day-to-day activities.
5. A Homeschool Haven in the Basement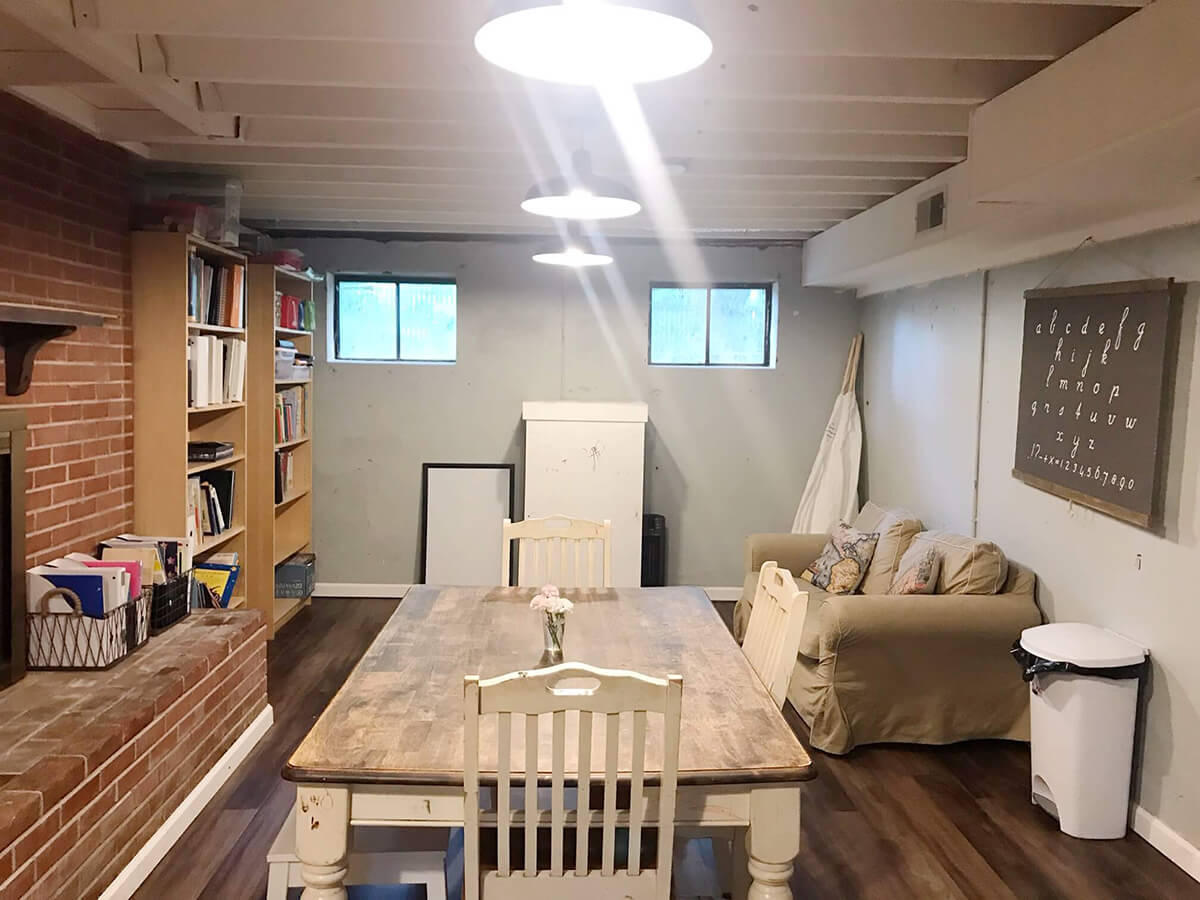 Need an area for homework or for homeschooling? This incredible basement transformation was quick and easy with a few bookshelves, a table and sofa and added storage solutions. The bookshelves are great for books and homework necessities while the storage bins are great for recording documents and storing important papers. The table and chairs provide ample space for sitting and doing homework or studying while the sofa provides a comfy space to read and relax between learning sessions. The lighting is perfect in this space with overhead lighting pointing right down to the most important area of the room.
6. Finding Storage Solutions in the Basement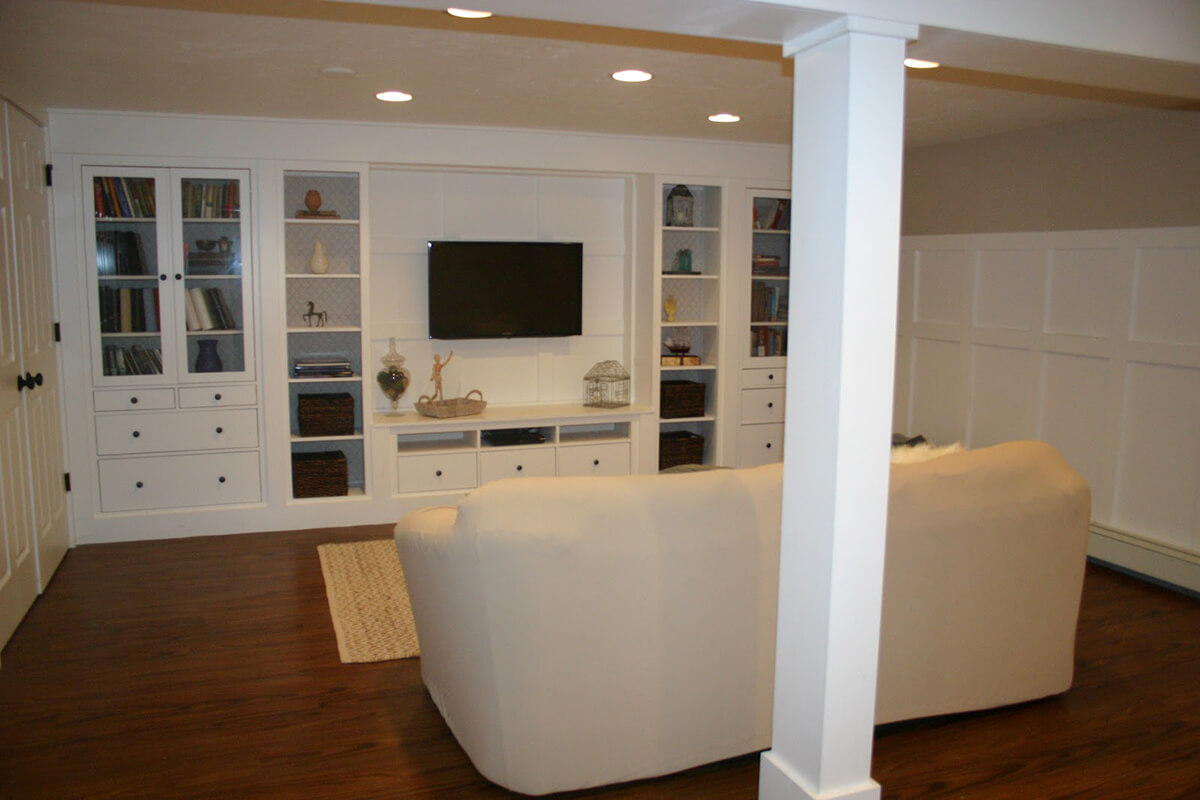 Built-ins are great for storing family memorabilia, knickknacks and hiding away things that may not be as visually appealing such as crafting supplies and random papers. This area of the basement is very cozy with the soft recessed lighting and the television centered on the wall right in the middle of the built-in storage system. The décor featured in the shelving of this storage system isn't too heavy even though there are plenty of drawers for excess personal belongings. The decorating in this space is also very minimal allowing the storage unit itself to stand out and make a statement. Basement decorating ideas range from very minimal like this basement update to bright and colorful like we've seen in previous basement design ideas.
7. Bold Accents to Brighten Up a Basement Space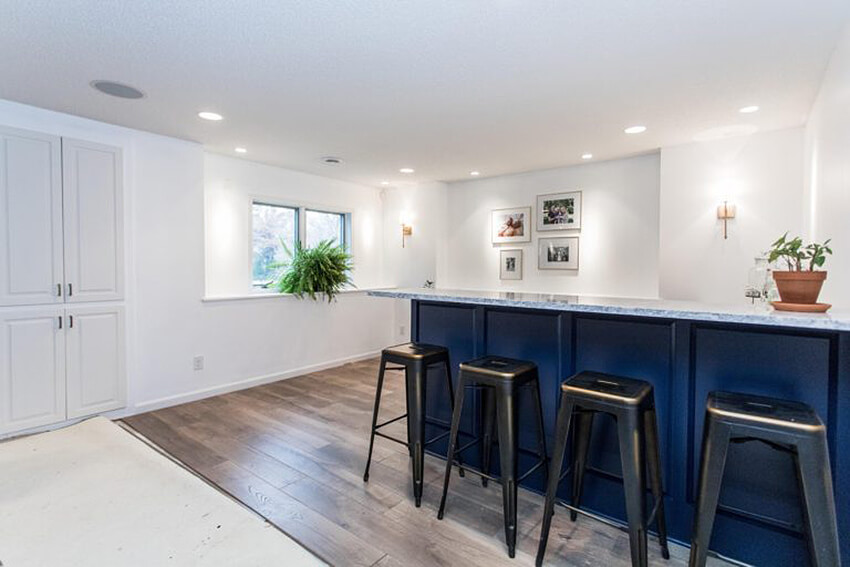 This bright basement update features all white walls, recessed lighting, light-colored hardwood flooring and accented with a bright navy pop of color for the bar. With just a little window in this basement area, you almost have to have a lot of white to make this space feel more open, bright and airy. The plants also give this space a more natural vibe while also making it feel more comfortable and cozy. The pop of blue for the bar area and black stools really make this space stand out. This is a small, yet stunning renovation that you could do on nearly any budget for your next basement remodel.
8. Exposed Shelving for the Basement Kitchen Area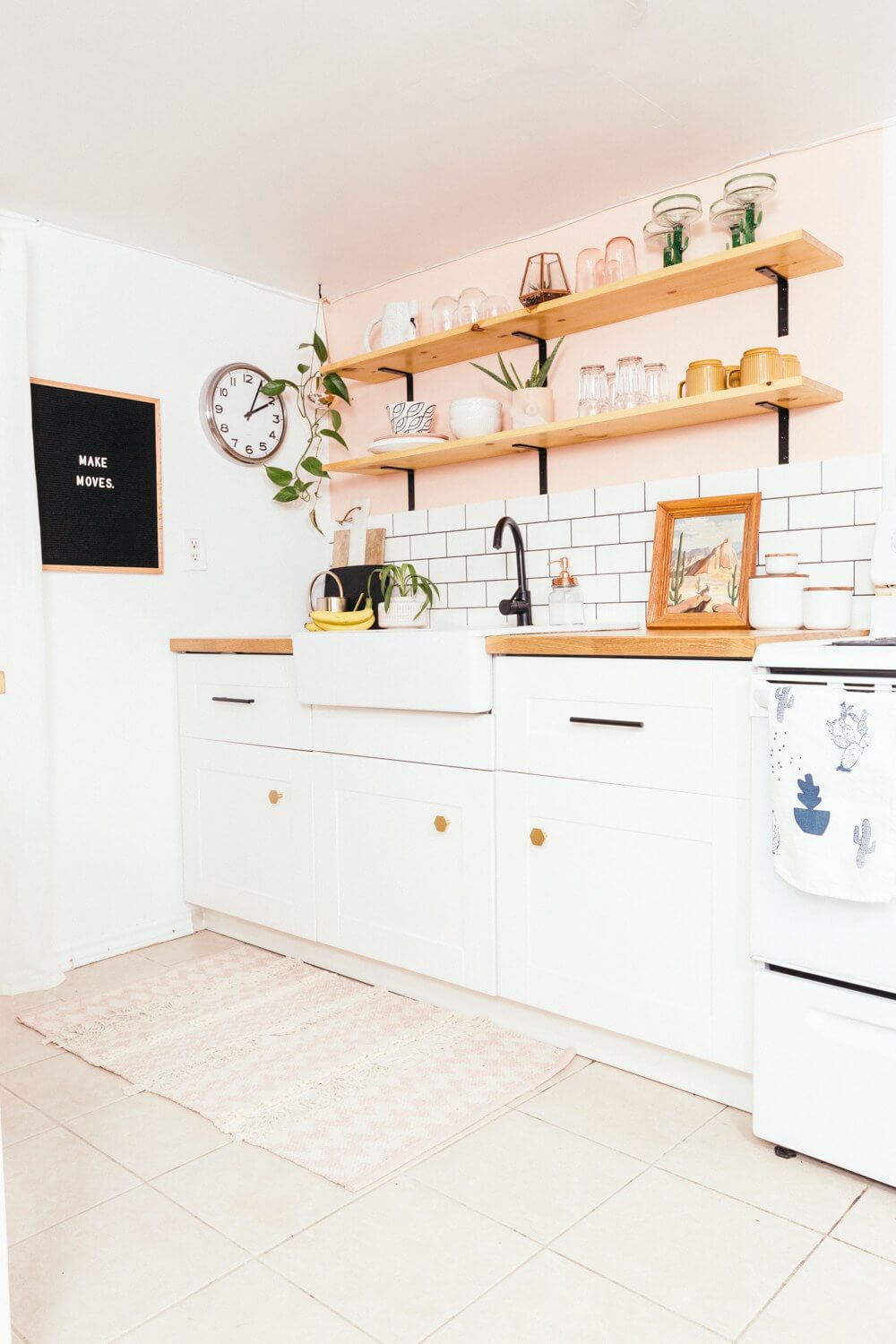 Some basements feature a bar-style area or a mini-kitchen nook that can oftentimes be difficult when it comes to planning and designing. This basement kitchen is small, yet stunning with its white cabinets, white subway tiles and pops of natural wood for the countertops and exposed shelving. This is giving us all the rustic farmhouse and industrial vibes and can easily be recreated in your own basement mini-kitchen. For a smaller kitchen in the basement, you don't want to overdo it with cluttered appliances, so this little nook with a sink, a few cabinets and stove top provides all you need to accommodate dinner downstairs.
9. A Minimalist Basement Playroom for Kids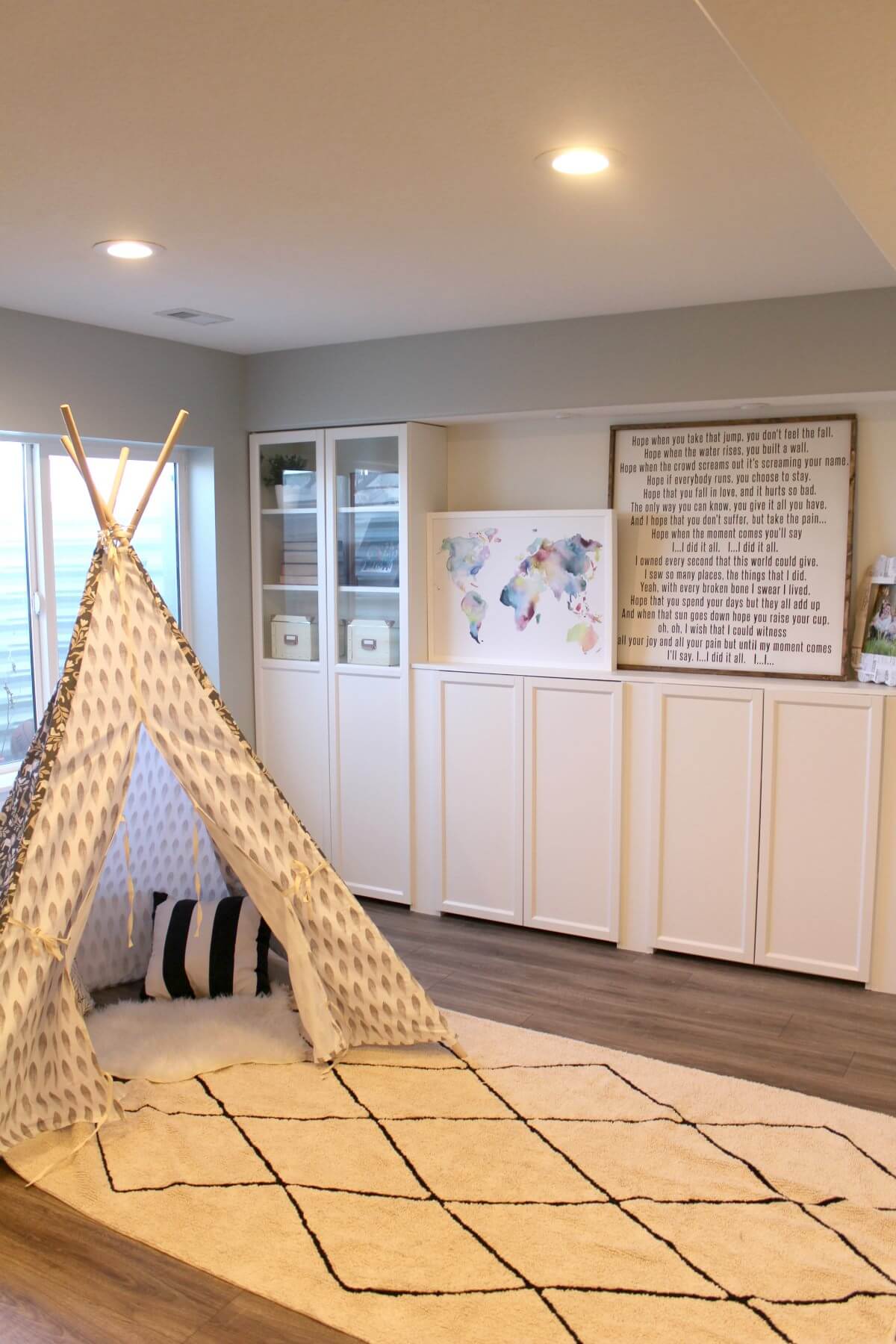 When it comes to basement renovations, most families often consider adding a bonus room or playroom for the kids to enjoy. This space is great for accommodating small children while also maintaining the overall aesthetics of the home. The shelving is closed off so you can store items without it looking cluttered and the wall art really compliments the whole playroom vibe perfectly. The kid's tent provides a comfy space for kids to play and relax and the accent rug adds a cozy touch as well with the hardwood flooring. This is a wonderful creative space that's both functional and visually appealing.
10. The Ultimate Basement Playroom for Kids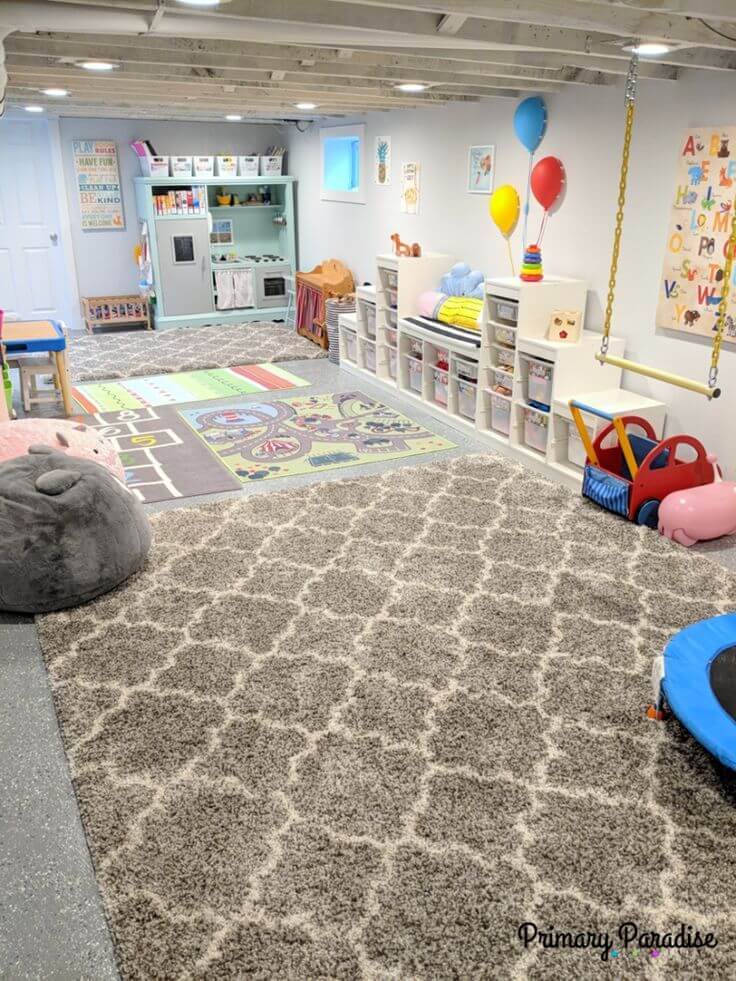 Talk about the ultimate kid's playroom, this basement update has it all. Transforming what was once unused space into a playful basement space for the kids to enjoy is always a great modern basement idea. You have a kitchen area for imaginative play, a large storage system for toys and crafting, large area rugs for multi-purpose use, a table and chairs along with fun animal-shaped bean bags for seating and a space to burn off energy with the jungle gym handlebars and mini trampoline. This is a space that can entertain kids for hours. Consider this modern basement idea if you have multiple children or you run an in-home daycare.
11. Entertainment for the Whole Family to Enjoy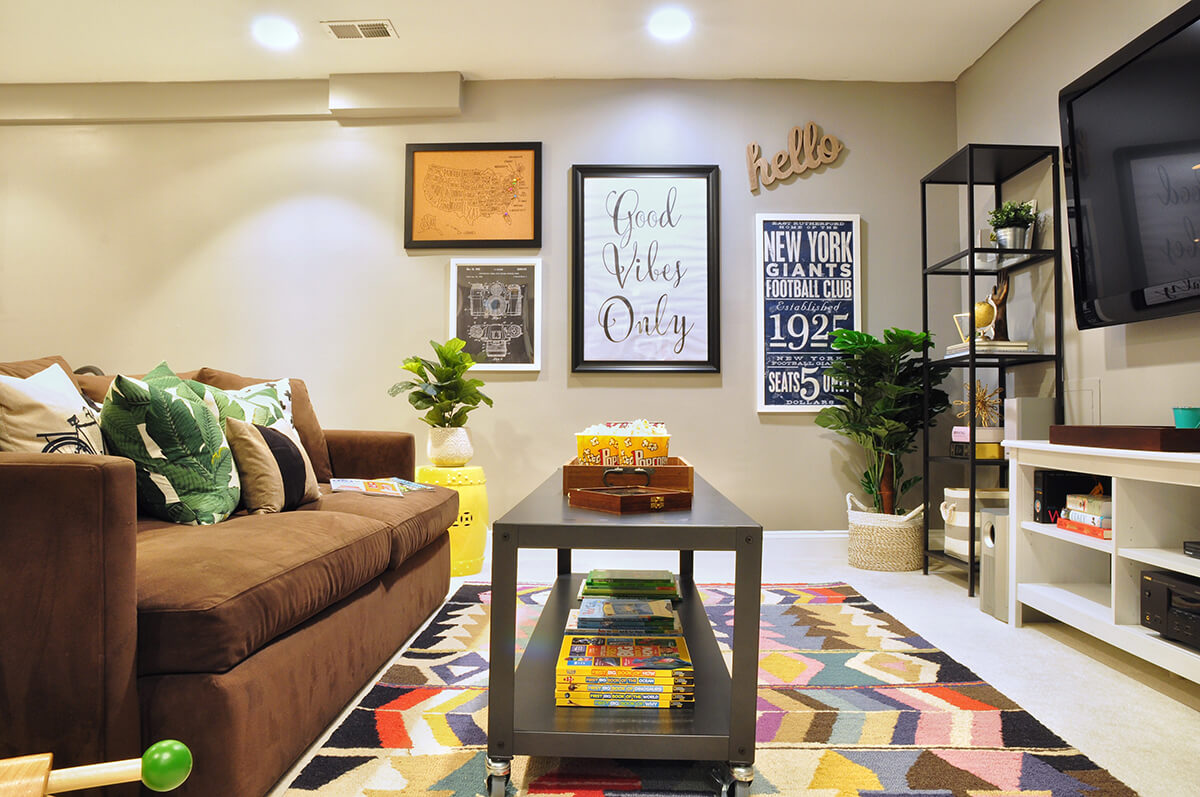 If you're looking for a space in the basement for the whole family to gather around and enjoy each other's company, look no further. This incredible basement transformation features a comfy cozy large sofa, a rolling coffee table, statement wall décor and a multi-purpose entertainment center. The rolling coffee table is a great feature that can be rolled in and out of the area to either use for board games or for moving out of the area to utilize all the extra floor space. This looks like the perfect place to gather around for movie or game nights.
12. Bring the Hobbies Downstairs in This Basement Transformation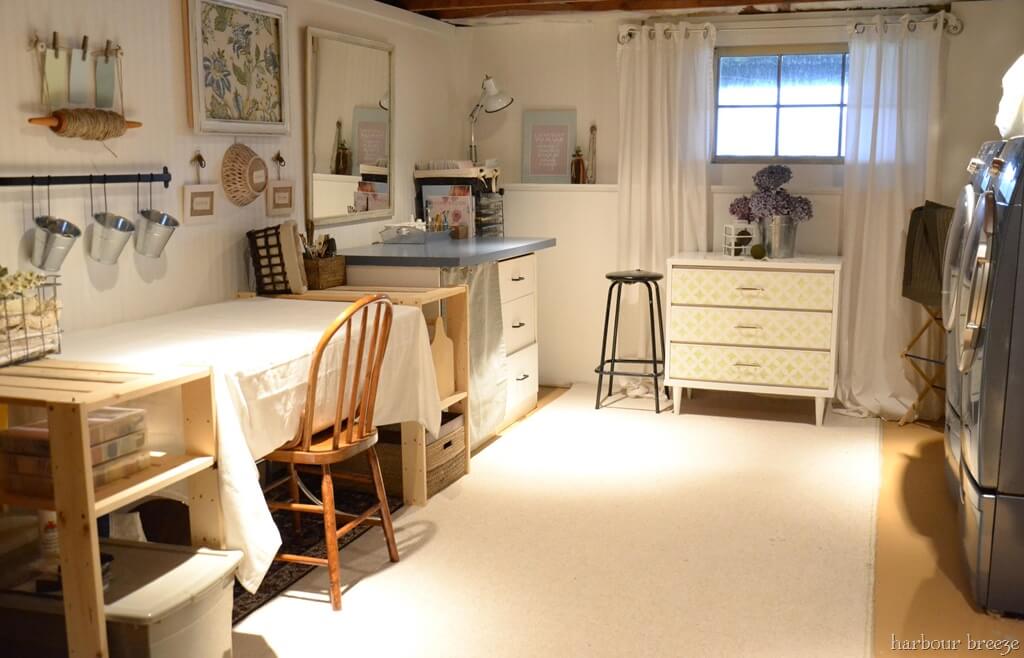 Most of the time, our hobbies are set on the backburner, especially when storage space is limited. Transforming a small portion of your basement into a hobby or craft room is a great use of basement space. This hobby/craft room features a desk, table and chair, wall storage and even the washer and dryer. It's a great way to maximize space while accommodating your favorite hobbies and interests. The small basement window provides enough lighting during the day and adding in a few extra lamps doesn't hurt for nighttime crafting. Finding basement ideas for your next update like this one that really utilizes space efficiently is great for supporting your hobbies and interests without cluttering other areas of your home.
13. A Guest Bedroom Retreat in the Basement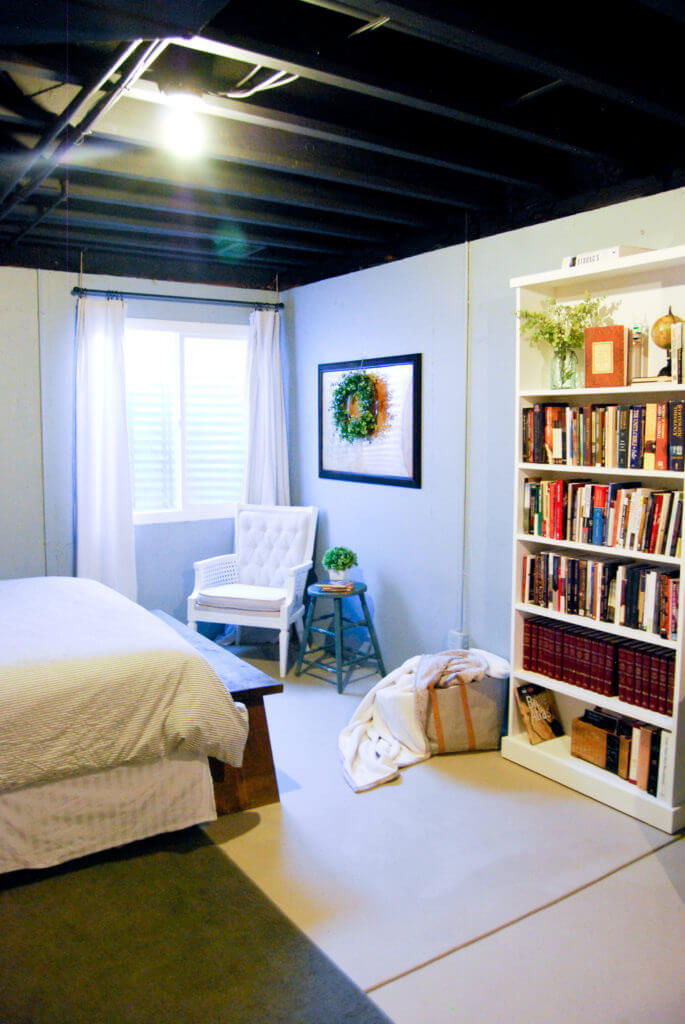 Most people would absolutely love the thought of a guest bedroom in their home. Why not carve out a little space in your basement just for that? This small guest bedroom features a large window, bed, chair and stool along with a bookshelf. This is also a great way to store your extra books without cluttering other areas of the home. This space looks so cozy and will be comfortable for any guest to enjoy. They can pull out a book from your collection and sit by the window and sip their coffee in silence to start their day and then come enjoy the family for the remainder of the day.
14. Utilize Every Inch of Space with These Beautiful Basement Ideas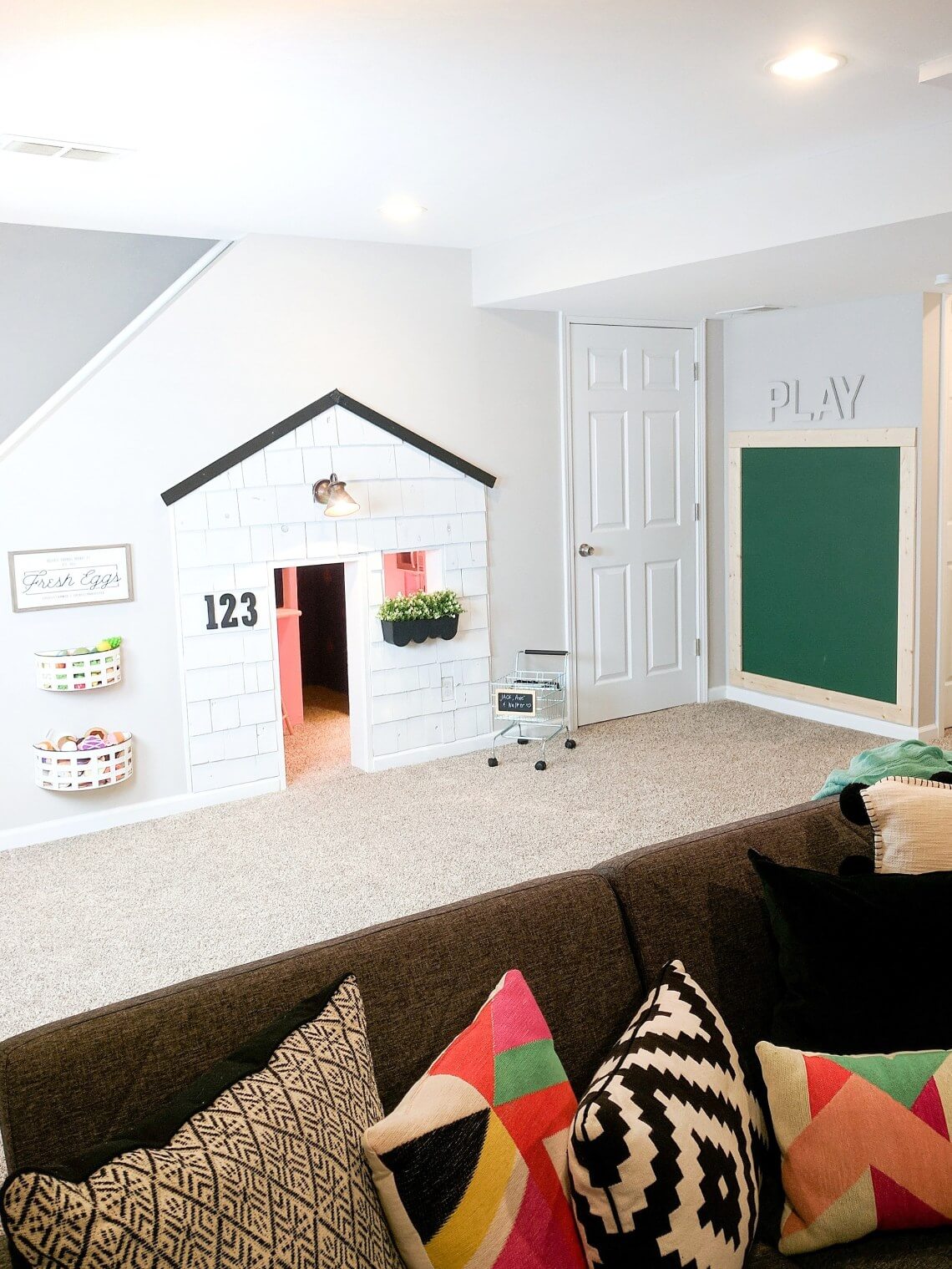 This bright basement design is every child's dream. Often times, basements have this awkward space underneath the stairs that just sits and looks bare where moving boxes tend to stack untouched for years and years. This beautiful basement takes advantage of that extra space by building a fun playhouse underneath the stairs. It looks so realistic with its small door, carved out window, lighting and additional décor. It doesn't even take up any space since it's built right into the space underneath the stairs. This is a space every little girl dreams of having. Basement ideas like these are truly quite genius!
15. A Live Edge Bar Table the Whole Family Can Enjoy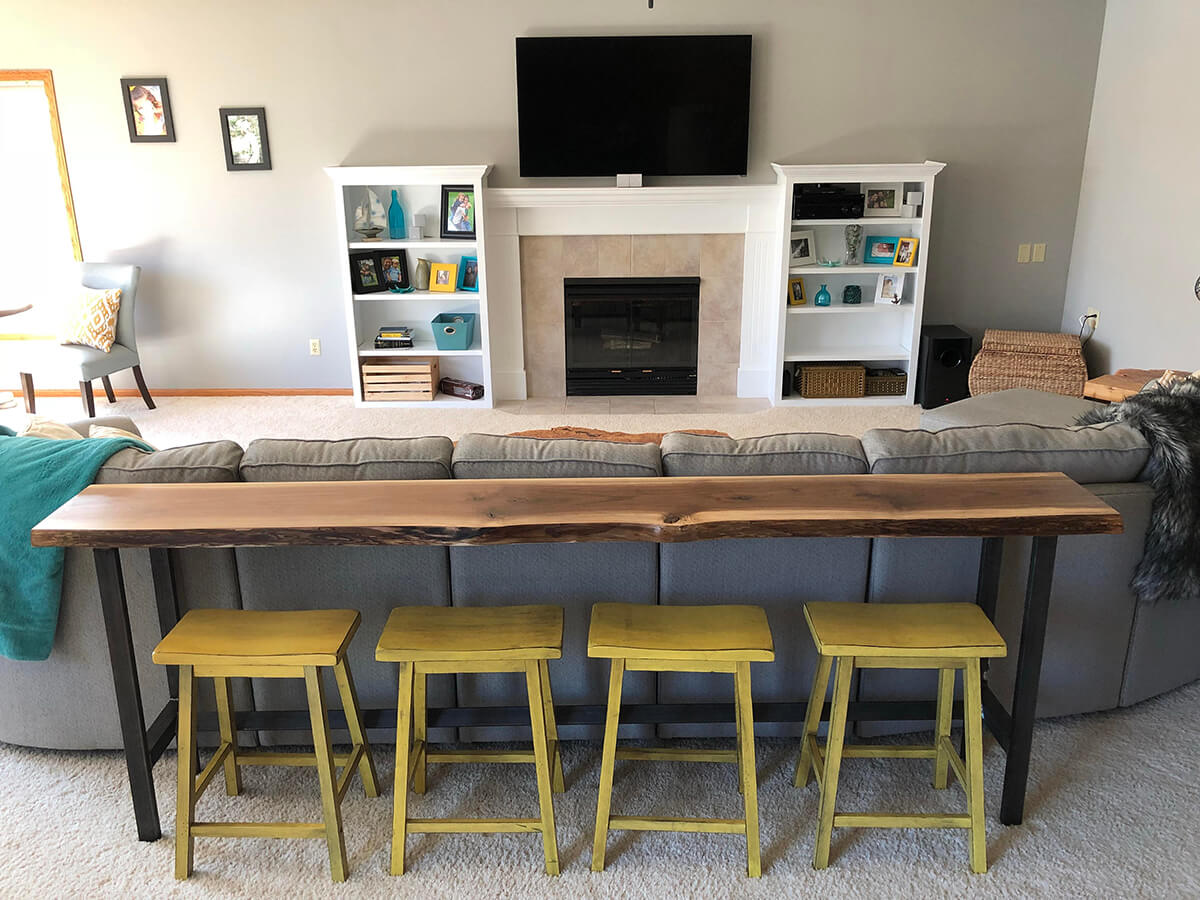 Need extra seating without compromising on space? This live edge bar table placed behind the couch is the perfect solution for providing extra seating where guests can still view the television and everyone around it. This live edge slab is mounted on industrial steel bars with a foot rest included. You can even customize the dimensions to suit your family's needs and fit the length of your basement couch. This table gives off such a rustic and industrial vibe that will fit nearly any existing home décor style and aesthetics. The quality craftsmanship in this handmade piece is top notch with a durable and nicely finished piece of furniture for your basement update.
16. A Rustic and Industrial Sofa Table for Entertaining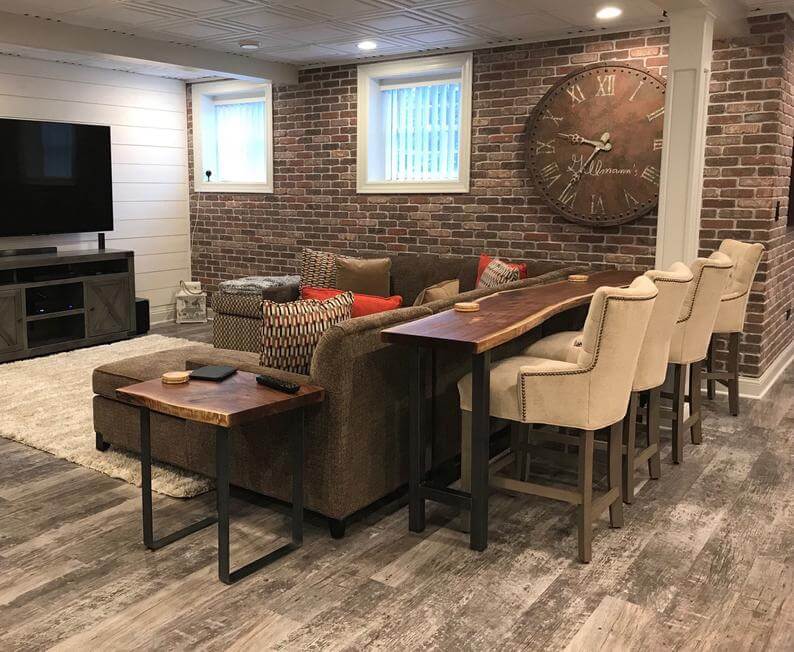 Basement decorating ideas range from rustic industrial to a chic modern farmhouse aesthetic and this sofa table is perfect for both! This live edge custom table top is made in Minneapolis and uses Minnesota-harvested black walnut slabs. The table is mounted on industrial steel legs with a foot rest included for added comfort. The table was designed to complement various home styles from rustic, industrial to mid-century, bohemian. Choose the depth and length of your custom sofa table to best fit your family's needs and your existing couch dimensions. Finding basement ideas that add comfort, style and functionality to a space is key and this beautifully handmade table does just that!
16 Top Trending Basement Ideas for a Stylish Transformation
Ideas for a basement are limitless with endless potential. Whether you want to add a bedroom and entertaining space or add a movie theater and game room, updating your basement not only adds lots of functional square footage for the whole family to enjoy, but also adds value to your home.
Basements tend to be known for their cluttered, dark and chilly vibe, but they don't have to be. Don't be afraid to add character, charm and personality to your beautiful basement space. By simple updating and remodeling your basement into the perfect space for your family and lifestyle, it can become a beautiful asset for your home. I hope by looking at some of the most brilliant basement ideas I shared above, you'll feel the spark of creativity and imagination to take on this hefty, but worthwhile basement transformation project. Take things slow and think of how your family will benefit from this amazing basement remodel. Don't let that precious square footage go to waste!
If your basement is already finished and you're just looking for ideas to refresh the look, then you have yourself an easier task at hand. Look back at these ideas for a basement as often as you'd like for inspiration and ideas to implement for your new modern basement transformation.
Our Favorite Farmhouse Storage Items to buy on Amazon