If you are considering renovating or updating your bathroom, it's essential to have several bathroom flooring ideas before going to work. It can be a daunting task to renovate a bathroom from scratch, and there's a lot to consider. You want to make the most use of the space you have, find the best lighting combinations, have plenty of storage and choose the appropriate fixtures and fittings. It's easy to see how bathroom flooring options could be overlooked.
18 Gorgeous Flooring Ideas to Completely Transform Your Bathroom

In most areas of your home, choosing flooring usually comes down to overall appearance. You want your living, dining and bedroom to look aesthetically pleasing, but when it comes down to bathrooms, everything changes. The best bathroom flooring design needs to perform well under stress. Since water is so prevalent in the bathroom, moisture can quickly ruin the wrong flooring.
Additional factors, like appearance, durability, cost and installation all need to be considered when looking for the best bathroom flooring. There are tons of flooring options to choose from. From porcelain or ceramic tile to vinyl, stone or laminate there are pros and cons to each one. Of course, there is flooring you should avoid when renovating or updating your bathroom. Avoid carpeting and solid hardwood flooring. Carpet retains moisture and is very slow to dry, which makes it a poor choice for bathrooms. Solid hardwoods have no protection against moisture. It will eventually rot, so it's best to avoid altogether or at least put a top coating on it to effectively block out the moisture.
Ask anyone in the home improvement or real estate industry agent and they'll tell you that the best way to increase the value of your home is to update your kitchen or bathroom. Although a great layout and overall look of a bathroom space is important, the flooring sets the biggest tone for the space. When considering the best flooring options, take into consideration your personal style as well as the flooring that will stand the test of time. To help you get started, we've found some of the top flooring ideas for bathrooms that are both trendy and durable.
1. A Tiny Space that Packs a Punch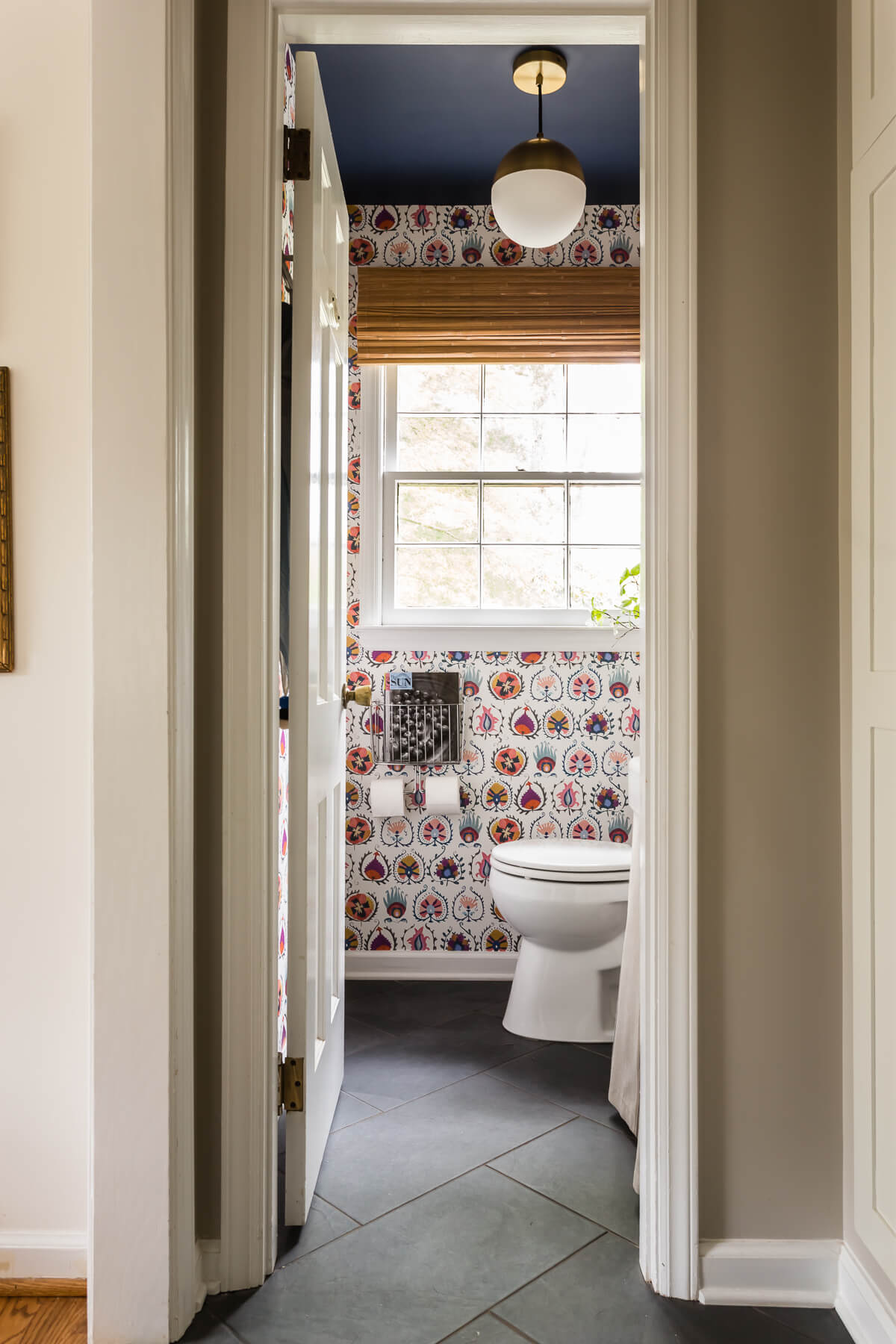 When updating a tiny space such as a powder room, you want to keep things minimal, but still find unique ways to make a statement. One way to do this is to keep the flooring simple and pack a punch with a bold wall color or add in a bright printed wallpaper. This dark gray slate tiling adds an industrial touch and has quickly become a popular trend not only for flooring, but for general home décor as well. This natural stone appearance looks elegant and luxurious and can also be heated to provide a warm, comfy feel right at your feet.
2. Make Your Bathroom Feel Bigger with White Flooring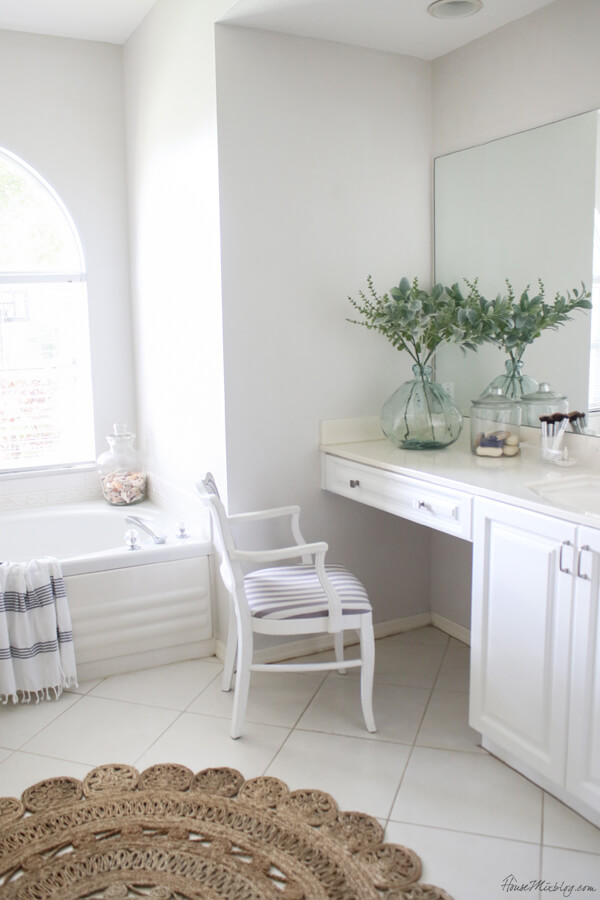 Tile is definitely not a new trend when it comes to bathroom flooring. It's durable, waterproof, easy to clean and fits any décor style. White flooring has its benefits. It can easily match any wall color or other design elements being used in your bathroom and it also makes any space look and feel bigger, which is particularly important for most bathrooms. Dark colors in smaller spaces such as bathrooms can make your space feel crowded and compact. Updating your space with a white flooring like this tile provides a more open feel that's calm and relaxing. It's like your own little personal sanctuary you can escape to for a little quiet time.
3. Moroccan Tiles for a Bold, Dramatic Feature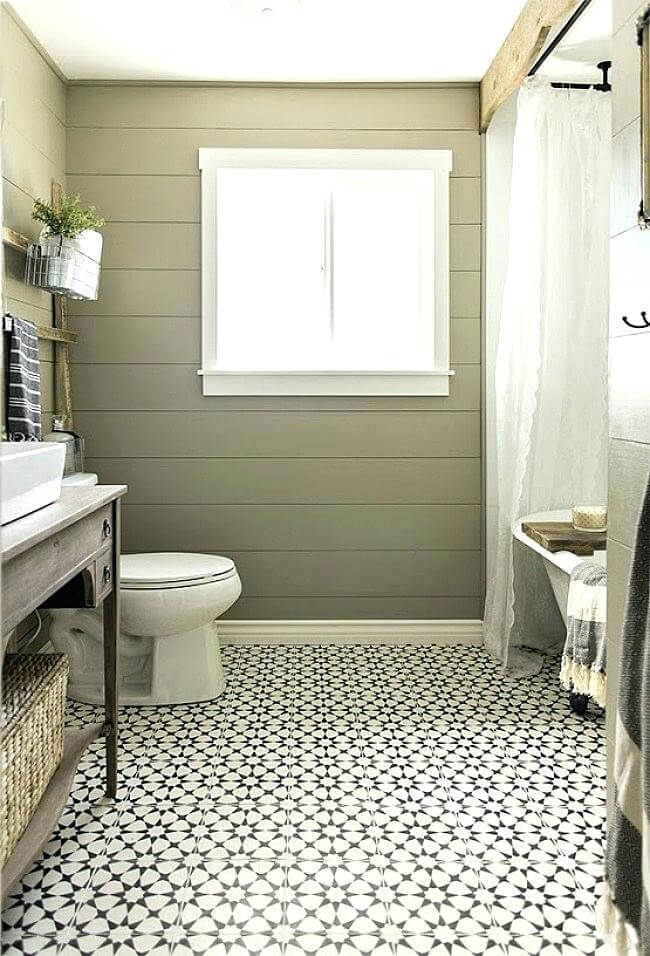 Moroccan tiles provide a delicate and artistic feature to any space. Using this printed tile in the bathroom is the perfect way to make a statement and get a little outside of your comfort zone. If you're considering using this chic and stylish tile in your bathroom, try to keep everything else neutral and simple. You want your new bathroom flooring design to stand out without being too busy with other fixtures and accessories. You can also choose a variety of colors instead of black and white. You can get this tile in bright shades like blue and yellow or bohemian colors like red and navy. This Moroccan flooring is sure to transform your bathroom from bland to magnificent.
4. Basket Weave Pattern Flooring for Bathroom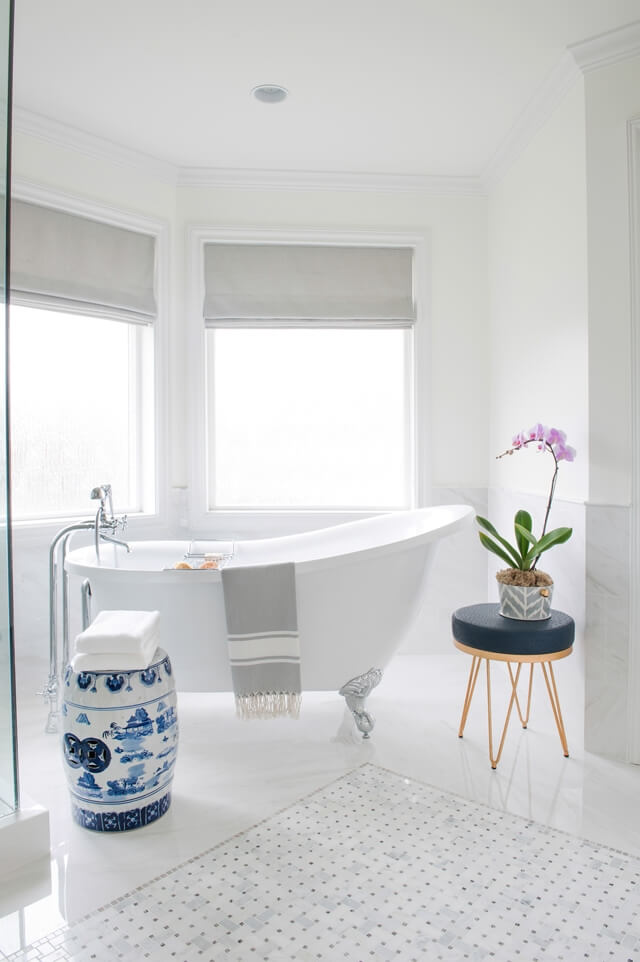 The basket weave pattern provides so much texture to a space, especially the bathroom. It resembles the texture of a woven basket, but with an oriental, luxury look. The plus side to these gorgeous porcelain tiles is that they are water-resistant. I love how this basket weave pattern doesn't fully cover the entire bathroom floor. It almost serves as a rug-like appearance and since the trim is solid white, it really pops and makes a statement. Adding decorative accents from flowers and fixtures to towels and mirrors really creates a sense of balance and cohesiveness throughout this space.
5. Bold Black Hexagon Tile Bathroom Flooring Design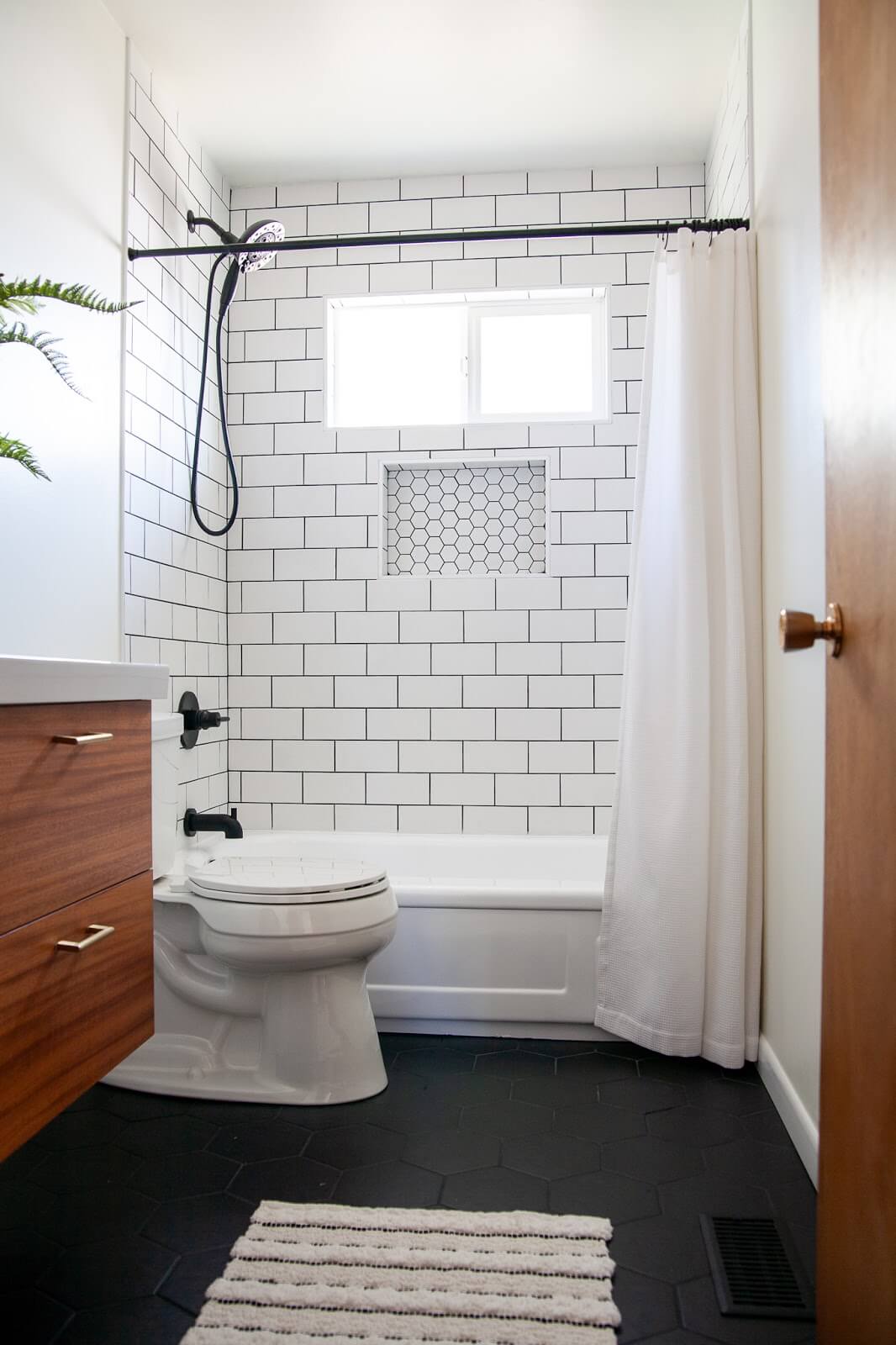 This bold, black hexagon tile provides a conventional, simplistic design that's so versatile and stunning. The large hexagon shaped tile is durable and skid-resistant which is why it's a great option for bathroom flooring. The balance in this space with the black tile and mahogany vanity is remarkably trendy and cohesive. The subway tile in the shower adds contrast and a classic overall look to this space. Although black can make any small space feel much more claustrophobic, having the white subway tile and wooden fixtures really makes this bathroom feel open and airy. Also, black never goes out style when it comes to fashion and design!
6. Soft, Subtle Wallpaper with Trendy Hexagon Tile Floors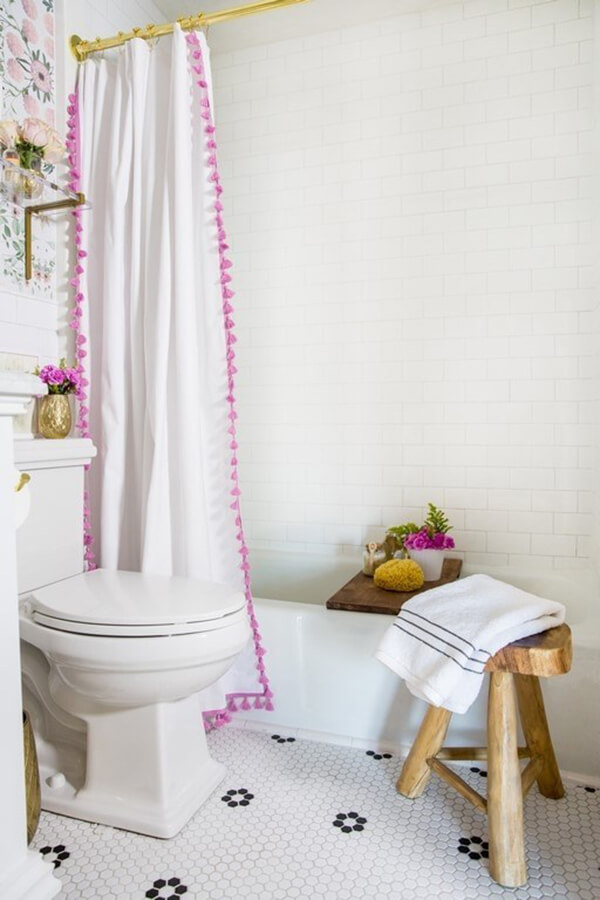 Hexagon tiles have made a resurgence recently and their making their way back into our bathrooms. These statement tiles come in all sizes, colors and textures, so they are one of the best flooring for bathroom designs to consider with their uniqueness and versatility. There's something about this dainty black floral pattern placed throughout the white hexagon tiles that looks so pretty. It gives this space a classic, contemporary feel that's unique and eclectic. This flooring also really stands out with the solid white subway tiles both in the shower and on the bottom half of the wall. The subtle, soft wallpaper paired with the floral detailing on the floor really ties this space together wonderfully.
7. Hexagon Polished Marble Mosaic Flooring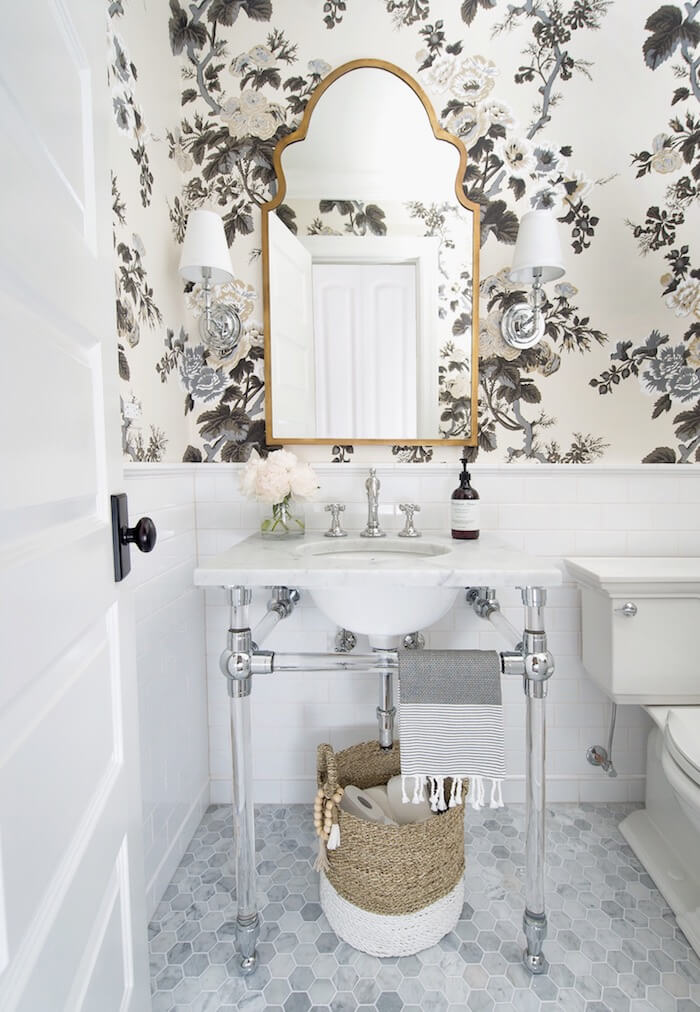 Create a timeless statement with a polished marble mosaic hexagon tile. It's such a natural look with each stone tile unique and varied in color. It also has a high-gloss finish that gives it a refined elegant look to the interior of this space. The hexagon and octagon shape of the tile creates a unique and eye-catching design that adds an artistic flair that really stands out. This particular tile is also very easy to clean which makes it both practical and attractive. A total win when looking for the best flooring for bathroom ideas. In all, there are endless design possibilities with this natural tile. It will fit so many different design concepts as well form rustic farmhouse to urban industrial.
8. Black and White Stenciled DIY Bathroom Flooring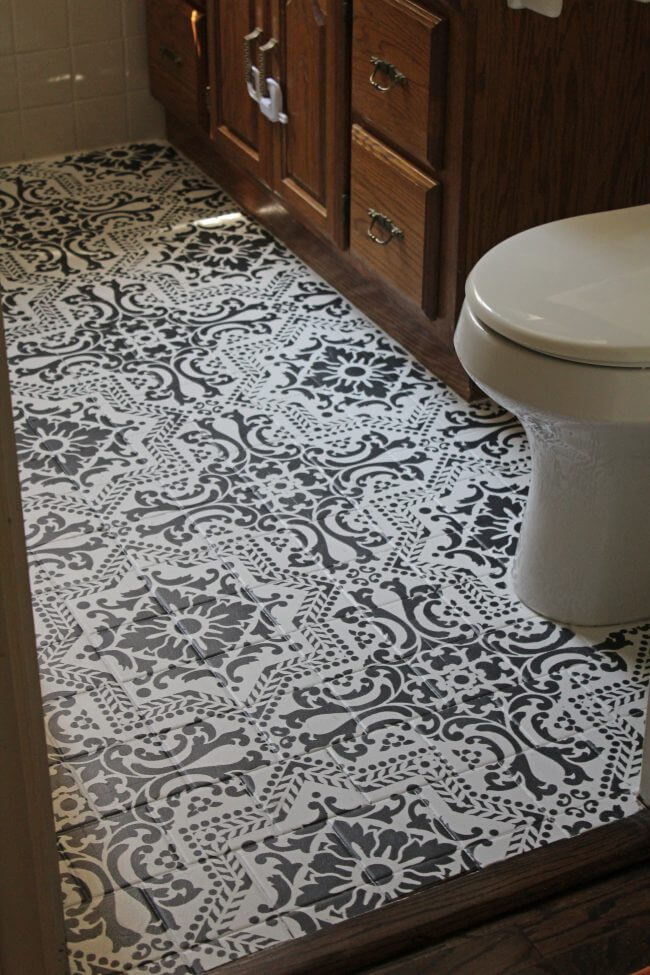 If you have existing tile in your current bathroom and are looking for a budget-friendly update, consider stenciling your tile instead of completely replacing it. This black and white stenciled flooring is a perfect way to freshen up your space and give it a modern look that's both stylish and practical. If you're thinking about stenciling your current bathroom tile, be sure to consider all the elements and conditions the flooring will face. It will need to be durable, treated so it doesn't fade, anti-slip resistant and of course water-resistant. This looks like such a fun DIY project that will instantly transform your bathroom on a budget!
9. Classic, Timeless Marble Bathroom Flooring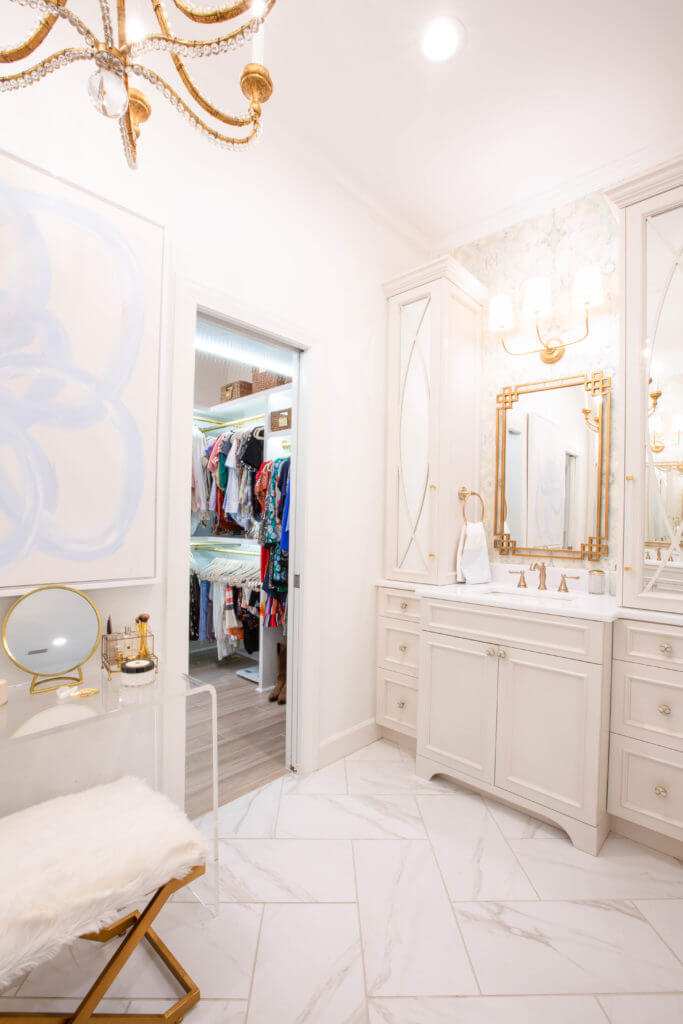 Marble is a popular bathroom flooring design because it's classic, timeless and stands the test of time. Marble is an expensive option if you're considering using it for your bathroom remodel or update, but it's made to last. If real marble isn't an option, you can also consider a ceramic tile that features the marble look. Marble flooring is a look that will last for years and years to come. It never seems to go out of style, so it makes it one of the best bathroom flooring options if you're worried about selling your home in the future.
10. Trendy Black and White Bathroom Flooring Ideas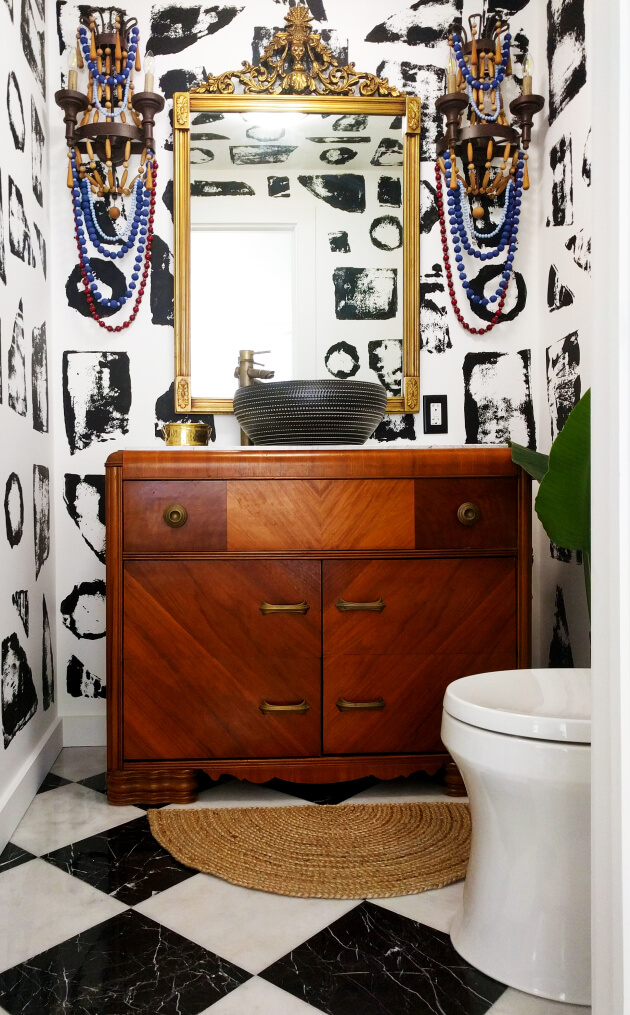 Whether your home is a sleek city loft or a rustic farmhouse, black and white will never fail you when it comes to elevating the aesthetics of your space. Black and white, especially in the bathroom provides a lavish, elegant feel and will always be in style. This black and white tile flooring has a bold pattern and a distressed look with the etched lines throughout. The checkerboard placement gives off that antique, vintage vibe while still looking modern and updated. Black and white is also such a versatile color theme for your bathroom. It's an easy color to build upon and customize to your décor preferences.
11. Peel and Stick Vinyl Flooring for Bathroom Remodel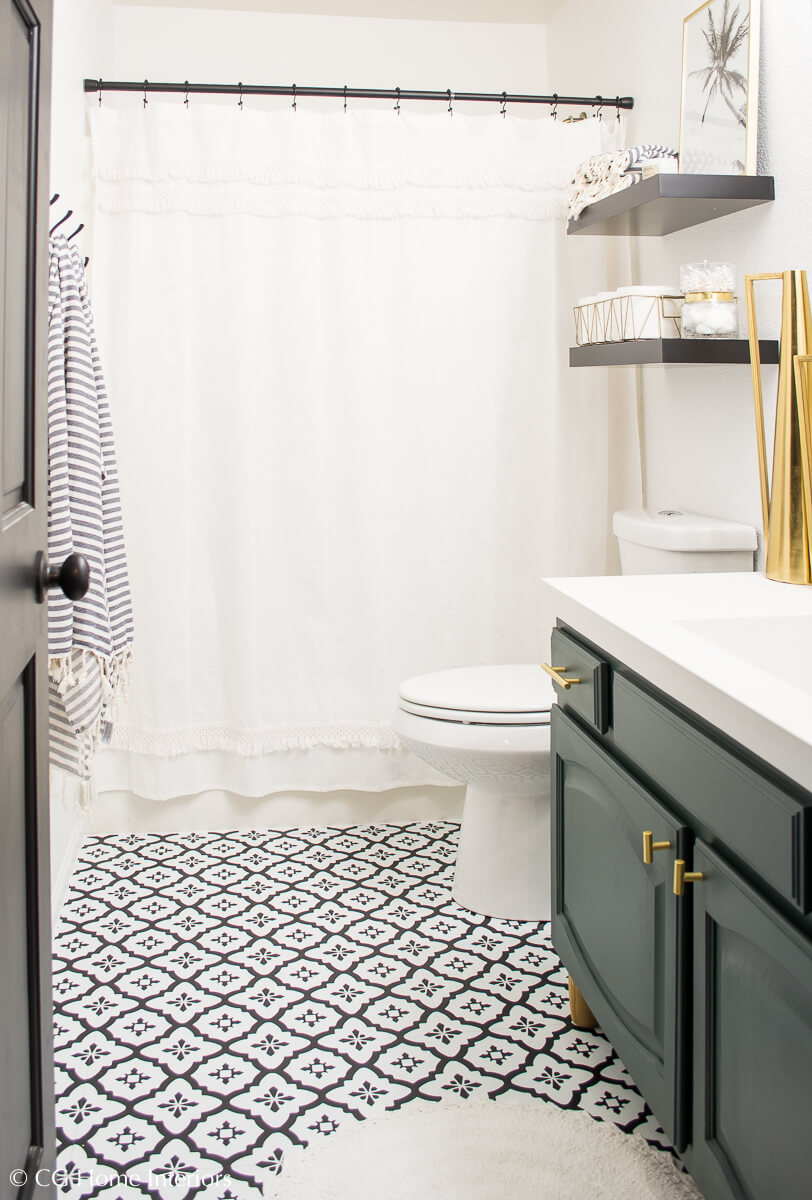 Did you know that it can be as easy as peeling and sticking to update your bathroom flooring? Who knew? If you don't have the ability (or budget) to rip apart and completely replace your current bathroom flooring, consider giving it a good cleaning and apply vinyl peel and stick flooring on top. This mosaic, Moroccan tile looks so chic, sophisticated and expensive. It's also very easy to clean and durable. The great thing about these peel and stick tiles though is that just in case of a tragic floor mishap, you can easily replace the tile without it costing a fortune or being too time consuming.
12. Bold, Pattern Tile Bathroom Flooring Options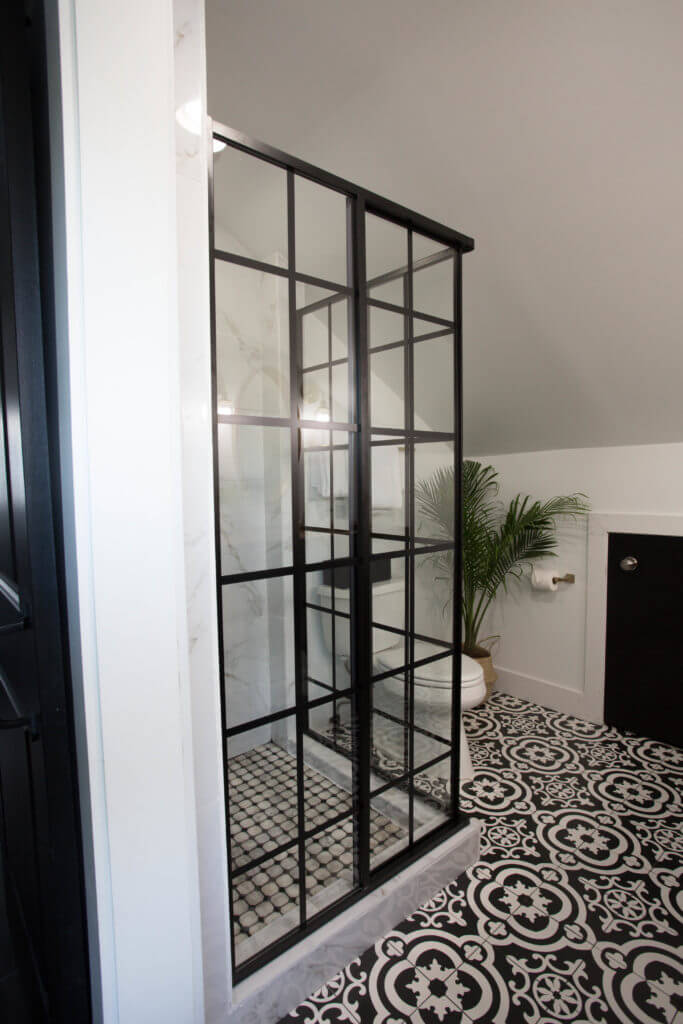 This bold printed bathroom tile really draws your attention. It makes this space look long and spacious. It also keeps your focus on the flooring itself rather than the angled ceiling which is great when your bathroom is in a rather unconventional location in your home. The pattern of this tile flooring is super on trend and won't be going out of style any time soon. This tile also works with heated flooring, so it's both trendy and luxurious. Adding in black detailing in other areas of the bathroom like the shower, hardware and door gives this bathroom remodel a classic and elegant feel that really ties it all together nicely.
13. White and Grey Marble Bathroom Design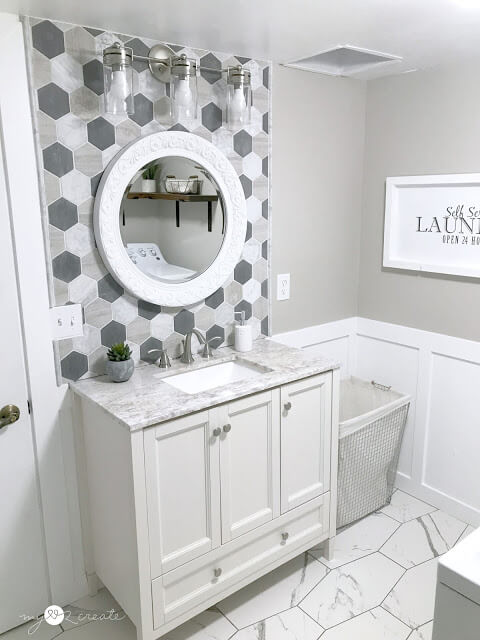 Marble may just be the best flooring for bathroom transformations out there. This elongated hexagon marble flooring is so sleek and stylish. It provides such an elegant feel that's clean and sophisticated. It will match any décor style and really brightens up the space tremendously. The grey and white marble tile flows perfectly with the marble countertop, white trim and cabinets as well as and hexagon tile backsplash. The colors all work so well together for a cohesive bathroom design style that will still be on trend for years to come. What do you think about this white and grey space?
14. Stenciled Tile for a Glamorous Finish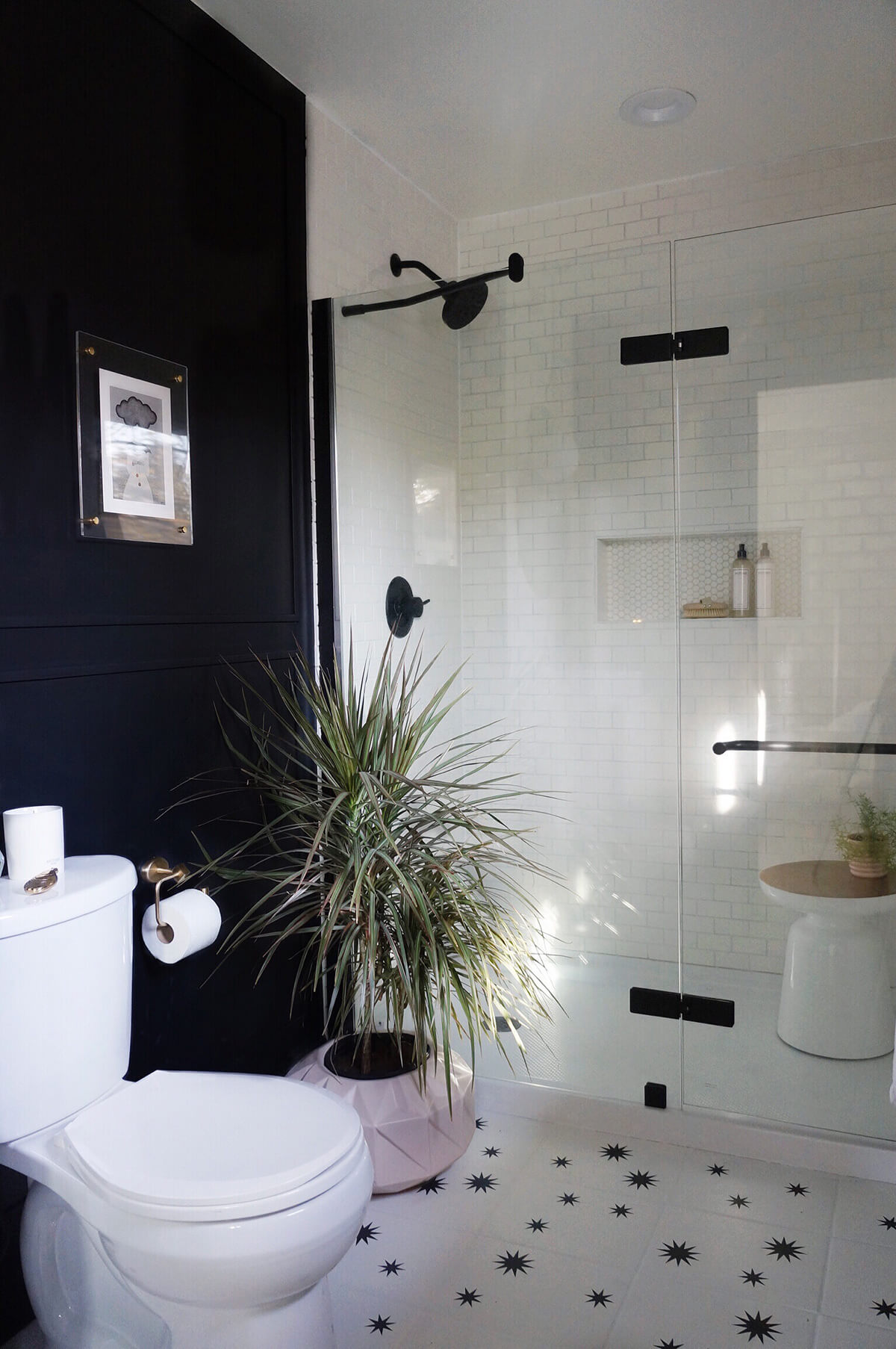 This starry black painted stencil tile is so chic and glamourous. It provides such a dainty, feminine vibe to this bathroom that's eclectic and trendy. Stenciling tiles can be a bit of a project to take on, but the end result is perfection! You'll want to be sure to add sealant on top after you have painted on your stenciled design to ensure it will hold up to the somewhat harsh conditions bathroom flooring takes on. You don't want all of your hard work to go out the door if it's not durable enough or if a little water will cause damage or peeling.
15. A Real Showstopper Bathroom Tile Option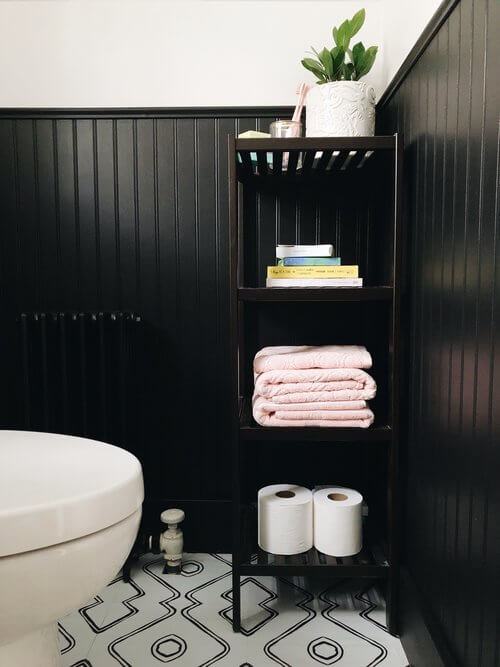 Ready to update your bathroom floor? This always sounds like a daunting task, but it doesn't have to be with all the amazing inventions created to keep things easy on our DIY projects. This peel and stick tile decal is the perfect choice when looking at a simple way to update your bathroom space. The black and white print provides a modern, minimal and vintage style that resembles the Atlas Mountains of Morrocco. This particular tile is coated with a hi-tech layer of laminate so it can handle the extra wear and tear bathroom floors require.
16. Stunning Mosaic Marble-Inspired Tile for Bathroom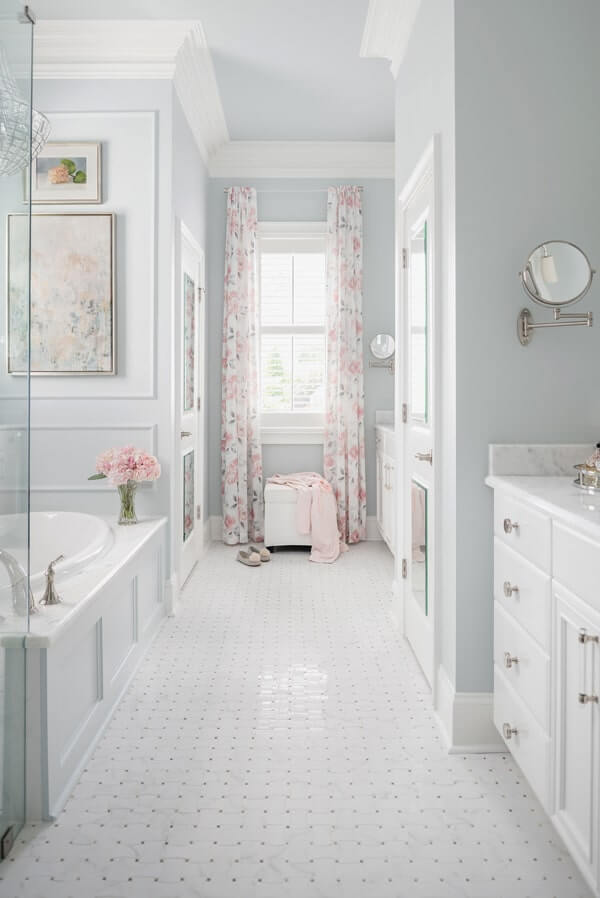 What better way to spruce up a marble-inspired bathroom tile than with a mosaic design? This basket weave tile is stunning and provides such a lovely accent that works well with nearly any design style. It features a charcoal grey accent rather than the traditional black that we most often see. This mosaic marble tile gives off a polished finish that also enhances the light reflecting quality of the entire space. Pair this lovely bathroom flooring with a soft grey and pops of light pink for a super cute and stylish bathroom design.
17. Elevate Your Bathroom with a Victorian Style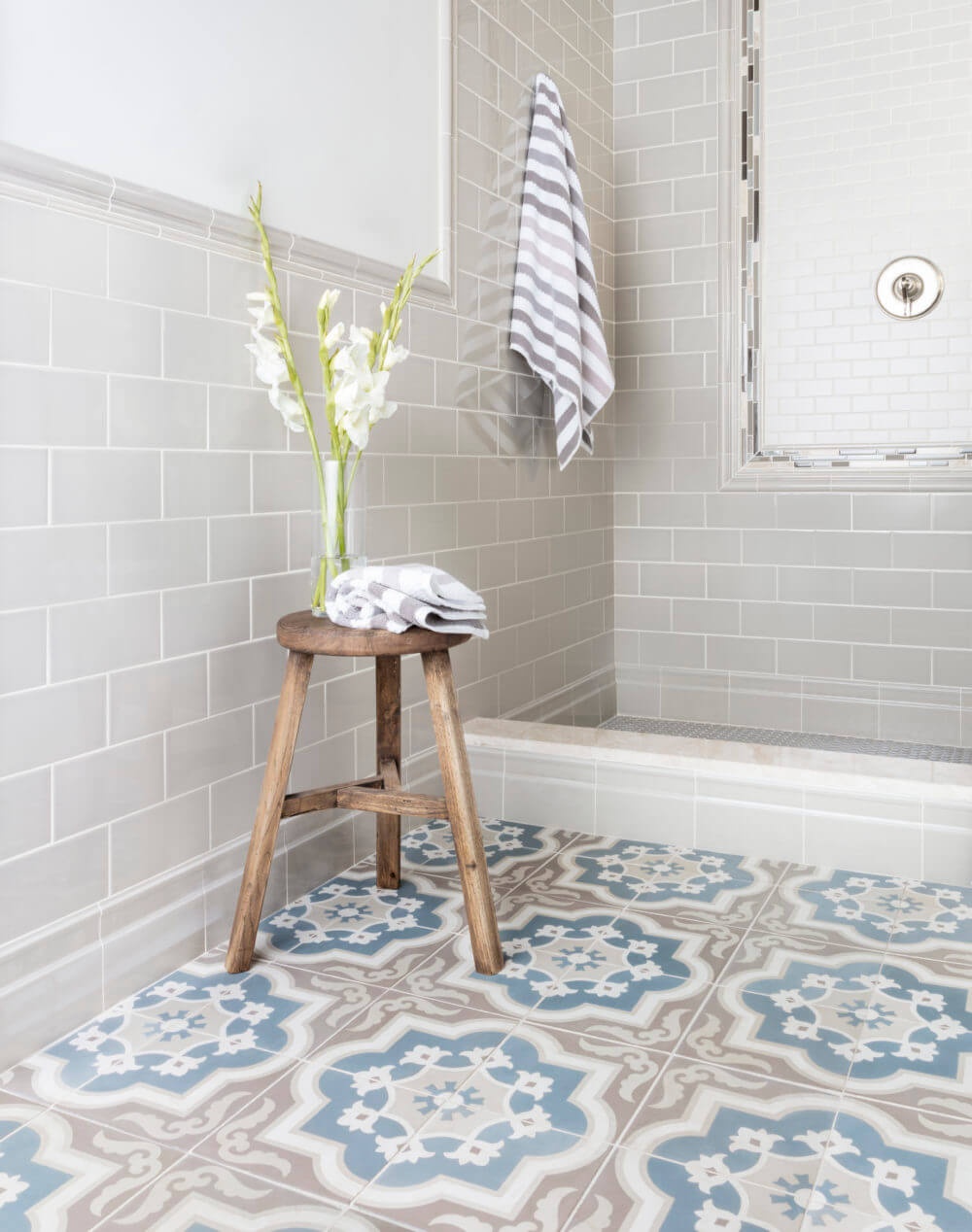 The Victorian design trend was popularized around 1860 and is currently an up and coming trend that isn't going anywhere any time soon. This Victorian tile has such an elaborate, architectural element to it that is perfect for smaller spaces such as the bathroom. This cement tile boasts an ornate Victorian design with white, grey, blue and taupe colors throughout. It's stunning and creates an elegant, welcoming atmosphere everyone will love. The best part about this particular tile is that you can also use it on the walls for a complimentary accent feature to the flooring.
18. Floor Stickers for an Easy Bathroom Transformation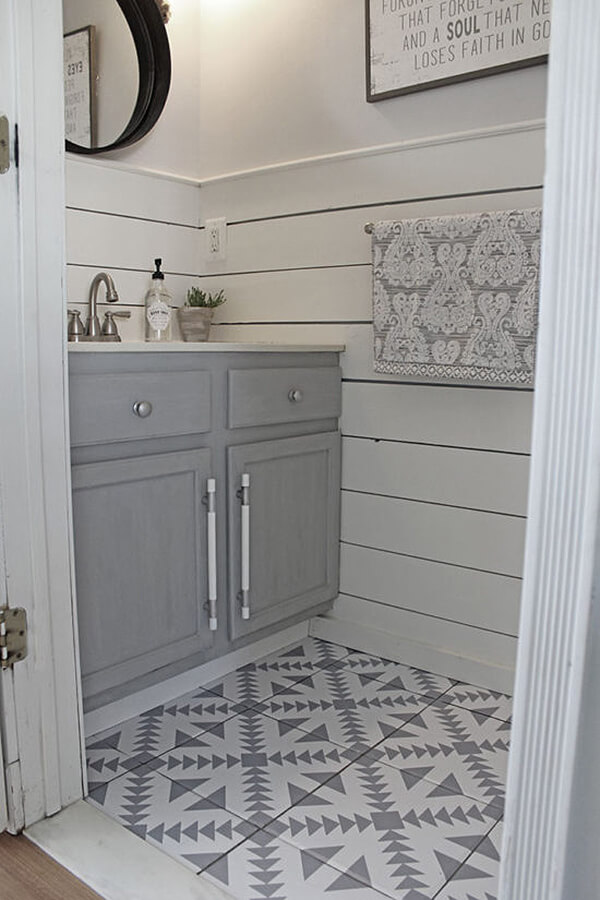 If you're looking for a quick and easy bathroom transformation, these floor stickers might just be the perfect option for you. This peel and stick tile is available in a variety of prints, colors and textures to fit any design style. This particular design features a soft grey and white tribal design that's both trendy and contemporary. The floor stickers are not only budget-friendly, but also very easy to clean since they are completely waterproof. These decals can also be used anywhere, not just on floors! The possibilities are endless with this super easy and inexpensive bathroom flooring project using these amazing floor stickers.
18 Beautiful Flooring Ideas that are Perfect for Upgrading Your Bathroom Space
Update your bathroom instantly starting with your floor. Luckily, there are numerous bathroom flooring trends that are durable, stylish and easy to install. Gone are the days of boring tile. There's currently a huge surge in bathroom flooring designs from solid marble and stone to Victorian and Moroccan printed tiles. Your bathroom flooring can make a huge statement whether it's a small powder room or a full master bath. The flooring really sets the tone and provides the foundation for the overall look of your bathroom.
No matter what colors or styles you choose for your bathroom flooring, it is sure to make a statement that stands out and freshens up your space in an instant. Bathroom flooring can give your space the transformation it's been needing that can even add value to your home.