How are your bathrooms looking lately? We have a curated collection of budget friendly bathroom makeover ideas to help you consider the décor in this very important living space. We spend quite a bit of time in our bathrooms, and they should be efficient and beautiful spaces that are just as equipped for a relaxing bath or shower as they are for quickly getting ready in the morning. Bathrooms are relatively small spaces with a lot of items to consider.
28 Marvelous Before and After: Budget Friendly Bathroom Makeover Ideas to Beautify Your Bathroom Space

Tubs, toilets, and sinks can be expensive to replace, but there are other ways to modernize your bathroom space. If you're looking to update your bathroom this season, we've got some budget friendly bathroom makeover ideas that will take advantage of some big changes that can be made while leaving the big ticket items alone. Bathrooms are often left fairly bare and devoid of personality.
We'd like you to consider this a blank canvas upon which you can create whatever look you want; art, paint, storage, mirrors and lighting, hardware, and accessories can all be considered when creating the feel of your bathroom space. Our budget friendly bathroom makeover ideas will give you plenty of before and after inspiration, no matter what your taste or price point may be.
1. Before and After Total Transformation

You can give even the most dated small bathroom a modern look with the right paint, cabinets, and sink hardware. Gray tones are a great choice to give things that more modern look. It pairs well with the sleek cabinet and sink hardware, and you can pull it all together with a dark wood mirror frame. This further helps you create that contemporary appearance. The extra décor goes a long way in a small-sized bathroom too, and you can achieve that with some floating shelves in wood that match the mirror frame. This gives you enough room to add in some trinkets or greenery without making everything appear clustered.
2. Paint and Art Can Update Your Look

Rather than a complete overhaul of your cabinets and everything else, you can start with some paint as that makes all the difference. In fact, it's a good cost-effective way to improve your bathroom and make the room come across as larger than it actually is. You don't have to replace the cabinets when you can paint over them and perhaps add some new hardware to give it a fresh makeover. Also, consider matching the shower curtain to the paint job as this can help provide the bathroom with a more cohesive and attractive look. You can use some artwork to help fill up that empty space on the wall too.
3. Fixtures and Cabinet Updates for Big Changes

Some good small bathroom ideas rely on bringing some lightness to the room décor. You can use a nice slat-like design for the walls to better match up with the overall theme, especially if you already have white flooring. The gray-toned cabinets are light enough to blend well while adding some good contrast. This contrast is aided by the brown mirror frames that also help with sticking to that lighter and modern-like theme. Think about pairing this with a nice area rug in front of the vanity as it helps to break up the white coloring.
4. Exchange Dated Country for a Chic Western Theme

For a rustic bathroom, try your hand at sticking to more muted colors like beiges and browns. Mix and match these will prevent the décor from looking one-note, and instead, fills it with personality and style. The shower curtain blends effortlessly with the wooden sink tops. There is a cool weathered look with the mirror frame, taking that rural flair to new levels. Minimalistic décor is key here too as the fewer items taking over the walls the better in this case. So, you can aim for something decorative without going overboard and crowding up your small space.
5. A Tile Accent Wall is Modern

Just because you have a small area, that doesn't mean your vanity unit has to suffer. The right look can allow your area to come across as more spacious, and you can even give your bathroom a pleasing contemporary style in the process. The vessel sinks stand out right away, offering your compact bathroom that chic look. It works exceptionally well with the floating vanity design, allowing your bathroom to truly catch attention with ease. The darker design of the vanity helps too compared to the white sink and white walls. Feel free to use wall tiles to add a nice accent wall to the room, giving it a bit more color and contrast.
6. For Small Windows, Keep Colors Light

If you have a window in your small bathroom, you can enhance the space by decorating with light colors. The natural lighting will easily brighten up the area even more. This doesn't just mean using white though. The white does help with the mirror frame and the sink itself. However, you can add some colors and still get the brightness you want. Colors like blues and greens go a long way into improving the room and breathing more life into it. It can also help you build a coastal-like theme in the room or even a more creative style.
7. New Facing for a Tub Face Lift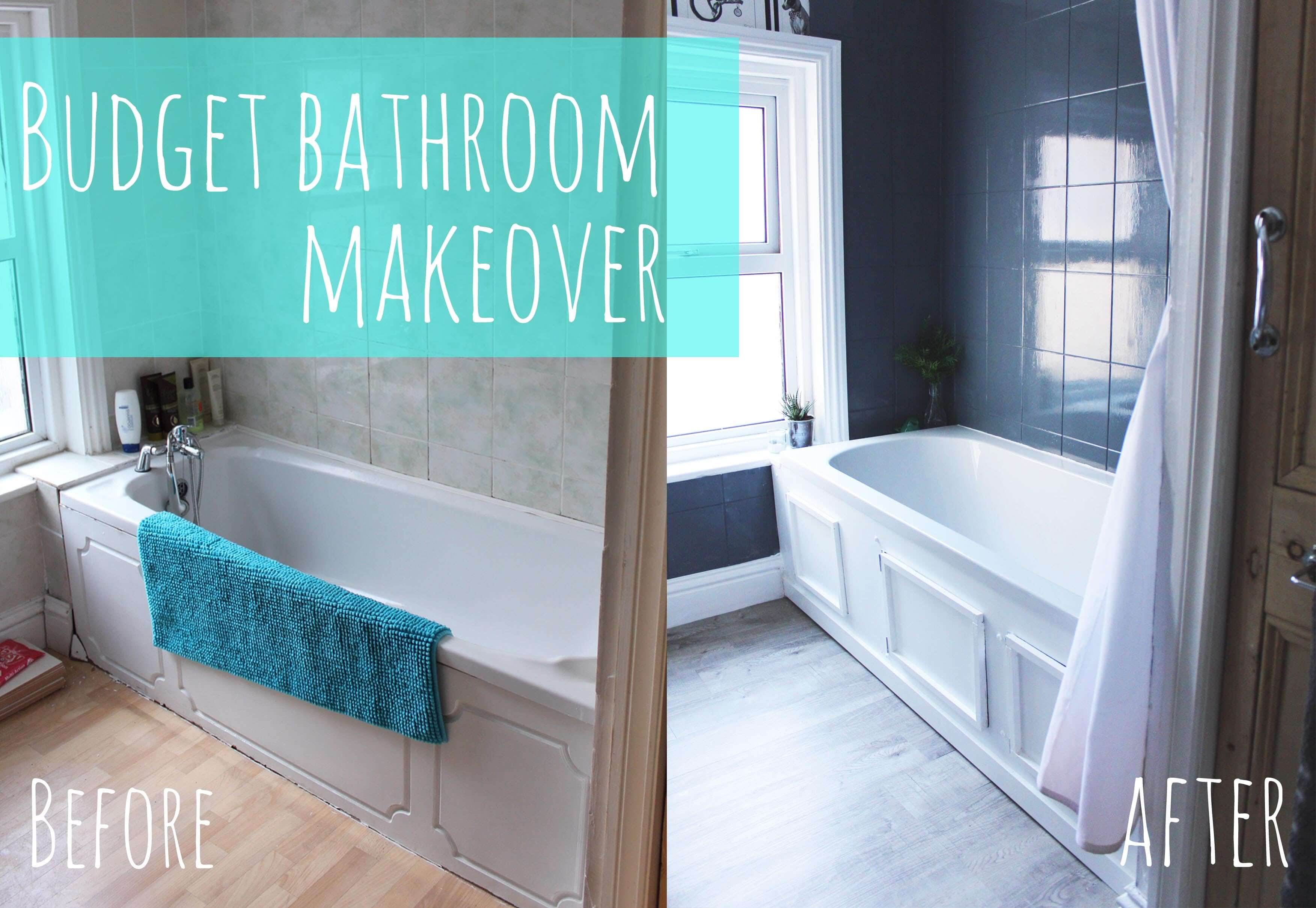 When you are working on a budget, the simplest of renovations can completely transform your bathroom into something more updated. A darker splash of color on the walls is a good place to start. This allows for the rest of the bathroom to shine from the innovative tub face design to the attractive and lightly colored hardwood floor. Additionally, this works well when you have a tall window in your bathroom. The natural light comes in with ease, highlighting every nook of your small bathroom makeover. If you have the space for it, consider adding in some greenery too. Just a tiny plant or two can add another nice pop of color to the space.
9. Consider Little Design Details for Quick Updates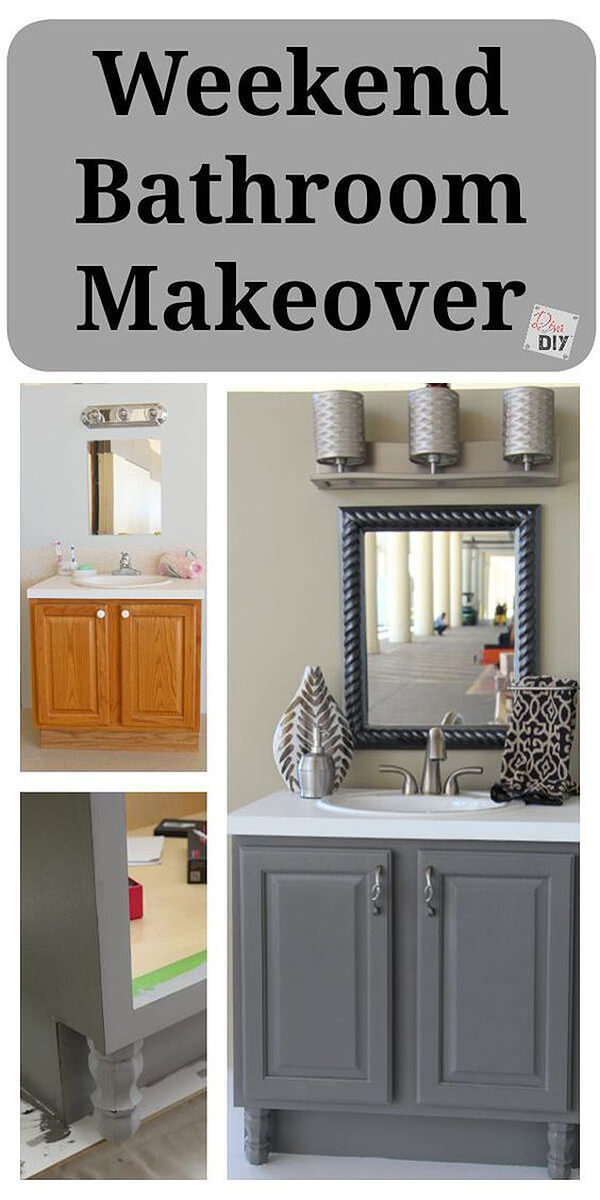 When looking for a cost-effective way to improve your bathroom, consider all the smaller details. Take the mirror frame, for instance. Just adding one can transform the bathroom, giving it a completely new look. The darker one in this case works incredibly against the other lighter colors around. To keep up with the contrast, don't forget the extra décor that you can fit on the sink. Just because you have a compact sink, that doesn't mean you can't find some quality decorative items to strategically place on it. They only add to the overall ambiance of the room. Also, the light fixture is a great place to look at when decorating smaller spaces. These give the area some modern styling without taking up room.
10. Light Colors and Open Storage Make the Room Bigger

When you want your smaller bathroom area to appear larger, there are a few ways to approach it. For one thing, lighten up the room with cool color tones and some bold lighting. The darker sink pairs seamlessly with the white cabinets. Both manage to blend with the cool wall coloring. Another area to address is the décor. Open up your storage space rather than rely on more closed cabinets. This can help make the room seem like it's more spacious as well. Plus, you keep everything readily accessible so that it serves as functional décor on top of being pleasing to look at.
11. Paint and New Mirrors and Lights for a Quick Fix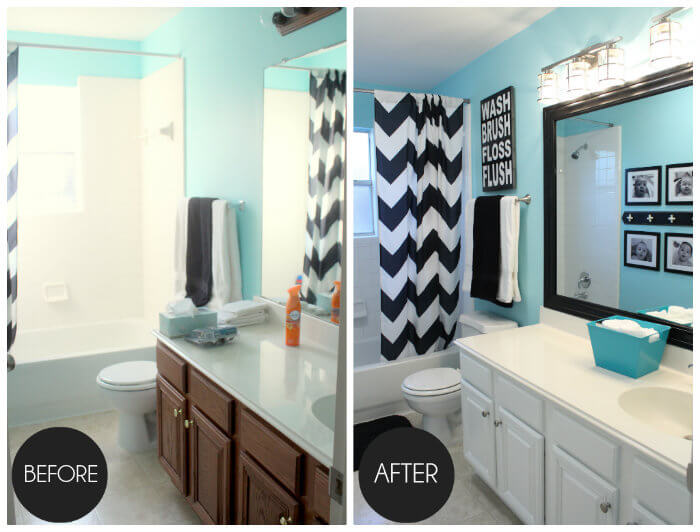 There are quick and easy ways to update your bathroom while on a budget and respecting the minimal space you have. Paint is never a bad route to take. Aim for an all-white vanity unit and sink when you have other darker colors working throughout the bathroom like black. Speaking of black, you can create an appealing modern look by going with a black mirror frame. Don't neglect the lighting in the room either. It can set the stage for the overall feel of the room. If you can, fill up that abandoned wall space with some pictures or wall art.
12. Total Transformation is Possible on a Budget

With the right items, time, and creativity, you won't even remember what your old bathroom looked like. Instead, you can create something completely new as though a professional handle it. It is a wonderful way to build the contemporary bathroom of your dreams. The darker vanity works hand-in-hand with the darker wall color. There's even a lovely, gray-toned flooring that works to blend the room together. Also, the gold hardware on the cabinets helps the vanity further stand out. This use of gold follows throughout the room too from the robe hangers to the mirror frame, creating a beautiful chic look.
13. Framed Mirrors are a Big Impact Update Item

Take the most advantage of your compact bathroom by going for shades of black, white, and gray. These color patterns not only look well together, but they can effortlessly widen up the appearance of the room. The black cabinets are bold, contrasting in a great way with the sink and the lighter-colored walls. You can easily toss in more black colors with the mirror frame and even with the hand towels. Don't be afraid to add more to the walls like with framed artwork. You can break up the black around with the hardware on the vanity as the silver stands out well.
14. Always Go Double if You Have the Space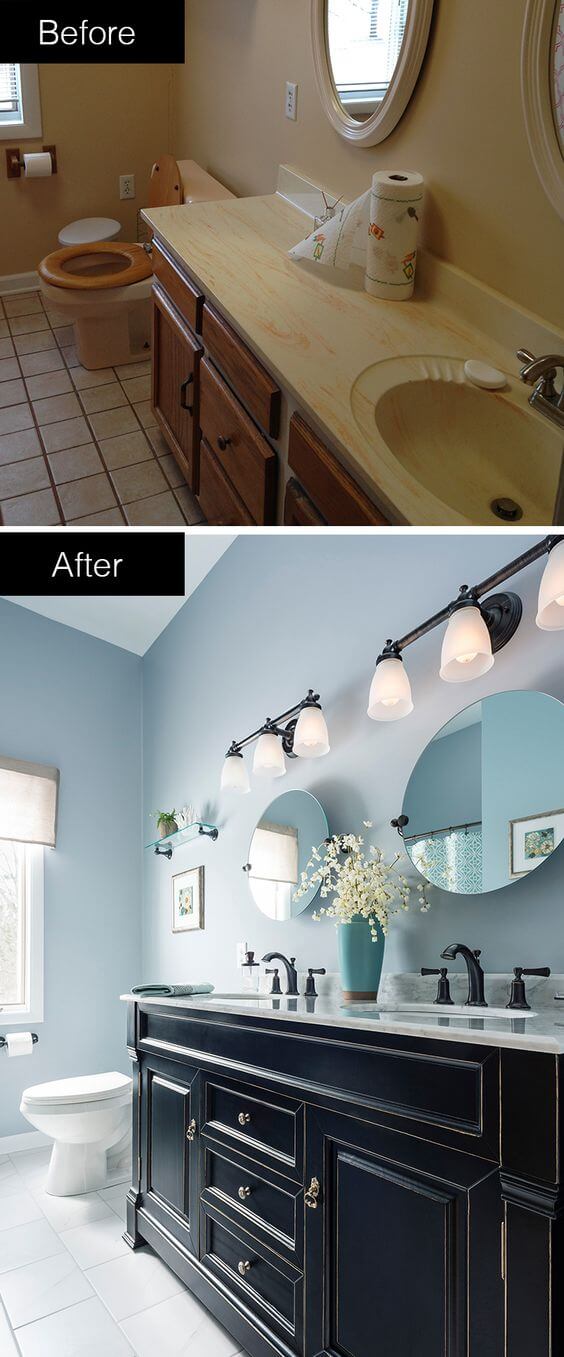 With a double vanity, you have twice the means to widen up the look of your small bathroom. In this case, the frameless mirrors work out well as this takes a more minimalistic approach in a sophisticated, clean way. There's not much on the walls with this layout, pairing well with the frameless mirrors. Meanwhile, the balance of light and dark with the vanity speaks miles into the style of this bathroom. The darkness of the cabinets is broken up with lighter hardware that better matches the sink top. Alternatively, the sink boasts darker faucets, creating a unique and attractive design.
15. Unexpected Mirrors Work in Small Bathrooms

When you don't have much room to play with, your loudest décor can be the mirror. This intricate mirror design fits perfectly, pulling in much of the attention in the bathroom. It can even make the area seem a touch bigger. Everything else blends well from there such as the backsplash around the sink that matches the sink top. The cabinets themselves line up with the mirror well too. Consider adding some wall-hanging storage. This is ideal to help you make the most out of your smaller areas, and it still leaves you with some room since it is attached to the wall.
16. Choose a theme to Add Character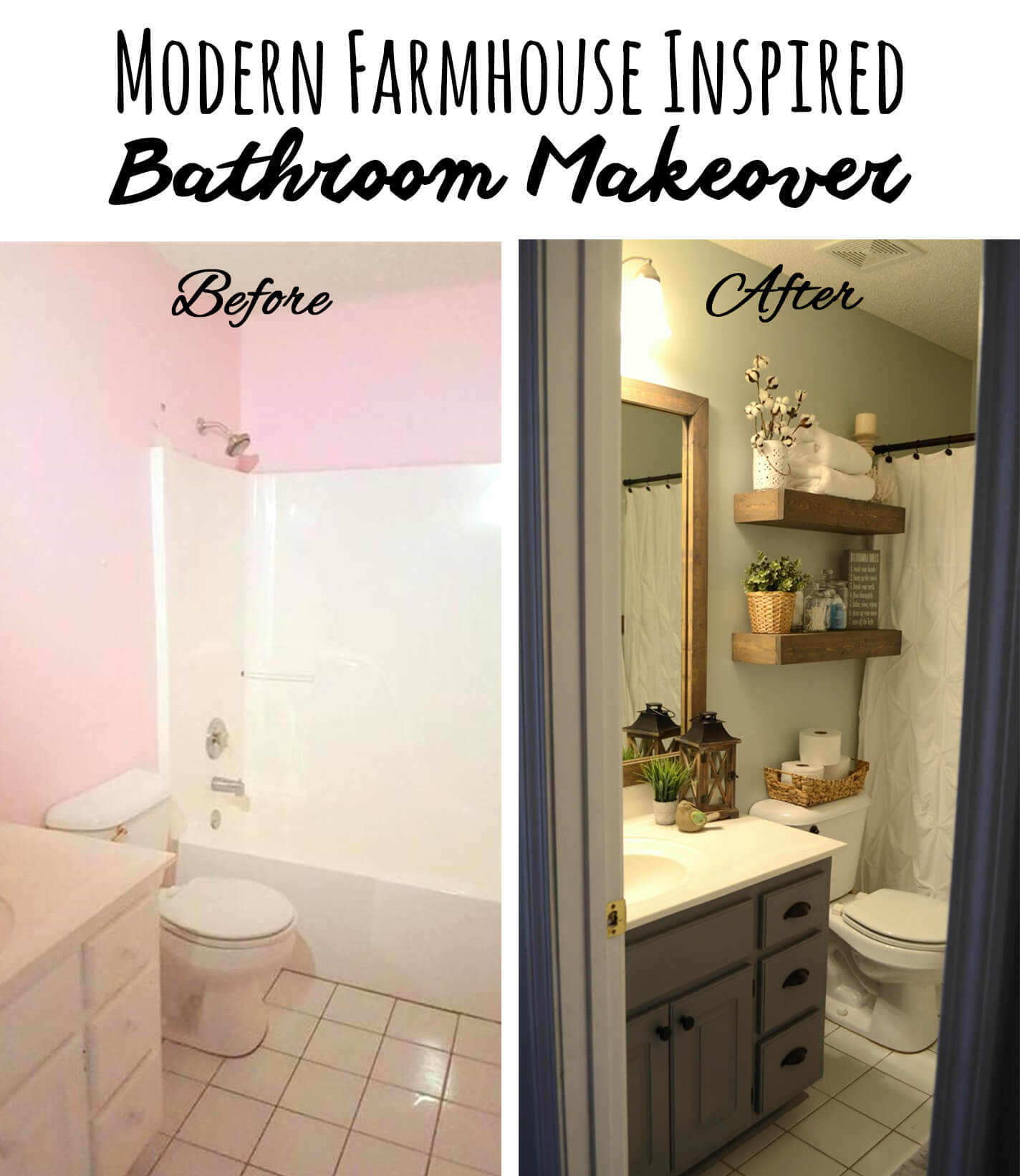 Build a relaxing, laidback vibe in your bathroom with this beautiful, themed décor setup. The floating shelves look incredible here. They are large enough to catch attention, but not too big to take up all the room and make things look cluttered and out of sorts. They match with the rest of the room too, thanks to the wooden mirror frame. Then, you have the cabinets a much darker color, leaving that to serve as a base of sorts for your attention to start with before it travels around the entire room. If your sink has enough space, consider adding some smaller décor there that matches the gentle vibe.
17. Bathrooms are Easy for Big Before and After Changes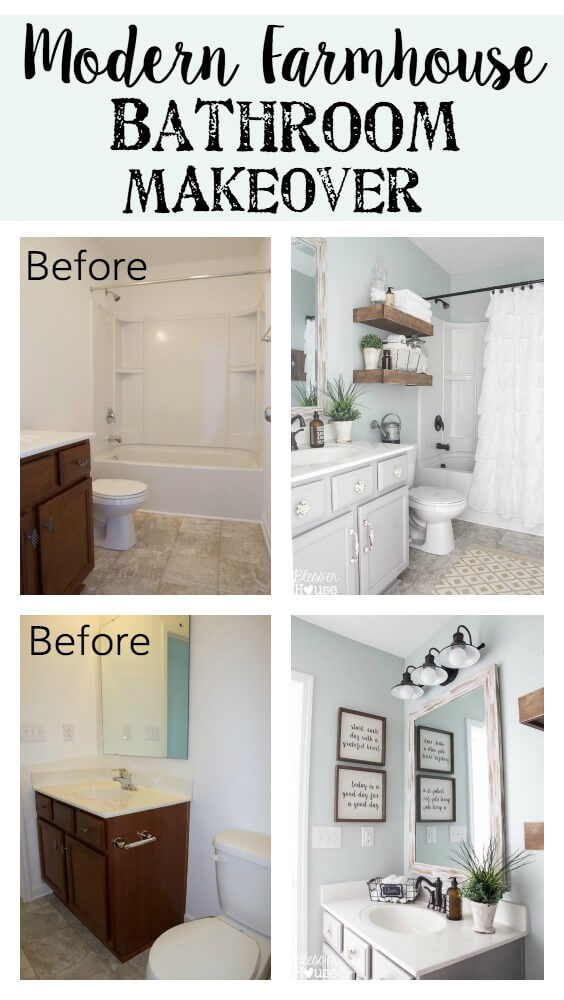 Sometimes, just a little hint of color is all that your bathroom is asking for. First off, you can go for a white and off-white color pattern throughout the room to create a lighter and airy-like setting. It's a good way to brighten things up when you don't have a window for natural lighting. The color comes in with the brown floating shelves and the hint of greenery thanks to a tiny, space-saving plant. Meanwhile, the weathered mirror frame adds a different touch of personality as it helps the room also look rustic.
18. Change the Finish on Cabinetry Yourself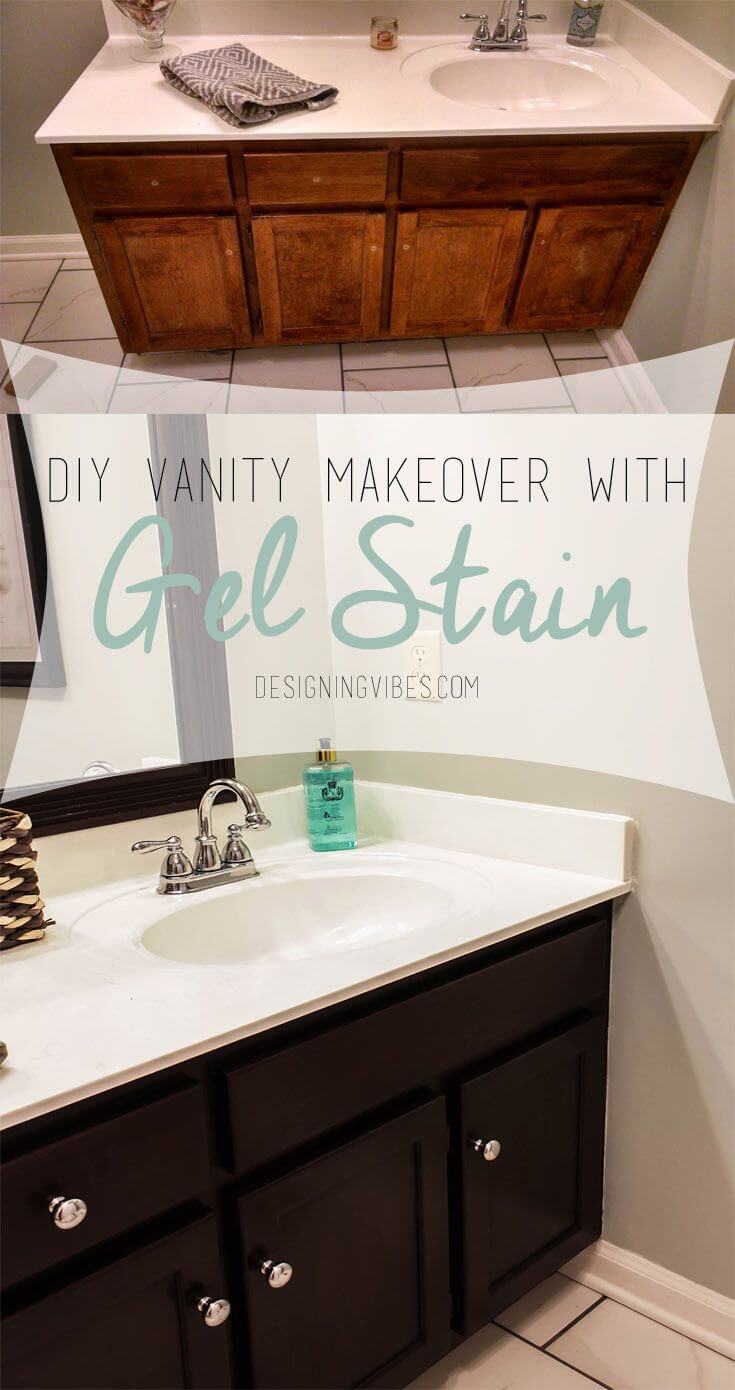 Upgrade your vanity with a dark, glossy color to make your bathroom look brand new. Black and white is always an incredible way to go thanks to how simple, yet attractive it is. There is also something smooth and elegant about this set up possibly thanks to the gel finish used to make the paint gleam. The silver hardware on the cabinets works well with the silver sink faucet. Also, consider adding more black via the mirror frame. It allows for this black and white color scheme to flow well into one another.
19. A Few Small Touches Make Big Impact

For a sophisticated and stand-out touch, a mostly all-white bathroom goes a long way. This stunning look plays well thanks to the natural lighting via a window too. But even without a window, the all-white approach will add some lightness to the bathroom. Offset things with some color like silver as this helps it stick with that contemporary appearance. There's a lovely backsplash too that offers additional color, and you can even pair it with soap dispensers that match. This gives you that extra bit of décor without taking up space.
20. Light Paint Does Wonders in Small Bathrooms

Some open wall shelves help give you more room in your small bathroom to add in some decorative or functional items and save on space. The shelves are plenty long as well so that you can add on multiple items. These both look clean and decorative too in their own right, more so with the all-white look that works alongside the white vanity. If you want something darker, you can do so based on the decorative items you add to the shelves. Also, the black mirror frame does well to contrast everything else in the room in a pleasant way.
21. Some Bathrooms Deserve Big Personality

Don't limit your personality and your love of flair just because you have a small bathroom. Go all out if you have the means while still sticking to your budget. A vessel sink stands out with no problem and this stylish touch pairs with the rest of the unique and decorative items in the room. The vintage ladder works well to add a creative touch while serving as a great place to hang your towels. And the color scheme with the mirror and the cabinets are stunning and give off a lovely vintage vibe that anyone would enjoy.
22. Open It Up with Updated Shower Doors

As far as small bathroom ideas go, a good way to open things up a bit is to expand your floor space via a more stylish step-in shower. The sliding glass door gives this a charming appearance. The elegance is found in the sleek black vanity that has gorgeous hardware to match up with the sink. This whole open look is further expanded on thanks to the wall shelves that are glass and fit in well with the shower. Plus, you now have a more fashionable way to show off your decorative items or keep some much-needed bathroom items within reach.
23. Work Around Funky Flooring with Color Choice

So, you have some not-so-attractive flooring that you can't get rid of on your budget. Well, you can easily work your way around that based on how your bathroom is designed. A cool color choice like gray is excellent for your cabinet. You can bounce off it well, adding colors like beige to breathe a sense of uniqueness into the décor. It plays with the natural white in the bathroom too. Consider adding in a vessel sink for that extra bit of pop, detracting from the floor you don't particularly like. Some greenery wouldn't hurt either as it provides a little bit of brightness to otherwise more tame bathroom décor.
24. Beautiful Built-Ins Are Bargain Updates

A small bathroom tends to lack the necessary amount of storage, so you can add it in yourself. Build in your storage with a floor-to-ceiling layout that gives you an ample amount of room to work with. At the same time, this can help you save on all that floor space. This looks good too when you opt to add even more white décor inside the bathroom. Additionally, the use of darker baskets ensures that this storage space won't get lost among the rest of the room. Also, if you have some rustic décor happening such as more wooden flooring or cabinets, then the baskets blend with them too.
25. This Tile Is A Bathroom Highlight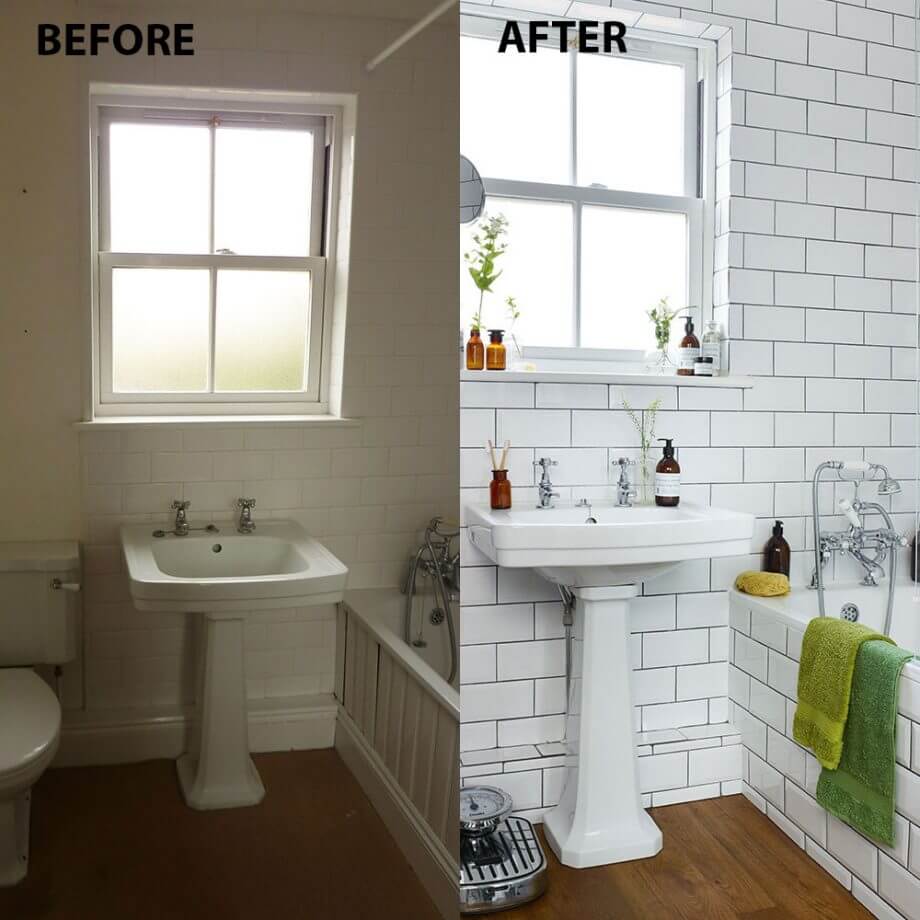 Work well with the window in your bathroom by adding a gorgeous white tiled wall. It gives off a classic appearance that's always pleasing to the eye. One of the things that stands out the most, perhaps, is the use of the pedestal sink. This helps your bathroom décor lean heavily toward that old-school design layout. All of this works perfectly against dark, hardwood flooring. This allows the bathroom to toe the line between vintage and modern. It further helps if you also tile up the bathtub as you can stick with the theme all around the room.
26. Consider Present Plumbing When Choosing Updates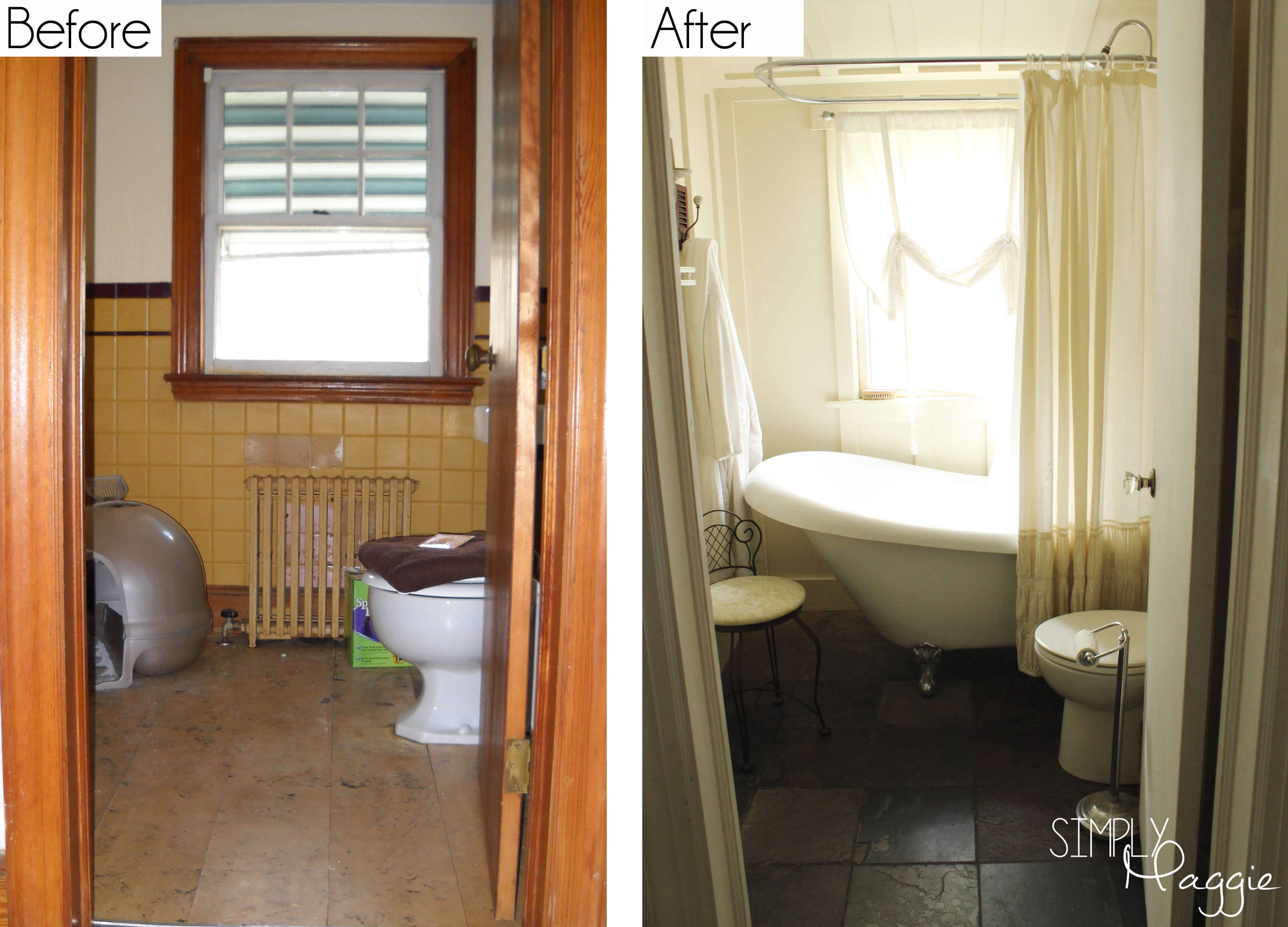 When it comes to your bathroom décor, it doesn't hurt to go a little vintage to take advantage of a small area. A clawfoot tub is perfect in this case. It fits effortlessly against the wall, and you still get your privacy with the wrap-around curtain. This works out even better with a small window in the room. You get some incredible natural lighting that brightens up the room. It gives everything a cozy look. You can lean more into that relaxing style by adding some bathroom furniture like a simple chair to go along with everything.
27. The Right Colors Make All The Difference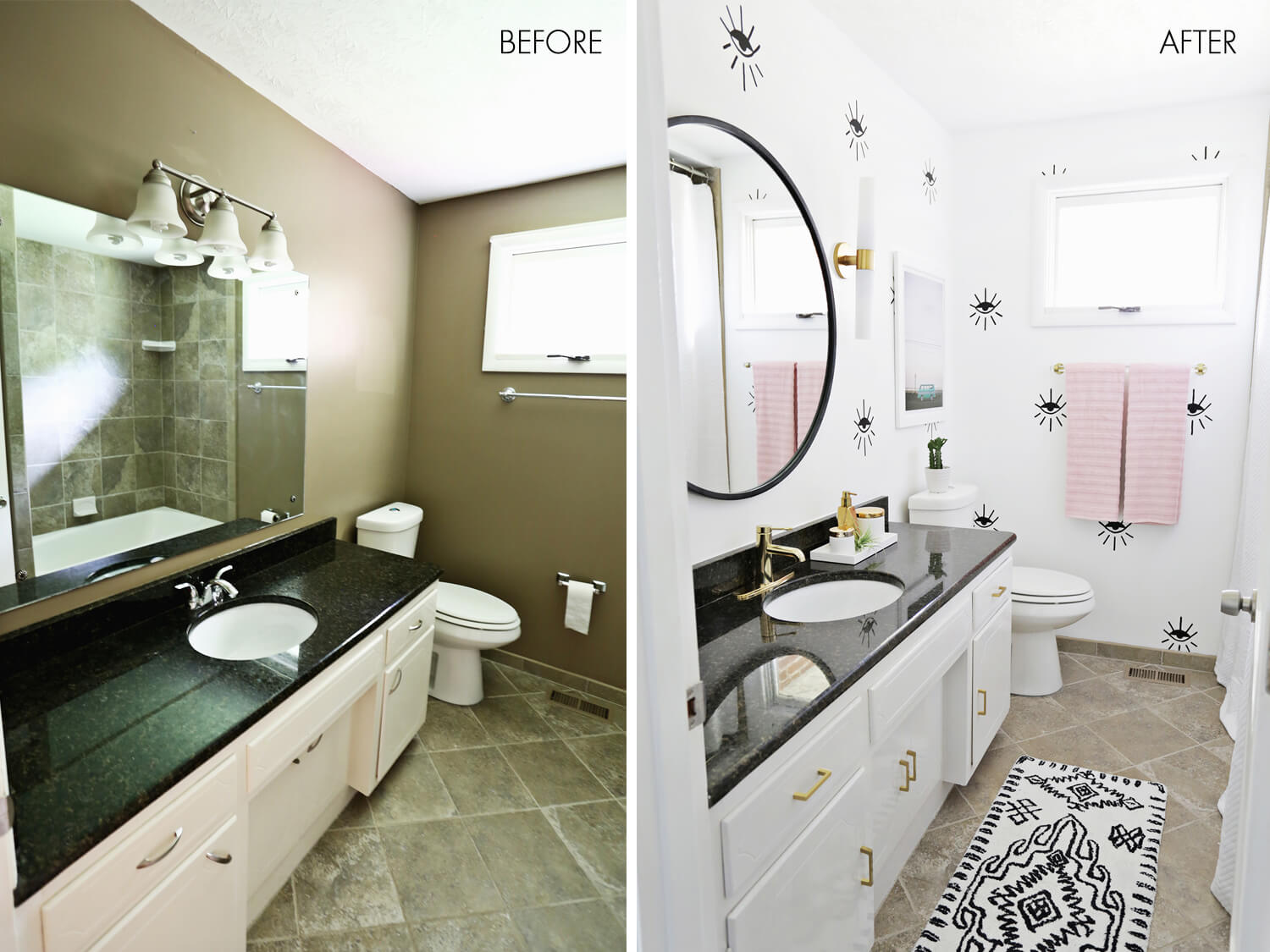 Spice up your bathroom by giving it a much lighter paint job. If you already have white cabinets, add some cute hardware with a bold color like gold. Match this up with a gold sink faucet and you have a lovely bit of chic to your bathroom decorations. This can further help the vanity make a statement. The white walls make the area look wider and brighter too. You can add some decorative flair to the walls with other pops of color. This contrast can gravitate toward the mirror frame and even the sink top.
28. Tub to Shower Conversion is Budget Friendly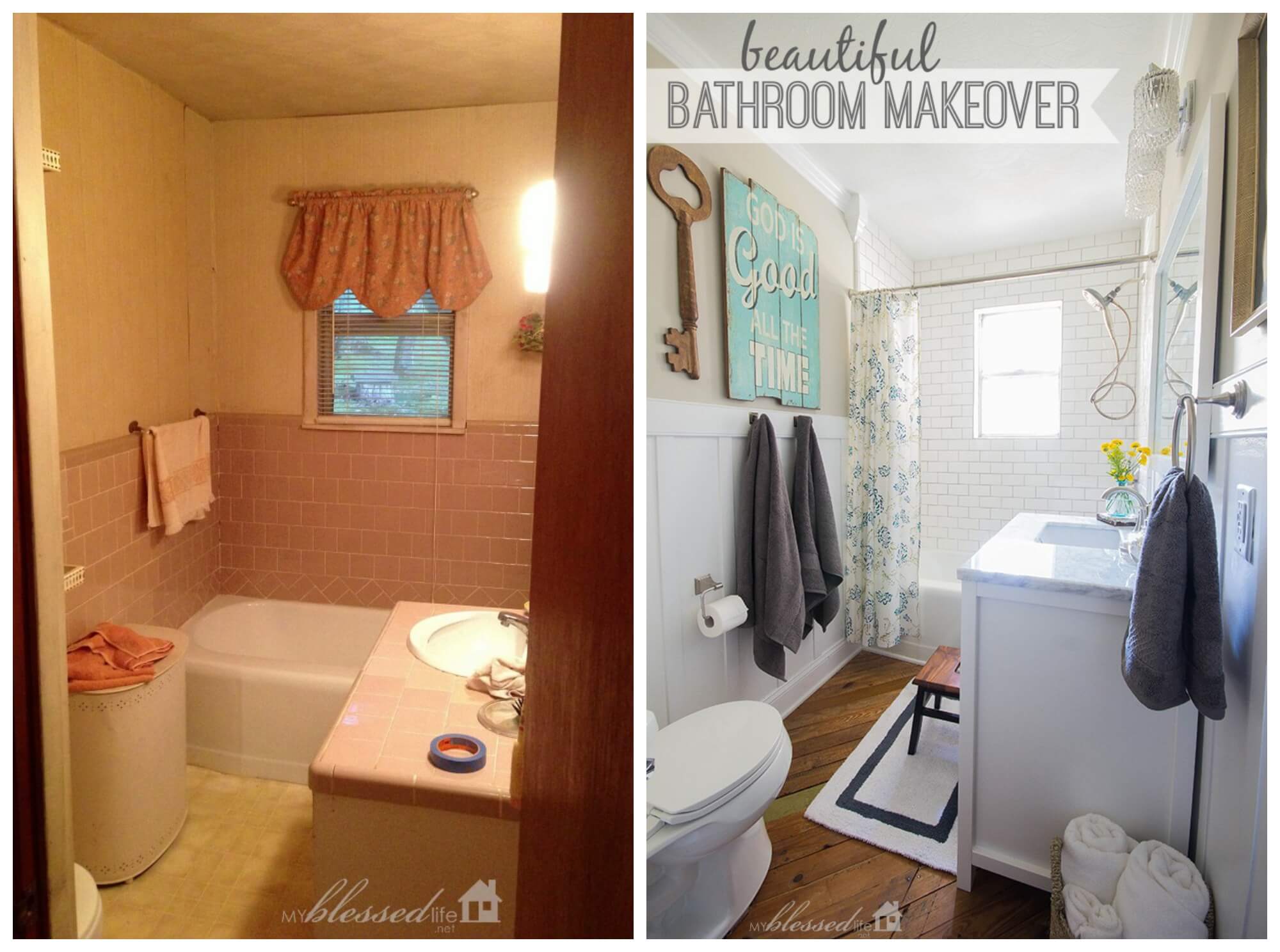 Liven up your smaller room layout with bright colors and bold wall art. The white tiled wall by the shower and bath combo stands out at once, and it looks even better once you take in the white vanity and patterned wall everywhere else in the room. The smaller footprint doesn't get in the way of your decorating either as a throw rug and wall art are easy to add in as needed. Consider some oversized works of art too as this can fill up any obvious empty space. If you have a window, you can opt for no curtains as this helps more light shine through.