Good bathroom design should elevate a utilitarian space into a place for rejuvenation and self-care. Outdated, cramped or oddly outfitted small bathrooms can disrupt the daily personal hygiene activities that lead to wellness. If you find yourself getting in and out of your small bathroom as quickly as possible each morning, it could be time for a redesign.
Make Your Space a Sanctuary and Save Space with these Small Bathroom Ideas

As you begin your search for small bathroom design ideas, it might seem that decorators only cater to those with the expansive bathrooms normally featured in decor magazines and home renovation television shows. Don't be disheartened! If your small bathroom is barely big enough to accommodate one petite person, rest assured that you're not alone. Design divas all over the internet have tackled the problem of cramped bathroom quarters.
We've selected a variety of the best small bathroom ideas below. Even if you only have a modest space in which to work, you can find ways to open up space and create an aesthetically pleasing respite by applying some inspiration from this collection of small bathroom ideas. You'll find modern, retro and classic looks in an array of color schemes and mood themes. With a little help from these lovely tiny bathroom ideas, even a tiny washroom can become your sanctuary.
1. Uncluttered Color Scheme in Dark Gray and White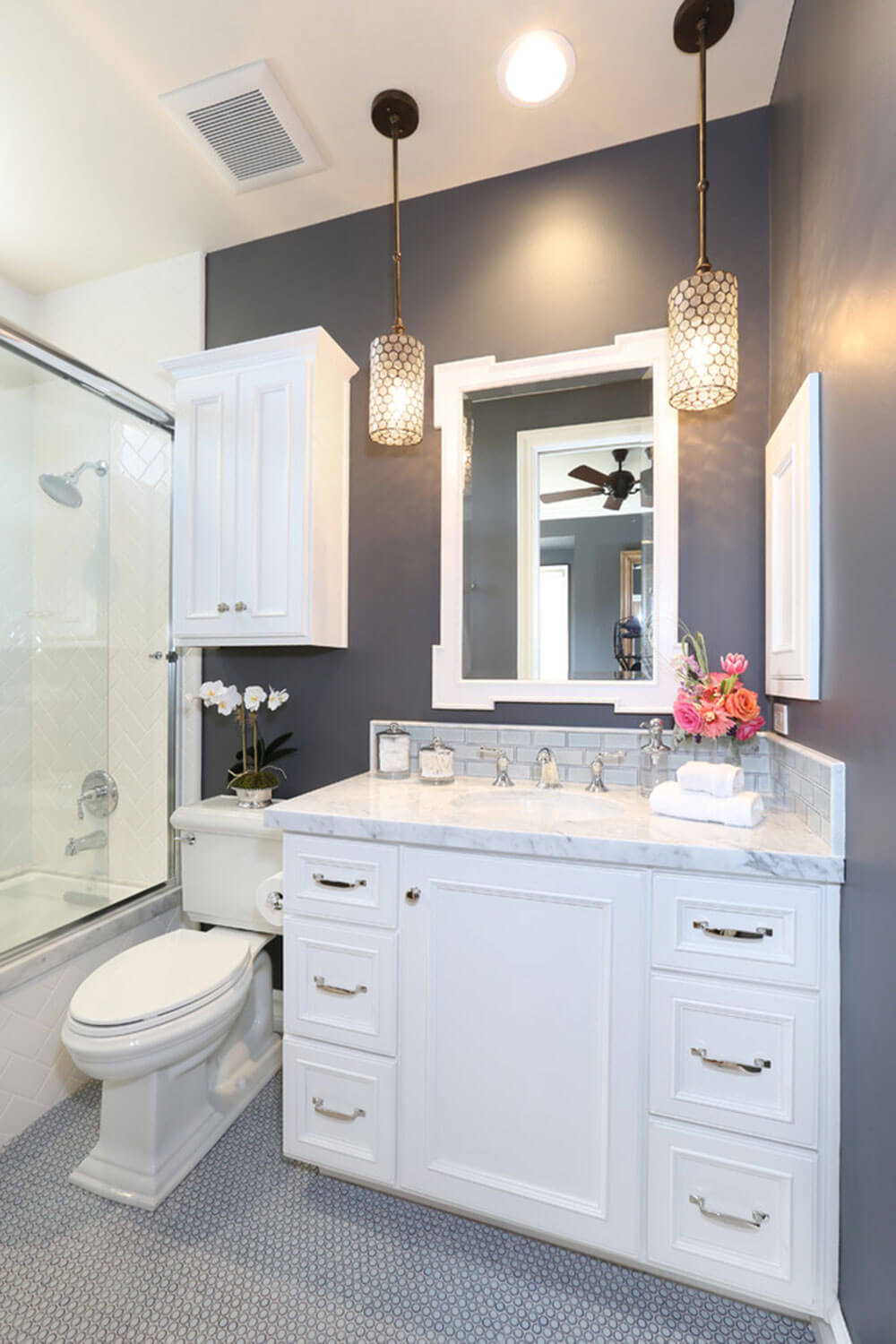 This is a beautiful, modern design with a glass shower door and touches of elegance. It is simple, with a dark grey color scheme and clean lines, but the marble countertops add charm. The wood trim around the white cabinets also adds texture and depth to the area. These kinds of tiny bathroom ideas don't feel small, especially with all of the innovatively designed storage options in and around the room.
2. European Minimalism Meets Luxury Hotel Style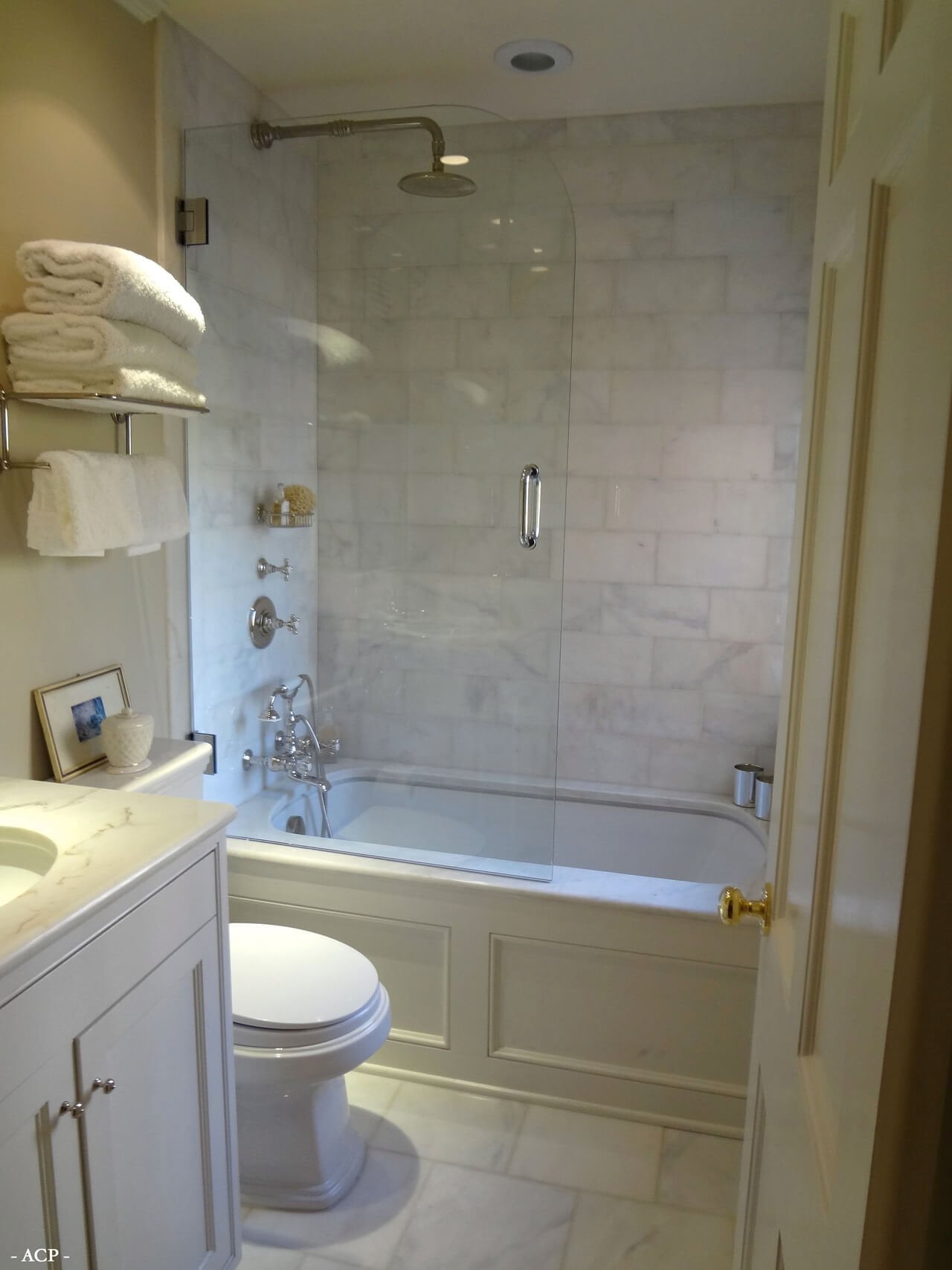 Step into the luxury of a 4-star hotel with this small bathroom design. Marble tiling in the tub brings culture into the small space. The marble floor tiles follow the pattern of the tub and provides a consistency to the room in a striking way. The deep soaking tub features a rain shower and a hand-held faucet feature, which adds a touch of luxury to your daily routine, along with the beautiful glass shower door.The open towel storage solution will let you showcase your fluffiest towels, and remind you of your last stay in a luxury hotel.
3. Space-Saving Retro Sink and Clawfoot Tub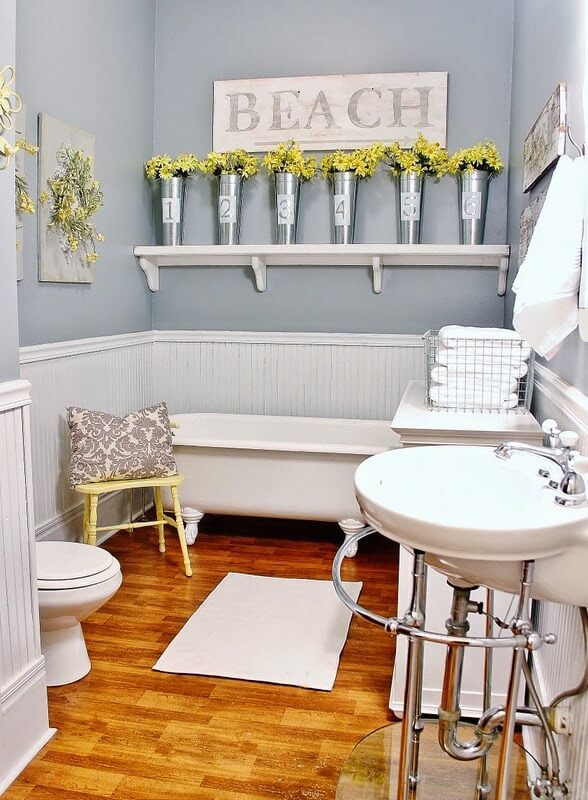 This solution is perfect for any person who loves retro-charm. A clawfoot tub provides old-school appeal and is the perfect place to soak or read. The exposed pipes of the pedestal sink complete the old-fashioned bathroom look. This small bathroom may not look out into a garden, but with plenty of light colors, and elements of nature, it can transport you to your own secret garden.
4. Lovely Eclectic Linens Add Textural Interest for a Small Bathroom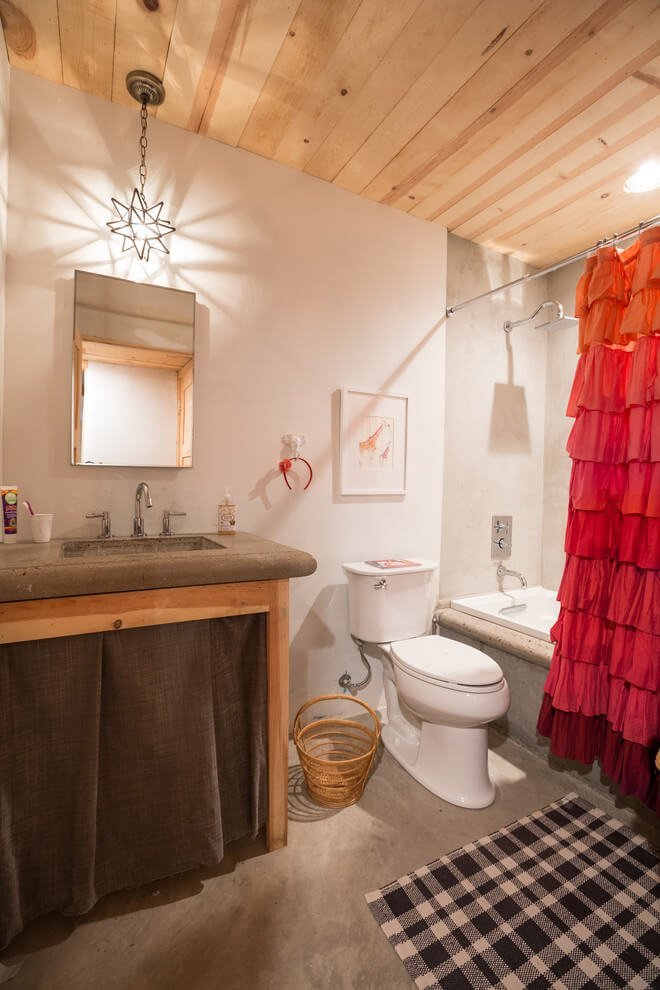 This modern bathroom is perfect for an in-city loft or contemporary home. The concrete flooring and exposed wooden ceiling provide amazing textures to this simplistic small bathroom. These simple elements are mimicked in the designs of the tub and sink, making the space look larger with a cohesive design. Linens on the undermount sink, rug, and shower curtain bring a touch of softness to this industrial design.
5. Yesteryear's Glamour in Buttercup and Gold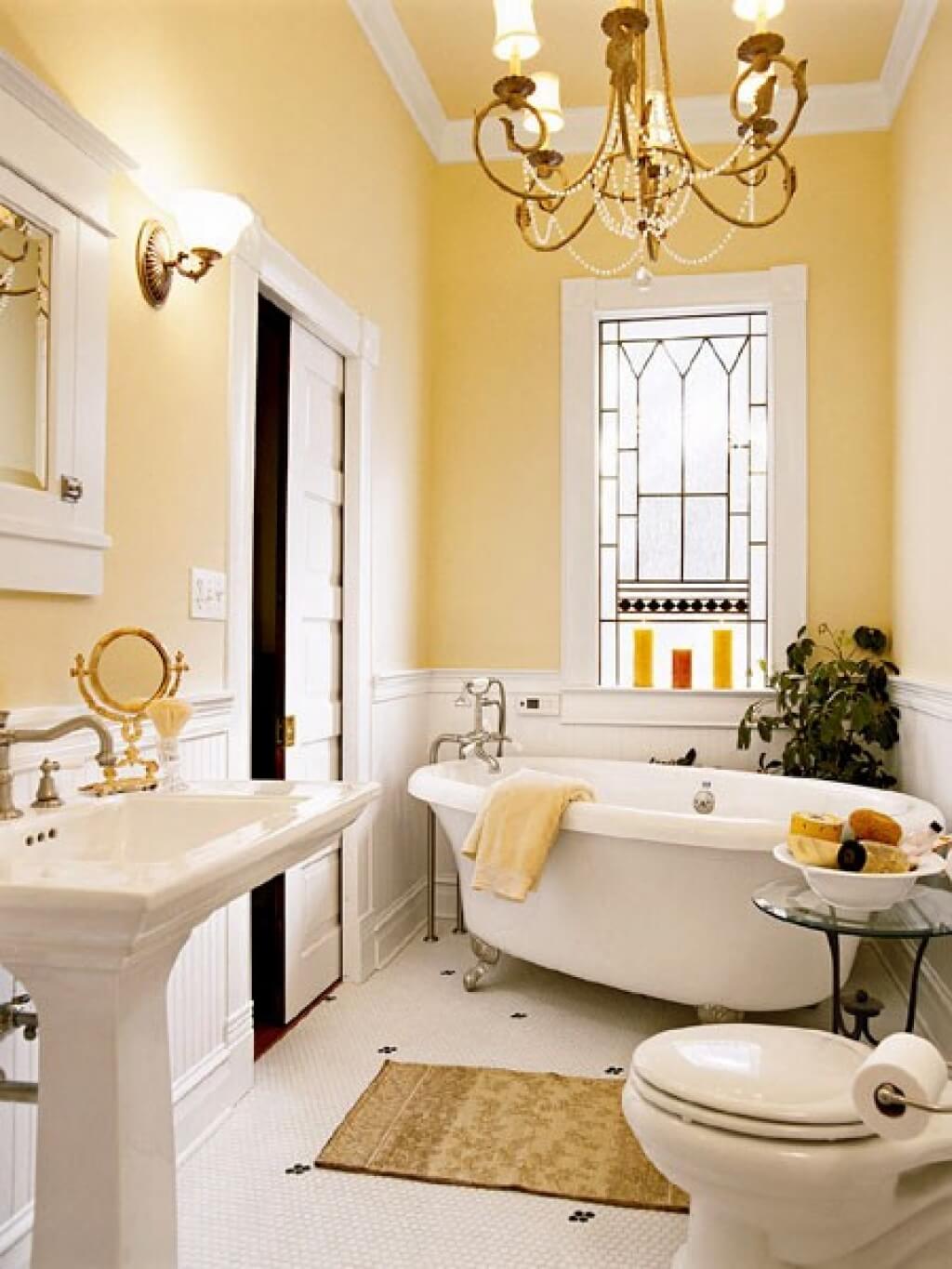 This Victorian small bathroom design brings the appeal of times gone by. A classic clawfoot tub and simple pedestal undermount sink are contrasted by extravagant brass light fixtures. The sunny yellow and white color schemes are mimicked in the fixtures and linens of the room. A beautiful stained glass framed window brings in light while completing the charm of this old-fashioned bathroom.
6. Delicate Scandinavian Touches Boost Function for a Small Bathroom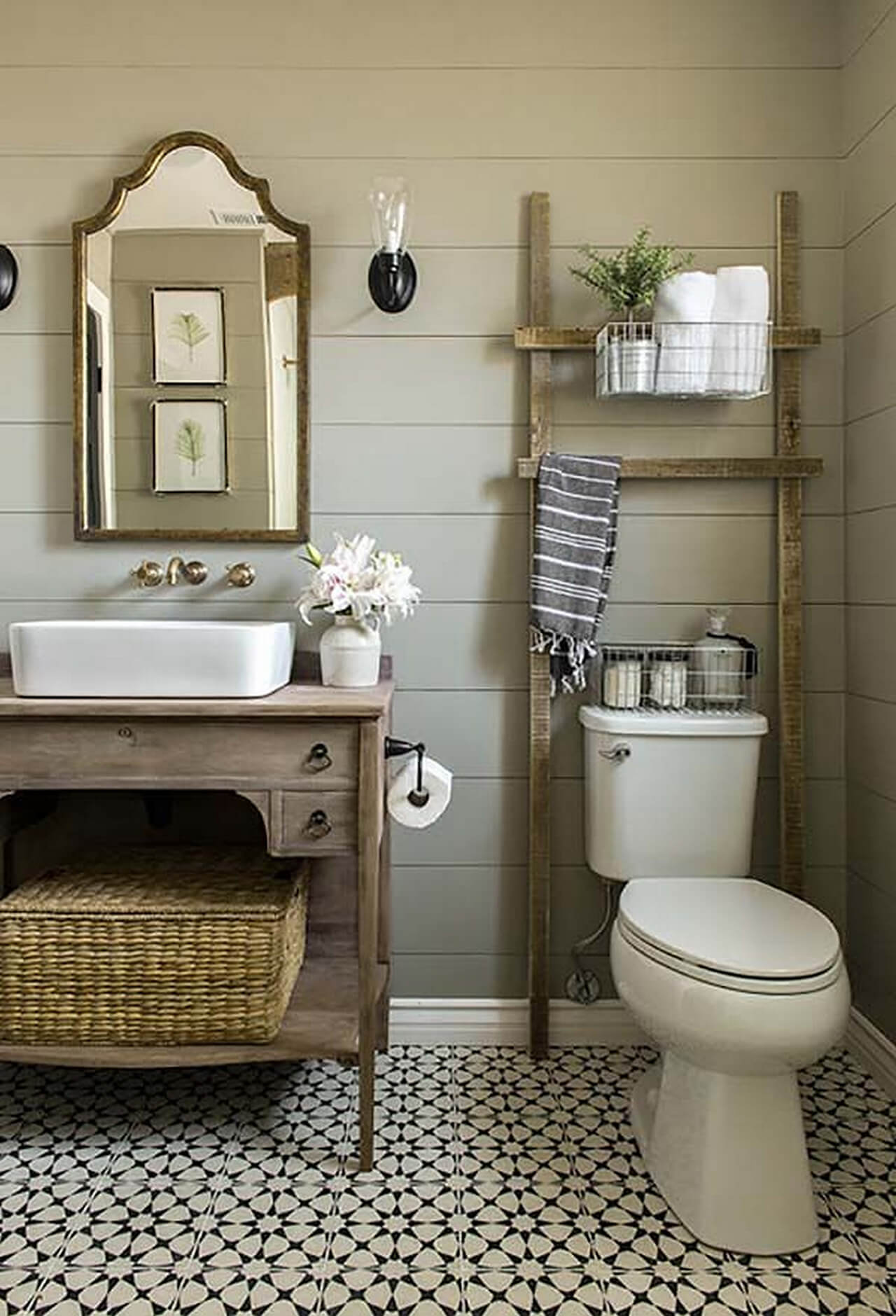 Wood textures are on display in this modern small bathroom look. A ladder leaned against the wall above the toilet adds a practical storage solution, while bringing rustic, farmhouse elements into the room. These elements are imitated in the raised porcelain basin of the farmhouse sink and the wicker baskets that serve as storage solutions under the vanity.
7. Beachy Blue Wainscoting with Copper Accents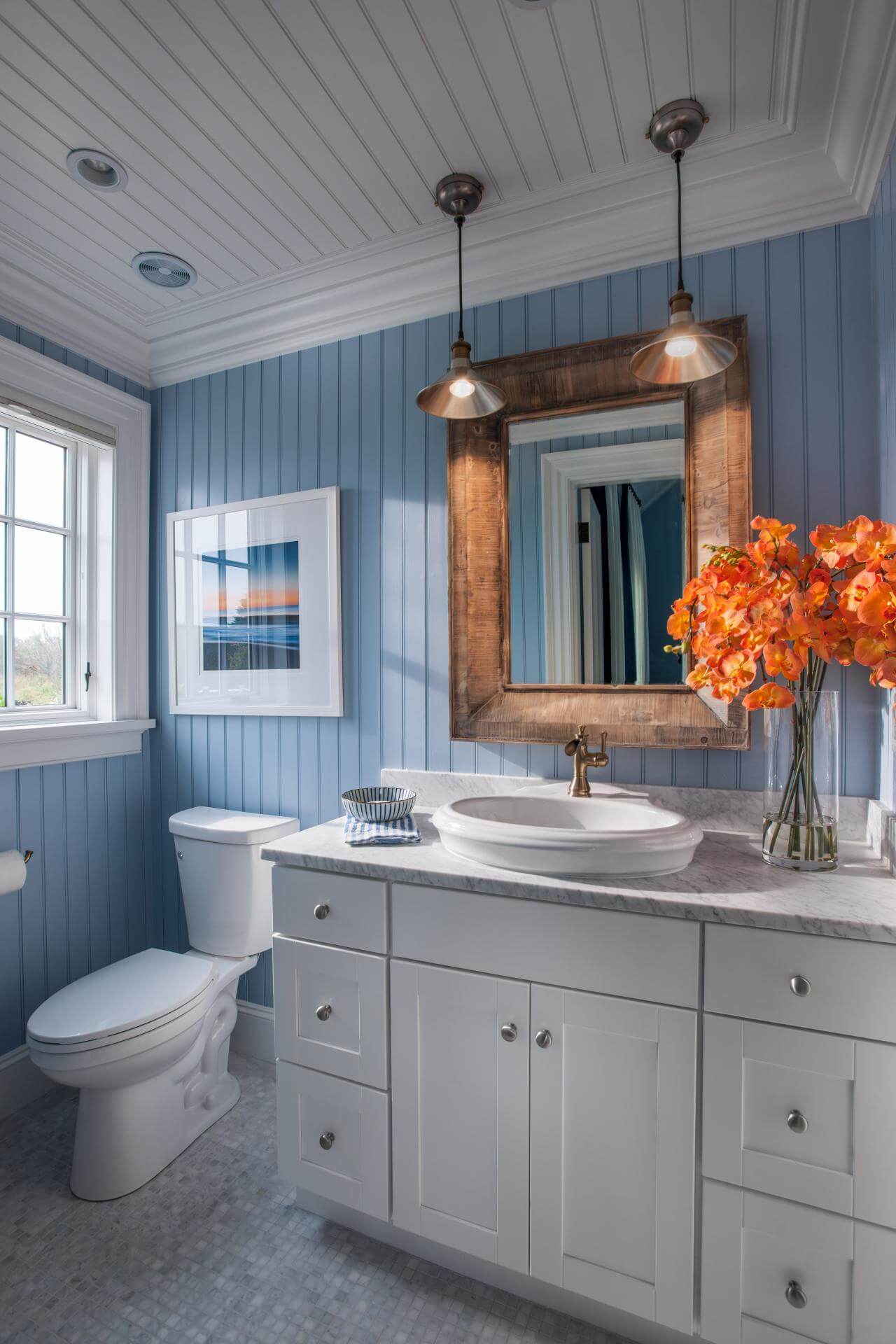 The beach is brought indoors in this ocean-inspired design. Nautical inspired wainscoting lines the ceiling and walls, in an ocean themed blue and white color scheme. The White tile flooring with grainy accents is reminiscent of the sand. Copper fixtures pop against the lighter colors and add richness to the room.
8. Ceiling Skimming Design Draws Eyes Upward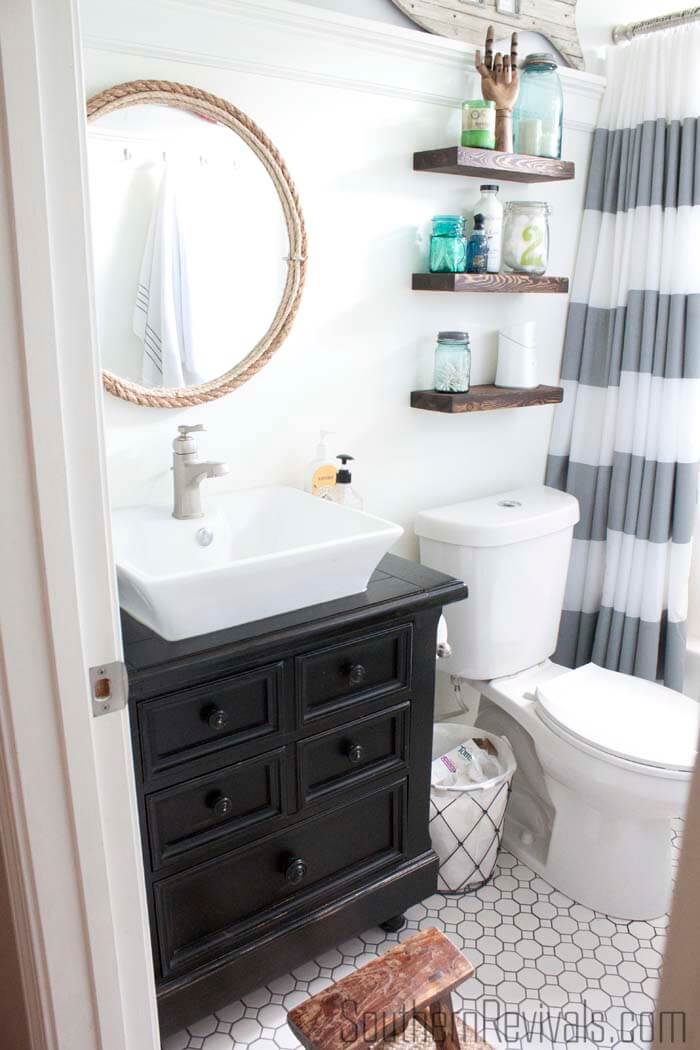 This is one of the small bathroom ideas that pack a lot of style in a tiny space. The white colors make the room seems brighter and bigger. Crown molding is placed below the ceiling line, which draws attention upwards, and adds height to the room. Rustic wooden shelves add open storage solutions, and a simple, geometric pattern adds texture without cluttering the room.
9. Expansive Mirror Optically Enlarges Space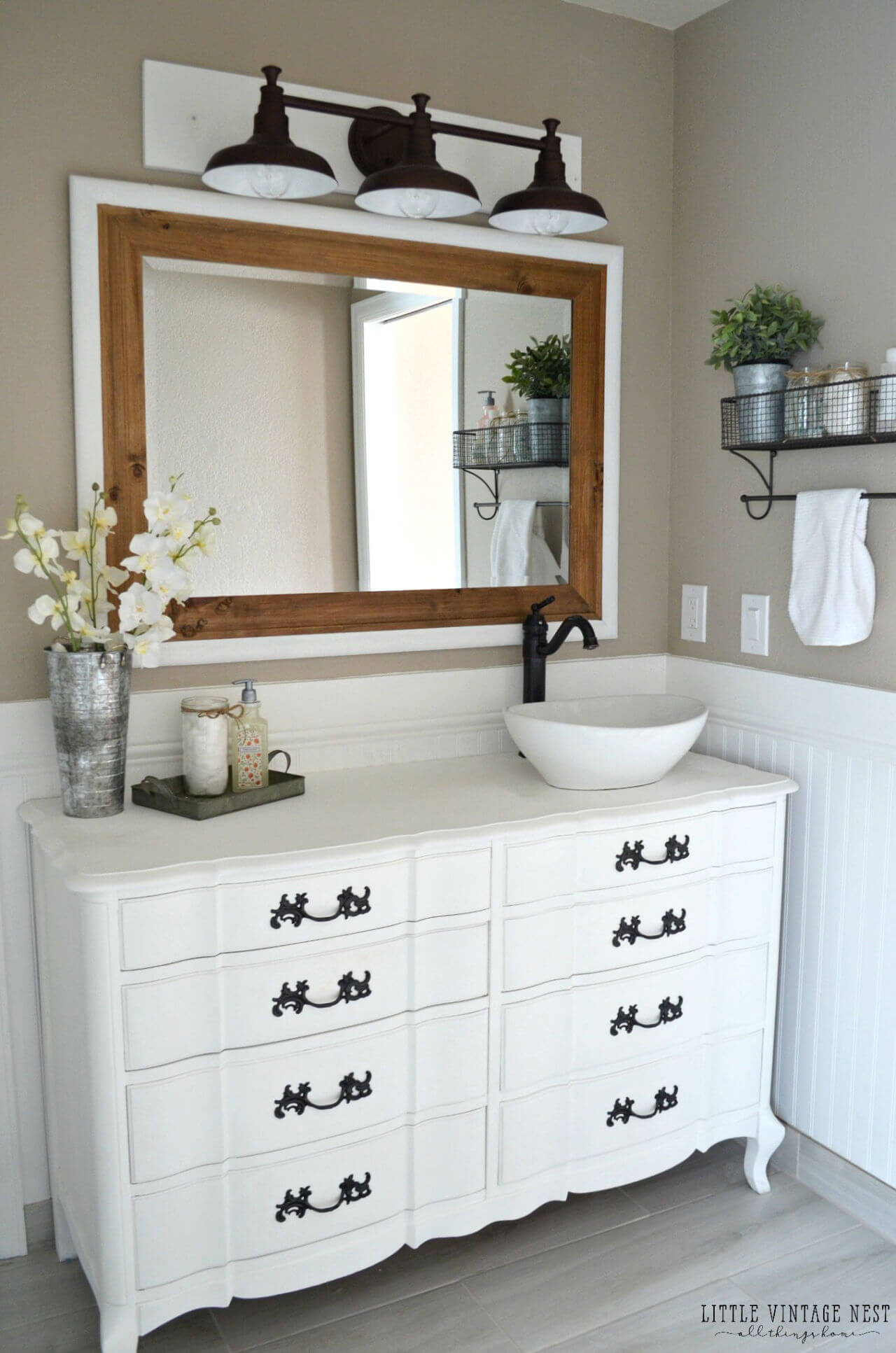 The over-sized mirror plays a starring role in this small bathroom design. With its expansive size, it reflects the bright colors of the room and gives a sense of spaciousness. The plain lines leave the space feeling simple and uncluttered. The undermount sink brings an extra level of interest and acts as an accent piece to the space. Simple metal shelving acts as open storage, providing a simple, but a visually pleasing solution.
10. All-Over Drama with Weathered Wood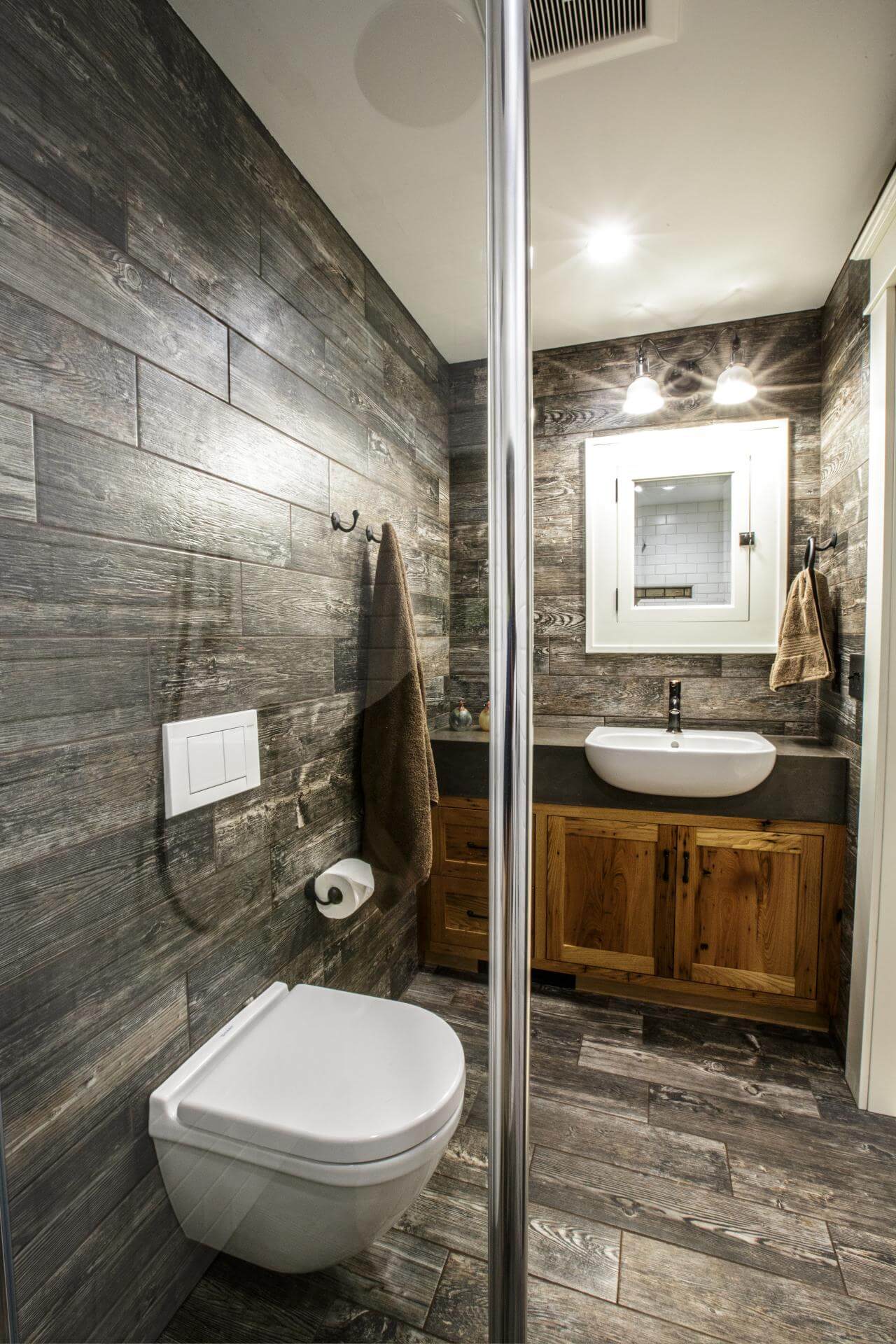 Weathered-wood paneling lines the walls and floors of this small bathroom, adding exciting details to the space. Contrasted by the dark walls, the white features of this small bathroom pop. The white, plain ceiling ensures that the space does not feel too dark or overwhelmed by the wood. The dramatic effects of this small bathroom make it the perfect solution for anyone who wants their small space to make a big impression.
11. Glittering Ocean of Turquoise Tiles for Small Bathroom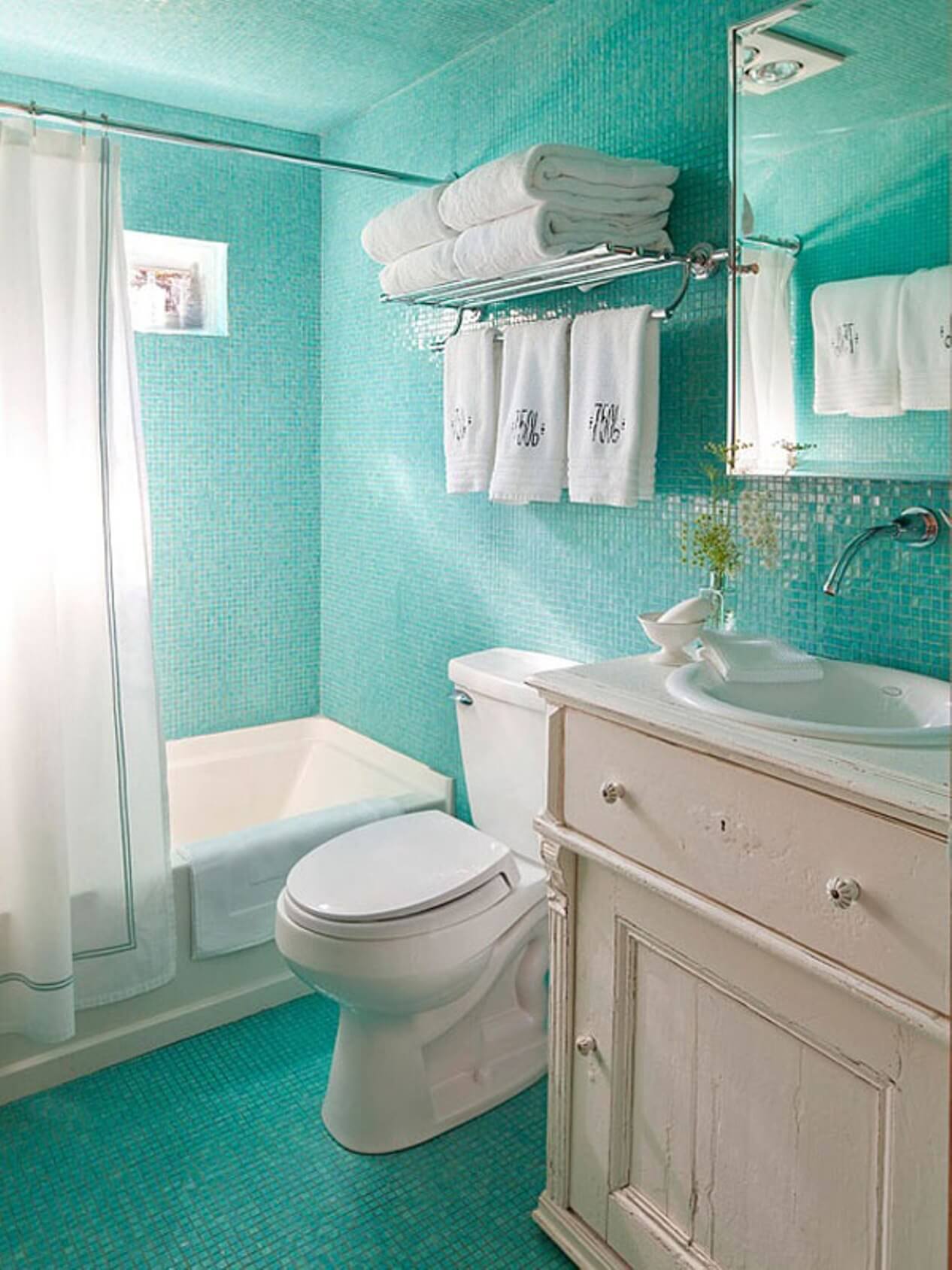 You can feel like a regular mermaid in this small bathroom look. Glittering blue tiles encompass the room, creating an ocean of blue. The mosaic is only minimally interrupted by shining metal and subdued white colors. The antique-inspired vanity is the ideal addition to the mermaid's hideaway, and the gently curved faucet is suggestive of a mermaid's tail.
12. Bring Natural Outdoor Elements Inside the Small Bathroom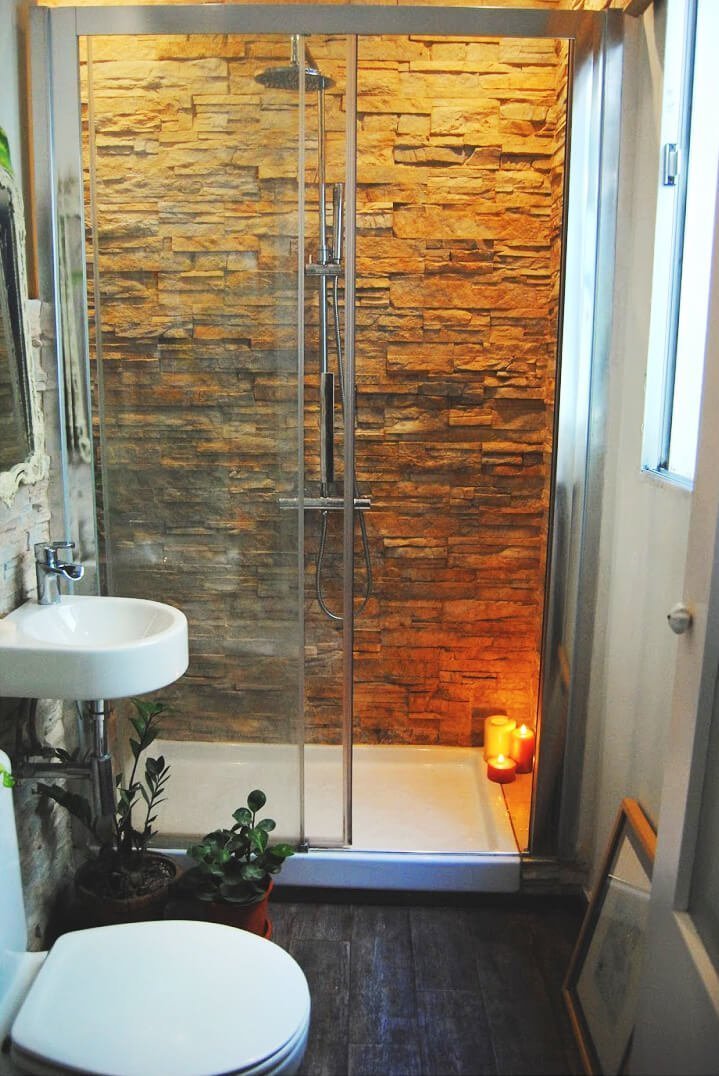 This outdoor-inspired small bathroom feels like a natural hideaway. The rock-lined shower features a rain-head faucet, making you feel like you are washing in a waterfall. Wood floors extend the natural feel. The sink and toilet are kept simple so they don't interrupt the motif. Potted plants, pillar candles, and lots of natural light perfect the organic character of the space.
13. Industrial Chic Updates to Dated Fixtures for Small Bathroom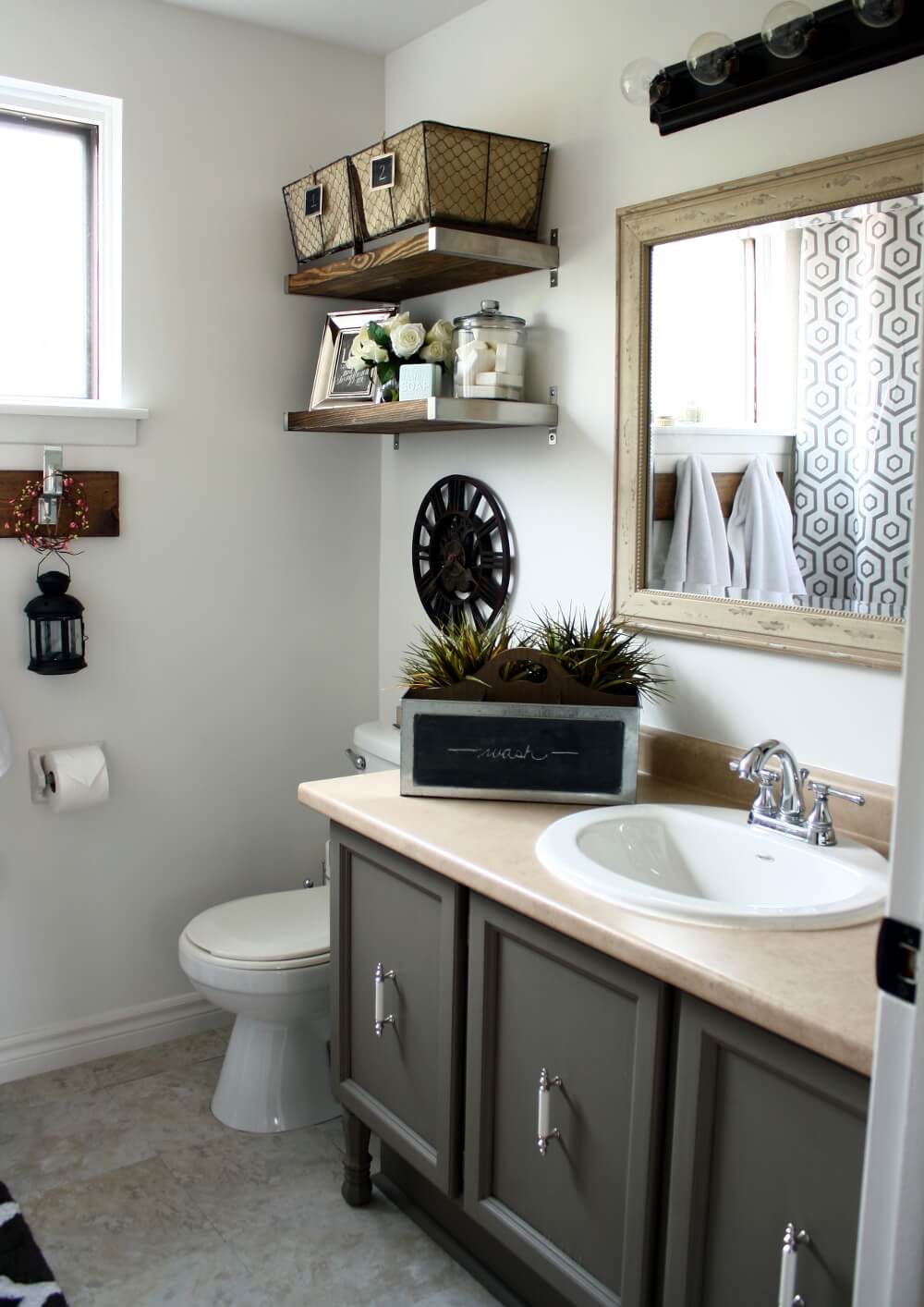 If your bathroom is becoming a bit out-of-date, this small bathroom solution is ideal. A fresh coat of paint and some hardware upgrades give this basic vanity a modern feel. Painting old lightening fixtures in uniform black updates their look without having to replace them completely. Adding industrially inspired shelves with metal whicker baskets brings the look together and draws your bathroom into this century.
14. Calming White Marble Small Bathroom Design Ideas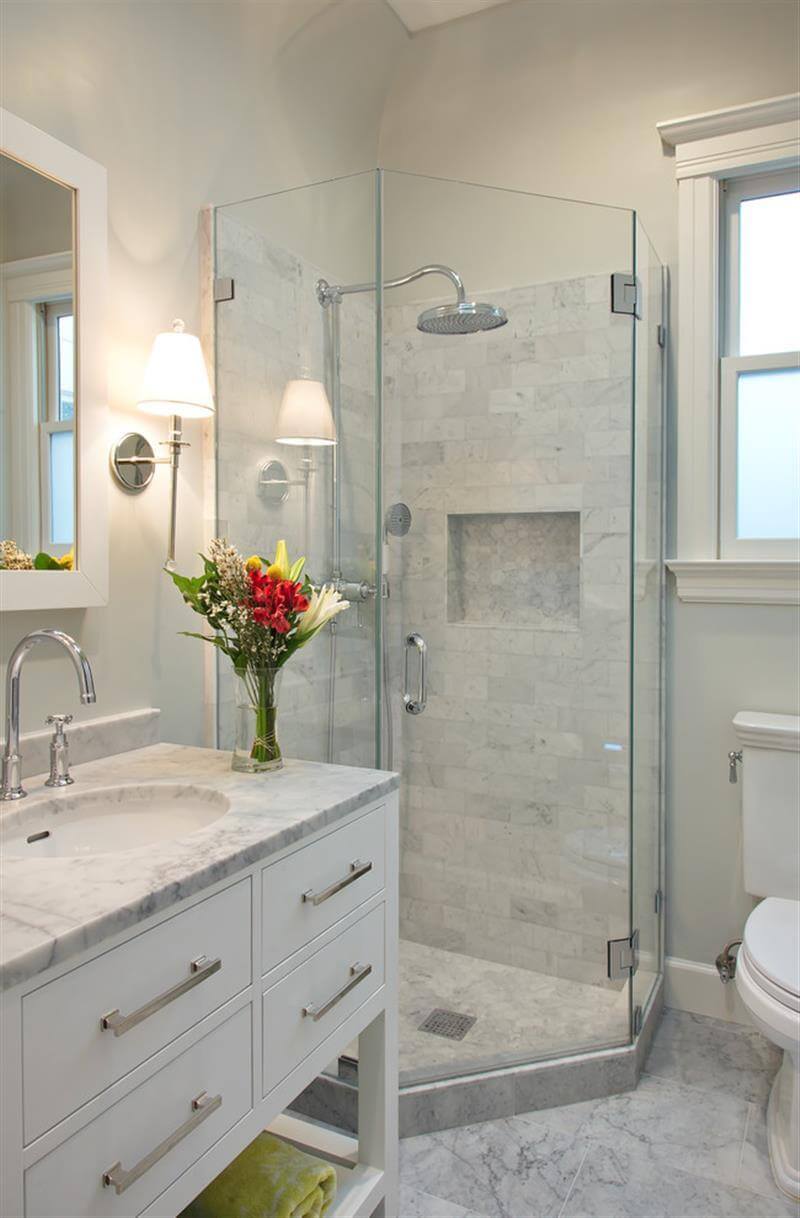 Simple white marble and gentle light make this small bathroom the perfect, calming area for your home. The spa-like shower provides you a choice of a rain or hand-held shower head. The uniform look inspires you to quiet your mind, with no signs of clutter or stress in sight. Natural, relaxing light makes the space feel larger.
15. Dainty Counter Top Display Case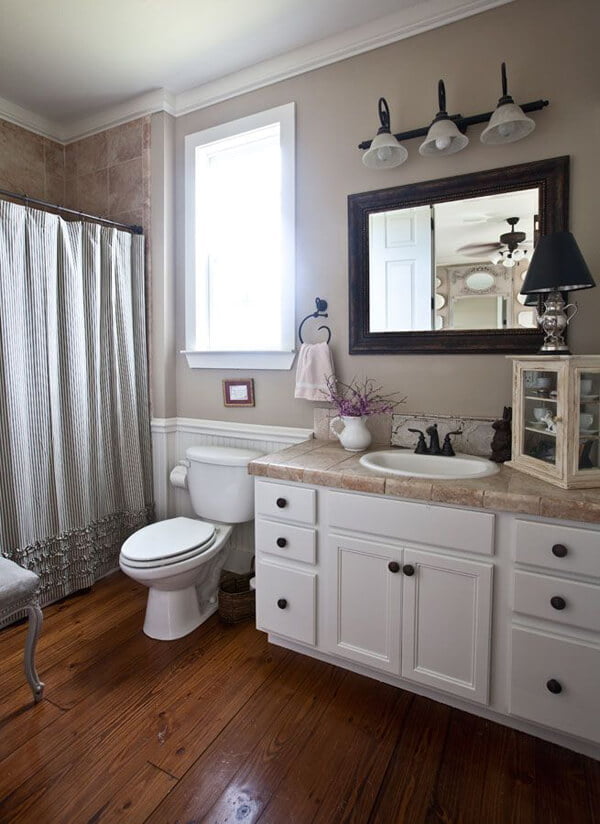 Cute and pretty accents are the main draw of this classy design. A lovely clear display case makes storage into a statement. The vase-like lamp adds a surprising, and unique lightening element to the room. Potted lavender and a richly textured shower curtain complete this well-appointed space.
16. Mod Patterns with Pops of Color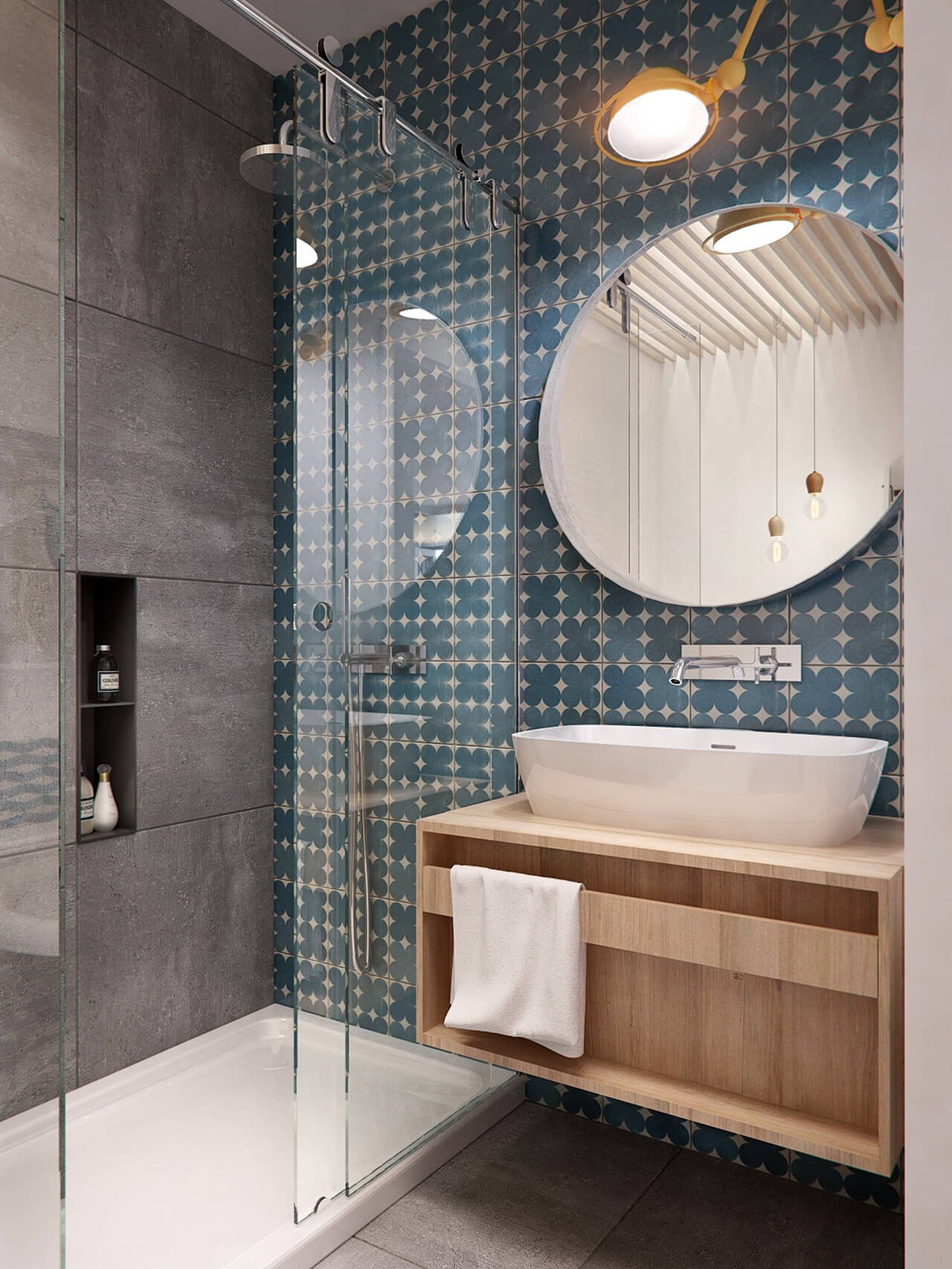 This adorable small bathroom is perfect for people who love modernist designs from floor to ceiling but hate boring colors. Pops of bright blue shine through the tiled wall. A unique yellow desk lamp serves as a quirky vanity light. A round mirror adds to the fun design and a free floating sink gives the illusion of extra space. This design uses unconventional features to create a cohesive, modern, and fun bathroom.
17. Woodlands Inspired Wallpaper and Art Design Ideas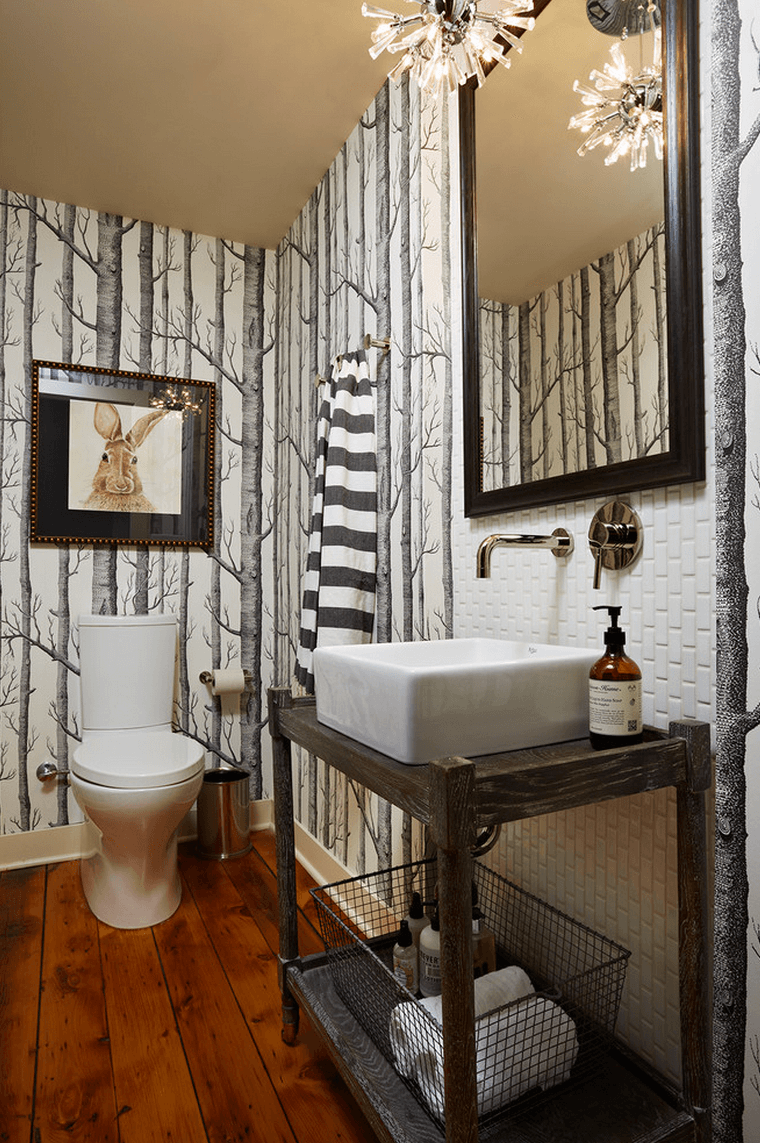 Who says wallpaper is dead? Far from looking dates, this woodlands themed wallpaper adds lines to this small bathroom that draws attention to its height, and makes the room seem larger. The simple, geometric sink and clean, white backsplash prevent the wallpaper from making the room look cluttered. The nature theme is continued in the wood flooring and the artwork accents.
18. Monochromatic Ledge Shelves Display Collected Treasures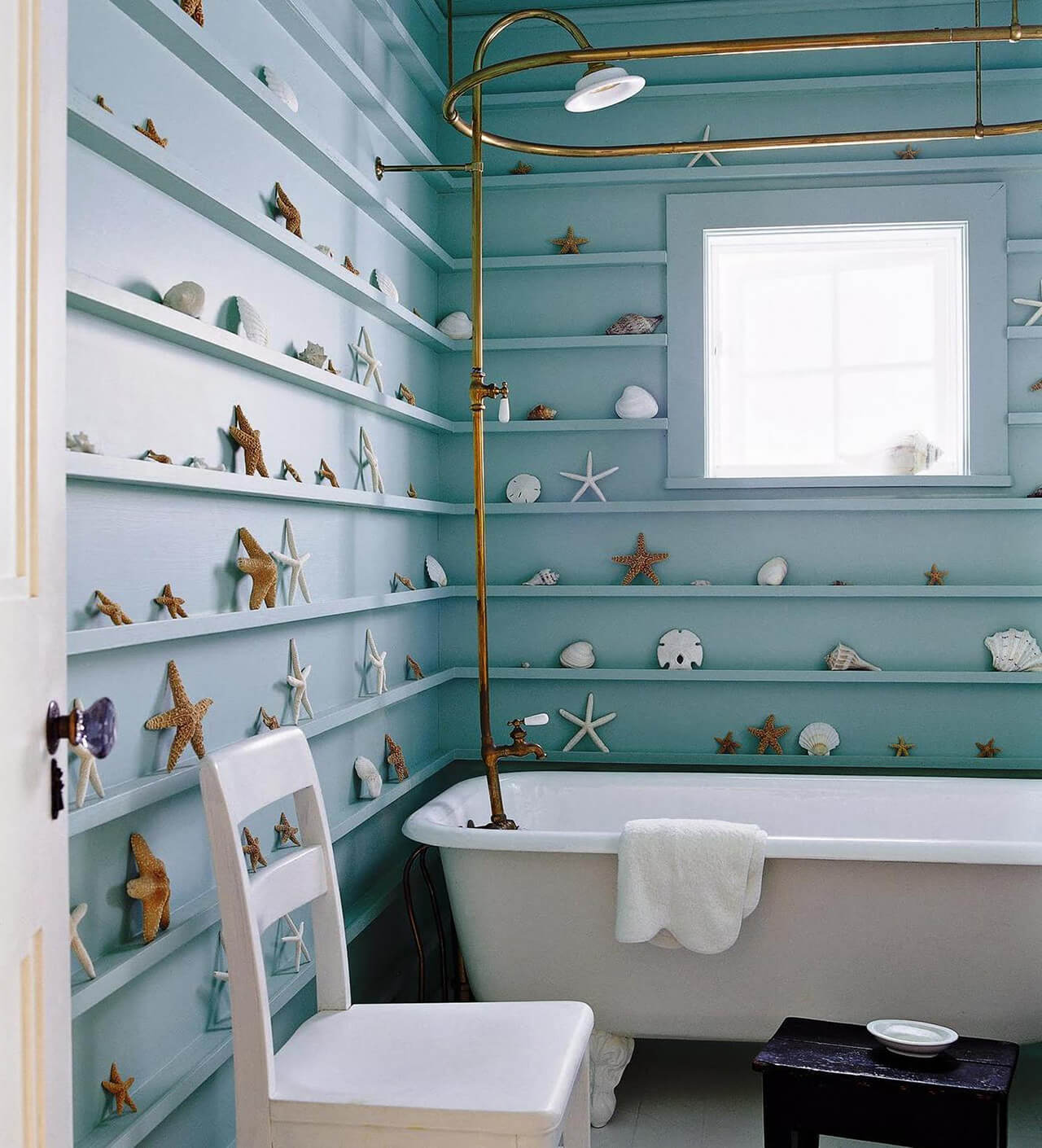 This simplistic bathroom uses a monochromatic color scheme to blend shelving into the walls. The shelves allow fully displays of collections of shells in this design, adding to the nautical feeling of the room. This small bathroom design, however, can be modified to showcase whatever treasures you love. The barebones clawfoot tub, copper pipes, and chair and basin add rustic charm to the space without detracting attention from the highlight shelves.
19. Masculine Corrugated Metal and Wood Shower Surround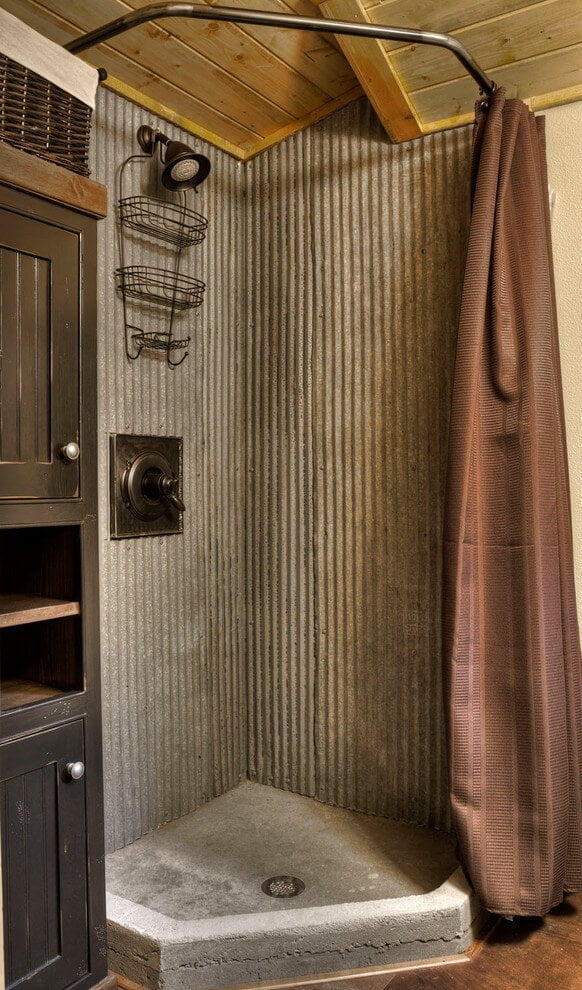 If stark colors are more your speed, this small bathroom is for you. A concrete based shower with metal siding acts as a strong focus of this design. The dark textiles and colors give the space a powerful feel. The distressed wood cabinets also add drama to the area.
20. Cozy Brown Linens Paired with Icy Blue Walls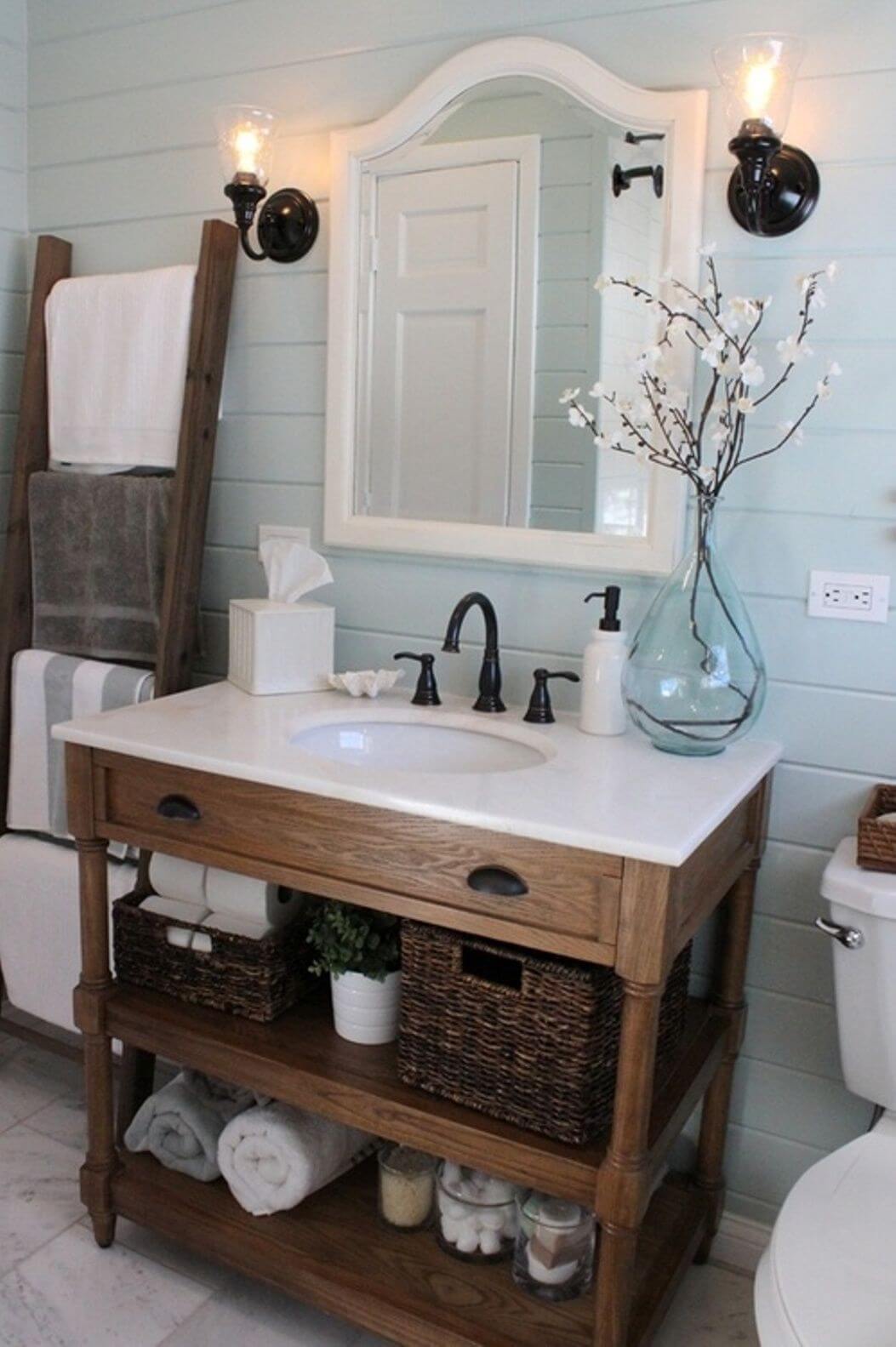 Comfortable brown linens contrast bright blue walls in this rich scheme. The light blue walls provide light, while the brown wood vanity and ladder add darker elements. Rich, fluffy towels, and wicker baskets provide warmth. A clear blue vase with woody blooms ties the two looks together.
21. Fragrant and Warming Cedar Sauna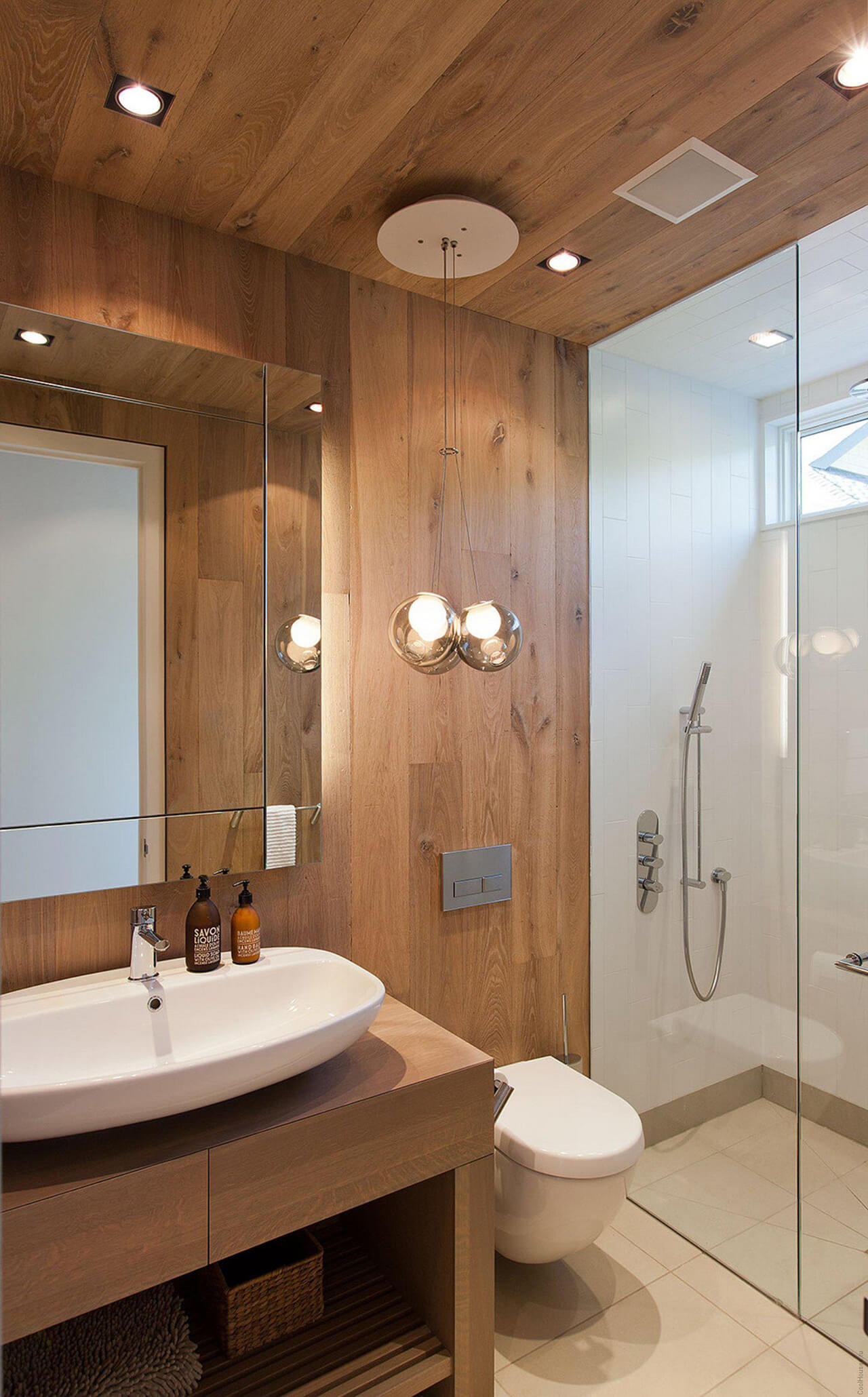 This gorgeous design brings the peace and tranquility of the spa into your home bathroom. Cedar wrapped ceilings and walls bring warmth and the healing properties of nature. The simplistic, neat lines provide unity to the room and inspire calming thoughts. The high window and white wall tiles in the shower afford lots of light to the room and add another touch of nature.
22. Minimalist Design with Repeated Tile Patterns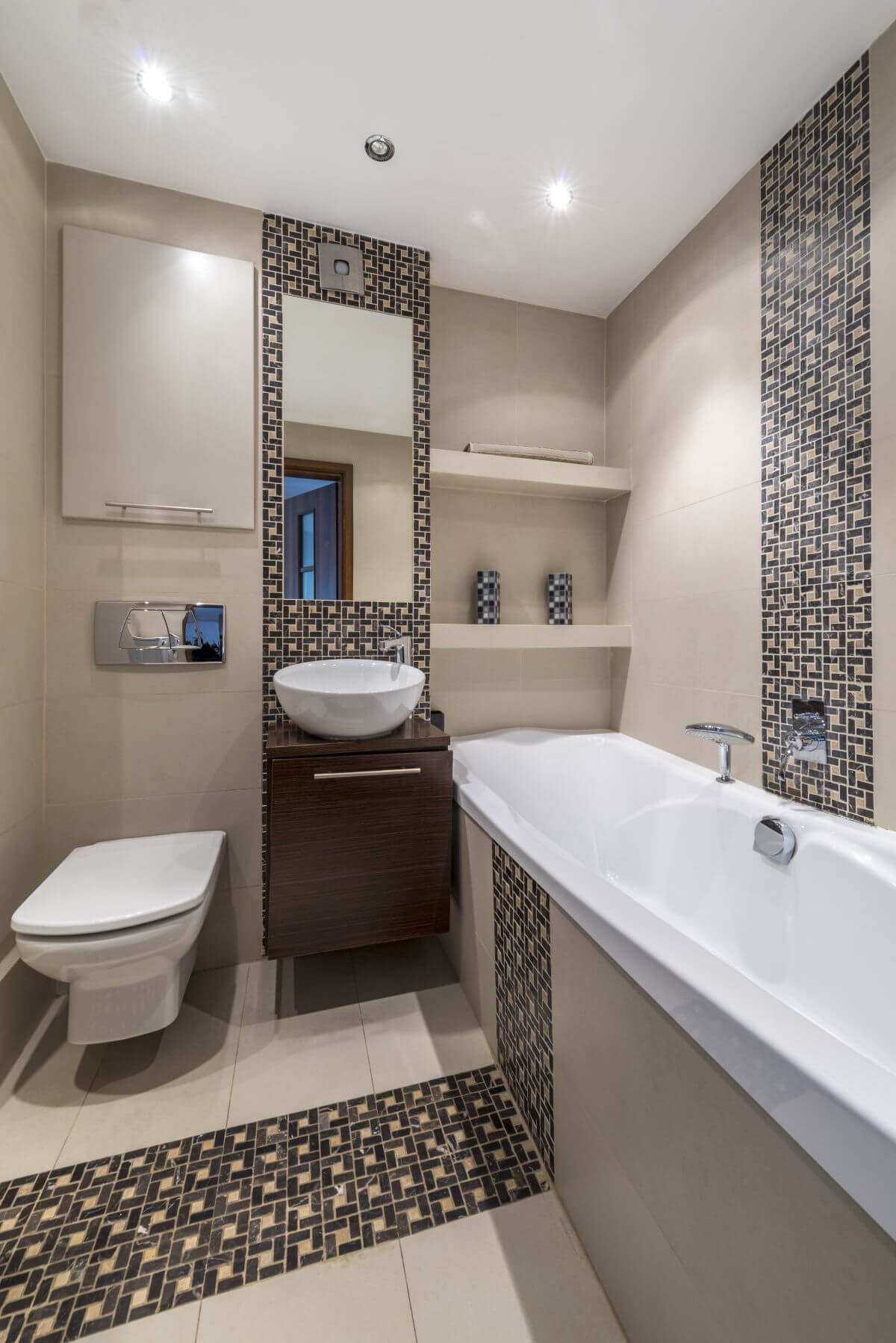 This minimalist design is anything but boring. The simple, bright colored room is interrupted by a mosaic pattern of colors. The pattern extends from the bath wall to the vanity, to the floor tile, and even to the candle holders. The repeated pattern adds a level of interest to the standard design, elevating the standard scheme to a truly unique space.
23. Recessed Storage Cabinet and Farm Sink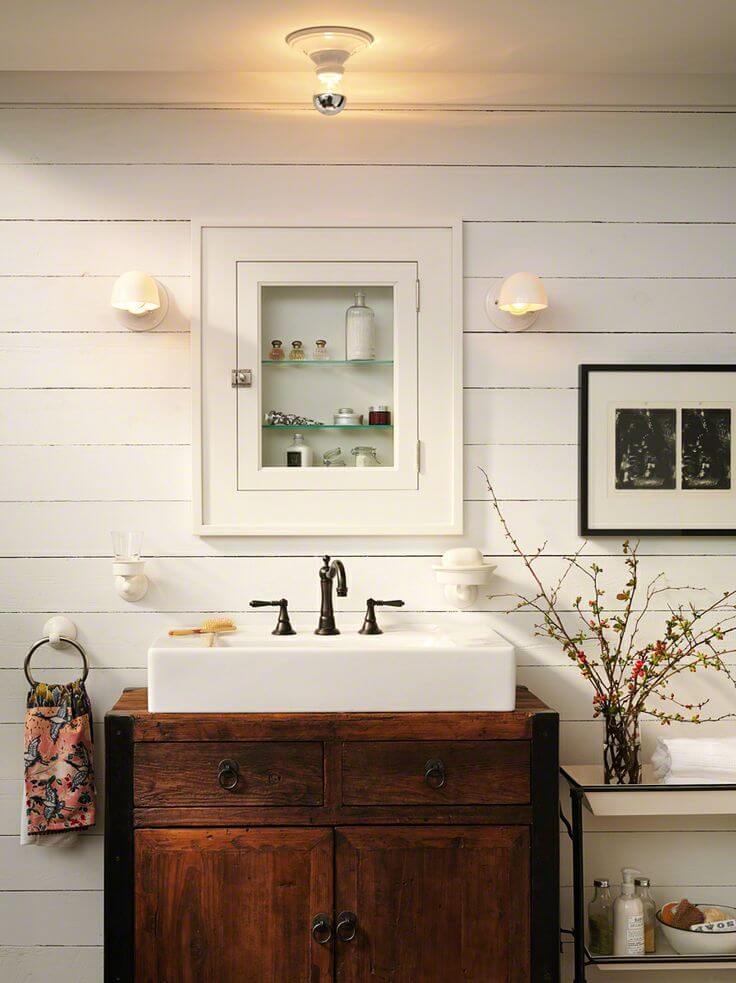 This small bathroom provides a gorgeous upgrade to a standard home feature: the medicine cabinet. Rather than hiding your things behind a bulky, ugly mirror, this small bathroom adds glass and paneling to the medicine cabinet. Clear shelves, a glass window, and white paneling turn something homeowners usually hide into a featured piece.
24. Lime Green Wainscoting Wake-Up Call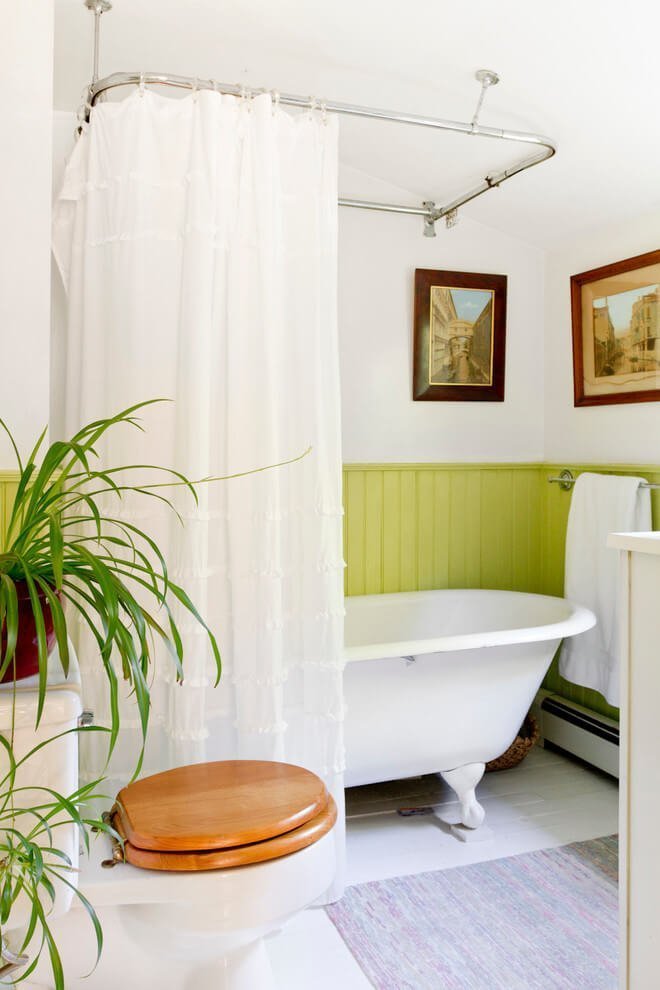 This small bathroom is the perfect way to wake up in the morning. An energizing, lime green wainscoting gets you up and going. The green color scheme is mimicked in the potted plants and the natural element is reflected in the wooden toilet seat cover. The green glow is kept from overwhelming the space through simple, white colors.
25. Immaculate Silver, Gray and White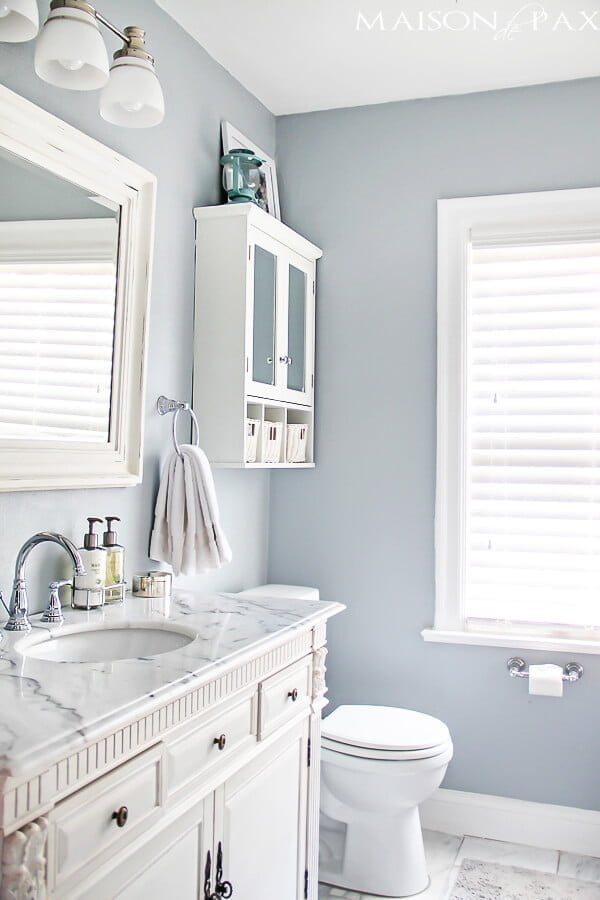 Elegant, but minimalistic, this small bathroom design takes its color scheme from the marble countertops. Silver walls and white trim mimic the marble countertops through the room. white storage bins and a rich, carved vanity bring elegance to the forefront without sacrificing the streamlined design.
26. Urban Charcoal Gray Walls and Metal Accents for Small Bathroom Ideas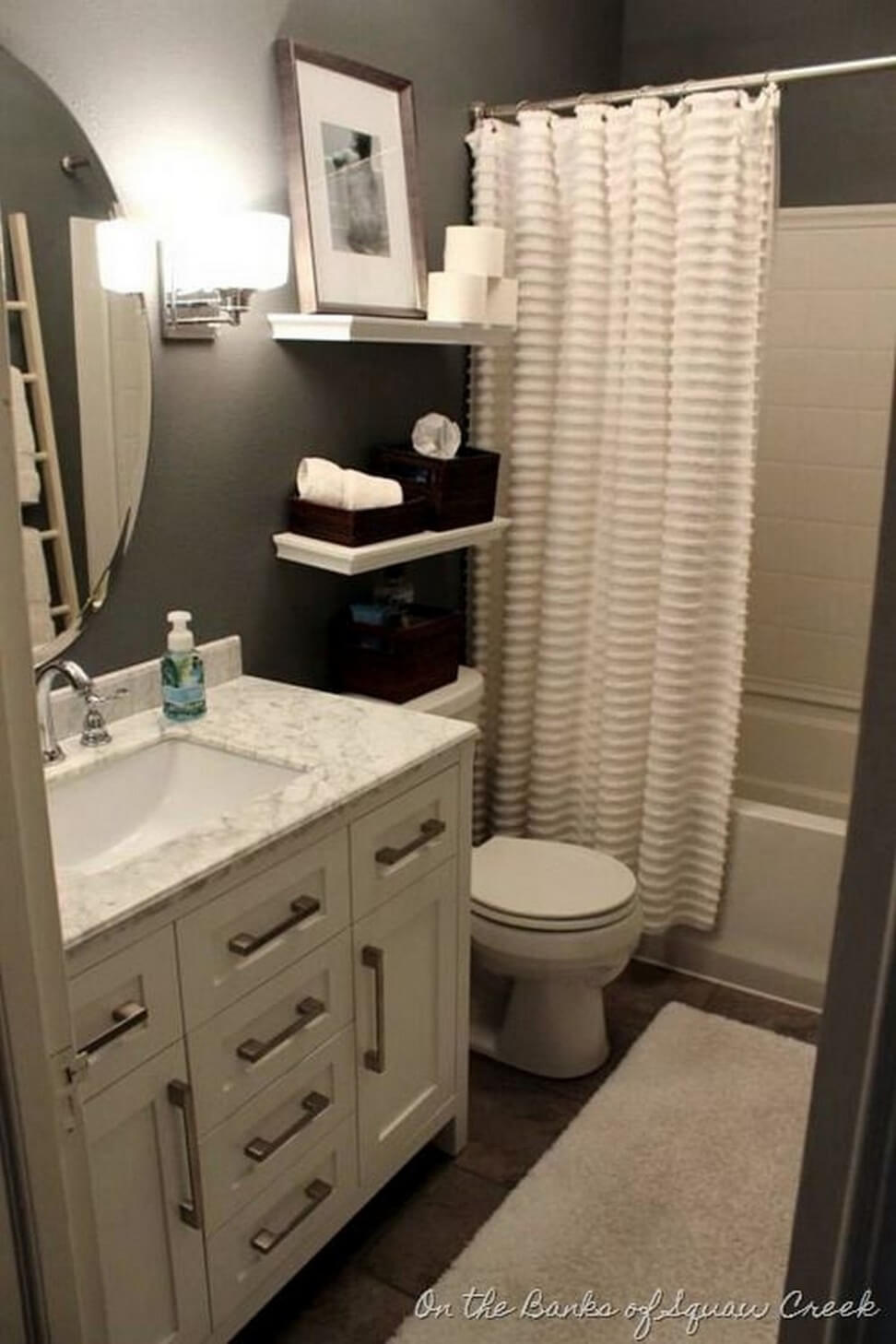 City apartments can have beautiful bathrooms too that ooze style from floor to ceiling. The charcoal greys and black bins in this small bathroom design give the room an urban feel. The white counters and subway tiled bath give light to the space, and an oval mirror lends length and makes the space seem larger.
27. Pebble Tile Floor Paired with Aqua Shower Walls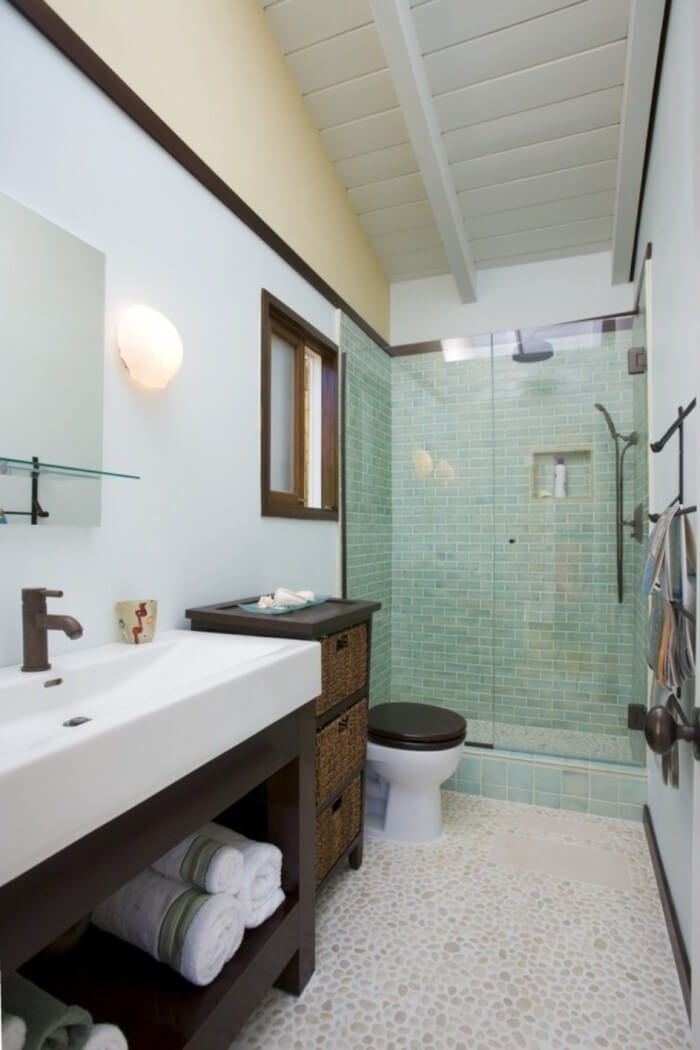 This beautiful bathroom idea is inspired by nature. Pebble flooring is reminiscent of gently flowing rivers, a motif which is mimicked in the gorgeous, blue, mosaic wall tiles lining the shower. Dark brown accents provide a wooded feel to the room. While the white sloped ceiling draws the eye upward and bathes the room in light.
28. Up-Cycled Garage and Garden Finds Add Character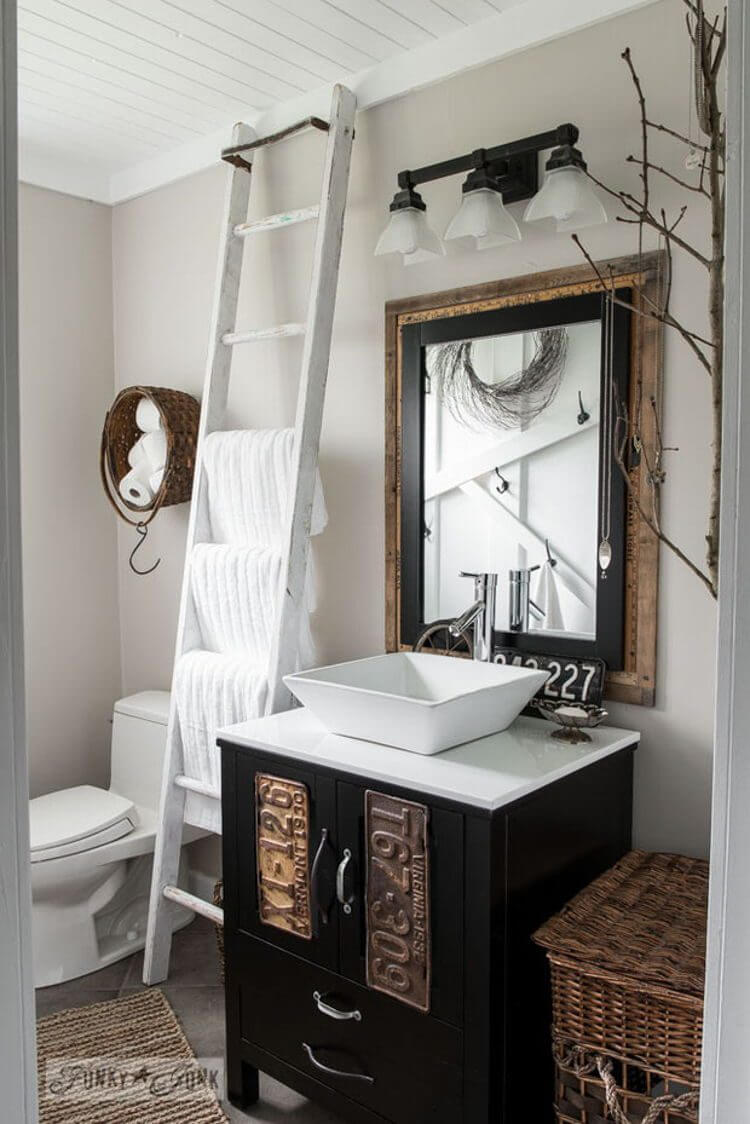 It doesn't take a fortune to revamp a space, even garage sales can be a source of inspiration and decor for your bathroom design. Showcased in this bathroom design, garage sale finds can be repurposed and upcycled to provide charm in your bathroom. Old license plate are reimagined as decor, lending a rustic quality to the design. The is complemented by a garden ladder which has been remodeled for towel storage space, and a hand-woven wicker basket that is given new life as a bathroom shelf.
29. Curtain-Free Wet Room with Modern Wall Tile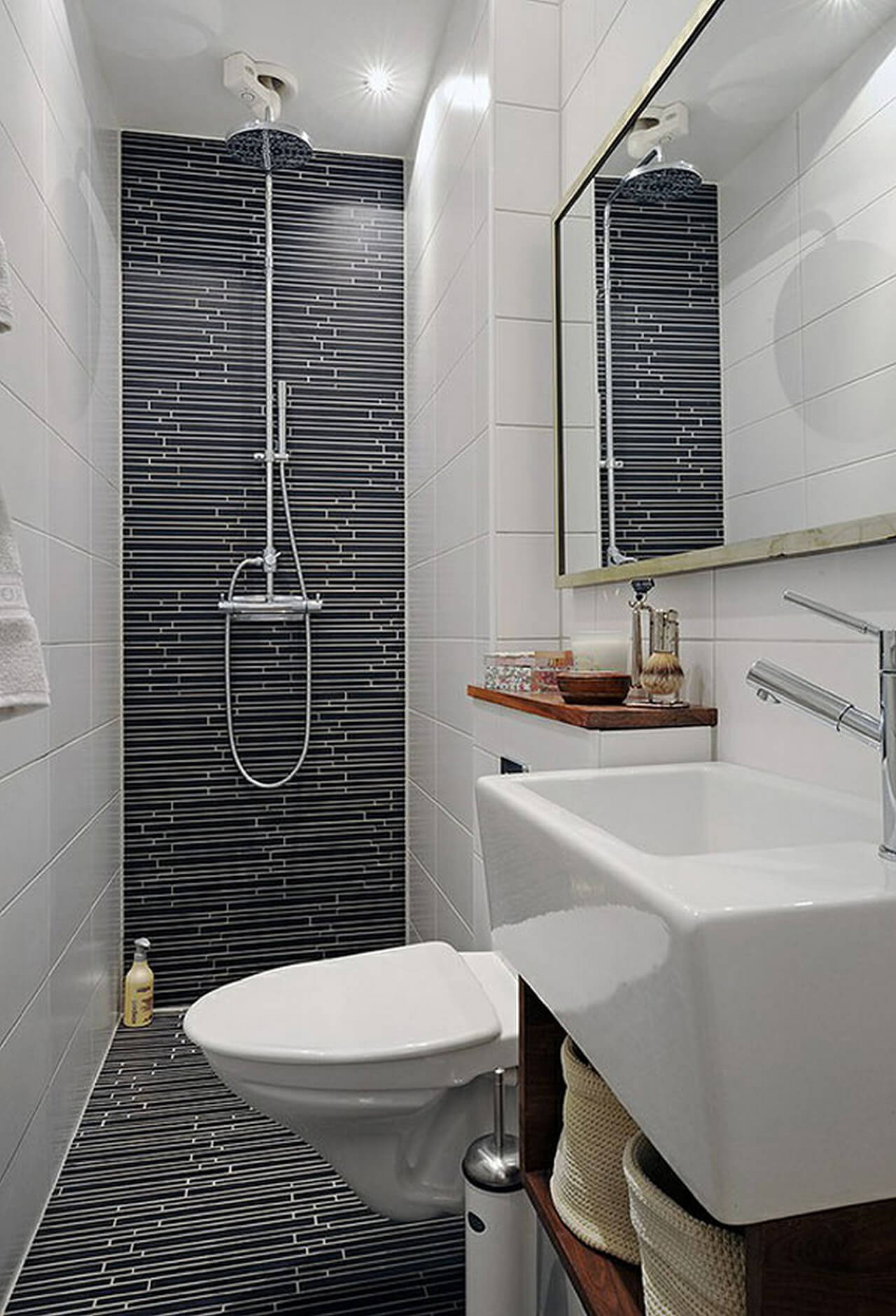 This tiny space turns its back on convention and gains space in the process. By forgoing a curtain, the room doesn't feel as divided, and the space seems larger. The uniform tile extending from the floor to the back wall space of the shower also provides unity and ties the space together.
30. Space-Expanding Horizontal Tiles in Neutral Tones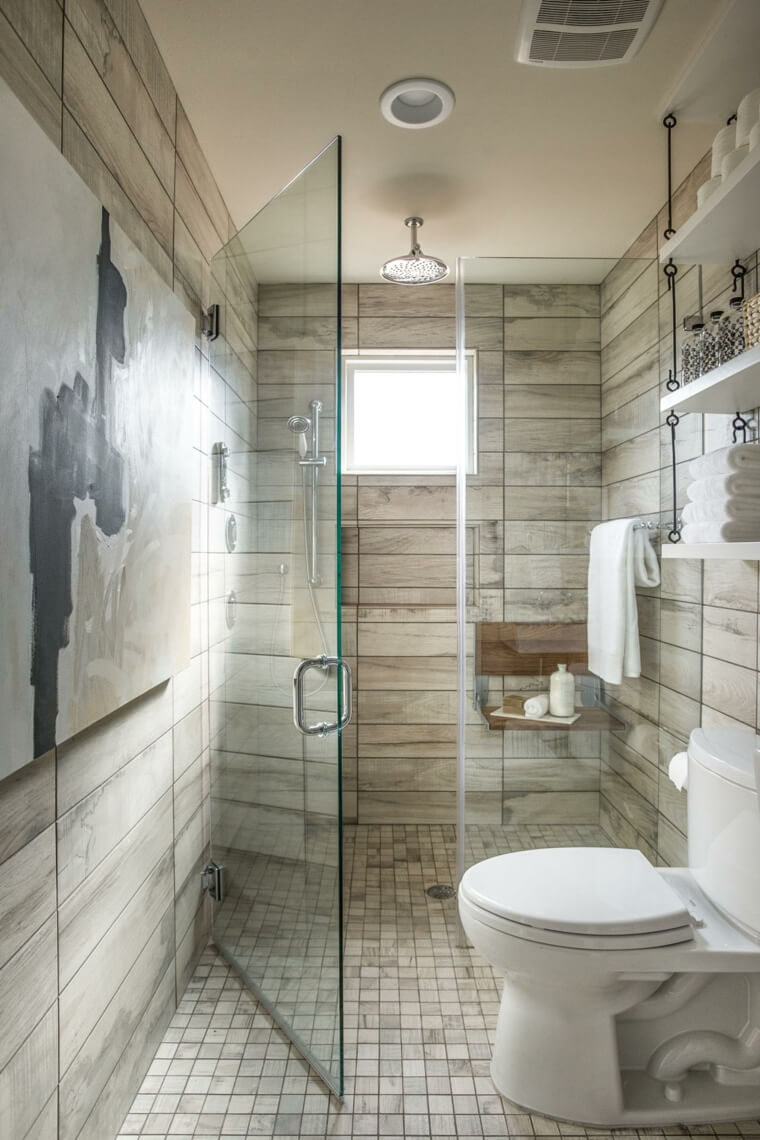 This modern bathroom is breezy and light. Large, horizontal tiling draws attention to the width of the space and makes it seem more expansive. Likewise, the clean, geometric lines leave the space feeling simple, modern, and inviting.
31. Crisp Valances Let In Natural Light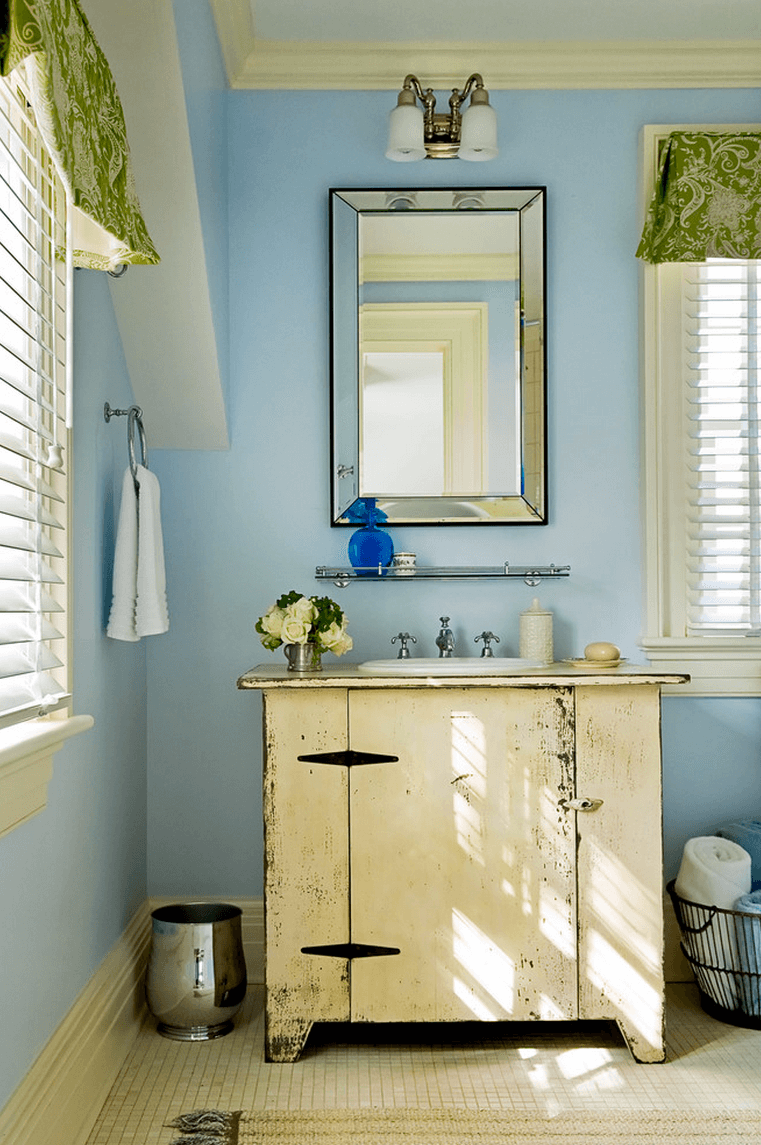 This beautiful blue bathroom is flooded with natural light. With gorgeous, white Venetian blinds, light can enter the room without sacrificing privacy. A pop of green on crisp, bright valances brings an element of contrast to the blue. A weathered white vanity affords rustic charm to the room.
32. Curved Edges and Creative Toilet Placement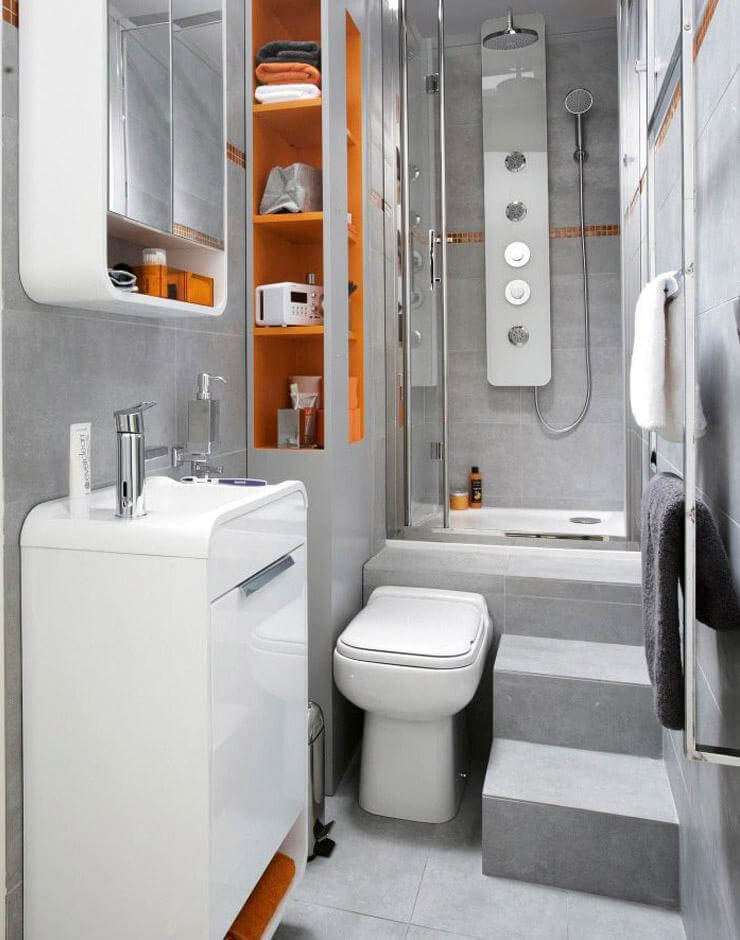 One of the first things that catch the eye in this dream bathroom design is the unique toilet placement. This design feature utilizes the natural depth of the tub, and makes sure not a square foot of space is wasted. However, there is much more to see in this bathroom design than just the commode. Beautiful pops of orange come through clean white fixtures and gray walls. Chrome fixtures grant a mid-century modern feel to this quirky bathroom.