Are you fed up and in need of some bathroom shower ideas? Maybe you feel like you're in a sardine can. Perhaps you're stuck with dated decor that feels dark and drab. Or, does your bathroom simply lack personality? Whatever your washroom woes, we're here to help with 18 brilliant bathroom design ideas for a total makeover of your tired old shower and tub.
18 Stunning and Innovative Shower Ideas for Your Bathroom

There are many ways you can transform your bathroom into a space you'll love. It could be as small as changing the wall color and adding textiles like a shower curtain or rug that makes the whole room feel new again. Sometimes little things like fixtures are the key to making a bathroom look fresh and modern. If you're jumping into a full remodel with both feet, changing a tub to a stand-up shower with clear glass paneling or splitting the bathroom into a separate bathtub and shower can make your space feel really personal and luxurious.
The key ingredient to most contemporary design is the appearance of open space. There are loads of tips and tricks to create this visual effect. You can do it with light colors and contrast, strategically placed patterns, and even glass and reflective surfaces. You'll find that the appearance of vertical space and depth is the common denominator in these bathroom shower designs that make each and every one feel spacious and fresh.
1. Bright, Bold and Modern Shower Remodel Idea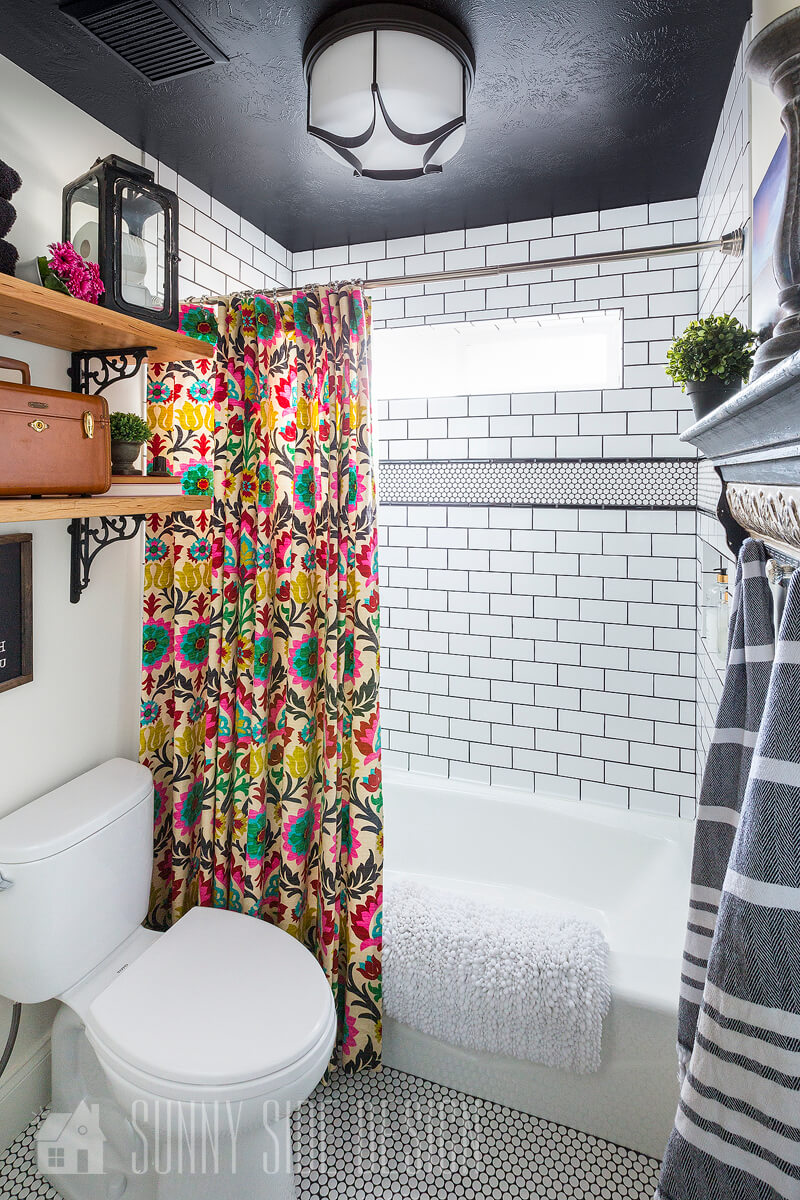 It's simply amazing what a bright pattern can do to liven up a small space. This bathroom has so many wonderful small touches that you can borrow. First, let's consider that painted black ceiling with a light fixture with iron trim. It gives contrast and interesting texture to the entire space. The wooden shelves with ornamental cast-iron brackets add warmth while bringing continuity from the ceiling downward for the eye to follow. The tile is simple white but done in contrasting size and shape which provides really nice texture. Finally, the bright patterned shower curtain breathes life into the entire room and livens things up!
2. Adorable Update for a Tiny Shower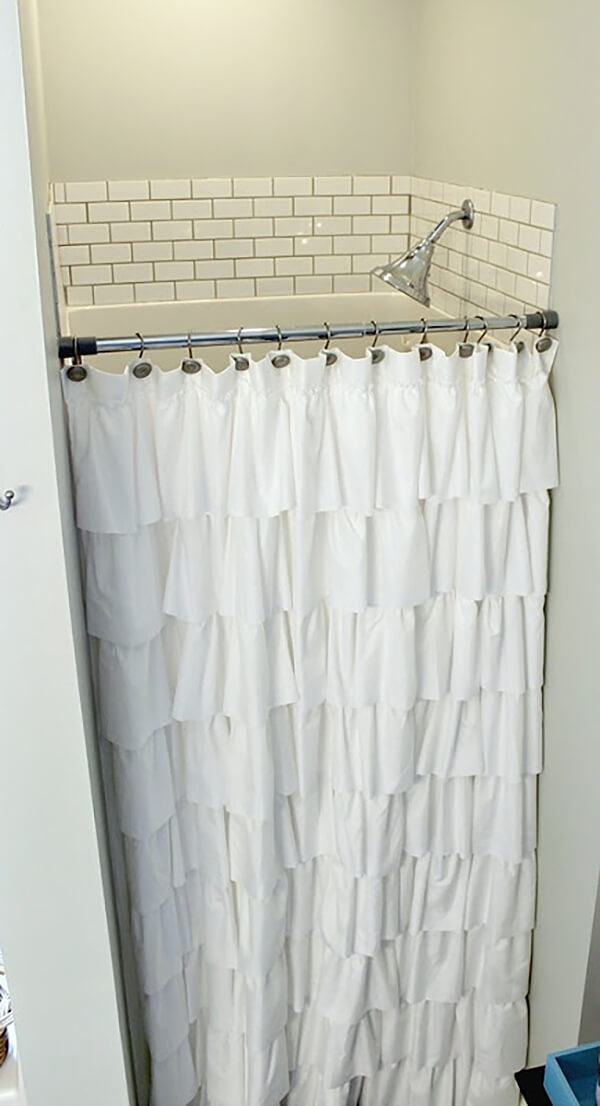 When you're working with small spaces, you've got to do everything you can to make things feel bigger. Light colors create visual space. Patterns also add dimension to small spaces. This ruffled shower curtain is adding soft texture to the space, but its also adding the appearance of height because of the rows of ruffles! Keeping this white in a neutral-colored space was a smart choice because it doesn't break up the overall light color. You don't have to go totally monochromatic, but staying in the same color family on walls and curtains can really make a small space feel so much bigger!
3. Beautiful Earth Inspired Bathroom Tile Work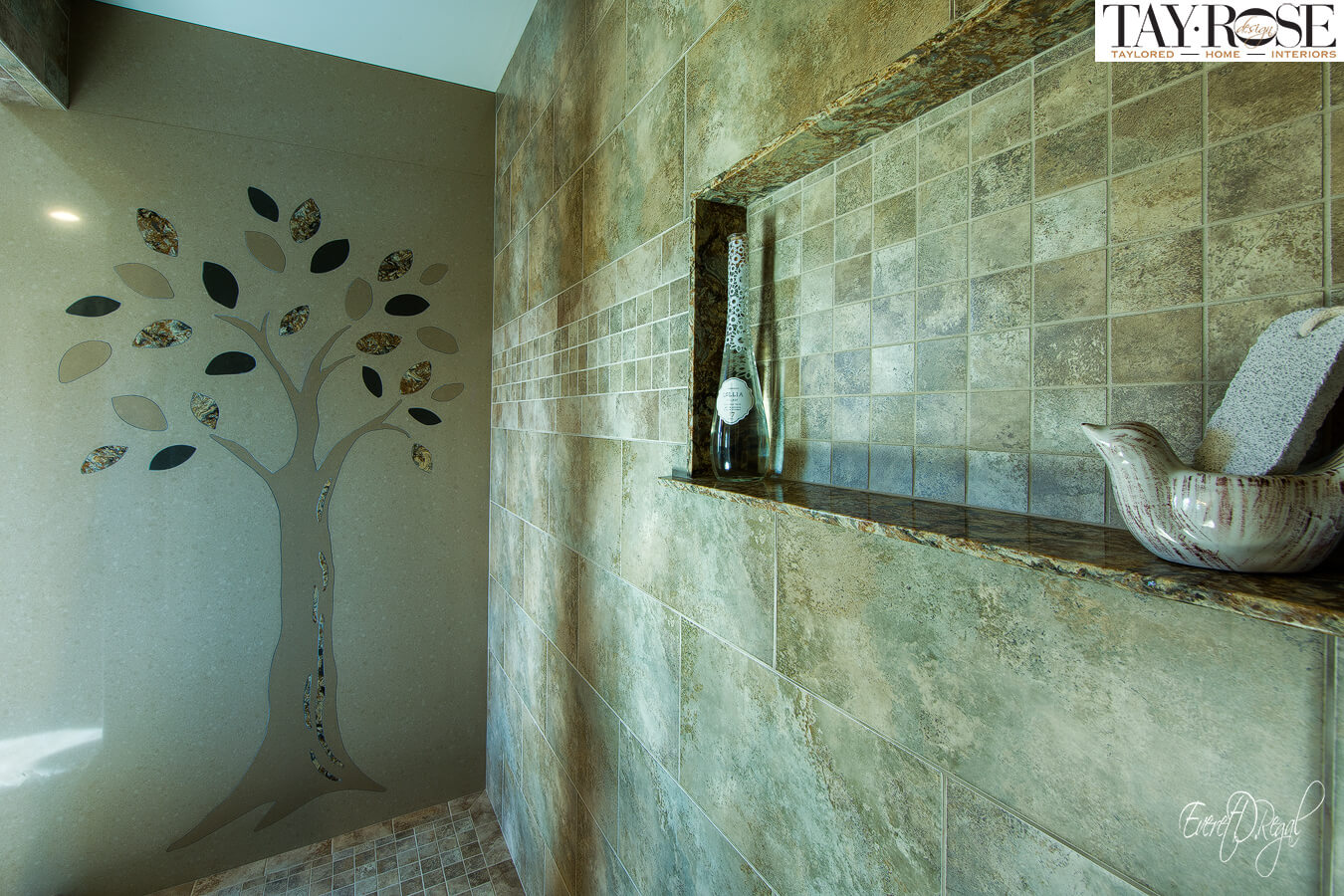 Who doesn't love custom tile work? Can you imagine showering in this beautiful spa-like oasis every day? We absolutely love the color of the tile on the long wall. It's got that marbled look but in warm, earthy tones that are so luxurious and inviting. The tree tile design is really a work of art. The tree mosaic wall is all Cambria Quartz countertop material and the tree and leaves are inlaid handpicked colors of quartz. The rest of the shower and floor was all tile with ceiling to floor glass on the opposite side. This is one of those bathroom shower ideas that can really add value to your home with a unique feature that is also very personal.
4. Simple Ways to Glam Up a Basic Bathroom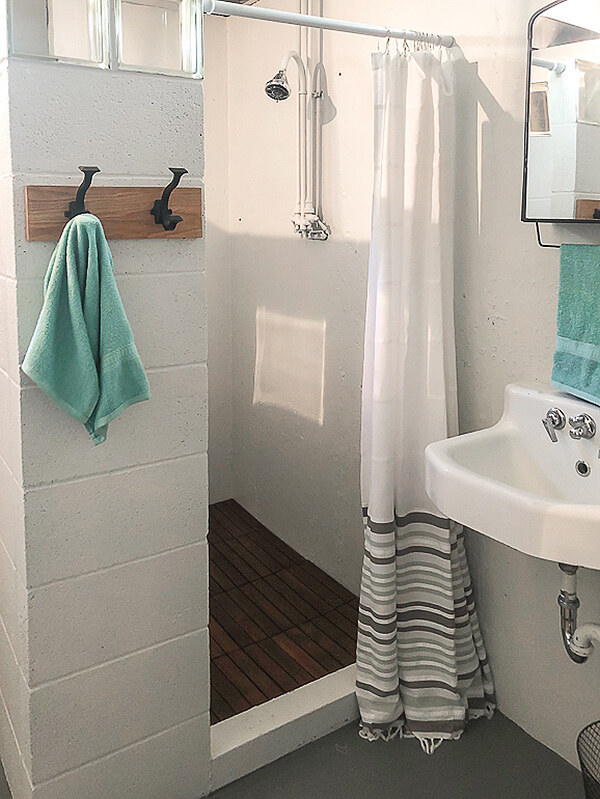 Sometimes you're stuck with a bathroom that's got more utility than style. Not to worry. With a little creativity, you can make even the dullest bathroom look positively chic! Painting the walls (and cinder blocks, in this case) the same color will open up the space a little and give you a sort of blank slate. The wooden slats in the shower add a little bit of a spa feel. A wooden base for antiqued towel hooks adds some nice interest and warmth. The shower curtain with a white top and horizontal gray stripes at the bottom is the perfect transition piece to add the appearance of vertical space while tying the dark floor and light walls together beautifully.
5. Transform Your Bathroom with Patterned Wallpaper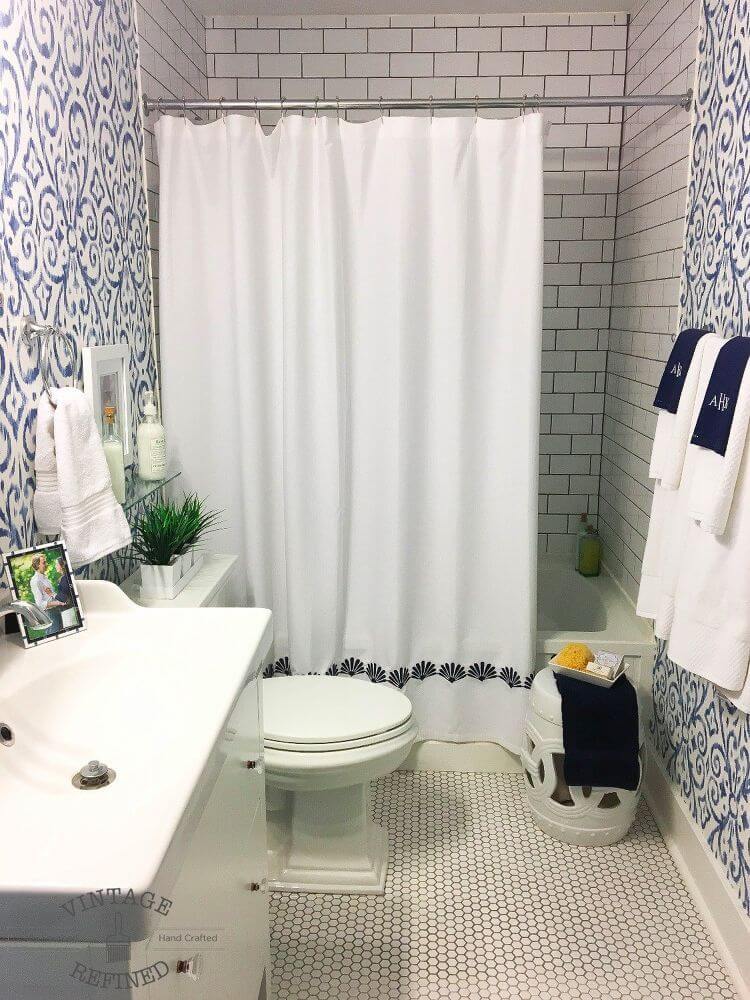 This is not your grandma's patterned wallpaper! A fresh print can absolutely overhaul any bathroom and make it look like a whole new space. It adds color and dimension and is a great way to modernize tired decor. If you're a renter this is a fantastic option because of adhesive wallpaper. You just stick it up and take it down when you move out. Security deposit saved! This bathroom design idea adds wallpaper, updates the cabinet fixtures with crystal knobs, and utilizes a clear glass floating shelf for luminous extra space. The towels and curtain in crisp white with a touch of navy blue perfectly tie the whole color palette together.
6. Sleek Walk In Bathroom Shower Design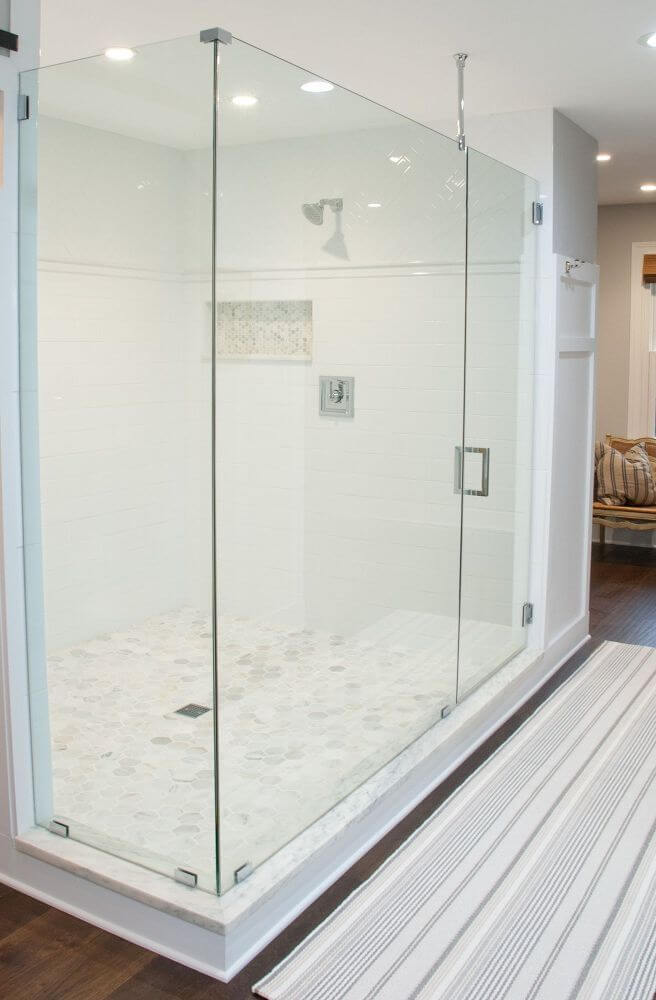 Do any of you have a significant other who seems to get more water outside of the shower than inside when they bathe? This may just be your dream come true! 🙂 If you're blessed to have a big, beautiful shower space like this, then a modern glass enclosure is a spectacular choice. We also love the tiled molding inside of the shower to add a nice boundary to the space. The multicolored neutrals on the tile floor are a beautiful contrast, too. Of course, a design like this looks extra special with dark wood floors. Keep the rugs and fabrics neutral in simple patterns to compliment the minimalist architecture of the space.
7. Easy Affordable Glazed Shower Transformation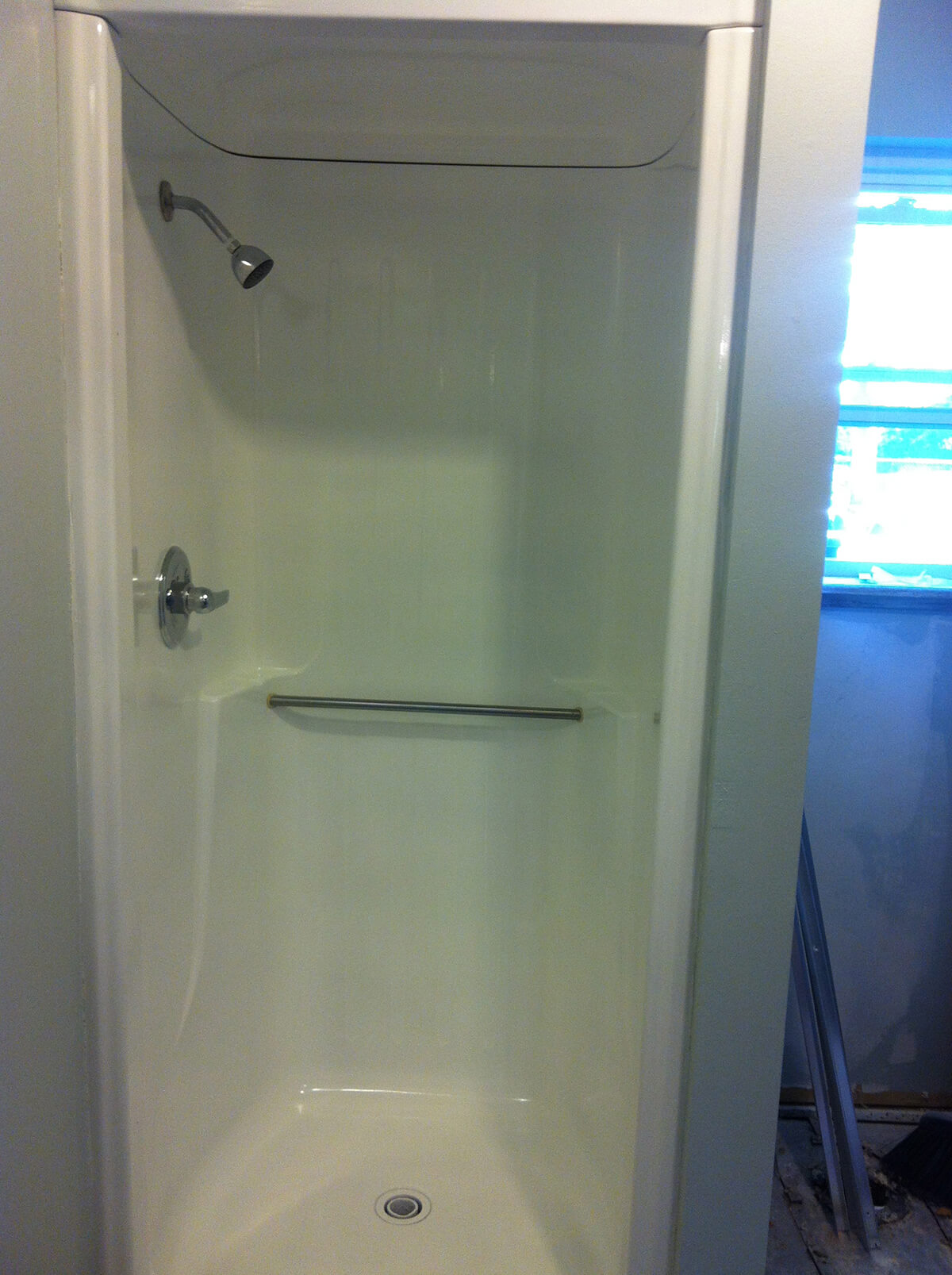 Who knew that glazing a shower or tub could have such spectacular results! Some older homes have drab, dark showers and tubs that can look so dated. A glaze treatment is a brilliant – and affordable – way to brighten up that shower without having to do a total teardown. You can't really go wrong with bright white. It's classic and just looks so clean and fresh. If your dated shower came with matching dreary wallpaper, too, then a simple coat of neutral paint in combination with a fresh glaze will make the space look brand new!
8. Luxe Gold Accent Custom Shower Idea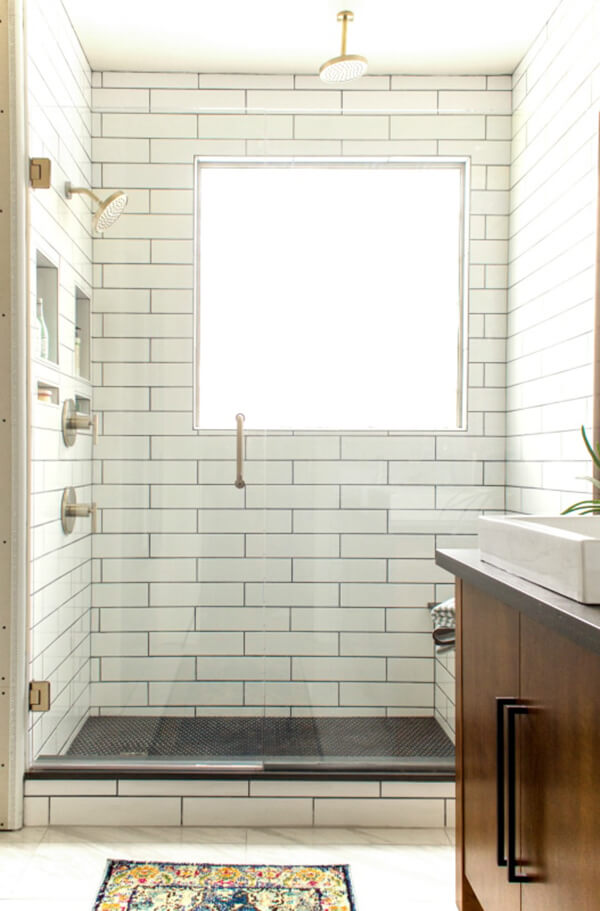 Simply changing the color of fixtures and hardware can make a world of difference in a bathroom shower design. Subway tile is all the rage, but sometimes it can look blah with plain fixtures. These brushed gold fixtures are anything but plain! They add an interesting warmth and contrast to the white tile and really modernize the whole look. When your shower looks this good you'd better believe a clear glass door is in order. Show off that gorgeous style! We especially love how the warm gold accents the warm wood and the yellow colors in the rug.
9. Playful Patterns and Maximized Space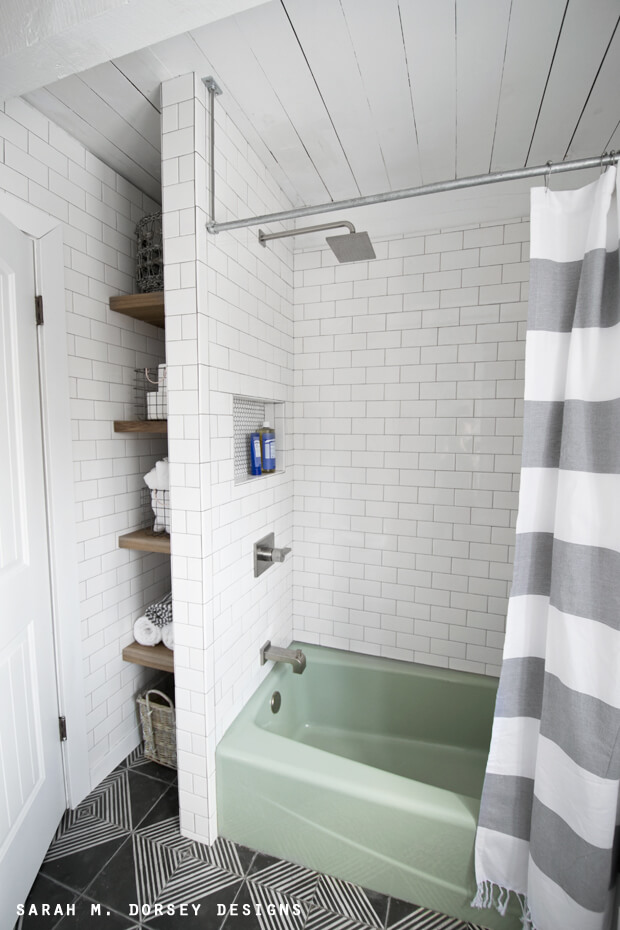 Yes, you can mix patterns. Even in a small space. Just look at this masterful design! As always, light colors on walls and ceilings are your friend when it comes to opening up compact spaces. But you have room to play in other areas. This design makes use of a small vertical storage space with open shelving that has the visual effect of adding more room since it's not closed off. Play with artful storage like wire baskets and woven hampers to make it attractive. The tile in this bathroom is just killer. Look at that geometric pattern! It's the perfect focal point to contrast the antique green tub and goes perfectly with the neutral grey and white striped shower curtain and silver fixtures. You're really only working with 5 colors here, but look how much they can do!
10. A Rustic Minimalist Bathroom Transformation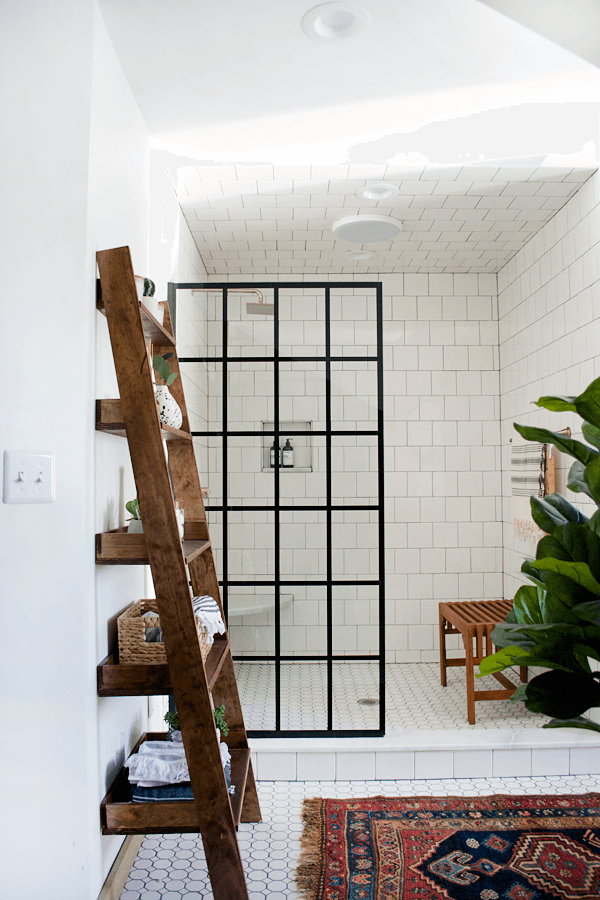 Just, wow. This bathroom looks like it stumbled right out of a high-end boutique resort. The paned shower panel is such a neat idea. It lets you have the benefit of clear glass to keep the space airy but adds texture and dimension at the same time. The wooden shower bench and ladder shelving unit add a warm, organic touch that's rustic and timeless. So is the beautiful oriental rug. People don't often think of having plants in the bathroom, but if you have enough space it's a truly lovely touch.
11. Open and Airy Bathroom Design Idea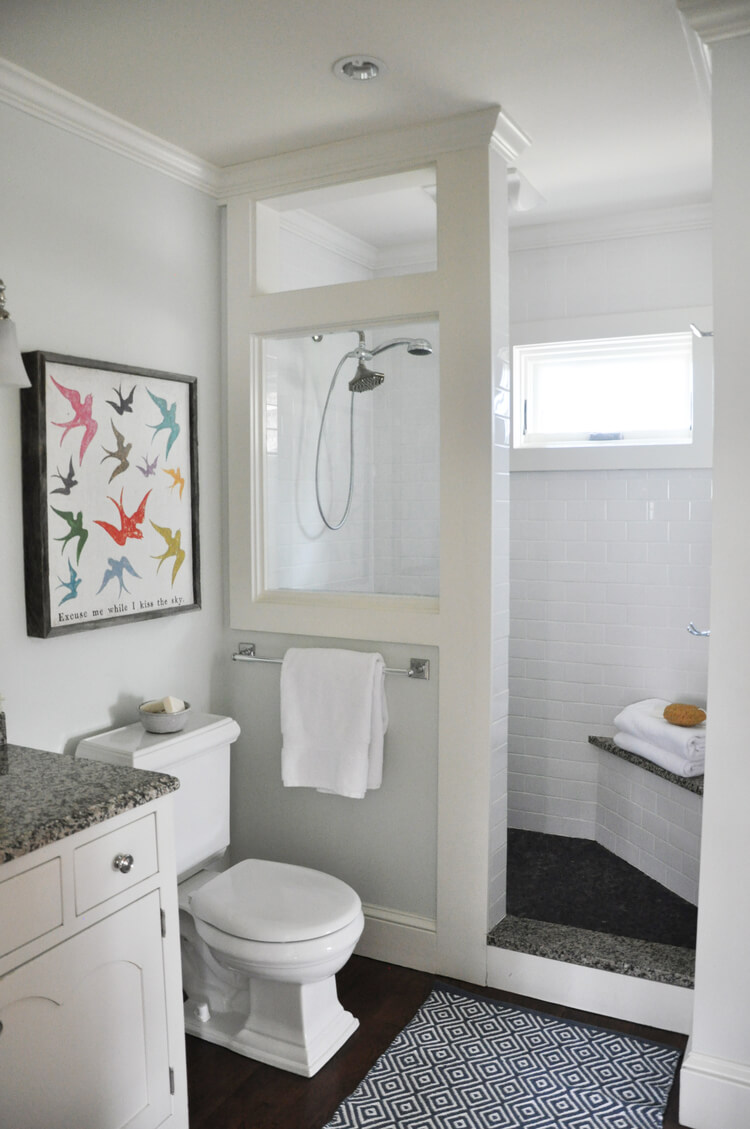 This design is like a study in how to upend a bathroom with just a couple of strategic architectural tweaks. Trade a sliding shower door or tub for a paneled shower to make your bathroom feel so much more spacious. This is one of those bathroom shower ideas that's a hybrid. It's part wall, part glass panel, and all wonderful. We also love how the dark tile in the shower perfectly matches the dark floor in the rest of the bathroom. It's such a small touch but it adds continuity to the entire design. Crisp white trim and simple artwork and textiles are all you need to finish off this bold look.
12. Traditional Bathroom with a View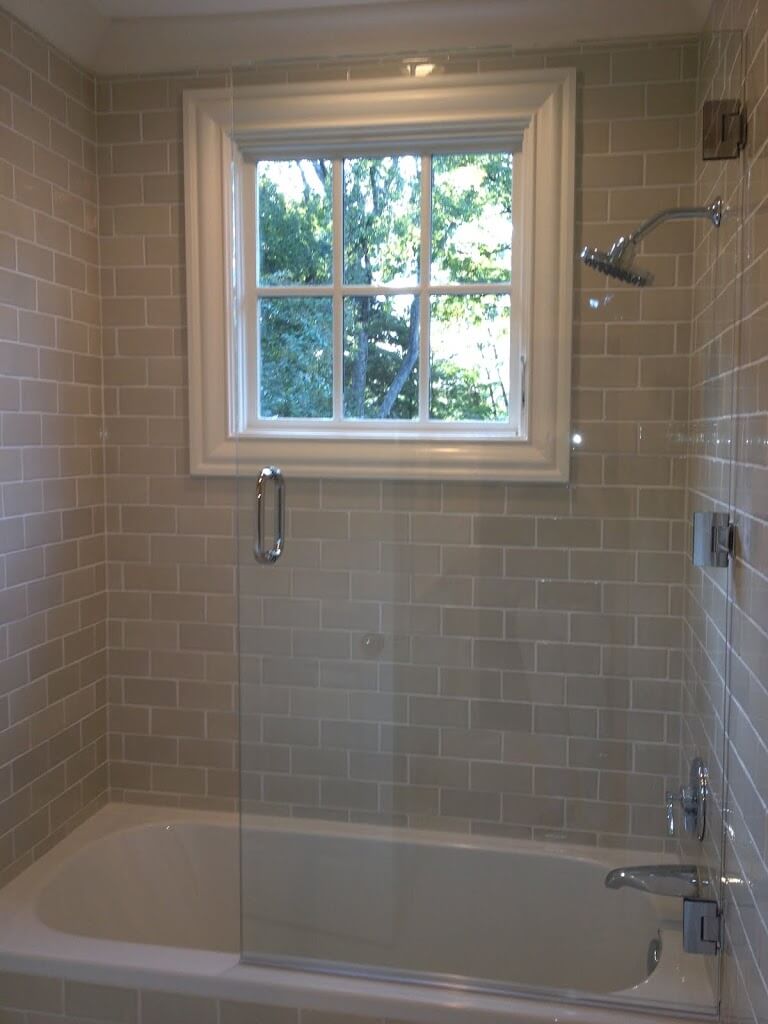 Window space isn't just for living rooms and bedrooms. Some bathrooms have amazing views, so don't hide them behind shower curtains or frosted doors! Open up your bathroom space with a clear glass panel for a twofold benefit. Your bathroom will feel bigger and you'll get to enjoy the view from the shower window. Make sure to use waterproof paint on the trim if you have a gorgeous window like this to keep it from getting water damage. This simple change makes an otherwise traditional bathroom really special.
13. Blending Modern and Traditional for a Timeless Bathroom Makeover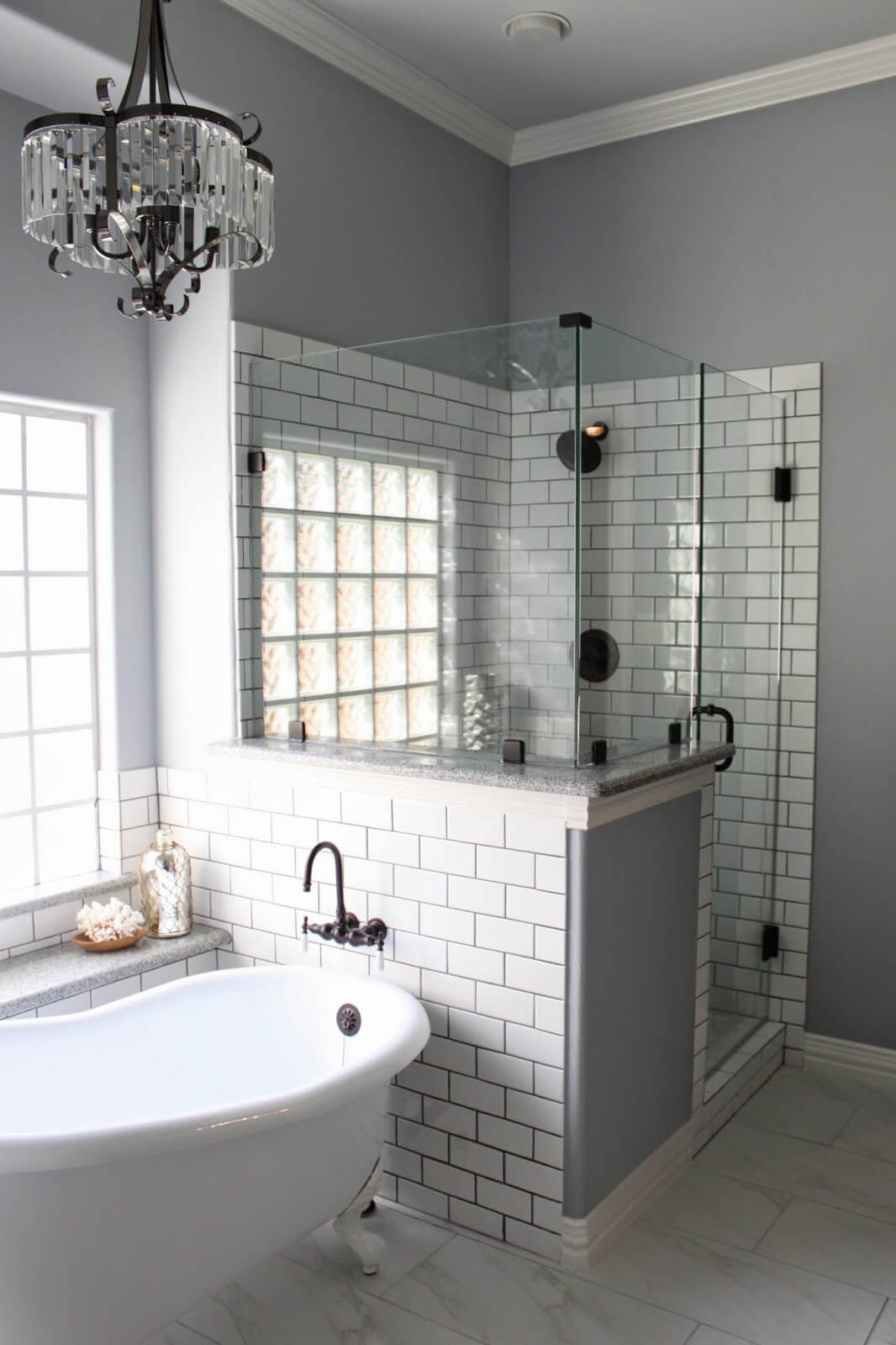 Rippled glass cubes have never looked this good. Like, ever. There are so many amazing shower remodel ideas in here it's hard to know where to start! Separating the tub and shower adds a touch of indulgent luxury and makes bath time even more relaxing. The tile on the inside and outside of the shower really define the space and create texture in the bathroom that distracts from the glass cubes. The paneled glass is a classic choice, but the brass fixtures really set everything off. That chandelier, though! When can we move in?
14. Gorgeous Top to Tile Bathroom Overhaul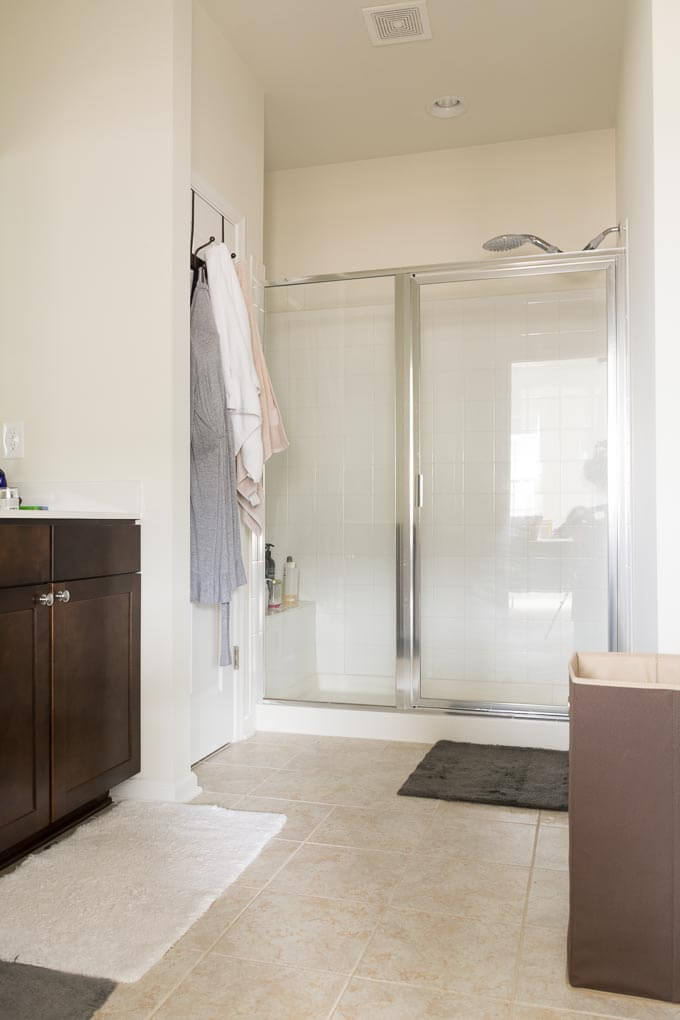 Any time you can separate a tub and shower, the result is really dramatic in the best possible way. It adds a touch of luxe to the entire space. In this case, the shower got smaller to make room for the bath, but it's outfitted with a rainfall showered and encased in glass for a modern look. The bright white walls and tile contrast beautifully with the dark wood cabinetry and floor tile. The "after" of this bathroom makeover has a zen feel that's light and airy.
15. Subway Tile, Gold Fixtures, and Wood Floors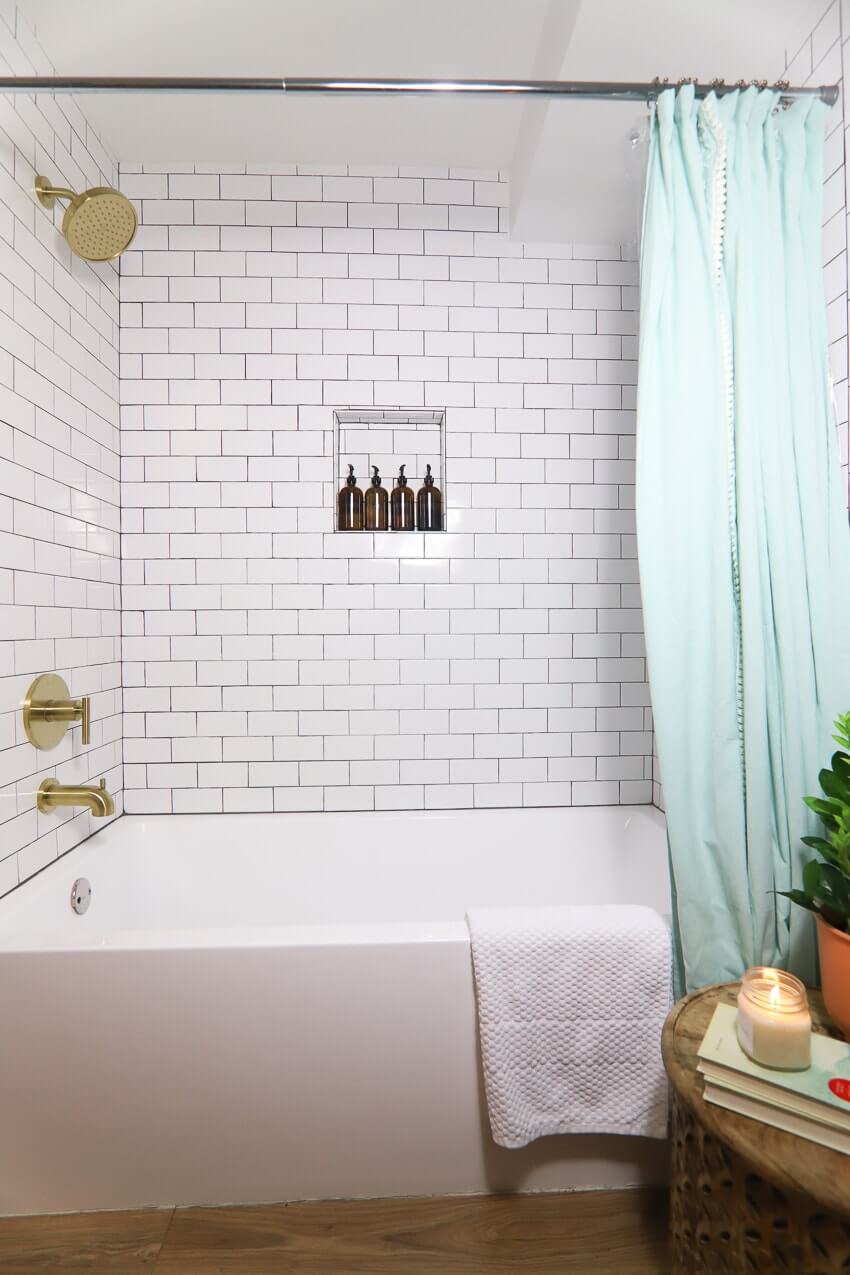 Minimalist design and brushed gold go together like peanut butter and jelly. Gold fixtures are delightful and unexpected. They really add an interesting focal point that can change the whole feel of a bathroom. Even classic subway tile looks different somehow with the addition of a hint of gold. The warm undertones in the gold go especially well with wood floors and furniture. Any shade of blue is also a nice compliment to gold, as blue and yellow tones are on opposite sides of the color wheel and bring each other out visually.
16. Hot Tip for Sparkling Clean Shower Doors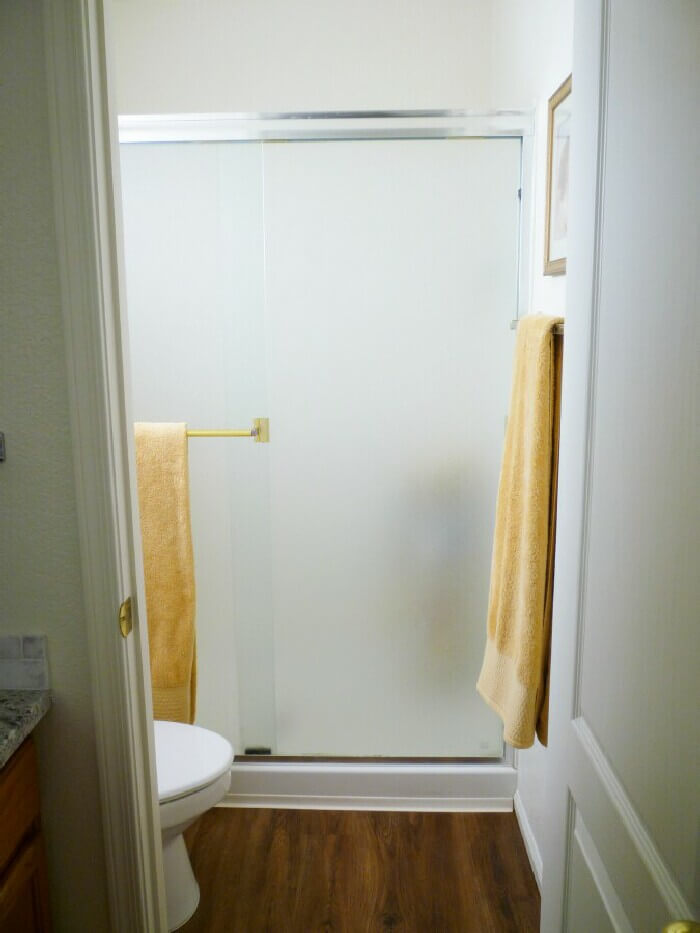 Surprise! We've got a shower cleaning hack for you. All of these bathroom shower ideas have gorgeous glass and tile that look perfect when they're new, but what about after you shower in them every day? The soap scum struggle is no joke, people. Who knew fabric softener sheets for your drier were the magic solution? Moisten a fabric sheet (either fresh or used) and use it to scrub the glass and tile in your shower. Then clean as usual. The drier sheets will dislodge soap scum buildup and give your shower that sparkling new look!
17. Floor-to-Ceiling Tile Shower Remodel Idea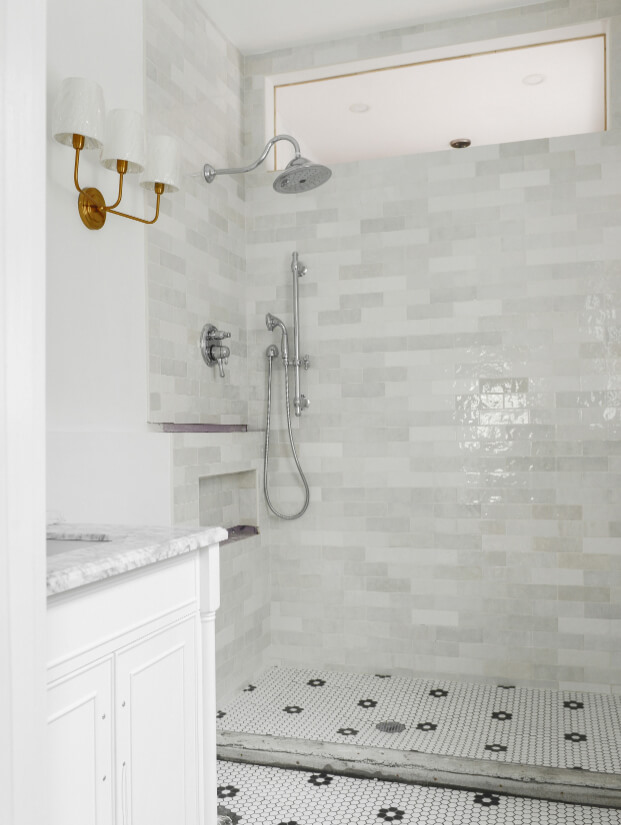 Glossy gray tile is not something you may have considered, but we bet you will after seeing this shower remodel idea! Anything reflective plays a handy visual trick of adding space. A light, neutral tile with a high gloss finish provides a double-whammy of light color and reflective surface. Tiling from floor to ceiling really has a dramatic visual effect that makes the space feel bigger and taller. The brushed silver fixtures are the perfect contrast to the gray tile. If you're fortunate enough to have a classic daisy pattern tile floor then just look at how modern you can make it! As always, crisp white bathroom furniture and walls win the day to complete this bathroom transformation.
18. Amazing Functional Design for Tiny Bathroom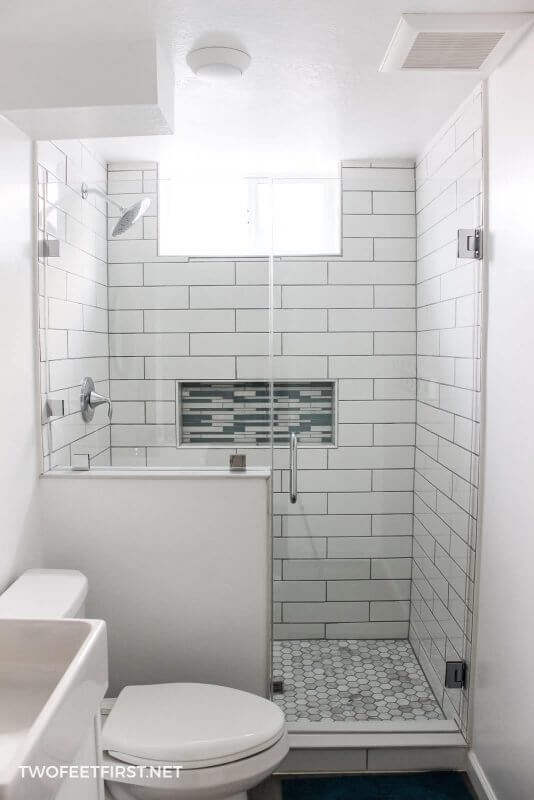 Talk about functional space! This is truly impressive. It is tiny, really tiny, but still looks stylish and manages to squeeze in every amenity you need in a bathroom! Bright white light and big white floor-to-ceiling tiles make the room feel a little bigger. The tiled walls also waterproof the whole shebang since your counter space is also, basically, your shower. The collapsible clear glass doors keep the water in while you wash and get out of your way when you don't need them. This is truly an interior design marvel to inspire any tiny home or apartment!
18 Fresh and Modern Shower Ideas to Update Your Bathroom
What do you think of these bathroom shower ideas? Which ones do you love? As you can see, while many of these bathroom shower ideas involve true renovations, many of them are much more manageable – even do-it-yourself friendly – and smaller scale.
If you want to take on a full bathroom remodel, go for it. But you don't have to undertake a complete overhaul to update your space. Peruse these bathroom shower ideas for big bold changes and small, subtle edits that can make your shower and bathroom feel modern and new.