There are so many modern bathroom ideas that can add a touch of luxury to your private oasis. From bright and cheery to sophisticated and charming, a modern bathroom design idea can truly go a long way. We use our bathrooms every single day, so their importance is much greater than what we give it credit for. Modern bathroom design ideas create a simplistic and clean look. Effortlessly create a modern sanctuary by utilizing geometric shapes, patterns, minimal colors, clean lines and mid-century furnishings.
27 Modern Bathroom Ideas that are both Elegant and Functional

Simplicity is key for a modern bathroom design. If you're considering renovating or building a modern bathroom, be sure to keep an open and organic space that's free from clutter. Utilize built-ins to hide unwanted personal items and choose textures and colors that add interest and character without compromising the minimalist modern bathroom design idea.
A few simplistic bathroom ideas you can incorporate are geometric shaped mirrors, showcasing concrete, wooden and other natural elements, opting for a neutral color palette and utilizing natural lighting as much as possible. For smaller spaces, a modern bathroom design idea can promote a sense of cleanliness and functionality. For a small bathroom, look for wall-mounted vanities and shelving that can save space and incorporate plants to spruce up the décor. For appliances consider glossy white countertops in marble or quartz, concrete flooring and white laminate tile floors for a more streamlined and clean overall look. A larger bathroom allows for a bit more creativity. Adding a large soaking tub or rainfall shower will provide a simple, yet luxurious look and feel to the space. Consider subway tile, high-tech features, water-saving appliances and even heated flooring.
Ready to get inspired and add a touch of modern luxury to your bathroom? Regardless of your taste and style, this will become a secluded space you will enjoy being in. Here are 28 truly inspiring modern bathroom design ideas to consider for building or remodeling your private oasis.
1. A Neutral, Clean and Simple Bathroom Update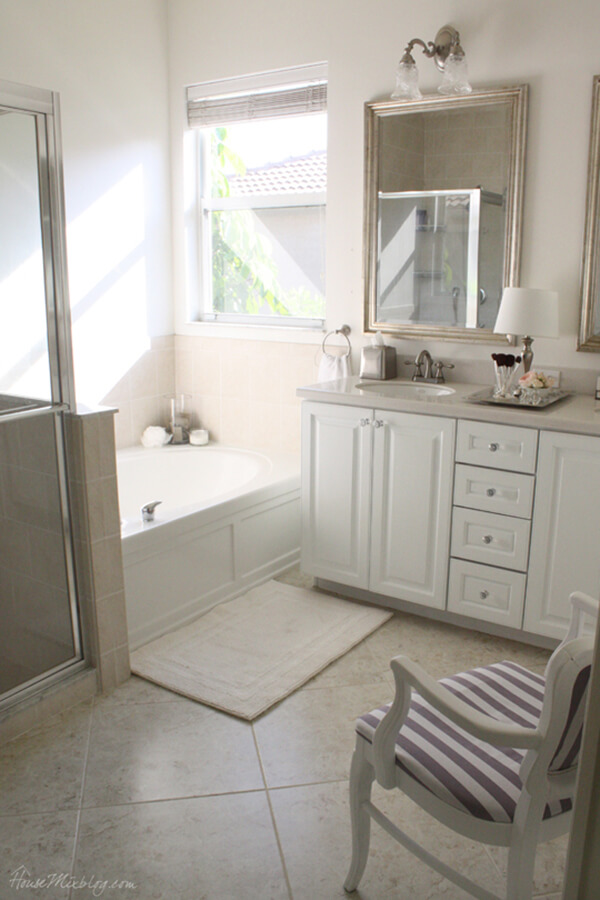 It's incredible what a fresh coat of paint can do, and I'm not just talking about on the walls. This glamourous modern bathroom design idea features solid white cabinets with chic hardware and subtle white accessories throughout. This is such a cozy place to come for a little rest and relaxation, especially in that gorgeous bath. Add a few candles beside your bath to really set the mood. I also really love the white lamp shade next to the beauty essentials. This space is clear from clutter, but still has everything you need within arm's reach.
2. Incorporating Textures and Natural Elements Into the Bathroom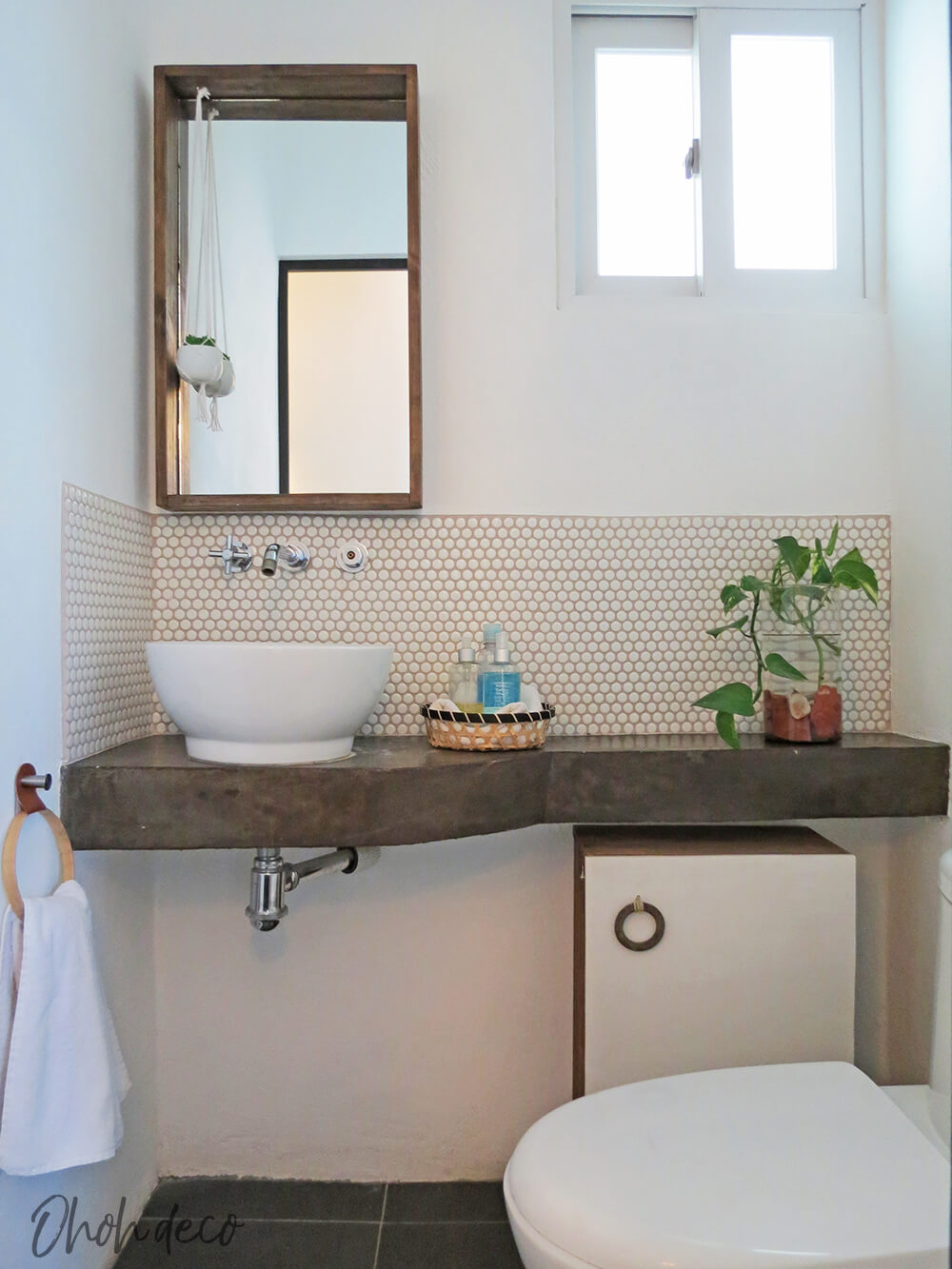 There's no easier way to transform your bathroom than by incorporating textiles and natural elements into your space. No matter how big or small your bathroom is these small details do matter. This beautiful concrete floating vanity effectively enhances this small bathroom's appearance. The exposed space underneath the vanity really draws in our attention and the beautiful mosaic tile backsplash adds the perfect pop to this space without being too bold or bright. The wooden framed mirror and plants along with the natural colors and elements all mesh very well together and add so much beauty to this modern bathroom.
3. A Dreamy Modern Vanity with Personal Touches Throughout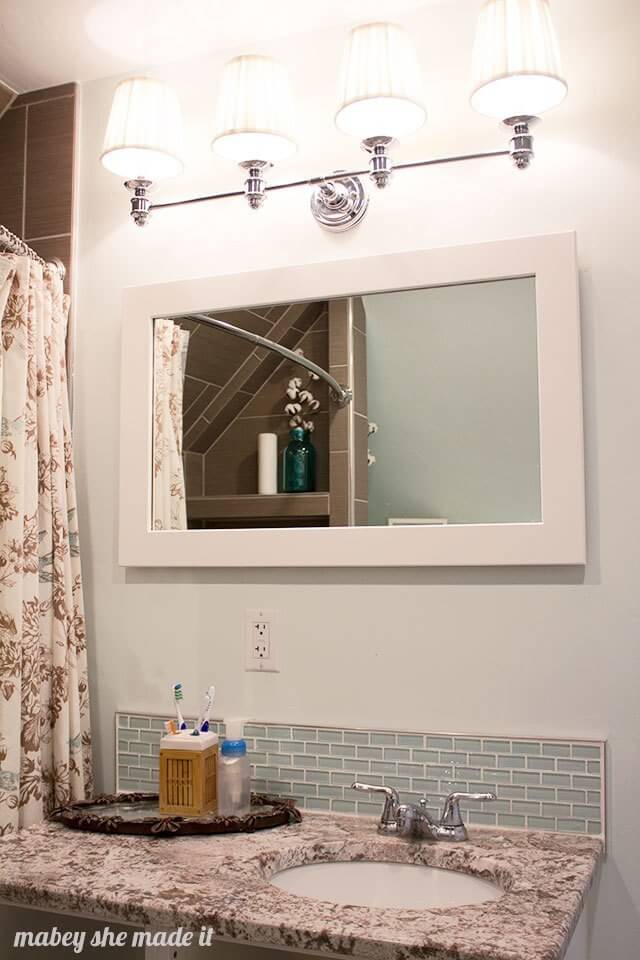 Usually, the bathroom vanity is the most focal point of your private oasis. This vanity is very modern but also features several thoughtful touches throughout to accommodate the homeowner's own unique style and personality. The tinted blue subway tile is a great addition and pairs perfectly with the taupe and light blue shower curtain. The vanity countertop features a marbled look with white and taupe which also blends well with the shower curtain. The white paint and white trim mirror are gorgeous aesthetics for a modern bathroom design. Let's not forget about the lighting. The chromed lighting really brightens up this space perfectly.
4. A Modern Bathroom Design with a Fun Pop of Color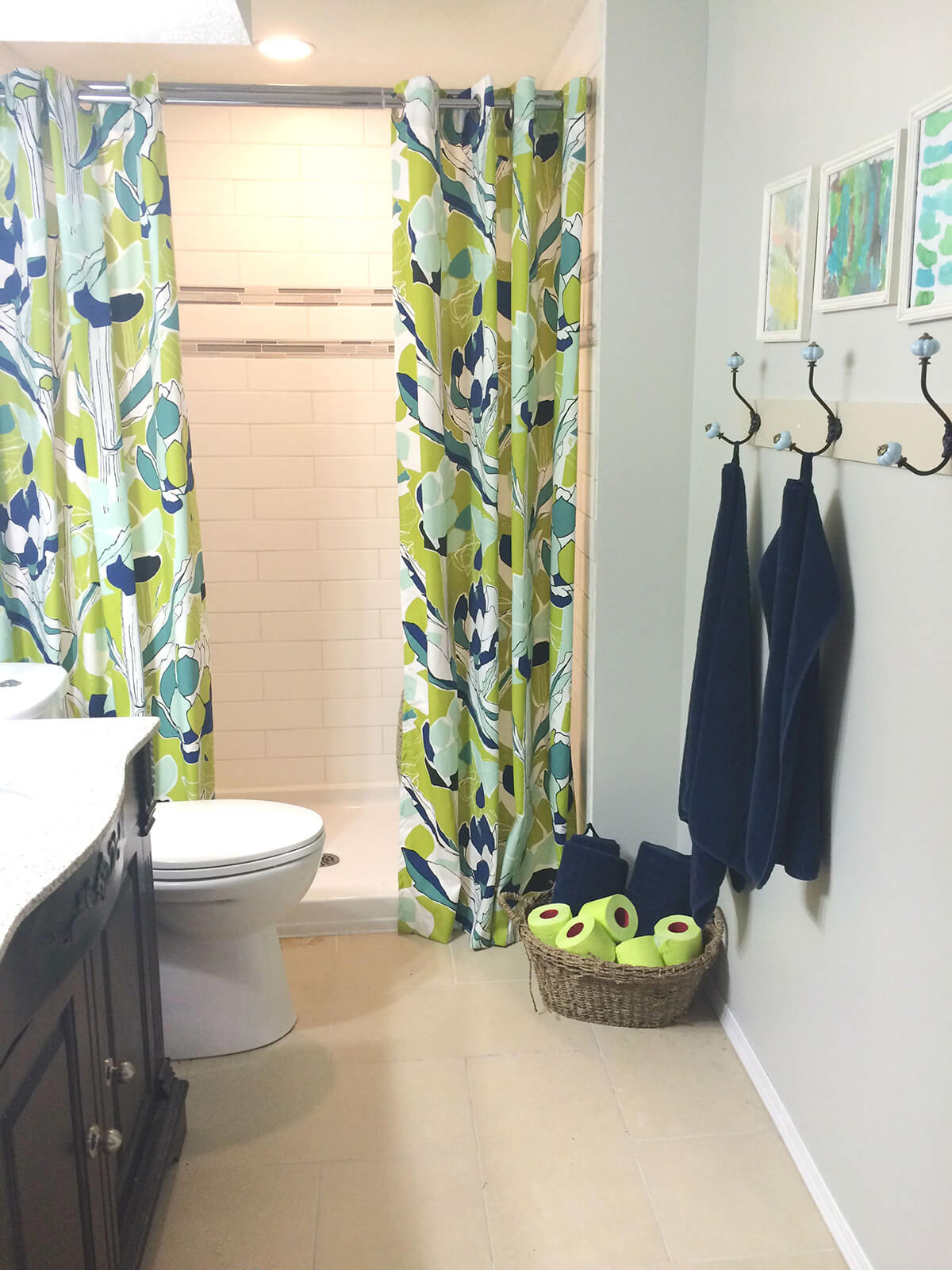 A modern design can mean different things to different people, but usually refers to neutral colors and little to no decorative flourishes. This modern bathroom design truly stands out from the crowd with a bright and vibrant pop of color. The green and light blue theme in this spare bathroom really catches your eye. From the shower curtain and wall paintings to the bright green toilet paper, this bathroom is sure to be a conversation starter when guests walk inside. Steering away from the traditional neutral, clean bathroom aesthetics, this unique bathroom design speaks volumes about the homeowner's style and fun personality.
5. A Rustic Industrial Modern Bathroom Design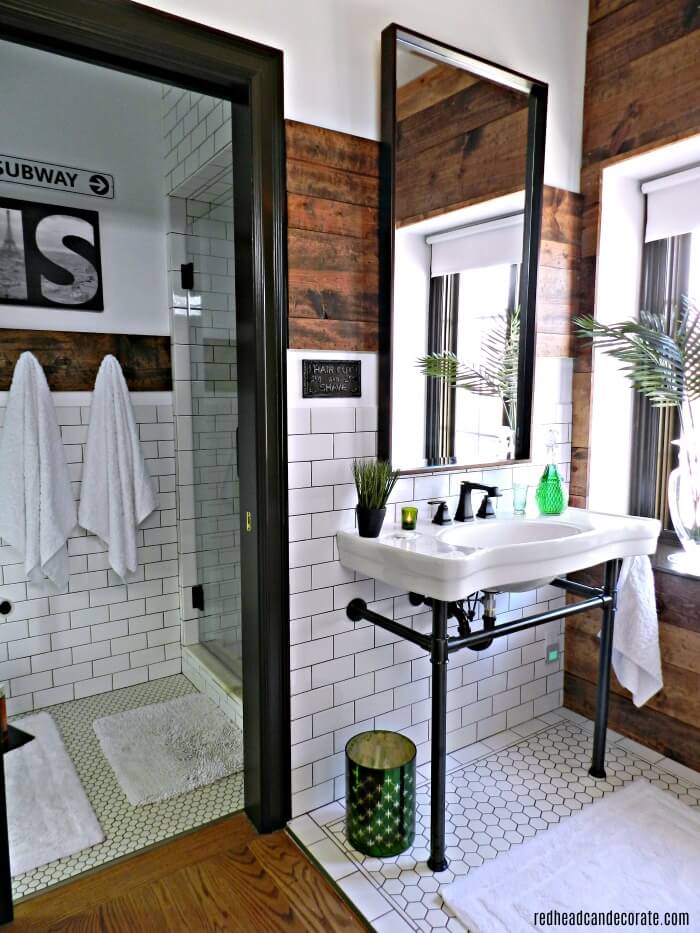 When we think about a modern bathroom design idea, we usually think about all the natural elements we can incorporate into the space. This bathroom truly has it all and really looks like a professional designer updated this private oasis. All the elements here blend so well together for a rustic industrial aesthetic. The large framed mirror in black looks stunning against the stained shiplap and white and black subway tile wall. The sink really stands out with the exposed piping and added black metal legs. Bringing this same design concept to the inside of the shower room is pure genius. This stunning modern bathroom looks so cohesive with all the natural elements incorporated together.
6. A Mini Master Bathroom Makeover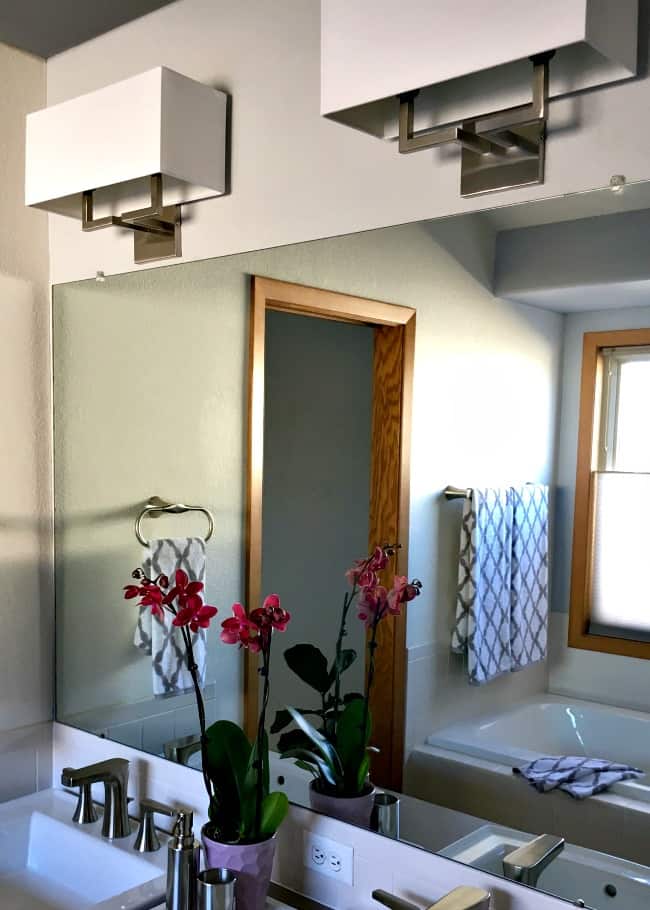 If you're on a tight budget and want to add a few touches to modernize your bathroom, consider a fresh coat of paint, replacing the hardware and light fixtures and adding in a few small accessories. This mini master bathroom makeover features a fresh coat of light grey on the walls, updated sinks and hardware, sconce lighting for an ultra-modern and chic touch, and finished off with beautiful bathroom decor and accessories. The simple vase of flowers add a nice pop of color and the simplicity of the countertops with just the vase and soap dishes really makes this space feel more open and airy.
7. A Minimalist's Dream Bathroom with Stenciled Tiles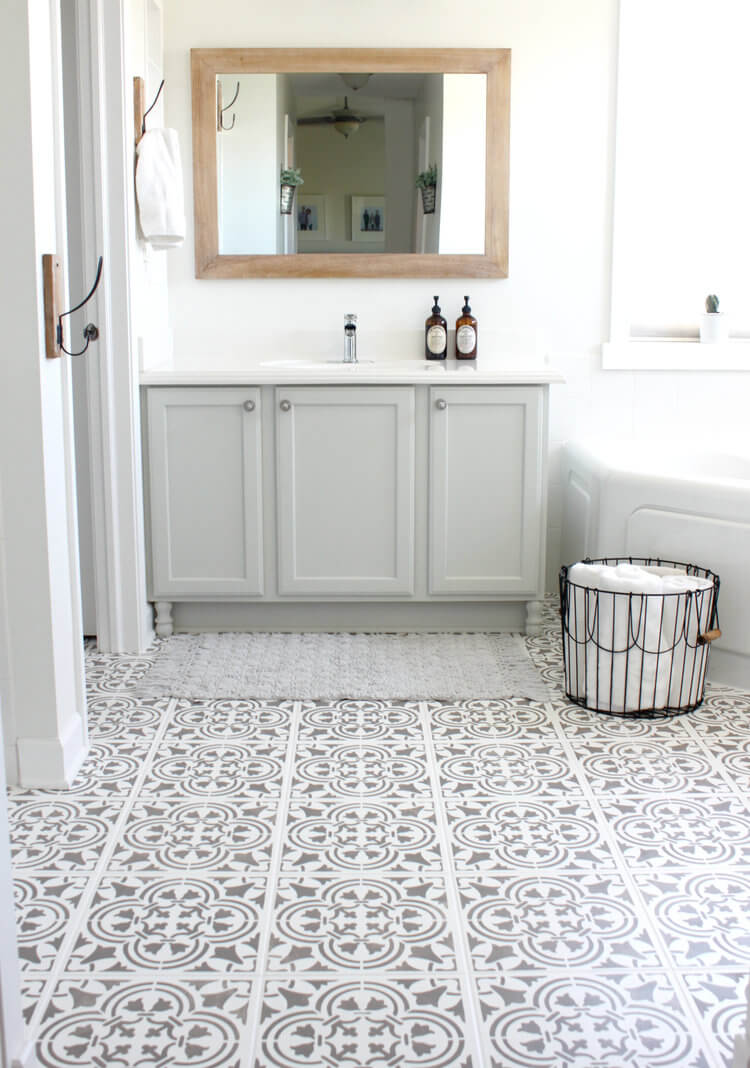 When we talk about a minimalist home, we often think of bright whites, natural lighting, minimal décor and tons of negative space. This bathroom is the definition of modern-minimalism and it's absolutely stunning. The framed wooden mirror is such a gorgeous focal point as it's centered perfectly above the bathroom vanity. The wall color, tub and countertops are white with accented light grey cabinets. The tiles are what really pull this whole bathroom together without it looking boring or stale. The bathroom tiles feature a stenciled design in a darker shade of grey to compliment the cabinets. This is a space that just feels so freeing and welcoming just at a glance.
8. Be Bold with a Black Industrial Bathroom Design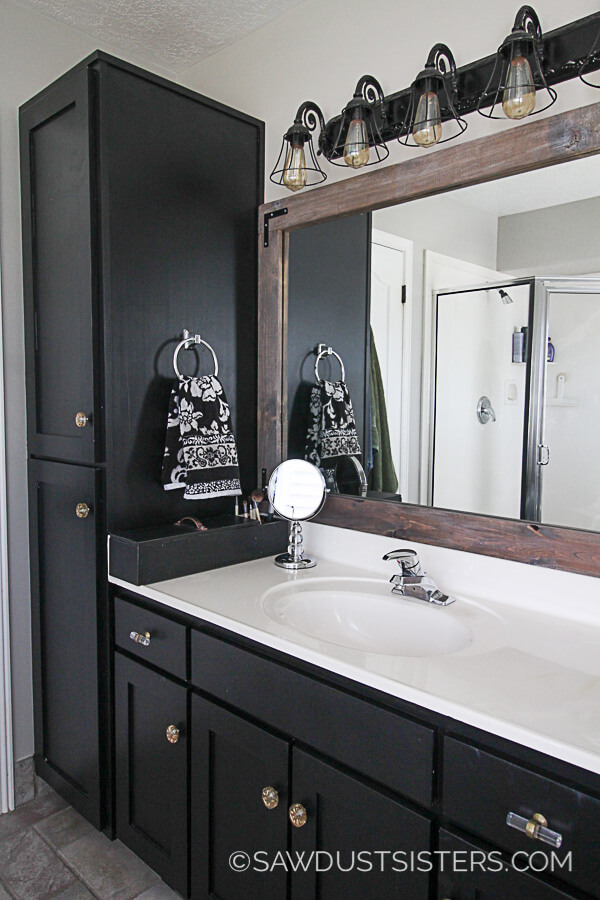 Some people honestly don't care for the whites, greys and other traditional modern colors that are popular these days. Don't be afraid to go bold in your bathroom design. Consider updating your existing cabinets with solid black paint. The white sink and countertop modernizes this space and allows the black cabinets to really do all the talking. The hardware is super trendy with the gold and clear detailing. The wooden framed mirror with black exposed hardware along with the black Edison bulb light fixtures really give this bathroom a modern, yet industrial look that's simply beautiful.
9. A Chic, Feminine Bathroom Oasis for Relaxation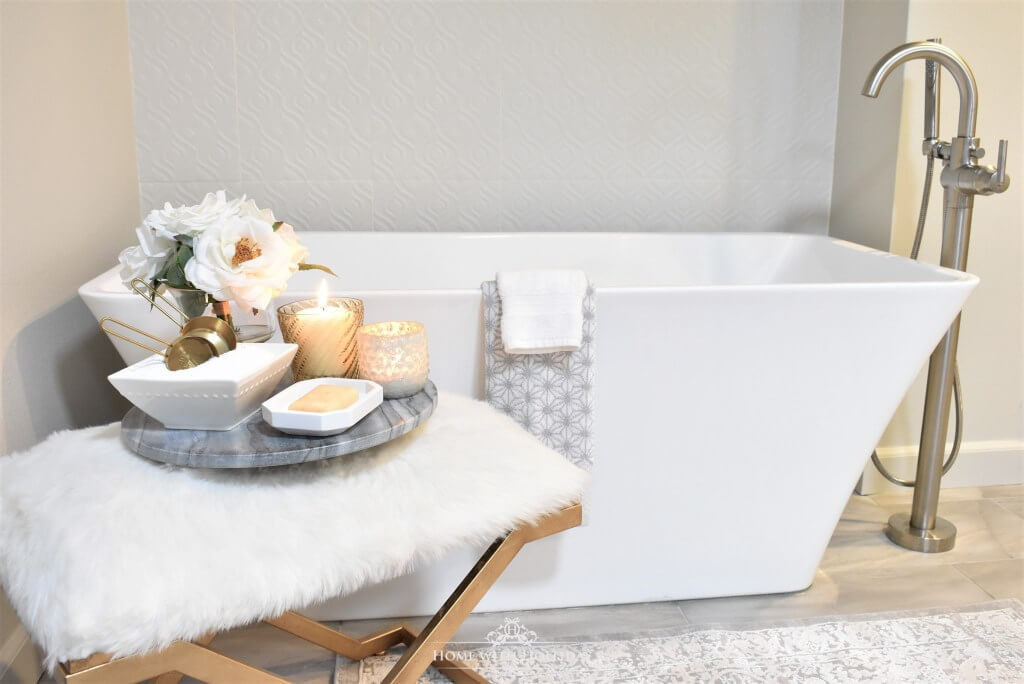 This bathroom was fit for a queen. The freestanding tub is a popular choice among interior designers who are looking for a more modern touch in a bathroom remodel. Freestanding tubs have recently become one of the hottest trends so incorporating one into your modern bathroom design idea won't be going out of style anytime soon. The stenciled accent wall features a feminine touch along with the faux fur bench that can be used for both sitting and as a table. The marble tray adds earthy elements to the space along with the small vase of pretty white flowers. The candles and bath salts are displayed so perfectly for a nice and relaxing way to bathe.
10. A Fresh New Bathroom Look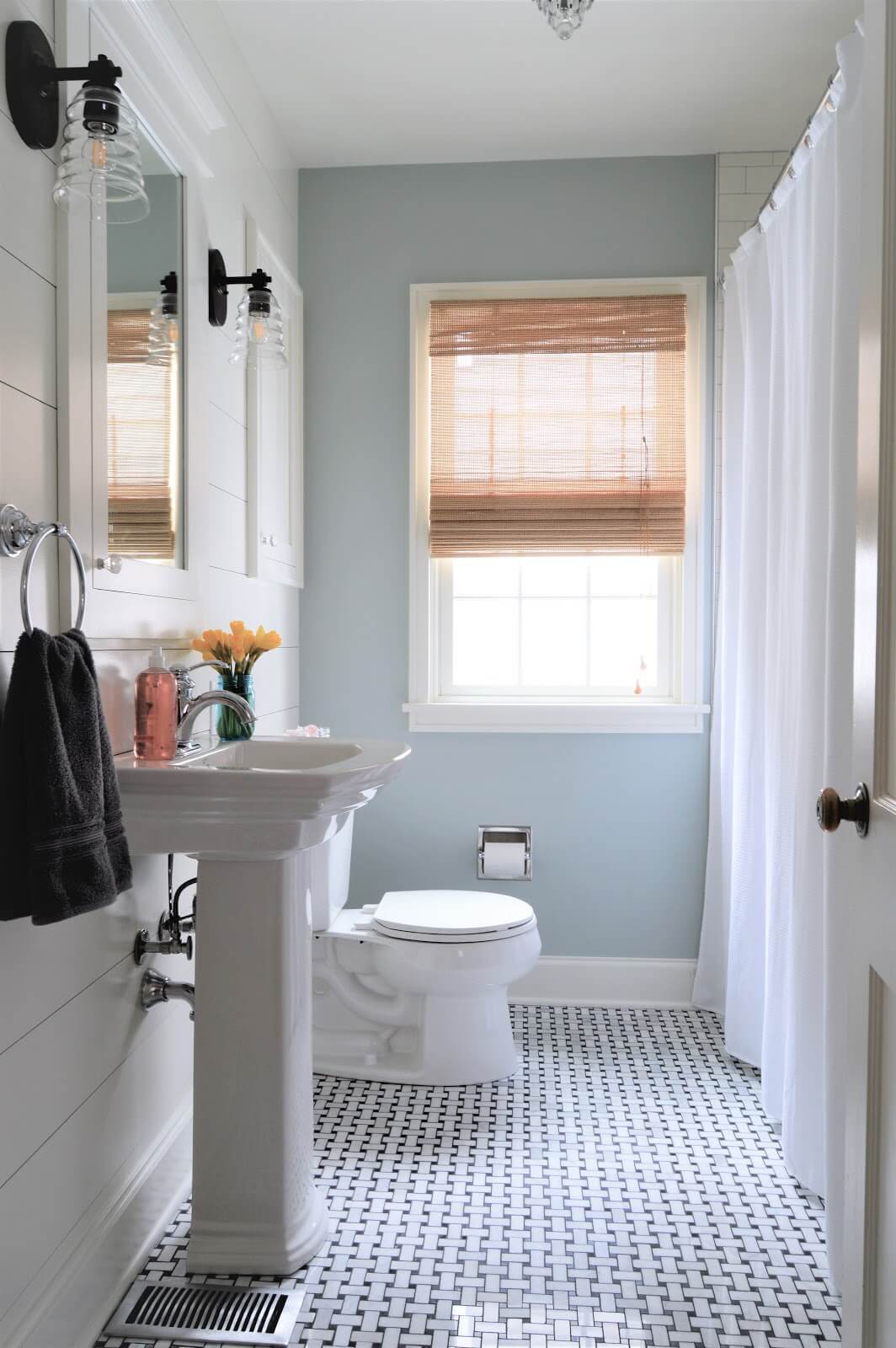 It can be difficult to find ways to update and enhance the overall look of a space that's particularly very small in size. The good thing though is that it is possible! This small bathroom space looks so fresh and airy. The natural lighting from the window provides the perfect amount of light in the daytime to accommodate the entire space. With a few modern updates like the beautiful tile flooring, natural shade for the window, industrial light fixtures and stately sink all make this small bathroom really hold its own. There doesn't have to be a lot of décor and accessories when updating a bathroom. The fresh flowers, soap dispenser and hand towel are really all you need for this chic modern bathroom.
11. An Orderly Rustic Modern Bathroom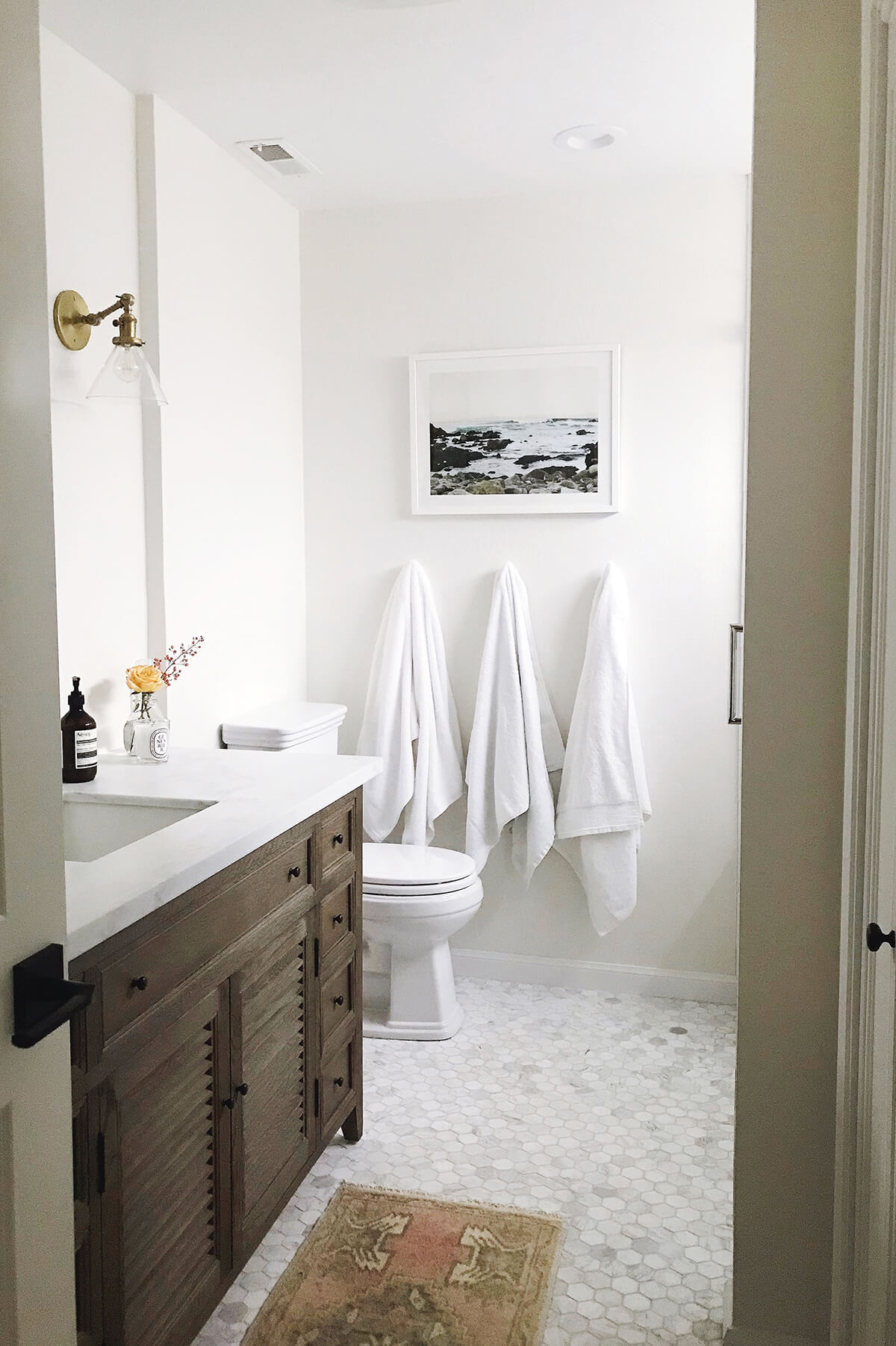 The brown wood cabinets in this bathroom really give off a rustic touch that's beautiful and natural. The clean white walls and countertop makes this bathroom more modern in aesthetics and all around a more clean feeling. The three towels displayed on the wall makes this bathroom feel more inviting and welcoming while the vintage looking rug adds texture and personality to this space. The vintage light fixtures compliment the rug very well and the clean minimal accessories on the sink provide a minimal approach that's sleek and sophisticated. Let's not forget about the trendy mosaic tiles on the floor. These tiles add an additional natural element to this bathroom space.
12. Add Personality to Your Bathroom While Keeping Things Modern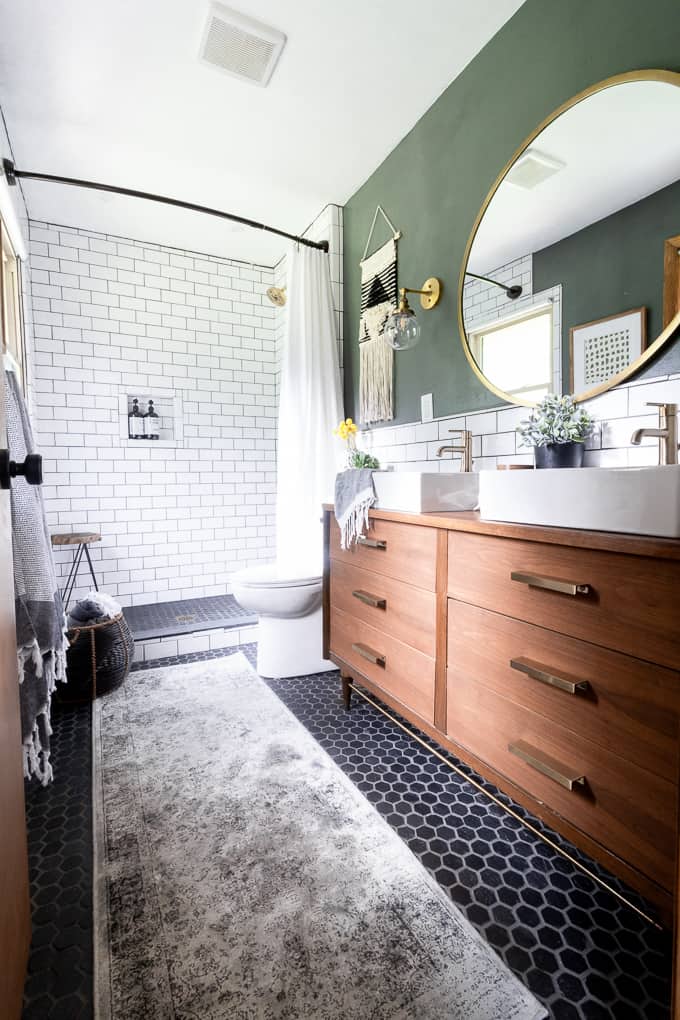 Are you the type of person who just loves bold colors, mixing and matching and adding your own personal touch to your living space? Why not bring some of these same concepts into the bathroom with your next remodel or design? When choosing modern fixtures, tiling, flooring and accessories for your bathroom think about the things that you love. Don't be afraid to combine them all together. This homeowner added a bold green to one wall for an accent in the bathroom and moved an old dresser into this space to use as a vanity. Mix and match tiles choosing subway tiles for your bathroom that runs along the wall above the vanity and choose a mosaic tile in a bold color for the flooring. This is your space to add your own touches and personality to.
13. Go Retro with a Boho-Vintage Vibe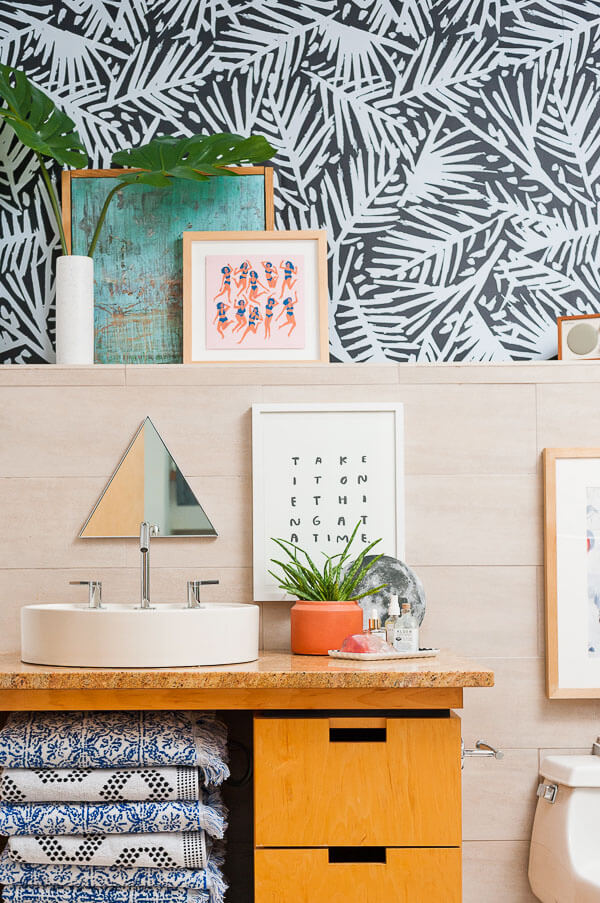 The whole modern design concept doesn't have to solely focus on every little detail of your bathroom update. You can incorporate your own choice of countertop, shelving, wallpaper and more while still choosing modern concepts such as the sink, mirror and bathroom accessories. This bathroom has such a retro vibe to it while also feeling Bohemian and modern all together. The raised sink and tiny triangle mirror really pop in this space along with the tropical wallpaper and wall art. The wooden counter and cabinet in an orange finish gives this look an old-school vibe that's not usually seen in today's design concepts. I love how unique and interesting all of the details are in this modern bathroom update!
14. Simple, Stately and Sophisticated Modern Bathroom Design Idea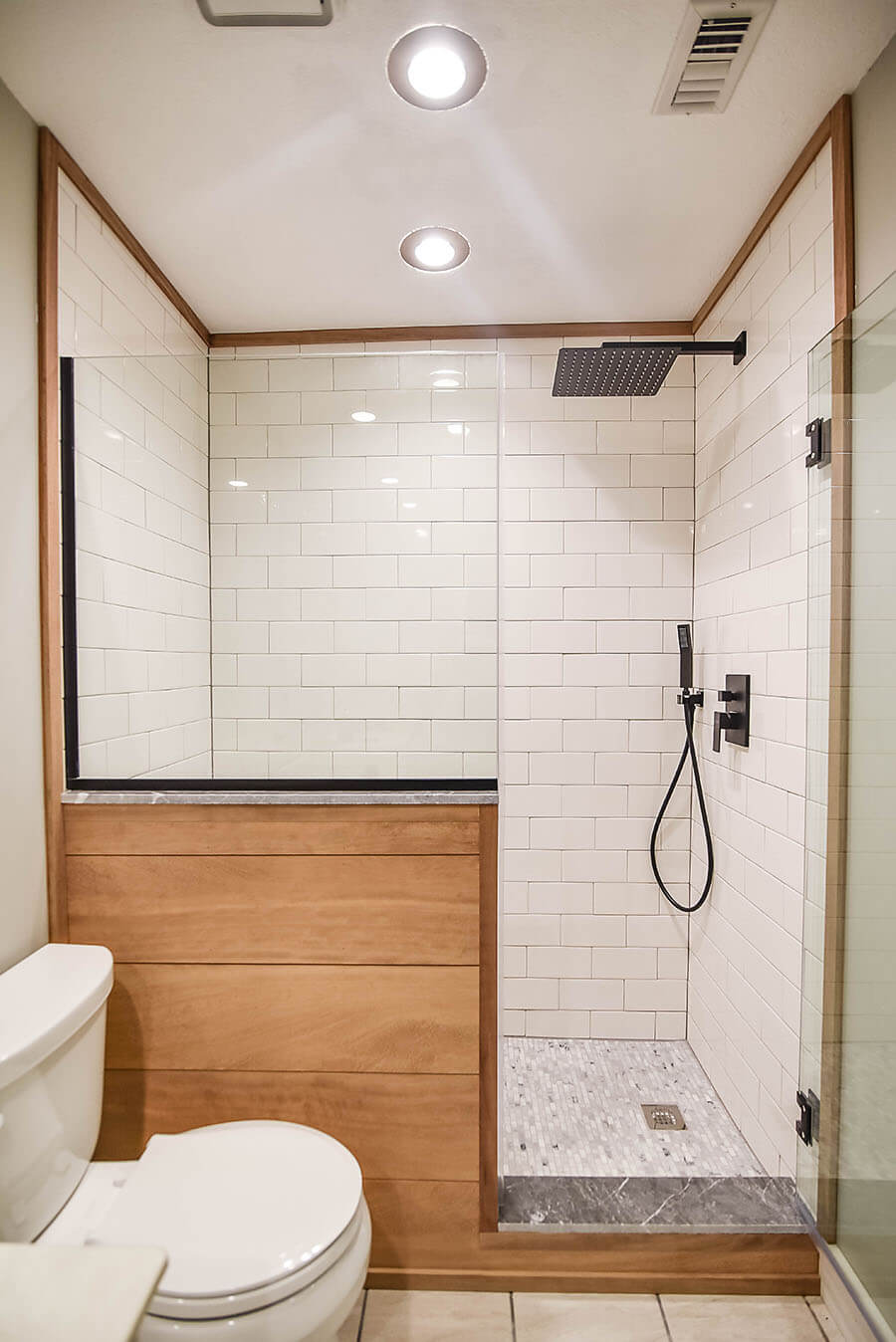 There's something about a simple bathroom design with natural elements and modern touches. It just looks so clean and sophisticated without being too feminine or masculine. This updated bathroom features a standing shower with a glass and wooden enclosure. The black fixtures inside the shower along with the black trim along the glass enclosure really gives this bathroom a touch of industrial aesthetics while keeping things modern with subway tiles and a marble ledge. The recessed lighting here is a great choice when considering what lighting to use in your bathroom. Recessed lighting is a great way to add pushed or focused light down onto a space, which is why it's a good choice for this open bathroom concept.
15. A Modern Mosaic Bathroom Update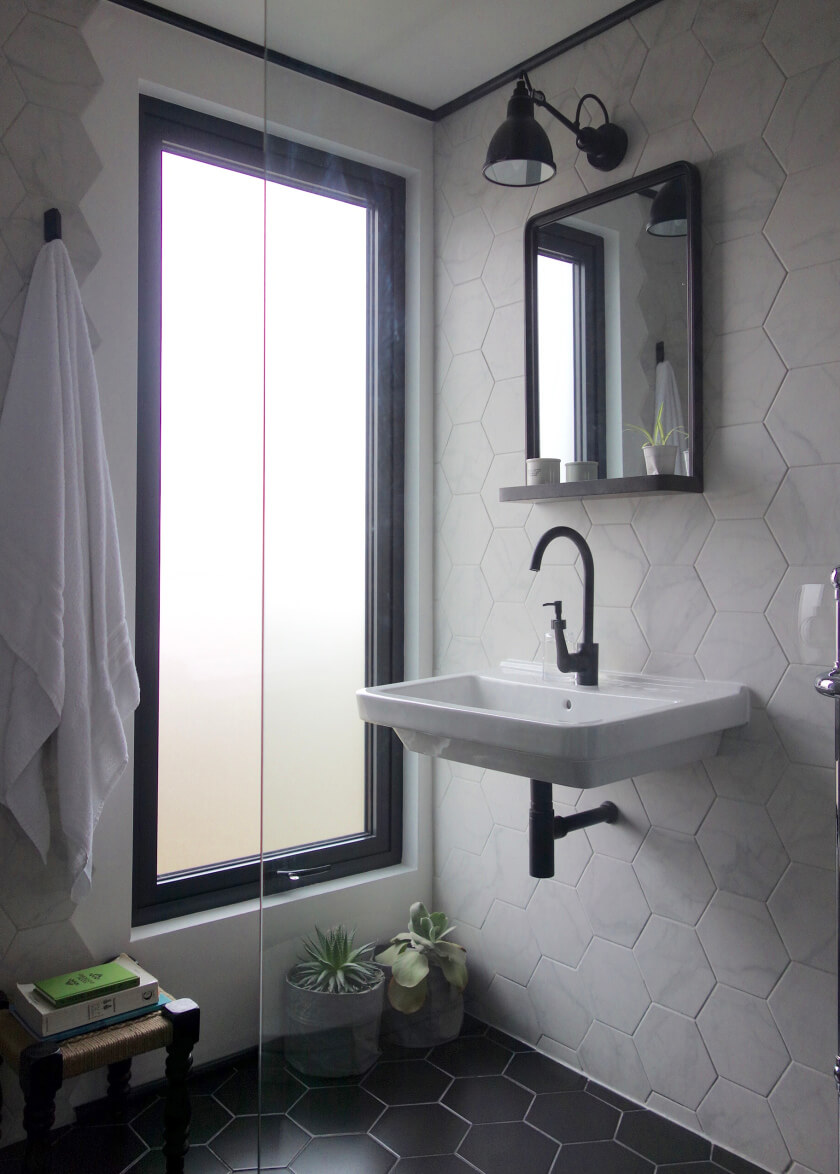 Mosaic tiles are one of the most common updates for a modern bathroom update. These large mosaic tiles in grey for the wall and a nearly black shade on the flooring really add texture and dimension to this space. Choosing these natural colors provides an earthier feel along with the potted plants strategically placed by the tall window. The floating sink also adds dimension and makes this space look even bigger than what it really is. The exposed piping matches the faucet hardware which also matches the mirror shelf and light fixture. It all ties so beautifully together for a stunning bathroom design update.
16. Keep Things Simple with Your Next Bathroom Makeover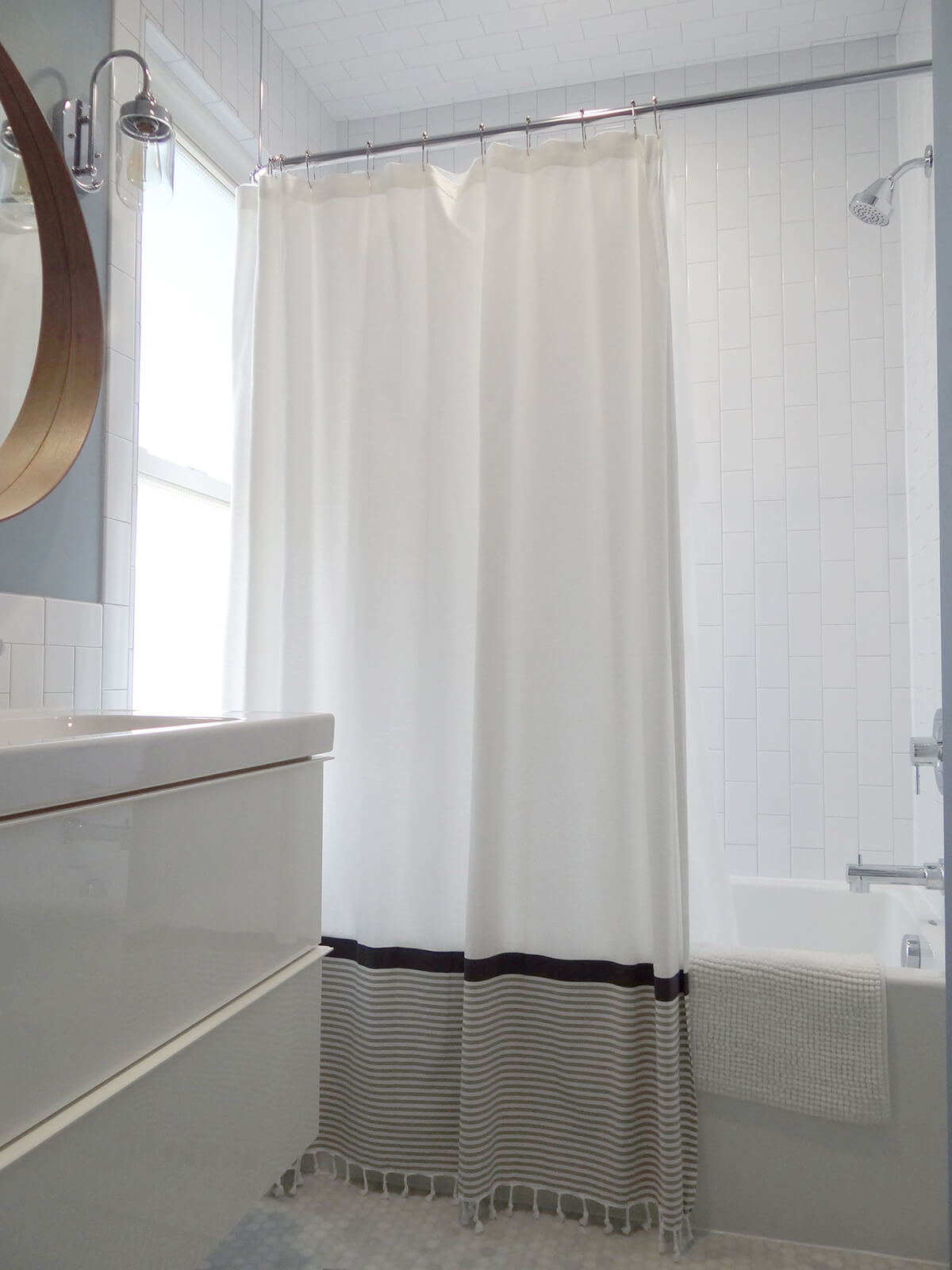 When thinking about doing a small bathroom update, be careful not to overdo it. This bathroom features clean and simple furnishings and accessories for a fresh modern makeover. The sleek white vanity with pull out drawers is a unique concept to hide away your personal care items while still maintaining a clean and minimal overall appearance. The oval mirror in brown adds a natural element to the space and the mosaic tile flooring along with the subway tile shower pulls this modern makeover together quite well. The shower curtain is simple, yet very trendy and adds color and texture to the space.
17. A Feminine Flair Take on the Modern Bathroom Trend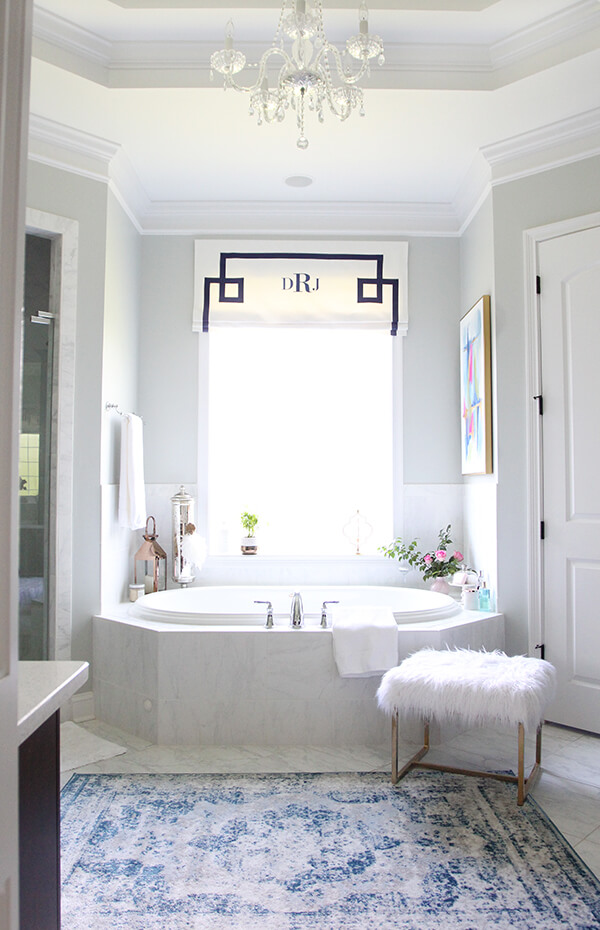 Looking to enhance your bathroom to look and feel more feminine and luxurious? This unique bathroom design features a large soak-in tub with feminine accessories placed around it. This is a space that boasts comfort and relaxation in a luxurious setting. The faux fur bench seating can also transition into a small coffee table for a tray to set your book and drink on while bathing. The Victorian-inspired rug is the perfect way to maintain that elegant design aesthetic while also incorporating color into the space. Monogramming initials on the pull down curtain adds personality to this unique and modern bathroom.
18. Add a Playful Touch to Your Modern Bathroom Design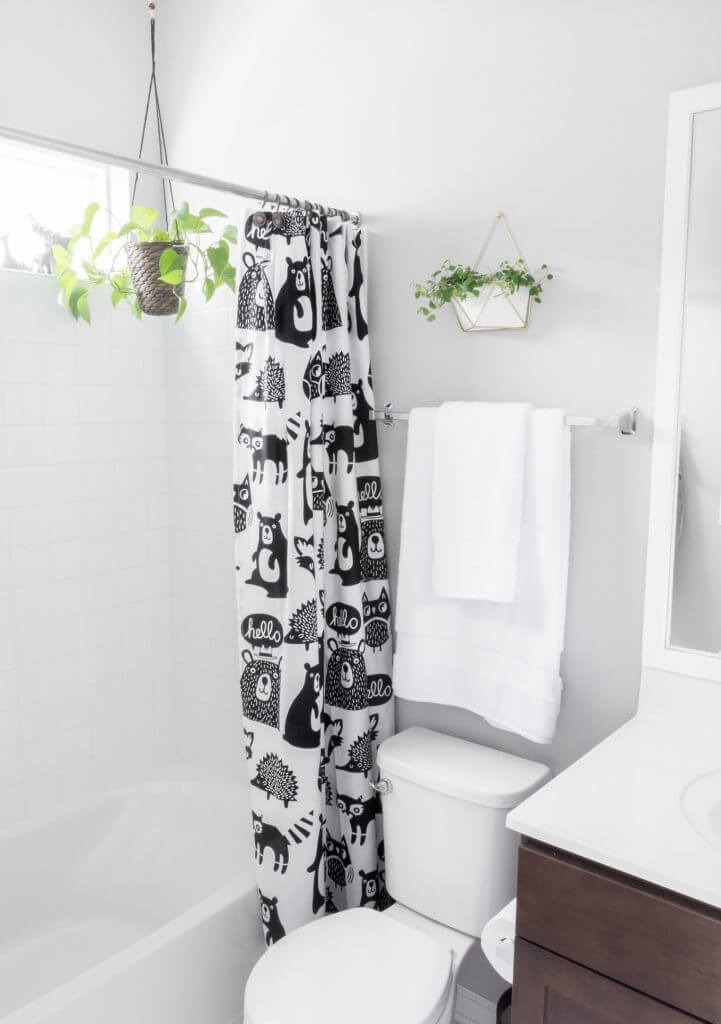 This bathroom is very clean, simple and youthful. The wooden vanity and hanging plants give this bathroom a modern touch while the shower curtain adds a playful piece that really catches your eye. If you're considering updating your child's bathroom and still want to maintain the overall modern aesthetics of the rest of your home, this is the perfect bathroom to have. The minimal furnishings and accessories allow the important details like the plants and shower curtain to really pop. The natural elements in this space are perfect and not too over the top.
19. Exposed Piping and Open Shelving Bathroom Update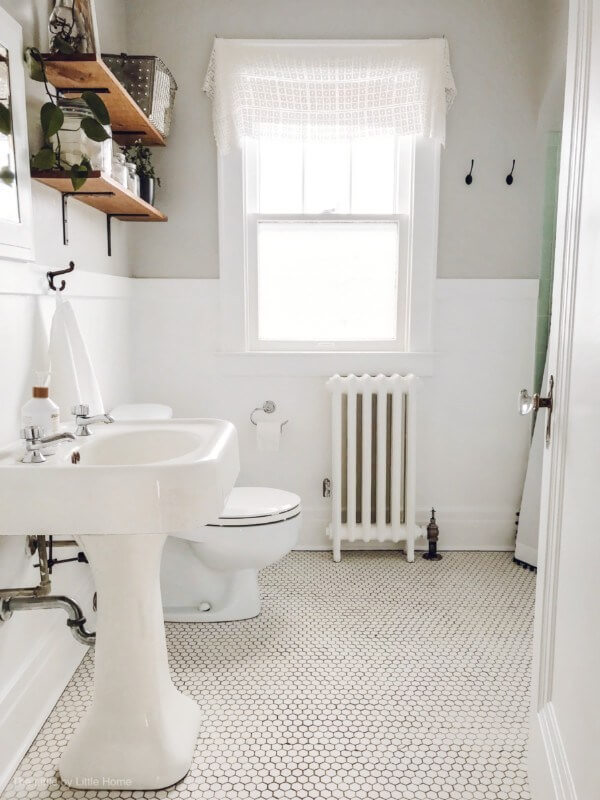 Are you currently working on remodeling a bathroom in an older home? Consider leaving the exposed piping and furnace just as it is and add complimentary fixtures and accessories to give your bathroom a modern update that's very stylish and on trend. This bathroom features mosaic tile flooring and two wooden shelves for extra storage. Keeping the sink minimal without any additional cabinetry or countertop space allows for a more open concept. Leaving the hardware and piping exposed is an industrial design that's very trendy and a look that's quite easy to achieve. Display your essentials in the open shelving on the wall so they can be easily accessed.
20. Add Style and Personality to Your Private Oasis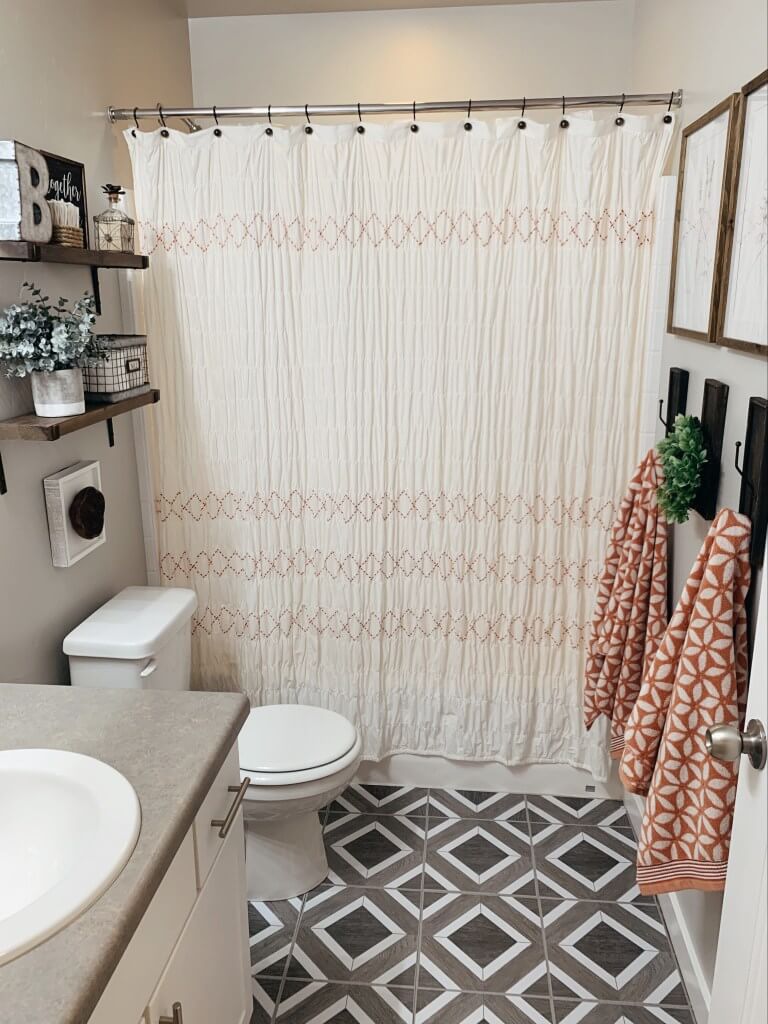 A bathroom, no matter how big or small should be a space in which you enjoy being in and love to look at. Being that it's probably one of the most visited rooms in your home, you should be able to go into this space and feel just as "at home" as you do your living room. This gorgeous bathroom update features beautiful tiles, open shelving above the toilet and fun quirky touches of personality from the shower curtain to the towels. The wooden shelving above the toilet is a great place to add extra storage space while maintaining a clean and organized space. This is a bathroom anyone would enjoy being in.
21. A Simple Update for Your Bathroom on a Budget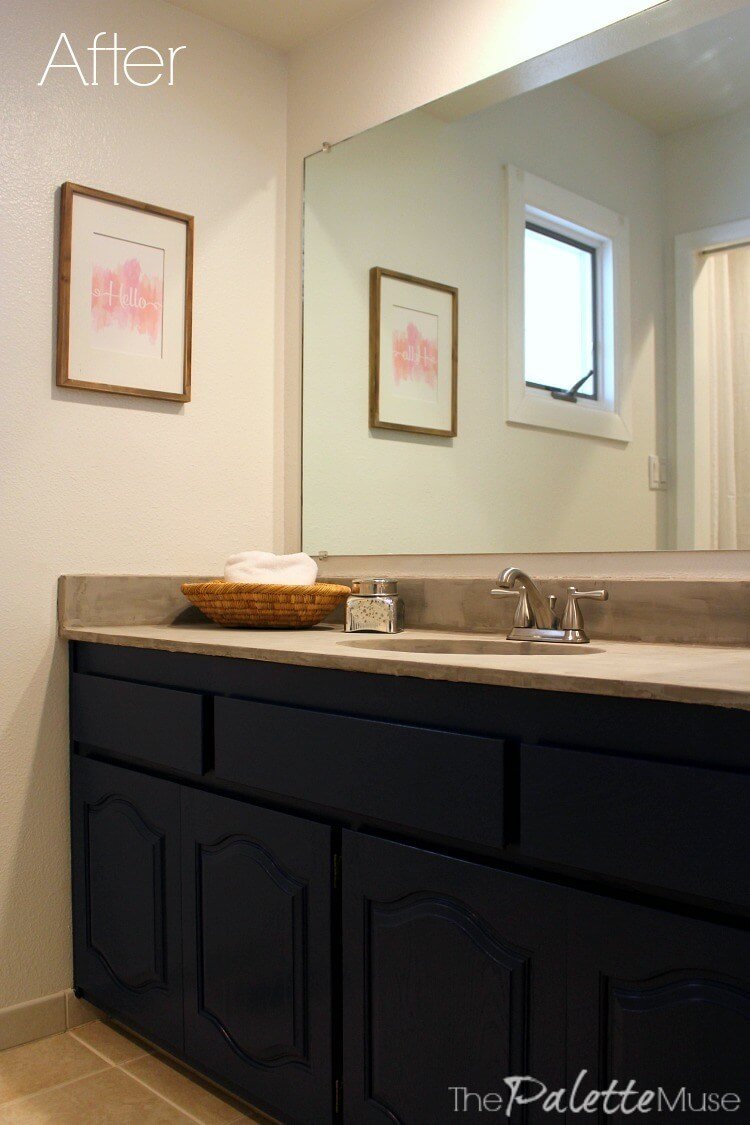 Painting your bathroom cabinets can really go a long way. If the budget isn't there to completely remodel your entire bathroom, there are plenty of other small modern bathroom design ideas that can still completely transform your space. Consider painting your cabinets yourself with a bold color that really stands out. This dark blue vanity provides a bold, sultry look that feels elegant and dramatic in this space. The countertops were updated with concrete which can be an inexpensive addition if you know what you're doing. Paint the walls white if you wish and your bathroom is completely updated on a small budget.
22. Exposed Brick for a Statement Piece in the Bathroom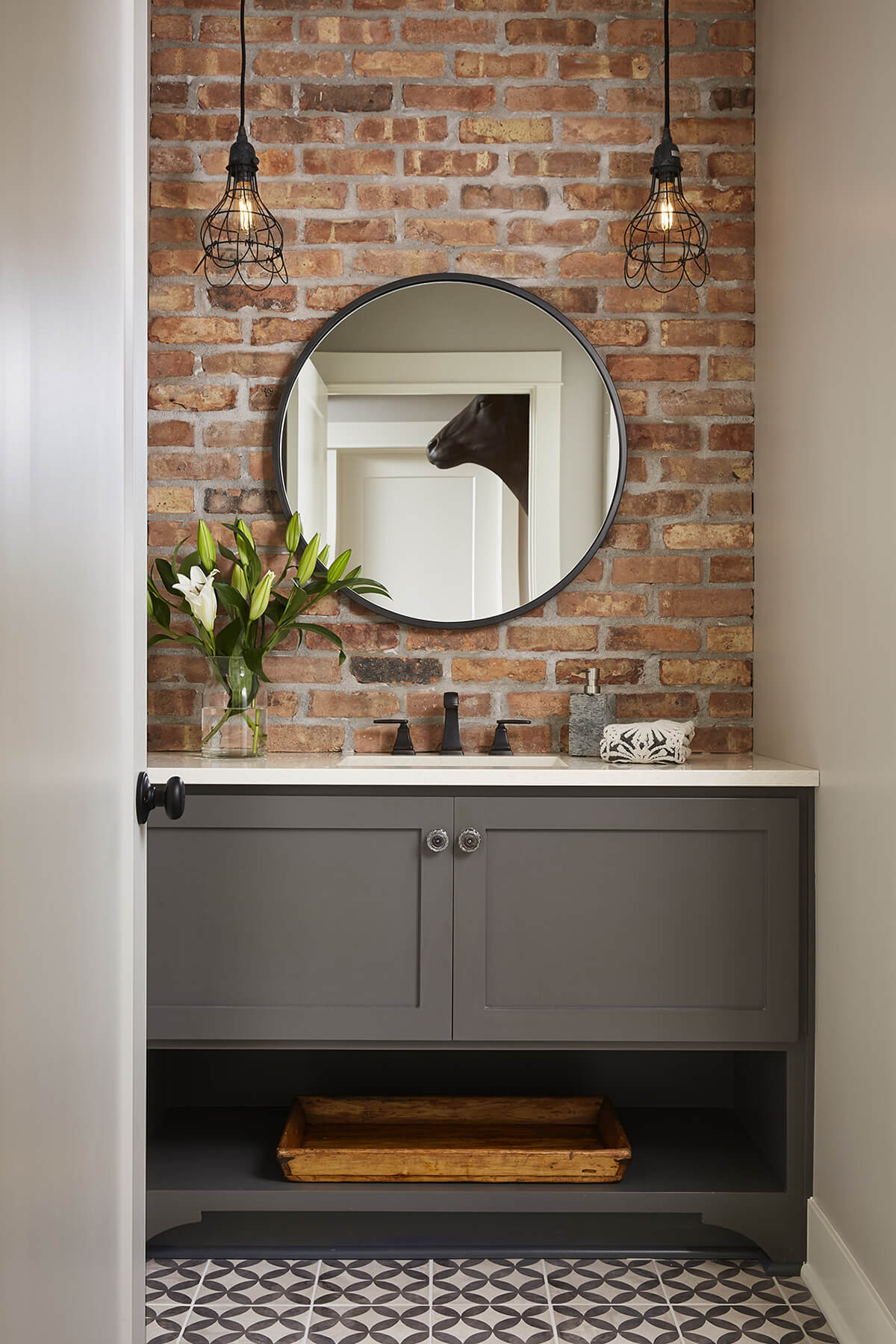 Whether you already have exposed brick in your bathroom or you add in a faux brick yourself with vinyl adhesive or wallpaper, this is a modern and trendy look that really makes a statement. This beautiful bathroom features both industrial elements as well as feminine touches. The exposed brick, black framed mirror, black faucet and door handles along with the dangling light fixtures all give this bathroom an industrial look. The vase of fresh flowers, the folded towel and the printed tile on the floor add a little feminine flair to the space without being too overpowering. This is such a cute and quaint bathroom that will easily fit into any existing home décor style.
23. Statement Walls in Powder Rooms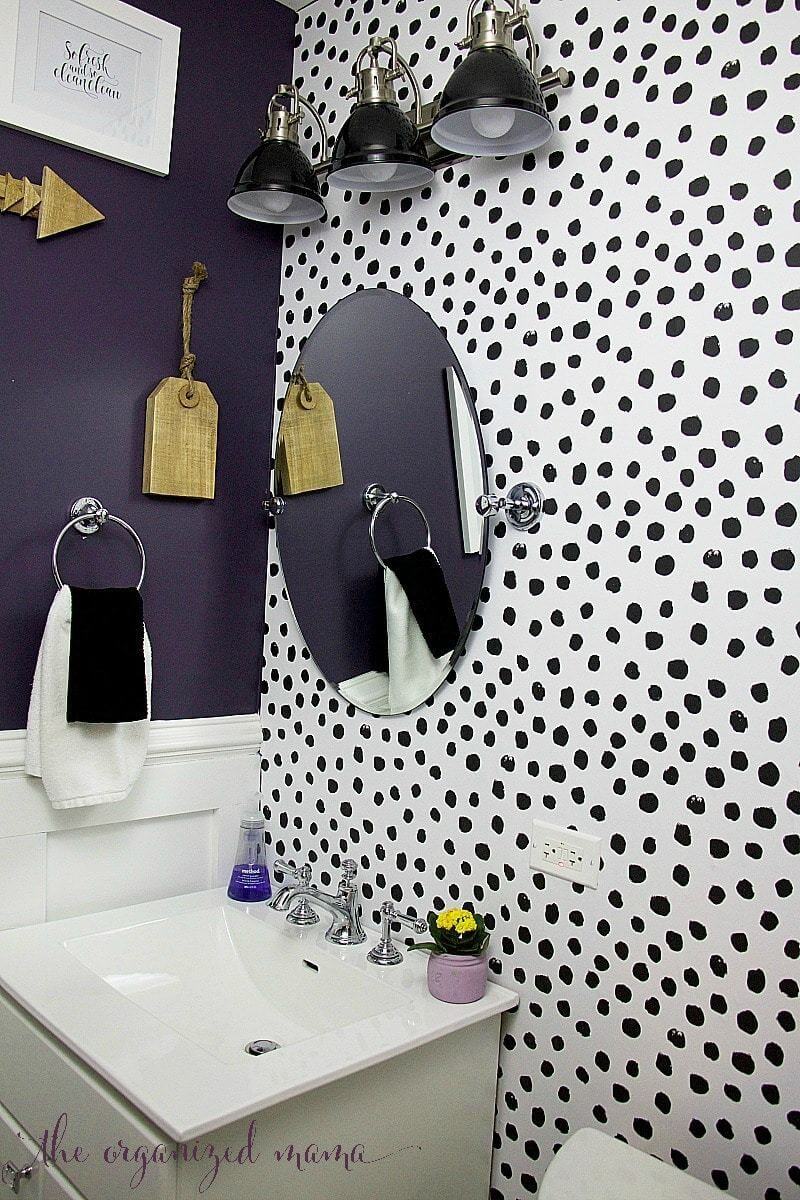 Make a big impact in a small space by creating a statement wall in a bold pattern, color or print. This black and white polka dot accent wall really adds a dramatic touch to this small space. Paired with an oval mirror, oval towel holder and a round light fixture this space exudes bold personality and style. Whether you choose polka dots, florals, geometric shapes or some other trendy accent for your bathroom wall, it's sure to make a powerful statement. Black and white is also a color that can be easily manipulated to transition into different design aesthetics if you want to switch it up in the future.
24. A Large Open Concept Bathroom Design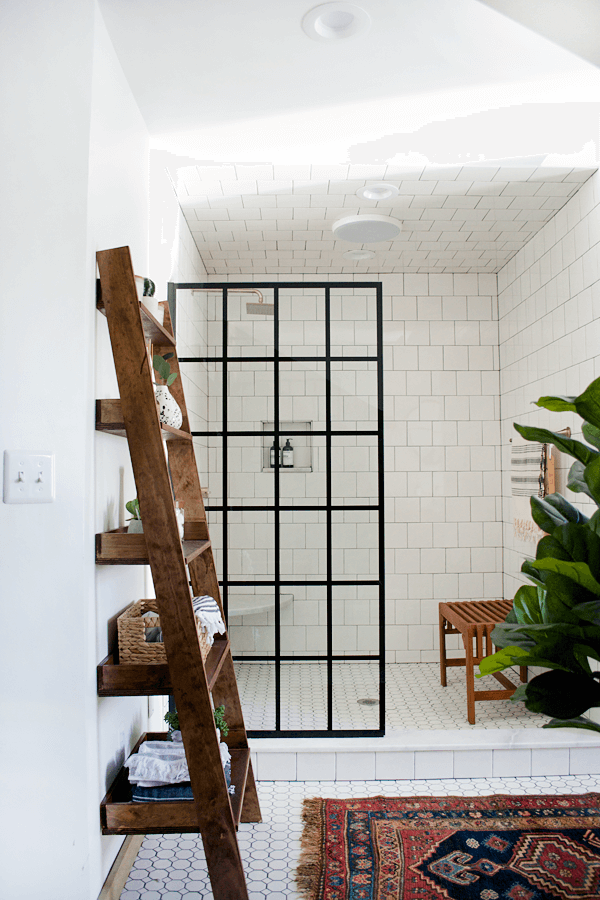 If space isn't an issue for your new bathroom remodel or makeover, consider having a large open shower concept. This bathroom features an open layout with a beautiful black and white window pane for the door that is glass giving it the illusion of being completely open. The modern mosaic tile flooring is continued from the inside of the shower to the entire bathroom floor. The wooden bench seating and wooden ladder shelf really adds in those natural elements along with the oversized plant in the corner. The fringed Bohemian-inspired rug really ties this whole space together beautifully and gives it a warm, cozy touch to the traditional cold-like bathroom designs.
25. A Glam Bathroom Makeover on a Budget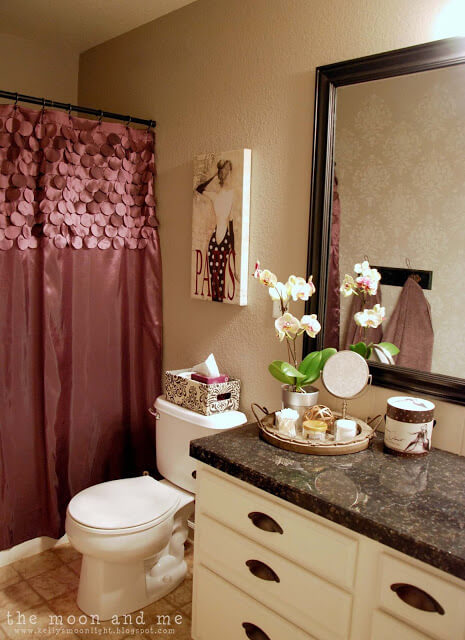 Who says modern can't be glam at the same time? This budget-friendly bathroom makeover features exquisite taste and personality incorporated throughout. With a fresh coat of paint on the cabinets and updated hardware the vanity is transformed into a beautiful modern design. Adding wood trim around your existing mirror is a cheap hack that's both inexpensive and easy to install. If your budget allows, update your countertops but if not, simply clear the clutter and add in a few modern bathroom decor pieces such as flowers, jars for organizing, a soap dish and mini mirror. Complete the look by adding in a dramatic shower curtain for a statement feature that adds both style and unique personality to your space.
26. A Chic and Nautical Modern Bathroom Design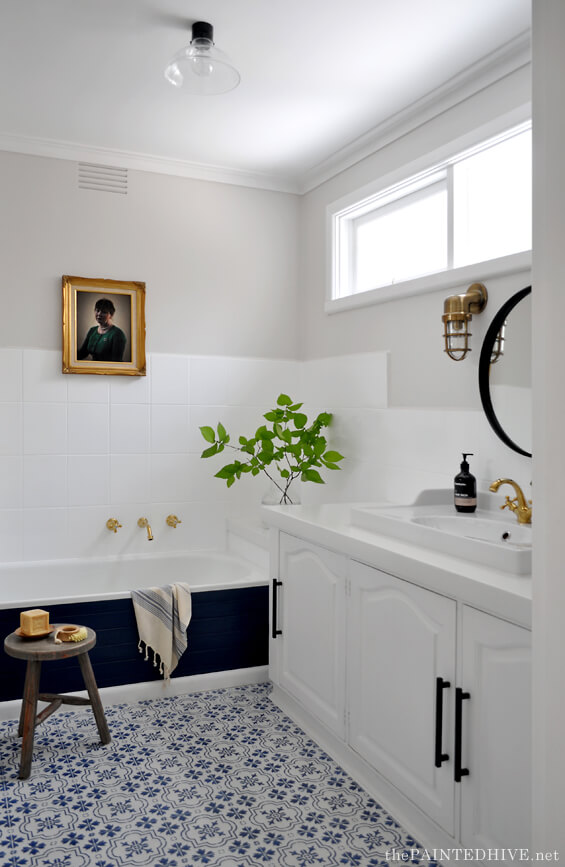 Do you just love the nautical theme, but don't want to overdo it in your bathroom remodel? Consider adding in touches of navy blue and nautical elements like those featured in this chic and modern bathroom design. The clean white vanity and white tile walls really brighten up the space while the navy blue and white printed tiles add color and texture. The mosaic tiles really pop in this small space and gives it that nautical look you're going for. The dark navy blue siding on the tub really pulls it all together with the draped navy striped natural towel. The gold hardware from the faucets along with the fold accented portrait and light fixtures give this space a true modernized makeover.
27. Powder Room Makeover with Feminine Aesthetics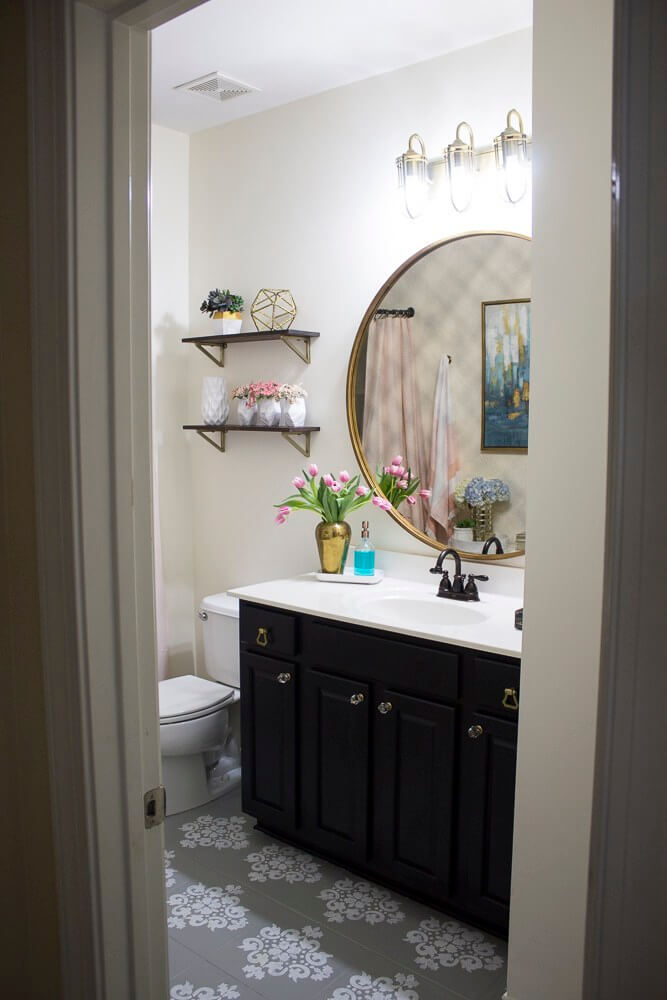 Feminine aesthetics typically involves creative art pieces that boast a soft, romantic environment. This bathroom features tons of feminine flair throughout. The oversized round mirror is elegant above the trendy black vanity and white countertop sink. The open shelving above the toilet provides extra room to incorporate feminine touches like flowers, vases and artsy décor. The gold vase of pink tulips adds a flirty feminine touch along with the clear glass soap dispenser. The tile on the floor is also a feminine addition featuring a grey tile with a white stenciled floral design. This would make the perfect bathroom for a teen girl or a woman's personal bathroom.
Have you been feeling like your current bathroom is feeling a bit outdated? Maybe it's time for a more innovative design no matter how big or small your private oasis is. From expansive floor to ceiling mirrors to brass accents and freestanding tubs, you can transform your bathroom into a beautiful modern bathroom design in no time. Even incorporating small bathroom decor like rugs, storage accessories, paint, shelving and hardware all can give your bathroom a fresh boost on any size budget.
We spend so much time in our bathrooms so it's only right that we make them a gorgeous space we enjoy being in. Bathtubs, vanities, toilets and bathroom decor and accessories come in all shapes and sizes to suit spaces both big and small. Accessorize your bathroom with chic dispensers, storage and lighting. Lighting is an integral part of a modern bathroom design idea and can change the entire mood of a space with a flick of a switch. With so many design concepts and ideas, I hope these top trending modern bathroom design ideas have truly inspired you for your next remodel or new build. Featuring stunning vanities, furniture, faucets and bathroom accessories, I'm sure you're going to find a style you personally love for your new private oasis.
Our Favorite Farmhouse Baskets and Bins to buy on Amazon