Everyone loves to decorate their living rooms, bedrooms, and kitchens. However, there's another room in the house that many people forget about! We spend a lot of time in our bathrooms, so why not make that room as beautiful as the rest of your home? From farmhouse to French country to ocean, there are so many decorating schemes you can use to transform your bathroom from boring to "Wow!"
35+ Cute Bathrooms Sign Ideas to Brighten Your Space

One of the easiest ways to add a punch of personality is to add a fun sign or two. It just takes a minute to hang a sign, but it has a huge impact! Whether you want to make your family giggle with a funny message or transform the space into a pretty room you want to spend time in, Etsy is the perfect place to find bathroom signs. Because they are handmade by artists, these pieces are always of a high quality and will make your bathroom unique. No one else you know will have the same bathroom décor as you! Supporting an artisan while adding a personal, interesting décor item to your home is a win-win situation. Keep reading for 41 of the best bathroom signs ideas from Etsy!
1. Scrub-A-Dub-Dub Rustic Farmhouse Bathroom Sign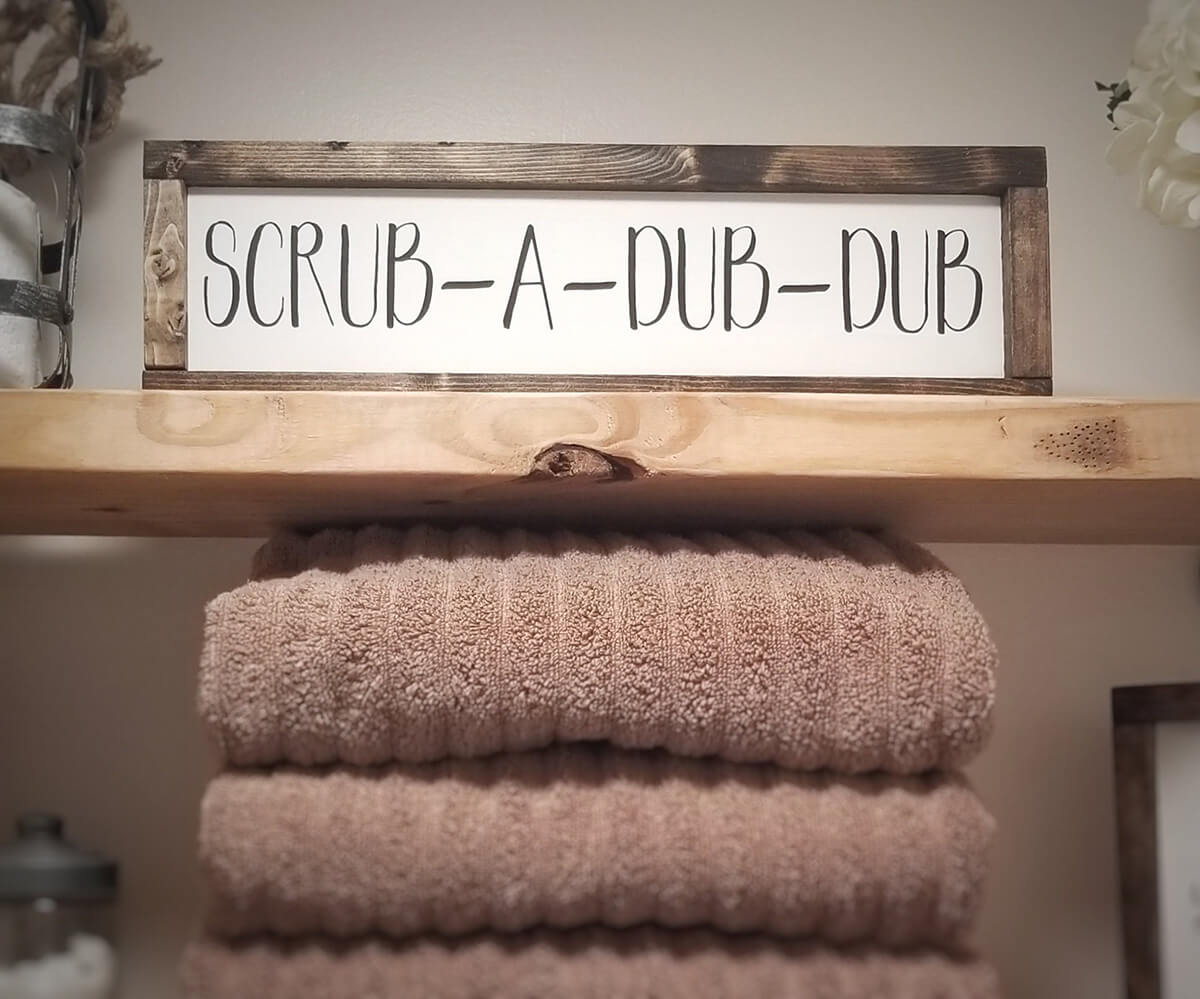 This simple bathroom sign adds a touch of rustic charm to your bathroom. The high-quality natural wood frame will give your space a modern farmhouse feel. With its hand-painted lettering and unique knots and coloration of the wood, you can be sure you are getting a unique piece you can treasure.
2. La Toilette French Country Hanging Sign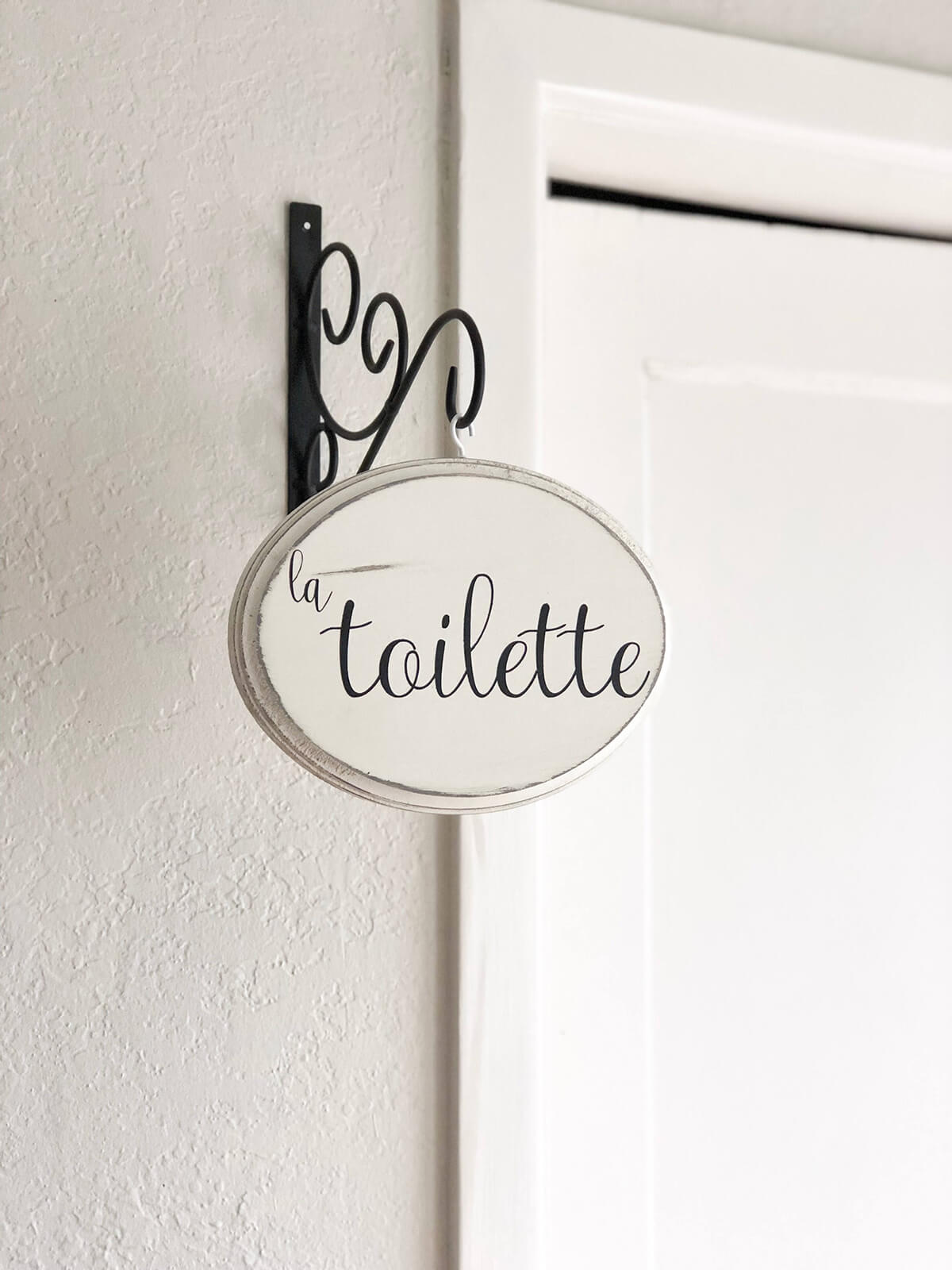 Want your bathroom to have a pretty French countryside feel? This hanging sign is the perfect décor piece. The intricate metal bracket, fancy lettering, and chic black and white color scheme will make you feel like you are going to the bathroom in Paris. The distressed paint makes this sign equal parts classy and cozy.
3. Drop Your Drawers Bathroom Wall Decal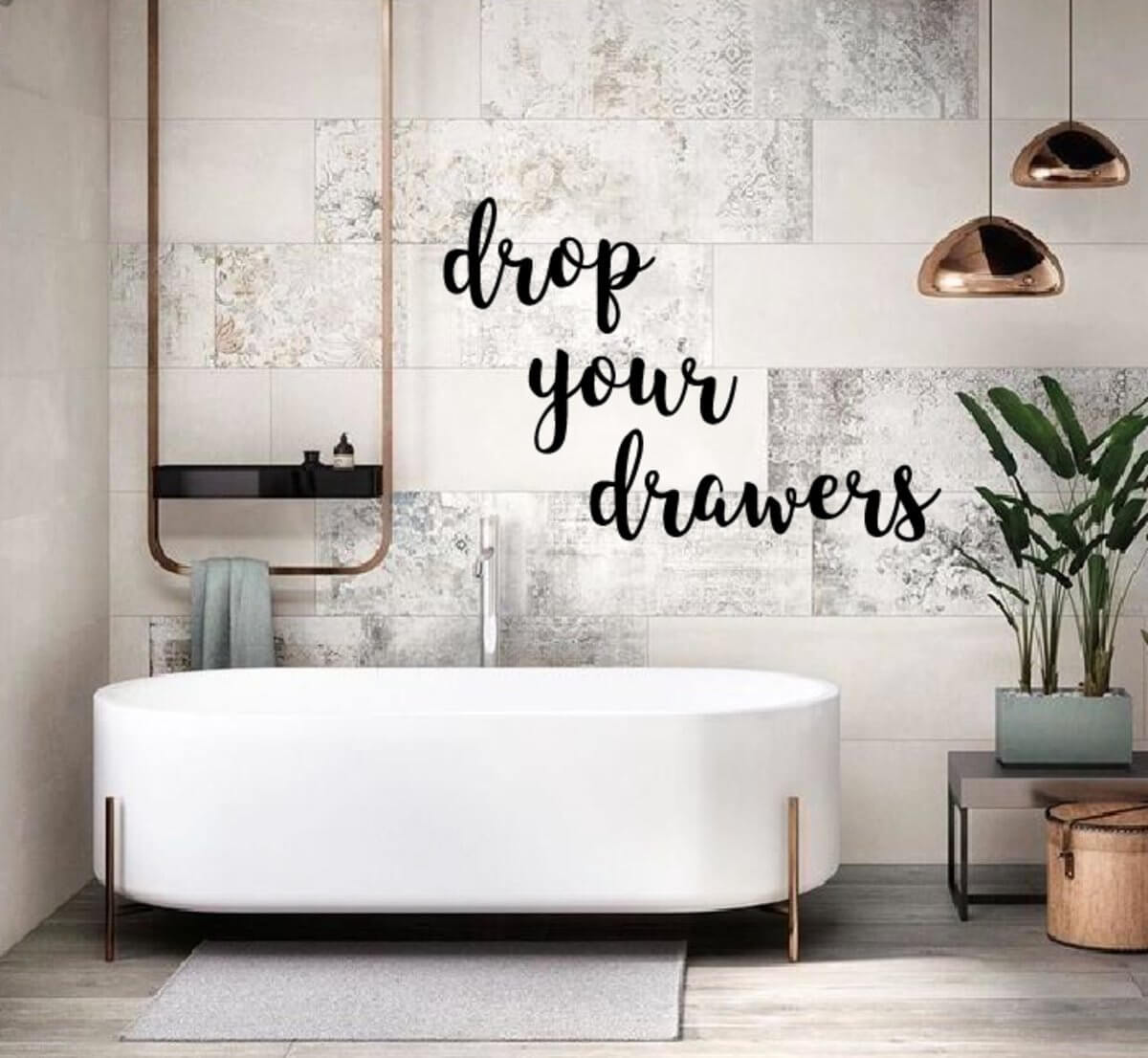 If your family has a goofy side, you will love adding this fun wall decal to your bathroom. Most activities done in that room do require you to "drop your drawers" so it's sure to make whoever uses your bathroom laugh out loud. Super easy to hang, this sign lets you add some humor to your space in just minutes.
4. Bathroom Rules Farmhouse Wall Sign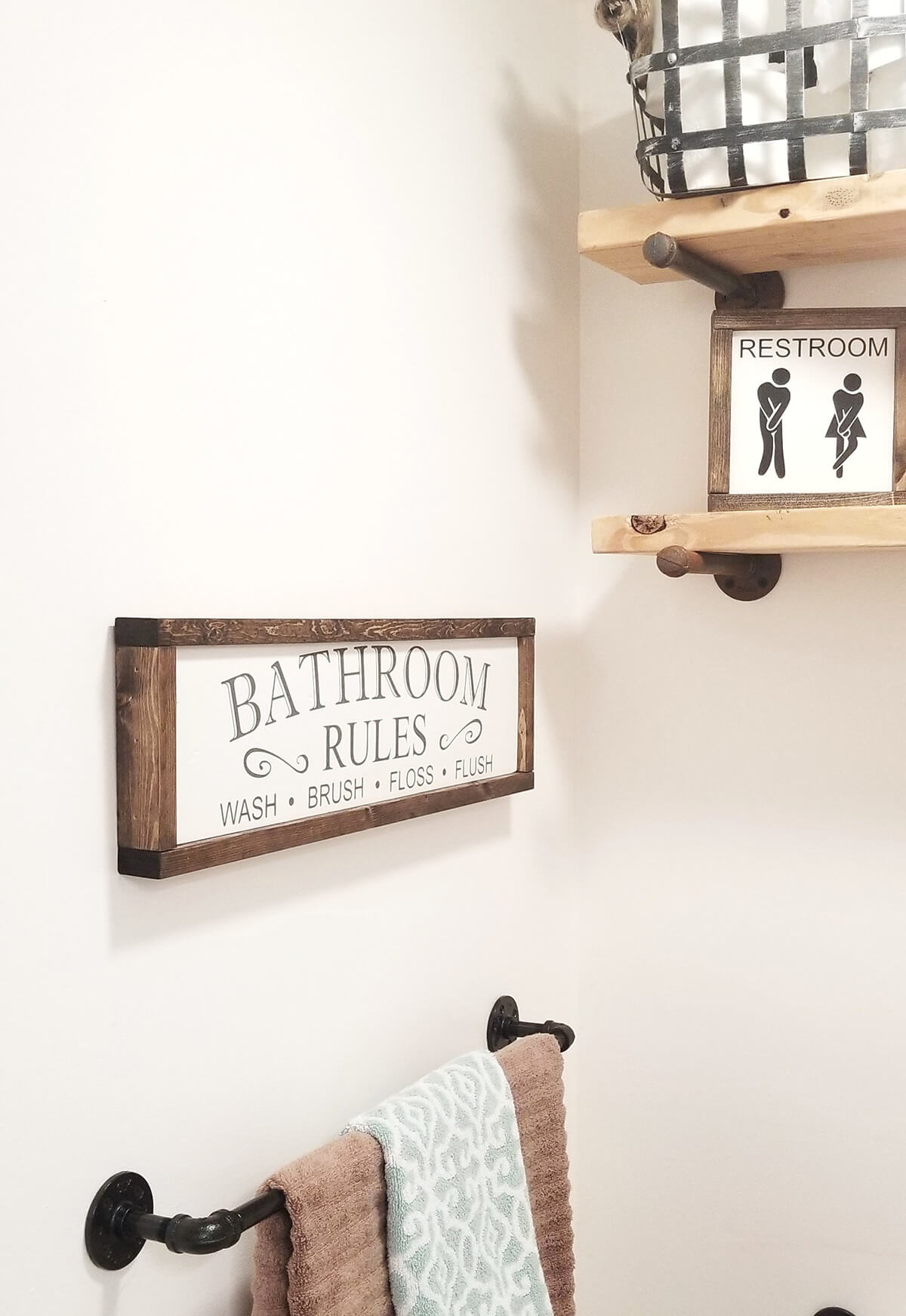 If you have little ones, you probably have to constantly remind them to use good bathroom habits. Save your sanity and hang up this bathroom rules sign instead! The sign is both funny and practical and makes the perfect addition to a farmhouse bathroom. The sturdy wood frame and chalk paint will give your room a rustic look.
5. Shabby Chic Powder Room Sign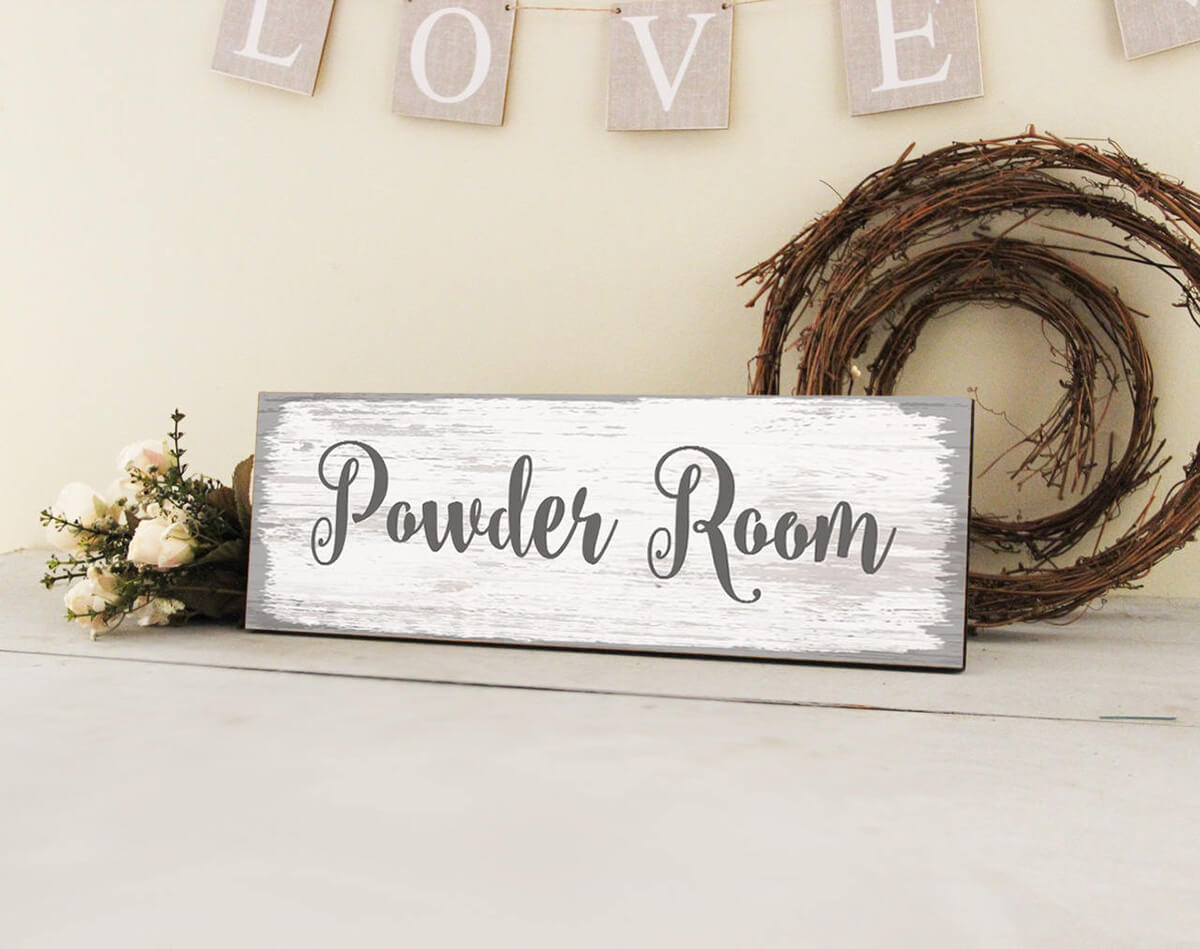 Going for a shabby chic look in your bathroom? Hang up this sign that is both pretty and homey. The romantic cursive lettering makes an interesting contrast to the distressed look of the wooden sign. This sign is perfect for a girl's bathroom or any other little powder room you have in your home.
6. Humorous Wood Block Restroom Signs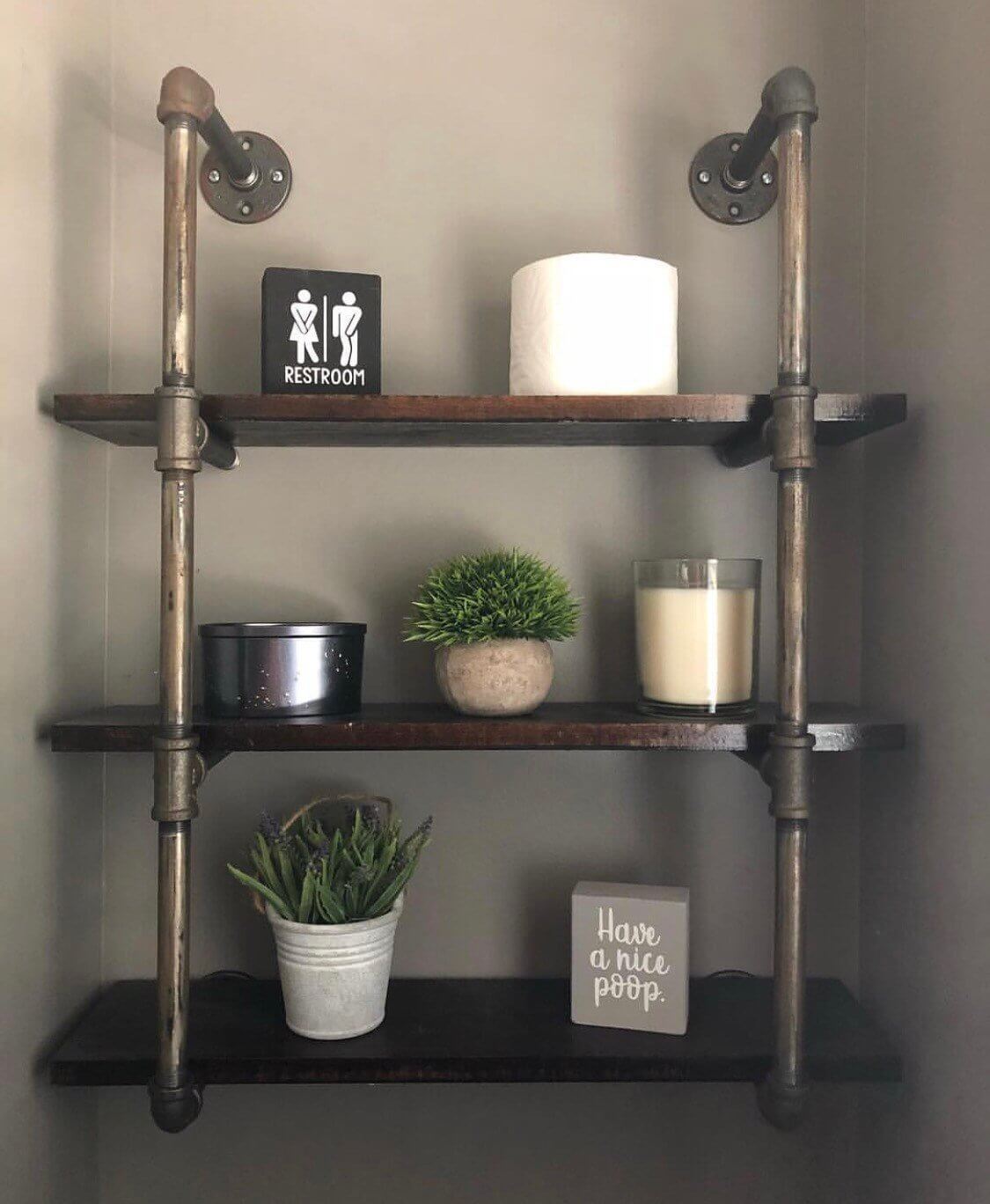 Show your silly side with one or both of these wood block restroom signs. One features the classic bathroom symbols but with that "gotta go" stance. The other wishes your friends and family well with the goofy message "Have A Nice Poop." These tongue-in-cheek décor pieces are sure to give your guests a hearty laugh!
7. Classy Black and White Bathroom Door Sign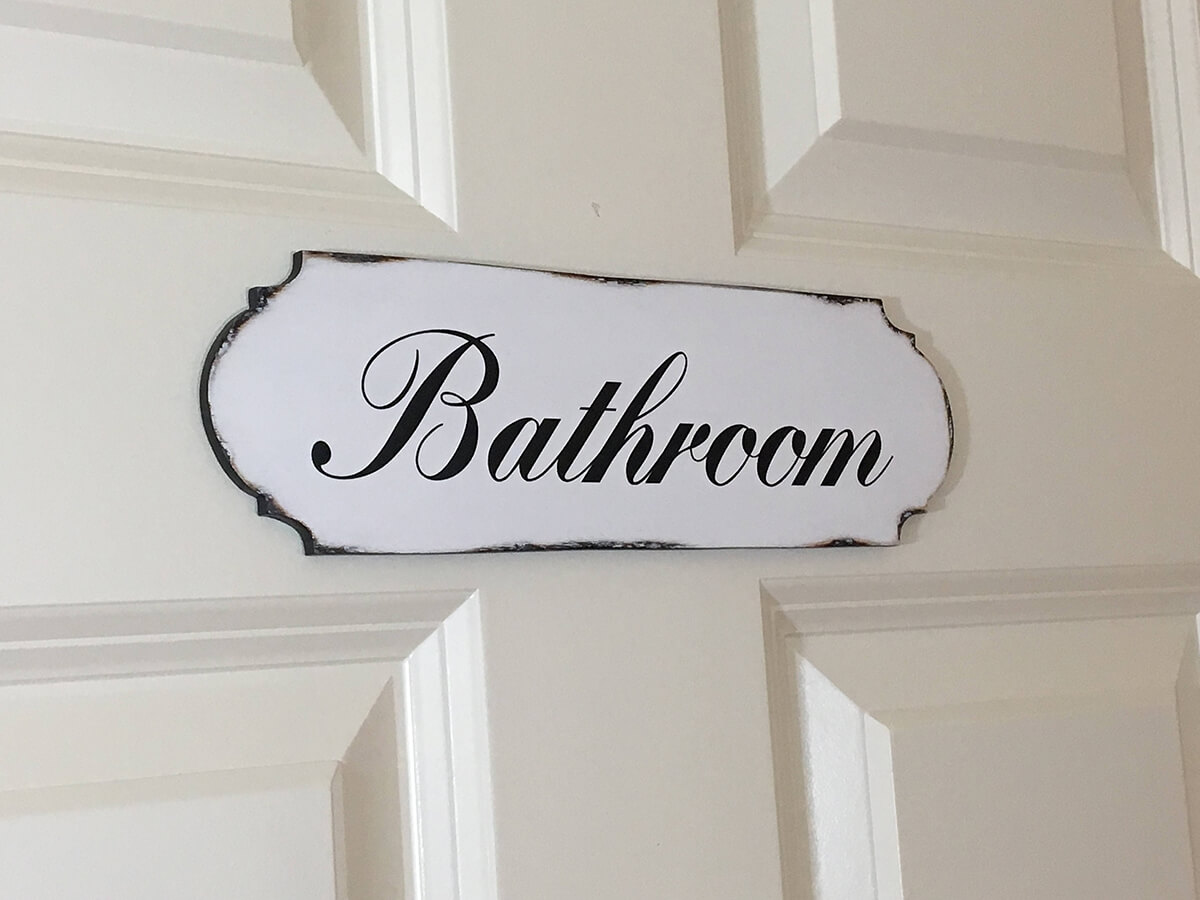 Help take the guesswork out of having company with this chic sign. Hang it on the door to your bathroom and nobody will ever wonder if they chose the right door again. The black script on a white background and unique oblong shape help this sign add a touch of class to your home.
8. Funny Bathroom Word Search Sign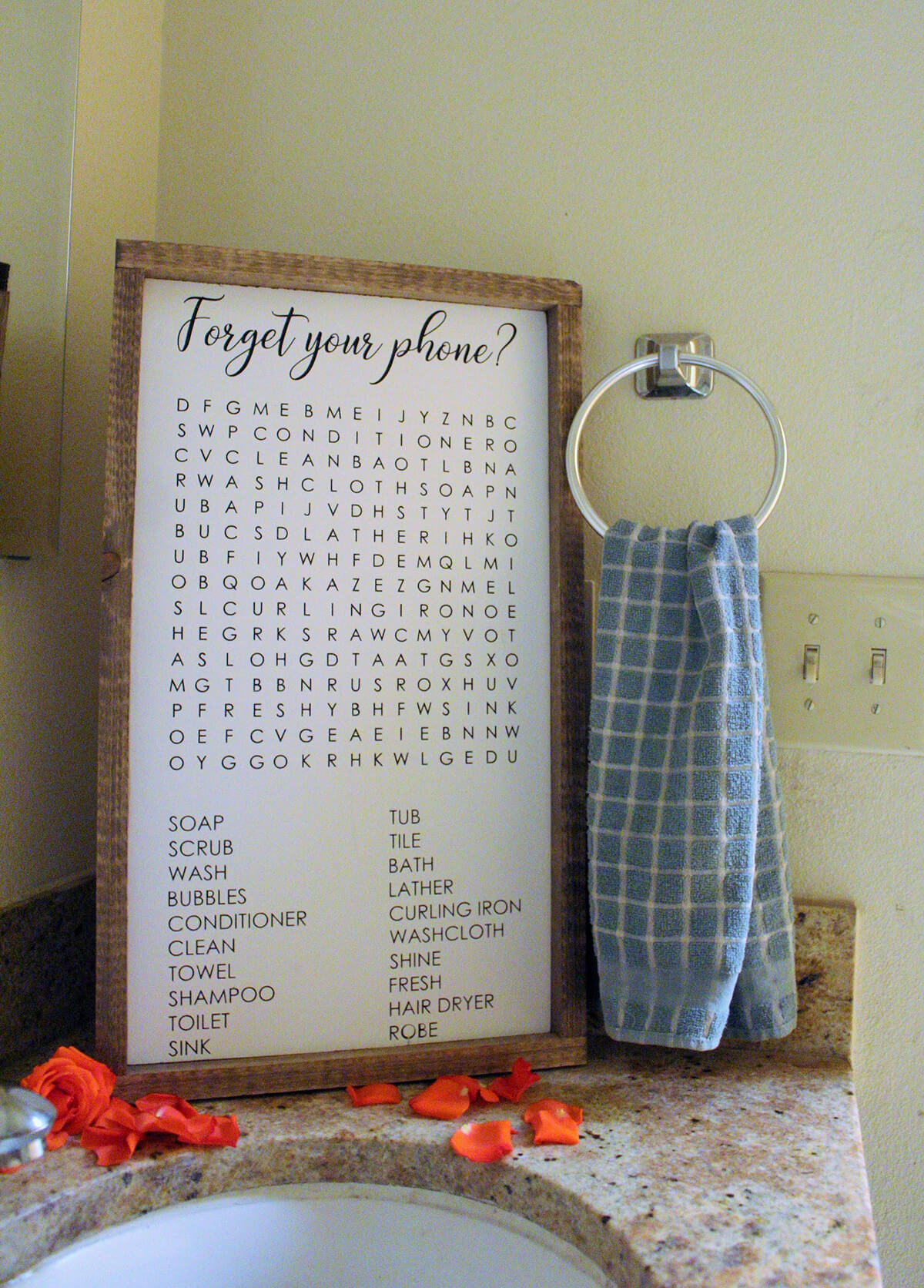 Lots of people love to scroll social media to pass time on the toilet. But what to do if you forget your phone or have a dead battery? This hilarious word search gives bathroom occupants something to look at while on the john. The natural wood frame adds a rustic touch to the room, too!
9. Toilet Rules Funny Restroom Sign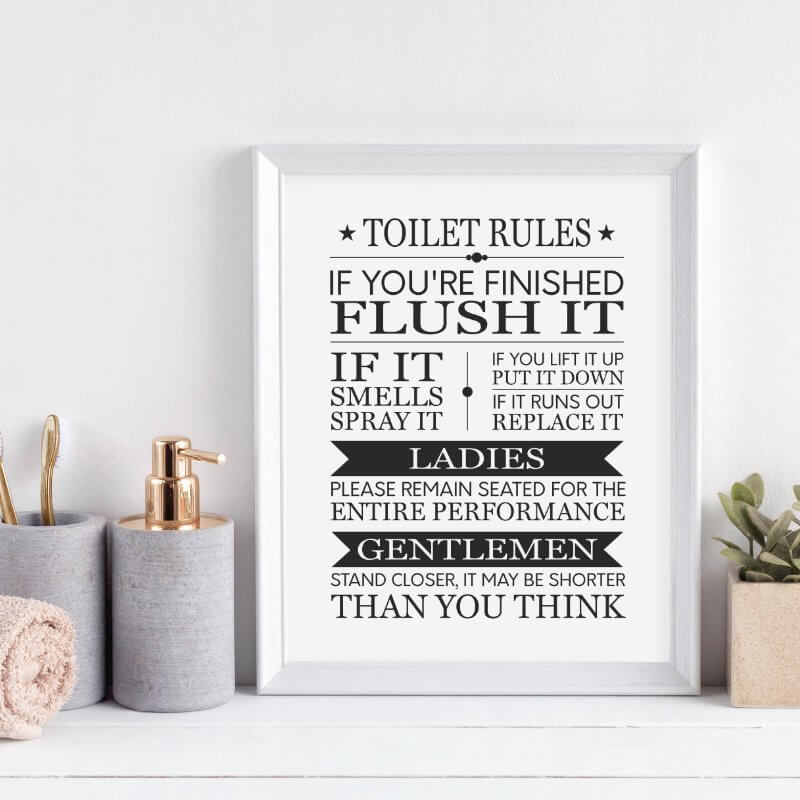 Everyone needs to do their part to ensure the house stays tidy. That's why this toilet rules sign will make the perfect addition to your family bathroom! It's funny and will also remind kids of good manners. The various font sizes also add visual interest, making this piece art and a helpful sign all in one!
10. Get Naked Bathroom Wall Sign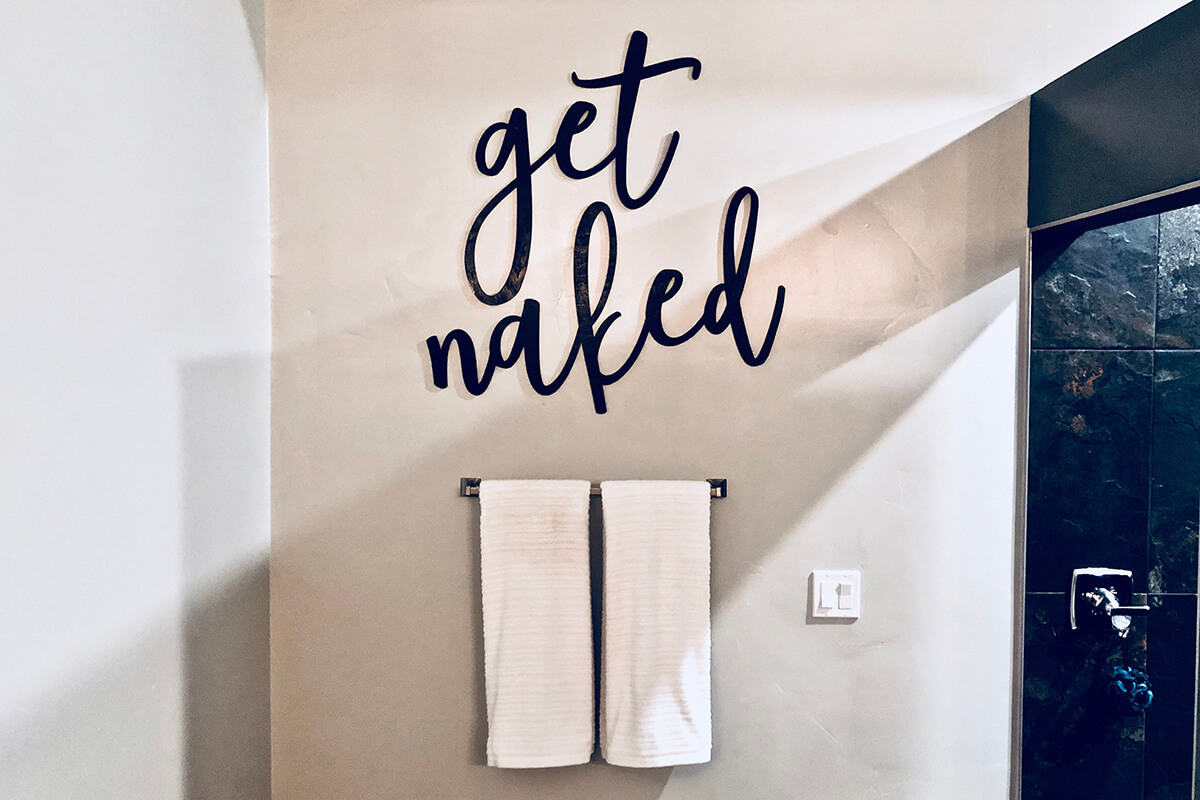 If you're a no-nonsense kind of person, you will adore this humorous wall sign. The wooden laser cut letters invite bathroom users to "get naked" in a fanciful script. This easy-to-hang, fun sign fits in with any decorating style and comes in multiple sizes and colors to match your needs.
11. Get Naked Half Bathroom Wall Sign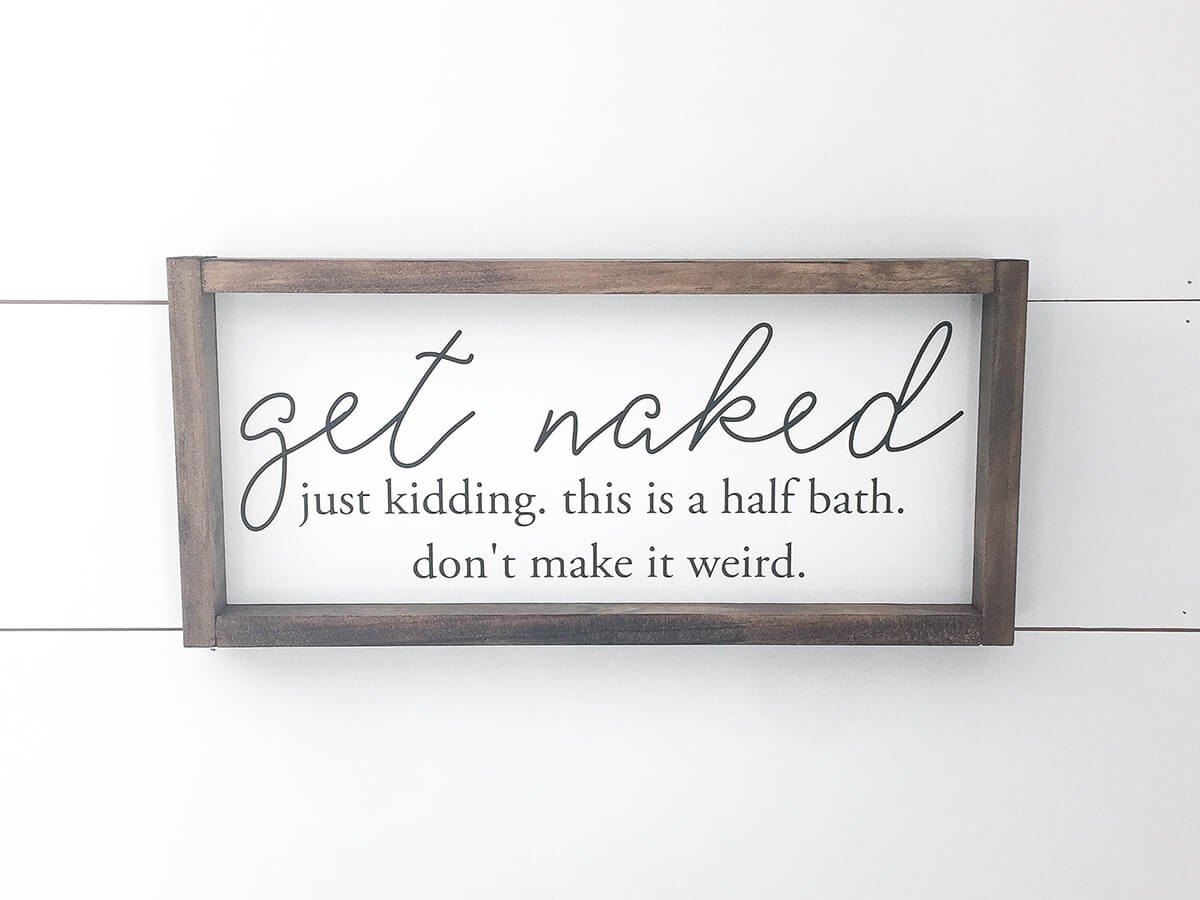 The "get naked" message makes a great tongue-in-cheek addition to any bathroom. This sign, though, recognizes how odd that invitation might be in a room without a shower! Hang the plain sign in your full bathroom and this one in your half bathrooms or powder rooms for a cohesive and hilarious decorating scheme.
12. Rustic Wood Farmhouse Restroom Sign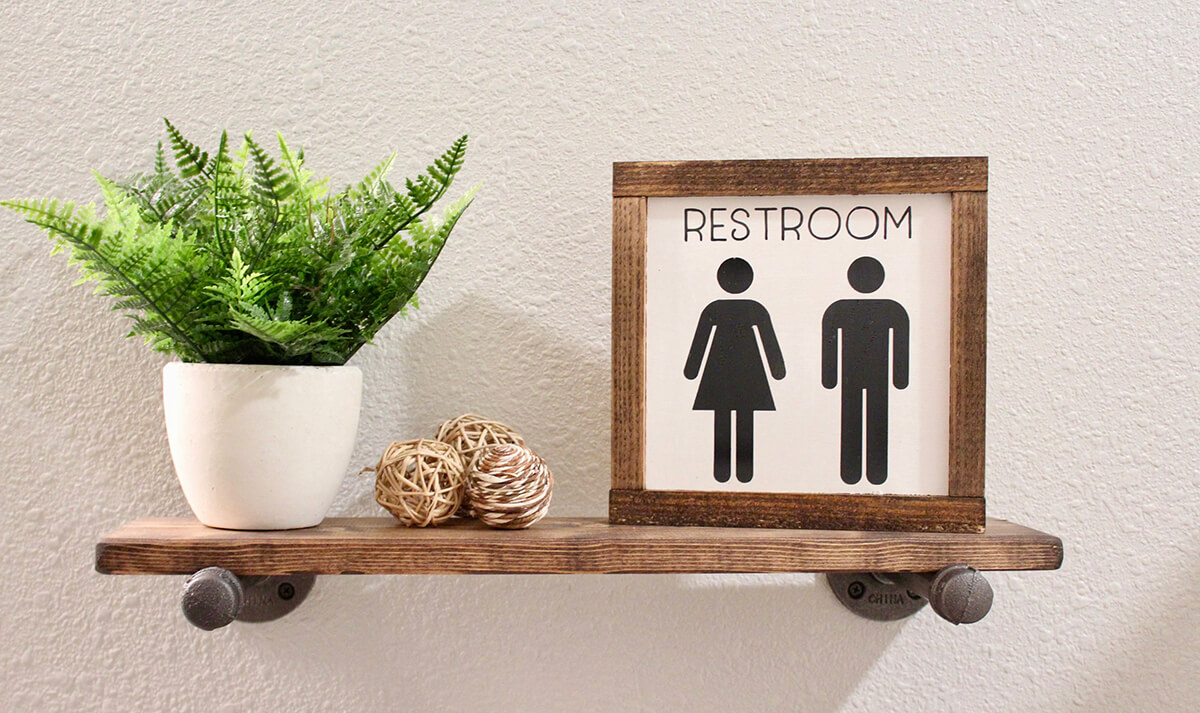 For a classic look, add this restroom sign featuring the little people icons. Its solid wood construction is sturdy and will give your bathroom that farmhouse charm. Plus the fact that it is handmade means your piece will look unique! This sign comes in a wide variety of color combinations and sizes to fit your style.
13. Wash Brush Floss Flush Sign Set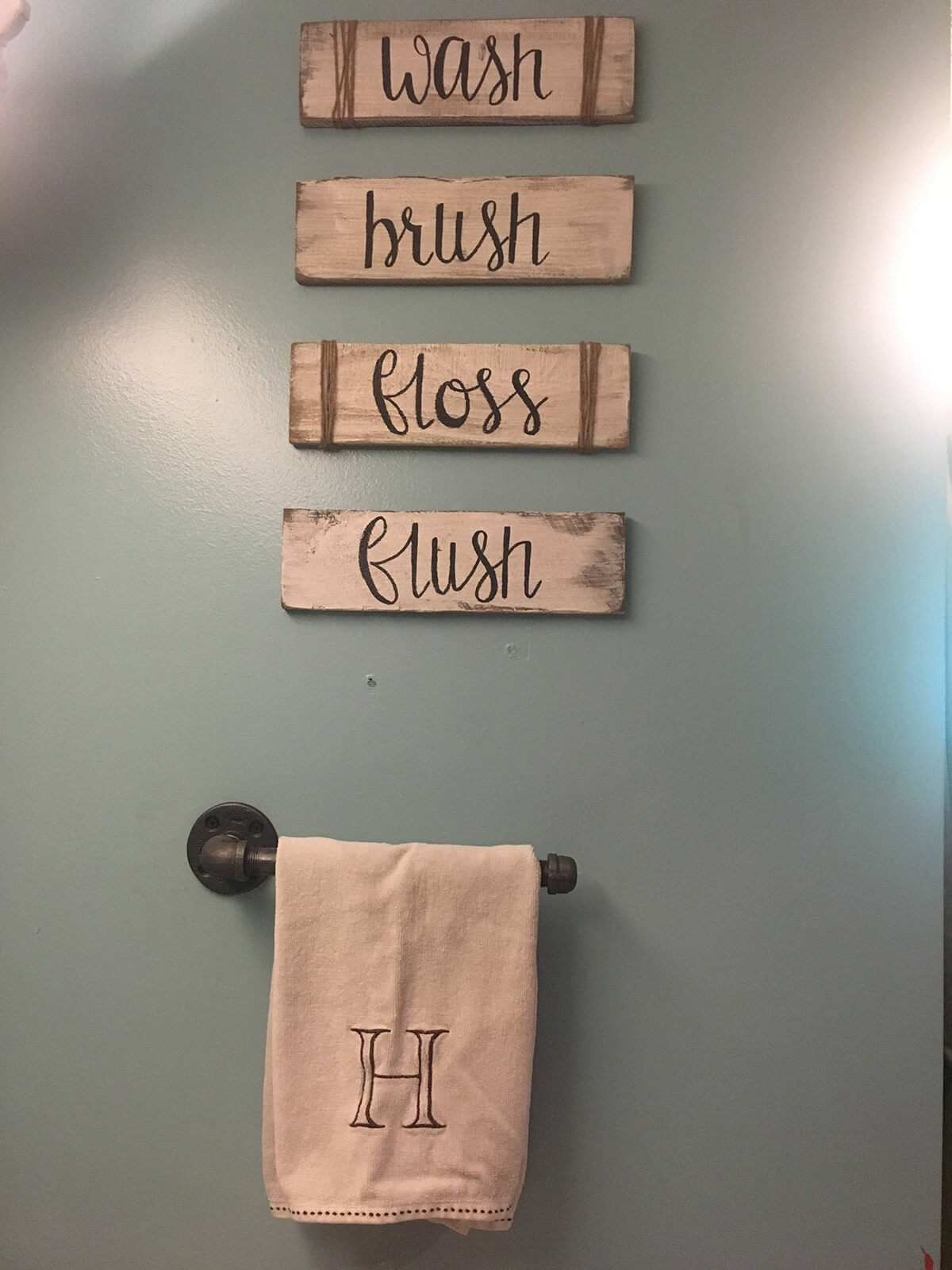 Tired of reminding your kids (or yourself) of bathroom routines? Hang up this set of signs as a visual cue. The wood signs' distressed paint and twine features contrast beautifully with the fancy lettering for an attractive shabby chic look. These can be hung vertically, horizontally, diagonally, or in a square depending on your space and preference.
14. Wood Block Wash Brush Floss Flush Signs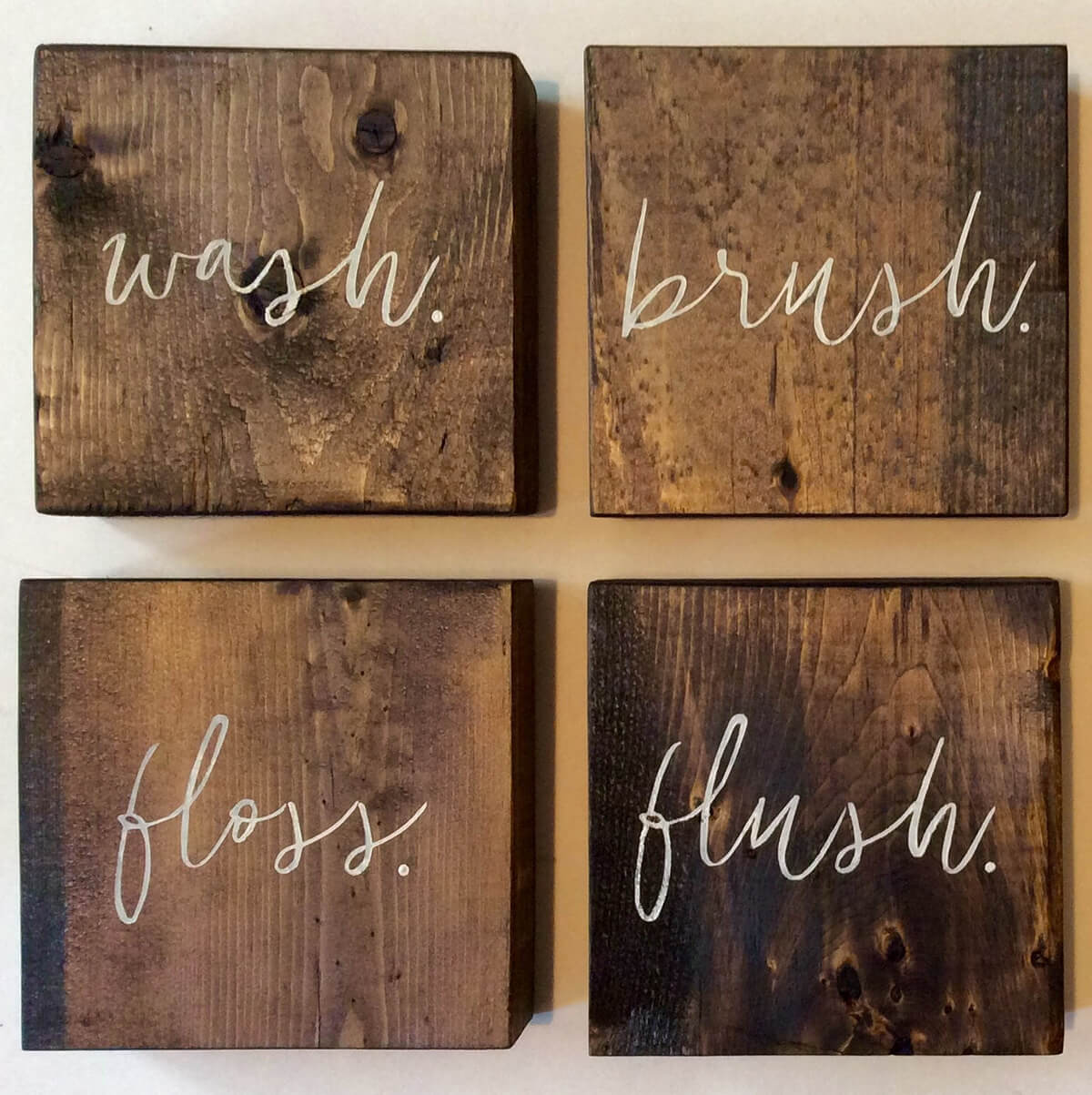 Give your bathroom a rustic or natural vibe by hanging this pretty sign set. The simple white script on natural wood blocks looks minimalist chic and will make your bathroom look straight out of Pinterest or Instagram. The helpful reminders to "wash, brush, floss, and flush" are an added bonus!
15. Splish Splash Take A Bath Hanging Sign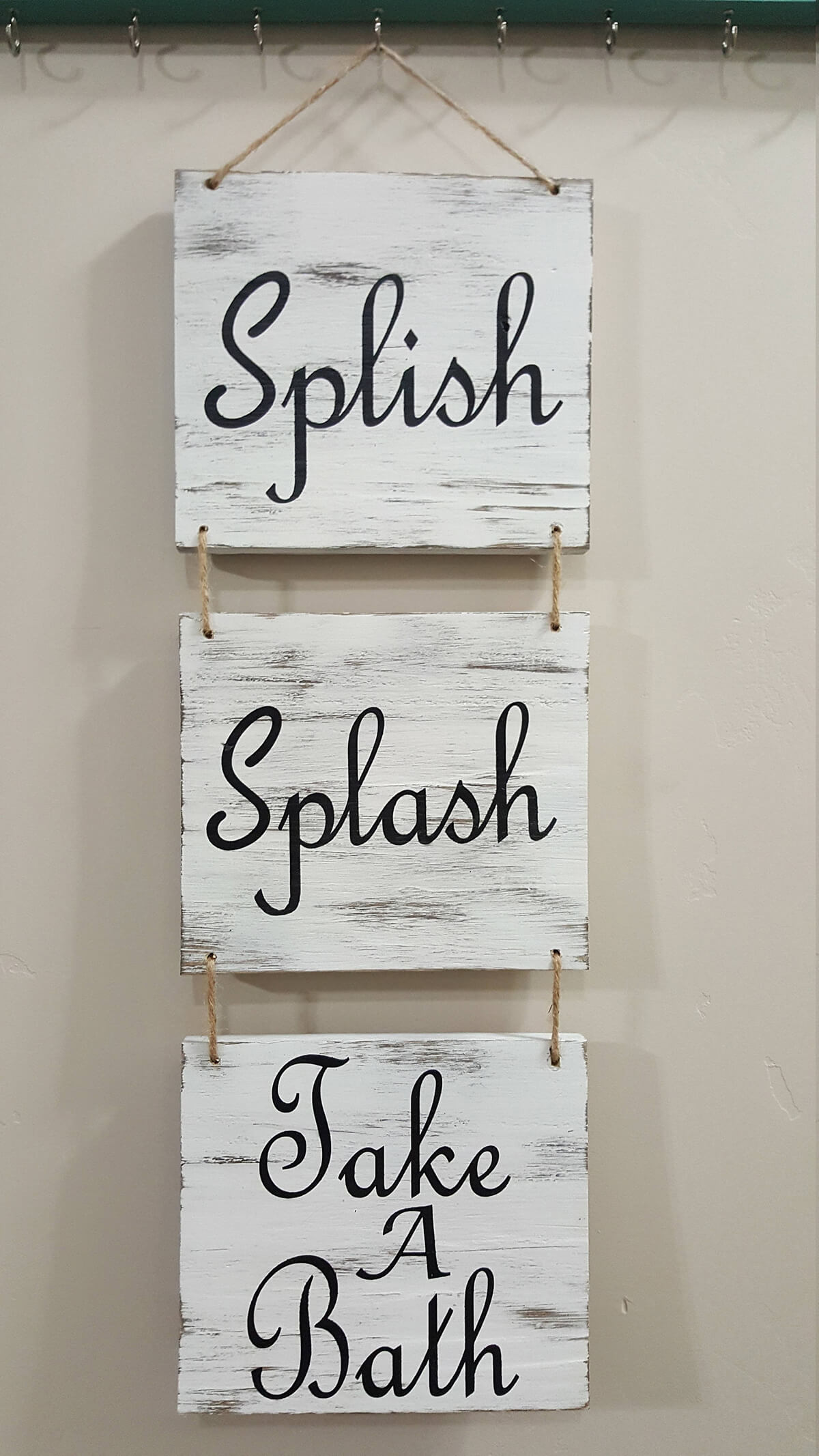 This cute hanging trio of signs screams farmhouse bathroom! The distressed white paint and pretty lettering will instantly give your space some shabby chic charm. The cute rhyme makes this décor piece ideal for a kids' bathroom but it is fancy enough for grown-ups. With a twine hanger, you can display this sign in seconds!
16. Hand Lettered Wash Your Hands Sign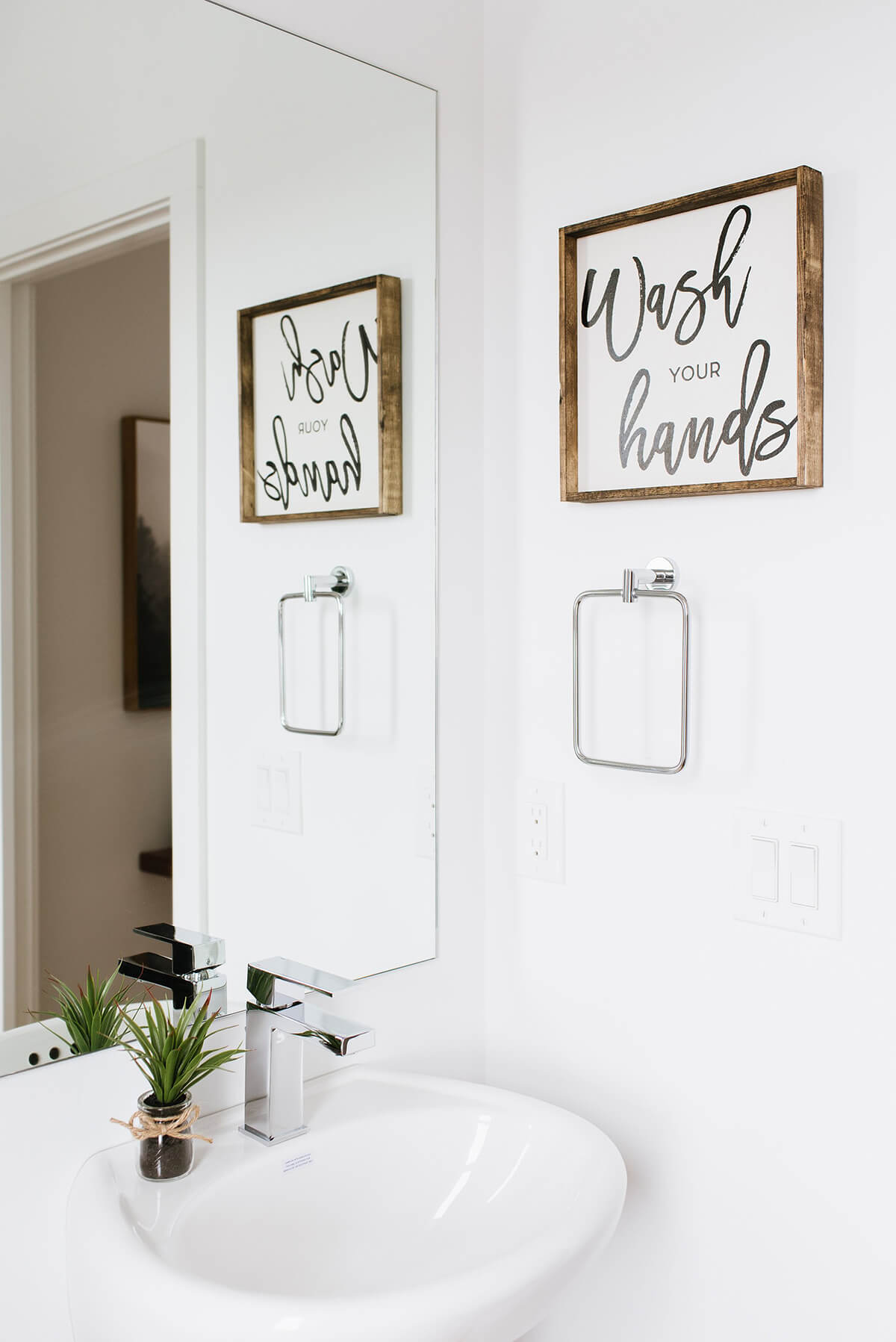 Love the handmade look? This sign will add some warmth and personality to your bathroom. The intricate hand lettering and natural pine frame make every one of these restroom signs beautifully different. Requesting that your family and guests use good hygiene has never looked prettier! A mix of rustic and modern, this piece works well in every bathroom.
17. Brush Floss Flush Wash Wooden Step Stool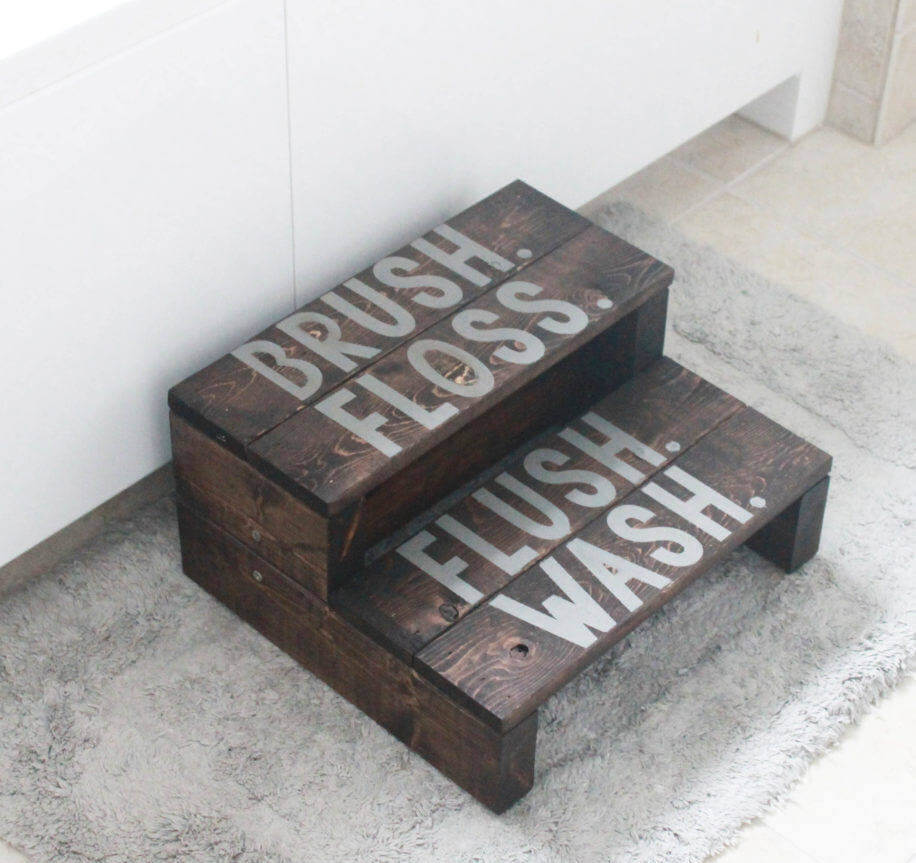 If your family includes small kids, this piece of bathroom décor couldn't be more perfect! The sturdy wood step stool helps little ones reach the sink for their daily routines. Emblazoned with the reminder to "brush, floss, flush, and wash," this item is one part chore chart, one part height helper, and one part decoration.
18. Change The Toilet Paper Restroom Sign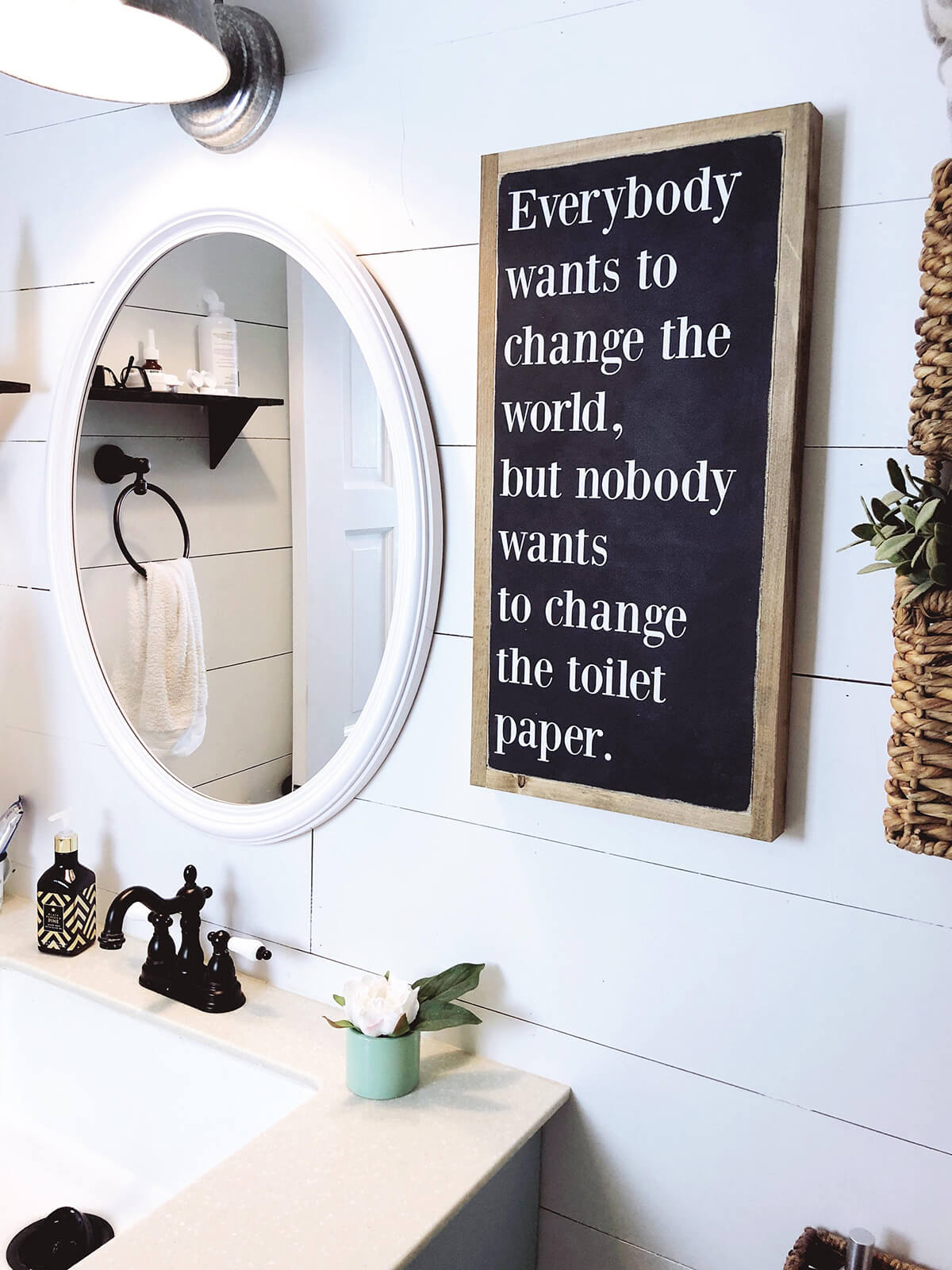 Tired of being the only one who ever changes the toilet paper roll in your house? Hang up this sign to prod your family in the right direction. The wood frame and white text on a black background give this piece an old-timey schoolhouse look, bringing a feeling of warmth and nostalgia to your bathroom.
19. His and Hers Funny Restroom Sign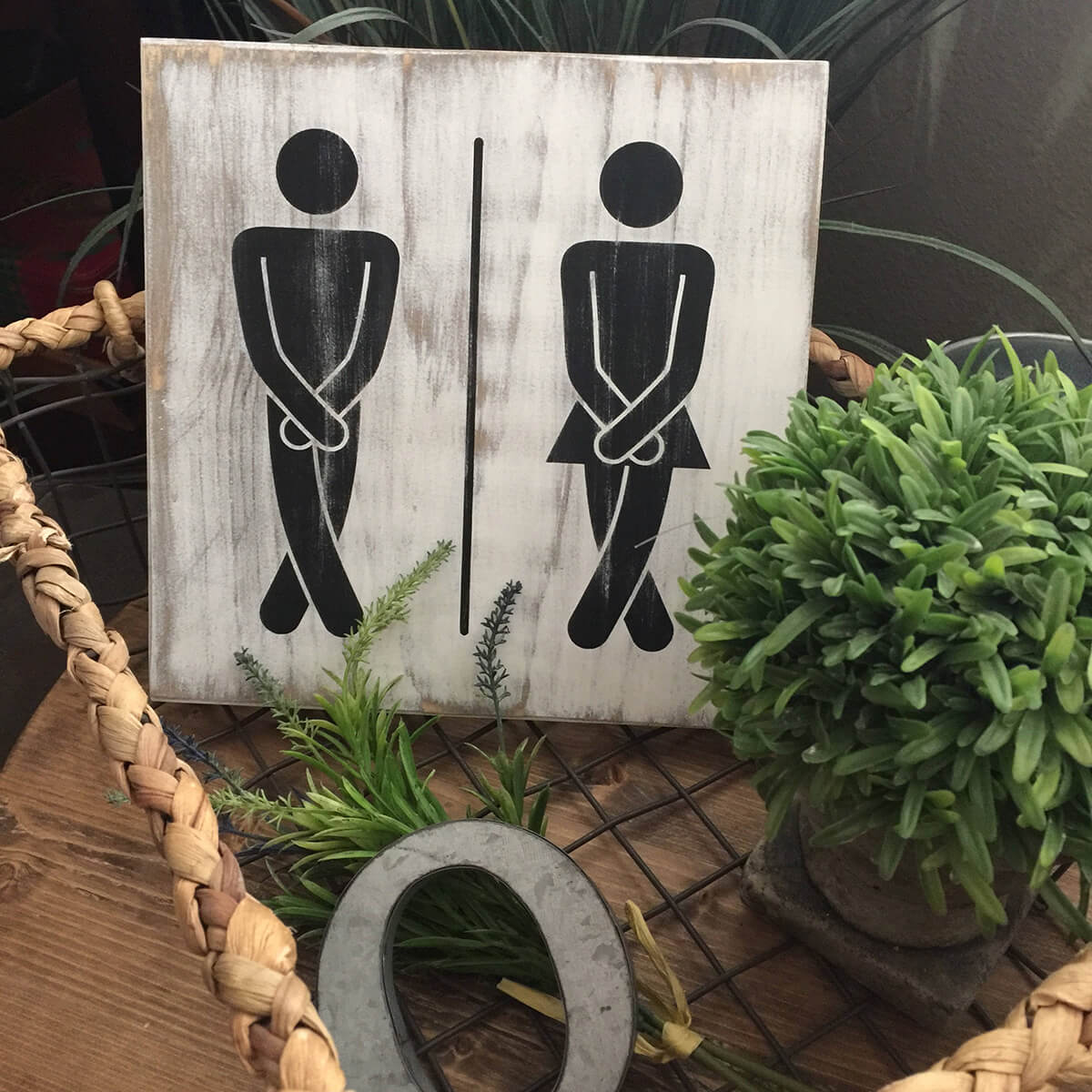 This cute and funny handcrafted wooden sign brings a touch of whimsy to your bathroom. The little figures show the reality of a trip to that room of the house! Choose either distressed white for a rustic farmhouse vibe or solid white paint for a more sleek and classic look.
20. Wash Your Worries Away Wall Sign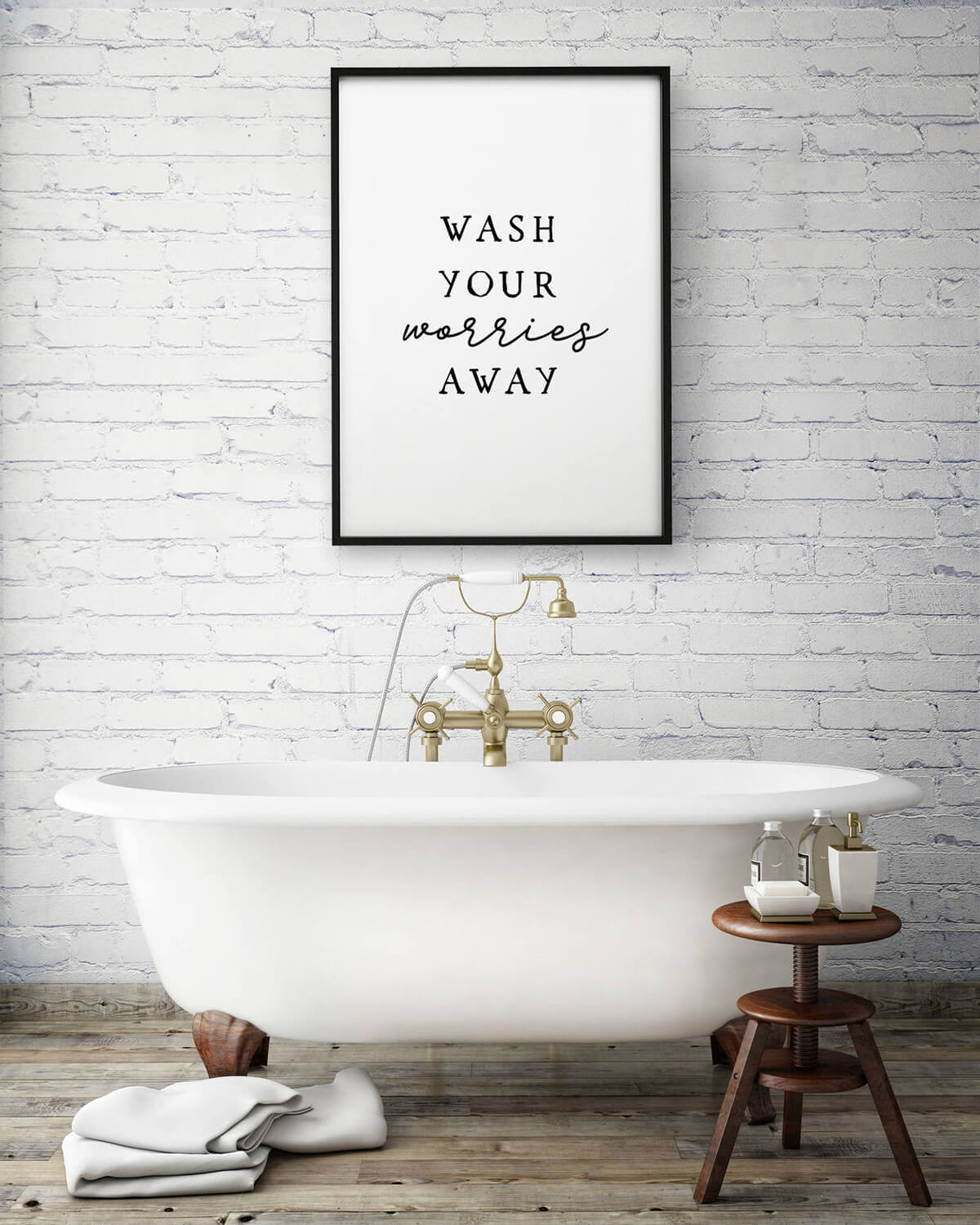 Retreating to the bathroom for a nice soak in the bath is a common way to relax. Bring that feeling of serenity to your space with this beautiful wall sign. The black lettering on a white background make this sign minimalist chic while the various fonts add a punch of personality.
21. Nice Butt Wood Bathroom Box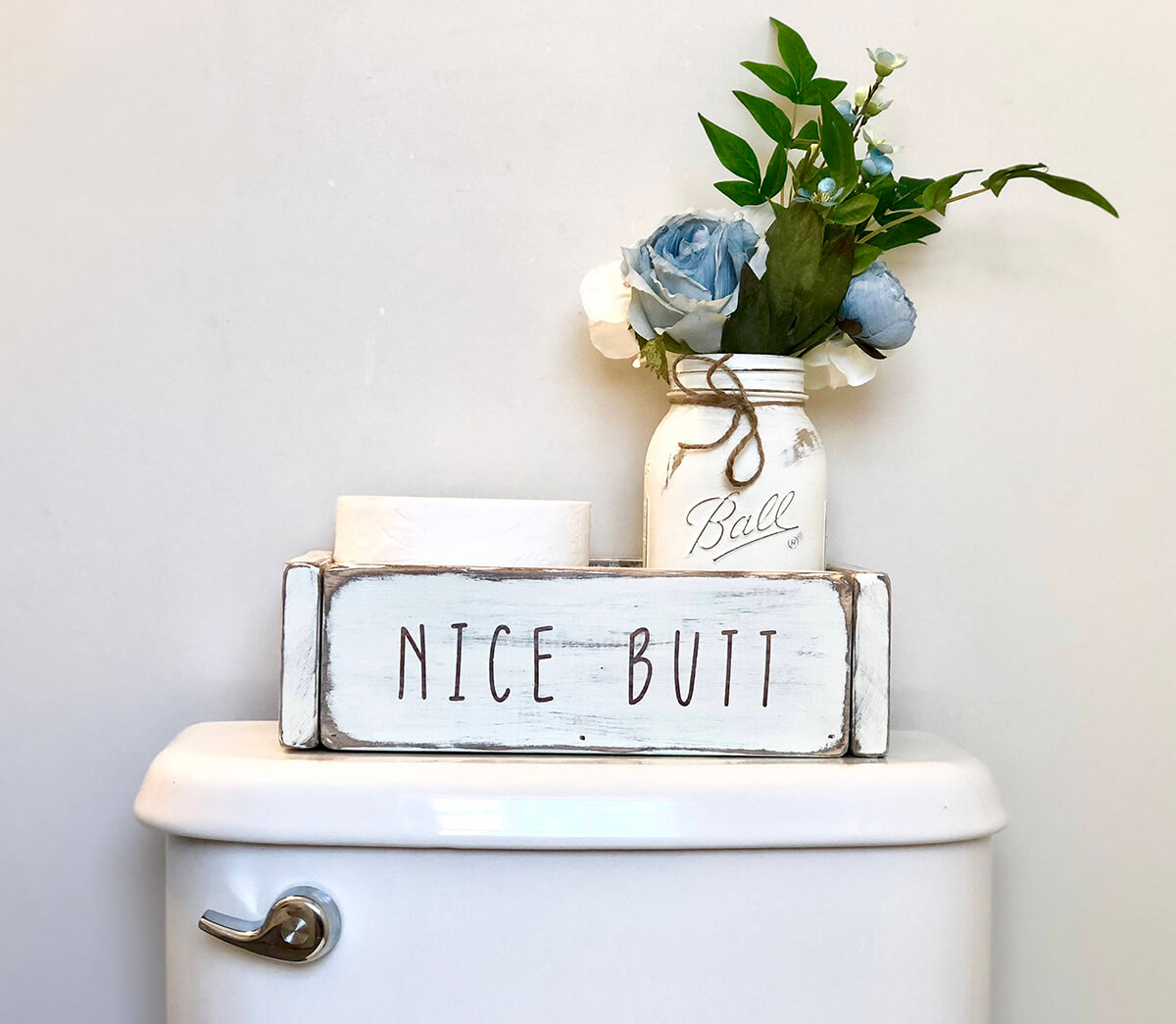 Show off your silly side with this humorous bathroom box. Made from poplar wood, it is perfect for holding all your bathroom essentials. Greet guests with an unexpected compliment of "nice butt" to give them a giggle! The distressed look of this piece make it ideal for a shabby chic or farmhouse bathroom.
22. Wash Your Hands Chalkboard Sign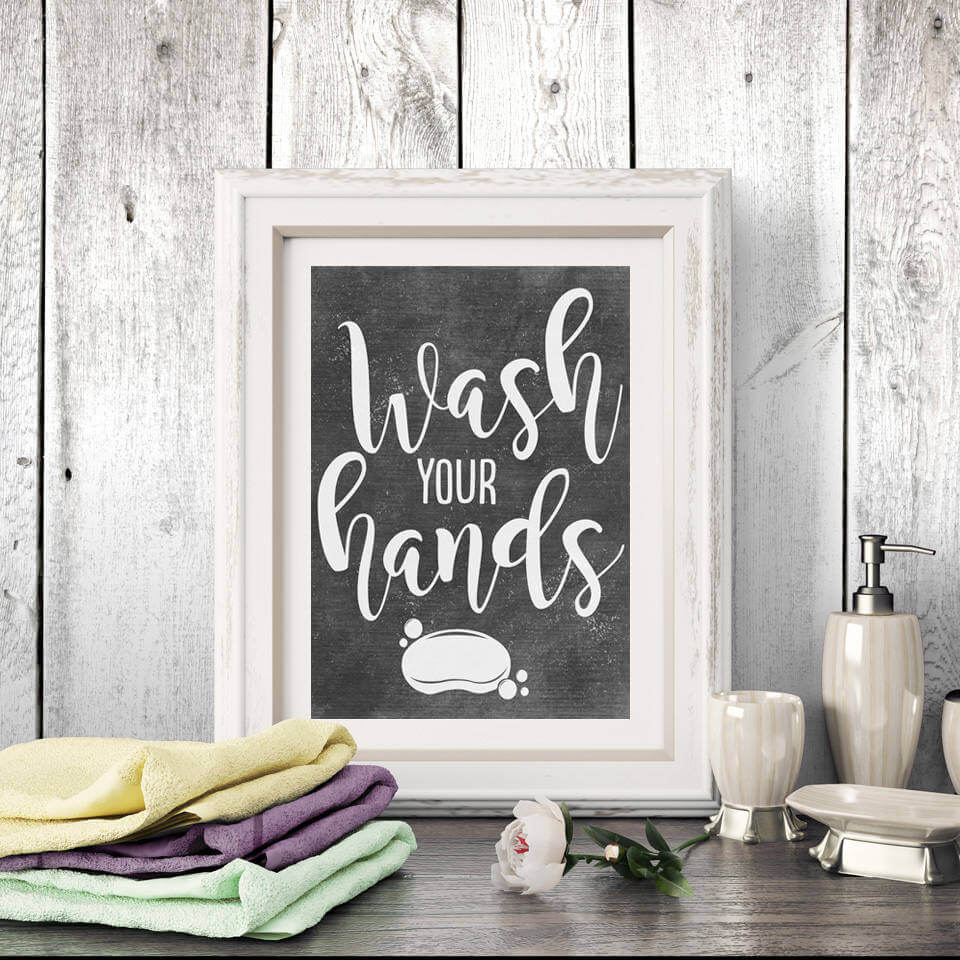 Add a touch of country class to your bathroom with this cute sign. Its dusty black background and white text give this piece a chalkboard look that is both charming and inviting. Plus the soap illustration is adorable! Hang it above your bathroom sink to help kids remember their bathroom manners.
23. Good Morning Beautiful Hello There Handsome Signs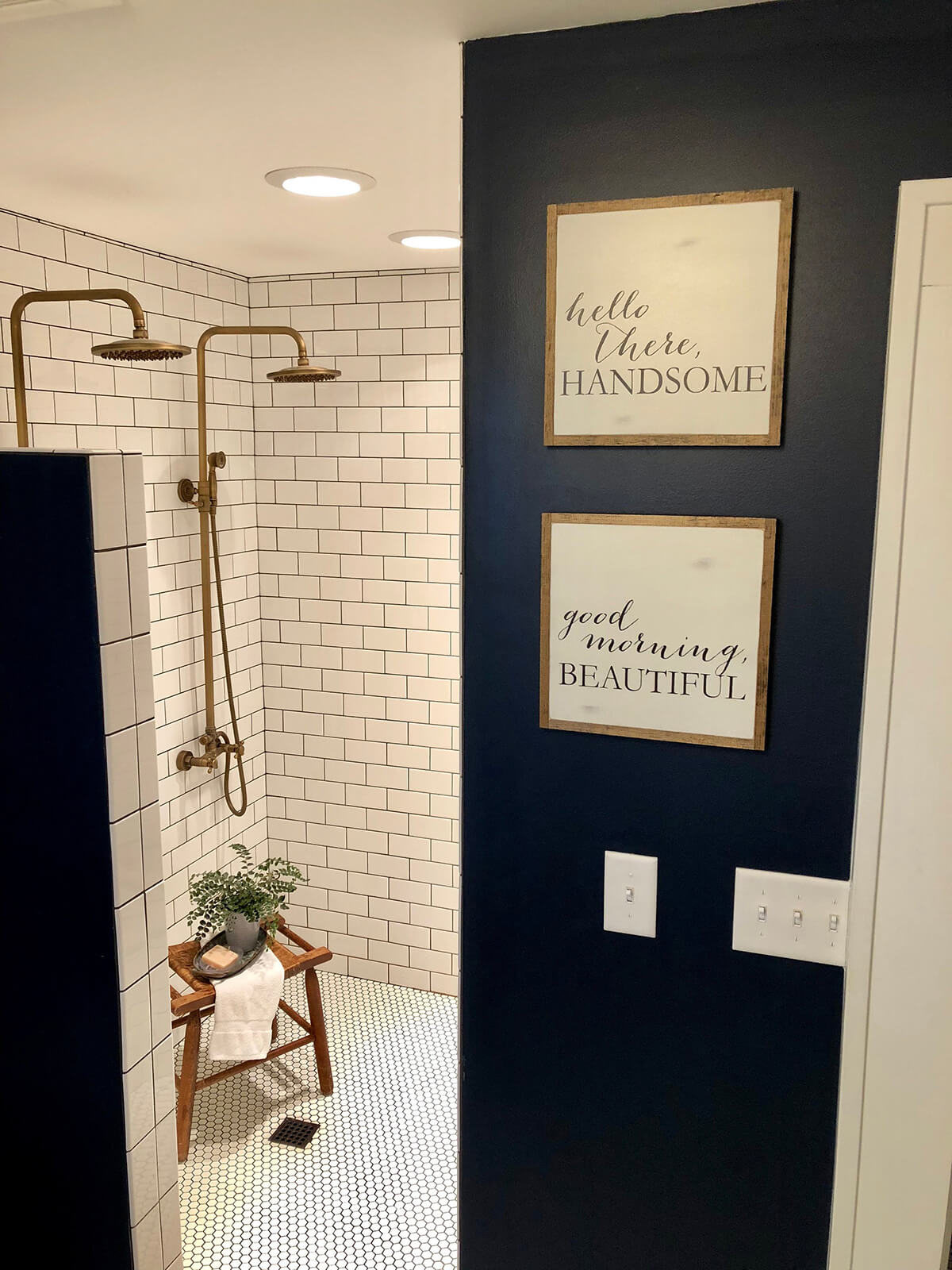 Nothing feels better than a compliment from your significant other. Show him or her how much you still love them with this pretty sign set. The pretty text contrasts against the primitive wood frame for a simple, clean, and charming appearance. This sign set would also make a great wedding gift!
24. Nautical Psalm 93:4 Wall Sign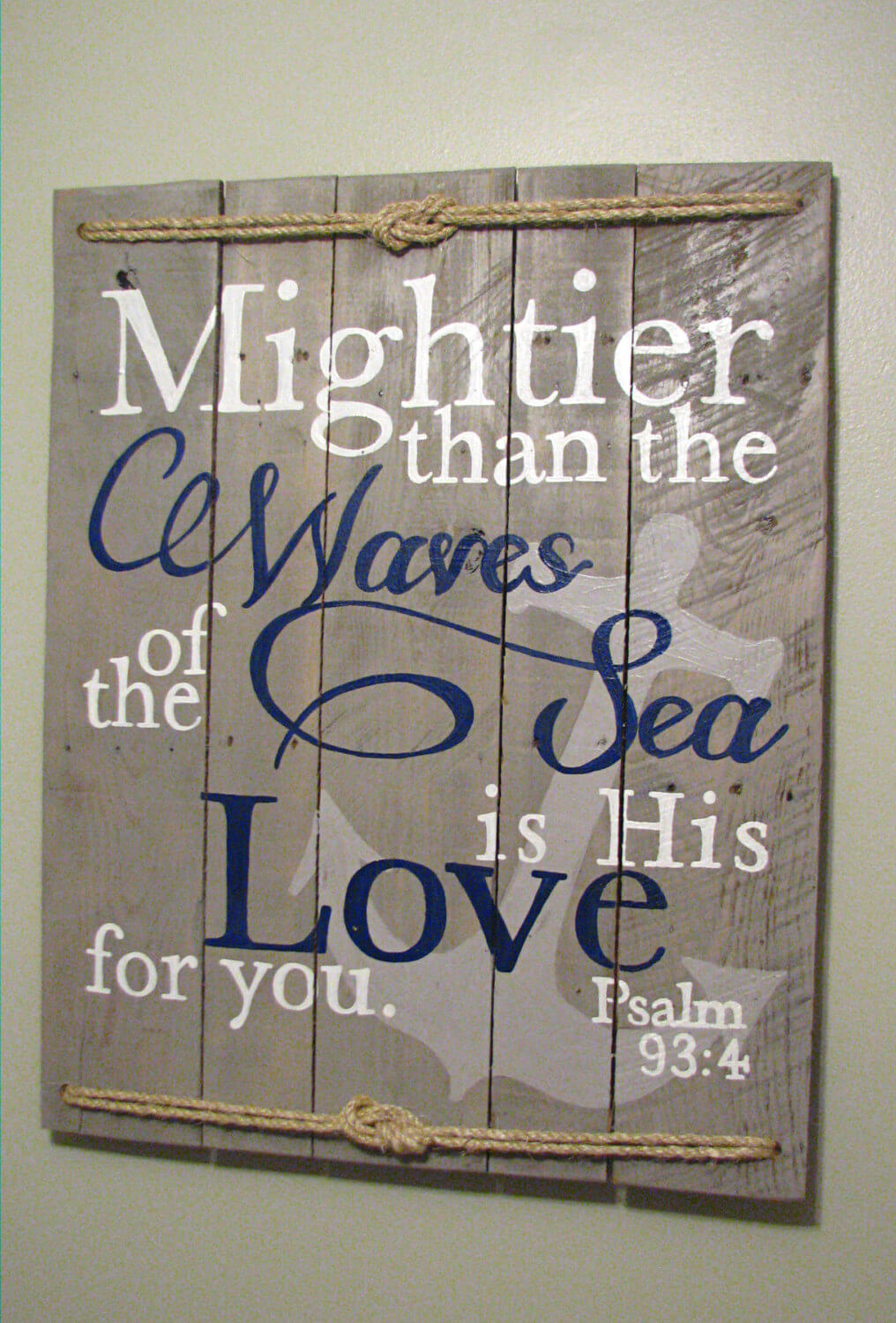 If you are going for a nautical theme in your bathroom, consider hanging this rustic sign. The intricate hand-painted Bible verse and anchor and the knotted rope detailing show your faith while fitting in with the ocean theme. Made from pallet wood, this piece is durable and easy to hang.
25. Mermaid and Pirate Bathroom Decor Signs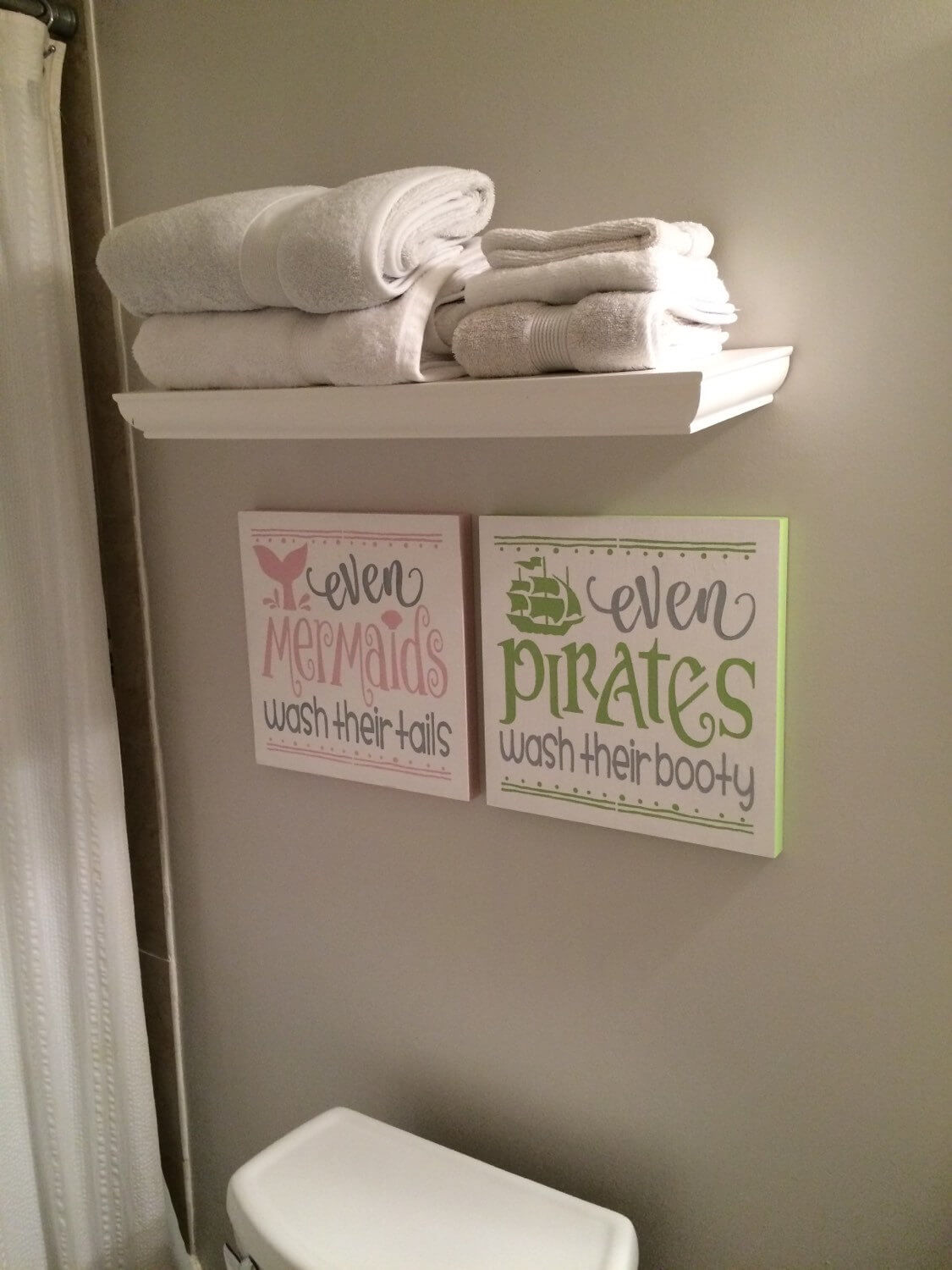 Add some cute décor (that is also practical) to your kids' bathroom with these wall signs. These adorable pieces encourage little ones to enjoy bath time by tapping into their favorite nautical characters. Cute and colorful, these signs will add a dash of fun and fantasy to your kiddos' space.
26. Splish Splash Take a Bath Sign Set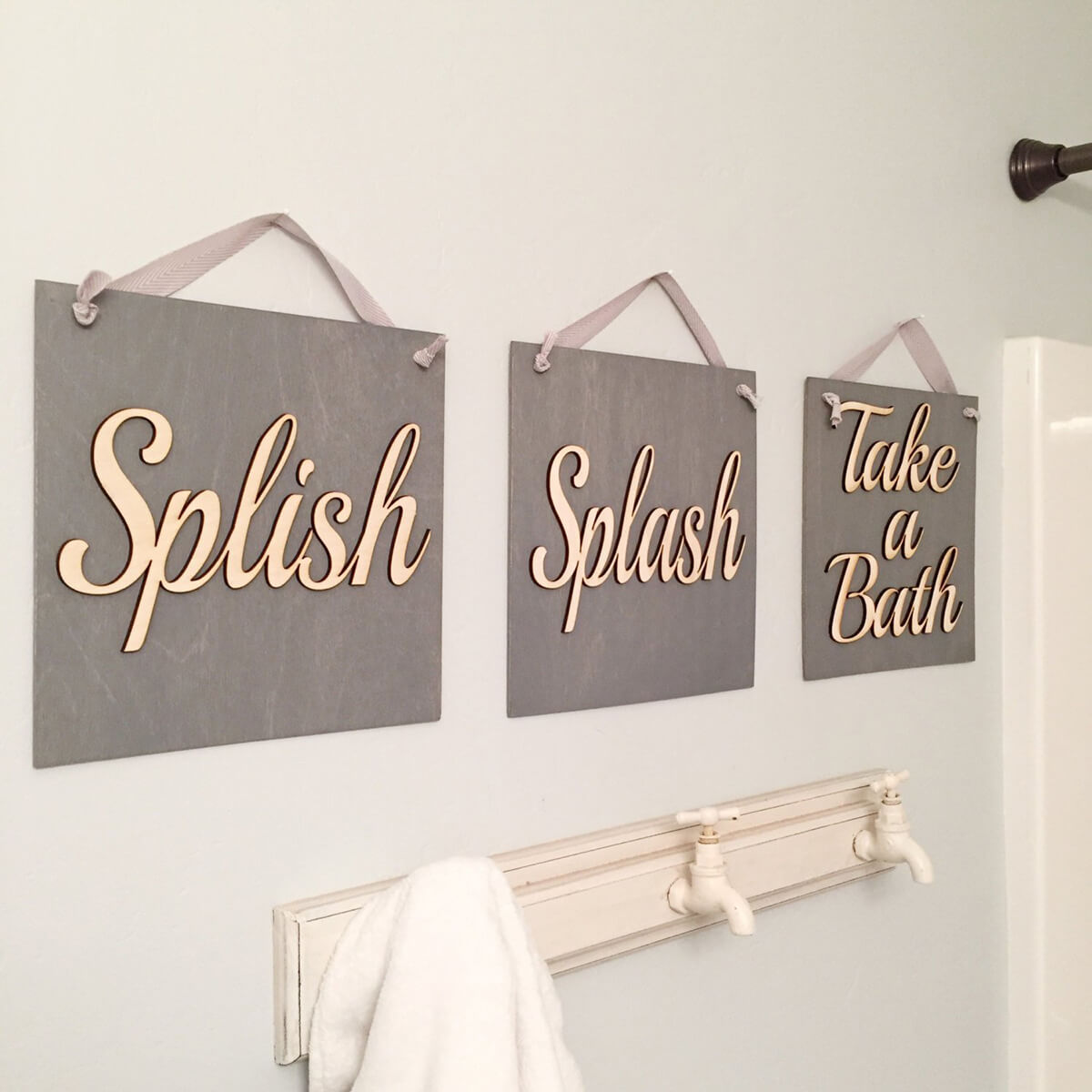 This set of three signs is sure to bring a soft, clean look to your bathroom. The fun "splish, splash, take a bath" message is done in natural laser-cut birch wood, giving the room a cozy feeling. Hang this sign set vertically or horizontally; it will look charming either way!
27. Wear A Smile Vinyl Wall Decal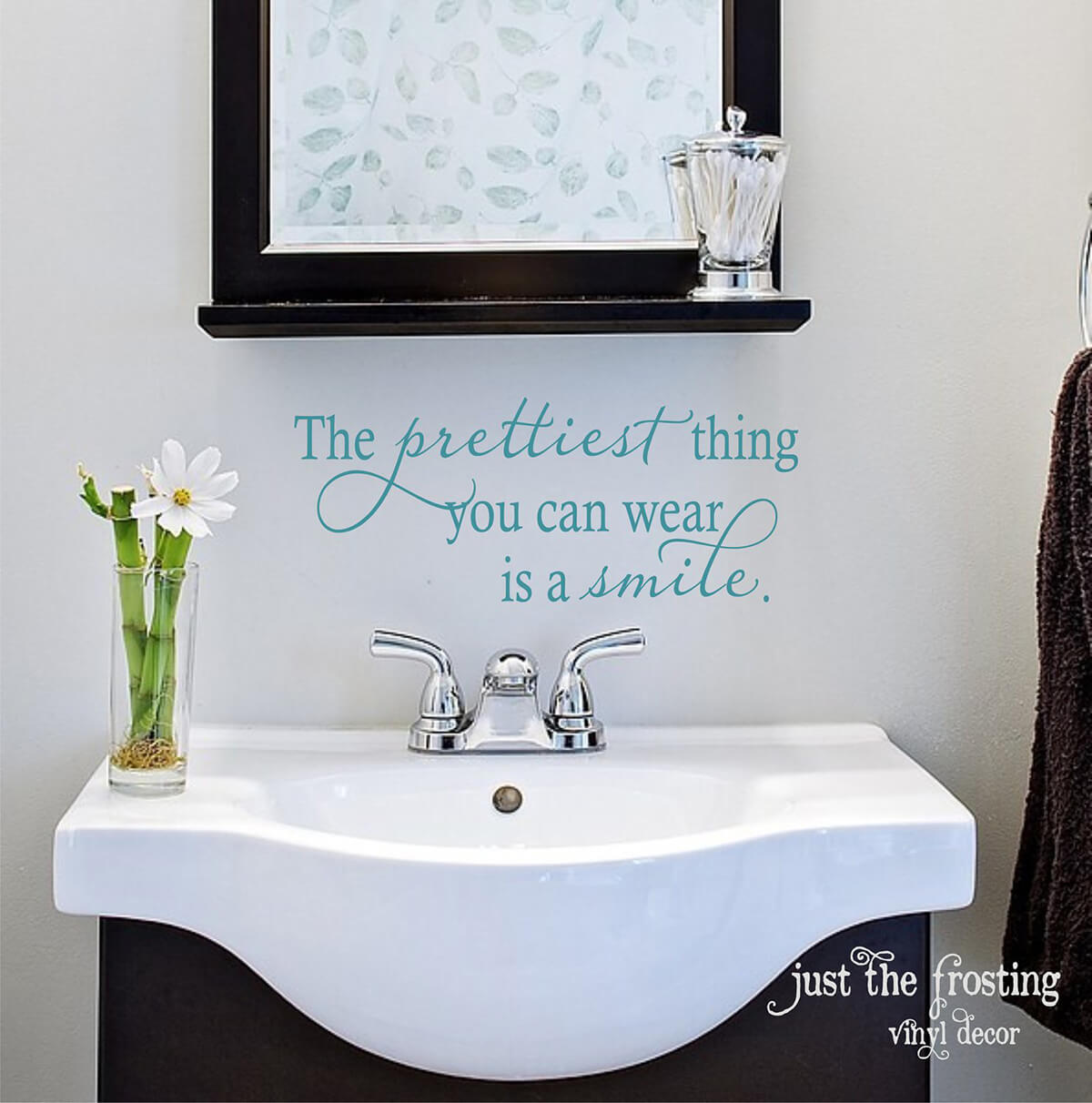 Brighten up even the saddest of days with this inspiring wall decal. Made of high-quality vinyl, this decal can be displayed in just minutes. Put this in a kid's bathroom to show them how much you love them or display it in your master bath for days when you need a boost.
28. Dream Big Little Mermaid Canvas Art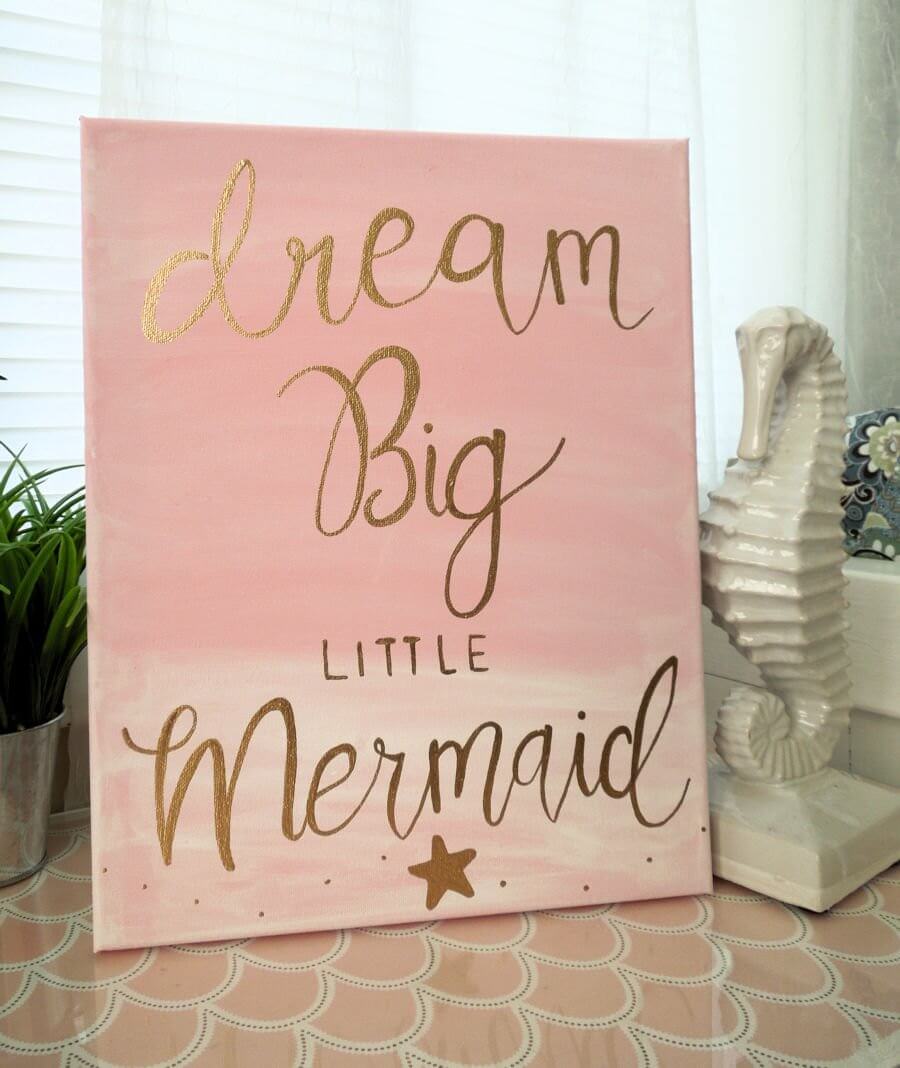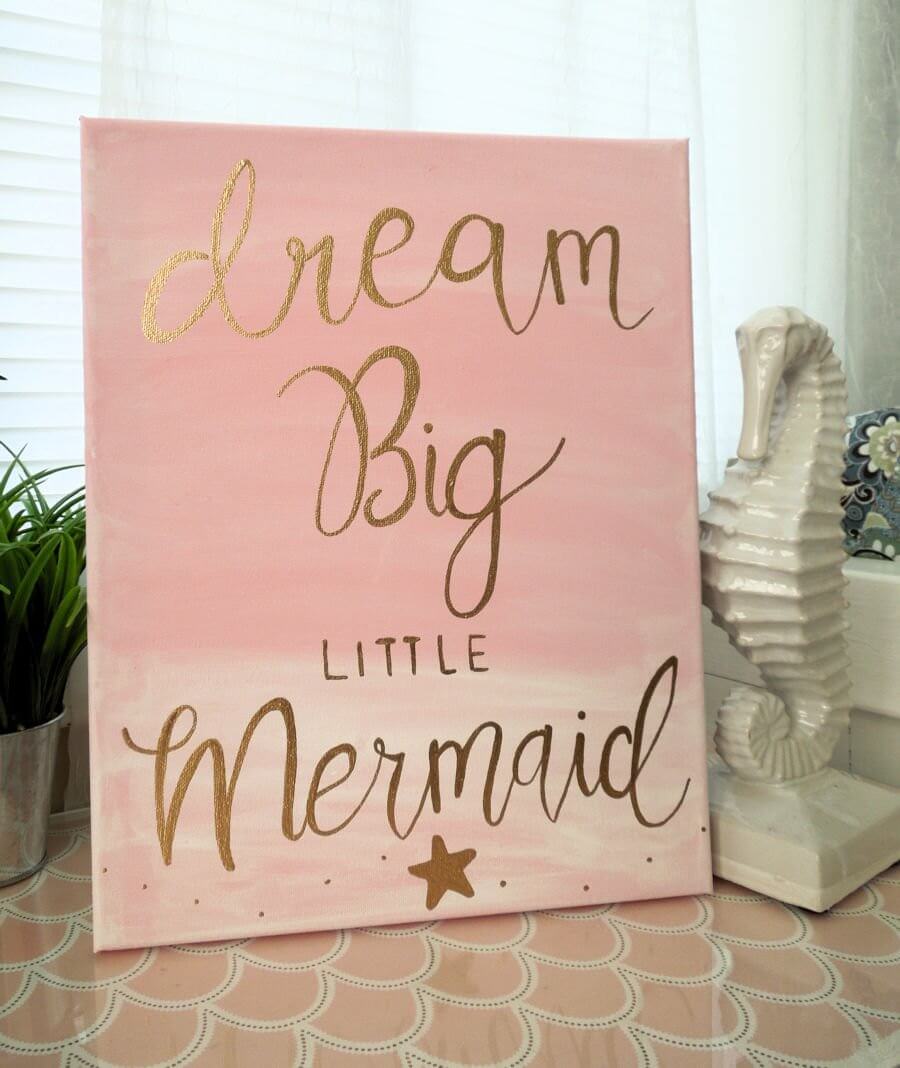 Little mermaids will love seeing this canvas wall art in their bathroom! The hand-painted pink ombre background and shimmering gold lettering make this piece unique, beautiful, and eye-catching. The heavy canvas makes this sign durable and easy to hang, perfect for displaying in a nautical themed children's bathroom or bedroom.
29. Get Naked Vertical Wood Sign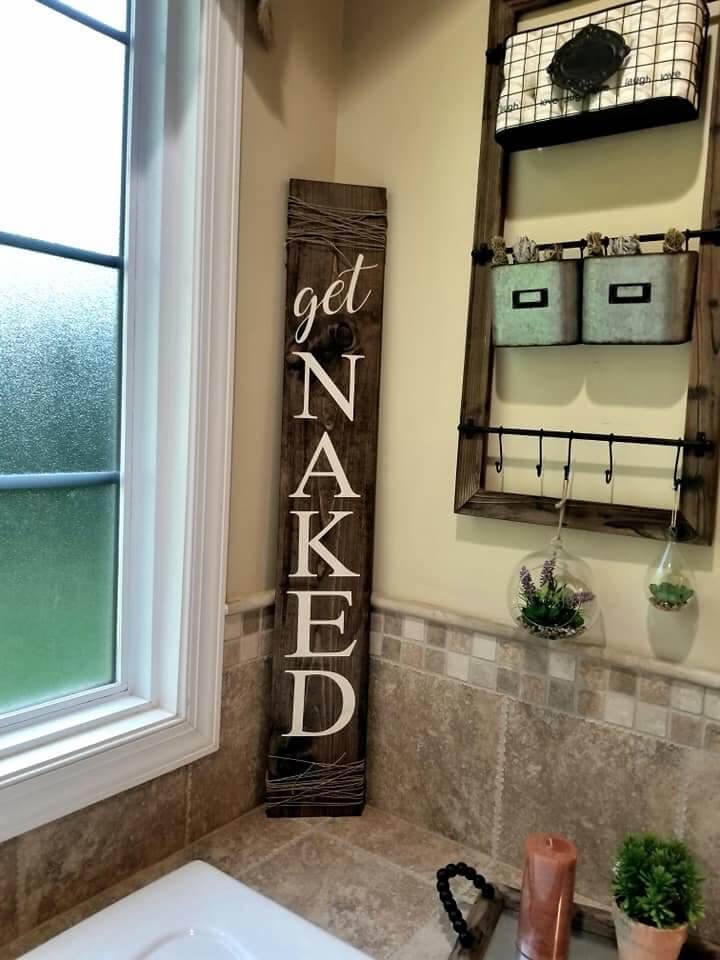 Can't decide if you want your bathroom to be cute or country? Why not have both? This funny vertical wood sign gives bathroom occupants permission to "get naked" while also acting as a rustic décor piece. The dark stain and twine details are perfect for a modern farmhouse decorating scheme.
30. Rustic Wood Personalized Wall Hooks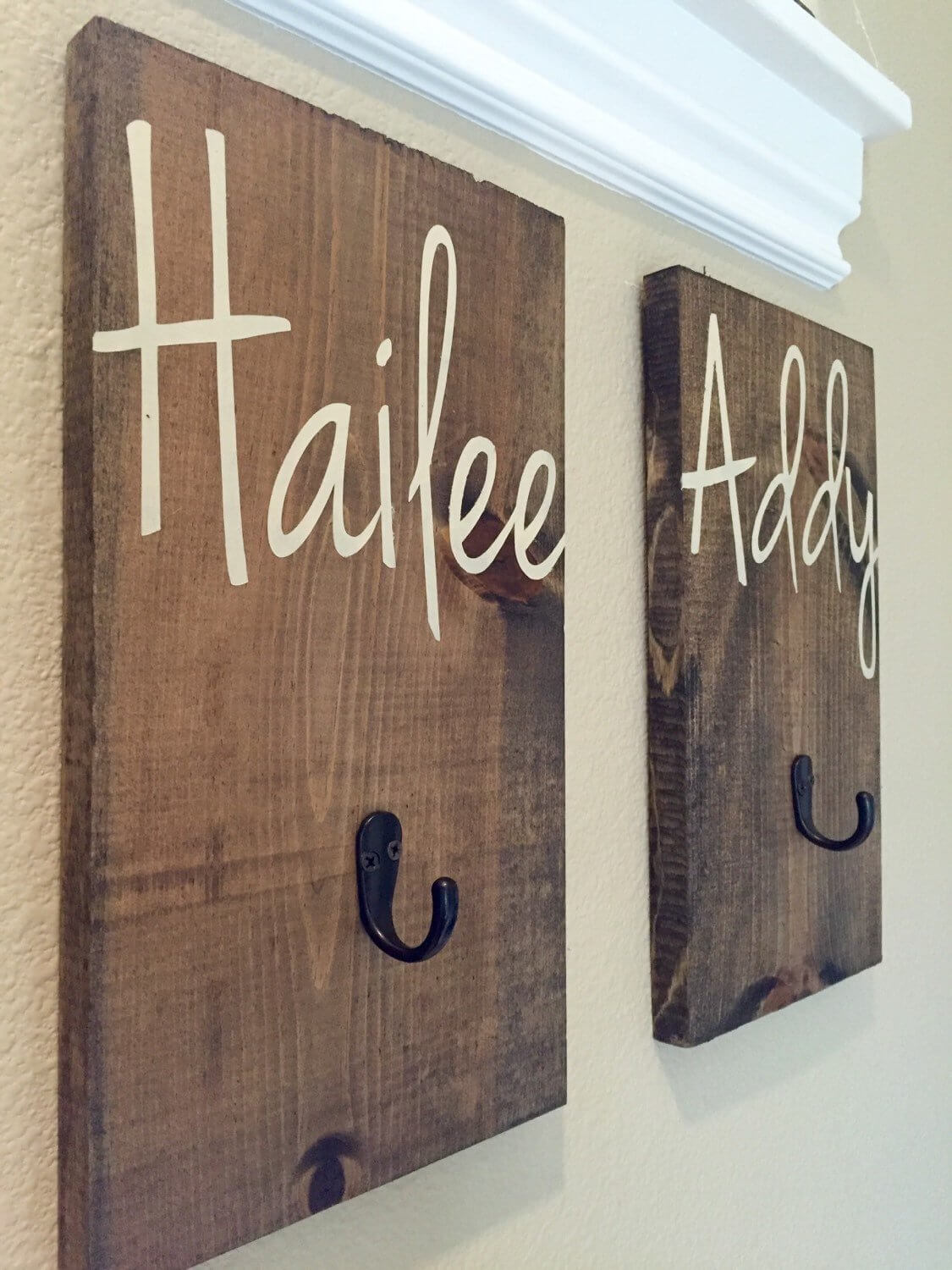 Add a personal touch to your bathroom with these pretty and practical wall hooks. Handcrafted from natural wood and decorated with beautiful lettering, these custom signs will give your bathroom some rustic charm. Order one for every member of the family to keep towels and robes off of the floor.
31. Classic Wash Brush Floss Flush Wall Sign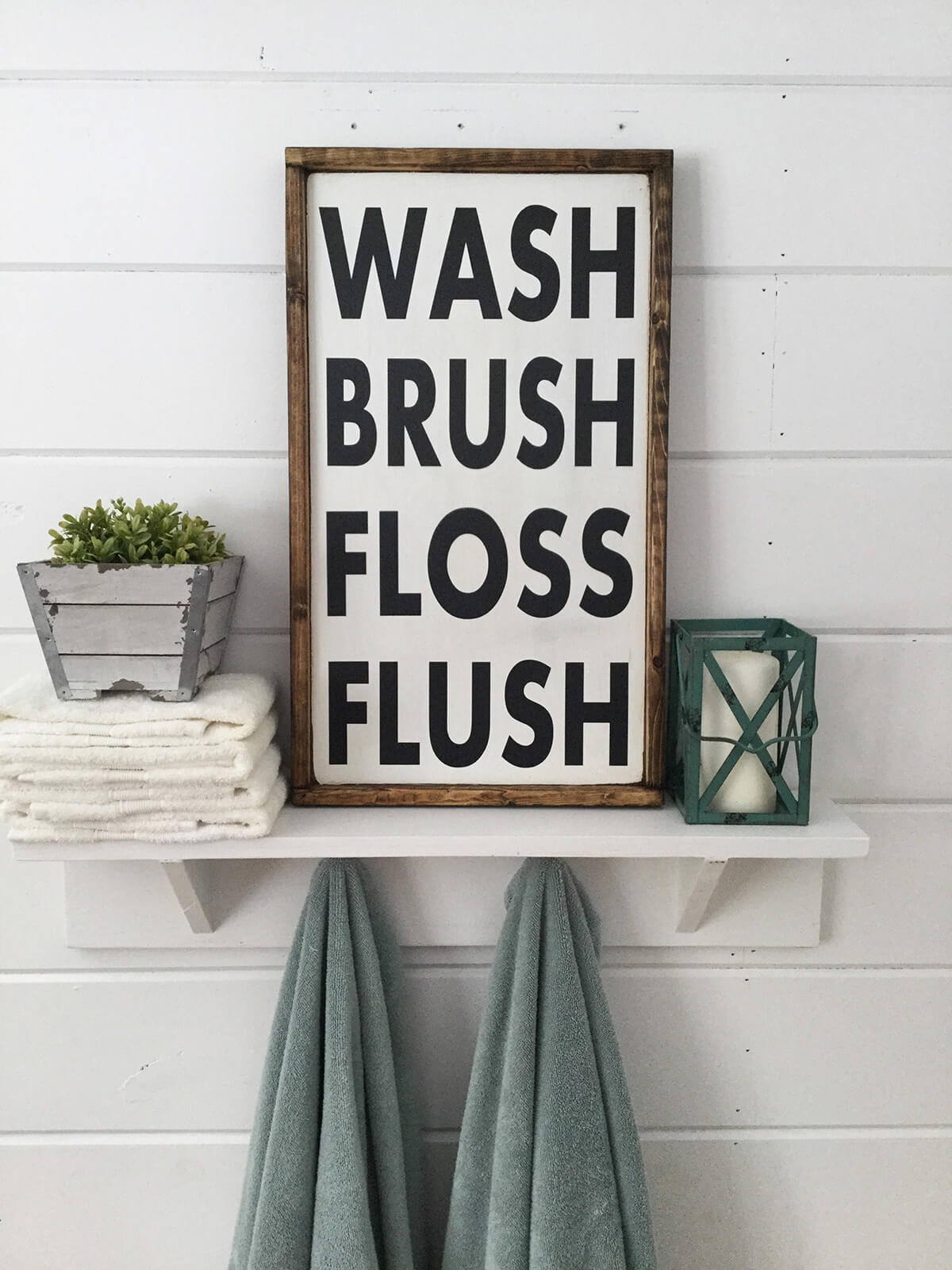 Bring that modern farmhouse charm to your bathroom with this classic sign. The minimal black and white color palette helps this piece fit into any space beautifully. A primitive wood frame adds a hint of rustic charm while keeping the look clean and bright. It's easy to add some personality to your bathroom with this sign!
32. Personalized Bathroom Rules Canvas Sign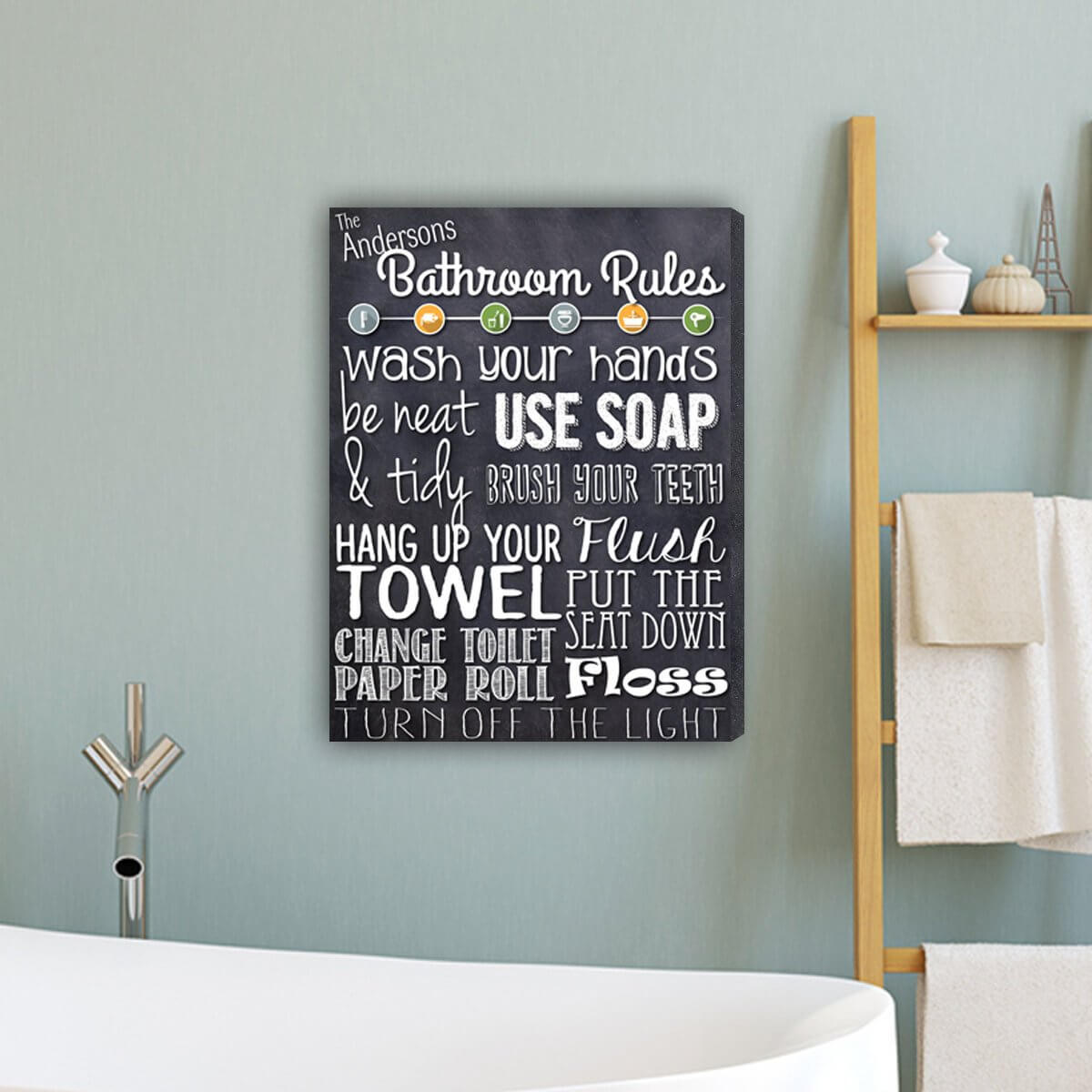 Rather than constantly prompting your little one on the bathroom rules, hang this sign in their bathroom instead! Its cute design is eye-catching and a great reminder of the routine for adults, too! The heavy canvas makes this wall art durable, while the fun lettering and personalization add some fun.
33. Save Water Shower Together Wood Block Art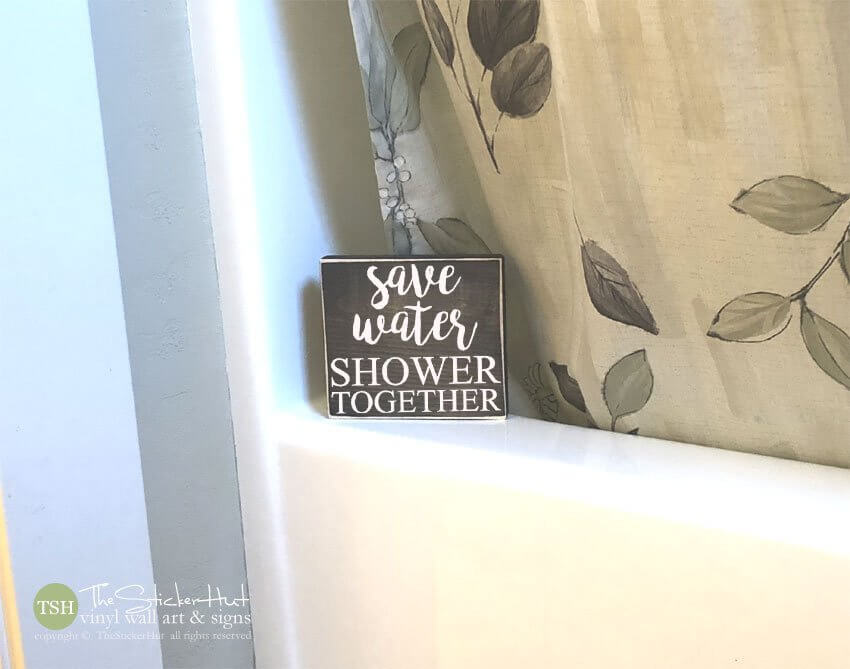 Get a little cheeky with this cute and rustic wood block bathroom art. The chunky sign can be displayed on a shelf, bathtub ledge, countertop, or on the back of the toilet. Choose from a wide array of distressed paint color and lettering color combinations to customize the piece to your style.
34. Rustic Farmhouse Restroom Sign Set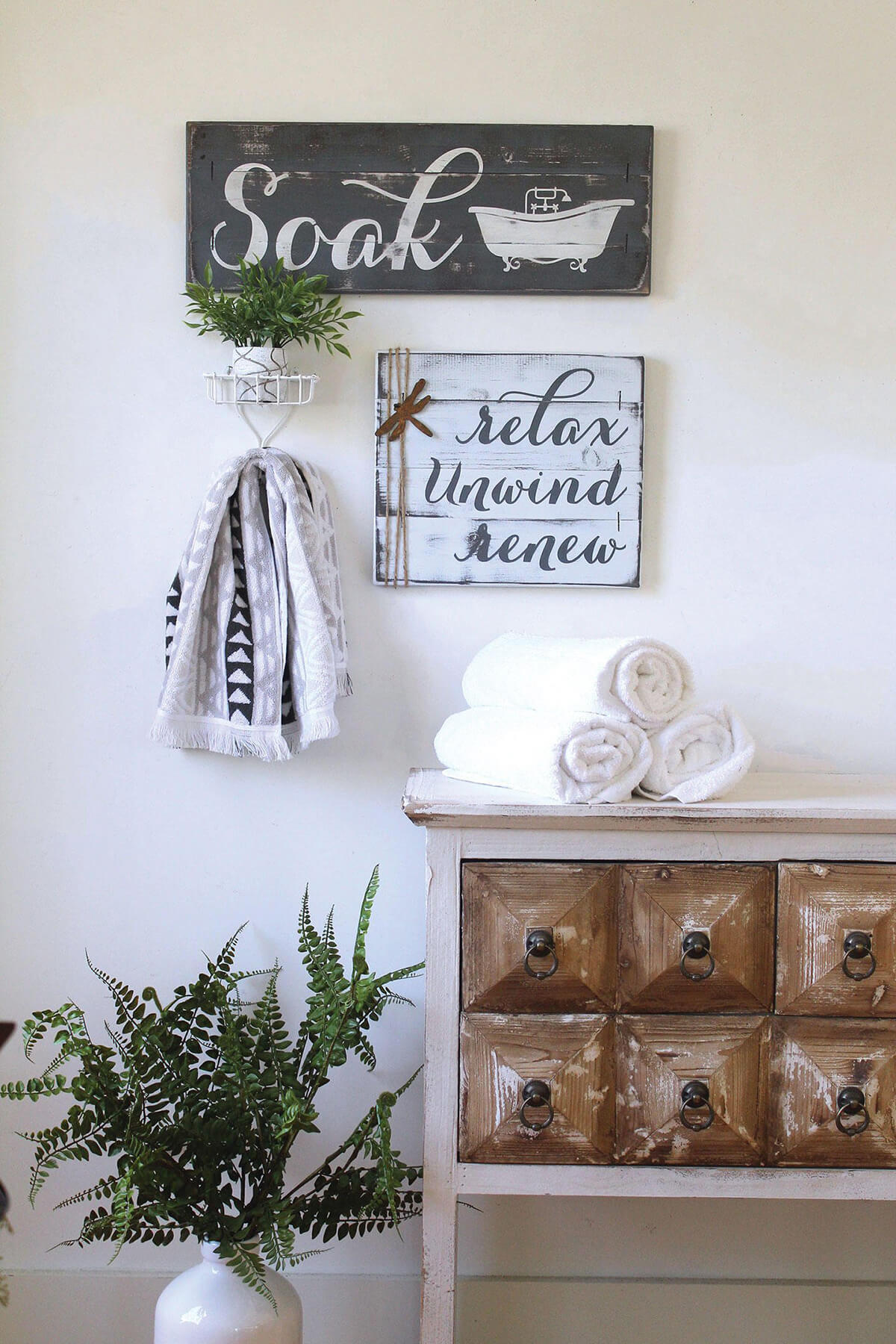 This set of two charmingly rustic signs will give your bathroom a farmhouse look instantly. With distressed paint, wood slats, and jute details, these pieces are both beautiful and homey. You can choose from a variety of color combinations to fit in with your bathroom's décor. High-quality and easy to display, this set is a must-have!
35. Change The World Funny Bathroom Art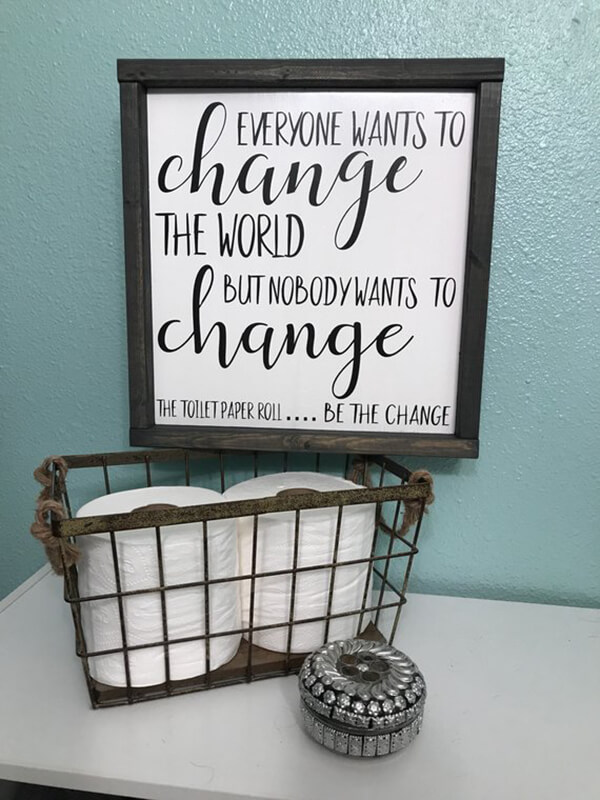 Frustrated with finding the toilet roll always empty? Display this sign in your bathroom for a cheeky way to get your family to do their part! This rustic sign is hand-painted and hung in a wood frame, giving your space a cozy and charming feel. With many stain and paint colors to choose from, this design fits into every bathroom!
36. Farmhouse Bathroom Fresh Soap Sign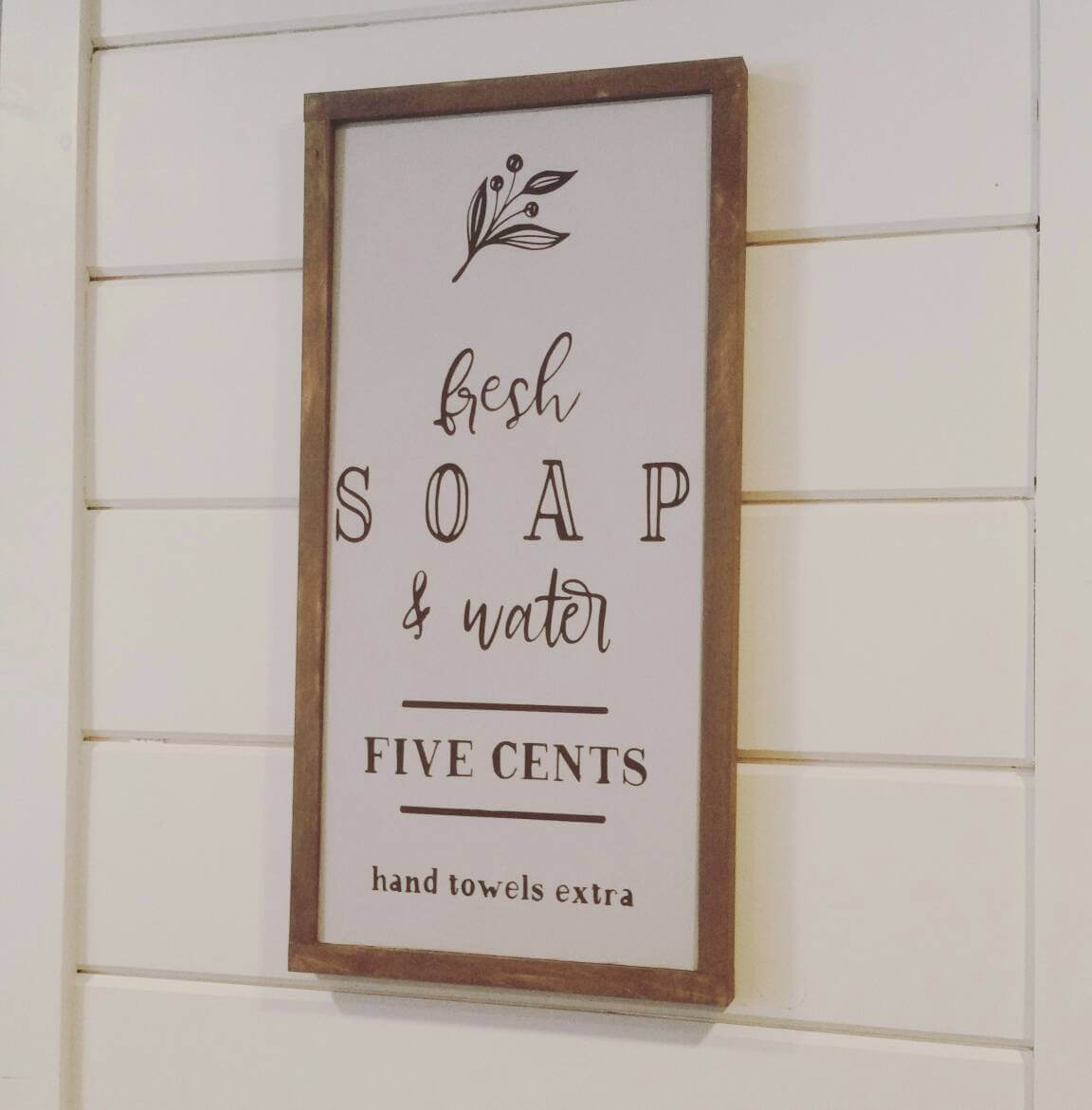 Evoke that country farmhouse vibe with this simple sign. This minimal yet attractive décor piece will make bathroom users feel warm and at home with its nostalgic style. The classic lettering styles and cute leaf detail make this sign the opposite of fancy or fussy in the best possible way.
37. Have A Nice Poop Bathroom Wall Sign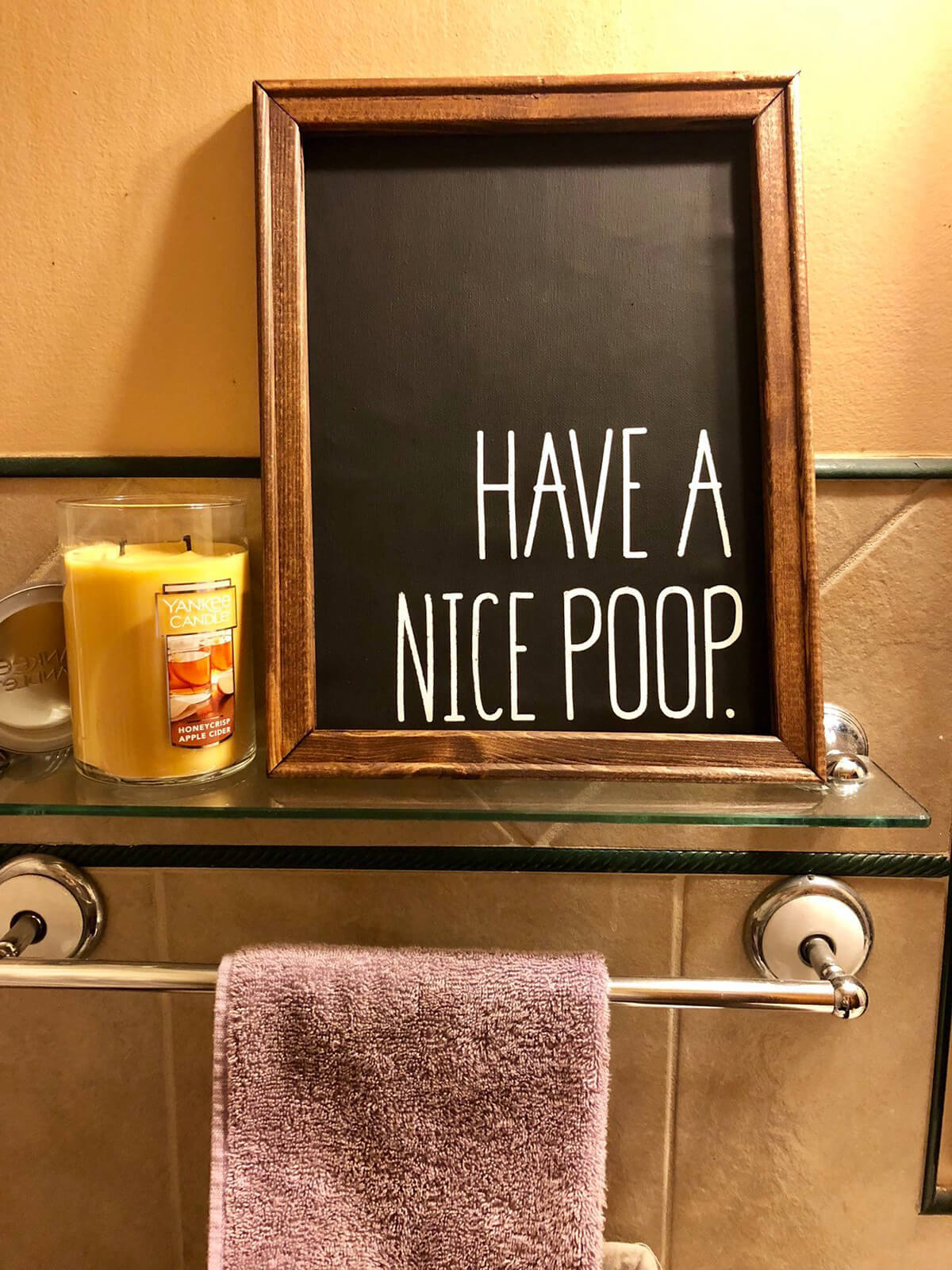 Make guests and family alike feel at ease in your bathroom with this funny wall sign. Its black background and white text give this piece a fun chalkboard appearance, giving it a perfectly homey feel. The message of "have a nice poop" is unexpected, thoughtful, and goofy all at once!
38. So Fresh & So Clean Clean Sign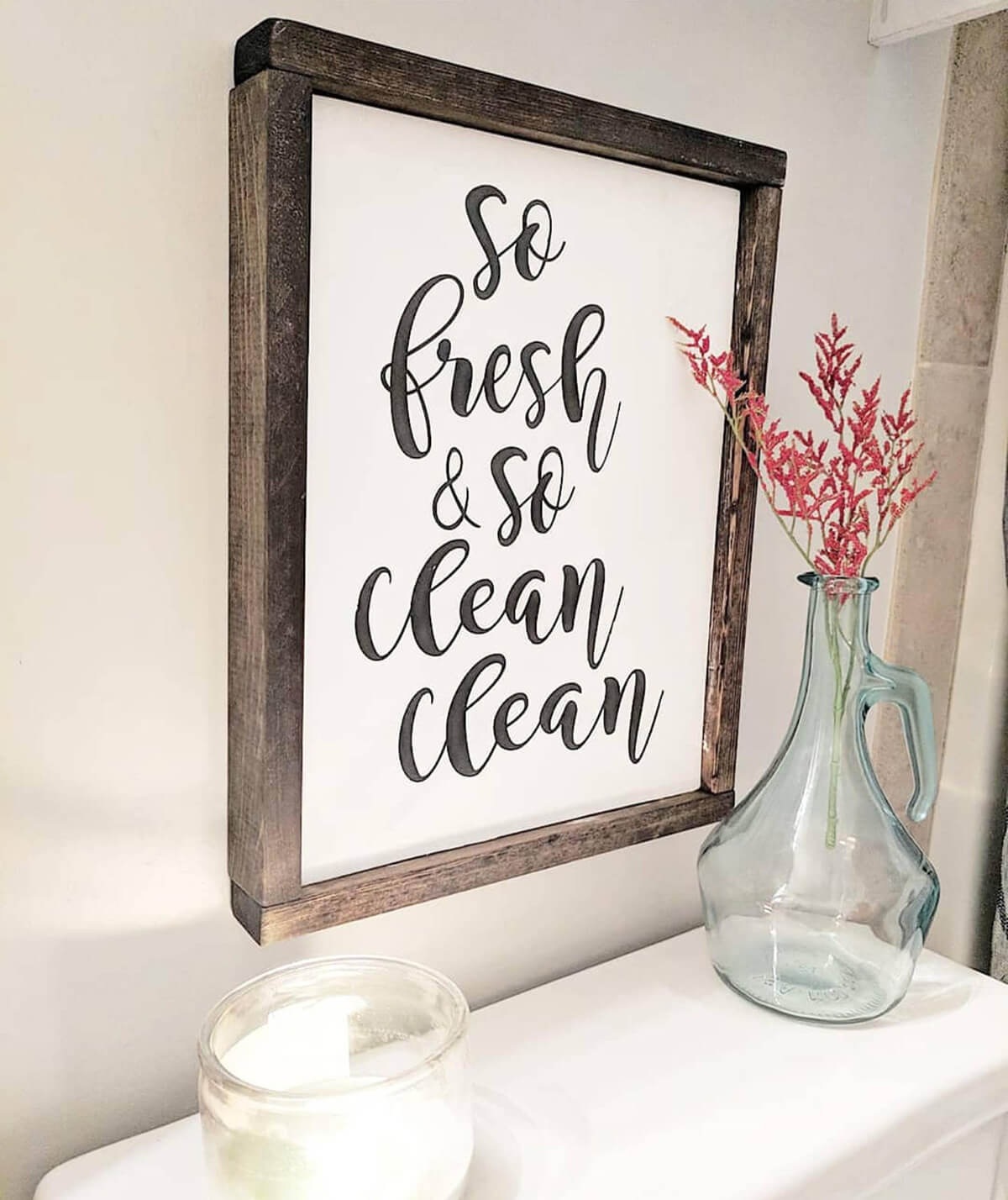 Show your love of old-school jams with this fun bathroom wall art. The Outkast song lyric fits perfectly into bathroom décor and will add a pop of personality to the room. With a clean black and white color scheme and a rustic wood frame, the piece will bring a homey feel to your space.
39. Flush Farmhouse Bathroom Decor Sign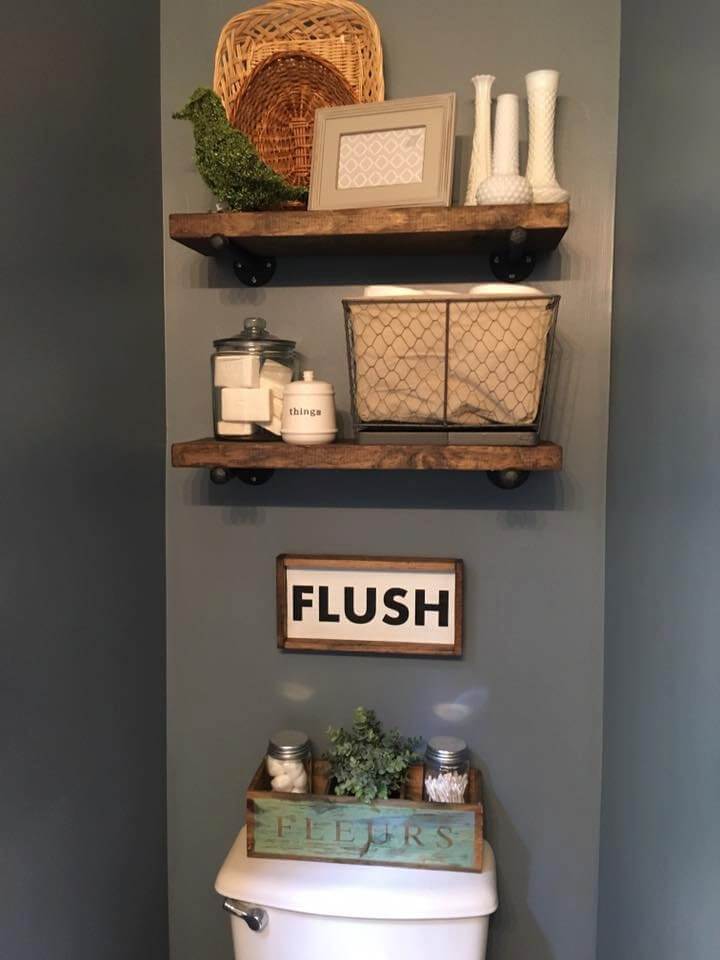 Get straight to the point with this simple sign! Whether you have a forgetful child or a groggy partner, this wall art's message will help keep your bathroom in tip-top shape. Its high-quality natural wood frame and classic black and white color scheme make it ideal for a farmhouse bathroom.
40. Funny Personalized Toilet Rules Sign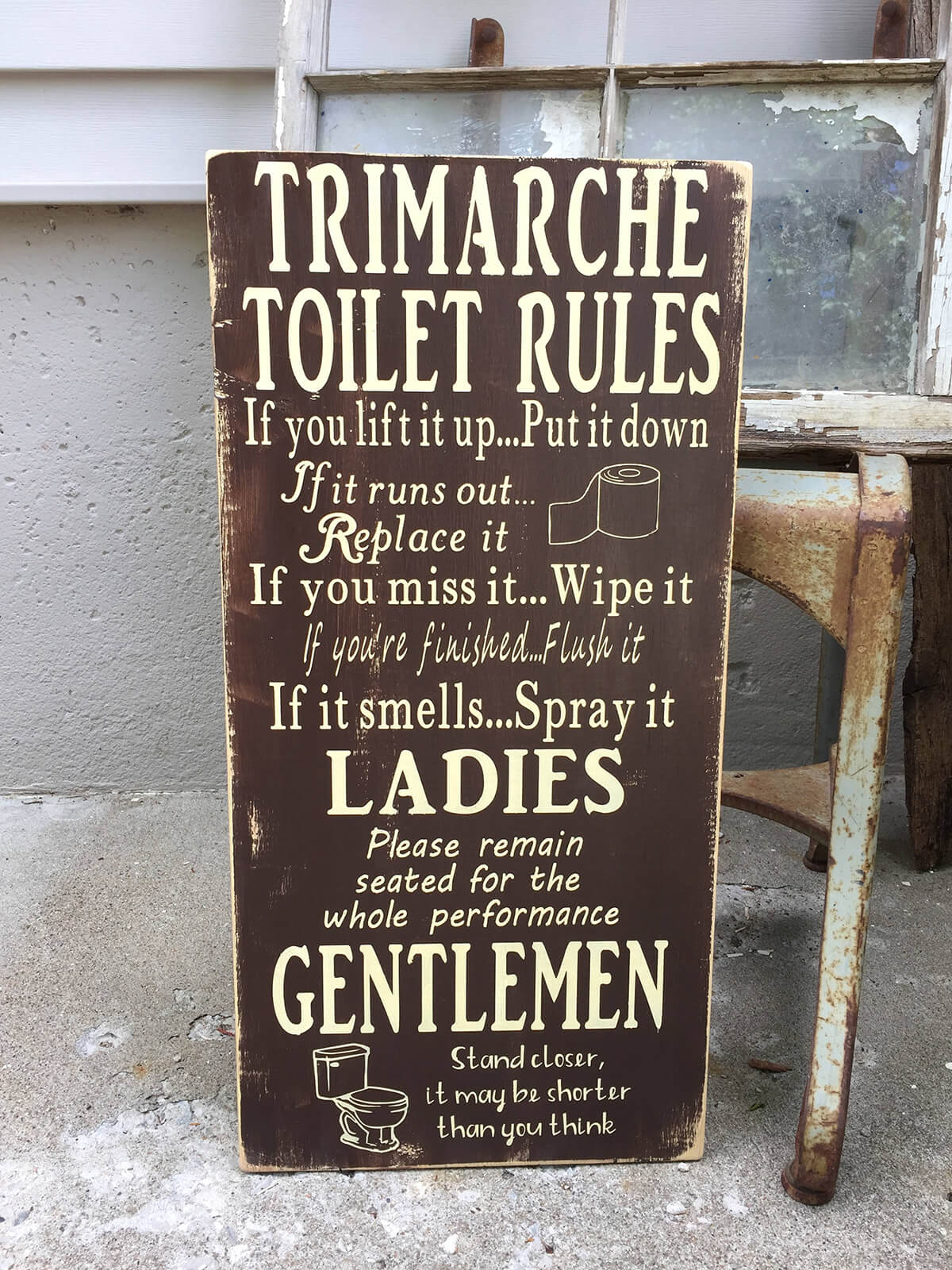 This humorous wood sign lets occupants know the rules of your bathroom! Its distressed paint will add a dash of rustic charm to your space while the text will get a laugh out of visitors and family alike. Don't forget to customize the sign with your last name for a personal touch!
41. Bath Wood Bathroom Wall Art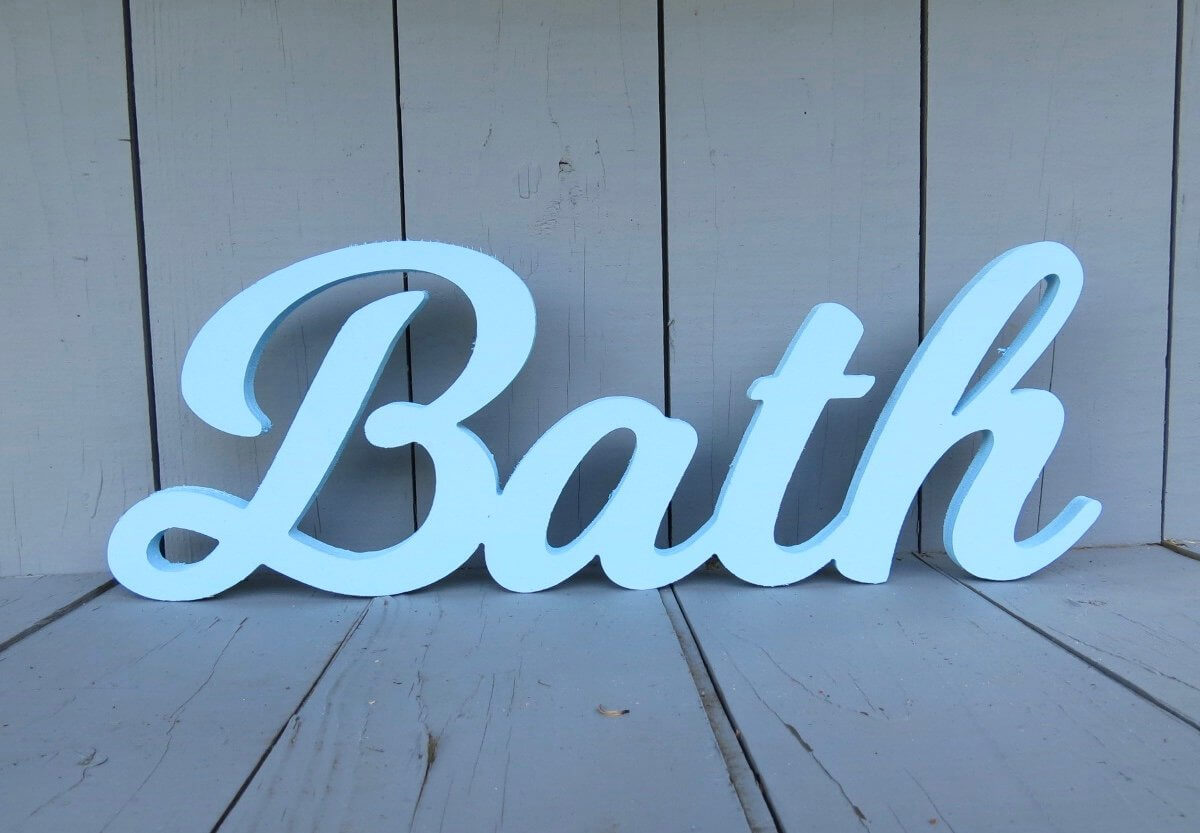 No matter what your bathroom decorating style, this sign will make a great addition to the room! This unique piece of wall art features the word "bath" in a pretty script that is neither too fancy nor too plain. It comes in your choice of 24 attractive colors to fit your décor.
Neglecting your bathroom when decorating your house is a big no-no. Show your personality by hanging up a unique bathroom sign from Etsy! It's the fastest, easiest way to transform your space from a blah room to a place you love to spend time in. Plus when you choose bathroom wall signs from Etsy rather than a store, you know you're getting a high-quality piece that your friends and neighbors definitely don't have. Whether you want a silly message or a pretty décor piece, there's something on Etsy for your decorating style and the vibe you want to give your bathroom.
Choose Rustic Wall Decor Ideas to Make Your Home Warm and Inviting