Every bathroom needs storage solutions and this is especially true if you have a large household. Between everyone's skincare products, toothbrushes, toothpaste, hair care products, towels, brushes and other necessities of life, everyone needs somewhere to put it all. That doesn't mean it has to look ugly, however. With a little bit of creativity, strategic positioning and the right materials, you can transform your bathroom from messy and unkempt to stylish and organized in no time. Just check out these simple ideas we threw together. Below are 50+ chic bathroom storage ideas to keep your bathroom organized and looking great.
50+ Simple Storage Solutions for Your Bathroom

1. Simple White Shelves and Stylish Wire Frame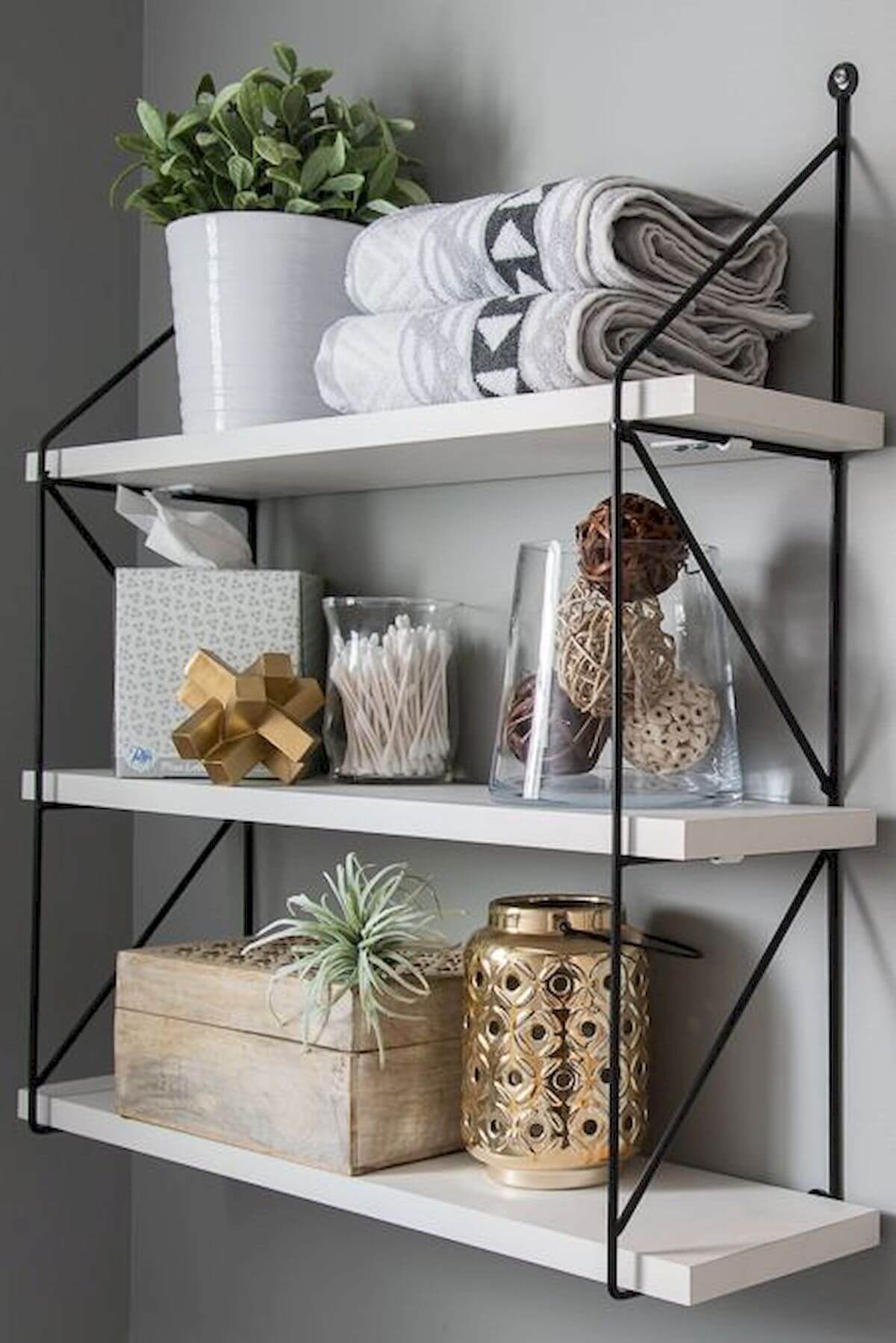 These plain white shelves are perfect for storing items that you use frequently. The wireframe adds a decorative accent to the unit and makes it stand out. To dress it up, you can add cute accents and decorative jars or candles.
These shelves are perfect for adding a little storage to any bathroom, big or small. The melamine will ensure that these white shelves are easy to clean and will stay looking like new. It would be easy to recreate this look to match nearly any bathroom decor and would be a great storage solution that adds a decorative touch.
2. Storage Baskets for Small Bathrooms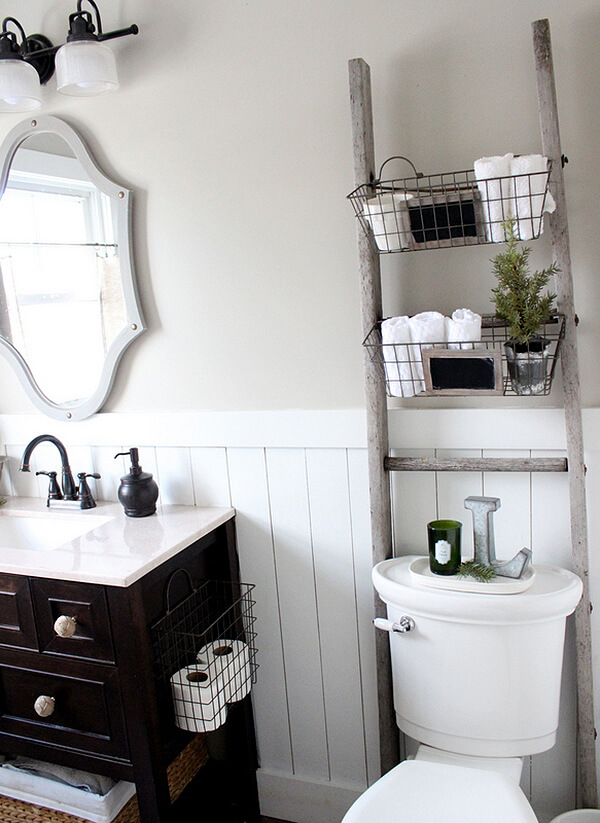 This bathroom storage idea has a touch of industrial and rustic elements that offer simple storage that is open and won't make a small bathroom feel more cramped. To achieve a similar look, hang wire baskets directly on the wall, on existing cabinets, or on any other vertical surface to add instant storage without taking up valuable floor or counter space.
This idea could easily be modified to create storage and organization in any bathroom. Combine baskets in a variety of sizes and add some jars to keep your bathroom organized and optimize the space. Your items will be easy to find and access when needed.
3. Simple and Stylish Barn Wood Nook Shelving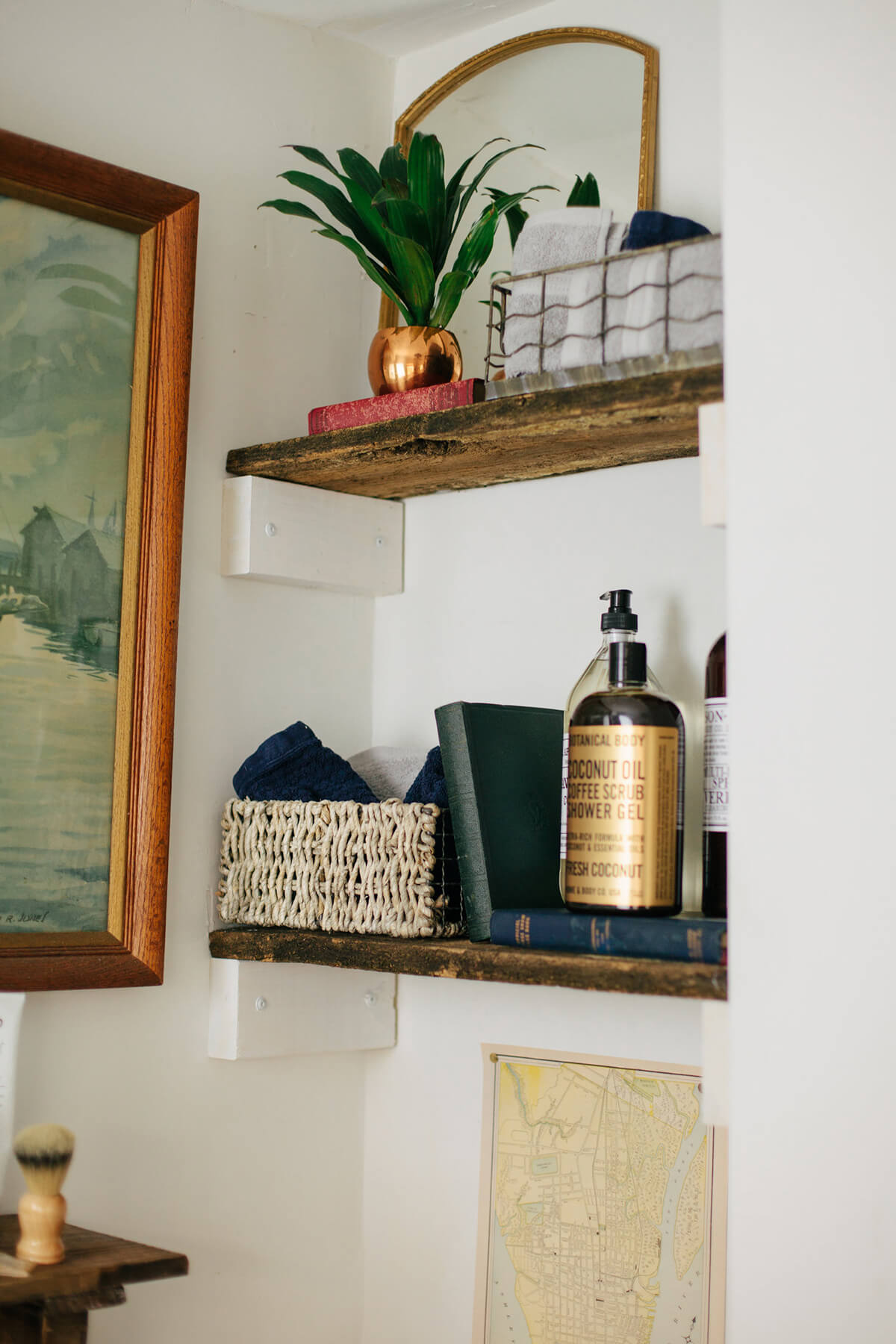 White, weathered wood looks great and gives your bathroom an instant rustic farmhouse vibe. These shelves use reclaimed lumber to achieve this look and are very attractive next to the bright white of the wall. The results are an open and spacious storage solution that would work in any nook.
Something that helps give continuity to the design of this space is the support of the shelves. The supporting wood is painted white and blends in with the walls, making it easy to overlook. If you love the look of floating shelves but want an easy DIY storage option, this would be a great idea for you.
4. Easy DIY Over-the-Toilet Shelving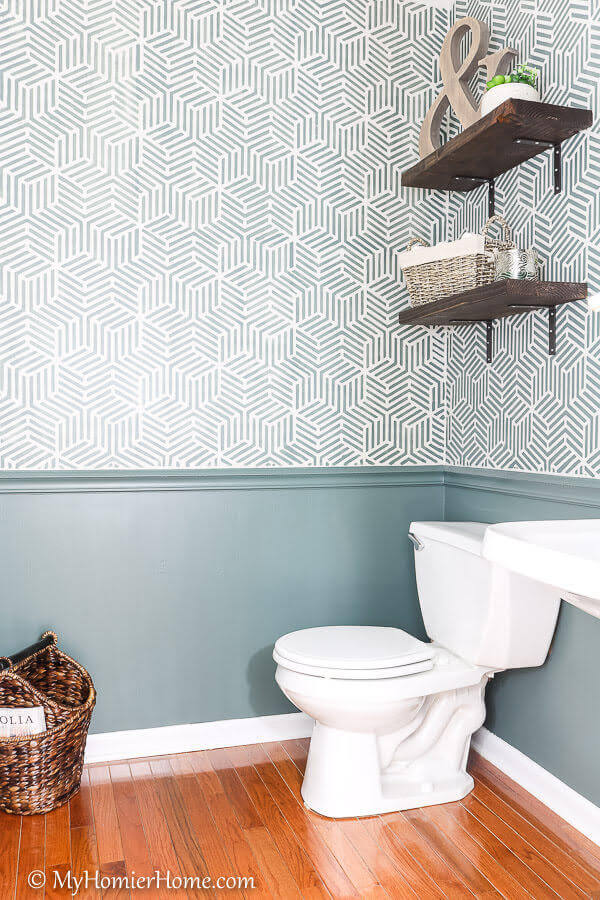 If you are looking for a simple DIY solution for extra storage in your home, these simple, rustic shelves are perfect. These shelves are stained a rustic walnut and attached to the wall using basic "L" brackets for support. The results are simple, easy to install shelves that keep your most used items easily within reach.
You can easily adjust the length and depth of the boards to add more storage or fit into any space. This is a great way to work within your bathroom's design and add function and organization.
5. Farmhouse Crate Storage for Over-the-Toilet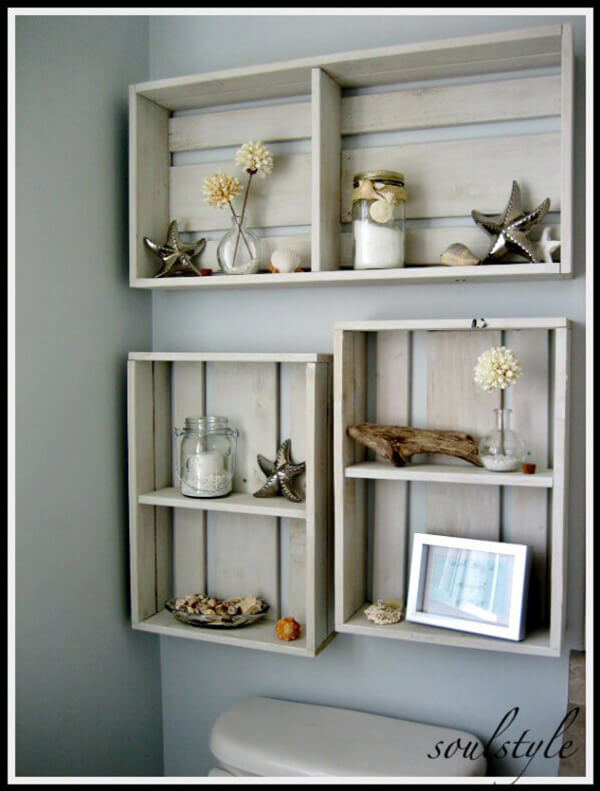 This unique storage solution involves using shallow crates as affordable and easy DIY shelving. Crates are widely available and come in a variety of sizes and designs, making them perfect for storing and organizing the items in your bathroom.
These crates have been given a whitewash or white stain, making them perfect for a farmhouse or beachy themed bathroom without much work. All you have to do is attach them directly to the wall to add instant organization and storage to any bathroom.
Once installed, they are a secure way to store items like towels and other necessities for yourself or guests.
6. Easy Access Black Wire Storage and Shelves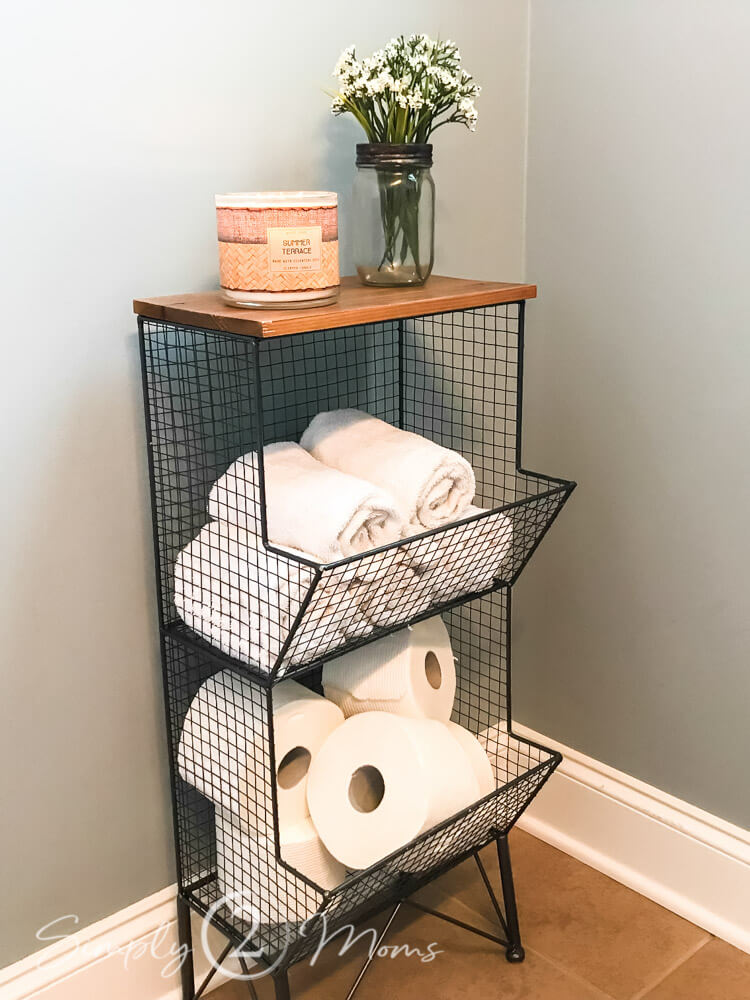 This wire mesh storage rack is a great way to store larger items like towels and toilet paper so that it's easily visible but organized. The top shelf would be great to store canisters or other items that you may need to make your bathroom more functional.
This particular rack is simple and masculine but very open in design. The design prevents it from visually closing off the room and making it appear smaller, which would be great for smaller bathrooms. It would be perfect to place under a window or behind a door to make use of the wasted space.
7. Classic White Cubby Shelves in a Nook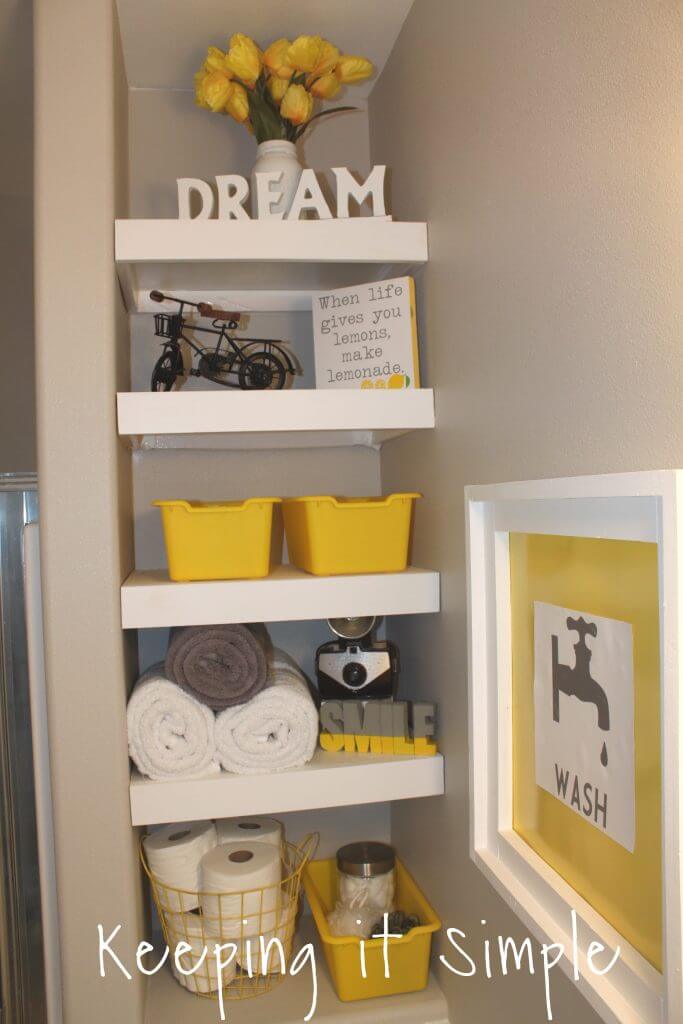 Do you have a random nook in your bathroom that is too small for a linen closet and is an odd size, making it difficult to optimize the space? Shelving like this may be a great option for you to increase storage space and organization in your bathroom.
The floating shelves are installed and allow you to store items utilizing the full space on each shelf. The white paint makes the shelves appear more polished and brightens up what would otherwise be a dark corner. Additional containers organize items and help you organize each shelf without clutter.
8. Super Easy Adjustable and Customizable Storage Idea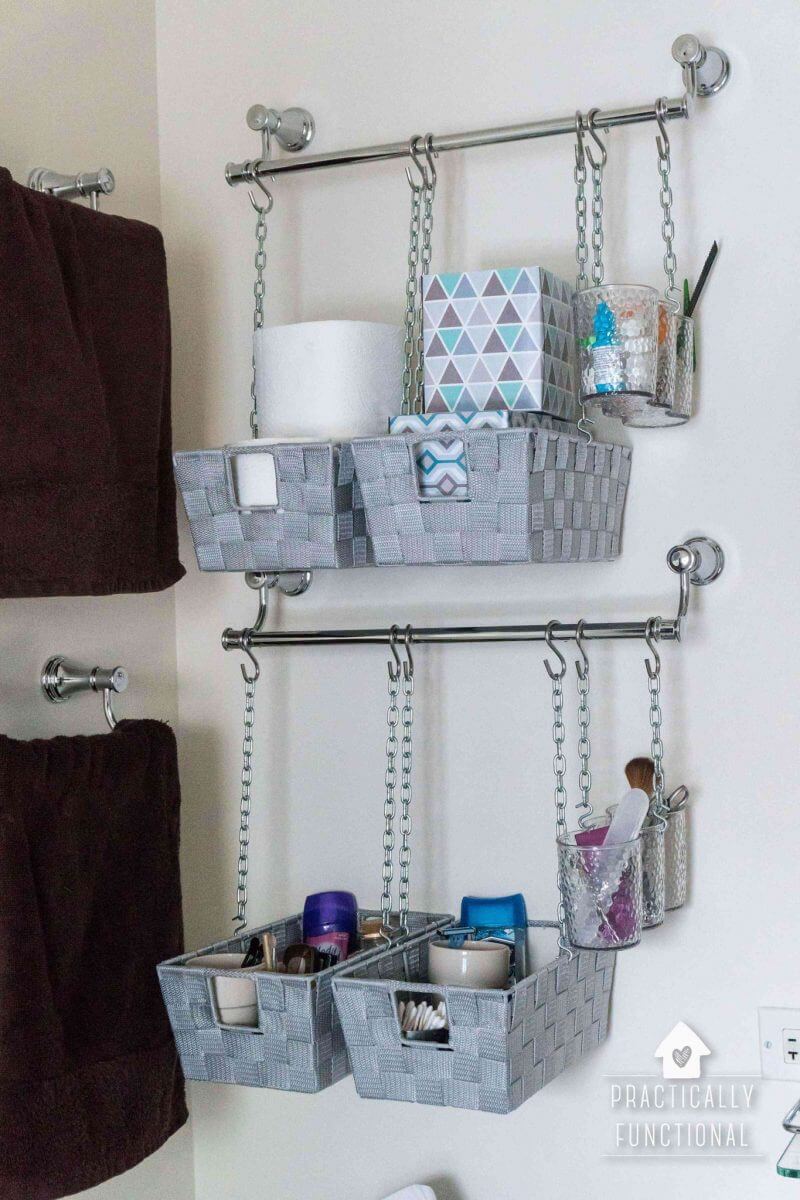 If you have a lot of clutter that you need to organize but no other storage solution seems to solve your problem, this might be a great idea for you. This idea involves hanging bins and containers from towel racks using S-hooks and chains. The best part is that you can completely customize this idea for any items you need to store within easy reach.
In the example above, there are four rectangular containers and a total of six wire mesh pencil holders. The pencil holders are attached to one another then suspended from the two ends. This would be very easy and inexpensive to replicate.
9. Simple Hidden Medicine Cabinet Storage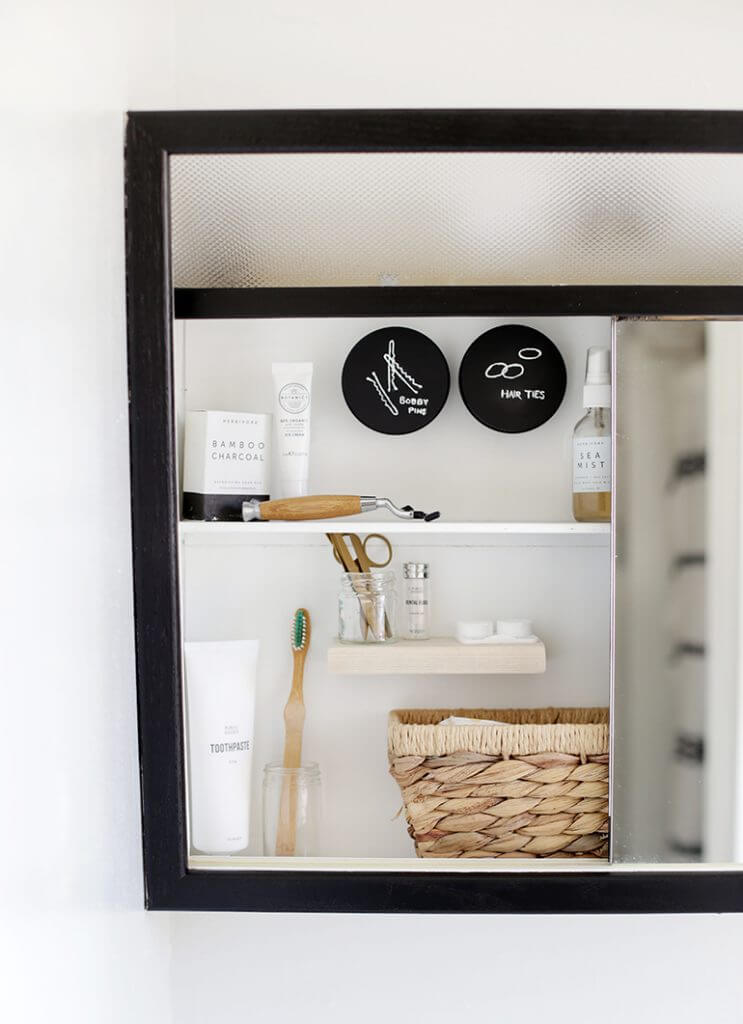 Do you lack wall space for hanging storage? If so, you may choose to make use of the space between the walls to add more storage. Medicine cabinets are a great way to do this. In this example, there enough room to store more than pill bottles and soap.
A partial shelf allows for the storage of other, taller items that would otherwise take up counter space. When your bathroom is already small, you need to make the most of the horizontal space that you have. This idea does that and keeps items hidden away and organized.
10. Clean and Simple Shelves with Baskets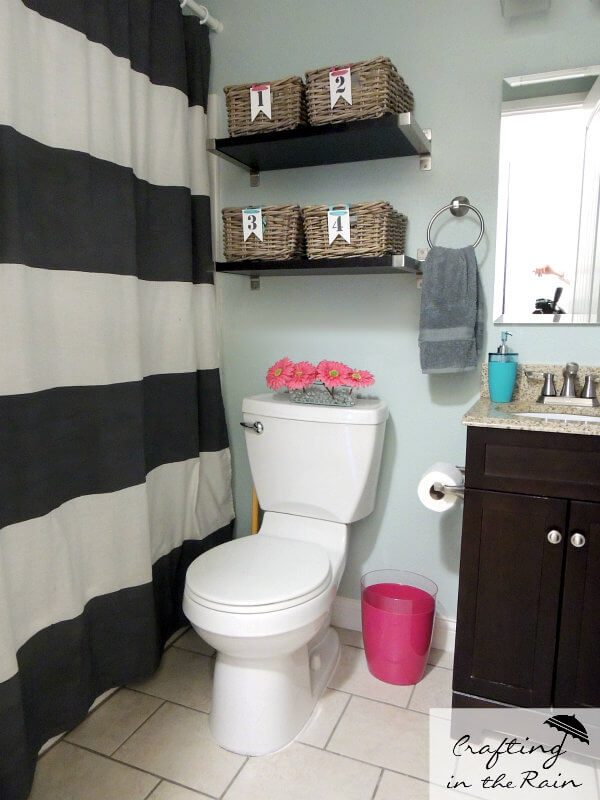 This idea is as simple as using labels and baskets to keep a bathroom organized. If you have multiple people using the same bathroom, each person can have their own storage basket to store their personal items and keep the room more organized. This is an especially great idea for roommates or multiple children who share a single bathroom.
To achieve this look and keep it clean, plain shelves are installed over-the-toilet. Each shelf has two baskets that together span the length of the shelf and each basket has its own label. This would also be great for storing cleaning supplies out of sight.
11. Over-the-Toilet Storage Cabinet with Baskets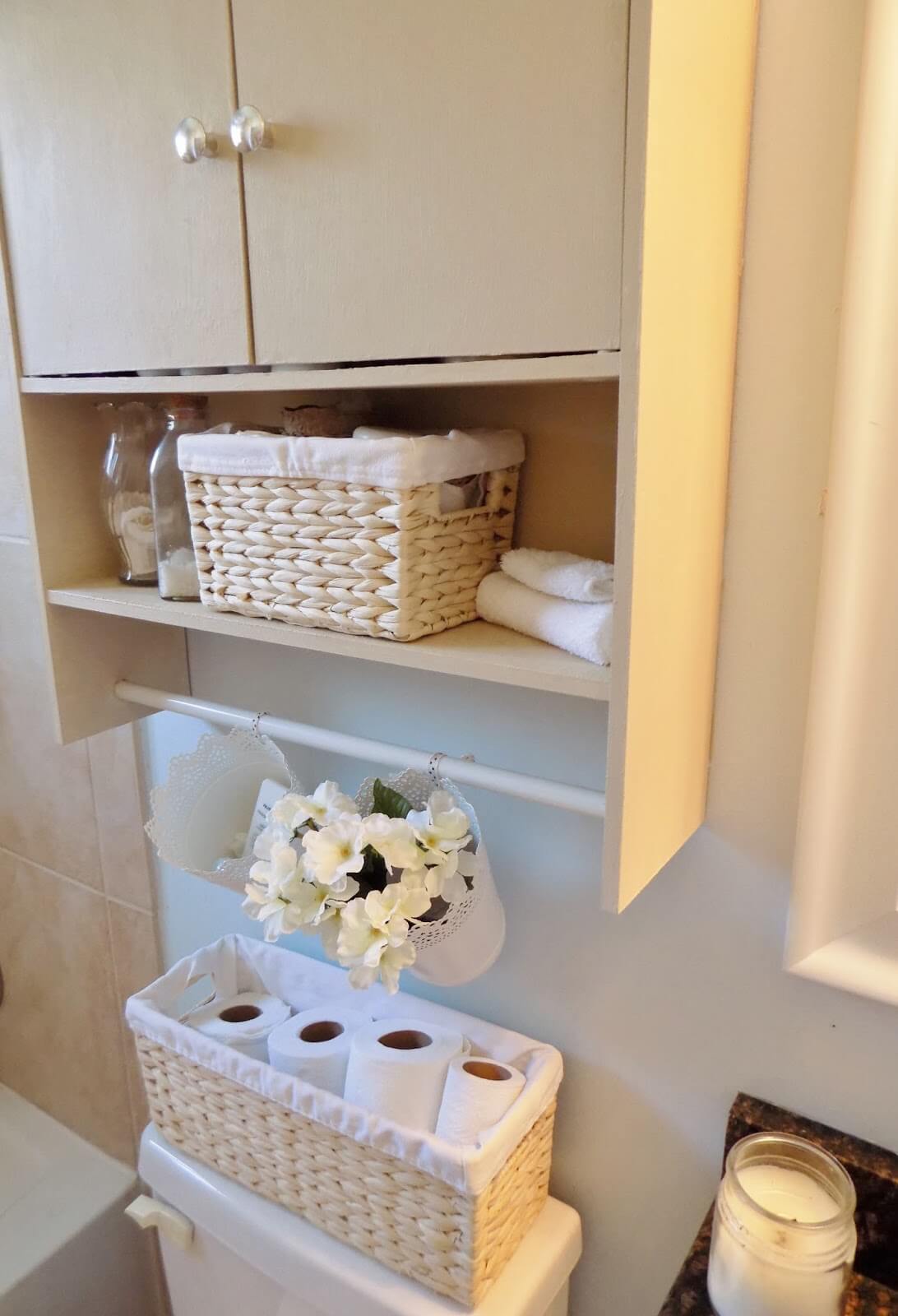 Most over-the-toilet cabinets have limited space and style. However, this one is has been dressed up with baskets, glass jars, and hanging containers that make the cabinet cleaner, more organized, and much more visually appealing. In addition, a matching basket has been added to the back of the toilet tank to keep toilet paper within arm's reach.
To use this idea, you can start with any cabinet and paint it to match your existing decor. Add complimentary baskets and storage jars to get the most out of the space and make it more visually appealing.
12. Easy-to-Access Hidden Storage and Organization for Children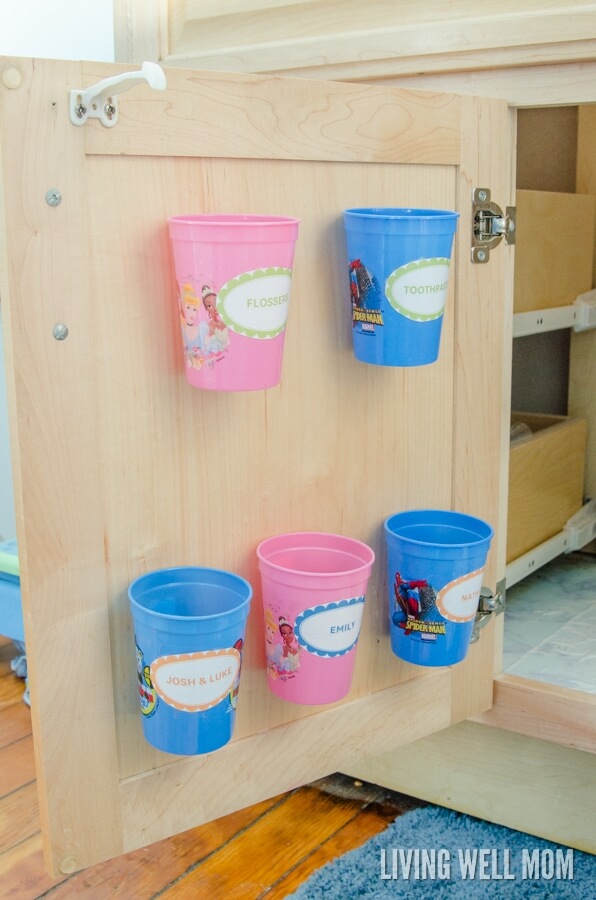 If you have children and need more space for all of their toiletries, under the sink is the way to go. It is low enough that young children can reach it with ease and you can use containers that they find attractive, making them more likely to enjoy using it.
In this example, plastic cups in bright colors appear to be velcroed to the inside of the cabinet door. Items like "floss" and "toothpaste" have their own cups, while the kids also have their own individual cups for items like toothbrushes. This will help keep the bathroom more clean and organized.
13. Easy Access Rustic Mason Jar Organization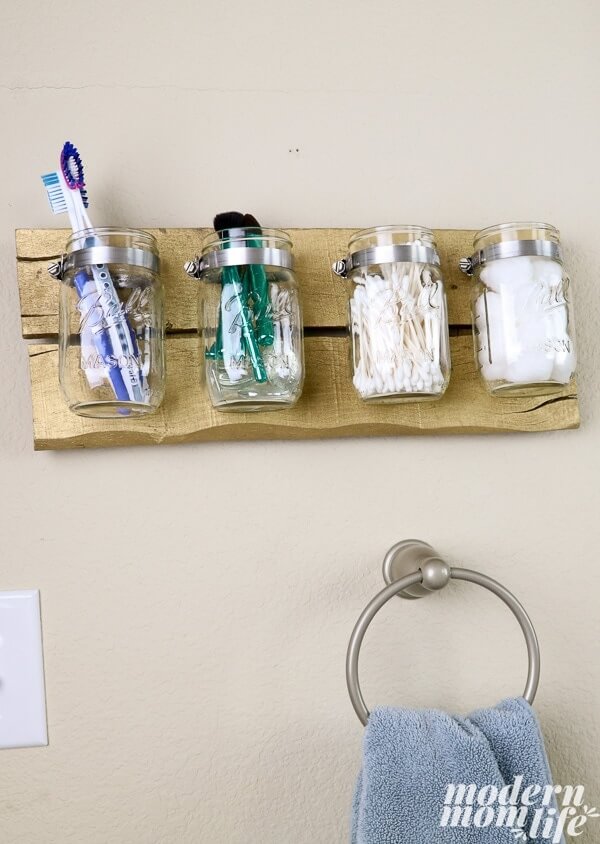 Mason jars come in a variety of sizes and make great organization containers, especially for the bathroom. These versatile jars can easily be attached to a piece of wood via hose clamps and labeled or decorated to match any decor and hung exactly where they're needed.
The jars would be easy to clean and can be painted with glass paint to match your bathroom. They can also accommodate a variety of items, such as toothbrushes, cotton balls, makeup brushes, hairbrushes, or small items like bobby pins and hair ties. Regardless of what you need to store, they will keep your bathroom more organized.
14. Bathroom Cabinet Organization and Storage Solutions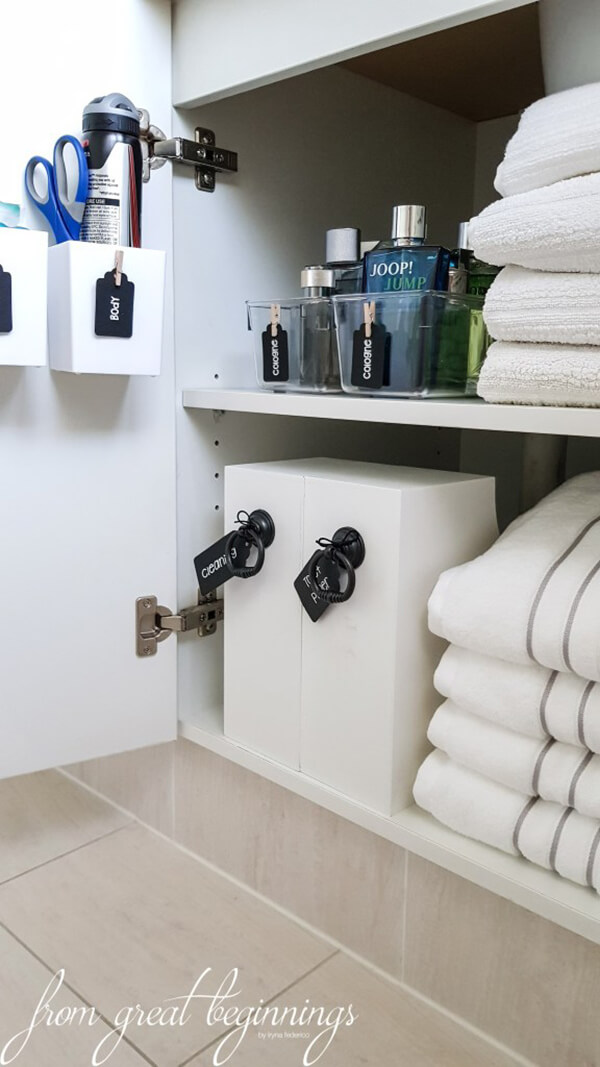 A space in the bathroom that is often underutilized and unorganized is the space beneath the vanity. This space is easily cluttered and items can become buried and lost. Make use of this space by adding storage containers to keep it neat and organized.
In this example, a shelf is installed and makes a great space for adding containers. Glass jars, ceramic containers, and even magazine holders are used to store items and labeled hanging tags with chalkboard labels keep it organized. You won't need to search for items you need when they have their own space.
15. Bookshelf Bathroom Storage for Easily Accessible Necessities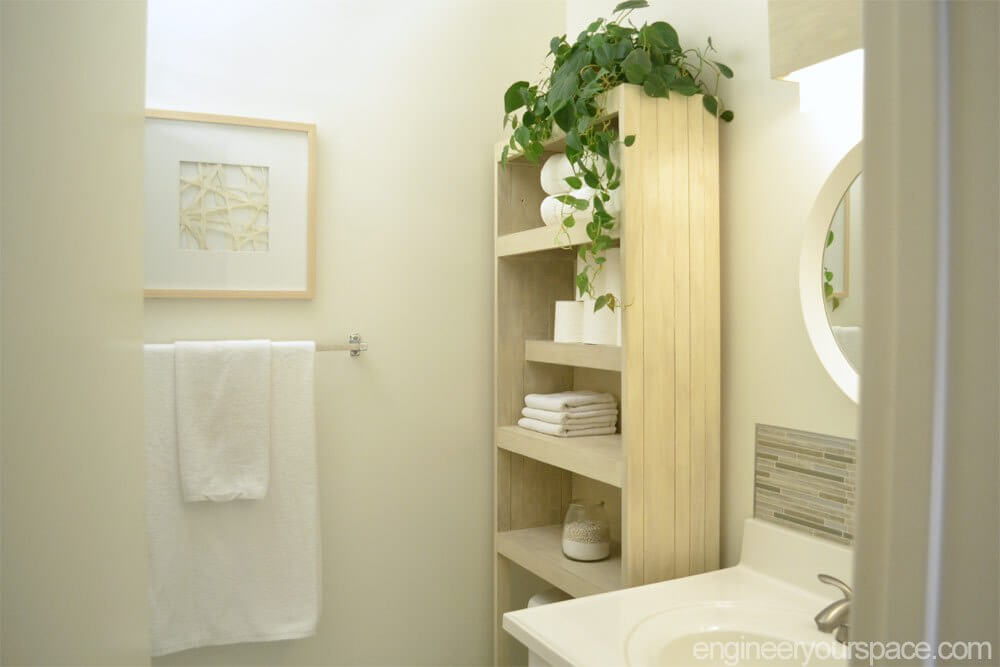 Bookshelves can add extra storage to any room but are especially useful for a rental property where you can't modify the space permanently. An old bookshelf can be painted to match the bathroom and containers can be used to store items and keep the shelves from becoming cluttered.
If you don't have a linen closet, you can easily fold or roll towels to store in a bookshelf so that they are tidy and within sight for guests and family members. It is also a great place to store items that are frequently used or decorative. The options are endless with this storage idea.
16. Customizable Over-the-Toilet Hanging Shelf with Sign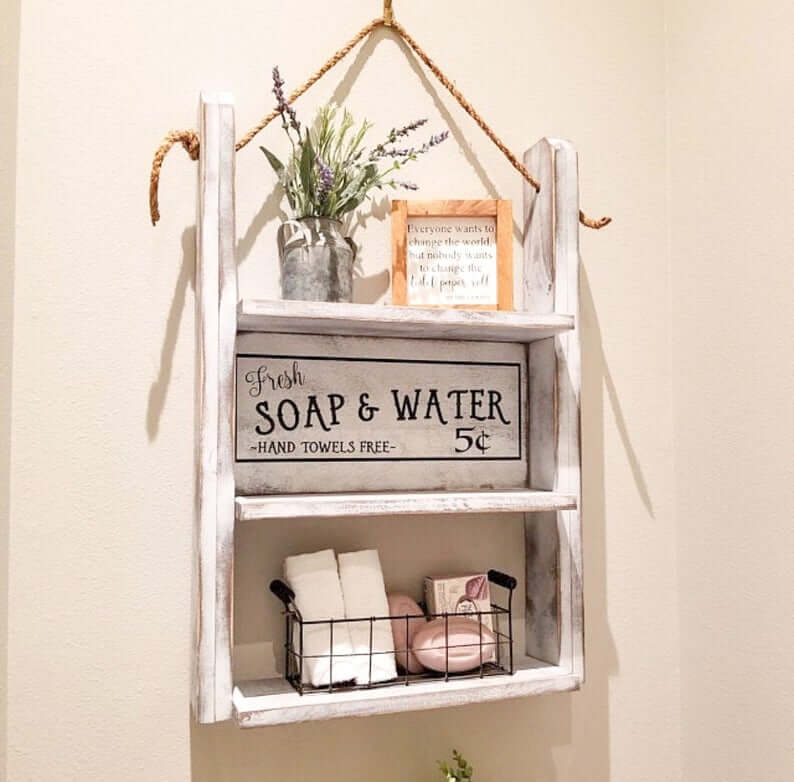 If you are looking for a customizable option that can improve your bathroom storage, this sign with shelf is a great idea. It can perfectly match your decor with many colors to choose from for the shelf and font.
This hand-painted shelf with sign measure 24-inches high, 18-inches wide, and has a shelf depth of 5-inches. It is the perfect size to hang over-the-toilet, over a sink, or even behind the bathroom door. The depth of the shelves provides ample room for canisters and storage for many other necessary bathroom items.
17. Eco-Friendly Cotton and Sisal Bag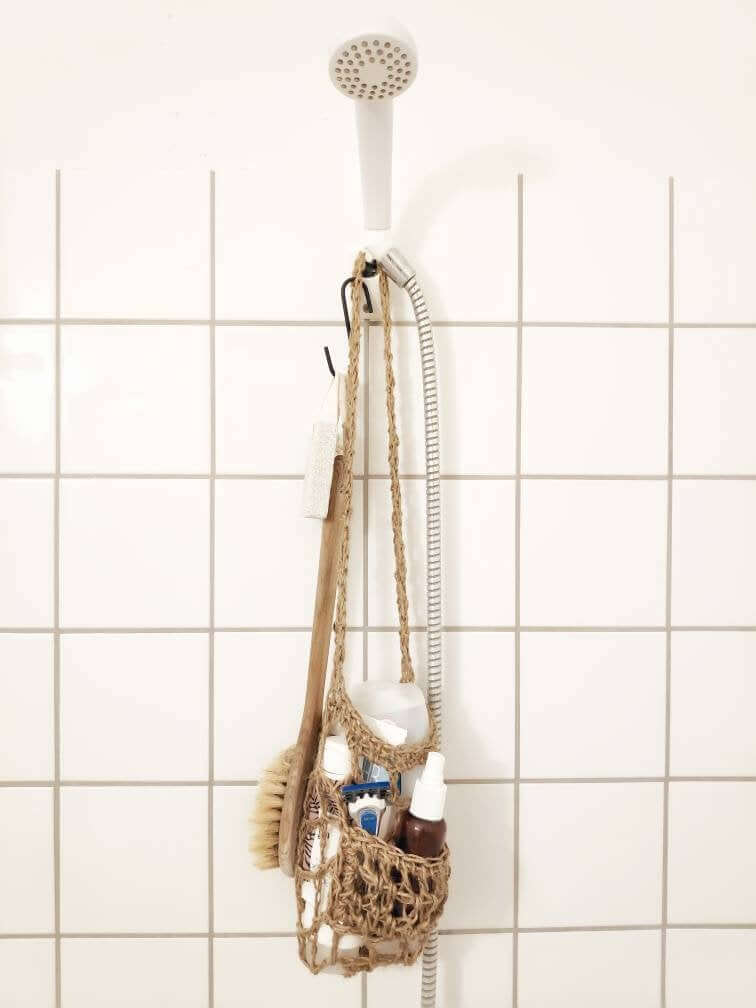 If you are limited on space in the shower, this crocheted cotton and sisal bag is a great way to add additional storage and is an eco-friendly option that offers zero-waste packaging. This is a great way to increase storage in your shower without having a negative impact on the environment.
The bag can easily hang over the showerhead and can hold common shower items including soap, shampoo, and razors. If you live in an apartment or dorm room, it is a great portable option to use when you shower. It keeps everything you need, neatly in one place, and ready to go.
18. Rustic Pallet Style Bathroom Shelves with Hooks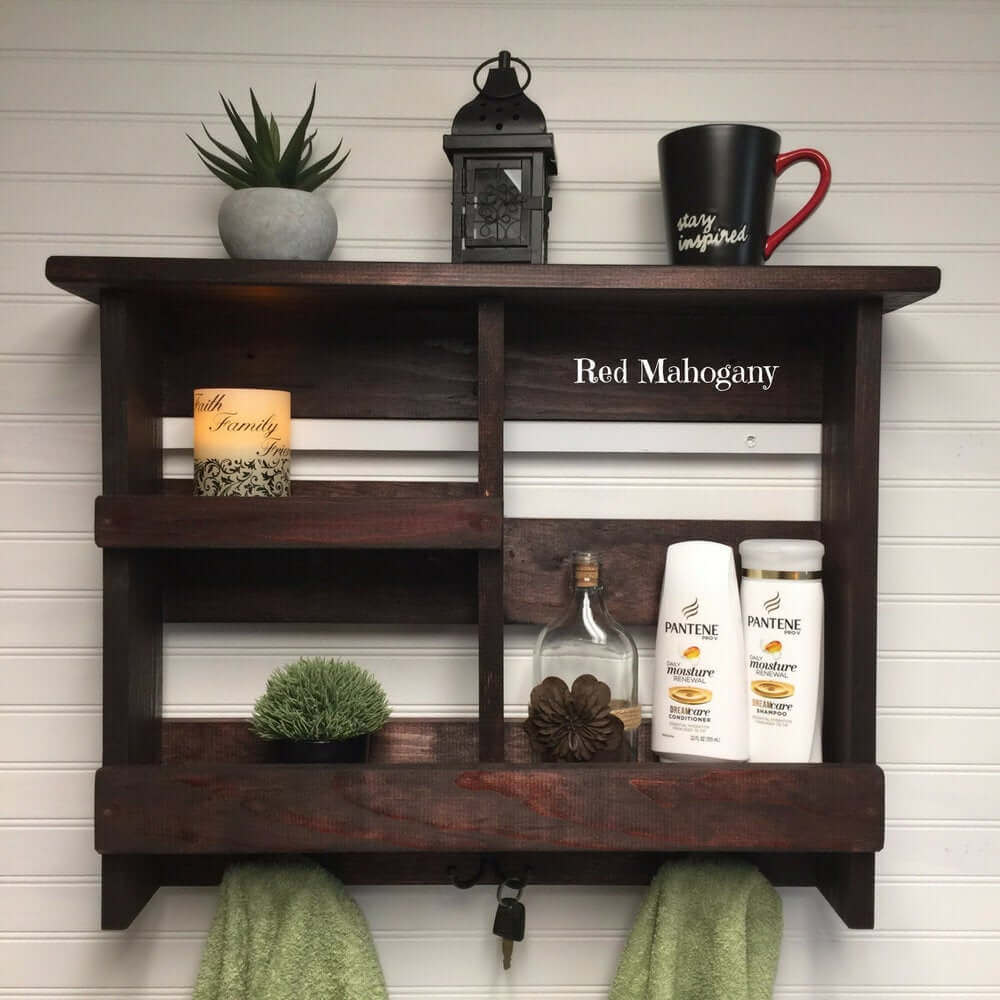 This made-to-order rustic bathroom shelf offers loads of storage in a very compact design and can be stained several colors to match your bathroom decor. This item has 3 shelves, including a functional top shelf and three double hooks to hang towels, robes, and other commonly used items.
The shelves are designed with cubbies to hold items securely with one section that can hold taller items. It is a versatile option that is handmade and can significantly increase your bathroom's storage capacity in minutes. Predrilled holes in the back of this unit make it easy to install and secure.
19. Rustic Glass Canisters for Bathroom Organization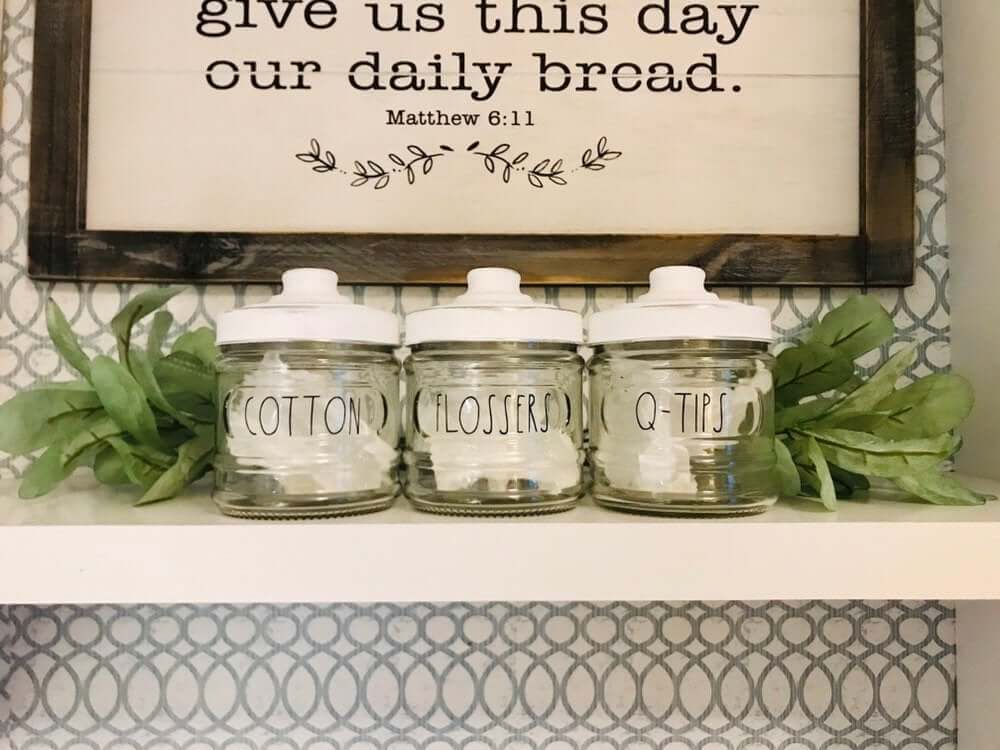 Small items can be challenging to keep neat on a shelf or on your bathroom counters. These 4-inch jars are perfect for small items like cotton swabs, cotton balls, and dental flossers. Your items are kept clean and sanitary with the handpainted, rustic white lids.
In addition to being practical, the jars are customizable and fit the design of any rustic or farmhouse-style decor and are easy to care for. The jars can be purchased individually or in multiples, meaning that you can have the exact number you need. They are a creative way to keep those small items easily within your reach.
20. Unique Wooden Storage Cubes for Bathroom Counter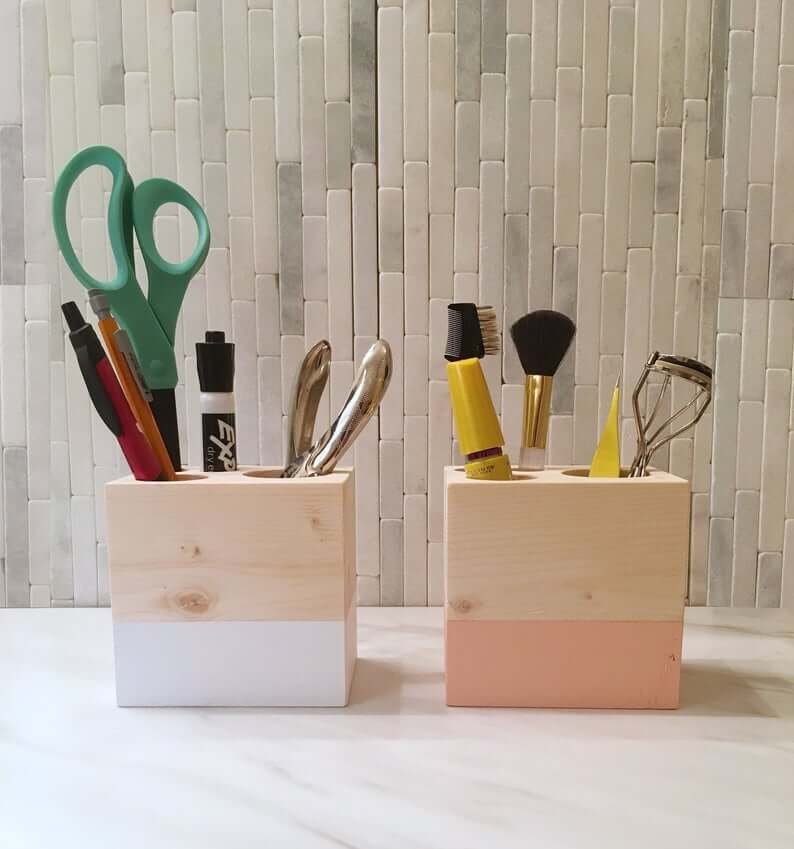 Why use mass-produced storage containers when you can have a unique and stylish item like this cube organizer? It features three holes in varying sizes, cut 2 inches deep, and is perfect for holding cosmetic brushes, toothbrushes, and other necessities for your bathroom vanity.
The stylish and modern design features natural wood and matte paint color of your choice. It is a unique item that is classic, stylish, and handmade. If you want to store and organize your items on your vanity, sink, or a shelf and have a piece that is subtle and functional, this is a great option.
21. Carry-Along Wooden Storage Caddy for Toiletries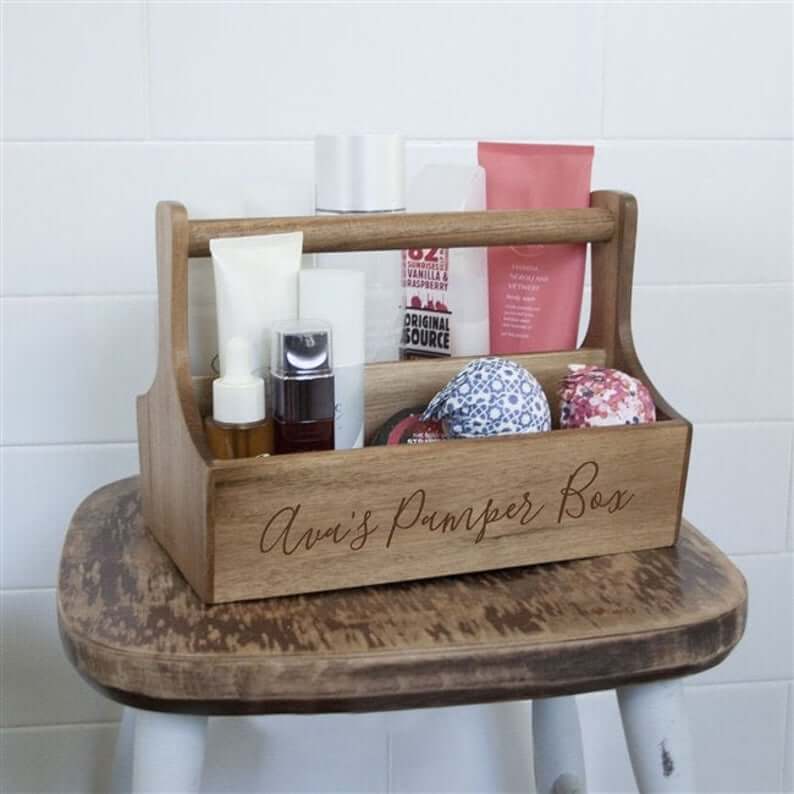 This adorable caddy keeps all of the items you need for a bath or shower in one container. This customizable wooden caddy is the perfect size for many of your bathroom items and is very portable. The portability and customization make it perfect for those living in a dorm room, those with roommates, or anyone wanting a cute piece to store their favorite bath items.
Made from beautiful wood, it is a durable, attractive, and eco-friendly caddy for all of your favorite toiletries that will last. Whether you live in an apartment or dorm, you will love this caddy.
22. Galvanized Metal Bathroom Bucket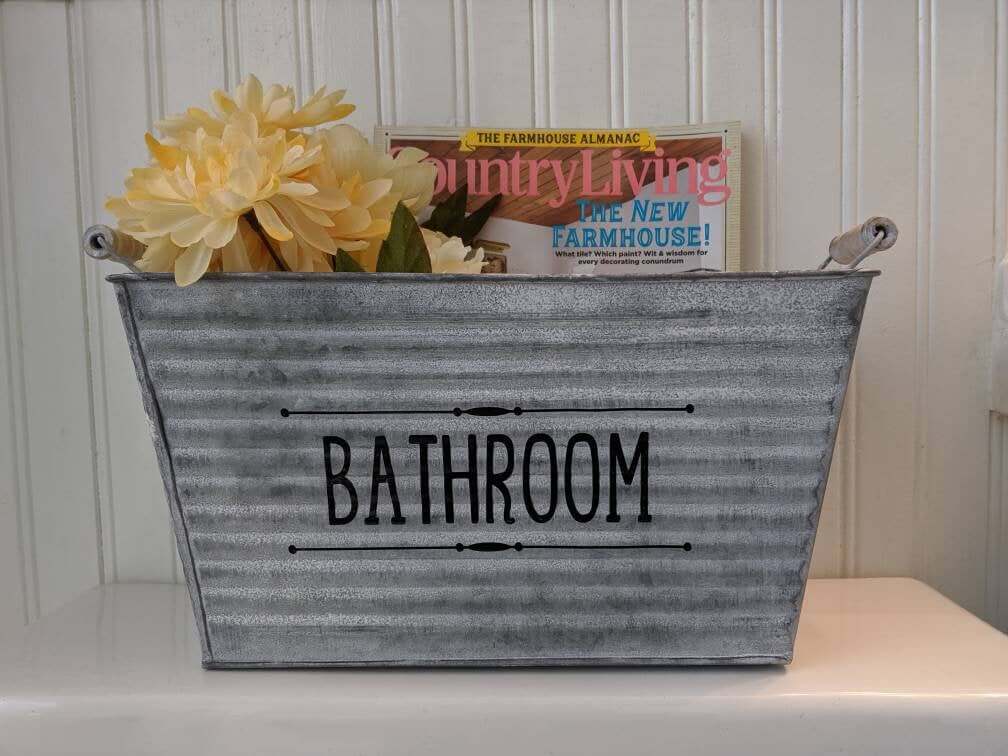 If you are looking for a rustic and stylish way to store items you need to access easily in the bathroom, this galvanized bucket is a great option. The bucket is rectangular in shape and has a ribbed texture that adds visual interest to what could be a boring item.
Customizable vinyl letters on the bucket add a nice, rustic detail to the piece and can help it fit in perfectly with your existing decor. It is the perfect size for two full-size rolls of toilet paper and would be handy to store reading materials as well.
23. Easy Access Shower Storage Caddy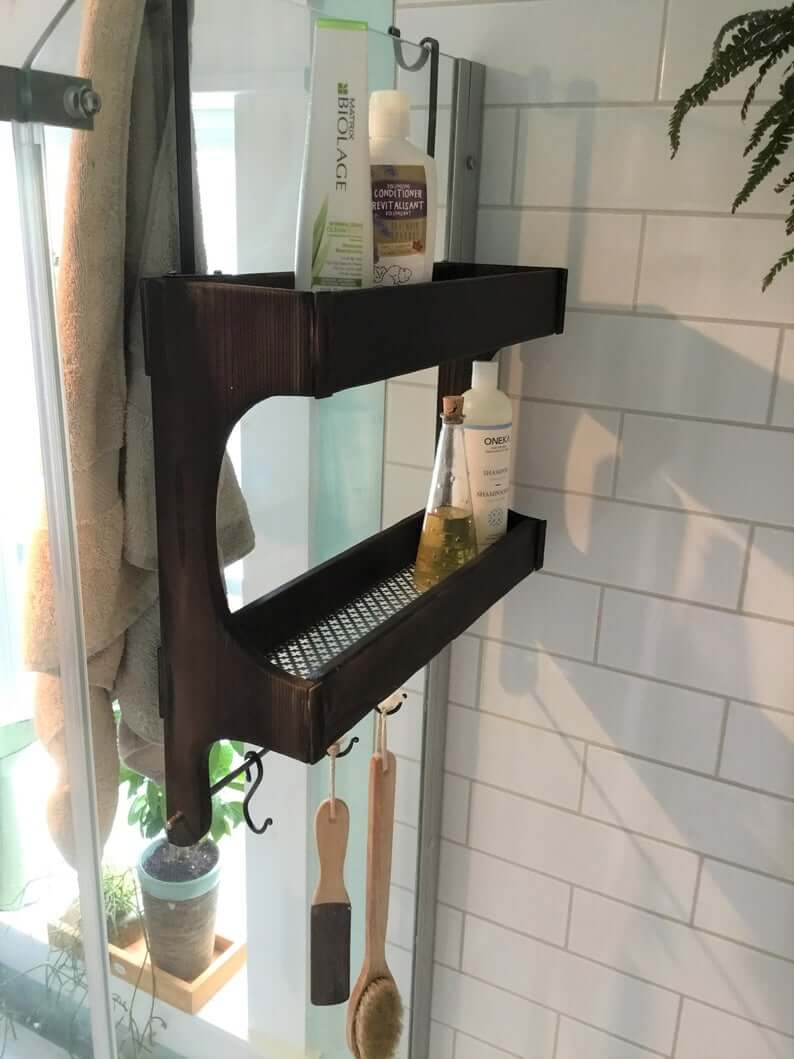 Modern showers have limited space for storage. If a cubby in the shower or a small shelf just doesn't cut it for you, this may be a great option. This caddy is perfect to hang on the glass wall of any shower and is water-resistant thanks to the charred cedar wood construction.
It has two shelves that are lined with an aluminum metal screen and includes a metal rod with steel S-hooks below the shelves that have been treated with beeswax for water resistance. Tungsten oil can also be applied to enhance the wood and offer additional protection from moisture.
24. Bathtub Wooden Box for Bath Accessories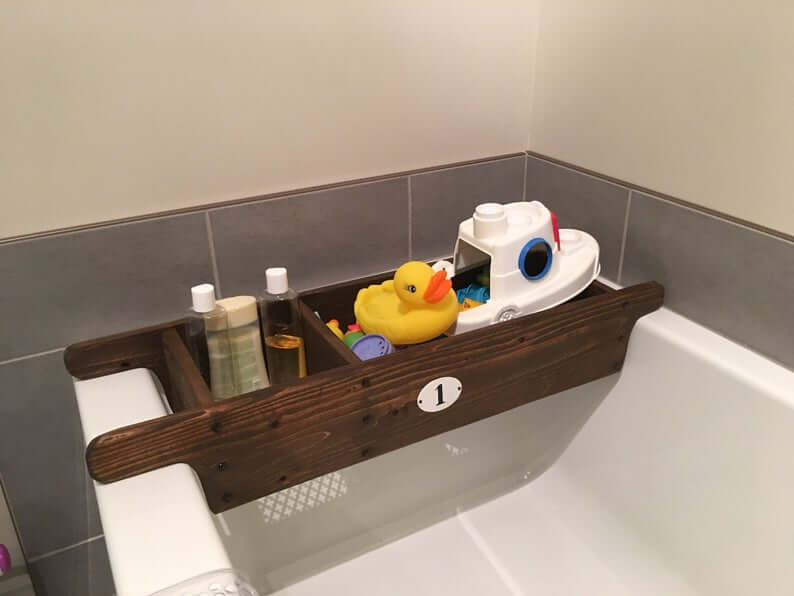 Are you are in need of storage for use around your bathtub, but you want stylish options that can accommodate kids' toys or a glass of wine and book? This bath caddy storage unit is perfect for suspending items above the tub and is beautiful and stylish.
Designed for bath toys and other items, it is constructed from cedar and aluminum mesh to resist water and allow items to dry. Measuring 9-inches wide and 5-inches deep, it can hold nearly any items that you may need access to in the bath and will keep your bath tidy. It is also custom made to fit your bathtub.
25. Hidden In-Cabinet Styling Tool Organization and Storage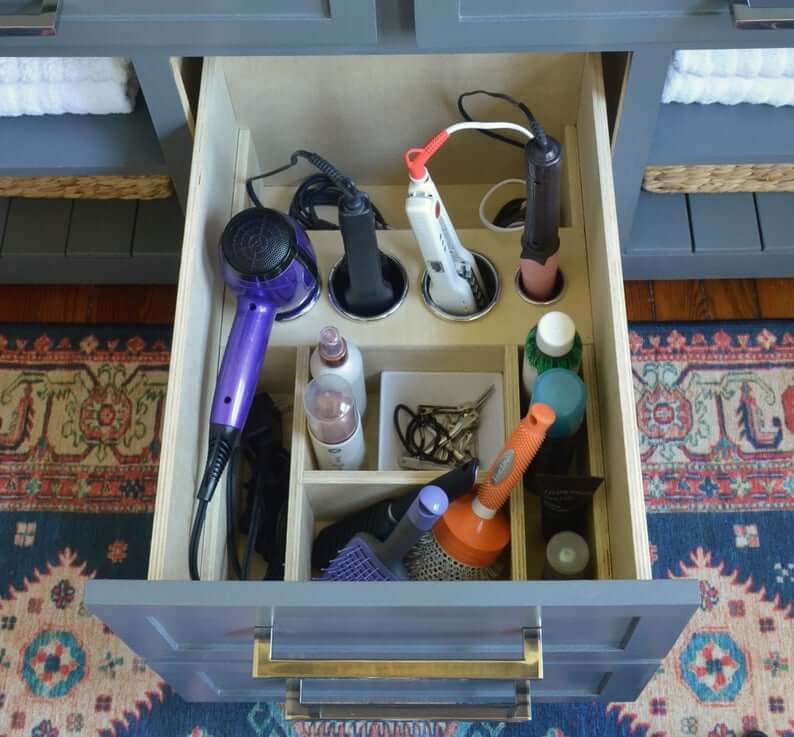 Hair tools and styling products can be difficult to keep tidy and store away and keep close enough to where you need them. This drawer organizer for bathroom vanities can turn a drawer in the cabinet into the perfect solution to keep your counters neat and tools and products accessible.
It includes four metal-lined compartments for heat styling tools and a cubby for the cords. In addition, it offers organization for your brushes and hair products, keeping everything you need in one tidy and easily-accessible spot. You won't need to worry about cables hanging down or your products cluttering the space with this cabinet organizer.
26. Basket Cases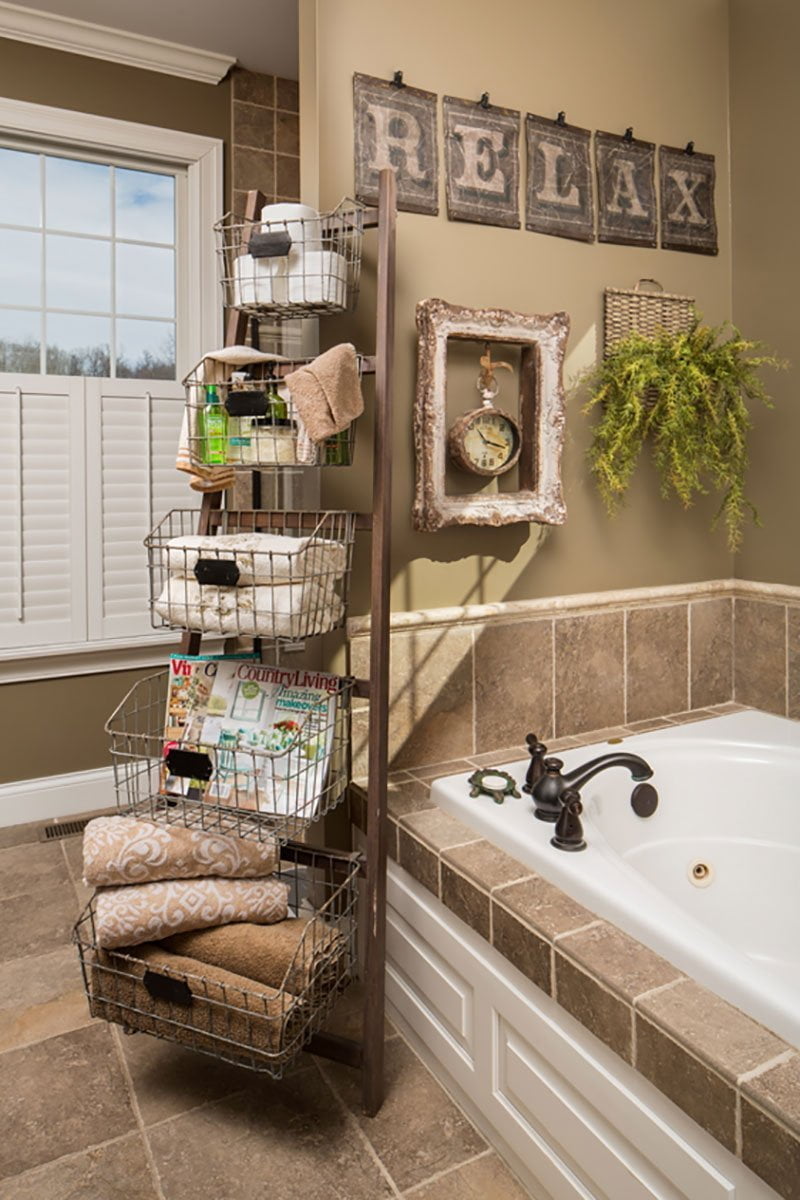 Instead of boring old corner shelves in your bathroom, why not try a set of corner baskets instead? Having them right next to your bathtub or shower like this also gives you quick access to towels, scented oils, bath salts, magazines or whatever else you might use to relax and give yourself an in-home spa day. You could also put one between sinks if you don't have one shared counter and put beauty supplies, shavers, hair dryers and the like instead. It can also conform to just about any style with a little staining or painting. The possibilities are endless.
27. A Shadow Box for Toilet Paper?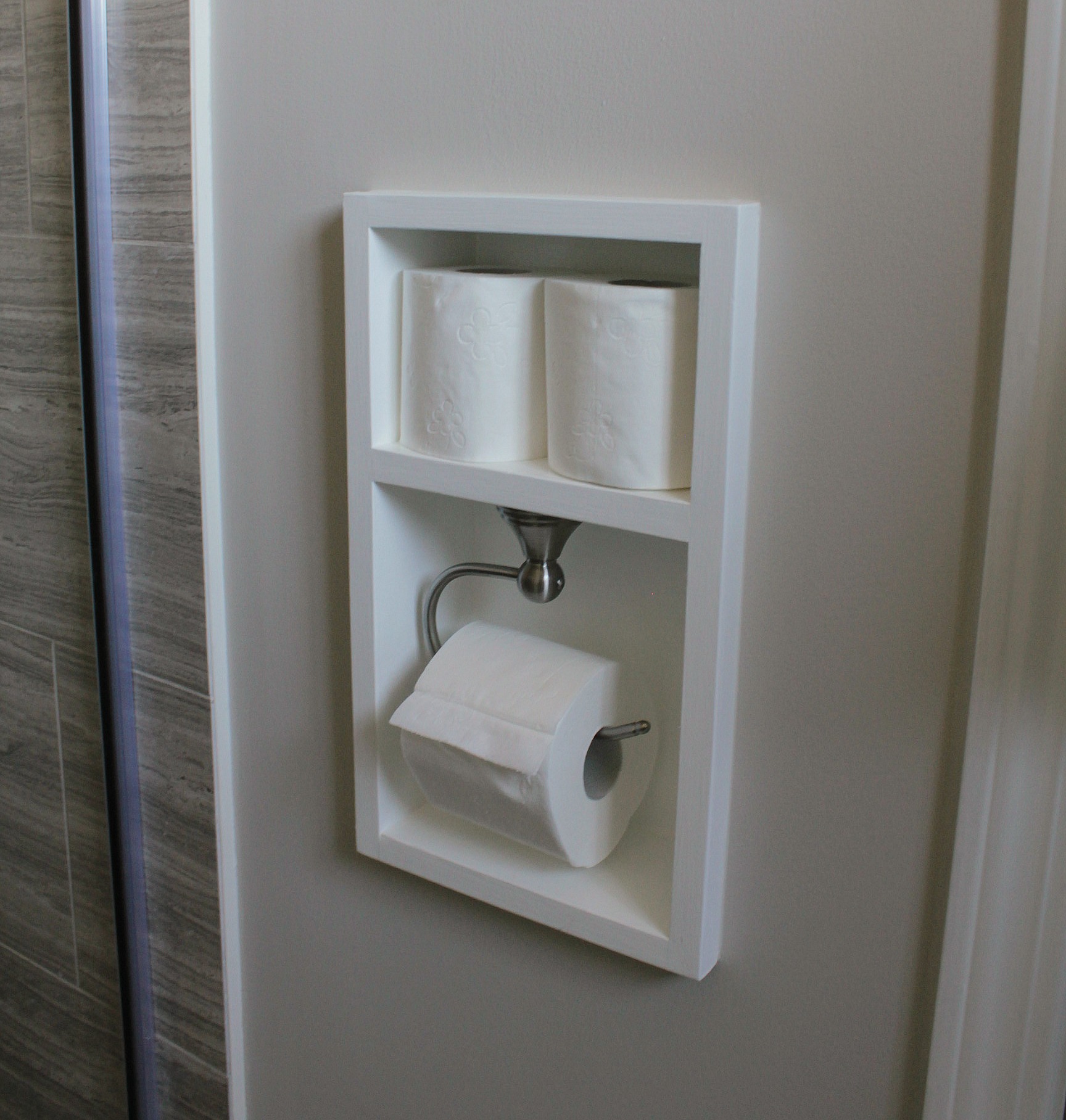 This is one of the most obvious yet creative bathroom storage ideas we have come across. This simple little shadow box keeps the toilet paper holder from sticking out like a sore thumb and has room to accommodate additional rolls in case of emergency. This also keeps the toilet paper holder from being in the way, which is especially welcome in smaller bathrooms. At the same time, the holder isn't hidden; it's always in plain sight, so guests have access to what they need at all times without having to ask. It's a brilliant solution for bathrooms of all sizes.
28. Floating Display Cases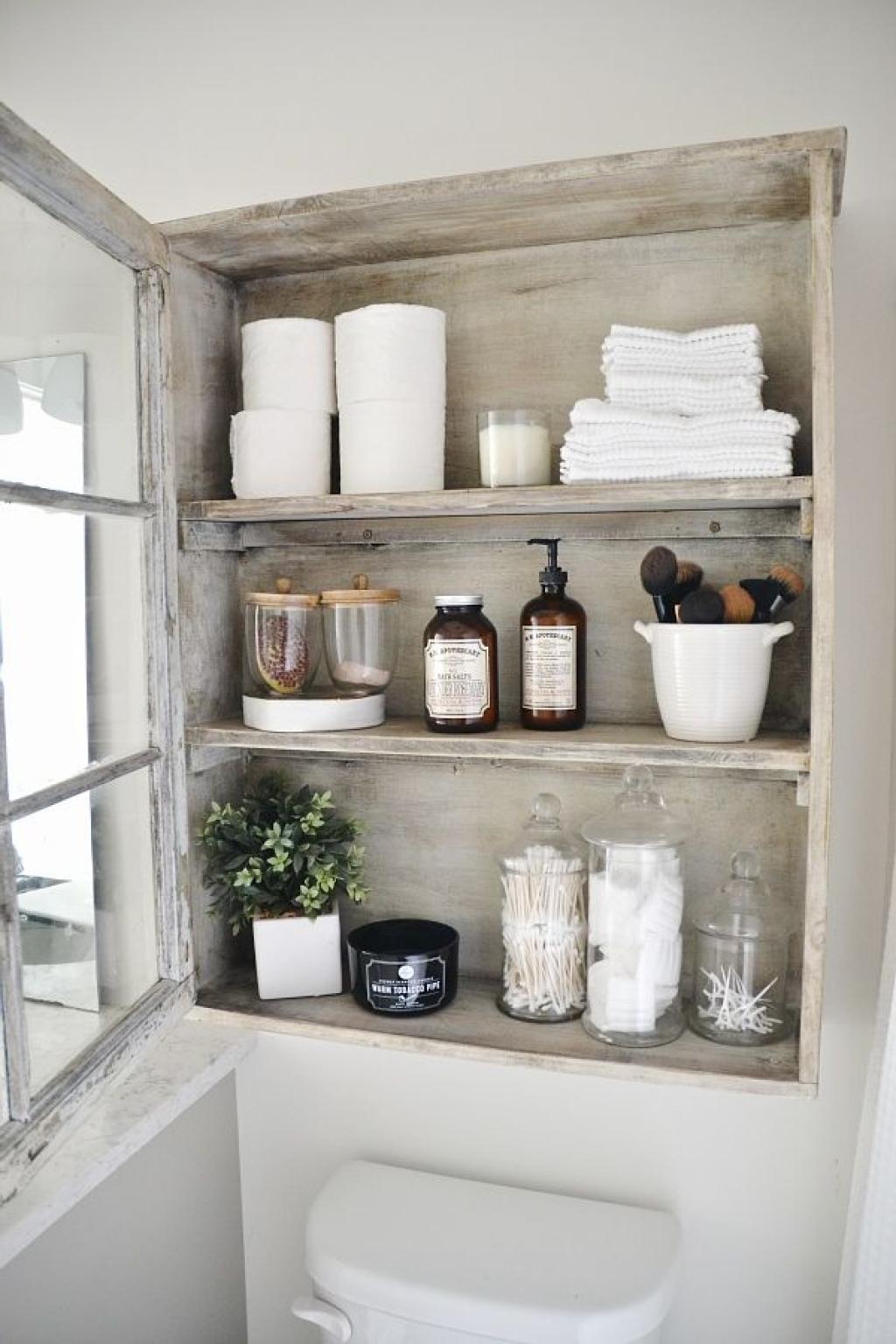 Here's another take on the display case idea we mentioned, except this one is a floating display case. A case like this is a great place to display little treasures, exhibit small potted plants or stock necessary supplies. Keep whatever you place inside light, small and simple for the best effect; for example, don't stick a bottle of bleach in there, because that will instantly kill the look. We suggest using glass, stainless steel, wood or smooth stone containers to store your things in. You could also use a display case like this one to store towels with unique patterns.
29. Slide-Out Simplicity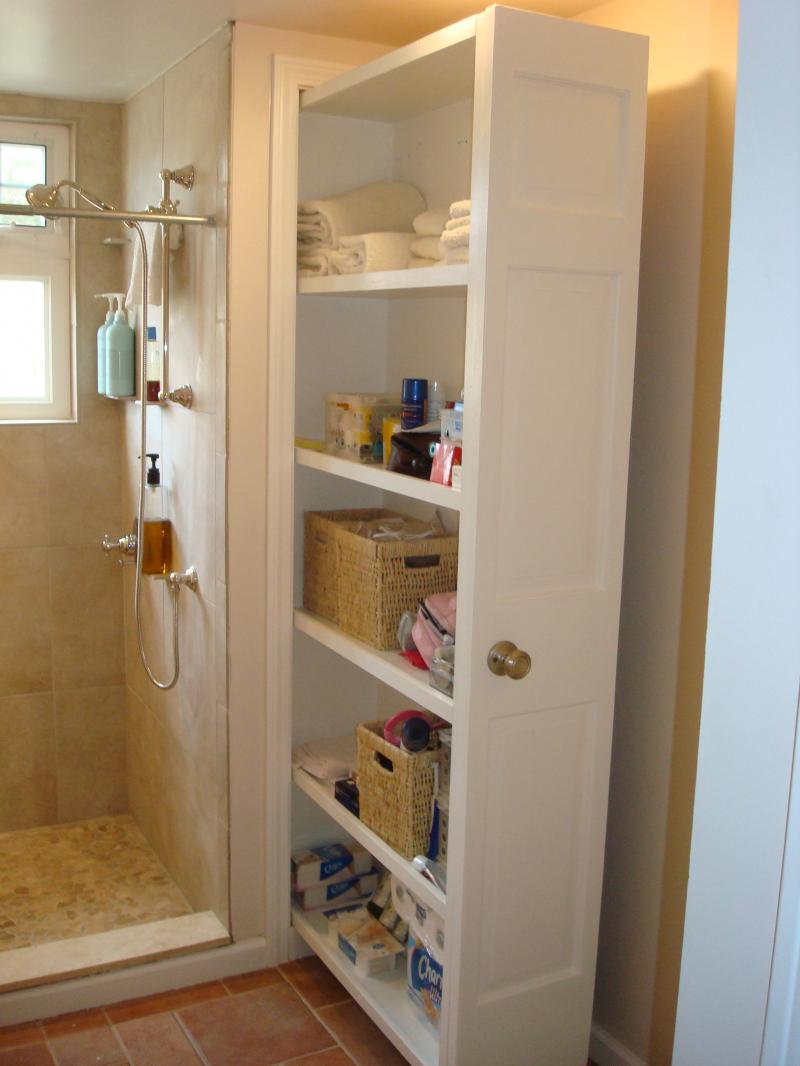 This looks like just another shelf at first glance, but do you see that small door handle? This shelf can be hidden at will, making it one of our best bathroom storage ideas for people with smaller homes. Having slide-out storage like this is a mainstay for people without too much room, but that shouldn't be the only reason you make use of this technique. This idea is great for hiding anything you don't want on display like spare toilet paper or cleaning chemicals. Since it looks like a closed door when hidden, most guests will think it's a closet.
30. Simple, Cheap and Effective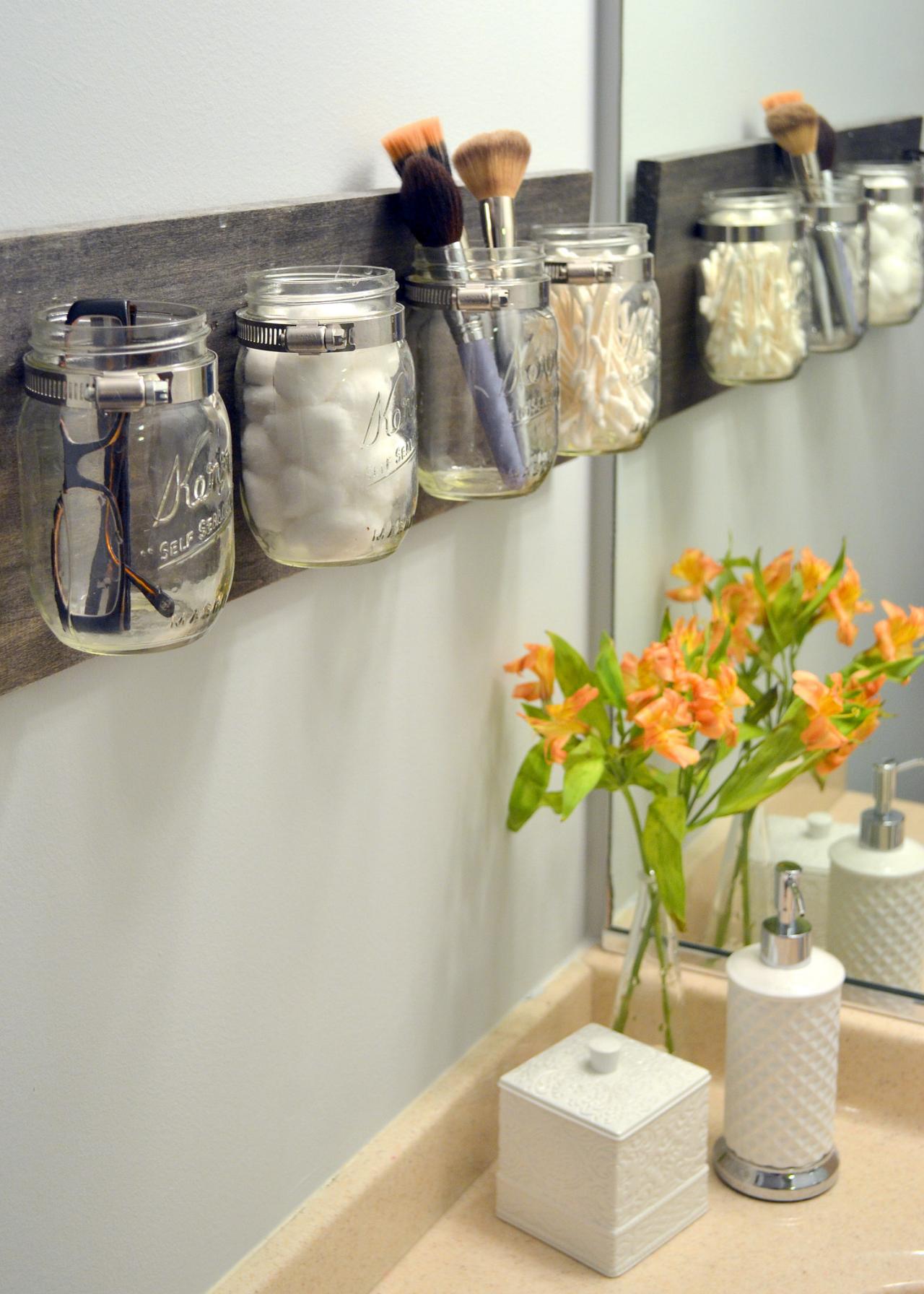 When you think of mason jars, you only think of them for making jam or, if you're Southern, having a drink. The simple beauty of this idea is that it gives the bathroom a fantastically rustic look, it's incredibly cheap and the jars themselves are actually quite practical. The jars are also hygienic if you keep the lids; using them will keep whatever's in the jar neat and clean. The mason jars are quite accommodating, too. You could easily put flowers, seashells and much more inside if you change your mind, making this among our more flexible bathroom storage ideas.
31. The Spa Treatment

If you think this bathroom cabinetry is lovely, you would be correct. Take a closer look, though: that tall shelf on the far left is not a part of the original cabinetry. In fact, it embodies one of the bathroom storage ideas we just went over: bookshelves. With the right paint color and a change in the handles, this bookshelf has been made to match the rest of the cabinetry in the bathroom so well that you wouldn't suspect it was not originally part of it. The adjustable shelves give it flexibility, while the cabinet lets you hide anything unsightly.
32. Simple and Subtle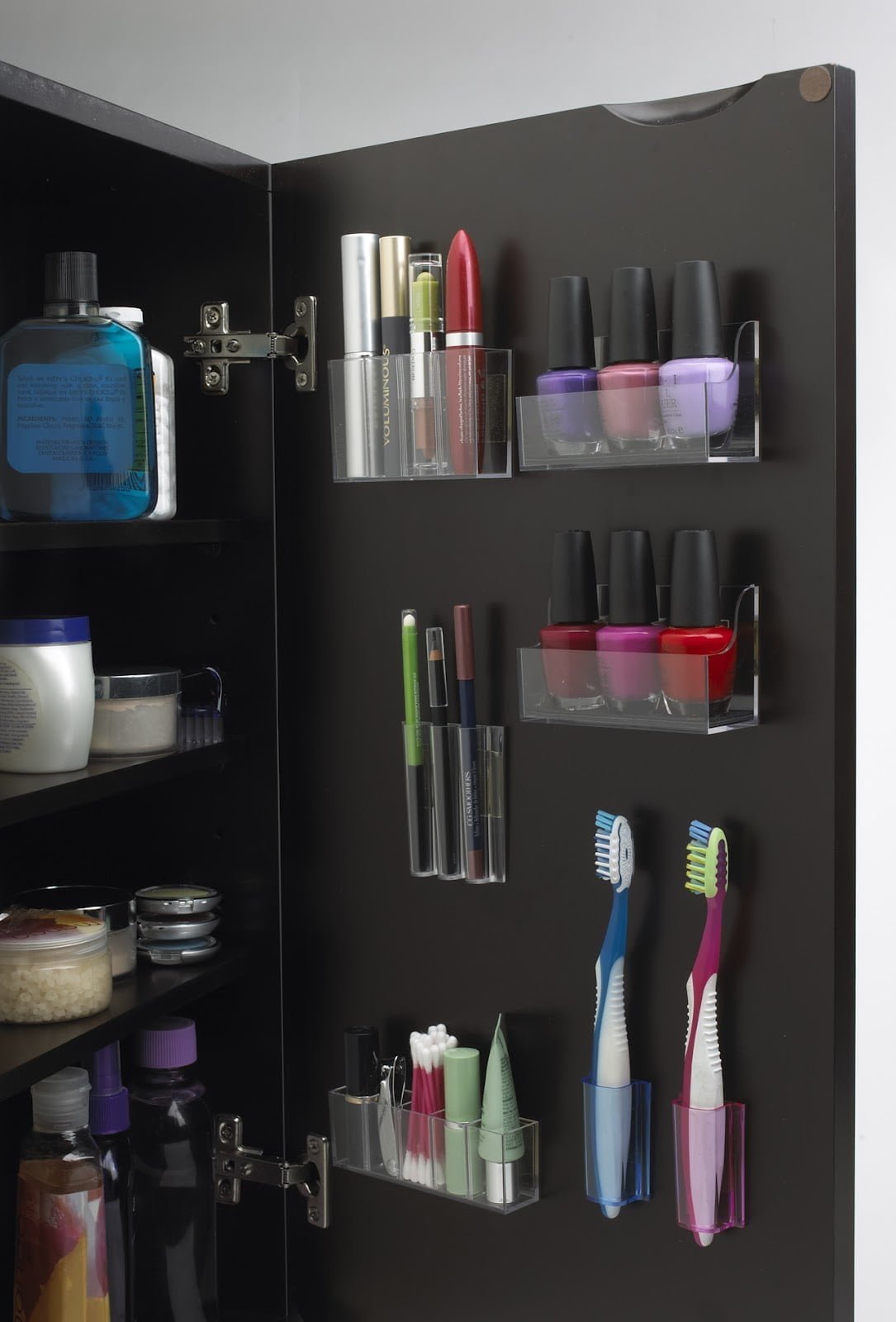 Now this is a simple bathroom storage hack that is thrifty, functional and stylish all in one. Who would think of sticking pen holders, business card holders and other such holders to the inside of their medicine cabinet? These go especially well with a more modern bathroom since each of them is clear with clean lines and curves. Interestingly, they make whatever is placed in them look a bit classier than it would on its own. Best of all, they give an existing storage unit even more storage capacity without adding a lot of weight or overcrowding the medicine cabinet.
33. Space Savers

Just about anything can become a storage solution for your bathroom with a little imagination. Tiered containers and shelving, compartmentalized drawers and hanging baskets have completely transformed this bathroom cabinet. Under ordinary circumstances, it's easy to imagine how this would be complete chaos. Just because something isn't on display in your bathroom doesn't mean you shouldn't try to organize it. This one example shows how a combination of several bathroom storage ideas can culminate into the perfect solution for storing just about anything in your bathroom neatly. It even manages to look quite nice, despite being out of sight otherwise.
34. Ditch the Medicine Cabinet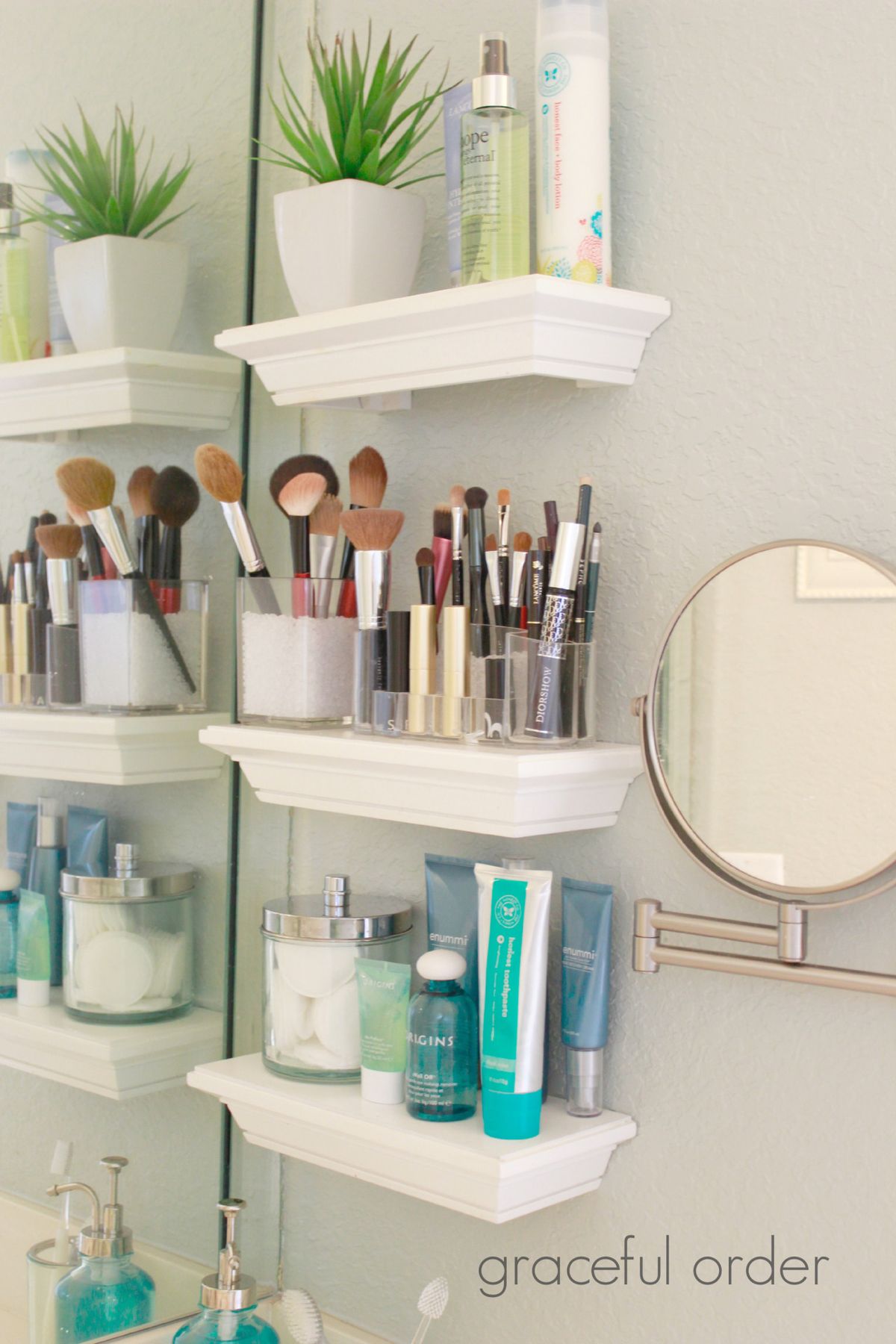 If you don't like medicine cabinets, you will love this bathroom storage hack. It's devilishly simple, too; just get some small floating shelves and install them on the wall by your main bathroom mirror instead of having a medicine cabinet. Mission accomplished! You don't have to use them for the contents of your medicine cabinet if you don't want to, either; you can put small plants, bottles and other knickknacks on the shelves as well with the same effect. You may wish to group what you put on your shelves by color, shape or another similarity for the best effect.
35. Double Towel Rods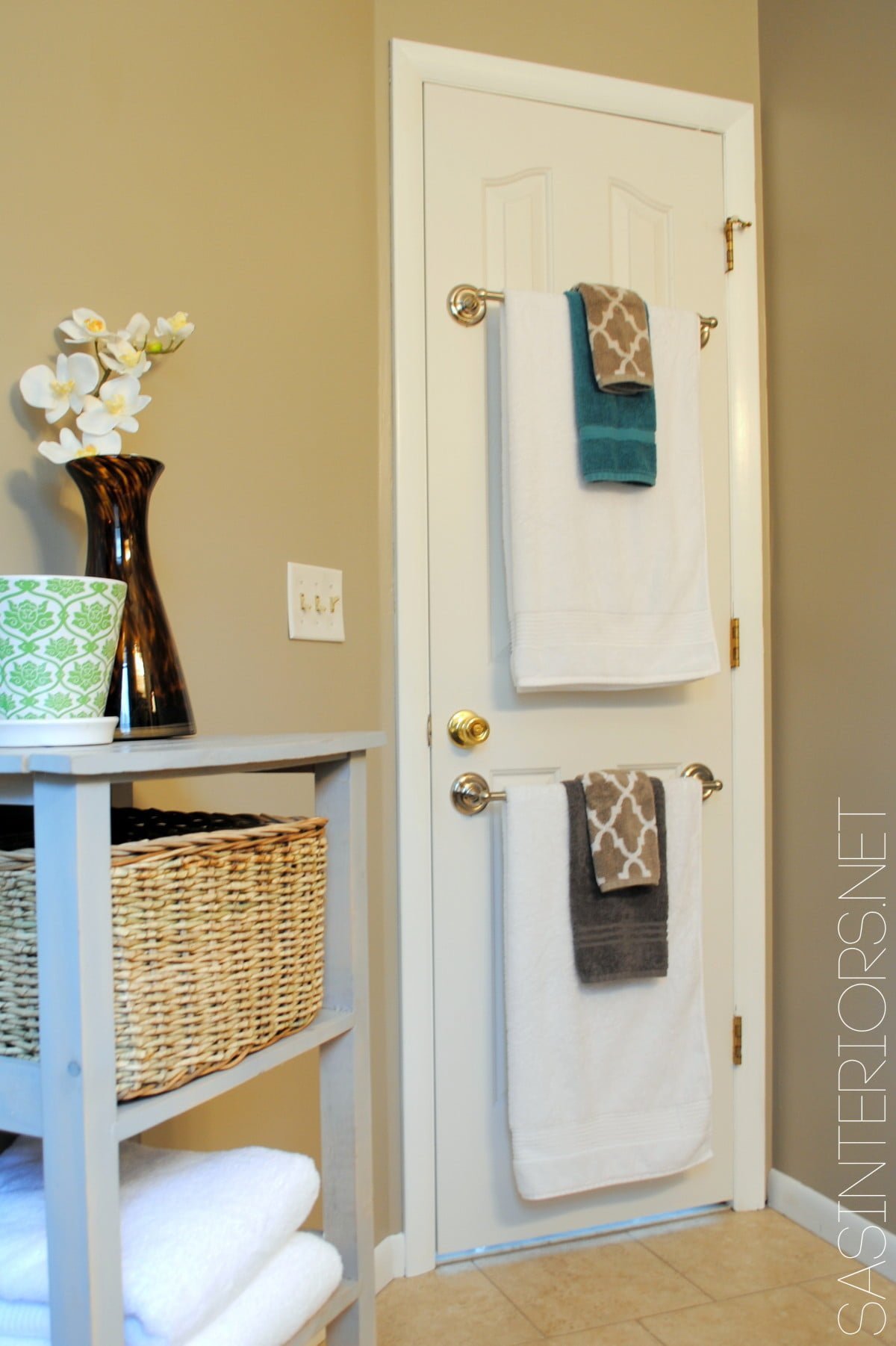 As far as bathroom storage idea go, this one is great if your walls lack real estate. A towel rack isn't exactly small, so putting it on the wall may not always be practical. This is also a great idea to keep his and hers towels separate. You don't have to restrict yourself to towels, either; try out some netting between the two towel rods with some starfish and seashells glued to it for a nautical look. You could also use a quilt or tapestry to personalize it a bit more, using the towel rods to keep the pattern exposed.
36. Lightweight and Durable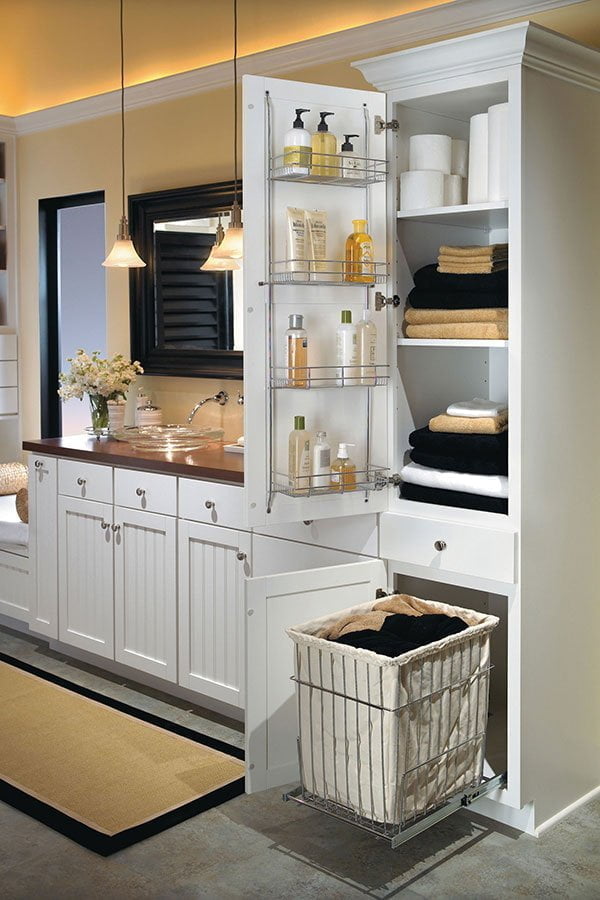 It's amazing how many bathroom storage ideas a few metal tracks can generate and these are no exception. The tracks on the door give you the ability to swap out the baskets for a different style, while the tracks on the lowest cabinet give the bathroom a trash or laundry bin that can be hidden in an instant to preserve your bathroom's look. This limits you to using wire metal baskets, but this is hardly a loss since it's such a durable material. It also opens the door to let yourself get creative if you happen to be into metalworking.
37. Simple Shelving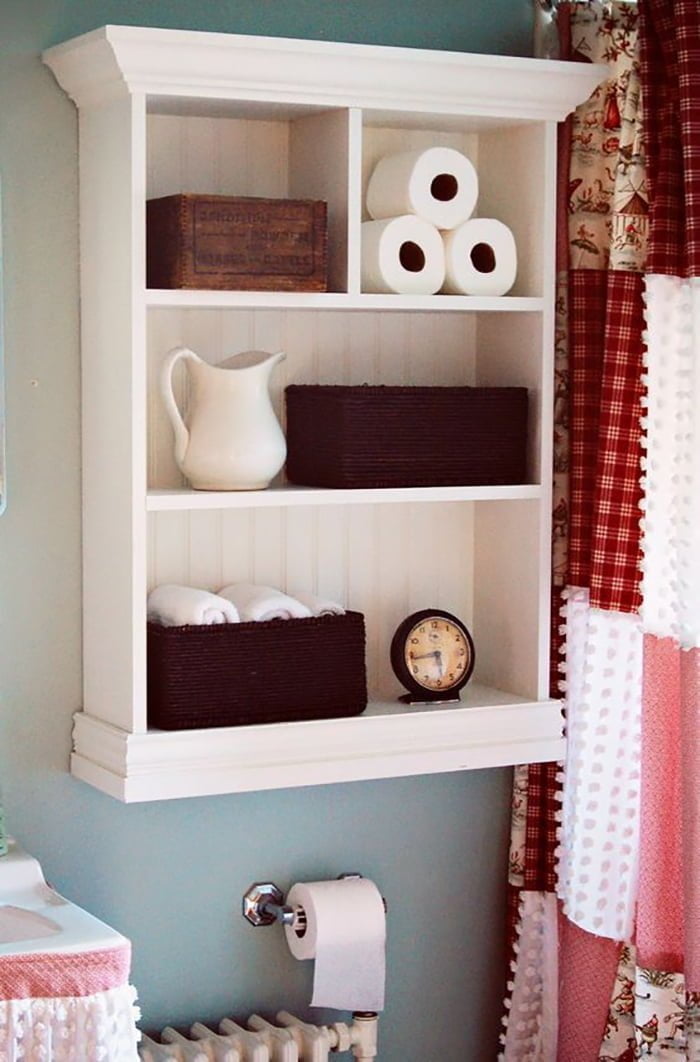 What place does a bookshelf have as far as bathroom storage ideas? Plenty, if you ask us. With a little manipulation, this small bookshelf has been transformed into a practical little storage nook. Both of the original shelves have been used, but a small divider on the top shelf turns it into an excellent little space for bottles, toilet paper or just some small knickknacks. The fact that the shelf matches the wall color and blends well with the drapery also makes it appear more natural in the room so that no one suspects that it truly is a bookshelf.
38. Rough and Rustic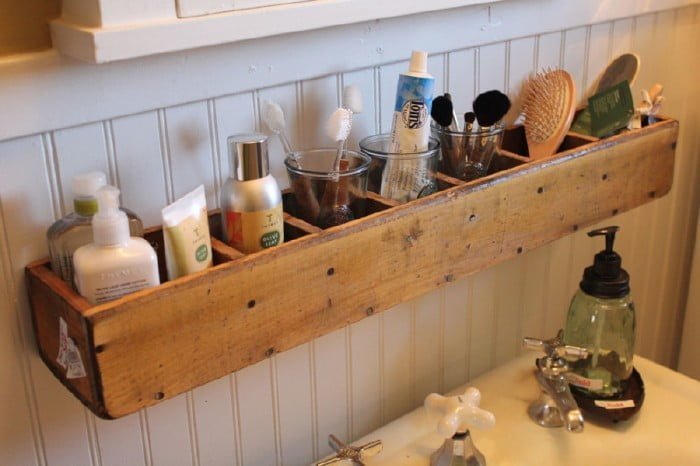 This floating divided box is quite easy to replicate and its simple practicality is what makes it so clever. We love bathroom storage ideas like these that make you ask yourself, "Why didn't I think of that?" It's simple and inexpensive to build yourself if you can't find your own and, paired with some small pots or jars, has a wide variety of practical uses. You can place lots of things in this shelf. Try putting your bathroom's odds and ends in the boxes, buy small flower pots and put potted flowers in each box or put flameless candles inside.
39. Creative Crate Shelving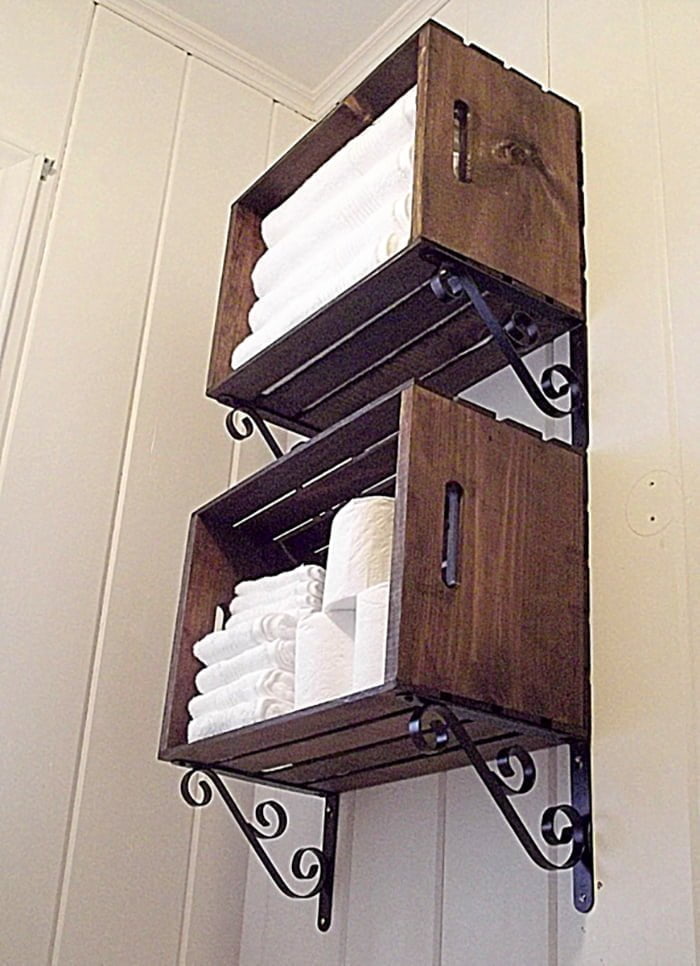 Looking like it just came out of an Ikea store is this lovely floating crate shelving unit. Crates this size are perfect for if you have a lot of something, like towels or bottles. A piece like this is also highly customizable, making it a snap to tailor to your own style as well as the space you have available to you. These shelves would also be great for displaying large flameless candles, battery-powered lights or even stained glass with lights behind it thanks to their depth. Just imagine seeing such a display in the dark during a relaxing bath.
40. Nooks and Crannies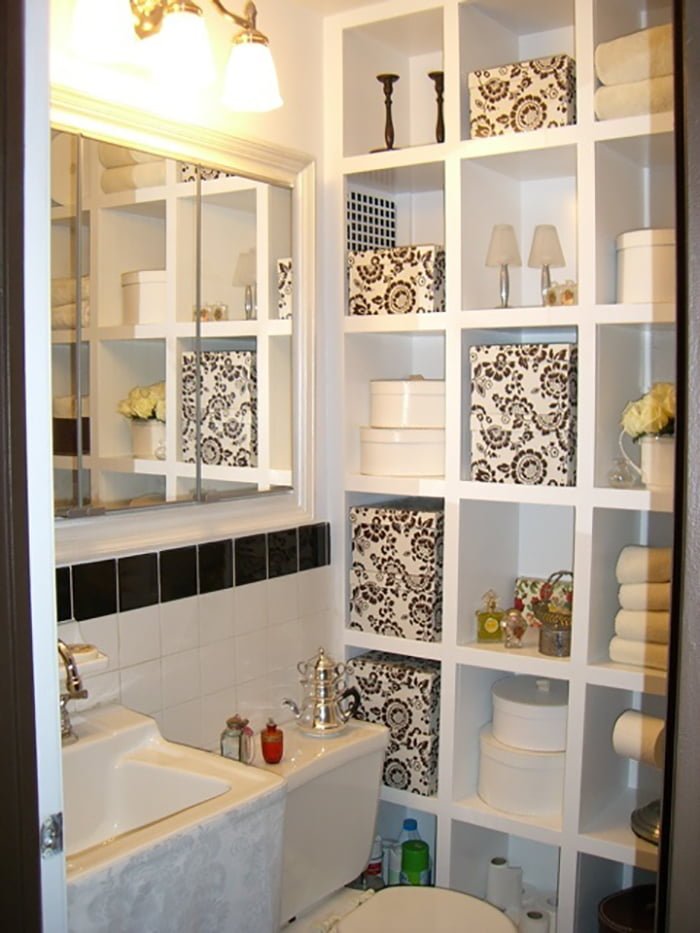 Normally you would associate a cubby hole with children's shoes. Not in this case, though. This is one of the more unusual solutions we found, and we just love the uniqueness of it. Not only does this increase your design options, but it also gives you so much more room than a flat, blank wall ever would, without taking up much more space. For example, you can put this near your shower for storing shampoo and soap, near your toilet for storing toilet paper and other toiletries or near your bathtub for storing candles, oils and bath salts.
Our Favorite Farmhouse Storage Items to buy on Amazon

More bathroom storage ideas and designs on the next page…