The idea of bean bag chairs might conjure the image of the original, old-school 1970's "leather and pellets" bean bag chairs, which evolved from a concept in the 1960s, and you may not imagine that much has changed since then. The truth is that the concept of bean bag chairs has evolved significantly since the 90s, and now a number of manufacturers have created comfortable, luxurious, visually appealing takes on the original design that can suit a variety of different types of home décor styles. Whether your home is more modern in style or fits a more classic look, there is a "bean bag" style piece of furniture that is likely to suit the space provided that you are willing to look.
29 Comfortable Bean Bag Chairs that You will Never Want to Leave

Whether you are looking for the right piece of furniture to suit a home entertainment area or a child's bedroom, to serve as a guest bed or to fill a corner and act as part of a reading nook, you may be surprised to find that the right bean bag chair can go a long way in meeting a variety of different needs. Many of today's bean bag chairs, couches, and beds are actually extremely versatile in terms of shape and cover choice, meaning that the sky is the limit in terms of finding the right piece and seamlessly fitting it into your home décor.
Here is a look at just some of the best bean bag chairs available on the market today. Let them serve as a jumping off point when choosing the right piece of furniture to meet your decorating needs. Bean bag chairs have come a long way and become quite the versatile and invaluable piece of furniture.
1. Original "Big Joe" Cocoa Lenox Fuf Foam-Filled Bean Bag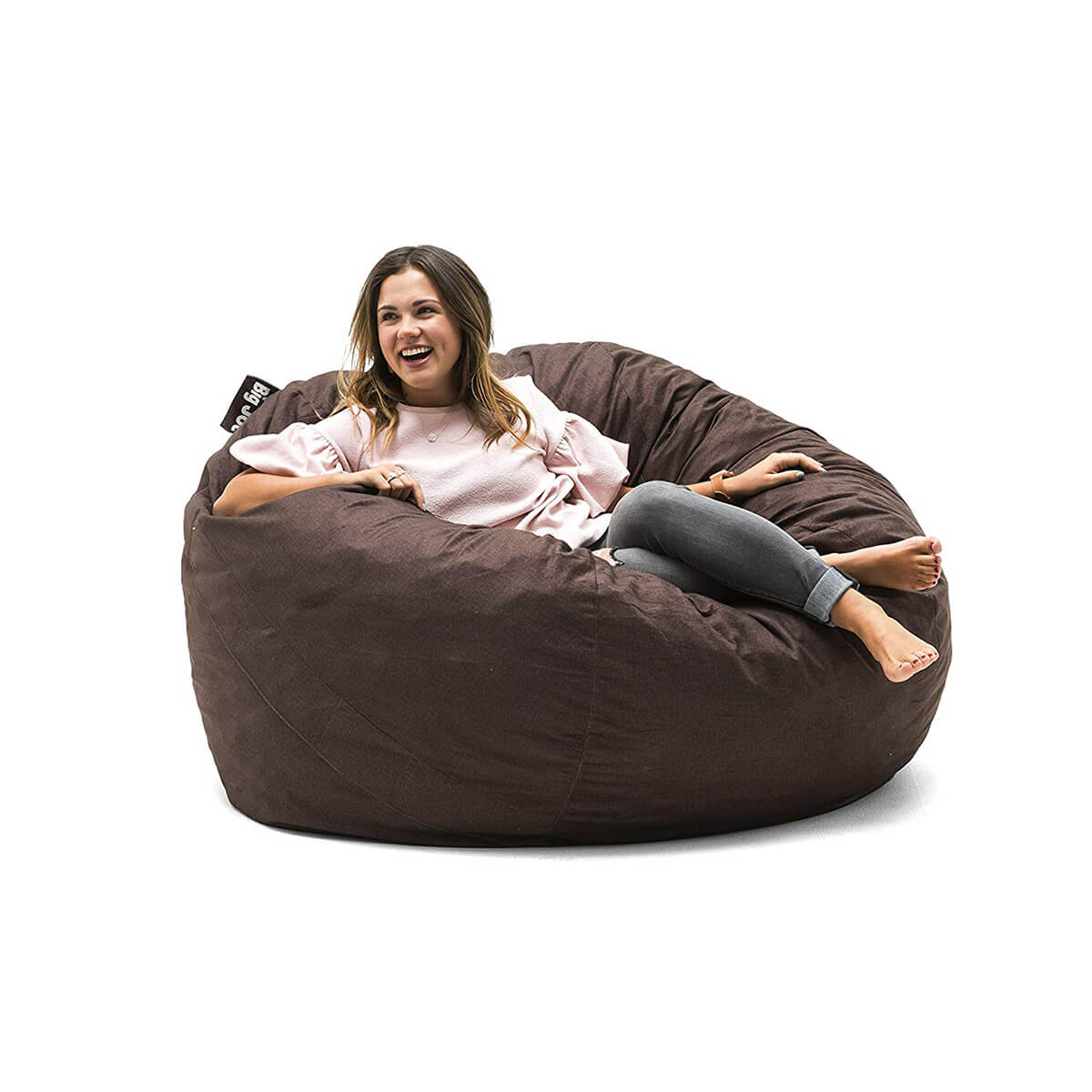 The "Big Joe" brand of best bean bag chairs is regarded as one of the original names in bean-bag seating, yet this brand is constantly evolving and innovating itself to deliver new and improved quality. Big Joe's bean bags are made with thick, soft Lenox fabric and soft, durable foam inside for a long-lasting and comfortable experience that has good weight capacity and will suit any room in your home. The Fuf line of Big Joe bean bag chairs sport durable handles to make moving even the largest bean bag chairs easy, and the durable foam inside means that these chairs never have to be fluffed up.
2. Jaxx 6-Foot Multi-Positional Cocoon for Adults in Camel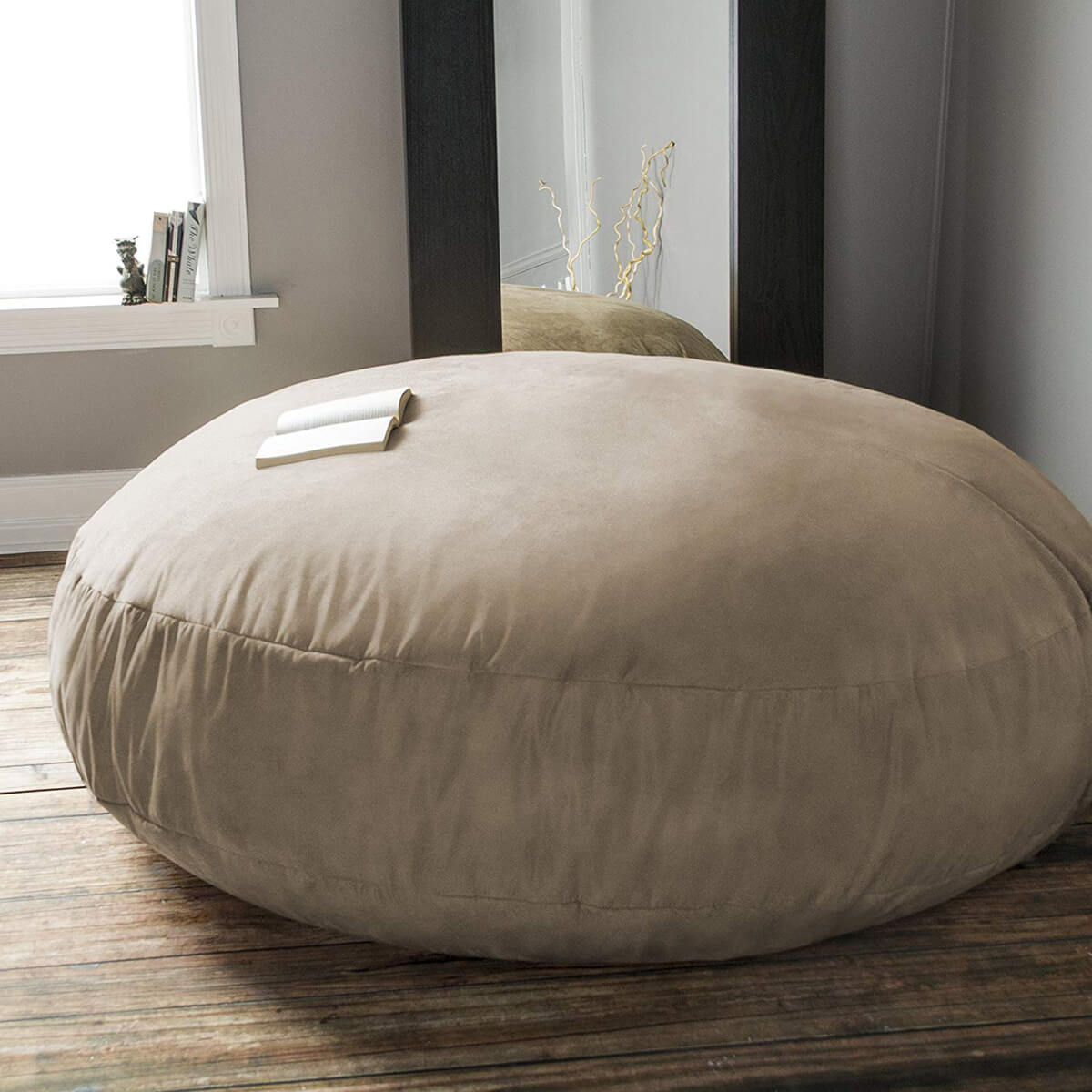 Designed to be multi-positional and easily convertible with high weight capacity, the Jaxx 6-foot cocoon features two different positions and can be easily transitioned from a giant bean bag bed when you lay it flat to a comfortable bean bag chair when you flip it up on its side, allowing you to choose between laying down in the lap of luxury and gaming or enjoying other types of recreation in lush, micro-suede luxury. The convertible nature of this polyurethane foam-filled cocoon makes it ideal for game rooms, bedrooms, playrooms, home theater rooms and for sleep overs so it is a great addition to your home décor.
3. Lumaland Luxury 7-Foot Long Bean Bag Family Sofa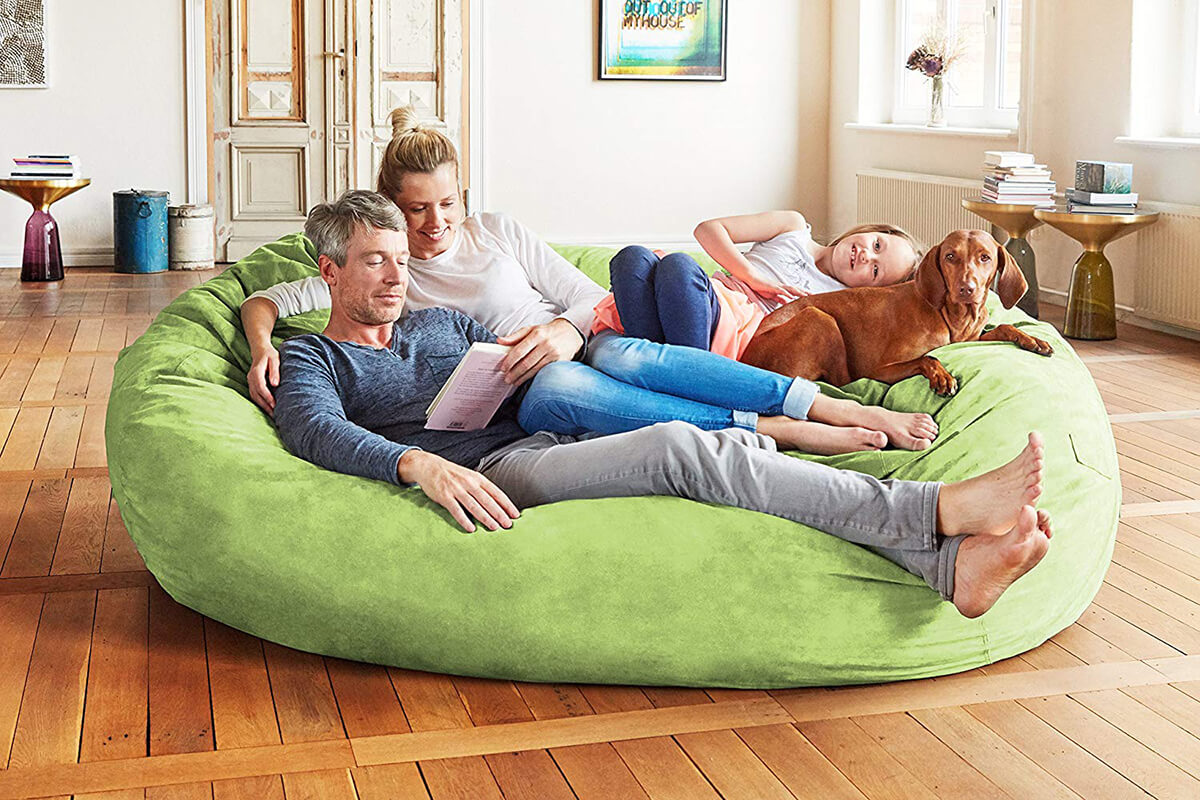 This family-friendly luxury best bean bag sofa has a machine-washable, removable outer cover in micro-suede as well as a comfortable polyester inner cover which means that even when you're washing the outer cover you can continue to enjoy your giant bean bag sofa. The inside of this seven-foot long plush sofa is a durable foam that reflects body heat and maintains shape, so it does not require fluffing up, and takes on the shape of several different people sitting on it all at once. If you're looking for an oversized bean bag to suit an entire family while adding comfort and style to your home décor, this is a great choice.
4. FUGU Premium Foam-Filled 4-Foot Bean Bag Chair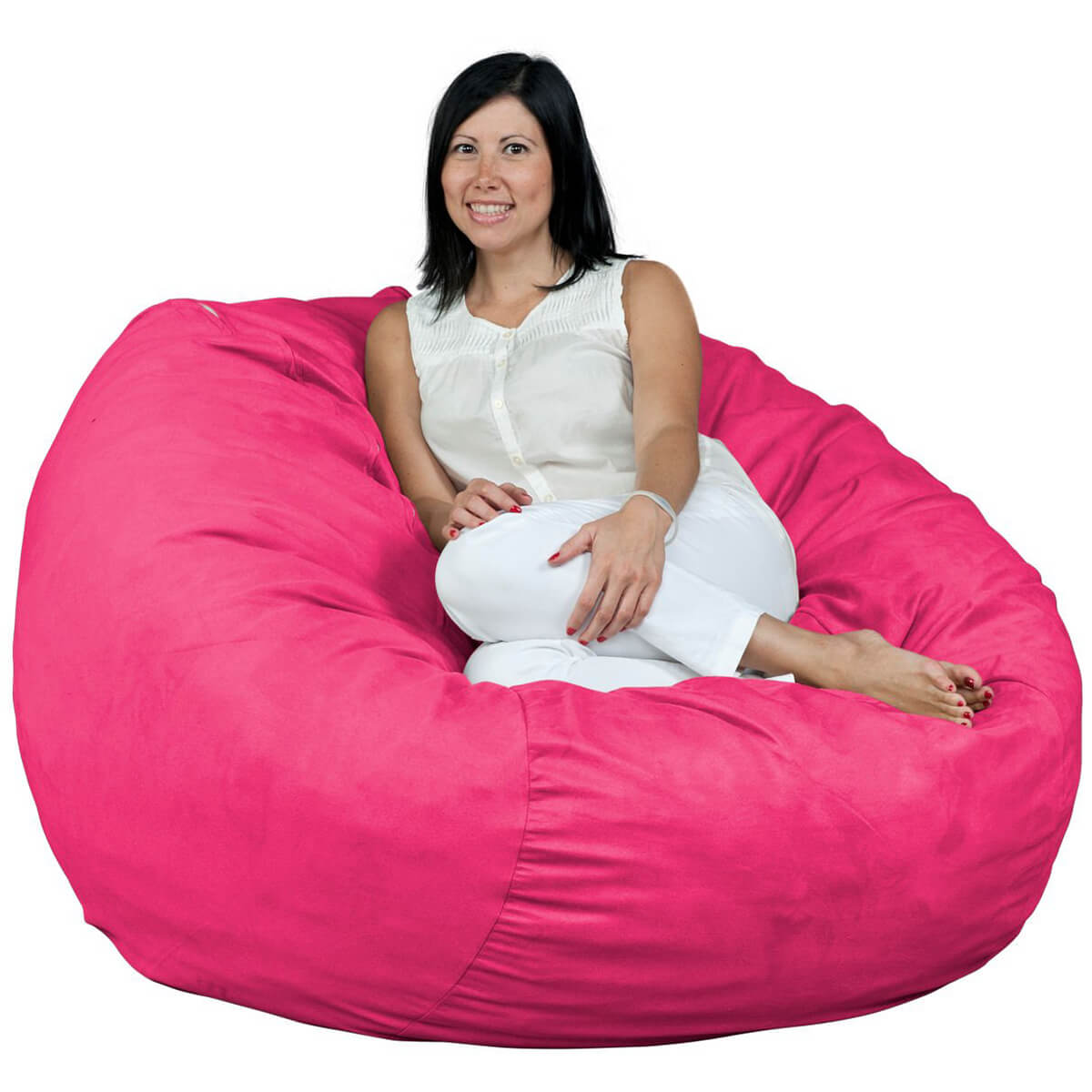 This expansive 4-foot bean bag chair is generally considered to run larger than other 4-foot bean bag chairs in the same category, expanding in every direction yet still being compact enough to be a great space saver no matter what room you plan to fit it in, not to mention the great weight capacity. The FUGU bean bag chair has a complete volume capacity of 28 cubic feat of foam inside it, which is more than most other similarly sized best bean bag chairs, and so its creators boast a more comfortable and more accommodating fit and the ability to return to the original shape every time after fluffing thanks to special, exclusive foam material.
5. "Big Joe" Roma Chair in Zebra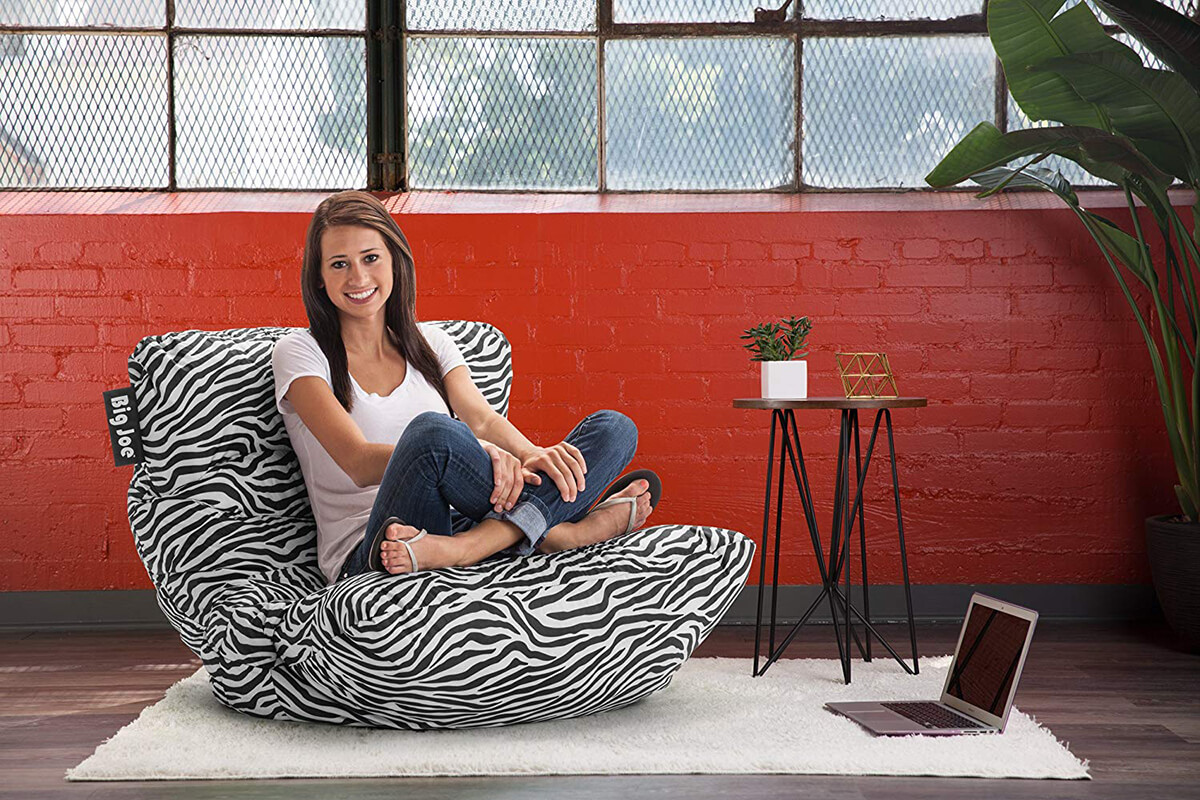 Putting a new twist on the classic bean bag chair technology, the "Big Joe" brand uses dense Ultimax beans to fill their Roma chair and special waterproof fabric for easy cleaning. This chair is great for both children and adults. The Roma chair is a comfortable, plush curved chair that combines the shape and style of a rocker-style chair with the soft comfort of a bean bag chair. The Big Joe Roma Chair in its bold zebra print will make a great addition to any living space that needs a little livening up and where comfortable, durable seating is desirable.
6. Ultimate Sack 6000 Bean Bag Chair with Footstool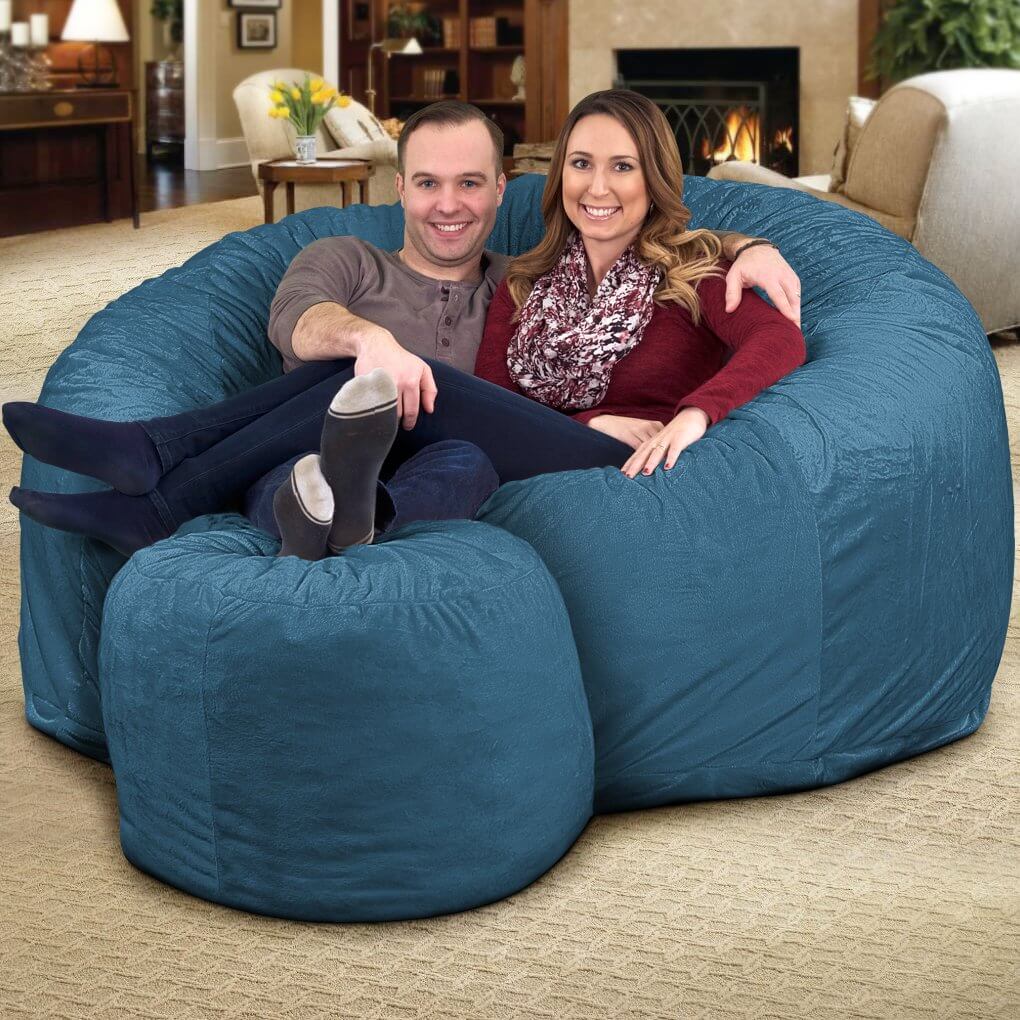 This ultra-comfortable best bean bag style seating option adds a bonus footstool for even more comfort and enjoyment. Once you get into it, you can really sink in as the form-fitting foam shifts around your shape to give you the most comfortable experience possible. The material measures approximately six feet in diameter, and the cover is removable and machine washable which makes the Ultimate Sack 6000 a good choice for families who intend it for heavy use, since the need for cleaning is inevitable. If you're looking for a good, sturdy bean bag chair with a big weight capacity that is huge, can accommodate a family, and is easy to clean and maintain, this is a solid choice.
7. "Big Joe" Large Fuf Foam Chair in Black Lenox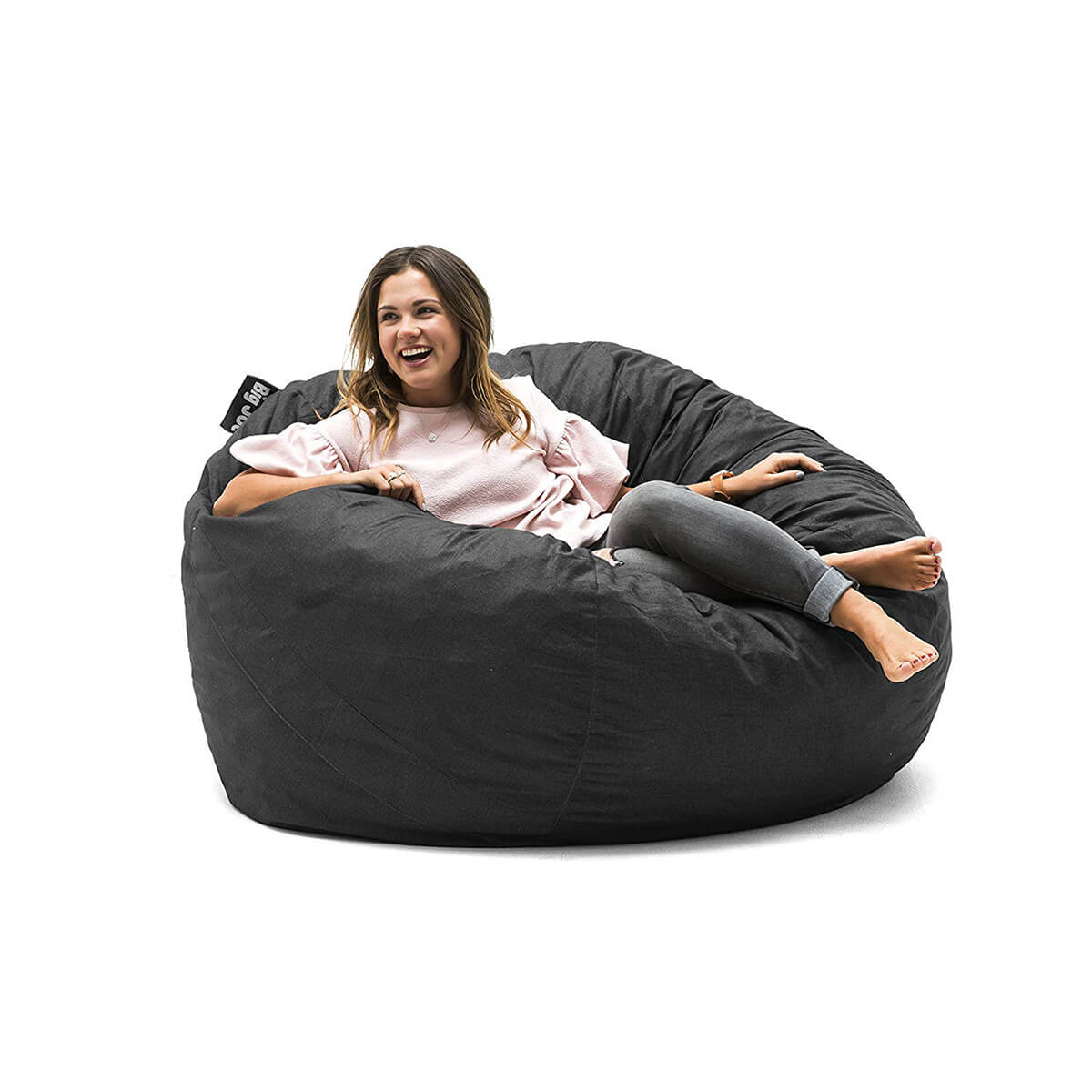 The "Big Joe" classic line of bean bag chairs is an example of high-quality bean bag products for an affordable price, offering consumers comfortable and luxurious Lenox fabric wrapped sturdily around comfortable, durable foam. "Big Joe" has handles which make them easy to fluff up and move around, so you can bring this large, fluffy sack wherever you need it to be. This bean bag is sized well, constructed well, and wonderful to relax in, making it a great addition to any room that needs some added comfort for recreation.
8. "Big Joe" Football Bean Bag Chair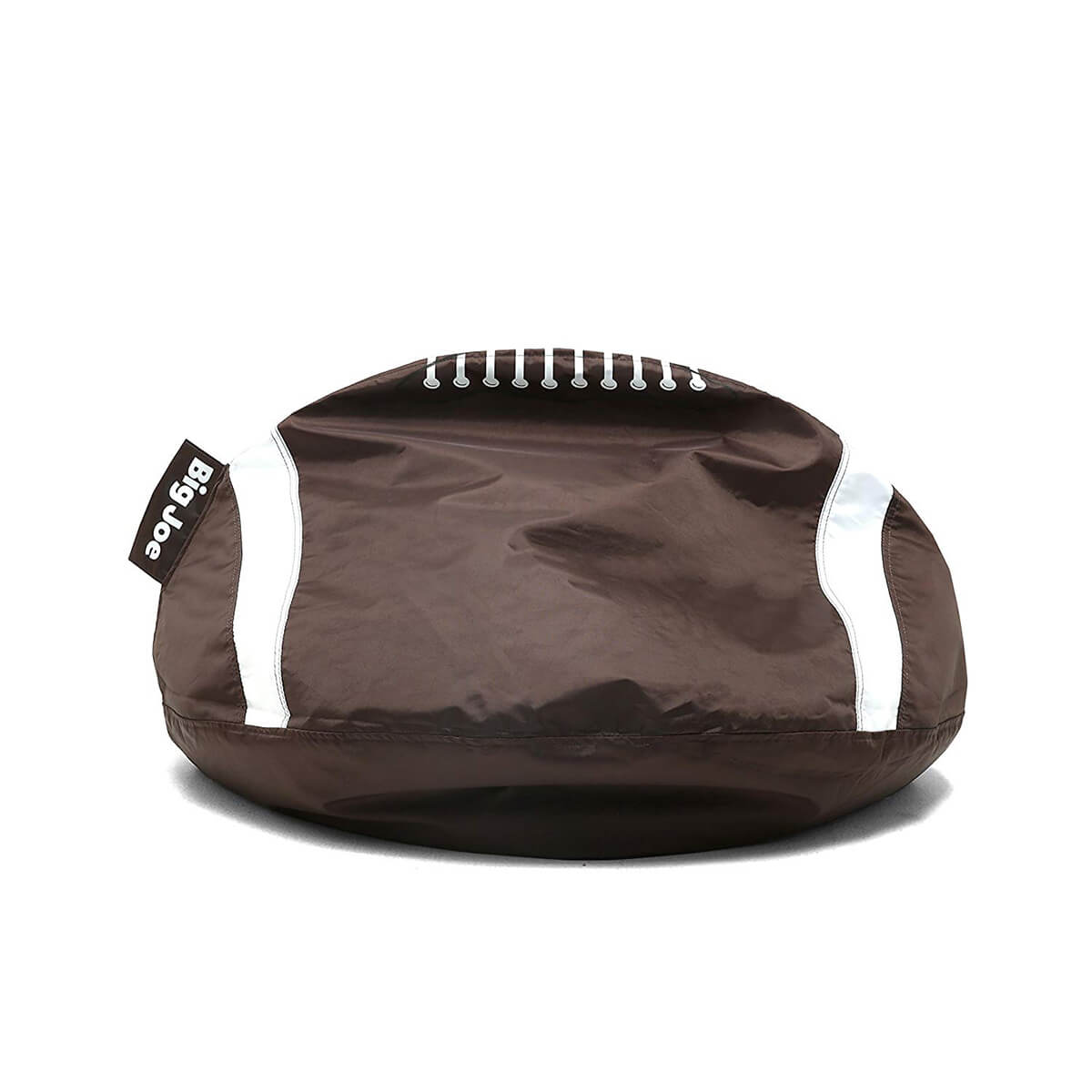 If you're looking for a cost-effective bean bag chair that has a high impact on your home décor, consider this football-themed beanbag chair from Big Joe. Crafted using Smartmax fabric to be resistant to stains, tough, and easy to clean, this is a great addition for a boy's room, a dorm room, a home entertainment area or anywhere else with a sports theme. The bean bag is filled using Megahh beans and is designed to be refillable. It also sports a double locking zipper feature to make sure that it remains extra durable, which is especially nice when you plan to use it in a room that gets a lot of attention or if you plan to use it for kids who roughhouse.
9. "Big Joe" Ultimate Comfort Milano Bean Bag Chair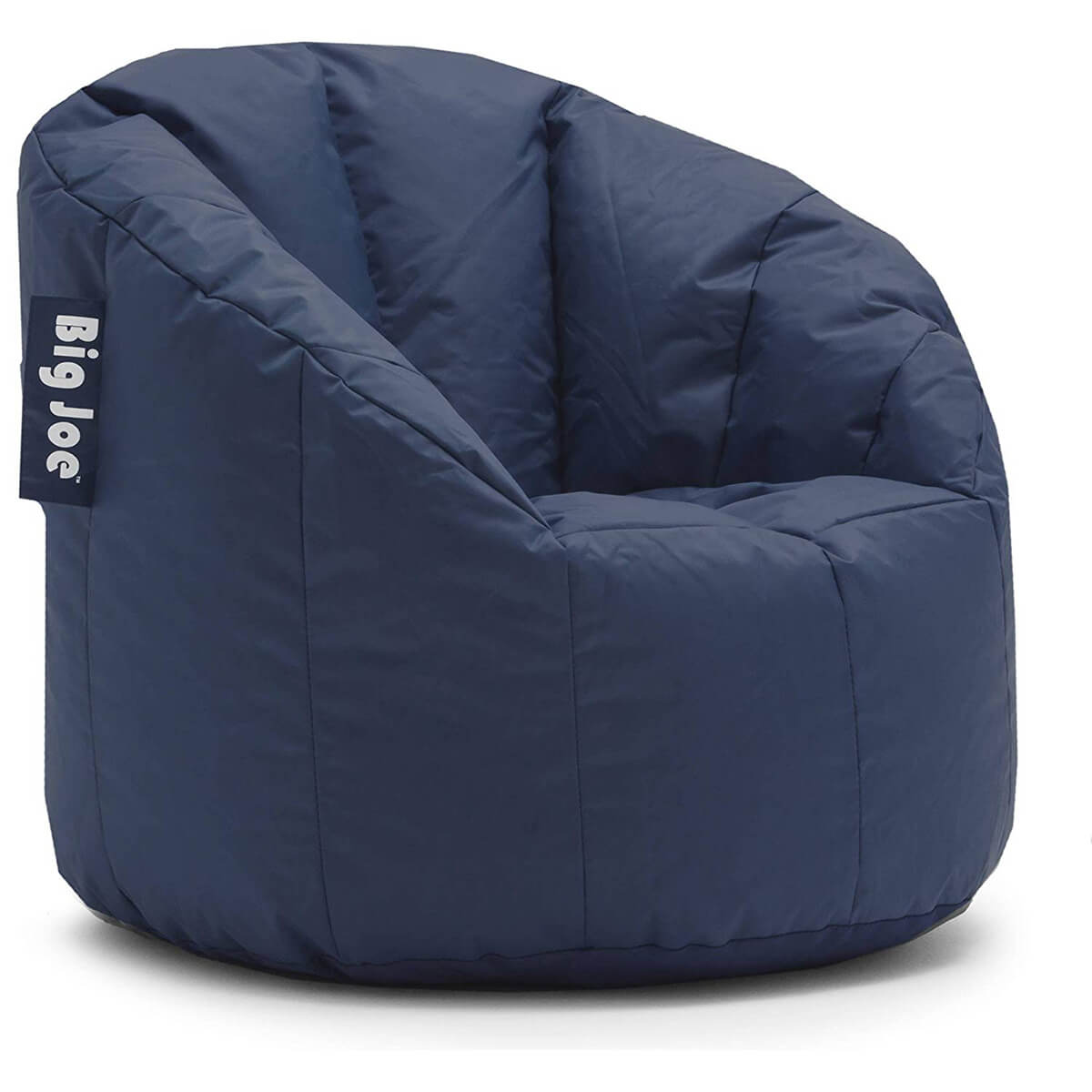 Combining the comfort of a traditional bean bag chair with the style of an upright chair with good weight capacity, Big Joe's Milano chair is an excellent addition to any room. Filled with durable UltimaX beans and double-stitched with two safety locking zippers, you will find this to be a sturdy and durable bean bag chair that will withstand the test of time and stand up well in busy areas of the home. This bean bag chair provides an ample amount of arm support and back support and is also refillable should you want to change the inner texture of the chair.
10. Sofa Sack Memory Foam Bean Bag Chair for Kids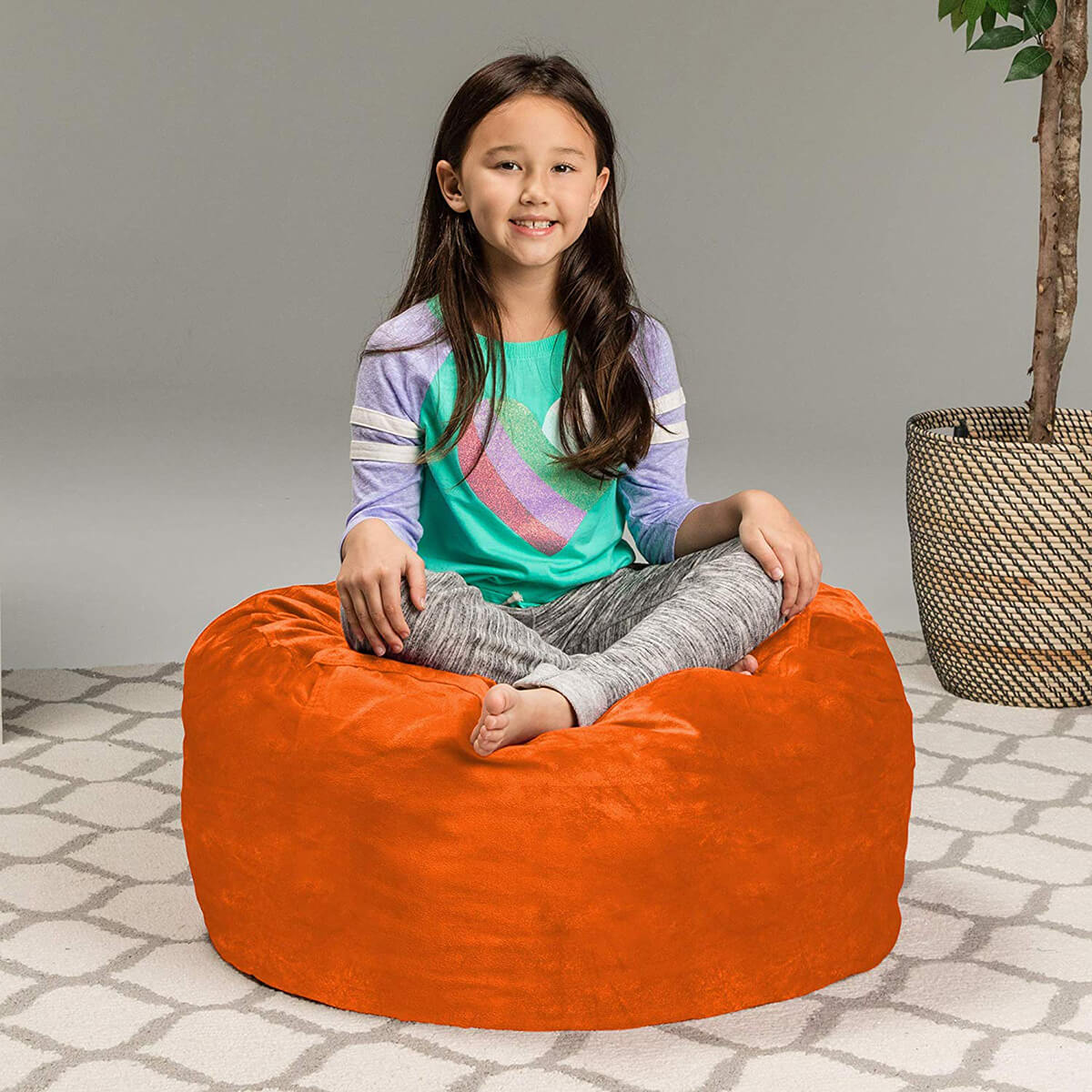 This is the perfect children's bedroom accessory, a two-foot individual sofa sack that works well in children's bedrooms and play areas, making it a great addition for nurseries, playrooms, bedrooms and even basements. Made with memory foam filler and a fluffy micro-suede cover, this is a soft and sturdy bean bag chair that will stand up well and make a great addition to your home. This bean bag chair has a great weight to it, and it fluffs up well to fill the cover. The memory foam inside conforms to fit the shape of the user, allowing for comfortable use at an incredible value.
11. "Big Joe" Flaming Red 98-Inch Bean Bag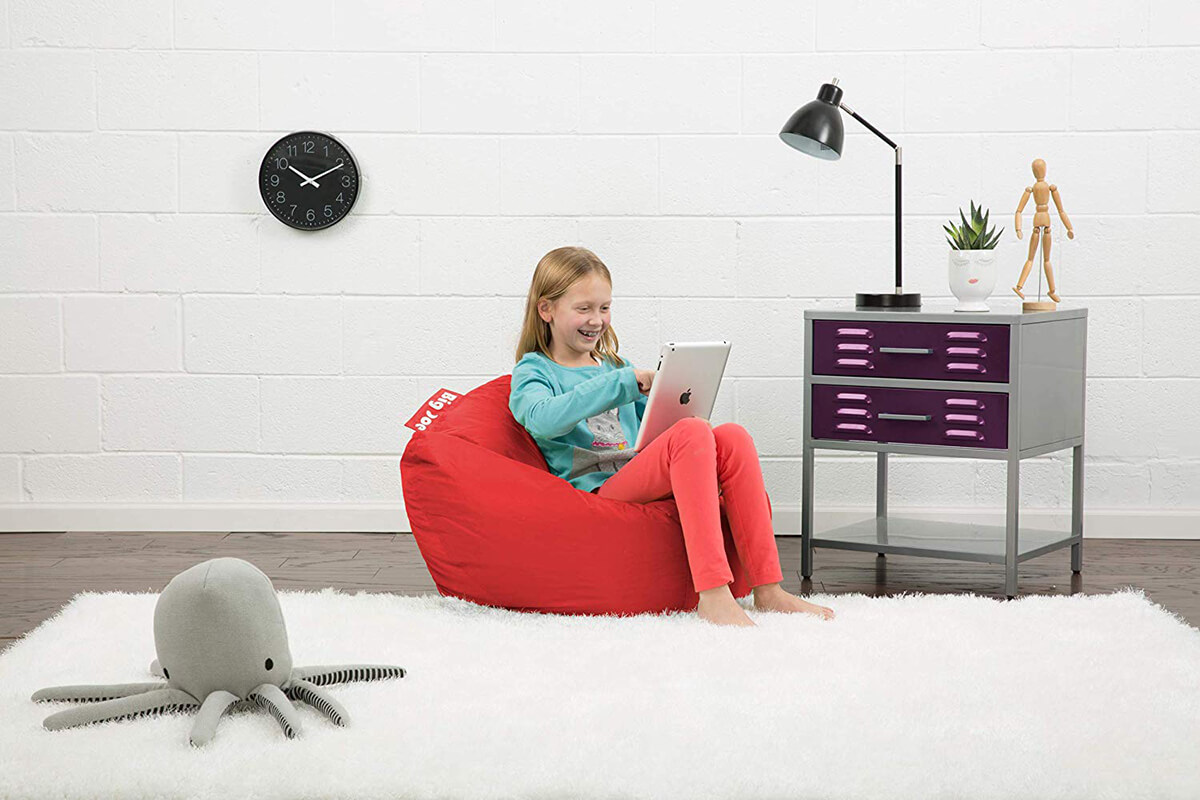 This flaming red bean bag from "Big Joe" is a great value from the Big Joe line of classic bean bag chairs, but it doesn't sacrifice the quality or craftsmanship you've come to expect from the brand. Made with SmartMax fabric and Megahh Beans, you can depend on this oversized bean bag chair to deliver comfort and durability for a good long time. If your home décor happens to be calling for something in the electric red end of the spectrum, this double-stitched, double-zipped, ultra-durable and easy to clean bean bag chair might just be what you need.
12. WEKAPO Stuffed Animal Storage Best Bean Bag Chair Cover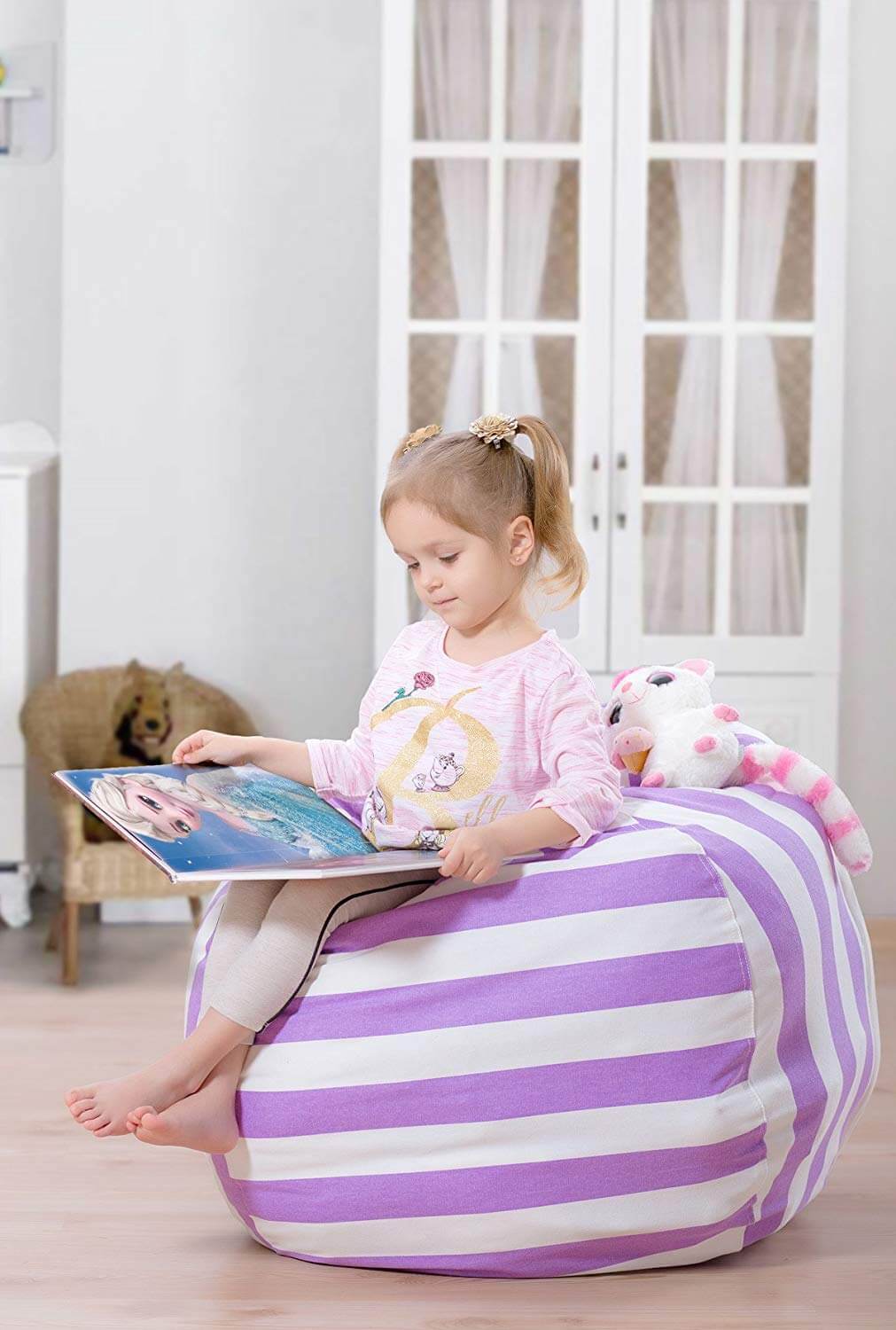 Working like a bean bag chair cover, the WEKAPO Stuffed Animal Storage solution allows for storage of up to around 100 stuffed animals of various sizes and is extra-large at approximately 38 inches. Made of a premium cotton fabric, it is super soft and super durable, so it provides for a soft and convenient storage solution for a child looking for an interesting way to store surplus stuffed toys in their bedroom. If you have amassed far too many stuffed animals and are looking to clean up a child's room, this is a great way to do it.
13. CordaRoy's Convertible Espresso Chenille Bean Bag Chair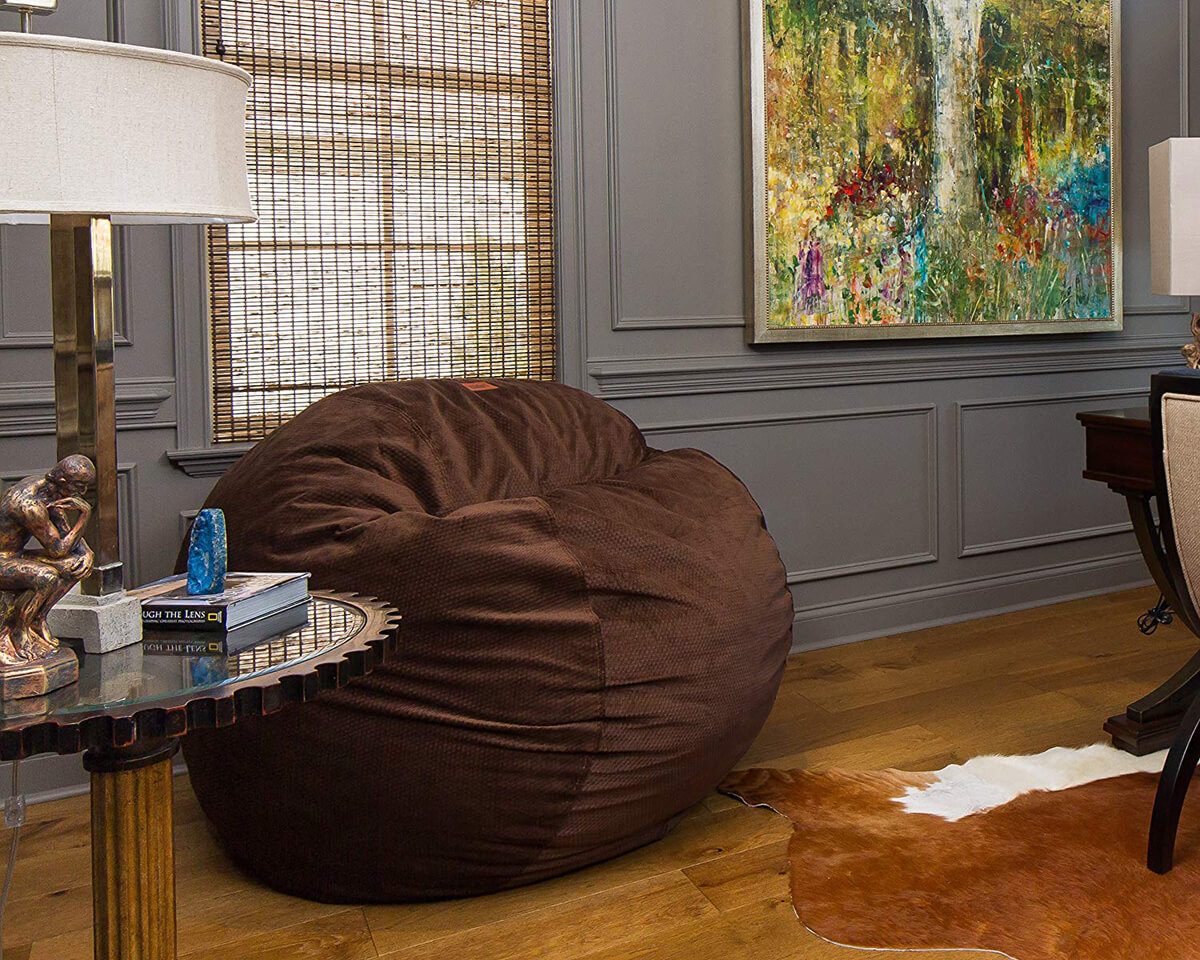 This giant foam chair offers a dual purpose, making it a great addition to your home décor: Not only does it provide a great addition to your seating, but it also converts to a full-size bed to accommodate guests or slumber parties, or just to provide for relaxing if you want to lay down in front of the television. This bean bag chair purports to be better than other traditional bean bags simply because it converts to a full-size bed with a plush microfiber cover that is durable and easily machine washable. The inner cushion is easily unzipped and flipped into a bed, then folded and slid back into the cover to convert it back into a chair for storage or sitting. If you are looking for bean bags with great weight capacity, don't sleep on this one!
14. Microsuede Sofa Sack Beanless Bag Chair for Dorm Rooms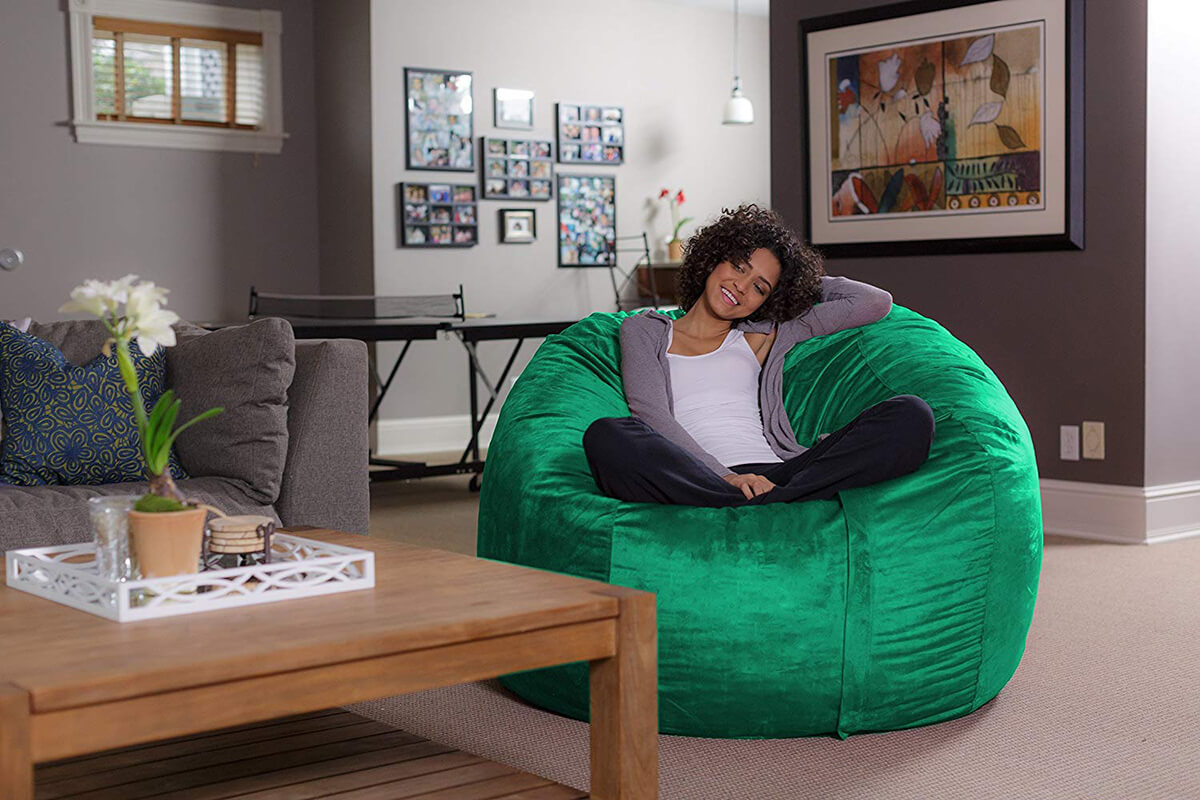 This is a medium-sized "bean bag" style chair filled with memory foam, providing a great deal of give and comfort as compared to a traditional bean bag chair according to its manufacturer. Ideal for dorm rooms, children's bedrooms and similar small spaces, the sofa sack provides soft, comfortable, and durable seating without taking up a great deal of space. That doesn't mean it doesn't also work great for living rooms and home entertainment spaces, especially in colors that work well for these spaces. This beanless bag chair is big enough and has enough stuffing that you can really shape it to your preference before jumping into it.
15. "Big Joe" Dorm Bean Bag Chair in Sapphire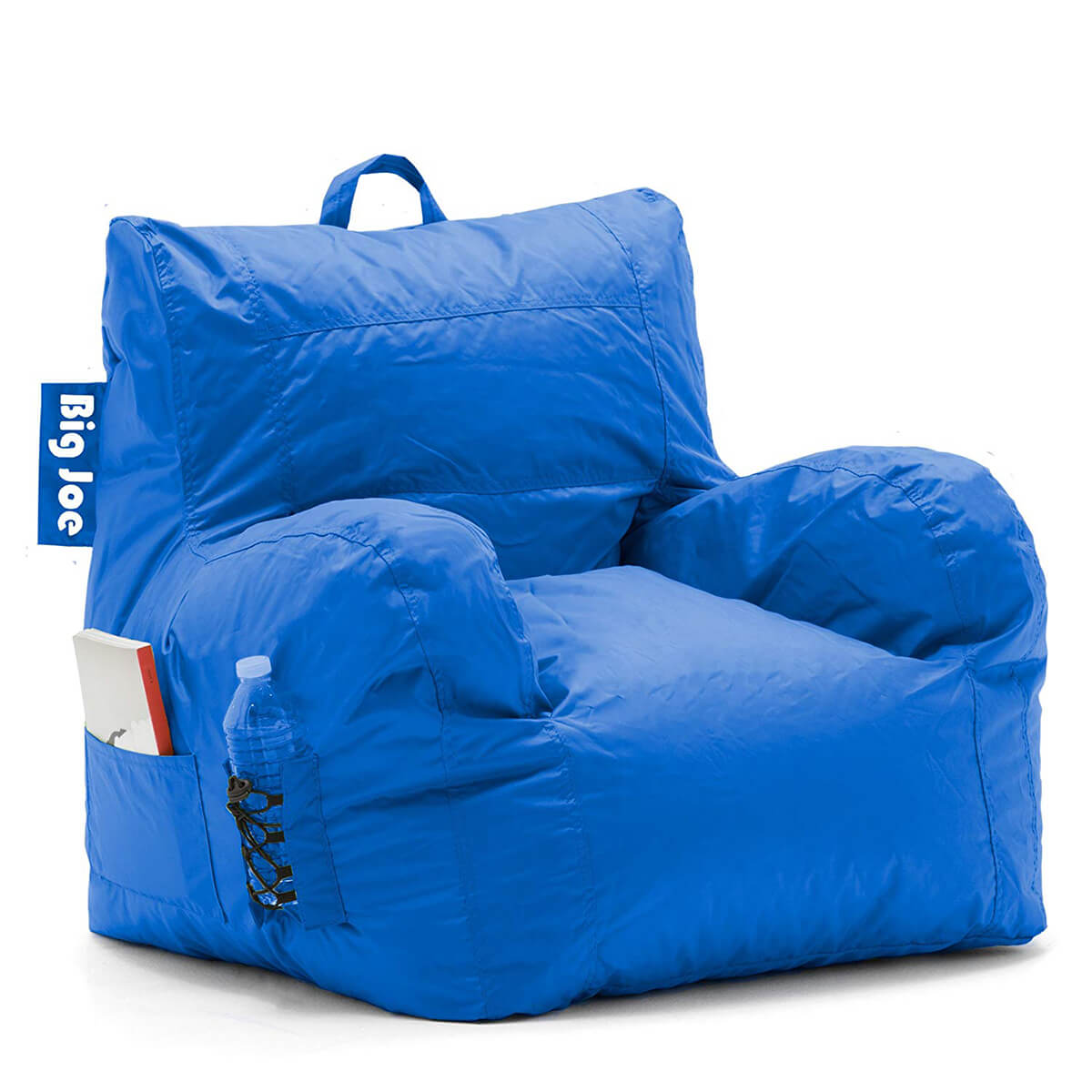 If you're looking for multi-purpose seating for your dorm room, this "Big Joe" bean bag chair is a smart purchase. Featuring built in pockets that allow for storage of remote controls, books, smartphones or snacks, this durable and comfortable bean bag chair is built to provide comfortable seating whether you're reading, watching television, or studying. This bean bag chair even features a built in handle so you can grab it and move it wherever you need and the handle also makes bringing the chair back home after college a snap.
16. Cozy Sack 3-Foot Medium Bean Bag Chair in Cinnabar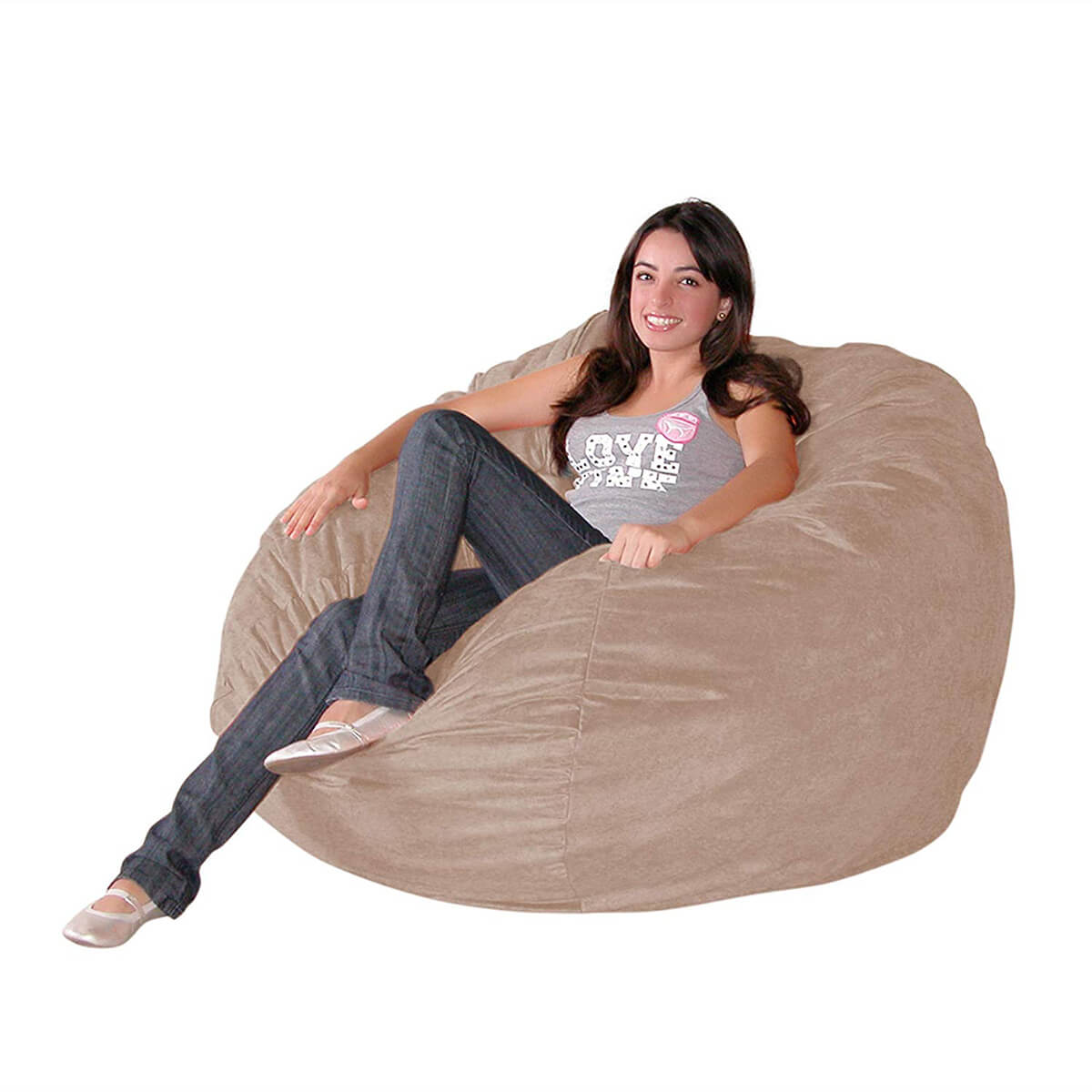 Cozy Sack's 3-foot bean bag chair features a micro suede cover and 100% "CertiPUR-US" certified foam, which is purported to be more comfortable and durable than many other types of fillers available on the market today. If you're looking to add a comfortable and durable piece of functional furniture to your home, this is a great way to go. The more you are willing to fluff it, generally the bigger and fluffier it gets so while you might be buying a 3-foot bag you may end up with more than 4-feet when you are done fluffing.
17. Luxury Velvet Stuffed Animal Storage Bean Bag Chair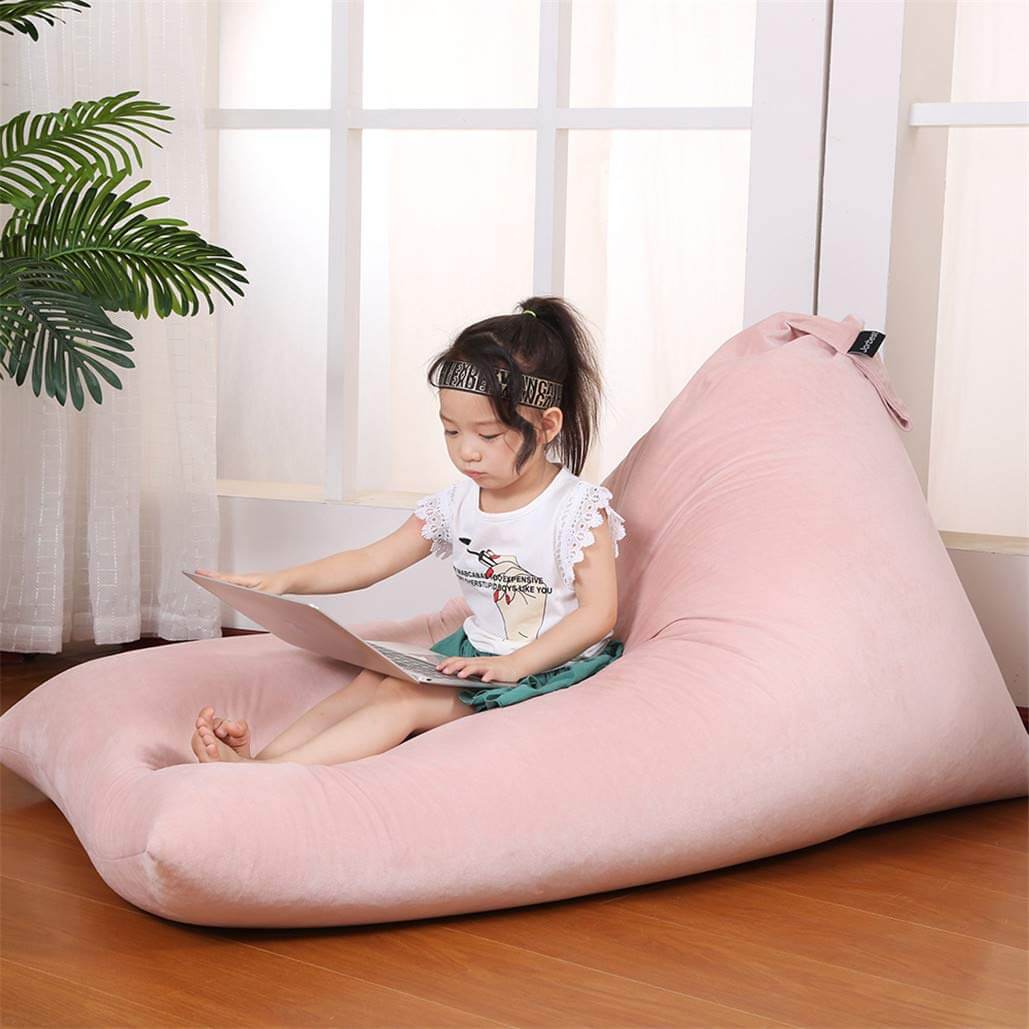 If the kids' rooms in your home are getting a little out of control with respect to stuffed animals, this luxury velvet stuffed animal storage bean bag chair might be the solution you're looking for. Durable with advanced sewing technology and a YKK zipper, this 200L bean bag stuffed animal storage can hold as many as 195 small plush toys or up to 110 medium stuffed animals, or extra pillows, comforters or blankets, turning your storage needs into a fun and comfortable seating option for your child. This is a great way to make your storage needs extra functional for your kids' rooms.
18. Chill Sack Giant 4' Memory Foam Cinnabar Sofa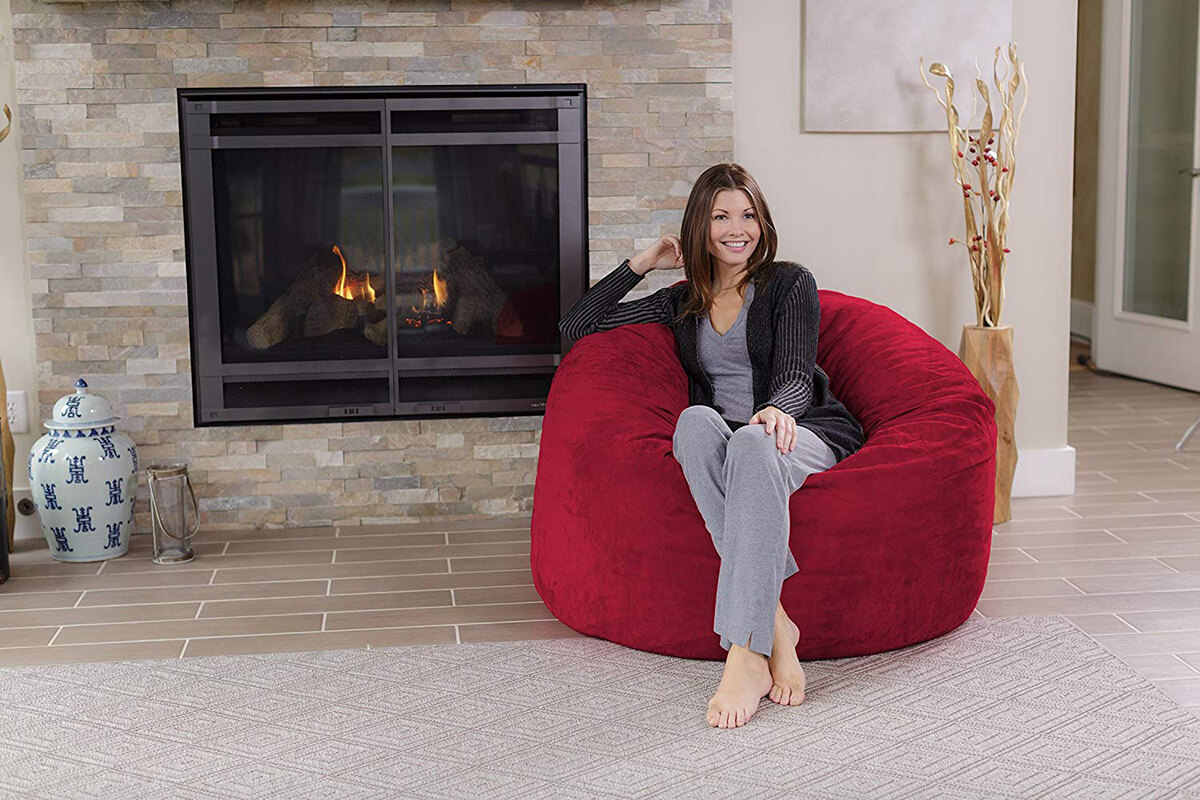 The 4-foot cinnabar Chill Sack sofa is designed to be an ideal size for anyone, both children and adults, making it a great furniture addition for basically anywhere in the home whether you're looking to add comfortable seating to your basement or your family room, your dorm room or your bedroom, and whether you're looking for a gaming chair or recreational furniture or something else entirely. This oversized seating choice is 48 inches on all sides by about 30 inches tall, making it a great size, durable, and comfortable in soft micro suede with a soft, shredded memory foam blend inside.
19. Waldo 5-Foot Faux Suede Bean Bag in Black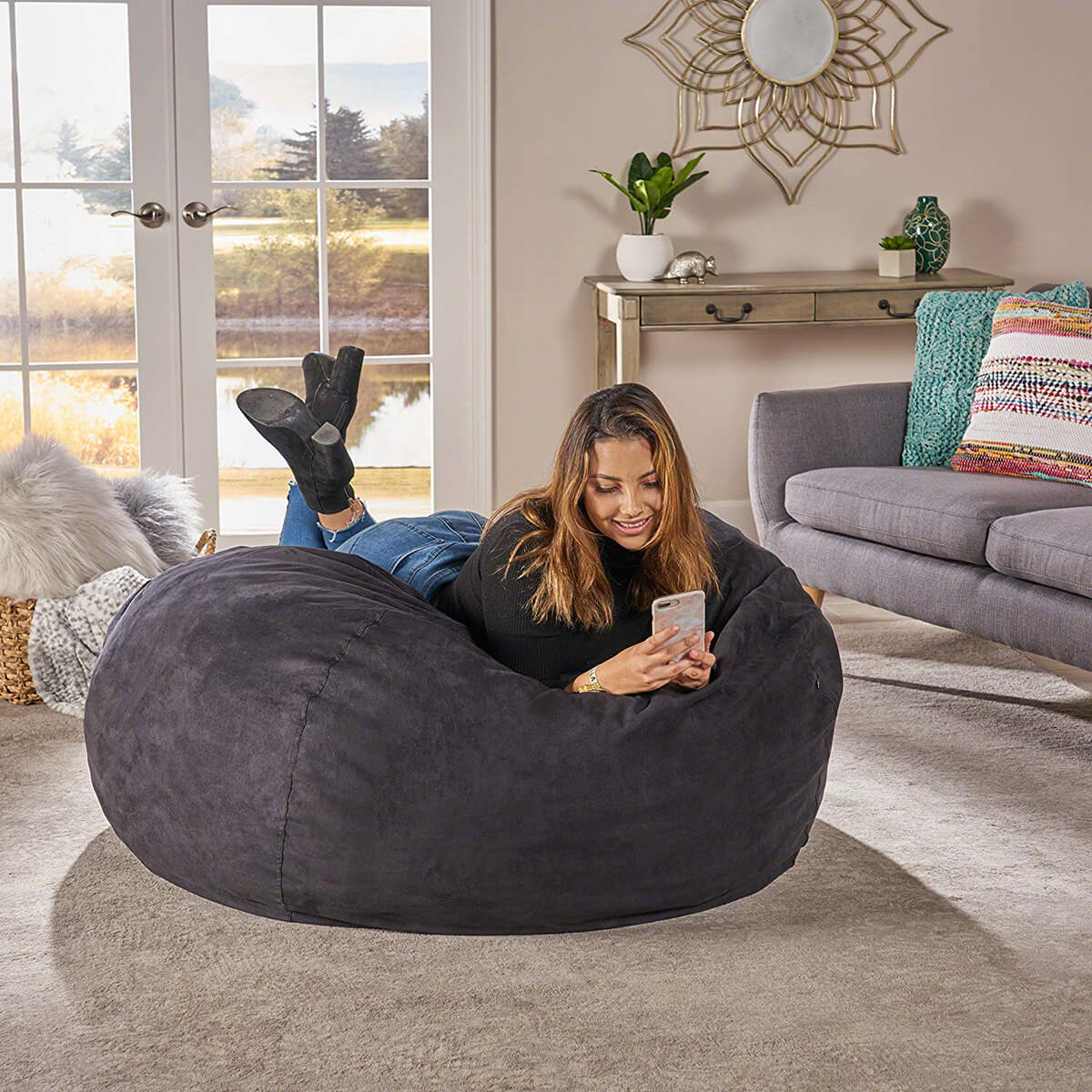 This is an oversized, overstuffed five-foot black bean bag covered in faux suede microfiber. Although it is adult-sized, there is no reason that this isn't also a kid-friendly bean bag chair considering the double zipper for extra durability and how comfortable this puncture-proof cover is. This bean bag is definitely large and comfortable, you should not underestimate its size or its weight given the five foot measurement, and keep in mind that when you fluff it up it can be even bigger. It makes a great bed, and a great piece of furniture to lounge around in for basically any room in your home.
20. Butterfly Craze Kid's Floor Pillow Bed Cover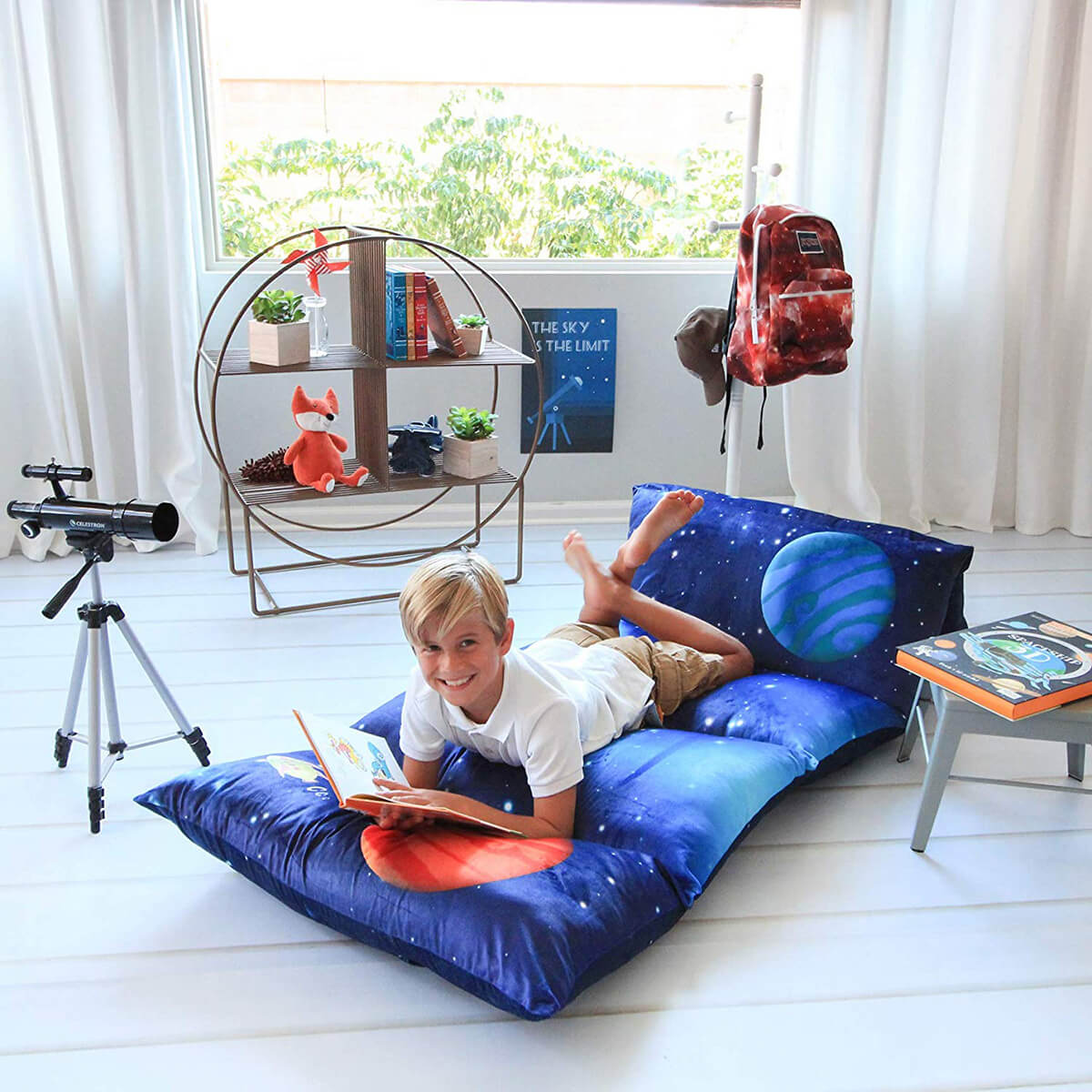 For something a little different, consider the Butterfly Craze Kid's Floor Pillow Bed Cover, which makes an outstanding alternative to a traditional bean bag chair but provides the same comfort and portability. You can use this floor pillow bed cover as a nap mat or as a portable toddler bed alternative, for travel or for sleep overs, or you can use it for reading or for playing. Keep in mind that it's just a cover, and that you can fill it with whatever you like, but the stuffing that you choose will allow you to convert it into a lounger or a floor pillow, a nap mat or basically any other shape or style that you like.
21. Soothing Company Stuffed Animal Bean Bag Chair Storage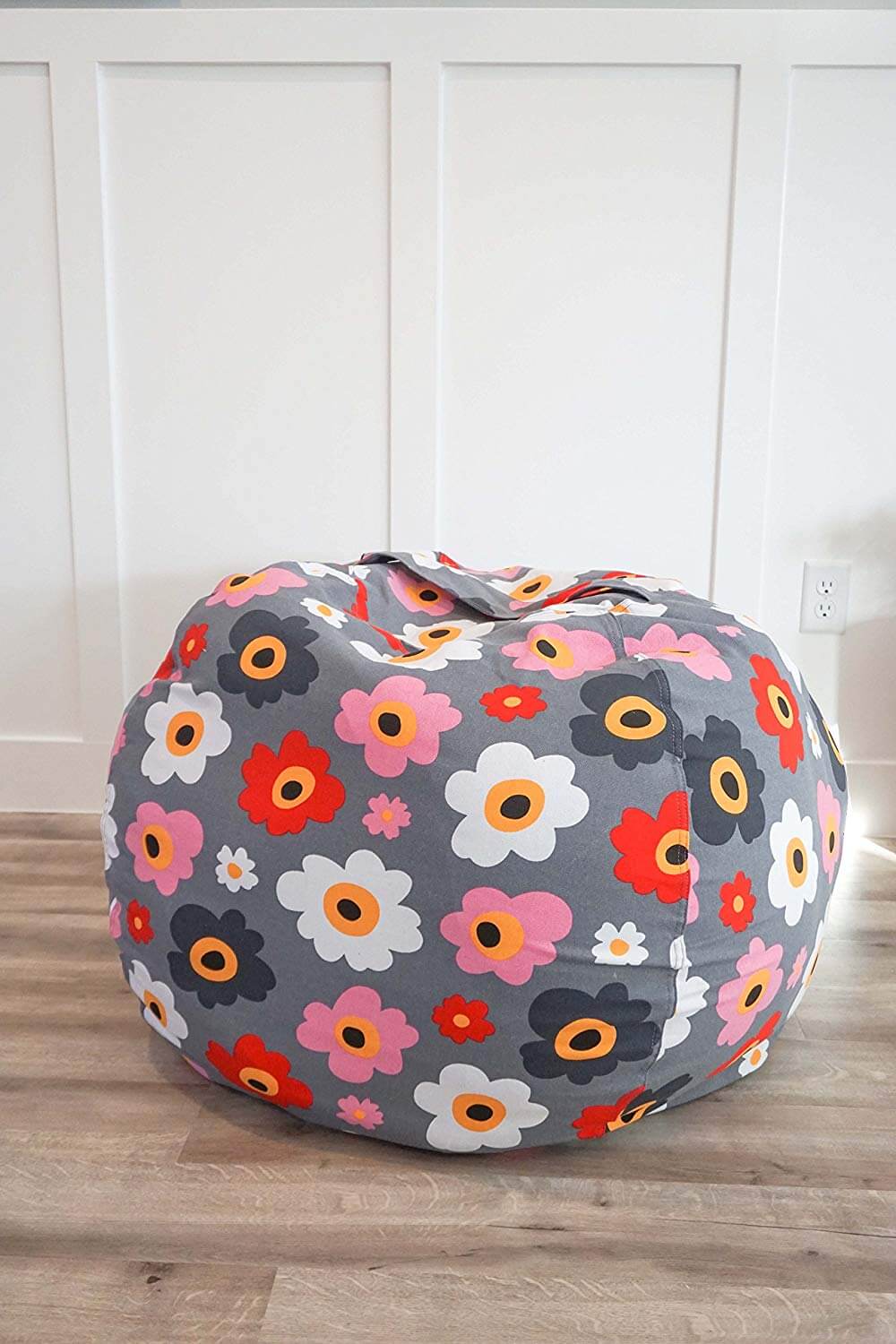 This is another outstanding storage solution for when you're looking to wrangle extra blankets and stuffed animals or really anything else soft. This children's bean bag chair can easily hold around 100 stuffed toys depending on their size, as well as blankets and pillows or anything else that you need to store and are currently trying to keep managed. This is a durable cotton canvas child's bean bag that is soft and comfortable, with a fun floral print that adds to the décor of your child's room while keeping the room looking neat and tidy.
22. "Big Joe" Lux Wild Bunch Unicorn Plush Bean Bag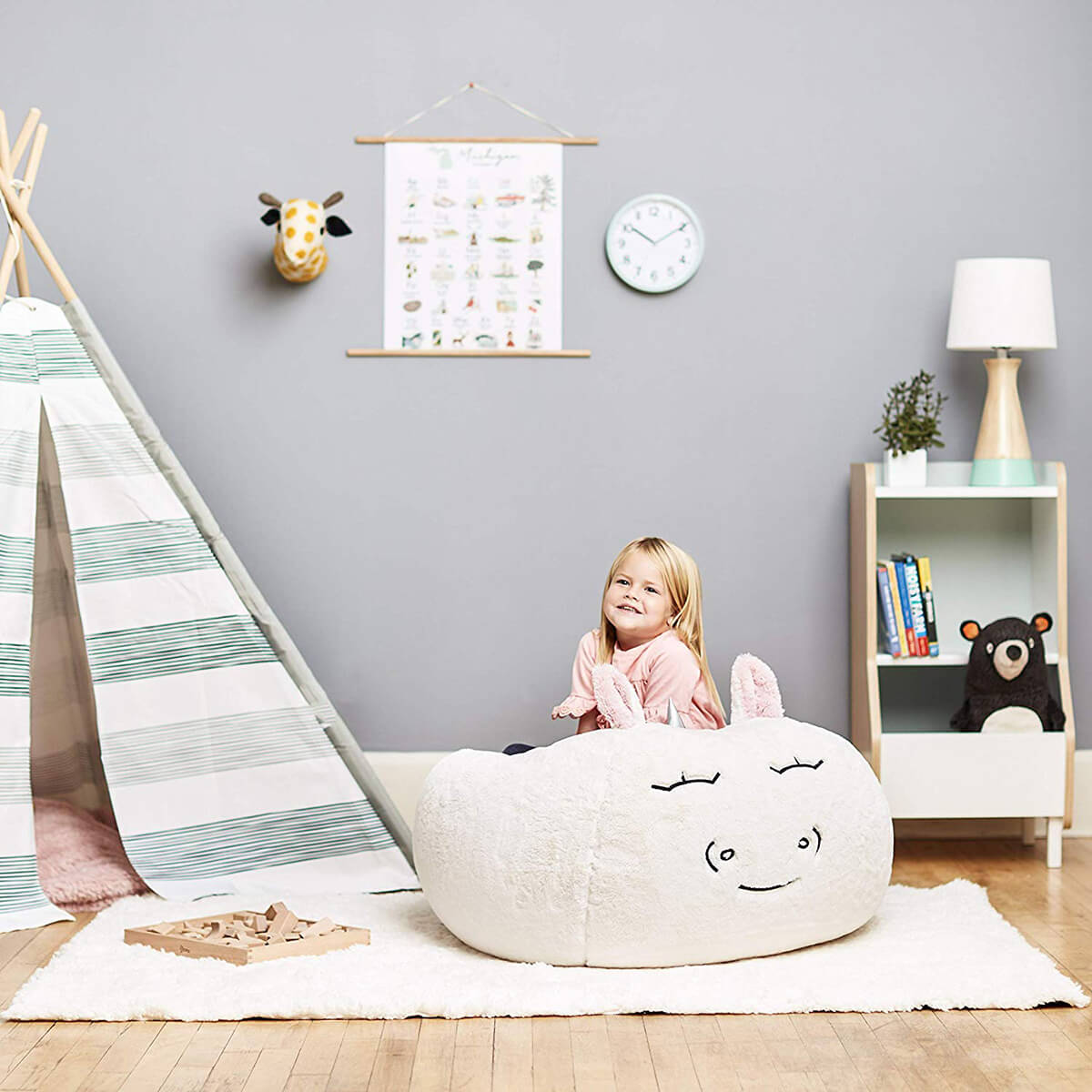 When you're looking to add a comfortable seat to your child's bedroom or playroom, something that won't detract from the décor, the Wild Bunch Unicorn Plush bean bag is a great choice. It's cozy, plush, cute, sweet, and extremely soft without sacrificing durability or quality. Filled with Megahh Beans means you can count on it to be lightweight and cushiony, and the fabric is super soft but ultra-durable. This bean bag chair is stuffed full, but you can add more filling or take some out by using the locking zipper, yet you do not have to worry about this beanbag zipper coming undone or becoming punctured and deflating because it is so durable.
23. David Faux Suede 8-Foot Bean Bag Lounger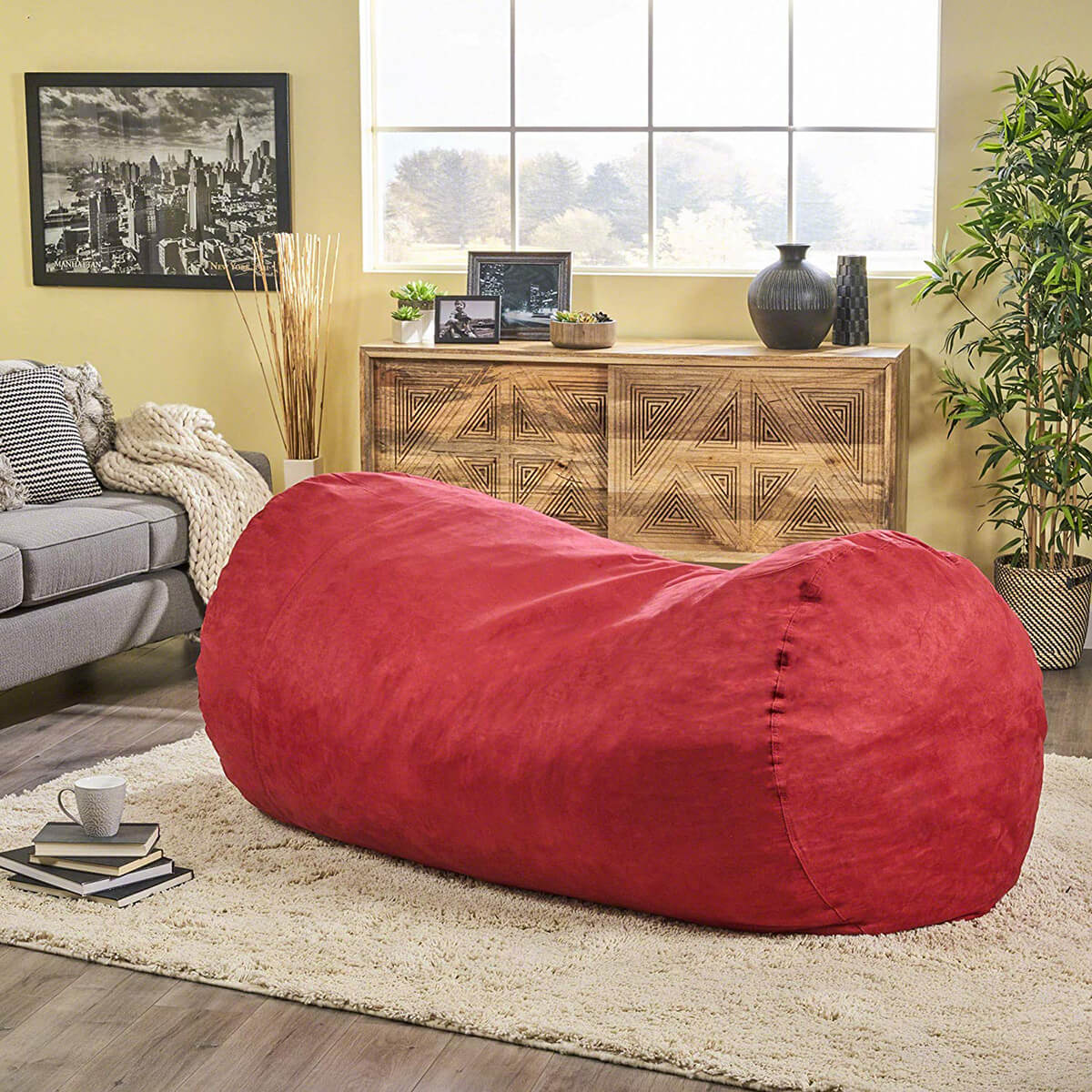 8-feet long and 6-feet wide, this smooth, faux suede microfiber lounger is a great addition to any home entertainment area, whether it's your living room or your bedroom, a doom room or a teen's bedroom. With a double zipper and durable construction, this bean bag is super durable and extremely comfortable, making it possible for you to lounge around just about anywhere enjoying a comfortable experience in Eco-friendly recycled foam that conforms to fit the user each and every time. This ultra-comfortable, 8-foot long lounger offers a great value for the price if you're looking for a bean bag for one, or two, or a whole family.
24. Lily's Love Kids Bean Bag Chair Cover or Soft Storage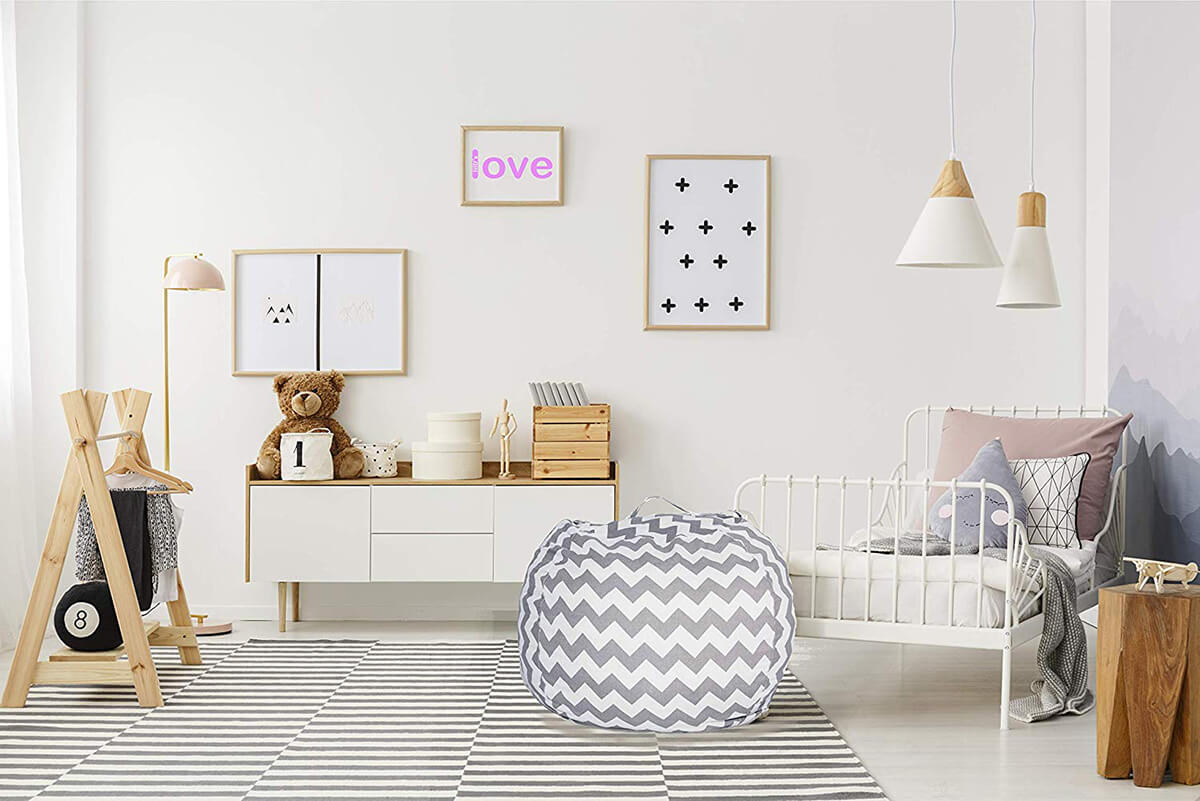 The Lily's Love bean bag chair cover or soft storage is a great choice whether you're looking to cover a bean bag chair that you're not loving the texture of or are just looking to stash your surplus of stuffed animals because you are running out of places to store them effectively. The zipper features a large pull that is ideal for children's fingers making it possible for your children to safely store their toys on their own. The material is made from a durable, machine-washable cotton canvas and the manufacturer promises a 100% money back guarantee if the material doesn't stand up to your children.
25. Lycus White Faux Fur Bean Bag Chair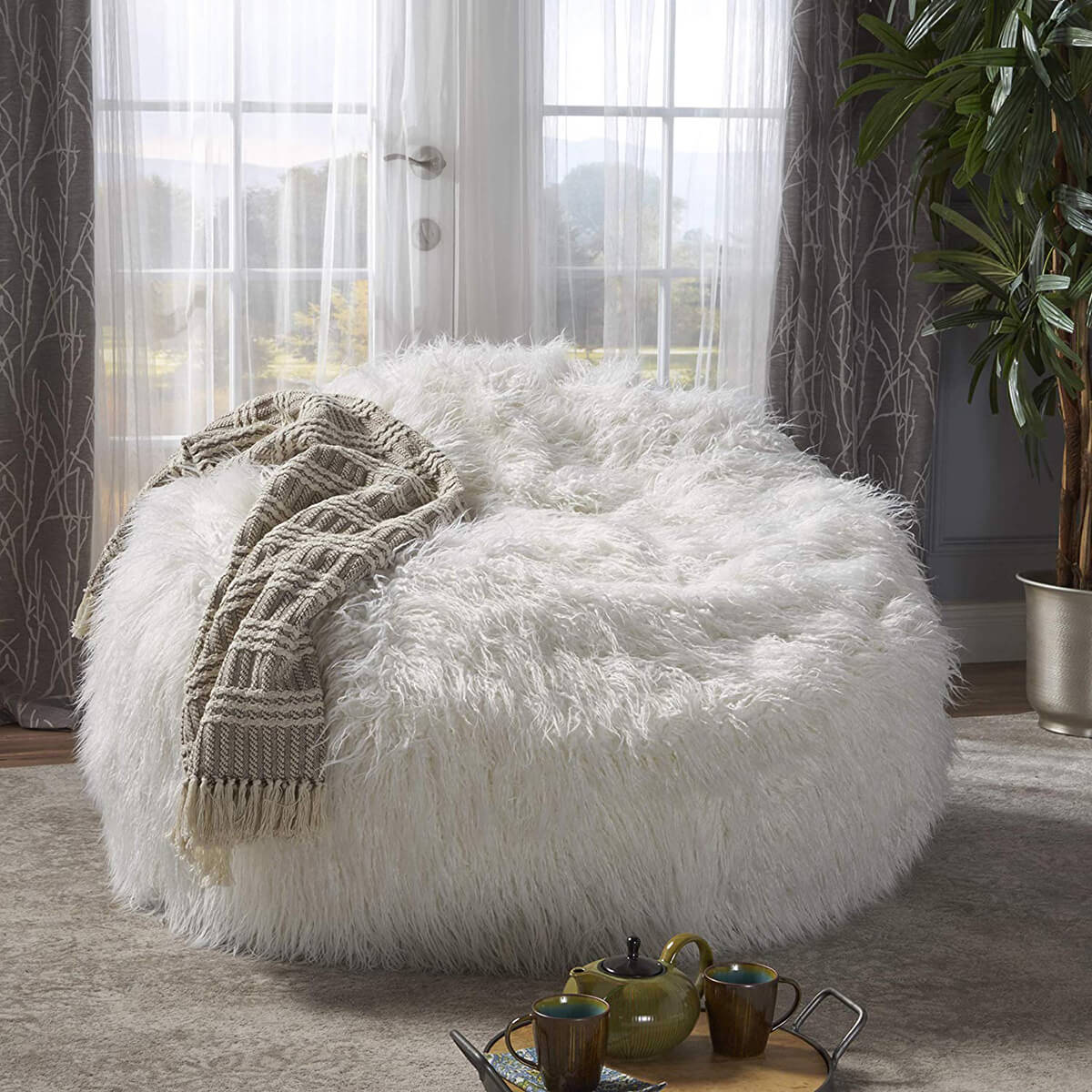 If you're looking to make a statement with your home décor, consider faux fur, which is considered to be all the rage in a lot of circles. This bean bag chair which is covered in faux fur is super soft to the touch and incredibly stylish, which makes it the perfect addition to basically any room in your home. You can add it to your home to create bonus seating for company in your living room, or you can place it in your bedroom and keep it all to yourself. Once you give this gorgeous faux fur bean bag a few days to fluff up, it will be a showstopper in your home.
26. "Big Joe" Fuf Foam-Filled Comfort Suede Bean Bag Chair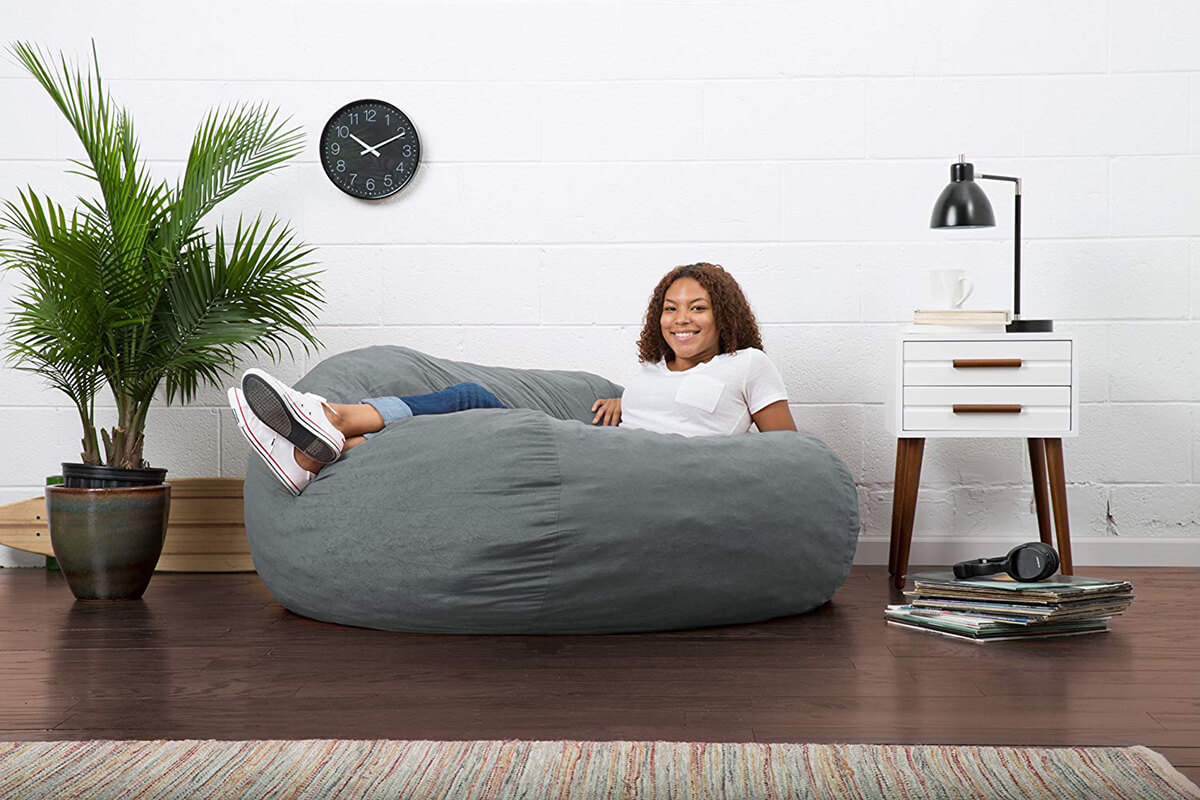 This is another of Big Joe's super soft, super durable upcycled Fuf foam bean bag chairs, meaning that it's going to provide you with long-lasting quality and durability at a great price. You'll receive it in a box a fraction of the size, and then when you get it out of the box, it will expand until it is more than 4-and-a-half feet of incredibly cozy length. Once your comfort suede bean bag chair reaches its fully expanded shape, you will be impressed with how truly soft and cozy this bean bag chair can be for the price you've paid.
27. Fatboy: The Original Bean Bag in Dark Purple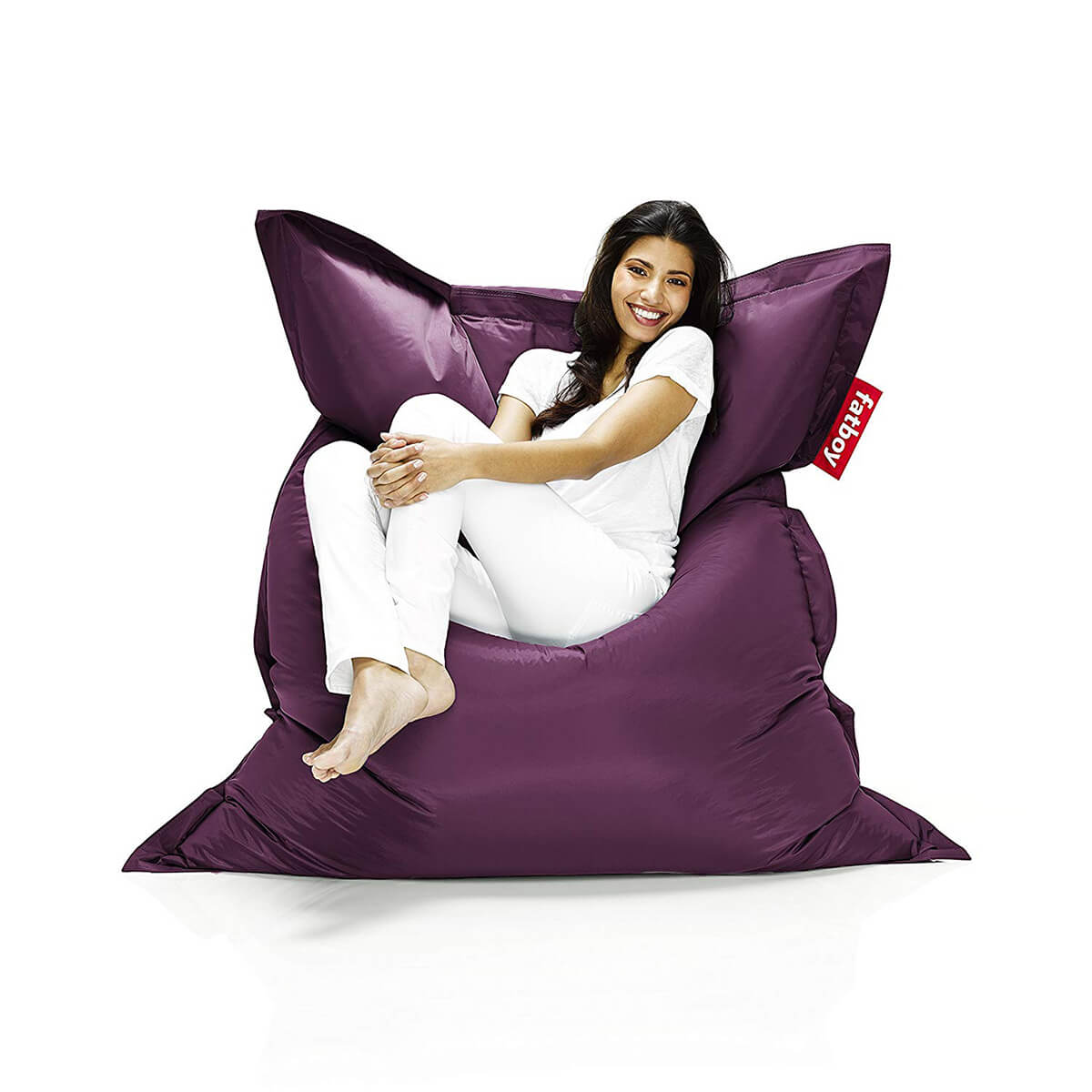 The Fatboy bean bag chair is a fun and multifunctional piece of furniture, a lounge chair that is purported to be virtually indestructible. Its shape allows you to sit, lie down or to lounge in pretty much any way that you want with a brand that purports itself to be one of the originals in bean bag chair design. This is a comfortable bean bag brand, filling its products with polystyrene beads that conform naturally to the body to deliver maximum comfort, and Fatboy delivers durable and stylish products using nylon covers that offer stain- and water-resistance for easy cleaning.
28. Flash Furniture Camouflage Oversized Bean Bag Chair for Kids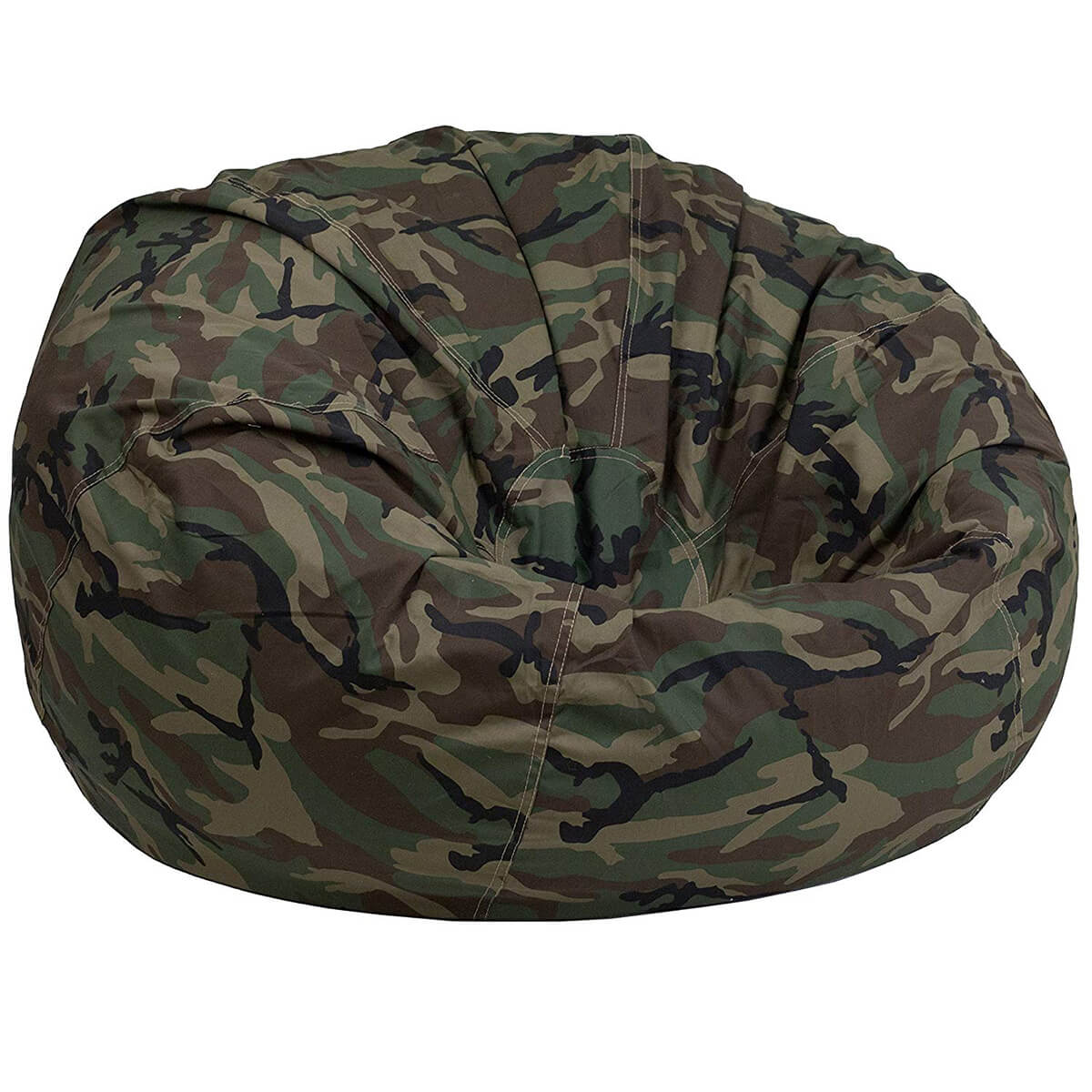 Flash Furniture's oversized camouflage bean bag offers a portable and lightweight design that makes it a great option for a child's room, a playroom, home entertainment spaces, and anywhere else where extra seating is a plus and where you rely on portability. The cotton upholstery is easy to spot clean with a damp cloth and super soft and comfortable yet provides you with the durability that you need for a child's play or sleeping space. This is a very full and fluffy bean bag chair that provides an excellent recreation space for a child who needs a reading nook or a place to sit for studying, video games, or just to hang out.
29. "Big Joe" Leo the Lion Bagimal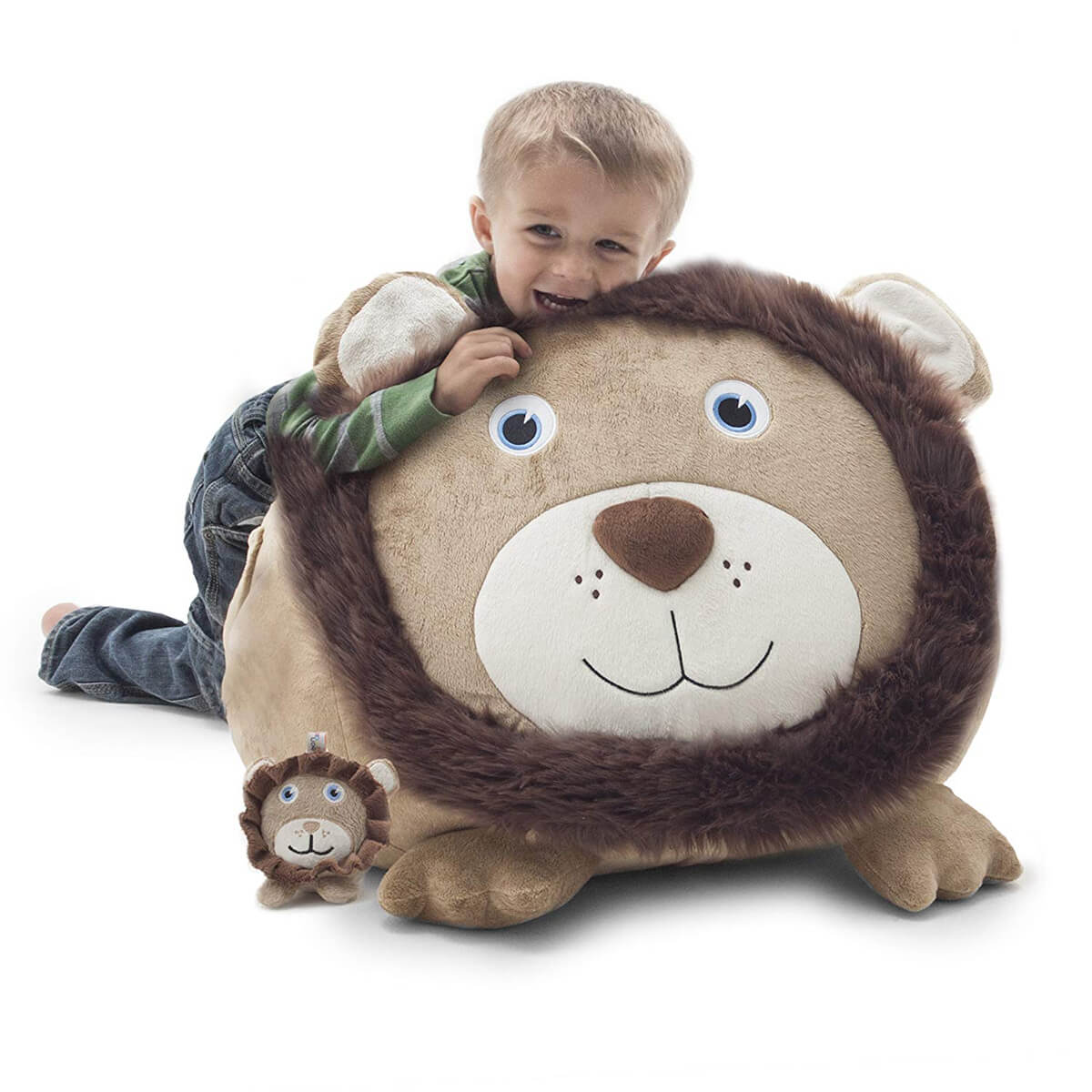 For a bean bag chair that combines form and function, the Big Joe Bagimal is a great option because it is a bean bag chair that is also a giant, plush stuffed animal. Filled with UltimaX Beans, this exceptionally cute plush bean bag friend is double stitched with double zippers to ensure that he is durable and safe without sacrificing cuddliness or companionship. He even has a built-in pocket for a Lil Buddy which looks just like the oversized bean bag friend. If you're looking to add a fun plush stuffed bean bag chair to your small child's room, playroom, nursery, or a similar space, this is a great choice.
29 of the Comfiest Bean Bag Chairs Available to Take Relaxing to the Next Level
The concept of bean bag chairs has evolved significantly through the years, and now there are a myriad of different materials available when it comes to bean bag covers and materials. Not every bean bag chair will even contain beans or pellets anymore as many contain memory foam and similar materials instead. Today, this form of furniture is making a comeback as there are so many different shapes and styles to choose from and the comfort and versatility afforded by bean bag chairs is quite desirable. If you are looking for a unique, durable and versatile addition to your home that will impact your home décor in an exciting way, a bean bag chair might just be what you're missing.
Although bean bag chairs may not have been your thing in the past, it's well worth your consideration to look into some of the modern day options for this form of furniture when you consider how far bean bags have come today. With so many different options and alternatives available on the market in terms of size, shape, material, and color, there may be a perfect addition for your home just waiting around the corner for you.