There are so many wonderful bedroom accent wall design ideas to consider if you're looking for an easy and simple way to transform your bedroom oasis. An accent wall is a wall that is a different color than the rest of the walls in the room. It's a great way to liven up a space and even make it appear larger than it actually is. An accent wall can be painted, wallpapered or even a different texture like brick or wood. Whether you use wood slats, a colorful paint color or a budget-friendly vinyl adhesive, there's an accent wall to fit your unique and personal space.
22 Bedroom Accent Wall Design Ideas that are Simply Stunning

One thing to consider when adding a bedroom accent wall design is to decide which wall it should be placed on. Some of the most popular accent walls are featured behind the headboard of your bed to serve not only as a resting spot, but also a focal point standing out from the rest of the room. If you've been thinking about adding an accent wall to your bedroom for a while now, rest assured that no matter how big or small your budget is you can easily transform your personal retreat sooner than you think. It's really quite simple (and affordable) to add an accent wall to your bedroom. First choose a wall, add in your design and enjoy your newly refreshed and updated sanctuary.
A few accent wall design ideas include patterns to create an eclectic vibe, leafy prints for a bohemian elegance feel, pastels to brighten up the room, dark romantic colors to set the mood or a more playful update that's stylish and creative. Are you ready to get inspired? Take a look at some of most awesome bedroom accent wall design ideas you'll be so anxious to try.
1. Diamond Patterned Accent Wall with Texture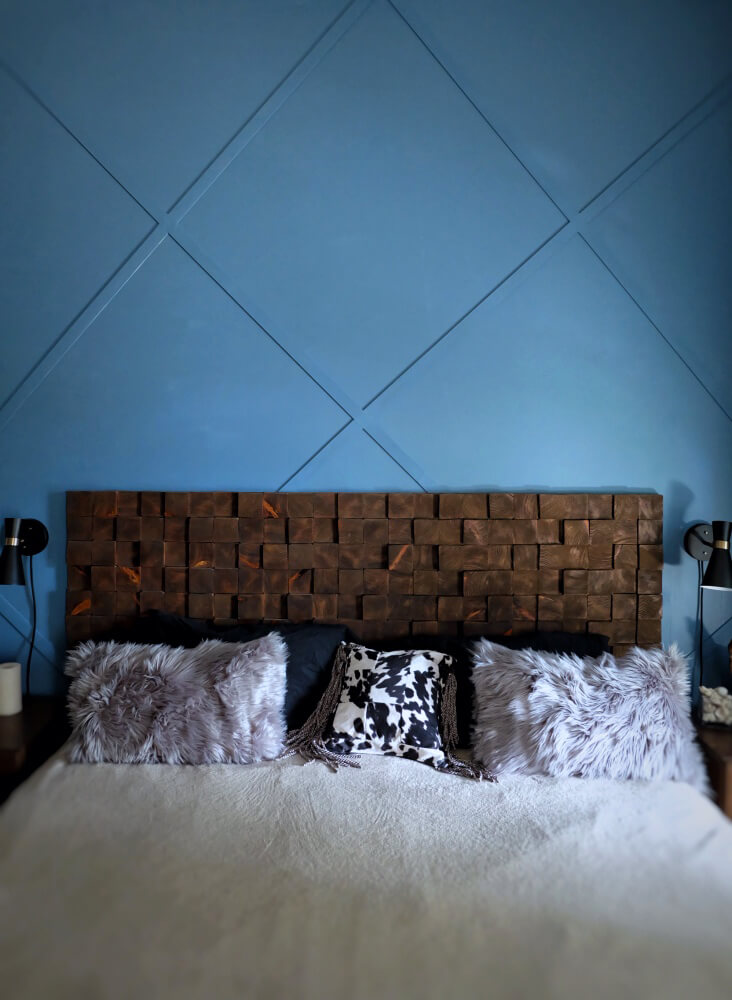 Textured walls can transform flat walls into a finish that adds interest and reflects light in a room. Textured walls are a great and easy way to create dimension in a room and improve the overall aesthetics of a space. There are many different types of textures you can incorporate into an accent wall. This diamond pattern gives this previously flat wall an extra boost of flair and really pops (quite literally). This accent wall is a great way to add drama and a focal point to your bedroom. It's also a creative way to showcase your style and reflect your personality.
2. Exposed Faux Brick Bedroom Accent Wall Design Ideas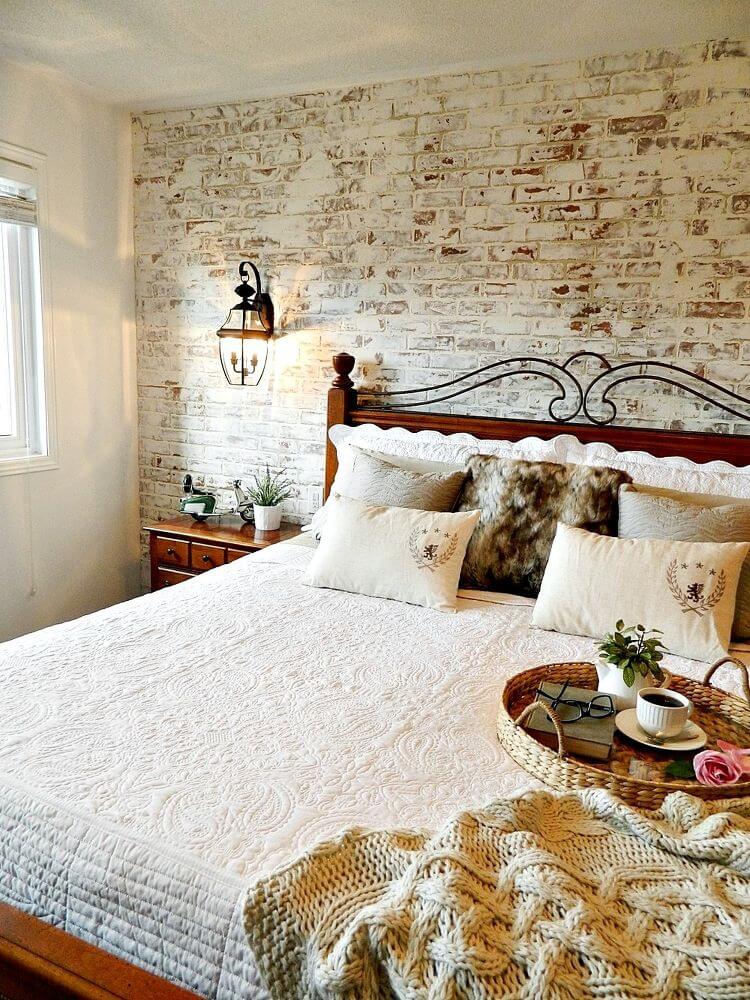 Exposed brick is an easy way to create ambience, set the mood or create a focal point in your bedroom. It's a popular choice, especially for headboard walls. If you're looking for a rustic, industrial or vintage vibe for your bedroom, whitewashing the brick whether real or faux will create a beautiful focal point for the bedroom that adds both texture and style to your sweet newly updated oasis. There are several different ways you can incorporate a brick accent wall. Choose from real brick, faux paneling, a peel-and-stick textured adhesive or any other brick wallpapering to achieve this look for your own bedroom accent wall.
3. Upgrade Your Space with a Wood Accent Wall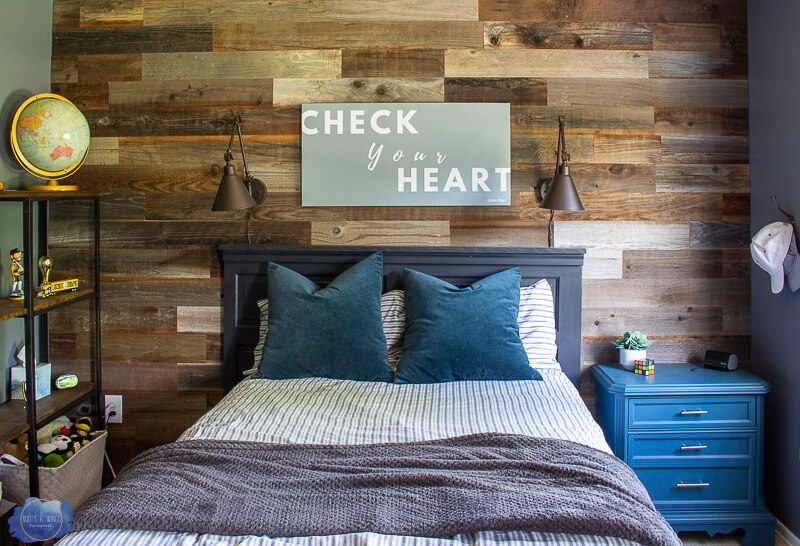 Wood walls add warmth, depth, texture and of course a beautiful accent to any space. There are so many creative ways to add in a wood accent wall from a plank wall, a barn wood herringbone wall to using pallets or peel and stick materials. If you have a big blank wall in your bedroom and you aren't quite sure what to do with it, consider adding a wood accent wall. This can easily be done on any budget. Whether you used reclaimed siding, old pallets, salvaged wood or even laminate flooring, there are numerous ways to achieve this gorgeous look for your bedroom wall.
4. Bold, Bright Hexagon Accent Wall for Teen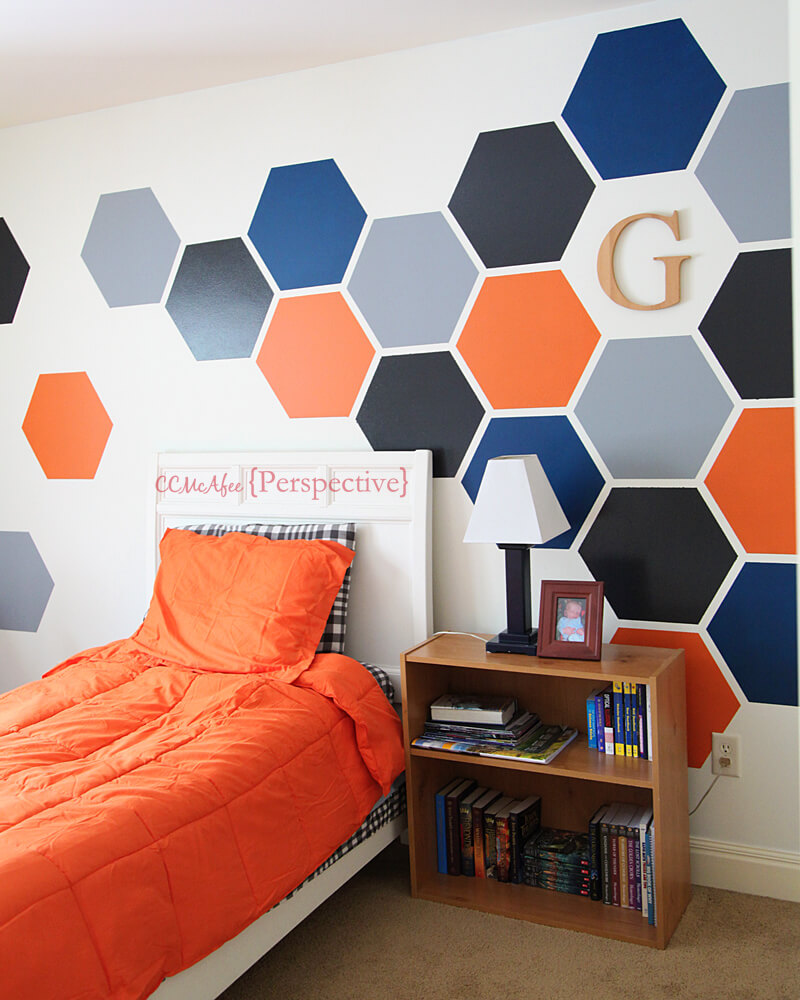 Looking for clever and creative painted wall ideas? Make a bold statement in your teenager's room with this bright hexagon accent wall. This is a fun conversational piece that brightens up the room. Adding geometric shapes and prints like these incredible blue and orange hexagons is a fun way to add character and style to a bedroom, especially a teen's bedroom. Feature your teen's favorite colors and make it warp around the bedframe for a visually appealing accent wall that draws interest and really brings so much happiness to a space no matter how big or small.
5. Out of This World Chalkboard Accent Wall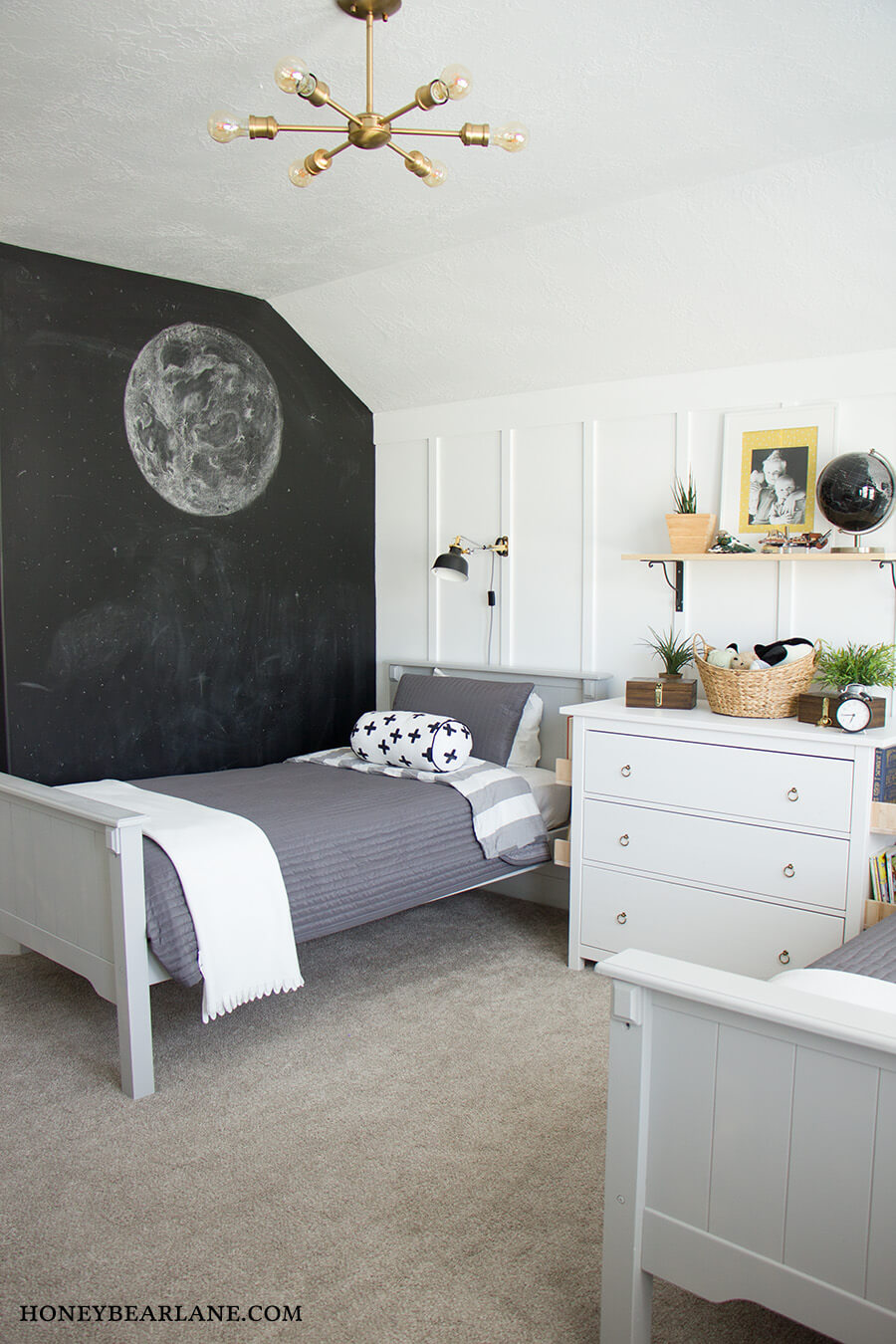 By now you have probably seen numerous pictures of interiors featuring chalkboard walls. They're so easy and versatile and come with tons of advantages. They're great for a kid's bedroom to express themselves through creative writing, drawing or scribbling. They're functional for writing out lists, homework or dates of upcoming events. They also have the ability to make the room feel more welcoming and casual. Having a chalkboard accent wall next to the bed is a great way to add contrast with the black base and a fun way to change up the details such as adding a moon, stars or any other drawings that channel your child's personality and interests.
6. Gold Stenciled Bedroom Accent Wall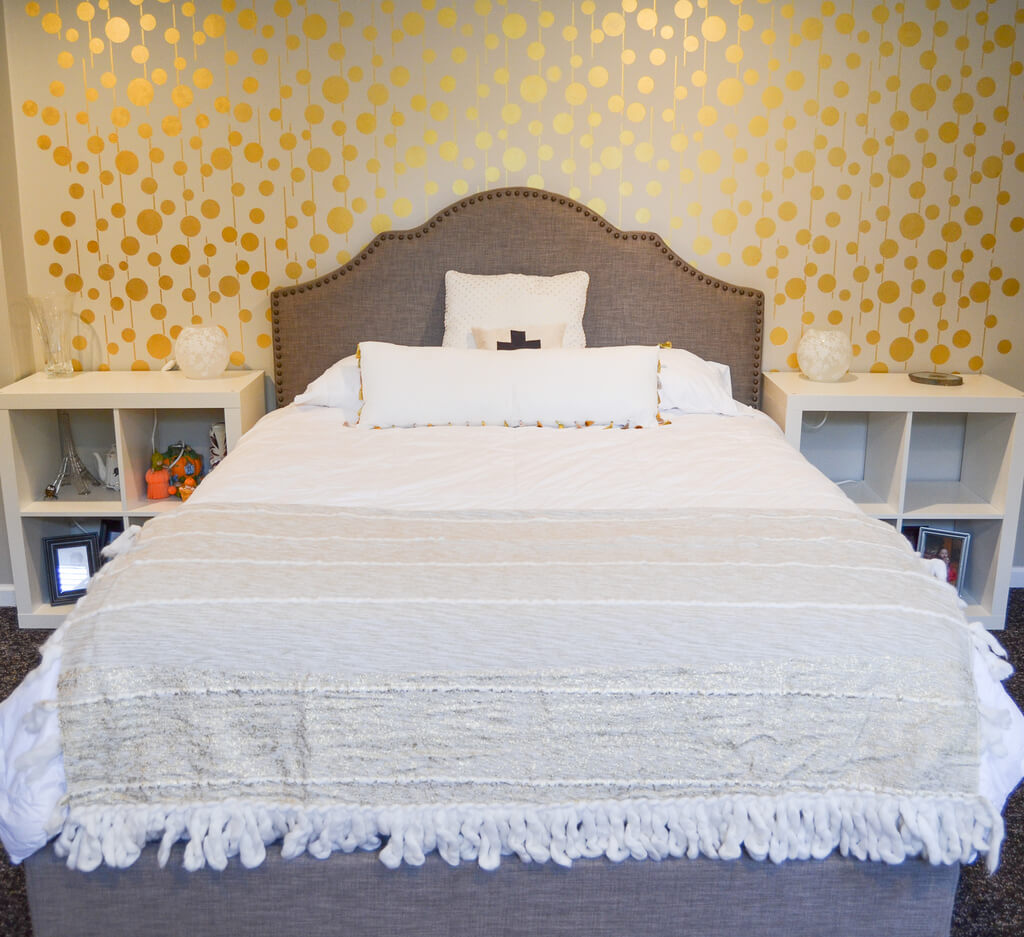 Create a beautiful, classy bedroom accent wall with gold paint and stencils. This metallic trend has been a popular interior design choice that truly makes a statement. Incorporating gold in a bedroom used to be considered a high-end feature, but now gold detailing in a room gives it a more polished and sophisticated look without being too "regal." If you're decorating a guest bedroom, your daughter's bedroom or even your own, give the space an ultra-glam look by choosing to go for the gold. There's so much shimmer and shine in this space, making it an elegant and stately feature wall for the bedroom.
7. Transform Your Bedroom with Grey Paint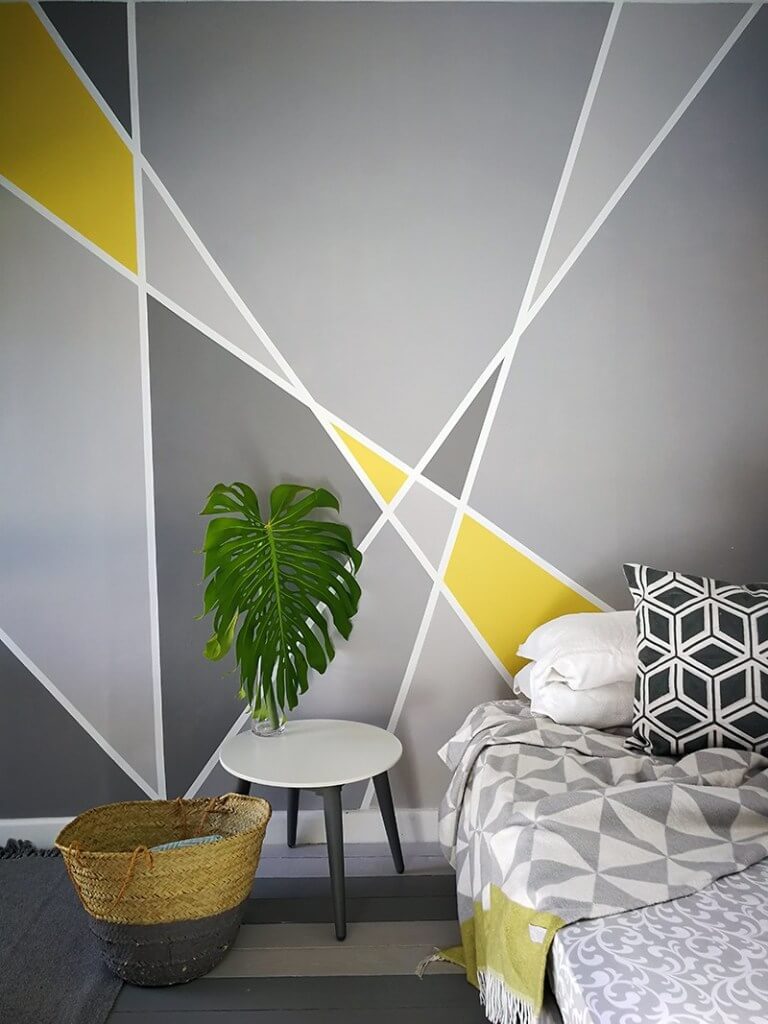 You can easily transform any room of your home with a little paint. Using various shades of one color like grey for example paired with a bright pop of color like this yellow is a fabulous way to dramatically enhance the overall look and feel of a room. It's the perfect way to brighten up a space without going overboard. Geometric shapes like this accent wall adds depth and dimension while really making the space feel larger than what it really is. It's an eye-catching focal point that didn't exist before this simple and budget-friendly update.
8. DIY Pallet Wall for the Master Bedroom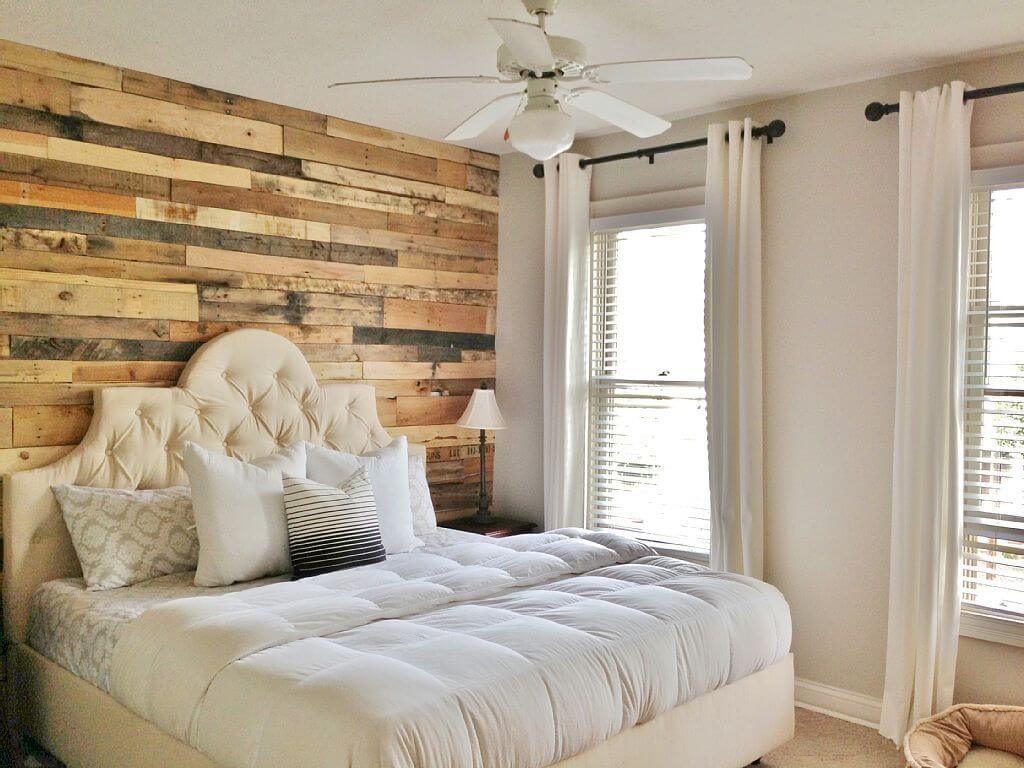 The simplest way to add style and flair to a bedroom is to create an accent wall. This wooden pallet wall is so warm, comforting and inviting. It gives off a rustic charm without feeling too masculine. Pallets are used in so many DIY projects these days and it's easy to see why. Their great as is, vary in shades and can create the most gorgeous wooden projects. They also are very inexpensive to purchase and you can often times even find them for free. With just a few supplies, you can create your own wooden pallet accent wall for your bedroom to transform it into a comfy cozy oasis.
9. A Cozy Wooden Accent Wall in Your Master Retreat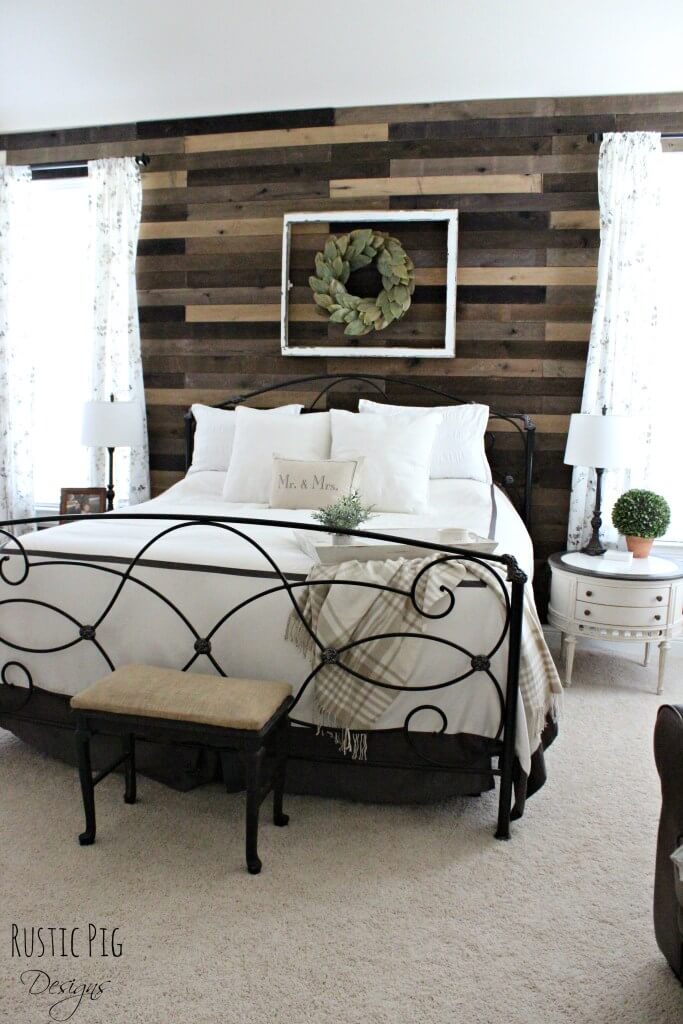 There are so many creative ways to use wood around your home. You can easily create a stunning wooden accent wall with scrap pieces, pallets, planks and more. This beautiful accent wall in the master bedroom features various shades of wood making it a totally unique look that's both chic and rustic. Wood is a perfect way to add character to any room of your home and the natural look is very on trend in the interior design department. This accent wall in your master retreat will add the perfect blend of depth, texture and warmth to your newly updated space.
10. A Contemporary Wall Design to Make a Statement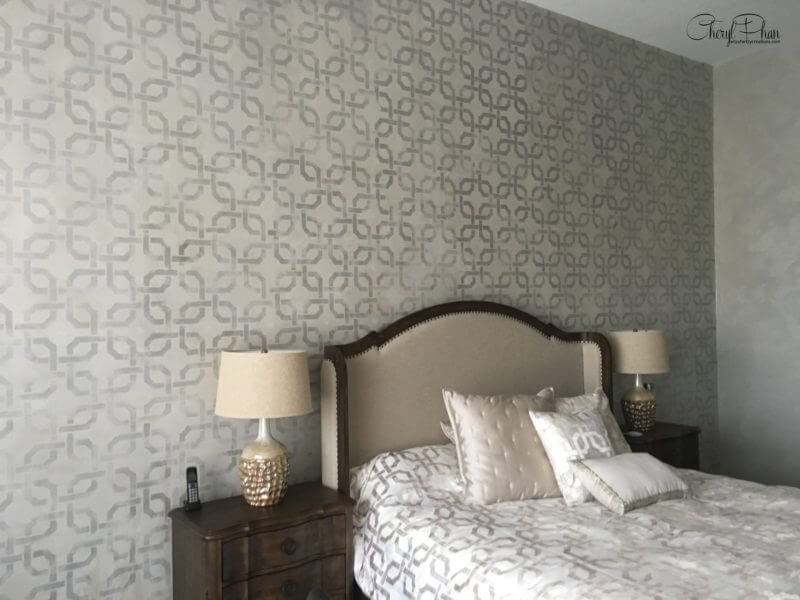 Don't you just love how the bedding and the wall are one in the same? An accent wall can be as simple as a fresh coat of paint all the way to an elaborate print inspired from your favorite bedding like this shabby chic decorator had in mind. Whether you take a photo of your favorite print and try to find a replica or take it to a shop to have it made into a stencil, either way you will have a stunning accent wall that's uniquely you. Accent walls are great for showcasing your eye for design as well as incorporating your own style and personality into your bedroom.
11. A Custom Accent Wall on the Ceiling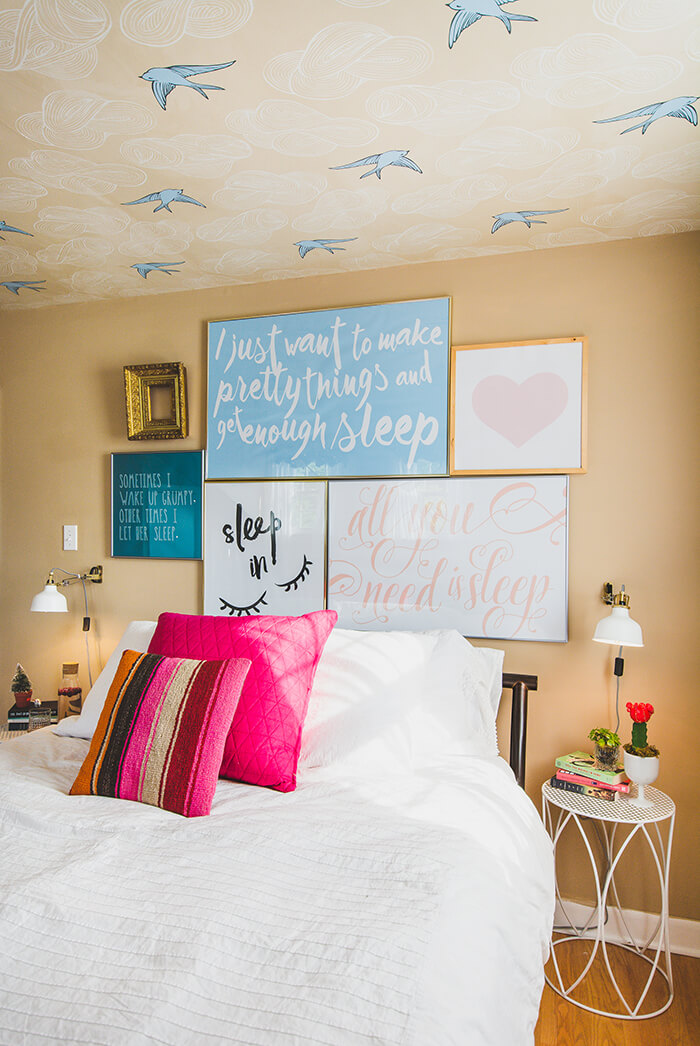 An accent wall doesn't have to be the traditional behind the bed focal feature. You can use any wall of your room, including the ceiling for a chic accent that draws in your attention and adds visual interest to your space. This unique and incredible accent wall on the ceiling features textured clouds and simple baby blue birds throughout. This is a gorgeous choice for a little girl's bedroom. It has such character and imagination in the design that just draws you in. Just imagine lying in bed and gazing up at this beautiful masterpiece when you wake up each morning.
12. Budget-Friendly Shiplap Accent Wall for Master Bedroom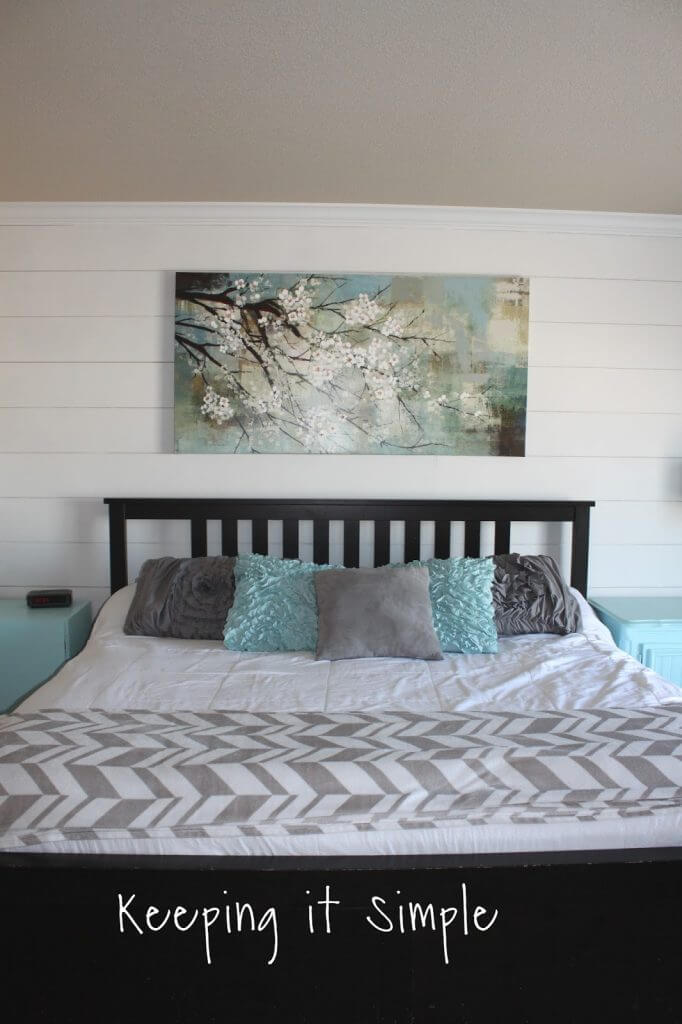 Your master bedroom should be a space that's full of rest and relaxation. It should be a happy place that you feel comfortable and at home in. By adding a simple accent wall, you can completely transform your space into a basic and boring bedroom into a completely refreshed and renewed feeling every time you walk in. This weekend project consists of wooden boards cut and pieced together for a shiplap look that completely changes the look and feel of this space. If white isn't your style, you can easily paint or stain the wood any which way you want for a look that's unique to your style and personality.
13. A Dreamy Ombre Bedroom Accent Wall Design Idea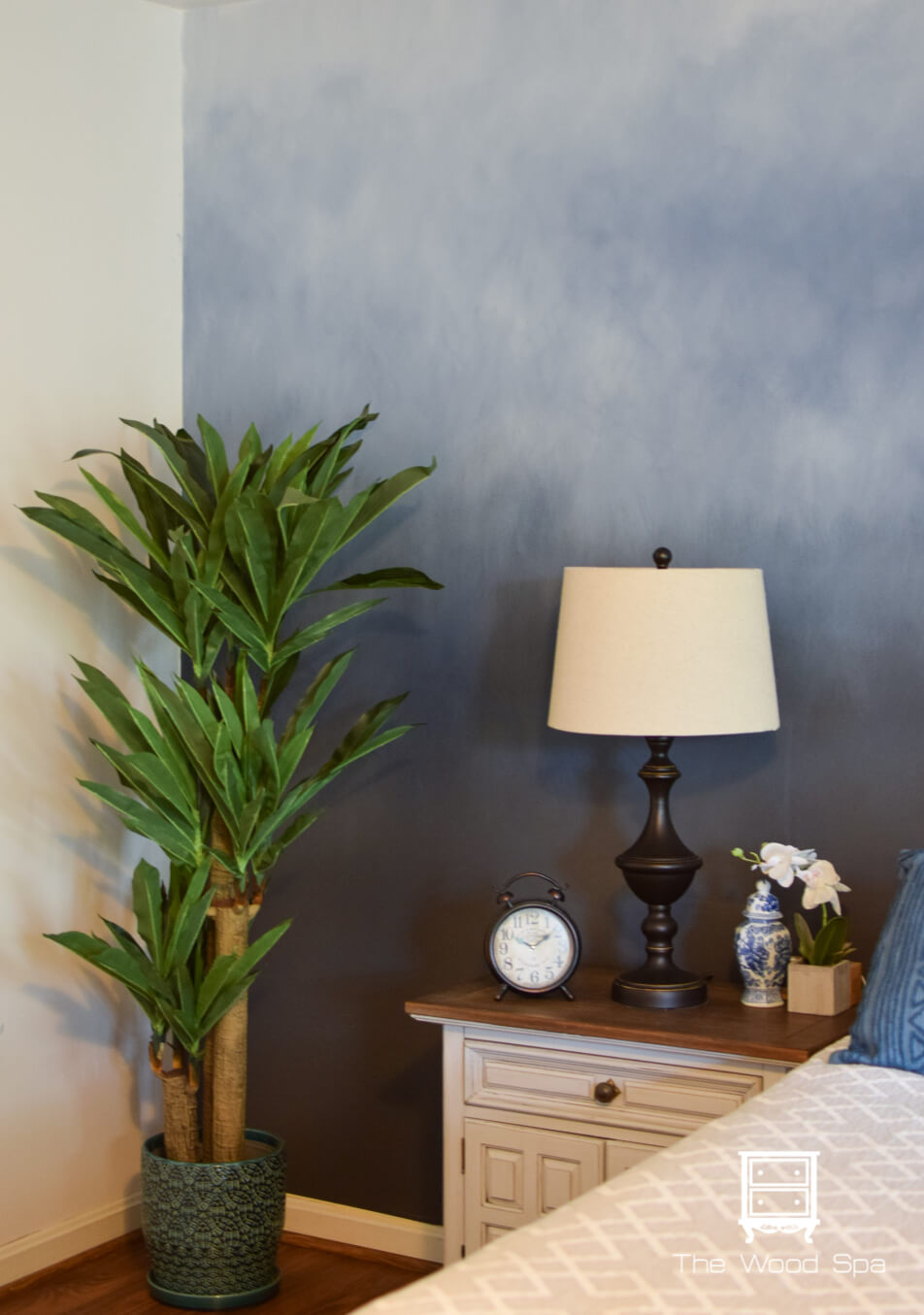 An easy way to set the tone and mood for your master bedroom is by adding an accent wall. Darker colors tend to give off a bolder and dramatic vibe to your space and lighter, more neutral colors tend to make the space feel more open and airy. This dark ombre wall is so dreamy, especially behind the bed. Ombre is a popular trend and consists of using one single color and slowly melting into another. It creates a dreamy, water-colored effect that often begins or ends with a lighter color and slowly transitions to a darker color. A darker ombre accent wall like this one matches well with the existing black accents like the lamps to really make it pop.
14. An Accent Wall with Dark and Dramatic Paint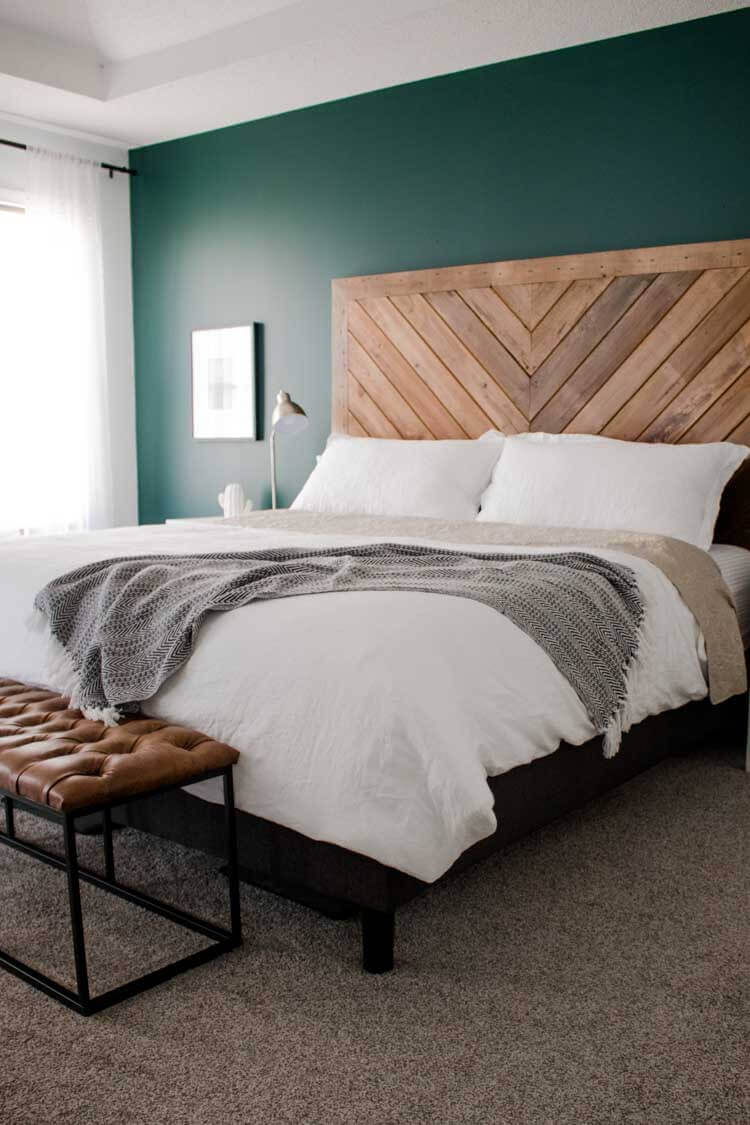 Whether you choose light or bright paints or dark and dramatic prints and patterns, if you're looking for an extra pop in your bedroom, an accent wall is sure to spice things up a bit. A dark shade in your bedroom is a bold move, but this unconventional accent wall idea might just be taking over the traditional all-white bedroom that's been trending ever since farmhouse aesthetics blew up. We're seeing more and more people go bold with dark accent walls and it truly makes a world of a difference. Dark hues really set the stage for texture like with this wooden herringbone headboard. The mixed use of wood, metal and leather all make this space feel cozy and warm with all the natural elements incorporated throughout.
15. DIY Herringbone Modern Accent Wall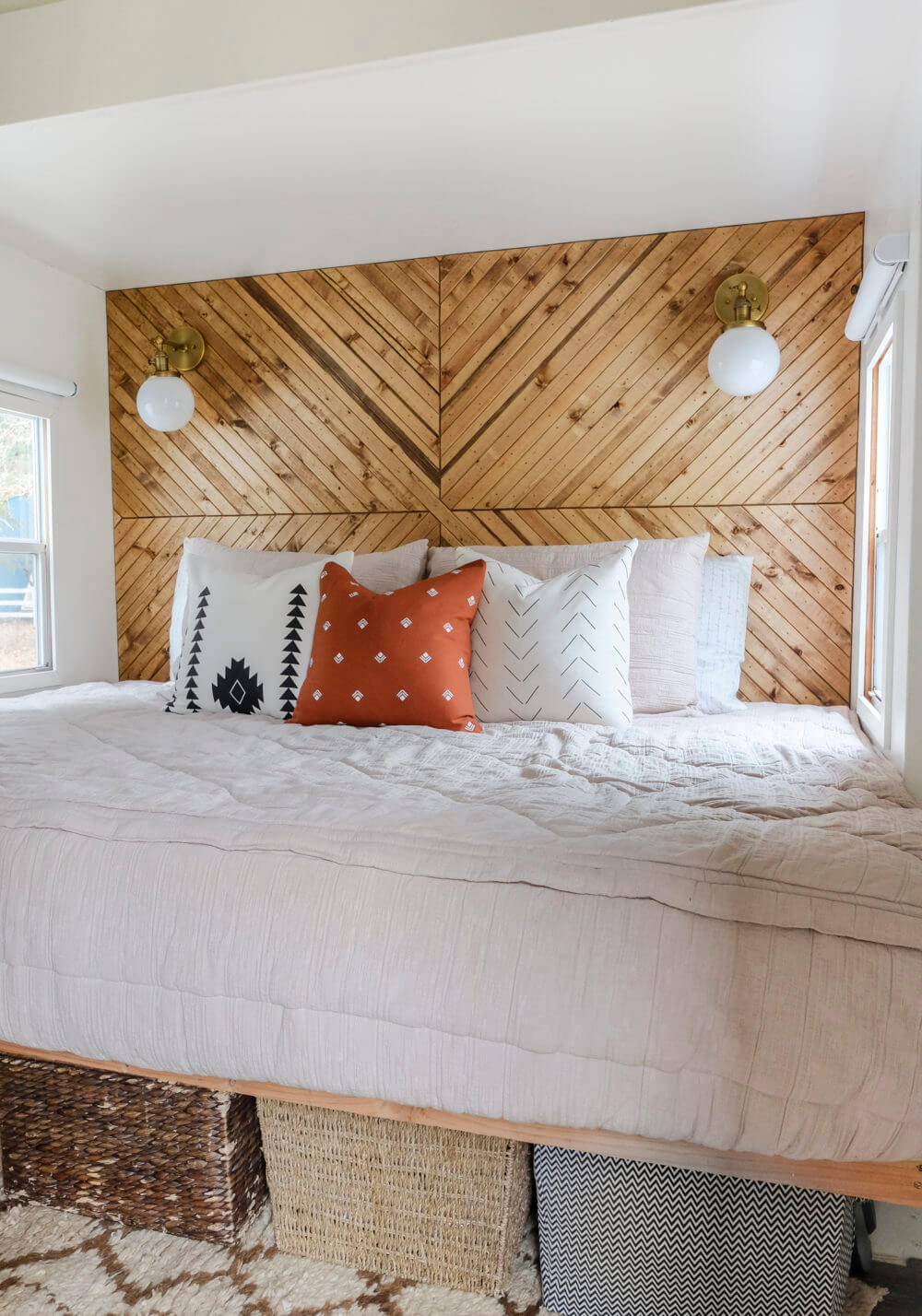 A wood accent wall can add instant character to a room. Whether you keep it raw or choose to paint or stain it, a wooden accent wall can bring tons of warmth and interest to any space. It's a modern design that fits nearly any décor style. Rather than just putting up wooden slats horizontally as we've seen previously, opt for a non-traditional approach by applying the wood with a geometric design like this herringbone layout. This room has such a cozy, bohemian vibe that makes you just want to jump in bed and stay in for the rest of the day.
16. A Cozy Bohemian Pop of Green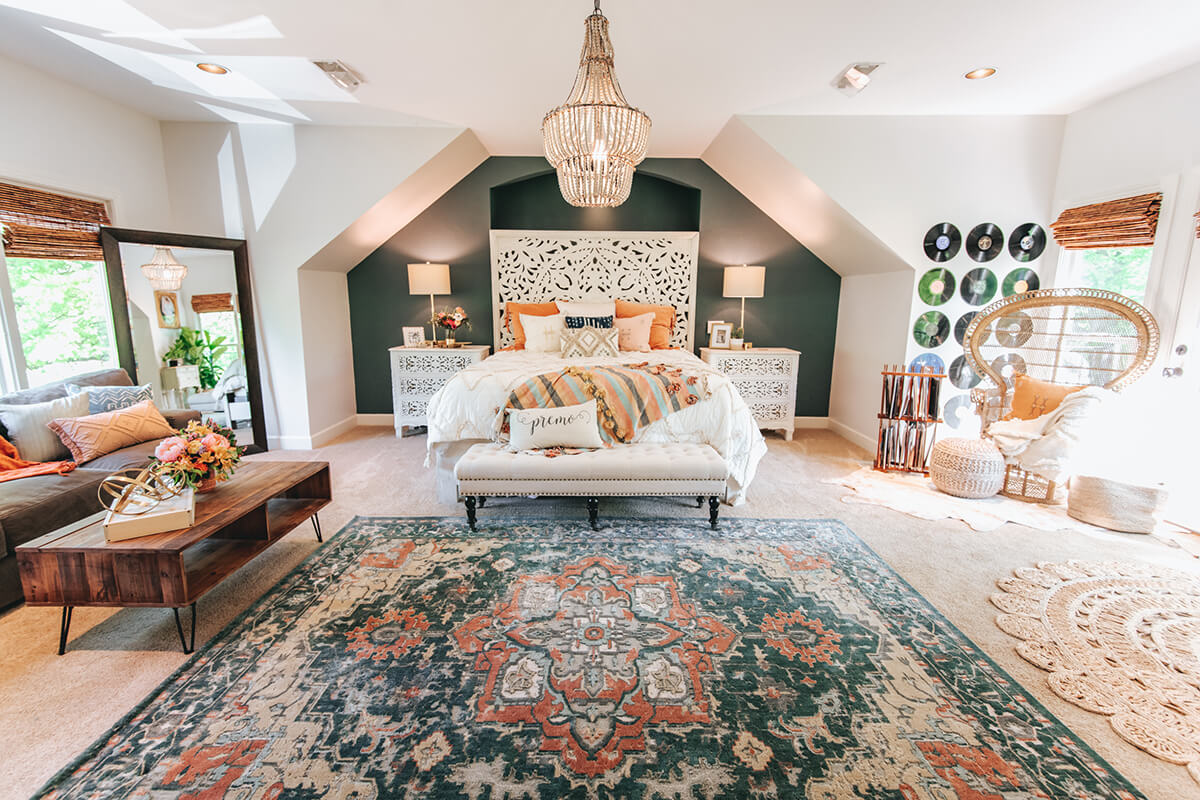 This dark blue grey wall totally looks green, but looks incredible in this master suite. This bold color is usually found on an exterior front door, but is very impressive in this bohemian-inspired bedroom. Depending on the light, this color can appear grey, blue or even green. It complements the existing décor in this room so well and really brings out the green in the rug. This is such a cozy room that looks so warm and inviting. The accent wall really adds such a bold statement and fits perfectly with the existing aesthetics.
17. A Whimsical Hot Air Balloon Wall Mural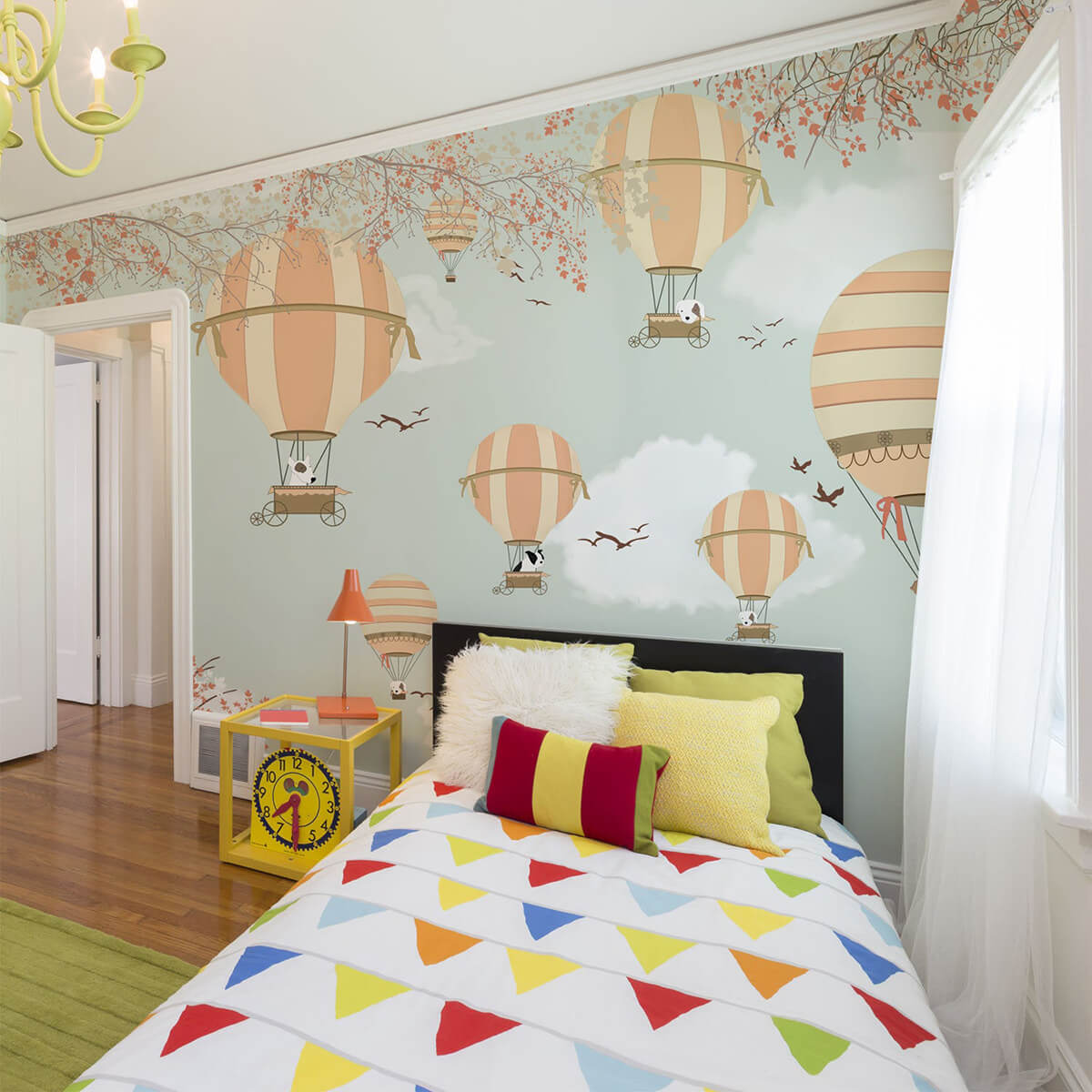 If you're looking for a simple way to showcase a mural on the wall without having to hire an artist or paint it yourself, this beautiful eco ink removable wallpaper is perfect! This self-adhesive wallpaper can be reused and repositioned and is made from non-toxic, water based and eco-friendly ink. It's very durable and will not wrinkle. This gorgeous design features pastel hot air balloons with a dog inside each one floating in the clouds next to the trees and birds. It's such a beautiful nature scene that adds a playful touch making it the perfect accent wall to any child's bedroom.
18. Zodiac Constellation Wall Decal Accent Wall Design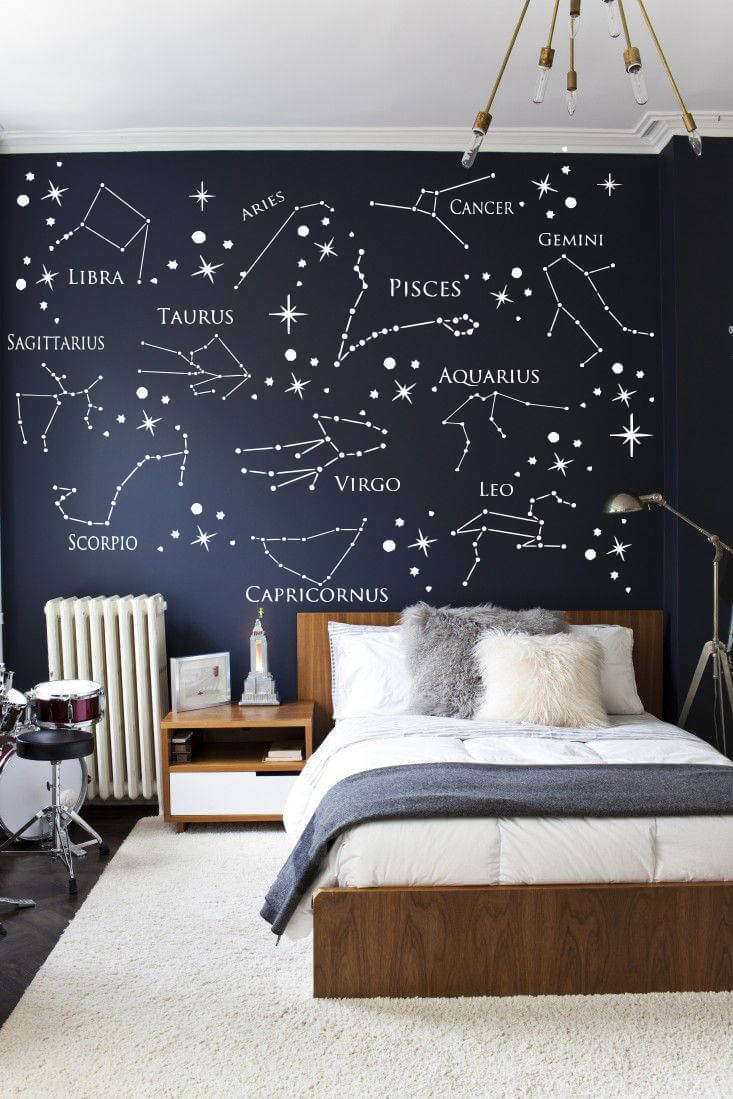 This stunning Zodiac constellation wall decal features individual adhesives that can be applied to an accent wall in the room you're updating. If the walls are black, this white constellation piece will look like the starry night sky with a pop of white. These decals are not meant to be removed and reapplied like vinyl wallpaper. This handmade wall decal is affixed to a wall for decorative purposes and is a great way to express an individual's personality. This would look so great in a teen boy's bedroom who has a love for space and all things constellations.
19. Beautiful Watercolor Peel-and-Stick Wallpaper for Bedroom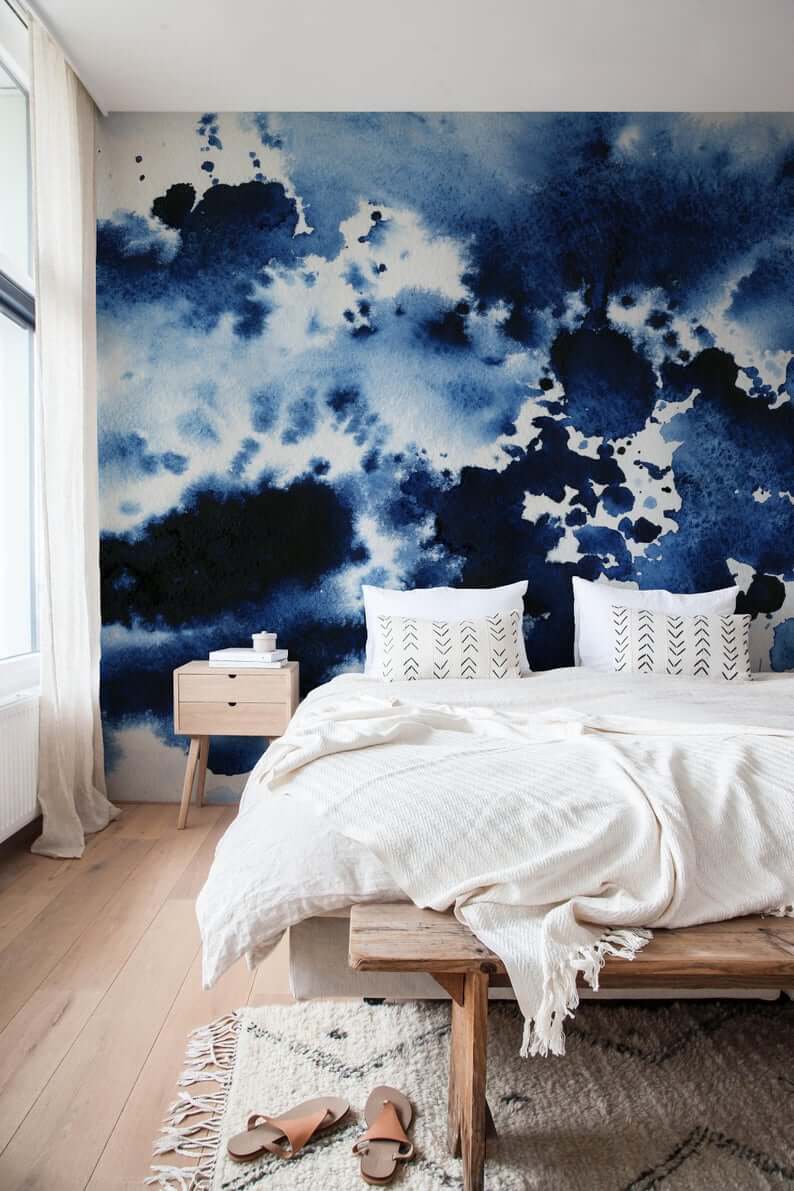 This elegant wallpaper is simply stunning! This handmade vinyl peel and stick wallpaper features various shades of blue and white printed to look like a watercolor mural. The wallpaper can be used on any surface whether it's wood, drywall, glass or even concrete. This design was handcrafted by artists and graphic designers for a unique accent wall that will make your room shine. Choose your sizing, personalize it with custom colors if you'd like and you have your very own stunning watercolor wallpaper for your accent wall. The wallpaper itself has a smooth, soft matte finish and is made from high quality soft PVC removable wallpaper made in the USA.
20. Modern Black Triangle Decals to Accent Your Wall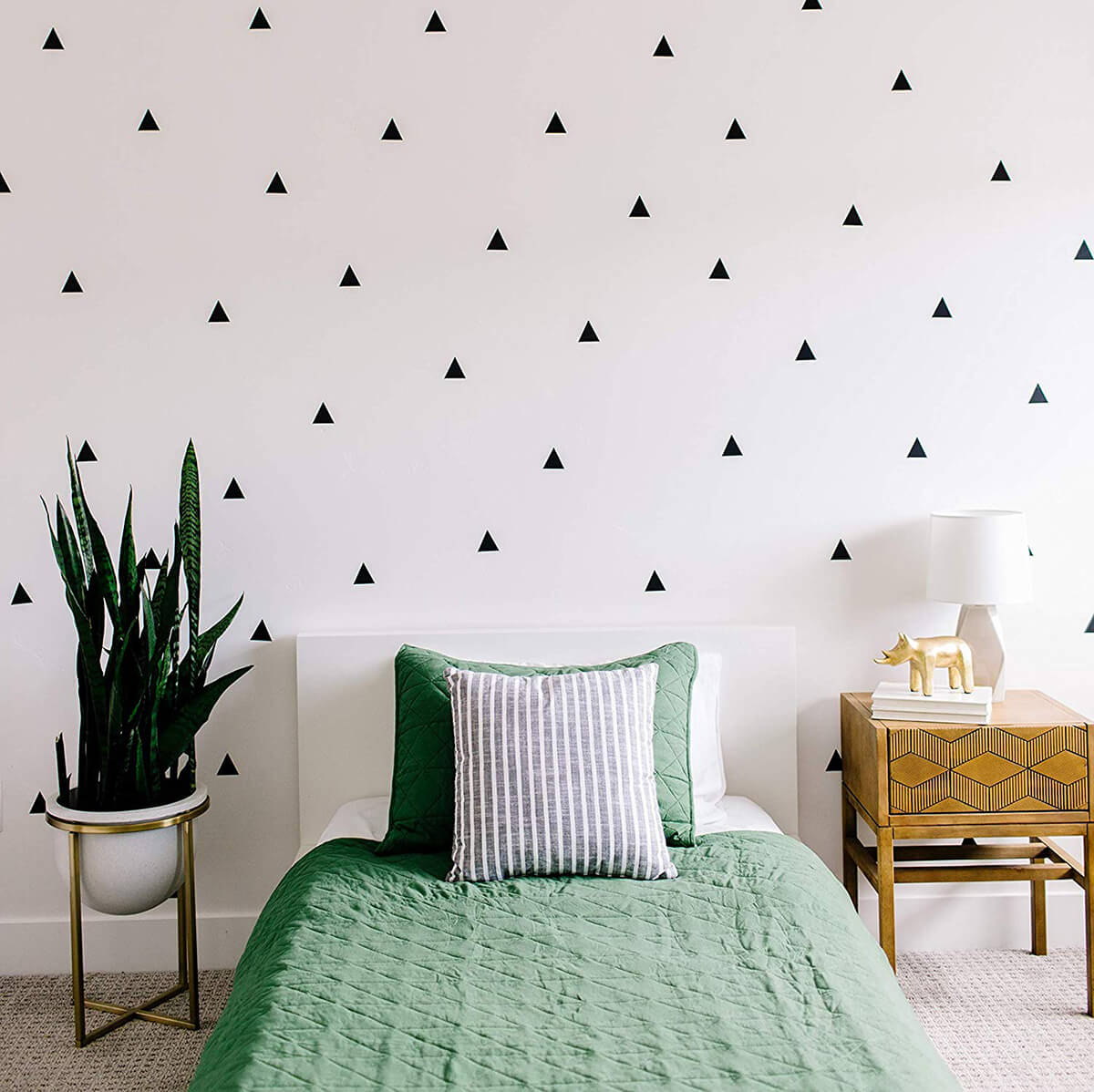 Looking for a subtle accent wall that doesn't involve paint or wood? These modern wall art decals feature black triangles that compliment any room of the home. They're perfect for themed parties, special occasions and especially great if you're renting a home or apartment and painting an entire wall is off limits. This minimalist design is made from premium quality and is priced very affordably. These little wall stickers are easy to apply, reposition and won't damage your walls which is a huge plus! This listing includes 80 matte black triangles that will look fabulous as an accent wall in your modern bedroom.
21. Tropical Oasis Bedroom Accent Wall Design Ideas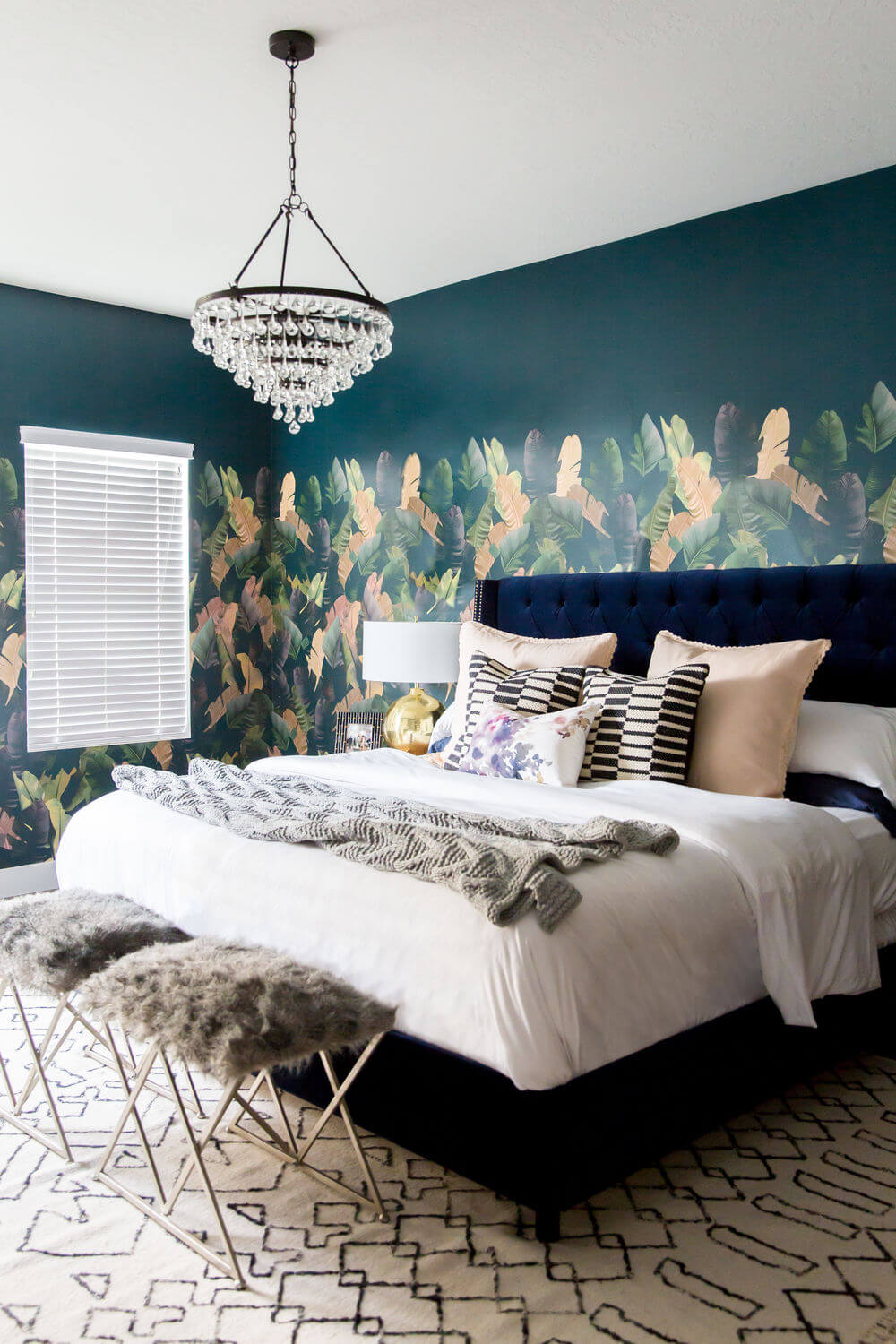 An accent wall doesn't have to be just one wall. This gorgeous tropical oasis accent wall is featured on all sides and looks incredibly stunning. It features a bold solid green trim with a beautiful array of tropical leaf prints in coordinating colors underneath. The tropical leaves are in various colors such as dark purple, dark green, yellow and subtle shades of pink. It's a stunning mural that fits any existing bedroom décor style. Your bedroom should be a way to relax and unwind, and when you walk into this bedroom, you instantly feel as calm as if you're in your own little paradise.
22. Palm Leaf Wall Stencil for a Touch of Tranquility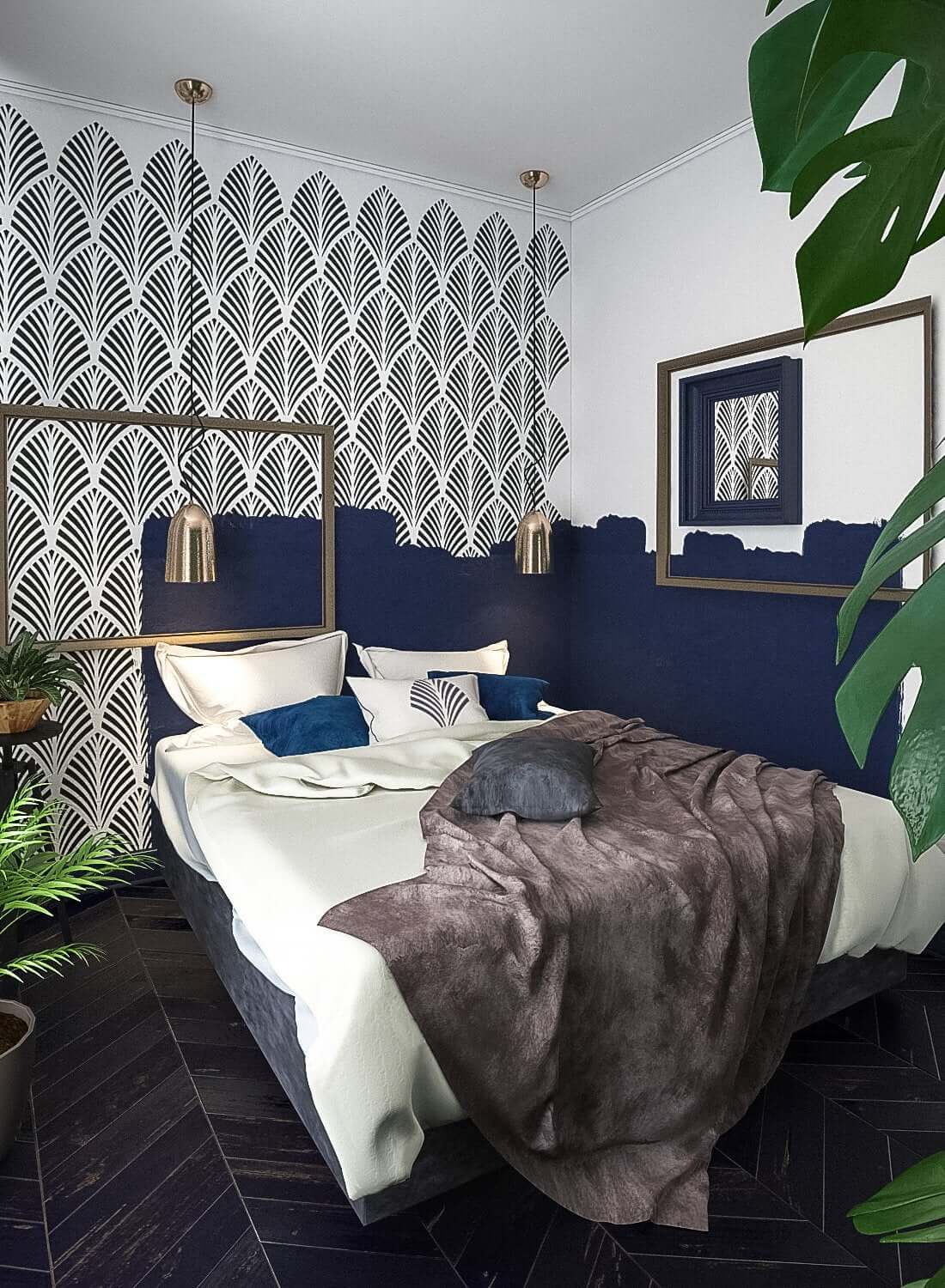 Pattern wall stencils can transform the interior of your home to look more saturated and exiting. This palm leaf stencil adds a touch of romance and tranquility to your space. These stencils are available in small, medium and large sizes and can be reused again and again. Each stencil is cut to order with materials made in the USA and is easy to install and paint over. They can be applied to both smooth and textured surfaces and are made from a non-adhesive strong Mylar stencil material. Instructions are included with this listing so you can easily achieve a stunning palm leaf accent wall for your tranquil master suite.
22 Creative Bedroom Accent Wall Design Ideas to Spruce Up Your Space
No matter what your budget is, you can transform your bedroom into a show stopping accent wall using a variety of products and materials. Paint, tile, wood and even tape are great ways to add color, texture or both to your bedroom space. Since you'll be decorating just one wall, you can add even more style and personality to your space without making it feel too busy or overwhelming.
Accent walls can truly change the overall vibe in your home. If the idea of brightly painted walls or patterned wallpaper all throughout your home scares you, then having an accent wall might be the best opportunity to have all those beautiful features in your home without going overboard. There's no need to go all out and deck all four walls of a room to add style and personality to your space. A simple accent wall looks super chic and is an inexpensive update that can completely change the look and style of your bedroom. Now that you have an idea of some of the top trending bedroom accent wall design ideas you can start your new project and anxiously await the gorgeous outcome. Soon, you'll want to add an accent wall to every room of your home!
Choose Rustic Wall Decor Ideas to Make Your Home Warm and Inviting