If your bedroom is in need of a little TLC, you should consider these best bedroom ceiling lights before doing a total overhaul. Redecorating and remodeling can be expensive and time consuming, and sometimes it doesn't turn out the way you expect. One great way to significantly change the look and feel of your bedroom without the huge costs is to update your lighting. This can add or reduce the light in a room, which makes the paint look a whole new color and gives the room a different feel.
28 Bedroom Ceiling Lights to Brighten Up Your Room in a Charming Way

Choosing new lighting fixtures can be so fun. The best bedroom ceiling lights are ones that can go with many different styles so that if eventually you do want to redo your room's décor, you won't necessarily have to change all the lights again. You want to choose an option that suits your overall style and aesthetic.
Some lights will easily move from one décor set to the next without making much of a statement, but if you are in the market for something more unique, you will need to pay more attention to how it will fit in with your decorating scheme. There are options on this list that fall into both categories, so the fun part — deciding what you want — is totally up to you!
Overall, no matter how much you want it to match this or that, remember that you are going to be seeing this light every day, so choose something you like to look at. It doesn't have to be special to everyone, but it should be special in some way to you. Have fun making the decision, and don't be afraid to go for something out there or to change your mind later. This is your home, and the rules are entirely set by you.
1. Simple and Dark Exposed Bulb Chandelier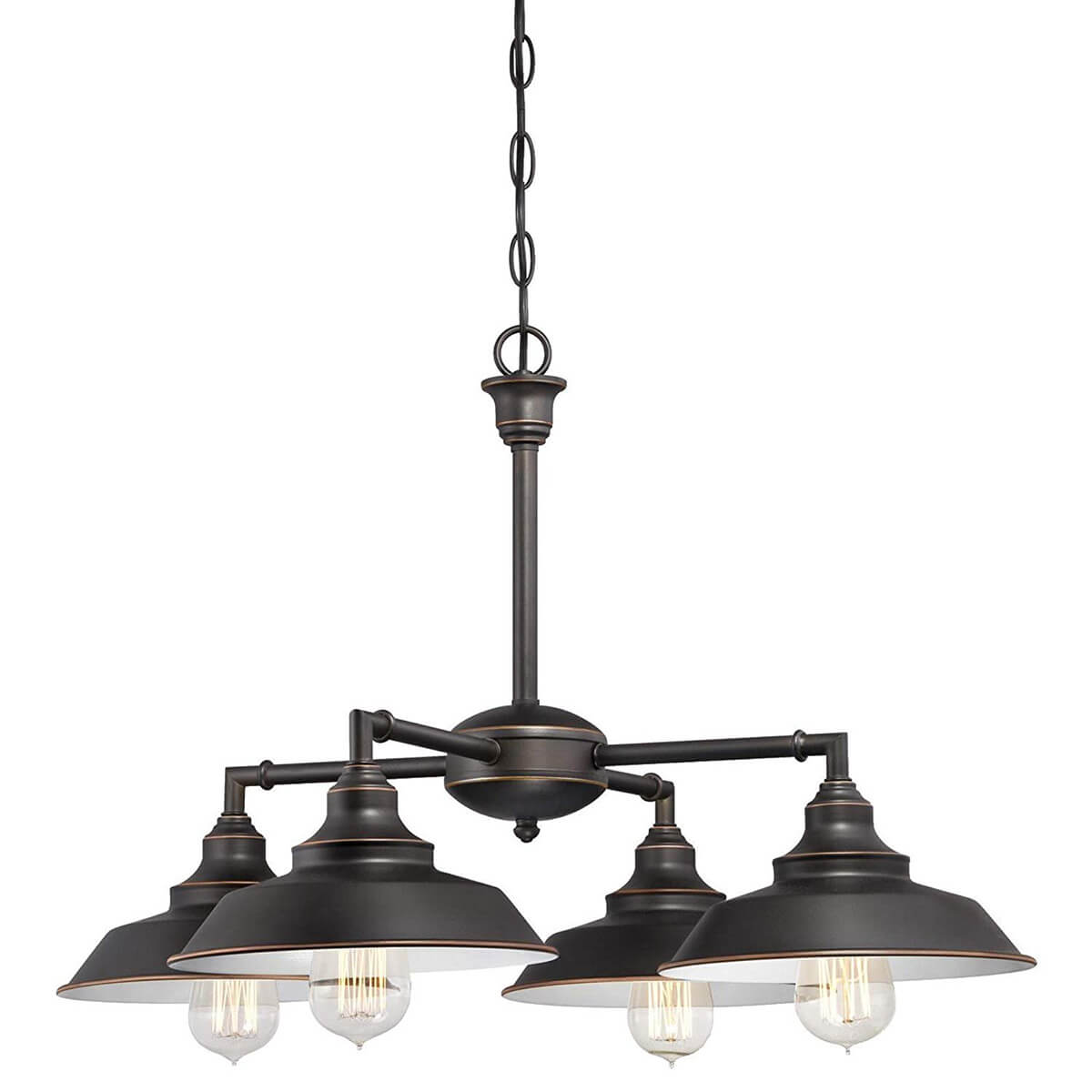 Chandeliers are some of the best bedroom ceiling lights because they add a little interest and drama to a space. This option does a good job of keeping that drama to a minimum with a simple and tasteful design that provides you with ample light for a whole room. The brushed edges give this piece a look that could go just as well with rustic chic as with classic blacks or browns. Just make sure you have the space to hang this from the ceiling before purchasing. Nobody wants to bump their head on a low-hanging chandelier all the time.
2. Clean and Classic Flat Light Fixtures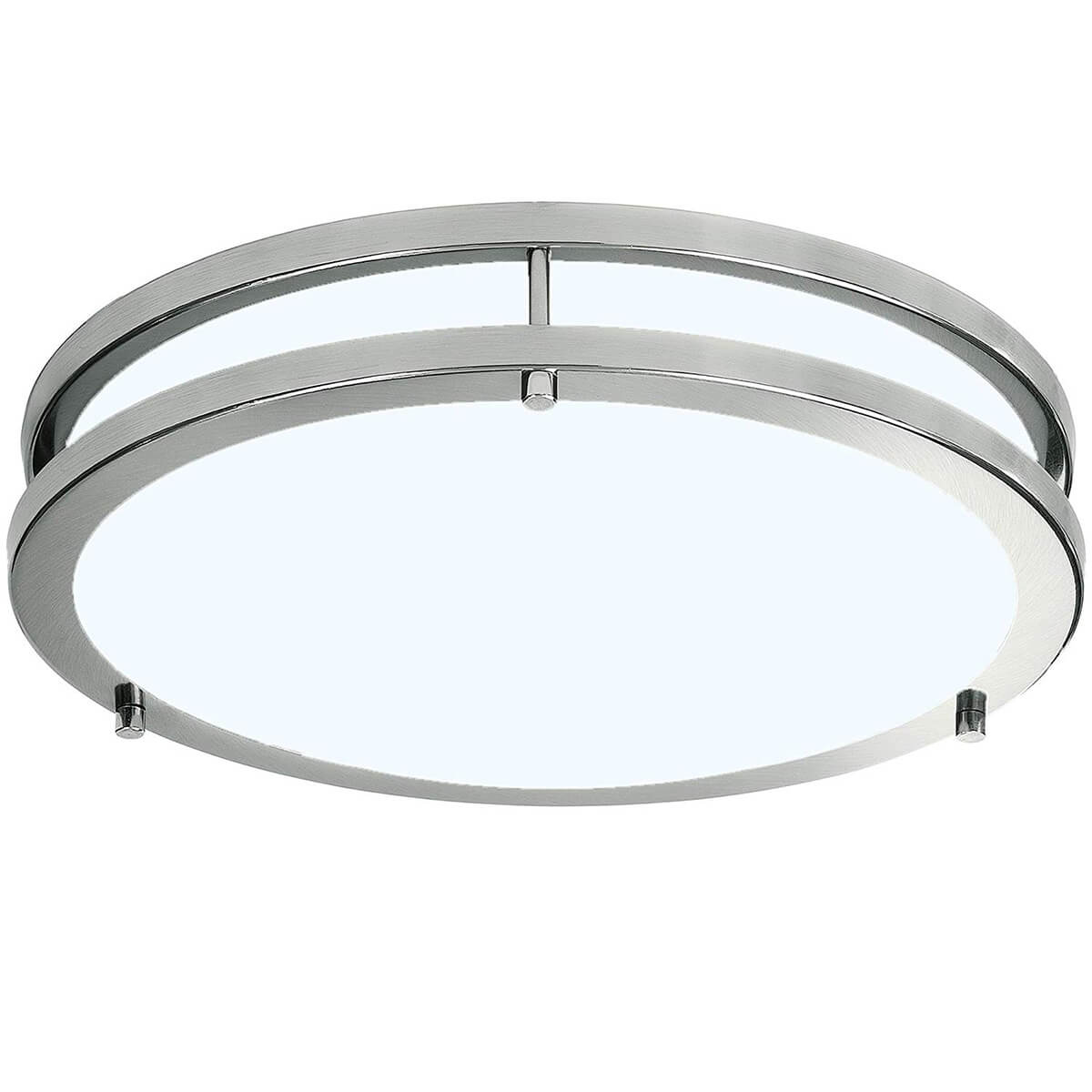 There is something very modern yet classic at the same time about these ceiling lights. Everything is enclosed so you can't see any exposed bulbs, which will help to keep the lighting soft but also makes replacing bulbs slightly trickier. This is a good option if you have multiple light fixtures and are looking for something chic and cohesive. They also would work well in the hall or master bathroom if you want to utilize them throughout the home. These may not go as well with a farmhouse aesthetic, but anything modern will be a great fit.
3. Pretty Paneled Hanging Lights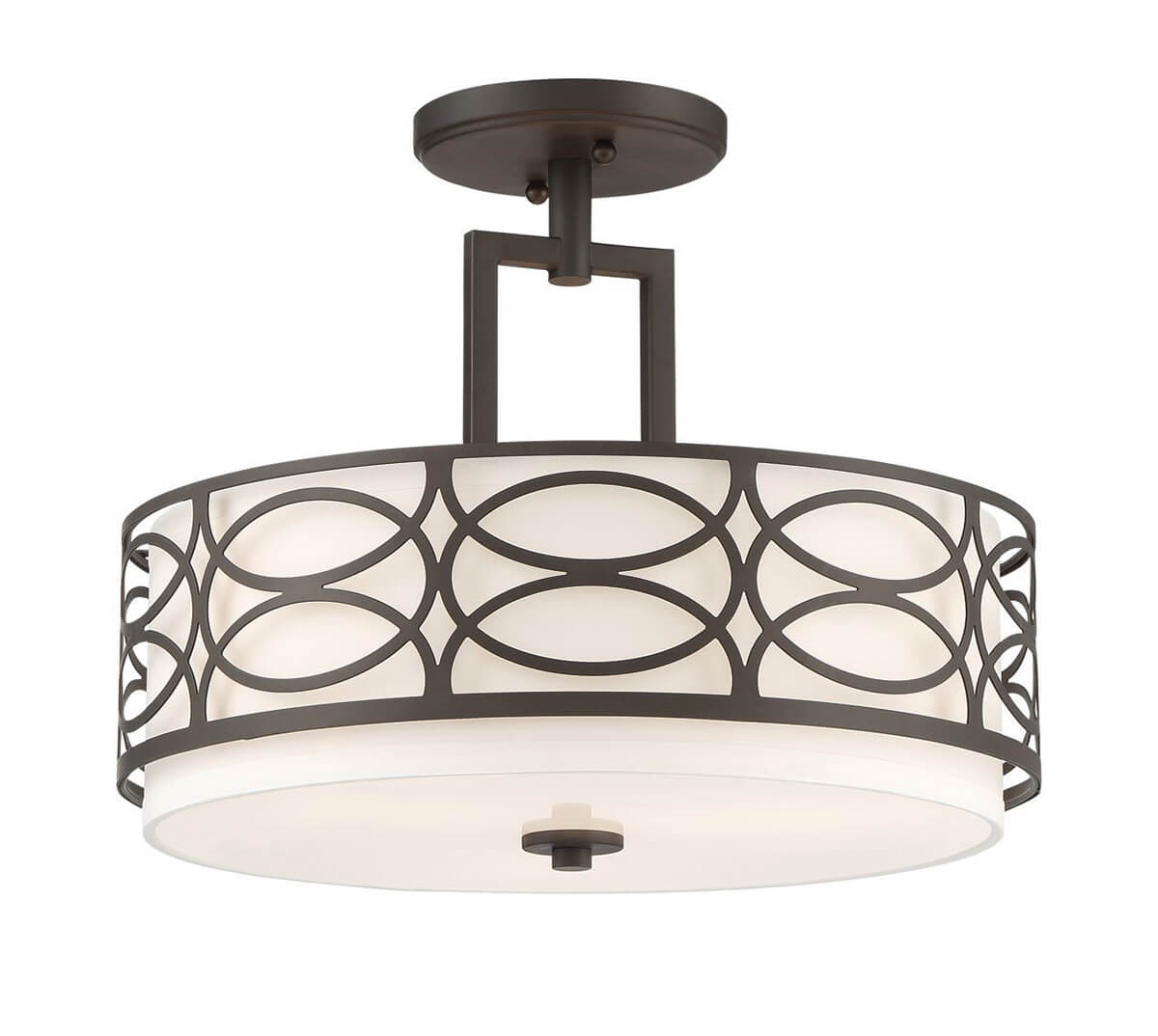 Hanging lights are great since they give you a little extra light by utilizing all the space around the bulb; however, when you can see wires, it can often hamper a look's design appeal. This hanging light perfectly hides all those unsightly wires for a beautiful finished look that would suit any classically styled room and pair very well with dark wood furniture or floors. This option would work well no matter how many lights you have in a room, as it is pretty enough to stand on its own but also small enough that it wouldn't be crazy to have more than one.
4. Frosted Multi-Bulb Ceiling Sconce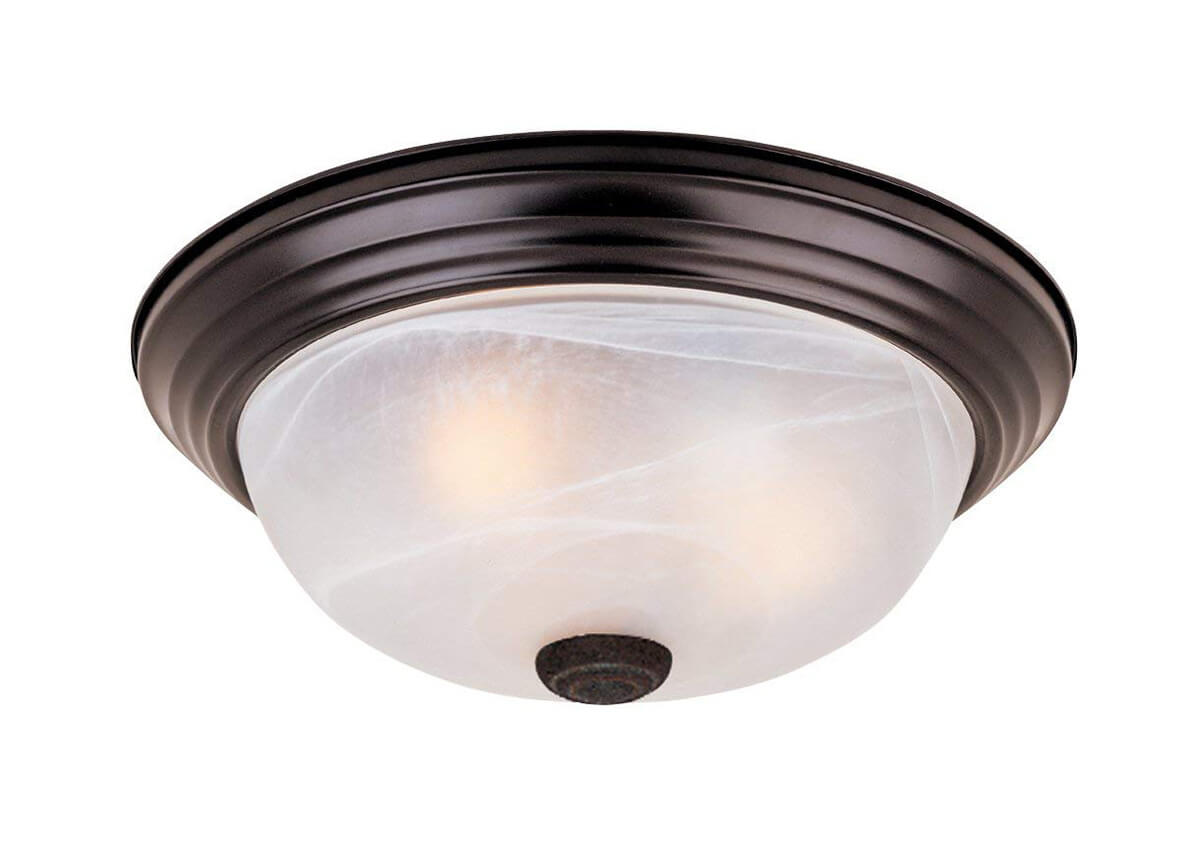 This is one of the most popular designs out there, and for good reason. It is simple and clean and goes well with nearly anything. The frosted glass provides a good barrier from the bulbs, giving it an element of design appeal. Apart from that, it is fairly plain and simple, which is perfect for most people's decorative needs. This is a great option if you want to be able to outfit your whole home with similar fixtures as it will work in any room, from kitchen to bath to nursery. Simple is often a good way to go.
5. Cool Silver Metal Modern Single-Bulb Fixture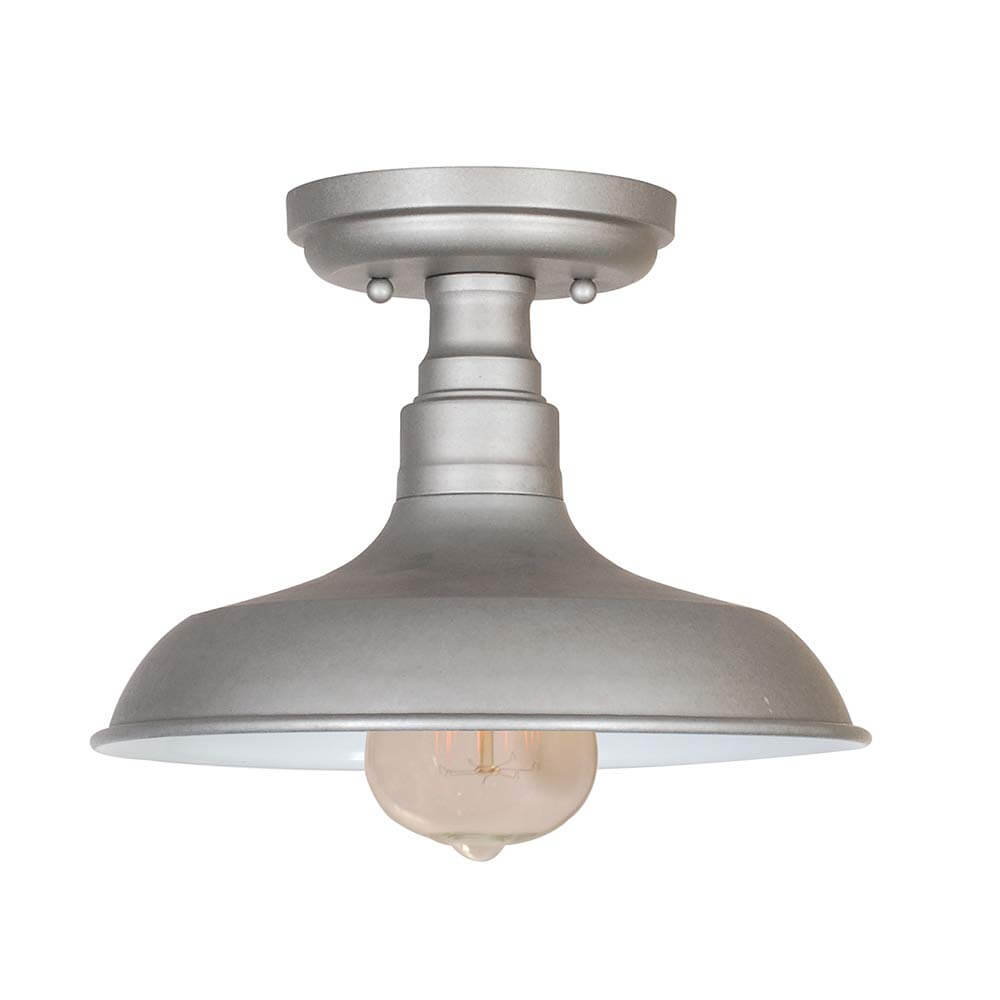 This sleek and modern fixture has a cool steel, industrial look that will go well with homes decorated in a modern style. Its minimalistic and simple nature make it a great choice when you don't want to make too much of a statement or when you have to put in multiples to cover many lights. Another cool feature of this option is that you can choose the bulbs that fit your look as well. With nothing covering them, you can add interest with cool Edison bulbs. This also makes it easier to get the exact lighting levels you want by selecting the bulbs with the intensity you prefer.
6. Cool Caged Five-Bulb Light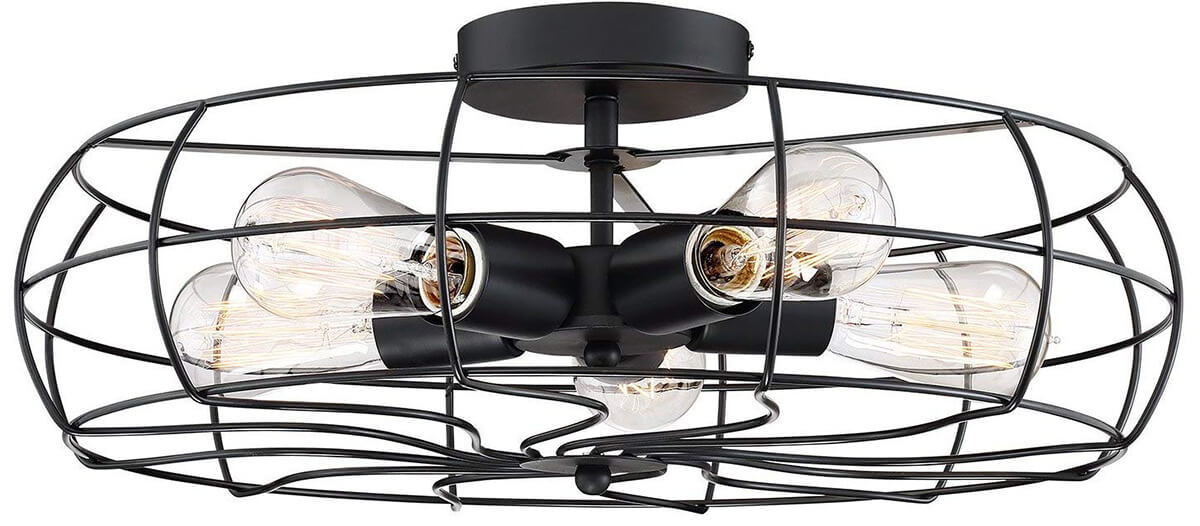 This cool light would look great in any room that utilizes modern or chic décor. It has a look that can go classic or industrial depending on what else is around it. The five bulbs provide ample light for most spaces, so you likely wouldn't need anything else. Since there is no cover, this is a good option to add a dimmer to in case you want to be able to soften or brighten your lights whenever you choose. The dark coloring goes great with black furniture or could work with a more eclectically styled room.
7. Single Cool and Hip Caged Bulb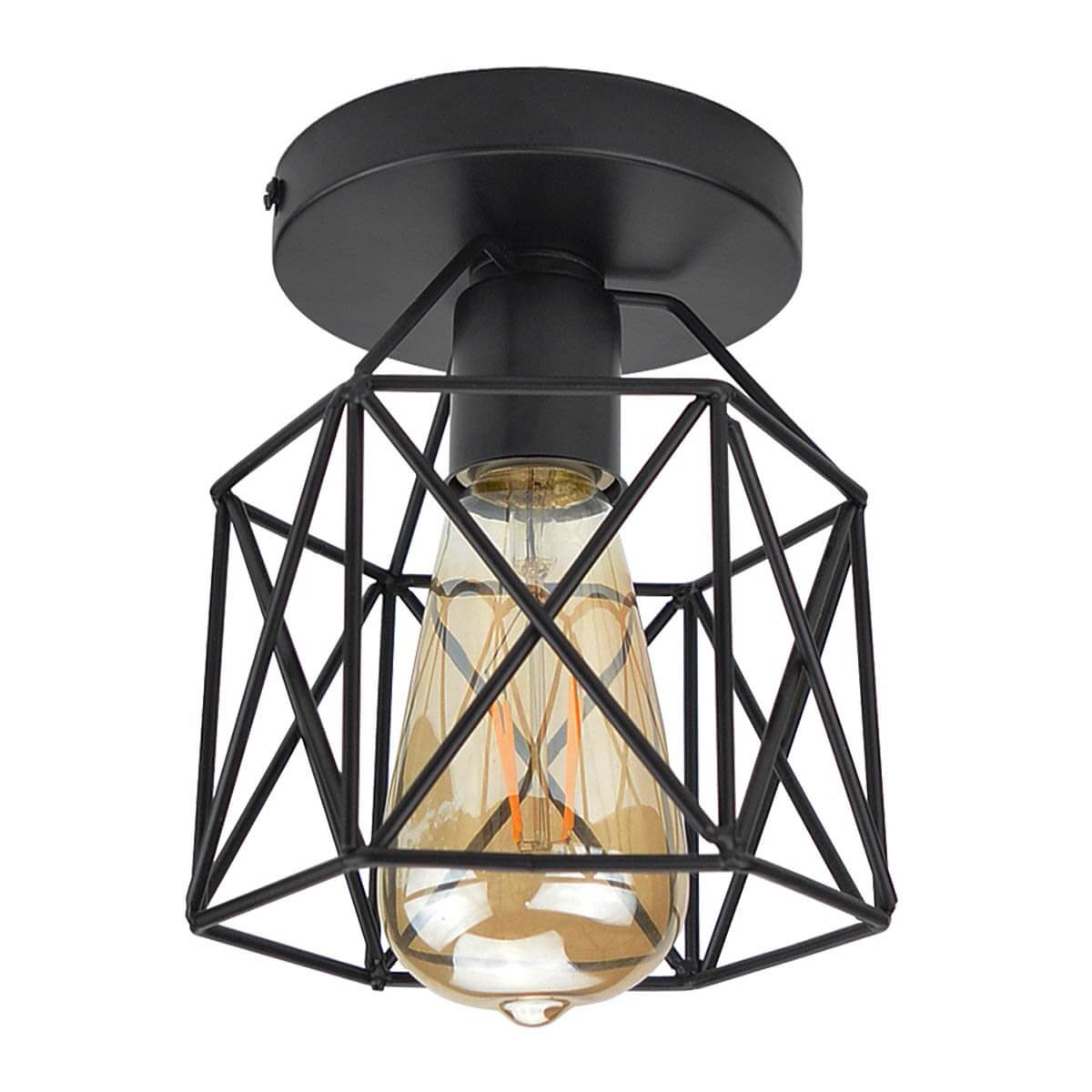 Exposed bulbs are currently popular, and that is because there are so many cool looking bulbs out there to choose from. This light offers a cool cage that houses an even cooler light bulb. You will probably want multiples of these to brighten a whole room, making it a good idea to buy these cool but sometimes expensive bulbs in bulk. This look would go great in a room that features some classic elements or even one that has a more outdoorsy or rustic vibe. Pick a bulb that sets the right sort of lighting for the atmosphere you desire.
8. Pretty and Crystal Clear Two-Light Fixture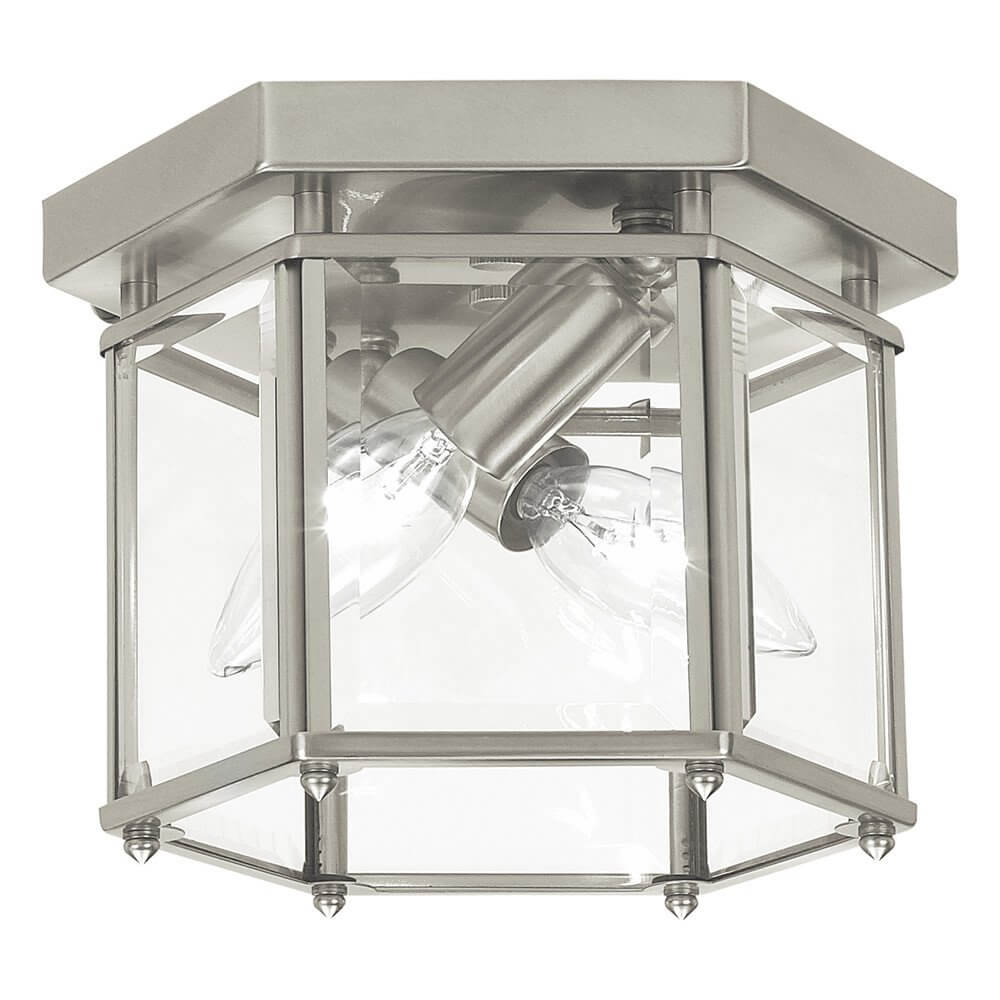 There is something almost romantic about this fixture. The candle-like shape of the bulbs gives it a classic and delicate look, and the glass container gives you the sense that it is holding something special. The silver casing keeps the look modern while the beveled edges of the glass soften it so it doesn't appear too harsh. This fixture would look great in a room that is decorated in lighter colors or that has a romantic or gentle vibe. Pair it with bright white bulbs for a stunning burst of clean and fresh lighting or put in golden bulbs for a more relaxed feel.
9. Hip Single Hanging Exposed Bulb Chandelier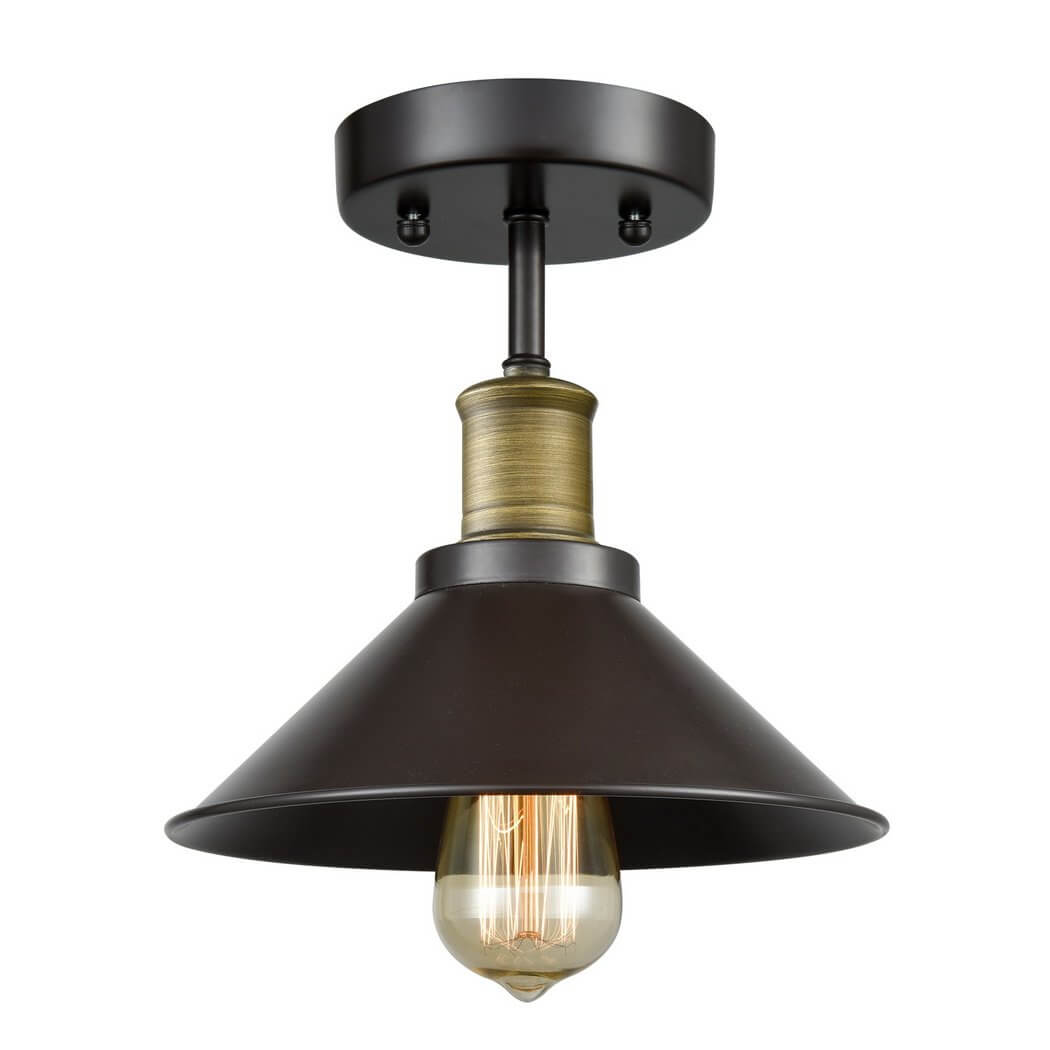 This unit hangs down slightly from the ceiling, giving it just a bit more personality than if it were flush with the ceiling. The awesome weathered-looking gold divider between the rod and the shade adds some flair while the exposed bulb gives it a hip and current look. The shade provides a fun skirt over the bulb to help reflect its light downward while keeping the socket covered. With this option, you will want to choose a super cool bulb that you don't mind being seen. This style will pair nicely with a few others like it in one room.
10. Whimsical and Romantic Crystal Chandelier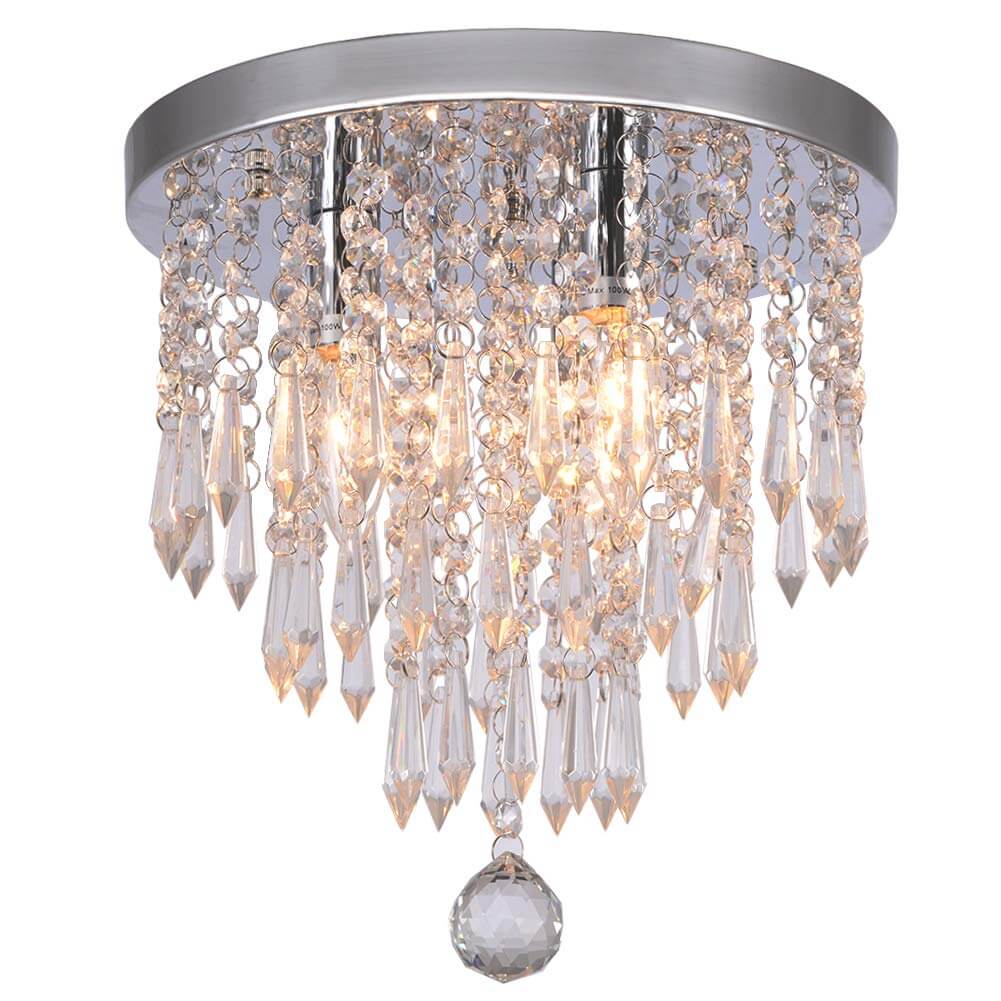 Everyone dreams of having a crystal chandelier someday, so why not get one now? This super romantic fixture will serve as a centerpiece in your bedroom, so be sure that you love it before purchasing. It will get a lot of attention from anyone who has the pleasure of seeing it. The crystals help to soften and reflect the light beautifully while also hiding the inner workings of the light. The single larger crystal hanging down will occasionally catch the light and create a beautiful effect. This is ideal for a classic and charming room.
11. Pull String White Orb Light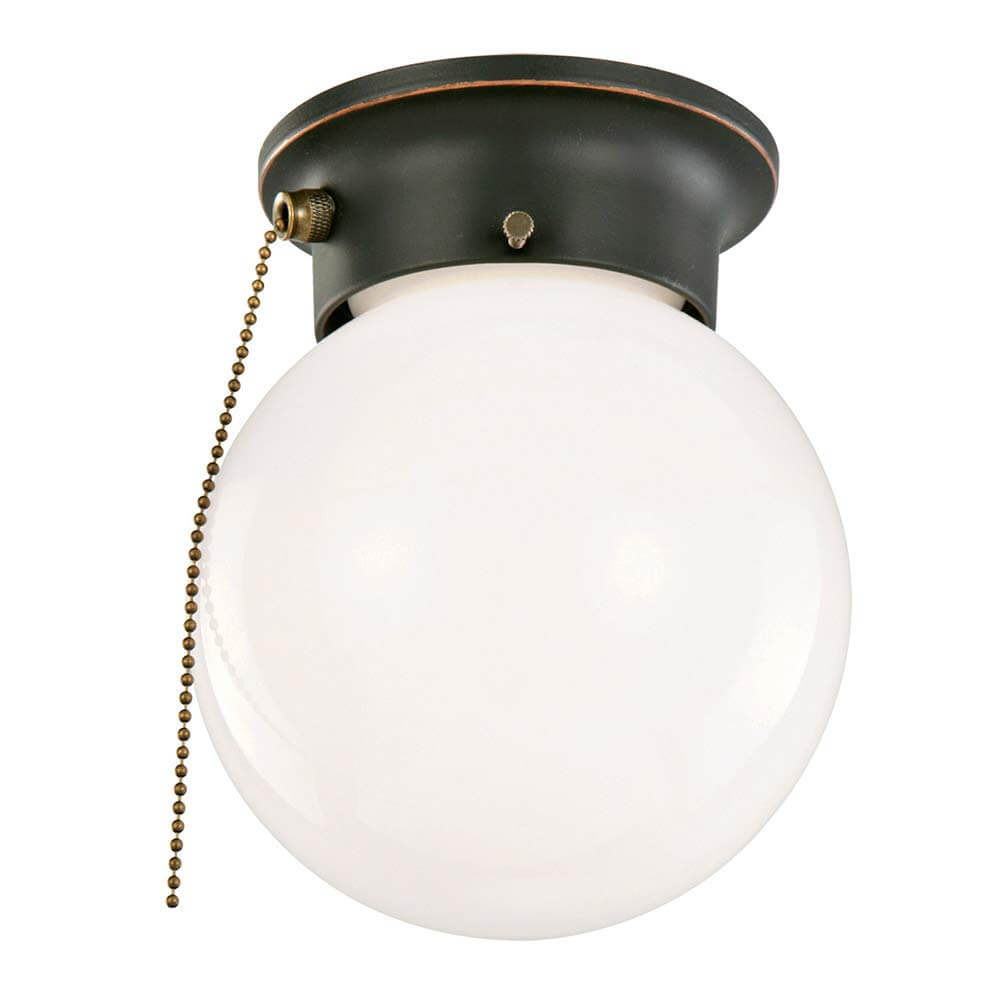 If you want a light fixture that will last through time and different décors, this is a superb choice. From below, it almost looks like just a white bulb, making it super versatile and easy to incorporate into any room. The pull string adds a touch of vintage, while the white casing keeps the light soft. This option works with everything form farmhouse chic to mid-century modern to classic. If you are having a hard time deciding, this one might be your best bet. Without frills or fuss, it is hard not to appreciate this simple and elegant design.
12. Nearly Flush Bright Circle Light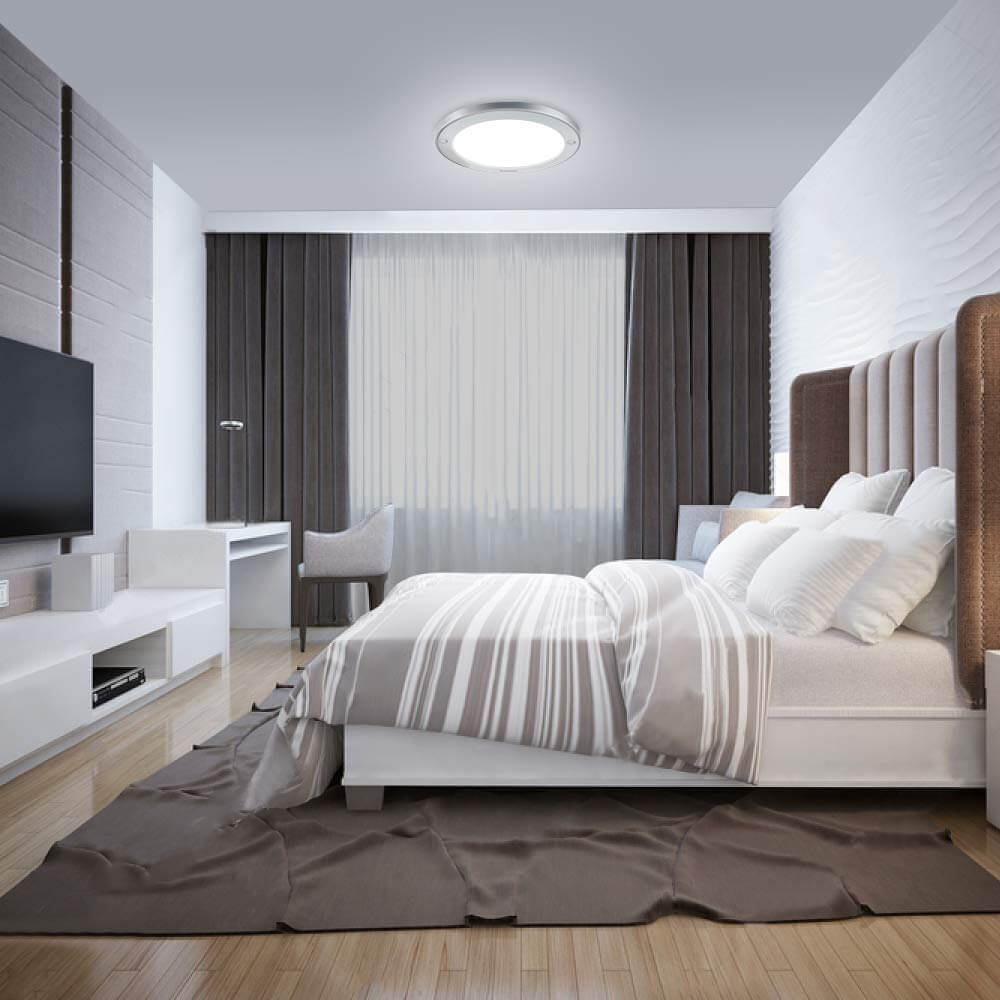 If you want something that does its job and doesn't get in the way, this option is one of the best bedroom ceiling lights. It is clean, simple, and nearly flush with the ceiling, making it a good choice for any room but in particular those that are a little short on space. The design allows the light to burst out throughout the whole room, containing the bulbs so that they are not exposed. Use this design with modern or classic décor. It can easily be paired with dark, light, or gray colors, so don't worry too much about that.
13. Gentle Linen Lamp Style Fixture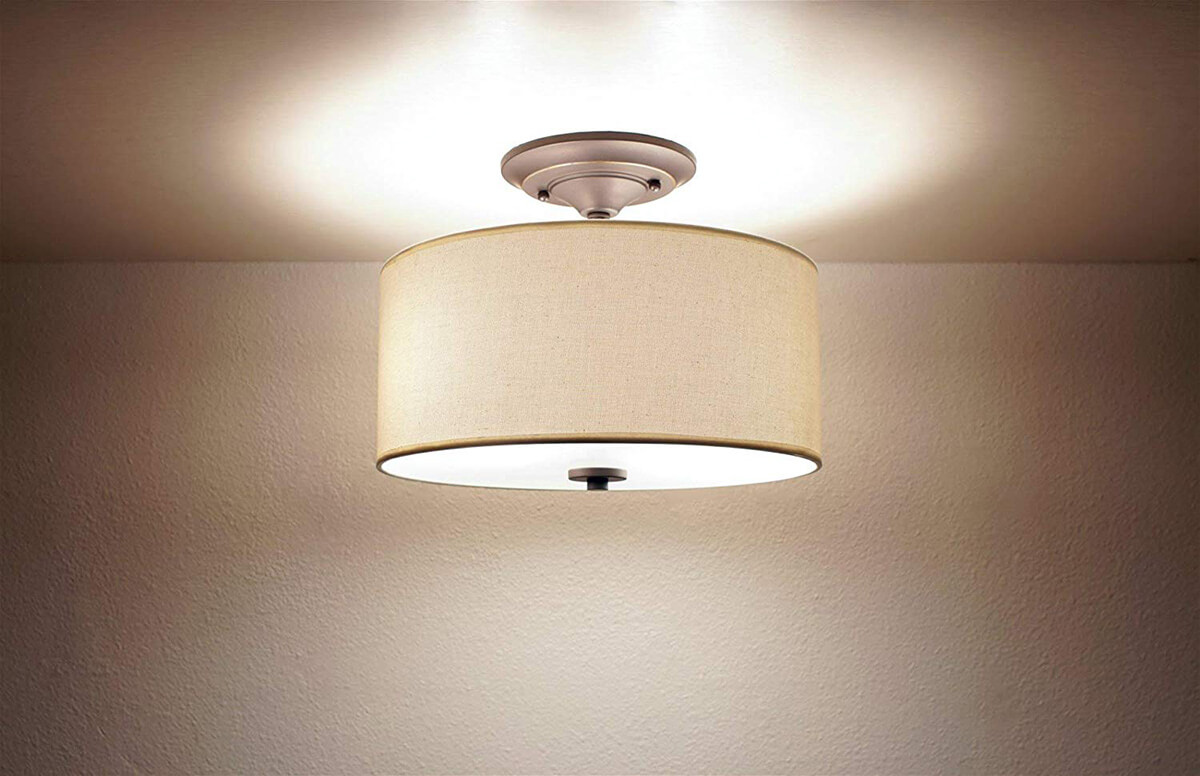 When looking for a light that is soft and has a gentle quality to it, you will often think of a lamp and shade. The fabric that covers a lampshade offers some light to escape while still muting the harshness of a plain bulb. This fixture takes that concept and applies it to a ceiling light. The covered bottom ensures that lots of light escapes, but in such a way that you can't see the bulbs within, while the linen shade lets out just the right amount of lighting for a bedroom. This is a good choice for a classic look.
14. Nearly Flat Black and White Look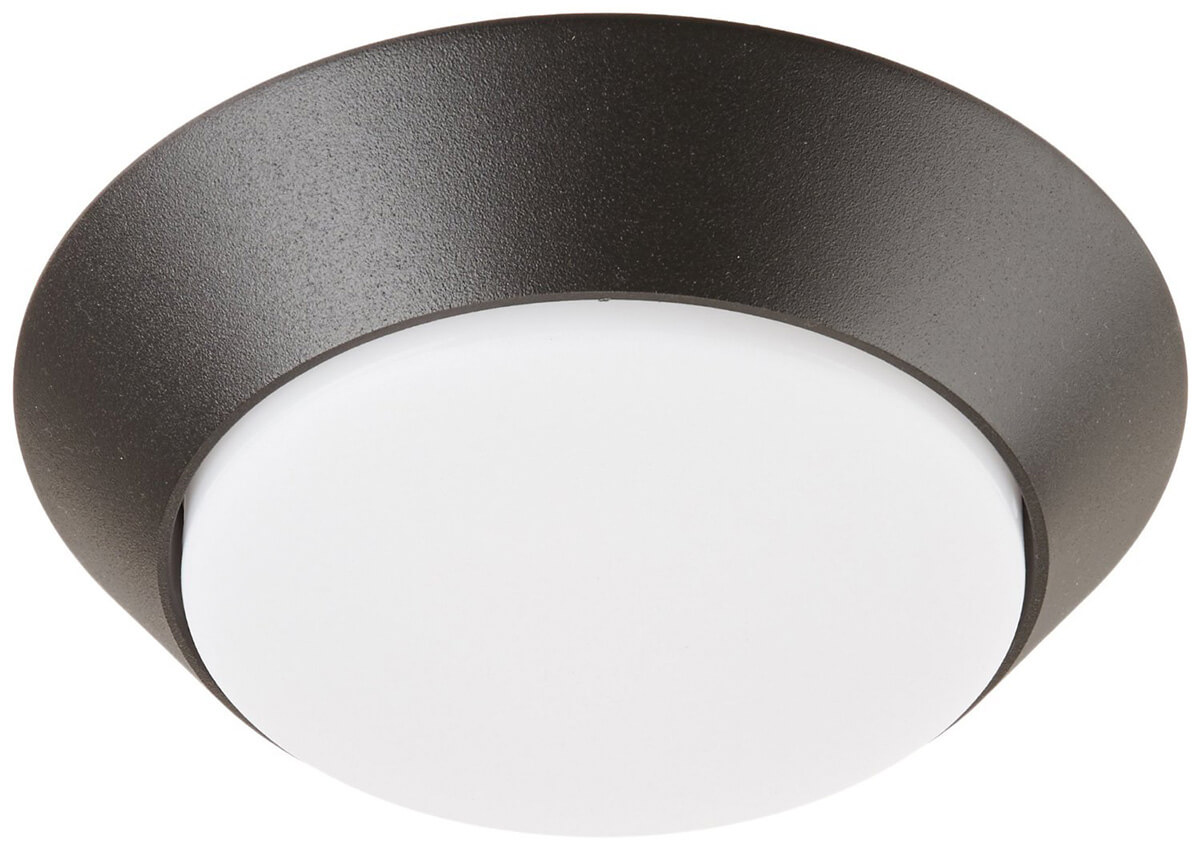 This light fixture sits nearly flush with the ceiling and has a cool wide band around the outer edge to add a bit of style to this simple piece. The black edge really sets off the light and makes it stand out from a typical white ceiling. This makes this otherwise simple design stand out a bit, which is a fantastic way to create interest and some variance to your bedroom. Choose these if you want something that is versatile and can go well with nearly any set of modern furniture.
15. Functional and Straightforward Frosted Glass Fixture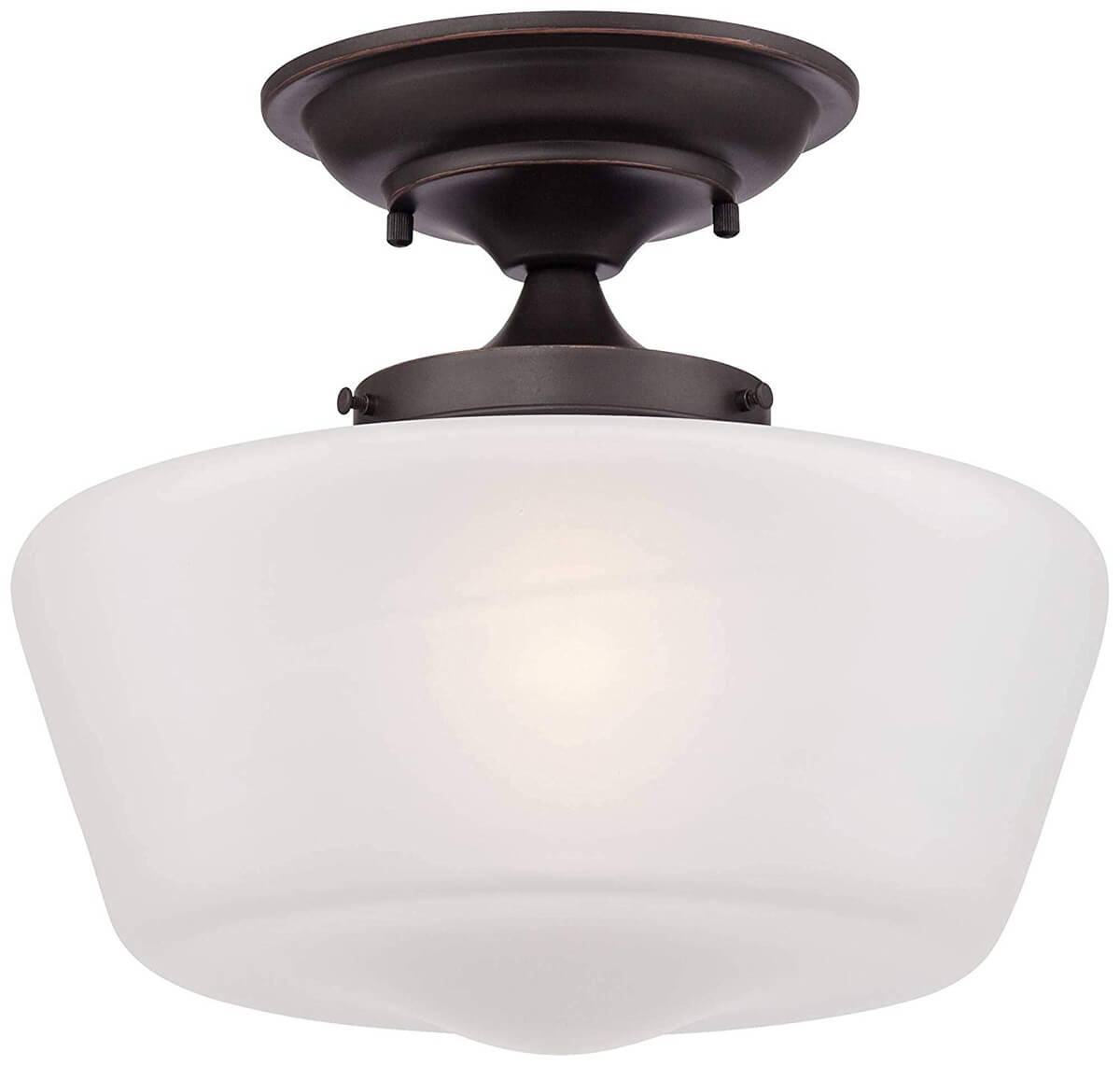 Let's be honest: You don't always want to draw that much attention to your light fixtures. There may be other elements in the room — perhaps your cheetah hide bed spread, or maybe your softball city league trophy — that you want stealing the show. If you just need a good functional light that will do its job dutifully, faithfully, and professionally, this applicant should be your new hire. With a simple wide shape and an unembellished frosted finish, this fixture will shine in all the right ways, casting light on the rest of the room rather than drawing attention to itself. Place in a modern or minimalist home for best effect.
16. Round Atom-Style Single Bulb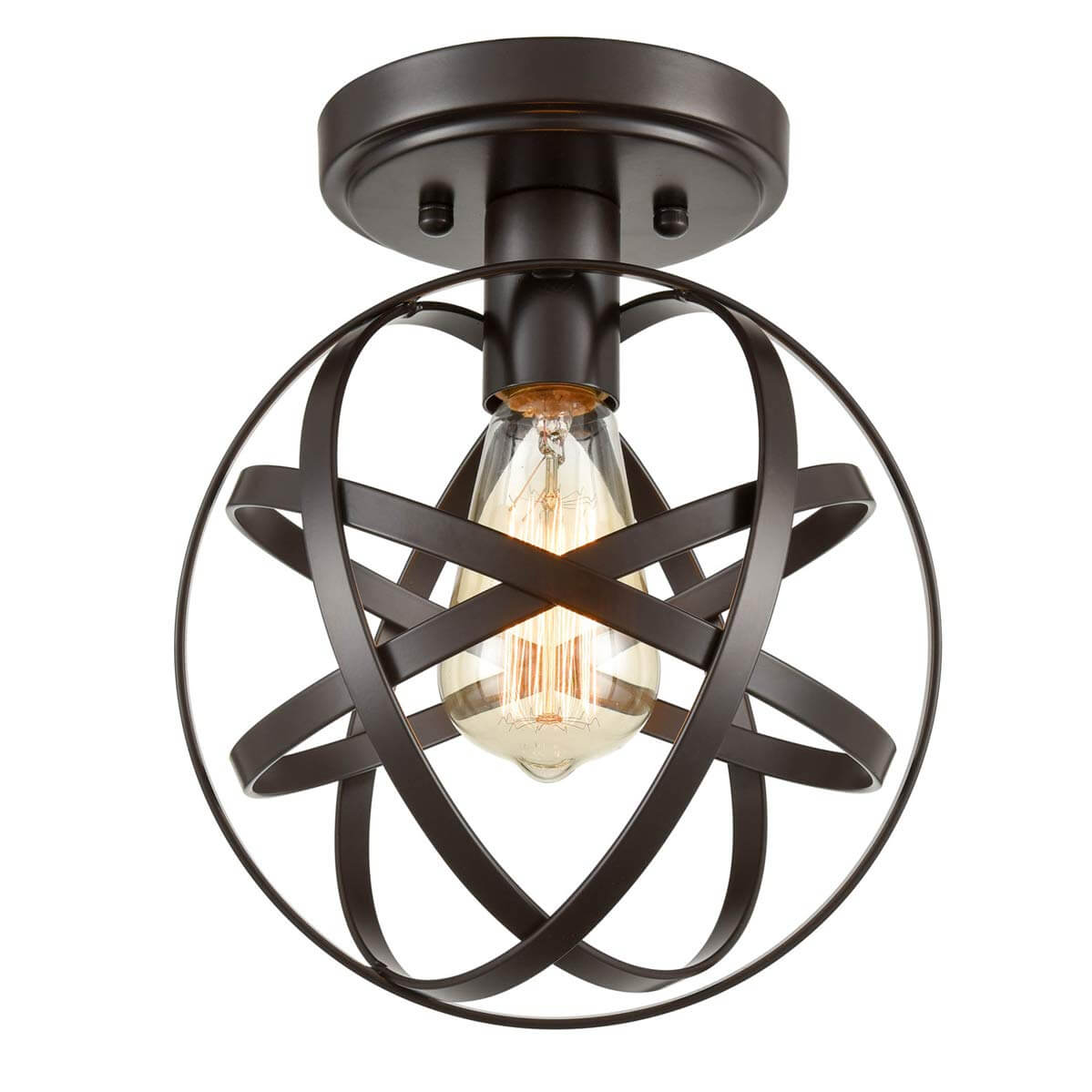 This light fixture has the classic charm and colors of modern chic décor with the scientific vibe of something more unique. The five circles that encase this Edison bulb create a beautiful design that is reminiscent of an atom. One circle takes on the job of surrounding the whole piece, giving it a sense of completion and unity. The others feel almost random and free in their circles and somehow give this fixture an element of movement while remaining still. Have fun pairing this with many designs. It is one of the best bedroom ceiling lights.
17. Beautiful Retro Tiffany-Style Ceiling Light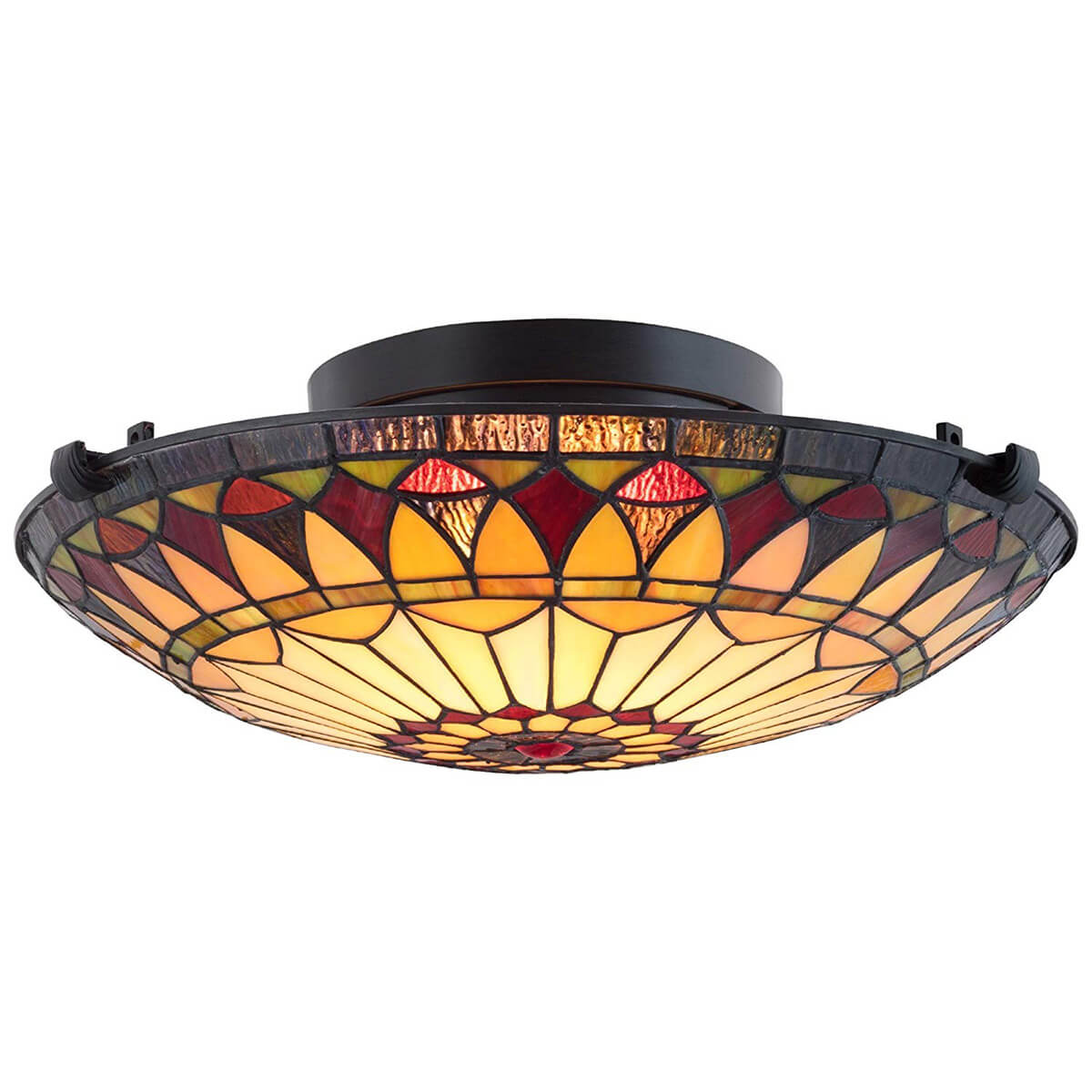 As far as light fixtures go, it doesn't get much more classic nor more beautiful than the Tiffany style. The chic and clean lines work so well with the textured and smooth colored glass to make for beautiful designs that catch and distribute the light perfectly. This totally classic light fixture has a romantic vibe and would work well in a room with elegant and simple furniture. If you are doing a redesign, getting this light first and basing your color scheme off of its colors is a good option.
18. Gentle and Modern Artistic Design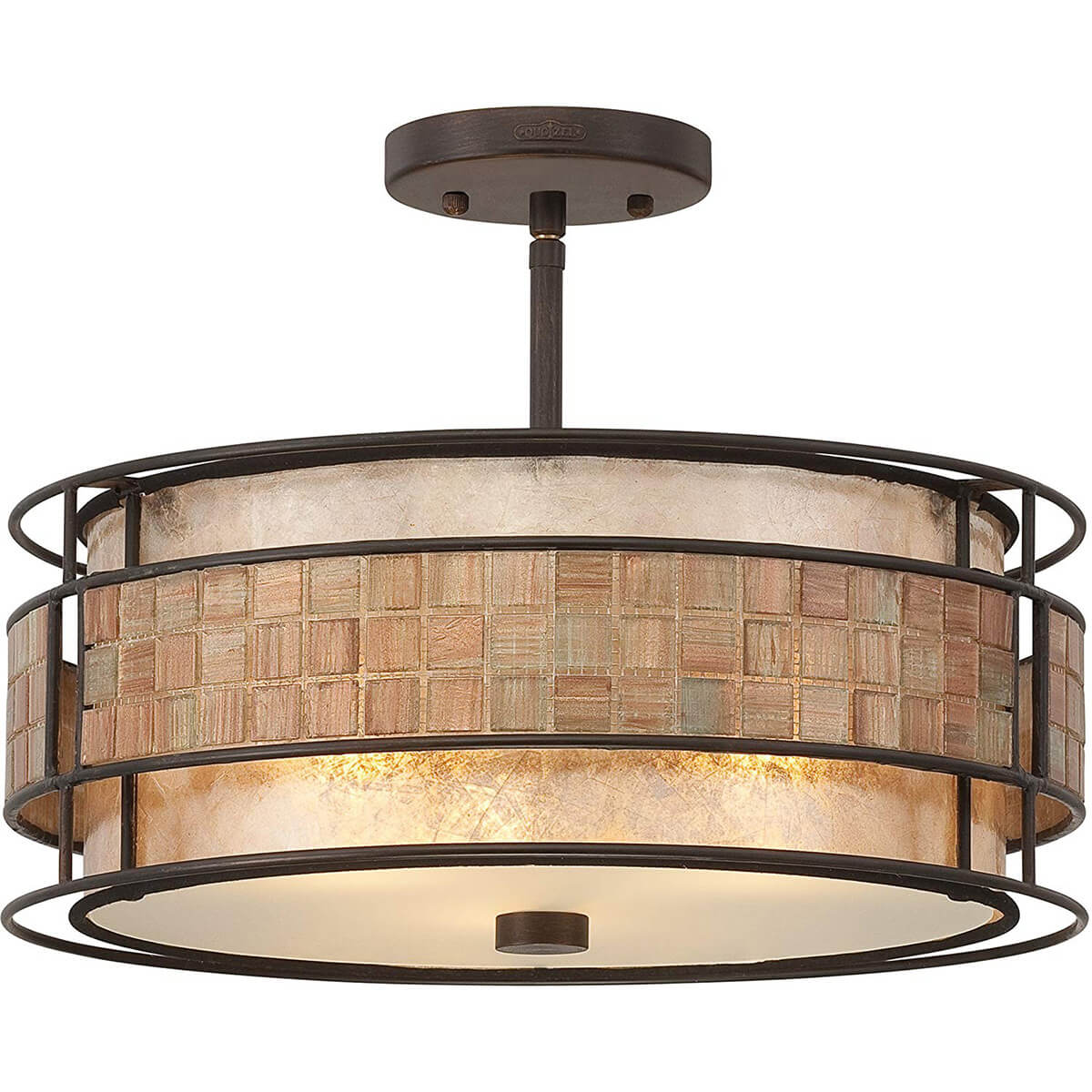 There is more to this piece than first meets the eye. When a casual onlooker sees this light fixture, they may not give it a second look; however, that would be a mistake. Although consisting mostly of the same color tones, this interesting piece has a tiled exterior that includes unique pieces running outside of its naturally patterned light casing. The cool black lines offset everything well and give your eye direction when admiring this fixture. Keeping everything encased, this ceiling light will keep the lights in your bedroom to a soft and gentle glow.
19. Retro and Romantic Glass Fixture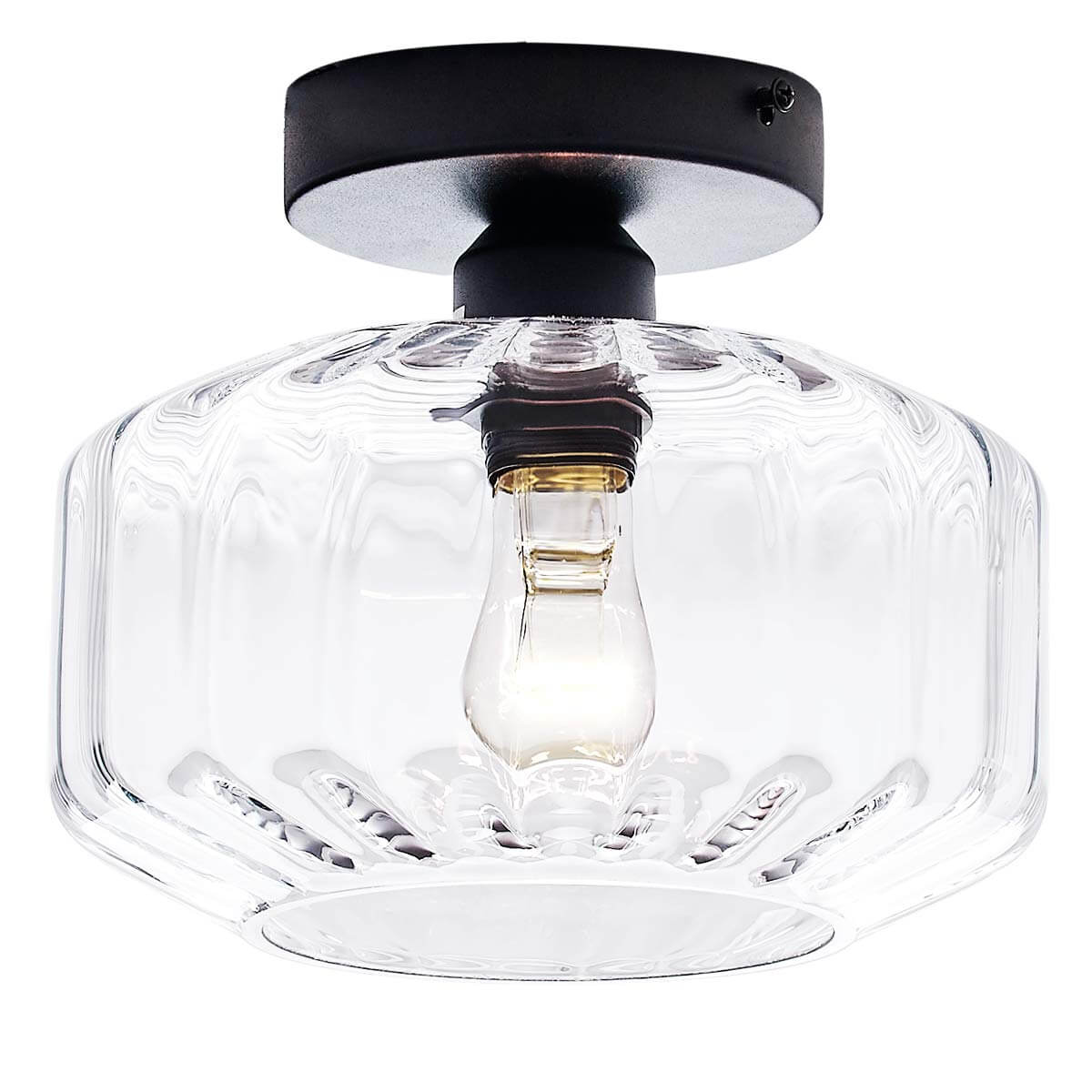 There is something about transparent glass fixtures that speaks to elements of elegance and romance. Perhaps it is the way the gentle curves subtly reflect the light, or maybe it's the reminder of days of flame candles and clear lamps. Whatever the case, this look would be well suited for rooms with either a classic or retro style. For this one, be sure to pick a bulb that you don't mind being seen at least a little; the glass is clear, but it does have some interesting patterns on it that slightly warp the interior view.
20. Awesome Retro Chic White Chandelier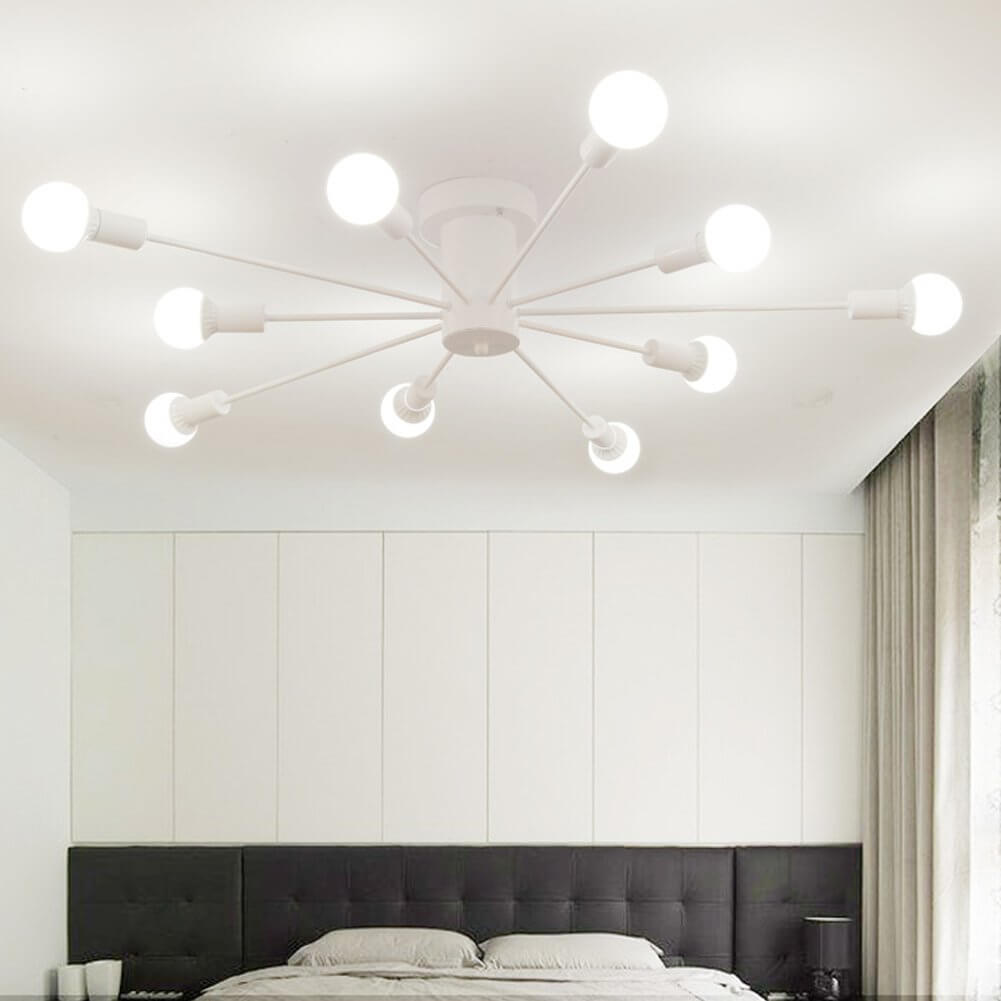 Many of the best bedroom ceiling lights keep things simple. This one breaks that mold and goes for a cool look that is all at once hip and modern while maintaining a distinct 1960's swinging vibe. Resembling a sun or a star, each of this chandelier's ten lights sit out along poles that reach out to different lengths, filling the room in a fun and creative way. Choose this look if you want something that keeps it simple with color but pumps up the volume when it comes to design. This piece is totally groovy.
21. Pretty Covered Half-Circle Crystal Light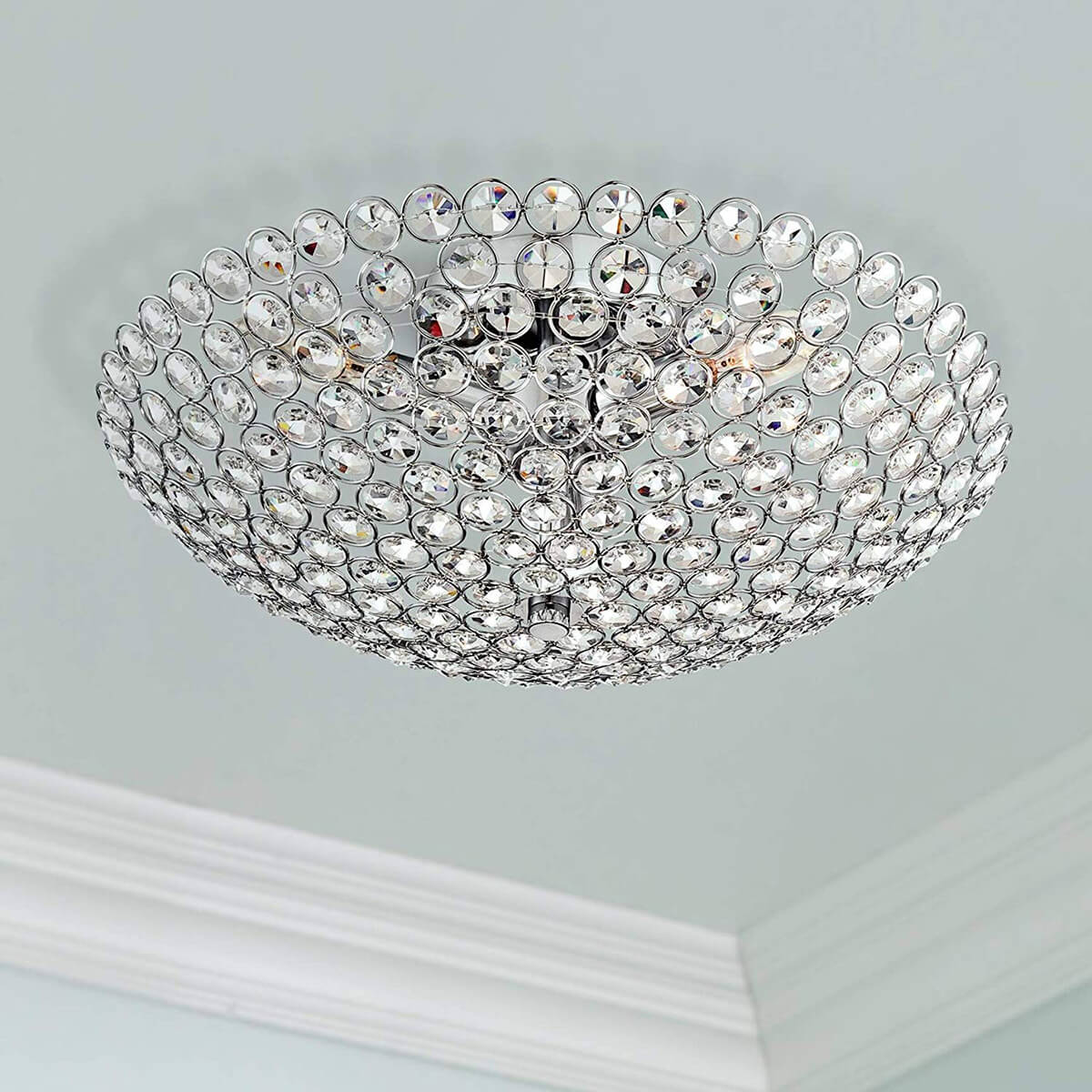 This light is total elegance at its finest. It doesn't take up a ton of space, which gives it subtle air, but turn on the light and you can watch these beautiful crystals sparkle. Anyone would want to have this beautiful look in their boudoir, particularly if their room features a more feminine and romantic feel. This light fixture is certain to draw a lot of attention to itself, so try to incorporate it in a place that allows it to shine without competition from other interesting décor. Be sure to keep each crystal clean for maximum sparkling brilliance.
22. Modern Geometric Shallow Ceiling Light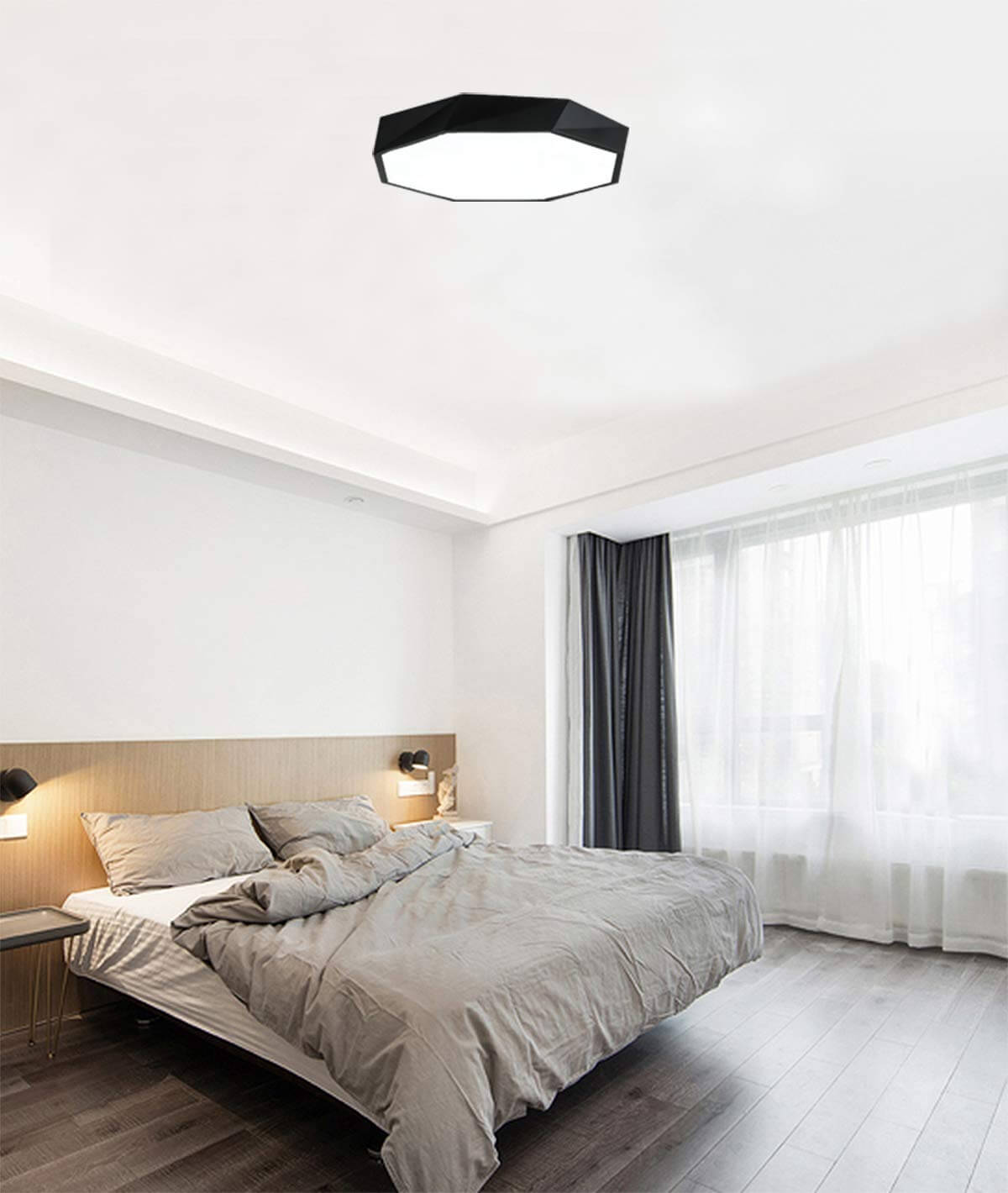 The dark-outlined light that hangs close to the ceiling is a popular look. It goes with most décor, and doesn't get in the way or butt in to the room too much. It sort of minds its business and does its job of providing the right amount of light. This fixture has all the best qualities of those lights but adds a little bit of interest to give it a unique spin. The geometric shape and side patterning will make you give this simple light a second glance and will help add balance and interest to an otherwise plain ceiling.
23. Cool Two-Bulb Design in Box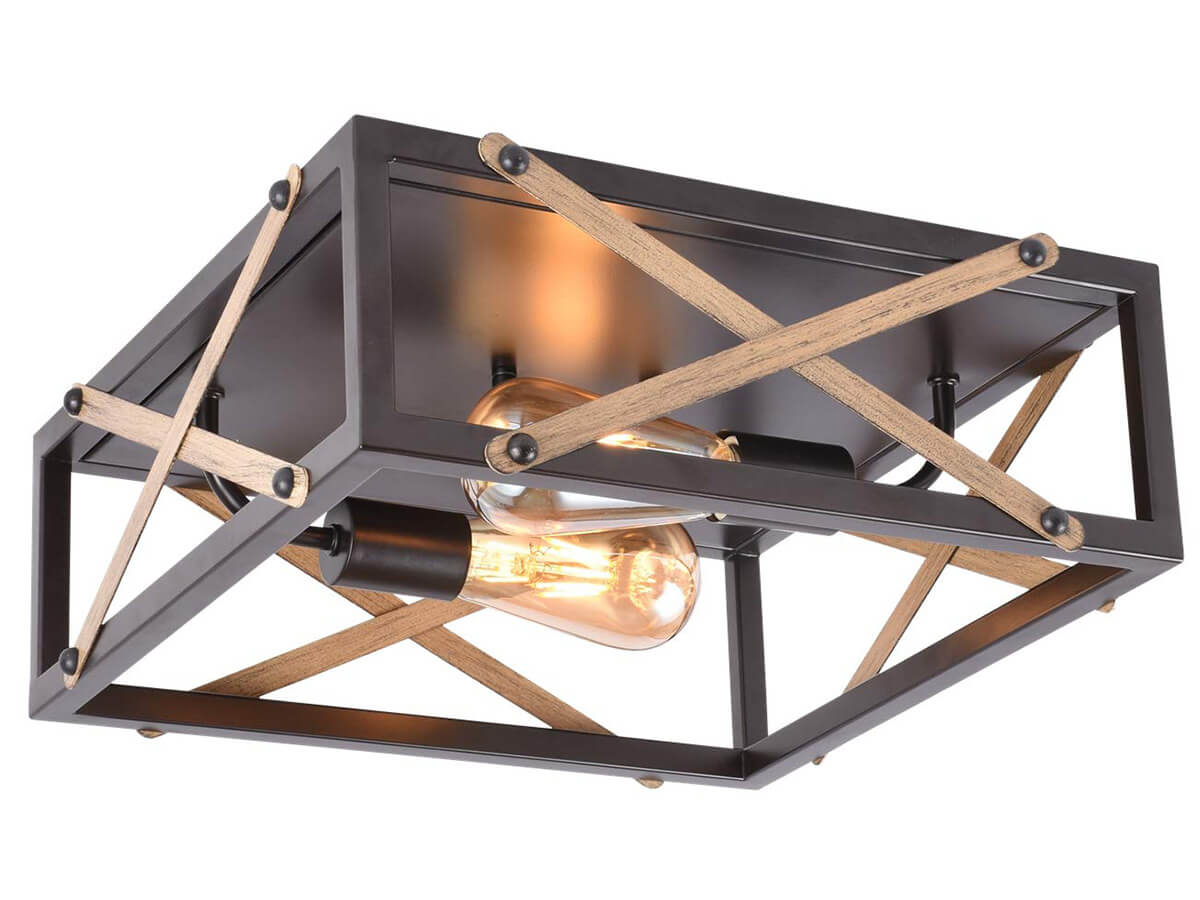 This design is so simple but interesting at the same time. Featuring two bulbs, this square box encases them while still letting them shine through in the open and airy design. The bronze X patterns on each side of the box provides a balance and symmetry to this look while also pairing well with the golden colorings of the Edison bulbs housed inside. This option is a good choice when you want to have some sort of covering around your fixture but don't want to hide away these cool modern bulbs. This goes great in a modern room.
24. Eight-Pointed Starburst Light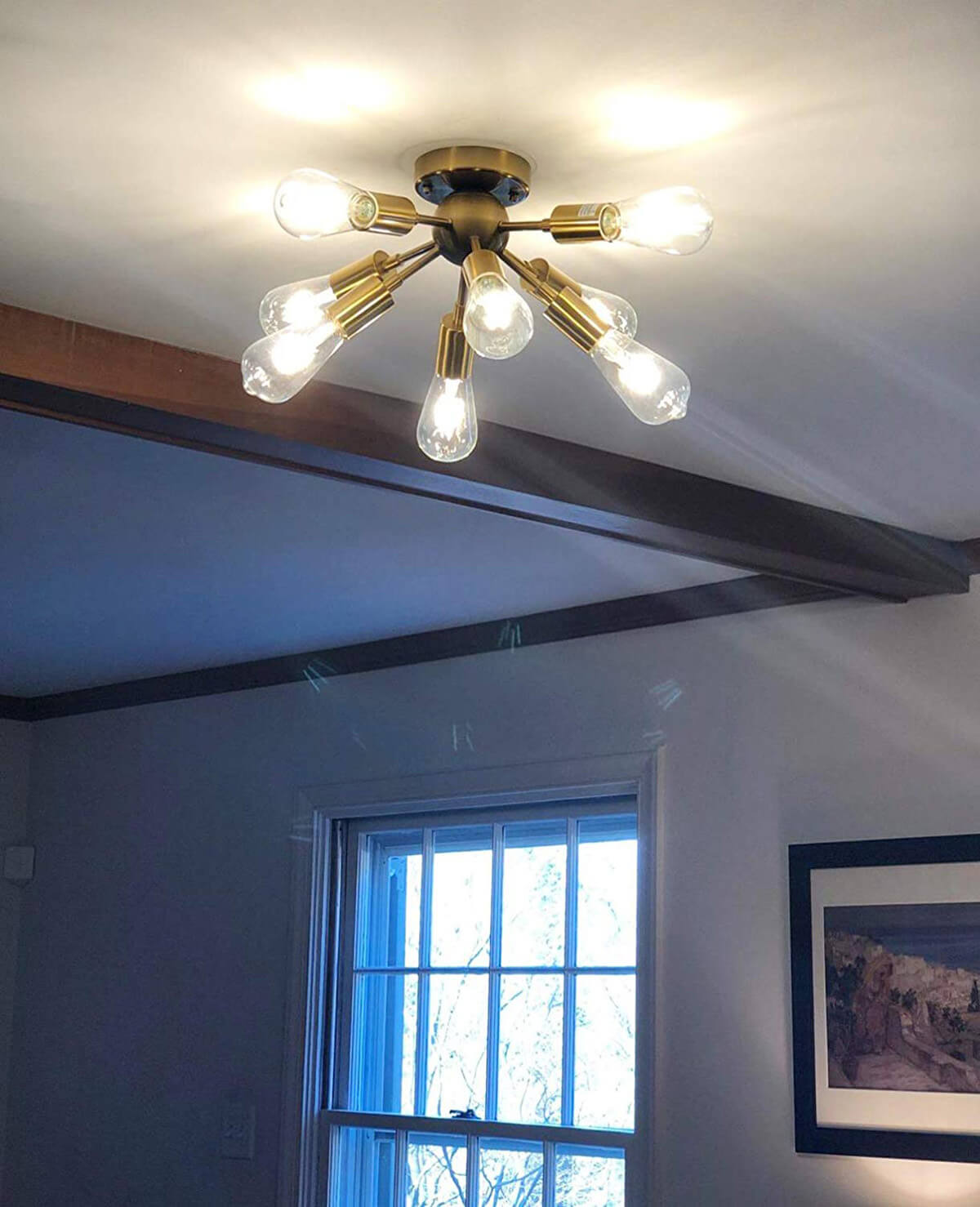 If you want a ceiling light that is going to provide lots of light and has a unique and somewhat retro look, this is a good choice. There is something very old school about the starburst-styled light. It reminds one of homes of the past. This option has an updated look with a cool golden orb at its center and golden offshoots that end with bright clear bulbs. This choice is not for everyone as it does give you a very bright and vibrant look. It is ideal for big spaces and for people who like having their bedrooms well lit.
25. Gold and Glass Beaded Chandelier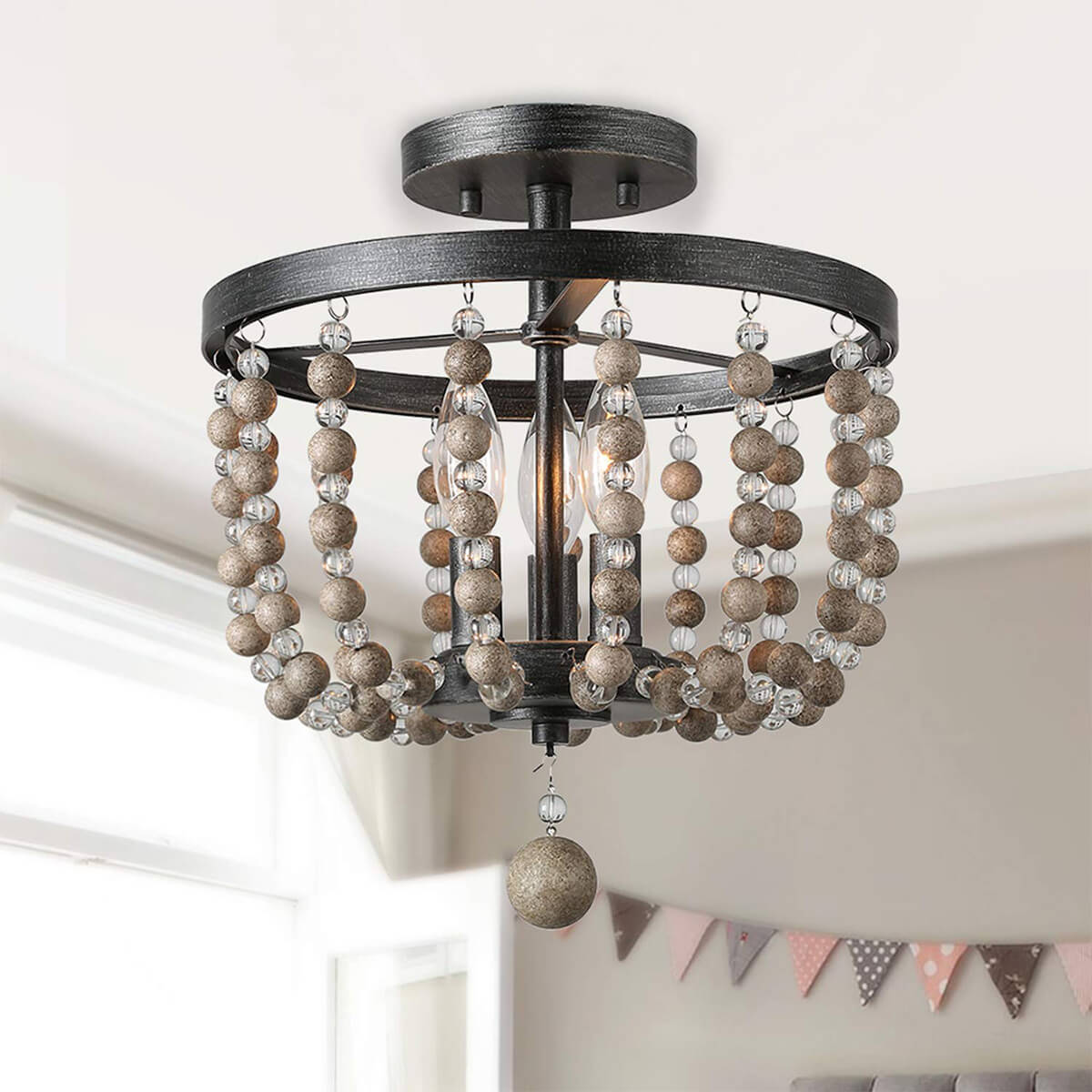 With strands of alternating gold and glass beads, this chandelier provides gentle light through a beautiful curtain. This design goes well in a bedroom that is decorated in a country chic style and would play well with burlaps or browns. The dark base means that it will also go great with dark wooden furniture or floorings. The larger gold ball that hangs from the center completes this look and can help to tie your whole room together. Don't be shy to go for a bit bolder of a look with this one. The easy coloring helps it to not go over the top, but the styling makes it interesting.
26. Rotatable Three-Light Ceiling Fixture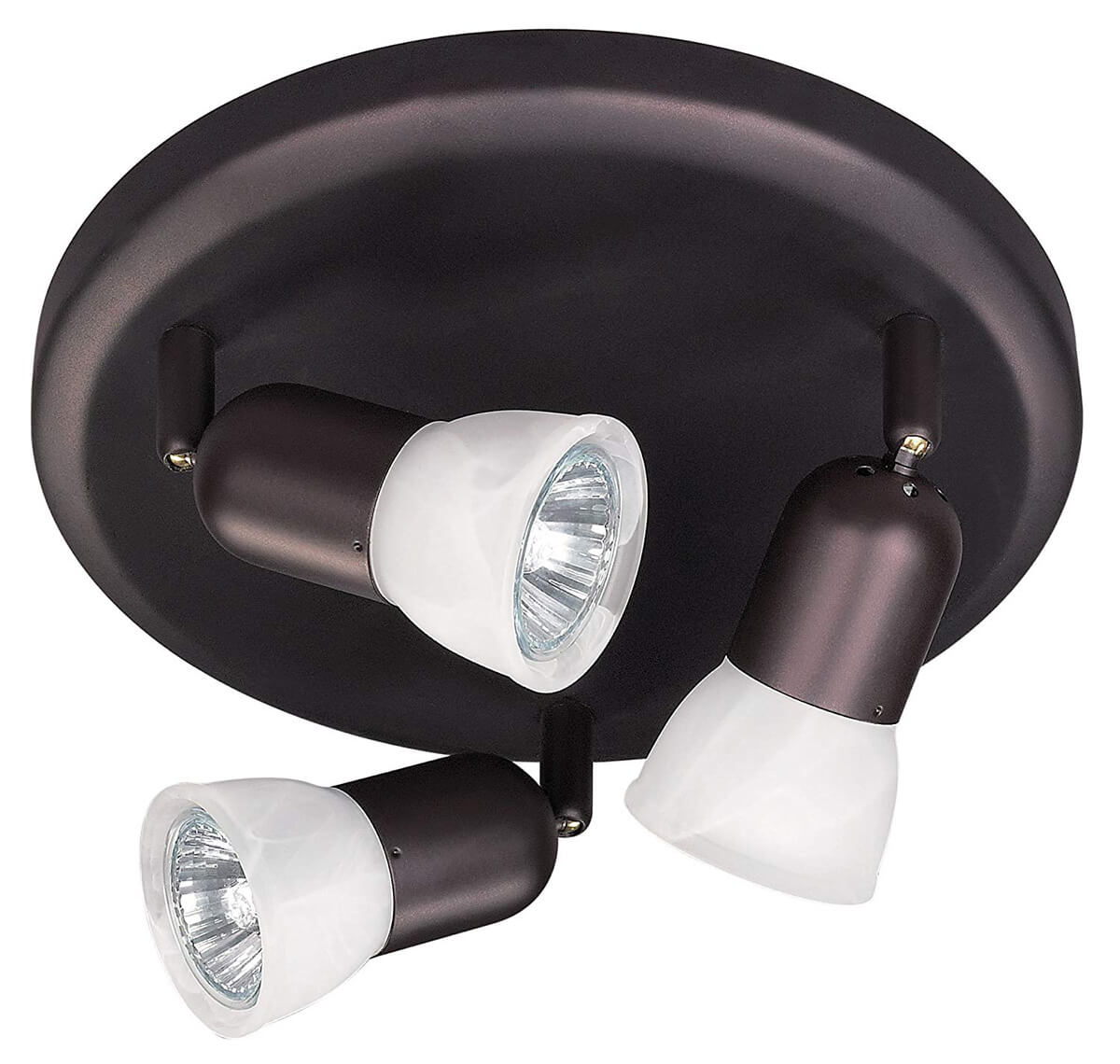 This simple three-light fixture is one of the best bedroom ceiling lights. Not only does it have a look that can pair with nearly anything, but the three spotlight-style lights can be easily rotated or turned to shine the light exactly where you need it to be. One of the most frustrating parts about ceiling lights is their inflexibility, and this light perfectly solves that problem. Shine the spotlight toward your closet or reading nook to provide more light where you want it and less where you prefer to keep it a little darker.
27. Drum-Style Linen Covered Light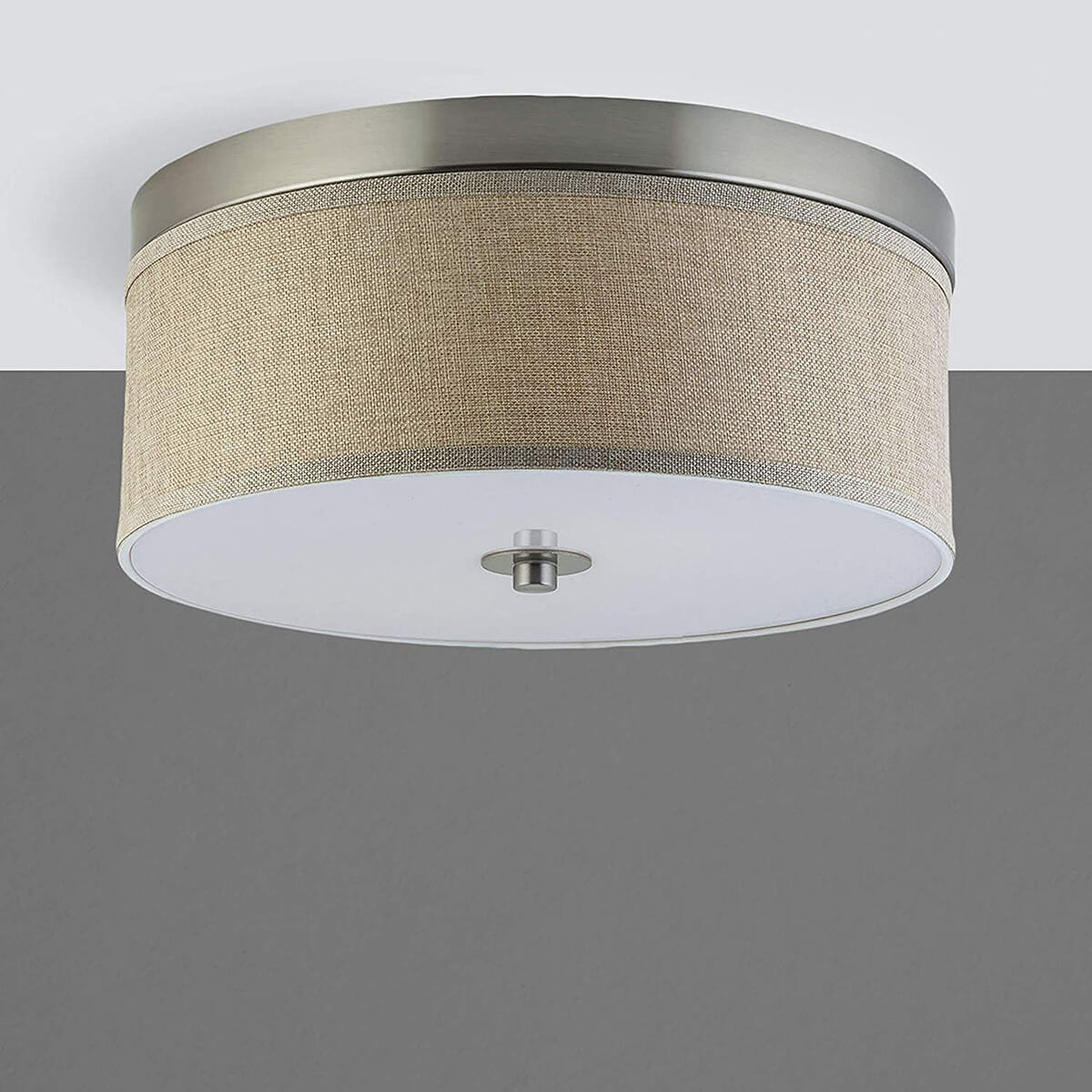 This linen shaded light has the look of a snare drum with its perfectly rounded edges and tall height. The bottom cover is opaque, letting out just the right amount of light while the linen edges dampen the harsh glow from the bulbs within. This look pairs great with natural colors, textures, and fabrics, and would look right at home in both a rustic chic or modern bedroom. The fact that there is no light escaping from above means you will have less shadows and more light concentrated directly down from the fixture, with some radiating through the linen shade.
28. Three-Level Glass Covered Lights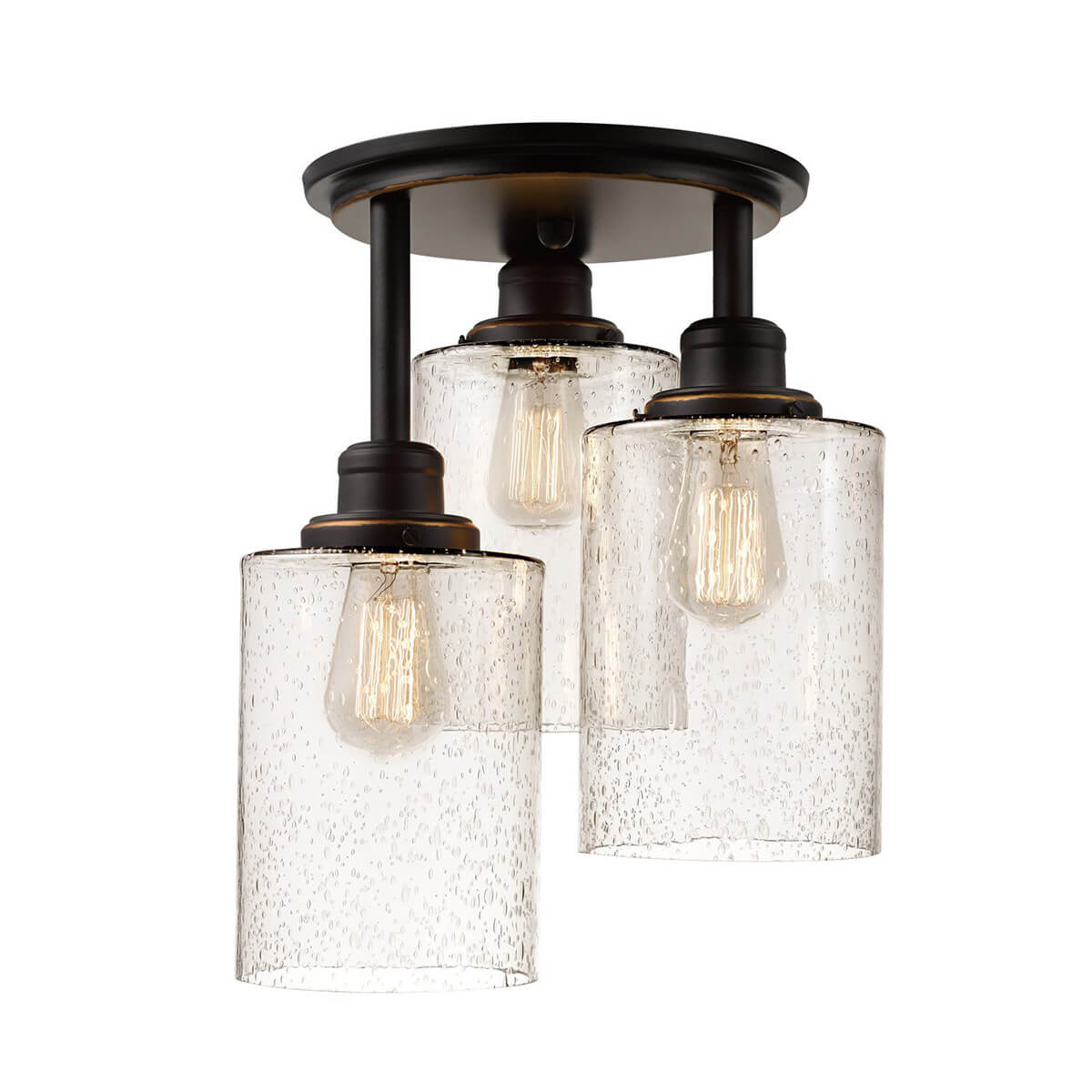 This beautiful hanging light fixture has super cool glass coverings that make it appear almost like upside-down lanterns or candles. With three different lengths for each light, there is so much going on in this simple design that would be easy to overlook, but all of it truly adds to its unique beauty. The glass is patterned with small flecks that make it look weathered and romantic, and the bulbs are visible yet completely covered in their glass jars. Choose this if you are looking for something a little whimsical and pretty for your bedroom lights.
28 of the Most Beautiful and Best Bedroom Ceiling Lights for a Bright New Look
Lighting is one of those things that affects us tremendously despite the fact that we rarely notice it in our active consciousness. Lighting can contribute to the mood of a room in profound ways, so it is certainly something to consider carefully when redesigning or embellishing your bedroom space.
But of course, it is not just the lighting itself — the brightness, the color, the intensity, the placement — but the fixture, too, that must factor into your decision making. After all, if you can see perfectly well but the light is emanating out of a monstrosity of a fixture, you might wish there were no lights in your room at all.
And while "monstrosity" may be an overstatement, there sure are a lot of bedrooms out there with old, defunct, boring, ugly, out-of-place, or otherwise unsuitable fixtures taking up ceiling real estate. Come to think of it, since you are reading this article, chances are your bedroom lighting situation is less than ideal.
The good news is that there is an option for every taste, a style for every home, and a fixture for every bedroom. Do your research before buying, match the light to your vision of your bedroom, and enjoy the beauty of excellent lighting.