Farmhouse style is a charming decor scheme that's as cozy as it is chic. Whether you have adopted the farmhouse trend for your entire home or you're looking for a dash of the style here and there, it's compatible with almost any decor. Farmhouse style is superbly versatile, and it's a great choice to pull together an eclectic collection or to add unexpected warmth to minimalist or modern schemes.
36 Cozy Farmhouse Lighting Ideas to Bring Unexpected Warmth into Your Home
If you love farmhouse decor but are not sure where to start, look at your lights! Lighting fixtures in the farmhouse style run the gamut from antique-inspired to warm industrial to shabby-chic. To nail your farmhouse lighting ideas, start with your materials: wood, metal, and glass. And don't forget the bulbs. An interesting shape or antique bulb can really make your farmhouse lighting ideas pop and give them an interesting focal point.
The signature combinations of wood, metal and glass create beautiful and rustic look that feels elegant and worn-in. We've put together a gallery of 36 farmhouse lighting ideas to spark your imagination and brighten up your home.
1. Charming Weathered Iron Chandelier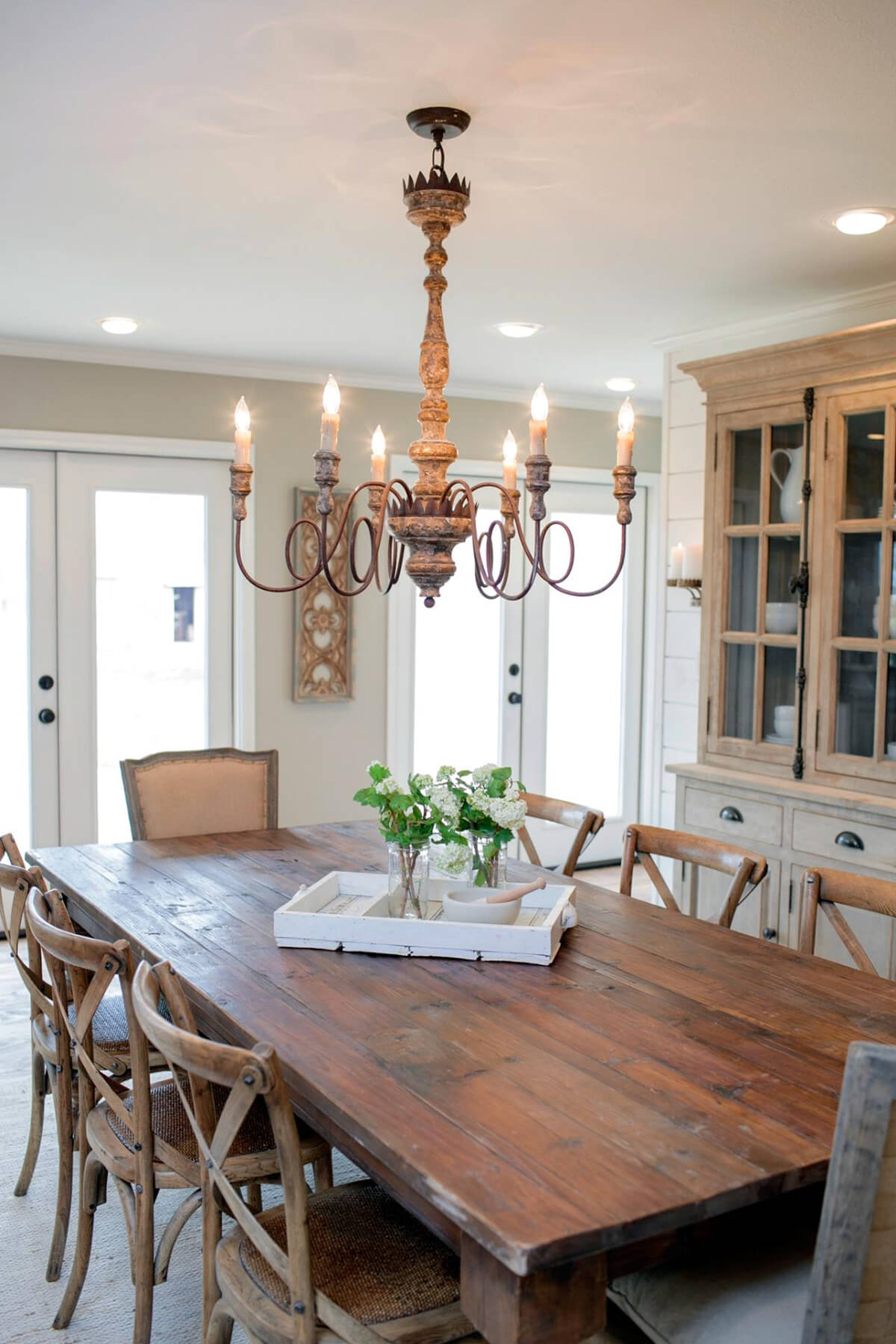 This graceful weathered iron chandelier hangs over a charming dining table. The light fixture has six candelabra bulbs for warm, even light. Without shades over the bulbs, the chandelier has a rustic look. The arms of the chandelier are made in looping scrolls. This is a lovely, simple example of farmhouse lighting.
2. Brushed Silver Sconces With Antique Lightbulbs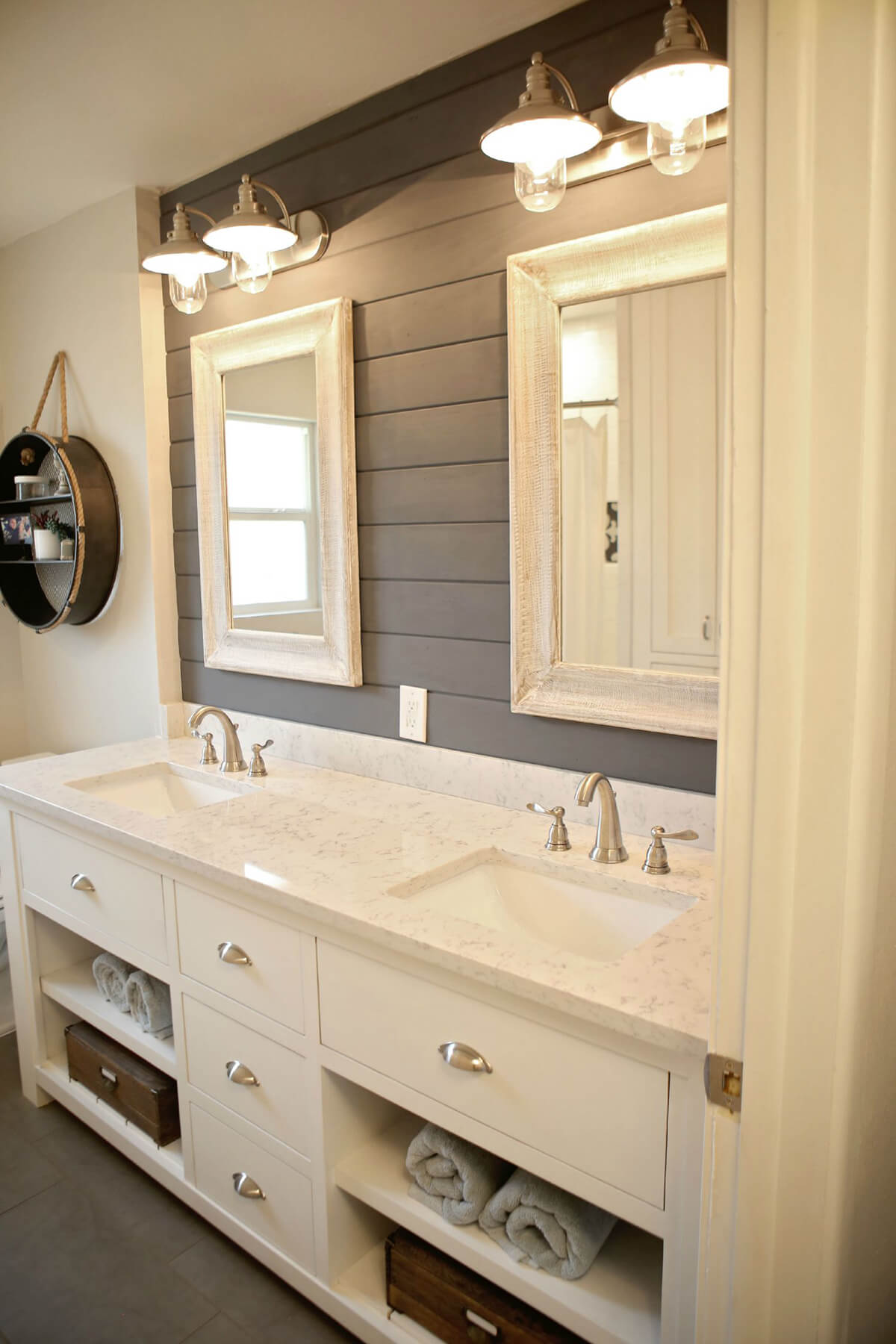 This bathroom is elegantly lit with brushed metal sconces. Each sink has its own mirror and light fixture. The bulbs in these light fixtures are in an antique style with exposed filaments. This look brings a farmhouse exterior light to mind. The exposed bulbs give bright light to your bathroom experience.
3. Adorable Copper-hued Birdcage Pendant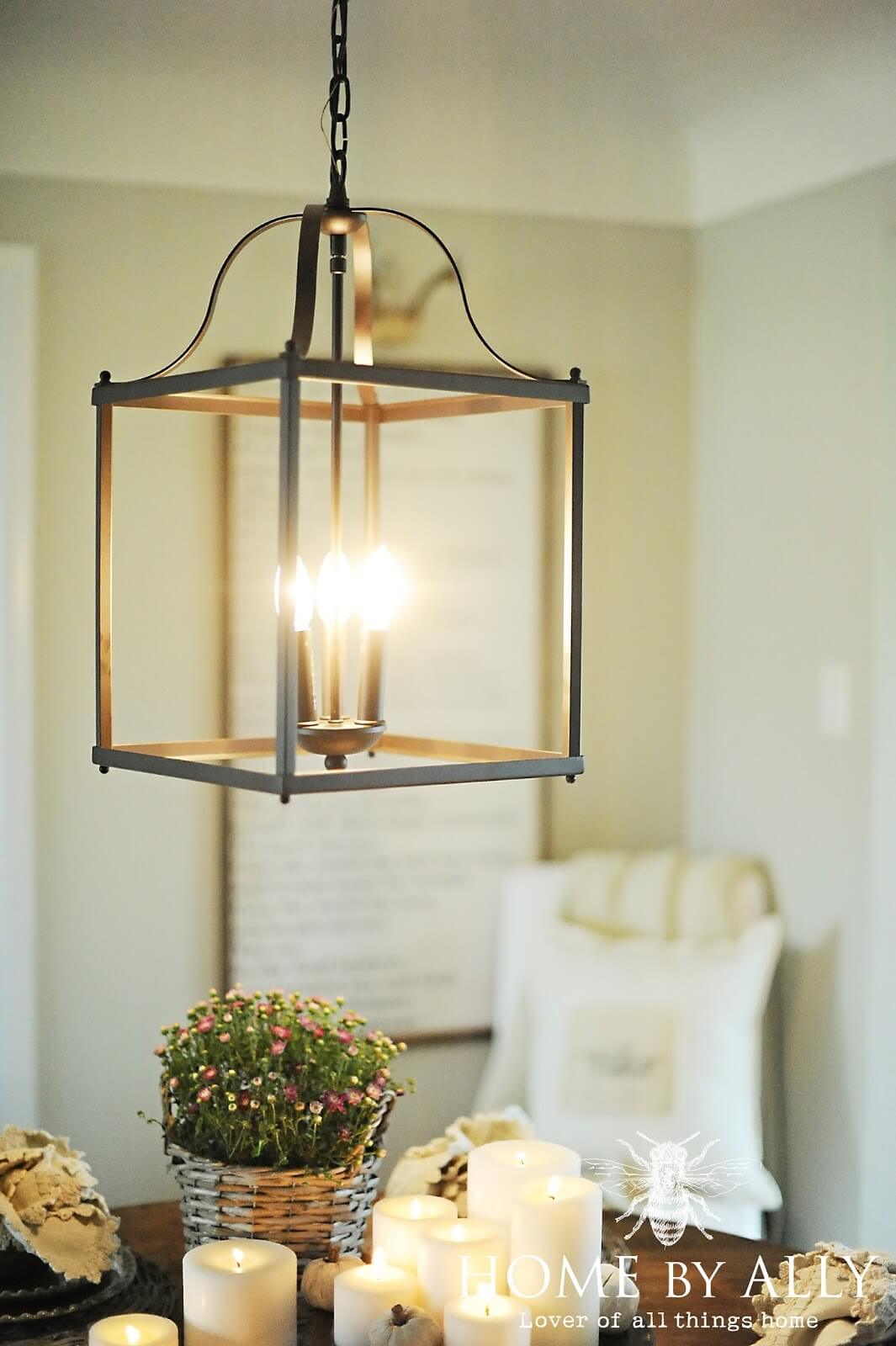 This copper birdcage pendant light is a super example of farmhouse lighting. With open sides and exposed bulbs, the birdcage light shines out evenly across the room. The square sides and sloping top make a nice accent to any dining area. Try hanging several of these lights over your dining table.
4. Suspended Track Lighting With Mason Jar Shades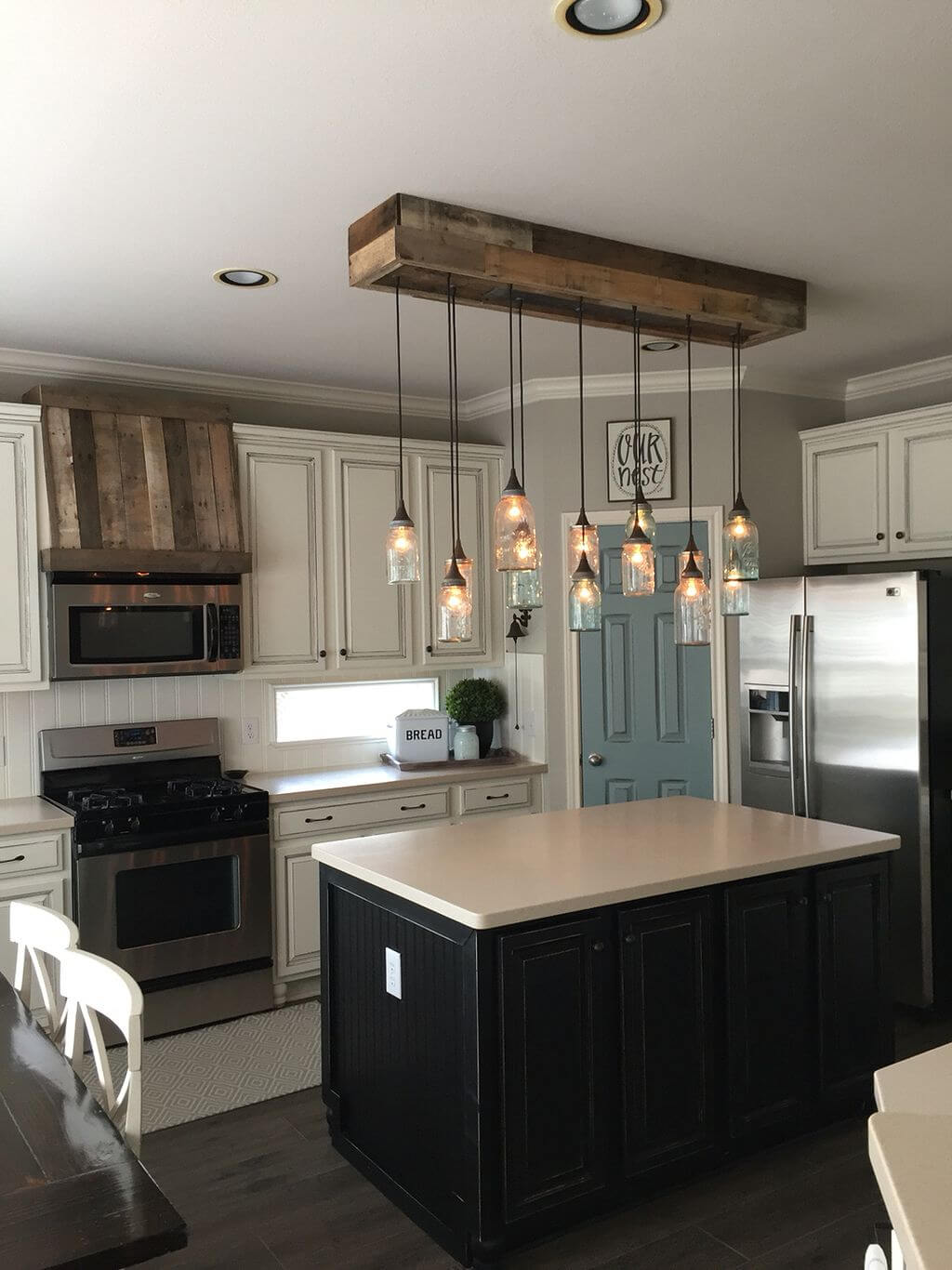 In a vintage update to track lighting, this light fixture has hanging Mason jars with warm golden bulbs inside. Hanging at varying heights, the lamps have a casual look. The lamps hang from a rustic wood fixture in keeping with farmhouse style. These lights would look excellent over the island in any kitchen.
5. Crystal Chandelier With Rusted Orbit Accent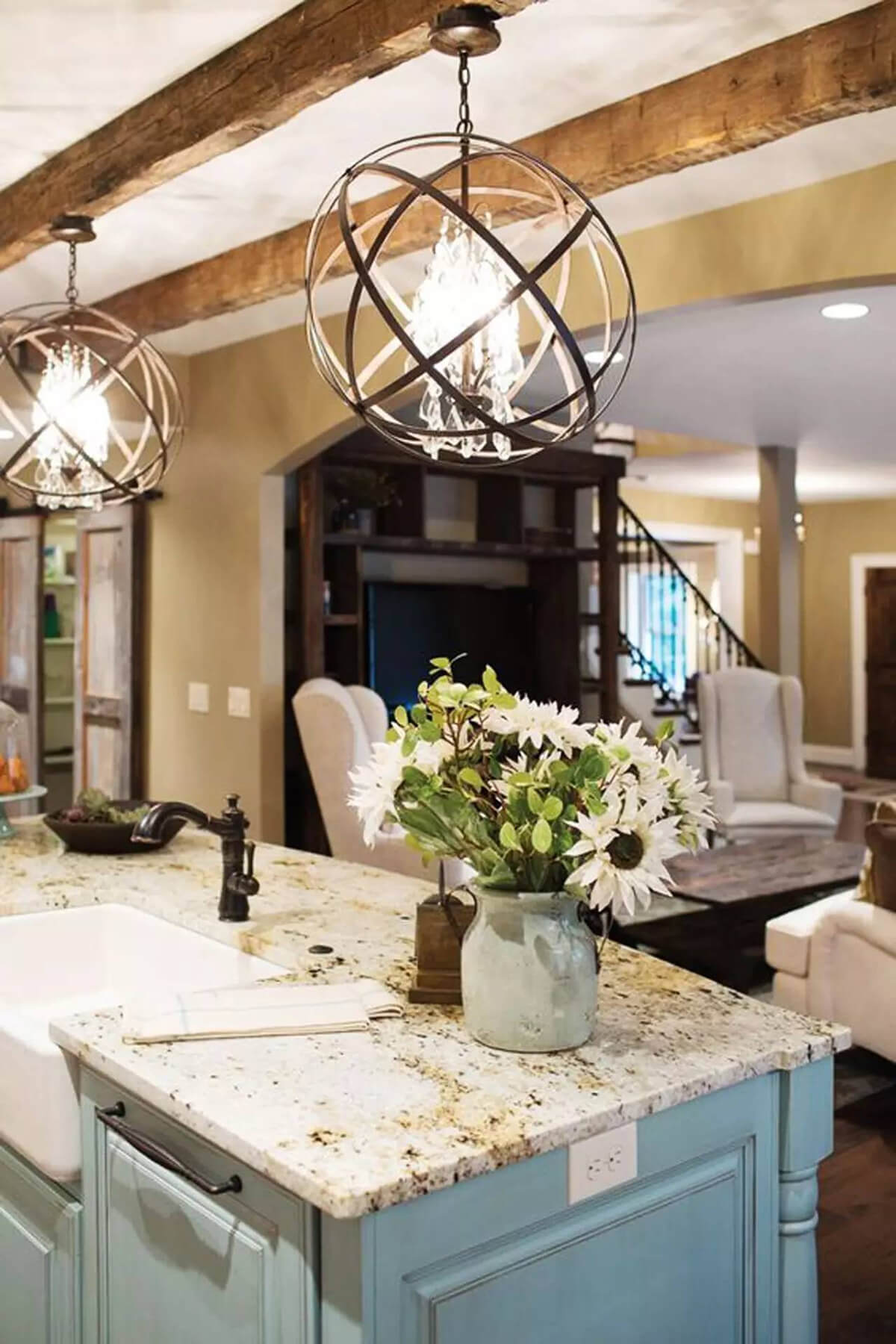 With the elegance of farmhouse lighting, you can give your home a much needed design lift. These lights combine small crystal chandeliers with a large rusted orbit fixture. Each globe casts its own light on the room. The shabby chic element of this lighting makes a pretty accent to any kitchen or dining room.
6. Distressed White Painted Table Leg Lamp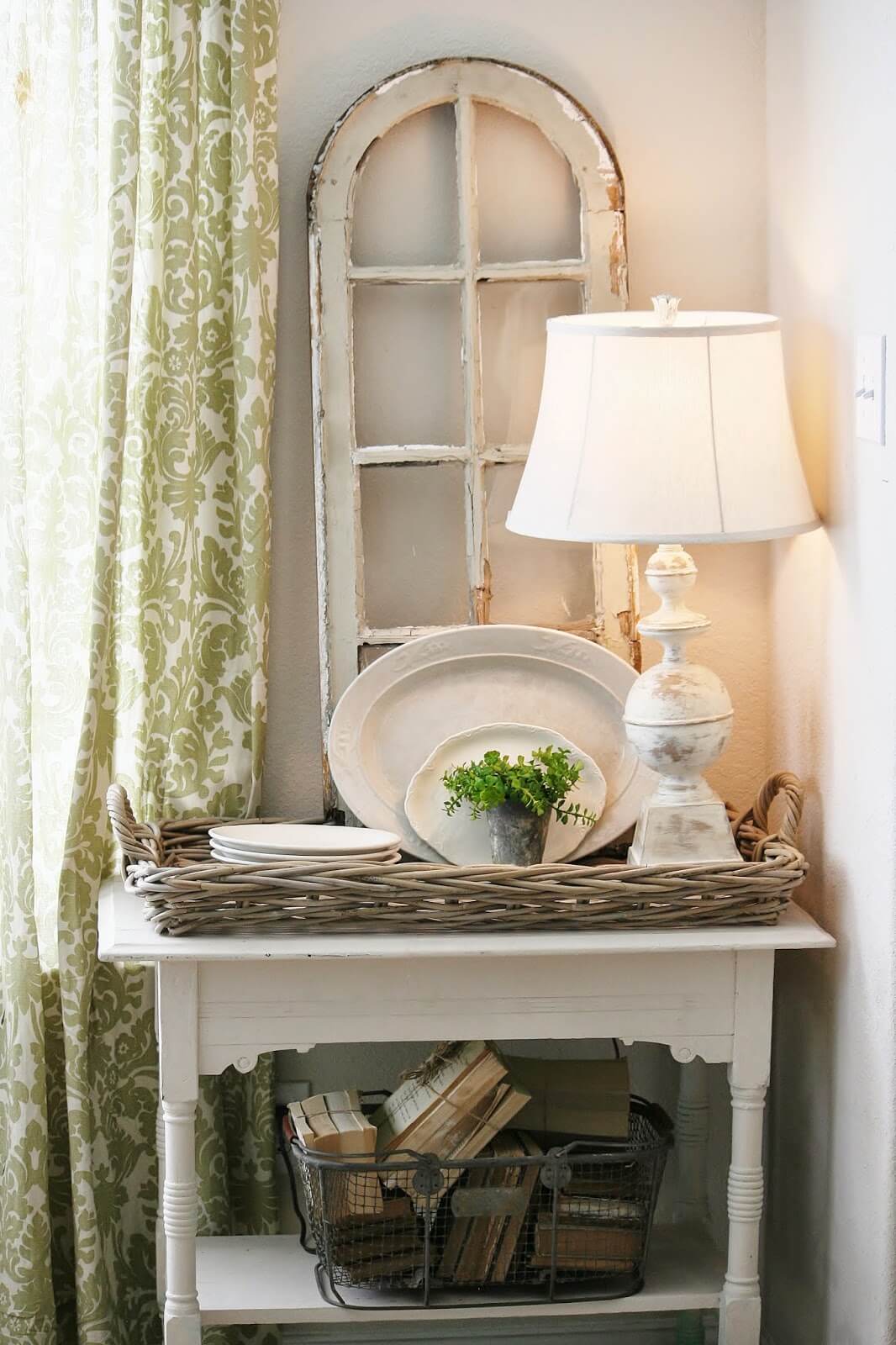 This charming little lamp has a distressed white painted finish. It looks like it might have come from a grandmother's house. The distressed quality of the painted finish goes with the reclaimed wood window standing behind it. The window glass helps to reflect the light. Platters and a cute plant complete the look.
7. Lovely Hearty Minimalist Chandelier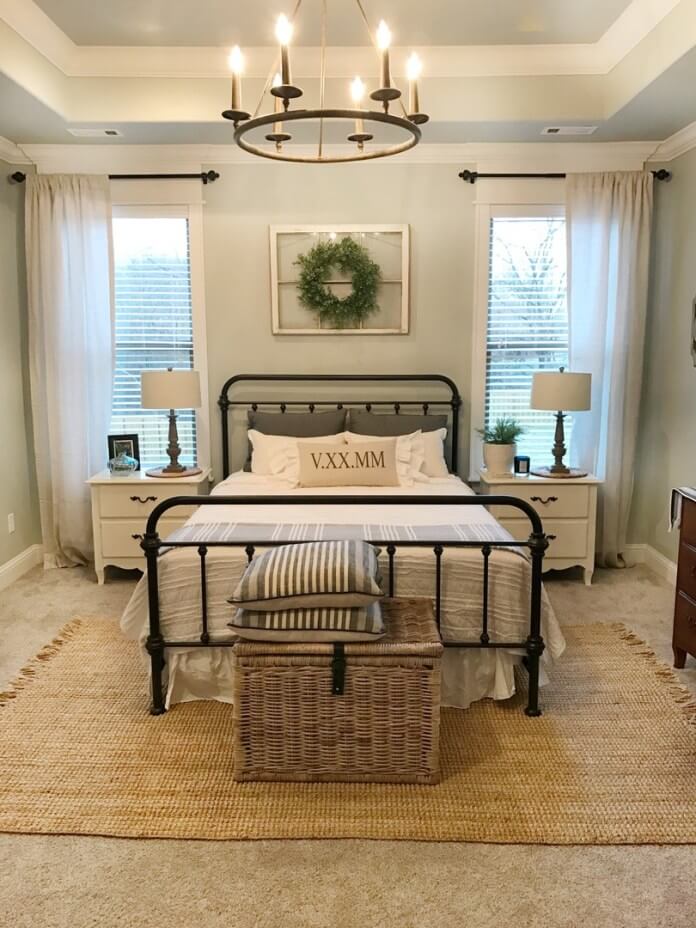 This minimalist chandelier has exposed bulbs for a bright and cheerful light. A simple metal circle forms the base for the chandelier. The candelabras are on round pedestal stands. The chandelier is cone shaped for a symmetrical look. This farmhouse lighting is great in a bedroom but would work anywhere in your home.
8. Wood Wall Sconces With Wire Cage Shades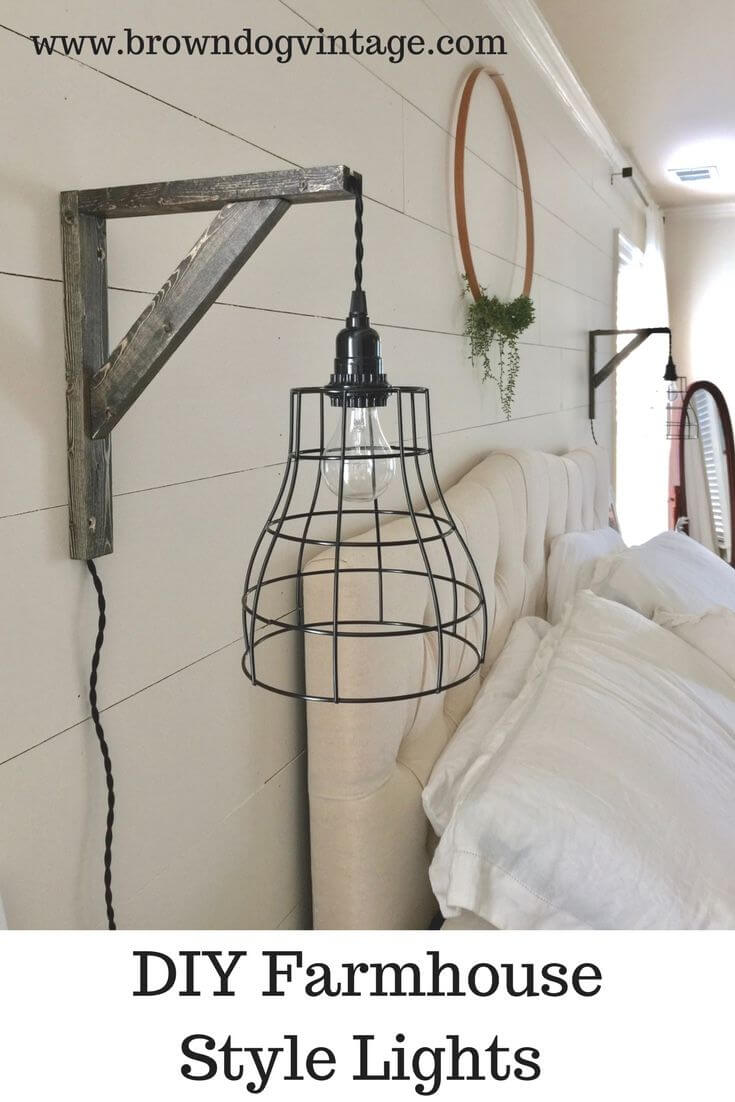 These cage shaped bulb covers bring barn lighting to mind. The lamps hang from practical wooden sconces with exposed cords for a rustic look. The light bulbs are exposed for brightness and to show off their antique looking filaments. Hang these in your bedroom and imagine you are at the farm.
9. Pendant Lights With Hammered Metal Shades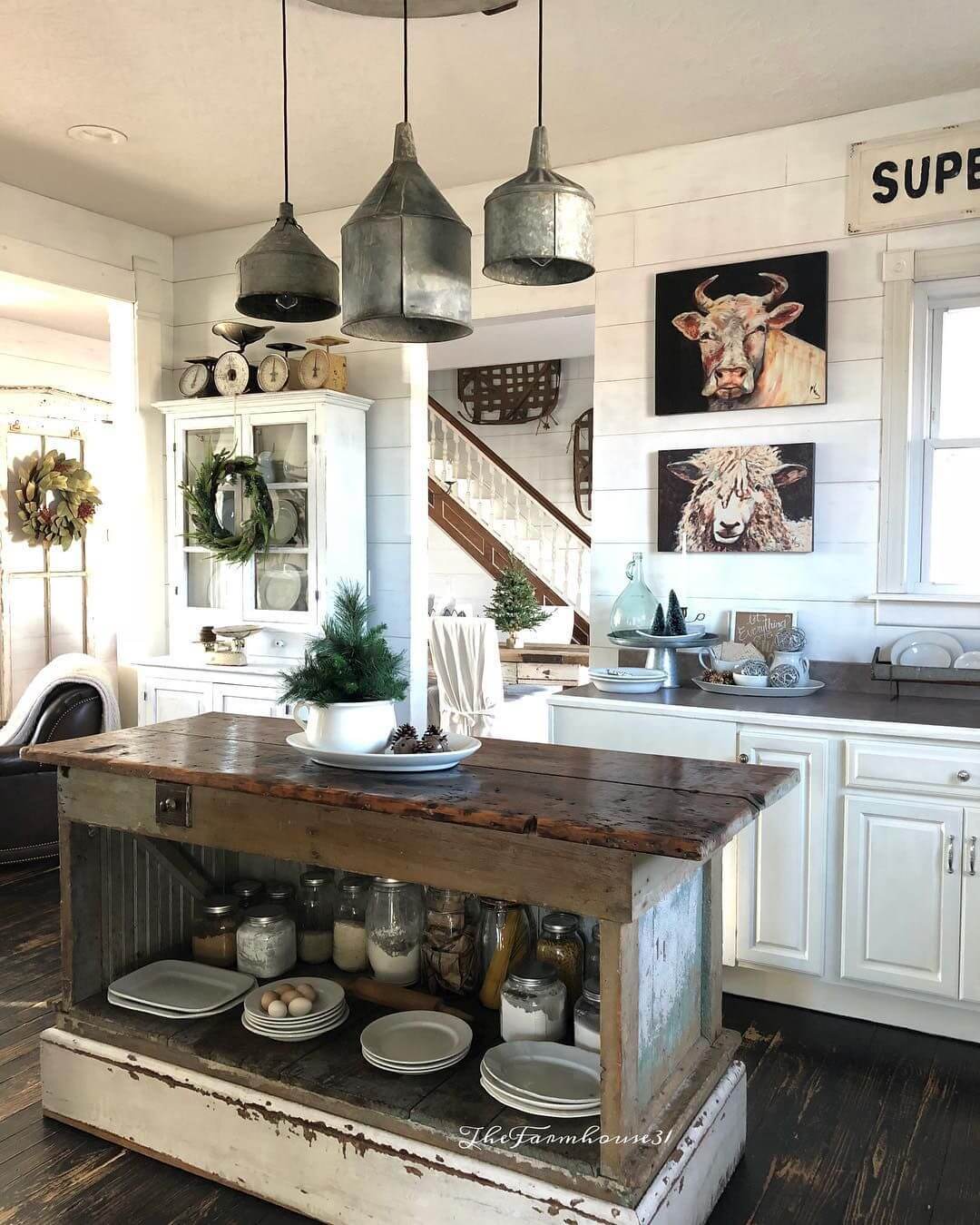 Galvanized metal is a huge trend in the farmhouse home. Farmhouse lighting that incorporates this trend looks especially nice in the kitchen. The hanging lights look like they are made from milk jugs. The rustic quality of these lights echoes the reclaimed wood of the island below.
10. Chain Pendant With Bell-shaped Glass Shade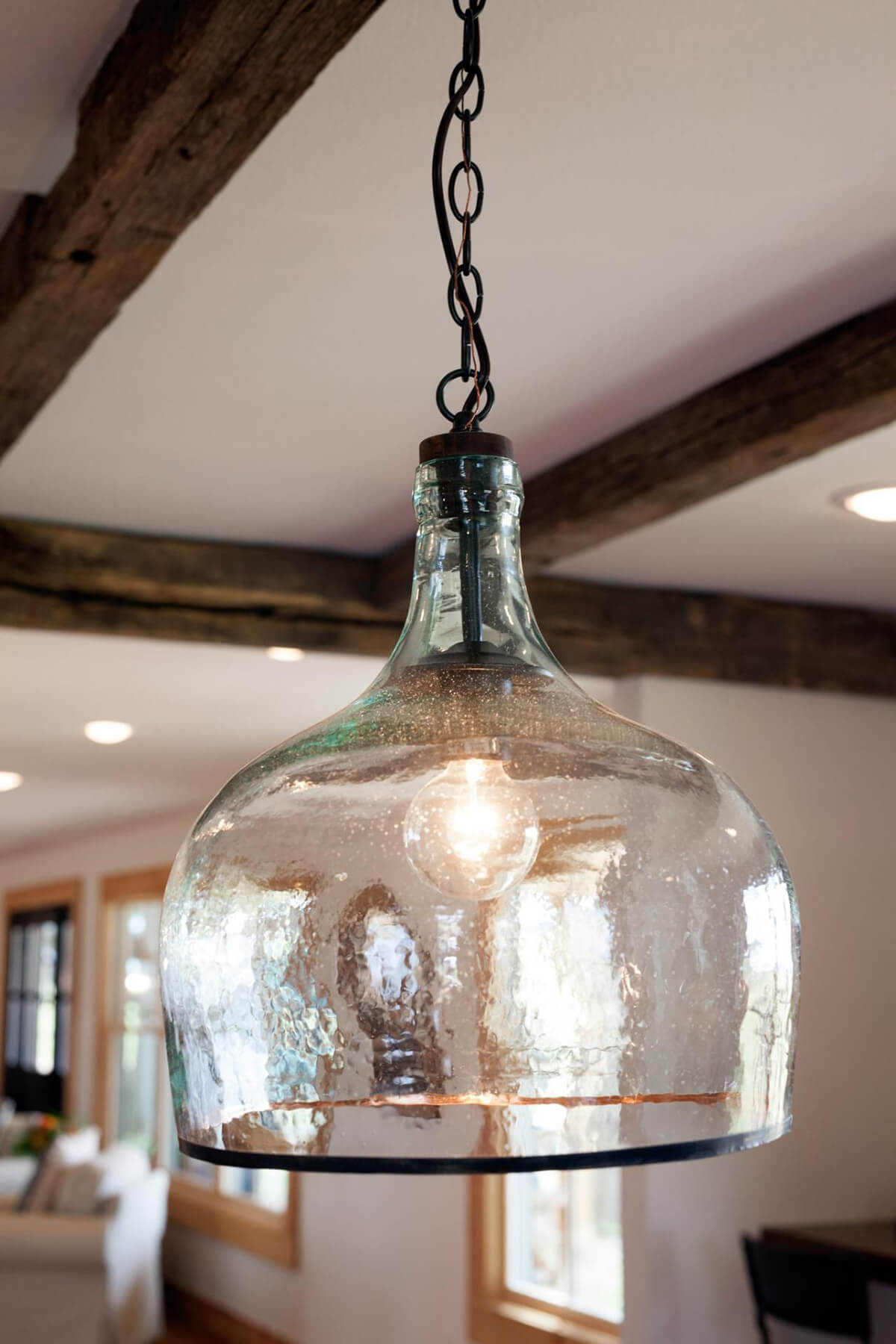 This chain pendant light has a bell-shaped shade. The glass is bubbled for a rustic and charming look. Bubbled glass also distributes the light in a pretty way. The bulb inside has an exposed filament in a nod to the past. A row of these charming lights would look great hung over a kitchen island or over a long dining table.
11. Elegant and Lovely Copper Chandelier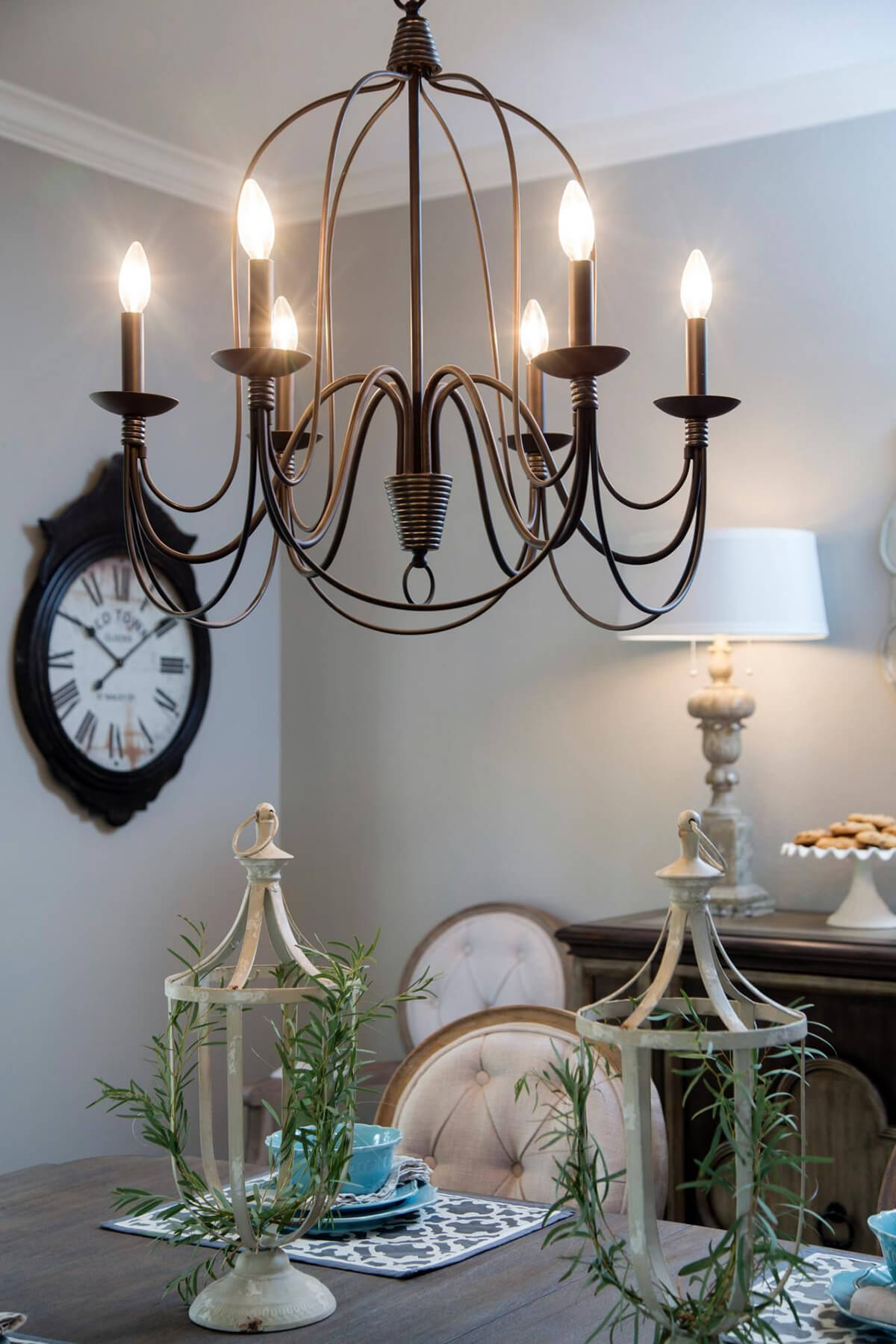 This charming chandelier has elegant lines and a brushed copper finish. The center of the lamp is cage shaped, with graceful arms holding the lamps. The exposed candelabra bulbs shine brightly. This example of farmhouse lighting shows that you can be rustic and sophisticated at the same time.
12. Pendant Light With Chicken Wire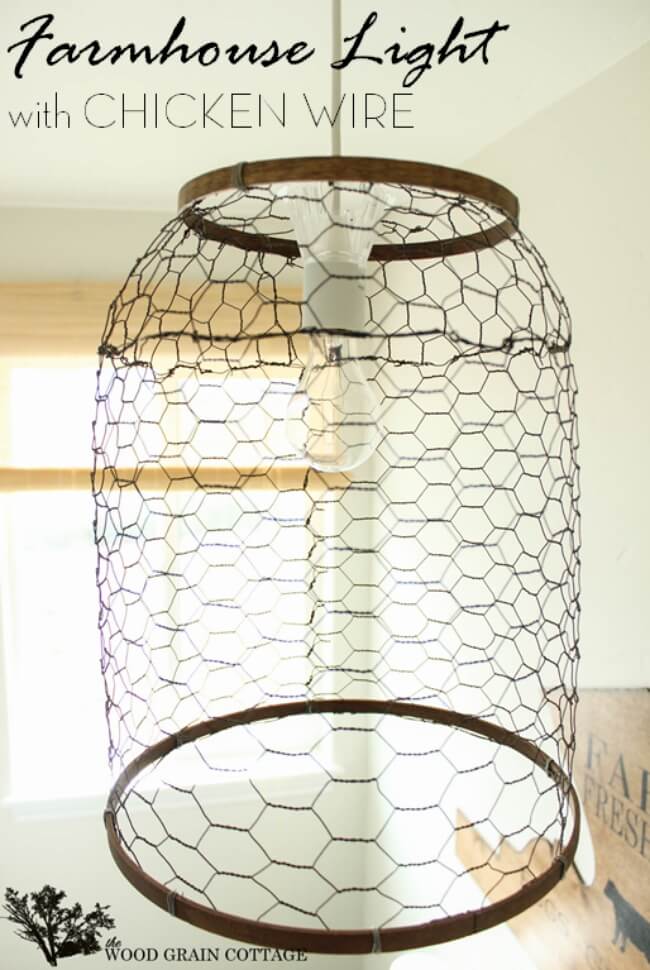 Chicken wire is a fun and easy trend to incorporate in the farmhouse home. Chicken wire is not only tough and durable, but easy to mold in whatever shape you wish. This hanging lamp has a chicken wire shade. The chicken wire would make interesting shadows on the walls when the lamp is turned on. The lamp has a bulb with an exposed filament.
13. Pulley Sconce With Antique Bulb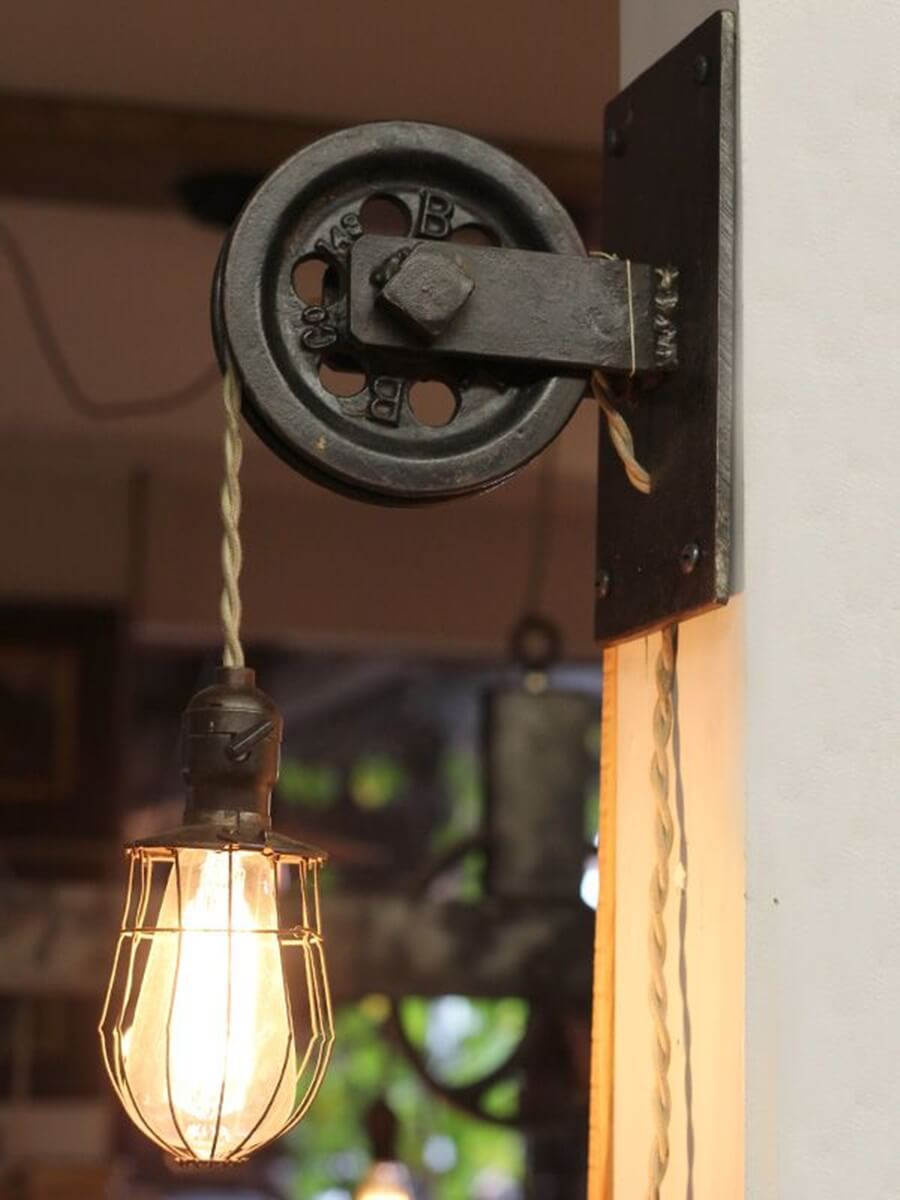 A pulley makes a unique sconce in this farmhouse lighting idea. The cord of the light is threaded through the pulley and down the wall. The light fixture itself has a metal cage and an antique style Edison bulb. These would make great barn style accents in a hallway or lighting up a corner of the room.
14. Metal Bathroom Light Fixture With Globe Bulbs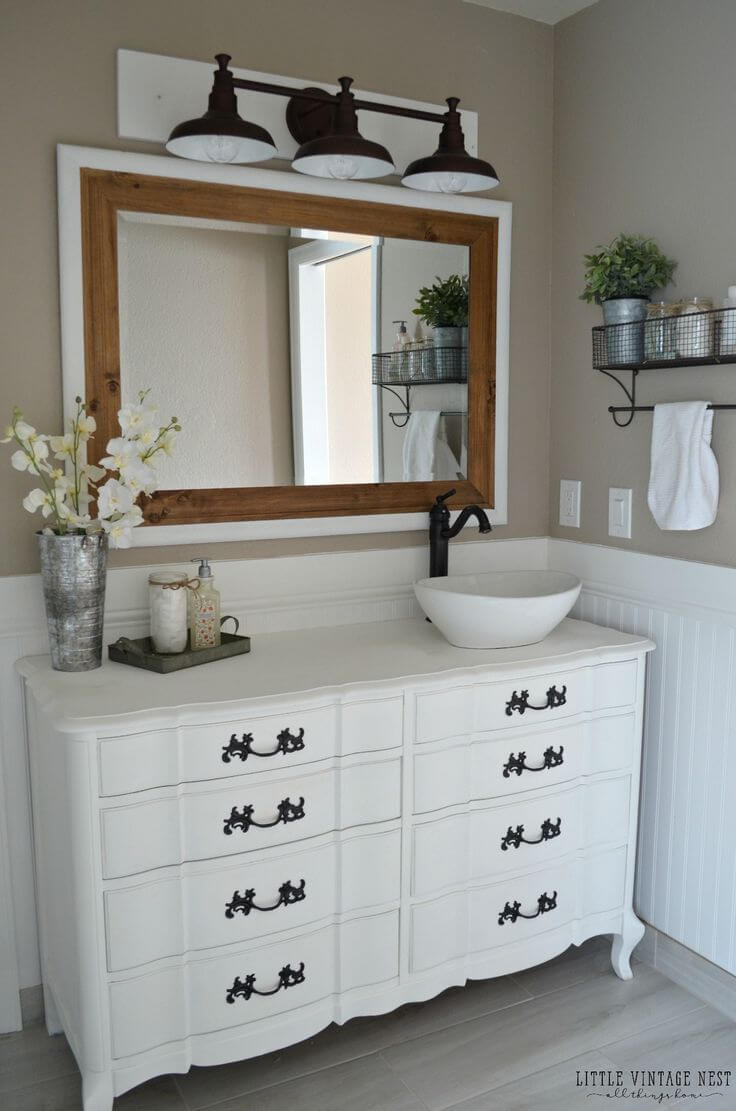 Simplicity reigns in this bathroom lighting scheme. A set of three metal fixtures hangs over the sink. They have black and white shades for a sophisticated look. The bulbs are exposed at the bottom to give plenty of light for all of your bathroom needs. The colors of the light fixture are echoed in the sink below.
15. Black Metal Chandelier With Wire Box Frame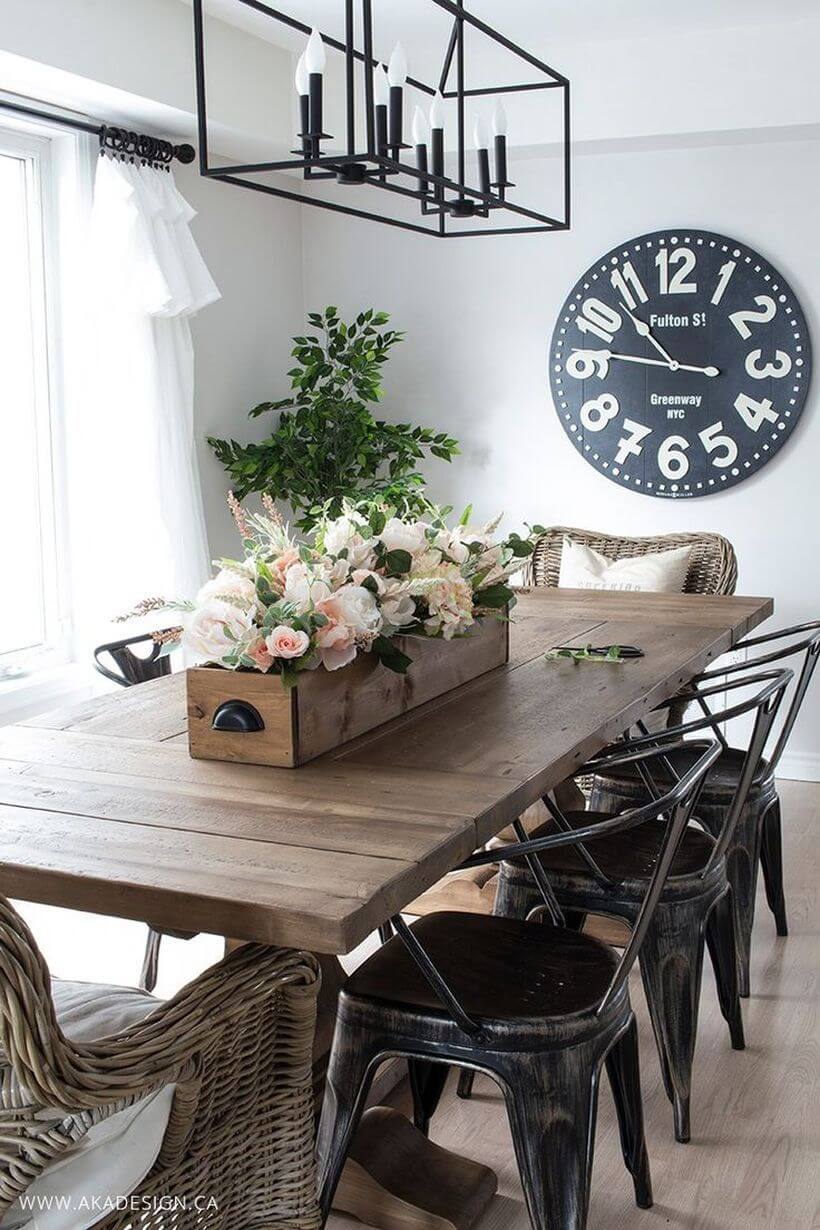 In a contrast with more ornate chandeliers, this light fixture has a clean boxy frame. In the center of the box, there are two clusters of lights, each with four bulbs. These bulbs are frosted white for a less intense look. This chandelier is a fun and understated example of farmhouse lighting.
16. Crystal Chandelier Triad With Wooden Ladder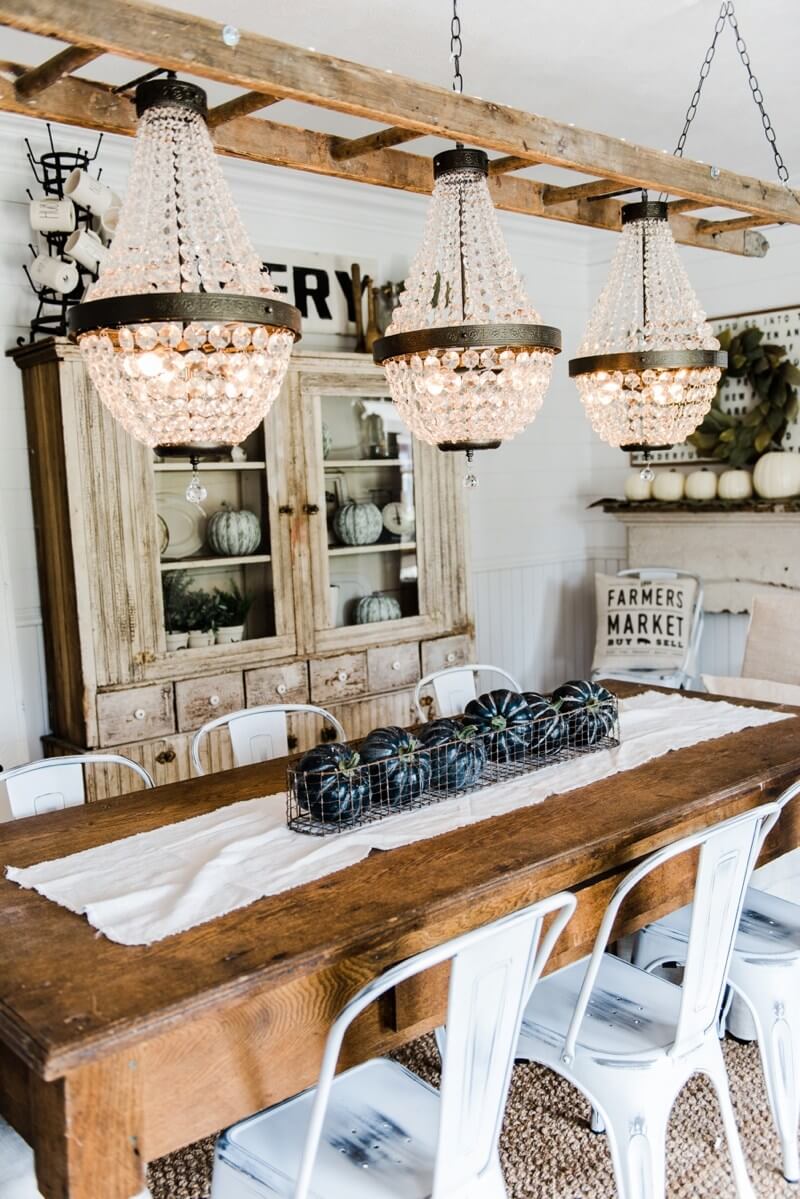 This impressive lighting fixture combines a reclaimed wooden ladder with three crystal chandeliers. The crystal is a nod to shabby chic style and brings an elegant, old-fashioned feeling to the light. The contrast between the crystals and the distressed ladder makes a charming departure from the usual style.
17. Mini Chandeliers With Bell Jar Cover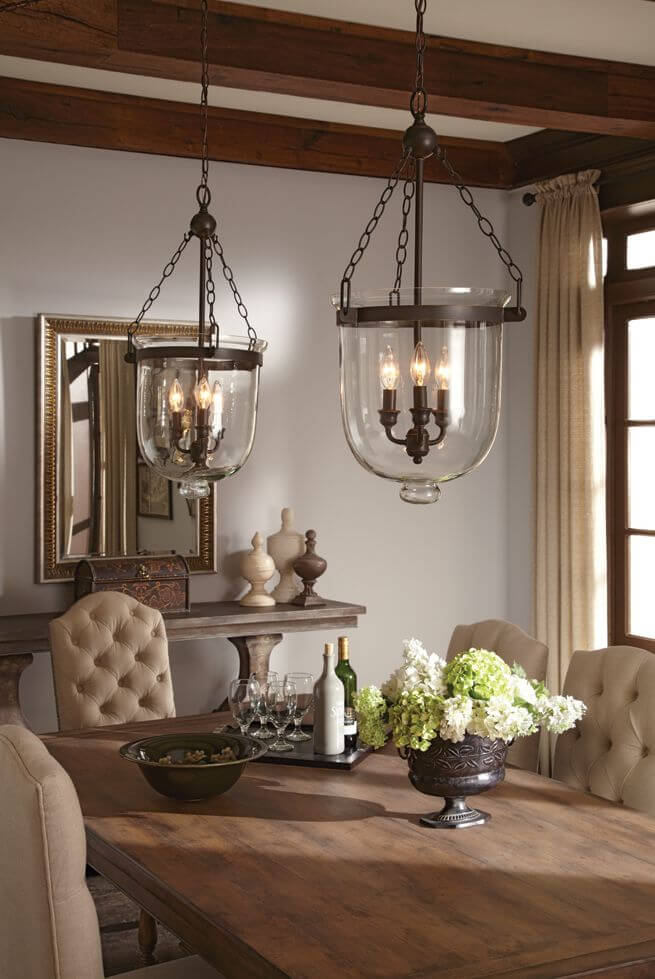 These glass bell jar lights have brushed metal fixtures. Chains and posts provide for practical hanging. Inside the bell jars, there are mini chandeliers with four bulbs each. The globe helps to distribute light evenly across the room. This is a pretty and understated type of farmhouse lighting.
18. Unique Rope-wrapped Chandelier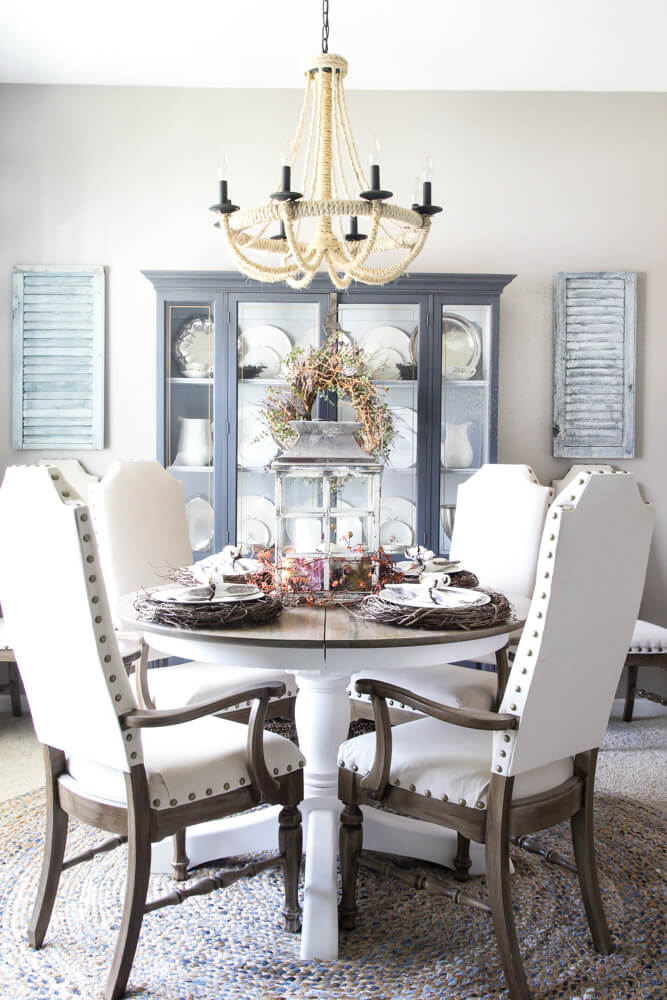 A rope wrapping makes this chandelier stand out in a crowd. Everything from the chain down is wrapped in rope, from the arms of the chandelier to the chains. The light fixtures are left unwrapped, partly for safety and partly for contrast with the rope. This unique piece brings a charming country touch to any dining room.
19. Antique Bulbs in Mason Jars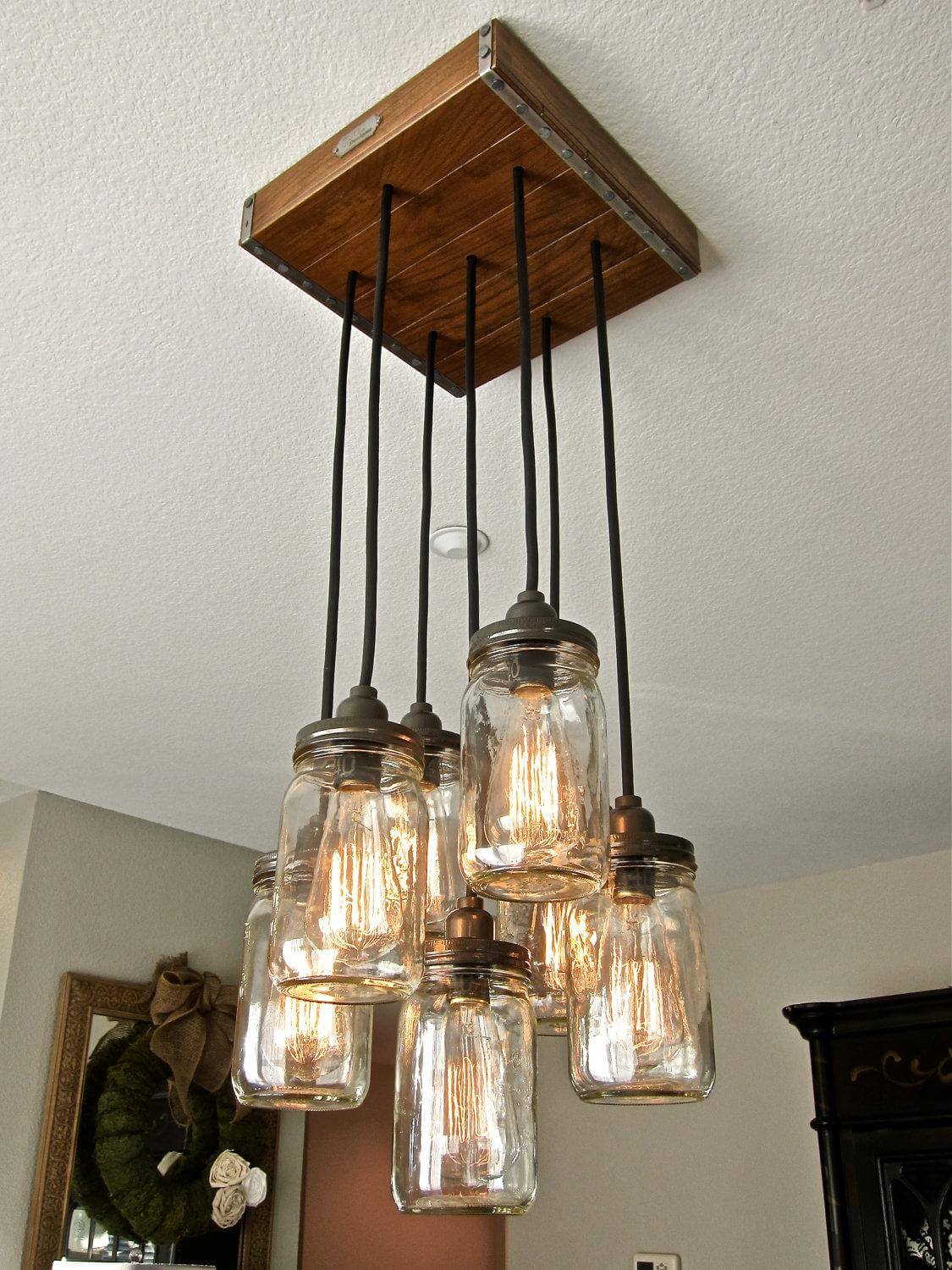 This is another great example of farmhouse lighting using Mason jars. This small light fixture holds a cluster of bulbs with Mason jar housing. The thick glass makes the filament lights look beautiful, especially in a darkened room. This light fixture would also look great in a more modern style home.
20. Track Lighting Recessed in Wooden Beam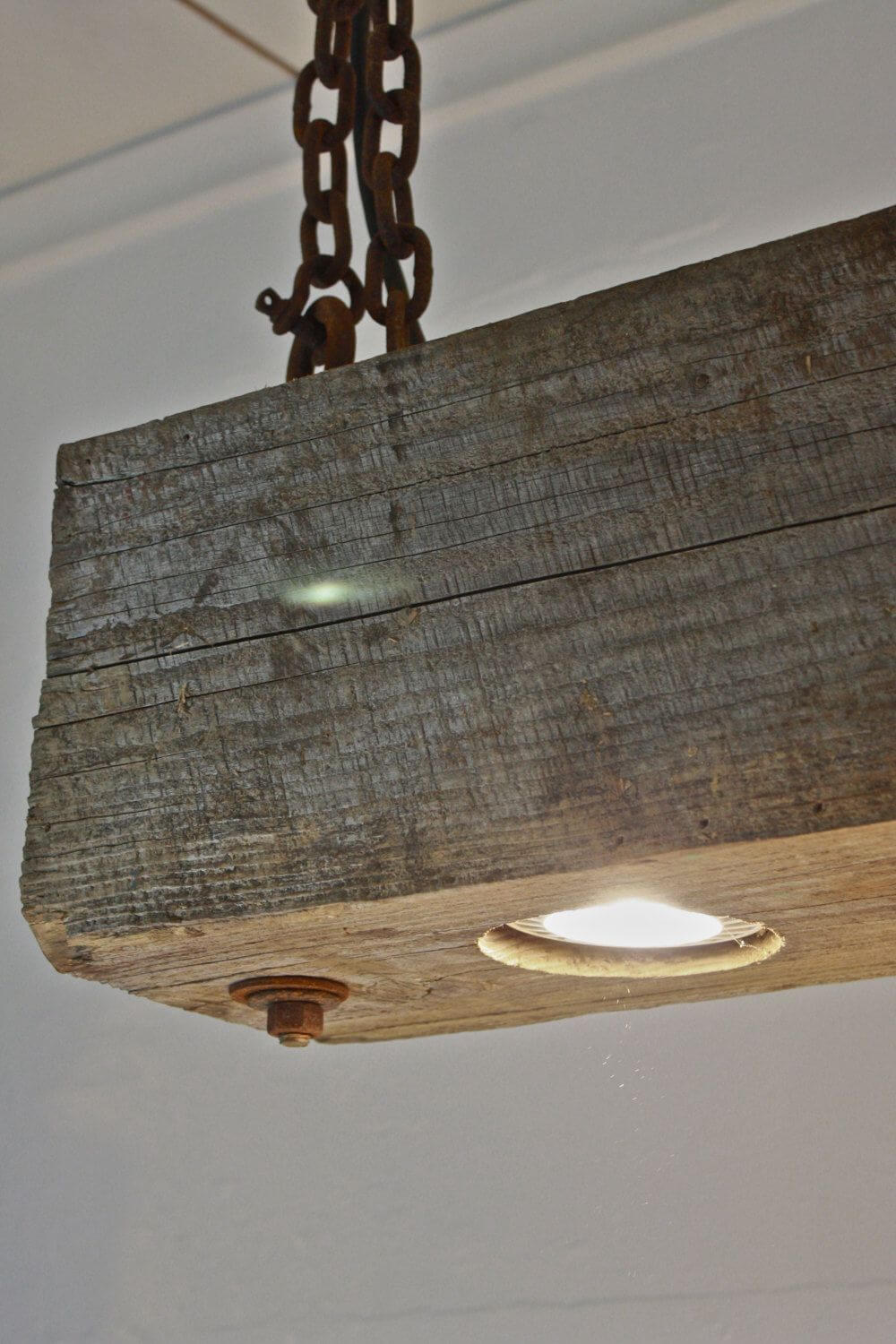 A contemporary idea, track lighting, is given a farmhouse makeover in this light fixture. The track lights are recessed into the lumber. The lumber hangs from the ceiling using strong metal chains. This industrial element blends in nicely with the farmhouse style. These unique lights would be great in any farmhouse or industrial style home.
21. Chandelier With Wire Light Post Frame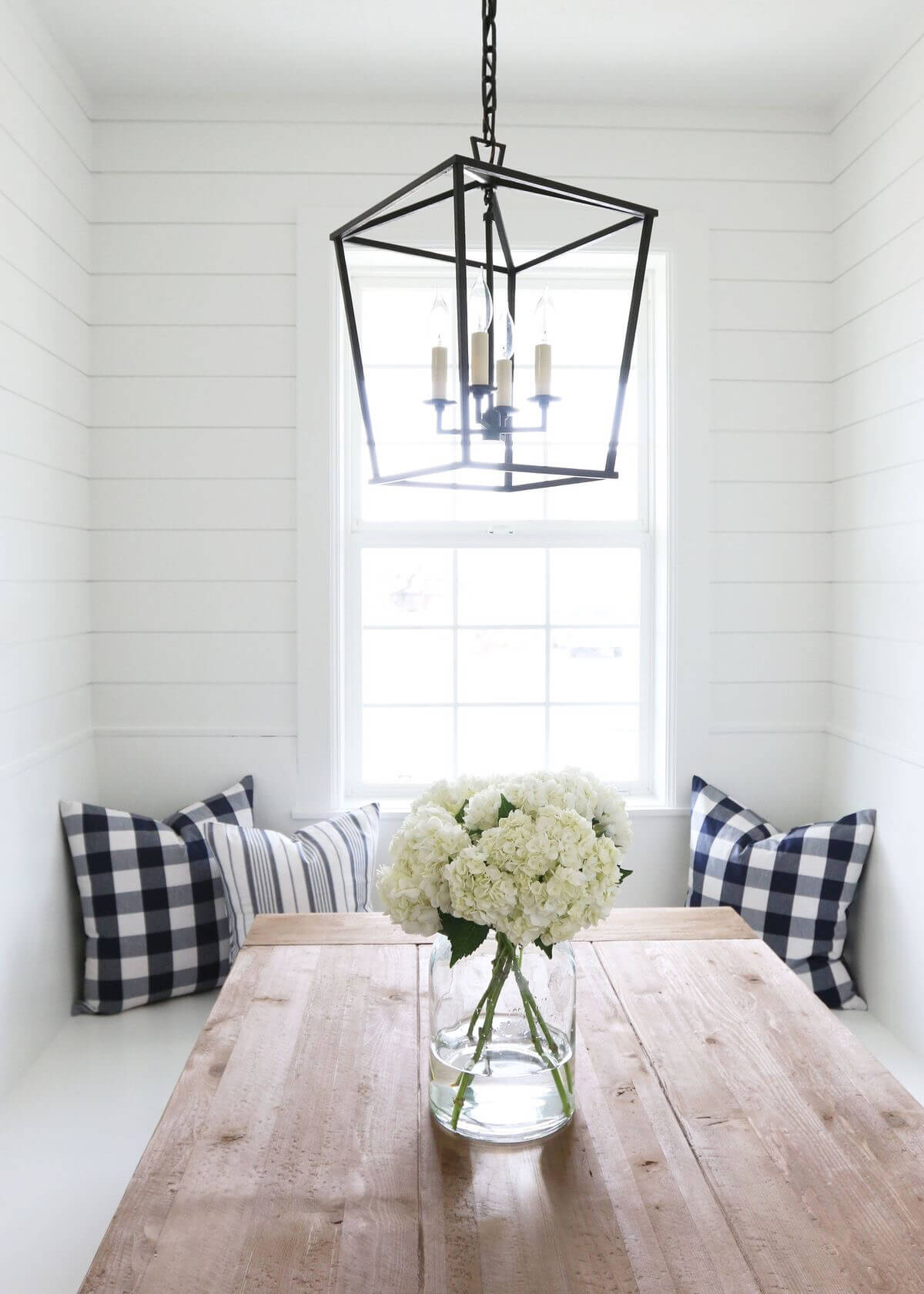 This understated farmhouse lighting idea has a nod to the traditional outdoor light post. The exposed light bulbs and structured fixture would make interesting shadows on the wall. The style is simple and clean, with practicality winning out over any style flourishes. Hang it over a dining table or in a breakfast nook.
22. Suspended Track Lighting With Old Fashioned Lamps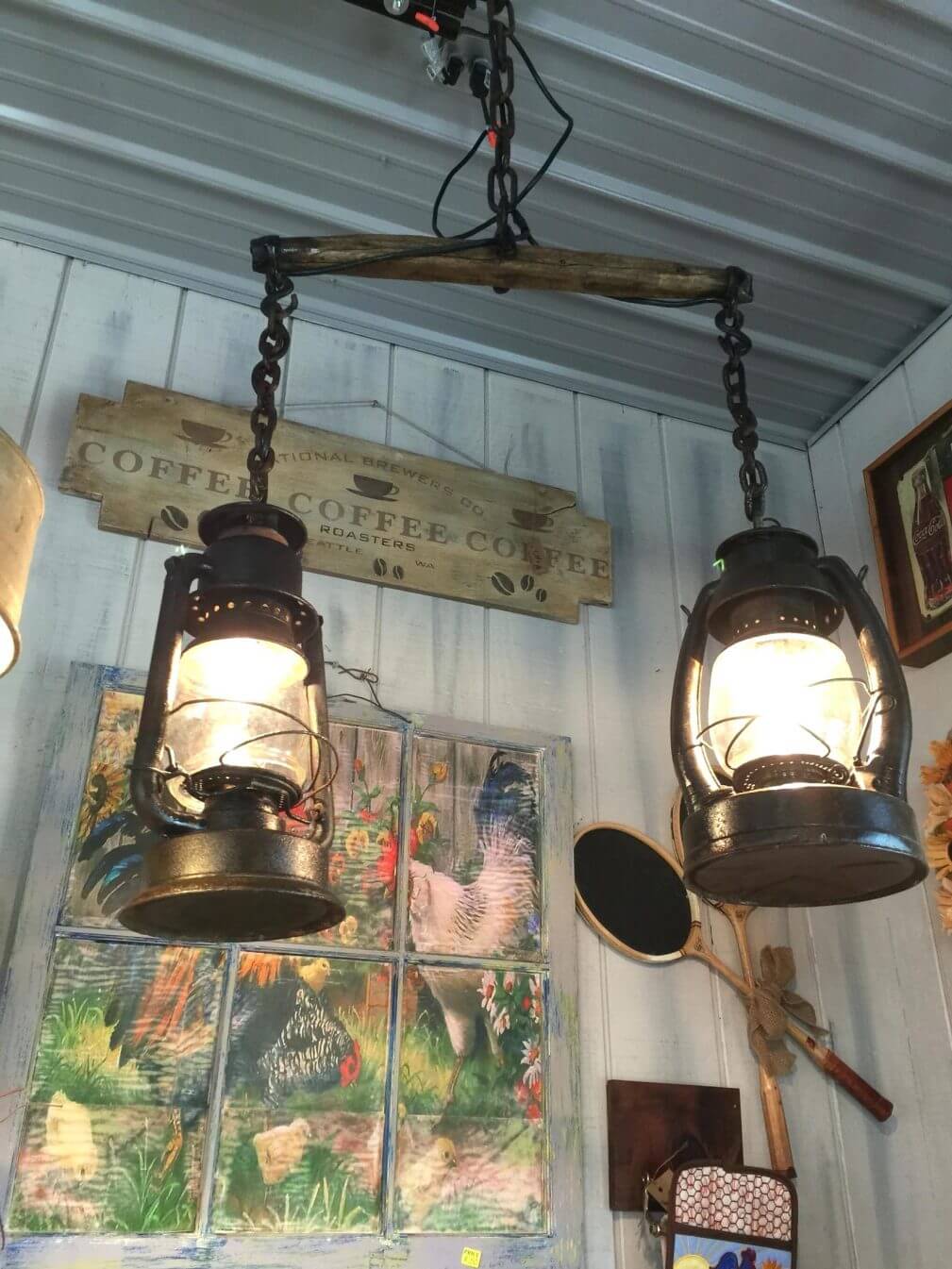 Old fashioned lanterns make this light fixture unique. The lanterns are retrofitted with bulbs and hung on chains from a distressed wood fixture. The two bright lanterns make a farmhouse kitchen shine. The old fashioned style blends in with the farmhouse kitchen in a charming manner.
23. Ceiling Light Fixture With Chicken Wire Shade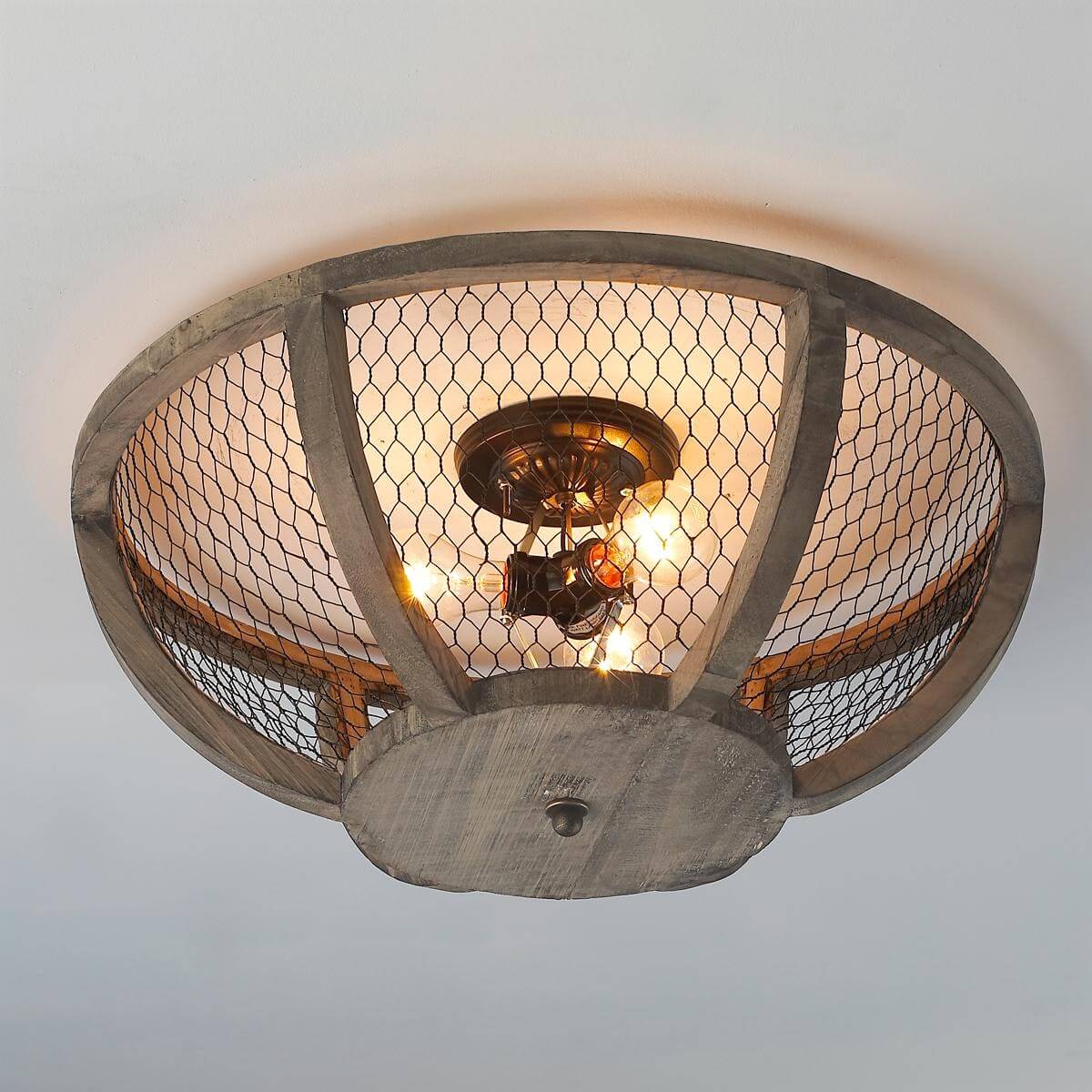 In this ceiling lamp, three exposed bulbs are shielded by chicken wire. The wood housing is distressed for an antiqued look. Chicken wire brings the piece up to date with other farmhouse lighting styles. This light is simple and practical, and will bring illumination to your farmhouse style room while maintaining a sense of style.
24. Wooden Scroll Sconce Lamp With Burlap Shade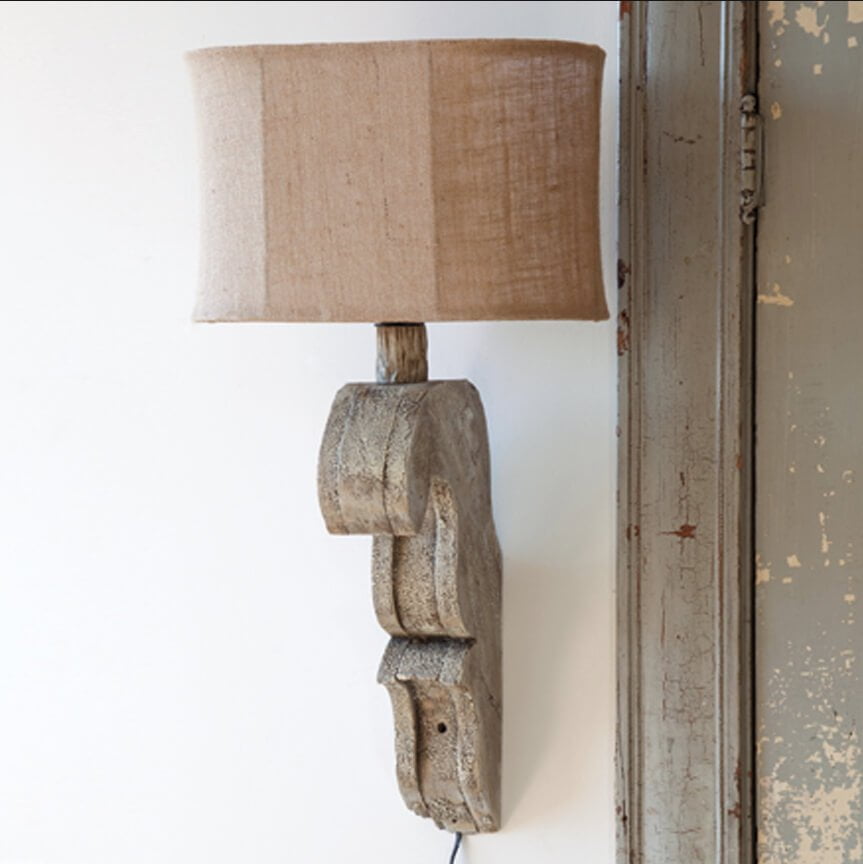 This corbel style sconce hangs neatly on the wall. The exposed cord hangs down. The wooden corbel has a distressed, sanded finish. The lamp has a sturdy burlap shade. Try hanging one of these lamps on either side of a door or window for a symmetrical look.
25. Black Metal Suspended Barn Lights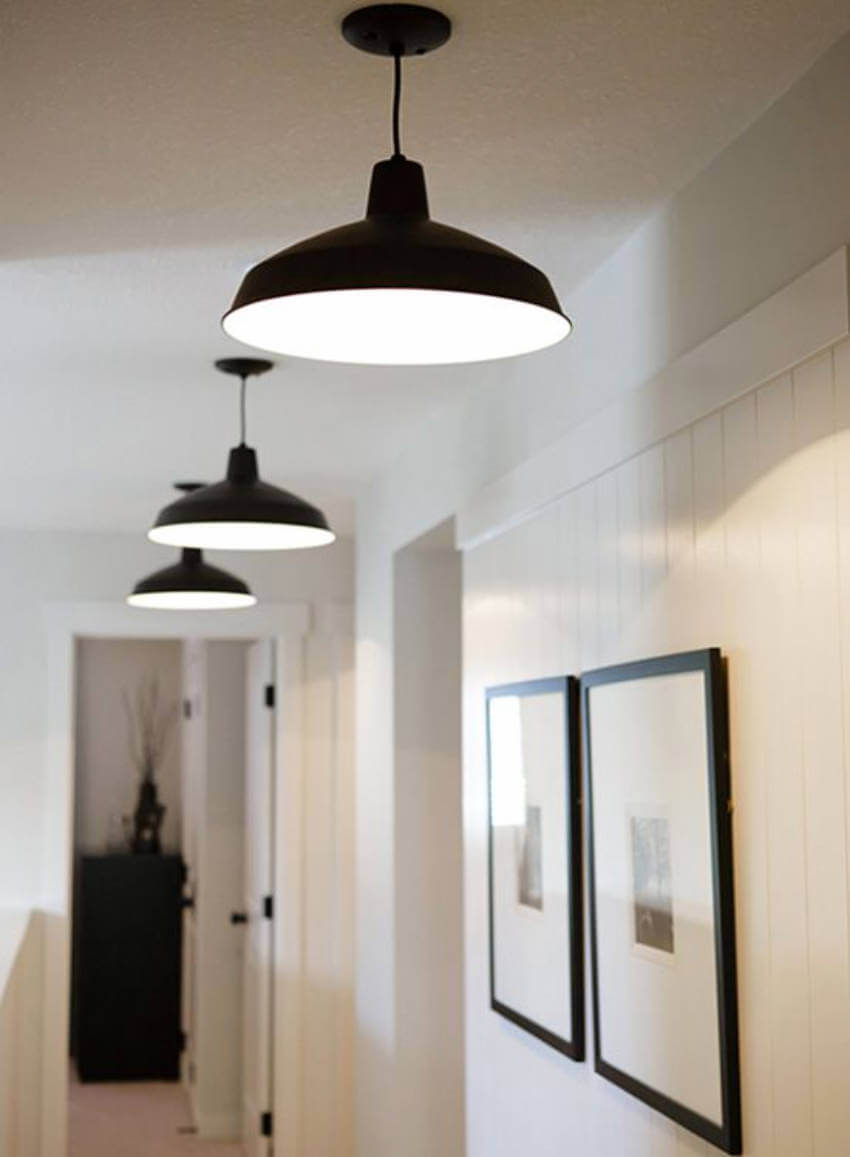 These black barn lights are understated and perfect matches to the farmhouse lighting style. They illuminate a hallway, and the black color provides a nice contrast to the all white walls. These are bright lights that will get the job done while being aesthetically pleasing. Try them over a dining table.
26. Matte Black Gooseneck Light Post Bathroom Fixture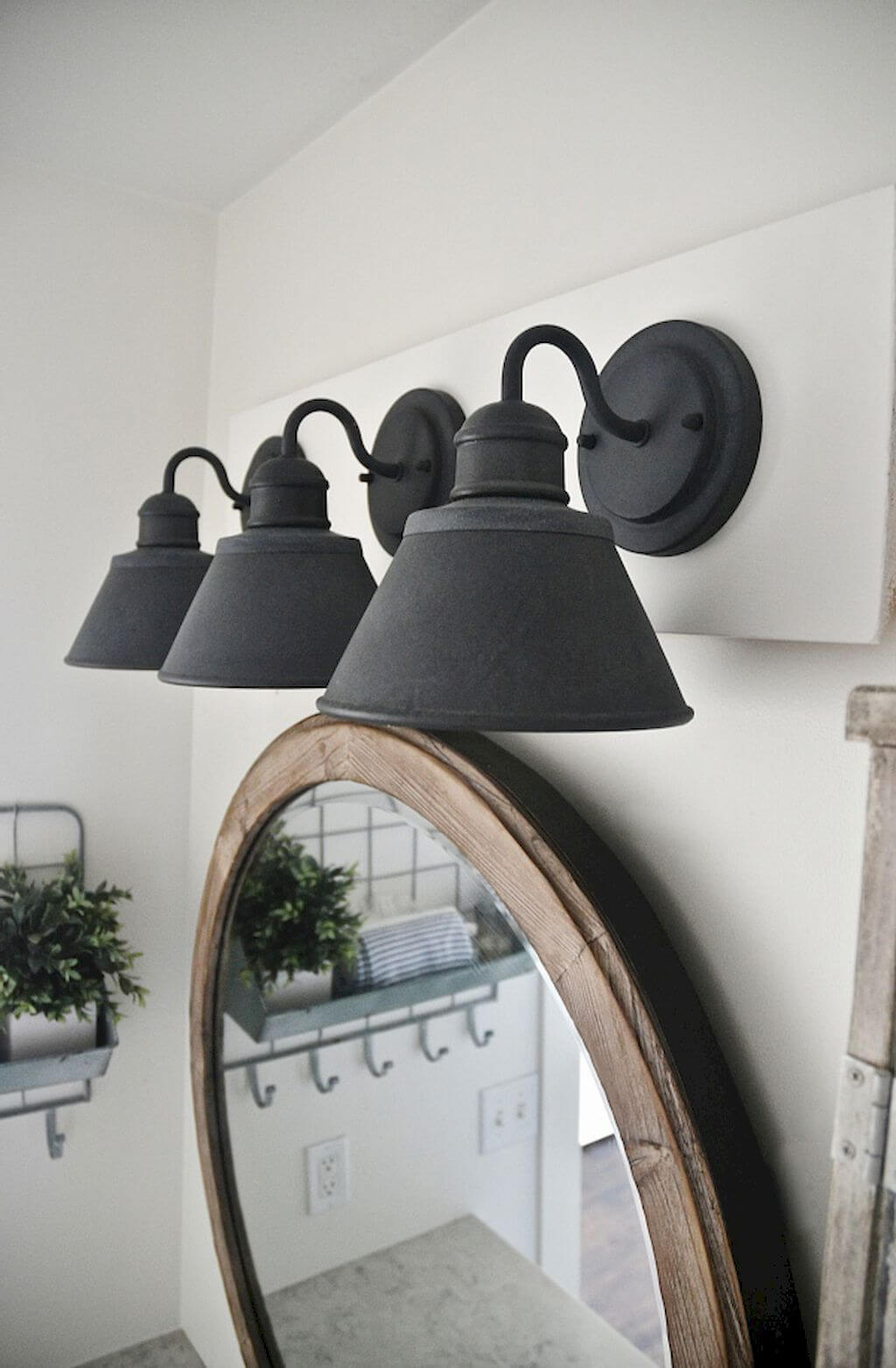 These three black gooseneck lamps are painted in an updated matte black finish, giving them a contemporary look. The matte finish contrasts with the shiny glass of the mirror. The lights provide necessary brightness to the bathroom while creating a style statement of their own. They would also be attractive in a kitchen or as wall accents in other parts of the house.
27. Raw Wood Wall Sconce With Mason Jar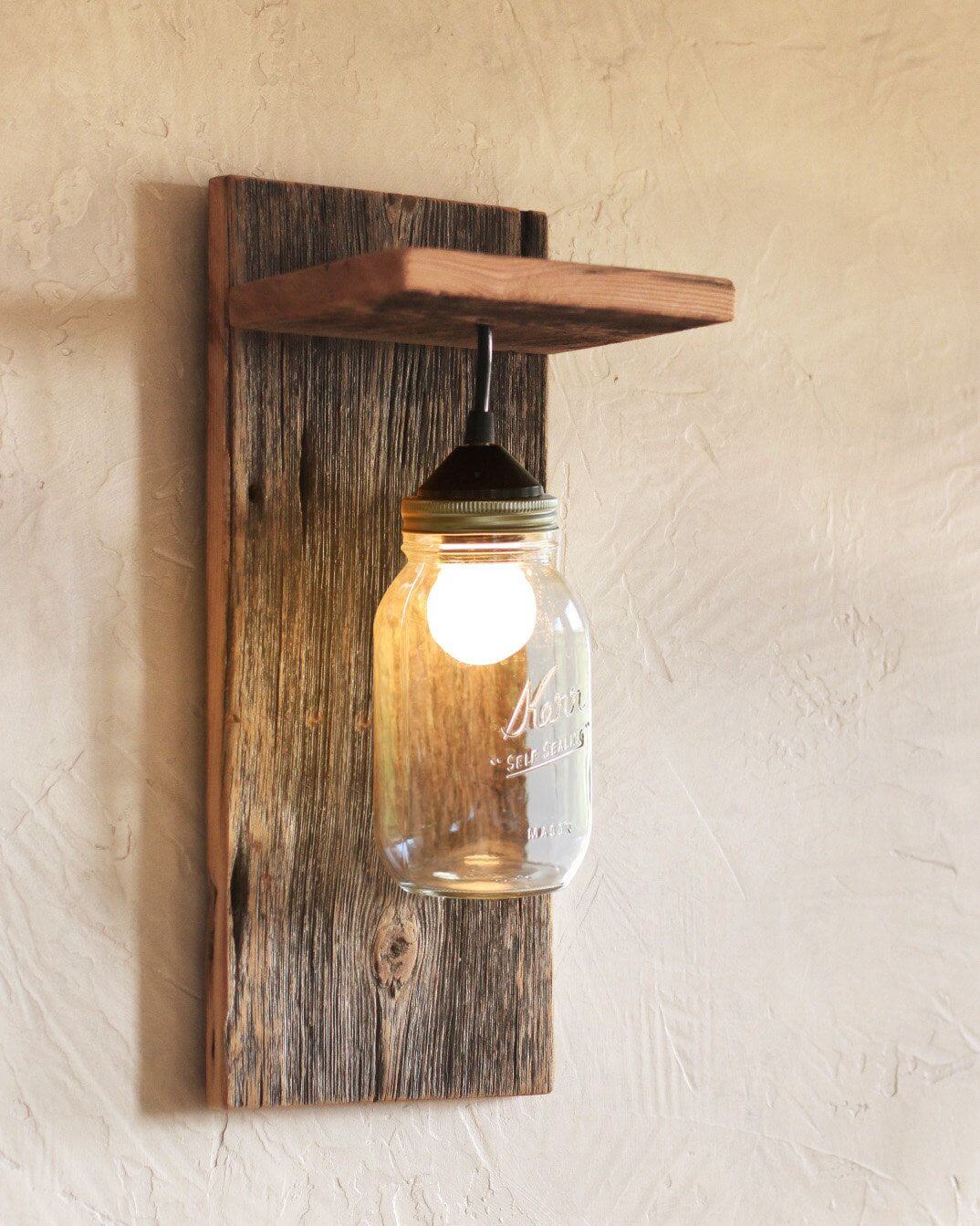 This farmhouse lighting idea couldn't be simpler. The bulb is encased in a Mason jar, and the jar is screwed onto the light fixture. The reclaimed wood of the fixture gives a rustic accent to the lamp. The cords are hidden in the wall for a polished look. These lamps make cute accents anywhere in the farmhouse home.
28. Metal Pendant Lights With Glass Bell Jars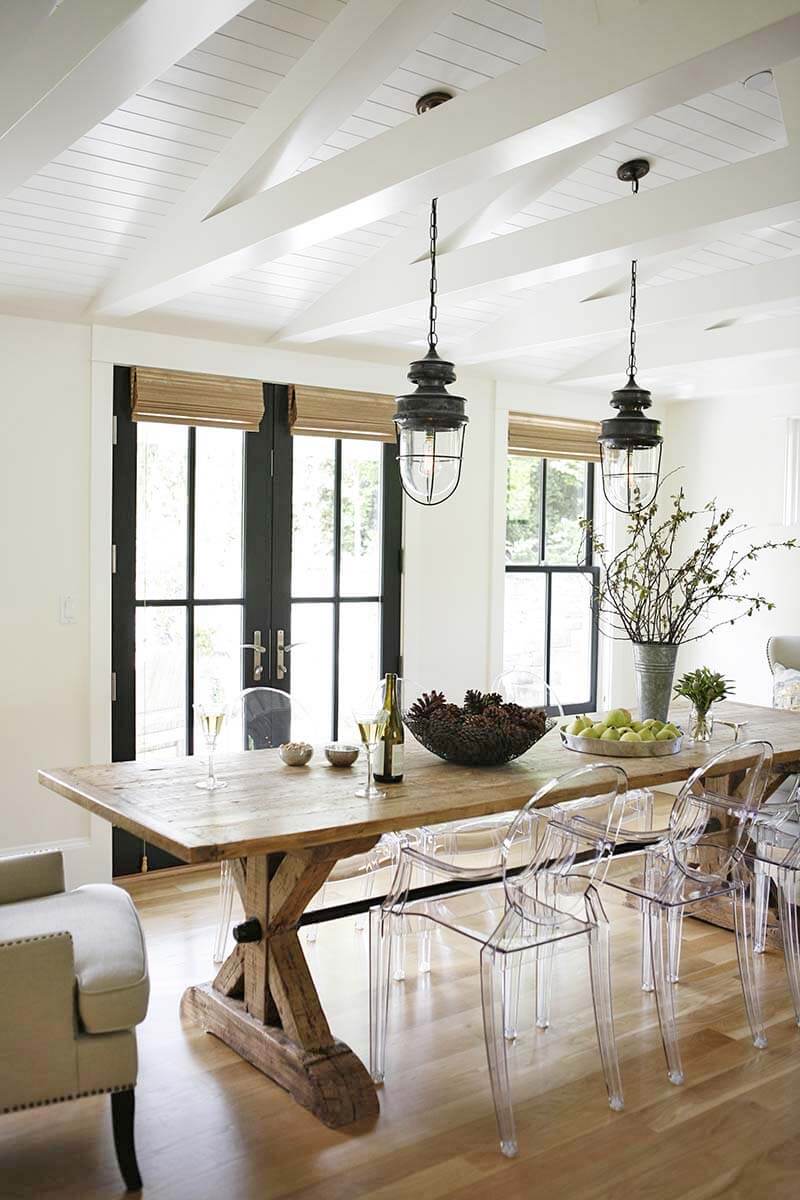 These metal pendant lights in glass jars hang over a contemporary farmhouse dining table. They provide steady, bright light which is filtered by the glass jar. The bulb inside the jar has an exposed filament for a trendy look. These sturdy, practical lights are hung between the exposed ceiling beams.
29. Decorative Wire Pendant Light With Burlap Lining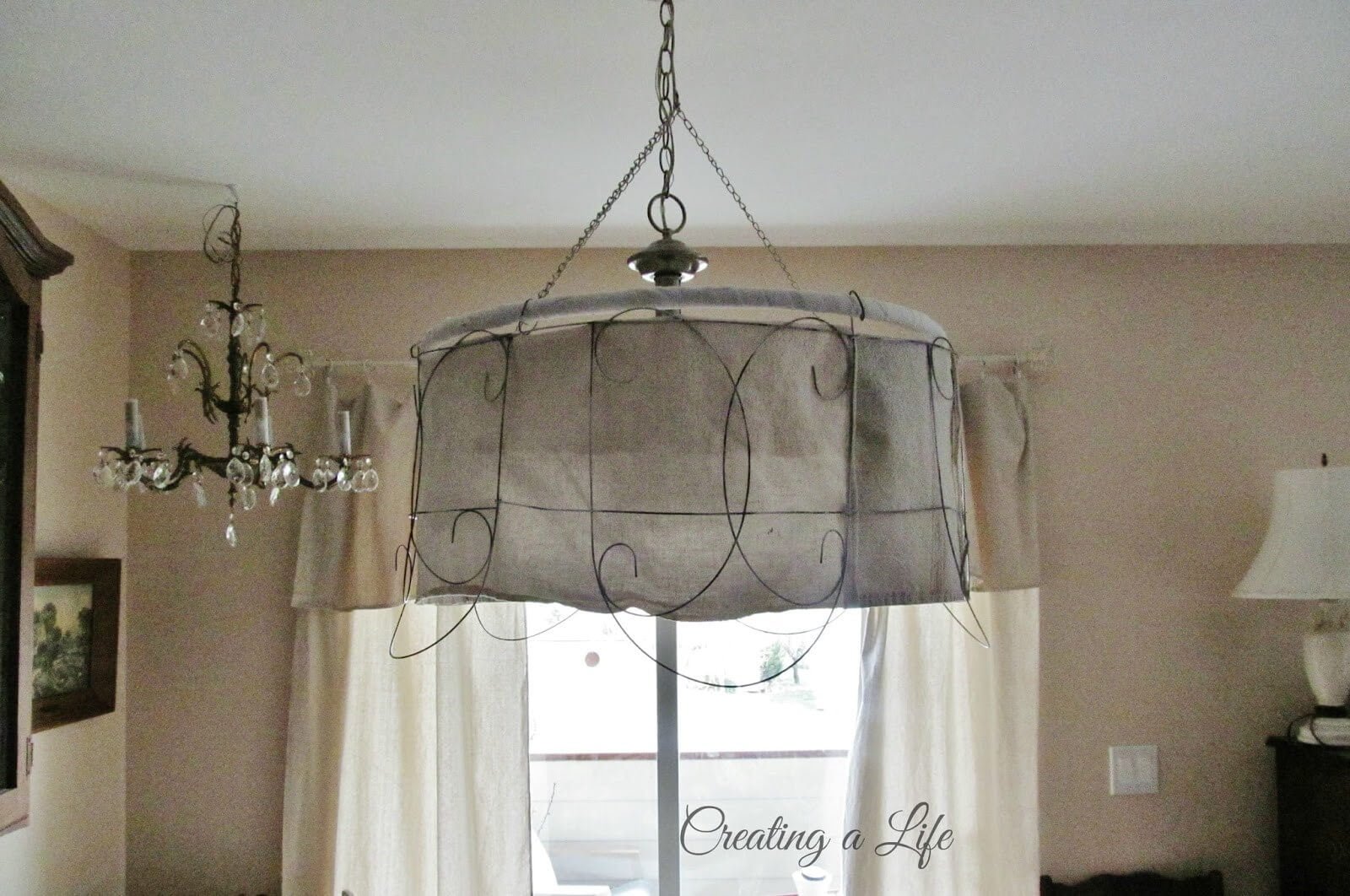 This light looks like it was upcycled from wire garden fencing. The decorative wire pendant light is lined with burlap for a rustic look and muted lighting. This is a unique example of farmhouse lighting and quite creative in its execution. It contrasts nicely with the chandelier in another part of the room.
31. Rusted Chandelier in Wire Orbit Cage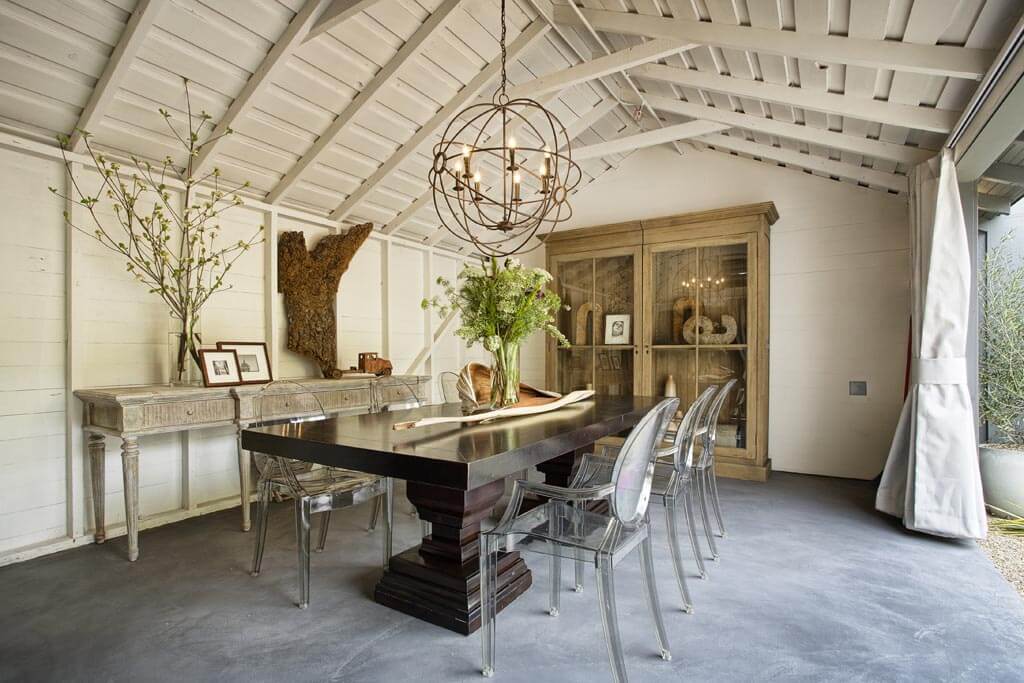 This chandelier is encased in a wire orbit cage for a pretty, stylish farmhouse lighting look. The graceful lines of the chandelier contrast with the clear modern chairs and the fine pedestal table. The light hangs in the middle of the room, giving a nice design accent. Try this light in multiples to illuminate a large table.
32. Gray Glass Jar Lamp With White Shade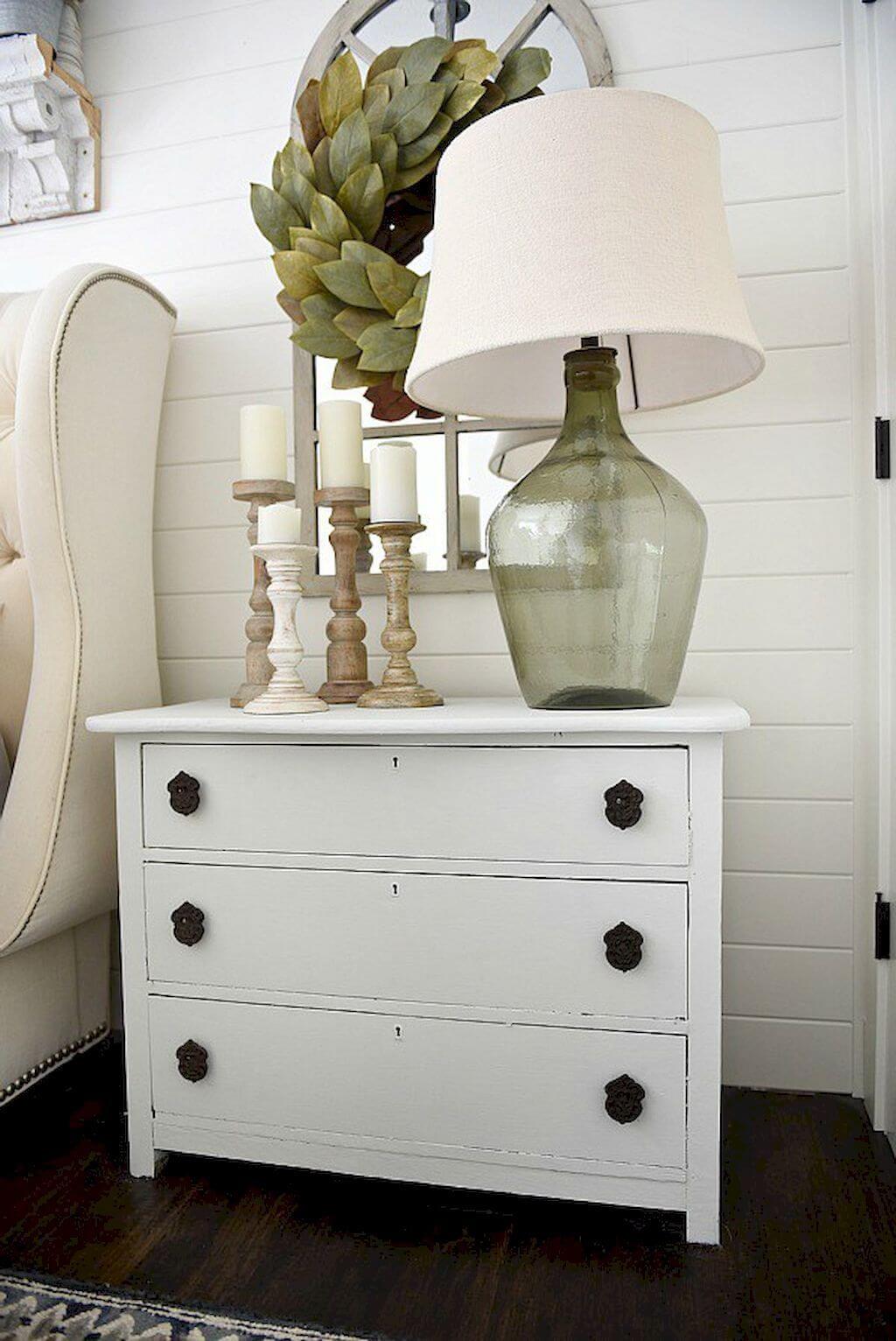 This old fashioned glass jar lamp shines when it is lit. The light reflecting off the glass jar makes it an especially pretty accent to any living room or bedroom. The plain white shade keeps the style simple and basic. Pedestal candles sit beside it for a pretty contrast in lighting styles.
33. Black Metal Gooseneck Barn Light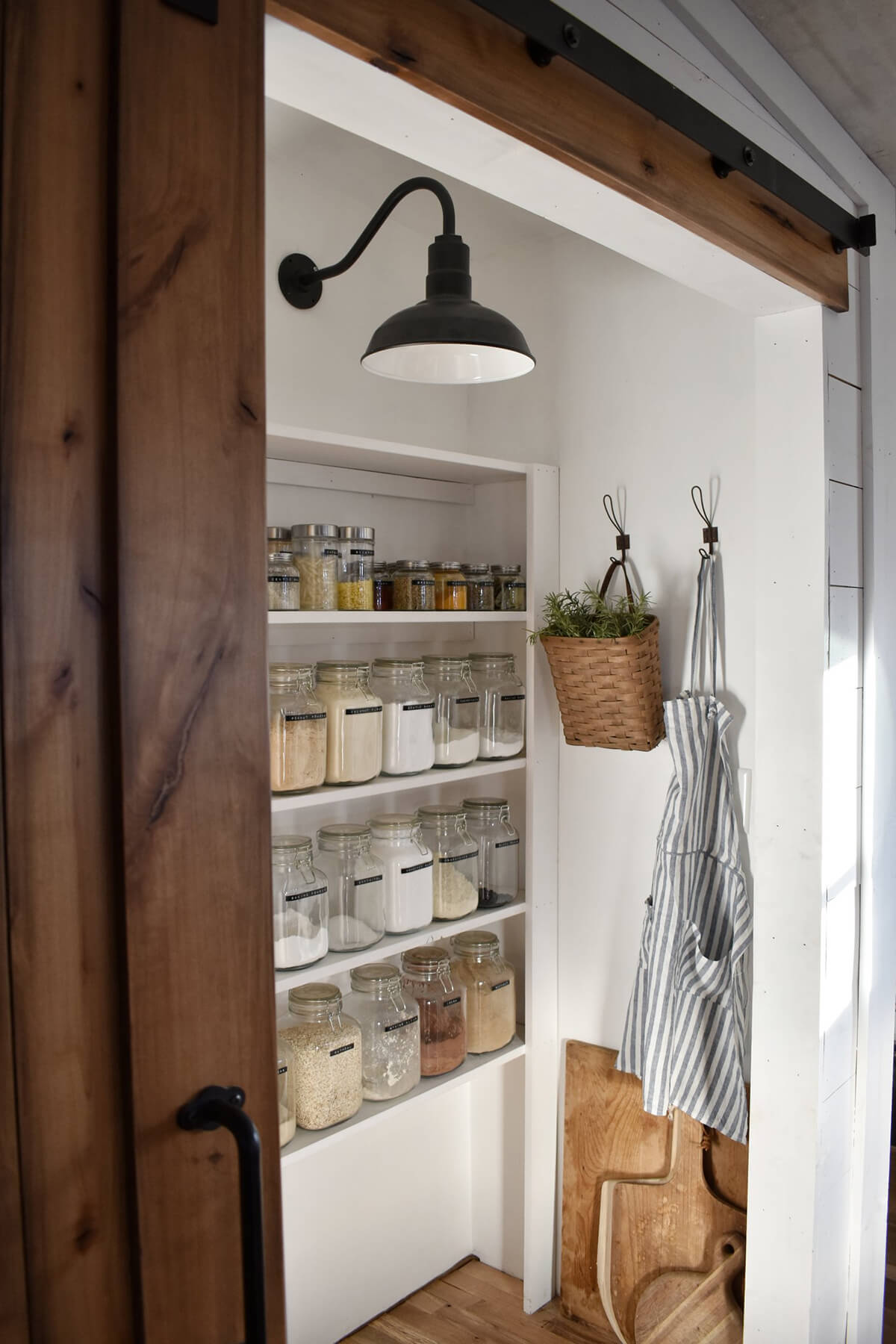 This classic gooseneck barn light makes a practical addition to the pantry. With a sleek black matte finish, this light gives plenty of illumination to look for things in the pantry while bringing in a touch of farmhouse lighting style. The beauty of this light is that it is so simple.
35. Wooden Palette Suspended Track Lighting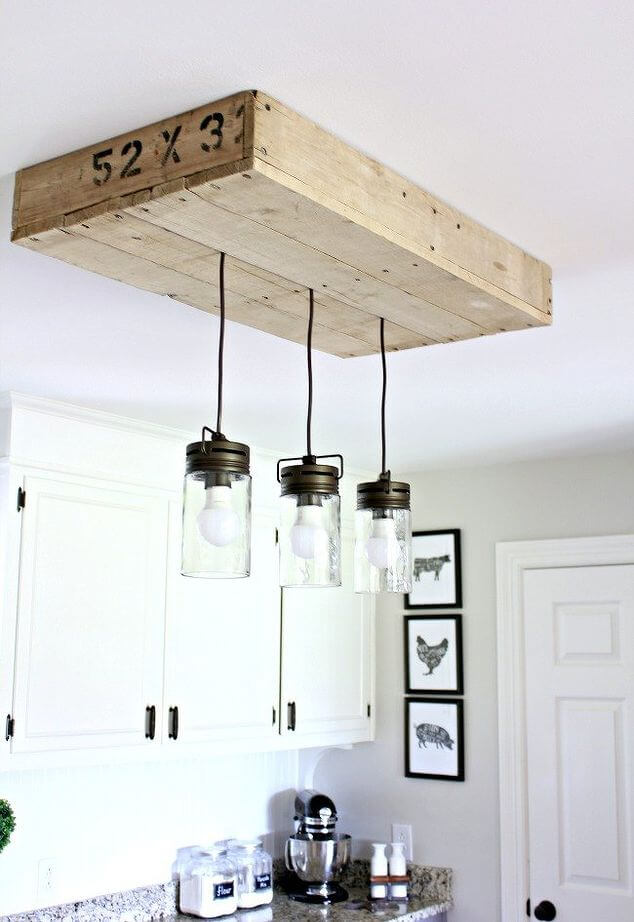 This farmhouse lighting idea takes the track lighting concept one step further. The lights are suspended from an old wooden pallet affixed to the ceiling. The lights hanging down have the look of lanterns with open bottoms. This lighting would be ideal over the island in any farmhouse kitchen, or try it in the dining room.
36. Gooseneck Wall Sconces With Wire-caged Glass Covers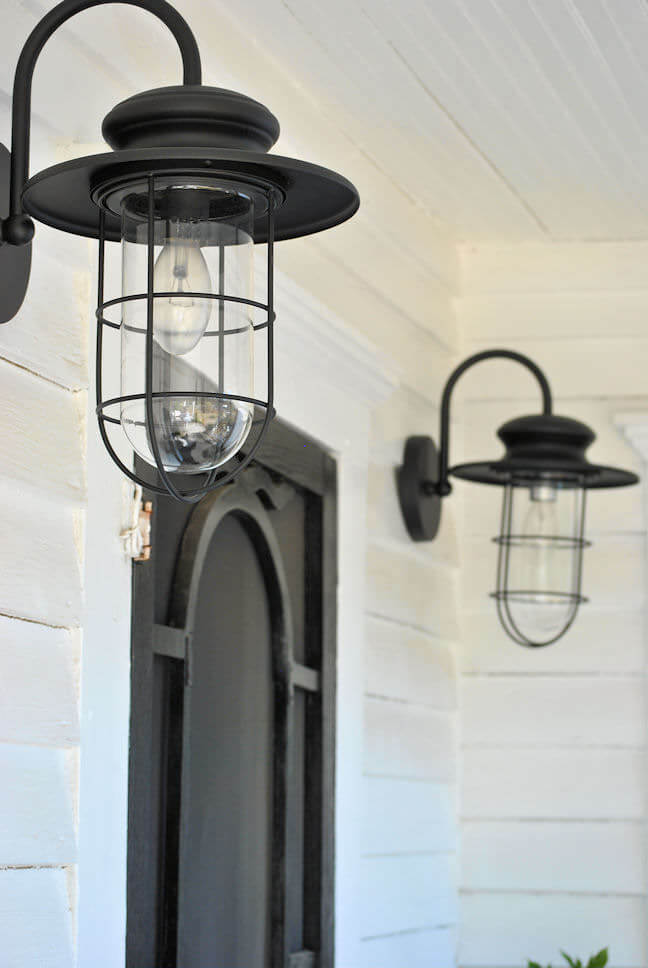 These outdoor lights look like they came from a barn. The gooseneck lamp base has wire caged glass covers to keep the bulb safe. Even these outdoor bulbs have exposed filaments in keeping with farmhouse style. These sturdy lights will keep your front door illuminated every night.