With all the hustle and bustle of the modern world, your home should be a place that makes you feel relaxed. The perfect décor to embrace that mentality is rustic country farmhouse décor.
29 of the Coziest Country Farmhouse Decor Ideas to add Rustic Warmth and Charm

The country farmhouse look can be achieved in any space, no matter how big or small. There are no hard and fast rules as to what your interpretation of this style can look like, so don't feel boxed in. A farmhouse vibe can be simple and clean, ornate and decorative, or a little bit of both.
A few key decisions to consider when you are curating items for your home are whether to create items yourself, to incorporate antiques, and to buy things new. Each of these options is very easy to work with within farmhouse chic décor, so just consider how you want your finished room to look, if you are up for DIY projects, and if you want to scour markets until you find those perfect pieces.
However you decide to achieve your farmhouse look, be sure to take care when crafting or selecting your pieces; you want furniture and décor that will last. Use this list to get started with a few excellent ideas for getting that perfect farmhouse look.
1. Antique Birdcage for Wildflowers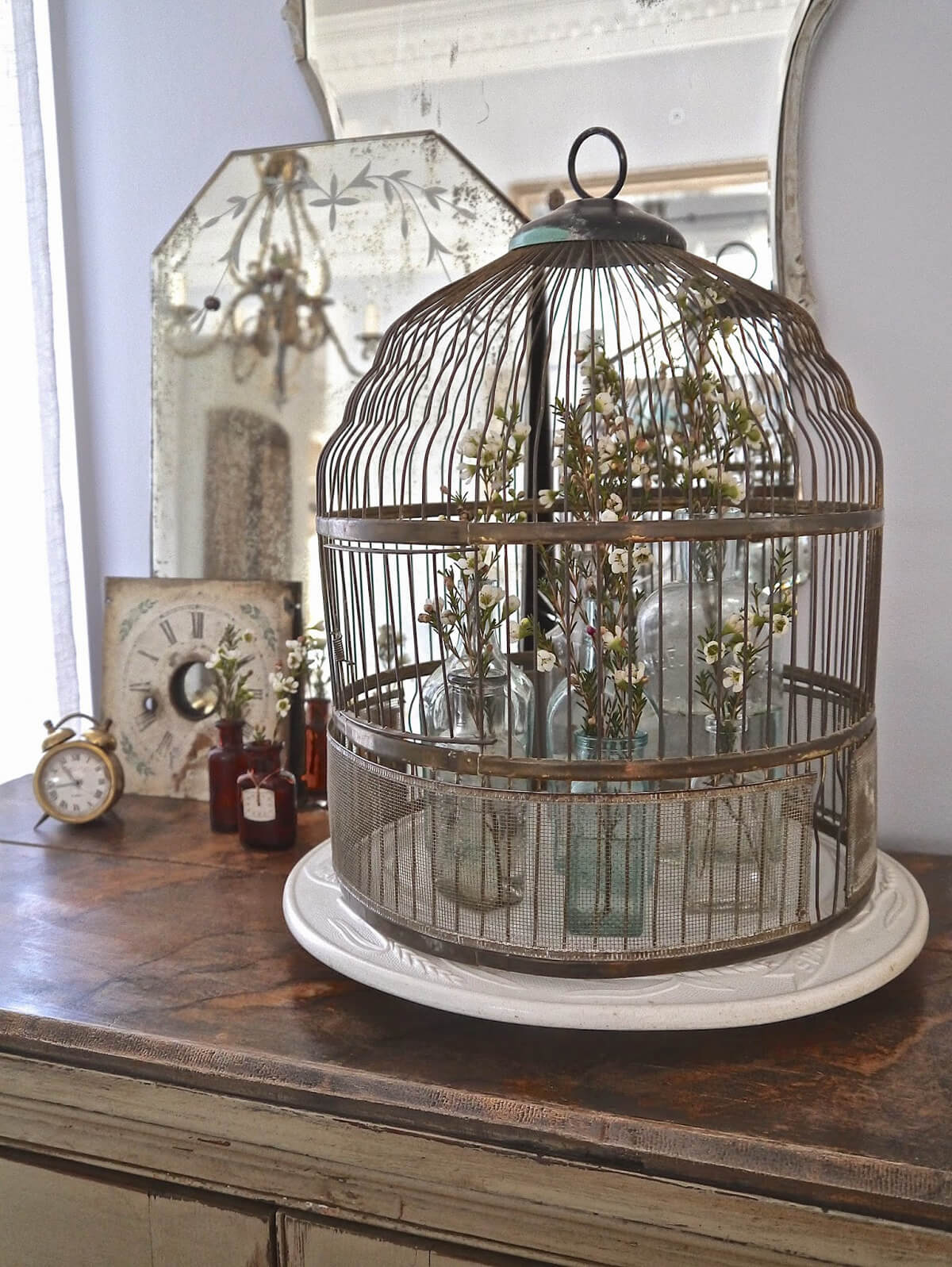 There is something so whimsical and romantic about an iron birdcage. It is the perfect blend of farmhouse chic and fairytale fantastic. This beautiful display takes clear jars filled with your favorite wildflowers and places them under the cage to reach out through the wire confinements, blending the hard cage with the soft buds.
2. Expensive-Looking DIY Board and Hook Curtains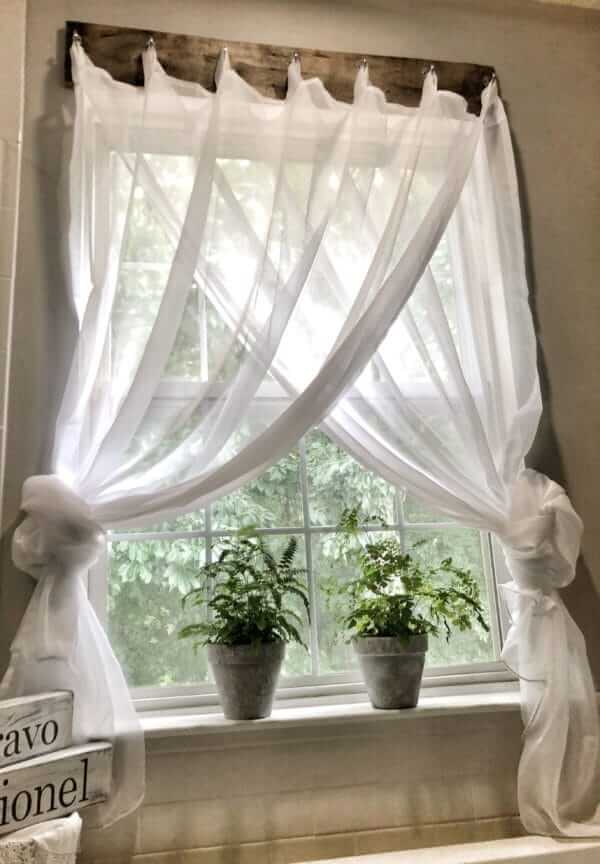 This particular arrangement of hooks gives the curtains such an alluring shape that your friends won't believe you when you tell them it was a simple DIY project. If you make this curtain rod alternative yourself, consider whether you want light pouring through the curtains or if you'd prefer total blackout.
3. Completely Perfect Farmhouse Entry Table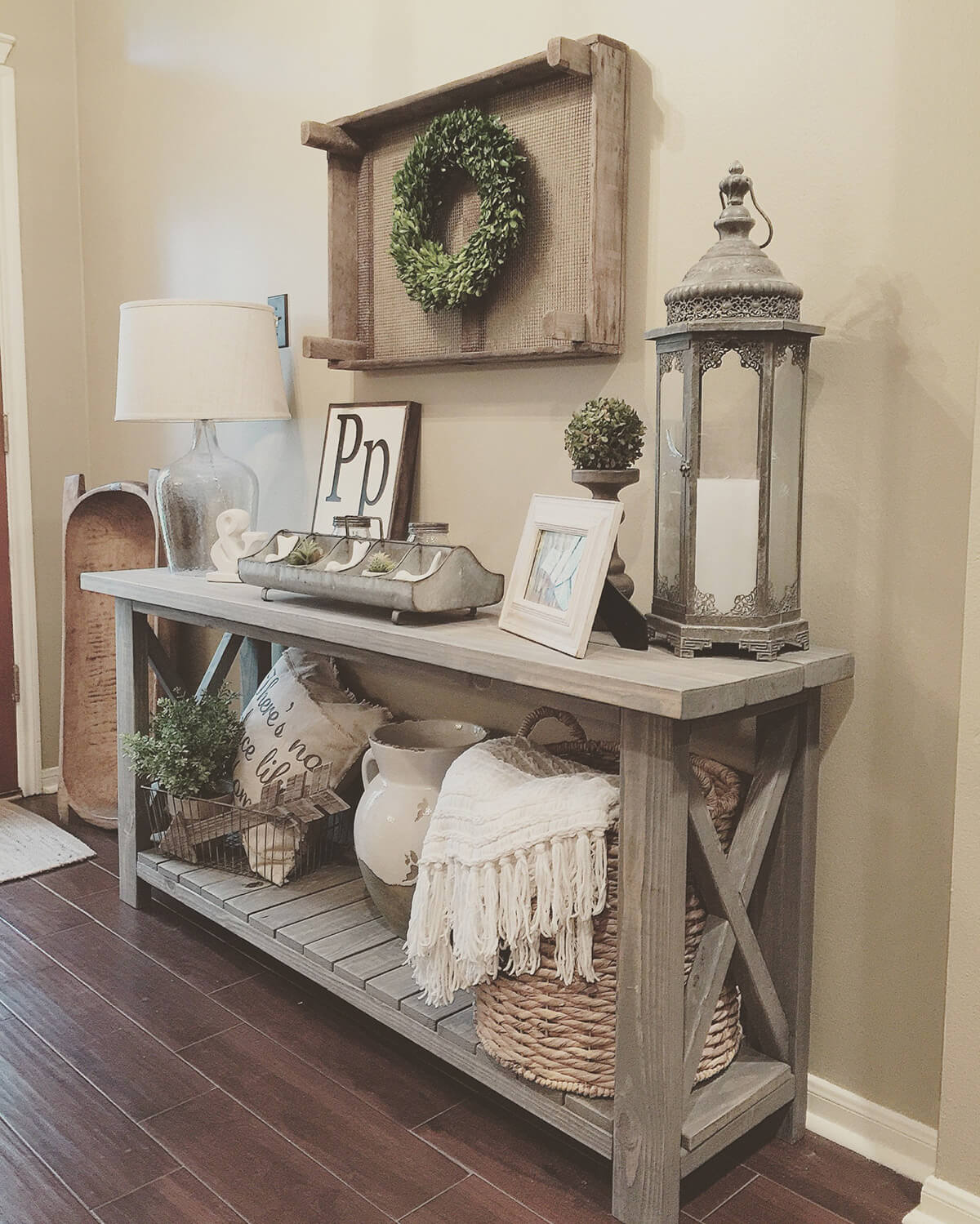 This table fully embraces the farmhouse chic vibe, pulling on everything from a vintage iron planter to soft white tasseled blankets and a beautiful piece of wall art. There is a lot of inspiration to pull from in this look, so take your favorite elements and incorporate them into your home.
4. Upcycled Wood with Decorative White Arrows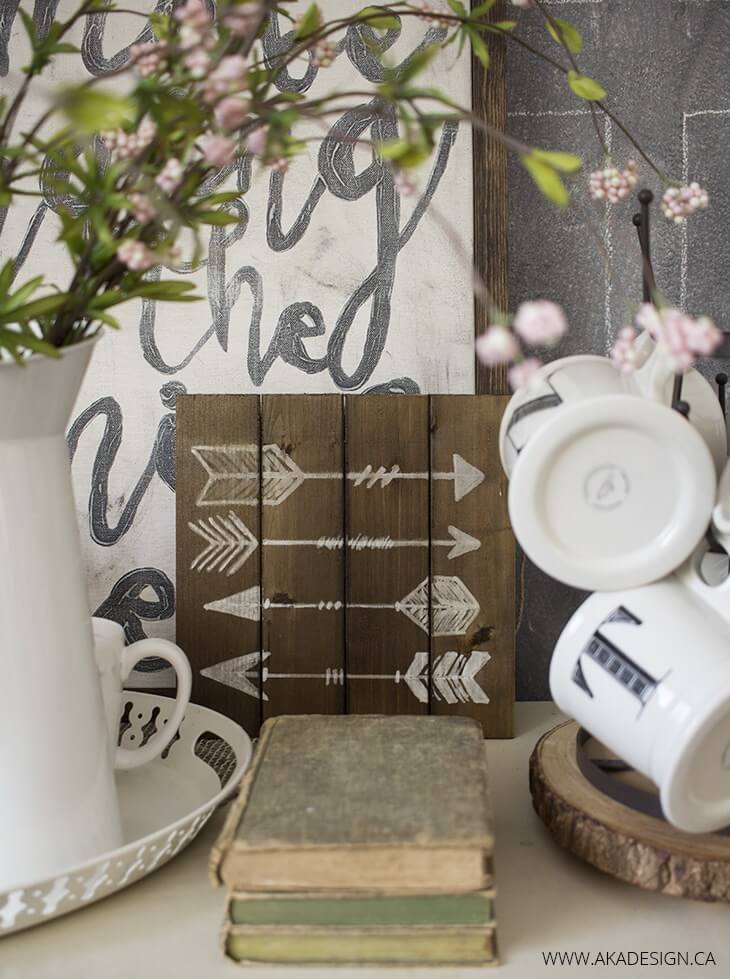 If you've got a hankering for a DIY project but don't have many materials to work with, this upcycle design should catch your eye. With nothing but a few spare boards and some white paint, you can transform wood scraps into a beautiful countertop piece or wall décor. The simple arrow design is easy to copy and embellish to make your own.
5. Beautiful Rustic Farmhouse Artistic Inspiration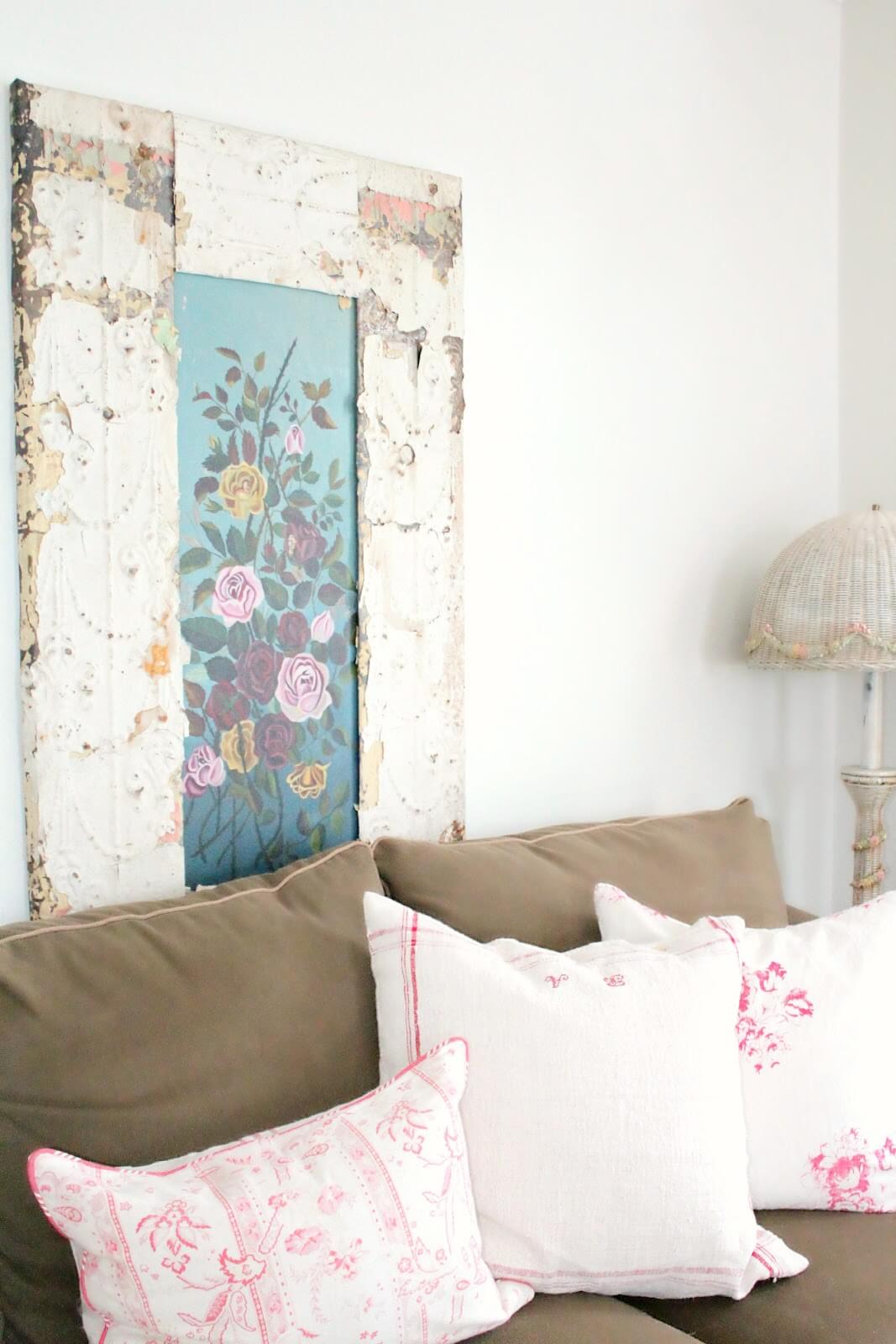 This living space design features a gorgeous piece of art that, on its own, may not read country farmhouse. However, when paired with a beautiful repurposed two-by-four frame, it becomes a centerpiece for this style. Easily craft this by hand by painting and weathering a few boards. What you get is a bold frame for your favorite wall art.
6. Wall Display of Antique Plate Set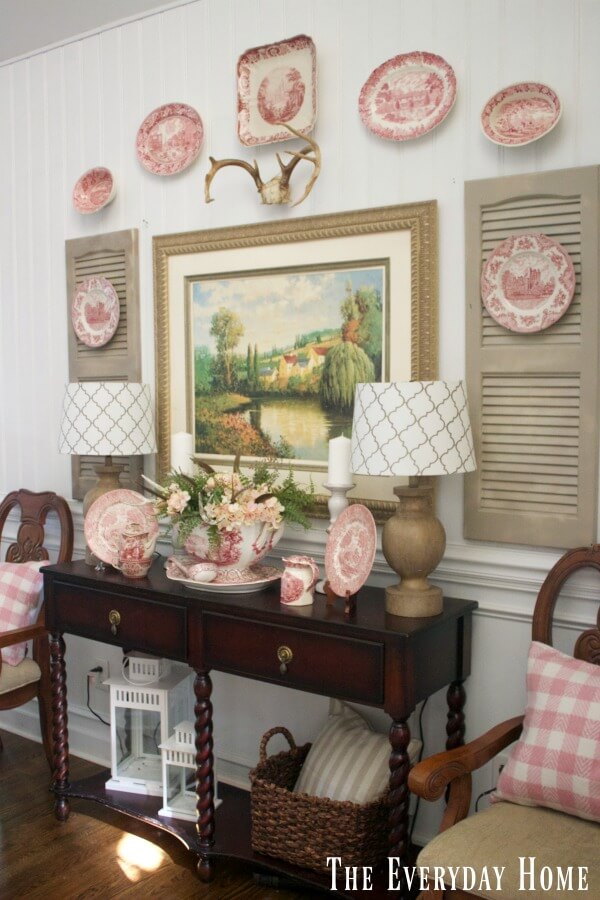 In most modern kitchens, the china hutch has become a thing of the past. That can leave you in an awkward position if you have inherited a beautiful set of decorative plates. Mounting a set in an arch across a wall – especially on the farmhouse-inspired mounted shutters – invites your guests to enjoy the set even when it's not Thanksgiving dinner.
7. Clever Watering Can Flower Arrangement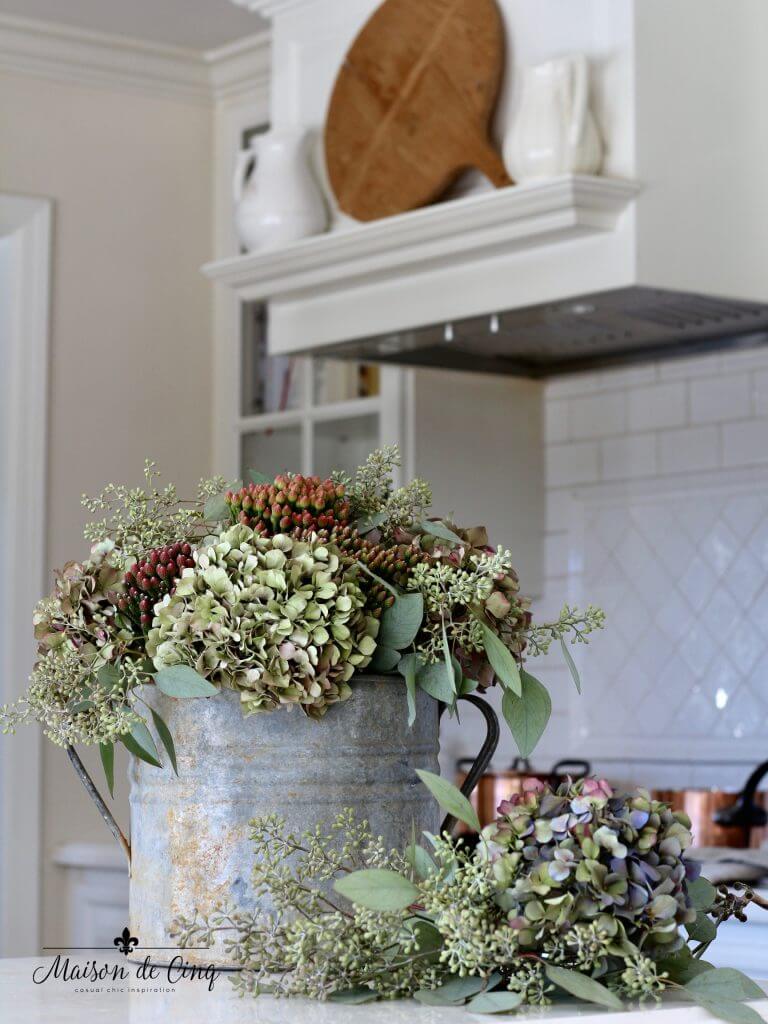 Do you want to know a secret? Cut flowers don't have to live in a glass vase. Don't be scandalized; be liberated! To up the rustic appeal of your home, try making floral arrangements in a watering can, metal bucket, or other unusual vessels that remind you of the farm. Don't worry – the flowers won't mind.
8. Beautiful Cotton Stem Upcycled Shutter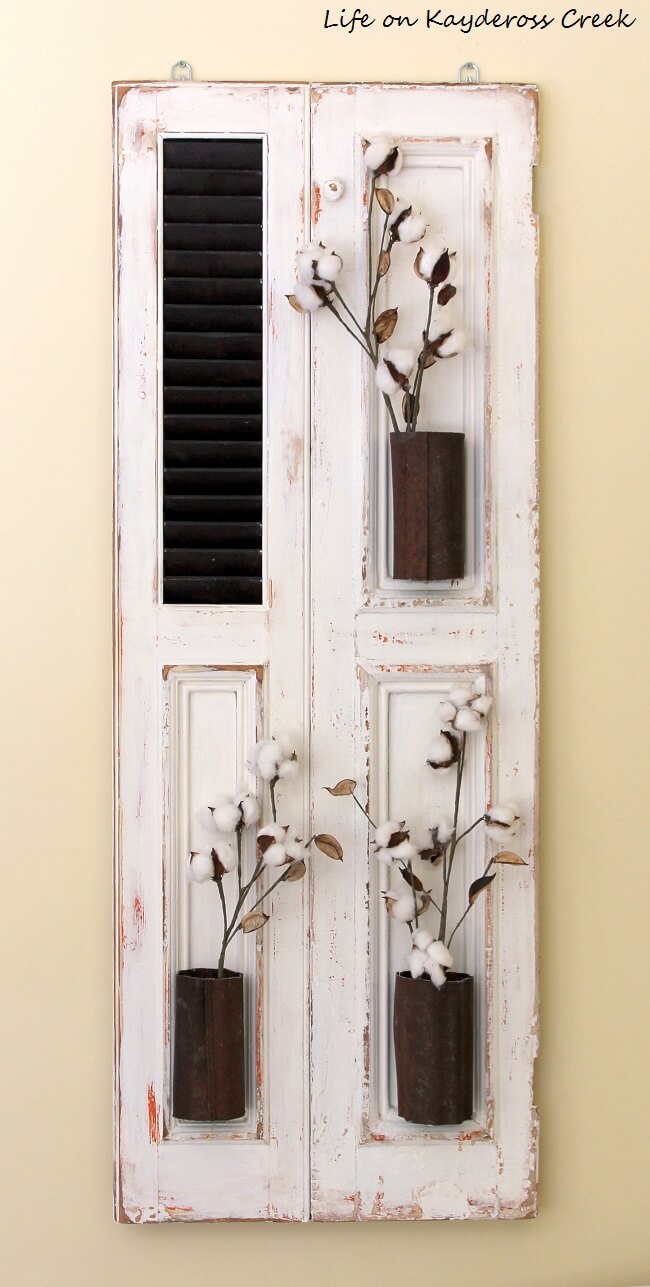 One of the most fun elements of farmhouse décor is taking items that others may write off as useless and repurposing them into something beautiful. This discarded shutter has been transformed into a beautiful three-pot planter. Be sure to keep an eye out for items that have potential but may need a little TLC.
9. DIY Board Project to Mark Home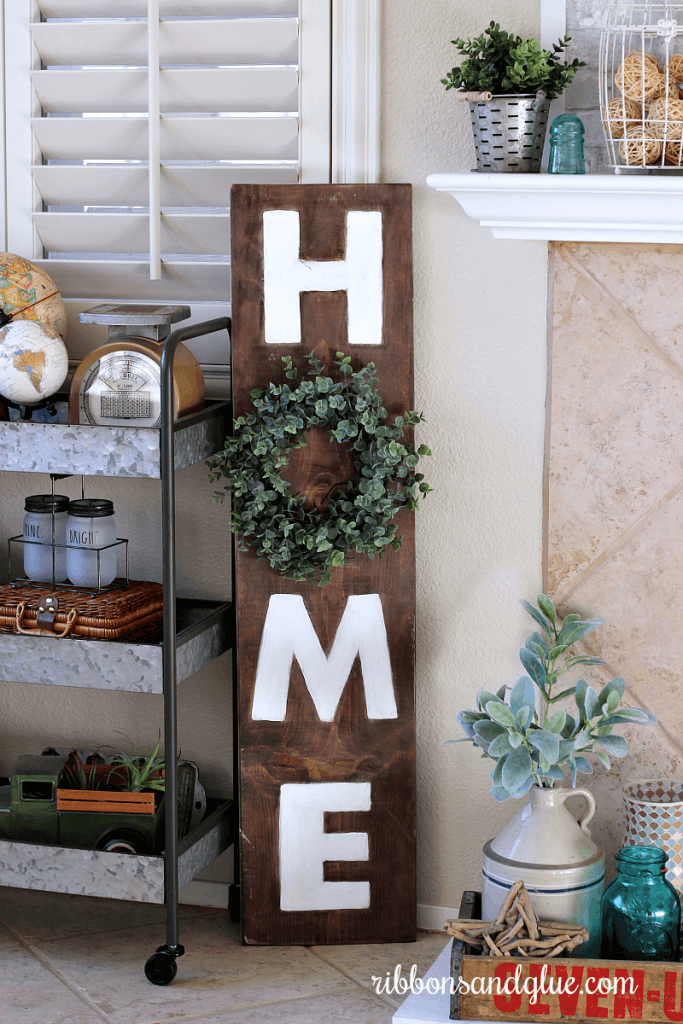 What wonders you can do with a spare board, some crafting supplies, and a little imagination! This attractive sign boasts that one word that feels so warm to us but cleverly replaces the "O" with a wreath to further enhance the feeling of homecoming. Feel free to play with other words and lettering to tailor it to other rooms.
10. Shabby Chic Worn Stool Stand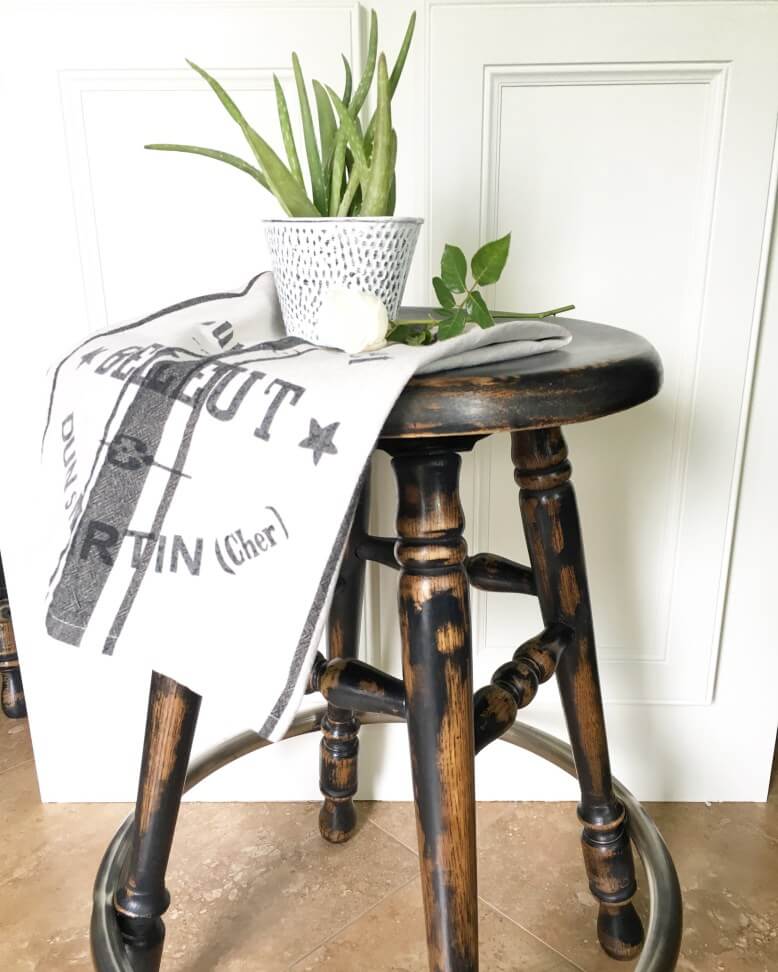 When a good stool has run its course as a chair but you still love its look, doll it up with a bit of décor. Give the wood a vintage quality using a dark stain and then place your favorite succulent and farmhouse-themed tea towel on top for a lovely display to indicate that this chair isn't for sitting.
11. Printed Hymn Lyrics on Old Barn Door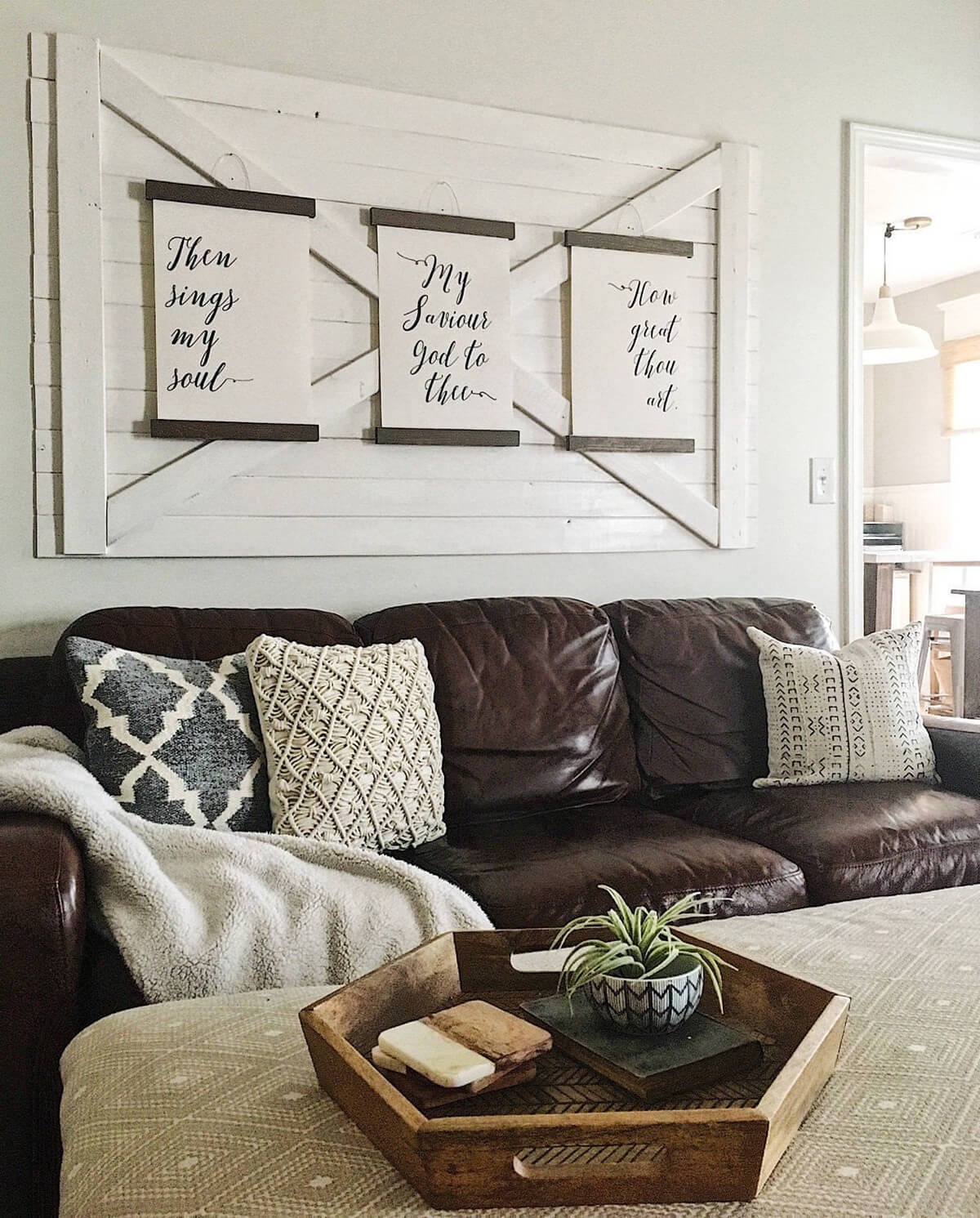 An upcycled barn door creates the perfect country farmhouse backdrop for any piece of wall art. This printed hymn in three panels looks gorgeous spread out over the perfectly white painted door. You can choose to match your paint to the walls of your home or use a different natural color for a varied look.
12. Gently Faded Vintage Floor Rug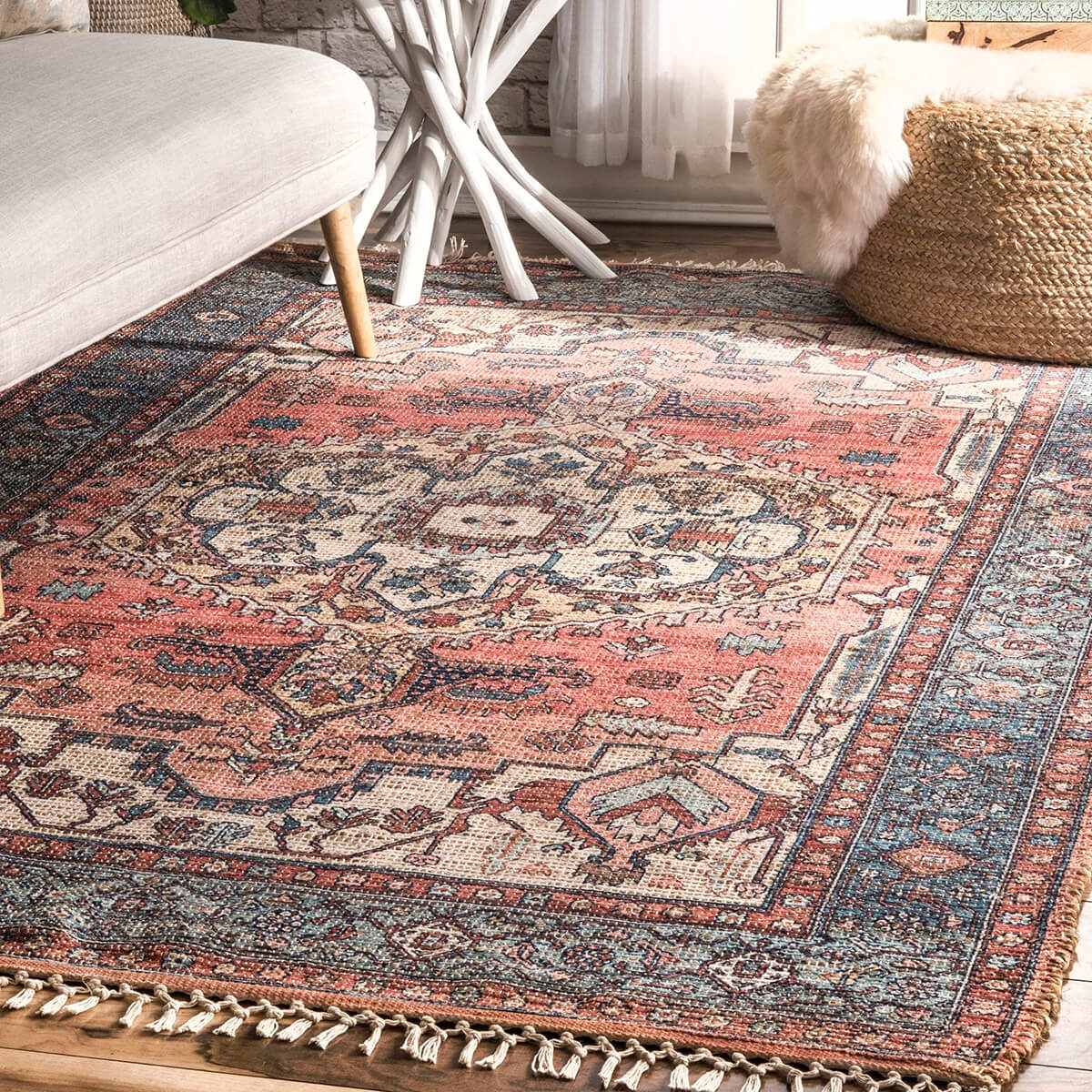 Beautiful enough to be displayed as a tapestry, this rug is a great choice when looking for something to cover those bare wooden floors. This design offers a bit of color, adding a nice pop in farmhouse décor, which mostly works in neutrals. The faded color keeps it the right shades and tones to maintain a relaxed aesthetic.
13. Simple and Sweet Wooden Ladder Frame
Photography can incorporate easily into the farmhouse chic look, and this frame will really maintain your theme. With three equal-sized openings, each with a set of hooks, you can easily place your favorite standard size prints for admiring. Consider sepia tones or black and white to maintain the rustic feel.
14. Lovely and Decorative Cotton Ball Banner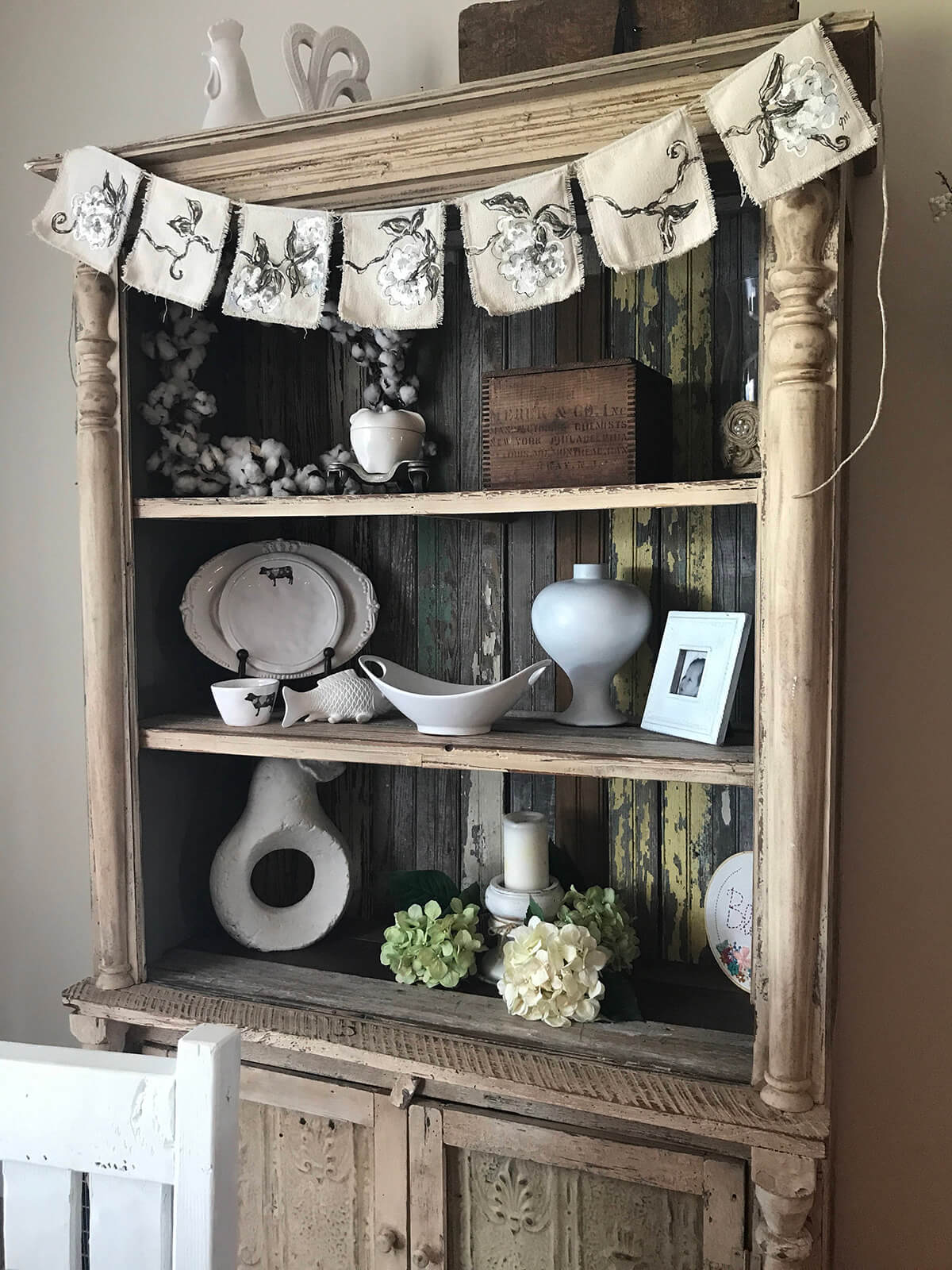 Featuring seven unique panels that all pair together to complete a single picture, this lovely cotton design is printed on soft cotton panels to create a hanging two-foot banner that is great for events or for decoration for your mantelpiece or bookcase. Handmade, each banner is totally unique and has a story of its own to tell.
15. Customizable Stack of Books in Twine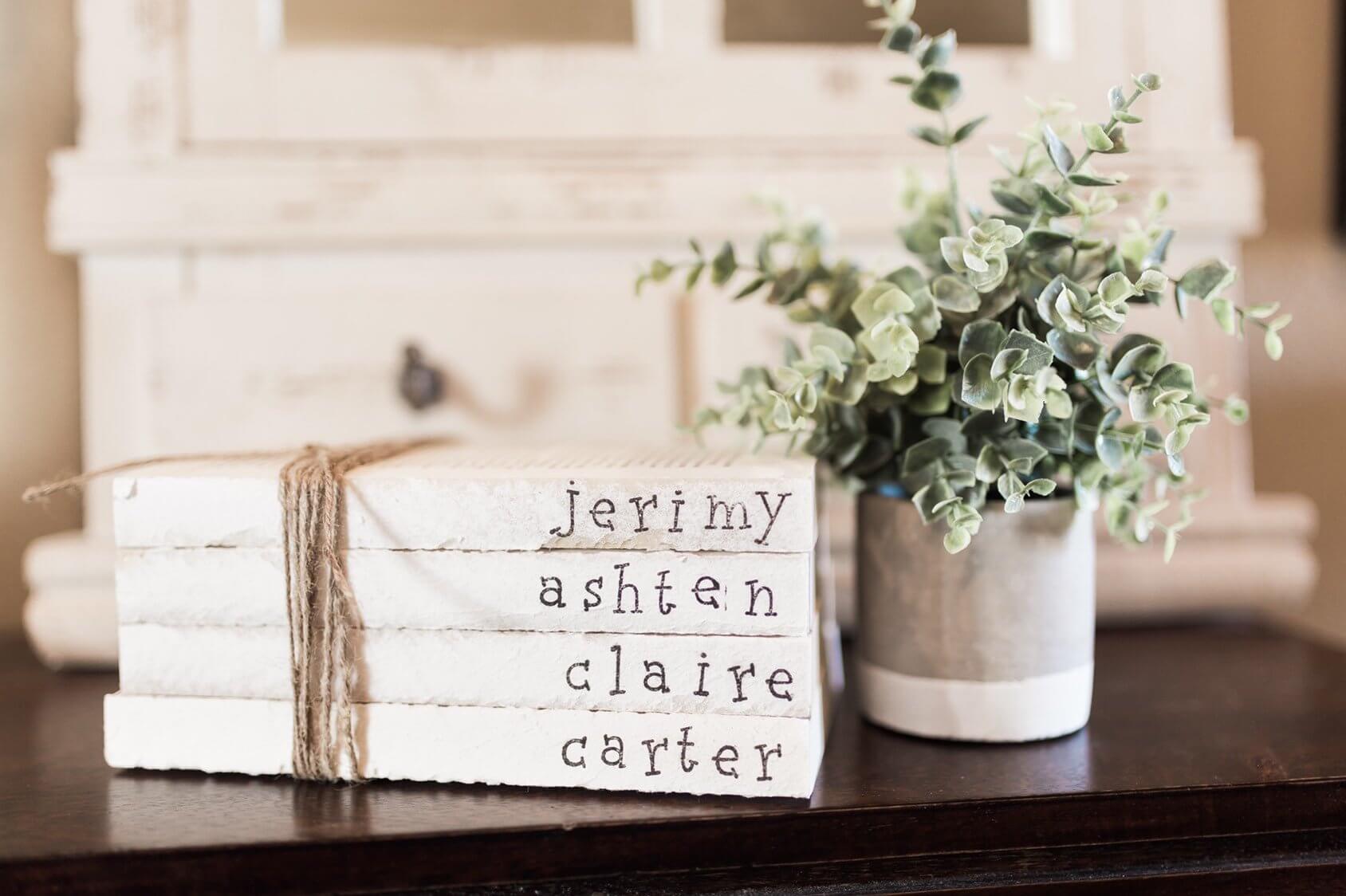 You don't have to write a novel to be the author on this one. All you have to provide are the names of the people you'd like to honor on this cute bed stand display. Or, depending on your tastes, perhaps you'd prefer to feature a saying like "Home Sweet Home" or "Peace Joy Love" along the spines of the books.
16. Be Anywhere at Home Coordinates Sign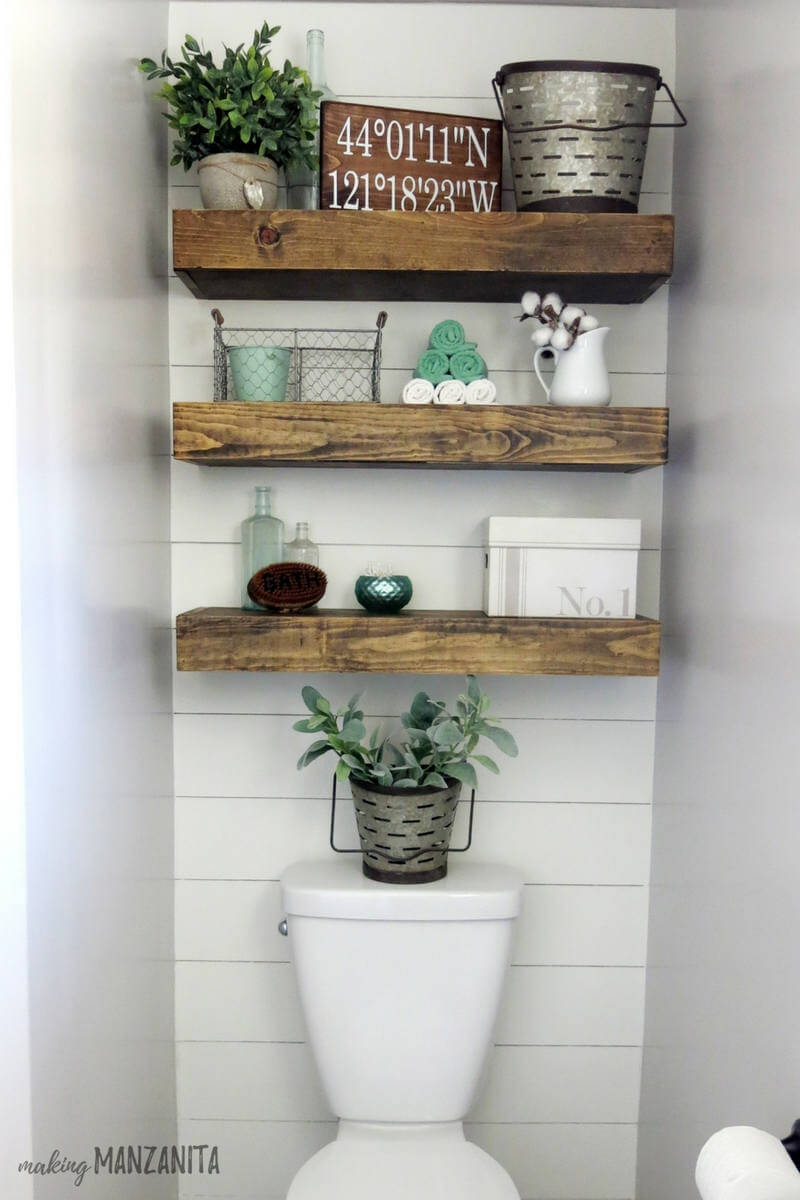 Everyone has places that are special to them. Whether it is where you were born, where you met your special someone, or where you tied the knot, coordinates are a fun reminder of precious memories. This simple farmhouse-themed sign looks great in natural colors, with bright white coordinates showing off your special place.
17. Pretty Farmhouse Coffee Table Tray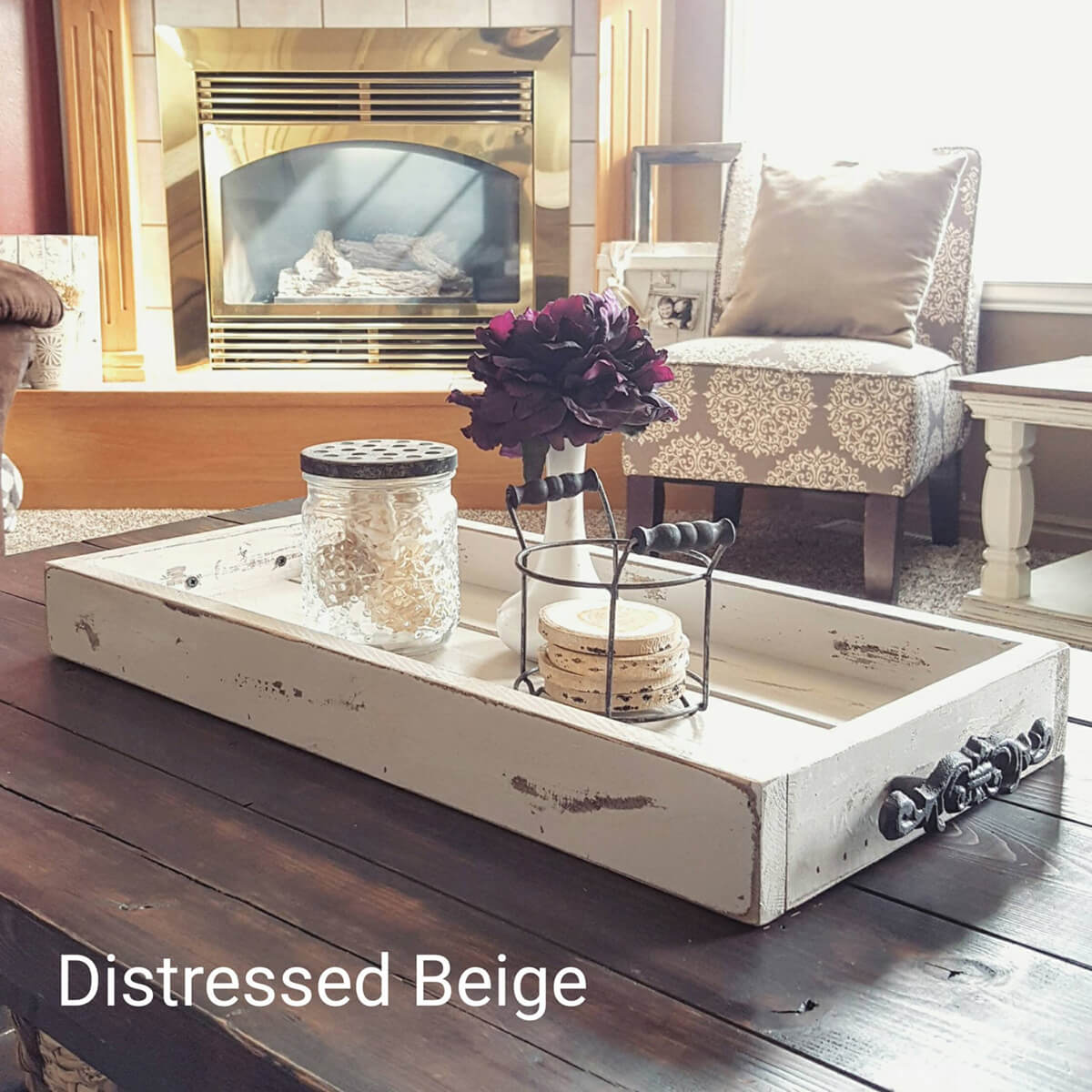 When planning décor, you may not think of a tray. This would be a mistake. This tray adds so much charm and personality to any room. It can be used on coffee tables, ottomans, or even dining tables as a lovely and practical addition that is useful for holding a vase, your tea, and a book.
18. Rustic Black-Framed Dining Room Wall Art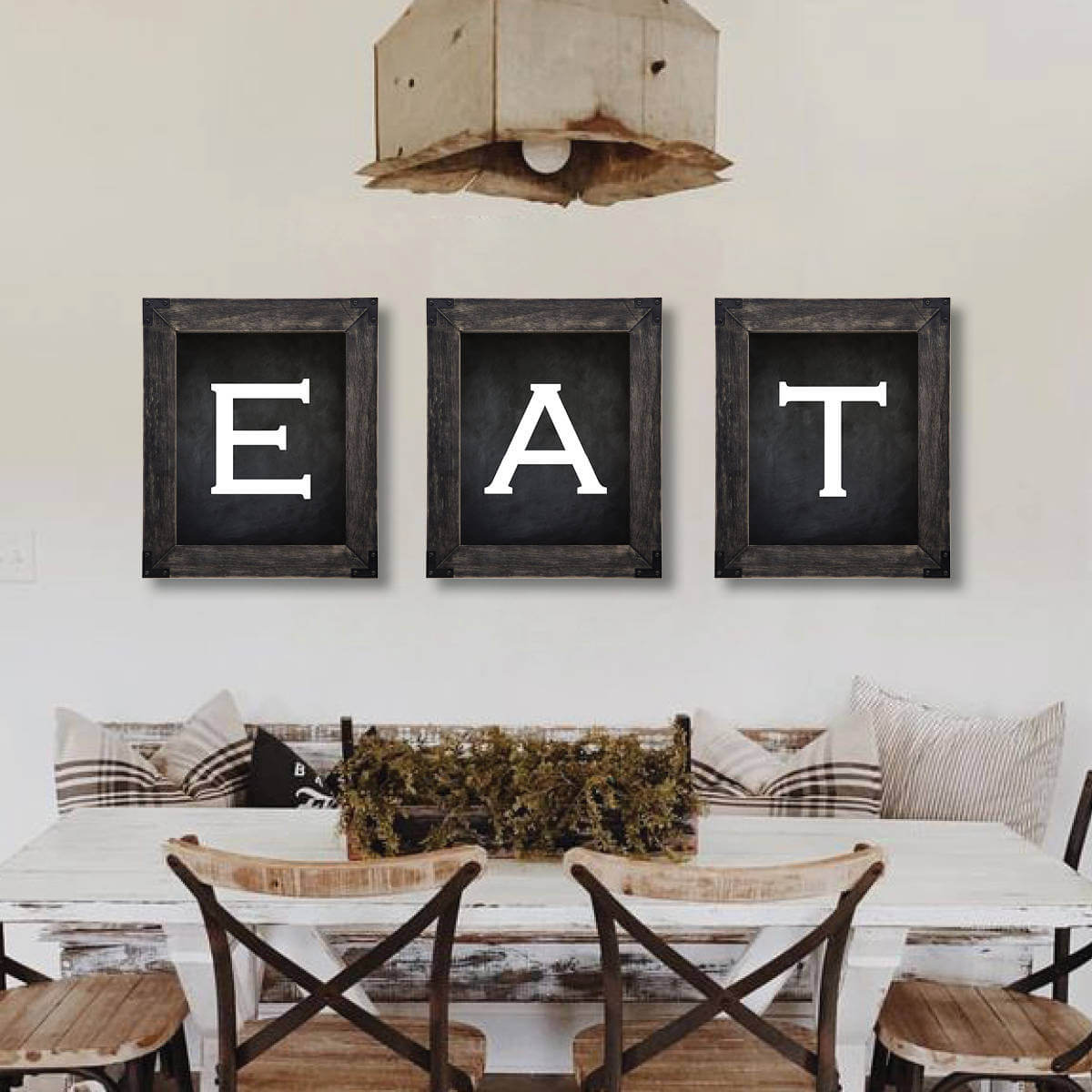 It doesn't get much more straightforward than this: when you're sitting in the dining room or kitchen, it is time to E-A-T. At the same time, there is a tough kind of elegance to the black-and-white color scheme, the chalkboard-like texture of the mattes, and the rough finish on the wood.
19. Mini Farmhouse Fresh Kids Table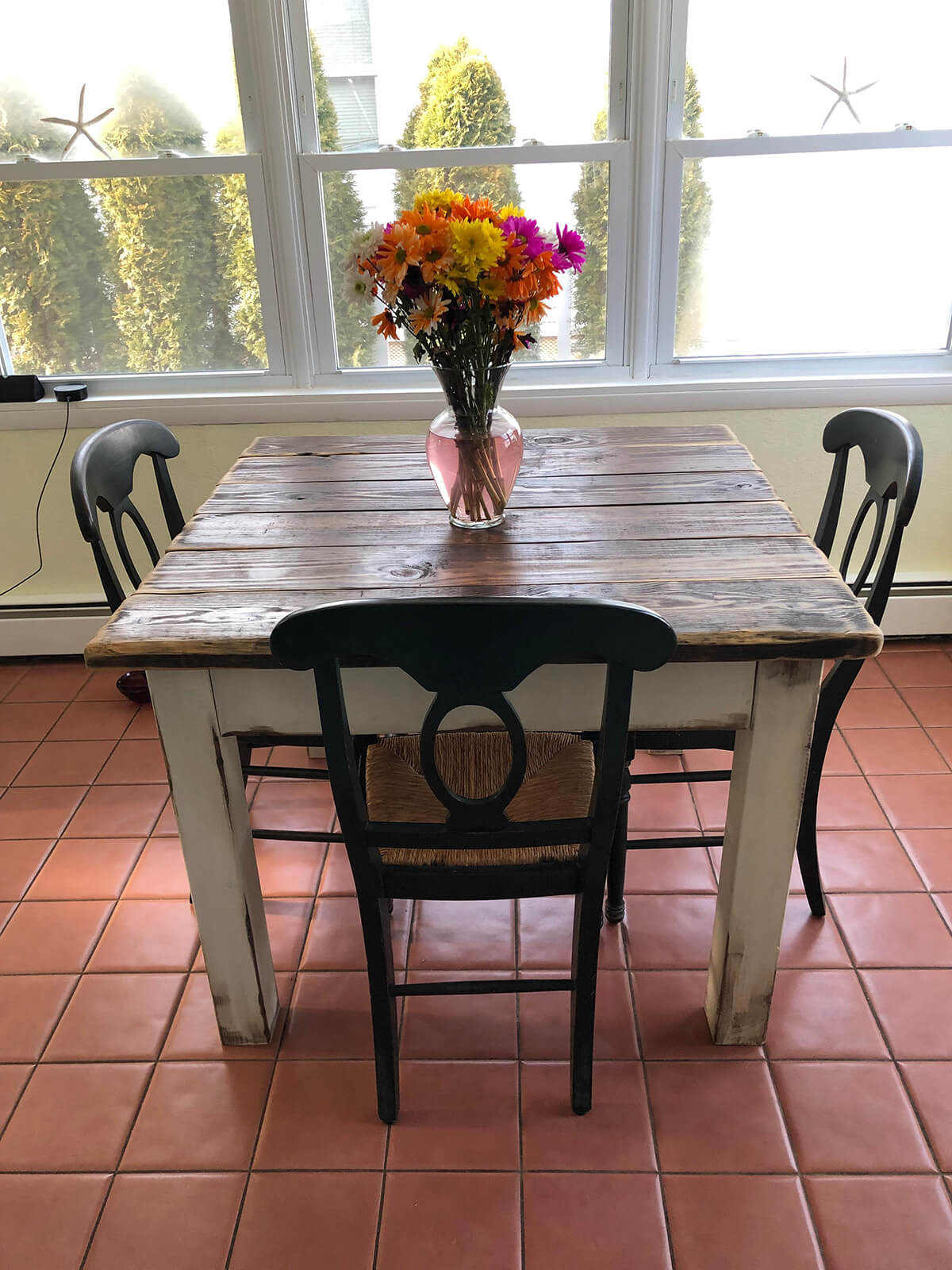 There is no reason not to maintain continuity in your decorating theme with items relating to your kids. This piece is the perfect petite table to match any farmhouse décor and delight your whole family. With a dark natural wooden top and a fresh bouquet, the look is cohesive and complete.
20. Watering Can Turned Floral Sconce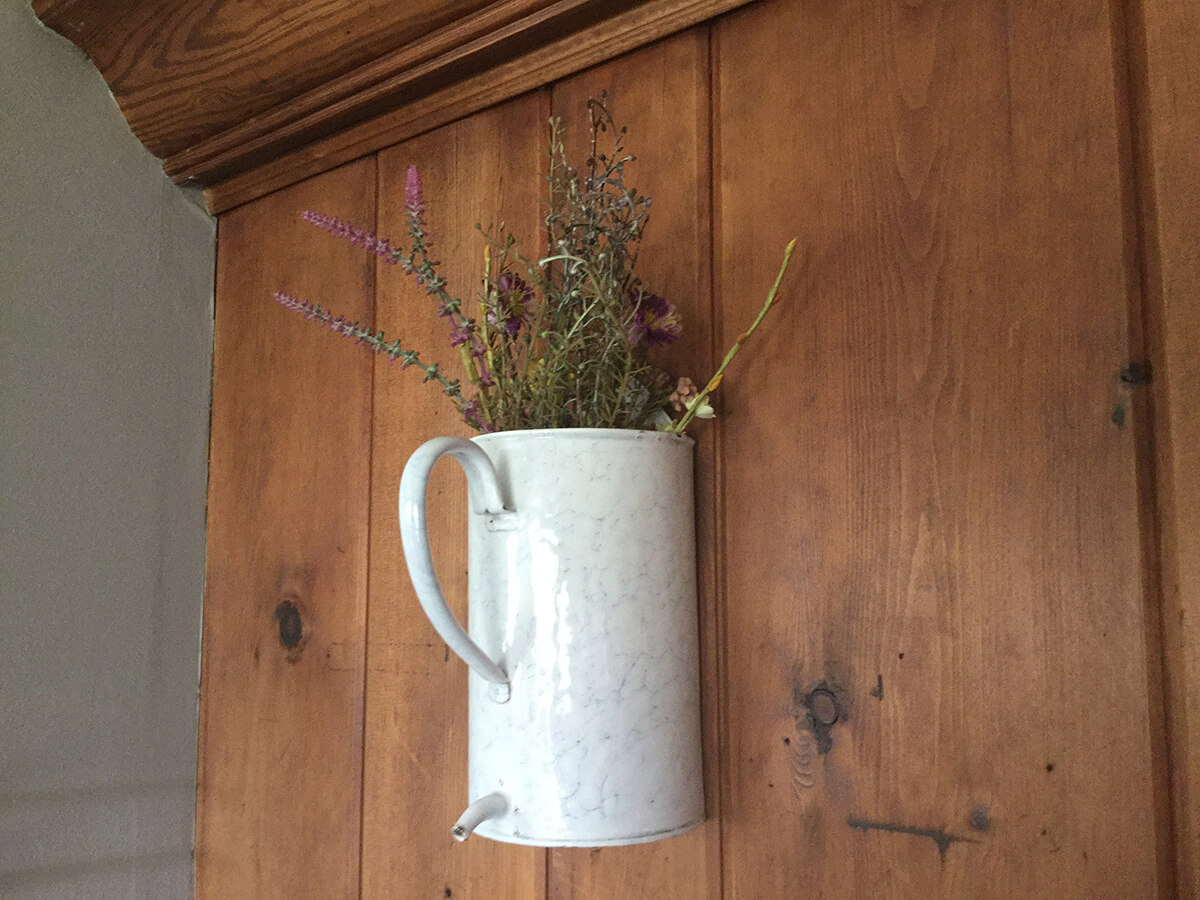 This retro farmhouse watering can has found a new way to give life to flowers. It is a perfect wall holder for a dried or fresh bouquet. This display will look great with two matching cans either side by side or on either side of a book case or table. Make sure to plug the spout before adding water.
21. Playful Oversized Vintage Dinner Bell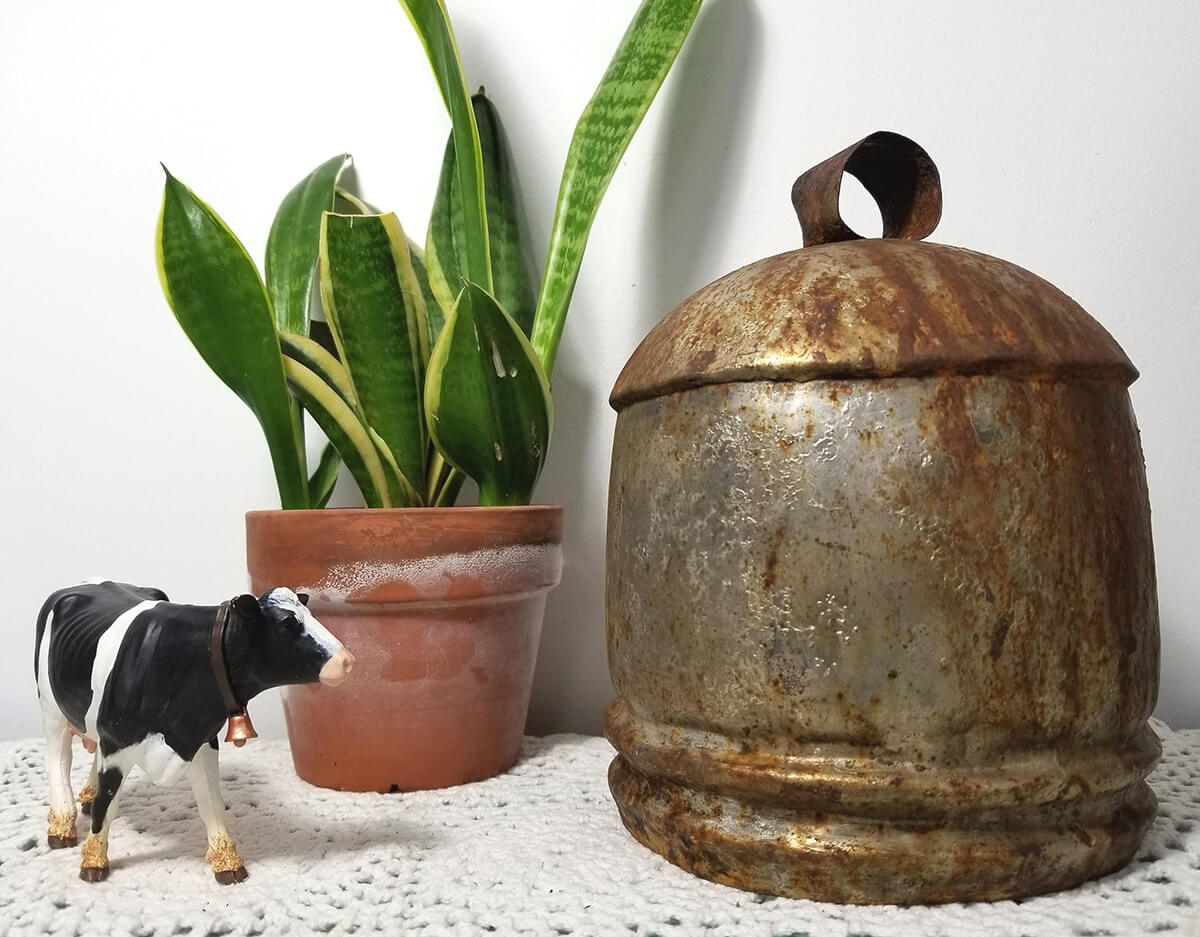 Gone are the days of signaling that the meal is ready for the family, but that doesn't mean you can't enjoy using it as décor or even giving it a good old ring now and then. With a rusted iron exterior and a large dark wooden clapper, this piece has a fun farmhouse feel.
22. Beautiful Custom Farmhouse Family Table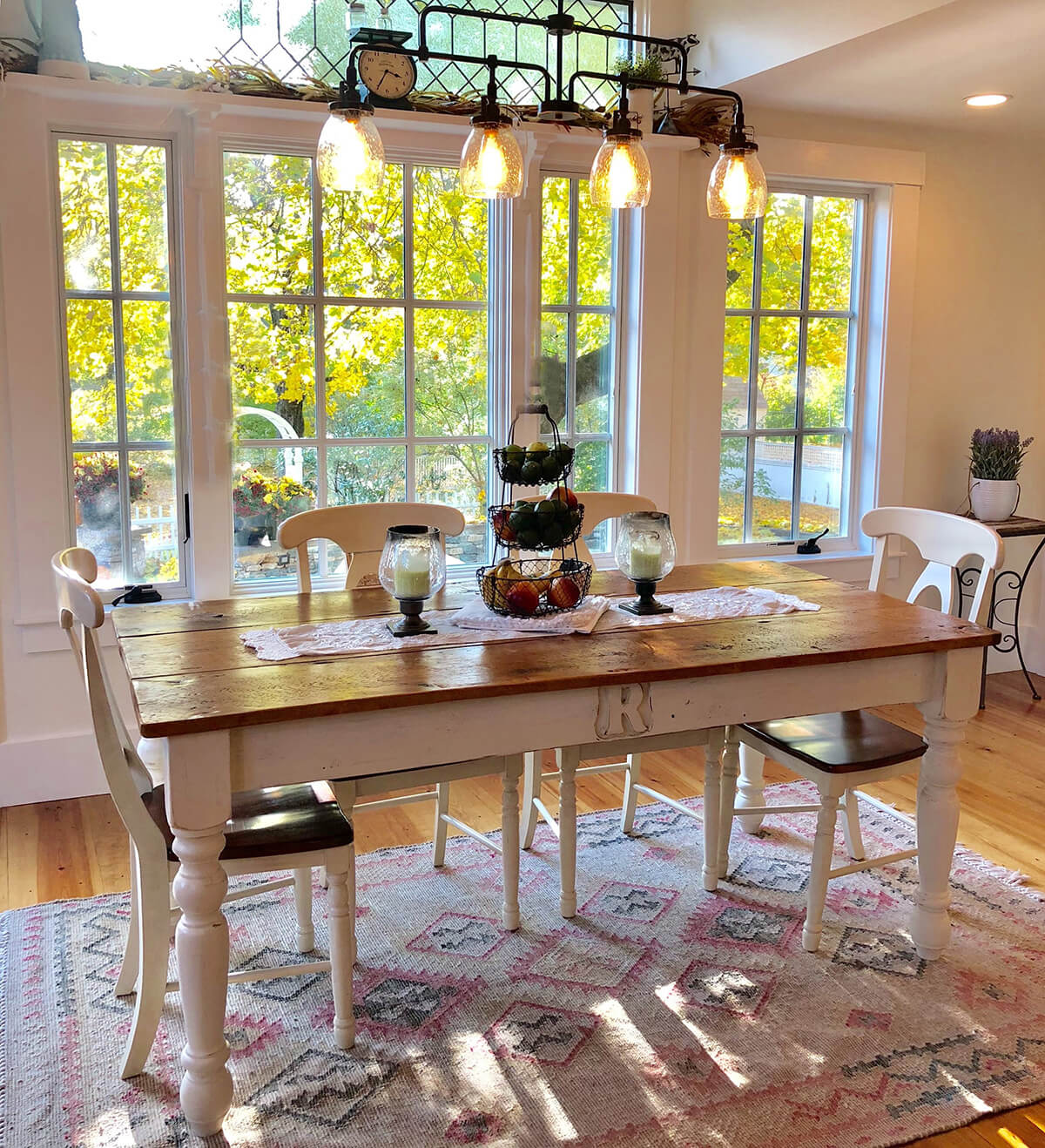 Everything about this table speaks to a farmhouse theme. The dark wooden tabletop and seats juxtaposed with the white painted chairs and table legs and the wrought iron lighting – it all works together to create a warm and familial look. Add a custom letter to the side of your table for a cool and personal touch.
23. Shallow Basket Wall Mounted Floral Display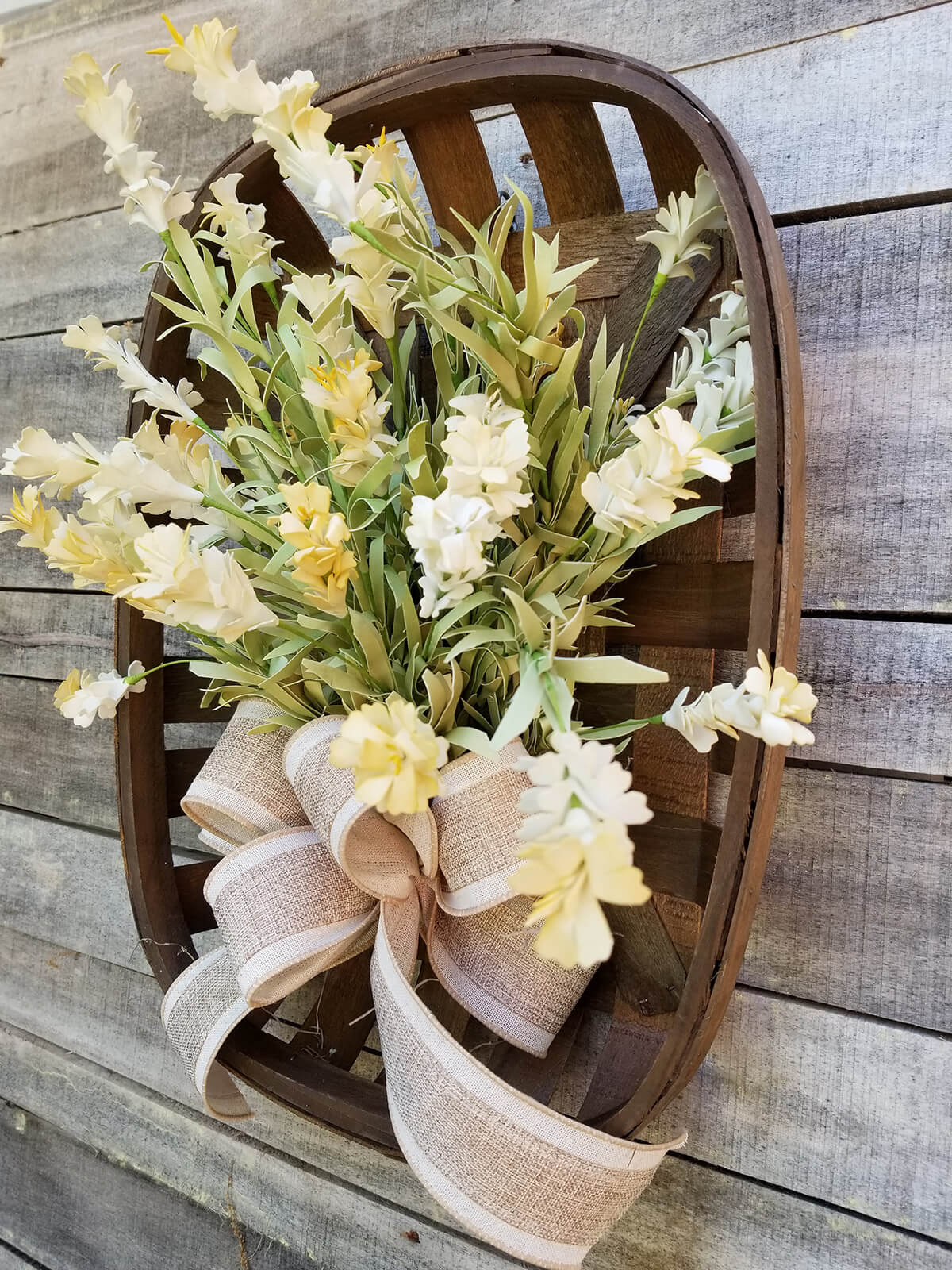 This beautiful basket of flowers is made all the more special by the fact that instead of sitting on your table, it hangs on our wall. Expertly attached to a beautiful rustic shallow basket, this bow and blossoms piece reminds one of sweet summer days on the farm and running through fields of wildflowers.
24. Wire Basket and Three-Vase Set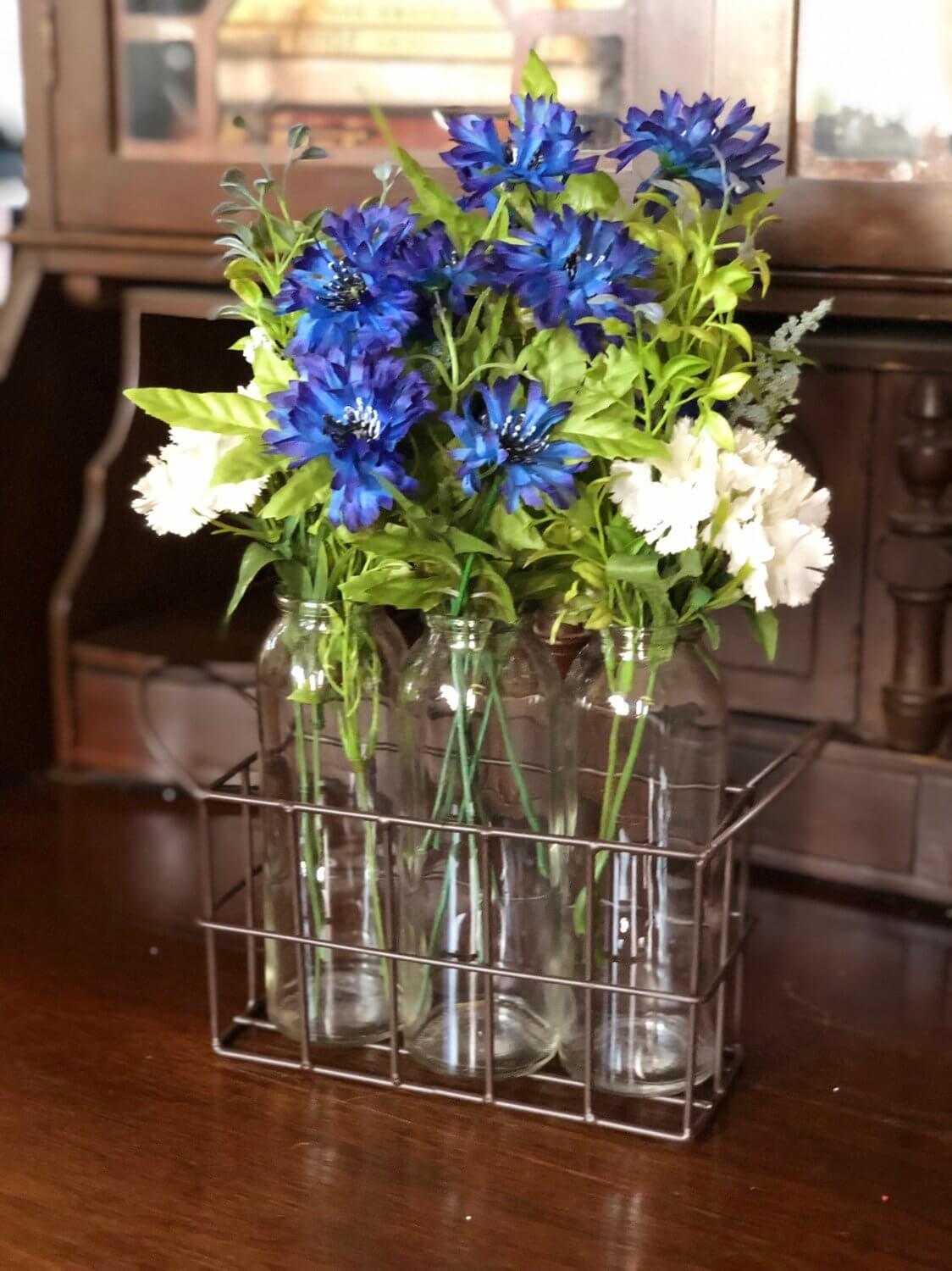 When embracing farmhouse chic, you have to consider just how rustic you want your home to be. With this three-vase set of silk flowers, you can lean towards the side of convenience, forgoing fresh wildflowers – bug infestation, anyone? – in favor of forever silk flowers. You will have all the delicate beauty and none of the hassle of watering and replacing.
25. Clever Country Farmhouse Stove Top Protector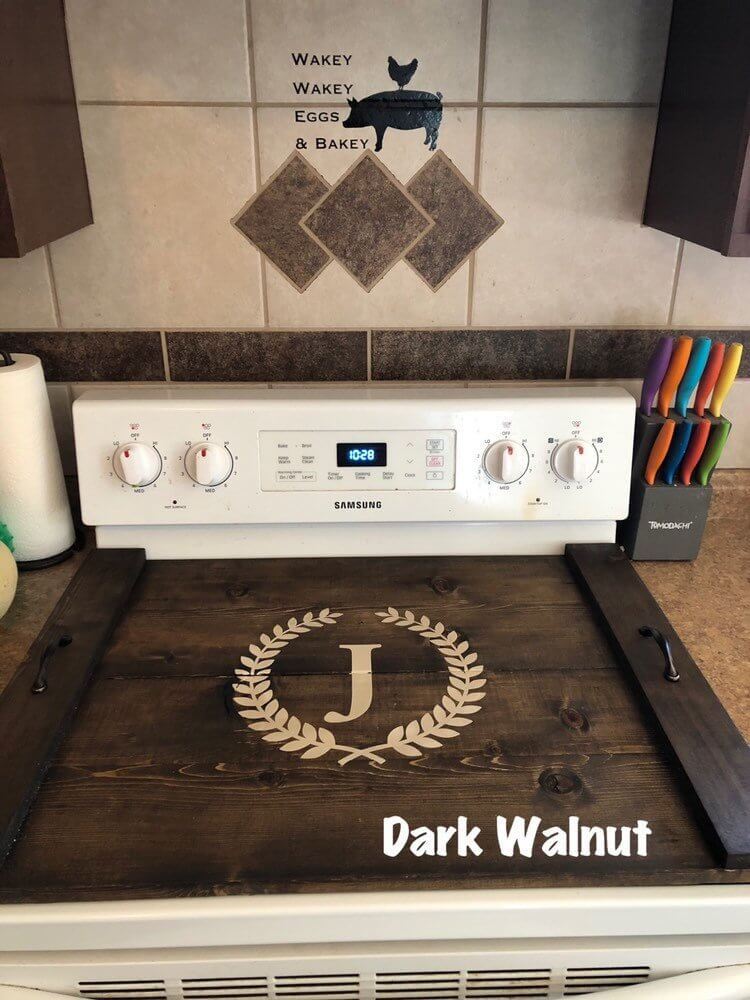 If you have ever had a glass stove top break, you know it's important to keep it covered. This gorgeous dark wood stove top cover is easy to use and can be personalized with your family's initial. Not only does this save your stove, but it also adds a large piece of décor to your kitchen to enhance your country look.
26. Family of Chickens Wall Decal for Kitchen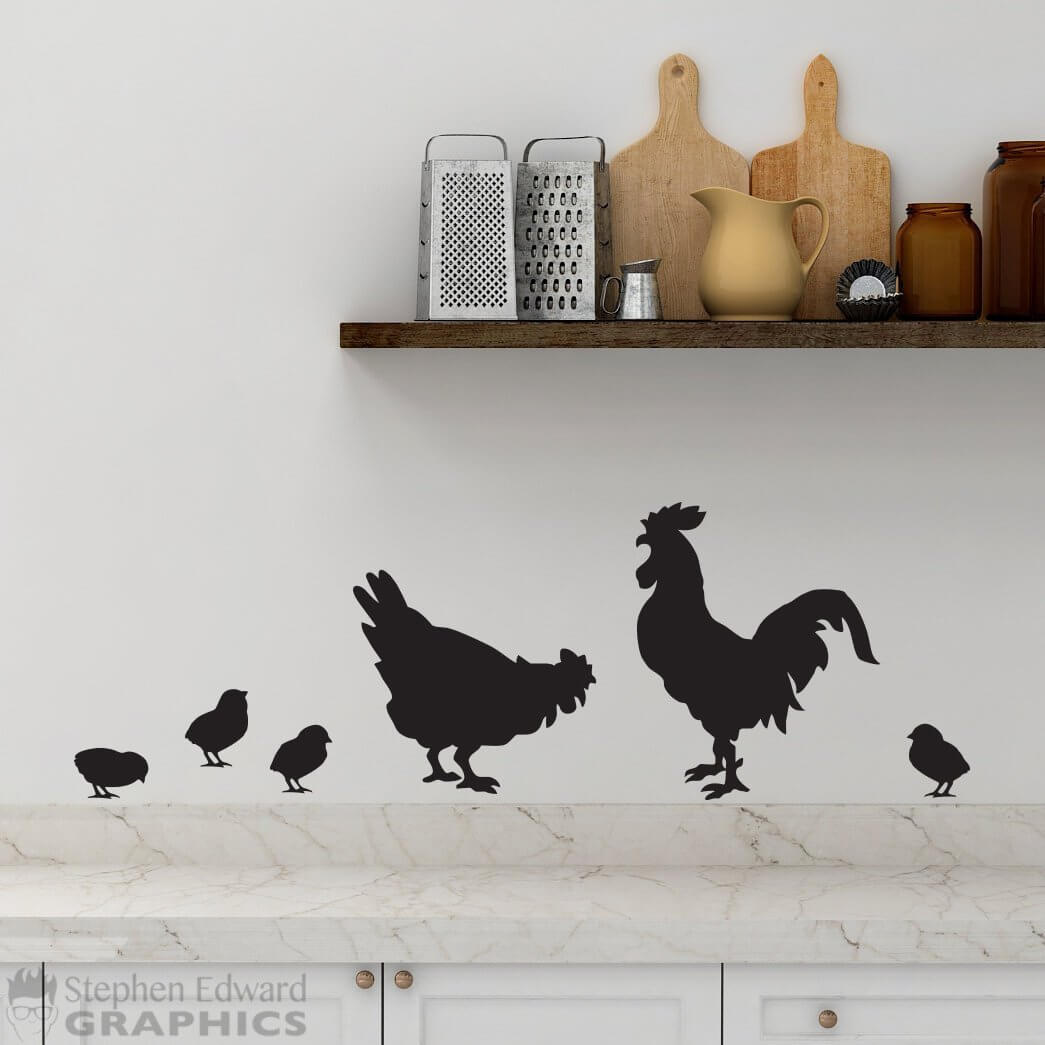 If you enjoy the farmhouse aesthetic but don't want anything too bulky or rusty taking up space in your home, something non-invasive like these decals are the ticket for you. One of the more modern looks on this list, the black silhouette of a small flock is a fun and cute and even slightly humorous addition to the kitchen.
27. Personalized Best Days of Our Lives Sign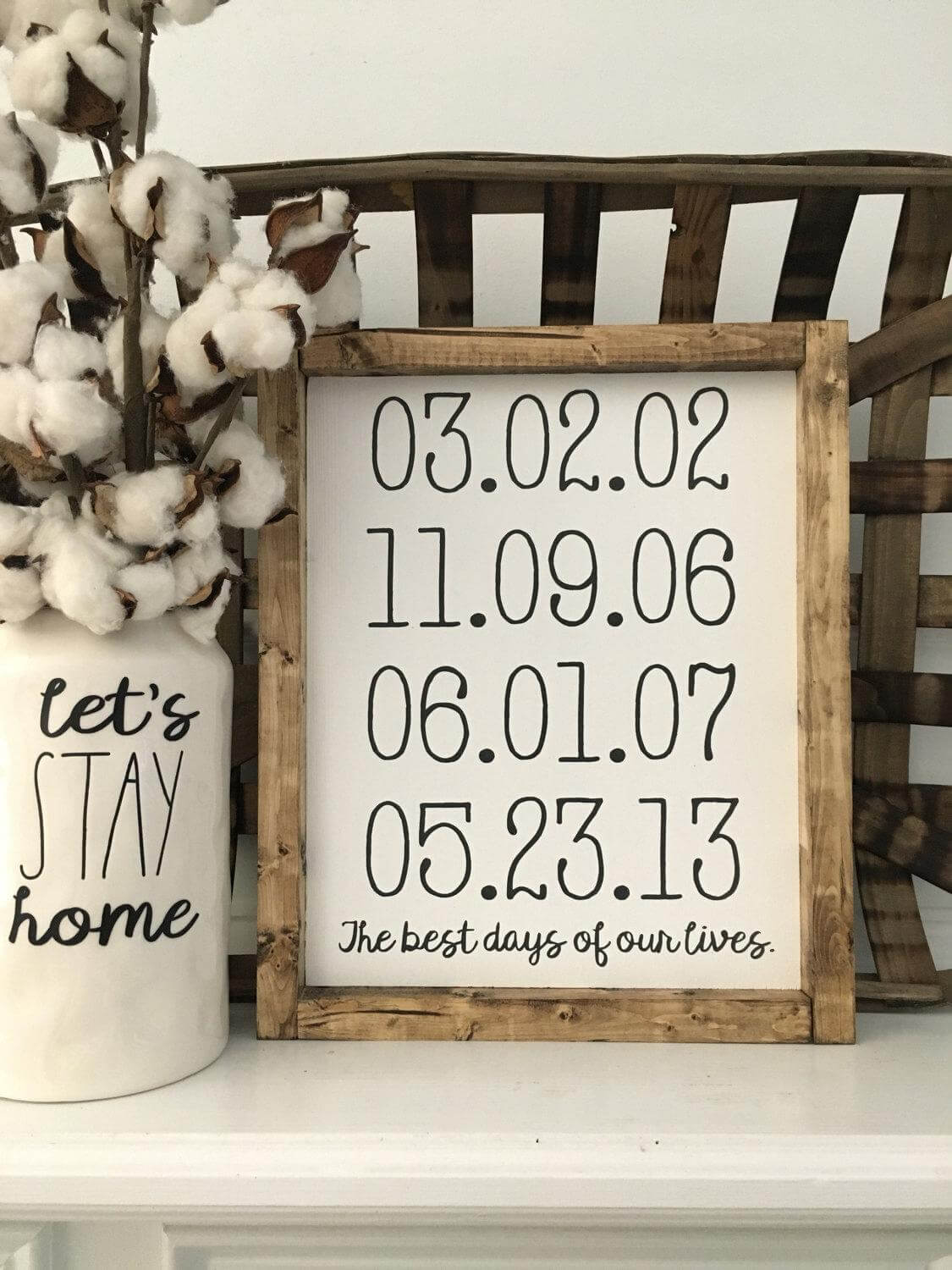 Everyone has special moments that they want to hold on to and cherish forever. Immortalize these dates for your family with this adorable and simple natural wooden framed piece of wall art. Whatever these dates may be for you, this is a great and decorative way to remember and display them.
28. Romantic Rustic Mantle Décor Ideas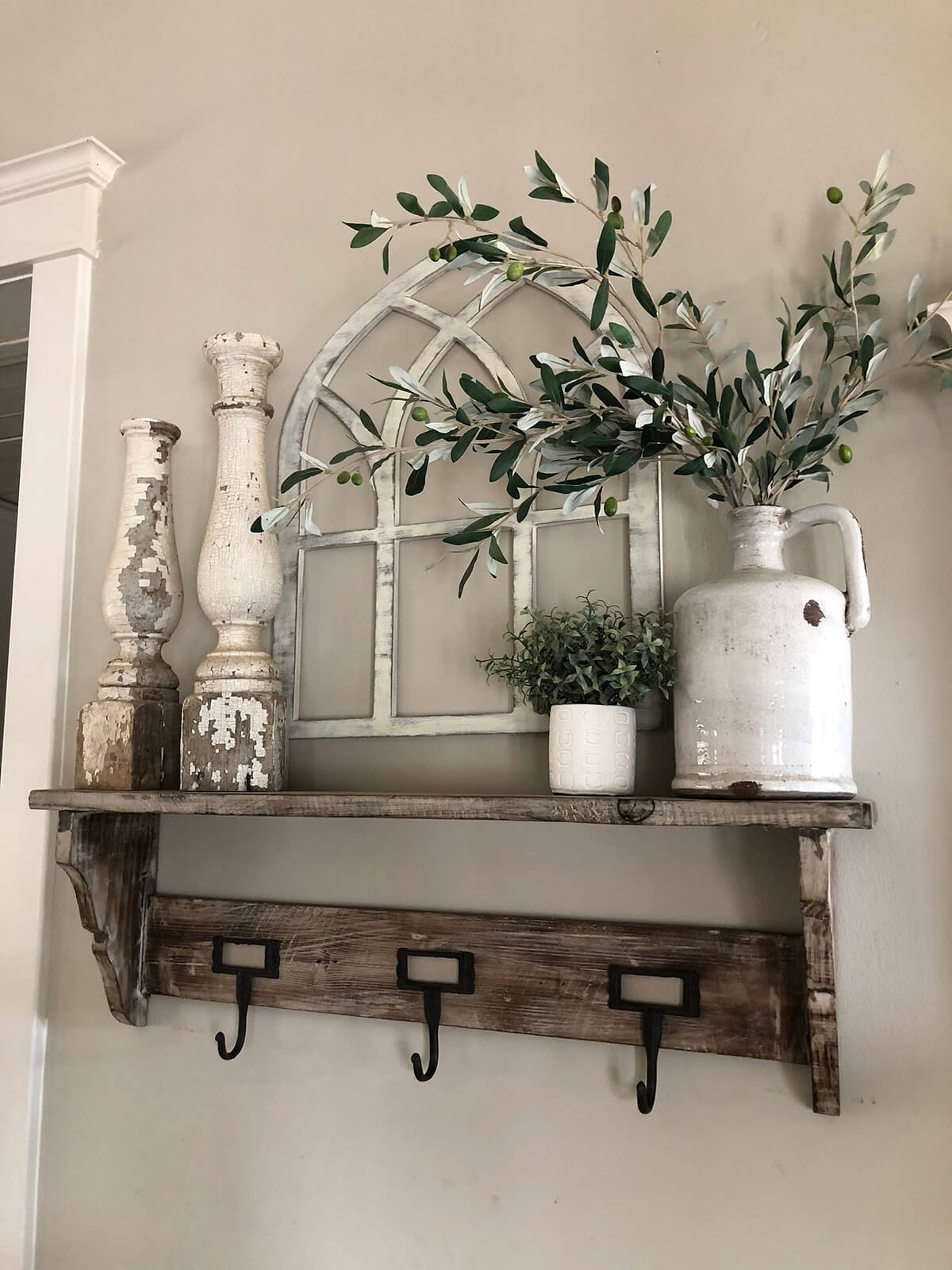 As simple as it may seem, there is something so touching and romantic about worn pieces. The chipping on the candlesticks and the jug give these pieces the feeling that they have been through a lot but are still there for you. Their white and light brown tones look perfect with some dark green foliage.
29. Sweet Milk Jug Vase and Farmhouse Flowers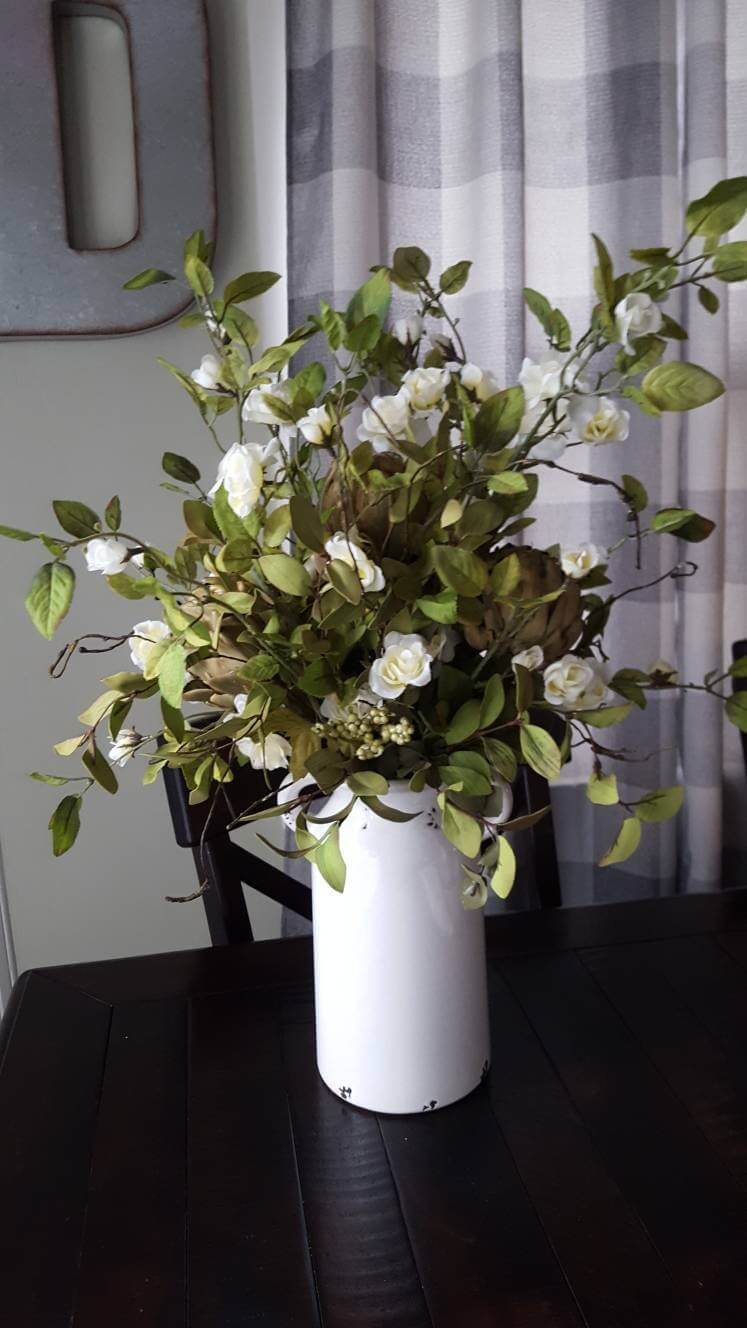 Just because you have great farmhouse décor doesn't necessarily mean you live on a farm. For everyone out there who is more city or suburb bound, consider adding a bright and fresh touch of the farm with this rustic and wild bouquet. Made of dried and realistic greenery, everyone will think you were just out picking wildflowers in the meadow.
Our Favorite Farmhouse Storage Items to buy on Amazon