Check out this fabulous collection of some of the best bedroom decor ideas for couples. Why, you might be asking? Well, every relationship takes work and the bond between husband and wife is no different. In order to maintain the romance that ignited the spark between you two love birds, be sure to set aside some time for each other. If you're short on cash, no sweat! You can create a romantic getaway in the comfort of your own home until you're able to reach that luxurious weekend destination.
24 Ways to Create the Perfect Couple's Retreat

One awesome idea for creating this couple's retreat in your own master bedroom is to display a sweet message in the room. Whether it's a special phrase the two of you hold dear, or a cute and quirky fun saying that simply makes you smile. In today's world of crafters, there are a plethora of unique and charming signs to fit any couple's taste. In fact, many of these sweet sentiments can be customized or personalized to your specific need. That's the beauty in featuring a handmade piece as your wall art.
More bedroom decoration ideas for couples is to include plenty of pieces that encourage snuggling. Look around your room and count how many items increase the "snuggle factor" for you and your spouse. Some premier items to include, just naming a few, are an oversized cozy throw, bedside lamps or wall sconces, and soft, natural color choices.
For starters, what's not to love about a luxuriously cozy large blanket? It just screams, "Come and cuddle with me!" Whether it brings to mind lying on a blanket looking at the stars while you were dating or simply the softness it brings to your skin, whatever the case may be, adding an oversized throw is a top pick!
Next, you'll need to have the ability to create a warm glow in your master when you turn out the overhead light. This is an easy feat when you have matching nightstand reading lamps or mounted wall sconces on both sides of the bed. The alluring glow of these dimmer lighting features casts a delicate shadow in your love nest.
Finally, you can complete your couple's retreat by using neutral or natural colors throughout. Think soft, cool, and airy like white and pale tones of blushes or greys. If you prefer warmer tones, consider tans and rustic wooden features. No matter what you decide, here are 25 bedroom decoration ideas for couples that are sure to tickle your fancy!
1. Better Together Couples Retreat Bedroom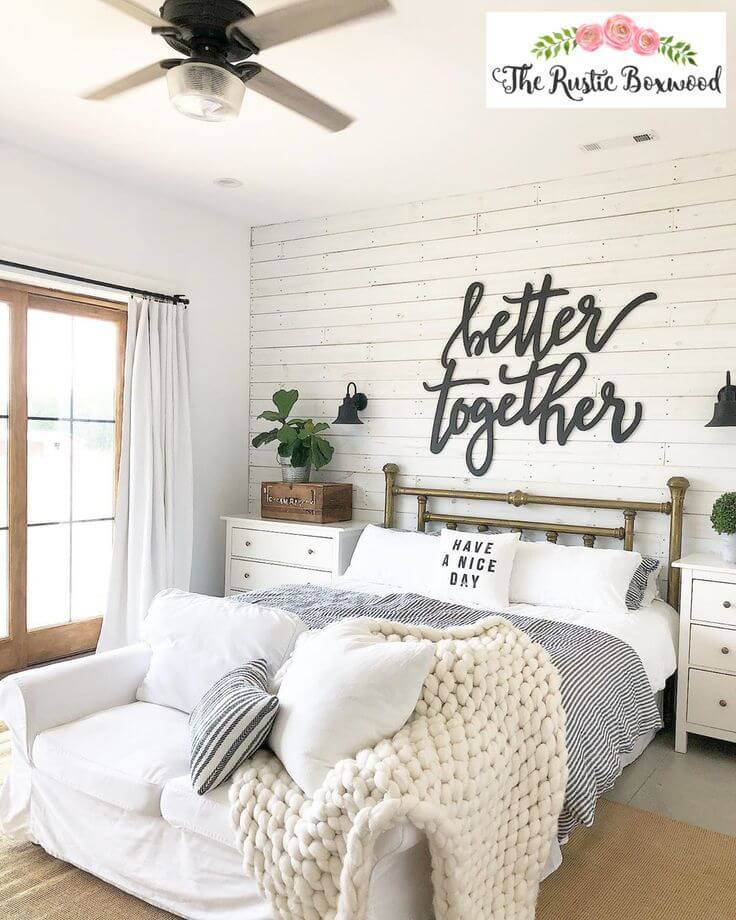 Create a couples retreat without leaving the comfort of your own home. To begin, this great shiplap wall offers a perfect backdrop for your romantic rendezvous. Next, a black script "Better Together" adds a contrast to the white walls and neatly labels the sentiment of this serene setting. Toss a thick handwoven throw over the love seat at the end of your bed and you're all set for some cozy cuddles this weekend! Placing a medium-sized houseplant near the window further entices your mind into thinking you're on a couple's retreat with this natural and scenic charm.
2. Modern and Mid-Century Master Bedroom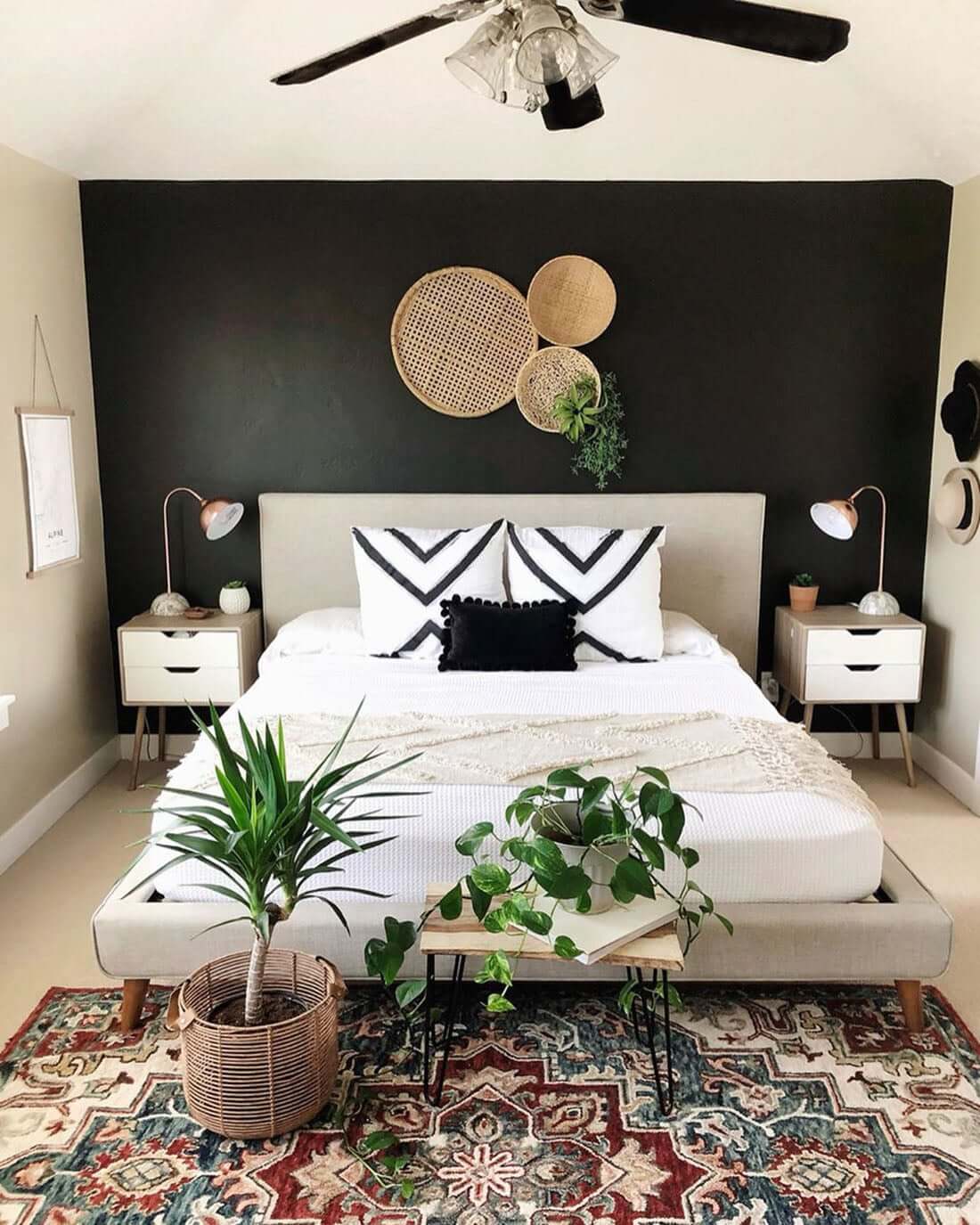 A bold, black wall is just the anchor this mid-century master needs to give it a fresh and modern look! From the spindly-legged nightstands to the inclusion of house plants, this gem of a bedroom is the perfect place to unwind and recharge. His and hers matching nightstands feature drawers to easily store all of your accessories and reading materials. There is even a small lamp on each to offer the extra light for late-night perusing. Enjoy this black and white color scheme that's equally appealing to both genders.
3. Golden Accents for Your Golden Years Together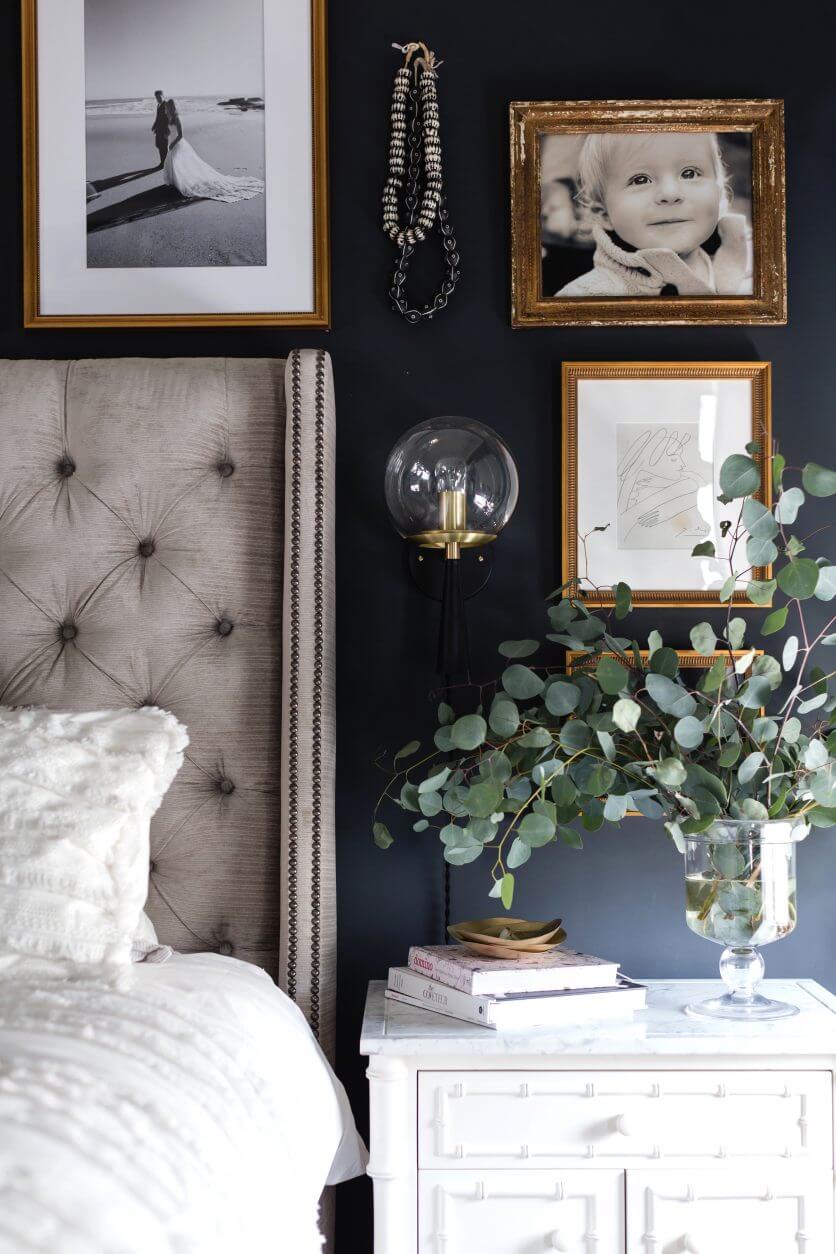 In this bedroom, you'll find all the elements you need to take you into your golden years together. From the lavish and luxurious gold details to the black and white photographs, your master bedroom deserves this modern upgrade! Keep it comfortable with a stuffed upholstered headboard to make nighttime reading more enjoyable. The deep and dark wall color makes the white and marble-topped table really pop and grabs your attention. Tying the picture frames and lighting fixtures together by the golden metal finish makes this room cozy and pulled together all at once.
4. Rustic Barn Wood Wall Bedroom Retreat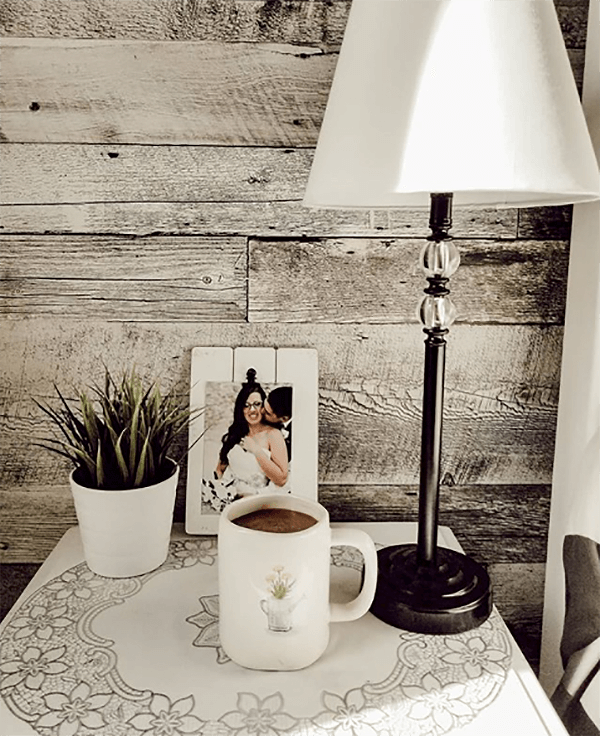 Charming and rustic collide in this romantic retreat. This weathered barn wood provides a perfect contrast to the delicate and romantic allure of this master bedroom. With a custom nightstand featuring a hand-painted floral lace motif on top, the charm is evident throughout this space. Adding a metal and glass bead lamp and a small house plant provide even more ambiance. And what nightstand is complete without a good book and a hot cup of joe? Never forget the day you two became one with a snapshot of your wedding day as well.
5. Mid-Century Modern Sunburst Mirror Master Bedroom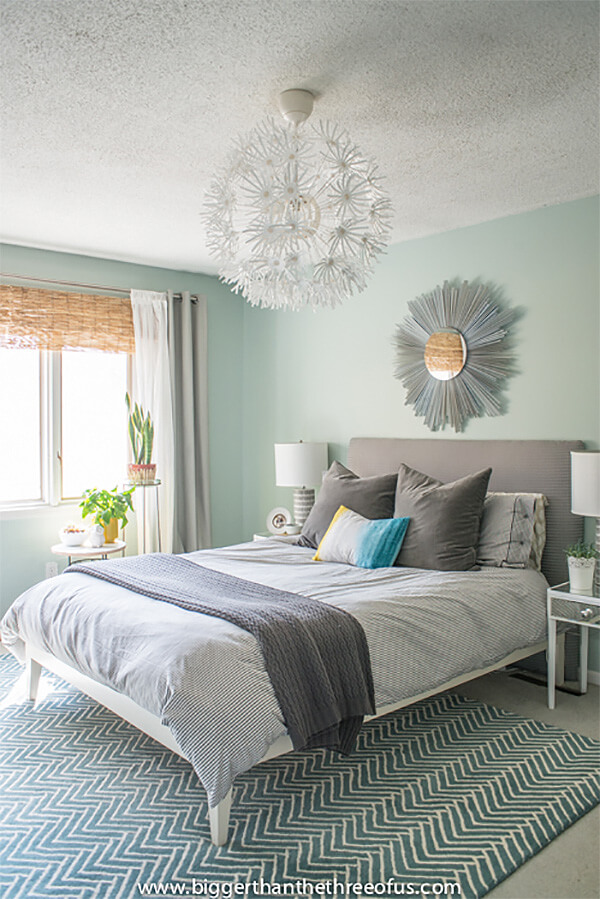 Enjoy your fresh, new master bedroom space with this gorgeous sunburst mirror. Hanging over the bed, it shines as the focal point in the room and welcomes the reflection of the natural light from the side window. The muted green walls give a soft backdrop for this gender-neutral space. Both husband and wife will delight in this design that offers hints of mid-century modern vibes along with simple everyday appeal.
6. Gorgeous Geometric and Grey Modern Master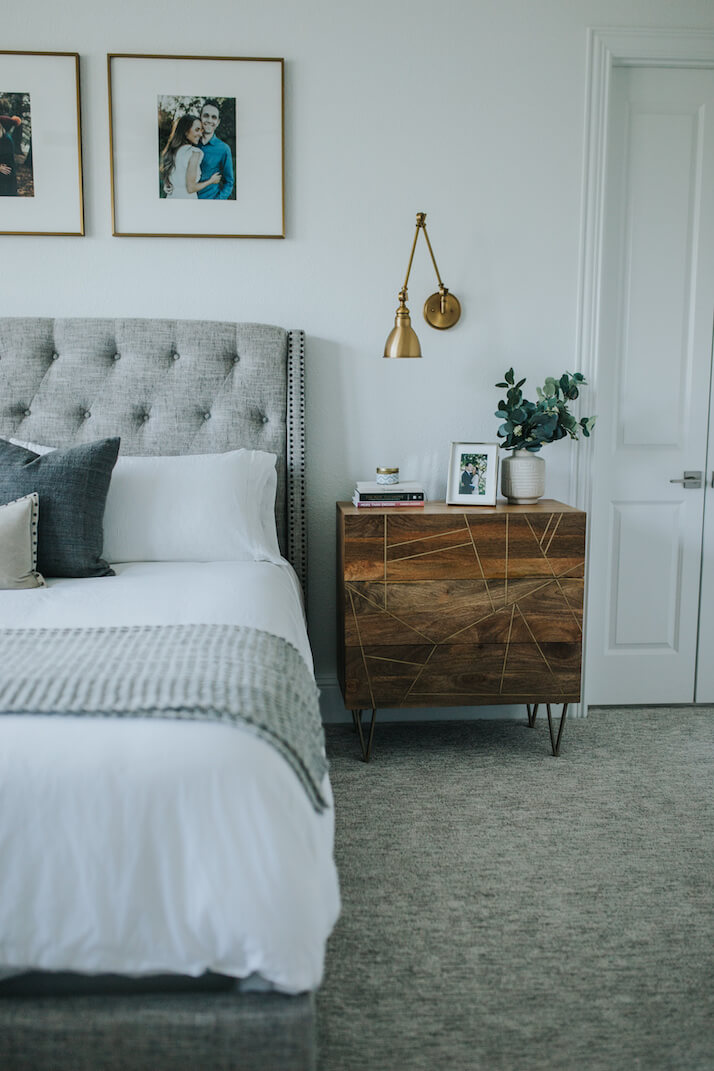 Gussy up your grey, modern master with some gorgeous gold accents and a geometric side table. The attention to detail in the nightstand makes the grains in the wood really shine. Overhead, the metallic gold finish of the reading lamp coordinates with the nail head headboard and the picture frames. A simple and soft cozy throw in grey ties together the bed and floor to complete the overall design.
7. Gold and Marble Nightstand Tray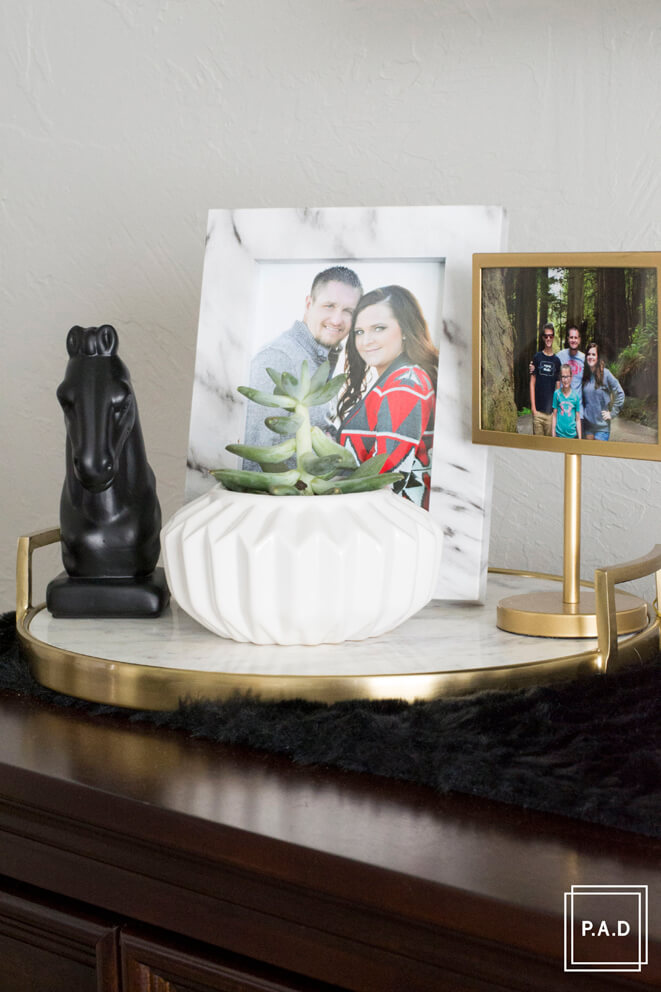 Organize all of your favorite trinkets and accessories where you can easily access them with this gorgeous nightstand tray. Trimmed in gold and crafted in a beautiful white and grey marble, this tray makes your favorite photos and succulents feel right at home and look amazing while doing so. The handles of the tray make it easy to transport to another location like your bedroom chest of drawers or on top of the throw across the bottom of your bed. Displaying your treasured items on a tray gives it a polished look where everything is right where it belongs.
8. I Love Us Master Bedroom Accent Pillow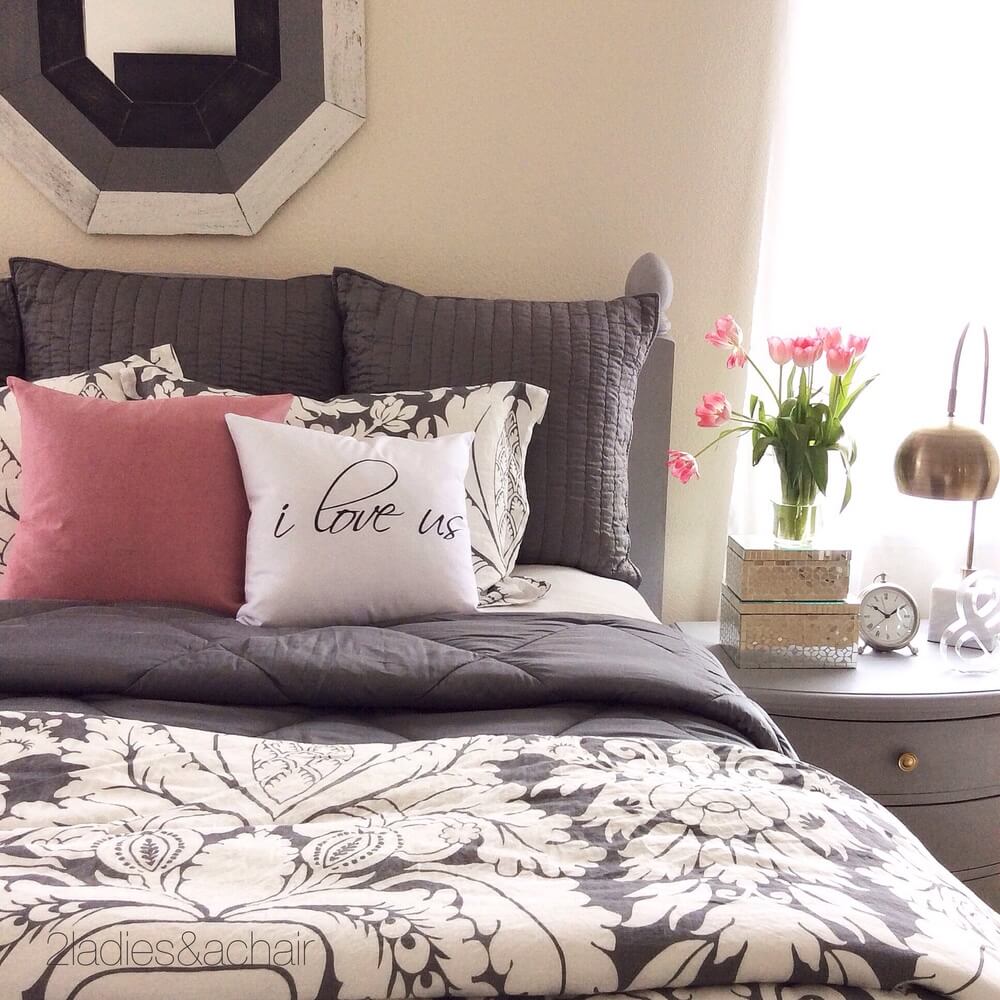 Snuggle up in the comfort of your own home as you transform your master bedroom into the masterpiece you've always wanted. Adorning the bed with several accent pillows gives a comfy and laid back atmosphere to your space. Keeping a reading lamp on your nightstand is always in good taste and helps to respect your partner's need for little light when dozing off to sleep. A couple of sparkly storage boxes do the trick for keeping your odds and ends accounted for and out-of-sight. Fresh flowers in a glass vase whisper a gentle bit of romance into your room.
9. Never-Ending Honeymoon Master Suite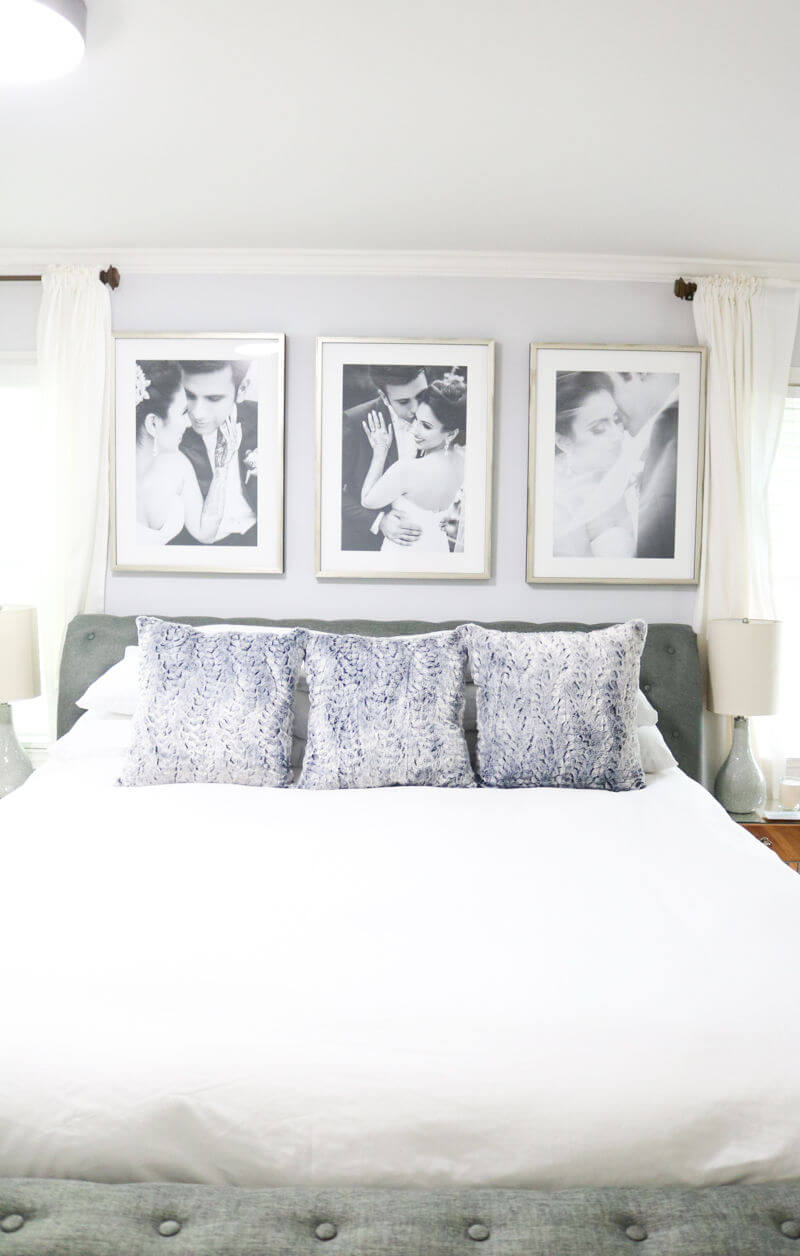 Hold on to that honeymoon feeling forever with this pretty and clean master bedroom. The trio of black and white photos of wedded bliss highlights the room as the main focal point. On the bed, some luxurious grey animal print pillows offer comfort and rest. Letting in the natural light further illuminates the peaceful charm of this honeymooner's haven with the sheer white window coverings.
10. Blush Pink and Grey Great Master Bedroom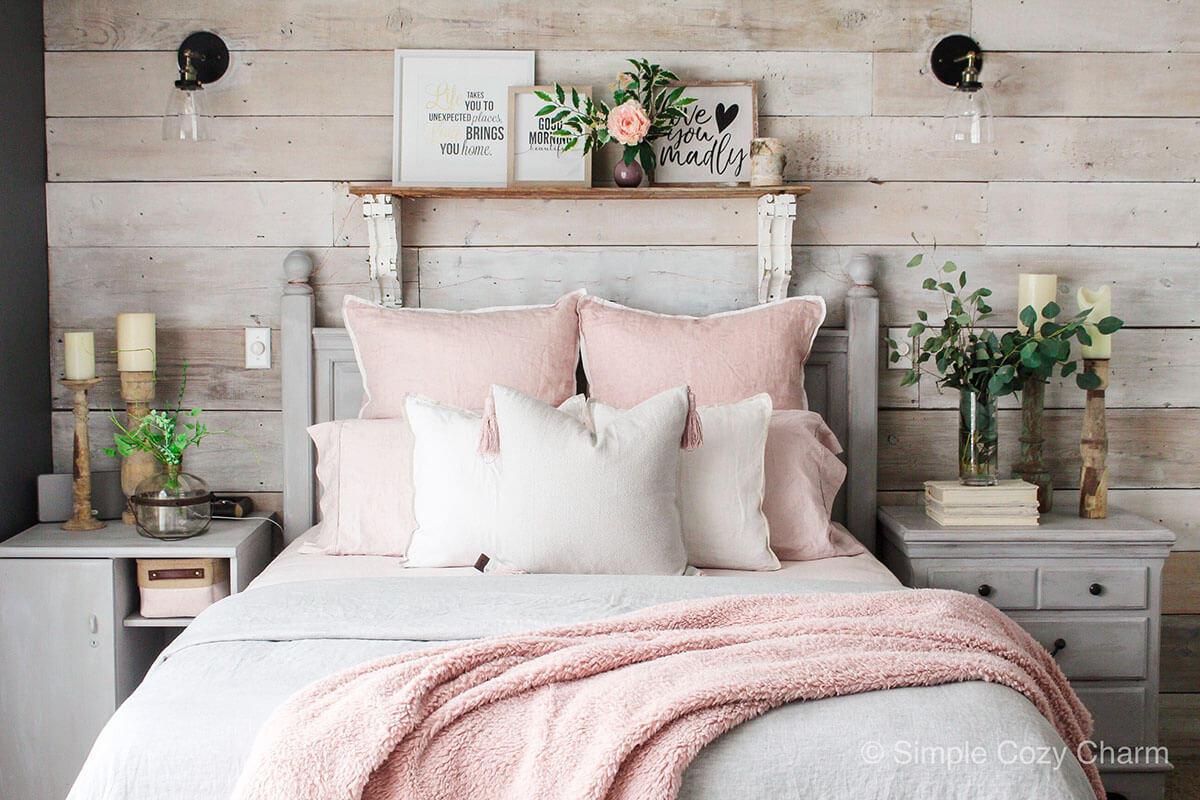 As two become one, you can blend in some touches of the bride with this gorgeous blush pink as an accent color in the master bedroom. It pairs perfectly with grey and offers a modern and lovely color combination choice. Behind the bed, the grey shiplap wall gives both character and charm to this inviting bedroom space. The medley of black and white signs crafted with rustic frames make a wonderful scene as they rest on the shelf above the bed. Side tables complete the room with both decorative and practical items. A few throw pillows, a soft blanket, and some fresh blooms are enough of the blush pink tone to let the world know the bride's here to stay!
11. Love You Always Grey & White Bedroom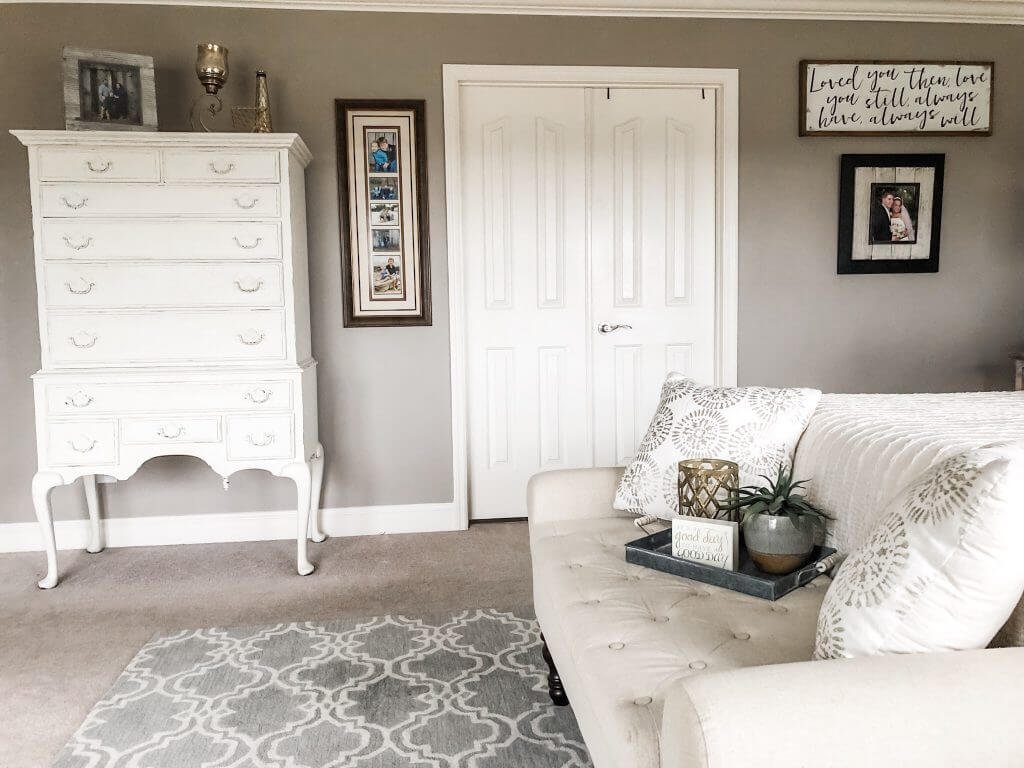 Blend in some modern farmhouse with traditional design and you'll thrive in this classic and neat master bedroom. The large Queen Anne styled set of drawers adds a lot of storage and style to the room. At the end of the bed, the settee gives a homey feeling to the room and further accents some stylish elements with the candle and plant tray. On the wall, the couple's picture is set amid some shiplap background in the frame, lending to the modern farmhouse appeal that's on-trend. Incorporating some simple prints in the accent rug and throw pillows offer a nice touch without overdoing it.
12. Navy, White, & Blush Master Bedroom Idea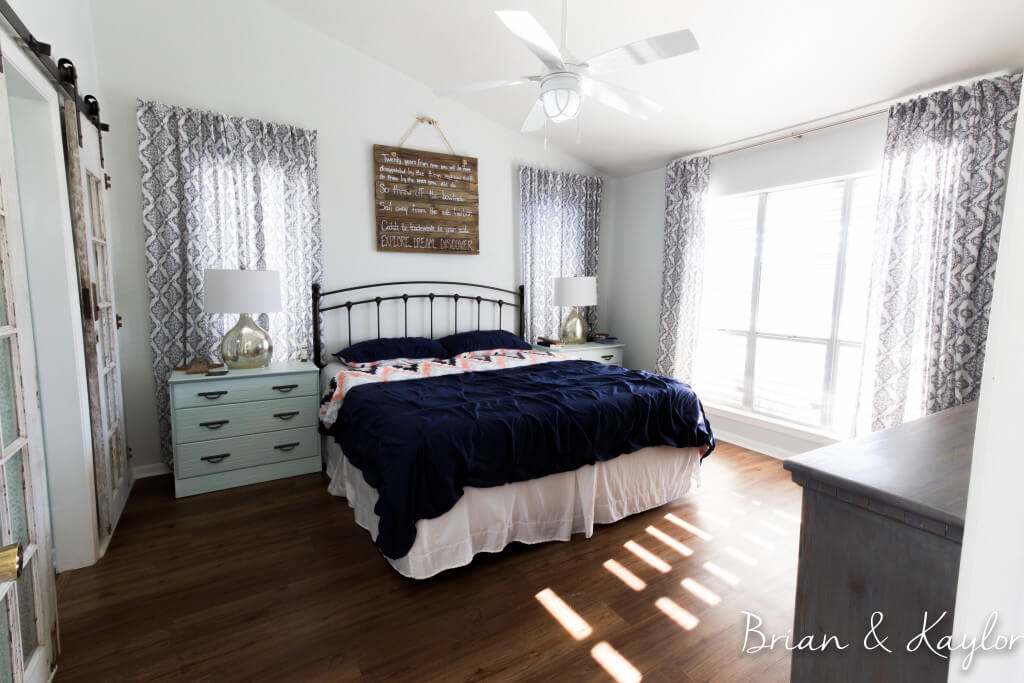 Don't be afraid to mix it up in terms of style when you go for a fresh, new look for your master bedroom. Combine some of your favorite elements from different designs and you are sure to achieve a custom look that you'll love! One of the best bedroom decor ideas for couples ensures that both the husband and wife are happy to call this space theirs. The goal of this awesome idea is to mix a little of each person into the room. A great way to see this is in the combination of navy and blush. It's both masculine and feminine and set amid white, it simply looks amazing! Giving each spouse their own nightstand is another way to make everyone feel right at home.
13. Soul's Desire Bedroom Design for Couples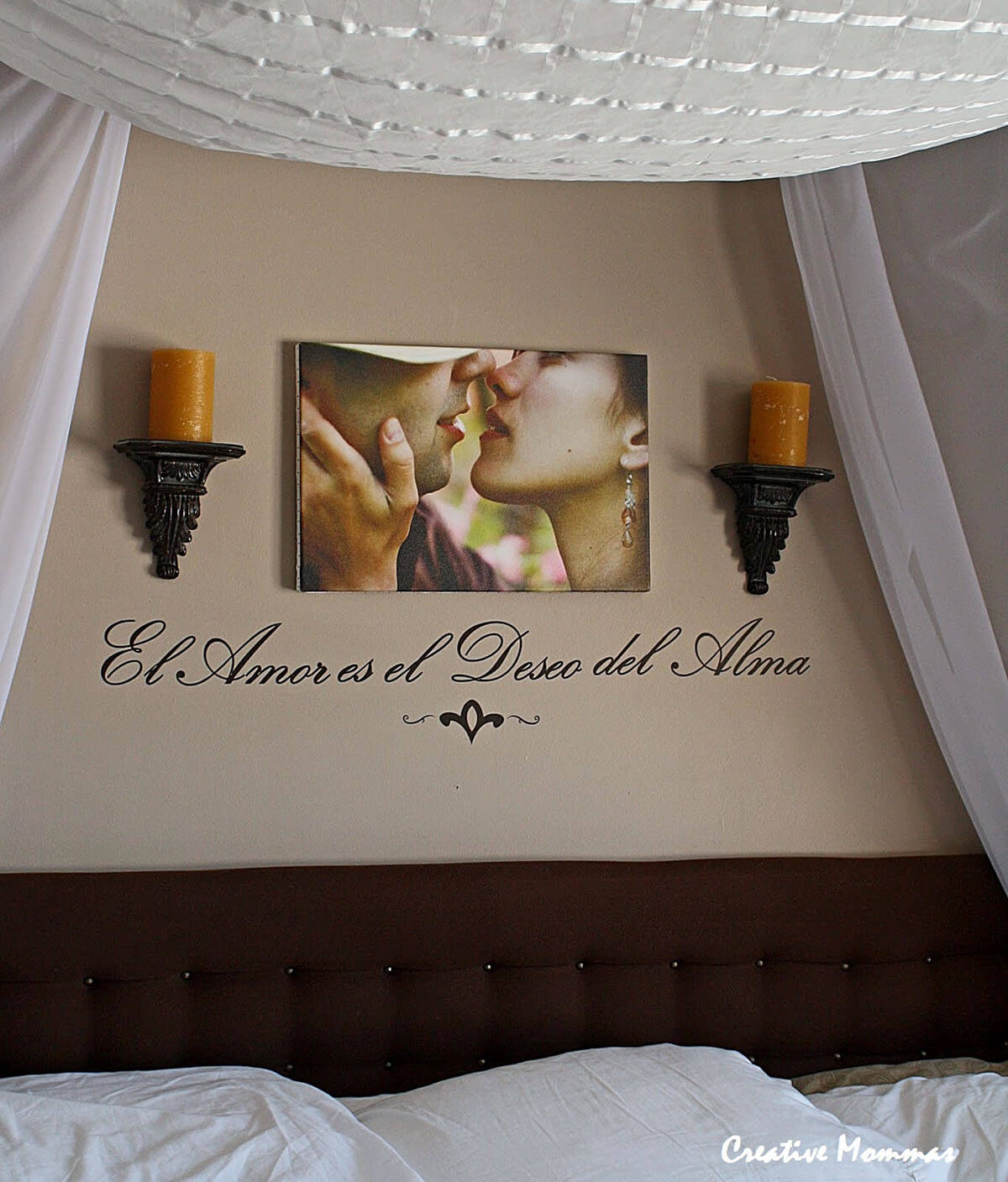 Embrace your Latino heritage or reminisce on a special journey south of the border with this "love is the desire of the soul" bedroom idea. Connect in a deep and meaningful way with your spouse as you focus on this powerful message set underneath a large photo of the two of you. A warm glow from the set of wall sconces further adds ambiance to the room and sets the candle-lit mood for a romantic evening in. The sheer white draping on the four-poster wooden bed adds another element of adventure and fun to your master bedroom's design.
14. Cozy Cottage White Master Bedroom Decor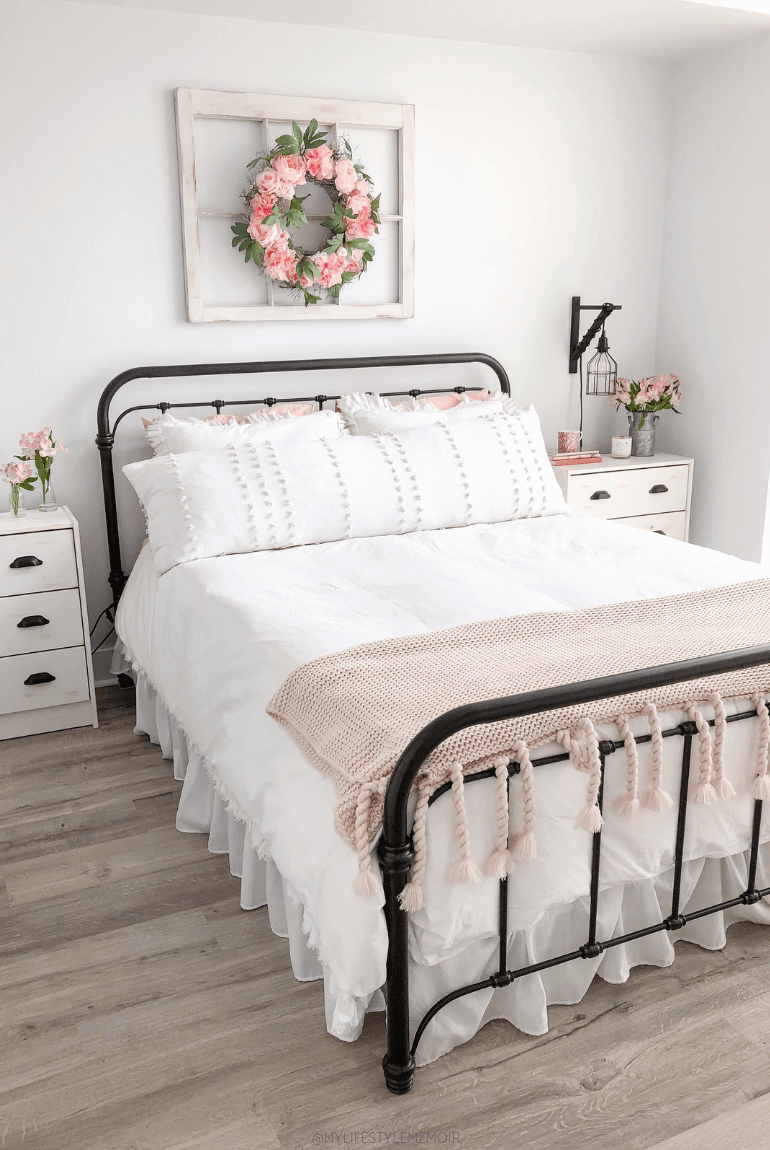 Think bright and white and loaded with charm and this is what you'll see with this cute and cozy cottage inspired couples retreat. Above the bed, an old window pane has been repurposed into some charming wall art accompanied by a stunning pink wreath. Keep the symmetry flowing with matching nightstands and you'll be on your way to one of the best bedroom decor ideas for couples. The metal-framed bed grounds the masculinity in the room, while the soft romantic touches are evident in the pale pink throw across the bottom of the bed and the delicate flower bouquets resting on the nightstands. The weathered-looking grey-toned wooden flooring adds a little bit of character and keeps the space looking like home.
15. Always Kiss Me Goodnight Shades of Grey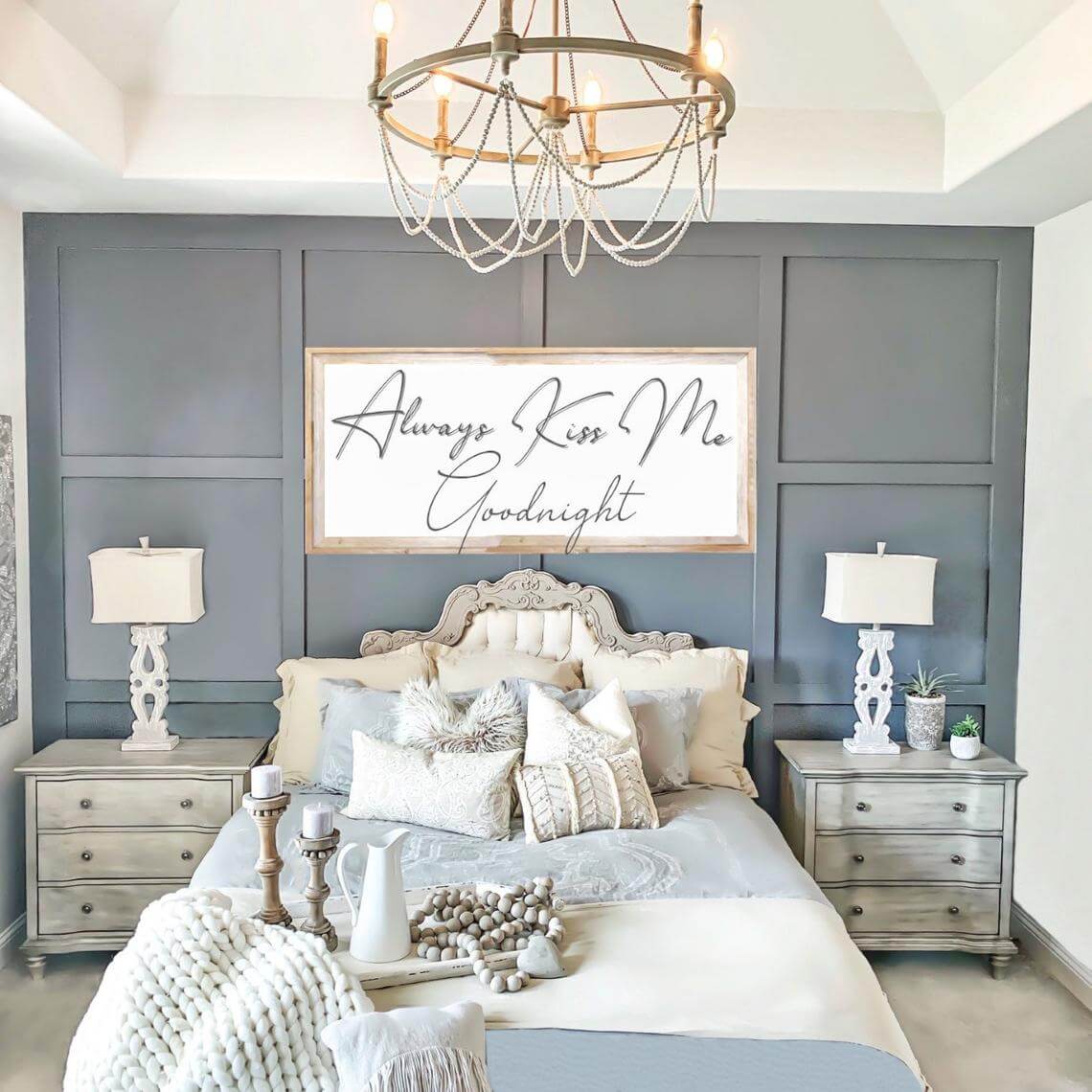 In these many shades of the grey master bedroom, you will discover the beauty in varying hues of the same color when it comes to design. From the steel blue-grey statement wall to the soft and subtly distressed light grey nightstands, you'll find this to be a top contender in bedroom decoration ideas for couples. On top of the bed, there is an almost bed and breakfast appeal with the tray of trinkets and the soft oversized woven throw. Additionally, the abundance of accent pillows in a variety of textures encourages you to settle in for the evening and relax.
16. Simple and Minimal Modern Charm Master Bedroom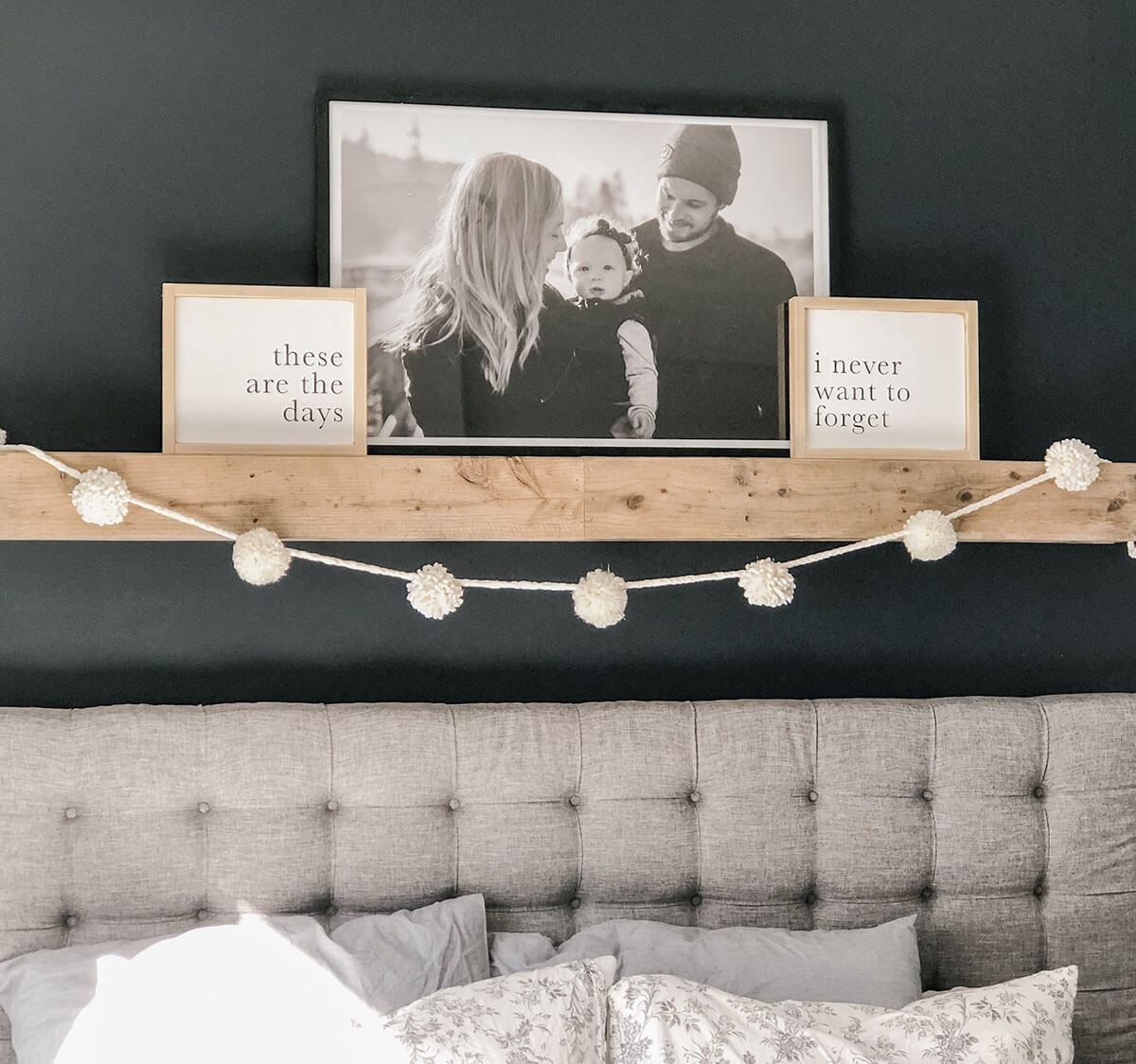 Keep it simply stated and minimal in design with a gorgeous and easy to re-create bedroom design for couples. The rich and dark color choice for the backdrop of the bed is the ideal foundation for this modern space. A rustic wooden shelf holds some cute signs and a favorite photo of your new little family. Adding a little white pom-pom garland gives the space a whimsical touch in an otherwise modern and minimal design. For extra comfort, the upholstered headboard in a heather grey adds another textural element without straying from the modern color palette.
17. With You I am Home Master Bedroom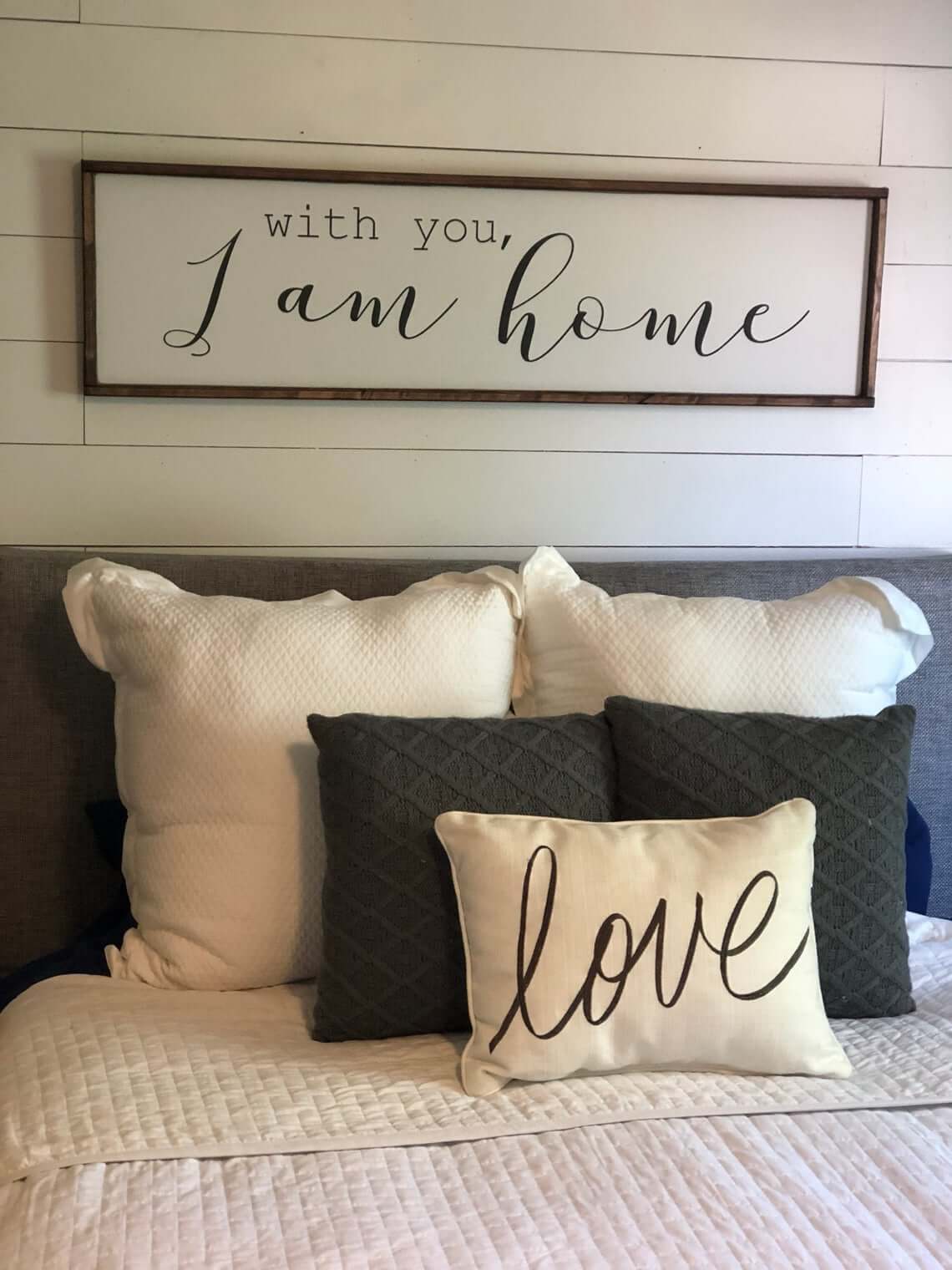 Get right to the point in solidifying the strength and love in your relationship with this black and white scripted sign of "with you, I am at home" hung above your king-sized bed. Set on a shiplap wall, this sign adds to the modern farmhouse vibe in your home and extends it into the master bedroom with little to no effort. A perfectly placed pairing of pillows makes the master feel like a cozy bed and breakfast weekend getaway. The white and grey provide a cool contrast and create an amazing master color combination.
18. Simply Elegant Scrolls and Monogrammed Master Bedroom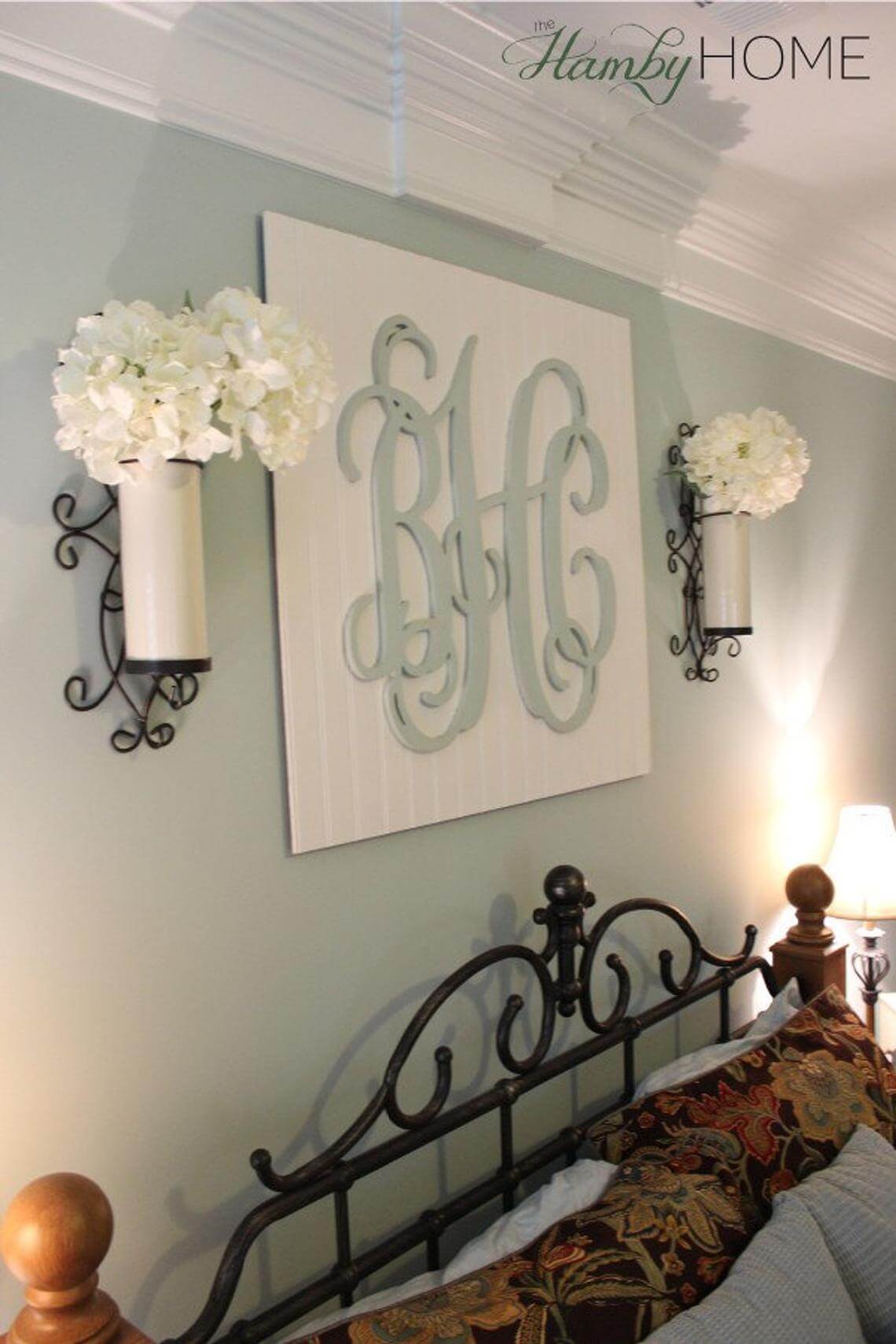 Front and center are where you'll need this large and in-charge family monogram. Hang it right above your bed for a bedroom design for couples that is sure to turn heads. Framed by two metal scrolled sconces, the vases within is a cool way to add some soft and delicate flowers to the room. The metal scroll design is further carried in the room into the headboard of the master bed. These swirls incorporate the design of the monogram and unite the room as one of the best bedroom decor ideas for couples.
19. Marvelous Master for You & Me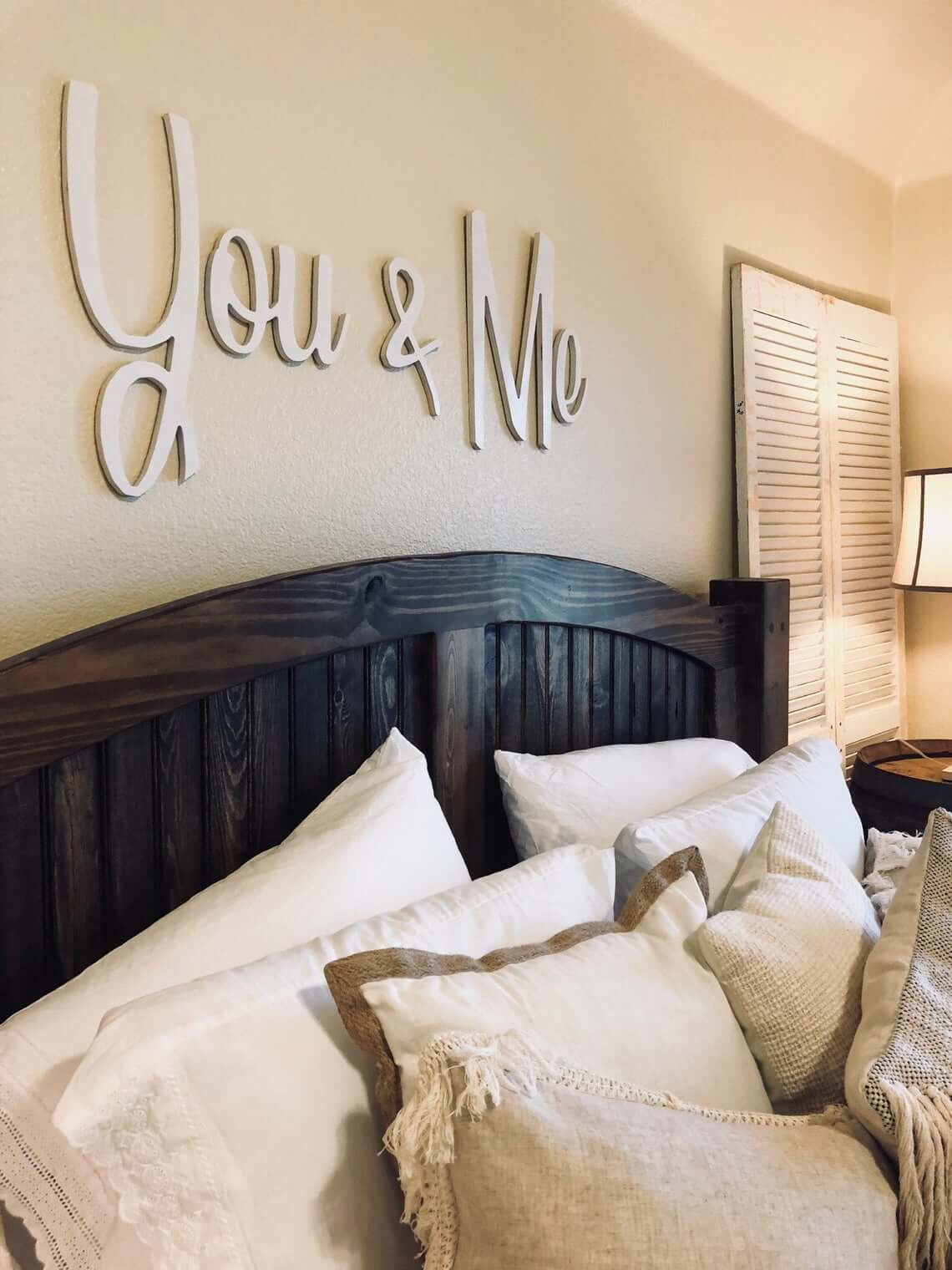 An understated space can often speak volumes by keeping it simple. This rich and bold dark wooden bed is a great foundation for a minimally decorated master bedroom. A rustic whiskey barrel transforms into a structurally sound and interesting side table as the worn-out shutters provide a textural element as a backdrop. For wall art, a simple "You & Me" is displayed above the bed for an ode to the only thing that matters in the master bedroom. From the large display of accent pillows to the various textures throughout, this master welcomes you to feel right at home and cuddle up with your favorite person.
20. The Life You Love in Your Master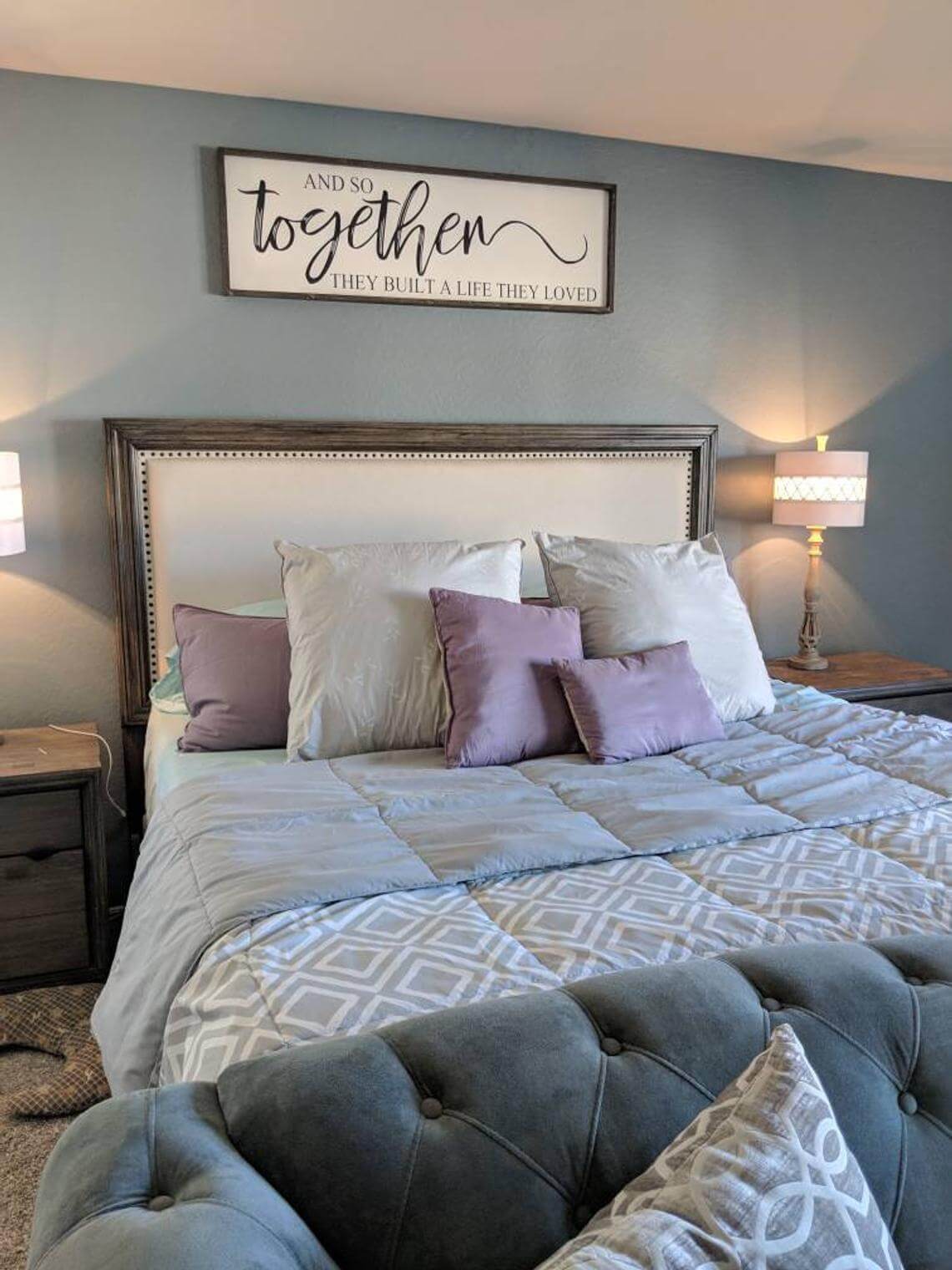 When it comes to creating the life you've always dreamed of, look no further than your master bedroom. Start here for your path to relationship success. Capitalizing on a fun sign like "And so together they built a life they loved" is one of the best bedroom decor ideas for couples. The foundation you lay as a couple certainly sets the tone for your future together and your family's focus. Stay connected to one another with this pleasant reminder proudly displayed above your bed. Matching nightstands and reading lamps on each side unifies the space where two have become one.
21. Rustic Cabin Song of Solomon Master Bedroom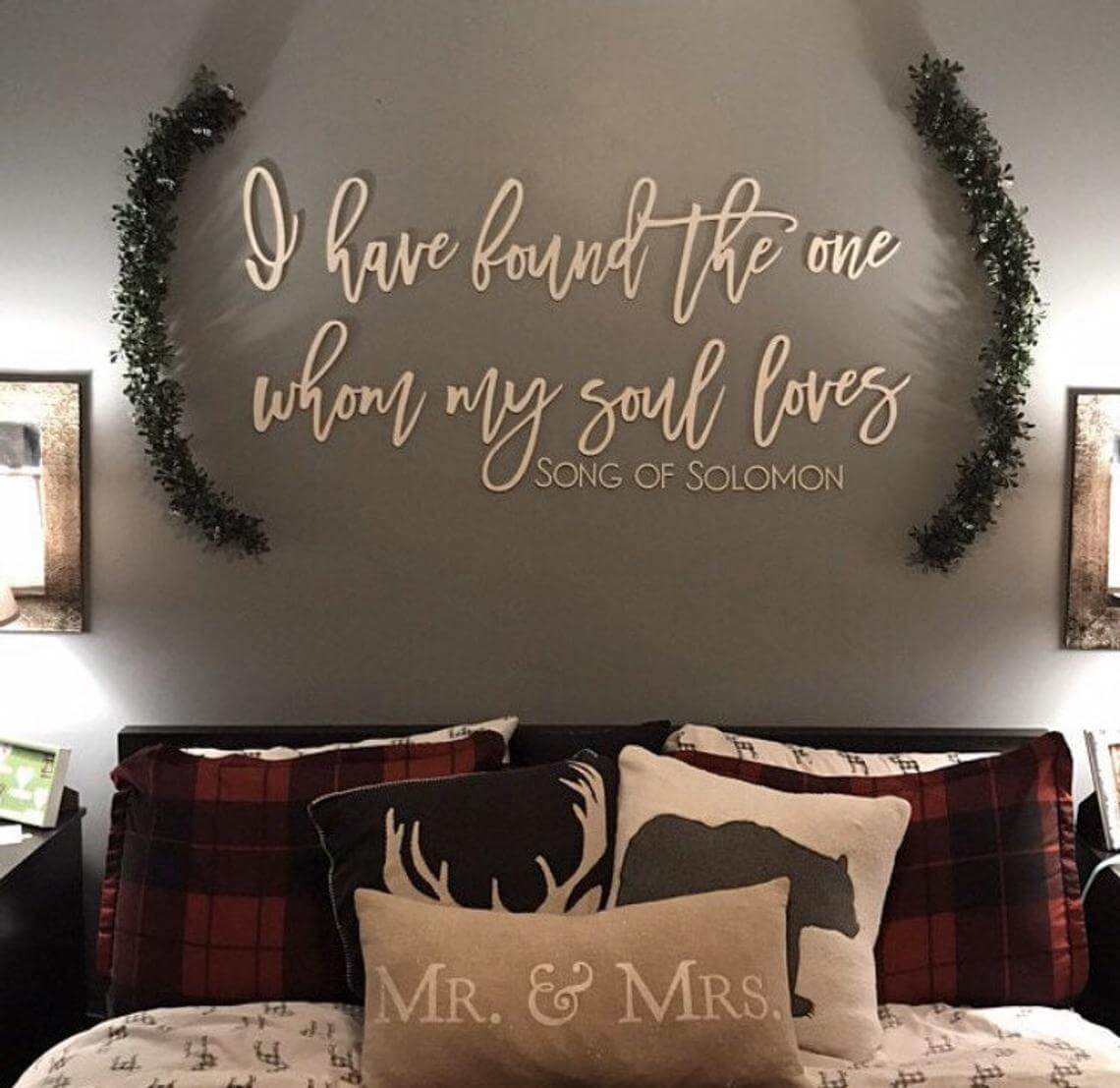 No matter if you live in a cabin or not, this rustic and modern master bedroom will grab your attention! The accent of buffalo plaid in black and red really pops in this love nest. From the bear and deer elements to the rustic trim of the picture frames, this bedroom decoration idea for couples brings a fun uniting of his love of the woods and her love of decorating. Greenery above the bed sets off the Song of Solomon quote in a beautiful manner.
22. Warm and Simple Traditional Master Bedroom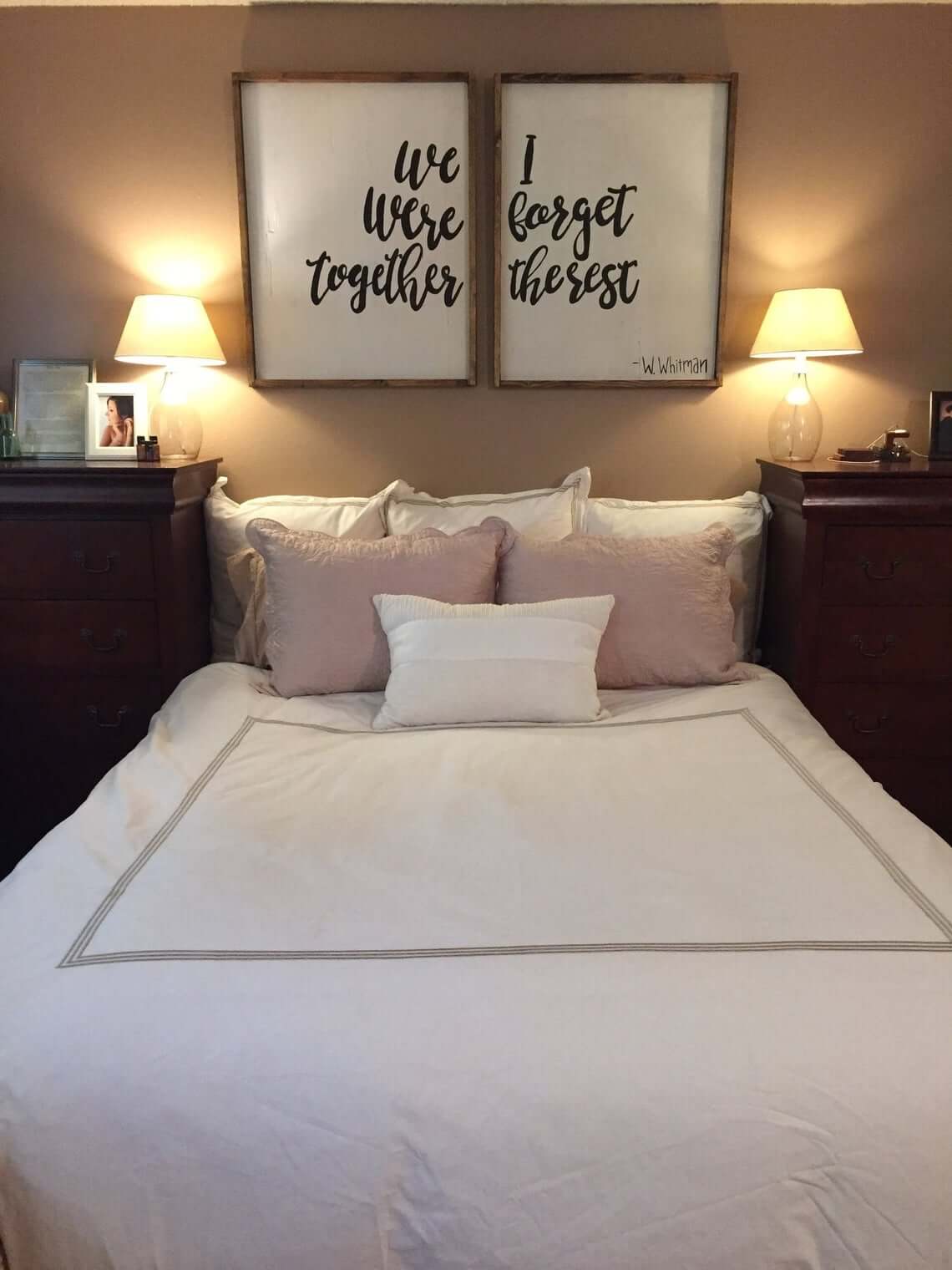 Tan walls give this traditional bedroom a warm touch as they carry the rich brown of the nightstands around the room. Plain bed coverings and pillows keep the overall look simplified as they offer a soft retreat at the end of a long day. Each personal nightstand gives both husband and wife a place to store their phones, watches, reading materials, and other pertinent items while keeping them within reach. Mounting two large prints above the bed reading "we were together, I forget the rest" is a fun anecdote to the real value of your relationship.
23. You Will Forever Be My Always Bedroom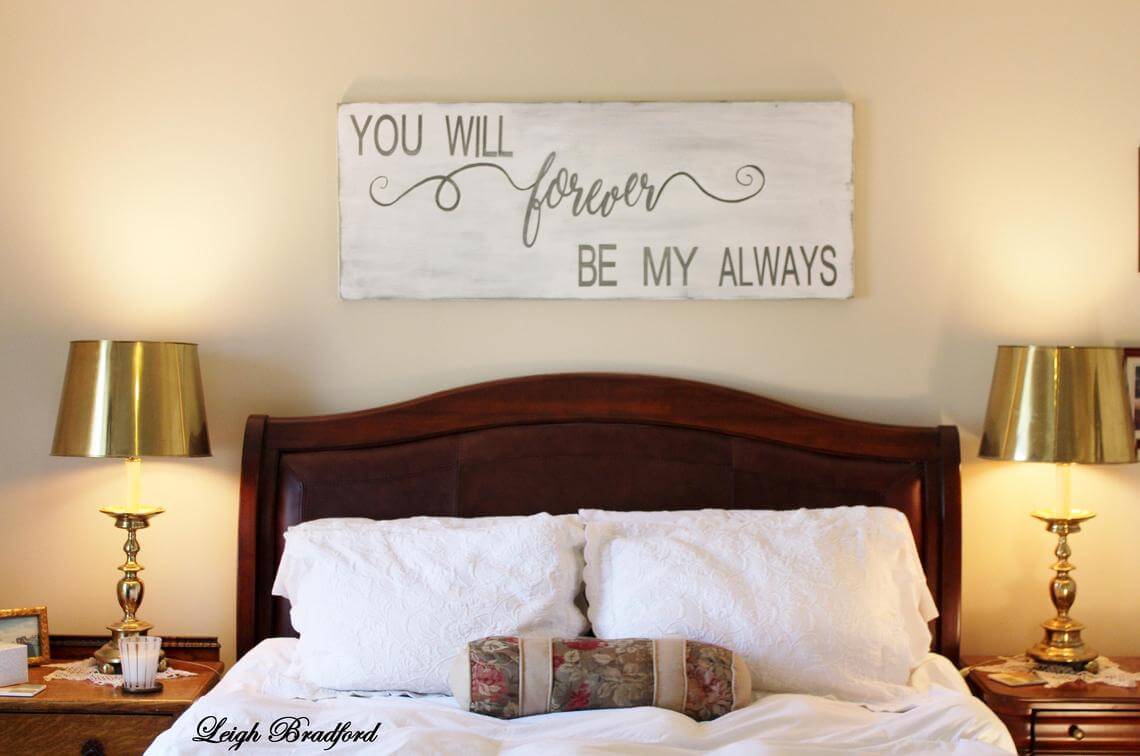 Any master bedroom would take pleasure in a quick and cheap update. To make a speedy change on a tight budget, simply find a fun sign that speaks to you and your partner. This distressed white and grey sign would be a fun gift for a newly married couple as it would double as reception decor and home decoration. It is a large piece that doesn't need any accompaniment as it can easily stand on its own. Check out this bedroom decoration idea for couples to give your master the fast update it deserves.
24. His Beard & Her Butt Rustic Bedroom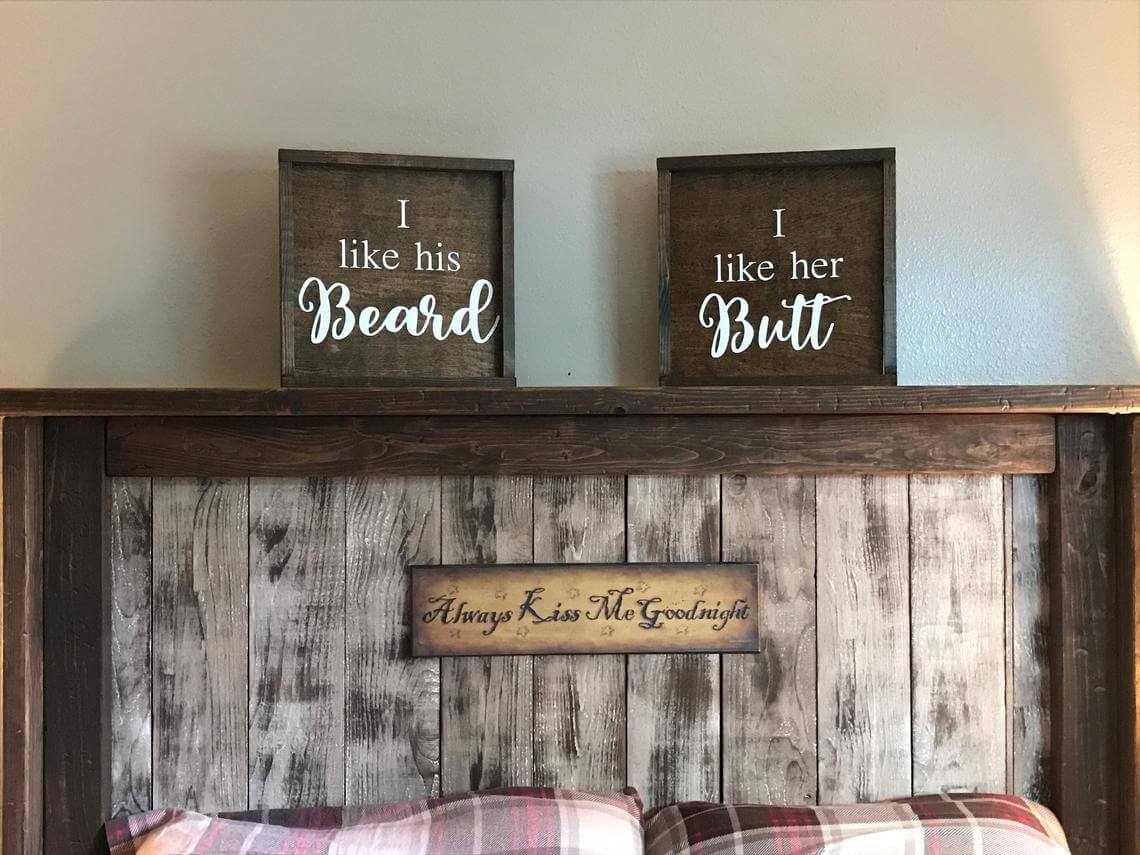 Sprinkle some extra fun into your master bedroom with these cute and frisky rustic bedroom signs saying, "I like his beard" and "I like her butt." This pair would make a hilarious wedding shower gift for the bride and groom. Nestle them near your large and dark wooden headboard for extra rustic charm. A set of plaid pillows gives the rough room a subtle woman's touch without being too girly.
24 Irresistible Bedroom Decor Ideas for Couples
Setting the mood for your master has never been more fun and easy to accomplish than with these unique home decorations. A masterful collection of 25 amazing ideas, you are sure to find something that makes updating your slumber of solitude a place both you and your husband will enjoy.
With all of the amazing rustic pieces available, you can channel that weekend getaway to the cabin right into your own at-home suite. From rustic and rich wooden headboards to wood slab shelving, you can make your man feel like the master of his domain by infusing your bedroom with some pieces that he'll appreciate. To accompany this design, it's always a good idea to throw some buffalo check or plaid patterns into the mix too!
Above your bed is the focal point of your room, so why not add a bold sign to complete your look? You can keep it sweet with the Song of Solomon, feature a lovely phrase in Spanish, or liven it up with homage paid to his beard and her butt. These signs are fun and easy to change in and out if you have more than one favorite.
Whether it's a piled-up pillow party or a showcase of some of your favorite photos as a couple, be sure to include them in your master bedroom design. When you consider both individuals occupying this space, they will both feel connected and take ownership of their love nest as two become one.
Our Favorite Farmhouse Furnitures to buy on Amazon