The bedroom is our safe haven, the place where we retreat to at the end of our day, and the space where we rise every morning to begin another day. The bedroom is our boudoir, the room where we relax and read, lounge with our family members, and shut the noise of the world off for a while. The way we decorate our bedroom is essential, as the colors, fabrics, and overall design affect our mood. Below is our gallery of over 50 inspiring bedroom design ideas to give you the inspiration to create transform your bedroom from a plain room where you sleep to a cozy safe haven.
Check Out 50 Inspiring Ideas to Design Your Bedroom for the Year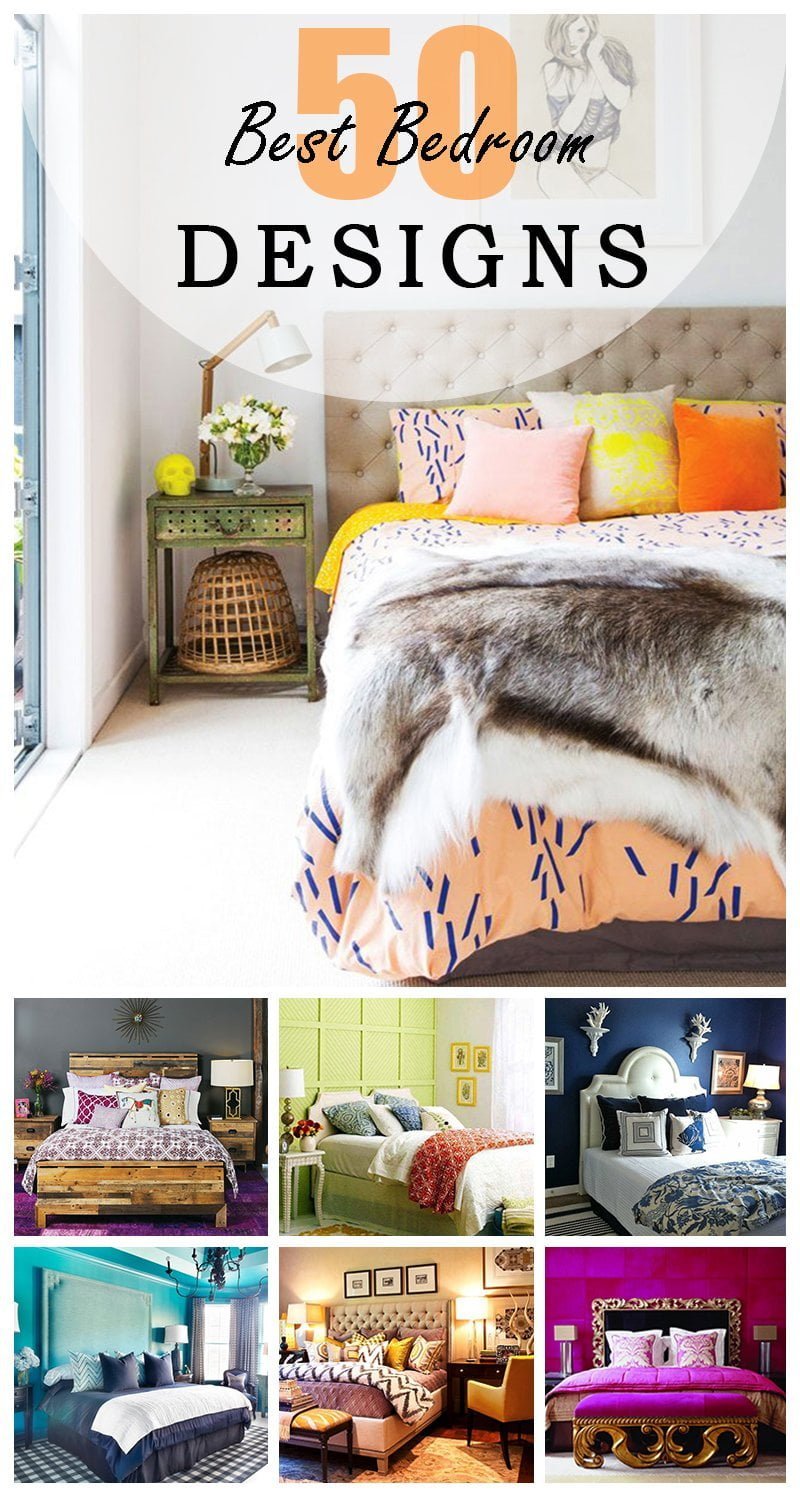 1. Funky and Eclectic in Fur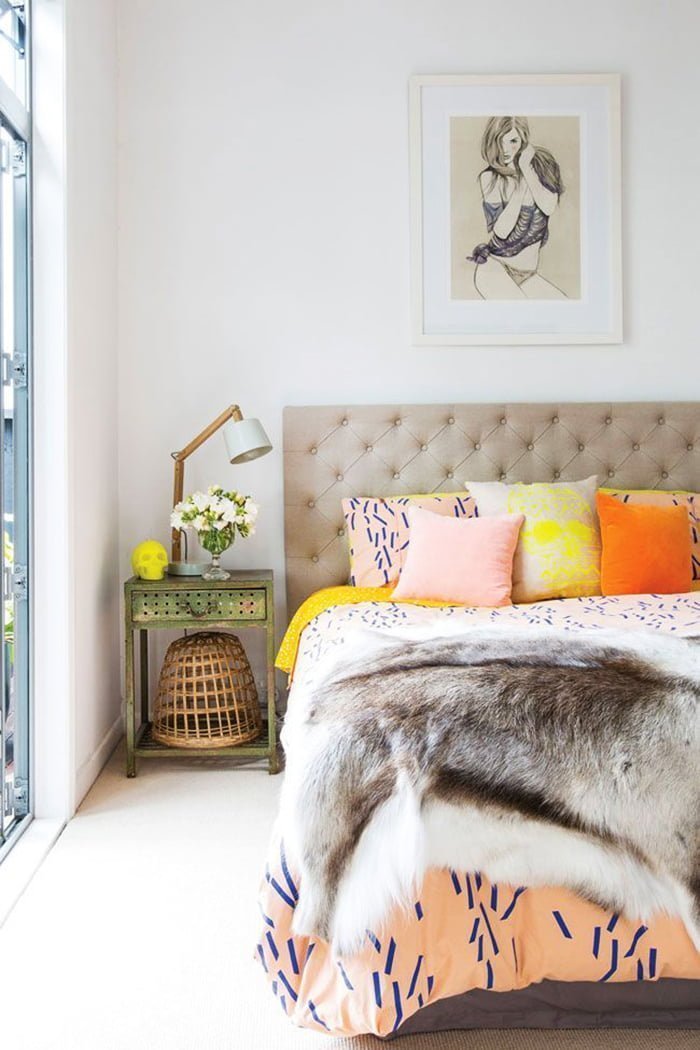 For a fun, funky look, try mixing two completely different materials when choosing bedroom sets. A night stand from a yard sale with a faux fur duvet, or hang a funky Art Nouveau sketch above the bed. Keep the colors light and fun, and don't be afraid to add unique little items like the bright yellow skull pictured. Keep a vase of flowers next to the bed for vitality and a fresh aroma, and choose throw pillows in a variety of different but complimentary designs. While some designers believe that all bedrooms should have a uniform, symmetrical look, sometimes the coziest spaces are ones with unique, funky contrasts.
2. Elegance in Black and White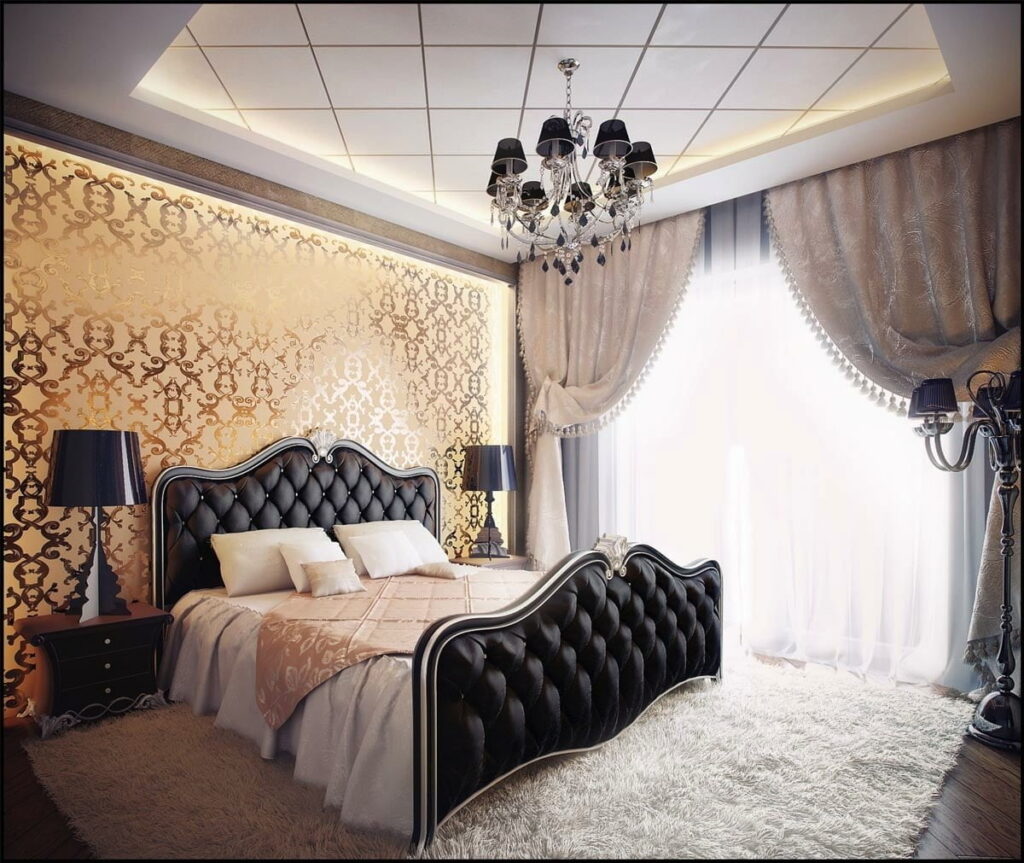 Black is a color often underused in bedroom decor, but it can add a dignity and depth to the room. Contrast black detailing on the bed with a gleaming white rug and white drapes. Another way to add depth to black bedroom designs it to choose lighting fixtures that are also black. As pictured, the overhead chandelier and twin night stand lights have black shades, adding a muted but warm ambience at night. These bedroom colors can also be enhanced by adding a royal gold or silver tone as an accent color, perfect for wallpaper or slip covers. The strong black highlights in this room add a masculine tone while the heavy brocaded drapes and recessed ceiling lighting keep this bedroom from feeling too aloof.
3. Lofty Designs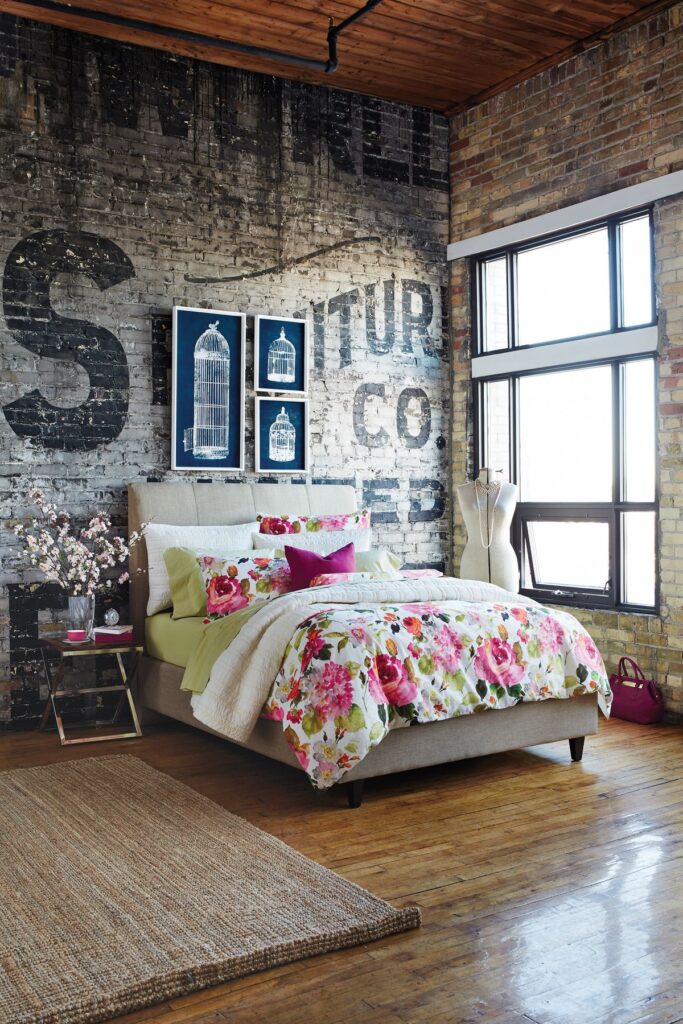 It's quite fashionable to convert old lofts or industrial spaces into more intimate bedroom spaces. Bedroom decorating ideas for converted buildings include keeping some of the original stenciling on the wall, while adding a few color-matched prints. With generous natural light to work with, keep the secondary bedroom ideas in light earth tones, such as the pictured bed and rug. Add a splash of color with fresh flowers, and a matching flowery duvet. Instead of trying to work against the commercial look of the space, work with it instead, adding a soft whitewash to the brick and matching with complimentary colors for the bed and accessories.
4. Quilted Elegance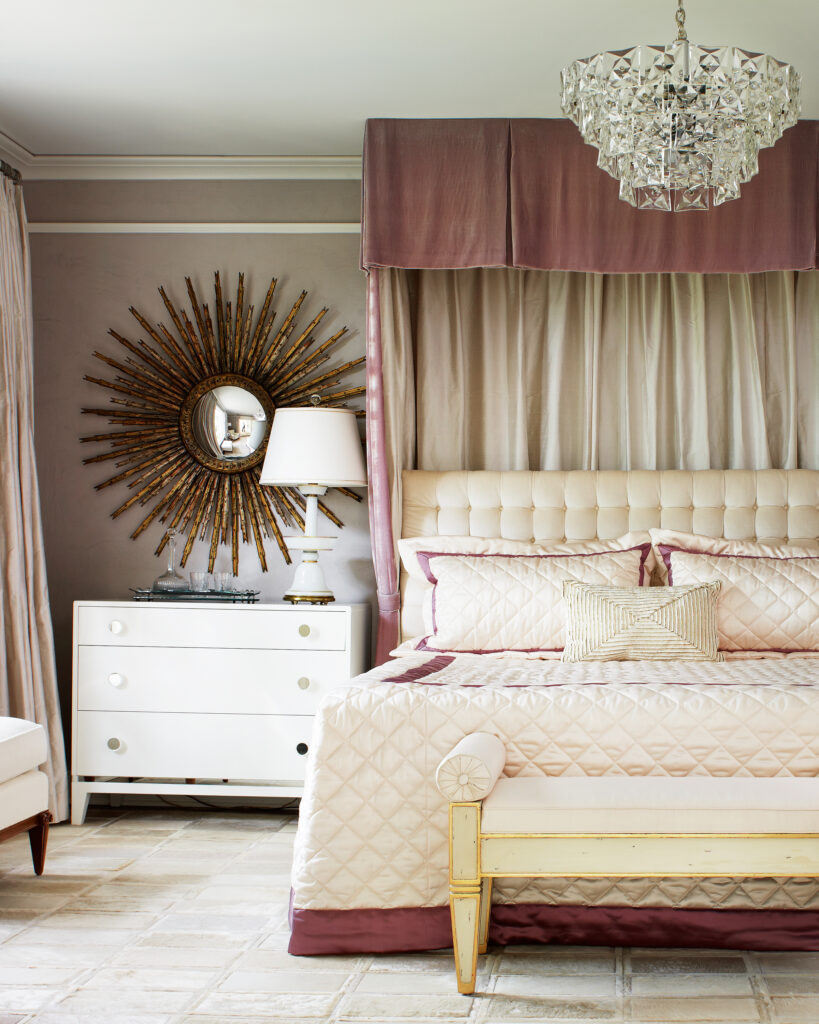 If strong color contrasts designs for bedroom sets don't appeal to you, keep your colors focused on neutral cream and brown tones. An elegant quilted bedspread looks great with matching cream and white furniture. The subtle but powerful look of the crystal chandelier adds a nice touch to this bedroom design, while the gold sunburst mirror frame and white bedroom bench give this bedroom a queenly look. While this look may be a little too understated for some, sometimes adding matronly elegance to a room can add quiet appeal. Note the use of drapes above the headboard, which add a nice vertical element to the room. By removing carpets and/or rugs, bedrooms like these are easier to clean and keep in pristine condition.
5. Irregular Shapes Add Depth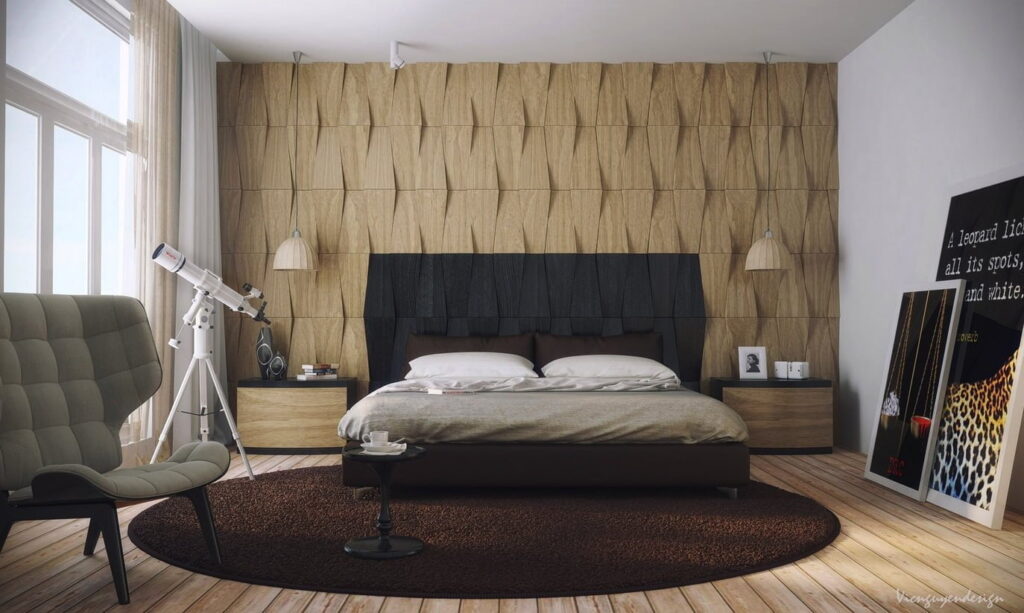 As pictured, the unique wallpaper design and oddly-shaped headboard add unique depth and character to this bedroom set. Unvarnished, natural wood flowers elegantly compliment the chocolate brown and cream colors of the bed and bedroom furniture. The telescope makes excellent use of open windows, while the oversized prints add a splash of color and vibrancy to this bedroom design. The large circular rug adds a secondary geometric element to the bedroom and helps add intimacy to what is otherwise a very large space. Note the ceiling mounted lamps, which help draw the eye downward and convert a high ceiling to a more intimate bedroom setting without adding visual clutter. Placing a comfortable chair near the large windows gives better use of the space, encouraging you to use the bedroom for more than just sleep.
6. Use Light and White Together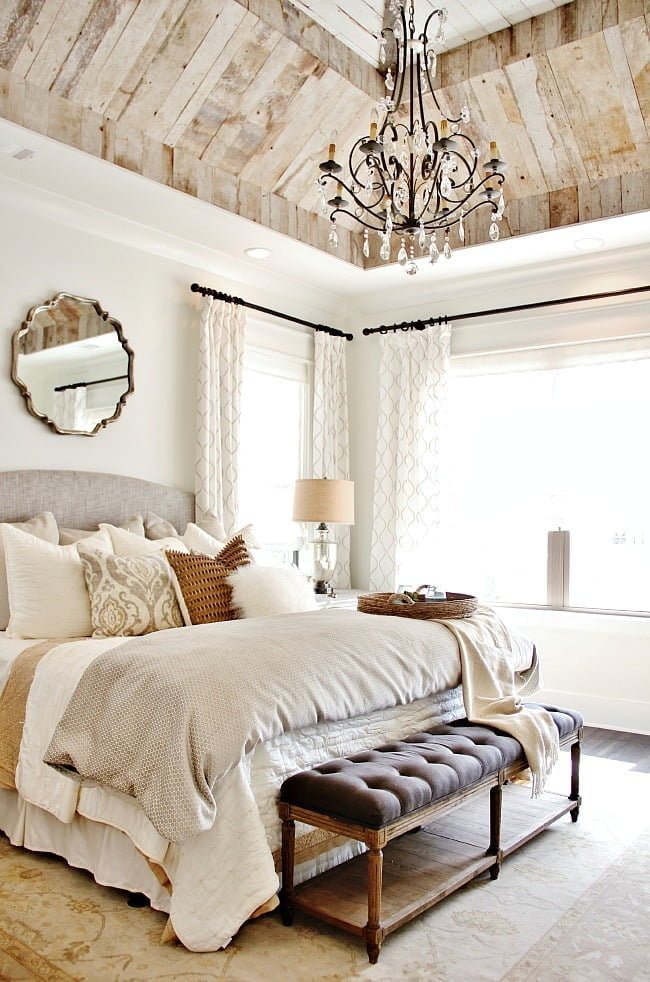 One of the fundamentals of coming up with bedroom decorating ideas is to start with what's available. As pictured, with multiple windows on various walls, and a high ceiling, this particular space has plenty of light to work with. Add to it by painting the walls white, and choosing a light colored headboard with white sheets and duvets. The use of an antique mirror adds even more light and energy to this bedroom idea. The secondary colors are pleasant earth tones, with a chocolate dressing bench and natural wood paneling on the ceiling. Note how the ceiling is recessed to reduce the overall verticality without sacrificing airiness and space, with tiny spotlights adding a nice accent at night. The crystal pendant chandelier similarly works to make this bedroom feel more intimate, working with the mirror to add more light to the space.
7. Blue is the Warmest Color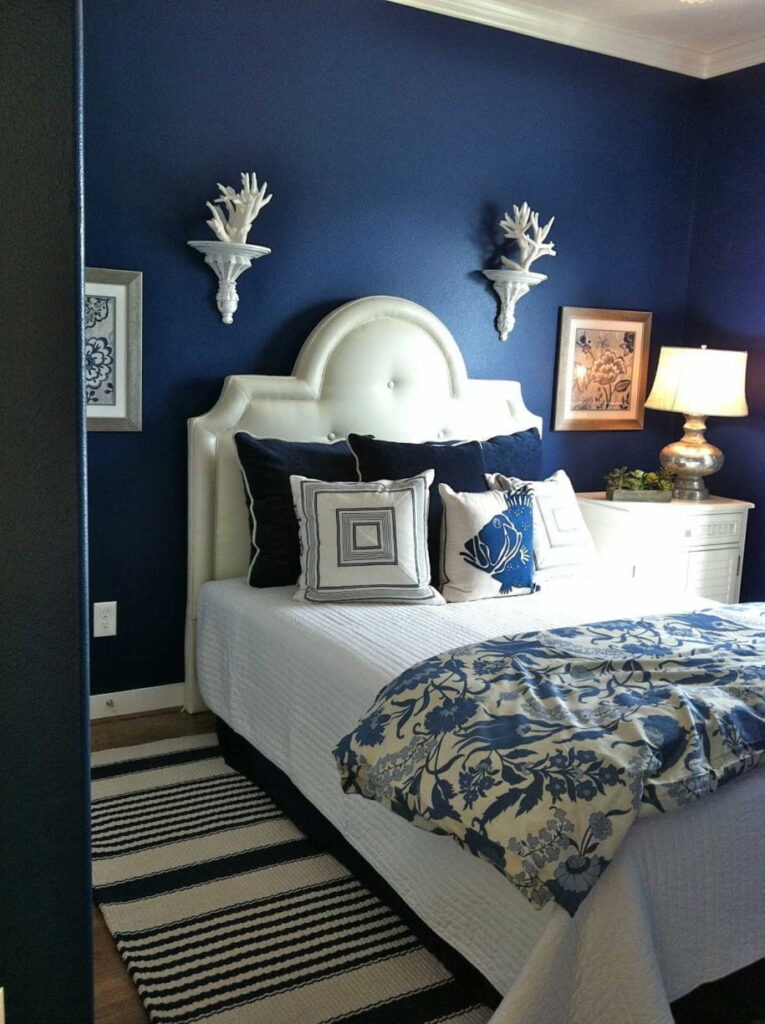 Scientists have proven that the color blue helps us relax. By starting with a dark blue color on the walls, the rest of the decoration is a study in complimentary colors and contrasts. The white bed matches excellently with blue-flocked pillows and duvet, and the striped floor rug adds a cozy element. Some funky white coral wall sconces and a single aquatic-themed throw pillow will help you enjoy a deep sleep every night in this bedroom. It can be tempting to start with navy blue and then go overboard with nautical motifs, but this bedroom keeps it subtle while still maintaining a deeply relaxing color theme.
8. Natural Bed Designs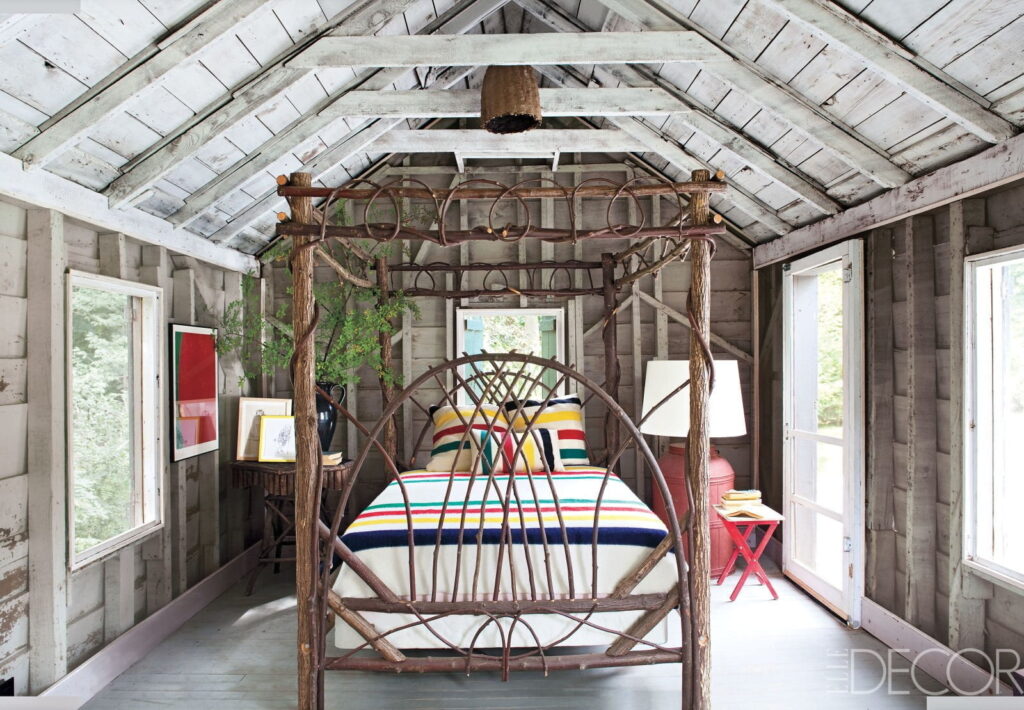 A great way to start crafting bedroom sets is to choose a non-conventional bed. As pictured, this unique bed made from unfinished wood adds a delightful earthy look to the room. Continue on with whitewashed walls and ceiling, making the bedroom feel rustic yet modern at the same time. Add just a touch of bright color for the rest of the bedroom decor, such as the oversized pink lamp and striped throw pillows. Keeping with the rustic theme, include natural plants and overhead lighting with a wicker lampshade. This bedroom makes excellent use of a converted space, either an outbuilding or shed, preserving clean lines and modernity without disengaging from nature and the outdoors. The smart use of modern laminate flooring sets the tone that this room is indoors, while the use of plants and generous windows means nature is always close at hand.
9. Queenly in Pink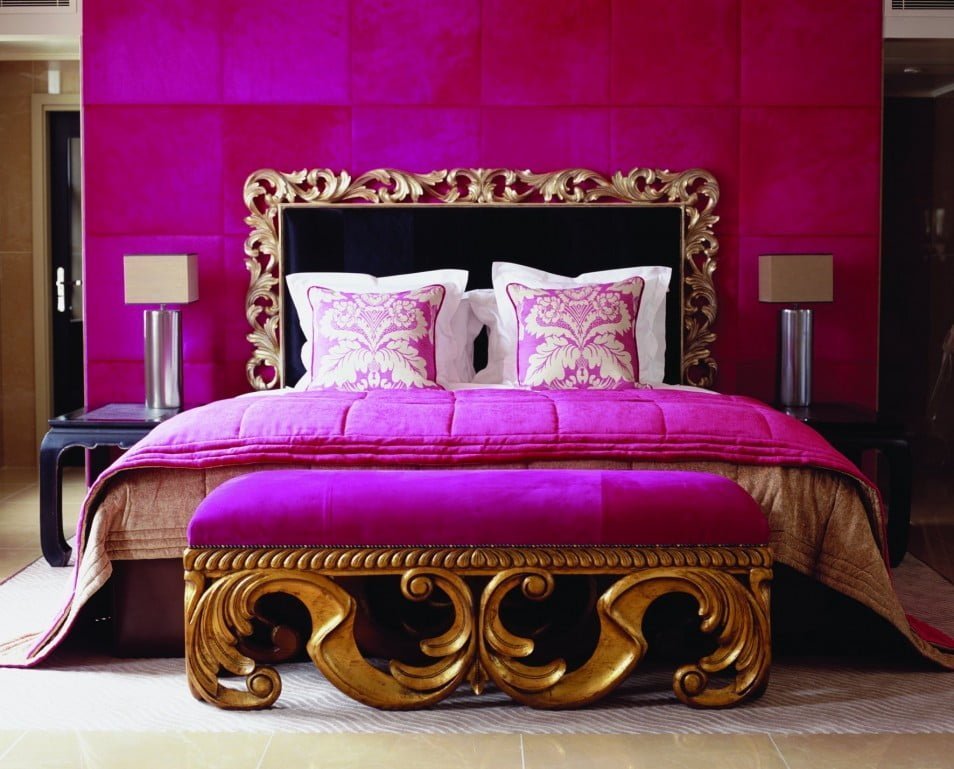 Source: Pinterest
Pink, and its cousins mauve and chartreuse, are often overlooked when coming up with bedroom design ideas. As pictured, the darker wall color perfectly sets off the lighter duvet and even lighter throw pillows, with white used as the accent color. While the predominant bedroom colors are pink and white, the muted gold of the footboard and headboard adds an elegant touch, making this bedroom set fit for a queen. Note the dark wood of the bed frame, and the smart use of black end tables to make the best of negative space, allowing the eye to remain focused on the primary colors. A small area carpet under the bed adds comfort when waking without transforming the overall floor surface of the rest of the room.
10. Yellow Without Excess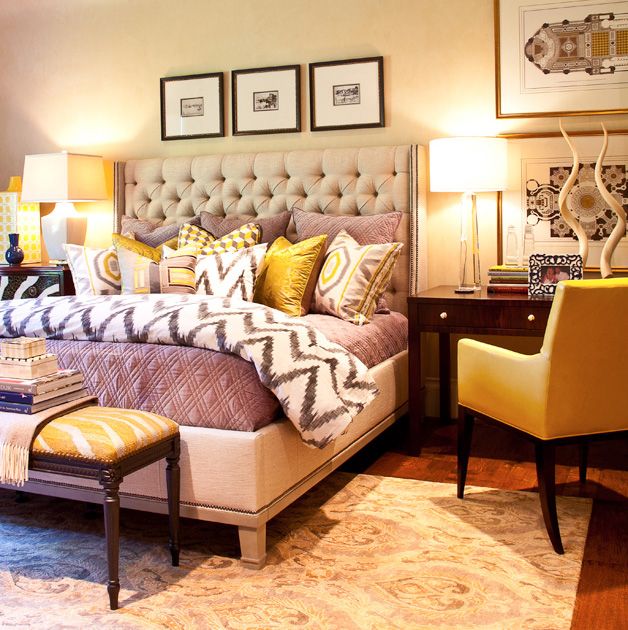 In the picture, notice how the subtle use of yellow adds vibrancy to this bedroom interior design without becoming garish or overly bright. A neutral earth tone bed and cream wall are subtly enhanced by the yellow upholstered chair, striped bedroom bench, and lampshades. Pull this set together by anchoring the room with a few strategic pieces of bedroom furniture in dark wood and black accent pieces. Yellow is often most commonly used in kitchens, where it is more welcome as a brighter and cheerful color tone. By toning down the yellows into cream, beige, and goldenrod, the bright energy is subtly maintained without going overboard.
11. A Room With a View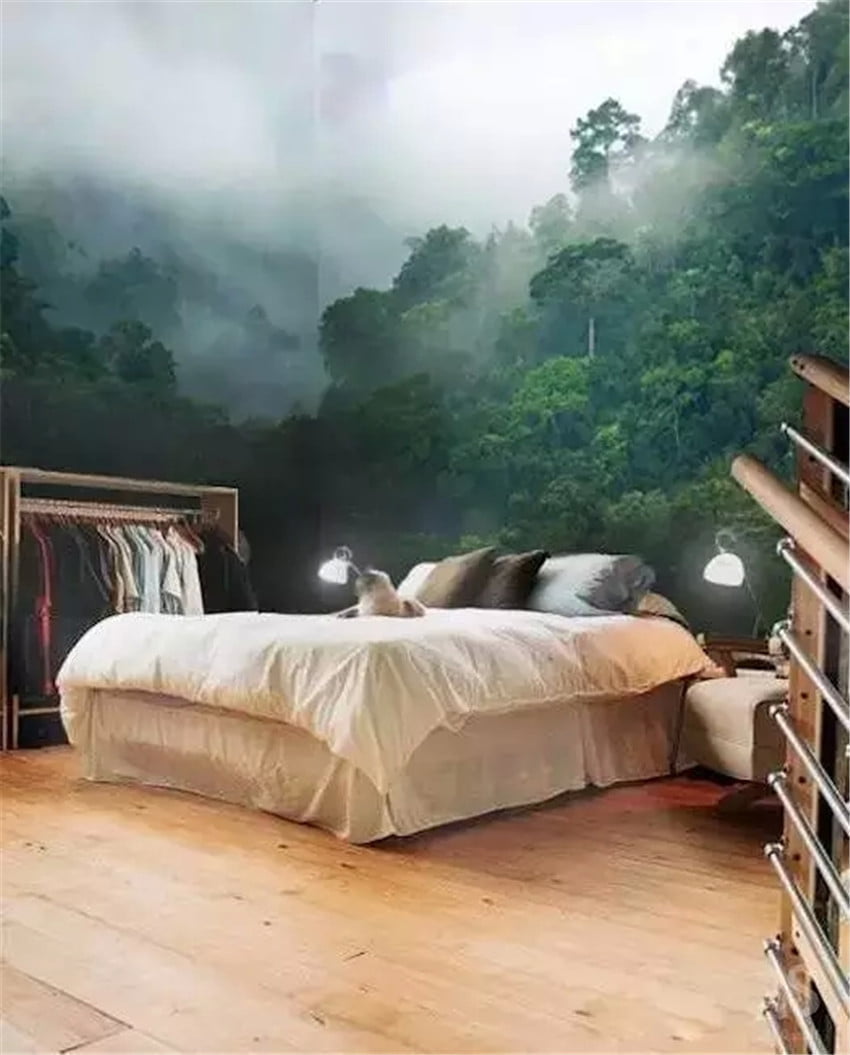 If your bedroom doesn't have a million dollar view, a little creative wall artwork can make it seem like you do. As pictured, this bedroom design starts off with a multi-wall scene from a misty jungle, completely transforming the way the rest of the room looks. Complement this with natural, unstained wood floors and other design elements. While it may be tempting to fill up unused floor space with furniture, this bedroom makes smart use of a free standing clothes rack to preserve the focus on the wallpaper. Small accent lights and minimalist end tables similarly fade from focus as the eye drinks in the gorgeous natural scenery depicted on the walls.
12. Country Fresh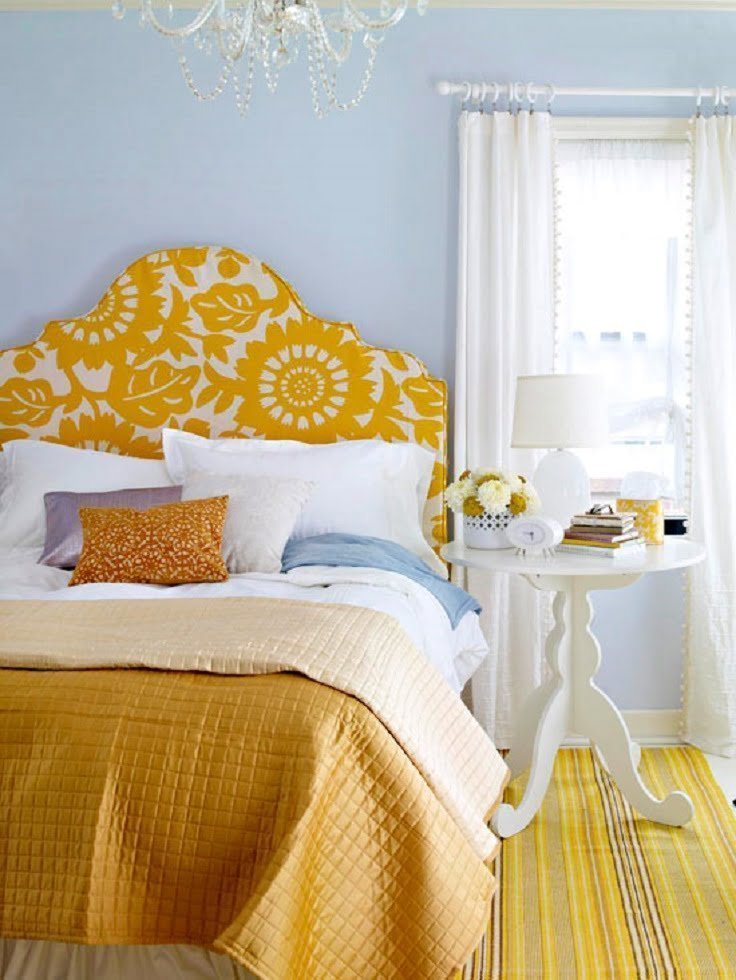 Gold, if overdone, looks pretentious. But bedroom designs incorporating shades of yellow and marigold contrasted with pure white give the space a fresh, country farmhouse appeal without being overly rustic. As pictured, the subtle use of light blue on the walls in contrast with the gold and white elsewhere makes this bedroom feel like you're sleeping underneath an open sky. A nice bouquet of flowers on the end table also adds that feeling of nature being brought indoors, while the chandelier above adds a hint of class. Note how the decorator found a tiny accent piece on the end table to match the headboard, subtly increasing the visual appeal of the room.
13. Modern Stripes Bedroom Decoration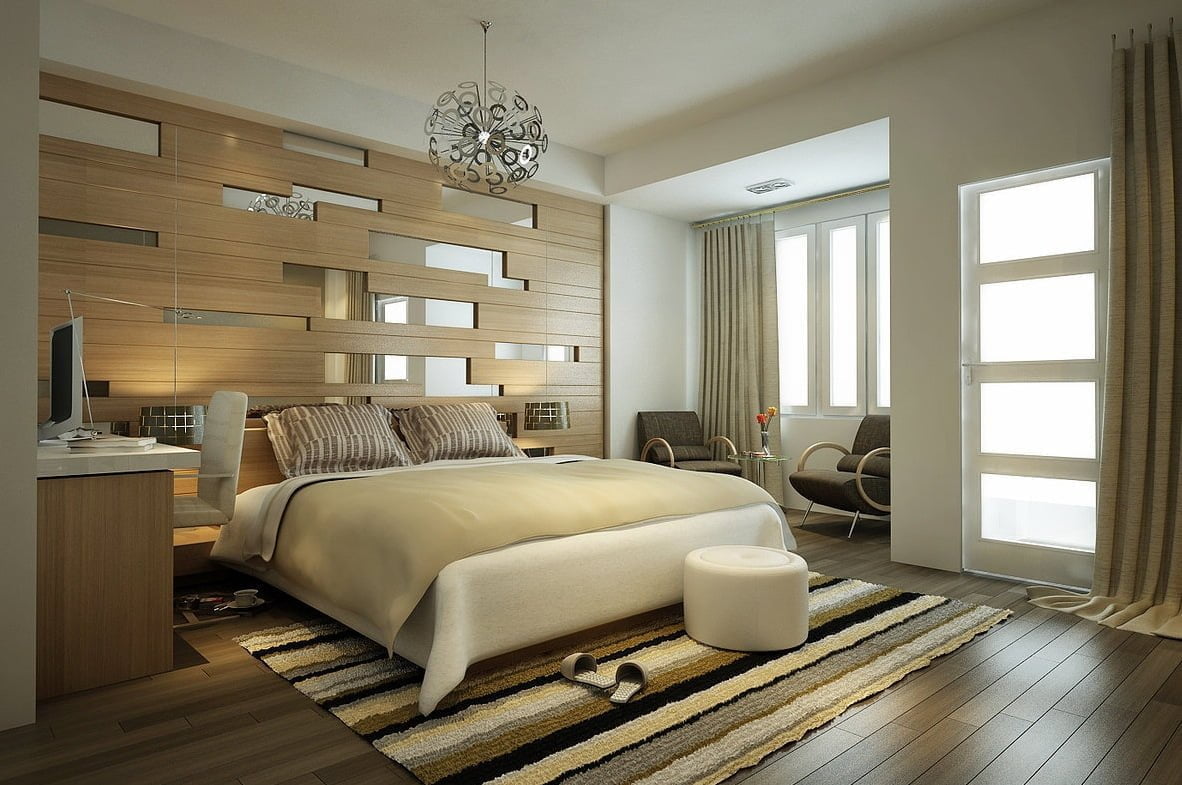 One great modern bedroom design idea is to break up sharp, sterile lines with stripes and other shapes. As pictured, the staggered mirror wall design, copled with a striped rug and futuristic overhead fixture keep the bedroom decor clean and modern without sacrificing personality. Warm earth tones ranging from cream to chocolate add depth to the room, while white accents and plenty of natural light keep it from being too somber. If you work from home, the addition of a desk and workstation maximizes the use of the interior space, while two comfortable chairs and a small table by the windows make the room a perfect place to enjoy a leisurely cup of coffee or tea on a weekend morning.
14. Vintage Appeal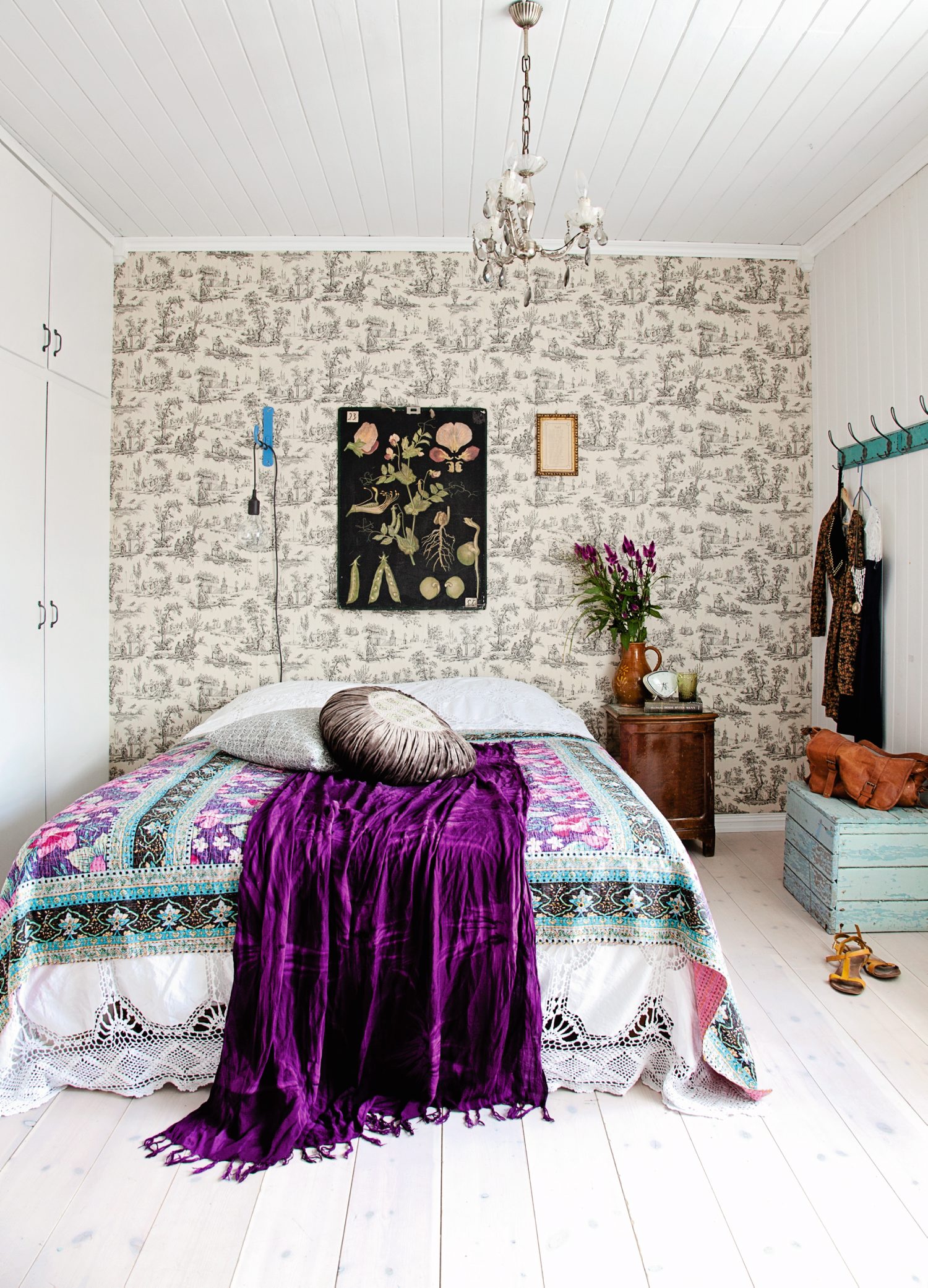 Small spaces, such as the bedroom pictured, can often feel claustrophobic. By incorporating vintage wallpaper, as well as a royal purple throw blanket, this bedroom is transformed into a space with personality. Use plenty of white throughout to add more light and make the bedroom feel spacious. An old wooden box or steamer trunk can double as furniture, while the cloakroom style hooks break up what would otherwise be a sterile wall. A few funky touches like an antique bureau or night stand add more charm to this room. The high ceiling is cleverly reduced visually by the strategic use of staggered framed prints offset at different heights on the wall.
More bedroom design ideas on the next page…