Throw Pillows are to home design what jewelry are to fashion styling. A creative and beautiful way to change or perfect the personality of an overall look.
Sofa pillow covers are a quick and inexpensive way to update and upgrade your living room or bedrooms. Consider the fabric material and design. Do you want to make the space warm and homey? Or are you ready to transition from the dorm look and finally pull together a room?
It's easy for anyone to get carried away with throw pillow shopping and purchase dozens. Keeping an eye on the feeling you want to bring in your home design will help you curate and choose the right ones.
You can use throw pillows to change not only the way a room feels but how it is used. A bay window becomes a reading nook once the pillows and blankets are beautifully placed. A pool patio becomes outdoor living space once the sofa pillows covers are tied together.
Throw pillows by definition should be decorative and functional. The most common are square and range in size from 16 – 18 inches. In use, the definition really ranges to include any pillow that pulls in colors and helps your home design.
If you are not ready to fully commit to a new look but want to give it a try affordably, throw pillows are a great place to start. Below are our favorite 40 throw pillows to buy right now. We have made to sure include a wide range of tastes and price points so you will be sure to find ones you love. Follow along and discover the ones to pull together your home design.
The 40 Best Throw Pillows Every Thirtysomething Will Love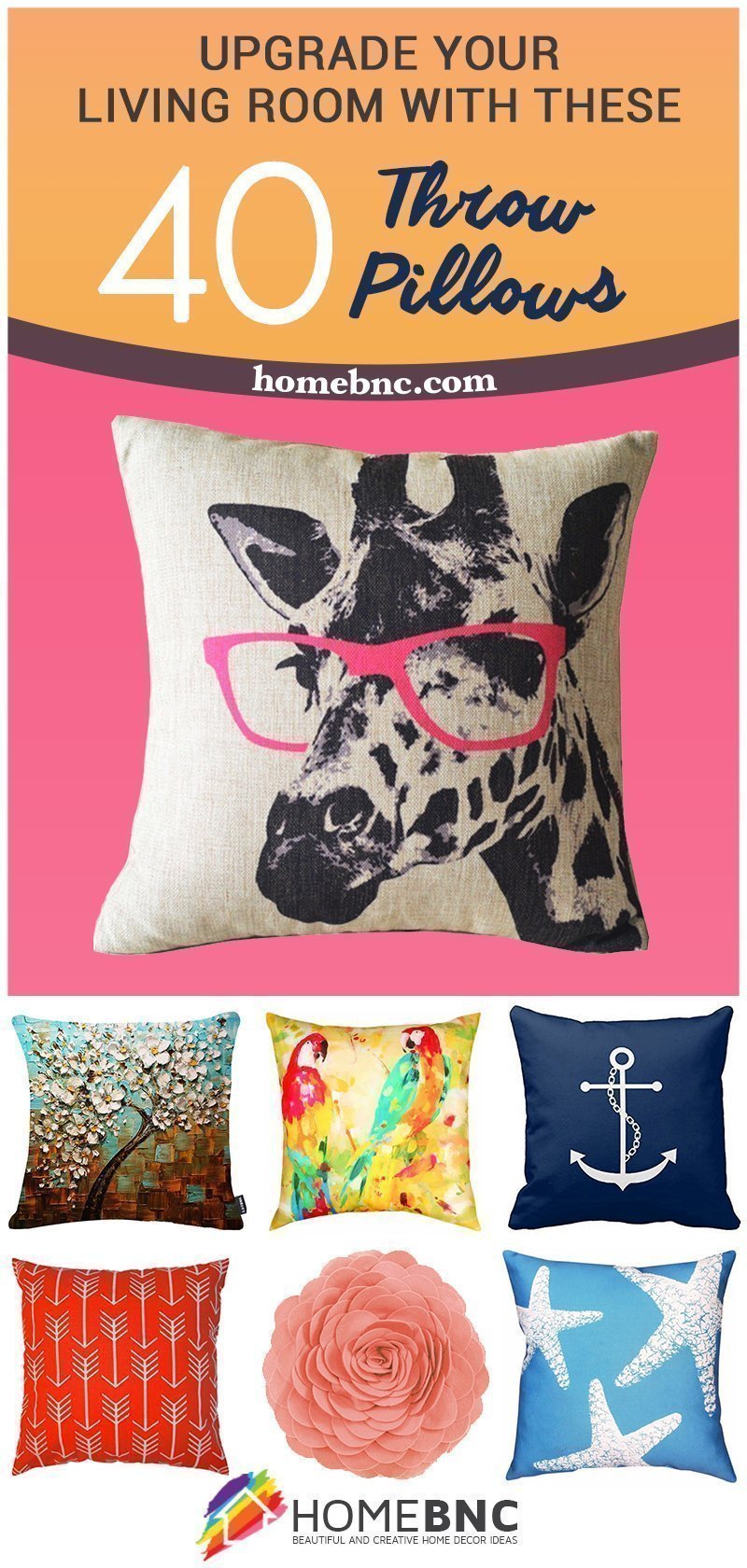 1. Yellow Zig-Zag Accent Pillows for Indoors or Outdoors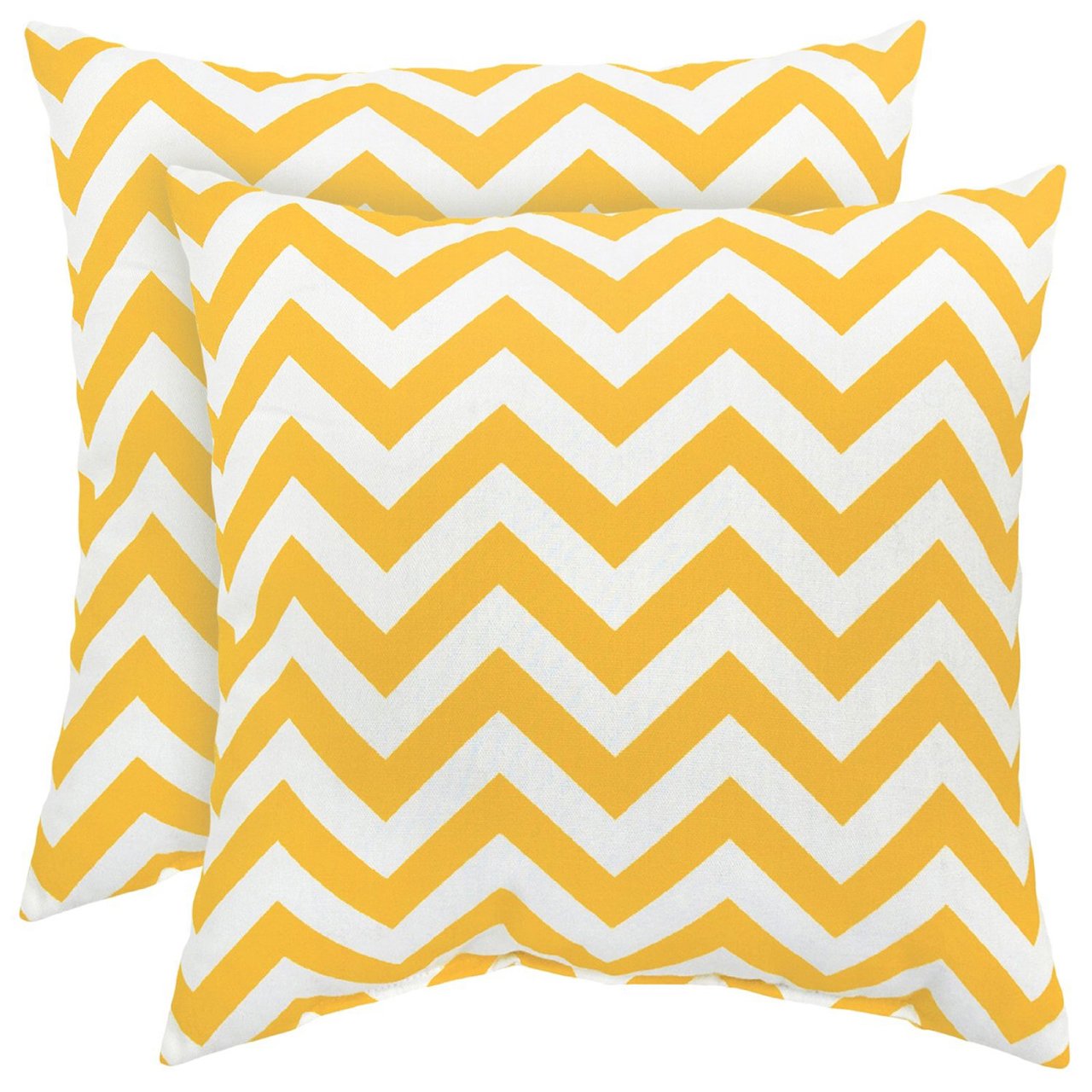 These beautiful sofa pillows are as versatile in style and come in an ultraviolet resistant fabric. The brightly colored zig-zag can be paired with warm dark grays for a modern look or bold text prints for an uplifting pop feel. The construction is durable and the pillows are overstuffed for a firm comfort that is ideal for an outdoor patio or pool area. [Around $25.00 for set of 2]
2. Mongolian Faux Fur Pillow for Indoors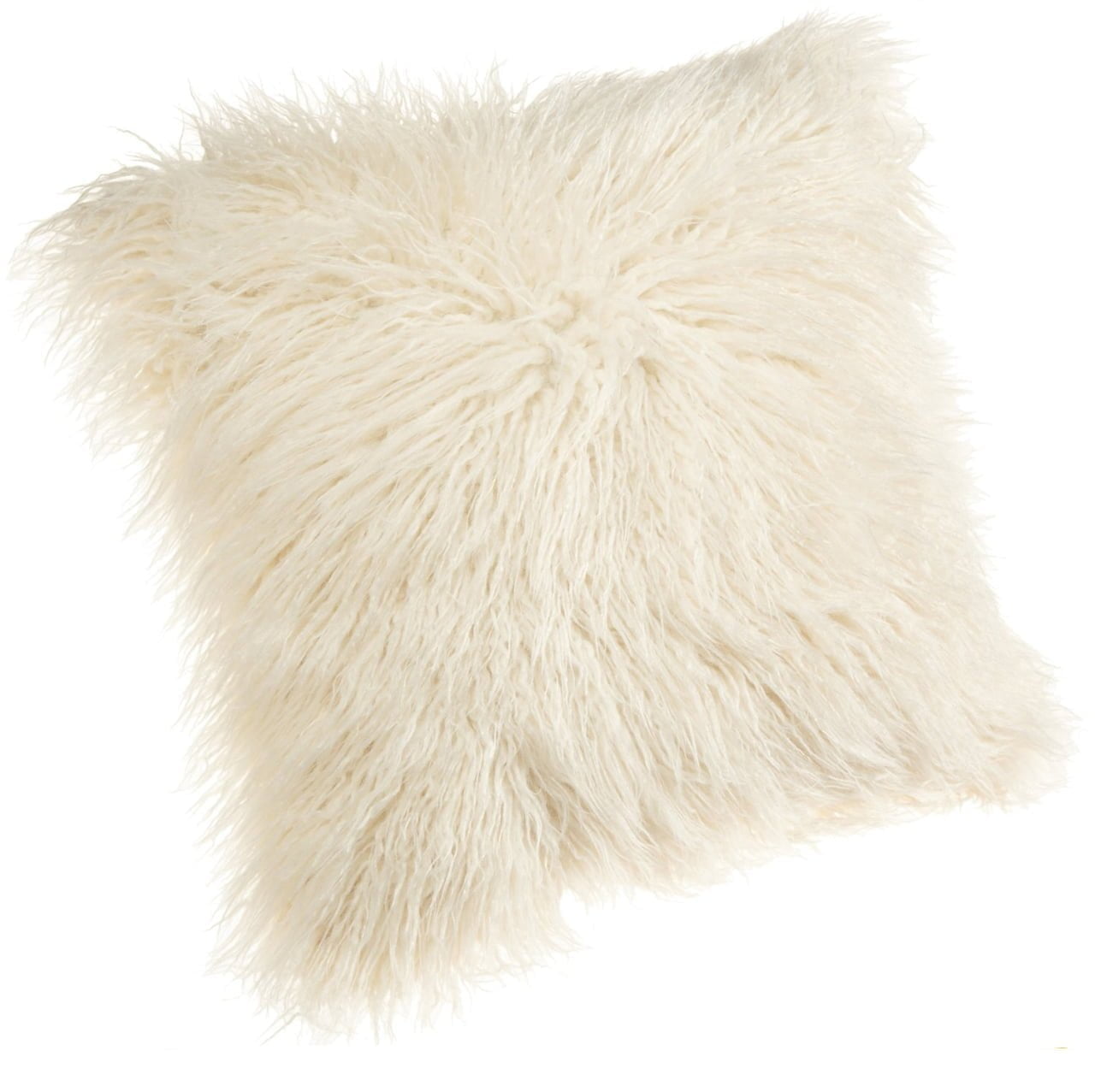 These pillows for sofa are fun and easy to style a room with. For a super contemporary look, pair the Mongolian faux fur with a ghost chair, sheepskin rug, and a glass desk. The four pieces create a simple yet pulled together at-home office. If your work area has its own room, play with color on the walls. If you need to carve out space in one of your other rooms, the pieces will easily create their own area without striking against the room's current design. Tip: Brush the fur out when the pillow arrives. [Around $26.00 for 1]
3. Bohemian Flower Boho Pattern Pillows for Indoors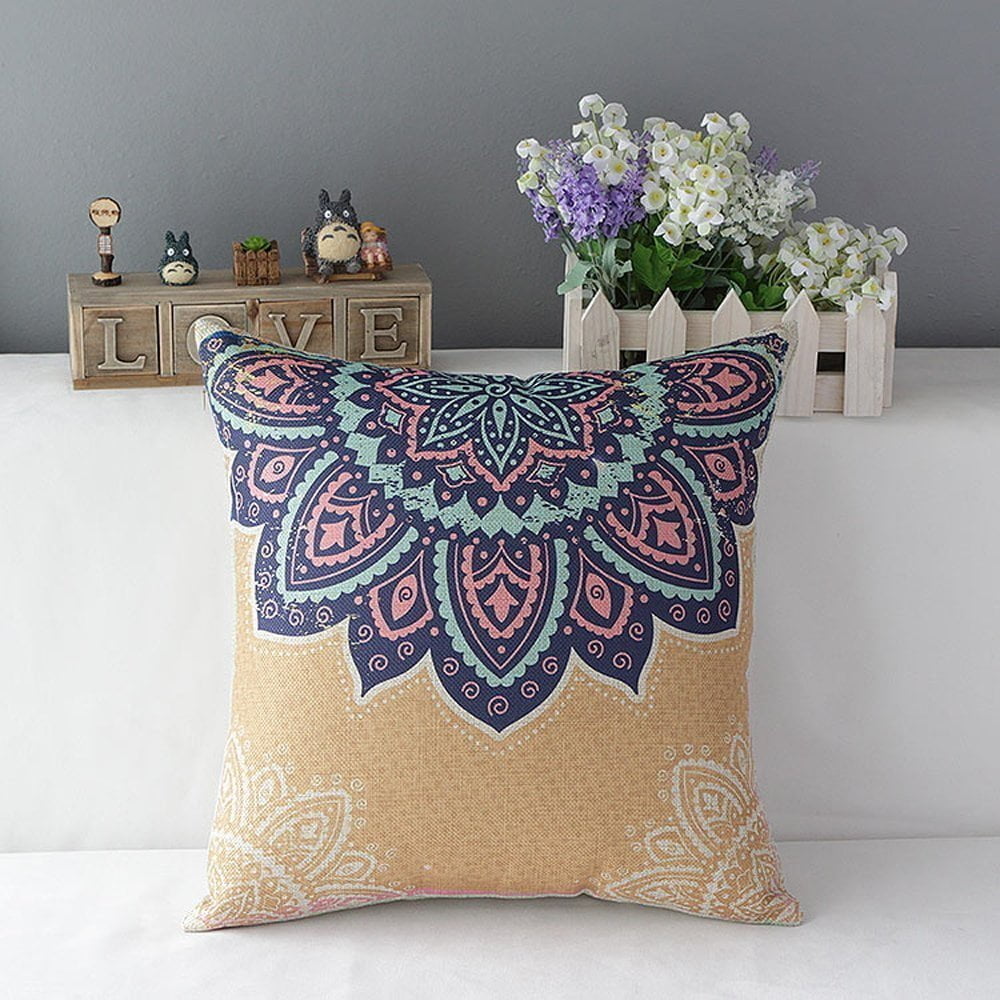 These throw pillows for sofa are all natural cotton and linen true to their bohemian design. The texture is very smooth and soft enough to lean into while watching TV on the sofa. The hand drawn design is printed to maintain the smoothness and retains its original loose edges. You can place focus on the ornate detailing by coordinating with coordinating solid pillows. Purchase a soft pillow insert to keep the cover's softness. [Around $10.00 for set of 2]
4. Starburst Petals Pillow for Indoors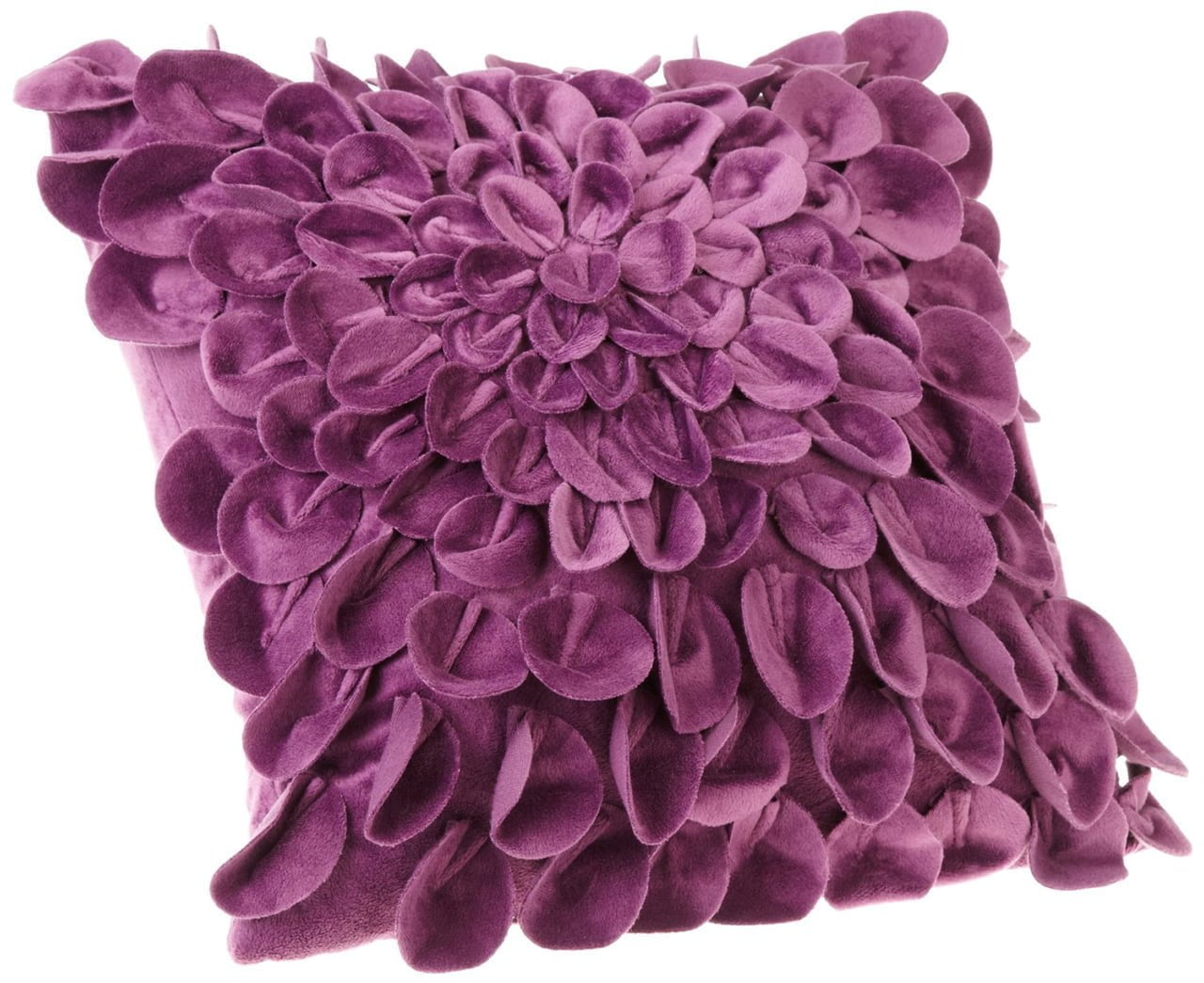 What kind of feeling do you want to create when you walk into a room? If you are after soft romance, consider this starburst petals pillow that is as soft as velvet. The petals are sewn into form from the body's fabric to create full texture within a monochromatic scheme. The polyester filling gives the pillow structure and maintains the strong square corners. [Around $20.00 for 1]
5. Polly's Parrot Duo Accent Pillows for Indoors or Outdoors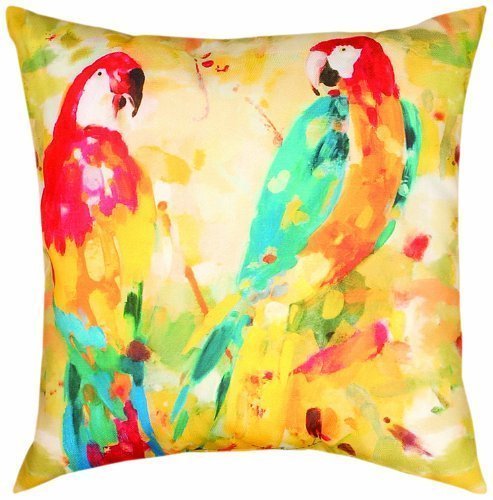 Create a tropical paradise around your pool with these throw pillows for sofa outdoors. The fabric is waterproof and can stand up against rain and shine. Perhaps more importantly, they are durable enough to resist wear and tear from daily kid use and regular poolside parties. The parrot design is printed from an oil painting and can be easily complemented with DIY tropical decorations and fruity drinks for an easy theme party. [Around $22.00 for 1]
6. Navy Blue Anchor Accent Pillows for Indoors or Outdoors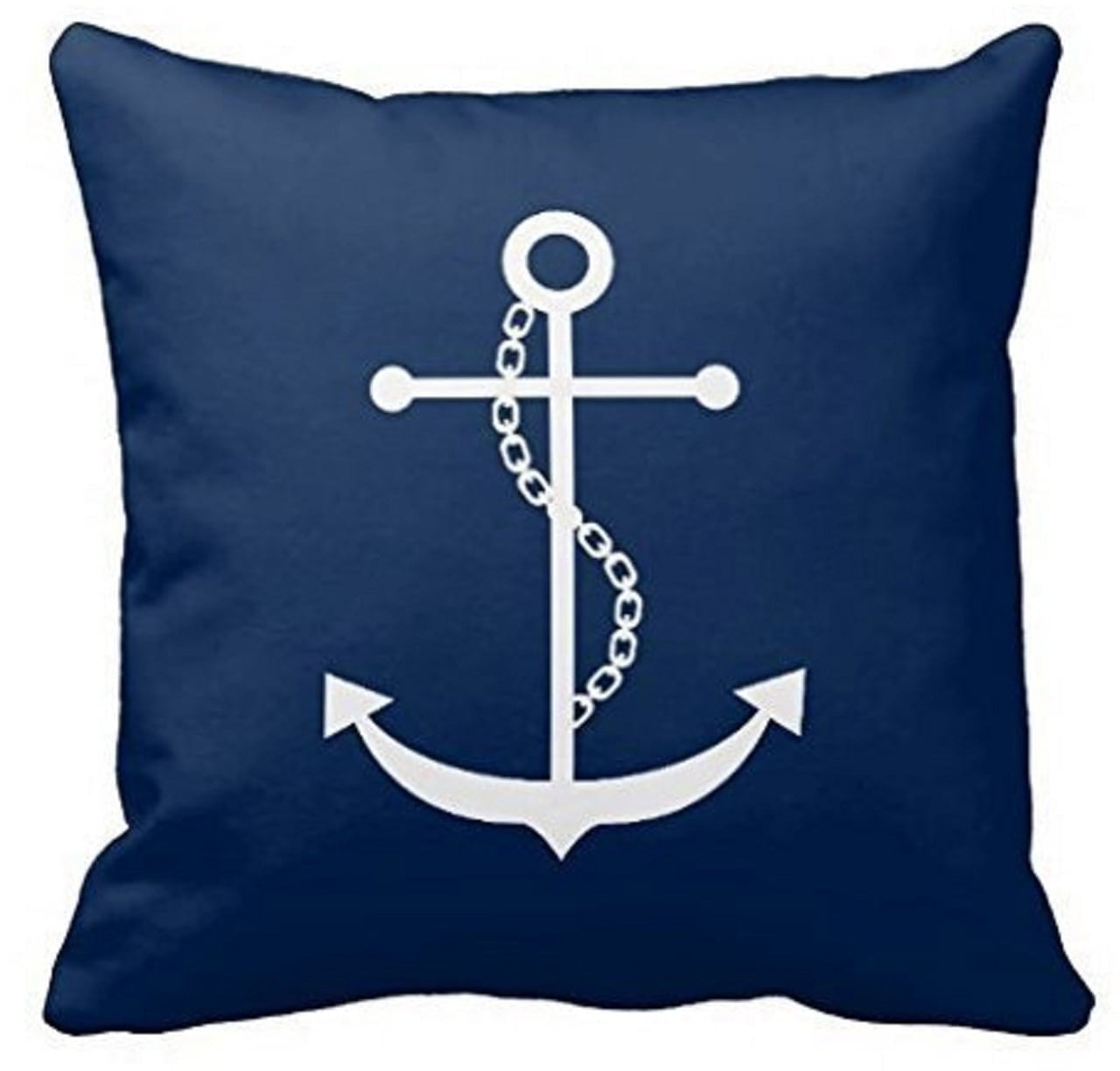 If you need to outfit the boat or a space you wish was a boat, this graphic anchor pillow fits perfectly. The clean white design against the class navy blue is a great way to start or tie together your nautical theme. Decorating with clean whites and navy blues will convey a nautical theme without needing to go overboard with twine ropes and life preservers. Purchase a stiff pillow insert to keep the tight corners and use as decoration only. [Around $4.00 for 1]
7. Vintage Flowers Accent Pillows for Indoors or Outdoors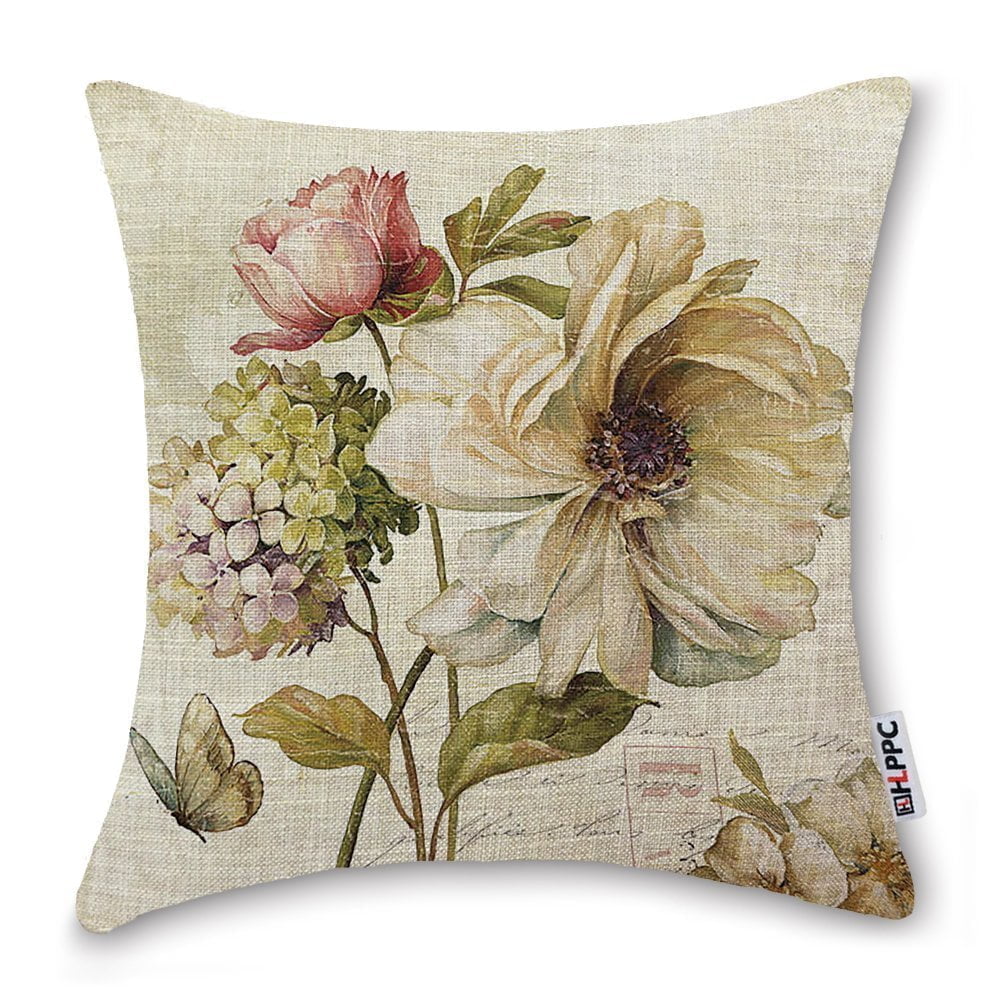 I have never lost my love for shabby chic home decor, and these pillows for sofa hit that soft spot. The linen is artificially aged on the front to match the worn printing of the flowers and butterfly. The natural linen shines through on the reverse side. You may need to cut away stray threads when it arrives, but overall it has a sturdy design with a strong zipper. [Around $9.00 for 1]
8. Geometric Accent Pillows for Indoors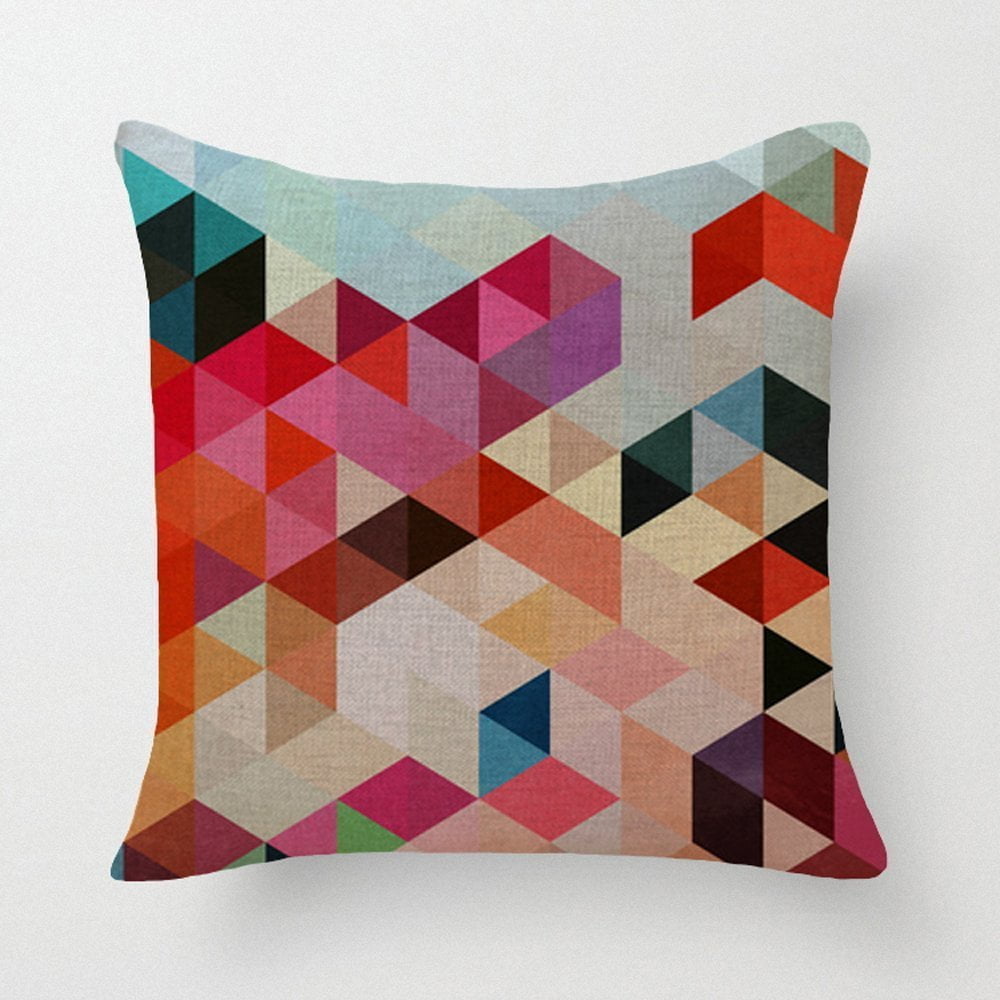 Learning to be bold with color involves a learning curve if you aren't used to it. Test out new colors in your space with these throw pillows for sofa. It may sound crazy to say "try them all", but I have reasons. #1 This pillow is cute. #2 You most likely have one of these colors in your home. #3 It is much more affordable to test with a pillow than a say, a chair. The geometric design feels like lightweight visually and is soft to the touch. In my book, that is a great tester. [Around $8.00 for 1]
9. Giraffe with Pink Glasses Sofa Pillows for Indoors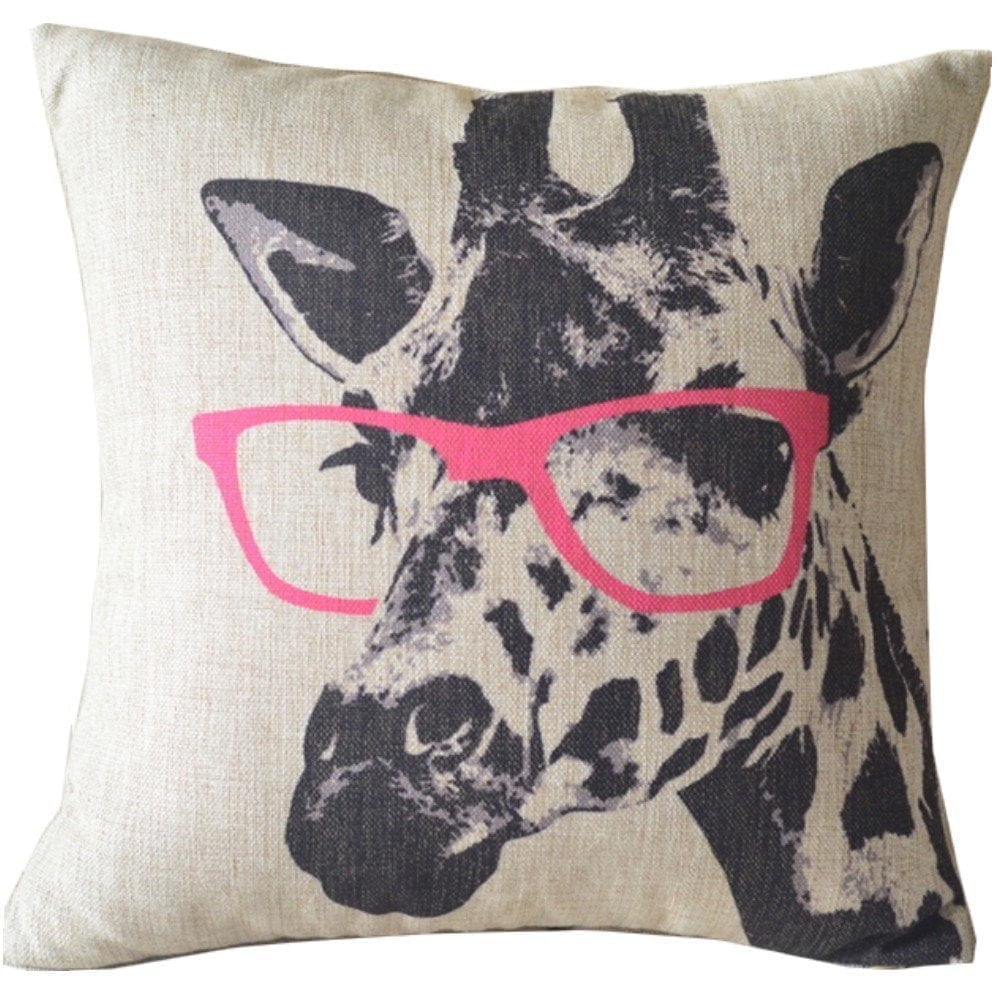 If you are trying to bring a light-hearted sense to your room, these sofa pillows are the ones. It's hard not to smile at a giraffe with pink glasses. Perfect for an afternoon reading nook that has plenty of sun pouring in. An owl with a graduation cap painting seems quite reasonable in this scenario. The giraffe is screen printed on linen, so it will be extremely soft and worth a lean into if you add a plush pillow insert. [Around $2.00 for 1]
10. Esprit Multi Designed Sofa Pillows for Indoors or Outdoors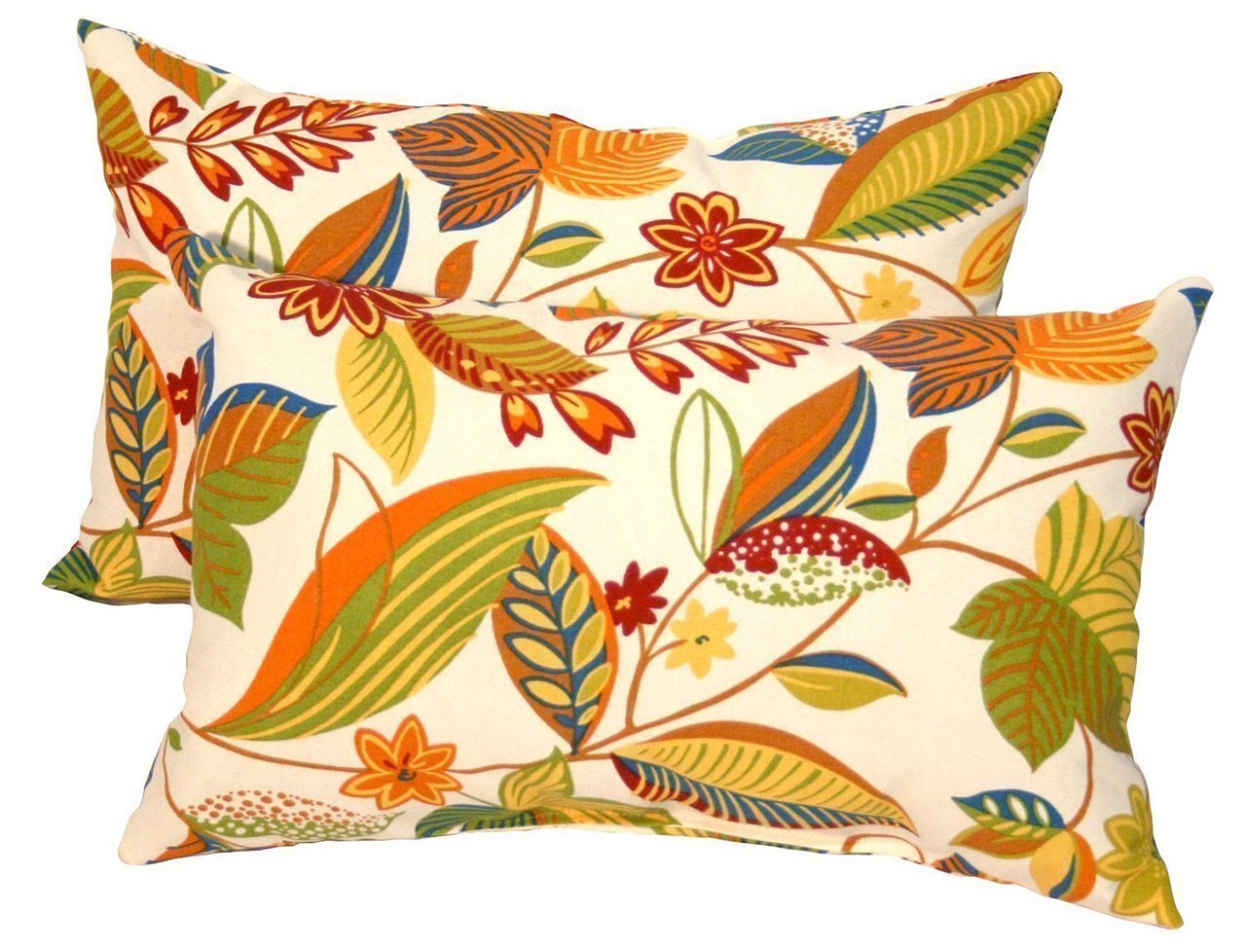 These sofa pillows are a creative use of green style. The upbeat natural designed pillow is filled with recycled plastic bottles that have been crushed and reused as filler. The fabric makes the pillows ideal for the poolside as it is stain and water resistant. Liquids from spilled drinks and bathing suits will pill and drip away towards the ground. While a bit stiff, the pillows are great for outdoors as patio furniture tends to be a little too big and deep set for the little ones. You can also use them for your lower back to fill out the patio chair. [Around $37.00 for set of 2]
11. Sapphire Blue Peacock Pillow Cover for Indoors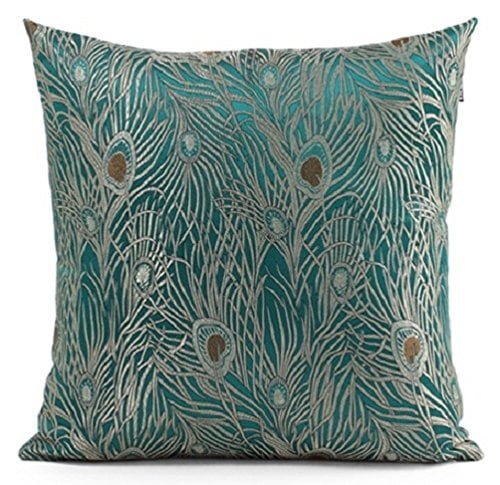 A very elegant showcase pillow. The silver feather strokes glimmer in the light. You can continue the style of just a hint of peacock and add solid silver and teal pillows to fill out your set. Include a clear vase of real peacock feathers nearby. For the more… well, peacock personalities, pair with a cascading feathers pillow and a bushel of peacock feathers as an ornate display. The pillow is soft to the touch. Use a soft pillow insert and it is perfect for an all day chair pillow for soft support. [Around $15.00 for 1]
12. Happy Place Beach Throw Pillows for Indoors or Outdoors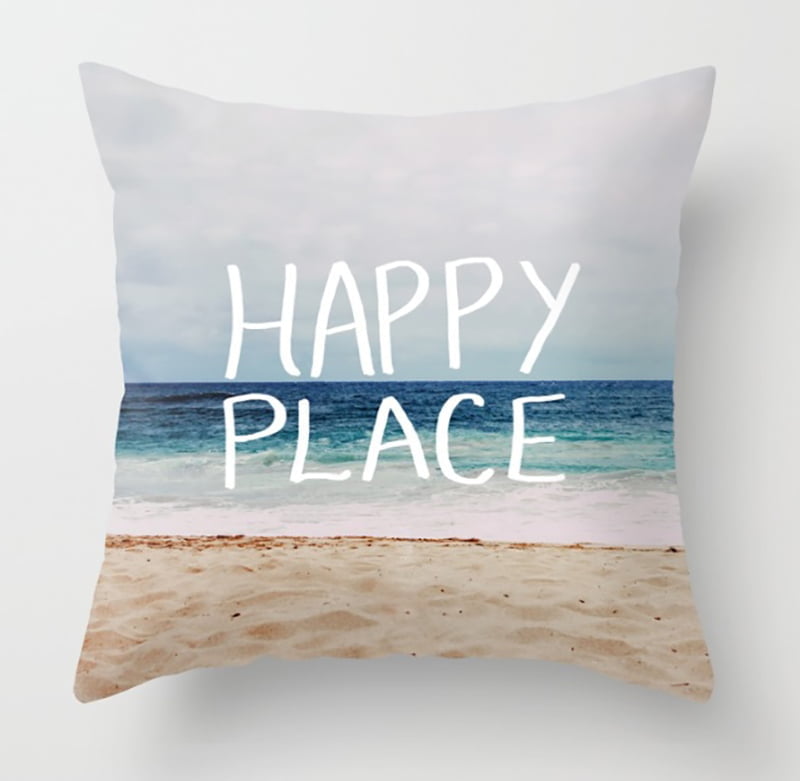 Where's your happy place? If you are like most of us, it is the beach. Go literal with your beach theme and make your statement with throw pillows for sofa. Fill out the set with beach icon pillows ranging from seahorses, anchors, and sea shells. The fabric is a bit stiff and resilient since it is a polyester and cotton blend. [Around $6.00 for 1]
13. American Flag Accent Pillows for Indoors or Outdoors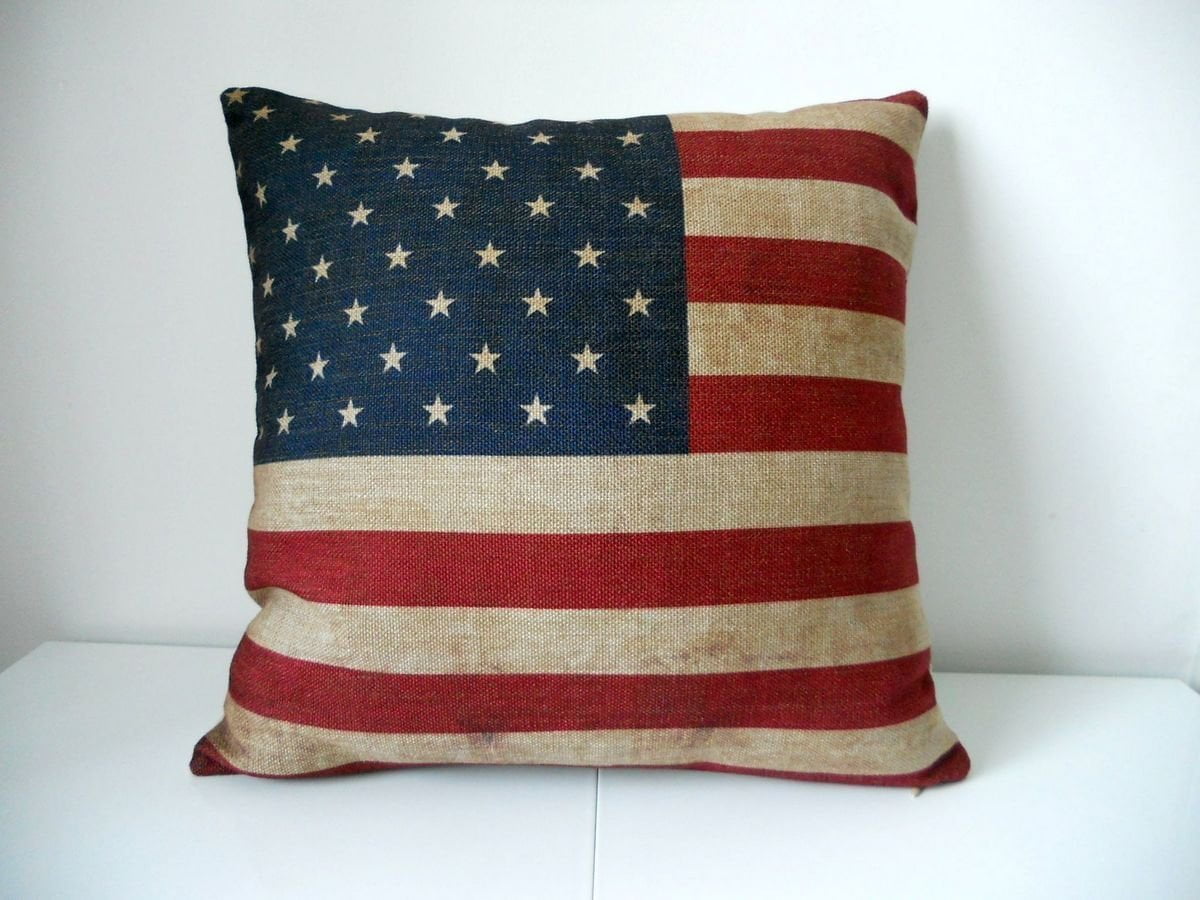 Have Americana items in storage? Bring into your decor and build a patriotic theme. This pillow is a very distressed American flag, so it will go well with woods. Consider styling with classic baseball bats and wooden toys from trains to building blocks. Older glass milk carafes can be transformed into candle holders or a personal ship in a bottle. Have your kids help and scour for old coins and playful collectibles to add to the carafe. The pillow cover is very soft and calls for a relaxed look, so look for a soft pillow insert. [Around $8.00 for 1]
14. Faux Silk Lightwaves Embroidery Throw Pillows for Sofa Indoors or Outdoors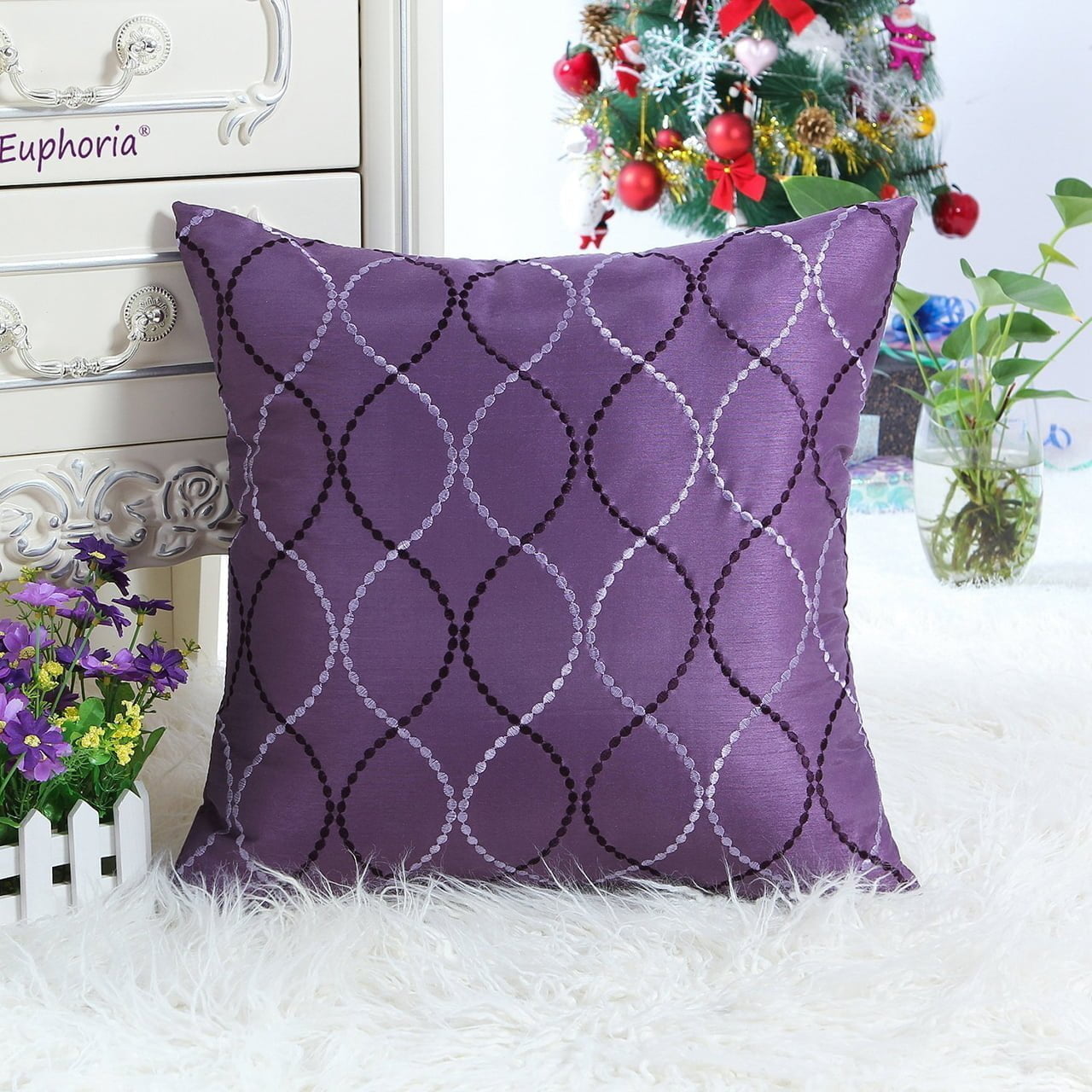 These sofa pillow covers are understated elegance. The wave pattern pairs easily with many wallpapers. You can bring out the texture of the embroidery by placing a light colored wool blanket on the sofa's arm or back. If you want to make sure all of your pillows match, consider the clove and diamond designs. You will certainly have the same shade of purple but be able to change up the textures. Tip: Order everything early alongside the needed pillow inserts. Shipping may take a bit of time. [Around $7.00 for 1]
15. Arrow Accent Pillows for Indoors or Outdoors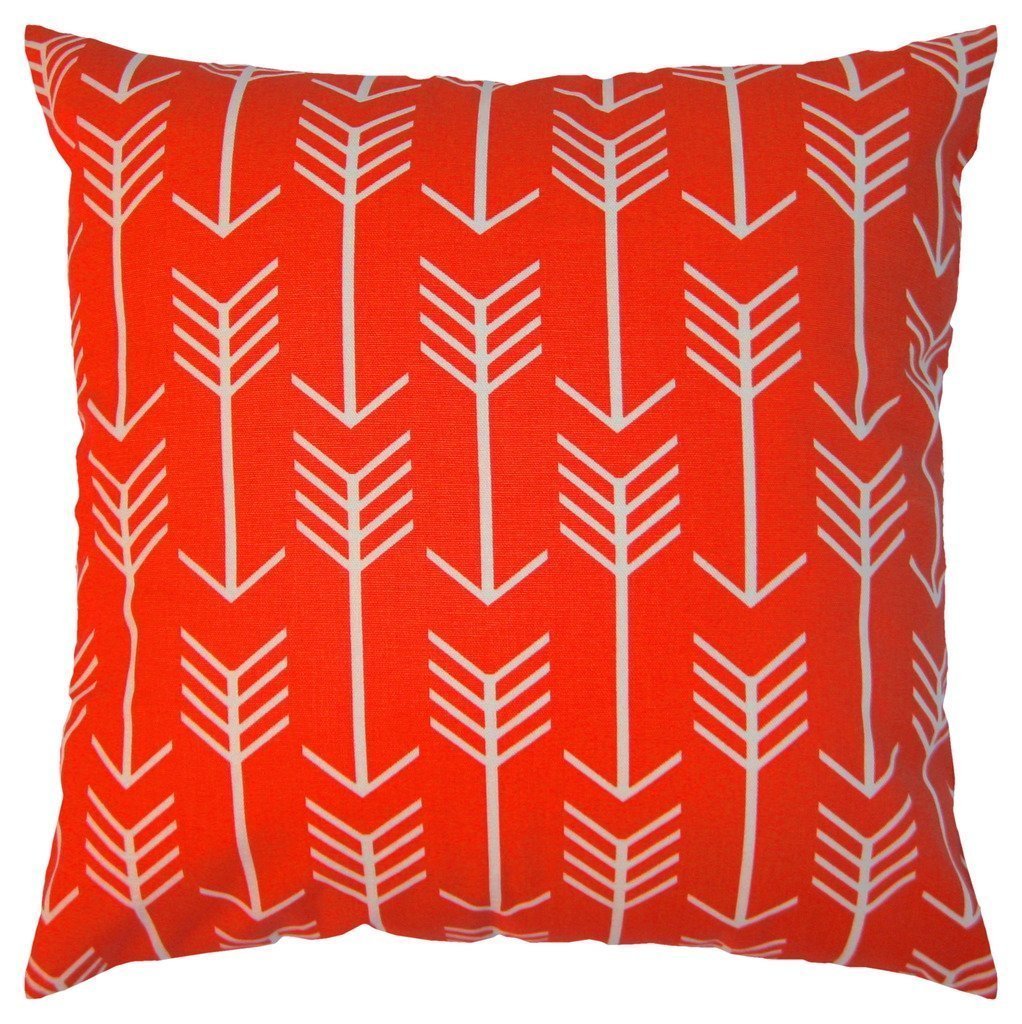 Looking for a quick way to update your home decor with color? This orange arrow design is youthful and fun without crossing into teenager territory. Look to pair it with equally bold designs or solid colors. If you are creating a new color palette, look at colors that have a similar tone or contrast. How bold do you want to be? Silver grays will subdue an orange while a teal will make it pop even more. The linen and zippers are well crafted and hold up to washings, sun, and time. [Around $20.00 for set of 1]
16. DuoLe's Big Dog Cartoon Sofa Pillows for Indoors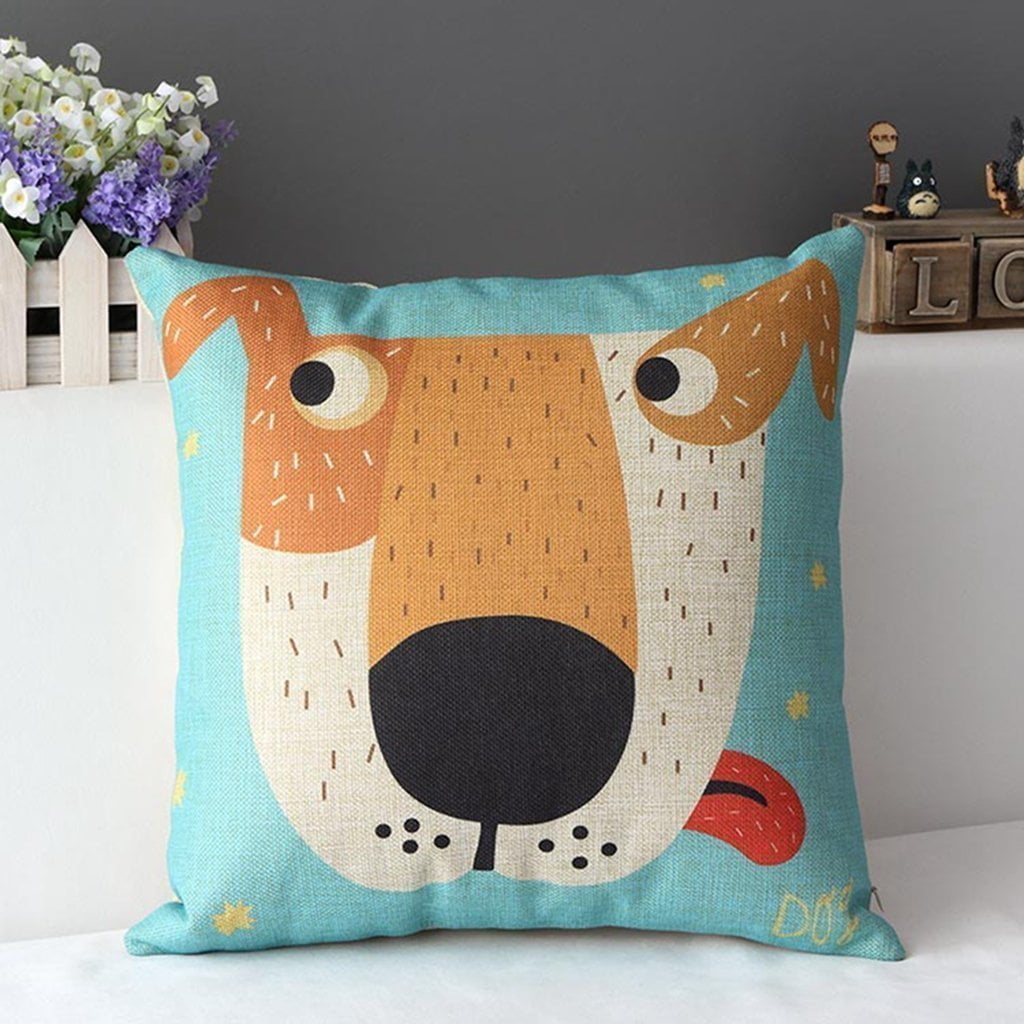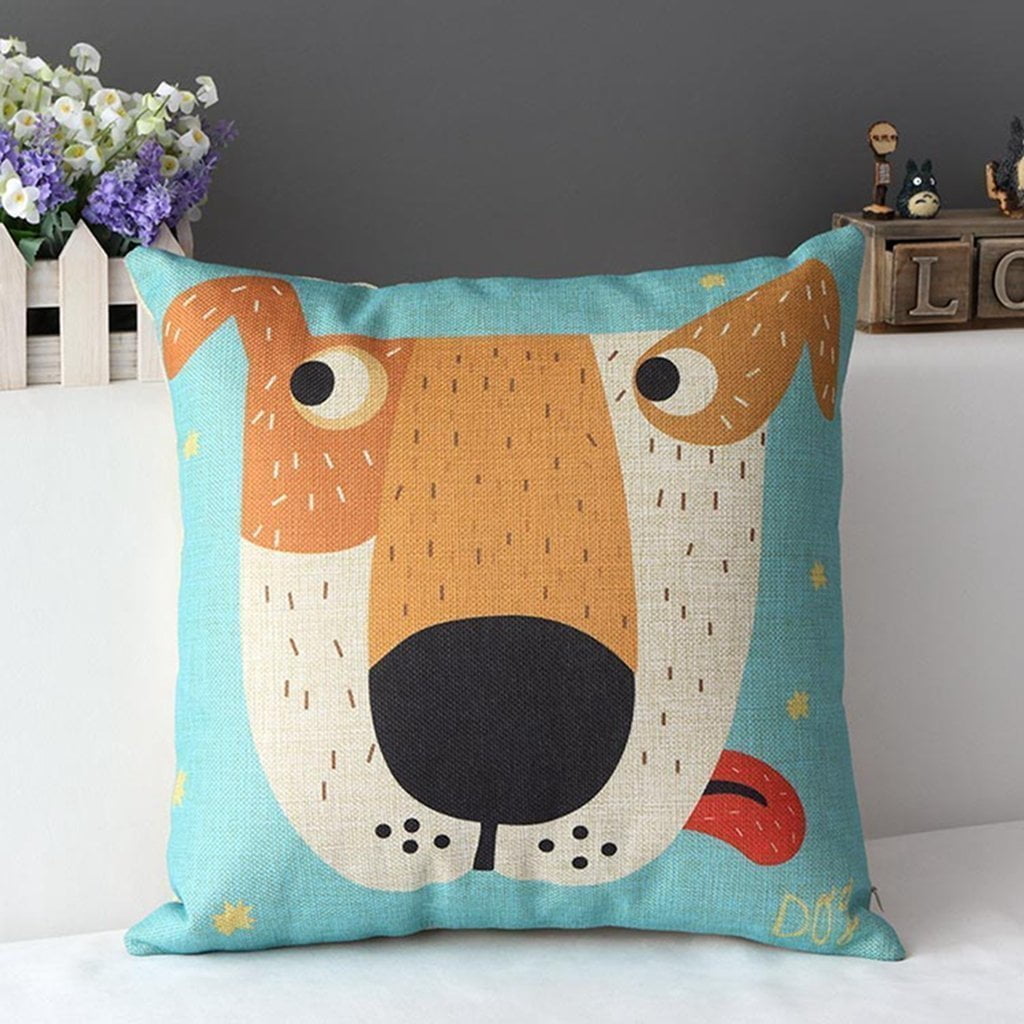 If we use Instagram as a gauge, everyone loves a puppy with their tongue sticking out. The kids' playroom is the perfect place to let personality and silliness to shine. Tip: Have your kids pick out their favorite puppy photos from Instagram and create a matching puppy collage. If you can get them to pose for a photo with silly tongues out too, even better. The fabric is a linen and cotton blend that is machine washable in cold water. Most spilled liquids will come out with a quick wipe. Make sure to order a pillow insert for this cover. [Around $4.00 for 1]
17. Sand Brown Cherry Blossom Accent Pillows for Indoors or Outdoors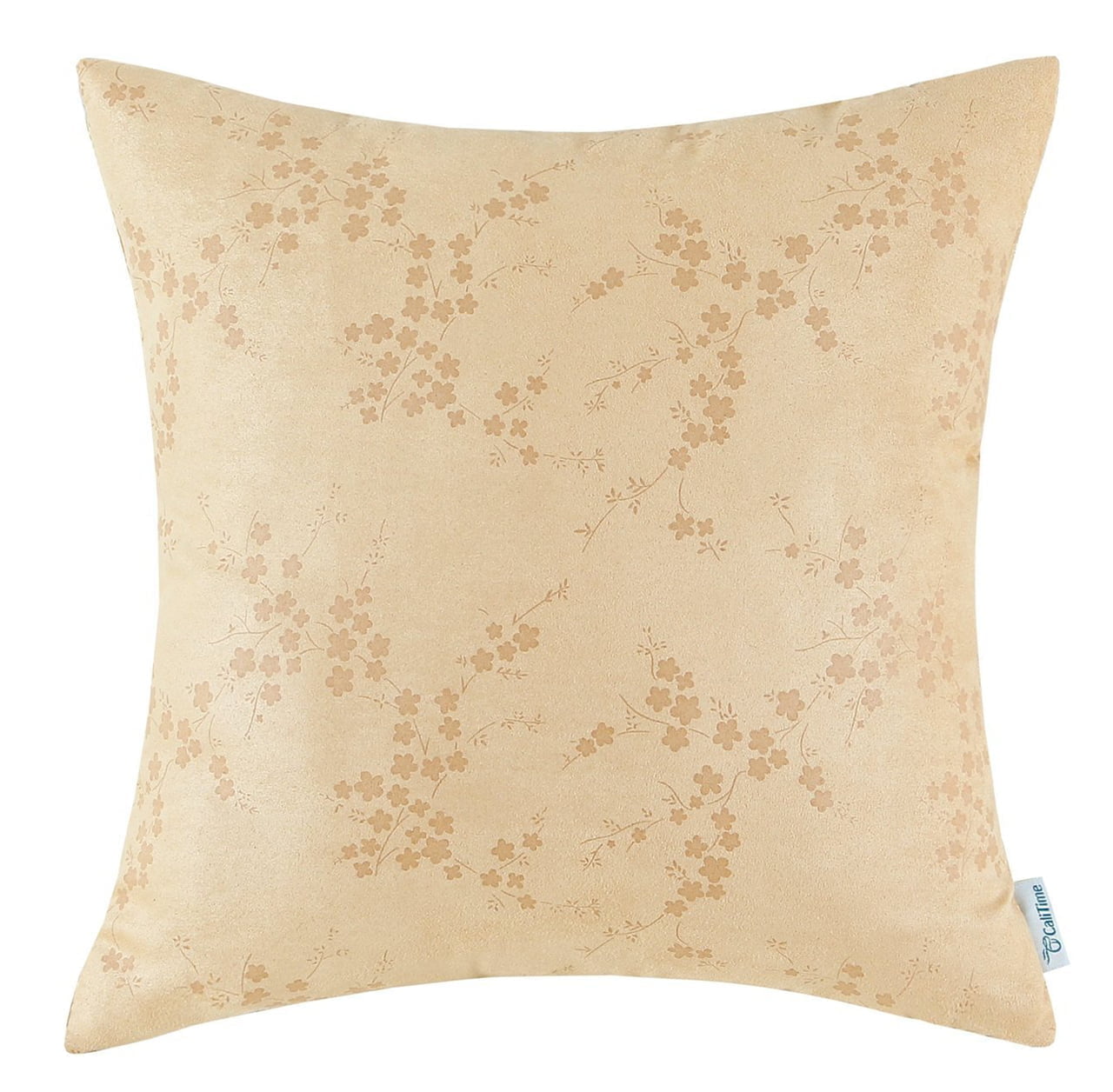 For subtle monochromatic sofa pillows, consider this cherry blossom design. The warm sand brown brings out the warmth of off-white sofas while providing a nice base for a full pillow set. Add one or two pillows with a soft gold or silver alongside the cherry blossoms and you are all set. The floral design looks very delicate but thankfully is machine washable as well. Just remember to turn it inside out before washing. [Around $4.00 for 1]
18. Blue and Teal Damask Accent Pillow for Indoors and Outdoors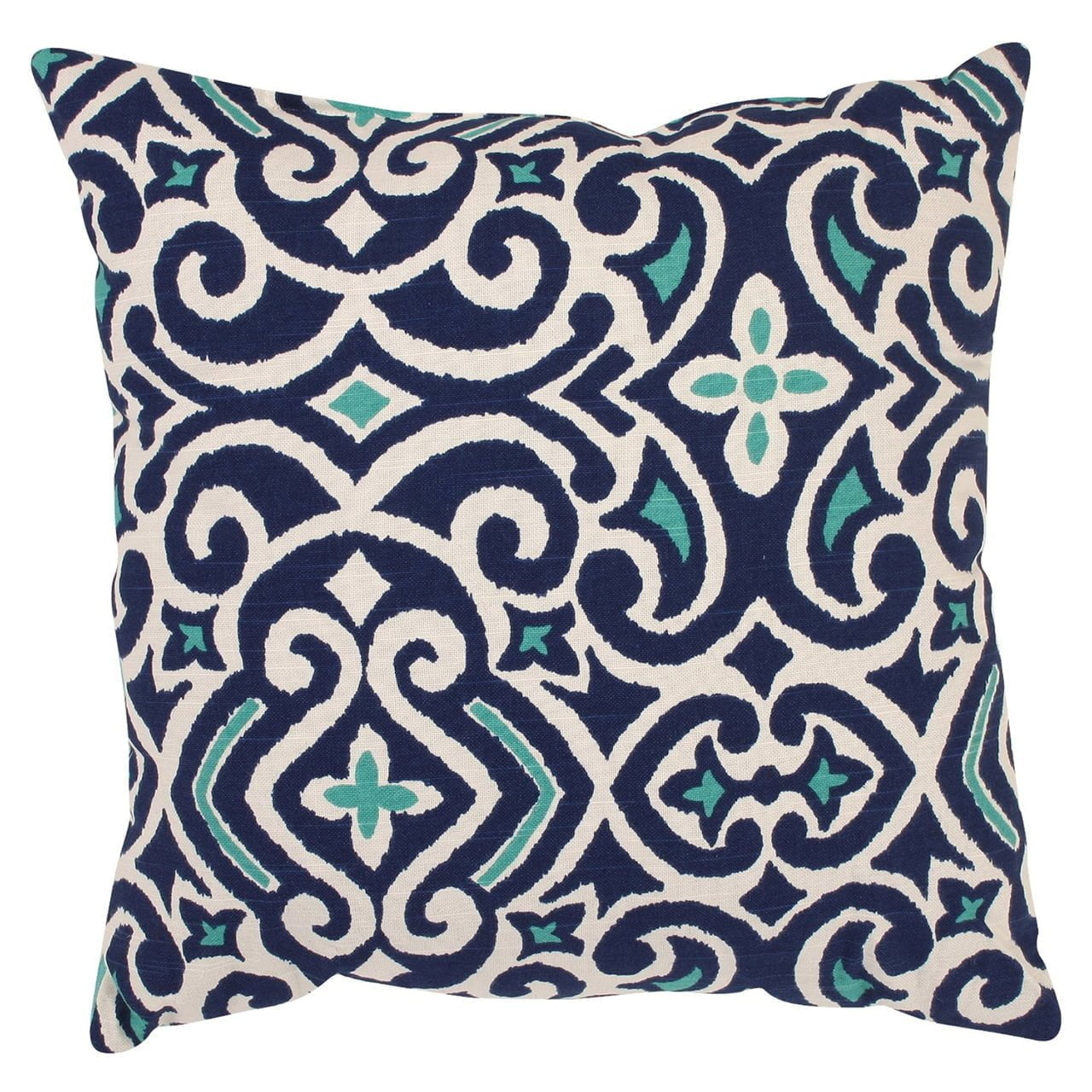 This loosely designed damask design strikes beautifully between modern and a creative flair. The mix is also aided by the linen fabric and plush polyester fiber filling that provide a slight structure with enough give to be both comfortable and pulled together. In a modern living space, add coordinating damask designs with a sharp line in a navy blue. If you want to continue the relaxed look in your outdoor space, match this pillow to other antique designs with teal accents. [Around $18.00 for 1]
19. Eva's Flower Accent Pillows for Indoors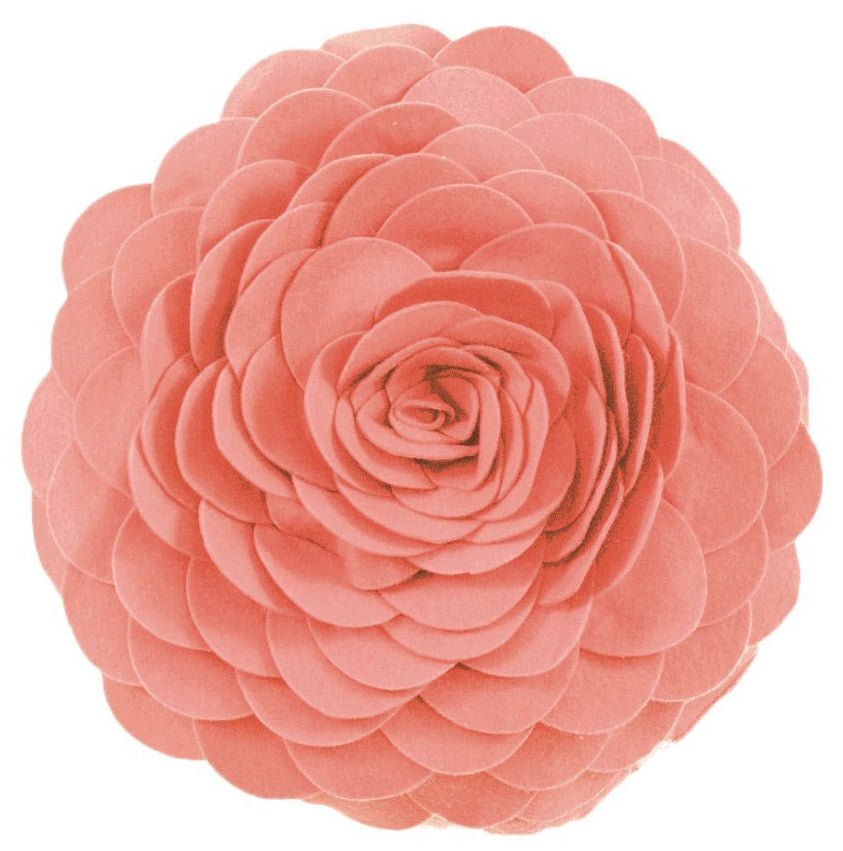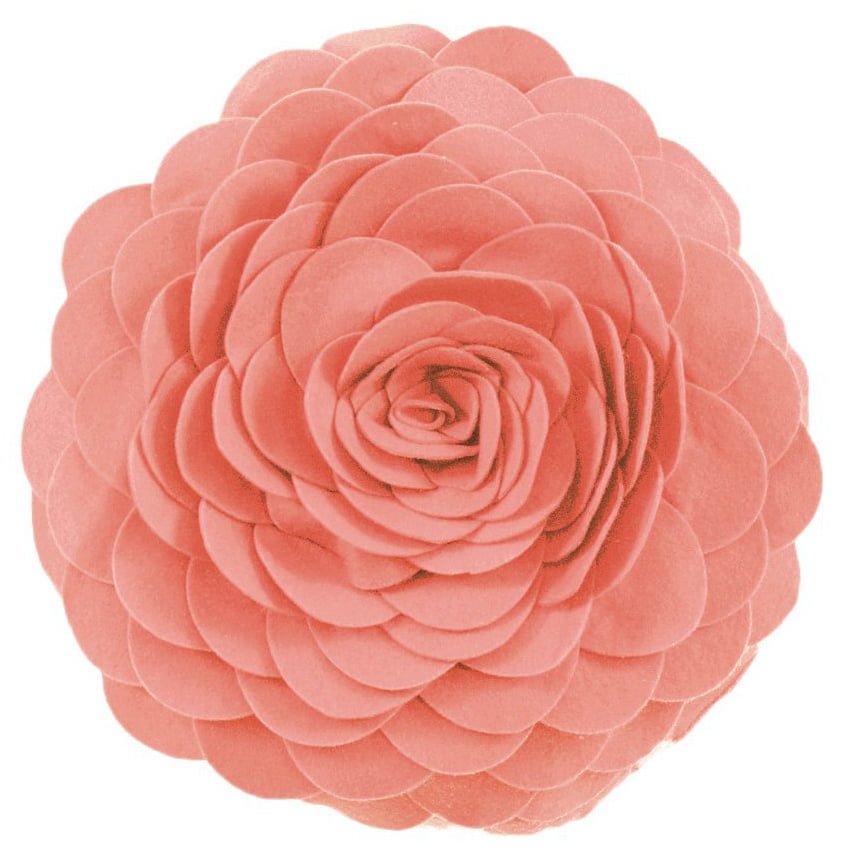 Create a soft romantic setting in your bedroom or makeup area. Eva's rose is made from very soft felt that is sewn into a rose shape. The rose is stuffed and ready to become a bouquet with its cousin flower pillows. Add in Mongolian Faux Fur pillows to give a range of textures and colors. If you have a studio apartment, extend the romance and place some flower throw pillows for sofa. Don't forget to include a nice throw blanket to cuddle up with too. [Around $25.00 for 1]
20. Ethnic Elephant Hand Embroidered Accent Pillows for Indoors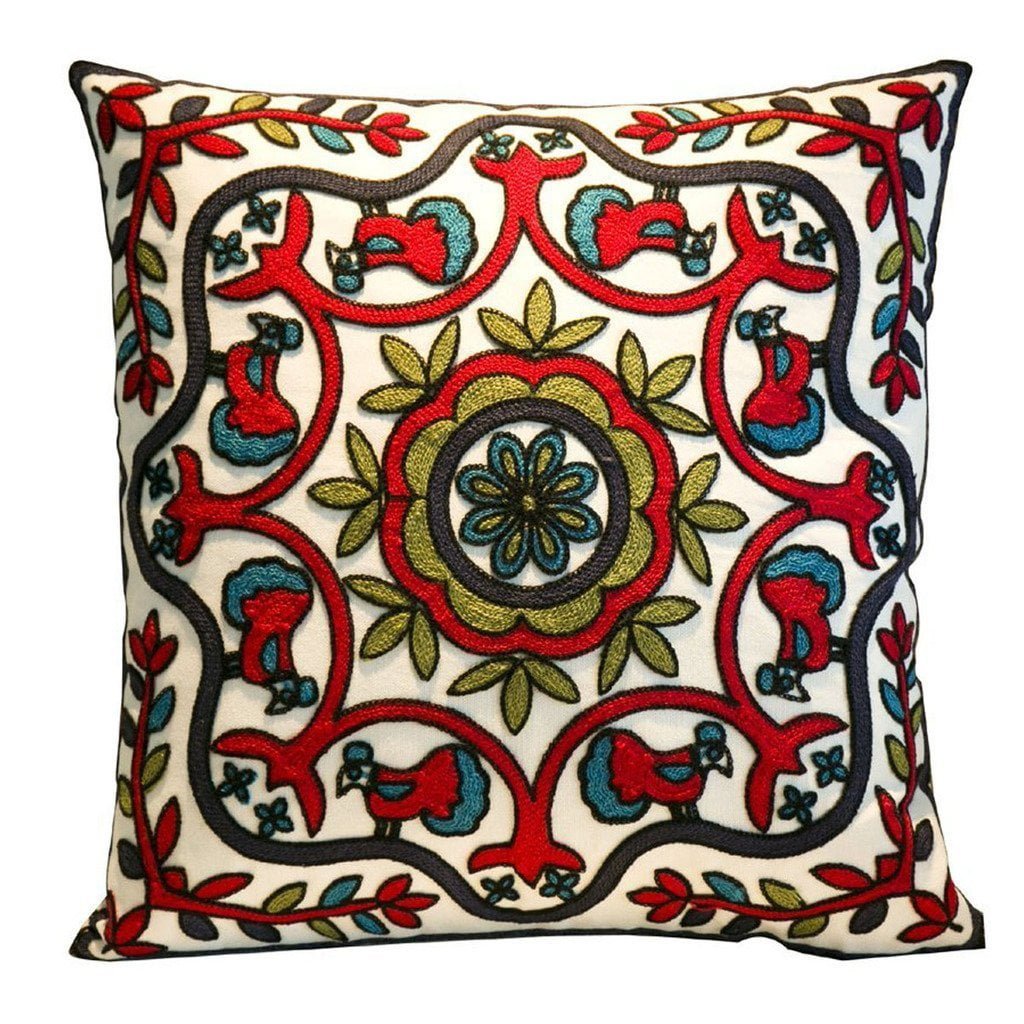 This creative pillow is embroidered by hand and gives a wonderful earthy touch to a sofa.
Make sure the sharp white background will work with your sofa's colors. The diamond shaped accents and trim give the folky elephant a nice bookending within the design. As well as give you an opportunity to find more of your travel treasures to pair it with. Create a treasure trove collection from your travels on your fireplace or coffee table to bring a worldly look to your living space. Purchase a soft pillow insert and the cotton cover will have plenty of give and can be quite comfortable. [Around $11.00 for 1]
21. Fallen Leaves Pillows for Sofa and Indoors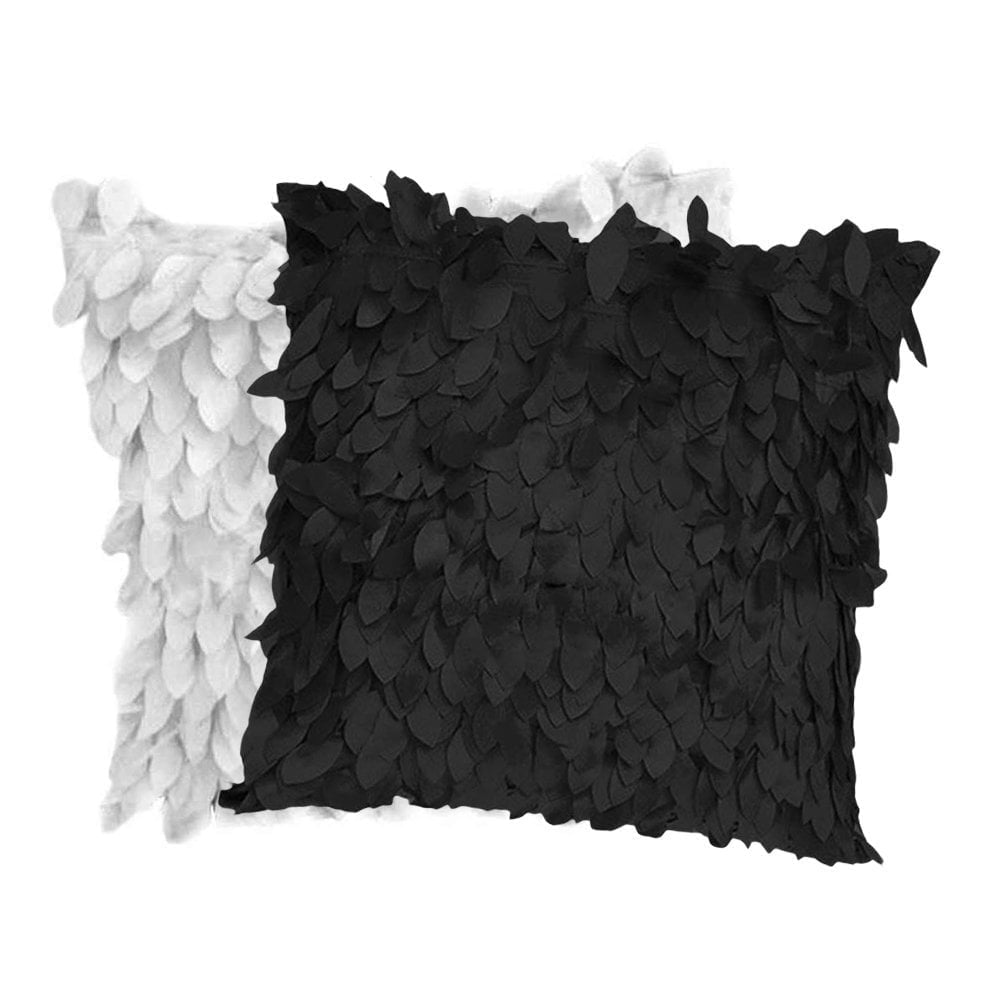 Made of satin, these pillows can be played up to resemble leaves or feathers. If you are transitioning a natural theme to a more grown-up version of itself, you can slowly institute blacks and golds with interesting textures. The falling satin leaves is a good place to start. Finish off with gold branch curtain tie backs and jewelry stands to complete the look. If you want people to see a feather, pair with our suggested peacock pillow above to have varying colors in your bird collection. This pillow is soft to the touch but is a bit too firm to sleep on. [Around $8.00 for set of 2]
22. Chenille Cute Leaves Ecru Teal Pillow Covers for Indoors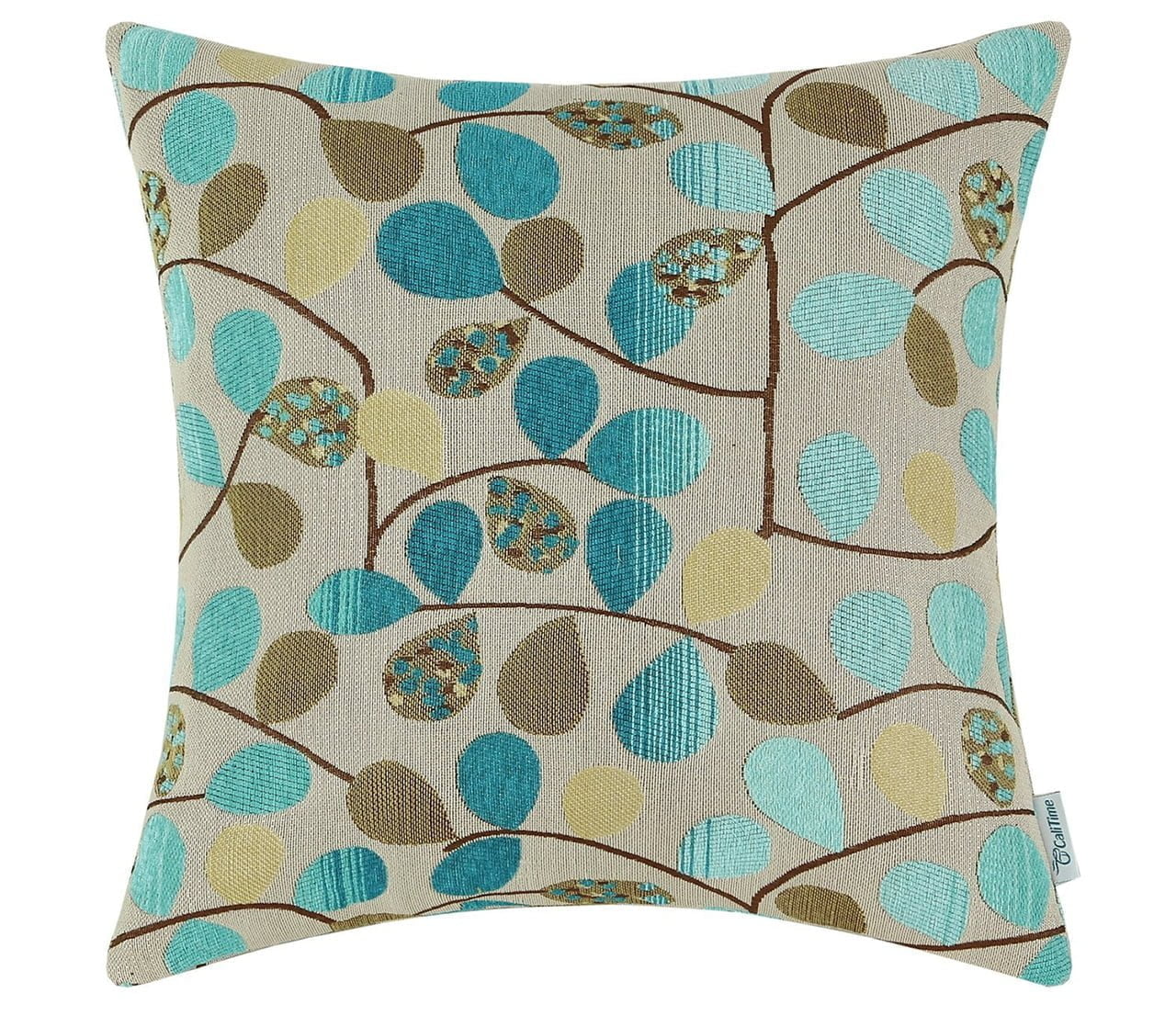 The embroidered leaves have a luxurious shine mixed with nice various neutrals. This is a great beginning point to build a pillow set to bring in many aspects of a room. Adding solid teal pillows and bed sheets and varying levels of silk will give a soft and elevated look to a neutral based room. Both sides of the pillow are identical and are both made of a durable upholstery fabric that is long lasting, but should definitely be used for decoration as opposed to comfort. [Around $15.00 for 1]
23. Abstract Fox Pillows for Indoors or Outdoors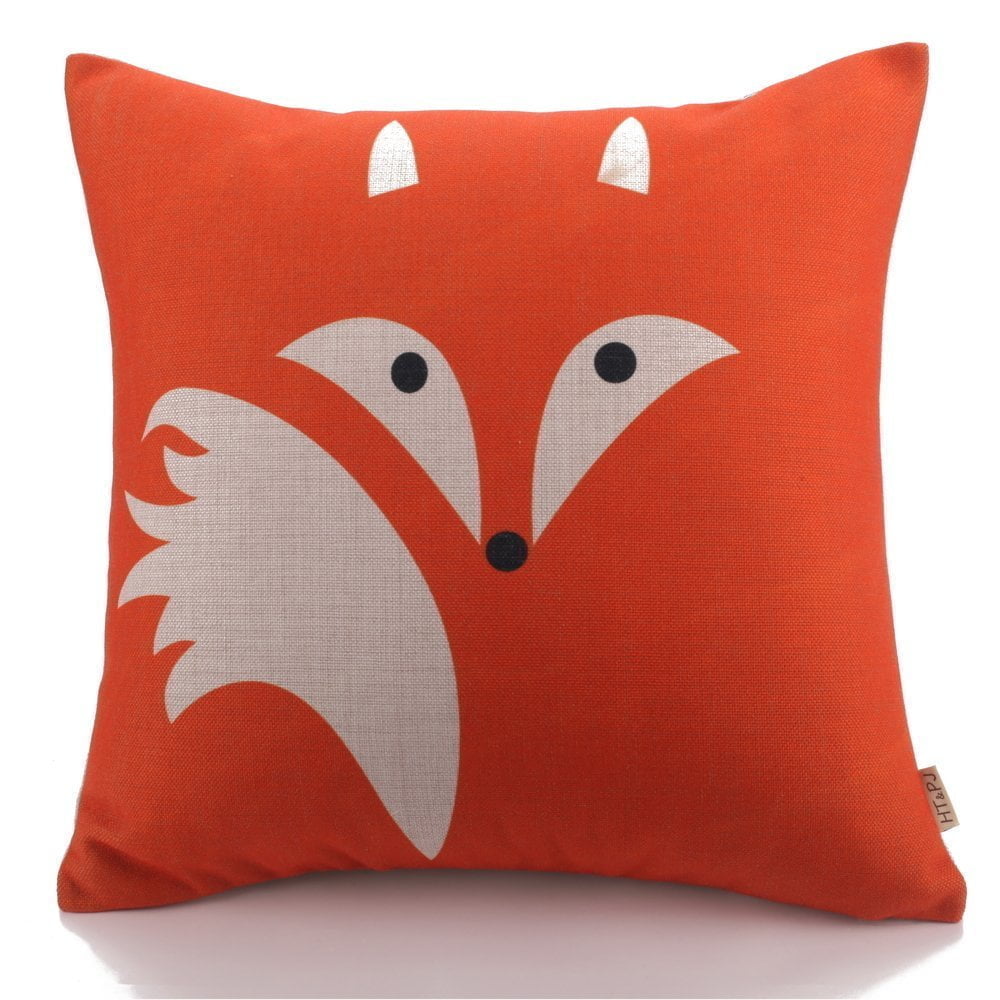 This abstract fox pillow is playful and well designed. The simple shapes force you to take a minute and realize it is a fox. This playfulness is precisely how you can work in direct references into your decor without going overboard. For a fun animal theme, pair with the other color options that include Bear and Deer. The linen is soft and washable enough to include in the kids' rooms too. [Around $13.00 for 1]
24. Accent Pillows with Printed Designs by Greendale for Indoors or Outdoors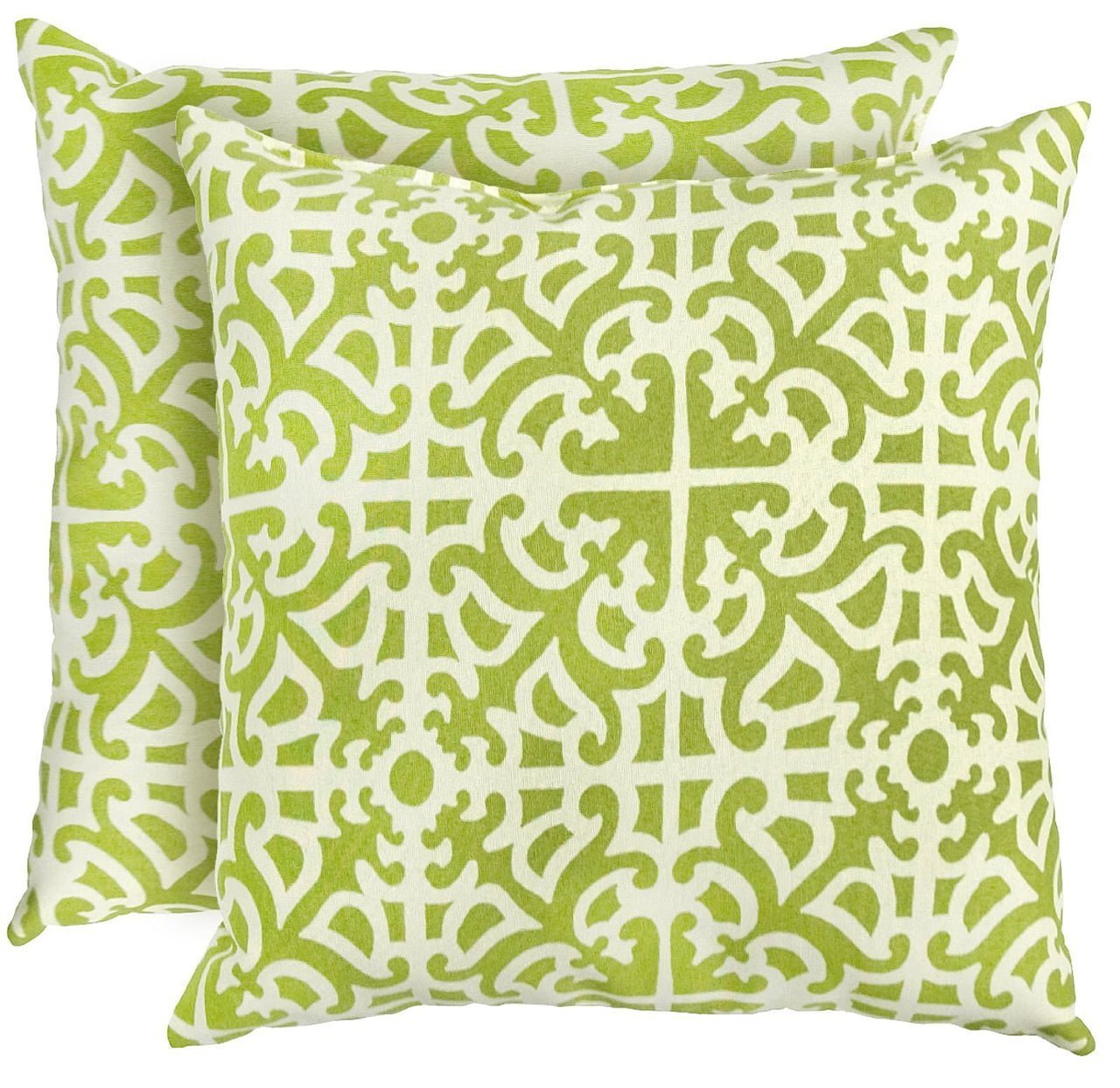 Look for contrasting colors in a throw pillow that will visually stand against your couch and walls. Lime green works well with corals and soft pinks and reds. You might think it will look a little Christmastime, but it actually conveys a very beachy Caribbean look without having to commit to all blues. These are overstuffed and capable of being used by the pool as well. [Around $27.00 for set of 2]
25. Retro Compass Sofa Pillows for Indoors or Outdoors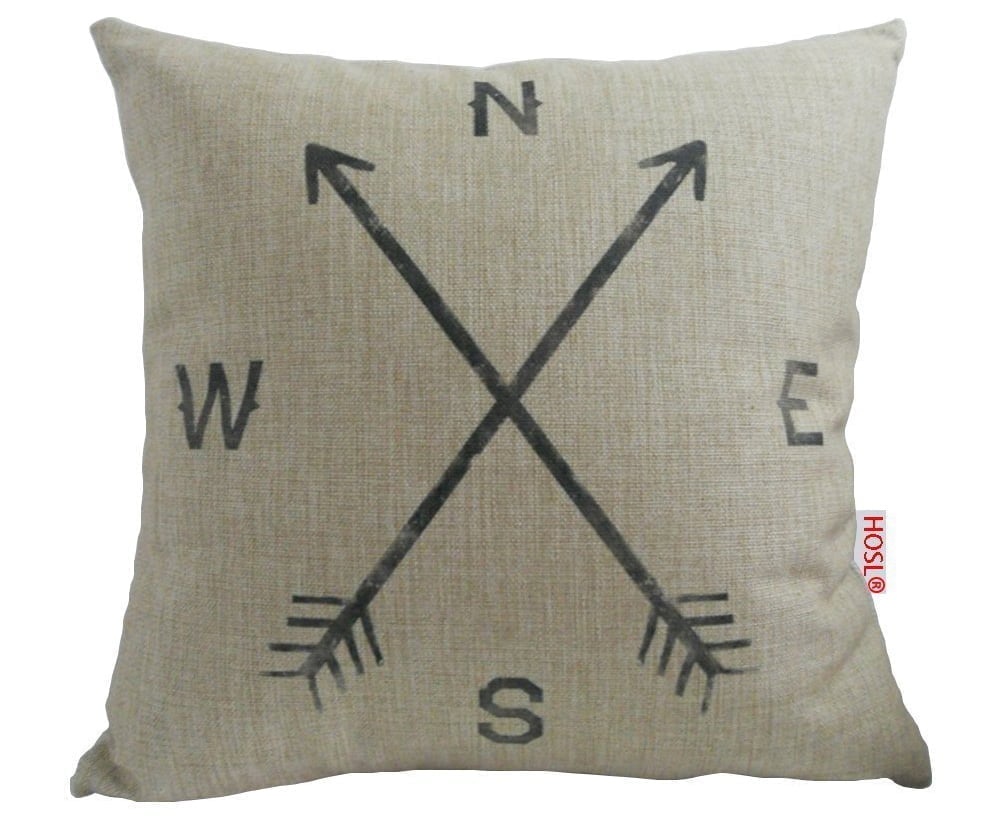 Love the new hipster branding with retro fonts and arrows? But not sure how you can include the look in a grown-up way? I recommend this retro compass pillow as a starting point. The black and white colors can easily be worked into many schemes. Tie in the look with mason jar candle votives with twine tied around the neck. [Around $3.00 for 1]
26. Colorful Imagine Pillows for Indoors or Outdoors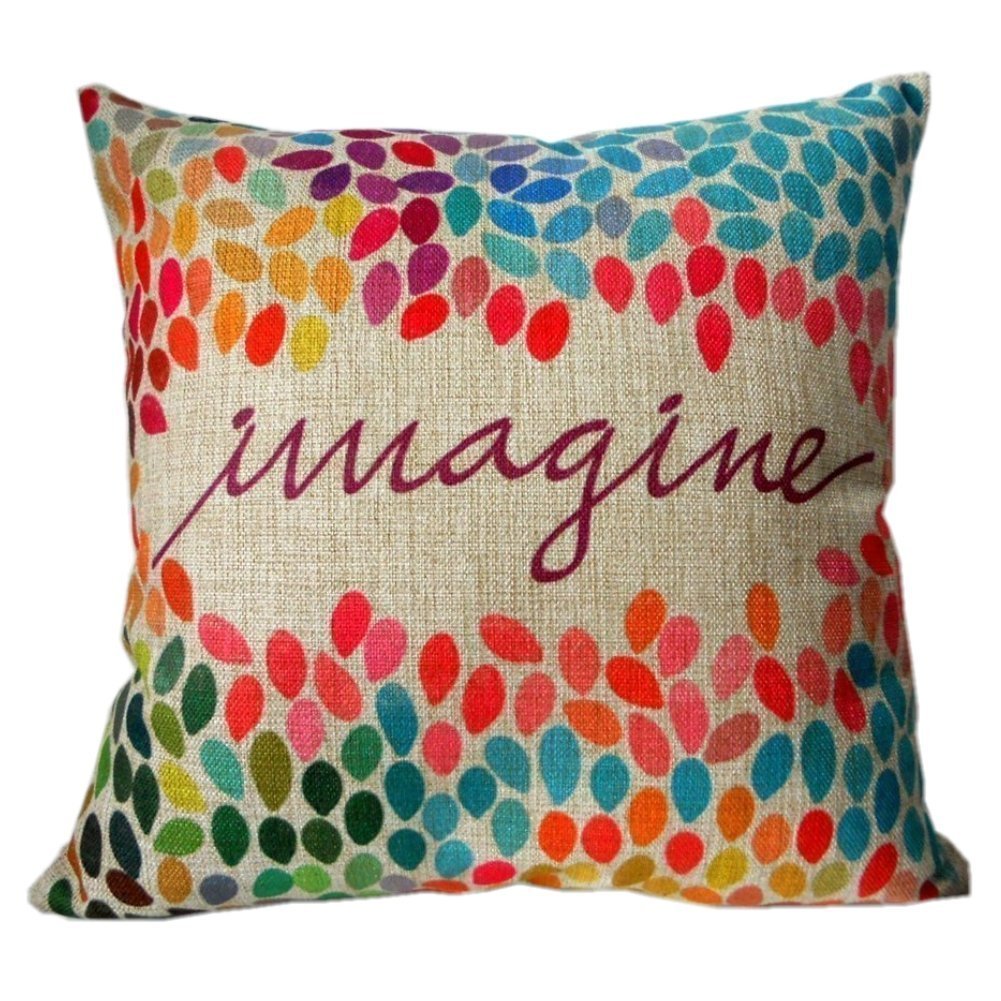 Bring in John Lennon and a little imagination into your living room with these brightly colored IMAGINE pillows. They strike a nice balance between the colorful leaves and the negative space that gives the natural linen the ability to shine. The linen is strong and coarse, but not rough. [Around $3.00 for set of 2]
27. LOVE Graphic Throw Pillow for Indoors or Outdoors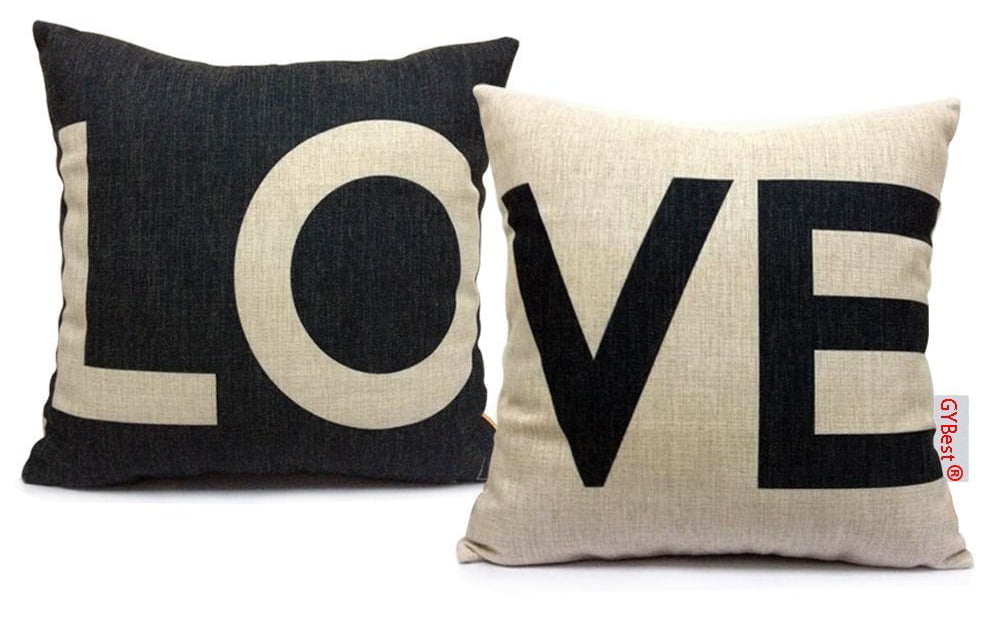 Show your L O V E with these black and white accent pillows. Pair them with black and white chevron pillows for extra boldness. If you want the L O V E to pop, pair them with solid grays or whites and let the focus be on the graphic text. [Around $6.00 for set of 2]
28. Painted Elephant Sofa Pillow Covers for Indoors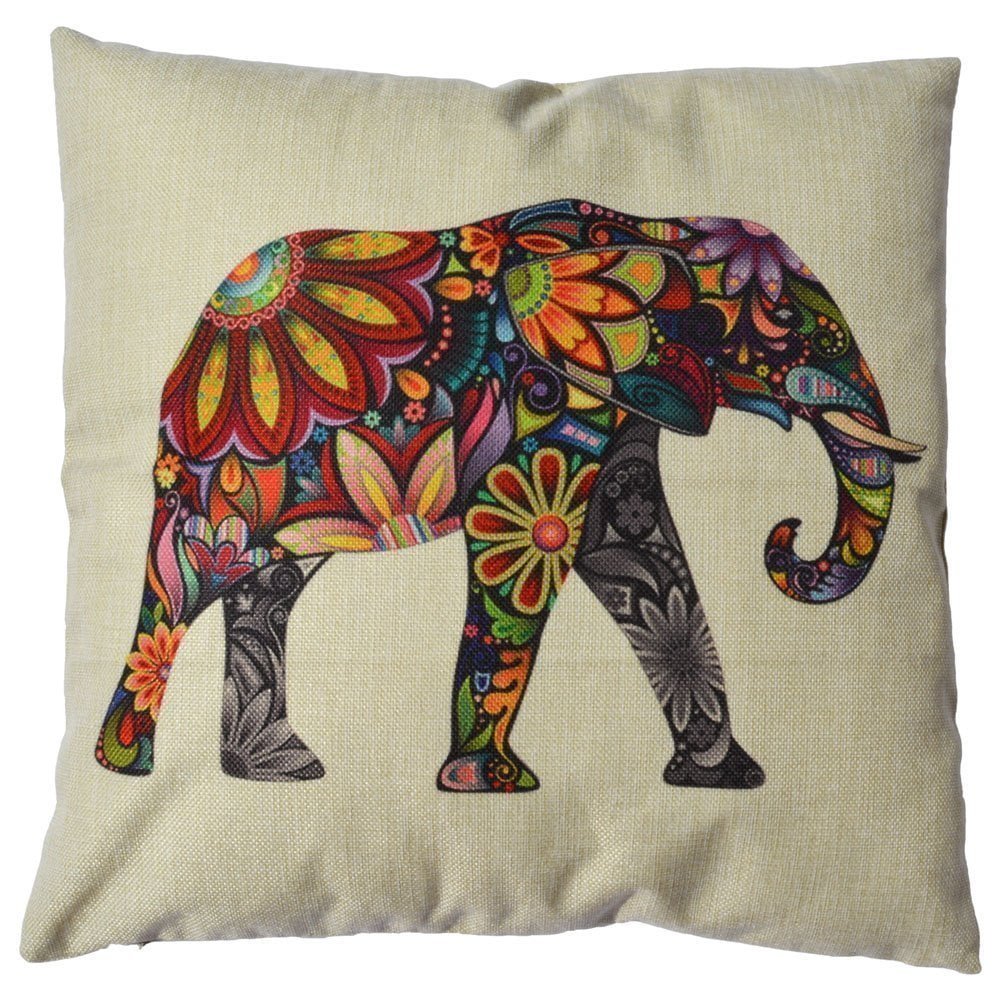 These painted elephant pillows are adorable for a tween's room. They have a bit of a bohemian feel with the artistic application, natural linen fabric, and the lovely elephant. You can pair them with desert colored bohemian designed pillows to round out the pillow set. The colors are vibrant and stay strong after washes. If you like the design and might want to, make sure to ahead and order both at the beginning since shipping can take a bit longer than usual. [Around $3.00 for set of 2]
29. Chevron Spike Accent Pillows for Indoors or Outdoors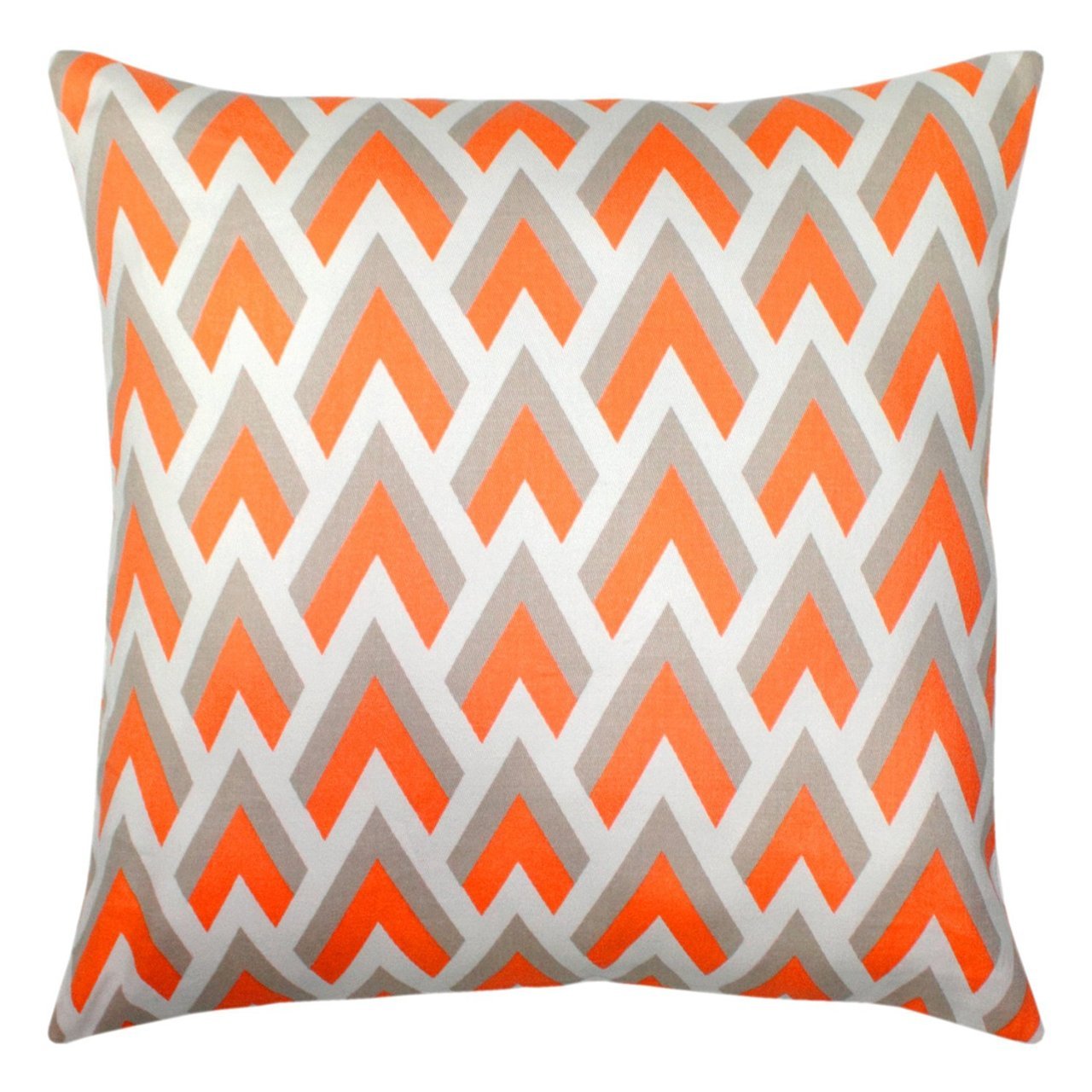 Go POP and add these chevron spikes to your guest room. The guest room is a great place to go big with the design. Your guests will feel like they are at a hotel. The key to pulling off orange is to use it in graphic designs like chevron and use the accent silver and white colors as the main colors for large areas. For instance, use crisp white sheets and silver guest towels and a rug to lay down the majority of the room. Orange can be used with a discerning eye for the rest of the design. Also great for guests, these pillows are removable and washable. [Around $13.00 for 1]
30. Teal Ground Vintage Natural Tree Embroidery Accent Pillows for Indoors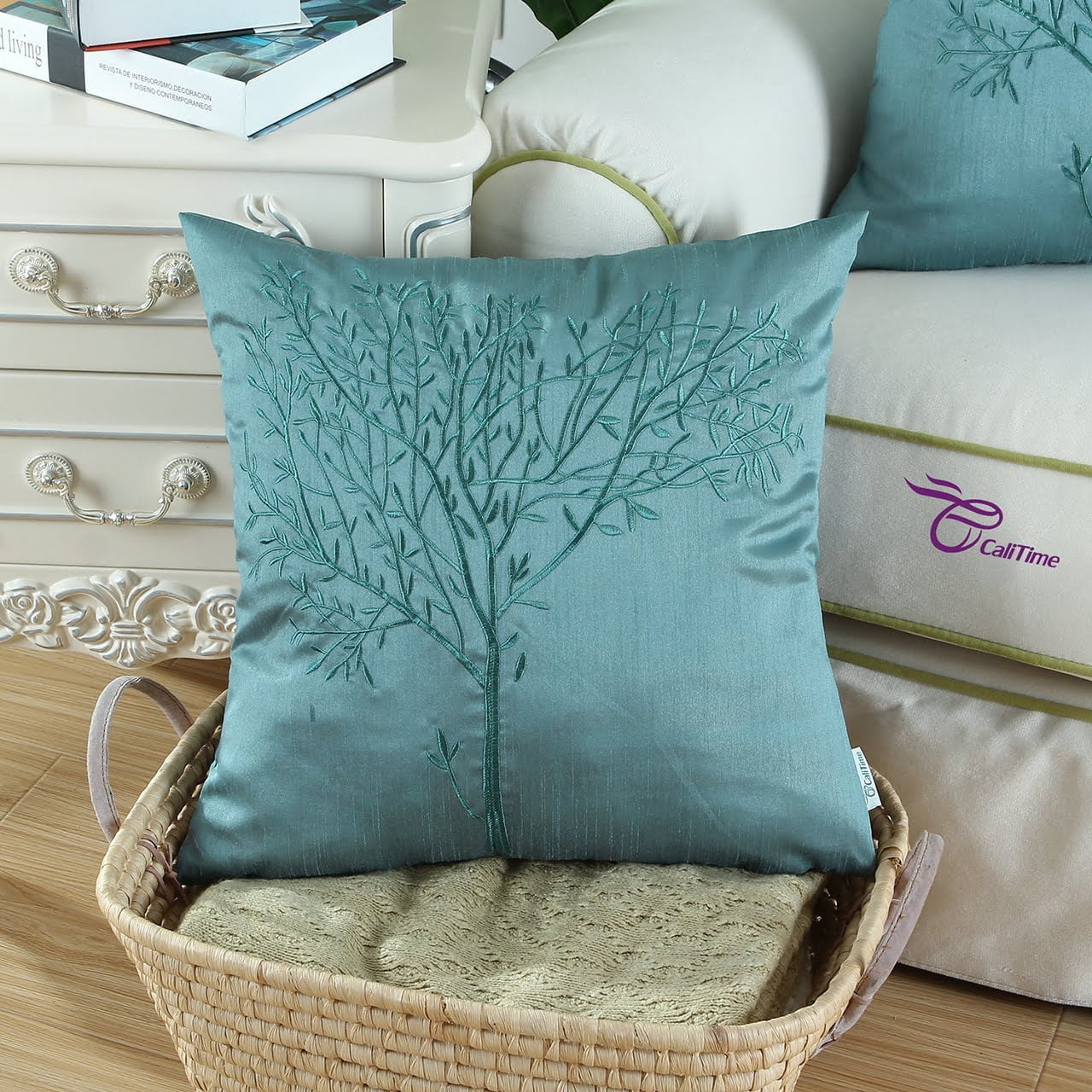 Enjoy the luxury of silk without the fuss. These accent pillows are beyond soft and gorgeously embroidered with a slightly darker teal in a slim tree shape. The sophisticated look and feel will easily update any living room. You can easily unzip and remove the pillow to clean in the washing machine. [Around $9.00 for set of 2]
31. You Are My Sunshine Cotton Pillows for Indoors or Outdoors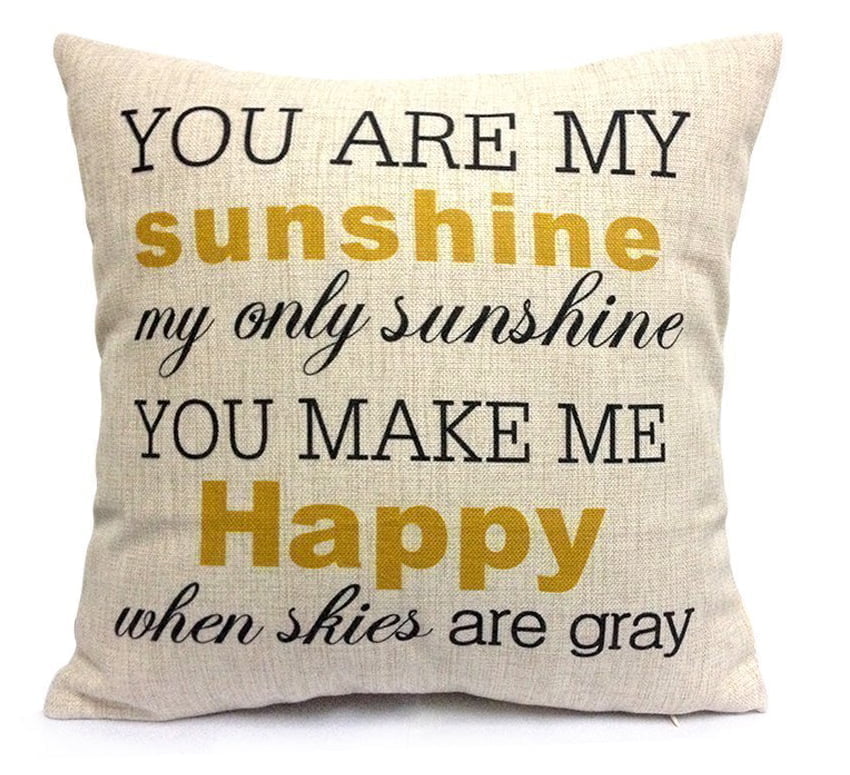 These sofa pillow covers are a perfect match to the yellow zig-zag pillows were mentioned above. With equal durability and flexibility to have outdoors, you can design your pool area for pure joy with these graphic pillows. The strong graphic gives a pop feeling that you can match your serving tray and dishware for entertaining. Yellow and pink drinks in summer will put the summer experience over the top. [Around $5.00 for set of 2]
32. Black Tree with White Flowers Accent Pillows for Indoors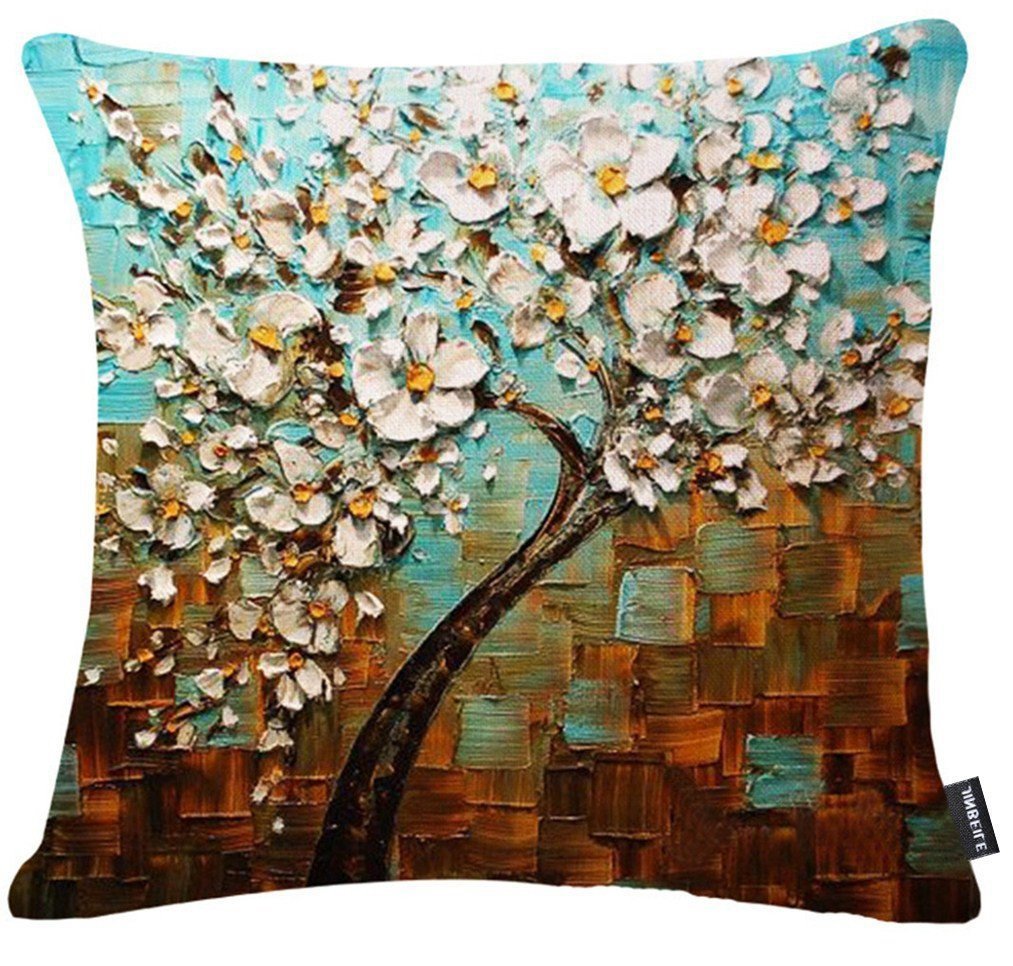 Bring the outdoors inside with this artistic oil painting print of a gorgeous black tree with white flowers and a vibrant background. Maturing your home's style is often as simple as placing design features in unexpected places. The thick linen feels like a soft burlap to the touch. This creates an opportunity to pull together oil paintings on the wall with burlap accents on your candles. [Around $10.00 for 1]
33. Totoro Series Print Decorative Sofa Pillow Covers for Indoors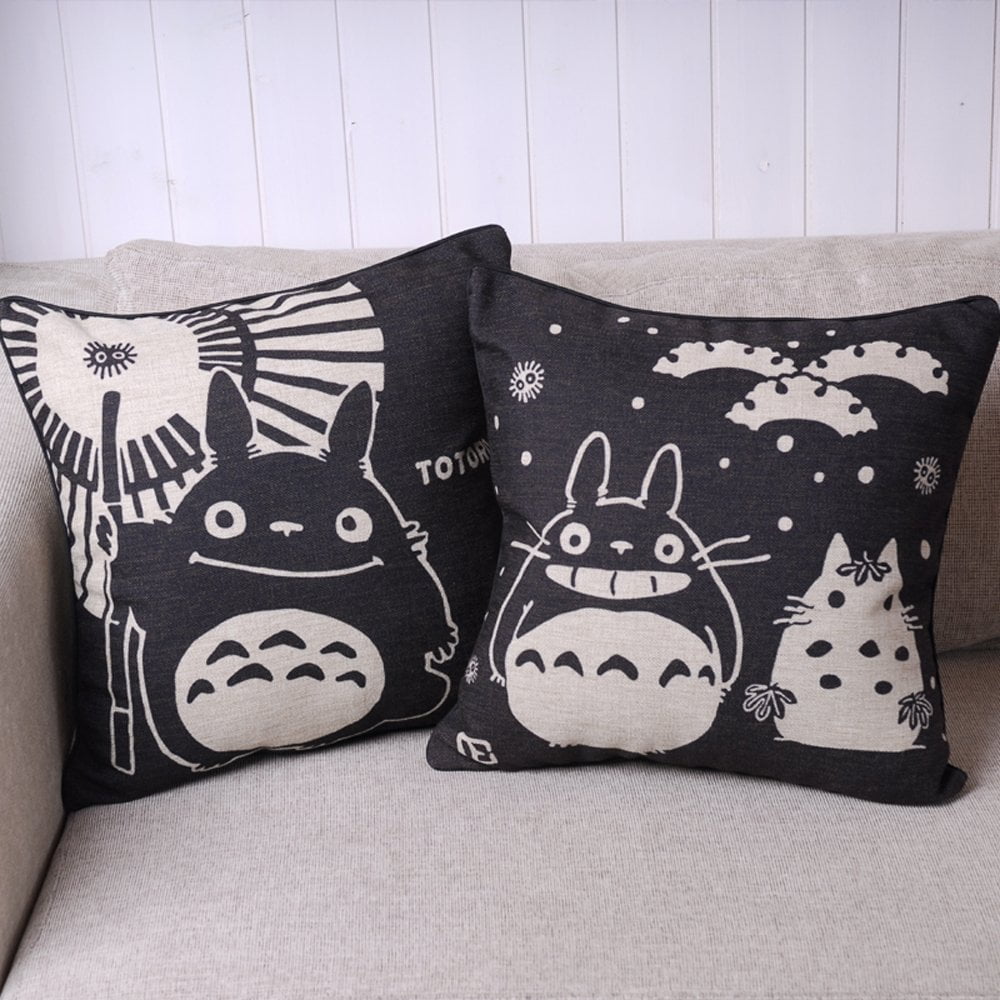 These Totoro Series pillows are absolutely playful in design without being overbearing to the rest of the room. The black and white natural colors will easily match your game room or child's room. They strike the right note for a gamer who wants to pull in characters without a direct nod to a particular game or gaming system. The linen cotton blend is also soft compared to others and works very well on sofas. [Around $7.00 for set of 2]
34. Vintage Floral Printed Pillows Covers for Indoors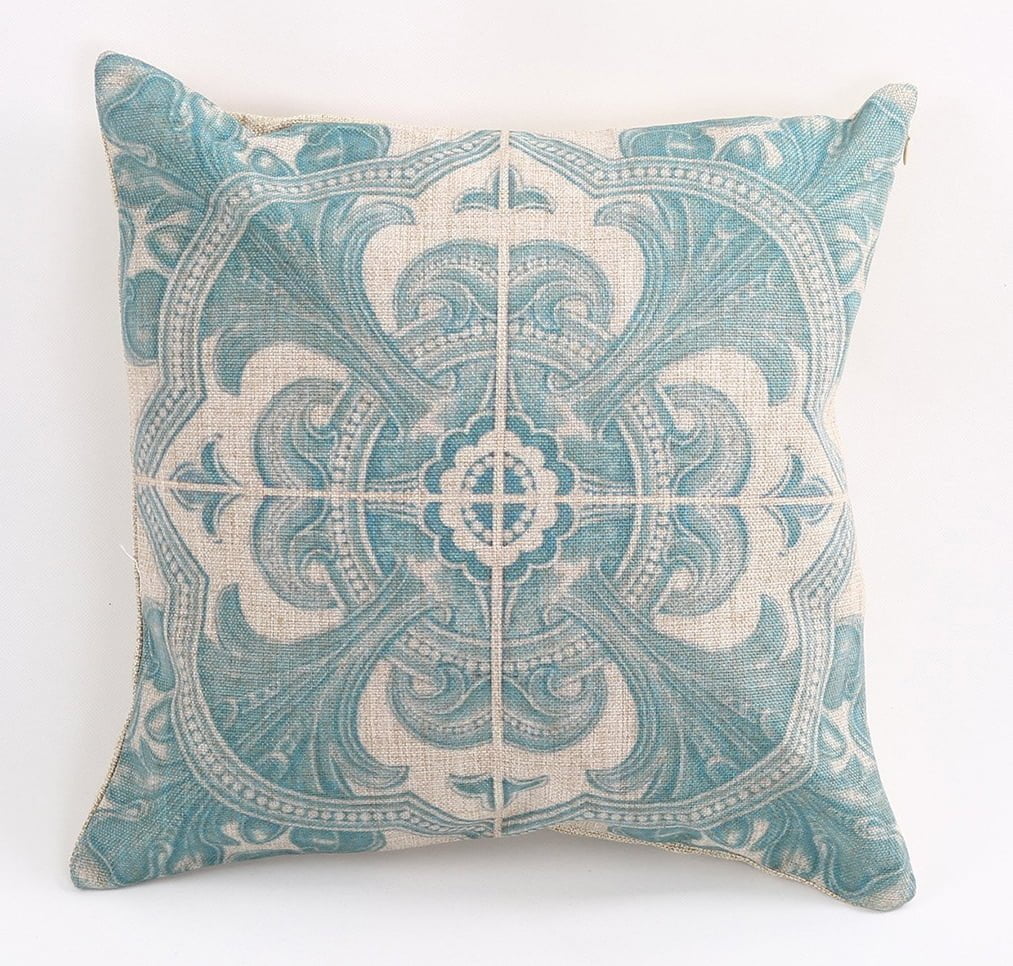 Creating a pillow set to use a design feature is all about balance. This beautiful vintage floral print is subtle and gives breathing room to the current trend of strong natural graphics. Some of the most popular graphics right now are birds on a branch, tree trunk textures, deer busts, and arrow shaped trees. The linen cotton texture is also fantastic and helps give the vintage feeling of the floral print. [Around $3.30 for 1]
35. Red Satin Rose Flower Accent Pillows for Indoors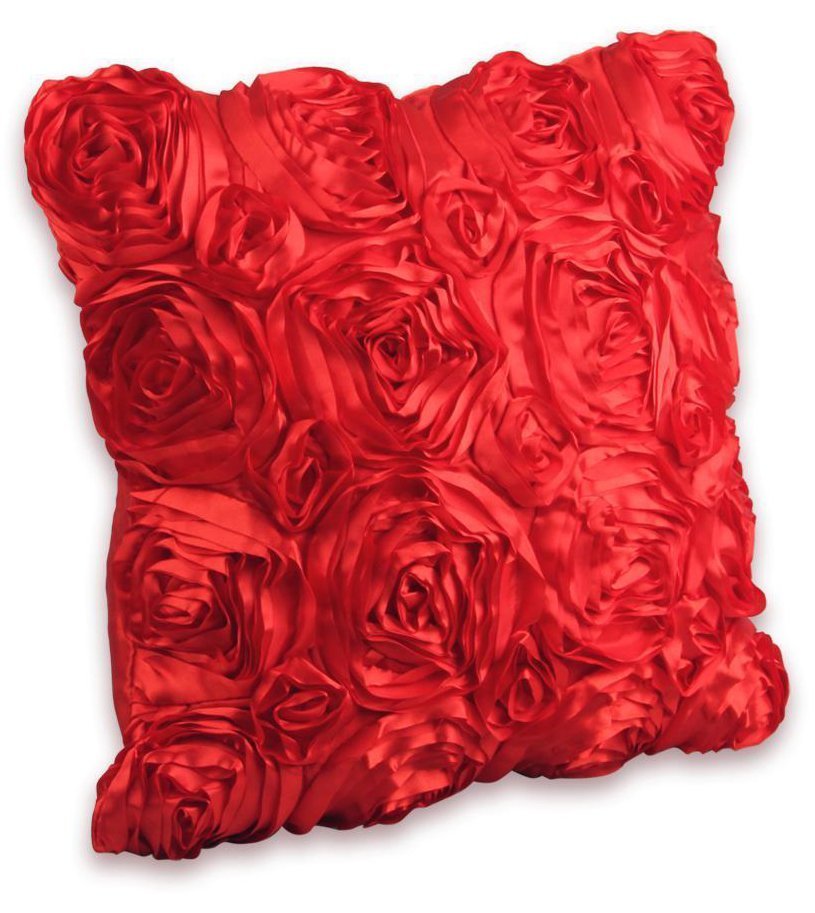 A simple white couch can instantly be romantic and glam with the right set of accent pillows. Begin curating your set with this red satin rose flower pillow and decide how heavy in each direction you want to go. This pillow is particularly soft and should be matched with a few similarly soft ones along with the eye-catching pieces made of shimmering sequins or cascading feathers. [Around $4.00 for 1]
36. The Love Series' Cotton Linen Blended Sofa Pillow Covers for Indoors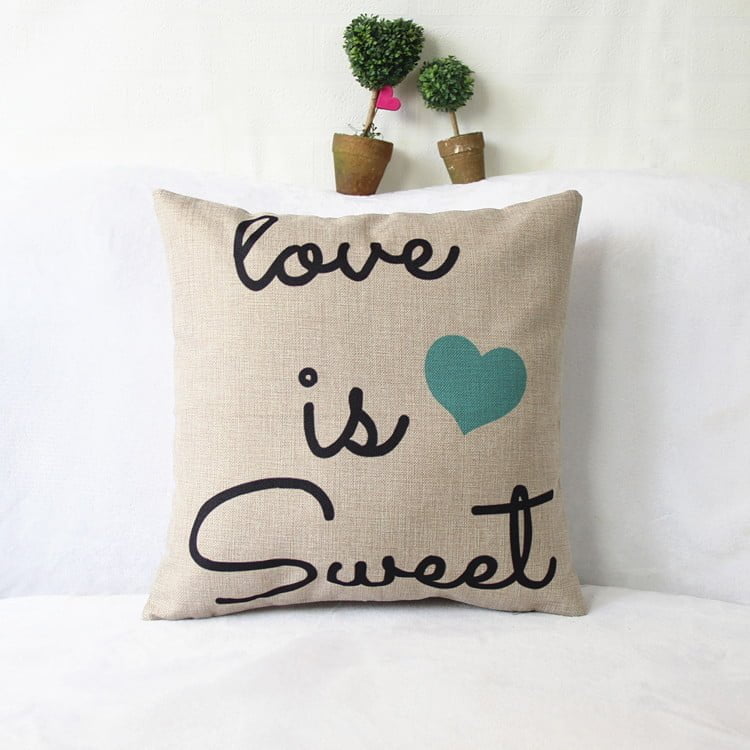 Add a little 4th grade Valentine's Day candy sweetness with the Love Series. This pillow is a cute way to decorate for the holiday or to add a little personality to a child's bedroom or reading nook. The linen cotton blend keeps the design from fading into frilliness and adds texture variation if you are building a pillow nook. [Around $7.00 for 1]
37. Indigo Print Design Pillows for Sofa Covers for Indoors or Outdoors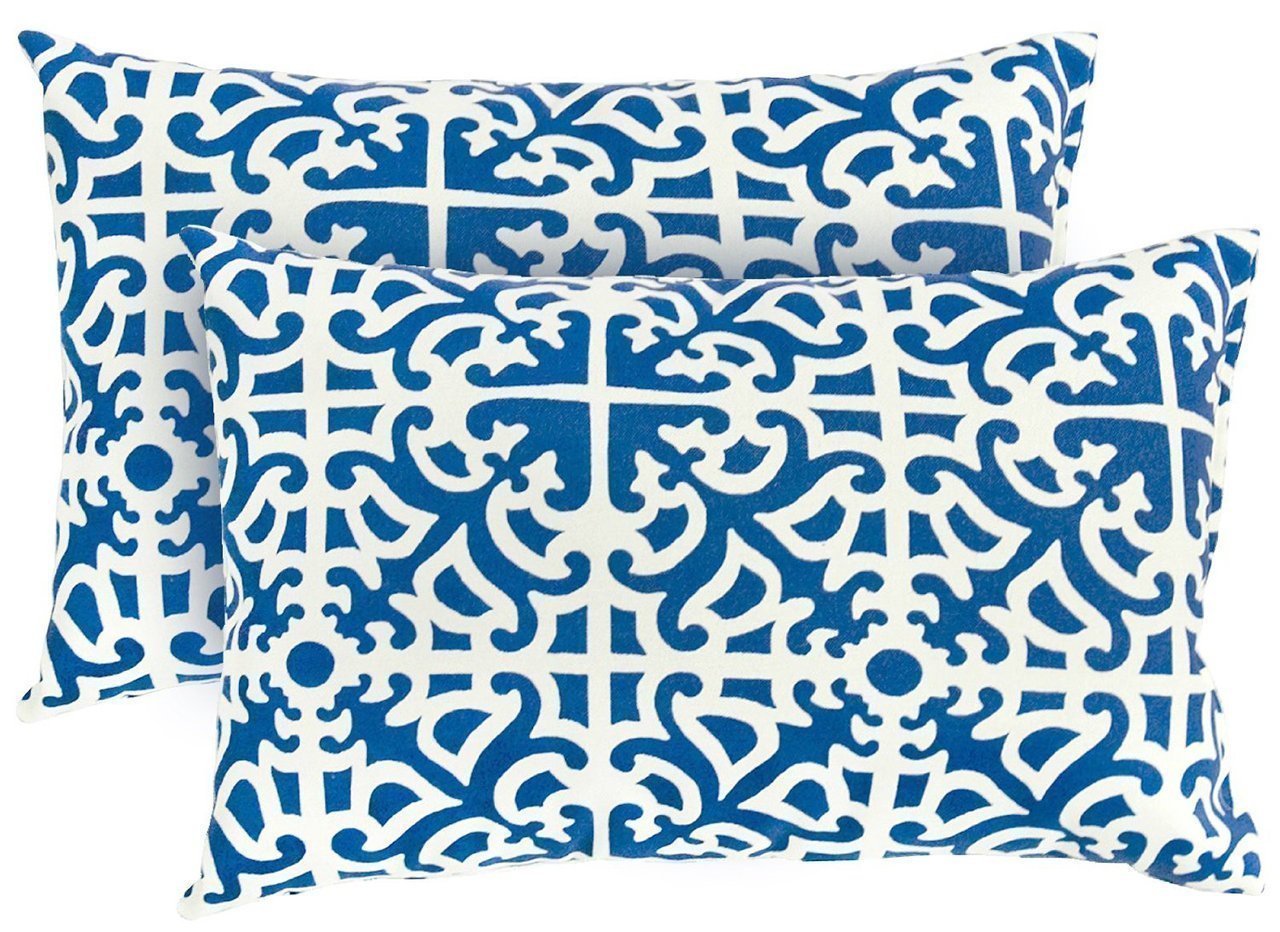 Using green design in your home can be chic and modern. We are no longer regulated to only decorating with off-whites and beiges to be green. These contemporary pillows have a striking indigo and white print design that will make any sofa pop. The eco-friendly materials include recycled plastic bottles and organic cotton that result in a very sturdy and durable pillow that will survive many seasons on an indoor or outdoor sofa. The fabric is also ultraviolet, stain, and water resistant. [Around $29.00 for set of 2]
38. Flocked Together Throw Pillow by Manual Climaweave for Indoors or Outdoors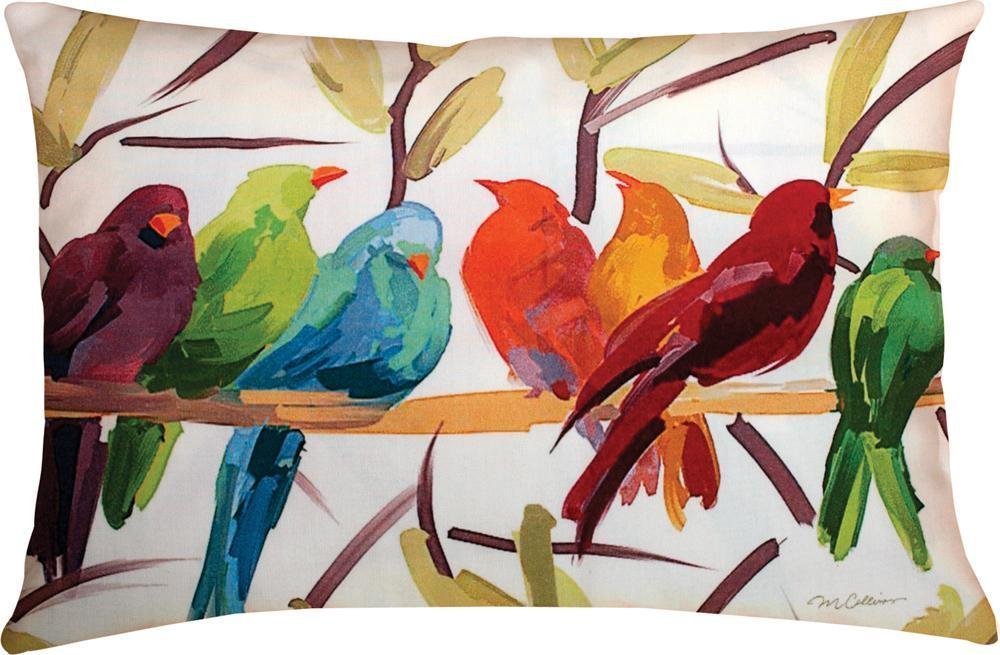 A handmade touch should extend throughout your home and not be limited to art on the walls. This pillow adds a touch of color and size variation for your outdoor living theme. The handpainted colorful birds will give life to your pool area. The long rectangular shape is nicely different than the typical square and is a durable enough to be lumbar support as well for your guests. [Around $26.00 for 1]
39. Silver Grey Damask Pillow Covers for Indoors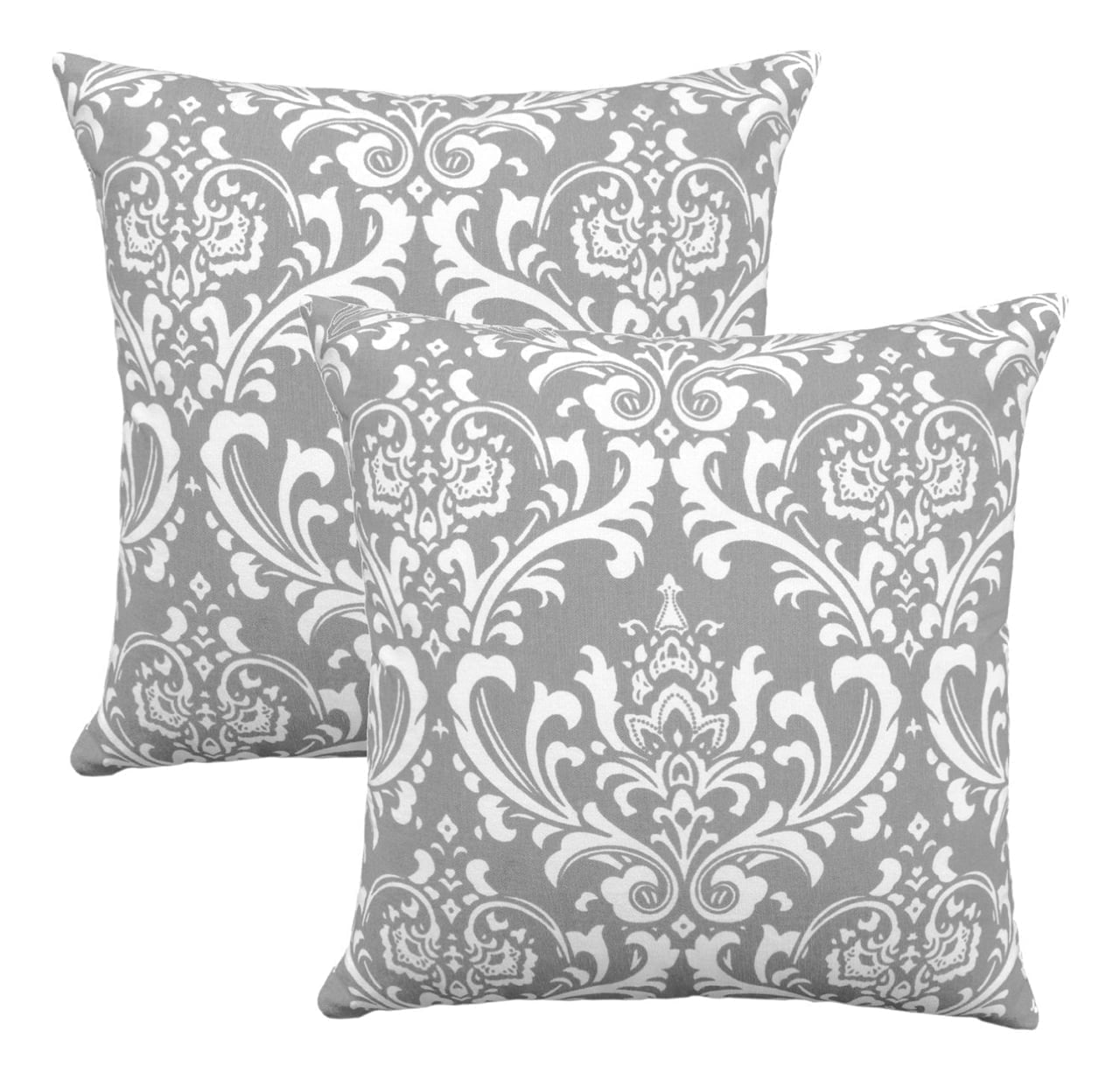 Look for easy to clean fabrics for children's bedrooms and other spaces they use regularly. Just because your kid loves grape juice doesn't mean your style needs to suffer. These silver gray damask pillow covers go well with clean modern styles and work well as a way to age up a Moroccan theme. Made of 100% cotton with an invisible inset zipper, you can easily remove the pillow insert and put the cover in the washing machine. Make sure to order the coordinating sized pillow inserts as well. [Around $19.00 for set of 2]
40. Navy Blue Nautical Nonsense Starfish Pillows for Outdoors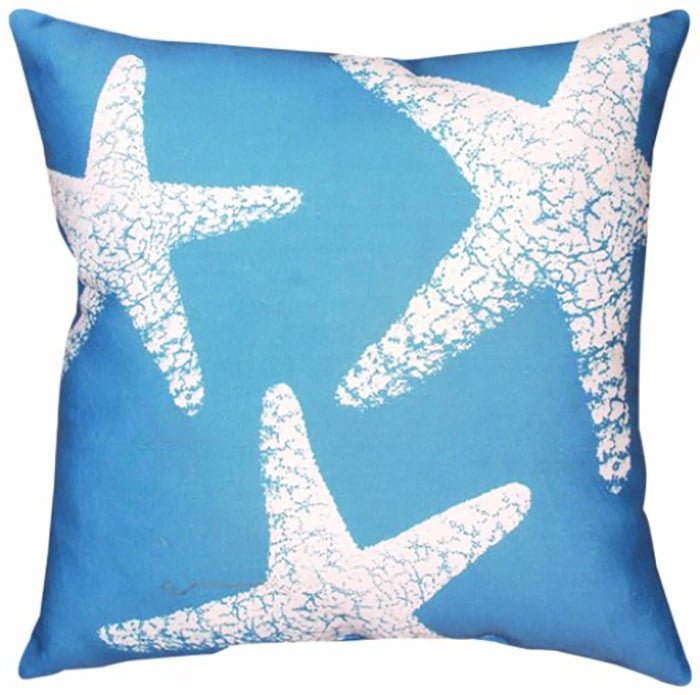 Extend your nautical themed home decor to the outdoors year round with these pillows for sofa benches. Shabby chic may have faded for interior decorating, but can really stand out in the outdoors. Consider taking on the DIY pallet furniture Pinterest project you have put off and create a driftwood scenery. Soft sophisticated lighting paired with seahorse and coral motifs and sand weighted hurricane candle holders will soften any outdoor space. [Around $25.00 for 1]
Throw Pillows From Amazon That Only Look Expensive
Make sure to double check if your throw pillow comes stuffed or if you need to purchase an insert. Either choice can be beautiful, it just comes down to preference. As a duvet lover, I prefer to purchase the covers and inserts separately to guarantee I will be able to wash the pillow cover.
Hope you were able to find some creative choices to spruce up your home decor. Good luck with your new looks!