Creating a fun and inviting haven of rest is easy with any one of these best bedroom flower garland ideas. From rustic wooden sticks to soft and fuzzy crocheted blossoms, there are a wide variety of flower garland designs to make your master bedroom the sanctuary you deserve.
33 Fabulous Flower Garland Ideas for a Super Charming Bedroom

We all covet that space where we can unwind and relax after a long day or stressful week at work and our bedroom should always be that place for us! With the beauty and serenity of nature, a floral garland woven through the footboard of your bed might just do the trick!
Many of the ideas are simple enough for an easy DIY project and the supplies can be purchased at a local craft store or better yet, they can be found on an outdoor hike. Either way, you can bring some natural flora and fauna into your home with minimal work while adding a large amount of delightful design into the space.
Maybe you wish to create a romantic, relaxing space or just wish to add some extra feminine detail to your daughter's room, either way you can achieve your goal with these 33 floral garland ideas for the bedroom. Don't forget about the ambiance of adding some lights to the mix as well. The soft, warm glow from a set of twinkle lights can take your garland game up a notch!
1. Romantic Sage Green Leaves with Gray and Pink Flower Garland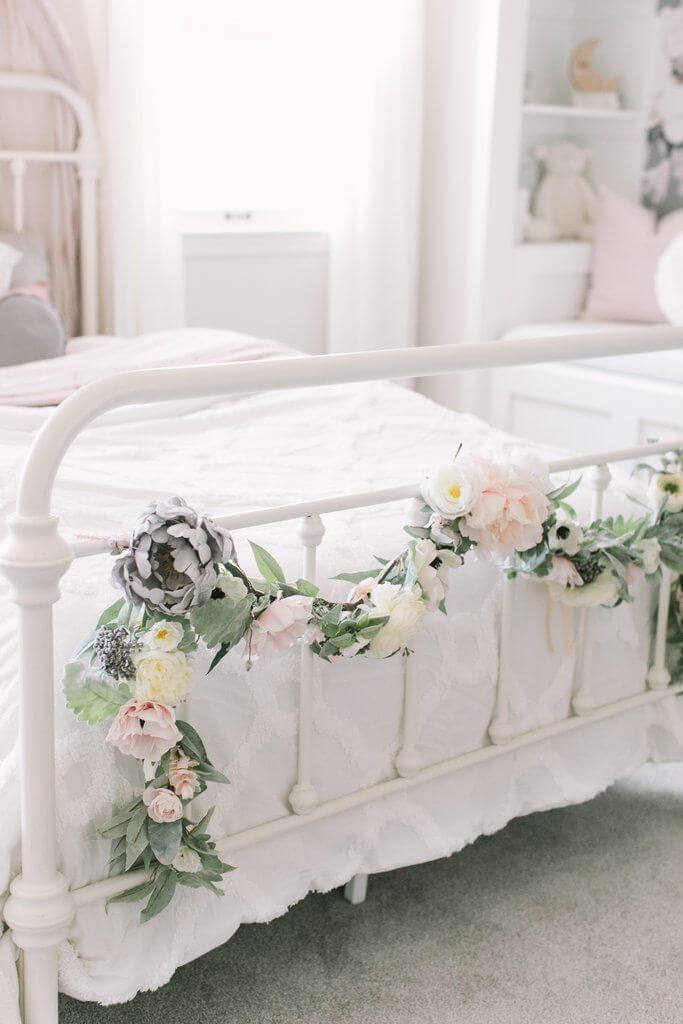 Here's a fun way to add a feminine touch to the on-trend metal frame bed. Weave some beautiful flower garland through the footboard. It's honestly that simple! The gorgeous muted green colors of the leaves provide a pretty background for the gray, pale pink and white blossoms. Incorporating the light gray color is a great way to keep floral garland ideas for the bedroom pretty without being too girly. All of the colors work together to bring a slight splash of color in a neutral way to this work of art. This color combination keeps the overall look in-style as gray remains a major player on the color wheel and floral is always in!
2. Fabulous Free-falling Rose Gold Floral Garland Bedroom Decor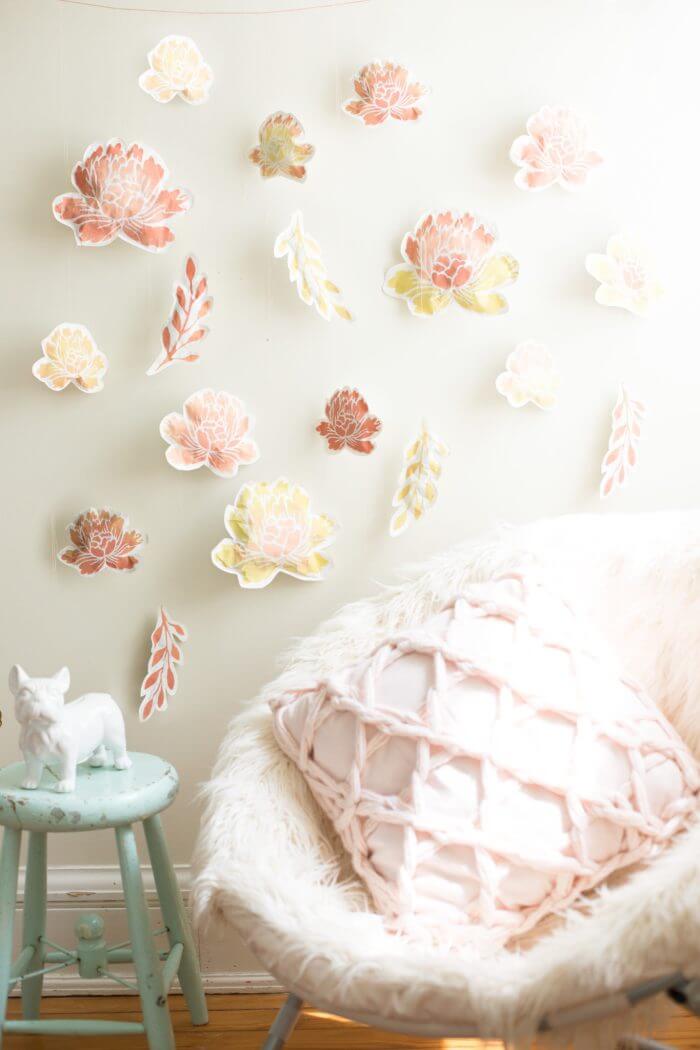 Suspended on clear string to exude a breathtaking and free-falling effect, this rose gold floral garland is sure to dramatically change your drab bedroom wall space. Full of rose gold and yellow gold hues, these peony blooming petals and leaves cascade down any wall of your choice to create one of the best bedroom flower garland here. These pretty petals appear to be floating in air, giving a fresh update to any girl's bedroom. This unique garland would even work in the nursery of a new baby girl!
3. Gentle Green Leafy Vine Floral Garland Decor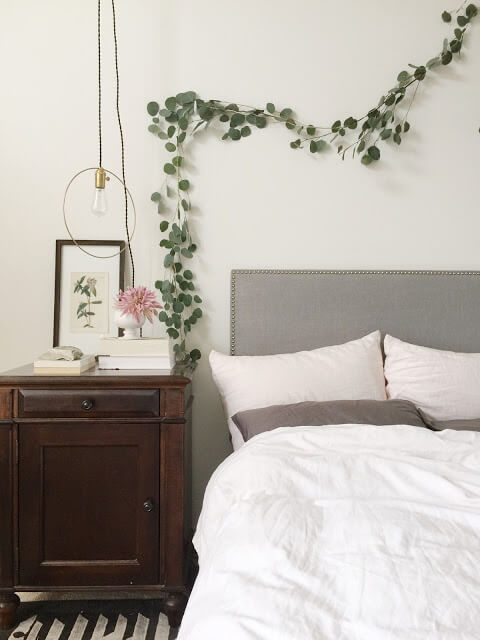 Bring some green into your home with this simple and gentle green leafy vine floral garland. Nearly any decor will work with this classic and plain accessory. Creep it down the wall alongside your bed or large lean-to mirror. The eucalyptus green color is pretty and provides a touch of texture and nature without the need of a green thumb. Sticking with a garland that is only one color maintains the low-key and minimalistic style in your modern bedroom.
4. Stem to Bloom and End to End Melon Flower Garland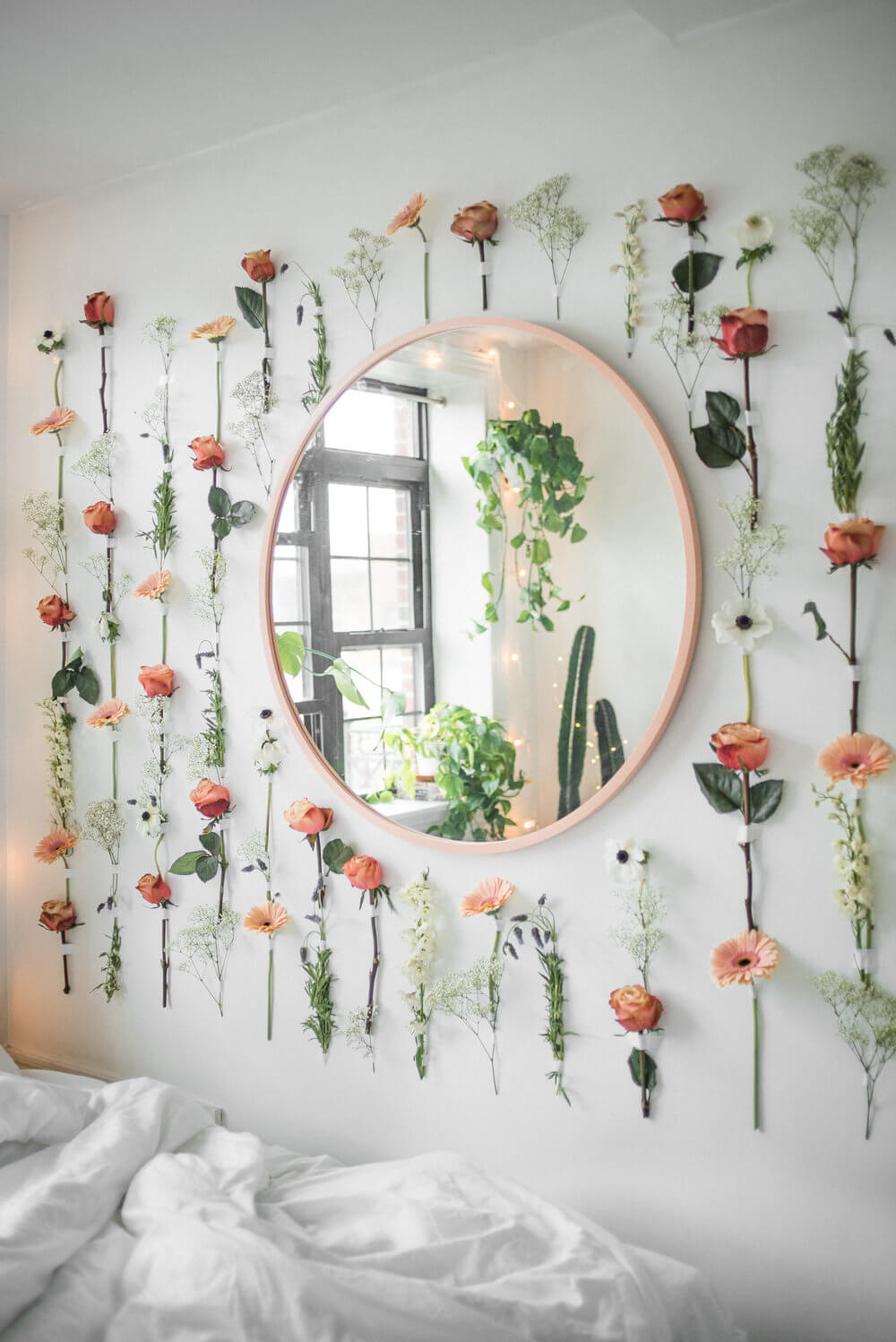 From top to bottom, these melon blush colored flowers are long and strong. Taped together to create a long vertical line of flower power, these one-of-a-kind cool flower garland ideas are perfect to accent your bedroom. Arrange them behind your bed or on another wall to create a feature space. The melon blush tone is just the right combination of pink and orange to add the pop of color to this collection. A variety of greenery adds to the interest, making this one of the best bedroom flower garland ideas on the market.
5. Rustic and Whimsical Stick and Leaves Hanging Flower Wall Art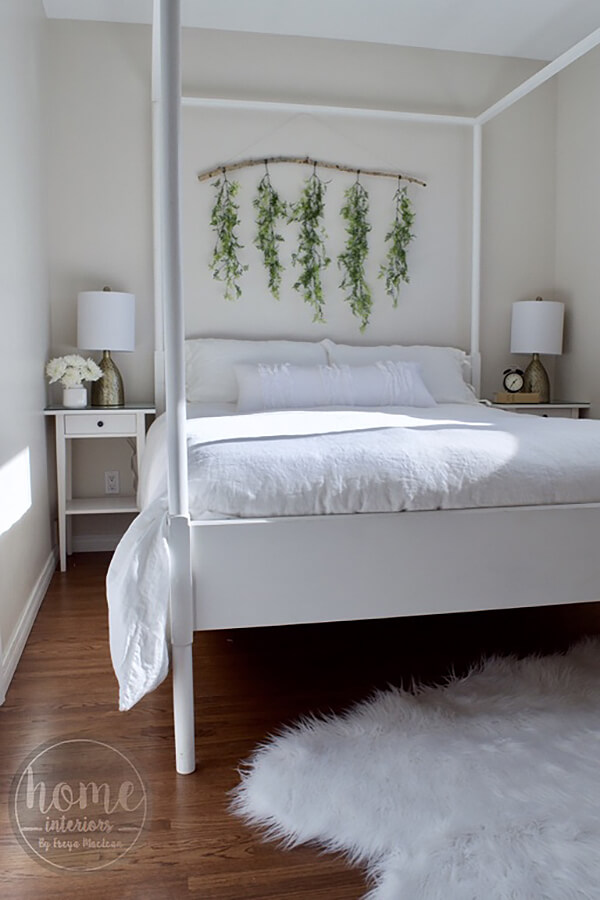 Draw your attention to the bed as you enter your sanctuary and discover this unique and awesome piece of wall art. A rustic medium-sized stick holds the leafy greens that look like fresh herbs hung out to dry. This cool stick and greens art offers dynamic textural appeal and looks just as good in the master bedroom as it does in the baby's nursery. If crafting is one of your ideas of fun, create this home decoration one evening as a simple DIY project. This is definitely an easy way to bring just a touch of color into a clean white space with the natural green foliage.
6. Branches and Blooms Pretty Princess Bedroom Flower Power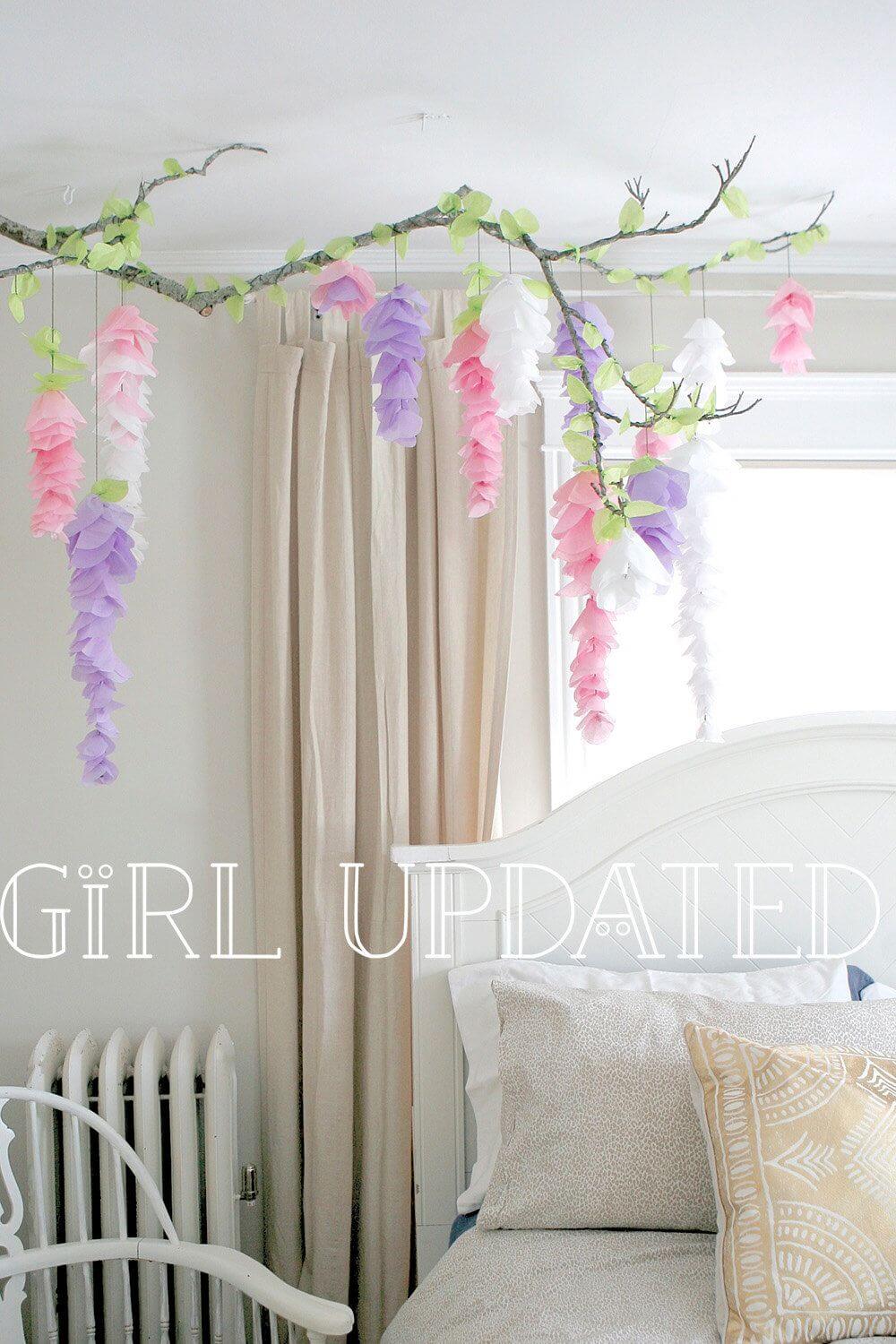 Your little girl is never too old to feel like a princess so update your preteen's space with this breathtaking and beautiful floral tree. Dangling white, pink and purple tissue flowers nearly fall from the sky of this interior tree. Nestle it in a corner and create a fun reading nook for your emerging teenage daughter. Place a wicker hanging egg chair or an oversized beanbag for extra cozy comfort.
7. Bittersweet and Burnt Orange Fall Colored Flower Garland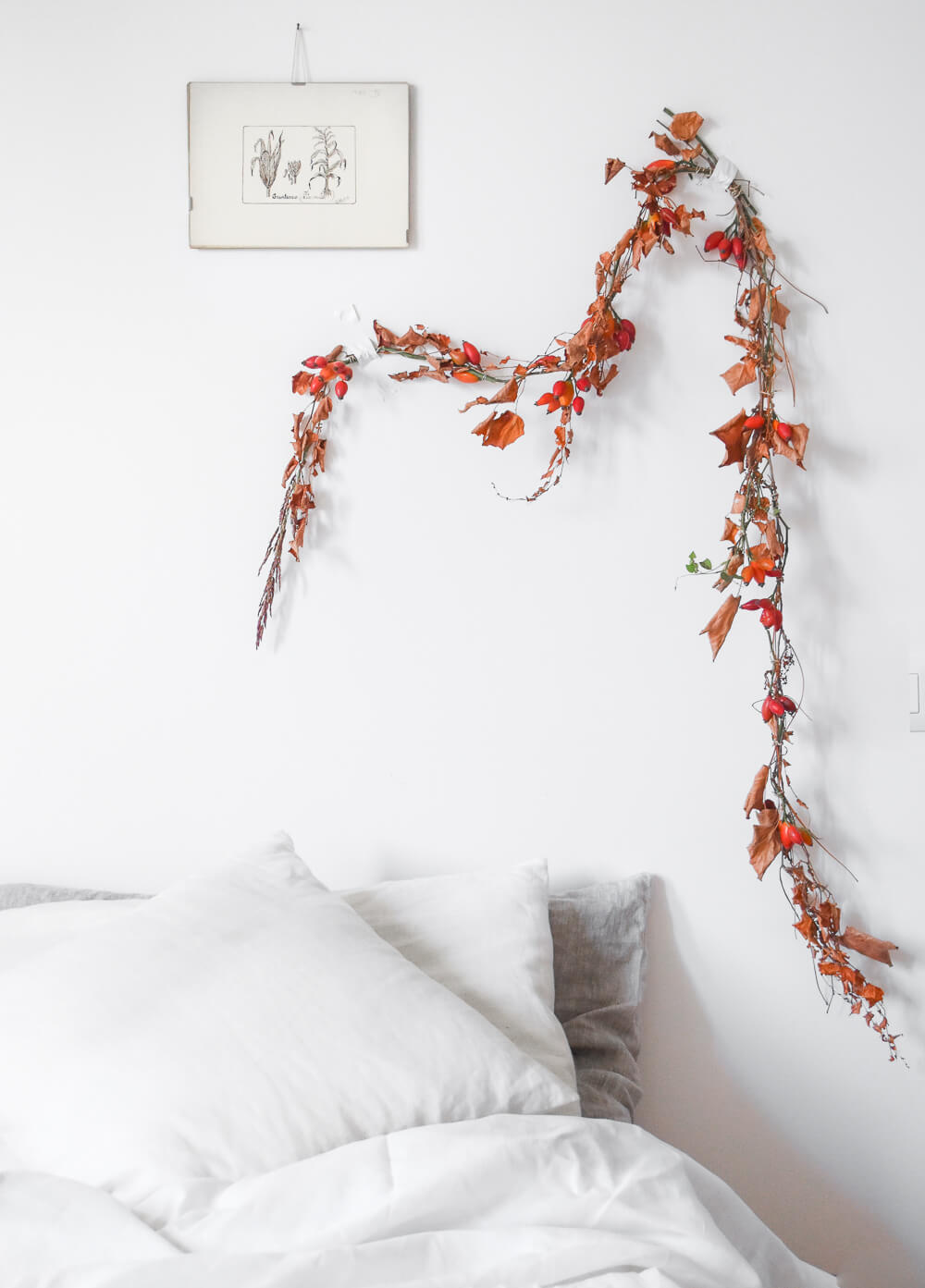 Remember those autumn walks through the woods with family? Pay some homage to the days of old with these warm orange and red bittersweet strands. Hanging above the master bed or woven around the head or footboard, these flaming fall colors brighten the scene within the cozy personal space of your bedroom. Such vivid hues wake up the room with warmth similar to the morning sun. The tender curves of the branches continue the authentic touch of nature within the comfort of your own resting place.
8. Delicate Frilly and Feathery White Floral Garland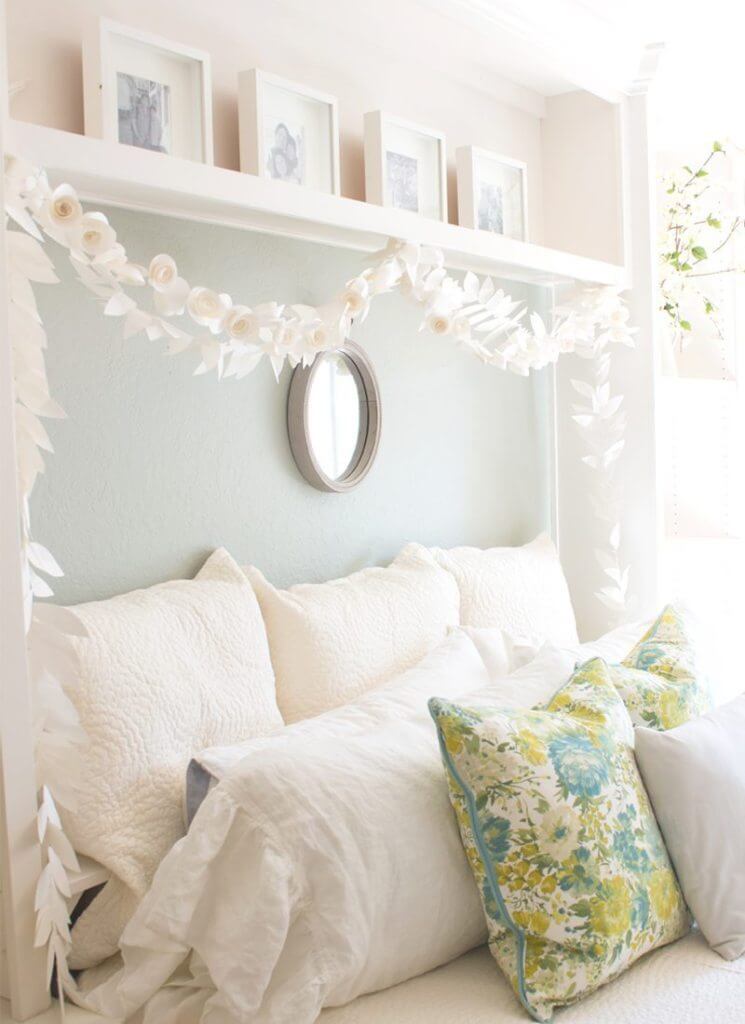 Light and airy is a great way to describe this soft and delicate neutral flower garland that is perfect for the bedroom! The soft material crafted into feathery leaves and blossoming buds in classic white exudes a sweet sentiment to your serene master suite. A pretty little beauty's nursery would be another awesome idea for housing this cute design of floral garland. This use of airy and light material gives a softer vibe than the heavier silk varieties making these unique floral garland ideas for the bedroom a hit. You can drape it on a mantel or an oversized mirror in the corner.
9. Ombre Brown Tissue Paper Dainty Layered Flower Garland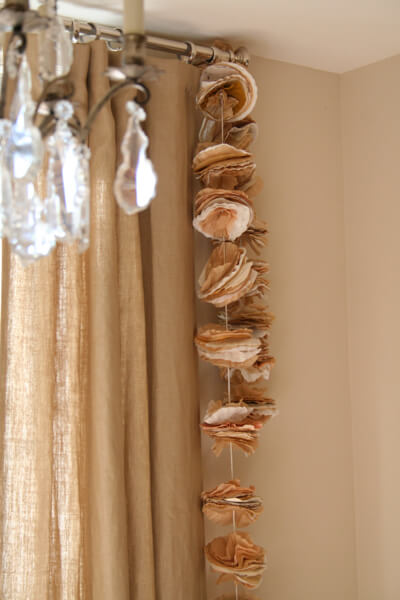 Clumps of super fine and thin tissue paper pieces stack together to create some of the best bedroom flower garland in this "50 shades of brown" design. From cream to light brown, the spectrum of tan hues adds some warmth to your cozy bedroom center of relaxation and rejuvenation. The seemingly tea-stained design adds a pretty touch in floral garland without being overly feminine. Let this cute garland hang from your curtain rod or lay it across the top of your dresser.
10. Magical Carnation Creation White and Pink Flower Garland Extravaganza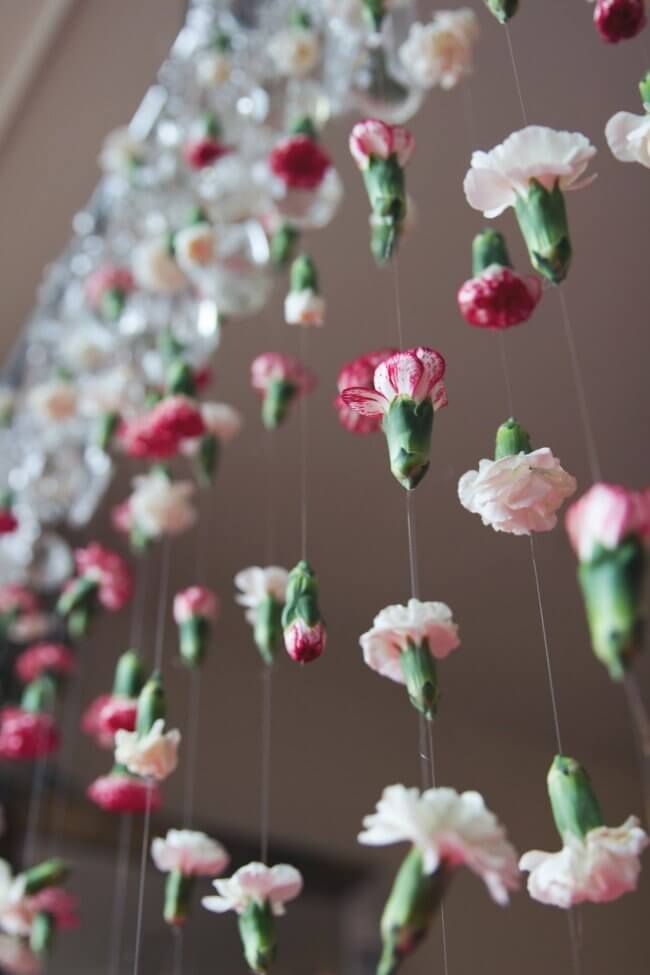 Hanging in midair is how these carnation buds and blooms appear to be enjoying their time in your home. The clear string creates a dynamic display as these pretty carnations have left their stems for a better resting place as they are suspended in midair! With both all white and white with deep pink petals, these friendly flowers are the new take on the old hippie bead curtains of the 70's. Adorn them atop your French door to bring some of your backyard garden inside. You could even hang them over a bedroom window in the master bedroom, guest room or nursery space.
11. Sparking Twinkle Lights with Dried Flower Display Flower Garland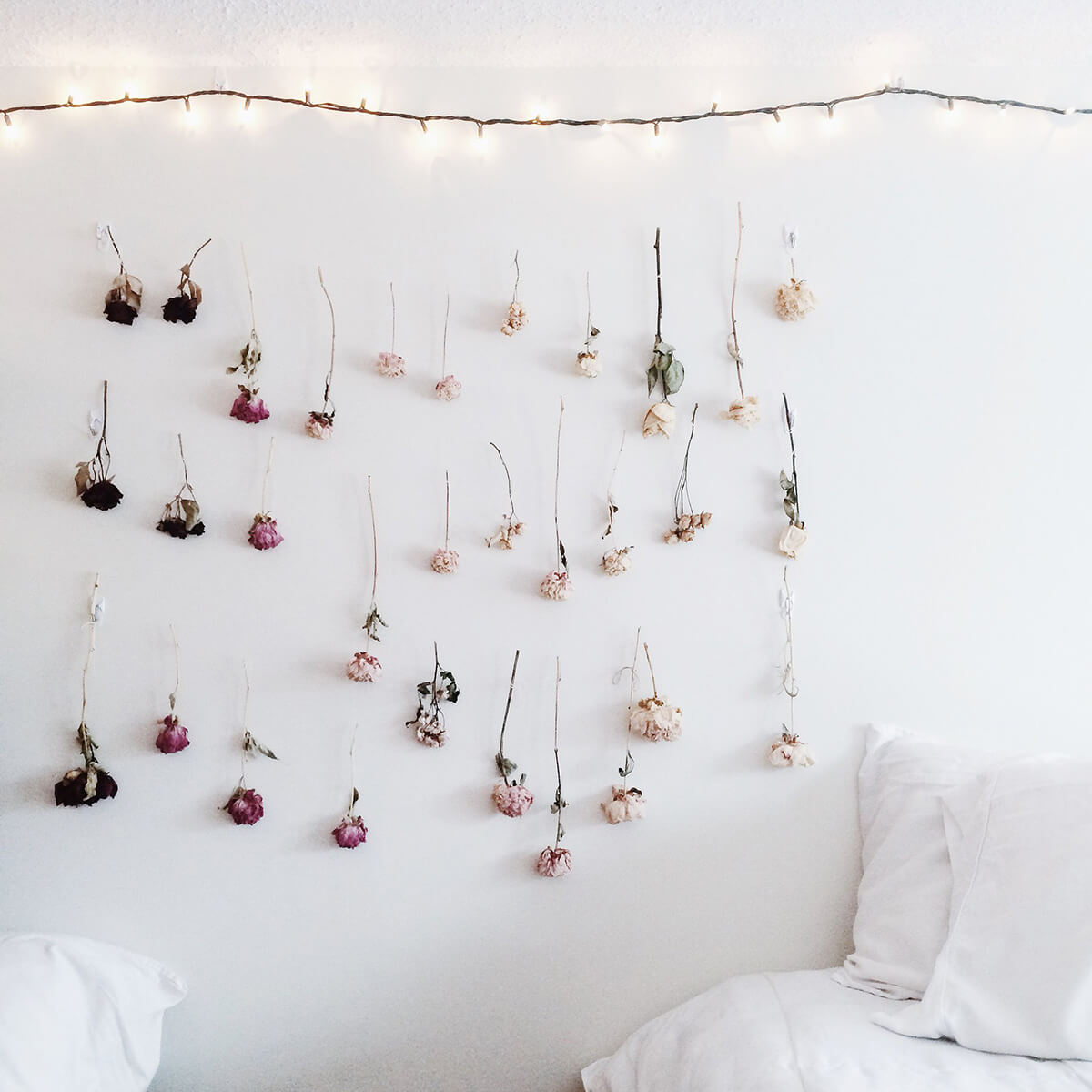 Even in the dark, these dried flowers are sure to get noticed! The use of white twinkle lights adds some warmth and inviting sentiment to your bedroom. Such a simple strand of lights is an awesome idea for hanging your beloved flowers out-to-dry. Whether you leave them or continue to dry out others, you can't go wrong with this perfect way of adding function to your bedroom decor with this sparking dried flower garland.
12. Soft and Simple Yarn Flower Garland in Green and Pink Perfection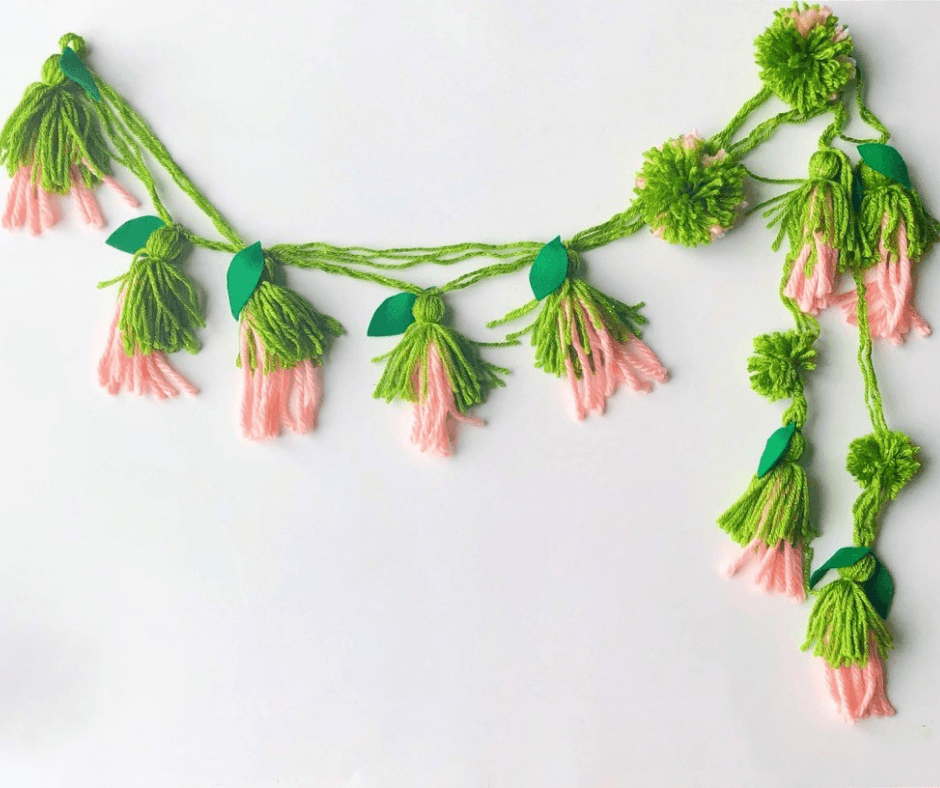 Crafters rejoice! Now you can use your yarn for more than crocheting! Lose the hook and work your creative magic into a simplistic surrounding of blooming yarn bundles! The pink is near perfection as it works together to form the pretty petals of the flower's bloom along with the gentle green of the leaves and foliage. Wrap this around your curtain rod to create some whimsical charm to your guest bedroom or place it on the mirror of your daughter's bedroom. This would be a fun way to kill some time while on a rainy day.
13. Vintage Grey and White Neutral Floral Wrapped Garland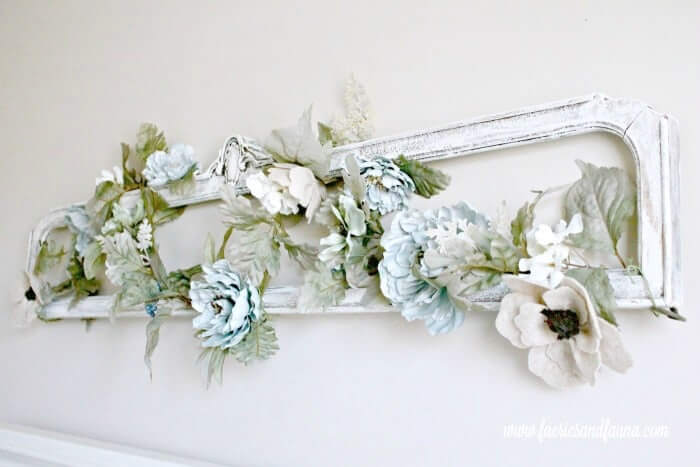 An old Victorian frame is repurposed with grace and elegance as this vintage grey and white floral garland winds around and through its body. The touch of a few green leaves is just enough to give it some realistic appeal. With the use of grey and white, this neutral home decoration works in shabby chic and farmhouse alike. A great addition to the large space above the bed, this floral wrapped frame adds a feminine charm to the room giving it a hug of love along the way.
14. Silk Flower Variety on a String of Twine Pretty Flower Garland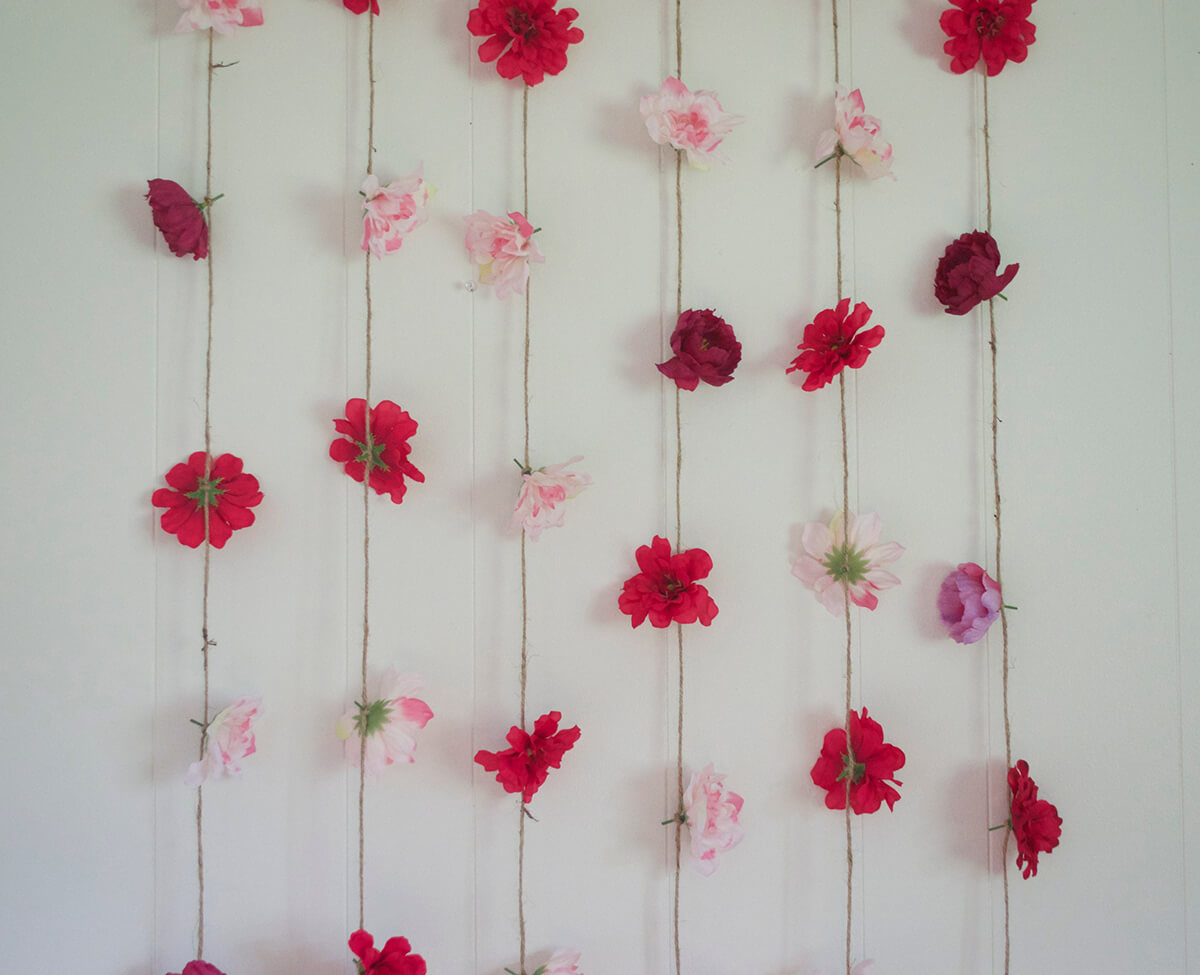 Decorate your daughter's birthday party or friend's bridal shower with these easy to make silk flower buds on twine garland. Using a variety of flowers and colors, this flower garland is 100% customizable and proves to be a wonderful backdrop for cake cutting and photo opportunities alike. Try using your girl's favorite colors or the bride's wedding party palette to make a unique design that will be treasured for years to come. The twine can be used around the edges of a table cloth to give more depth and dimension to the overall decor of the party too!
15. Plenty of Pink and White Petals in Pretty Flower Garland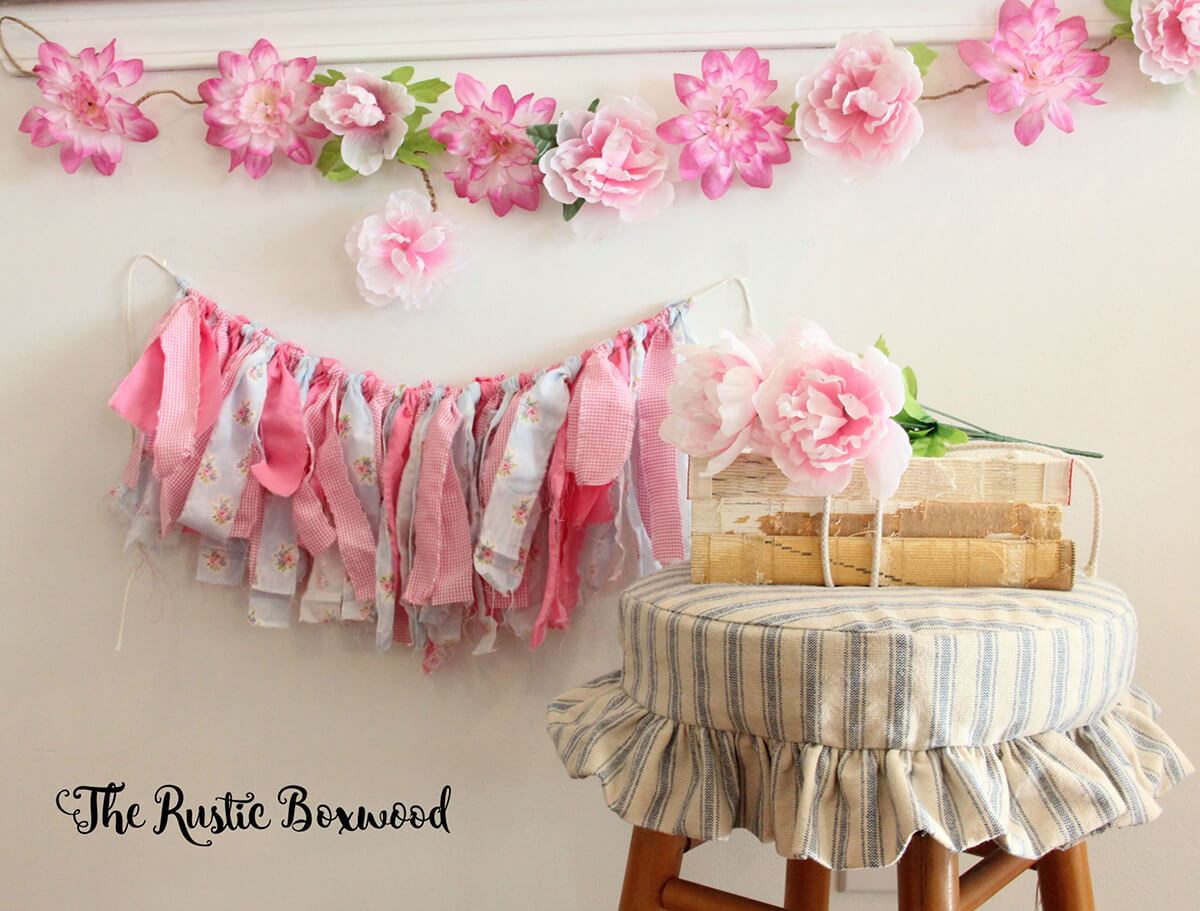 Heads up to this pink and white petal perfection that you see in this pretty flower garland. Big and beautiful blooms bursting forth make this flower garland stand out from the rest. Wrap it around the spindle on the stairs; weave it through the bed headboard or lay it across the mantle and you are sure to brighten up your interior space. Place it near a darling framed print to add some new zest and life to an otherwise boring wall space. The pink and white tones make this piece an easy to use decoration for your bedroom space.
16. Close and Tight Flower Bud Garland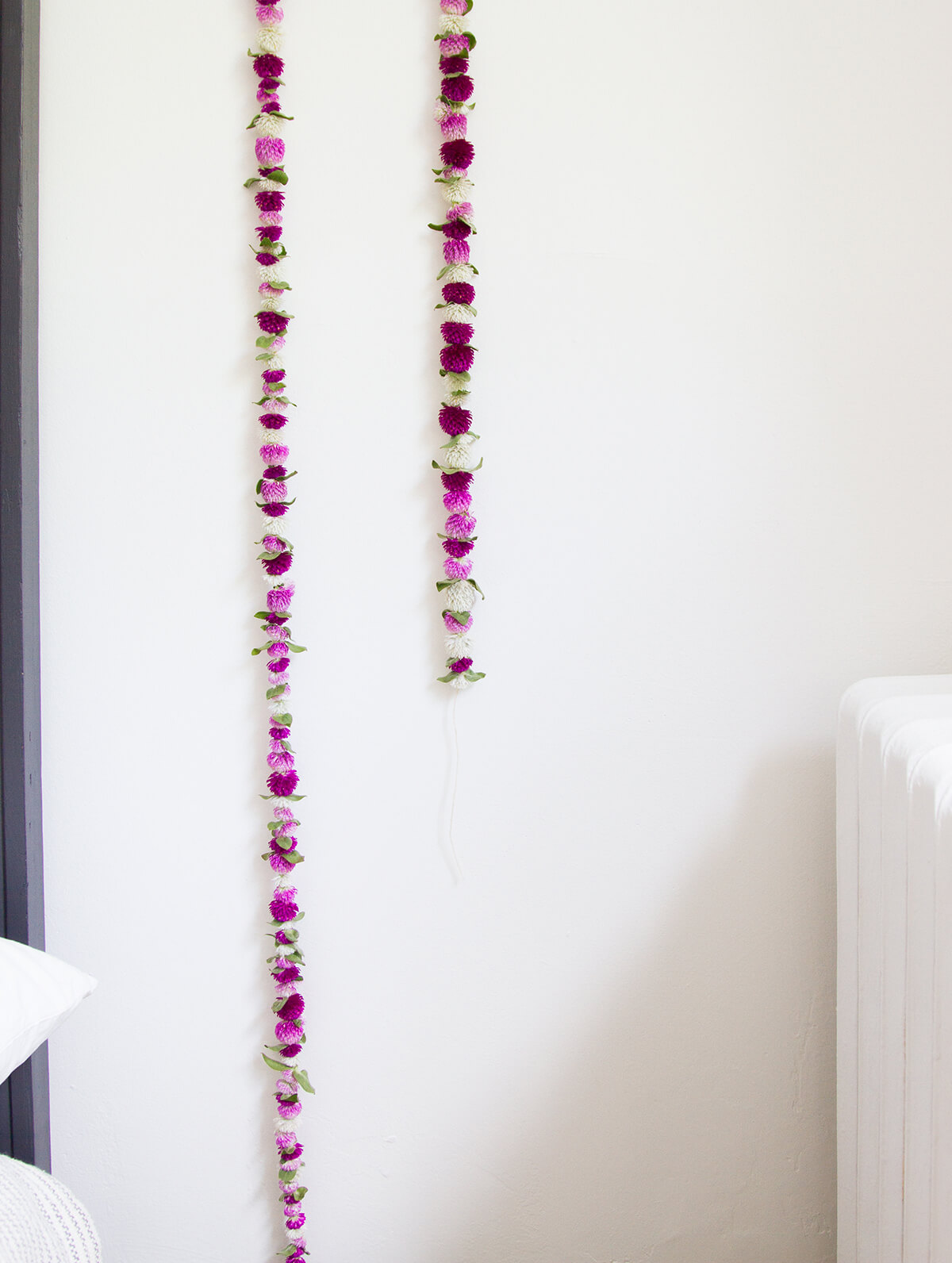 Think of a modern version of the classic popcorn garland and this structured close knit flower garland just might come to mind! Set shoulder to shoulder, these flower buds leave no wiggle room for their floral friends. From deep shades of purple to gleaming white, these tight buds are full of life! They create a gorgeous and straight lineup of flowers that would be beyond beautiful adorning the chest of drawers in the bedroom or on top of the piano in the main living space. They could be switched out for other strands of seasonal flowers to keep the flower garland on-pace with the ever-changing seasons in your home's decor!
17. Long and Lanky White Cascading Vines of Flower Garland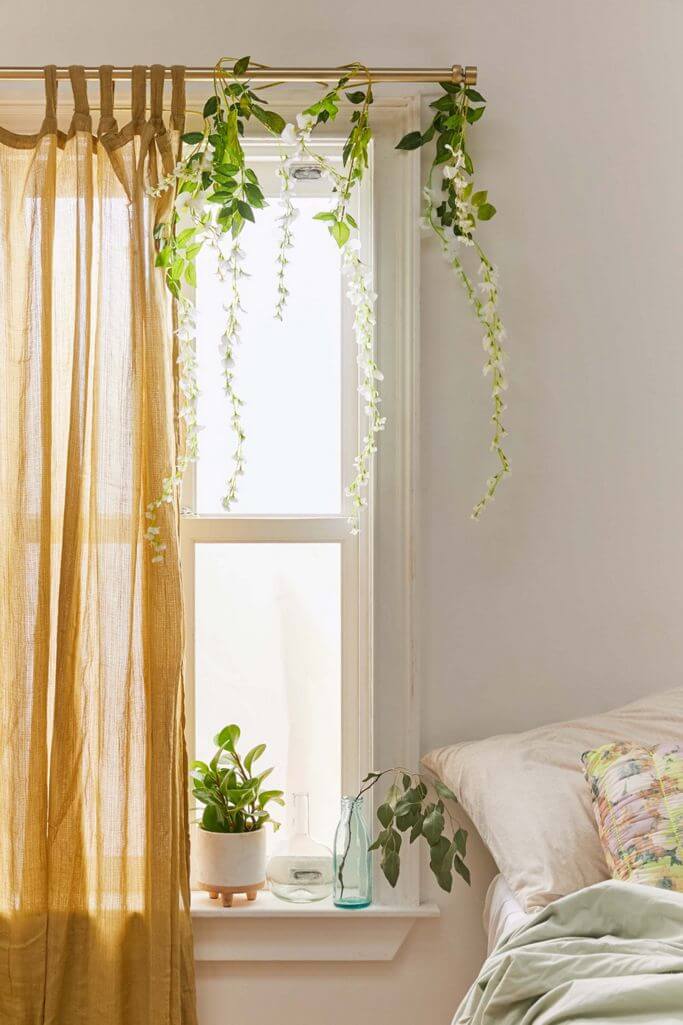 Throw a piece here and another over there as you can easily add a little touch of floral fascination all over your home with these long and lanky white cascading flower vines. The pretty blooms work their way down the overhang giving them a trellis falling appeal. The base of pure greenery is an ideal foundation for these soft and pretty white flowers. Place them at both ends of your curtain rod for extra fun or drape them over the headboard and footboard of your master bed.
18. Eucalyptus Green, Light Pink and White Peaceful and Pretty Floral Garland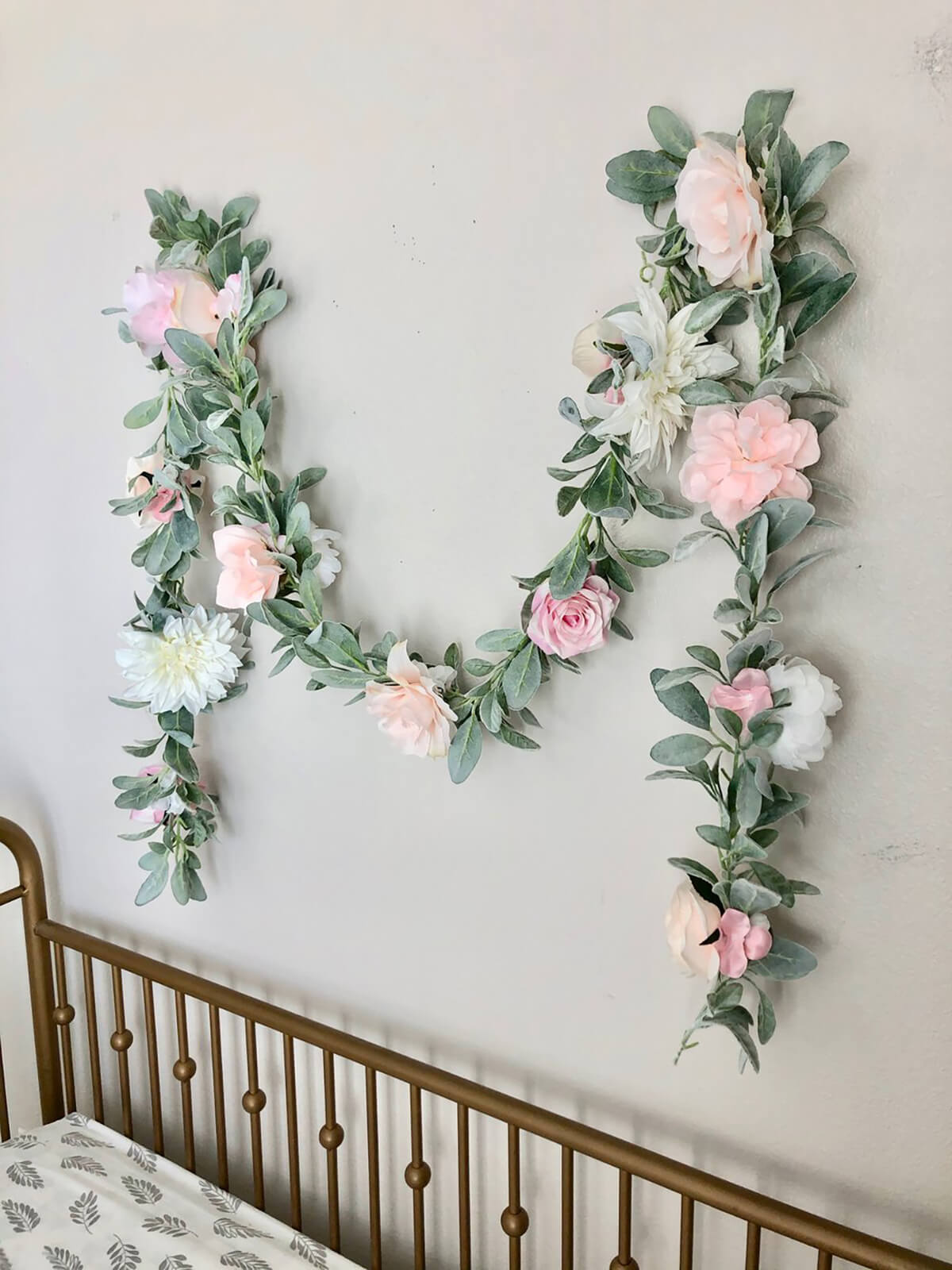 Liven up your little darling's nursery with some peaceful and pretty floral garland. The wholesome flowers in soft hues of pink and white are nestled within the eucalyptus greenery making it one of the best flower designs for creating a dainty and darling girl's nursery. String this beautiful boa above the crib where baby girl can delight in its beauty as she dozes off to sleep. It would also work well woven on the footboard of the metal bed in the guest room of your home. Either way, the peaceful petals are pretty amazing and deserve a place to rest their head.
19. Rustic Bohemian Hippie Branch and Flower Power Garland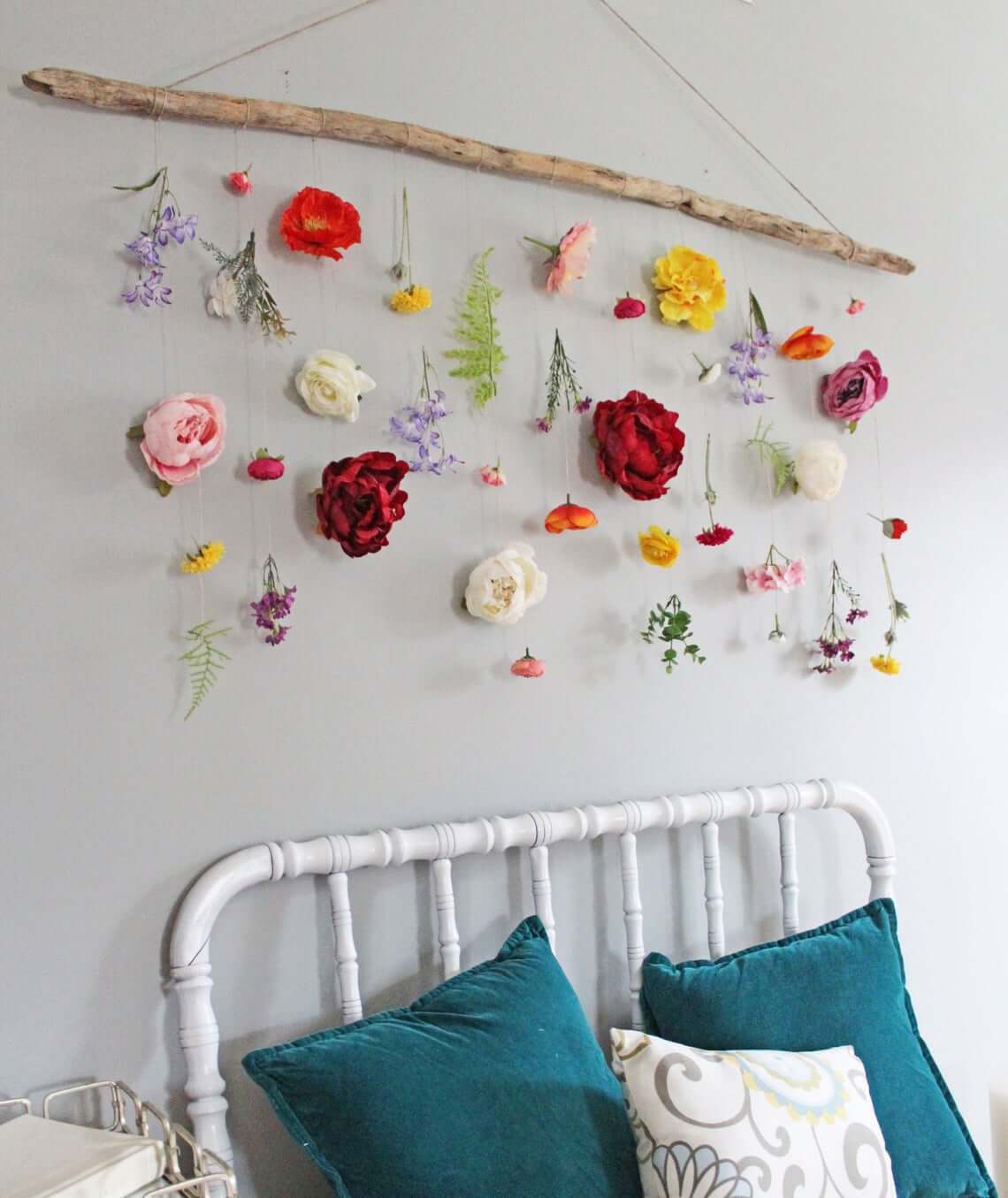 Vibrant and vivid multi-colored blossoms take center stage in this rustic piece of hippie decor. The structure begins with a natural element of a stick to hold everything in place. A wide array of flowers are masterfully pieced together alongside fern fronds and leaves to create a one-of-a-kind piece of wall art for your bedroom. Shabby chic and bohemian design lovers will delight in the natural elements in this flower powered garland. Above the head of the bed or in a corner behind a comfy chair is an ideal place to hang this bohemian beauty. Take a walk through the woods and gather your own supplies and make it your own with a quick DIY project. It's a fun and frivolous way to add some rustic beauty into your home so you can chill and relax. Peace out!
20. Hanging by a Thread and Beautifully Dried Out Flower Garland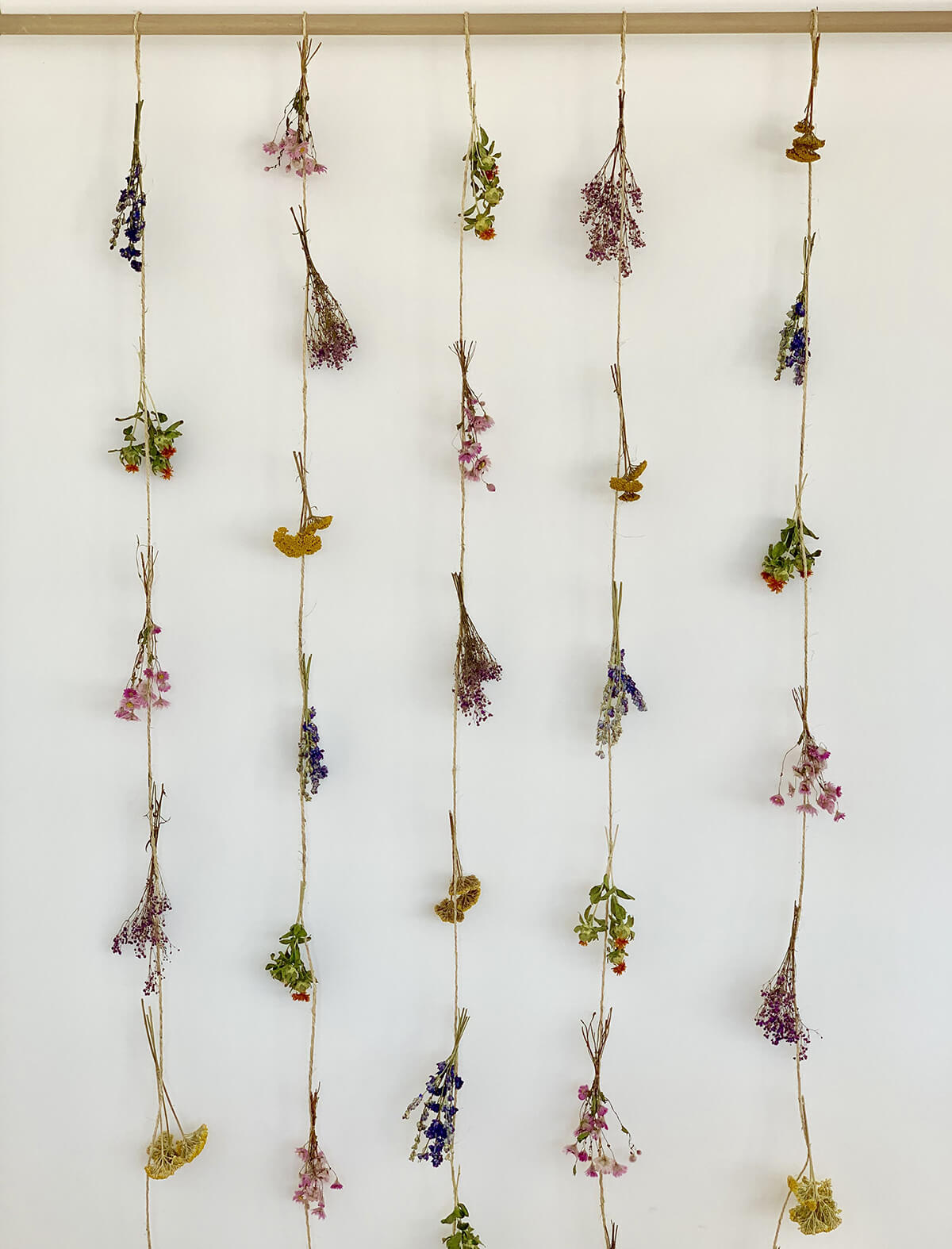 Upside down and completely dried out is how you'll find these herbs and lifeless flowers. Once full of life, these natural beauties have been preserved to continue to bring warmth and sunshine into your home. Expanding vertically up and down your wall space, these dried out strands would look amazing around the windows of your master bedroom windows. You could even hang them beside the doorways to add some extra character and charm to your space.
21. Bright Buttercream Lighted Dreamtime Floral Garland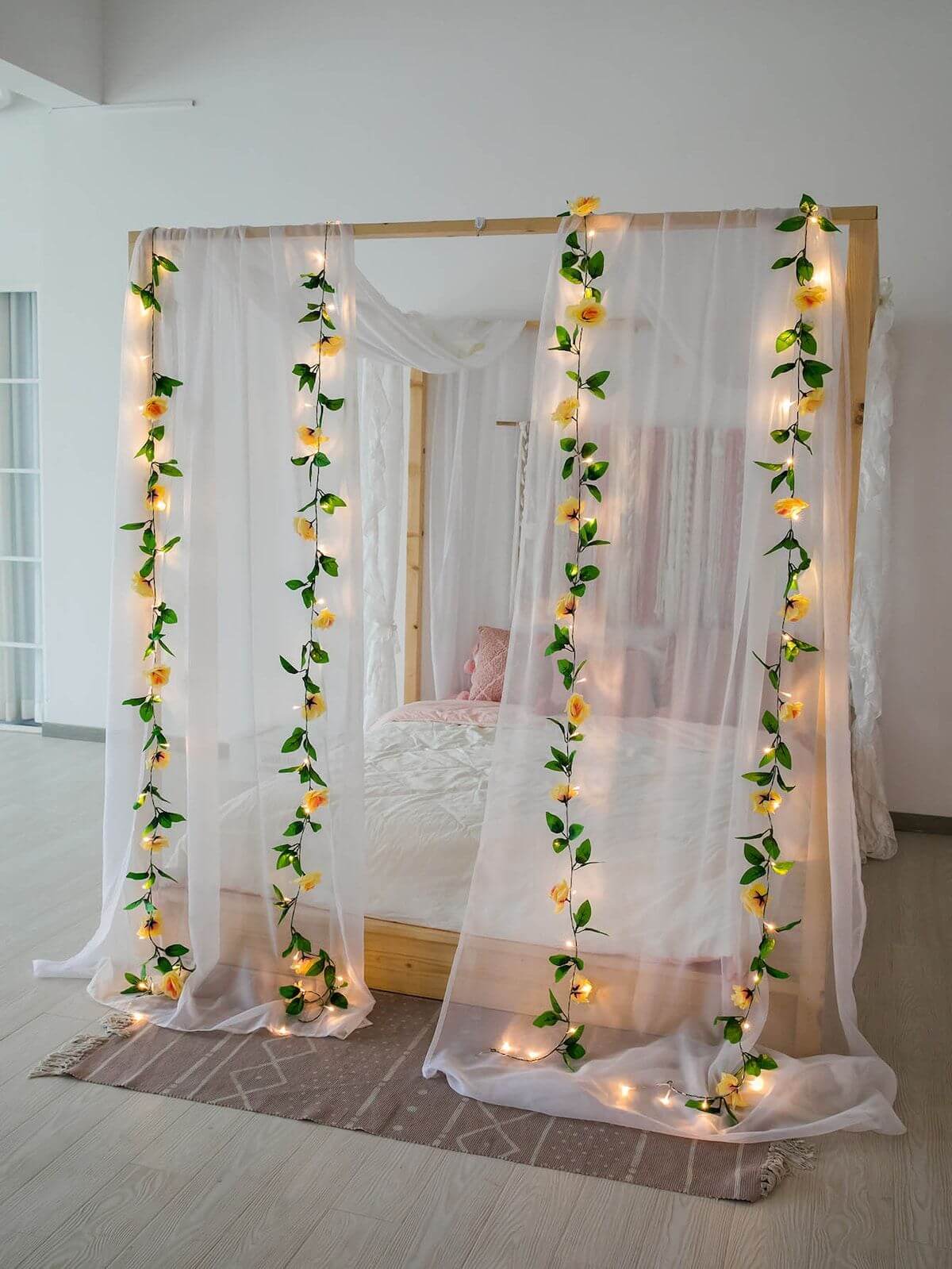 Create a special escape from your stress of the daily life in your own bedroom sanctuary with these beautiful and bright buttercream lighted floral garland pieces. Each strand contains the soft amber glow of the golden white lights to add some soothing comfort to your weary eyes. Brace yourself before you enter your peaceful palace as you encounter the rich and velvety buttercream blooms and greenery woven among these lights. Draped around the canopy of your master bed, these dreamtime lighted floral garland strands are sure to keep the Sandman happy as you enjoy a good night's sleep.
22. Cotton Blossom and Peony Branch and Floral Garland Wall Art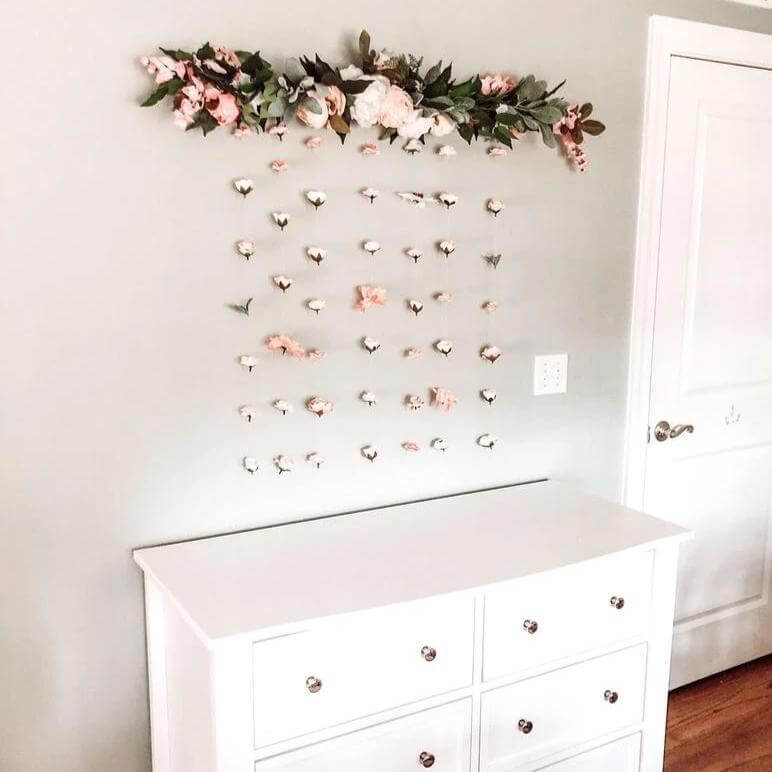 Above the dresser or behind the bed, you can house the natural elements in this cotton blossom and peony piece of floral garland wall art. Carefully constructed with attention to detail, the popping peony blooms spring forth from the branch as they are cradled with deep and rich green leaves throughout. Cascading down on multiple trails are the suspended cotton blossoms to incorporate an additional textural element to the wall art piece. The pretty pinks don't over-power the piece so there is still a neutral feel to the overall design. Hang this whimsical and wonderful floral garland in your favorite bedroom to add some unique and pretty charm to your cottage.
23. Walking Stick Wilderness Wall Art with Sunflowers and Ferns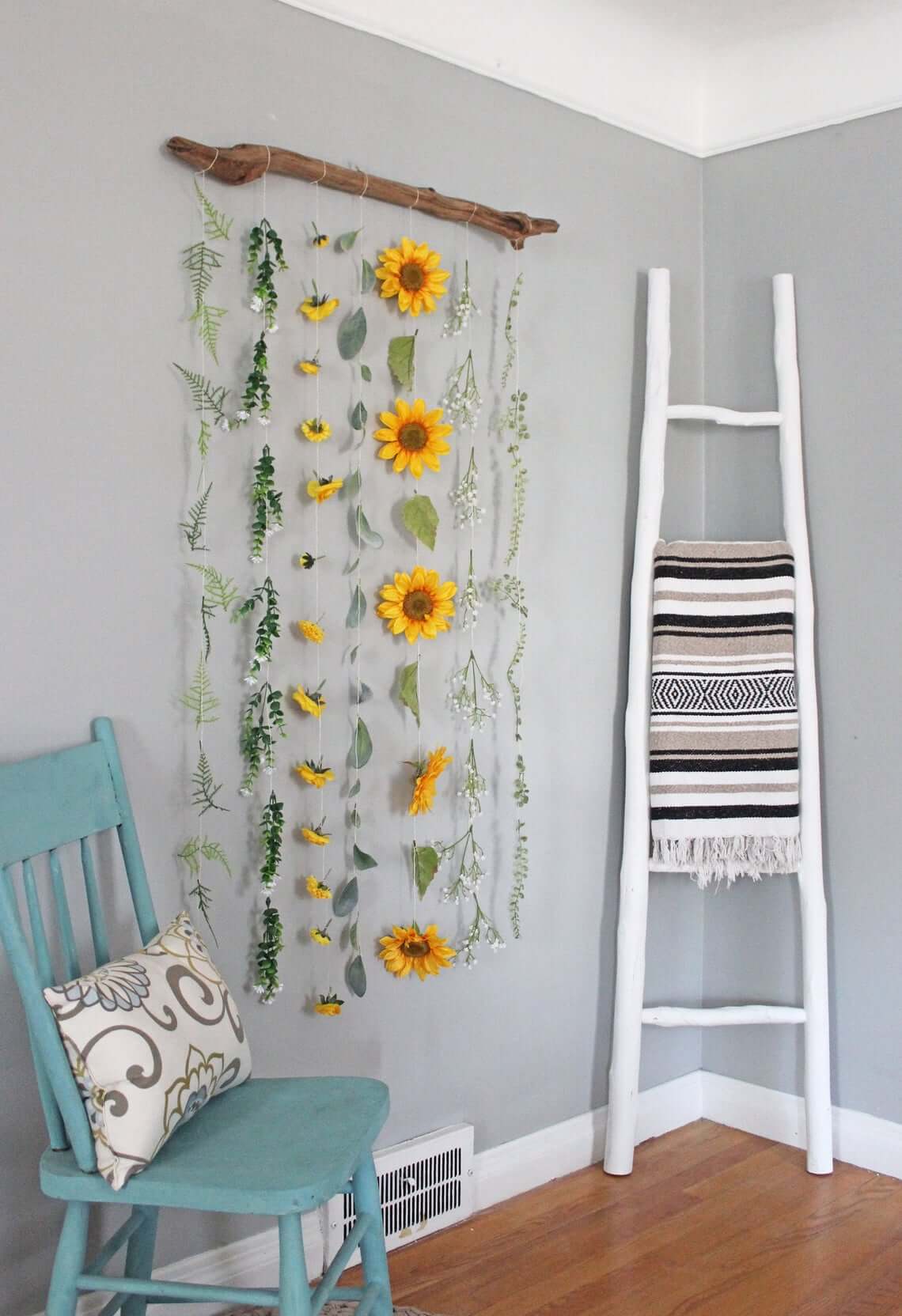 Take a walk on the wild side with this walking stick turned wall art! The thick and warm brown stick works as a sturdy foundation for hanging a variety of floral garland pieces from ferns to sunflowers. The warm and buttery yellow hue of the sunflower ignites a fire within as the other minor players in this garland are happy to play their supporting roles in creating this fun and festive look. The spiraling fern fronds are a fun addition as well as the small white and green flowers interspersed within the piece. Using a mixture of sunflower bloom sizes adds to the charm of this flower garland and its sheer size lends it nicely to holding its own on a larger wall space. Let this wilderness wall art become the main attraction as the only piece needed for your statement wall.
24. Delicate and Airy Small Flowers and Green Vines Rustic Flower Garland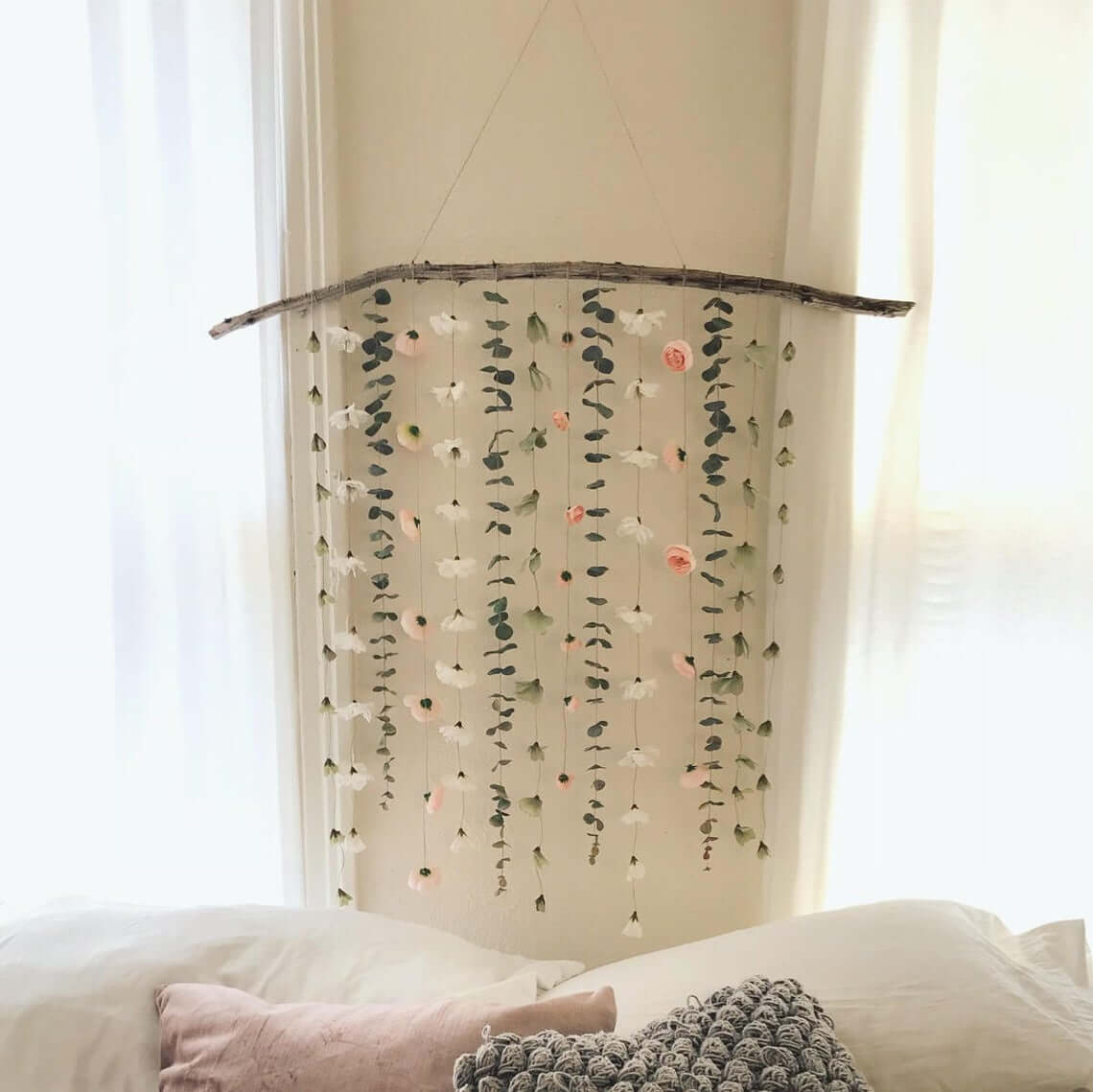 Grab some string, a nice stick and some flowers and you're ready to go to town creating this delicate and airy rustic flower garland. It's the perfect combination of pretty and rustic working together in a simple and pretty way. The small flowers used are just the right size to blend in with the tiny tree branch. Set this above your cozy couch to add a feminine touch to your living space. An easy DIY project for those who like to work with their hands, this is a straight forward and easy-to-follow craft idea for any skill level.
25. Pretty Pink Patterned Bright and Bold Flower Garland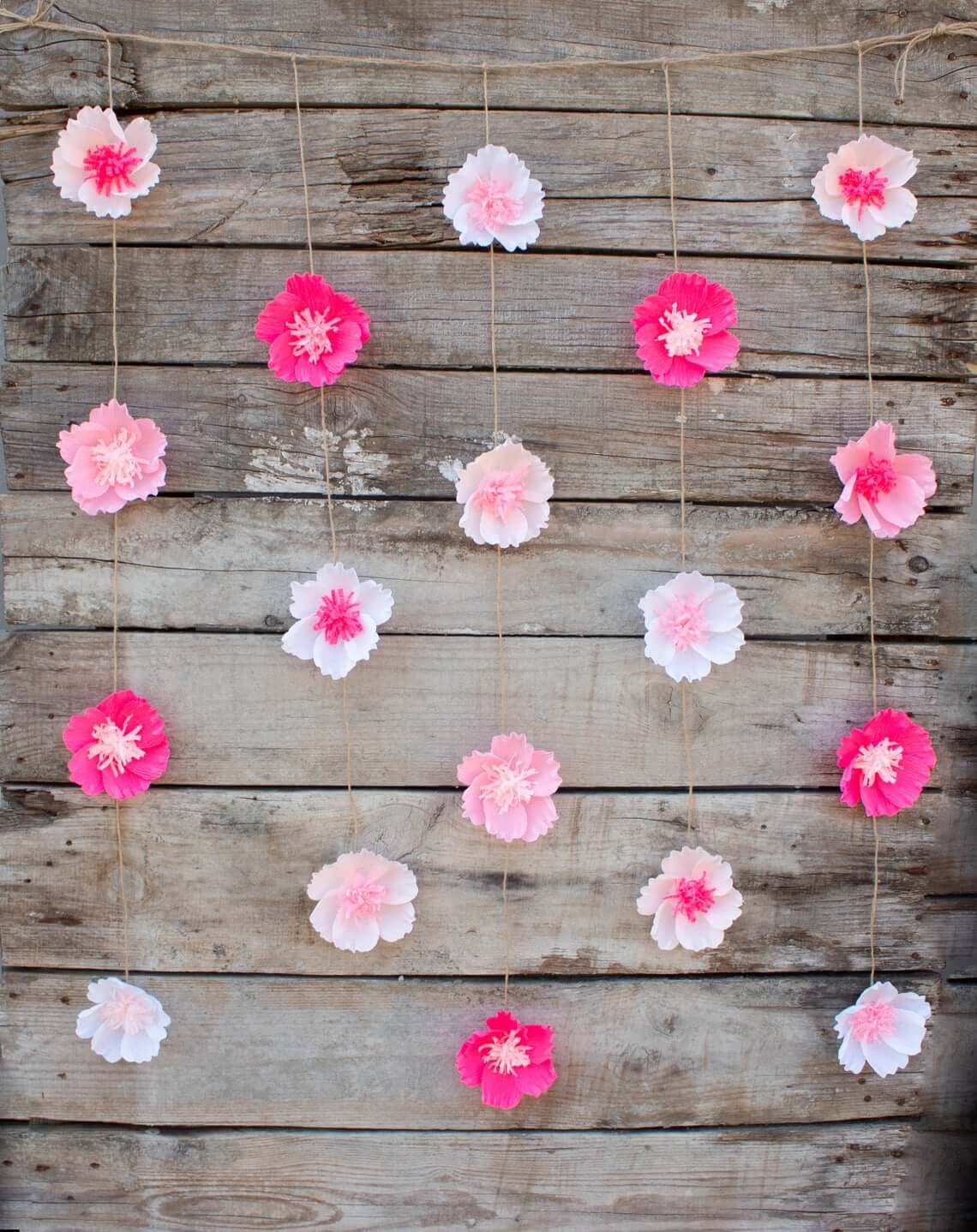 Who runs the world? Girls! This is something that might come to mind with this bold and powerful pink flower garland. Positioned perfectly to achieve a symmetric design, the use of pink and white patterns plays out just right in this flower garland bedroom decoration. Constructed with light and feathery paper thin petals similar to cupcake liners, the delicate nature of this blossom is accented with a fuzzy yarn center to add some visual texture and interest. Perch this pretty-in-pink piece on the wall of your teenage drama queen's bedroom or hang it above the nightstand in your guest bed room to share some pink perfection with the world.
26. Feminine and Flirty Felt Flower Garland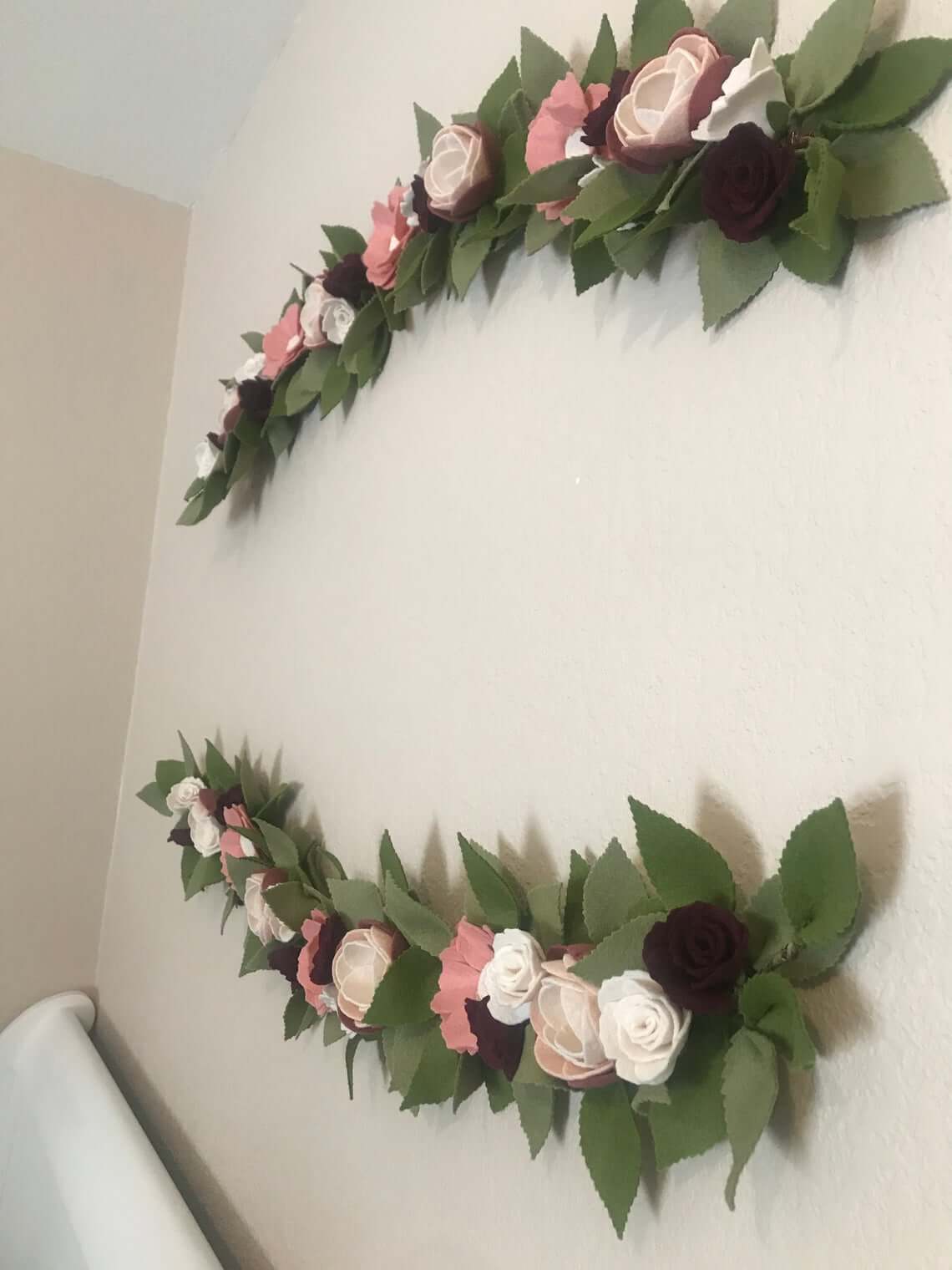 Channel your inner female with this flirty and feminine felt flower garland design. The use of felt creates a firm structure for this graceful garland and the color choice is on-point. From whites and pinks to a very deep and rich plum, the powerful greenery is a perfect complement to these felt flower masterpieces. Stretch two of them out above the bed for a new spin on the classic silk flower garland pieces typically used. Rest them on the windowsill or chest of drawers for some added interest. The combination of material and color unites in an awesome collision of flower garland goodness.
27. Upside Down and Out of this World Pink Petal Power Flower Garland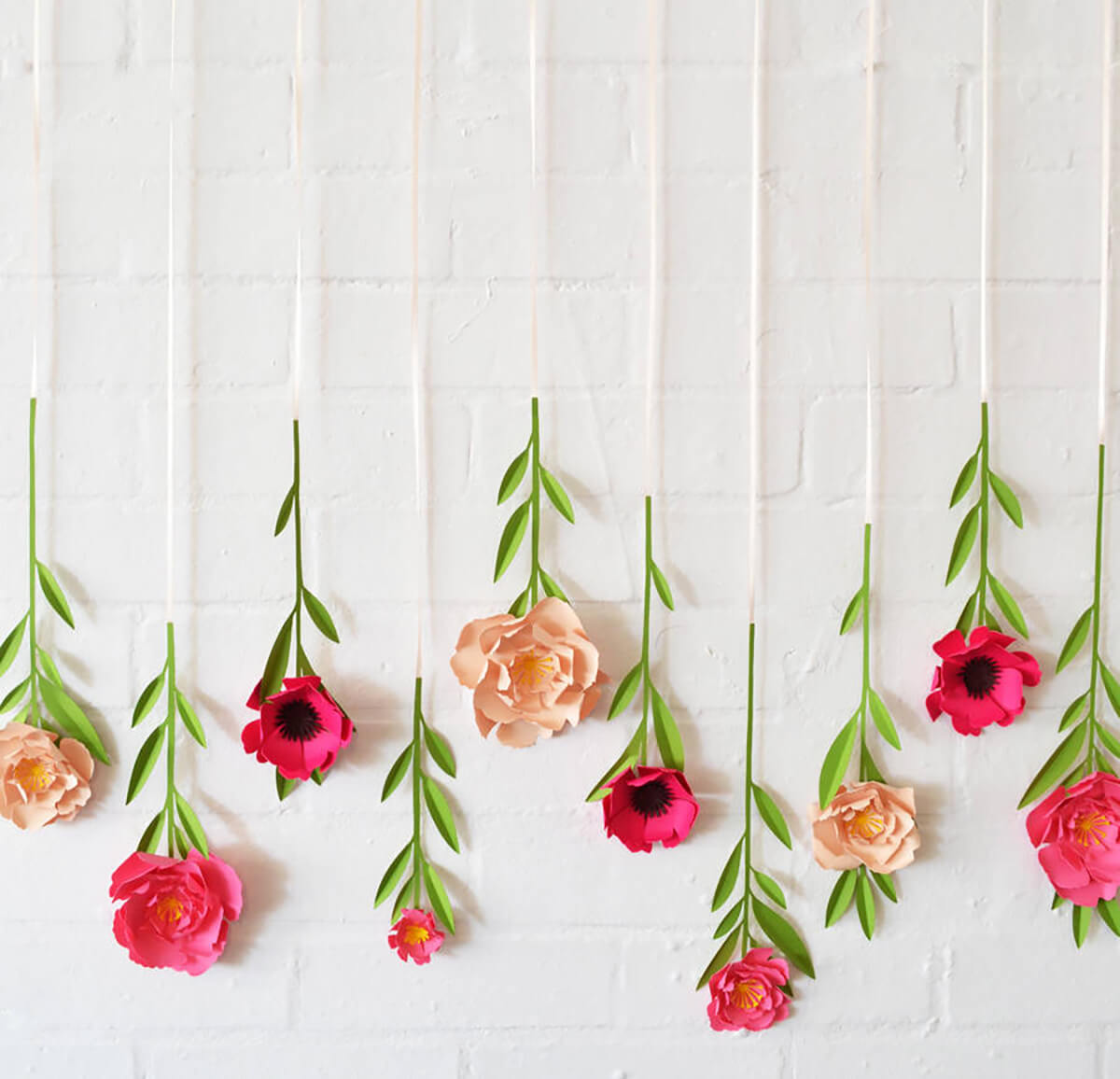 Suspended in the air, these pink petaled beauties hang upside down and remain intact with their yellow-green stems. The contrast of the stamen colors of dark brown or deep yellow further add to the beauty in these pink powerhouses. Keeping the stems in tact is another crafty feature that further accentuates the depth in these light to bright pink hues. Run these vertical petal power pieces from one wall to the next to add some dramatic flair to your daughter's room. They virtually create a clean bordered space from the ceiling down to where the stem begins to enhance the visual appeal of these flower garland goddesses.
28. Natural Wood Slab with Cotton Blossoms and Wildflower Garden Floral Garland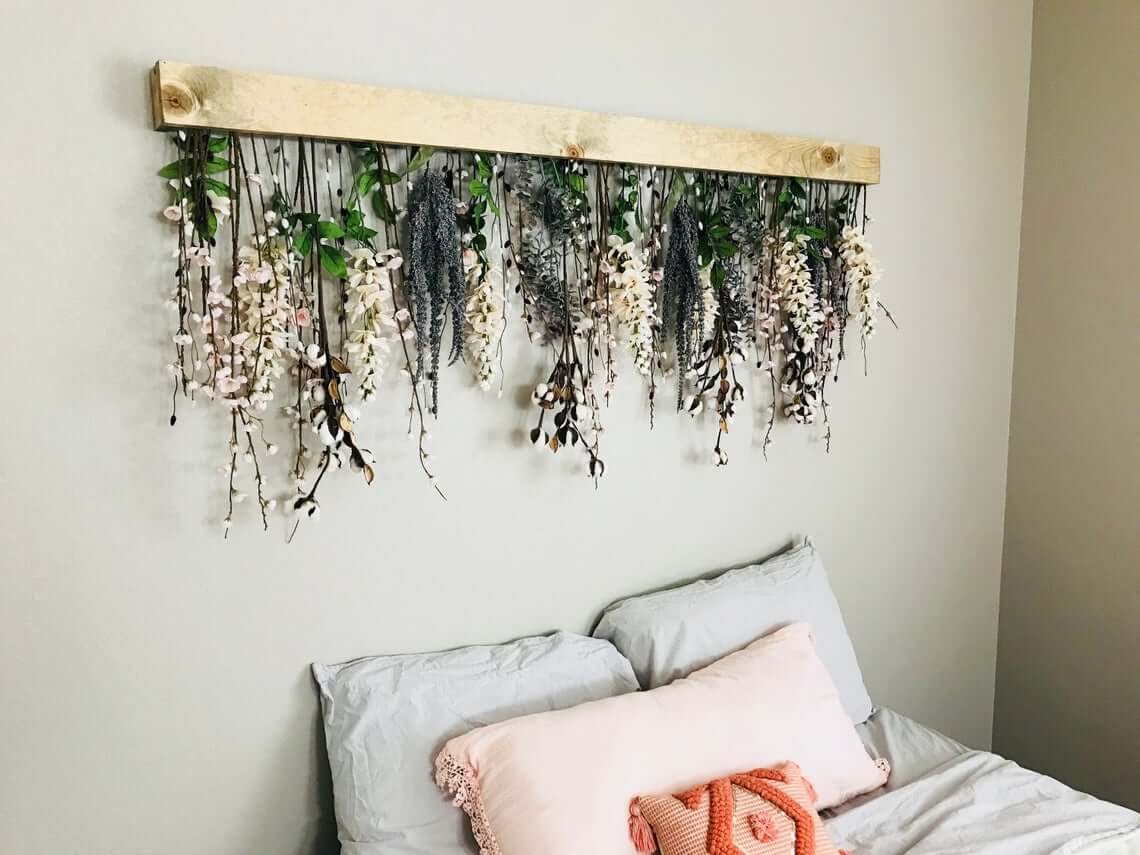 Add a wow factor to your cottage or cabin with this natural wood slab floral garland. Featuring a variety of wildflower garden eye-dazzlers paired with cotton blossoms, this special piece makes a bold statement in any room. Due to its larger size, it would be a great addition to the main living space or entry hall. Of course it would readily work in the couple's bedroom to add a nice and relaxing natural element to the head of their bed. Grain meets glamour as the gorgeous collection of nature's garden is tucked into the wooden slab in this floral garland design. It's a fun and interesting piece of wall art that blends nicely into most designs as it's full of flowers, yet remains neutral in tones.
29. Girly Girl Pink and Peach Felt Flower Garland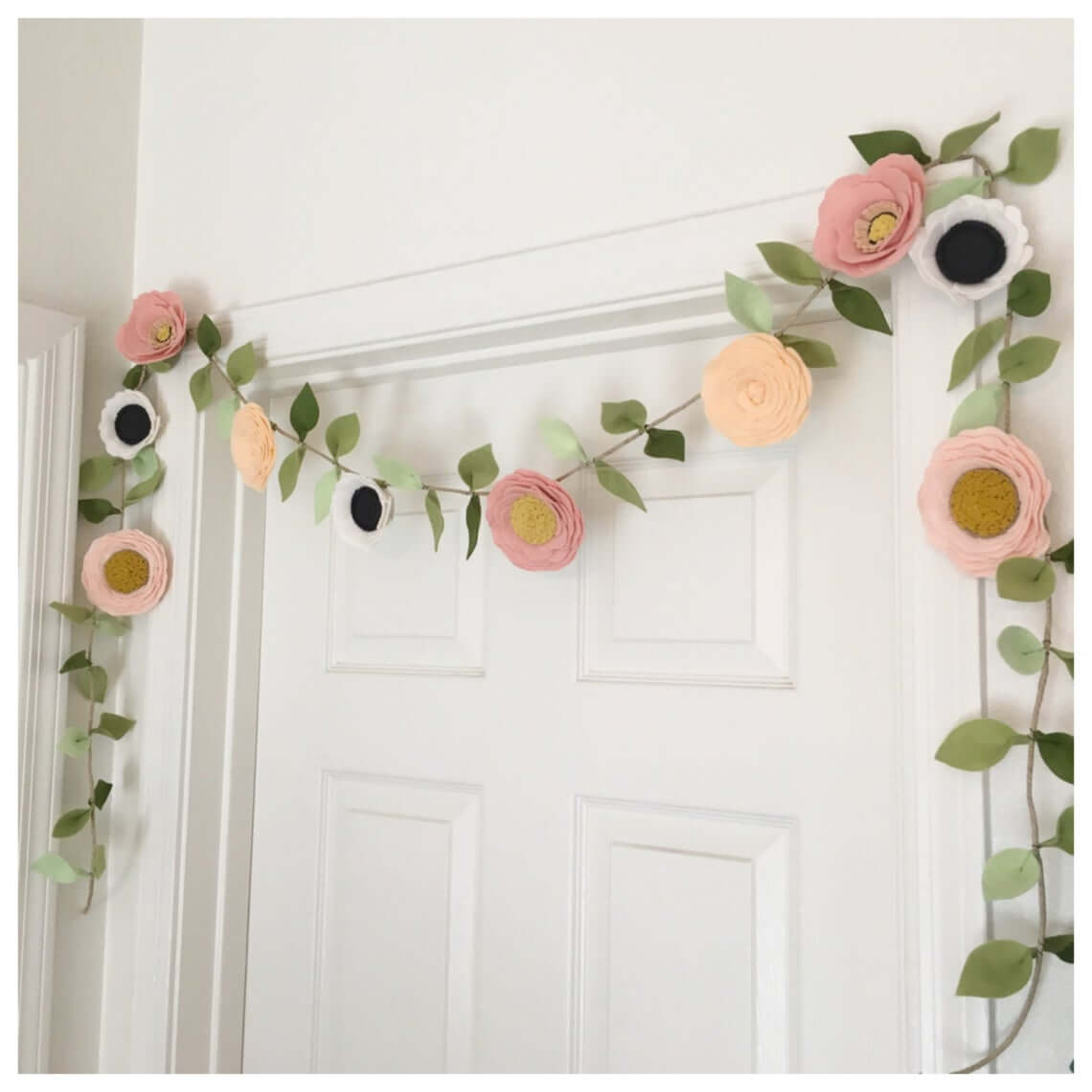 Young and fun join the girly girl in this felt flower garland full of peach and pink tones. Making flowers from felt adds an amazing textural element in the otherwise fragile flower design of most garlands creating a lasting piece of floral home decoration. Rest this beauty on the top of a doorway to polish off the feminine look you're trying to achieve. You can add it to the curtain rod or bedpost to further accent your girly girl space.
30. Growing Green with this Draping Pink and White Flower Garland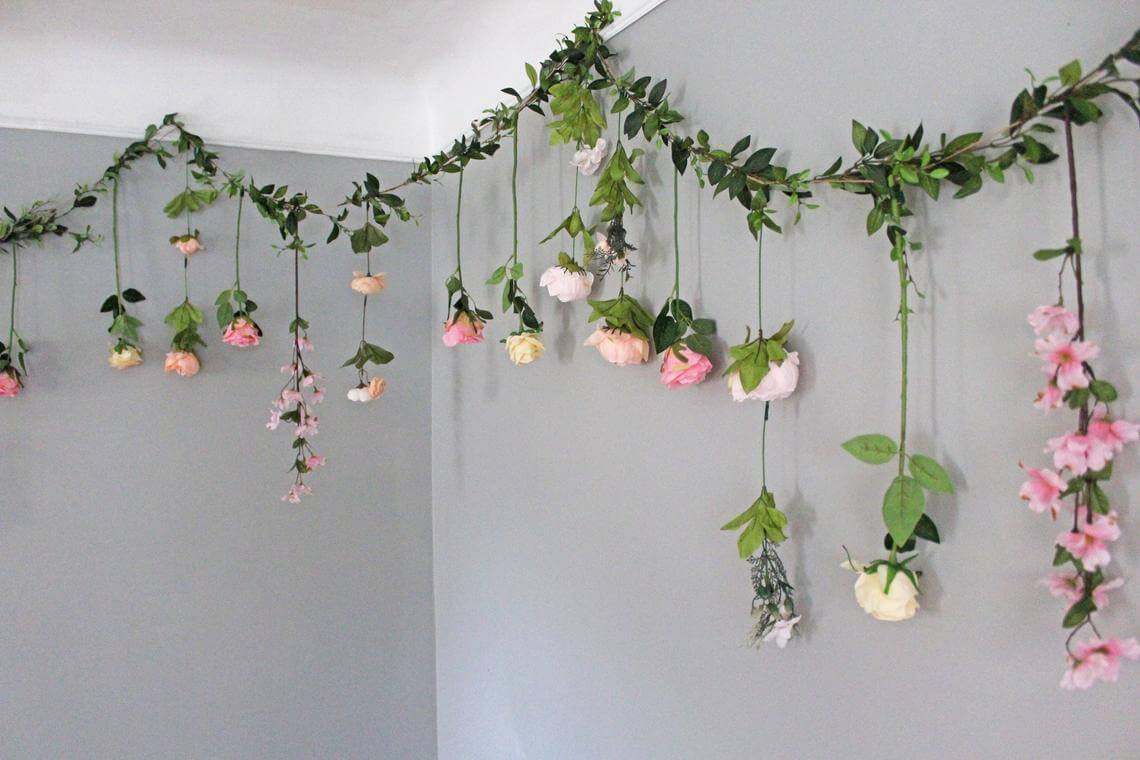 Lots of length is what you'll discover with this draping pink and white flower garland. These two colors accent the dominant green base that drapes around the room to create a fairy garden within your own home. Adding a string of lights would further embellish this garland to make it legendary fairytale status. The multi-sizes of the flowers adds more interest to the draping greenery as it winds its way around the bedroom. A great way to add some inviting comfort to your guest space or young lady's fairytale bedroom.
31. Perfectly Pale Pink Rose Bud and Leaf Floral Garland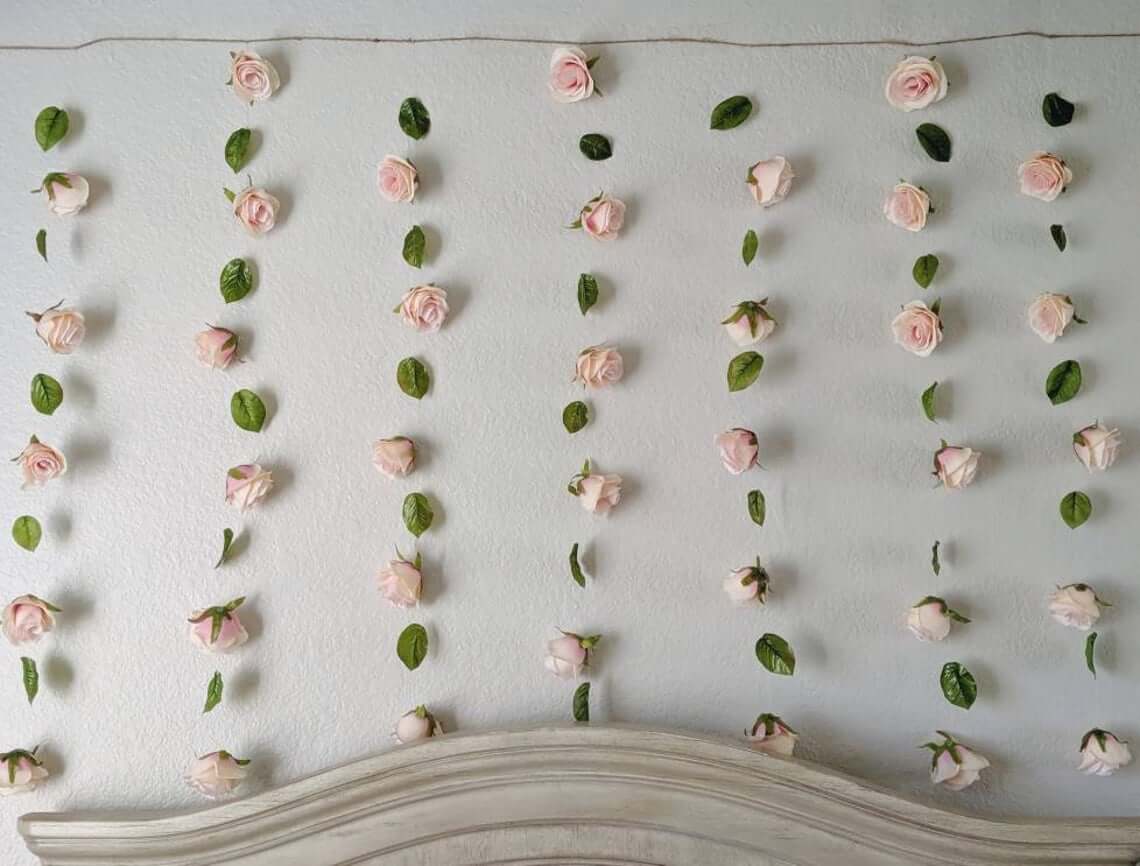 Don't let any piece go to waste as you create this dainty and delightful pale pink rose bud floral garland. Each tendril repeats the pattern of alternating rose bud then leaf to create a perfectly positioned pale pink and green flower garland. As each tendril falls down, the next one in line repeats this lovely pattern. The more the merrier is true as these cascading strands bring extra beauty into the bedroom.
32. Peachy Pink Flower Garland String Lights Strand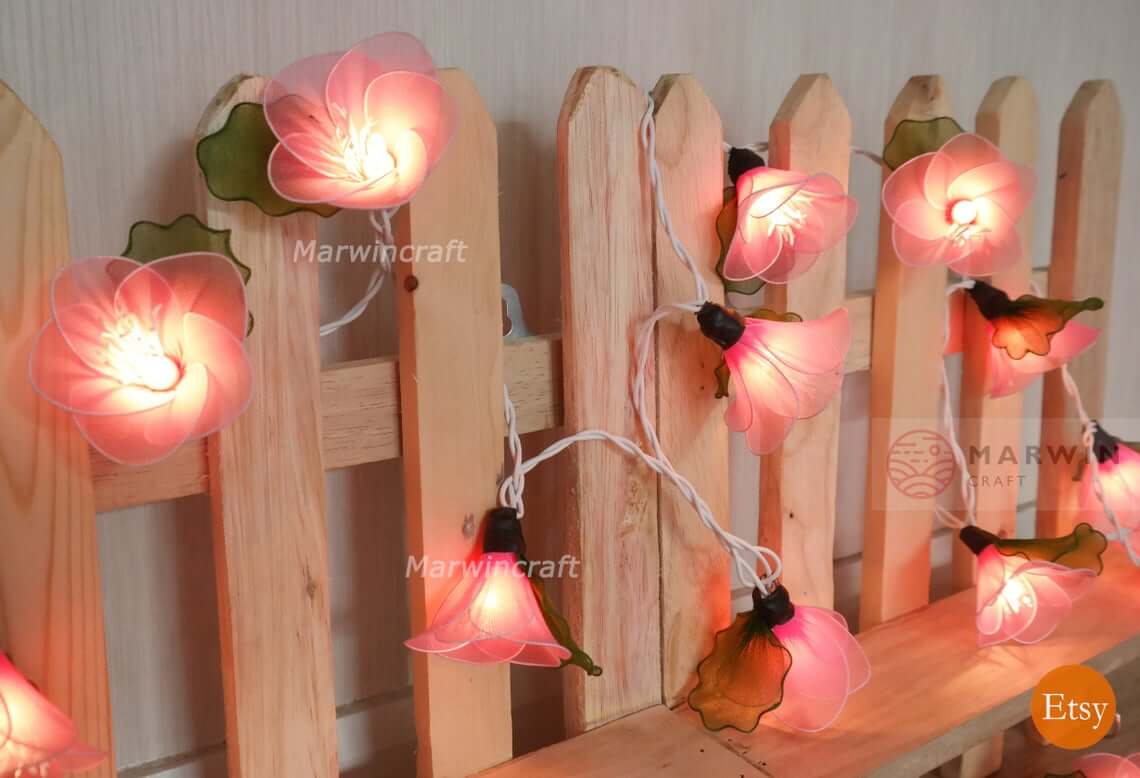 Take flowers and lights, add them together and what do you get? You get a one-of-a-kind flower garland that brightens up the room all on its own! This flower garland utilizes the warm glow of twinkle lights embedded into some peachy pink flower blossoms. The light is housed in the center of the flower's bloom to ignite the warmth from within the blossom. No need to tangle with messy cords as this special strand is an all-in-one design. Add this to the mantle or wrap it around your head board for a soft glow as you get ready for bed each night.
33. Crocheted Soft Blue Flower Garland Yarn Strand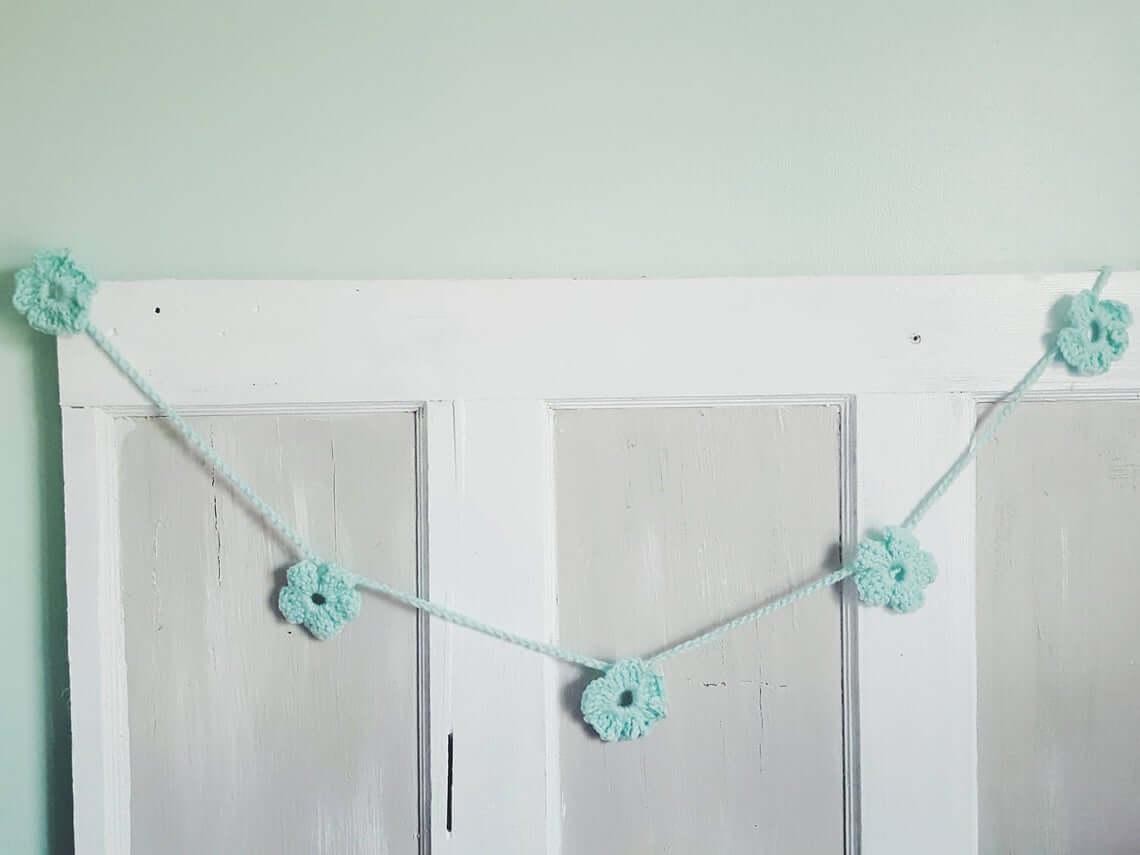 Use your honed-in crocheting skills for more than scarf making this year and show them off in the warmer months with this pretty and soft light blue flower garland. The fuzzy yarn strand gently glides down into a crocheted flower and continues down the strand to form another blue blossom. As this pattern repeats itself, there is a beautiful and handmade heirloom left behind in this yarn flower garland. A nice and soft extra accessory for the nursery or above the guest bed, this soft blue crocheted flower garland is a small addition that adds a big comfort to your interior space.
33 Pretty Ways to Decorate Your Bedroom with Flower Garland
So that's a wrap! Grab some sticks and string and hang some formerly fresh flowers out to dry, so you can get started on recreating one of these amazing and best bedroom flower garland ideas!
Perhaps rustic and charming is your thing. Find a stick with character and choose some flowers that speak volumes to you in terms of size, shape and color. Some contrast from light to dark is a good option for creating a dramatic effect, while another option is staying safe with neutral and light tones throughout. No matter the choice, your design will be perfect for your relaxing bedroom space.
If you prefer to steer clear of nature in the home, consider felt flowers. These fun flowers are constructed in a sturdy fashion and exude a unique character in their ability to be formed into a wide variety of shapes and sizes.
And don't forget about the lights! You can incorporate white twinkle lights into the floral garland design or even have a strand of flower lights where the two are made as one. No matter what you decide, you are sure to add some whimsical and wonderful charm to your interior space. Remember, it's your house. Make it a home with your own personality infused into every facet of the space.
Choose Rustic Wall Decor Ideas to Make Your Home Warm and Inviting