With the best bedroom storage ideas, you can make your bedroom look more open and put together, no matter what size it is. The right storage offers a welcoming release from any clutter around us. It also helps us find anything we need at a glance. If you want to take things a step further, storage can additionally work as décor depending on what you use. When it comes to your bedroom, functional décor is key to ensuring your personal space feels and looks comfortable, and the perfect storage solutions will help with that. This is especially true if you have a small bedroom and require space-saving options.
19 Bedroom Storage Solutions that are Perfect for Small Living Spaces

Many bedroom storage solutions rely on making use of any empty space you may have. Perhaps there's an awkward corner in the room in desperate need of something to spruce things up a bit. If so, a nice drawer storage option can benefit the area. This way, you not only help your room look more put together, but you tidy up at the same time. Alternatively, maybe you are in need of more room in your closet? There's a storage option that will help you expand on what you have, making the closet appear more spacious in the process.
The things you can accomplish with the right small bedroom organization idea may surprise you. If you are at a loss, however, feel free to check out our favorite bedroom storage solutions. We opted for a variety of options to suit any organizational need from small items to larger ones. There is something for everyone on this list so you can start de-cluttering your bedroom while adding to the overall décor so that it will always show off your style.
1. Sleek and Sophisticated Bench Storage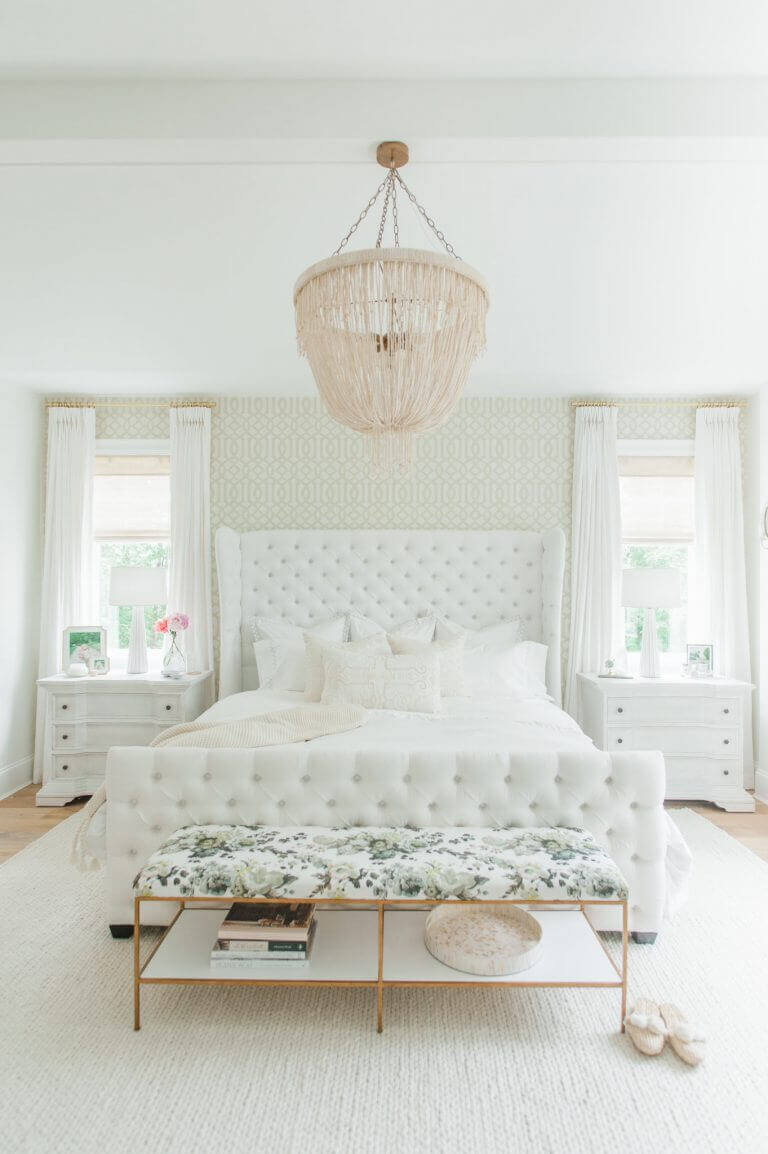 If you need to decorate a chic room, consider this open bench storage. The open design does well at taking attention, allowing you to use your storage as part of the décor too. It is a simple area to rest folded blankets or your favorite books that you want to be left out. Also, it acts as a bench, and a long one at that so that you can freely lounge on it. There is an elegance about this one that helps it blend well with the style in question. At the same time, it can still blend in with different themes too such as a modern bedroom design without looking out of place or overwhelming.
2. Gorgeous Vintage Wooden Dresser Storage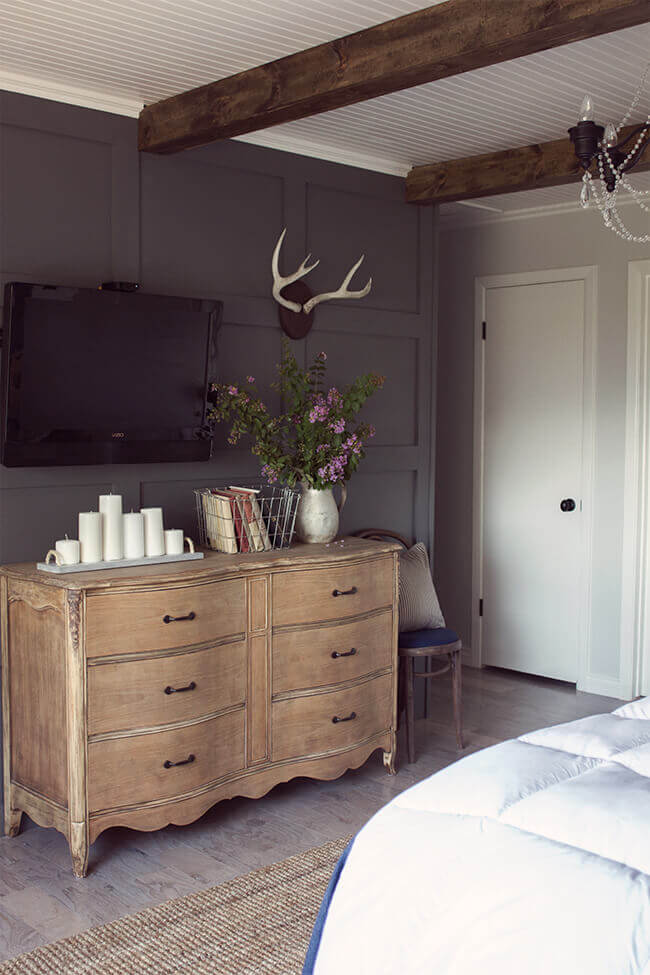 The right dresser can not only help with your storage problem, but it can transform the way your bedroom looks. Take a vintage wooden one like this, for instance. There is a beautiful classic appeal to the dresser that makes it pleasant to view, while there are also plenty of storage options provided for clothes. Additionally, there is more than enough room for you to add some items to the top of the dresser if you need more storage space. It can help the room feel more put together and boasting your particular style in an easy and cool way.
3. Under Bed Basket Storage Solution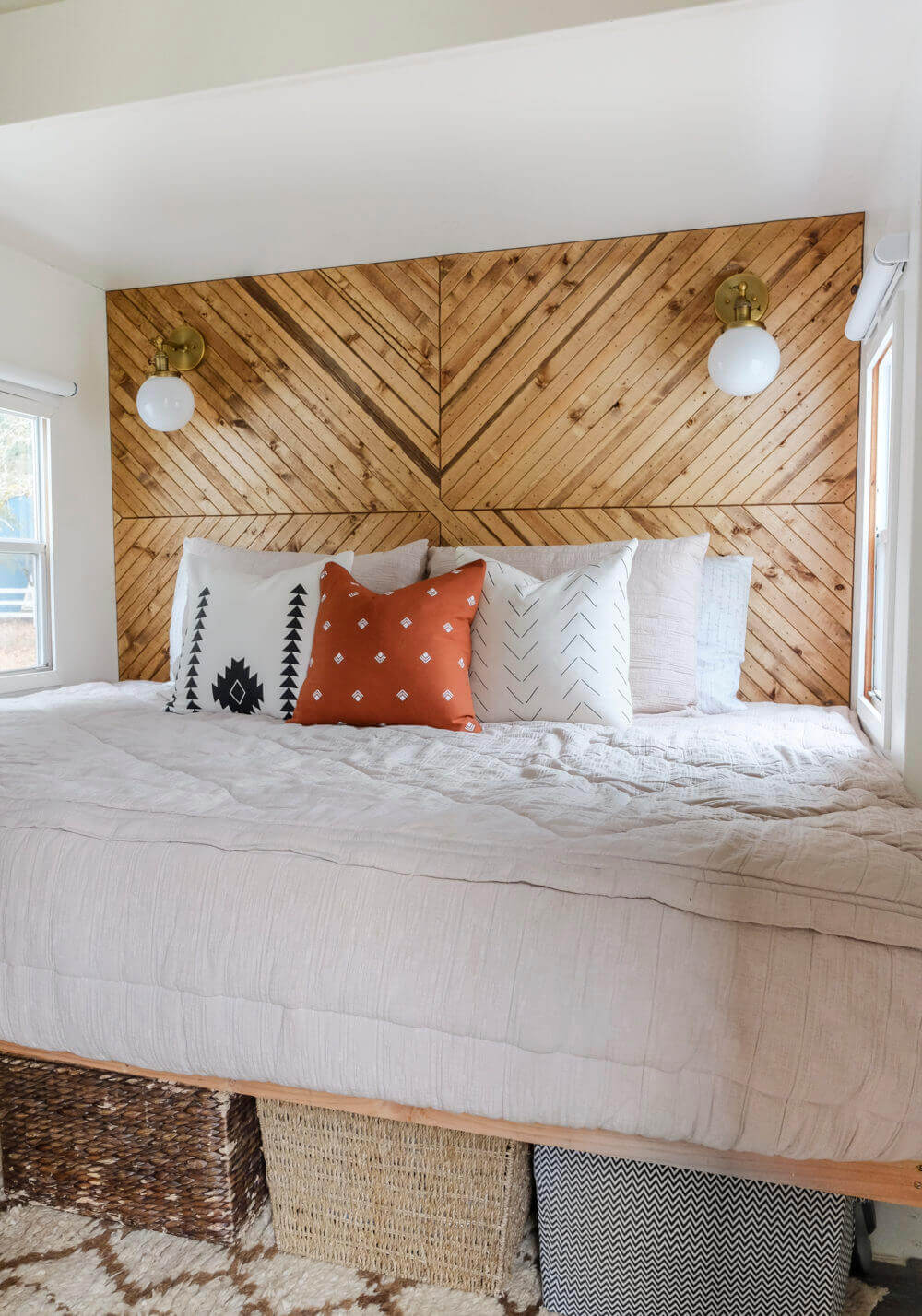 With an elevated bed, you are free to hide away your storage as needed. Of course, if you don't want to just throw everything as-is underneath the bed, you can always get some neat baskets to use instead. It helps if the baskets blend in with the decorative theme you're aiming for in the bedroom such as vintage, boho, contemporary, etc. This way, the baskets won't take the wrong attention by being a distraction. The more room you have, the larger you can go with your choice of baskets too, making this an easy way to clean up around the room.
4. IKEA Bench Seat Storage Hack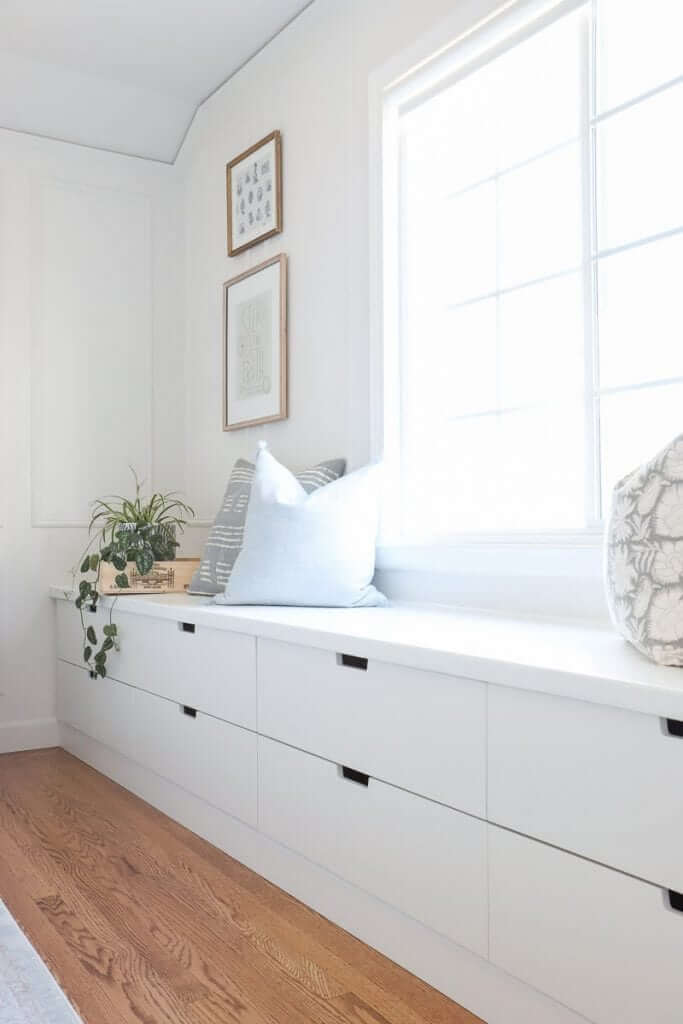 This home project takes a Nordli 2-drawer chest from IKEA and transforms it into something far more useful for your bedroom. Rather than just a chest, you can instead have a beautiful bench seat in your bedroom. This way, you can sit and relax with a good book as well as have plenty of room for storing other items in your room. Depending on how you set this up, this will look like it was always meant to be in your room. So, you are also left with some incredible décor in your room, giving it a lovely modern and stylish appearance.
5. Incredible Peg Rail Wall Storage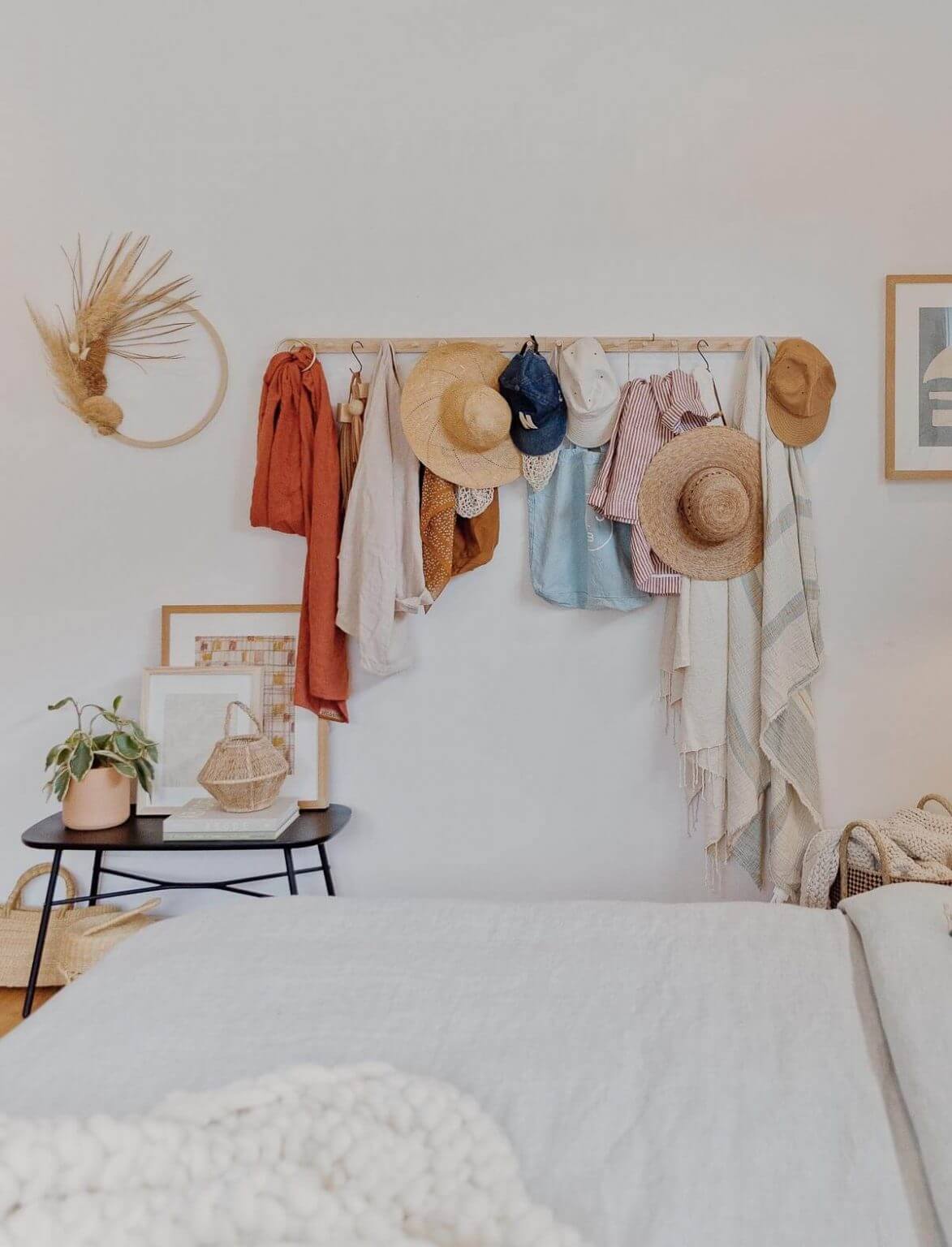 Do you know just how versatile a peg rail can be? It is such a simple tool, but it can come in handy when you need to save on space in a small bedroom. This gives you some excellent wall storage option for your bedroom. You can hang up an assortment of items such as hats, scarves, jackets, and anything else you can think of that will fit. Other than that, the peg rail has a charming look about it so that it works just as well as decoration as it does to hold your items.
6. Framed Wall Hanging Jewelry Storage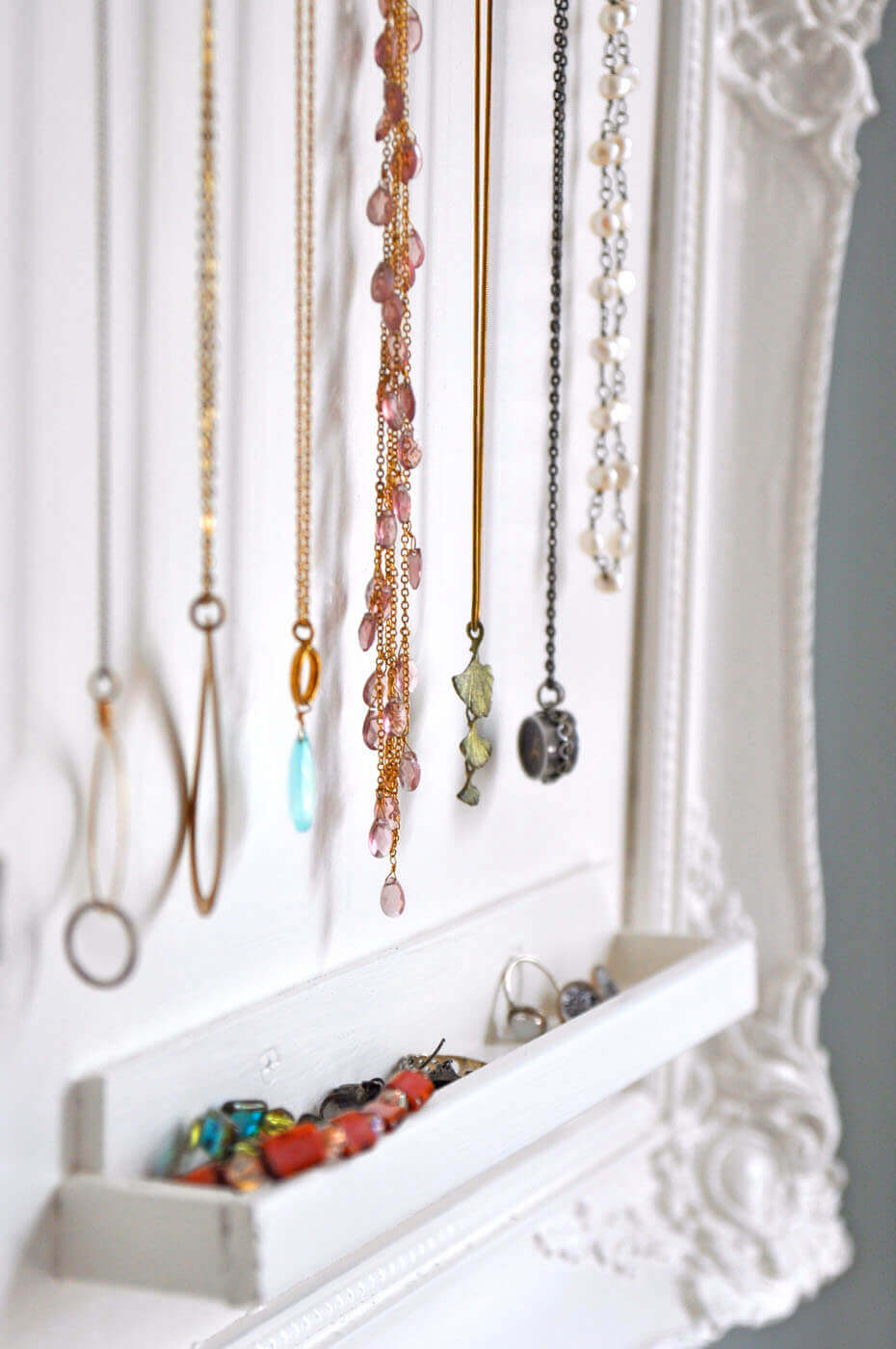 Some of the best bedroom storage ideas are small as in the case with this jewelry storage. With this framed design, you elevate your jewelry, proudly putting it on display for anyone that happens inside your bedroom or simply to admire yourself. Other than being a stunning piece of décor, this is a reliable way to keep track of all your favorite trinkets, big and small. This also makes it easier to grab what you need and be on your way, a must-have on those early morning rushes. Feel free to make a few of these to hang side-by-side in case you have more jewelry than you thought.
7. Bedframe Under Bed Storage Hack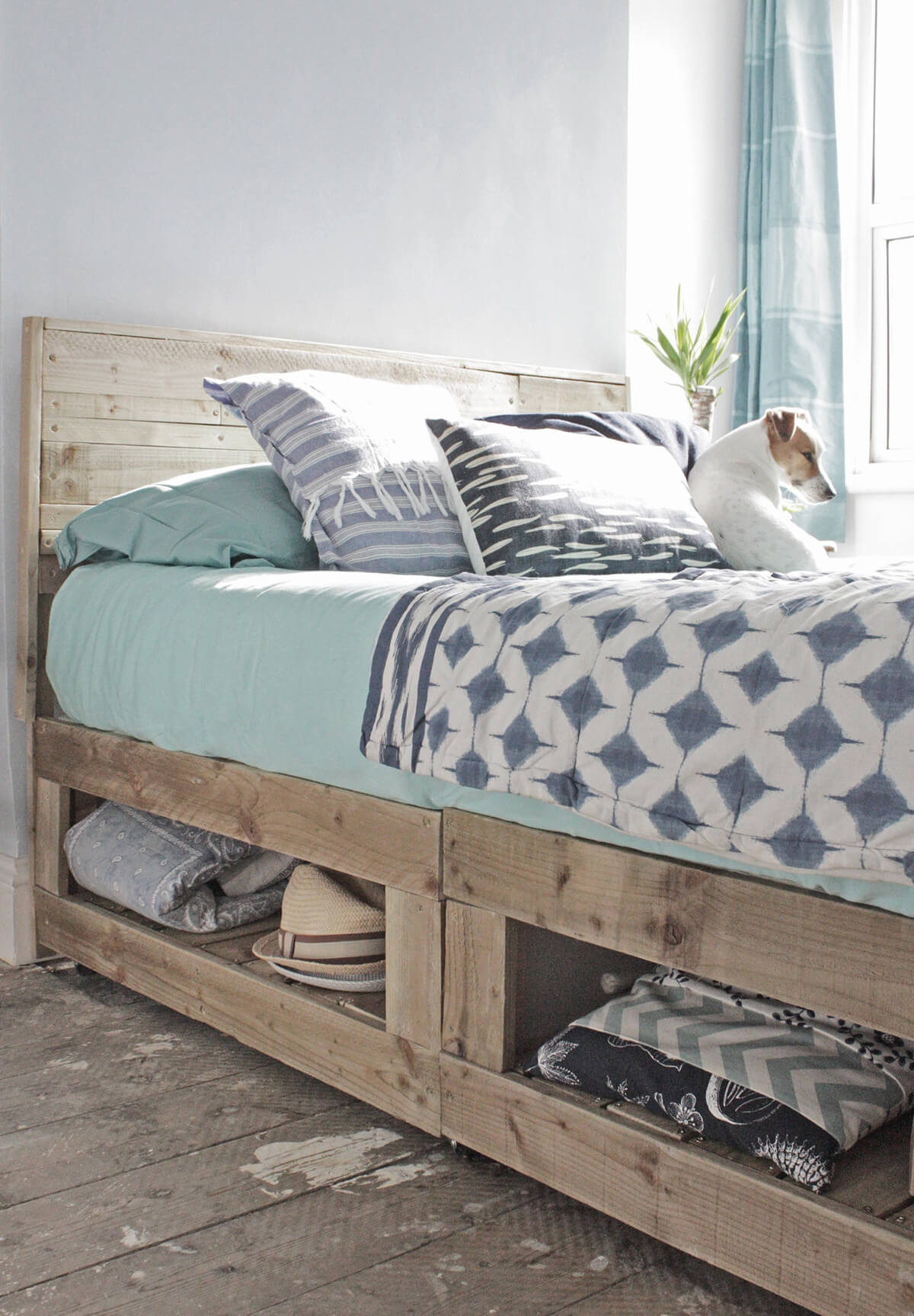 Creating storage that works underneath your bed is a wonderful way to make the most of a smaller bedroom. You don't have to move anything around, and you get to elevate your bed. Based on the frame you have, you can build in some awesome storage slots however size you need. These areas can fit different items from blankets to clothes. If you really want to style it up, consider adding in drawers to give it a clean look. Otherwise, you can leave things open for that more rustic vibe instead. Either way, you are left with some handy storage options.
8. Wall Hanging Ladder Blanket Organizer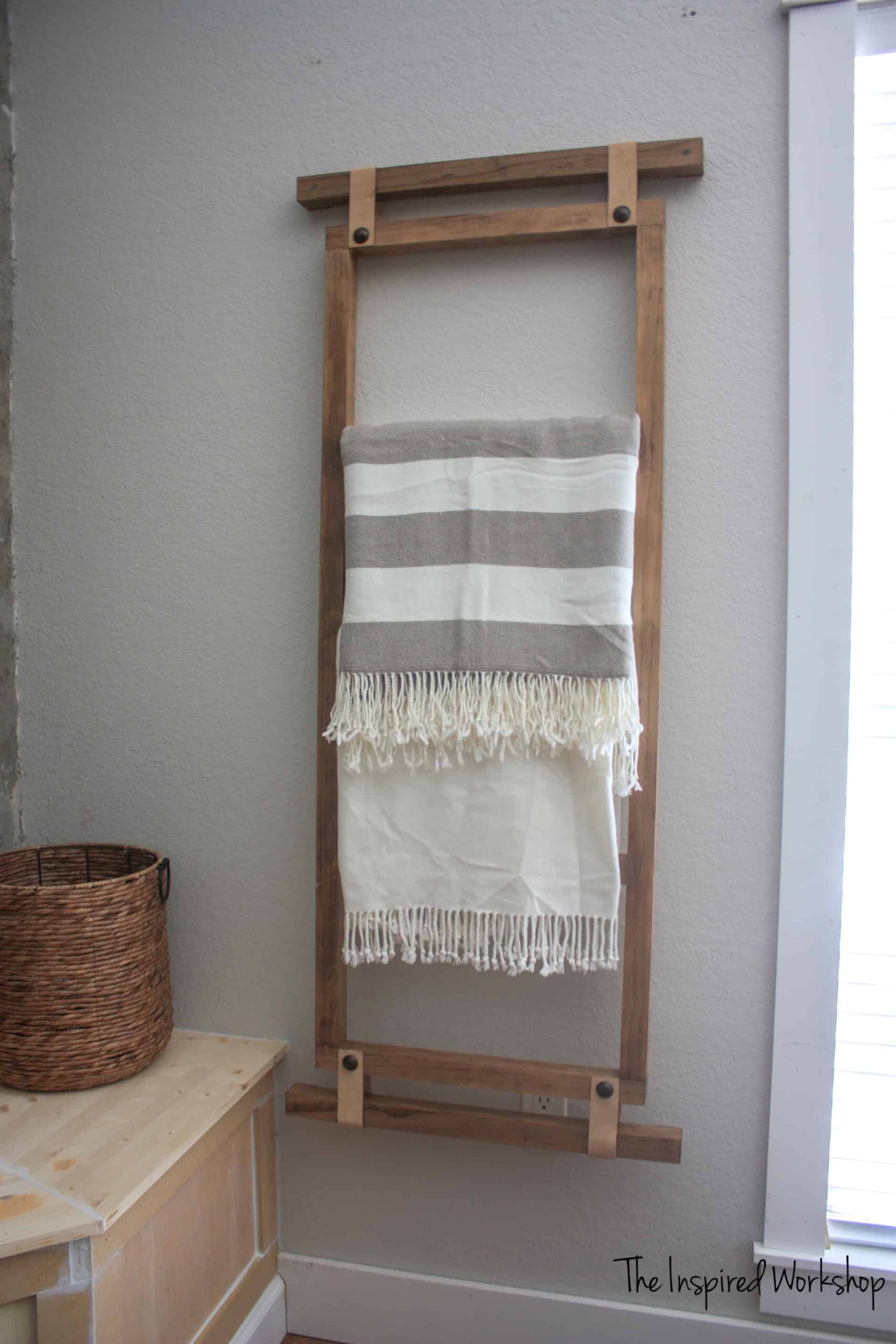 Ladder organizers are always fun to view with how effortlessly stylish they look. Another great thing is that you can make them more distinctive. Instead of having one against the wall, you can always opt for a wall-hanging organizer. This way, you don't take up needed floor space in your room, and you are still able to better de-clutter and properly organize your bedroom. Blankets are at an easily reachable height too so that you never have to go seeking one again. If not blankets, this organizer is just as good for hanging up towels too to save you that extra trip to the bathroom.
9. Beautiful Extended Pax Wardrobe Storage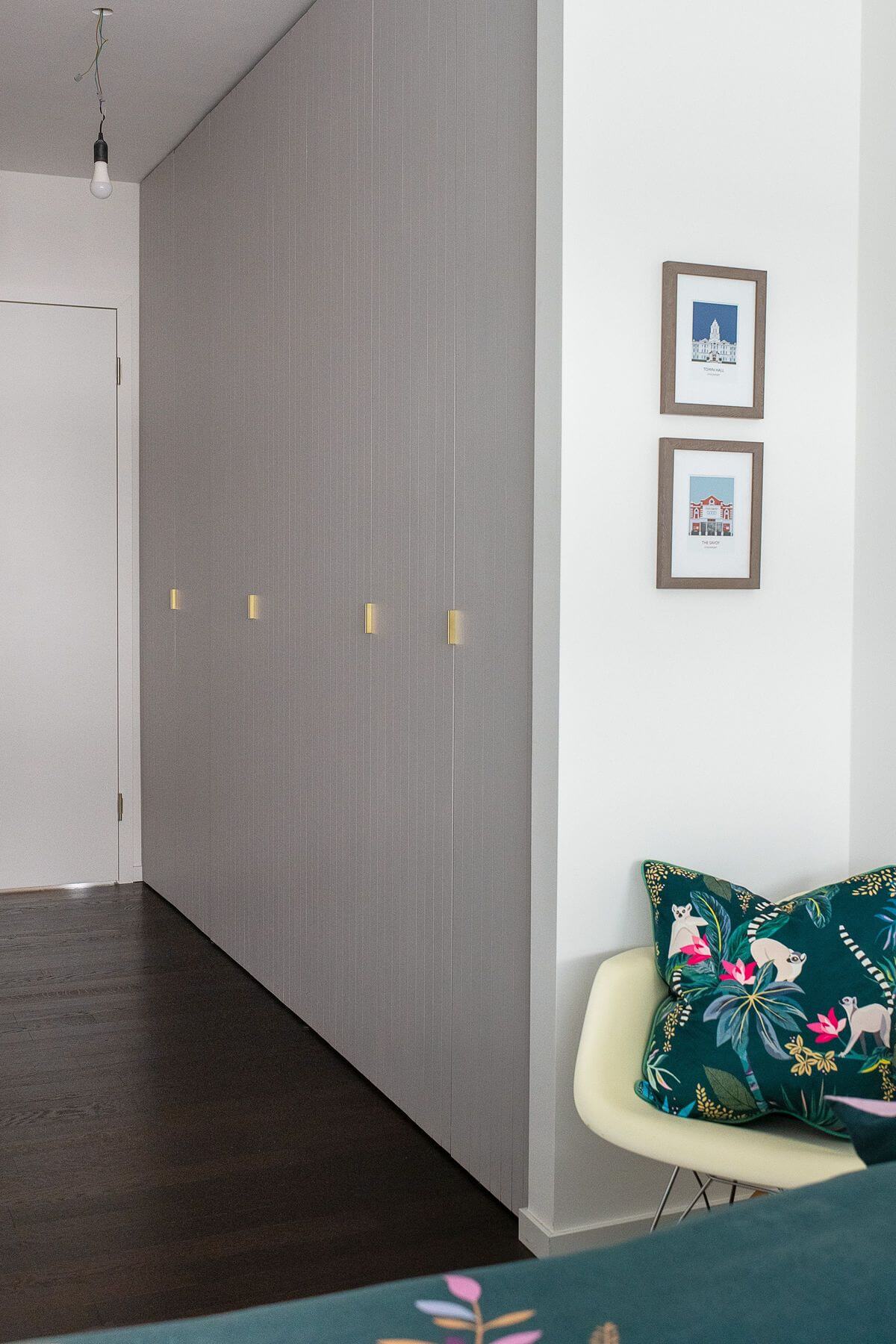 If you have a Pax wardrobe, then you know just how useful it is to help you organize your bedroom space. There are numerous compartments so that everything is put away nice and neatly. You can improve how it looks by extending the doors, however. With such a design, the wardrobe now looks as though it's a natural fixture in the room rather than something you added on. So, you are able to have much-needed storage while also having a living space that looks pleasing to the eye. Plus, it's just a fun and unique way to add some simple décor to the bedroom.
10. Simple Over the Door Storage Racks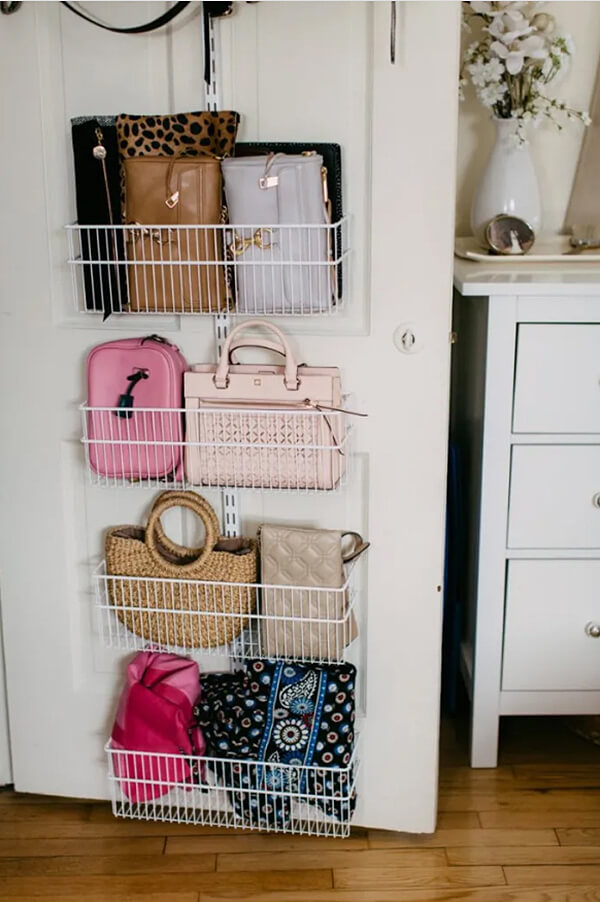 With an over-the-door rack, you can make up for any small closet. Whether your bedroom is a good size or not, a more contained closet can quickly limit your wardrobe. Instead of letting that happen, you can always add this rack to the door or even to your bedroom door and use it to store items like your handbags and other purses. It is a great way to keep your essentials out where you can see them while saving up on space it would otherwise clutter up. Also, you can organize them in such a neat way that everything simply looks nice whether you take something from the rack or not.
11. Unique Wall Hanging Side Table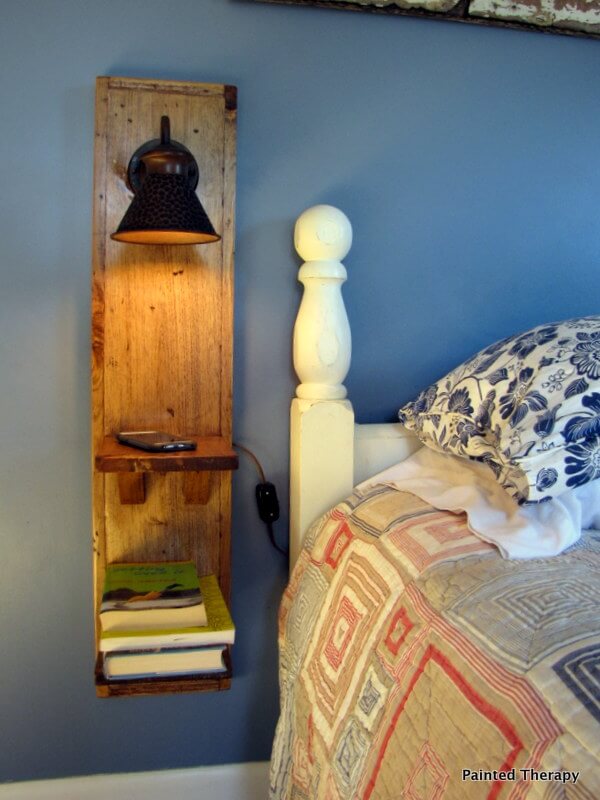 For those of you that want something distinctive in your bedroom, consider making this incredible wall-hanging side table. It is an instant eye-catcher, allowing you to use it as functional décor in the room. Based on how many shelves you go with, this is the ideal storage option for the minor items you'd like to have at your bedside. Also, this is a wonderful small bedroom organization idea. If you lack enough room to put up a regular side table, or perhaps your bed is against the wall, this wall hanging table is the next best thing for you.
12. Wood Ladder Blanket Storage Holder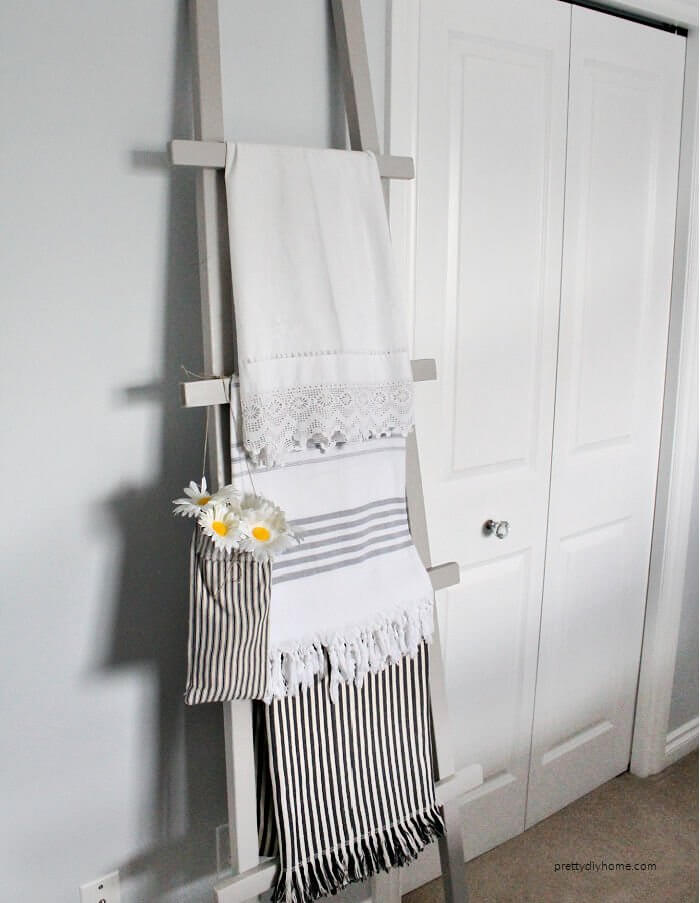 A great way people are storing blankets these days is with a ladder. You can improve on it yourself with a home project, maybe even giving the wooden ladder a paint job to better match the room in question. As it leans against the wall, your blankets are within reach and you've now added some interesting décor to the room. Based on the size of your ladder, you can easily hang a few folded blankets too. This is not just a wonderful idea for your bedroom, however. It makes for a wonderful guest room choice too. By doing so, your guests can find what they need right away.
13. Simple Bedside Ottoman Storage Organizer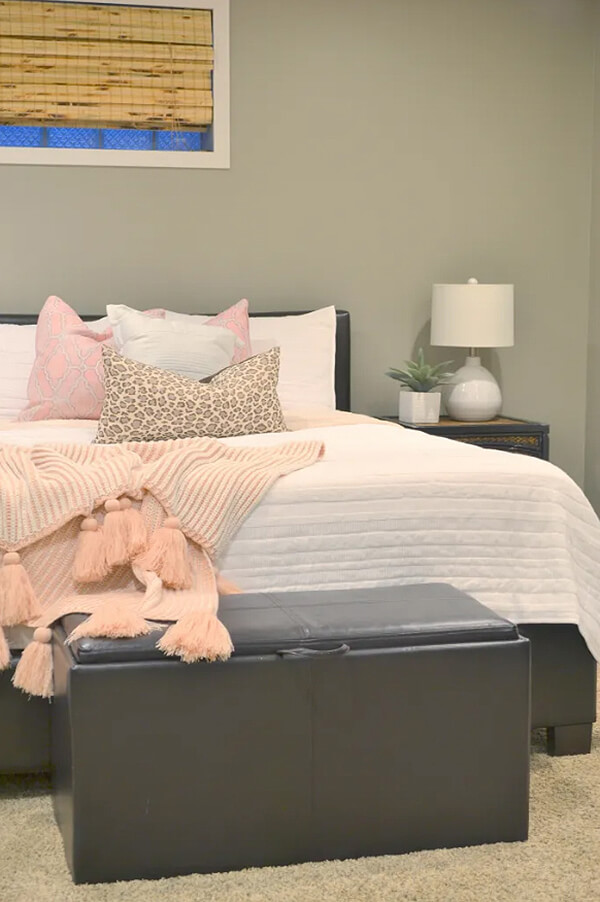 Ottomans are perhaps the most versatile pieces of furniture you can add to your bedroom. Depending on the size, you can easily use it as a bench, turning it into a cool seat, or simply something you use when you need to put your shoes on. But most importantly, it offers an awesome storage solution for your bedroom. Have a few extra blankets? Well, you can keep them inside. With it being next to the bed, any blanket is always an arm's reach away. If not blankets, then you can store anything else like books. You're only ever limited by the size you decide to go with.
14. Natural Rattan Cane Dresser Chest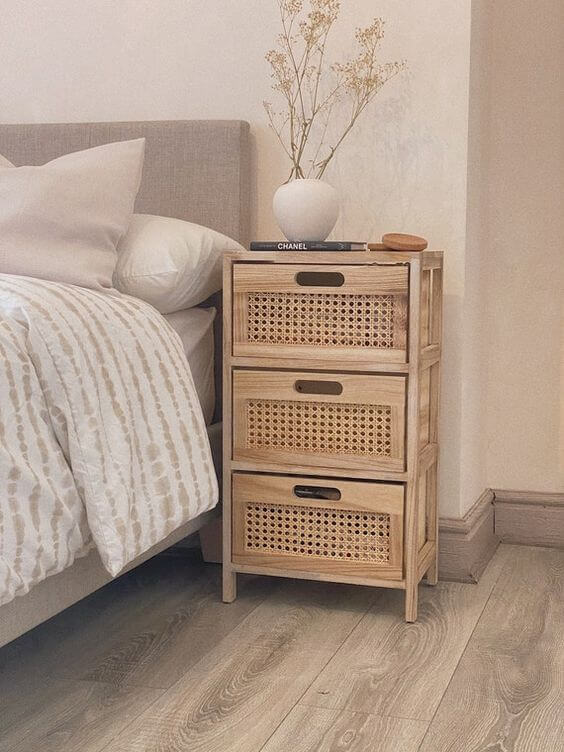 This gorgeous dresser chest is a worthy solution for your bedroom storage needs. It has a look that balances simplicity and elegance well thanks to the natural wood and finishes. This also appears light, making it work out well in a coastal-themed bedroom or even a modern one. The design overall easily helps this blend into your décor so that you have a nice piece of furniture next to your bed. Another awesome feature is that you can completely remove the drawers and use them as baskets instead. This allows the dresser chest to have much more versatility and uniqueness.
15. Boho Style Driftwood Jewelry Organizer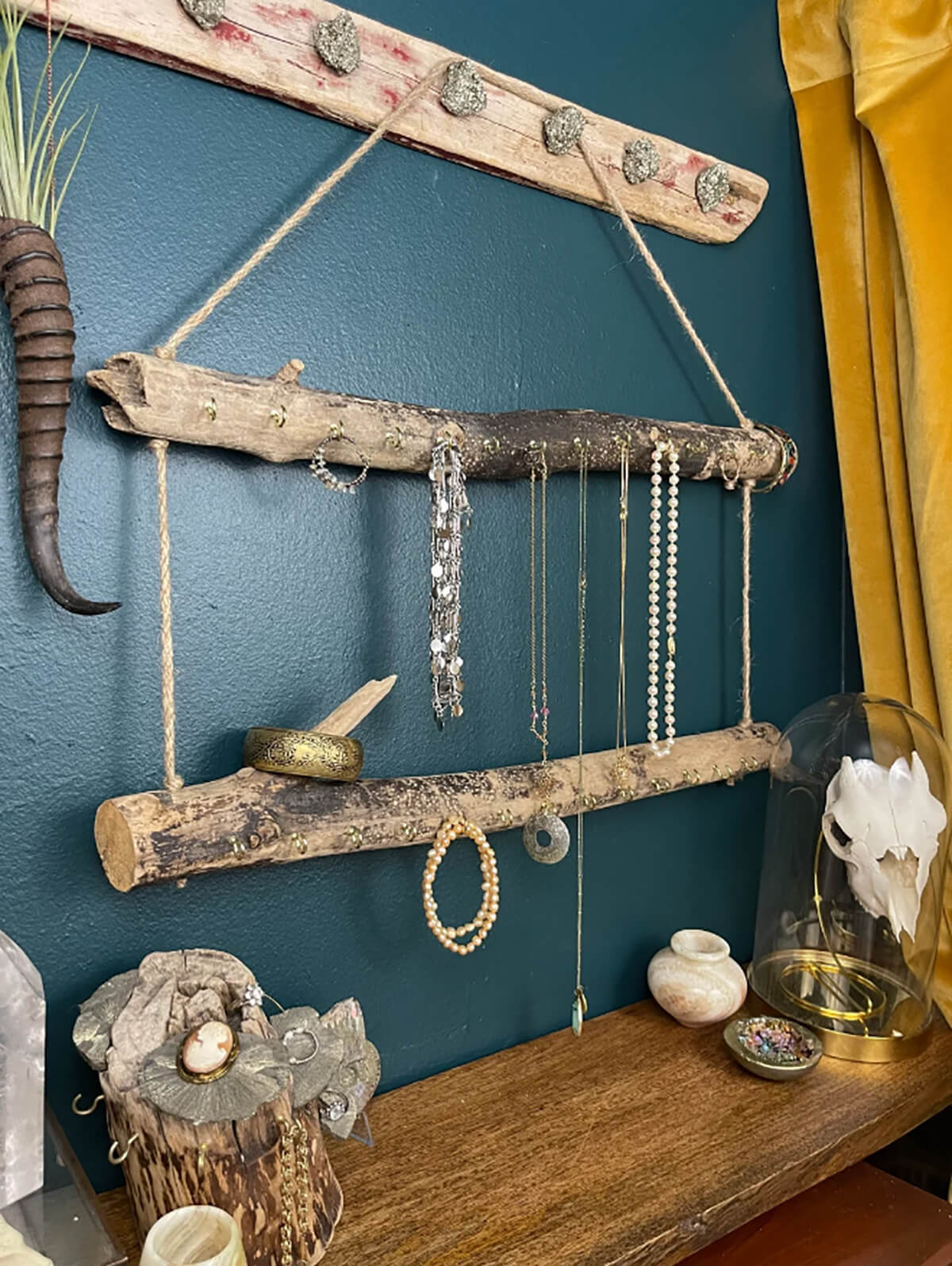 Do you have jewelry lying all around but you can't bring yourself to hide it all away in a box? Well, this driftwood jewelry organizer may be just what you've been looking for. The driftwood is a distinctive option to go with that has a boho-like flair to it. It hangs beautifully on the wall too, but who knew just how lovely your jewelry would look on it? Everything is given a more exotic appearance too. You can opt for a single piece of wood of various sizes or go for a set with different sizes. Additionally, you can even specify the hanging material you want so that you can further guide this decorative item to fit in with your bedroom style.
16. Mid-Century 2 Drawer Solid Wood Nightstand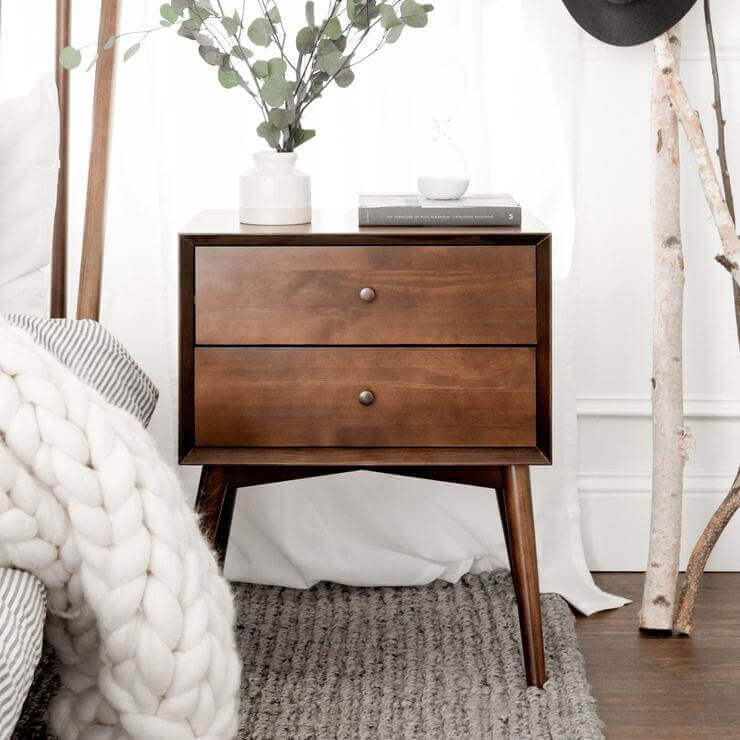 Looking for something that blends both classic and modern into a single style? Then this mid-century nightstand may be just the right item for your bedroom. It is stunning to look at, and it is available in four different colors to better suit your personal decorative needs. This is well-made too, built to last time and time again. Beyond the character and durability of the piece, you have two spacious drawers to use for storage. With the nightstand being right next to the bed, it's easy to find what you're looking for even in the middle of the night.
17. Large Felt Bedside Caddy Organizer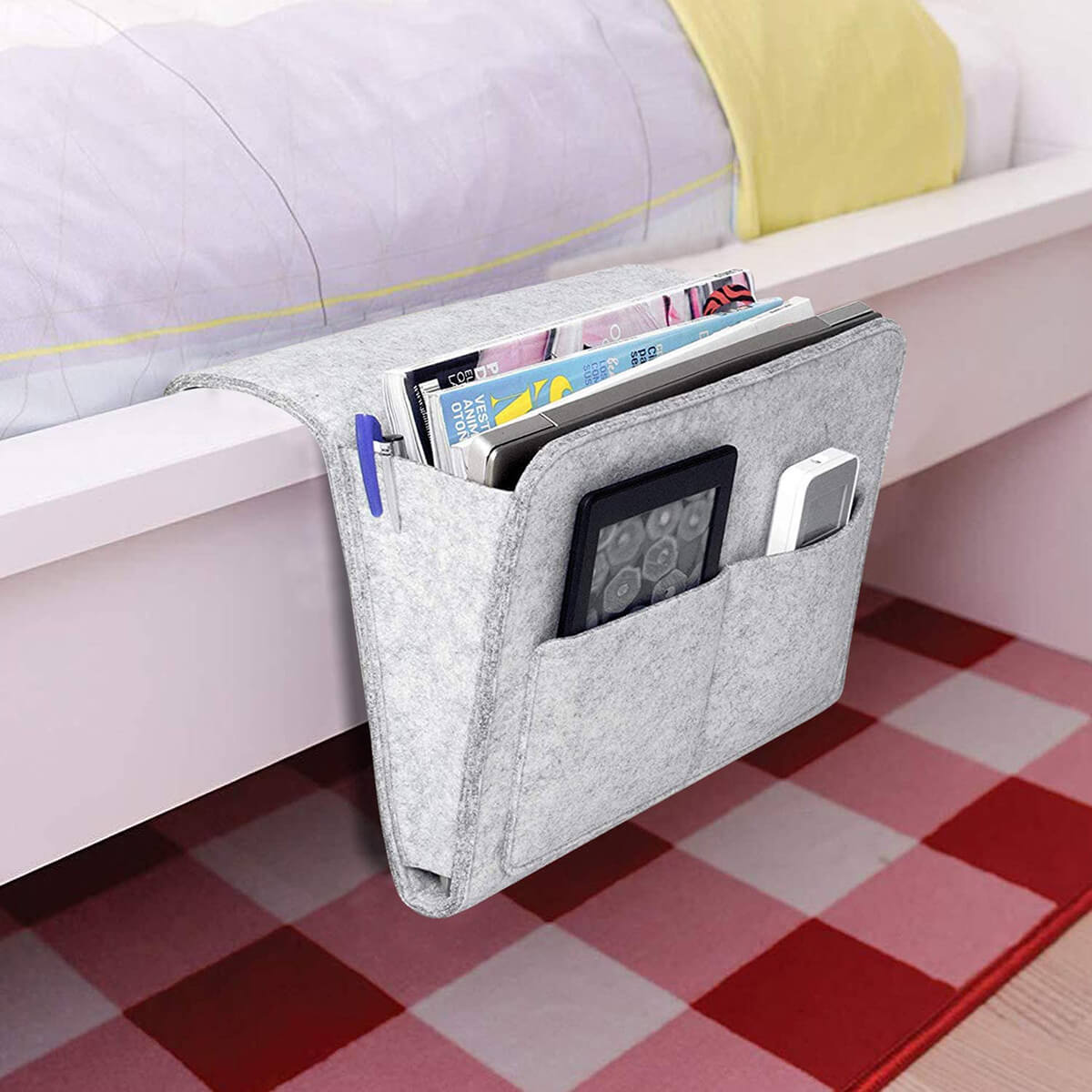 Sometimes, getting out of the bed is simply not feasible whether you don't want to or are unable to. In any case, this bedside caddy is the solution to your problem. It hangs easily so that all your items will remain safe and within reach. Also, there is plenty of storage found in this caddy. There is enough room for your phone, tablet, magazines, the remote, your glasses, and anything else you want to slip inside. It is a nice solution for those of you who lack a bedside table or have run out of room on the table you do have.
18. Ninja Robot Mini Trash Bin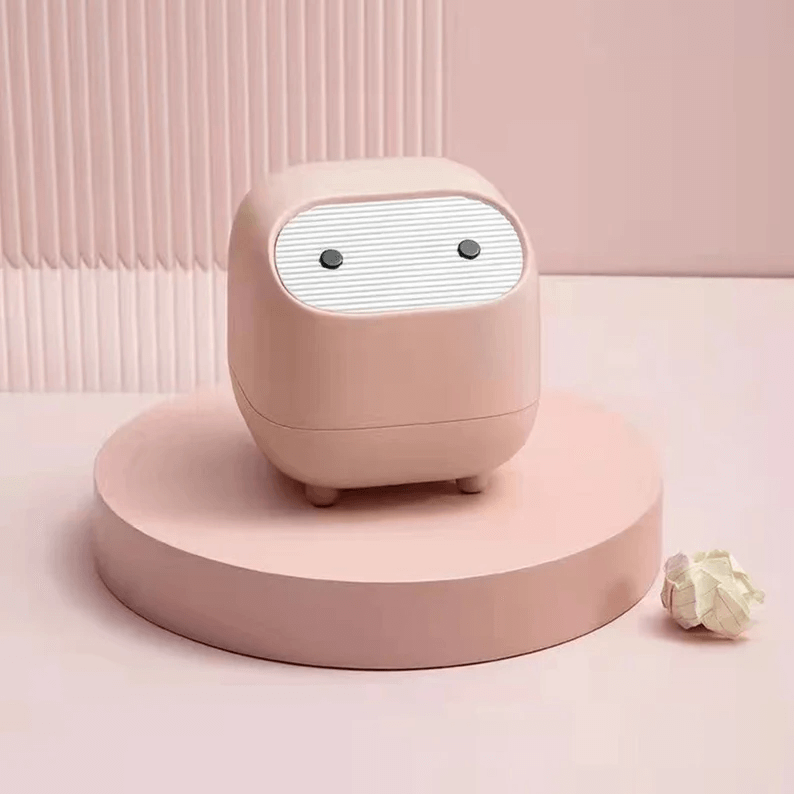 Sometimes, our rooms could benefit from having a trash bin nearby. This adorable ninja robot mini bin is the right solution for your small trash needs. It is compact, ideal for those in need of something space-saving. Also, this can fit just about anywhere you need it to in your bedroom whether that be on a desk, dresser, or your nightstand. They come in four different colors as well so that you can easily match the bin with the theme of your bedroom, helping it blend in with the décor while still being awesome enough to stand out on its own.
19. Cotton Linen Folding Storage Baskets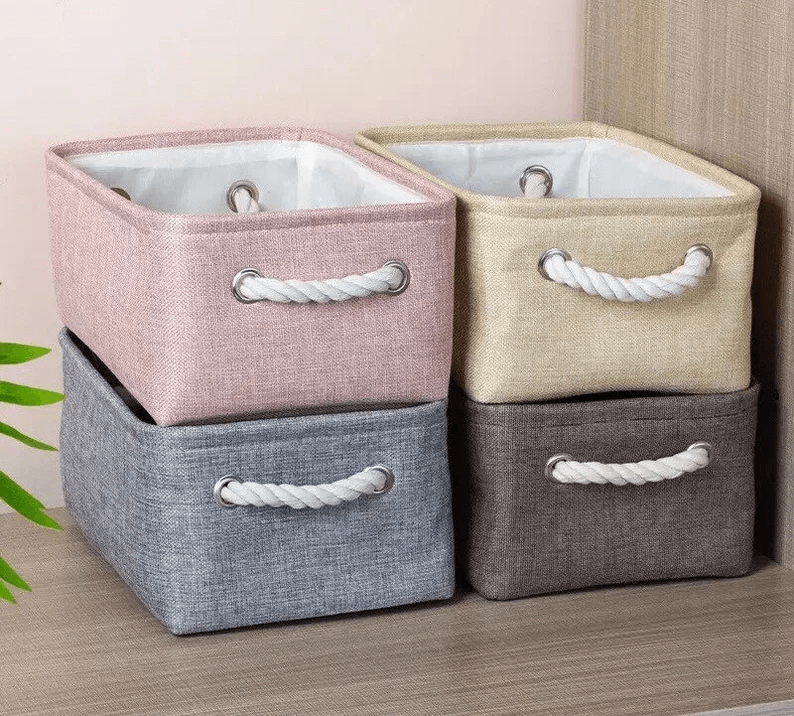 You can never go wrong with storage baskets for your bedroom organizational needs. These ones look as well as they function. They come in a variety of colors as well as a handful of different sizes, freeing you up to mix and match if you wish. These are the perfect way to keep larger and smaller items contained in easy-to-find places. As such, these baskets may be the best solution for a child's bedroom to help them better organize their toys, books, etc. Regardless, they also work well in any bedroom situation, and you can simply tuck them either out of the way or completely out of sight.
19 Fantastic Bedroom Storage Ideas to Make Use of Empty Space
Decorating a bedroom is always fun as you have a way to fully express yourself, but when you have more things than you have space, you need the right bedroom storage solutions. This way, your space won't become overwhelmed and cluttered. Thankfully, there's a type of storage that can fit just about any situation. There are some cool ways to store smaller items like jewelry, important documents, phone, etc. Additionally, there are other storage options for larger items from apparel to extra blankets.
Once you're clear on what you need to be stored, you can start the process of finding the appropriate storage. Do you have a tall bed, for instance? You can create an awesome under-bed storage solution so that things you need are right within reach. There are also ways to make good use of a small closet. Or perhaps you just need some extra storage baskets for all your random items in your bedroom? No matter the case, we're sure you'll find something that is the most useful for your situation. If you need help, you can always refer back to our list of some of the best bedroom storage ideas to get on the right track.