Your bedroom is where you live and sleep. It goes without saying that your bedroom should be comfortable. But why not be comfortable and classy at the same time. Running short on ideas? Match one of these bedroom wall decor ideas to your personal tastes and stage your room with style.
A wall is like a blank canvas just waiting to come alive with color and design. The use of oversized letters makes a defining personalization of your living space. Block letters would suit a no-frills personality while initials done in scrolls and cursive reflect a more flamboyant spirit.
25+ Versatile Bedroom Wall Decor Ideas that will Add a Touch of Personality

For the bookish type the overlapping square frames above the bed would seem to suit. The antique lover can display special events in a window frame and surround the frame with related memorabilia to create a bedroom with old-world charm. The larger-than-life personality might use the grand mandala headboard or the diamond-shaped mirrors against stonework to cast a dramatic mood in a room. And the artsy type will appreciate the modern-art style of the small frame within a large frame or the white shag circle on a dark navy wall. Message Sign boards generate more bedroom wall decor ideas.
Use framed art in fashionable black and white lettering to send a daily message to those you love. Let Bible verses, single words of emotions, or whimsical sayings stand out as a bold statement of your feelings. Use any of these wonderful bedroom wall decor ideas to stylize a bedroom that will be a welcome sight after a hard day's work. Give visual expression to your personality with a unique wall creation.
1. I Matter,You Matter A Happy Place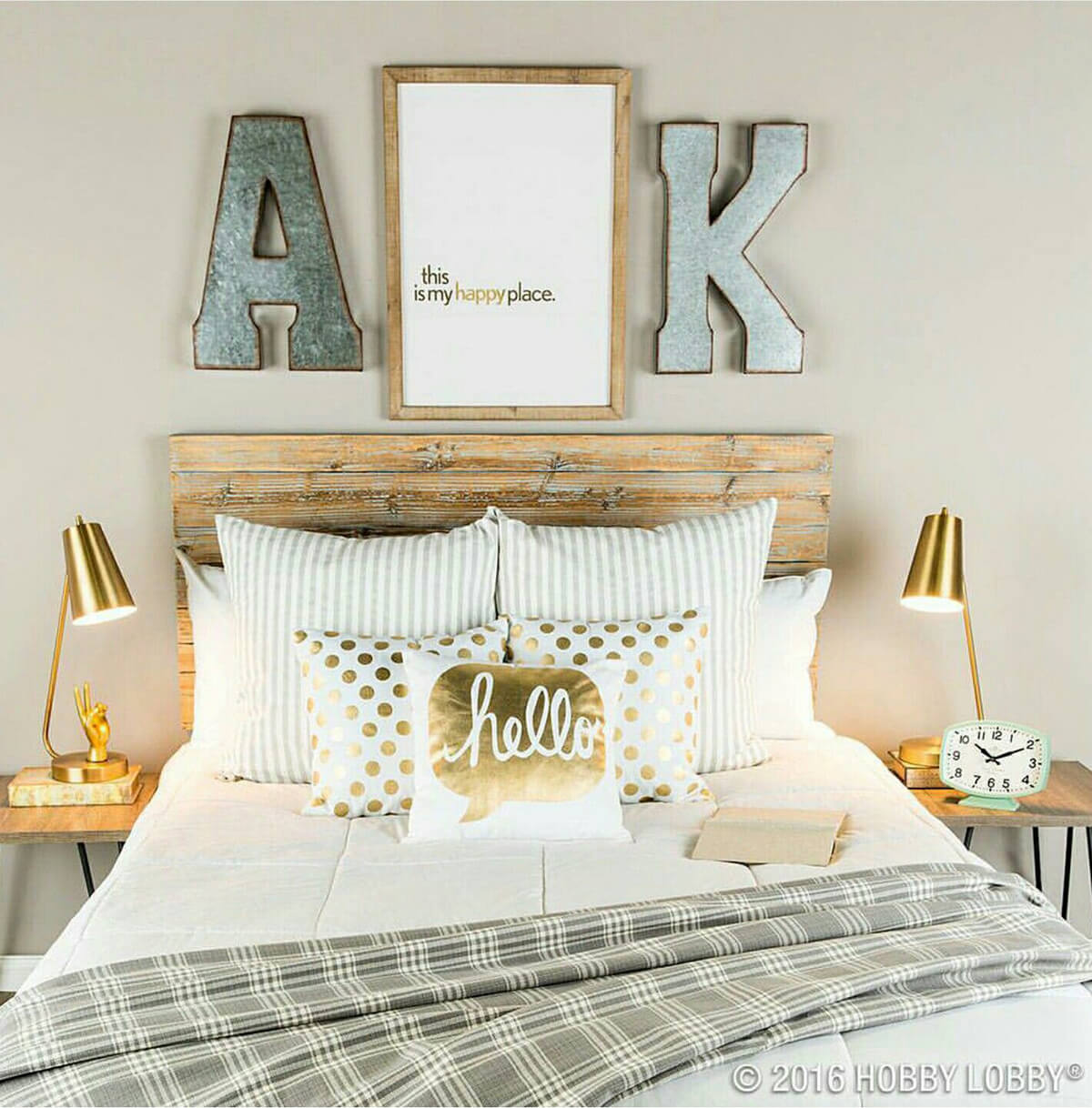 Natural wood and letters with a galvanized steel finish make this wall decor perfect for a rustic bedroom. Notice the slight block-like serifs on these letters that give them an Old West vibe. To emphasize the word "happy," in the frame, gold accents add a touch of glamor to this space.
2. Wall Display with Overlapping Square Frames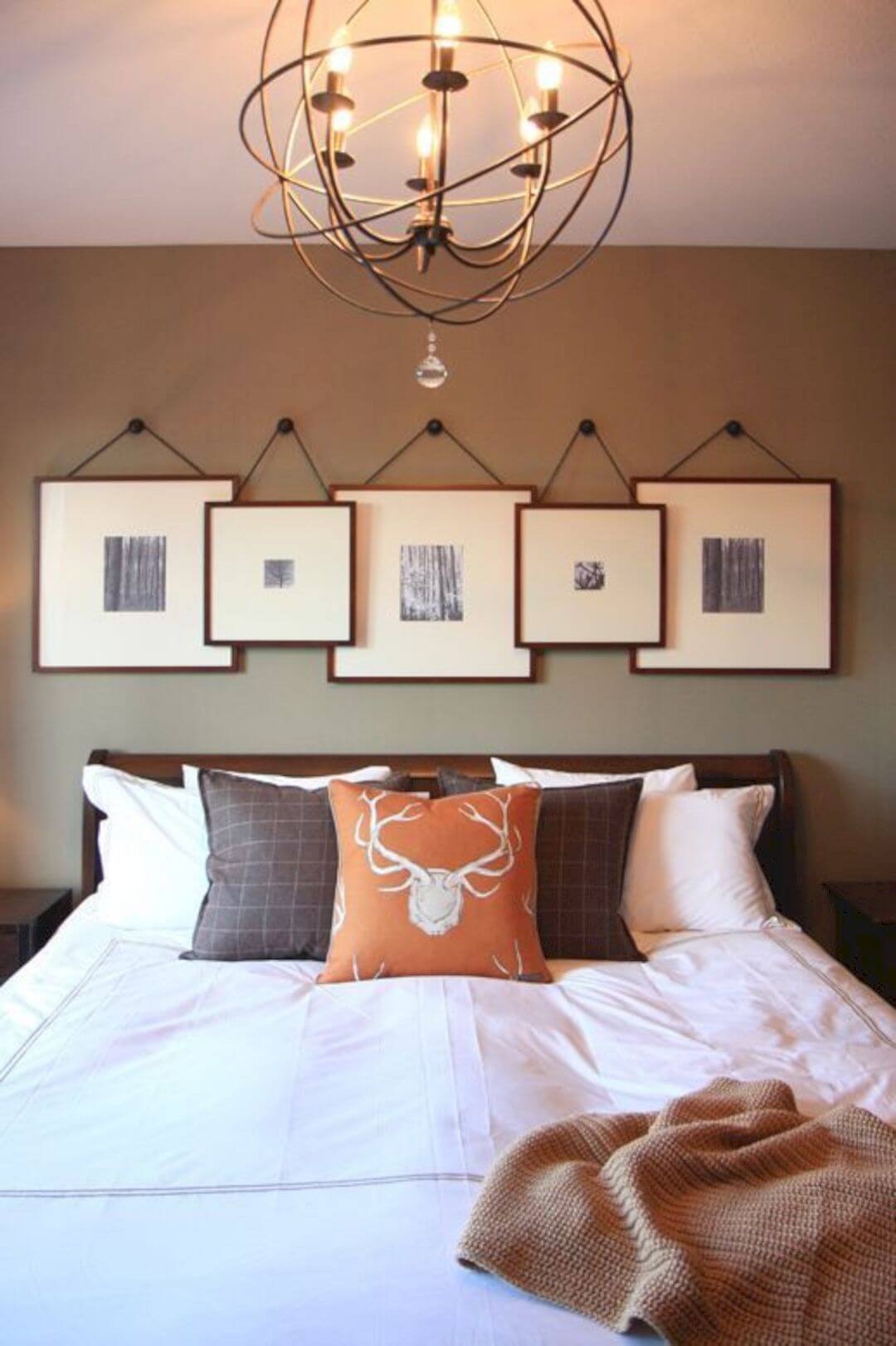 Intersecting frames create an artistically sophisticated impact in any space. Narrow frames and generous white mattes create a unique and provocative effect. These frames feature grayscale nature photographs, but you could use any images or artwork that speaks to you. Of course, if you choose splashes of bright color, the ambiance will be different than the subdued example shown here.
3. Whose Am I? Frame Box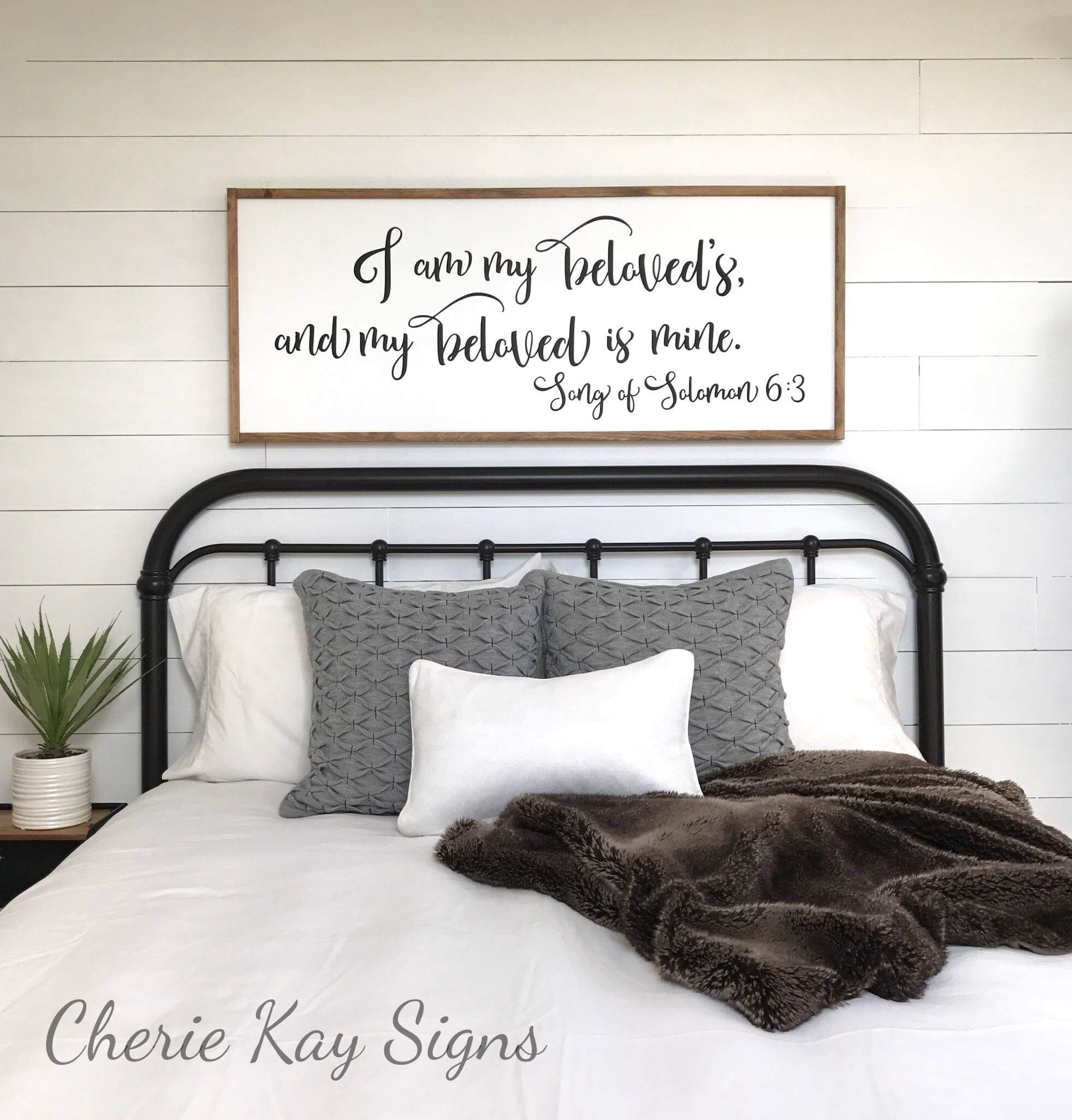 Because the Song of Solomon is entirely devoted to the bliss found in marriage, this framed sign is ideal for those styling an accent wall above a bed shared with a spouse. This is also what makes it a great wedding gift. A swirling cursive font and wood frame mean that it will fit harmoniously in any modern farmhouse bedroom.
4. Pure White Grand Mandala Headboard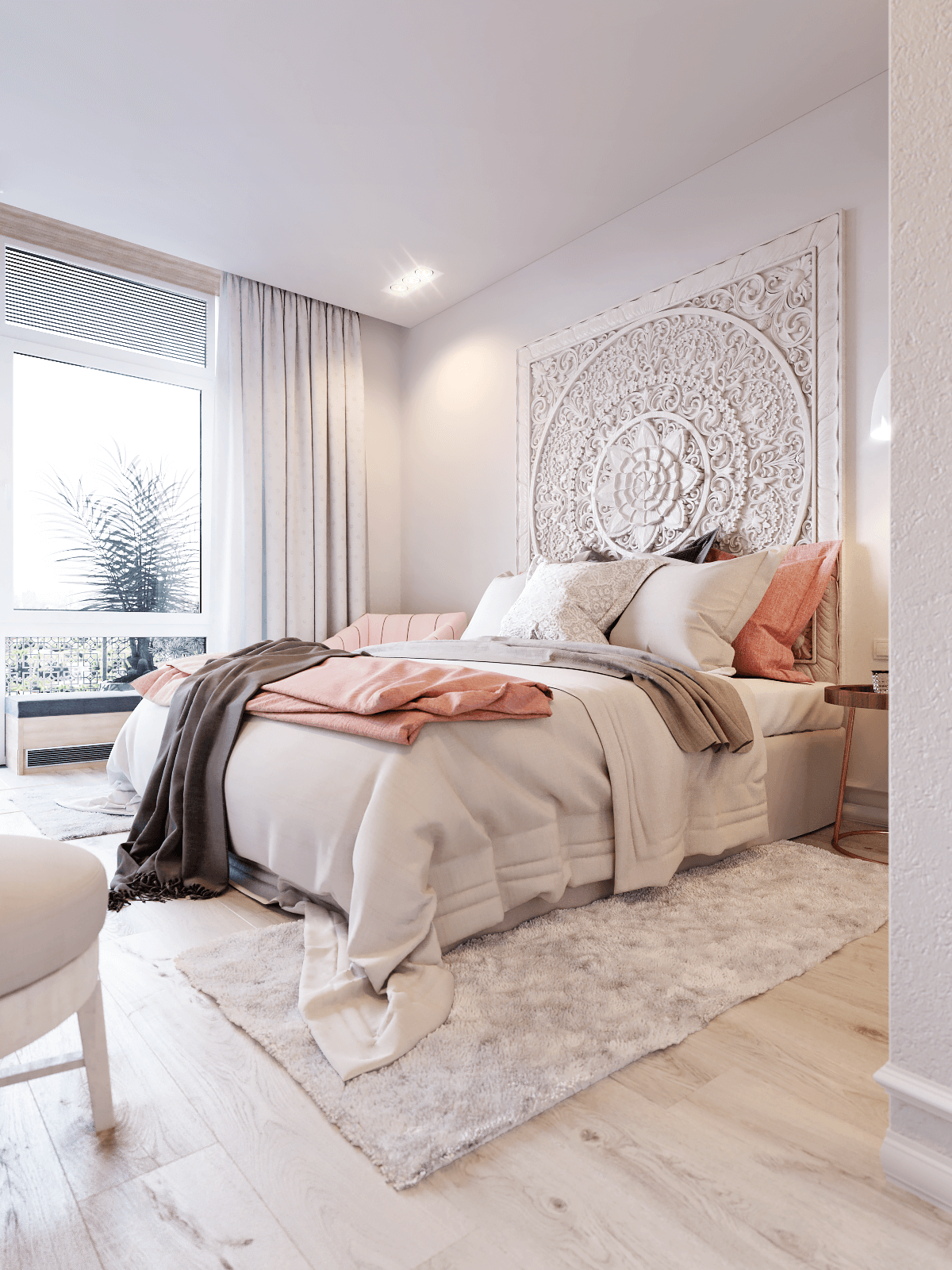 Anyone who enjoys purity of mind will appreciate this intricately-detailed mandala headboard. Although the white-on-white effect shown here instantly elevates the room, this headboard would look fantastic against a colored wall as well. Because the headboard provides so much three-dimensional detail, it will cast subtle shadows as the light changes. For maximum effect, experiment with different lighting combinations.
5. The Master and the Missus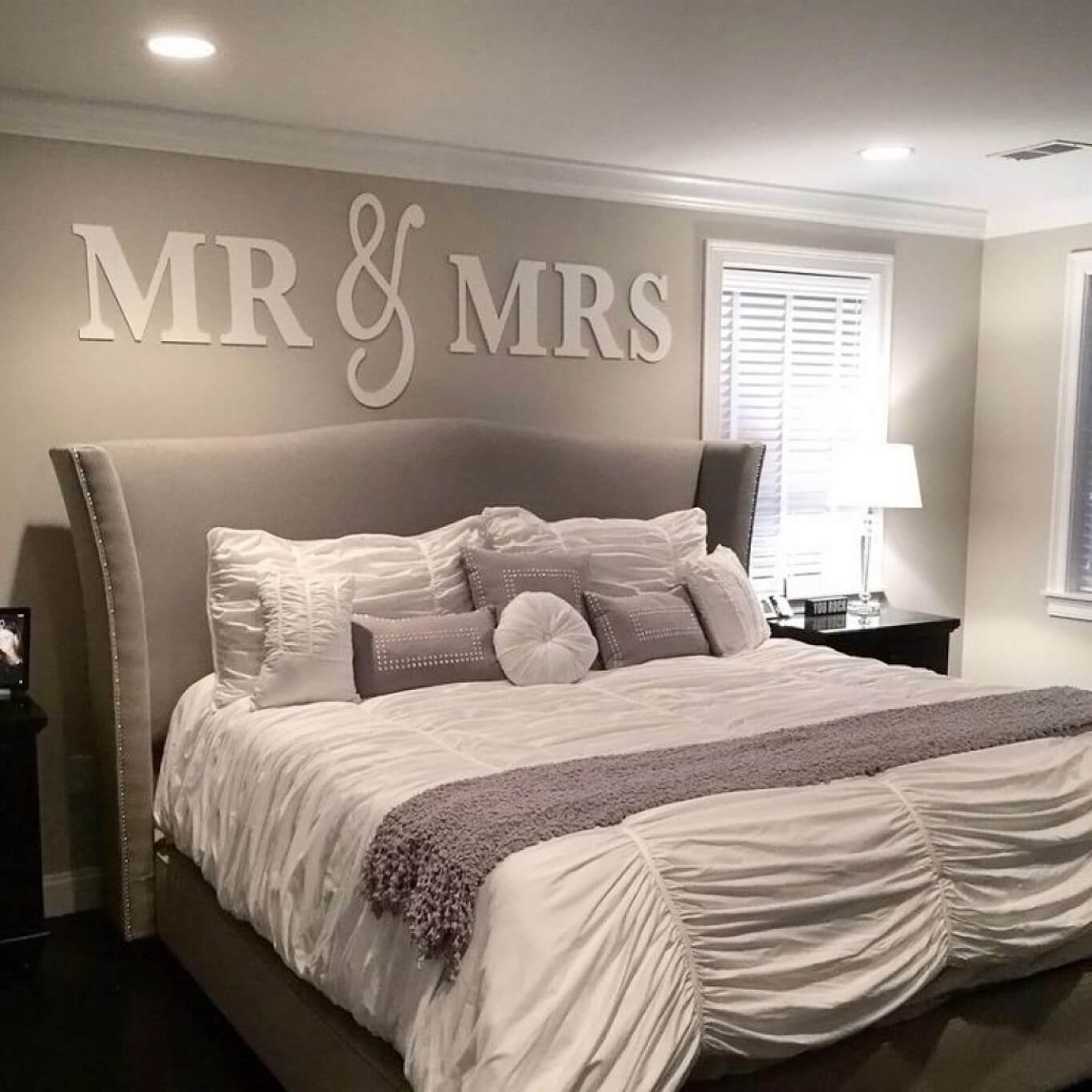 What better way to decorate the master bedroom than to announce who resides there? While the ampersand provides an artistic graphic element to the overall effect, the highly legible white letters will fit easily in any color scheme. If white simply is not your style, there are other finish options available.
6. Love Shoots Through This Room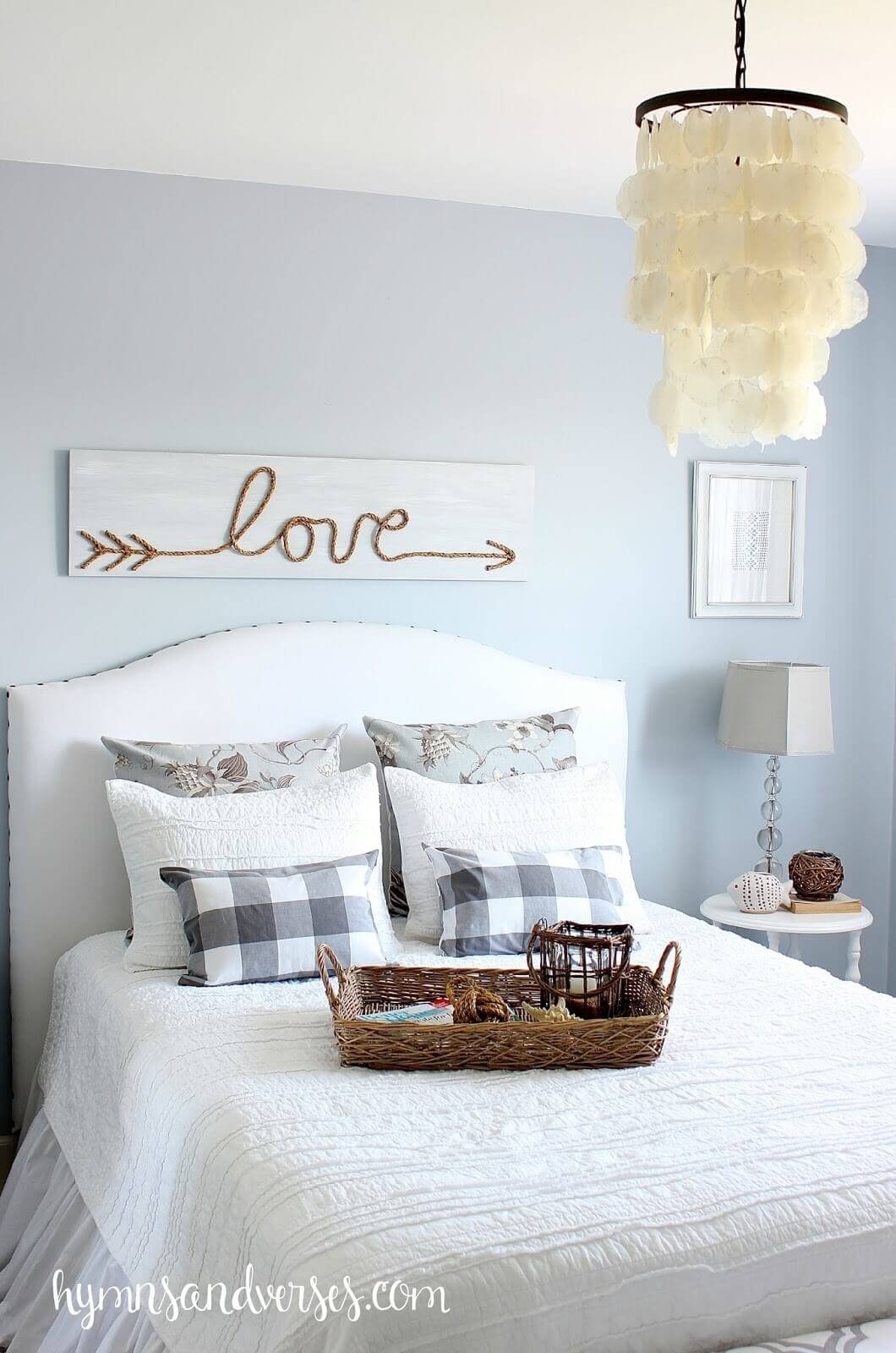 This whitewashed wooden sign has it all: texture, harmonious color, clever graphic appeal, and a heartfelt message. Rope in a loose cursive as shown here fits with Western-style spaces, rustic rooms, and, of course, the nautical-inspired bedroom shown here. This plaque is small enough to pair with a gallery wall but unique enough to shine on its own.
7. Collection of Love Memories Through the Window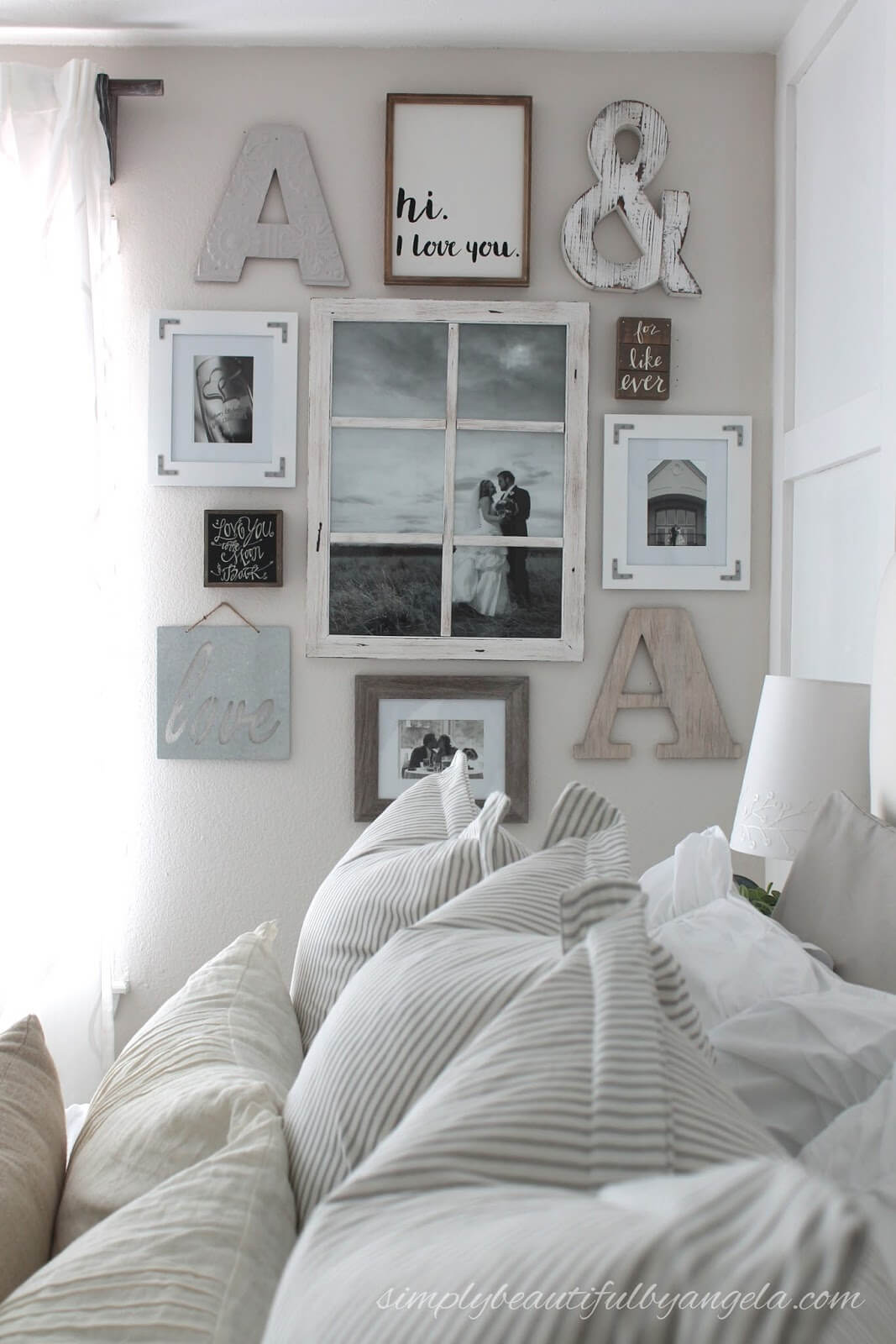 A romantic gallery wall next to a bed is a wonderful way to bring good vibes into a space. Wood weathered to varying degrees sets the tone for a modern farmhouse or rustic space, but you could use whichever finishes fit your style. Using an old window is an imaginative way to create a focal point for your accent wall.
8. Antique Mirror Extends Above Votive-Lined Mantelpiece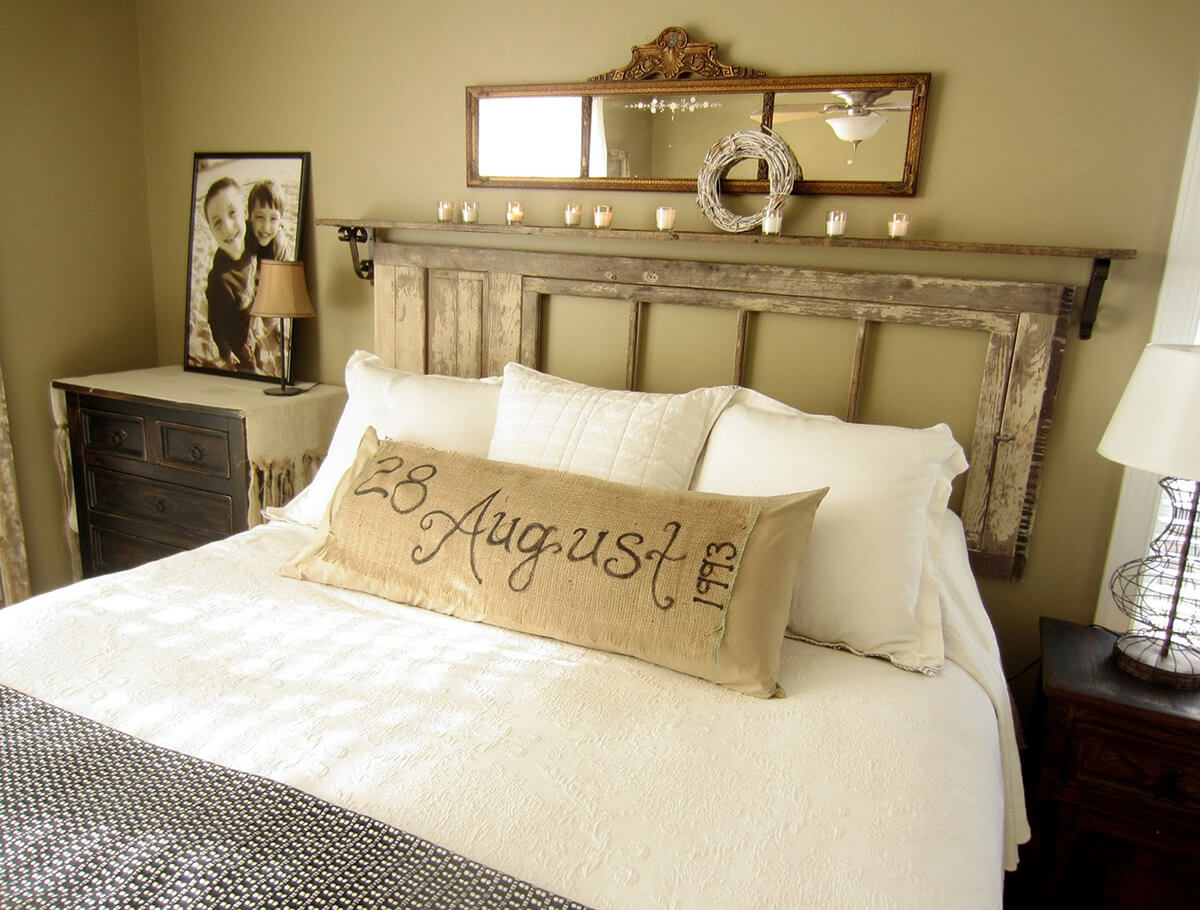 Placing a mirror behind candles is a classic strategy to increase the soft glow of candlelight in a room. Because this mirror features a natural wood finish and showcases some gorgeous embellishment, it is a showstopper on its own. If your style is more modern, do not be afraid to use a frameless mirror instead.
9. Dramatic Design in Stonework and Diamond-Shaped Mirrors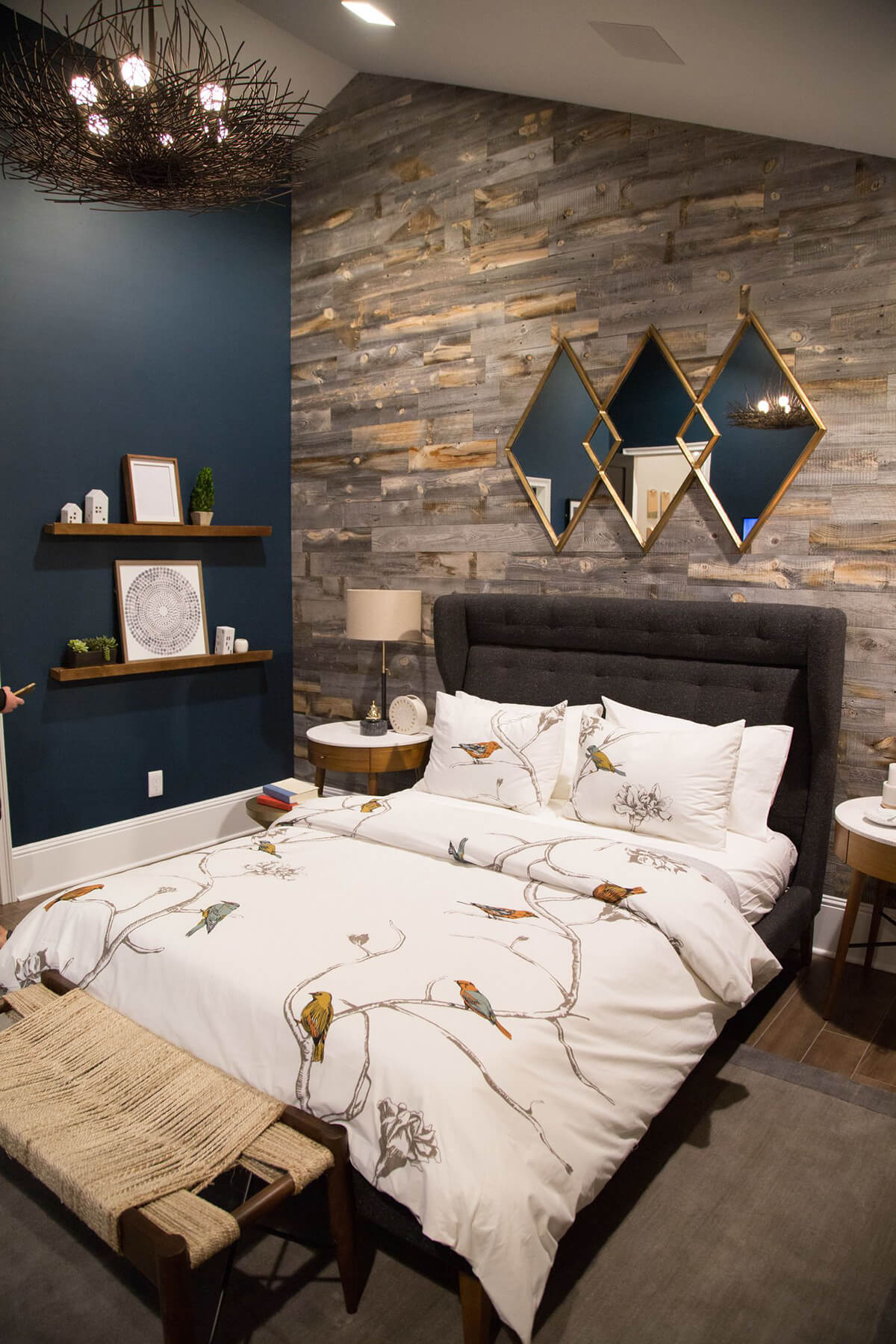 If you want your bedroom to make a splash, draw inspiration from this daring design. A deep navy blue wall cultivates a soul-stirring ambiance. Using stone, wood, or other textures from nature are an instant relaxing focal point. Because straight lines add energy to a space, these overlapping diamond-shaped mirrors help build the perfect place to prepare for your day.
10. You and Me Both Have A Space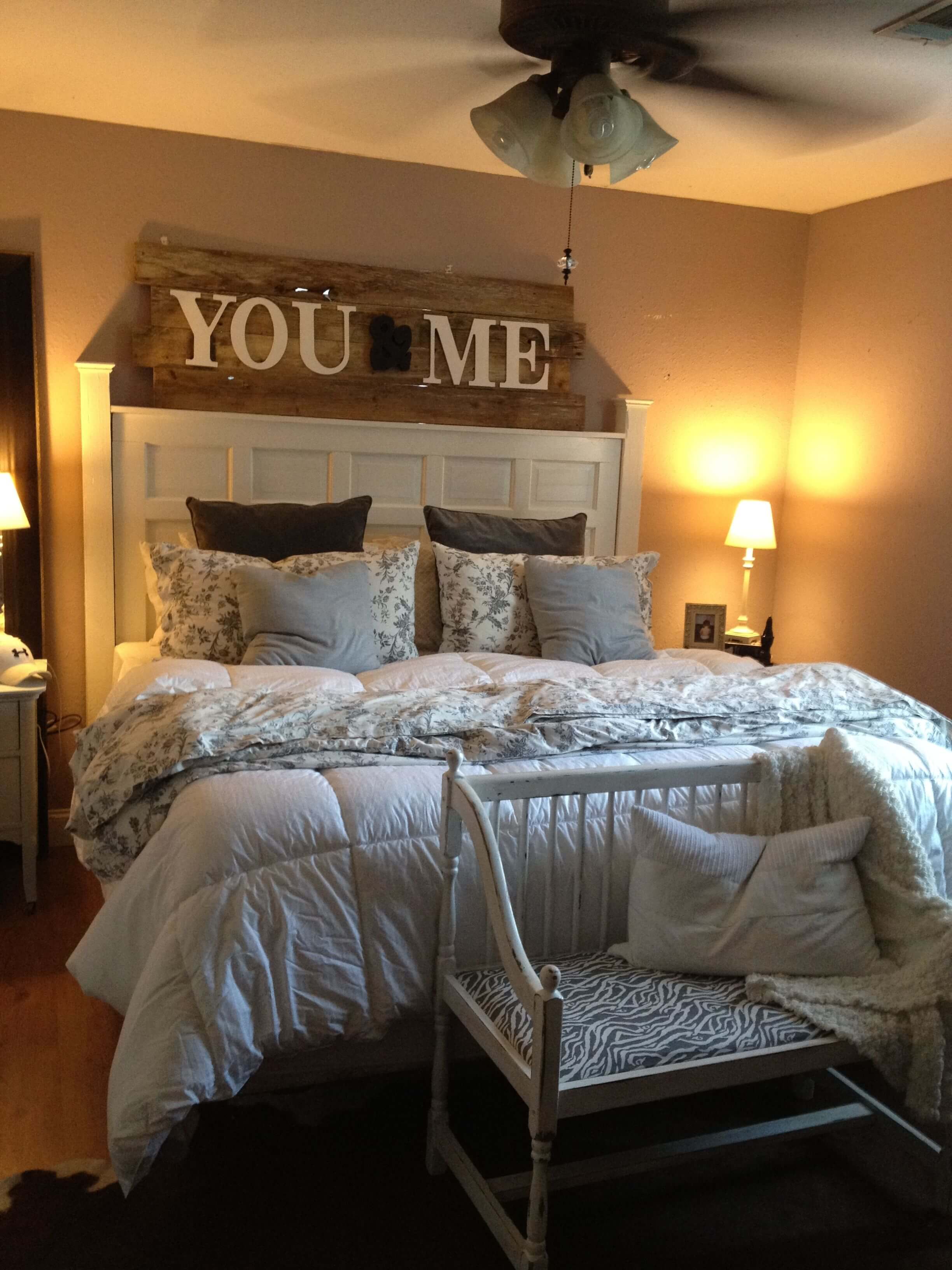 Wood adds a rugged romance to this otherwise orderly room. To contrast the headboard's symmetry, the sign above features staggered planks that imbue this bedroom with energy. Because the wood also has a few knotholes, you can see light from the window behind it. If the view out the window is less than ideal, use a sign like this.
11. Young Love Framed Through the Window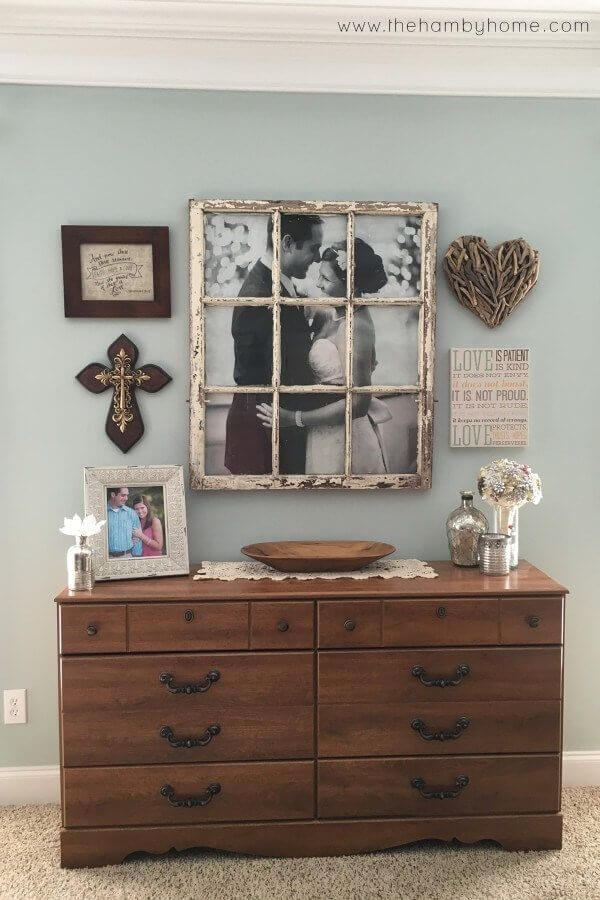 Wall art not only shows who you are but also the journey you are on. By framing a wedding photograph in old window panes, it appears like an enchanting window through time. Including spiritual items within your sanctuary goes beyond filling empty walls – they illustrate what is most important to you.
12. Heart Between His Initial and Her Initial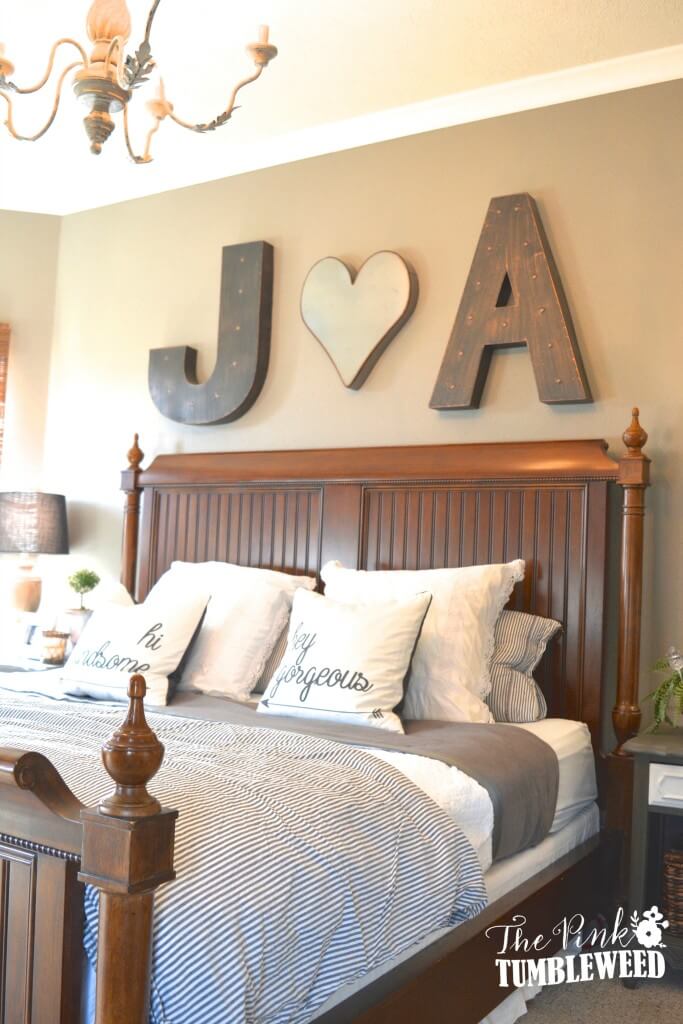 While an ampersand is the usual choice to connect initials, this approach uses a whitewashed heart. Brushed metal letters complete the look with rivets which add some industrial flair. For a more industrial feel, add a few copper-toned hex nuts to the heart. The sans-serif letters provide a chic silhouette that emphasizes the rivets.
13. Welcome to Our Humble Cottage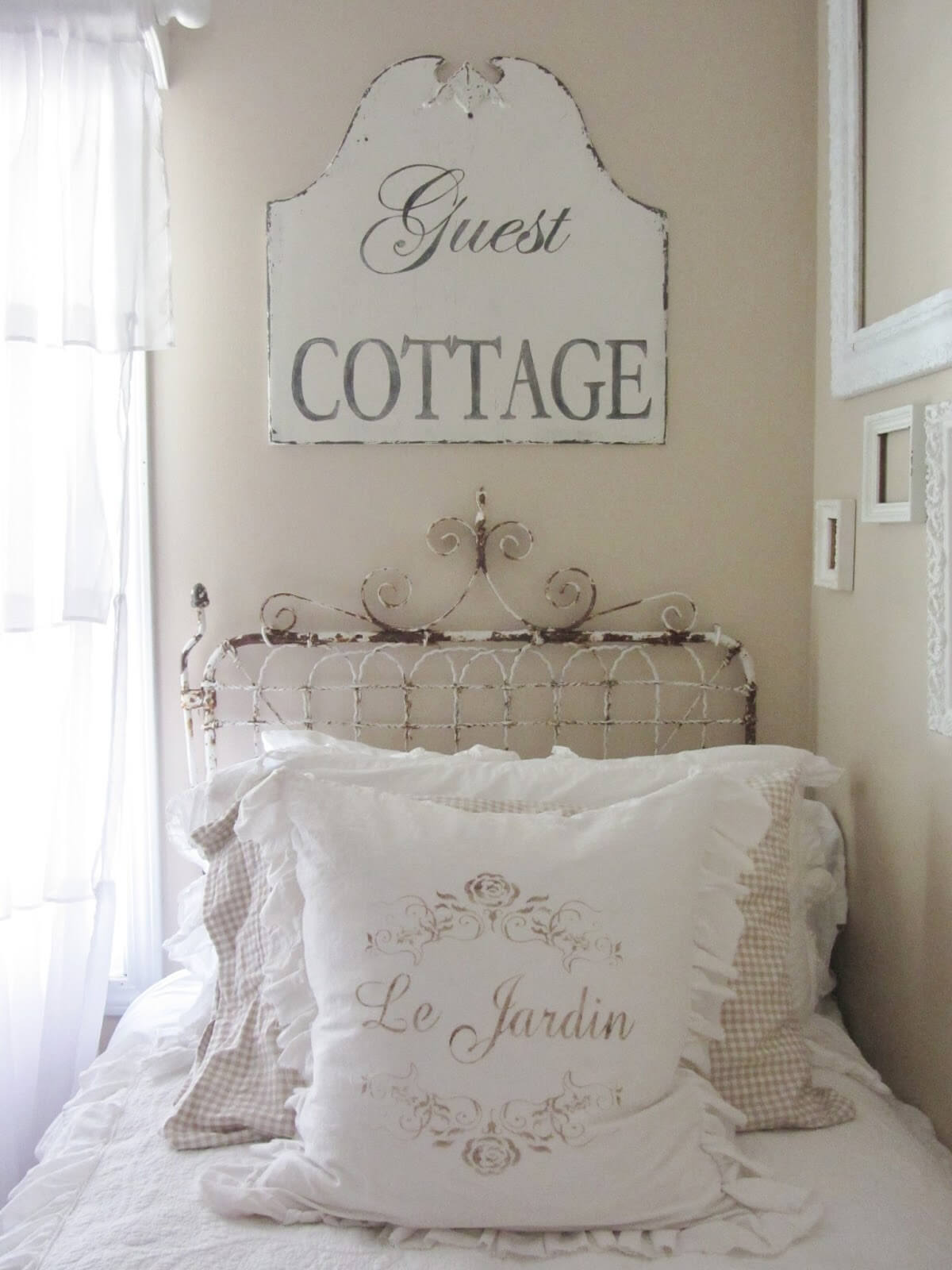 Showing that a space is dedicated to a guest's comfort can be tricky, especially when you are working to achieve a shabby chic look with French flair. By hanging a metal "Guest Cottage" sign with a slightly weathered finish, you can nail this look. Notice how this wall art mixes a swirling script with an easily-legible font.
14. Flowers in Sconces Accompany Scrolled Initials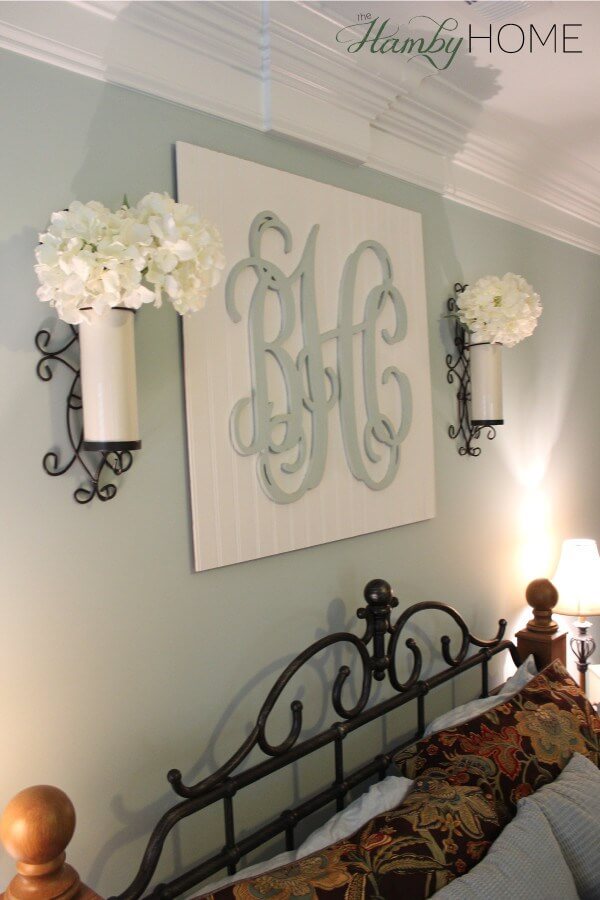 Did you know that you can use sconce-style candle holders for vases as well as candles? White flowers spraying from each gives this space a pleasant botanical ambiance. Black metal details tie into the headboard as well as the decorative swirls on the monogram. When seen together, this bedroom feels effortlessly cohesive.
15. Simple: Always Greet Your Love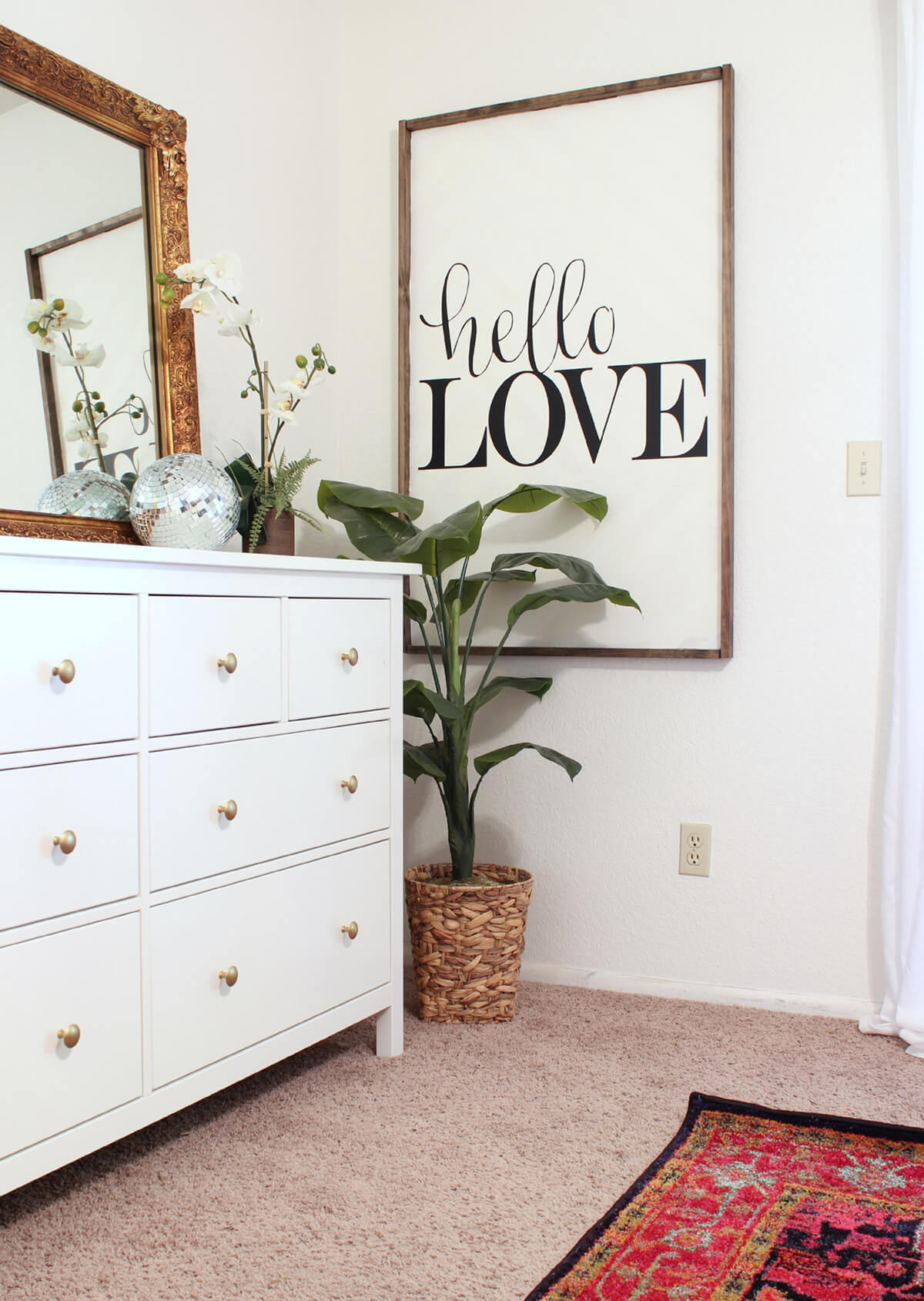 When it comes to decorating a bedroom, the artwork over the bed often steals the show. However, because you probably spend time in front of a vanity getting ready, it is important to include inspiring wall art in this area as well. If lettered signs are not your style, hang any artwork that energizes you for the day.
16. Flower Mirror on Gray Two-Tone Wall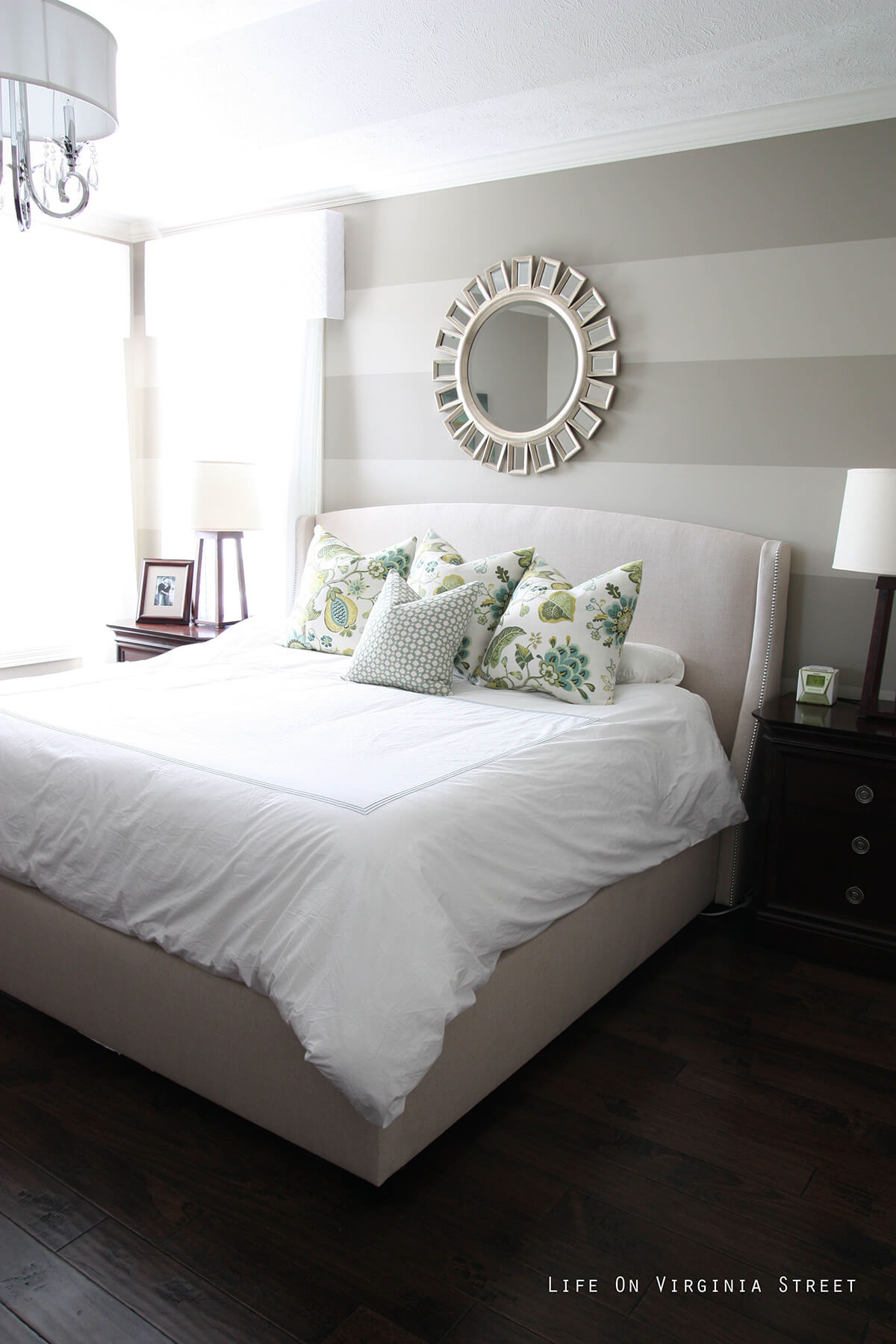 Broad horizontal stripes give this room a comfortable feeling. Plenty of natural light keeps it from feeling claustrophobic, and the mirror amplifies this light. Small square petals offer a modern interpretation of a flower that electrifies the rest of the decor. Stylized plants on the accent pillows soften the bedroom and continue the botanical theme.
17. Love Lights Up This Room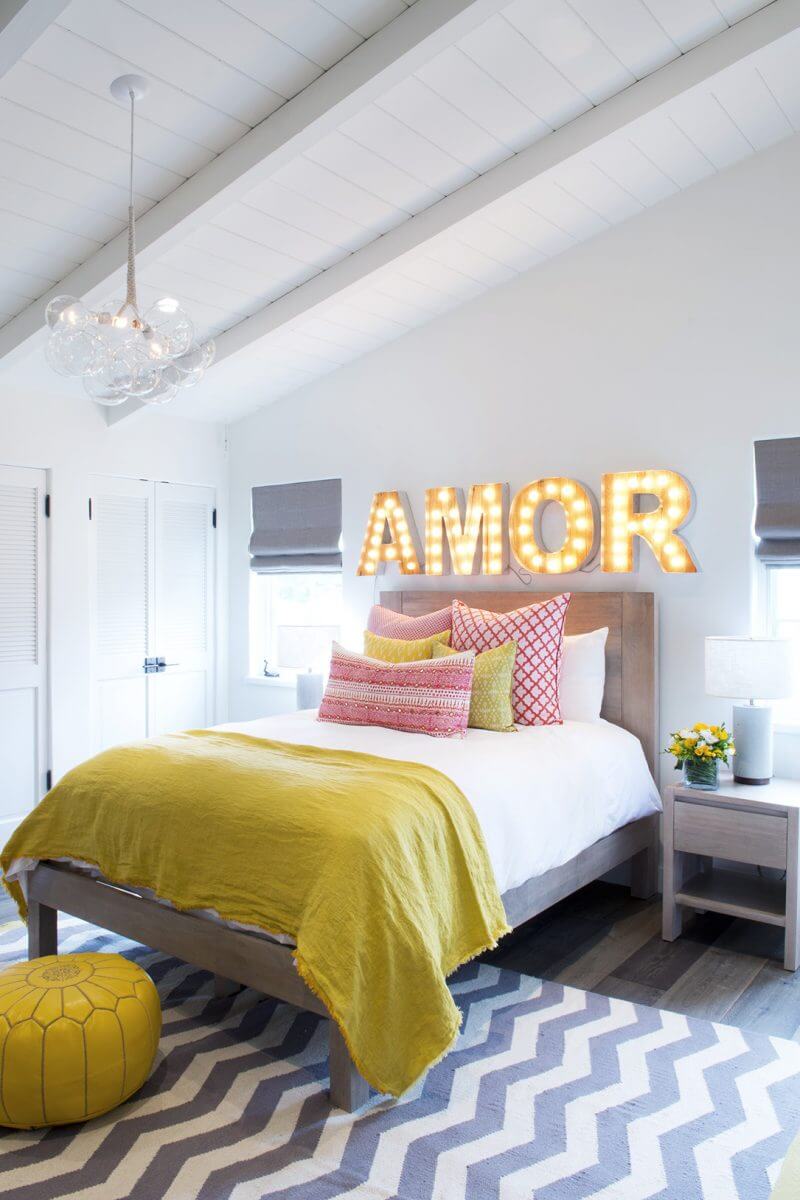 Wall art that lights up serves both as illumination and decoration. If your bedroom is filled with bright colors, a lit sign is a great way to add balance. However, this approach would also work with a monochromatic palette. For a dash of international flair, spell out a word that has special meaning for you in your favorite non-English language.
18. Family Initial Established in Pictures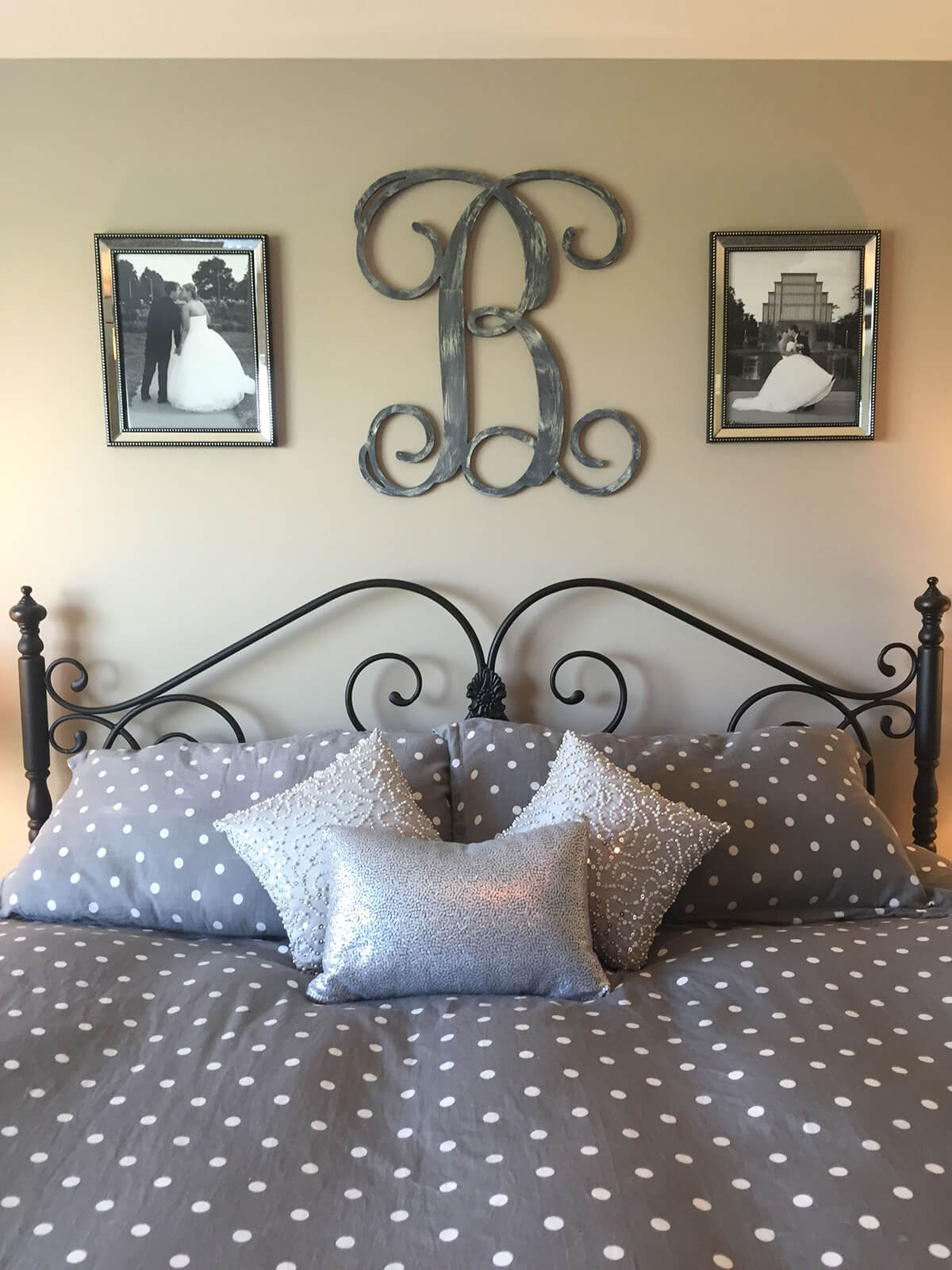 Decorating blank walls does not need to be stressful – follow this simple approach to achieve sophisticated chic. The single initial features a weathered finish that adds texture and plenty of elegant decorative swirls. Black and white wedding photographs in matching silver frames offer a harmonious counterpoint. A polka dot bedspread and the frames' beading tie this bedroom together.
19. Lights Surround Farmhouse Headboard and Wreath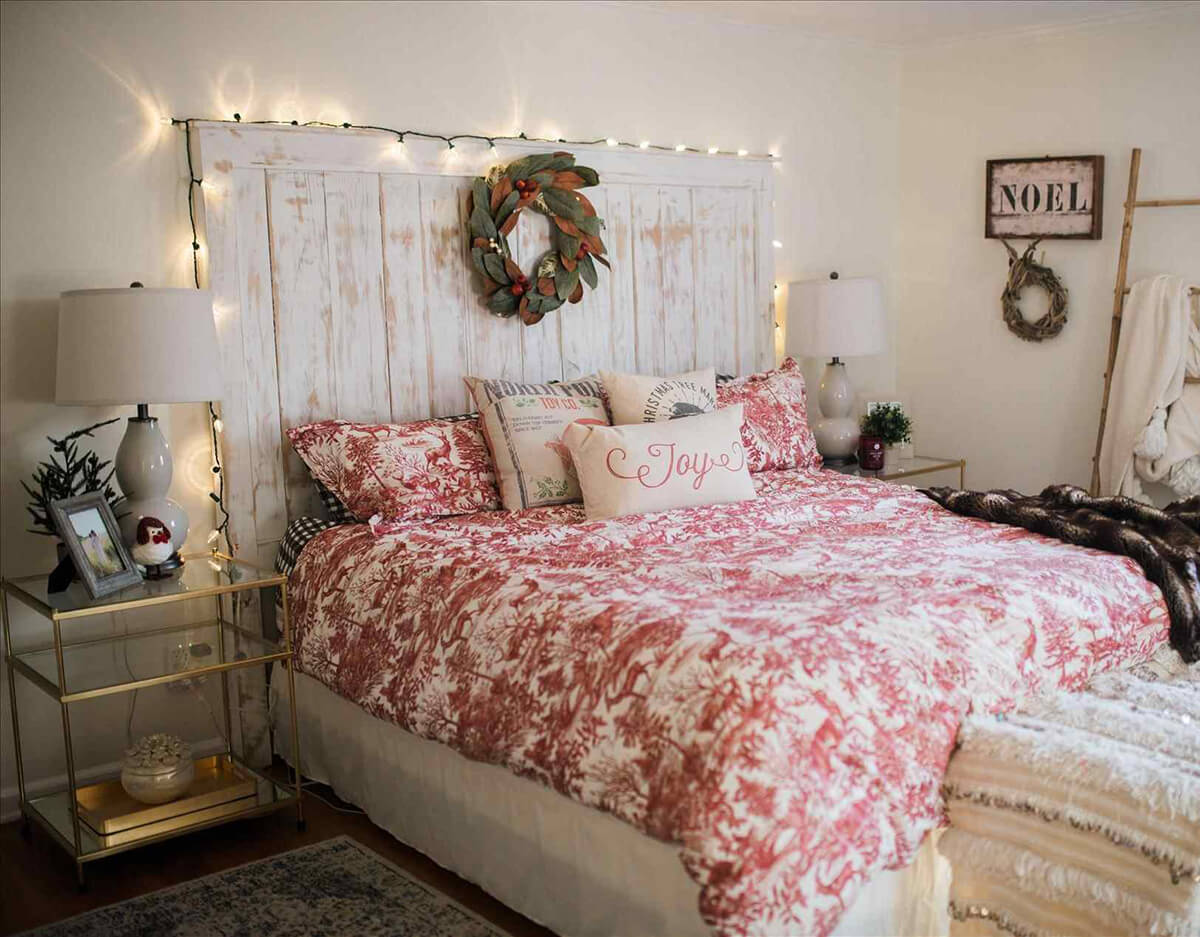 No, it does not have to be Christmastime to break out a wreath and some fairy lights in your bedroom. If you have an extensive wreath collection, this is a unique way to display and enjoy more of them every year. The lights offer an inviting glow just right for unwinding after a long day.
20. String of Lights Illuminates Mandala Designs on Canopy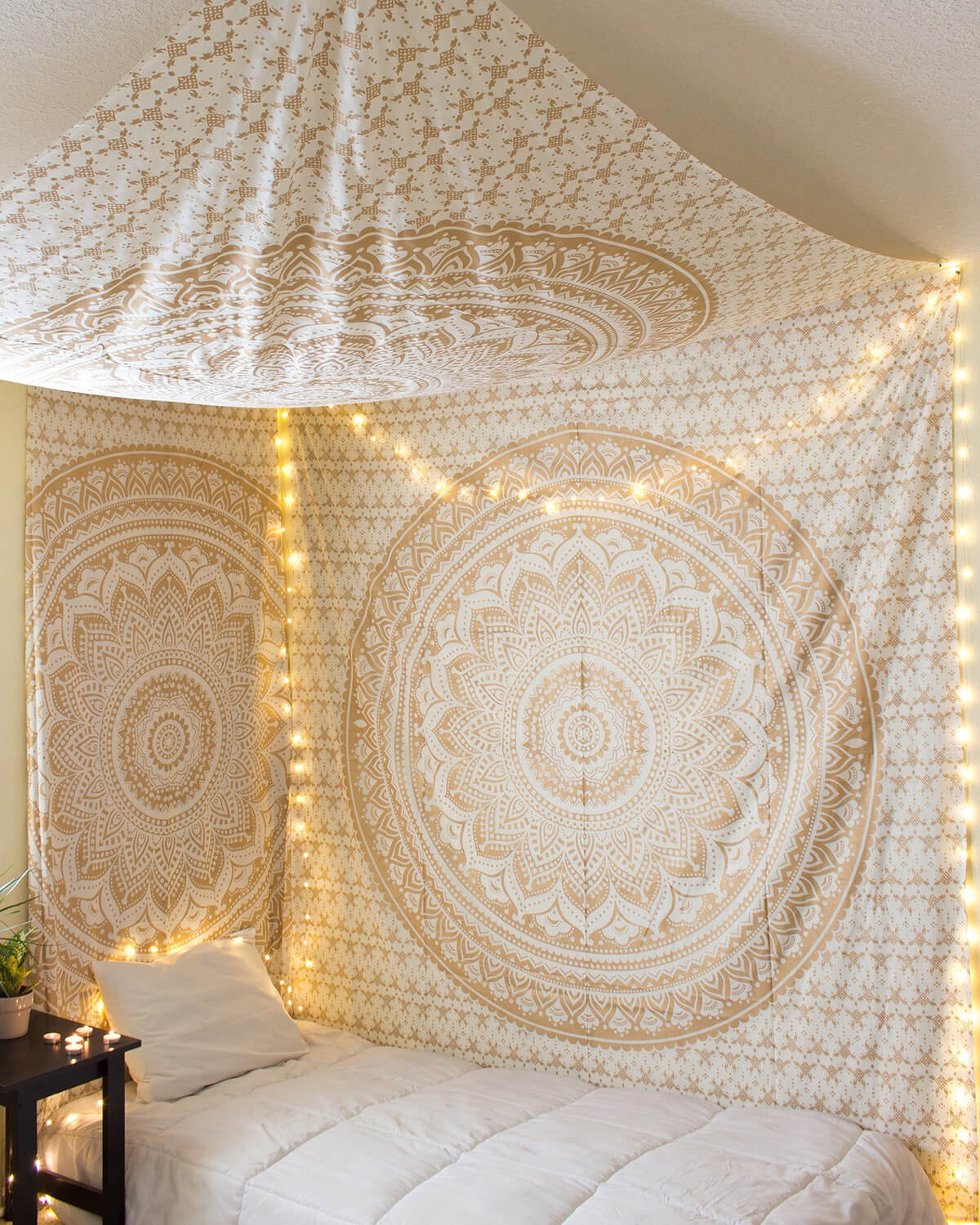 Canopies can transform a small bedroom into a peace-filled sanctuary. String lights behind these mandala-patterned canopies offer a serene glow that gracefully ties into the votive candles on the nightstand. While white cloth offers a breezy bedroom, choose darker colors for a moodier, cozier feel. Experiment with the cloth and lights until you find the combination that soothes your soul.
21. Kaleidoscope Tiles in Floral Design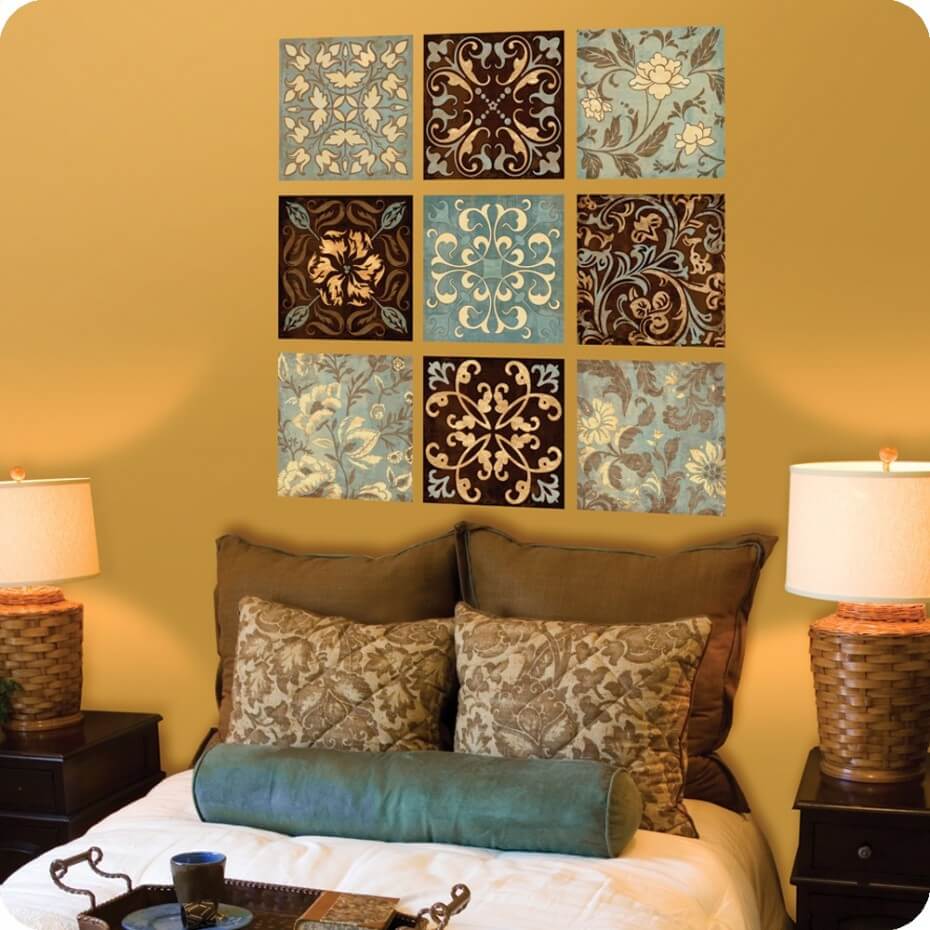 Brown, cream, and blue blend into a restful palette that ties these tiles together. Even though none of the tiles match, they are arranged in a pattern that promotes peaceful contemplation. To follow this example, choose a color palette that resonates with you, and have fun selecting your own nine tiles.
22. Hinged Sign Board Expresses Biblical Love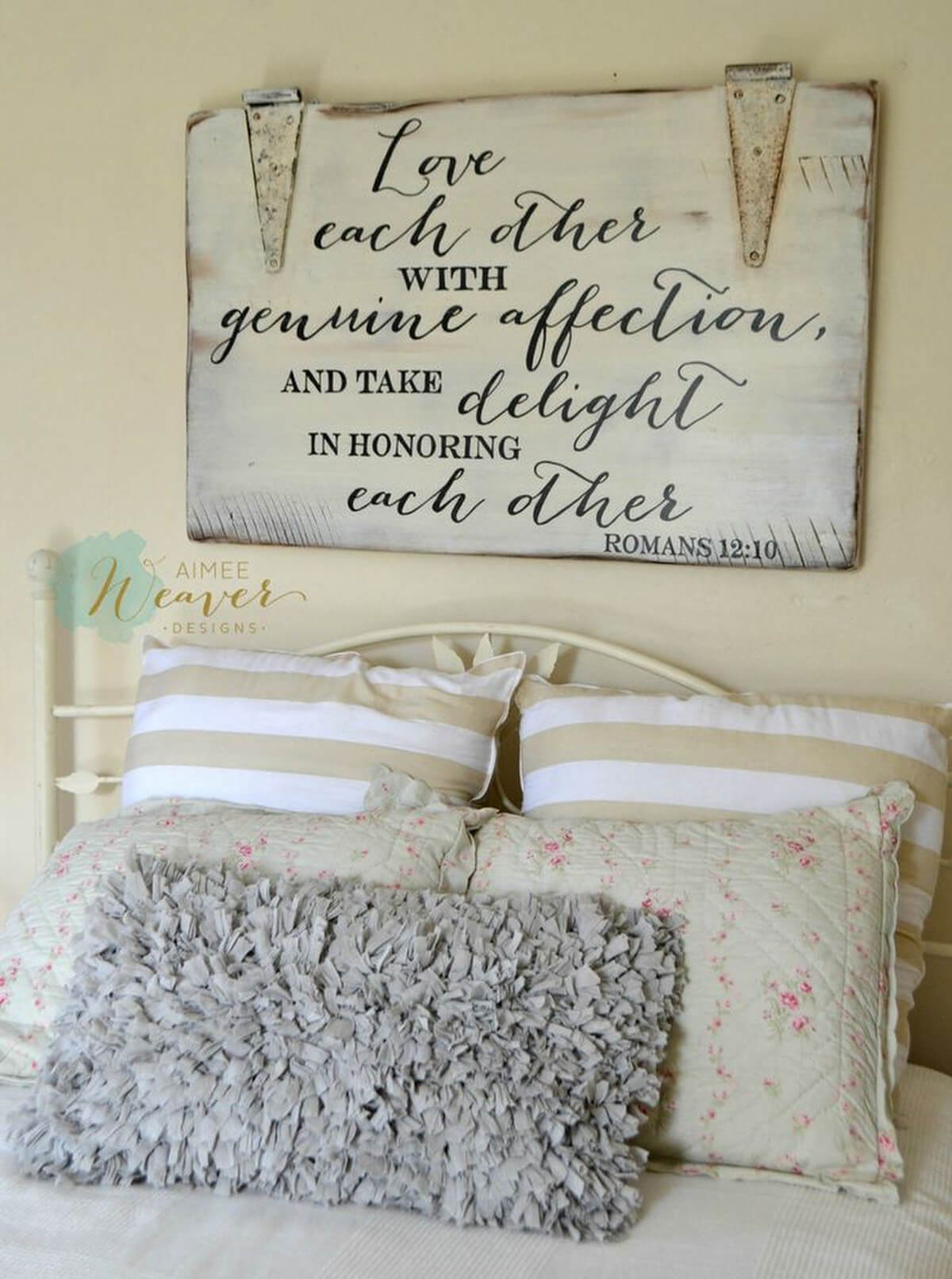 Made from reclaimed barn wood from Lancaster County, Pennsylvania, each of these signs is unique. Old-fashioned hinges and a whitewashed finish make a bold statement that will fit in nearly any space. Because each letter is hand-painted, it offers an unsurpassed level of craftsmanship. With the marriage-centric Bible verse, this wall art makes a phenomenal wedding gift.
23. Through the Looking Glass of Love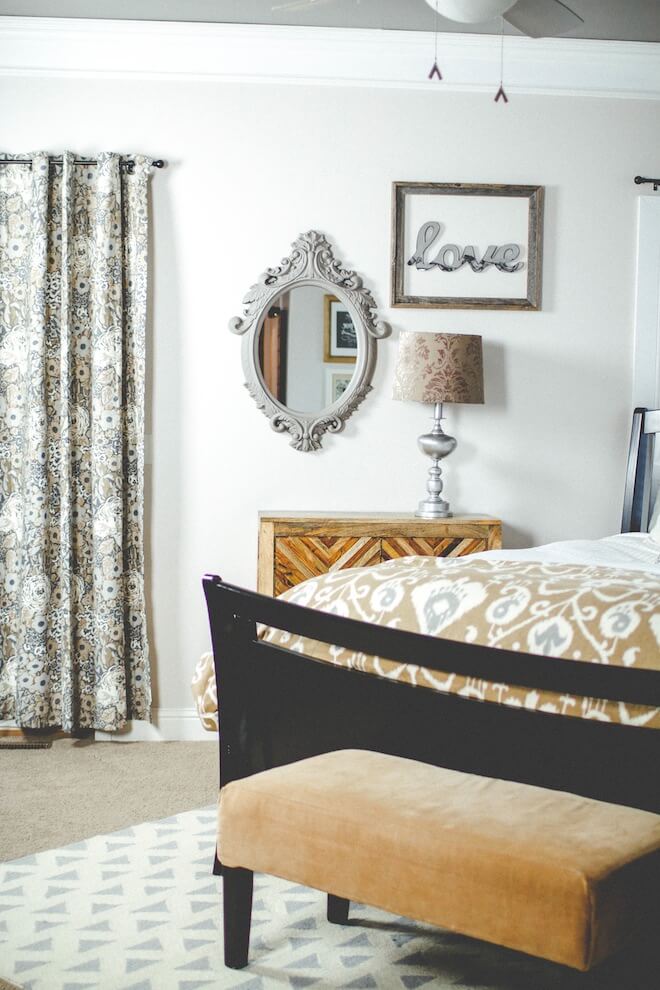 Adding a mirror to your bedroom interior is a powerful way to fill empty walls. Not only does it offer a place to get ready in the mornings, but also increases the light in your space. This antique mirror's frame is a fantastic way to add personality to your sanctuary. Pair with your favorite word for a heavenly effect.
24. Swag of Cotton over Black and White Sign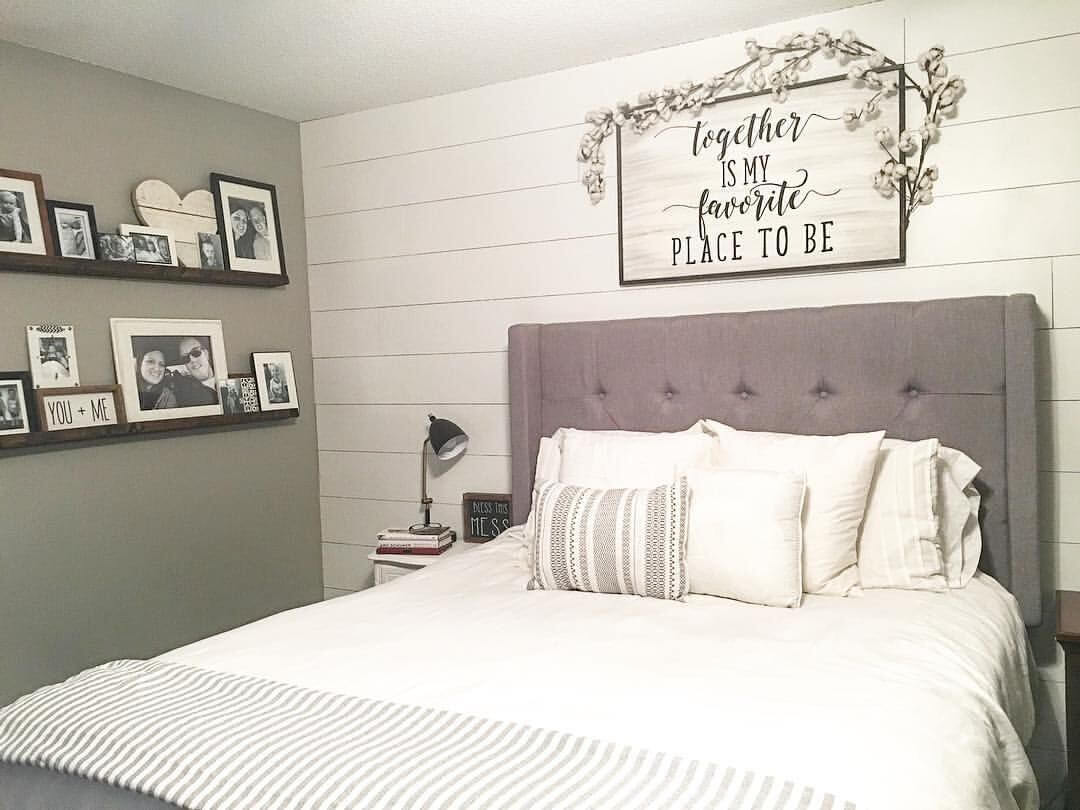 One of the best ways to build a relaxing space is to incorporate nature whenever possible. By using a sprig of your favorite dried botanical, you can achieve this effect. Due to its monochromatic nature, cotton works incredibly well in a subdued palette. If dried plants are not appealing, experiment with vining houseplants to achieve harmony with nature.
25. Message of Love on Chalkboard Center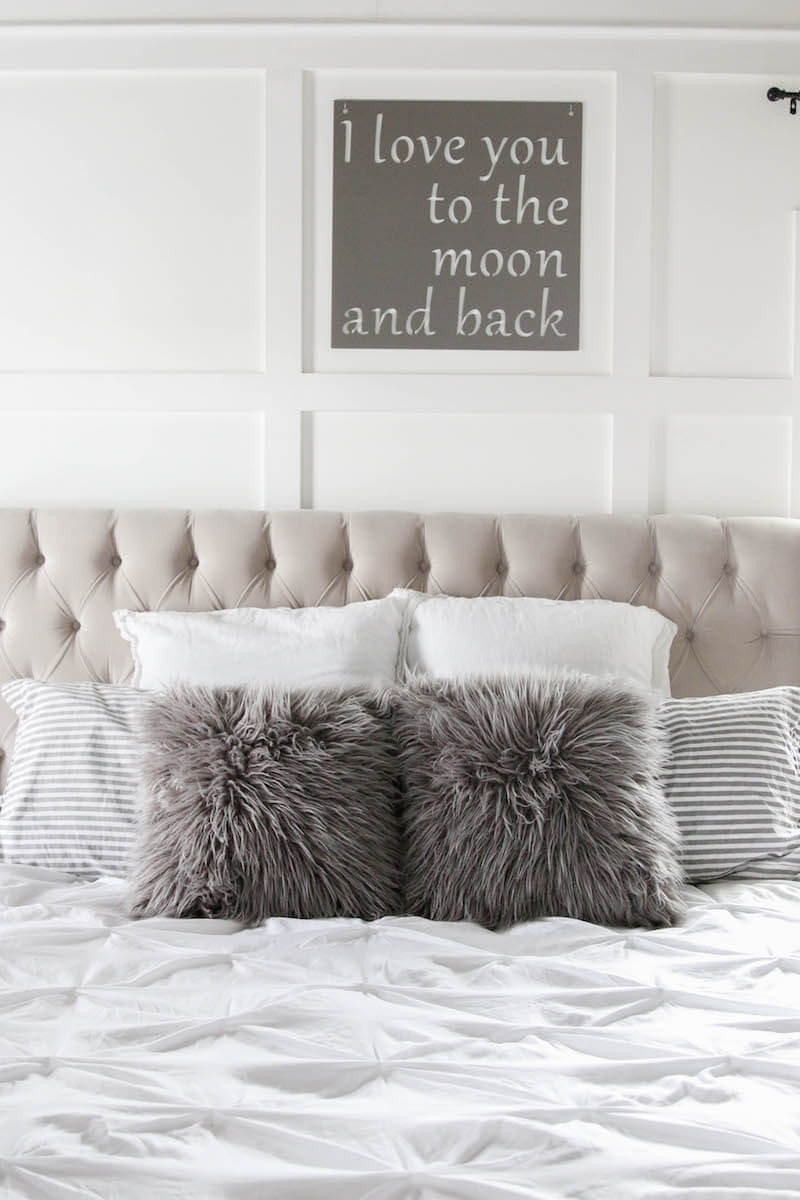 A creative idea for a master bedroom is to include a small chalkboard sign where you and your partner can write messages to each other. If your partner's love language is not writing sweet love notes, you can use your chalkboard to write encouraging notes to yourself. Those blessed with artistic talent could even use this chalkboard for sweet sketches.
26. Small Frames Within a Large Frame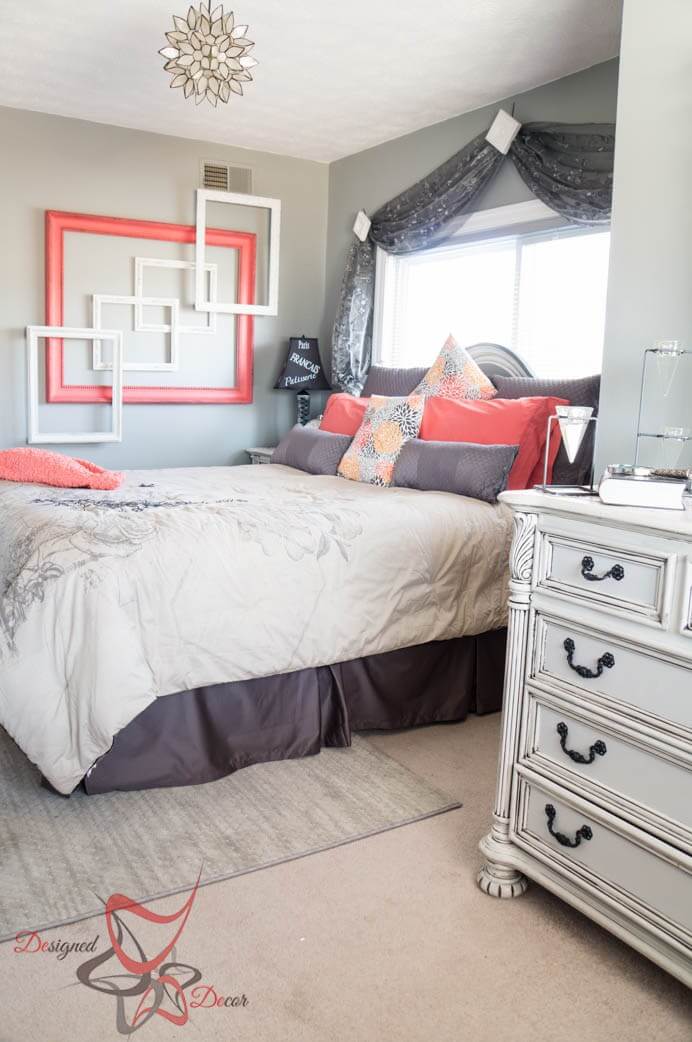 Believe it or not, you do not need anything more than frames to create a compelling wall decoration. By using geometry and two contrasting colors, these five picture frames are transformed into a provoking piece of modern art. Experiment with different frame styles and colors to achieve a look personalized to your space.
27. Love is the Breath of Life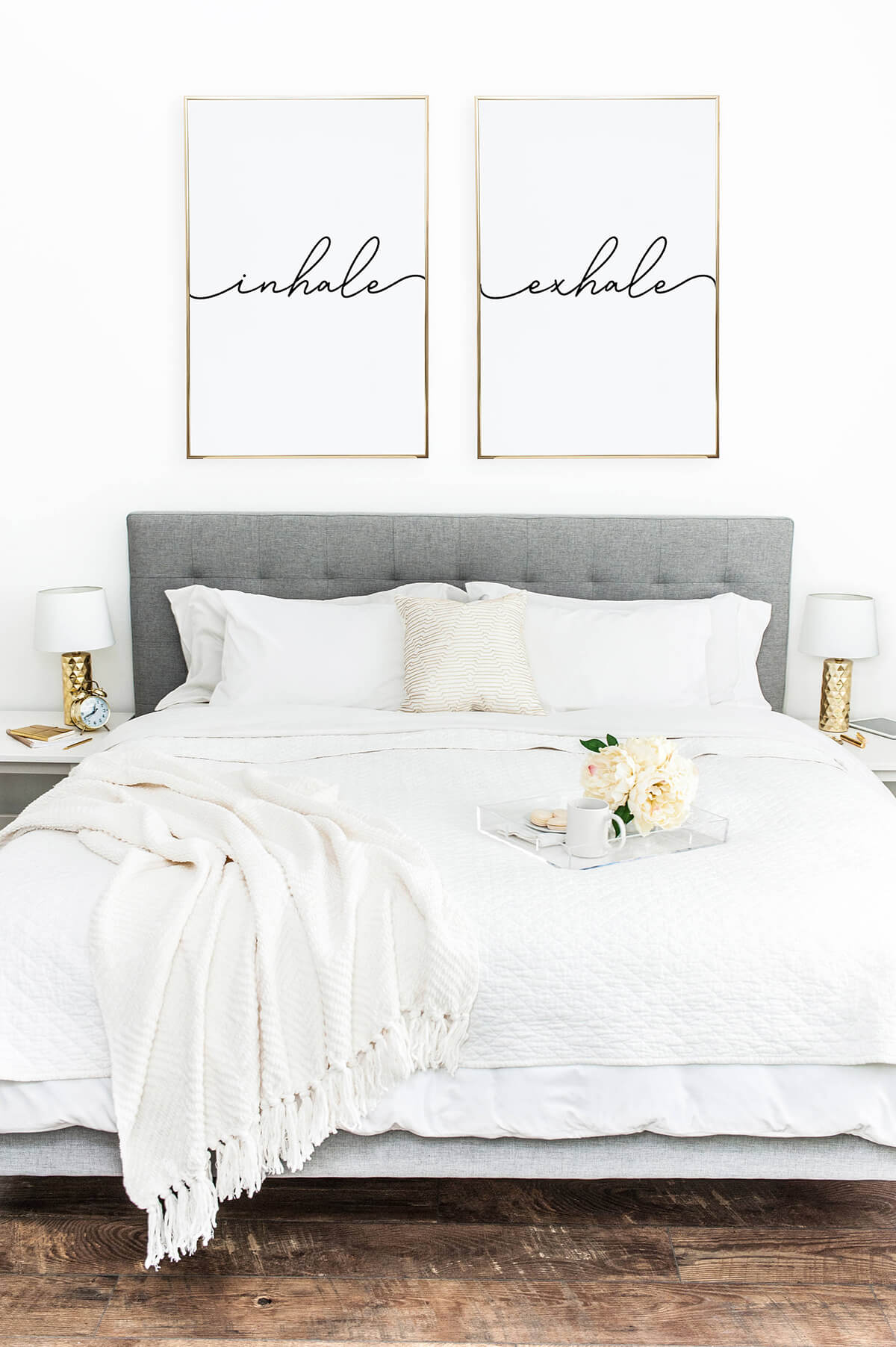 This set of two prints is a great way to help you relax. A single line of billowing script is utterly captivating. As a digital download, you can use any frame that works for you. Glamorous reflective frames shown here are a reminder that not all the glitters is gold – you also need to make time to breathe.
28. Mirrors of Suns and Circles on Striped Wall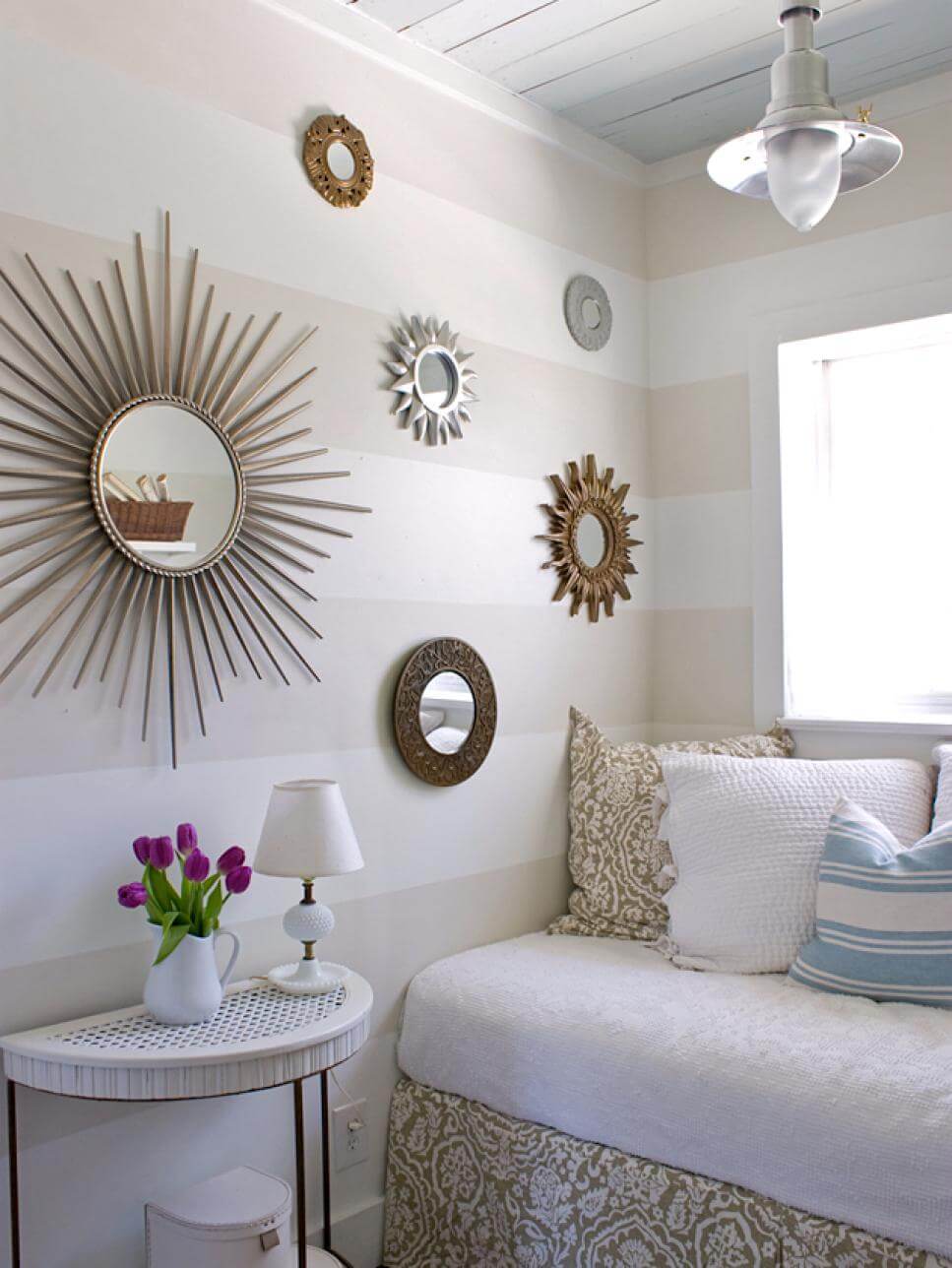 Because they feature both soft circles and energizing rays, this display of mirrors offers a balanced display. To use your mirror-themed feature wall to maximum effect, place them opposite a wall with artwork that resonates with you. This example features a variety of metals, sizes, and suns to provide a pleasantly organic effect.
29. Cotton Bouquets to Greet the Guest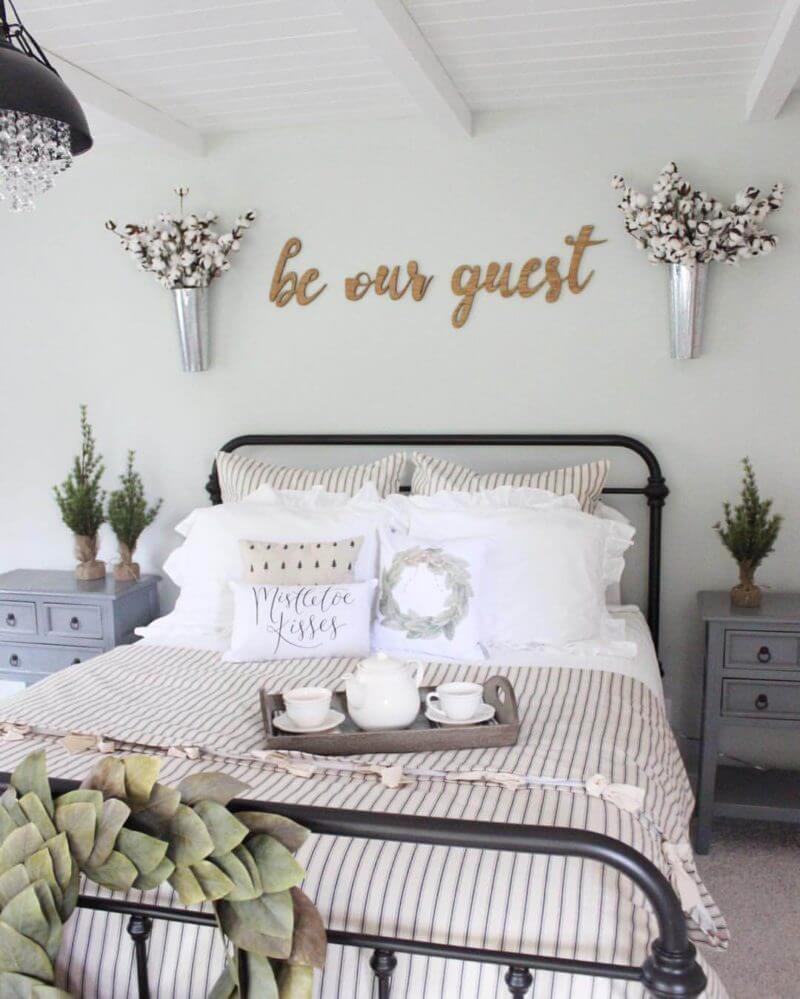 As far as botanicals go, cotton is compatible with a variety of themes and color palettes, and offers fun textural elements. Of course, if you would prefer a flash of color, choose silk flower bouquets for the bookend vases. To get behind the fairytale theme hinted at by the "be our guest," opt for a bouquet of classic red roses.
30. Mirrors Framed in Bas-Relief Between Mounted Keys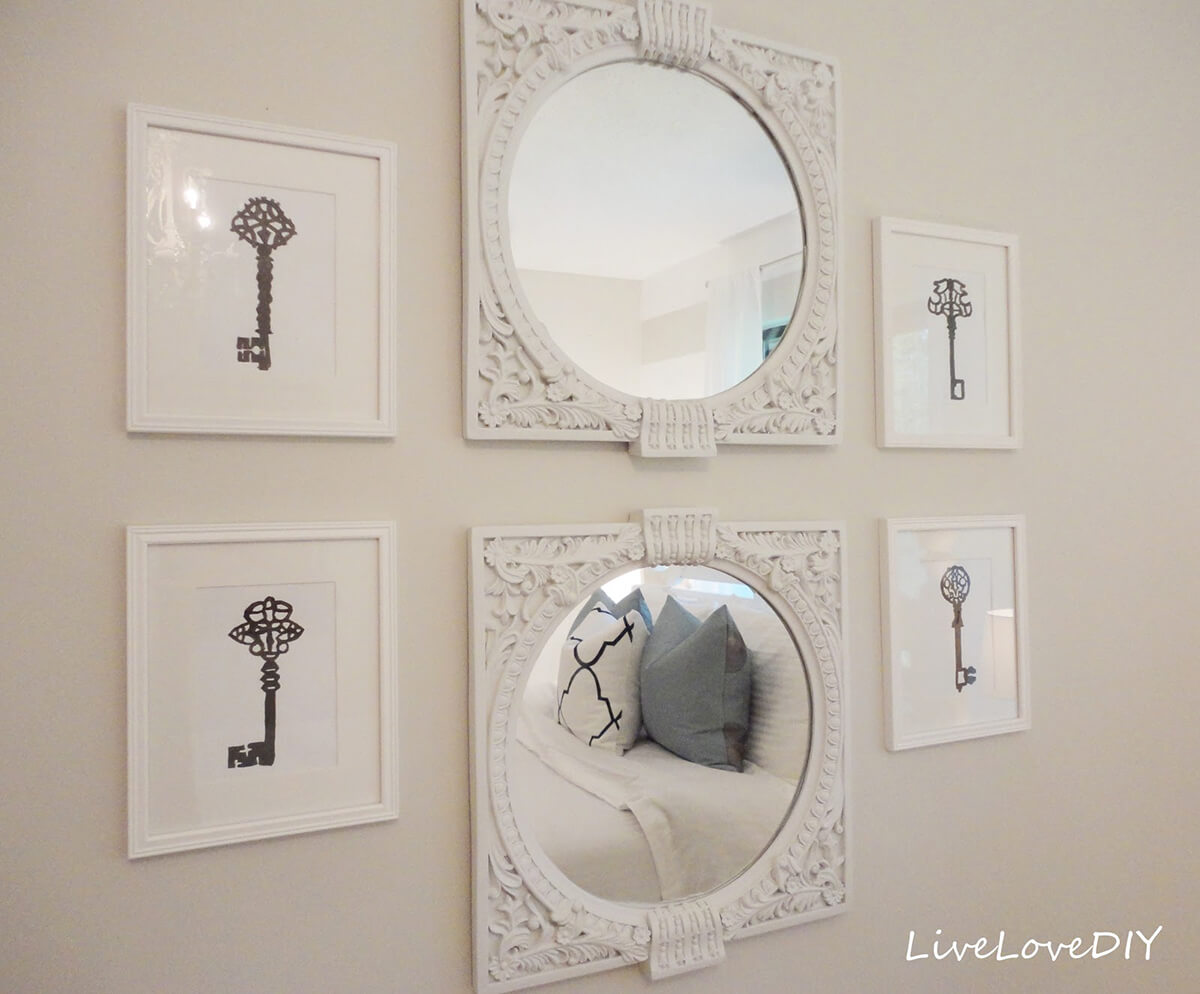 Mirrors and keys might sound like Sherlock Holmes, but, as shown in this example, can create a captivating bedroom display. With this design, you can reap the benefits of soothing symmetry while still enjoying a hint of organic elegance. Even with the elaborate bas-relief detail in the mirrors, the white-on-white color scheme might be too simple for some styles.
31. White Shag Circle on Dark Navy Wall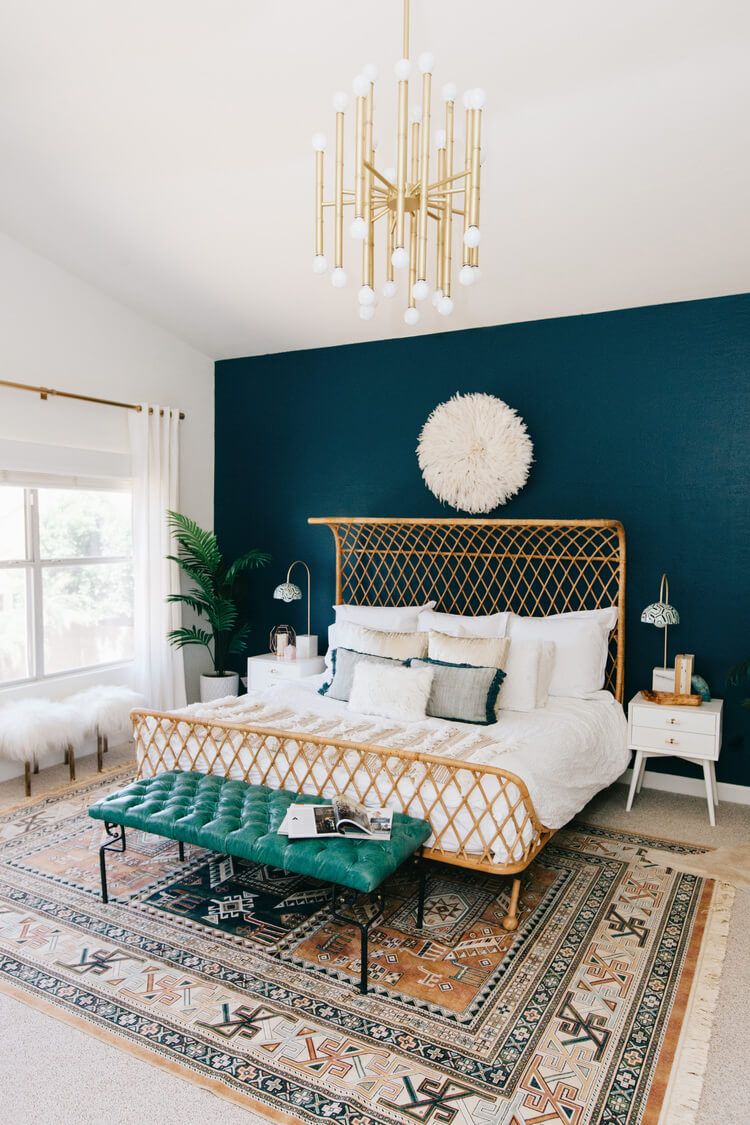 For rooms decked out in bold color, textural wall art like this shag circle is perfect for cultivating tranquility. The key to achieving the success seen in this example is to feature a high-contrast shag circle against the wall. Then, all you need to do is tie that color into the rest of your space.