Bedrooms can be tricky to decorate. You don't want to sacrifice function for style, but it should still be a sanctuary for you to relax and unwind after a busy day. Thankfully, there are a few design styles, like the vintage look, that are very good at combining function with budget-friendly fashion. Whether shabby-chic or elegantly antique, vintage decor is undeniably stylish. Its mix-and-match aesthetic makes it easy to achieve a high-end look without the high-end price tag. Mixing textures is the key to creating a vintage feel.
You'll Never Want to Leave your Room Again with these 33 Vintage Bedroom Decor Ideas

Combine an old brass bedframe with ruffled lace curtains, or pair a shiplap accent wall with a sparkling chandelier. Look for items at flea-markets and second-hand stores; a little bit of wear and tear adds that depth of character that makes a vintage style room feel lived in. Don't be afraid to envision new uses for your finds. Even things like old drawer pulls and hardware can have new lives as curtain hooks or light fixtures. You don't need to be handy with power tools either. Upcycling really can be as simple as stacking packing crates. Viola! A custom made nightstand! Ready to start decorating? Here are 33 vintage bedroom decorations to inspire your makeover.
1. Twinkle Light and Sheer Gauze Curtain Headboard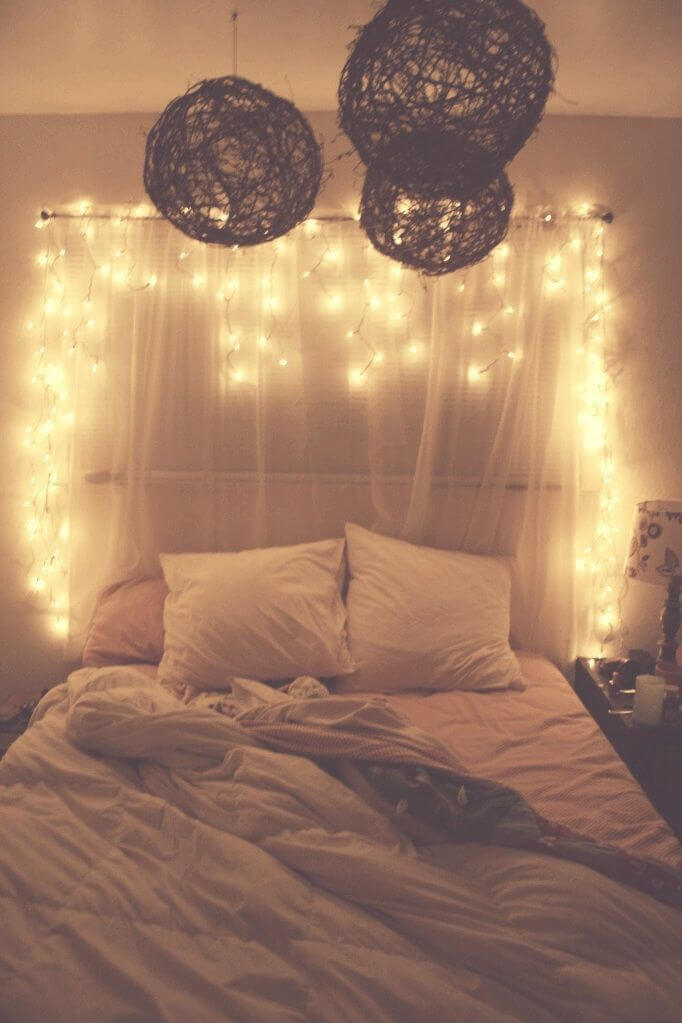 Use Christmas lights to create this magical headboard. Hang sheers from a curtain rod at the head of the bed, and drape a string of icicle lights across the rod with a long string of lights on each side to create a magical space to relax and enjoy.
2. Reclaimed Wood and Mason Jar Votive Holders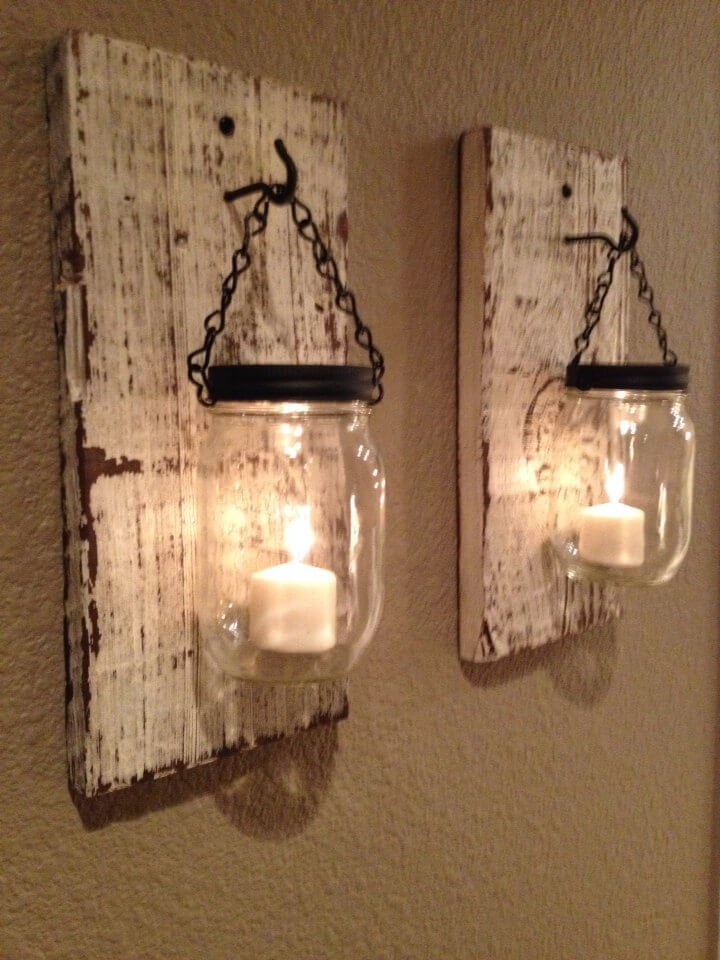 This pair of rustic sconces adds a vintage look anywhere in your home including the entryway, living room, dining room, or bedroom. Start with a weathered board cut to whatever size you want. Add a cup hook and hang a canning jar from the hook with a chain. Insert a votive candle and mount the board on the wall with a long screw. It is quick and inexpensive, but it creates a rustic, vintage focal point in any area.
3. Upcycled Vintage Bedroom Décor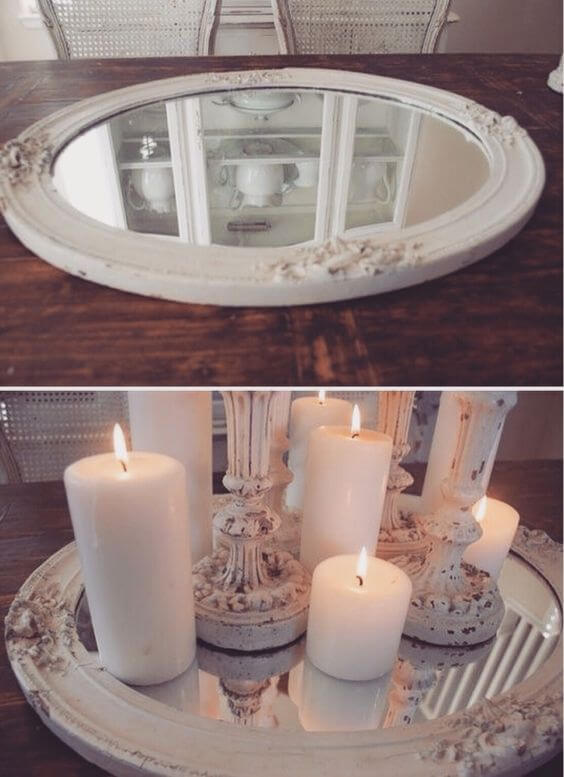 This dresser or tabletop arrangement is perfect for a bedroom as well as for the living room, the dining room, or an entryway. Use a vintage, framed mirror for the base. Add four coordinating candlesticks, some pillar and votive candles, and you have an arrangement that adds atmosphere to your bedroom or any room.
4. Custom Corner Wardrobe Made From Distressed Doors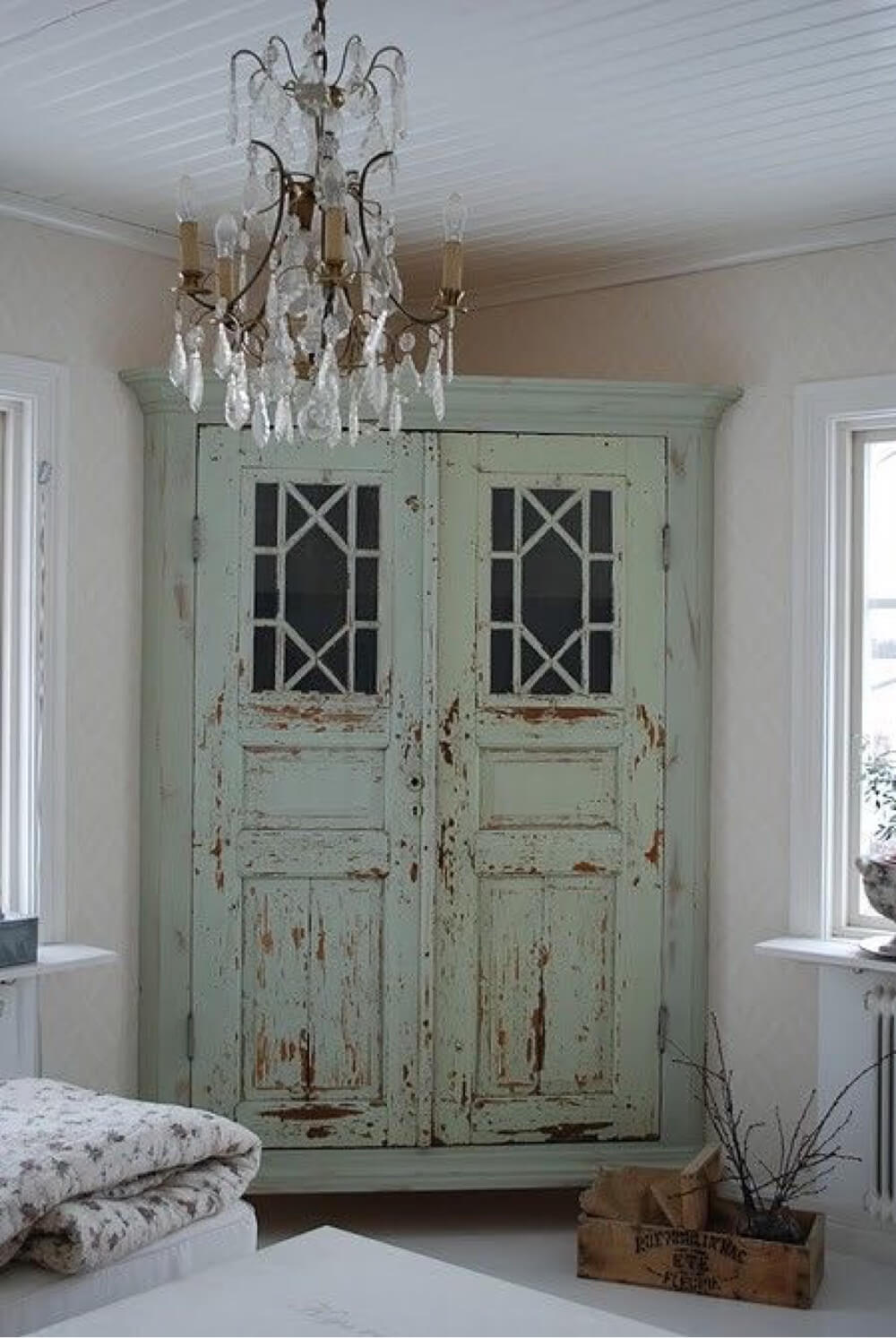 Build this vintage look corner cupboard to create more storage space in your bedroom. Find a pair of weathered doors and build a frame from cornice and doorframe molding. Whitewash or use milk paint on the molding frame. Attach the molding frame to the walls. Cut triangular pieces of wood for the top, bottom, and shelves, and attach them to the molding and the walls. Hang the doors, and you have a new corner cupboard.
5. Trimmed And Tassled Semi-sheer Privacy Curtain On Ceiling Hooks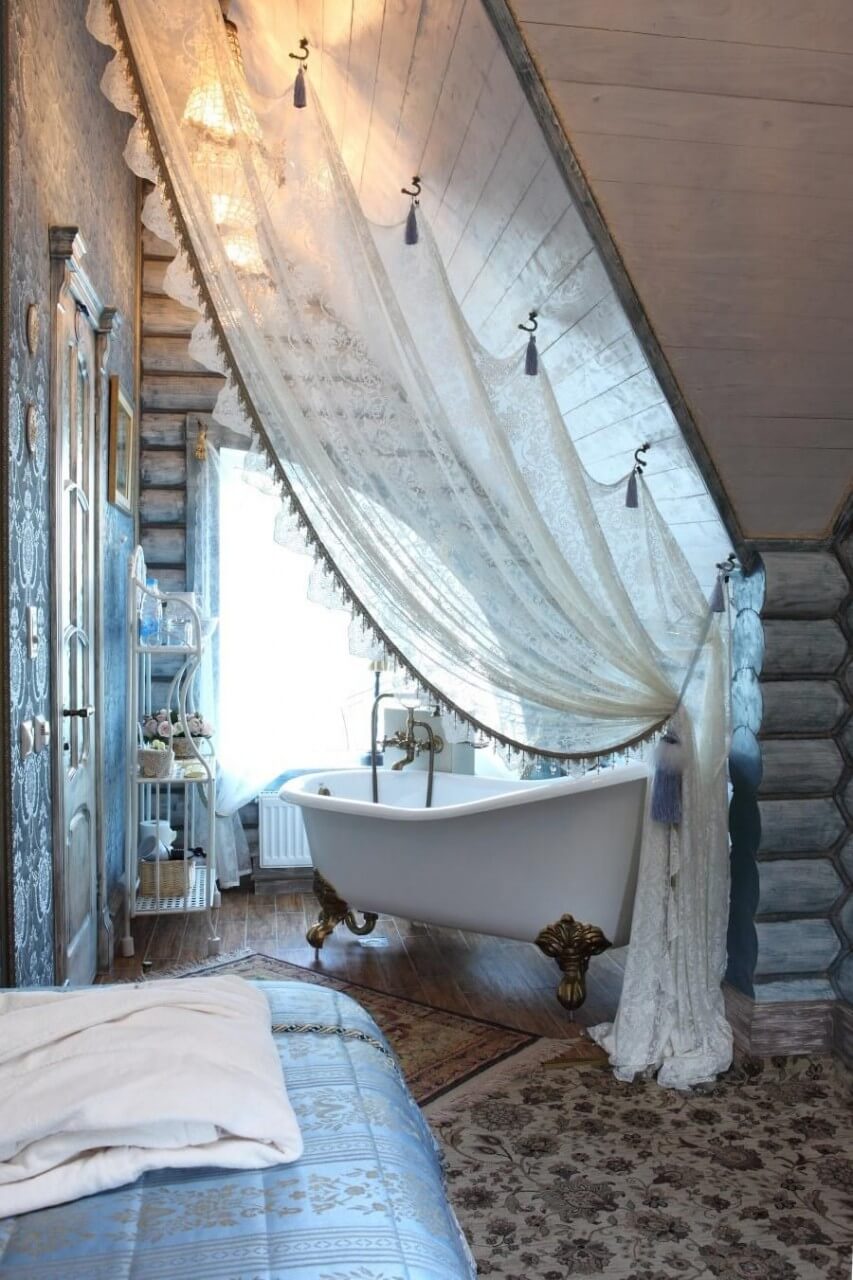 If you have an area in your bedroom that you want to make a little more private, such as the tub, a dressing area, or around the bed, try this idea. Get one or more sheer panels, add trim and tassels for a vintage look, and hang them from the ceiling on cup hooks. Add one or two tie backs for a decorative look when you do not need the privacy.
6. Easy Vintage Side Table From Stacked Packing Crates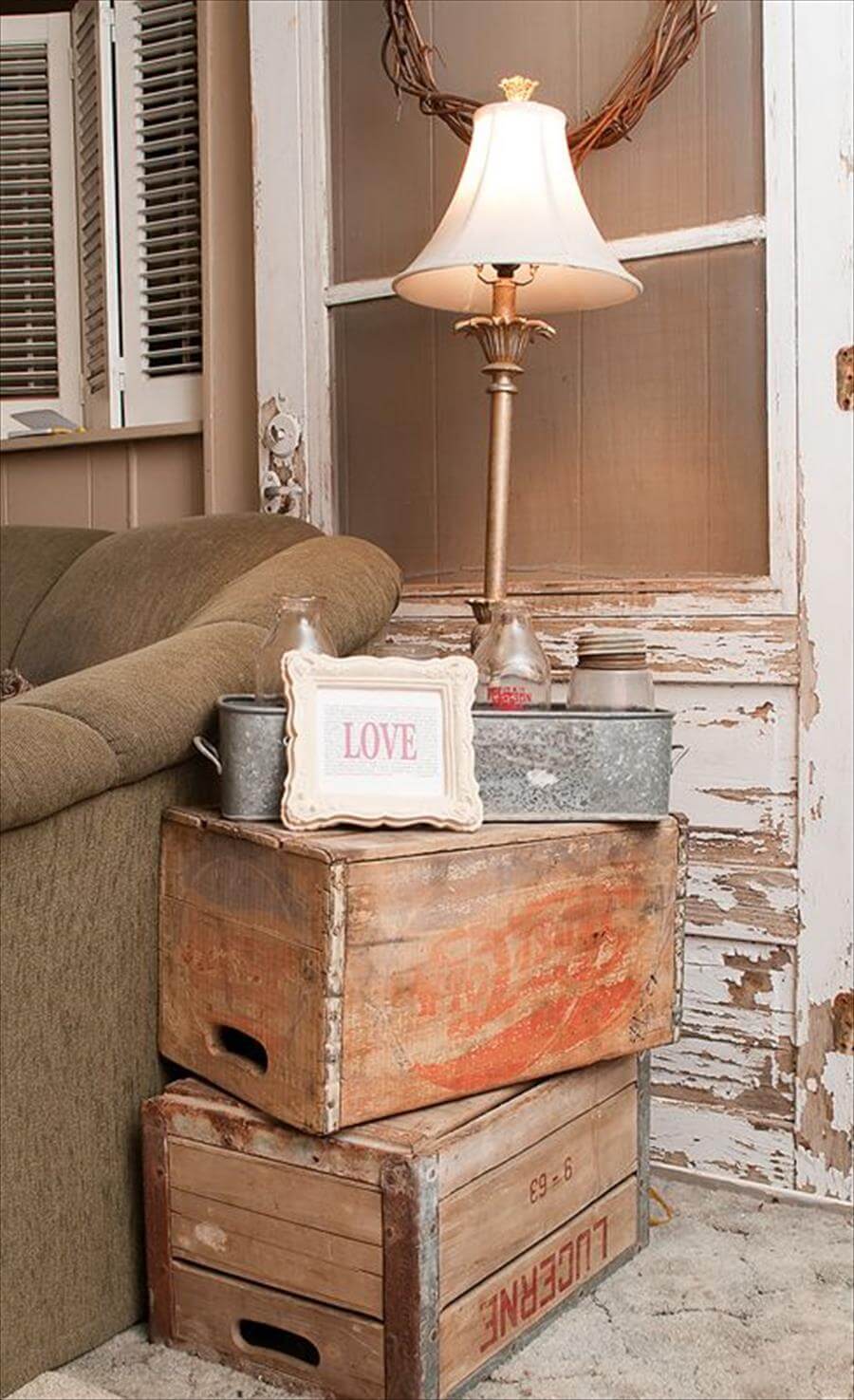 For a non-traditional look that will add character to your bedroom, use this idea instead of a nightstand or side table. Stack a couple of crates, add a table lamp along with a few items to create an interesting display. Your display could be an antique vanity tray with some decorative bottles to hold your beauty essentials, a small trinket box to hold small items, or an old book or two for some indulgent reading and relaxing time.
7. Ornate Picture Frames With Chalk-paint Patina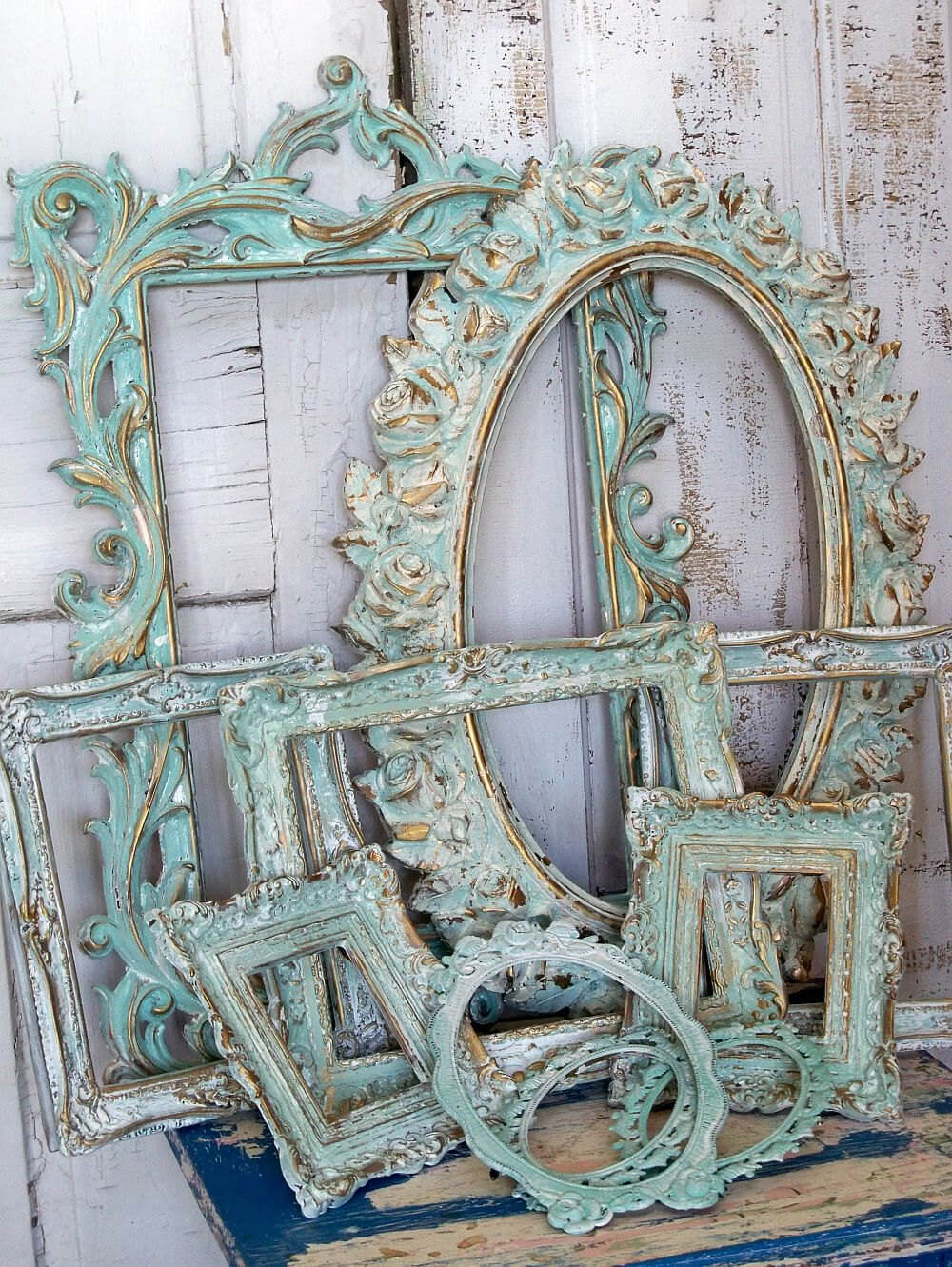 This idea will create a beautiful vintage feel on a tabletop in your bedroom. Get a collection of antique frames in all shapes and sizes. Paint them with chalk-paint patina. Then arrange them on a tabletop, leaning them against the wall. If you want, you can set a couple of small tabletop frames with photos enclosed in front of the display.
8. Mock Four-poster Canopy Bed With Linen Drapes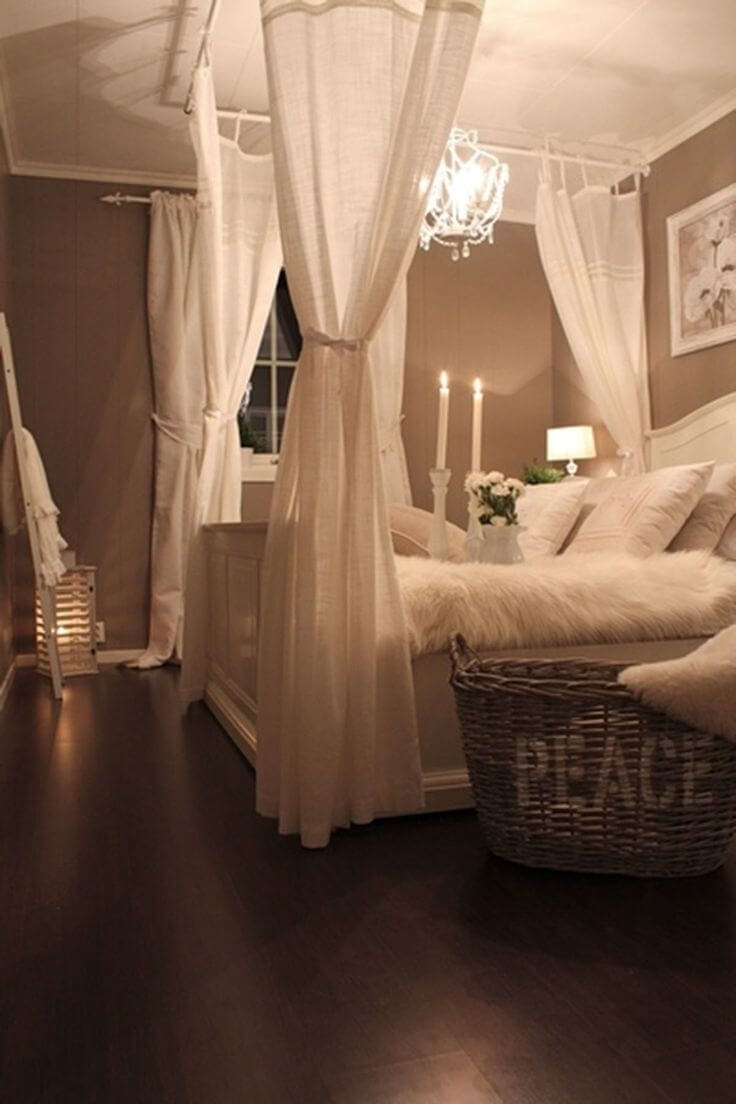 Any bed can be given a four-poster look. There are numerous ways to create the rods for hanging the curtains. Regular curtain rods can be hung from the ceiling. Metal or PVC pipes and elbow joints can be mounted on the wall with shower rod fittings and then supported from the ceiling in several spots. The pipes can be painted any color. If the curtains use headers, they can be hung on the rods before the rods are hung and placed in the supports. If the curtains have holes for hangers, you can use ties or shower curtain hangers and arrange them between ceiling supports.
9. Reclaimed Wood Headboard With Built-in Reading Lights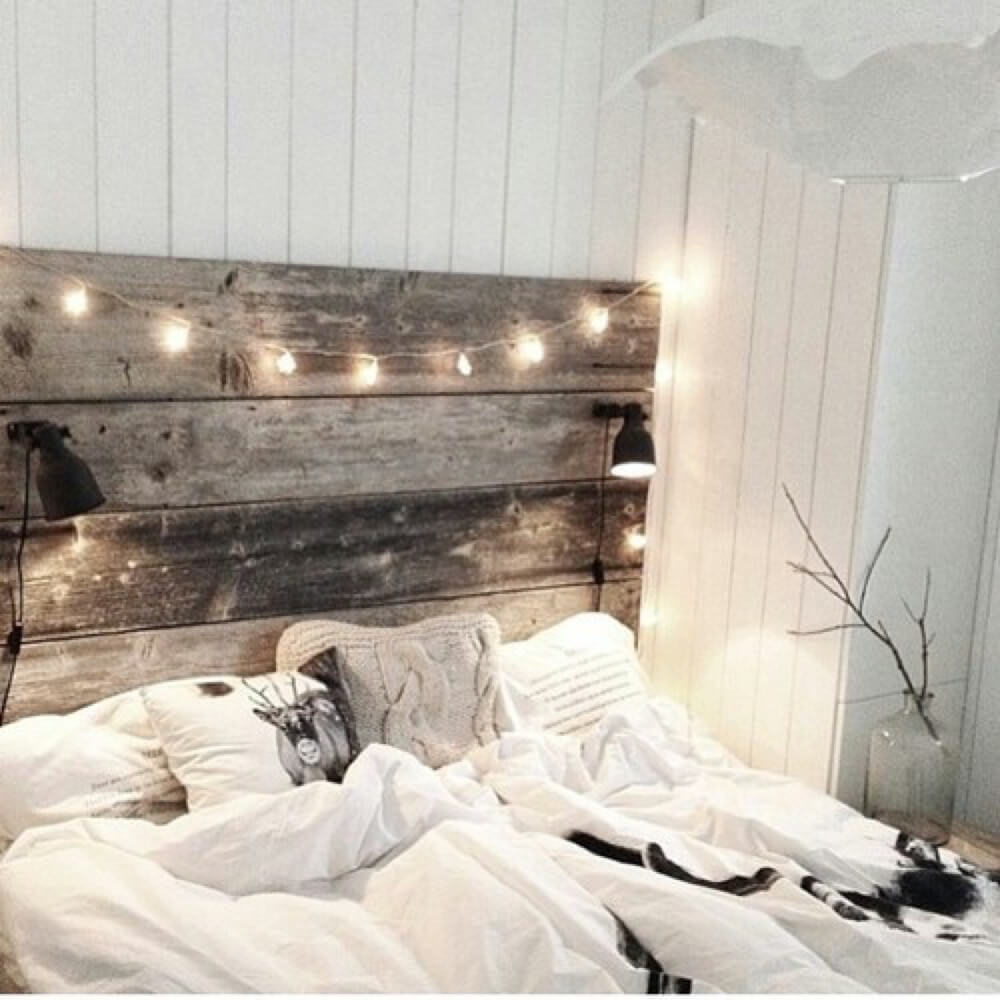 This weathered wood headboard will create a rustic focal point in your bedroom, and it is created easily just by nailing the boards to the wall. It can also be accented in a variety of ways. The string of lights adds to the reading lights mounted on both sides of the headboard. However, you can mount a wreath, a family photo, a wedding picture, or initials in the center. The more you think about it, the more ideas you will get.
10. Decorative Tree Branches With Twinkle Lighting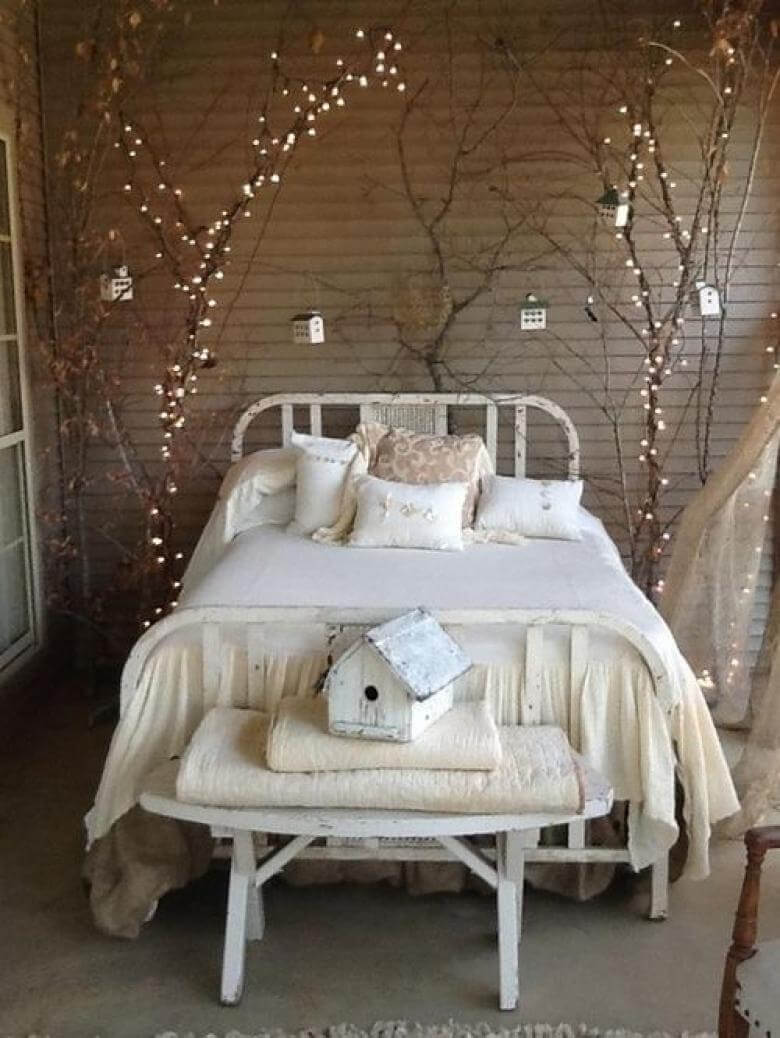 These tree branches leaning against the shipboard wall with twinkle lights and miniature birdhouses give this bedroom an outdoorsy feel. With the weathered white bed frame, it brings to mind a vintage sun porch. The birdhouse on the table at the end of the bed continues the theme. You almost expect a pitcher and bowl to be sitting on a stand somewhere in the room.
11. Salvaged Window Frame Wall Hanging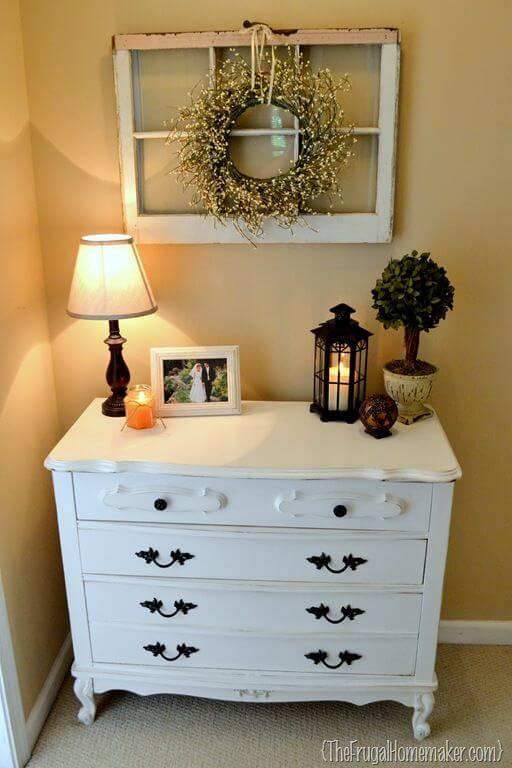 To create an interesting wall display in your bedroom above a dresser, the nightstand, or your bed, hang a window frame with glass panes and add a wreath. You might even want to put an art print behind it. You could do several of these around your bedroom. Consider using differently shaped windows, such as a round or an arch-shaped window above a dresser.
12. Classic Chandelier And Vintage Wall Art Collage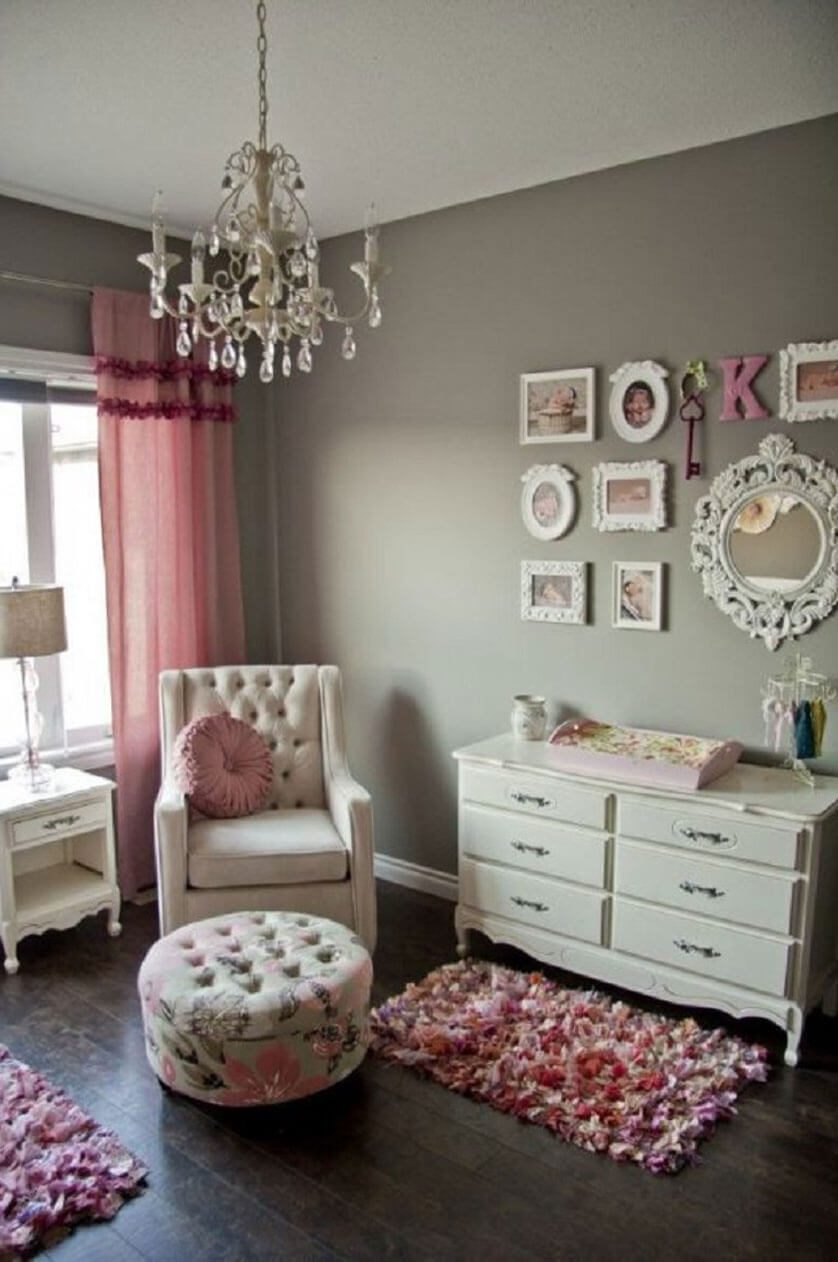 The chandelier sets the vintage tone that is supported by the rectangular-shaped wall art collage. The smaller framed photographs in the collage balance the larger mirror. The straight simple lines in a couple of the frames, the chair, the dresser, and the stand balance the ornate curved design of the chandelier, the legs of the furniture, the mirror, and many of the frames. The two sets of duplicate frames in the collage pull your eye around the collage. The pink tones in the photographs complement the pink in the drapes, the floral hassock, and the rag rugs. This creates a focal point that ties the room together.
13. Rustic Brass Bedframe With A Light And Airy Color Scheme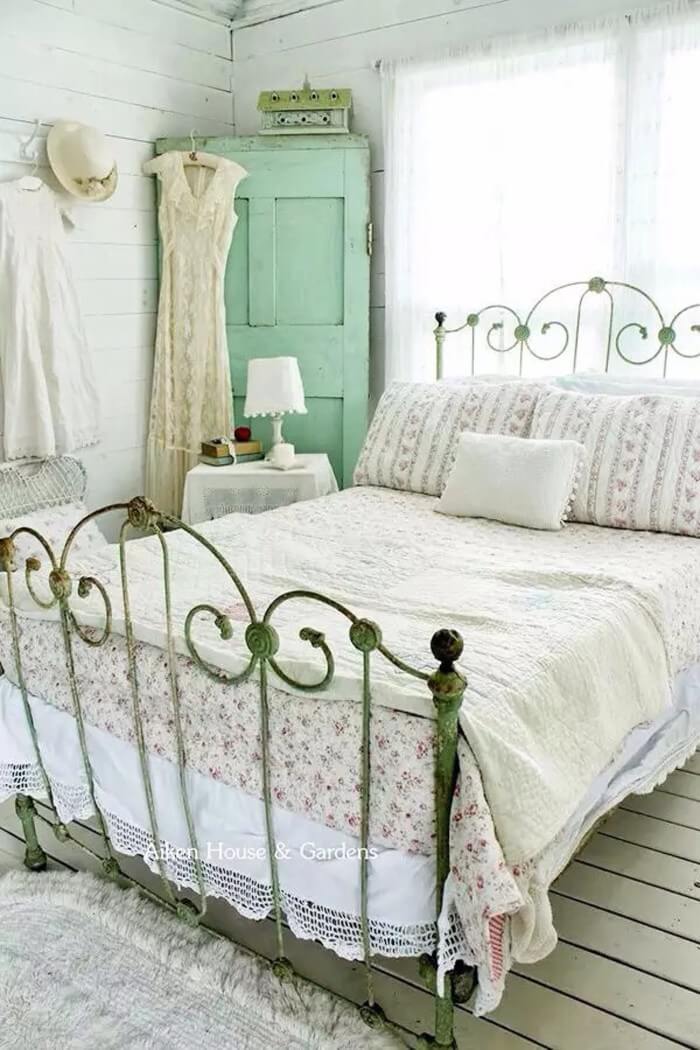 The brass bed gives this bedroom a rustic charm that is further enhanced by the wood floor and the wood-slatted walls. The cotton and lace fabrics throughout the room add a light and airy feel. The mostly white color palette with the green accents from the bed frame, the bedding, the corner closet, the wood building on top of the closet, and the hat along with the touch of pink in the bedding and the hat add to the light, airy, springtime feel.
14. Vintage Frame And Lace Trim Jewelry Organizer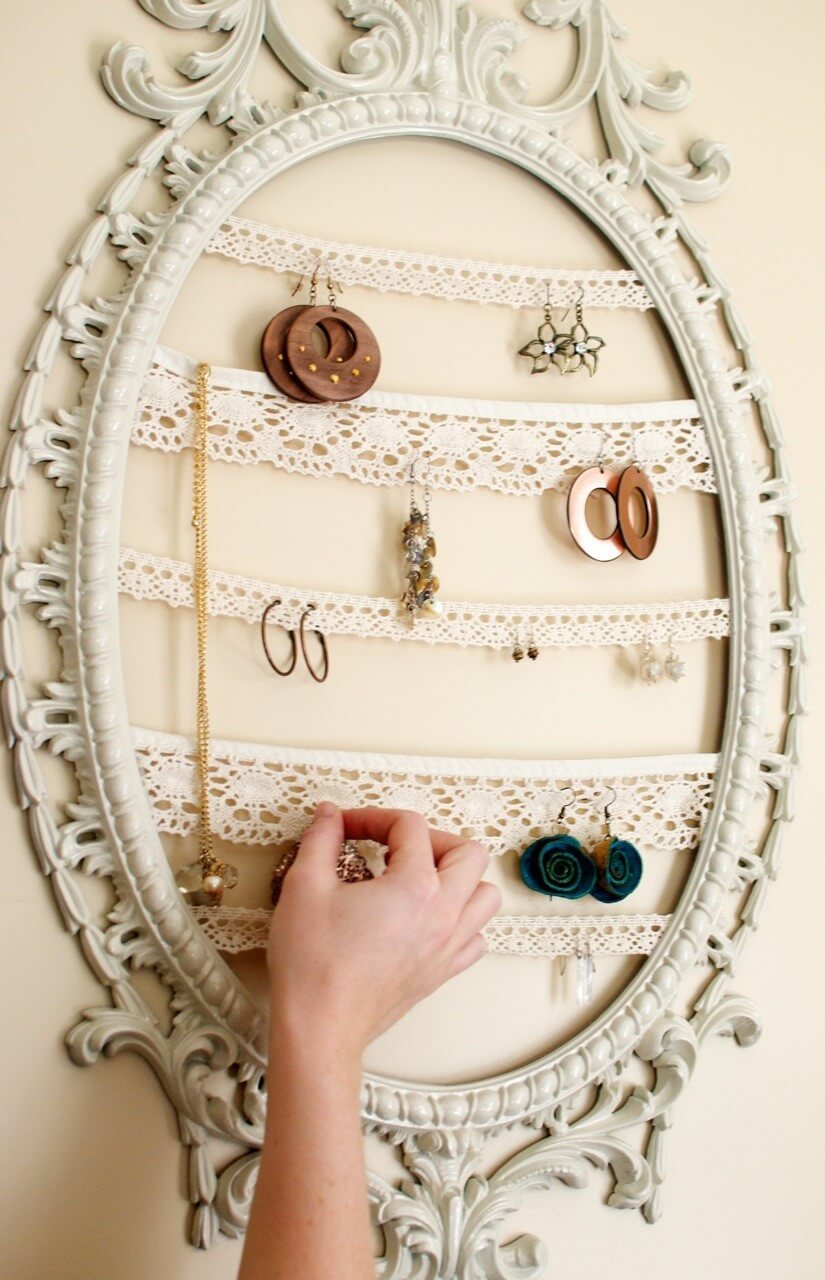 This idea is a decorative solution to help organize your earrings and other jewelry that you wear often. It is also a solution for those living in smaller spaces. By simply attaching lace trim across a vintage frame, you create a place that ensures that pairs of earrings stay together and can be accessed quickly. The frame and the lace will blend well with a vintage-look bedroom.
15. Antique Luggage Vanity Table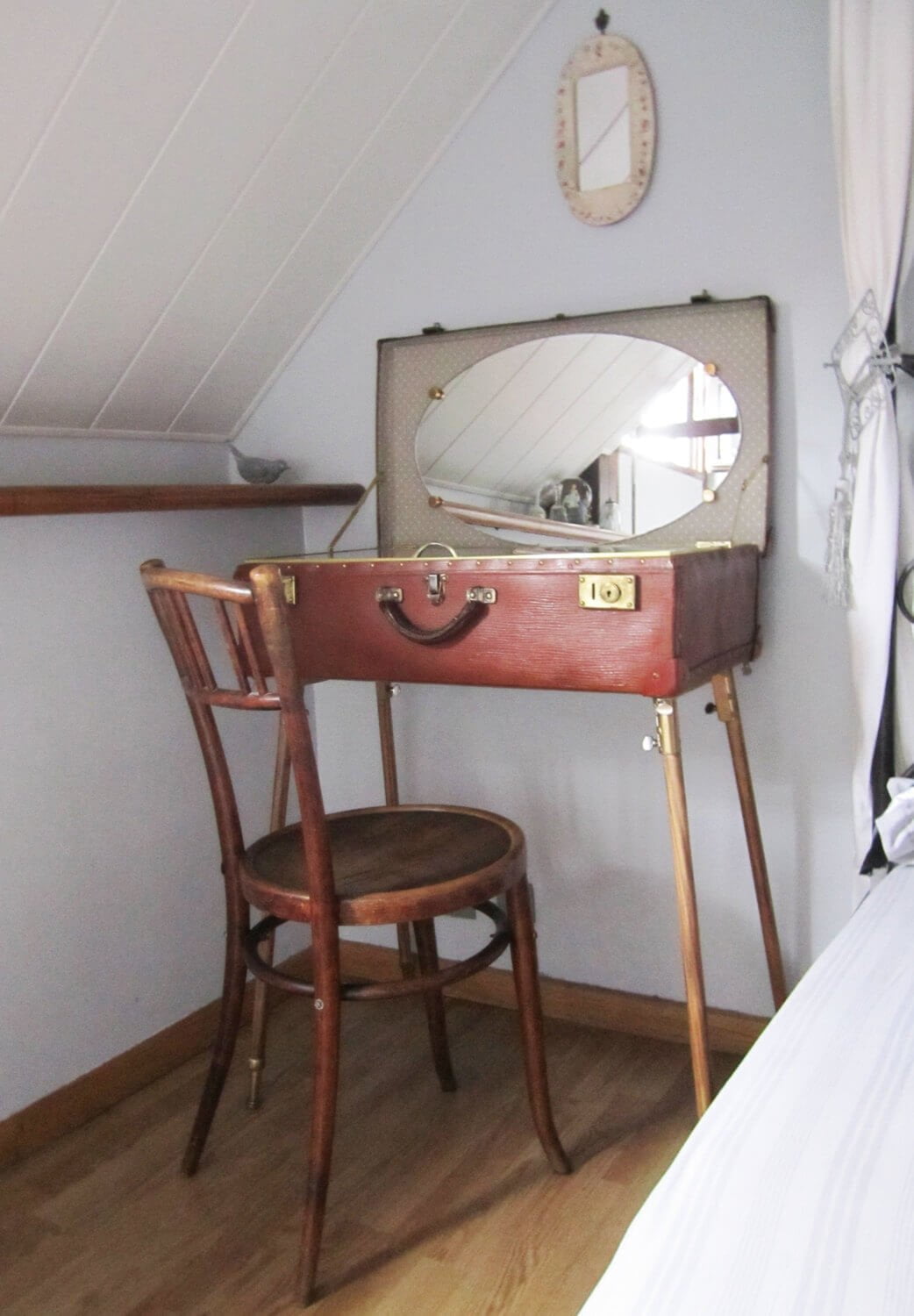 Using a vintage suitcase as a vanity table is an intriguing idea. With the variety of patterns and textures, you could select a tweed or a leather suitcase. Many vintage suitcases have pockets in the lid and lift-out trays with compartments. Adding a mirror in the lid and legs to the bottom is a quick and easy way to create a vanity table with a vintage look.
16. Crystal Doorknob Curtain Tiebacks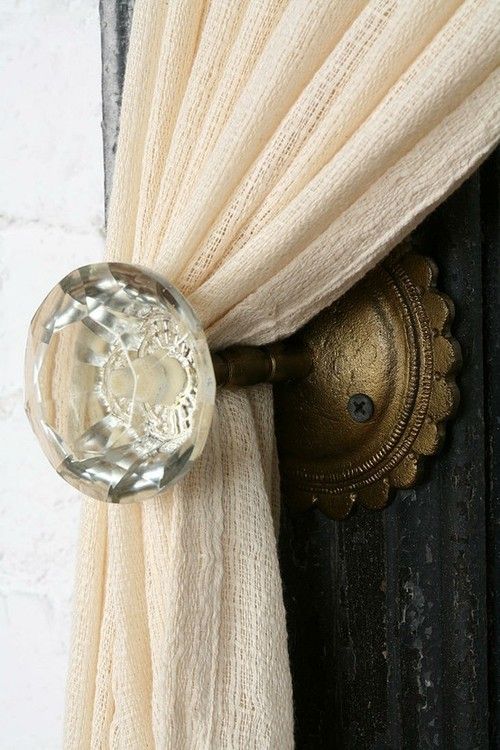 Woodwork in old houses is beautiful, and so is the hardware. Reclaiming old doors is nothing new, but reclaiming doorknobs is not often suggested, especially reclaiming them to repurpose them for a new, very different use. Using old door knobs as a drapery tieback could add character to a window treatment. Doorknobs would be easy to mount.
17. Upcycled Orchard Ladder Turned Nightstand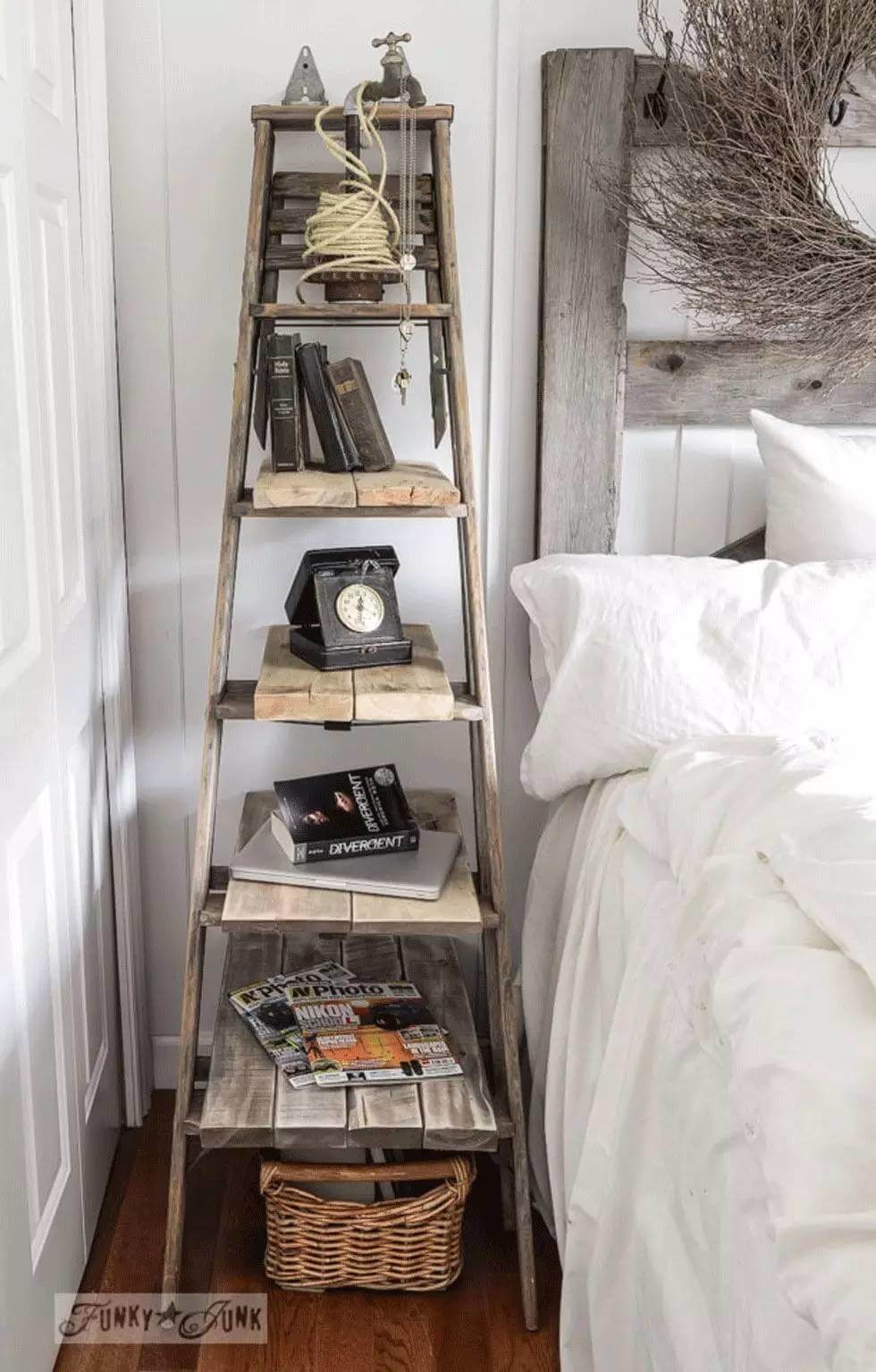 This ladder used as a nightstand shows how a little imagination can repurpose items to create functional furniture that creates, "Wow, that is clever moments!" Nightstands can become overrun with items that people want within easy reach at night, but this ladder nightstand allows more vertical space for more items. That is real plus for people living in small spaces. Just attach a board on the back of the ladder that is even with each step, and lay boards across to act as shelves. The only thing missing from this ladder nightstand is a lamp that could be attached or sat on a shelf.
18. Distressed Hall Table With Ornate Framed Mirror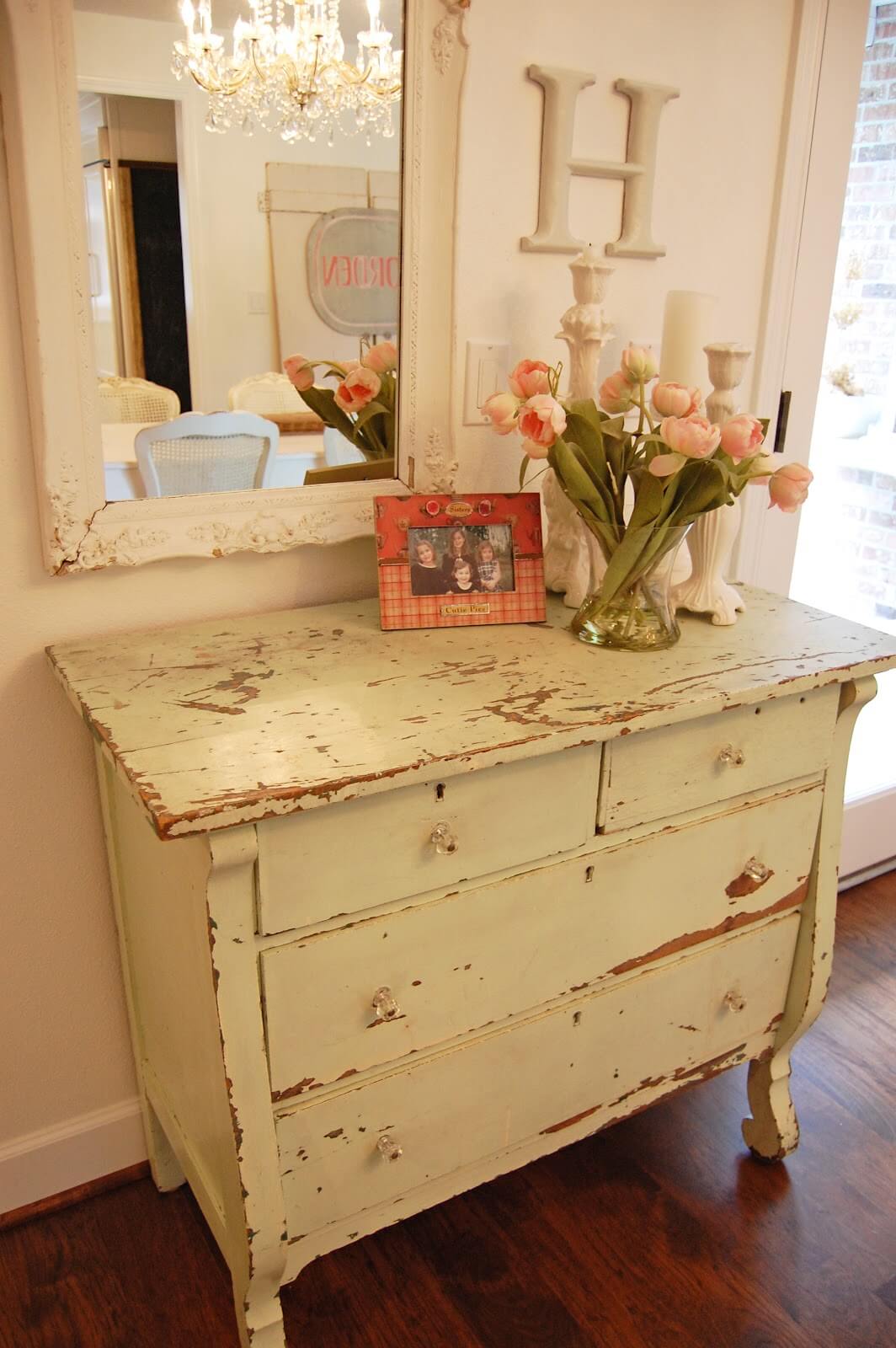 If you bought some second-hand furniture with the intention of refinishing it, you do not necessarily have to wait until the furniture is refinished to use it. This hall table and mirror have been added to a bedroom as a dresser in as-is condition giving the bedroom a vintage look. So don't wait to use your found treasures.
19. Carved Vintage Bedroom Decoration with Floral Print Pillows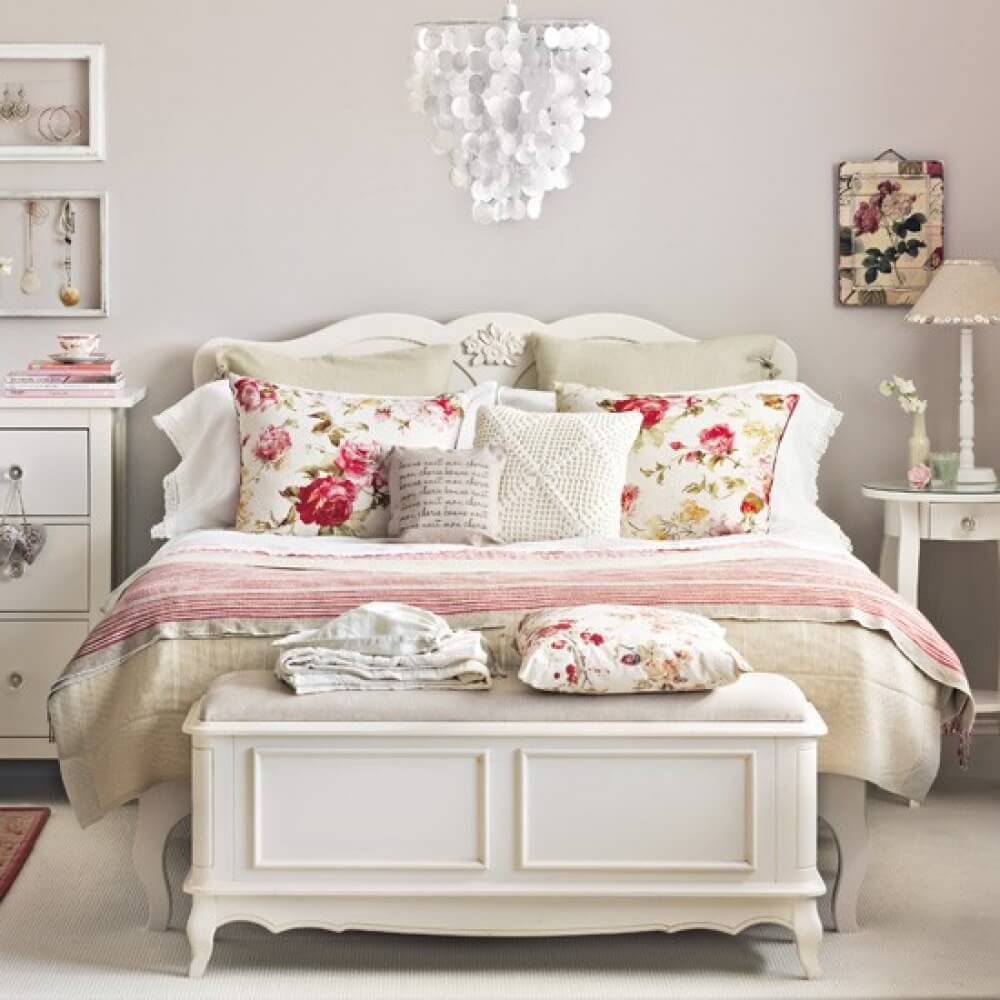 Since the bed is the main focal point of any bedroom, then the bed and the bedding sets the tone for the bedroom. To create a vintage feel, look for a headboard with a curved ornate design. If the headboard doesn't have a piece of decorative molding like this one, you can buy one separately and attach it. Next considered the bedding. Traditional florals are a good choice as are lace, crocheted pillows, and crocheted trims.
20. Super Simple Stacked Luggage Nightstand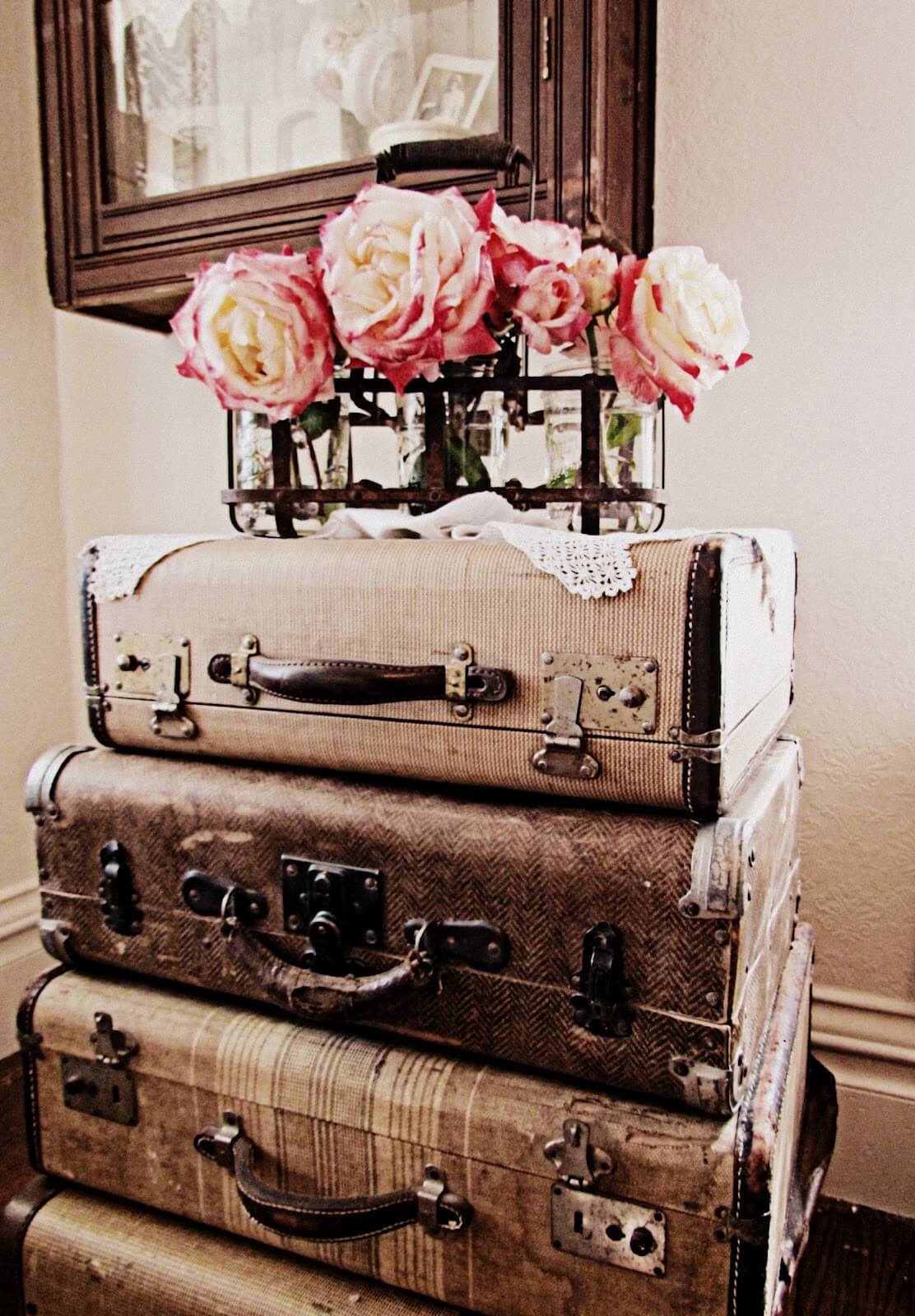 Just like the luggage vanity, this stacked luggage nightstand idea can add some patterns and textures to your bedroom while giving it a vintage look. The dresser scarf and the fresh flowers soften the look. An additional benefit is that the suitcases can be used for storage for items like blankets, especially for those living in small spaces.
21. Polaroid-style Instagram Wall Art With Twinkle Lights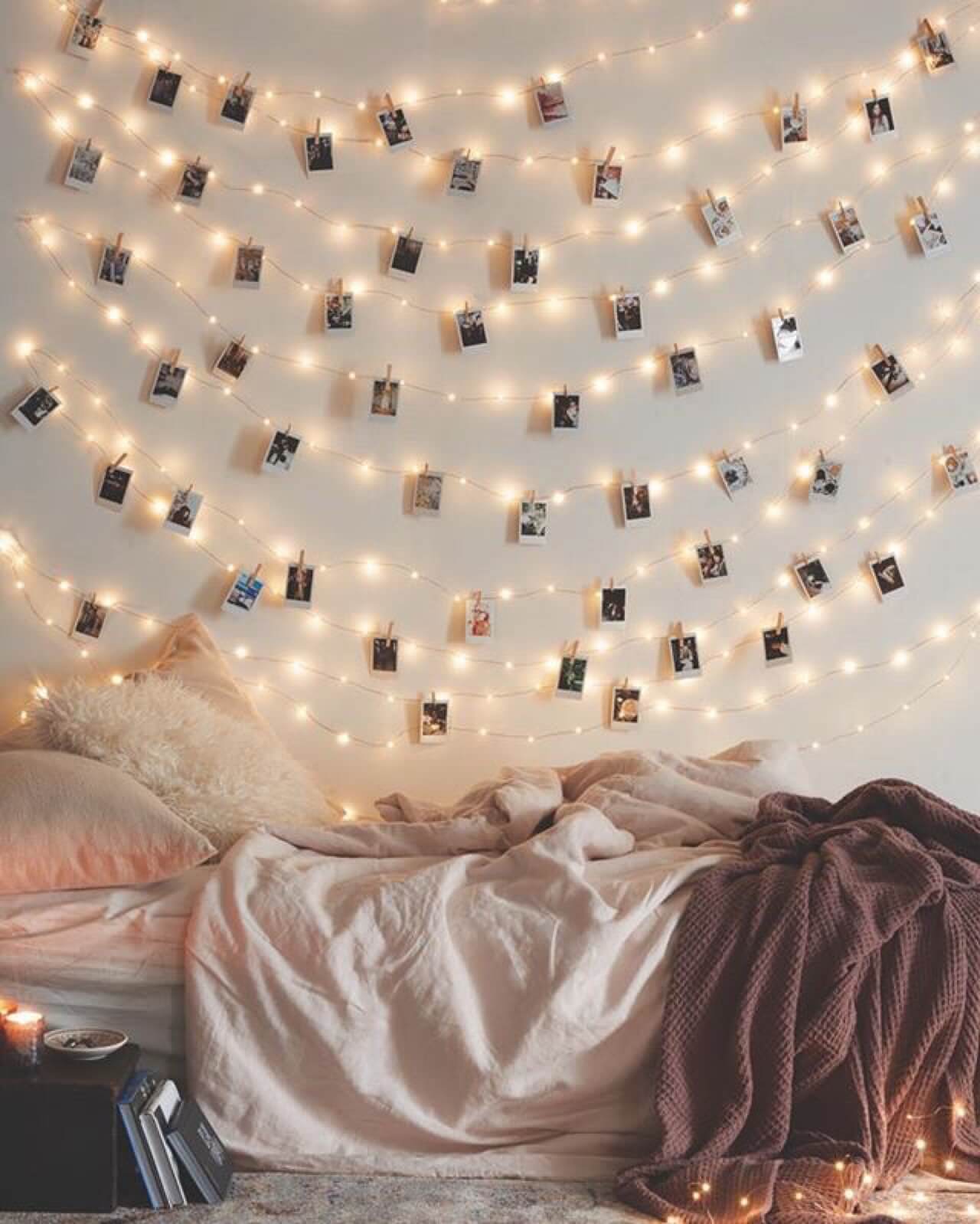 To create this Polaroid-style photo wall, use your favorite photo art app and select a white background that is 3.5″ x 4.25″. Shrink and crop your photo until it is 3″ x 3.125″. The white border should be 1/4″ on three sides and 7/8″ on the bottom. Print the images on glossy paper. Now, string twinkle lights on your wall and hang the photos with clip clothespins.
22. Chalk-painted Mason Jar Vases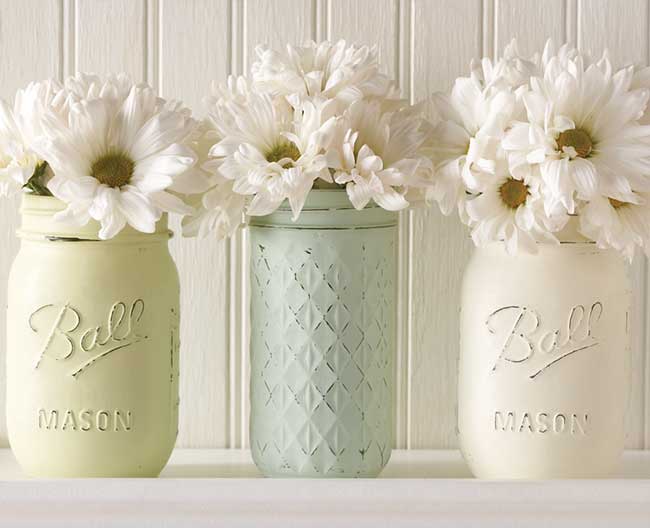 For a quick, easy display, get Mason and other decorative jars and paint them with chalk paint. Use them for fresh or silk seasonal floral arrangements or to hold items like cotton balls. Place them on your dresser, side table, or a shelf. Paint jars ahead of time in colors that coordinate with every room of your home.
23. Dramatic Headboard Made With Reclaimed Doors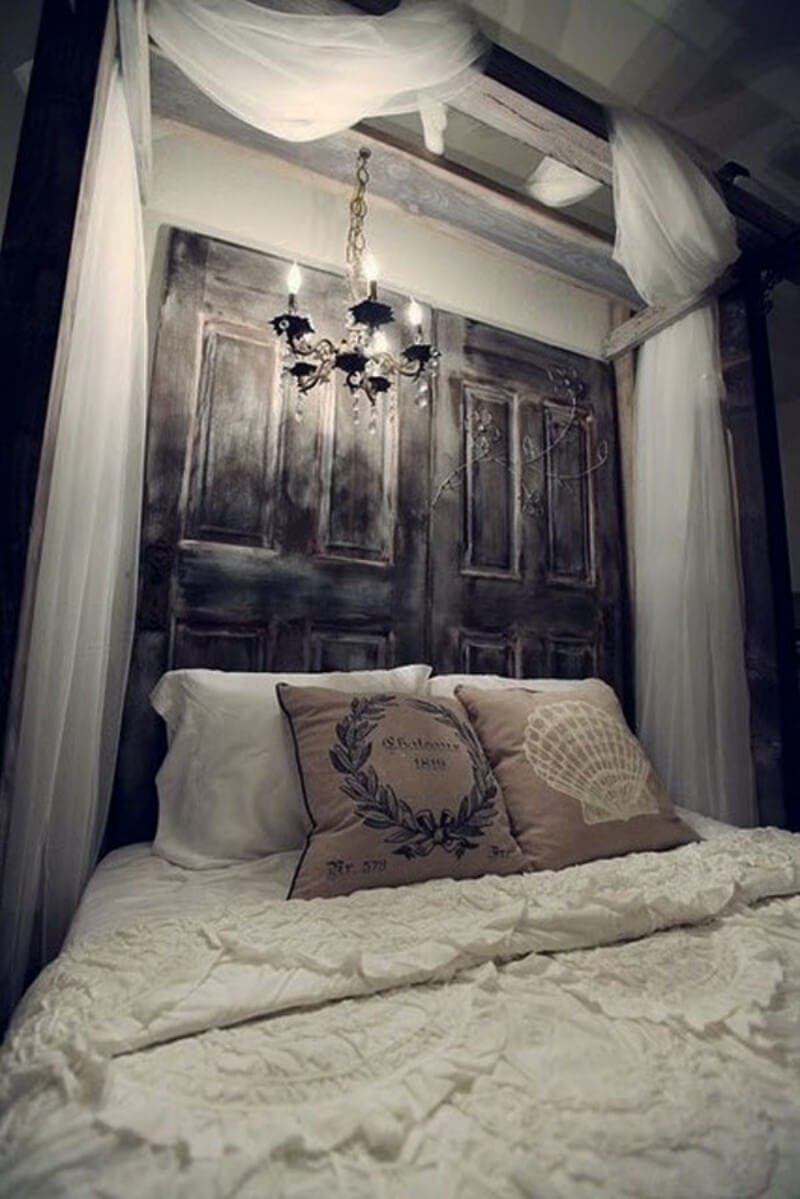 This dramatic headboard might seem a little spooky or Goth, but that is the fun part of it. You could actually add more vines to make it appear more overgrown. You could also soften it by painting the doors another color. Think about it, and make this headboard idea fit in your room.
24. Easy Headboard From Whitewashed Shutters And Window Frame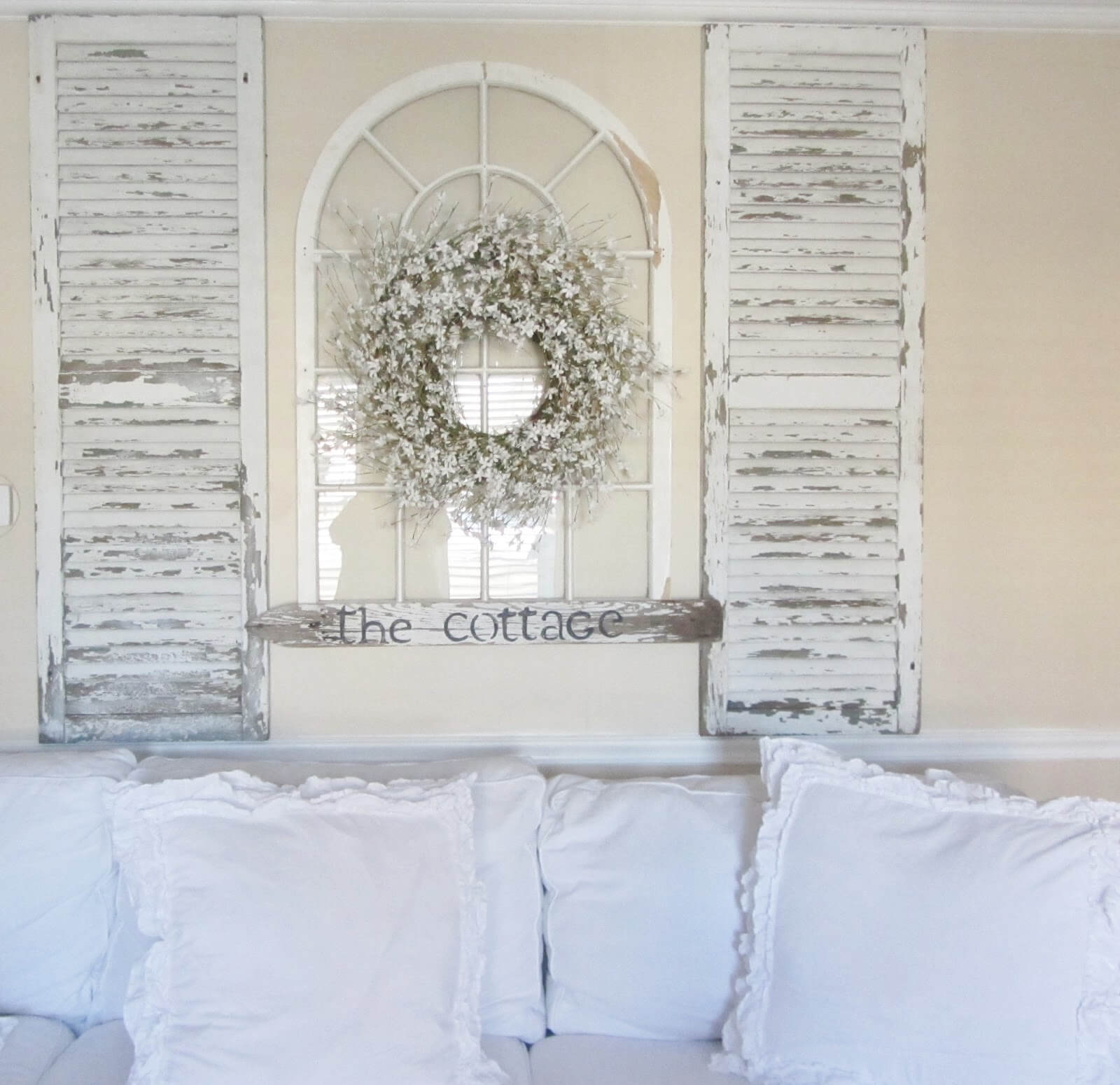 This faux window display over your bed creates a light and airy feel and adds a feeling of more space in your bedroom. You need a weathered window, shutters, and a fence post. Hang the window and shutters as-is. Paint your text on the fence post, and attach it to the window and shutters. Hang a wreath on the window, and you have a faux window display.
25. Old-world Style Headboard And Room Divider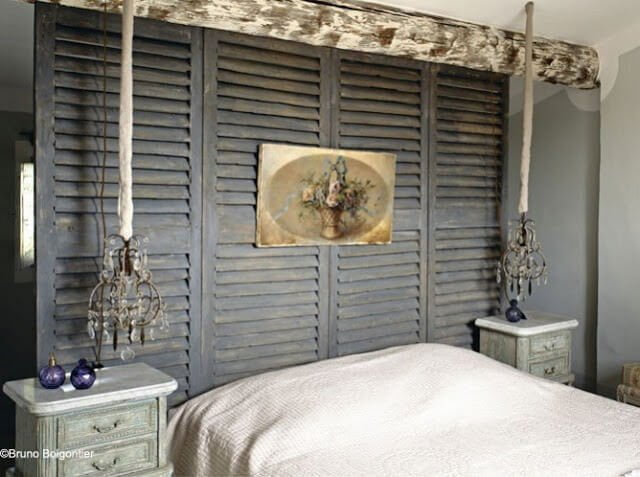 Use a full length, four-panel, shutter-style room divider to divide a large space and create a headboard. Place the room divider in an open doorway between two rooms, and place your bed against the divide. Add nightstands and wall decor. You have now created a new private space in your home.
26. Moroccan-inspired Vintage Birdcage Lantern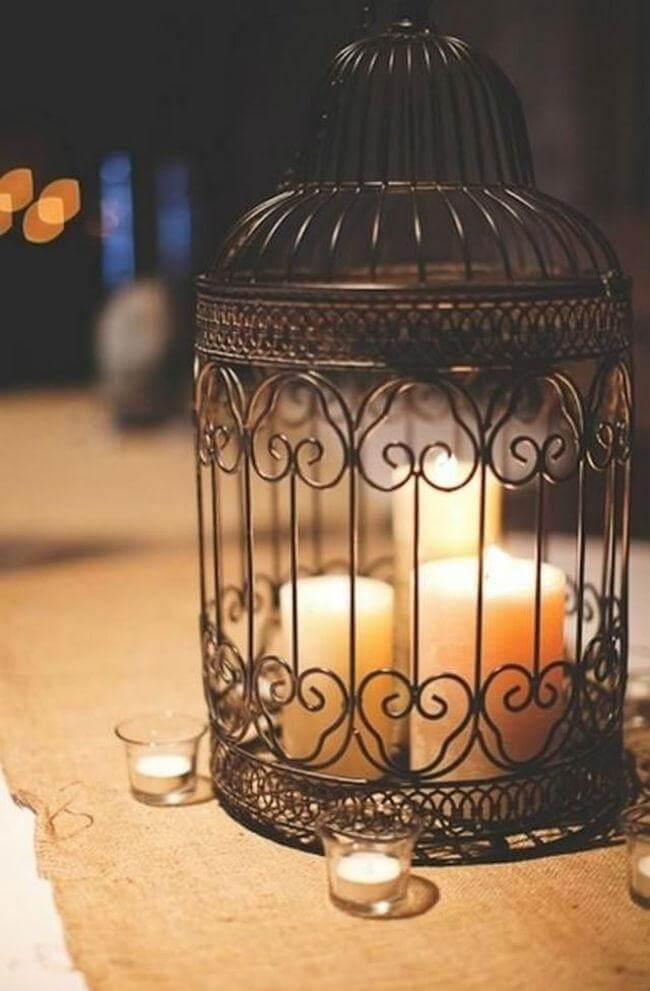 Antique bird cages make a framed alternative to domed-glass arrangements. This birdcage adds a rich metal color and a beautiful, curved, vintage look. The candles will add a warm glow to your room. However, you could also create a further vintage look with a collection of items, such as antique gloves, a locket on a chain, and an antique brooch.
27. Accessory Organizer Made From An Old Door Frame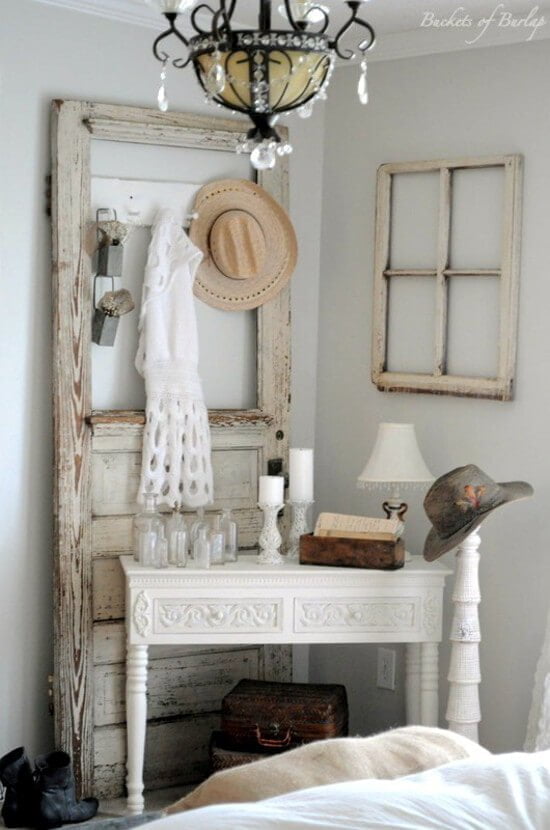 This idea adds a decorative touch to a wall-mounted coat rack. The coat rack is over toward a corner and is framed by an old door. To balance it, an old window frame is placed on the other wall in the corner. Then a table is placed diagonally between the two walls to tie the elements together. This area can become an organized catch-all area and still look decorative.
28. Reclaimed Door Turned Floating Headboard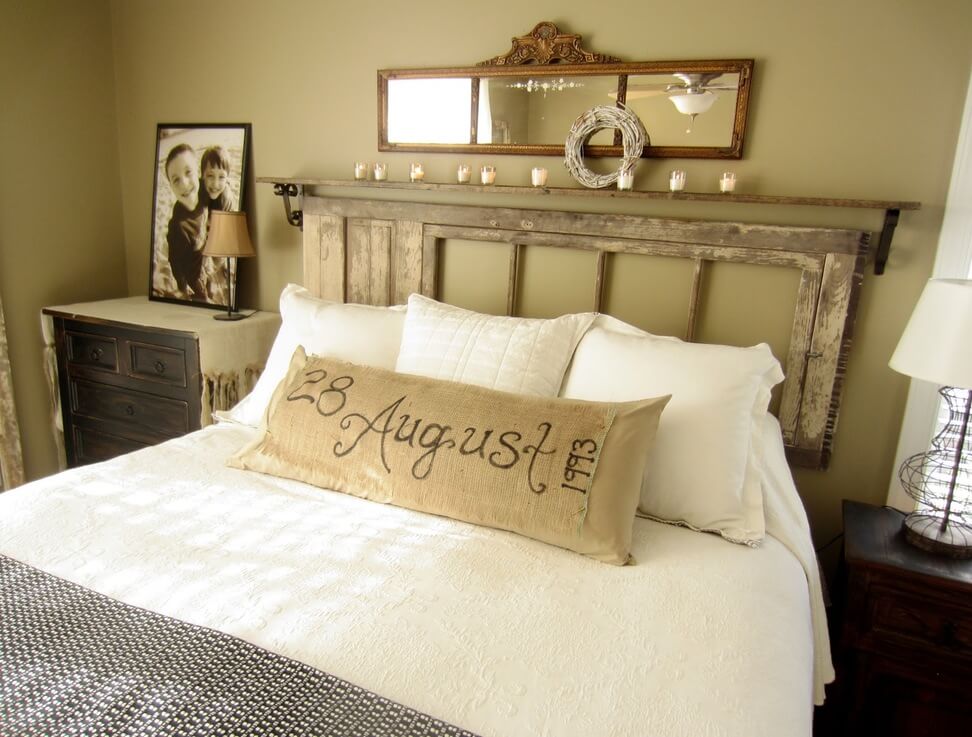 This weathered door is used as-is and turned on its side makes an interesting asymmetrical headboard. The shelf above it gives a finished look and space for a display such as the candles and wreath. The long horizontal mirror finishes off the look.
29. Mini Packing Crate Vanity Organizer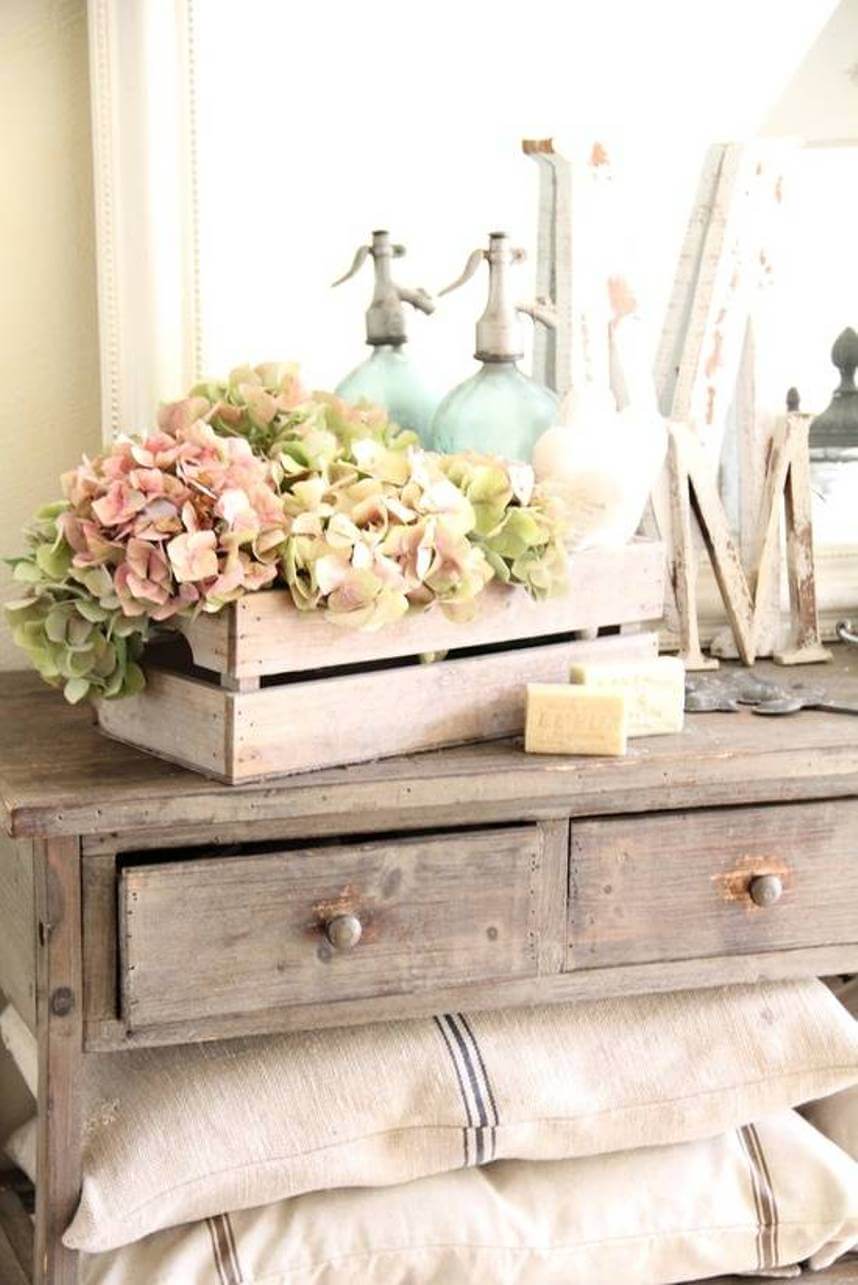 This mini packing crate is a great idea to organize all the bottles on your vanity. Extra space in the crate can be filled with silk flowers stuck in a piece of Styrofoam. This is both a decorative and functional idea that adds to the vintage look.
30. Elegant Vintage Bedroom Design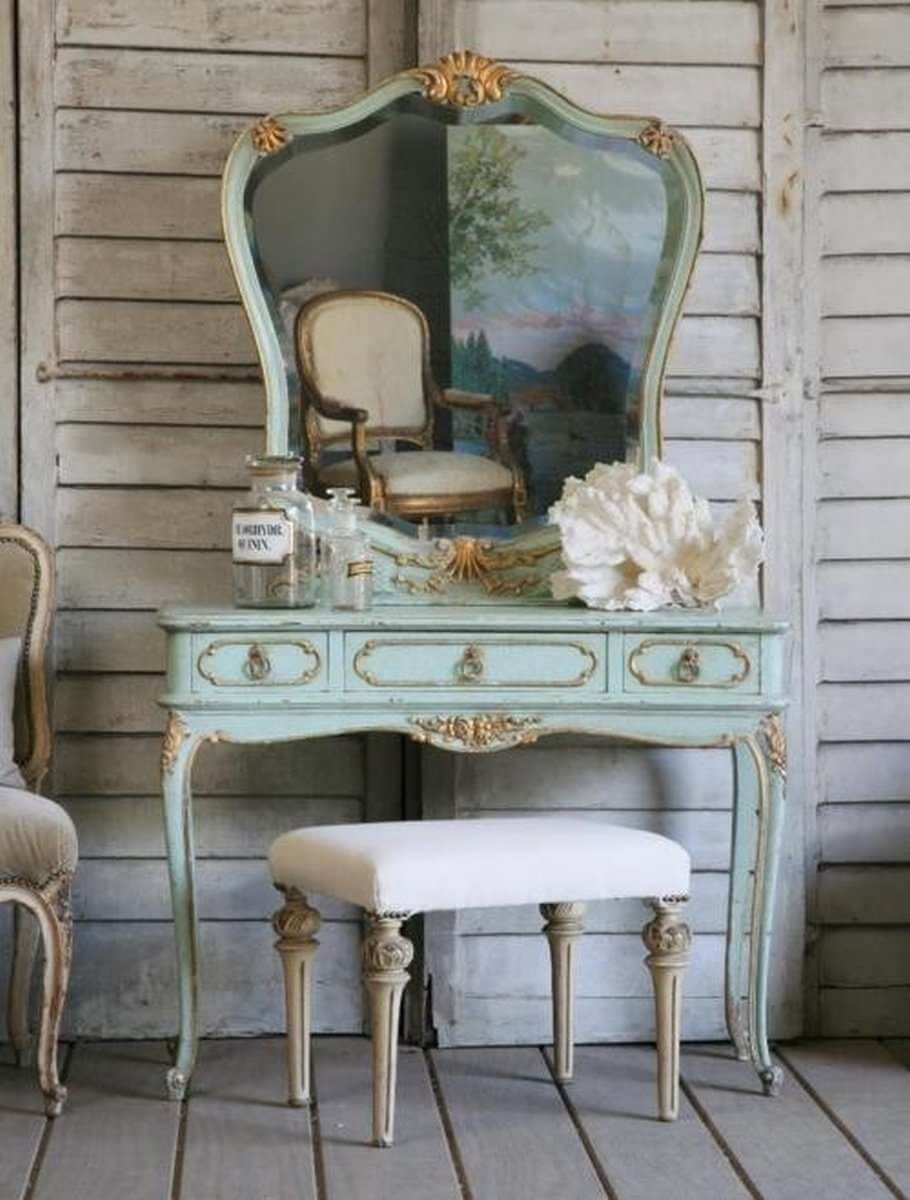 After the bed, the vanity can be a secondary focal point in a bedroom. Finding a piece of furniture that sets the tone you want is important. This elegant vanity will add the right touch to any vintage bedroom. The placement of this vanity also was a smart choice because the mirror on the vanity is placed to catch a view from the window.
31. Old-fashioned Lantern Display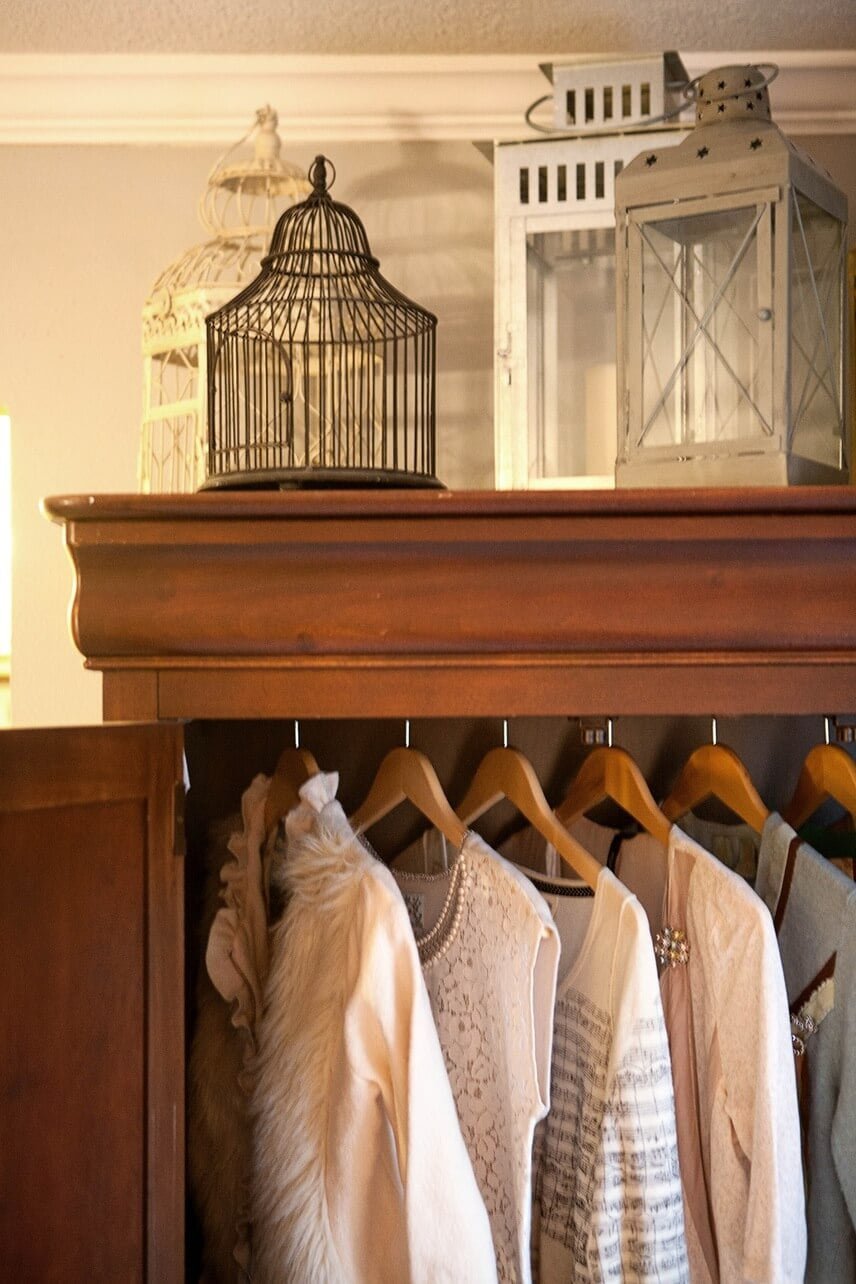 The two lanterns next to the two bird cages on top of the wardrobe fill the space and provide the weight needed for a display on top of the wardrobe. The four pieces also have simple basic designs that balance the intricate designs of the clothing in the wardrobe. The complete wardrobe display adds a cohesive vintage focal point.
32. A Vintage Bedroom for Two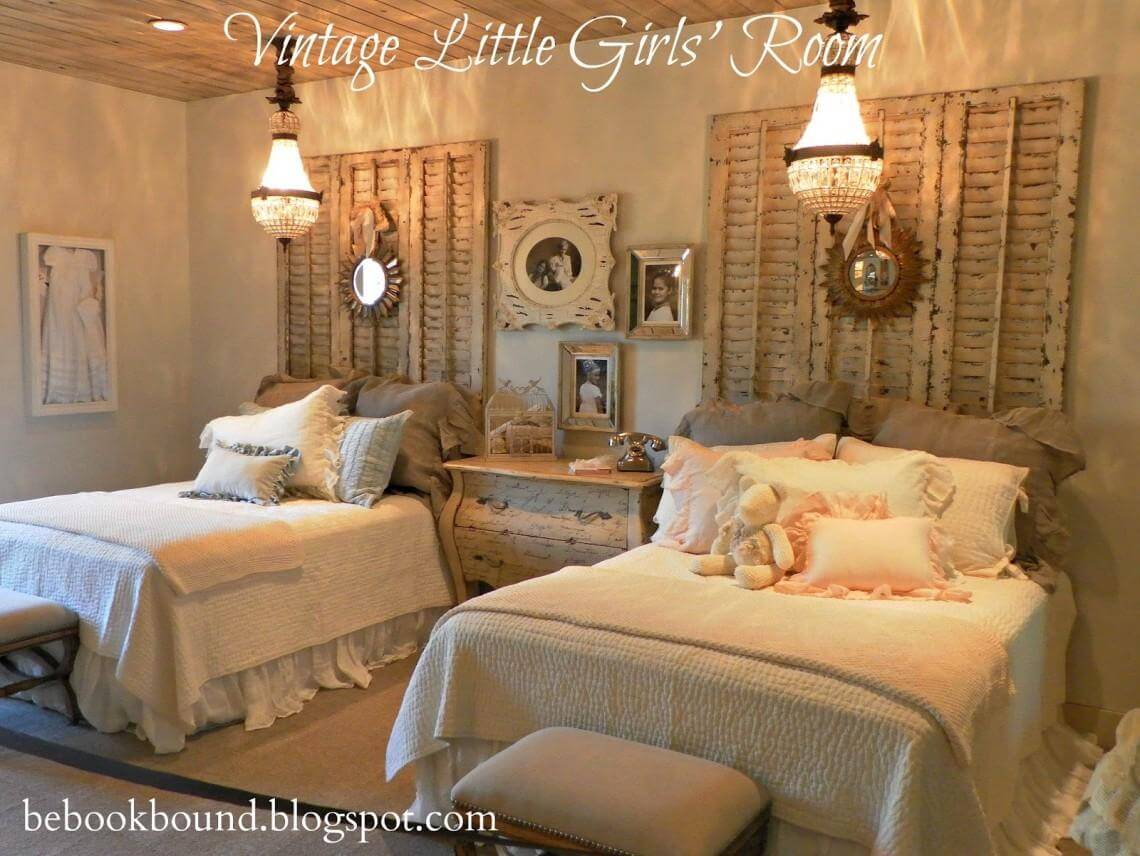 This vintage bedroom, created for two sisters, starts with twin beds with identical weathered shutter headboards, mirrors, bedspreads, lace dust ruffles, and benches at the end of the beds. However, the pillows on the beds are not identical, and that creates more interest. Between the beds is a vintage, as-is dresser with a birdcage and a replica antique telephone on top. Above the dresser are three photographs in antique frames. On the left wall is a little girl's antique dress in a frame. All of these elements blend to create a vintage-look room that has just the right mixture.
33. Luxury Meets Old-school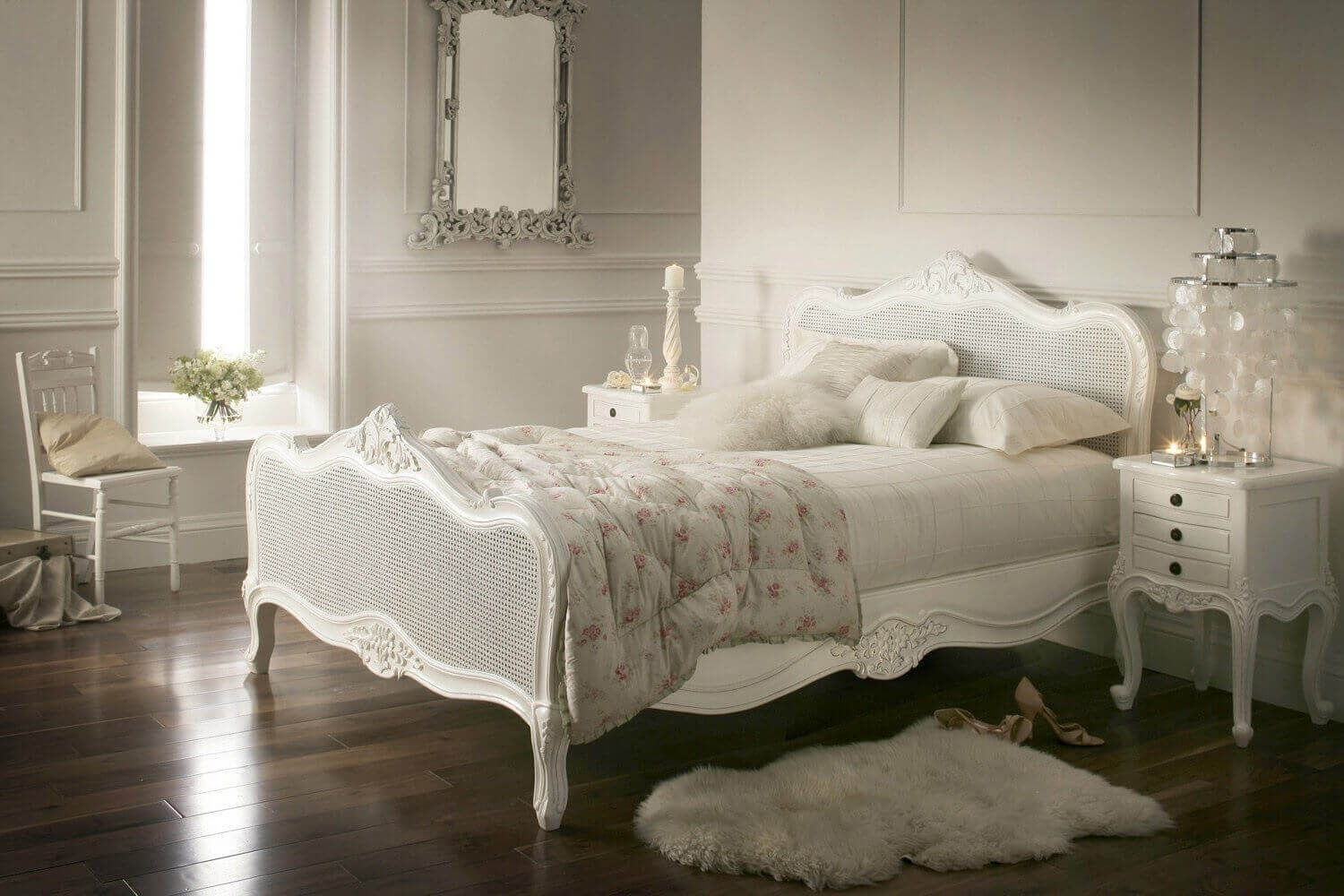 This bedroom uses modern reproduction furniture and accessories with curved and ornate details to create a vintage look. There are fewer elements in this bedroom than the previous girl's bedroom creating a simpler and more elegant look. The bed is the focal point, but it is complemented by the mirror and the accessories on the nightstand. If trying to combine found and reclaimed items to create a well-blended vintage look seems overwhelming to you, then select items from a modern collection like this to create a vintage-look in your bedroom.
Our Favorite Farmhouse Baskets and Bins to buy on Amazon