Back in the 1970s, the idea of decorating with old window frames was pretty much limited to hanging a stained glass panel from chains in front of a window. Today, many do-it-yourself decorators are adding interest to new houses that have few appointments with repurposed old window ideas for even the most weathered window frames, whether they're filled with clear glass or not. You can find old windows at salvage yards, auction houses, flea markets, demolition sites, antique malls and many other places.
40+ New Uses for Old Windows

Those old window frames can become picture frames to put right on the wall over photos, mirror frames, chalkboard frames, or a means to store and display jewelry. In the hands of a decorator who has modest woodworking skills, frames can be tabletop terrariums or other repurposed old window decorations. Skilled craftspeople can likely handle more complicated projects that put old windows right down on the floor, as a vitrine-type coffee table and even the base of an amazing kitchen island.
And in an update of that lone, stained-glass panel feature from the '70s, several long frames can be suspended from the ceiling to make a room divider in an expansive, open room; and pristine leaded glass panels will add quiet elegance to walls in one of the prettiest repurposed old windows. See our favorite ideas and get inspired!
1. Vintage Window Bathroom Towel Holder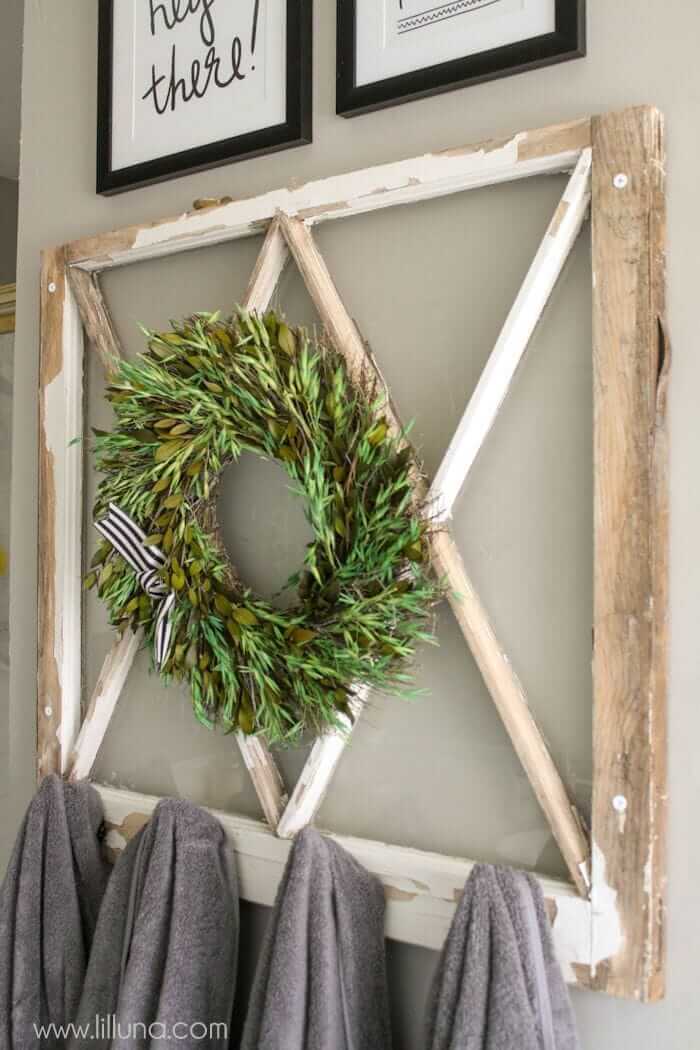 All bathrooms need a towel holder, right? Well, with a vintage window, you can elevate that into something that's both rustic and charming. Depending on the size of your window, you can add a handful of hooks to hang towels for the whole family. Consider adding some extra accessories to it like a wreath to give it a pop of color.
2. Cool Rustic Window Framed Map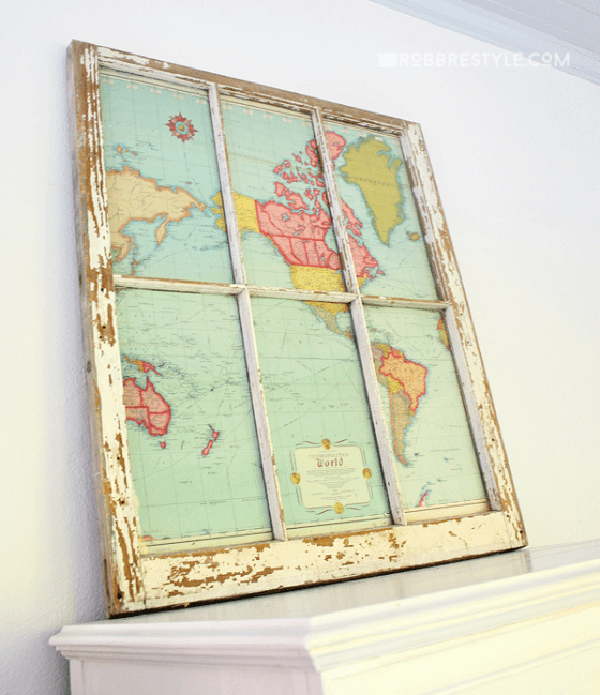 If you're a travel buff or simply love maps, it's always fun to show off your adoration by hanging maps on the wall in your home. With an old window, you can create a more unique frame for your favorite maps. Vintage maps are especially a good idea as they blend in effortlessly with an old-fashioned window.
3. Unique Old Fashioned Viewing Window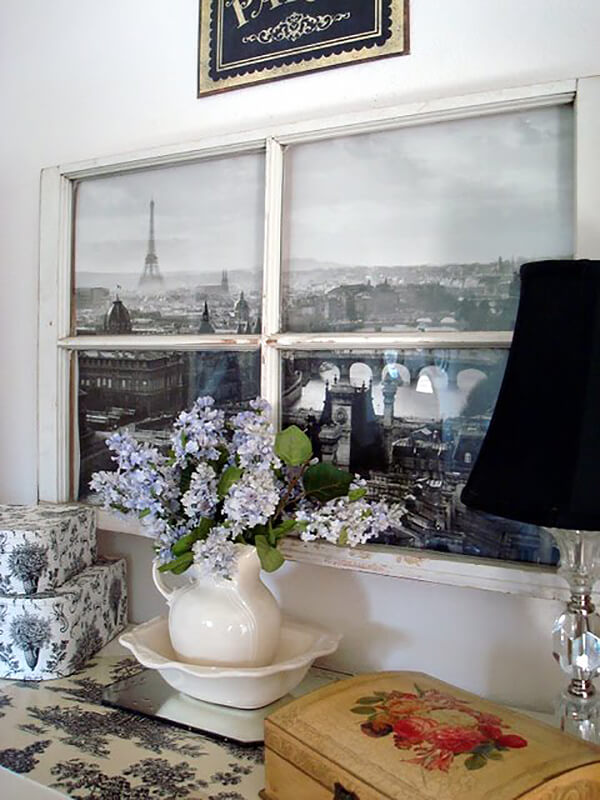 Whether you've traveled to this location or simply dream of it one day, there's always that one photograph that can capture everything you love about a particular place. You can wake up every day to this sight by incorporating it into various sections of an old window. This fun project lets you transform any part of a wall in your home into a relaxing viewing window.
4. Upcycled Window Mini Greenhouse and Plant Holder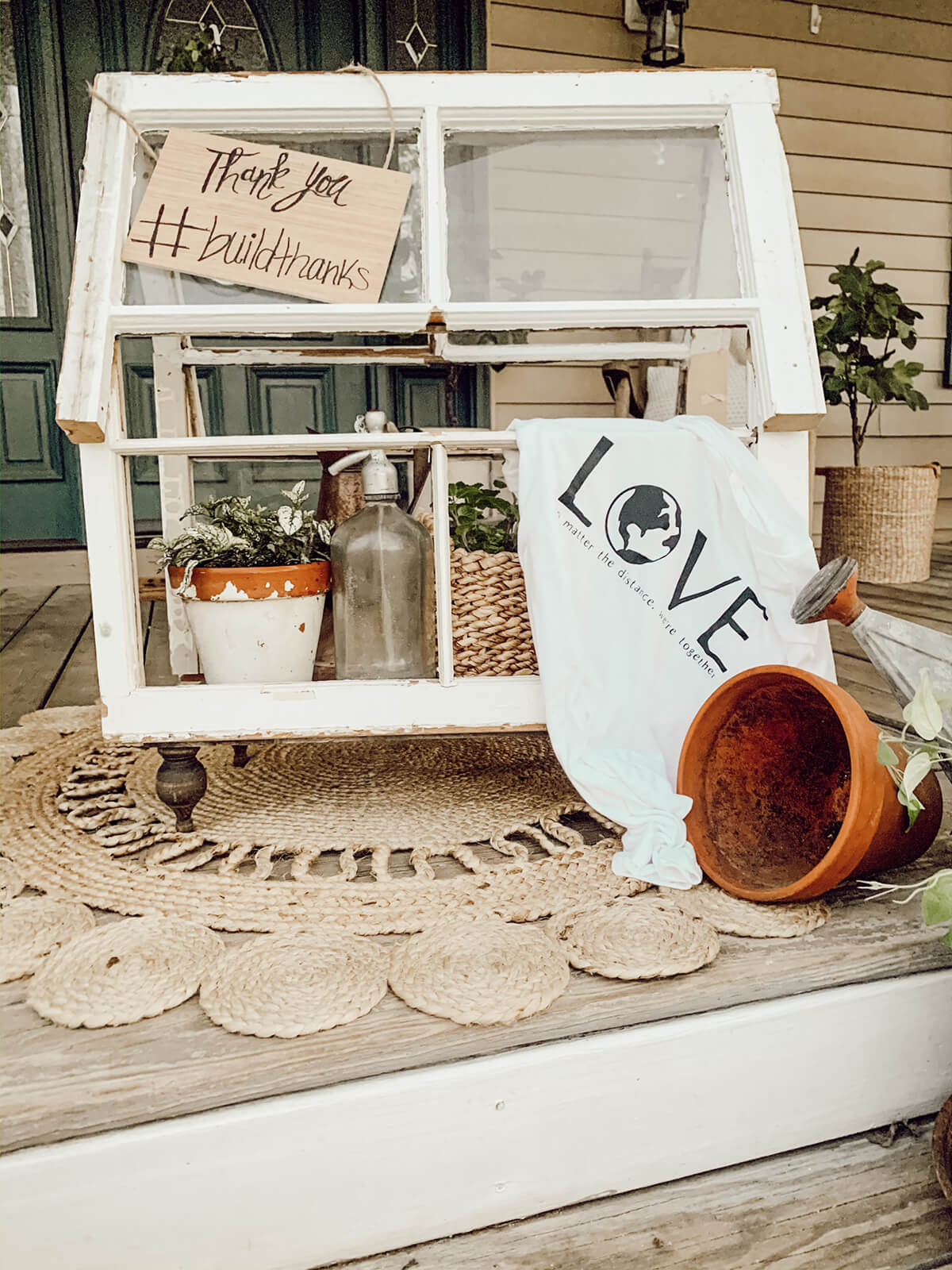 Who says a plant holder has to be large? You can make your own little "greenhouse" of sorts with a few pieces of an old window. Placed in the right way, these pieces can allow you to build a rather convincing miniature greenhouse. It's the perfect place to hold a few potted plants and add a bit more character to your greenery setup.
5. Charming Picture and Clock Window Holder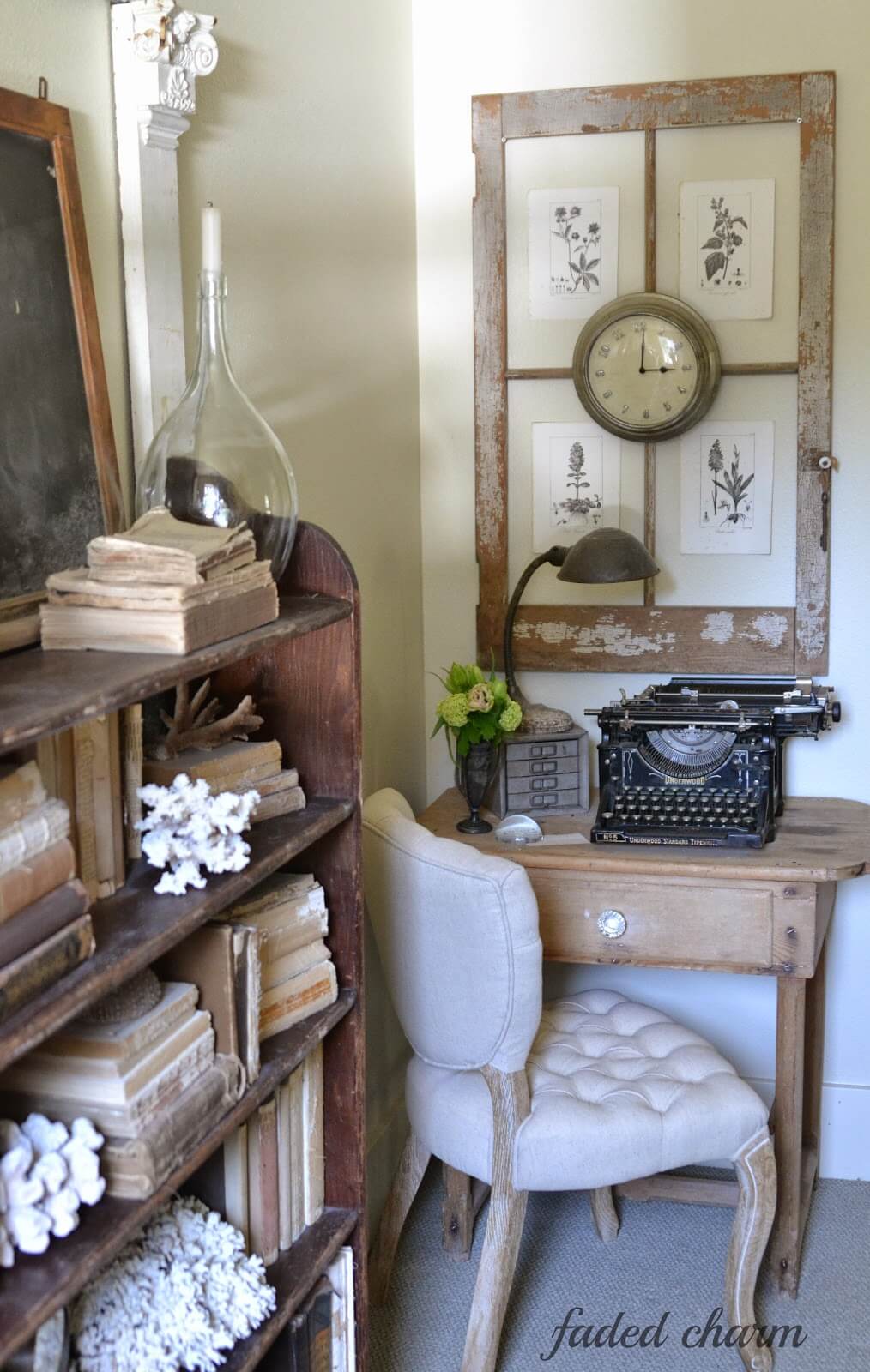 Do you have an office environment that needs a bit of an upgrade? A simple, yet beautiful way to do that is with this amazing window transformation. In the various panes, you can add cool images, artwork, etc. that can fit into the theme of your room. The center can be a wonderful area to house a clock so that this isn't just appealing décor, but functional as well.
6. Farmhouse Style Distressed Window Décor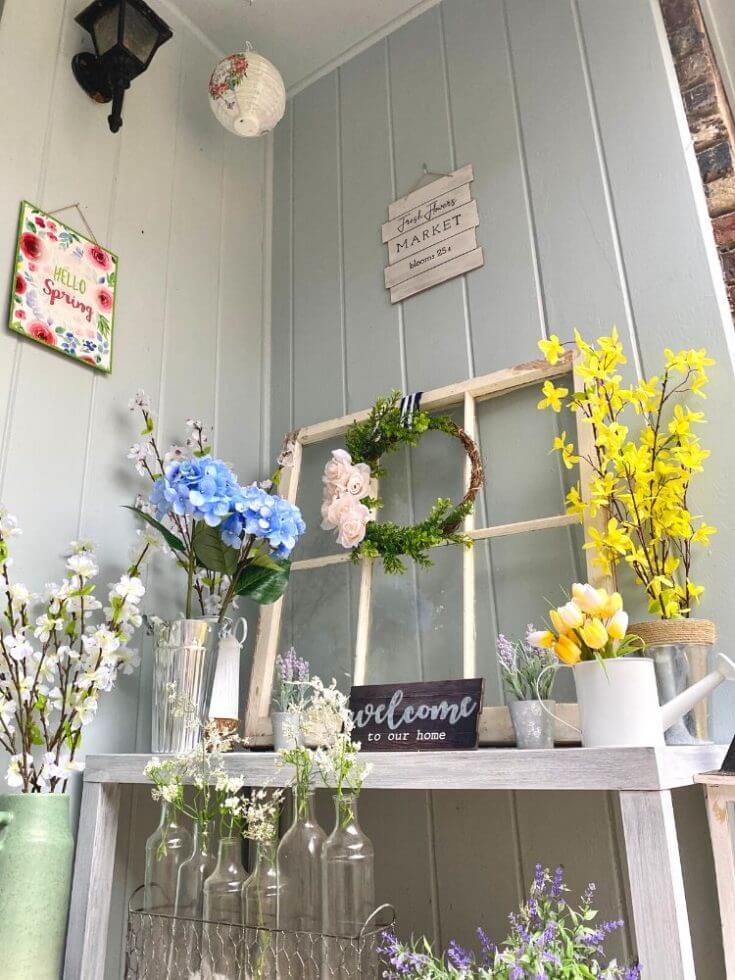 An easy and effective way to decorate with an old window is to use it alongside other decorations. Consider livening up your porch with a cool distressed window that can help it fit in with a farmhouse layout. This gives you the freedom to add numerous items to further decorate the window and everything around it from plants to wreaths.
7. Creative Vintage Table Shelf Design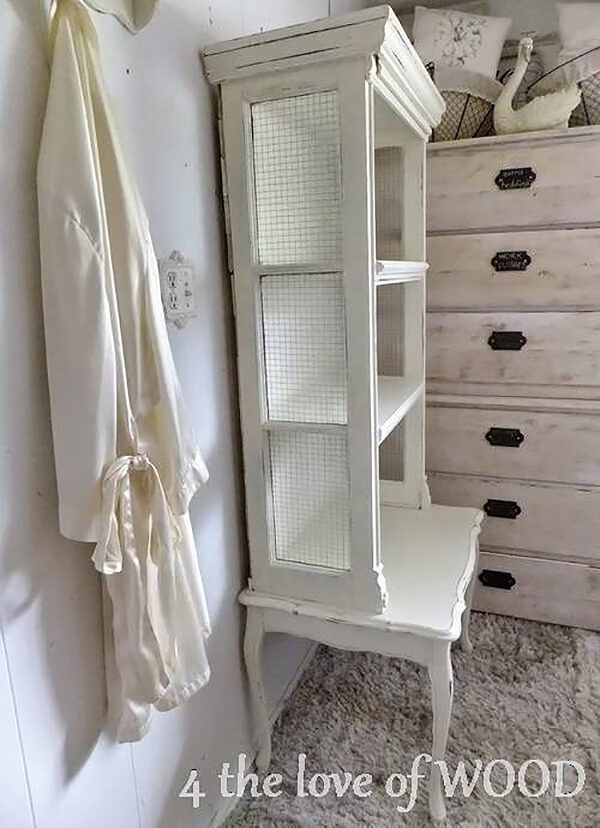 With this project, it takes repurposing vintage windows to a new level. This is a fun task to take on if you enjoy building completely new items to use around your home. Not only do you get a shelf table out of this, but you get something that's simply appealing to look at thanks to how the windows are used to accent either side of the shelf.
8. Repurposed Dollies and Window Frame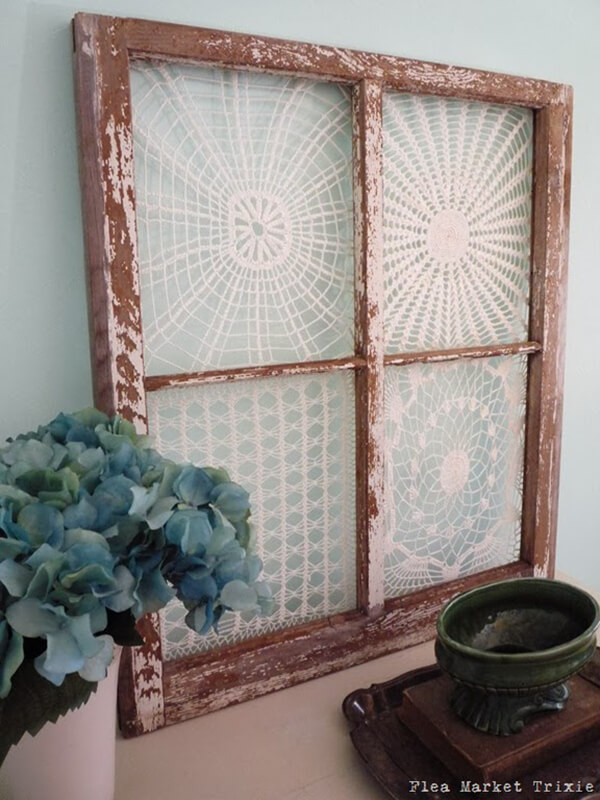 There are plenty of things you can do with the window panes inside an old window frame. Have you ever thought about how intricate dollies can look? They can come in various designs and patterns, and you can use a handful of different ones to create an attractive look that winds up looking both vintage and chic.
9. Functional Hallway Hanging Window Storage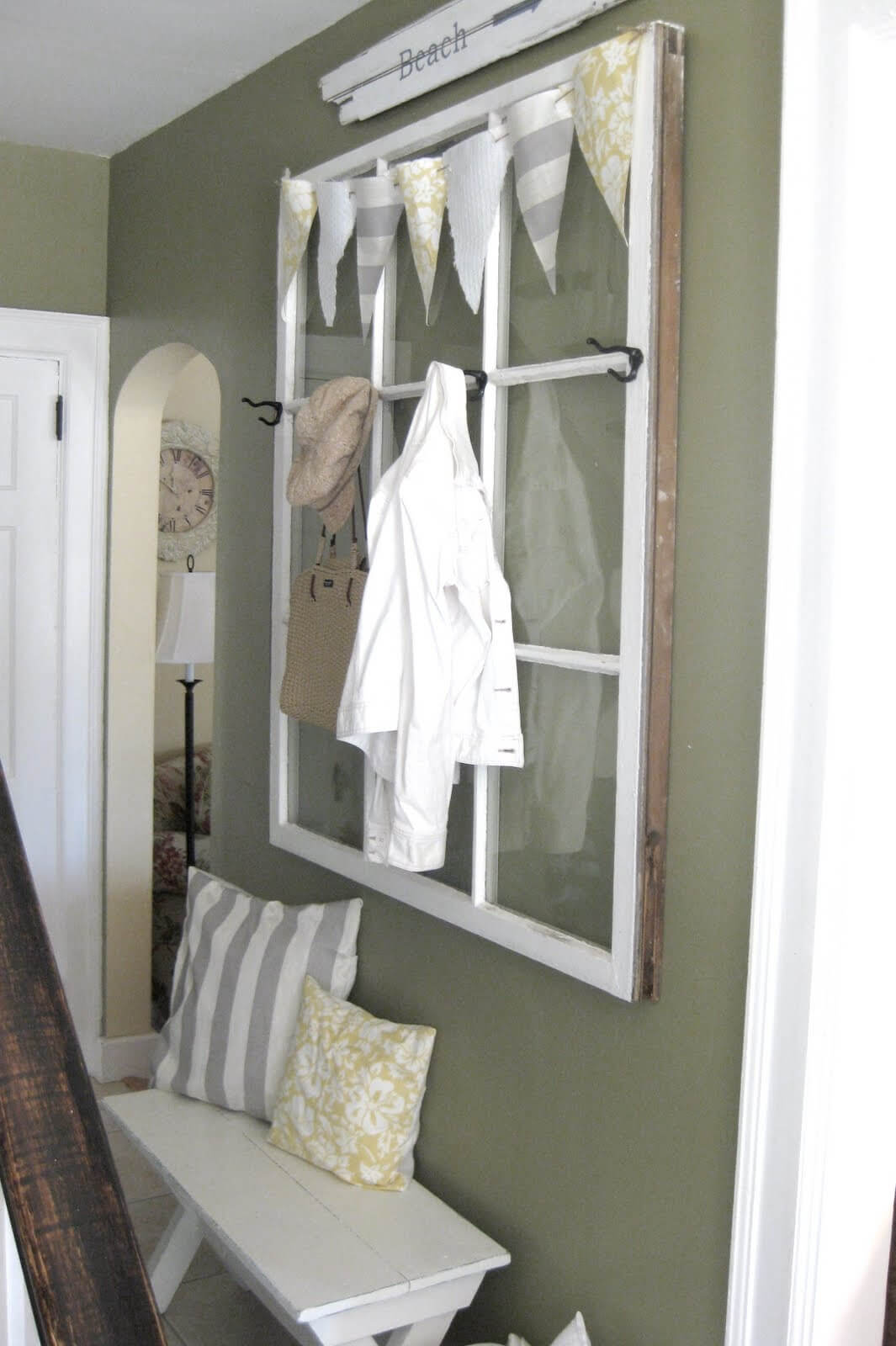 It's always fun to create something new that can look good and have functionality so that you can use it on an everyday basis. That is what this window storage setup accomplishes. Feel free to give it a paint job so that it may match your room. Otherwise, a few hooks go a long way into giving you space to free up some clutter in your entryway as you can hang coats, hats, bags, etc. out of the way.
10. Upcycled Vertical Succulent Window Garden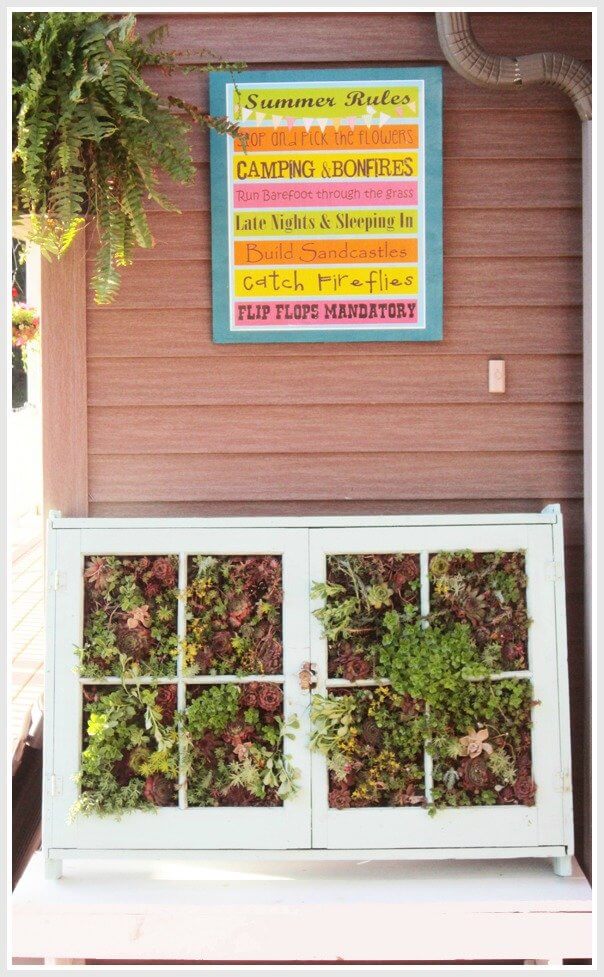 Old windows don't have to be used just for holding items or to act as storage for pictures in the panes. Instead of adding images, you can use all those sections to act as a beautiful succulent garden. Depending on the window size, you can add several succulent plants and bring fresh greenery to your home décor.
11. Farmhouse Chic Framed Kitchen Island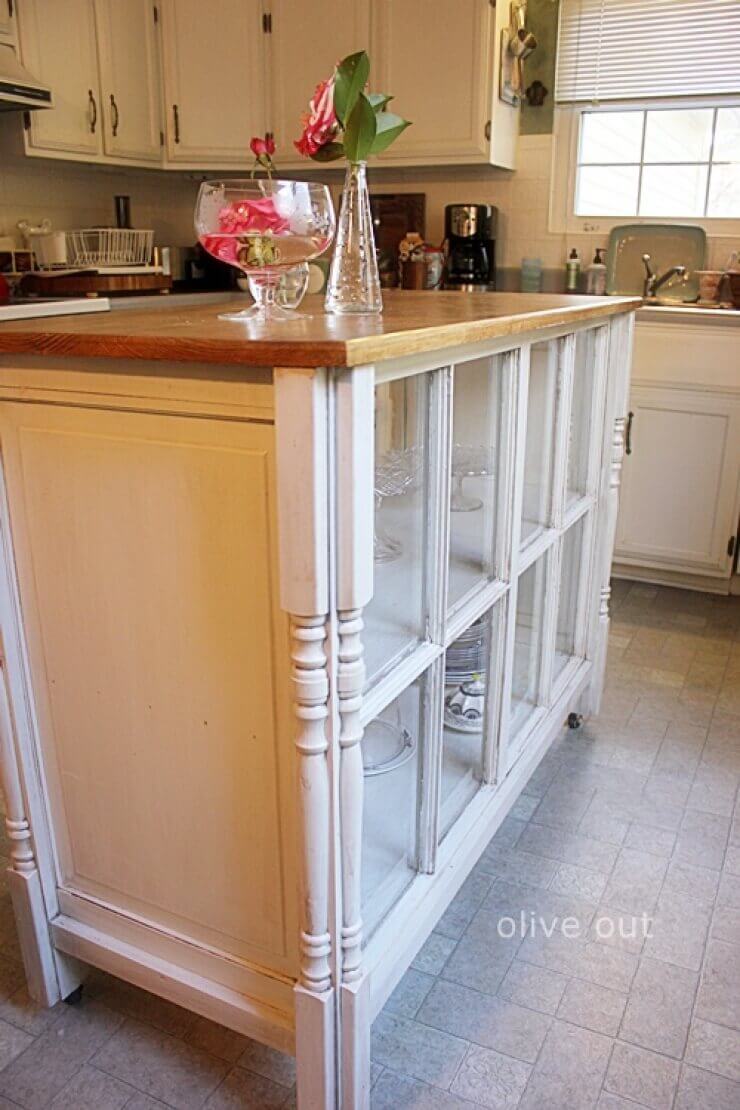 Do you have an island in your kitchen that may be in desperate need of an upgrade? Thankfully, some old windows can go a long way into making a typical island stand out more. Just a few window frames are all it takes to add a pleasant framed-like touch to the island, and it can be a good way to see through if there are shelves inside that you can access from the other side.
12. Distressed Window Beautiful Mirror Makeover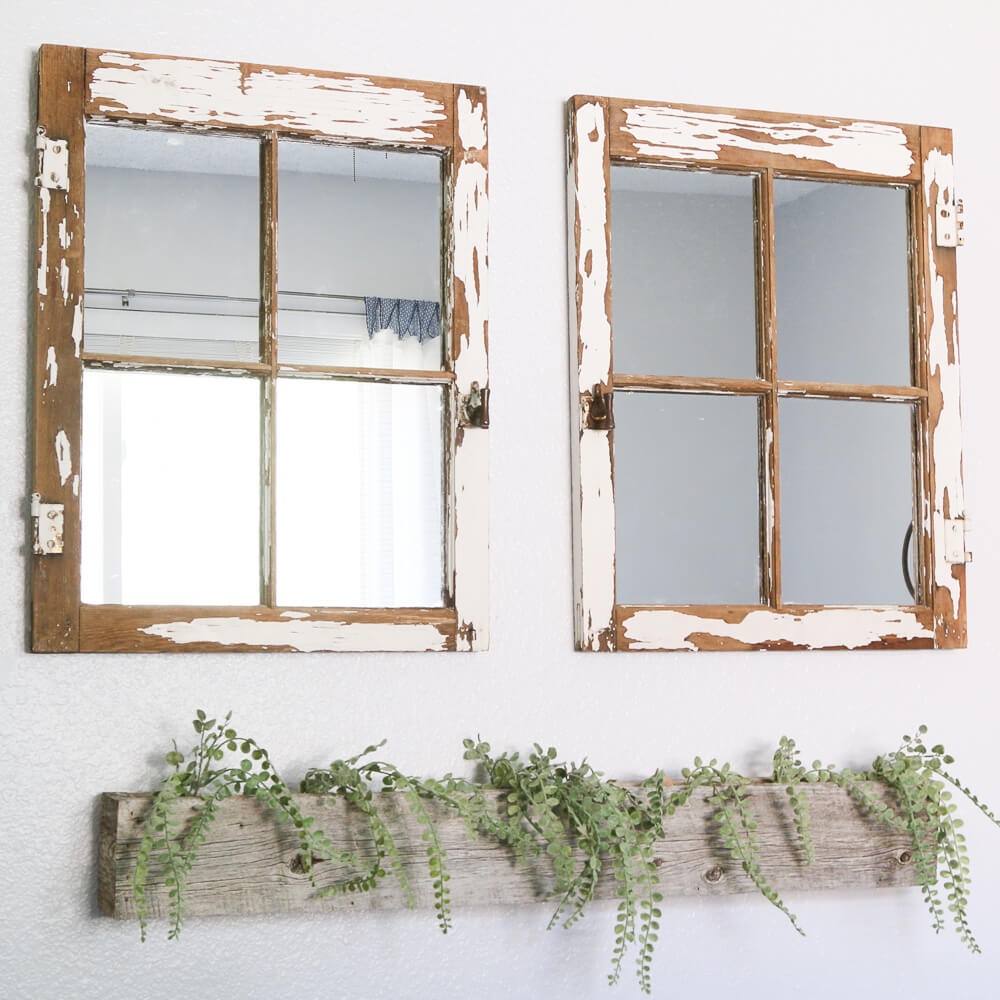 A great way you can save some of those old windows and make good use of them is by upgrading them into mirrors instead. These mirrors are, of course, functional, but they can also do well at adding some reflective light throughout a small room. It can make the area appear more open and welcoming, and all of this is done by using vintage items.
13. Gorgeous Window Frame Jewelry Display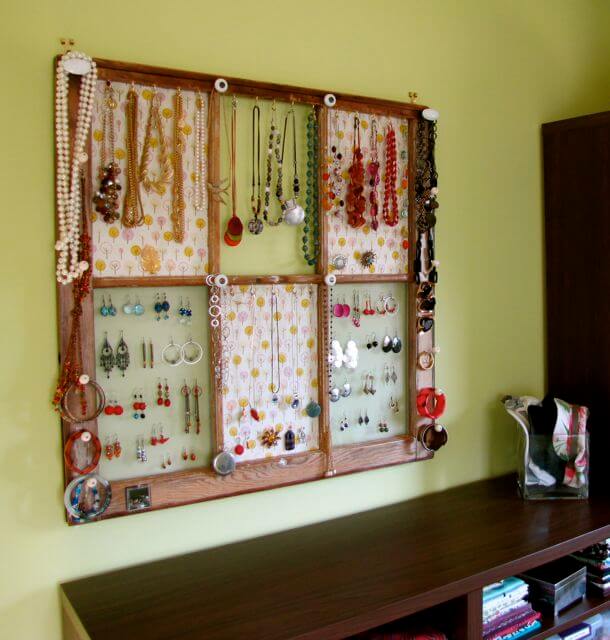 There are several cool ways people come up with to store their jewelry, but using an old window can allow them to stand out more on their own display. Also, a window may give you far more space to store countless amounts of jewelry. This further ensures that whatever you need is immediately accessible thanks to the open hanging layout.
14. Multidimensional Stencil Window Frame Art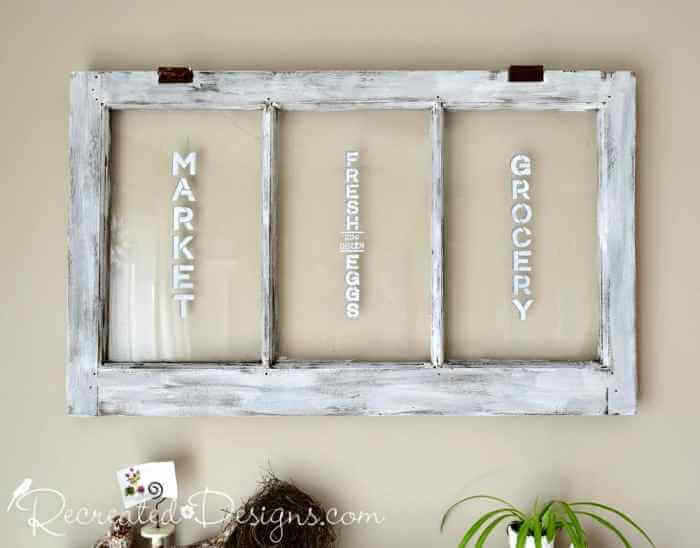 If you are looking for a way to add some unique décor to your walls, consider this attractive window stencil artwork. You can use whatever stencils you'd like that will suit your personal taste and feel free to make them multidimensional so that they stand out more on the window panes. Giving the window itself an updated paint job whether distressed or otherwise can only add to the overall decorative theme.
15. Inspiring Indoors Decorative Spanish Window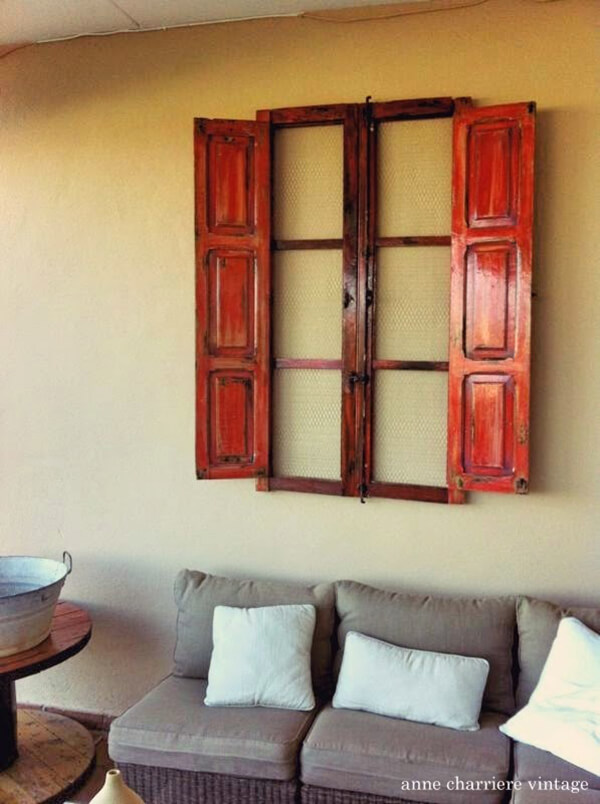 Spanish windows can be absolutely stunning, and what's even better about them is that when repurposed, they don't have to actually be windows. Rather, you can get the same effect of looking at a beautiful Spanish window inside your home against the wall. You can always add something inside the panes like chicken wire or something similar to give it some more texture.
16. Four Pane Vintage Window Mirror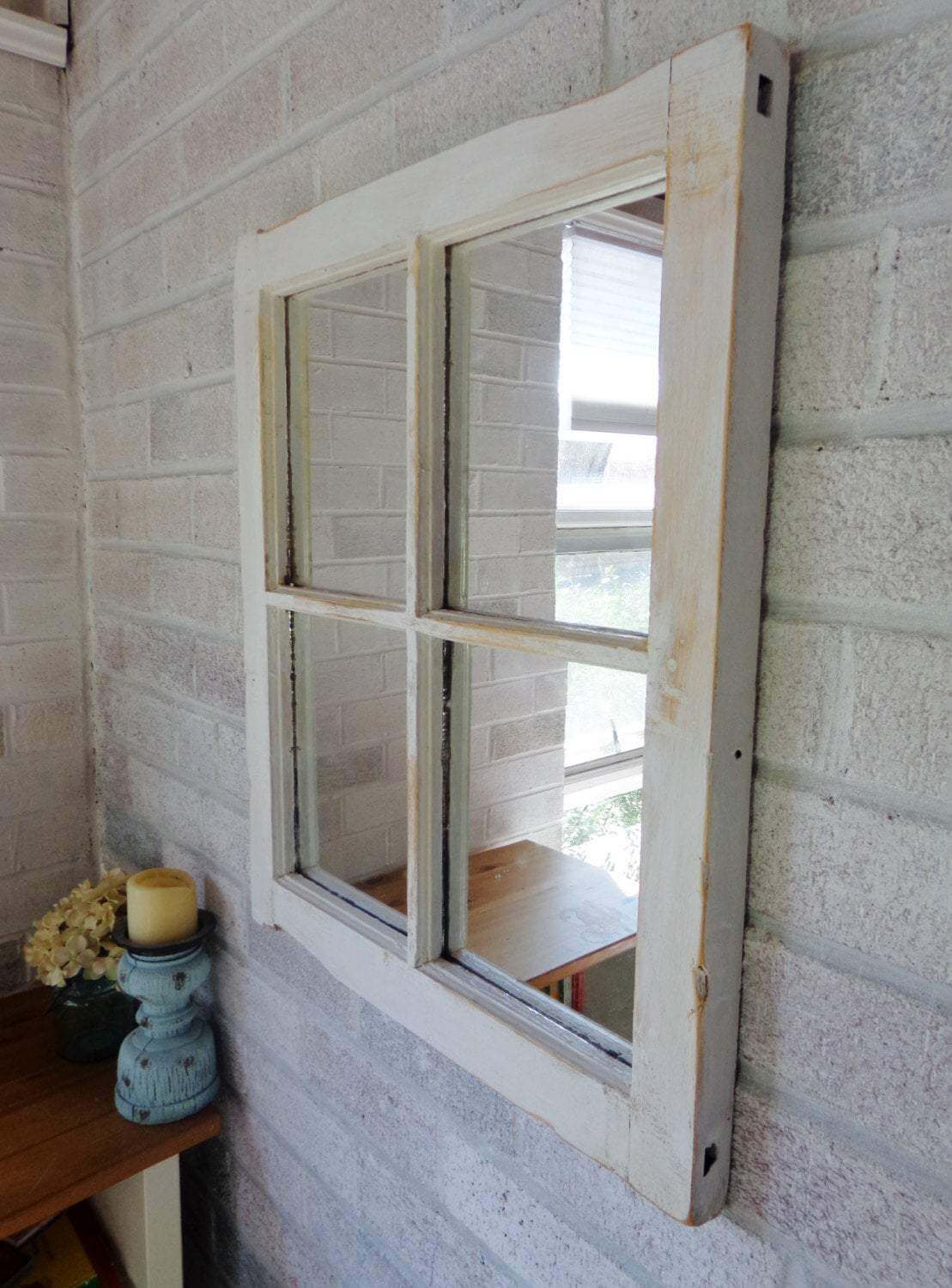 If you happen to have an old four-pane window, each of those panes can readily be transformed into mirrors instead. This can bring plenty of light into a room, and it can offer a unique and decorative touch to a vintage window. You can always add a paint job to the frame as well if you feel it needs some additional sprucing up.
17. Spray Painted Window Mirror Transformation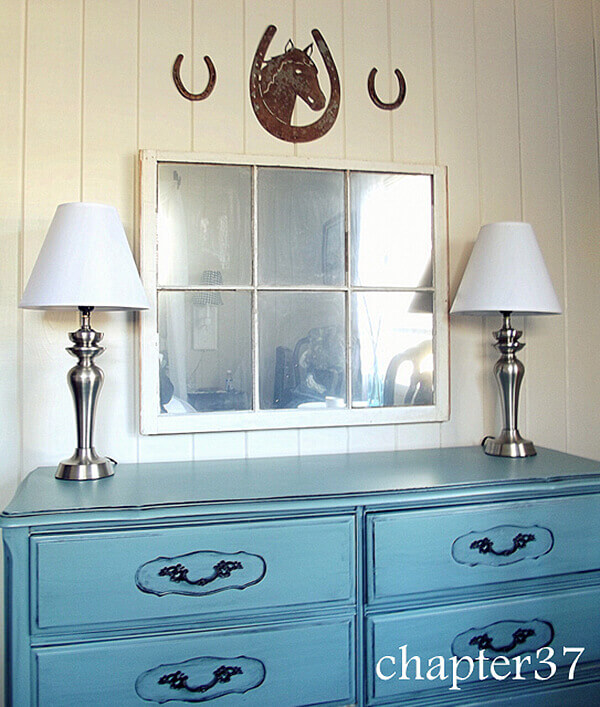 You don't have to replace window panes with mirrors to get the effect you want. Instead, with a little glass spray paint, you can achieve similar results in no time. Of course, this will lead to a reflective surface that isn't as clear and smooth as standard mirrors. However, in terms of old-fashioned windows, it's fitting for the overall décor theme.
18. Gallery Wall of Rustic Windows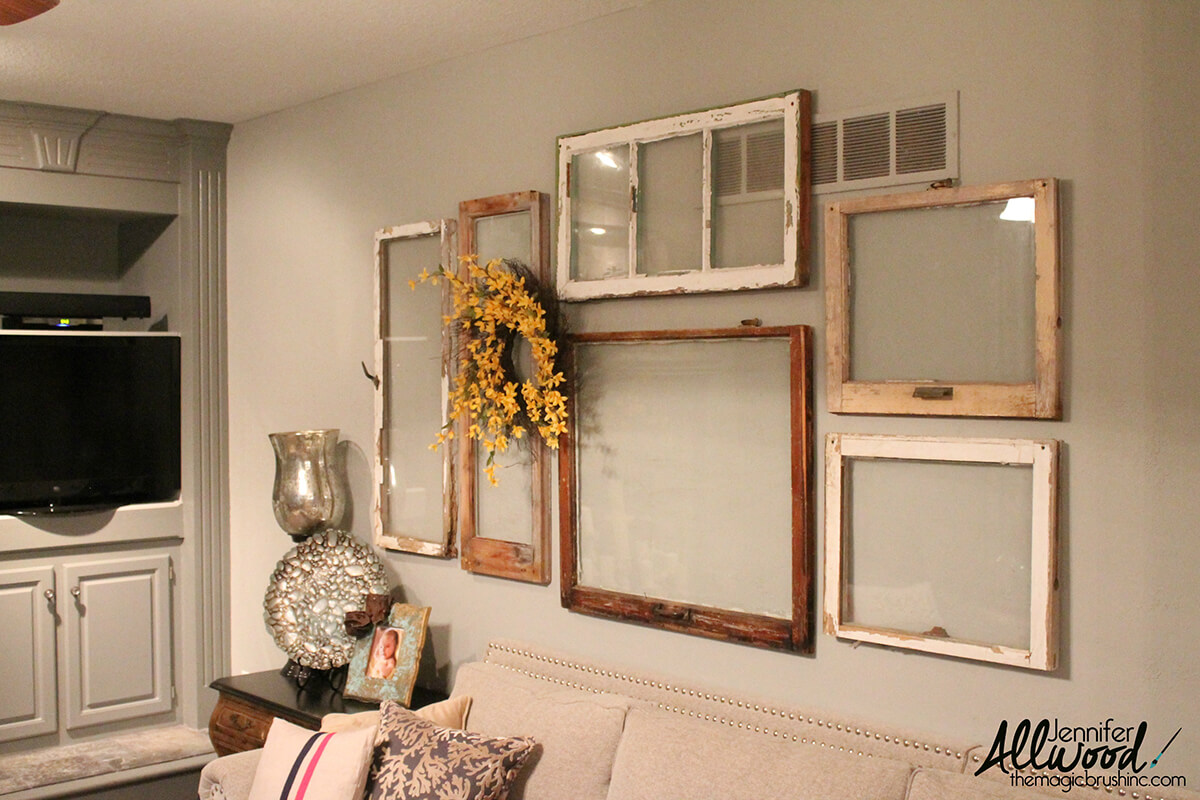 Do you have a large section of the wall and no idea what to do to fill it up? Consider using an assortment of old windows to create an art gallery. These windows don't have to be the same size or color. In fact, each individual has a better chance of standing out more if they're different. At the same time, they should still blend well enough with one another so that the area doesn't appear too busy.
19. Cute Distressed Window See-Through Table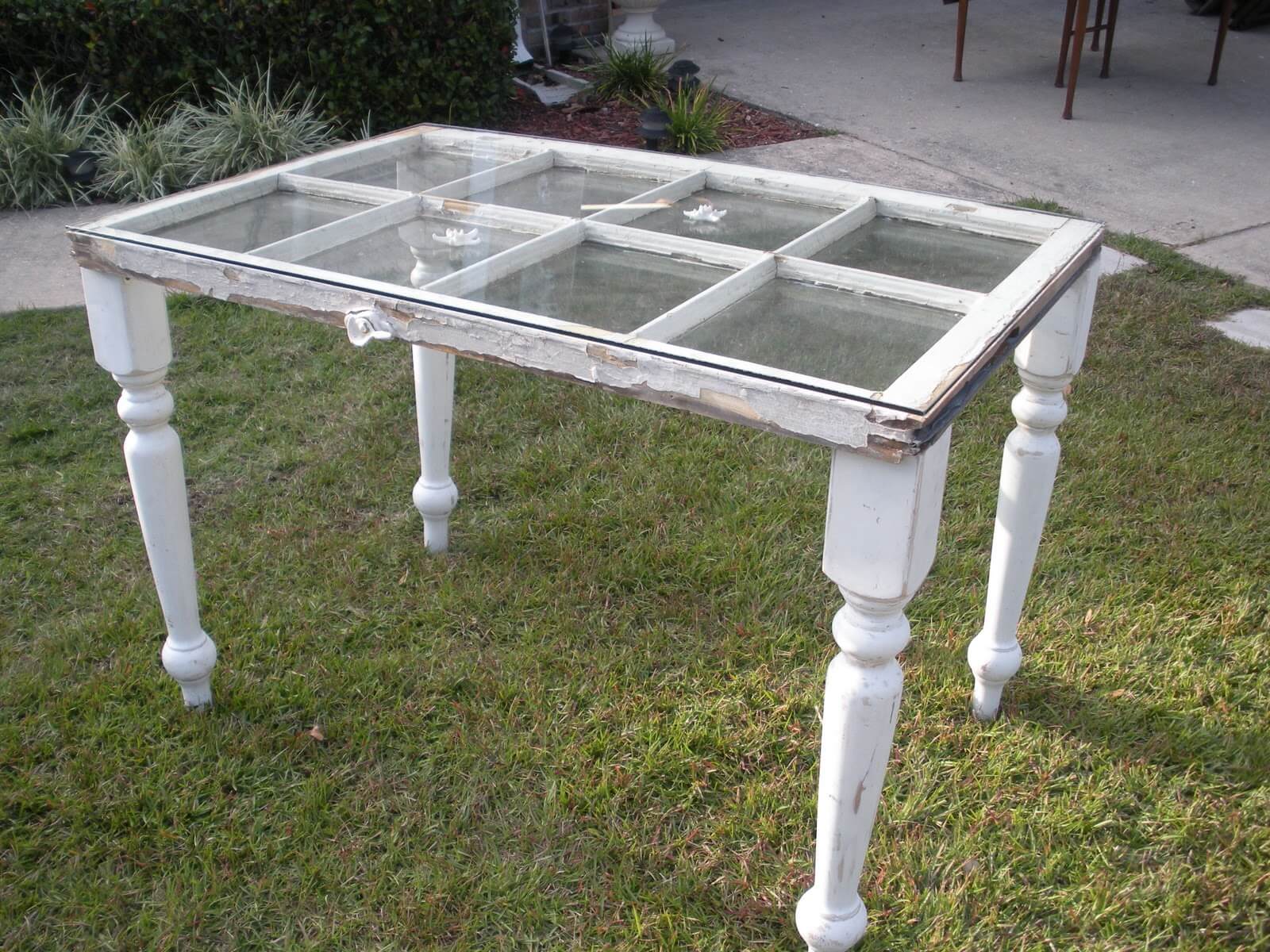 An interesting way to add a distinctive coffee table to your home is using an old window. This can be done to make any type of table, of course, but it can work out great for one that will be in your living room or family room. The window gives it that glass, see-through top while the sectioned panes make it more attention-grabbing. Consider distressing the table itself to stick with the farmhouse-like vibe.
20. Antiqued Farmhouse Rustic Window Frame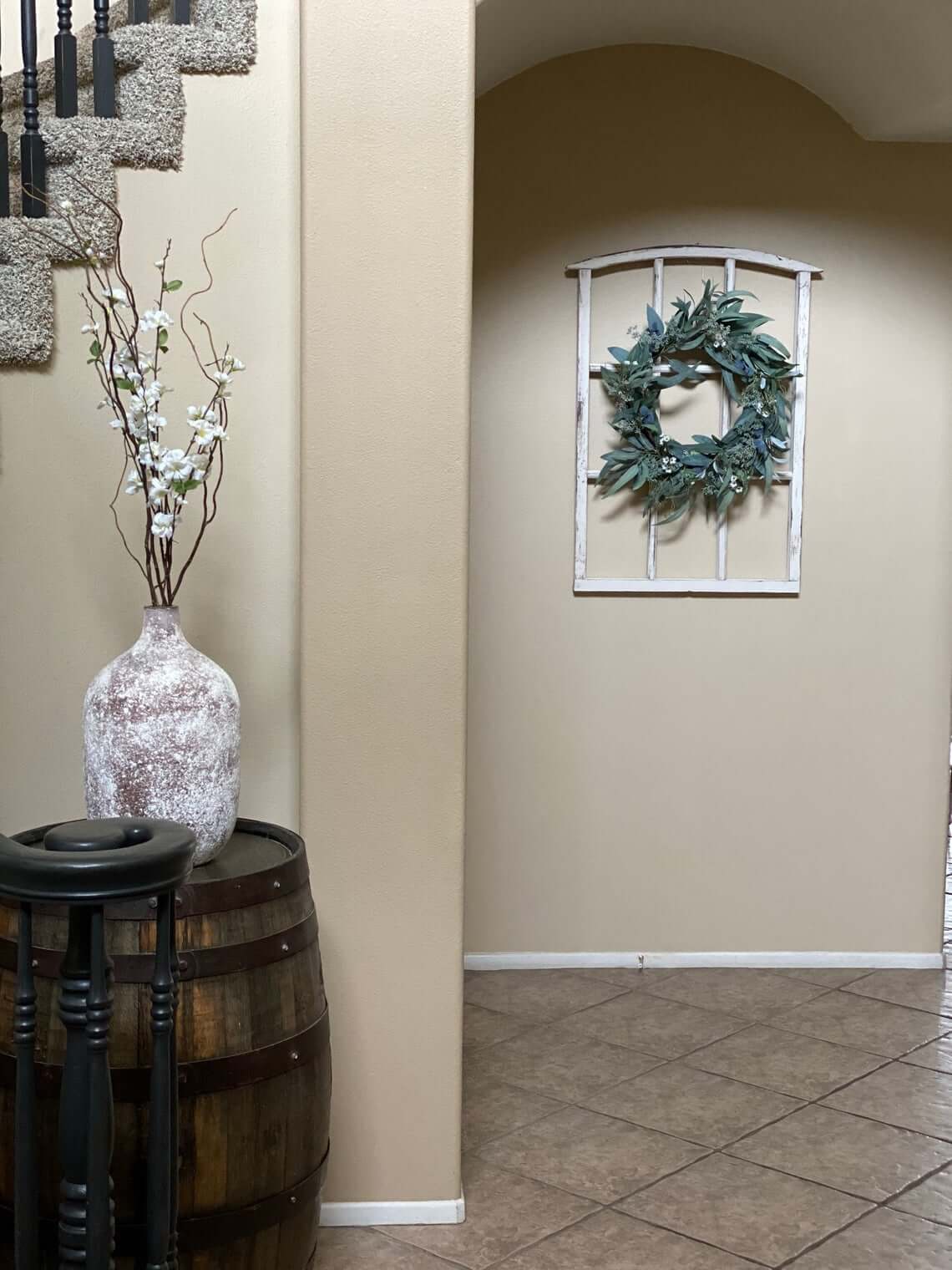 This old, painted wooden window frame can be the perfect decorative piece to hang anywhere in your home. It may look especially well over a fireplace mantle whether you use it with or without any additional decorations on it like a wreath. It comes in a single size that's 39in. high and 26in. wide.
21. Painted Three Pane Old Window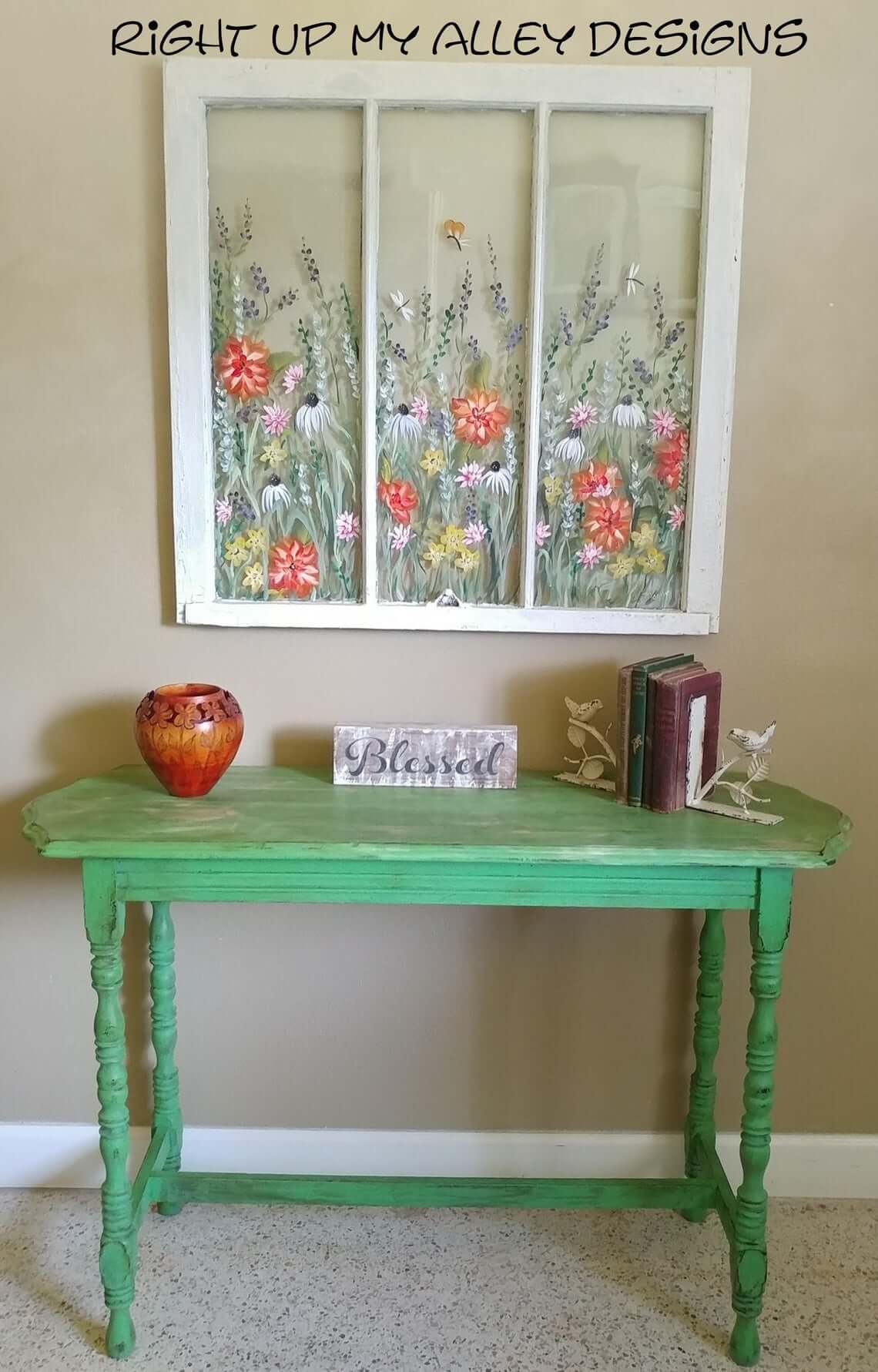 This hand-painted window features acrylic paint, and you can customize the artwork on it by simply requesting what you'd like done. With a three-pane window layout, you are given ample space to have something designed that's breathtaking and fitting for your home.
22. Reclaimed Wood Rustic Display Table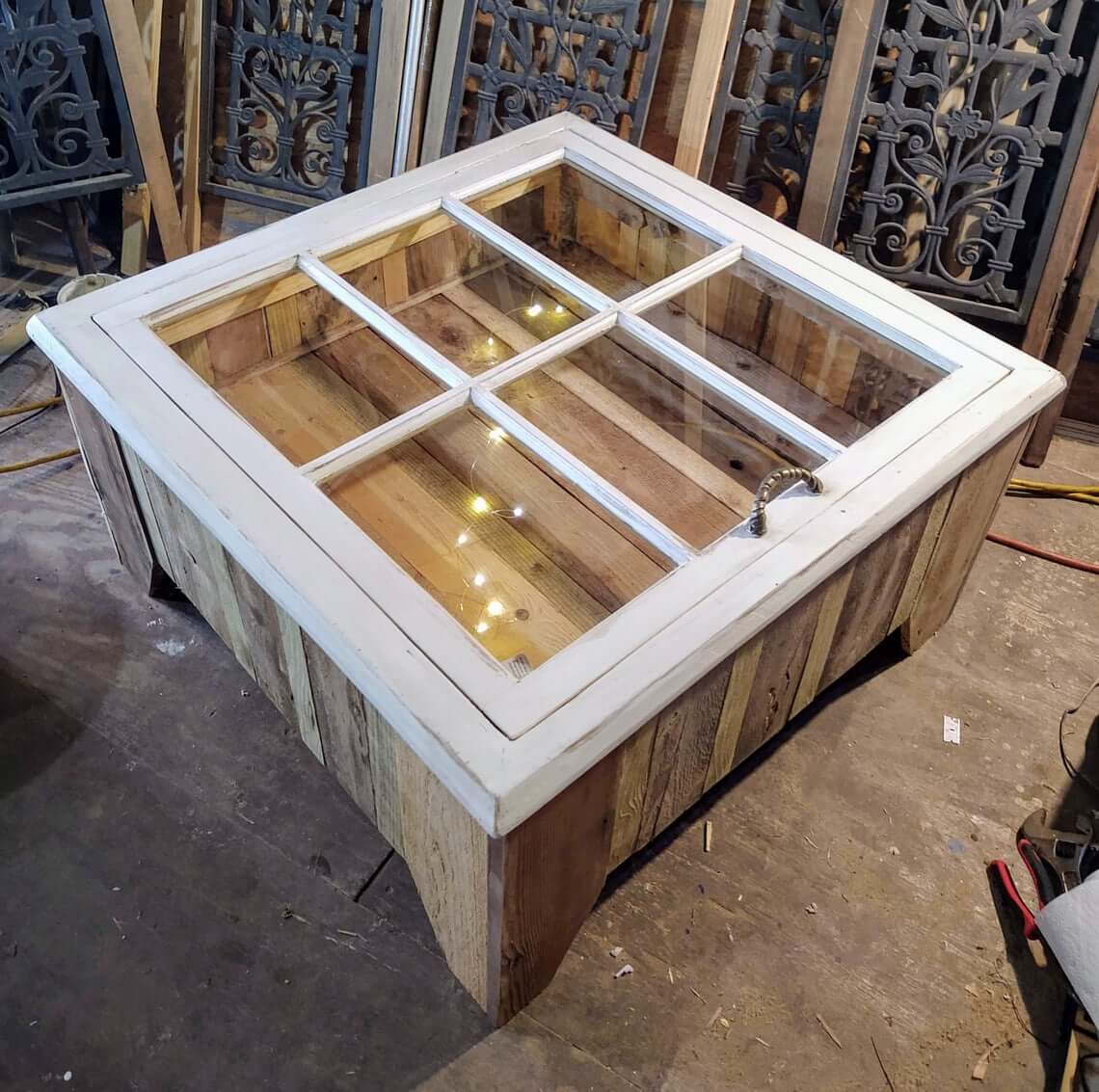 This custom made shadow box features reclaimed wood and an antique window to give it that lovely display. You can select to have it painted white, gray, or tan. It's deep enough to house numerous small items inside that you want a place for, but still want to show off.
23. Unique Sash Panes Side Table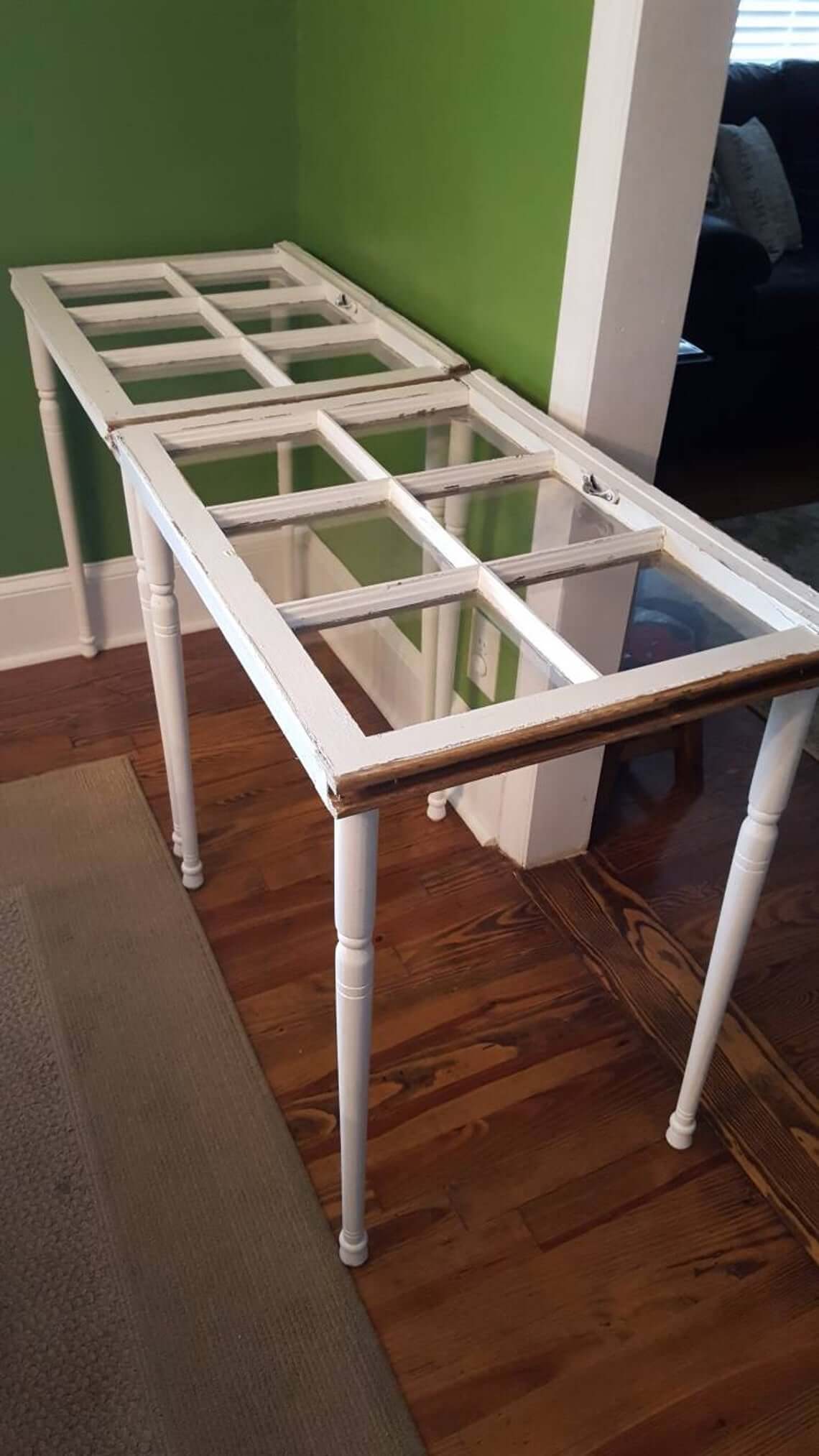 This set of two side tables can be the perfect addition to your sitting room. The white painted table legs paired with the vintage windows give off a lovely antique vibe. Although you typically get windows that are sized 36×24, you can request something different or more personal.
24. A Frame Perches Above The Fireplace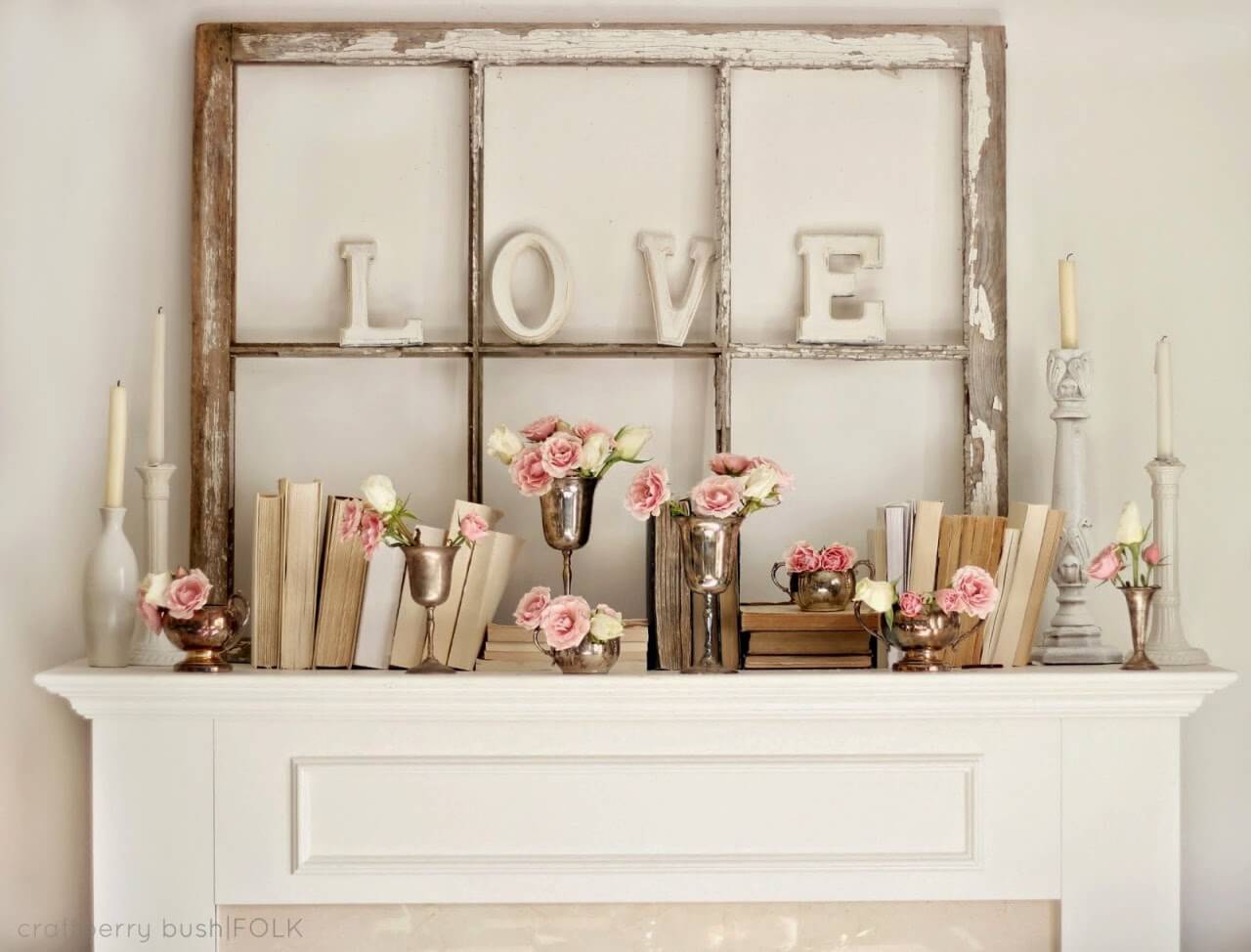 An old window frame perched upon a fireplace can add a sweet, rustic touch to an elegant mantel. Without glass, the window mullions here are just large enough to rest painted wooden letters on top. You can alter this look by adding your own special word, or perhaps even your family name for a truly customized mantel.
25. A Chalkboard For Little Messages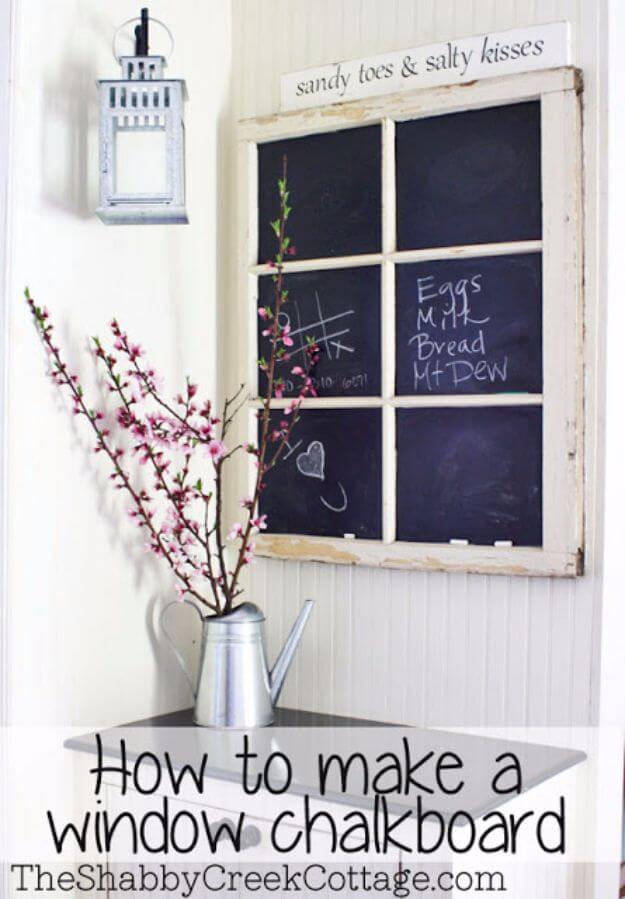 This re-purposed window is a truly adorable way to dress up a chalkboard, giving it a bit of an extra country feel. This would be perfect for a kitchen, mudroom or nook. There are a few ways to achieve this look: you can paint the glass panes with chalkboard paint, or you can remove the panes and use the frame as an overlay on a chalkboard you already have.
26. Mullions Add Interest To A Photo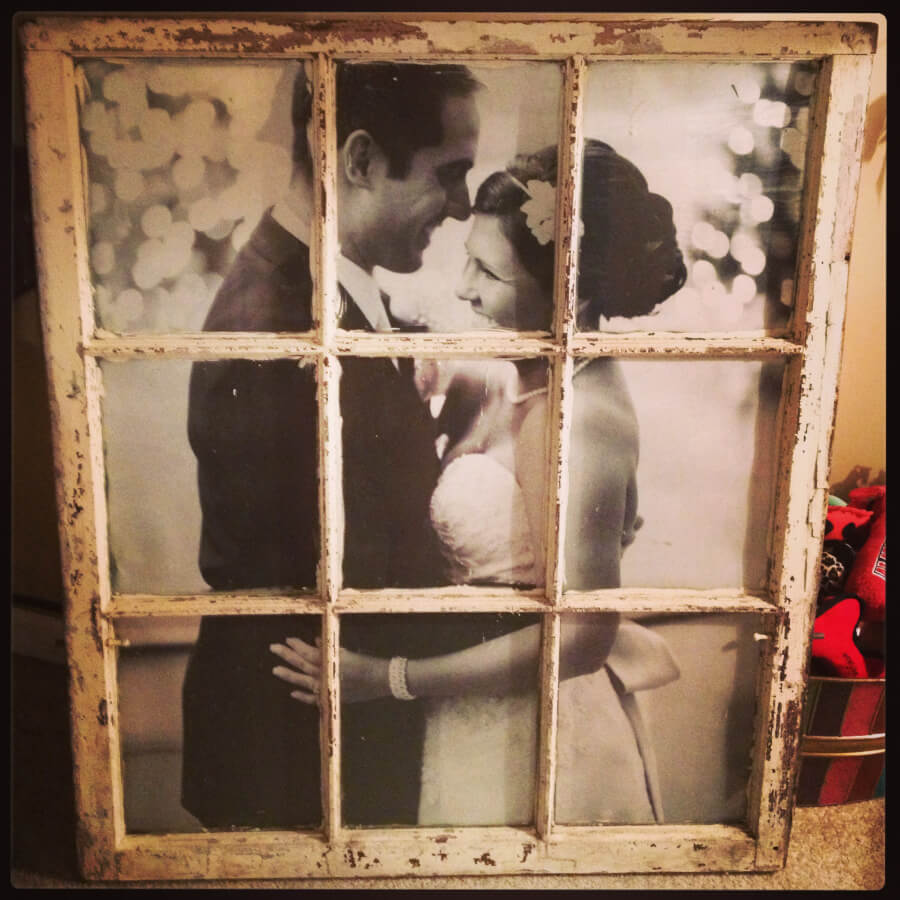 An old window makes a stunning overlay for an enlarged photograph. The black and white photo filter adds to the vintage feel, creating a nostalgic sensation. It is almost as if you are peering through an old window watching an event unfold in the past. Laying a photo behind an old picture frame is a great way to add warm feelings to any room.
27. A Window And A Wreath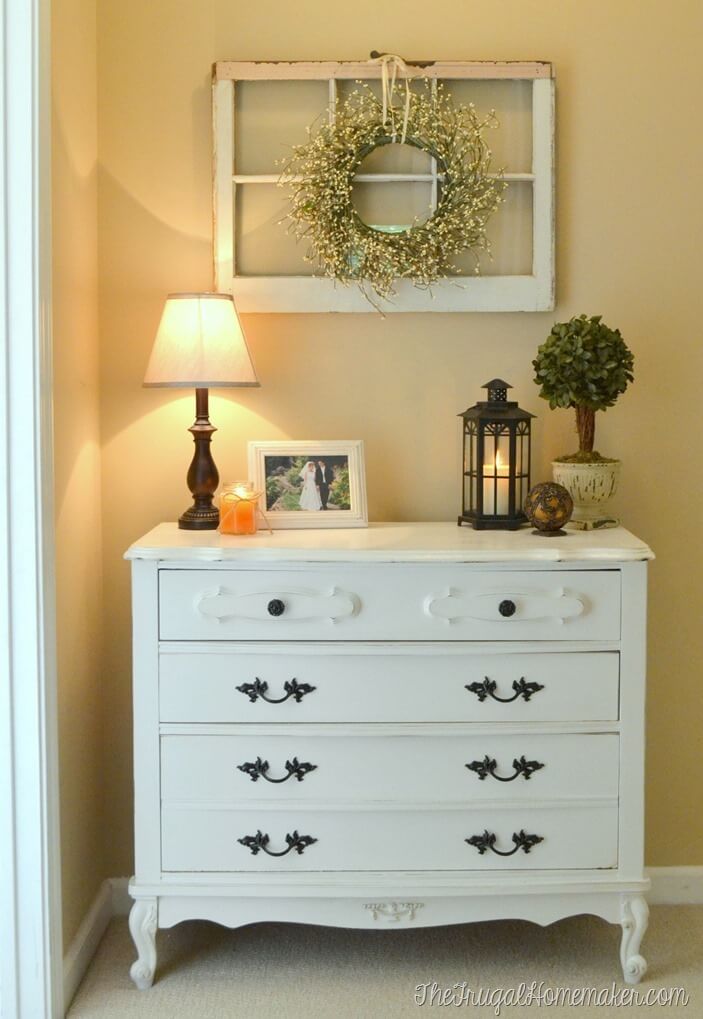 This old window looks shabby chic with a new spring wreath. The calming whites of the window, picture frame, and dresser add tranquility to the room with a pop of earthy greens and browns. You can take this idea so many different ways by adding your own custom wreath and colors to the mix.
28. Center Stage For A Frame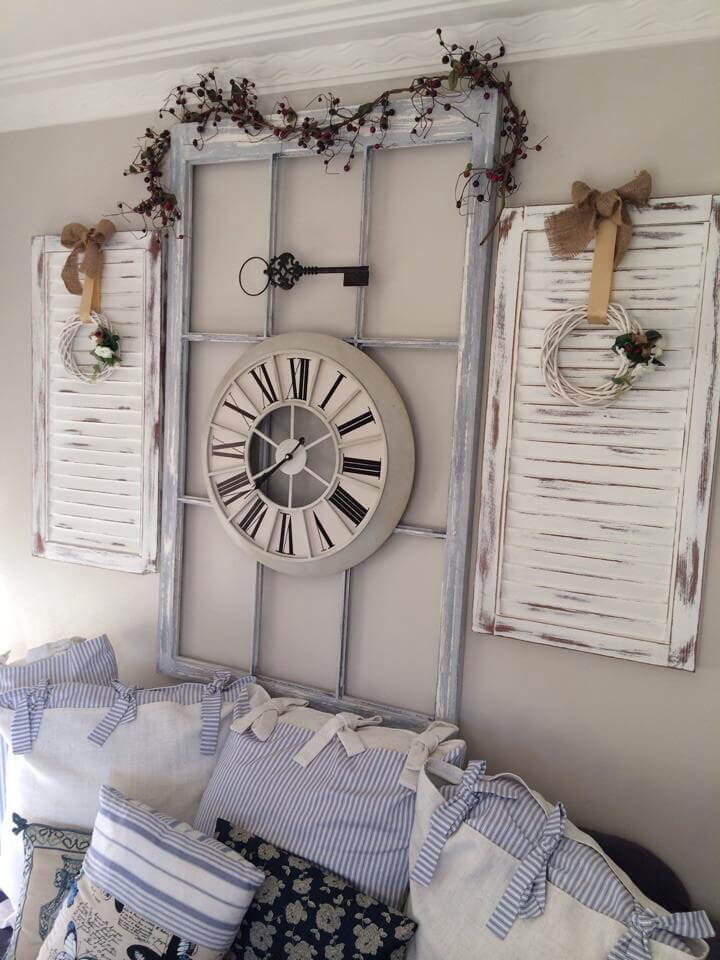 On an otherwise large, empty wall, an old window paired with shutters can make for a substantial indoor eye-catching display. This set up is used as an underlay for the other decorative items, creating its own striking exhibition.
29. Wire And Hooks Make A Kitchen Rack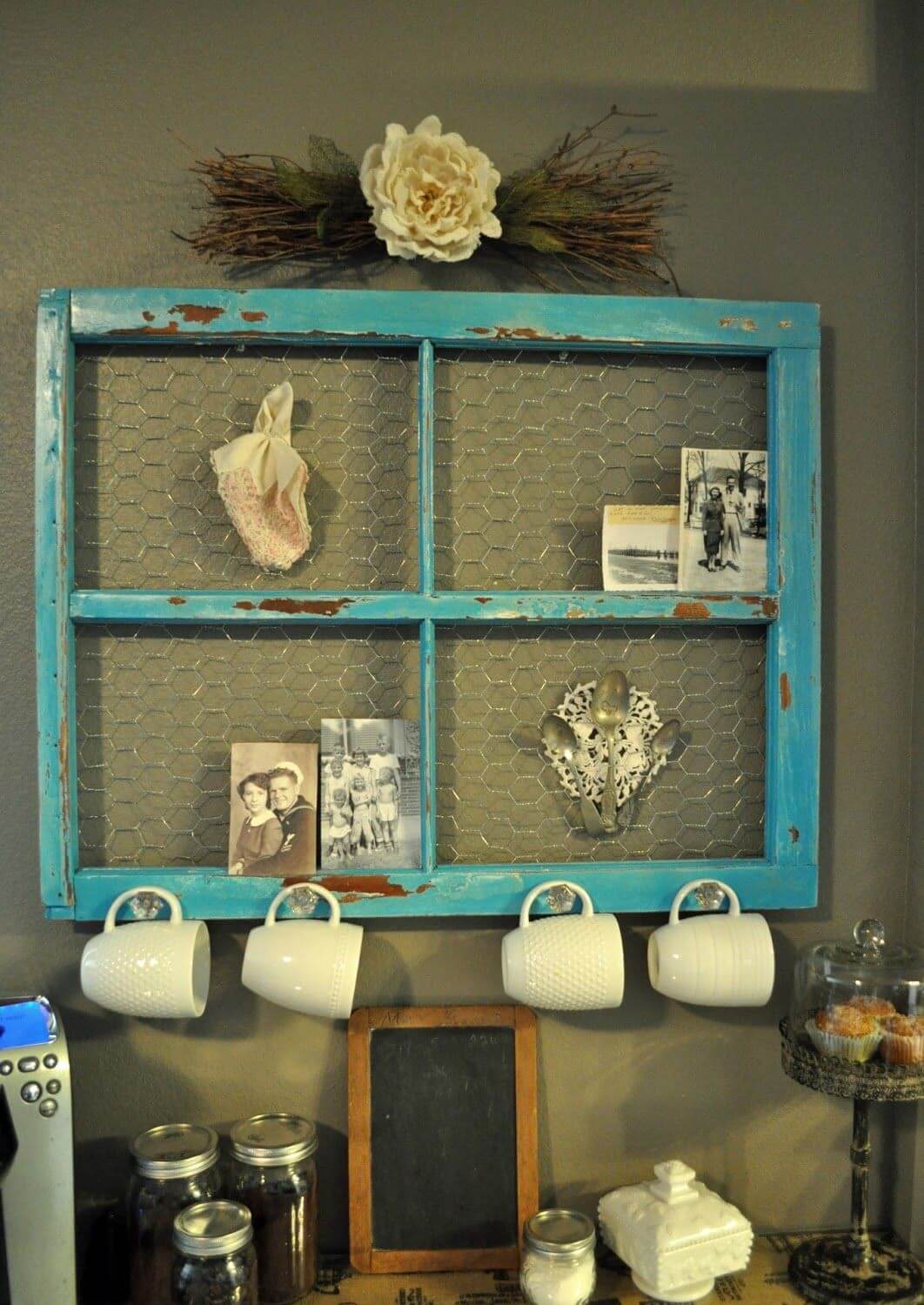 Chicken wire as an underlay for a bold colored window with added hooks isn't only eye-popping and gorgeous; it's also functional. The mugs hang from crystal knobs as the perfect addition to any coffee bar or dessert station. Not a coffee drinker? You can customize this look by adding pot holders, towels, or cooking utensils.
30. Suspended Window Frames Are An Airy Room Divider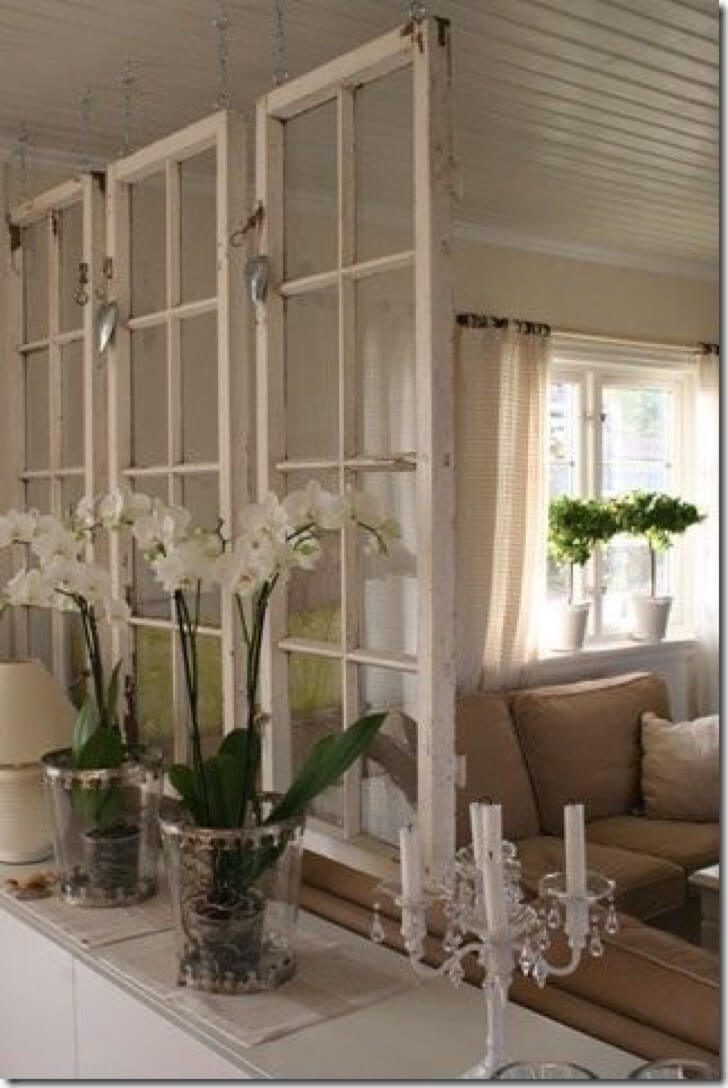 Open floor plans are currently the most desirable architectural trend. However, separating areas from one another helps organize the layout. Suspended window frames add a gorgeous, airy partition that doesn't wreck the openness of the design. Pair them with an edge, in this case, a sectional sofa, to mark the clear division of living areas.
31. A Frame Is Repurposed As A Vitrine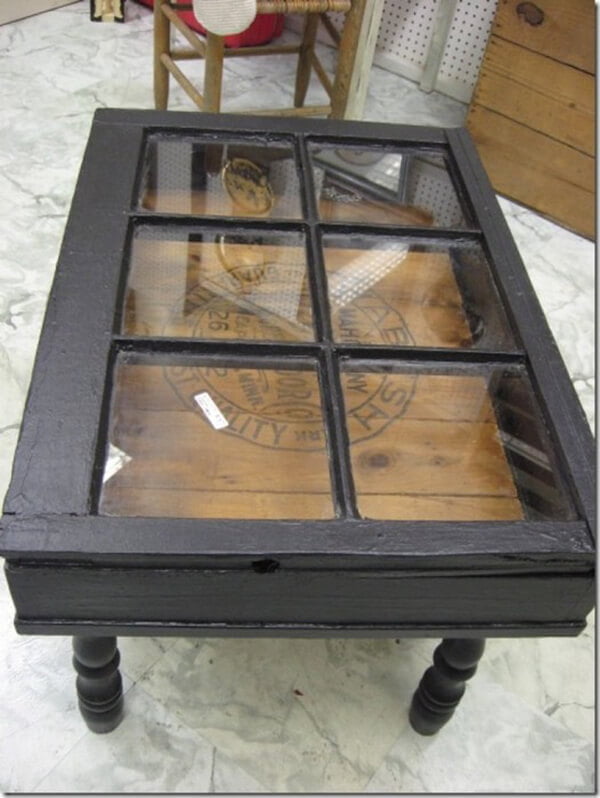 By adding safety glass to an old window frame with some additional scrap wood, you can create a stunning vitrine coffee table to store your magazines, books, or movies tastefully on display.
32. Old Frame, New Bathroom Mirror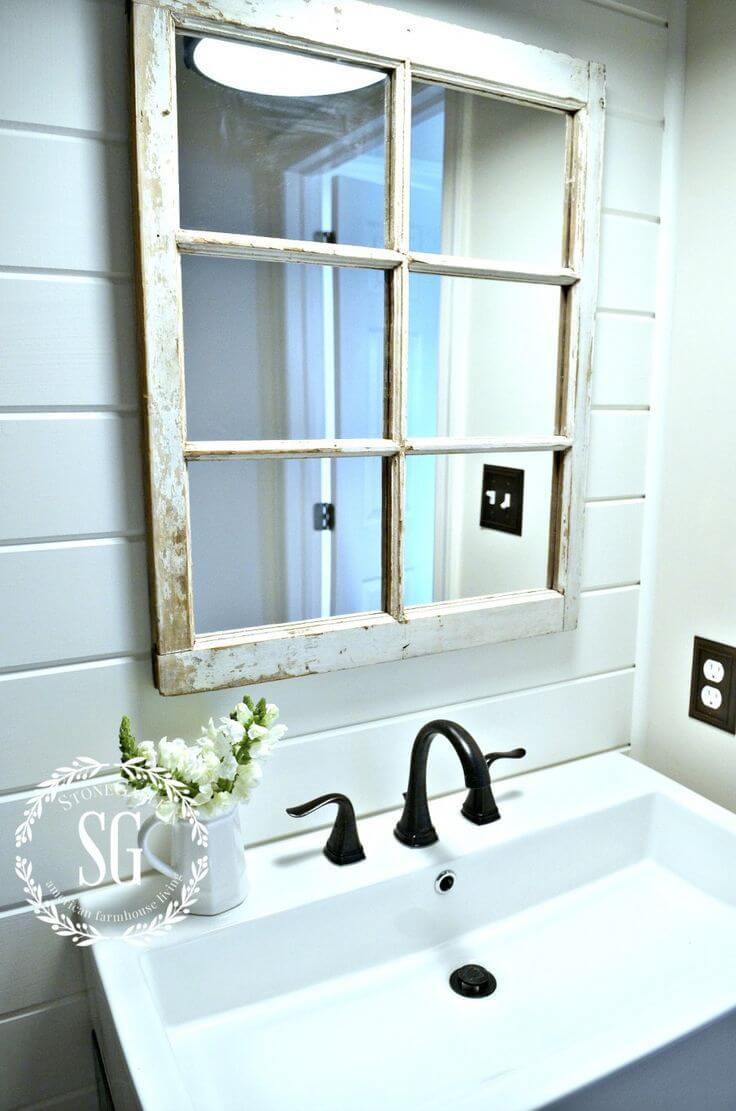 This re-purposed window has been mounted with mirrors to add a rustic quality to this otherwise chic farmhouse-style bathroom. With everything looking clean and new, this old window adds the perfect touch of vintage, becoming the contrasting focal point of the room. The two styles blend together perfectly because of the white on white theme.
34. Paint, Paper Make A Pretty Clothes Rack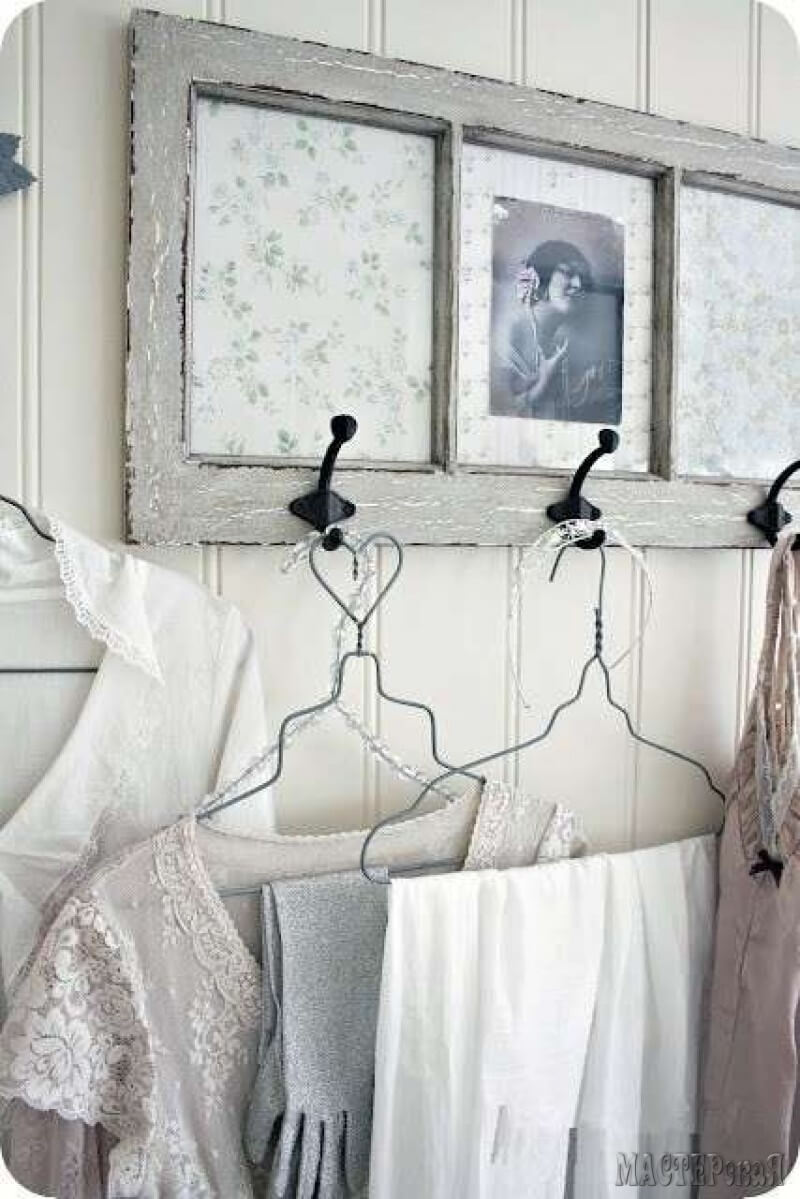 Using a decoupage technique, a floral scrapbook paper has been adhered to the panes of this recycled window. By adding a few double prong coat hooks, you can create a gorgeous coat or garment rack. This is the perfect piece for any mudroom, entryway, or walk-in closet. You can decoupage any scrapbook paper you would like to the glass to create your own custom piece.
35. Jewelry Organizer With Glass Knobs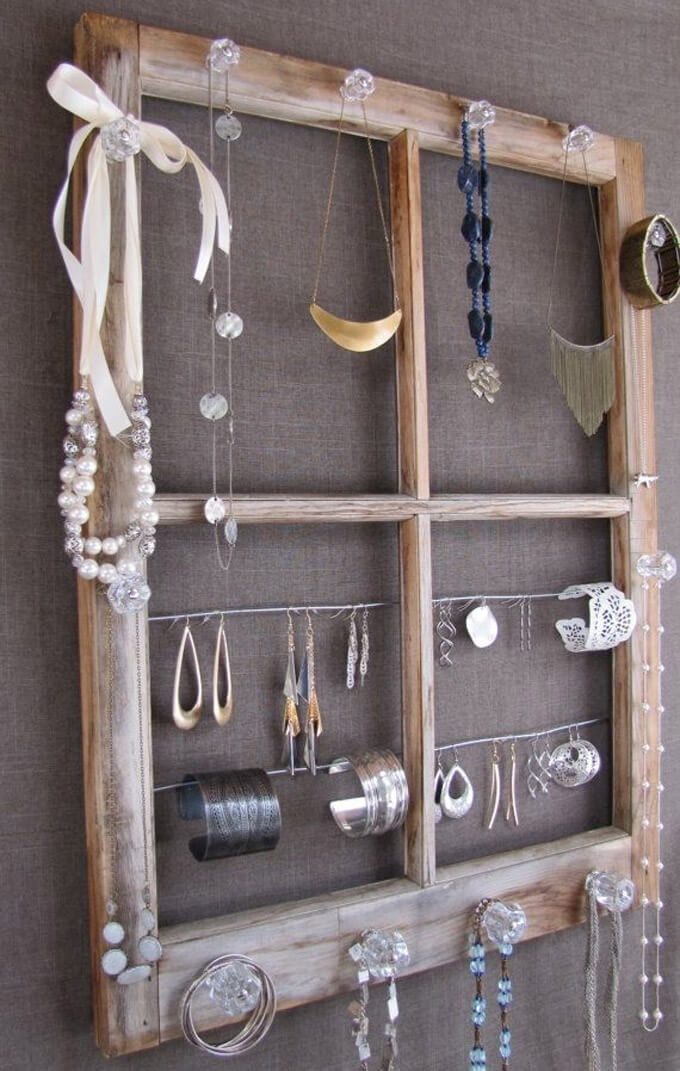 This re-purposed window has been converted into a jewelry organizer simply by adding glass knobs and thick gauge wire. This is a great way to put all of your finest pieces on display or make them easily accessible. An old vintage window jewelry organizer is a great way to add a shabby chic vibe to any ladies' closet or boudoir.
36. Old Frames Anchor A Kitchen Island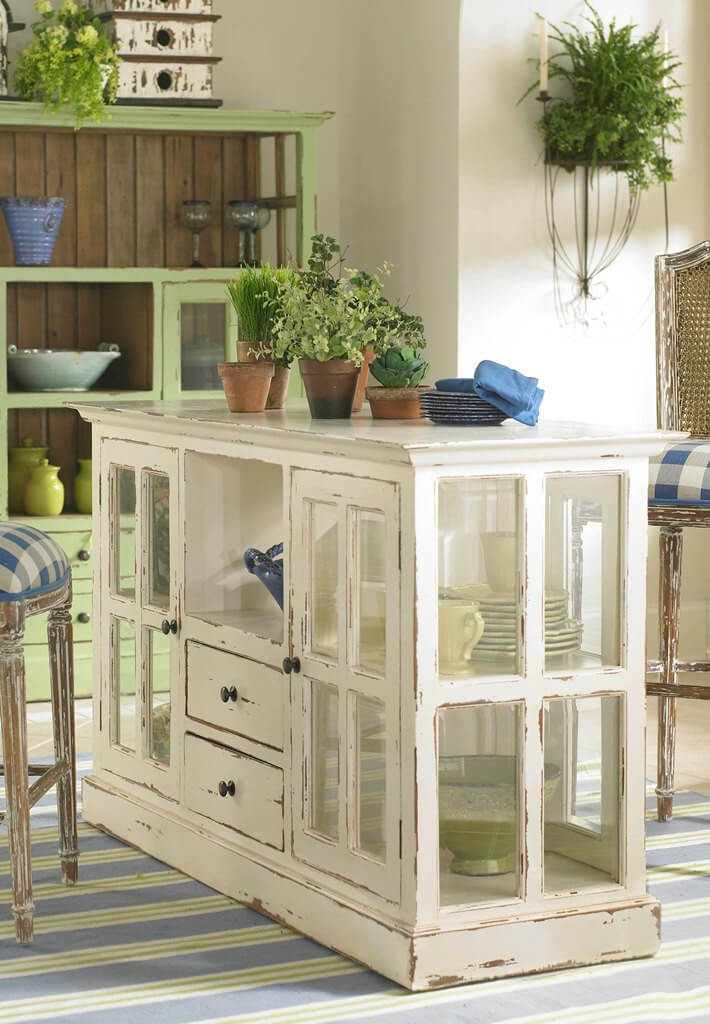 This remarkable kitchen island was created using windowpane style framing built into the design. An advanced do-it-yourself-er could create their own custom piece using old window frames and dresser drawers. This island adds a cottage-like touch to the kitchen when paired with other traditionally rustic colors like terracotta and cornflower blue.
37. A Vertical Frame Elevates Plants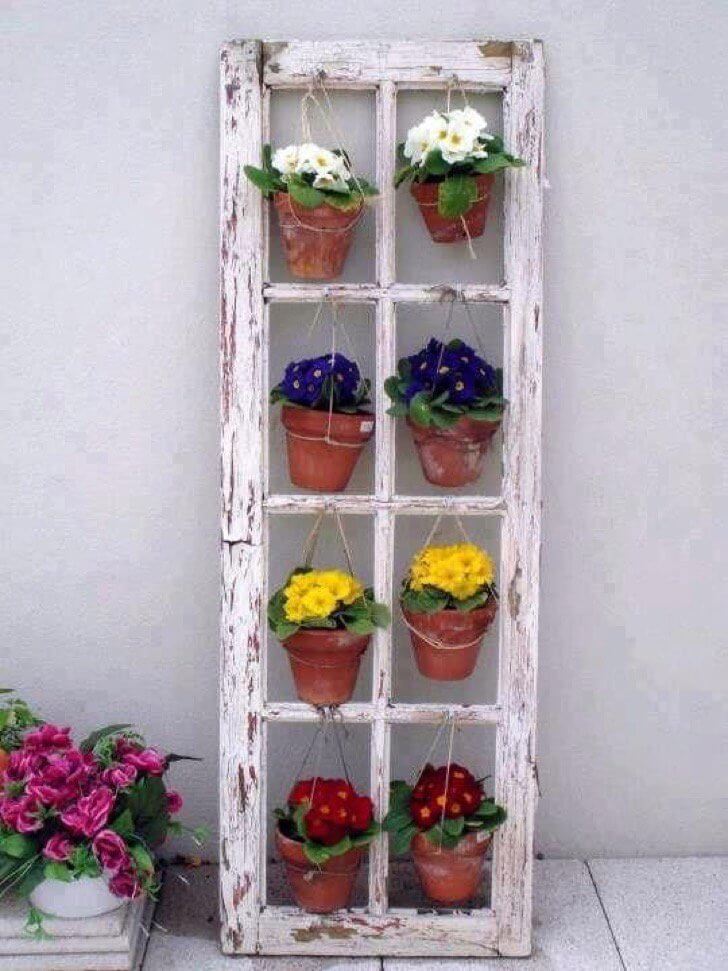 An old window frame makes a whimsical addition to any garden or porch. Here, it is leaned against the house with added hooks to hold hanging flower pots. There are endless ways to get creative with this idea. Old windows can be painted to blend in or stand out, vines can be intertwined between the empty panes, or you can simply place one in the garden and let the plants grow in and around it.
38. One Of The Repurposed Old Window Ideas Is A Terrarium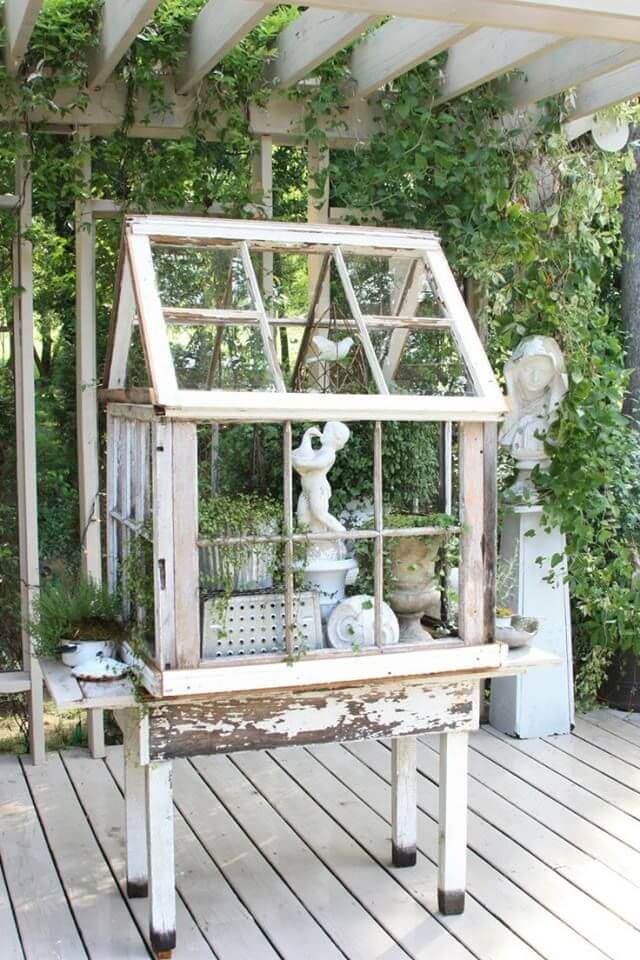 Six old windows are reconstructed into a stunning outdoor terrarium. The white on white theme is a great representation of a classic farmhouse decor theme taken outside. A terrarium like this would also look stunning indoors in a large kitchen or sun room.
39. Craft A Series Of Dioramas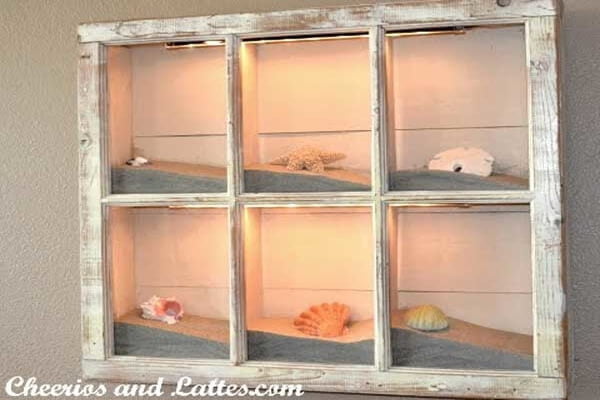 This old window has been mounted to a wooden box and finished with an installed light bar to create a brilliant light box with a series of beach-themed dioramas. A piece like this makes a great addition to a beach themed bathroom or your ocean-front home. The dioramas can be completely customizable by adding your own special items to the individual compartments.
40. Towel Rack And Mirror Combined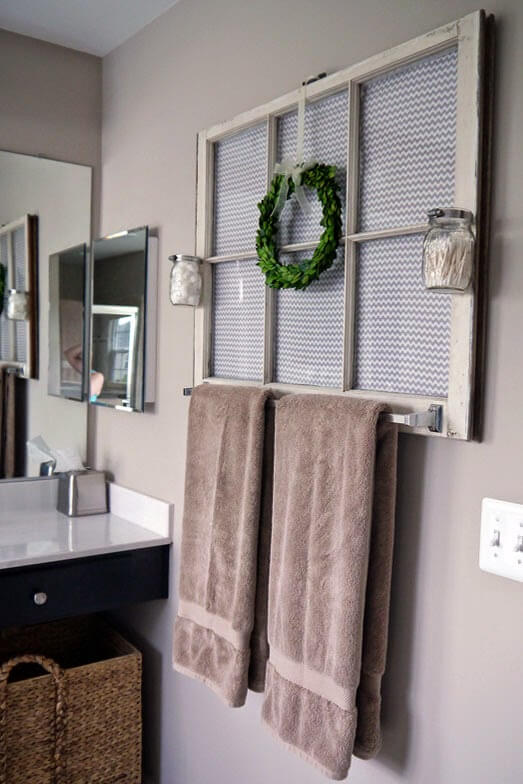 Pipe clamps and a towel rack are installed onto an old window to create this gorgeous and functional bathroom piece. The clamps hold mason jars in place for storage. Under the panes is a backdrop of chevron fabric and finally, a wreath is hung over the center of the window. This is a fully customizable idea that can work for any bathroom.
41. Show Off A Lovely Initial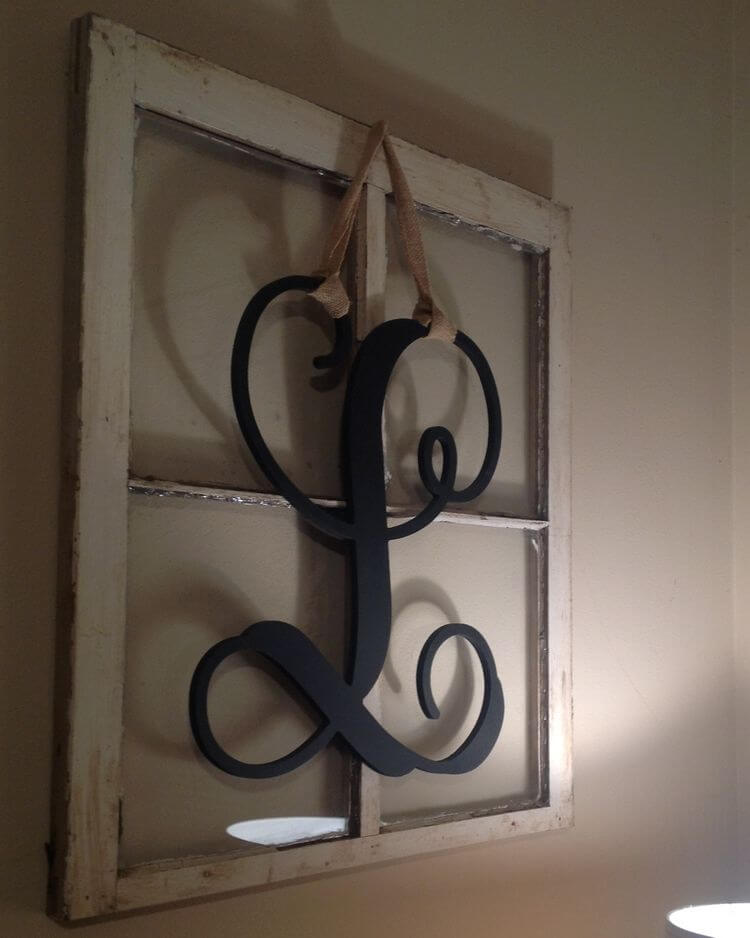 A lovely old window is adorned by an initial hung by a strip of burlap. This is a very simple decoration that takes little effort and creates an elegant decoration suitable for any space. The window and hanging letter can be painted to complement any design scheme.
42. A Rustic New Medicine Cabinet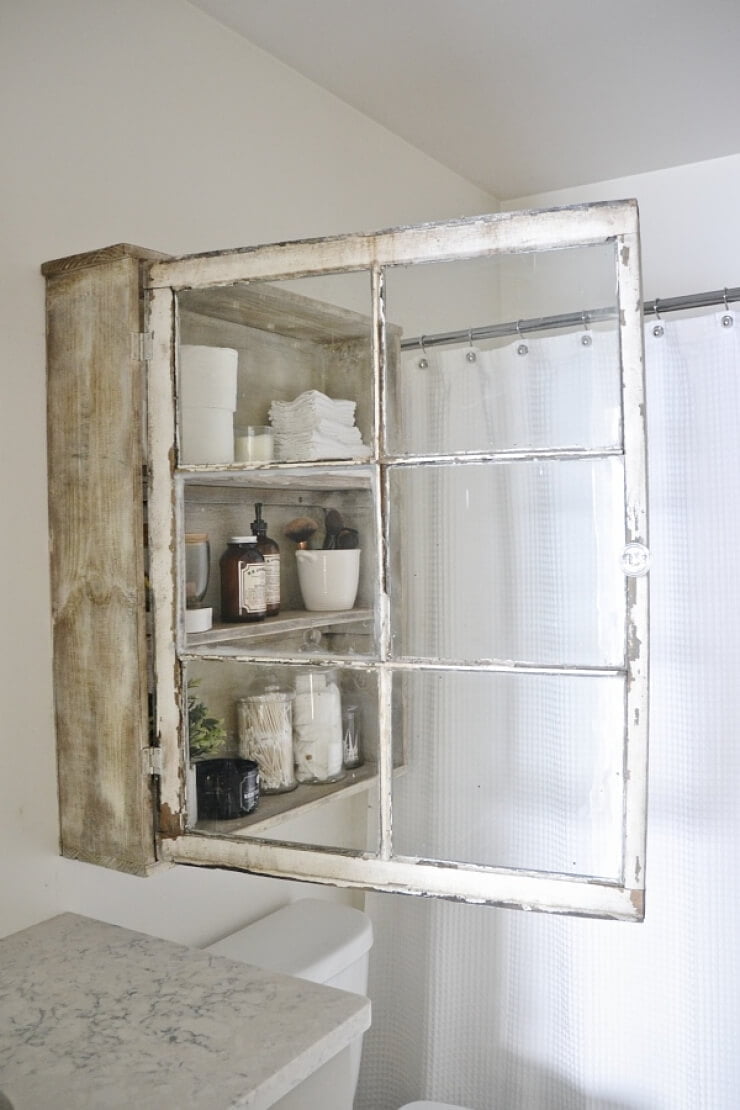 A custom built cabinet is created out of scrap wood to fit this old window. The window is then mounted and used as a door to turn it into a rustic medicine cabinet. The miscellaneous items inside the cabinet are functional bathroom items yet notice how they coordinate with the rustic theme by using whites with pops of earthy green and brown.
43. Photos Line Up In One Of The Repurposed Old Window Design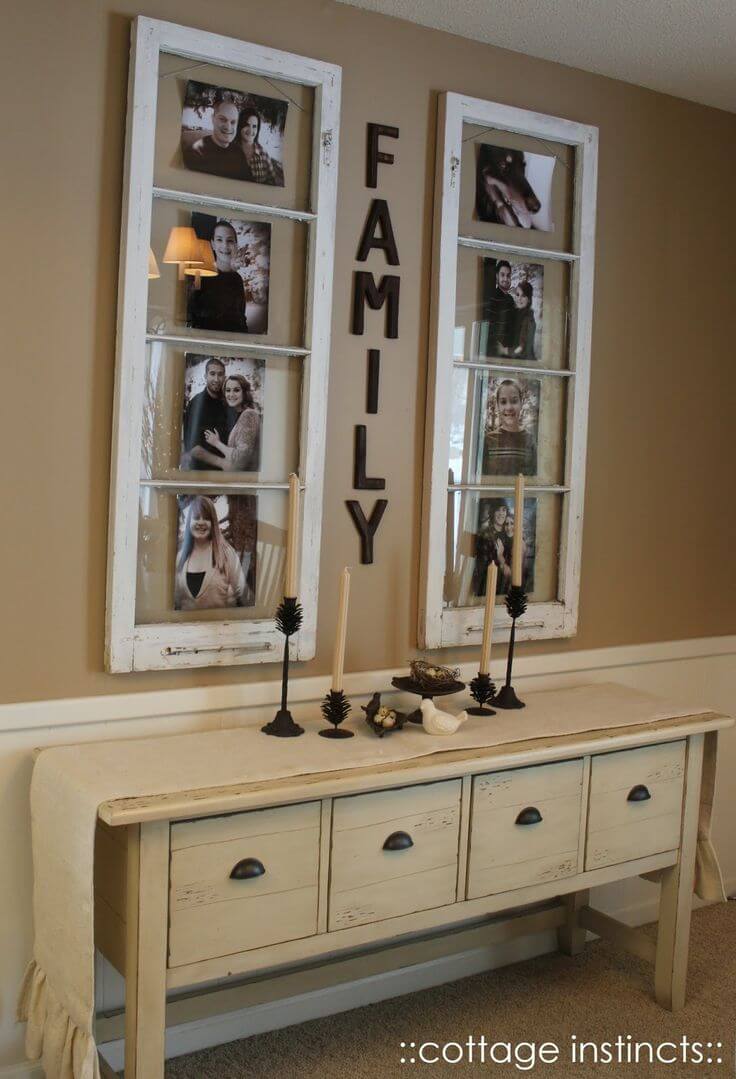 Two identical old windows are hung vertically side-by-side over a dining room server with the word "family" displayed down the center. Pictures of the family are mounted behind the glass, creating one large familial display. This is the perfect idea for a well-lit room with large walls.
44. Window Frame and Box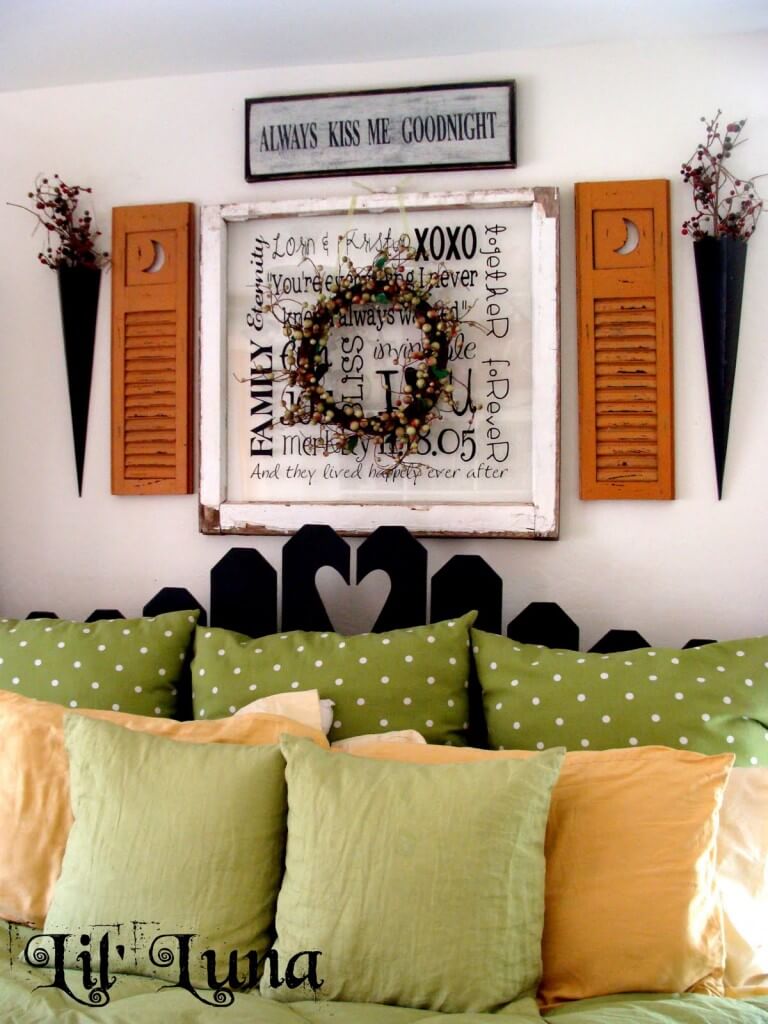 This vintage window makes a gorgeous decoration when vinyl words are affixed to the glass and then adorned with a wreath hanging in the center. The orange shutters and black wall vases add an autumn-themed ambience to the room. You can customize this look by experimenting with different wreath styles and paint colors for the shutters.
45. Mini Garden in an Old Window Frame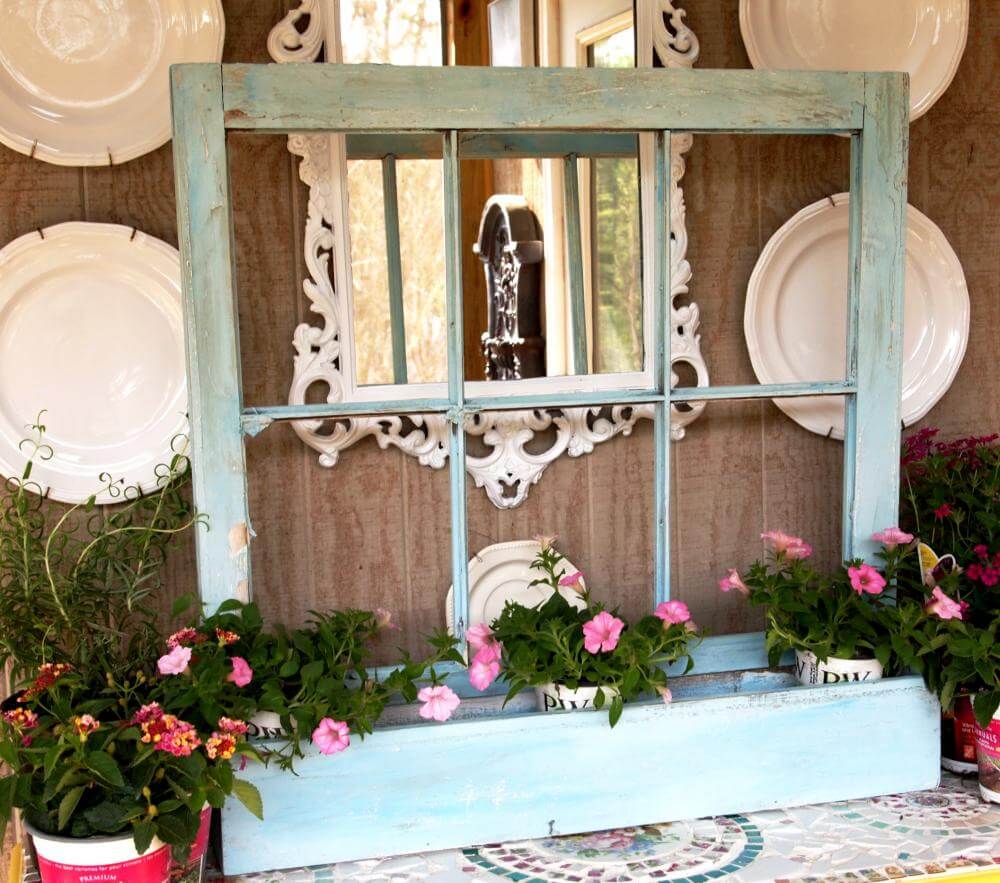 An old window frame with an added flower box is the perfect decoration for an outdoor garden. This frame and flower box combo is painted a subtle robin's egg blue with the dry brush technique. The vintage ivory plates, wooden backdrop and pastel pink flowers create a traditionally beautiful spring scene.
46. A Frame Beautifies A Brick Wall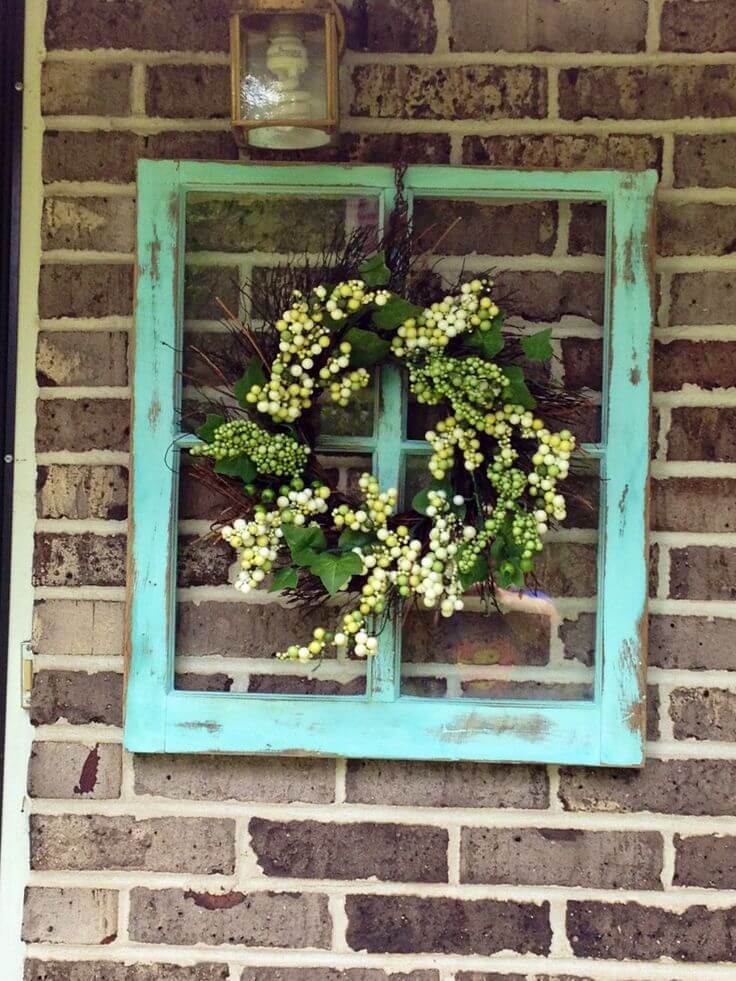 This window frame is painted a soft teal in contrast with the red brick behind it. The wreath adorning it is filled with different hues of green that work nicely with the teal and still add an additional stark contrast to the red brick. This is an excellent outdoor decoration idea for any season.
47. Leaded Glass Is Beautiful Art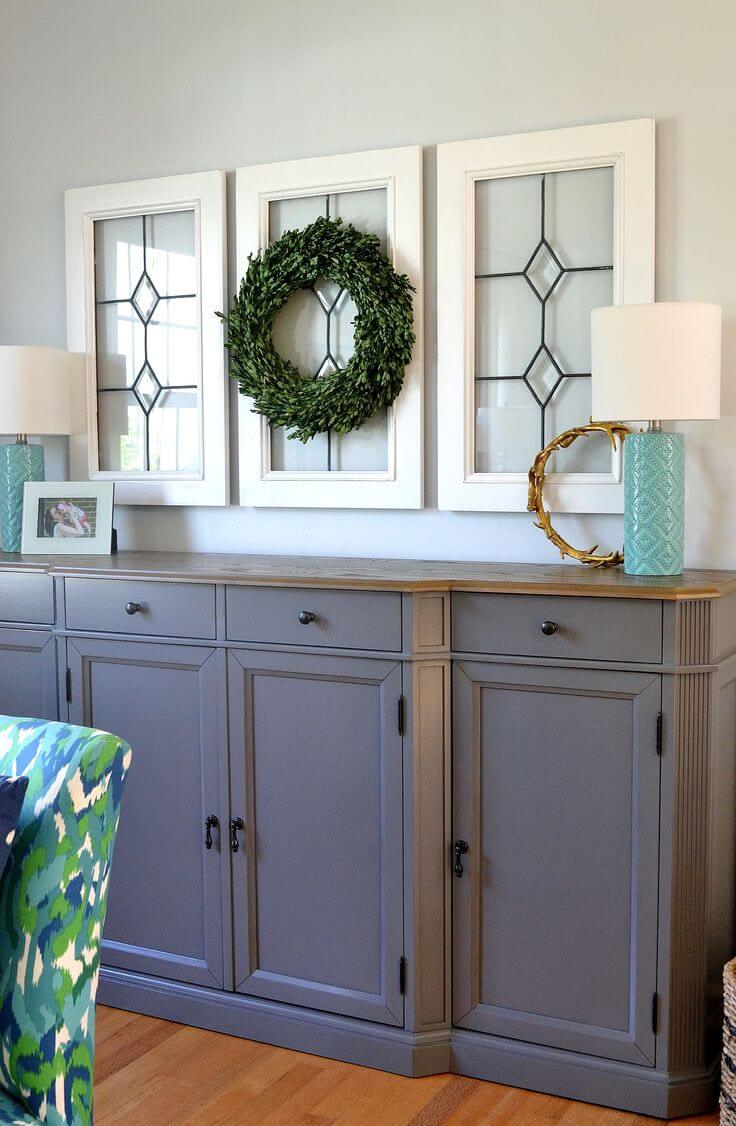 These newer lead glass windows are re-purposed as a 3-piece wall mural adorned with a traditional green wreath. The simplicity of this design is clean and elegant with perfect symmetry. This window re-purpose would look great in any room with abundant sunlight and wall space.
Choose Rustic Wall Decor Ideas to Make Your Home Warm and Inviting