Back in the 1970s, the idea of decorating with old window frames was pretty much limited to hanging a stained glass panel from chains in front of a window. Today, many do-it-yourself decorators are adding interest to new houses that have few appointments with repurposed old window ideas for even the most weathered window frames, whether they're filled with clear glass or not. You can find old windows at salvage yards, auction houses, flea markets, demolition sites, antique malls and many other places.
25 New Uses for Old Windows
Those old window frames can become picture frames to put right on the wall over photos, mirror frames, chalkboard frames, or a means to store and display jewelry. In the hands of a decorator who has modest woodworking skills, frames can be tabletop terrariums or other repurposed old window decorations. Skilled craftspeople can likely handle more complicated projects that put old windows right down on the floor, as a vitrine-type coffee table and even the base of an amazing kitchen island.
And in an update of that lone, stained-glass panel feature from the '70s, several long frames can be suspended from the ceiling to make a room divider in an expansive, open room; and pristine leaded glass panels will add quiet elegance to walls in one of the prettiest repurposed old windows. See our favorite ideas and get inspired!
1. A Frame Perches Above The Fireplace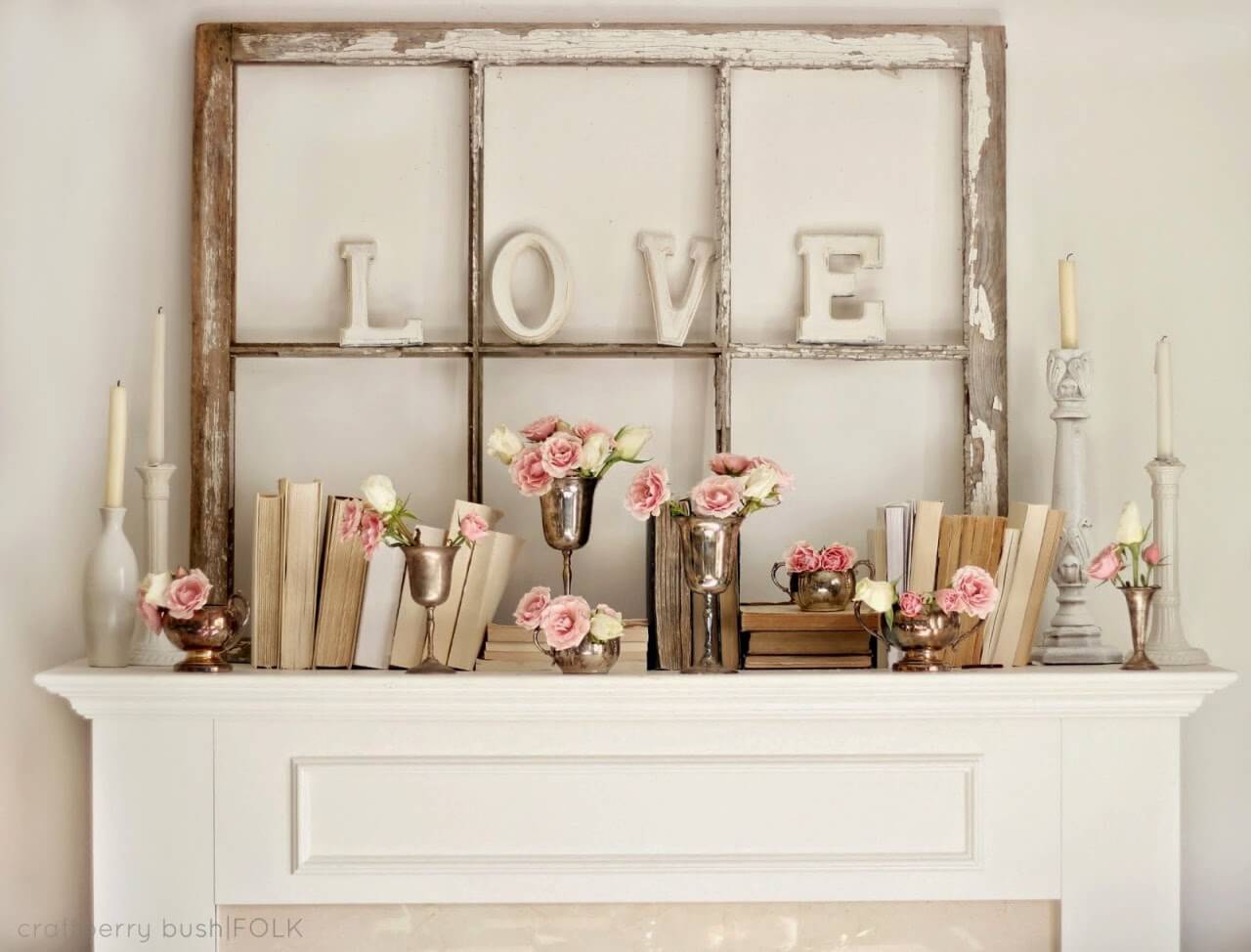 An old window frame perched upon a fireplace can add a sweet, rustic touch to an elegant mantel. Without glass, the window mullions here are just large enough to rest painted wooden letters on top. You can alter this look by adding your own special word, or perhaps even your family name for a truly customized mantel.
2. A Chalkboard For Little Messages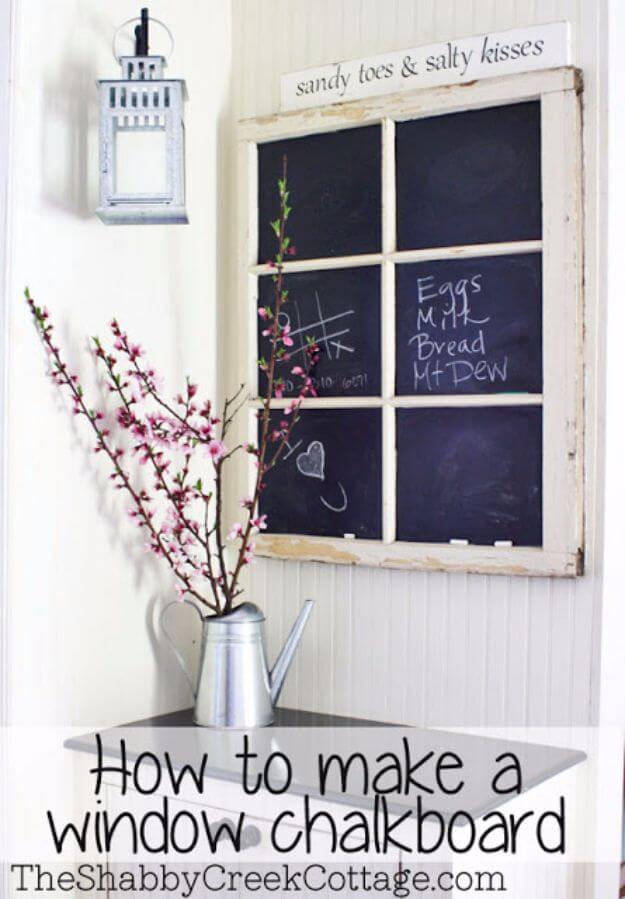 This re-purposed window is a truly adorable way to dress up a chalkboard, giving it a bit of an extra country feel. This would be perfect for a kitchen, mudroom or nook. There are a few ways to achieve this look: you can paint the glass panes with chalkboard paint, or you can remove the panes and use the frame as an overlay on a chalkboard you already have.
3. Mullions Add Interest To A Photo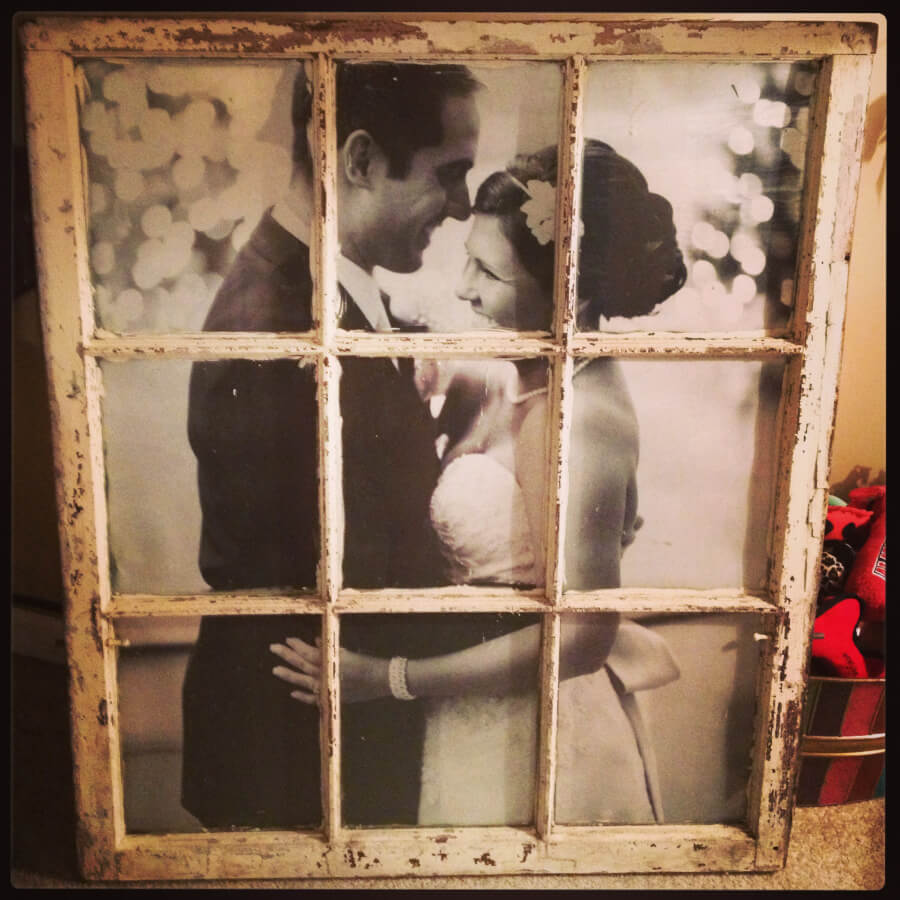 An old window makes a stunning overlay for an enlarged photograph. The black and white photo filter adds to the vintage feel, creating a nostalgic sensation. It is almost as if you are peering through an old window watching an event unfold in the past. Laying a photo behind an old picture frame is a great way to add warm feelings to any room.
4. A Window And A Wreath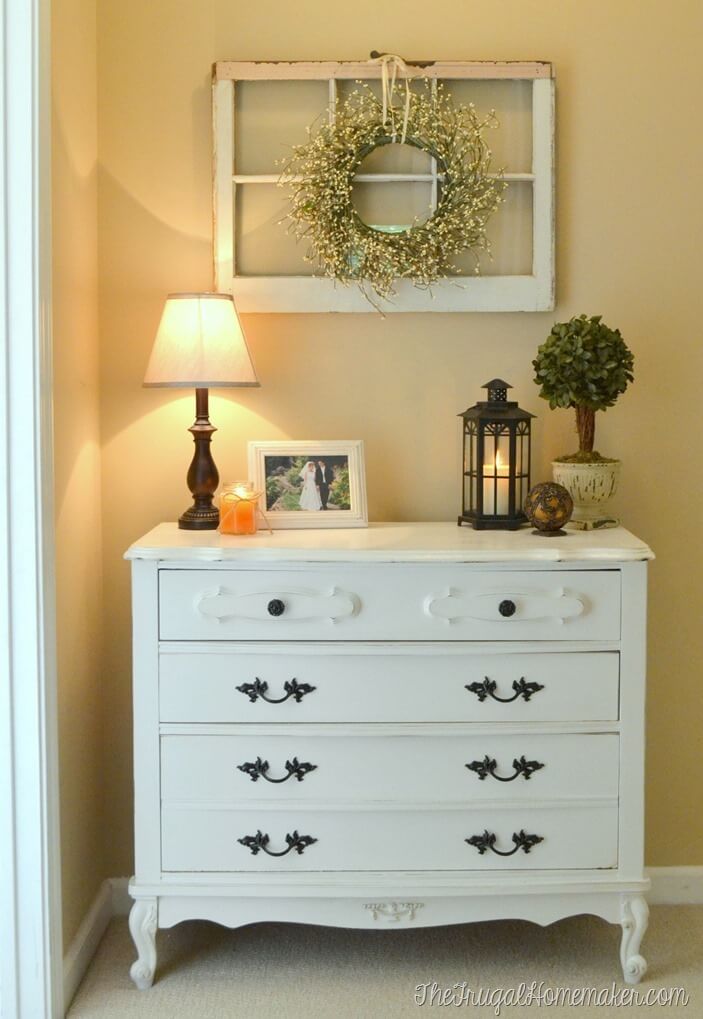 This old window looks shabby chic with a new spring wreath. The calming whites of the window, picture frame, and dresser add tranquility to the room with a pop of earthy greens and browns. You can take this idea so many different ways by adding your own custom wreath and colors to the mix.
5. Center Stage For A Frame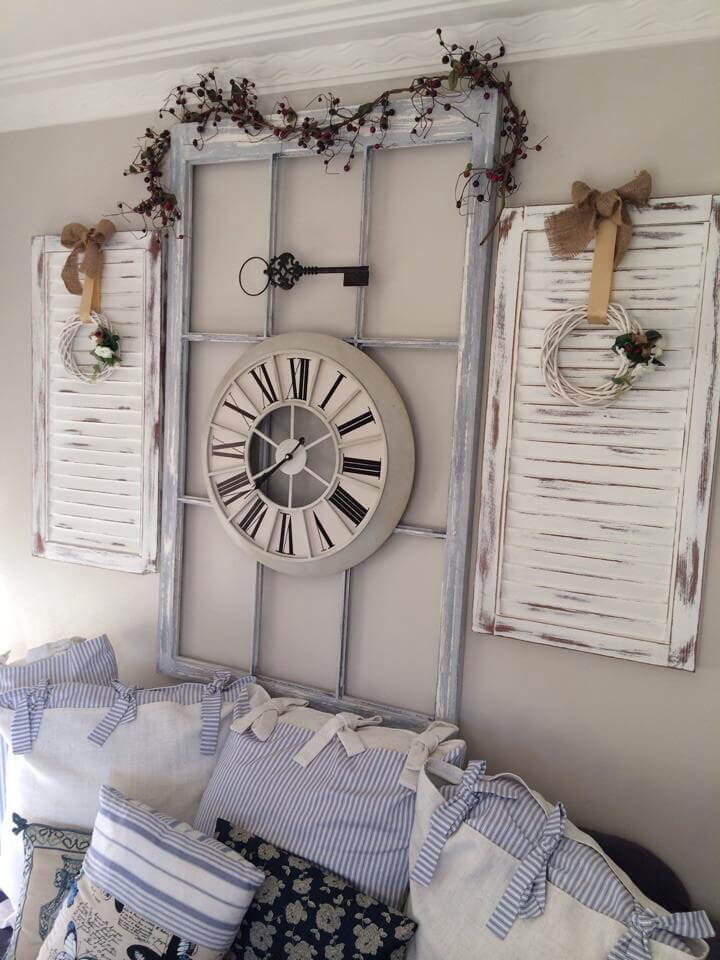 On an otherwise large, empty wall, an old window paired with shutters can make for a substantial indoor eye-catching display. This set up is used as an underlay for the other decorative items, creating its own striking exhibition.
6. Wire And Hooks Make A Kitchen Rack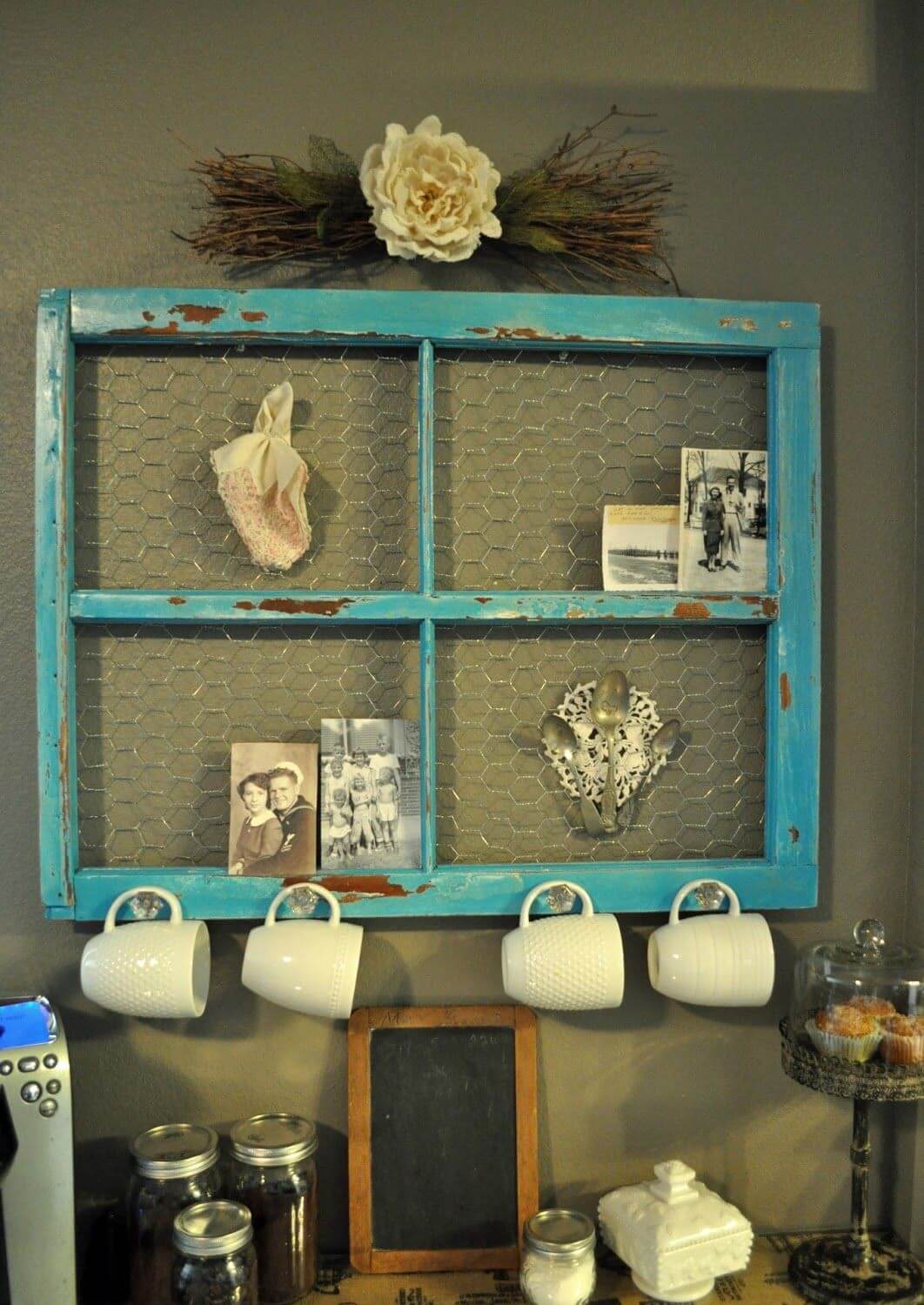 Chicken wire as an underlay for a bold colored window with added hooks isn't only eye-popping and gorgeous; it's also functional. The mugs hang from crystal knobs as the perfect addition to any coffee bar or dessert station. Not a coffee drinker? You can customize this look by adding pot holders, towels, or cooking utensils.
7. Suspended Window Frames Are An Airy Room Divider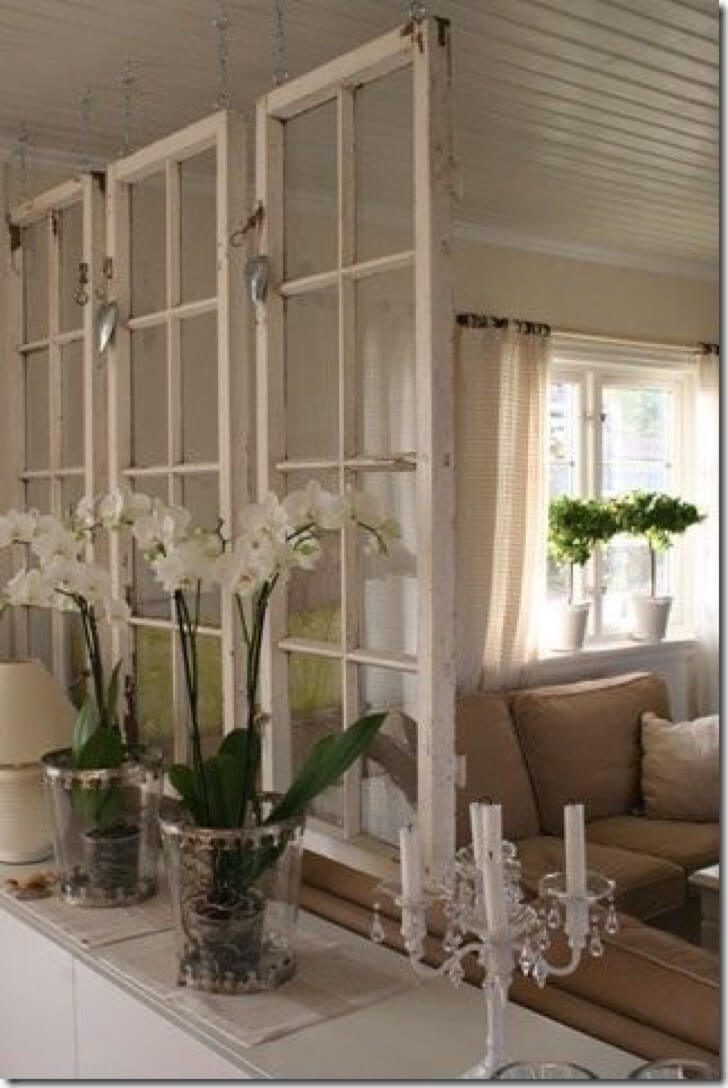 Open floor plans are currently the most desirable architectural trend. However, separating areas from one another helps organize the layout. Suspended window frames add a gorgeous, airy partition that doesn't wreck the openness of the design. Pair them with an edge, in this case, a sectional sofa, to mark the clear division of living areas.
8. A Frame Is Repurposed As A Vitrine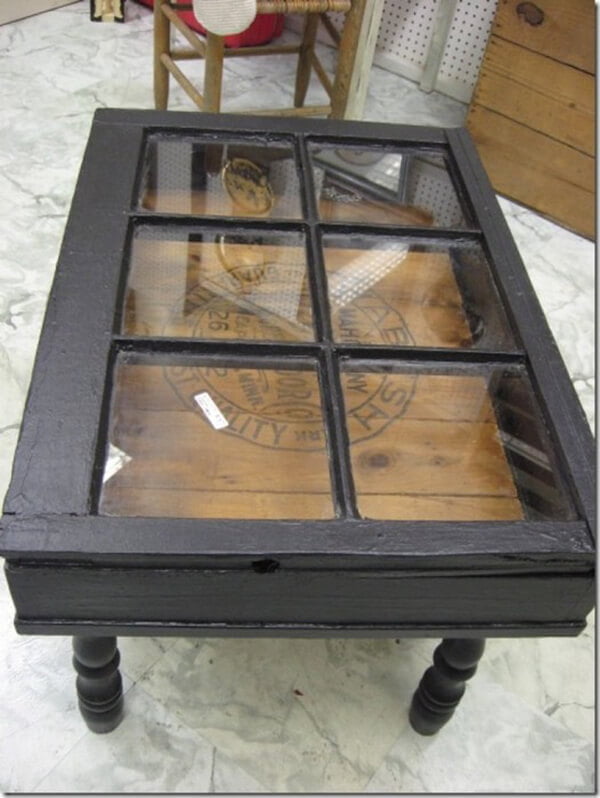 By adding safety glass to an old window frame with some additional scrap wood, you can create a stunning vitrine coffee table to store your magazines, books, or movies tastefully on display.
9. Old Frame, New Bathroom Mirror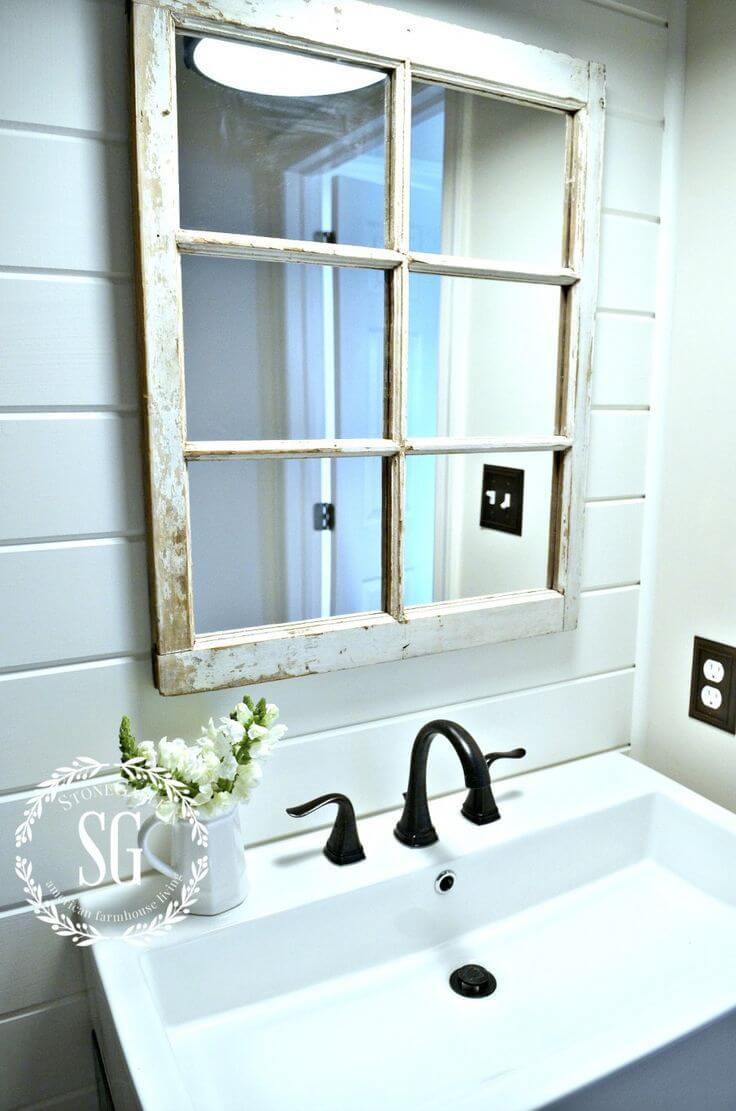 This re-purposed window has been mounted with mirrors to add a rustic quality to this otherwise chic farmhouse-style bathroom. With everything looking clean and new, this old window adds the perfect touch of vintage, becoming the contrasting focal point of the room. The two styles blend together perfectly because of the white on white theme.
10. Shutters And A Window Frame Go Together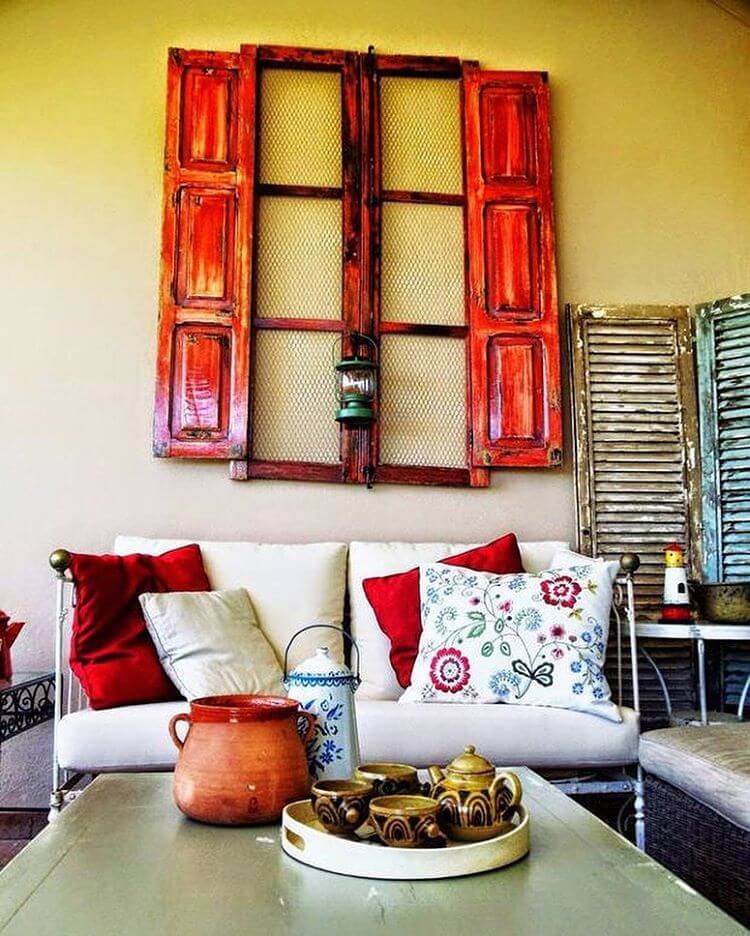 This window frame has been painted a bold red color to match the accents in the room's scheme. The dry brush painting technique adds to the vintage charm and allows for a more dimensional piece. It pairs beautifully with the contrasting old shutters resting off to the side.
11. Paint, Paper Make A Pretty Clothes Rack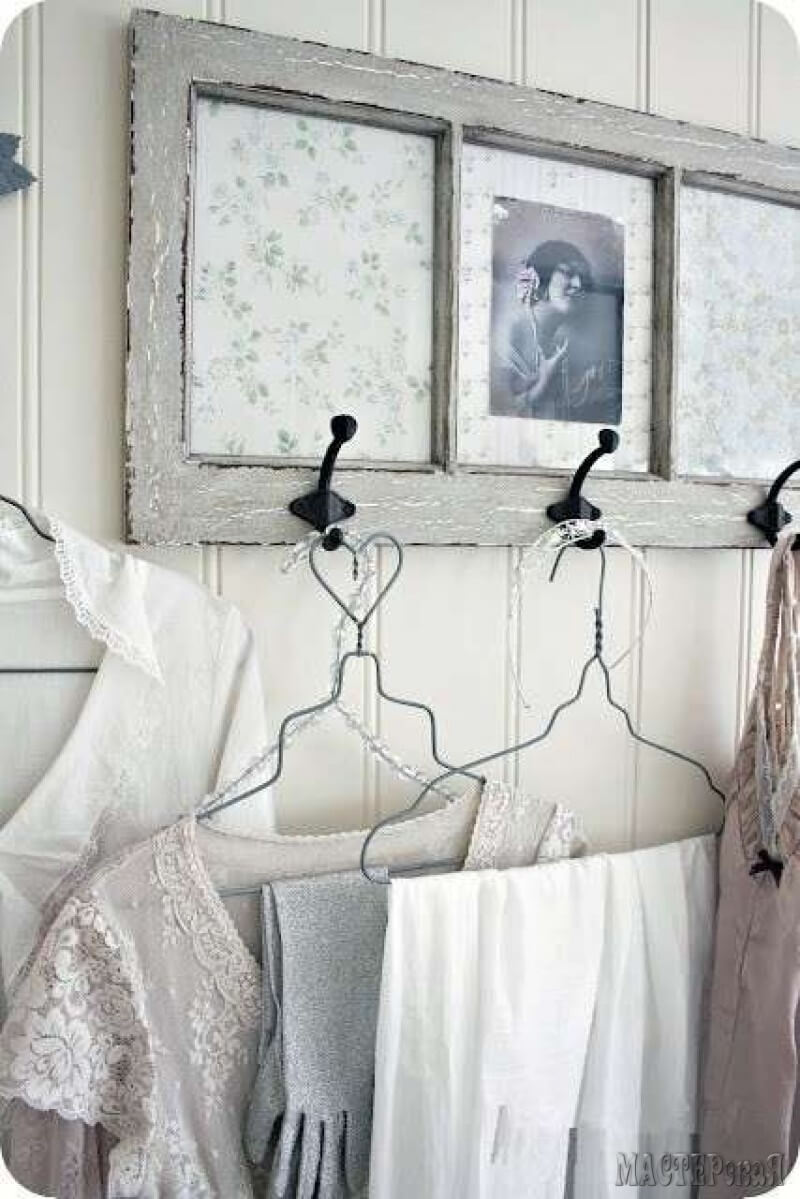 Using a decoupage technique, a floral scrapbook paper has been adhered to the panes of this recycled window. By adding a few double prong coat hooks, you can create a gorgeous coat or garment rack. This is the perfect piece for any mudroom, entryway, or walk-in closet. You can decoupage any scrapbook paper you would like to the glass to create your own custom piece.
12. Jewelry Organizer With Glass Knobs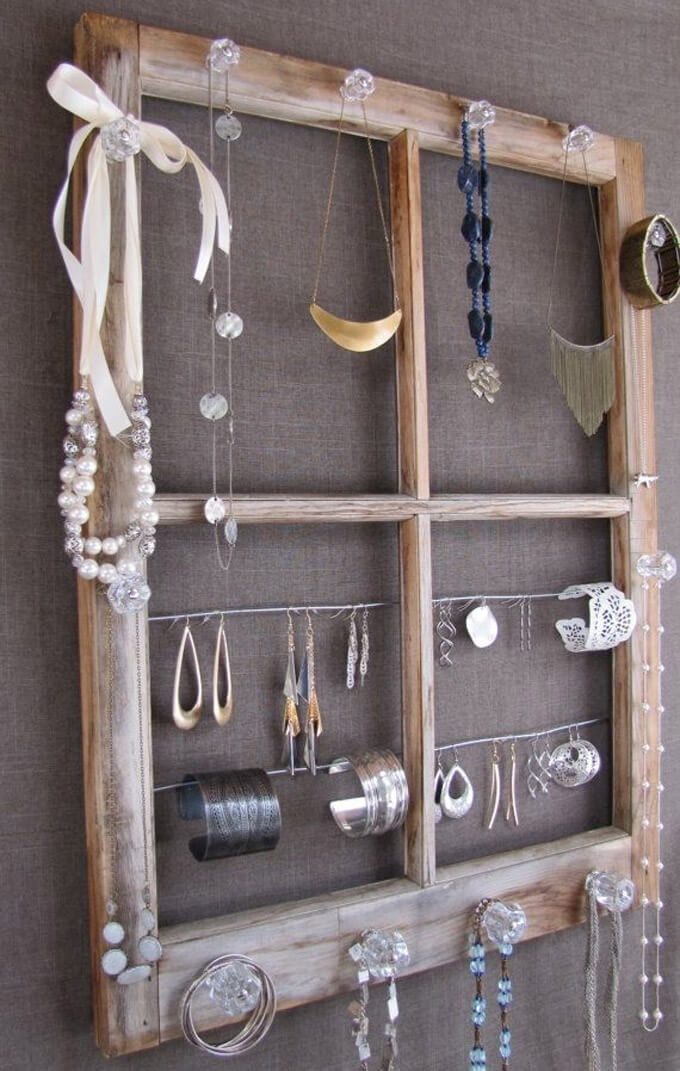 This re-purposed window has been converted into a jewelry organizer simply by adding glass knobs and thick gauge wire. This is a great way to put all of your finest pieces on display or make them easily accessible. An old vintage window jewelry organizer is a great way to add a shabby chic vibe to any ladies' closet or boudoir.
13. Old Frames Anchor A Kitchen Island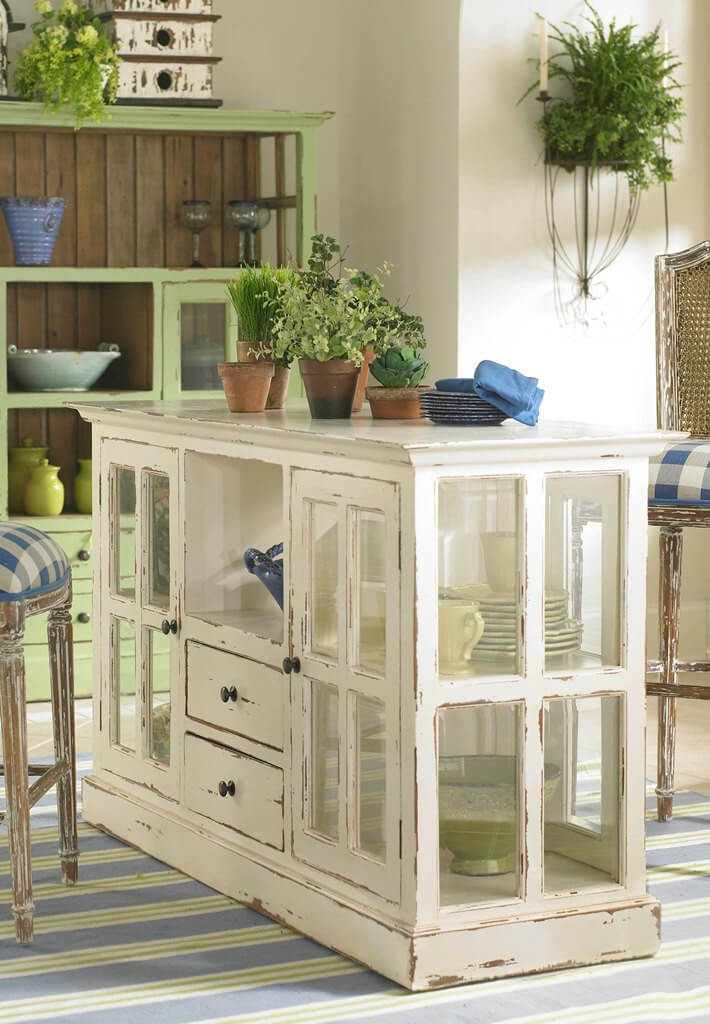 This remarkable kitchen island was created using windowpane style framing built into the design. An advanced do-it-yourself-er could create their own custom piece using old window frames and dresser drawers. This island adds a cottage-like touch to the kitchen when paired with other traditionally rustic colors like terracotta and cornflower blue.
14. A Vertical Frame Elevates Plants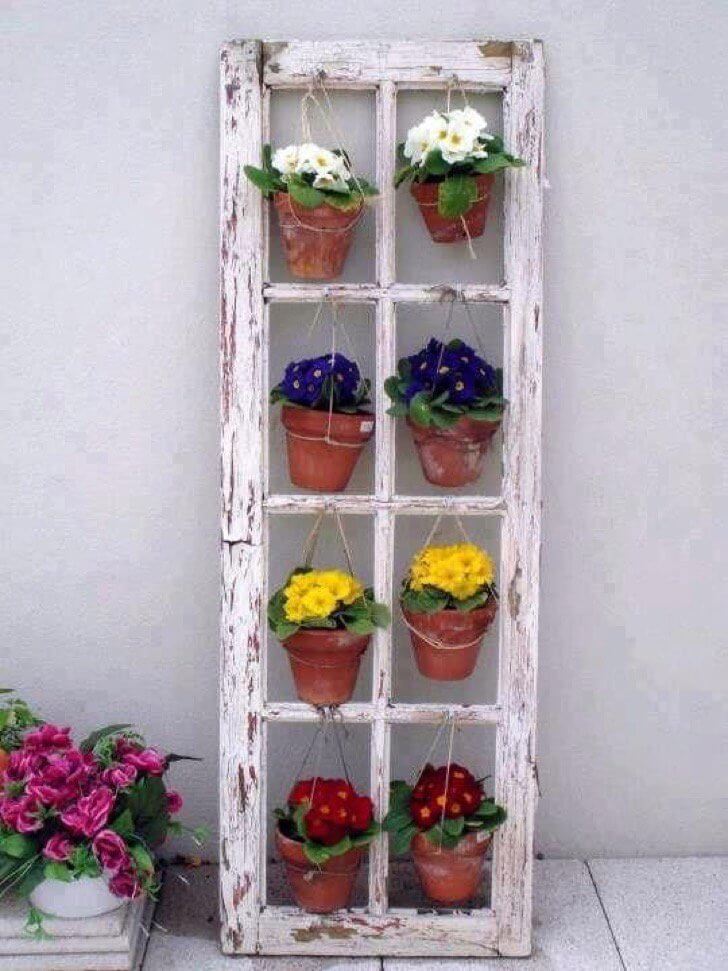 An old window frame makes a whimsical addition to any garden or porch. Here, it is leaned against the house with added hooks to hold hanging flower pots. There are endless ways to get creative with this idea. Old windows can be painted to blend in or stand out, vines can be intertwined between the empty panes, or you can simply place one in the garden and let the plants grow in and around it.
15. One Of The Repurposed Old Window Ideas Is A Terrarium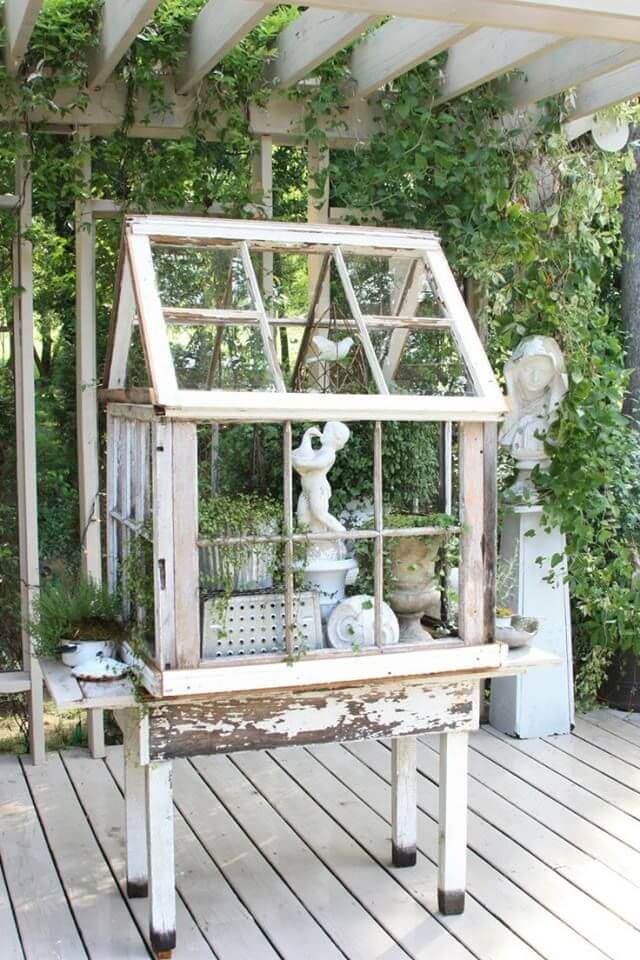 Six old windows are reconstructed into a stunning outdoor terrarium. The white on white theme is a great representation of a classic farmhouse decor theme taken outside. A terrarium like this would also look stunning indoors in a large kitchen or sun room.
16. Craft A Series Of Dioramas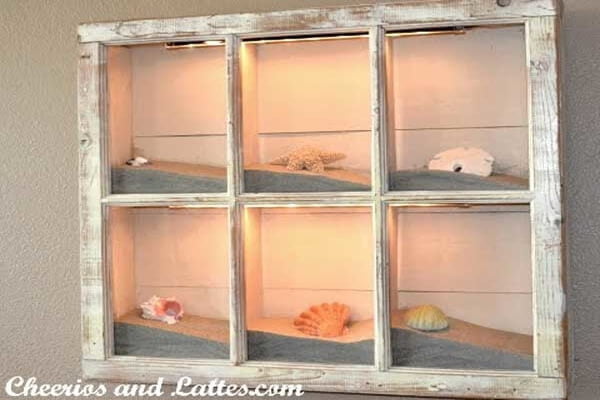 This old window has been mounted to a wooden box and finished with an installed light bar to create a brilliant light box with a series of beach-themed dioramas. A piece like this makes a great addition to a beach themed bathroom or your ocean-front home. The dioramas can be completely customizable by adding your own special items to the individual compartments.
17. Towel Rack And Mirror Combined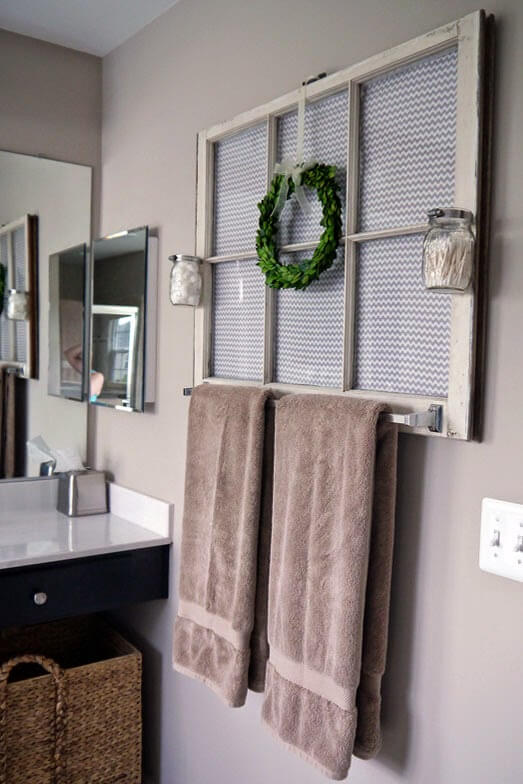 Pipe clamps and a towel rack are installed onto an old window to create this gorgeous and functional bathroom piece. The clamps hold mason jars in place for storage. Under the panes is a backdrop of chevron fabric and finally, a wreath is hung over the center of the window. This is a fully customizable idea that can work for any bathroom.
18. Show Off A Lovely Initial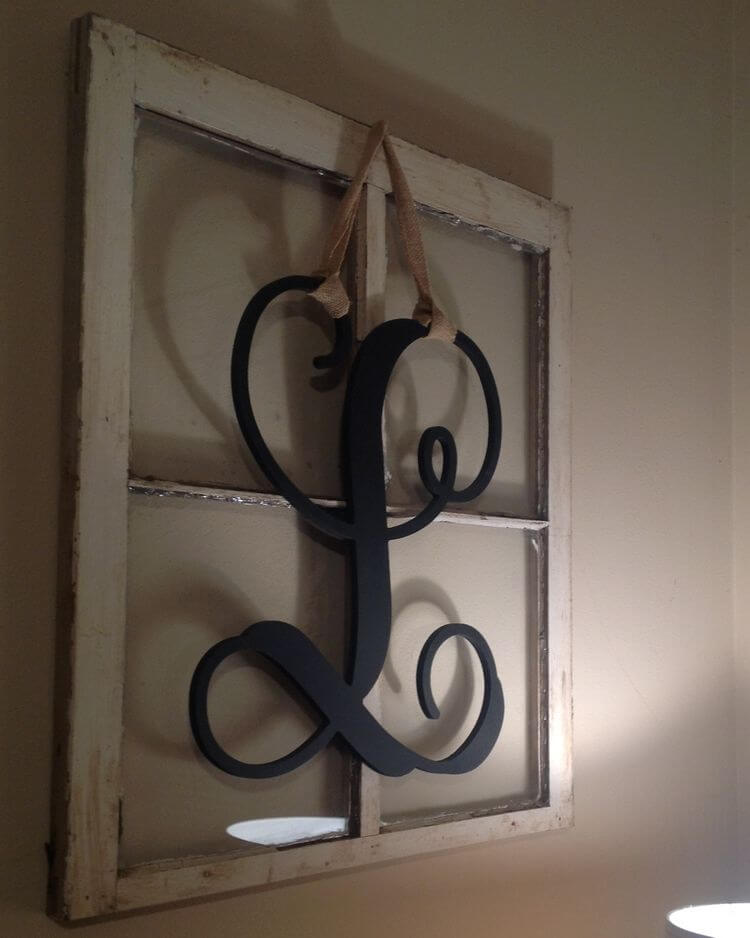 A lovely old window is adorned by an initial hung by a strip of burlap. This is a very simple decoration that takes little effort and creates an elegant decoration suitable for any space. The window and hanging letter can be painted to complement any design scheme.
19. An Old Map Deserves Another Look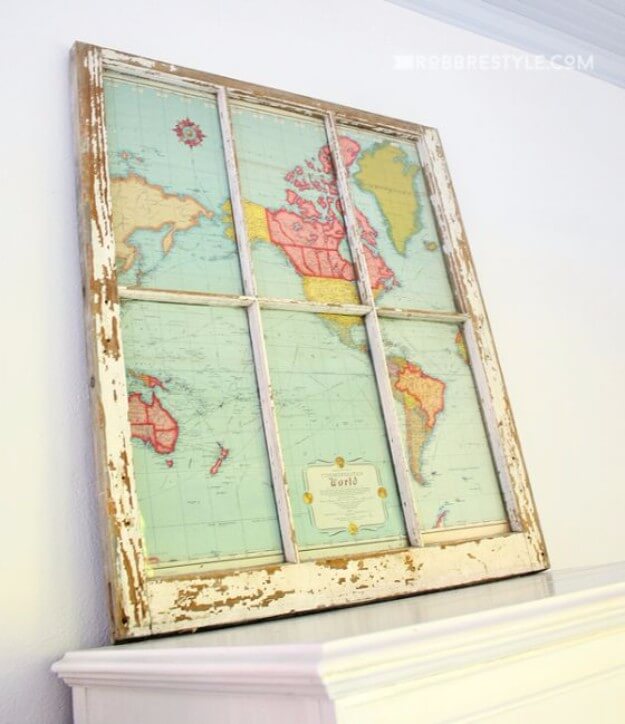 An old map used as an underlay beneath a recycled window creates a work of art with true vintage appeal. Any history or geography enthusiast would appreciate this as a gift. It would make a distinguished addition to any home library or office. Even if you can't locate an old map, you can "antique" a newer one at home, using coffee, to create your own piece.
20. A Rustic New Medicine Cabinet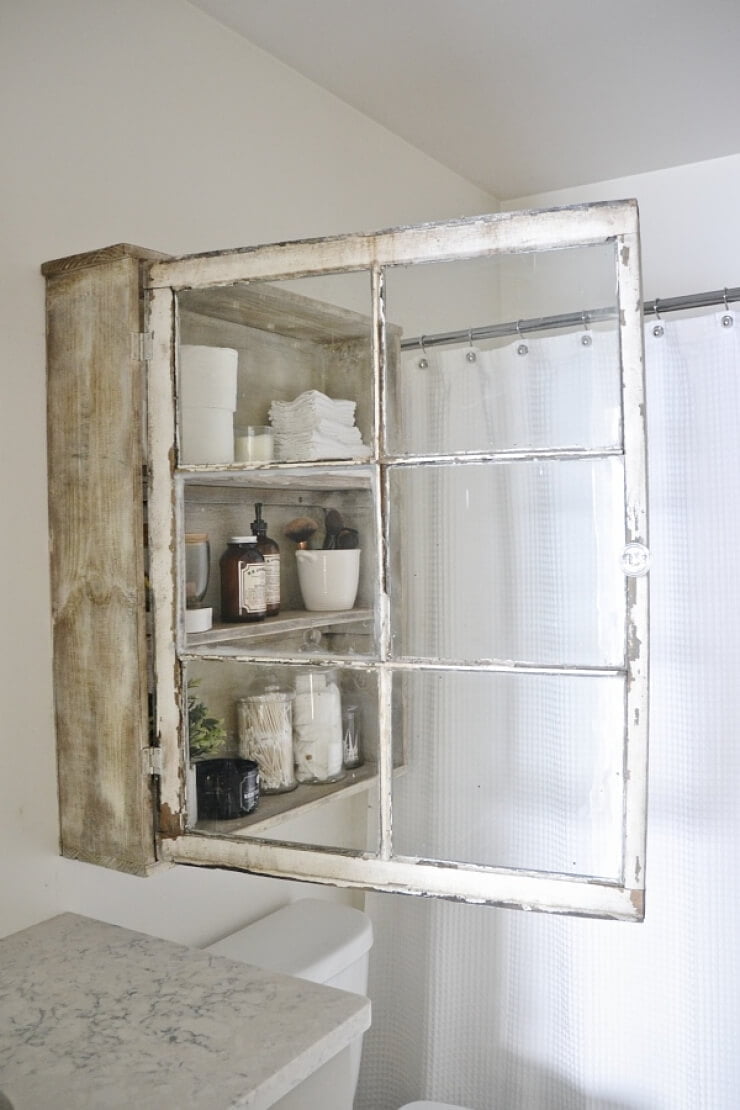 A custom built cabinet is created out of scrap wood to fit this old window. The window is then mounted and used as a door to turn it into a rustic medicine cabinet. The miscellaneous items inside the cabinet are functional bathroom items yet notice how they coordinate with the rustic theme by using whites with pops of earthy green and brown.
21. Photos Line Up In One Of The Repurposed Old Window Design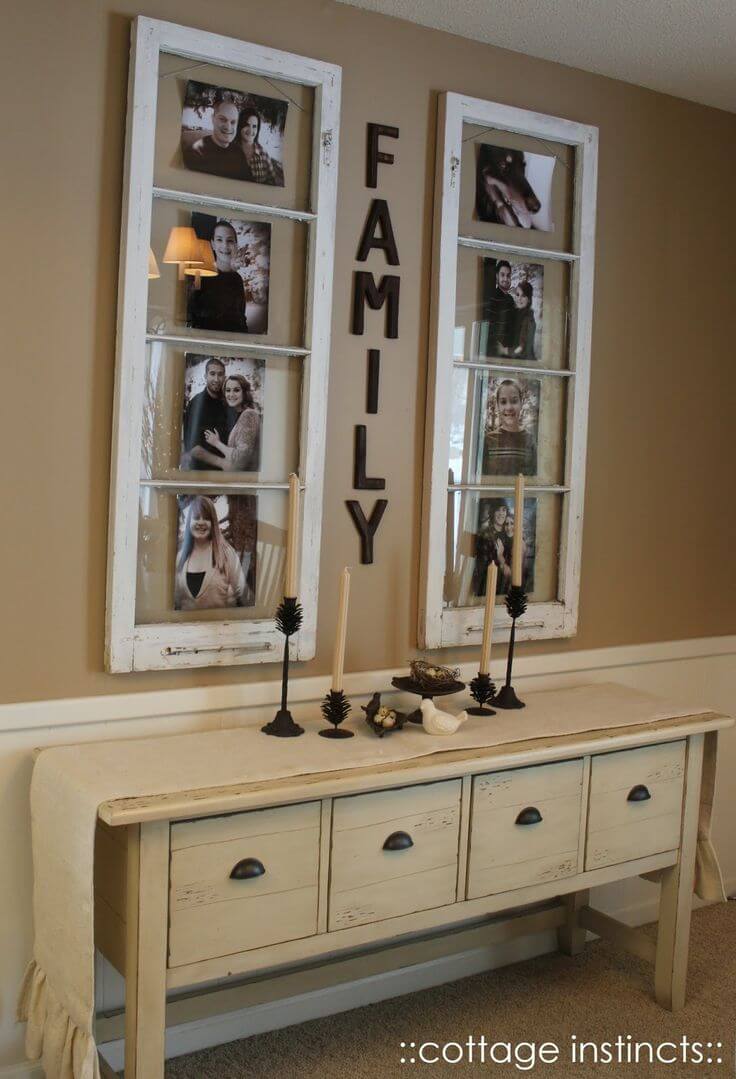 Two identical old windows are hung vertically side-by-side over a dining room server with the word "family" displayed down the center. Pictures of the family are mounted behind the glass, creating one large familial display. This is the perfect idea for a well-lit room with large walls.
22. Window Frame and Box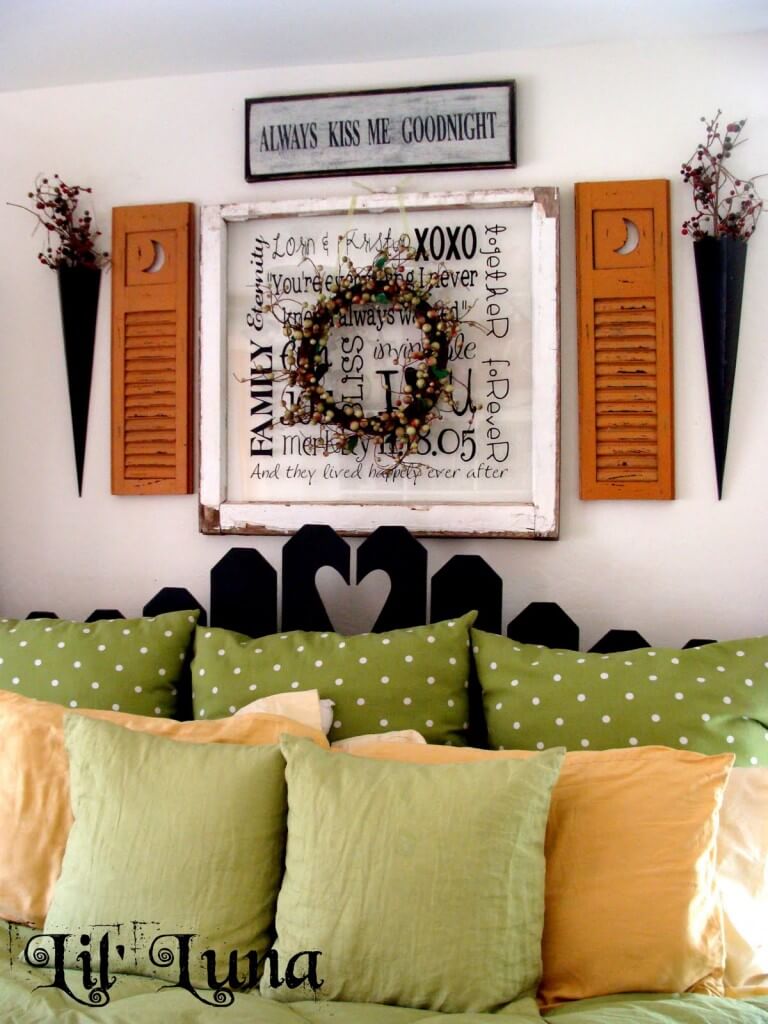 This vintage window makes a gorgeous decoration when vinyl words are affixed to the glass and then adorned with a wreath hanging in the center. The orange shutters and black wall vases add an autumn-themed ambience to the room. You can customize this look by experimenting with different wreath styles and paint colors for the shutters.
23. Mini Garden in an Old Window Frame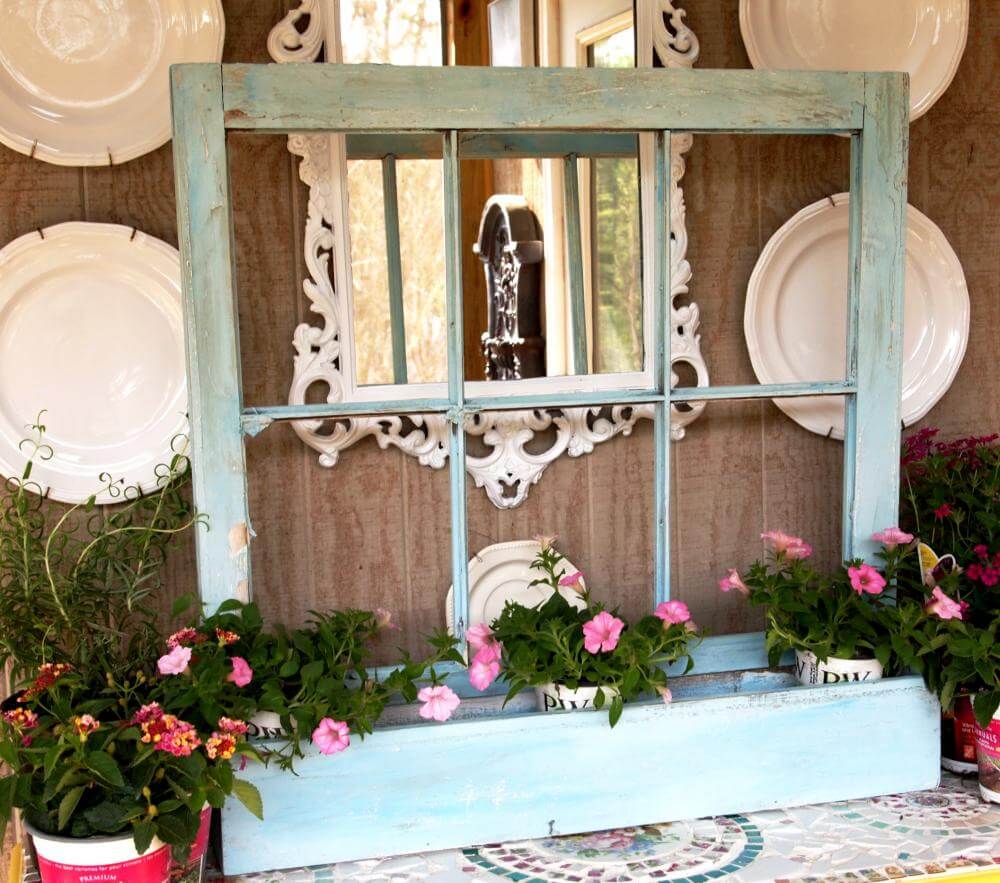 An old window frame with an added flower box is the perfect decoration for an outdoor garden. This frame and flower box combo is painted a subtle robin's egg blue with the dry brush technique. The vintage ivory plates, wooden backdrop and pastel pink flowers create a traditionally beautiful spring scene.
24. A Frame Beautifies A Brick Wall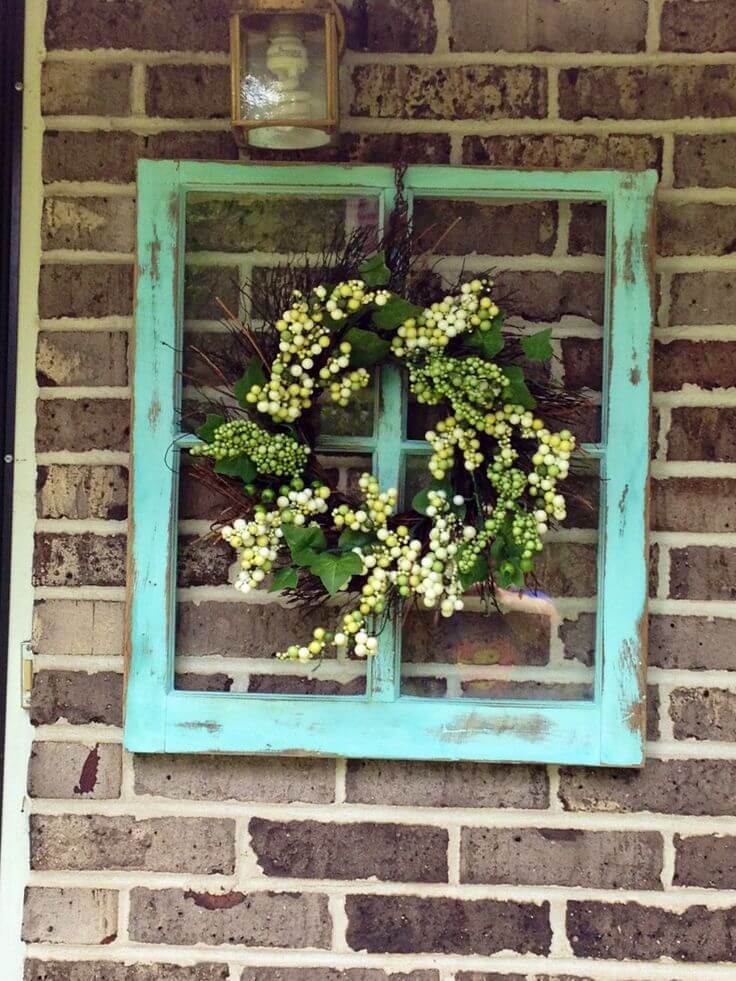 This window frame is painted a soft teal in contrast with the red brick behind it. The wreath adorning it is filled with different hues of green that work nicely with the teal and still add an additional stark contrast to the red brick. This is an excellent outdoor decoration idea for any season.
25. Leaded Glass Is Beautiful Art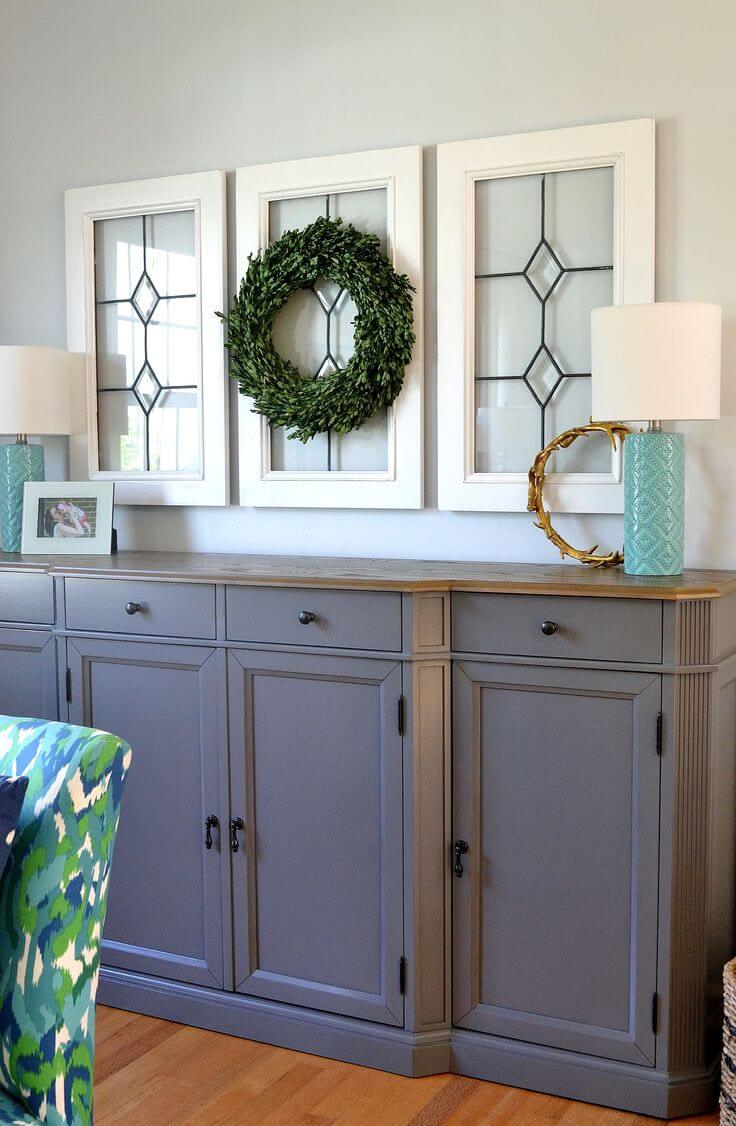 These newer lead glass windows are re-purposed as a 3-piece wall mural adorned with a traditional green wreath. The simplicity of this design is clean and elegant with perfect symmetry. This window re-purpose would look great in any room with abundant sunlight and wall space.