When you think of room divider ideas certain dated, clunky, or flimsy styles may come to mind. Room dividers are practical for helping define space in open floor plans, but they have to look nice, too. A good wall divider will bridge the gap between style and function. You're literally plopping it down in the middle of your room to break up the space, so if you don't choose well it can look… awkward. Fortunately for you, we've found 22 amazing room divider ideas that deliver all the best of what you want in a room partition.
22 Easy and Attractive Room Divider Ideas to Define Your Space

You should think about a few things before investing time and money into your room divider makeover. First, do you want a portable room divider that can be moved around or one that stays in one place? Next, consider how much leverage you have in installing your divider. There are some amazing barn door divider ideas you'll see here, but you have to install a track for them to slide on. If you're a renter your landlord may not be too happy about that. Consider what you have the leeway (and ability) to do. Finally, decide how much privacy you want out of your divider. Do you need it to block light and visibility for your privacy? Do you just want to visually shape the space to create more definition? This will determine whether you need something that's opaque or if you can opt for some of the open designs.
These ideas run the gamut of style, budget, and DIY skill level. If you have any tendency to do-it-yourself, then this can be a really fun (and relatively easy) project. Here are 22 room divider ideas to spark your imagination and help you define your space like a pro.
1. DIY Room Divider Ideas: Modern Geometric Wooden Cutout 3-Panel Room Divider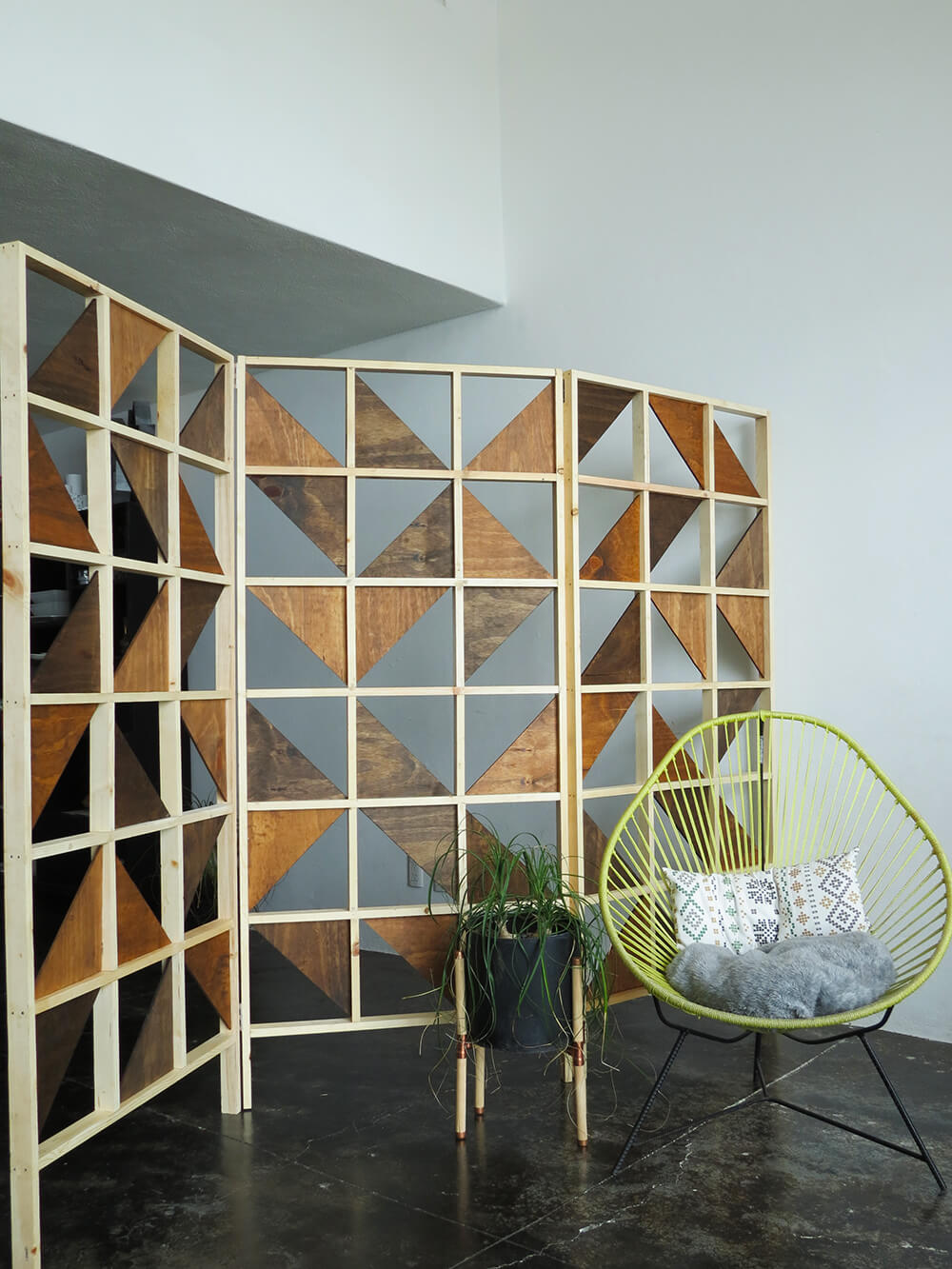 Many 3-panel room dividers are rather short, but not this beauty! This DIY room divider idea can be as wide as a couch, making it great for dividing up whole rooms like in a studio apartment. Using three colors of wood, the panels are filled with squares, each with its own darker wooden triangle in one corner. The triangle pieces are placed in different corners for each square which gives a modern tesselate-like appearance. The other great thing about this project is that it doesn't require a ton of tools! Some basics like sanding paper, a drill is all you need!
2. Hanging Room Partition Idea with Floor-to-Ceiling Drapes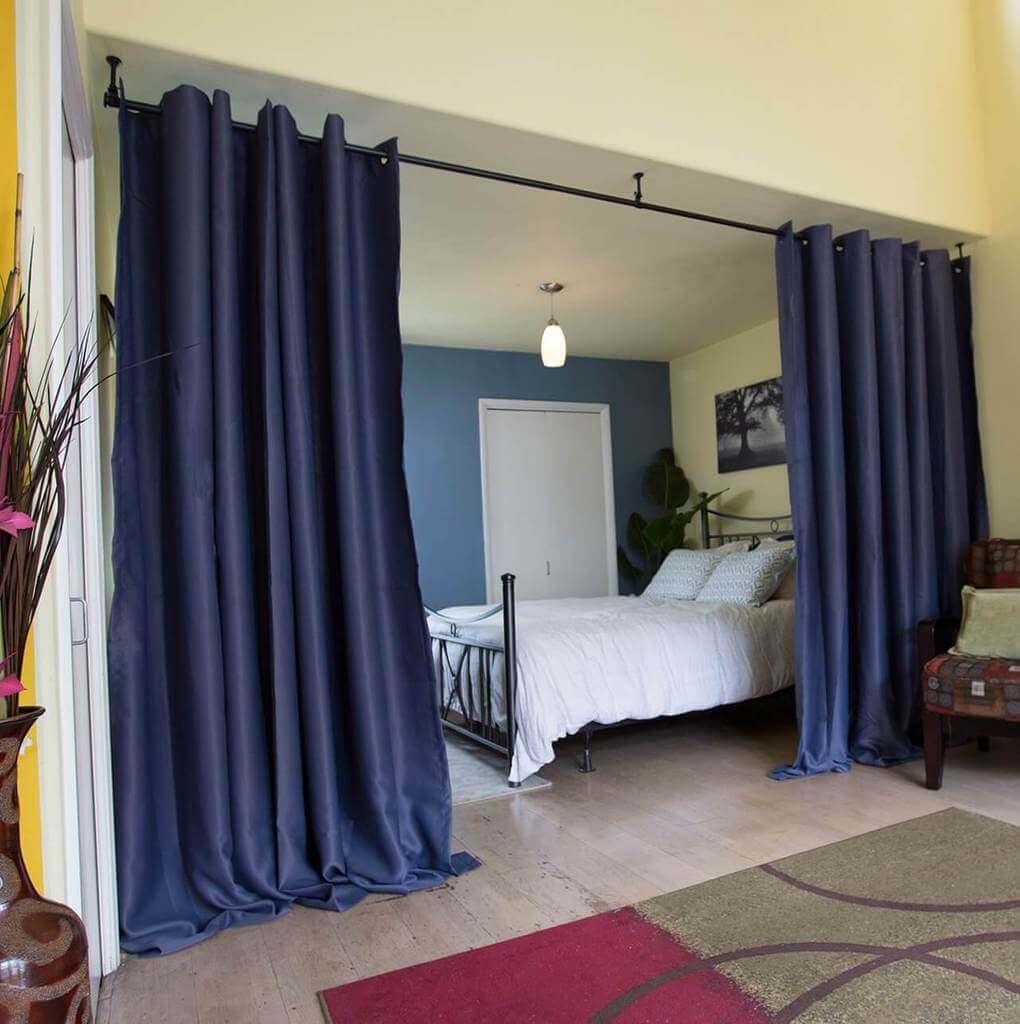 Tuck away your home office or bedroom behind a wall of beautiful drapes. This cool idea makes it easy to fully disappear behind the partition for complete privacy. Installation is very similar to installing a curtain rod. Make sure you choose drapes that are long enough to touch the ground. This way you can block out almost all the light. These gorgeous, thick navy blue drapes are a winning choice. Drapes with built-in grommets like these add a little extra polish, but you could also use hangers. Make sure you don't skip the center support to keep your curtain rod from sagging.
3. DIY Room Divider Project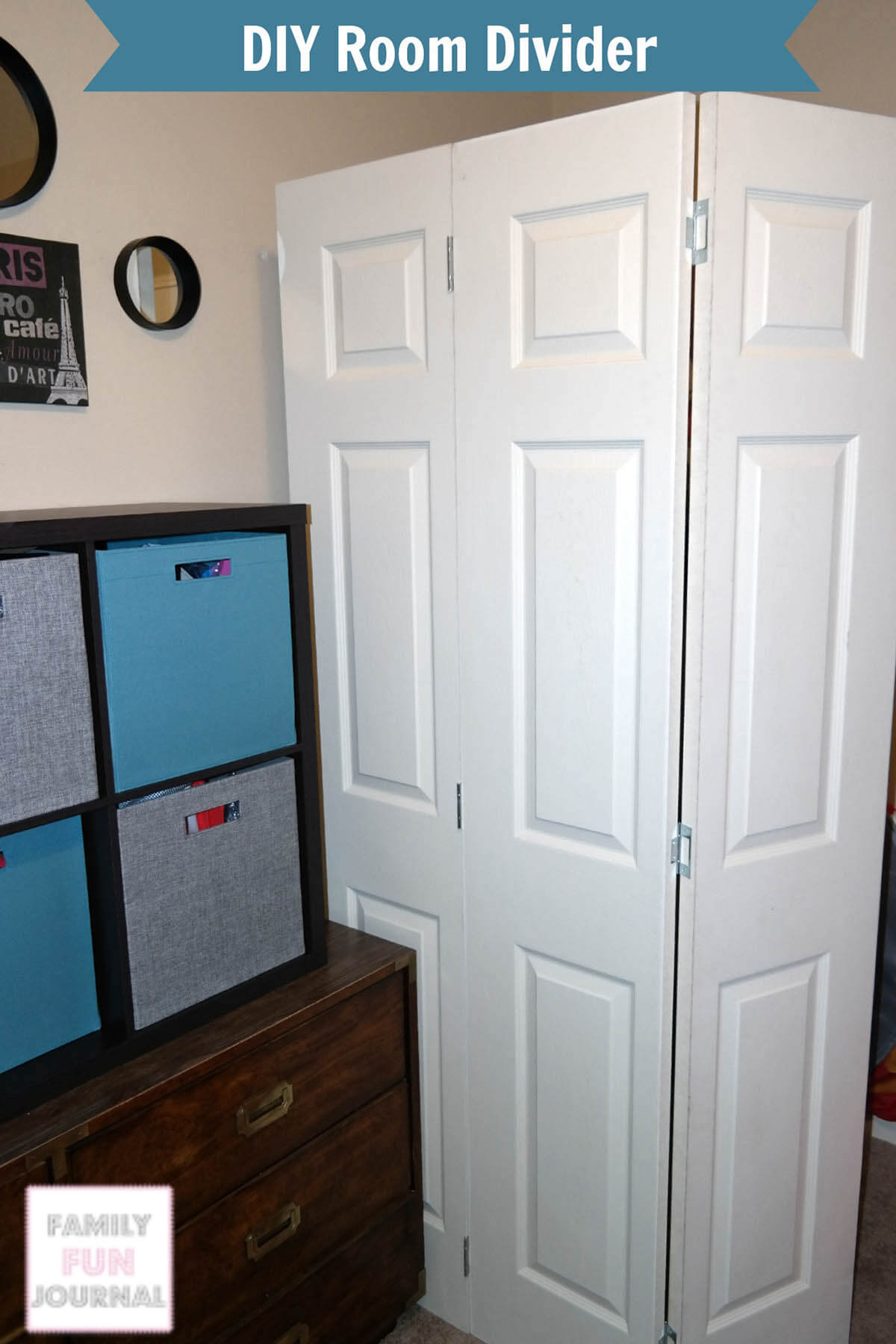 Looking for quick ideas? This is a practical solution. Repurpose a folding closet door into a simple, quick divider. This would be great for a dorm room, a small apartment, or any space where you just need a small partition. This version is bright white, but you could easily get creative and paint it a color or pattern you love. You could also add hooks to make it functional – just be sure you balance it out so it doesn't tip over! The other cool thing about this option is that you can anchor one end to the wall to keep it stable and turn it into an accordion-style door.
4. Gorgeous White Origami Style Hanging Room Divider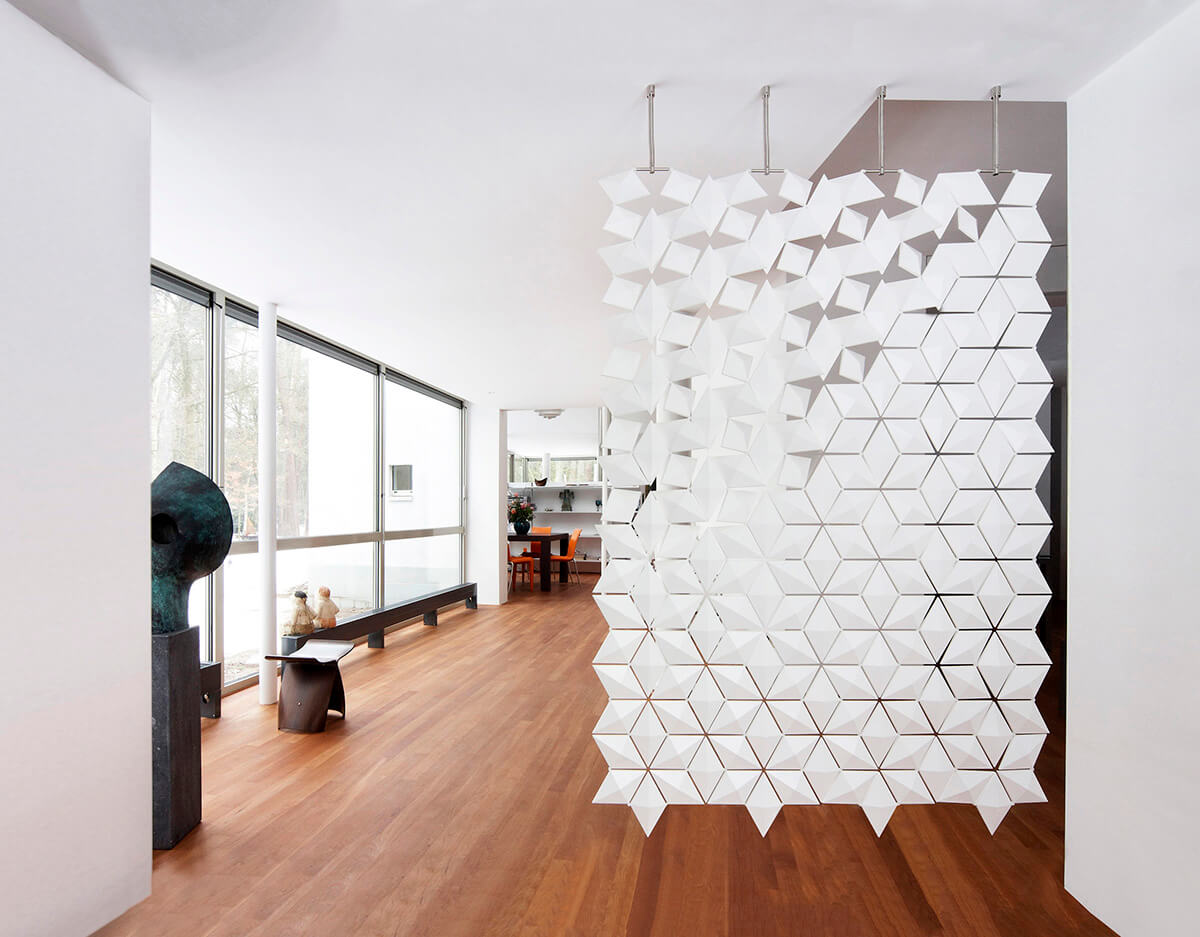 This design will amaze your guests. Heck, it will amaze you! It's so beautiful to look at that it's like a work of art. Not a bad way to split up your room with a divider. This design hangs from the ceiling with silver hardware. Each of the white facets is arranged in a star shape. The facets can also be rotated which breaks the pattern and creates interesting texture in the design. This would be just incredible in a modern or contemporary style home or in big, open rooms that need to feel more intimate.
5. Mid Century Wooden Room Divider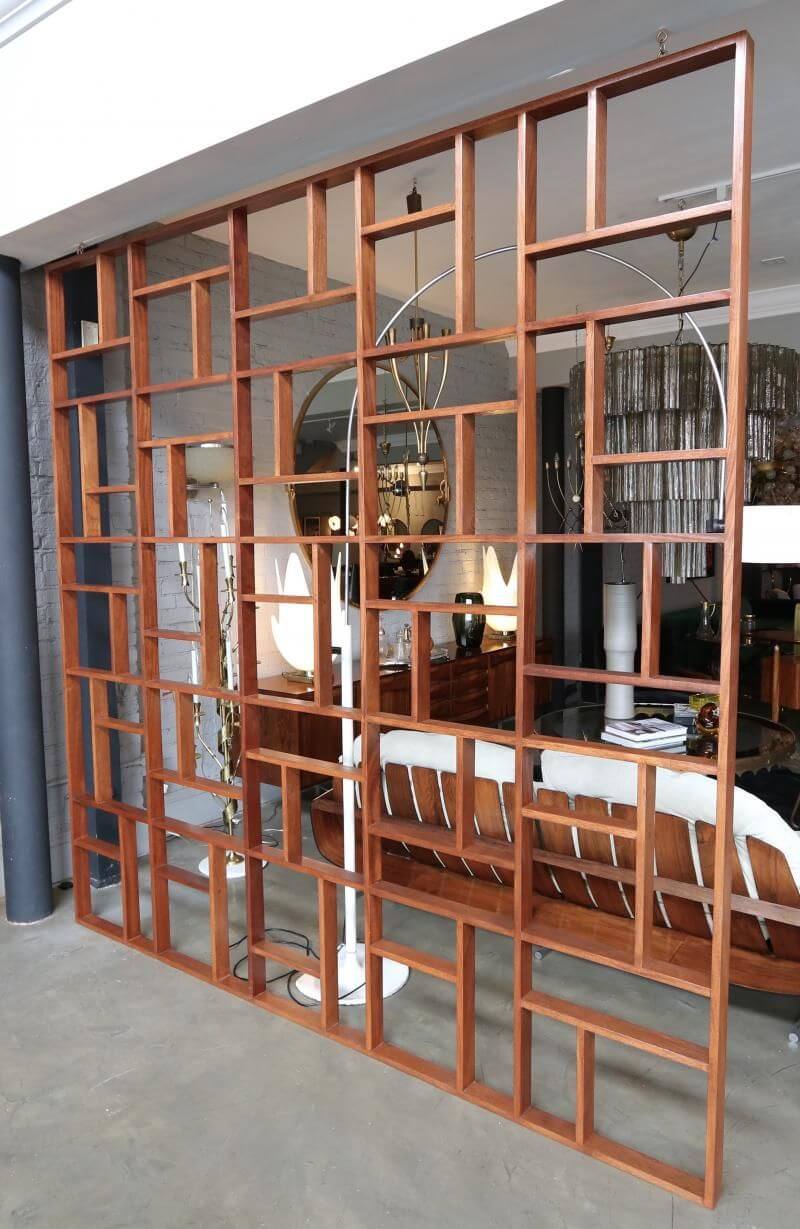 Sometimes you don't need to block the view with a room divider, but you just need to break up the space. This mid-century design accomplishes that. It looks incredibly stylish and goes with so many different design schemes. Each square is broken into 3 compartments, creating an interesting pattern. The room separator is made of walnut wood. The size and shape of this piece make it almost like a decorative wall that you can see through. It's a nice way to put a boundary in the room while still keeping it open and not closing in the walls by blocking the view.
6. Easy Peasy Multifunctional Portable DIY Room Divider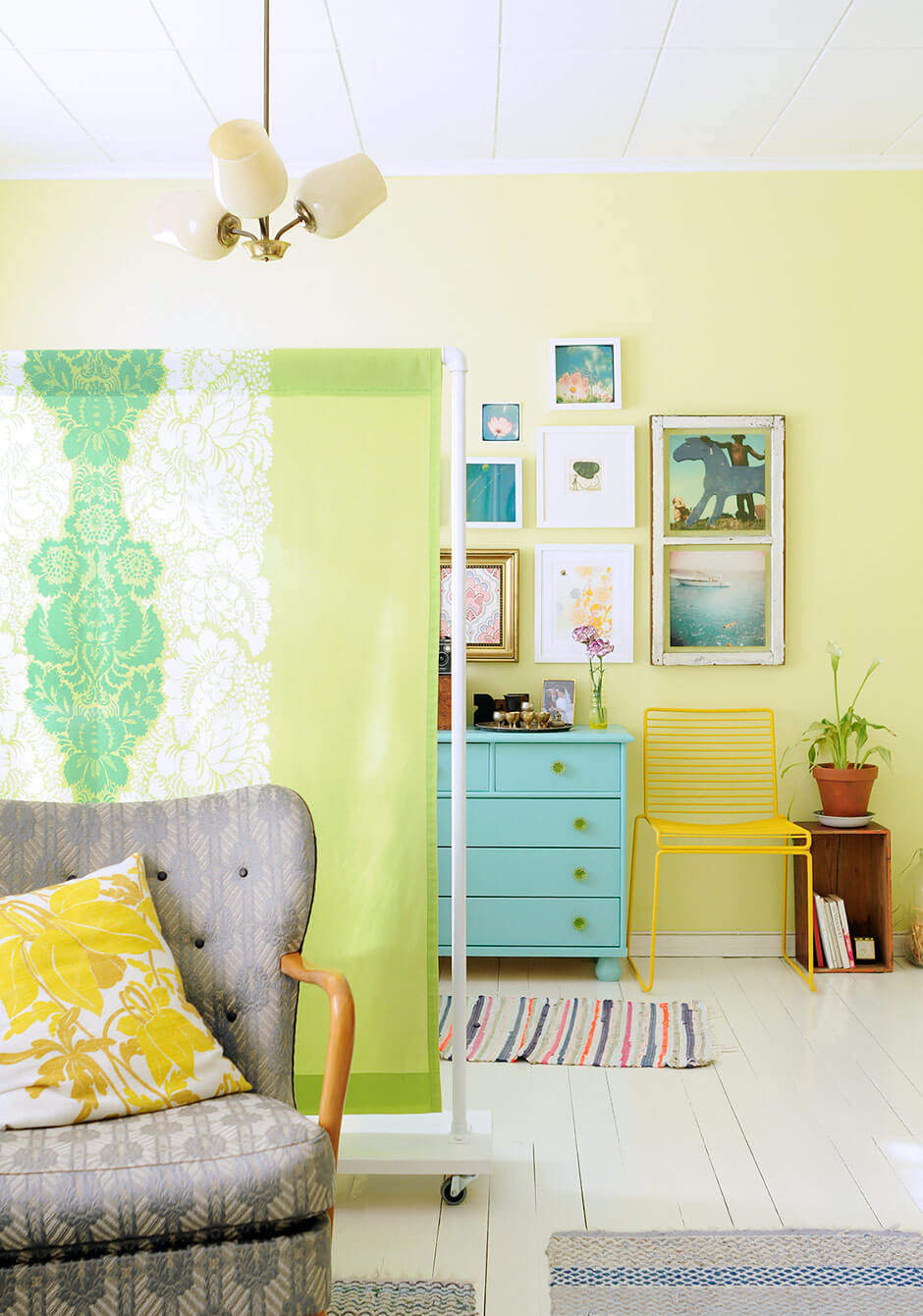 This could not be more versatile! A room divider on wheels means that you don't have to commit to keeping it in one place. This is great for spaces that you may want to have open occasionally – just roll the portable room divider out of the way! This design is painted white, but you could easily leave the pipe and wood in their unfinished state for a more industrial look. What's also amazing about this DIY room divider project is that it doubles as a wardrobe. You can remove the divider curtain and use the rod to hang clothes and the base to store shoes. There's nothing quite like multitasking furniture to make your DIY heart smile!
7. Sliding Farmhouse Door Room Divider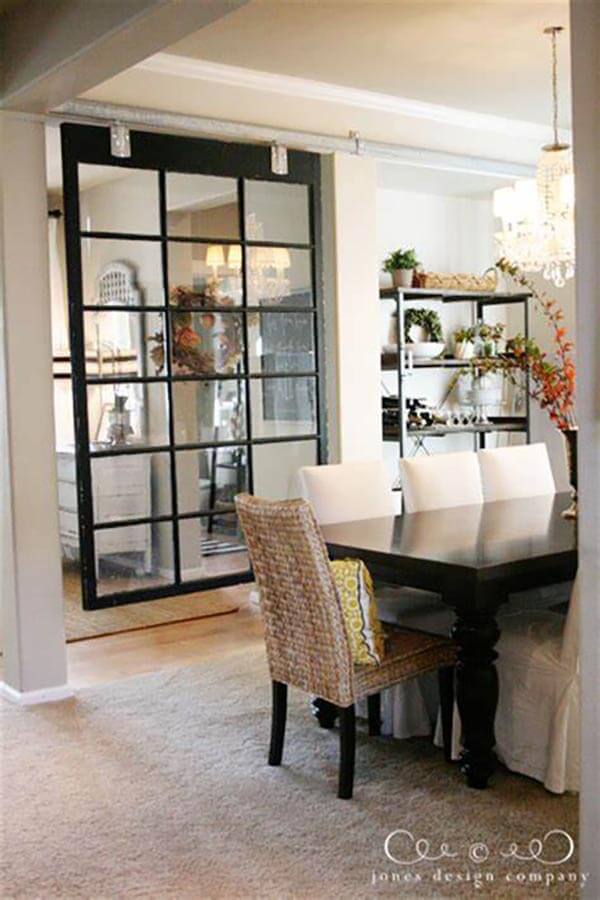 Farmhouse doors are so freaking cool! They look absolutely amazing and take up so little space. This door room divider is extra special and we'll tell you why. When it's closed, it functions as a room divider. When it's opened, the glass panes are like a window to view the plants and decor in the recessed shelving on the right. Love that! Of course, you don't need a fancy recessed space to make this awesome. A sliding farm door can slide along a wall or just along the tracks from side to side. These are very versatile and so attractive.
8. Ikea Hack Fabric 3-Part Room Divider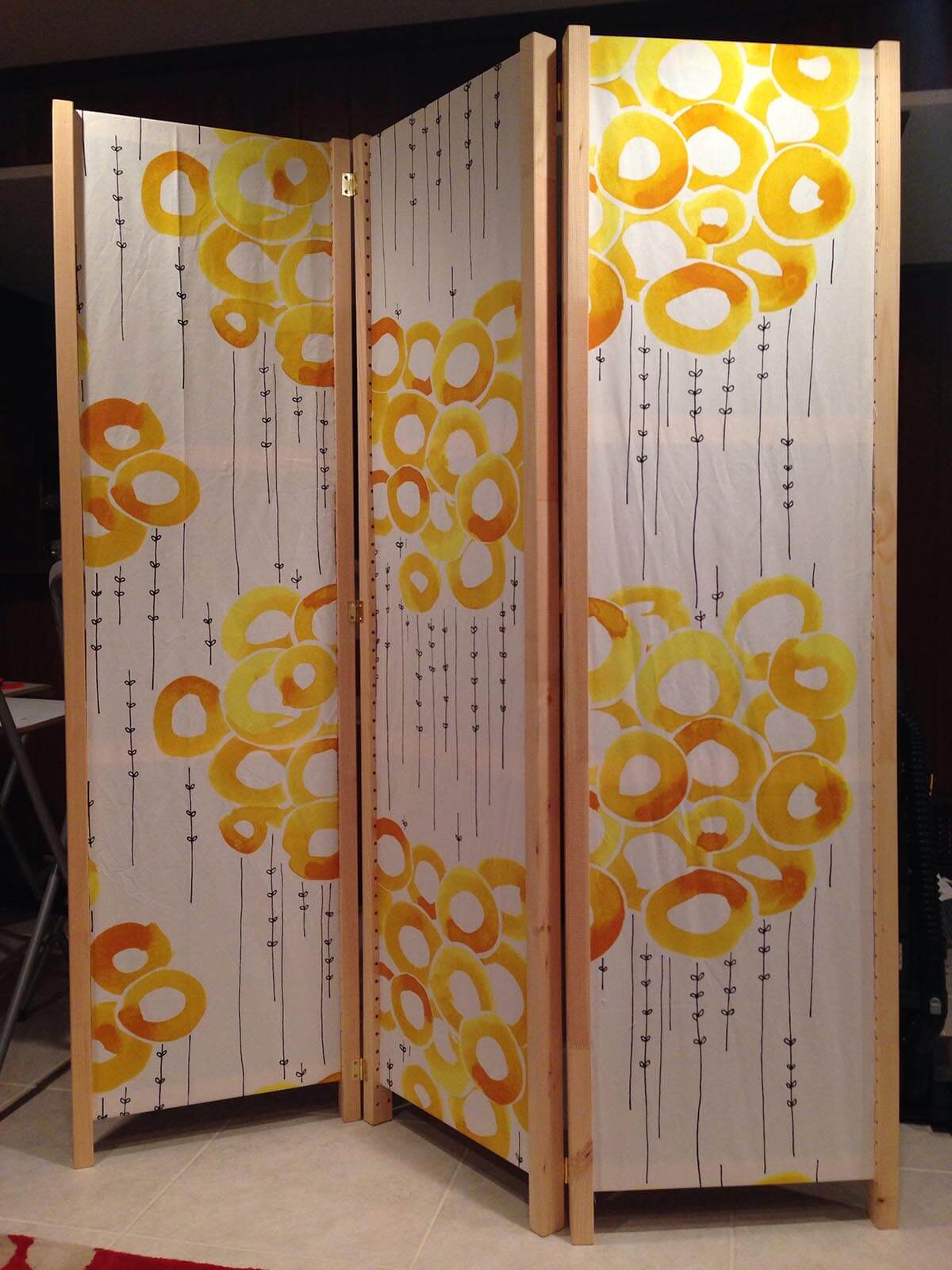 Have you got some fabric you absolutely love but don't know what to do with? This DIY Ikea hack is calling your name! It's simply 3 IVAR side units connected with simple hinges and covered with fabric You could probably finish this entire project in an hour – and look how chic it is! When choosing a fabric, a big, bold pattern like this one looks amazing. A simple color on a textured fabric would also look incredibly chic. The cool thing about this is that you can also easily swap out the fabric if you got bored with one look or wanted to decorate for the holidays.
9. Customized Rattan Room Divider with Woven Pattern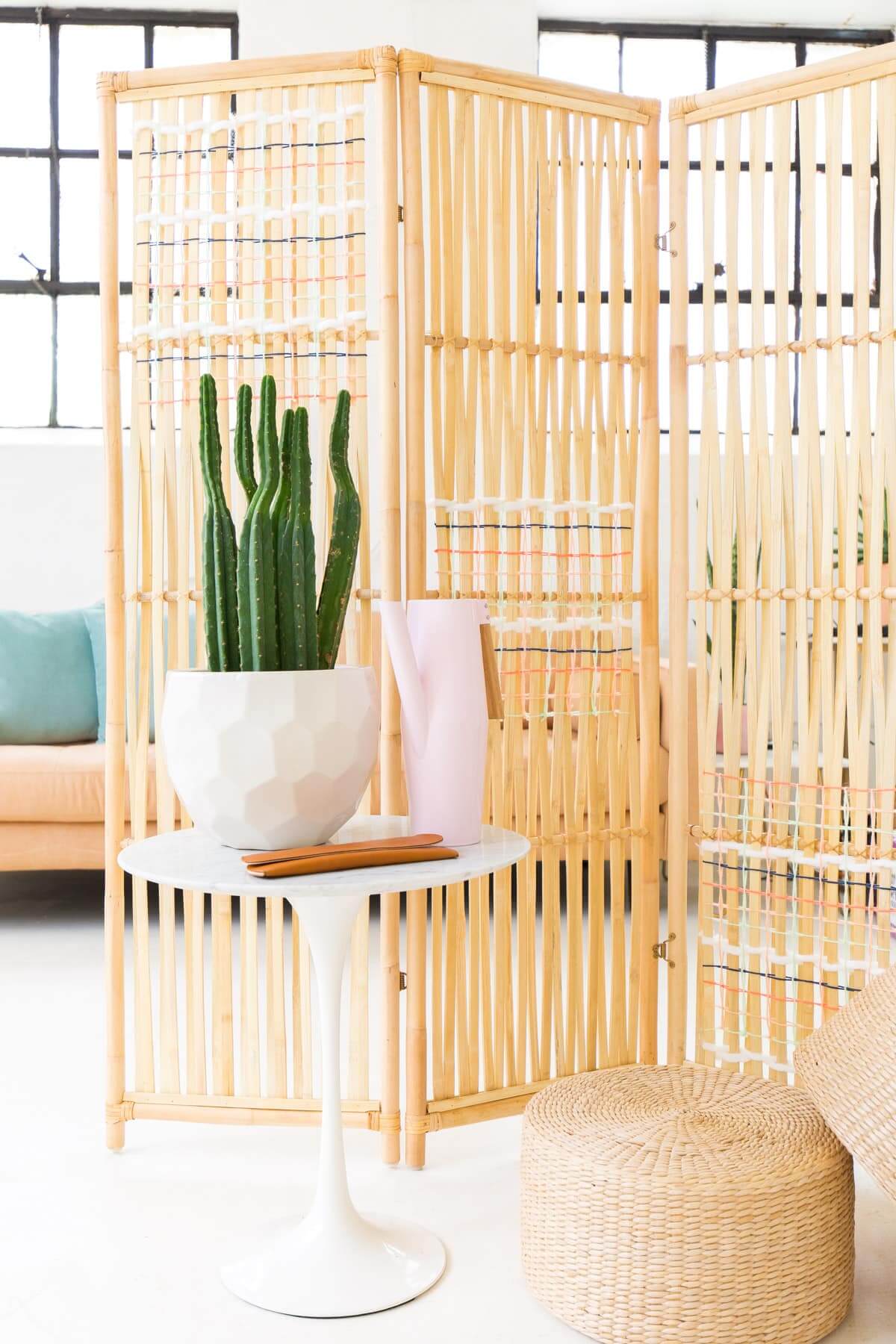 What do you get when you combine a rattan room divider with yarn? You get this beauty! Room divider designs don't mean you have to start from scratch or buy something that's a totally finished product. You can meet in the middle and customize the design! Just have a look at this cute idea. Using a palette of 5 colors of yarn, a simple pattern is woven into a part of each panel. The result is minimalist and chic, plus it adds a subtle pop of color into an otherwise neutral room divider.
10. Colorful Room Divider Panels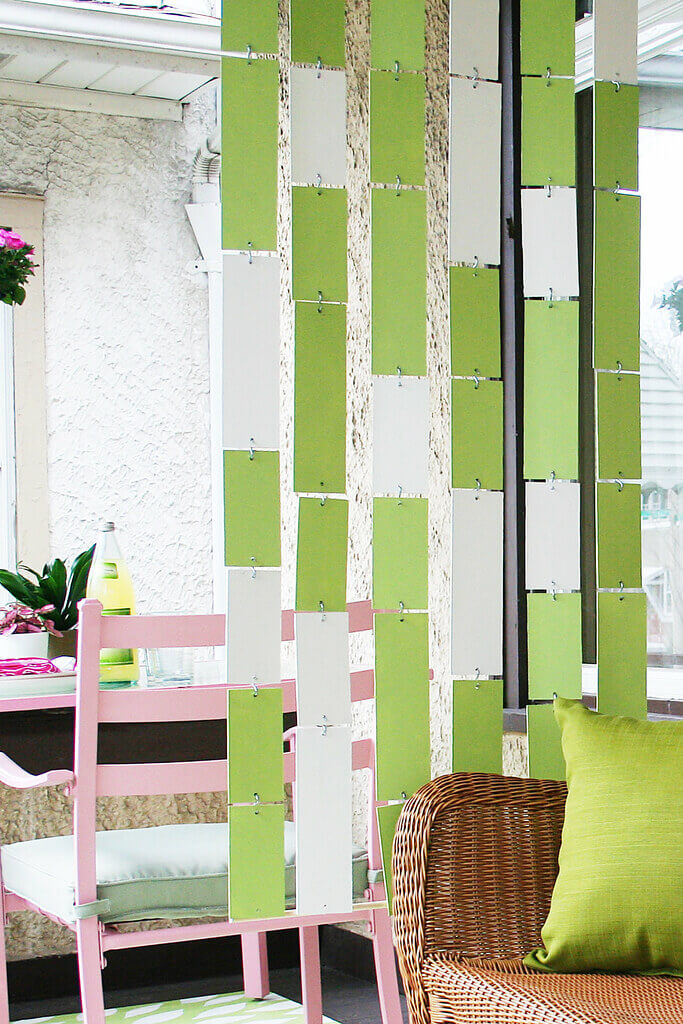 This is a fabulous (and fabulously simple) DIY room divider project. The design simply uses small pieces of hardboard painted green and s-hooks to connect a chain of festive panels that create a divider. Again, this is more of a divider design rather than a privacy partition, but you can see the effect. Even though you can see through the slats, the simple design defines the space. The color also really livens things up and adds to the definition by coordinating with the textiles on the bench. If you're a total beginner, this would be an easy starter project for you to try.
11. DIY Room Divider: Sliding White Shiplap Barn Door Divider Wall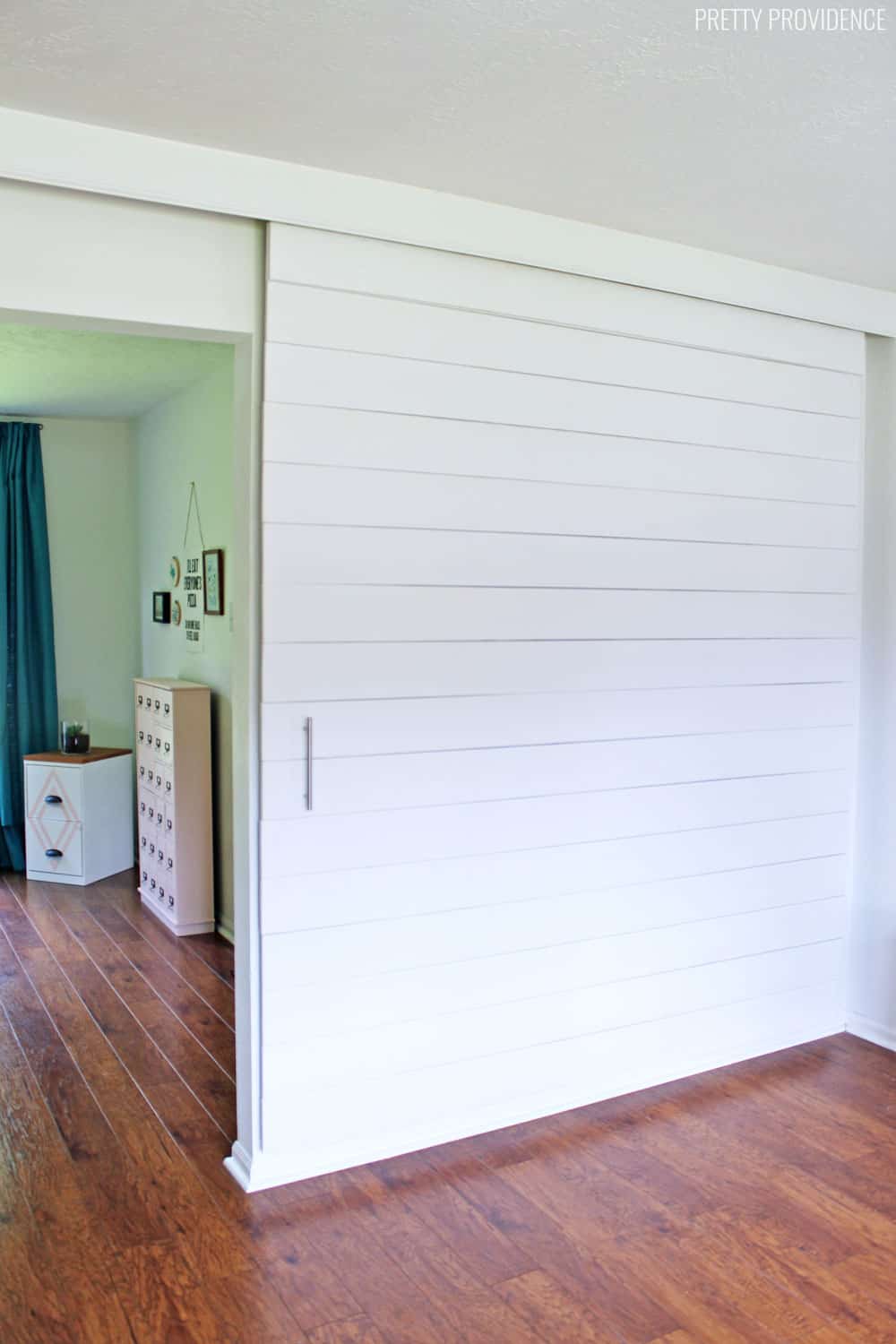 Minimalist? Farmhouse? Just love the look of wooden boards? Then this room barn door partition idea is right up your alley. The barn door style is both chic and practical. It saves space, and when the partition is open it just seems like a textured wall. The shiplap is a nice touch that breaks up the plain white color without interrupting the flow of the walls and ceiling. This is an awesome way to incorporate a rather large partition in a way that's not intrusive. Best of all, it can always be "undone" by simply sliding the door to the side.
12. Hollow Barn Beam Statue Room Divider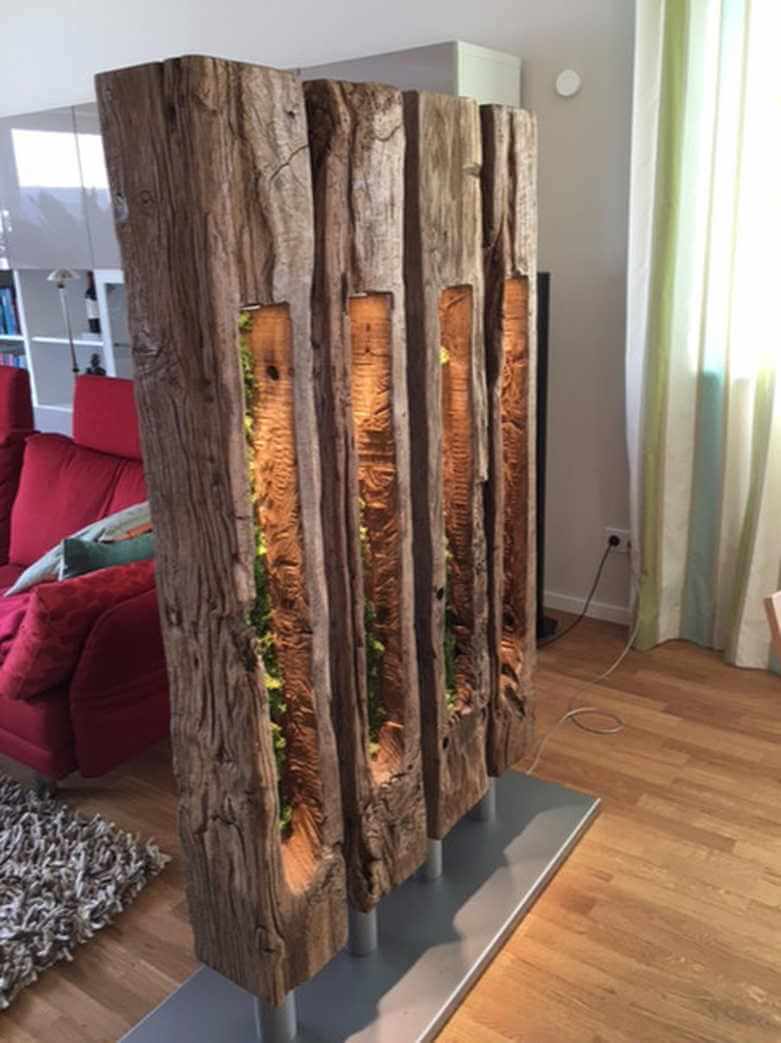 This may be the most creative use of a barn beam we've ever seen. These beautiful, rustic treasures are just so lovely in pretty much any decor style. This interesting partition design features four beams standing upright with the center hollowed out. Lighting has been added to illuminate the insides and create a soft glow. There's also some greenery inside the beams for a botanical touch. There are so many elements here that come together perfectly, it's hard to imagine a home in which this wouldn't look absolutely stunning.
13. Open Macrame and Wood Portable Room Divider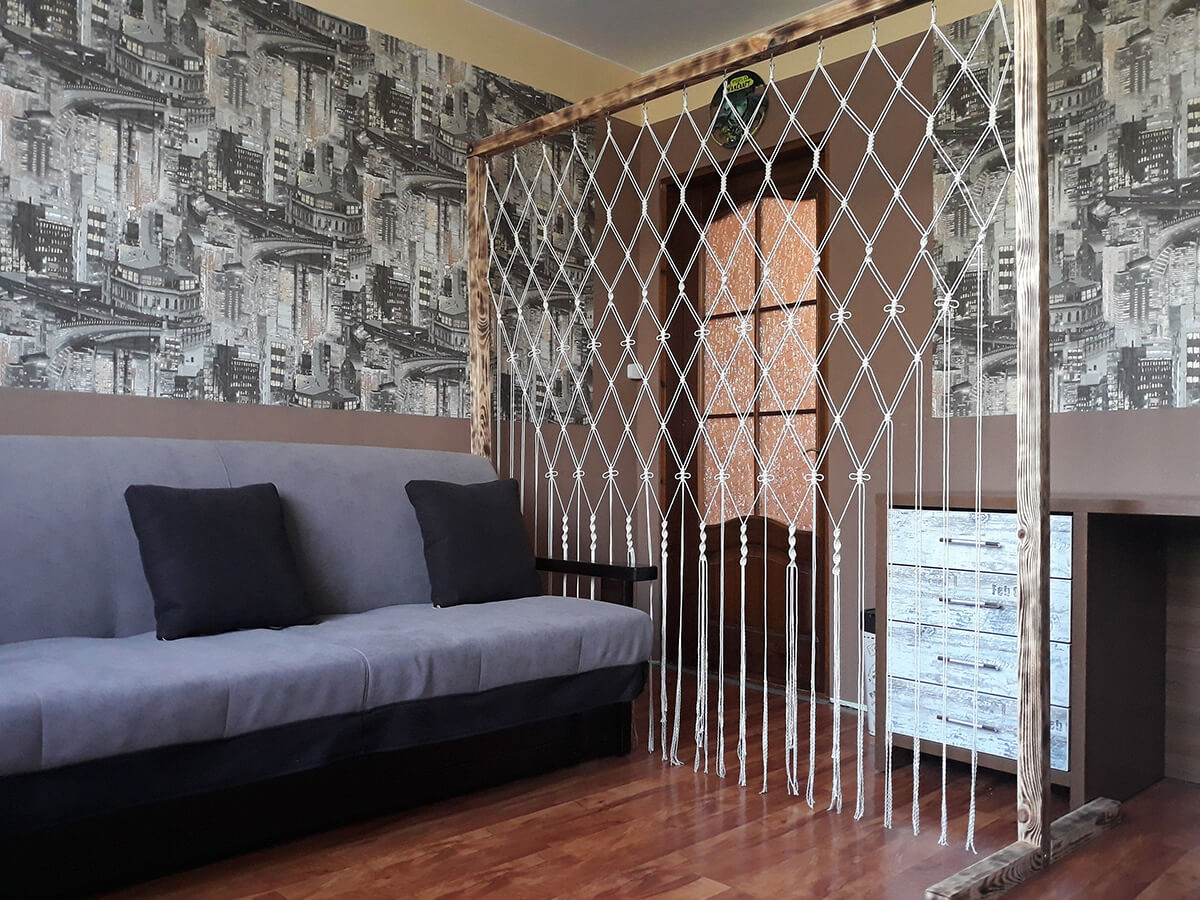 As portable room dividers go this is one of the prettier ones we've seen. The 80×80-inch wooden arch is stained a really interesting color that highlights the grain in gorgeous, high-contrast detail. The macrame hanging from the top beam creates a simple but beautiful design. Since this is portable you can easily move it against the wall (where it will look like a work of art) or pull it out to define a space visually.
14. Zen Rotating Picture Frame 3-Panel Divider for Living Room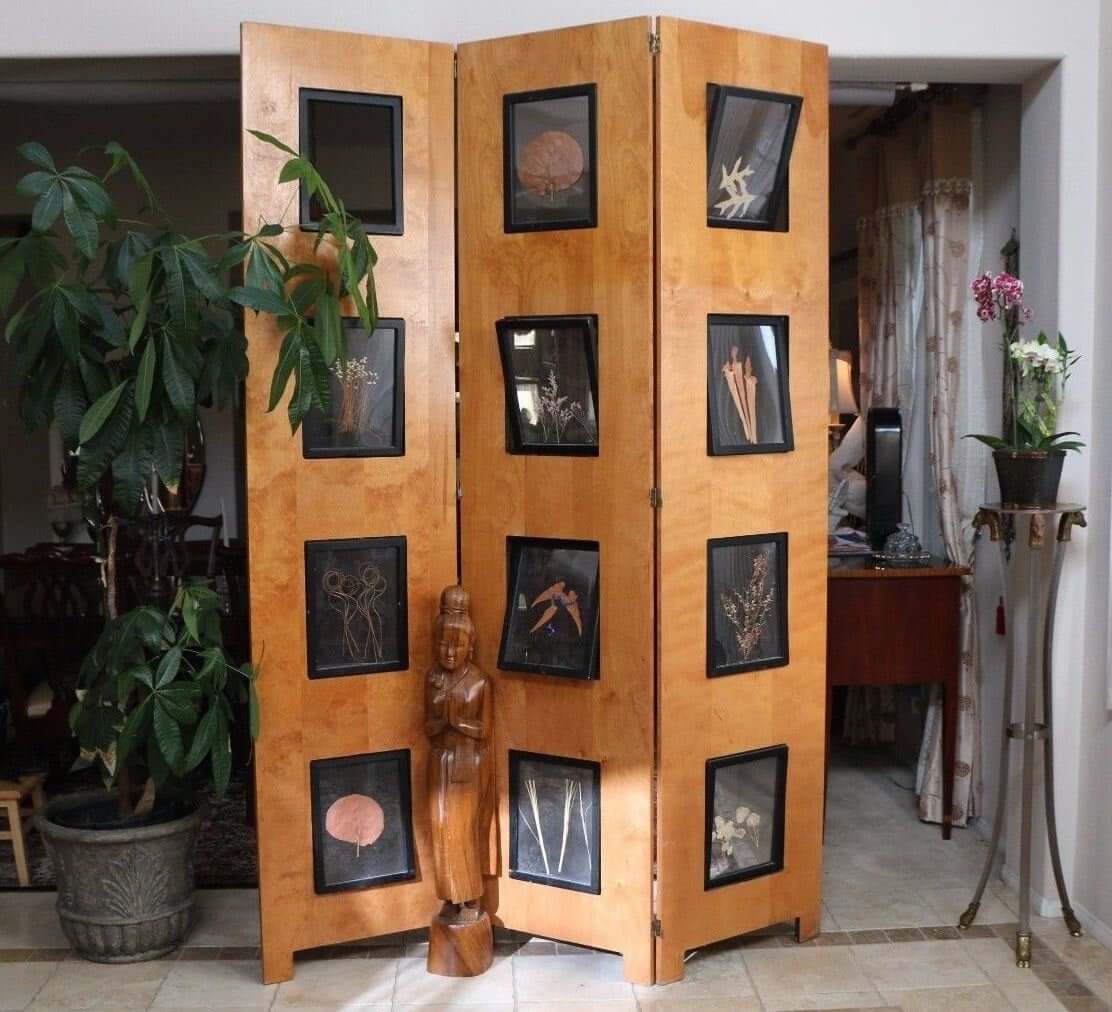 The traditional 3-panel "screen" design gets a new twist with this living room divider. Each panel has four inset frames that can be customized to hold images or odds and ends that you want to put on display. The design has a pretty bold, specific style that would work best with minimalist decor or Asian-inspired decor. The frames can rotate which adds an extra point of interest and keeps the otherwise sleek look of the divider from looking too plain.
15. No Nonsense Cubicle Divider Panel for Living Room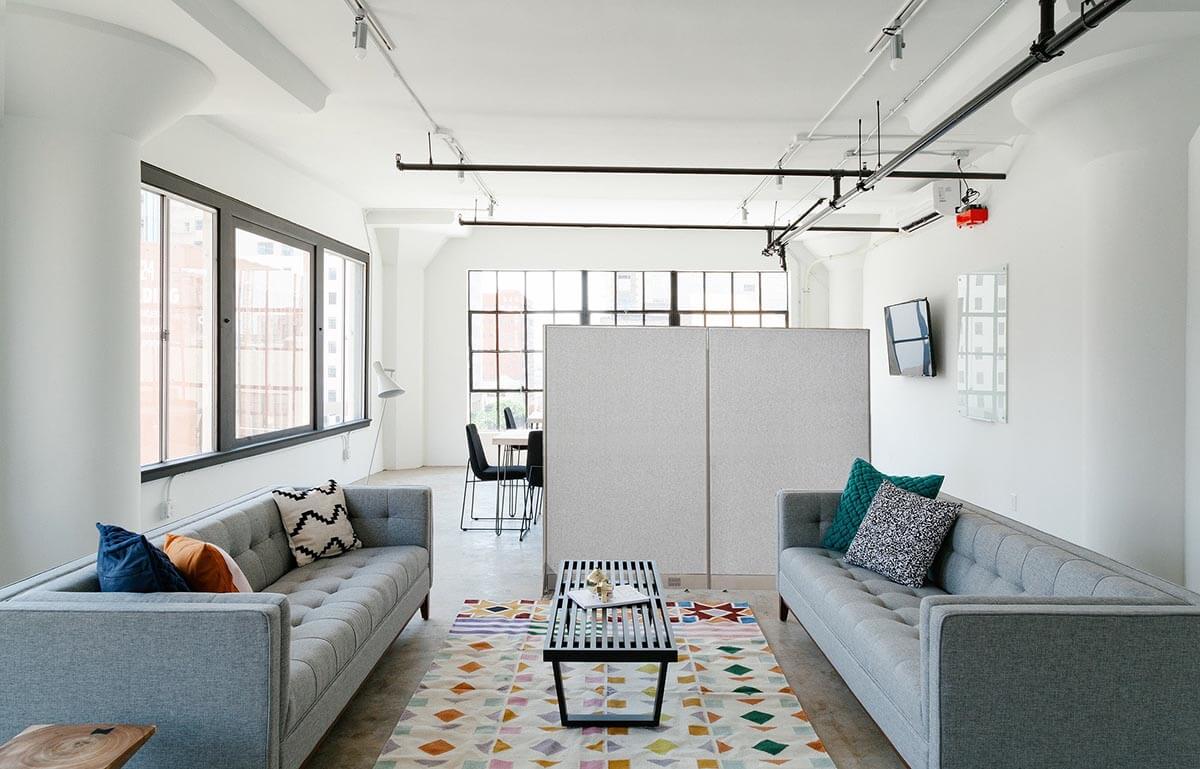 This is a great living room partition idea for an office space, home office, or utility space like a craft room. They're not the most attractive of the bunch, but they get the job done. The simple gray design is almost aggressively neutral. It's made to define a space in an open floor plan, so it's good for dampening sound and creating privacy. You could spice these up and add some character with paint or by pinning on some decorative elements. Another helpful feature is that they have leveling guides so you can get them into alignment on uneven floors.
16. Laser Print Floral Room Divider Screen for Living Room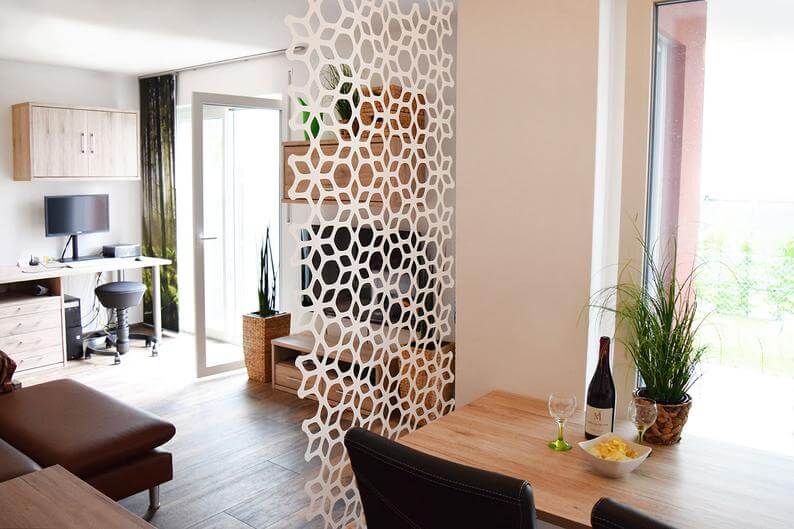 There's something so adorable and retro about this interior partition. The design is a modern and simple angular floral pattern cut into a plastic material like a laser pattern. It's incredibly lightweight and easy to install which is great for apartments or rental homes which restrict what you can hang or build inside. The simple white design looks amazing with modern minimal decor, but would also look very cute in a space with a more retro 50s or 60s aesthetic. It can be hung from the wall or ceiling so you've got options. Better yet – attach a hinged rod to the wall and hang it from there so you can swivel it into place as a room divider on demand!
17. Folding Screen: Simply Chic Macrame 3-Panel Room Divider for Living Room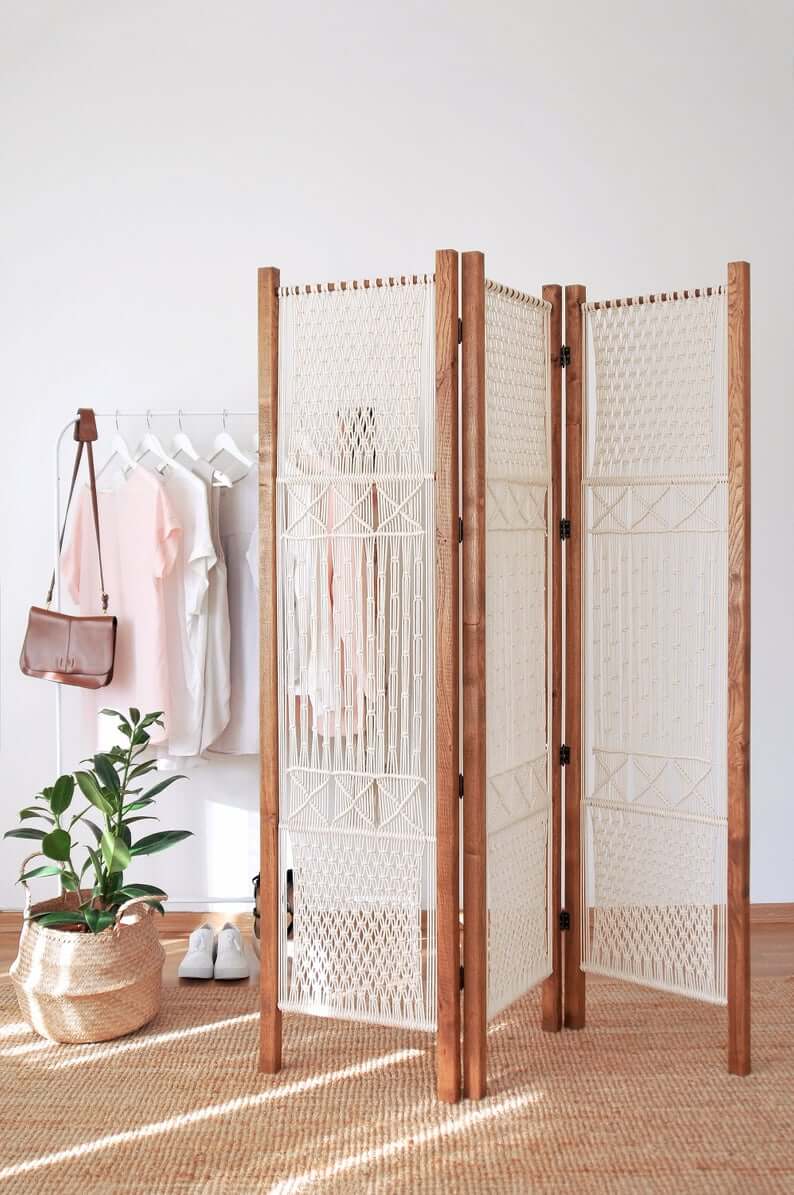 This handmade folding screen room separator evokes those old Hollywood privacy screens that you gracefully step behind to change your outfit. The folding screen gets a kitschy update with the addition of macrame. The wood is finished with a beautiful reddish stain which gives it a nice, warm color. The intricate macrame features three distinct patterns woven with an unbleached natural cotton cord. A piece like this would look really nice in a bedroom or in a studio apartment. This folding screen is perfect with boho chic, minimalist, or eclectic design style. The macrame is neutral and simple enough that it adds just the right amount of interesting texture to an otherwise minimalistic design.
18. Free Standing Muslin Curtain Room Divider for Living Room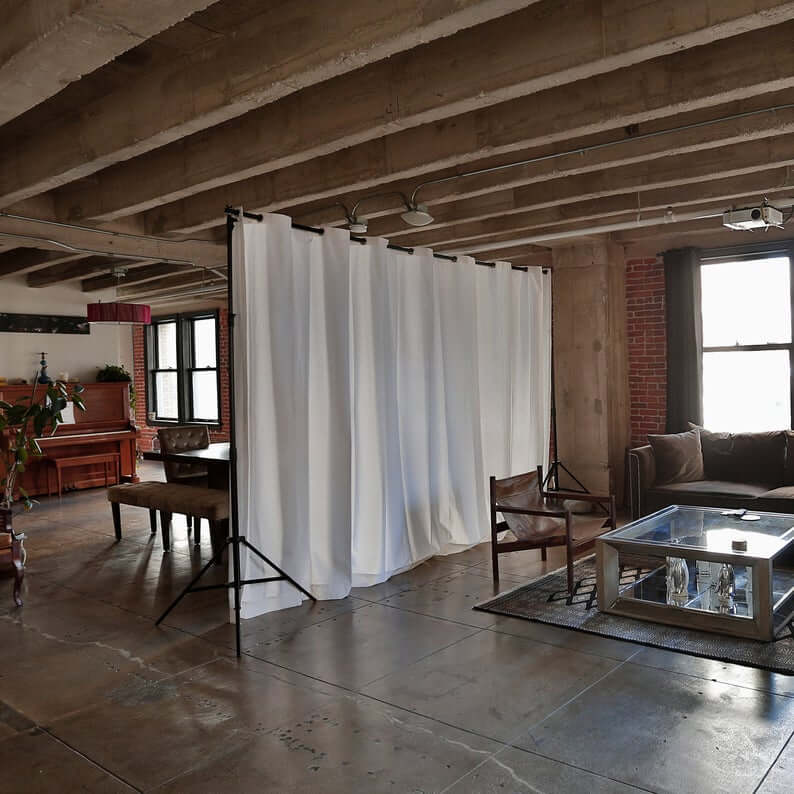 Put that drill and hammer away – you won't need it to set up this simple yet elegant freestanding room divider. This comes in a handy do-it-yourself kit. Two tripod stands connect with a hanging rod to create a nice big foundation for the muslin curtain. The grommeted curtain threads onto the hanging rod and, voila, you've got yourself a freestanding room divider! As room divider ideas this one is wonderfully simple and stylish. It looks like it came right out of a chic loft space or an artist's studio. Best of all, black metal and muslin cloth go with pretty much everything.
19. Adorable Daisy Pattern 3D Privacy Panel for Living Room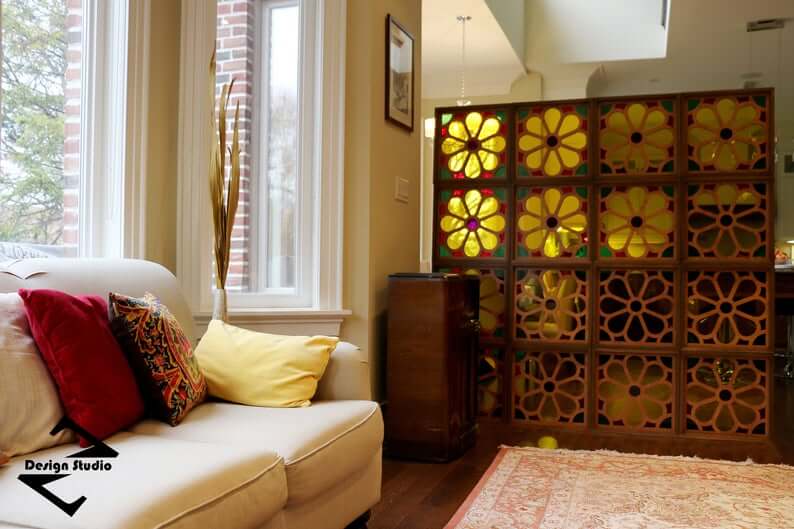 It would be hard to stay in a bad mood with something this cheery in your living space. This room divider features a super cute daisy floral pattern that has a stained glass feel. The colors and pattern are simply delightful. Something this colorful is usually best in a home that has an eclectic vibe, but it could also be a wonderful accent piece in a more simplistic decor theme.
20. Trellis Pattern Adjustable Hanging Room Divider for Living Room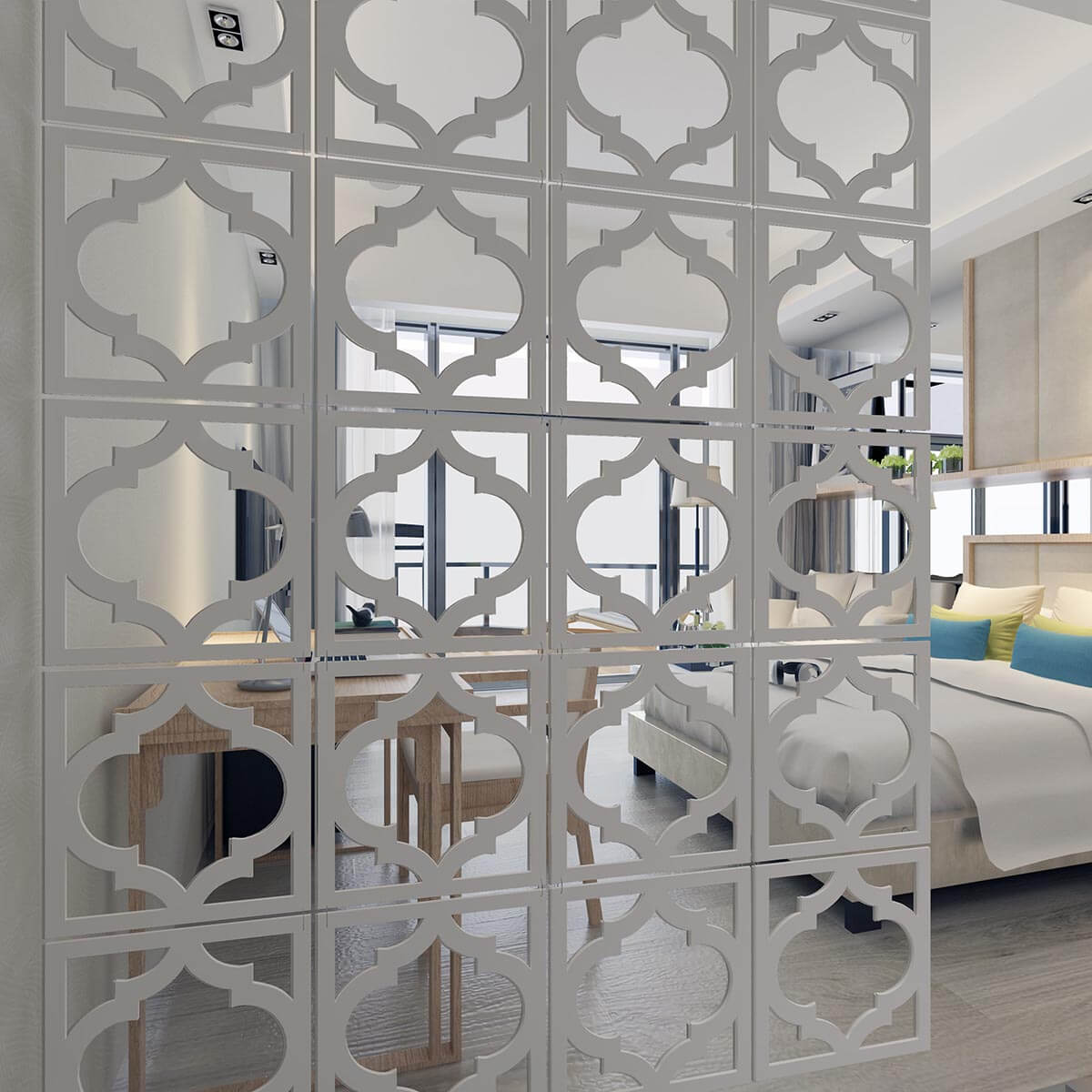 This wall divider solution is utterly stylish and wonderfully functional for your living space! The decider is designed to hang from the ceiling, so you need to either have the ability to reach and mount the divider to the ceiling or build or buy a hanging rod. Each panel connects with the next through connector rings. This is an awesome feature because it means that you can make it as small or as big as you want! Go ahead – customize that look! A white trellis design is so elegant that you really can't go wrong here. This is one of our favorites for an open divider (see-through) for a bedroom or living room.
21. Macrame Curtains on Hanging Rod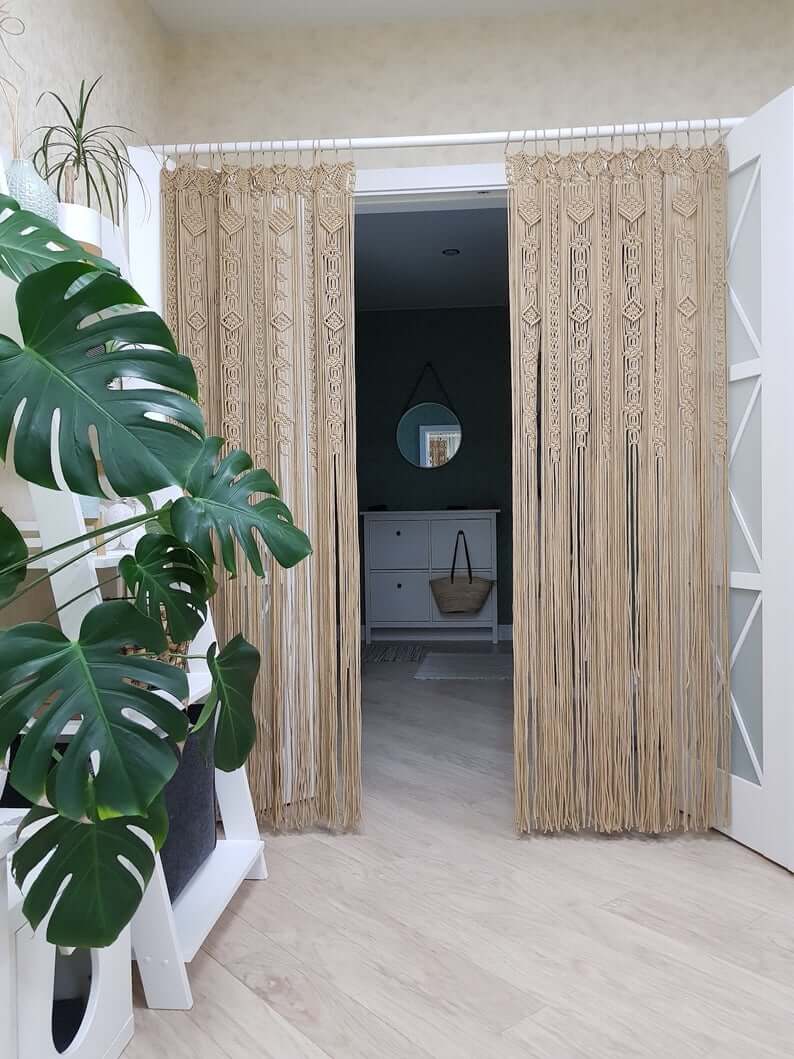 When you're thinking about window room divider ideas, don't forget about curtains. Curtains aren't just for windows – they make amazing room dividers! All you need is a hanging rod and you've got yourself a near-instant room separator. This gorgeous macrame is a great option because you've got the look, pattern, and texture of macrame but the design is dense enough that it also provides some privacy. Since they're curtains, you can just push them to the side whenever you want to open up the space. This is an elegant solution that's very unobtrusive and easy to do.
22. Geometric Decorative Wood Hanging Divider Screen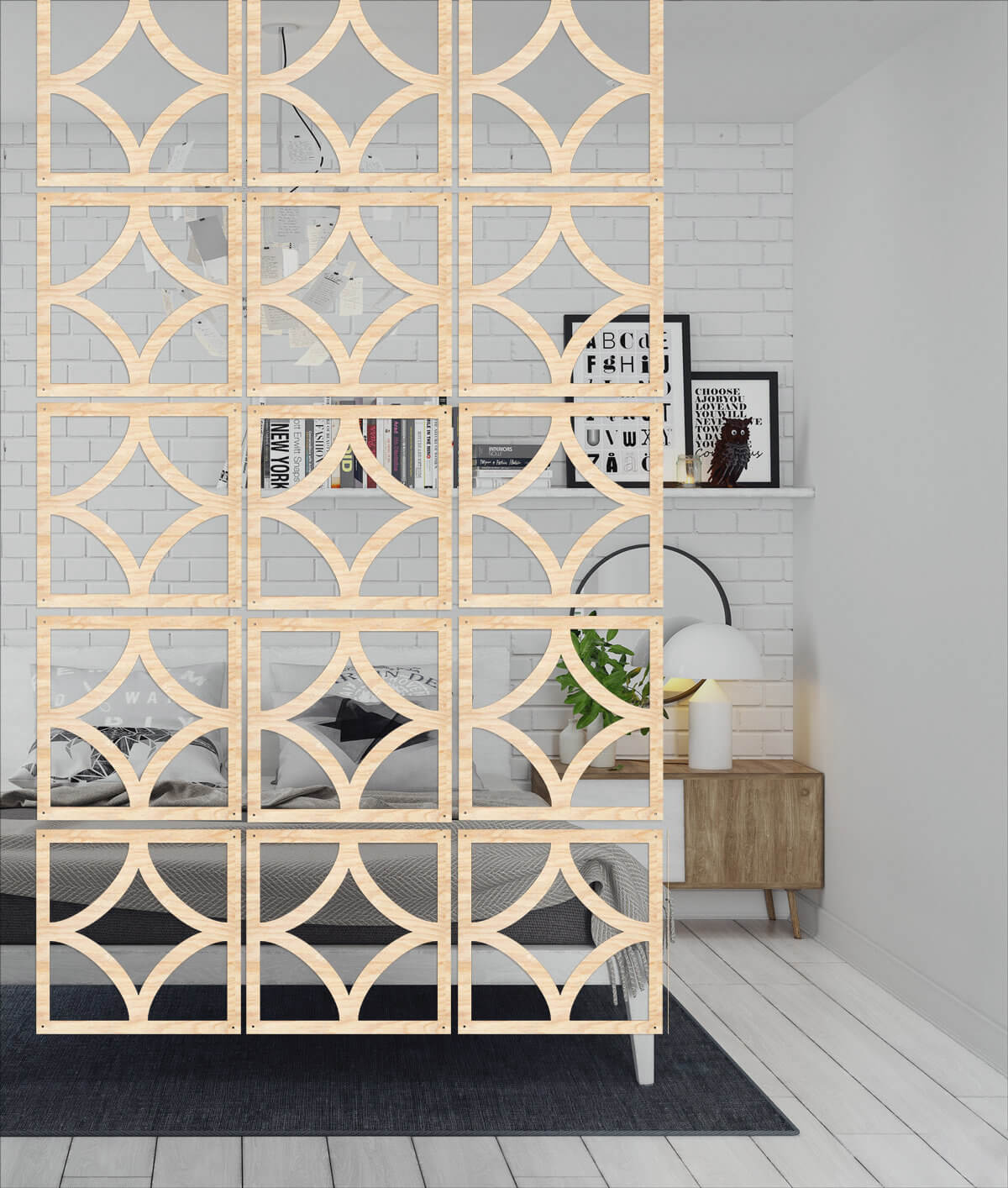 Are you looking for a room partition idea that's equal parts style and function? Look no further. We've got you covered with this simply gorgeous design. Each piece of wooden wall art is carved into a delicate shape, then connected to its neighbors to create a hanging partition. The pieces form a pattern, so you can go bigger or smaller and still have the same gorgeous effect. The luminous wood and attractive pattern are so nice, it's like having a work of art shaping the space in your home.
22 Unique Room Divider Ideas that Will Change the Look of Your Home
What do you think of these room divider ideas? Which ones do you like best? How will you make them your own? There are so many ways you can use room dividers to craft your space into the custom, cozy, personalized design of your dreams. Most of these ideas don't require many tools, but a few basics like a drill, screwdriver, pliers, a wrench, and a sense of adventure will serve you well.
If you're apprehensive about your room divider, try something that can be adjusted after the fact like a curtain style. You can swap out the curtains easily enough until you achieve the look you like. Things like barn door designs, on the other hand, are a much bigger commitment so be sure you're in love with the design before you dive in.