There might be many ways to approach table design, but the best birthday table decoration ideas can create a cohesive ambiance throughout your party. To style your birthday table to its fullest potential, it is a good idea to have a well-defined theme and color palette chosen. Identifying how you plan to use the table will help determine the perfect layout. Finally, your table is not an island – you will also need to be aware of the surroundings for extras like backdrops, signs, and balloon garlands.
The Top 20 Best Birthday Table Decoration Ideas for an Unforgettable Party

Generally, the first step in the birthday table decorating adventure is deciding on a party theme. There are as many themes as there are people, and they can be as complex as "rainbow safari" to as simple as "pineapple." If a single theme is not right, do not be afraid to combine two themes like "cowboys and Martians" or "princesses and unicorns." If you choose this approach, your party will be unforgettable.
Because the party's theme often dictates the colors you will need for your table decorations, you should be able to formulate your color scheme after choosing your theme. However, you still have some decisions to make. Is your style more bold colors or subtle tones? Many themes are compatible with either approach, so this is down to your preference.
The table's purpose will determine its ideal layout. On dessert and treat tables, the cake usually takes center stage. For dining tables, you will need to plan table settings, favors, and centerpieces. However, you decide to approach the table design, remember to have fun. The loved one celebrating a birthday is the reason behind all this planning and preparation, and this is an expression of your love for them.
1. Decorating a Fantastic Fiesta Birthday Table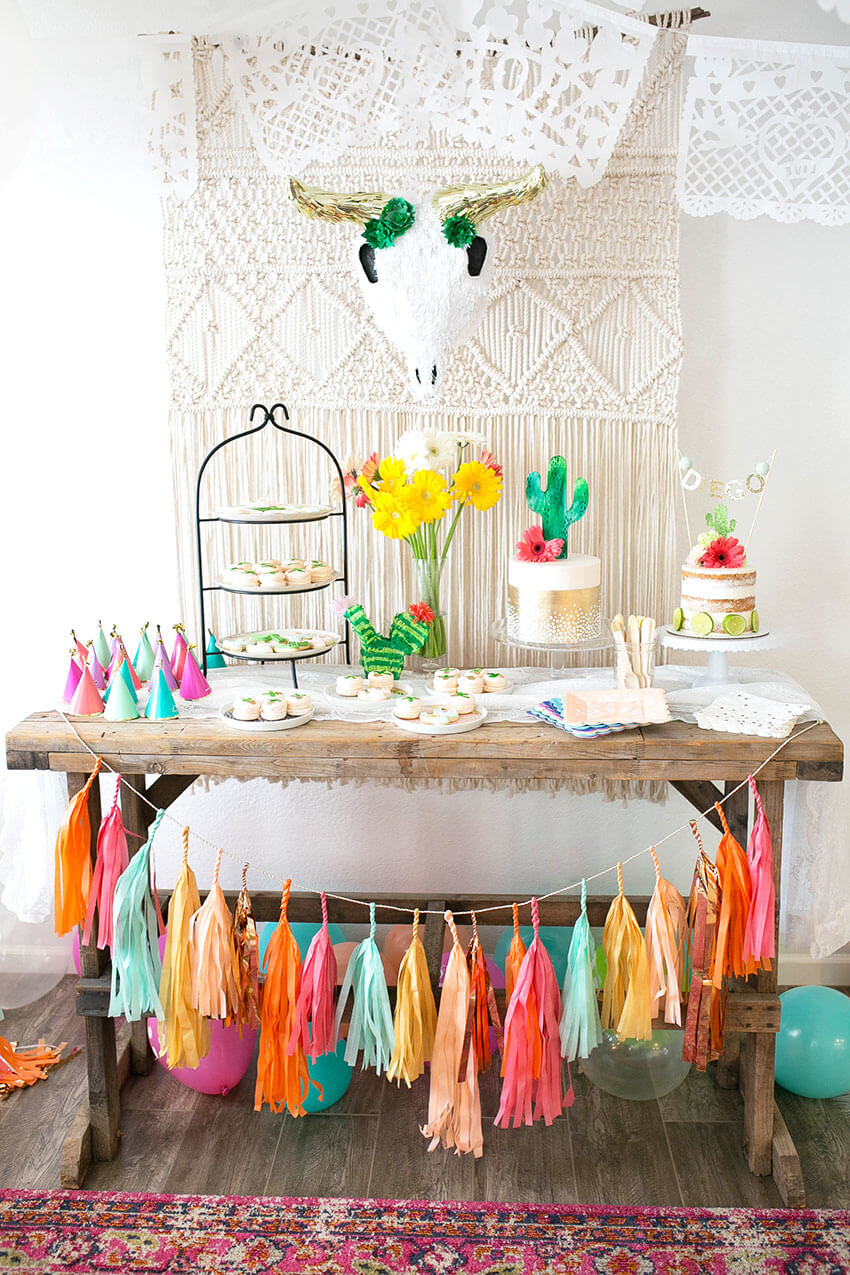 Who can say no to a fiesta? In this desert-themed display, bright colors show exactly why they are some of the best birthday table decoration ideas. Although there is plenty of vibrant color, cool whites and neutrals balance this table display. A paper pom-pom garland ties into the pinata decorations and lacy ceiling garlands to cultivate a sense of cohesiveness. The rustic wood farmhouse table anchors the more ephemeral decorations and gives the entire ensemble a solid, earthy feel. To adjust this table for your birthday needs, switch out the cacti and cow skull for elements that fit your theme.
2. Styling a Decadent Dessert Table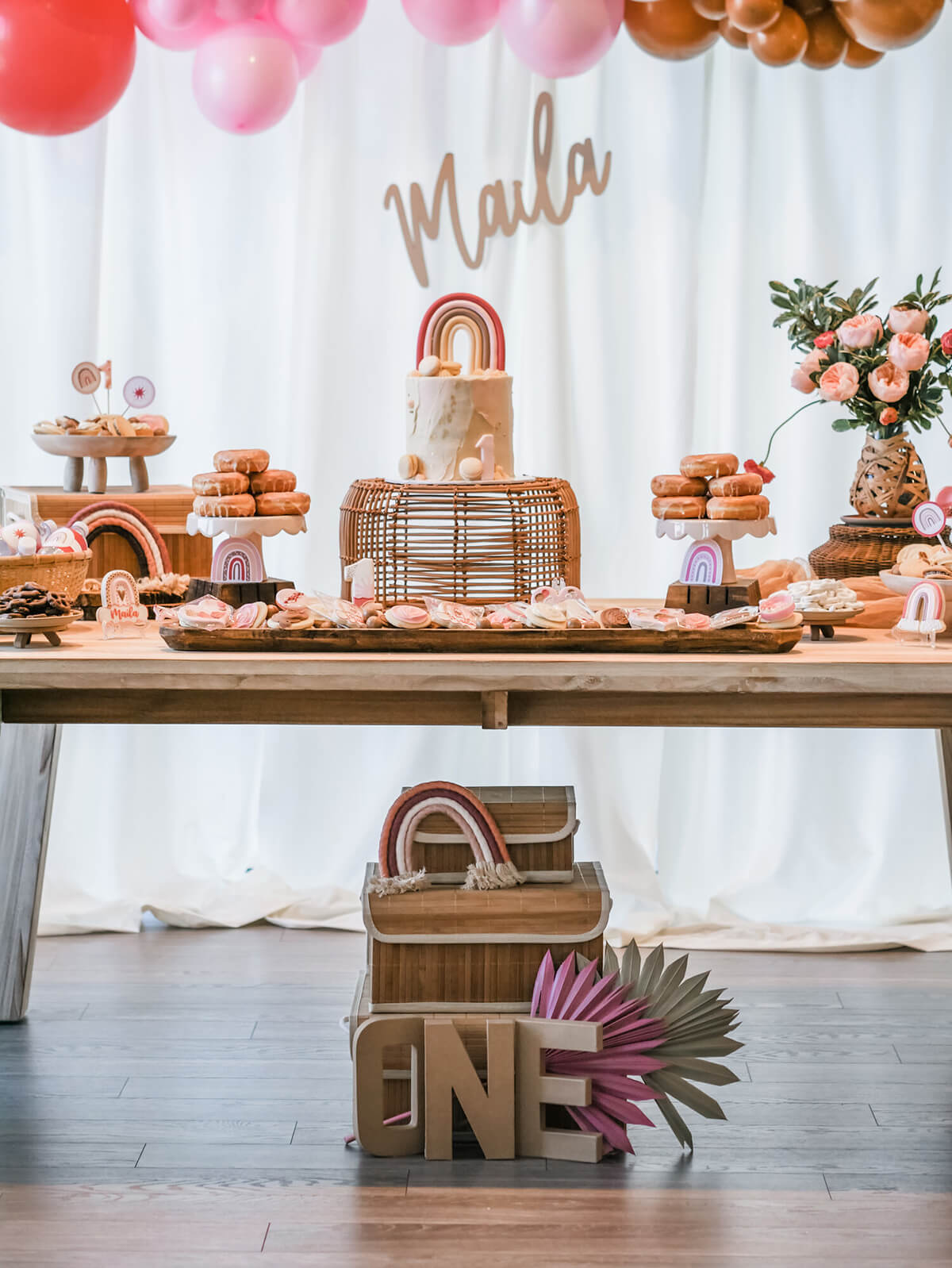 To create your own table filled with decadent desserts, remember to use height as a tool in achieving balance. As the focal point, the cake is taller than any of the other desserts showcased on this table. To create a foundation, wooden trays filled with treats rest directly on the table ready for guests to graze. Other delicacies like donuts, macarons, chocolate-covered pretzels, and cookies are on display at varying heights to achieve dimension. Although birthday party decor is often associated with bright colors, all the desserts on this table follow a soft rainbow theme to achieve a sophisticated effect.
3. Joyful Tutti-Frutti Birthday Party Dessert Table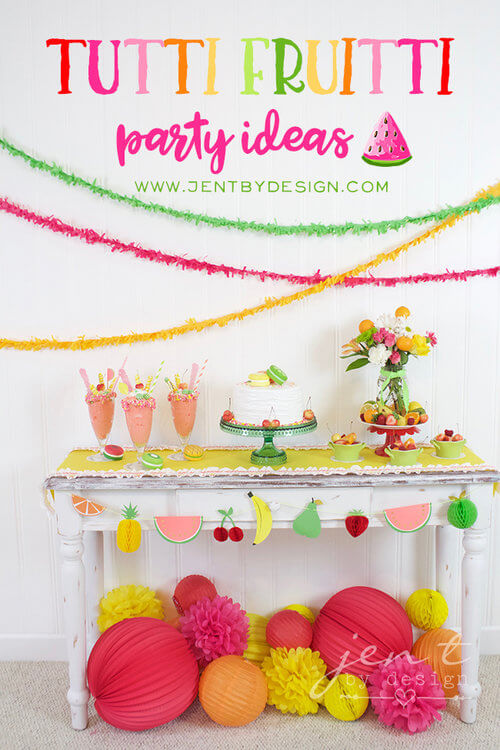 If you want to invite all varieties of fruit into your decor, tutti-frutti is playful, vivacious, and, with Italian origins, surprisingly chic. Shades of yellow, red, pink, green, and orange can star in your tutti-frutti color scheme. An abundance of paper pom-poms beneath the table fills the space and negates the need for a long tablecloth. This tutti-frutti dessert table takes a unique approach by skipping the cupcakes and including fruit salad and decadent orange sorbet "freak shakes." By including a variety of hard candy, a cherry, and rainbow sprinkles, these orange sorbet shakes are the essence of the tutti-frutti theme.
4. Ready for Adventure with a Rainbow Safari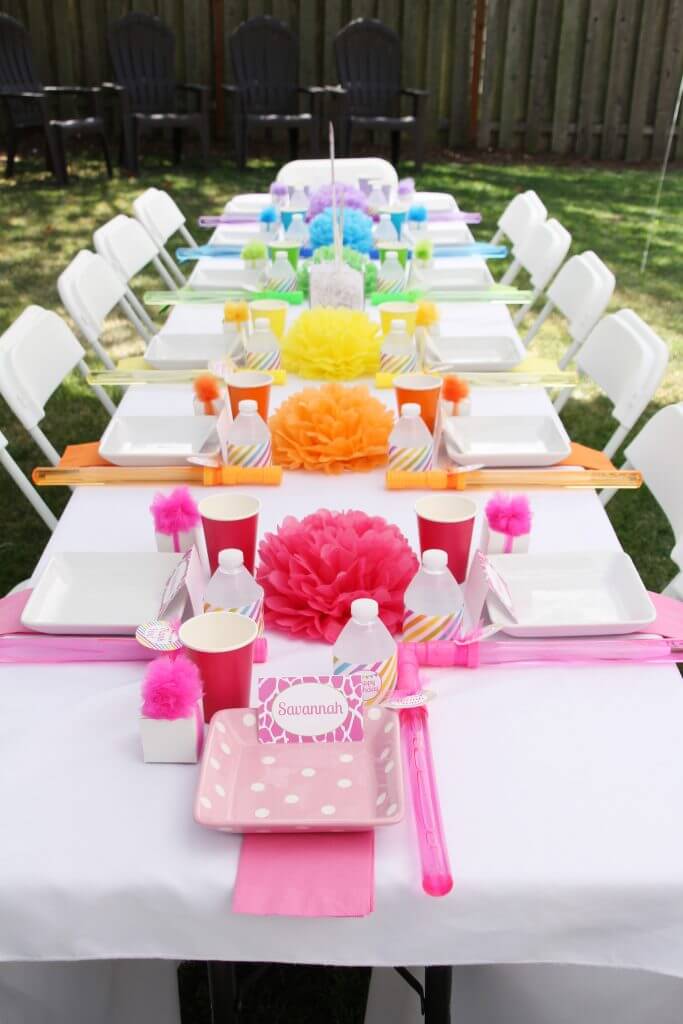 Yes, it is possible to combine an exciting rainbow color scheme with a playful pattern like animal print. Procuring decor and favors that fit both of these themes at once can be difficult and expensive. Instead, you can follow the example shown here to include items that reflect either the rainbow or the safari themes individually. Bubble wands, napkins, party cups, tulle-topped favors, and water bottle labels all showcase the rainbow theme. Rainbow-colored animal print name cards are a harmonious way to bring the themes together. To help the birthday celebrant feel special, set their place with a unique plate.
5. Perfect Pineapple Party for a Unique Luau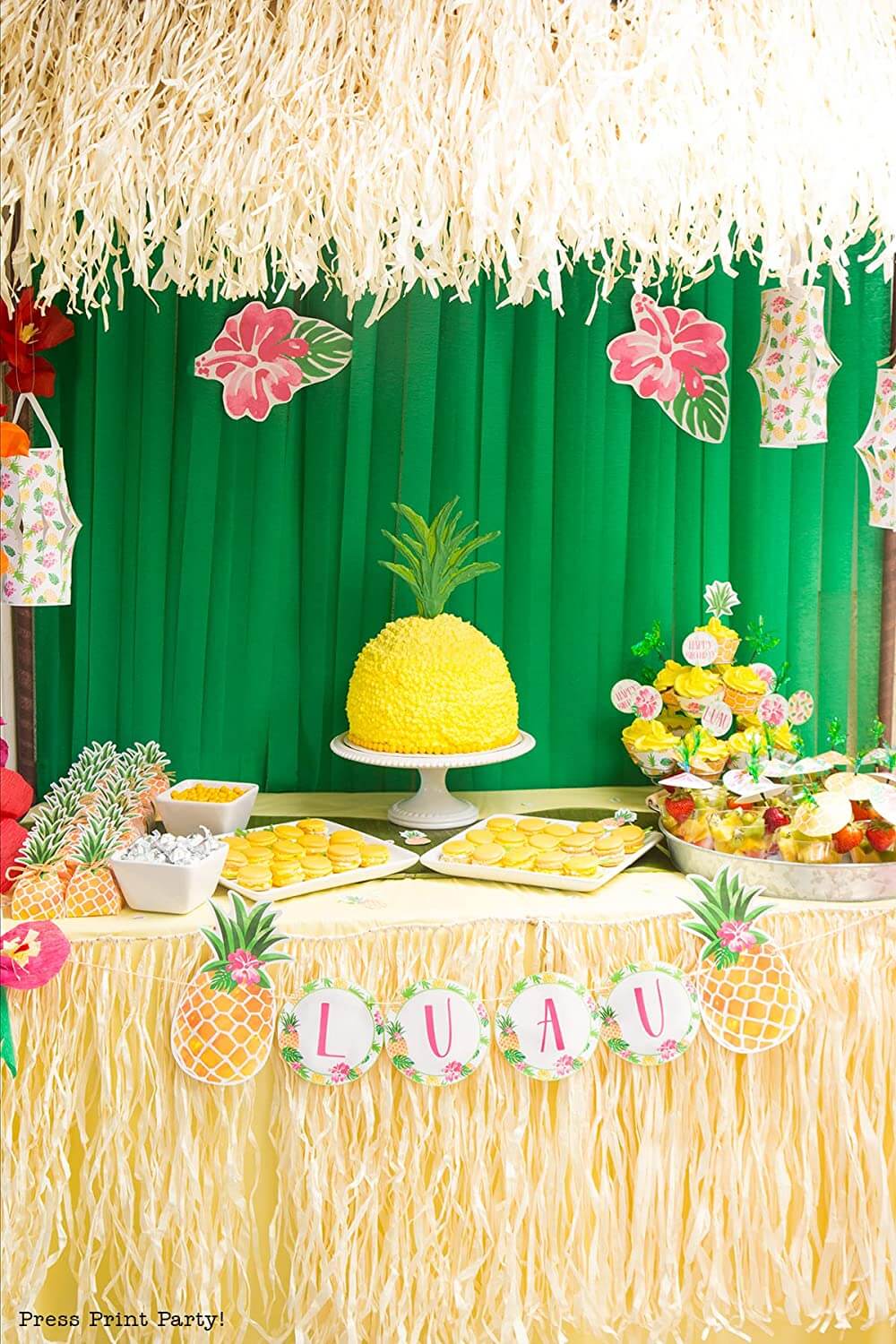 Sometimes, the best birthday table decoration ideas mean choosing a single item and using it as inspiration for all the decorations. For this party, pineapple is the indisputable star. This can be seen in the cake, pineapple decorations, and bright yellow macarons. By incorporating details like the raffia skirt and green streamer background, this party table achieves texture, dimension, and fluttering motion in breezy weather. With an intriguing shape, bright colors, and tropical vibes, the pineapple is well suited to shine as the theme. However, this idea can be used with any fruit, vegetable, or animal to achieve similar success.
6. Birthday Table Setup that Tells a Story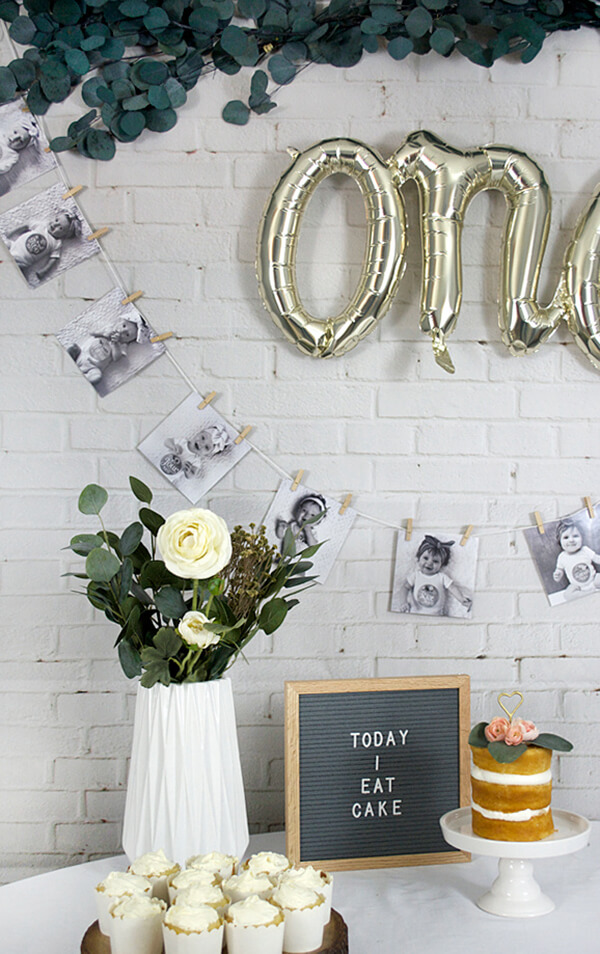 Including a black and white picture garland showing a child's month-by-month progress is a great way to show how much has changed in only 12 months. Of course, this technique can be used for someone of any age – just include pictures from a range of time. Being intentional with your palette can also tell a story. Except for the cake, all the decorations in this image exude cool elegance. Because the flower-topped cake alone is a warm, golden brown color it seems to glow as the focal point. The letterboard and balloon letters use words to announce the reason for the celebration.
7. Color Coordinating for a Birthday Table Setup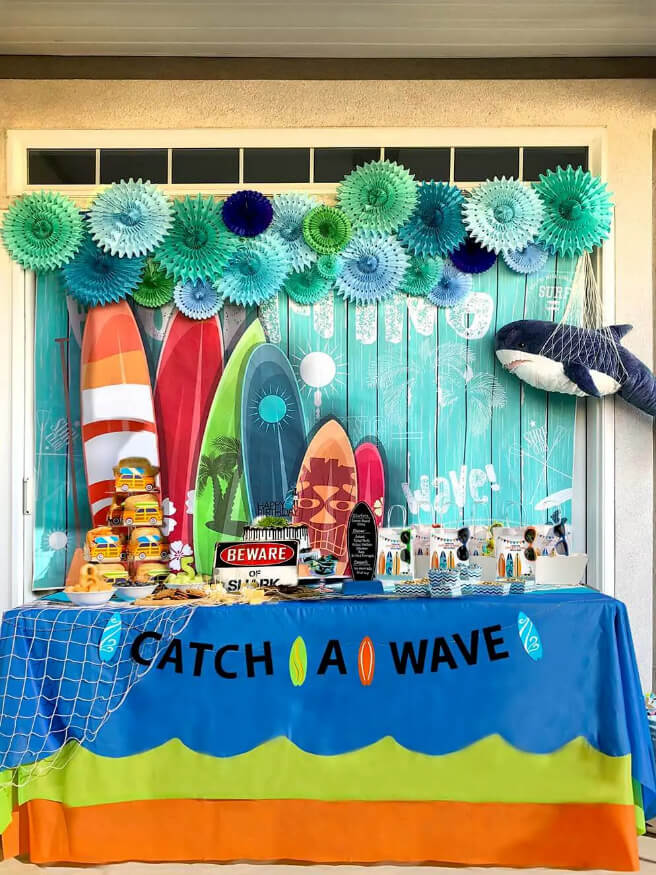 With a surf theme, this image showcases a tropical palette filled with blues, greens, oranges, and reds. Color coordinating the food to the decor can create an extra dimension to the birthday party table decorations. If you have a food idea that just will not coordinate with your party theme, experiment with custom packaging. Not only does this add some extra pizazz, but it also looks great in pictures. If custom packaging is not for you, try featuring foods like fruits that are often colorful enough to blend with the palette. Best of all, fruit is a healthful food option.
8. Big and Bold Tropical Garland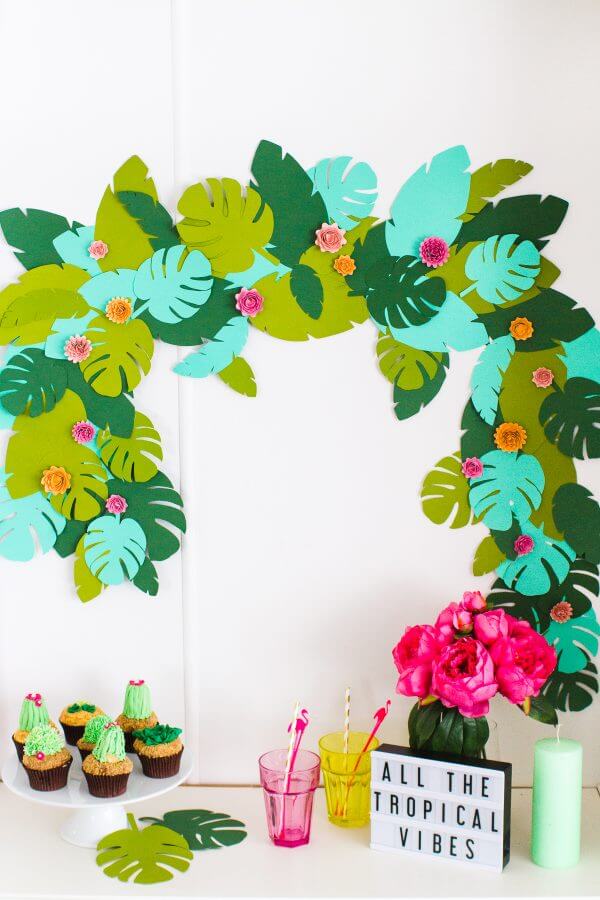 Bring color and extravagance to the party with this bountiful garland. Although it gives the impression of tropical abundance, it is actually only two leaf shapes, two flour shapes, and six colors of paper. This garland is easier to create if you have a cutting machine, but can also be made with a pair of scissors. Once it is assembled, imagine the possibilities. Hang it like a swirling vine as shown here or in parallel vertical lines to establish a colorful backdrop. Instead of hanging it up, another option is to use your leafy garland as a table runner.
9. Prepare for a Swashbuckling Pirate Party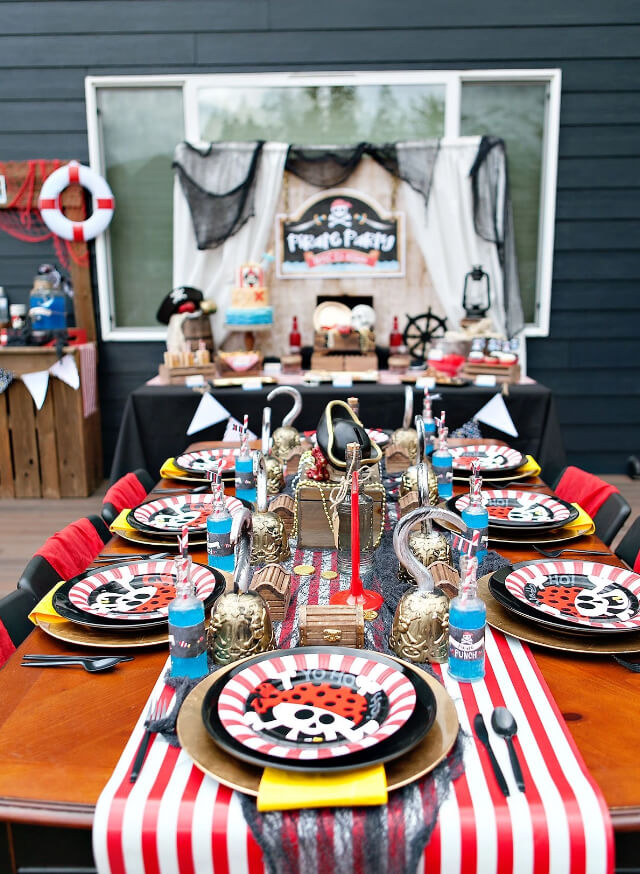 Filled with tasty textures, exhilarating patterns, and vibrant colors, these birthday party table decorations exude pirate excess. By layering a black fishnet over a red-striped table runner, an instant nautical ambiance is achieved. Skull and crossbones party plates feature enough cartoon style to be playful while staying true to the pirate theme. Chargers add gravitas to this birthday feast. This image shows that featuring red, yellow, and blue can go far beyond feeling elementary. Although red is the main color in this palette, splashes of blue feel like the ocean, and flashes of gold are reminiscent of pirate treasure.
10. Giving a Cake Table a Dramatic Backdrop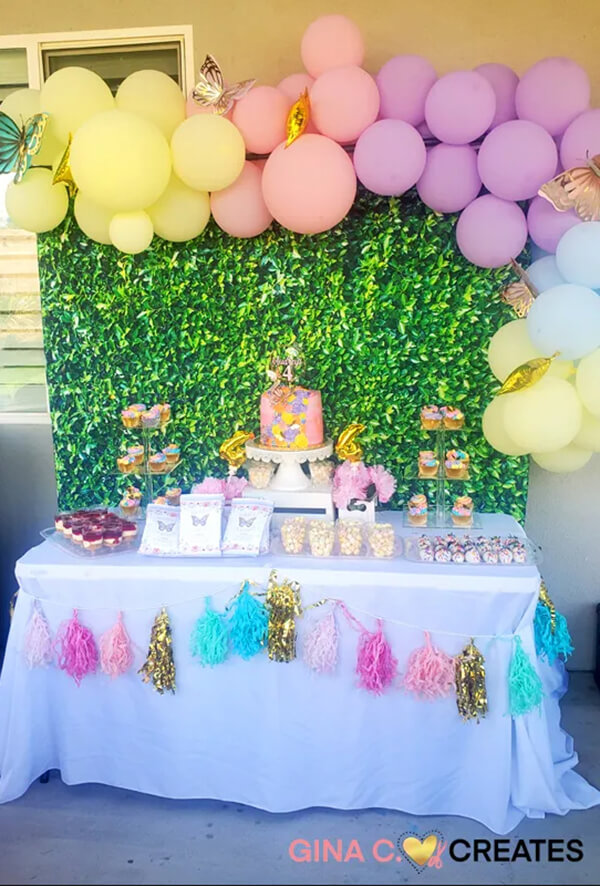 With a stunning balloon garland, vibrant green backdrop, and sparkling pom-poms, this table is the center of attention. While this image parades a playful butterfly theme, you can use this format for any theme. The first step to personalizing this layout for your needs is to switch up the colors of the balloons and pom-poms. Then, customize the colors of the cakes, treats, and custom treat bags to suit your needs. By combining the ingredients of a balloon garland, pom-poms, and a vibrant backdrop, the tables at your birthday party will shine while showing that it is time to celebrate.
11. Minnie Mouse in Flowers and Polka Dots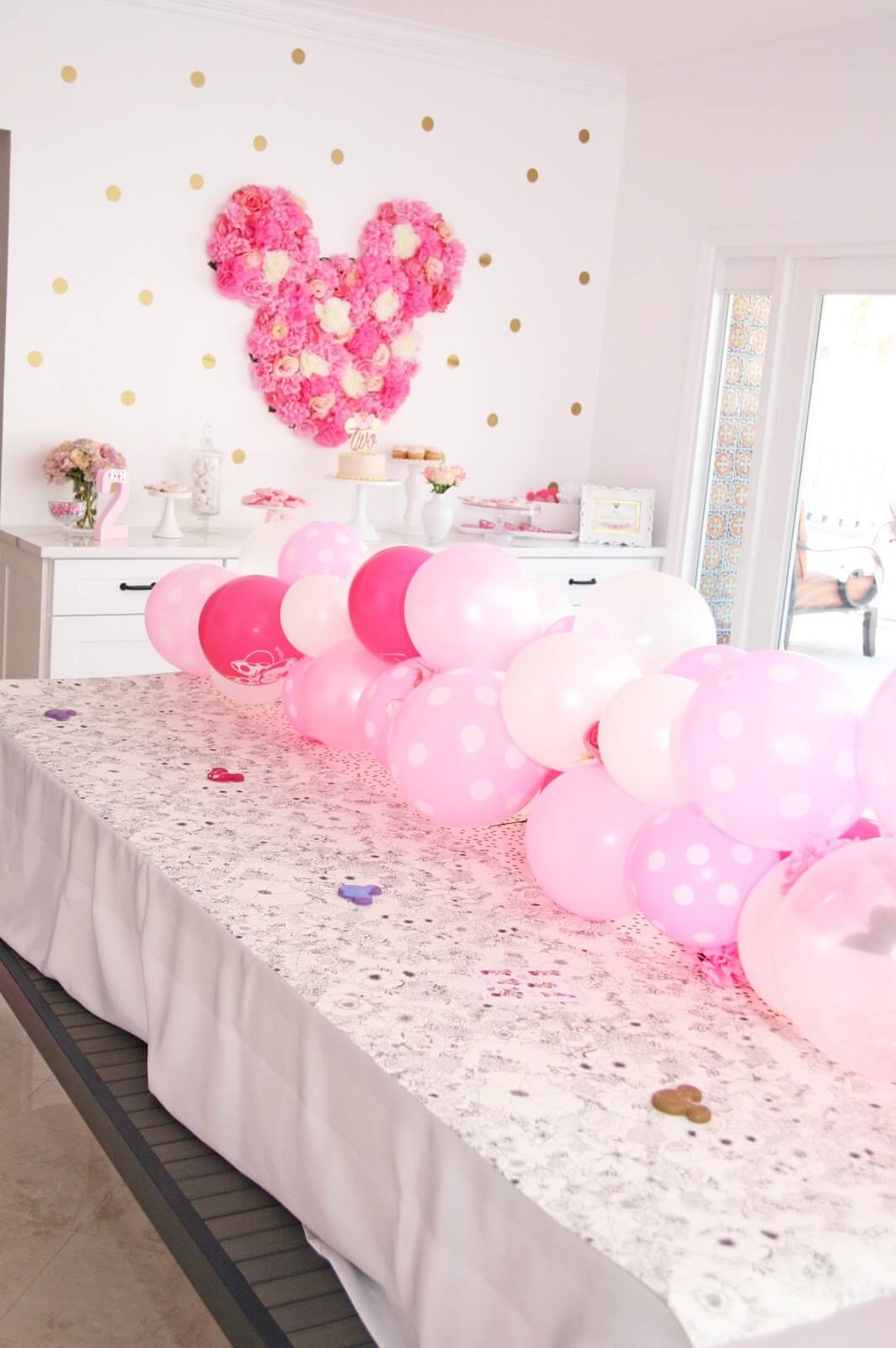 A balloon garland draped along the table gives this birthday table setup some dimension as well as pointing to the Minnie Mouse floral silhouette. This example shows how important the small details are. Scattered along the table are crayons shaped like Minnie Mouse. The floral decoration features white flowers which mimic Minnie's iconic polka dots. Removable vinyl provides some glimmering polka dots on the wall. Because so much attention has been paid to the small details, a limited color scheme like the one shown here can be opulent. Get creative with your own small details to forge unforgettable memories.
12. Dinosaur Dig Table Filled with Natural Elements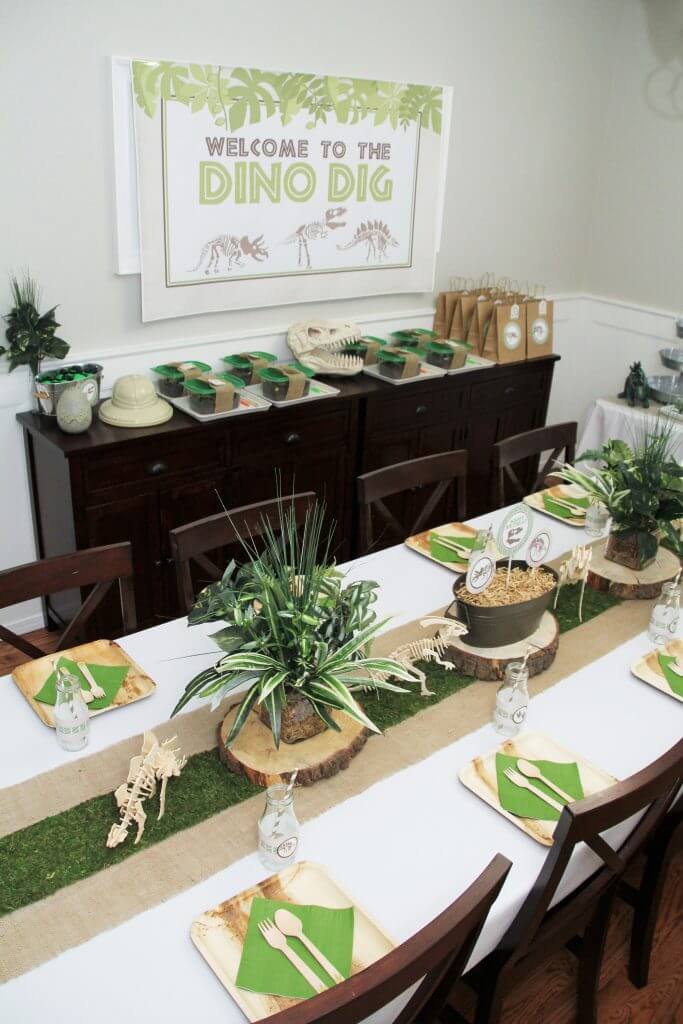 Choosing a dinosaur theme can be a lot of fun because it can be approached in so many different ways. Instead of choosing bright colors and cartoon-style dinosaurs, this dinosaur party showcases sophistication with layers of natural elements. Wood makes appearances both on the dessert table under the cake as well as on the dining table with wooden plates and silverware. Green napkins, burlap, and a faux-moss table runner work together to create decadent layers bursting with rustic charm. If dinosaurs are not quite right, all the natural elements can be used in an animal-themed party as well.
13. Bringing a Fairy-Themed Garden Party Indoors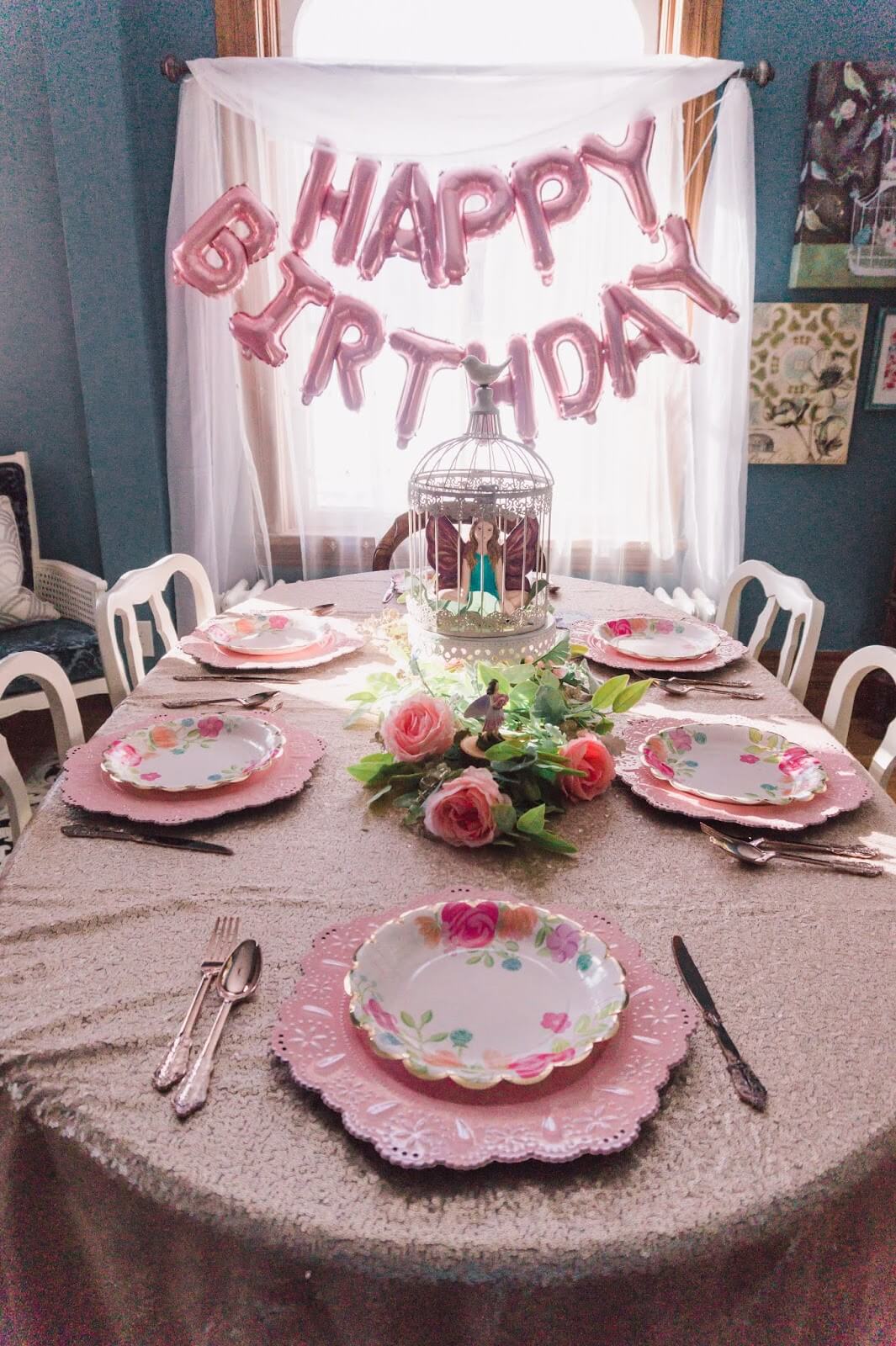 When the weather does not want to cooperate with your birthday theme, bringing the outdoors inside is the perfect way to celebrate. By channeling plenty of pink and botanicals, this fairy-themed party comes to life. While the floral dinnerware would be festive by itself, the lacy pink chargers add an extra layer of sophistication to this tea party. This image might show pink as the primary color, but you could cultivate an earthier effect by using shades of green. Whichever colors you decide to use, throwing an indoor garden party can be a lot of fun for everyone.
14. Decorating for an Outer Space Birthday Party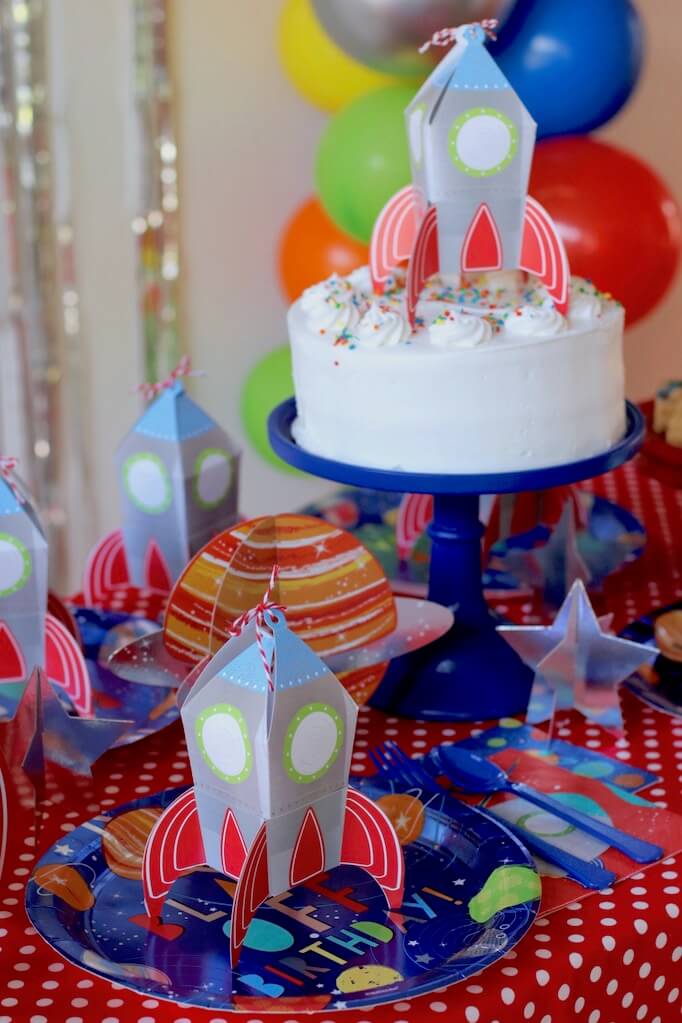 Even though outer space is dark and silent, your birthday table party decorations can be bursting with personality. Balloons and sparkly streamers set the mood. Rocket ship decorations and planet plates define the theme. To take a generic birthday cake to the next level, try placing one of the decorations on top. However, the real genius in this image is the red polka dot table cloth. Nothing energizes quite like polka dots, and the bright red color ties so well into the space-themed decorations. Because they are so versatile, red polka dots are one of the best birthday party table decorations.
15. Back to the 1950's Retro Diner Birthday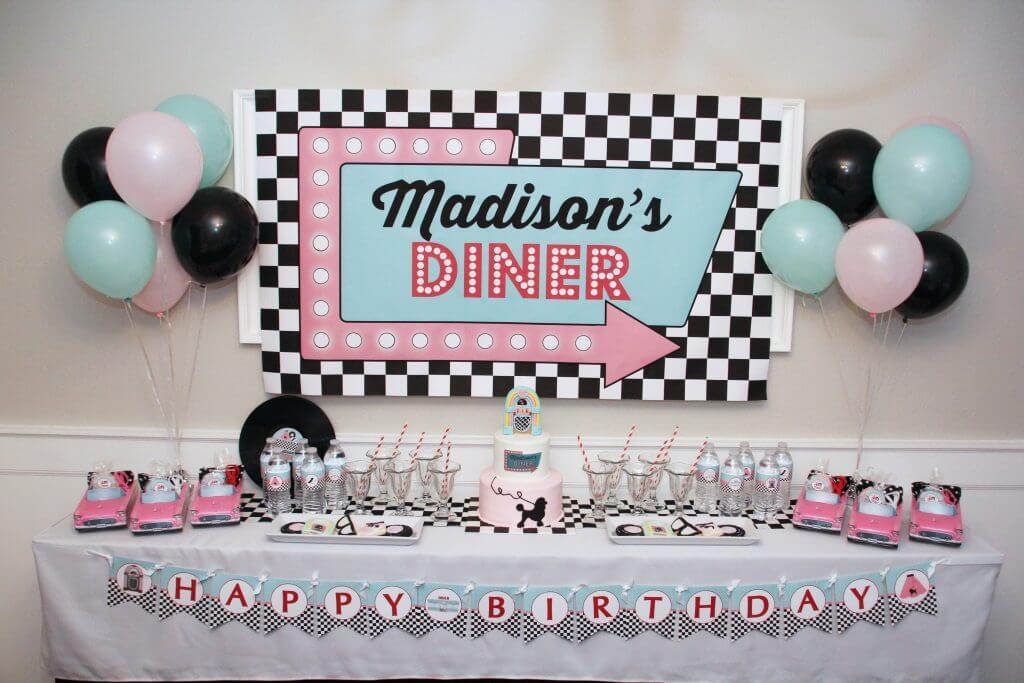 Black checkerboard, "Mamie" pink, and powder blue come together to create one of the best birthday table decoration ideas. A symmetrical table layout balances the aesthetic and keeps the overall effect from being overwhelming. This table is located at the entrance to the party so that guests can enjoy a fun sugar cookie on the way into the party. Staying true to the theme, 1950's convertibles contain a polka dot scarf and retro glasses for guests to put on as they arrive. The oversized sign is the perfect personalized backdrop.
16. Effervescent Handmade Tutti-Frutti Garland Backdrop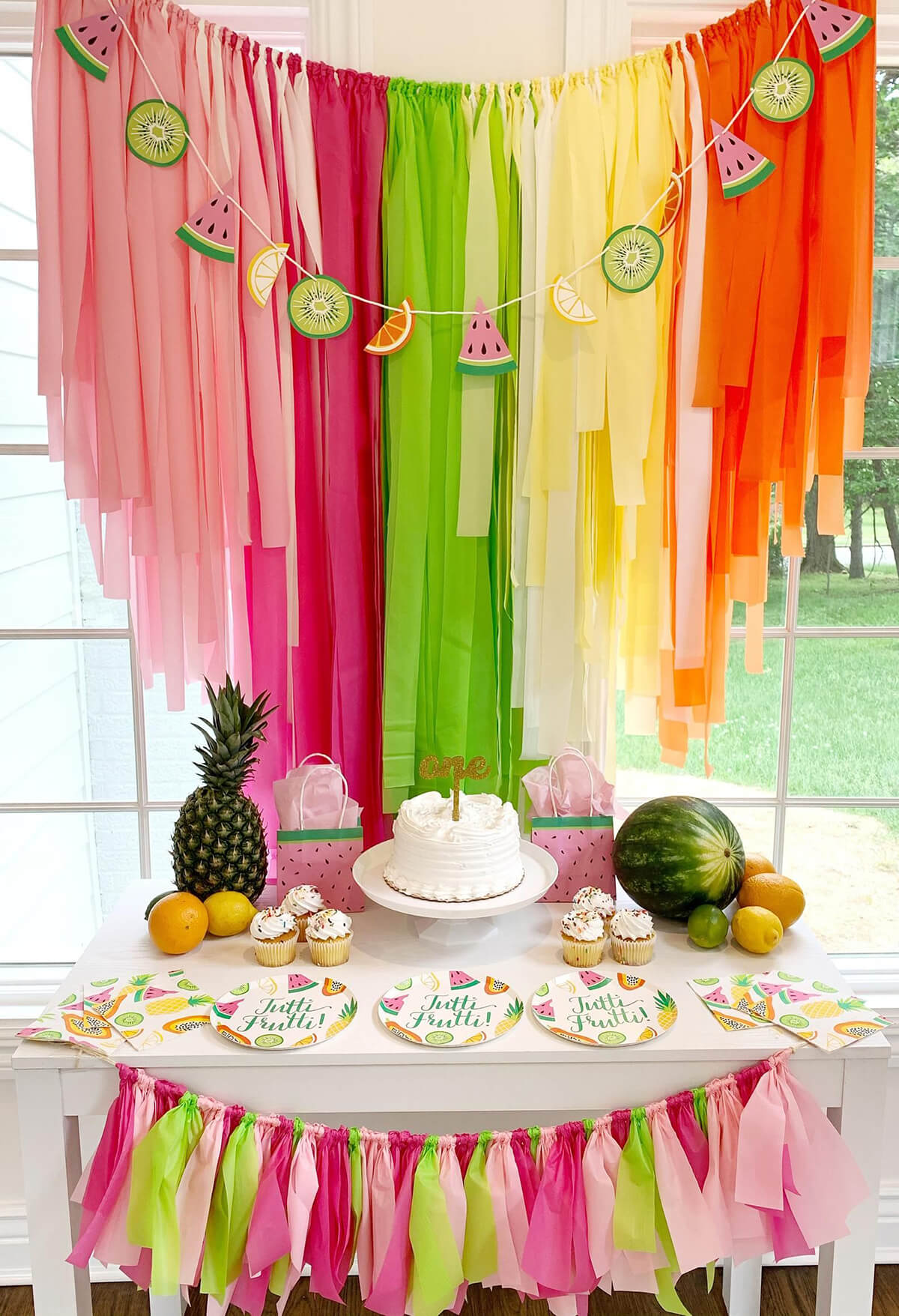 Tutti-frutti parties are known for their abundance of fruit-inspired colors, and this garland does not disappoint. Each plastic streamer is hand-tied to the garland and the entire ensemble flutters invitingly in the breeze. Because the center of the garland features longer streamers, a natural focal point is created. As the cake is positioned at the center and longest point of the garland, it shines naturally as the star of this birthday table setup. If you want to switch it up and have another element steal the show, all you need to do is place it at this place of honor.
17. Customizable Tassel Garland in Soft Pinks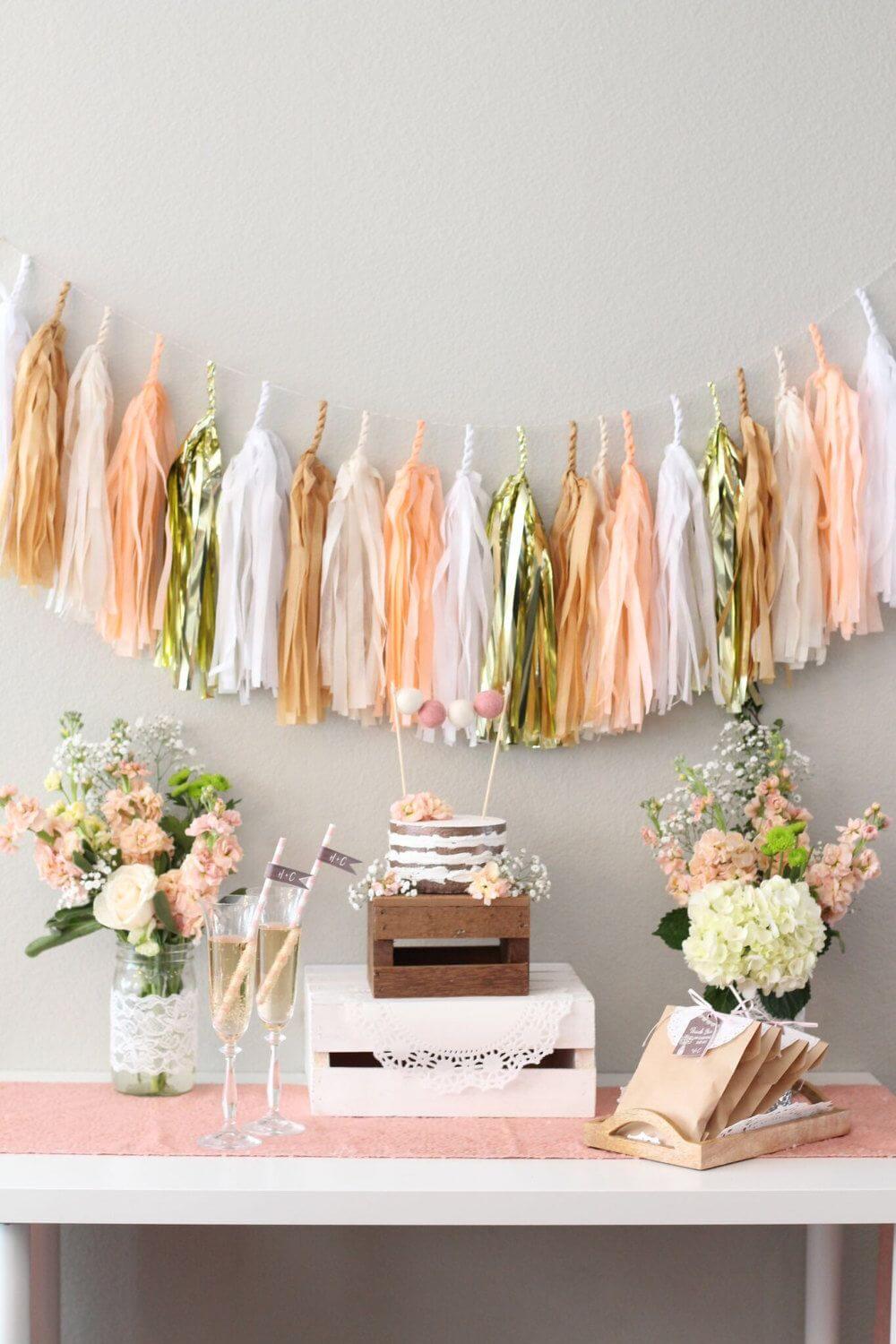 Tassel garlands are a great way to dress up a boring wall without stealing the spotlight from the birthday table. This garland offers five color options including white, gold, peach, rustic brown, and ivory to blend with your decor. Because this garland is handmade, you can request a higher or lower ratio of any of these colors. However, incorporating a variety of shades makes it possible to decorate with different colors of decor. With all the colors included, you can enjoy the gold's radiance while the other colors provide perfect cohesiveness to the rest of the dessert table.
18. Set of 12 Iridescent Mermaid Plates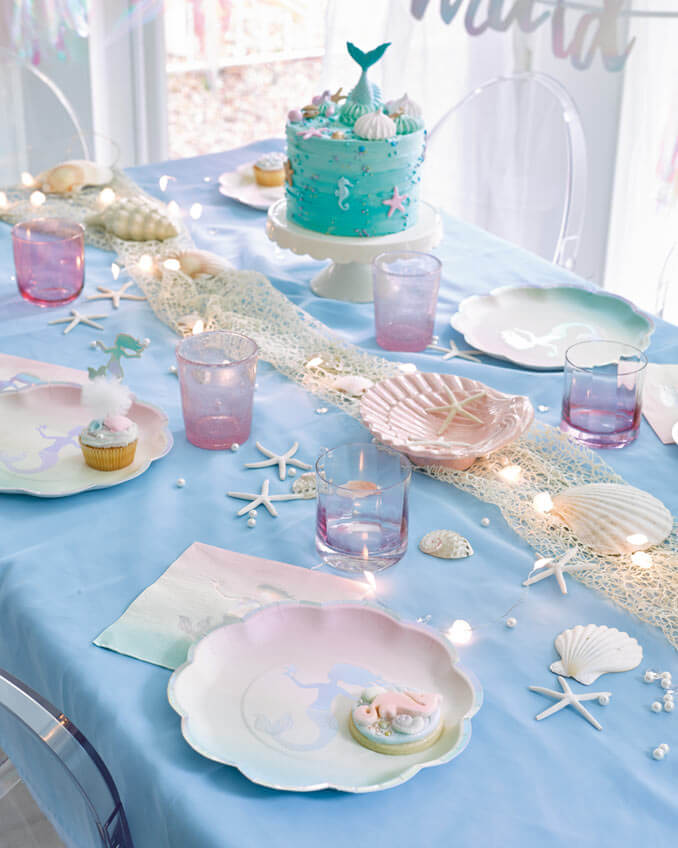 Shell-shaped plates embossed with shimmering mermaids are an enchanting addition to any under-the-sea party. Because these plates showcase a range of soft colors, they fit seamlessly with a wide variety of pinks, greens, blues, and whites. As shown here, these plates look perfect with a variety of nautical fixings. Switch in your own palette and decor to enjoy the delicate radiance. Because these plates include a little sparkle, you can include as much or as little glitter as you are comfortable with. Without chargers, these plates provide a delightfully casual experience. Add chargers to achieve an upscale birthday table.
19. Chic Hot Pink Minnie Mouse Plate Set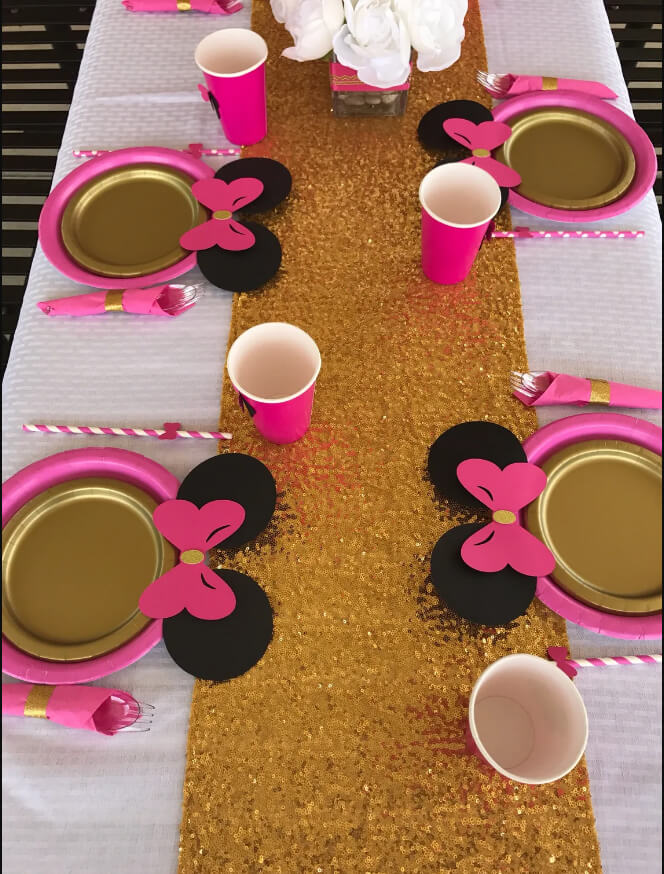 What better way to set the tone for a Minnie Mouse party than to use hot pink plates complete with mouse ears and a big bow? This set also includes a gold dessert plate, patterned straws, and pink party cups. Because the gold plate is nestled inside the larger pink plate, you can go full-stop glamor with a gold tablecloth. If your tastes are subtler, follow this image's example and choose a glittering table runner. Hot pink might seem like a bold pop of color, but they are some of the best birthday table decoration ideas to layer with neutrals.
20. Pink Tulle Tablecloth for a Magical Birthday Table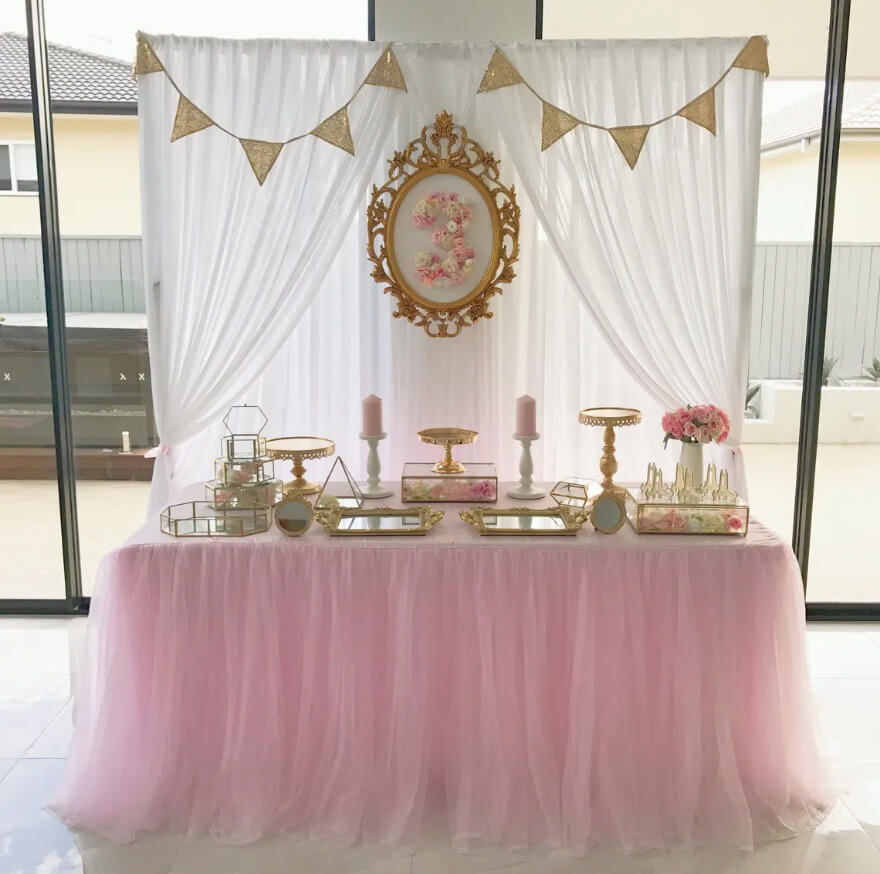 Because of its unique texture, tulle adds so much texture and dimension to a party's decor. Pink tulle, specifically, is a great addition to a wide variety of themes including ballet, princess, unicorn, fairy garden, or virtually any theme where pink is welcome. Besides being stunning, this tablecloth is practical. To set it up, all you need to do is put it over the table like an ordinary tablecloth. Instead of fiddling with ways to attach the tulle to the table, you can spend more time on other details to make the party that much better.
The 20 Best Birthday Table Decoration Ideas to Build a Unique Party Experience
The best birthday table design for your party depends on your party's theme, color scheme, and layout. Of course, what surrounds the table is also an important consideration. Will you need a backdrop or a garland to hang behind the table? These draw attention to the table while adding visual interest. When you combine an excellent backdrop, theme, color scheme, practical table layout, and coordinating decor, your birthday table design can create the sought-after festively cohesive ambiance. Once your table is decorated to perfection, you can sit back and experience everyone enjoying your hard work.