With the cool fall months just around the corner, you need to start decorating your home with the best dining table centerpieces on the market today! There are plenty of unique designs you can strive to achieve with various dining room centerpiece ideas. No one dining room looks exactly like another! Choosing the best centerpieces for your home will allow you to let your personality shine through. This short time period between summer and fall can leave you with a lot of options for how you want to present your dining room to guests in the future!
30 Creative Dining Table Centerpieces to Give Your Dining Room an Inviting Touch

Along with the changing leaves of autumn also comes the holiday season. This is a great time for you to fellowship with your closest family and friends! Don't be afraid to cook a great meal and invite everyone over to enjoy your newly decorated dining room. There are numerous creative pieces you can add to your dining room table in order to create the perfect aesthetic you're going for. The early fall months may call for warmer tones that make people think of pumpkin spice and Thanksgiving. Once the late fall months roll around, you may want to transition your dining table centerpiece ideas to complement the cooler colors associated with winter.
Fortunately, there are plenty of dining room centerpiece ideas for you to choose from! You don't have to just settle for one look that needs to last you throughout the foreseeable future. Feel free to choose numerous centerpieces that you feel match the vibe and aesthetic you've carefully created throughout the rest of your home. Take a look at the list below to find some great new ideas for your dining room decorations. All of these centerpieces are amazing so you really can't go wrong with any choice you decide to make!
1. Magnificent Pink and White Accented Table Centerpiece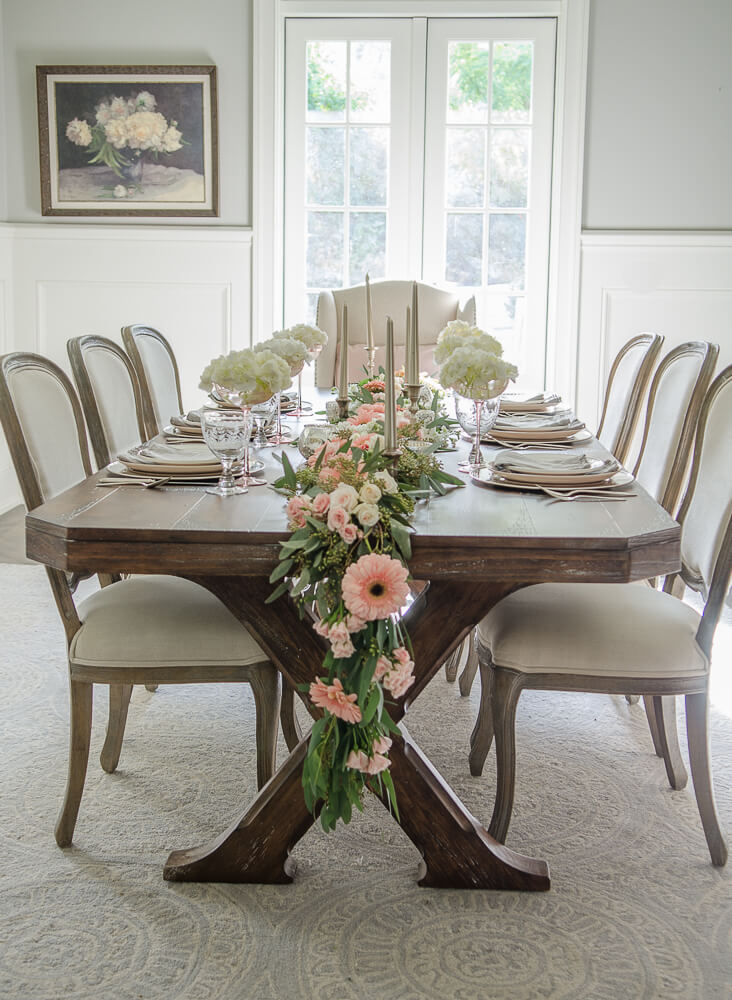 This extraordinary pink and white themed centerpiece greenery will instantly put you in a loving moon. The combination of these two colors just does something incredible to your dining room table! Make sure you get enough greenery to allow this centerpiece to fully drape over the sides of your table. This will create the truly elegant effect you want to display when guests come over to eat your incredible food and dine at your wonderfully decorated table. Make sure you add in some roses with blush pink and white tones to really stay consistent with your desired aesthetic!
2. Cool Rose and Plums Toned Floral Centerpiece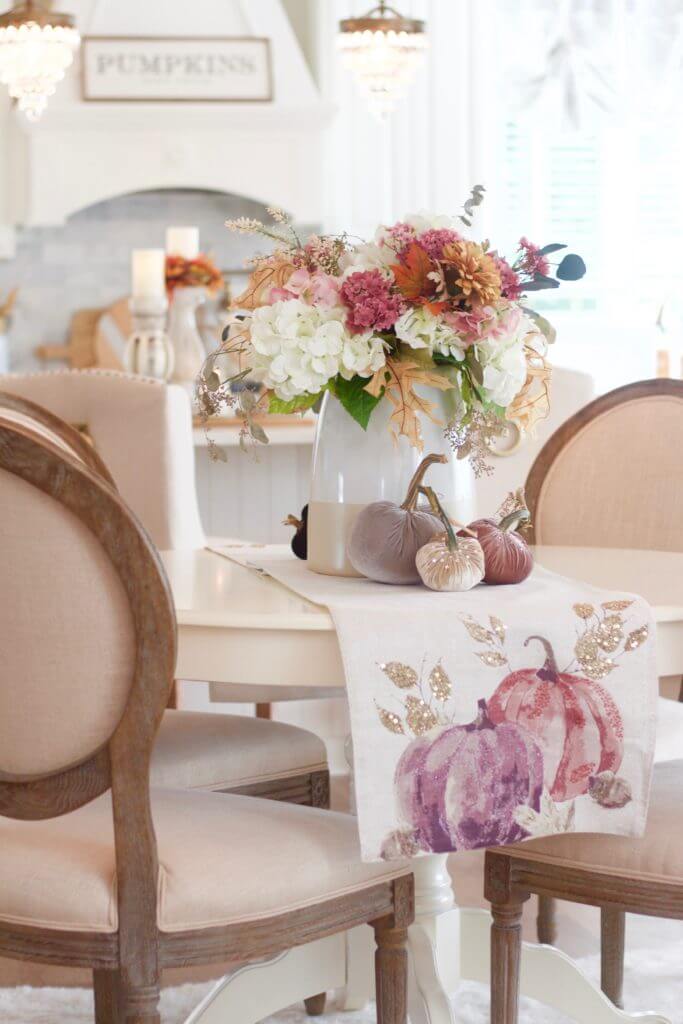 Although most people think of orange and maroon when it comes to fall colors, you should never underestimate the magic of pink! Utilizing rose and plum tones for your floral centerpiece arrangement will give your dining room an extremely cozy and comfortable feeling you won't be able to resist. You will instantly fall in love with a classy, floral arrangement. This is especially true if you choose to add a few plum-colored velvet pumpkins right beside your extraordinary centerpiece. Place your favorite, large flowers in a white vase to truly get the full effect of these dining table centerpiece ideas!
3. Blooming Tablescape with Wooden, Stenciled Chargers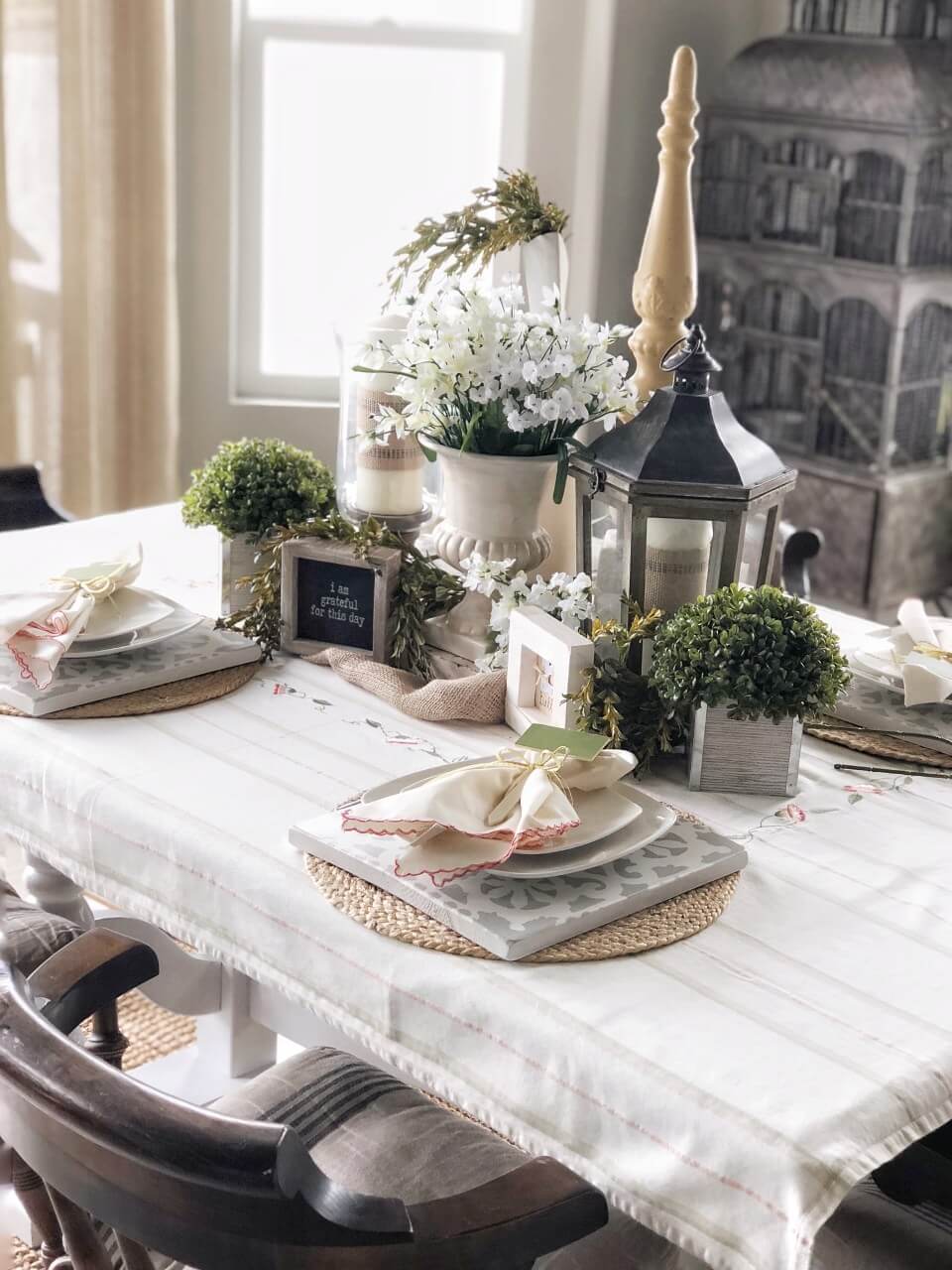 There is nothing better than an extremely simple centerpiece design for your dining room table. No matter what mood you're in, a simple piece can provide the perfect amount of decor. These wooden, stenciled chargers provide a simplistic look to any dining room table. They are extremely versatile while also giving you an affordable option to spruce up your dining room. Depending on how your creativity is flowing that day, you can choose to place interesting designs on your chargers that perfectly complement your current dining room scene. This is easily one of the best dining table decor ideas if you are looking for something fun yet simple to create!
4. Autumn Toned Free Flowing Table Centerpiece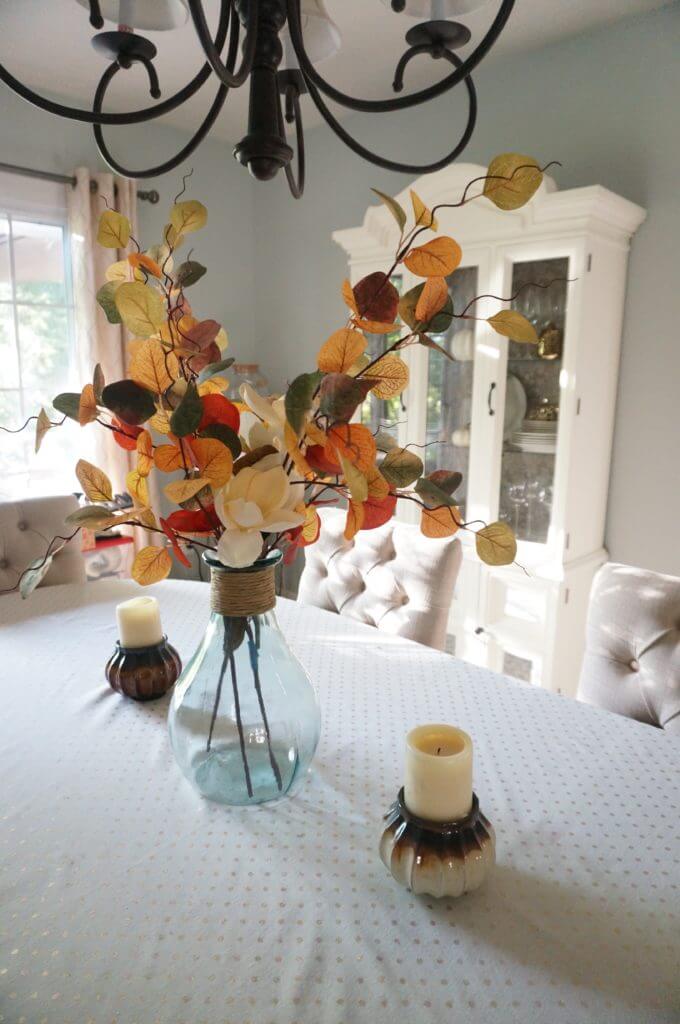 Welcome in the autumn season by placing this beautiful, free-flowing centerpiece in the middle of your table. You only need a couple of items to really make this one of the best dining table decor ideas you've ever created! All you need to do is get a glass vase and some faux autumn leaves still on their branches. Purchasing various sized branches will allow your centerpiece to display a more full look in the middle of your dining room table. Place a couple of white flowers in the middle and some white candles on either side to add the classy flare you desire!
5. Woven Basket with White Orchids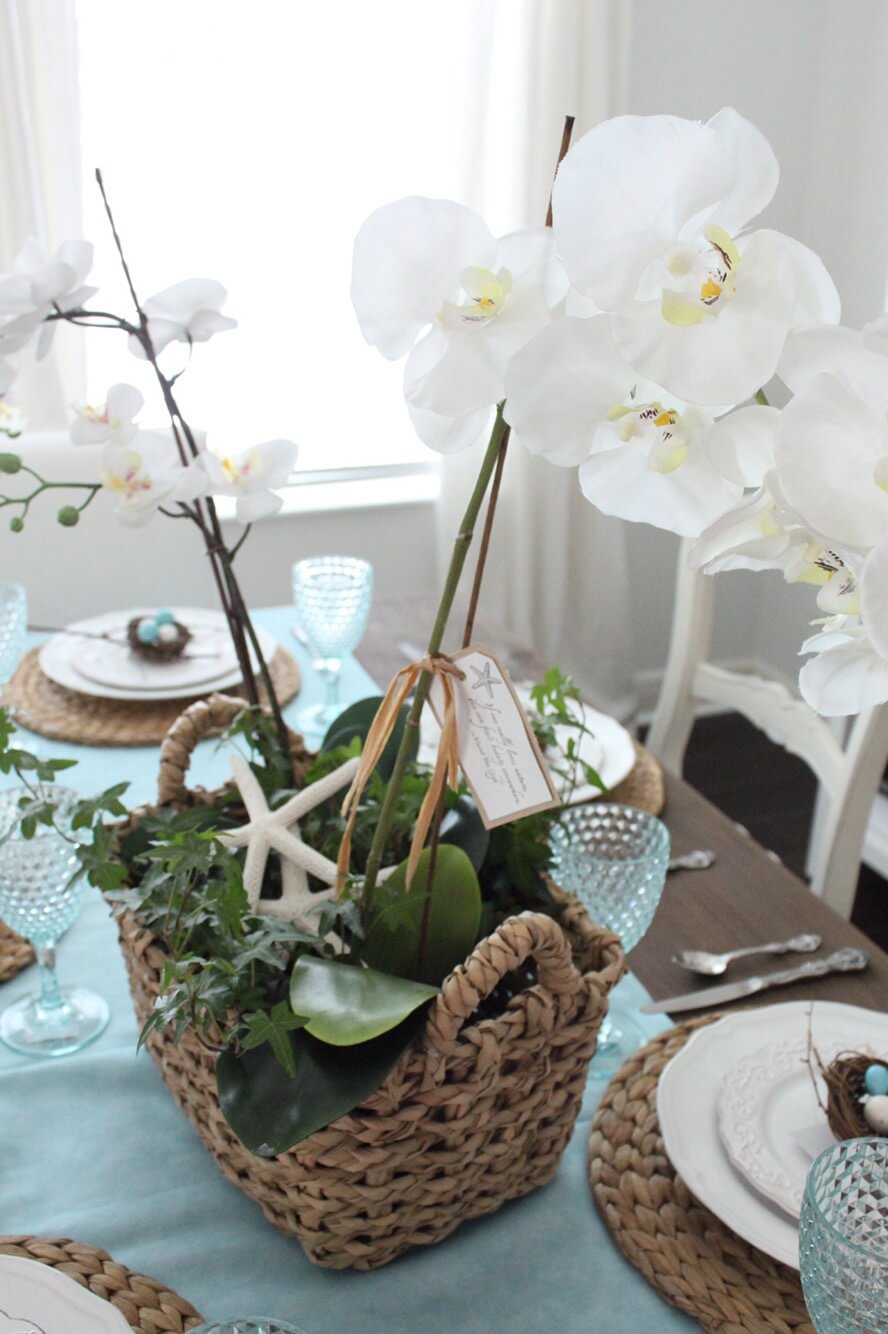 You won't be able to handle how absolutely adorable your dining room table will look once you add this woven knit basket as the main centerpiece! This is one of the best dining table centerpieces out there because it provides a warm feeling to any dining room design. This affordable basket is just big enough for you to place a few white orchids in the middle. When you see this basket you are probably thinking about springtime and Easter. Well, these white orchids are definitely going to put you in the mood to fully redecorate your home for the spring!
6. The Perfect Floral Arrangement for Pastel Spring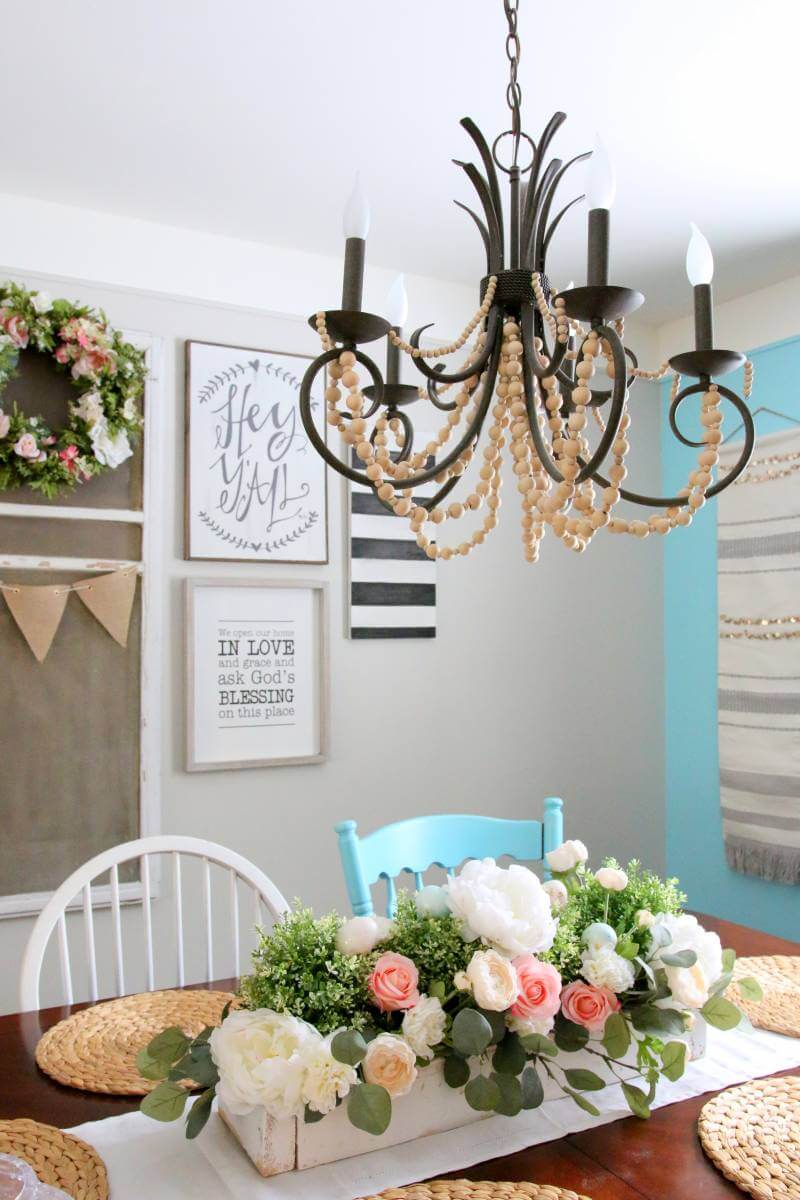 This floral arrangement is one of the best dining table centerpieces because you can decorate it with flowers of many different shapes, sizes, and colors! This incredible combination of flowers will allow you to brighten up your dining room will a full and lively centerpiece. This is the kind of centerpiece that will cause all of your guests to stop, stare, and wonder how you were able to create something so amazing! It's truly extraordinary how a few simple items can come together to create this multi-colored floral arrangement. Create this simple arrangement right now so you can be ready for your springtime decorating!
7. Spring Tablescape Bursting with Colorful Blooms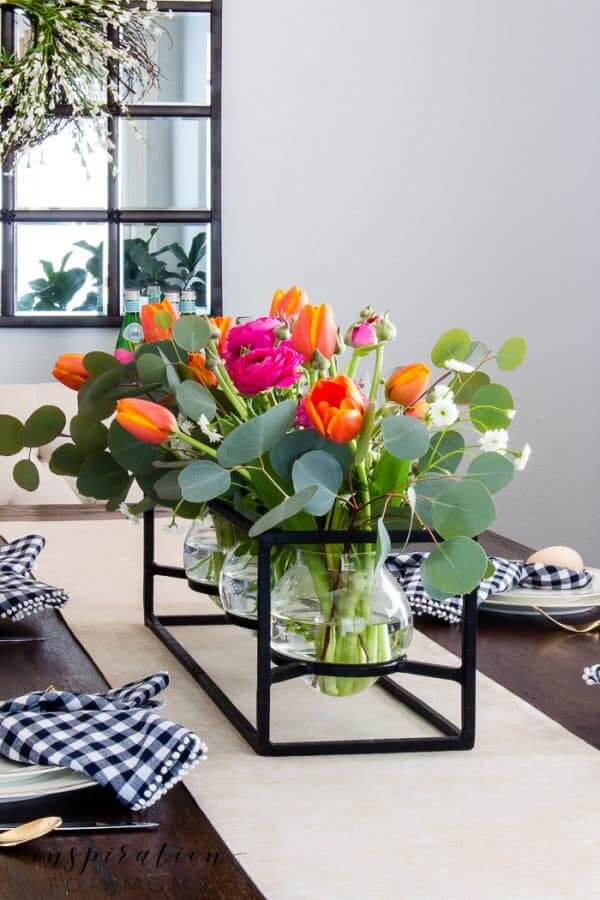 This simple tablescape decor will allow you to welcome spring into your home as soon as it arrives! The open base frame allows you to get the full effect of the live flowers set in the middle of your table. The visual scene of the flowers stems in the clear glass jars will provide a feeling in your dining room that can liven up any mood! Make sure you don't skimp out on the types of flowers you purchase for this centerpiece. When you get more vibrant colored flowers, you will be able to feel as though you have truly brought the most pleasing aspects of nature right inside your home!
8. Green and White Tablescape to Welcome Spring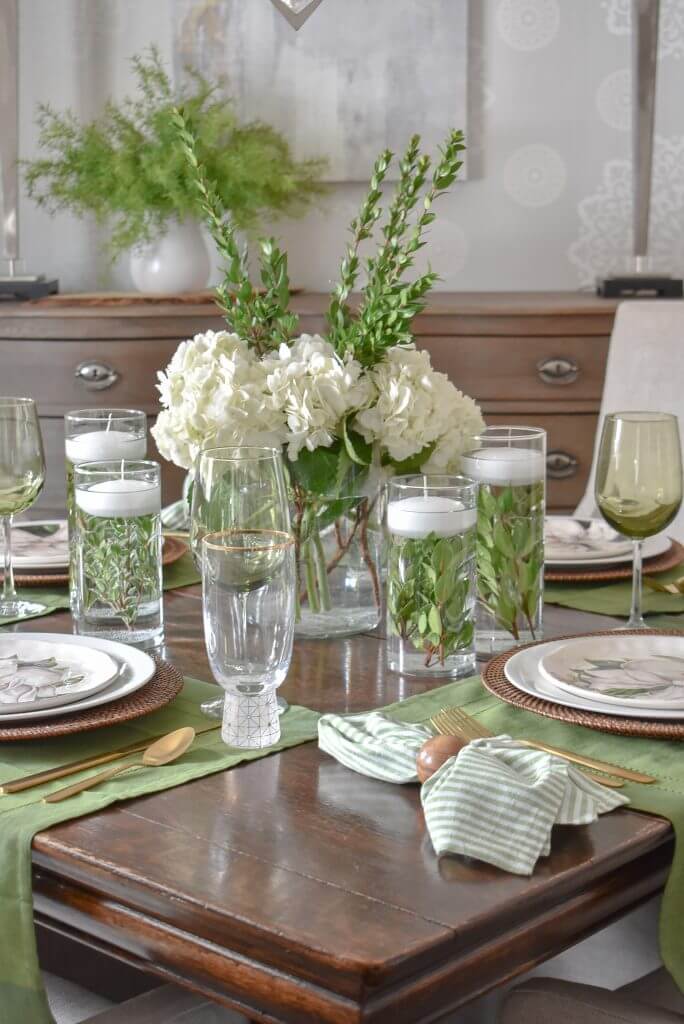 If you are not the biggest fan of autumn, don't worry because we've got you covered! This green and white theme tablescape provides you with the perfect in-home escape from the cooler weather that is settling in outside. Your centerpiece should absolutely be bursting with white hydrangeas that will provide a full yet classy look to your table. Additionally, you can add a decent amount of greenery to the centerpiece to make sure everything is evenly proportioned throughout your color scheme. Also, don't be afraid to add any other decorations like stenciled chargers or specifically designed plates that will go perfectly with your springtime theme!
9. Rustic, Wooden Crate Coffee Table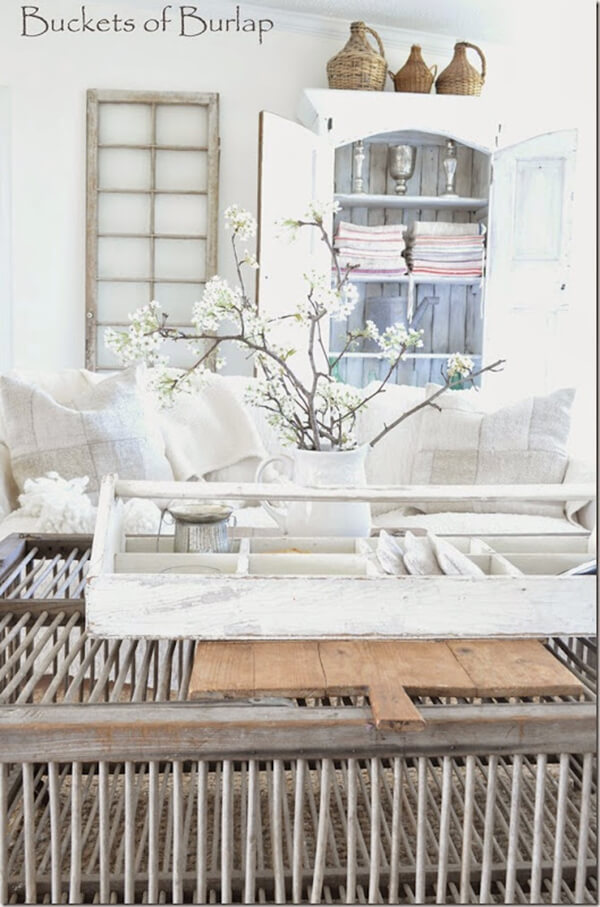 This wooden crate coffee table is the answer to all your rustic wishes! This provides your home with the perfect addition of a vintage centerpiece for your living room. Nothing says rustic like a large wooden crate sitting smack dab in the middle of your living room area. You are truly going to impress your guests with the creative vision it takes to visualize how well such a unique feature can fit perfectly into your home decor. Once you have the wooden crate in place, you can set a white vase on top that can hold a large arrangement of your favorite white flowers. The bigger the better!
10. Countryside Centerpiece for Any Farmhouse Aesthetic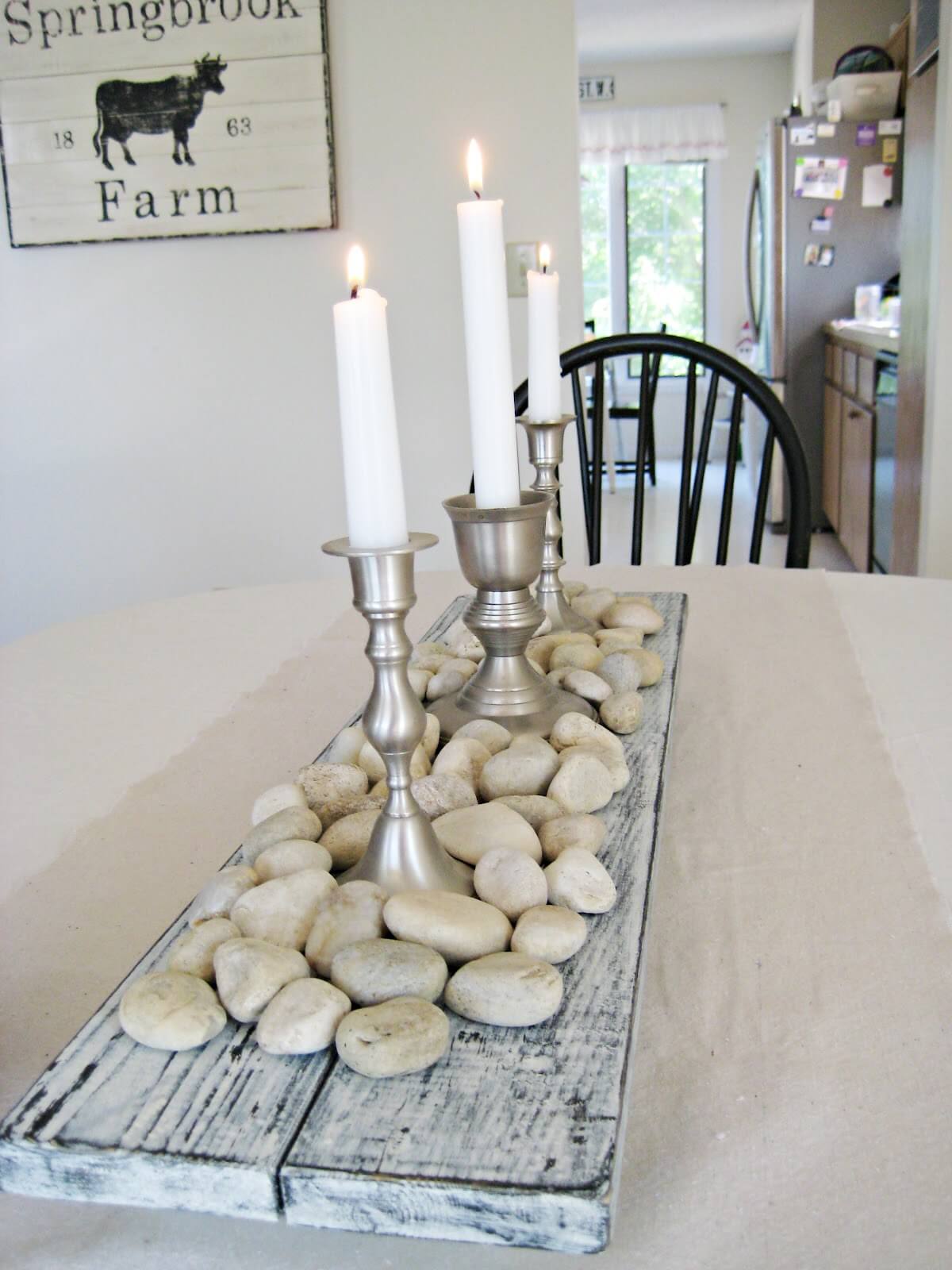 This wooden centerpiece provides you with an extremely simple way to decorate your dining room table. You may be feeling the pressure to extravagantly decorate your home given the holiday season is coming up soon. I'm sure you want to host a lot of family get-togethers where everyone will fellowship around delicious food on your table. Not to worry! Although this centerpiece is extremely simple, the added candles display just enough classiness for any guest. Interestingly, the rocks are the best part. It will take you no time to gather together all the pieces you need to successfully put this decoration together!
11. All Things Pink Blossoming Floral Table Decor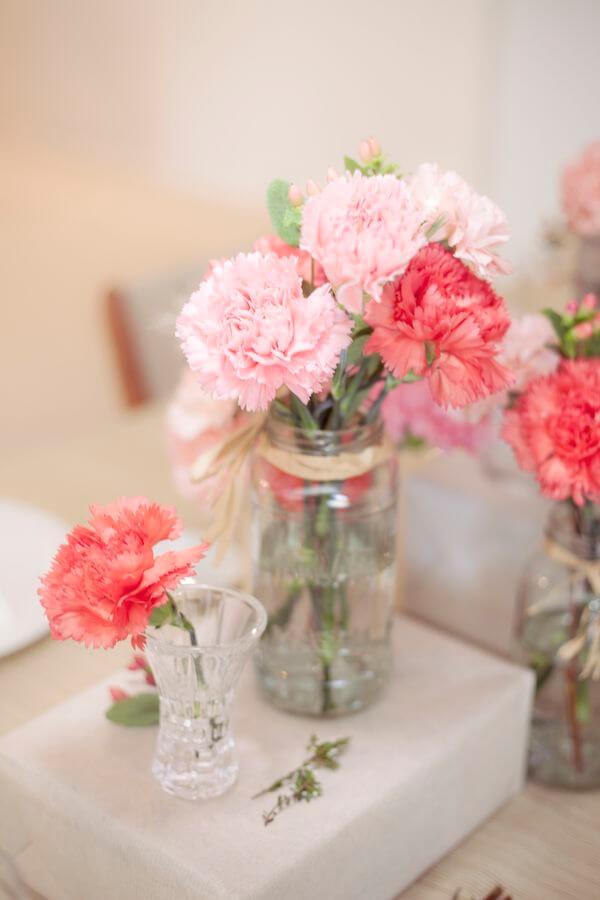 If you love pink then you're absolutely going to love this floral table decor idea! This small centerpiece combines all of your favorite flowers in various shades of pink. The aura created by this centerpiece is perfect for any dining room setting and can last you through any season. The smaller size of these centerpieces allows you to place more than one on your dining room table at a time which makes them some of the most beneficial dining table centerpiece ideas on the market! If you want to change it up a little but absolutely love the vibe created by the pink tones, change up the clear vase you keep them in and your dining room table will have an entirely different look!
12. Perfect White Flower Tablescape for Modern Farmhouses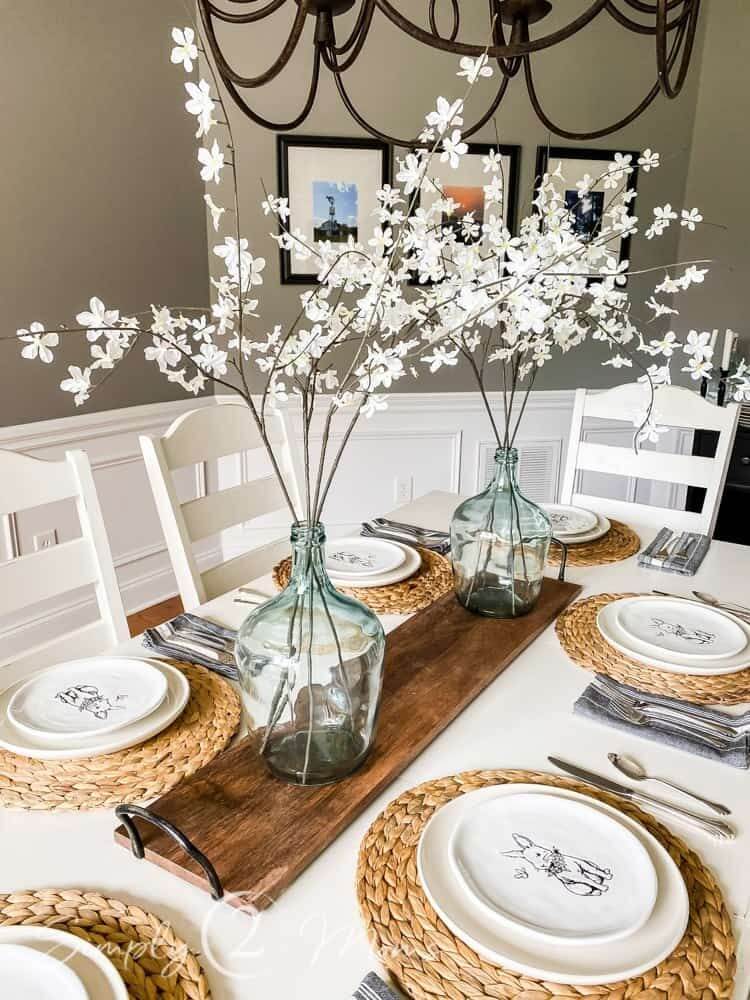 Nothing says springtime better than a beautiful, white dining room centerpiece! Use this design if you want to add a modern flair to the current aesthetic of your home. All you need is a long wooden board, some beautiful glass jars, and magnificent white flowers that instantly make you think about spring. The best way to create the allure of this centerpiece is to use flowers that are tall and thin. This way they will take up a lot of empty space to make your dining room seem more welcoming to all your guests. This is a classic look anyone can enjoy!
13. Glossy, Wooden, and White: Planter Box Centerpiece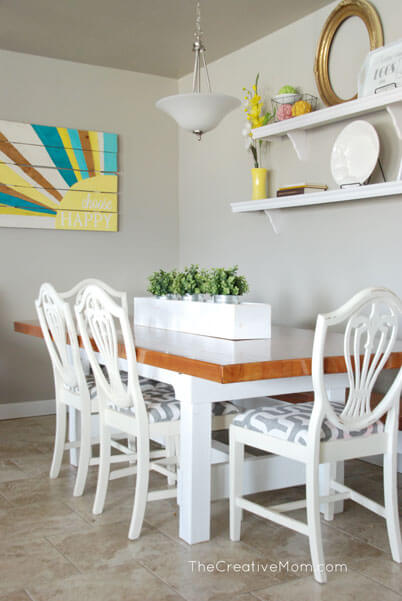 This chic fall centerpiece is an extremely simple alternative to an otherwise expensive dining room decor item. The best part about this planter box is the versatility that comes with it! You can place various different items inside the planter box to correlate with the current season. Given the fall months are fast approaching, you can use the planter box to hold cool-toned leaves and pumpkin spice-scented candles. The bright white color of this centerpiece will match any dining room designs you currently have within your home. Don't hesitate to create this affordable centerpiece so it can be a beautiful addition to your dining room table.
14. Simply Spring White Centerpiece Visual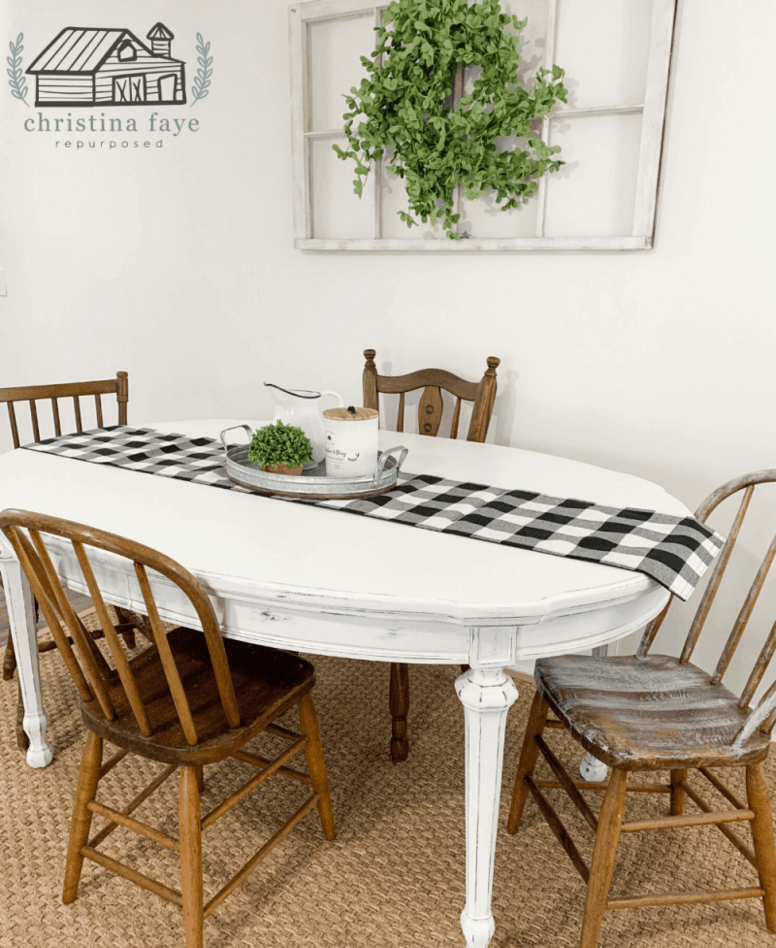 This extremely simple centerpiece can easily be used for any dining room setting in homes with completely different interior styles. The centerpiece only consists of a metal container where you can place a nice green piece and a few white focus points. The best items to put here are some kitchen items you would usually use at the dinner table anyways such as a gravy boat or a container for your utensils. No matter what you place here, this simplistic centerpiece will fill the space on your dining room table in a way that still says, "fashionable decor!"
15. Renovated Furniture with Unique Whitewash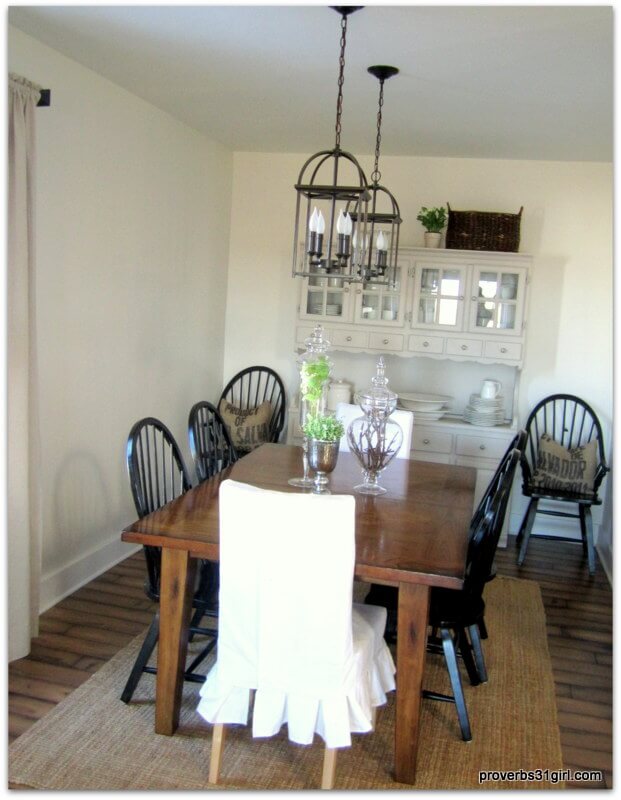 Do you have a dining room table that doesn't quite fit the aesthetic you're going for? Fortunately, this simple whitewashing method can turn any drab table into an incredible addition to your dining room. All you need to do is combine a little elbow grease with a nice white paint of your choice to create the decorative look you are going for. The color white doesn't go out of style. This color can be matched with any other wall patterns you may currently have in your dining room. Don't let this stop you from letting your most creative side shine through!
16. Unique Floral Centerpiece with Artificial Flowers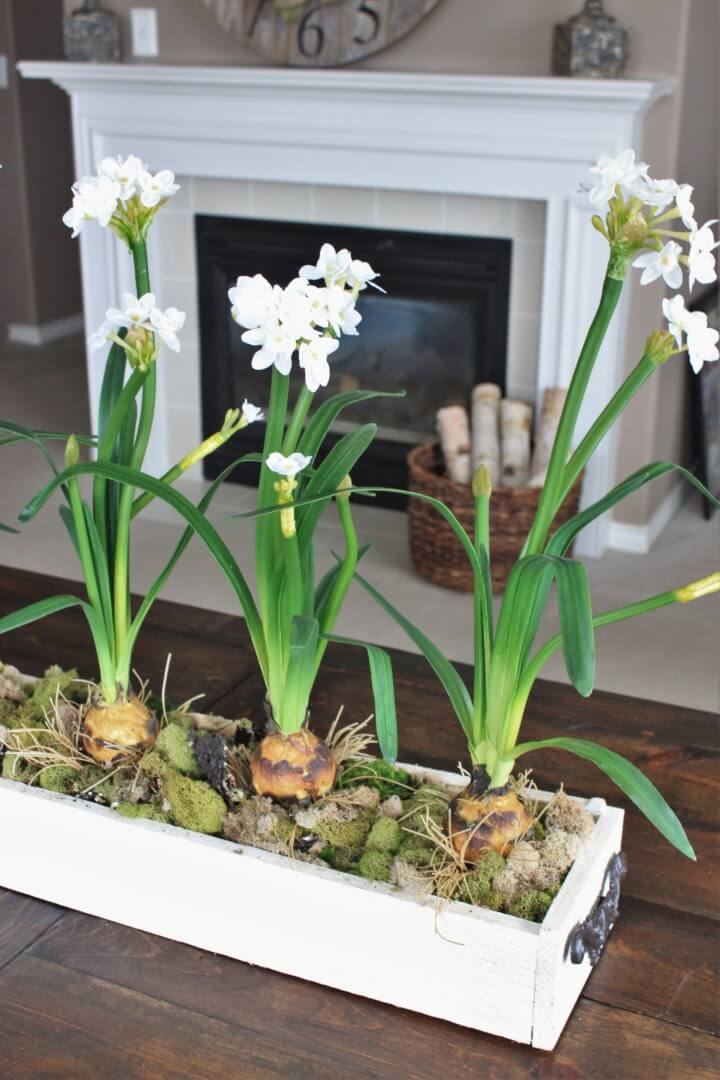 Faux flowers are a great way for you to add a lively touch to your dining room without the fear of accidentally killing yet another plant. We've all been there! This floral centerpiece is a great way for you to combine your love of nature with a unique look that will set your home apart. The planter box itself can be a great DIY project for you to complete by yourself or with some friends and family who love to be creative as well! The dry floral foam and dry moss will allow you to keep your magnificent faux flowers in place inside your perfectly positioned planter box!
17. Countryside Farmhouse Table Centerpiece Cubby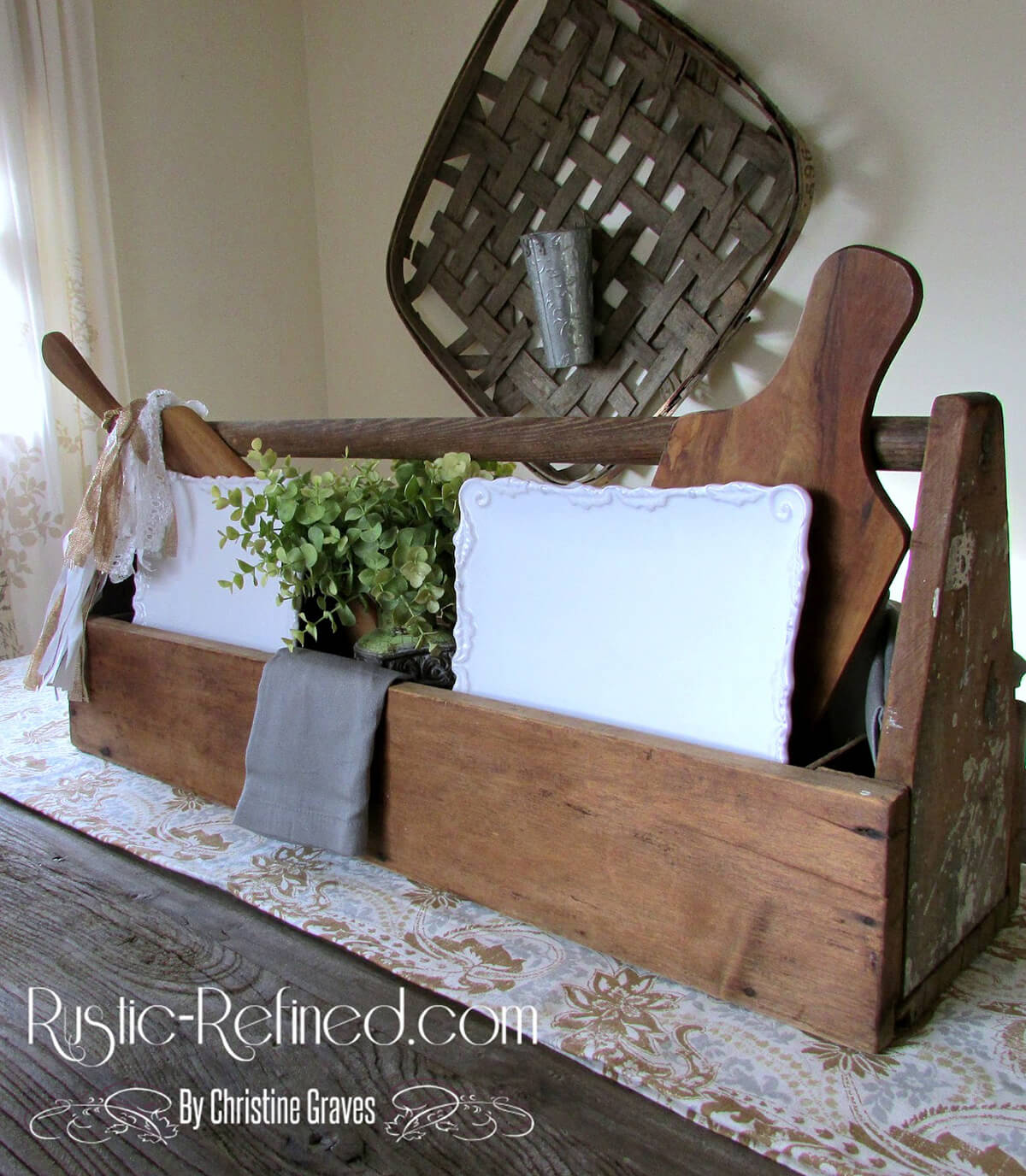 If you live in a farmhouse, then you probably already have all the items you need to make this wooden dining room table decor. This large centerpiece is a great way for you to add a great statement piece to your dining room while also have a place to put some accent dishes that might not fit in your cupboards anymore. Add in some extra greenery and cutting boards to complete the rustic scene. The more antique your wooden box looks, the more vintage your dining room area will feel for any potential visitor who chooses to dine with you during the autumn season!
18. Long, Wooden Spring Magnolia Centerpiece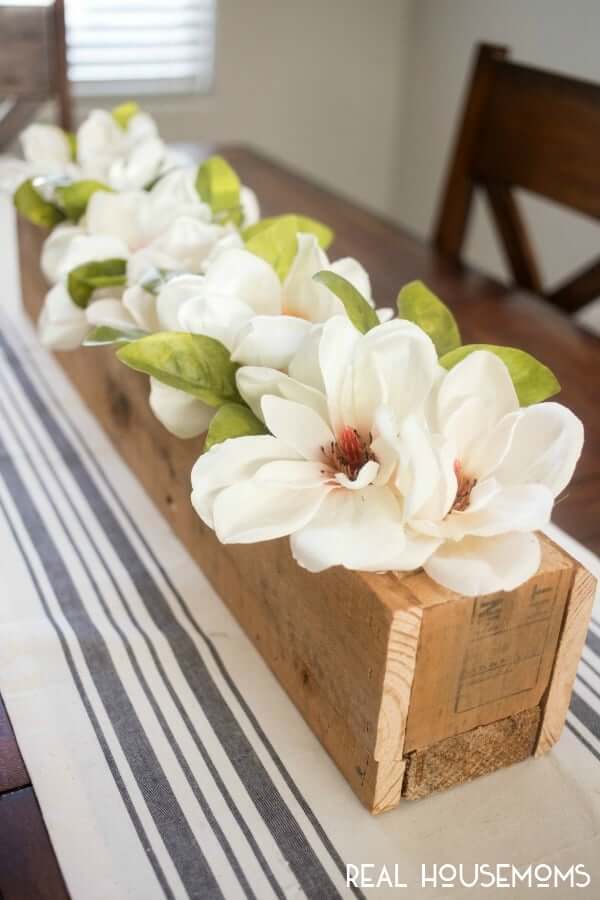 Although it's not springtime quite yet, it's never too early to start preparing! This long, wooden centerpiece features some beautiful spring magnolia flowers that will absolutely take your breath away. The centerpiece isn't very hard to make and it will provide you with an amazing decoration to tie together the other springtime décor you have floating around your house. The key is to make sure all the magnolia flowers are perfectly lined up in a nice, neat row. Make sure every single flower is right next to each other so the centerpiece is truly full of bursting blossoms!
19. DIY Country Pride Wooden Boxes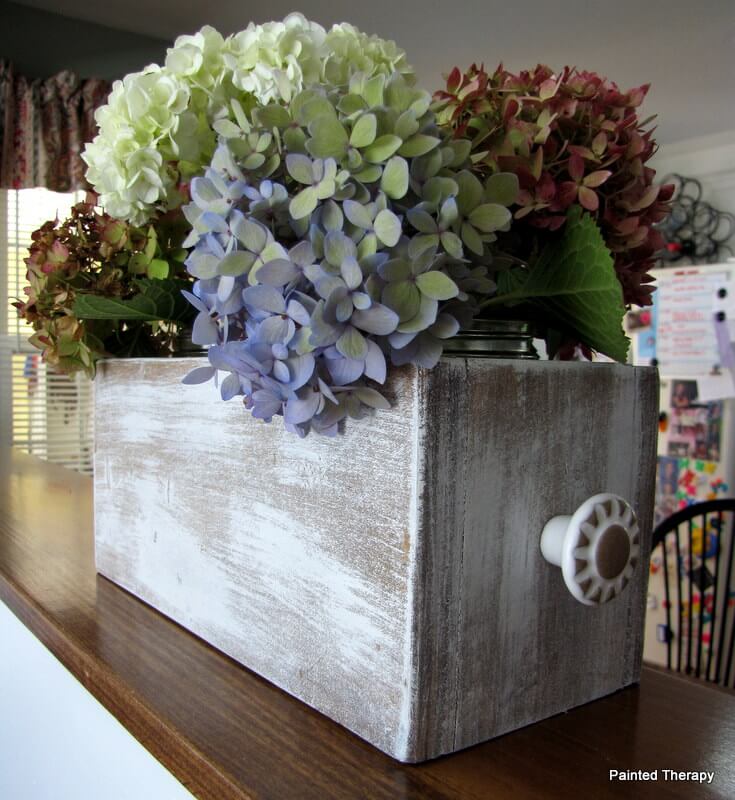 Rustic wooden boxes will never go out of style! These are a great way for you to add just a little bit more "country" to your more modern-day farmhouse. The versatility of these centerpieces is an amazingly attractive factor because they can hold any kind of floral arrangement you'd like without looking the slightest bit tacky. Now isn't that a wish come true! All you have to do is pick your favorite flowers and place them inside your wooden box. Don't be afraid to choose bigger flowers because these will really spice up your dining room especially if you have more neutral colors on the walls!
20. Mini Pumpkin Centerpiece Full of Neutral Colors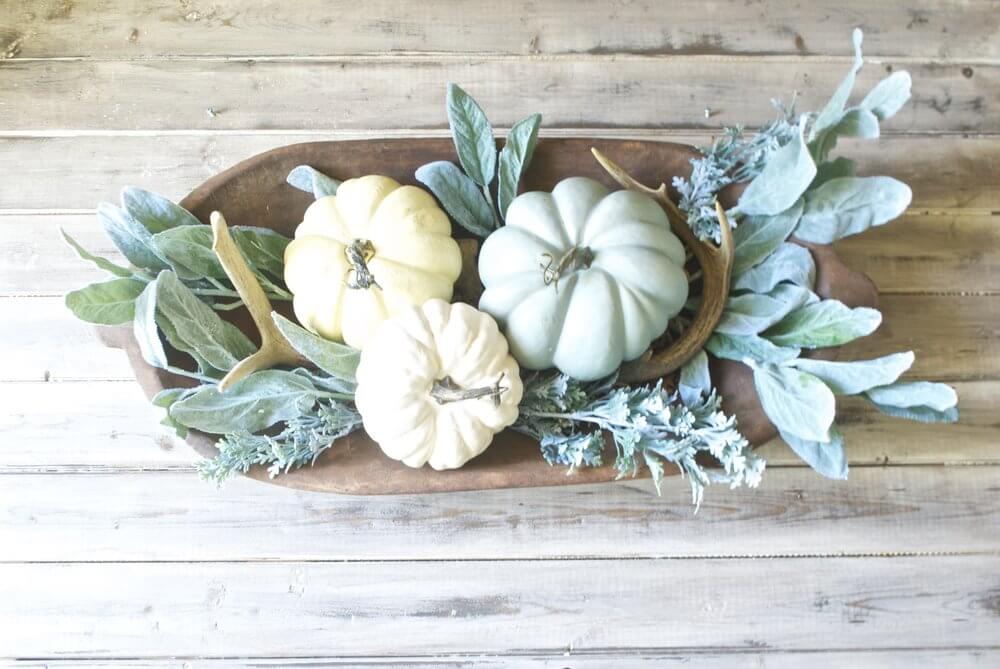 This is easily one of the best dining table centerpieces given the neutral colors go well with various dining room designs. Start prepping for the fall by grabbing a small dough bowl, some neutral-colored pumpkins, greenery, filler, and deer antlers. That's all it takes to create the best dining room table centerpiece for your fall-themed home! If you want to go bigger than just a small dough bowl, go for it! You can make this pumpkin-focused centerpiece as extravagant as you want by adding more greenery or even larger pumpkins! You can also add in some scented pinecones that are sure to give your dining room a warm, comfortable feel.
21. Woven Basket Centerpiece with Eucalyptus Accent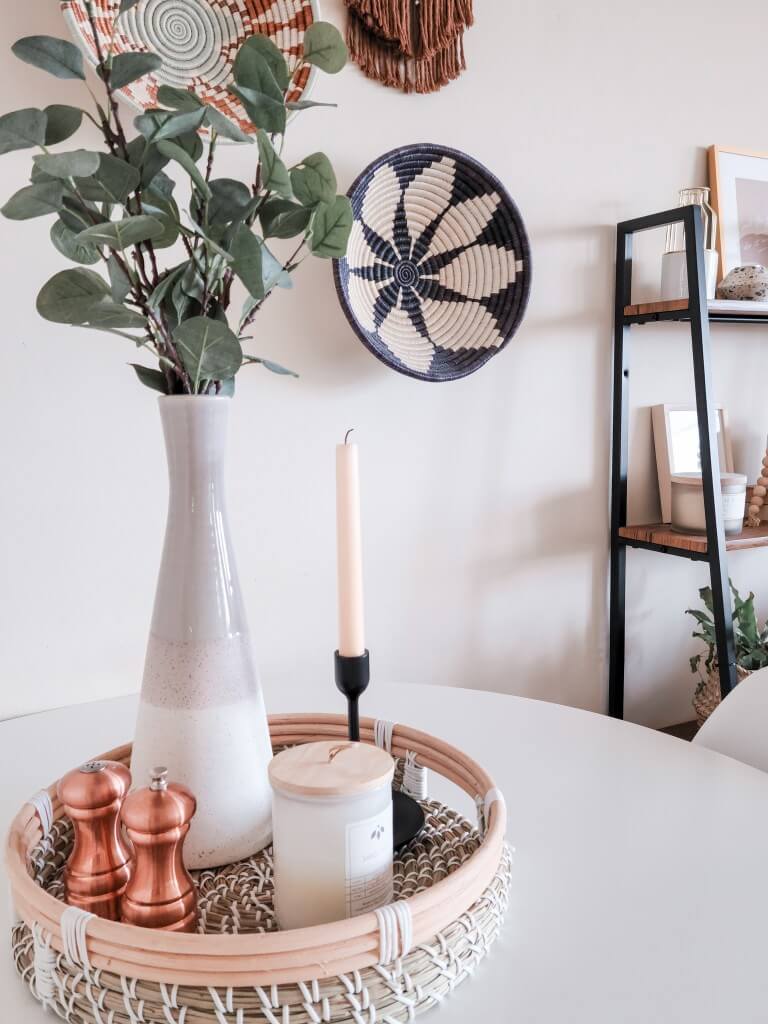 Awaken your dining room table with a fresh new look by re-decorating the items in your center basket tray. To freshen things up, a nice and hearty sprig of faux eucalyptus works wonders in a tall and slender white vase. The crisp and clean white vase with its height provides a pretty piece while allowing for the room in your basket to still be viable. Add your salt and pepper shakers here to keep them within reach while you're enjoying a meal together. To finish the look, add a favorite candle or two.
22. Shabby Chic Rustic Urn with Faux Cotton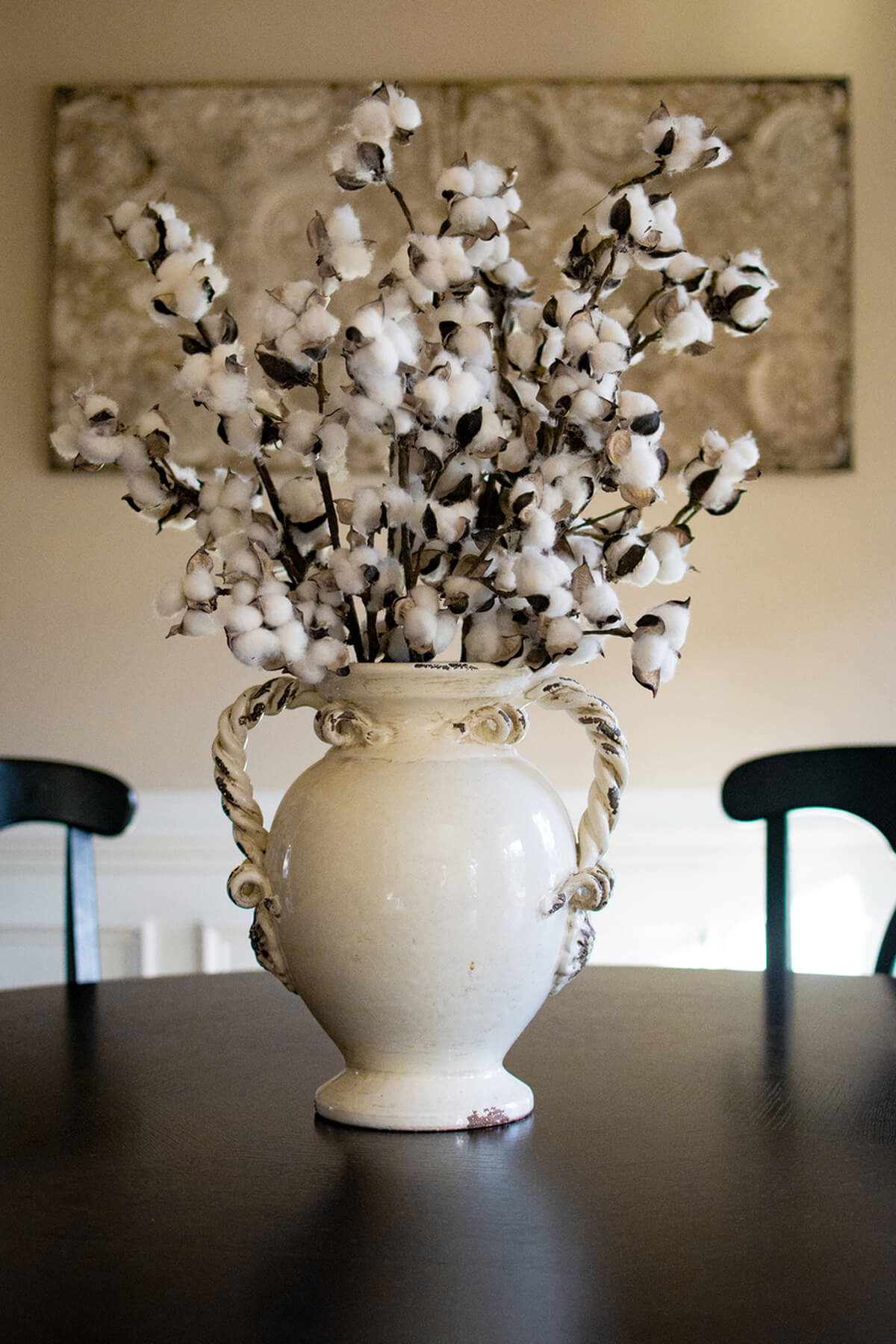 Every lover of modern farmhouse design looks for ways to incorporate the gorgeous and natural beauty of cotton sprays into their home. Make it easy with a large, faux piece that bursts to life from within this rustic white urn that's full of character and charm. It makes a simple statement in the center of your dining table without a lot of clutter. Such a lovely and thick urn makes a fabulous container for displaying such an interesting and easy nature-loving bouquet. Poking out from all angles and sides, the gorgeous rustic simplicity of this cotton centerpiece is sure to be a hit.
23. Small Hydrangea Farmhouse Floral Centerpiece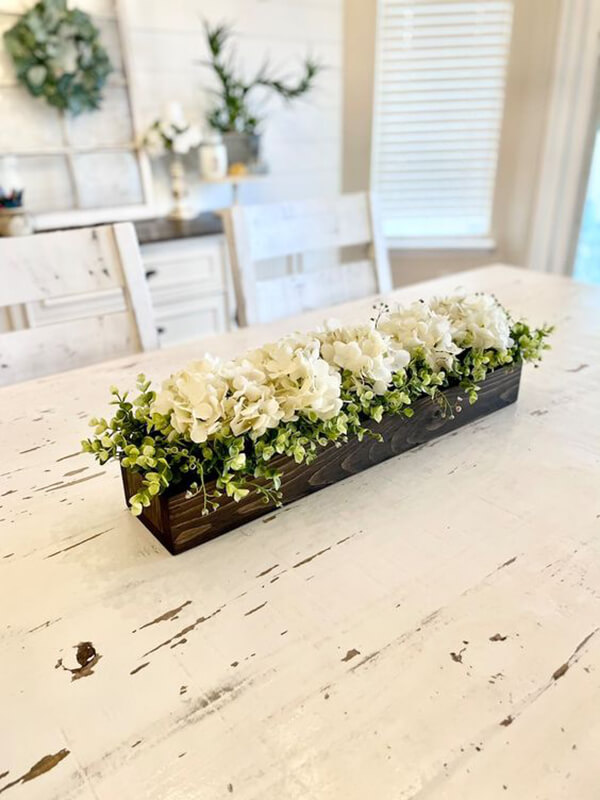 If you are looking for a table centerpiece that is full of incredibly beautiful hydrangeas, you've come to the right place! This farmhouse-inspired centerpiece is wonderfully made with the highest level of quality and care. With this dining room table centerpiece, you can customize which option you want to choose. These premium pine wood options include 12, 17, 24, and 36 inches which all contain a varying amount of flowers to fit the centerpiece. After you choose what size and color you would like, the delicate greenery is added to create a nice, full look to any dining room table!
24. Autumn Wedding Charger Raffia Placemats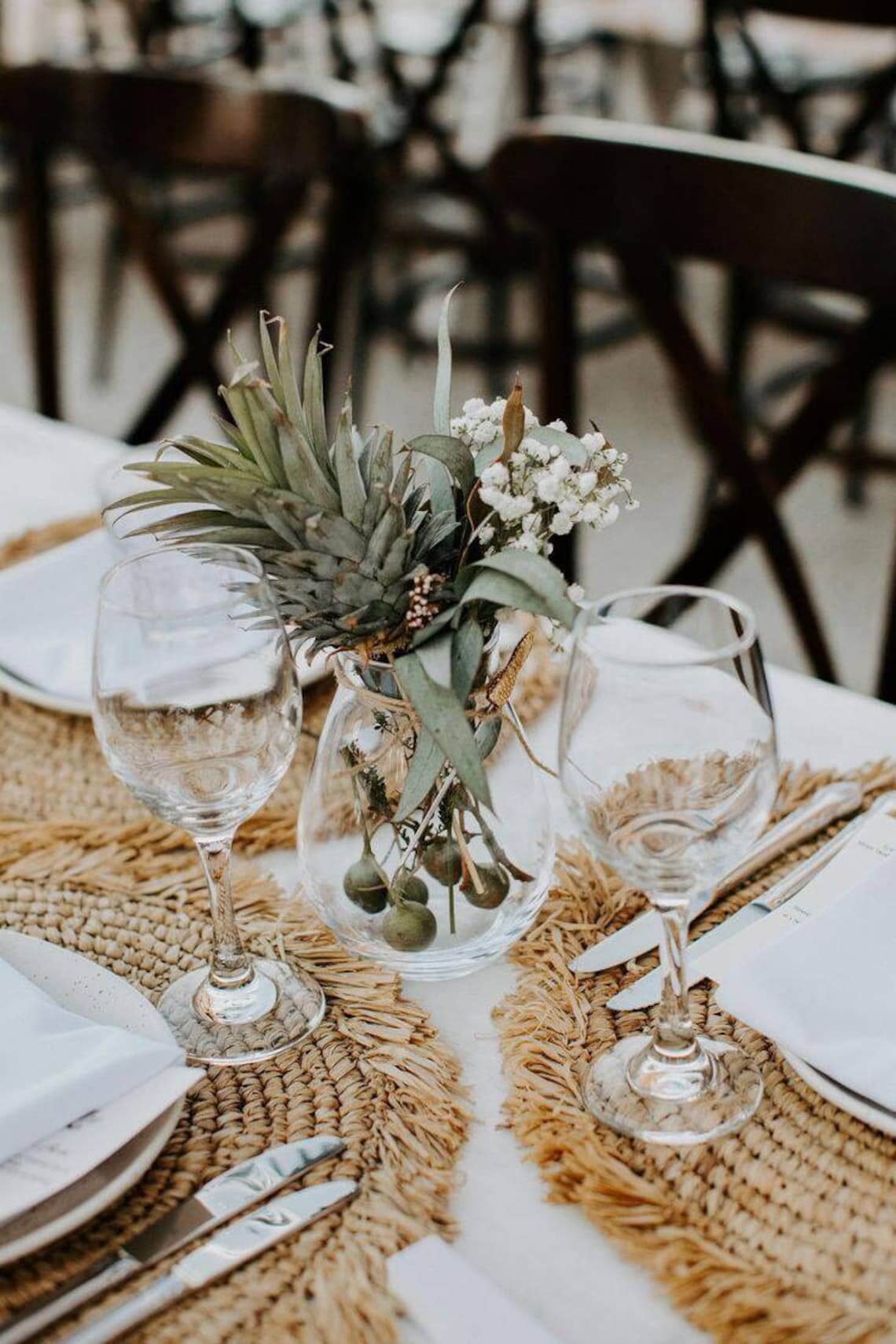 These elegant chargers provide the perfect level of classy decor you need for your wedding! These quality chargers and placemats will give your wedding the magnificent boho-chic vibe you've been dreaming about ever since you can remember. These versatile pieces can be used for any wedding theme given they are handmade to your satisfaction. The size these come in is 18 to 20 inches which translates to 45 or 50 centimeters. This also includes the fringes so you are receiving the best value for your purchase! The hand-woven placement will look amazing at your wedding and provide the necessary coast touch you've been looking for.
25. Vintage Farmhouse Wood Dough Bowl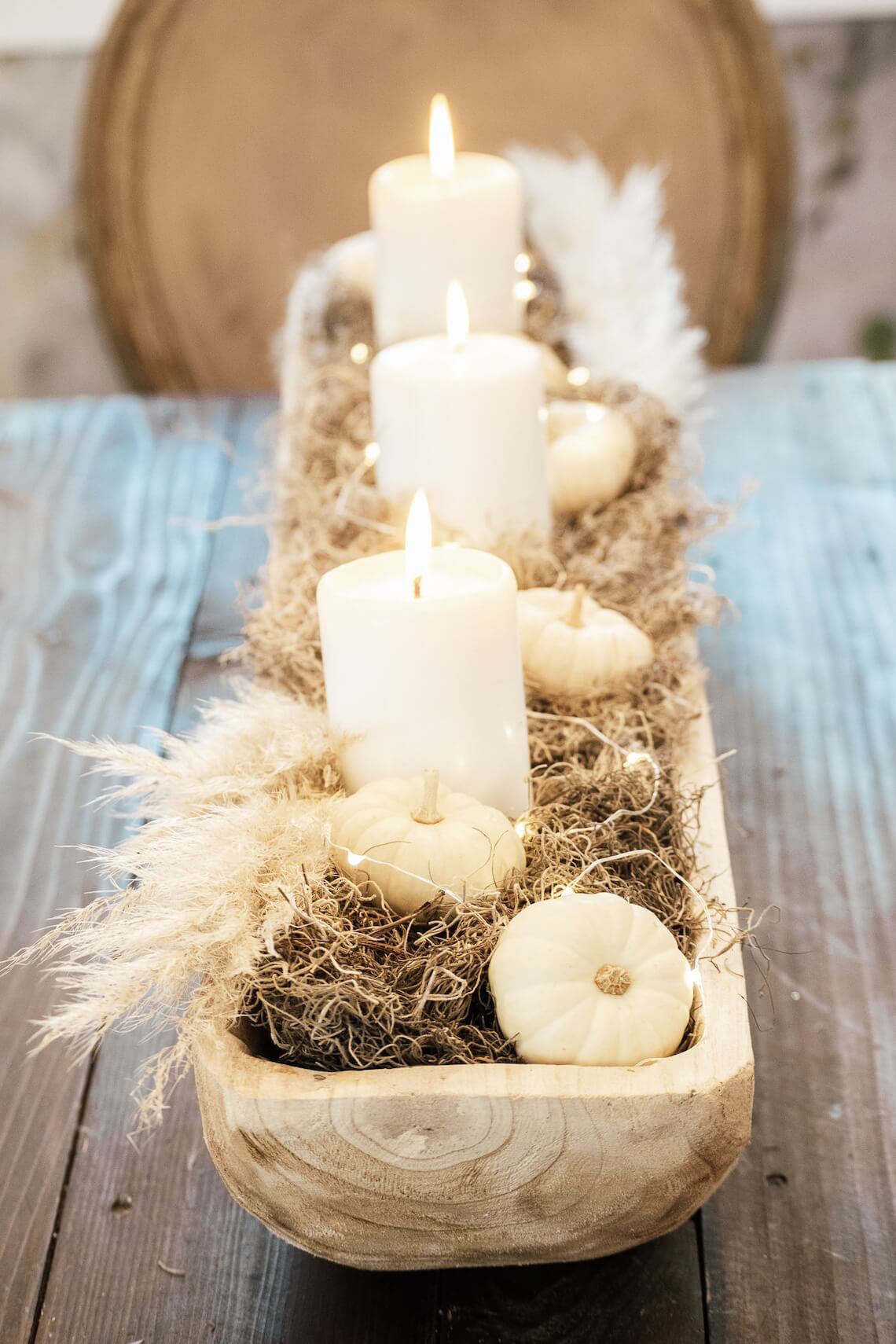 This handmade, vintage wooden dough bowl is the perfect size for your farmhouse dining room table. The length and dimensions of this specific dough bowl make it very desirable for those who love the rustic look of Paulownia wood. The best part about this dough bowl is that it can stay put on your dining room table throughout all the changing seasons. You need only change the amazing accessories you place inside of it! You can place anything inside this bowl from fruit to various kitchen utensils that provide a nice complement to the overall vintage look you're going for.
26. Blossoming Orchids on A Bamboo Base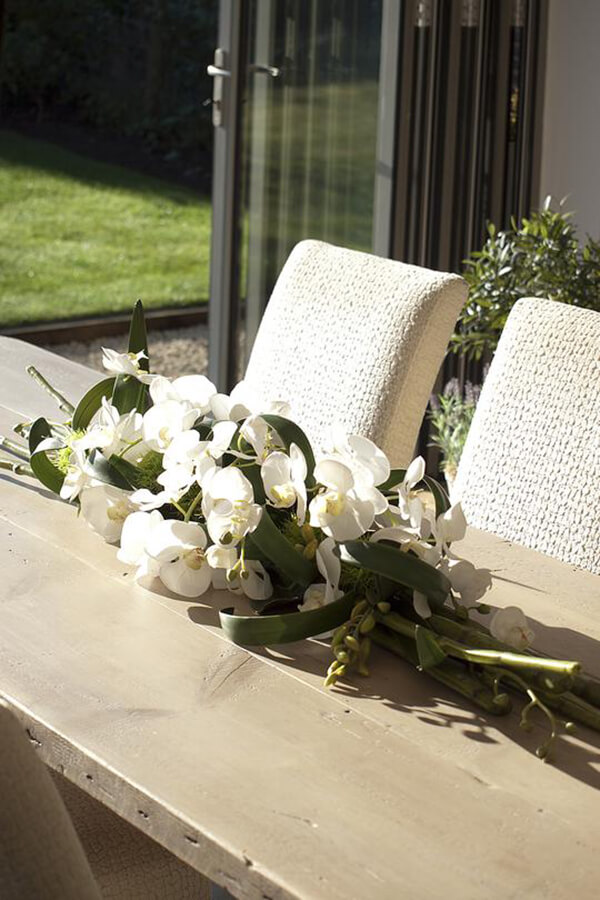 This modern flower centerpiece is an incredible statement piece for a classy dining room setting. The luscious phalaenopsis orchids are ever so gently set to rest on top of a strong, bamboo base. The bamboo is intertwined with orchid buds, dianthus, and other greenery to provide a more full look to your dining room table. Laying the bamboo sticks down flat will also allow you to meticulously display your orchids so they are displayed as a centerpiece decoration that is full of these lovely, white flowers. This centerpiece will provide an extremely fresh look to your dining room that will allow your guests to appreciate the more contemporary feel you are going for.
27. Perfectly Personalized Wooden Box Centerpiece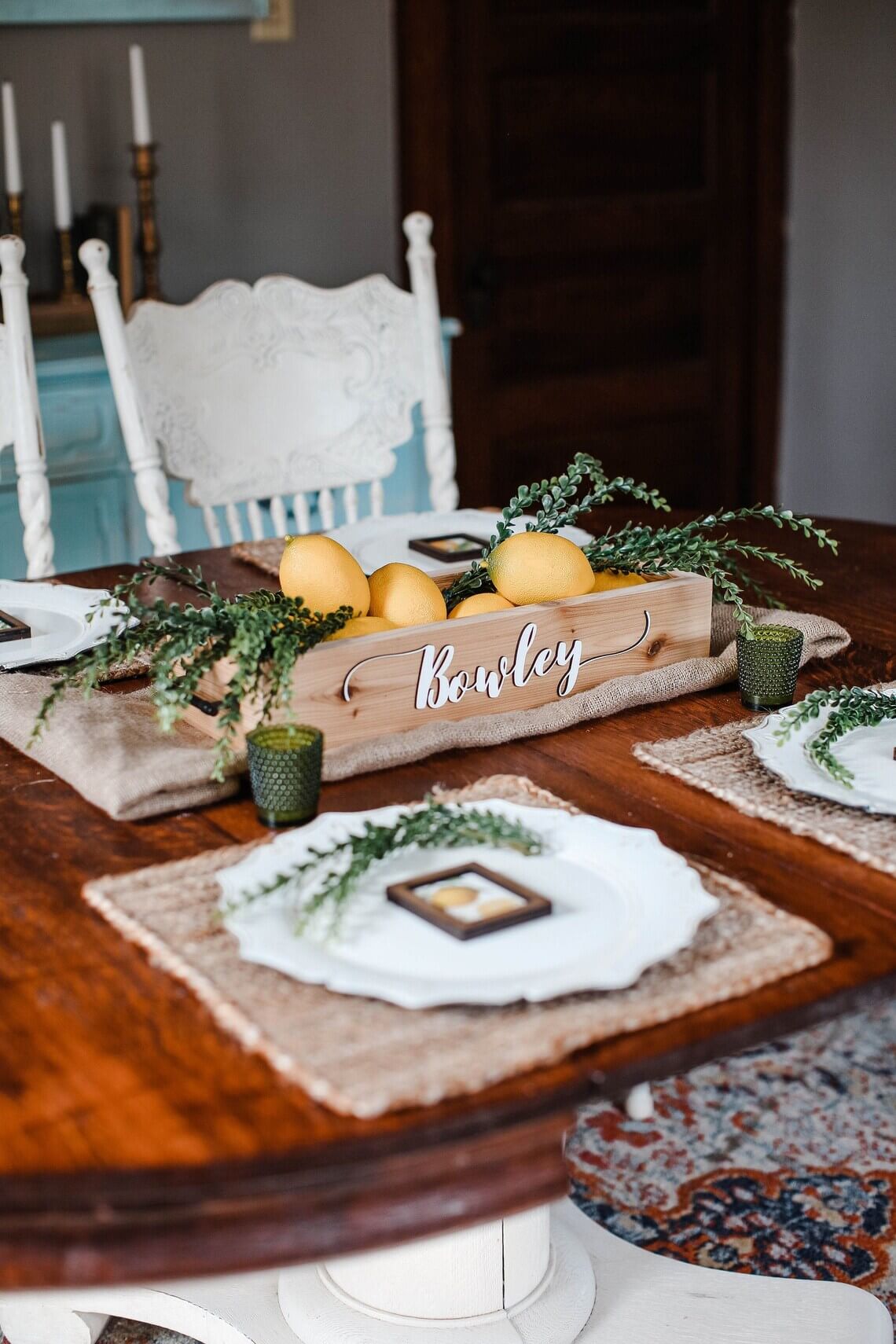 Truly add a personal touch to your dining room table by including this handmade, personalized centerpiece! The premium wood used for this product is both cedar and pine. The rough sawn cedar is used for the inside edges of the box while the smooth pine creates the finished bottom. These wooden boxes are extremely beautiful and they're always made to order. If you have been looking for an extraordinary item to add a rustic touch to your home, this is the centerpiece for you! The visible knots within the wood grain represent the authenticity of the product you are receiving.
28. Bursting Real Touch Tulip Centerpiece Arrangement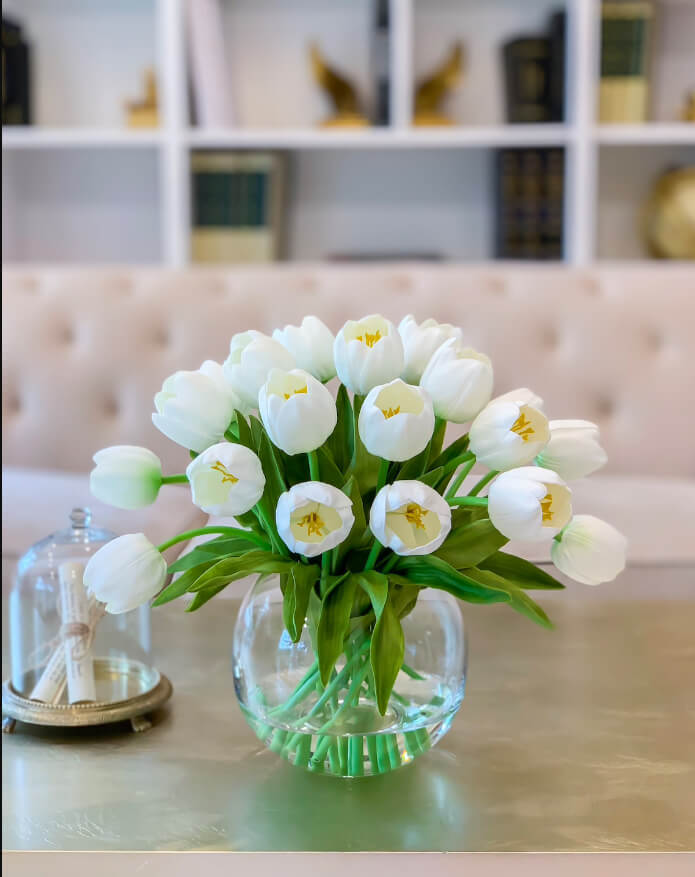 This white tulip centerpiece arrangement is handmade with real-touch flowers! This is an elegant arrangement that will bring a contemporary look to any dining room. This classy arrangement is a lovely focal point that is even more beautiful to see in person. These extremely thick flowers will provide you with the experience of real flowers without having to deal with any additional hassle! The round-shaped vase also provides a unique look for the faux water contained inside. Your guests will be astounded and amazed by this extremely natural look centerpiece that will show that in your dining room, spring has sprung!
29. Large, Hand Carved Rustic Wood Dough Bowl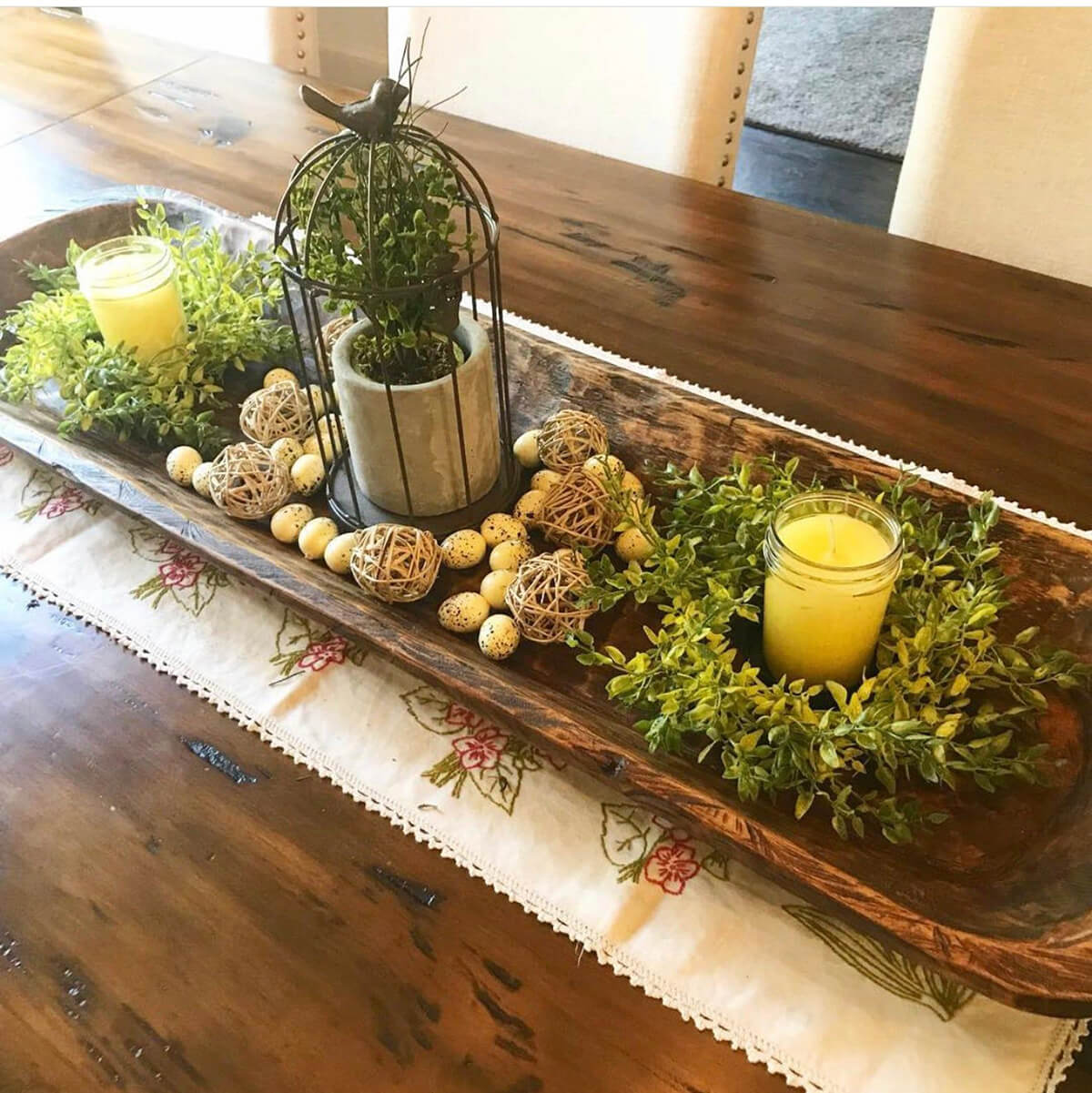 Add a vintage flair to any dining room scene by choosing to receive this large, handmade wood dough bowl! The incredible size of this extraordinary dining room table centerpiece will not disappoint! You can place whatever complementary items you would like within the large frame of the bowl. The bowl can stay put on your dining room table even though the seasons continue to change! All you need to do is diversify the floral and greenery arrangements you place on top! The original craftsmanship displayed by the artisans who hand-carve these centerpieces simply can't be beaten.
30. Simply Floral Love Bloom Trio Box Set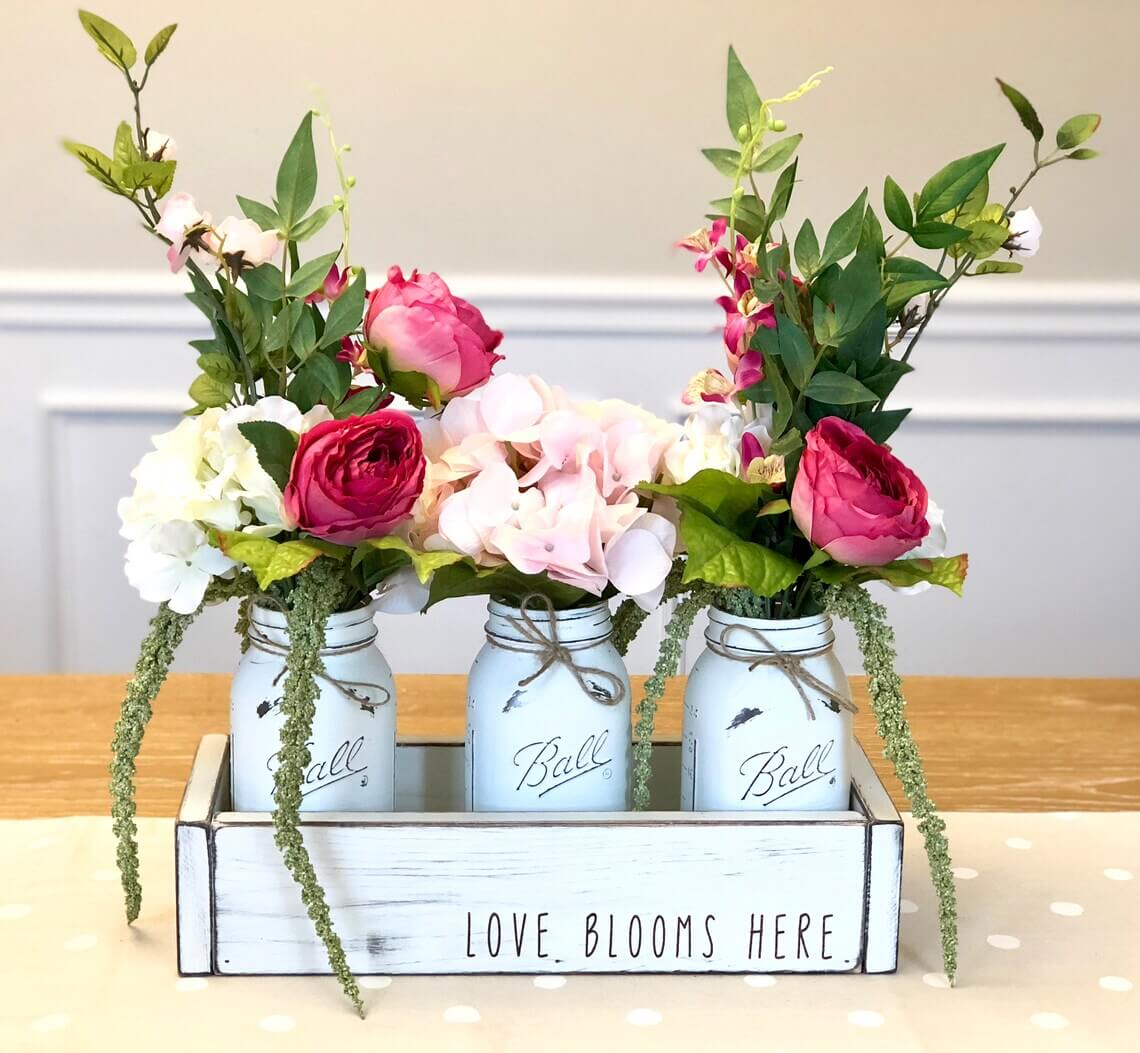 What's better than one floral arrangement? How about three! The small size of these handmade and painted mason jars will give your dining room table a look like none other. The three quart-sized mason jars are neatly contained within a wooden box that proclaims, "LOVE BLOOMS HERE." This is a magnificent message to display to your guests when they come over to enjoy a meal with you. You will receive numerous compliments on this extremely high-quality centerpiece. When you choose to get this centerpiece, you are able to create a customized floral arrangement that works best for your home.
30 Unique Dining Table Centerpieces That Add a Warm Glow to Any Dining Room
Don't let the fall months catch you by surprise! This short time between summer and fall is a great time for you to start decorating for the holiday season. The holiday season brings many desirable social gatherings where you have the opportunity to invite your family and friends over to your house. What better time than that to enjoy a nice meal in the comfort of your own home! The list above contains the best dining table centerpieces you could possibly imagine so don't waste your newfound knowledge! You want to make sure you have all the proper decorations in place to provide a warm and comfortable environment for all your guests.
Now that you've seen many different dining room centerpiece ideas, which one was your favorite? If you are truly having a hard time deciding which centerpiece you like the most, feel free to purchase more than one so you can have a centerpiece to match every mood! There is no shame in utilizing multiple dining table decor ideas to represent your individuality through the decorations you place in your home. Once you've tried out a few of these selections, you can finally decide for yourself which one of these is the best option for you!