Are you interested in transforming your dining space from a bland, lifeless layout to a charming farmhouse design that's warm and welcoming? Is your new design almost complete, but you're looking for a few extra touches to complete the look? Whatever you're looking for, these farmhouse dining room design ideas add a vintage-inspired touch that can make you feel like you stepped into an old country farmhouse, even if you live in a suburban area. These inviting, wide-open spaces offer a sense of peace and calmness that you can't get with most modern designs.
The 37 Best Farmhouse Design Ideas to Transform your Dining Room

To create the rustic look, most farmhouse dining rooms incorporate worn, earthy, and vintage materials and designs. Examples of farmhouse dining room decorations include old cupboards, handmade pillows, wooden tables and chairs, floral wreaths, delicate china, and old-fashioned decorations. Many of these decorations can be made by hand, or purchased online or at an antique store. And the old-fashioned flair of these ideas can delight people across generations. Are you looking for farmhouse dining room décor ideas to help you revitalize your own dining room? Here's some of the best ideas on the Internet to help guide you through the creative process.
1. Farmhouse Dining Room Design with a Simple Three-Color Scheme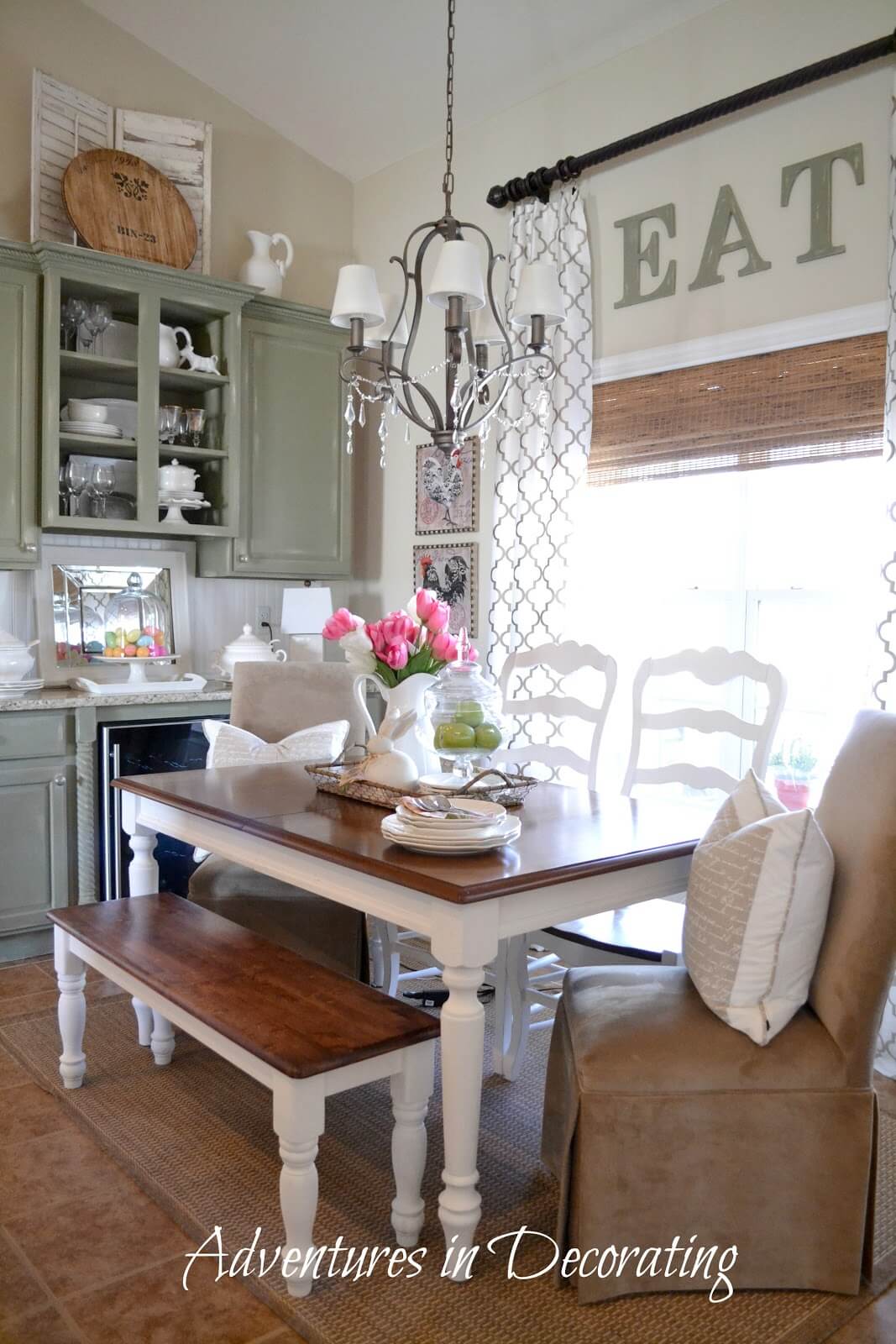 A trio of neutral colors and subtle shapes make up the room décor of this fresh country look. A candlestick chandelier is the focal point hanging over a spindle leg dining table and matching two-seater bench. Two eccentric ladderback chairs grace one side of the table and two soft side chameleon chairs with pillows demand room attention on each end.
2. An Artistic Design with Bold Contrast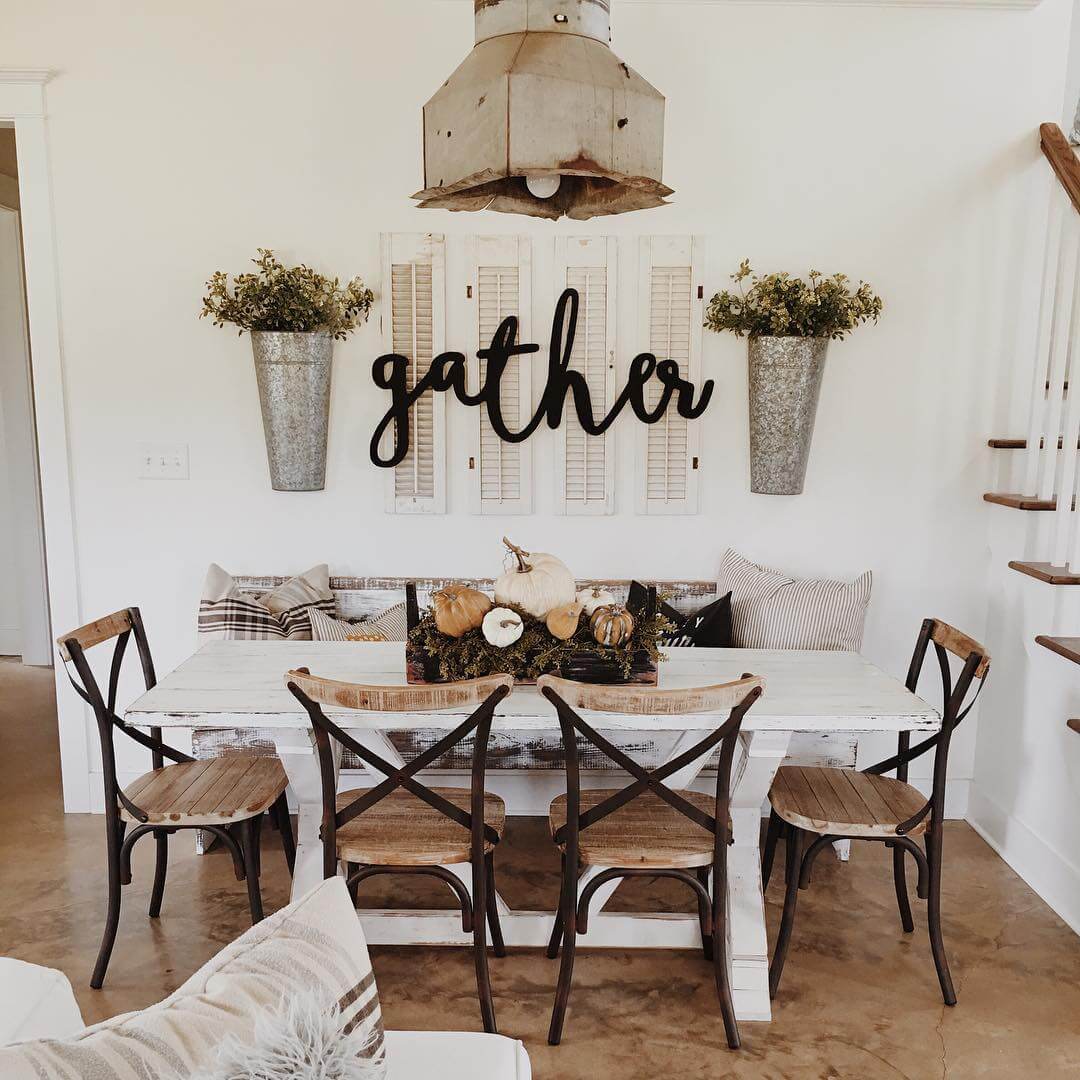 Boxy shapes and tin-pan metals make up the theme of this eating area masterpiece. It doubles as a game room and triples as a simple gathering place to plan family events. The repurposed stove vent overhead lighting and canned greenery, with mismatched bench seating and cross back chairs surrounding a long bench table make this country-style room a unique display.
3. The Old-Fashioned General Store Look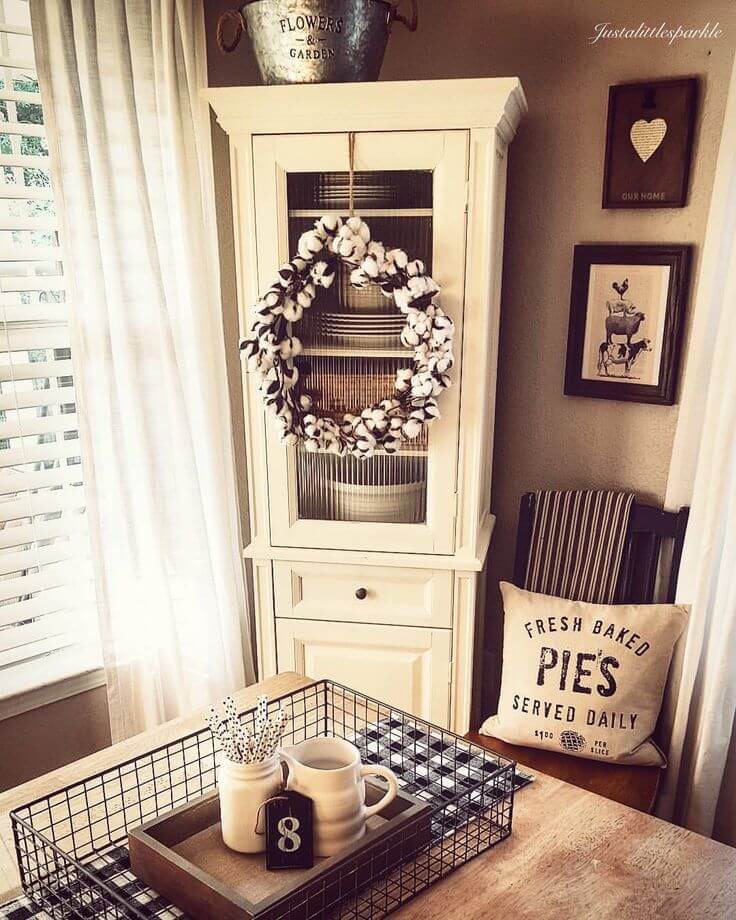 General stores are a reminder of warm cozy days gone by. As a theory for room décor, those memories return full on by design. One-dimensional wall hangings, an antique-looking corner buffet with drawers, straight back accent chair, and mesh wire centerpiece with shadow box holder and a tin tub accent evokes memories of pies baking, noses twitching, and mouths watering.
4. Dining Area with a Touch of Class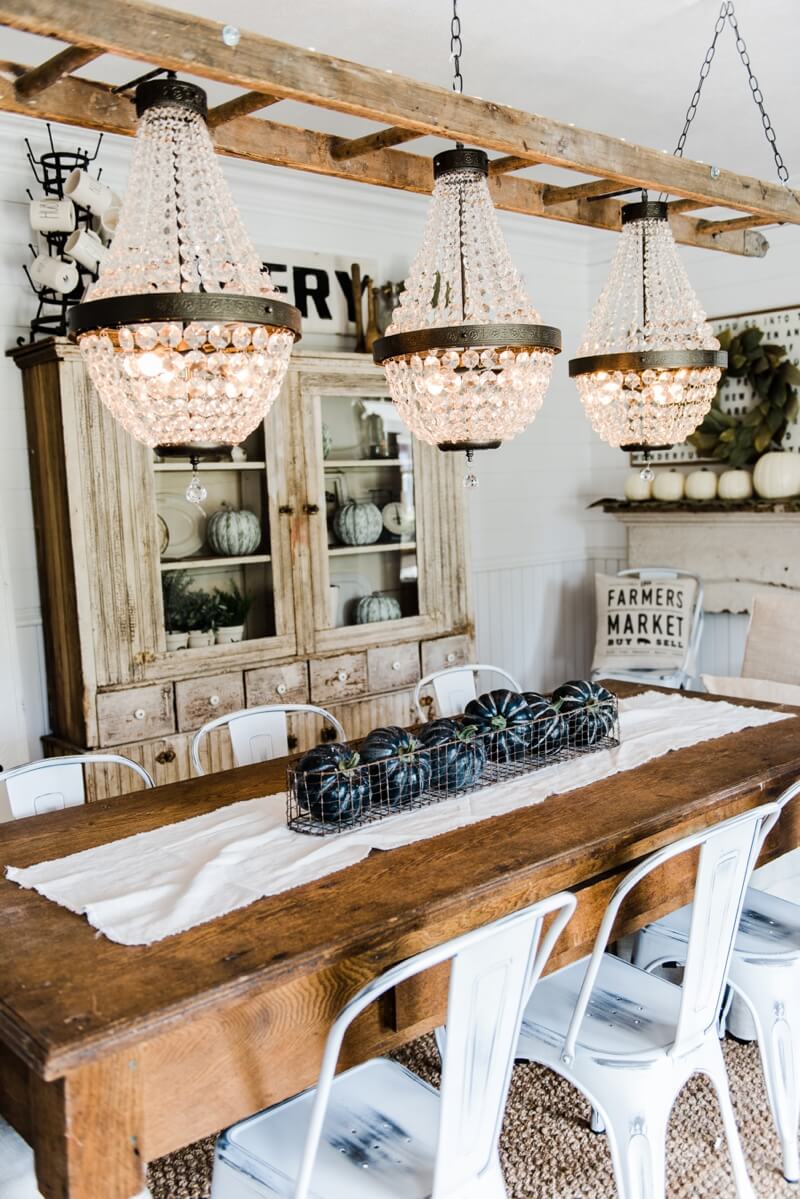 Ambience is everything. The use of a stained ladder holding up three ballroom chandeliers grace this in-home eatery. The butcher block "prep"-style dining table is surrounded by rustic whitewashed metal bistro chairs and covered in a miller's sackcloth table runner. Spruced with painted gourds and a built-in buffet, this straight-line dining area gives edgy touches to the word classic.
5. Simple but Effective Decor Ideas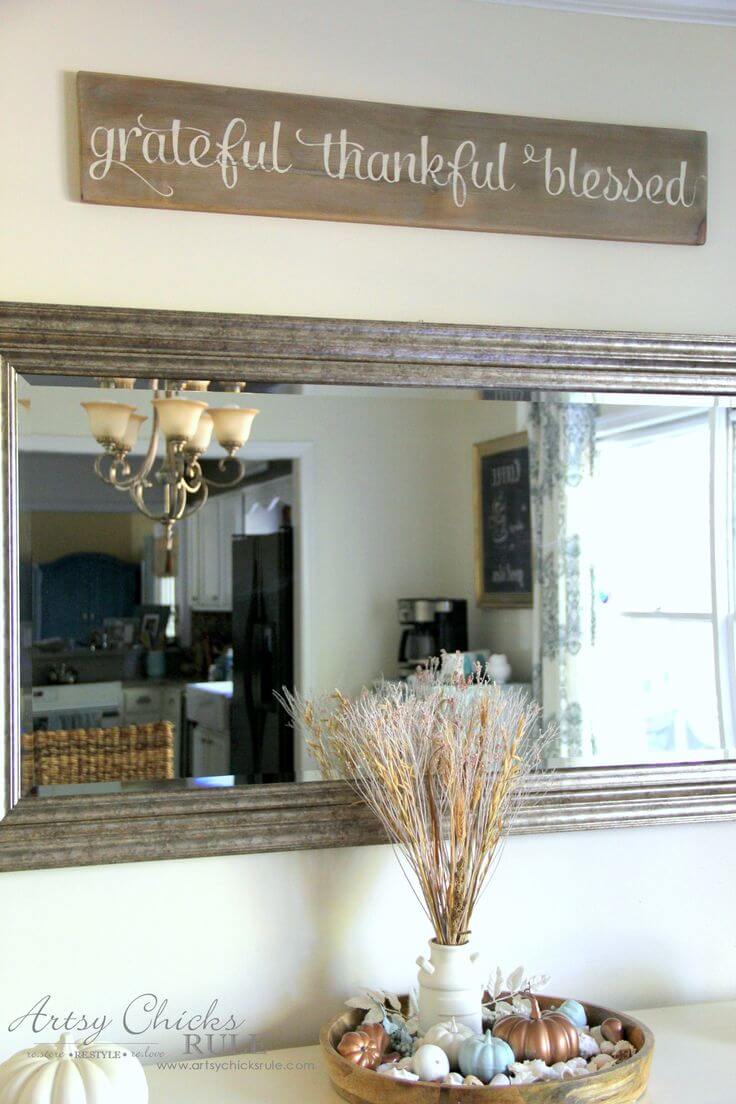 Decor doesn't have to cost a lot of money to look expensive. 'Keep It Simplistic' is the phrase of current home design. You can make a lot out of a little using spray-painted mini gourds, freshly spruced up clay pottery, natural weaves, reworked lids and tops, and outdoor elements to turn a simple room into a brilliant one.
6. The Right Balance Between Modern and Vintage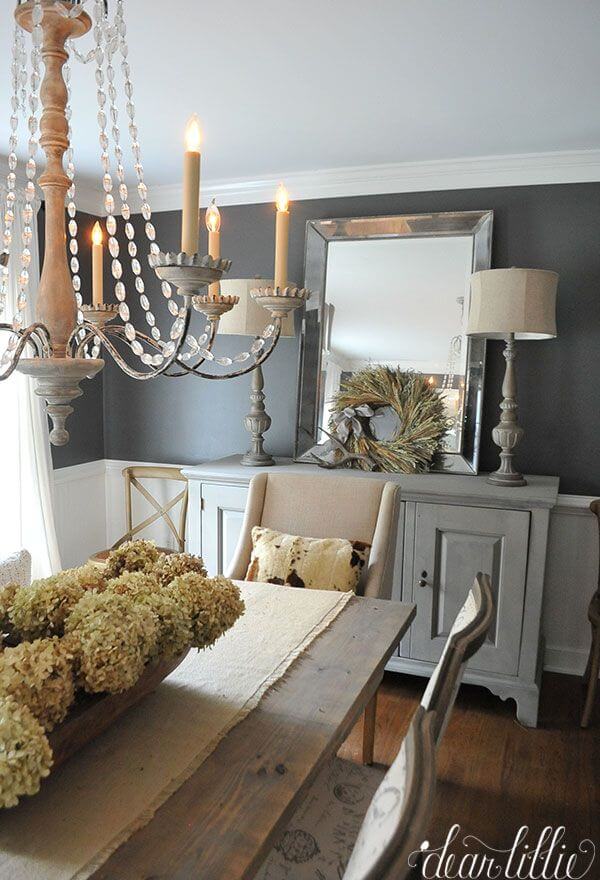 Cotton or linen fibers, brilliant sparkling glass, pewter highlights, and articulated wooden spindles give a well-appointed room a hint of authentic vintage-inspired flair. The proper balance, when mixed with cross back chairs and chairs covered in stitched tapestry designs, "clash" together in a harmonious mix that will make any throwback design an updated treasure.
7. A Warm Rustic Design with Antique Charm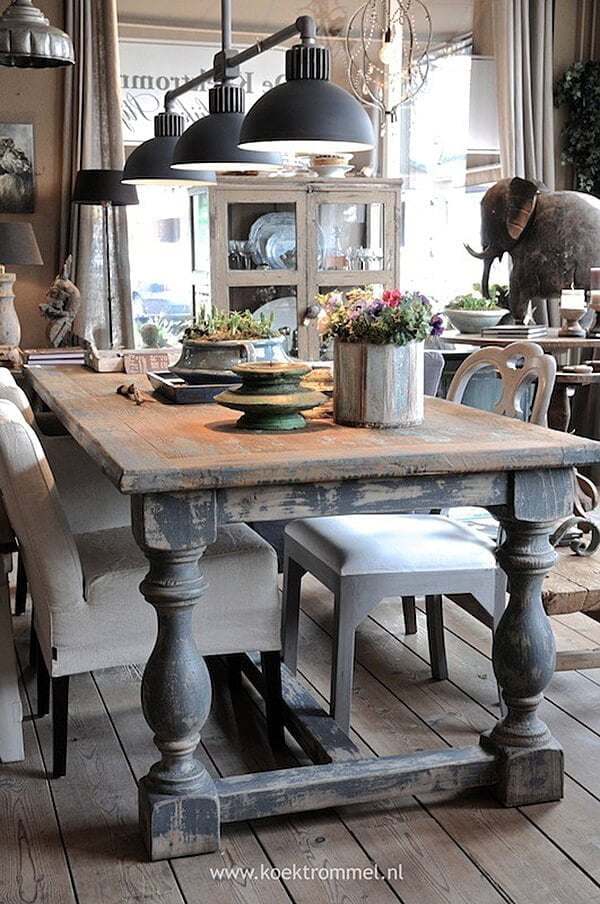 With Far Eastern elements and artistic ideas of rustic country designs comes an eclectic and emerging "junkyard" type of dining area. The true charm of this room, besides the hardy butcher-block type dining table, is the onyx pipe-metal lighting overhang, the two-door glass bureau buffet, and the 'not-exactly-matching' armless parsons and round back chairs, roughly unfinished but uniquely complete.
8. A Floral Centerpiece for a Touch of Spring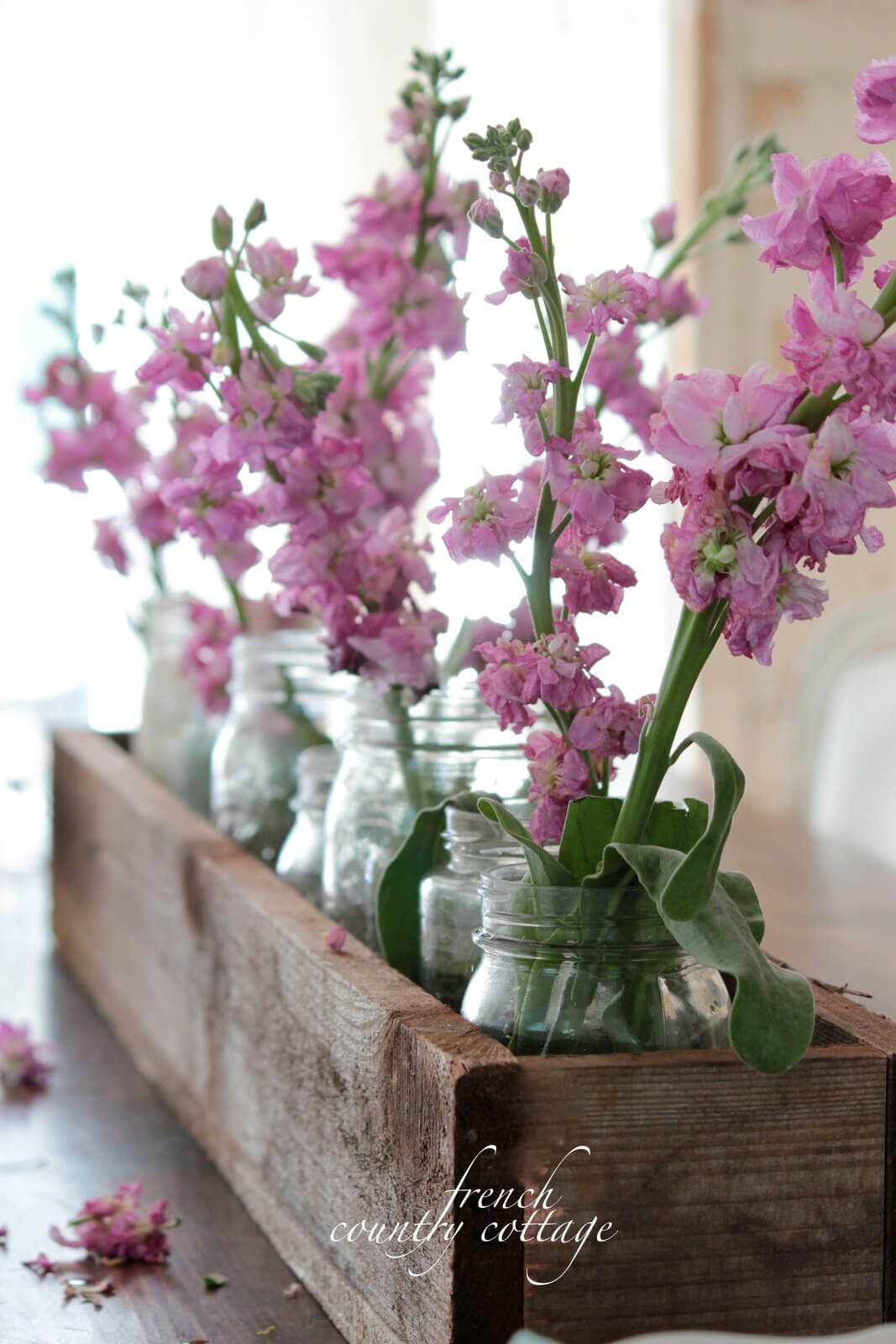 First comes winter, then comes spring … every year. Whether your springtime thick-stalked annuals or delicate seasonal perennials are flowering, it's time to pull a few up and show them off with a centerpiece design made of colorful floral blends in a plain natural flat box and embossed canning jar holder.
9. Durable Wood Furniture with an Old-Fashioned Look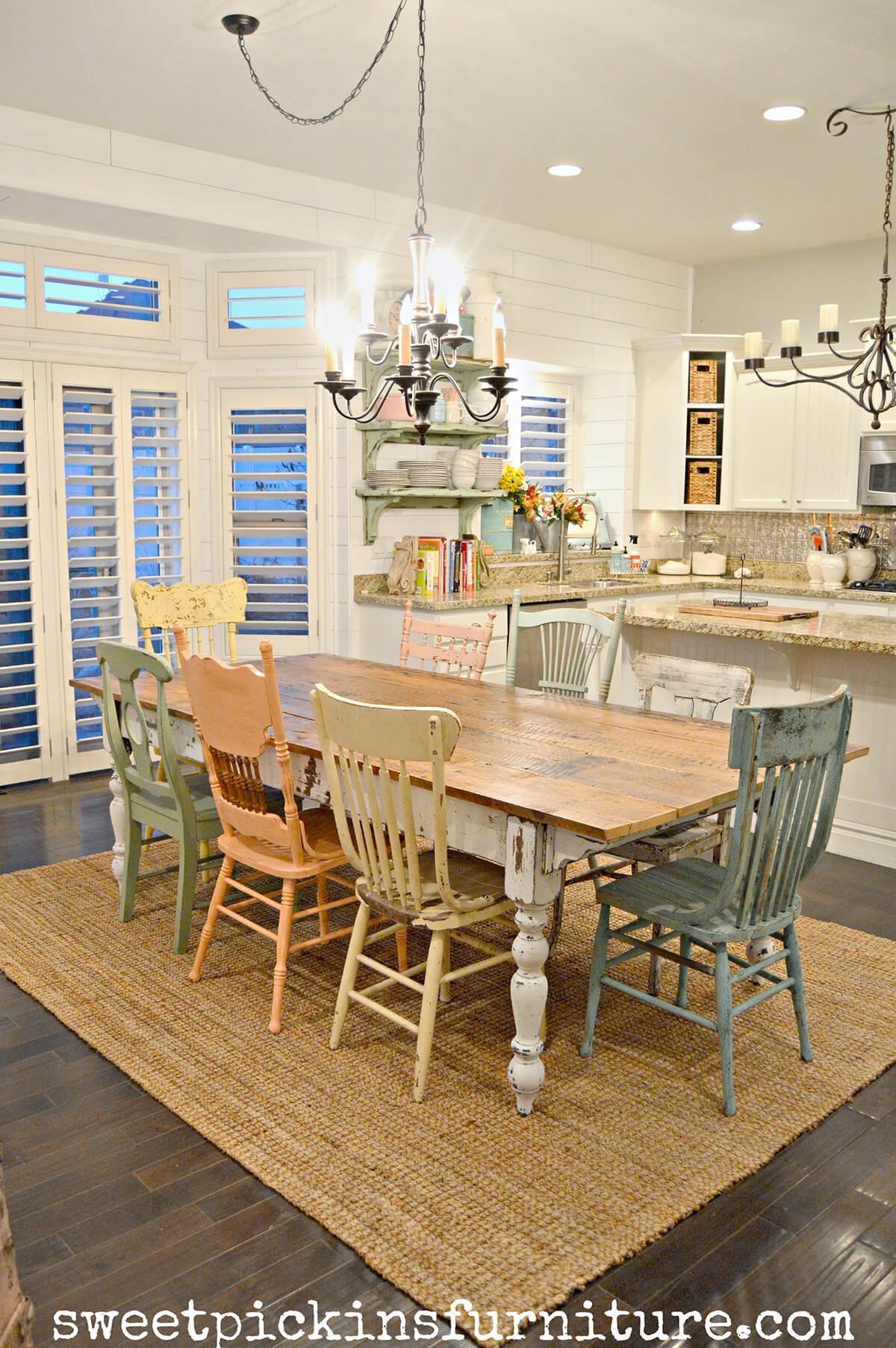 Intentional and unblemished, this hodgepodge of straight-back wooden chairs makes a spindle-legged butcher-block table appear as pristine and prestigious as it is. A pendulum candelabra chandelier hangs over the table and its delightful mixed-style seating, and its various pieces stand solidly atop a country thick jute rug in natural fibers.
10. A Rustic Plaque with a Lot of Character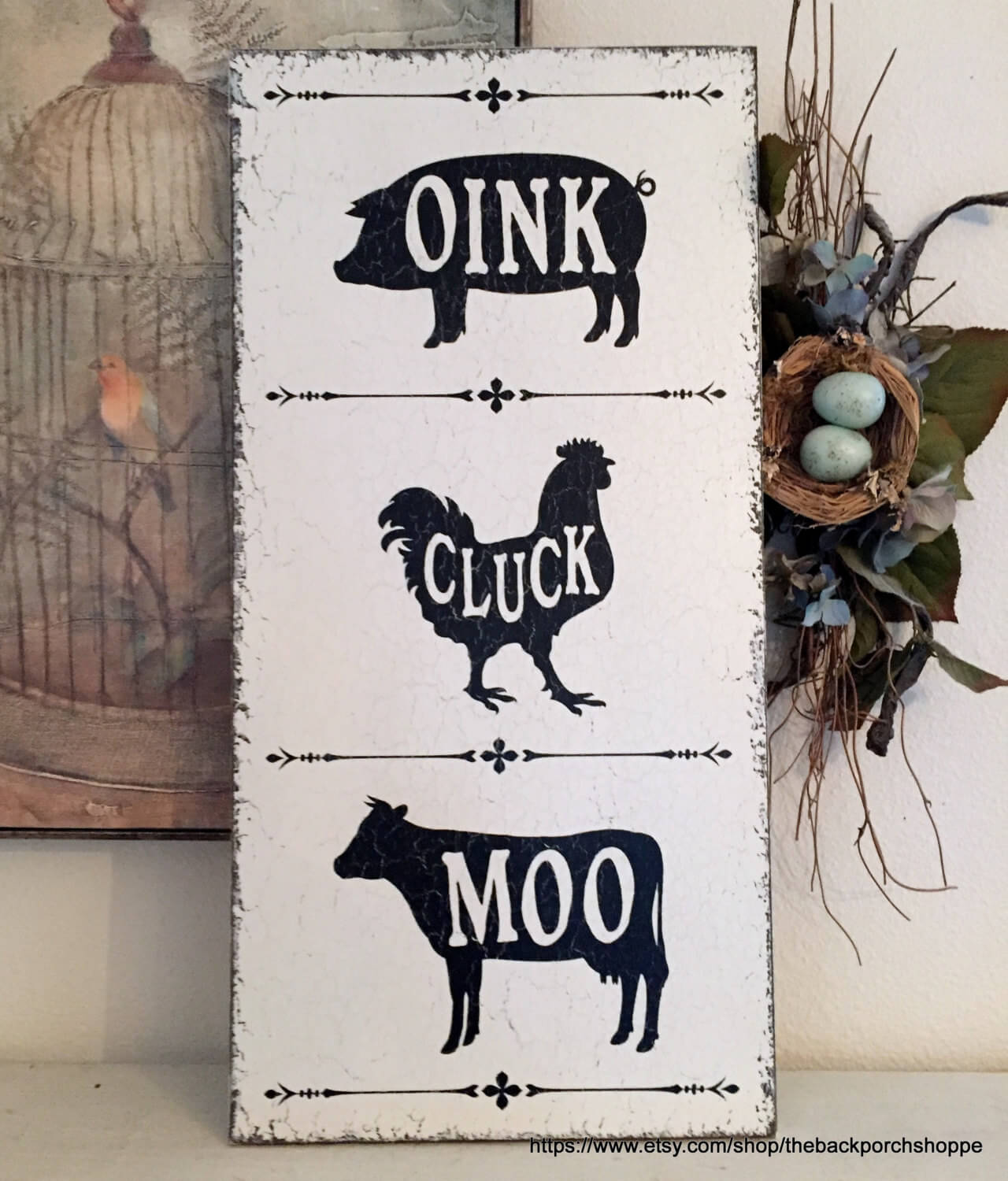 Oinks, clucks, and moos give this delicately stressed white-washed plaque a hefty desire to find itself in the center of a country-themed kitchen. Placed against a wooden fresco caged bird painting and standing next to a spiny bird's nest floral design holding two beautiful pale blue robin eggs, the plaque is an absolute statement in the cycle of nature.
11. An Old-Fashioned Cupboard for Plates and Decor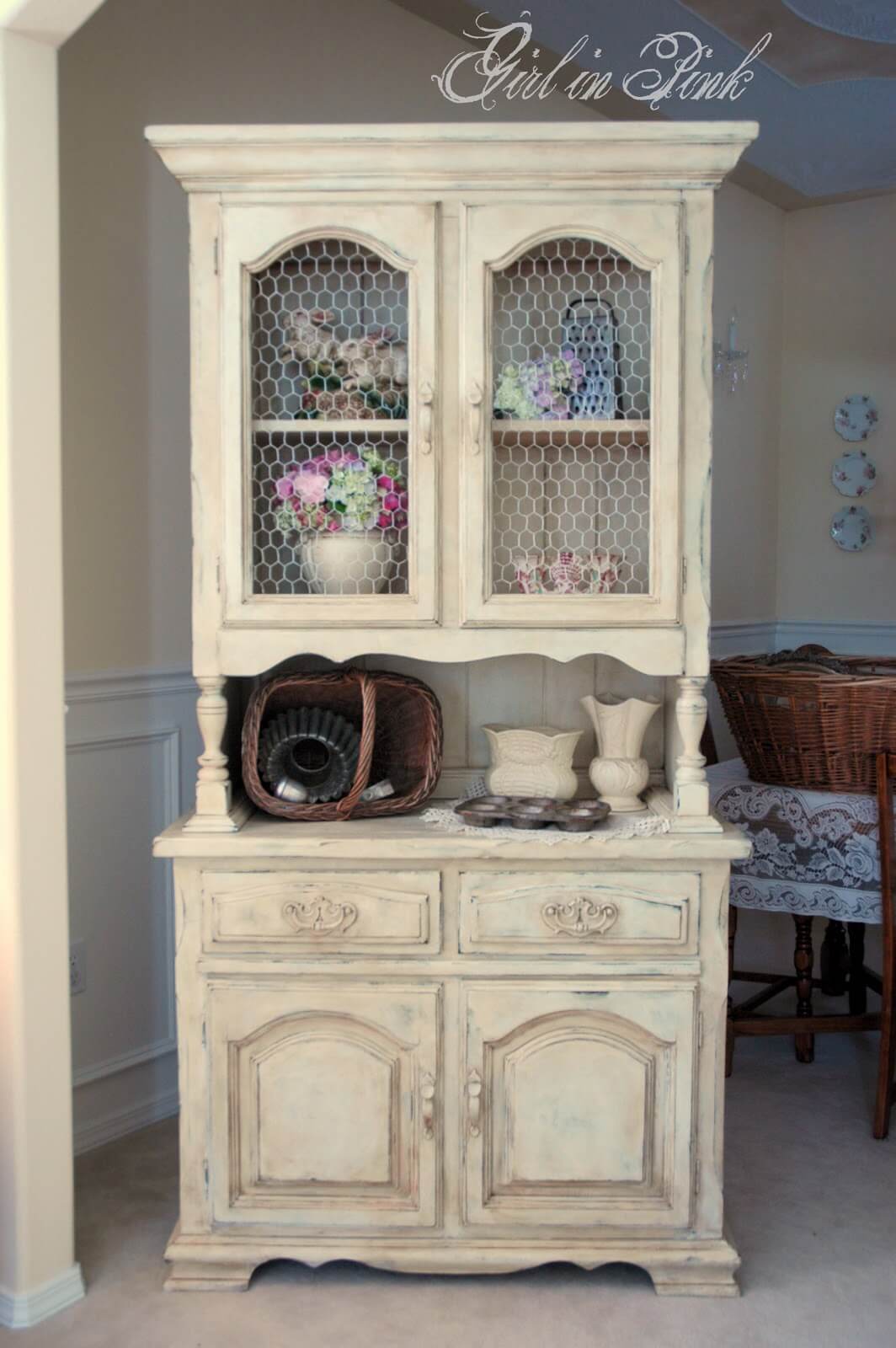 From the days of leftover wood yard boards and unused chickenwire comes a spirited throwback whitewashed cupboard buffet designed to hold and display dishes or anything else your heart desires. With two mesh wire door panels up top, scalloped edges, and a spindle-legged hutch with shiplap model backing, this double-door double-drawer piece is a conversation starter all on its own.
12. An Earthy Wreath to Bring Nature into your Home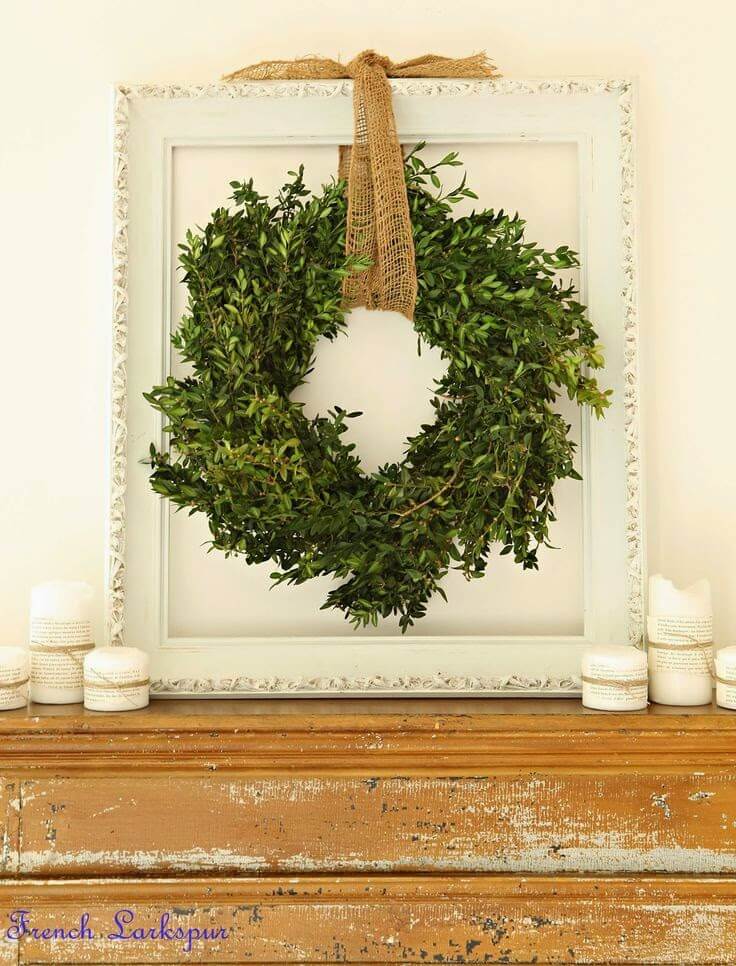 Your bleeding heart is literally showing with this natural earthy wreath and its thick burlap hang. The thick bush greenery is set back into an old whitewashed portrait-sized picture frame for that good homey country feel and then housed in between pretty white verse-inscribed wax candles wrapped in a single burlap string.
13. An Antique Door with a Sturdy Metal Construction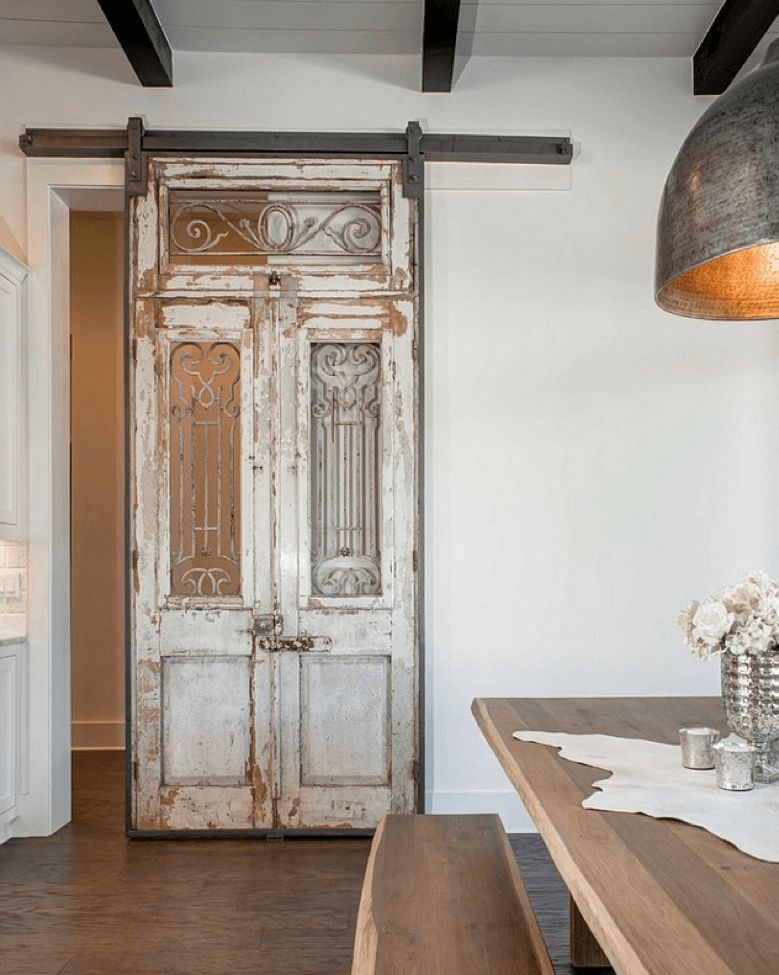 This portico-like hanging door with a wrought-iron metal grate finish runs solidly across a guarded rim rail which holds it in position and allows it to slide across into the open and closed positions. This antique door with rubber bumper surrounds to protect hands, along with a stressed refinishing gives new meaning to the word "repurposed."
15. A Functional Centerpiece with Sprigs of Flowers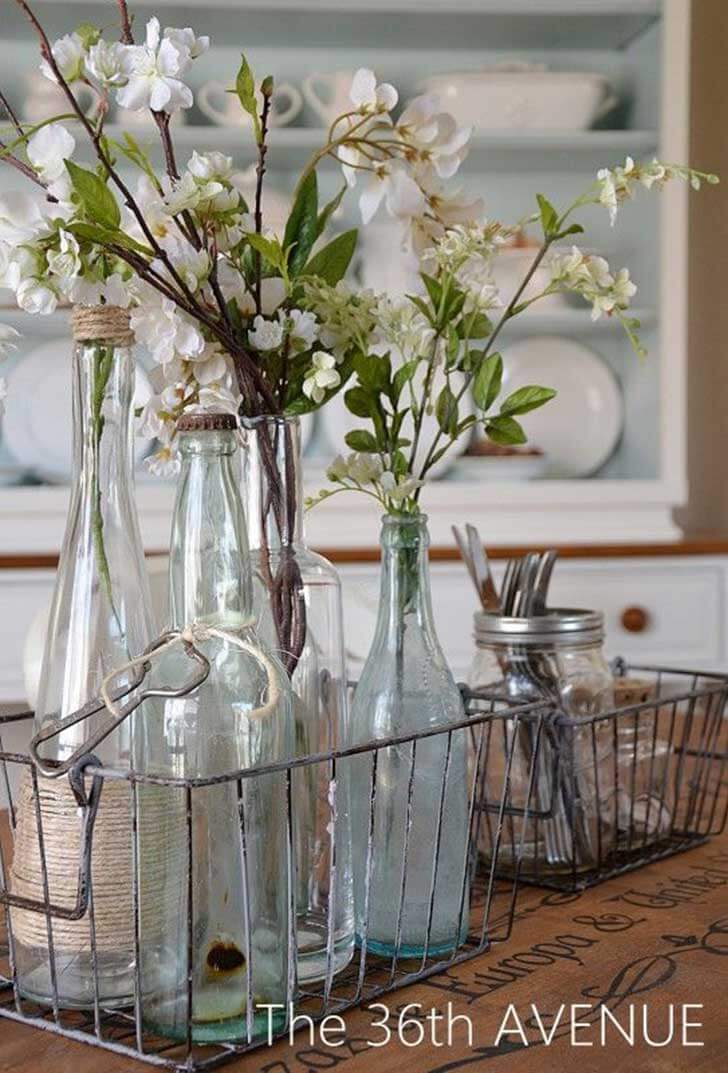 Old soda pop bottles and canning jars have long been used as a source of inspiration for moving fresh or silk sprigs to the centerpiece of a duly-adorned table, but when combined with open metal wire milk or bottle crates as a holder, the table décor is not only reminiscent, but adorable.
16. A Simple Design with Vintage-Inspired Accents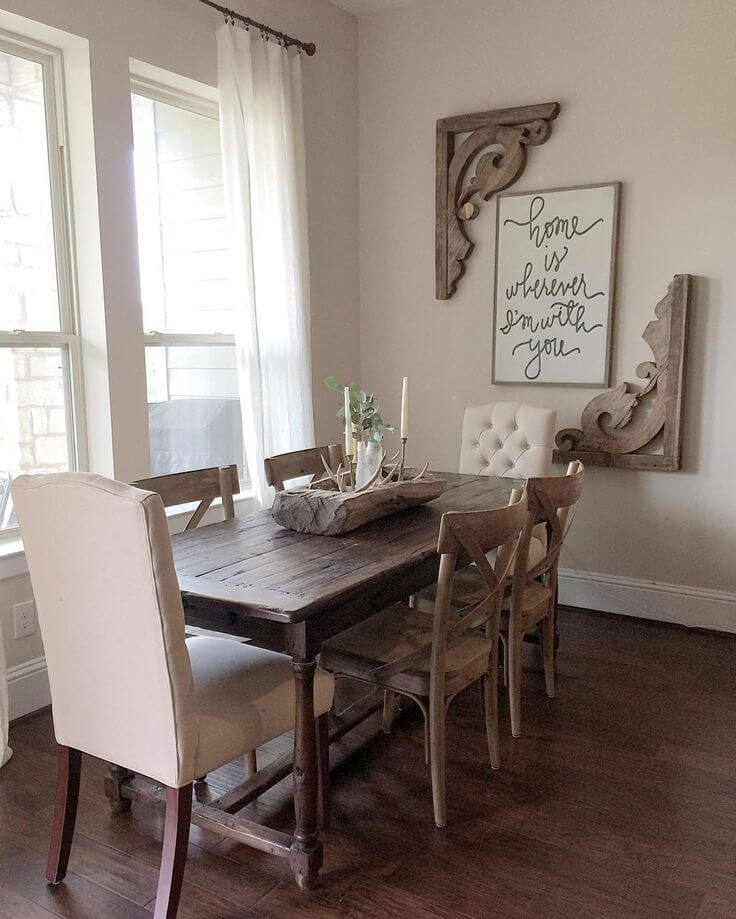 Clean lines and a sense of openness is always a winning combination for a morning or day room, especially at meal times when the sun is up and shining. With cross back and soft button-tufted parson's chairs around a butcher-block table with a center rail, this room features a sentimental wall hanging surrounded by an open two-piece L-shaped scroll frame.
17. Rustic Decor with Real Wooden Planks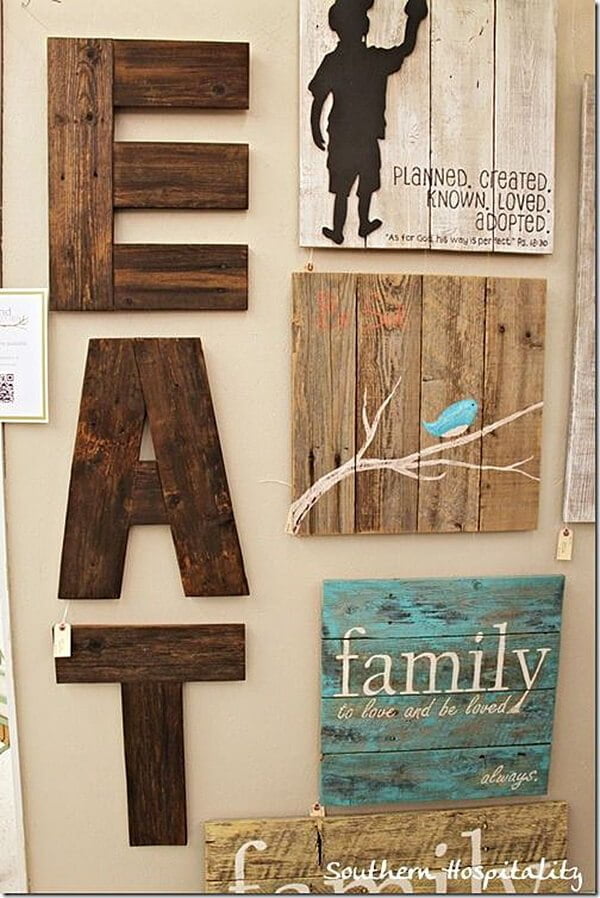 Before you throw away those wooden planks hanging around outdoors that seem to love wet air and mold, consider what drying them out and refinishing them with wood stain and a few nails and decoupage might do to dress up a room that needs a touch up or a new theme.
18. Fall-Inspired Decorations with an Earthy Touch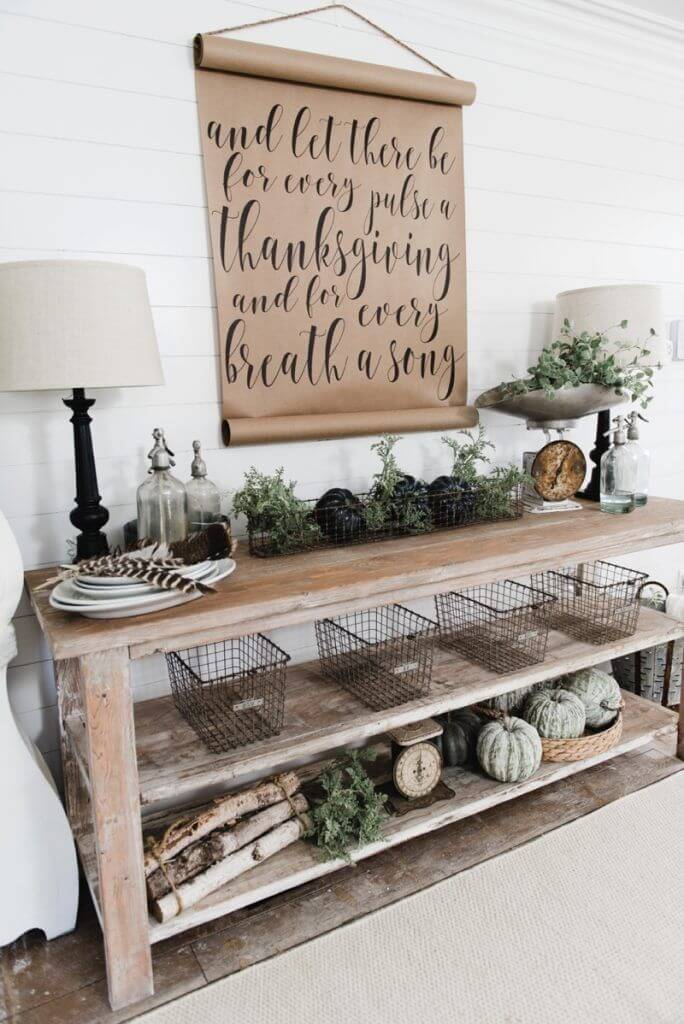 A wooden scroll with inscribed sentiment hanging on a thick burlap string is a focal point in this designer's dream room. Two candlestick lamps in contrasting colors on an unfinished bread table completes the sleek sophisticated look, along with a rustic grocery store scale cloaked in greenery, a metal crate holding gourds and sprigs of fresh herbs.
19. Basic Farmhouse Dining Room with Simple Rustic Decor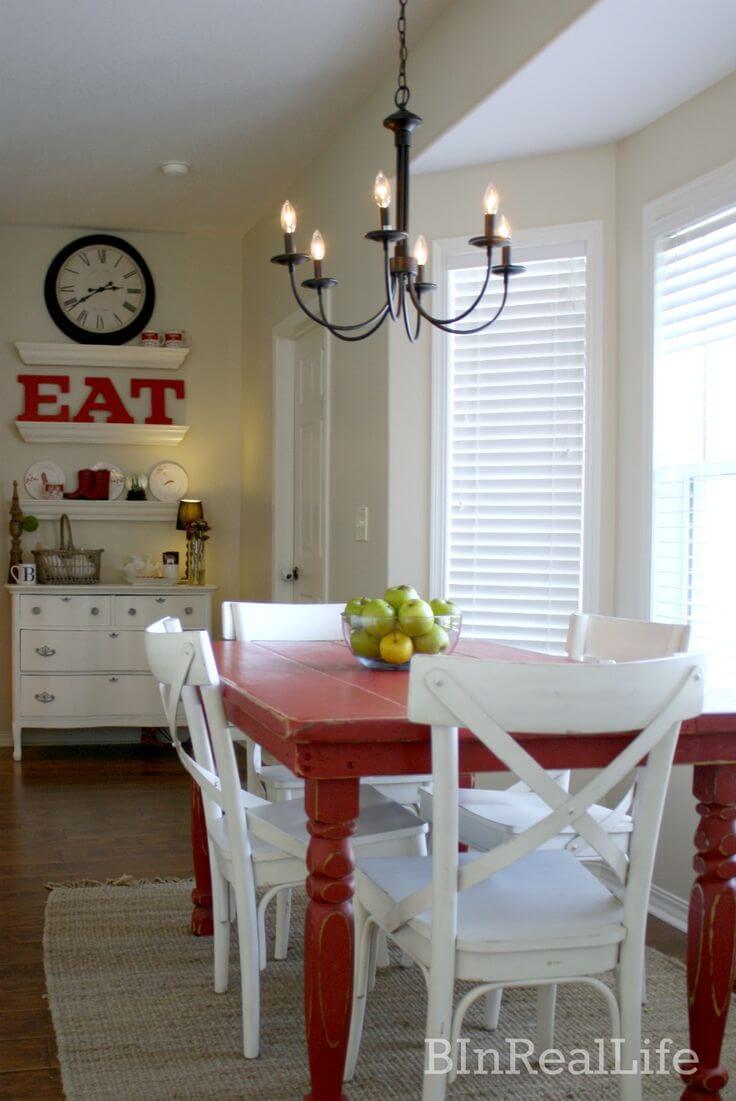 There are accent walls and accent chairs, but in this case, there is such thing as an accent table. This bold ruddy-complected country table brags cross back chairs and a jute area rug. Topped off with a metallic electric candle chandelier and standard silverware/dish buffet, you can add a large Roman numeral battery-operated wall clock and let the sunshine in.
20. A Wintery Centerpiece with Spring Feathers and Eggs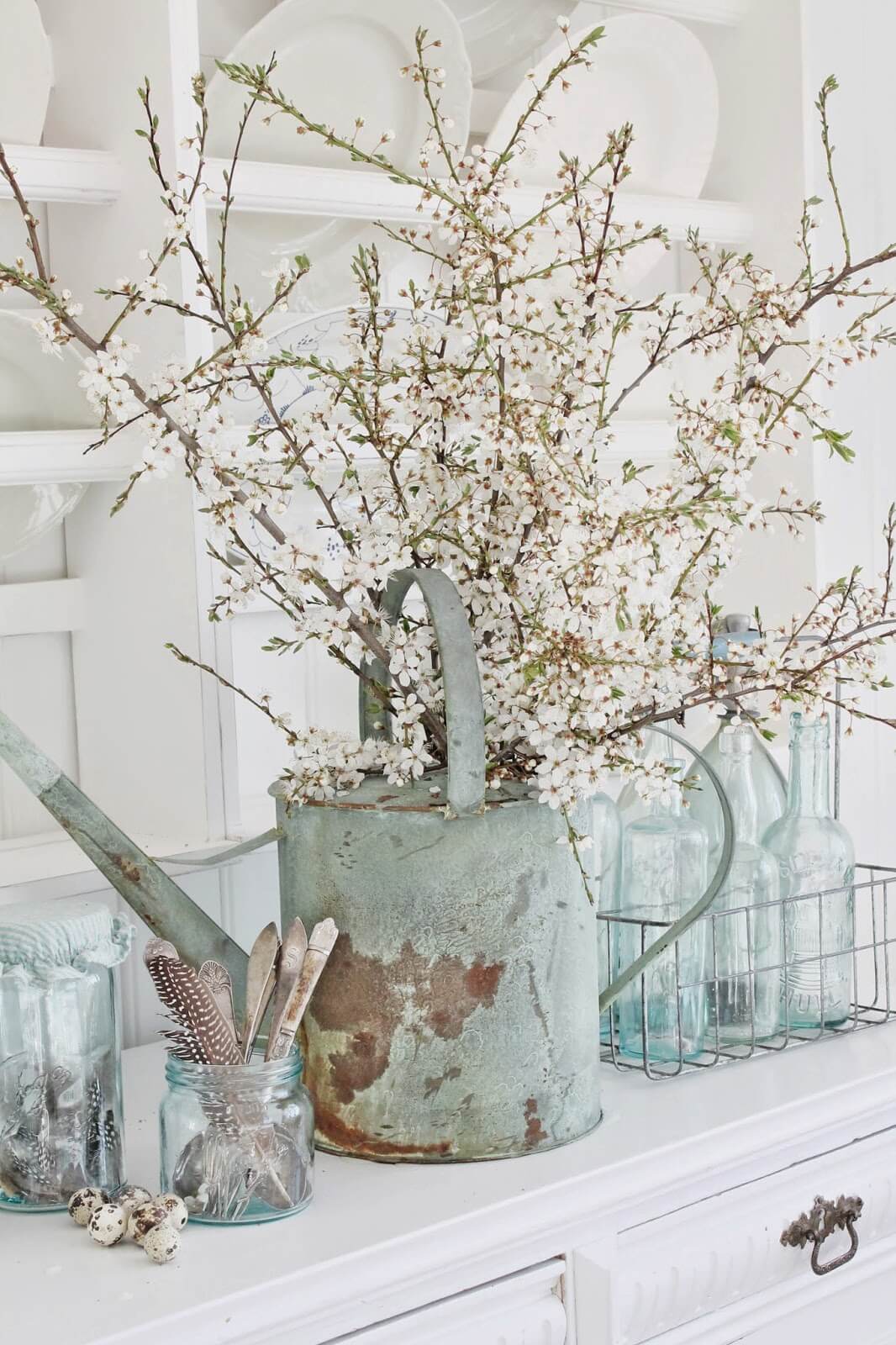 Almost always a delightful reminder that spring is on the way, this wintery flowering bud sprig sits in a rusted watering can complemented by a single feather in a utensil holder and small marbled robin eggs settled nearby. Off to the side is a canning jar filled with tiny speckled feathers and closed with a floursack banded top.
21. A Simple Arrangement with a Message of Gratitude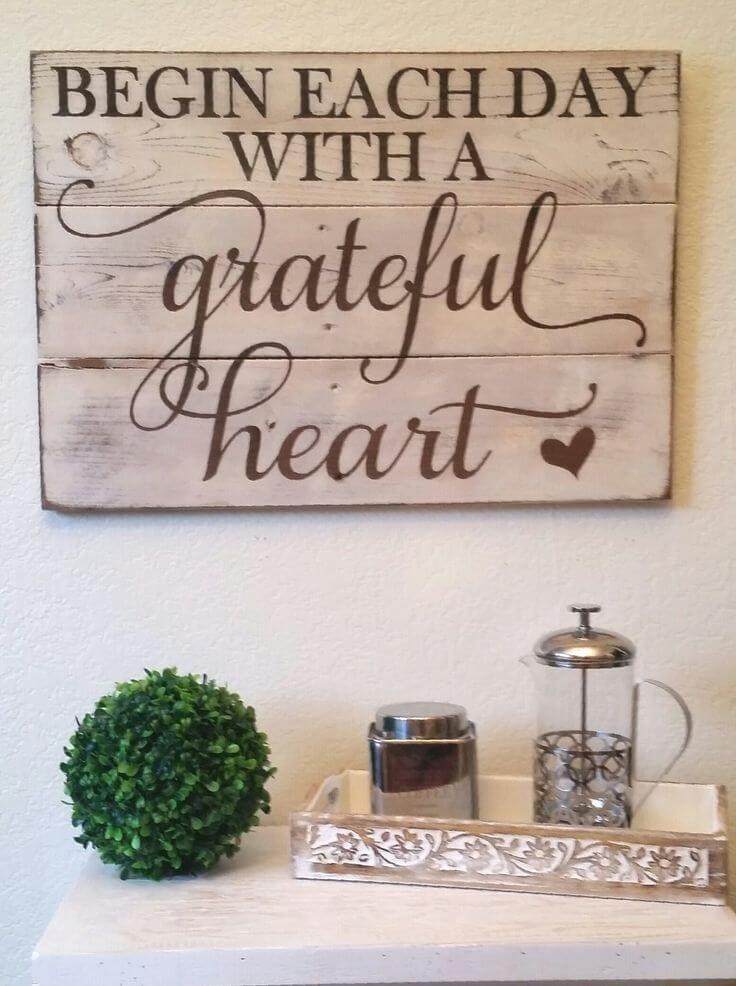 Begin each day with a grateful heart. The large-lettered grateful message is painted on the smooth side of three wide wooden boards nailed together as an expression of great daily expectations. Placed handily over a single shelf with greenery and a wood-carved floral tray containing two silver and glass decanters, this sentiment is a great daily motivator.
22. An Old-Fashioned Way to Bring Light into your Dining Area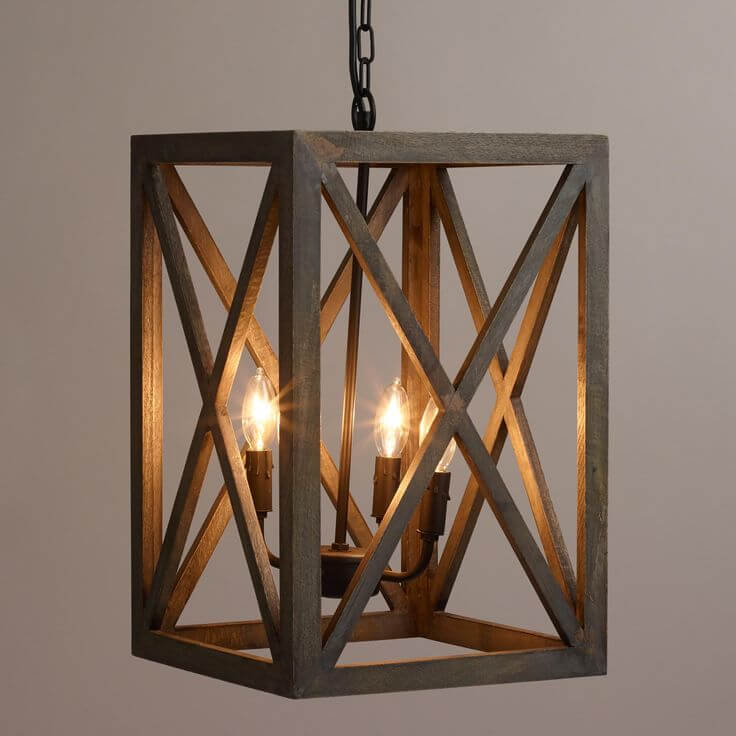 There are literally hundreds of ways to do lighting fixtures. Most people who are looking for that "unique" factor head for junkyards or cruise throw-aways looking for ideas. Recycling sturdy toss-outs, like a small crate box or old horse stable lantern, and outfitting it with bronze or metallic light fixtures can perk up a dark area with some style.
23. A Unique Spin on the Rustic Look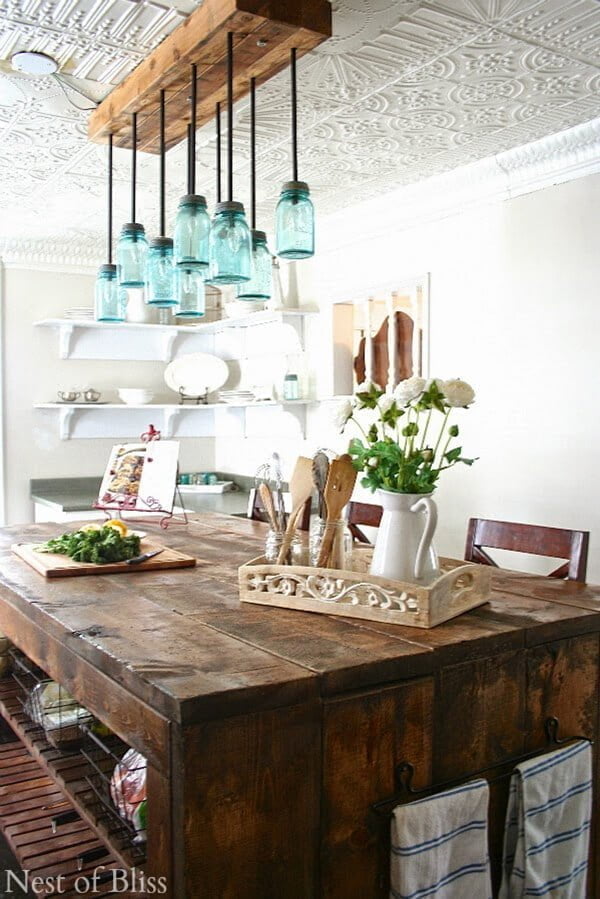 A decorative plaster-relief embossed ceiling is asking to be embellished with way off the beaten path lighting. In this room, it is wood tender blocks with blue glass jars hanging from different sized metal rods. The look of the room is open and clean and sharply-refined, with a large dark wood butcher block island with open shelves and cross back chairs.
24. A Craft Egg Centerpiece for a Farmhouse Touch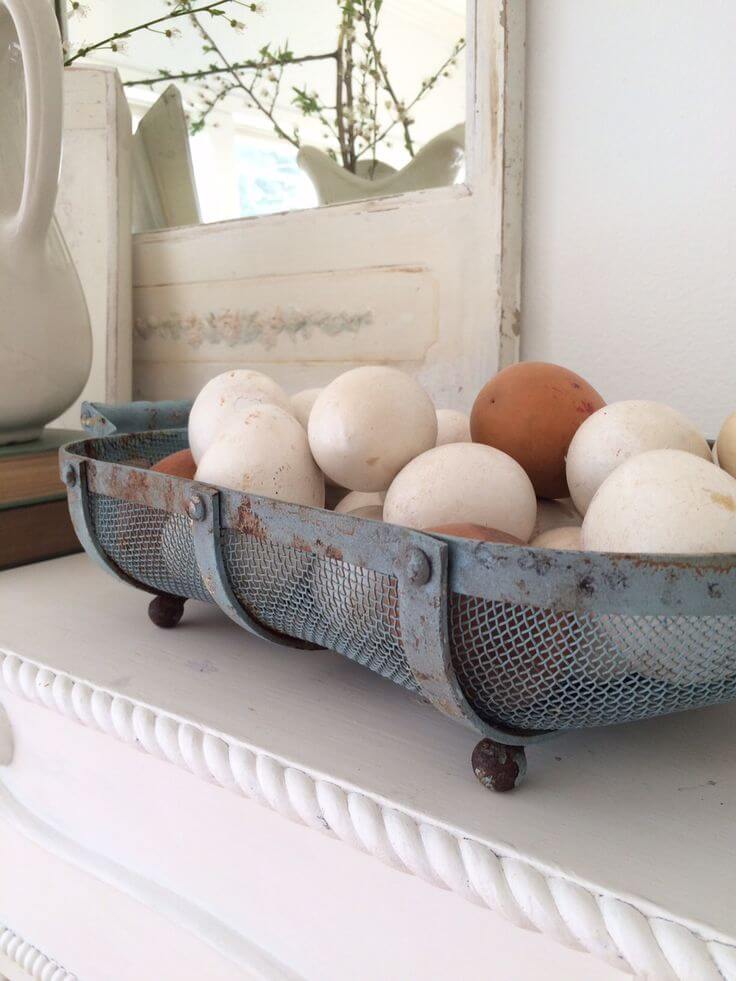 Country cottage kitchens evoke warm thoughts of flour sacks, churned butter, gingham aprons, cheesecloth, canning jars and fresh milk and eggs – but craft eggs? Craft or artificial eggs made of styrofoam, wood, plastic, or even paper placed gently in a wooden or mesh basket provide an air of authenticity in a farm kitchen décor theme.
25. A Delicate Arrangement with Class and Elegance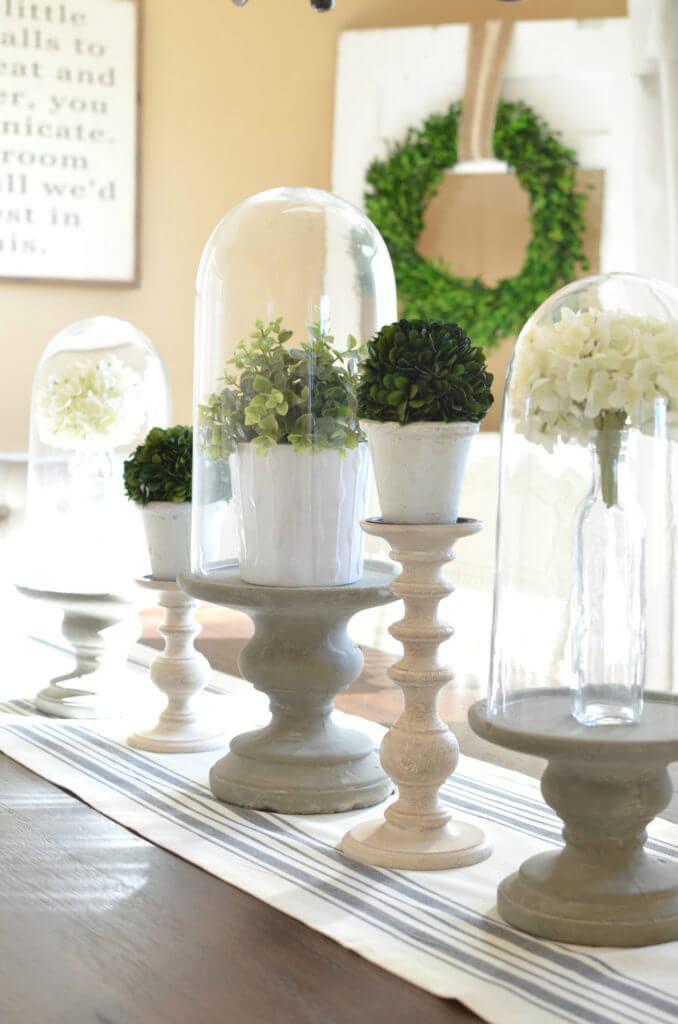 Looking for a new attitude for a table centerpiece? Try laying out a flour sack runner and topping it off with glass cloche bells turned over atop whitewashed candlestick planters. The planters are used to hold small medicine bottles and mini-sized flowerpots filled with small-petal silk flowers and thick silk bush greenery.
26. A Clean, White Space with Vintage Charm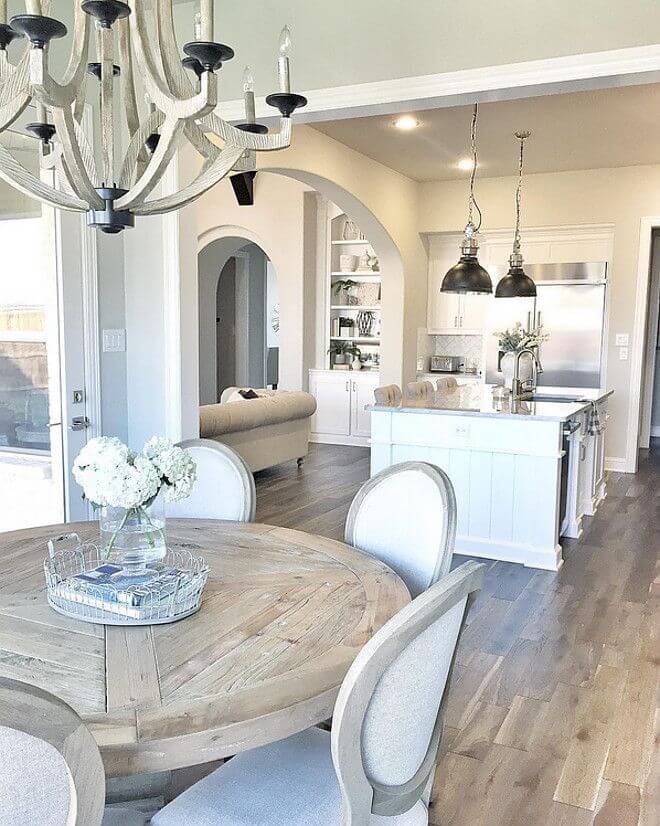 A treasured and charm-ridden wood carved light fixture, white-washed barrel top dining tables, stainless steel and and a whimsical combination of semi-circles help make this sparkling open space eat-in kitchen clean and inviting. Lively conversation, a blaring television, and tabletop chatter are all elements that keep the cook cooking and wondering how to make it all taste better.
27. An Old-Fashioned Clock for a Farmhouse Look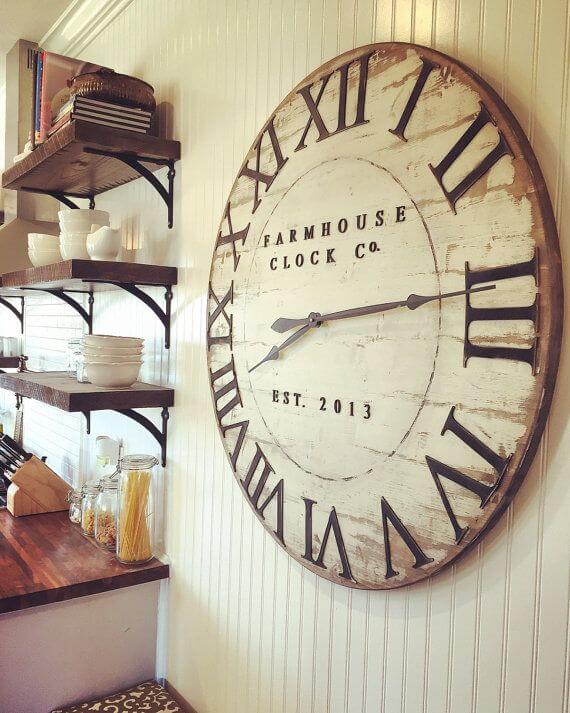 An over-sized burnished Farmhouse Clock in large Roman numerals is just the thing needed to be called a "favorite" thing. Any cottage kitchen is welcome in the presence of this huge wall décor item. Understated, but more than attention-getting, this clock is the "Big Ben" of any modern farm-themed space.
28. A Floral Arrangement with Old-Fashioned Jars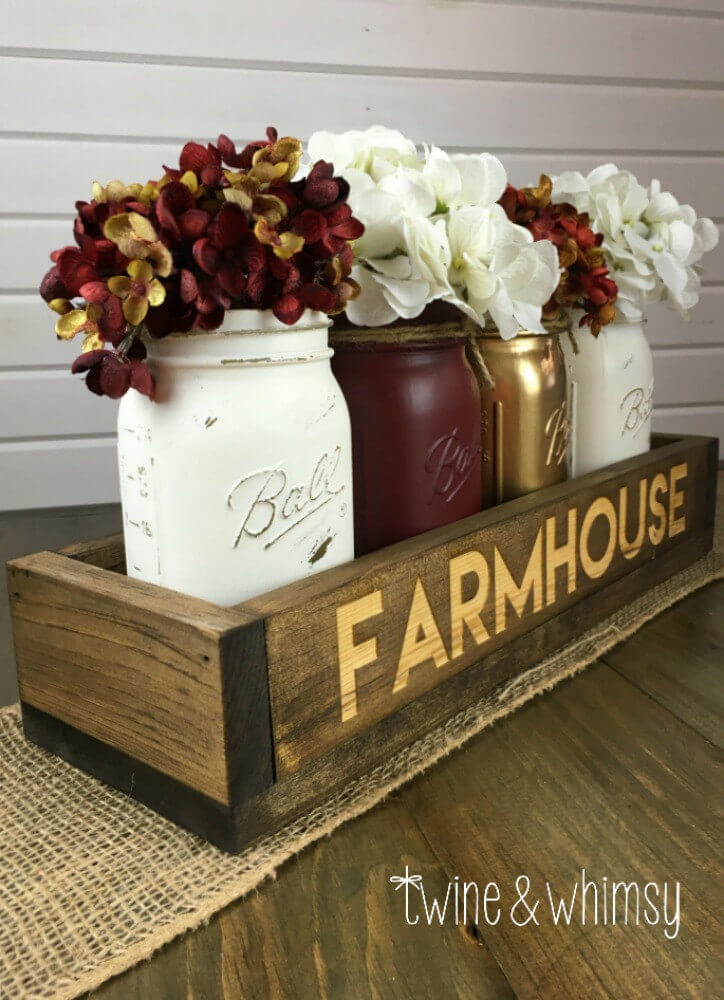 Four Ball Mason jars are dipped in or spray painted in various colors of flat or glossy enamels and then air-dried. After they dry, they can be used to hold any color combination of room-enhancing silk flowers or greenery, then seated into a small jar holder and placed atop a natural burlap runner.
29. Simple Decor with Classic Elegance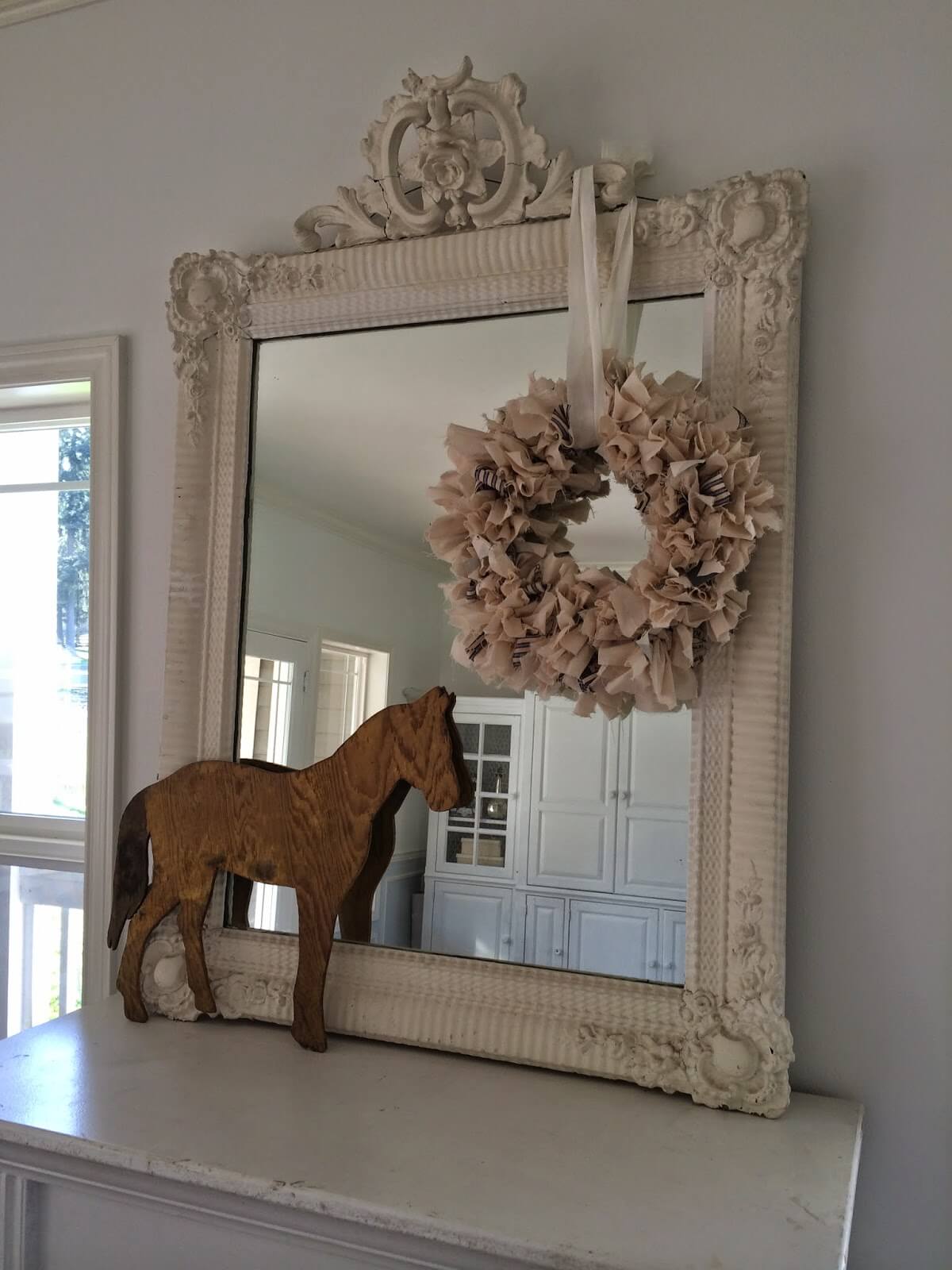 A beautiful plate glass mirror can be fashioned into a three or four-dimensional classic room décor item, unique in its own perspective, especially when topped off with a wooden or metallic silhouette cut-out, in this case a horse, and a small single-color wreath dangling from the glass's old world portrait frame by a beautiful linen cloth hanger.
30. A Clean, Old-Fashioned Look with Rustic Decor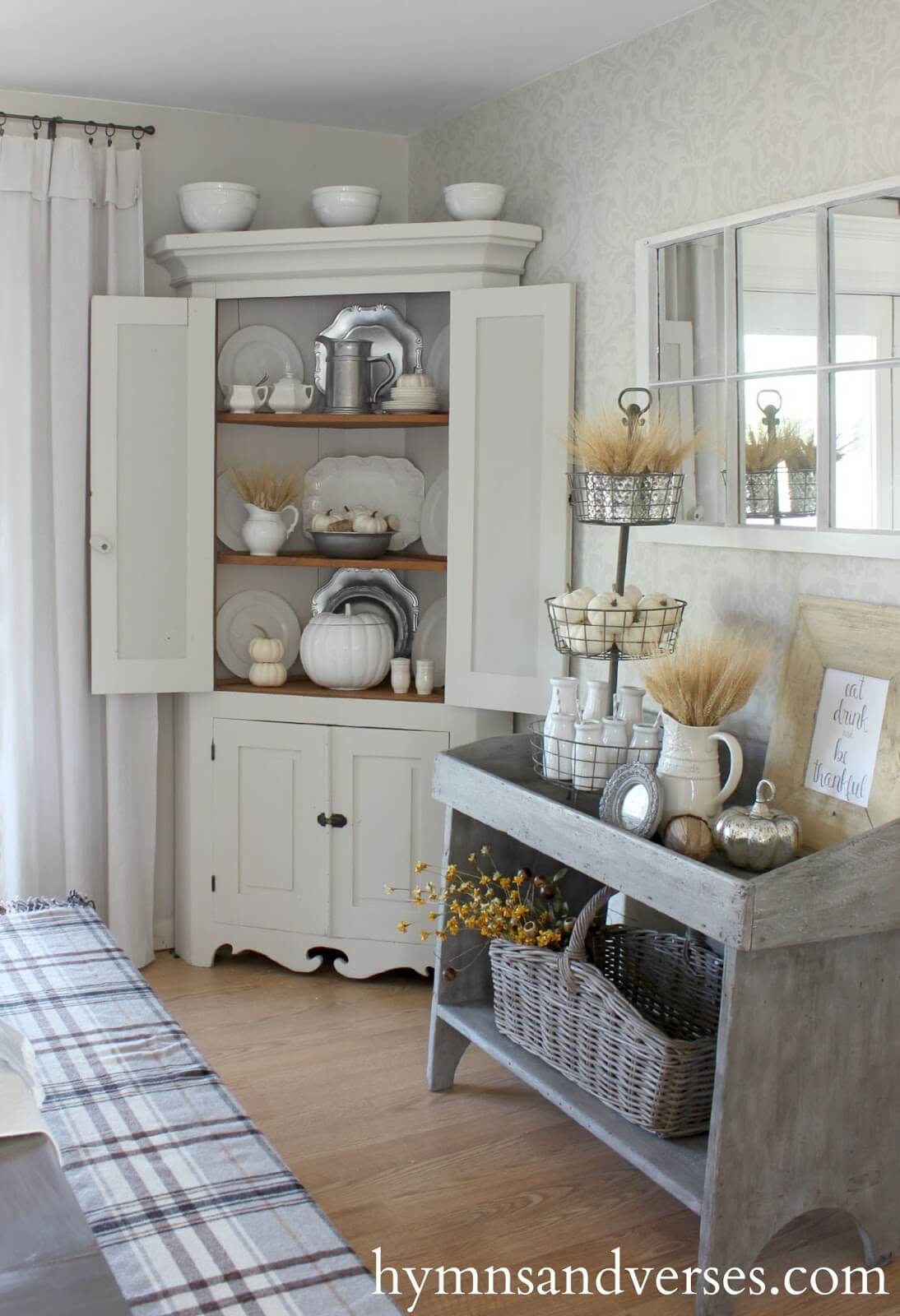 A fresco accent wall, corner hutch buffet with scalloped edges and a metal-latched door, mirror windows, and a kitchen bin holder made from a repurposed sitting bench and vegetable crate top are just the bold and brisk elements that give this eat-in area a fresh, clean, and sensible room appeal.
31. A Floral Centerpiece with an Old Farmhouse Backdrop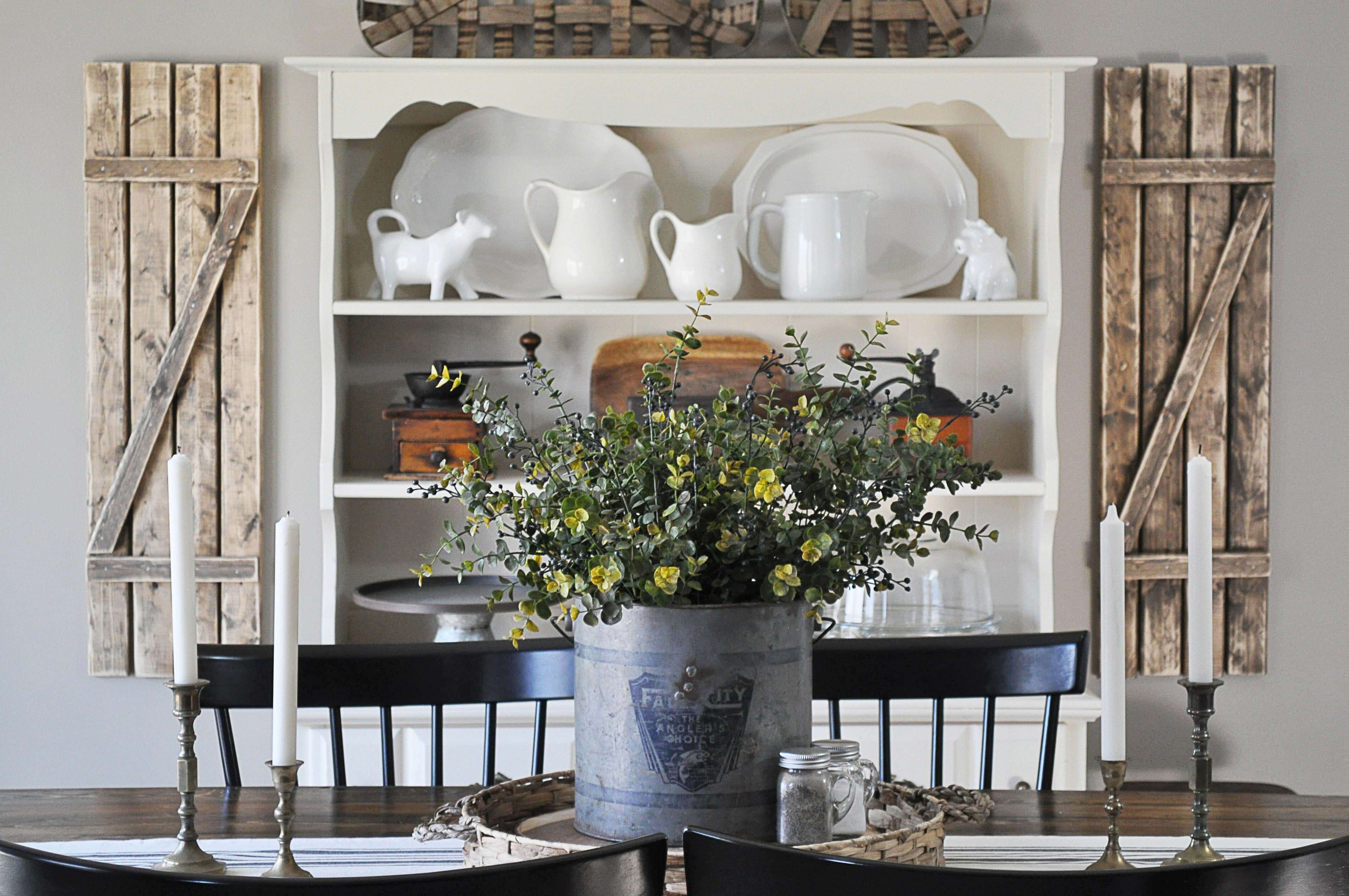 This Double-Z Ranch motif on open doors against a three-shelf buffet hutch with scalloped edges is just the right background setting for a luxurious tin tub filled with a bouquet of fresh spring florals. Used as a country farm-type centerpiece, this design also makes use of a bamboo lid for the tin container, which ties the entire décor together.
33. An Antique Cupboard with Charming Farmhouse Decor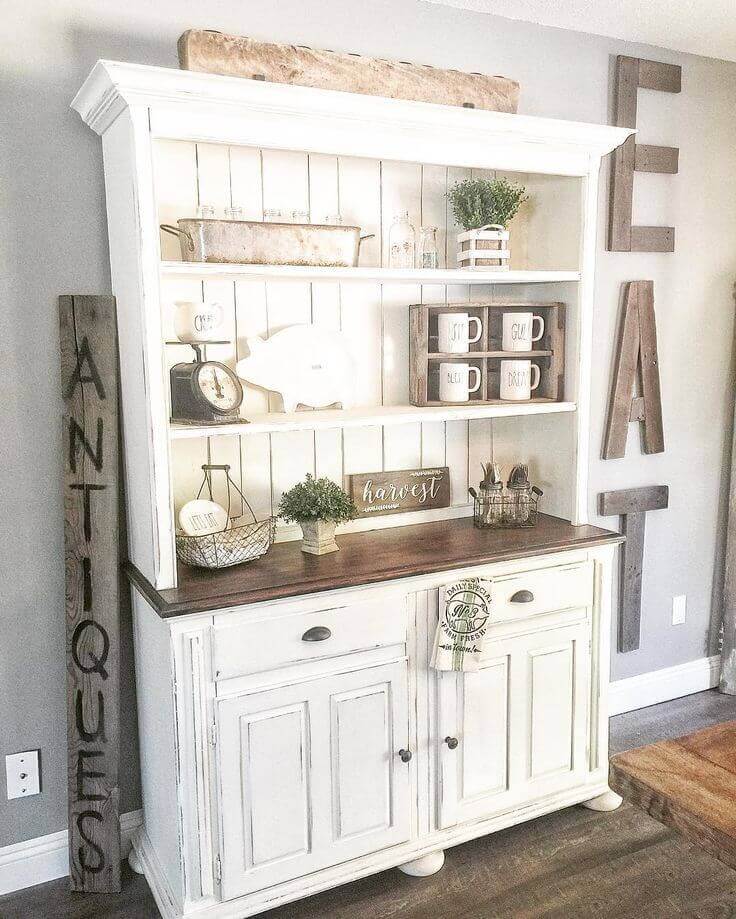 This antique Dutch cupboard/hutch is whitewashed with doughboy pedestals for feet. This treasured trove is dressed out in printed flour sacks, stained boards and plaques with quaint words or phrases, coffee mug stands, and even mesh or tin baskets and a bit of silk greenery and tiny glass bottles. All add a touch of charm to the total look.
34. A Country-Inspired Look with Simple Decor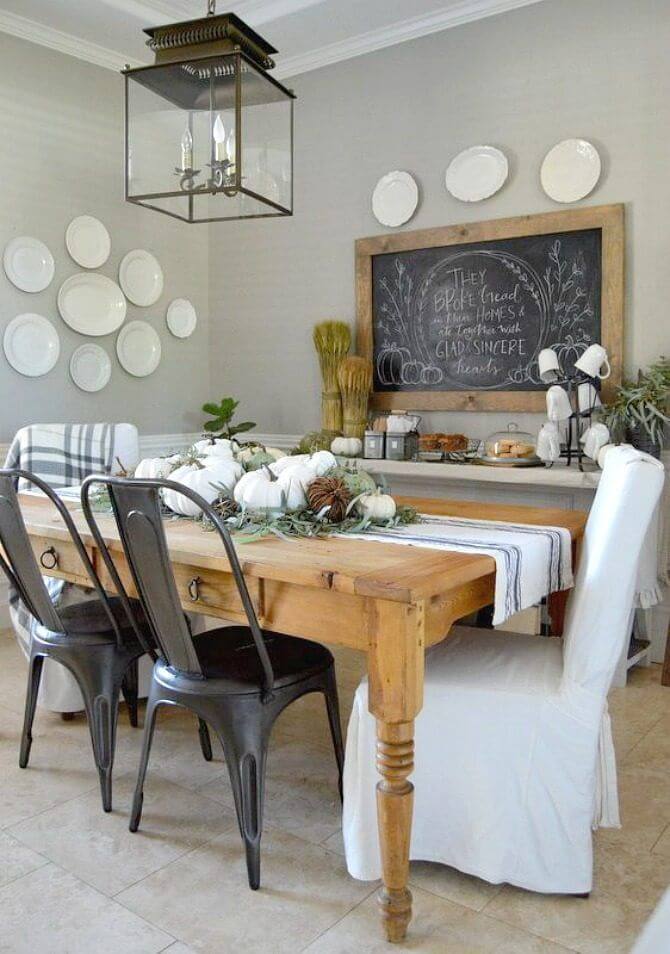 A lantern chandelier hangs above a slightly unfinished butcher block dining table, the focal point of this room. The area becomes delightfully whimsical with wall décor made of plates and trays, and the sheer delight of mixing soft elements with sturdier ones is a challenge to behold. Add some natural elements and a blackboard and the glam is on.
35. Tasteful Wall Decor with a Wintery Vibe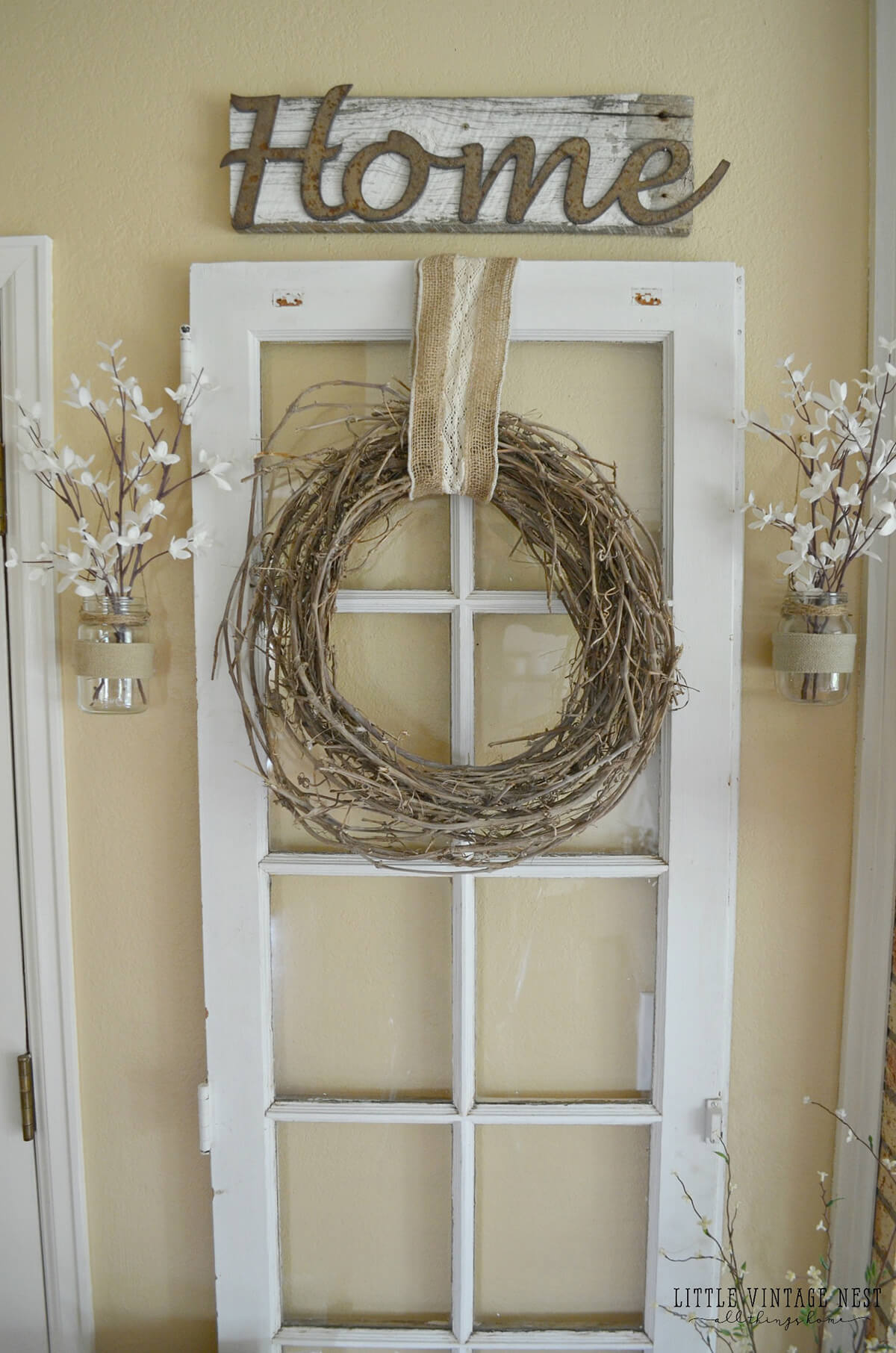 Sticks no stones, a plaque called "Home" and words will always flirt free. Free your imagination with this repurposed one-piece door with glass panels, and add to it a twisted dry branch wreath with burlap door hanger. The sides of this door frame are graced with wintery silk buds in two sconces made of glass jars wrapped in twine.
36. A Wall Arrangement with a Lot of Character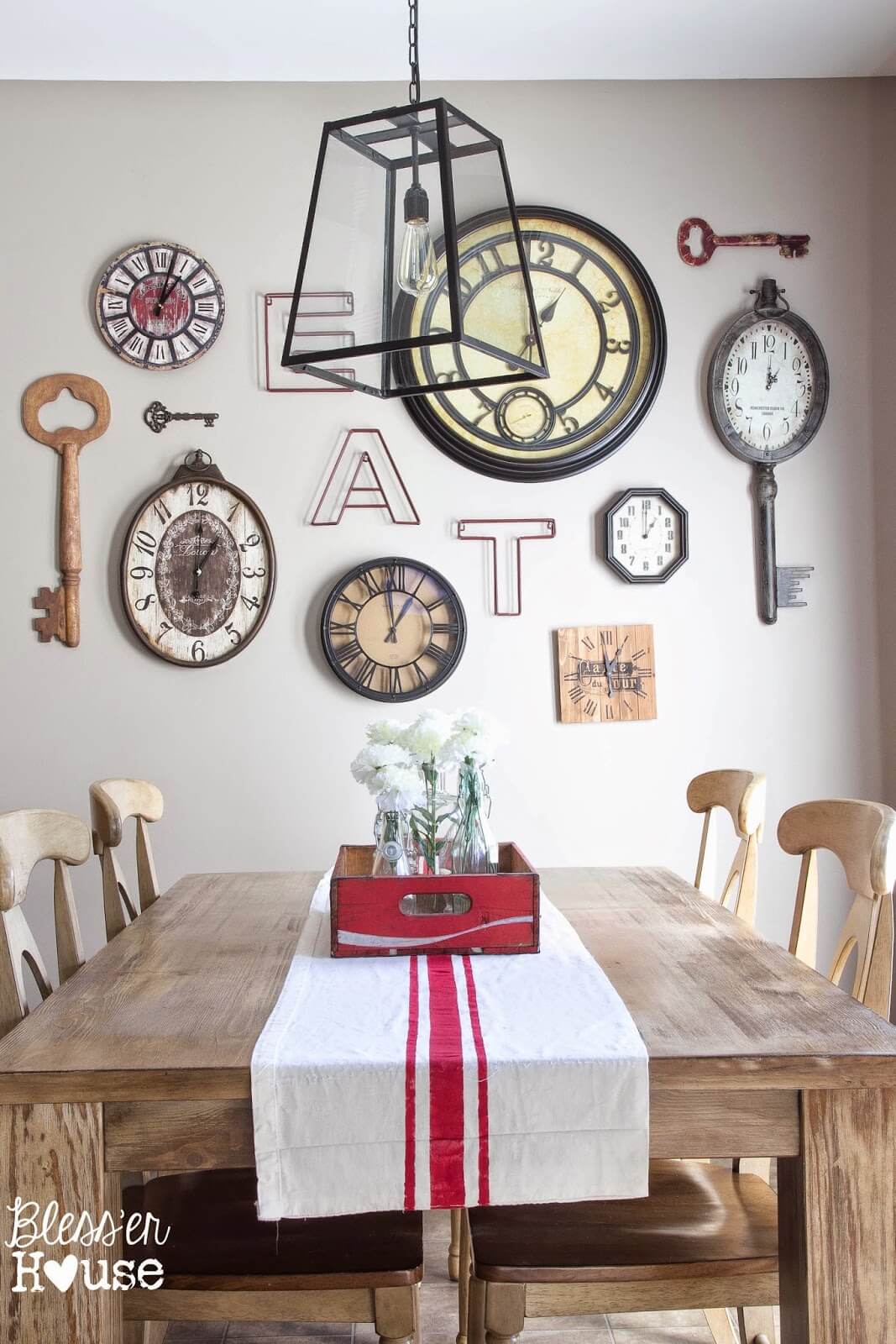 Tales as old as timepieces make a fantastic modern-day wall arrangement for any casual living space. Coupled with key motifs and a key clock, as well as small and medium clocks in different shapes and a neon-like worded sentiment, this quaint wall arrangement literally comes to life and the Woman-cave of the Year is officially open for business!
37. Old Farmhouse Decor with Beauty and Functionality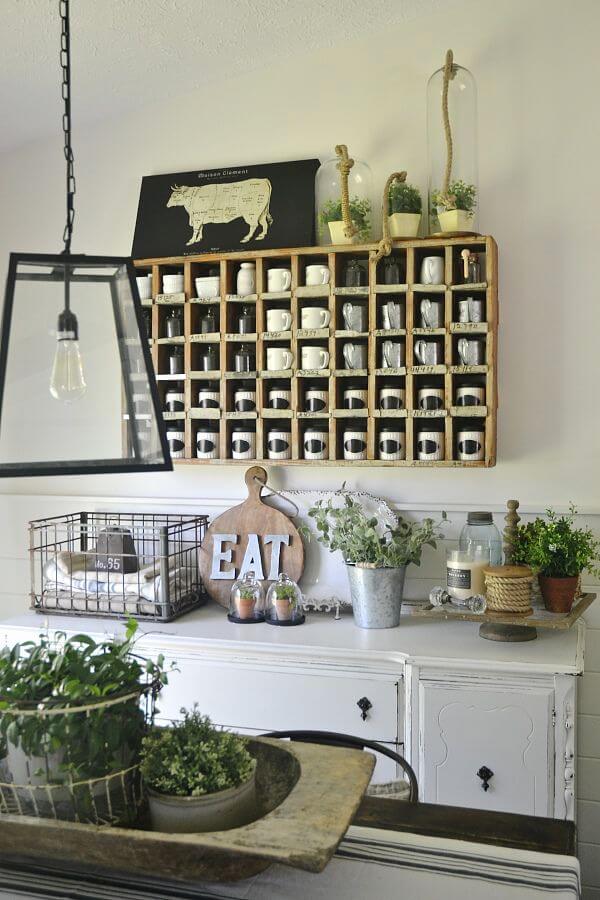 A shadowbox filled with small mugs and tiny bottles provides a lovely backdrop in this character-driven eat-in living area. Flour boards, crates, cloche bells, tin buckets, and glass jars make excellent décor items for the refinished cabinet top, and an old dough mixer completes the look when filled with metal or glass plant holders filled with lush green plants.