The design world has long held a special place for rustic decor, and for good reason. Unpretentious and timelessly appealing, the rustic sensibility draws from antiquated eras to blend old world elegance with modern subtlety. Unfinished wood, repurposed household goods, and an overall organic attitude all reflect the quintessential rustic style, with no shortage of clever DIY implements.
50+ Style-Savvy Ways to Add a Rustic Touch to Your Porch

This season the classic farmhouse sits front and center for outdoor inspiration, and where better than the front porch to show off some rustic charm? From planters to rockers to warm welcoming signs, these 50+ rustic farmhouse porch decor ideas are sure to delight both guests and residents year-round.
1. A Beautiful Flowery Welcoming Sign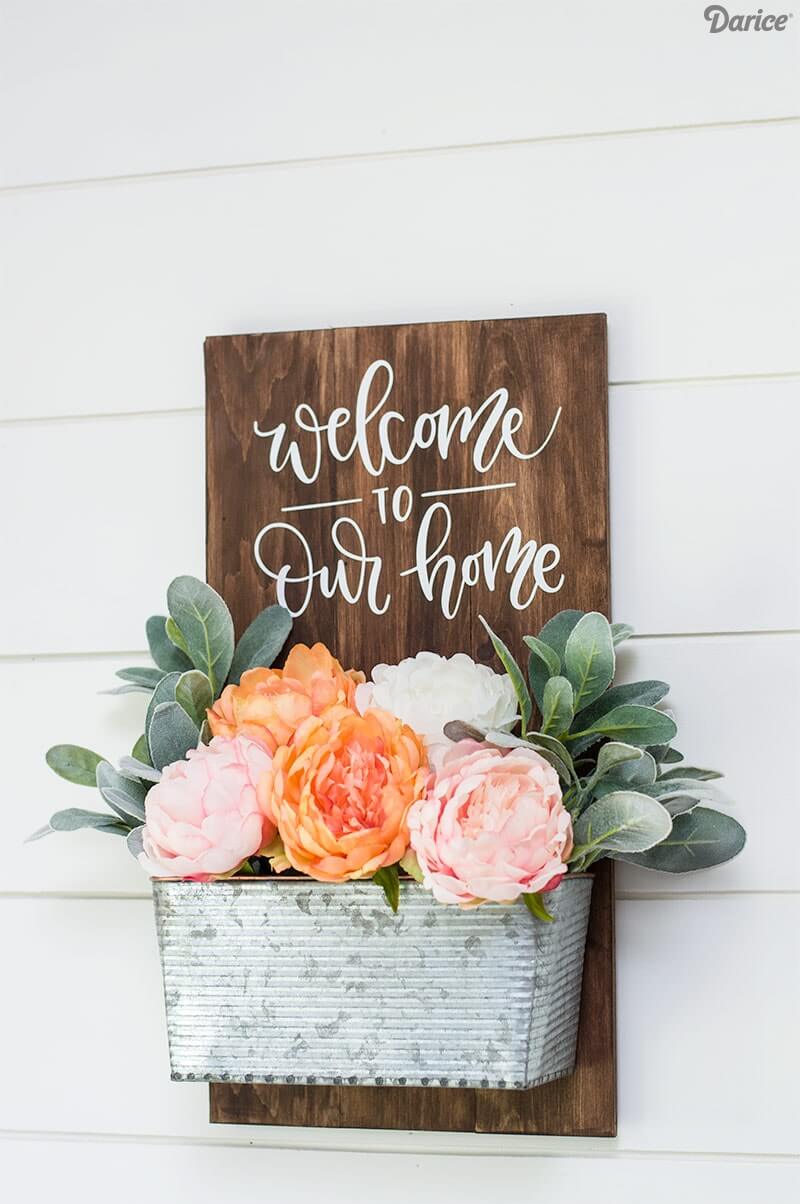 With this sign, you open your arms and home before visitors ever reach your door. It's elegant, simple, and it even functions as a planter. This way, you can decorate it with beautiful flowers, making it more attention-grabbing.
2. Front Porch Garden Shed Transformation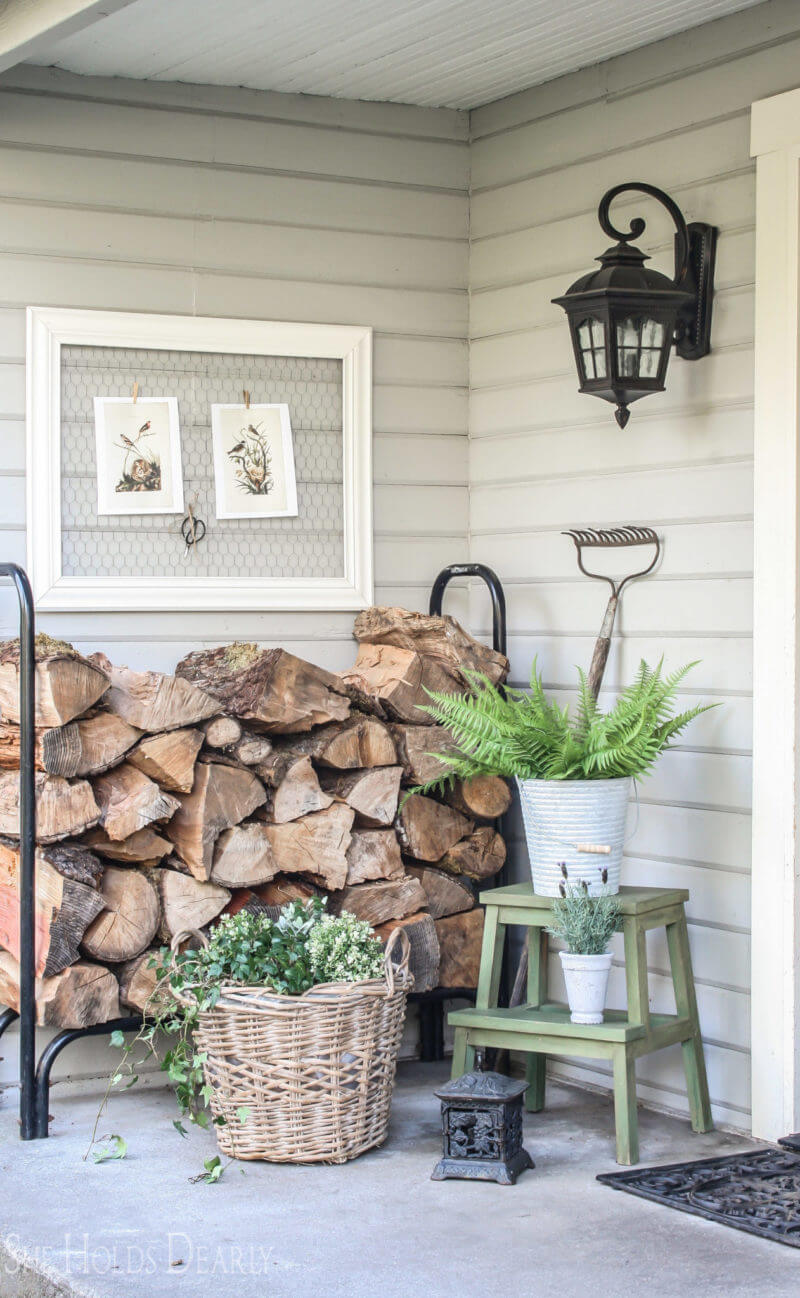 Transform your porch into a chic, open garden shed with this unique layout. All it takes is an attractive stand for all your loose firewood and a place to set up some of your favorite plants, and you have a gorgeous "porch shed".
3. Large Rustic Potted Plant Décor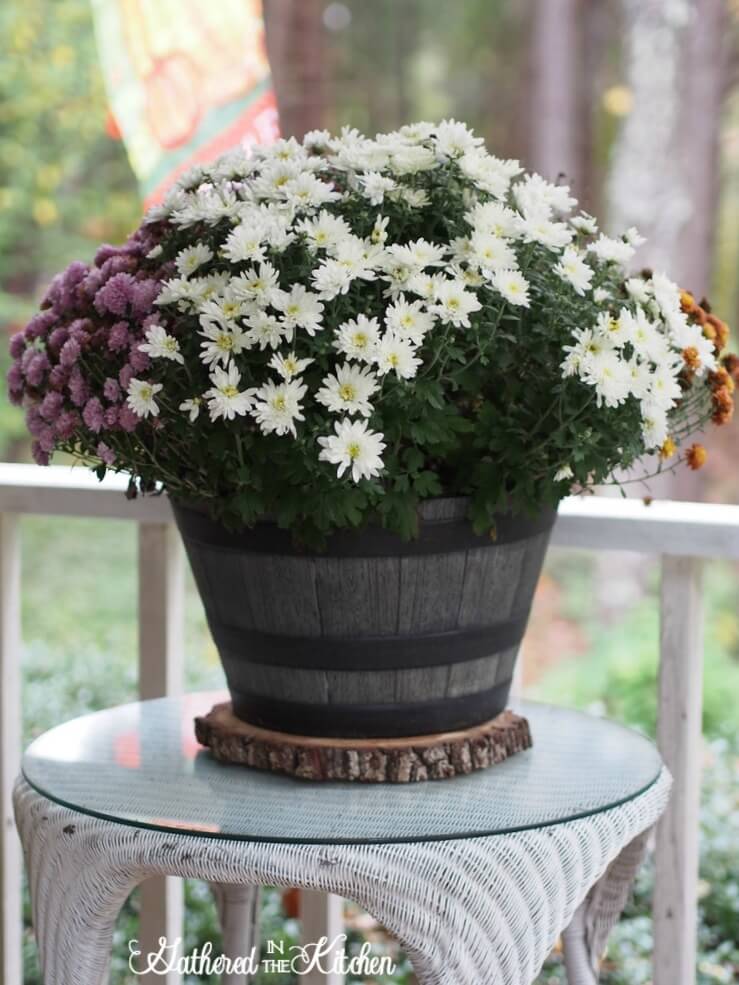 Sometimes you can nail the farmhouse rustic theme with the right plant pot and side table. Use a dark pot and consider sitting in on a piece of wood to bring out the rural, country feel of your home.
4. An Inviting Place to Sit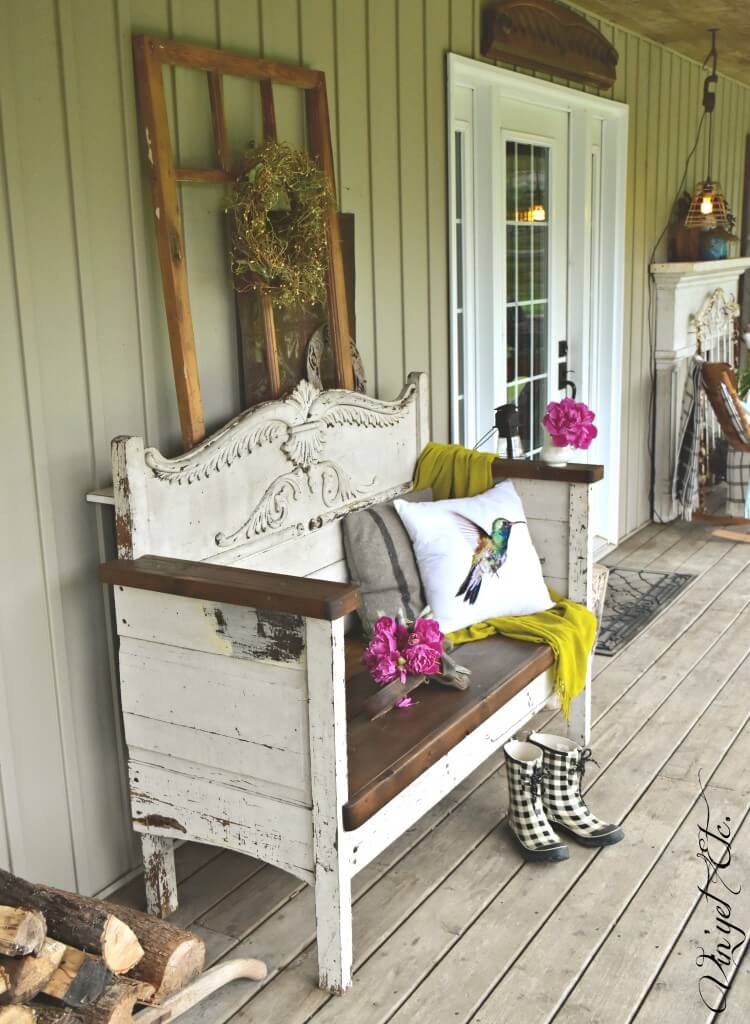 An aged bench is a wonderful way to enhance your farmhouse décor while providing something functional for your family and guests to use. Consider adding some cute throw pillows, perhaps nature or animal-themed, to complete the look.
5. Whimsical Wall Container Flower Pot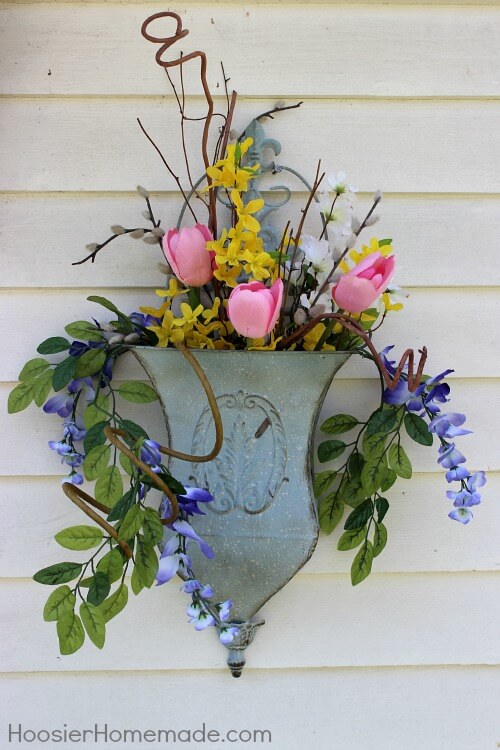 It's always fun to take something and renovate it into something else, and that's exactly the case with this old-fashioned, quirky wall container that can act as a plant holder. This vintage holder may work with real or fake flowers.
6. Old-School Metal Bucket Flower Pot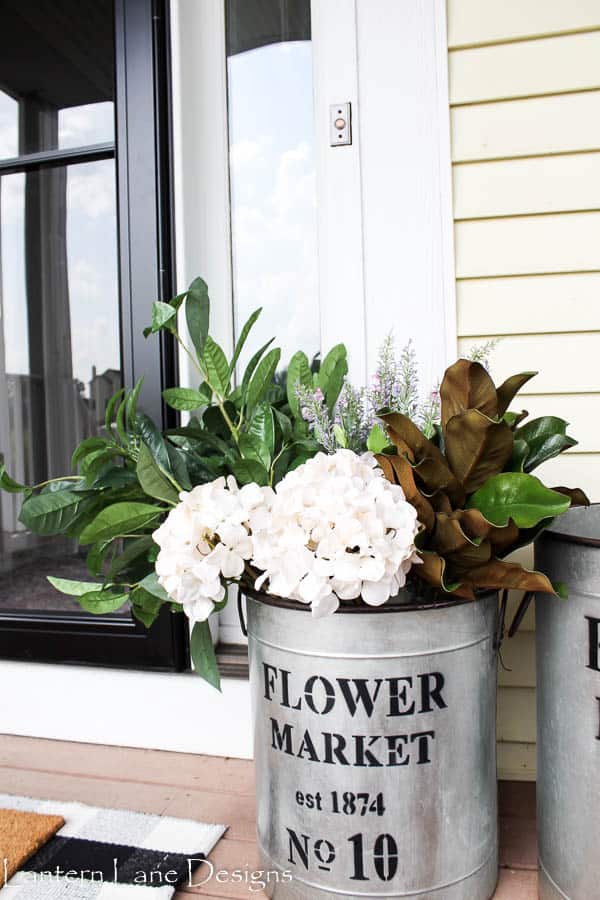 Elevate the traditional flower pots with this bold, old-school metal container. There's wonderful practicality behind considering the size offers enough space for numerous flowers, faux or otherwise, while still adhering to the charming farmhouse style.
7. Cute Aged Cart Flower Display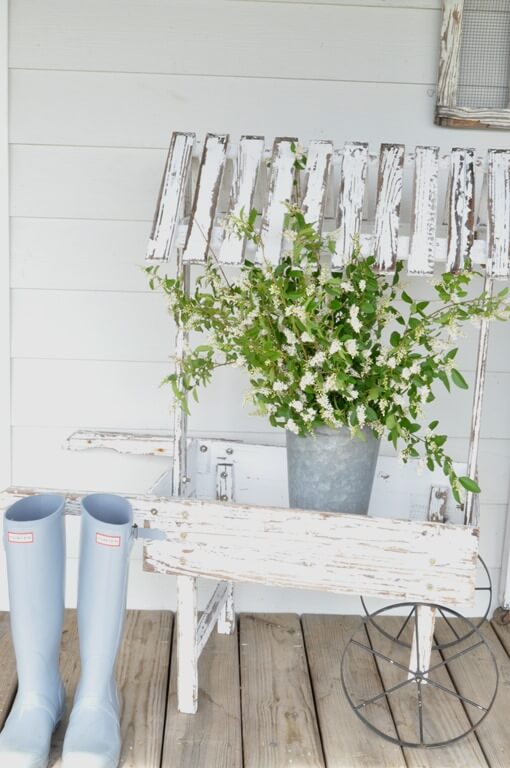 One of the best things about farmhouse décor is the many fun ways you can display planters. Check out this adorable vintage wheeled cart décor. It's bold enough to capture anyone's attention.
8. Create a Unique Milk Can Table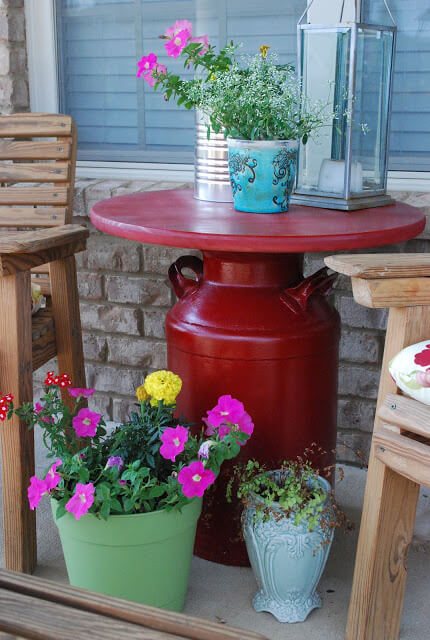 Reclaimed items are a great way to decorate. Just paint an old milk can and finish it off with a tabletop. In the end, you have a distinctive outdoor table to hold plants and décor.
9. Fall-Inspired Homemade Birch Ladder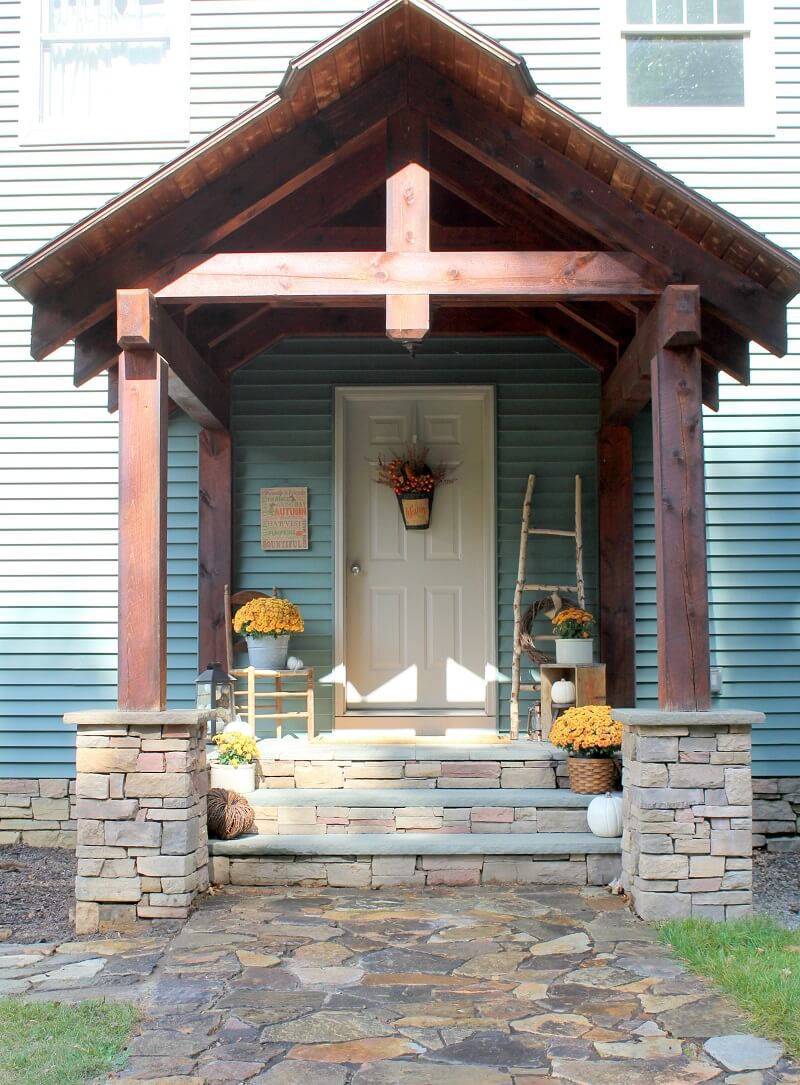 Nothing says country like using literal pieces of tree branches in your décor. With a little time, you can construct a cozy, rustic birch ladder that looks remarkable resting against your home.
10. Painted Charming Window and Wreath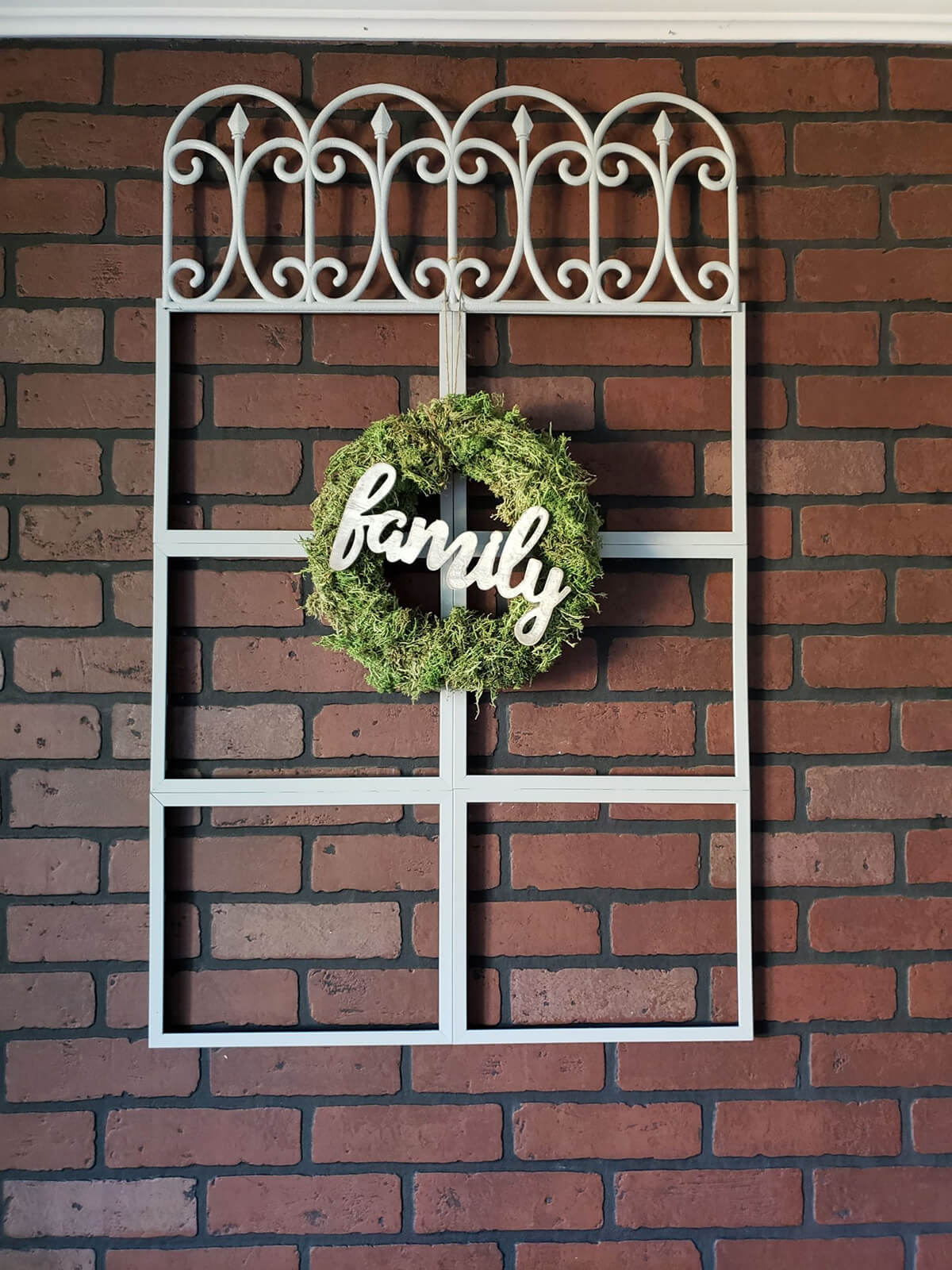 It's a joy to give items an overhaul, and that's exactly what this project does. Who knew a few inexpensive picture frames can turn into a vintage faux window? Add on a crafted wreath to complete the down-home country feel.
11. Rural Pulley and Filing Cabinet Décor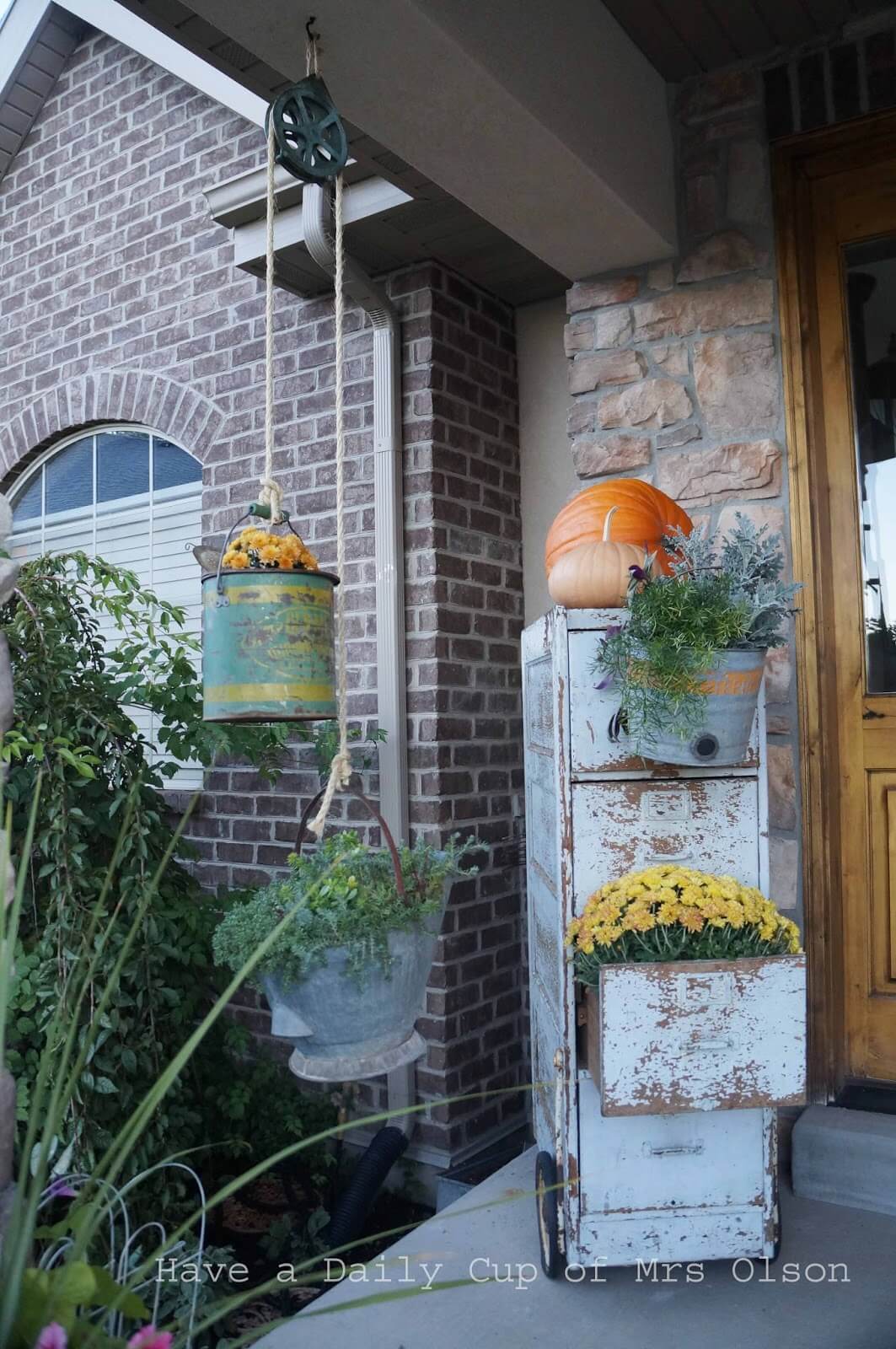 Old filing cabinets offer a décor option that not many people think of. You can even age a brand-new cabinet instead to get the same effect. With the bonus of a vintage pulley system, you can build masterfully unique flower holders.
12. Lovely Flower Springtime Porch Bench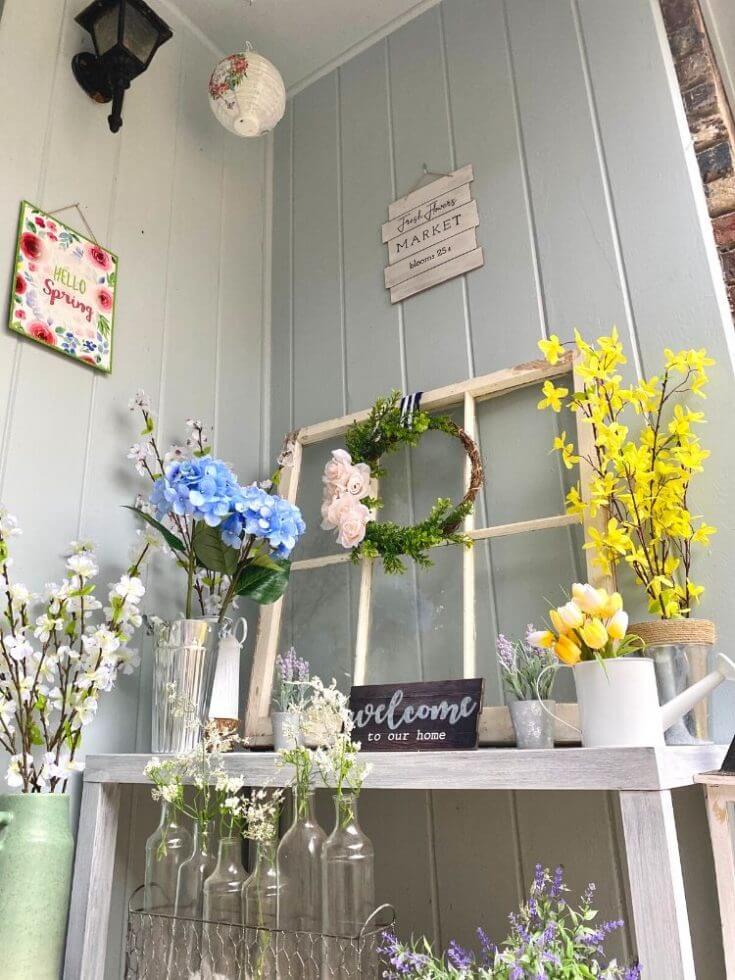 Brighten up your porch with a beautiful springtime-themed bench. You can fill it up with numerous flowers in vintage pots and watering cans, and add a friendly welcoming sign to embrace your visitors.
13. Cool Farm-Themed Rustic Wheat Wreath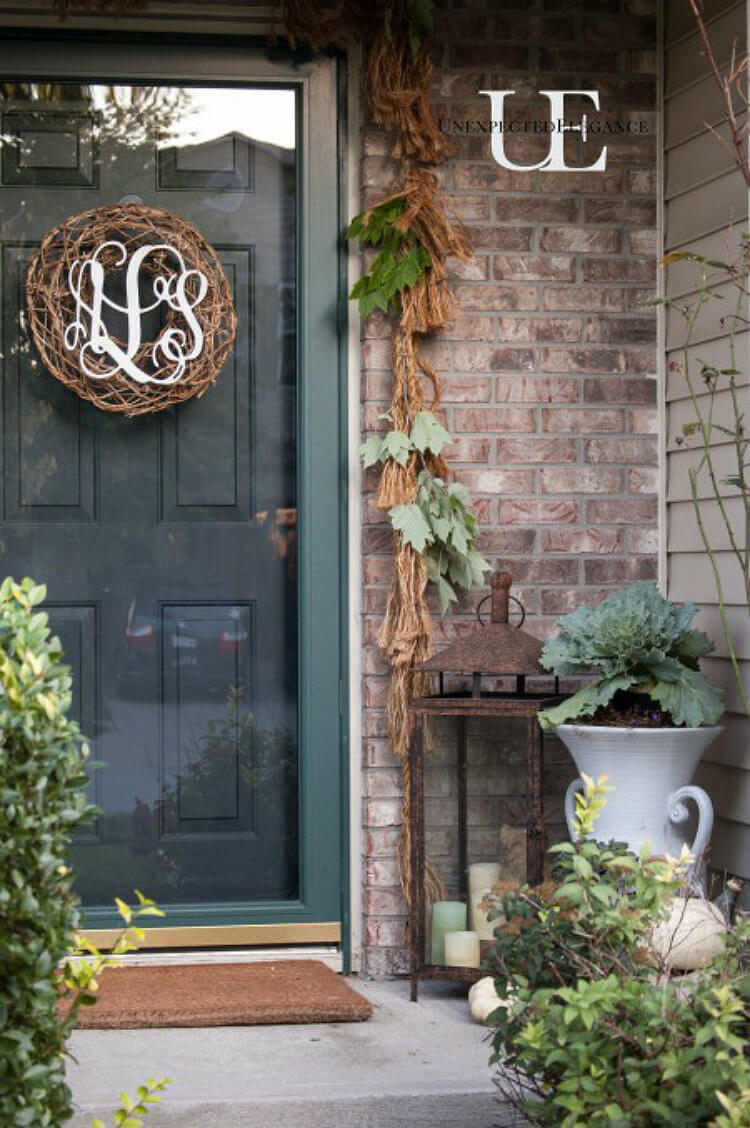 A wreath is sometimes all it takes to bring some life to your front porch. This wheat wreath works charmingly well with farmhouse decor ideas, but it can also blend effortlessly during certain seasons like Autumn.
14. Elegant Fall Burlap Grapevine Wreath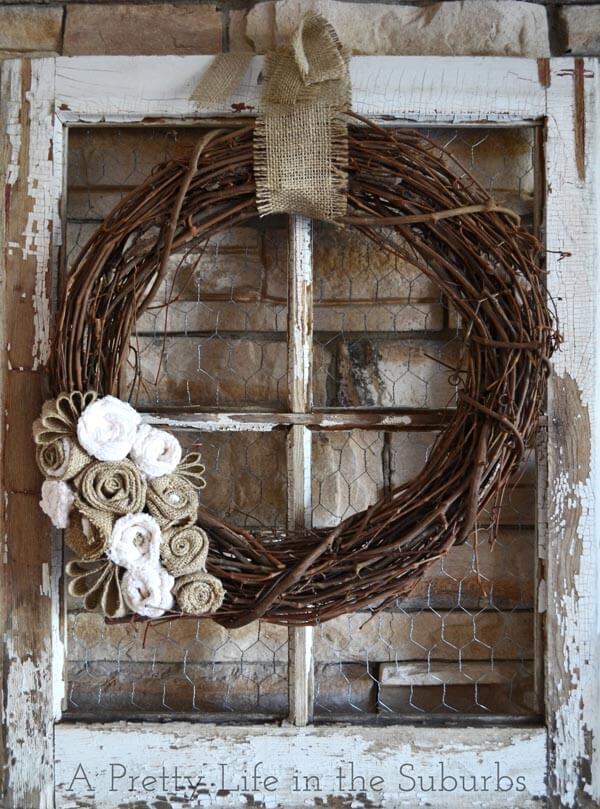 Don't let the autumn theme fool you. This attractive burlap grapevine wreath can work all-season long when it's surrounded by other farmhouse designs. You can turn the fabric in any pattern, but you can never go wrong with faux flowers.
15. Cozy Budget-Friendly Autumn Décor Bash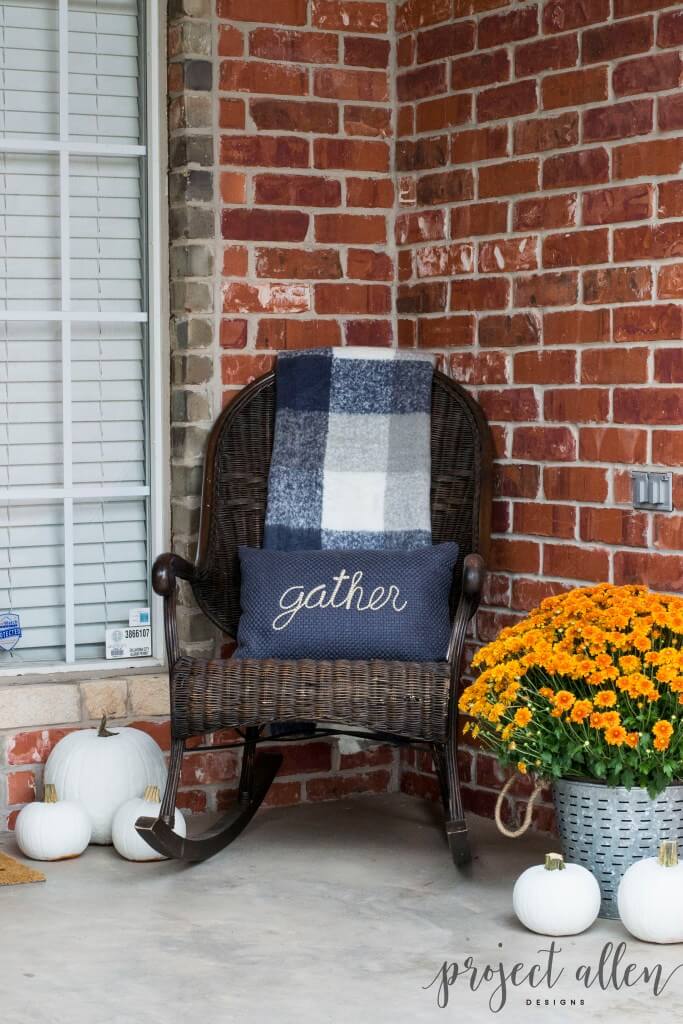 Decorating a rural porch is as easy as using multiple items in a single area. Have a wicker chair out front? Toss a cozy blanket on it with an inviting pillow. Don't be afraid to set it up near some flowers to add some color to the area.
16. Keeping Fall Alive with Classic Designs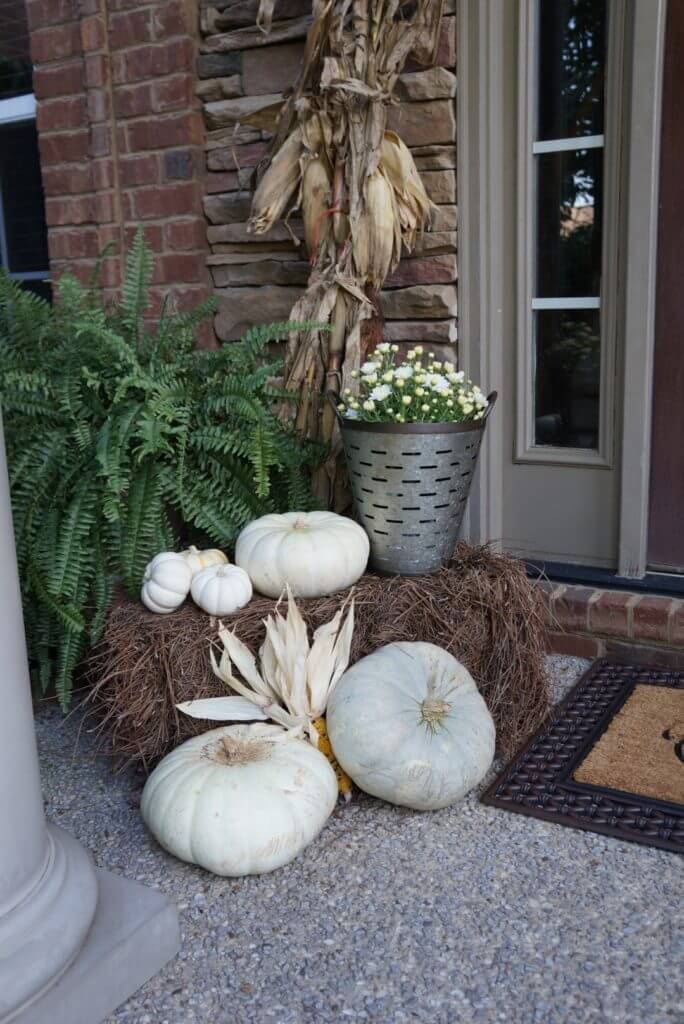 It's easy to add a seasonal touch that doesn't lose sight of your farmhouse layout. Pine straw bales stand out thanks to their dark, rich color, while corn stalks emphasize the country, Fall feel. Pumpkins and flowers are great ways to round it all out.
17. Beautiful Birds Kept Close to Heart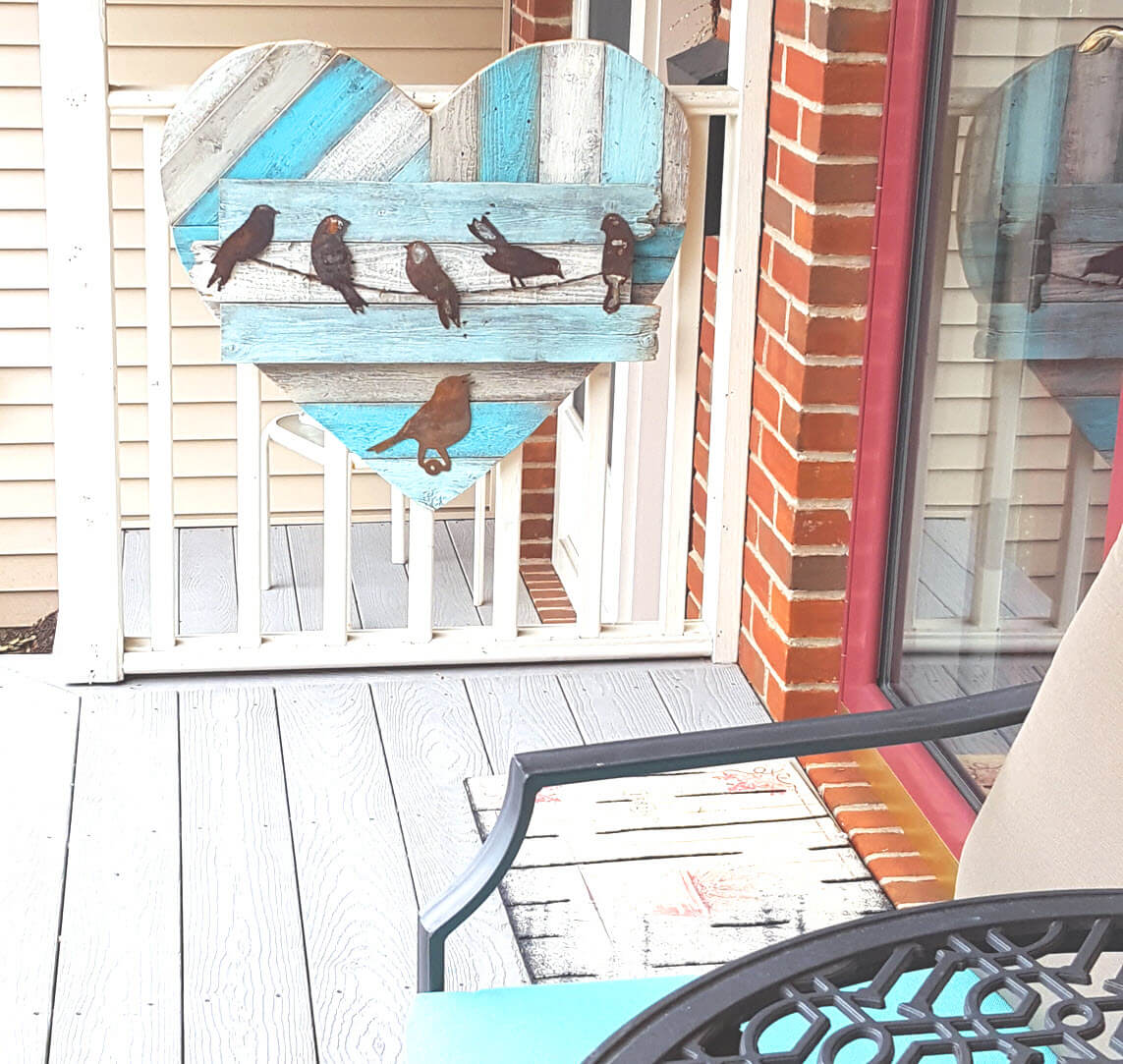 Indulge in all that country charm with this stunning handmade bird heart design. The rustic look of the heart blends effortlessly with the aged metal bird art, symbolizing your free, magical spirit.
18. Interesting Grain Sack Pillow Designs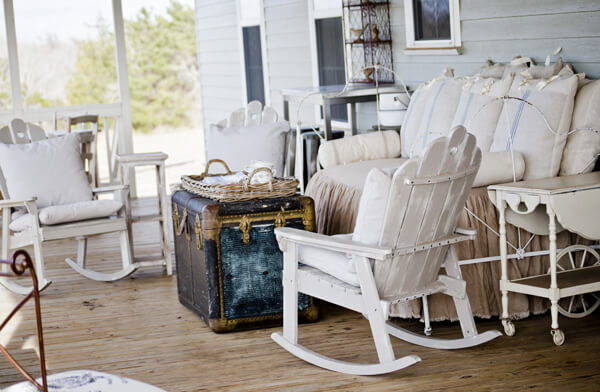 If you don't want your country style to be overt, consider this subtle mean of using grain sacks. You can readily turn them into pillows, and with their reliability on top of their cool appearance, they can last well on your porch chairs and couch.
19. Reclaimed Wooden Flower Porch Vases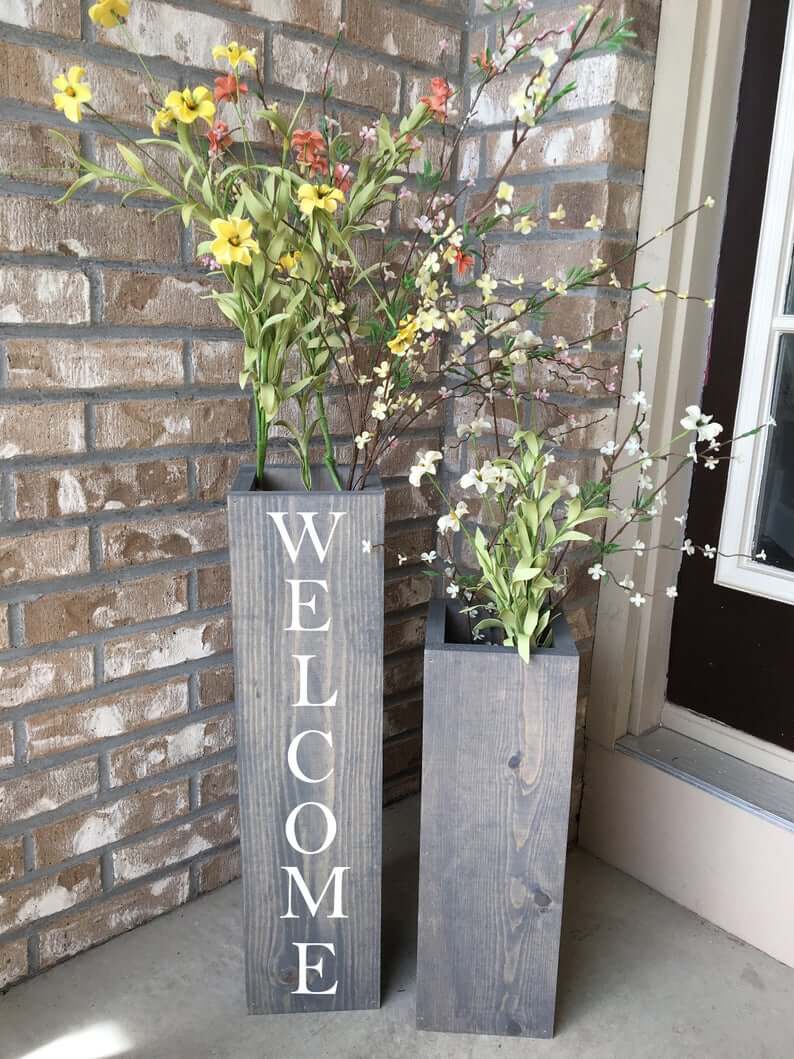 These gorgeous porch vases utilize reclaimed wood to create a charming, rustic effect. They come in a set of two, and both are different sizes so you can decorate accordingly.
20. Urban Aged Home Address Numbers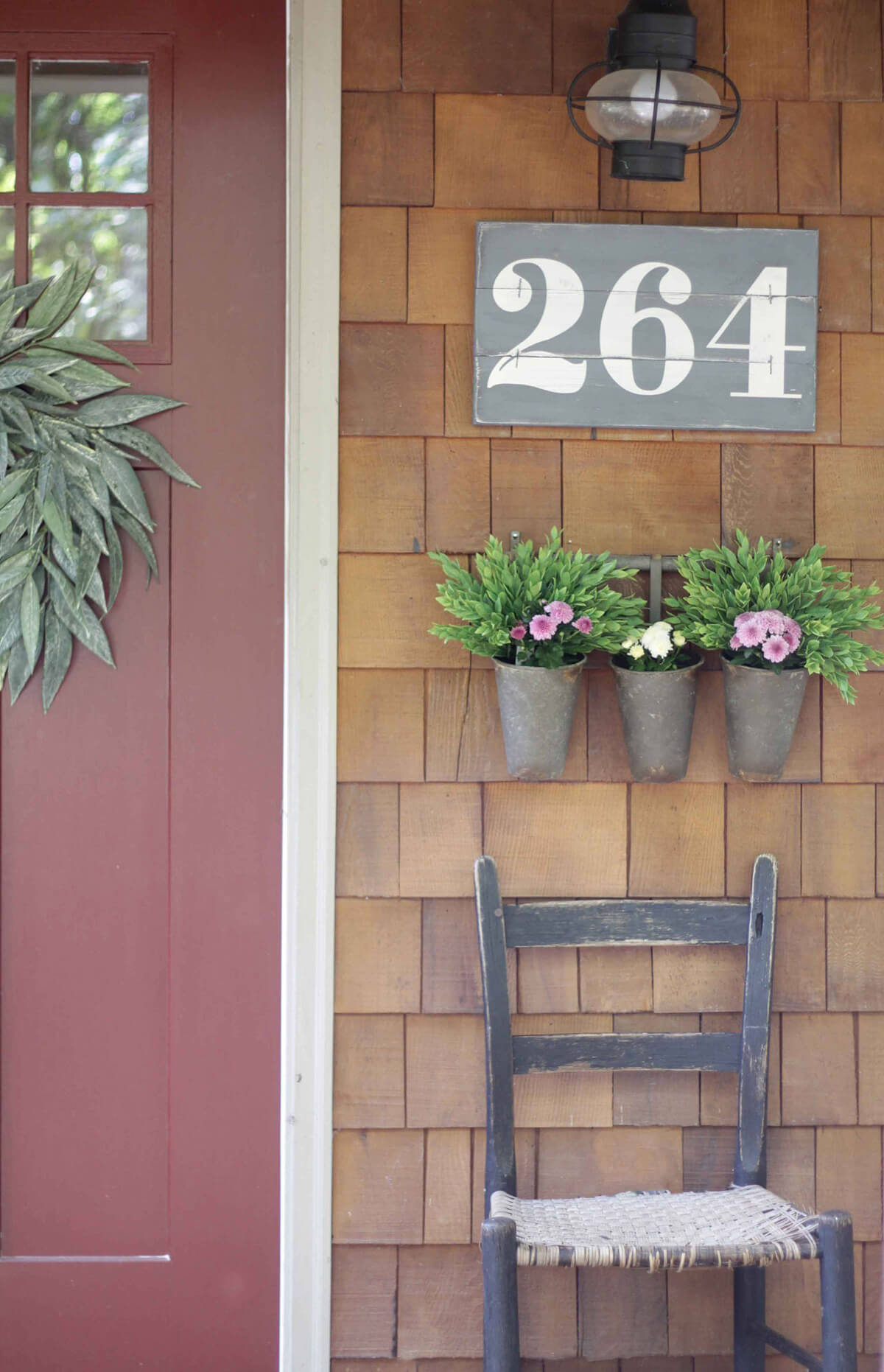 Why settle for a normal address number when you can use this amazing countryside-style sign? You can choose different colors and color combinations to better suit your specific home décor.
21. Home Sweet Home Custom Wooden Sign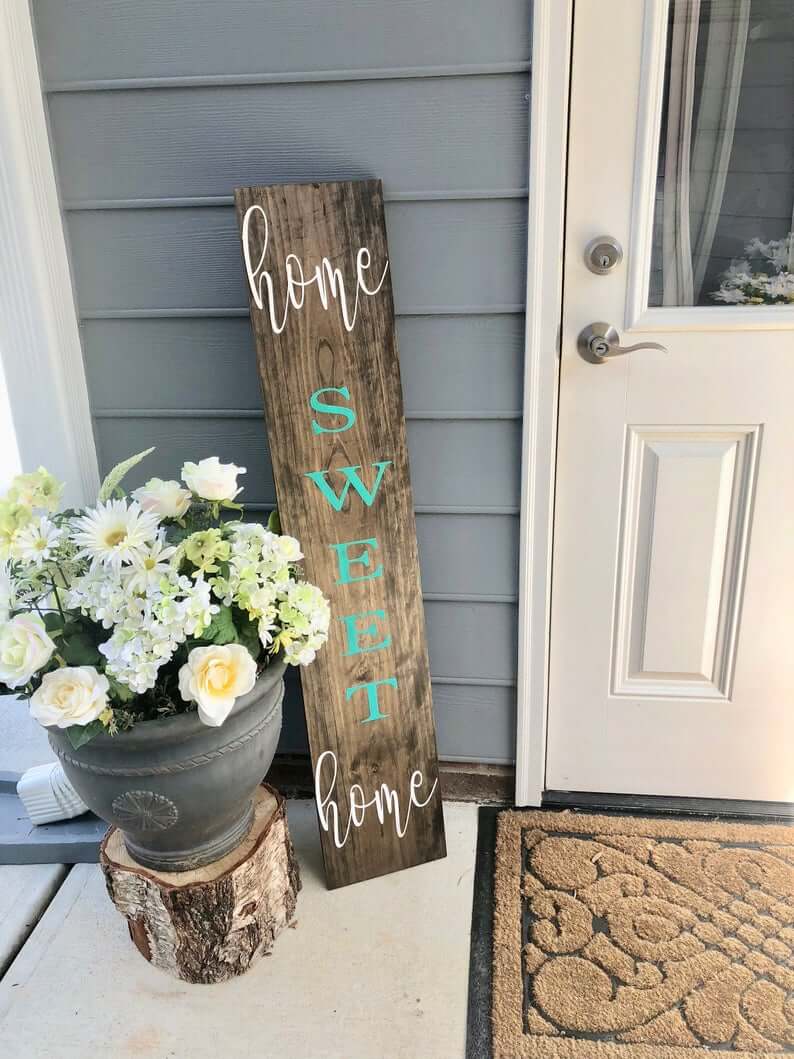 This sign is bold, large, and a clear indicator of your country style to charm guests. You not only choose different colors, but you can also pick a specific type of wood so you know you're getting a personalized piece.
22. Family Name Personalized Porch Sign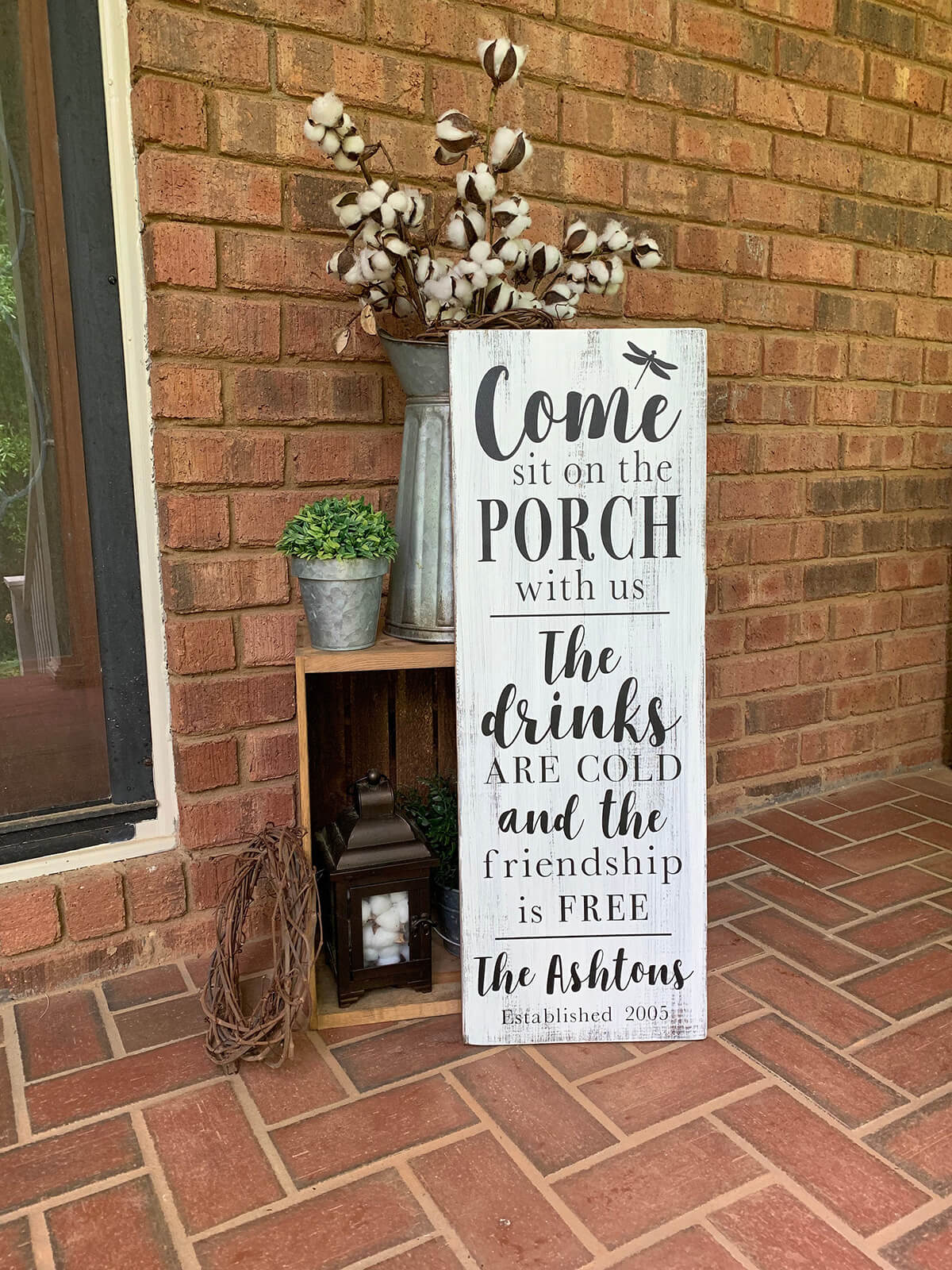 This vertical welcoming sign puts a spin on things with the inviting quote and the bonus of including your family name and the year of your marriage. Either color option provides an attractive rustic charm to your porch.
23. Seasonal Hanging Wooden Door Wreath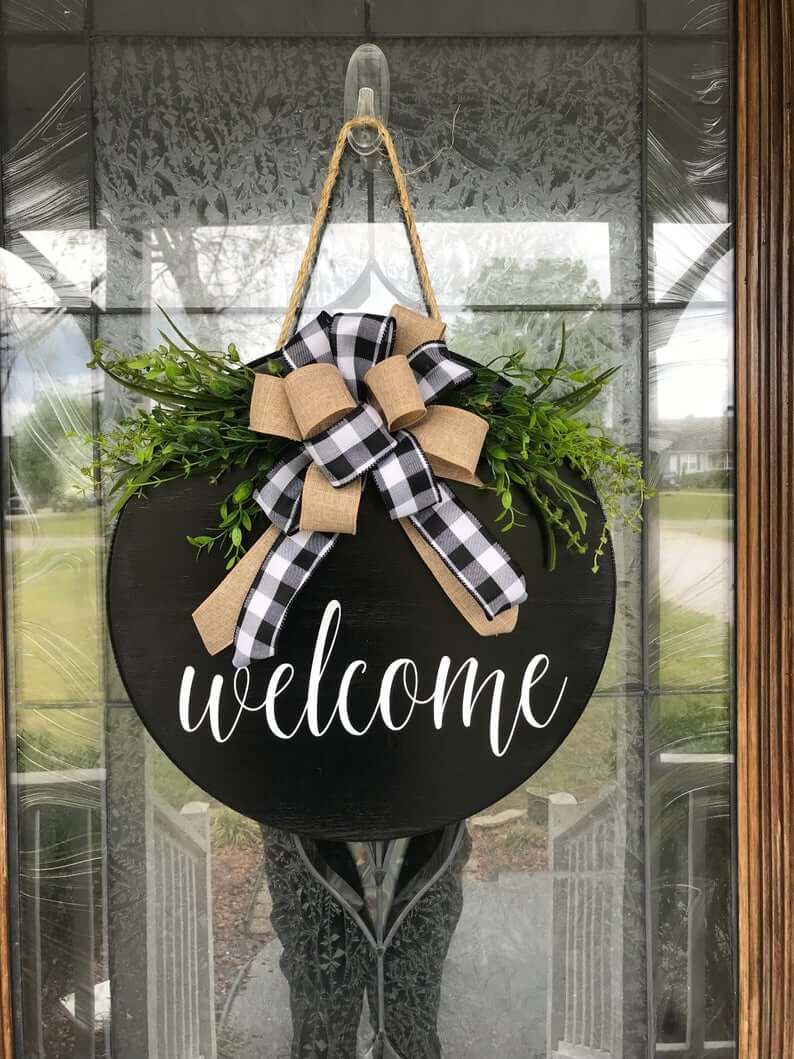 A straightforward way to welcome guests, this wooden wreath has a fine-looking year-round appearance with simple colors and greenery. The seller's even gracious enough to offer different patterns on request if you want a season-specific style.
24. Every Family Has a Story Welcoming Sign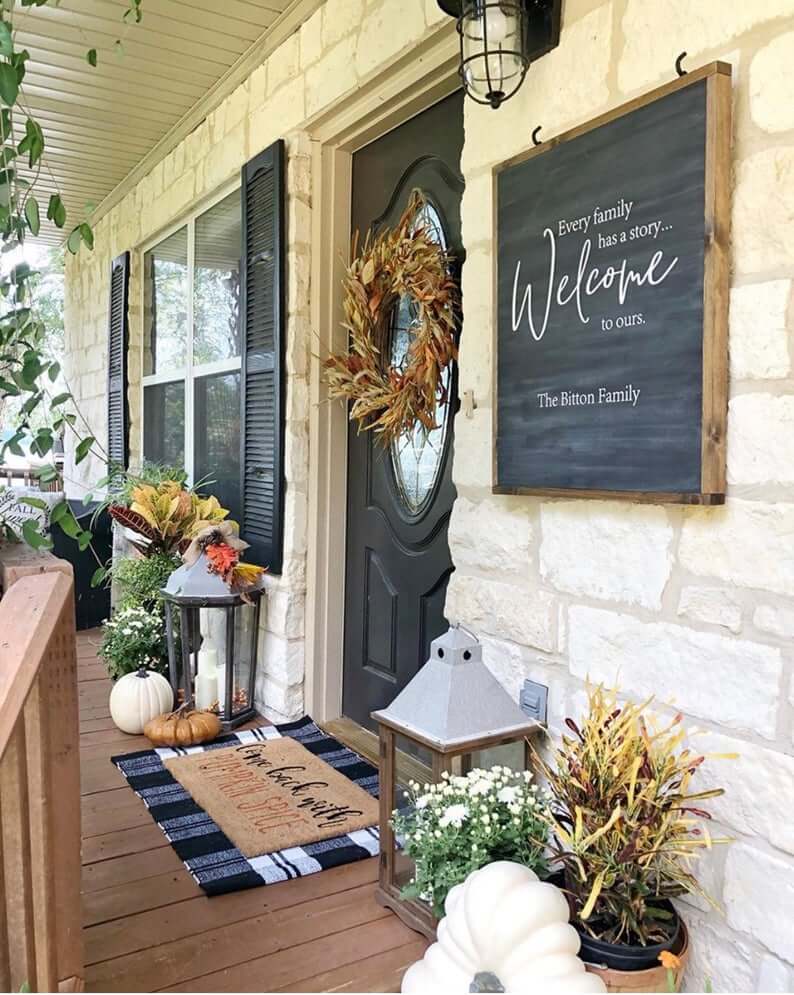 Personalize your country style with a hand-painted family welcoming sign. Any guests should feel right at home as they walk up to your front door, more so as you can add your name for that customizing touch.
25. Porch Rules Oversized Wall Sign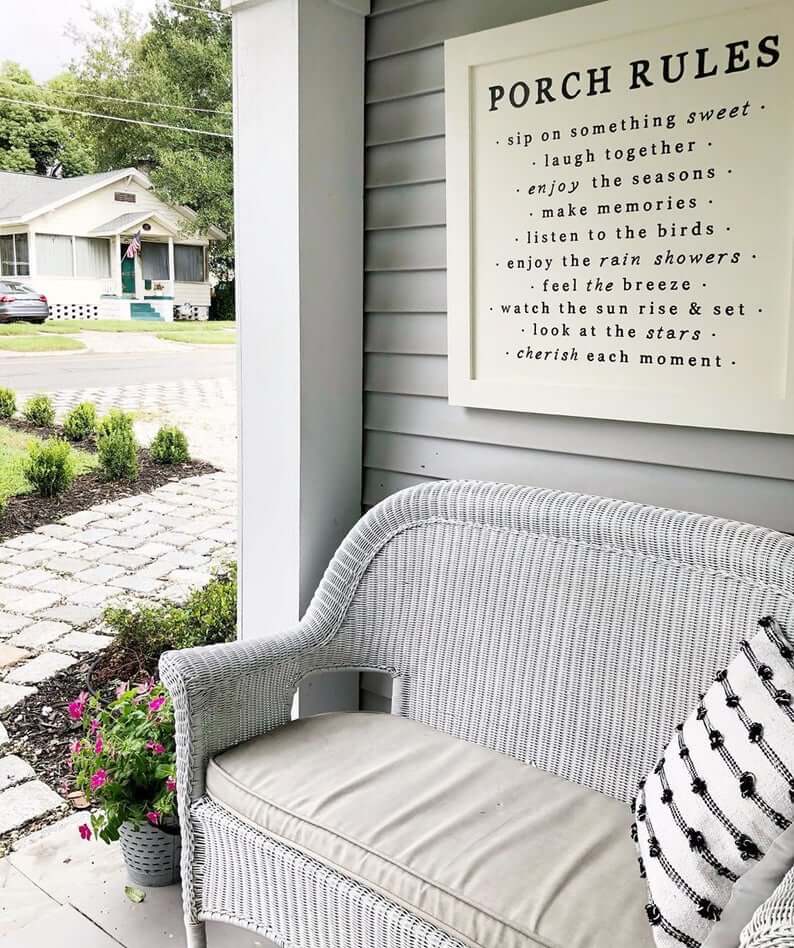 Everyone knows about those classic "house rules" or "kitchen rules", but a farmhouse-style layout deserves "porch rules". This is lovingly crafted to make your guests feel welcomed and cherished.
26. Distressed Barnwood Vertical Home Sign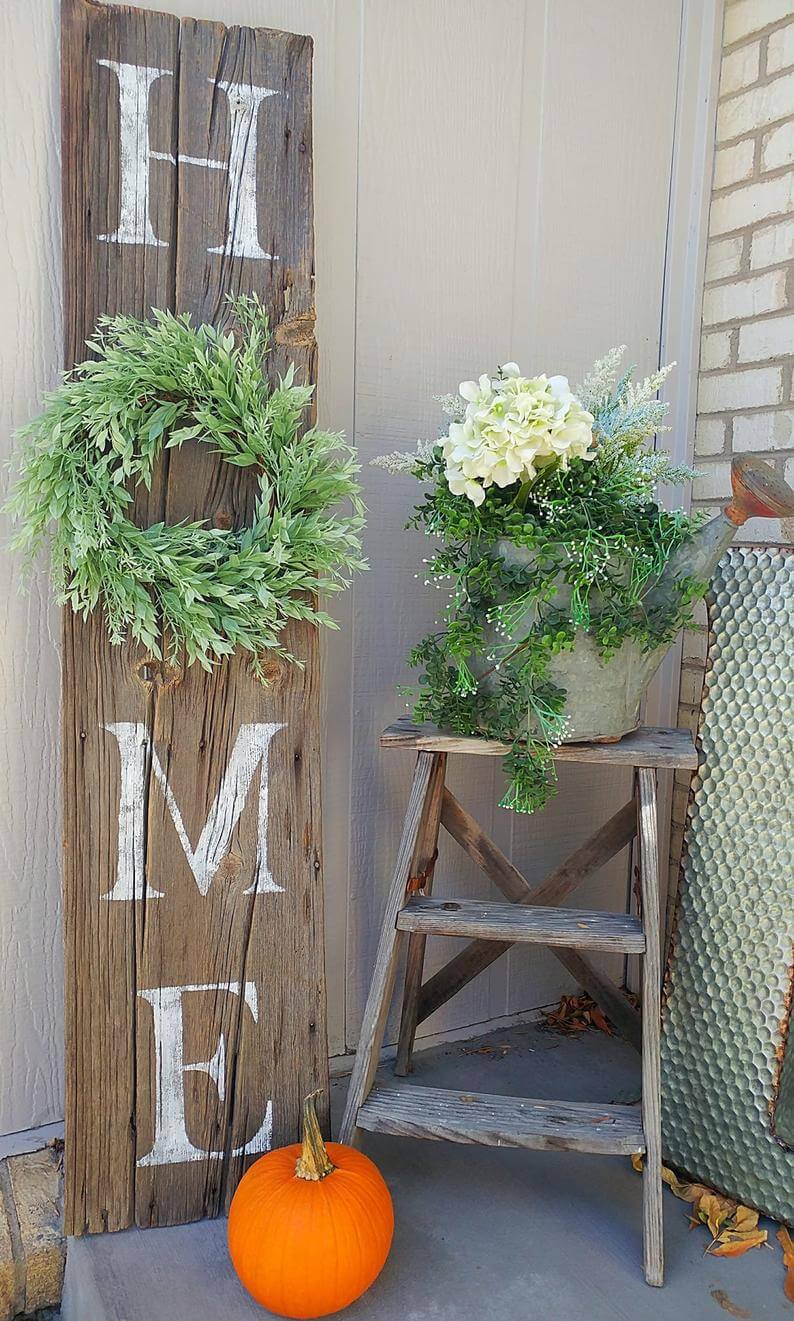 Using reclaimed barn wood to create a vertical sign showcases rural living right on your front porch. It can easily lean anywhere, preferably near the front door to welcome visitors. This has a level of uniqueness to it as well with the use of a simple green wreath in place of the "o" for "home".
27. Framed Multicolor Welcoming Wooden Sign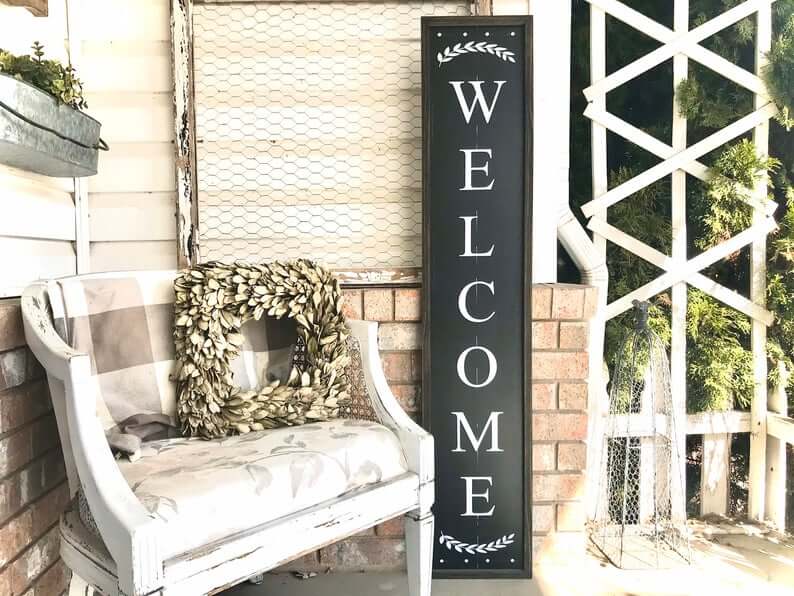 Vertical signs are all the rage, especially for farmhouse styles, and this wooden sign hits all the marks. It's simple, yet pretty, and there's just enough distressing to make it homey all the same.
28. Hola Metal Welcoming Wall Art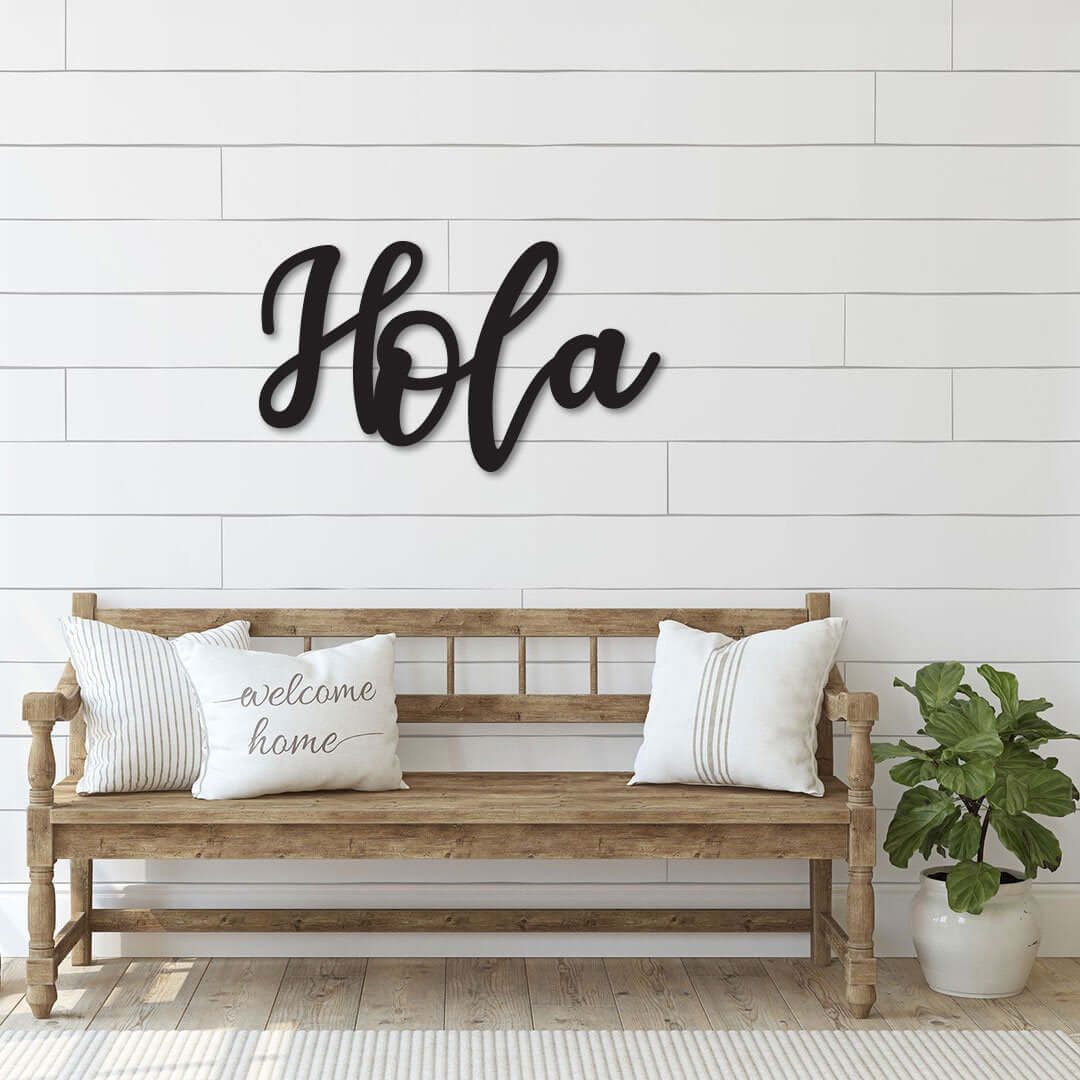 If you want to stick to country living but are eager to add a Spanish touch, then take a look at this quality "hola" metal living room wall art sign. It comes in several colors and sizes, and you're able to make any additional customizing request to make it unique for your home.
29. Hand-Painted Calligraphy Coconut Coir Doormat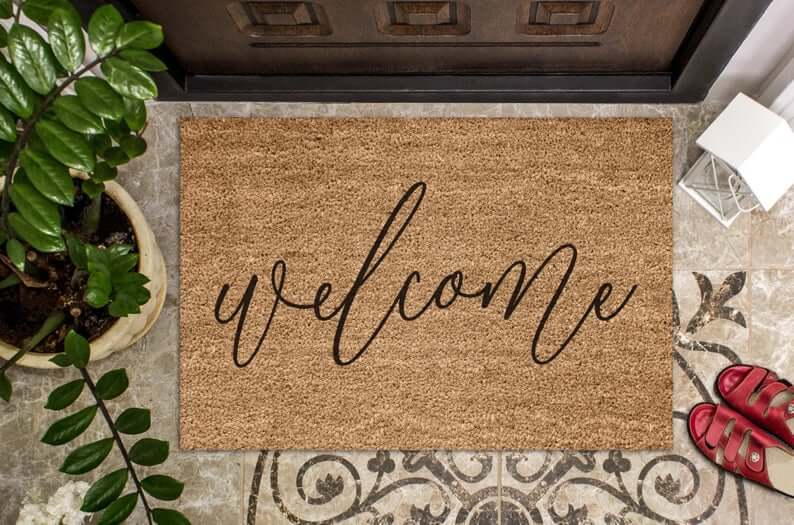 Impress your guests while making them feel welcomed with this hand-painted doormat. It's made from 100% coconut coir, and if you want something a touch different, you can reach out to the artist to create a more exclusive doormat.
30. Standalone Vintage Farmhouse Door Art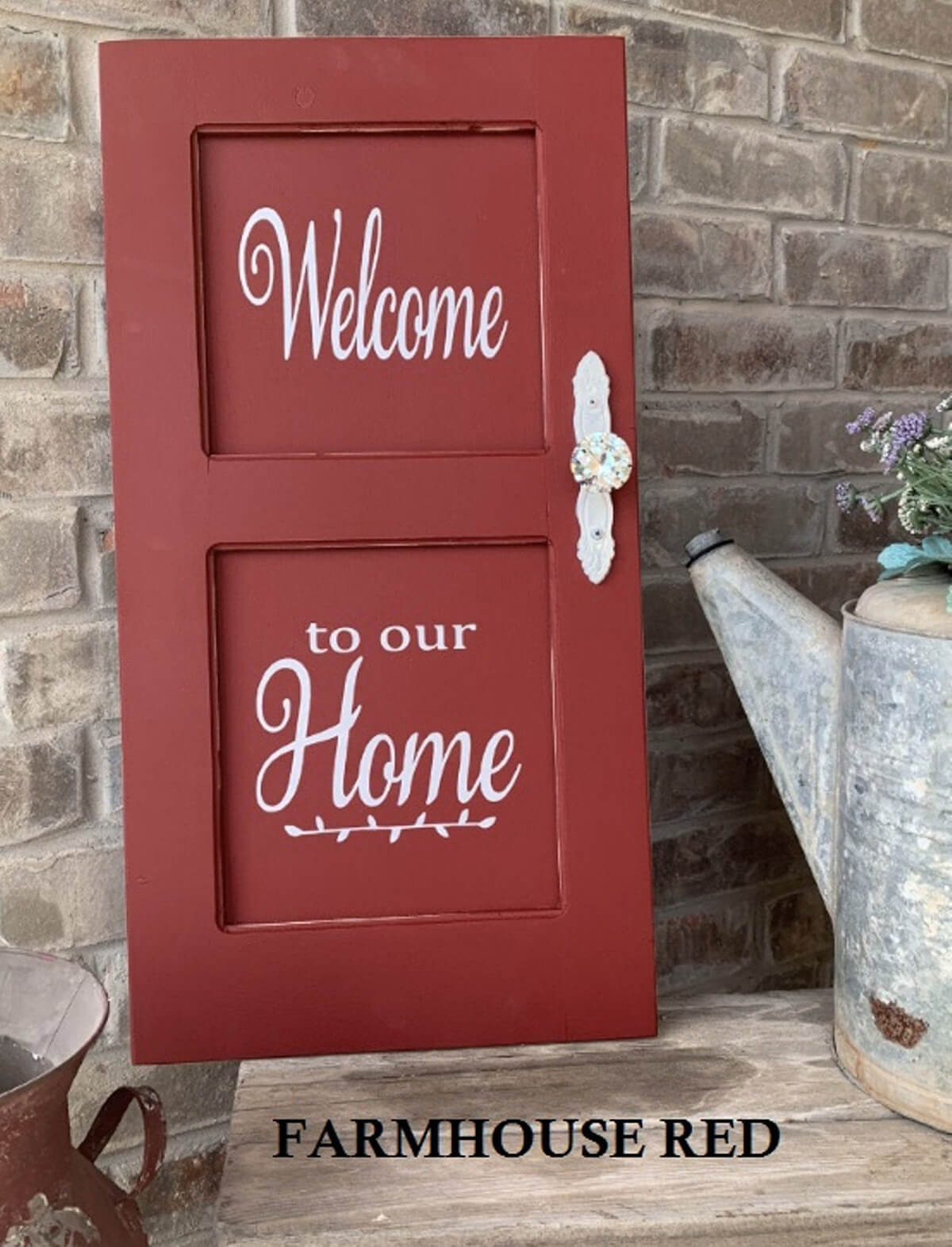 You can show-off a countryside door without having the actual door with this vintage art. It can act as a standalone on your porch, or you can hang it on a wall. The door art is basic while still being multidimensional and appealing, especially as you can choose from different colors.
31. Storefront Style Wooden Welcome Sign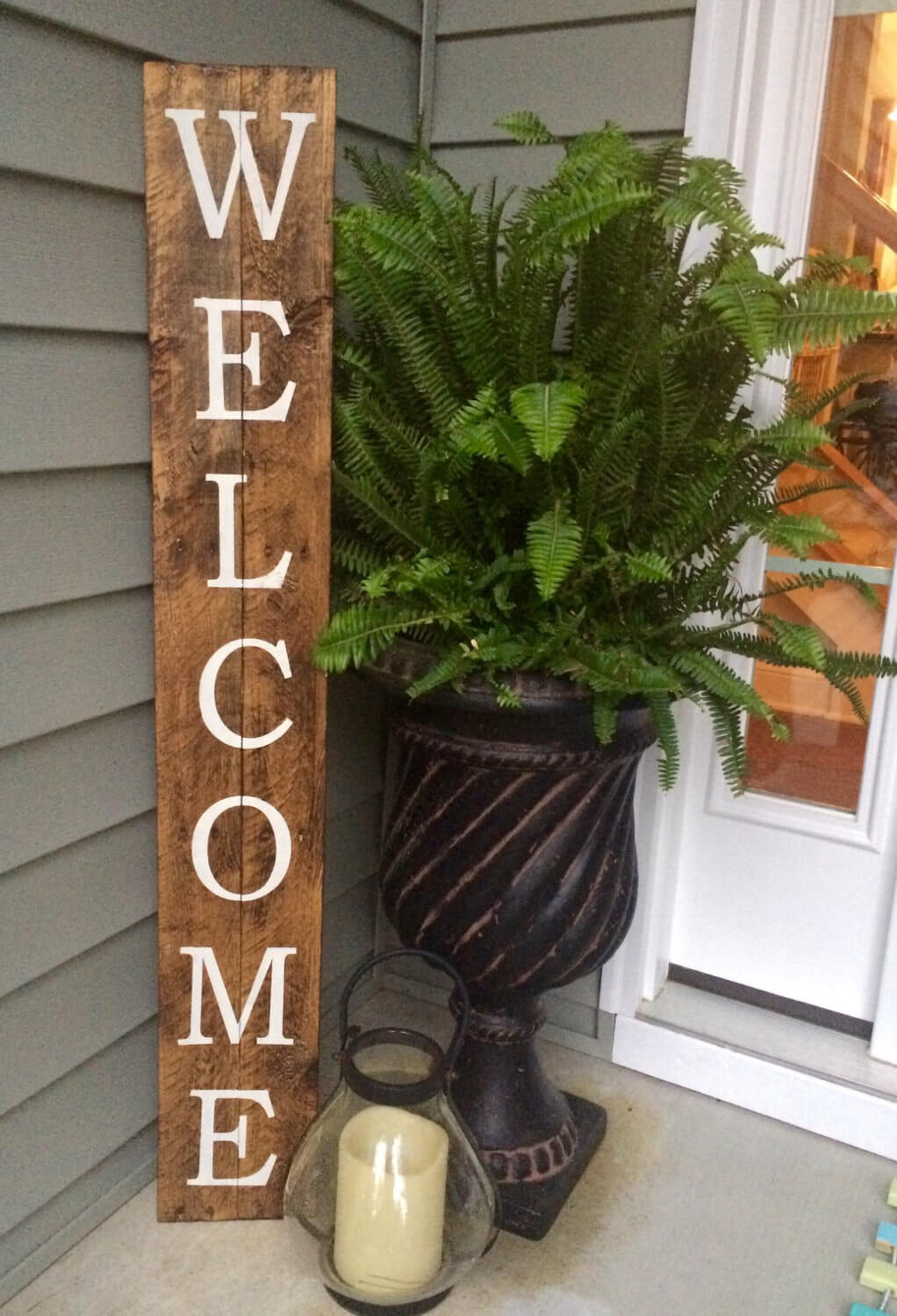 Guests can't doubt their welcome when it's written large as life. The natural elegance of a single potted fern, with the warm light of single candle at its foot, make this porch's welcome irresistible.
32. Painter's Ladder Potted Plant Stand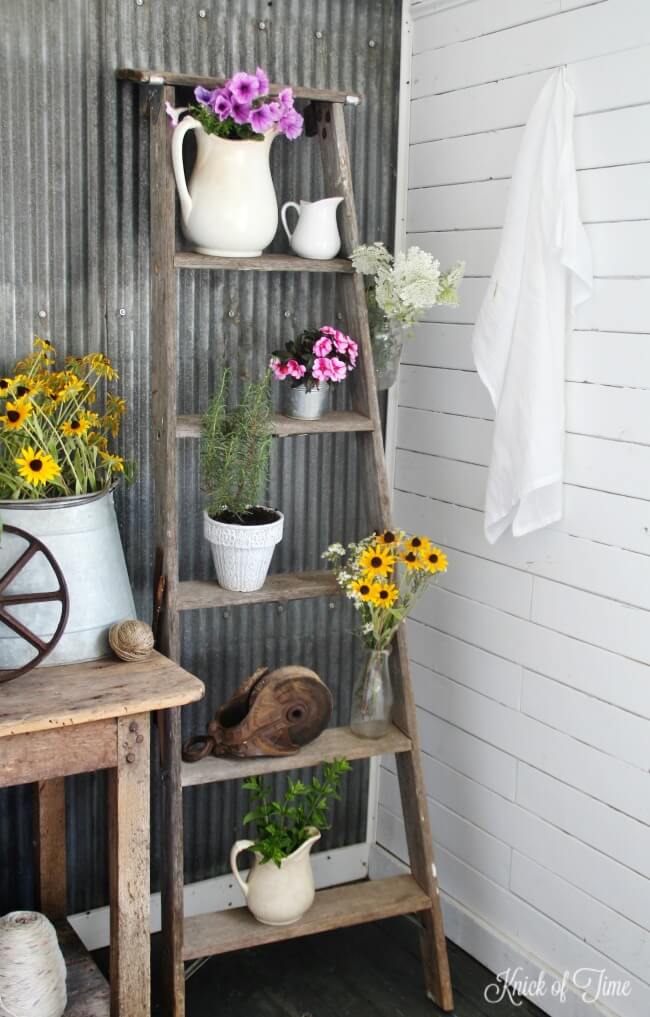 Nothing goes to waste on a true homestead, and that spirit is evident in this trash-to-treasures display. The broken ladder and washboard-texture wall provide just the right backdrop for colorful flowers and a collection of found objects.
33. Enchanted Repurposed Spool Table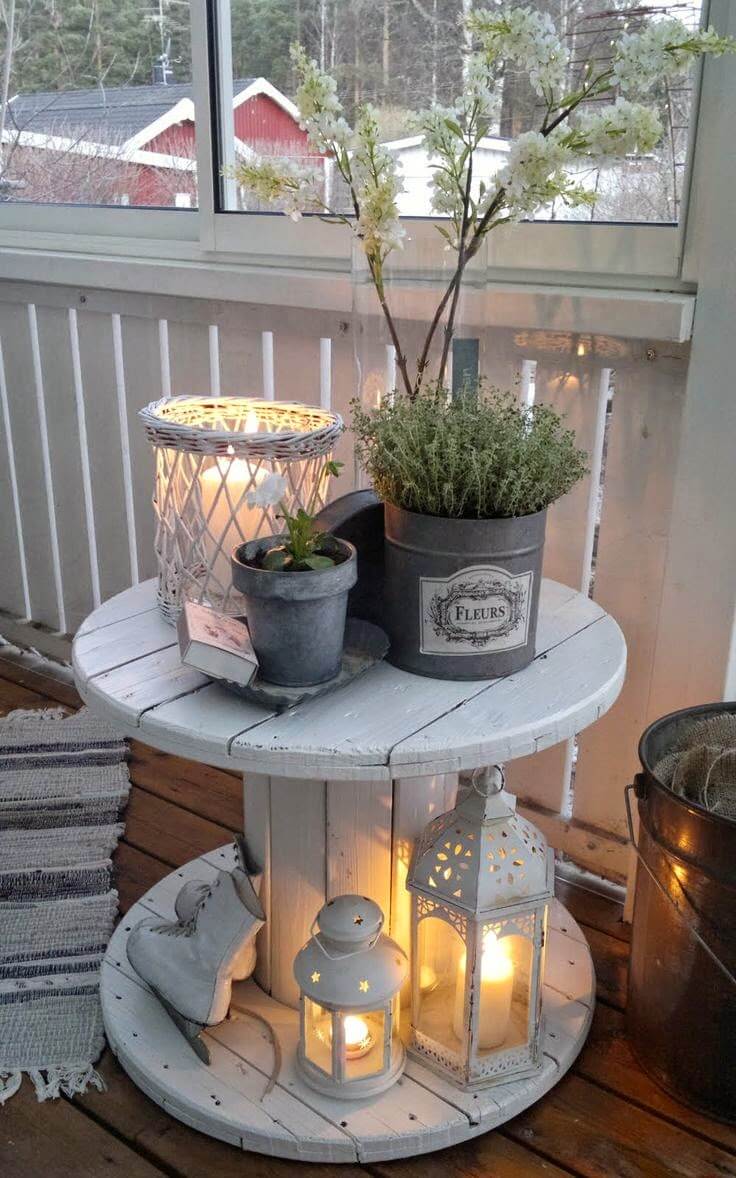 The porch's handsome barnwood floor and white walls come together with an upcycled painted wooden cable spool. The fun collection of lamps and lanterns makes it a focal point, or, an elegant alternative to an outdoor campfire at night.
34. Tin Pail Porch Planters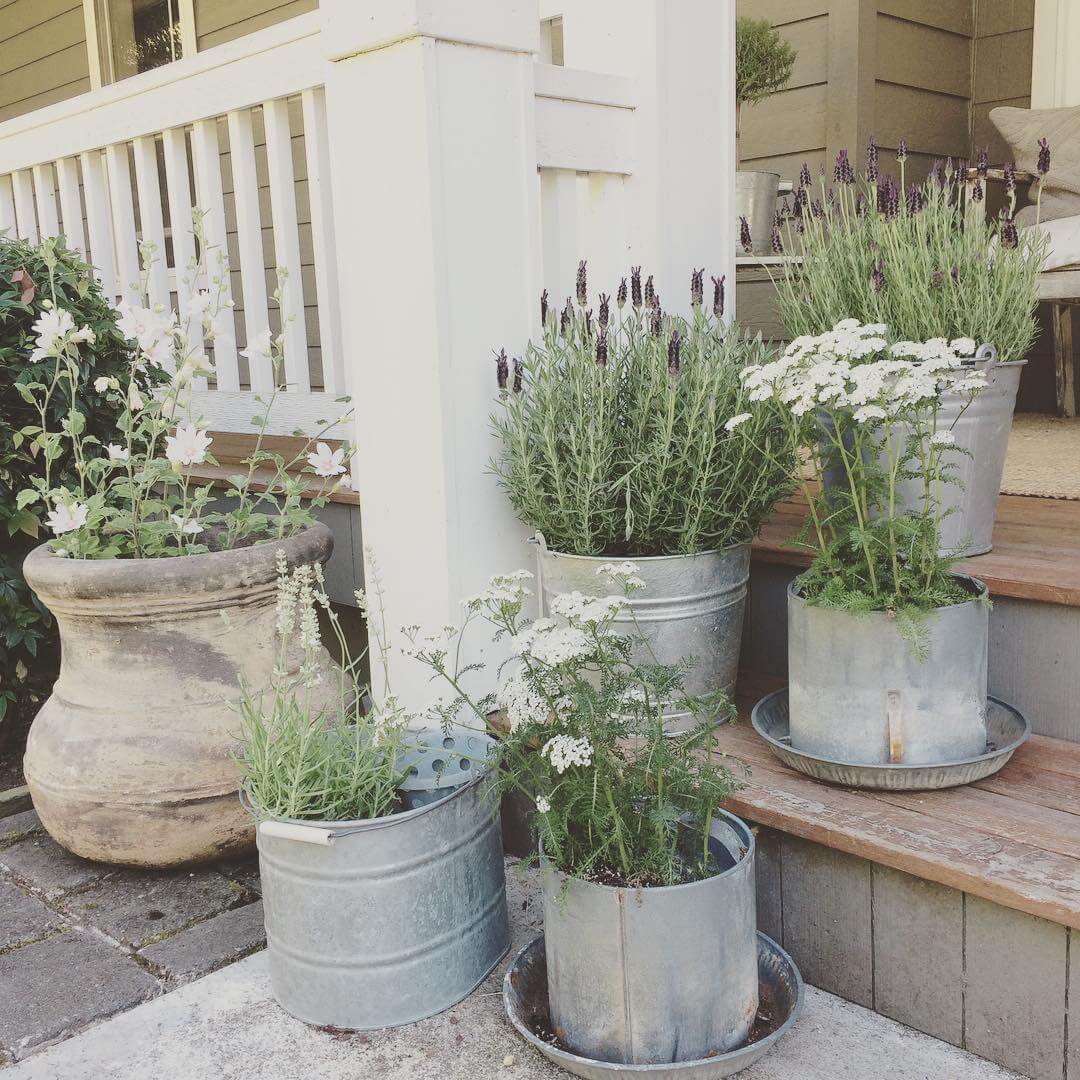 Potted herbs are given down-to-earth charm and a unified palette with a collection of repurposed metal buckets and pie plates. Grouping them on the steps softens sharp corners, and offers a fragrant welcome.
35. Schoolhouse Letter-To-House Number Plaque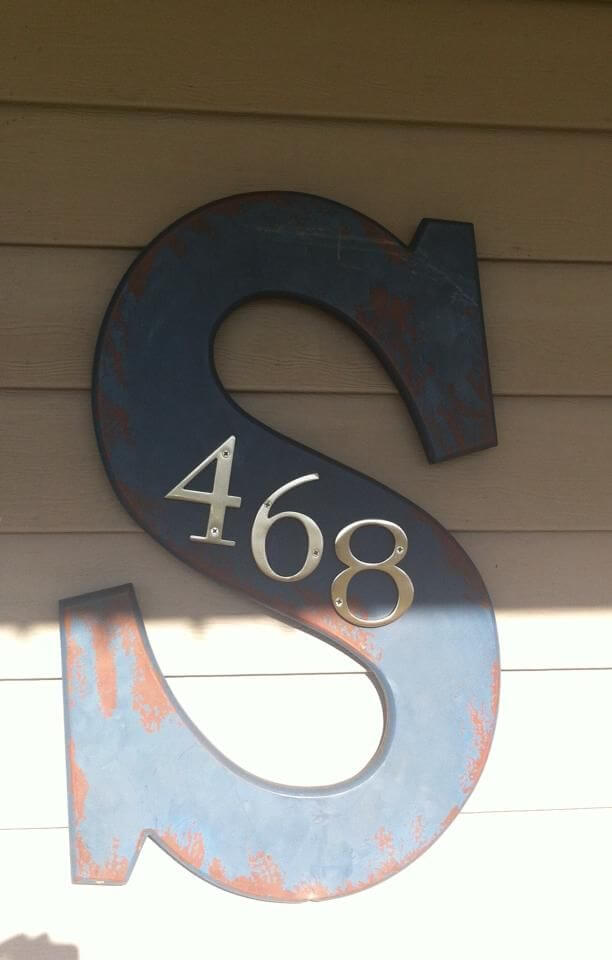 Monograms lose their stuffiness when carved in wood and painted in rich country colors. Bold, large and mounted by the front door, this one serves as an attractive and personalized frame for house numbers.
36. Miner's Lantern Flower Holder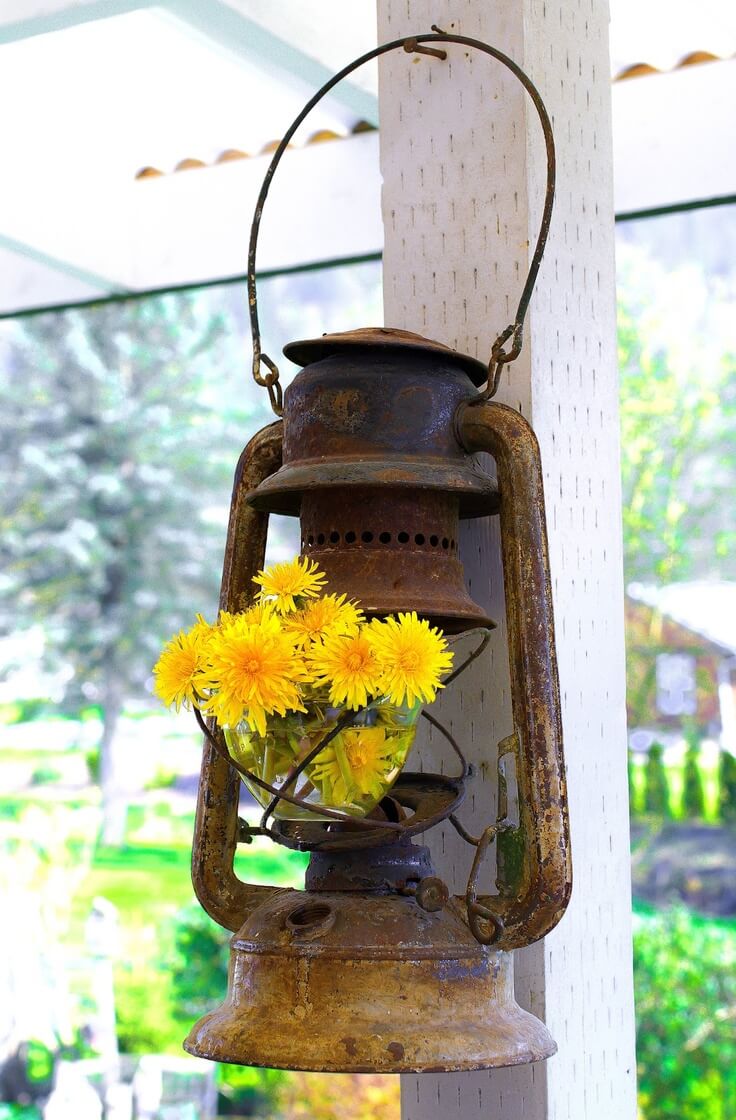 Kerosene lanterns and hurricane lamps may have given way to solar uplights and strings of electric bulbs, but they can still brighten a porch when showing off a hand-picked selection of sunny dandelions or wildflowers.
37. Country Cottage Plant Box & Hangers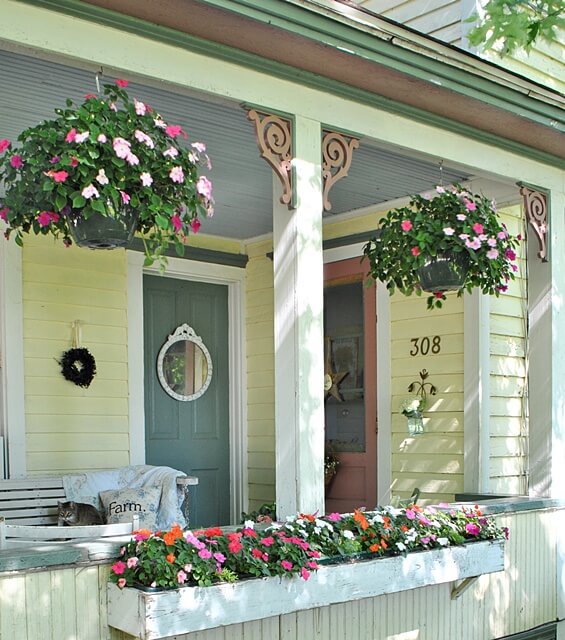 A celebration of springtime color wouldn't be complete without real flowers. Windowboxes, hanging baskets, pots and borders all make this porch a vibrant and fragrant warm-weather oasis.
38. Grocer's Trolley Gardening Display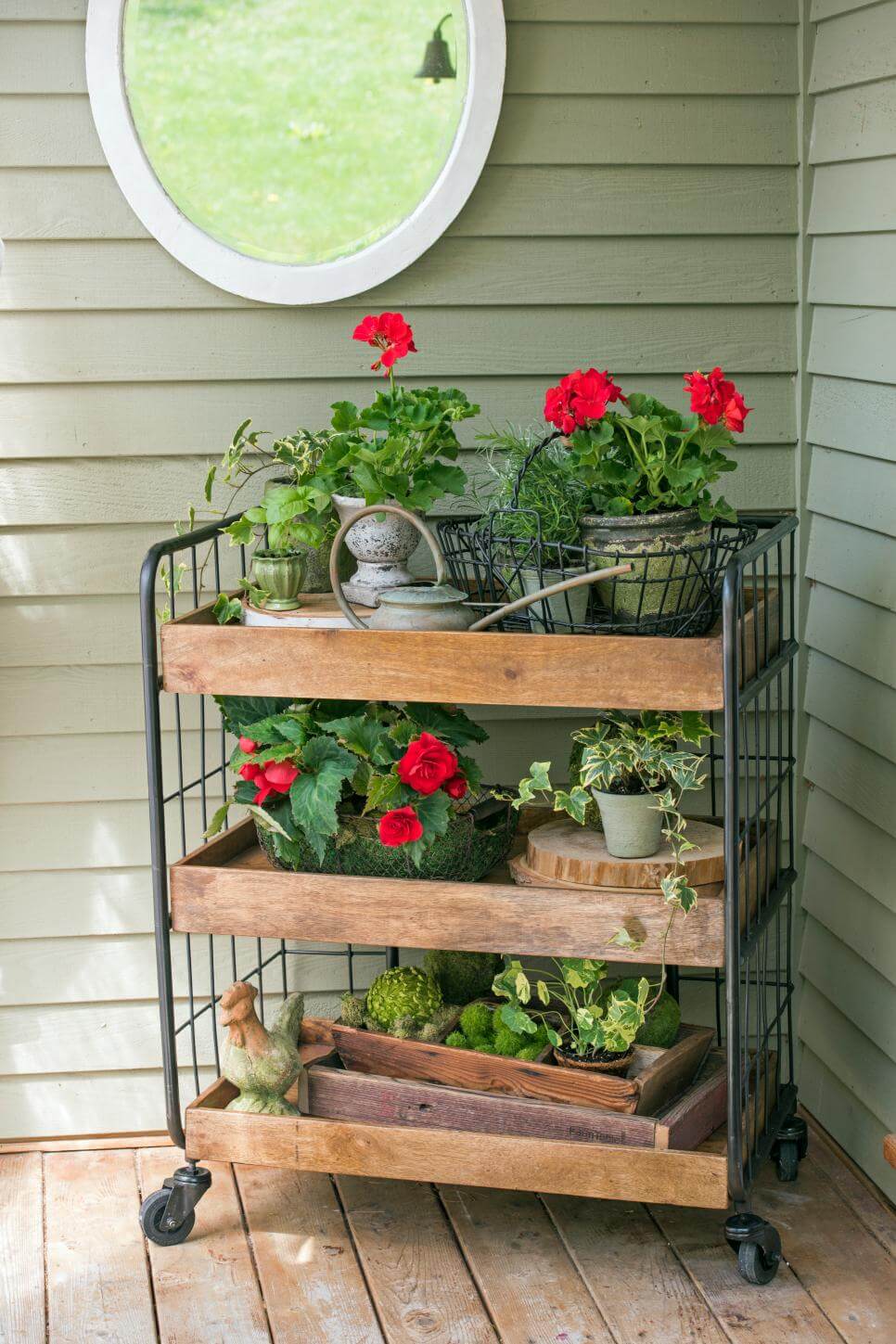 A utility cart showcases a tiny garden of colorful blooms and potted succulents, filling an empty corner with natural beauty. When entertaining, its versatility is a key feature, whether it's rolled aside to make room, or cleared for refreshments.
39. Prairie Home-Sweet-Home Sign & Flower Holder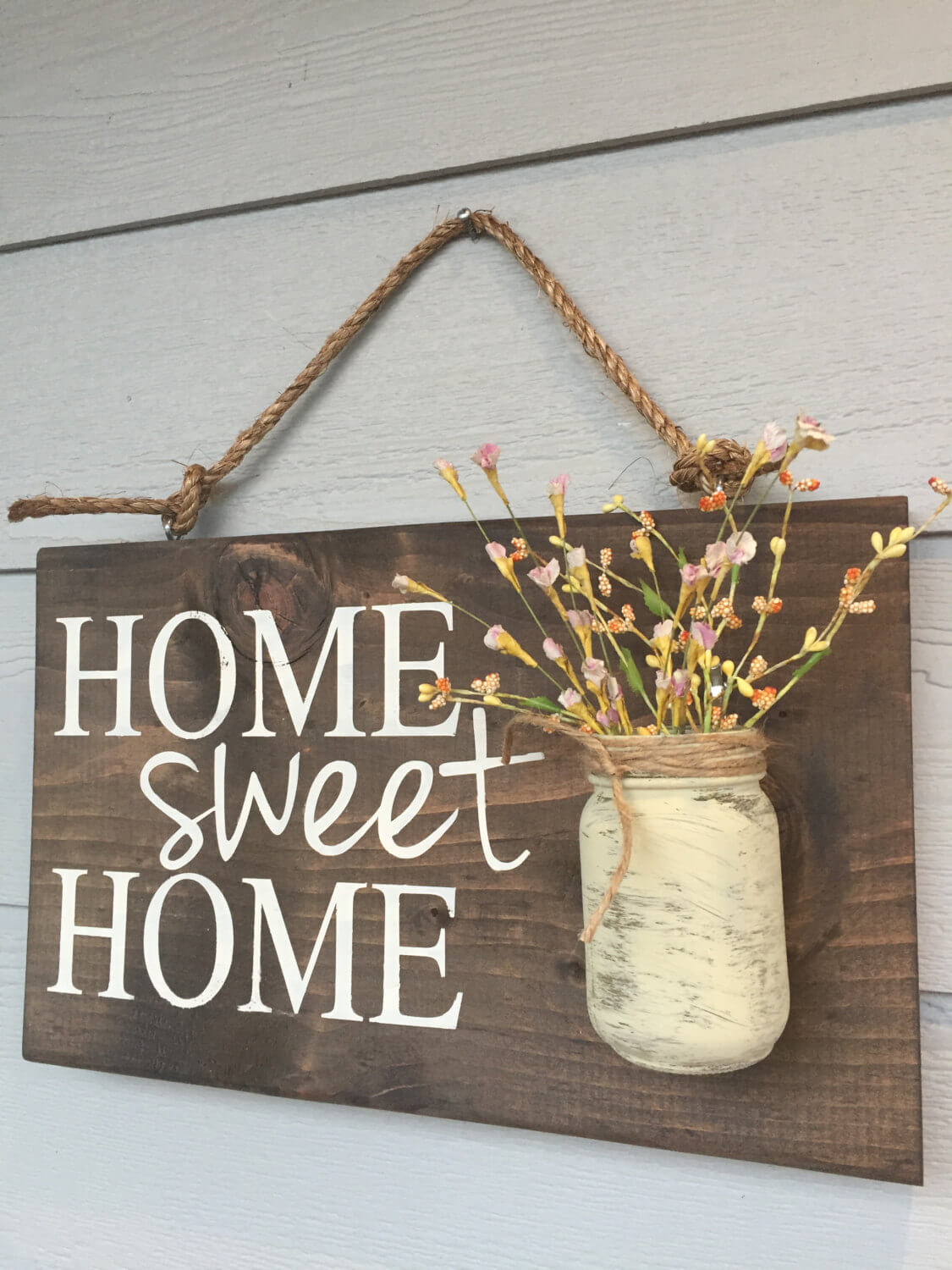 Home Sweet Home says it all, a sentiment made new each day with a fresh collection of selected garden flowers in the painted mason jar. The dark stained knotty board and rough rope supply the perfect rustic touch.
40. Antique Milk Pail Planter
Metallics and neutrals, combined with natural textures like these dried hydrangea blossoms in their oversized iron gray jar with a twine bow accent, lend an understated elegance to an autumn porch.
41. Quaint & Quirky Porch Welcome Sign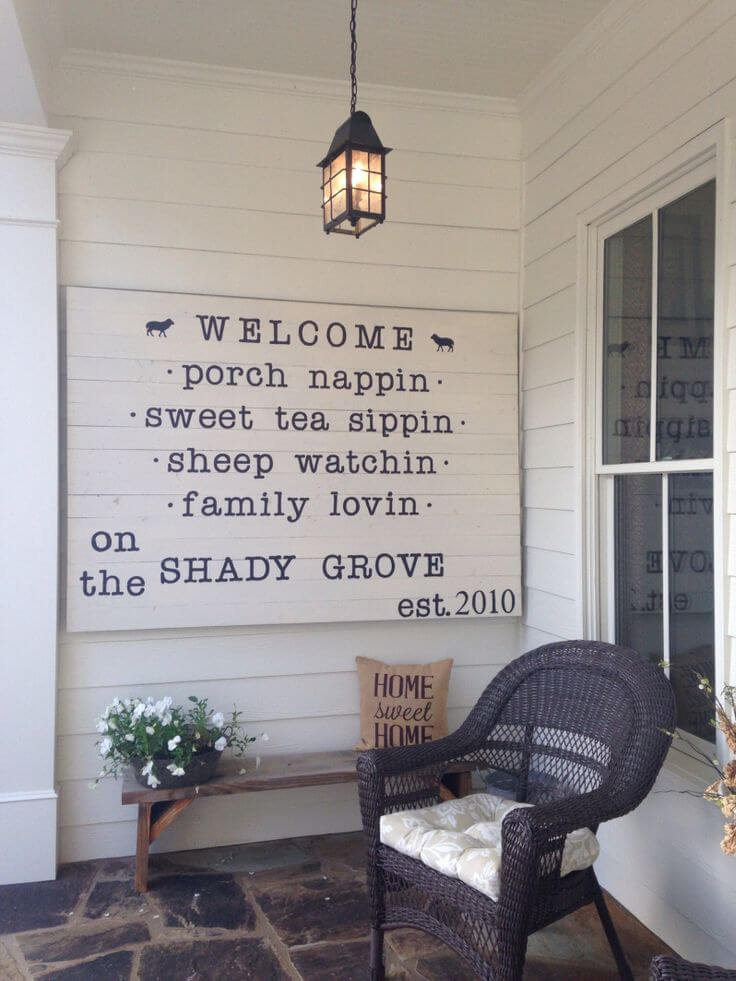 A personalized mural is the perfect focal point for letting family and friends know what it's all about. The monochromatic palette helps the space feel clean and breezy.
42. Railway Station Style Runner Bench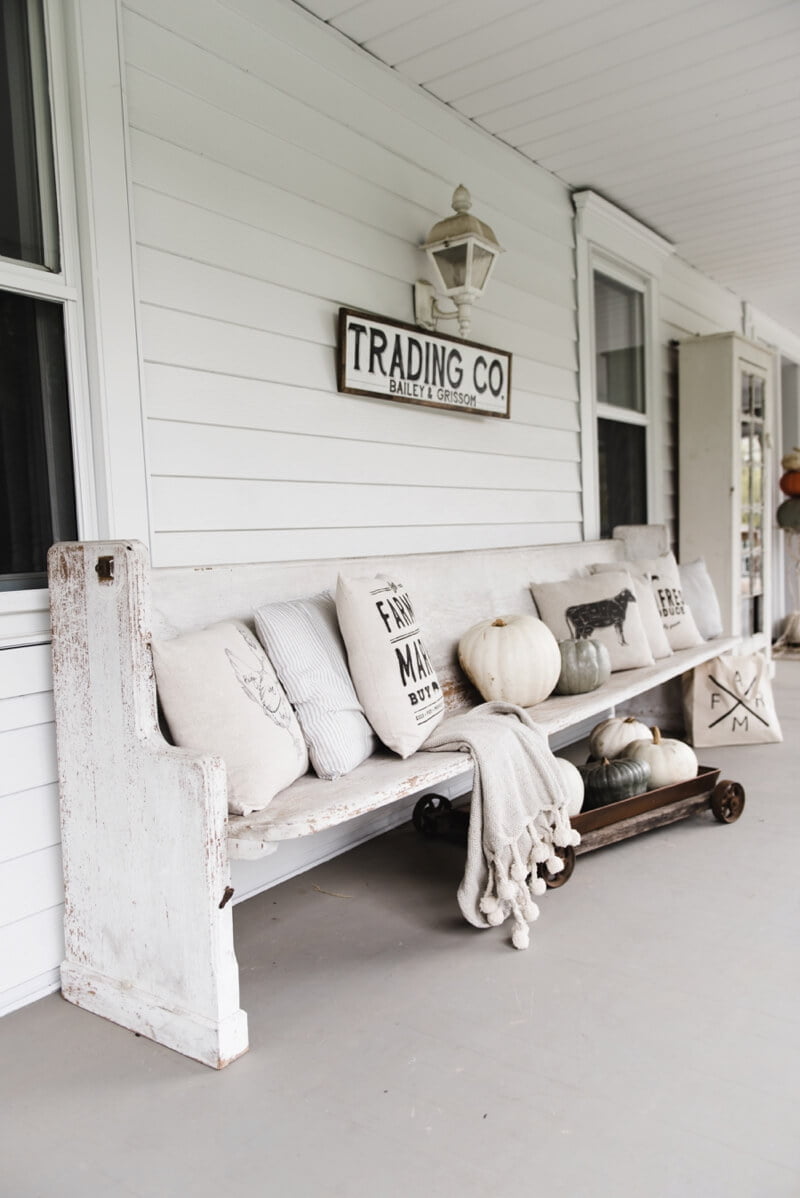 Textures ranging from glass and rough wood to soft fabric all come together beautifully in clean bright white, providing a perfect backdrop for a statement sign and welcoming carriage lantern.
43. Hanging Manor Bed Porch Swing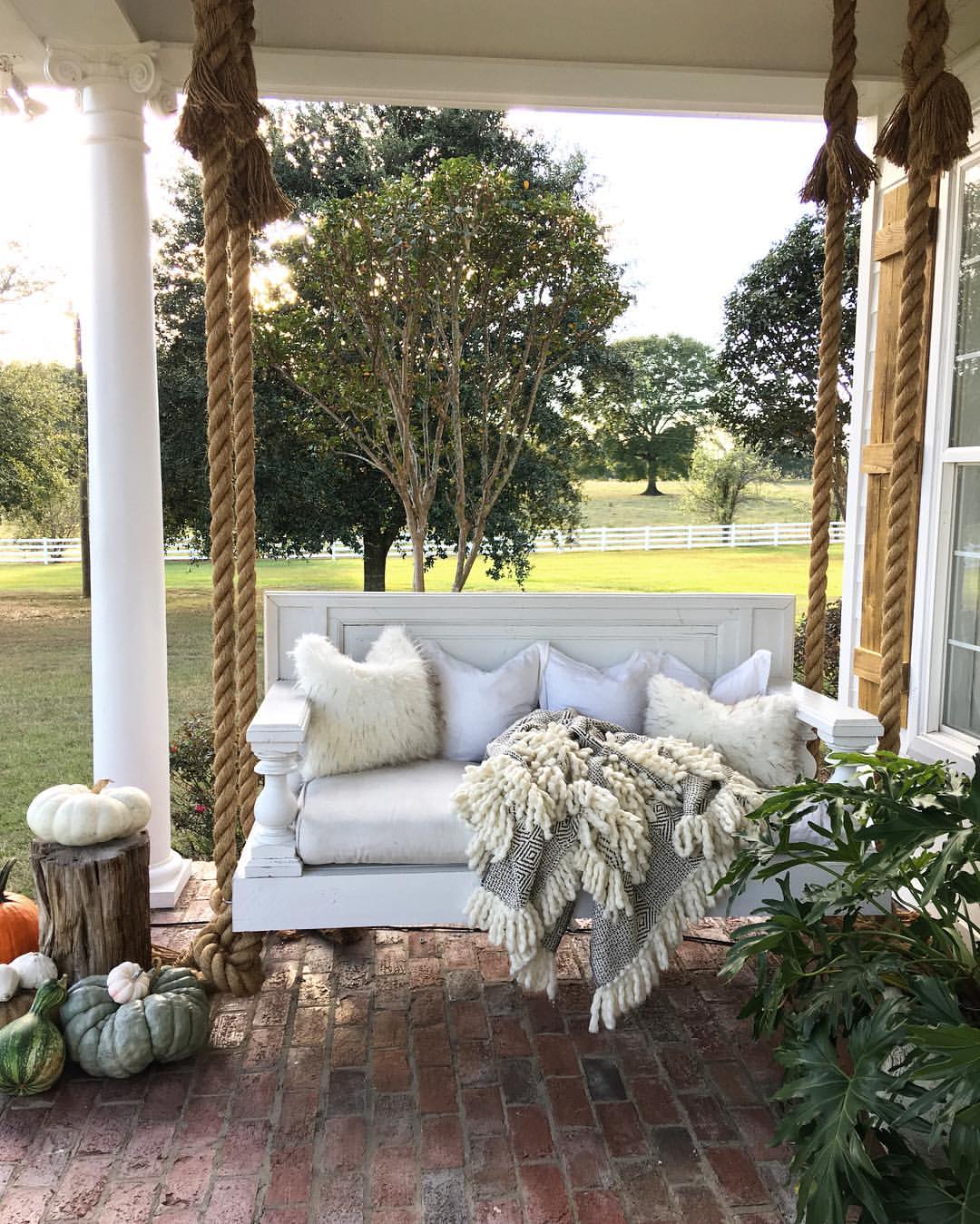 Piles of pillows and heavy nautical rope add interest and an inviting softness to this painted porch swing. A collection of unusual gourds grouped around a worn stump completes the look of country comfort.
44. Roadside Sign Porch Lettering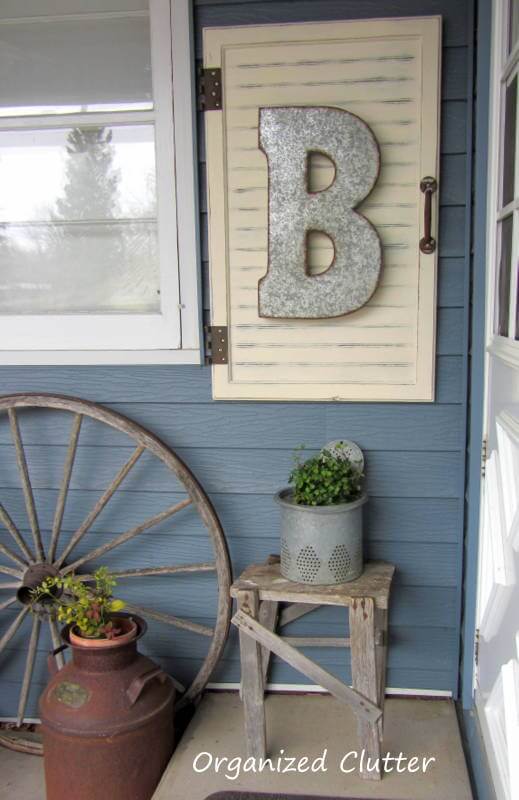 A wagon wheel, milk churn, scrapwood table, colander flowerpot and distressed cabinet door come together in an inviting still life when grouped artistically together at the doorstep, stamped with the family's monogram.
45. Repurposed Farm Crate Vase Mount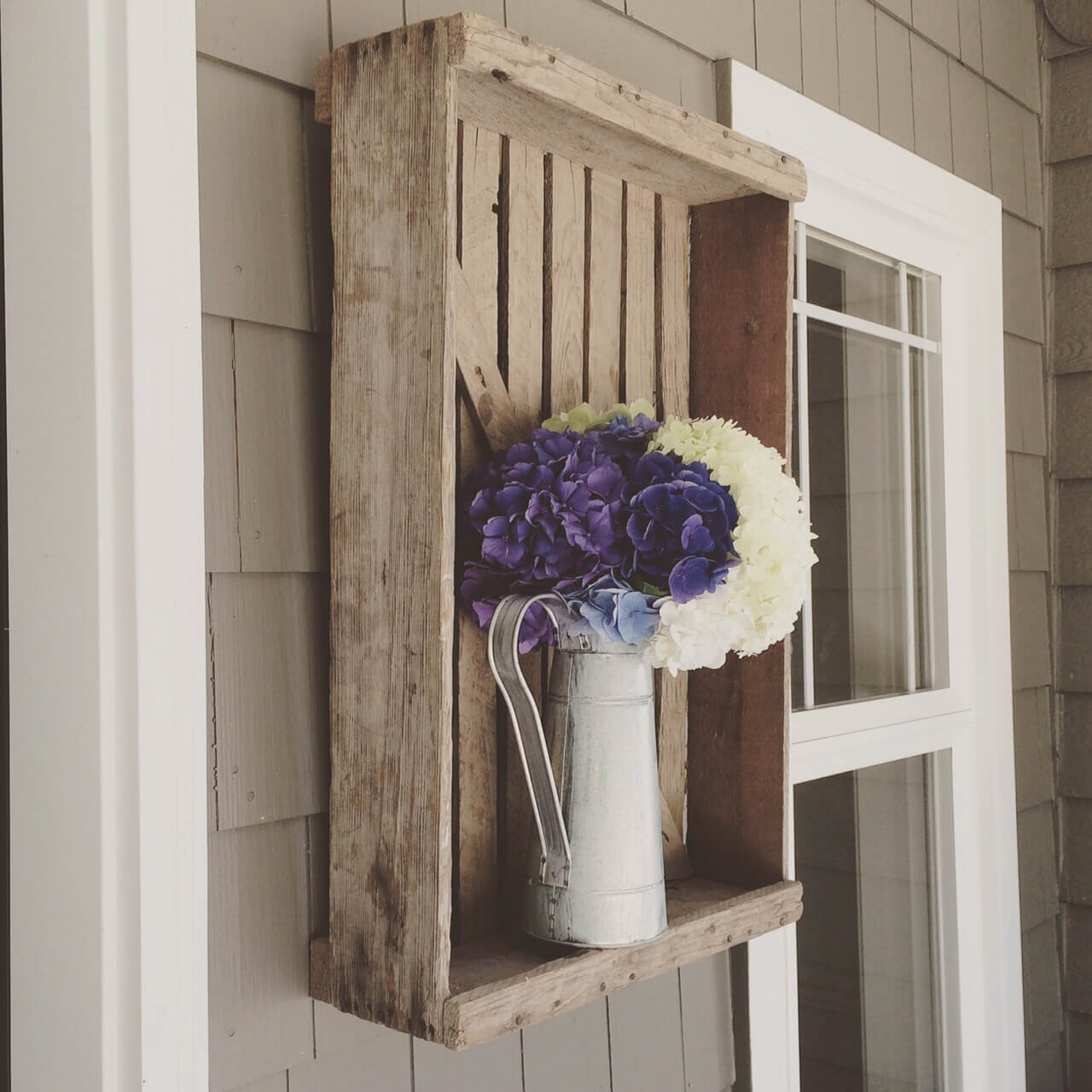 A wooden fruit tray, mounted sideways on the wall, serves as both shelf and rustic frame for the best and boldest blooms from a summer garden, here arranged in an antique metal pitcher.
46. General Store Style Extended Welcome Sign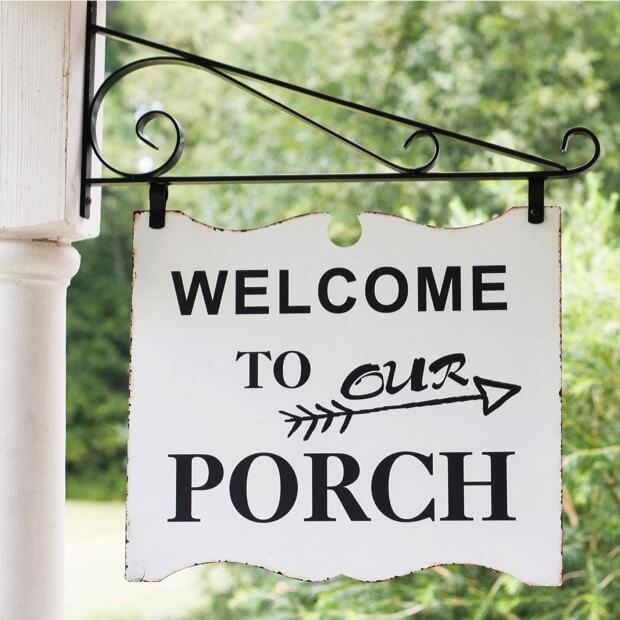 A hand painted wooden sign hung from a black metal bracket welcomes visitors to the family porch. Such creative personal touches make outdoor living rooms extra inviting for neighbors and friends.
47. Rusted & Rustic Milk Pail Standing Vase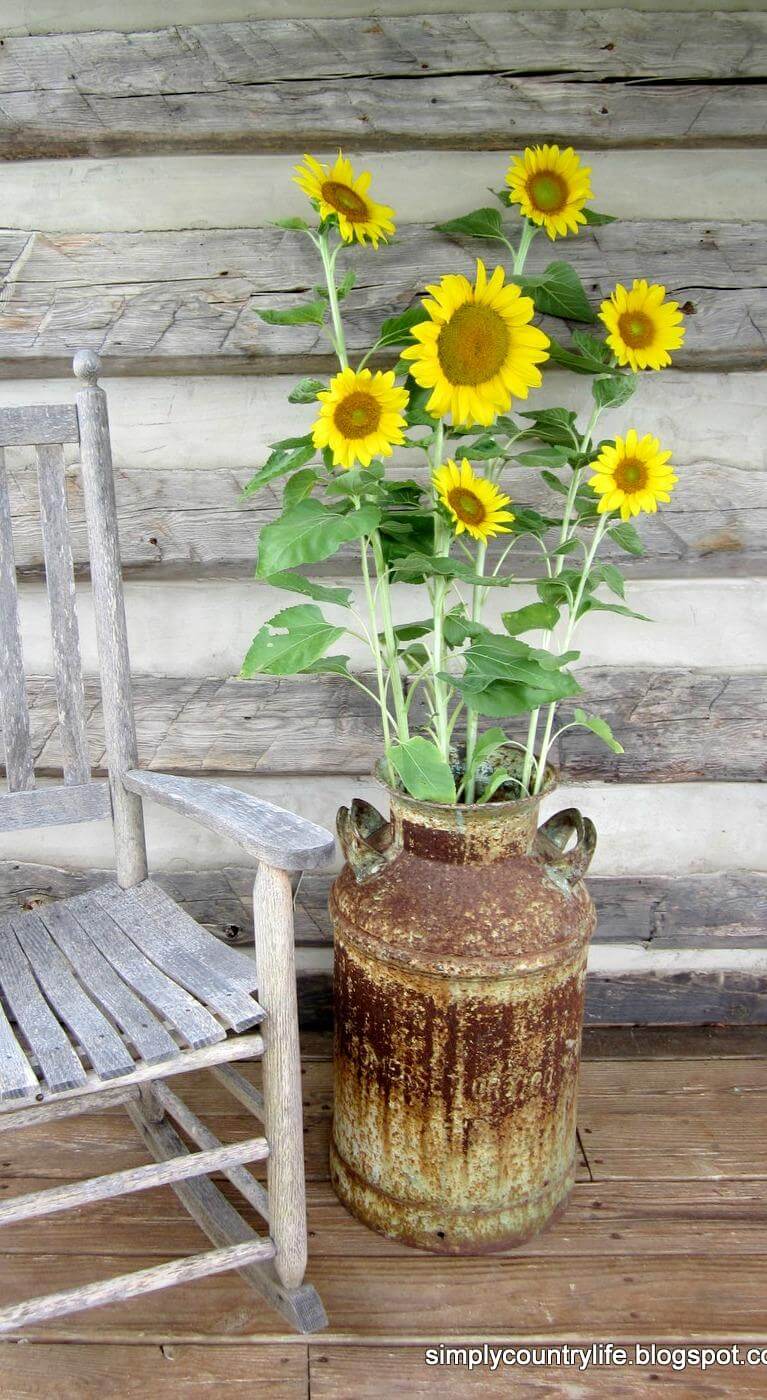 A rusty milk churn's bold color and solid shape serve as a perfect foil for exuberant sunflowers as they brighten a gray log wall, and invite guests to settle in the nearby rocking chair.
48. Artful Prairie Mill Porch Display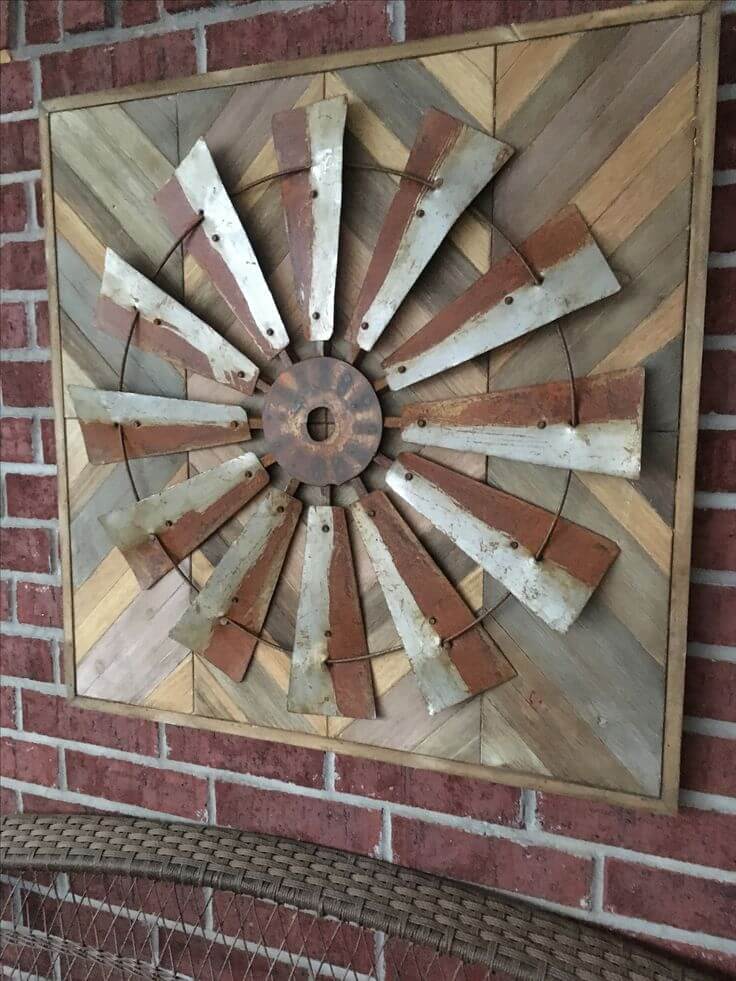 An old windmill's metal blades find new life against herringbone boards and a brick wall. The layers of textured rectangles makes a marvelous focal point, and puts a new spin on popular sunburst wall decorations.
49. Shabby Chic B & B Porch Decor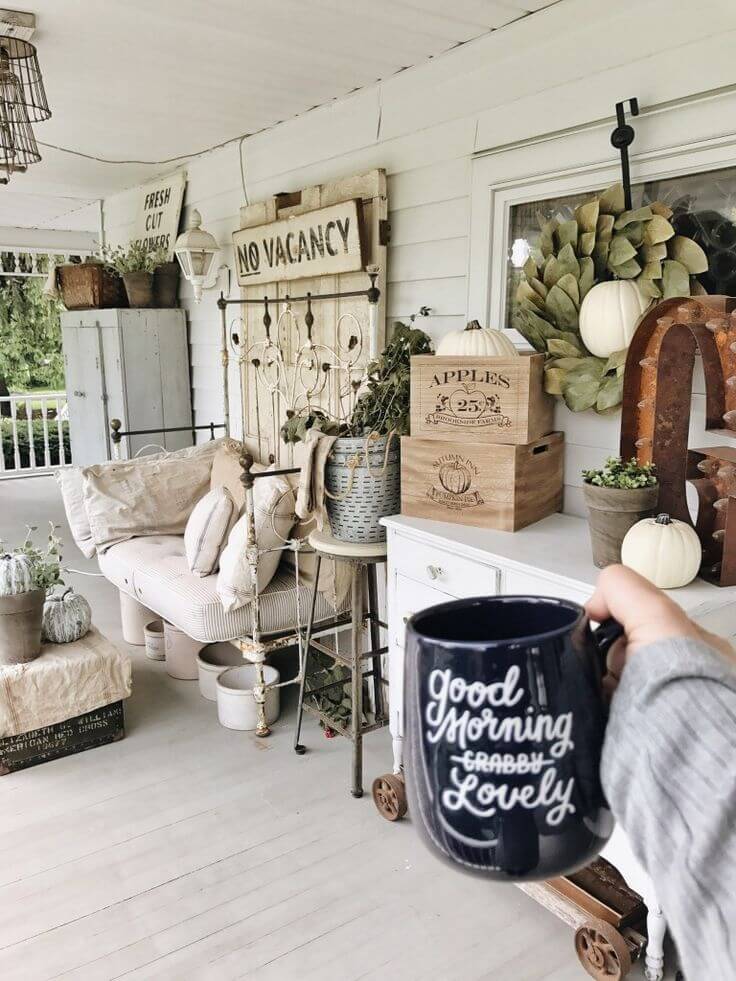 The comfortable clutter surrounding a daybed and its neighboring storage cupboards all comes charmingly together under a united palette of neutrals and creams: a perfect bright spot to start the day.
50. Colonial Style Wooden Porch Lantern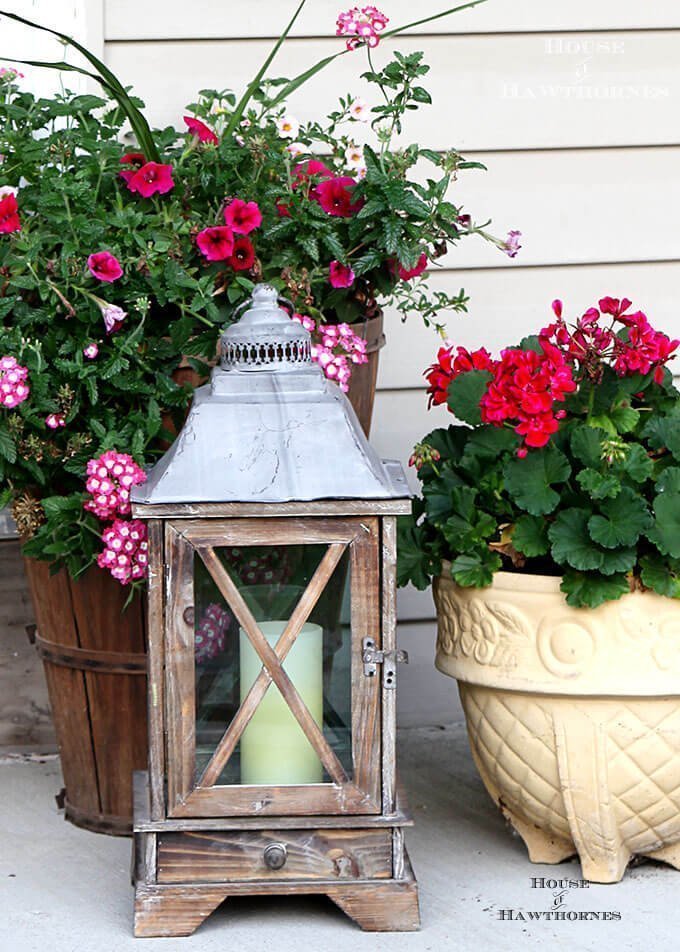 Potted flowers frame an antique lantern with pops of color. A citronella candle inside can ward off unwelcome biting insects when evening falls, and illuminate the space without harsh electric lighting.
51. Shades Of (Rustic) Gray Repurposed Table & Planters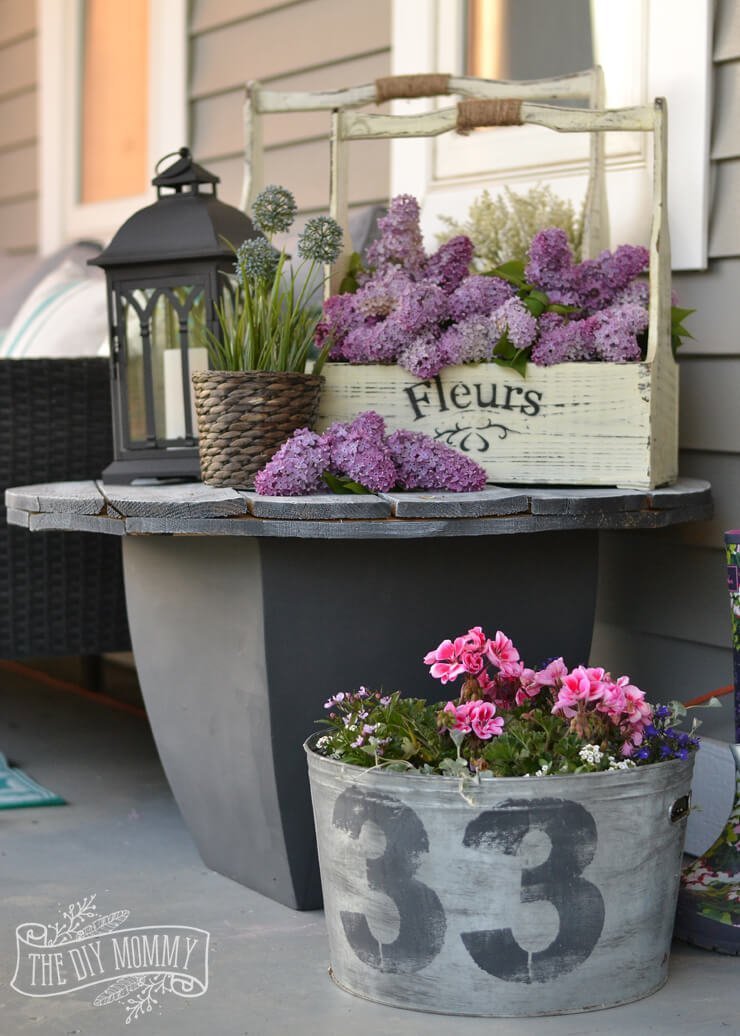 Piles of soft lilac blooms fill a side table with color and fragrance. On the floor nearby, the flower-filled washtub offers an inexpensive and creative way to display house numbers.
52. Old New Orleans Entryway Planters & Lanterns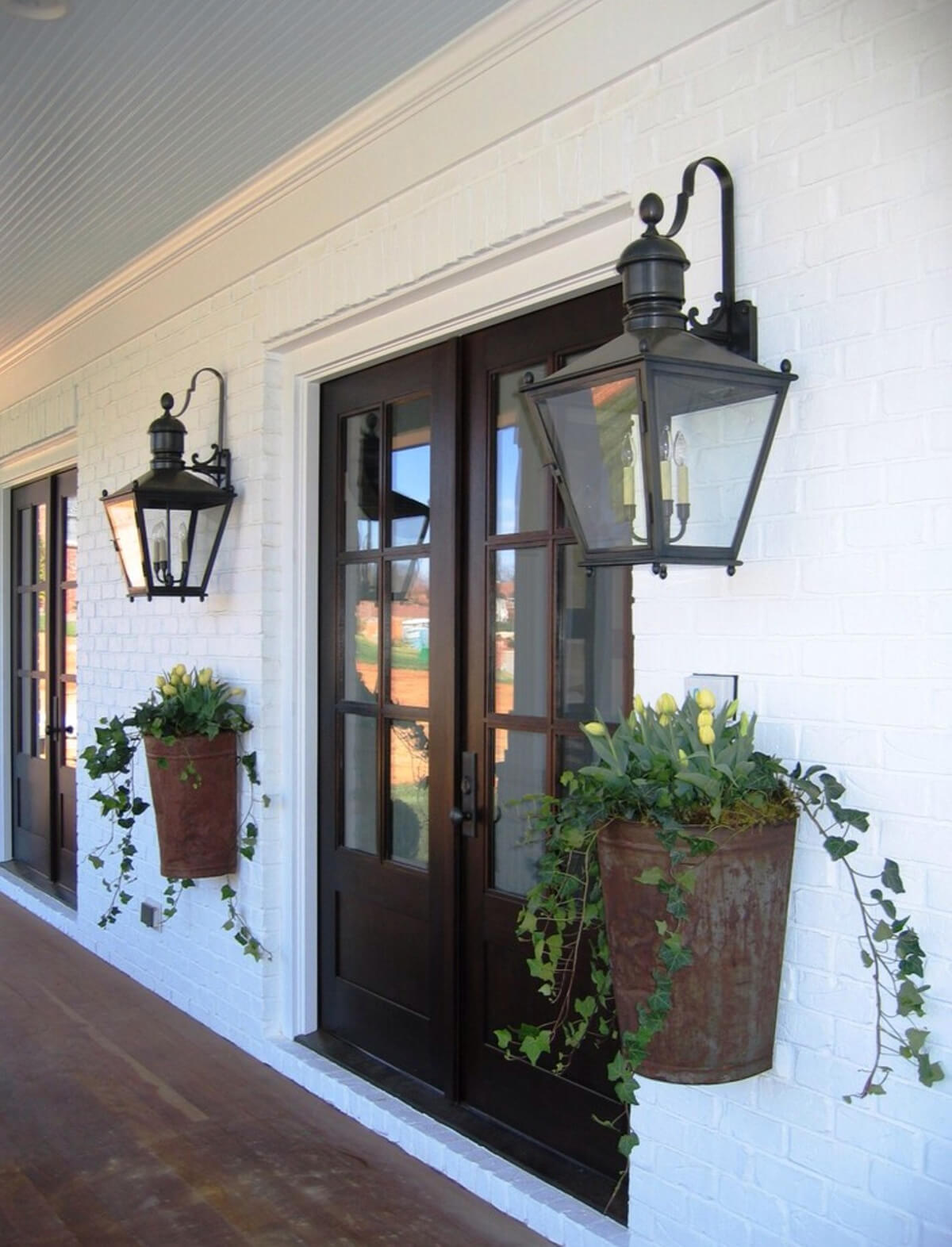 Pots, pans, wooden boxes or rusty buckets: found objects that can hold plants and flowers are irresistible when they carry their own rustic character and charm, especially when lit from above by vintage-styled carriage lanterns.
53. Bed-To-Porch Suspended Swing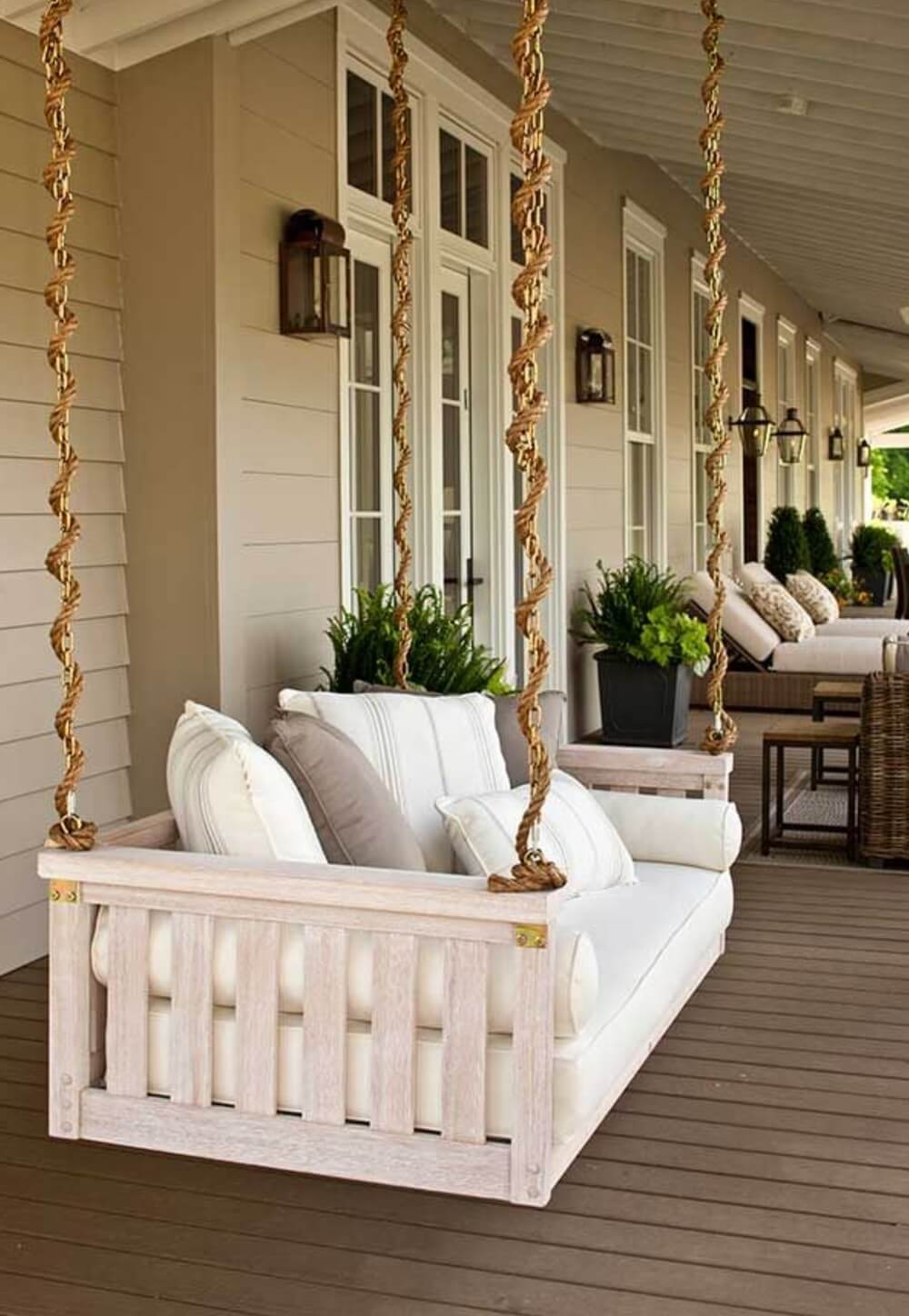 Rope twisted around the supporting chains of a porch swing add a decorative touch, and protect fingers from being pinched. Clean open floors and soft neutrals make this extra long porch extra inviting.
54. Farmhouse Wooden Curio Porch Cabinet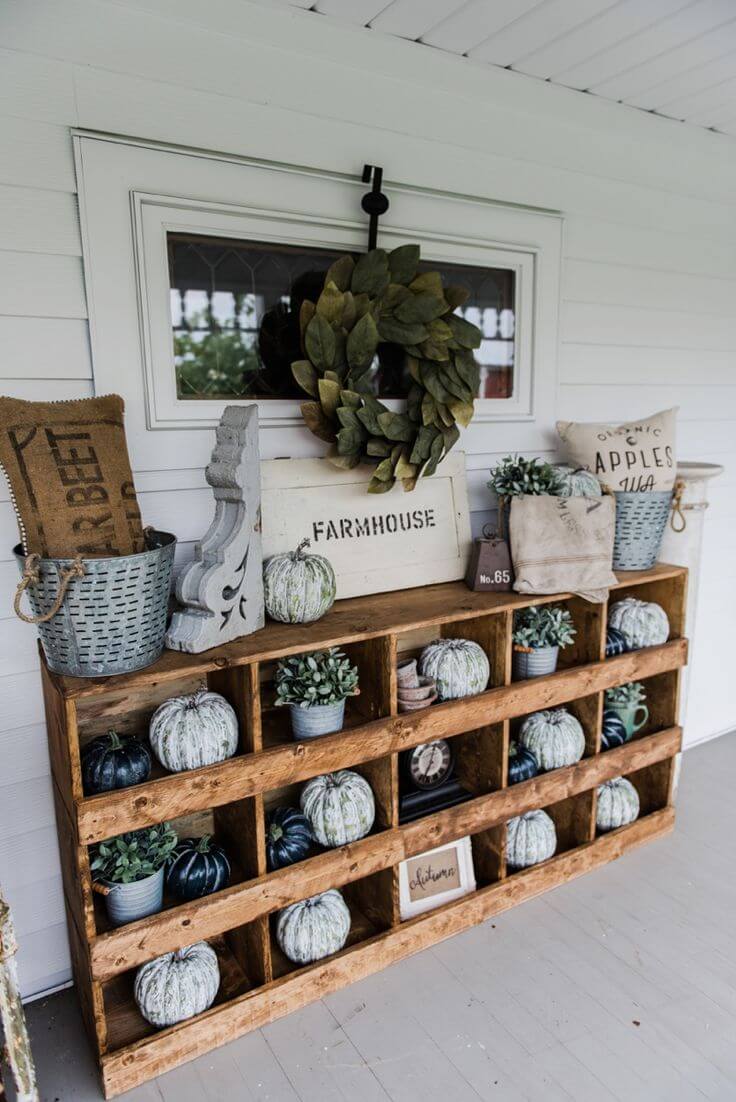 Plentiful gourds and potted plants fill cabinet shelves, turning a long narrow window into a show-stopping focal point that recalls the friendly welcome of farmers markets, or yesterday's five and dime.
55. Cursively Yours Hand-Painted Welcome Sign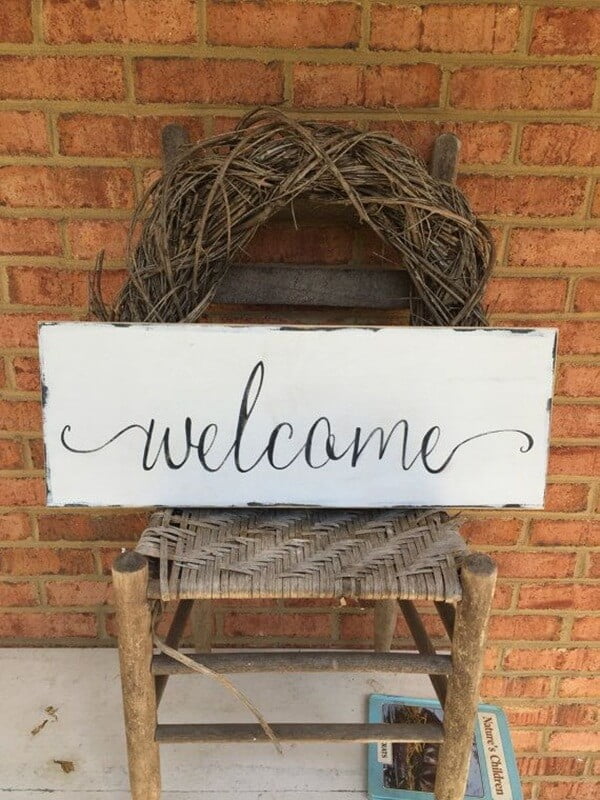 "Welcome" isn't just for floor mats. Framing a welcome sign with a grapevine wreath or a rattan chair, or hanging it proudly on a brick wall, are perfect ways to offer some country hospitality.
56. Dairy Charm Victorian Porch Decor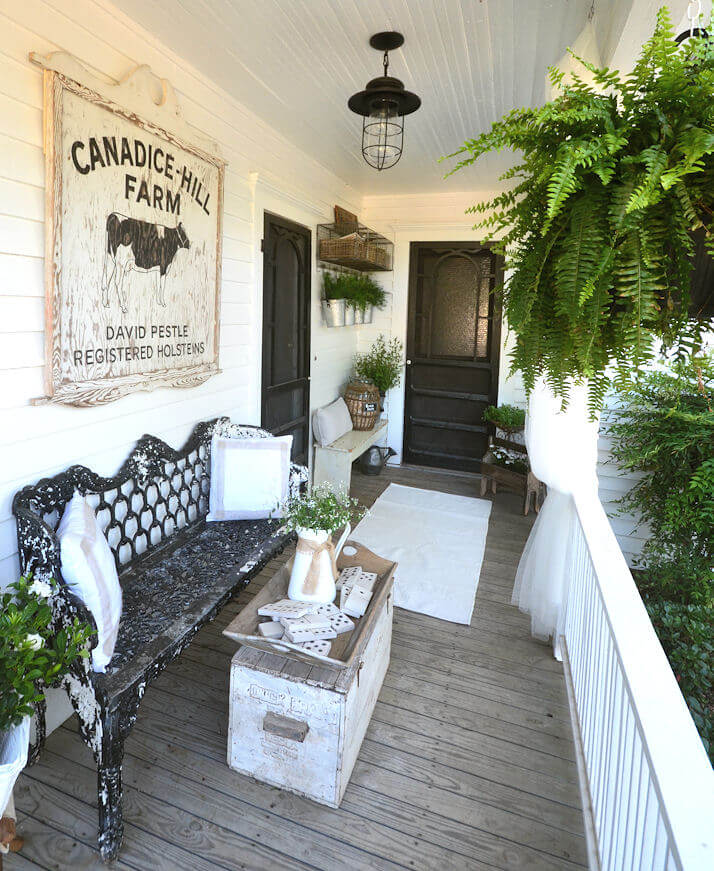 A cool palette of white wood and green ferns turns a farmhouse porch into a summer oasis. The wooden tray filled with oversize dominos invites guests to stop and make themselves at home, and enjoy a game or two.
57. Prairie Estate Robin's Egg Door & Crafted Basket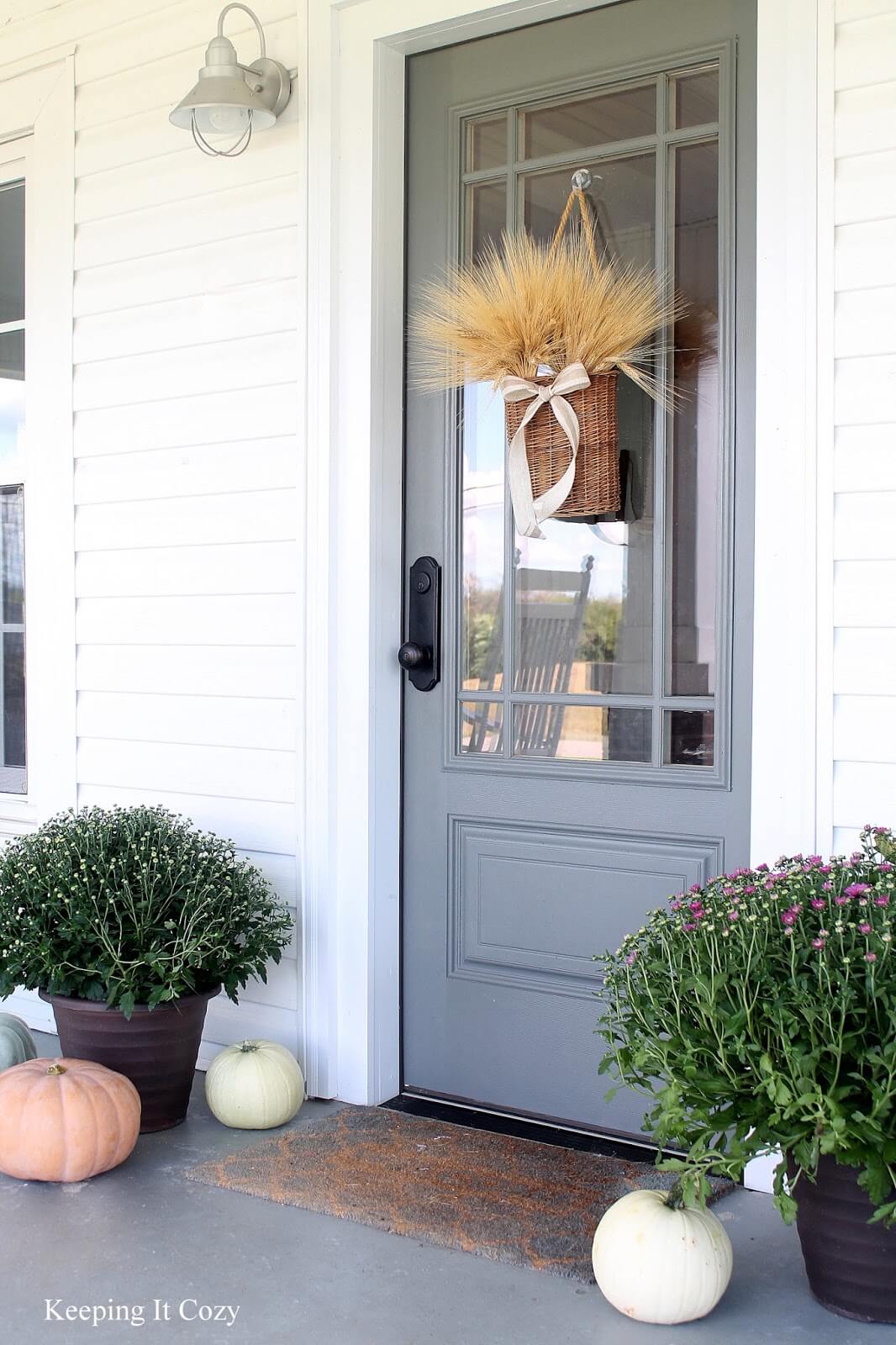 Hanging baskets aren't just for flowers: autumn grasses and loose white ribbons lend a breezy feel to this door's formal presentation between two twin pots of chrysanthemums.
58. Autumnal Corn Maze Porch Door Decor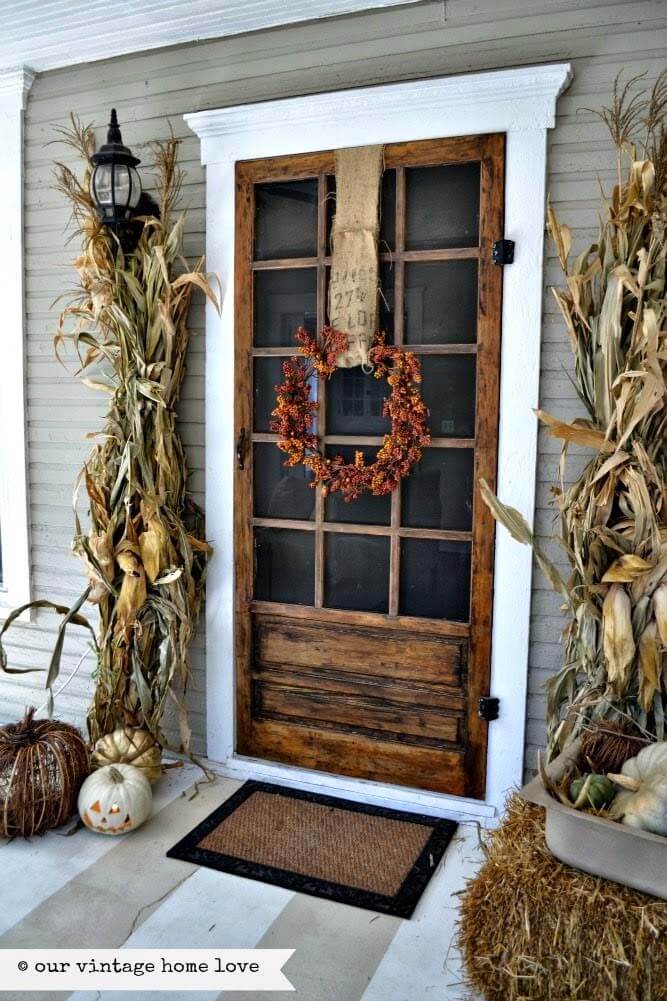 Harvest home takes on new meaning with stands of cornstalks, straw bales, oversize gourds, and berry wreaths. The autumn colors and textures together form an attractive and seasonal frame for the natural wood door.
59. Barn Charm: Rustic Farmhouse Porch Decor Ideas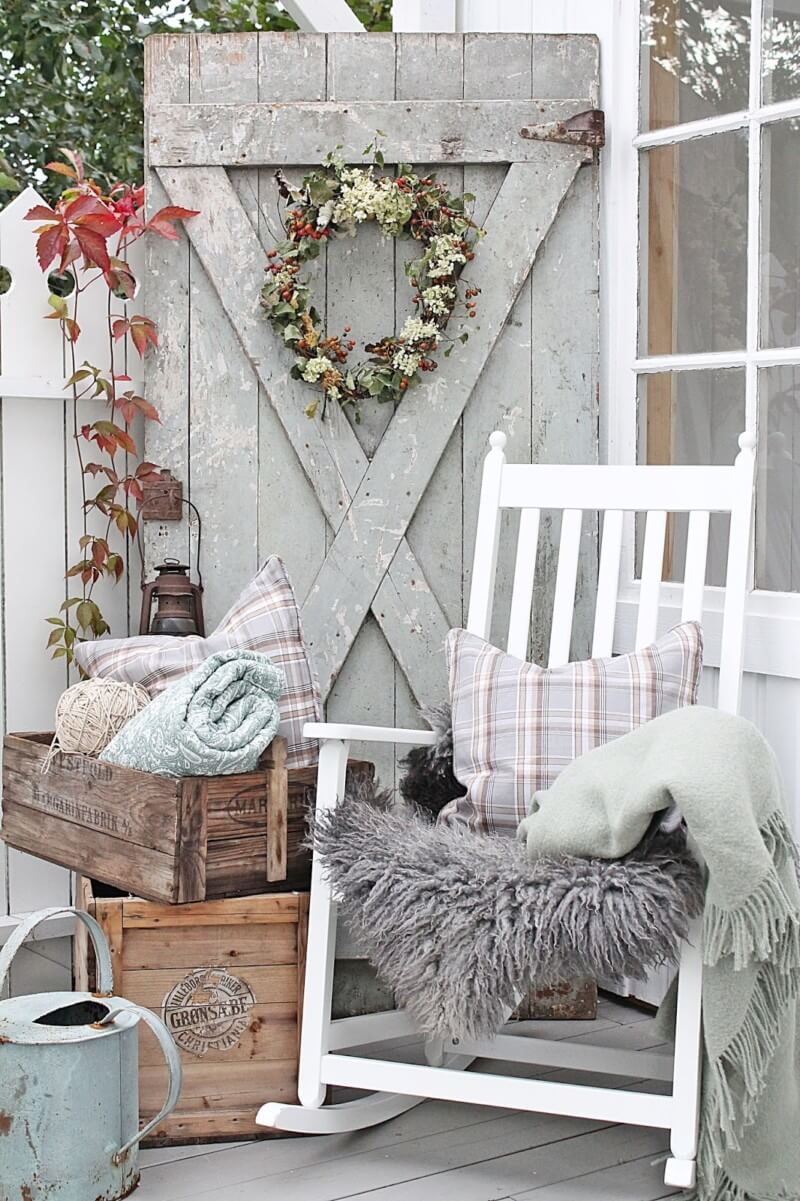 Cool grays and warm soft textures create an inviting corner to rest, crowned with a wreath that provides a spark of warm color. Piles of soft blankets make the wintry color feel cozy.
60. Gossamer Fall Silver Porch Urns & Display Domes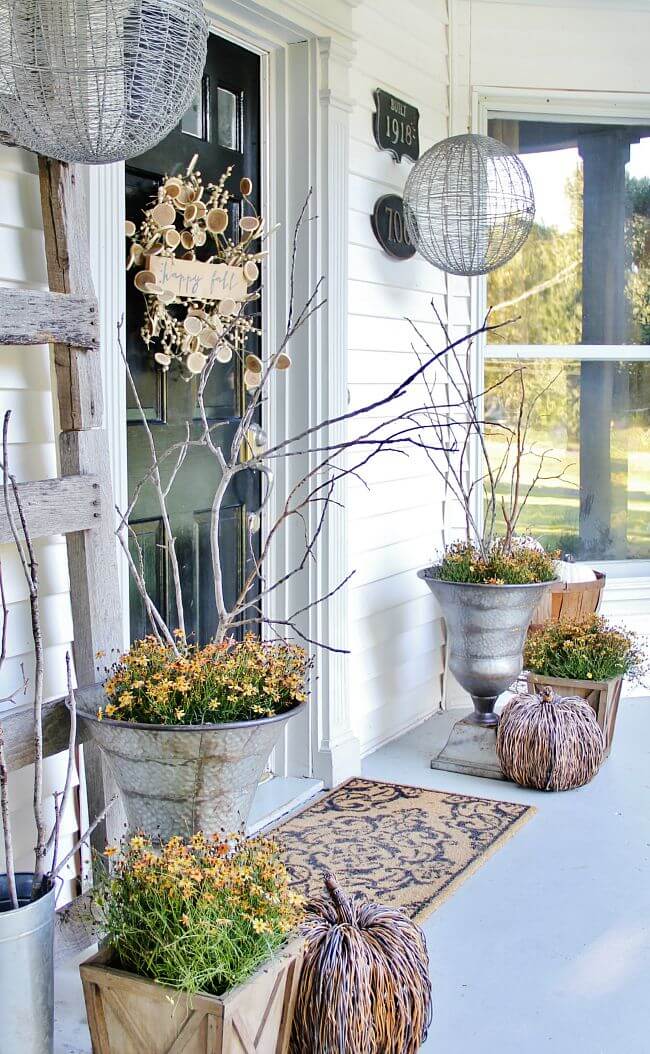 Delicate, pale branches and translucent hanging spheres lend an airy feel to a bright entryway. Hints of toasty neutrals in the wreath and flowerpots warm up the space to make it even more welcoming.
61. Cozy Haystack Stuffed Porch Sofa & Natural Throw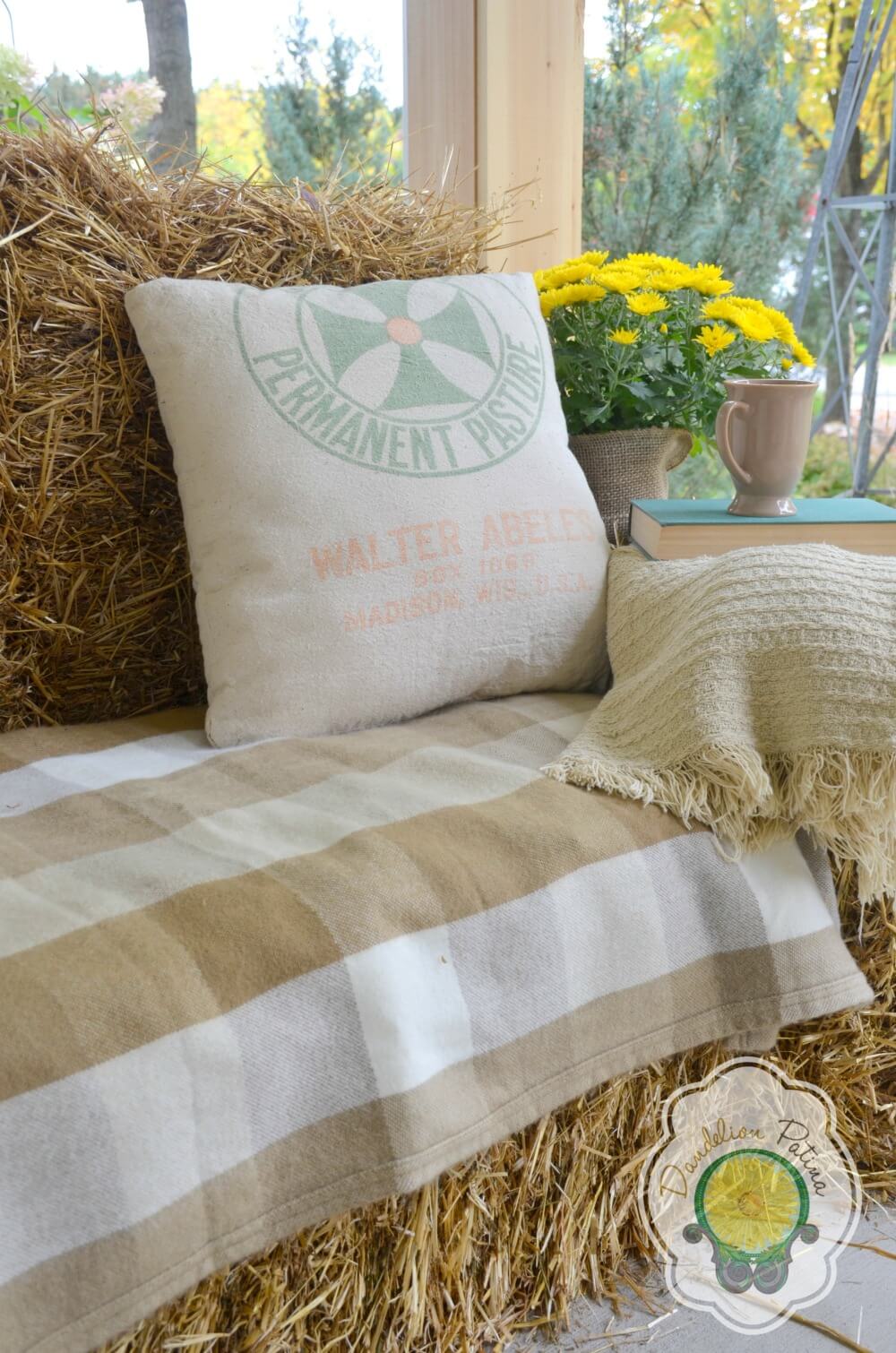 Rough and soft textures, like this straw bale paired with a blanket and knitted pillow case, create visual interest while offering an appealingly different place to rest. Cushion covers made from vintage feedbags or printed fabrics add a fun touch.
62. Potter's Shed Rustic Hanging Accoutrements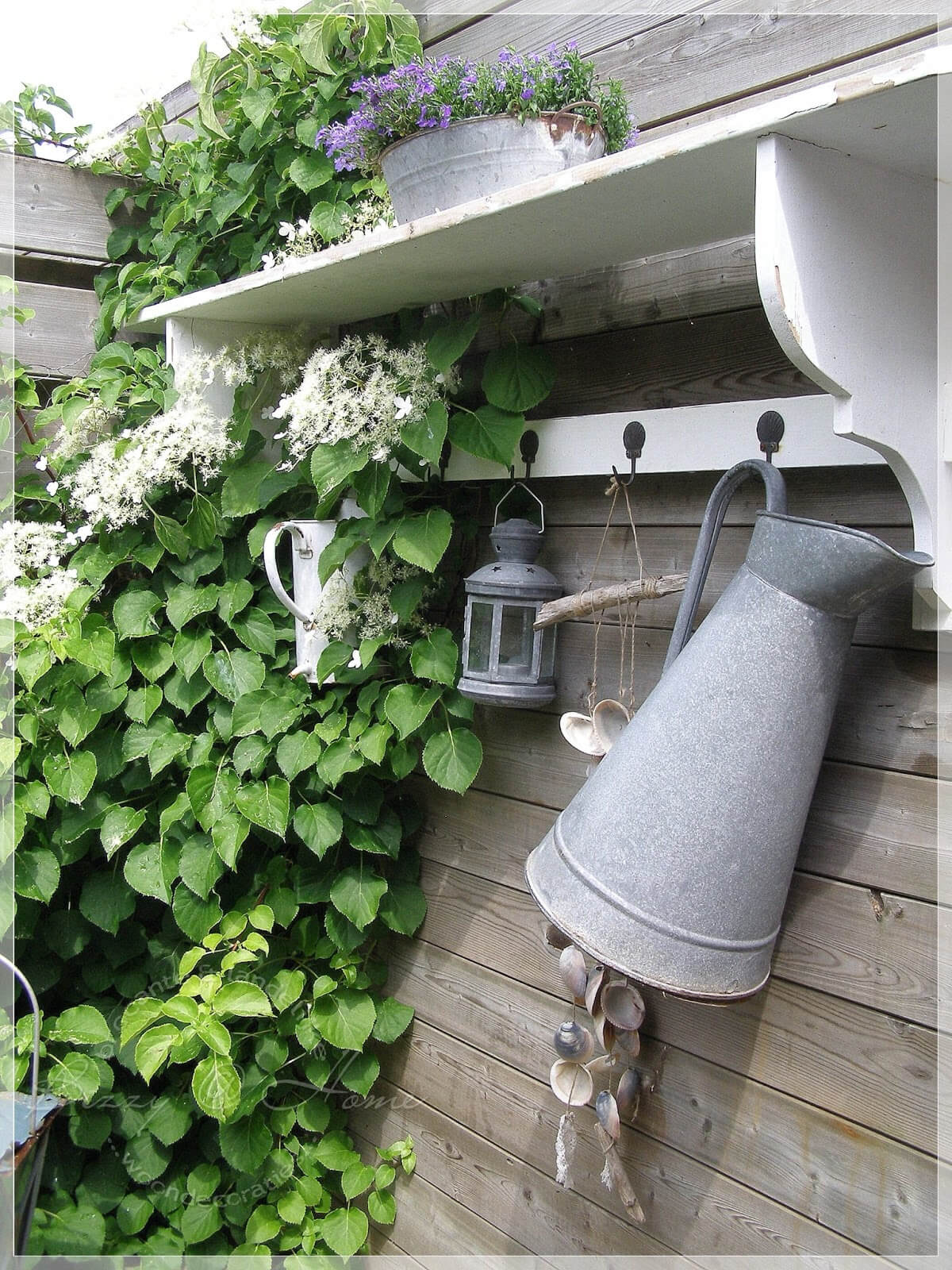 Vintage pitchers, a lantern, and a seashell windchime hold their own against spreading greenery, while hanging from a shelf mounted on a garden fence. The shelf above provides handy storage for garden items.
63. Lavender Province Stripped Ladder With Mason Lanterns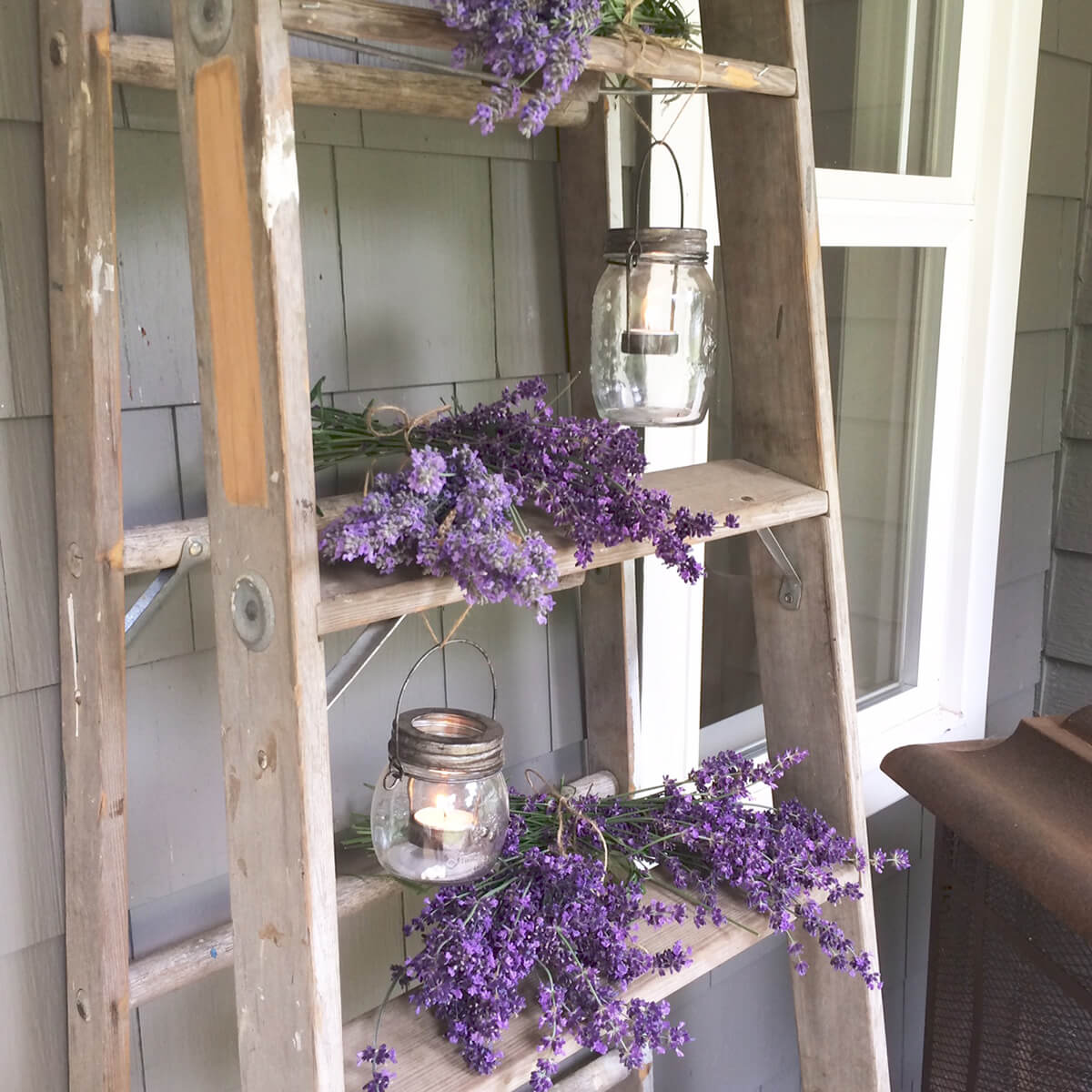 Lavender bouquets dress up a wooden ladder with fragrance and color. Mason jars provide a perfect nesting place for tealights in the evening, serving up warm lights with rustic flair.
64. A Walk In The Woods: Rustic Wicker & Pinecone Porch Decor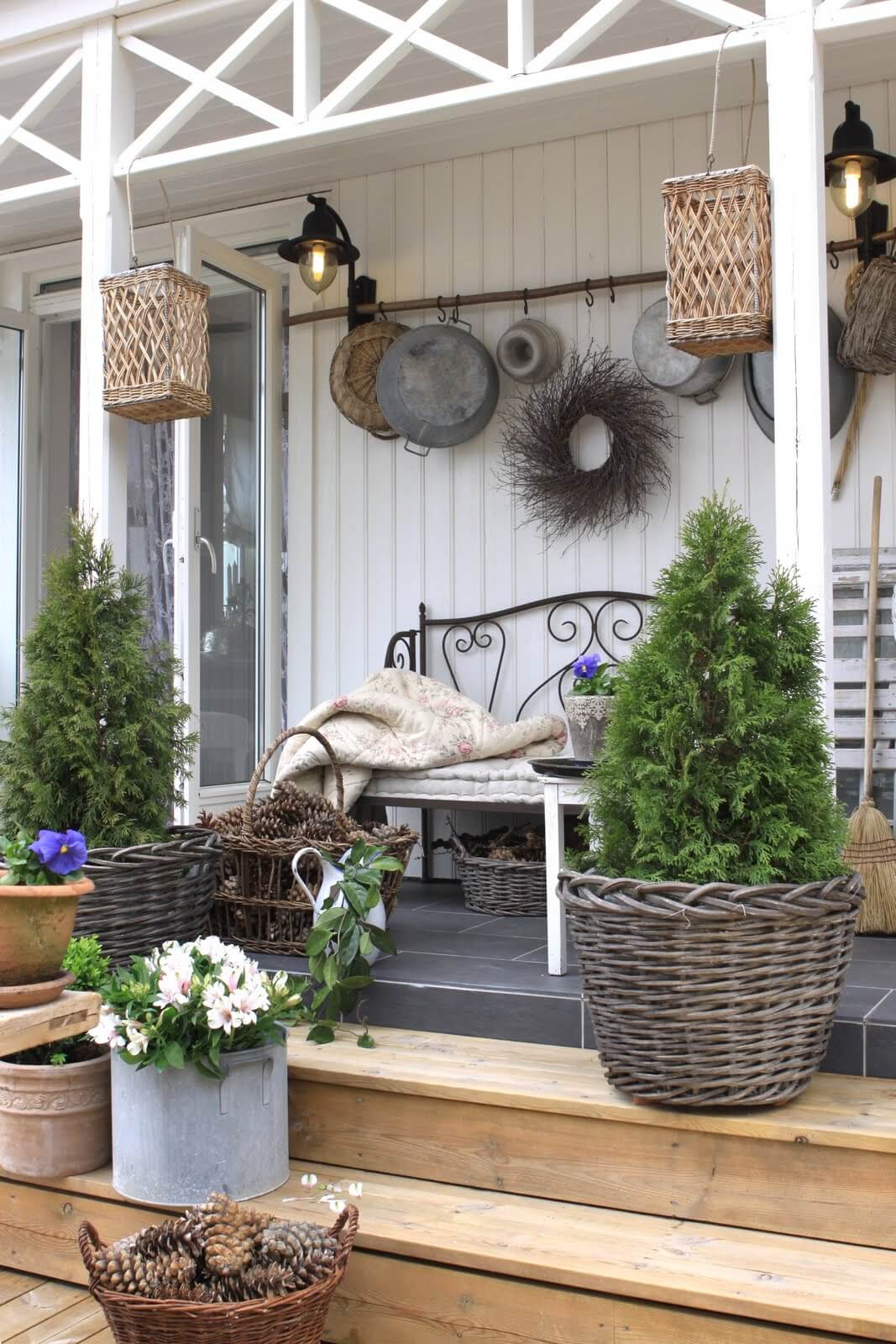 Everyday objects like pans, baskets, brooms and blankets frame a daybed sofa and lend its space a homey feel, while the potted cypress trees add just enough cheery color.
65. Whitewashed Wooden Porch Cabinet & Sign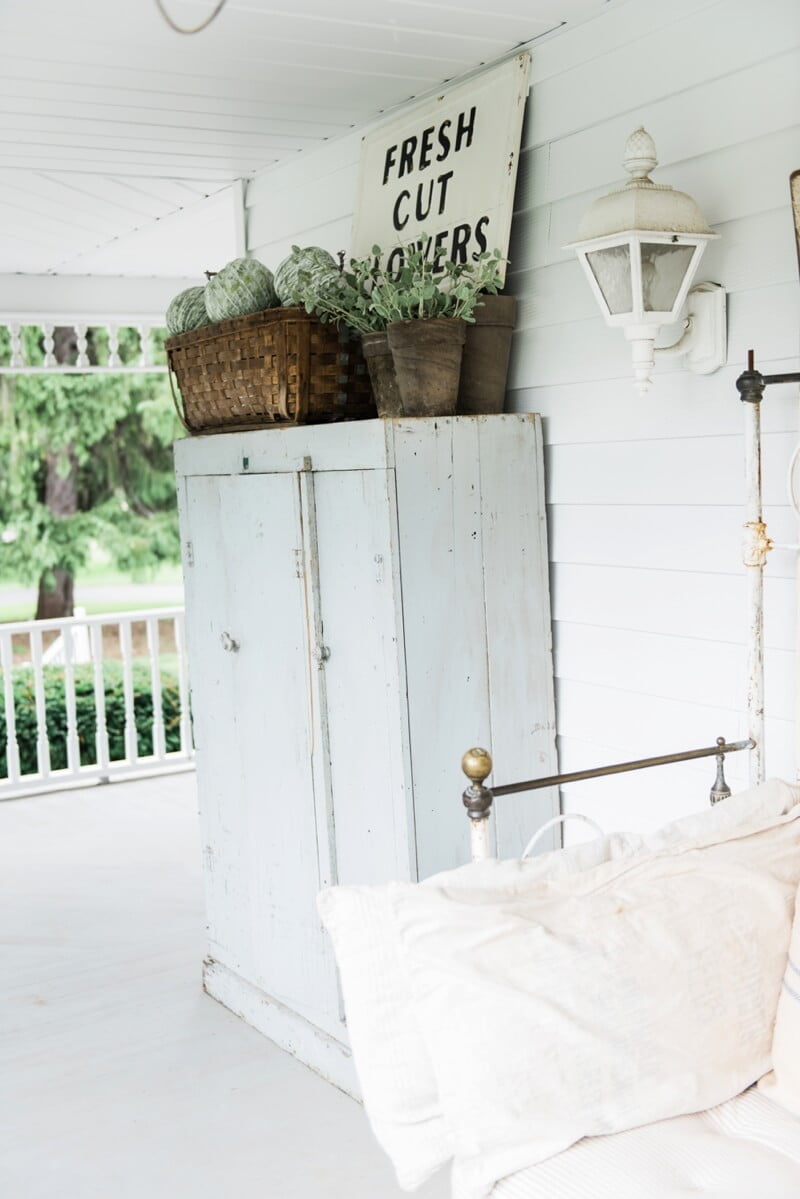 Vintage furniture and flea market finds, like old wooden cupboards, antique iceboxes, and vintage wardrobes, can be made beautiful and useful again with a coat of paint and a cheerful display on their top surfaces.
66. Nashville Basics Wooden Rockers & Entryway Basket Planters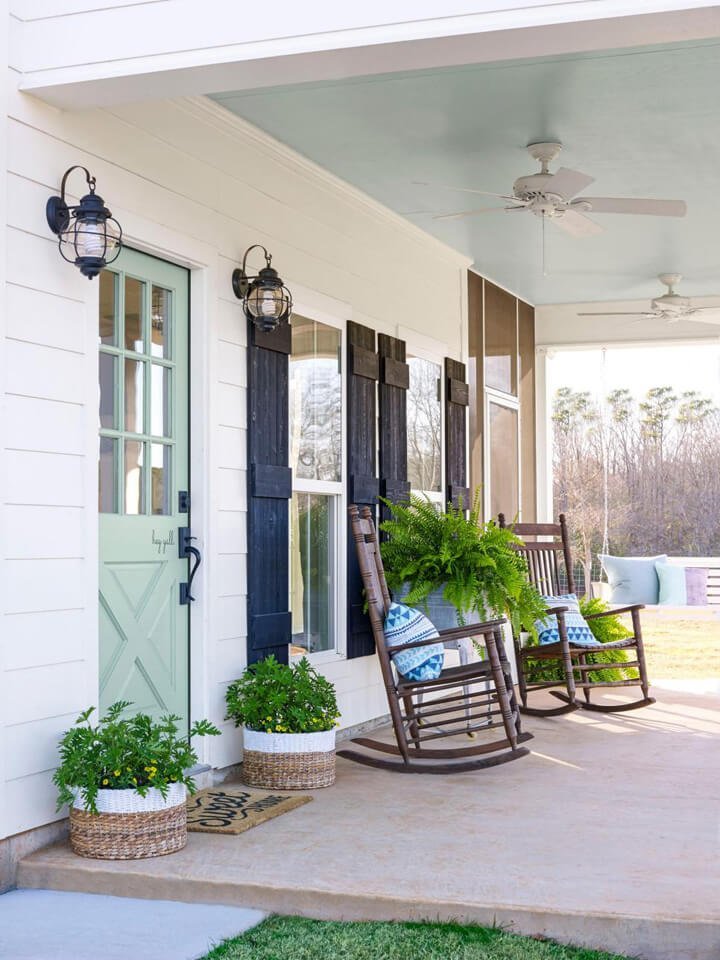 Painted shutters and companion rocking chairs serve up a generous helping of farmhouse hospitality. The clean spare space on this front porch lends a simple, friendly, and natural elegance to its rural home.
67. Mountain Cabin Woven Porch Furnishings With Antique Crate Table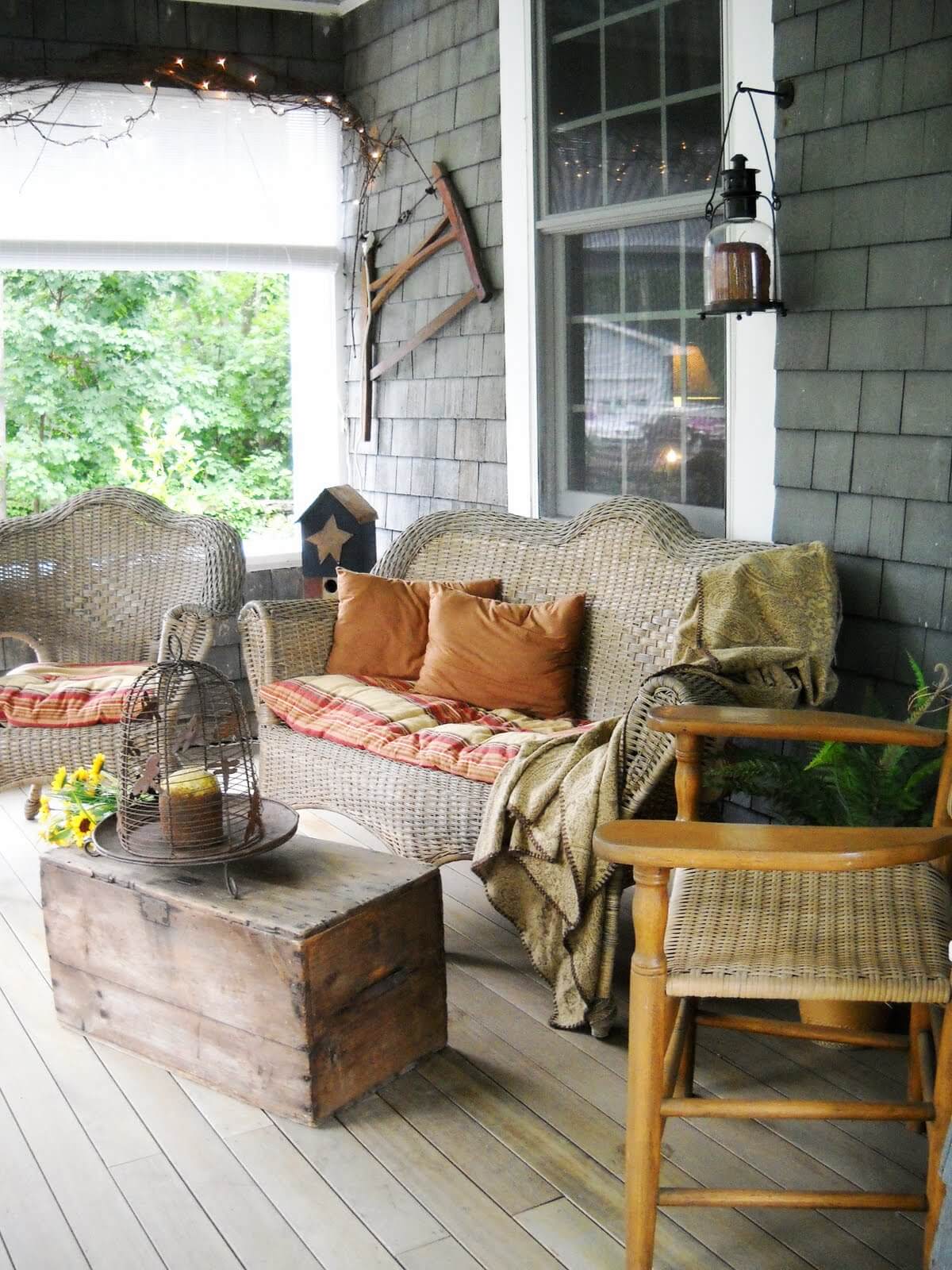 Conversation corners and cozy seating make the most of sheltered outdoor space, and invite people to gather together. Here, a vintage wooden box serves as coffee table, and soft blankets are ready to warm up a chilly evening.
68. Welcoming Window Repurposed Planter Sign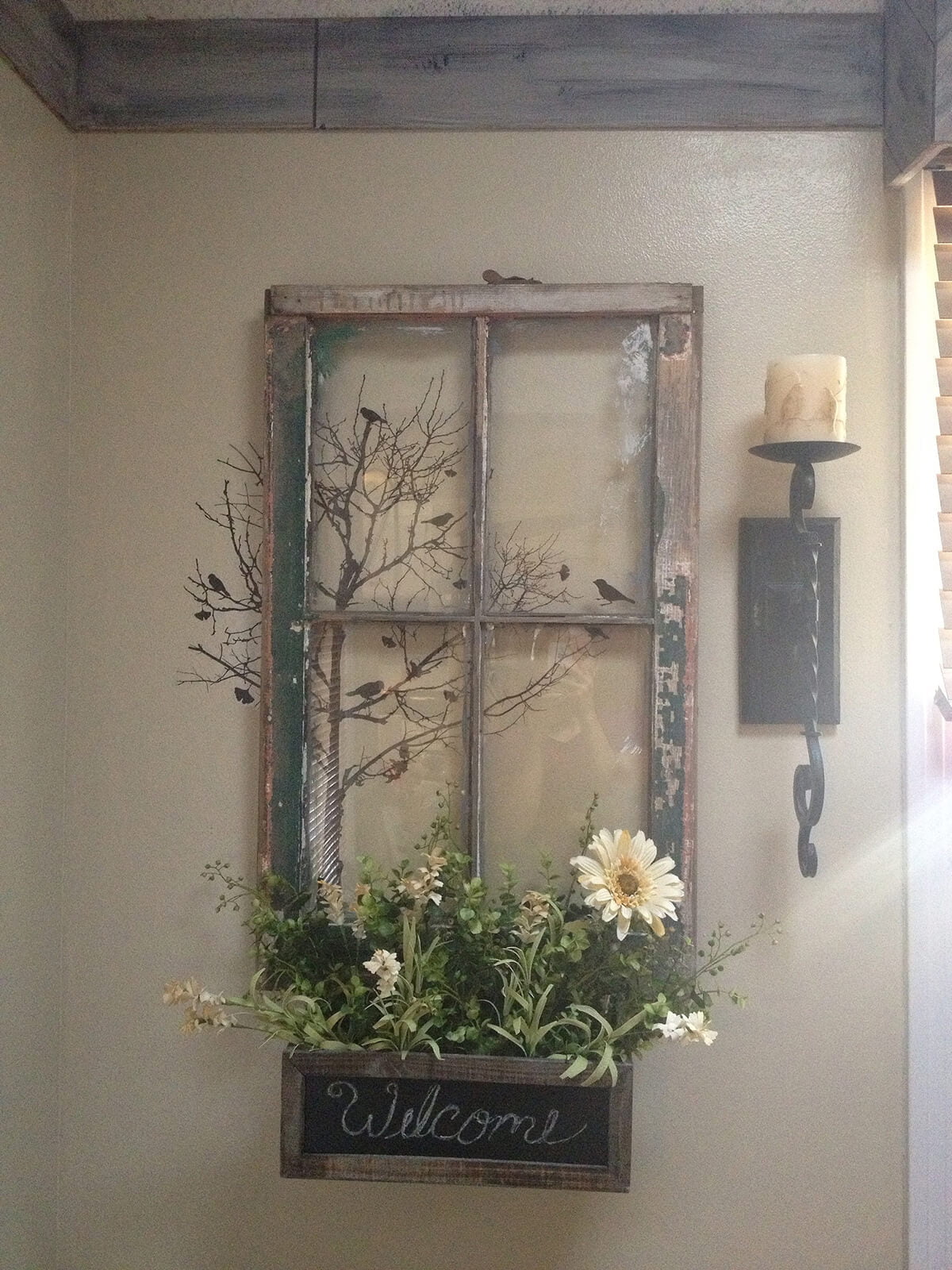 Old wooden windows find new life as rustic picture frames. This one enhances wall art while offering a window box stuffed with wildflowers. The remaining distressed paint on the frame gives it a scruffy charm.
69. Rustic Tin Pail Wood-Top Table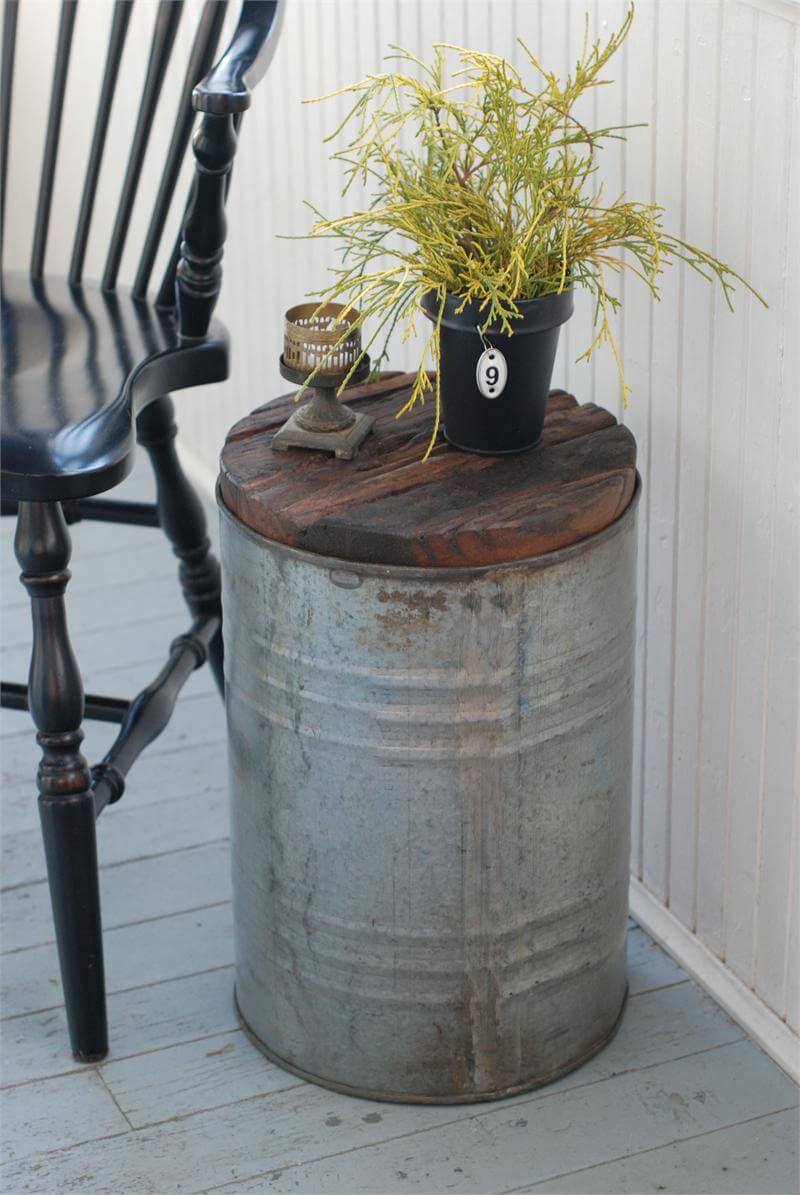 Occasional tables are endlessly useful, and can be crafted from almost anything. Buckets, churns, cages, spools, logs: imagination is the only limit. The soft gray patina of this metal can table sets off the high gloss of its companion chair.
70. Farmhouse Bedroom Porch Bureau & Decor Ideas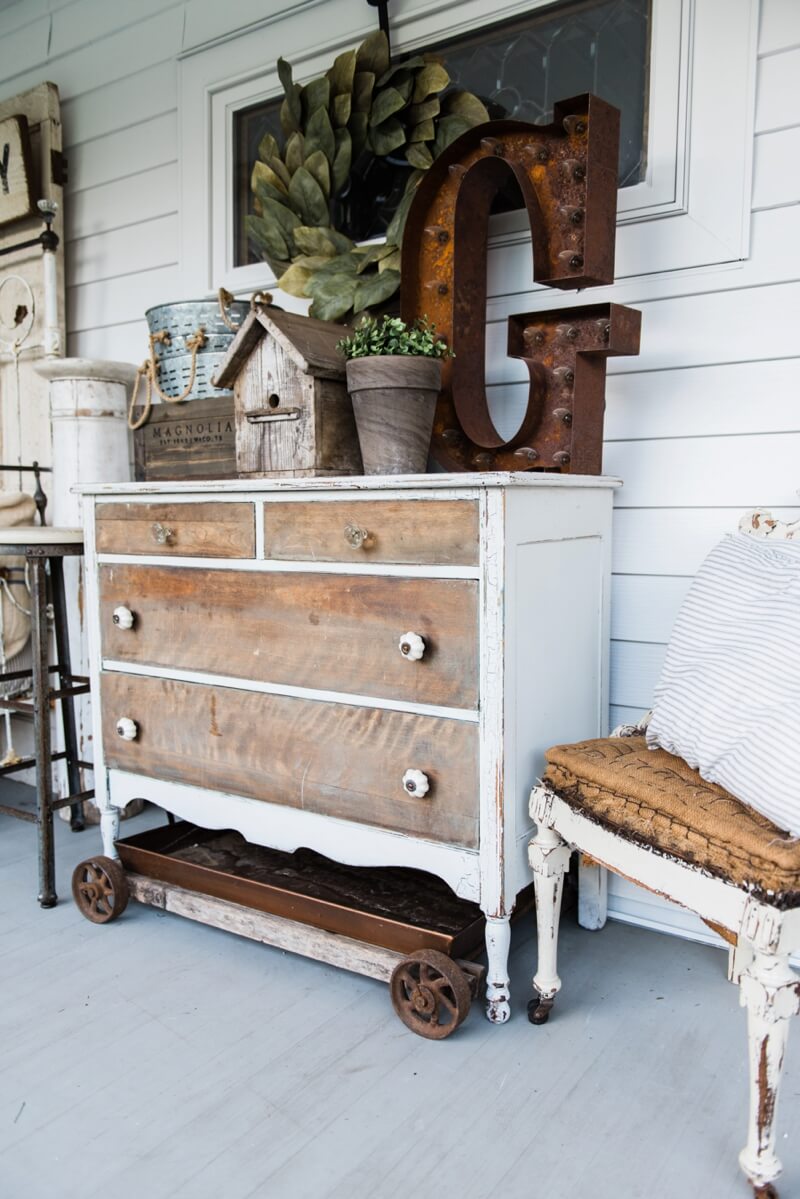 Salvaged furniture offers storage and display space, and creates a unique focal point for the porch. This restored dresser's updated look in white paint and natural wood provides a pretty hiding place for candles, garden tools, bird seed or towels.
71. Secret Garden Rustic Porch Setting
A rugged wooden potting bench together with its gothic arch backdrop create an enchanted garden setting for a pair of elegant tufted chairs, proving that rustic doesn't always mean rough.
72. English Retreat Rustic Farmhouse Porch Decor Ideas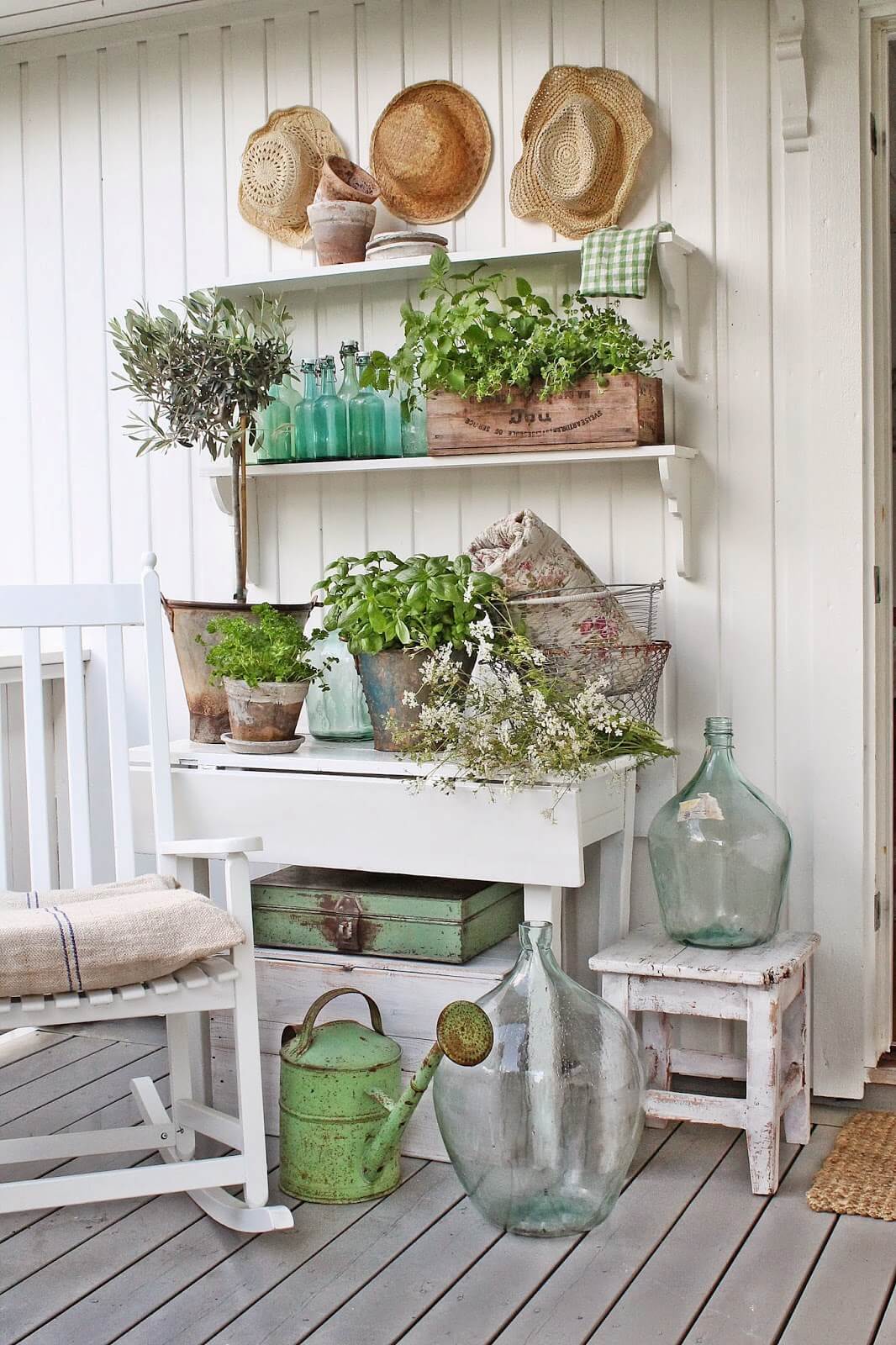 A pair of shelves over a matching drop-leaf table mimics a country dresser, displaying an abundance of pots and bottles for the resident gardener. The trio of hats, and balloon-shaped glass jugs, add to the collection of treasures.
73. Newport Palace Rustic Porch Decor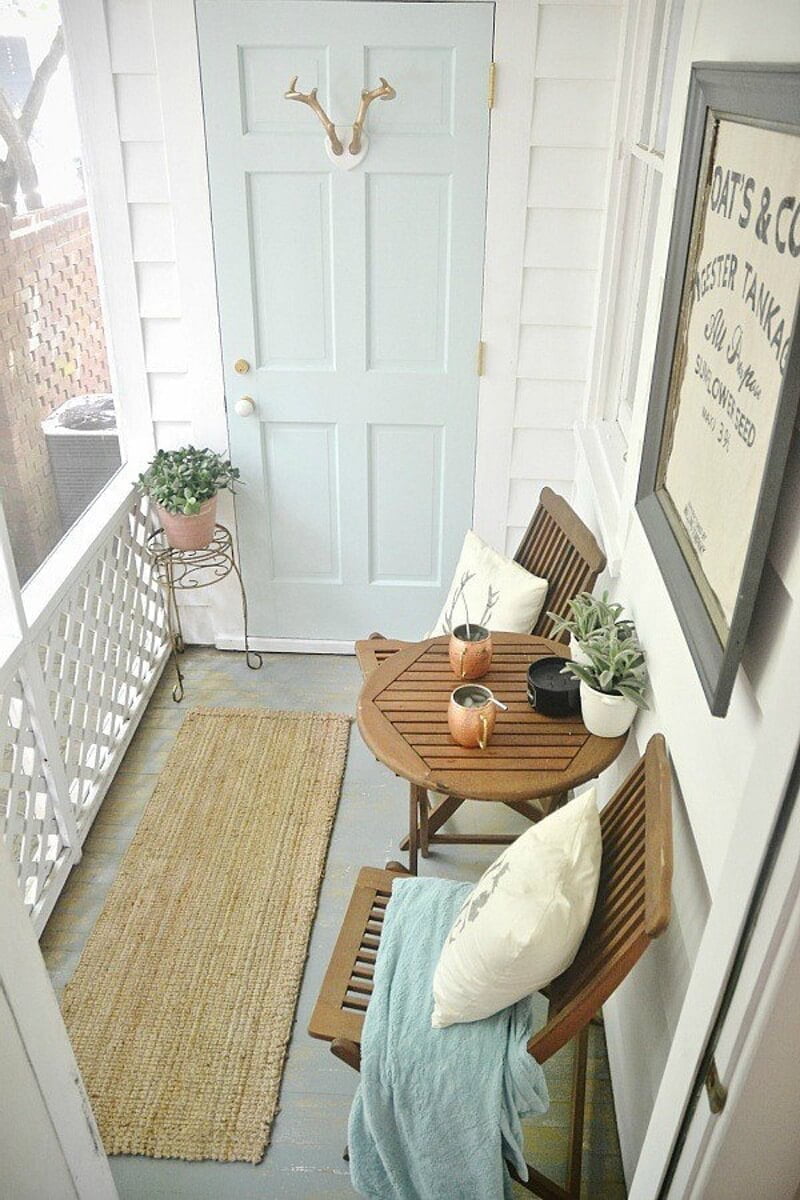 Even tiny porches can offer refuge when given clean bright colors and furniture scaled to fit. Little flower pots, folding chairs, and décor that hugs the walls are all good choices in this comfortably sheltered space.
Choose Rustic Wall Decor Ideas to Make Your Home Warm and Inviting