We adore the farmhouse style. Whenever we see pictures of rustic and classic country homes, we always find ourselves lusting for a farmhouse out in the country of our very own. This look is understated, familiar and warm. However, not all of us can pick up and move to the country, but we can try some fun and inexpensive DIY projects that will give our spaces a farmhouse style. If you want to bring a bit of farmhouse decor into your home without spending an arm and a leg, then try these 45+ DIY farmhouse style inspired projects. Whether you want to spruce up your kitchen, dining room, bedroom, or any other space at home, you can count on these ideas.
Make Your Home Unique With These Gorgeous DIY Farmhouse Decor Ideas

Eclectic Farmhouse Style
Farmhouse decor has no set rules. Mix old with new, such as a dilapidated wicker basket alongside the clean lines of a metal-framed mirror. A scratched, worn wood-top table melds beautifully with an elegant glass vase filled with white roses, which could result in an unforgettable dining room. Place a vintage paint-chipped footstool in front of a freshly painted white cabinet. You can successfully create a farmhouse style in your home, no matter where you live or the size of your budget.
Small Budget, Big Impact
If you have a small budget, these DIY Farmhouse decor ideas are fun and cost-effective. Bargain hunt at swap meets, garage and estate sales, and thrift stores. Loving care and a few dollars can transform a neglected little bureau into a showpiece. With so many tutorials and inspiration online, you can dive right in with confidence, creating a beautiful, personalized farmhouse style atmosphere. Here are 45+ exceptional DIY farmhouse decor ideas sure to get your creative juices flowing.
1. Old and Weathered Farmhouse Style Ladder Rack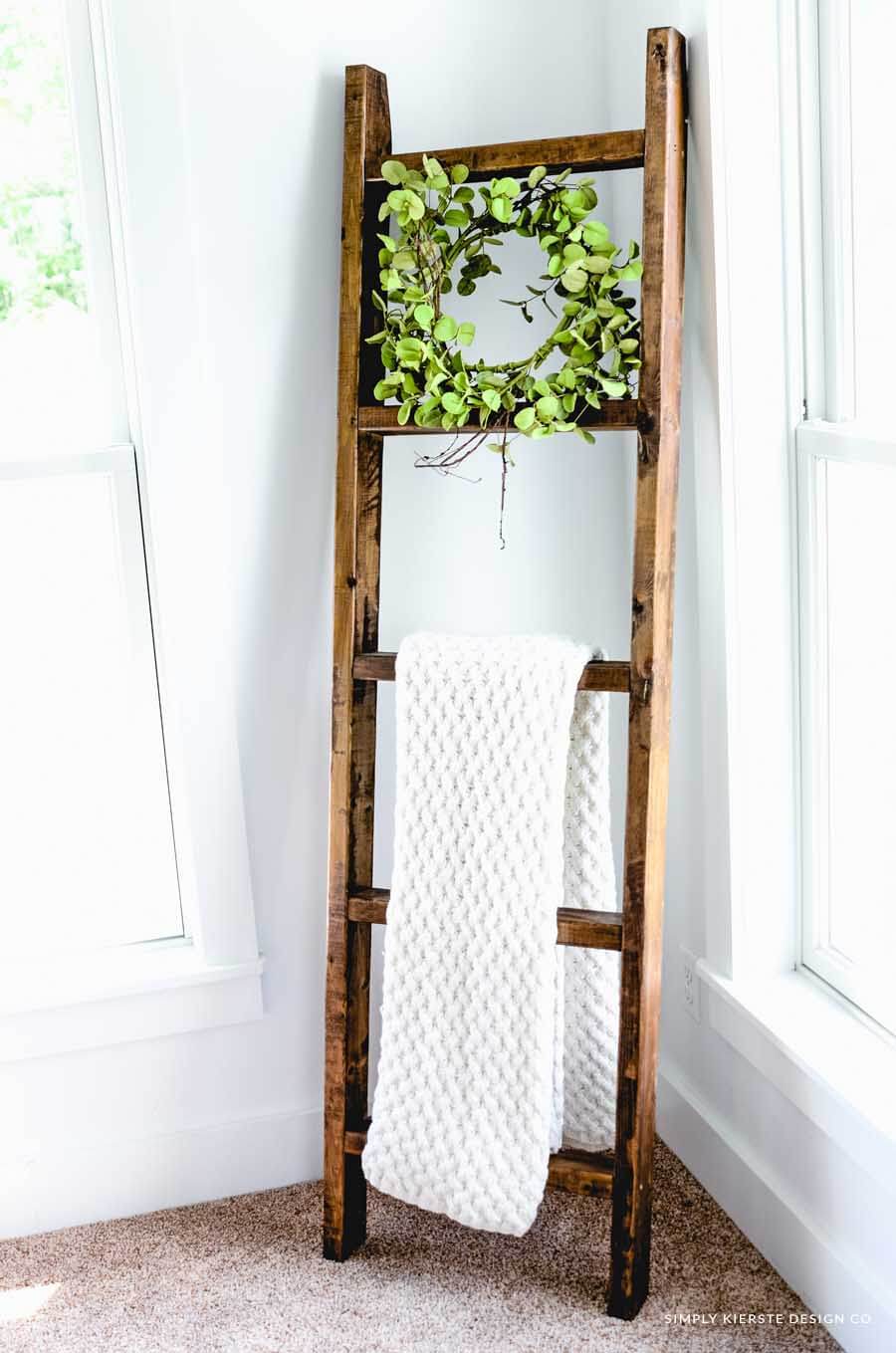 Every home ends up having that old fashioned wooden ladder that ends up needing to be replaced or just ends up abandoned in the garage or shed somewhere, but with a little bit of paint and some ingenuity, you can give it a new home proudly on display thanks to farmhouse decor. The rungs of the ladder work great as a towel rack and are great for storing anything that can hang from a hook, like pots, pans, and even things like barbeque utensils. Depending on the condition of the ladder it might not even need a fresh coat of paint, but definitely give it a good cleaning before putting it to use.
2. Easy to Carry Tool Farmhouse Style Tray Planter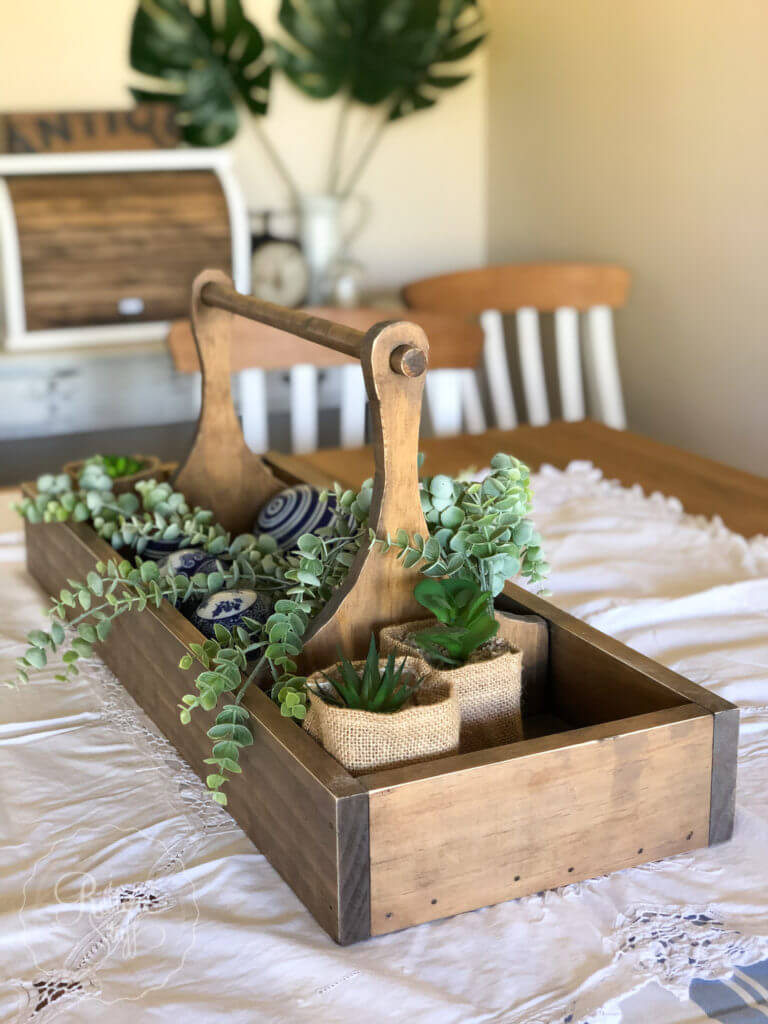 Those old flat tool trays can be good for more than just carrying around your hammers and screwdrivers. After a fresh coat of paint or stain, you'll be able to use the tool tray as a display holder anywhere around the house, even the dining room. It makes a great outdoor table centerpiece if you put some potted plants inside, but it can also be used as an organizer in the bathroom on your toilet tank or a table caddy in your kitchen for holding condiments or glasses. The possibilities for this project are near limitless.
3. Repurposed Outdoor Fireplace Mantle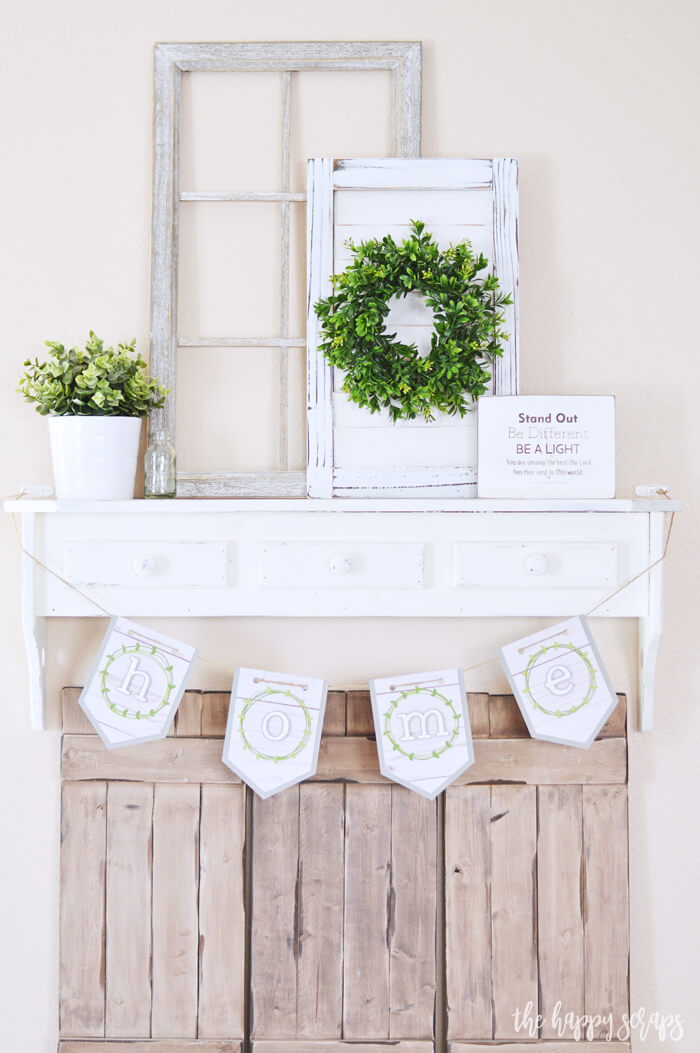 While we usually think things like fencing, window panes, and shutters are only for the outside of a home, combining these elements in a unique way can lead to a lot of great indoor accent pieces. The entire farmhouse style comes from this idea of repurposing, and nothing drives that point home as much as this project. Using wood fencing materials to frame the fire pit along with window panes and shutters to draw the eye to the mantle shelf, this unique fireplace mantle can easily become the star of any den of living room or dining room area with some creativity and appropriate accenting.
4. Farmhouse Style Hanging Potted Planter Door Wreath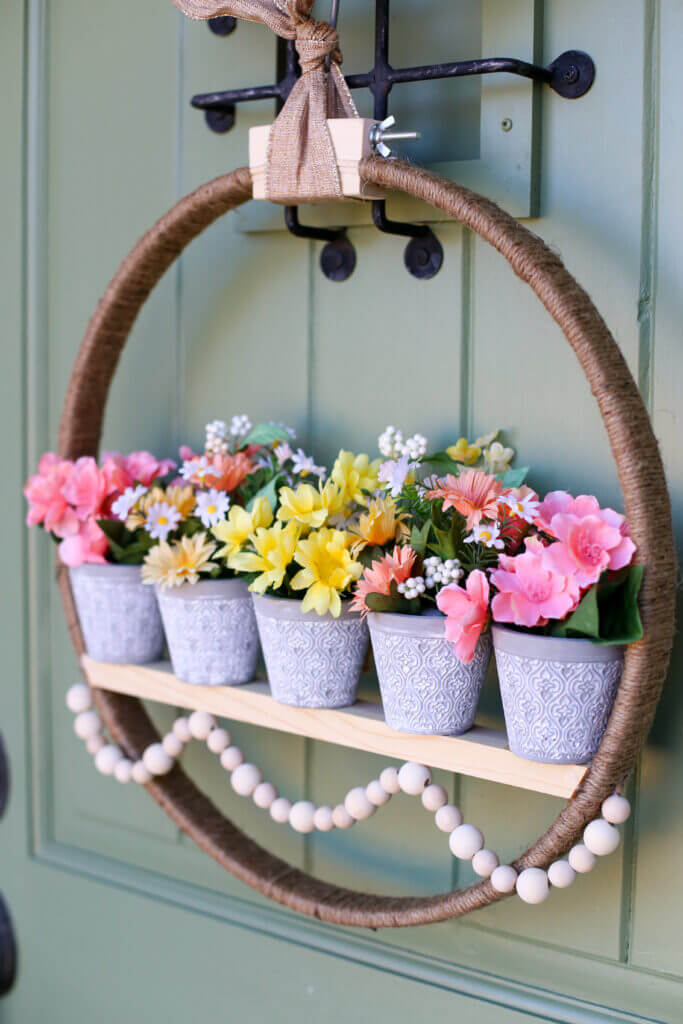 Wreaths are always a nice focal point for the front door of a home, but why do a traditional rustic wreath using branches and reeds when you can add a bit of color instead. With this project, you'll be able to make a unique wreath that will be the talk of the neighborhood. The best part is you don't even have to change the wreath each season. Just replace the flowers with whatever colors and types fit the season, or just fill them with other farmhouse decor ideas depending on your preference.
5. Metallic Painted Jumbo Storage Jars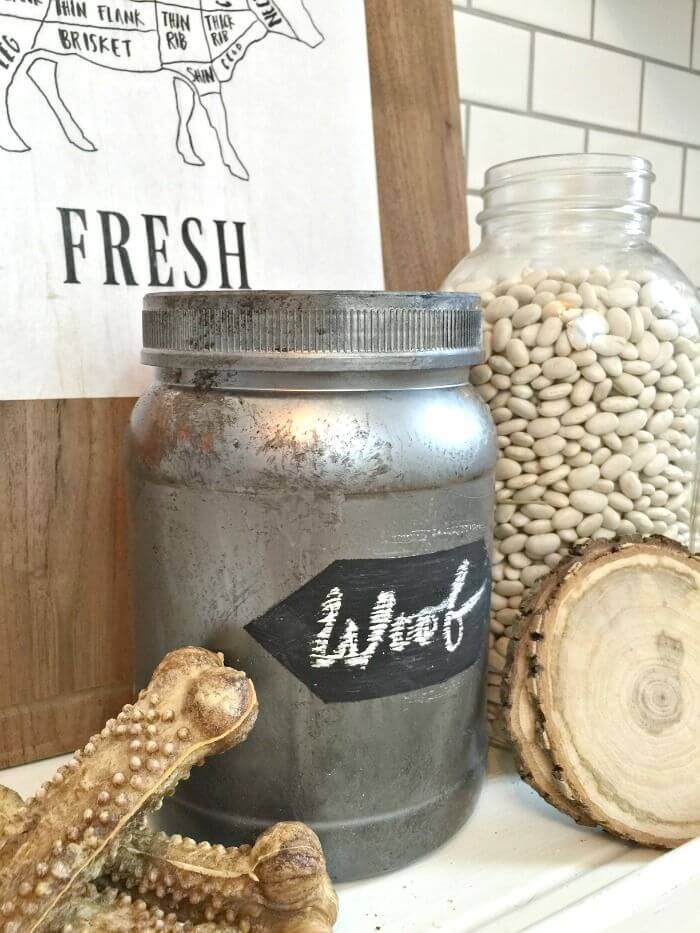 If you are a pet owner or pretzel lover, odds are you've picked up one of those big plastic barrels of food or snacks with the screw-on caps. Don't let those barrels go to waste since they offer some great storage potential despite their lackluster appearance. With a little bit of metallic paint and some creativity, you can transform the bulky clear barrels into something stylish, almost mimicking the farmhouse style of those Barnhouse steel milk jugs you tend to see out on the farm. All you need is a bit of metallic paint and you're good to go for this quick and easy DIY project. This could look perfect in a dining room too!
6. Personalized Place Marker and Napkin Ring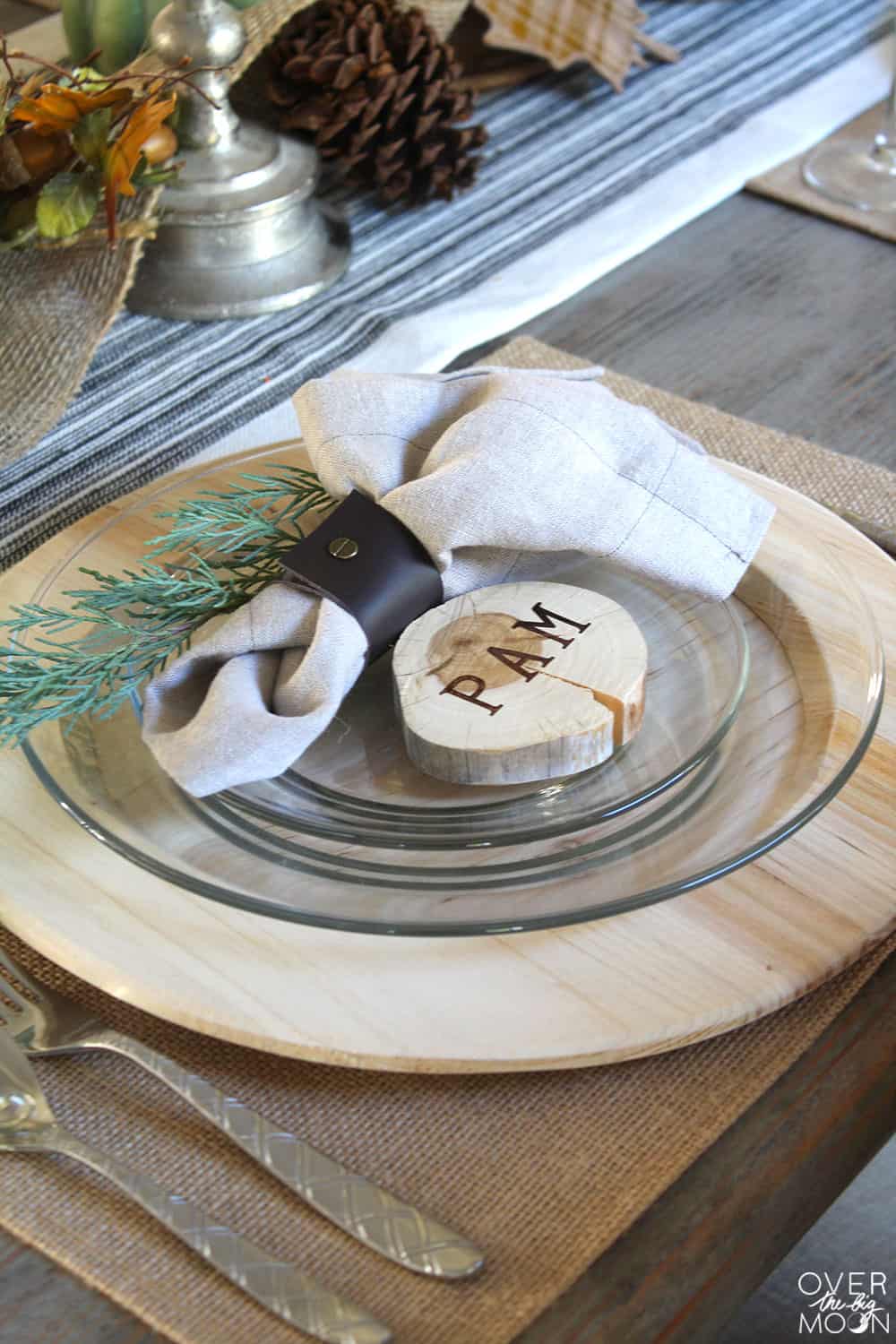 Sometimes an event calls for a more elegant flair, something that normally doesn't mesh well with the cozy laid back style of rustic farmhouse decor. With this project, you can add a little bit of elegance to your place setting, as well as give your guests a little personalized token to leave home with. All you'll need are some wood disks, a bit of leather, some button clasps and some paint or a wood-burning kit to do the personalizing. You can also use a lettering stencil or freehand the names, whatever you're more comfortable with.
7. Old Fashioned Farmhouse Style Indoor Display Pedestals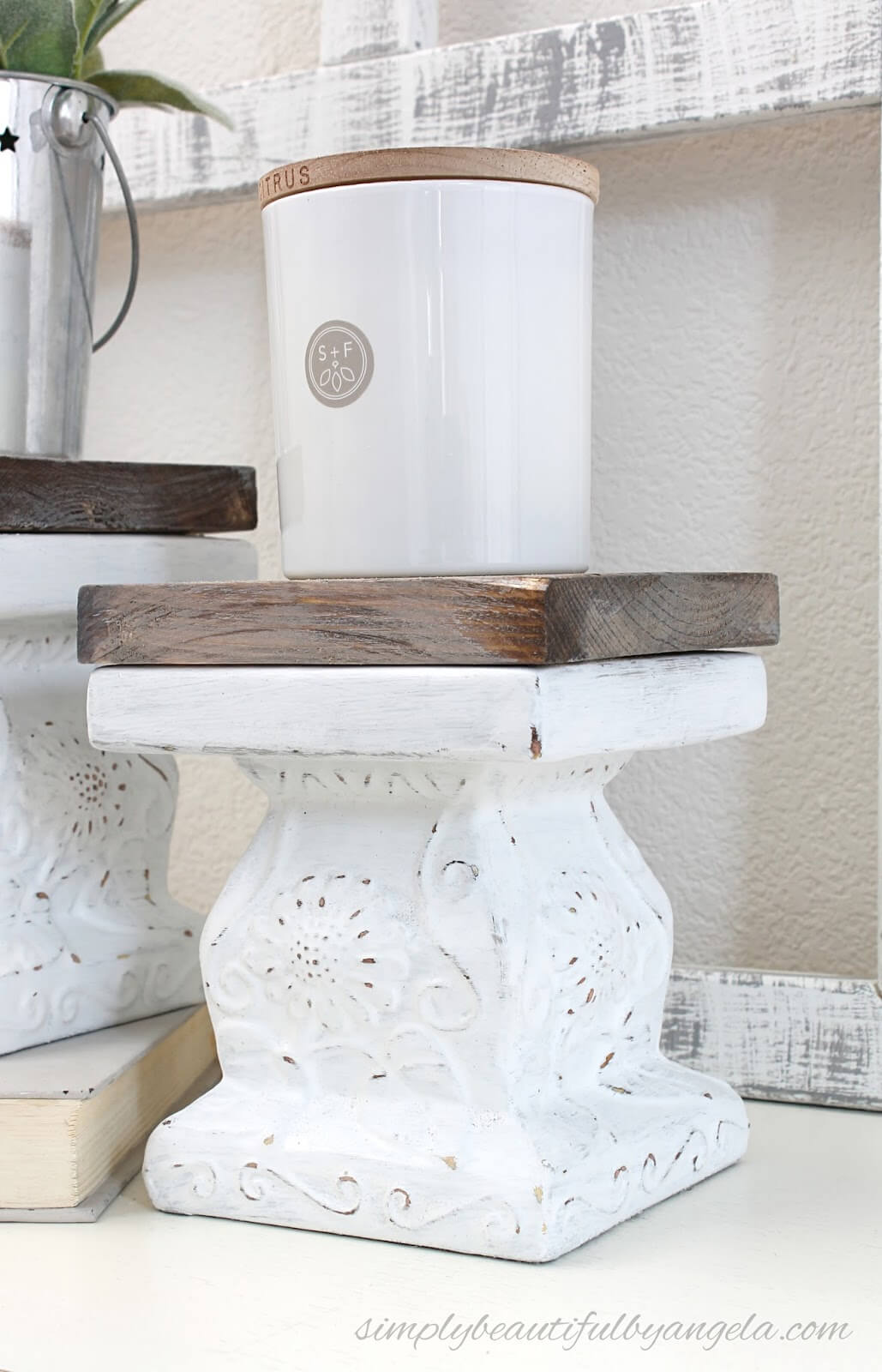 Sometimes adding a bit of height to your countertop displays can just make a whole look come together. These countertop pedestals can help add that extra depth to your decor while adding their own elements to the rustic design of the room. Aside from something to use for the pedestal, you'll need a bit of paint to match the color of the living room or color scheme you're shooting for, as well as a bit of sandpaper to give it that worn and weathered charm. Lastly, you might want a small block of wood to place on top just to tie everything together. Also keep in mind where you want to place the pedestal when finding what to use as your base, as these can vary in weight. Picking something too heavy for a shelf pedestal could damage the shelf while picking something too lightweight for the floor could easily get knocked over.
8. Mounted Mason Jar Farmhouse Style Wall Planters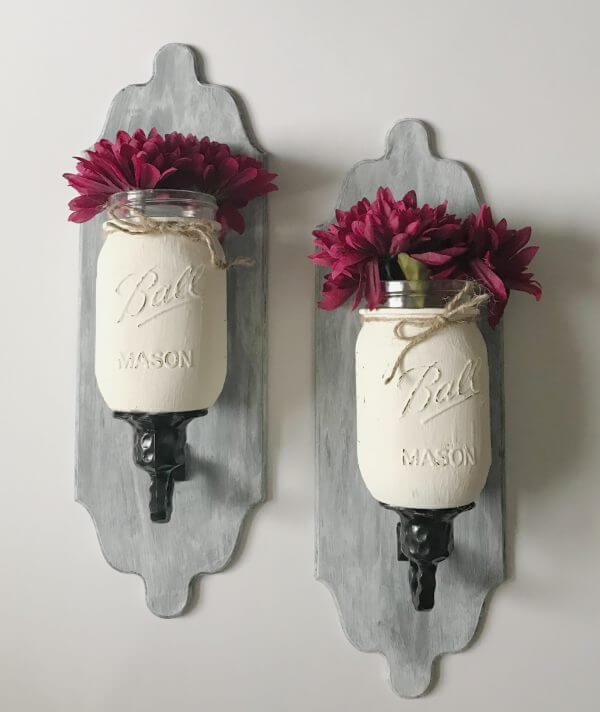 Source: The original source is not available anymore.
Mason jars can be an incredible tool when it comes to DIY projects if used correctly. They're identifiable and iconic in design, and even just standing on their own when used for storage they're pleasing to the eye. This project helps completely transform them into a beautiful rustic planter with the help of a little paint and a wooden wall mount. These are a great way to add a bit of life to almost any living room, and they are quick and easy to make as well. For a slightly quainter touch, you can use old glass milk bottles instead of mason jars as well for a similar effect.
9. Stained Wood Farmhouse Style Flower Planter Centerpiece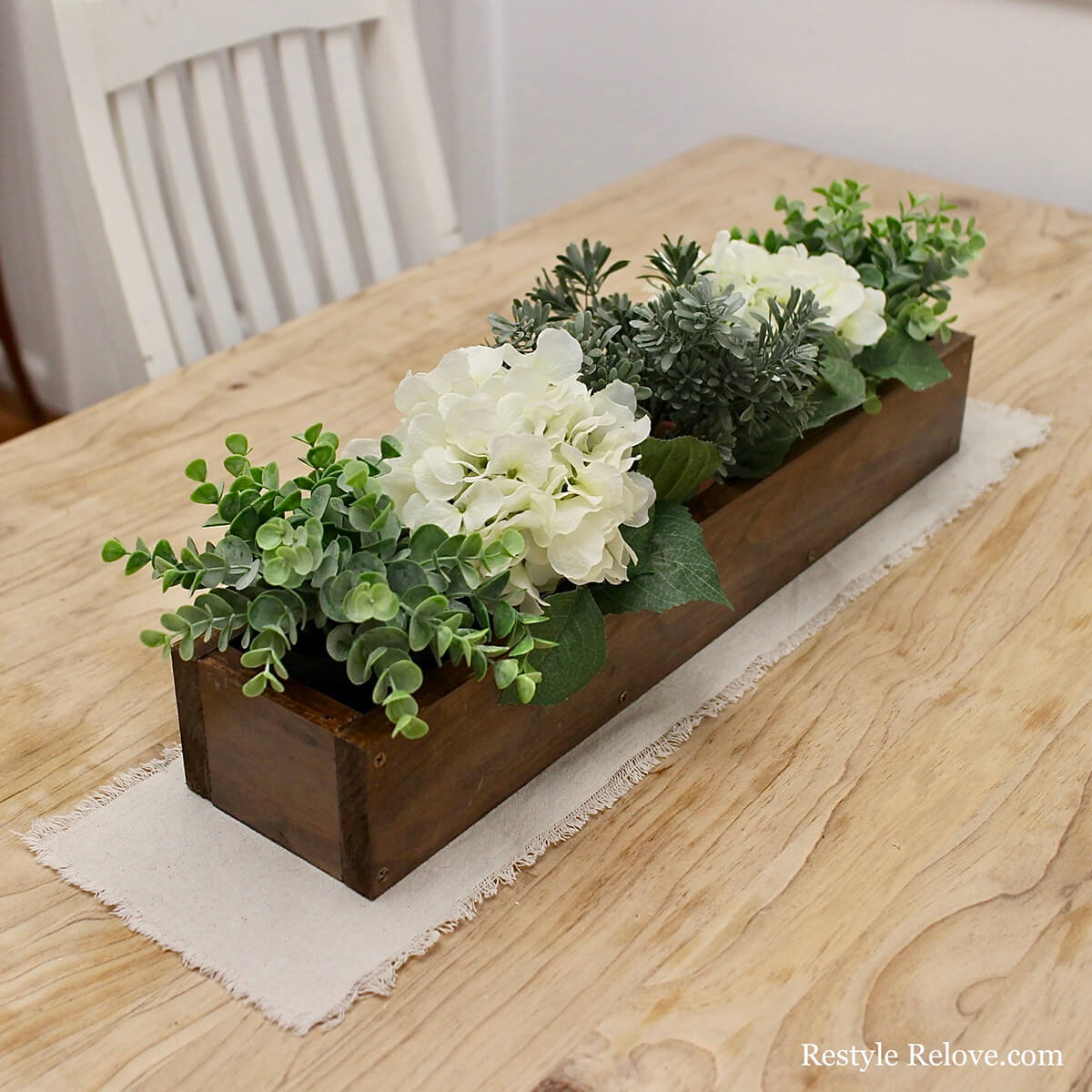 This rectangular planter is easy to make and can go virtually anywhere, including the dining room. All you'll need is a little bit of wood, some stain, and some screws or nails. This centerpiece can add a burst of life and vibrant to your dining room table, the deep brown of the stain added to the rustic farmhouse style while the flowers you choose can add a fresh pop of color to the mix. The best part is you can customize it to fit any size table or wherever you decide to display it. Simply cut the wood to whatever size you need before assembly and you're ready to go. Just fill it up with your favorite plants to let a little more nature into your home.
10. Lush and Lively Moss Covered Farmhouse Decor Vase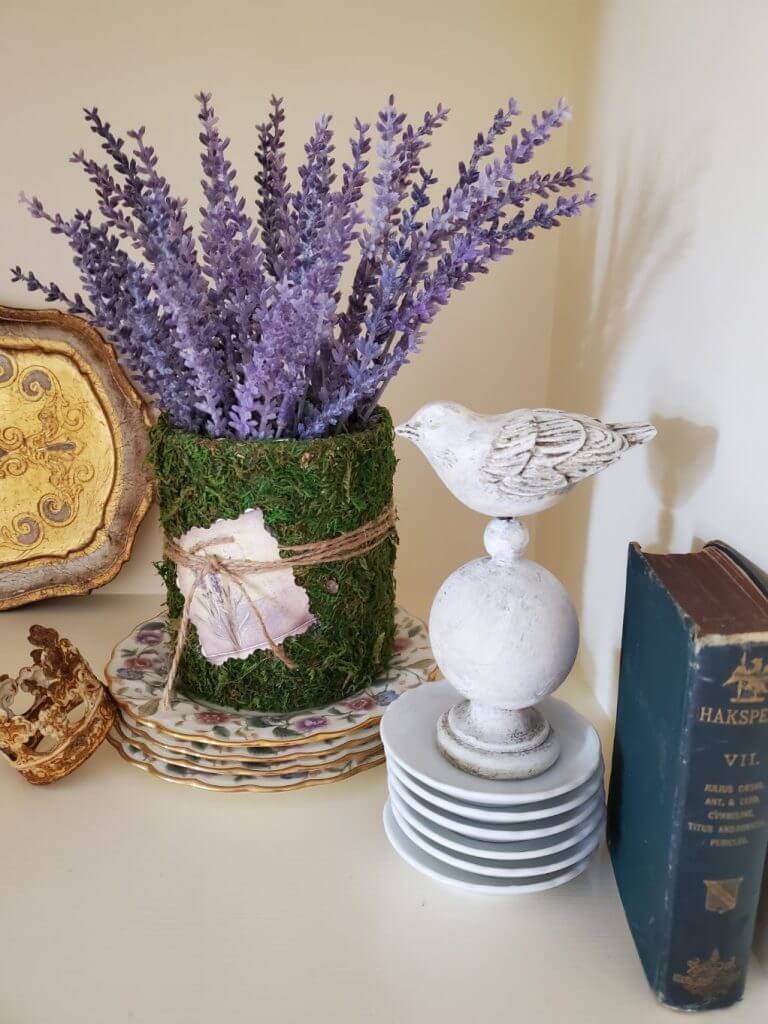 Texture and fun unite as one in this earthy and unique moss-covered vase. Tied with a string of twine, this original vase has as much beauty on the outside as it holds within. Fill it with your favorite fresh-picked flowers to add an even larger taste of the great outdoors into your home.
11. Wall Mounted Farmhouse Style Book Shelving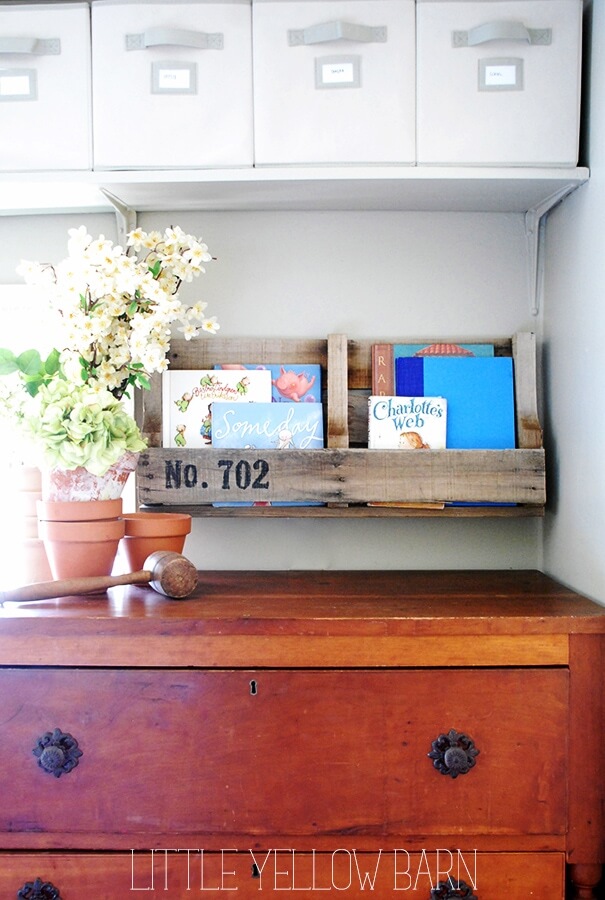 Sometimes it can be hard to figure out what to do with empty wall space, especially when its awkwardly sandwiched between countertops and cabinetry. One great solution is a small wall mounted bookshelf. With a little bit of wood, nails and some stain, you can make a small rack for holding some of your more commonly used books, be it reference manuals in your office or your favorite recipe books in the kitchen. Bonus points if you reuse crate wood with writing burned into it for that extra bit of flare.
12. Vertical Ladder Photo Frame Farmhouse Decor Display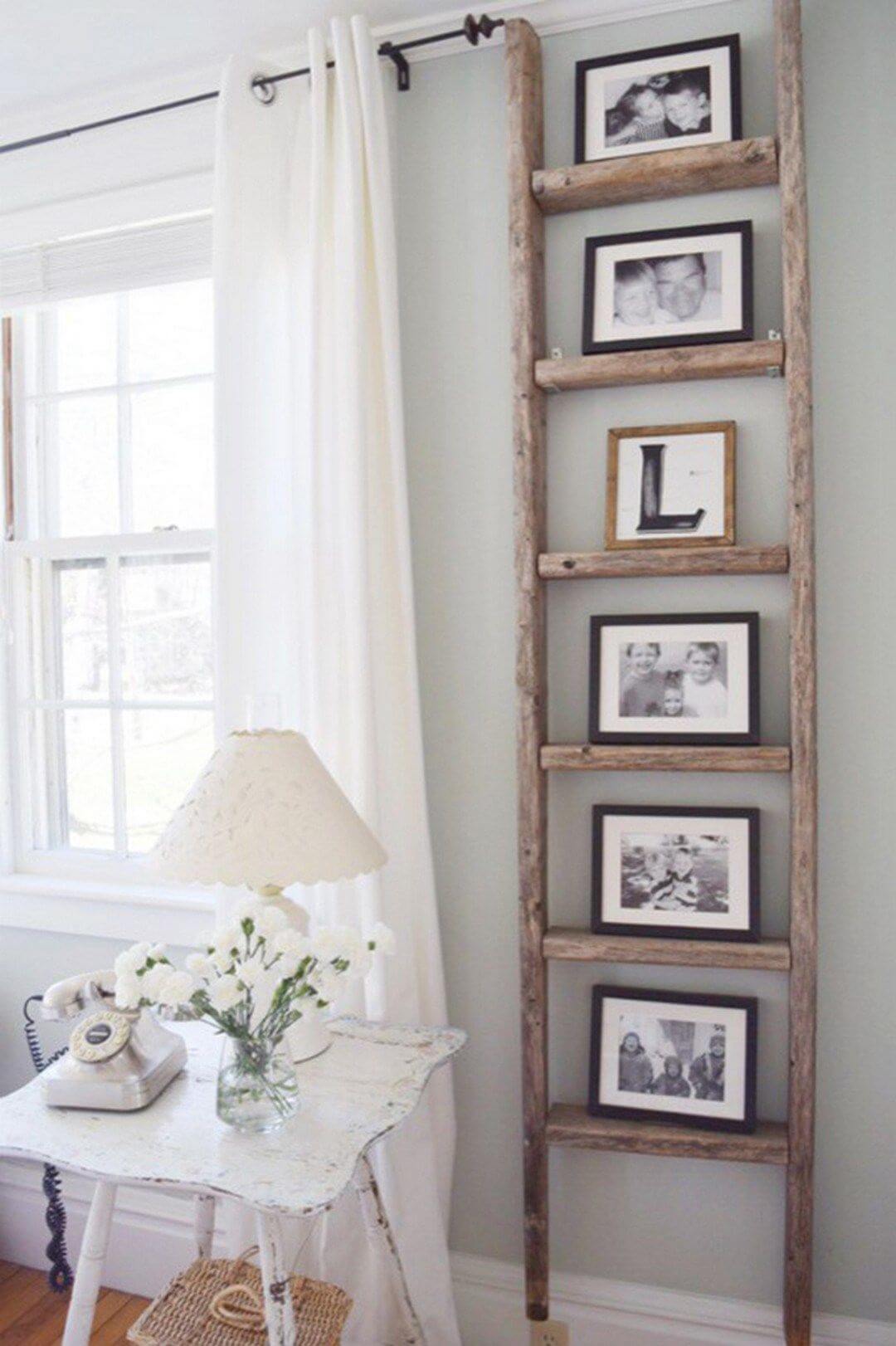 For this project, you'll need a ladder with wide and flat rungs, as well as some mounting brackets to hold everything in place. With the right tools, a little DIY know-how, and a high enough ceiling you can transform your old wooden ladder into a small shelving unit for photos and picture frames. If done right, your guests might not even recognize that you used a ladder for shelving, since it fits in so well with the rustic farmhouse feel of the rest of the living room.
13. 5-gallon Vase With Crate Frame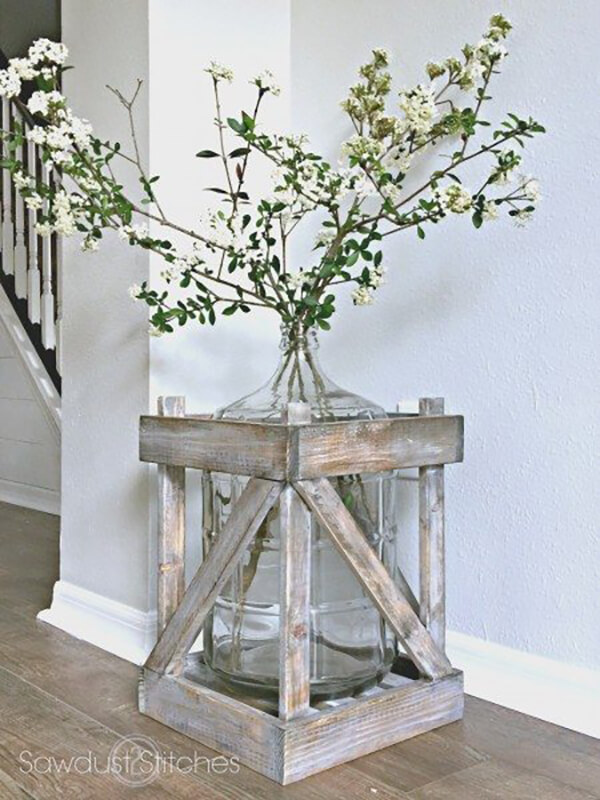 This project can look really nice if done properly, but it takes either a little bit of DIY know-how or access to a small crate to make work. By removing the housing panels on a wooden crate and adding a 5-gallon water cooler jug, you can make yourself a nice large scale vase for bigger greenery like reeds and stalks or full branches of blooming flowers. If you cant get your hands on an old crate you might have to build one from scratch, so you'll need access to some wood, nails and a reference for how to build a crate.
14. Stained Wood Farmhouse Style Bathroom Shelving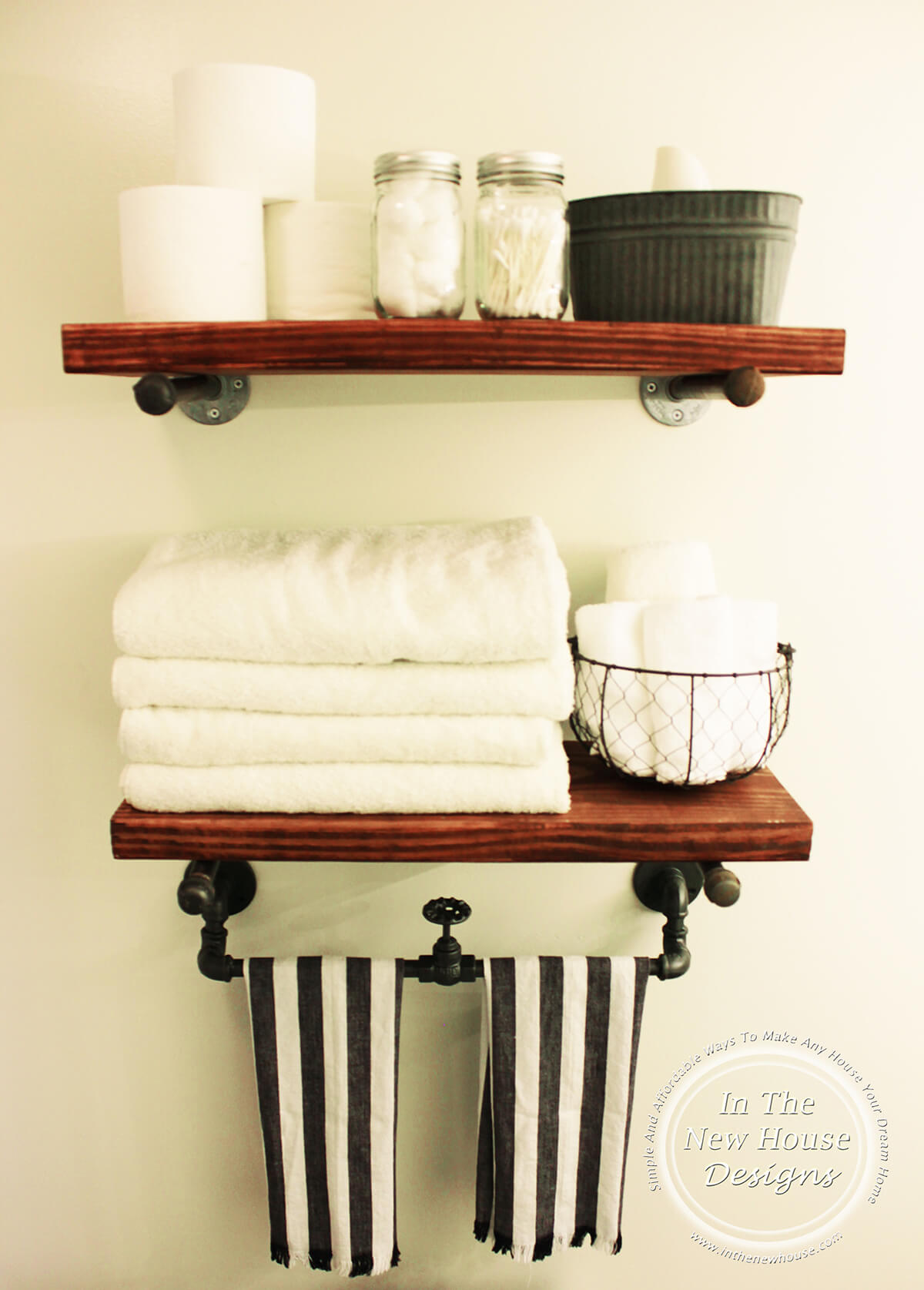 Depending on the size of your bathroom, find a place to openly store towels and other necessities without making the whole room feel cluttered can be a bit tricky. With these wall shelves, you'll be able to store a few towels, some soaps, and washcloths right out in the open, providing quick and easy access. This is also great for guest bathrooms since your guests won't have to go hunting about for any bathroom supplies, and it will help add a decorative touch to your storage setup.
15. Wooden Step Ladder Shelving Unit

Regular ladders aren't the only ones that are multipurpose. Old step ladders can be just as effective for making do as impromptu shelving or display units. With a little bit of stain, some paint, or a nice polish, you can transform your old wooden stepladder into a great accent piece to your home that not only fits the farmhouse style but is also just as practical. Even better, its easily portable and movable thanks to the collapsable nature of folding ladders, so rearranging the look of the living room doesn't have to be a massive chore.
16. Write-On Painted Storage Jars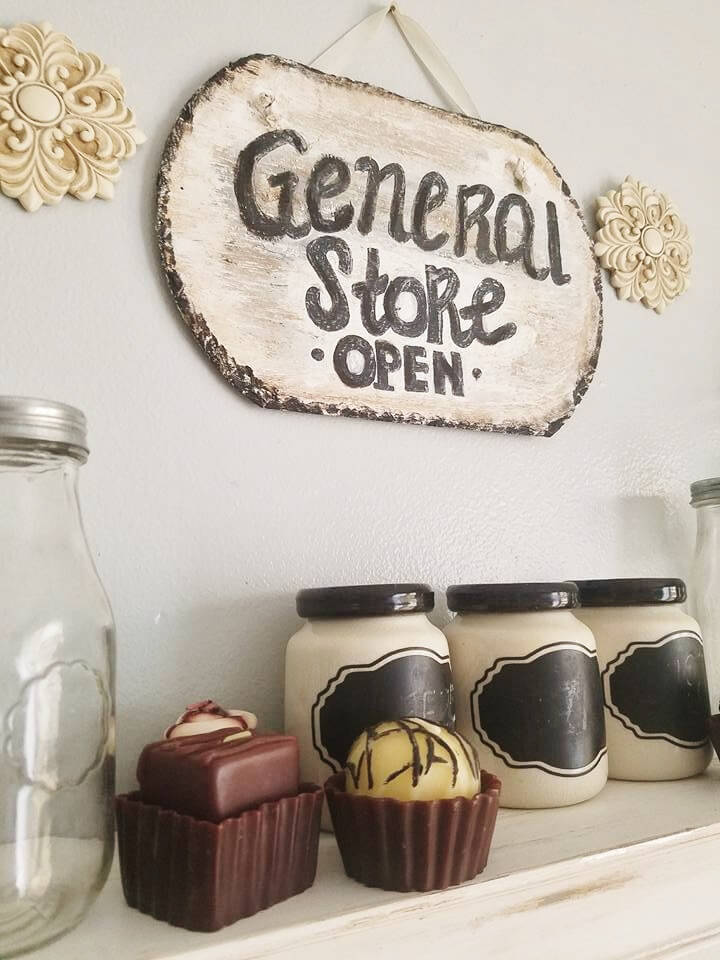 If you're looking for a great way to store all of your grains, nuts, loose cereals, baking supplies, or any loose product while keeping to the farmhouse style, this project is for you. With some old screw-top mayo jars, some paint, and a little chalk for writing down the labels, you'll have your own little apothecary set up in your kitchen. Not only do these jars look fantastic, the customizable nature means you don't need to make a new jar every time you change around your stock and what's in them.
17. Making Old Furniture Good as New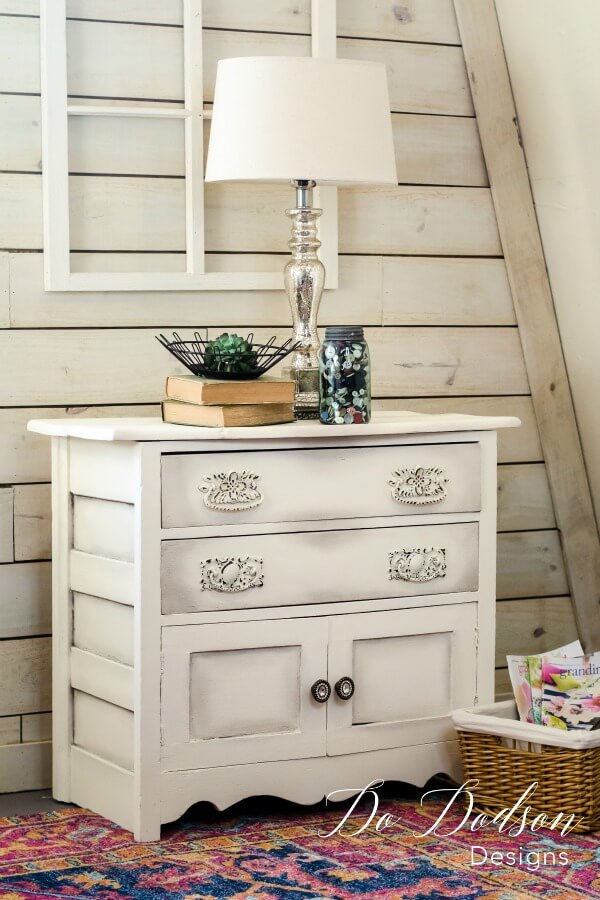 A fresh coat of paint can liven up even the most worn and weathered pieces of furnishings. If you have an old piece of furniture that doesn't quite fit the decor of your home, simply changing up its look might be all you need to be able to repurpose it somewhere, rather than spending hundreds of dollars on a new set. If you want it to fit a more worn and weathered barnyard feel, you can also wear down some of the paint with a bit of sandpaper or use an aged or oxidized brass stain on the metal portions to give it the look you want.
18. The Homemade Garden and Farmhouse Style Tray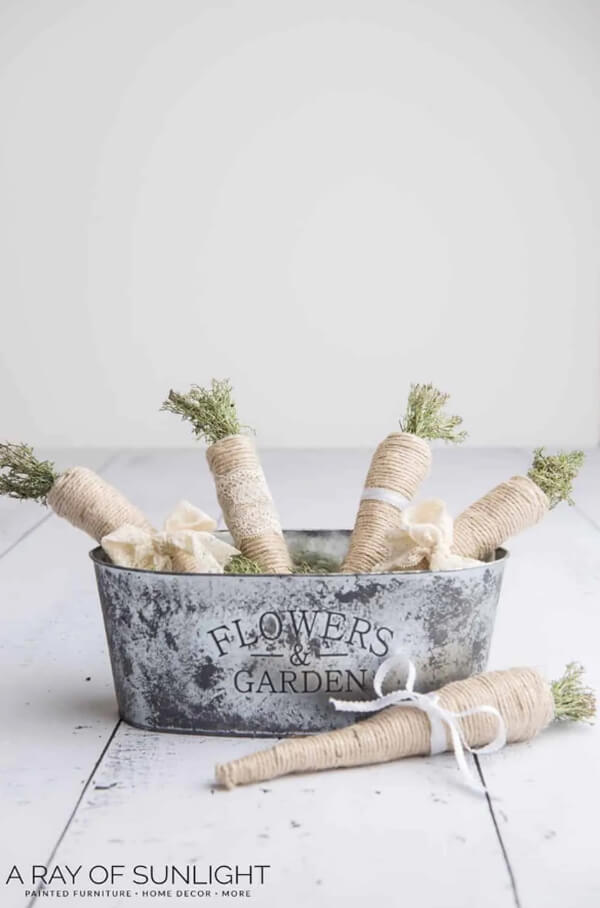 With a little bit of creativity, you can use a little twine and a base to make your own little indoor garden of veggies that will look just as lively all year round. This tiny little accent piece can add a touch of character to any countertop, giving your home a bit more playful charm. For the tray, you can use any small basin, like a butter tray or sponge and soap dish.
19. Worn Old Pots With Twine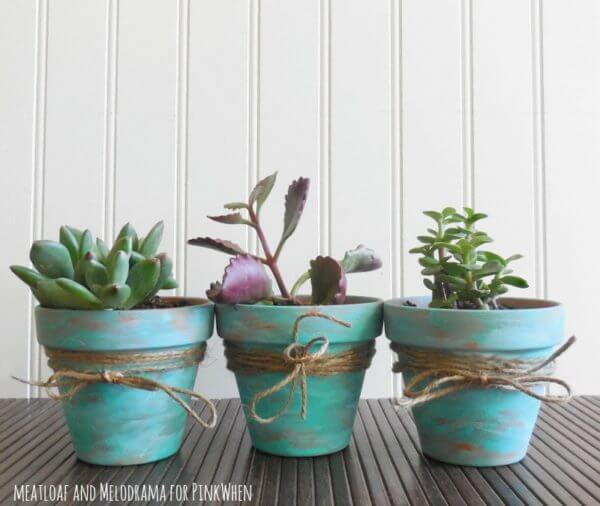 Live plants can add a nice touch of color and life to any home, but sometimes just using a traditional small pot makes them come off as generic and out of place. Luckily there's a way to make these banal little pots stand out and make the whole display look more appealing. Using a little bit of sandpaper to make the pot look more worn, as well as using a bit of twine, you can transform your borning standard pots into something unique and rustic.
20. Portable Step Stool Farmhouse Style Display Shelf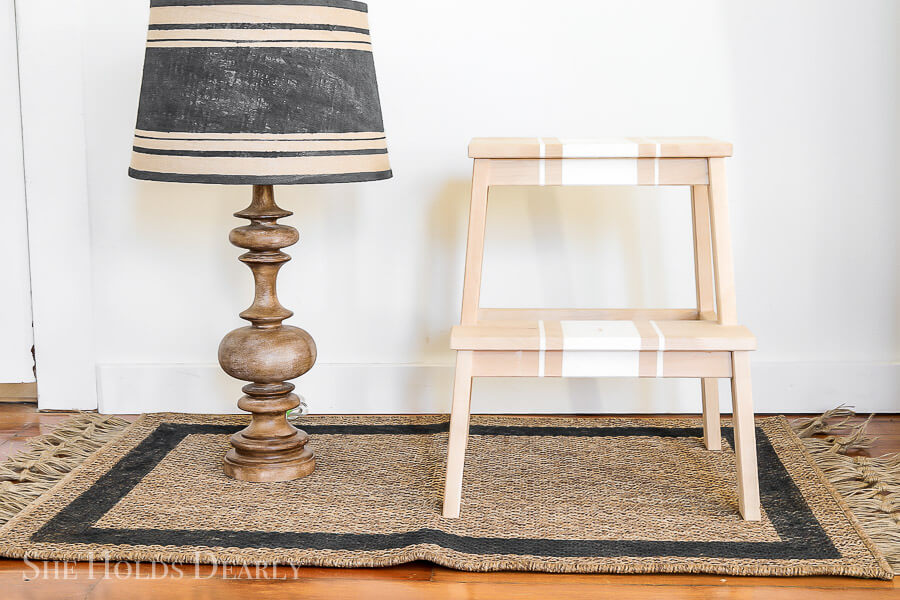 Repurposing a wooden step stool as a small display shelf can be a great way to add a little bit of height to any farmhouse decor ideas. With a little bit of paint, you can turn your old wooden step stool into something with a little more rustic charm. It's also extremely portable and has a pretty small footprint also, so it can help add a little depth to almost any living room. Feel free to get creative with the paint as well, using either a stencil or painter's tape to create a pattern to make it feel less like a step stool and more like a display. With the right paint job you can even make it work as a free-standing farmhouse decor.
21. Farmhouse Style Old Wooden Dish Tray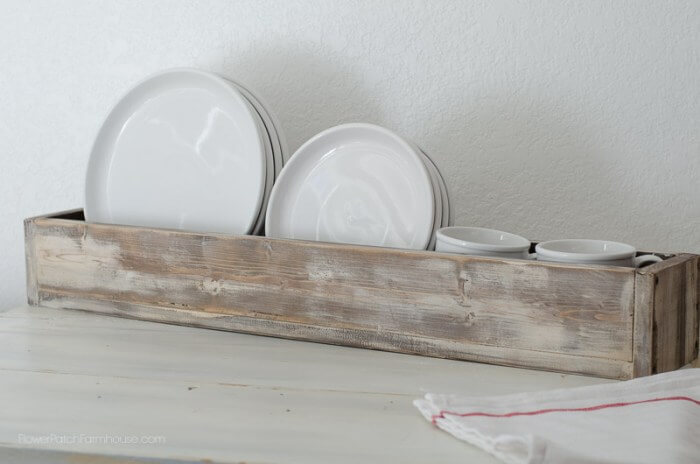 Much like the planter, this is an easy project that can help not only display your dishwares but also help with storage and organization. All you'll need are some pieces of wood cut to size, some screws or nails, sandpaper, and some stain if you're looking for a more decorative and polished look. This dish tray looks great on countertops, showing off your decorative dishes and also giving you easy access to them for coffee or desserts in a pinch.
22. Old Style Hanging Farmhouse Decor Wooden Frame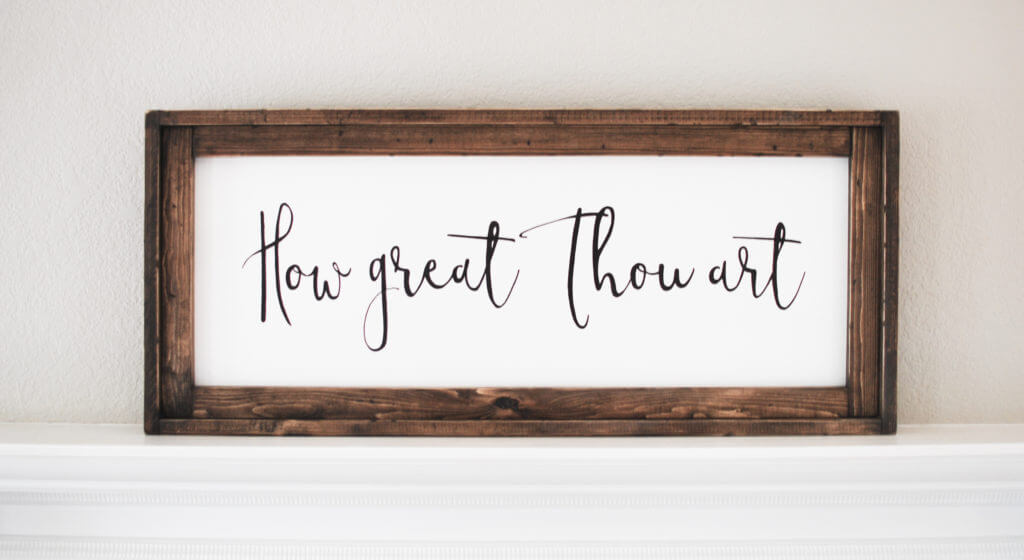 You can give any wooden frame a touch of southern rustic hospitality with a little stain and some sandpaper. If you already have wooden frames for decorative pieces of artwork around the house, you can quickly convert them all to a more farmhouse style in about an hour or two depending on how many you have. You can even embellish the frames with other odds and ends like pinecones and other rustic staples if you really want it to be the focal point of the living room. If you have metallic frames, feel free to experiment with some metal treatment paints to give your frames a more weathered look.
23. Farmhouse Style Worn Wood Chair and Ottoman Set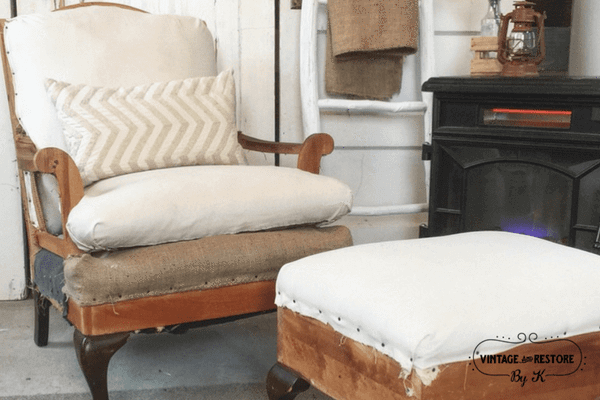 When it comes to farmhouse style, sometimes one man's trash is another man's treasure. If you have an old wooden chair or ottoman set, or go salvage hunting and snag one from a thrift store or off someone's lawn for pickup, you can transform it into something quaint and homey with the right materials and a little hard work. You might need to cut yourself some new fabric to cover any old or torn seating as well. While not the most comfortable, if you're using it more for looks than utility, covering the seat or top of the ottoman with burlap could also give it a nice touch. This project is a bit more involved, requiring some tools and a little more knowhow, but once you're done you'll have a nice set of furniture perfect for your lounge room or den.
24. Wooden Planked Wall Mounted Plaque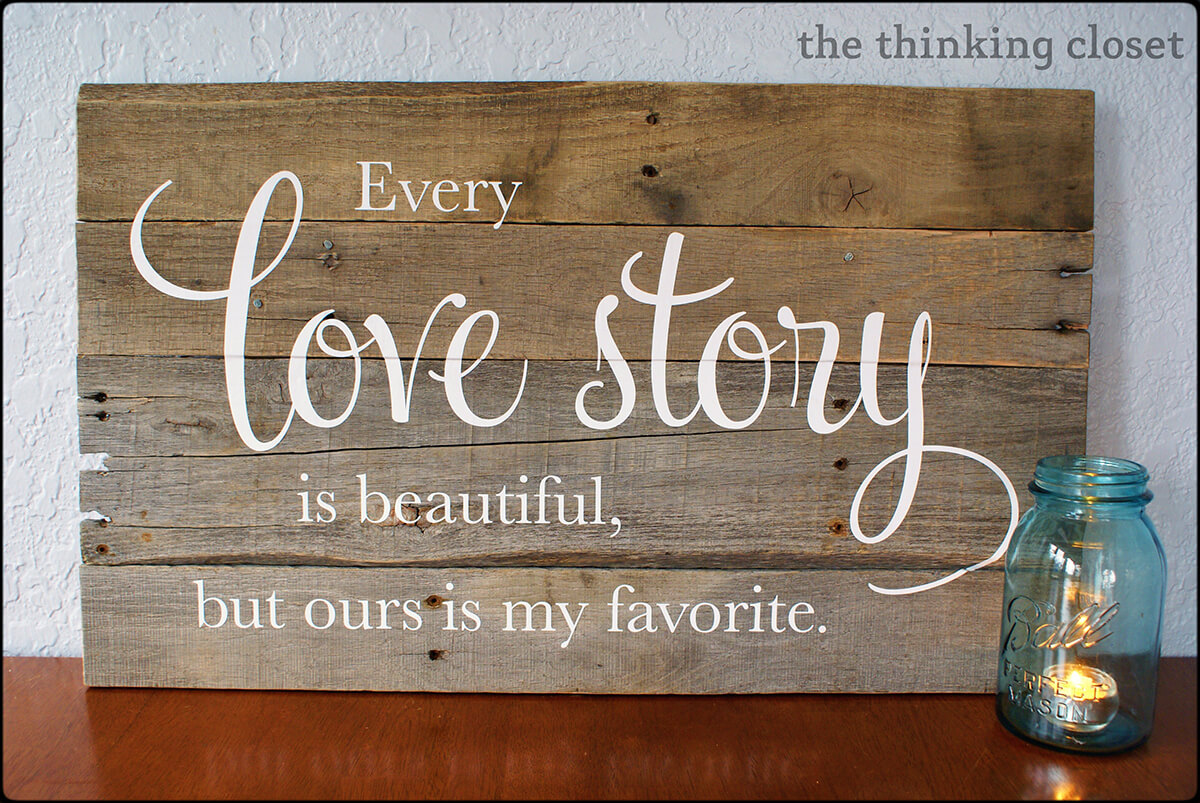 Finding the right worded wall display can be a challenge, especially with so many options to choose from. Finding something that fits your home as well as a phrase that fits your personality can seem almost impossible sometimes, and you can only put so many 'Live, Laugh, Love' decorations about without things getting redundant. Thankfully, with a few planks of wood, some stain, and some paint and letter stencils, you can make your own custom display and write something truly from the heart to make all your guests feel at home.
25. From The Work Bench to The Coffee Table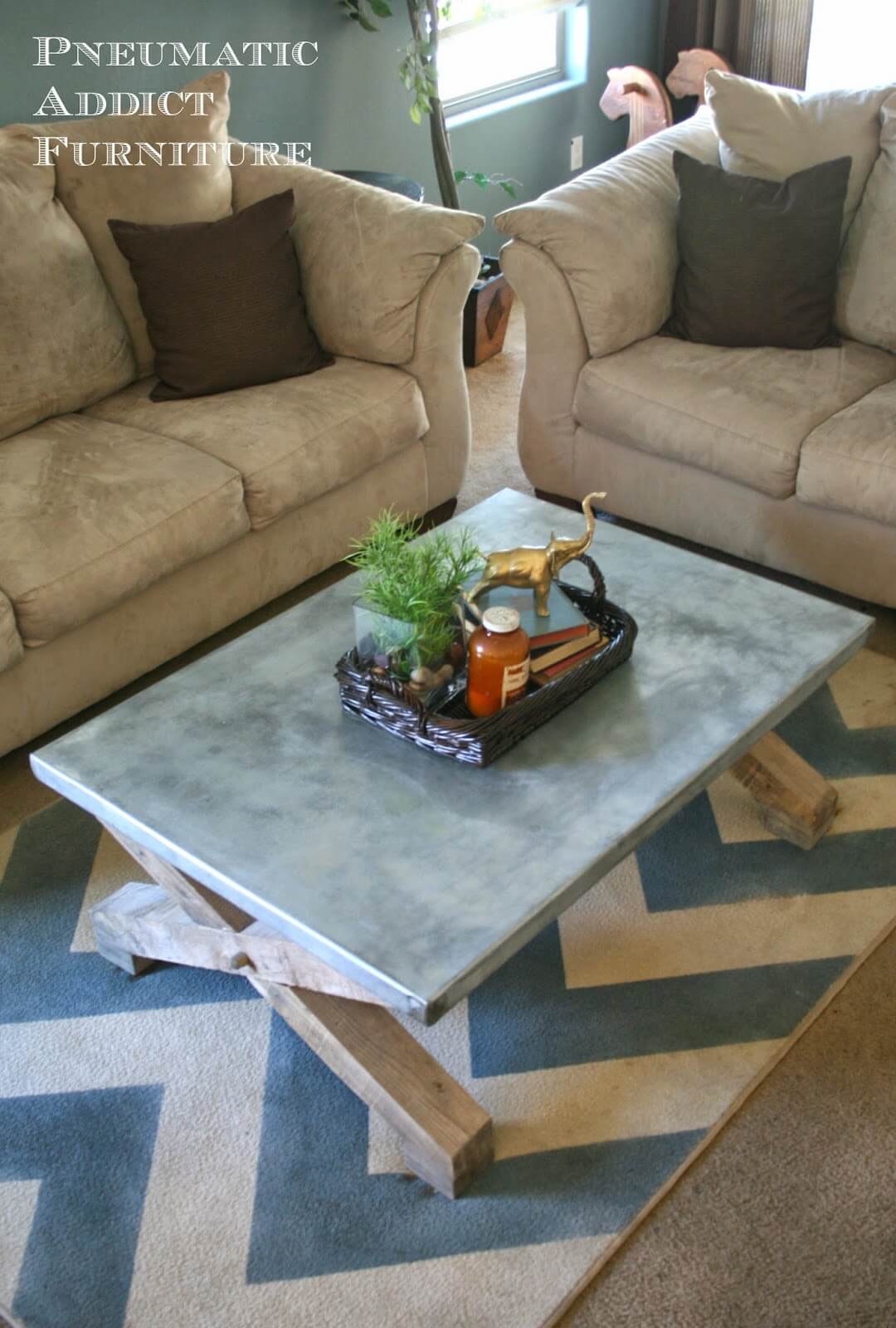 This project might require a little more DIY know-how as well as some searching for materials since you probably won't have what you're looking for just lying around the house. You can use any rectangular piece of metal, be it an extra piece of wide shelving or from the top of an old work bench, to act as the tabletop for a new coffee table. You can even treat the metal to get a different look, or simply just paint over it if you're looking for a less metallic color for your den area. Either way, once you have a sizable tabletop material, the rest should be easy.
26. Obviously Awesome Olive Branch DIY Wreath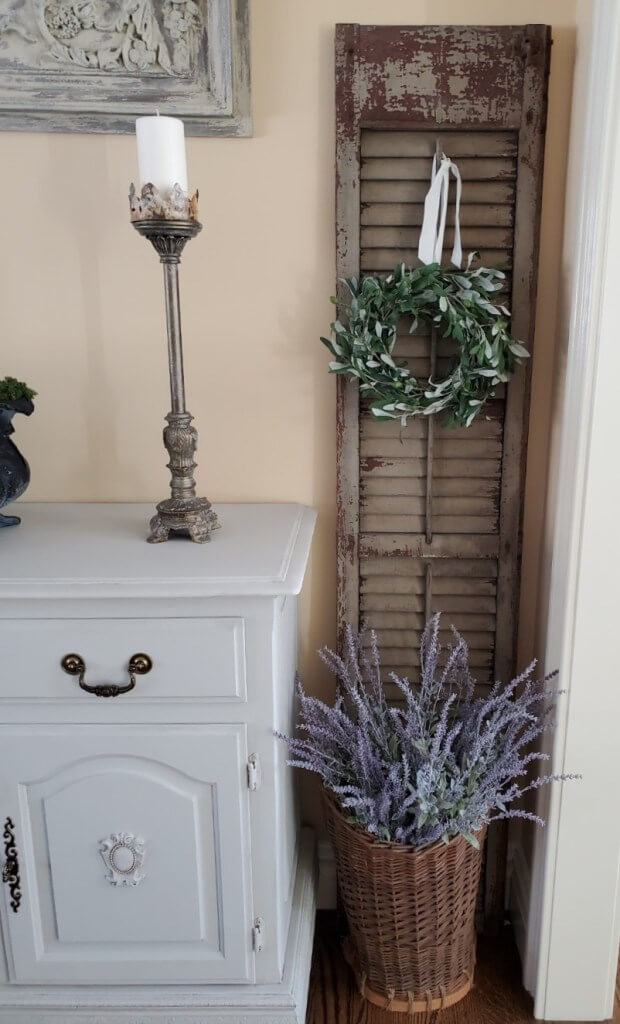 Perhaps you're looking for a wreath as an interesting accent to some of your already existing decor, and not desiring one to simply hang on your front door. If that's true, this olive branch wreath might be for you! Beginning with a traditional grapevine wreath base, this obviously awesome wreath features sprigs of olive greenery that are placed to perfection to achieve a full and lush accent wreath. Tied with a pretty ribbon, you can hang this olive branch beauty on a decorative and charming shutter, within a family gallery wall, or over your curtain rod for extra dressing for your window treatments.
27. A Vintage Door Becomes a Farmhouse Decor Item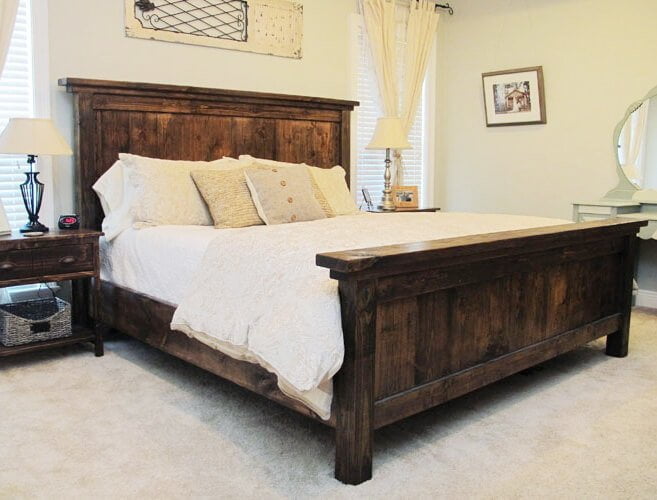 Source: The original source is not available anymore.
DIY farmhouse style decoration doesn't necessarily mean that you need to make your decor item from scratch. Sometimes it means that you re-purpose a different item that you already own in a creative way. These clever homeowners took a vintage door and hung it above their bed. If you have a gorgeous vintage door that feels too lovely to hide away in a cabinet, draw inspiration from this idea.
28. Breathe New Life into an Old Frame
You wouldn't believe how quickly and simply an old frame becomes a rustic, beautiful chalkboard. You can easily purchase chalkboard paint at the hardware store, which, when painted over glass, creates a chalkboard finish. As for the actual frame, spray paint it whatever color you wish. We love what these homeowners did with the gold hue. These homeowners chose not to use their DIY project as an actual chalkboard, but rather as a backdrop for a lovely cranberry wreath, which can also be easily assembled with pieces from the craft store.
29. A Wall Full of Rustic DIY Decor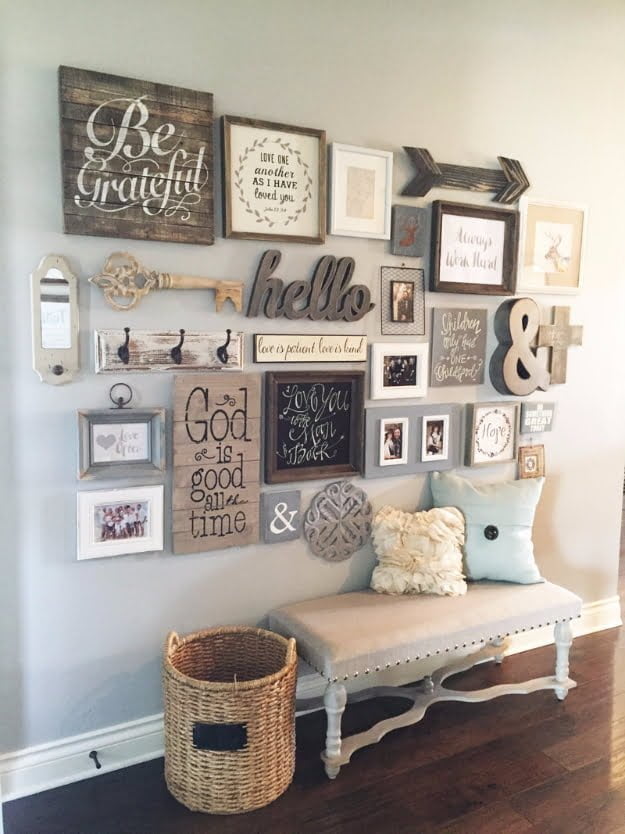 Source: The original source is not available anymore.
Don't feel like you have to limit how many DIY farmhouse decor items you display in one area. These homeowners prove that you can create a beautiful display out of several creative DIY projects. Breathe some new life into old canvases or wooden palettes by spray painting meaningful words or sayings on them. You can use a stencil if you're not particularly artistically inclined. Or, pick up some wooden symbols, letters or shapes at the craft store and spray paint them the color of your choosing. We adore the glossy, slate-colored ampersand on the far right.
30. Take a Mirror to the Next Farmhouse Decor Level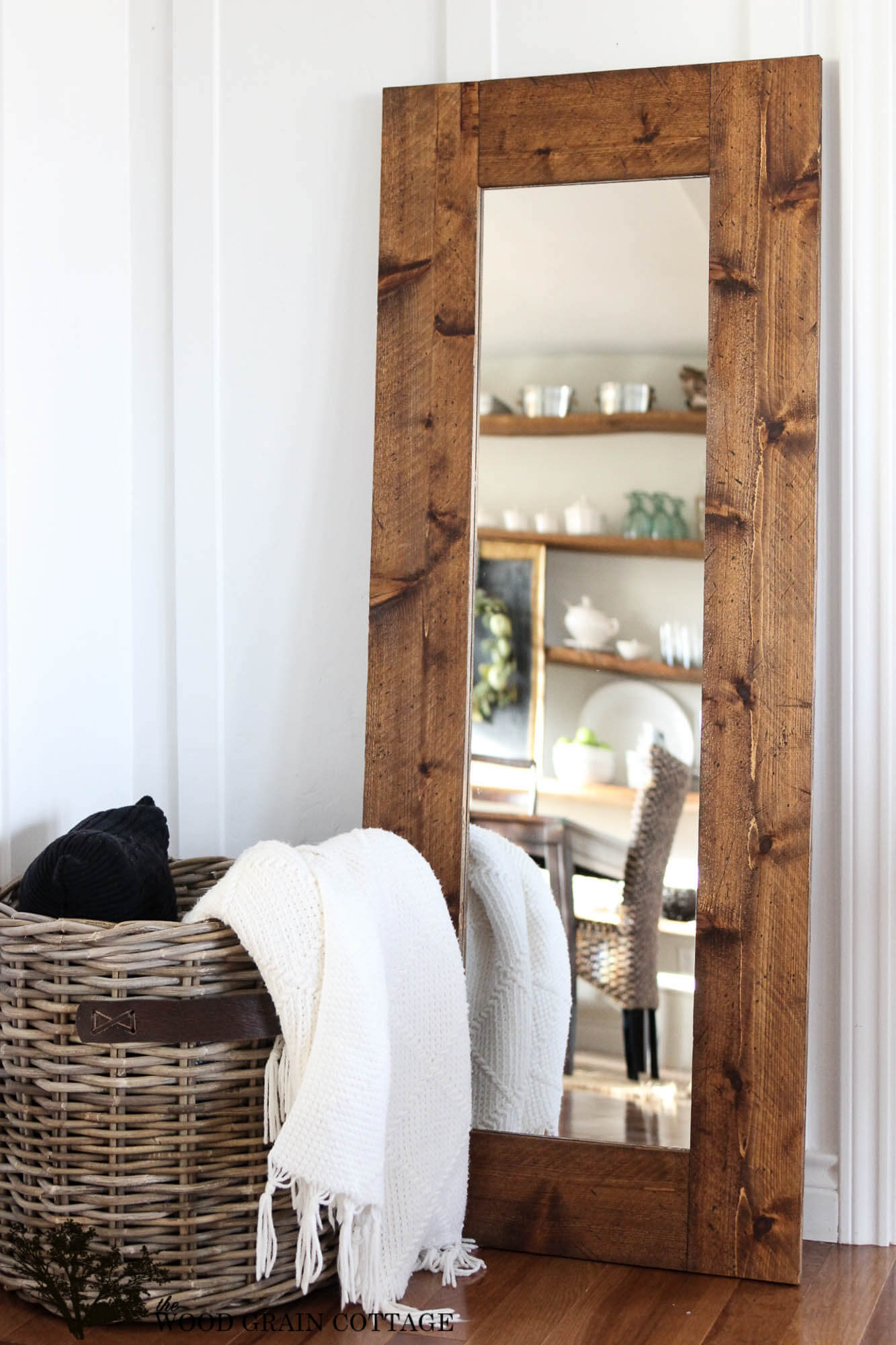 A mirror can be a simple and unnoticeable accent piece. However, with a little creativity, you can turn it into something truly magical. These homeowners took a wooden mirror and used paint to give it a more rustic feel, inspired by that great farmhouse style. We love the light wooden stain they used, which gives the mirror a simplistic but gorgeous finished look.
31. Don't Throw out those Old Windows or Doors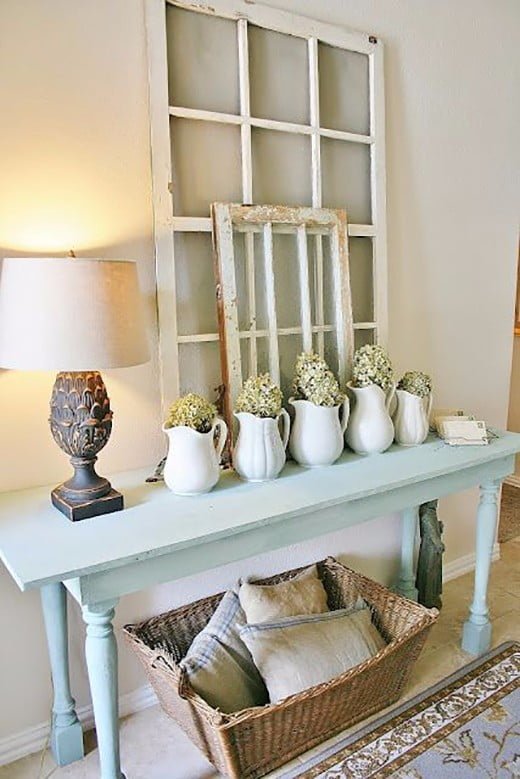 Farmhouse style is all about creating a home that feels warm, inviting and lived-in. This oftentimes includes taking old items and including them to give your home some classic charm. These homeowners took some old window frames, spray painted them white and turned them into an absolutely stunning decor piece for their entryway. We have also seen many homeowners do similar DIY projects with old doors. If you have a garage or shed full of old wooden pieces, consider giving them a makeover with some sanding and paint. You might be stunned by the fabulous decor items that you end up with for barely any investment beyond the cost of the paint.
32. Farmhouse Decor on a Budget: Be Creative with Curtain Rods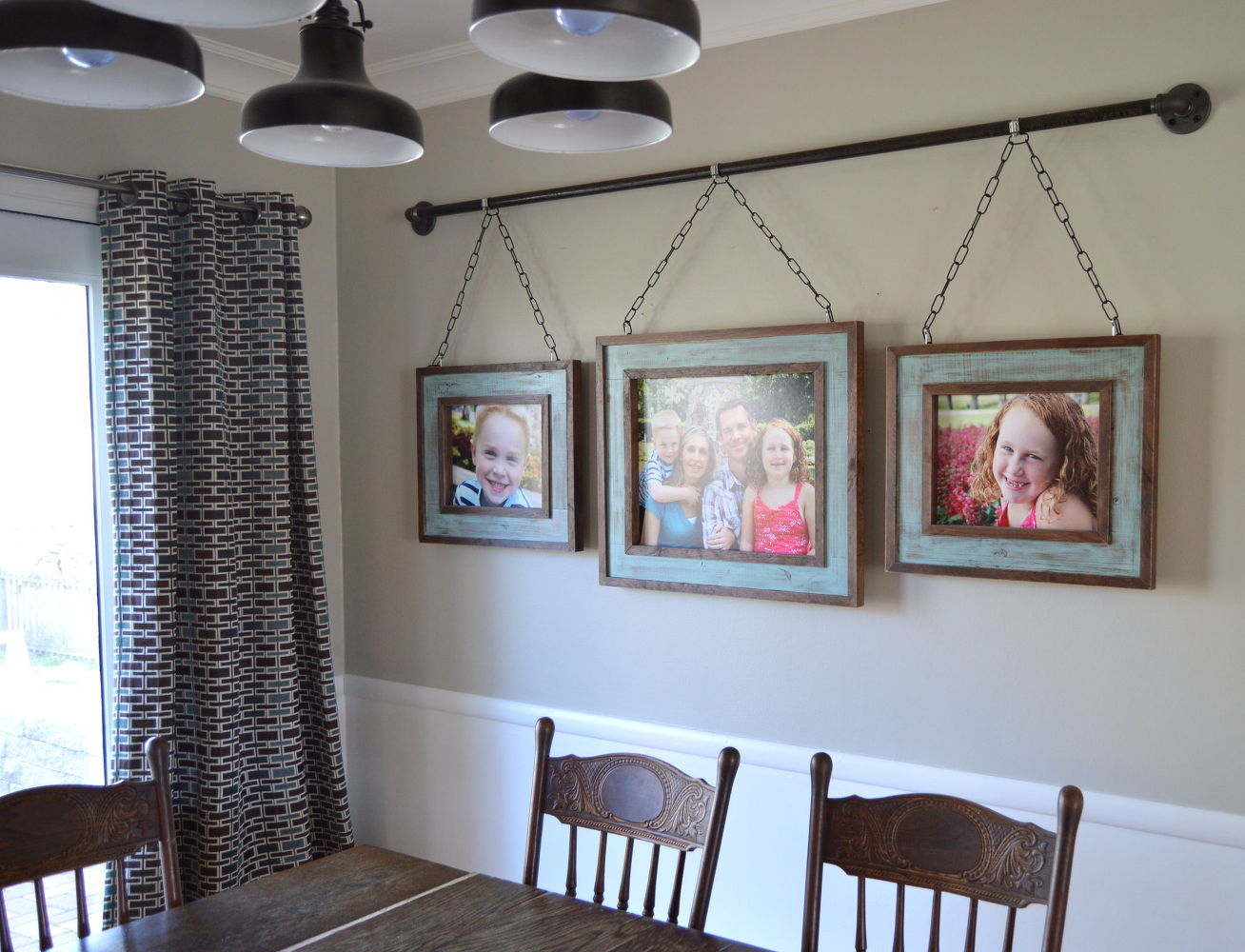 If you think curtain rods are just for hanging curtains, you're missing out on an entire world of beautiful home farmhouse decor ideas. This spectacular farmhouse style idea involves using a curtain rod, mounted against the wall, as a means to hang framed photos. We love this idea for so many reasons. Not only is it a creative way to display your treasured family photos, but it allows you to swap out your photos whenever you want without having to put new holes into the wall.
33. A Palette Becomes a Functional Kitchen Farmhouse Decor Item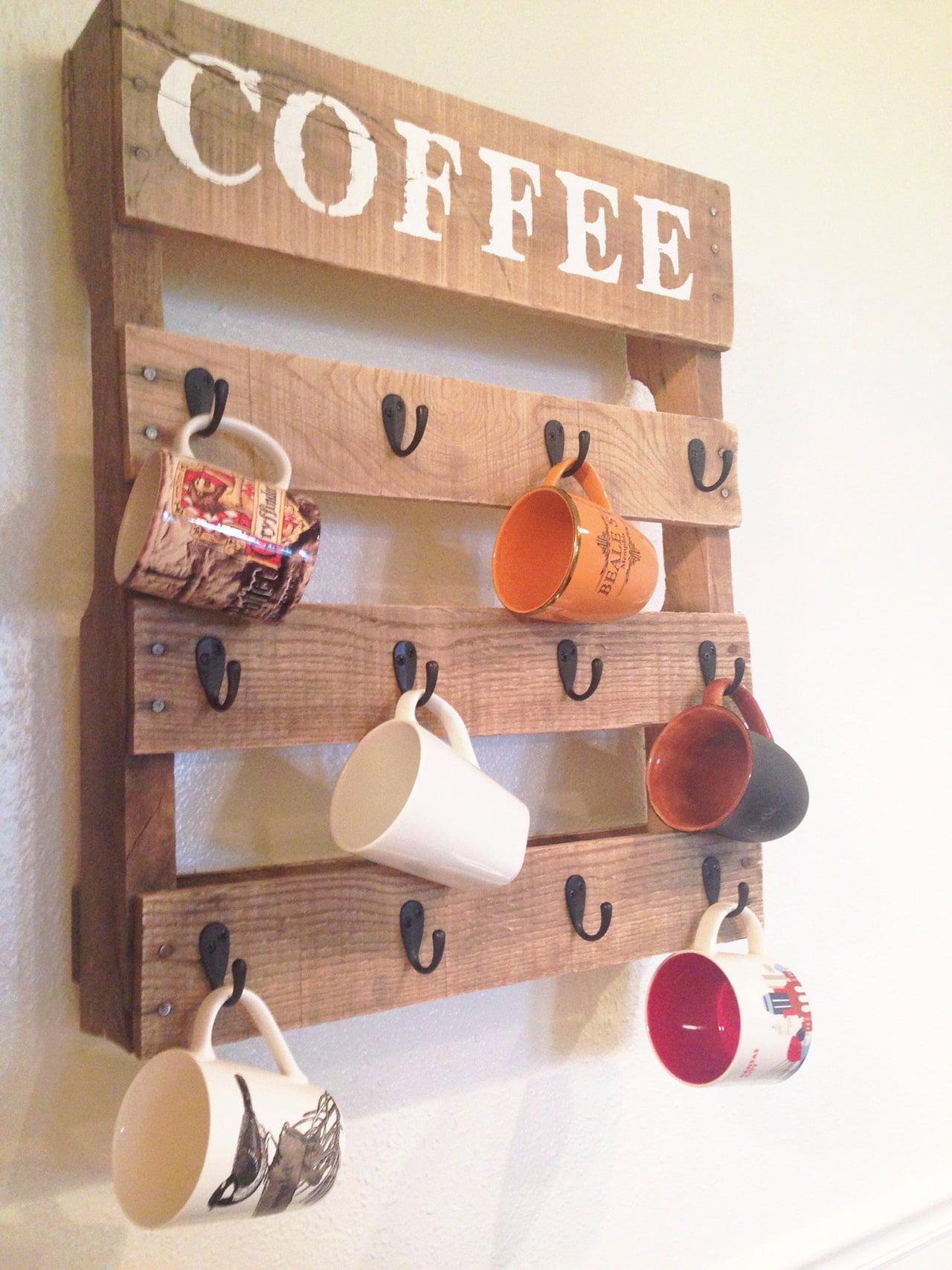 Source: The original source is not available anymore.
Farmhouse style isn't just about creating knick-knacks that look rustic and lovely. Rather, it's often about creating items that not only accentuate the beauty of your home, but that are functional for your daily life as well. This DIY farmhouse decor is positively inspired. These homeowners took a piece of a palette, spray painted and stenciled it and added hooks. Their finished product is a pretty decor item that they can use to easily store and access coffee mugs. This is a perfect DIY project that will result in a great new item for your kitchen.
34. A Simple Sign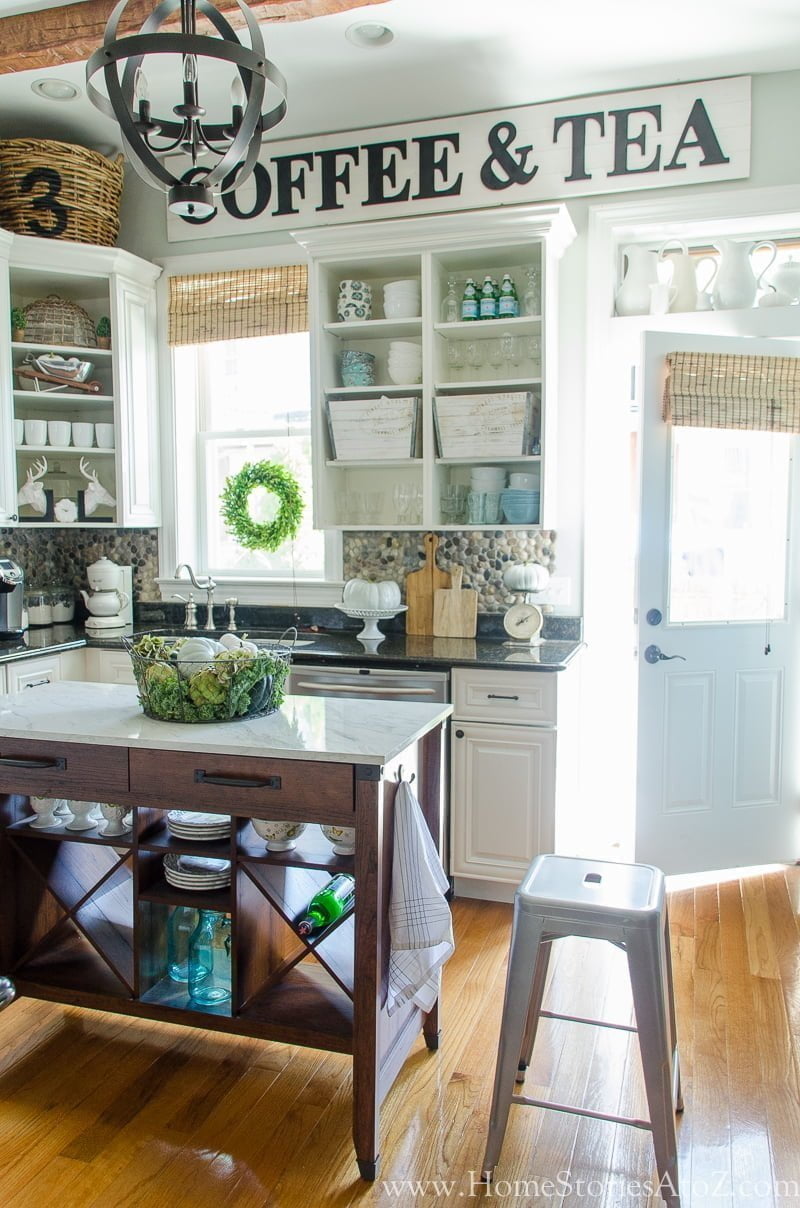 Not every DIY farmhouse decor has to be complicated. These homeowners gave their kitchen a gorgeous touch of farmhouse style by creating a very simple sign to hang high in their kitchen. To replicate it, start with a long, banner-shaped piece of thick stock board or wood. Print off your letters on your home printer in the largest font possible. Using an X-Acto blade, turn the letters into stencils. After arranging them how you want them and taping them into place, simply use black paint to fill them in. After your project has dried, it will look lovely hanging in any living room of your house.
35. Fake Your Way To A Box Of Flowers
If you've seen wooden boxes of flowers and thought it was a creative farmhouse decor idea but looked to complicated to execute, worry not. This DIY farmhouse decor involves faking your way to the illusion of a box filled with real flowers. Start with a wooden box or crate of your choice, either spray painting it or leaving it as it is. Then, fill mason jars with faux flowers from the craft store. Place the mason jars into the box. The finished product will look like an antique box that's overflowing with beautiful flowers.
36. A Faux Clock that's the Epitome of Farmhouse Style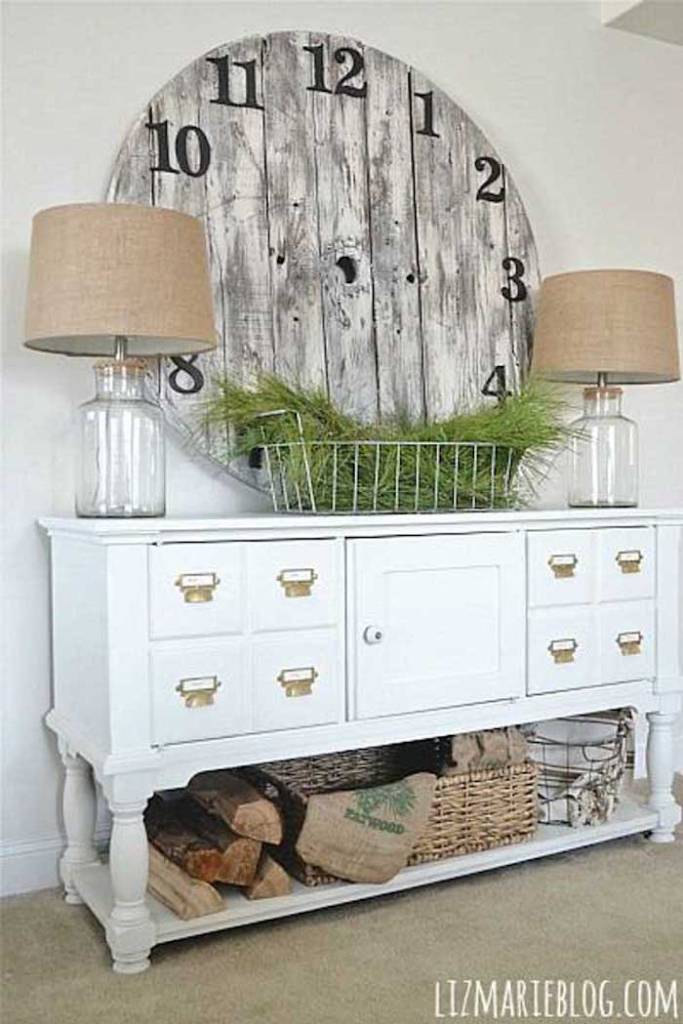 This DIY farmhouse style decor might not be functional, but it's the epitome of farmhouse style. If you have an old length of fencing, cut it into a circle. Paint it your desired color and then stencil in numbers, creating a large faux clock. This decor item looks absolutely beautiful on its own. However, if you prefer a working clock, there are kits you can buy at craft stores to create a DIY clock that actually functions.
37. Turn an Old Farmhouse Table into Something Stunning for the Dining Room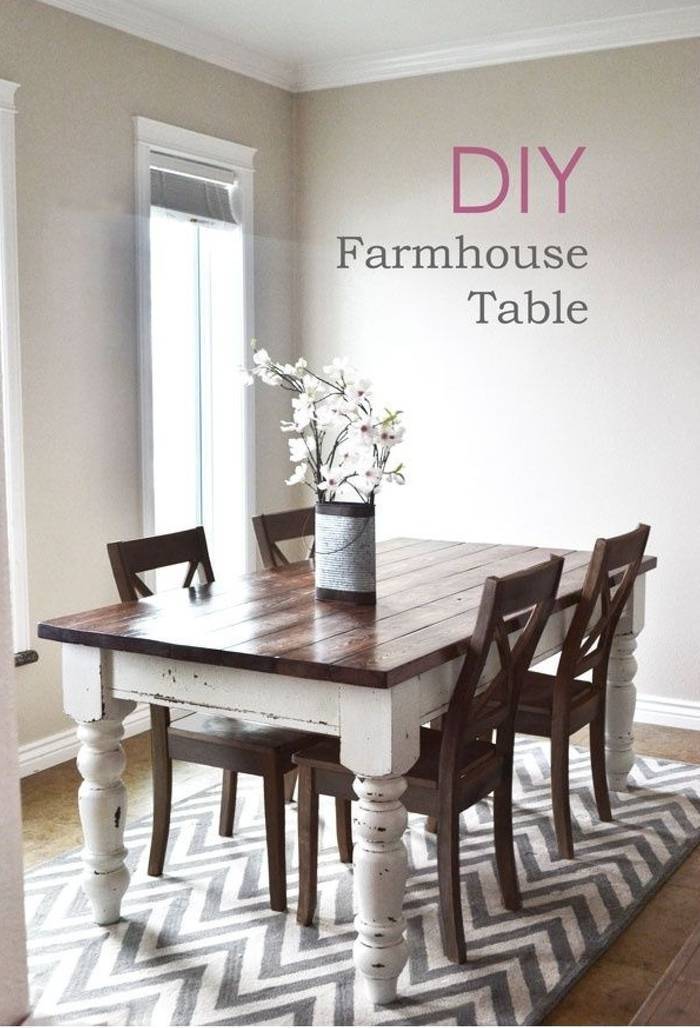 If you have an old table that could use some new life, then consider this lovely DIY farmhouse style idea. These homeowners started with an antique table. They sanded and painted the base. Then, they created a new table top with planks of wood from the hardware store, stained to a dark mahogany that juxtaposes stunningly with the white of the base. This is the type of DIY farmhouse style decor that takes some work, but the finished product is so incredibly worth it. These homeowners can now enjoy a one of a kind kitchen table that is not only beautiful, but shows off their creative talents.
38. Love Makes the World Go 'Round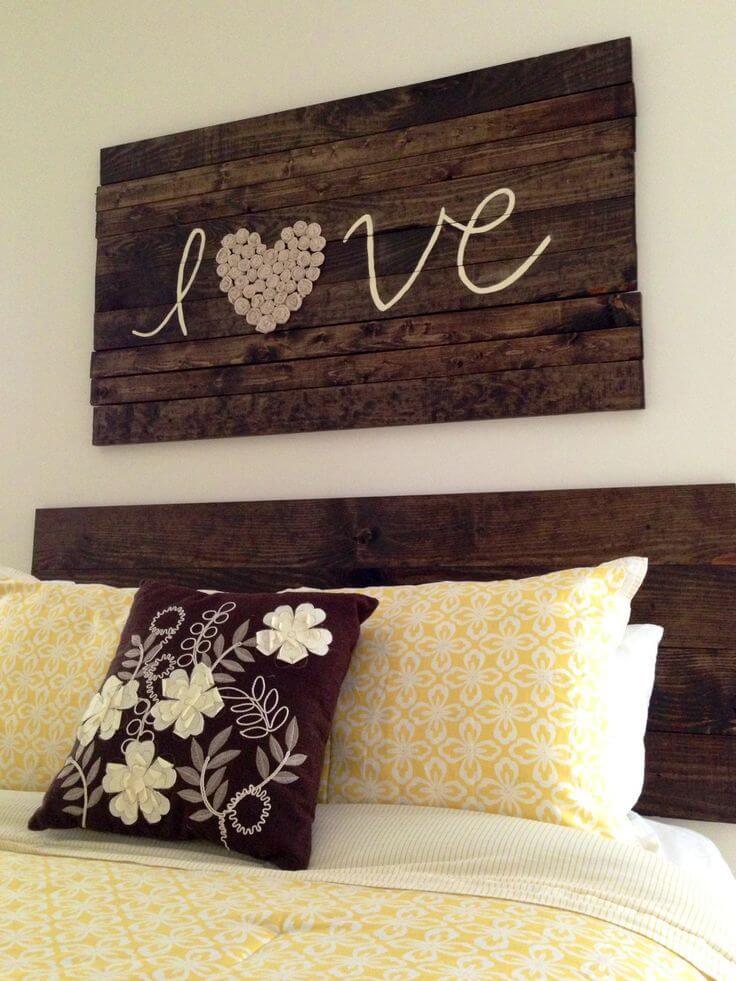 This is another DIY farmhouse style decoration that shows how endless the possibilities are when you have some old wood lying around. These creative homeowners stained a piece of wood and then stenciled in three of the letters of the word "love" in white paint. However, instead of just stenciling in an "o," they created a heart out of pressed flowers and glued it where the "o" would normally go. The finished product is the kind of farmhouse decor that usually goes for a lot of money in high-end decor shops.
39. A Glowing Farmhouse Decor Idea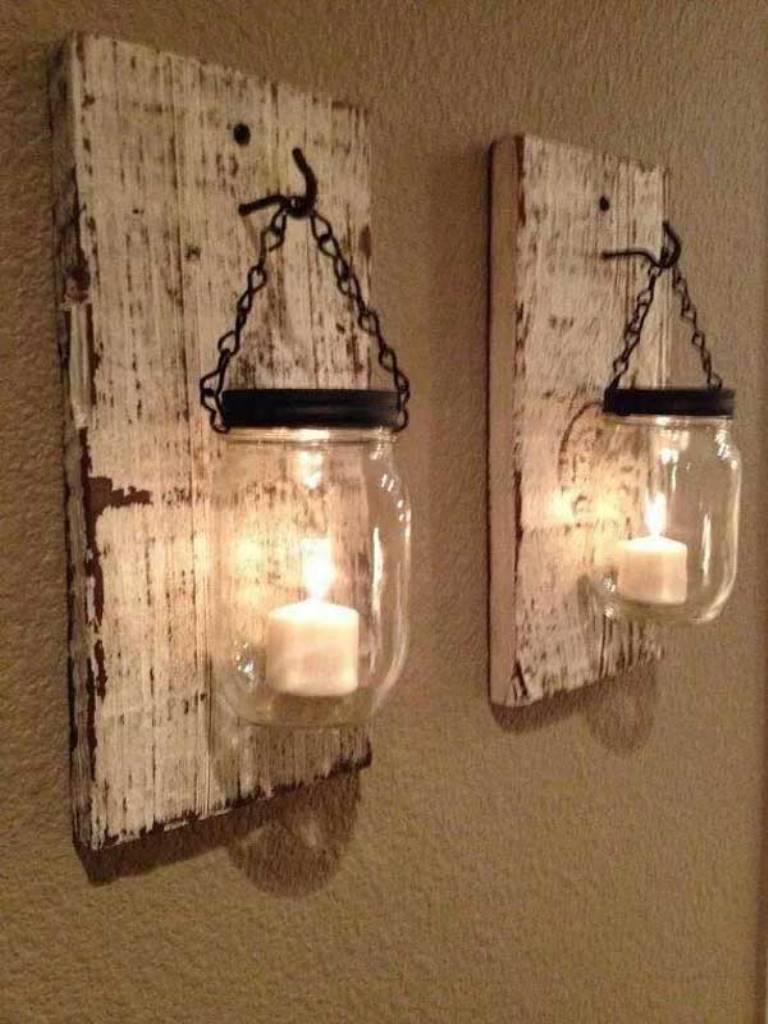 This DIY farmhouse style decoration will literally add a glow to your living room. Instead of buying overpriced lantern sconces at a home goods store, these creative homeowners used some recovered wood and mason jars to create their own. First, they spray painted the wood their desired color. Then, they hand painted the upper rims of their mason jars. They attached hooks to the pieces of wood and a short length of chain to the jars. After hanging the jars on the pieces of wood, all that was needed was two candles to bring these beautiful wall sconces to life.
40. The Ultimate In Farmhouse Style: Barn Doors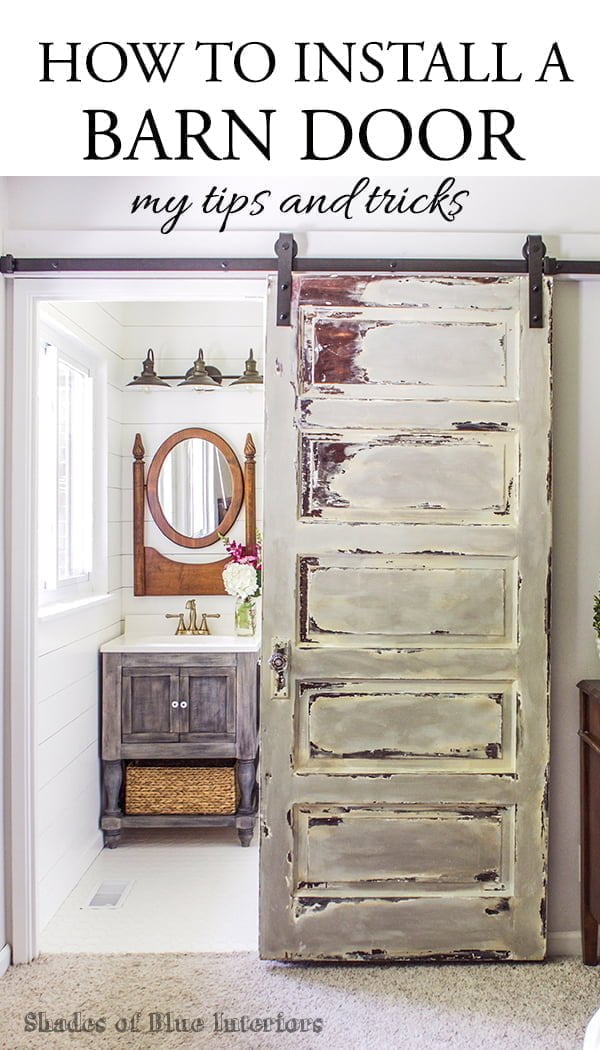 If you're looking for a farmhouse style idea that is less of a DIY farmhouse decor and more of a permanent installation in your home, then you might want a barn door. A barn door is a door that doesn't open and close, but rather slides on tracks. It is the ultimate way to give your living room or whole home a very rustic, farmhouse style. It looks like a complicated install, but can actually be simpler than installing a standard door. You can find barn door kits at most big box home improvement stores.
Our Favorite Farmhouse Kitchen Decorations to buy on Amazon

41. From Ladder to Nightstand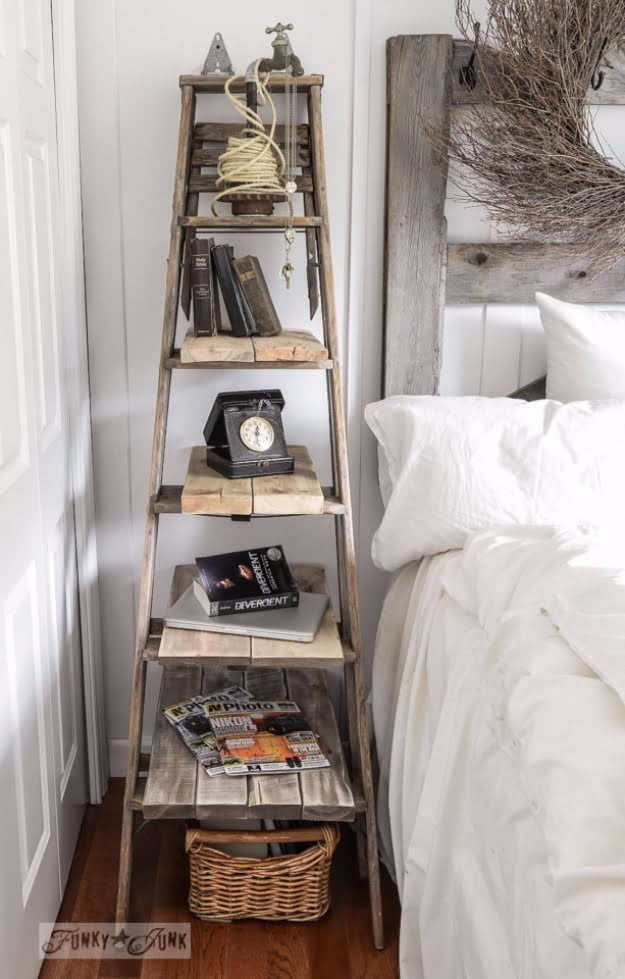 If you have an old wooden ladder in your shed, don't throw it away. Instead, take a cue from this farmhouse idea and turn it into an incredibly rustic and creative nightstand. If your ladder has been sitting in storage, give it a good cleaning and sand it down to remove any old stain or debris. Then, paint it with the color of your choice. Strategically lean it or pose it next to your bed. You can decorate it with books, plants or small decor items. It's not only stunning, but serves as a completely functional nightstand with plenty of space.
42. A DIY Mirror Inspired by Nature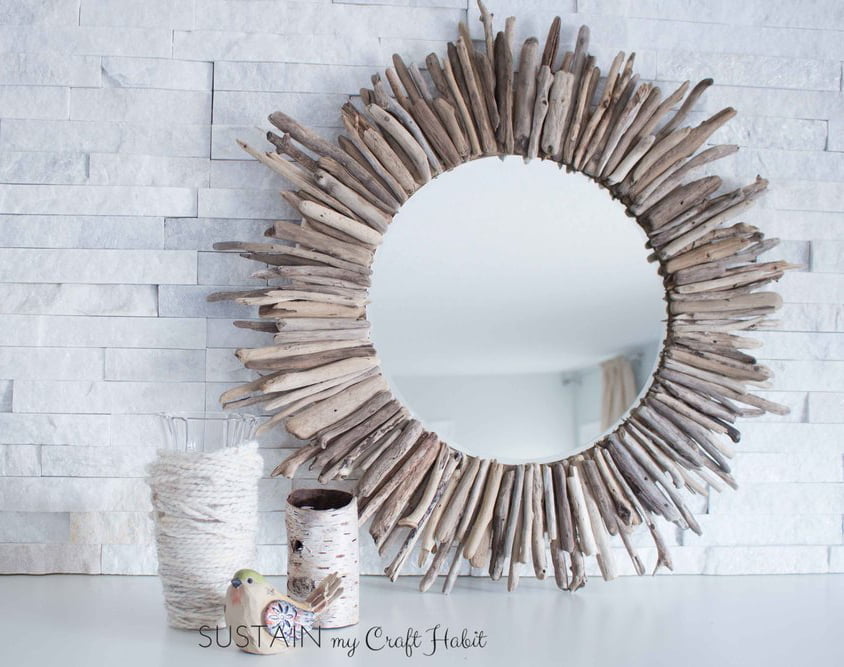 One of the cornerstones of any DIY farmhouse decoration is incorporating elements of nature into your projects. This DIY decoration begins with a simple circular mirror, which can be purchased inexpensively at any craft store. Then, gather a basket of twigs and small branches from outside. Break them and arrange them around the mirror until you find a design you like. Then, simply use a hot glue gun to secure the twigs into place. You can spray paint the twigs beforehand for a more refined look or keep them as they are for a more earthy appearance.
43. Fake Your Way to a Stunning Shadowbox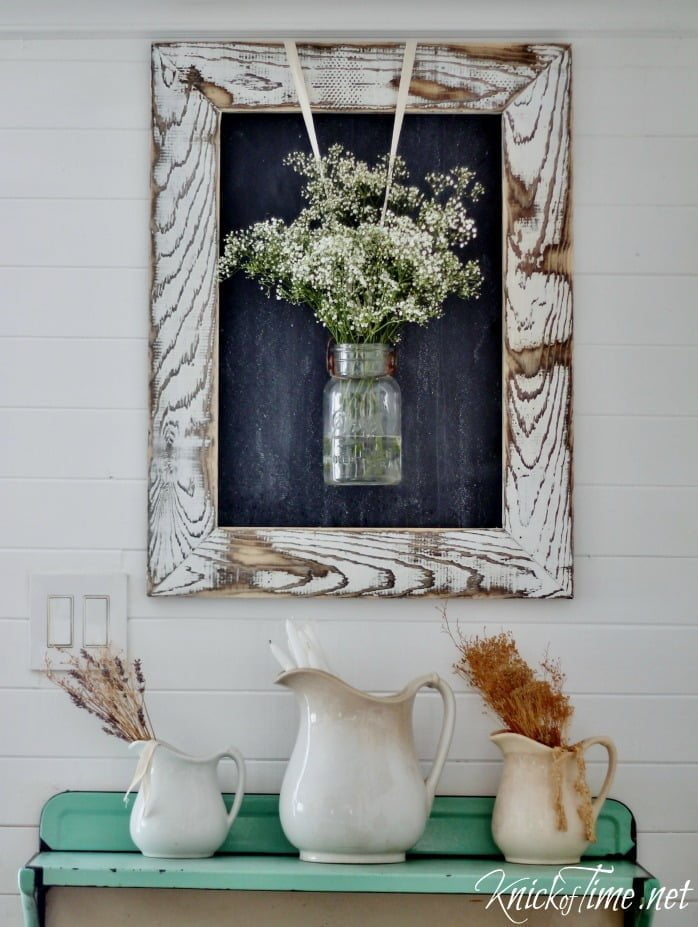 Shadowboxes can be difficult to assemble. Instead, create the illusion of one. Using an old frame, spray paint the actual frame the color of your choice. Paint the glass with either chalkboard or regular black paint. Then, take a mason jar and fill it with faux flowers from the craft store. Using a hot glue gun, adhere hooks to each side of the mouth of the jar. Then, use a thick ribbon of your choosing to hang the jar in the center of the frame. It looks like a shadowbox, but is actually just a clever DIY farmhouse decoration that's surprisingly simple.
44. A Piece of Found Wood Becomes Chic Decor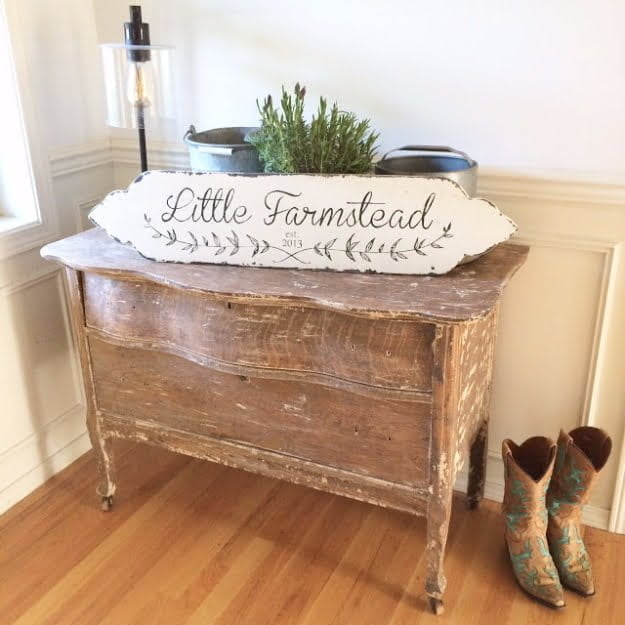 If you find a piece of wood with a flat side, you're halfway there to a gorgeous DIY decoration. This farmhouse idea involves painting a piece of found wood a solid color and then stenciling a design or saying of your choice. Like so many of the DIY ideas on our list, it looks like an expensive decor item, but is actually totally simple and inexpensive to create. It's yet another DIY farmhouse decoration that just requires a little time, patience and creativity.
46. A Ladder in the Bathroom? Why Not!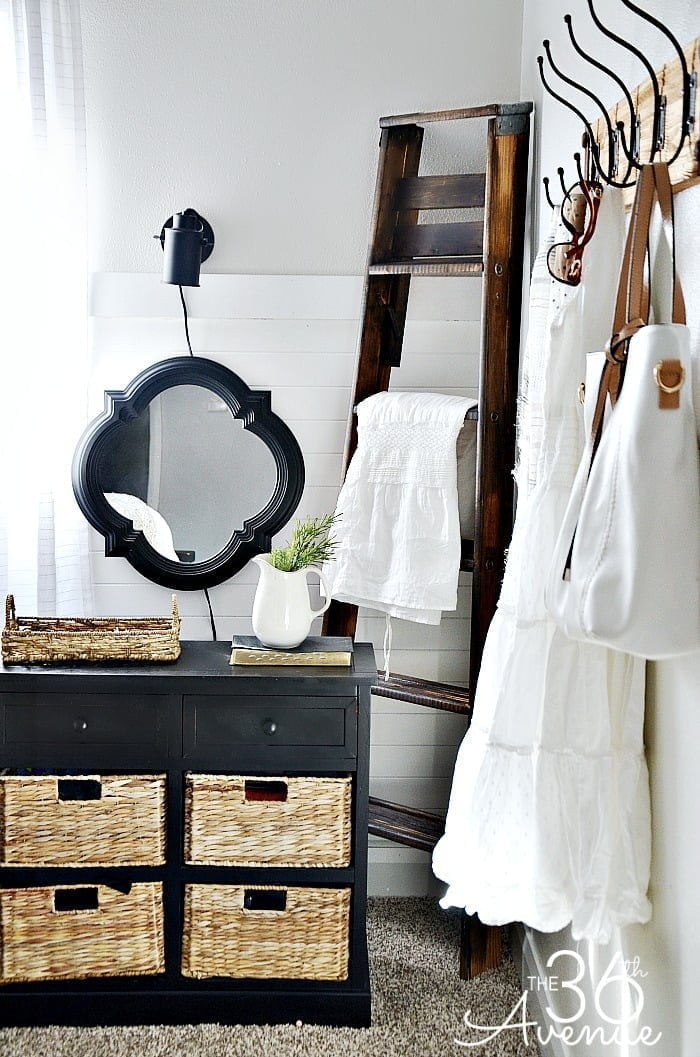 This decoration idea might be shocking to some. However, we think it's a perfect farmhouse idea. These homeowners took an old ladder and cleaned it up with a glossy stain. Then, they leaned it against the wall in their bathroom. It serves as not only a functioning towel rack, but an accent piece that adds a rustic touch to their otherwise modern bathroom. This is a bold idea, but it's perfect for homeowners who like to think outside the box while decorating with farmhouse inspiration in mind.
47. A Simple and Sweet DIY Decor Item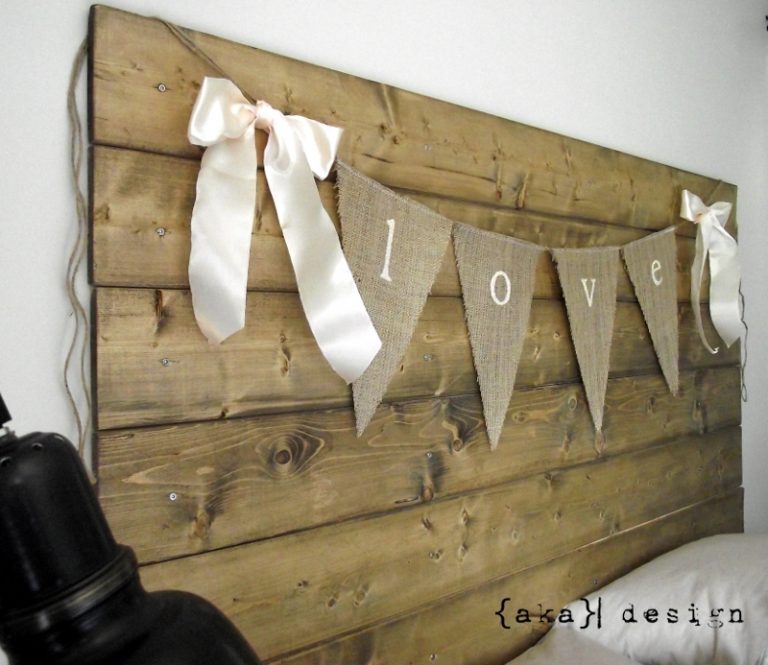 Not every DIY farmhouse decoration has to involve sanding wood or painting furniture. This simple little banner might not be a complicated DIY project, but the result is absolutely sweet and perfectly classic. Simply cut burlap fabric into triangles and write your desired letters on each triangle with white fabric paint. Then, use a hot glue gun to attach the triangles to a string of twine. You can also tie two large ribbons into bows and glue them on the outer edges as these clever homeowners chose to do.
48. A Simple Chalkboard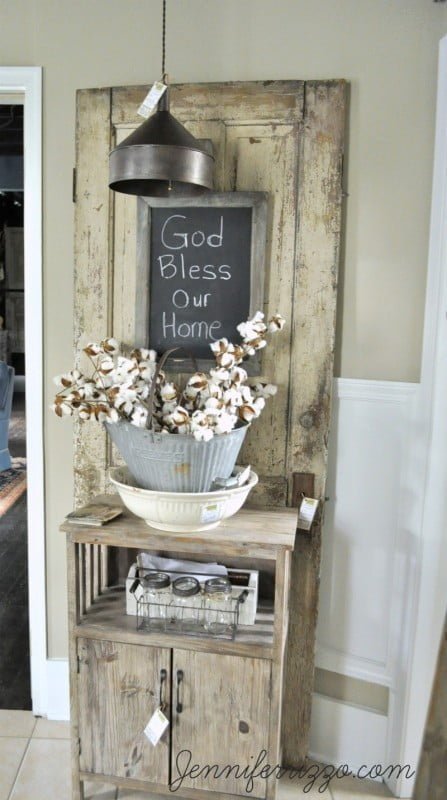 We've already seen examples on this list where homeowners turned old frames into chalkboards. We truly believe it to be a decoration idea that is integral for any farmhouse inspired decor. These homeowners used a rustic and worn frame and appear to have left the actual frame untouched. However, they applied chalkboard paint to the glass. The finished product is a chalkboard where they can write memos and sweet messages. We love this simple and yet inspired idea.
49. Another Inspiring Idea Using Reclaimed Wood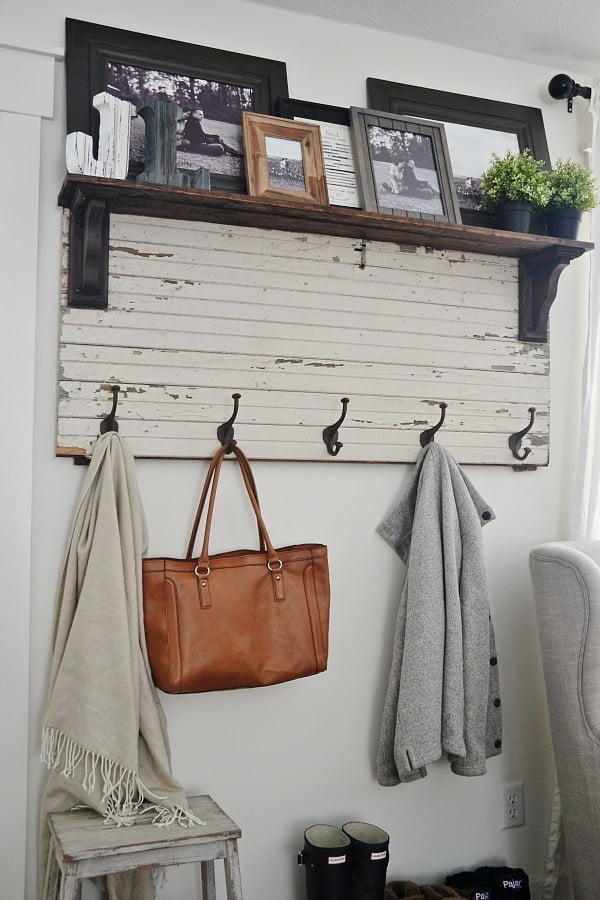 These homeowners could have easily just attached the shelf and the hooks directly to the wall. However, they wanted to give this wall a more rustic feel. So yet again, we see another example of a piece of reclaimed wood being repainted and incorporated into a rustic decor scheme. Much like the chalkboard frames, we see a lot of reclaimed wood on this list because it truly is a cornerstone in farmhouse decorating. By incorporating this wood, these homeowners instantly gave this room a more rustic and classic atmosphere.
50. Create a Humorous Industrial Sign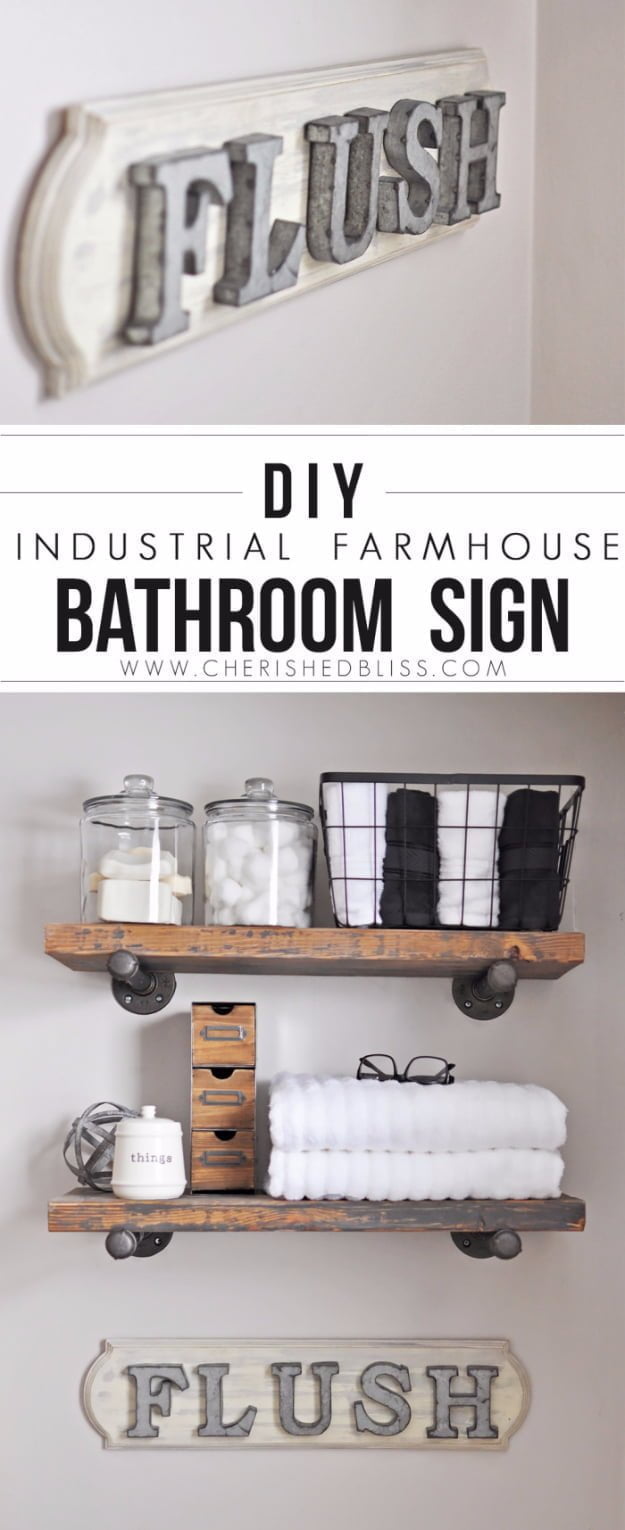 This is another example of a decoration idea that looks much more expensive than it actually is. These homeowners simply spray painted a piece of wood. Then, they purchased some small wooden letters from the craft store and painted them the color of their choosing. The final step was simply hot gluing the letters to the wood. We adore the "flush" message to be posted above a toilet. However, we would love to see this DIY idea used for other messages, such as "dream" above a bed. This is a DIY idea that offers limitless possibilities.
51. The Most Farmhouse Decor Idea We've Seen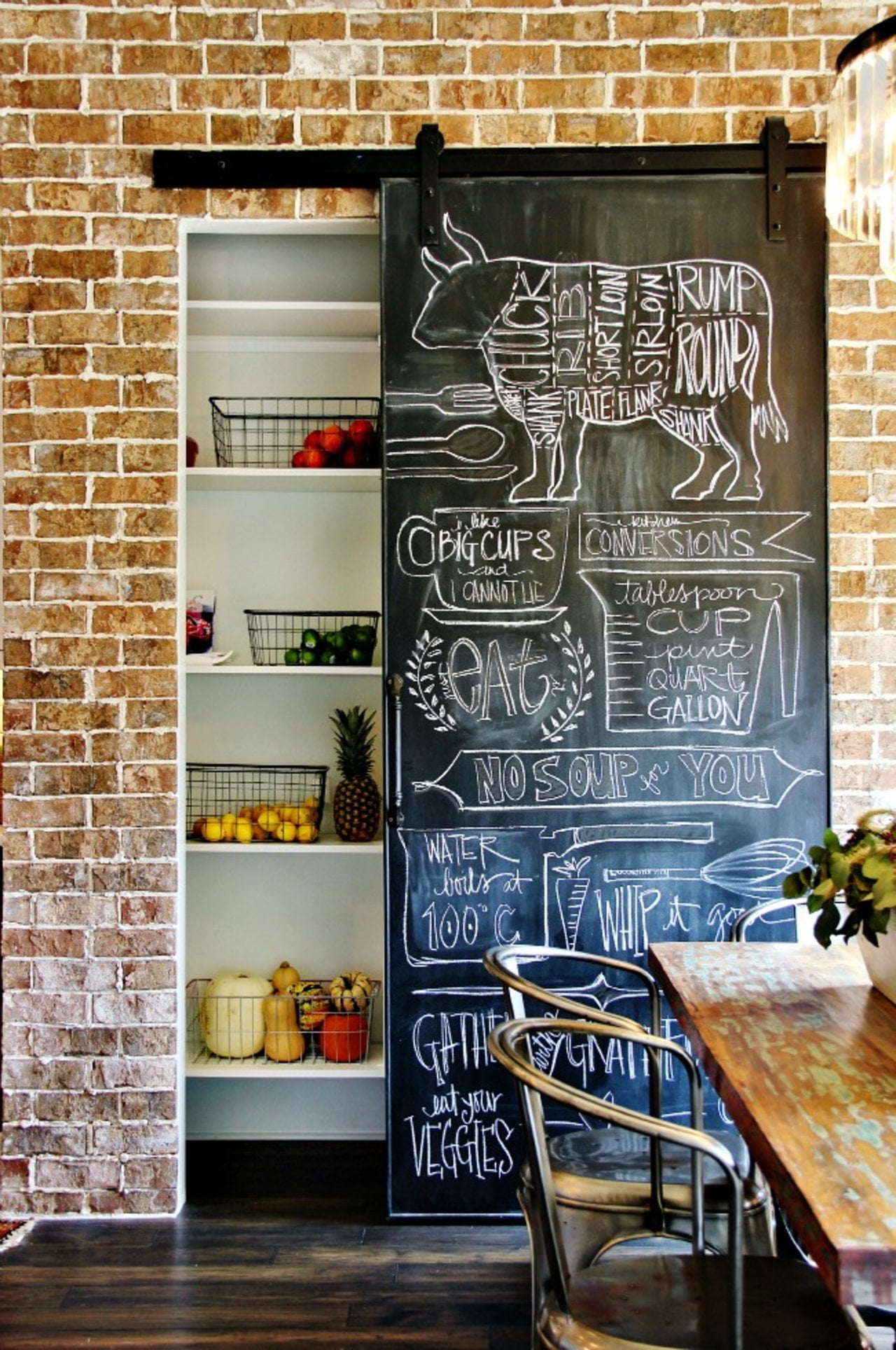 We've seen a lot of chalkboard paint used on different projects on this list. We've also seen barn doors used to really create a farmhouse feel. Hence, the chalkboard barn door might be the ultimate in farmhouse decor style. These homeowners simply used chalkboard paint on a door and then used a kit from a home improvement store to install it as a barn door. We're utterly in love with the rustic and yet somewhat kitschy feel of this barn door. It would be absolutely wonderful in a kitchen or as the entrance to a den.
52. Picnic Tables in a Dining Room? Absolutely!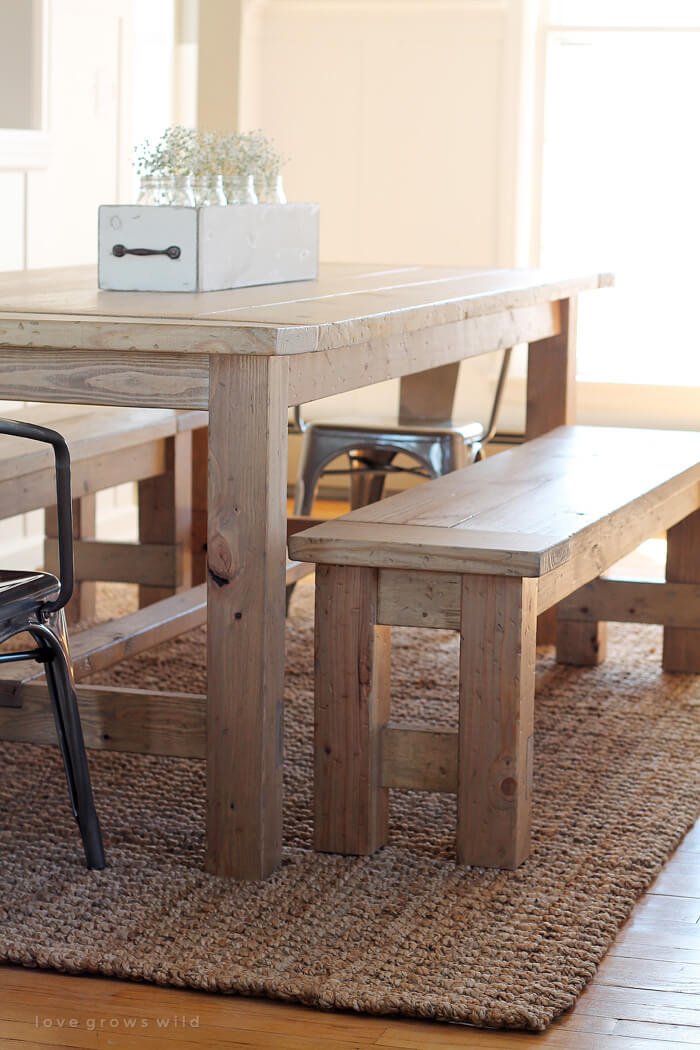 When we think of picnic tables, we typically think of outdoor and patio furniture. However, if you want a rustic farmhouse look in your kitchen or dining room, consider moving a picnic table indoors. To take an old picnic table and make it more appropriate for the indoors, give it a good washing down and sanding. Then, stain it and use a protective finish to preserve its shine and integrity. This is a great way to give a farmhouse feel to any dining room and is a great way to breathe new life into an old piece of outdoor furniture.
53. Replace Kitchen Drawers with Wooden Crates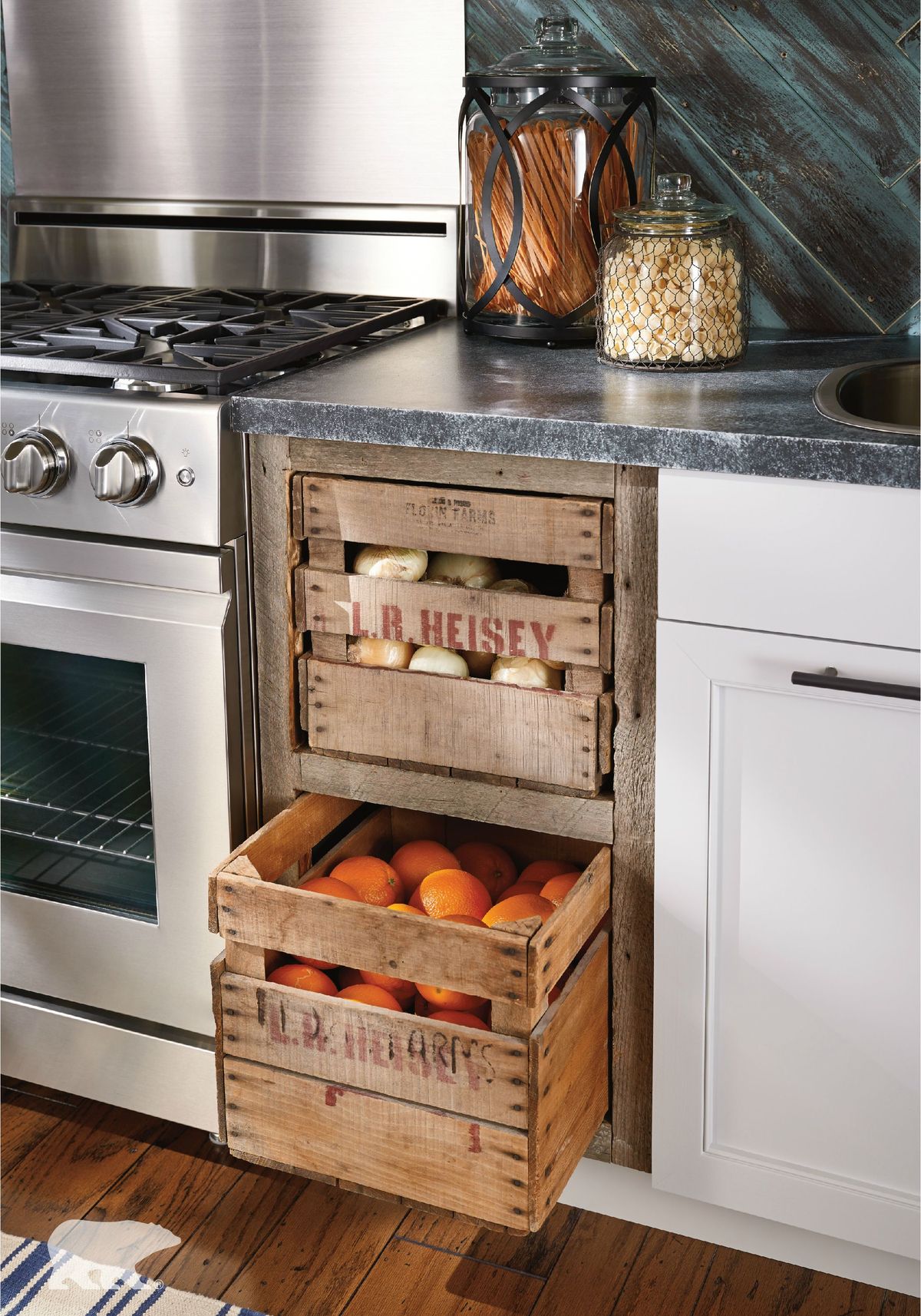 If you want to give a farmhouse look to your kitchen drawers, then remove the drawers and replace them with wooden crates. You can either skip the tracks all together or install new ones to allow the crates to slide in and out of the cabinets easily. This is a bold decoration idea, but it's truly a brilliant way to give new life to your kitchen cabinets.
54. Give a New Spin to an Old Chandelier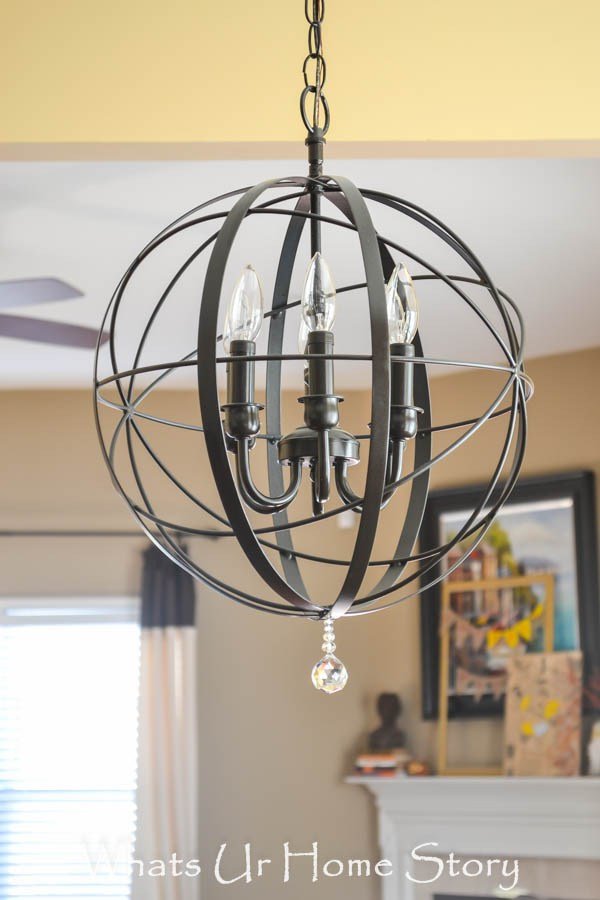 By shaping wire and metal into an orb, you can create a unique and farmhouse inspired covering for your chandelier. Not only is this unique chandelier covering pretty to look at when the light is off, but it creates truly unique light patterns on the walls when the chandelier is on. This is one of those DIY projects that is quaint, allows you to repurpose old materials and gives your house a rustic yet unique feel. You can create a similar look with twine by using starch to render the twine pliable.
Turn Your Home into a Farmhouse with these Easy DIY Projects
As you can see, you don't need to sell your house and move to the countryside to enjoy the beauty of a country farmhouse. Instead, you can try any of these fantastic DIY projects. One of the amazing things about the farmhouse style is that these individual decor items don't just work in a house with an overall rustic theme, but can also fit in effortlessly in a wide array of decor styles. Some of these projects are simple while others are a bit more complex. However, all of them are gorgeous and will add a lovely, classic flair to your home.