With the best black and white home decor ideas and designs at your disposal, you can transform your home into something truly unique. Whether you are looking to add a touch of elegance, something bold, or you are leaning more toward a modern approach, these color patterns can help you make a statement with your decorating skills.
At first glance, black and white may seem like overly simplistic choices when you want to bring life to your home. However, when combined, they may just create something magical.
17 Unique Black and White Home Decor for Your Next Remodeling Project

White itself is a clean color choice. It might bring forth feelings of calmness. More importantly, white tends to be a versatile option that allows you more space to add on different colors to complement and enhance the decor.
The adding in of color to white is where black comes into play. You will know that your home decoration is heading in the right direction when it readily catches the eye of anyone who steps into the room. That may be because, when used well, black can serve as a focal point. This can be an ideal way to guide attention to exactly where you want it to go.
Even though black and white can present you with some powerful combinations and styles, there are still right and wrong ways to go about using them. It can be far too easy to overpower your decor instead. This may happen if you allow one color to take over too much, disrupting the overall balance.
That is why the following 17 decorating ideas should serve as a guideline for you. These tips tackle your entire home, ranging from the bedroom to the bathroom. By the end, you will walk away with an inspiring black and white decor idea for your next home project.
1. Simple and Clean Modernized Front Entry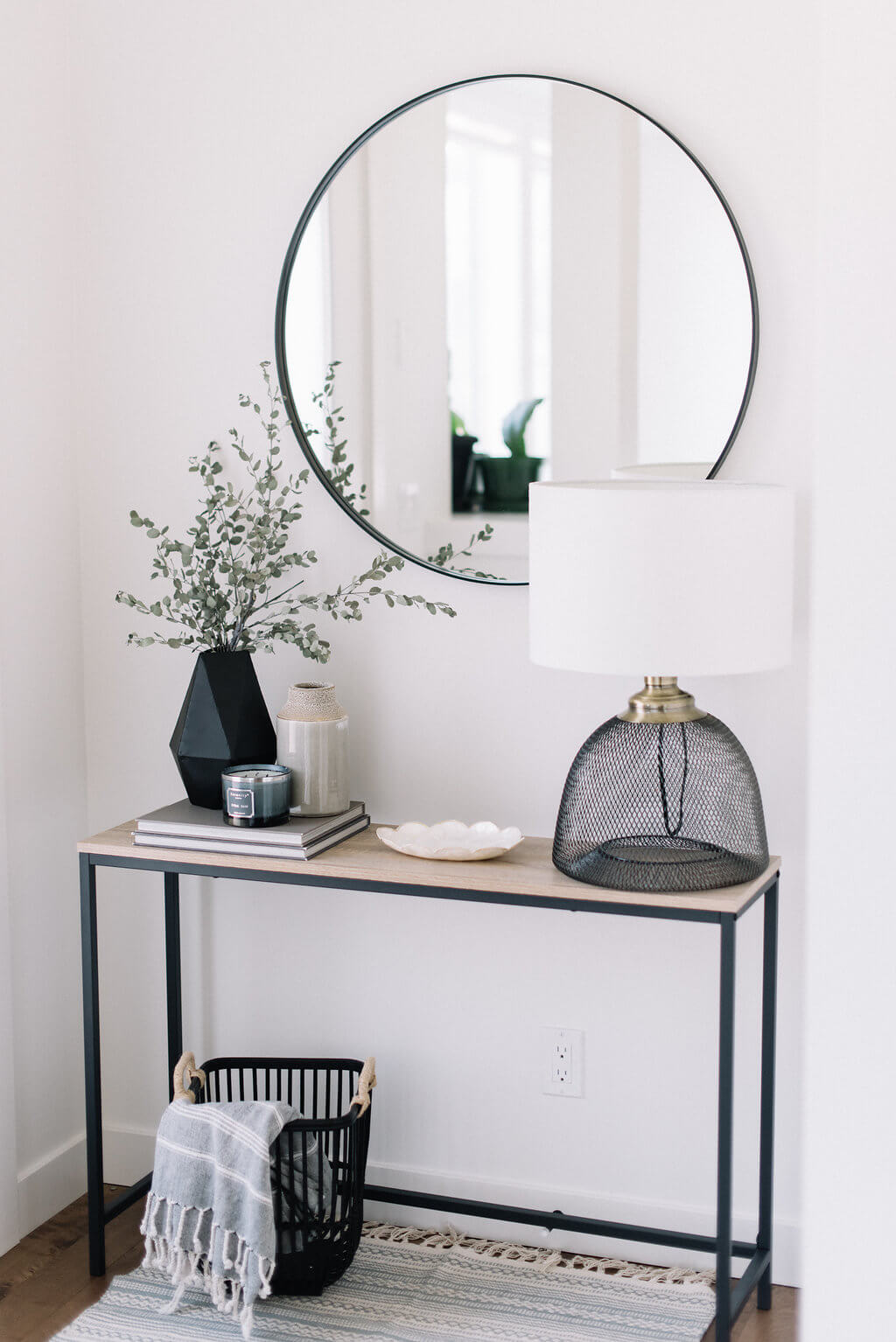 This idea is a perfect way to make a strong first impression as soon as anyone steps foot inside your home. Even though it may lean more toward monochromatic, the black and white tones work in unison with one another. Eyes are drawn from the bold black mirror, to the white accents on the table, and back to the touches of black on the rest of the decor. This method steers the viewer's eyes so that they are able to soak in the entire entryway, leaving them with a wonderful feeling about your home right from the beginning.
2. Stylish Bedroom Black and White Home Decor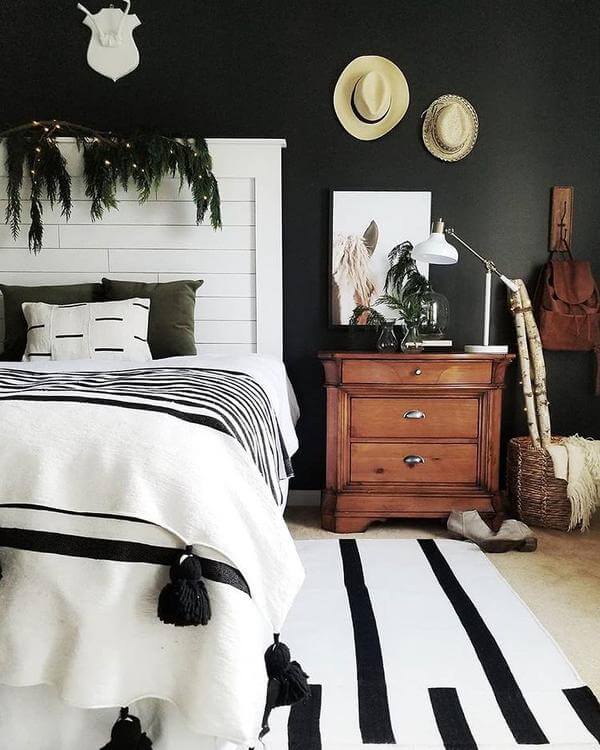 The bedroom is a place where people unwind, so why not do it while immersed in a tasteful black and white atmosphere? This is an awesome idea that can enhance a master bedroom or even a guest bedroom. The all-black wall is a daring choice that may first snatch your attention, but it is easy to gravitate toward the rest of the room by using a white headboard for the bed and additional white accents throughout. If you wish, consider rounding things out with a black and white bedspread like this gorgeous Moroccan Pom Pom blanket. It effortlessly brings a sense of equilibrium to the room.
3. Cute Black and White Foyer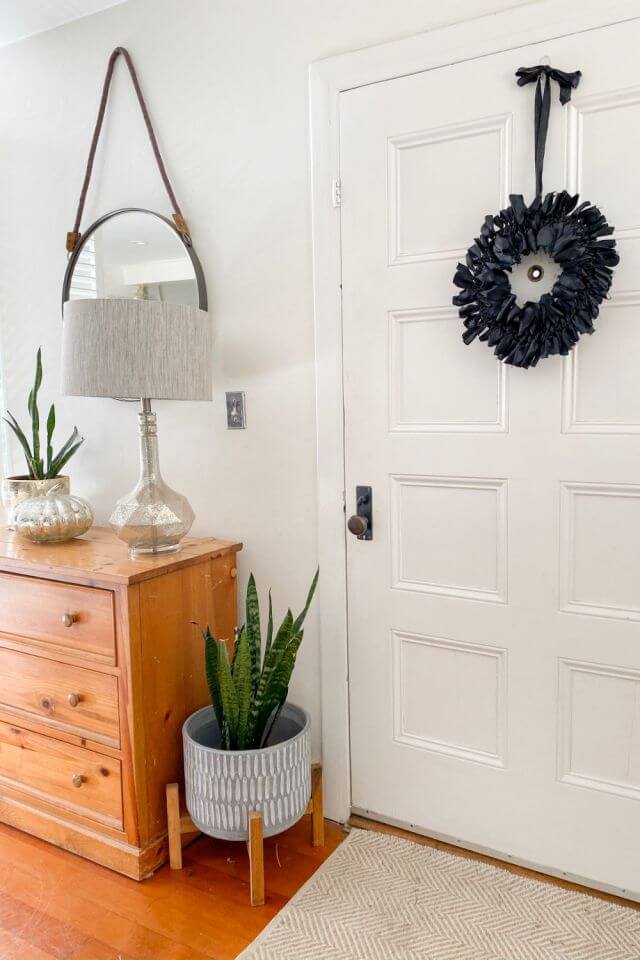 If you are already working with a mainly white room, then you have the freedom to add in some black to round everything out. It is a simple layout using various tones of white from the door, to the wall, and even the small rug on the floor. Even if you want to predominantly utilize one color like white, as long as you make good use of multiple tones of said color, you can prevent your decor from turning bland or repetitive. You'll notice a hint of black added to the room. That can be all you need to produce a welcoming environment.
4. Relaxing Black and White Bedroom Vibes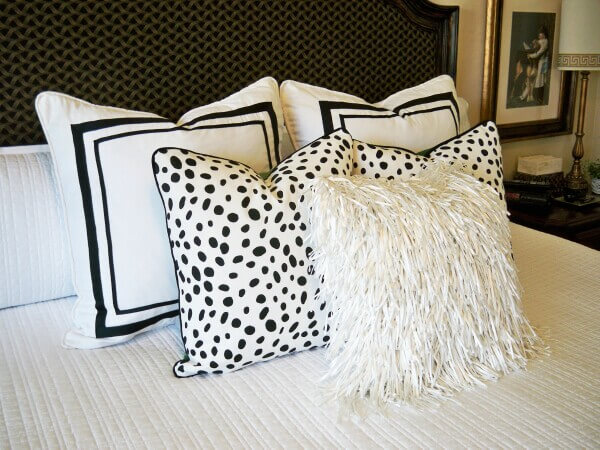 Ensure your bedroom has a relaxing environment by decorating it with these cool pillows. This is an interesting black and white decor idea as it focuses on using various color patterns to achieve the goal of elevating the bedroom. The two largest pillows supporting the decor feature mainly white with bold black lines that draw your eyes in. Meanwhile, the two smaller polka dot covered pillows in front add a hint of fun that manages to not overpower everything else. Lastly, you end it all with a beautiful all-white pillow in the front that provides the pillow setup with a sense of balance.
5. Perfect Patterned Clean Bathroom Decor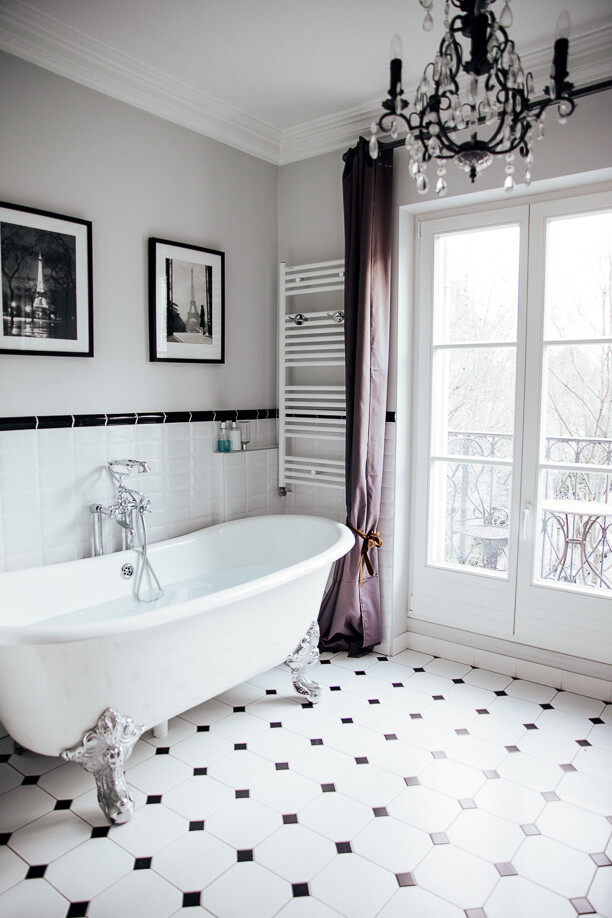 Let this black and white home decor transport you to a more stylish world. The bathtub stands, of course, the most prominent in the room. It's a sleek shade of bright white that compels you to step further in. Once inside, the beautifully patterned black and white floor tile can provide you with a feeling of simple sophistication. Or perhaps you'll notice the various shades of white found throughout the wall, ceiling, and even the door. Adding a bold black to something like the light fixture brings it all together, creating the best look for your modern bathroom.
6. Unique Black and White Bathroom Decoration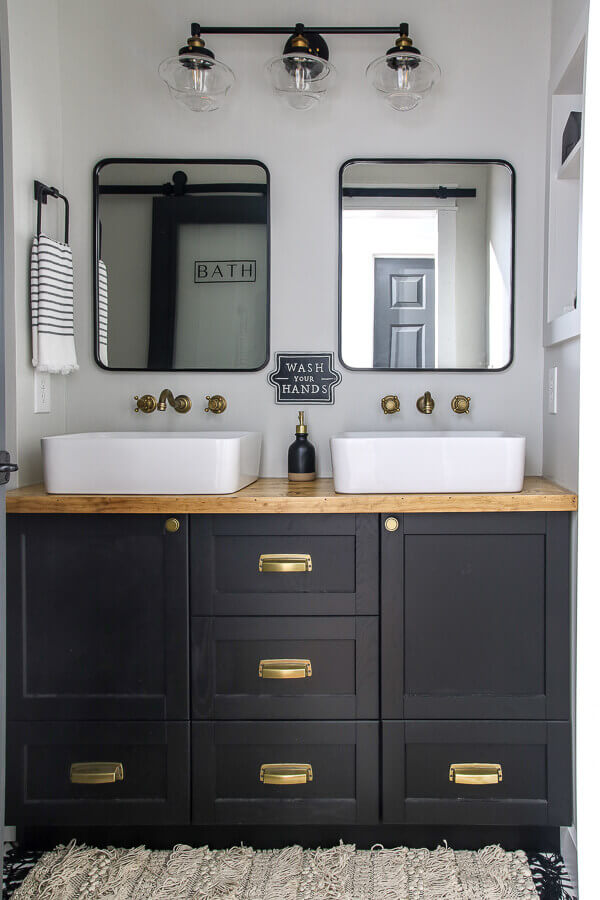 If you need another black and white decor idea for the bathroom, consider taking a more fearless approach by making black the main star. Having a mainly black cabinet creates a wonderfully contemporary appearance that is given further life by throwing in some accent colors on the cabinet. The use of all-white sink tops help your eyes travel along with the decoration in the room so that you are soaking it all in. If you want to add another chic style touch, consider opting for a mixed-tone white wall for the background. The black and white towel is another simple, effective way to enhance the mood.
7. Assertive and Motivational Office Space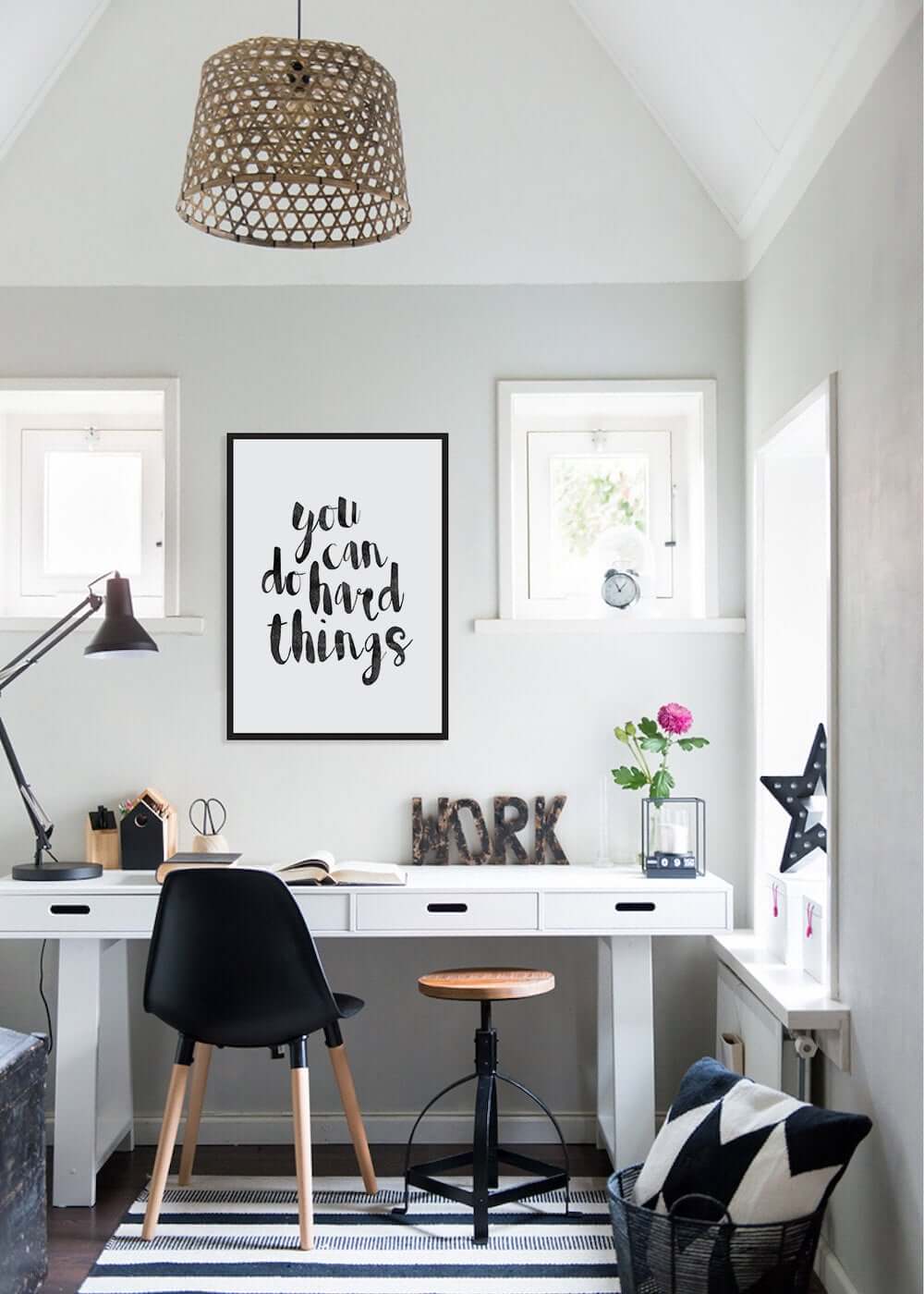 Sometimes you need a little motivation to get to work, and if you have an all-white office space, you can make good use of this type of black and white home decor. Using black chairs against a white desk allows the decor to mesh well together. The black handles on the drawers as well as the black accessories on top of the desk may help it not become lost against the walls. You can throw in a simple black and white rug and pillow to maintain the theme. Round everything out with a lovely black and white motivational sign that encourages you to keep pushing forward.
8. Cool Black and White Living Room Decor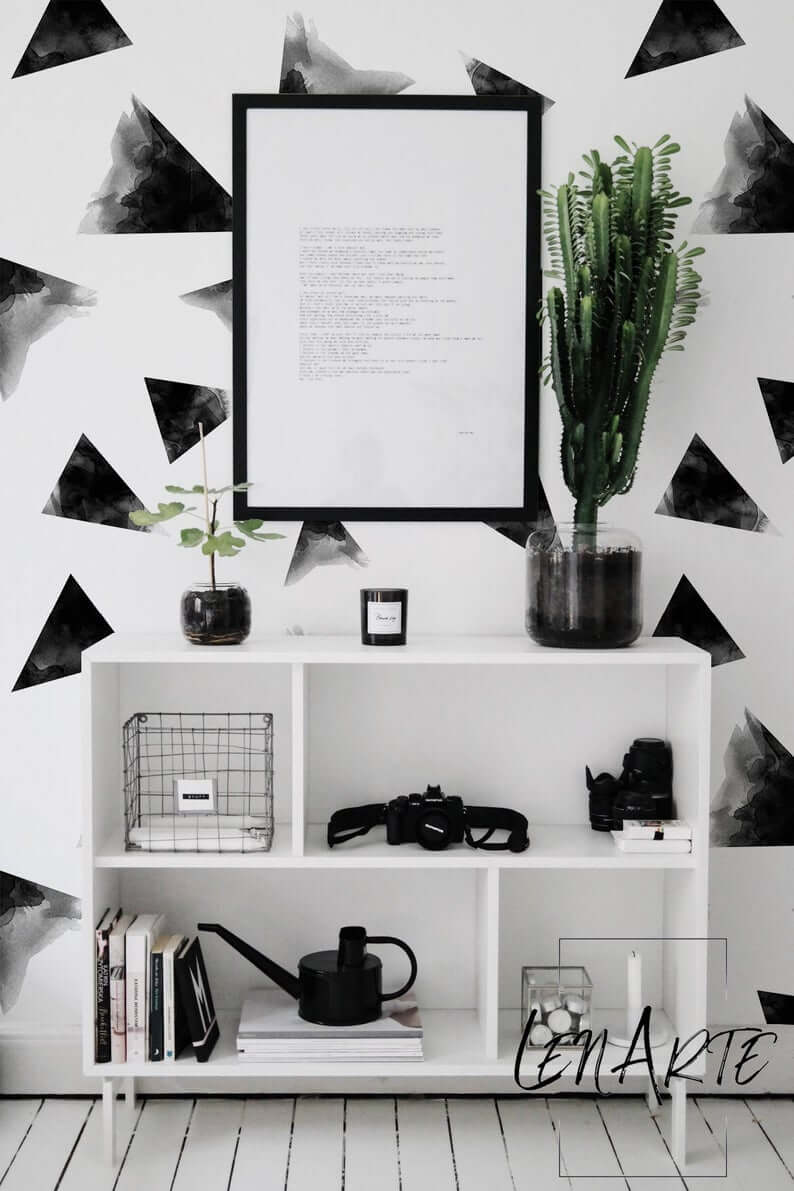 Finding the best wallpaper to fully commit to a black and white theme can be all you need to finish your decor. With removable wallpaper, you can always change your mind if it isn't what you like. However, these artistic black triangles against a white backdrop can set the perfect mood. If you need additional black and white living room ideas, check out the simple white cubby storage that's filled with a mixture of dark and light accessories. Add in a framed image in the center to complete the look.
9. Intriguing Contemporary Black and White Staircase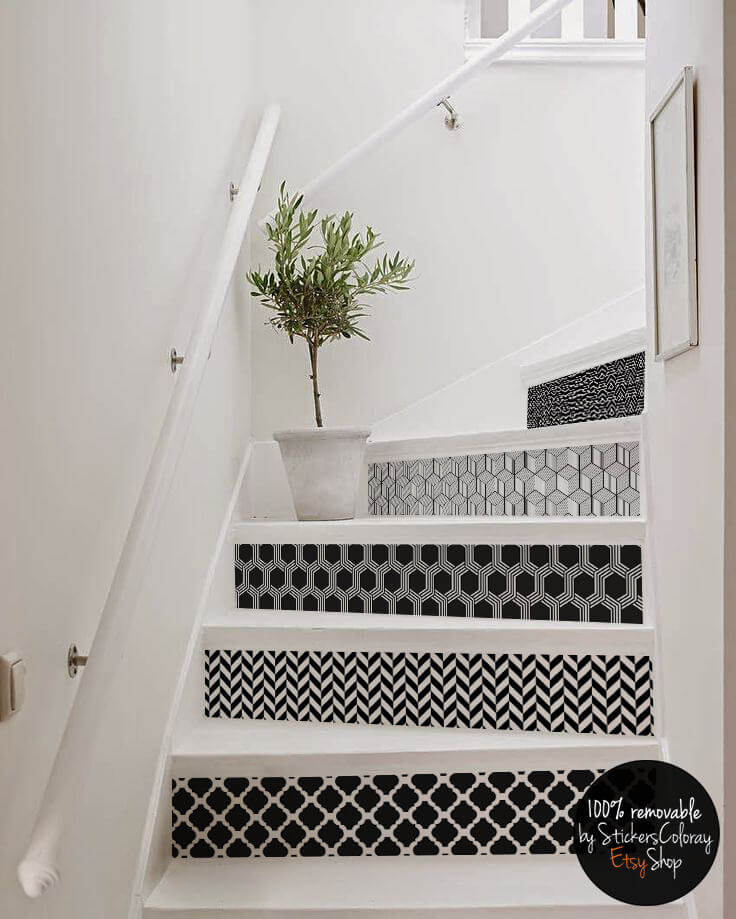 Are you eager to elevate your home decoration skills? Consider focusing on your staircase. It's an often forgotten area of decor, but with the right stair riser strips, you can truly bring more life to a black and white style. What helps these ones in particular standout is the fact that each of them boasts a different design. Some utilize more black, while others focus heavier on the white. No matter, they all stand out in their own individual ways, which helps your staircase leave more of an impact to anyone who comes into your home. They're removable as well, so you can always start over if need be.
10. Cute Cloudy Raindrop Baby Mobile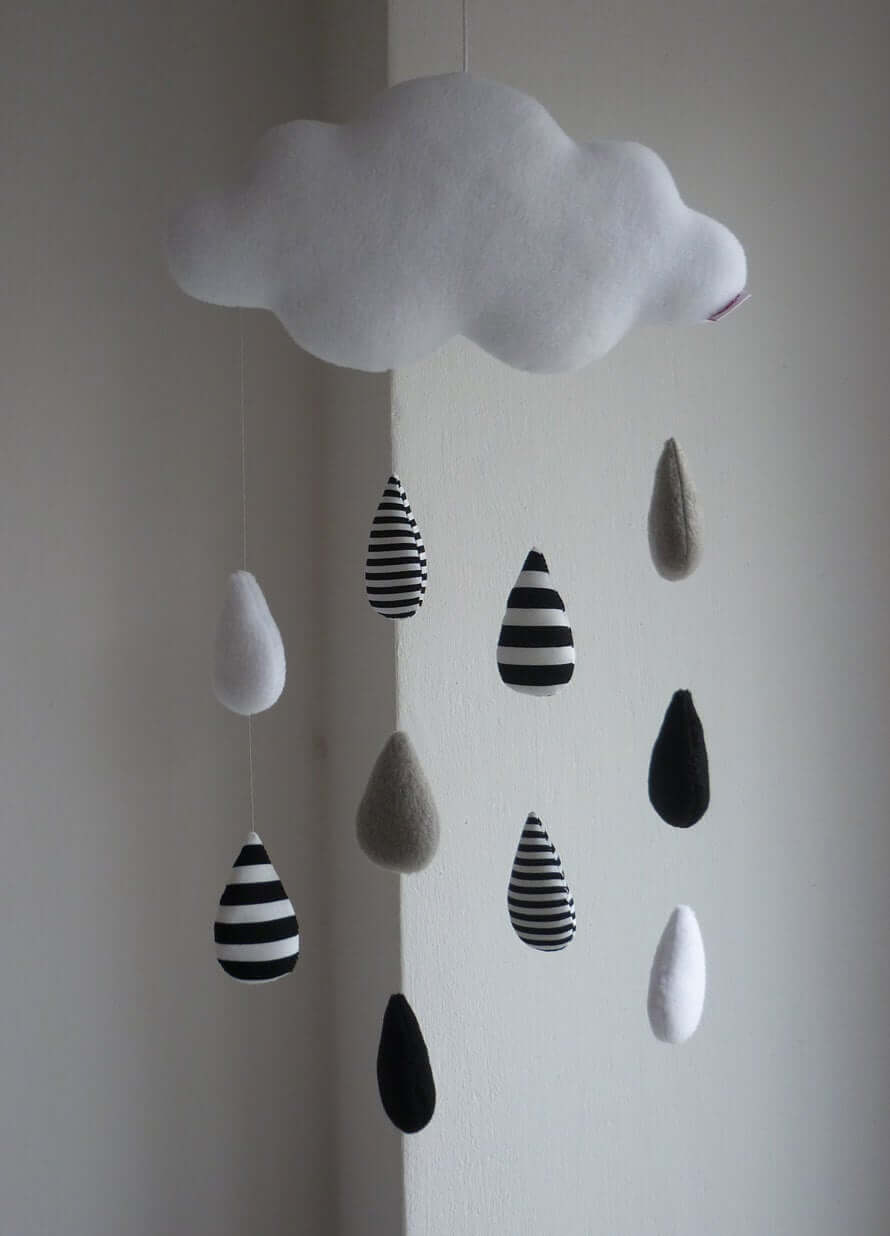 Embellishing your nursery can always be a fun time for parents. An awesome idea if you're going for a black and white theme is adding in this adorable hanging mobile. It is a gender-neutral option that takes what should be simple and improves upon it with the wonderful use of black and white. The white cloud is an obvious element, but the raindrops offer a mixture of black and white with different patterns, turning a raincloud into something calming and interesting for your baby to look at. It's a great way to add a stylish and relaxing atmosphere to your nursery.
11. Black and White Tile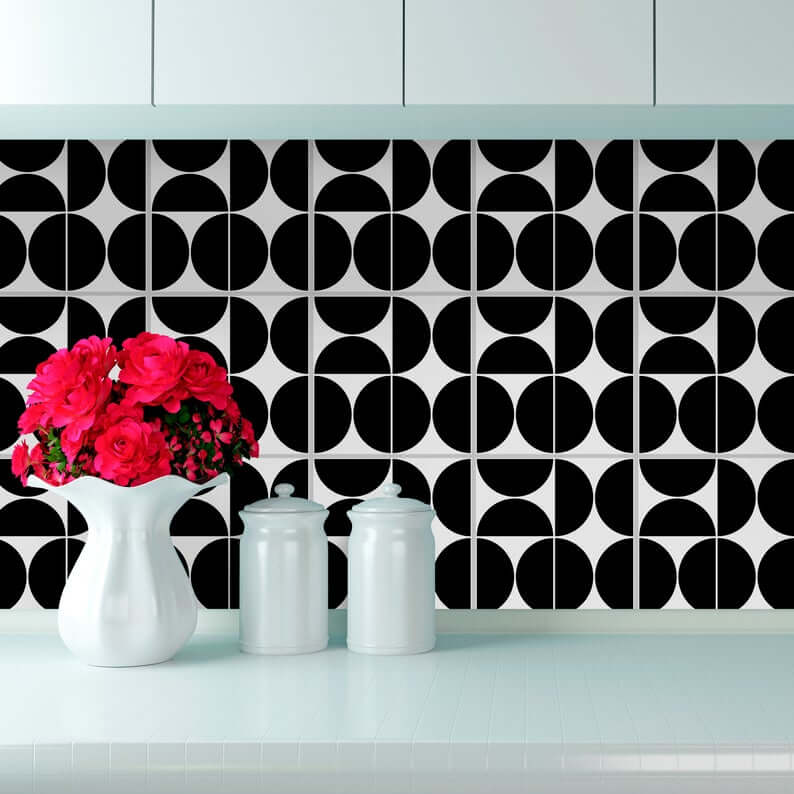 The right tile can help adjust the entire look of your room. In this case, the black and white tile offers a cool spin on the classic kitchen tile theme. It's the type of black and white home decor that can be used in multiple rooms, but it does standout well on the wall in the kitchen. Even if you only opt to use a small strip rather than the entire wall, it can still coordinate well with the rest of your decorations. The tile gives off a unique black and white pattern that everyone can come to appreciate.
12. Inspiring Black and White Living Area Decor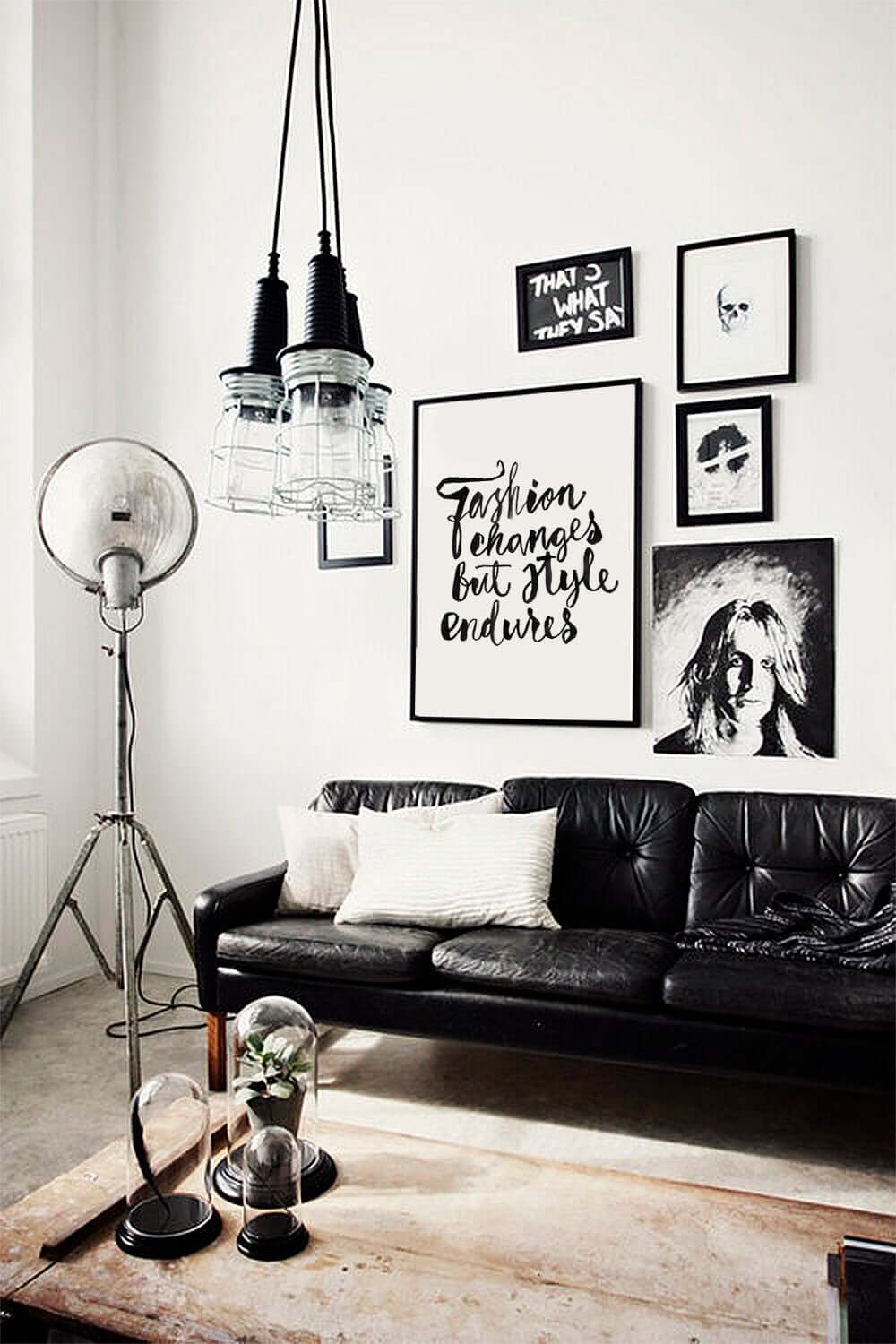 Are you seeking out black and white living room ideas for a fashion-inspired area? Welcome likeminded friends and family into this fashion-slanted space. If you already have a nice black couch, throw on some white pillows to help bring it out more. It does already standout well against white walls though. On the fashion side of things, the assortment of Coco Chanel sayings and pictures heighten the overall atmosphere into something that's as pleasing and bold as any black and white decor ought to be.
13. Cool Geometric-Themed Black and White Room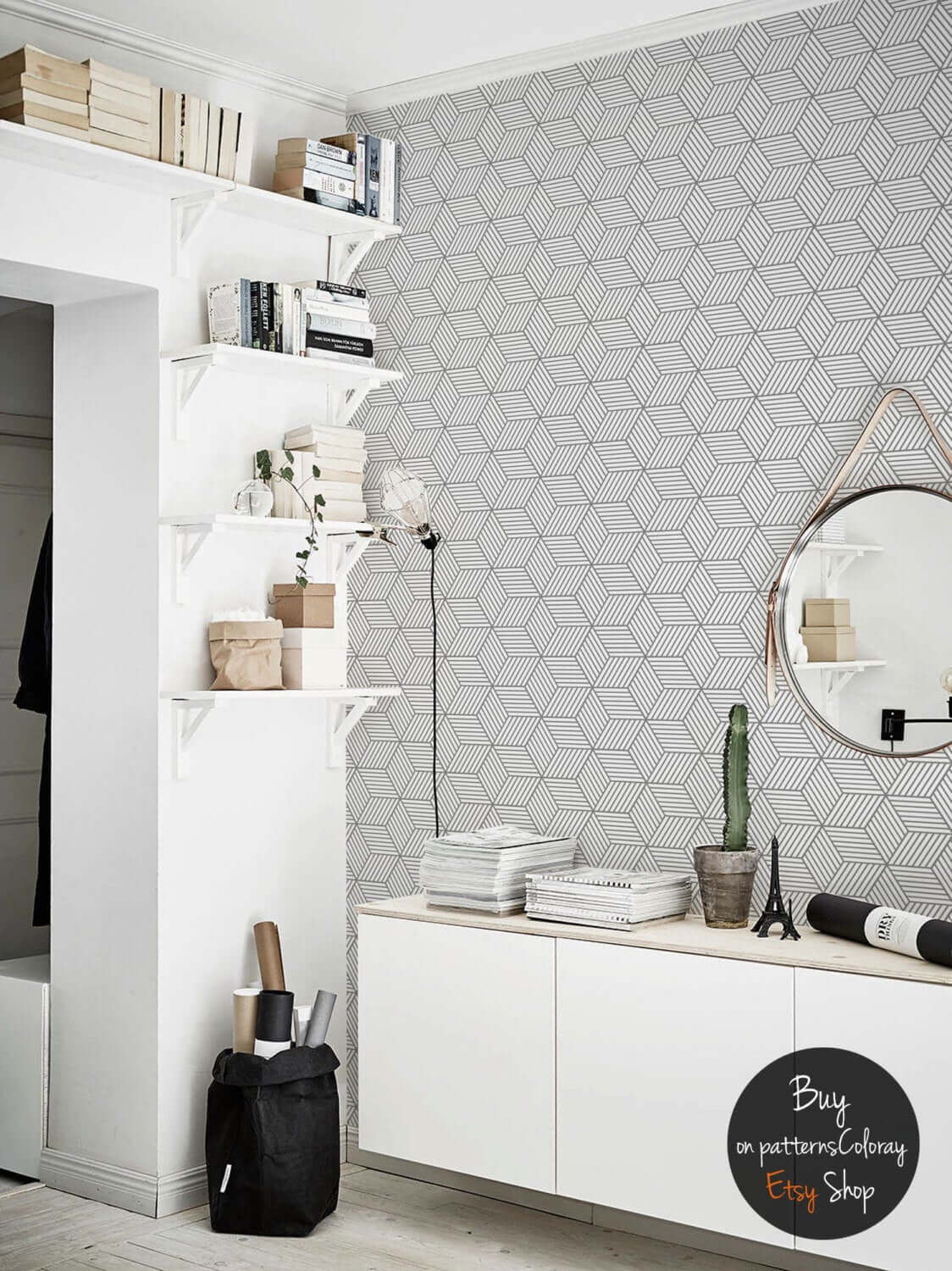 Households that already sport more white walls than anything need a bit of extra care when it comes to adding in black to get that modernized theme, more so when everything else around it is white such as the shelves and storage. In this case, it may help to offset everything with some black accessories throughout no matter how small they may be. If you want to add flair to a room, put up that attractive black and white geometric wallpaper. It's the best pattern to enhance the white walls around it so the room doesn't fade into the background. It's removable too to adjust to your changing style ideas.
14. Black and White Rustic Double Vanity Bathroom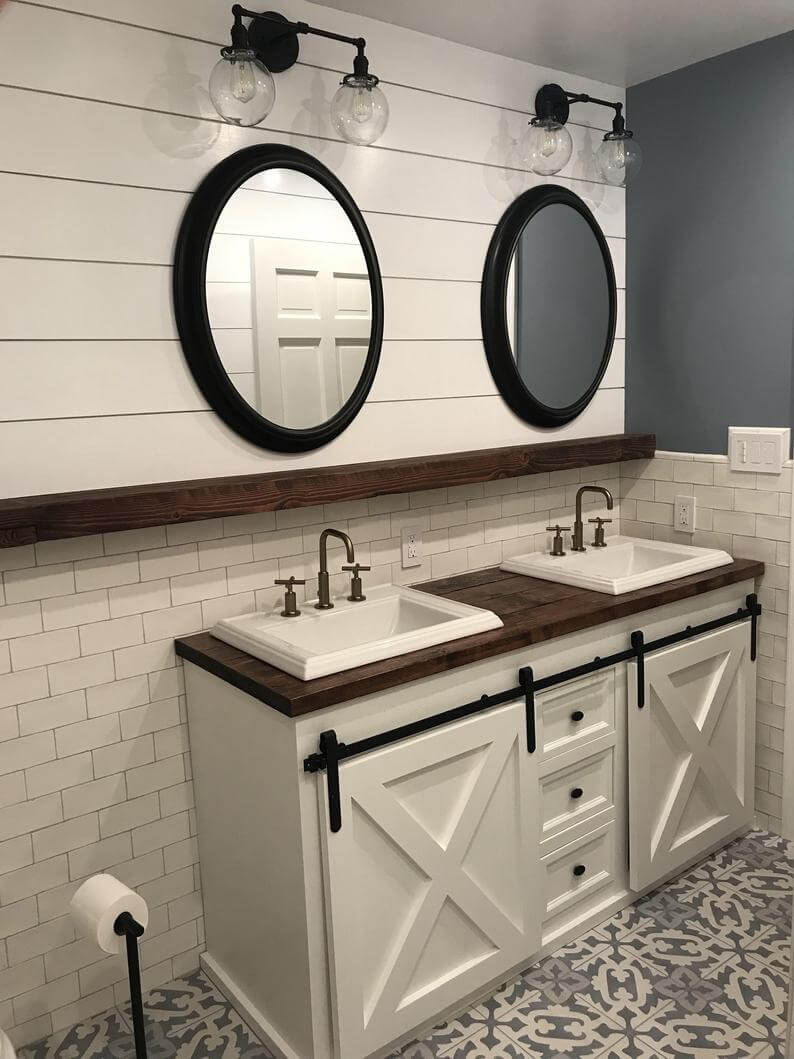 Options are plentiful when it comes to finding ways to decorate in a farmhouse, rustic theme. Although these styles tend to lean more toward brown-like colors, you can still get the overall vibe of farmhouse using black and white instead. Just take a look at this unique double vanity bathroom style. It's straightforward with the white cabinets and black handles. The black mirrors add a daring touch, and the white wall behind them gives them the attention they deserve. Consider decorating this way in a room with a mixed-tone floor if you really want to stick the theme.
15. Mindfully Good Black and White Wall Art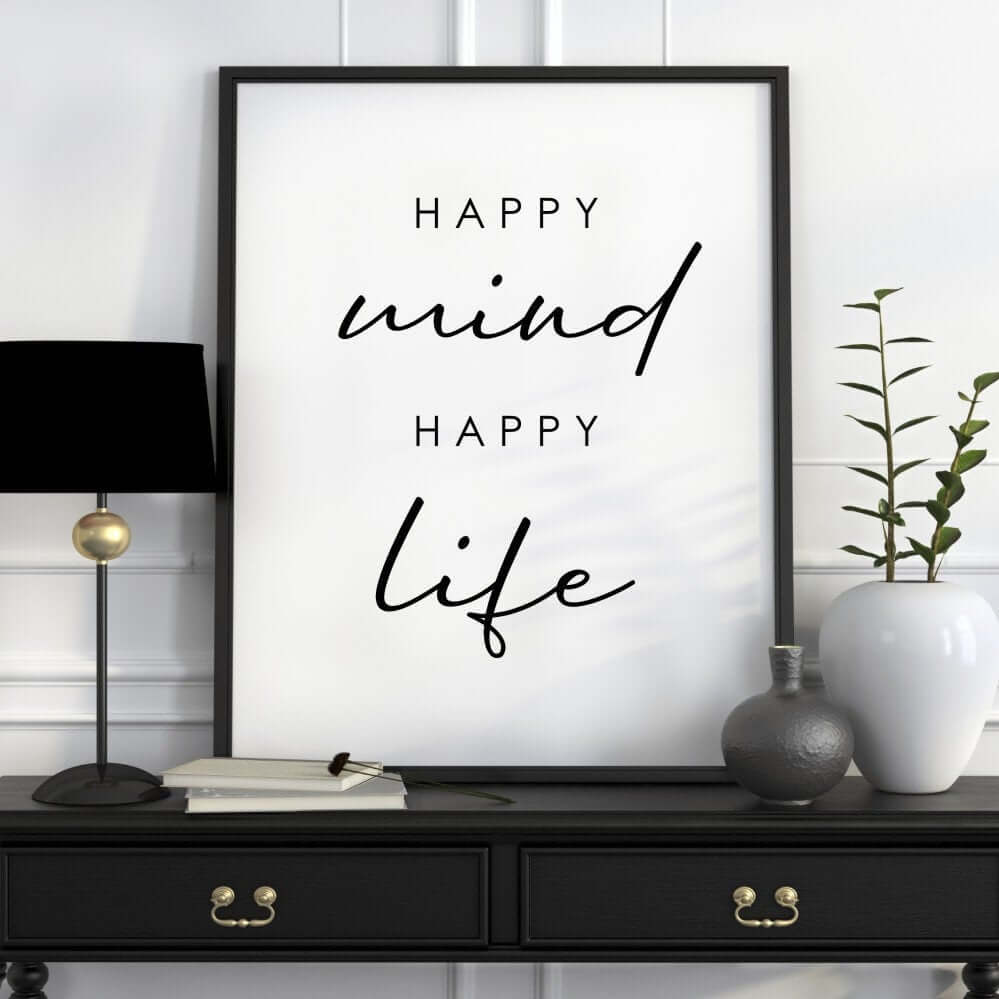 If you need more black and white living room ideas, inspiring messages on the wall can always lift everyone's spirits. This large image leaves no confusion about its statement, encouraging anyone who sees it to live their best life. It works well when used along with the all-black hallway table and black lamp. Having all the decor rest against the simple, bright white wall gives more attention to the accessories, especially the mindfulness wall art.
16. Lively Black and White Living Room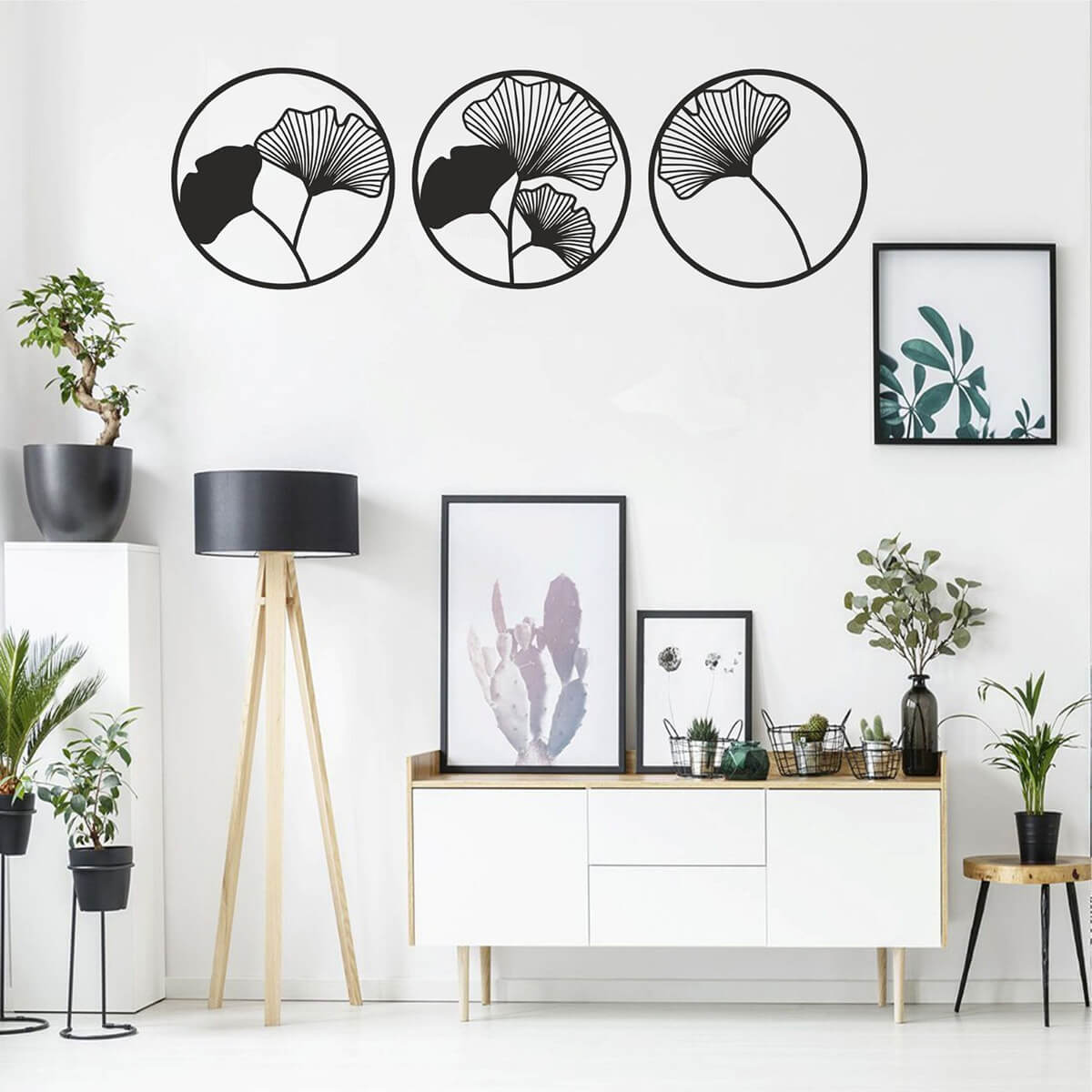 A room with all-white walls and an all-white floor is simply untapped potential for home decorations following the black and white theme. You have such a blank canvas to work with, and by adding the appropriately toned items, you can make your living room a place everyone will sit back and enjoy lounging in. Sometimes you may want to add more of a pop to the room with some green. If that's true, consider using all-black for the pots to go along the rest of the room's style. Complement it all with decorative black wall art.
17. Tropical Black and White Dining Room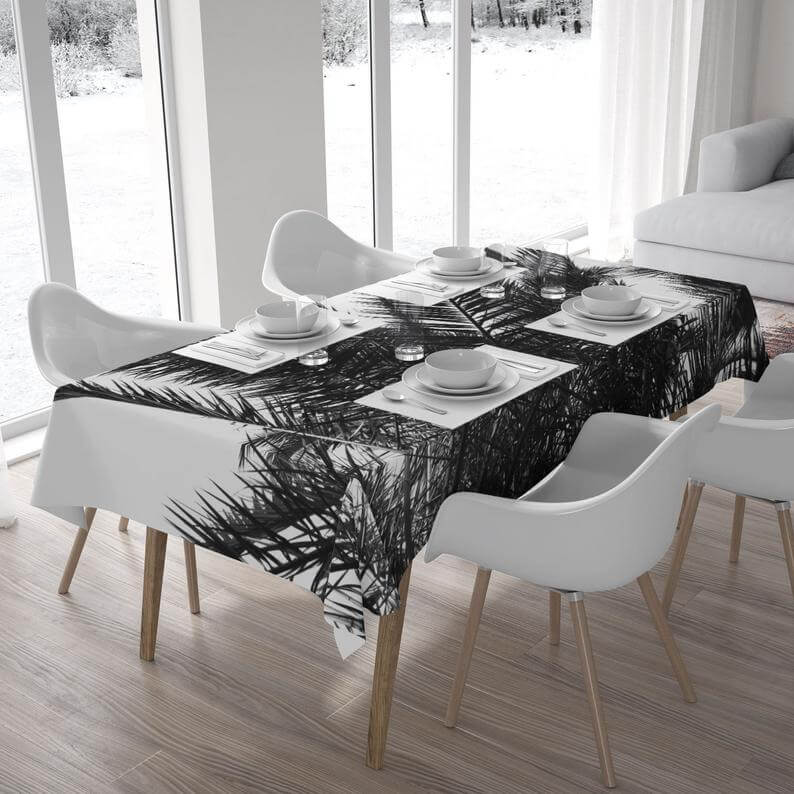 Don't allow an all-white dining room throw you off of your tropical decor dreams. White is always a good jumping off point. The white chairs offer ideal elegance, in particular once you look at them against the effortlessly clean white walls. To head toward the tropical theme, toss on the bold black and white tablecloth with beautiful black palm trees drawn all over it. It modernizes a summertime theme while still providing you with a sense of relaxation.
17 Bold Black and White Home Decor Ideas for a Modern Home
Whether you are in the mood to change your current home decor or you are just embarking on your decorating journey, a black and white home decor style can help any room standout. What makes this color combination so fun is that, depending on how you go about it, you can have your home make a number of different statements. Particular designs can serve as simple conversation-starters, while others may add a calming element to a room. There are some that simply showoff your inner chic style.
Black and white colors compliment one another so well that you have a near-endless supply of ideas to utilize, more so if you decide to go with various tones of color in order to create more unique patterns and designs. These great black and white decor ideas should help you take a different approach to decorating, allowing you to adapt the room according to your specific style. White alone provides you with plenty of versatility, while using black gives a multitude of options to consider.
The 17 black and white decorating ideas laid out above might be all you need to get started on your next home remodeling project.