Your home is an extension of your personality. It should represent who you are. The white farmhouse design style is all about personal expression. The hallmarks of this style are character brought out through the use of natural materials, rustic charm, soft textures, comfortable furnishings, and an aura of welcome.
25 Breathtaking White Farmhouse Decor Ideas to Find Your Serenity at Home

Farmhouse decor is often painted and then roughened or "distressed", so you can see parts of the layers beneath. Texture is a key focal point as well, and fabrics like burlap, linens, cotton with pastel flowers and gingham are frequently found in the farmhouse style. Furniture is often made from pallets and crates, baskets, and wrought iron. Lines, x's, and crosses are visible in many farmhouse pieces.
We have included ideas repurposing discarded materials into useful and decorative items for every room in your home. Whether you want organization for the family's busy schedule and the clutter that goes with it, to add your own touch of personality in the form of pallet signs, or to make the most of the space you have, we've covered it. Allow your imagination to lead as you add something special and unique to your home decor.
1. Greet Guests with a Rustic Farmhouse Bench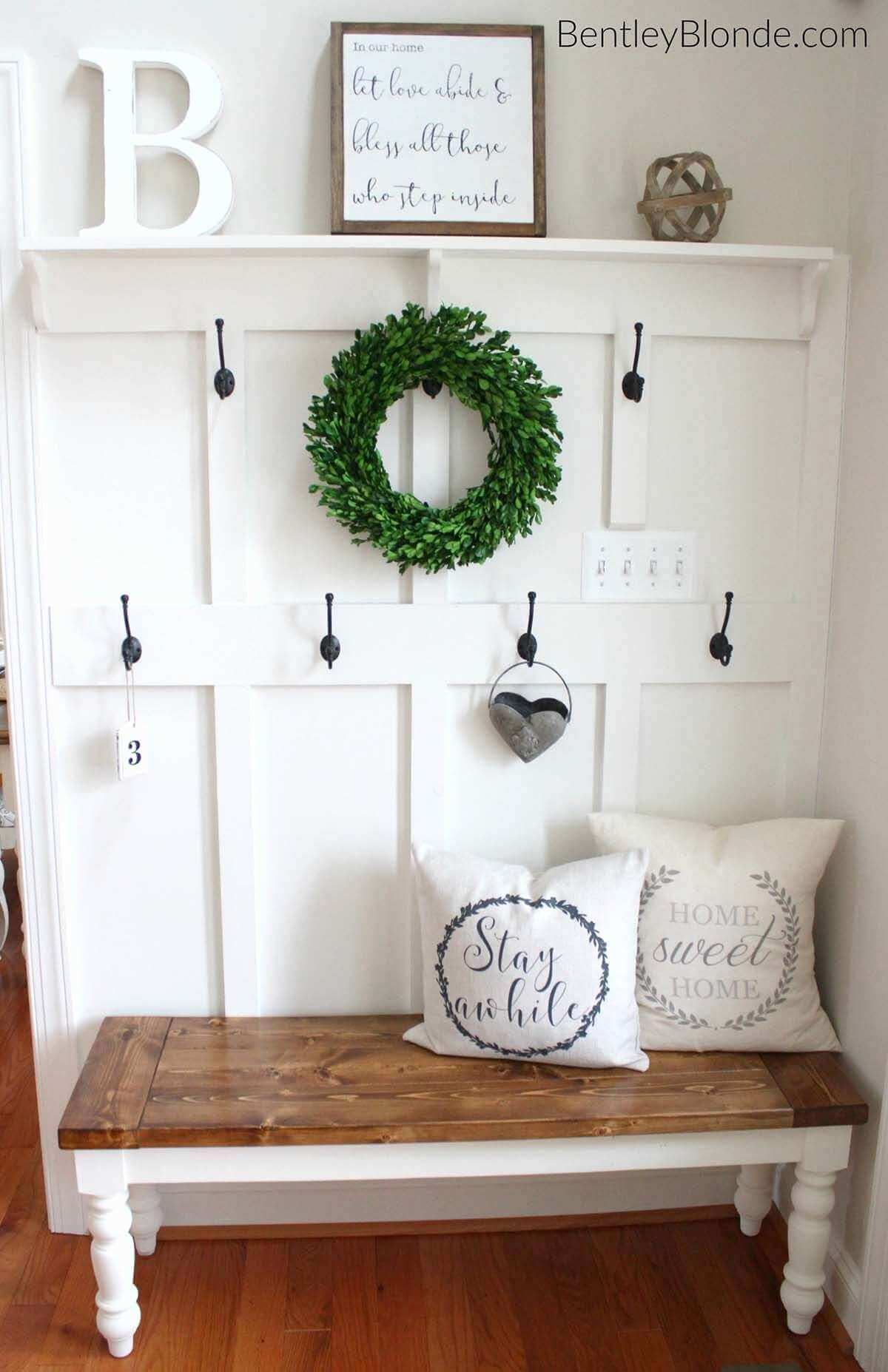 A sturdy farmhouse bench is the focal point of this charming entryway. Wrought iron hooks provide a dry place where family and friends can leave coats, hats, shoes, and boots behind. What a comfortable way to welcome guests to your home.
2. Lateral Shiplap to Elongate Your Room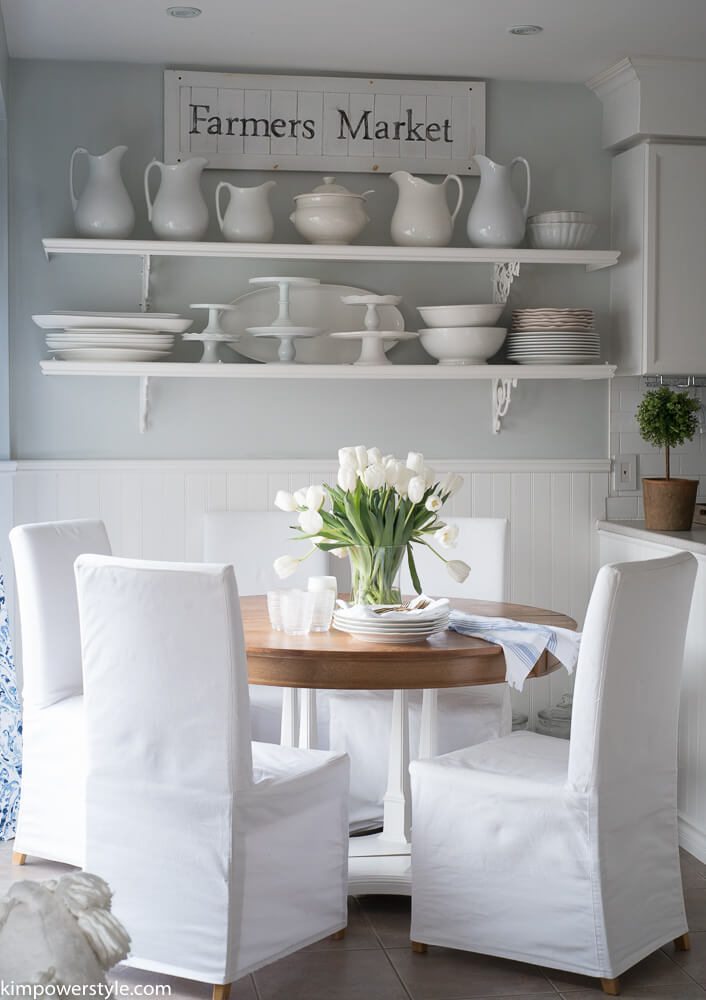 The vertical placement of the wall boards and the Farmers Market sign nicely coordinate and add height to this darling dining nook. Don't throw them out – cover them. Bring a smart new look to an old set of chairs by adding floor-length chair covers to an old favorite. Graceful white flowers welcome guests to your table.
3. Step Back in Time Farmhouse Kitchen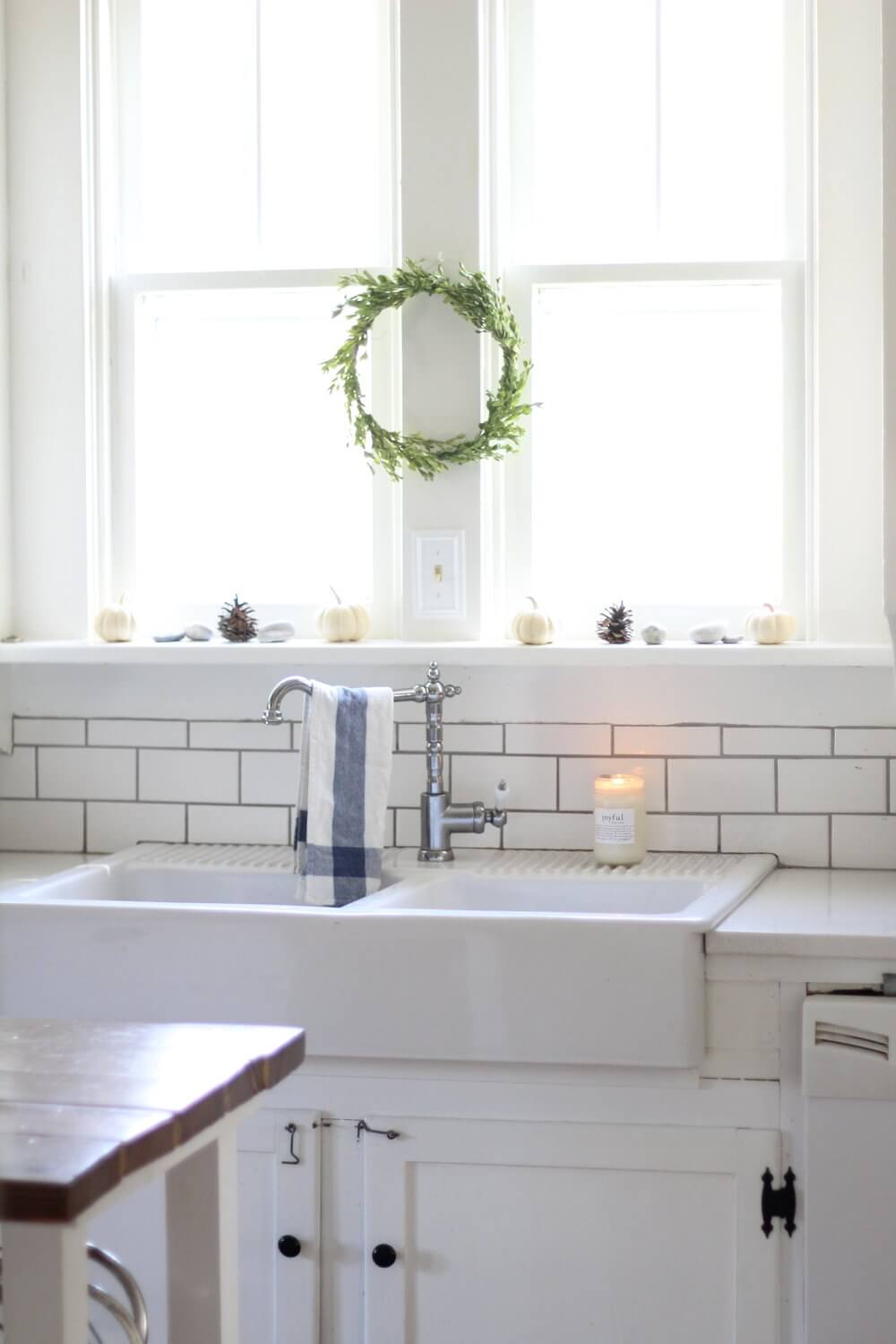 Take a step back in time with classic white subway tile, shaker cabinets, and a large farmhouse sink. The aroma of hot apple pie and cinnamon come alive as you picture Christmas at Grandma's house. Contrasting dark hardware adds dimension to this farmhouse throwback, and the simple green wreath adds a pop of color.
4. Family Time in the Cozy Farmhouse Den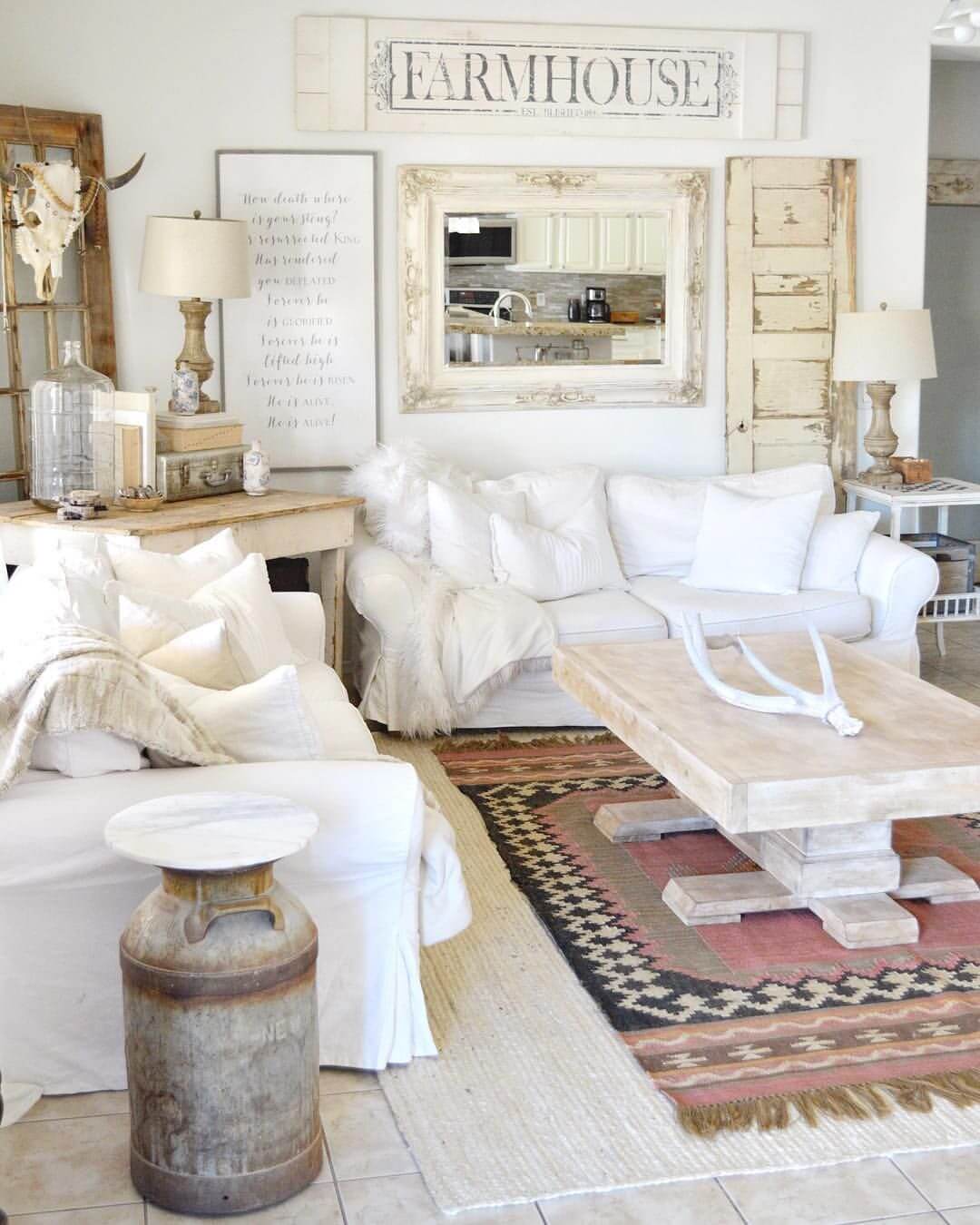 The soft textiles in @vintageporch's room call the family to snuggle before a roaring fire while they share about their day. The area rug adds the perfect touch of color. Distressed shutters add character to the pass-through window, and a milk jug side table is the perfect finish to this cozy setting.
5. Character Combined with Purpose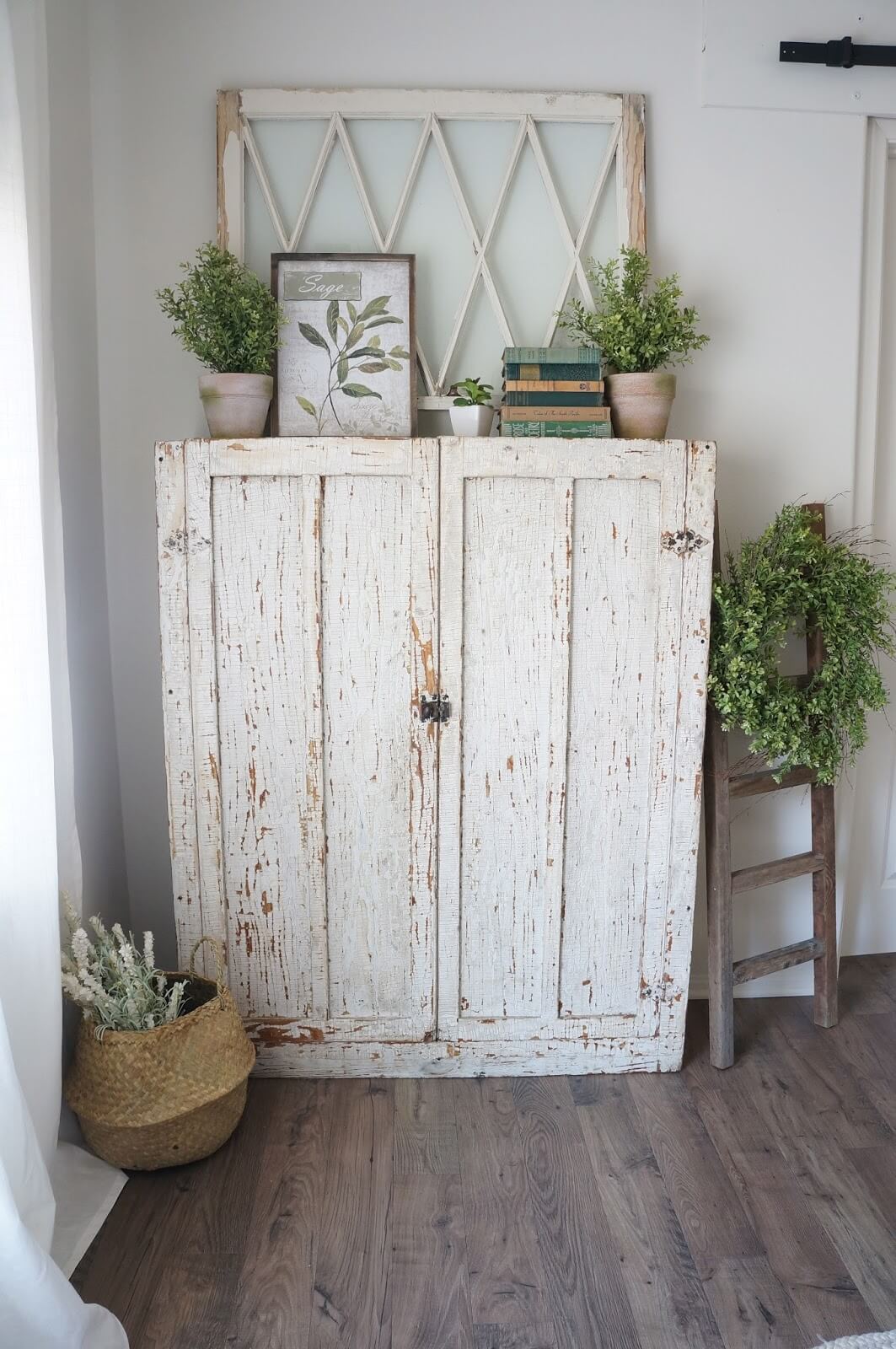 The distressed finish on this tall storage cabinet adds a whimsical look to any room. Pop color using vases, plants, pots, candles, or nic nacs. For a cozier feeling, plants, baskets, and wood will lend a feeling of calm to the room.
6. Wreaths Are Not Just for the Front Door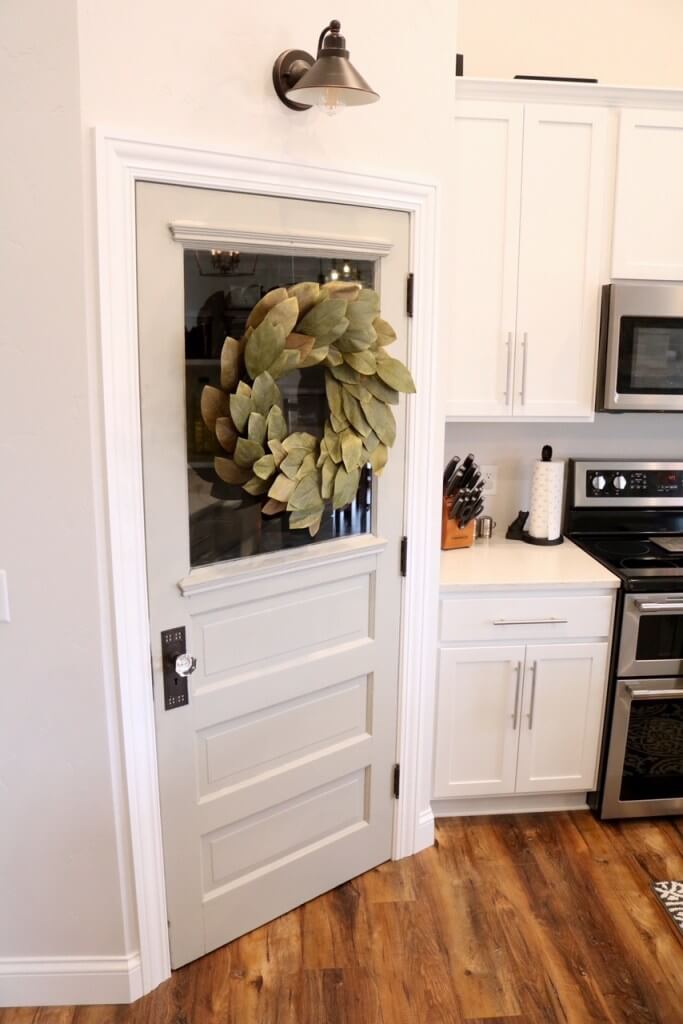 A farmhouse wreath is not like the wreath you hang on the door at holidays. It is made from simple greenery, usually with no other embellishment. They are also used to add color to a room, not just decorating the front door. Farmhouse wreaths also make a great gift idea for family and friends.
7. Decorative Vintage Base Bird Nest Glass Cloche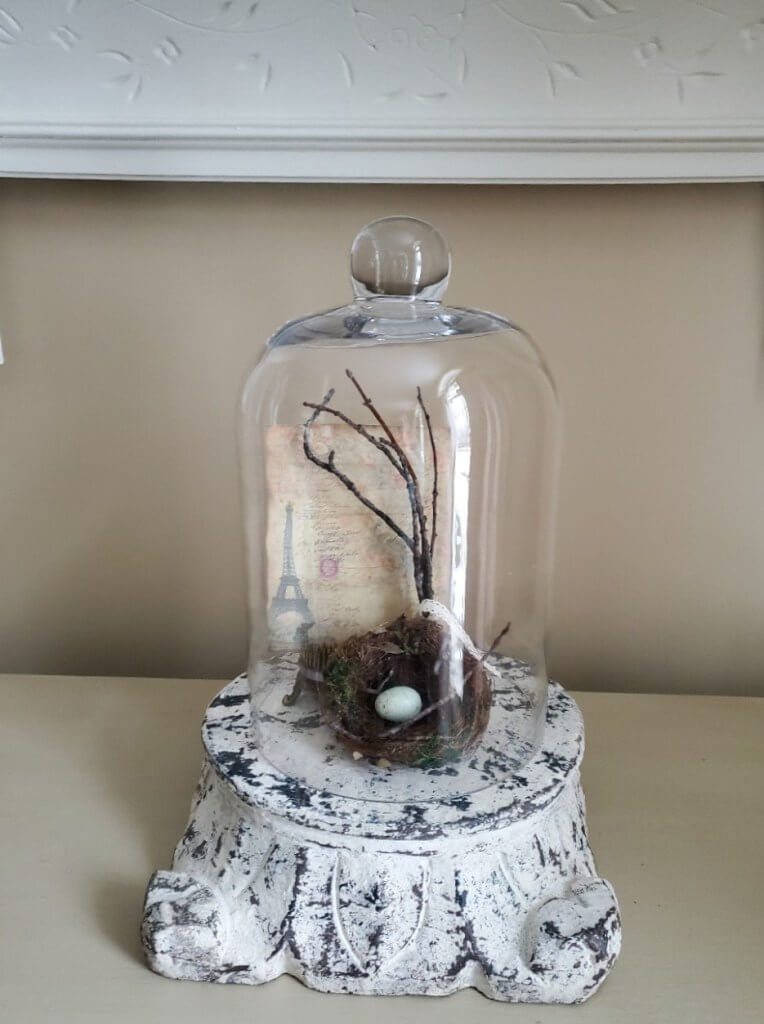 Truly beauty is in the eye of the beholder, and anyone beholding this lovely arrangement of a French note in the background of this dainty bird's nest, enclosed by a gorgeous glass cloche, is certain to agree this is a beautiful display. Show it off as a centerpiece or place it next to your king-size bed. Its shabby chic appeal will look amazing in your home as you welcome spring.
8. Farmhouse Signs from Reclaimed Wood and Barnboard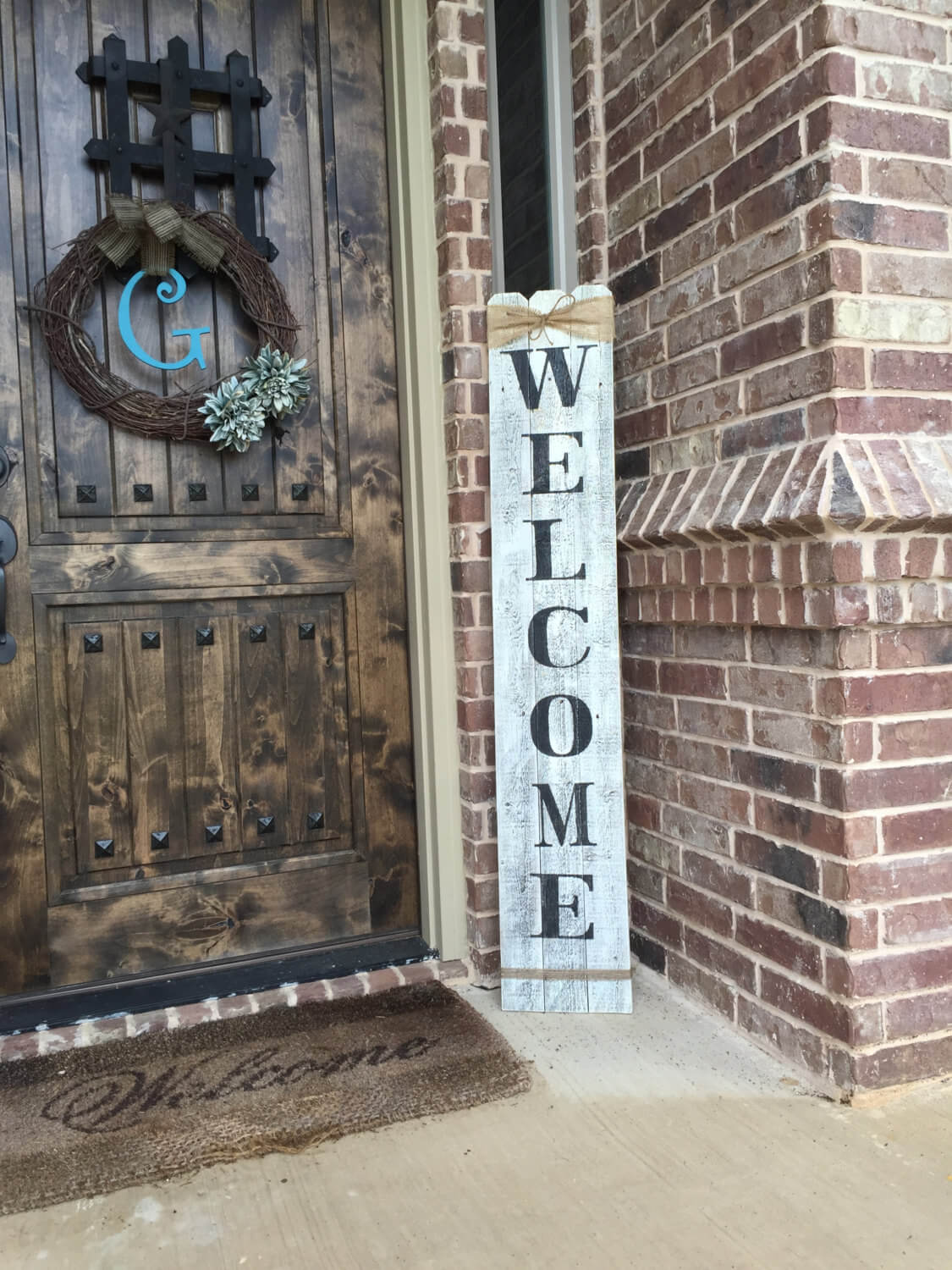 Farmhouse signs are very trendy now, and this reclaimed wood Welcome sign would go as well in a city apartment alcove as it would in a farmhouse doorway. It sends greetings outward to the street and conveys warmth and hospitality that can't help but elicit a smile from passersby.
9. Clocks Aren't Just to Tell Time Anymore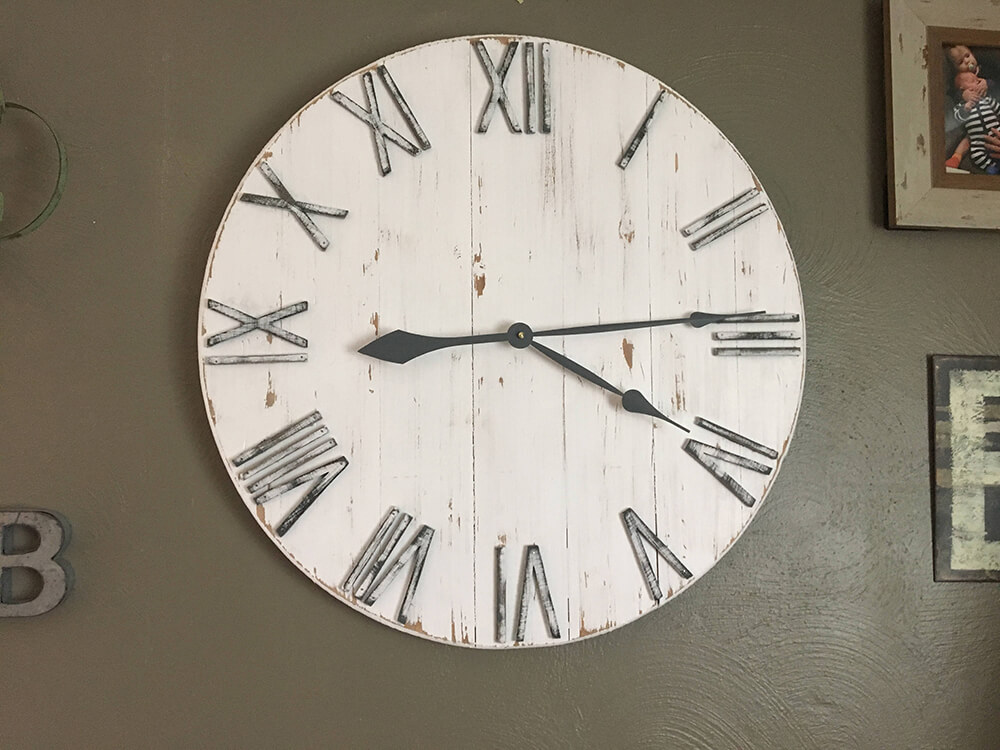 Big, bold clocks from reclaimed wood go well in a farmhouse den, kitchen, or hallway. Cut a circle from a piece of repurposed wood, add a distressed white finish, numbers, and a simple clock kit found at most hardware or craft stores. Wood or wrought iron numerals and hands are a perfect complement to the distressed wood.
10. Trio of Distressed Candle Stands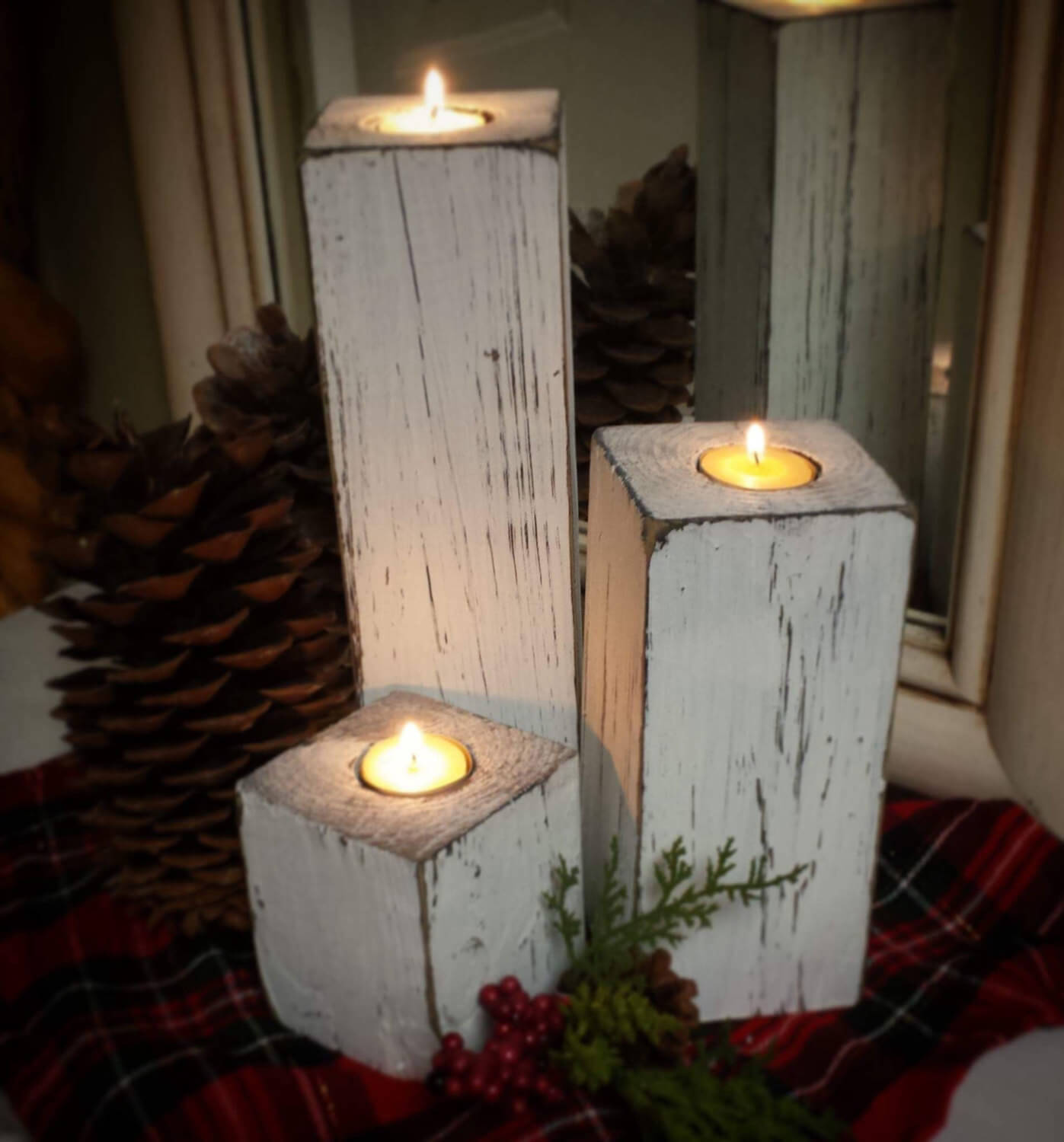 Simplicity is the hallmark of the style, and these diminutive candle stands are very simple to recreate. Place them before a mirror to add dimension to this pretty corner decor. A large set with dawn-to-dusk lights would make an inviting entryway decor.
11. Charming Accents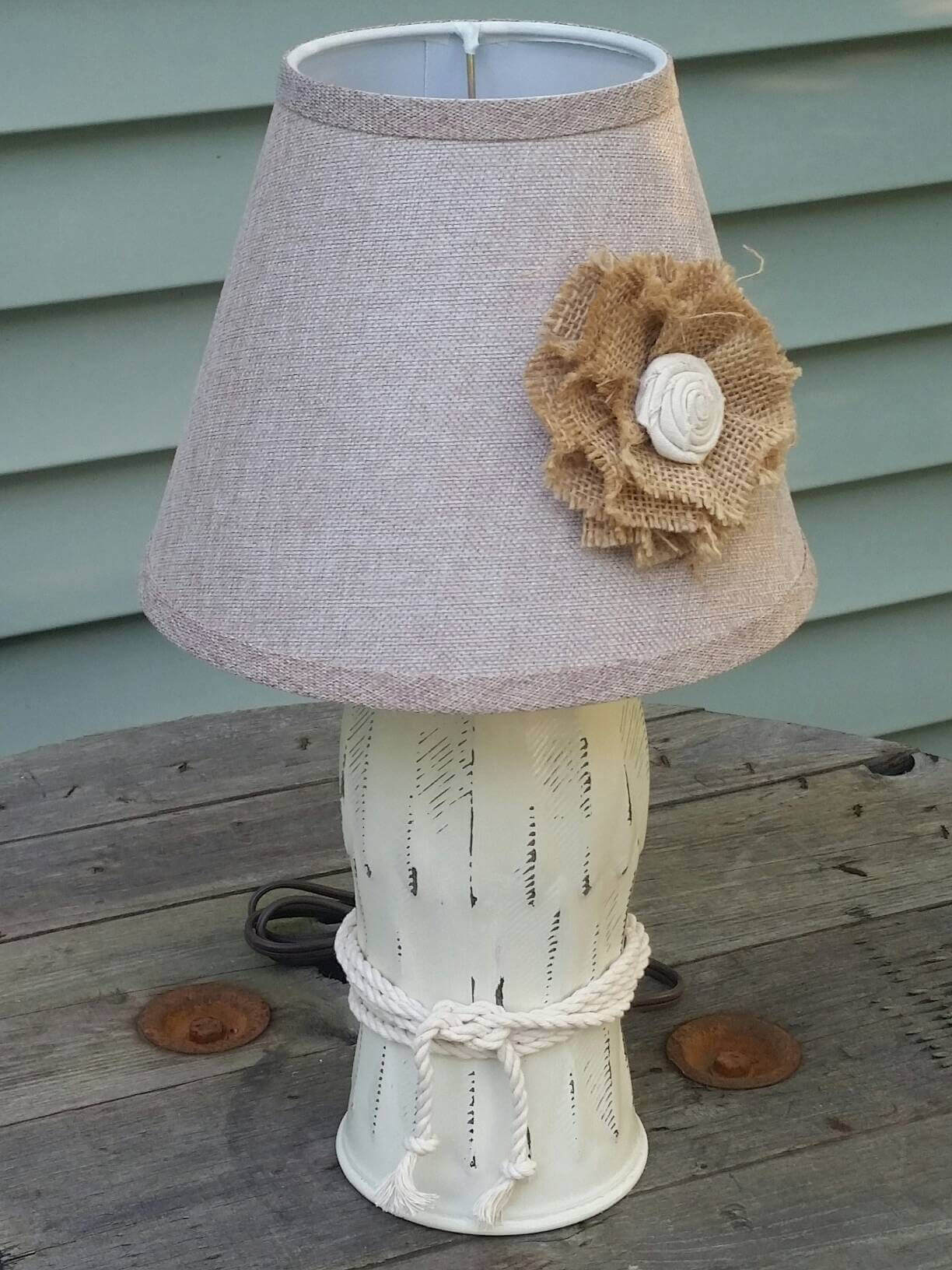 White farmhouse decor is soft, warm, and comfortable. Wrap a rope around a distressed lamp base to add texture to the design. Change the lamp shade to one with a tactile surface and complete the look with a simple burlap flower, available at your local craft store.
12. Salvaged Mirrors and Baskets Enhance Any Room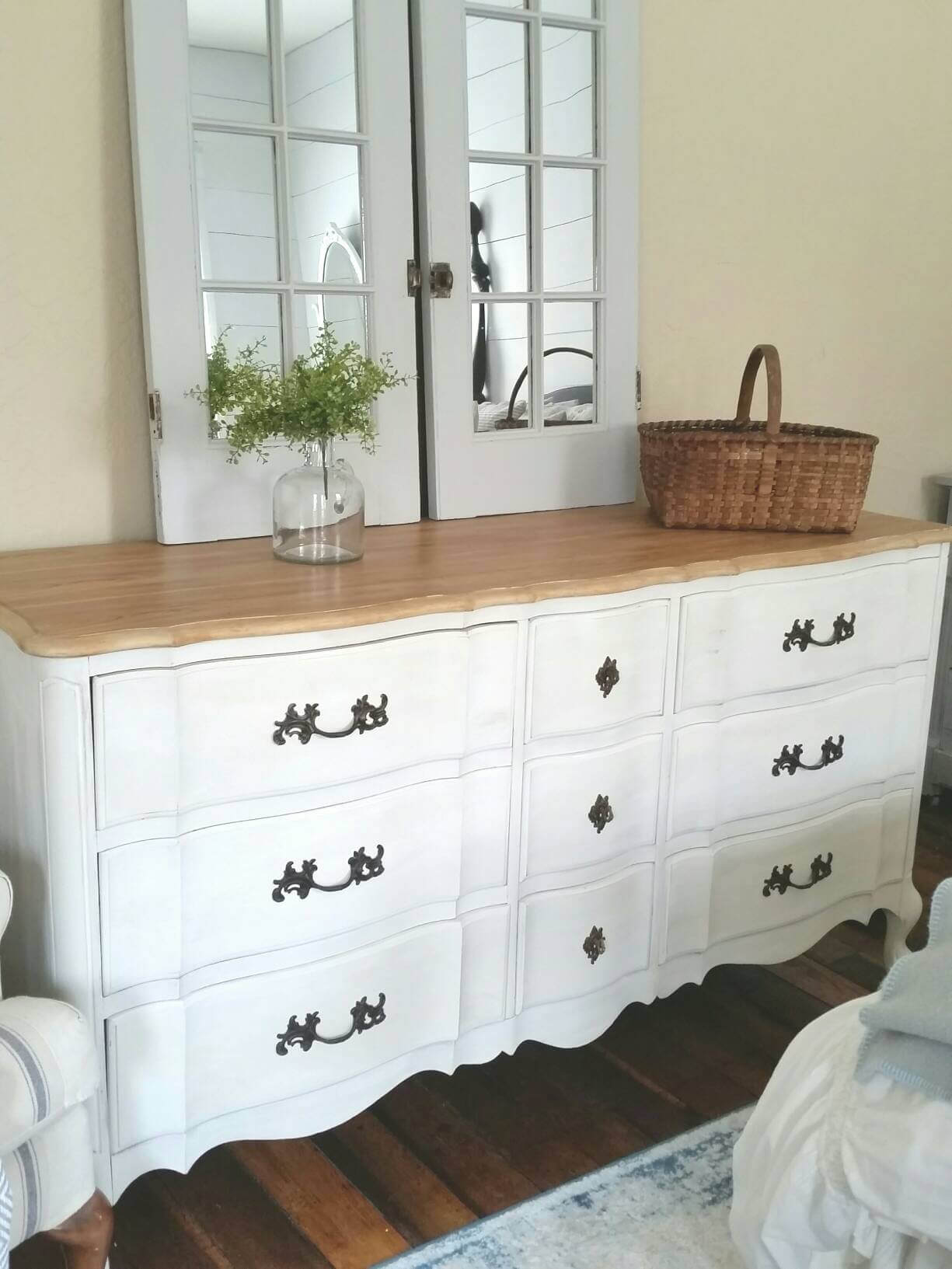 Mirrored glass added to the windows of a pair of reclaimed shutters bring a sense of depth to this simple dresser decor piece. The use of baskets, glass, greenery, and area rugs all add texture and a pop of color to the room.
13. Baskets from Reclaimed Wood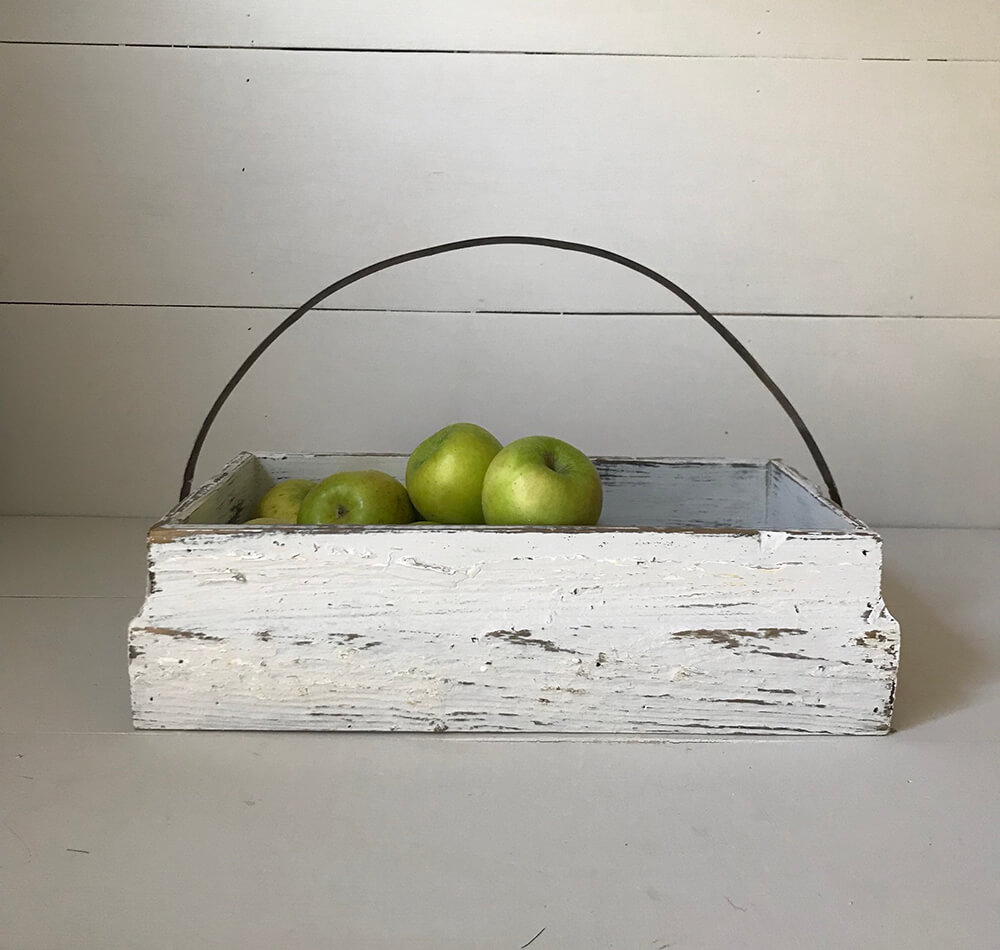 Simple white farmhouse design baskets can be made in any size from reclaimed woods. They add color and function storing wood for the fireplace, potatoes for the pantry, or as a decoration on the front porch. The uses are limited only by your imagination.
14. Reshape Reclaimed Wood for a Unique Wall Art Project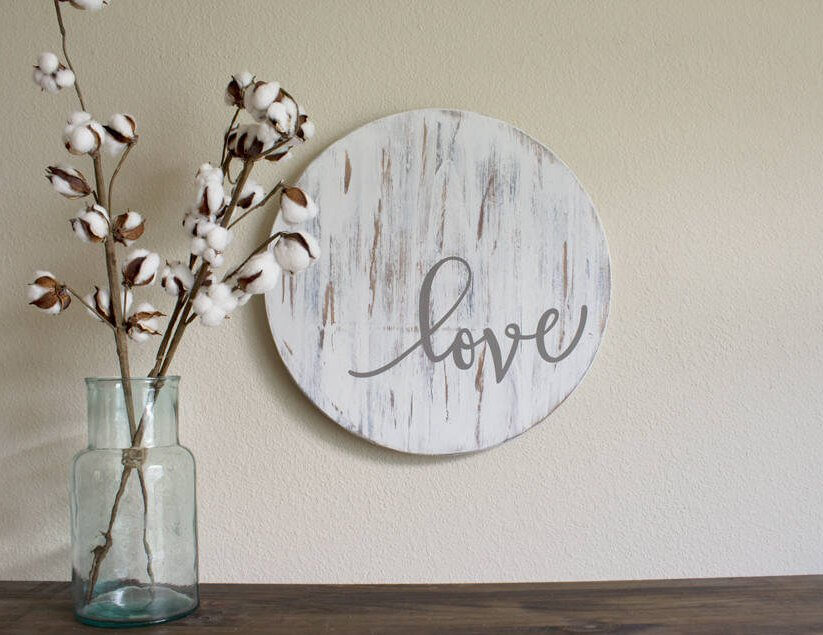 Reclaimed wood makes an inexpensive piece of wall art, but who says they must be rectangular? And who says the words must be centered. Make a statement piece that is one of a kind. Sometimes one word says it all. Wall art projects make thoughtful gifts.
15. Farmhouse Signs Make a Statement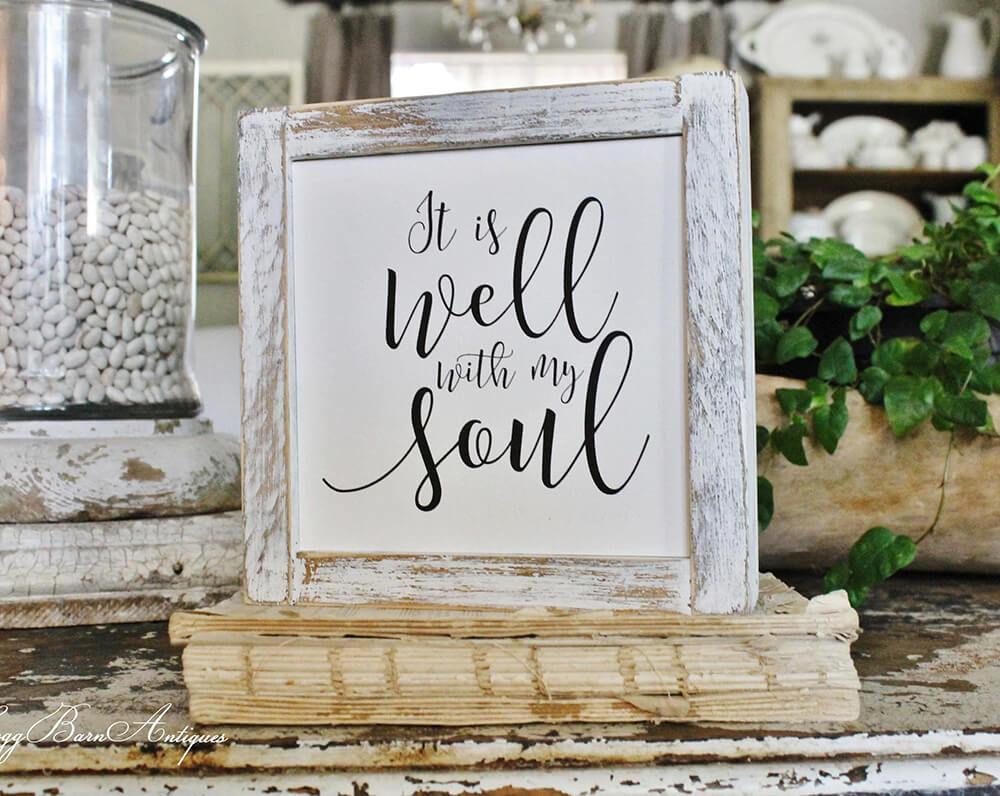 Like pallet signs, a simple frame from whitewashed barnwood perfectly showcases your favorite inspirational quote. Choose words that soothe the soul and quiet the spirit. Inspire family and friends with uplifting sayings in every room in the house.
16. Mantle Brackets Turned Shelf Brackets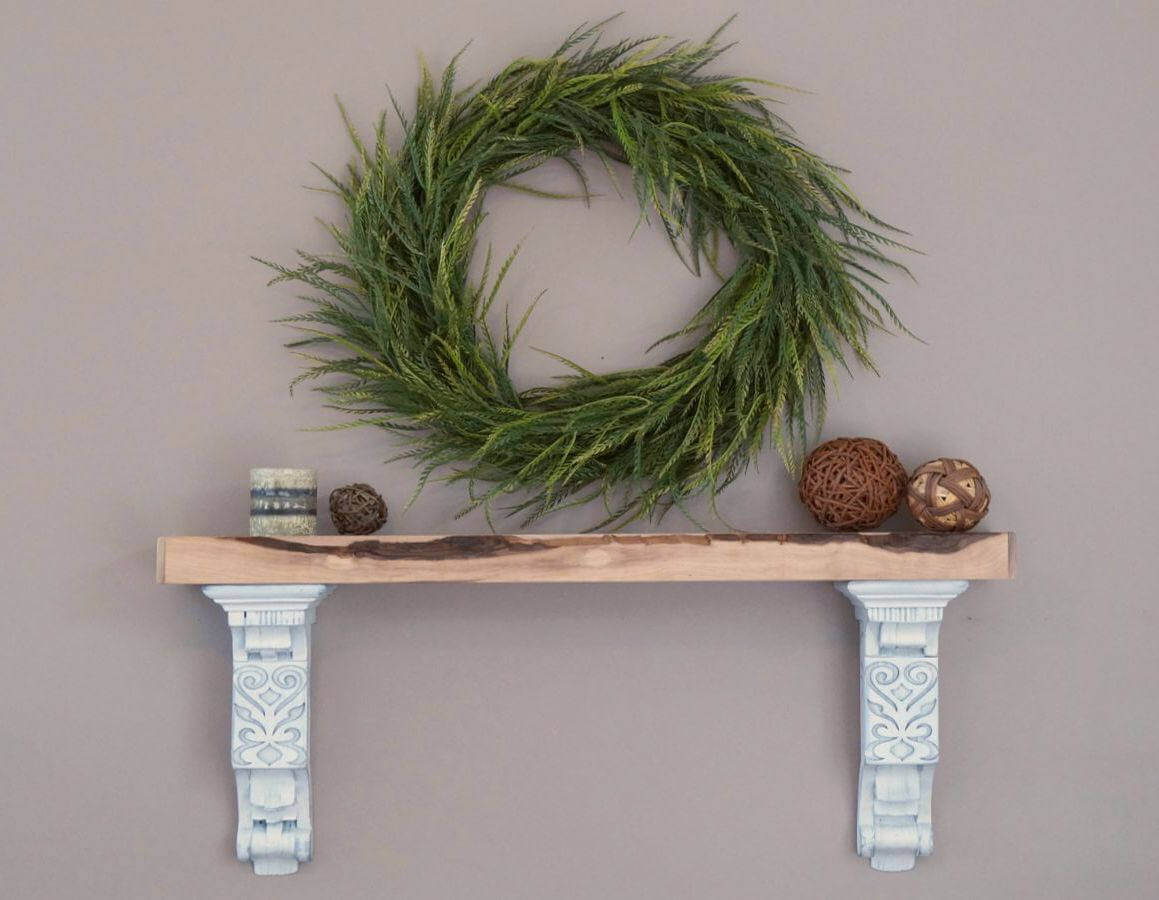 Decorative shelves using intricate mantle brackets add texture and appeal to any room. Use a mixture of items, like books, candles, pinecones, and natural wood to create a white farmhouse design. Complete your artful look with wrought iron and greenery.
17. A New Purpose for Reclaimed Windows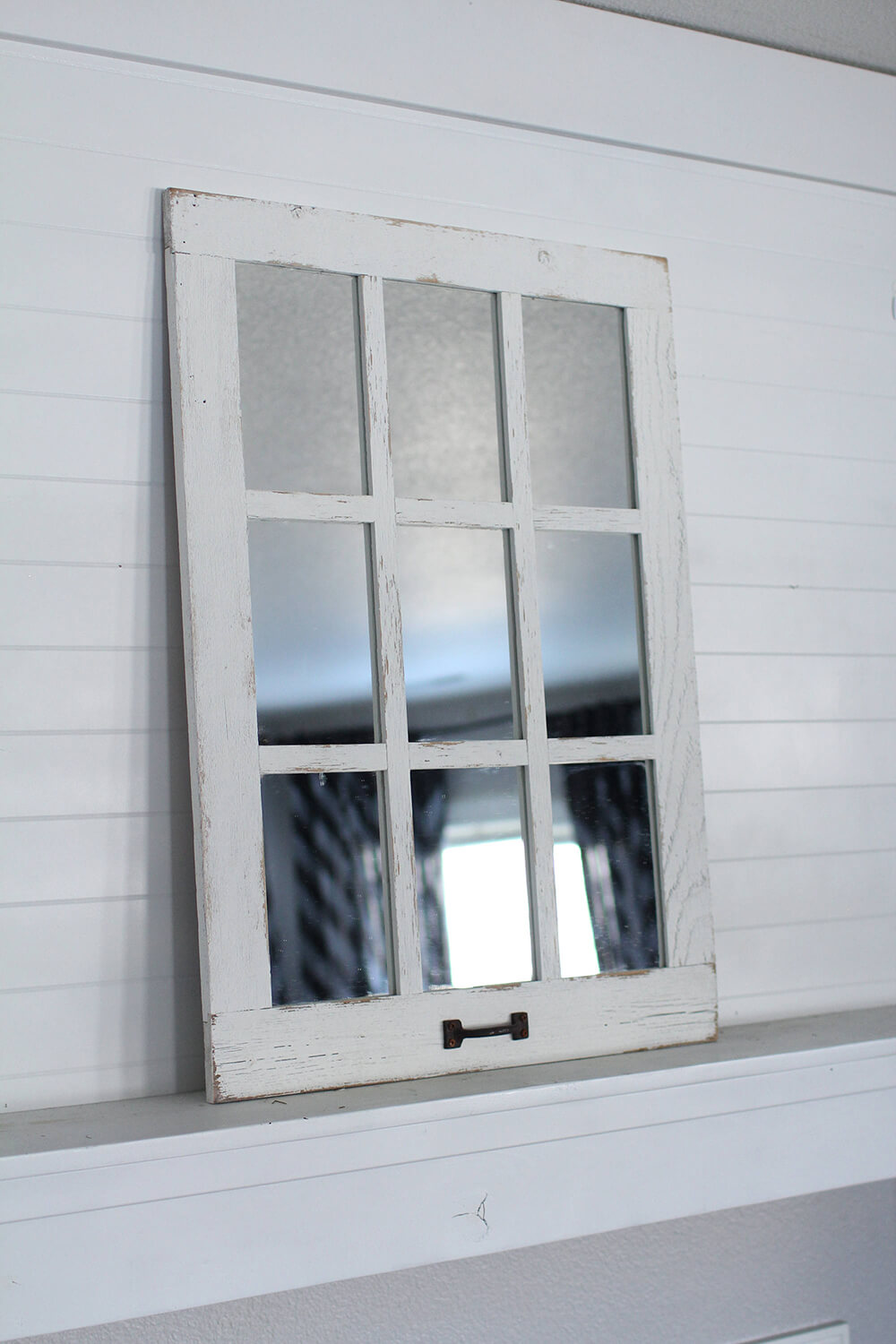 Farmhouse windows can be repurposed for many uses. Add mirrored glass to the window panes and use the window as a wall mirror. Hang the window from all four corners of the ceiling and hang mason jars filled with lights evenly from the window panes to create a unique ceiling light. Or, replace the windows with corkboard or blackboard paint to create a unique message center.
18. Farmhouse Pillows with a Message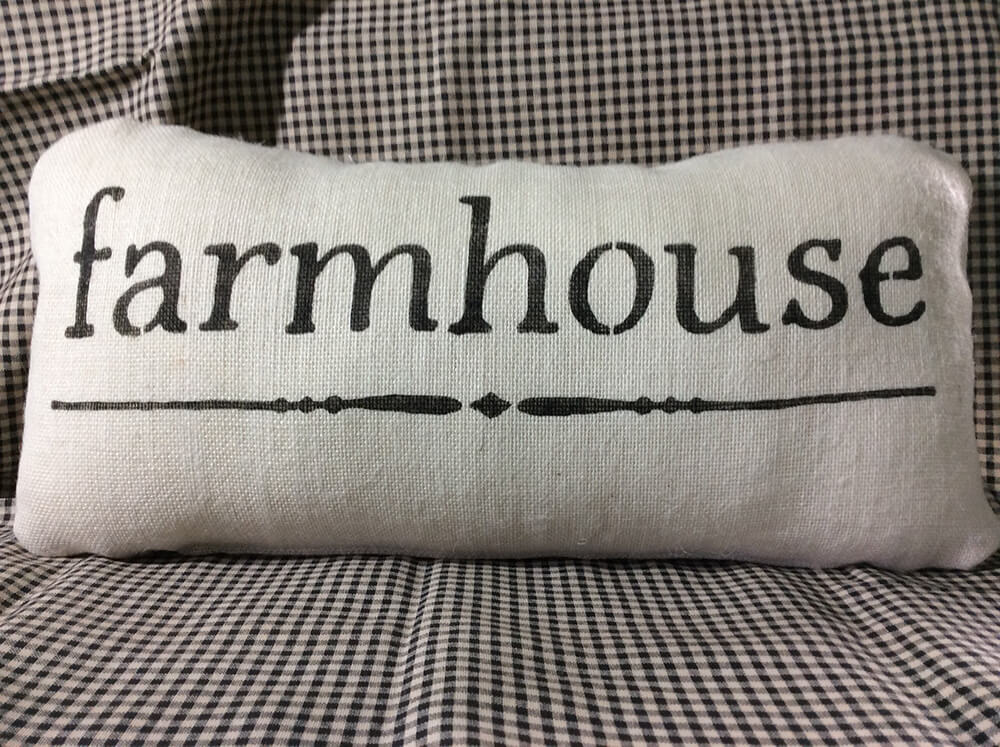 Soft and cozy are hallmarks of white farmhouse decor, and these extra-long lumbar pillows add both functionality and comfort to sofas, beds, and chairs. Vinyl letters on soft fabrics make considerate bridal, Christmas, and housewarming gifts.
19. Nostalgic Floral Window Planter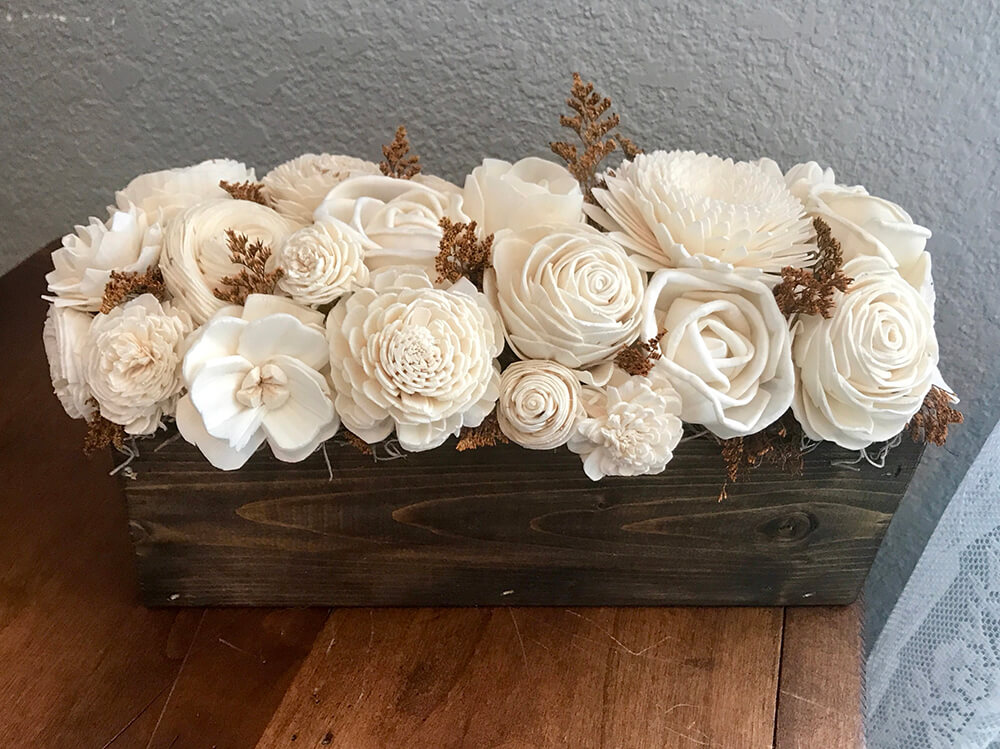 This planter combines the nostalgia of soft fabric flowers with a sturdy planter made from reclaimed wood. Lace curtains add a delightful touch of old-country charm. The versatile planter looks great in the entryway, on a hall table, in a window, or as a centerpiece.
20. A Farmhouse Home is Where the Art Is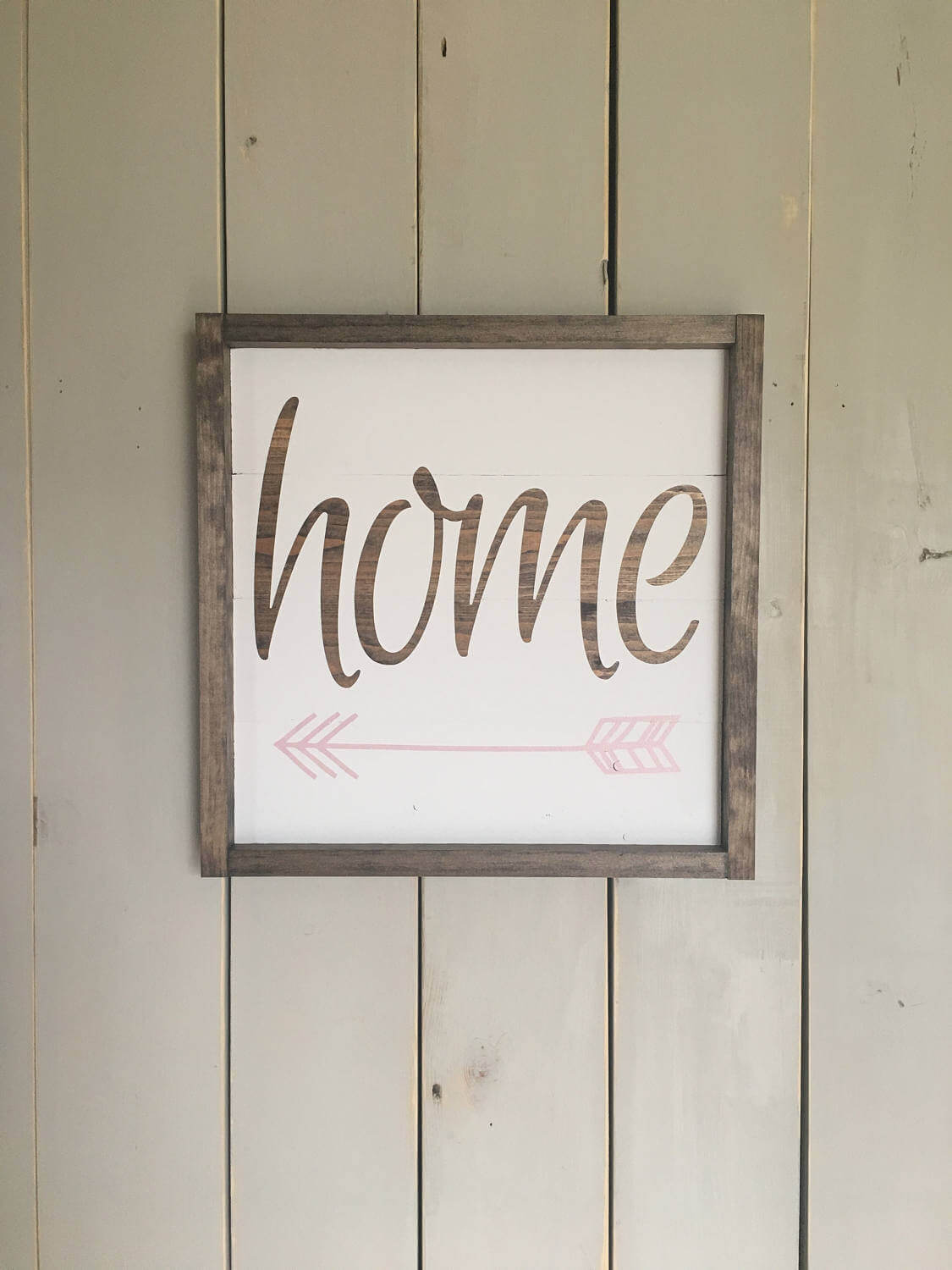 Deliver the message that your house is a home. This sign should be placed wherever family and friends get together. It makes an attractive entryway greeting, a door frame topper, or a shelf decoration. The peek-a-boo letters add texture as they reveal the reclaimed wood background.
21. Utility with Rustic Appeal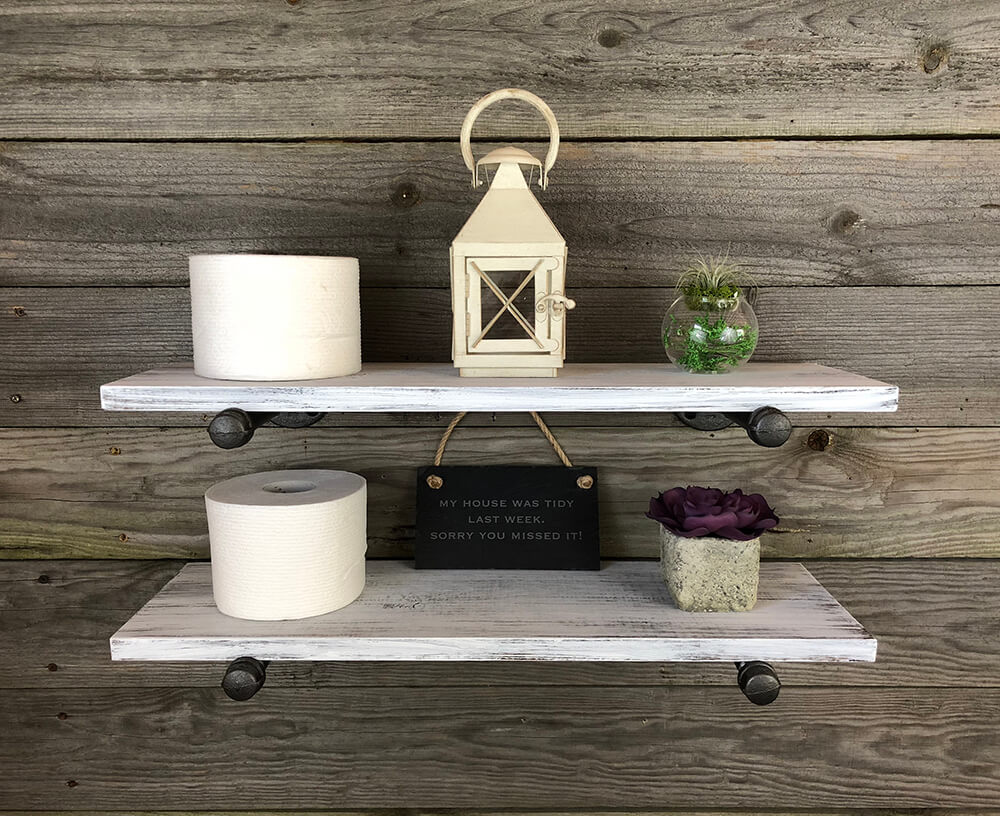 This focus wall of barnwood is the perfect backdrop for shelves of whitewashed reclaimed wood and pipe bracket supports. The whitewash lightens the barnwood, and the shelves provide extra space for items you wish to display. Add character to a bedroom, bath, or den while you add utility to space.
22. Whitewashed Corbels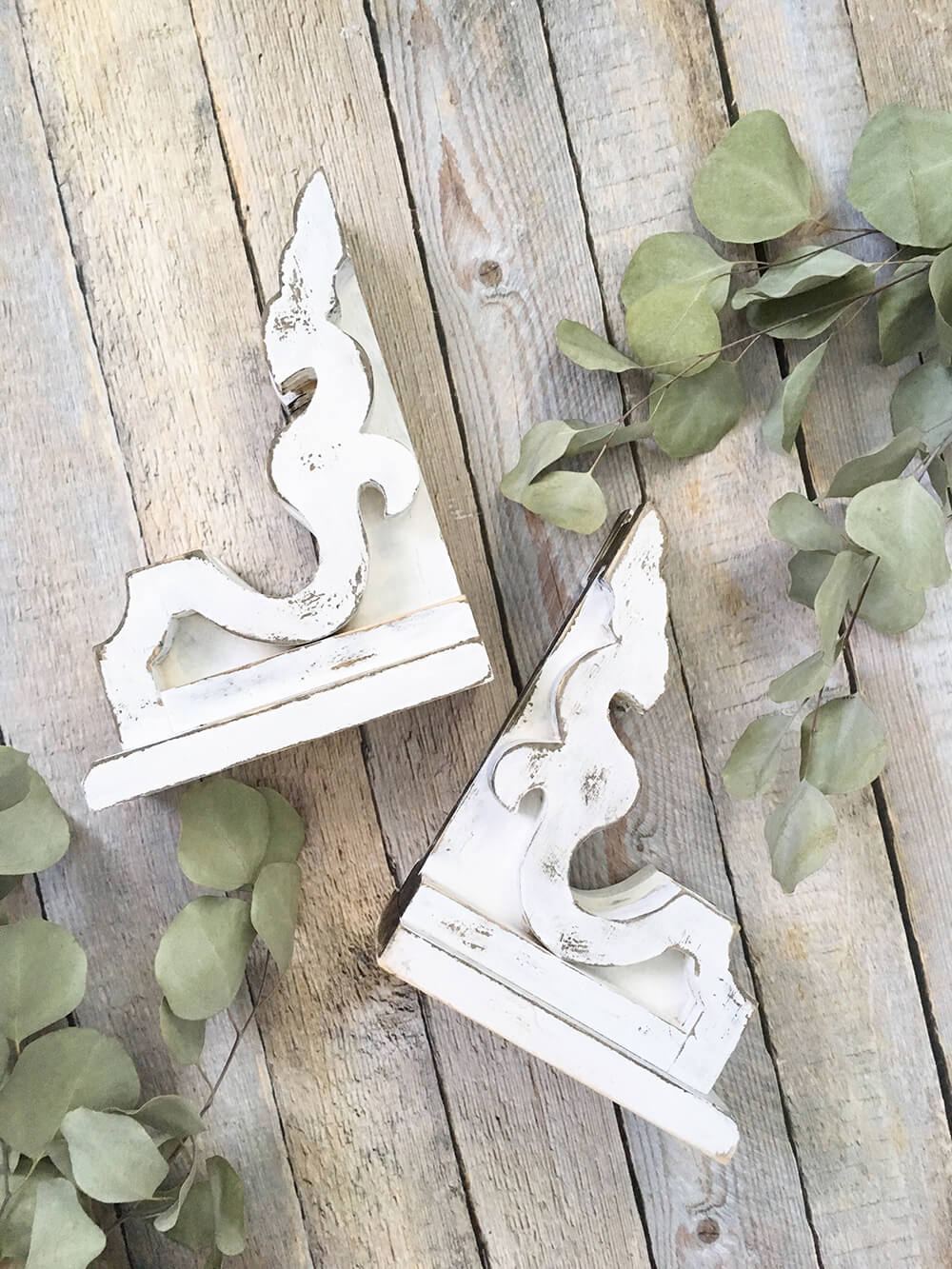 Corbels are no longer just practical. The detailed design in these whitewashed corbels stands out wherever they may be used. Corbels serve well as bookends, shelf brackets, or centerpieces on a hall table. Give this classic design a place in your next home decor project.
23. Bring Back the Farmhouse with a Stylish Cabinet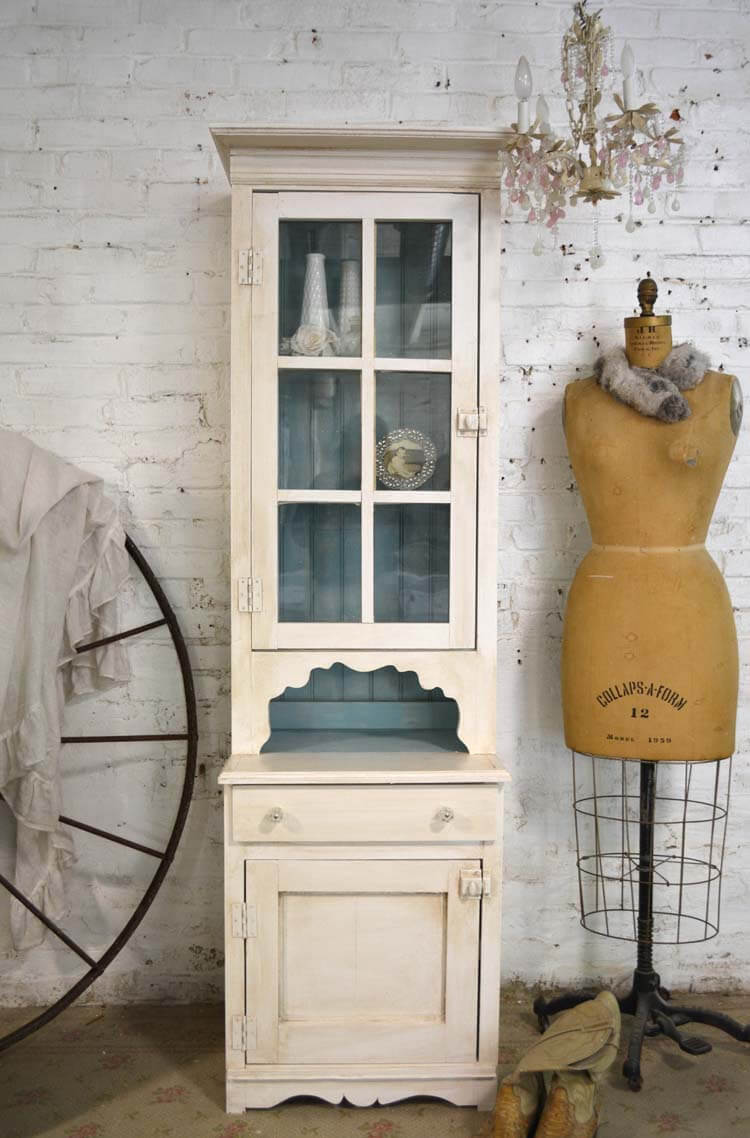 This classic shaker-style whitewashed cabinet may have been found in any American farmhouse. The six-frame window pane in the top cabinet reveals the beautiful dishware behind it while the drawer and solid door in the bottom cabinet provide practical storage for less interesting pieces. This cabinet would fit just as well in a parlor or home office.
24. Ladders Aren't Just for the Garage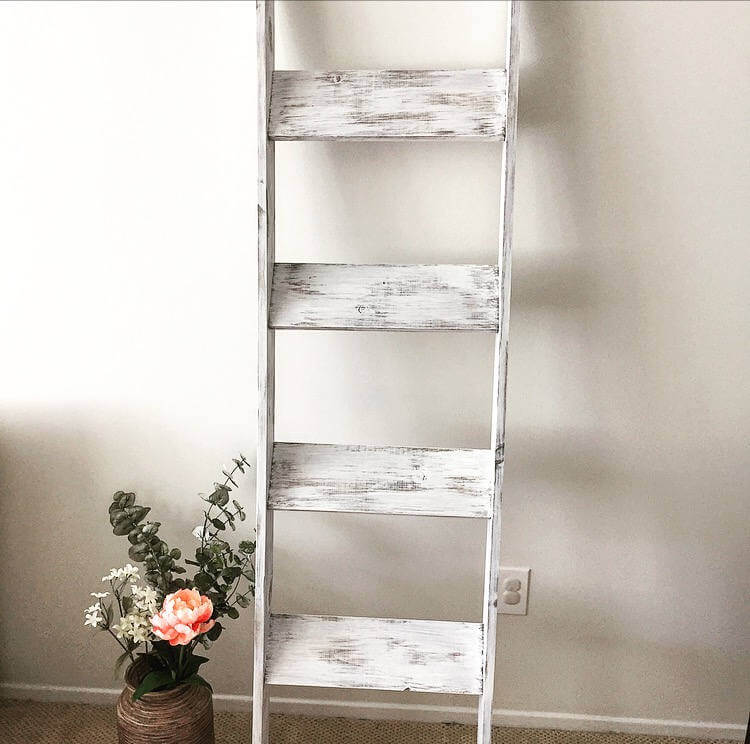 The use of ladders as display pieces has become increasingly popular, and this whitewashed ladder can be easily created from an old pallet. If the steps are level, you can use the steps to display small trinkets. This milk can and floral sprigs add a touch of color to this simple home display.
25. Charming Planter, Jars, and Flowers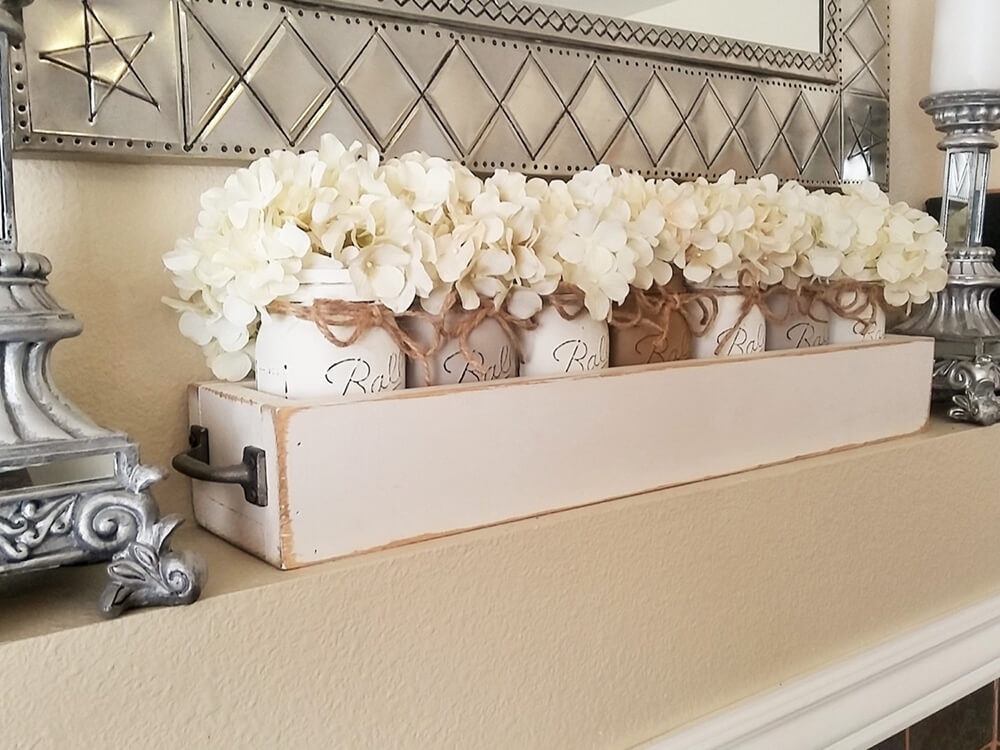 This charming planter includes all the elements of a white farmhouse design. The sturdy distressed planter stands in contrast to the soft flowers. The mason jars have been painted and distressed in three complementary colors, and the rope texture completes the farmhouse style.
Bring Farmhouse Design to Your Home
It doesn't matter whether you live in the city, the suburbs, or rural America, this style adds charm wherever it goes. Just one featured decor piece will immediately communicate the welcome and cheer associated with the traditional American farmhouse. The beauty of farmhouse aesthetic is it showcases your personality and sense of style and turns your house into a home.
Our Favorite Farmhouse Decorations to buy on Amazon