Have yourself a chic holiday this year with the best black Christmas tree ideas that will help you decorate in style.
When it comes to decorating a Christmas tree, there is a seemingly endless collection of color themes to choose from. There is green and white, blue and silver, silver and gold, plaid, and even vibrant colors like purple and pink. Typically, these feature on green or white trees. However, if you want to tackle a different approach to decorating this holiday, consider going for a black theme.
23 Unique Black Christmas Tree Decorations for a Chic Holiday

A black Christmas theme can give your seasonal decorating a modern spin. There is also elegance seen in a style such as this. Plus, there are several ways you can approach decorating with the theme. If you cannot get yourself a black tree, consider using black Christmas tree decorations instead. You don't even have to stick with just black though. White works well with black, allowing the design to come across as more balanced with good contrast between the colors.
From ornaments to the skirt, you can focus on the entire Christmas tree with this theme to create a décor that will get anyone's attention. If you are not certain where to begin, take a look at our favorite black Christmas tree decoration ideas to feel inspired.
1. Stunning Black and White Christmas Tree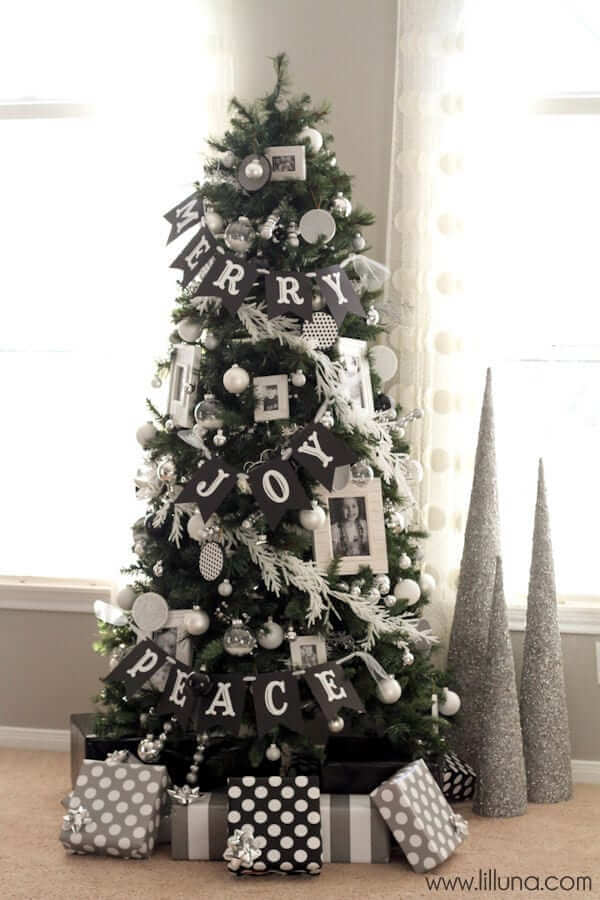 This holiday season, take your green Christmas tree and fill it from top to bottom with a black decorative theme. The bold black works well with garland, while you can add on some white ornaments to give the piece a more cohesive look. Don't forget the bottom of the tree with presents as you can opt for black themed wrapping paper.
2. Homemade Black Bead Christmas Trees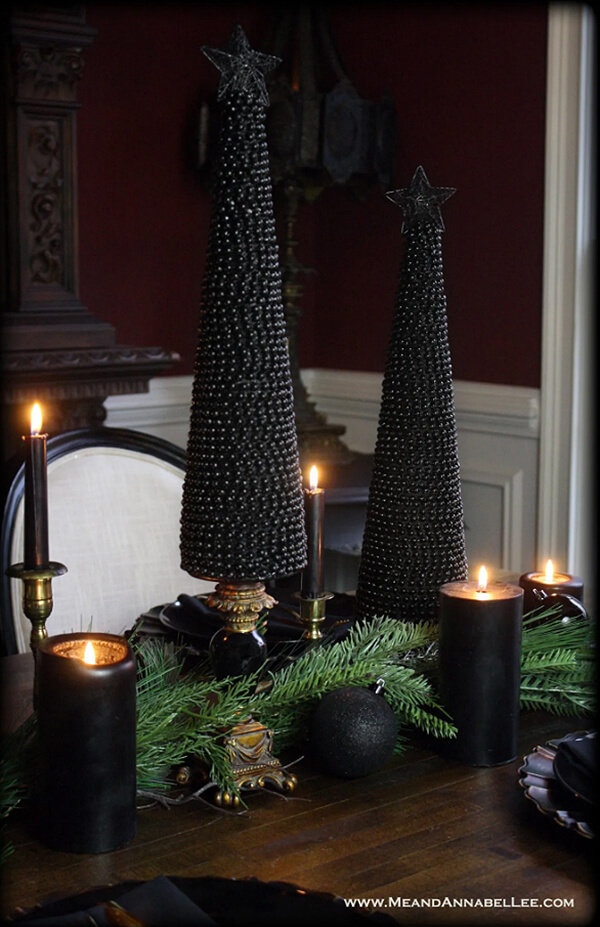 Decorating mini Christmas trees can be just as exciting as setting up the major event. These smaller trees are a perfect fit for a console table, fireplace mantle, or dining room table. By featuring dozens of mini beads, the trees are given a new layer of texture to help it stand out. Everything is black, yet the texture granted by the beads allows for each individual part to shine.
3. Vinyl Decorated Black Christmas Ornaments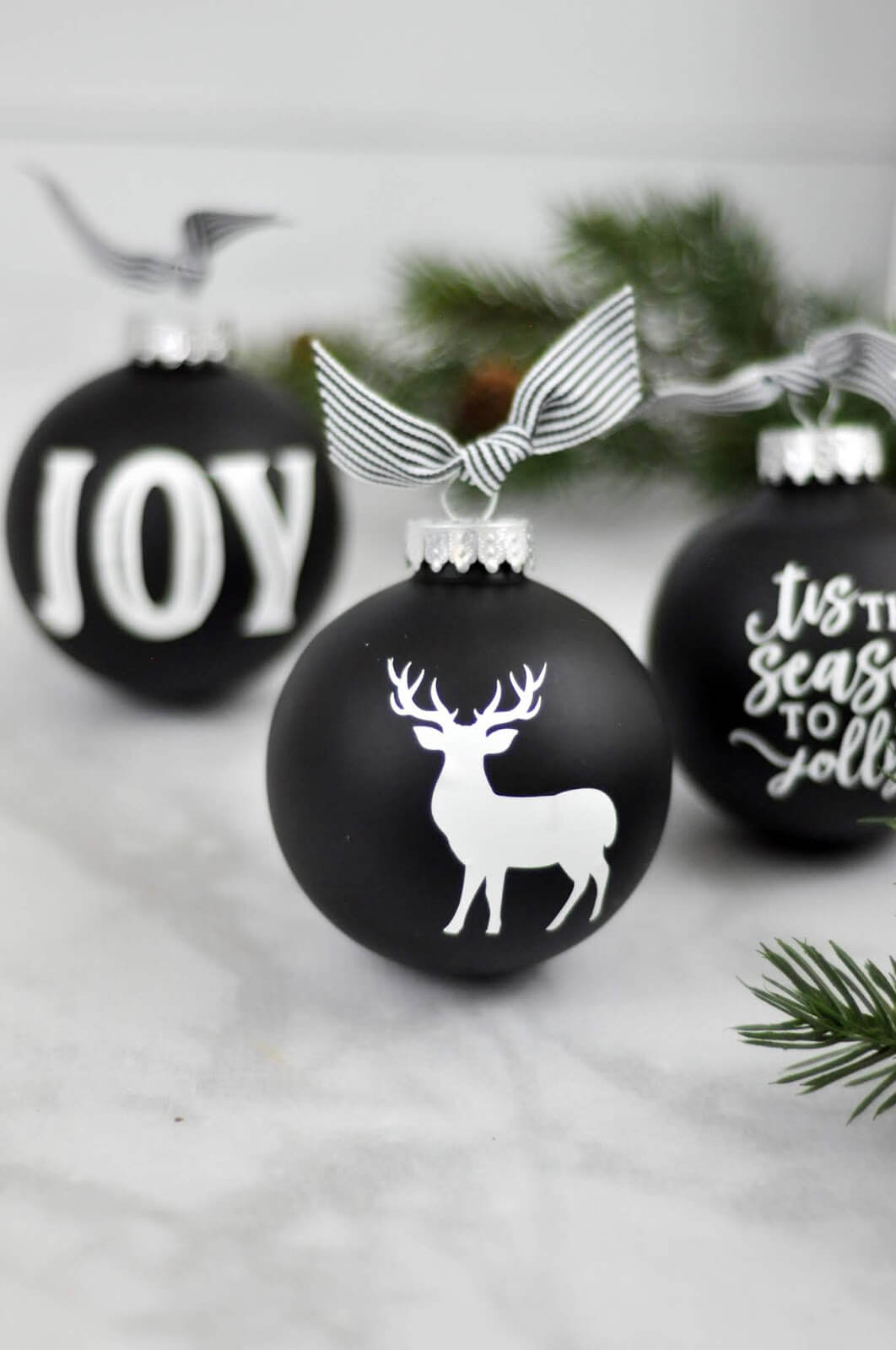 Some of the best black Christmas tree ideas are ones where you can get creative. Hanging black ornaments is one thing. Adorning them with various vinyl is another. This can help you incorporate another color alongside the black to give your Christmas tree more variance. Also, the vibrant white against the bold black is eye-catching and blends modern with traditional décor.
4. Elegant Black Christmas Home Décor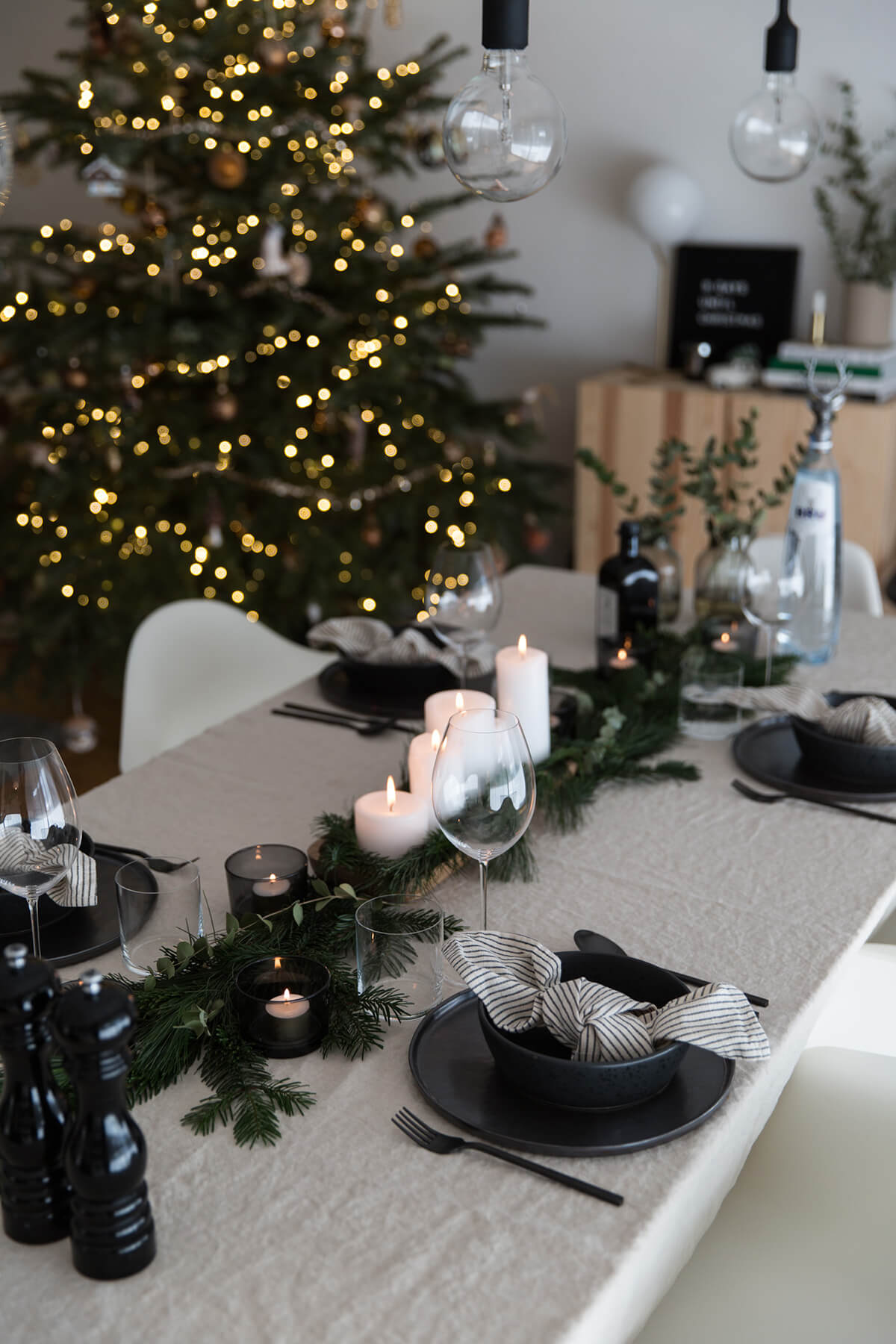 When decorating your tree with a black theme this year, consider where your tree is. A Christmas tree close to a dining room table is great as you can also carry the decorating theme to the rest of the home. Black place settings work well in this situation at helping to blend with the tree. Consider using some candles to add a bit of brightness to it all since they pair effortlessly with the twinkling lights on the Christmas tree.
5. Bold Black Table Setting Design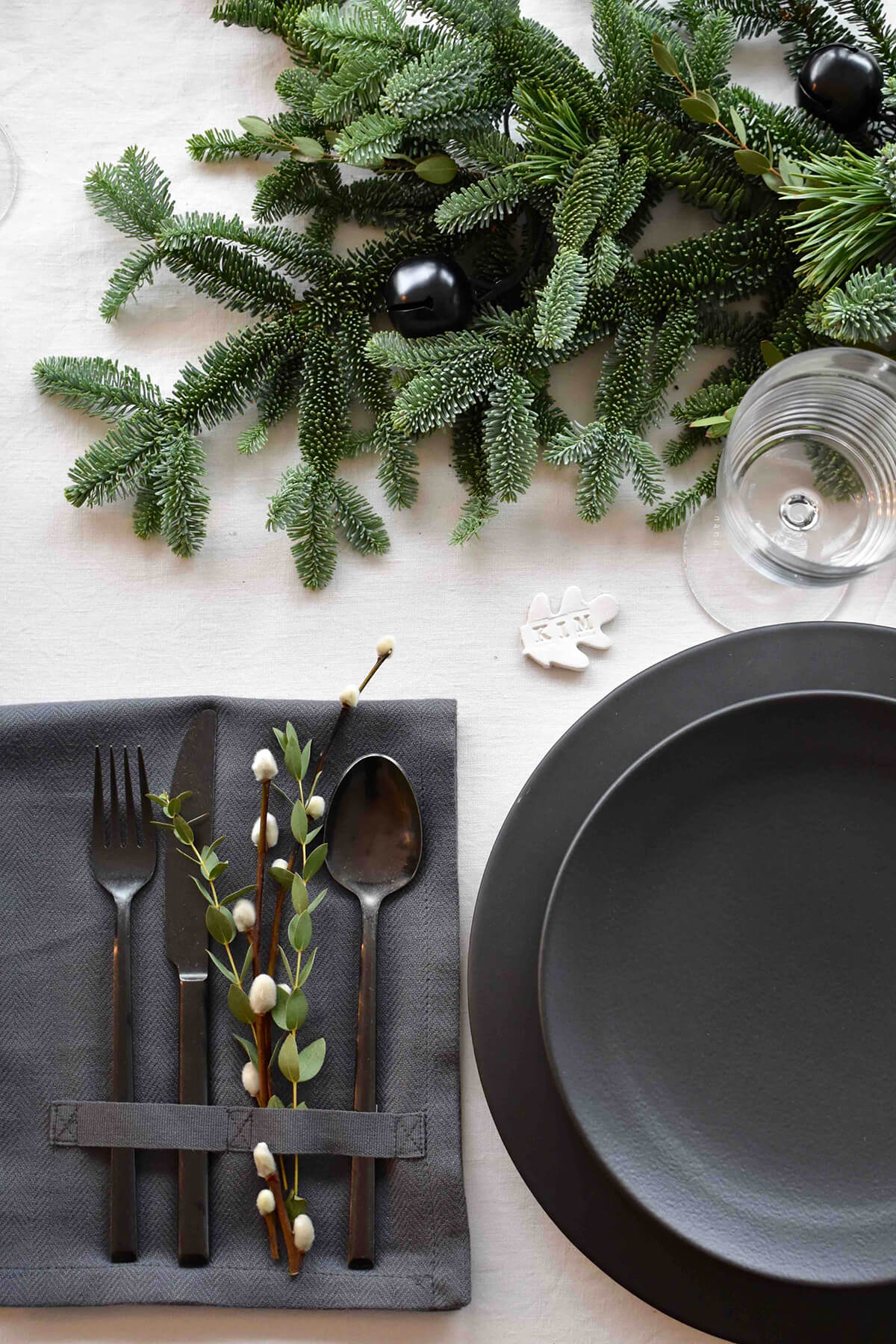 Decorating for Christmas isn't just about the tree. If you want to stick to a dark, black style, you can always use the dinner table as a place to show off your decorating skills. Consider all-black place settings. From the plate to the forks and spoons, you can bring that modern spin to your Christmas meal. A touch of greenery in the décor can truly pull it all together.
6. Sophisticated Black and White Christmas Tree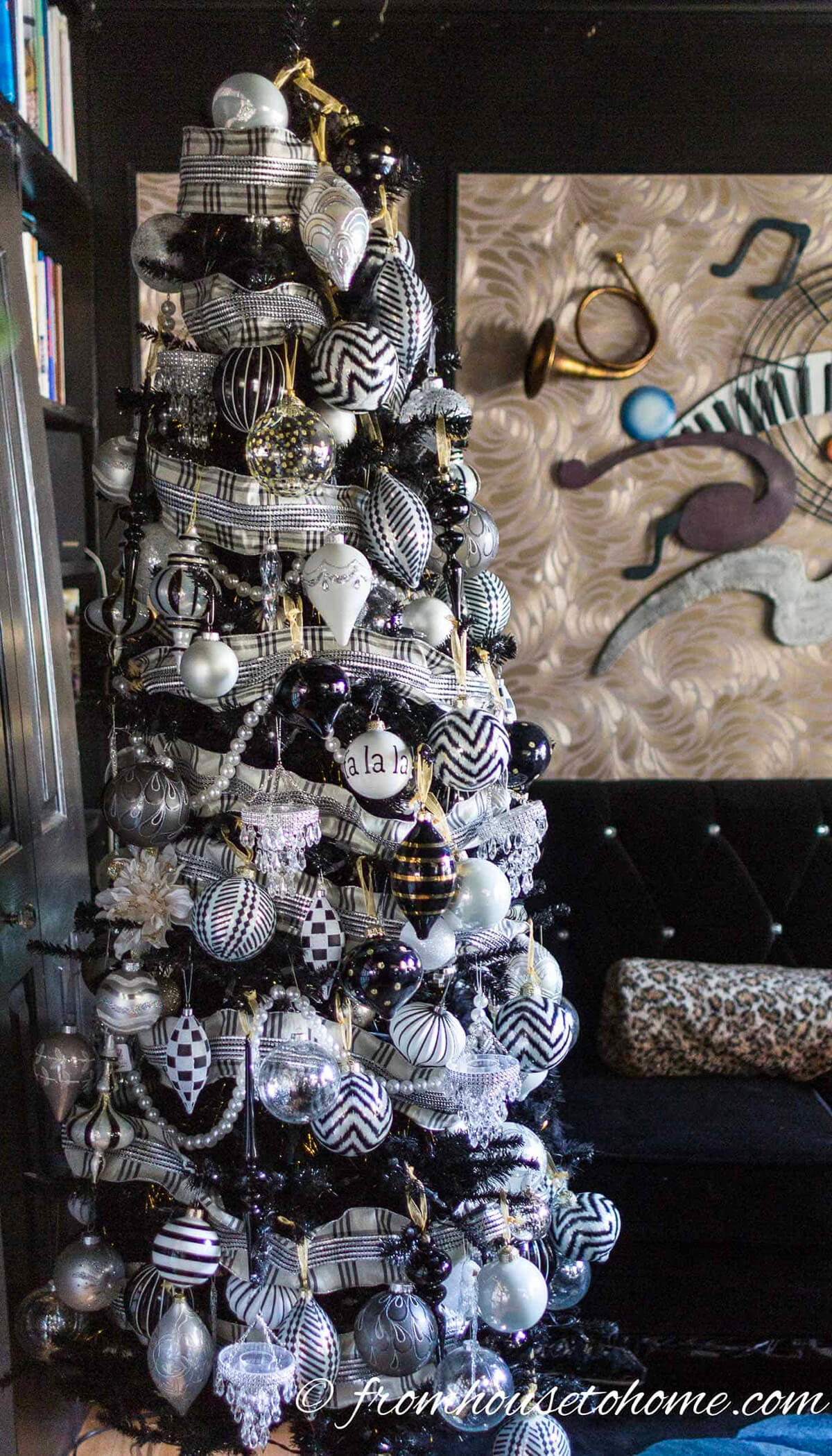 When you want a tree that is ready to make a statement, then consider using a massive amount of black and white decorations. The use of a black tree works out effortlessly to complement the rest of the décor. You can balance out a mixture of light and darker ornaments, and even go for multi-color ornaments that contain the last of popcorn.
7. Sheet Music Christmas Ornament Decorations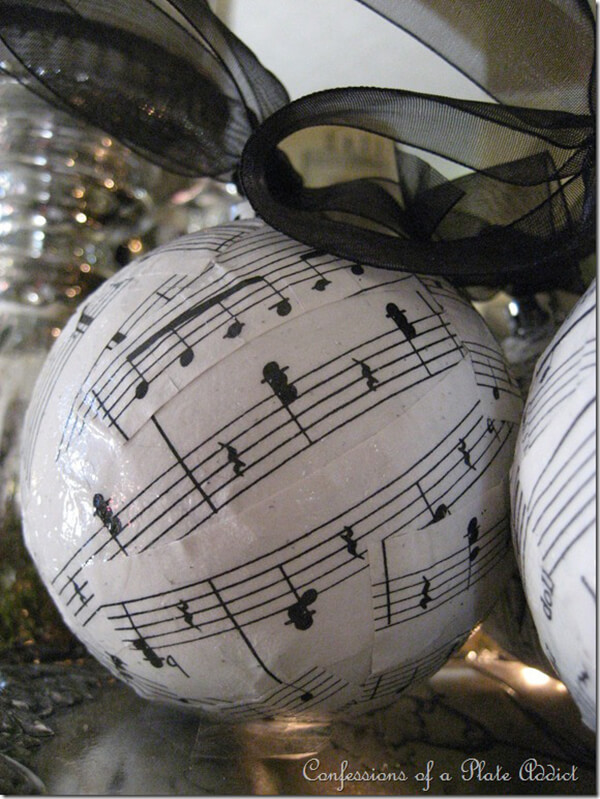 A unique way to use black in your Christmas decorations is with sheet music. It already gives you that perfect black and white look. The music notes themselves capture a graceful and charming vibe that a traditional ornament simply wouldn't manage to do. This is certainly a more modern approach as far as black Christmas tree decorations go.
8. Gorgeous Homemade Buffalo Check Christmas Ornament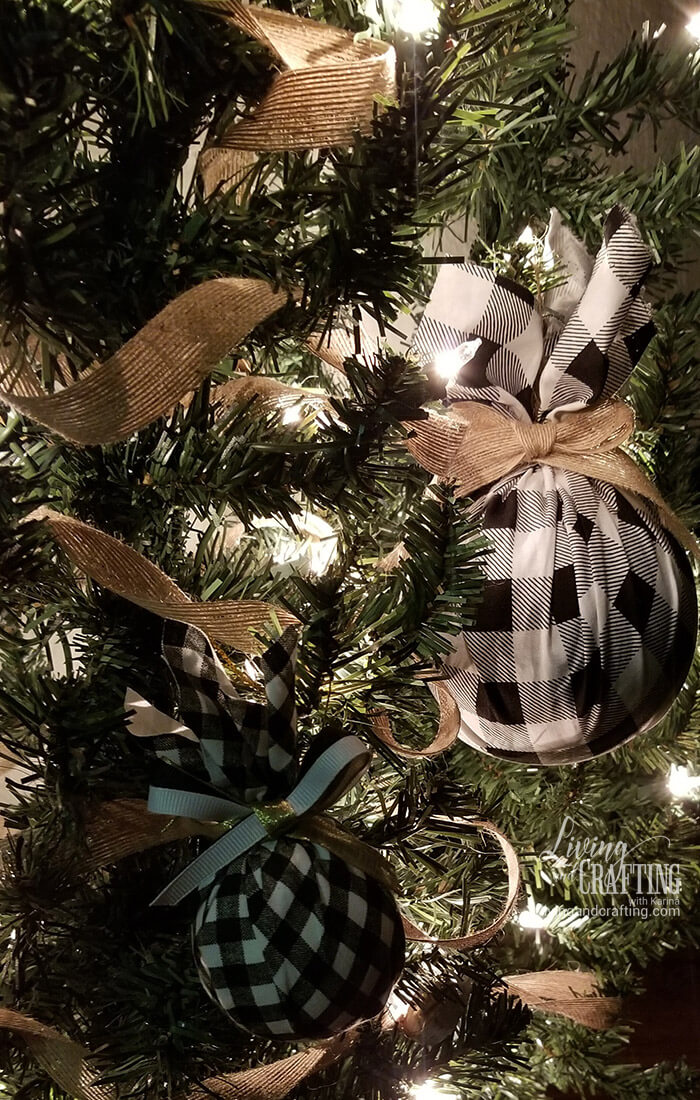 Buffalo check is a beautiful pattern to use when you are in need of black Christmas tree decorations. It has a rustic feel to it that is also cozy. Best of all, you can easily create this yourself using ornaments you otherwise don't want to use. So, you can keep your old ornaments and still add to your newfound black theme.
9. Elegant Black Christmas Tree Design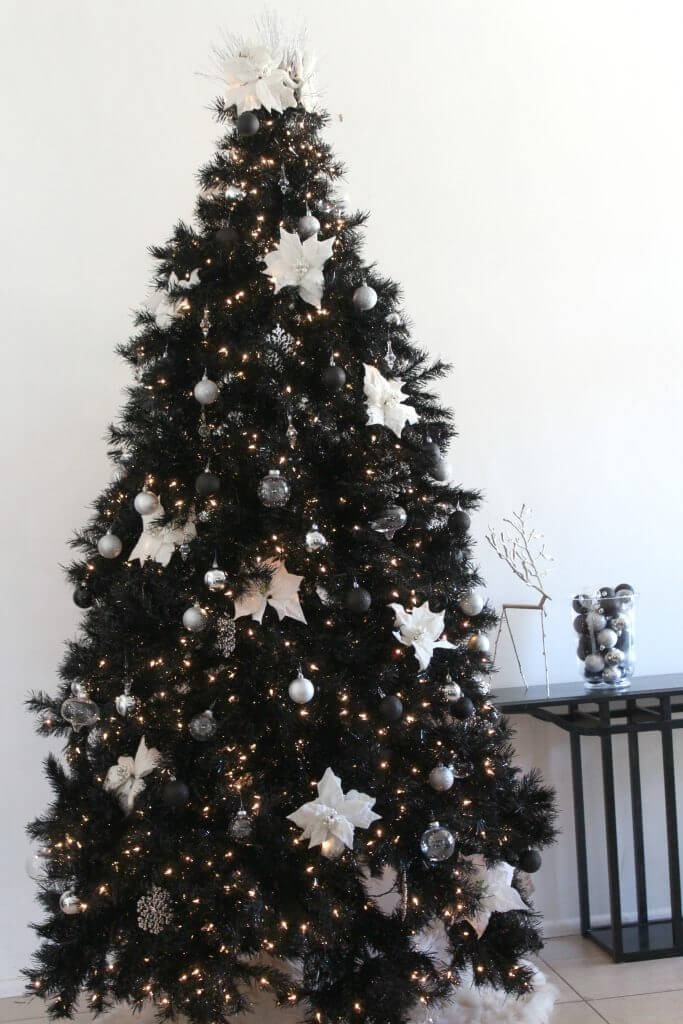 A black Christmas tree offers a more unique take on holiday decorating. The lights perfectly illuminate it once they are turned on, and adding in white or silver ornaments further help give this tree more life. You can also consider mixing in darker silver or even black ornaments. Along with the lights and the lighter decorations, the black ornaments aren't lost.
10. Black and White Letter Decorations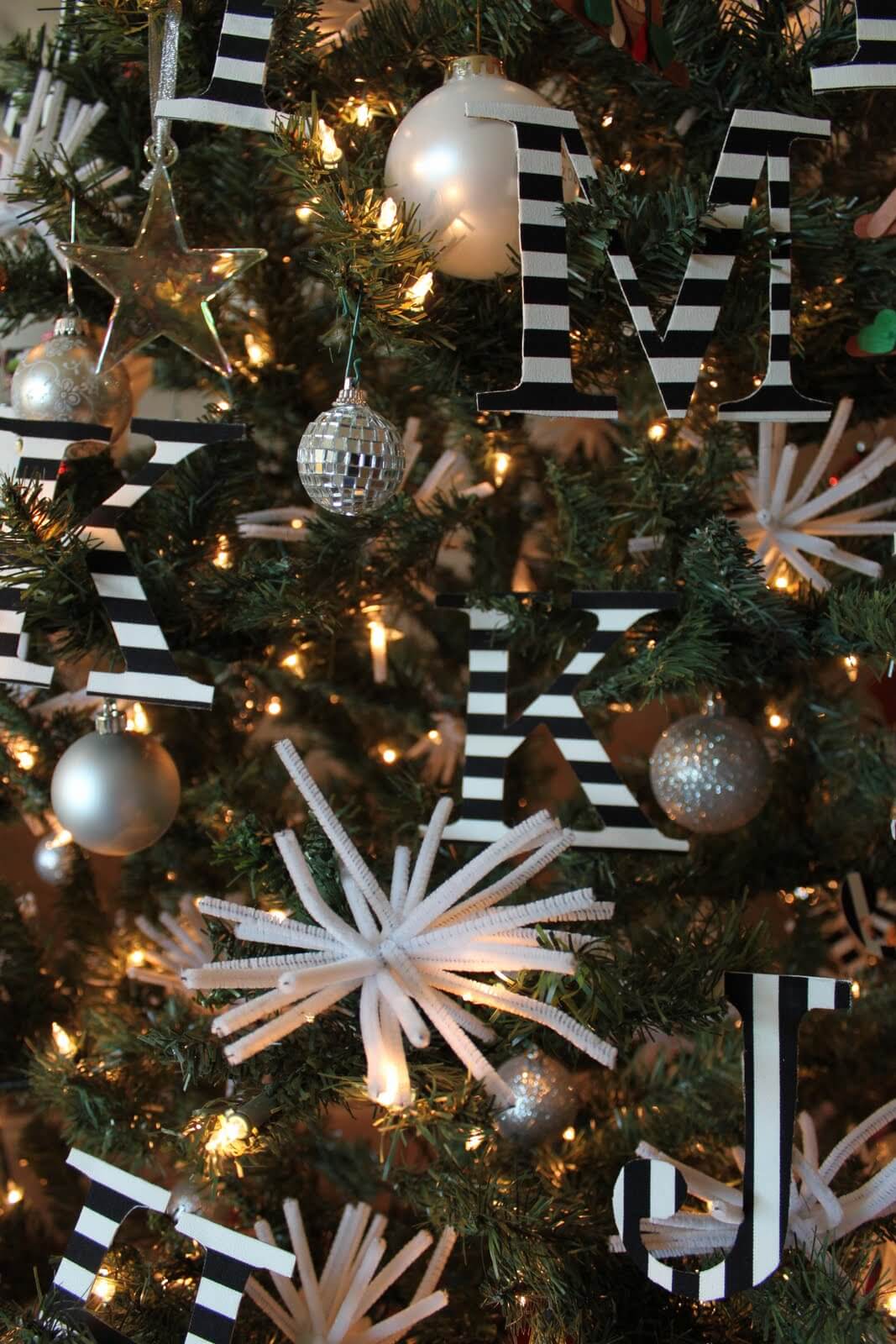 A cool way to decorate with a black theme this holiday season is with these awesome lettering designs. These are bold choices as they are vibrant and instantly stand out. You can make them in various sizes, but the larger style seems to capture attention more. The black and white combination is a perfect choice too to help them all standout.
11. Towering Artificial Black Christmas Tree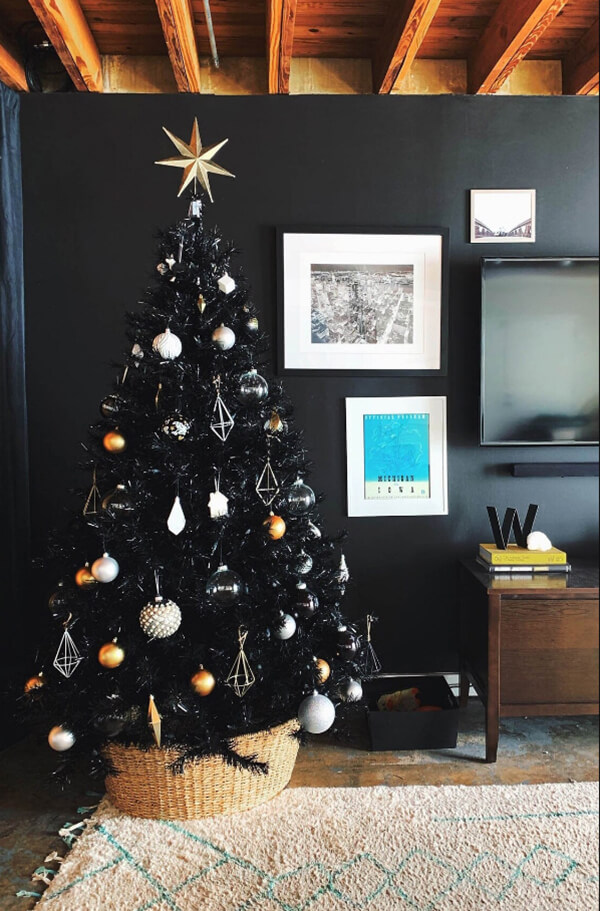 Looking for an all-black tree to go along with your black theme this year? Then this 7ft tall tree will fit effortlessly into your home. This is designed with fully hinged branches so you can set this up quickly and get to decorating it with your various ornaments, garland, and anything else you can think of. Even the stand is black to stick with the theme.
12. Decorative Black and White Christmas Stockings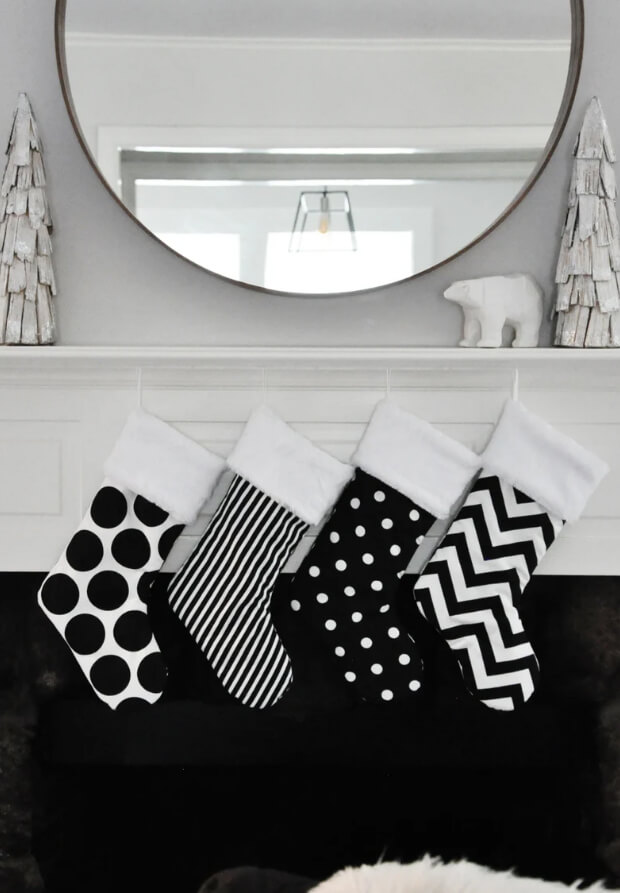 The stockings are an ideal place to focus on when trying out black Christmas decorations. These stockings are all black and white, and they are made in a variety of patterns from polka dots to stripes. You can even customize the stockings with a name to truly personalize them when you hang them next to your black Christmas tree.
13. Black Velvet Christmas Tree Bow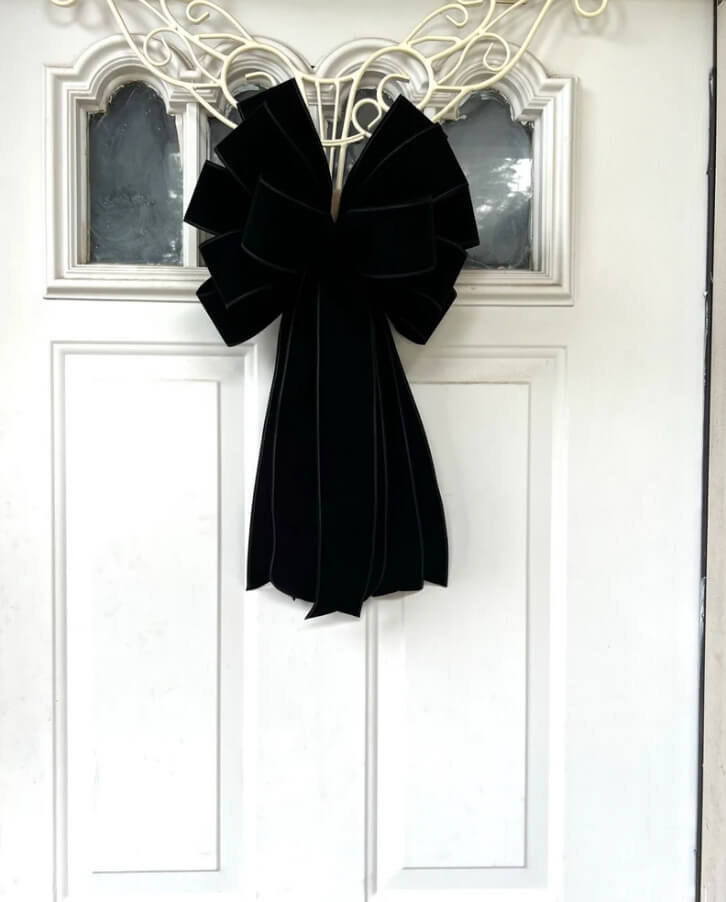 Perhaps your black Christmas tree decorations are missing that one thing to tie it all together. Well, this oversized Christmas tree bow can do the job. It is a deep, dark black coloring that can serve as that much-needed contrast to the rest of your tree, especially if you are still using a traditional green or white tree color.
14. Halloween Theme Black Christmas Ornaments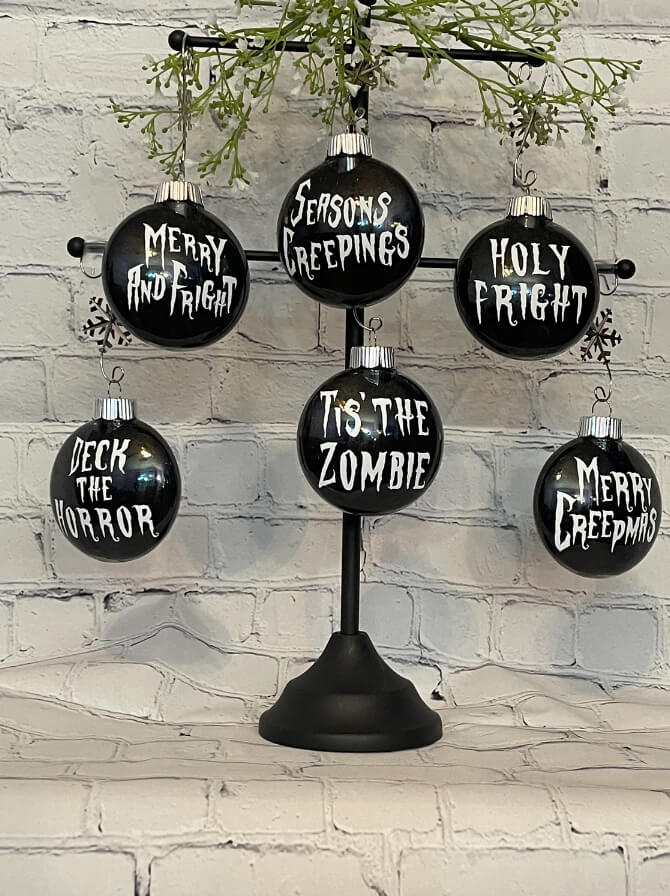 Who says you have to leave Halloween back in October? This holiday season, consider these spooky black ornaments to hang on your tree. They are fitting for the horror lovers out there thanks to their fun sayings. At the same time, they still stick to the Christmas holiday spirit, just in a much darker way.
15. Incredible Modern Black Shatterproof Bauble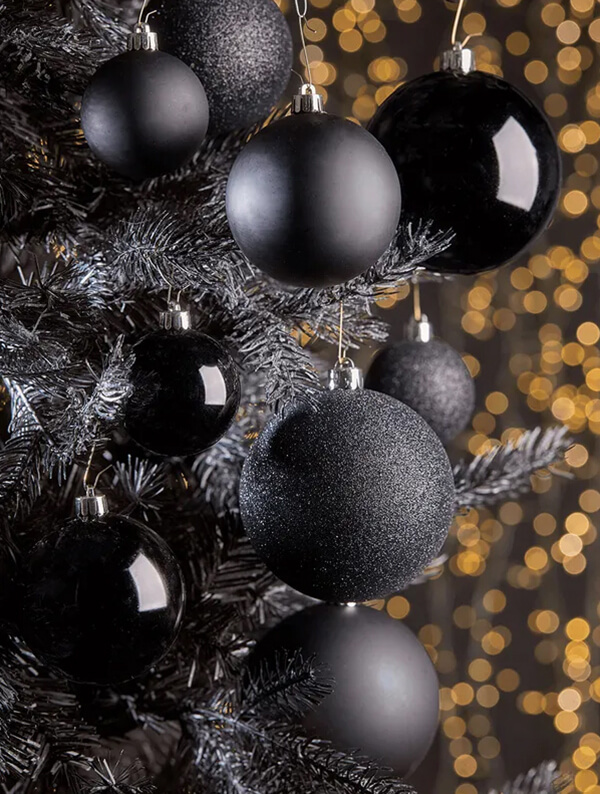 When looking for black Christmas tree decoration ideas, you can't go wrong with black ornaments. These shatterproof baubles provide both a wonderful dark feel as well as some incredible texture. This is thanks to the various finishes applied to the ornaments. It gives you wonderful variety to decorate the tree with all while sticking to the same theme.
16. Decorative Black Cone Christmas Trees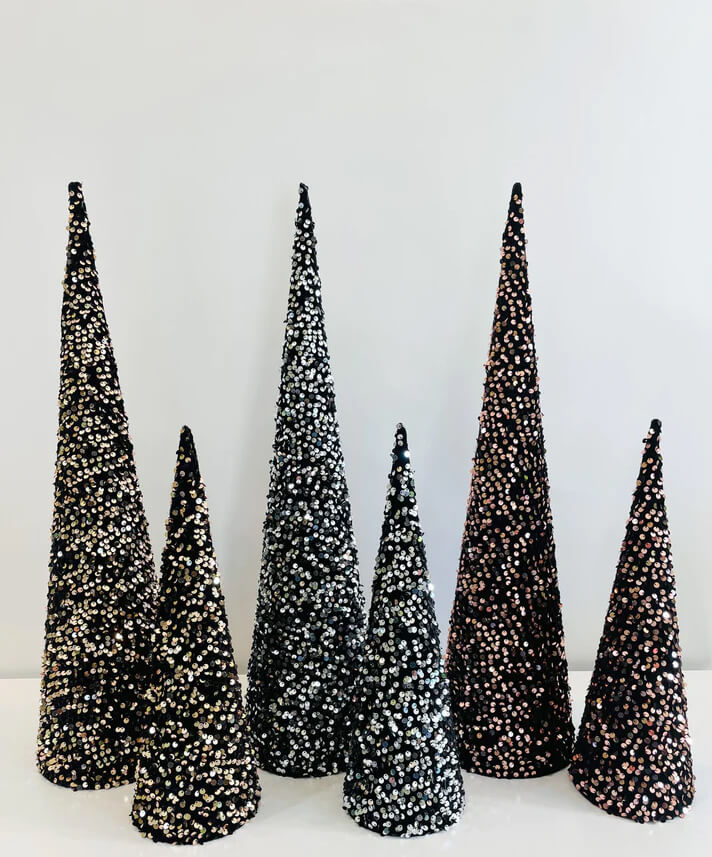 Rather than focus on your main Christmas tree, you can instead use these beautiful cone trees for decoration. They enhance the elegance to your décor, managing to add brightness despite the bold black base. What really helps these stand out is that the sequences mimic little Christmas tree lights. This way, they can match your larger tree.
17. Black Suede Christmas Tree Ornaments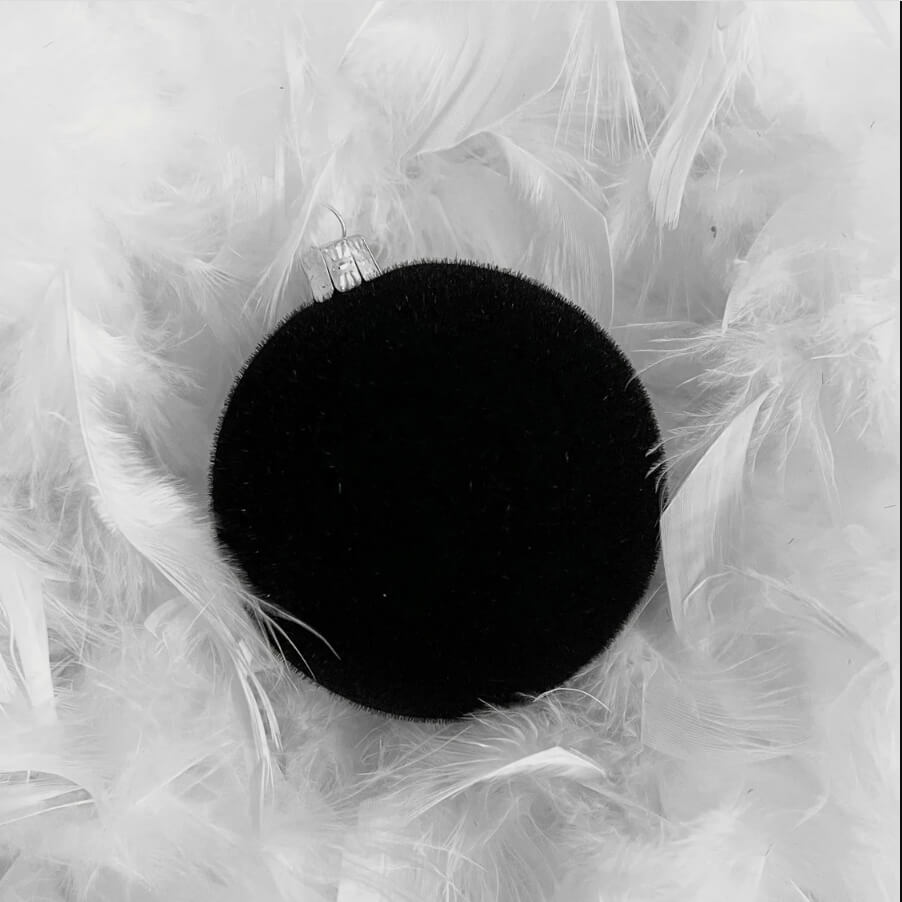 A cool way to decorate your tree with a black theme is with these incredible ornaments. Covered with a suede material, it allows the ornaments to pop that much more against a tree that usually features harder glass or plastic ornaments. The material gives the ornaments a fuzzy look to them as well, further contributing to your modern approach to decorating.
18. Custom Buffalo Plaid Christmas Stockings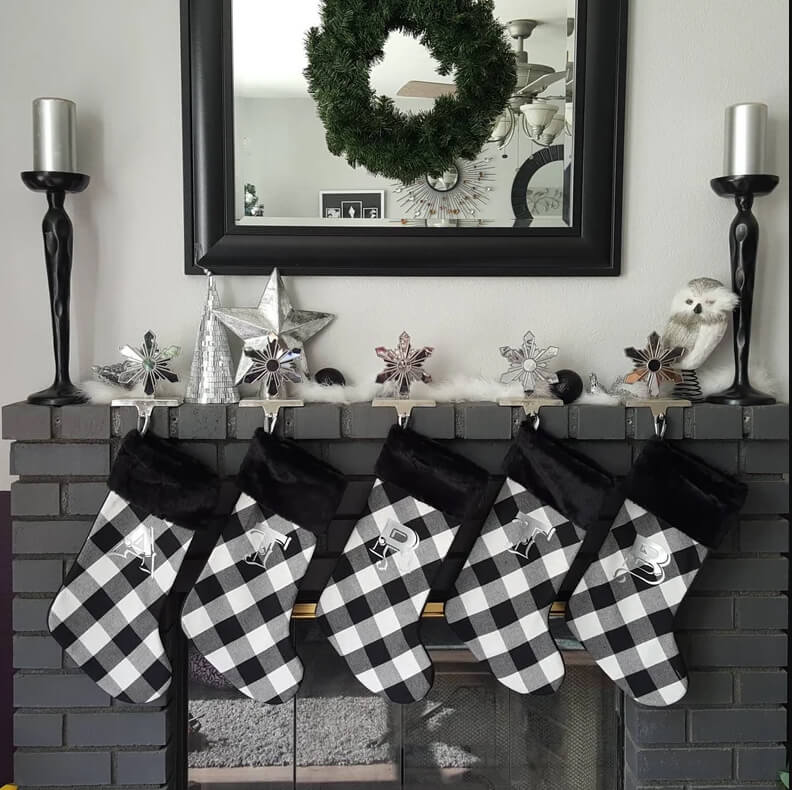 Customize your stockings this year against a lovely buffalo plaid backdrop. These stockings are an easy way to connect to a black theme as the buffalo check pattern is modern and charming. The all-black used at the top of the stockings contrast perfectly with the rest of it. Meanwhile, the option to add an initial to the stockings adds a nice personal touch.
19. Velvet Woodland Theme Black Trees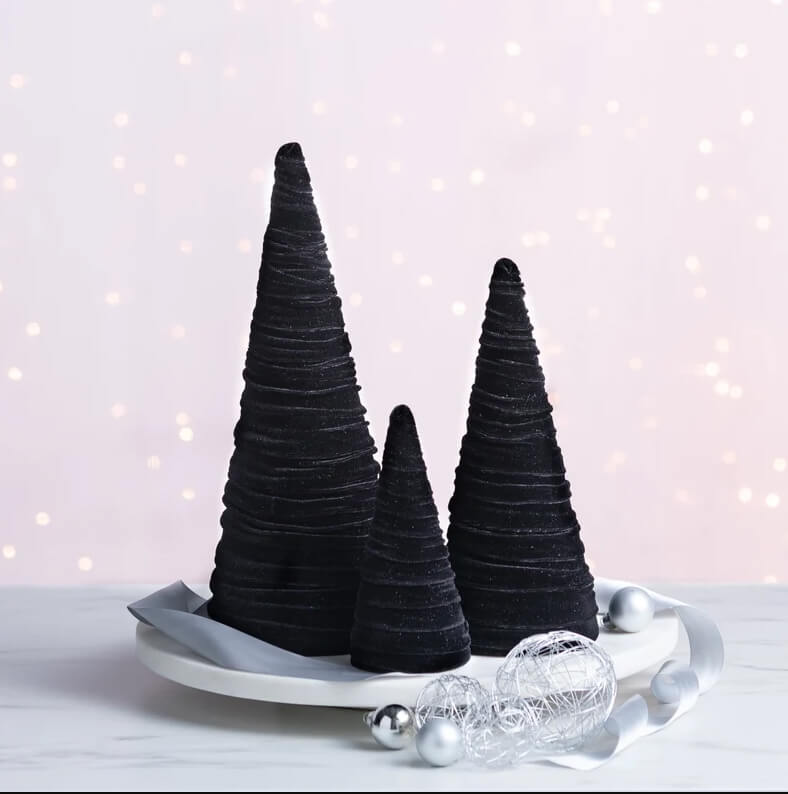 Aiming for decorations that are a little more rustic? Well, these velvet woodland trees make for a wonderful fit. Display them in your entryway, dining room, or living room close to the Christmas tree. They are a nice way of taking a non-traditional theme and giving it a sophisticated and high-class touch. There is a good deal of flow seen with this setup too since the three trees vary in height.
20. Decorative Black Feather Christmas Tree Decoration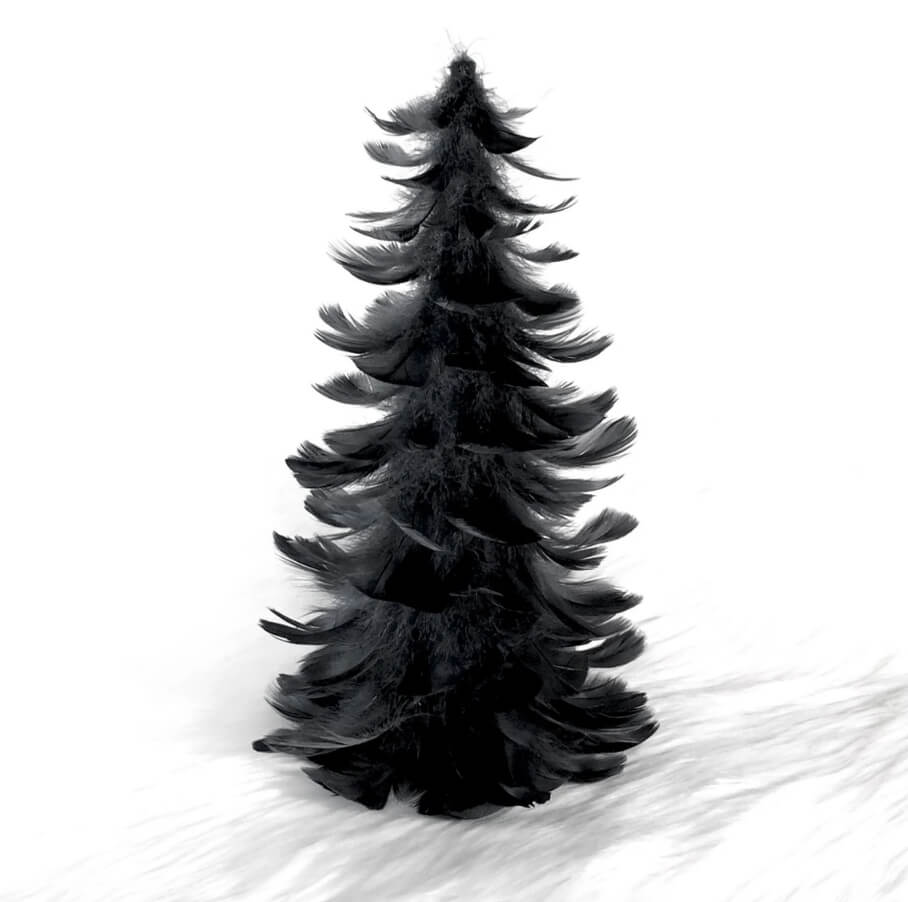 Available in multiple heights, this black feather tree is a sweet way to add a darker theme to your decorations and keep a contemporary vibe. You can set these up just about anywhere in the house to pair along with the rest of your décor. The feathers give it a nice, softer texture that balances well with the all-black style.
21. Geometric Black and White Tree Skirt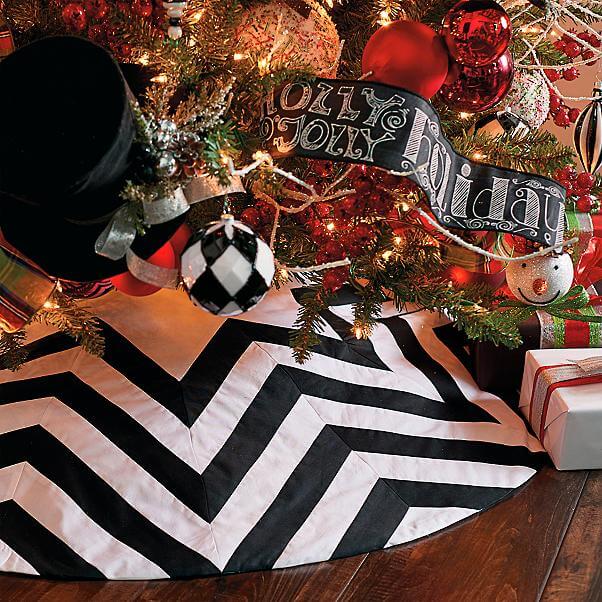 The skirt is sometimes forgotten when decorating the Christmas tree. This makes it among the good black Christmas tree ideas. It is a great addition to any dark tree. Or perhaps most of your tree is lighter and you want to add contrast through the skirt. Either way, the geometric pattern creates a sense of flow that only serves to make the tree look even better.
22. Black and White Christmas Wreath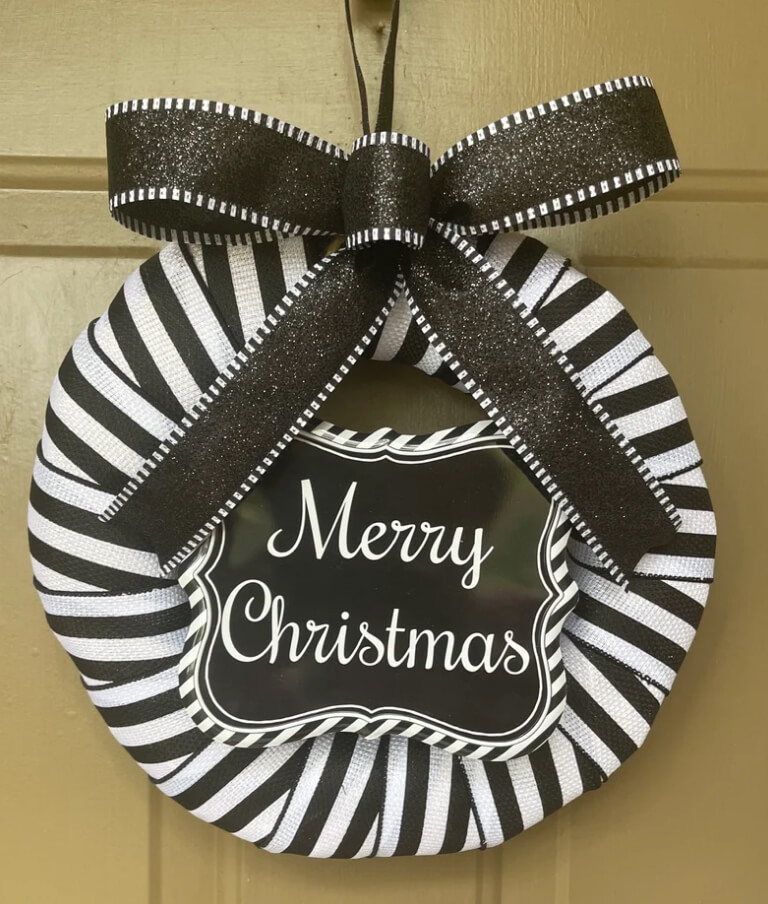 Decorating for a black themed Christmas shouldn't end at the tree. Wreathes are another excellent way to show off your style this holiday season. Whether you hang this at your front door or somewhere inside the house, this wreath is attention-grabbing with its powerful black and white pattern. The glittering bow helps it capture the eye even further.
23. Assorted Black Glitter Pine Tree Stands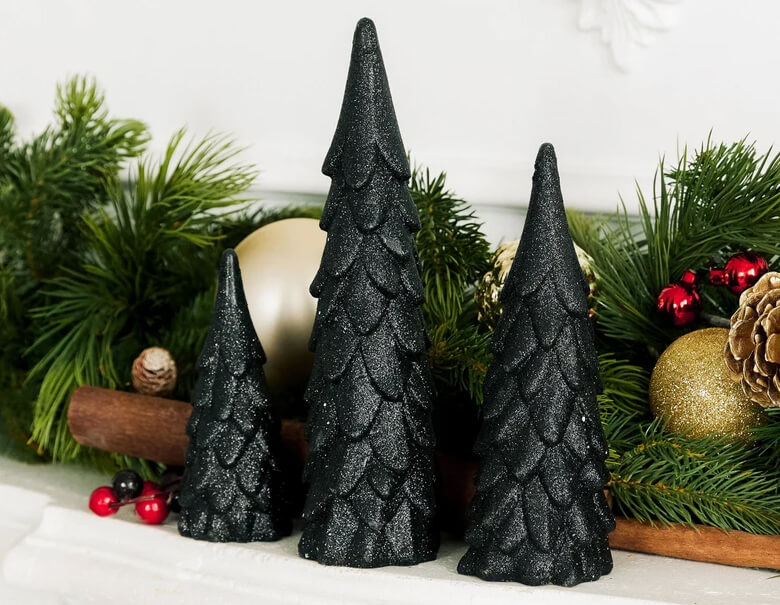 Who says that black can't have glitter? These pine tree stands show that glitter can help make anything shine, even an all-black tree. This assortment features tree stands of different heights, which can go a long way into helping you decorate accordingly. Set these up as a centerpiece to your dining table or adorn them along a fireplace mantle near the tree.
23 Black Christmas Tree Decoration Ideas to Spice up Your Holiday
Christmas doesn't just have to be about traditional colors. Although they are always lovely to look at, sometimes you want a different approach. Decorations centered around a black theme goes well with this approach. Some of the best black Christmas tree ideas either utilize all black or a mixture of black with another color to contrast it like white or silver. It is a handy way for your decorations to not disappear in the background if you use an all-black tree.
If you ever need help deciding how you want to approach this modern way of decorating for the holidays, our list of our favorite black Christmas tree decoration ideas will inspire you.