Christmas tree decorating started way back in 16th century Germany, and has since been carried on as a holiday tradition in the United States and many other countries. Although we don't use edible adornments like early German-Americans did, it's common to see the incorporation of other conventional styles. Angels are believed to bring good luck into the home, and ringing bells ward off the presence of any evil spirits. Elaborate creations commonly incorporate some of the classic elements mixed with current trends, like rustic or DIY ornaments. Decorators are also more likely choose artificial trees to eliminate mess and environmental impact.
Get Inspired With 50 Fabulous Christmas Tree Decor Ideas

When choosing the decor for your own Christmas tree, it's important to represent your own style and consider the look of the placement area. Feel free to express yourself through a variety of playful shapes, textures, and themes. There are no rules or restrictions if you want to stick with a very traditional and elegant look, or go a little wild with vibrant homemade ornaments. Preview a multitude of different looks a discover the latest trends without leaving the home by browsing these 50 Christmas tree decor styles.
1. Romantic Roses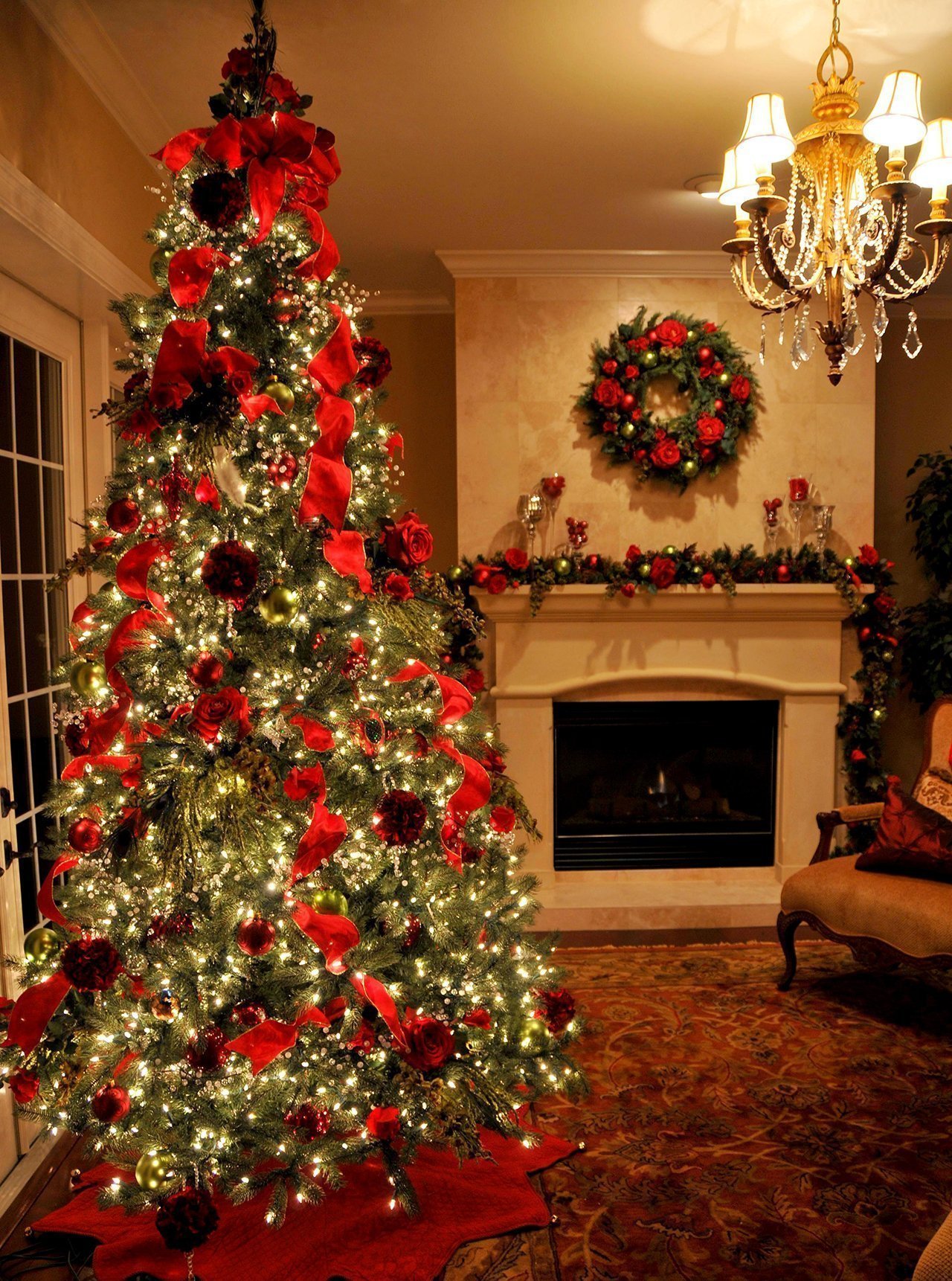 Red is a basic staple for traditional Christmas tree decorating, but it has carried beautifully into modern design ideas. The base design for this elegant tree incorporates silk roses, gentle white lights, and a red ribbon flowing from the top. Surprising accessories like white feathers, glittery plastic butterflies, and the occasional golden ball ornament add an understated flair that doesn't overpower the dominant decor. The matching skirt adorned with classic gold jingle bells is the perfect way to incorporate traditional imagery with the contemporary tree design. Save a few extra roses and ornaments to tie the room together with a matching wreath or mantel decoration.
2. Simply Silver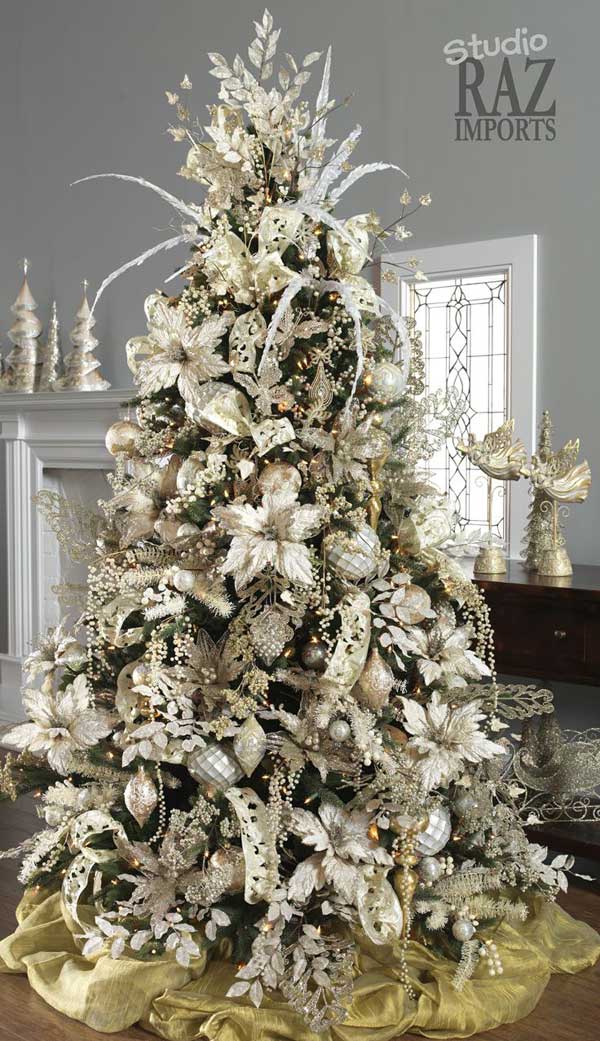 Selecting single-color holiday decor allows the freedom to get creative with shapes and textures. This silver tree features silk flowers, leaves, small balls, bead strings, flowing feathers, and the just right amount of white lights. A topper is not necessary with such a full tree, but a simple angel would be the perfect addition to the ethereal color-scheme. The flowing golden skirt is a simple DIY that can be created with a piece of soft fabric that matches the color of accent ornaments within the tree. Place it loosely on the floor to hide the stand and collect any fallen needles if you are using a real tree.
3. A Real Family Tree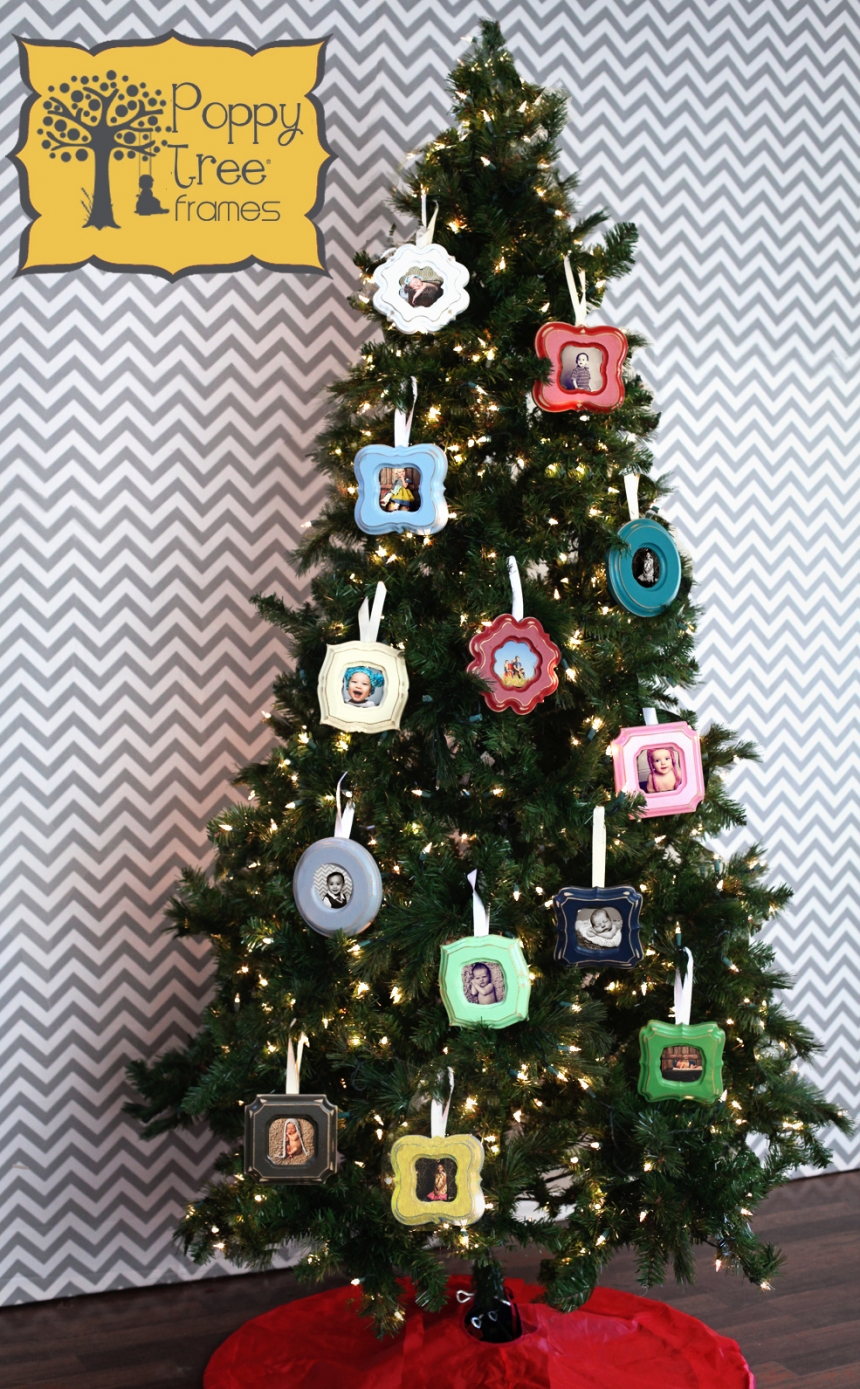 There is no decorating rule book that says a tree has to be filled with ornaments to look absolutely beautiful. Incorporate each member of the family with a framed baby photo instead of trying to fill every empty space. The designer placed their tree in front of a chevron pattern background to accentuate the classic shape and color so that the few ornaments truly stand out. A classic red skirt wrapped around the bottom masks the stand with simplicity. As an added bonus, these cute ornaments can be given out as a gift at the end of the holiday.
4. Rustic Charm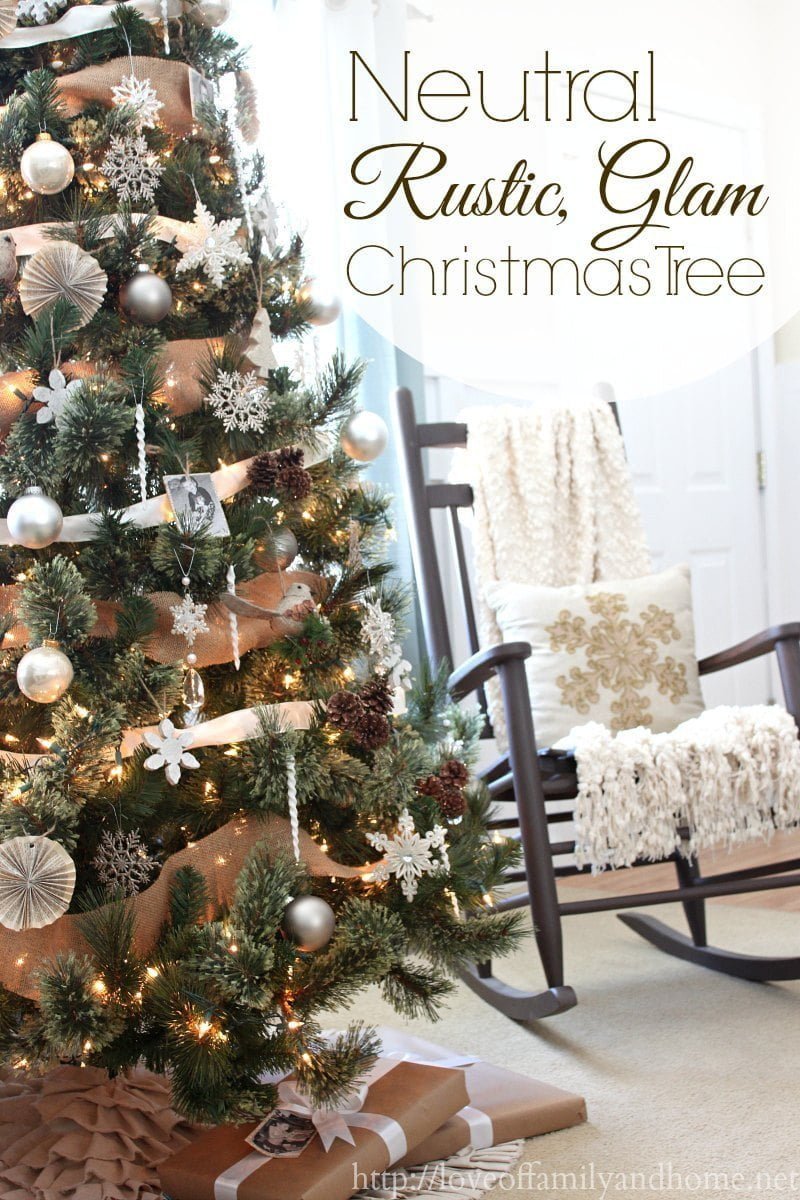 Craft store and Pinterest fans can rejoice at the opportunity to incorporate rustic elements with the often glamorous Christmas decor. Simple burlap garland and wooden ornaments next to white silk ribbon and glistening snowflakes is an unexpected, yet perfect, partnership. Natural pine cones in the design make the faux tree appear more realistic, and they're given their own elegant accent with the addition of glitter paint. Black and white family photographs re-purposed into DIY Christmas ornaments offer a sentimental flair that is perfect for the holidays. A textured cloth skirt complements the neutral coloring throughout the tree to complete the design.
5. A Fun Rainbow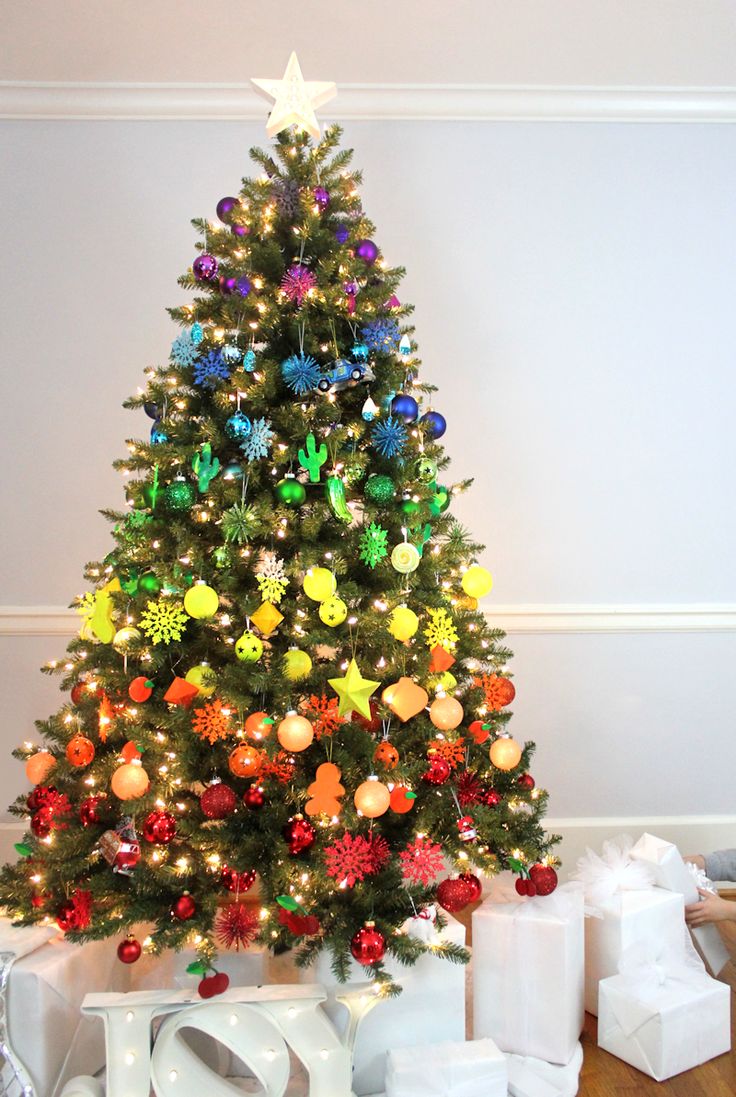 Picking out an assortment of ornaments and decorating a Christmas tree should be a fun tradition to share with the family. The full color spectrum is represented with this vibrant, whimsical rainbow tree. Starting with a very simple illuminated star at the top, the tree features a selection of violet ornaments that flow into blue. With this decor idea, there are plenty of options to incorporate non-traditional elements like the green cacti and pickles placed in the center of the tree. The neutral background and gift wrapping allow the rainbow tree to remain the focal point in the room.
6. Nordic Farmhouse Flair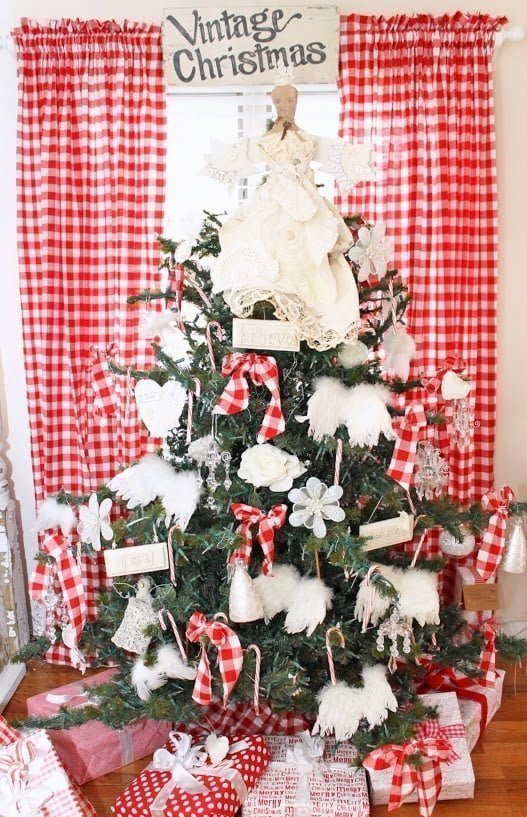 Checkered fabric is a new way to keep with the tradition of red and white Christmas decor because it's slightly unusual. A simple backdrop created using the festive cloth sets the tone for the Nordic farmhouse theme of this charming tree. Matching fabric bows tie the look together, but they're toned down by elegant angel wings. Pure white roses and crystal ornaments seem to take on an ethereal glow when the white lights throughout the tree are illuminated. The stand-out piece of this design is the large, handcrafted angel that sits perfectly on top of the tree.
7. Feathery Refinement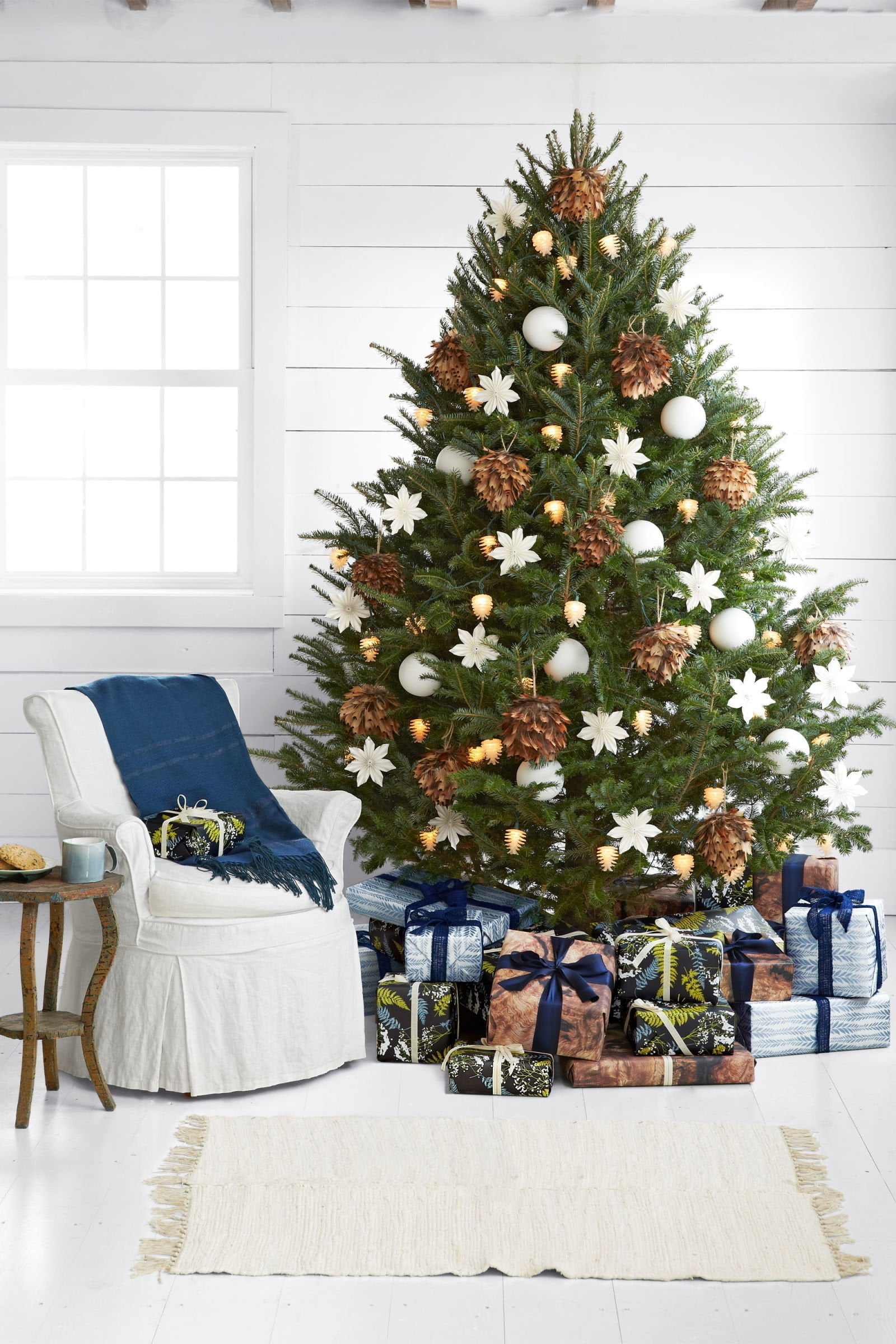 Playing with different textures is a great way to bring a new feel to Christmas tree decoration, no pun intended. Upon close inspection, the ornaments that resemble a pine cone shape are actually a ball of faux feathers. The lights on the tree are in the shape of pine cones as well to provide a change from the common bulbs. Although these basic elements provide a rustic feel, it is in high-contrast with the luxurious white globes made of porcelain. The final touch of crisp poinsettias placed throughout the tree completes the look so that no topper is needed.
8. Red Ribbon Wrapping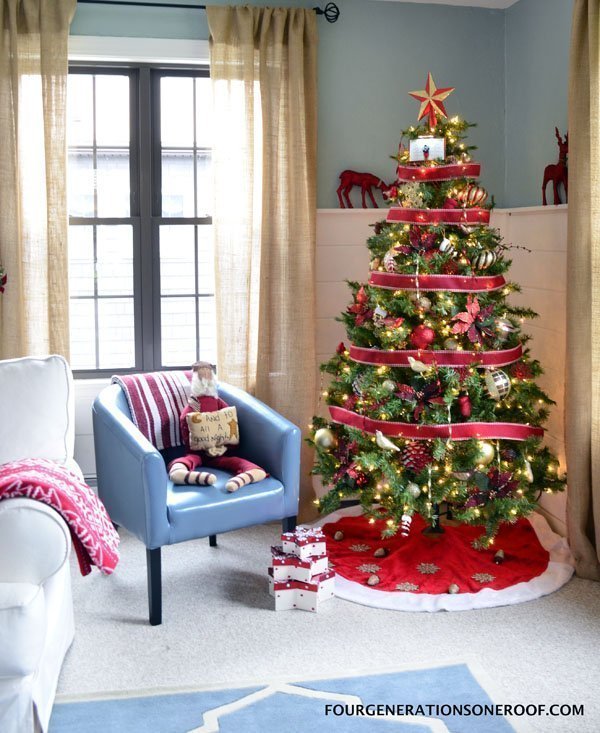 Anyone that doesn't like the mess of tinsel can appreciate the simplicity of wrapping the tree in a solid red ribbon. This particular style is thick with a Nordic design that accents the outer border, so it's easy to tie in with red and white ornaments. Silk poinsettias, red pine cones, birds, and silver balls on the tree are a few selections from the Martha Stewart collection. These moderately-priced sets are often boxed in an assortment of shapes and matching colors. With such beautiful decorations from top to bottom, it's hard to tell that the pre-lit tree is artificial.
9. A DIY Dream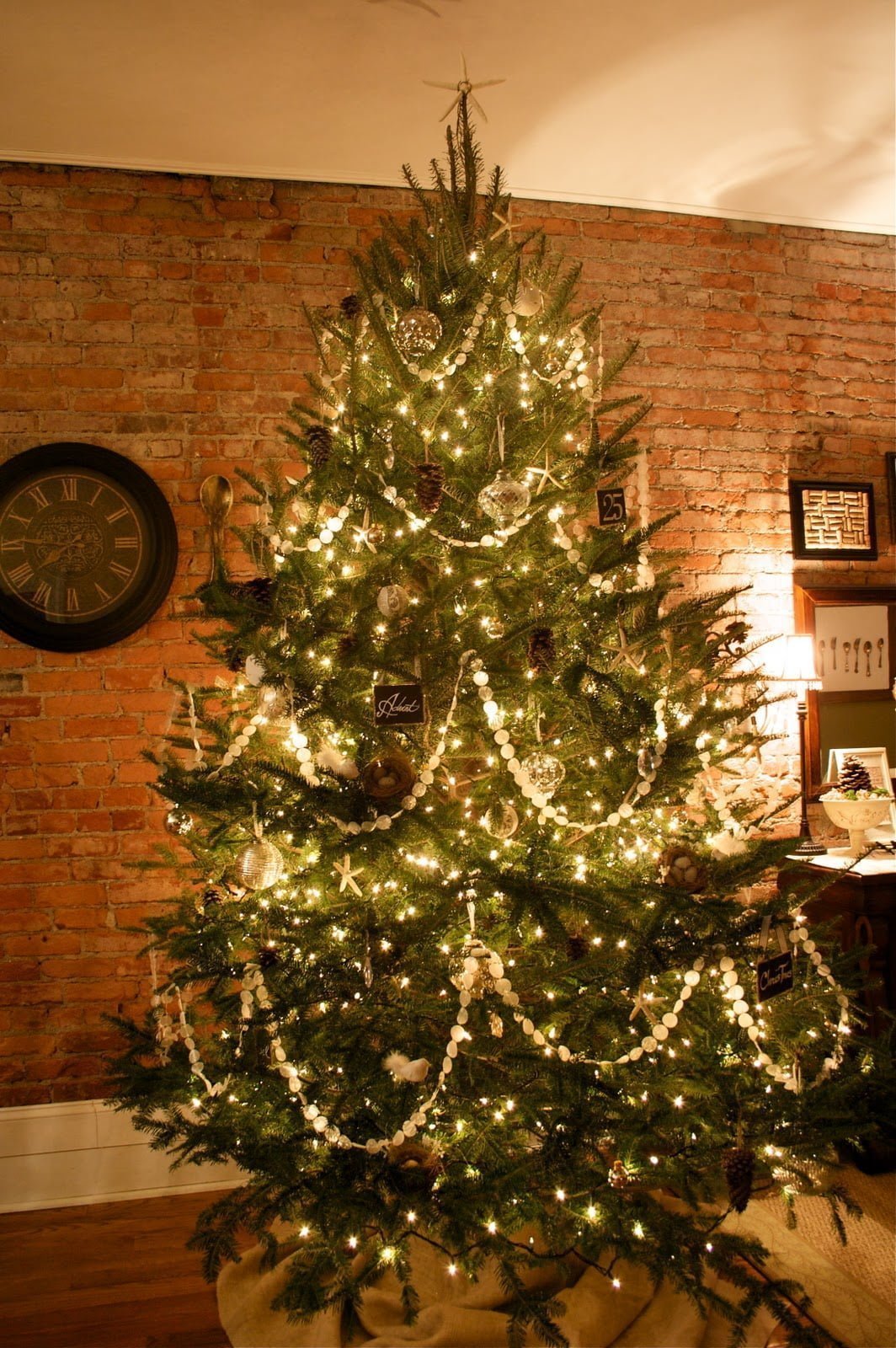 The reward of completing a DIY Christmas tree project is a gorgeous piece of decor that you can show off to friends and family. Tiny chalkboards, birds, pine cones, starfish, birds' nests, and ribbon are just the start of this inspiring tree. The real star of the show is the garland that looks identical to trendy capiz shells, minus all of the expense. Using a big circle punch, the faux shells can be created simply with a sheet of wax paper. Lay out a white string on a flat surface, and then attach each circle by placing two small dots of hot glue on each.
10. Sweet Peppermint Paradise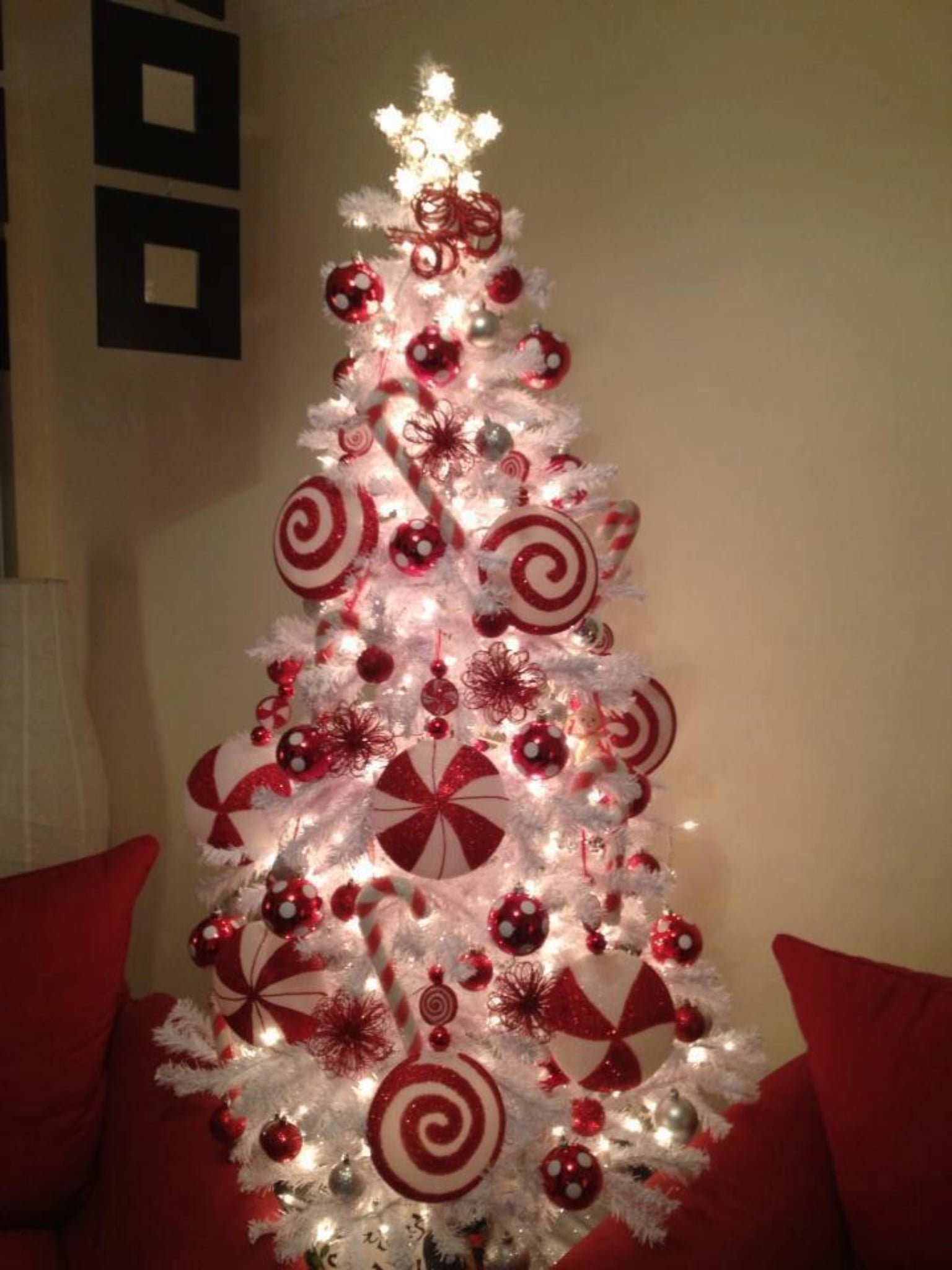 Live out your childhood Candy Land fantasy by decorating a Christmas tree with peppermint ornaments. Although the tree itself isn't edible, all of the kids and kids-at-heart around your home will be delighted at the sight of red and white swirly sweets. Giant peppermint discs, oversized candy canes, polka dotted red balls, and solid silver ornaments look good enough to eat off of the solid white branches. A simple star at the top adds extra light without taking the focus away from the bold reds in the tree. The decorator surrounded the wonderland scene with matching red pillows instead of a plain skirt.
11. Pretty Peacock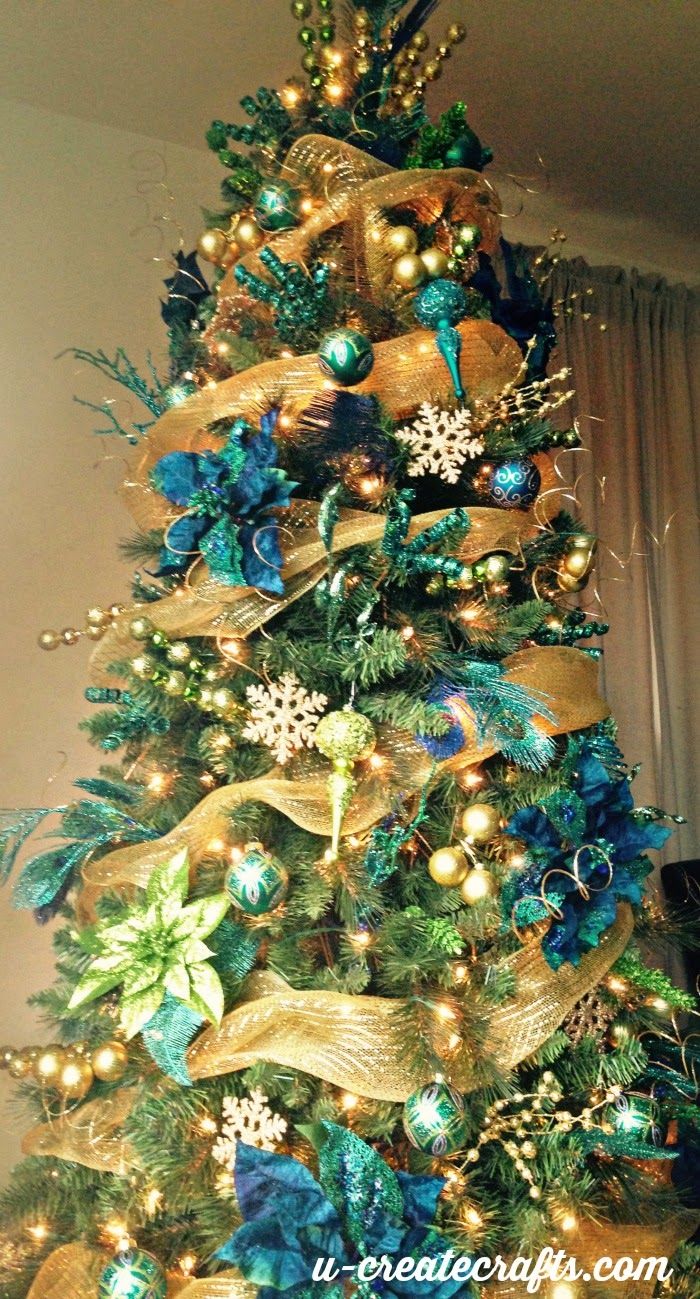 Glitter-lovers rejoice at the sight of shining peacock feathers and extravagant silk poinsettias among these vibrant Christmas tree decorations. Ornate green baubles, gold ribbon coils, and bright snowflakes are inspired by the teal and turquoise colors that are featured in the feathers. The modern take on a tree topper is a clever extension of existing design elements that adds a bit of length to the tree. Mellow lights shine through spaces that are filled with the gold tulle ribbon that ties the entire project together. Although the tree is a bit unusual, it does stick with the peacock theme throughout each branch.
12. Mischievous Visitor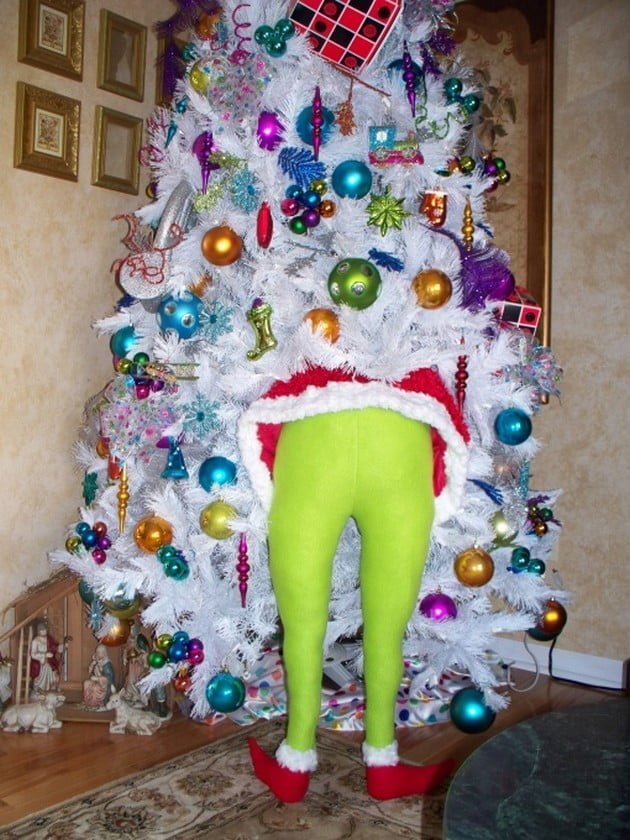 Surprise the kids on Christmas morning by adding a simple DIY Christmas Grinch into the tree. Create this character easily by filling a pair of green tights with cotton or the stuffing from an old pillow. Red fabric or felt can be used to create his shoes and shirt, with a few white cotton balls glued around the trim. He looks best in the middle of a fully decorated tree, and all you have to do to prepare is remove a few ornaments. This colorful tree is designed with multi-colored bauble clusters, various finial ornaments, and traditional balls among other vibrant selections.
13. Minimal Festive Forest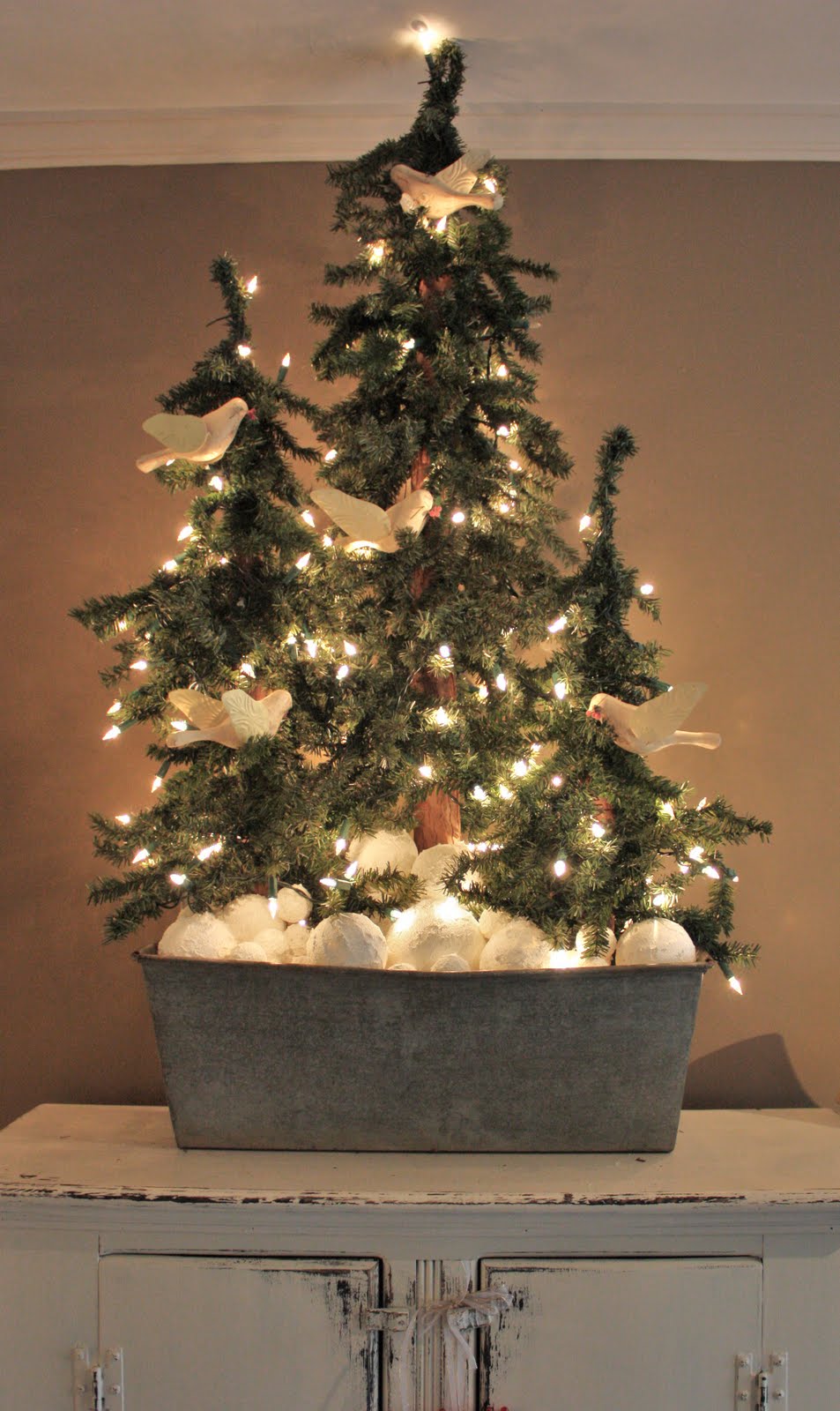 Limited size doesn't mean that you can't partake in Christmas tree decorating, as long as you can get creative. Instead of getting one big tree, this rustic design idea incorporates multiple smaller trees. A few elegant white doves bring life to the trees in a faux forest setting that can easily fit on an end table or small countertop. The entire piece fits into a galvanized rectangular pot that can be moved easily to another location if needed. Fill the bottom with styrofoam snowballs in various sizes to provide a very festive surrounding for the trees.
14. Regal Red and Gold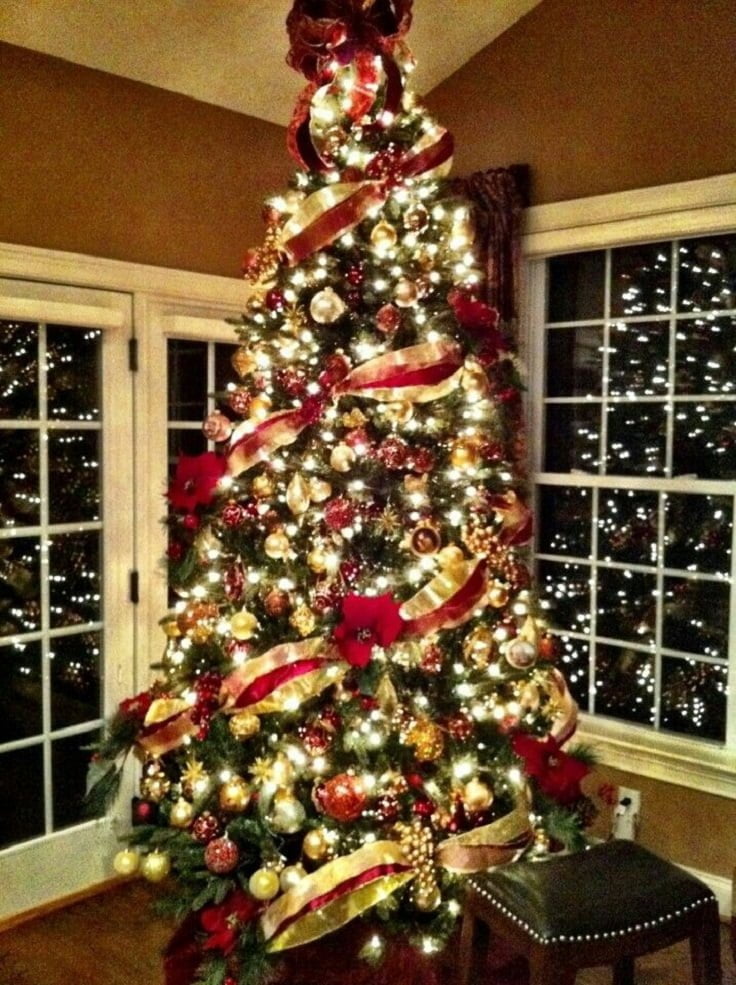 Source: The original source is not available anymore.
An extravagant red bow tops this tree as the ribbons flow down the length like a Miss America sash. The color scheme is a regal combination of traditional Christmas gold and red that stands out against the green branches. Red silk poinsettias are placed to hold the gold and red ribbons in place, and ornaments fill the spaces in between. The bottom of the tree features a very simple red velvet skirt to camouflage the base. Set against the reflective windows and a neutral background makes these classic colors pop with a majestic richness.
15. Wintery Whites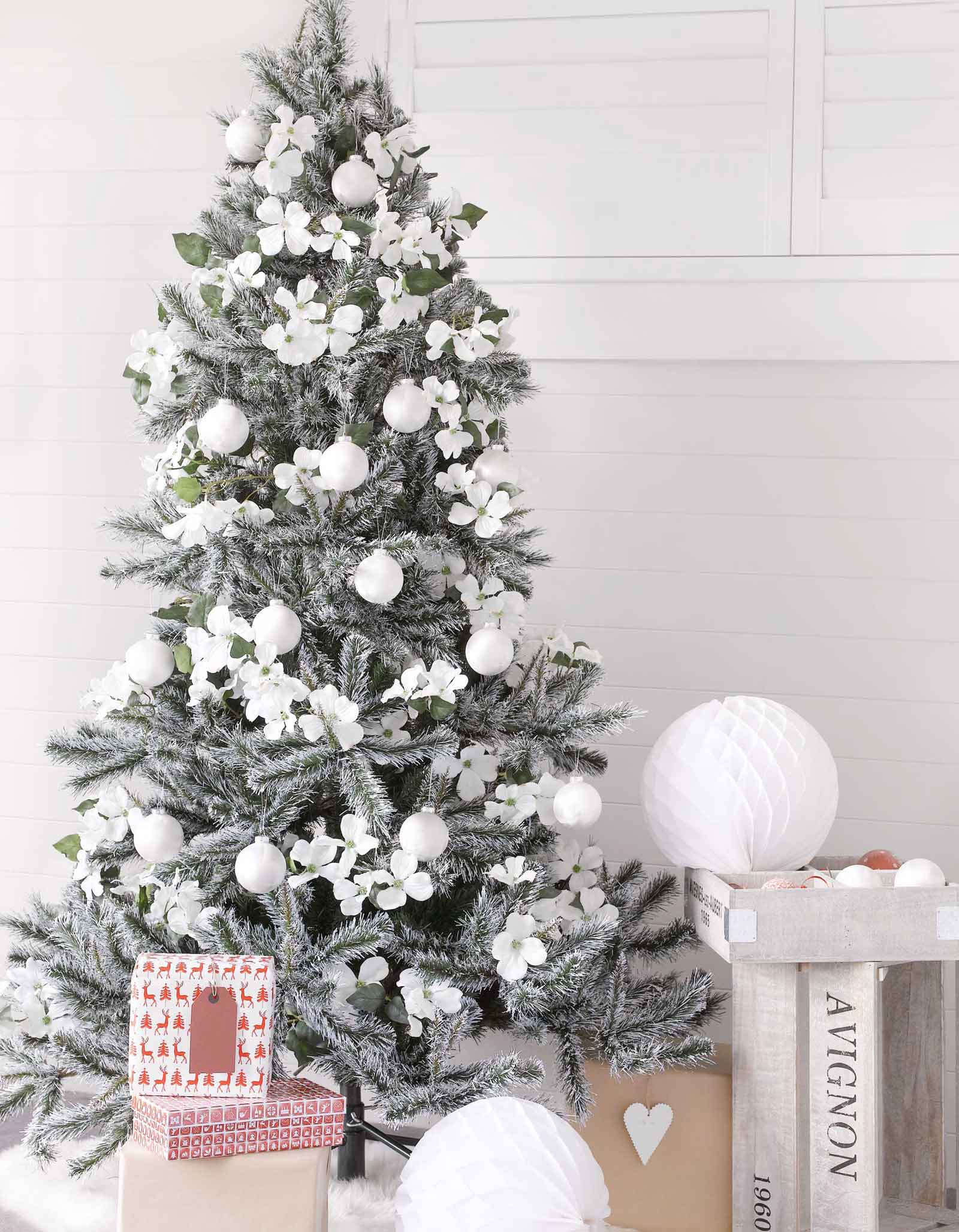 Source: The original source is not available anymore.
The style of the tree is as important as the Christmas decor that gets placed on it. It's difficult to make neutral ornaments stand out against a flat white tree, so the perfect solution is a green tree frosted with fake snow. "Flock" the tree outside to keep the mess to a minimum, and work in layers if you're assembling an artificial tree like the one in the picture. Decorate with solid white baubles and flowers to contrast the green branches and accent leaves. The furry tree skirt adds a touch of warmth and coziness to the cold winter style.
16. Kid-Friendly Alphabet Fun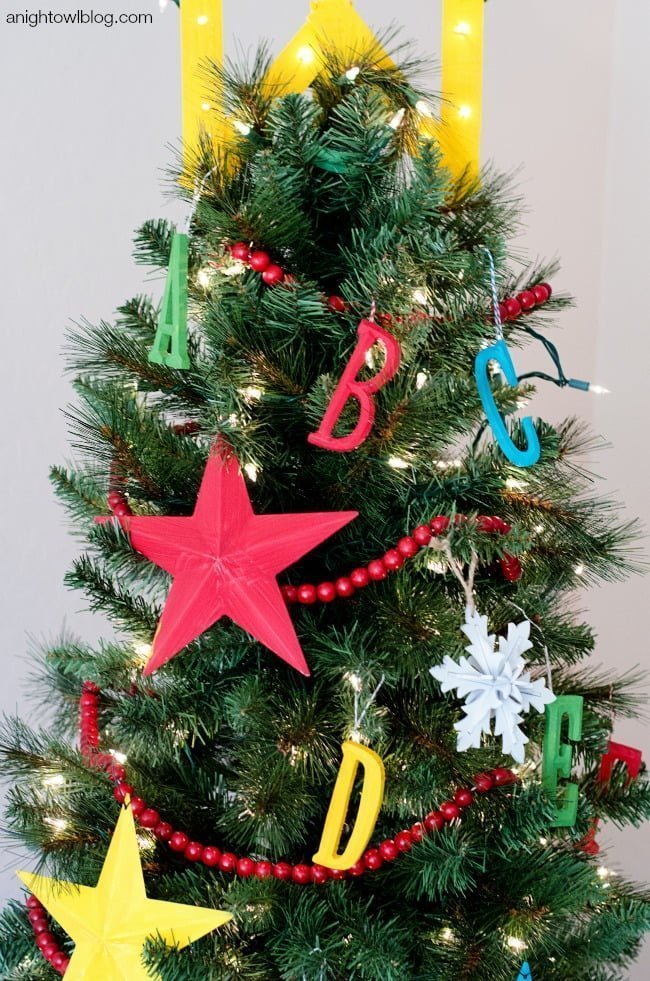 Parents and elementary school teachers often avoid breakable ornaments that the kids may be tempted to pull off of their Christmas tree. The kids can actually get involved painting letters and stars to match with this fun DIY style decor. Bright blue, yellow, and red craft paint added to plain wooden ornaments is an easy project that the family or a classroom of young students can enjoy together. The red beaded strand in the tree has a sleek look, and it is a cleaner alternative to tinsel or a flowing garland. A bundled burlap tree skirt secured with a red and white ribbon is a cute alternative to simply placing it on the floor.
17. Whimsical Color Explosion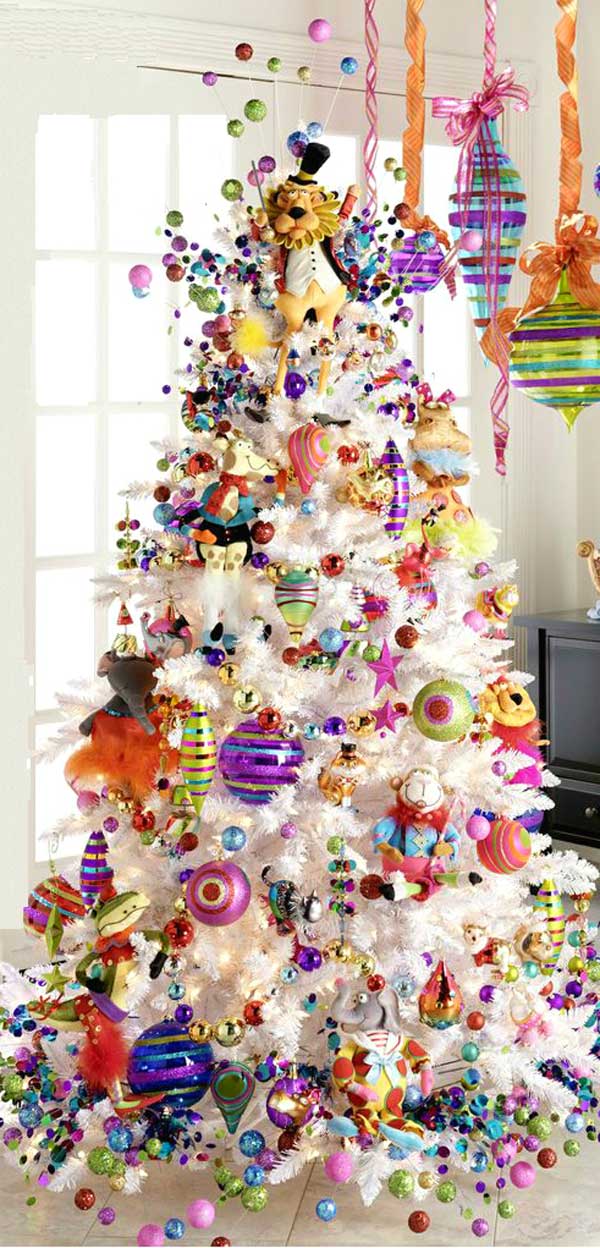 Picking a color theme can be tough when decorating a Christmas tree, so why not include them all? A plain white tree is the perfect base to begin an exciting display of different colors and shapes from top to bottom. Hidden in the tree are a variety of circus animals that pair perfectly with the lion topper set in front of a fireworks explosion of colorful balls. This is an easy DIY if you already have a few stuffed animals laying around the house. No skirt is necessary with dangling baubles that almost reach down to the floor.
18. Budget-Friendly Sophistication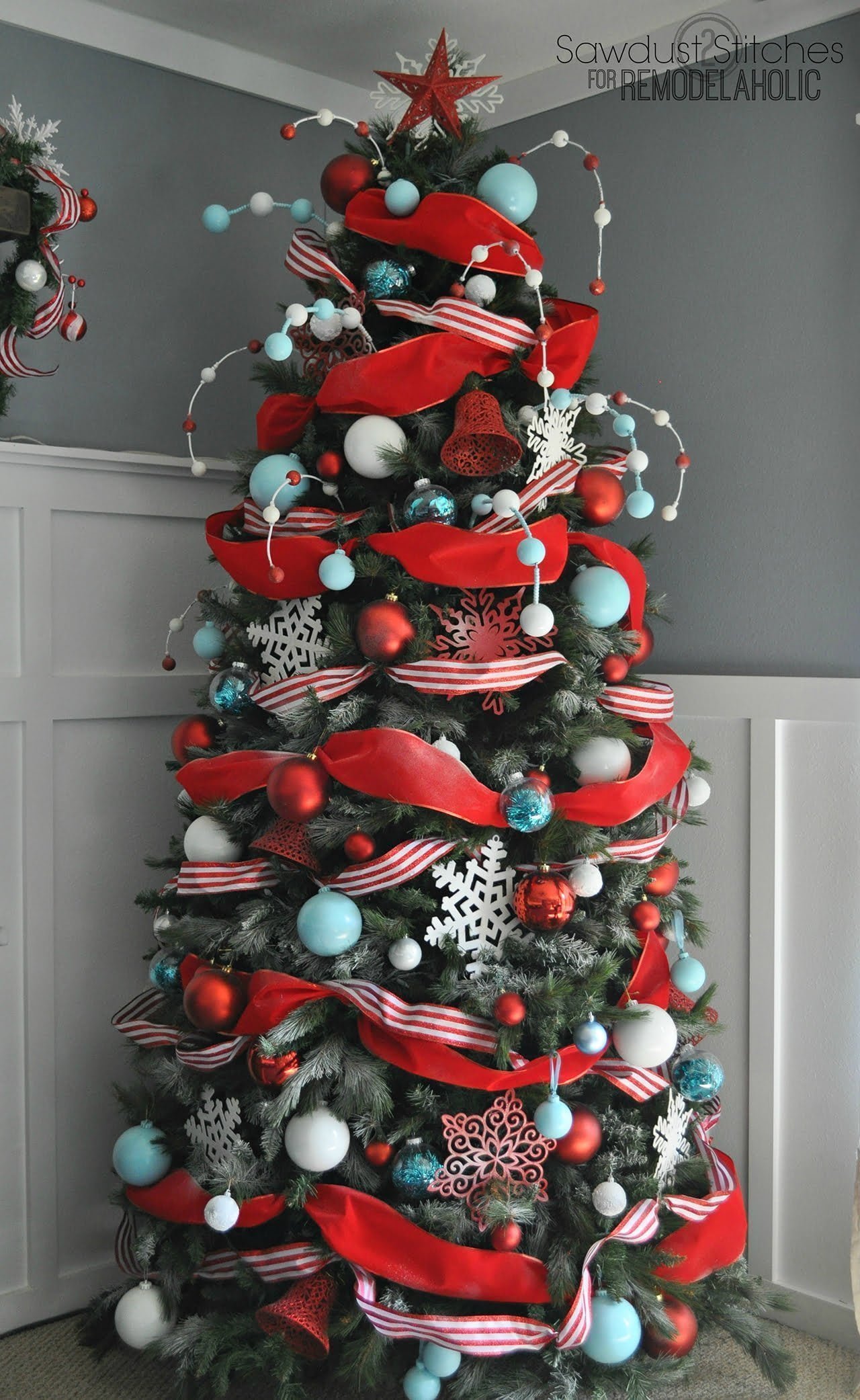 Unique decor ideas often implement solutions that are friendly for any budget because gift shopping can get expensive. Dollar store shoppers are delighted to find garland, decorative ribbon, and gorgeous ornaments at a price that anyone can afford. The ribbon used as garland on this tree is gathered every few inches to secure it effortlessly to the branches. Extra large decorations like the glitter bells and snowflakes are added first to begin a nice decor base. Bright blue balls that add a touch of color are actually an inexpensive combination of empty clear balls filled with pieces of garland that can be changed every year.
19. Industrial Ornaments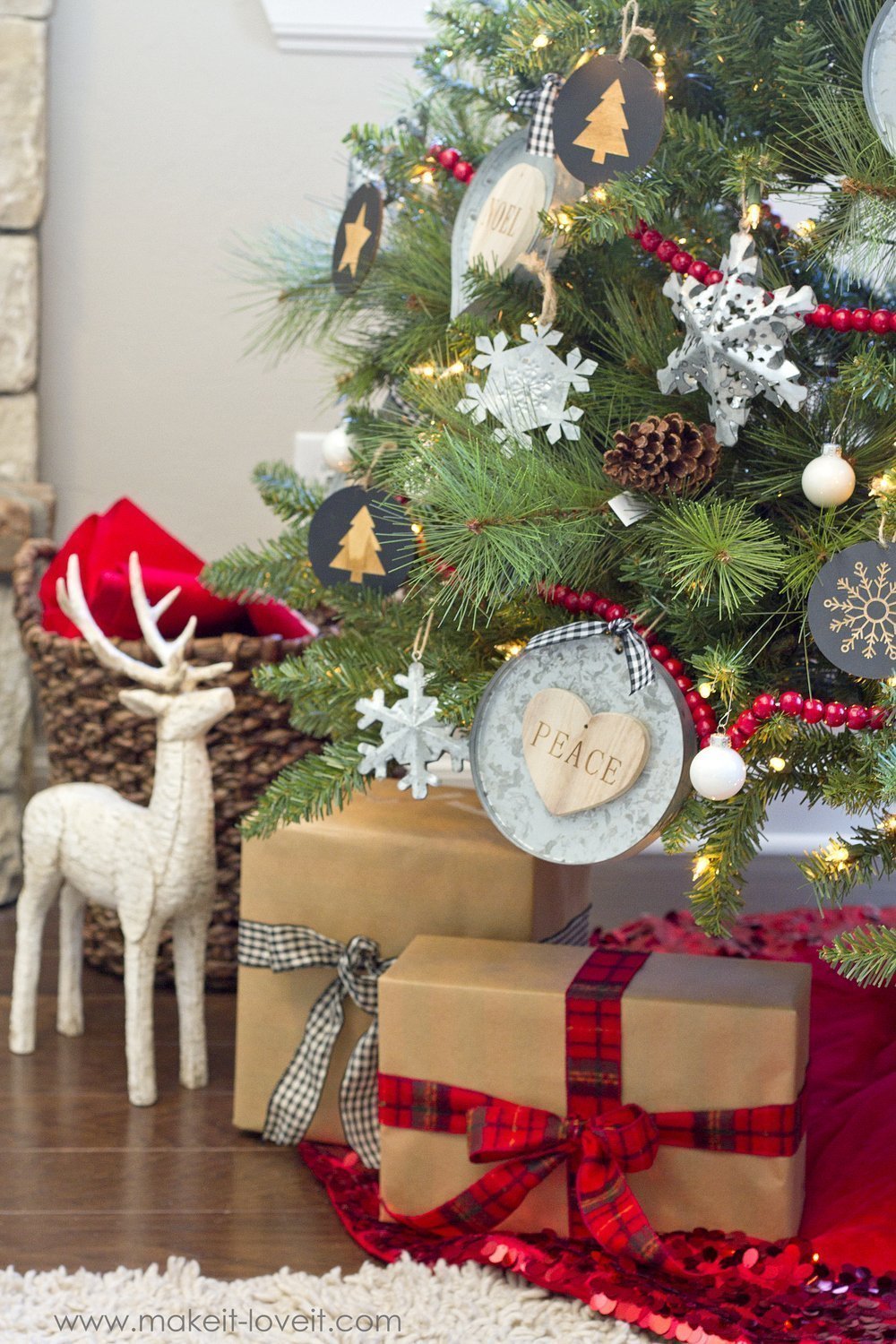 Metal is not be the first thing that comes to mind when thinking about traditional Christmas tree decorating. Rustic is a trending style that has carried throughout the last few years so it's fun to find new ways incorporate rugged materials. The over-sized metal ornaments are a bit too basic alone, so gluing wooden shapes into the center adds another dimension to the design. 3-dimensional stars and snowflakes cut from metal stand out against the red beaded garland that provides a touch of Christmas color. The perfect topper to this unique creation is in the style of a vintage marquee sign.
20. Refreshing Turquoise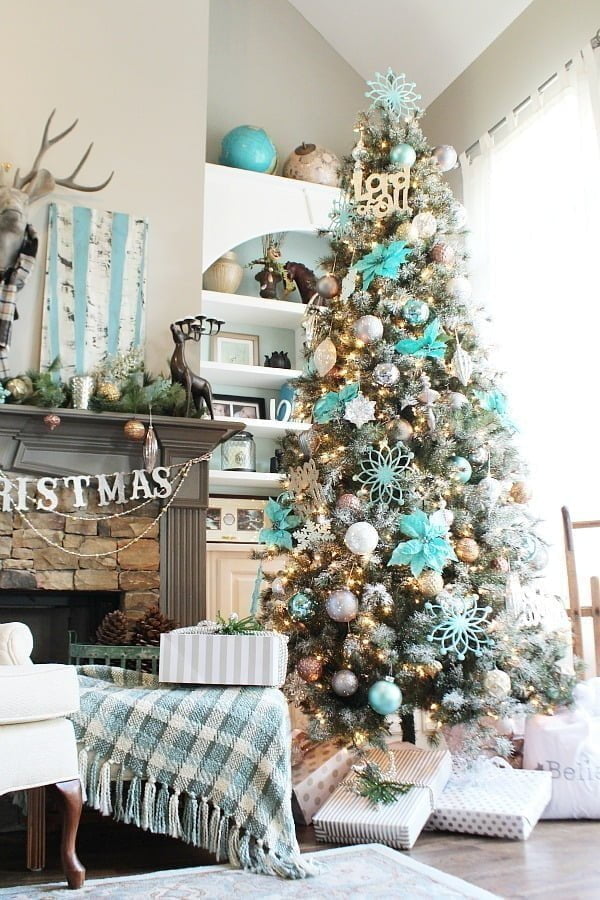 Pairing classic neutrals, like silver and white, with a splash of turquoise sets the perfect tone for a festive holiday tree. Crisp baby blue tones featured in the silk poinsettias are a lovely complement to the hanging balls and snowflakes. Beautiful plastic snowflakes are placed throughout the tree, and one is used as a simple topper. The tree is lightly frosted with fake snow to add to the chilly feel of the turquoise color scheme. Fullness of this decor is an easy way to eliminate the need for the garland that is often used to mask empty spaces.
21. Gingerbread Dream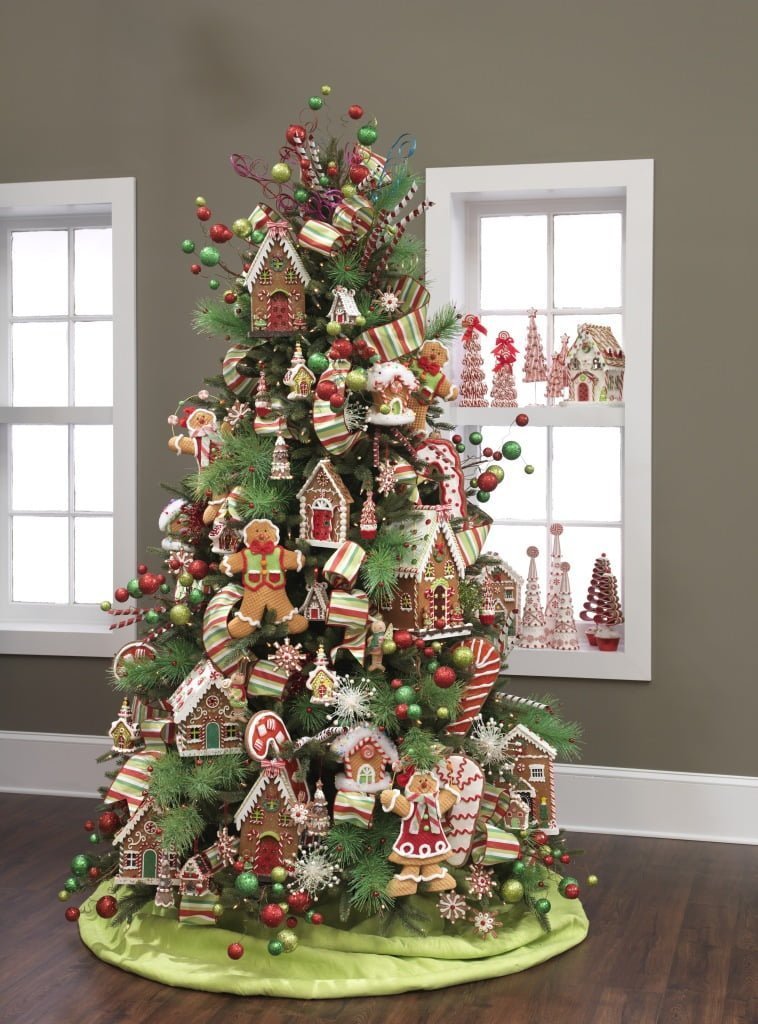 A combination of Candy Land meets the Gingerbread Village for a delightful Christmas tree decoration. The grass green velvet skirt is a cute base for building a playful scene of gingerbread homes, ornate snowflakes, and a striped ribbon that resembles holiday hard candy. Happy gingerbread people stand next to giant candy cane-shaped cookies that look good enough to eat. Green and red ball sprays add a touch of the traditional Christmas coloring to make the tree appear fuller. The top is adorned with fireworks of colorful balls and whimsical ribbon curls that suit the theme perfectly.
22. Traditional Red and White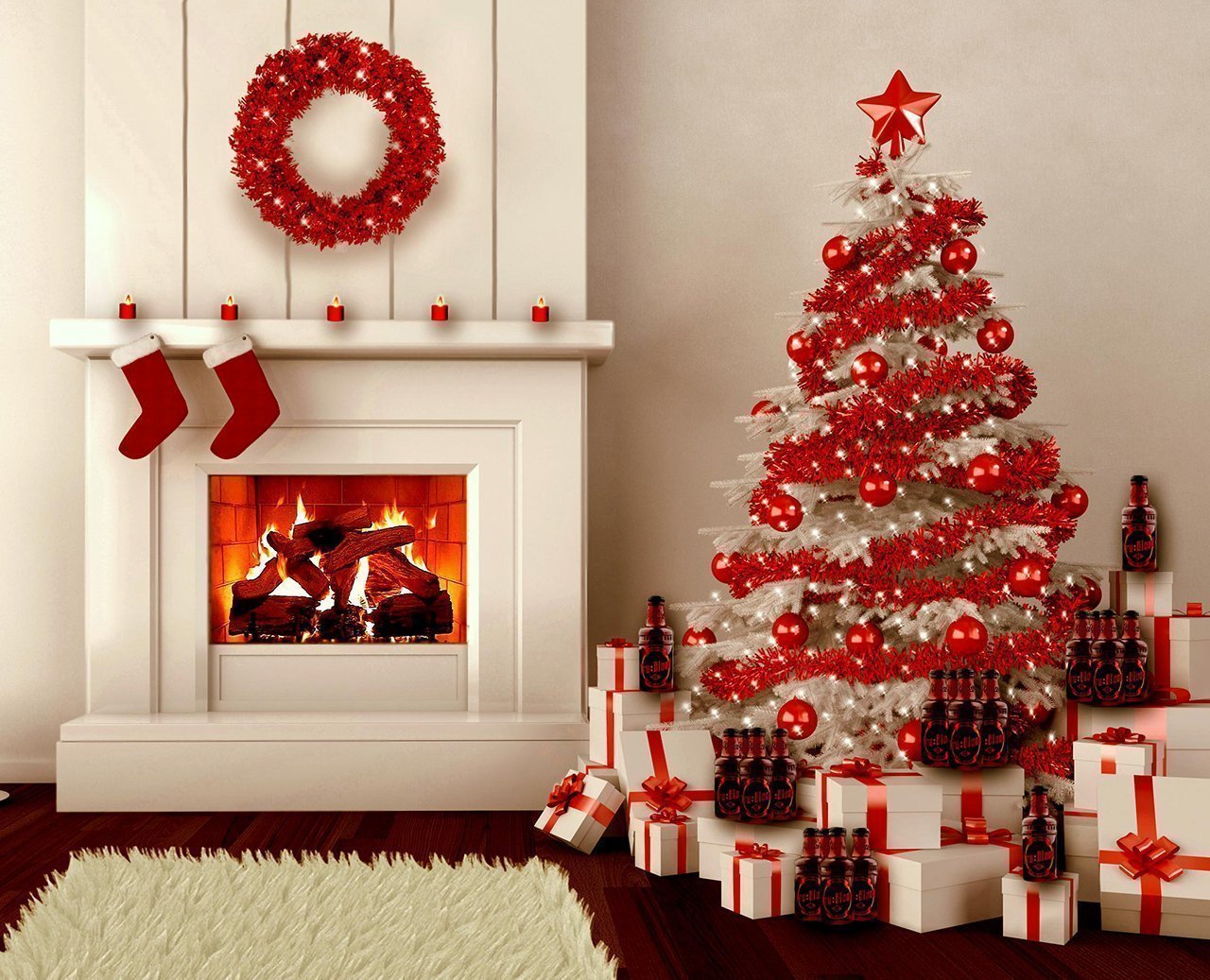 Source: The original source is not available anymore.
The perfect scene of crisp, clean colors is set with high-contrast red Christmas decor on a snow white tree. When placed against a neutral background shade, the pop of candy apple red balls and a matching garland invokes a sense of warmth. In a room with a fireplace, it's possible to use a more mellow white light within the tree to illuminate the ornaments. Topping with a solid plastic star allows the entire decoration stand out equally instead of drawing a focal point. Creating such a captivating, basic design makes it easy to match other festive elements throughout the home.
23. Royal Purples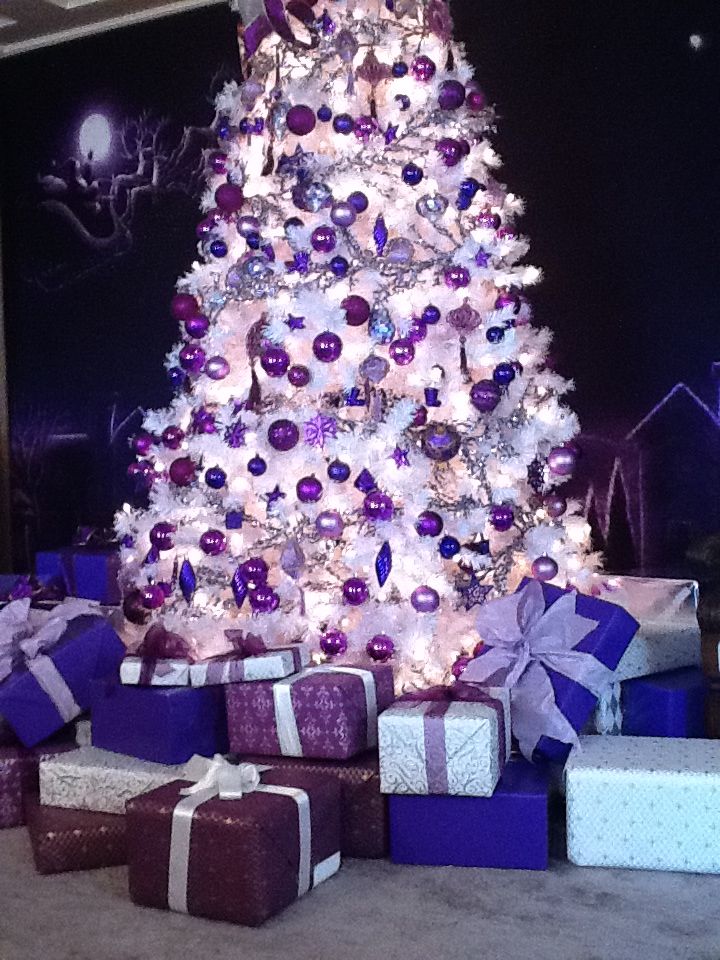 Although purple isn't recognized as a common color used in Christmas tree decorating, it is a refreshing change. Solid white trees are timelessly fashionable and easy to pair with any shade that catches your eye. A variety of purple, blue, and silver balls and finial ornaments take on a regal appearance when back-lit by the bright bulbs. This style incorporates stars and snowflakes to fill empty space with shape variations. By avoiding the use of a specific purple shade, it's possible to match gift wrapping and additional home decor to the different colors featured on the tree.
24. Retro Bedside Tabletop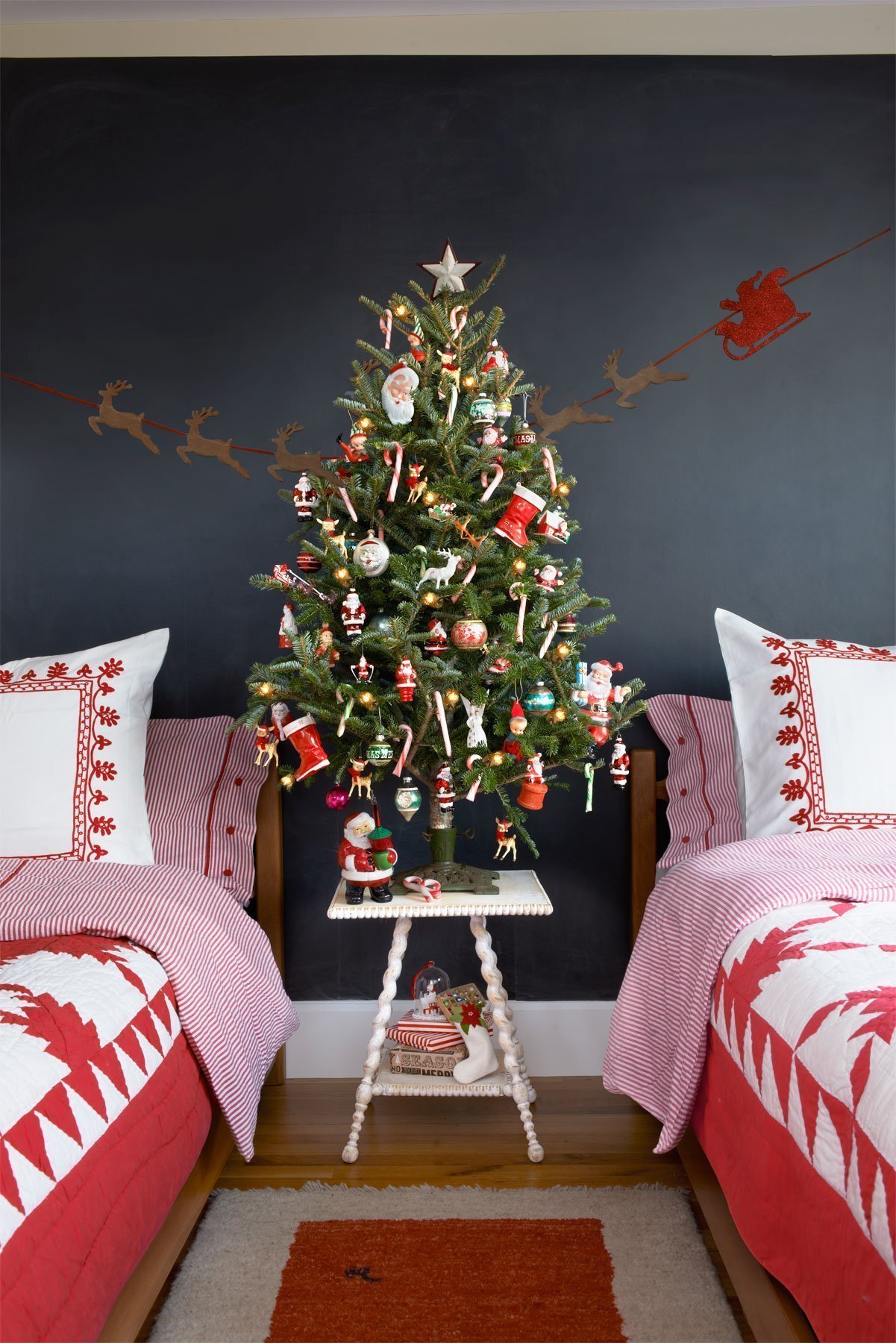 Bedroom Christmas decor like a tree on the bedside table is a festive way to wake up every morning. A small tree decorated with a variety of vintage Santa ornaments, reindeer, and classic candy canes provides a nostalgic feel to a modern room. A few yellow lights give the tree a gentle glow without being too bright when it's time to go to sleep. It is advised to avoid using a real tree close to bedding or in an area that has carpeting because the sticky needles tend to shed. This charming little tree is on a plain white table, but additional decorations like the a standing Santa and small wrapped gifts tie the design together.
25. Modern Opulence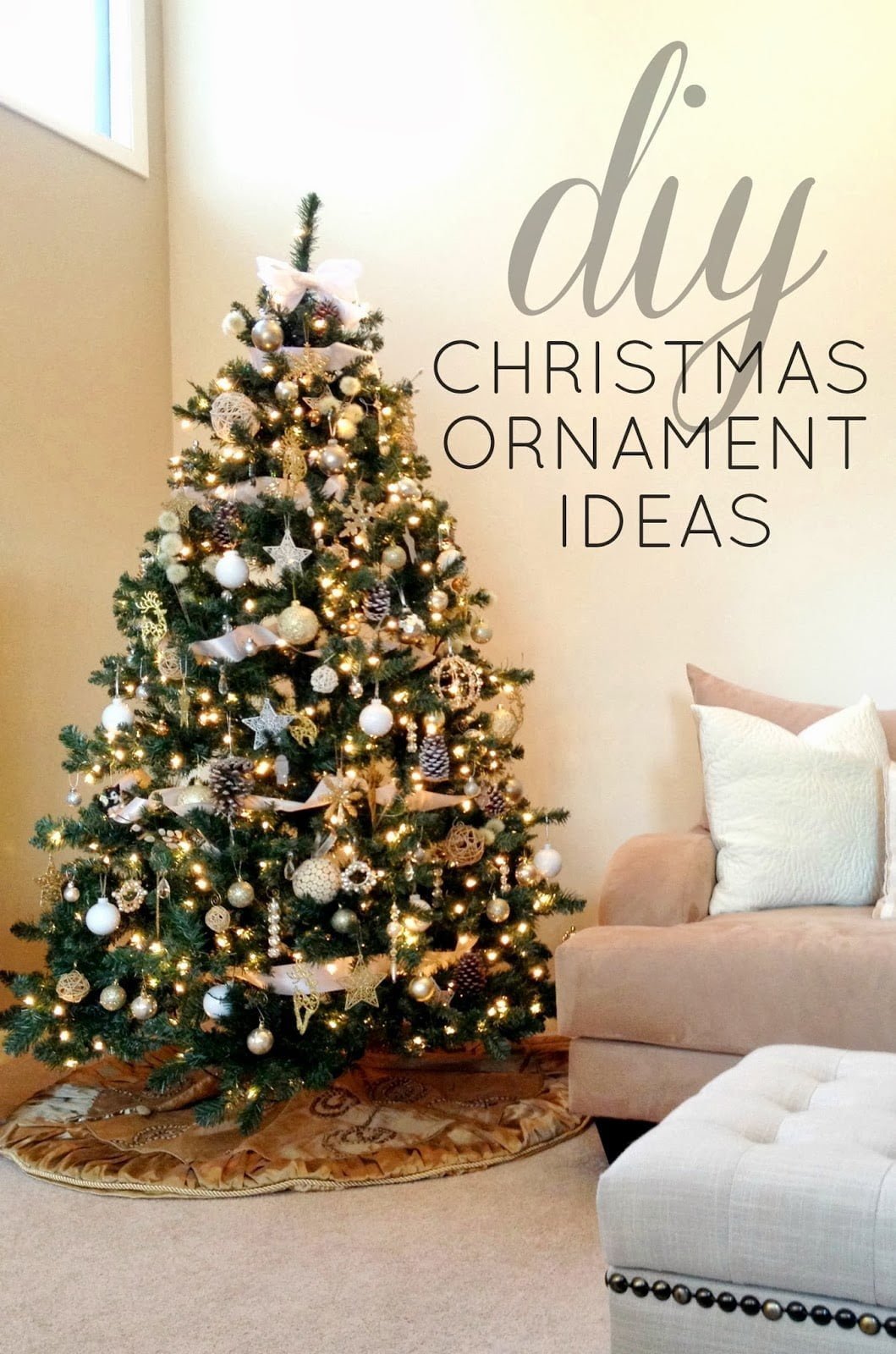 Source: The original source is not available anymore.
Twig balls, gold glitter snowflakes, and silver baubles seem to be staple elements in Christmas tree decoration. There's nothing wrong with sticking to traditions, but there's nothing wrong with adding a few personal touches. Larger trees tend to look boring if the designer sticks with a single color or ornament shape, so it's smart to experiment with different shades and textures. Fluffy pom-poms, frosted pine cones, and large bead strands offer an unusual look to break up the monotony. A pristine white ribbon wraps around the entire tree to finish the top with an elegant bow.
26. Miniature Potted Possibilities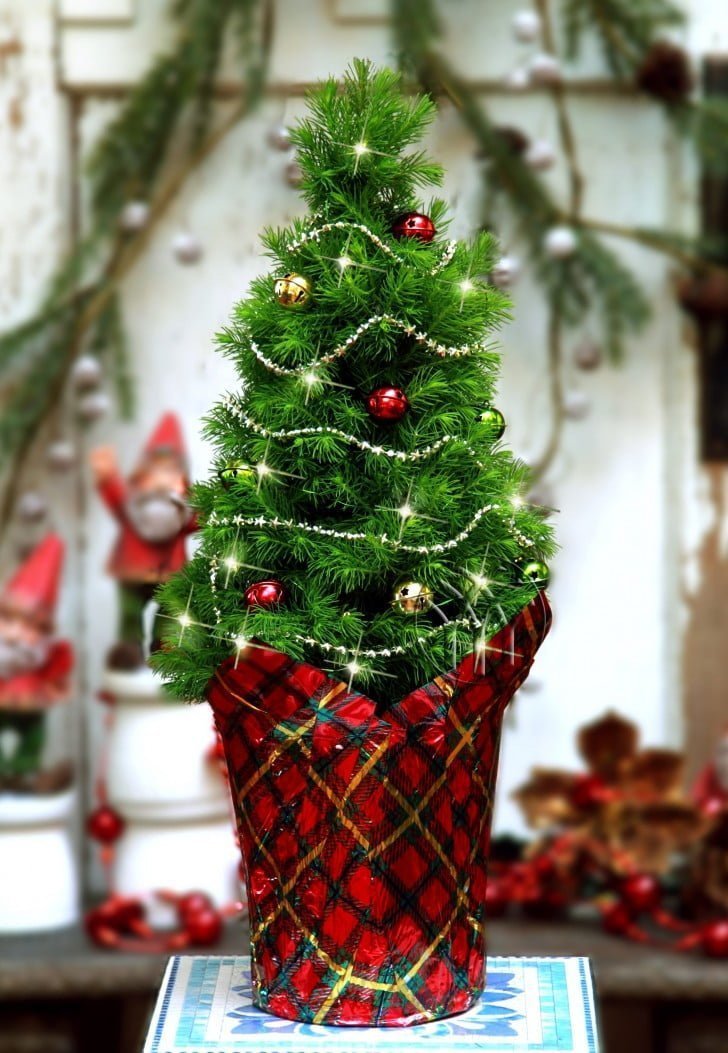 Source: The original source is not available anymore.
Limited space in an apartment or office shouldn't prevent the spread of holiday cheer through festive Christmas decor. Miniature potted trees are easy to care for, and the design possibilities are only restricted by the imagination. Traditional plaid wrapping around the base will hide the pot and feature the lush greenery of the actual tree. Tiny bead garland featuring silver stars paired with red and gold jingle bells is a very classic look. No topper is featured on this simple tree, but keep in mind that weight must be a factor in choosing miniature decor.
27. Santa Clauses Galore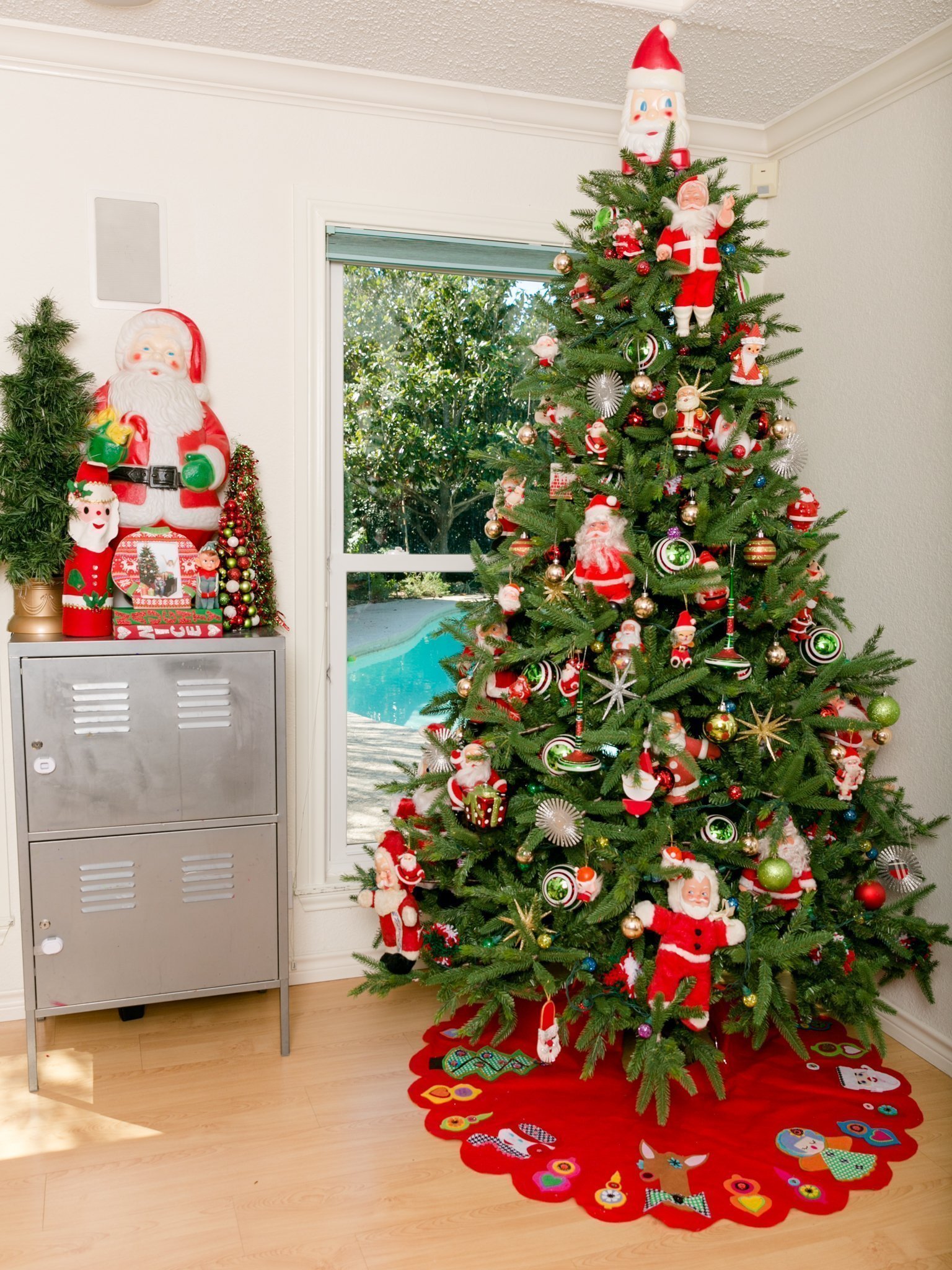 Source: blog.treetopia.com
Perhaps the only thing better than decorating a Christmas tree with Santa Clause is using a variety of different figures. More than a dozen stuffed, plastic, and glass Santa decorations adorn this fun playroom tree from top to bottom. There are a few colorful glass balls and other unusual shapes added as filler throughout the tree. A large plastic head that is reminiscent of outdoor Christmas decor is the perfect look for the top. The DIY red skirt at the base features simple felt shapes of angels, ornaments, reindeer, and a few other common Christmas shapes.
28. Playful Christmas Bears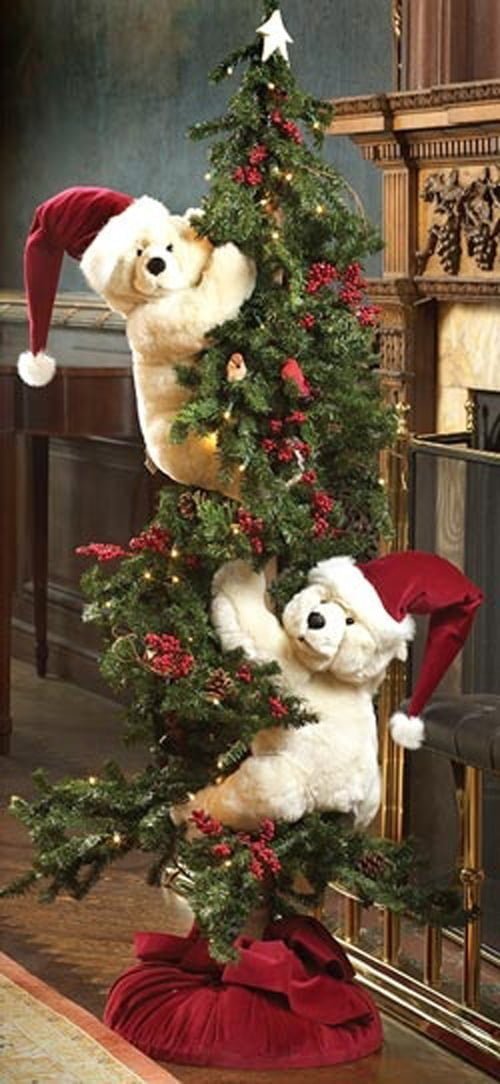 Inexpensive teddy bears are easy to find at thrift shops, flea markets, and just about any store that sells holiday gifts. Christmas polar bears are a fun addition that can significantly cut down on the time it takes to decorate a tree. Artificial trees require fluffing out of the box, so it's easy to bend the branches to accommodate soft holiday animals. The bears are placed on opposite sides to balance weight and appear as though they're playing together. Faux holly berries add a pop of color to complete a DIY Christmas design that is perfect for indoors or outside.
29. Golden Wishes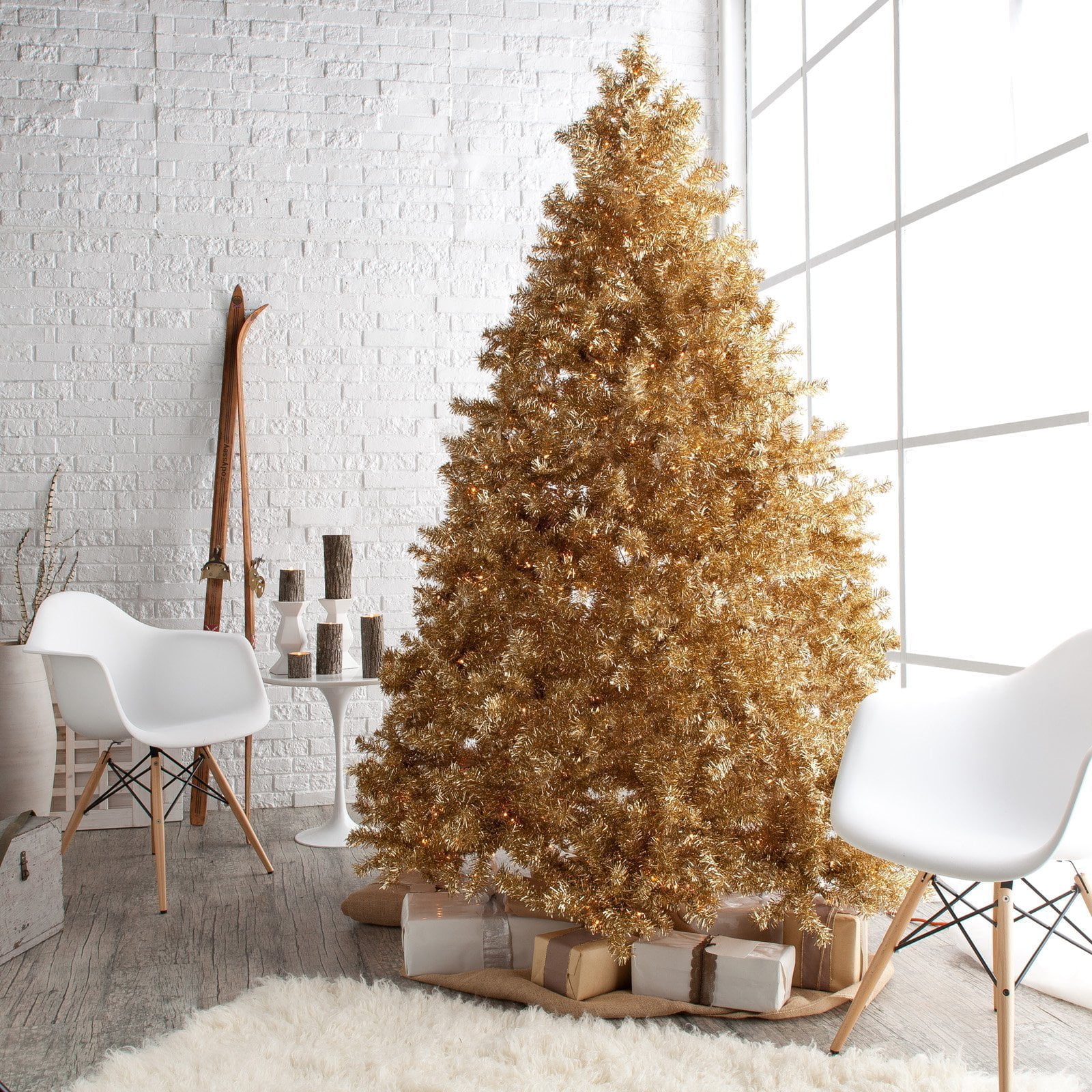 Source: The original source is not available anymore.
Hanging dozens of festive ornaments in the right spot can be a tedious process that takes hours to accomplish. Minimal Christmas tree decorating is needed with the extravagant look of solid champagne gold branches. A simple burlap skirt at the bottom is the perfect neutral tone that doesn't distract from the beauty of the regal coloring. Gentle lights are hidden within the tree creates a subtle, warm glow to accentuate the classic pine shape without being too flashy. The minimalist look is completed by the plain white and tan look of the gift wrapping and surrounding decor.
30. Velvet Poinsettias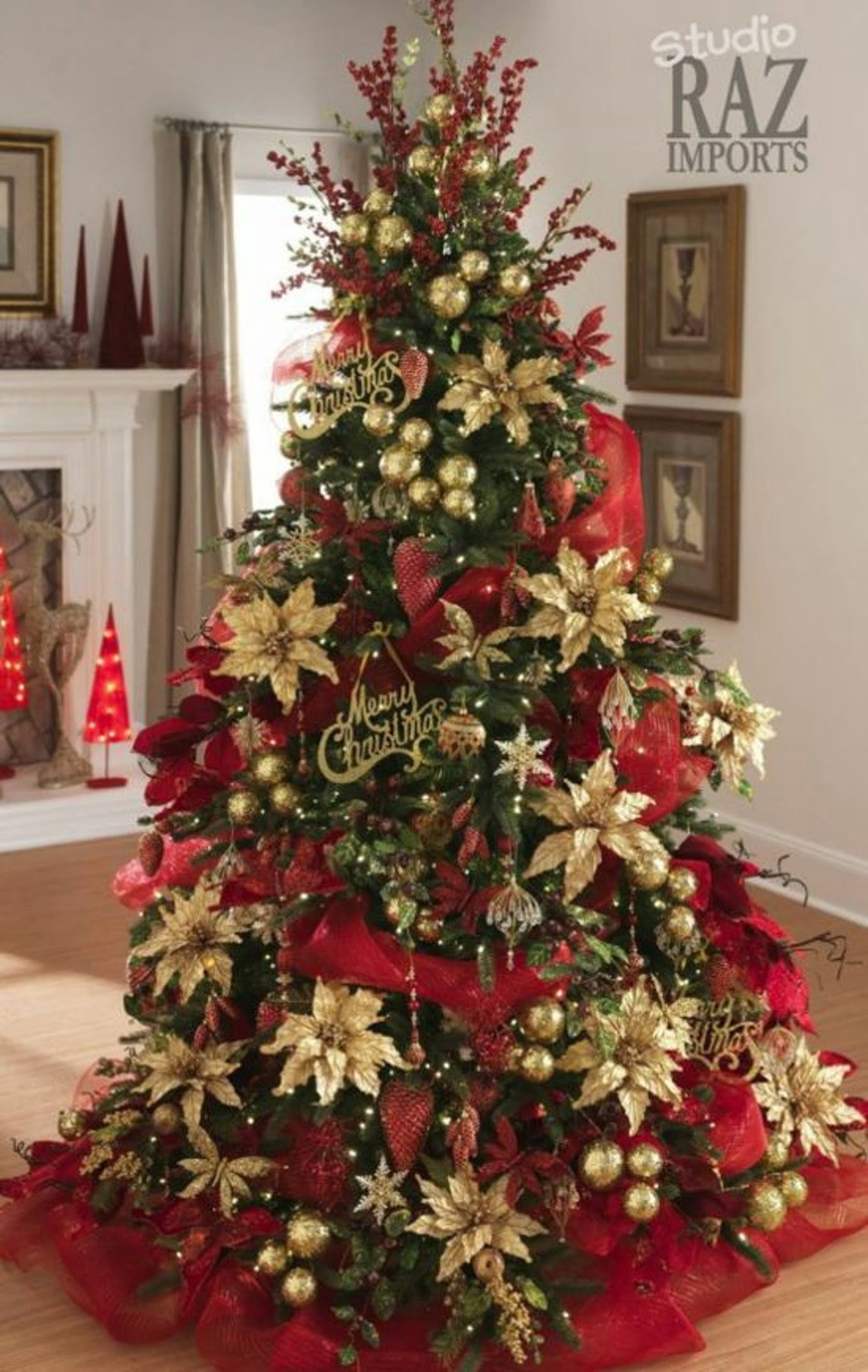 Decorating a Christmas tree is similar to creating an arrangement of flowers because it requires planning and an eye for detail. Incorporating golden velvet poinsettias correctly looks like the flowers are actually growing out of the tree. Gold ball clusters and red berries flowing at the top add a few inches of height to the design. A red mesh wraps around the tree to enhance the fullness of the body, and it flows down to the base in place of a traditional skirt. One unique addition hidden within the tree are the hanging red pine cones that are an easy DIY colored with craft paint.
31. Bows and Pearls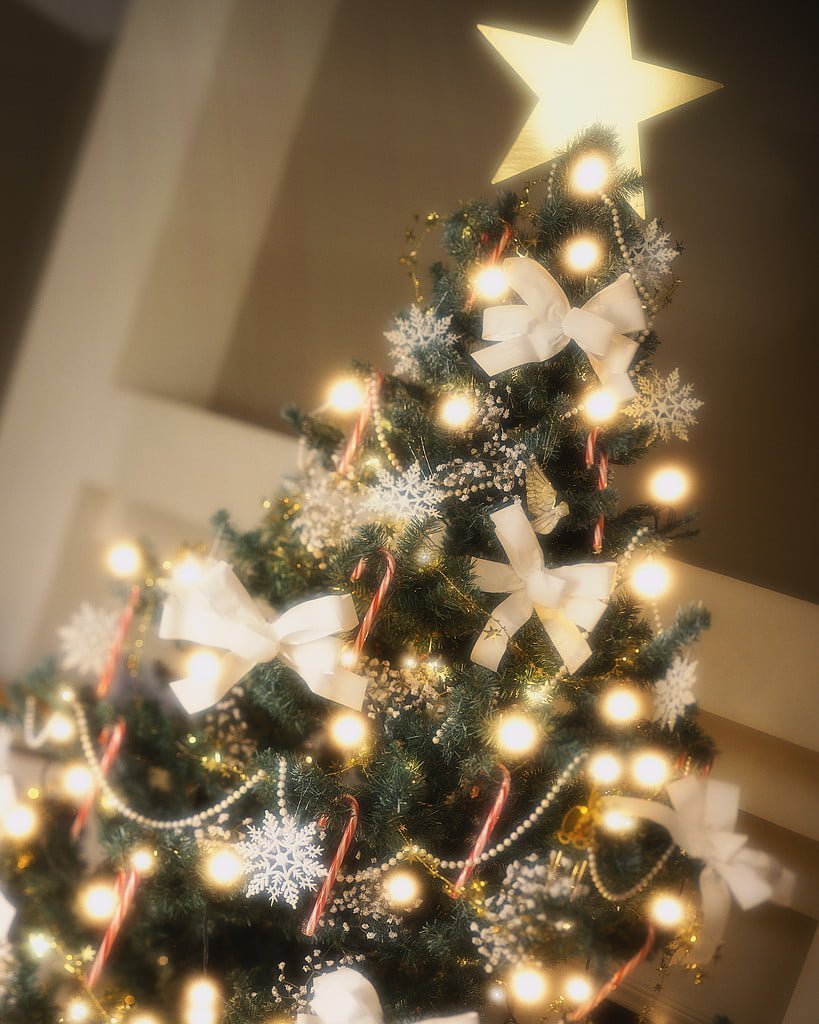 Glowing lights are a primary feature of Christmas tree decoration because a beautiful tree should be illuminated. Bows, on the other hand, are a far less common feature in modern Christmas decor. Crafting beautiful white bows from silk ribbon gives a touch of elegance to the design featuring solid white snowflakes and a classy string of pearls. Real candy canes are the perfect variation of color, and kids also enjoy the chance to sneak an occasional treat off of the tree. The solid gold star on the top of the tree is a nice way to incorporate tradition into such a classic design.
32. Sparkling Lights With Simple Mesh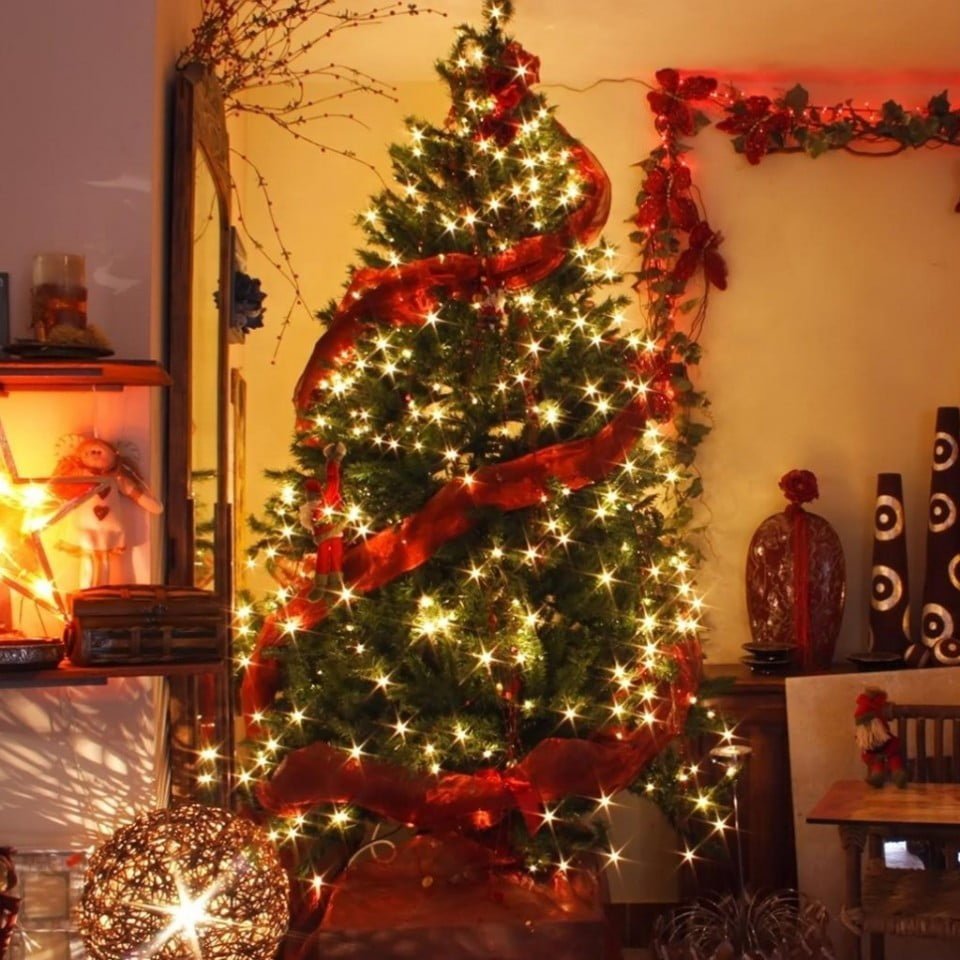 Source: The original source is not available anymore.
Setting the perfect indoor scene often entails more than just decorating a Christmas tree and calling it a day. Not much is needed on any tree that has adequate fullness because ornaments are often placed to fill empty spaces. Plentiful bright lights bouncing off of a shiny mesh garland cast a soft glow onto the walls and surrounding holiday decor in the room. The hidden Santa Clause figure hanging from a branch is an adorable accent piece. Recreate this look by adding an ornament hook or discreet string to the hand of the doll so that it can be attached anywhere on the tree.
33. Bright Colors on Snowy White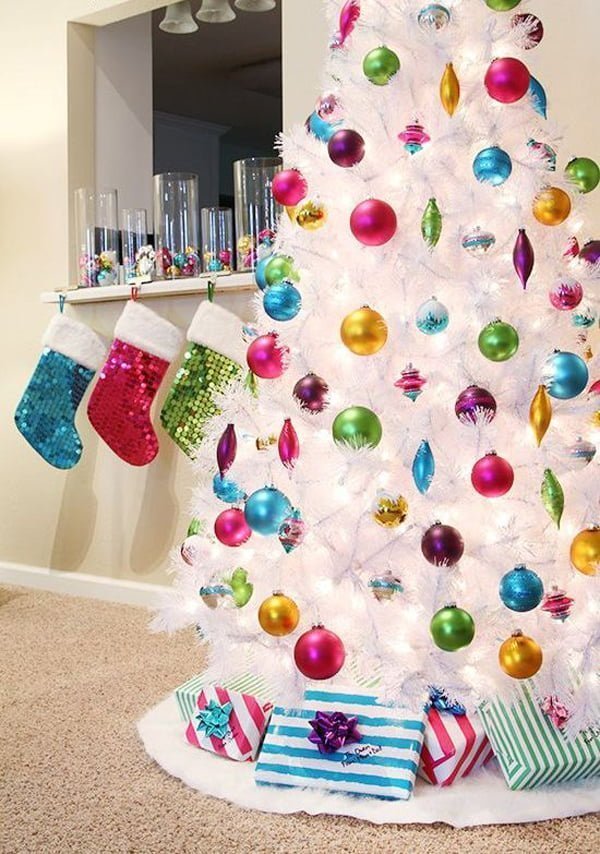 Source: The original source is not available anymore.
An artificial white tree is like starting out with a blank slate as far as choosing the theme of decorations. There's no pressure to find complementary colors or stick with a specific shade, especially if you love a variety of playful colors. Bright blue, green, pink, and gold are featured throughout this tree in round baubles and teardrop ornaments. A fluffy white skirt provides a neutral setting to make the candy striped gift wrapping stand out below the tree. Placing extra ornaments into clear vases is a smart way to continue the theme throughout a room.
34. Shining Luxury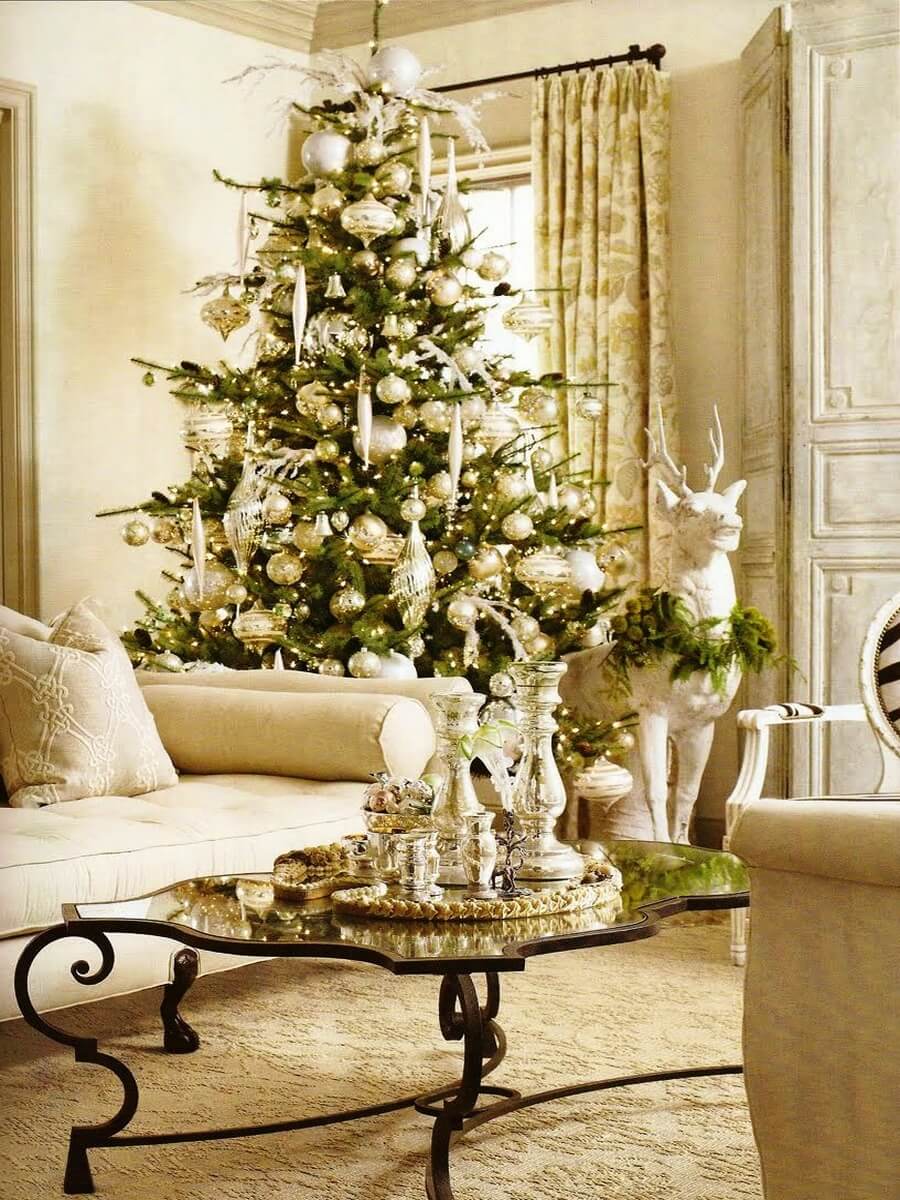 Every guests that enters a home during the holiday season is going to be drawn to the beautiful Christmas tree. One thing to always keep in mind is the general style of the existing decor because a complementary shades decor ideas will seem more inviting. Neutrals create warmth so sparking gold, silver, white, and beige ornaments never fail to impress. Rather than adding garland or ribbon, distributing the decorations around the entire tree will establish fullness. The crystal spray flowing from the top of the tree is a stunning substitute for a star or angel topper.
35. Silver, Gold, and Red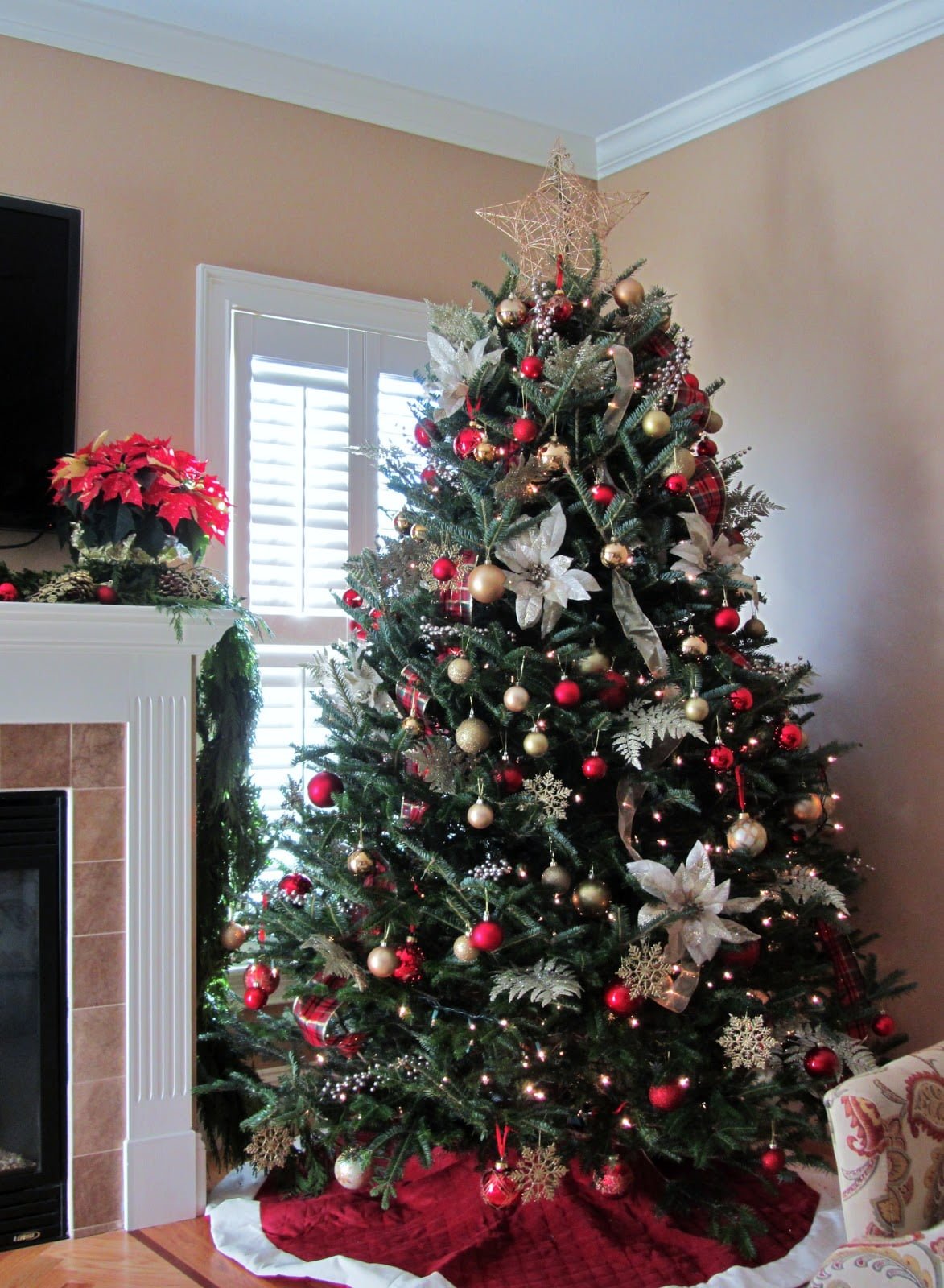 Source: The original source is not available anymore.
Incorporating classic holiday colors with a modern design can be tricky, but this tree accomplishes a beautiful aesthetic. Silver berries, leafy inserts, and white poinsettias are a perfect marriage of elegance and the rustic theme. Selecting unnatural colors for these items ties them into the color scheme with a creative touch. Drapes of ribbon flow in and out of the tree vertically to attach below a trendy twig star topper rather than wrapping horizontally. Adding nature elements to the Christmas decor surrounding a tree helps to tie everything together, especially when accompanied by a few rustic ornaments.
36. Classic Candy Canes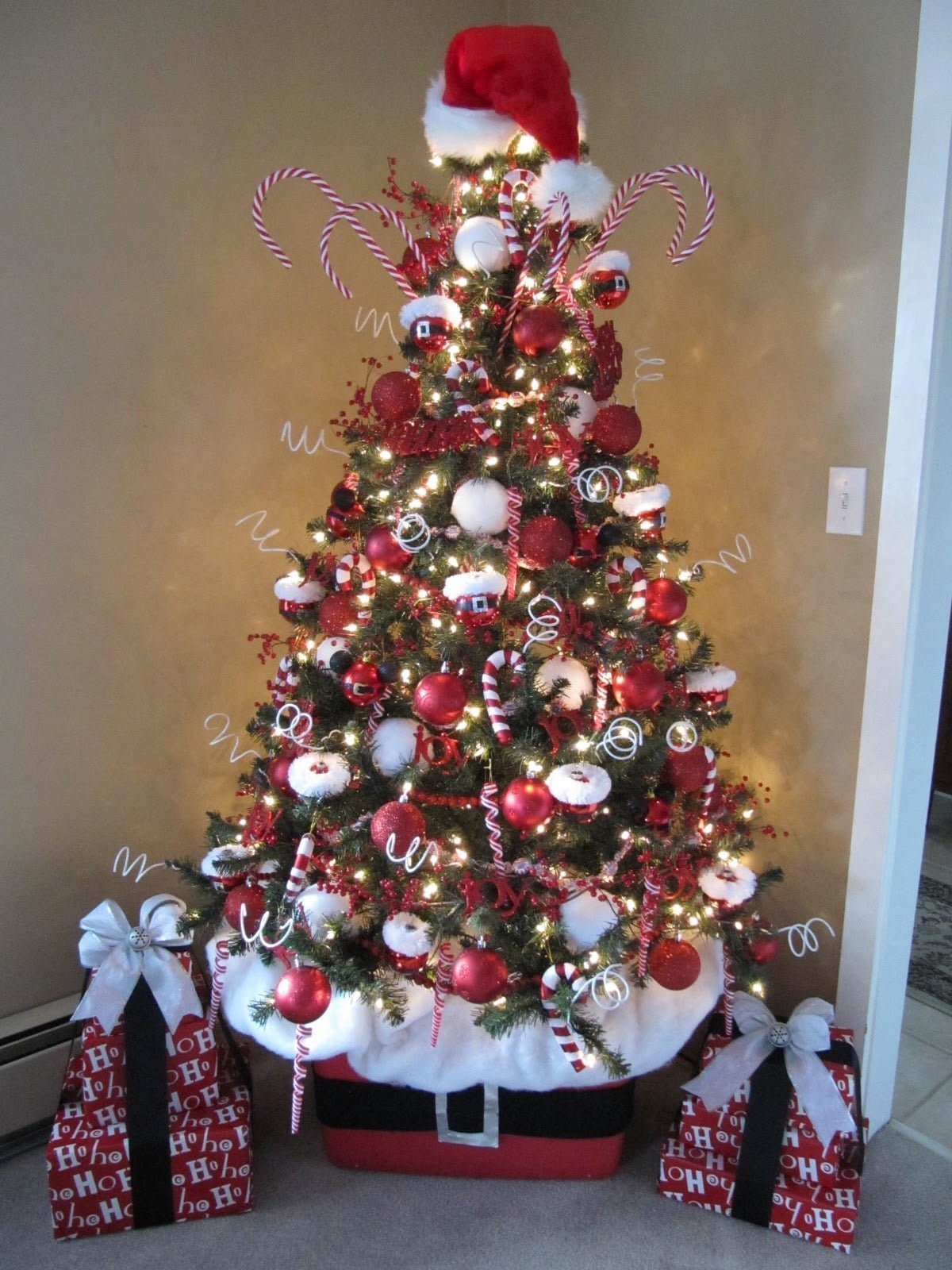 Source: The original source is not available anymore.
A Santa Clause themed base sets the tone for a cheerful selection of candy canes. It's perfectly fine to go a little over-the-top when decorating a Christmas tree because the goal is for it to stand out, regardless of size. Candy cane ornaments range from hanging corkscrew spirals to oversized sticks surrounding the Santa hat topper. Red berry sprays, a cranberry beaded garland, and classic red balls serve as filler to make the tree appear thicker. DIY painting a black belt onto a few of the red balls is a creative idea that ties the body in with the unique base.
38. Waterfall of Ribbon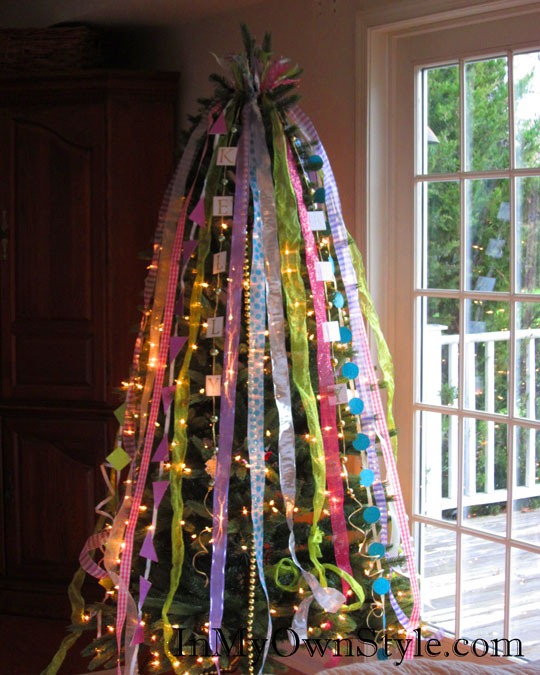 Craft stores are always brimming with rolls of holiday ribbon, but most DIY decorators limit the accessories to gift wrapping. Decorating a Christmas tree with a variety of ribbons is easy, and there's no need to search for an appropriate topper. Select an assortment of textures, patterns, and widths that represent a specific holiday theme or color palette. Measure out the length of the tree and cut the ribbon with an excess of 6-inches to accommodate the top. Tie each piece to an embroidery hoop that suits the top of the tree so that every ribbon will properly cascade vertically down the sides.
39. Felt, Pom-Poms, and Friendly Critters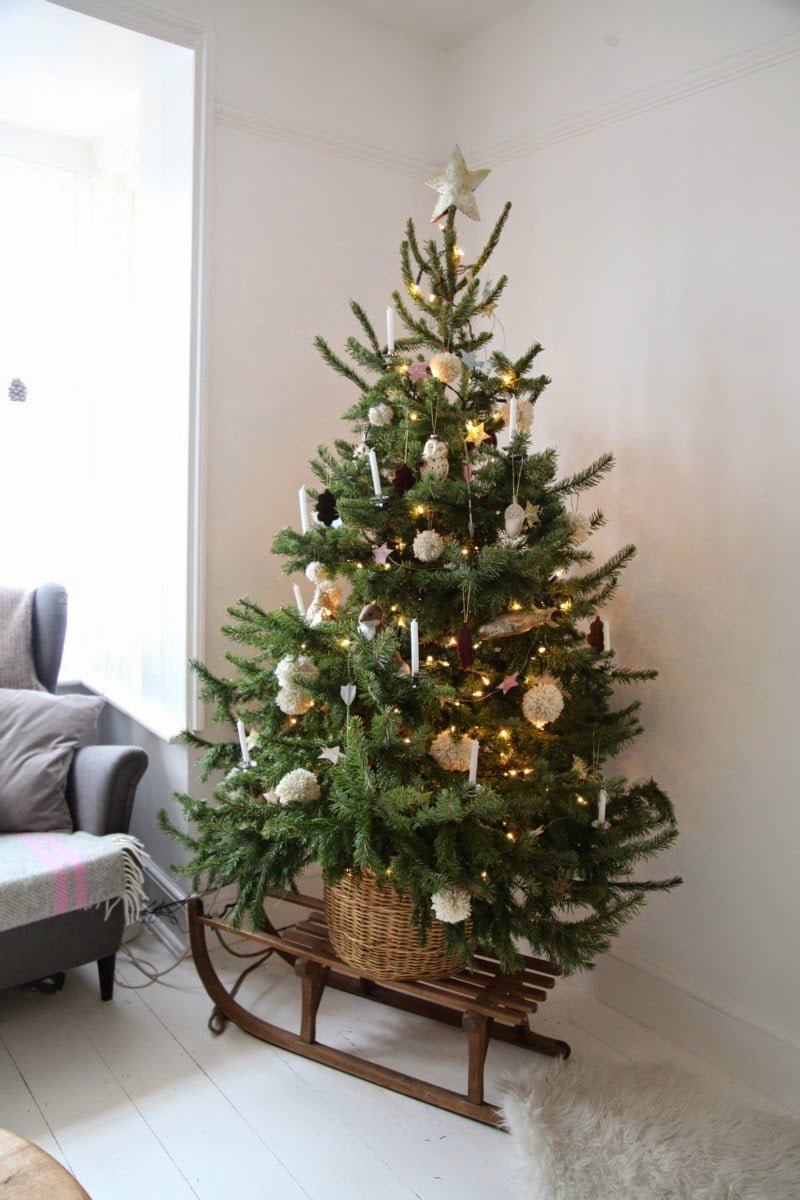 Minimal Christmas tree decorating is best accomplished with a variety of interesting ornaments. Placing the potted tree on a festive sleigh adds a few extra inches to a smaller tree, and it is a nice touch of traditional holiday decor. Neutral hanging pom-poms and stick candles don't distract from the felt leaves and critters hiding within the branches. The beautiful star topper is actually created using scrap cardboard and a coat of shiny gold spray paint. Star garland twisting around the tree is another money-saving item crafted with wallpaper and a plain white string.
40. FaLaLa Tinsel Fun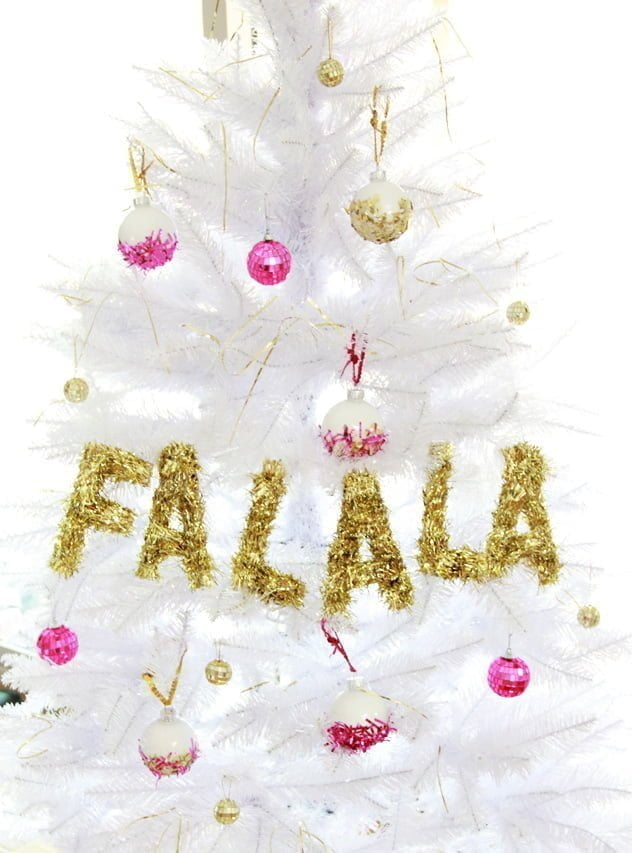 A glittering, glamorous tree doesn't necessarily entail spending an extravagant amount of money on ornaments. The sparkle of disco Christmas balls stands out on a pristine white tree, especially if a string of lights is added. Lettering on the tree is the true star of the show, and it's a pretty straightforward craft project that can be accomplished with basic items. Cut a festive word or phrase out of scrap cardboard, or purchase wooden lettering in a size that is suitable for the tree. Wrap a long strand of miniature garland around the letters before securing with a staple or drop of hot glue.
41. Craft Store Creativity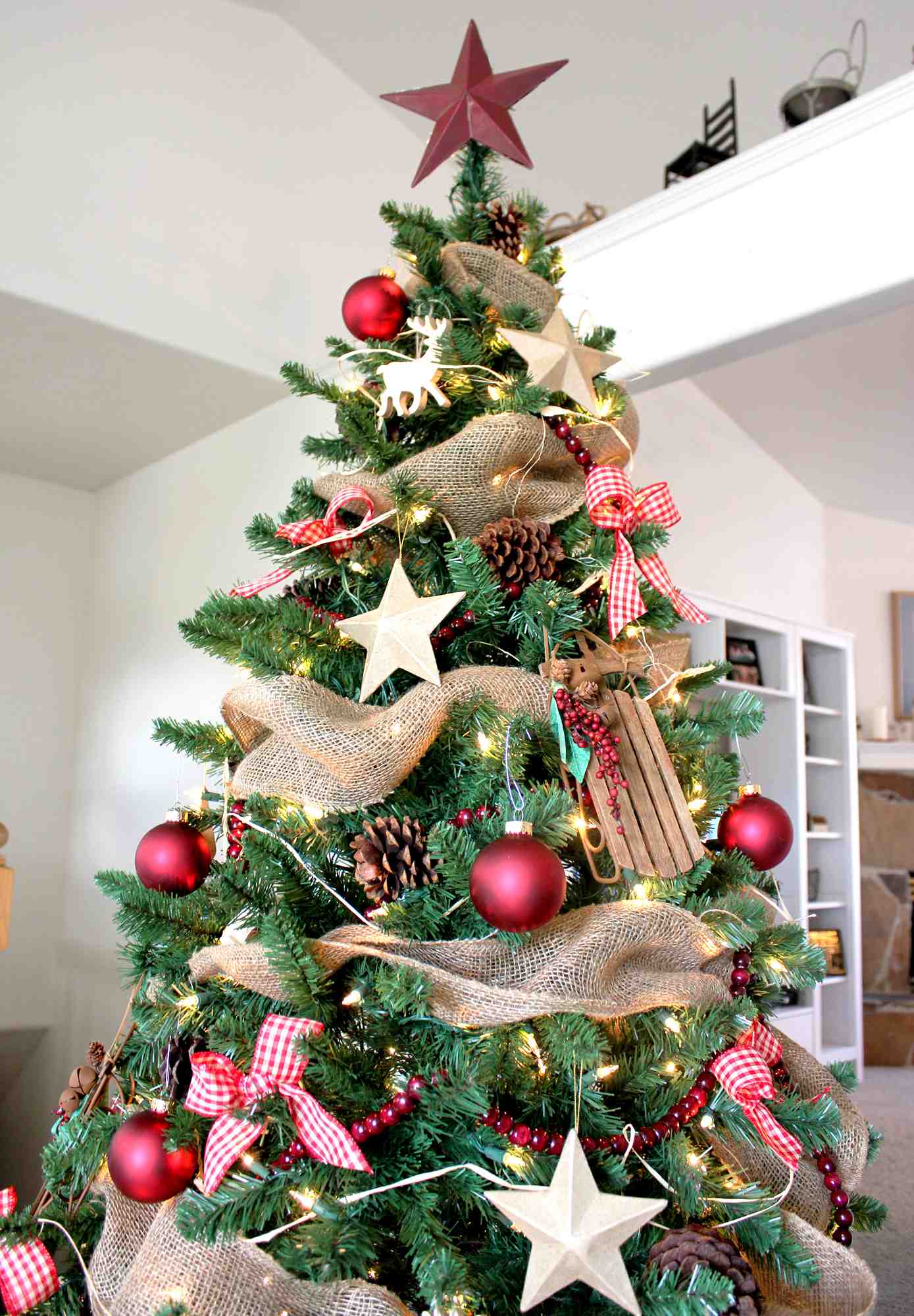 Compiling a variety of craft store items can become a confusing mess without first defining a theme. It's fun to bring the outdoor aesthetic inside by decorating a Christmas tree with rustic elements and big statement pieces. Cranberry garland is a nice touch of freshness that runs around the body of the tree along with burlap mesh. Pine cones, red checkered bows, and cherry red balls are placed evenly throughout the tree as a festive filler. The bigger focal points on the tree are craft store wooden ornaments in the shape of a snow sled, stars, and reindeer.
42. Pretty Princess Pink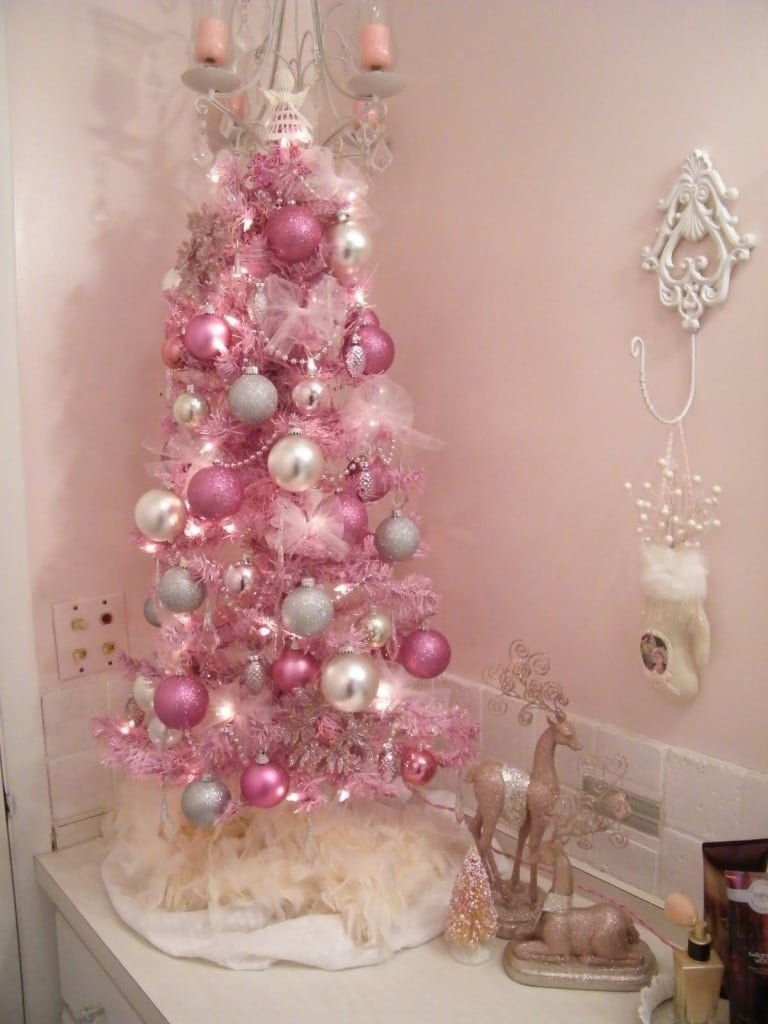 A lot of people fail to bring the bright, cheerful decor ideas into the minor areas of the home that could use a little extra joy. Small Christmas tree decorations are great for a plain bathroom sink, especially if you plan to entertain. The light pink tree is adorned with pink pearls, shiny balls, and fluffy mesh bows for a full princess theme. A small cotton skirt at the bottom is covered with additional mesh to add to the majestic feel of this lovely design. It's the perfect way to get in the holiday season and brighten up a section of unused counter space.
43. Reindeer and Birds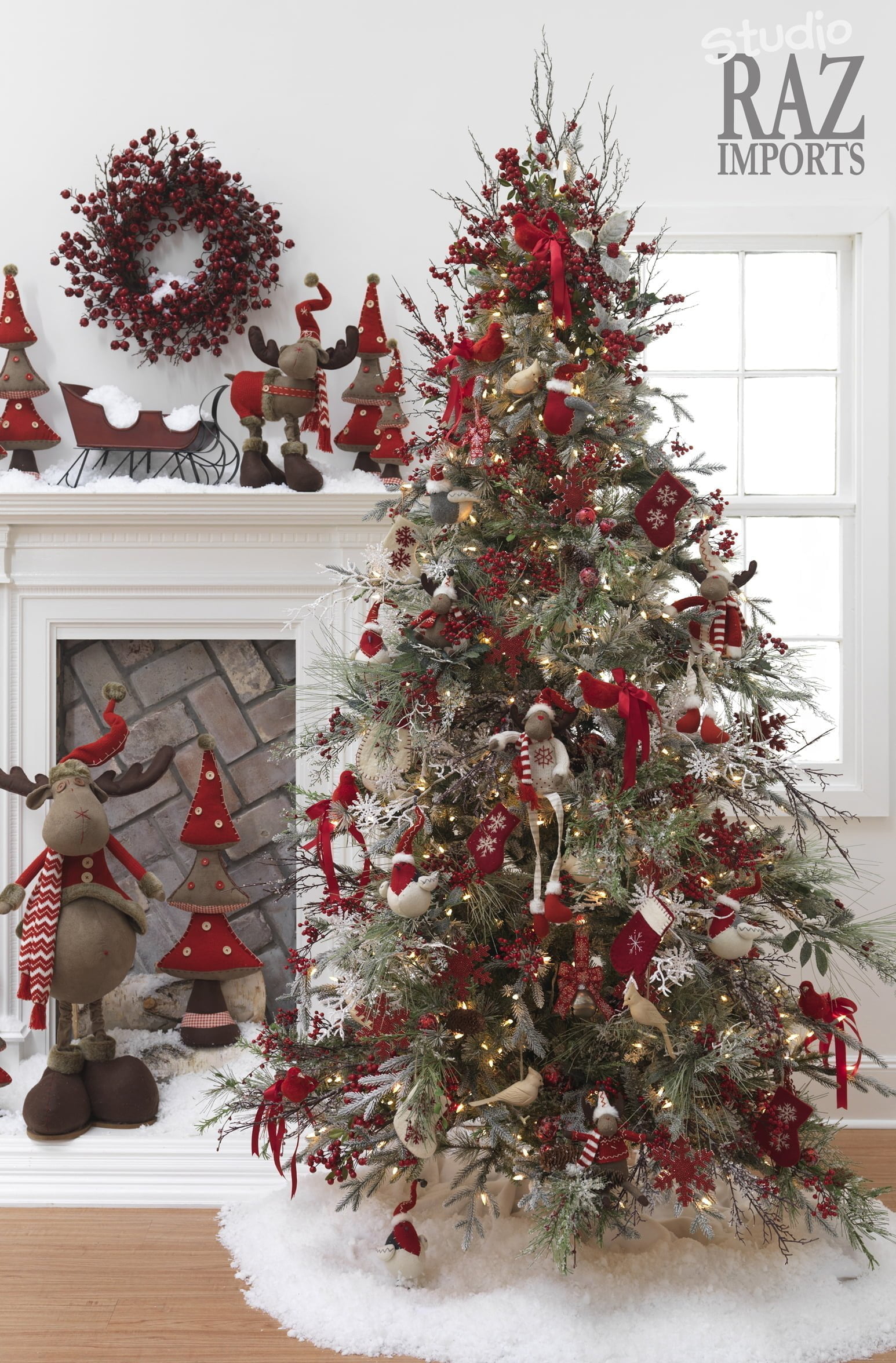 It's not everyday that reindeer are seen mingling with birds in a tree, but Christmas decor ideas often incorporate a bit of whimsy. The lighthearted theme begins with a blanket of fake snow placed at the base of the tree. An interesting collection of crafty reindeer dolls are placed on the branches near a variety of birds, stockings, and warm winter mittens. Areas of the tree are accentuated with bright red berry sprays, frost, and big snowflakes. Surrounding decor like matching reindeer and a holly berry wreath extend the theme to other features in the room.
44. Extravagant Adornments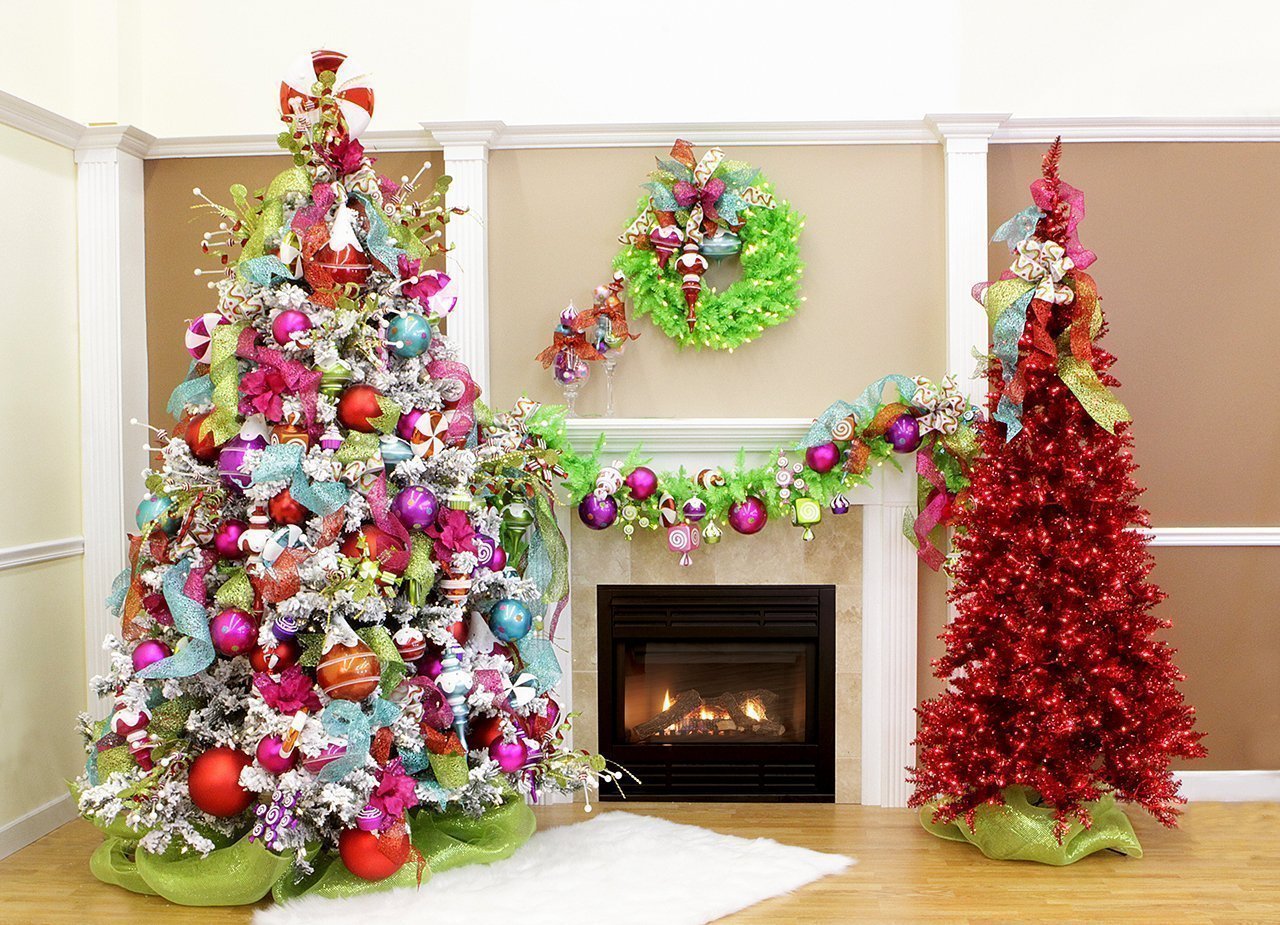 Source: The original source is not available anymore.
Decorating a Christmas tree with oversized, vibrant plastic accessories is an exciting sight for anyone to see. Eliminating the appearance of the actual tree seems to be the goal when packing a large variety of colors, shapes, and textures onto the base. Wrapping a sheer green mesh at the bottom establishes a solid base to begin building up the body with candies, cupcakes, poinsettias, polka dotted baubles, and extra large balls. The addition of various mesh ribbons adds to the fullness as they curl down from the top of the structure. A giant red and white peppermint hard candy is set on the top of the extravagant collection.
45. Homemade Touches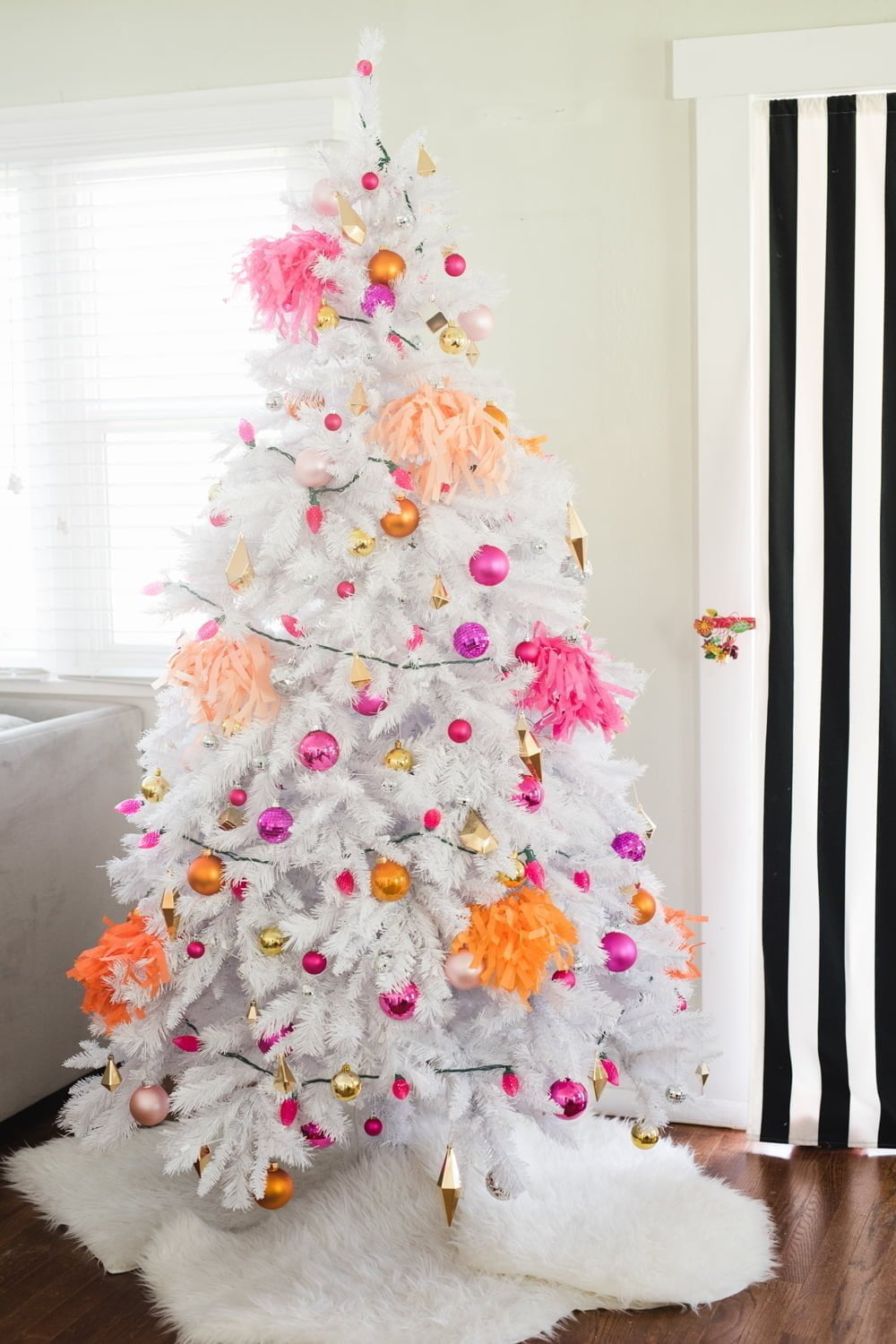 Source: The original source is not available anymore.
Brightly colored pom-poms are front and center of this fun Christmas tree decorating idea. Re-creating these airy, cheerful ornaments requires either tissue paper or a spool of ribbon that matches the pink, purple, and orange color scheme. Cut a handful of thin strips at equal length and bind them in the center with another piece of ribbon or twine. Larger pom-pom balls spaced apart stand out as the focal point alongside geometrical golden shapes and fun disco ball ornaments. The final touch of using pink pine cone lights is the perfect contrast against the snow white tree.
46. A Rustic Scene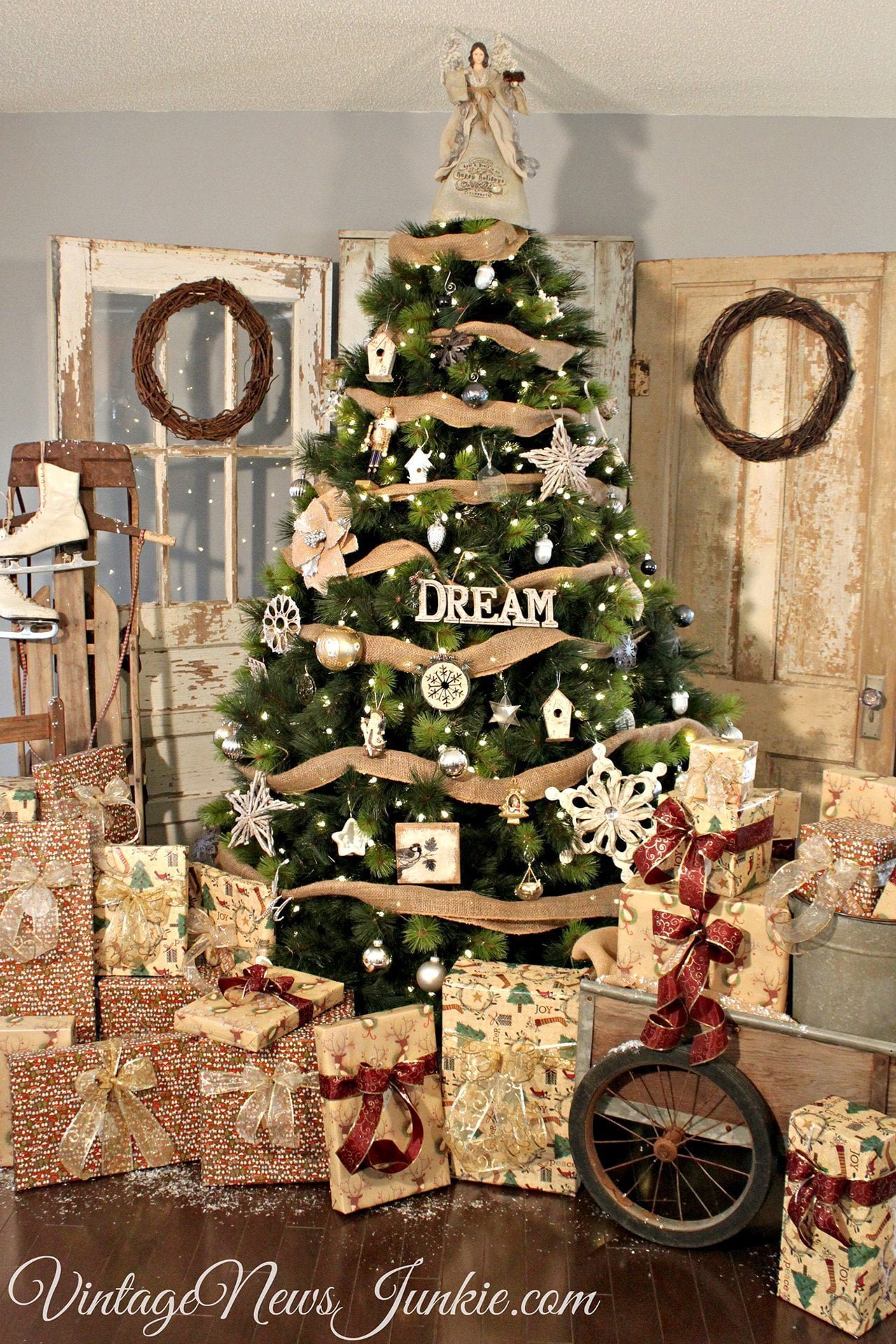 Source: vintagenewsjunkie.com
Careful planning and organization begins the creation of an elaborate, picturesque scene that will have friends and family in awe. A set of 3 flea market doors set the background for a trendy vintage look. The tall tree is adorned from top to bottom with rustic burlap, wooden ornaments, and subtle silver balls. Classic angel tree toppers like the one on this tree are a very traditional feature that offsets a more modern design elements. Creative DIY touches like the snow sled and wooden wagon positioned near the tree are nostalgic items that would otherwise sit collecting dust in a closet.
47. Red Plaid and Snowballs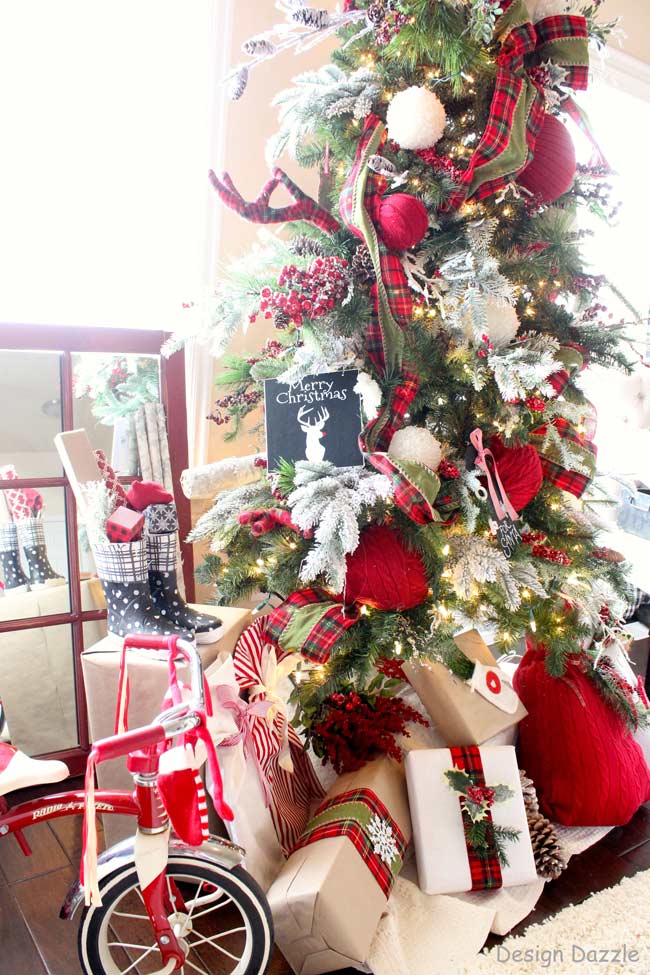 Re-purposing old items that are laying around the house is a great opportunity to elaborate on basic decor ideas. Adding touches of frost to tree branches and berries gives a chilly winter feel to a tree, but creating snow balls takes it a step further. Using glass ball ornaments or cheap foam spheres provides the basic shape for each snowball. Spray the surface of each ball with a thick coating of fake snow, and gently place on sturdy branches once dry. Use an old red sweater to cover other balls and craft a homemade gift sack to set beneath the tree. Red plaid fabric, pine cone sprays, and a few basic props pull each of the elements together for a complete design.
48. A Pop of Purple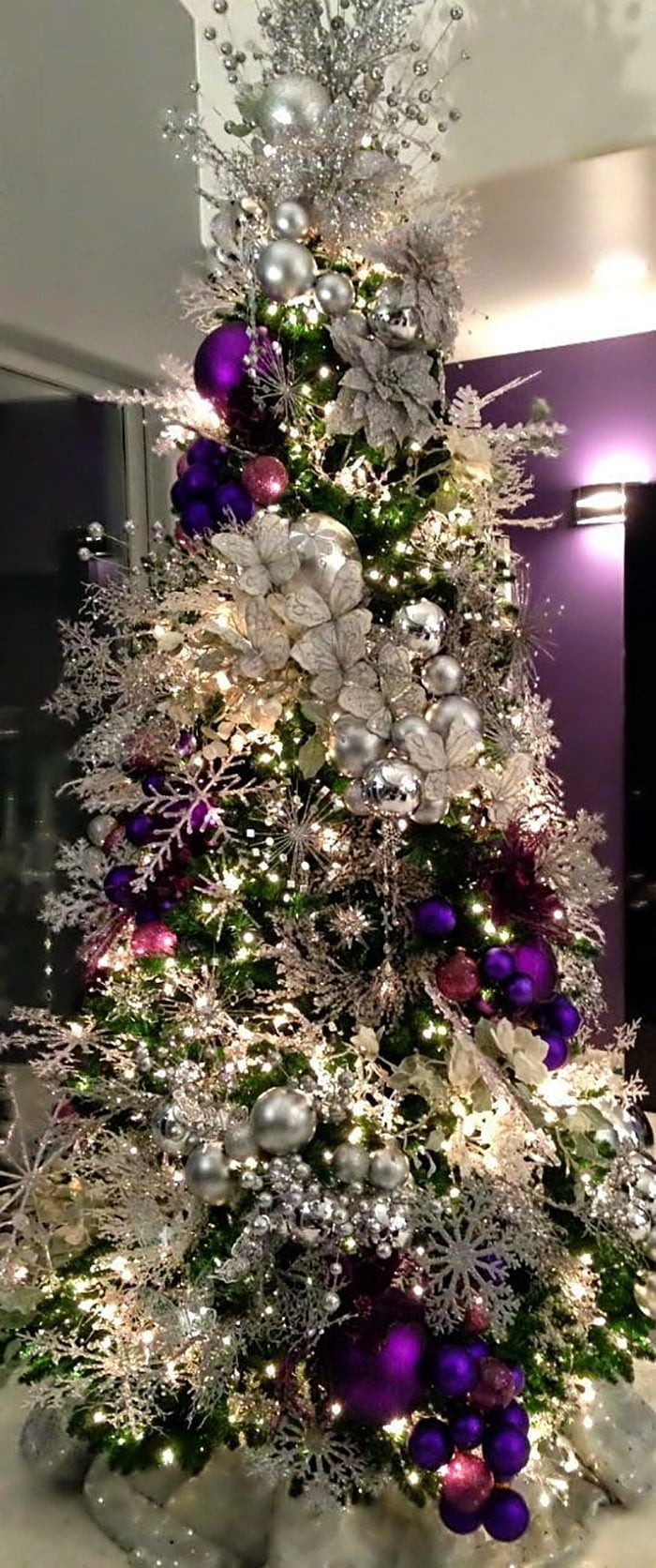 Rich silver tones give a luxurious look to any holiday decor, especially in Christmas tree decorating. A basic tree is effortlessly transformed with the addition of ball sprays, snowflake ornaments, plastic filler branches, and elegant butterfly accents. Long ball sprays are becoming more common in Christmas tree decor because it adds length without using an oversized topper. Gorgeous purple ball clusters placed in key areas of the tree add a pop of color to offset the solid silver of other ornaments. With such an overall regal aesthetic, it's not necessary to use anything more than a plain skirt at the base.
49. Chic and Unique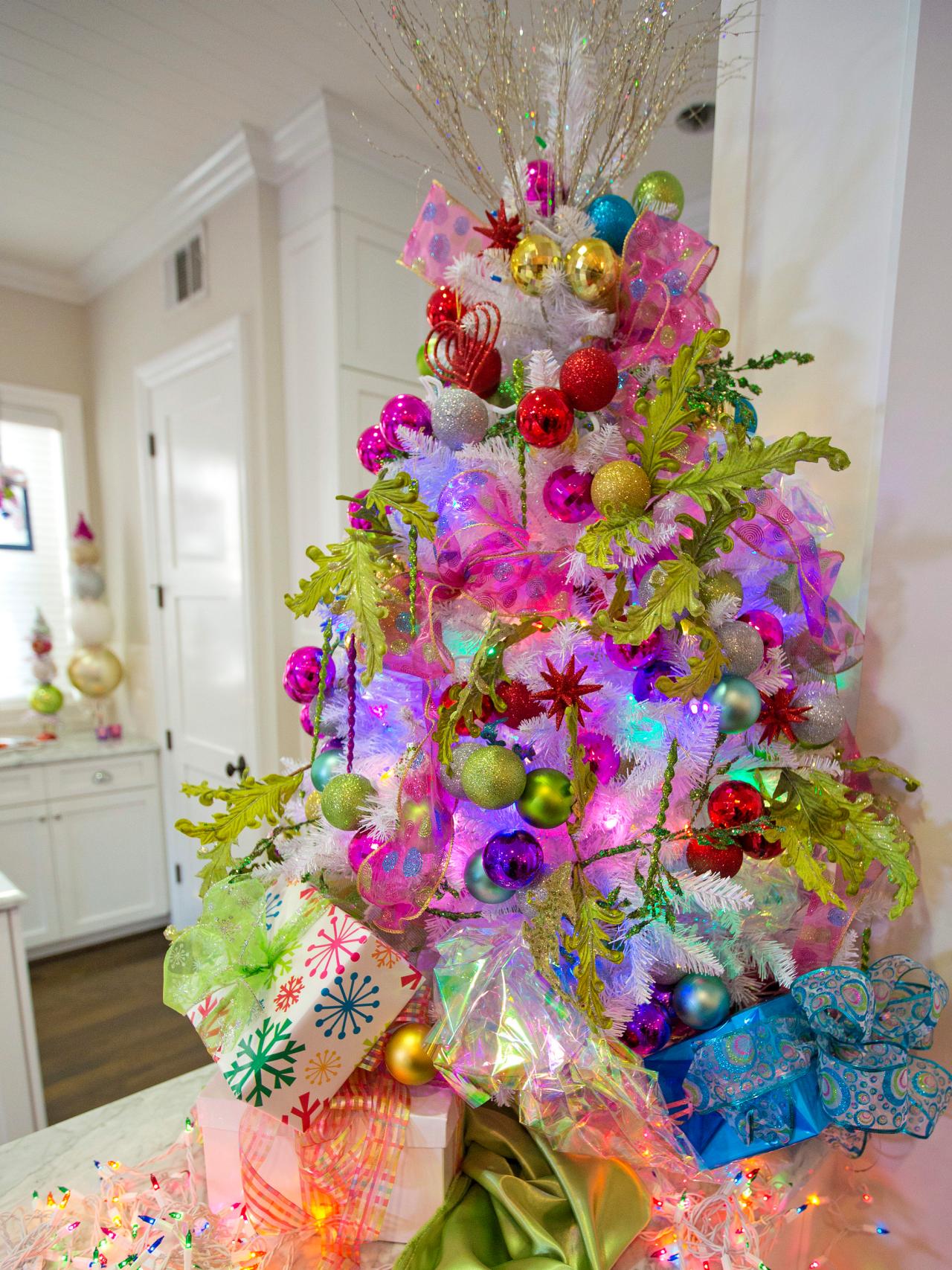 Source: The original source is not available anymore.
A colorful string of lights against white branches brings a festive feel to counter top Christmas tree decorating. Loosely wrapping a multi-colored mesh ribbon creates an abstract structure to begin adding vibrant balls and leafy inserts. Rather than spread each color out evenly, the balls are gathered in clusters for a bolder pop of varying styles. The foliage inserts increase the fullness of the small tree so that it isn't overwhelmed by the other accessories. Small wrapped gift boxes complement the striking colors throughout the tree and look great as an additional decorative piece in the kitchen.
50. Tropical Traditions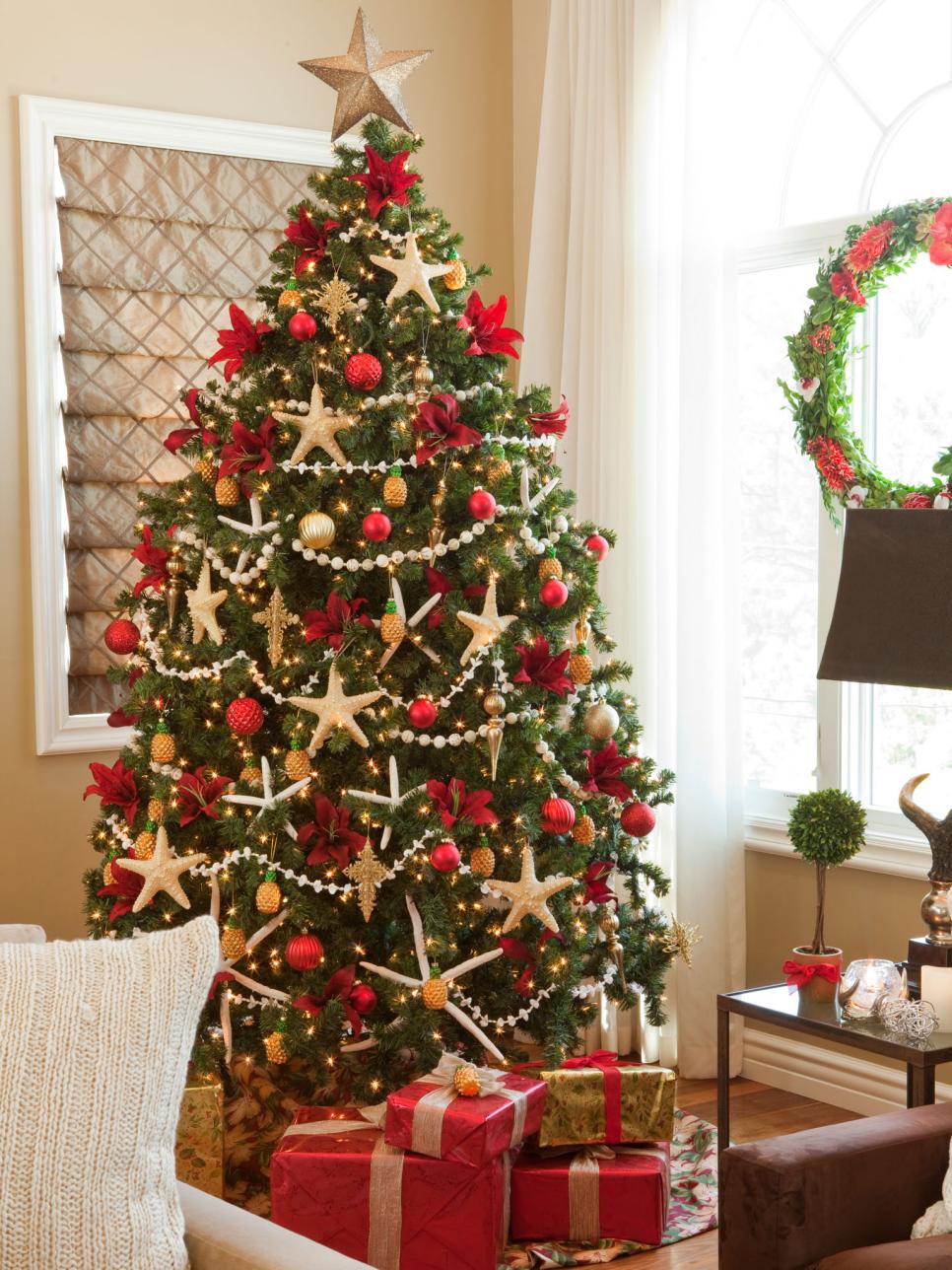 Island shapes aren't a common theme around the Christmas holiday because family gatherings often take place near a cozy fire. Tropical flowers, pineapples, and starfish on the tree are reminiscent of warm beach vacations. The beaded garland ties in with the rest of the decor because it has a similar appearance to seashells that are found along the shoreline. Red and gold baubles and the star topper add subtle touches of a more traditional Christmas. Many looks on the tree can be created inexpensively with items picked up in a local craft store or collected on vacation.
A few trendy DIY ideas and eye-catching decor themes should have you well on your way to creating a fabulous Christmas tree of your own. Hopefully you have learned along the way that you can achieve a luxurious look without spending a fortune, and it's okay to combine traditional, rustic, and modern elements on the same tree. Remember that this is one of the biggest focal points in the home so wandering aimlessly around a store full of ornaments is never a good idea. Impress visiting family and friends with stunning holiday decor that is complementary to your personal style.