Christmas tree decorating started way back in 16th century Germany, and has since been carried on as a holiday tradition in the United States and many other countries. Although we don't use edible adornments like early German-Americans did, it's common to see the incorporation of other conventional styles. Angels are believed to bring good luck into the home, and ringing bells ward off the presence of any evil spirits. Elaborate creations commonly incorporate some of the classic elements mixed with current trends, like rustic or DIY ornaments. Decorators are also more likely choose artificial trees to eliminate mess and environmental impact.
Get Inspired With 50 Fabulous Christmas Tree Decor Ideas

When choosing the decor for your own Christmas tree, it's important to represent your own style and consider the look of the placement area. Feel free to express yourself through a variety of playful shapes, textures, and themes. There are no rules or restrictions if you want to stick with a very traditional and elegant look, or go a little wild with vibrant homemade ornaments. Preview a multitude of different looks a discover the latest trends without leaving the home by browsing these 50 Christmas tree decor styles.
1. Romantic Roses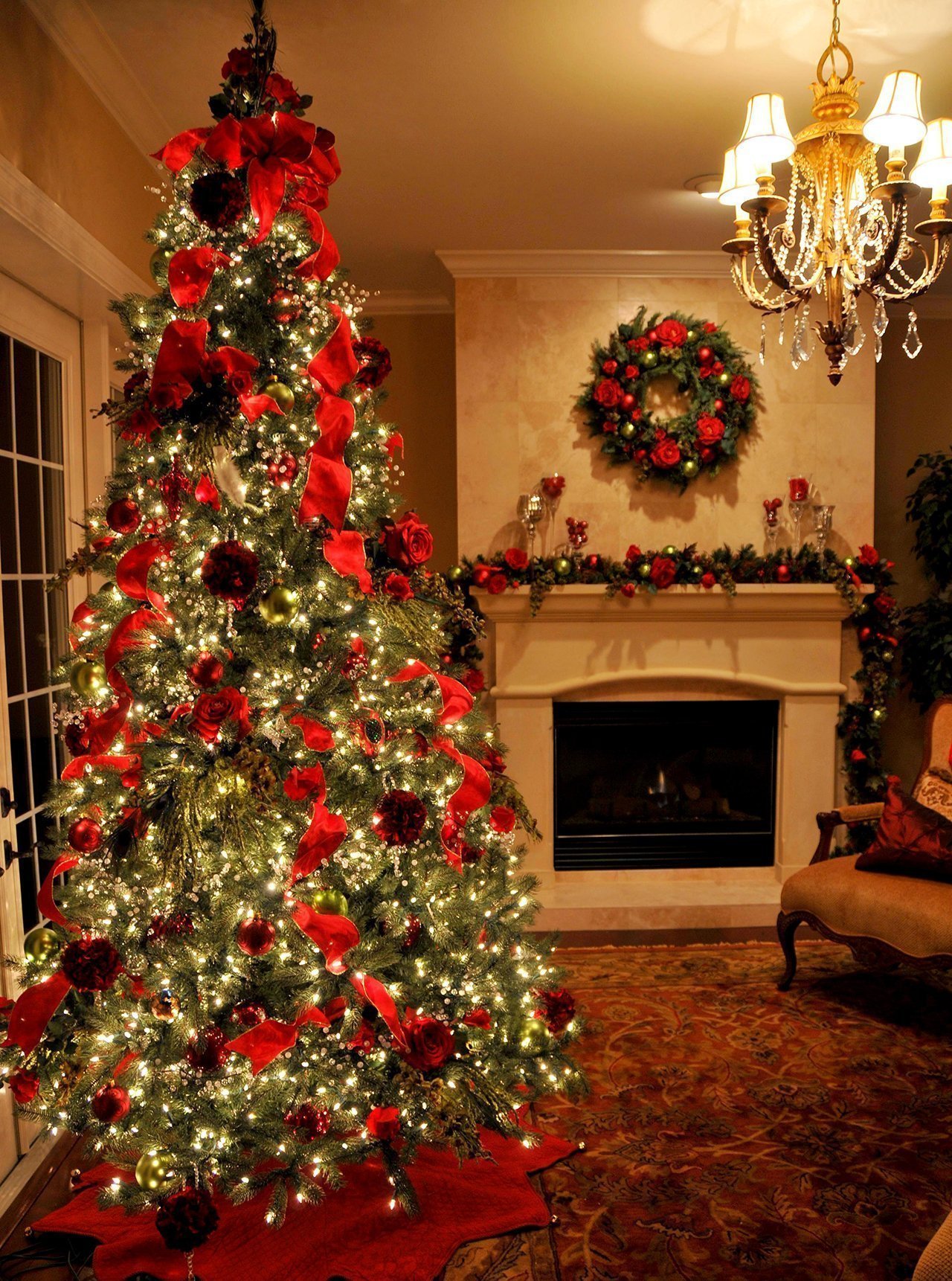 Red is a basic staple for traditional Christmas tree decorating, but it has carried beautifully into modern design ideas. The base design for this elegant tree incorporates silk roses, gentle white lights, and a red ribbon flowing from the top. Surprising accessories like white feathers, glittery plastic butterflies, and the occasional golden ball ornament add an understated flair that doesn't overpower the dominant decor. The matching skirt adorned with classic gold jingle bells is the perfect way to incorporate traditional imagery with the contemporary tree design. Save a few extra roses and ornaments to tie the room together with a matching wreath or mantel decoration.
2. Simply Silver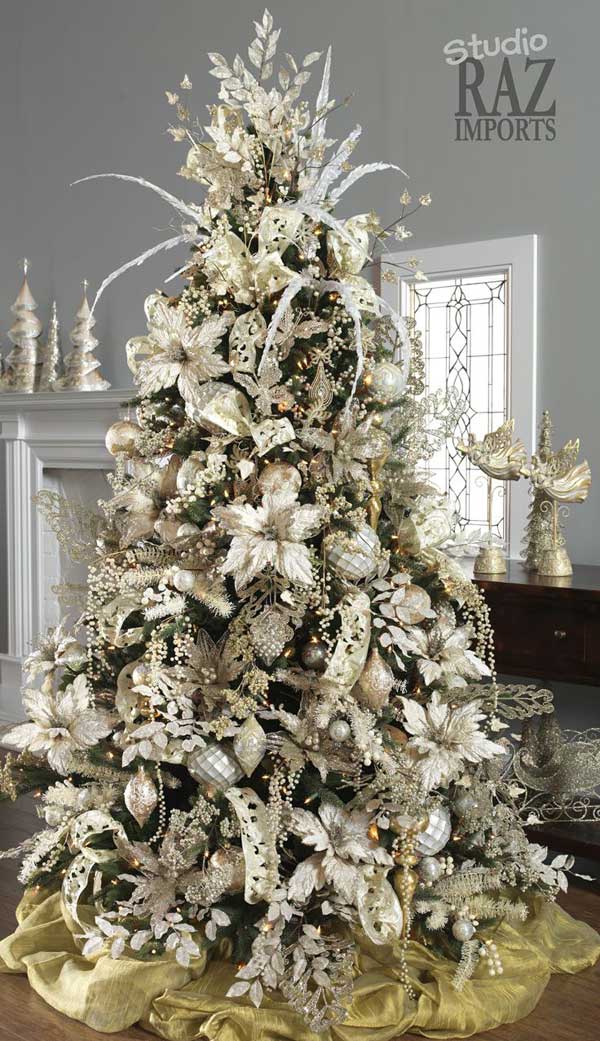 Selecting single-color holiday decor allows the freedom to get creative with shapes and textures. This silver tree features silk flowers, leaves, small balls, bead strings, flowing feathers, and the just right amount of white lights. A topper is not necessary with such a full tree, but a simple angel would be the perfect addition to the ethereal color-scheme. The flowing golden skirt is a simple DIY that can be created with a piece of soft fabric that matches the color of accent ornaments within the tree. Place it loosely on the floor to hide the stand and collect any fallen needles if you are using a real tree.
3. A Real Family Tree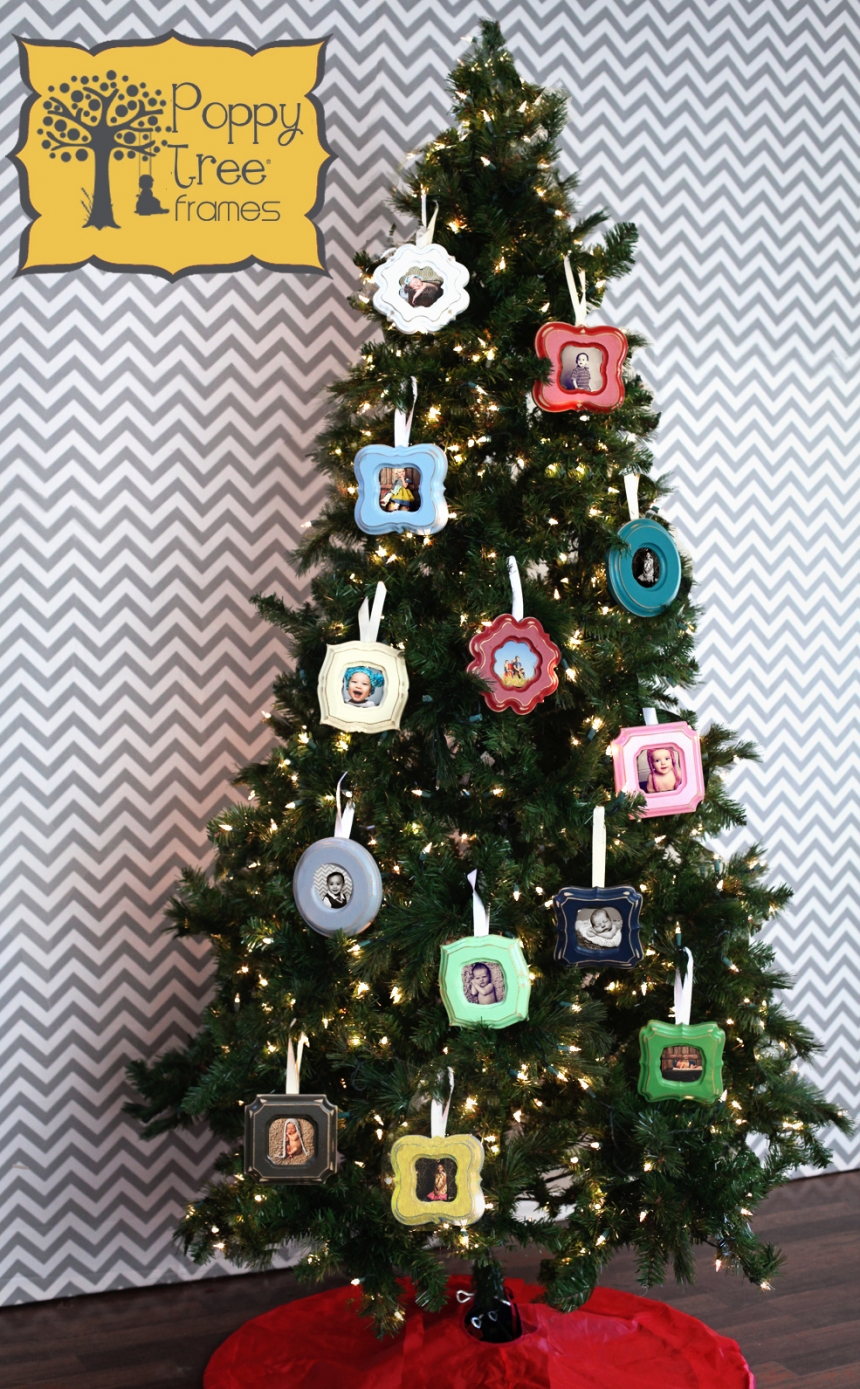 There is no decorating rule book that says a tree has to be filled with ornaments to look absolutely beautiful. Incorporate each member of the family with a framed baby photo instead of trying to fill every empty space. The designer placed their tree in front of a chevron pattern background to accentuate the classic shape and color so that the few ornaments truly stand out. A classic red skirt wrapped around the bottom masks the stand with simplicity. As an added bonus, these cute ornaments can be given out as a gift at the end of the holiday.
4. Rustic Charm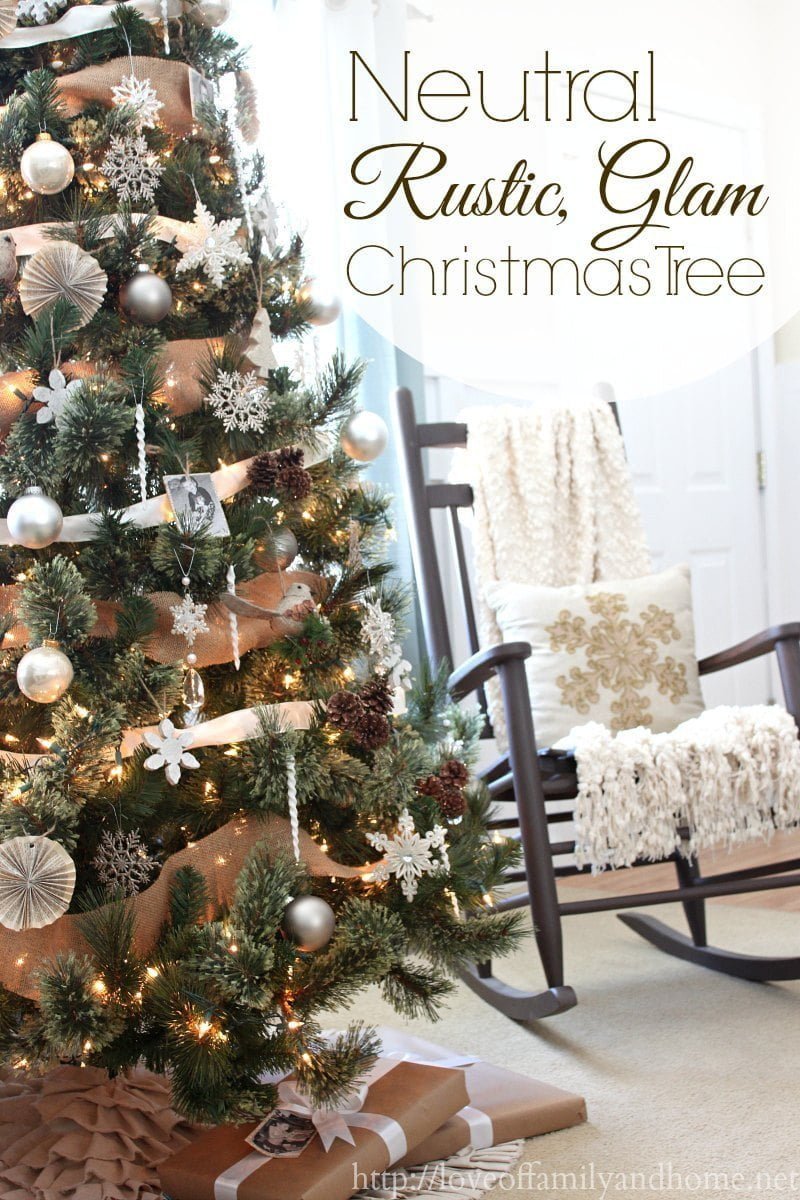 Craft store and Pinterest fans can rejoice at the opportunity to incorporate rustic elements with the often glamorous Christmas decor. Simple burlap garland and wooden ornaments next to white silk ribbon and glistening snowflakes is an unexpected, yet perfect, partnership. Natural pine cones in the design make the faux tree appear more realistic, and they're given their own elegant accent with the addition of glitter paint. Black and white family photographs re-purposed into DIY Christmas ornaments offer a sentimental flair that is perfect for the holidays. A textured cloth skirt complements the neutral coloring throughout the tree to complete the design.
5. A Fun Rainbow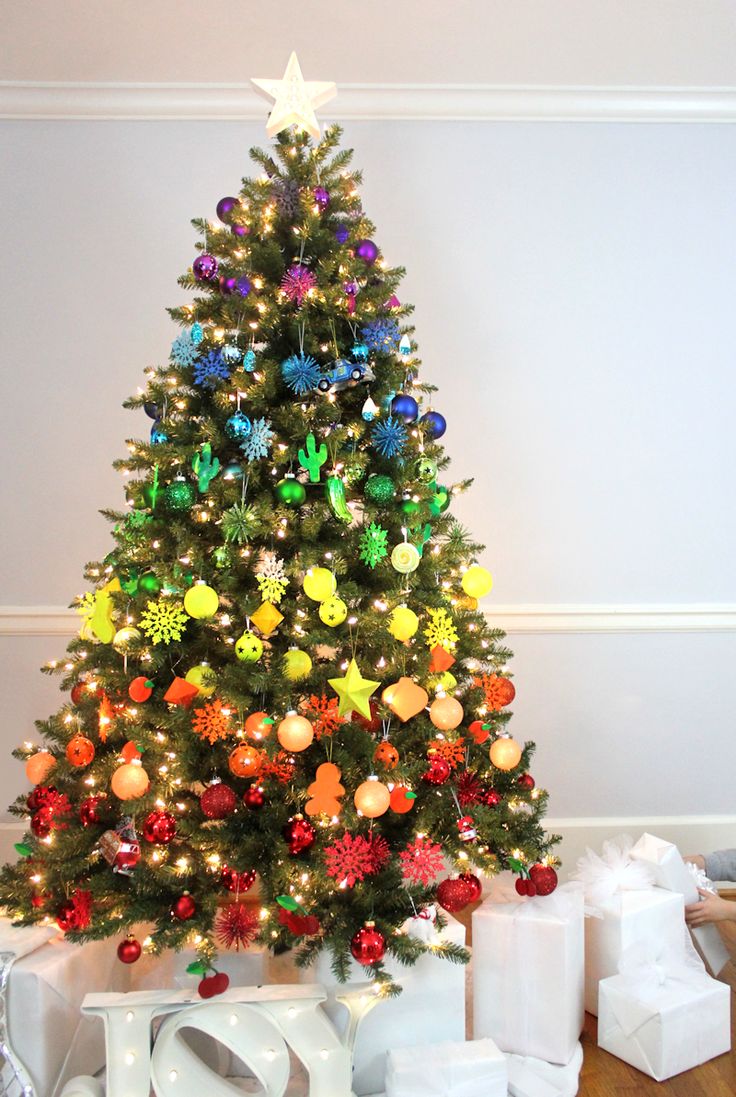 Picking out an assortment of ornaments and decorating a Christmas tree should be a fun tradition to share with the family. The full color spectrum is represented with this vibrant, whimsical rainbow tree. Starting with a very simple illuminated star at the top, the tree features a selection of violet ornaments that flow into blue. With this decor idea, there are plenty of options to incorporate non-traditional elements like the green cacti and pickles placed in the center of the tree. The neutral background and gift wrapping allow the rainbow tree to remain the focal point in the room.
6. Nordic Farmhouse Flair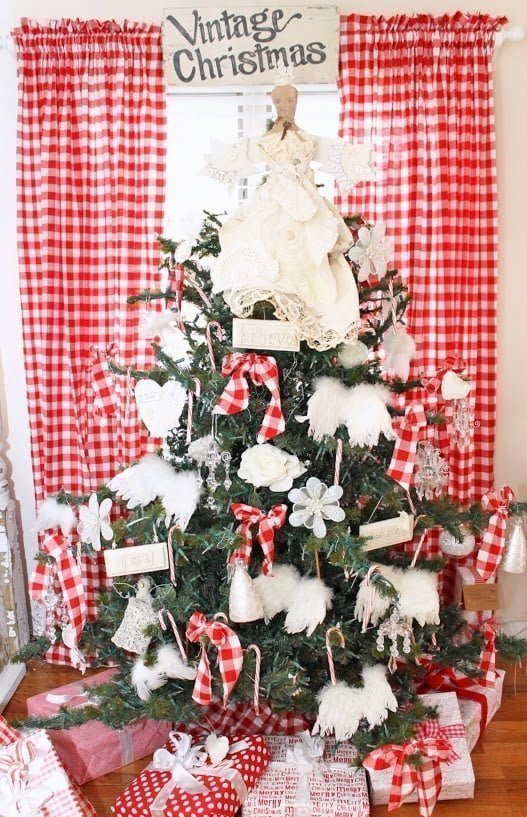 Checkered fabric is a new way to keep with the tradition of red and white Christmas decor because it's slightly unusual. A simple backdrop created using the festive cloth sets the tone for the Nordic farmhouse theme of this charming tree. Matching fabric bows tie the look together, but they're toned down by elegant angel wings. Pure white roses and crystal ornaments seem to take on an ethereal glow when the white lights throughout the tree are illuminated. The stand-out piece of this design is the large, handcrafted angel that sits perfectly on top of the tree.
7. Feathery Refinement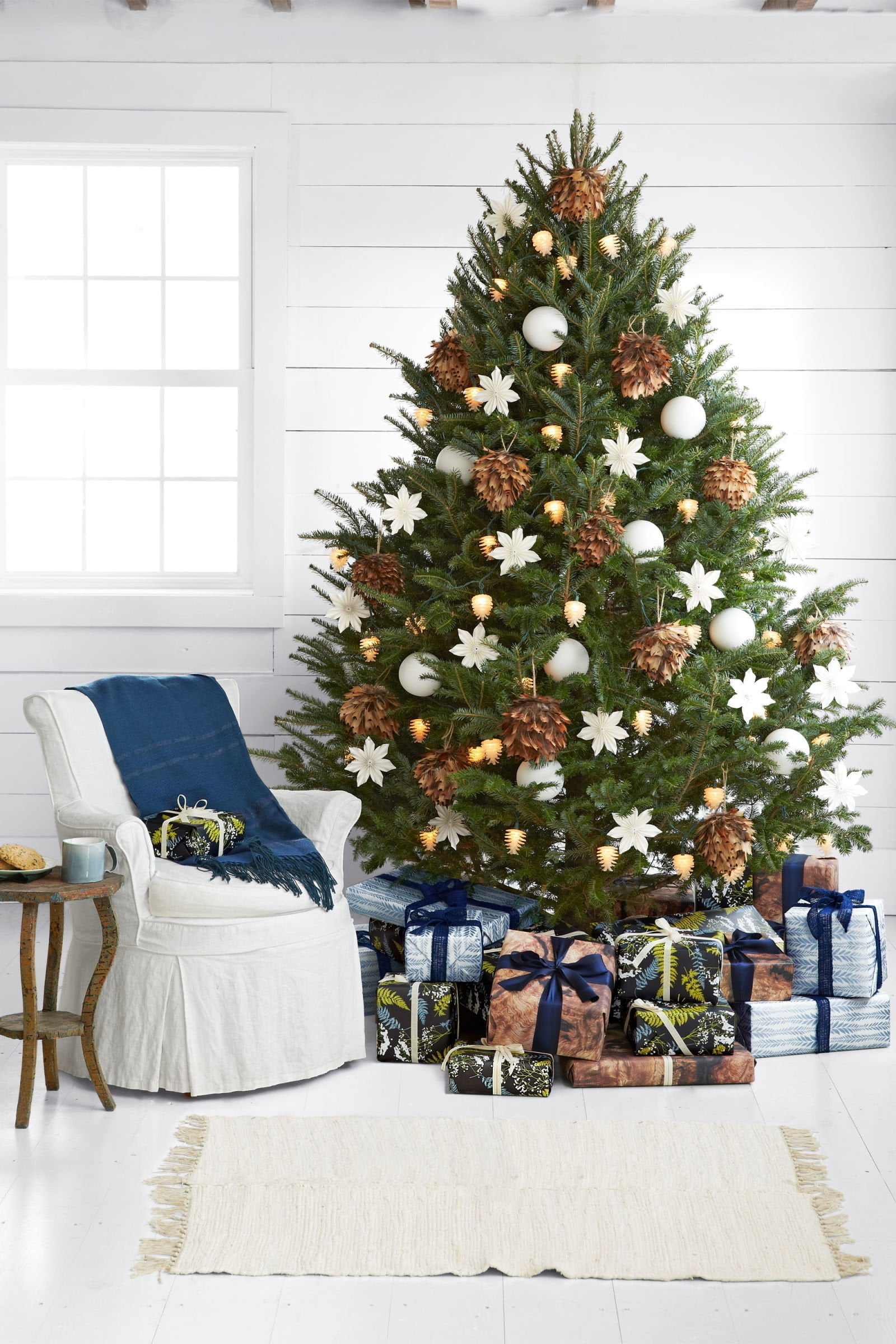 Playing with different textures is a great way to bring a new feel to Christmas tree decoration, no pun intended. Upon close inspection, the ornaments that resemble a pine cone shape are actually a ball of faux feathers. The lights on the tree are in the shape of pine cones as well to provide a change from the common bulbs. Although these basic elements provide a rustic feel, it is in high-contrast with the luxurious white globes made of porcelain. The final touch of crisp poinsettias placed throughout the tree completes the look so that no topper is needed.
8. Red Ribbon Wrapping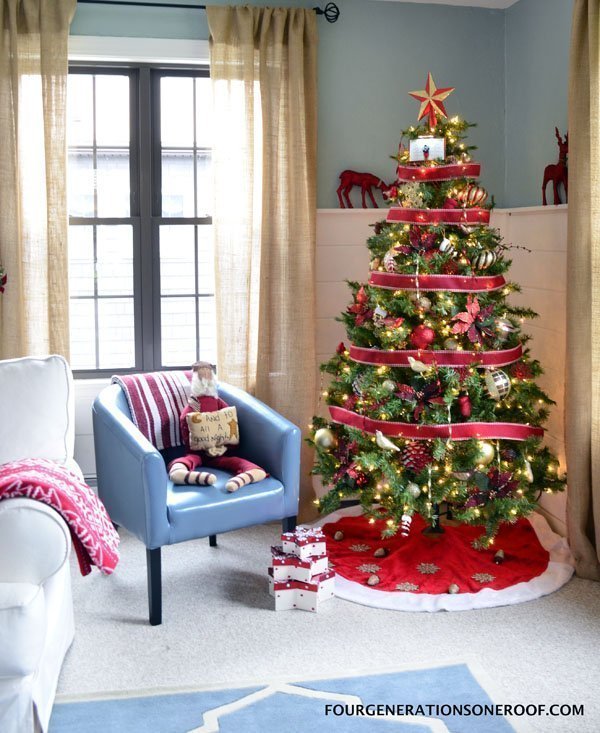 Anyone that doesn't like the mess of tinsel can appreciate the simplicity of wrapping the tree in a solid red ribbon. This particular style is thick with a Nordic design that accents the outer border, so it's easy to tie in with red and white ornaments. Silk poinsettias, red pine cones, birds, and silver balls on the tree are a few selections from the Martha Stewart collection. These moderately-priced sets are often boxed in an assortment of shapes and matching colors. With such beautiful decorations from top to bottom, it's hard to tell that the pre-lit tree is artificial.
9. A DIY Dream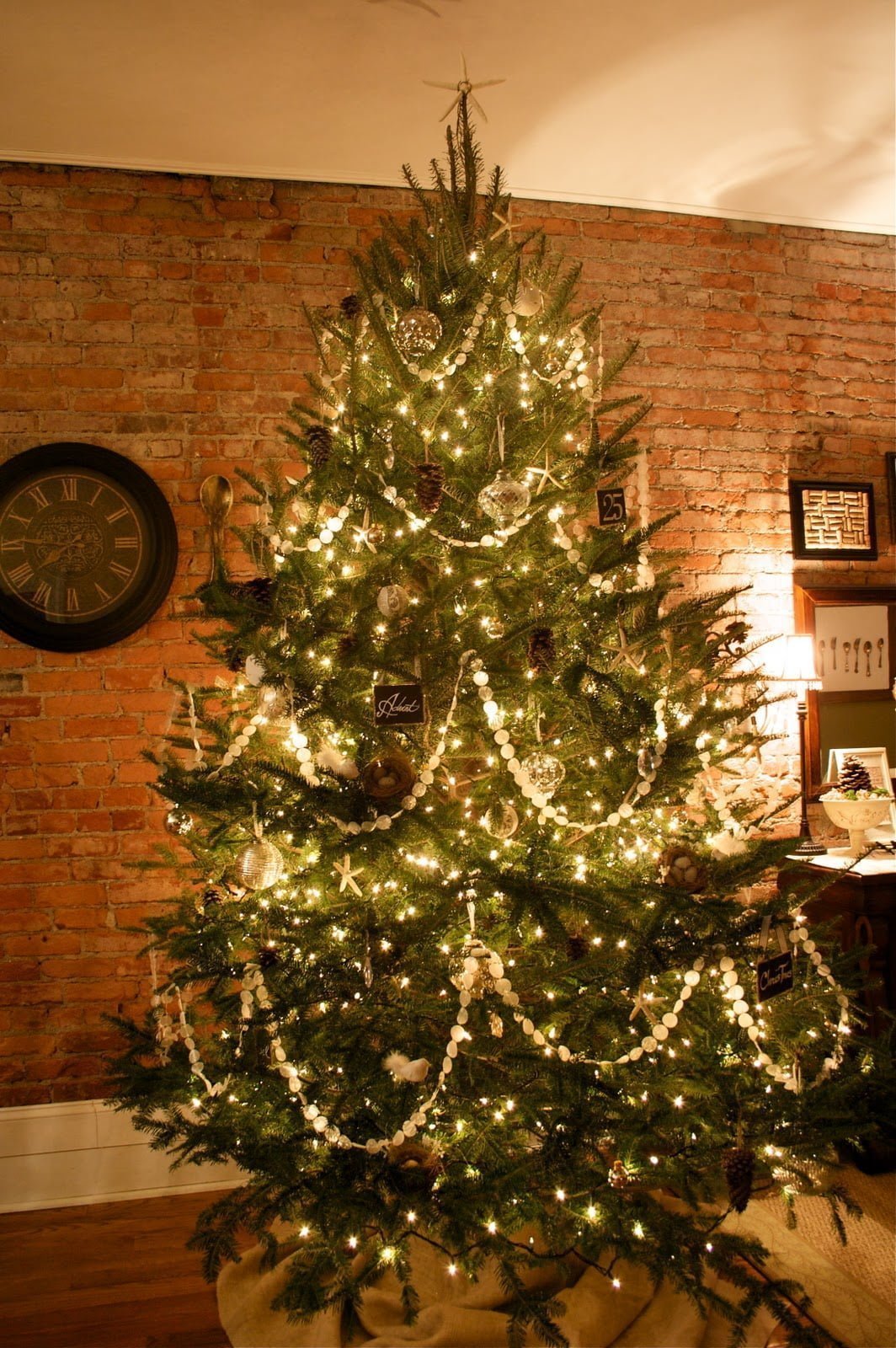 The reward of completing a DIY Christmas tree project is a gorgeous piece of decor that you can show off to friends and family. Tiny chalkboards, birds, pine cones, starfish, birds' nests, and ribbon are just the start of this inspiring tree. The real star of the show is the garland that looks identical to trendy capiz shells, minus all of the expense. Using a big circle punch, the faux shells can be created simply with a sheet of wax paper. Lay out a white string on a flat surface, and then attach each circle by placing two small dots of hot glue on each.
10. Sweet Peppermint Paradise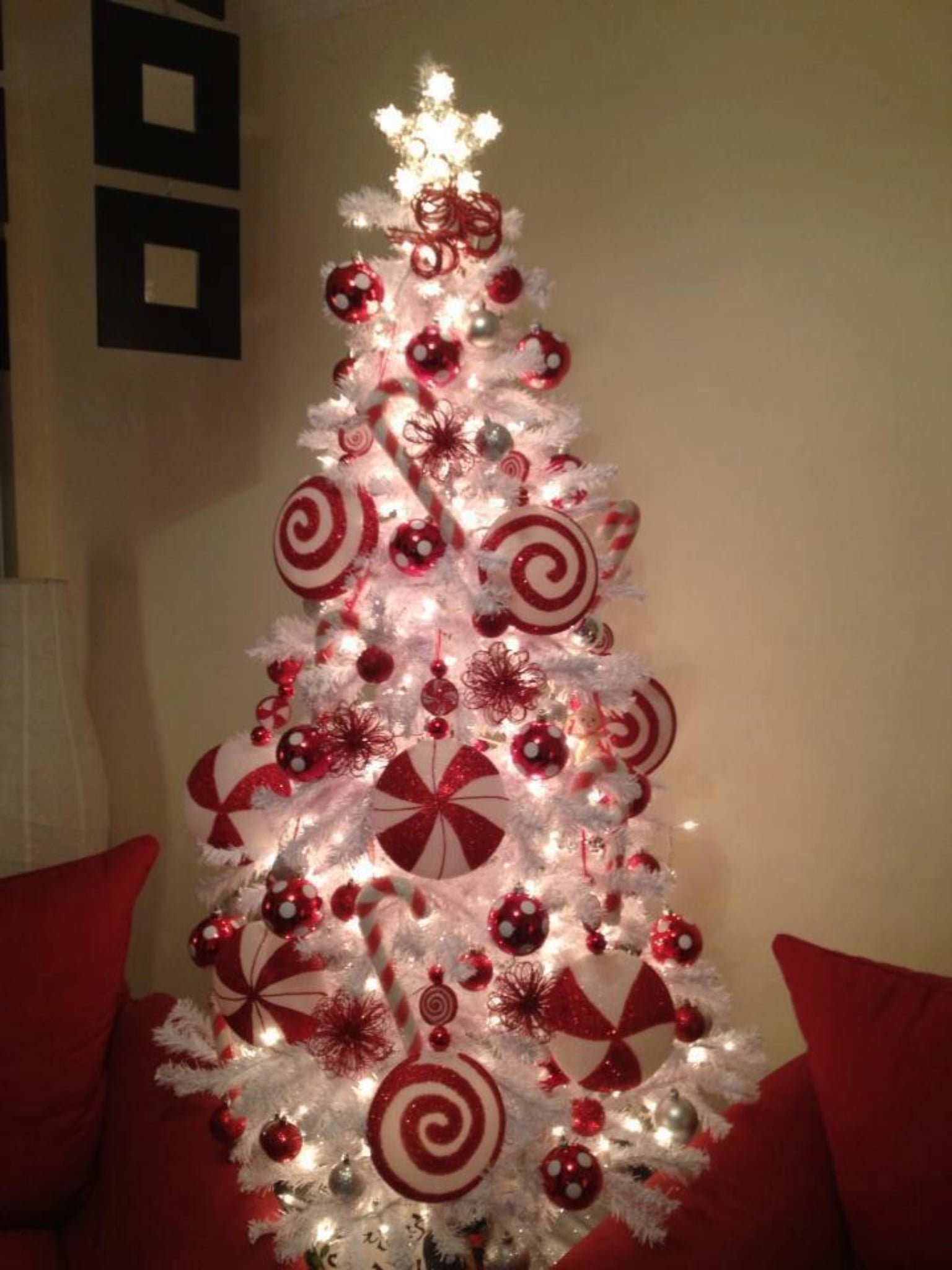 Live out your childhood Candy Land fantasy by decorating a Christmas tree with peppermint ornaments. Although the tree itself isn't edible, all of the kids and kids-at-heart around your home will be delighted at the sight of red and white swirly sweets. Giant peppermint discs, oversized candy canes, polka dotted red balls, and solid silver ornaments look good enough to eat off of the solid white branches. A simple star at the top adds extra light without taking the focus away from the bold reds in the tree. The decorator surrounded the wonderland scene with matching red pillows instead of a plain skirt.
11. Pretty Peacock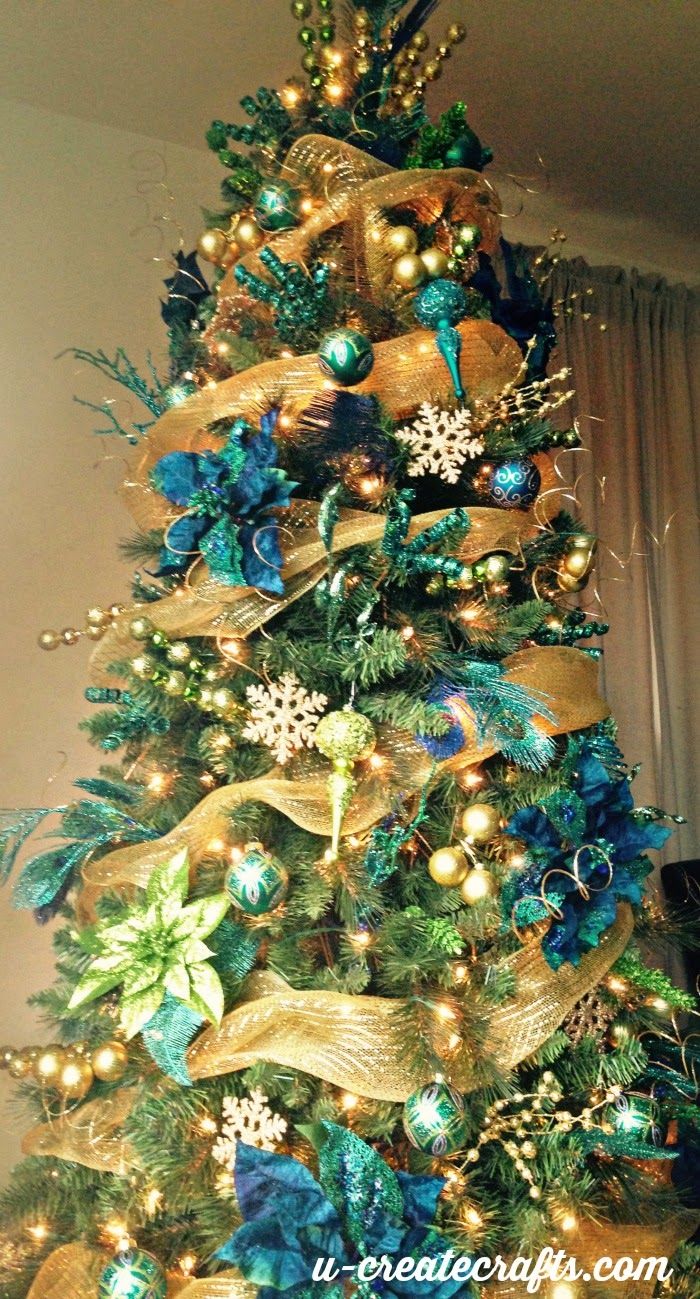 Glitter-lovers rejoice at the sight of shining peacock feathers and extravagant silk poinsettias among these vibrant Christmas tree decorations. Ornate green baubles, gold ribbon coils, and bright snowflakes are inspired by the teal and turquoise colors that are featured in the feathers. The modern take on a tree topper is a clever extension of existing design elements that adds a bit of length to the tree. Mellow lights shine through spaces that are filled with the gold tulle ribbon that ties the entire project together. Although the tree is a bit unusual, it does stick with the peacock theme throughout each branch.
12. Mischievous Visitor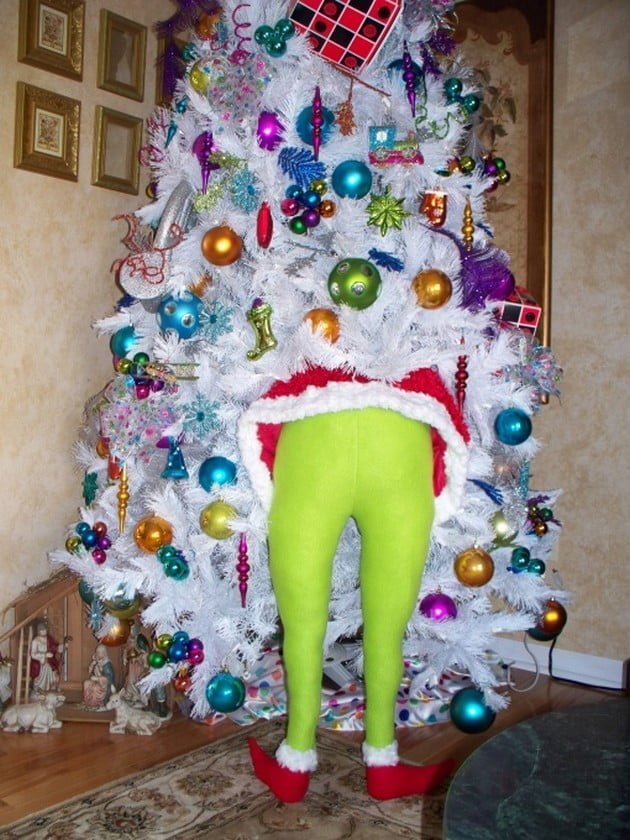 Surprise the kids on Christmas morning by adding a simple DIY Christmas Grinch into the tree. Create this character easily by filling a pair of green tights with cotton or the stuffing from an old pillow. Red fabric or felt can be used to create his shoes and shirt, with a few white cotton balls glued around the trim. He looks best in the middle of a fully decorated tree, and all you have to do to prepare is remove a few ornaments. This colorful tree is designed with multi-colored bauble clusters, various finial ornaments, and traditional balls among other vibrant selections.
13. Minimal Festive Forest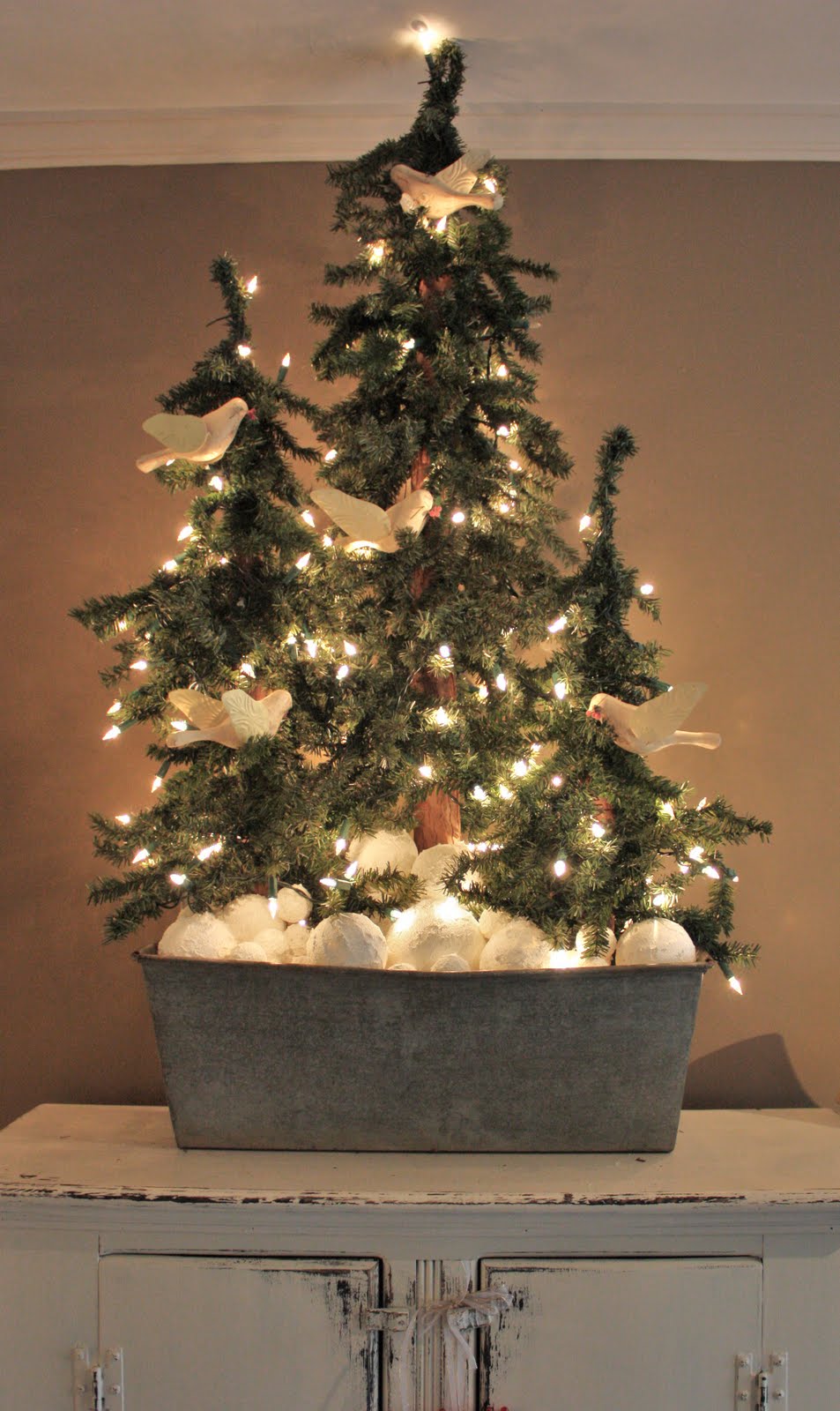 Limited size doesn't mean that you can't partake in Christmas tree decorating, as long as you can get creative. Instead of getting one big tree, this rustic design idea incorporates multiple smaller trees. A few elegant white doves bring life to the trees in a faux forest setting that can easily fit on an end table or small countertop. The entire piece fits into a galvanized rectangular pot that can be moved easily to another location if needed. Fill the bottom with styrofoam snowballs in various sizes to provide a very festive surrounding for the trees.
14. Regal Red and Gold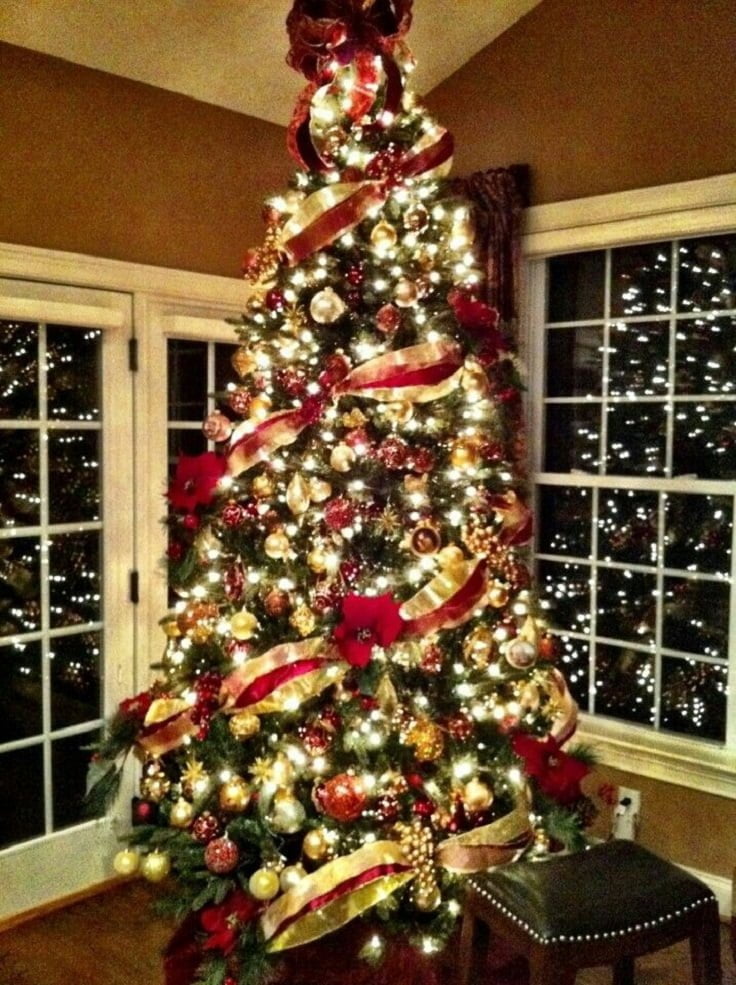 An extravagant red bow tops this tree as the ribbons flow down the length like a Miss America sash. The color scheme is a regal combination of traditional Christmas gold and red that stands out against the green branches. Red silk poinsettias are placed to hold the gold and red ribbons in place, and ornaments fill the spaces in between. The bottom of the tree features a very simple red velvet skirt to camouflage the base. Set against the reflective windows and a neutral background makes these classic colors pop with a majestic richness.
More Christmas tree decorating ideas on the next page…