The way that you decorate your home for the holidays can say a lot about you as a person. For example, if you're a traditionalist, you probably gravitate towards simple and elegant Christmas accessories like white lights and berry arrangements. If you like things that are a bit more whimsical, you probably go for cute and homemade Christmas decorations like painted stockings and one-of-a-kind tree toppers.
Bring the Holiday Spirit Into Your Home with These 27 Christmas Decorations

There's no right or wrong way to prepare your home for holiday festivities; it all depends on your personal preferences. But what if you're not sure where you want to fall on the spectrum this year? Or what if you're decorating your first home and still figuring out what kind of decorations speak to you? If you're stuck for inspiration when it comes to Christmas decor ideas, the good news is that there are plenty of items on the market to help you kick-start your sense of style. Here are just 27 Christmas accessories from around the world that can bring the spirit of the season into your home.
1. A Starry Night When the Hills Were Bright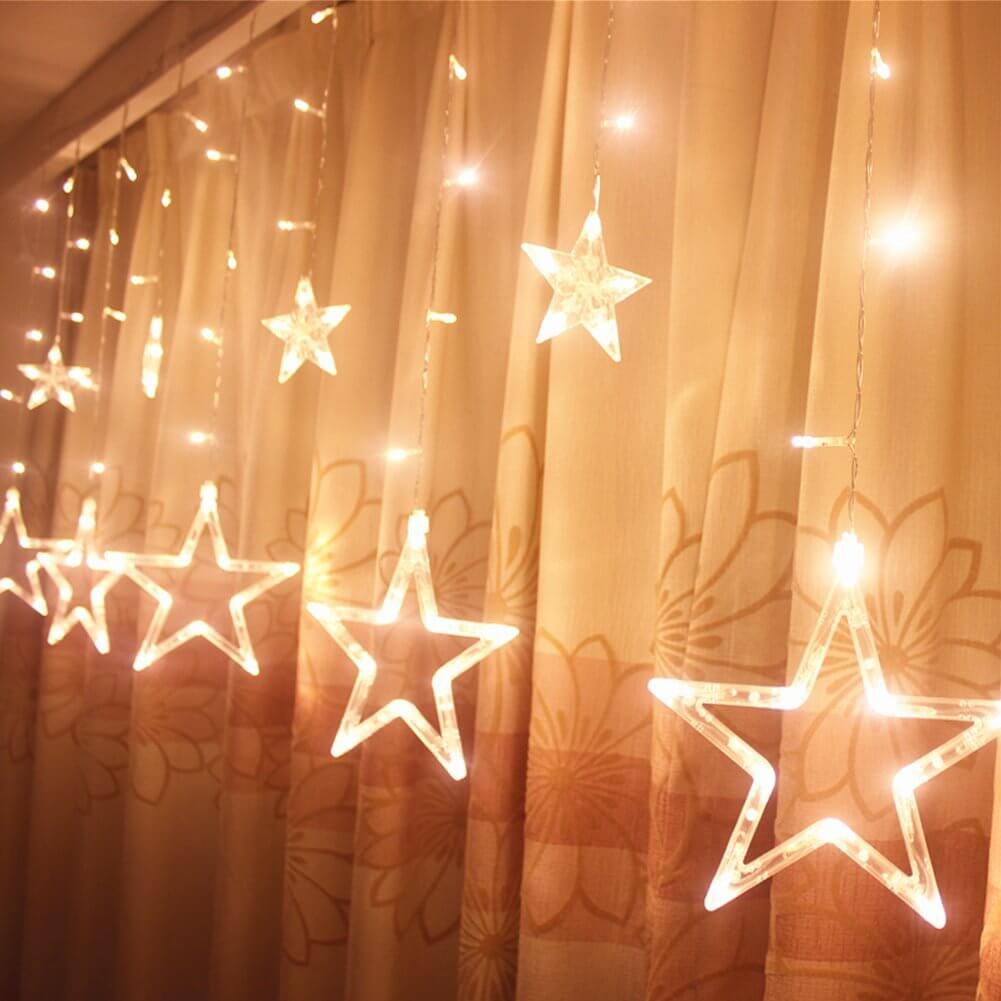 With a hundred bulbs that twinkle merrily through a dozen stars, these light curtains will make a wonderful addition to your regular Christmas decorations. Drape them across your windows; hang them from tree branches outside; use them as a shimmering backdrop for your Christmas tree. They come with eight modes to control their illumination, including "flash," "steady" and "wave," so you'll have plenty of options and lots of light. You can even re-use them for other holidays and events after Santa leaves for the year! Now that's a multipurpose decoration.
2. A Tablecloth Fit for Christmas Turkey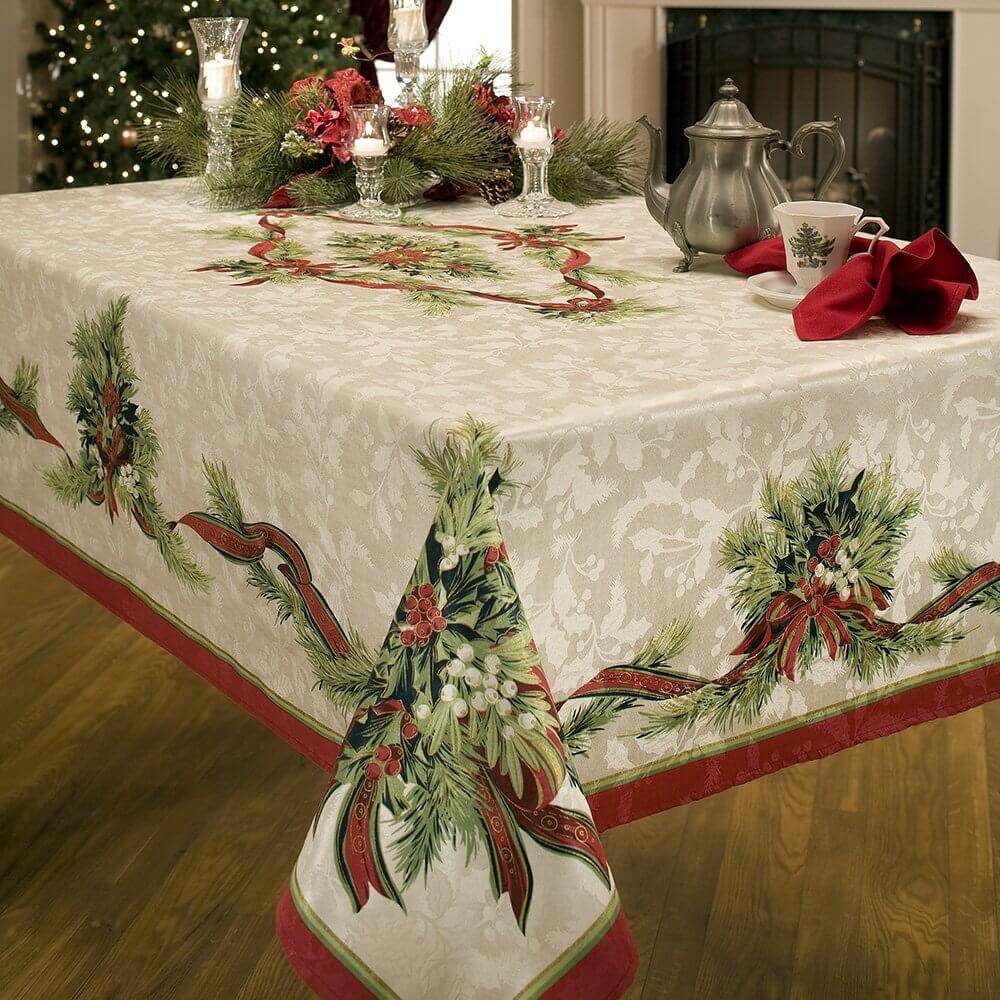 This beautiful tablecloth by Benson Mills paints a picture that's festive yet understated. It has all of the hallmarks of the holidays, including red trim, green garlands and delicately-painted ribbons that sweep along the sides of the cloth, but it's primarily a gentle cream color that will match whatever design is currently in your dining room. It's a table setting that will bring a touch of elegance to your holiday dinners without overpowering them with showiness. It's also very easy to clean and maintain; with a makeup of 55 percent cotton and 45 percent polyester, it can be tossed in the washing machine along with the rest of your cloth goods. All in all, if you're looking for a way to express your holiday spirit without sacrificing the aesthetic that you've already created in your home, consider investing in this tablecloth.
3. He's Making a List
These fun chair covers are the perfect mix of lively and kooky. Shaped like Santa's hats, they'll slide right over the backs of your dining room chairs and give the entire room a jolt of holiday cheer. They even boast little white pom-poms that rest in the center of the chair back when properly positioned. If you're wondering about quality, never fret; they're fully functional chair covers with a white underlining that will both cushion your seat and protect the red outer fabric from wear and tear. If you've been nice this year, treat yourself to one of Santa's famous Christmas accessories.
4. Kid-Tested, Mother-Approved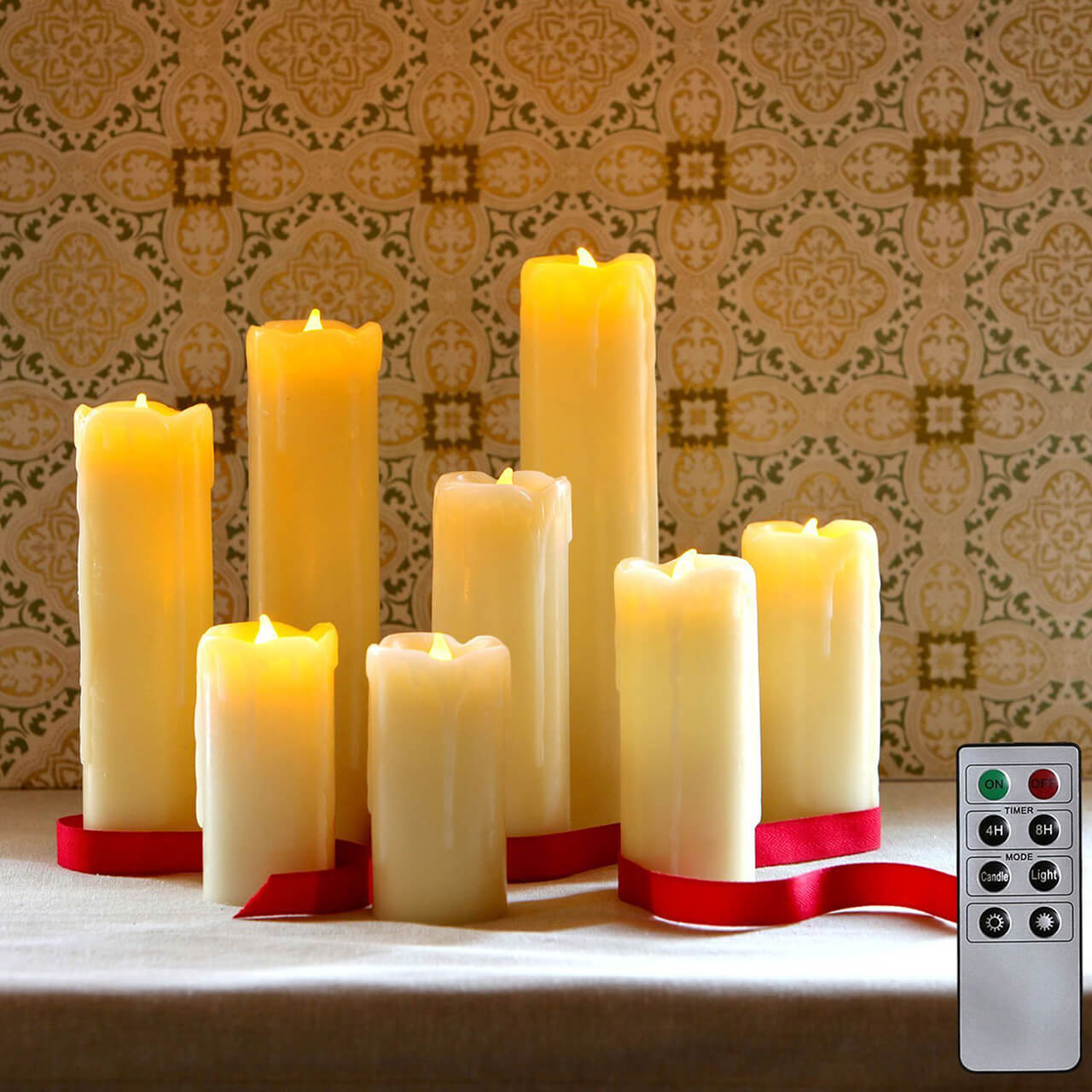 Flameless LED candles are becoming a hot commodity among parents and pet owners. Offering the look and feel of traditional wax candles but with a non-flammable, battery-operated light source that's cool to the touch, they're perfect for giving your home a welcoming glow without sacrificing the safety of your little ones. This flameless candle collection even comes with a remote control that will allow you to dim their brightness or set them on a timer for maximum convenience. Put them on your windowsill to beckon carolers; use them as table settings for holiday dinners or family gatherings. They'll accentuate any space.
5. A Really Resplendent Wreath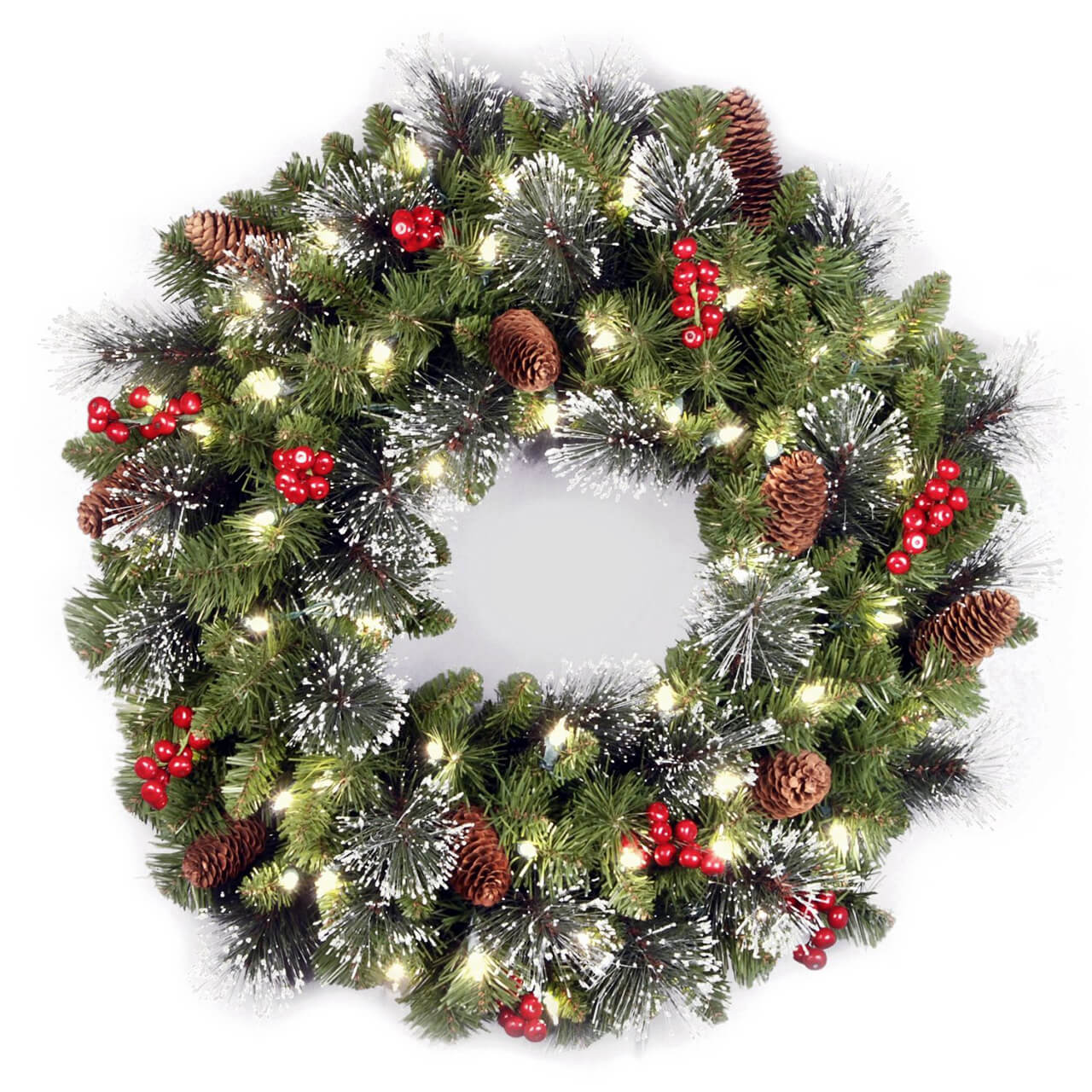 Made by the National Tree Company, this wreath is the pinnacle of Christmas decorating. Its 24-inch diameter comes pre-trimmed with dozens of white lights; its artificial needles are decorated with berries, spruces and pine cones; it even has a sheen of red glitter over the entire creation to make it shimmer from every angle. It plugs into an electrical outlet, so you'll need a power source nearby to light it up, but otherwise it can be hung both indoors and outdoors with no effect on its longevity. It's flame-retardant and non-allergenic. It functions with modern lights but looks like a traditional wreath that your grandmother would've made. In terms of decor ideas, you could do a lot worse than this one.
6. Santa Claus Wants You to Aim Better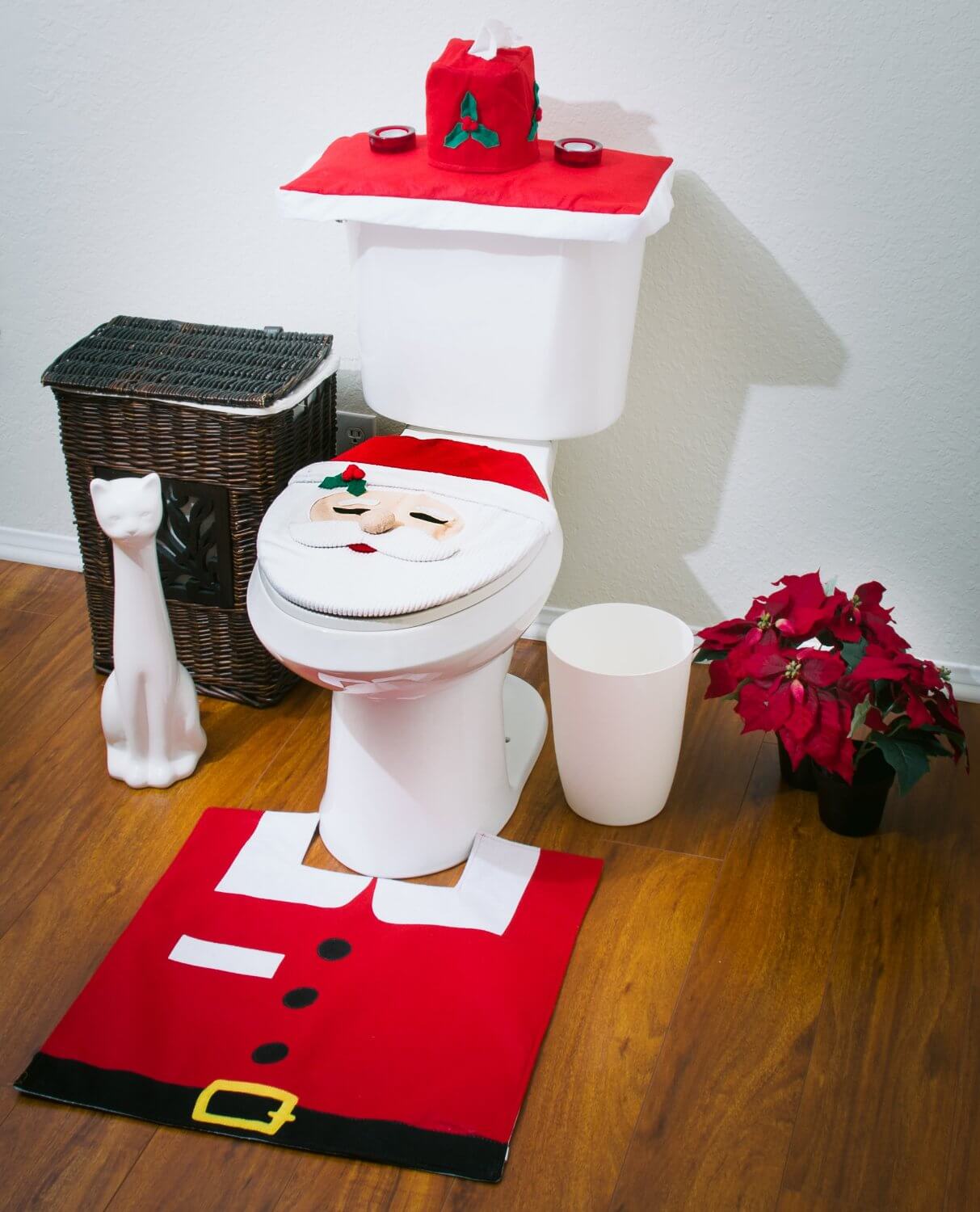 Amuse your guests this holiday season with the "Happy Santa" bathroom set. Consisting of four pieces, including a floor rug, tank cover and toilet seat cover, these Christmas decorating accessories go above and beyond the call of nature by combining laugh-out-loud silliness with genuinely useful bathroom tools. Santa's face rests on the back of your toilet seat; his buttoned red suit goes on the floor; his wrapped present doubles as a tissue box cover that rests on top of your tank. It's a fun, light-hearted bathroom theme that also serves its true purpose with extras like elastic ribbing on the toilet cover and no-slip backing on the floor mat. These are items that will do what they need to do, but they'll also make you smile.
7. Finger-Lickin' Good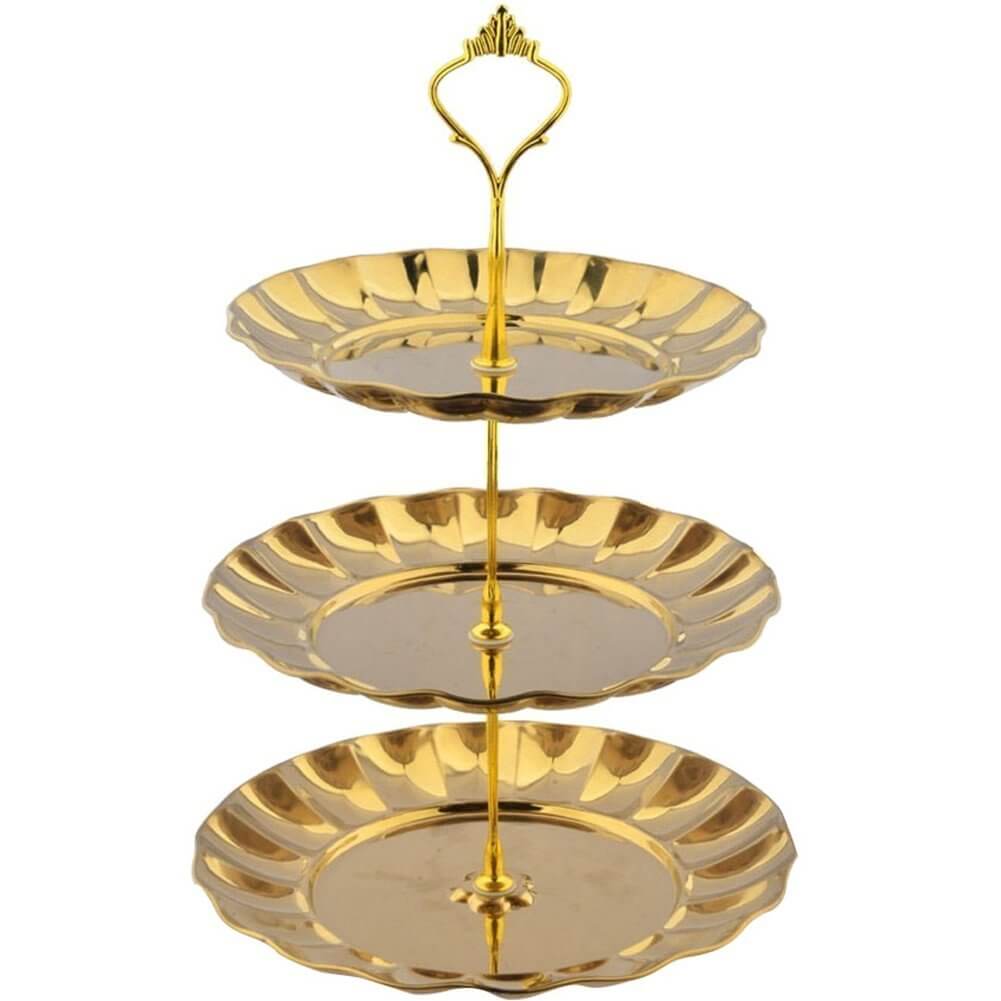 Offering three tiers of stainless steel plates with a burned gold finish, this decorative table setting is an elegant solution for parties, events and holiday gatherings where finger foods need a display. Every plate can be used independently, so you can arrange all kinds of fruits, chips, candies, desserts and breads without worrying about contamination or overlap. The plates also reduce in volume as you "climb" the tiers, giving them a sense of balance and ascension that's pleasing to the eye. All plates can withstand high temperatures and heavy weights. If you'll be baking a lot this holiday season, consider getting a display for your treats.
8. Rudolph Has Left the Building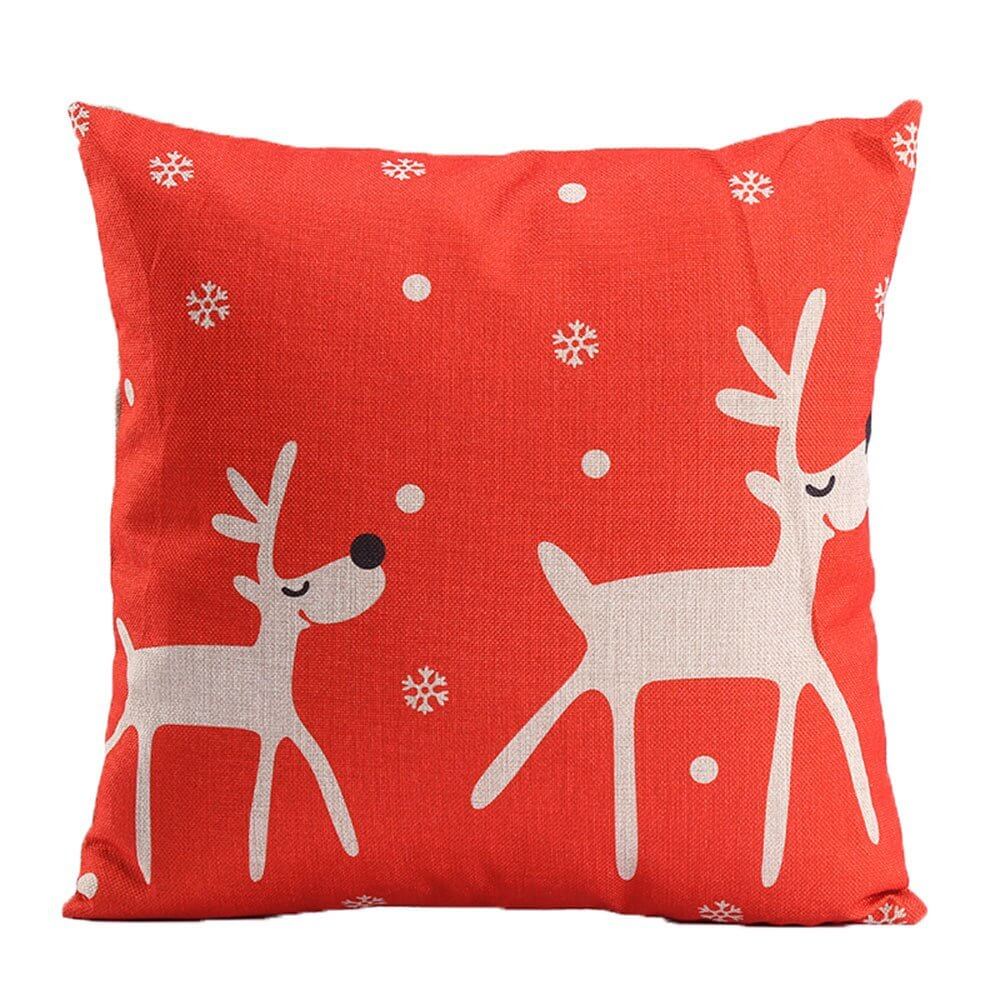 Two prancing reindeer are the focus of this creative pillow cover. They're as cute and simple as the throw pillows that they're designed to fit, so you won't have to worry about elaborate staging, sewing and decorating. They simply slide onto the pillows and fasten with invisible interior zippers that won't be noticed from the outside. If you like this design, you can find others like it through the manufacturer NiceEshop, including additional holiday covers that depict presents, snowmen and more reindeer.
9. Watch Out for Lumps of Coal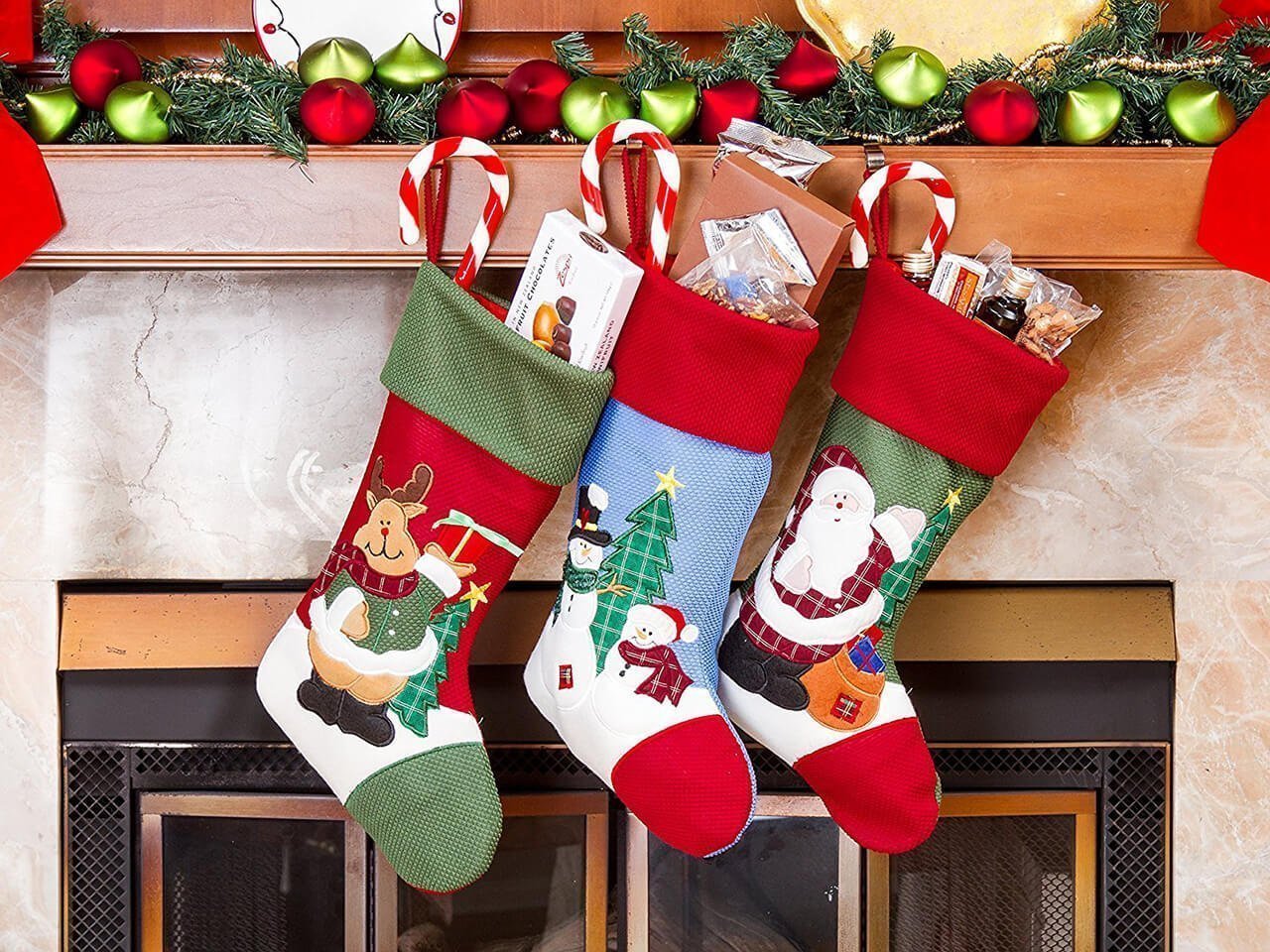 These beautiful, carefully-stitched stockings are throwbacks to a more traditional time. While they contain fun motifs like smiling snowmen and happy reindeer, there's something about the way that they're sewn that suggests a '50s or '60s Christmas decorating theme. These stockings wouldn't look out of place in a classic storybook filled with the adventures of clever children and talking mice. If you'd like a nostalgic look for your own fireplace, consider adding this three-piece stocking set to your collection.
10. Christmas Around the World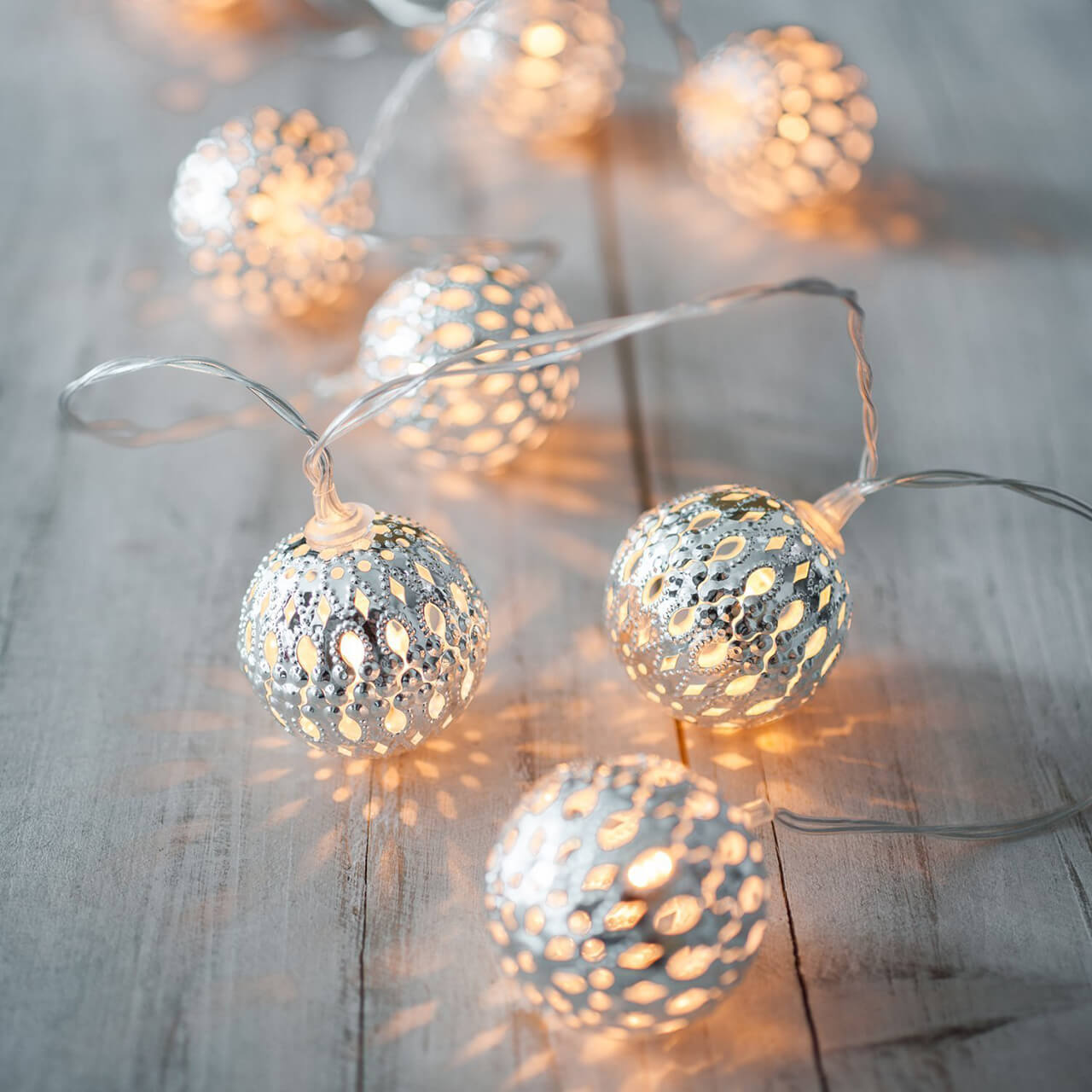 Bring another culture home for the holidays when you display these Moroccan fairy lights. Each silver bauble is crafted with small, imperfect windows that allow the interior lights to shine through, and they come on a four-foot silver wire that can be wrapped around trees, doors, windows, bannisters and anything else that your heart desires. They're exotic enough for a second look but homey enough that they'll fit right in with your other Christmas accessories. Best of all, they're completely battery-powered. You won't have to worry about power sources with these lights!
11. Get Back to the Basics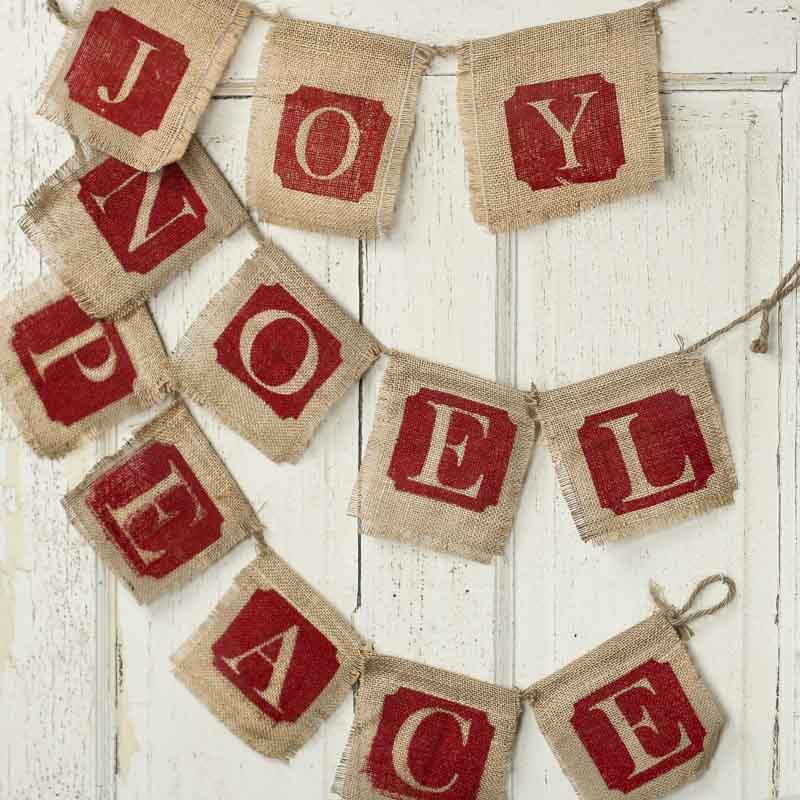 Charmingly rustic, these burlap banners have been strung together to remind everyone of the true meaning of the holidays: joy, noel and peace. Each letter of the banners can be fed through ropes for easy hanging, and their brown-and-red color scheme will bring to mind country barns and cozy hearths even as they blend in with the rest of your crimson Christmas decor. You don't have to get fancy or expensive to embrace Christmas decorating. Sometimes, a burlap sack is all that you need.
12. Say Goodbye to Sneezes and Sniffles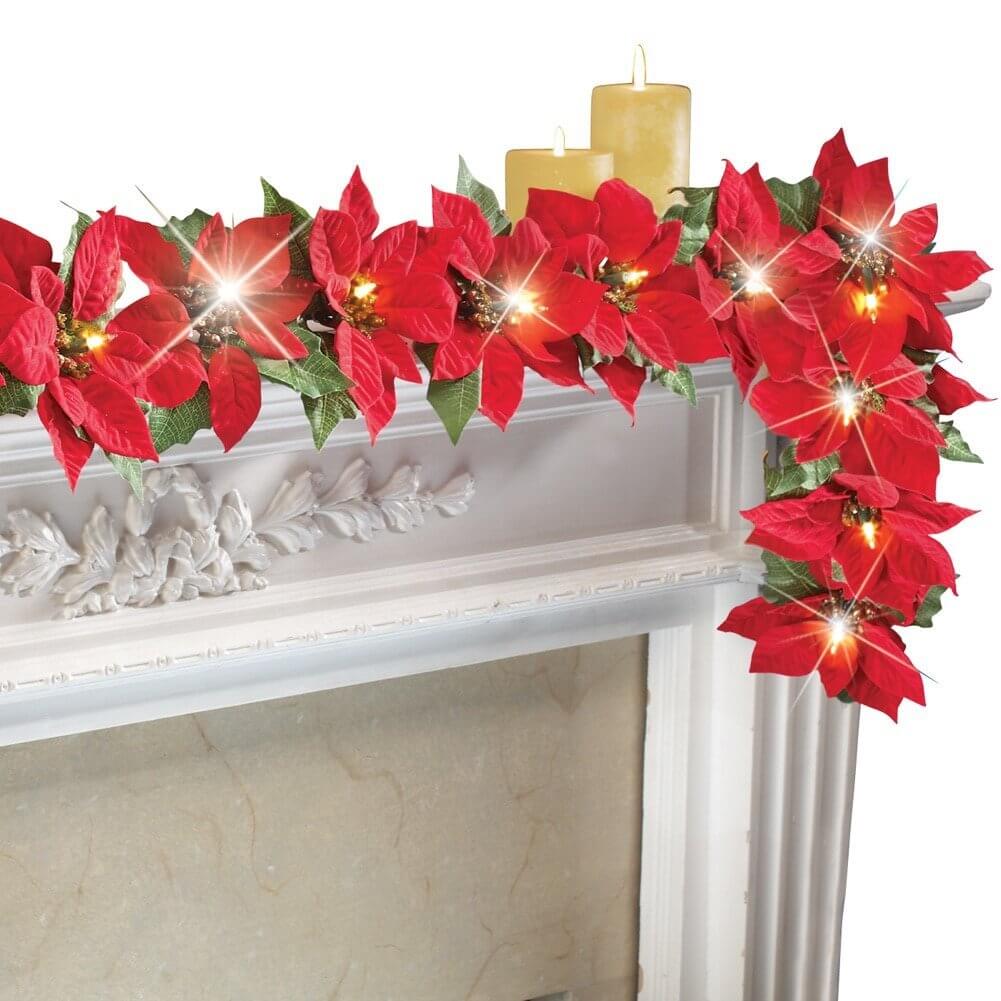 Do you love the look of poinsettia but hate the chores associated with keeping the real leaves alive? These light-up poinsettia garlands might be exactly what you need to enjoy the best of both worlds. They'll make a bold, colorful statement when added to the trim of your room, but unlike real holiday plants, they'll require no watering or tending. What's more, they come with end-to-end connectors that will allow you to string together as many as you'd like for extensive Christmas decorating. Who needs plants that actually breathe?
13. For Charming Dinner Parties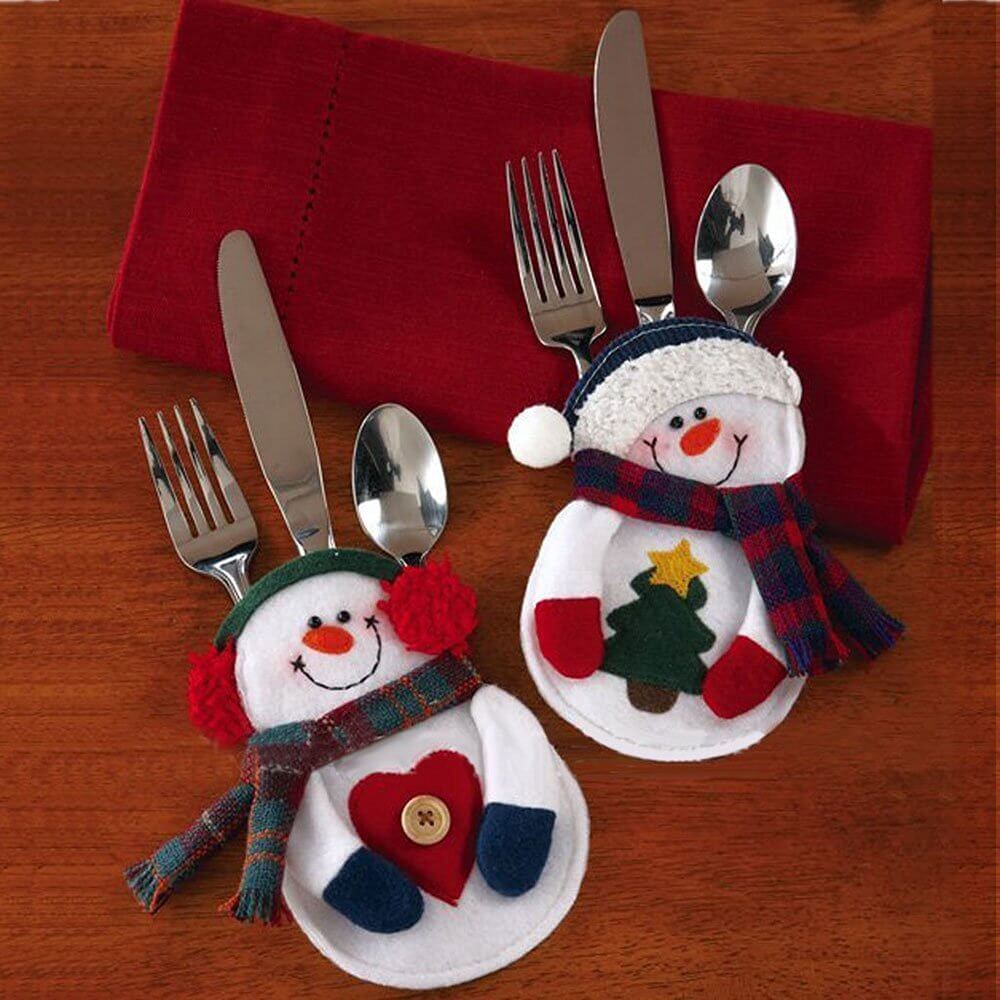 Flatware holders are a dying concept among homeowners, but you can revive the tradition with these adorable snowman silverware pockets. They come in a set of eight, and each pocket can hold a knife, spoon and fork, so they'll be more than enough for small- to medium-sized dinner parties. Their stitch work is small and colorful; their designs are exquisitely detailed. The snowmen even have tiny scarves that are flying back in the wind! Bring some whimsy into the season with these super-cute flatware holders.
14. A Sweet Dream as Santa Rides By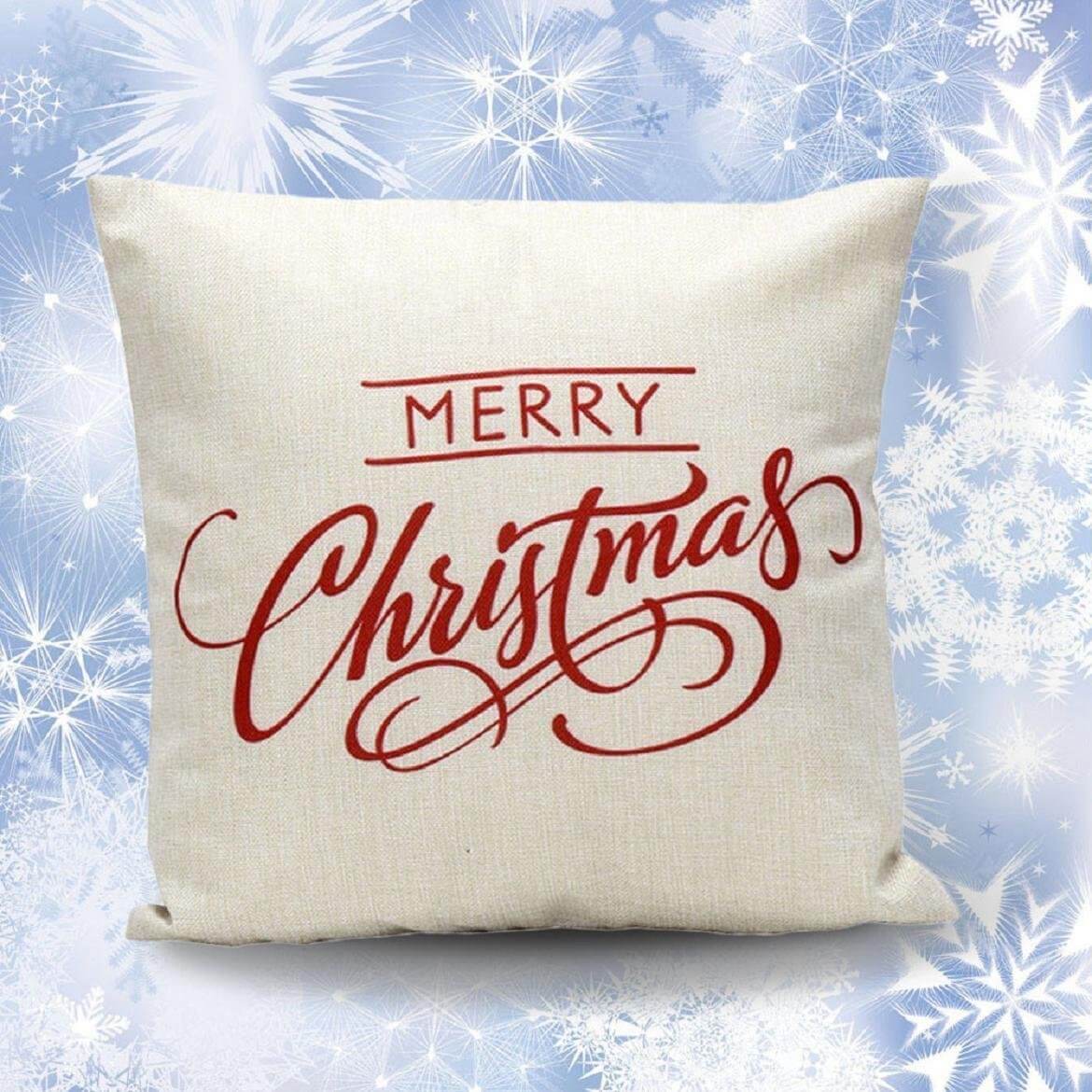 Soft linen is the backdrop for these holiday tidings. With a simple "Merry Christmas" printed in curving red letters against a snow-white background, it might not be the most creative pillow cover out there, but it offers a gentle message with a comfortable material that will feel delectable beneath your cheek. When it gets dirty, you can just remove it from your pillow and put it in the wash with the rest of your cold-water linens. It's quick, easy and heartfelt.
15. Not All That Glitters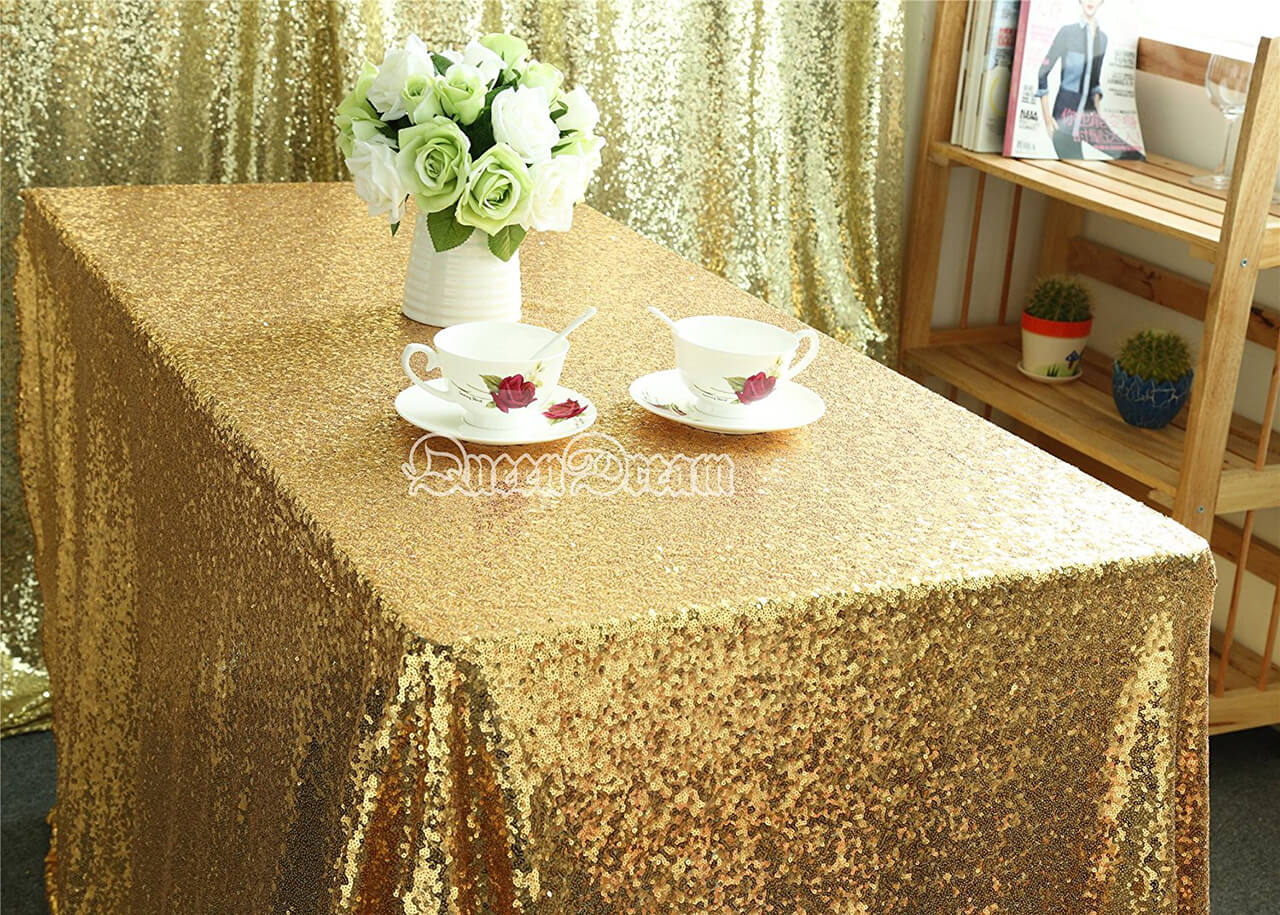 Made to impress, this shining, shimmering tablecloth is sure to become the focal point of your Christmas decor. It's a completely seamless piece with hemmed edges that will drift around your table legs in perfect symmetry, and its hundreds of sequins will move like water whenever you run the fabric between your fingers. It needs to be dry-cleaned to maintain its sheen, so keep that in mind after you purchase it, but otherwise it's the perfect tablecloth for boosting the visual engagement of your room or home. It's a mesmerizing item.
16. Star Light, Star Bright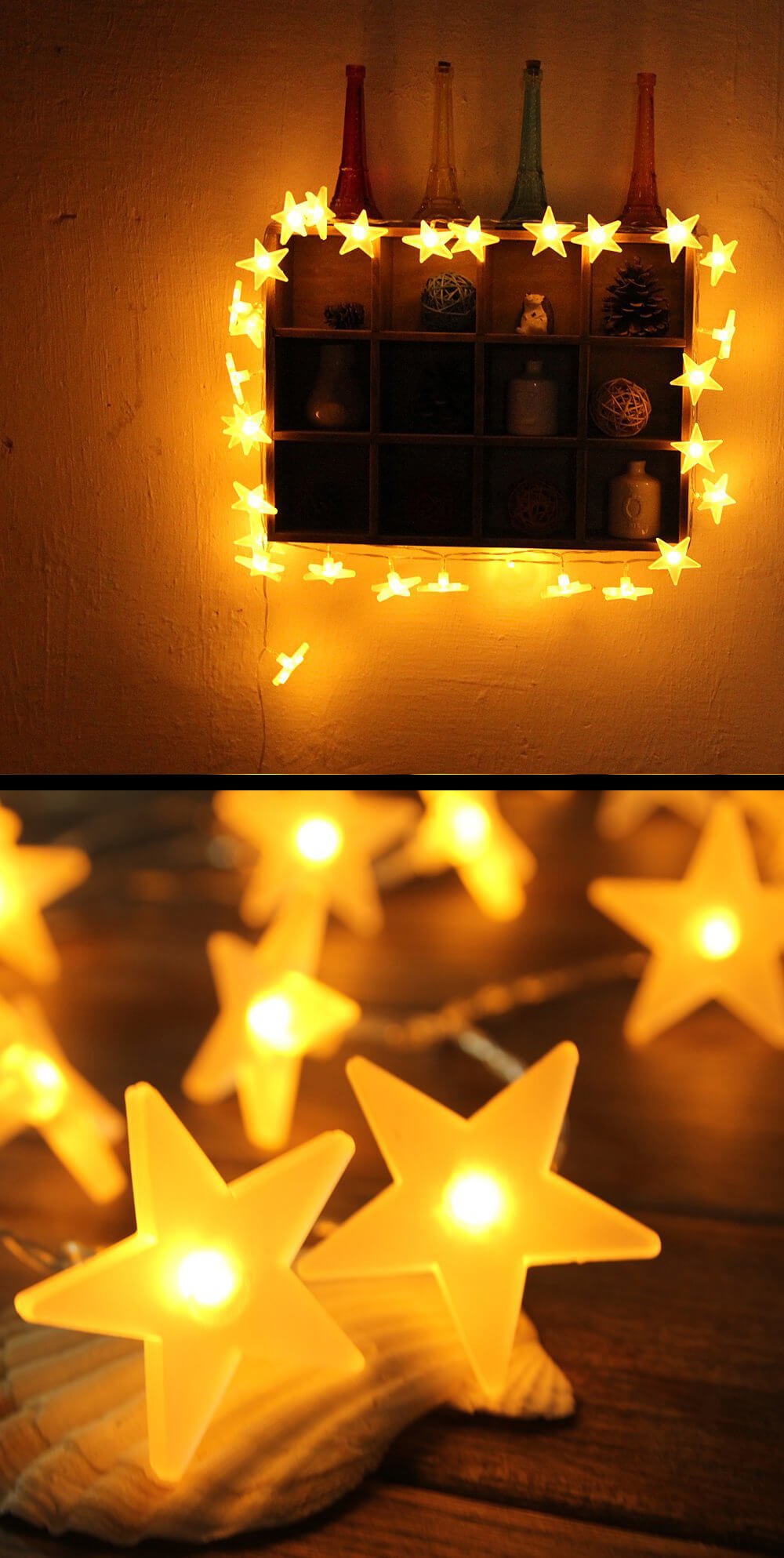 These small lights will give any room a holiday glow. Shining like the stars of Jerusalem flung across a deep, dark sky, they'll bring a real sense of atmosphere to your home no matter where they're placed. Their strings mean that you can wind them around mantels, stairwells and Christmas trees; their uniform size and shape means that they'll always be pleasing to the eye. They can also be set to two different modes: "Twinkling" will make them gently sparkle, and "steady" will keep their lights burning long after the fireplace has gone out.
17. Classy Christmas Cupcakes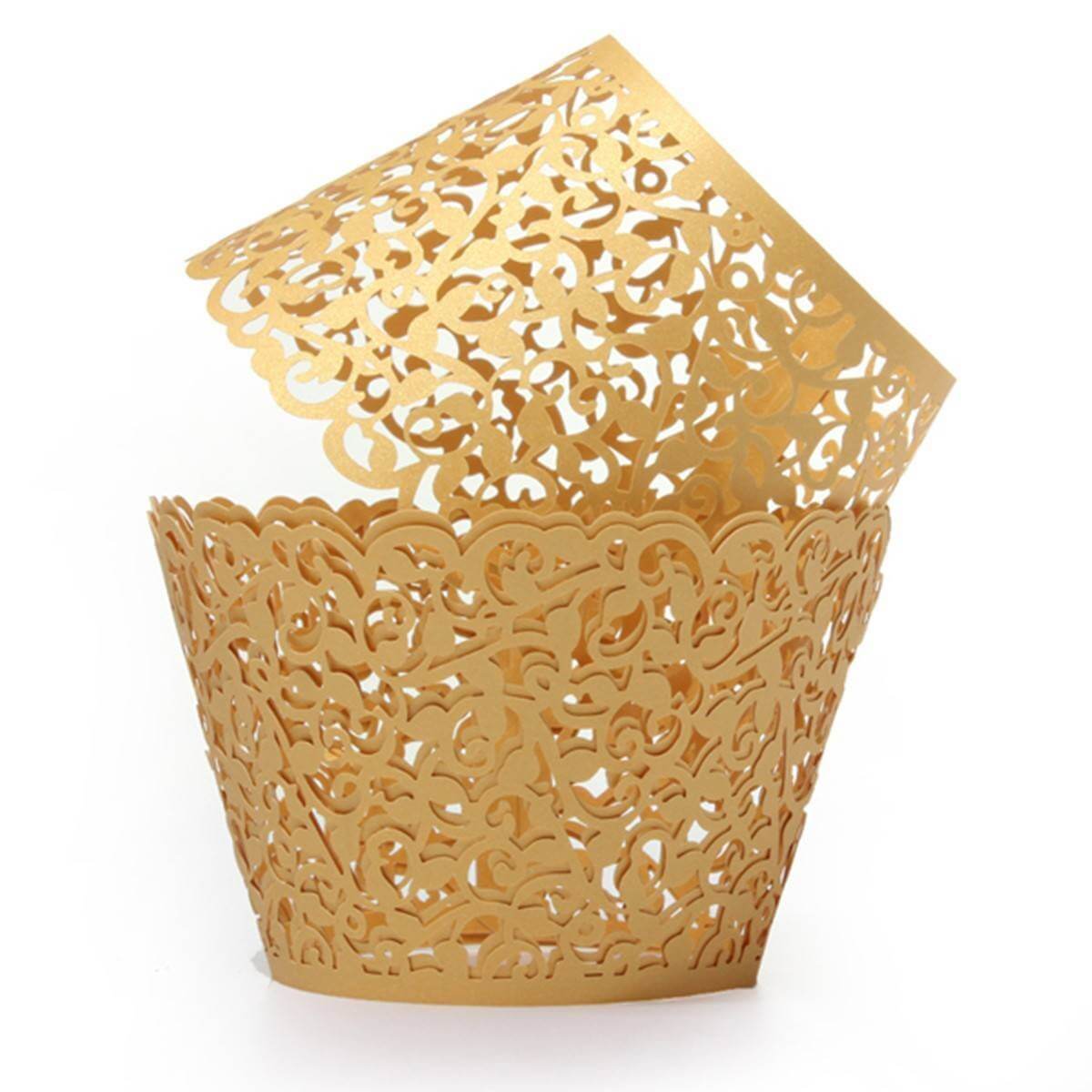 While it's always fun to decorate cupcakes for your child's school parties, there might come a time when you're desperate for something a little more sophisticated than red-and-green cupcake wrappers and snowman sprinkles. This is where the KingSo cupcake holders come in. Offering a stylish, elegant design that brings to mind the wrought-iron fences of a grand estate, they'll add some class to your next holiday gathering. They're also available in multiple colors, including gold, silver, red, black and cream, so don't be afraid to mix and match. None of your guests will complain about an abundance of cupcakes!
18. The Winter Wonderland Welcome Mat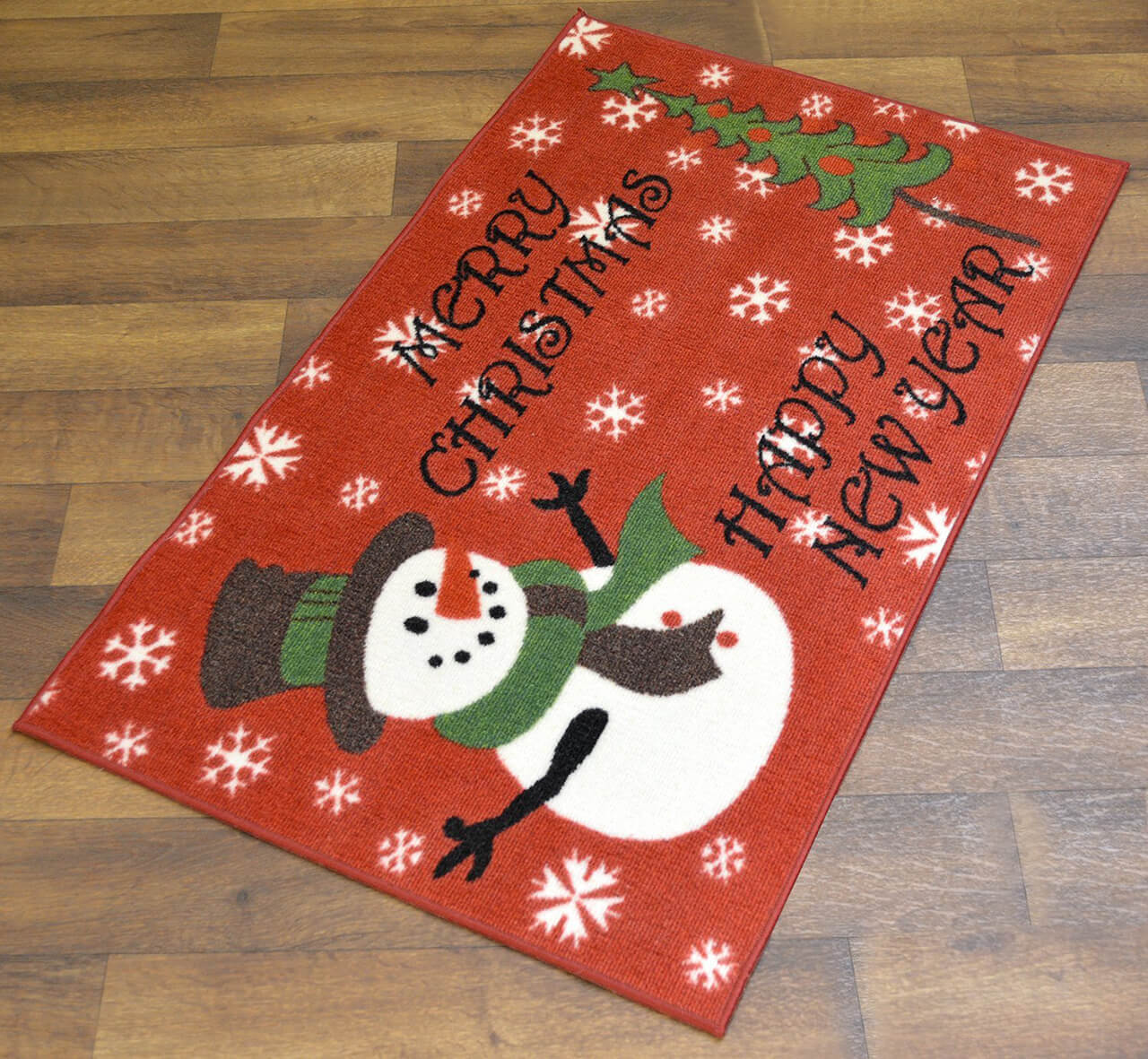 This adorable welcome mat is sure to become a Christmas staple in your home. With trees, snowflakes, ornaments and a jovial snowman wishing you happiness throughout the season, it's the perfect conglomeration of holiday cheer. It's easy to maintain, too; it's made of durable polypropylene and can be thrown in the washing machine without a second thought. No-slip rubber backing will ensure that it stays in place, and its fade-resistant fibers will keep it from discoloring before its time. If you're looking for fun, festive decor ideas that will welcome guests into your home, consider something like this mat.
19. Dress Up Your Tree with a Poinsettia Skirt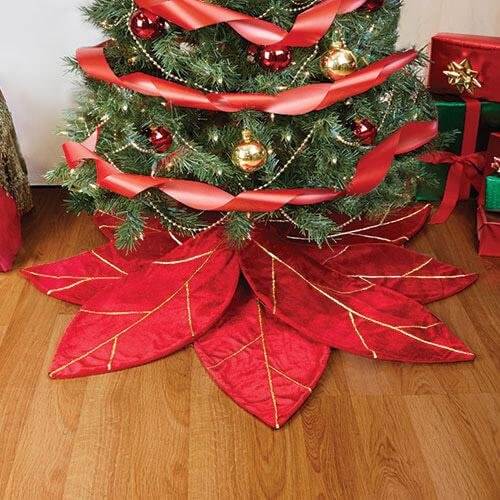 Offering both fashion and function, this tree skirt solves multiple problems when it comes to Christmas accessories. Not only does it offer eight individual pieces that attach with fabric tabs to protect your floor from tinsel and pine needles, but on top of its usefulness, it's also designed like a beautiful poinsettia plant that will blossom around your tree when you spread each of its leaves in an eight-point pattern. Gold embroidery holds everything together in a lifelike design of leaf veins, and the petals overlap for maximum floor protection. It's a wonderful design that combines utility with style.
20. This Evening Has Been So Very Nice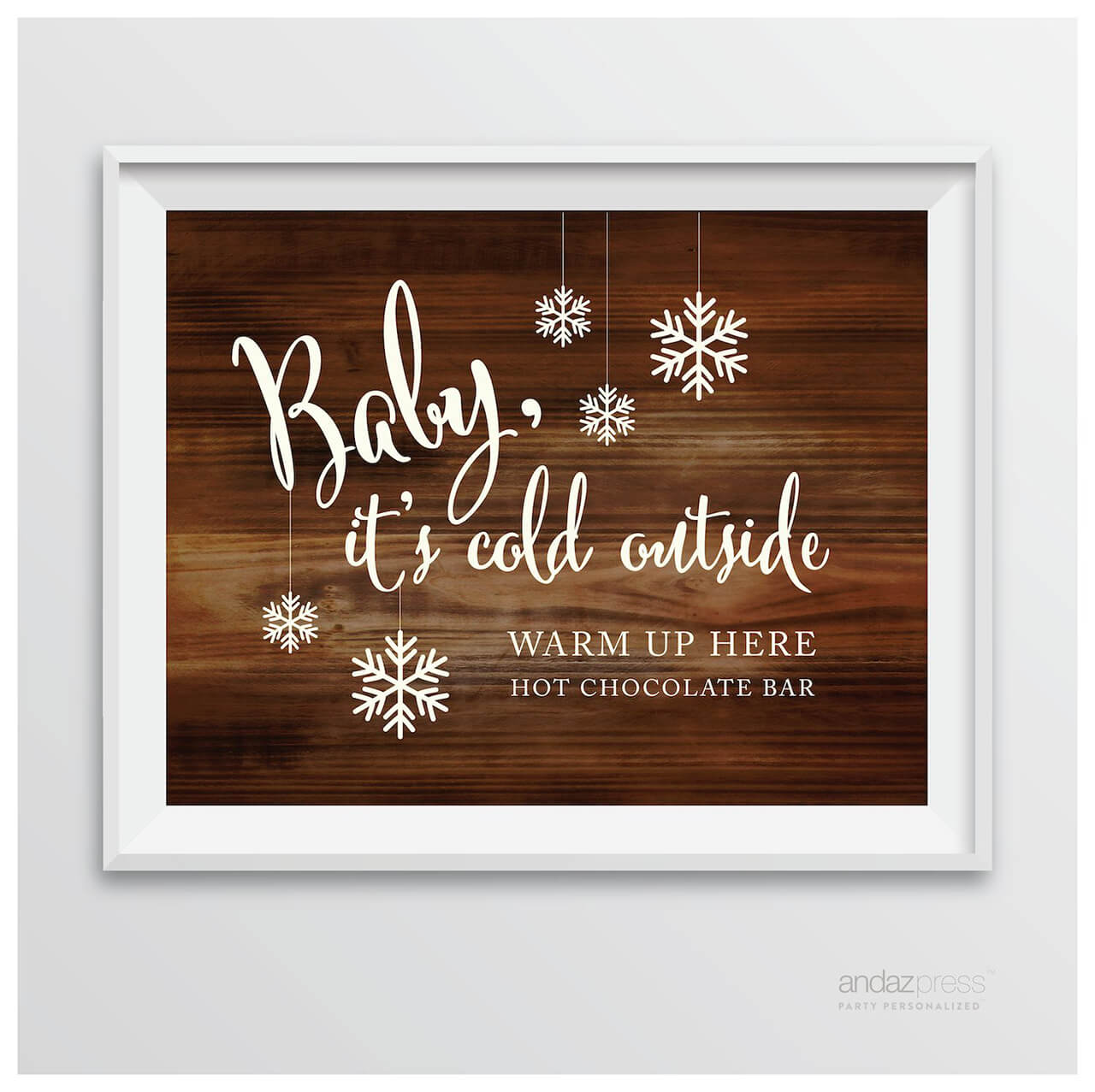 Baby, it's cold outside! Paying homage to the great holiday song written by Frank Loesser in 1944, this rustic wood print is perfect for a home bar or coffee station. It will make you smile every time you prepare a cup of steaming hot chocolate on a chilly winter day. Best of all, this 8.5 x 11″ sign can be customized in a variety of ways that will suit a number of decor ideas; because it's printed on a single sheet of card stock, you can have it rolled, framed or stenciled as you please. There are many different ways to enjoy this print, so don't say "no, no, no." Move in closer. It's cold outside.
21. Jingling and Ring-Ting-Tingling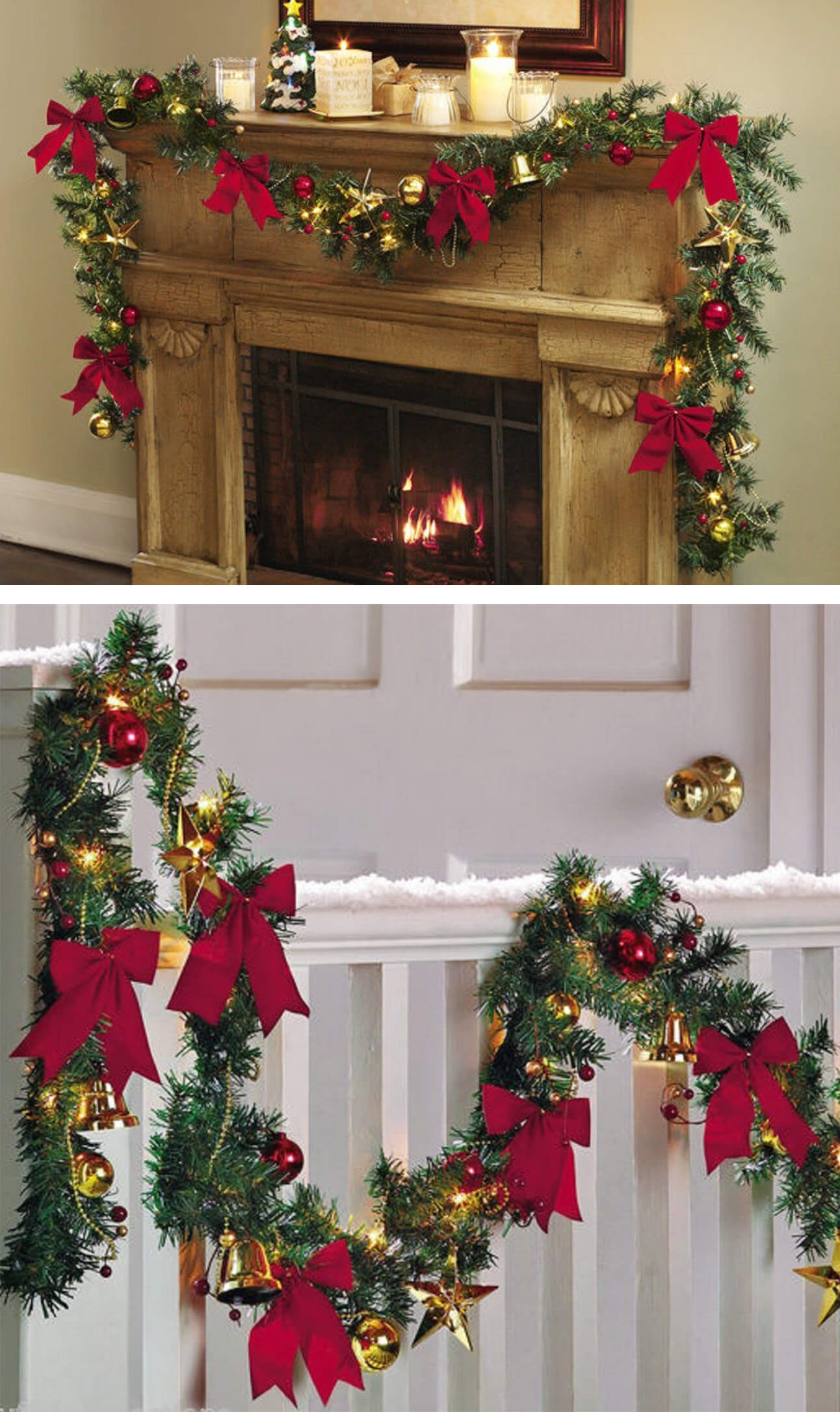 With nine feet of lights, stars, bells, berries and bows, this garland is for people who are serious about Christmas decorating. It can be wrapped around everything from bannisters to deck railings, and it will provide a warm, homey look that speaks to your joy for the holidays. Just make sure that you use it under a protected roof if you're sticking it outside; while the garland and all of its accessories are artificial, the lights require an electrical power source, and you won't want that exposed to snow and sleet.
22. Capture Snow on a Frosted Glass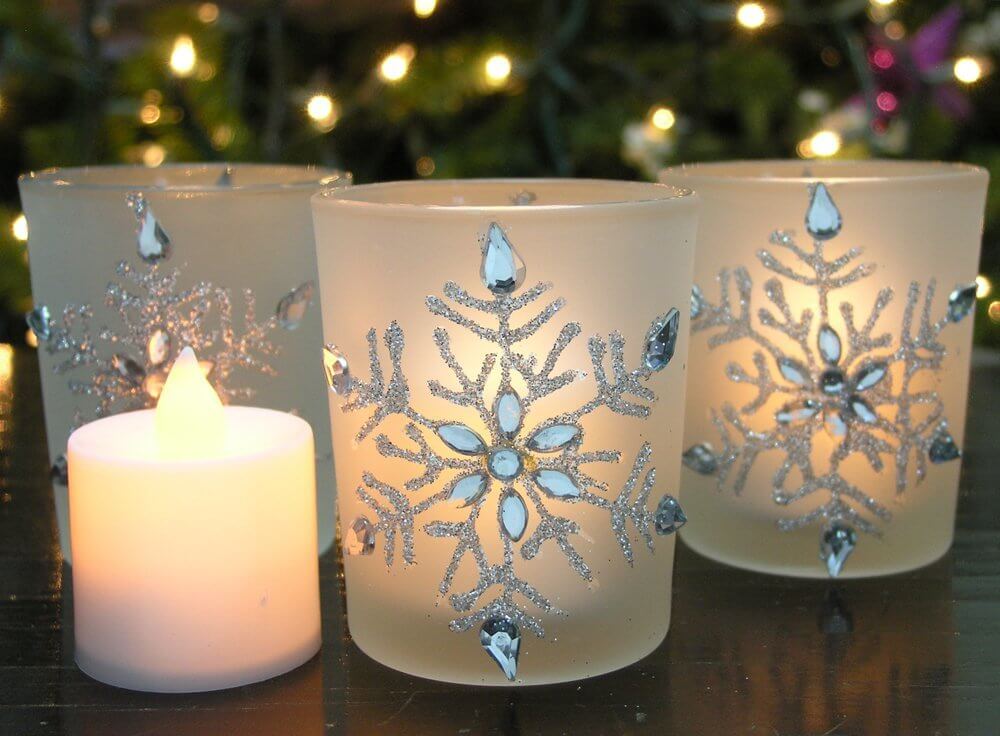 Banberry Designs has created something wonderful with their snowflake candle holders. The frosted glass is decorated with dozens of tiny crystals and glitter lines, and the silver colors will turn blue when a candle is lit and placed behind them. It can even accommodate flameless LED tea lights! Regular tea lights can be used if you prefer a traditional table setting, but if you have small children or pets who like to play with things that they shouldn't, flameless lights might be a safer choice. Regardless of what you burn inside these candle holders, they're sure to become a gorgeous example of Christmas decorating in your home.
23. Beautiful Lights for a Beautiful Home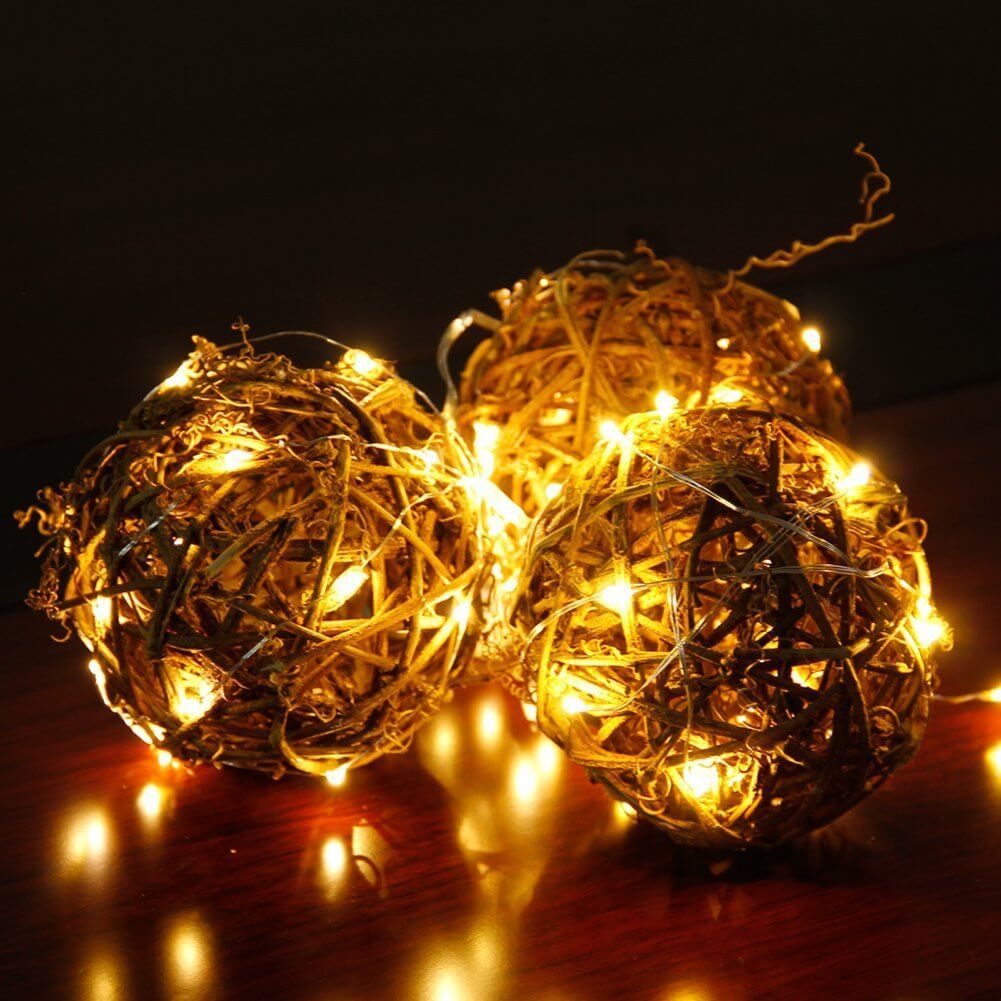 As micro LED bulbs on flexible wires, these golden fairy lights can be used anywhere and everywhere around your home. Wrap them around your wine bottles before serving your guests at a holiday party; roll them into a ball to illuminate an ornament or present within; string them around sconces, stairwells, fireplaces, picture frames and other indoor Christmas decorations. Their copper wire can be manipulated in any way that you'd like, so the only limit is your imagination. These lights will burn a warm and yellow LED glow while lasting for at least 50,000 hours as a Christmas decorating item.
24. The Mrs. Cleaver Effect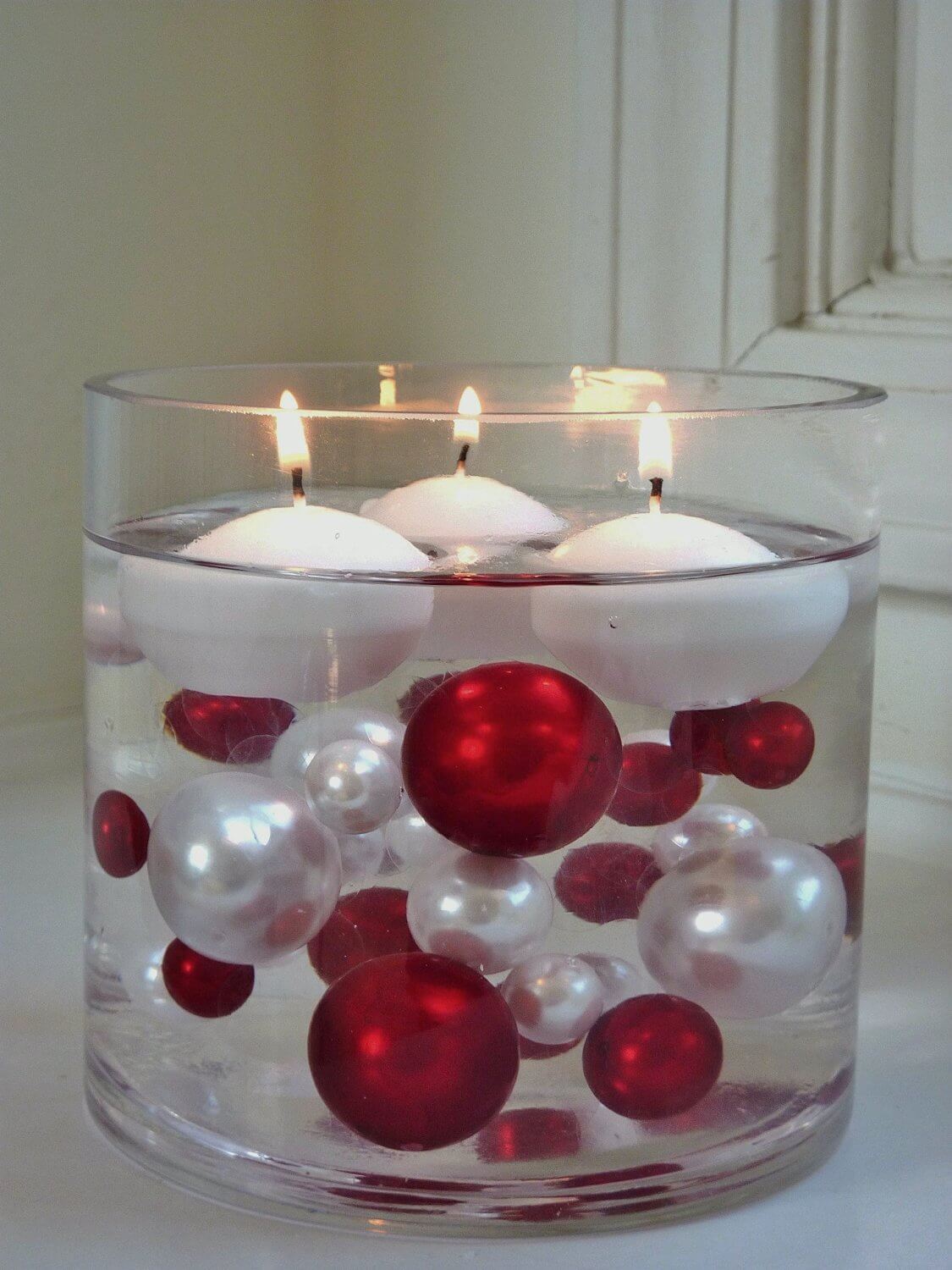 This creative decoration is sure to turn heads at your next holiday party. When the oversized red-and-white pearls are submerged in clear water gels, they appear to be floating right there in the glass. Toss in a few gems for added sparkle and you have an utterly unique centerpiece for your mantle or dining room table. For even more of a "wow" factor, you can also top the glass with floating tea lights, but that's a bonus and not a necessity. You can order these pearls just the way they are to create an amazing effect and envy-worthy illusion.
25. Gold, Frankincense and Myrrh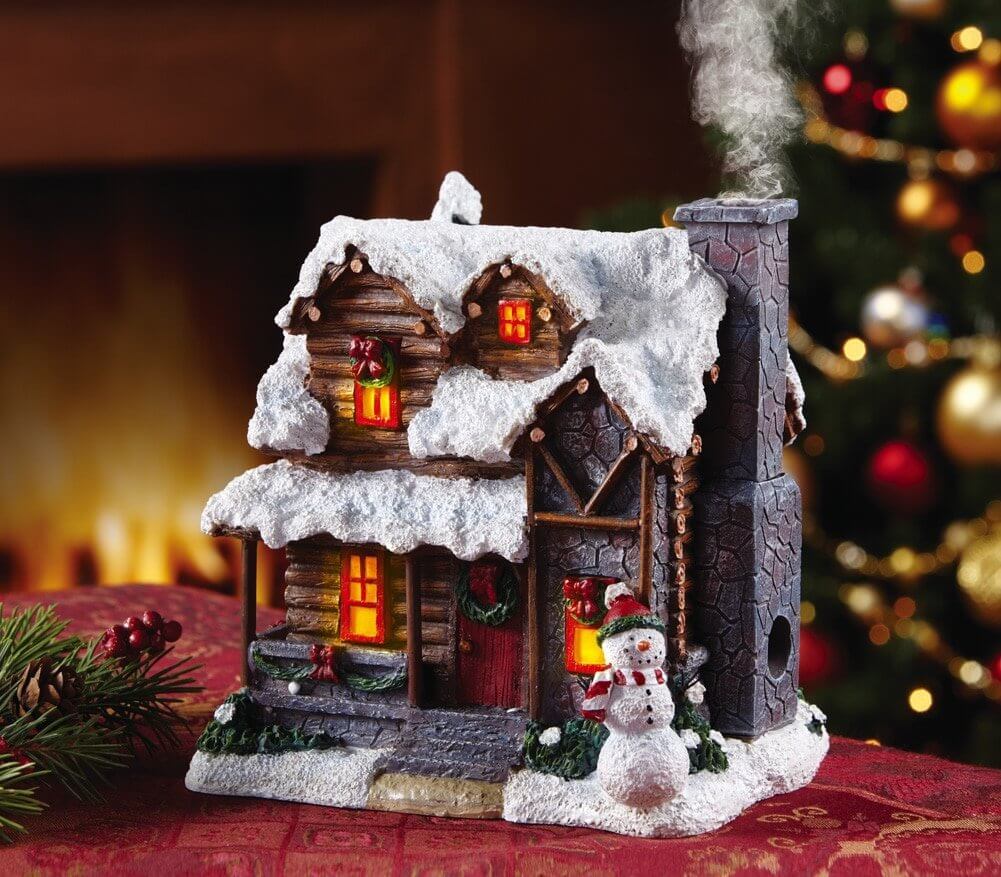 The Smoking Country Christmas Cabin Incense Burner is a collectible that will be with your family for years to come. As a picturesque replica of a wooden cottage covered in snow, it depicts a homey and heartwarming scene with real interior lights that will give the windows a golden hue. It's also a fully functional polyresin incense burner with an opening in the back where you can place both sticks and cones to fill your living room with the scents and spices of Christmas. The smoke of the incense will come out through the chimney, painting an adorable picture of a winter wonderland where families are just waiting for Santa to drop by.
26. On Top of the World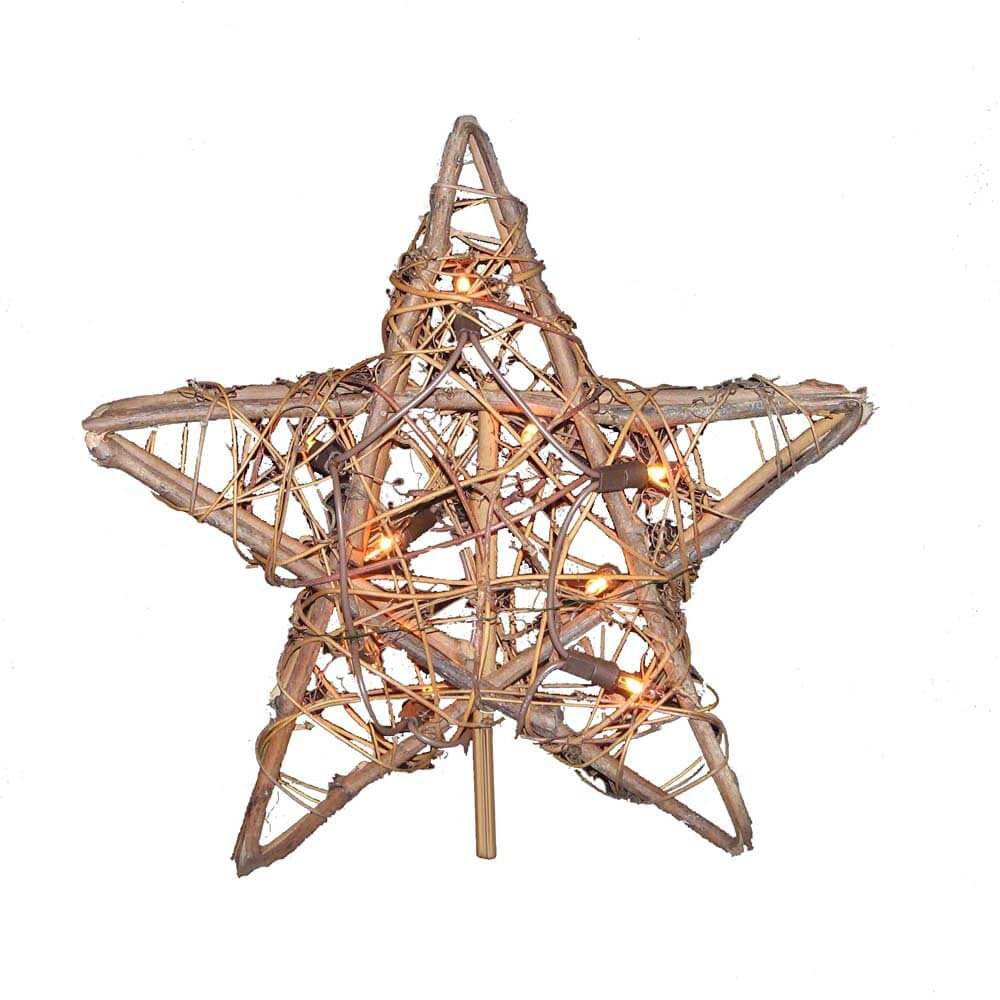 Made from rattan, a type of Malaysian wood similar to wicker, this tree topper will be a one-of-a-kind addition to your regular retinue of Christmas decorating ornaments. Its rough but natural look is complemented by brown wires and a hollow interior, and golden lights are woven through the rattan to provide a glow from every angle. While it was made to top your tree, it can easily be adapted as a door or patio decoration, and its color would contrast nicely with any greenery that you have nearby. Hang it with your garlands; pose it among your wreaths; use it on your tree as a traditional tree topper. The possibilities are endless with such a versatile product.
27. And Now For Something Completely Different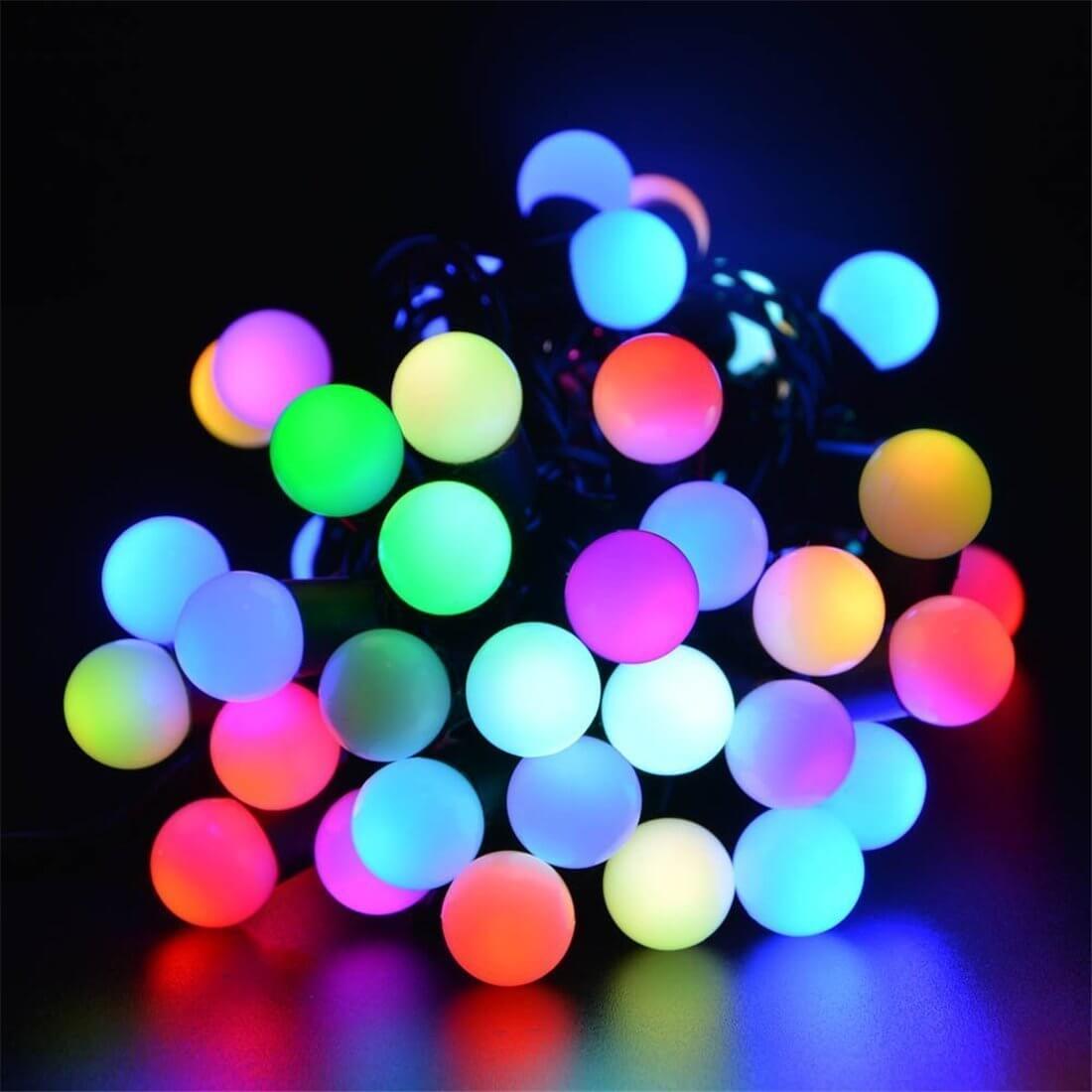 Are you tired of traditional Christmas decorations? Do you dream of jazzing things up with something that isn't already displayed in every single window on the block? These multicolored LED lights from SurLight might be exactly what you need to breathe new life into your decor ideas. Made with slow-flashing, color-changing bulbs, they offer an eye-popping experience of rainbow hues and constant movement. They're also very convenient in terms of maintenance; since each bulb is individually strung on the wire, a single malfunctioning light won't take out the others too. If you're looking for a unique and creative way to express your holiday spirit this year, try this LED explosion.
Forget the Tree: Here Are 27 Better Christmas Decor Ideas
These are just a few decor ideas for the holidays. Whether you're a lifelong fan of Christmas or a new recruit to the ways of wrapping, hanging, sewing, arranging and displaying, use these items for premium Christmas decorating.