Very few events throughout the year compare to the joy and excitement of the approaching Christmas season. And whether you fancy yourself a seasoned crafter or you're more of an artistic novice who just wants to create some beautiful Christmas decor, there's always a good reason to start a DIY Christmas ornament project.
50 Creative Homemade Decor Ideas for the Holidays

Do you need a list of crafts to entertain little ones during the holidays? Perhaps you are having some ladies over for a Christmas party and want to create unique ornaments together. Maybe you want to impress visiting guests in your home during the holidays with your very own handmade personal Christmas decor. Or you might just be on the lookout for a truly unique Christmas present to gift to those you cherish without breaking out that extra credit card. Your family, friends, and neighbors will be thrilled when you give a personal, homemade gift that can be enjoyed every year on the Christmas tree.
Wouldn't it be great to skip the crowds and the ho-hum gifts from department stores this year? Try something different and consider crafting homemade Christmas ornaments, many of which can be made completely free with a few things around your house. Below are 50 DIY Christmas ornament ideas to really get you in the spirit of the holidays. A little bit of creativity, a few materials, and a sprinkle of love and holiday cheer are all you need to have fun trying your hand at homemade.
1. Button Baubles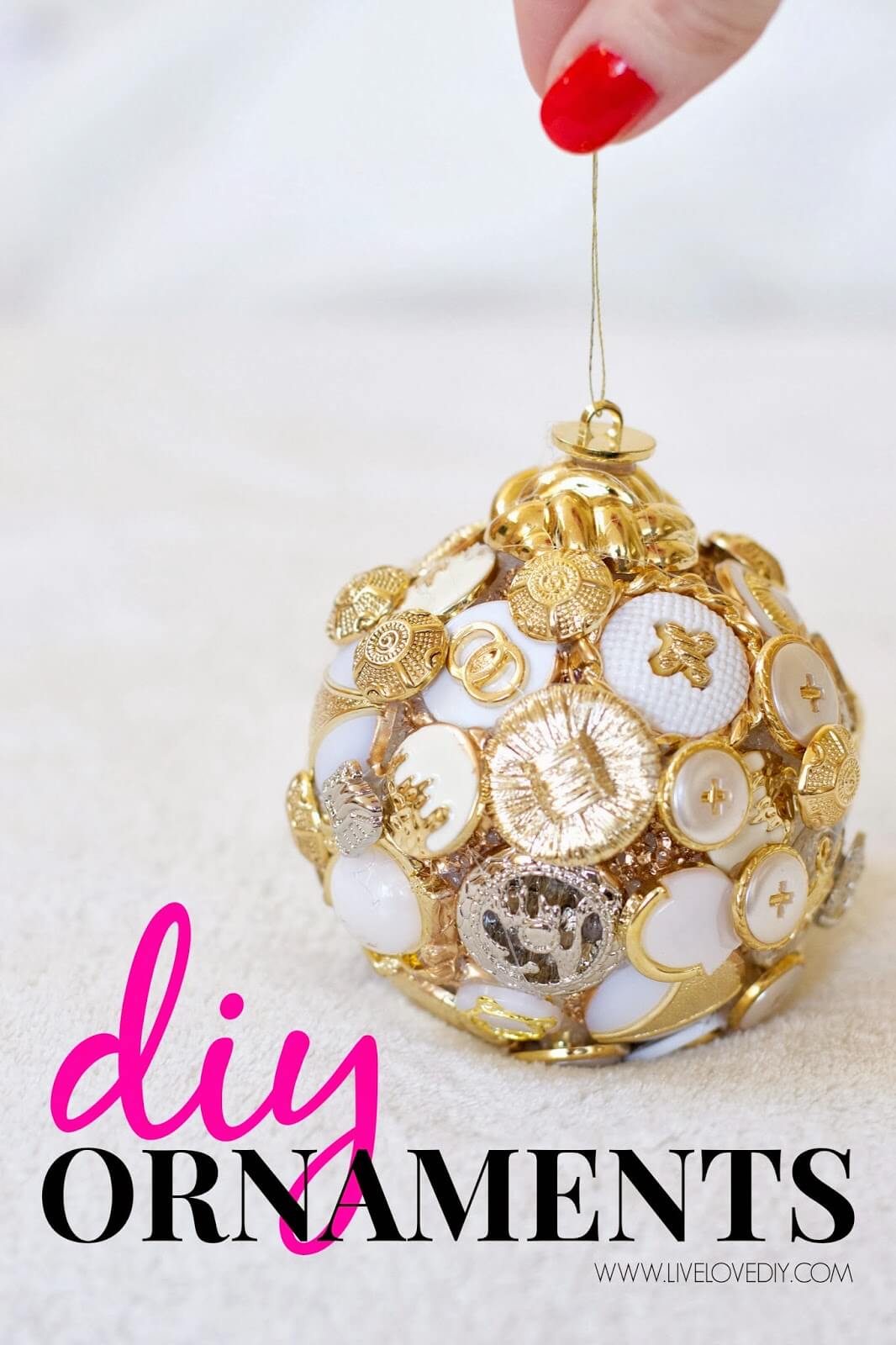 With just a few Styrofoam balls, hot glue, and some buttons, this ornament is as versatile as it is simple. What's also fun about this idea is that the style of the buttons — tasteful, funky, modern — will change the whole feel of the ornament. Consider using buttons around the house or head to your nearest craft or thrift store for a wider variety. Maybe you have some heirloom buttons that you would love to put on display but you don't really know how. You can even paint the buttons based on the theme of your tree or someone's favorite colors for a gift.
2. Felt and Button Ornament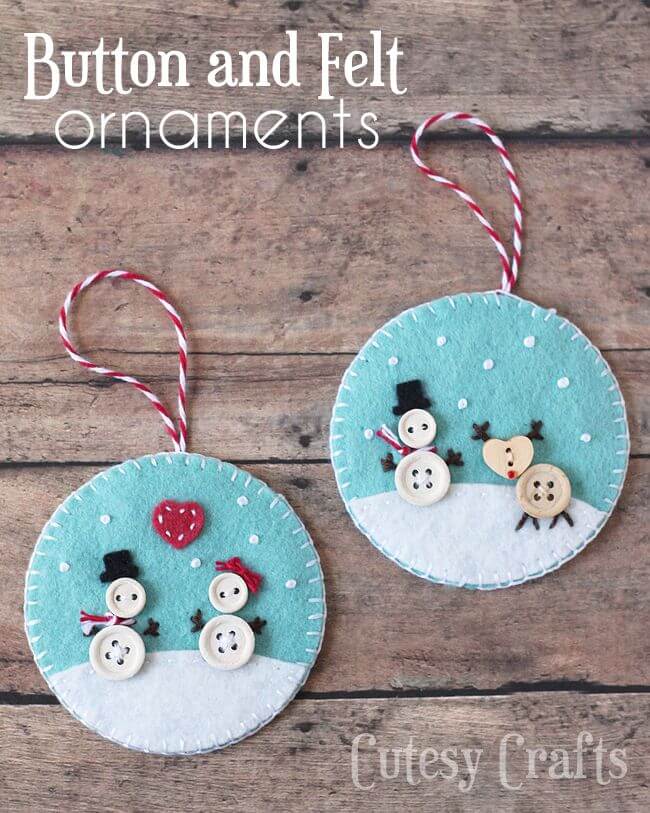 Nothing is quite as festive as a chilly winter scene. Using just a few craft objects you probably already have around the house, e.g. buttons, felt, embroidery floss, and baker's twine, and a super simple pattern, you can make these cute snowmen, reindeer, or both. If you're concerned about breakables on the tree because of hyper dogs or active kids, these soft ornaments are the perfect item to add to your holiday tradition. Maybe think about making an entire snowman family representing each member of yours. This can be a great beginners' sewing craft for older kids and teenagers.
3. Rustic Wood Rounds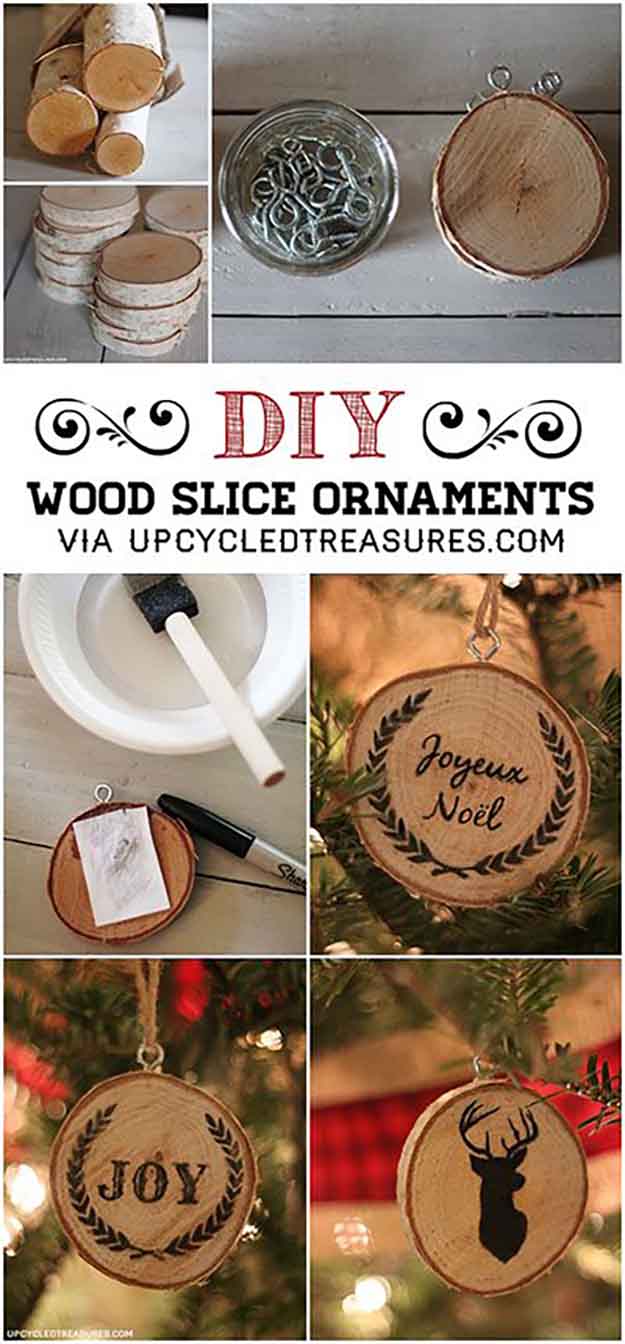 Whether you live in a cabin or just love a forest-like, rustic feel, these wood ornaments are especially fun because they are simple, versatile, and are easily customized for anyone. You're sure to find suitable wood pieces at the craft store, but think about doing a fun family project and collect wood from outdoors or on a hike. Not only can these beauties be used as ornaments, they also serve as pretty coasters. Make one for each family member at the Christmas table. You can also switch it up using colored markers, paint pens, or even some glitter.
4. Sequined Balls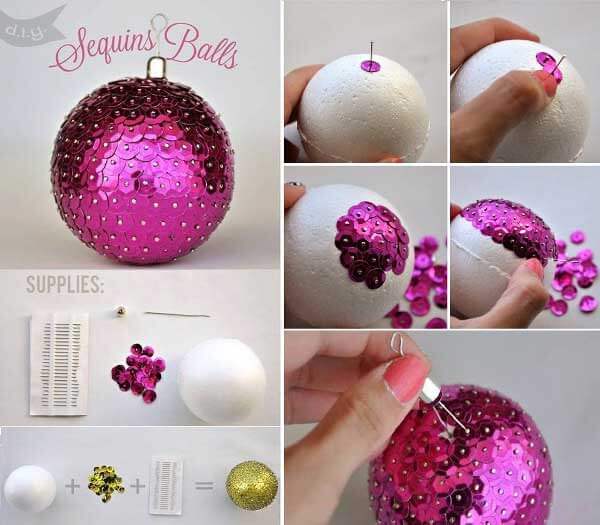 Imagine the lights on your tree catching all the radiant sparkles on these beautiful balls of bling. Made from only three items — pins, foam balls, and sequins — these shiny ornaments may take a little longer than your average Christmas craft, but the results are simply beautiful. They can also be created in a variety of colors and sizes. Consider mixing up your colors and creating patterns or a multicolored ball. Plus, these elegant ornaments don't have to be Christmas specific. Think about gifting a stunning blue ornament to those celebrating Chanukah this time of year.
5. Reindeer Ornaments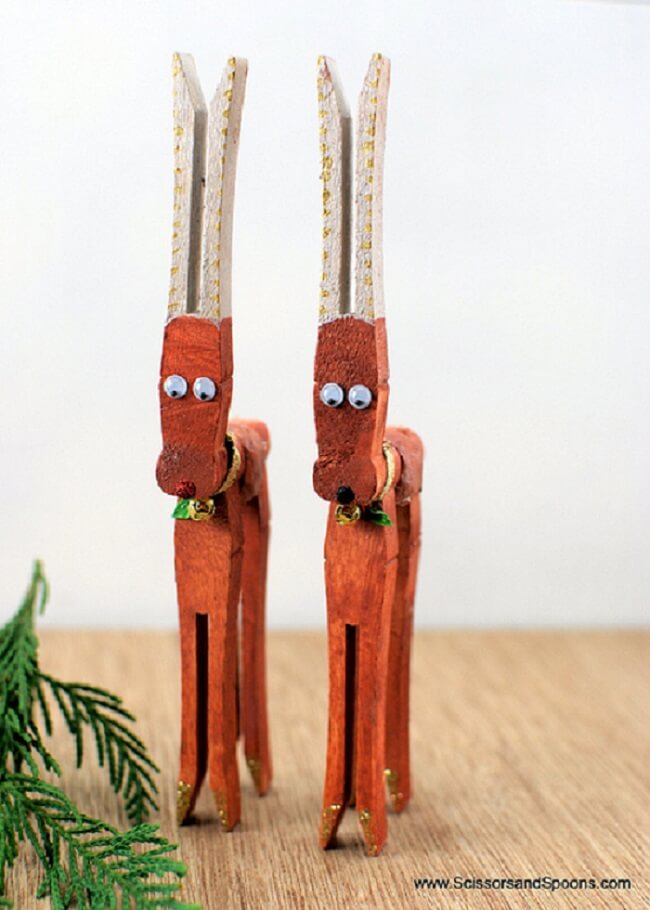 It's throwback time! You surely remember making these in your childhood, and no tree is complete without classic reindeer ornaments. Made from just a few clothespins, wiggly eyes, and craft glue, these cuties embody fun Christmas decor. There are various stains and paints you can use to tailor the clothespin to the desired color and several accessories you might want to add, such as a mini scarf made from festive ribbon or a tiny bell. Start an annual tradition and craft a new one each year, adding the date on the back. Create a strand of reindeer garland to stream on the tree, but be sure you don't forget Rudolph!
6. Ice Cream Cones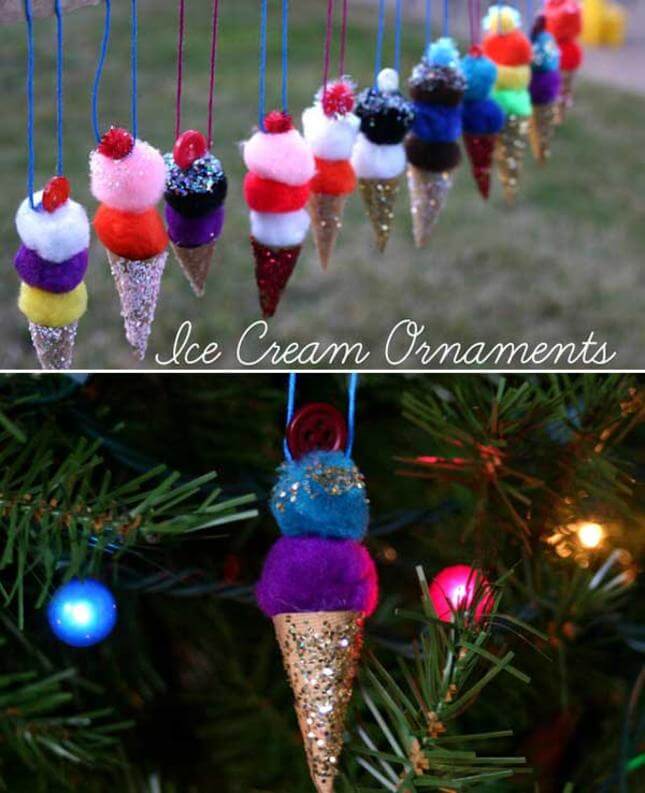 For a less traditional but incredibly creative ornament, get yourself some assorted colored pompoms, loads of glitter, and make mini ice cream cones for the sweets lovers in your life. These faux treats make adorable Christmas gift toppers — try using red and green puffs only — or they can be added to bows and used year-round when wrapping birthday gifts. This ornament will surely outshine others at an ornament gift exchange. If you're feeling like throwing a unique Christmas fete, try a holiday ice cream social and slip these in with your invitations.
7. DIY Ornament Packets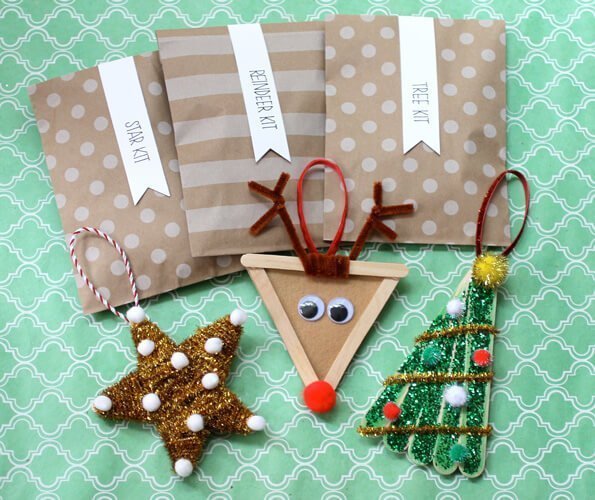 Kick off an awesome party for the youngsters by taking your DIY Christmas ornament skills to the next level. When you create these individual, labeled packets, little ones, and even grownups, can easily and quickly choose the craft they wish to create and get started on their DIY ornaments without rifling through boxes of supplies or fighting over materials. Be sure you make an example/model for each pack for guidance. If you know some kids out of town who would love a neat project, mail a few of these along with a Christmas card for added smiles.
8. Spool Ornaments

Where you would normally toss your old spools once the thread has been used, save them throughout the year so you can build these adorable mini Christmas lists. Whether they've been naughty or nice, you will love commemorating kids' wish lists with these fun homemade Christmas ornaments. You can even ask your friends children what they want for Christmas and make them a customizes decoration for their tree. Tip: Be sure to ask your seamstress friends to give you their spools instead of throwing them away so once you're ready to craft at Christmas, you will be all set with materials.
9. Birdseed Ornament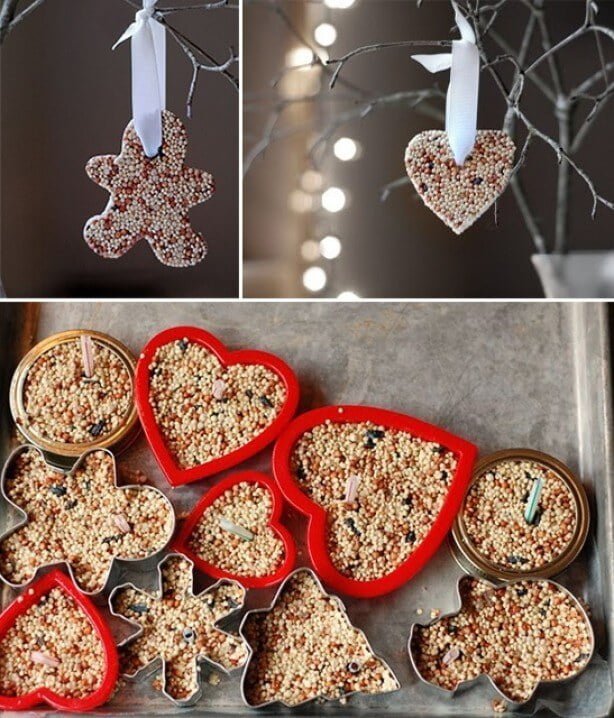 For a versatile indoor-outdoor ornament idea, head straight to the pet aisle of the grocery store, pick up a bag of birdseed, and create a fun ornament that is NOT for the birds! No doubt you have several holiday themed cookie cutters lying around, so put them to good use and shape these neat bird feeders which will be a winter delight to your hungry avian friends. Tip: Gelatin is crucial to keeping your ornament solid. Be sure you don't skip this step, but don't be surprised if it make take you a few tries to get it right.
10. Paw Prints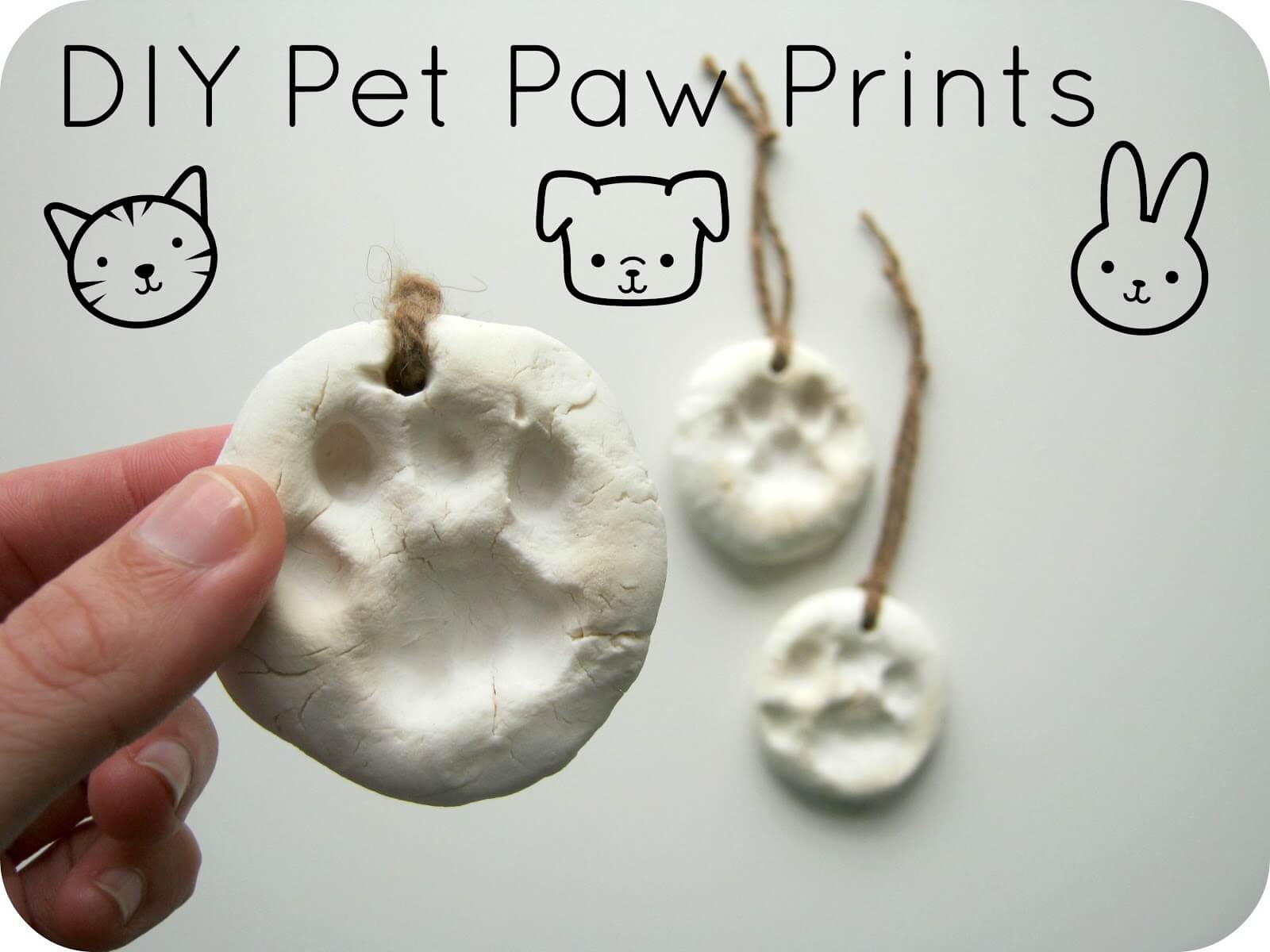 If you have a beloved furry family member, you absolutely have to try this DIY Christmas ornament made from their personalized paw prints using clay. If you feel so inclined, use some glitter paint to glitz these up for the tree or scratch your pet's name and the year on the reverse side. If you want to switch things up, these can easily transition from hanging decorations to coasters. This project really is a piece of cake. The only hard part will be getting those adorable paws to sit still long enough to get the clay imprint!
11. Gilded Reindeer Head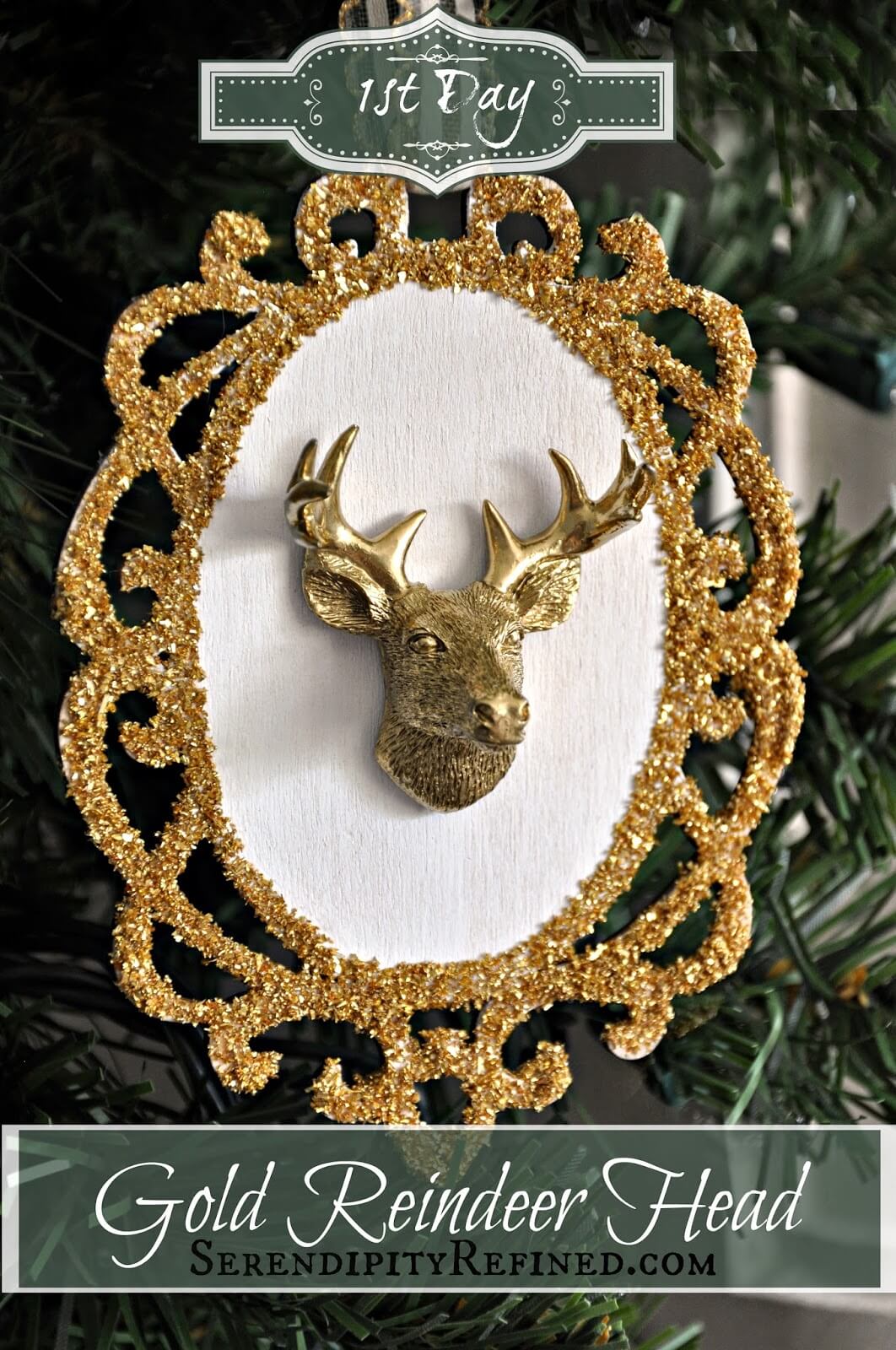 For those of us who aren't as into the cutesy ornaments, check out one of this season's most seriously posh decor ideas. A classic little treasure, this reindeer head elevates any tree it adorns. While it only requires a few materials, this is a homemade Christmas ornament with a big "wow" factor. And don't just limit yourself to gold. Consider trying out a silver glitter or some flashy Christmas greens and reds. If you love the idea of an ornament, maybe you can attempt a bigger sized reindeer head to hang on the wall during the holidays.
12. Scrabble Ornaments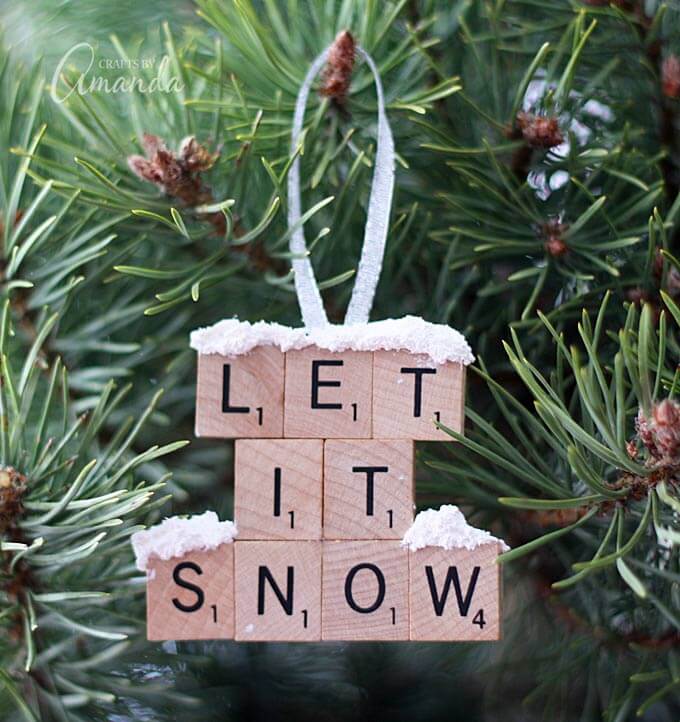 Board games are a family staple around the holidays and what better way to honor one of the ultimate classics, Scrabble, than with a Christmas message, Dad's name, an important date, or just festive greetings! You can typically purchase Scrabble tiles at your local craft store, but save your pennies and search out a retired Scrabble game in the back of your game closet or find a used one at a tag sale or thrift store. No doubt you have a wordsmith in your house who will absolutely love this ornament. Can you say triple word score?!
13. Burlap Ornaments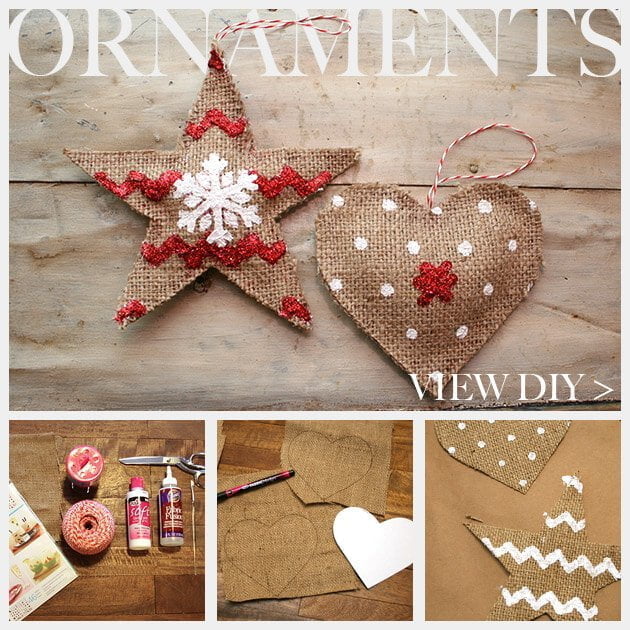 Sturdy and heavyweight, create a tree-worthy, provincial ornament that can be detailed with just about any kind of leftover paint, stickers, beads, yarn, or Ric Rac. Baker's twine, ribbon, or any appropriate fabric will work to fashion the hangers. Pattern tracing can be done by young ones, but be sure to invest in a sharp, new pair of scissors for this project to make burlap cutting easier. Tip: Since you won't need much burlap to create them, you might even be able to get some scrap pieces from a friend or the fabric store.
14. Twine Ball Ornaments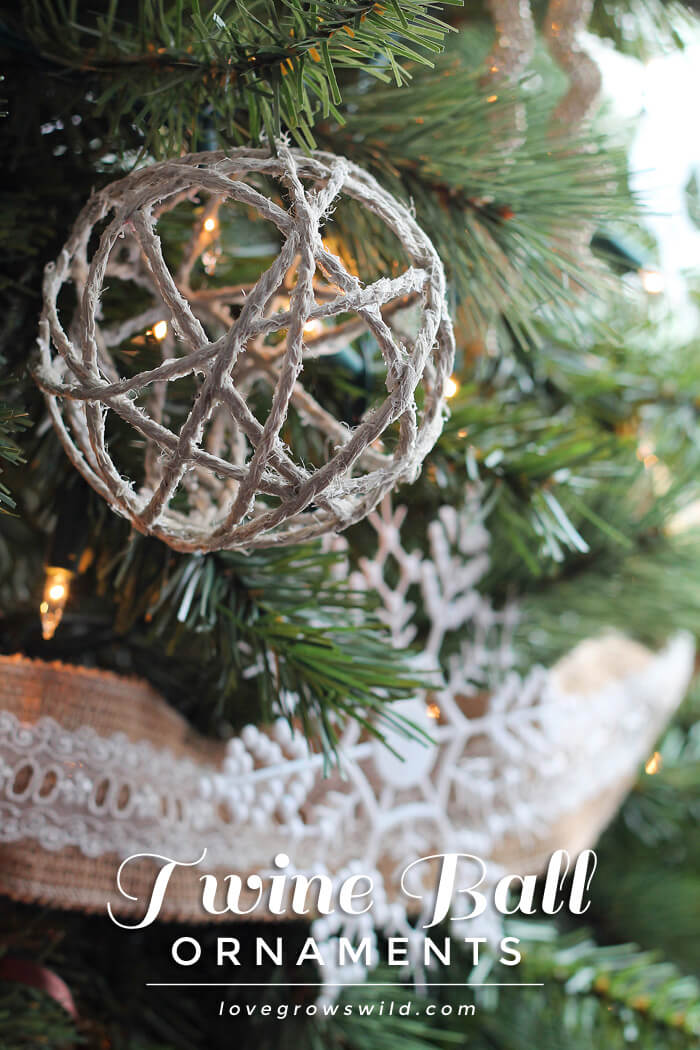 Simple and beautiful, these homespun ornaments add a subtle, natural touch to even the fanciest of trees. Experiment with sturdy yarn and adjust the glue/cornstarch mixture accordingly. Based on your desired outcome, weave in some colored thread or glue on beads. Even if you don't want to hang these for display, spice up your usual home decor ideas and consider making several that you can then be placed in a decorative bowl to use as a centerpiece on your Christmas table. These would sit nicely on a bed of potpourri or stacked in a clear oversized vase.
More DIY Christmas ornaments on the next page…