Christmas is approaching and we're getting more excited each day as we prepare for the holidays. This part of the year is all about love, when the whole family gathers together: there are delicious meals on table, we give presents to our loved ones, laugh a lot and just enjoy each other's company. The HomeBNC team wants to help create this joyful festive mood by making it easier for you to find and buy the most personalized gifts for the ones you care about.
Etsy Christmas Gift Guide: It's All About Home

Please enjoy our HomeBNC Christmas Gift Guide where we've collected the most unique handmade gift ideas that your friends and family members will love. Our passion is to help you make your homes more beautiful and more comfortable with the most interesting and high-quality decorations and accessories, which we've collected here from our favorite online store – Etsy. There are just so many wonderful home gift ideas for Him, Her & Them including children, grandparents & beloved family pets… for everyone, really.
If you haven't been on Etsy lately, visit the Etsy Editors' Picks page where you can find more amazing products in a large variety of different categories. Whether you're looking for unique one-of-a-kind Christmas gifts or the perfect decorating accessory to keep all to yourself, you're sure to find it here.
Hope you enjoy our Etsy Holiday Gift Guide, which will help make the shopping experience even more fun & easy this year. Happy browsing!
1. Complete Heart Wooden Candle Holders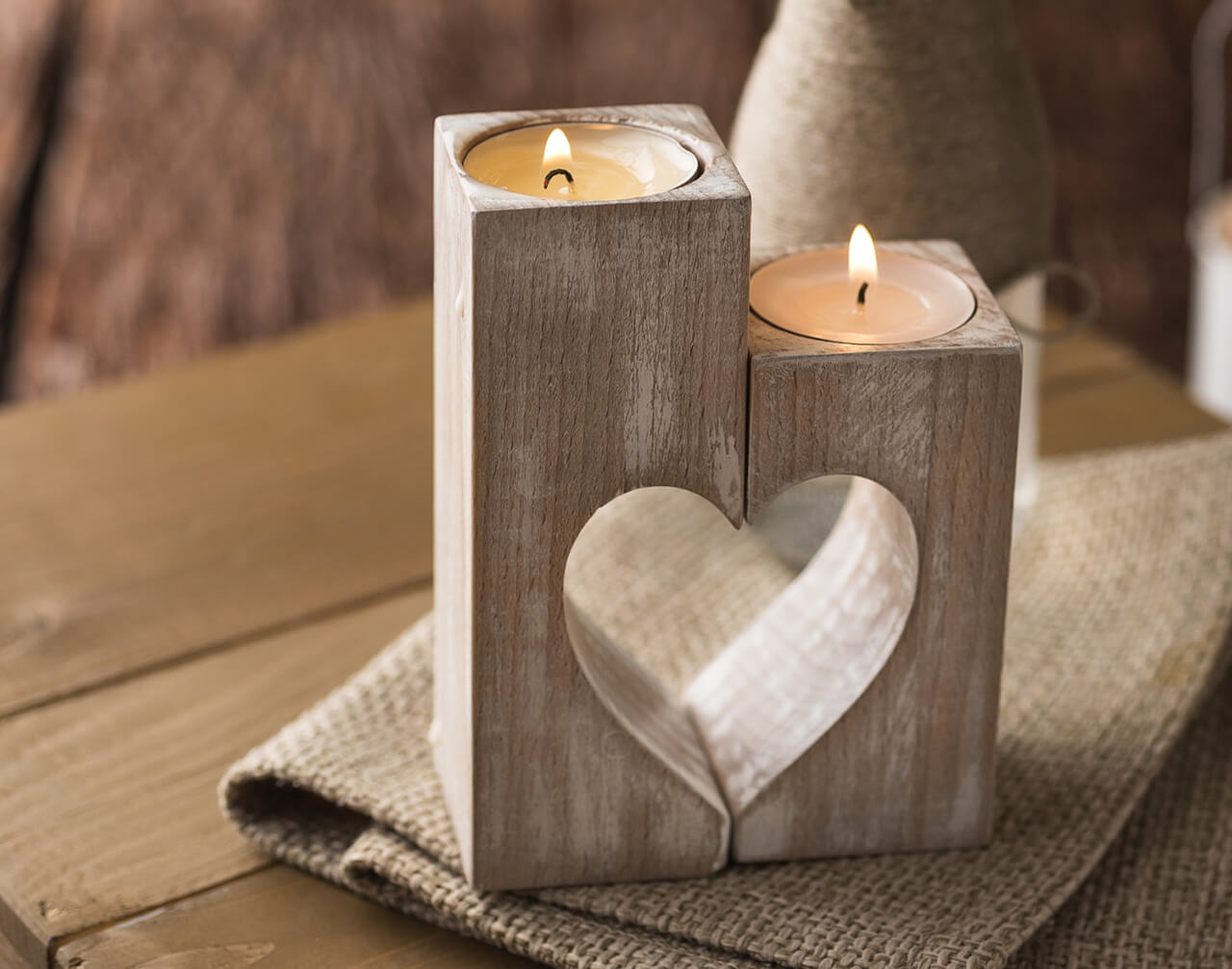 Candles & candleholders are always popular gifts this time of year and for a very good reason: you can't go wrong! We especially love the simple, rustic, elegant look of these handmade wood carved beauties, which accommodate typical small votive candles, which are included from the seller with your purchase, but are also easy to find absolutely everywhere. While they look great together when the heart is complete, our production assistant is planning to separate the pair into two gift bags to give the taller candle holder to her brother & the smaller match to her new sister-in-law. Such a sweet idea!
2. Rustic Wooden Wall Display with 9 Hooks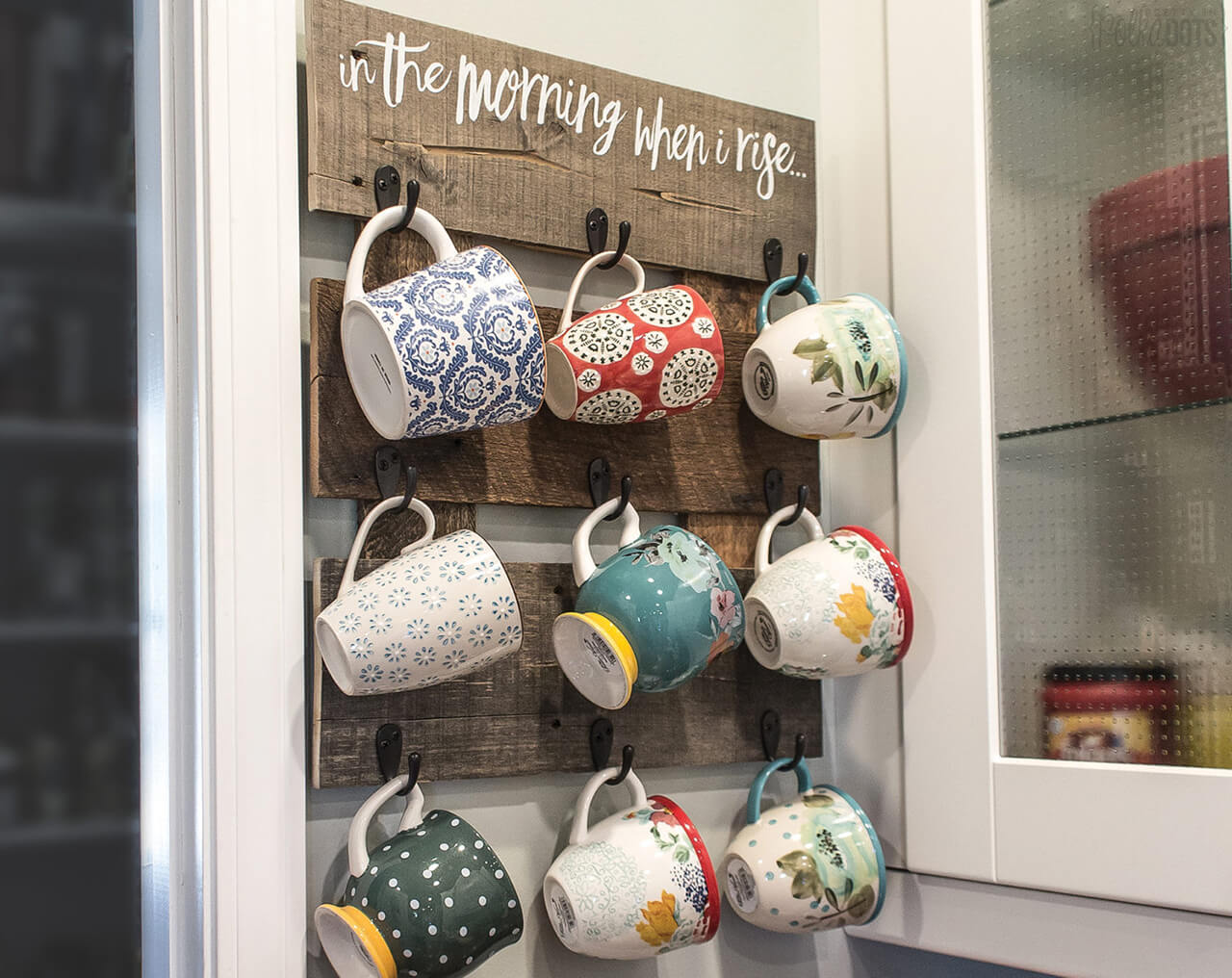 Admit it, there's a group of people who are impossible to shop for because they don't want you to spend money & they don't need anything in particular, so you're at a loss. Around here, these special people are godparents, step-grandparents, great aunts or your brother-in-law's stepfather's mother. When an iTunes gift card just won't do, consider this beautiful wall-mounted board made from reclaimed wood with 9 functional metal hooks. Perfect for an artistic display of coffee mugs, a practical organizer for key rings or a handy way to keep recycled bags within arms reach. A thoughtful gift sure to bring a huge smile with hugs of appreciation.
3. Veneer Wood Wine Bottle Holder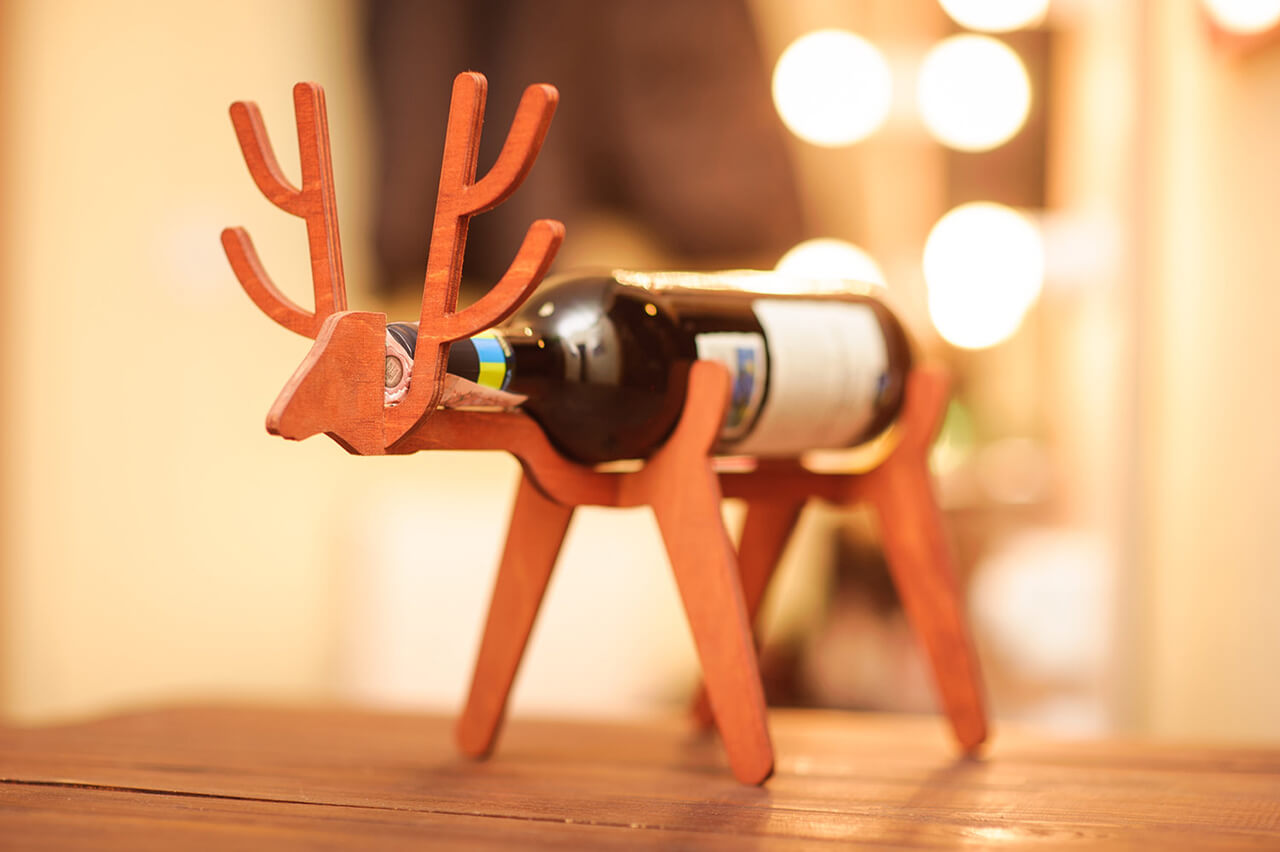 A lovely bottle of wine is a welcome gift & many of us rely on that old standby that we present in a wine bag made of paper or plastic. This year, why not show off that bottle of wine in a fabulous handmade plywood veneer wine bottle holder. We're loving the reindeer shape for the holidays, which also makes a great bar decoration all year long. You could also use this lovely holder to present a bottle of olive oil, sparkling cider, artisan maple syrup or even bath salts, many of which now come in fancy wine shaped bottles. (If reindeers don't float your boat, check out the elephant!)
4. Linen Pillowcases Customized for Mr. & Mrs.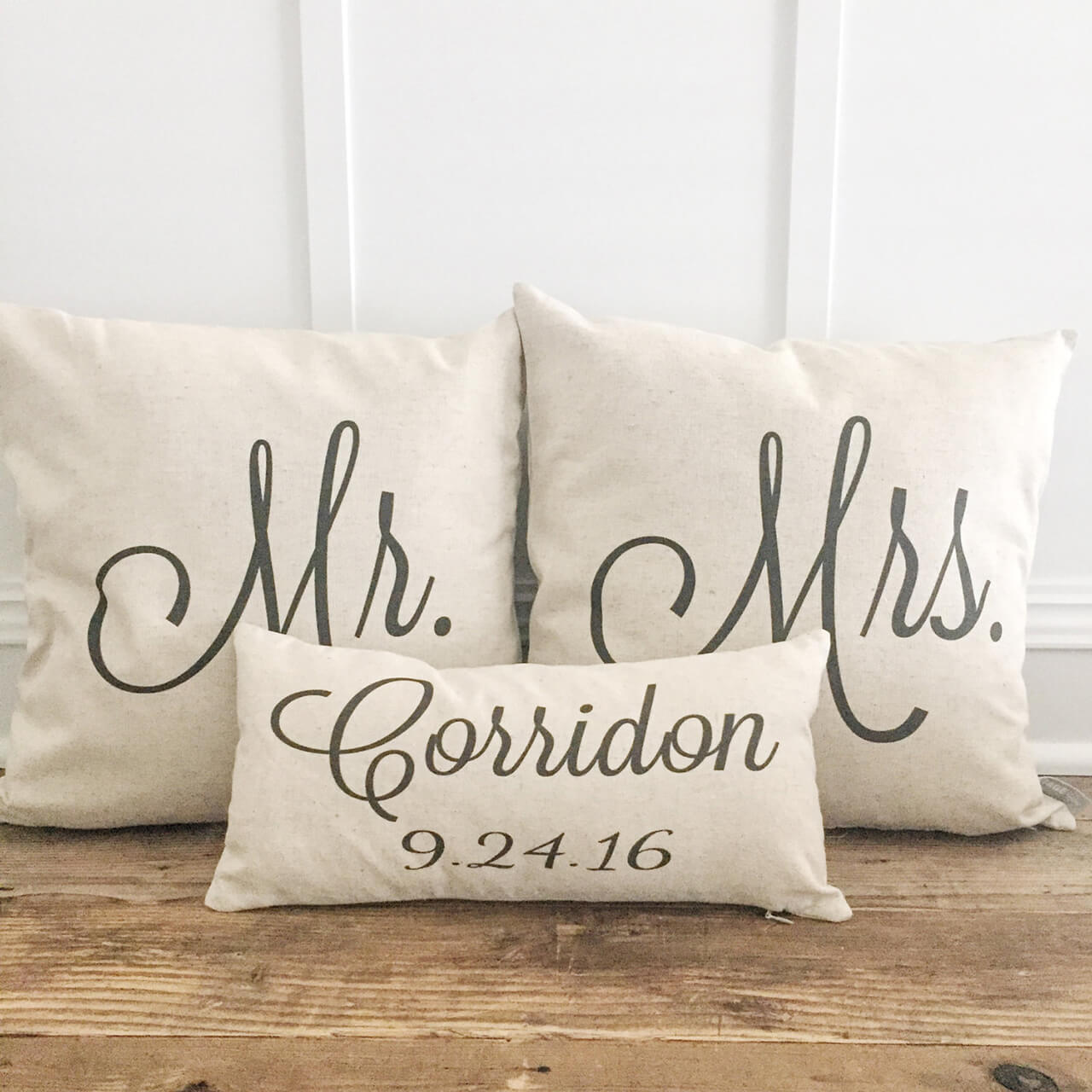 Some people call them throw pillows & some people call them decorative pillows. We just call them Personalized Perfection! These custom cases are chic natural linen with soft black lettering, but you can actually choose from 21 different writing colors ranging from golden yellow to ocean blue, making them even more customizable to match any decor. The 2 sizes always include a Mr. & Mrs. on each large square with the couple's last name & wedding or anniversary date on the smaller rectangle. We think they're perfect for decoration in the master bedroom or as cozy, cushy back pillows for a love seat or couch.
5. Ball Jar Bathroom Set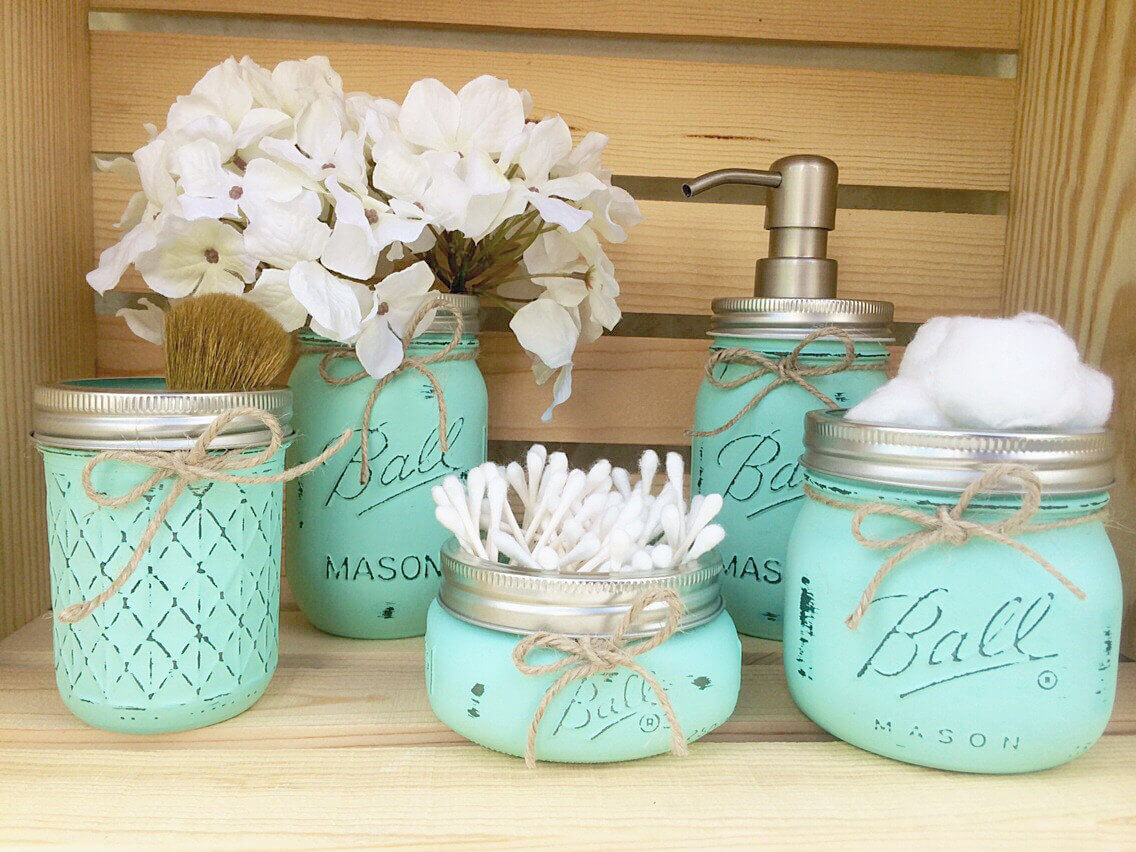 A shabby-chic inspired bathroom set? Yes, please! With 14 fabulous colors to choose from, these 5 Ball jars in a variety of sizes are hand painted & topped with a no-rust lid & matte sealant, making them even more perfect for a bathroom. Each set includes one pint sized jar with a soap dispenser top, which is ideal for liquid hand soap or body lotion because the pump reaches all the way to the bottom. Since the pump dispenser tops are so popular, the seller says you can order separately an extra top, which is great if you want to split up the jars to make 2 different gift sets.
6. Bamboo Lantern With Tree Carvings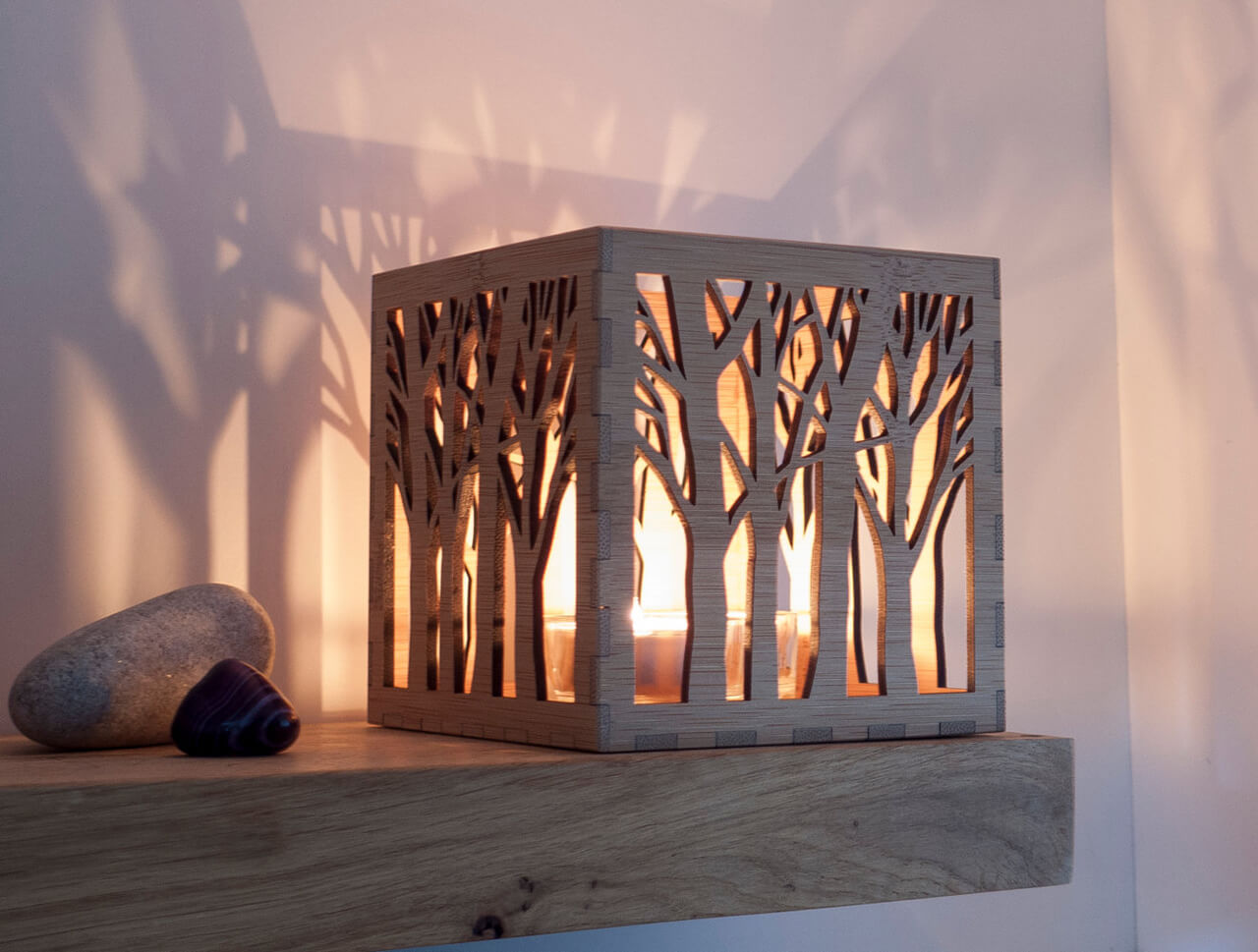 Sure you could bring a bottle of wine or a jar of fancy jam to your cousin's holiday party, but didn't you do that last year? Why not impress your host this season by walking in with this beautifully designed bamboo lantern. We especially love the elegant carving, which was created specifically for a glass-held votive candle to cast gorgeous light & tree shaped shadows. Without the candle, this box would also be a beautiful container for a silk flower arrangement. The best part? The artists are happy to carve a special message on the bottom of the box for the ultimate personalized gift.
7. Set of 3 Wooden Color Block Vases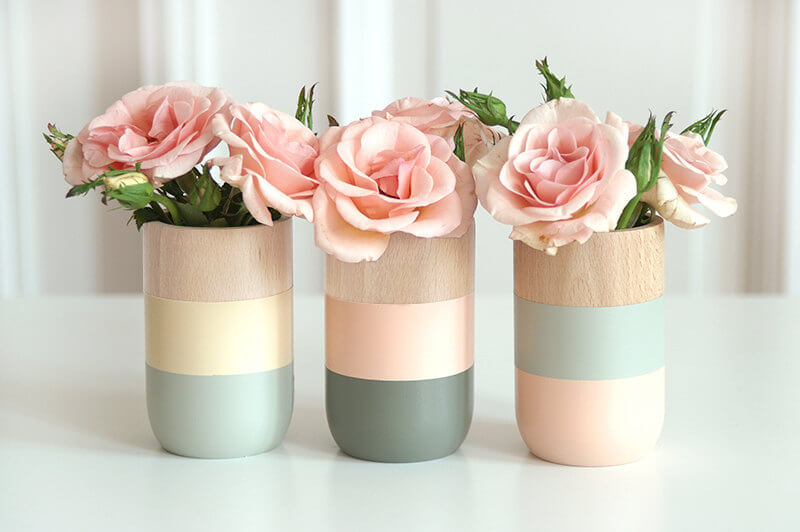 These color block vases are the sweetest combination of both traditional & modern. Made from sycamore trees, the vases are handcrafted into softly rounded tube shapes & expertly painted in sweet pastel shades of pink, grey & cream. We think this particular set has a neutral & natural feel that would blend into any décor, but if you're looking for something bolder, the artist also paints these vases in more dramatic combinations of grey & copper or black & gold. Since these wooden pots are not waterproof, they also come with plastic inserts, which are perfect for cut stems of roses, peonies or tulips.
8. Lightweight Travel Organizer & Docking Station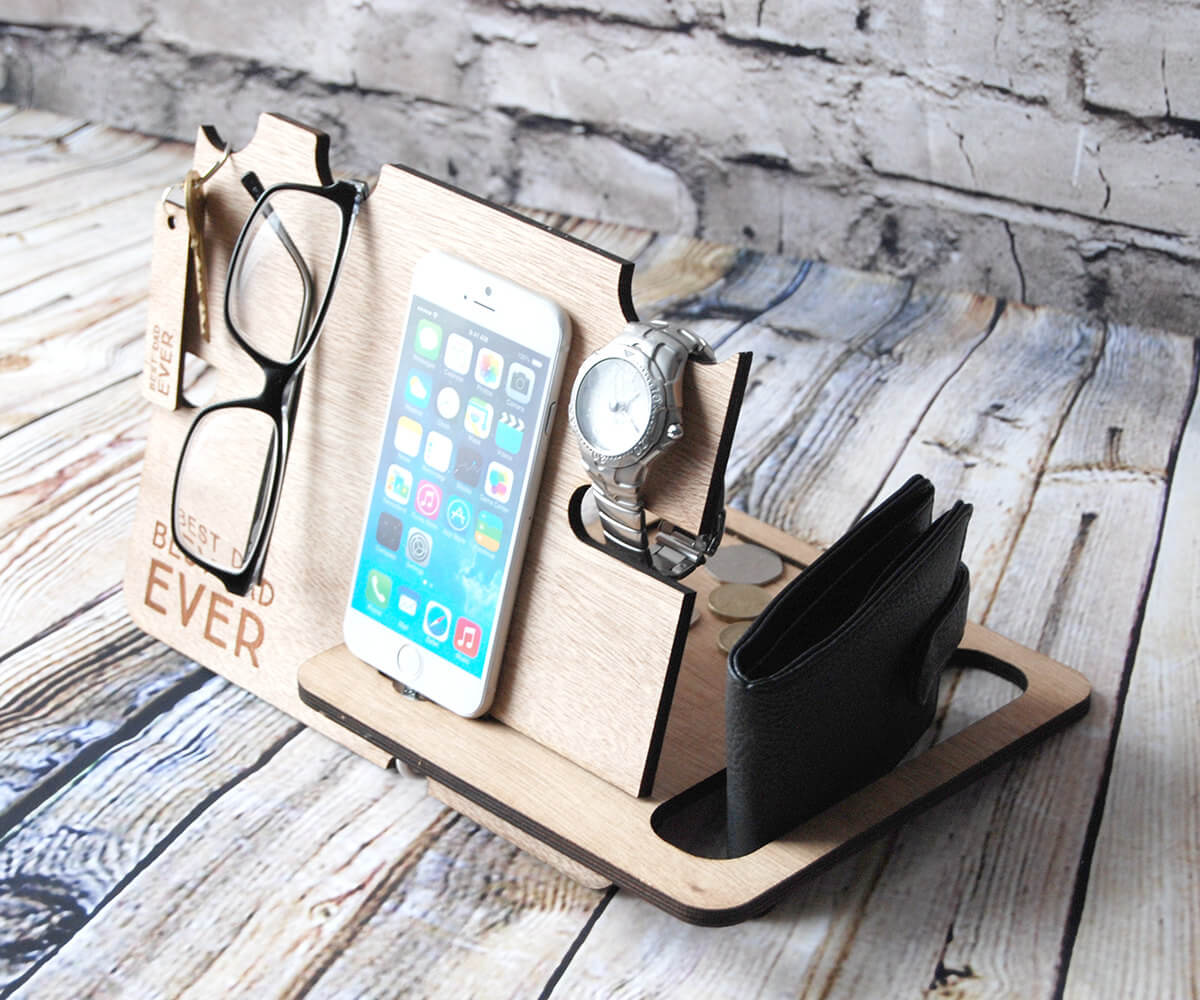 This organizer is great for the traveler in your life for so many reasons – let us count the ways. Most importantly, the sustainable birch plywood unit comes in 2 pieces, which can easily be assembled & disassembled over & over again from suitcase to hotel & back. It's also the best way to keep everything together while on the road: glasses, keys, smart phone, wallet, watch, money & USB stick. Did we mention that it also doubles as a docking station by integrating a perfect slot for charging cables? Well, it does! Lastly, you can customize the message, sentiment or name in any personalized way that your heart desires.
9. Handpainted Globe With Finished Stand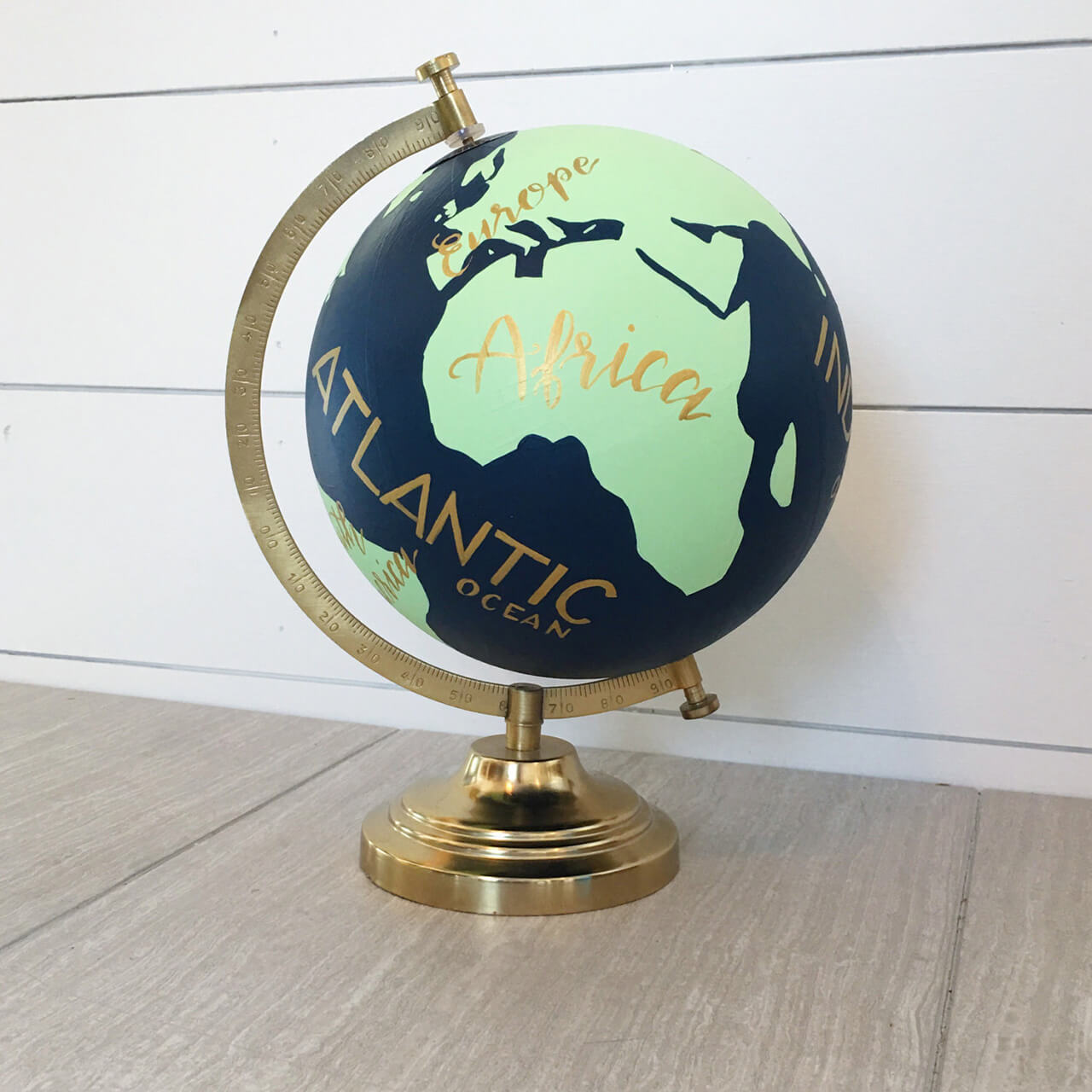 While air travel & Skype make the world feel smaller & smaller, this globe & finished stand make the world feel like an elegant conversation piece. While the globe stays round, you can customize everything else about this gorgeous gift: the color of the oceans, the color of the continents as well as the color & font of the message you want the artist to paint. There are also 10 globe stand finishes to choose from (around here, we love the hammered copper). The possibilities & combinations are endless, which is the perfect metaphor for the way a traveler sees the world. Bon Voyage!
10. Ampersand Book End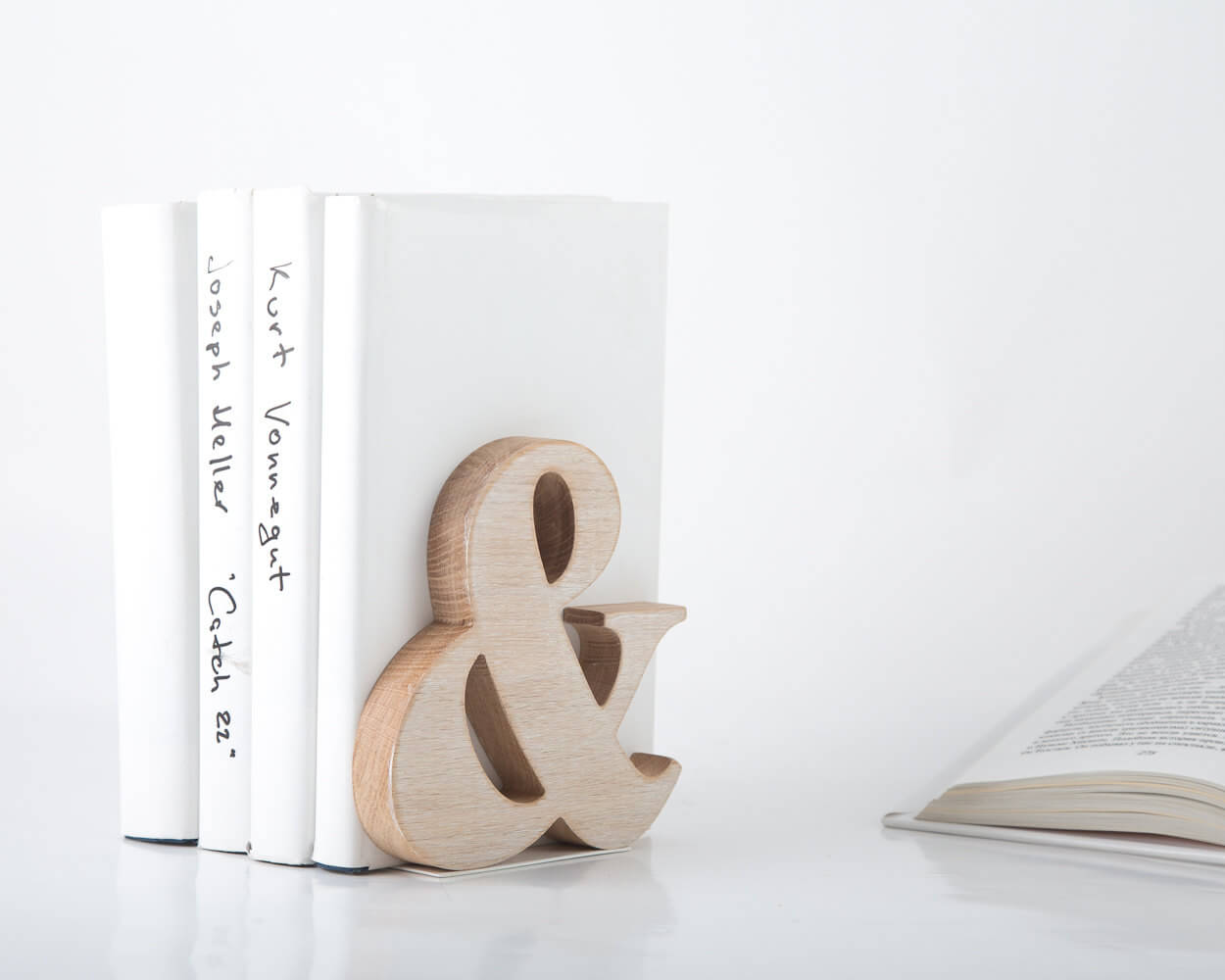 Does one bookend seem lost without the other? We thought so, too, but the "&" symbol is what connects two people in love, doesn't it? Romeo & Juliet? Fred & Ginger? Kanye & Kim? Without the ampersand (&), it's just a list of names! We especially love this sturdy wooden bookend because it's treated with natural bees wax & has a metal base coated with silicone that won't leave scratch marks. You could buy two to have a matching pair, but we think the single bookend makes more of an artistic statement. An added bonus? The seller offers free shipping all over the world.
11. Heart Shaped Porcelain Teacup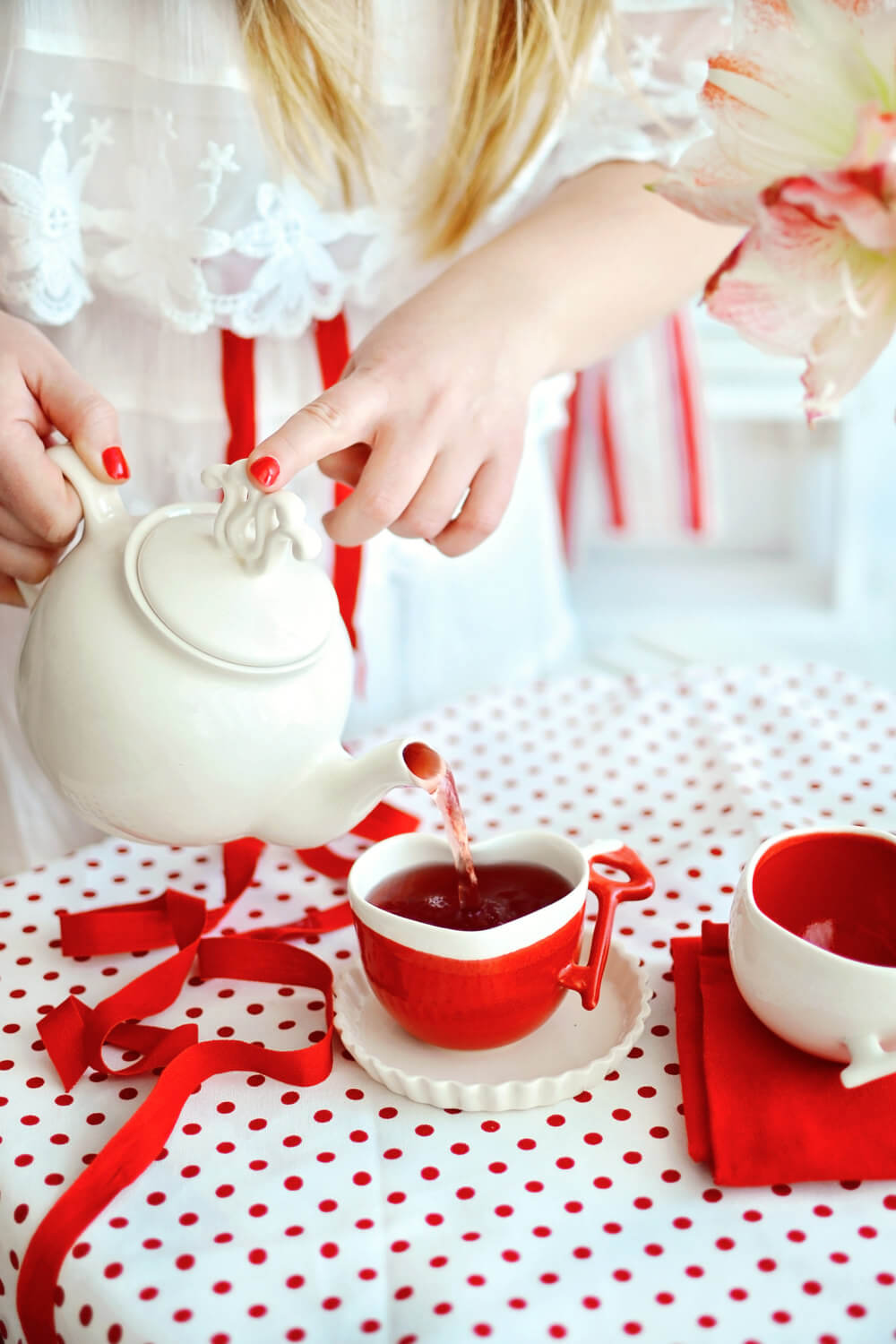 As the famous Monty Python quote says, "Make tea, not war," & this sweet porcelain teacup will make your favorite hostess feel peace & happiness when the party's over. Red & white is a classic color combination for this heart shaped cup with its charming key shaped handle but the artist is open to any color combinations if you let her know when placing your order. The saucer can be ordered separately & is perfect for a gingerbread man or classic chocolate chip. Shipped in a super cute package, this cup of love feels more like a work of art to be displayed & appreciated in any kitchen.
12. Earring Organizer & Display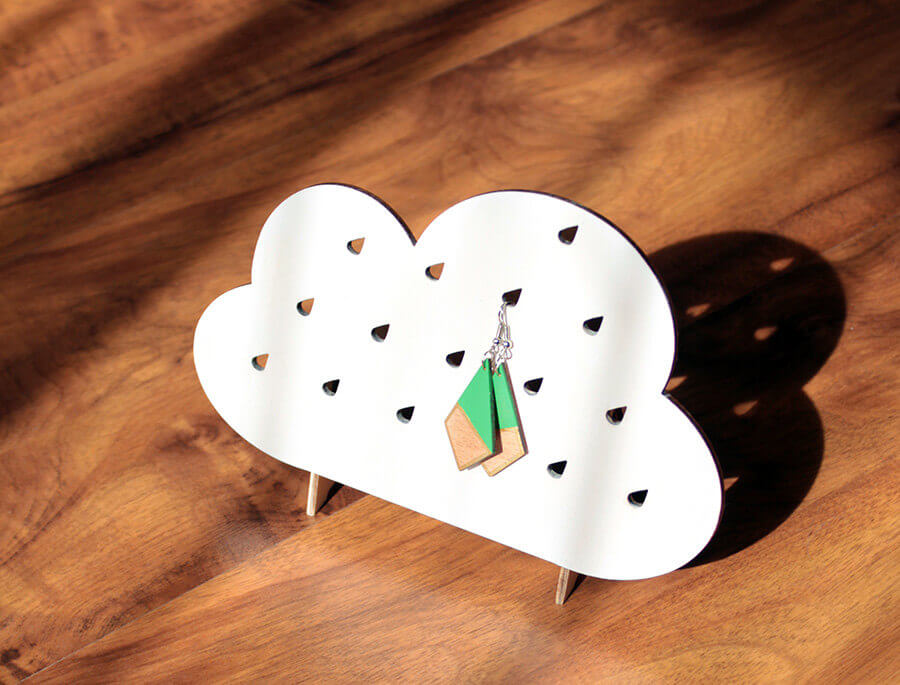 We especially love this earring display because it has nothing to do with the holidays! We're not being Scrooges over here, but it's wonderful to present a gift that will outlive the season to be enjoyed all year long. This pretty cloud design includes two matching stands that are all carved from wood & the individual raindrops are laser cut perfectly to keep earrings in place. Necklaces could easily be draped over the top curves of the clouds, which means all her pretty jewelry will finally have a lovely showcase. This handmade gift is truly something for the hostess to enjoy long after guests go home.
13. Petite Sized Wooden Picture Frames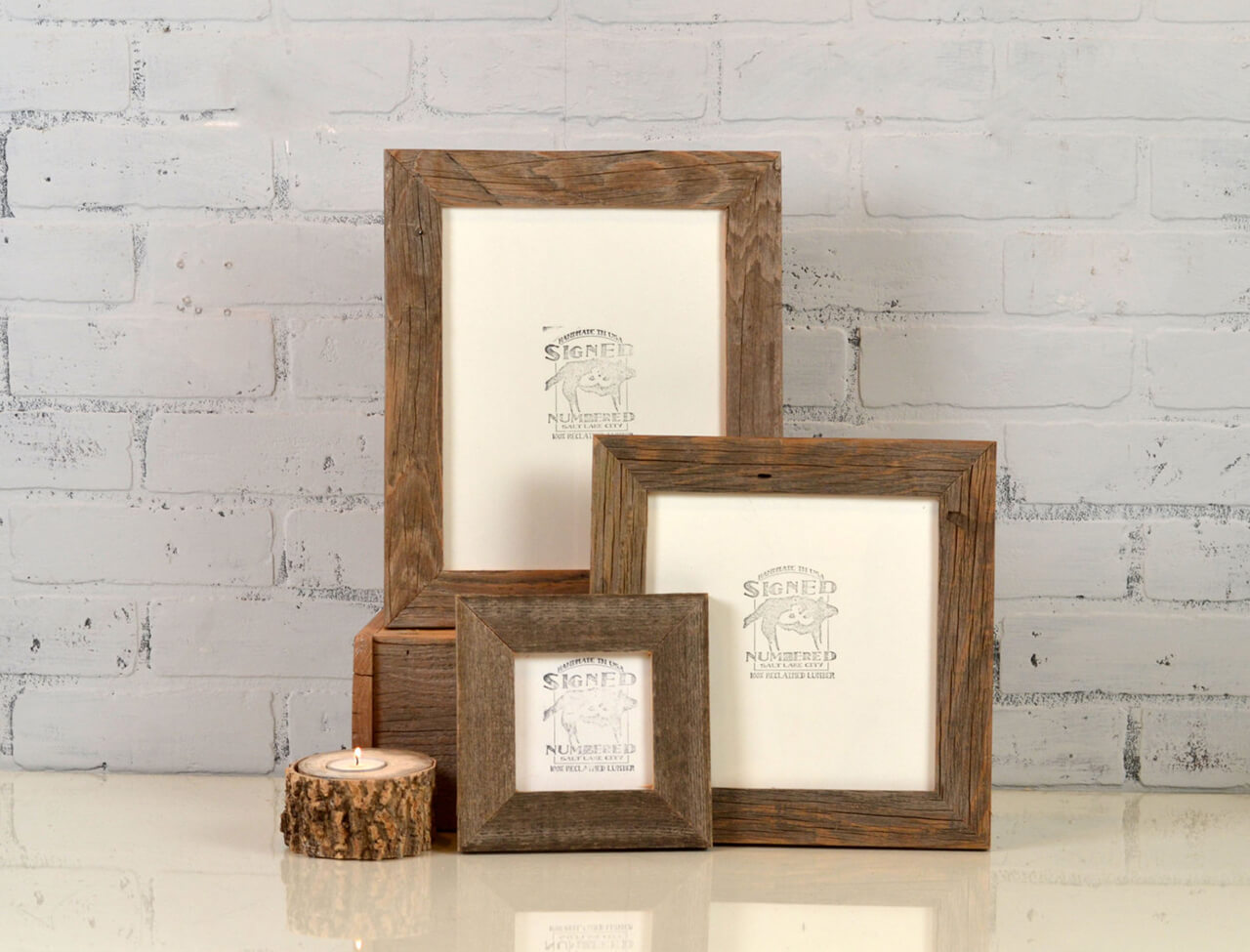 Picture frames may be out of fashion for those digital app-loving millennials, but you really can't go wrong with classics like these: natural grainy wood with smooth finishes in a variety of petite sizes. Ideal for office desks, living room shelves, or that long skinny table behind the couch, the frame itself makes a lovely gift. Inspired to add that something special? Why not print a favorite photo from your phone or an motivational saying off the Internet. If you're feeling especially creative, the seller will even custom cut a mat backing for your frame from a choice of a gazillion colors at no extra charge.
14. Sleeping Cat Planter with Golden Accents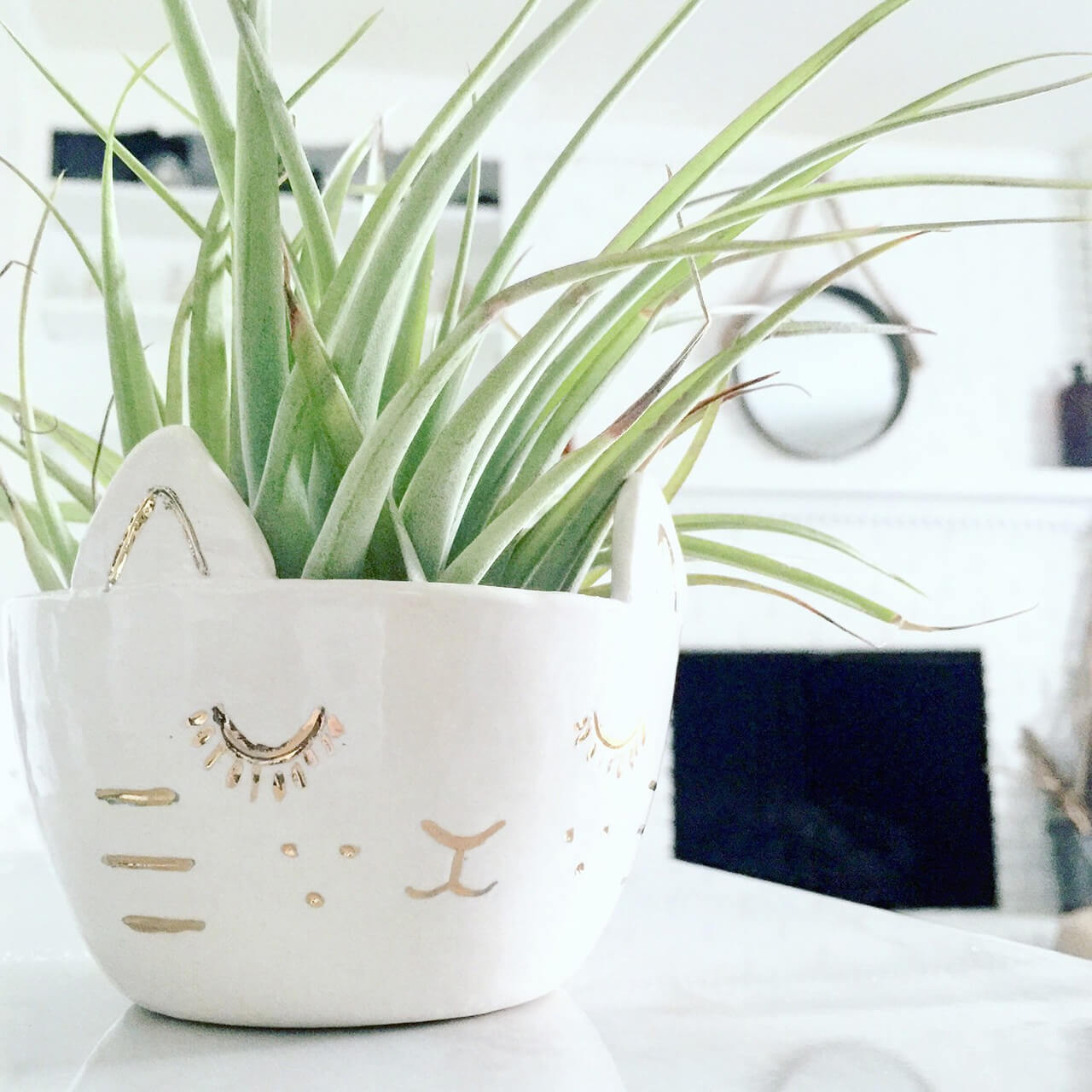 You don't have to be a cat lady to appreciate those pointy ears, button nose & dramatic whiskers – even better when those features are hand painted in shiny gold on a striking white glossy planter. Don't you love how the ears rise up from the top of the pot? It's this detail that makes this kitty a uniquely fabulous hostess gift. How about presenting the planter with a fragrant fresh herb such as rosemary or thyme. Or to fully embrace the season, how about a bright red & green poinsettia, a dramatic & beautiful contrast with the stark snow white ceramic.
15. Slanted Wooden Tablet Holder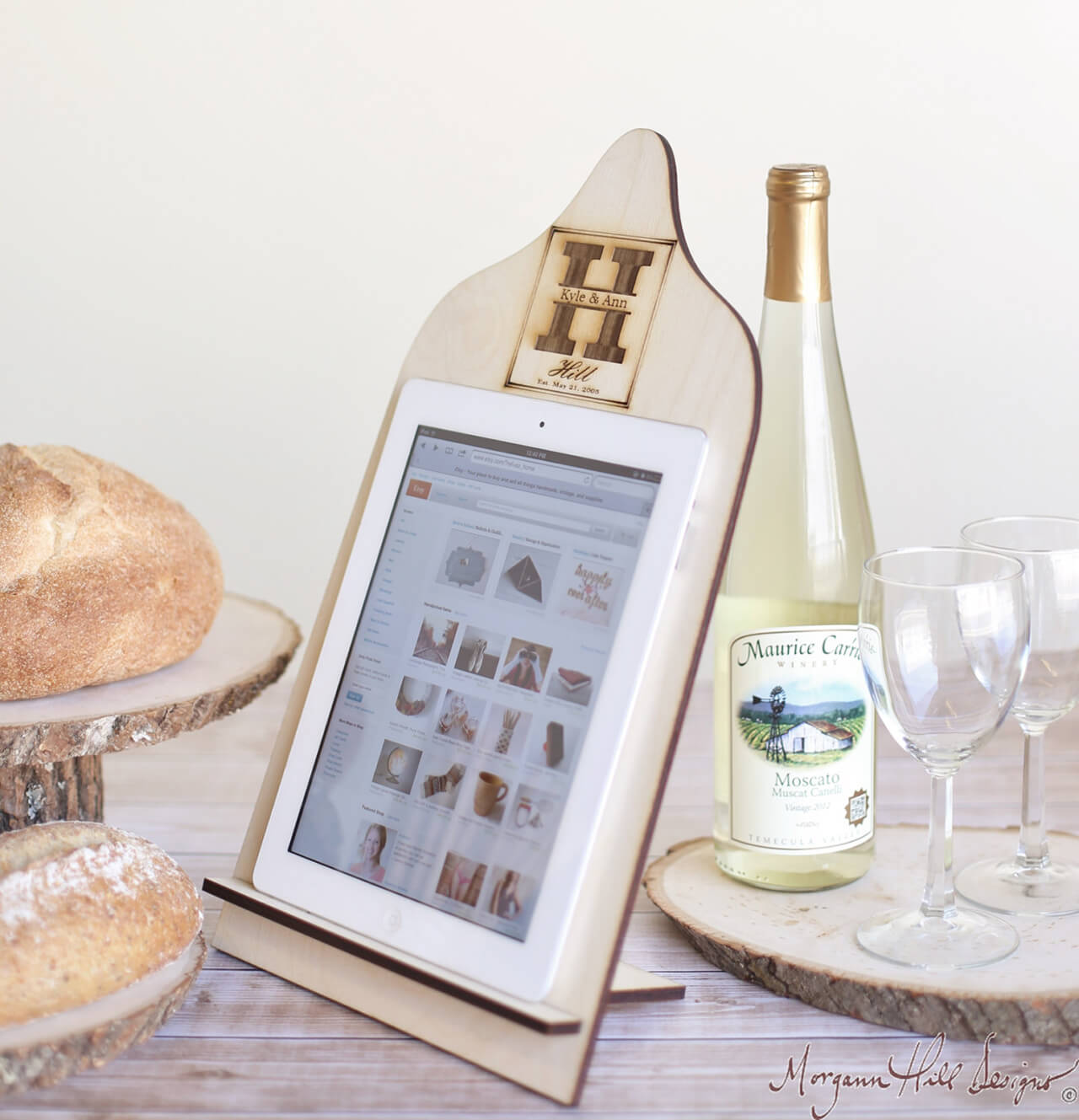 As our assistant editor said, "if I knew someone would bring me this amazing iPad/Kindle/smart phone/tablet holder, I would literally throw a party tonight!" For the entire editing staff this handmade wooden stand was love at first sight. In fact, our marketing intern knows exactly how she'd use it. "I could totally see myself watching YouTube videos while leaning against the kitchen counter eating cottage cheese straight out of the container. That's my version of dinner & a show!" The typical engraving on top consists of two first names with a last name initial as well as the last name & a date, but further customization is possible.
16. Colorful Crocheted Footstool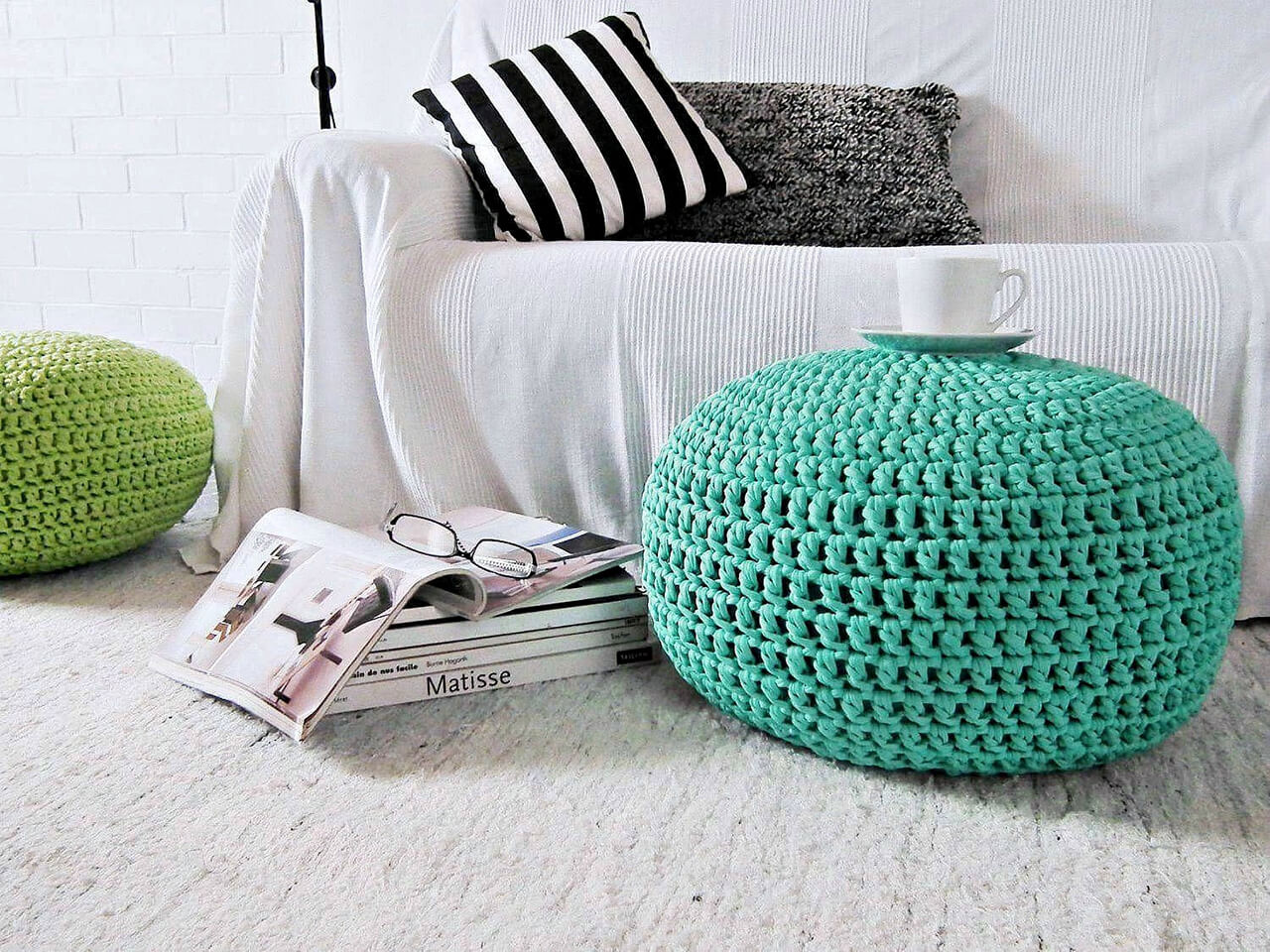 We'd love to park our tootsies on this cozy cushion & also use it to rest a plate of cookies or an open book. It can even be used as a seat depending on which stuffing you buy. Now only do we love different size poufs for versatility but because we can choose from a variety of yarn styles such as Ribbon XL or recycled t-shirt yarn in an array of colors. If you do want to present this at the holidays for that special nester in your life, be aware that the crochet time & the shipping time means it's not ideal as a last-minute gift.
17. Handmade LED Nightlight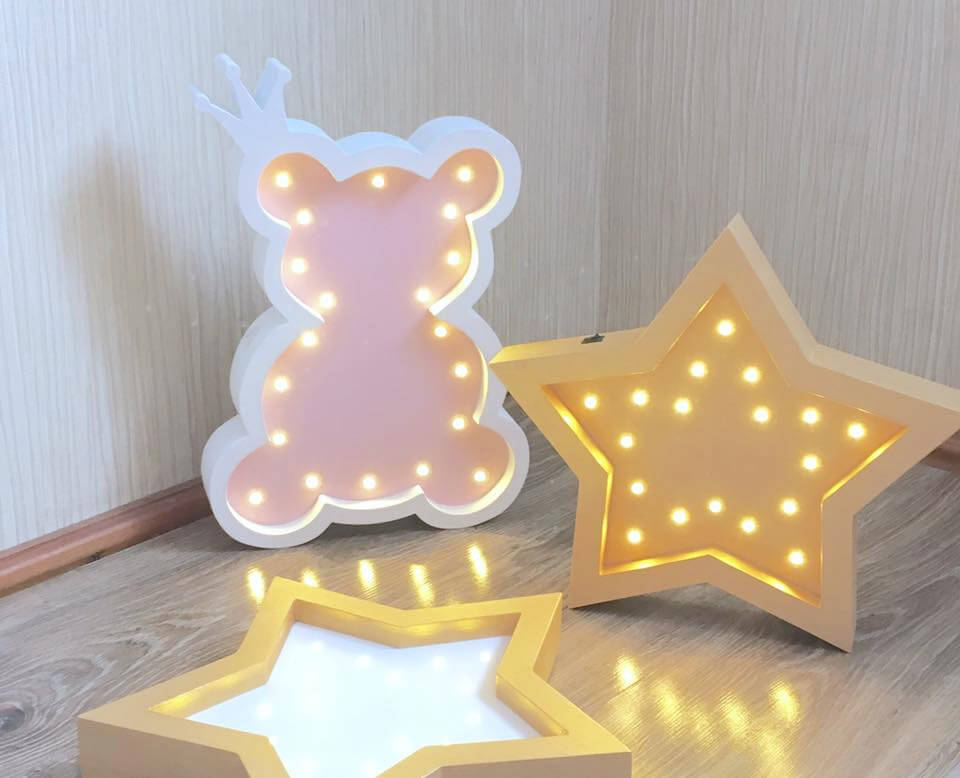 Sneak up on Santa coming down the chimney with this angelic nightlight. The warm LED projects the softest glow & because this nightlight operates on 2 AA batteries, which are included, it becomes both freestanding & portable. We love the star in white or gold for its dreamy association, but these handmade wooden nightlights are available in different colors if you want to match it to a specific room. Other shapes include a holiday Christmas tree, a scarf-wearing penguin or big capital letters, which means you can order a "L" for your niece Linda who just moved into her first home.
18. Hammock Chair With Washable Cushion Cases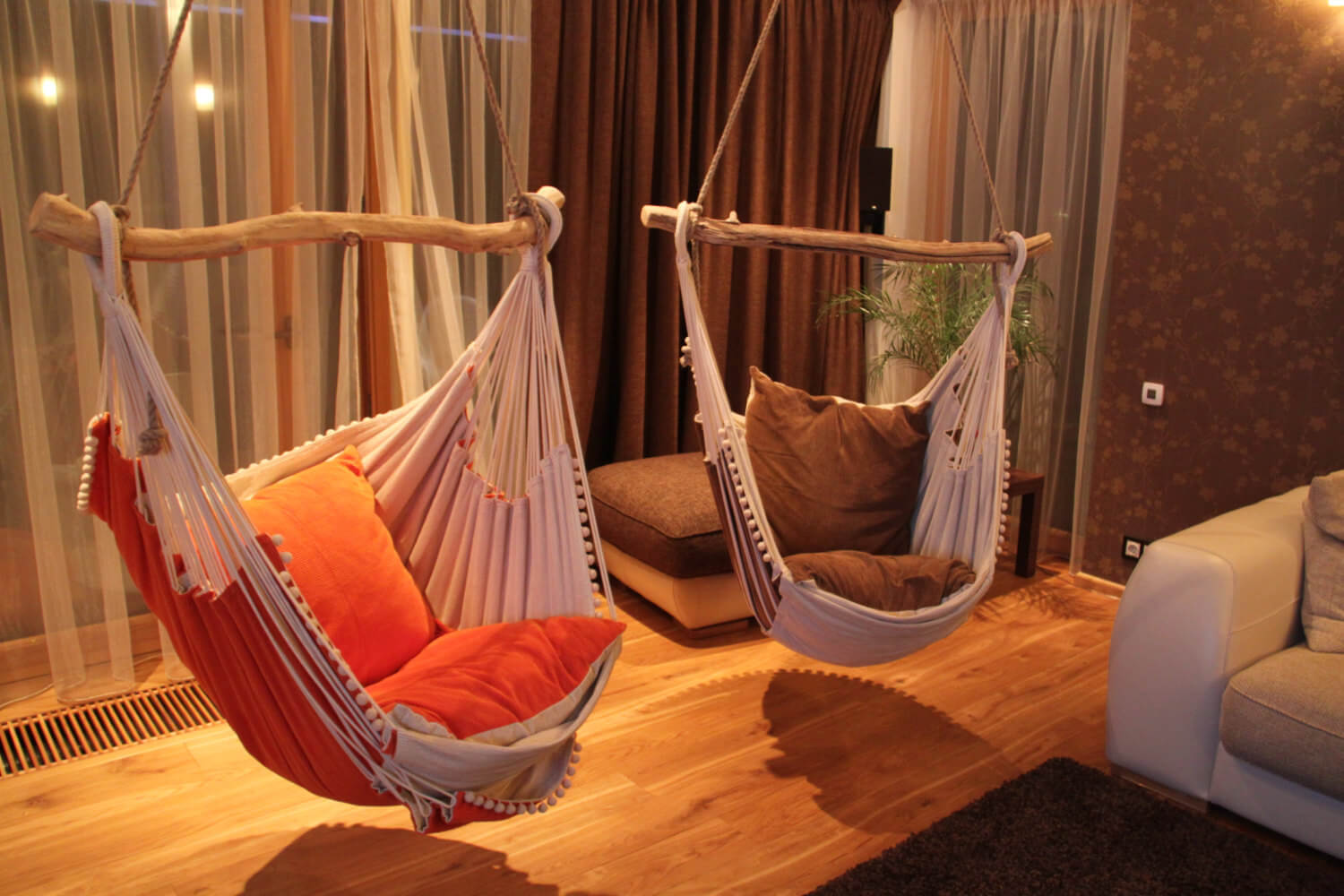 For that special someone who is more of a traveler-at-heart, this fabulous hammock chair can make him or her feel far from home. At first glance, it looks more chair than hammock with 2 cushy pillows featuring washable pillowcases in a choice of colors. But when the legs begin to dangle, you start floating on air & the 'traveling' begins. The cross bar comes from driftwood found along the Baltic Sea & the designer includes all the hardware needed install the chair in the location of choice. The hammock chair holds 264 pounds, which sounds about right for those of us who love to indulge at the holidays!
19. Colorful Clock Painted On Pine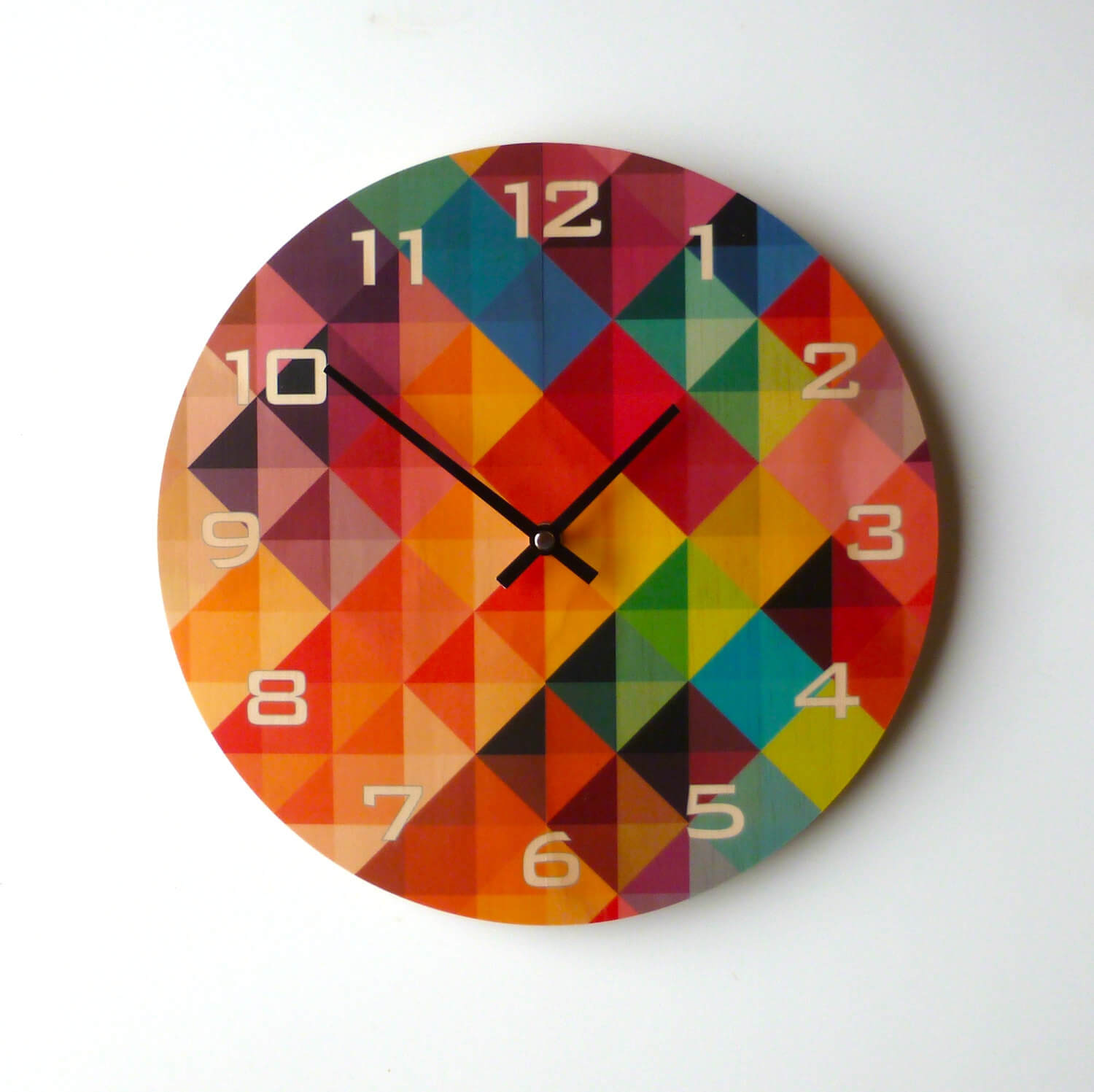 Bursting with color and an exciting geometric design, this gorgeous clock made from Radiata Pine makes us feel happy each time we see it on the wall above the water cooler. The beautiful wood grain coming through the colorful face makes each clock a one of a kind piece since no two pieces of wood are exactly the same. We love this particular clock because it's both retro chic & easy to read but the seller can offer so many different variations, including keeping the wood natural, changing the colors of the numbers or choosing between a white, black or silver set of hands.
20. Christmas Themed Rolling Pin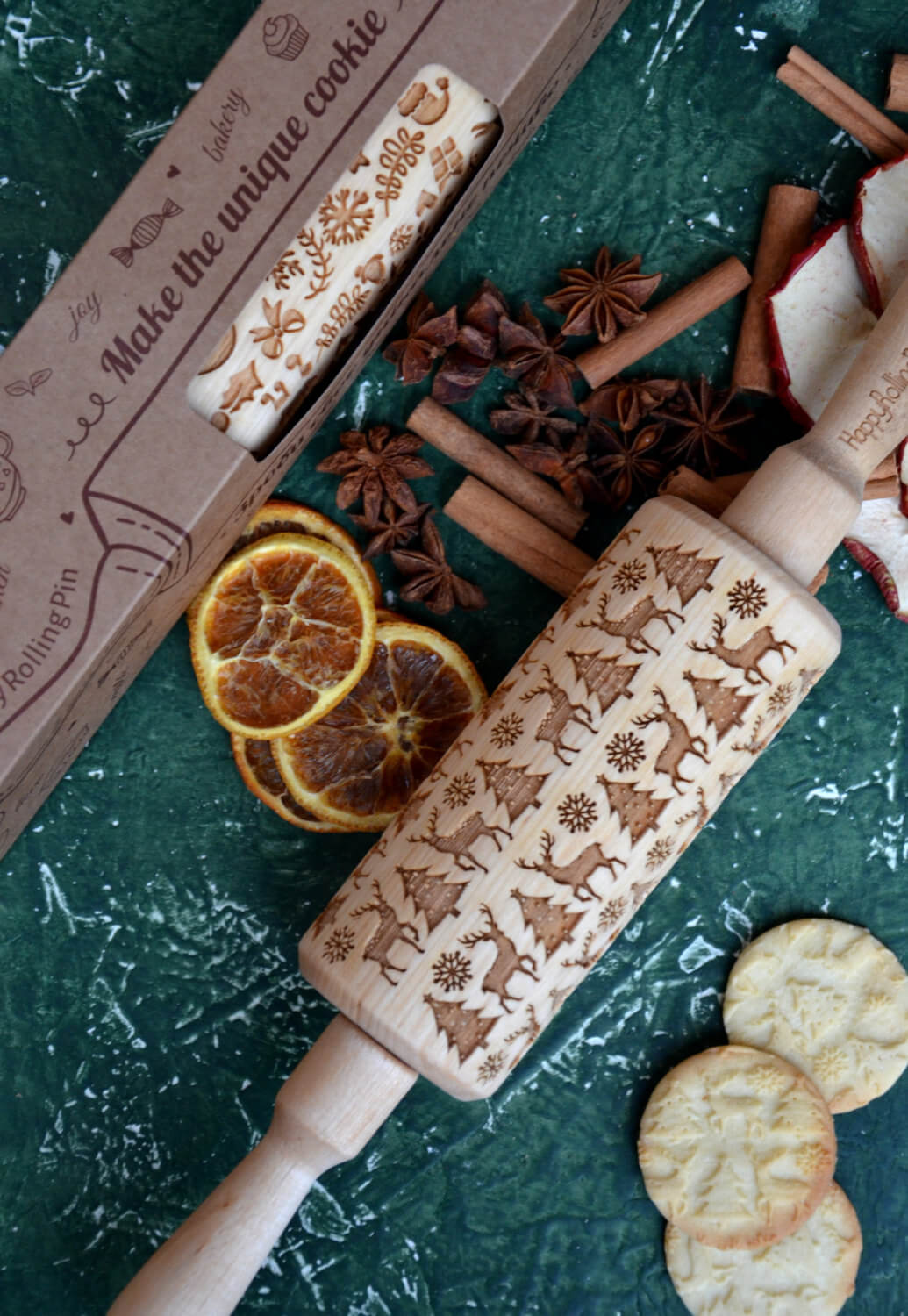 A wonderful addition to a baker's kitchen, this Christmas themed birch tree rolling pin turns regular cookies into the kind of fun, patterned, embossed cookies that just taste better than the plain ones. (Sad, but true.) Our editorial staff agrees that this is not the kind of gift that a person buys for oneself because it would may only be used a dozen times throughout the year, but that's what makes this handmade rolling pin the perfect indulgence for someone else. Although the seller has a variety of Christmas engraved pieces in multiple sizes, you can suggest a totally different pattern to customize your rolling pin. Look out, chocolate chips!
21. Dog Bone Burlap Christmas Stocking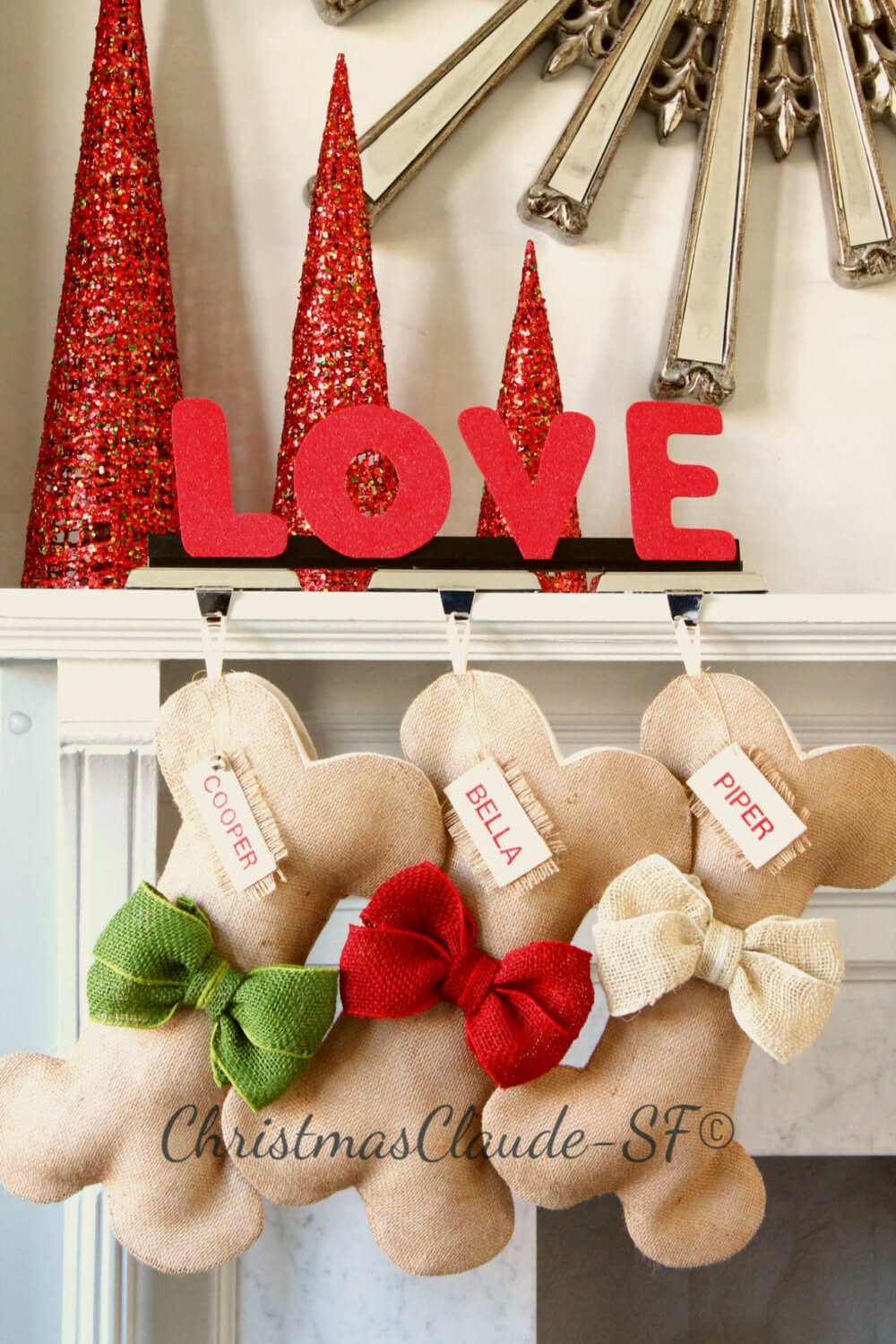 Not your typical Christmas stocking, is it? The dog bone shape is so cute all on its own, but even more adorable in the natural burlap color with a beautiful coordinating burlap bow in green, red, white or brown. We think adding a nametag in green, red or brown thread, at no extra charge, makes this a truly personalized gift. While you may think this stocking should only be filled with dog toys & appreciated by a dog lover, think again. Let your imagination run wild by filling the stocking with any animal related theme goodies – animal shaped cookie cutters, animal print socks or classic animal crackers. Go wild!
22. Make-up Organizer With Docking Station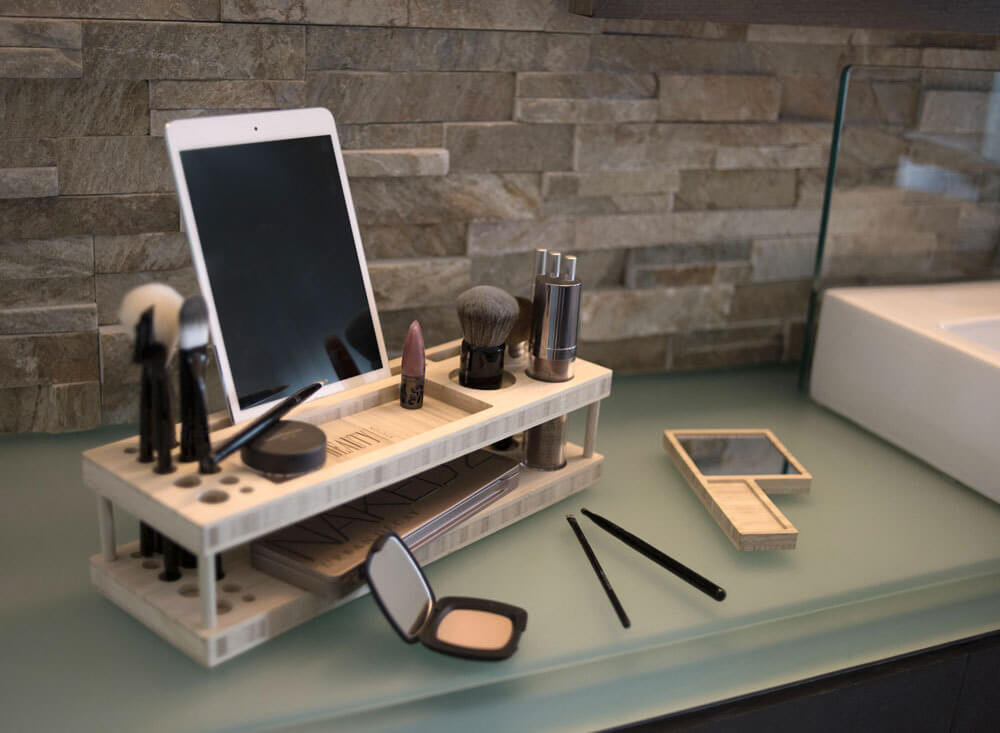 You are not dreaming! This really is an elegant, clean & natural looking make-up organizer that's not only practical & convenient, but also looks great out in the open, whether it's on a vanity, alongside a bathroom sink or on top of a chest of drawers. Made from sustainable bamboo & glazed with a protective sealant, this chic & practical organizer helps keep all the essentials neat & tidy: make-up brushes, foundations, blushes & eye kits. The best part isn't the convenient removable mirror but the built-in universal groove, which acts as the perfect holder for a tablet or smart phone while it's charging.
23. Geometric Glossy Vase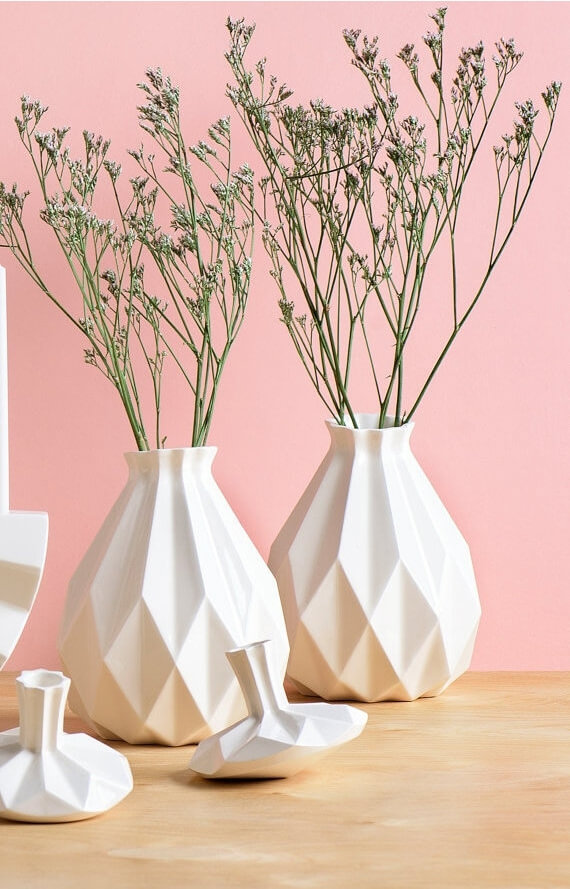 For a couple of lovebirds hosting their first holiday together, this glossy white origami-inspired vase is both elegant & classic, but wait until you see how sweet it looks in pale blue, buttery yellow & light green! We think the clean geometric design makes a wonderful addition to any holiday table setting and at 6.2" high, this vase would also be a romantic addition to a bedside table or on the bathroom vanity. For the ultimate symbol of love, fill this beauty with fresh cut roses or a stalk of lucky bamboo to wish the happy couple all the best of the season.
24. Set of 3 Honeycomb Shaped Shelves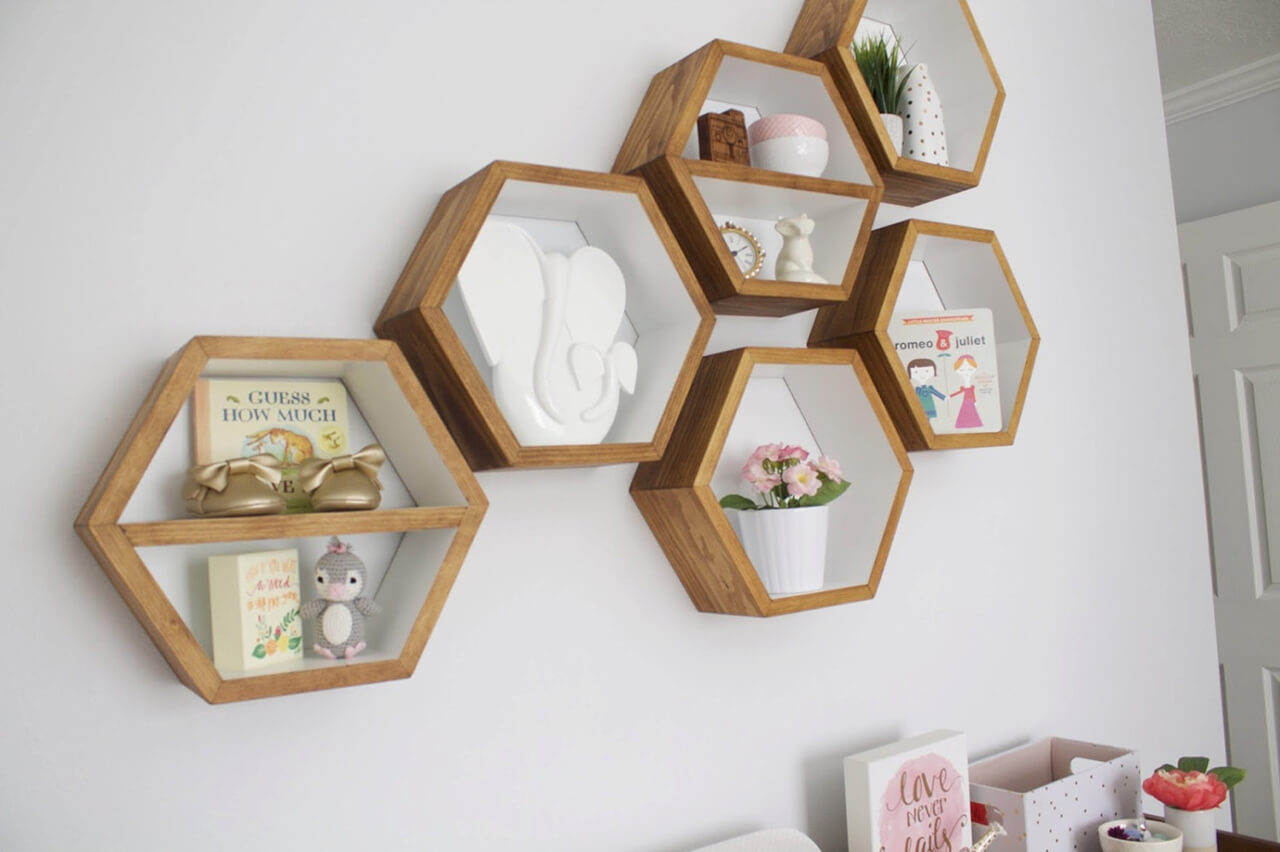 If the question is, "how does one display all those interesting souvenirs from places near & far?" Then the answer is, "in these self-contained honeycomb shaped shelves, of course!" We love the simple design & how the wood itself becomes an interesting focal point for a blank wall. The set includes 3 individual units, including one with an additional interior shelf, for a collection of mementos. You can request different combinations such as 3 units all with interior shelves or break up the set into 3 separate gifts. Choose from pine, ash, birch, cherry & walnut, but be aware that each wood is priced differently.
25. Concrete Base For A Modern Lamp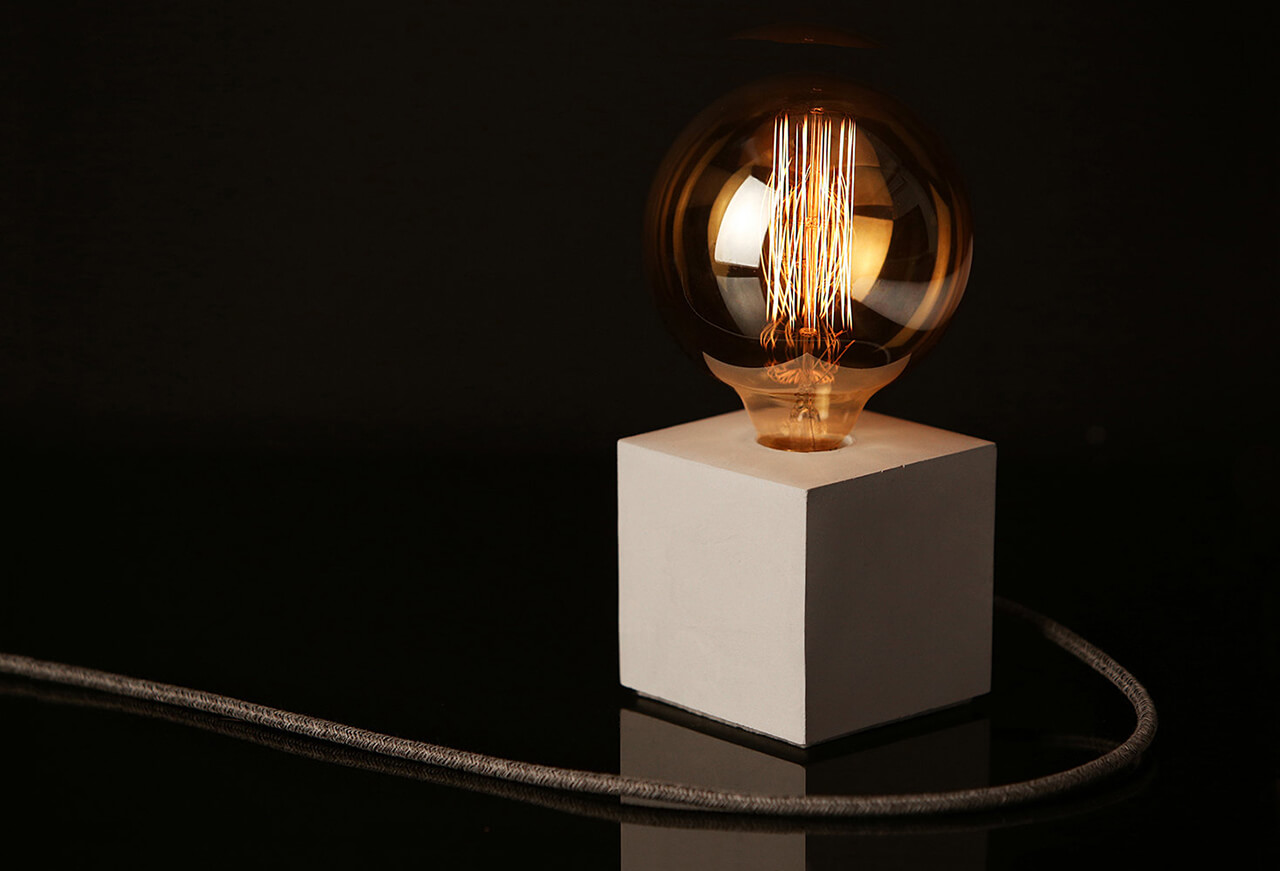 This chiseled lamp featuring a white concrete base with an optional vintage style Edison bulb is the perfect combination of stark & soft. Designed as an attention-grabbing centerpiece, this lamp would look great on a desk, side table, console or mantelshelf above the fireplace. Although it makes a big impression, the base is a diminutive 4" cube & weighs less than 4 pounds. We highly recommend ordering a 60-watt Edison style bulb separately, to complete the look. This lamp feels perfect for a traveler because one can choose between 3 different plug types: US/Canada, UK/Ireland & the Euro-plug & you never know where a true traveler might end up…
26. Agate Stone Coasters With Gold or Silver Trim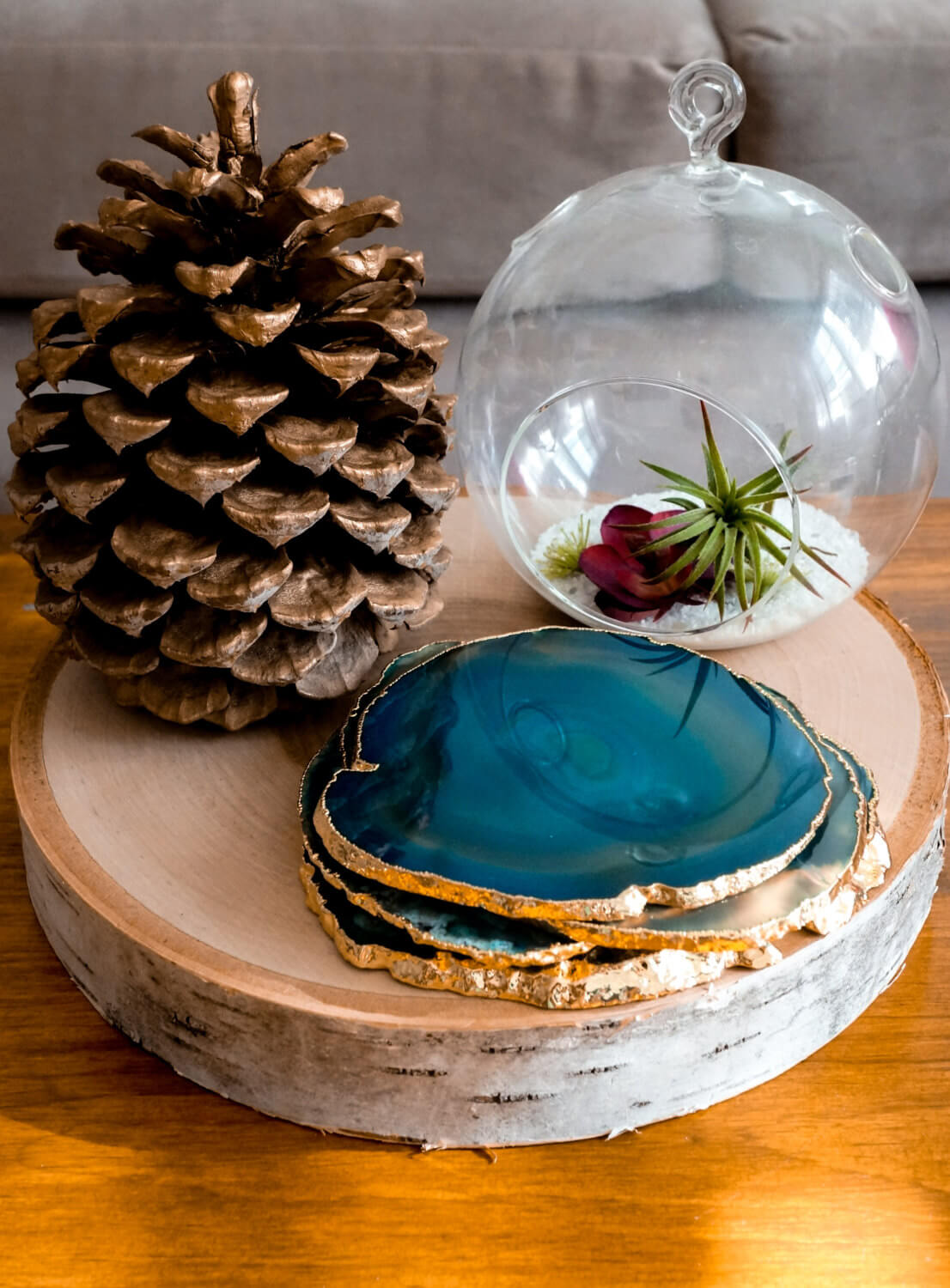 It almost seems sacrilegious to call these gorgeous slices of stone by their conventional function: coasters. The beautiful & unique agate is available in the most beautiful colors: pink, purple, blue, green, red, teal & natural, including a range of shades in grey, brown or black. The edge of each piece is coated in gorgeous metallic silver or gold, which helps to not only finish the look of the stone, but also shows off the translucent marbling inside each slice. Sold in a set of 4, each coaster has clear rubber feet on the bottom so your hostess needn't worry about scratching the coffee table or sliding off the counter.
27. Reclaimed Wooden Sign With Inspiring Message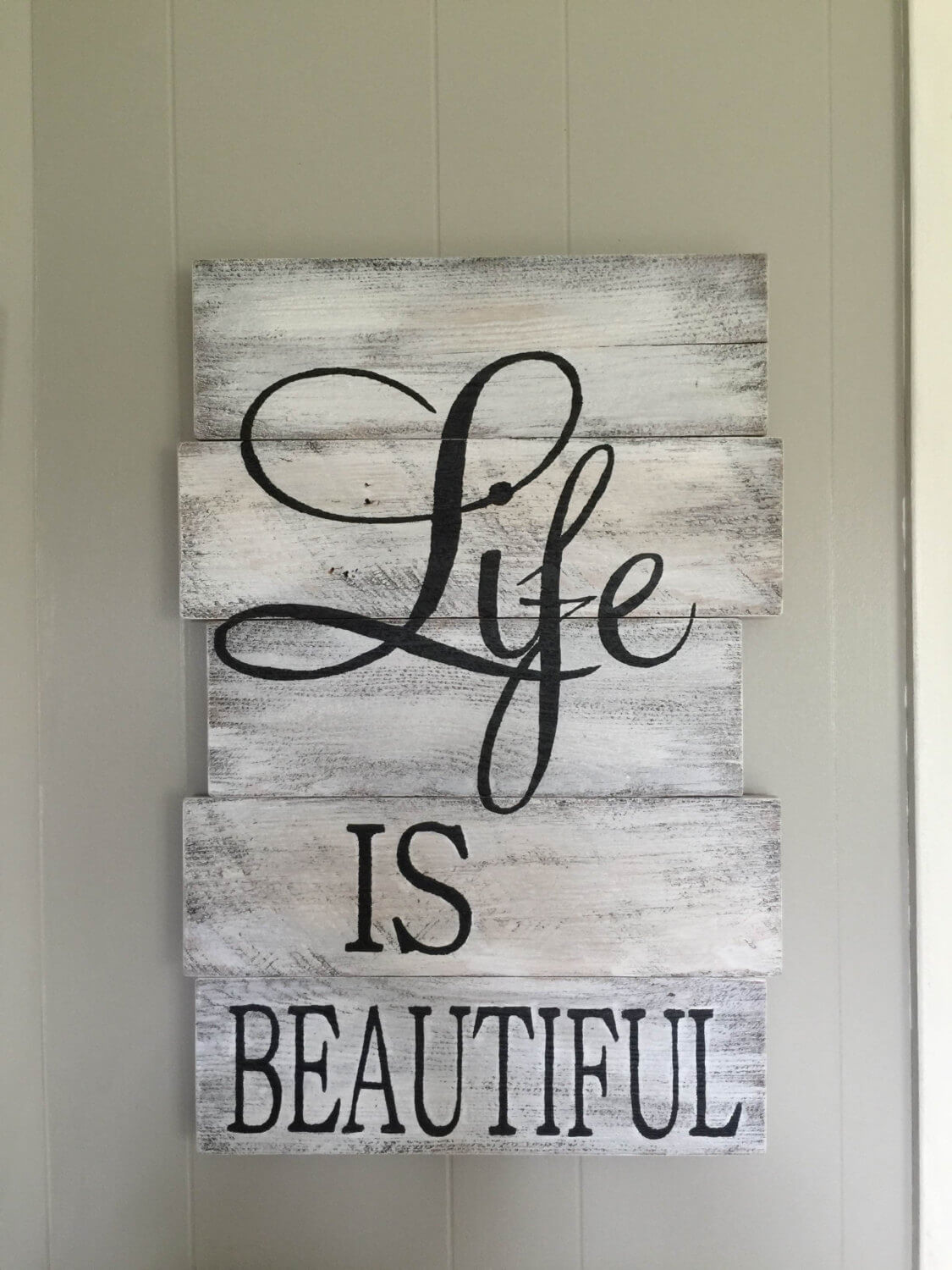 An uplifting saying hand painted on reclaimed wood with a uniquely distressed rustic feel is definitely not for everyone on your list. But we can easily imagine it would look great in a home that has an old time country feel or be appreciated by a special someone who loves browsing through antique shops. While the price may be more art gallery than garage sale, our accounting team (bless them!) offered the perfect suggestion: why not join forces with others this season to give this decorative & thoughtful statement as a group gift. The sentiment will be even more special when presented in unity.
28. Small Heart Shaped Dish With Gold Accents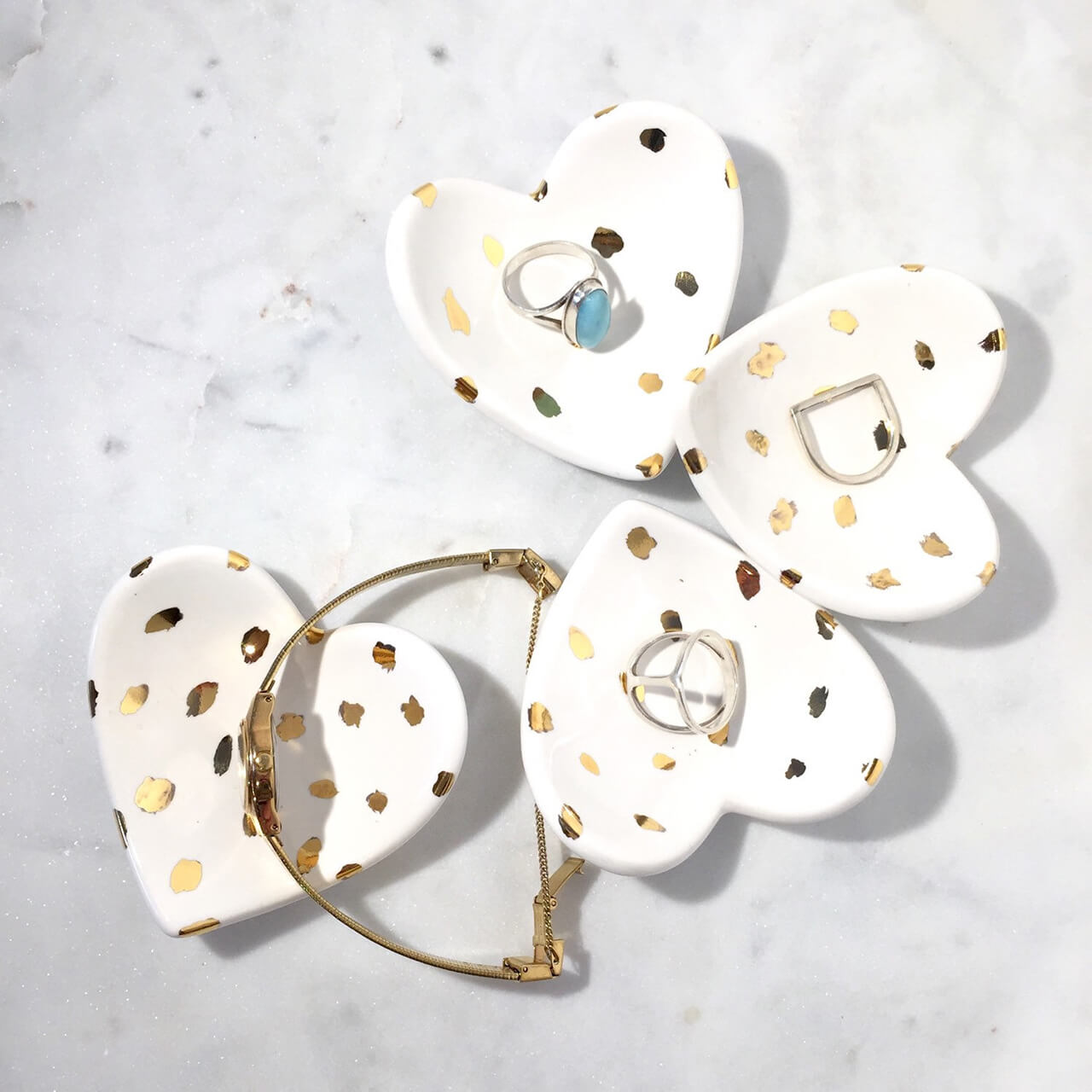 With genuine 22K gold accents, this charming dish is a piece of art all on its own & looks great on all those surfaces that need a touch of daintiness – next to a lamp on the hall table, alongside TV remotes on the coffee table or on top of the dresser. Then we started thinking of all the ways we could actually use the perfect palm size shape: a charming catchall for keys, a beautiful cradle for a romantic votive tea light, a welcome base for boring paperclips on a home office desk or a nightstand receptacle for earrings or ear plugs that can get lost in the night. Sweet!
29. Painted Wall Sign With Hooks For Pets & Owners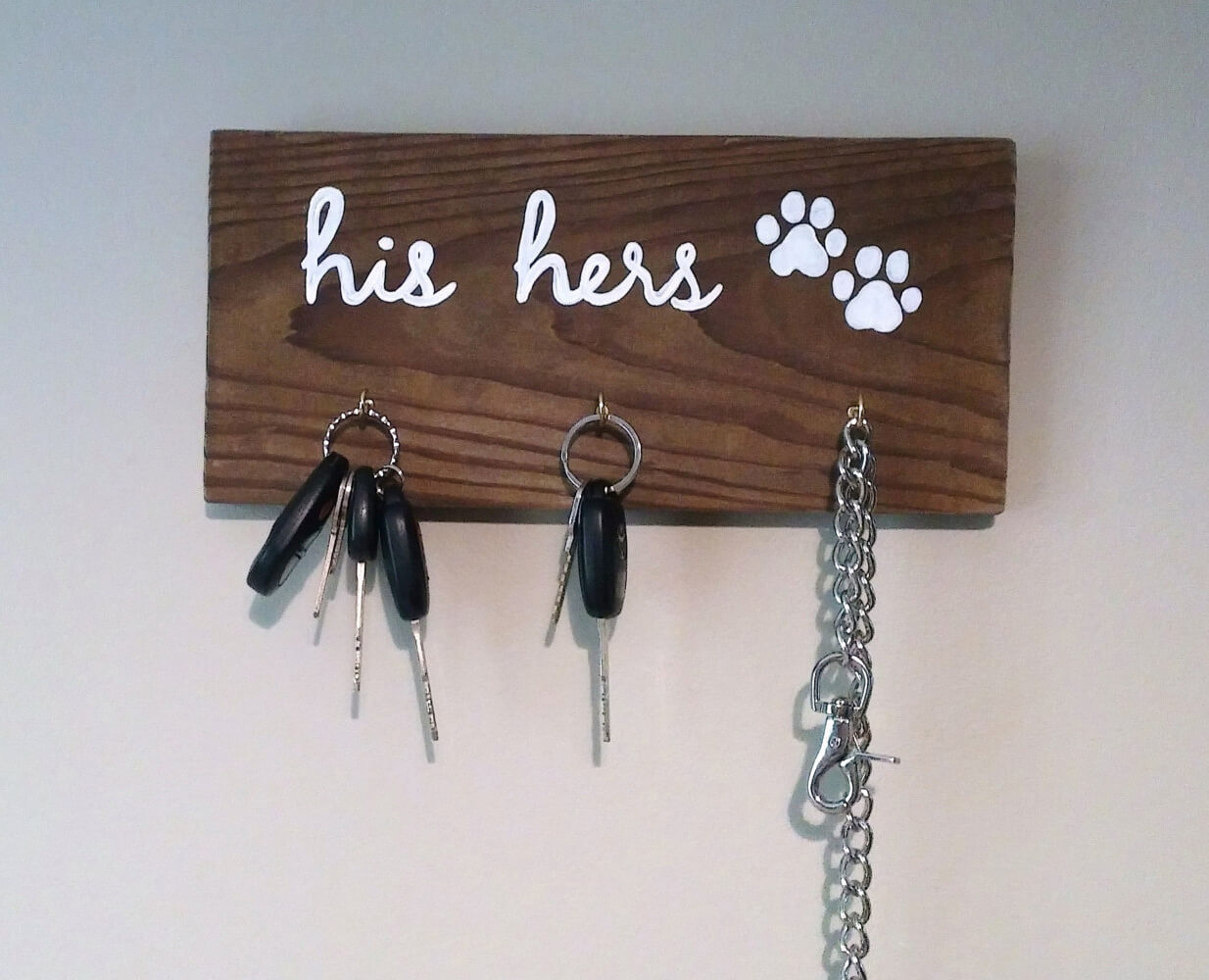 Keys, leashes & poop bags, oh my! This practical wall mounted sign keeps it all organized with metal hooks & labels so everyone in the house knows which sets belong to which person: mom, dad, canine. The fun part is that the wooden board can be stained in walnut or gray for a natural country look or painted in solid black, white or gray for something more strikingly dramatic. The artist also lets you choose from black, white or gray painted text but we're most excited about the choice of silver or gold paint for the writing – the perfect combination of kitschy & cool at the same time!
30. Crocheted Rug In Geometric Design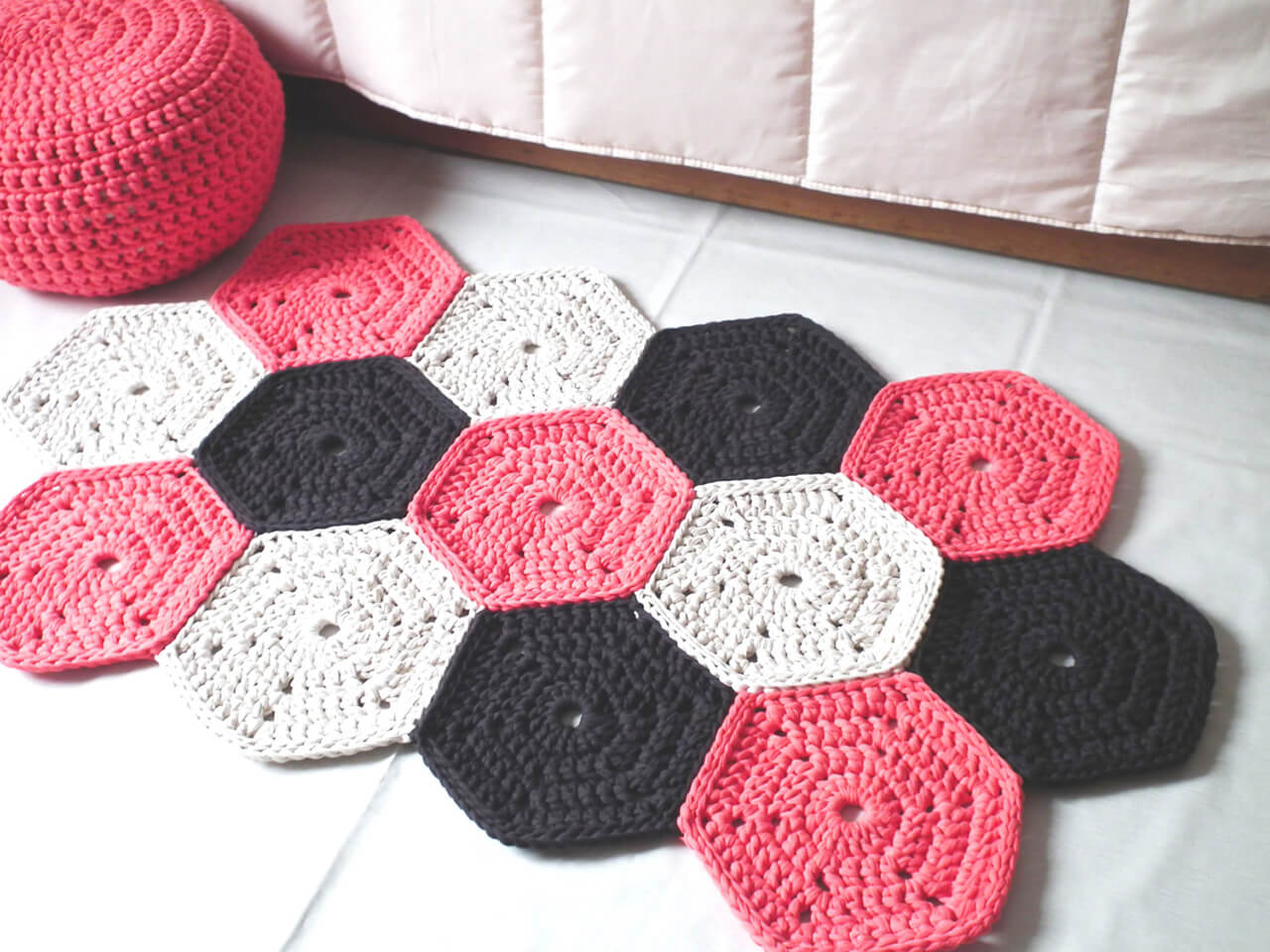 Crochet is classic & for anyone who enjoyed it in the 60's or 70's, they're sure to love it again. The materials for this hexagonal designed rug have been brilliantly updated with recycled t-shirt yarn, which is soft & cozy. We're into this color combination, but the designer is happy to crochet a rug to your color & size specifications. Since the rug is machine washable on a delicate cycle using cold water, it can do more than lay on the floor for that first step out of bed. It would be great at the bottom of a doggy bed, alongside the bathroom tub or in a kid's busy playroom.
31. Handmade Black Coffee Mug With Gold Heart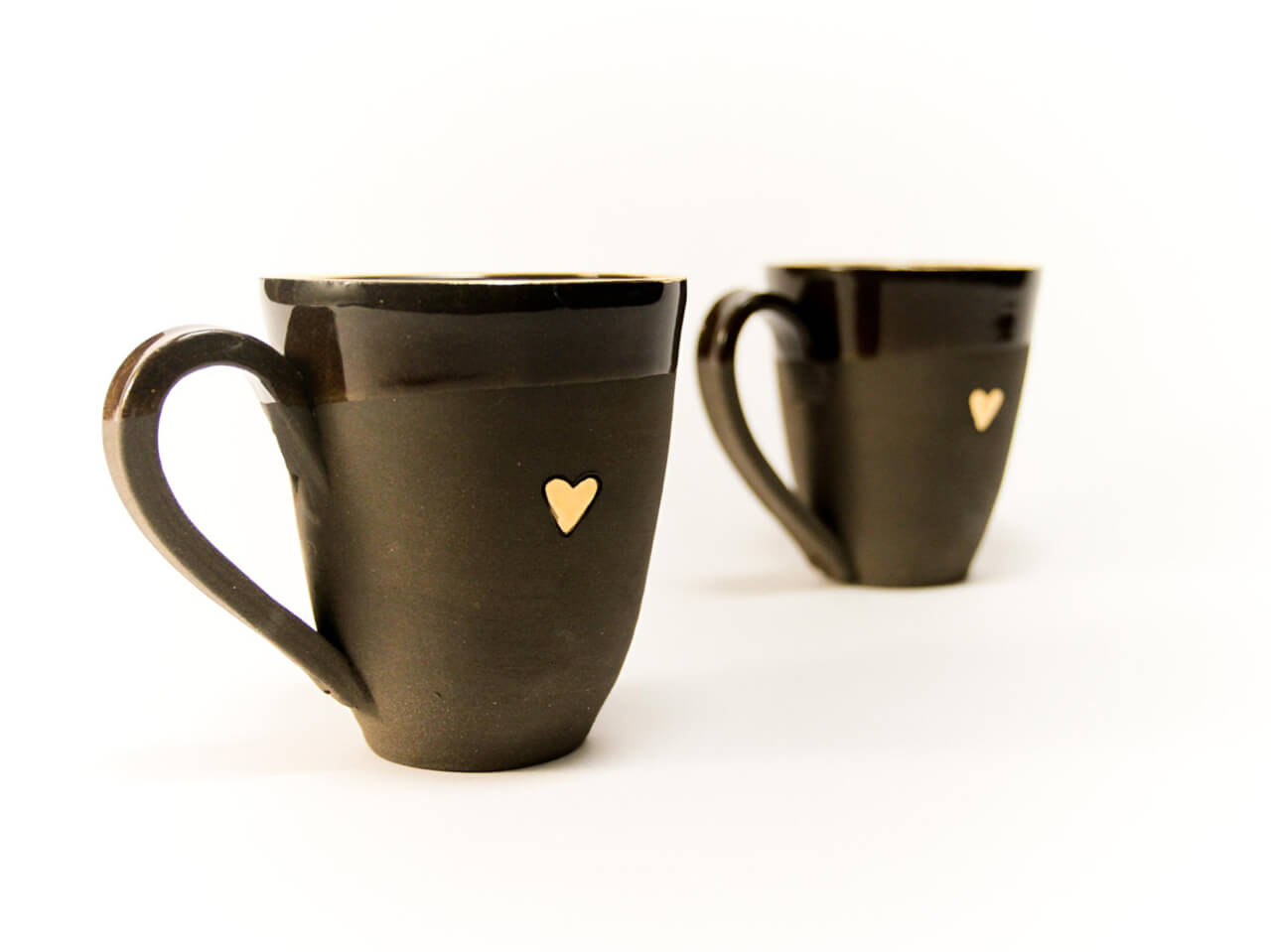 If you know a couple with hearts of gold, then these handmade mugs each adorned with a heart of real gold are sure to be instant favorites. We love mugs of all colors, shapes & sizes, but these large black ceramic beauties have ultra comfortable handles, which makes morning coffee or tea taste even better. In the evening, this dishwasher safe mug turns into the perfect handheld bowl for homemade soup or stew. The matte stoneware & shiny glaze are the perfect combination of city & country, rustic & elegant, easy on the eyes & functional in the kitchen. We're ordering an extra set for the office, too.
32. Instantly Printable Wall Art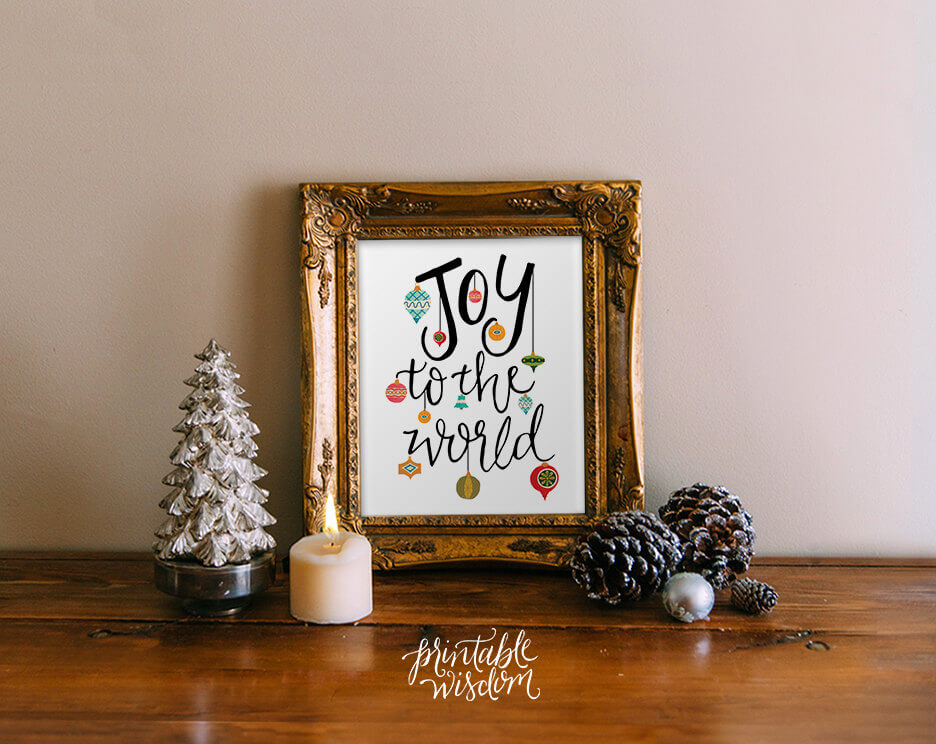 Printable wall art is great for a traveler because it's easy to pack & transport if your loved one is getting on planes or trains this year. Since you can purchase & print right away, consider this an instant gift. We're featuring this seller from Texas because of the wonderful variety of holiday related images, design & text, which give us that warm & cozy feeling. If you're looking for something with a religious message, you'll find it here, too. Buy an 8×10 frame if you like or send a message to the seller if you already have a frame that needs a different size print.
33. Wooden Fox Bookends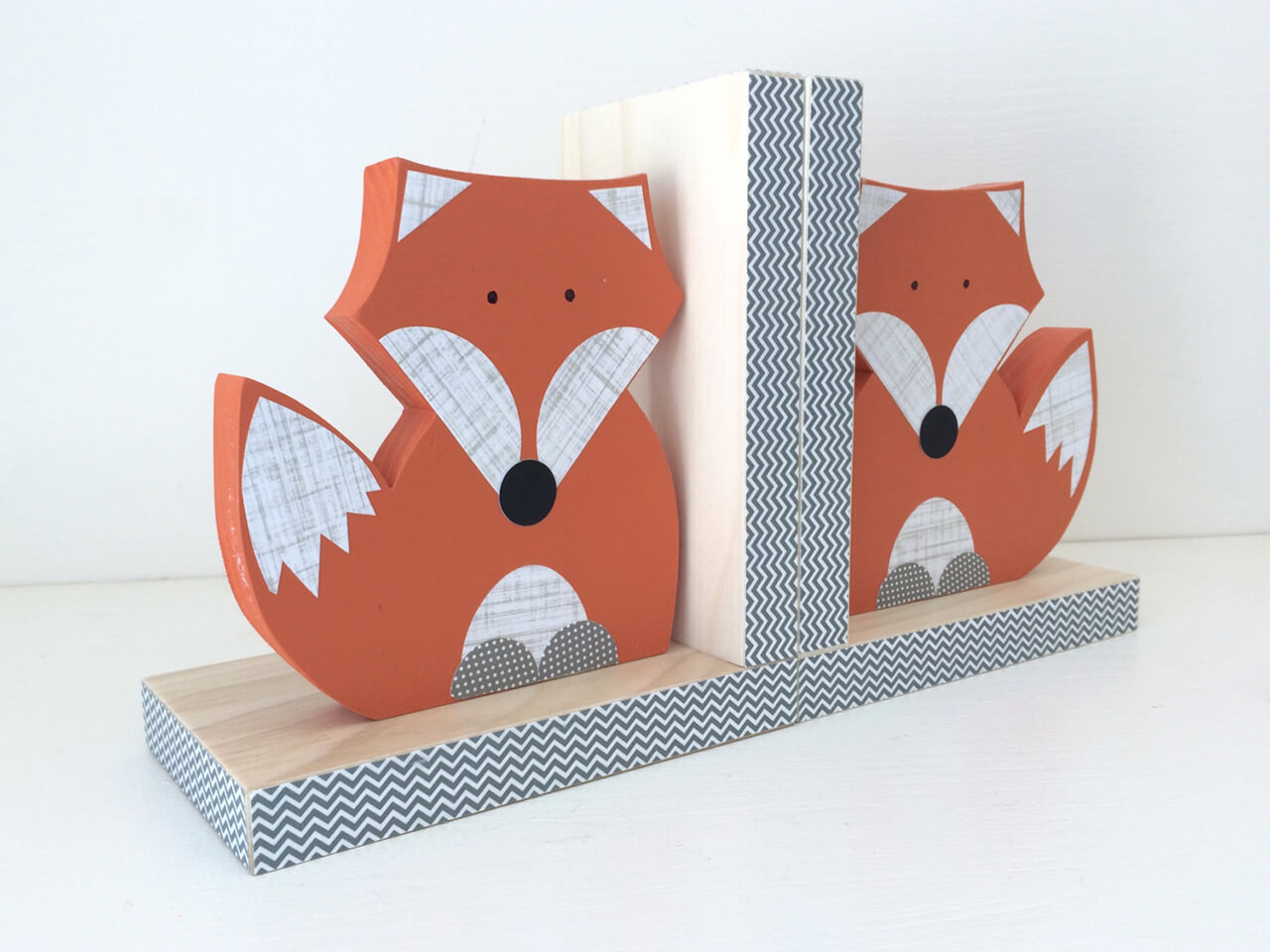 If these bookends make you think of a kid's room, you're not alone. But take a second look & you'll see these cuties through the eyes of our Disney loving HR Coordinator: fairytale foxes graciously guarding the great romantic works of John Keats, Edgar Allan Poe & Percy Shelley. For the environmentally conscious couple, you can be proud to say that these individually handcrafted creatures are made from sustainably harvested poplar wood. If the fox design doesn't seem like the perfect fit for the happy couple, you can also choose from hearts, trees or teepees, which would all fuse perfectly into a real life fairytale.
34. Magnetic Top Spice Jars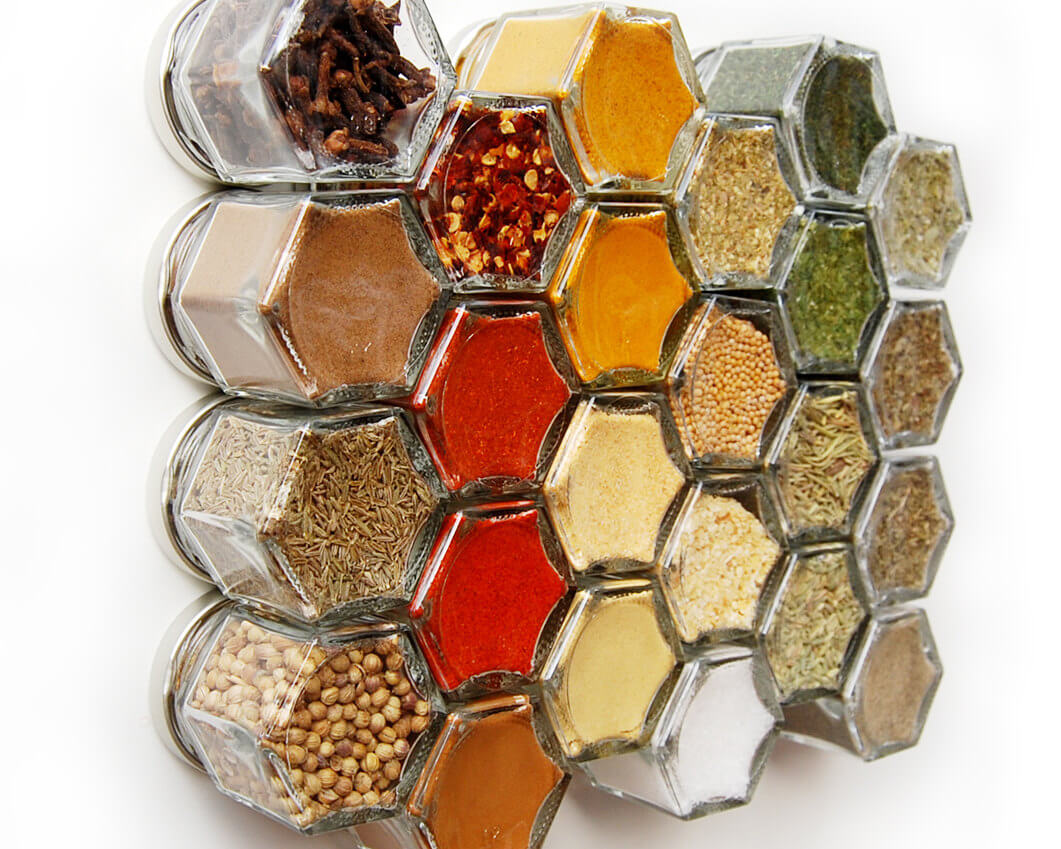 The secret to these beautiful jars filled with organic spices lies in the brilliant magnetic tops, designed for a refrigerator display like a fun game of Tetris. These 24 hexagonal glass jars nestle into each other to form a colorful mosaic filled with a variety of spices from A to T – starting with allspice & ending in thyme with a variety of seasonings in between like chili flakes, mustard seeds, onion flakes & ground black pepper. The top of each jar is hand stamped with the spice contained inside and you can order fewer jars or extra jars for the hostess who loves to cook.
35. Stained Wood 'Grandkids' Sign With Clothespins For Pictures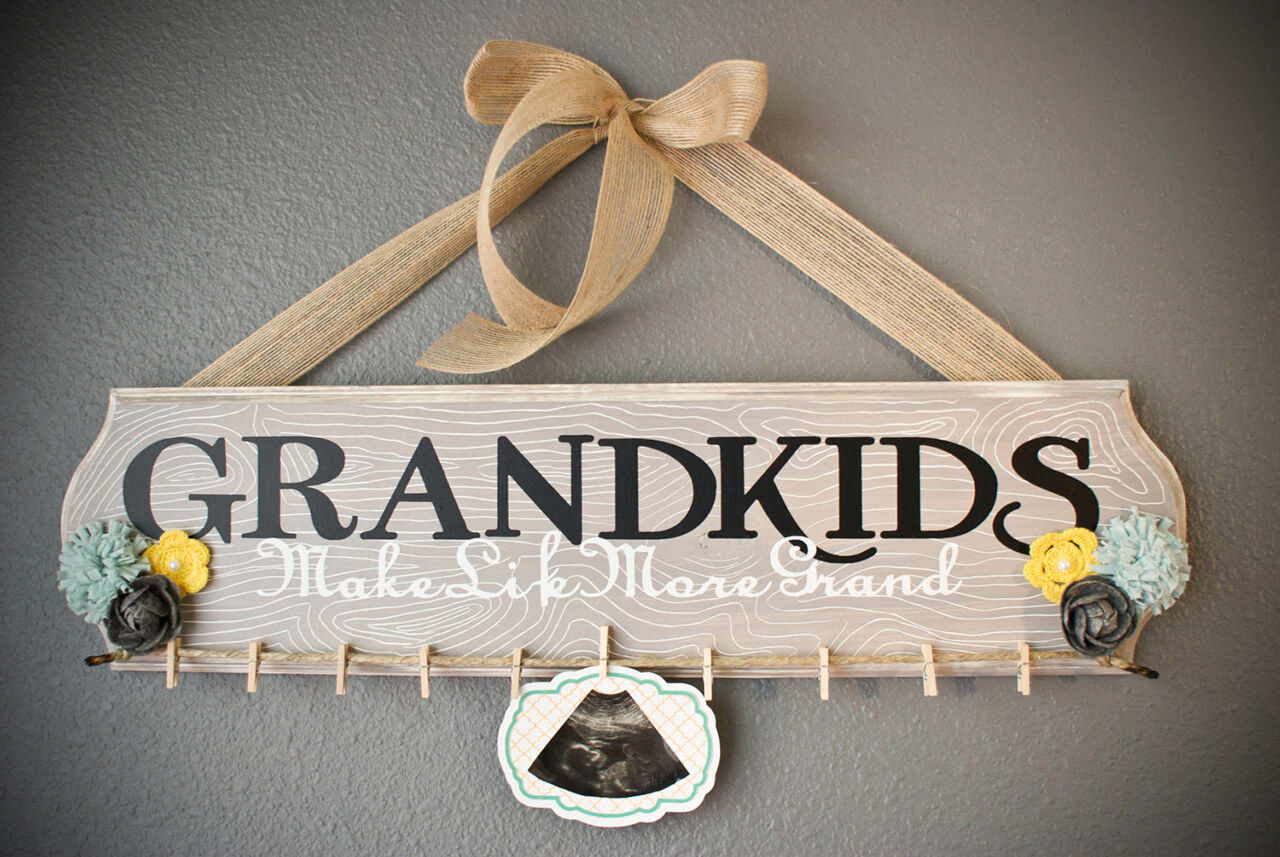 Let's be honest – the ultimate gift for any grandparent is extra time with the kids – but this charming wall art is the next best thing. Made of stained wood, burlap, rope & string, this sign also has a row of clothespins, which is ideal for displaying photos or mementos. We love the different wood stains available (check out the red oak tree) & the choice of dozens of colors for the delicate fabric flowers. The seller has a timeline indicating when you need to place the order to have this gift for Christmas but the good news is that rush orders are possible for an extra $20 fee.