You've come to the right place for the best black kitchen design and decor ideas to update the heart of your home with a modern look and feel. As the styles change with the seasons, so do the looks of kitchen designs. From lots of white for modern farmhouses to more contemporary designs incorporating black hues, there is always room in the home for an updated look simply by adding a few decorative elements.
Be Bold with these 16 Black Kitchen Designs

For starters, you can easily transform the look of any room by switching out your window coverings for simple black kitchen ideas. Allow extra natural light to billow in by swapping some outdated plastic mini-blinds for a fresh curtain set. With a valance and matching drapes, you can open them to get the fresh sunshine each morning and close them as the sun begins to set.
Another great way to add some gorgeous black color into your kitchen is with essential accessories. It's quick and easy to give your oven handle some love with a bold dish towel or make some magic around your sink with a draining rack or soap tray. By adding stylish pieces to your daily chore routine, the task is a little more bearable.
Utilizing a basic color palette that includes basic black, you'll discover new ways to style your existing pieces. A dark backsplash will be complemented quite nicely with a few additional black kitchen staples like the center island and trash cabinet echoing this rich and bold hue. Not only will you have some new storage solutions, but you'll add some pleasing aesthetics to the room at the same time.
When you choose to give a fresh new look to your home, it's a great idea to start in the kitchen since it's the heart of your home. Everyone tends to gather here as you prepare and serve up food, as well as work on homework together. As you spend more and more time in this central space, give it the love it deserves with a dark backsplash or other black kitchen ideas for a fun and updated classic look.
1. Custom Kitchen Wall Vinyl Sticker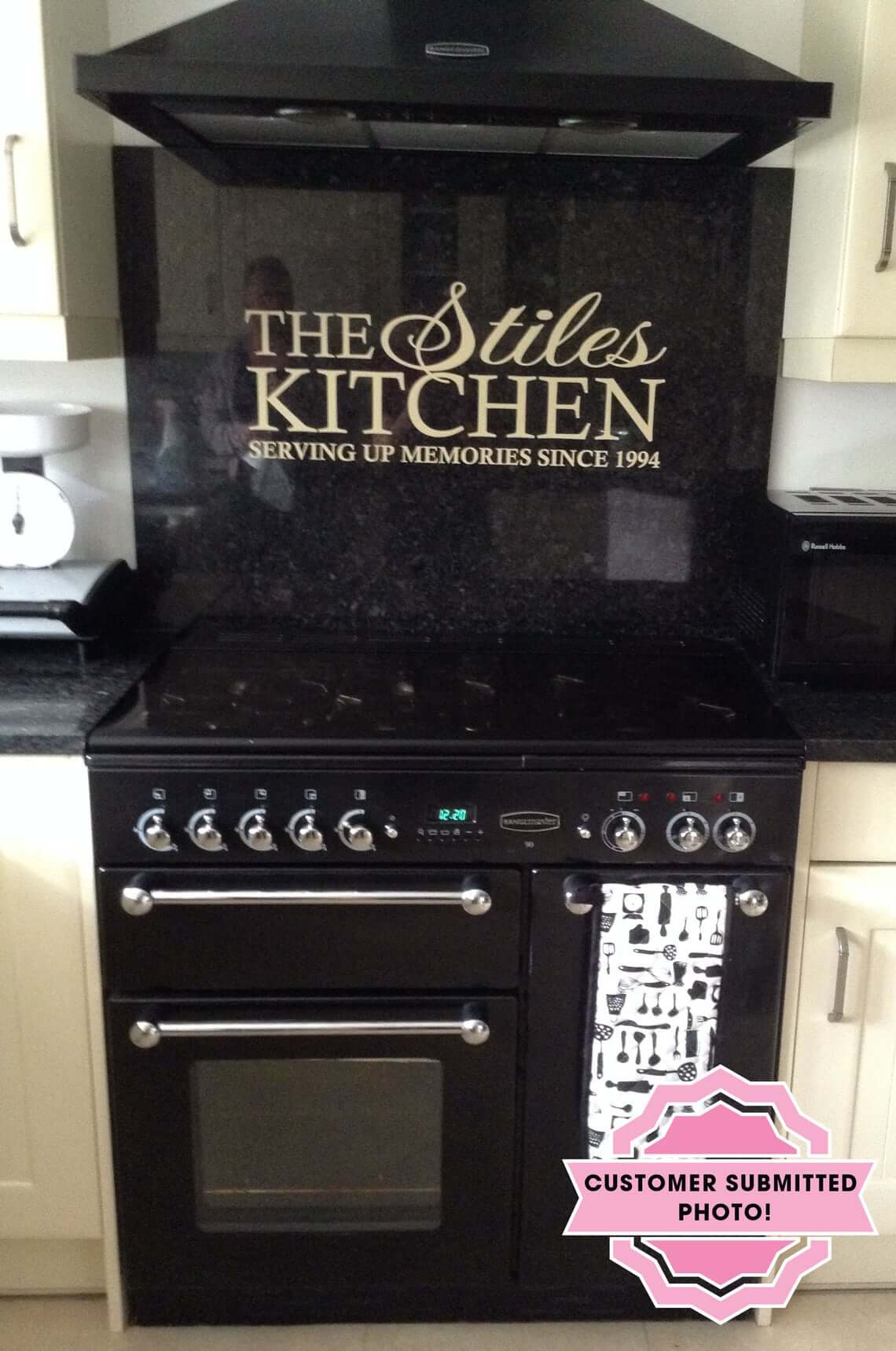 Make your house a home by putting your own stamp in the kitchen. This personalized vinyl wall art is a wonderful way to make this space yours with such a customized name tag. Adhere it onto your backsplash to take front and center attention or put it on any extra wall space you find. Choose your favorite font, color, and phrasing to make this cool and unique sign that's perfect for your home or to give as a present for a new homeowner or chef friend.
2. Above the Stove Spice Rack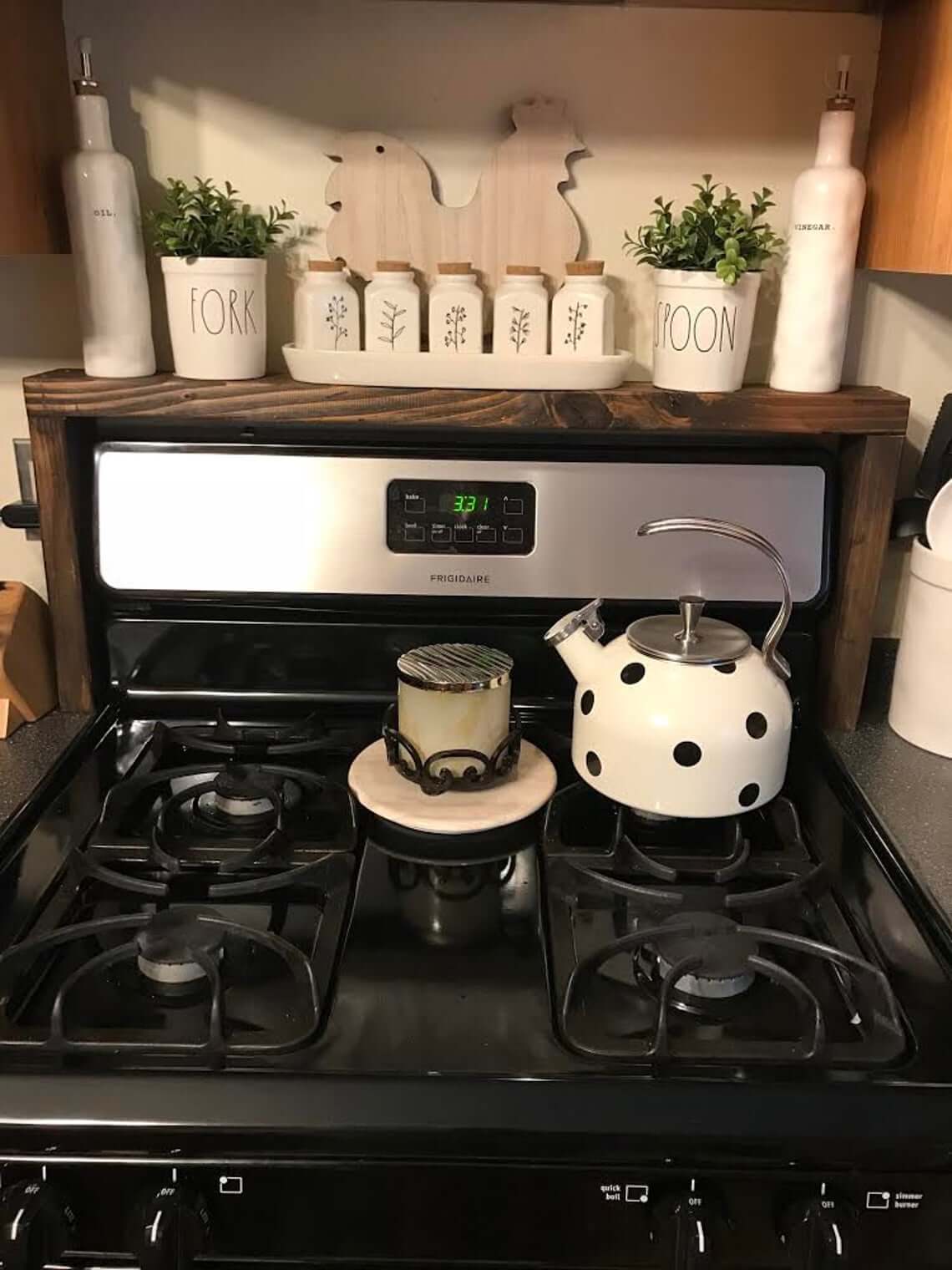 Don't be afraid to utilize every spare space in your kitchen with this crafty wooden spice rack. It easily fits above your stovetop control bar to provide extra and easy-to-reach storage for everyday cooking essentials from spices and salts to oil and vinegar. Make your standard staples stylish by incorporating them into your kitchen's decor. The look of simple Rae Dunn style makes for a cozier kitchen and the additional storage space makes for a great combination.
3. Decorative Black Kitchen Towels with Holders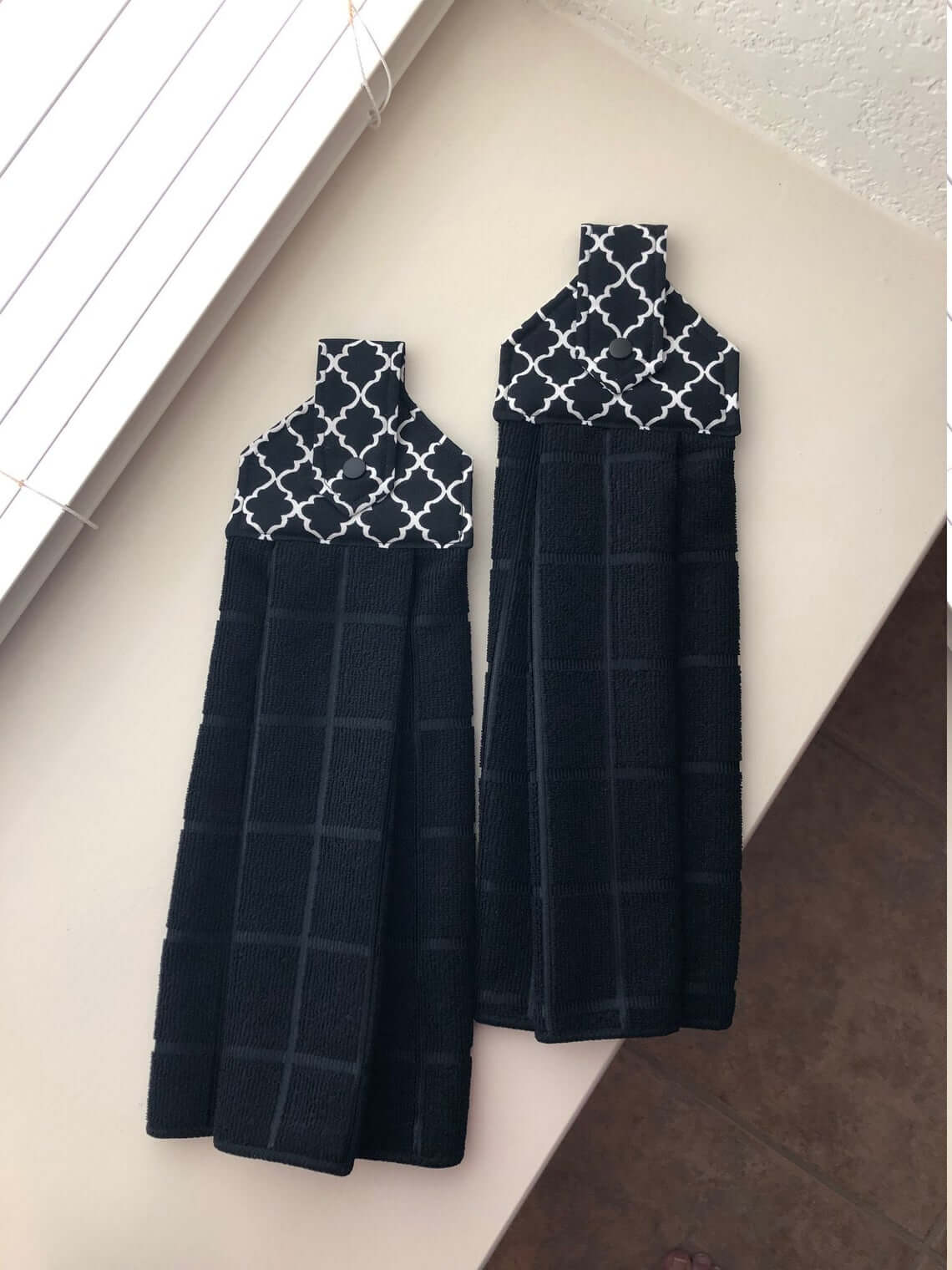 It's always a good idea to keep a kitchen towel within reach and this decorative towel with holders makes it handy and stylish at the same time. The hook easily overlaps along your oven handle making it easily within reach while you're cooking in your kitchen. The look is a perfect and stylish complement to your existing home's style. Both practical and pretty, this cheap and essential kitchen supply will be a welcomed gift to anyone on your list this year!
4. Painted Black Condiment Tray and Supplies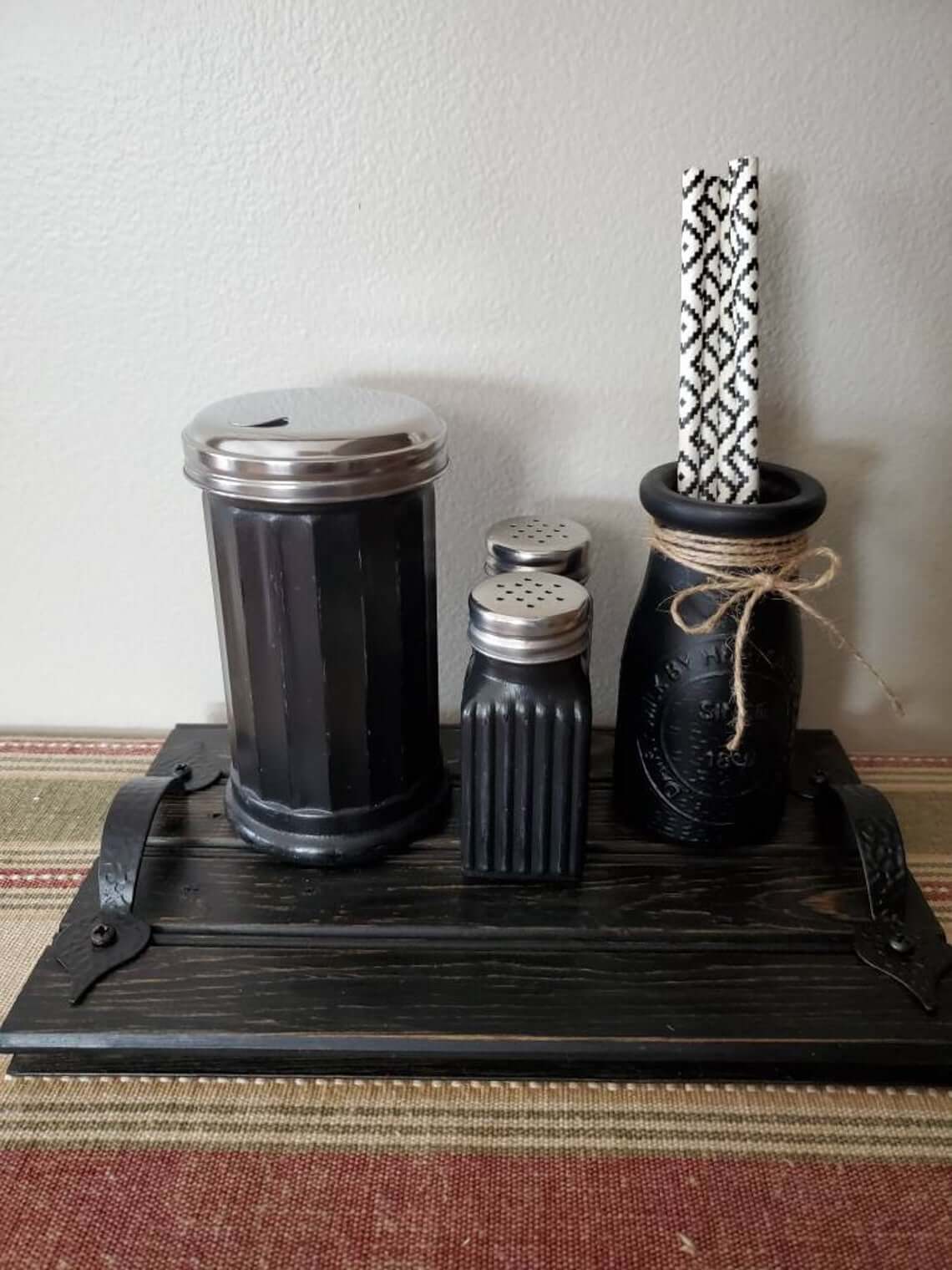 Give your home an easy way to carry your beverage buddies with a painted wooden tray with handles. A coat of black paint adds the modern element you crave, while the sugar canister and salt and pepper shakers mimic the matte sentiment. Using a painted glass jar for holding straws adds another decorative element to a purposeful miniature tray. Whipping up an iced coffee or sprinkling some salt on a fresh watermelon is easy when you have this handy dandy tray within reach.
5. Wheeled Black Island with Butcher Block Top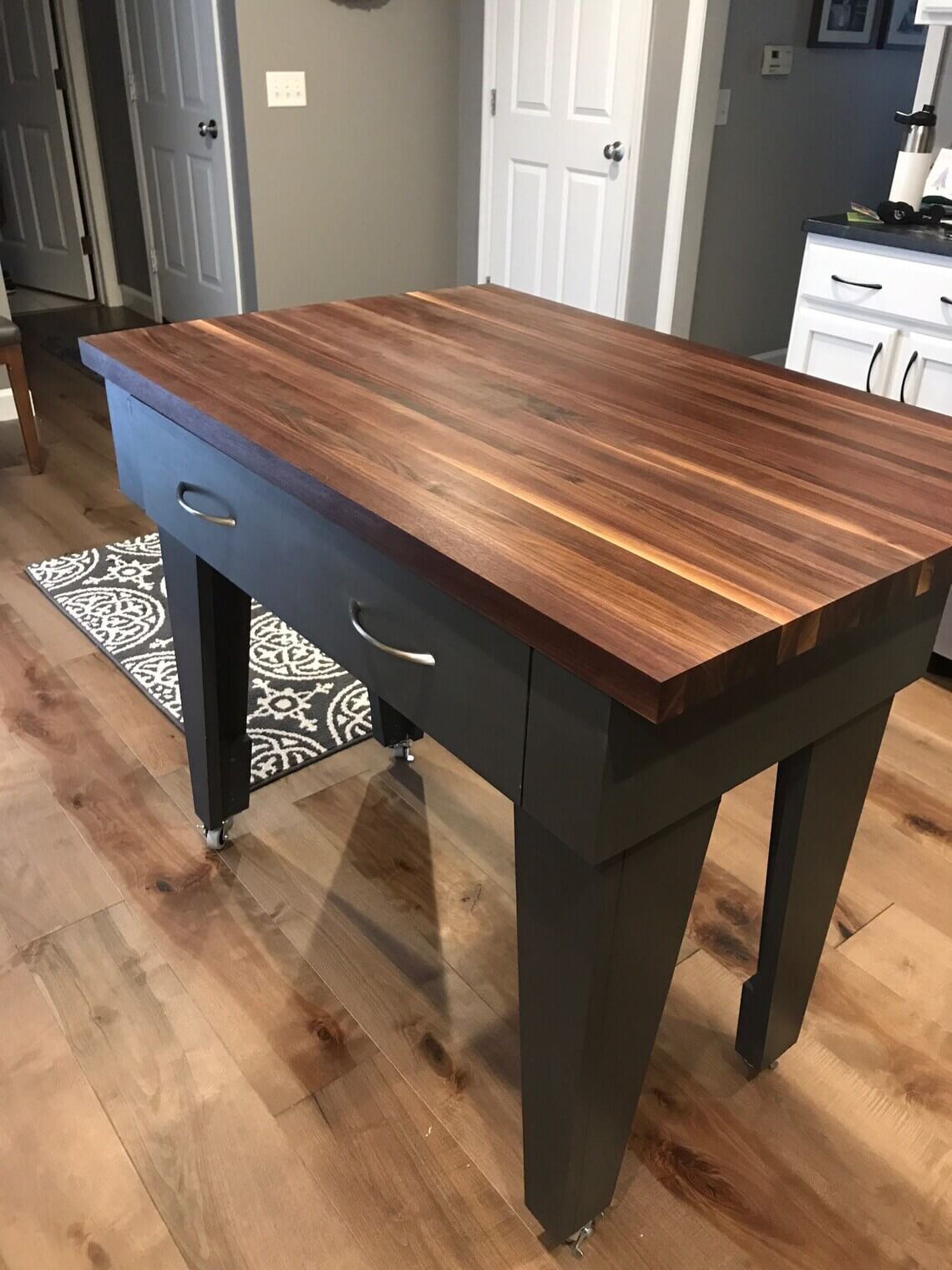 Add this mobile and magnificent kitchen island to your home and discover the many ways it can be utilized in your space. With its obvious use in the kitchen for meal prep and serving, its wheeled construction allows for portability in case you need to move it to another room to serve another purpose. Push it into the dining room to serve drinks or dessert after a nice meal or wheel it into the family room for a quick and easy snack bar for movie night! It would also work as a homework station that can be easily moved for privacy as needed.
6. Hidden Trash Cabinet for the Kitchen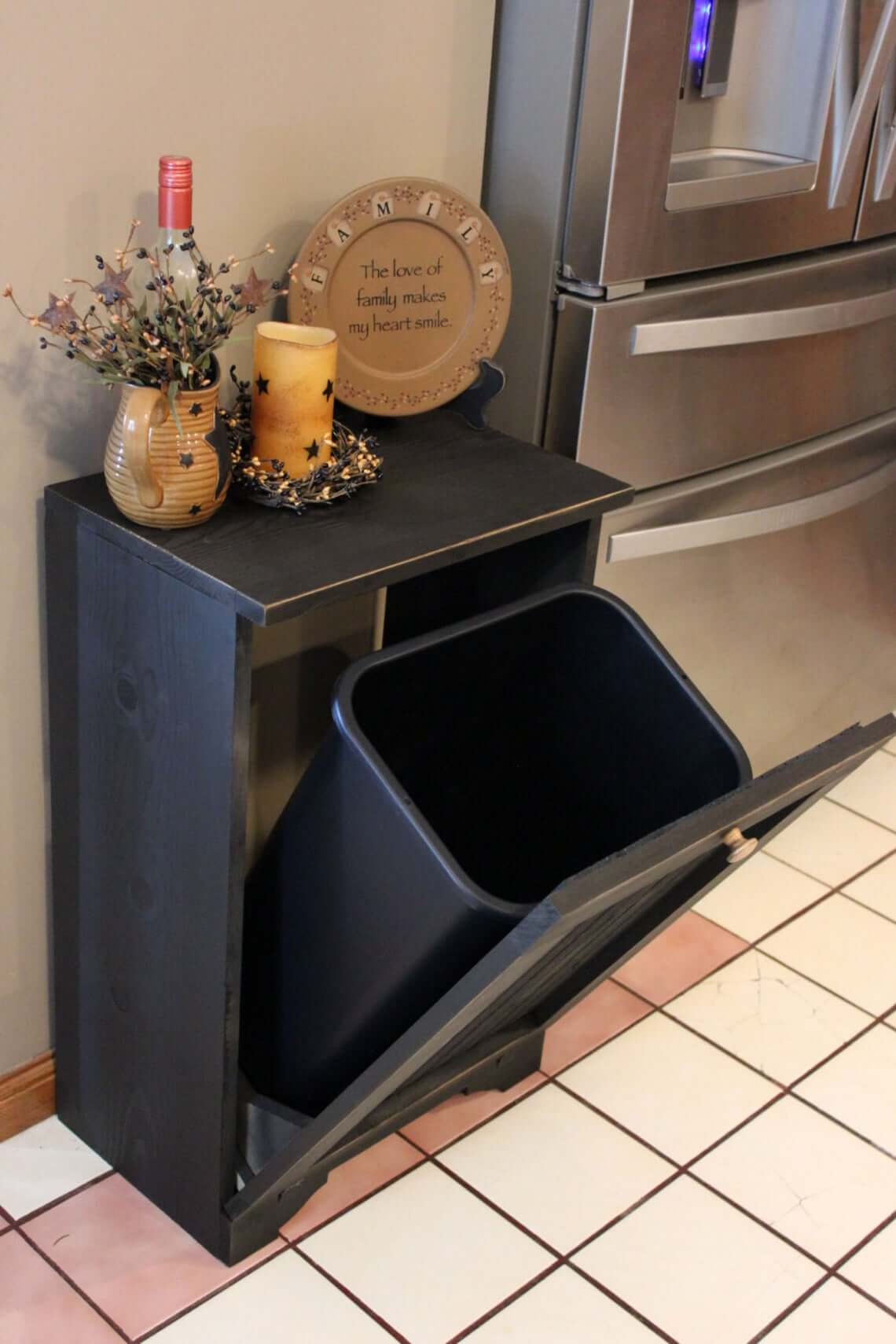 Keep your kitchen looking pristine by hiding the trash can in this black-painted wooden cabinet. Its discreet design of a traditional cabinet will keep the trash out of sight and give you a small space to add a few extra decorations. With a quaint size, it fits in nearly any sized kitchen while giving you the discreet trash collection goals you possess. This would work just as well in the bathroom or bedroom as a laundry hub for your hamper to hide. Keeping trash and dirty clothes out of sight assists in making your house feel clean and tidy each day.
7. Rustic Black Corner Kitchen Bread Cabinet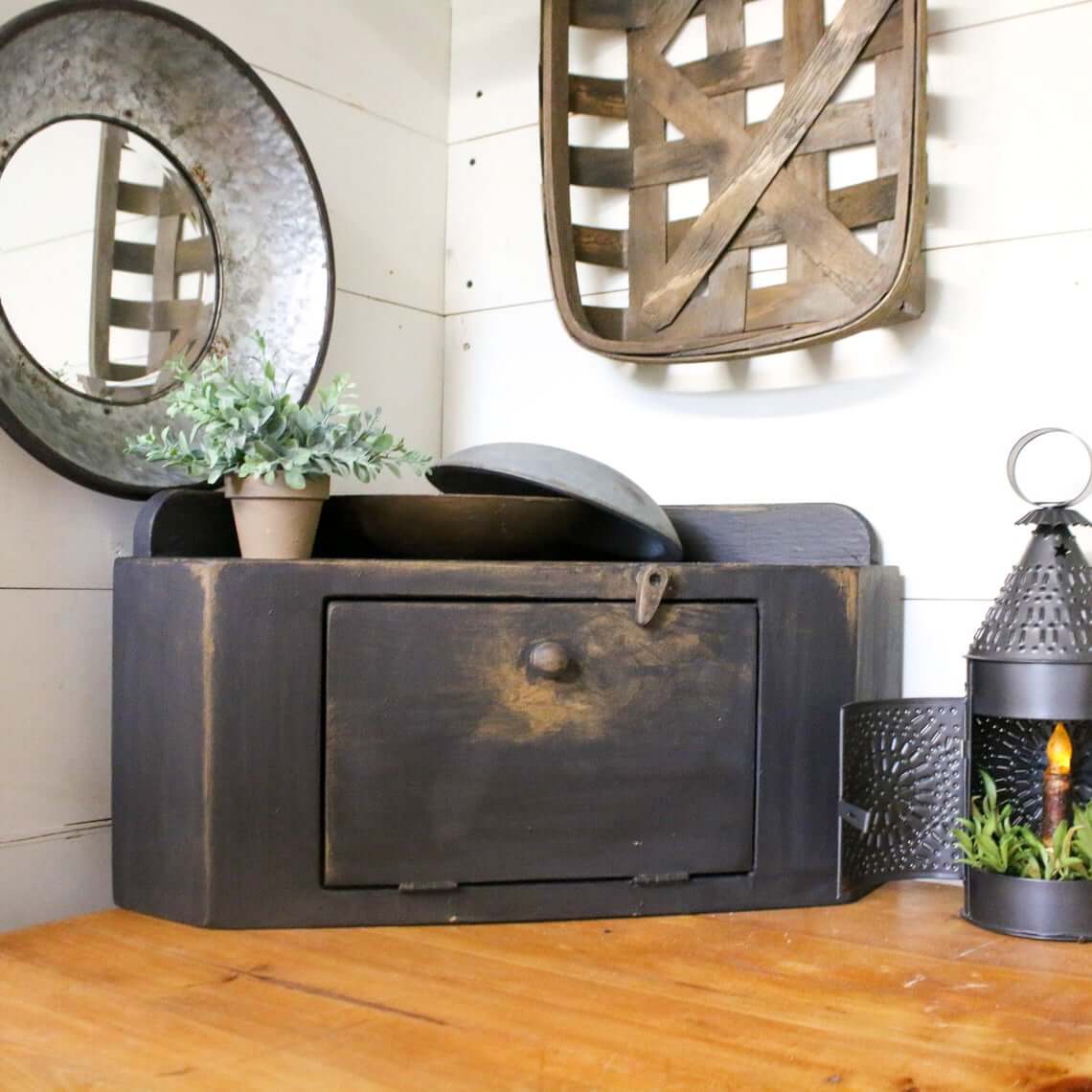 Add a rustic touch to your modern farmhouse with one of these cool black kitchen ideas. A roughed-up, distressed finish adds character to this corner caddy that's a great cabinet for keeping your bread stowed away. Complete with a single door and easy latch system, this small and cozy corner cabinet is perfect for the counter space in your kitchen. With a ledge at its top, you can add some decorative elements or additional kitchen supplies to further make use of this cute countertop cabinet.
8. Sleek Modern Black Counter Sink Drying Rack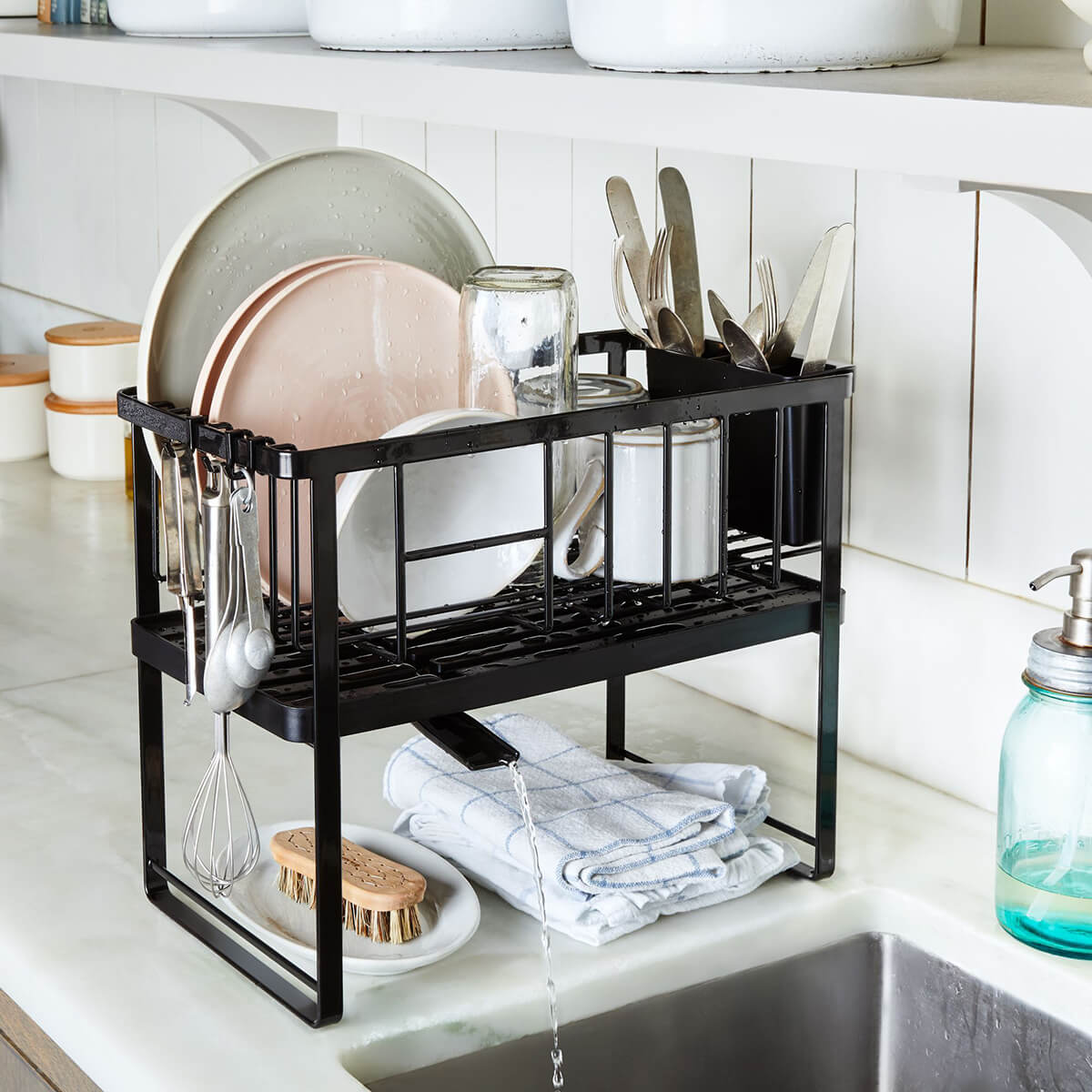 Achieve a modern look without sacrificing the necessities in the kitchen. You'll appreciate the sleek and contemporary design of this drying rack that makes the chore of dishwashing look a little more sophisticated. Serving a purpose in allowing your kitchen staples a comfortable place to dry, this rack features a unique draining tube to remove excess water and transport it back into the sink where it belongs. Underneath, your dry counter makes a great space to store a dish towel and scrub brush. It's complete with hooks for hanging larger utensils along with a slim container on the opposite side for everyday forks and spoons.
9. Matte Black Large Coffee Canister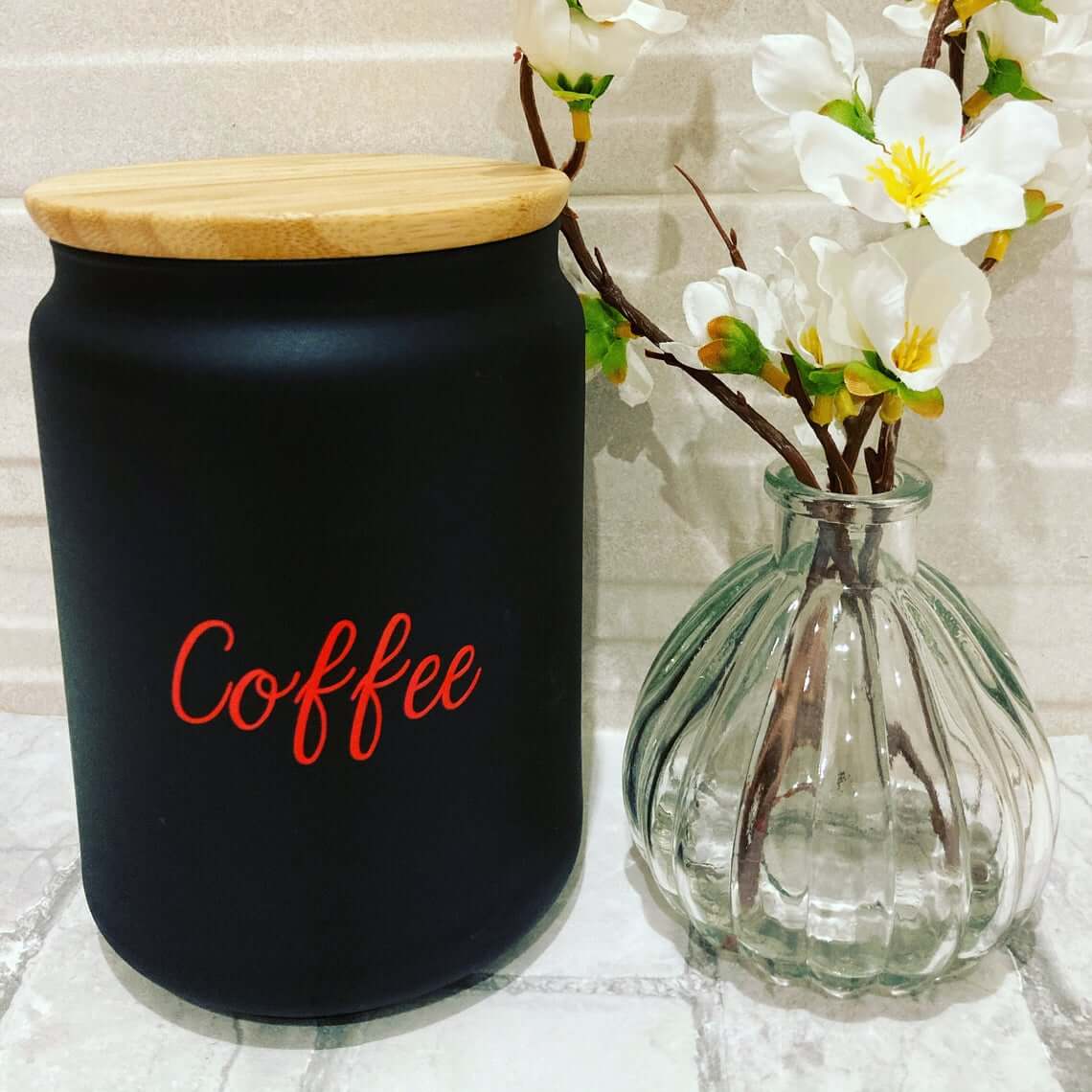 Bring your pottery up-to-date with a coat of matte black paint. And for extra charm, adhere a pop of color with some red vinyl lettering to carefully label the belongings. This makes a wonderful gift for your coffee-loving friend or a fantastic addition to an existing coffee station. Place one in the break room at the office to keep the grounds fresh while looking stylish to make your fifteen minutes of refreshment as enjoyable as possible. For the home, the look could continue with a black canister for all of your kitchen staples like sugars, flours, and oats.
10. Modern Black Stove Top Burner Cover
Protect your burners and increase your counter space with this savvy and modern black burner cover. It fits perfectly over your stovetop and allows a usable space for serving buffet style at your next friendly gathering. Your kitchen space will increase as you utilize this additional space and make room for even more side dishes or desserts. Wrap the line around your kitchen as guests work their way to fill their plates to the brim! You'll love the cool and hip look of this cover that blends right in with your updated and modern kitchen decor.
11. Black and White Kitchen Curtain Set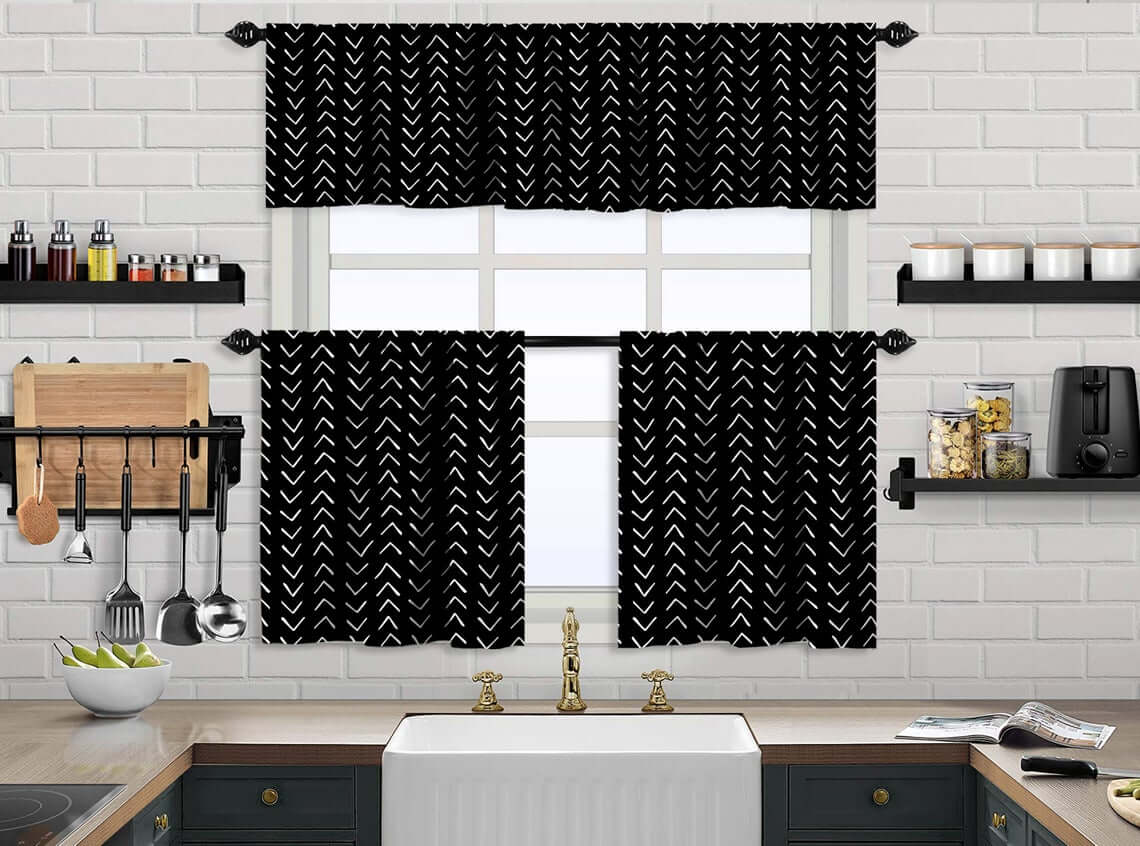 One of the quickest and cheapest ways to update any room of your home is by changing the window coverings. This is super simple in the kitchen as most only have a single-window placed above the sink. Capitalize on this focal point by selecting a bold black and white print like this gorgeous curtain set. With a valance and two curtains below, you can adjust the amount of sunlight you let in at your ease. Make your kitchen sink stand out by warming it up with a new facelift from a black and white curtain combination.
12. Matte Black Soap Dispensers with White Labels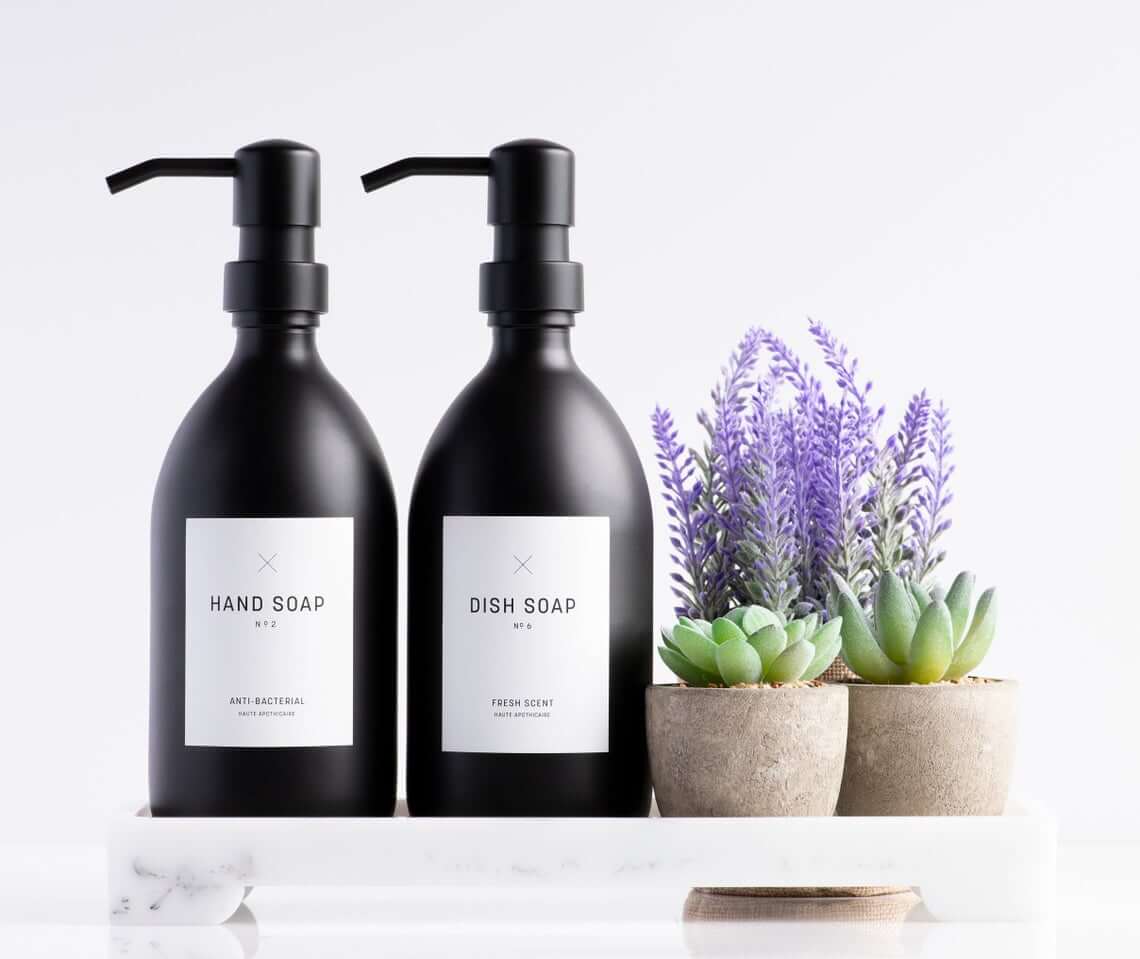 Keep your family germ-free in a stylish way with these matte black soap dispensers that feature fashionable white labels to accent their descriptions. The convenient pump makes soaping up simple and fun! Even the little ones in your circle will enjoy these decorative kitchen sink accessories. Continue the look into your bathrooms and utility room to tie it all together. Nestled in a decorative marble tray, you can add some sprigs of flowers or a few hardy succulents to make it feel more like home.
13. Soap and Scrubber Kitchen Sink Trough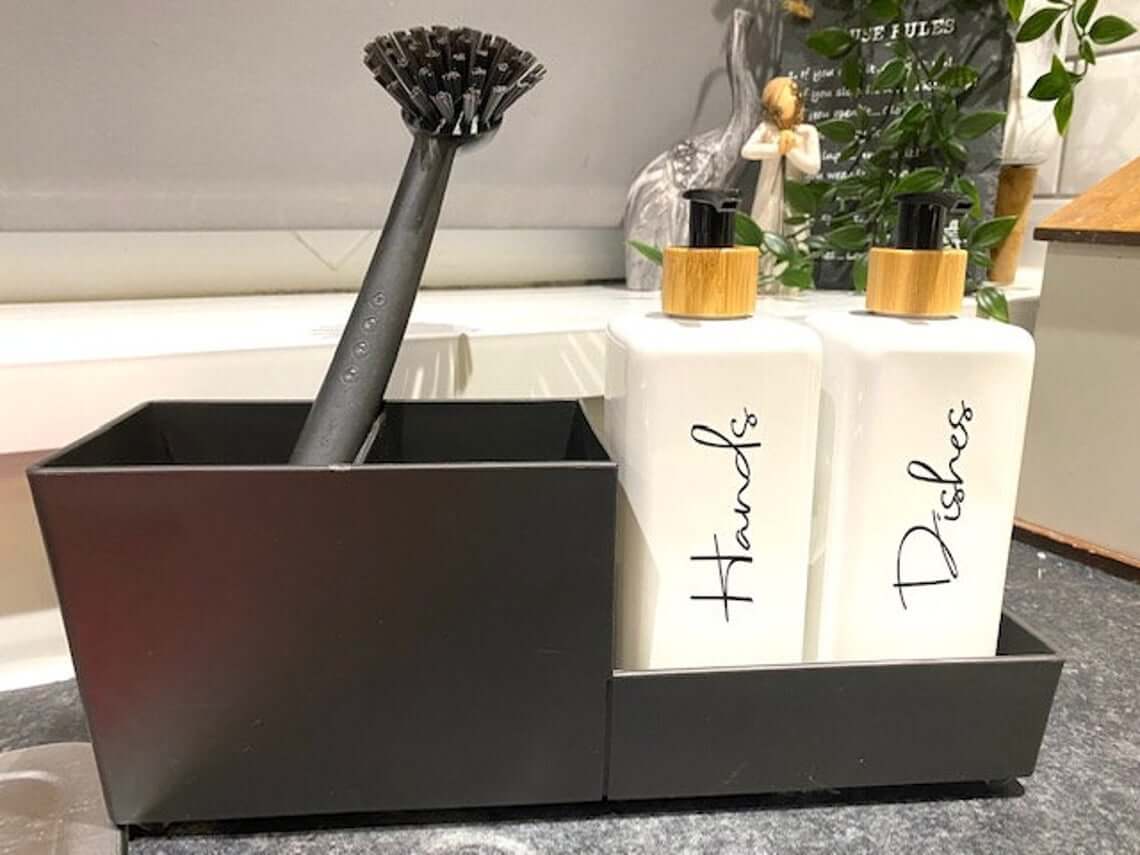 Everyone needs a great storage solution for keeping the soap and scrubbers organized at the kitchen sink. This is the ideal fix. Crafted in a sleek modern design, this simple and elegant trough is just the right size to hold two soap dispensers along with some long-handled scrub brushes with room to spare for a towel or cloth if needed. Placed directly beside your kitchen sink, the extra essential tools you'll need to keep things clean and running smoothly will be right at your fingertips!
14. Black Wooden Script Cook Sign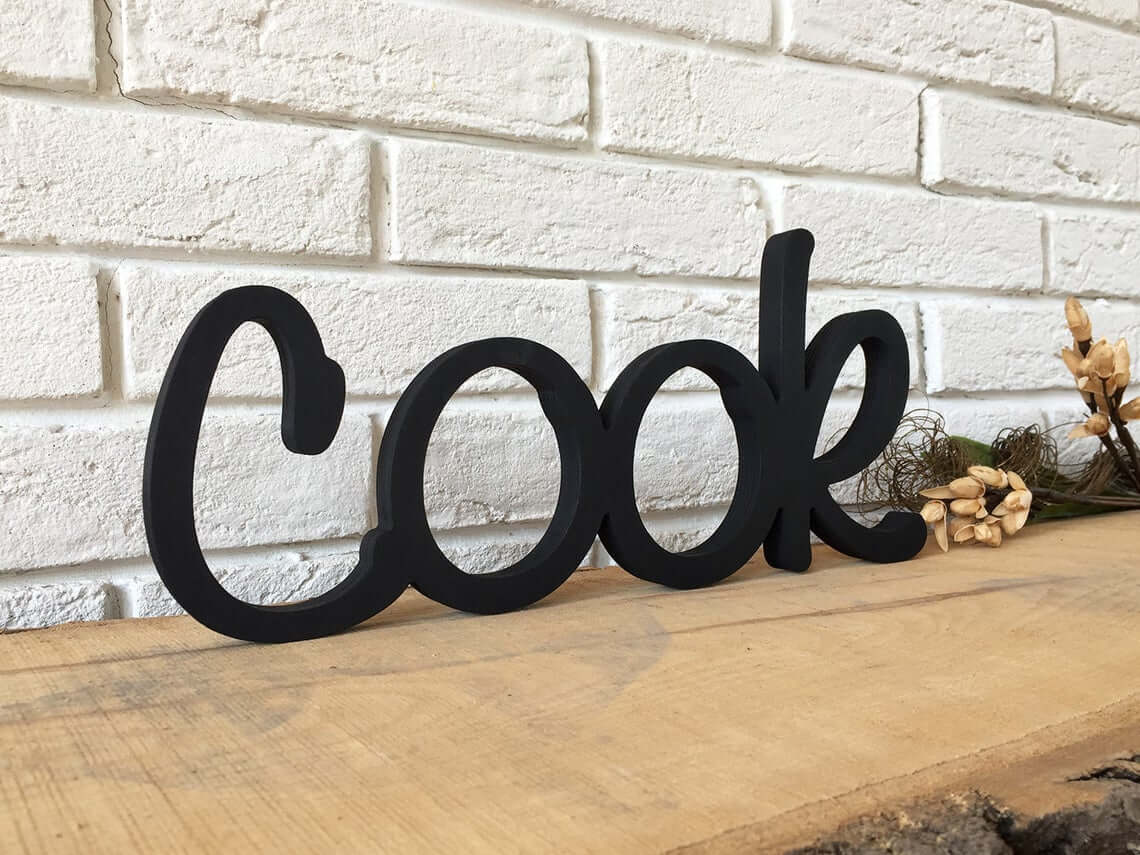 Here's your mantra for the inner chef in the family. Highlight the word "cook" to add some fun and style to your kitchen. The script lettering really pops in the black painted finish. It's just the right size to rest on your windowsill or on your countertop. You may also choose to add it to the wall as part of a gallery collection. You can't go wrong with this plain and simple statement with its beautiful use of the script. Give it as a hostess gift at your next dinner party.
15. Modern Black Nana's Kitchen Wall Art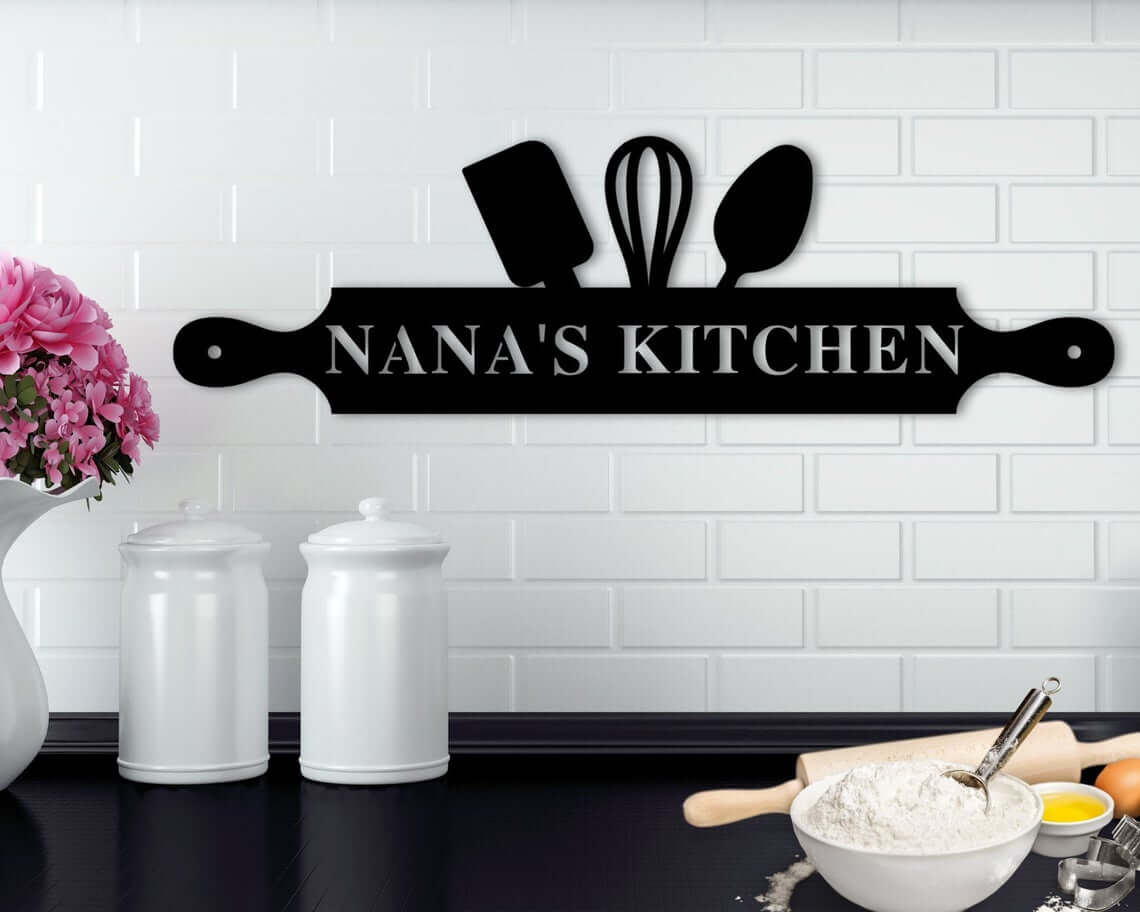 Give Nana the respect and love she deserves with this gorgeous custom kitchen sign. She's sure to feel the love as everyone comes together at her table for her famous and delicious family meals. So much love and so many memories are rooted in her and this simple piece of wall art makes a fantastic reminder of who runs this kitchen! Hang it above the stovetop for everyone to see as it gives the entire eating space a refreshing and modern look and feels. It really pops on a crisp white tiled backsplash!
16. Slim Modern Black Slanted Wine Rack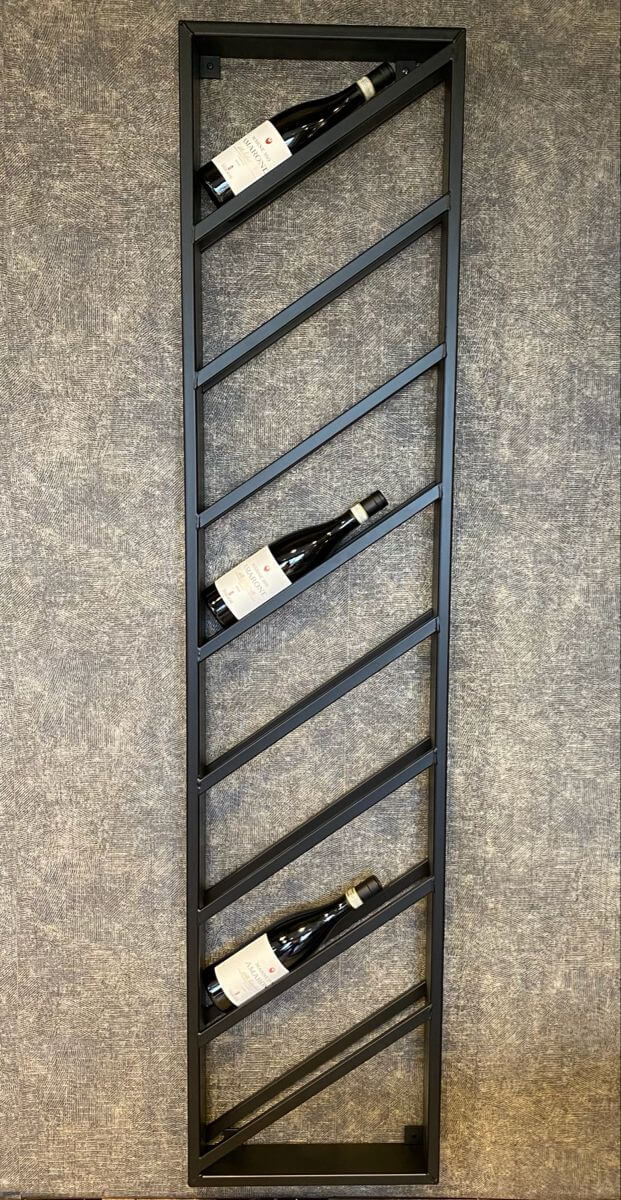 Keep your treasured wine collection within view for easy access as you host your next gathering at home. No matter if it's a large party with a diverse crowd or a cozy get-together with just a few family and friends, this wall-mounted wine rack is a must-have item. Created with an oblong rectangular box frame, the interior slants give a geometric and modern edge to the design while doubling as the perfect place to rest your wine bottles. Not only will you enjoy the storage, but you'll also love the addition of a decorative element to your dining room or kitchen.
16 Gorgeous Black Kitchen Ideas to Inspire Your Next Remodel
When you get together with family and friends it's generally around the table. So while you're spending so much time together eating, why not do it in style? For the best black kitchen design, first, you must choose where to begin. Are you going to add a few accessories to freshen up the space or place a larger furniture piece for a bolder statement as one of many black kitchen ideas?
Filling up the space above your stovetop with a dark backsplash is a fun way to begin and gives a great foundation for adding some personalized vinyl lettering to make your kitchen yours. Continue the look and feel of the modern design with some black matte painted soap dispensers, a sleek holding trough, and a clean draining station to make the most of your dishwashing adventures.
One of the best black kitchen designs is the focal point of your room in the center island. Paint the bottom part black for a bold splash of this coveted dark hue that will help tie the entire space together and serve as the main attraction. As you serve up breakfast, appetizers, or homework, this mobile and stylish station will get the job done!
No matter your budget, there is a wallet-friendly way to stretch your dollar so you can enjoy the dark kitchen movement in your own home. From curtains and soap dispensers to wall art and hidden trash cans, the choice is yours in custom kitchen decor to make your most-used room a little prettier!