When we think of some of the best bohemian room decor ideas, we most likely imagine a room filled with colorful patterns, fringe, fabrics, and a large dose of an artistic free spirit. We picture a room filled with natural elements blended perfectly with eclectic personality.
24 of the Prettiest Bohemian Decor Ideas for a Beautiful Bedroom

Whether you are upcycling a flea market find, incorporating lots of plants into your space, mixing up prints and patterns, or purchasing new boho room accessories, you can easily turn your basic bedroom into a bohemian masterpiece.
What makes boho bedroom decor so wonderful is that it's a style without any set rules. You can achieve the bohemian look entirely in neutral or muted colors, featuring different types of textiles, patterns, and global influence. A bohemian bedroom can be colorful, boasting excitement and flair or toned down a notch with a more neutral palette that exudes peacefulness and serenity. This unconventional, artistic style dates all the way back to the 1800s and isn't going anywhere anytime soon.
The bohemian style room is perfect for those who are full of life and culture. The aesthetics in a boho room embrace that carefree, relaxed, and unique vibe and no two rooms are ever quite the same. The key to decorative accents in a boho room is to mix and match. It's quite opposite of the more modern, minimalist's bedroom in that boho room decor embraces the more is more philosophy. Vintage pieces with a slightly worn look as well as fringe, crochet, and macramé are key decor elements in a boho room. Think of this space as a cozy, global-inspired hangout.
If you're ready to take a step outside of your comfort zone when it comes to home style and decor, look no further than this chic collection of some of the best bohemian bedroom decor ideas.
1. Easy Punch Rug Artwork DIY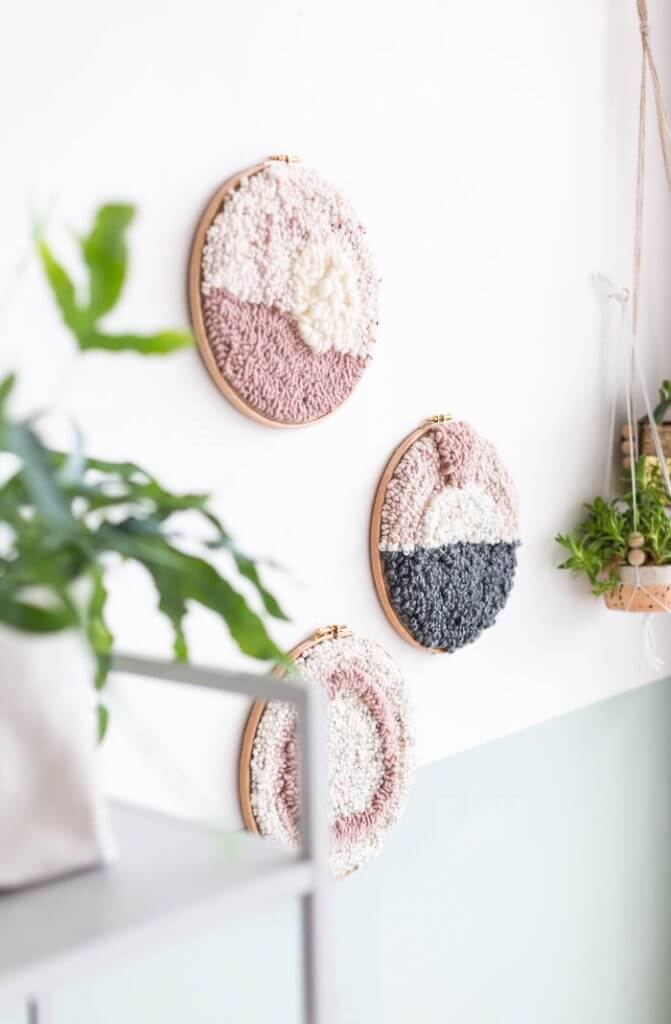 An embroidery hoop isn't something you think of often when it comes to wall decor. It has so many amazing possibilities aside from the traditional stitching your grandmother used to make. You also don't have to be a master embroiderer to create some pretty incredible artwork to feature on the walls of your humble abode. This punch rug artwork is perfect for beginners and the finished product looks like a gorgeous rug, so soft and cozy to the touch. You can create numerous designs with basically any color scheme you'd like. The soft texture and various patterns make excellent boho bedroom decor.
2. Clay Rainbow Vase in Earth Tones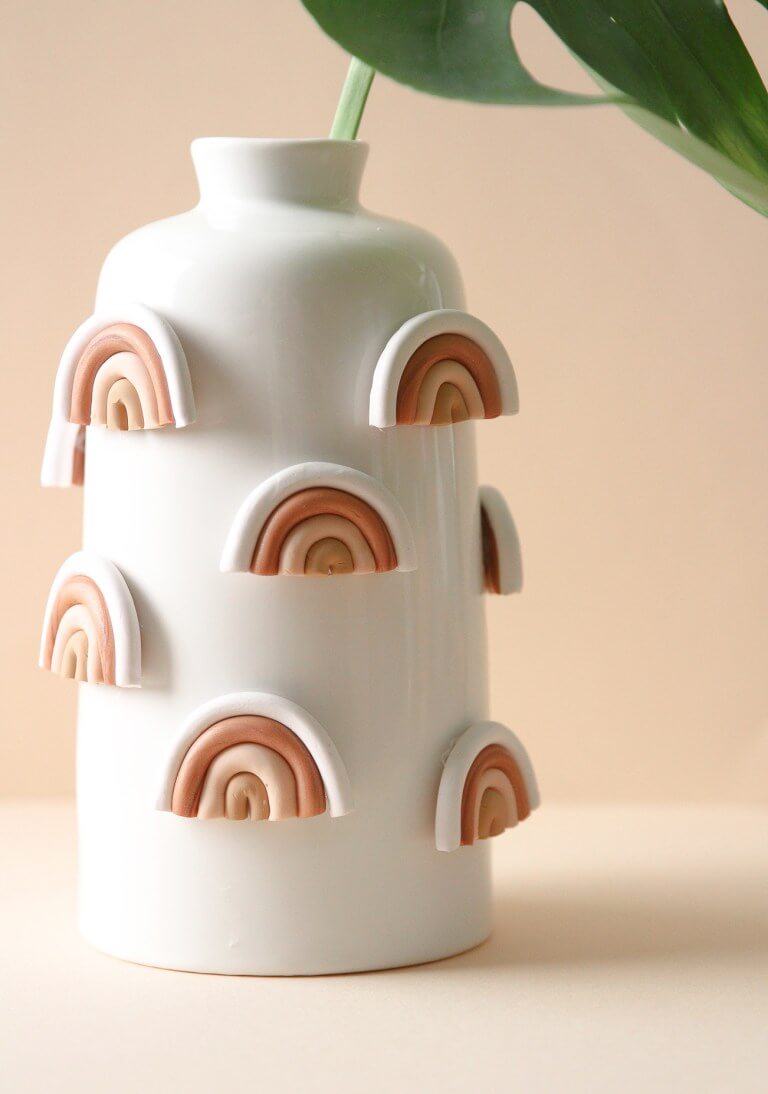 Trend alert! Muted rainbows and all its earthy color combinations are super big right now in the design world, especially in nursery and bedroom decor. From pillows, wall decals, vases, and light fixtures, these earth tone rainbows are all the rage. We're taking it back to our elementary school days with this DIY rainbow vase. Roll out some polymer clay in whatever muted colors match your existing bedroom decor and fit and cut them into arches. Piece them together however you wish and attach them to a simple vase for a cool handmade boho piece that will stand out in your bedroom.
3. Charming and Stylish Macramé Hanging Lamp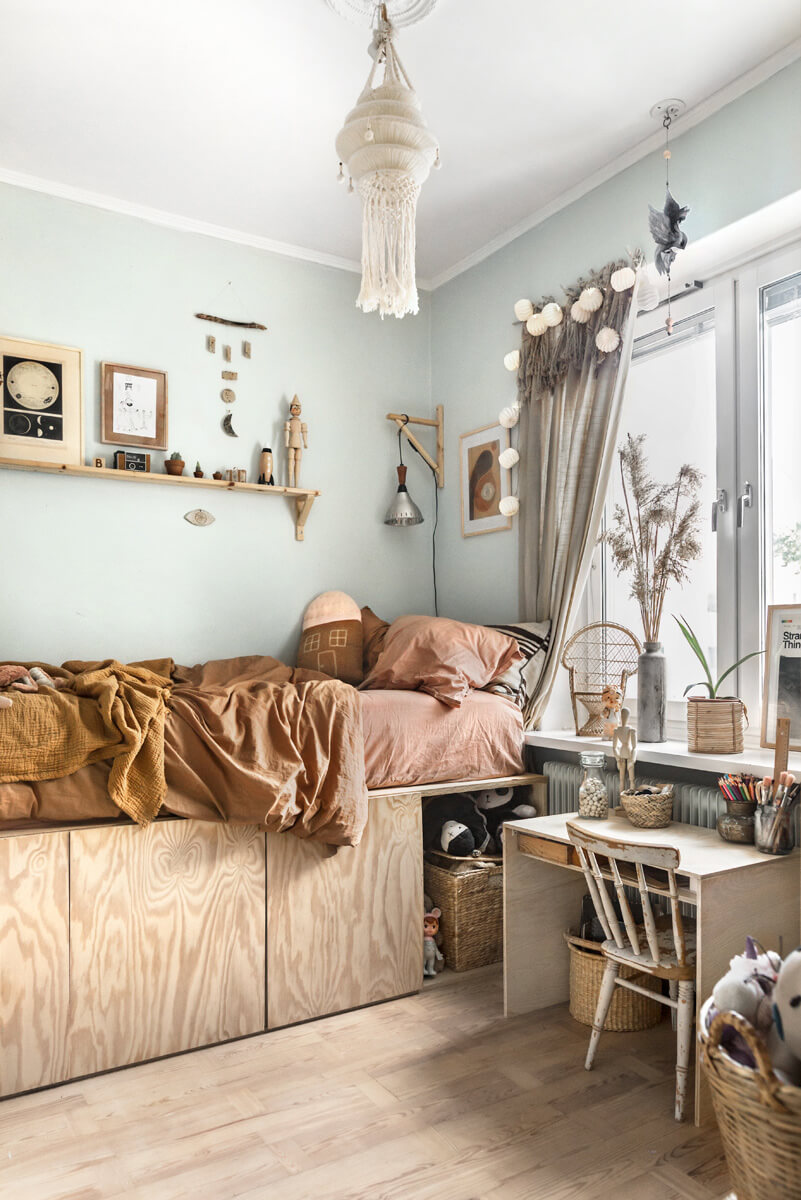 We're seeing macramé everywhere these days, from wall tapestries and plant hangers to earrings and light fixtures. This charming and stylish macramé hanging lamp is such a fun design element. It's not over the top due to its natural, modest color, but also grabs your attention at the same time. The style of this macramé hanging lamp will blend seamlessly with your existing boho bedroom decor. Whether you choose to follow a tutorial and make one of these gorgeous fixtures yourself, or purchase one from the store, the soft texture of this lamp will make your bedroom cozy, feel more spacious and intimate.
4. Functional and Stylish Peg Rail for Easy Decorating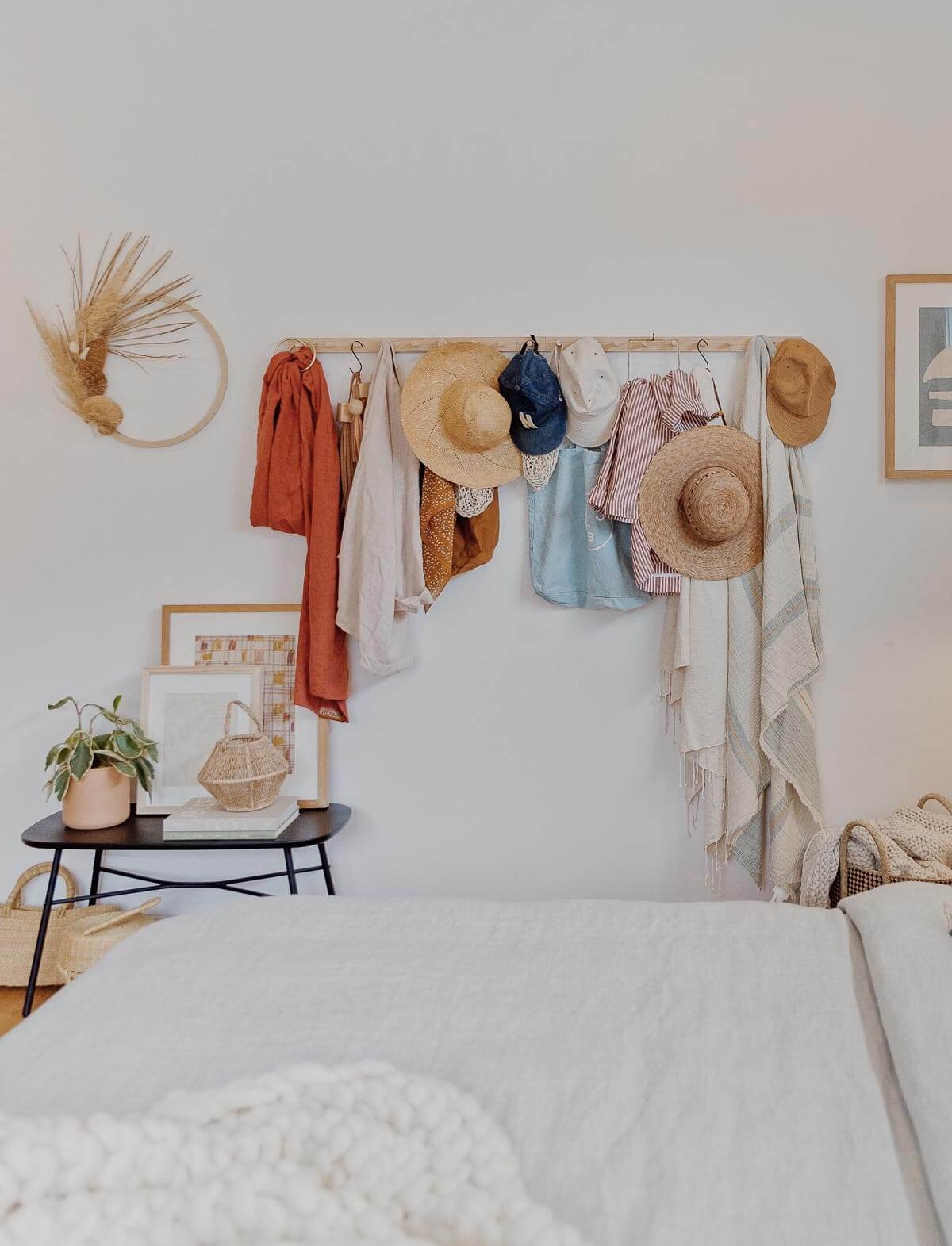 This simple peg rail is a fresh take on the accordion expandable peg rack we're used to seeing all over our Pinterest and Instagram feeds. It's a modern piece of decor that can be styled to fit any boho themed room. This simple but ingenious peg rail is a lovely way to keep all your essentials organized nicely and neatly. Style the wooden rail with a lightweight throw blanket, various hats, clothing, handbags, and more. Now you can easily bring order and harmony to your boho bedroom with this functional and stylish peg rail.
5. DIY Bohemian Fabric Lampshade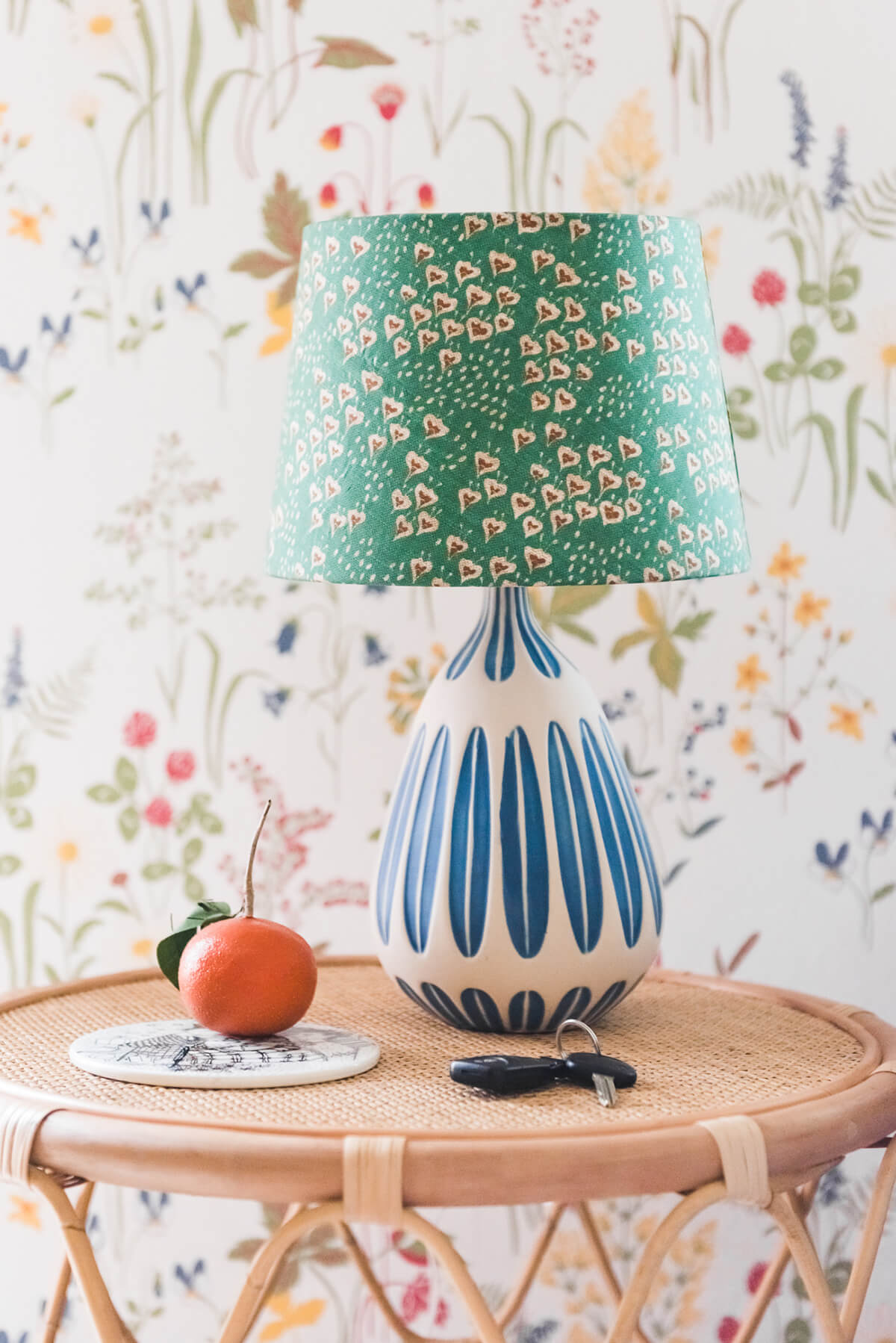 Upcycling old or used furniture into something fresh and new is always a fun project. It allows you to get creative and take nearly anything from drab to fab in an instant. A plain lampshade can be transformed into a boho-chic piece of decor for your bedroom with fabric, spray adhesive, and a few other materials you most likely already have on hand. You can even match the fabric with your throw pillows, blankets, curtains, or rug for an even bigger statement. Remember, the boho style combines organic, folk-inspired, colorful pieces with simple, modern pieces.
6. Ultra-Bohemian Pink Palm Wallpaper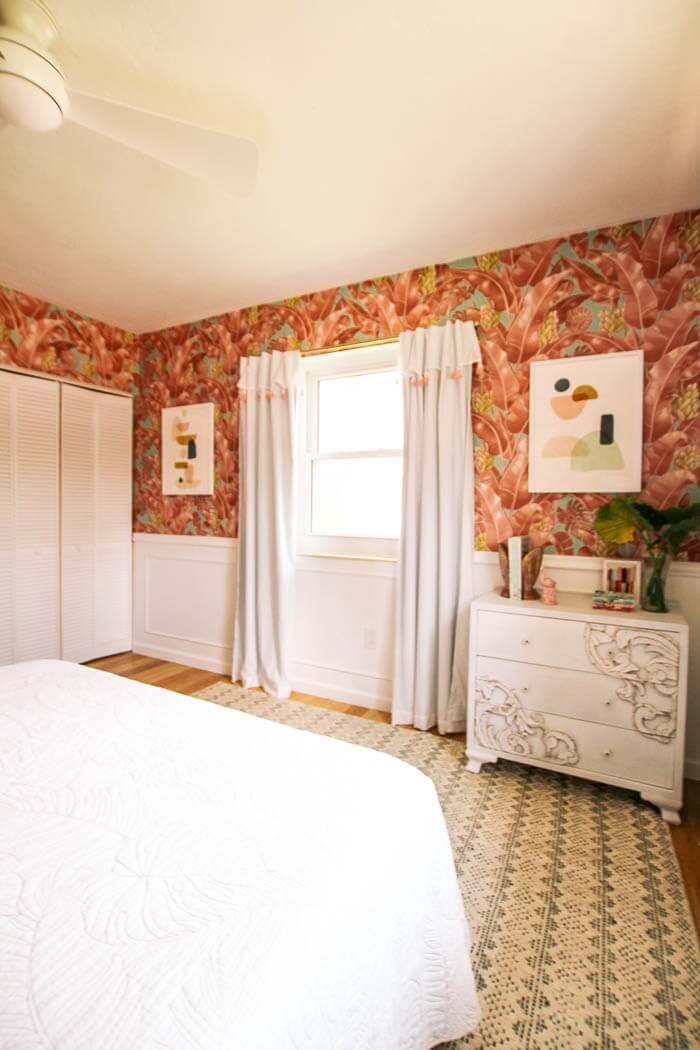 Bring the beauty of bohemian style and design into every corner of your bedroom with this gorgeous pink palm wallpaper. Wallpaper is a fun way to decorate a space, add personality, and can also provide a lot of bang for your buck when it comes to changing up the look of your space. Wallpaper comes in such a variety of colors, prints, and textures that will fit perfectly with a bohemian themed room. This pink palm design boasts femininity, flair, and boho beauty. No matter your style, wallpaper is an incredibly versatile addition to create that wow factor in your boho bedroom.
7. Leather Curtain Rods for an Organic Boho Style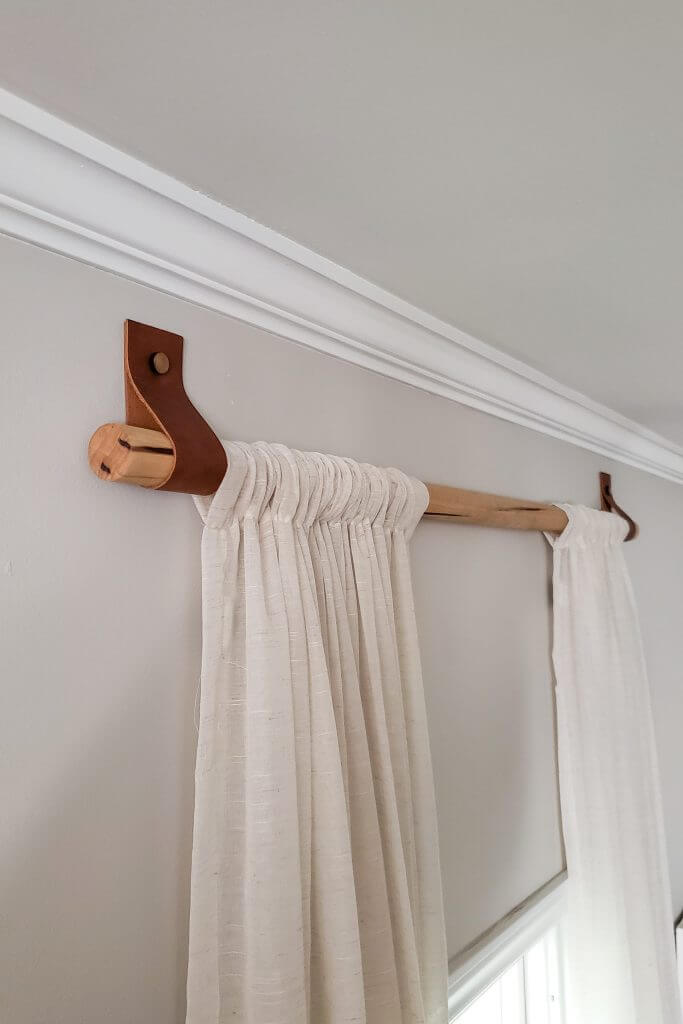 If you're looking for a simple way to enhance your bohemian room decoration, these leather curtain rods are truly stunning. Mixing organic pieces such as wood and leather together makes for an earthy, natural addition to your bedroom. With just a simple wooden dowel rod, leather straps, and a couple of screws, you can recreate this beautiful boho curtain rod with ease. Throw on some soft white linen curtains or go all out with a bold abstract print and you have now transformed your room quickly and easily. Let's not forget that these DIY curtain rods are also very budget-friendly.
8. Beautiful No-Weave Tapestry for Negative Wall Space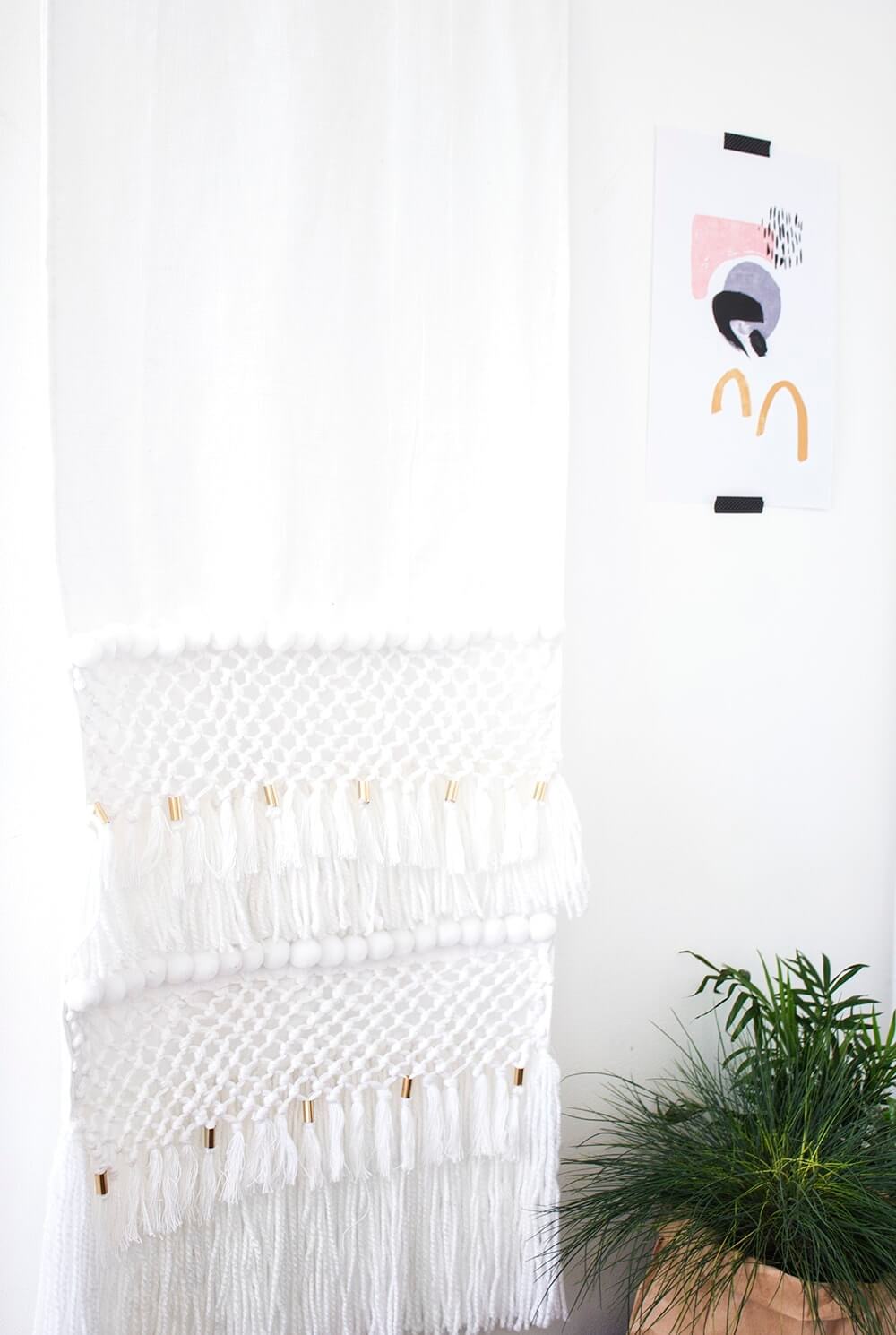 Bohemian aesthetics are all about mixing textures for that cozy, feel-good vibe. While there are many decorative pieces to consider when filling negative wall space, this no-weave tapestry is a simple option using a cotton table runner. With some yarn, pom poms, thread, and glue, you're on your way to creating a beautiful boho tapestry. I picture this gorgeous wall decor next to a tall plant and displayed above a Moroccan rug to create the full boho vibe in your space. If you have a bare wall that you're looking to decorate, this is an easy DIY option to consider that won't break the bank.
9. Eye Catching Tasseled Bohemian Chandelier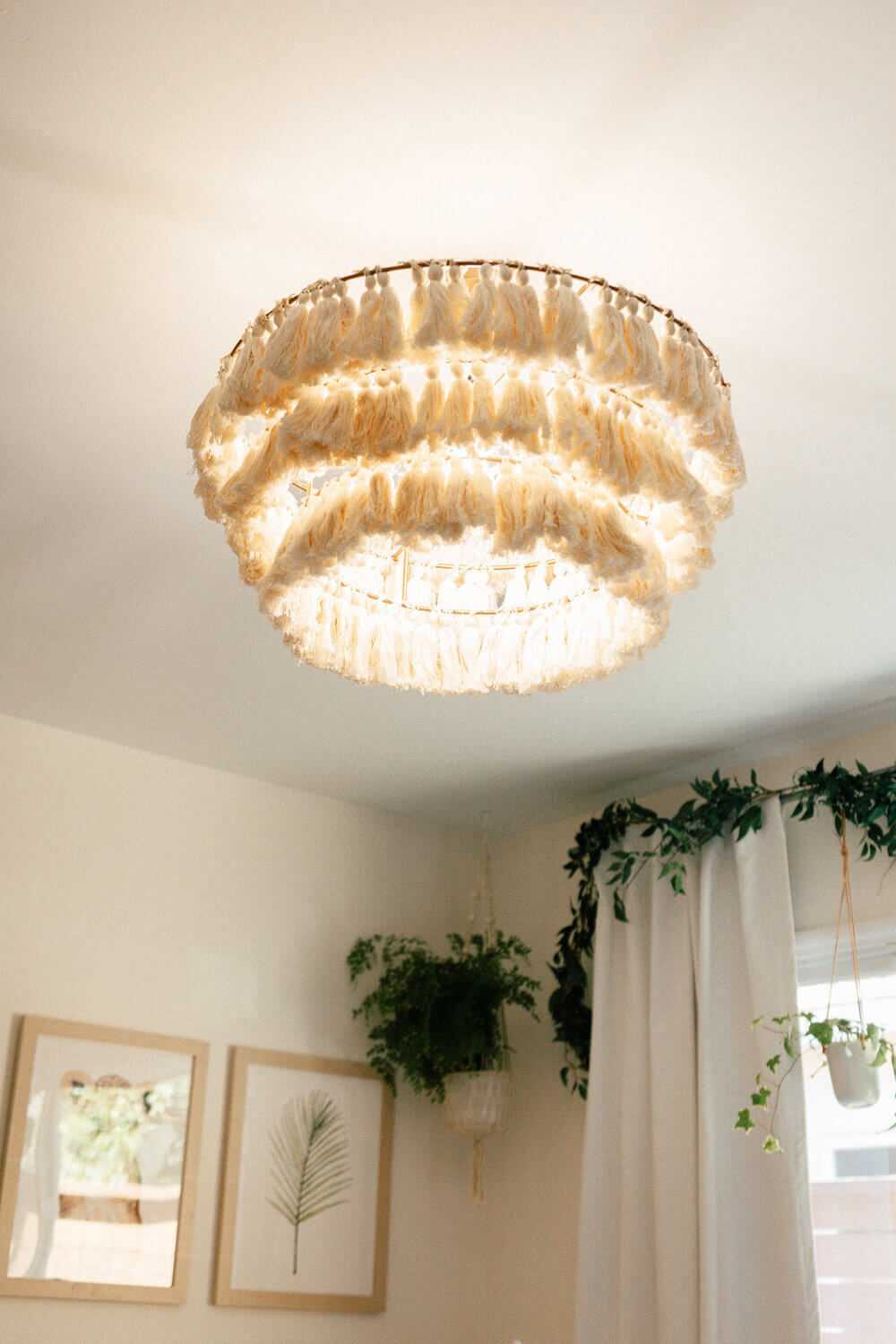 Fill your bohemian bedroom oasis with both charm and warmth with this eye-catching tasseled chandelier. This unique light fixture is perfect for the bedroom and adds texture and dimension with its 3-tier design. With a little yarn and metal craft hoops, you can easily achieve this same look on your own. This beautiful boho chandelier can hang high or low with its longer style mounting chain. It's a gorgeous piece of decor that can truly elevate a space while adding loads of character and style at the same time. The neutral color of this boho chandelier will naturally brighten up your room, but you could also opt for shades of green or teal for a more eclectic feel.
10. Kraft Paper Dried Palm Fronds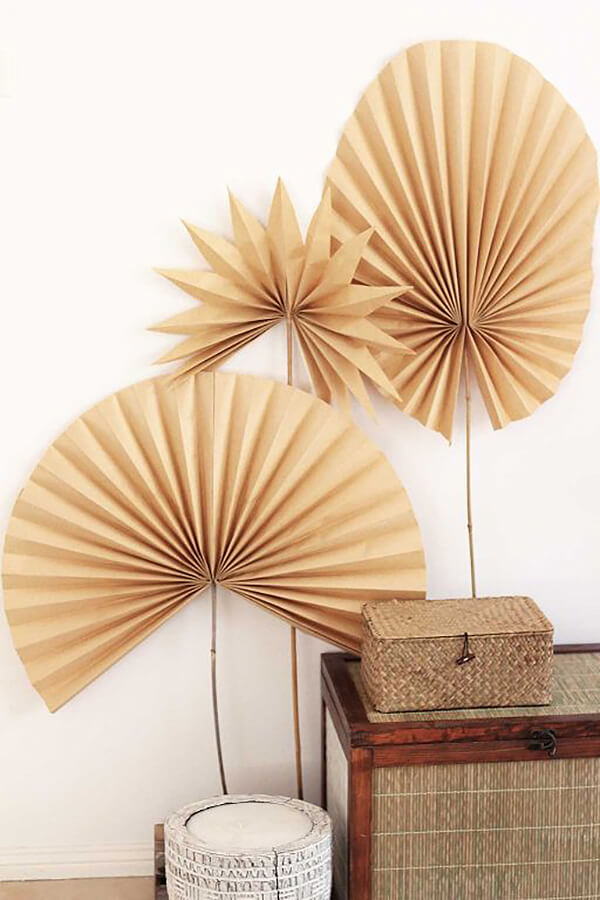 Kraft paper is such a versatile, inexpensive, recyclable, and easy to work with the material. From wrapping presents to creating gorgeous home decorative accents, Kraft paper is so much fun to use for projects. It also has such a rustic, earthy vibe to it making it a natural fit for nearly any style, but especially a bohemian style. These paper palm fronds are essentially large paper fans we used to fold and make during the art class. Use a bamboo stick or wooden rod to make your palm fronds look as if they're coming up from the floor. This is such a unique and beautiful design element and maybe one of the best bohemian bedroom decor ideas we've seen so far.
11. Charming Citronella Art Deco Bed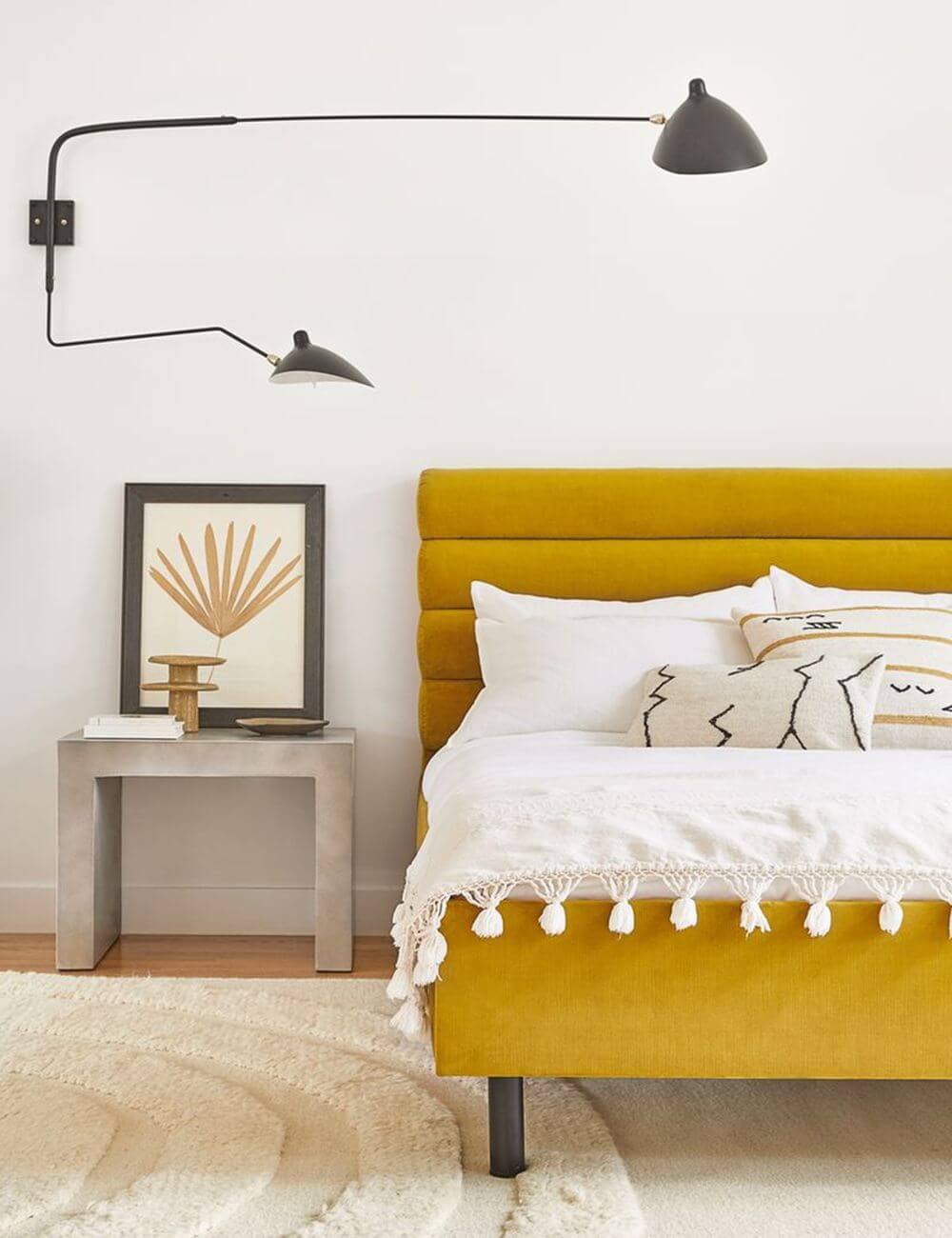 Who says you can't have a pop of color in your boho bedroom design? This beautiful platform bed is a great accent to your boho bedroom design. The art deco design is simple and lends itself well to the simple and natural bohemian elements of this room's design. The bright citrus color is refreshing and cheery when combined with other neutrals. The rattan ottoman and natural cotton color of the throw pillows add a nice boho touch to this lovely bed. The simple lines of the bed make it the perfect accent for your bedroom. It adds a rich pop of color without taking away from the serenity that bohemian design is known for. It is the perfect focal piece for fresh, clean boho design.
12. Boho Chunky Knit Ivory Wool Rug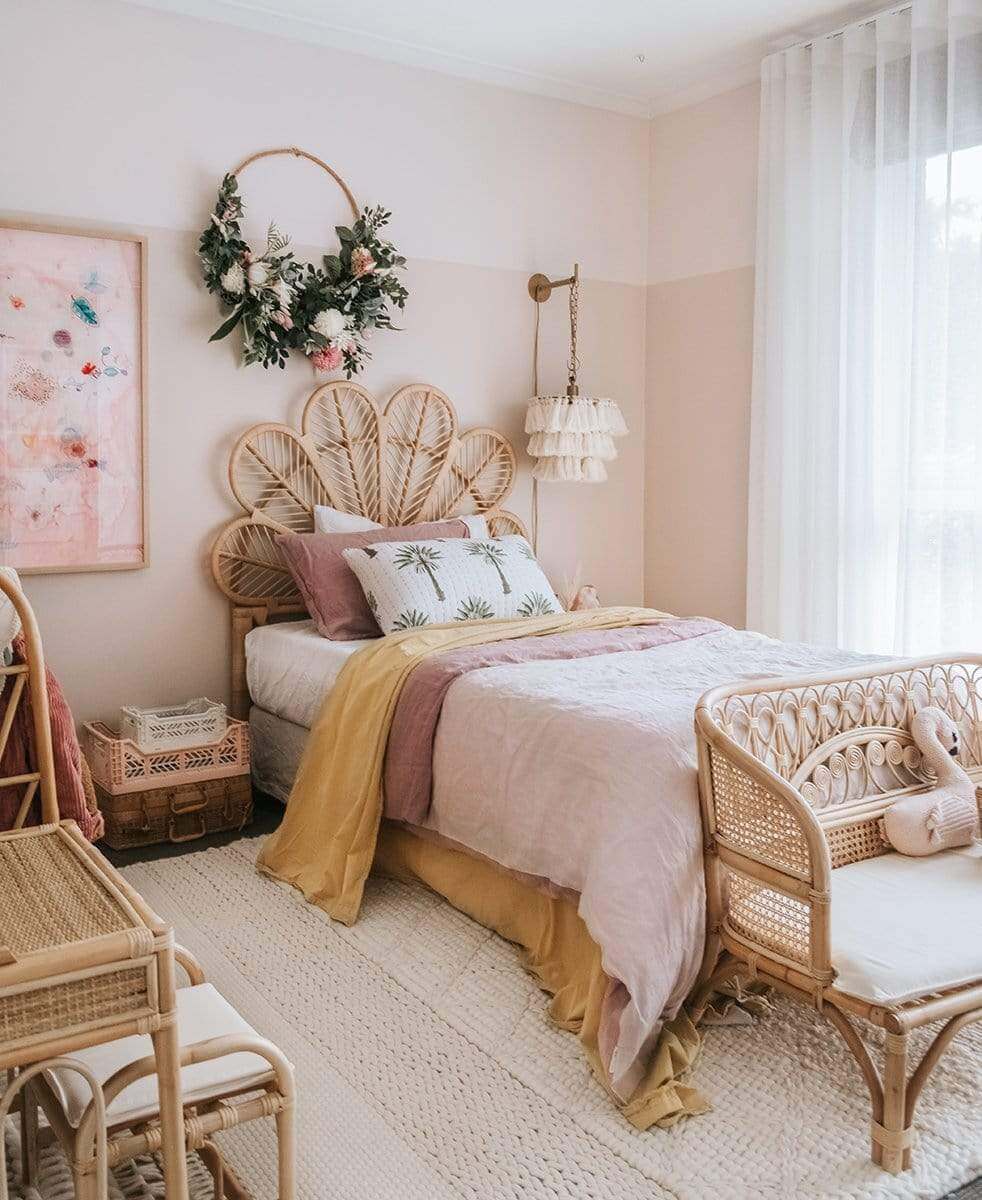 The lush, cozy rug in this room just beckons you to sit on it. Made from 100% wool and combining numerous artisanal rug-making techniques, it is the perfect addition to any boho bedroom decor. It would feel amazing to step out of bed and onto this plush rug in the mornings. The ivory color will perfectly match any bedroom decor and offers a nice variety of textures and shades of white. This knitted, braided, and knotted rug effortlessly adds visual interest and a little variety to the design of your bedroom without compromising style.
13. Abstract Bohemian Desert Wall Art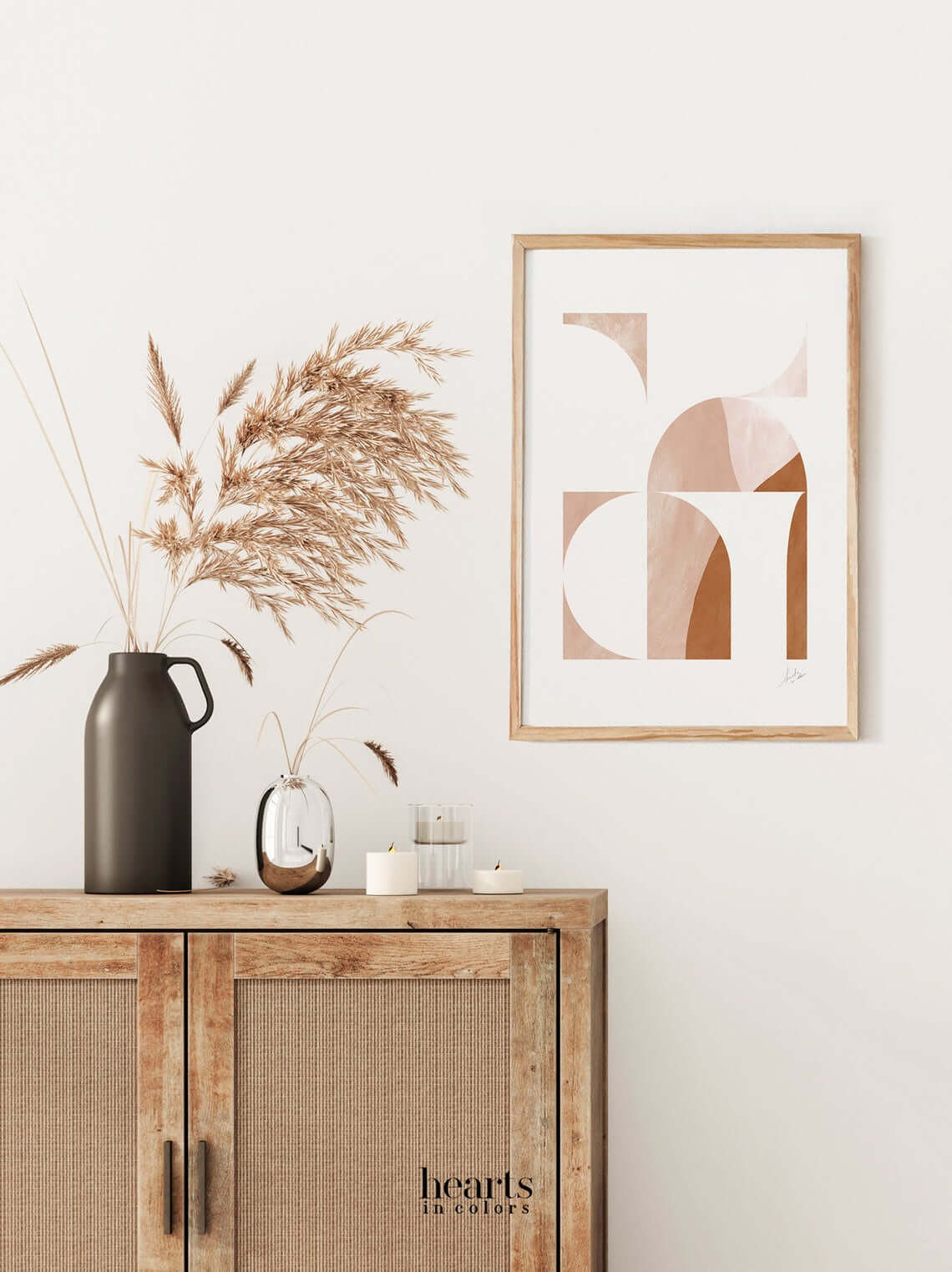 Bohemian art comes from a movement showcasing unconventional ways of painting and decorating. It uses vibrant colors, interesting shapes, and sometimes various textures to fulfill the bohemian design style. If you're ready to make a small change but a big statement in your bedroom, adding an abstract bohemian print on your wall is a great start. This digital file can be printed in a variety of sizes and then framed and placed on the wall wherever you'd like. A few ideal options for placement include above the nightstand, next to the dresser, or filling any negative space you may have on the wall.
14. Golden Boho Cotton Gauze Duvet Cover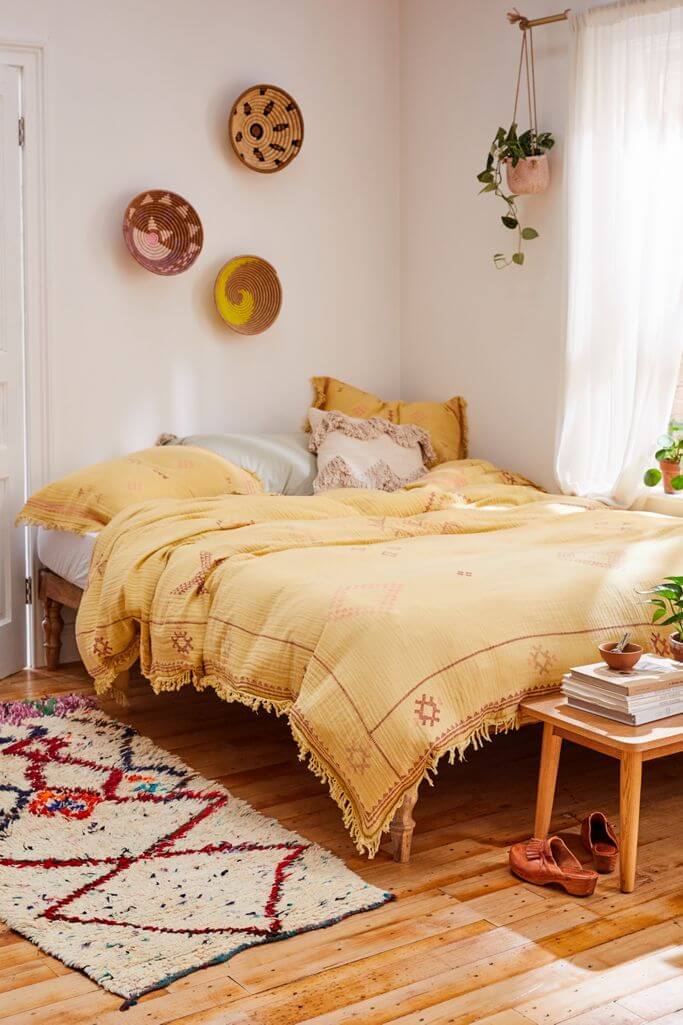 A soft pop of gold can go a long way in your bohemian bedroom design. This duvet is made from stone-washed cotton gauze, making it very soft and comfortable. It is light gold with a Southwestern-style geometric print in a soft terracotta shade with fringe trim. The geometric isn't too bold or busy, so it won't distract from the overall design of your bedroom. This duvet makes a beautiful background for your bohemian throw pillows and complements the subtle, warm tones found in rattan and other natural fibers. It is a cozy, easy-care option that adds a bit of warmth to any boho bedroom design.
15. Gorgeous Boho Tassel Hanging Chandelier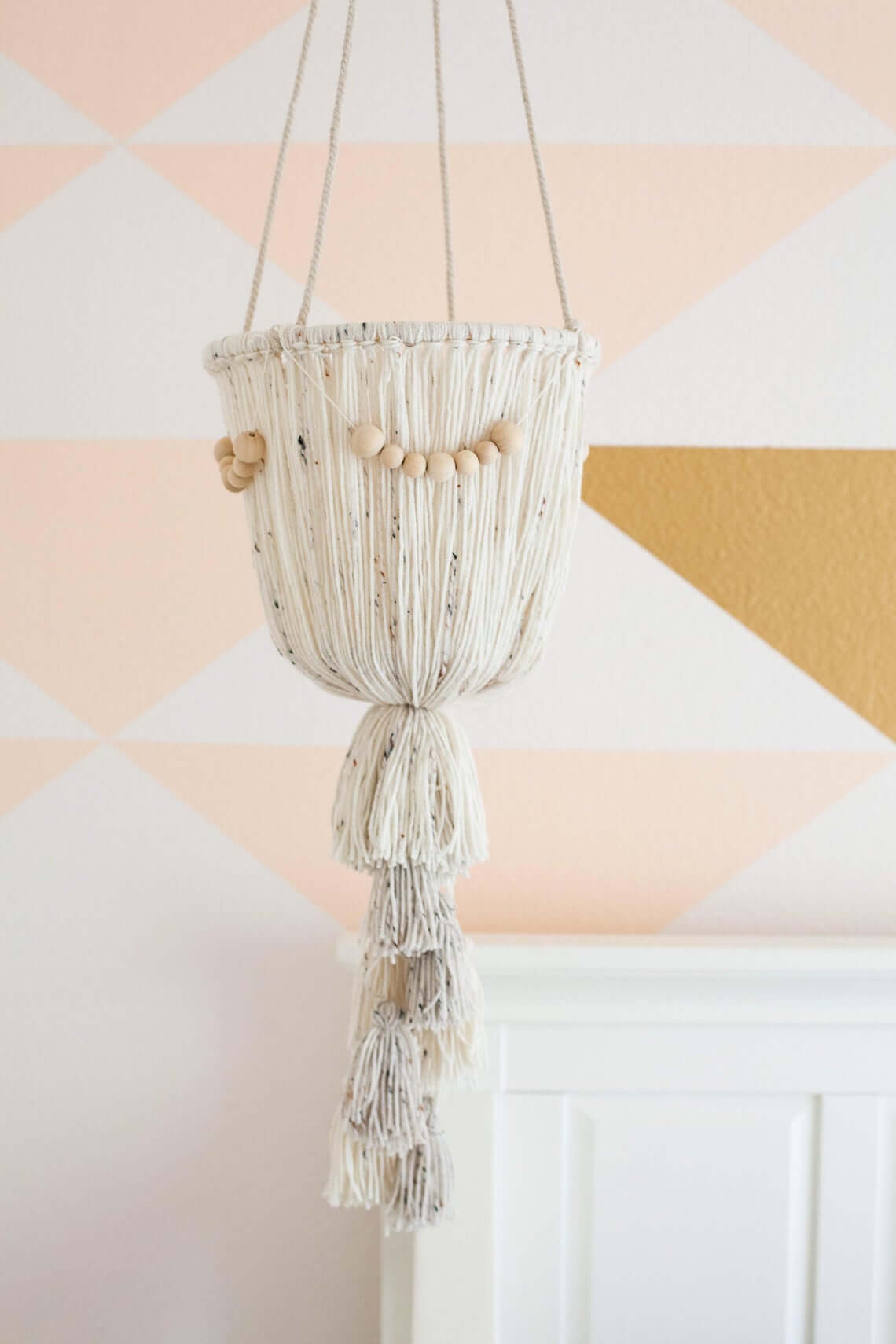 This gorgeous boho tassel hanging chandelier will instantly add a bohemian touch to any room of your home. It measures 52 inches tall and about 12 inches wide for a beautiful flowing piece that will look great in your bohemian bedroom. The small wooden beads added to the yarn adds a natural element and a beautiful touch to the chandelier. The pom tassels hanging at the bottom really give it that eclectic and textured look which is an awesome idea for boho decor. This gorgeous chandelier is available in white and black to fit the overall mood of your boho bedroom.
16. Cotton Tufted No-Pile Area Rug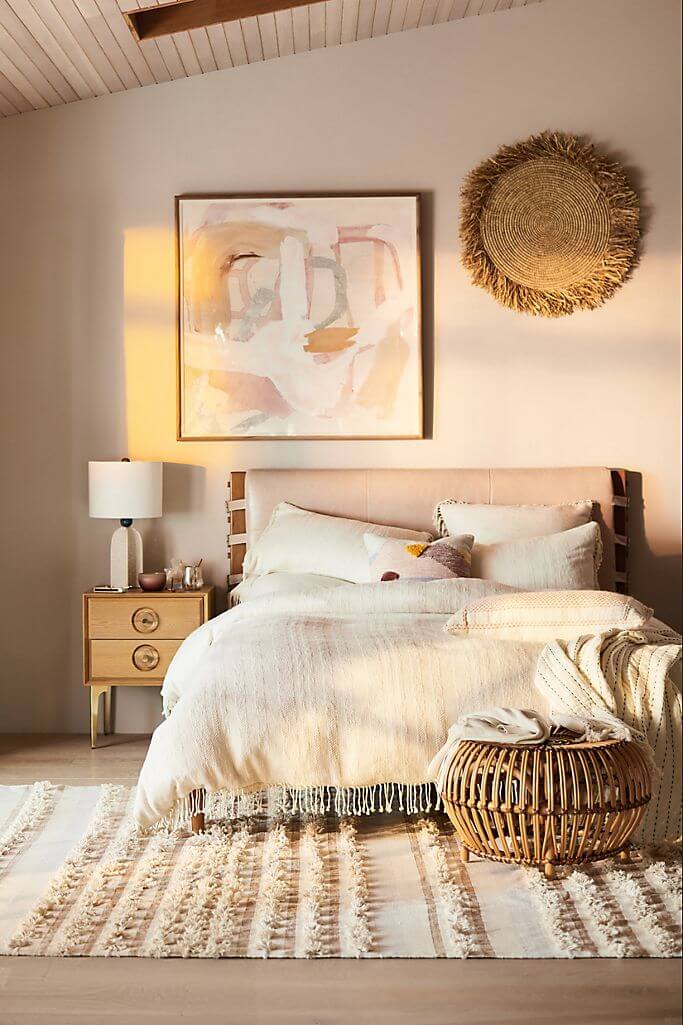 If you are looking for a simple cotton rug that is a great no-pile option for your bohemian bedroom design, this rug might be the one for you. This white and the soft gold woven rug is great for high traffic areas and offers some texture to your floors with ivory tufts made of fringe. This rug would compliment any rattan, natural wood, or natural fibers in your bedroom and add texture and a little warmth to cold hardwood or floors. It is a great item to pull all of your boho elements together and will complete your bedroom's design.
17. Driftwood Jewelry Organizer for Small Space Storage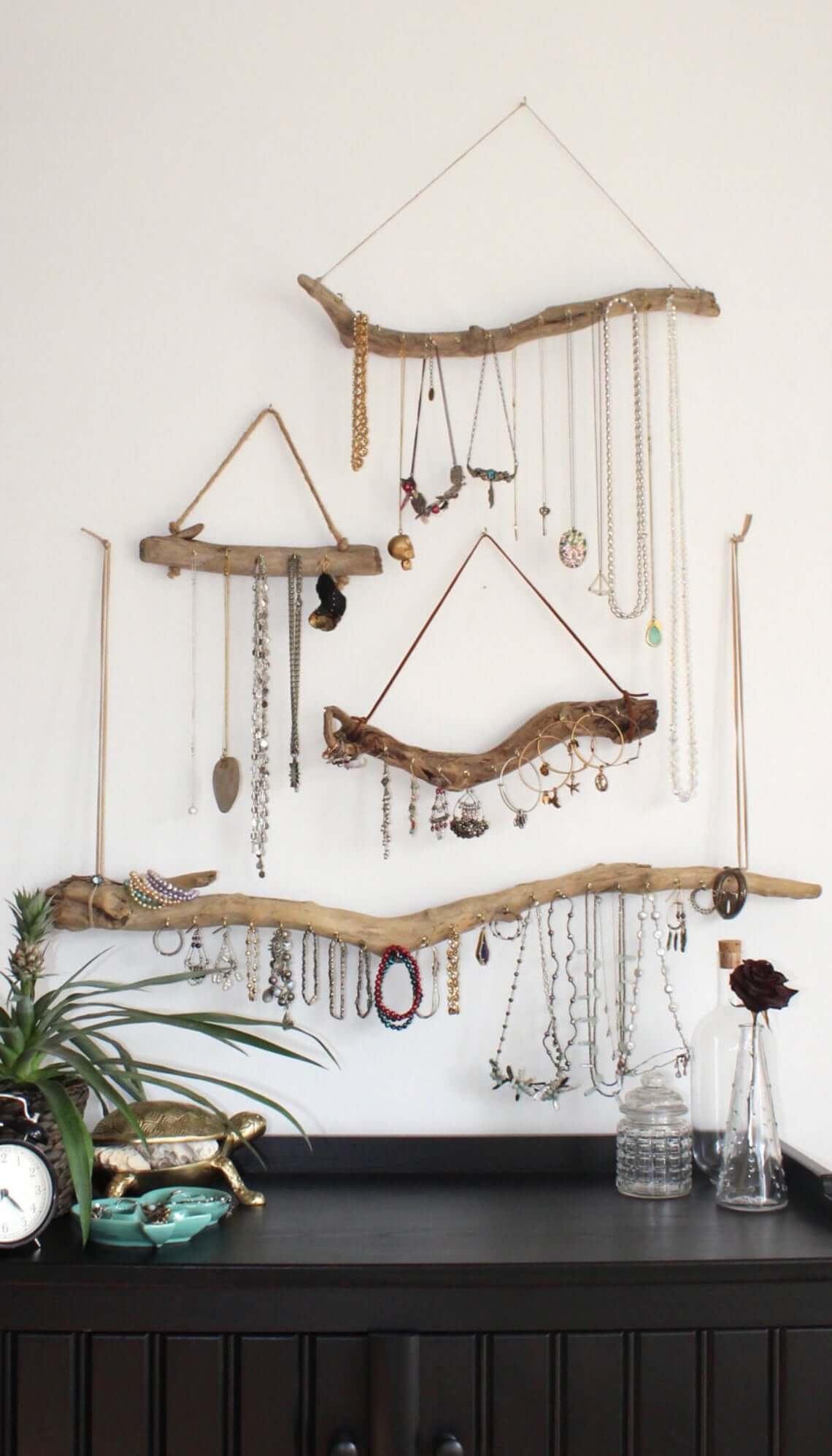 I think what I love most about the bohemian design style is that there are zero rules. Literally anything goes and this driftwood jewelry organizer is something I would never think of but is absolutely stunning. The natural elements of the wood, yarn, and hooks all work so well together to make this decorative piece one-of-a-kind. Since this is a custom order, you get to choose the sizing of the driftwood, how many hooks are included, and the hanging material and color. The opportunities are endless with how you could use and decorate with this awesome and unique organizer.
18. Tassel and Wood Bead Boho Wall Hanging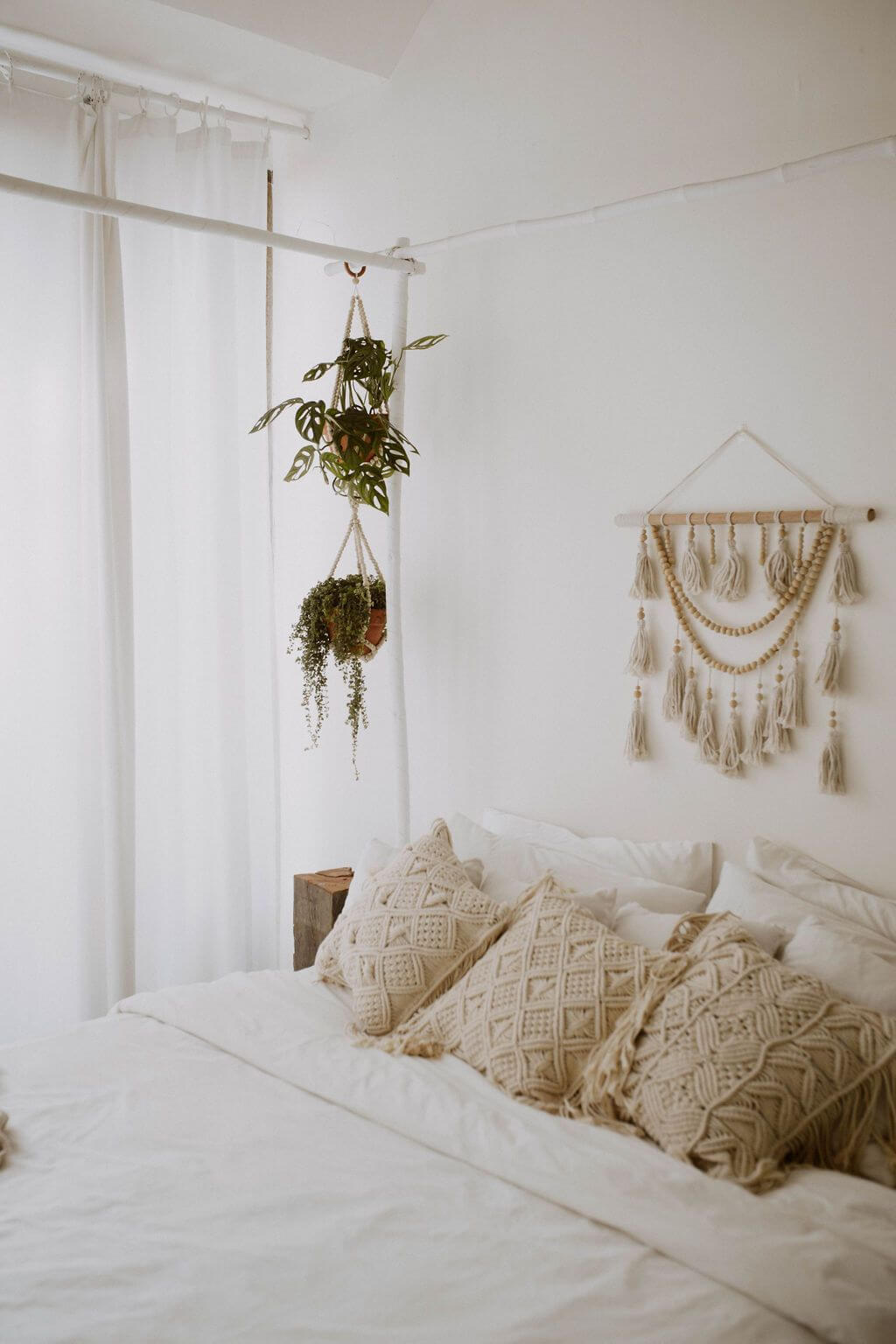 This tasseled wall hanging is the perfect artsy accent to your bohemian bedroom decor. It is handmade in Bali, Indonesia from organic cotton and raw coffee wood beads. The light, natural tone of the wood and unbleached cotton would work well with any boho bedroom design and add a whimsical touch. In the featured bedroom design, the wall hanging is used in lieu of a headboard and matches perfectly to the macrame throw pillows. A piece like this adds much-needed texture to the white walls and catches the eye. It is sure to become the perfect focal point of your bedroom.
19. Statement Piece Modern Boho Wall Hanging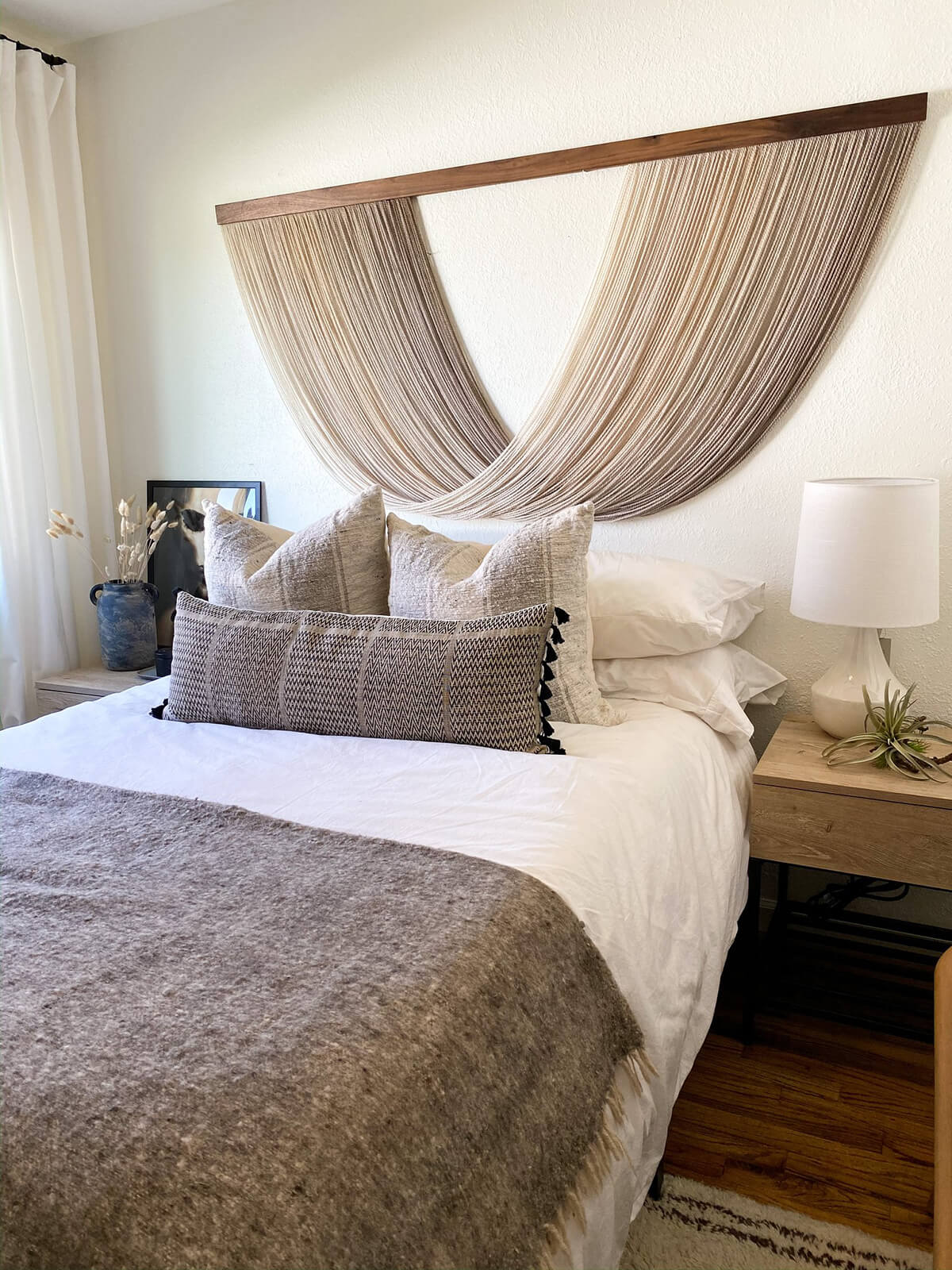 This wall hanging is a unique work of art that will make a statement in your boho bedroom design. Made from 100% wool with sealed walnut panels, this wall hanging's fibers are dyed shades of neutral sandy beige and will match all of your other bohemian items perfectly. The picture of this piece is a perfect example of how you can use it as a statement piece in your bedroom. Its substantial width of nearly six feet is sure to bring visual weight wherever you decide to hang it. It is sure to become one of your favorite bohemian art pieces.
20. Live by the Sun, Love by the Moon Print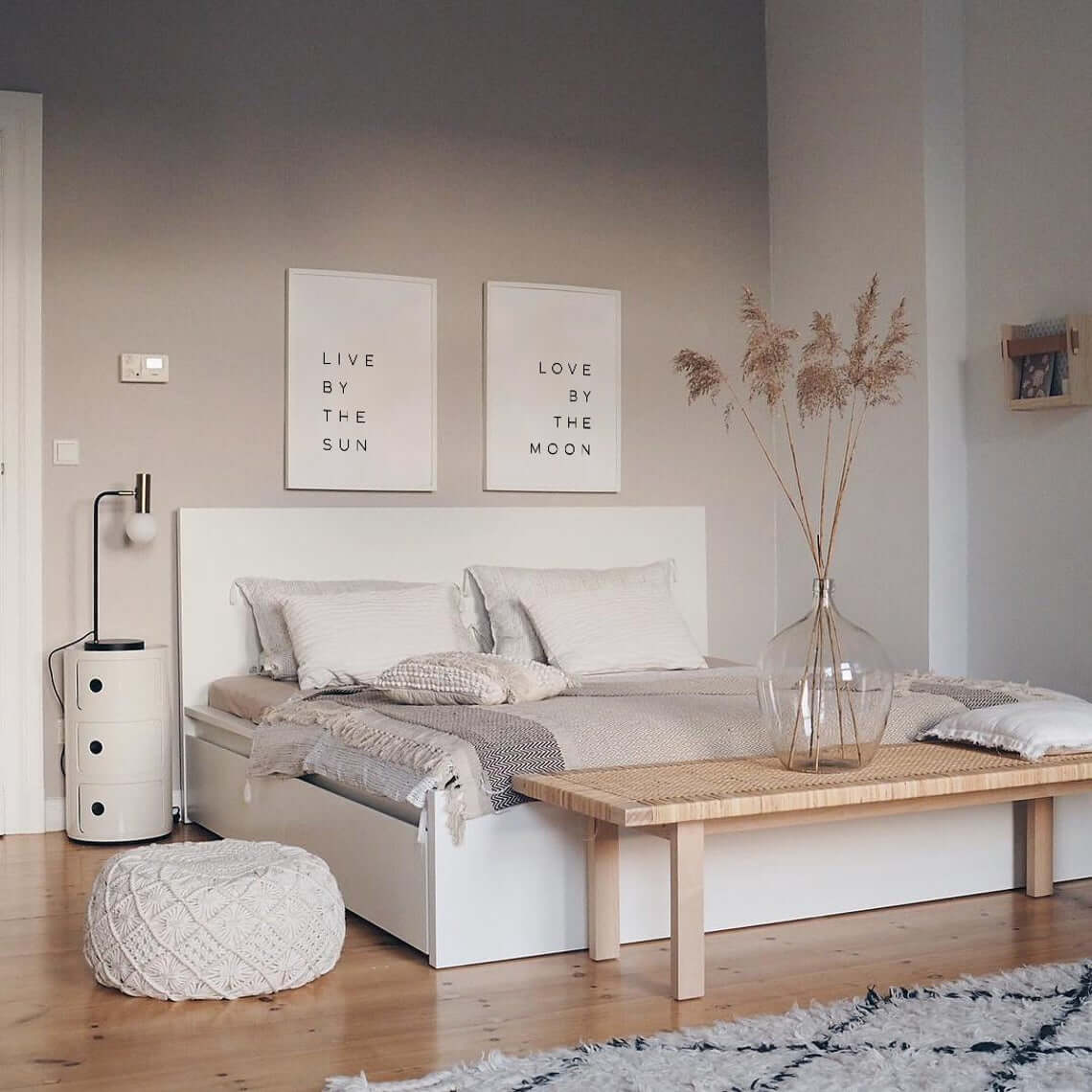 Give your space a fresh look with these minimalist black and white posters. Even though the bohemian style is quite the opposite of minimalist design style, the quotes "Live By the Sun, Love By the Moon" ties the natural, boho theme together perfectly. This instant download can be printed in a variety of sizes and then framed to your liking. Choose a light wood frame for a more natural look or even make a DIY rod and string so it can hang down from the wall. This set will look great above the bed, dresser, armoire, or above each nightstand.
21. Artisanal Hand-Made Moroccan Rug with Fringed Edge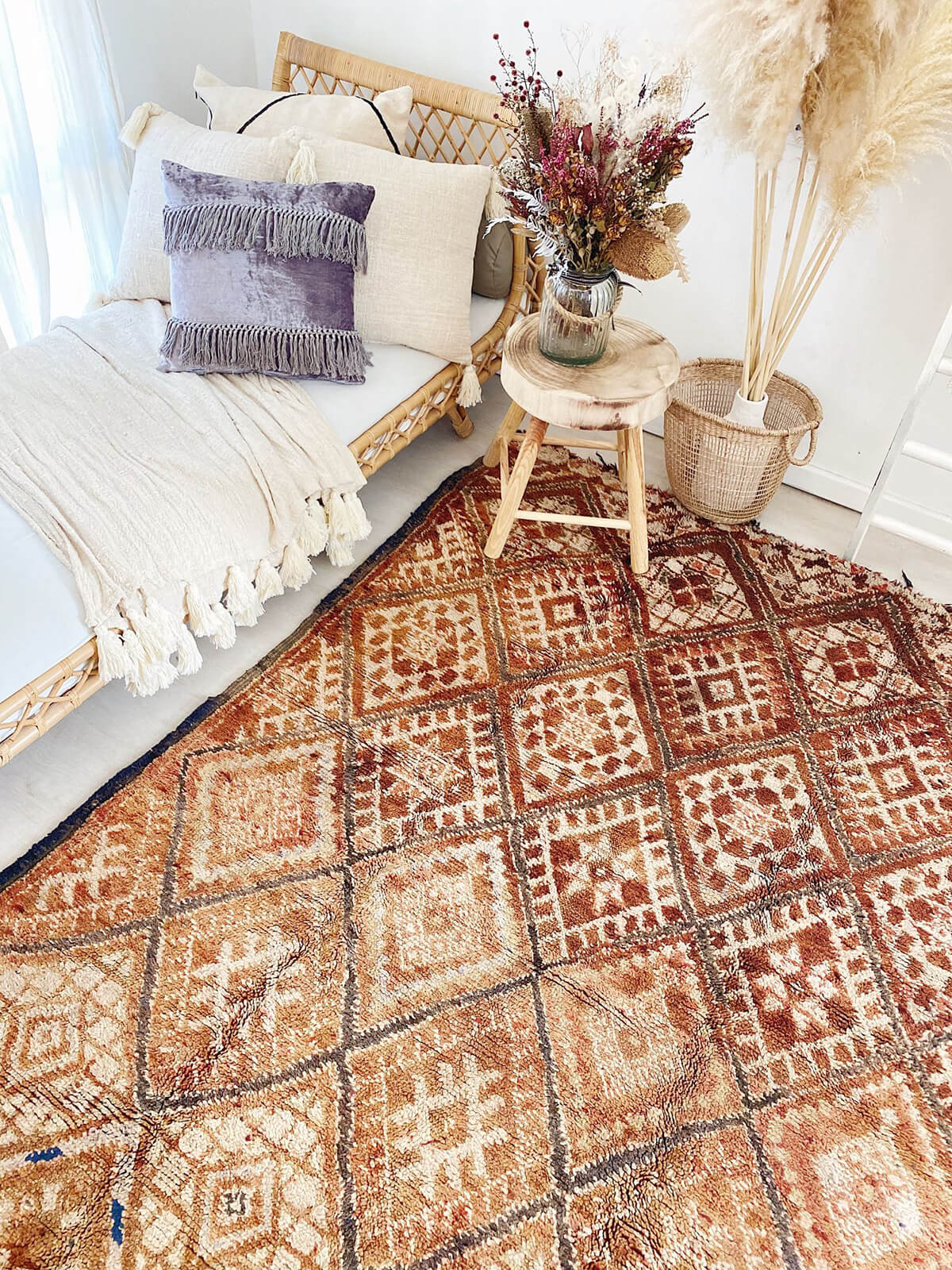 This vintage rug may be perfect to complete your bohemian design. This rug is handmade and hand-dyed using natural and organic vegetable dyes, giving it a durable, warm, earthy palette that is rich and inviting. Shades of ivory, ochre, brown, and black blend together beautifully and will look amazing with your boho decor. Each rug has its own unique characteristics due to the nature of being handmade and will become the focal point of your bedroom.
22. Macramé Rectangular Boho-Inspired Rug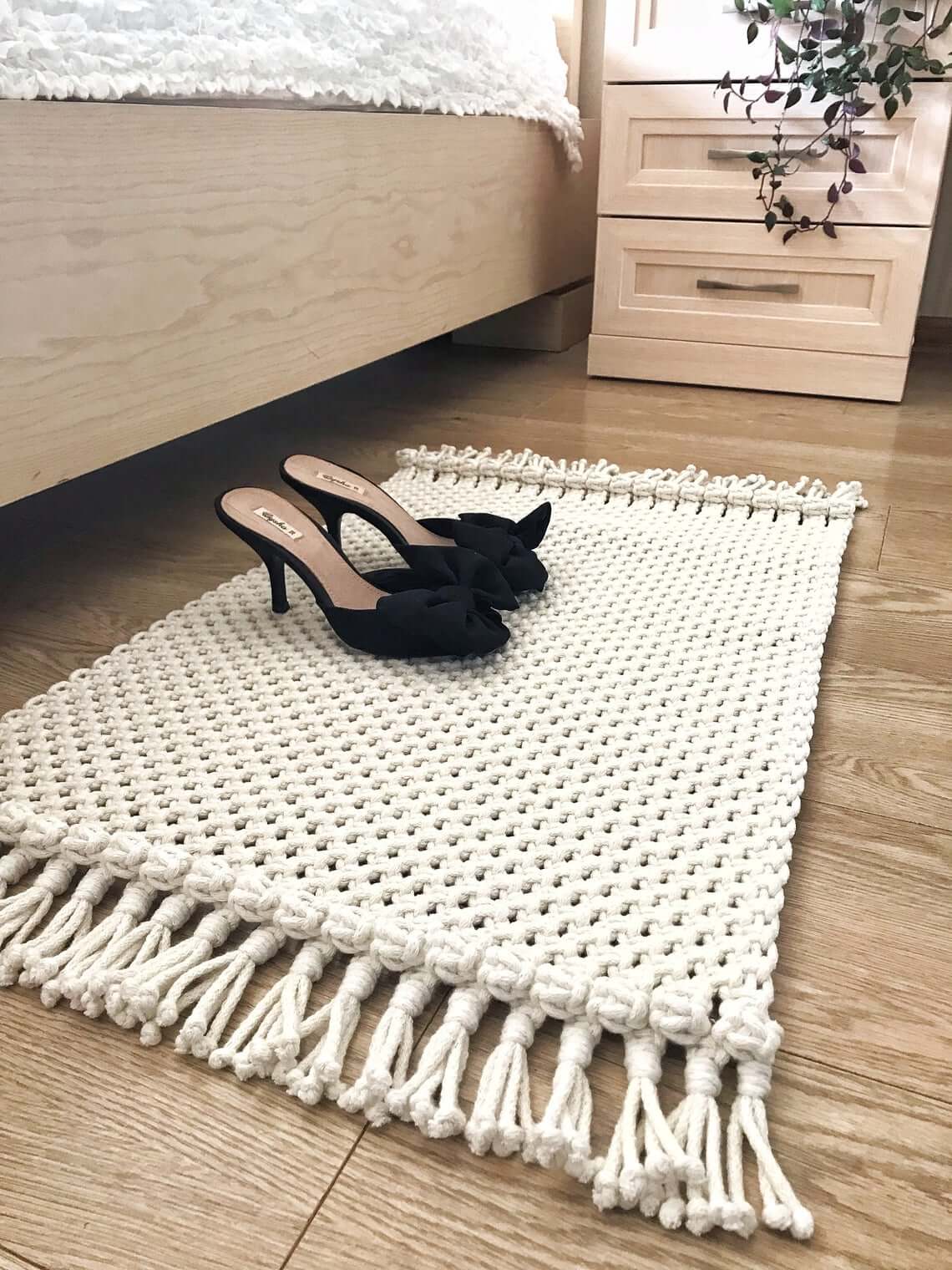 This macramé rug is made from 100% natural cotton and is available in a variety of colors such as white, off-white, sand, yellow, mint, green, and burgundy just to name a few. The rectangular shape of the rug allows you to place it nearly anywhere in the room. You can place it bedside, in front of the door, inside the closet, under a desk chair, or anywhere else you'd like. Hand-washing is recommended due to the material used in making the rug, just let it air dry thoroughly after washing. This rug has a total length with a fringe of about 32 inches and measures a little over 18 inches wide.
23. Boho Tassel Garland and Macramé Wall Decor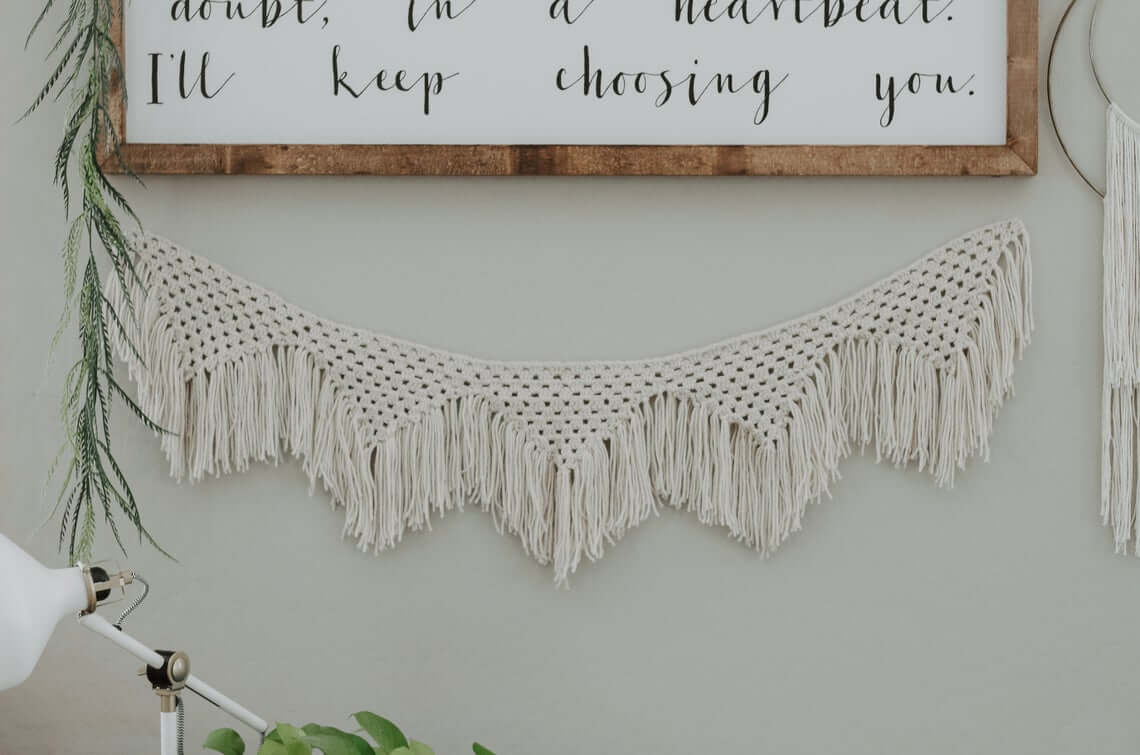 This beautiful boho garland would be great for a nursery or bedroom wall hanging. It would look lovely hanging above the bed, draped over a mirror, or on one of those peg rails mentioned earlier. Choose between neutral linen, grey, or other custom colors to fit your unique style and personality. This tassel garland is also available in mini, small, and large sizes to accommodate all decorating styles. The mini garland measures just above 2 feet long with 3 macramé fringe triangles, while the larger size measures 4 ½ feet long with 7 macramé fringe triangles.
24. Luxurious Boho French Linen Bedding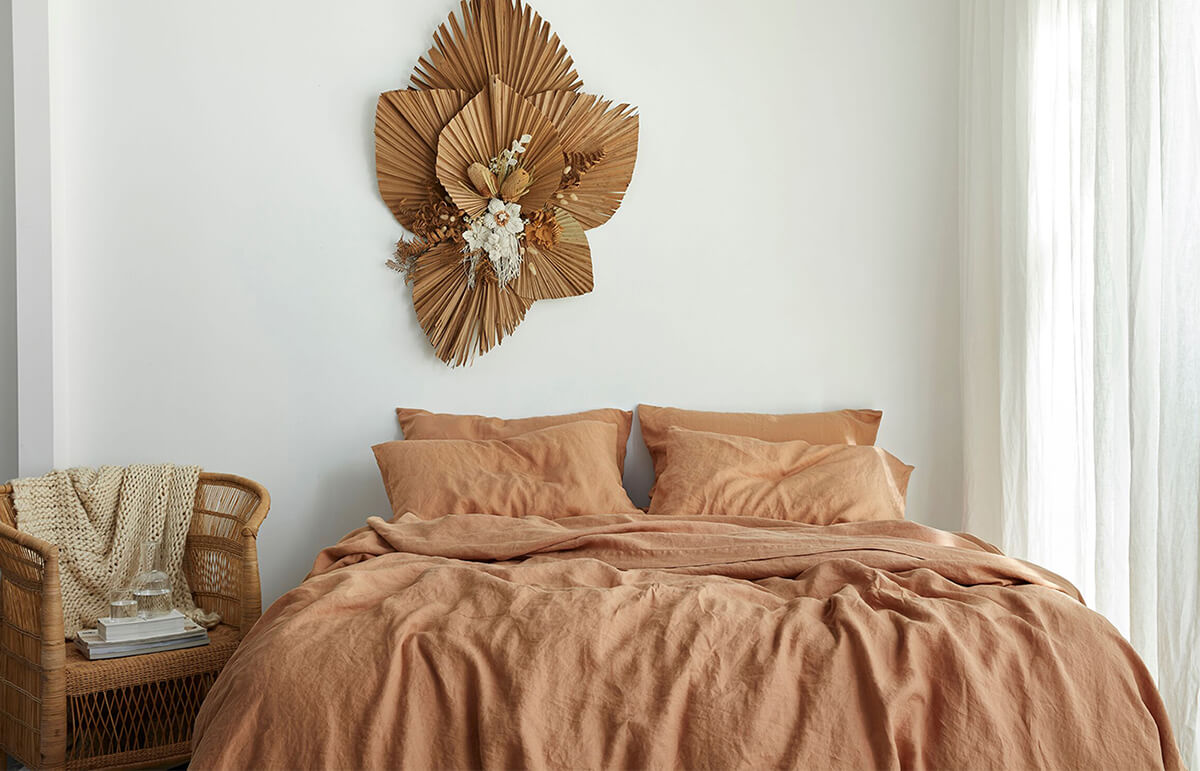 Natural, light wood tones and white are key features in bohemian design. However, if you find white bedding bland or boring, these luxurious sheets, made from stonewashed flax grown in France, are perfect to bring out the warmth of your boho decor. The bedding has a casual lived-in appearance that makes you want to curl up in bed for a restful night.
This sheet set in the color sandalwood is a perfect shade for boho design. It's a peachy caramel hue that isn't too feminine or masculine and is warm enough to make the room inviting. It contrasts beautifully with white and warm neutrals, making it the perfect balance if you are looking to complement bohemian pieces in your design.
The 24 Best Bohemian Bedroom Decor Ideas for a Charming Look
When looking for decorative boho pieces for your bedroom, feel free to mix textures and patterns and don't be afraid to go the unconventional route when styling your unique space. Warm earthy shades are common colors used in bohemian room decoration, and can be accessorized with fiery orange, electric blue, and other jewel tones. Layering throw blankets on top of furniture, hanging tapestries and fringe rugs on the walls, and having canopies over beds are signature boho ornamentation.
Each decorative piece in your room should be meaningful to you and tell a story. Whether you decorate using family heirlooms, special objects from your travels, items from thrift shops, or handmade items, you can easily pull together your own unique boho room that's eclectic, chic, and beyond glamourous.
Bohemian design is like the free-spirited animal of interior styling and the sky is truly the limit when decorating your precious space. Now that I've shown you several awesome ideas for your bohemian room decoration, now is your chance to share your cool and eclectic personality in your home for all your guests to admire. Soon, you'll be relaxed and cozy in your new boho space that inevitably gives off those quirky, yet carefree natural sensations.
Our Favorite Farmhouse Baskets and Bins to buy on Amazon