When thinking of creating and designing your own home decorations, turn to this list of the best DIY bohemian decor. A great bohemian design idea marries perfectly to the DIY aesthetic since both worlds embrace a sort of free-spirited nature. DIYers have always loved the cool and unique fashions to come out of the boho world, and no one loves a good macramé shelf like a chic bohemian.
21 Fabulous DIY Bohemian Decor Ideas that are Fun to Make

This list includes a wide variety of crafts that embrace both the colorful, bold side of the bohemian look and the more subtle, all-natural feel. These awesome home decoration ideas can be combined for an entirely retro and hippy vibe, or they can be used sparingly to add just a touch of the romantic boho lifestyle to your home decoration. After all, decorating your home is all about expressing yourself, so you ought to let your own free spirit shine through. However much or little you choose to use this look, have fun with it. It should exude a sense of freedom and lightness that will uplift any room and bring a smile to the faces of your guests.
While an awesome bohemian design idea does truly embrace the freedom that is felt in all things '70s, it doesn't necessarily mean the fabrication is going to be easy. Some of these ideas can be accomplished in just a few hours with limited supplies, but to get some of the others just right, you will need to invest a little more time. Luckily, the best DIY bohemian decor is always fun to create, so if you pick a project that is more of a time investment, you know that you have fun work ahead that will ultimately lead to an amazing piece of bohemian home decoration that you can use yourself or gift to a friend.
1. Matchless Mini-Macrame Hanging Planter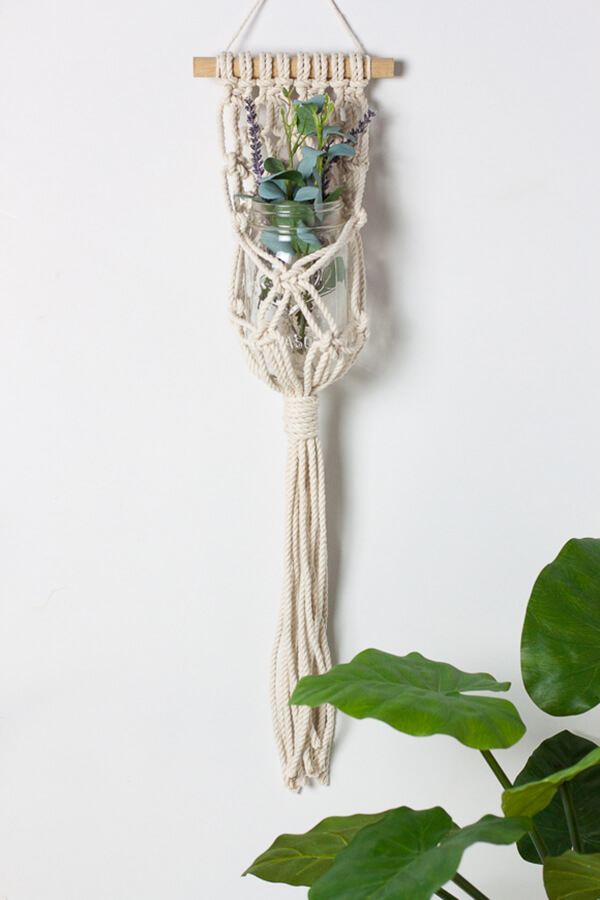 If you are searching for a classic bohemian vibe and you enjoy creating things with your own hands, a macrame project is perfect for you. With a natural look and inexpensive materials, you only need the patience to learn this fairly simple braiding technique. The hanging plant holder is a great place to start since its design is not too complex and it amounts to a very practical and pretty piece. Be sure that your design is sturdy enough to hold up whatever planter you choose to hang. To maintain the boho vibe, choose a simple planter and natural sprigs.
2. Faux Fireplace for a Cozy Feel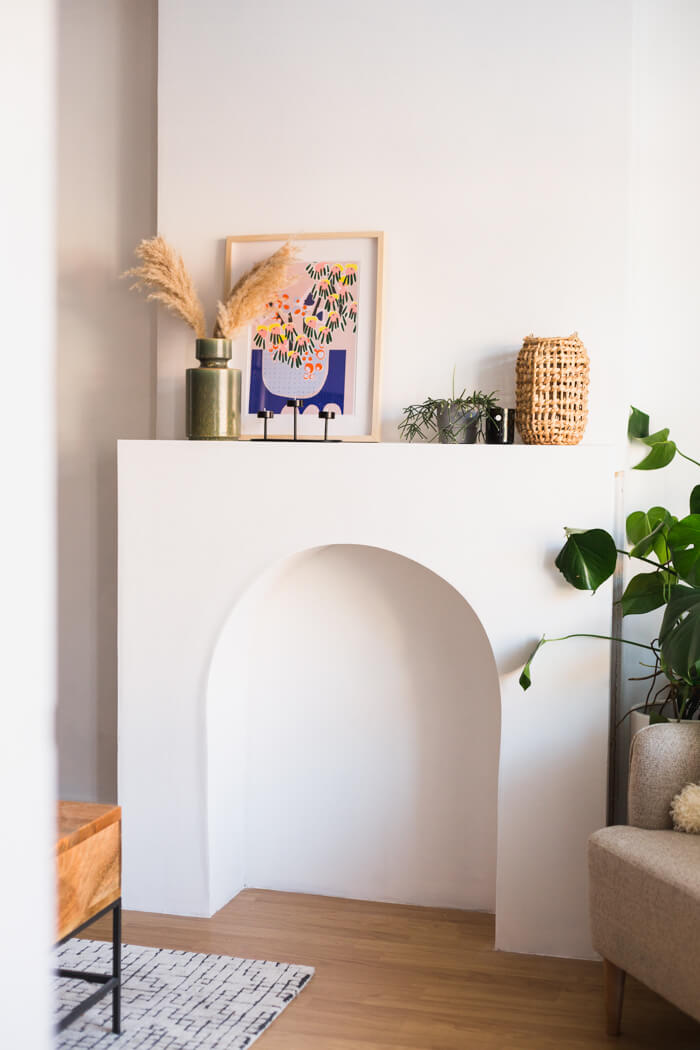 Fireplaces are a natural centerpiece for a living space. They provide a great focal point, and having a mantel is a must for displaying cool art and trinkets. So what do you do when find yourself living in a home that doesn't have a fireplace? Sure, you could just hang shelves, but there is something so vintage and romantic about a classically arched fireplace. The best option is to create an amazing faux fireplace. You get all the benefits of a decorative space without any of the problems or hassle that come along with a wood-burning fireplace and chimney.
3. Gorgeous DIY Beaded Bohemian Design Idea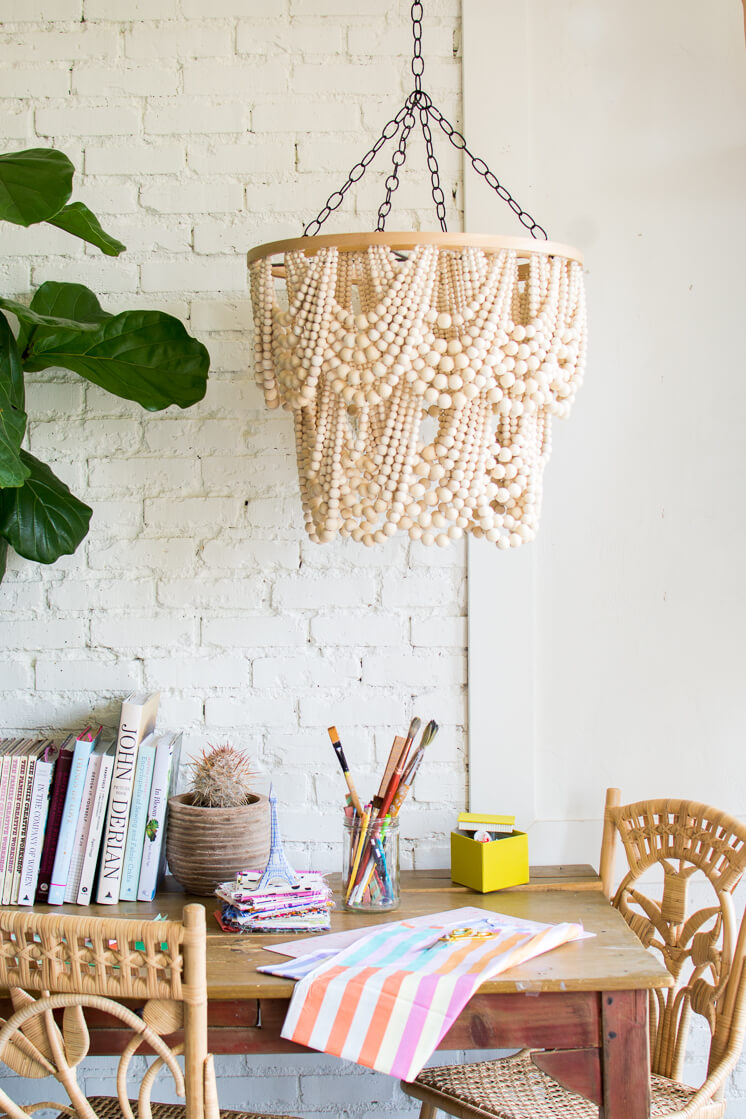 Large beaded designs are making a comeback, and for good reason. This amazing chandelier is totally DIY and will add that elegant bohemian touch you have been searching for. The double layering makes the beads almost appear like pearls as they cascade to different lengths. To keep the look classic, stick to a natural color bead, or, if you want to mix it up, try experimenting with some colored options. Another fun alternative is to use multiple shades of brown beads to give the look depth and variety. However, as you can see, it is a lovely project as is with the off-white option.
4. Super Simple Stitched Wall Décor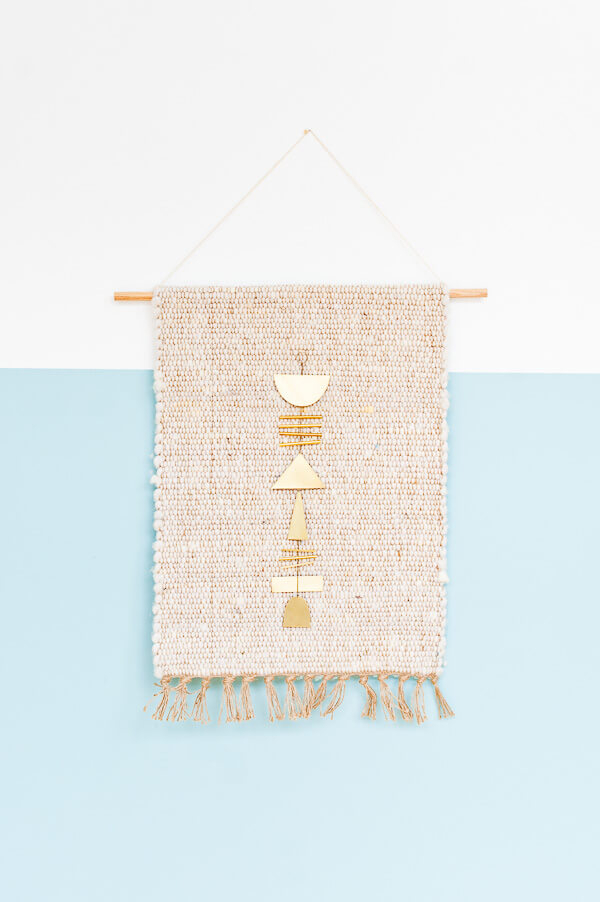 If you're finding yourself staring at that pesky blank space on the wall without any idea how to fill it, this project will help. Labeled as a super quick design, it just needs a plain rug, a hanging piece that you can buy or make, and a few simple crafting tools. The design can be interpreted in a million different ways, and it will always come out looking uniquely you. The metal hanging piece can be anything from a necklace to a craft you create with your kids, so have fun with it and maybe switch it out every few months to keep it fresh.
5. Cute Pink Painted Bottle Vase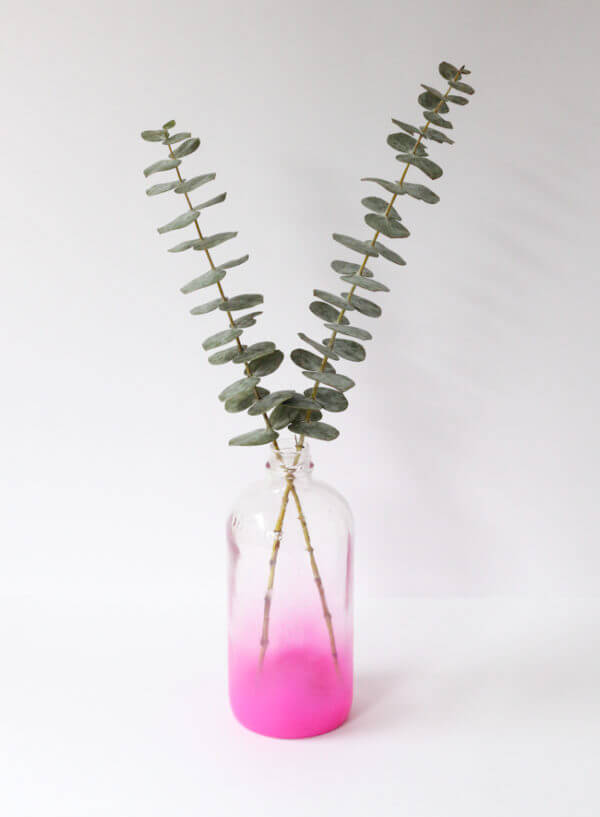 Often, the simplest decor can have the biggest impact. If you create one of these beautifully painted vases, or especially a collection of them, you will surely have everyone asking where you got it and how they could get their own. The key is to maintain the simplicity throughout. Instead of stuffing this vase full of a lush bouquet, a few sprigs of eucalyptus or fresh herbs will do quite nicely, leaving the starring role to the playful colored bottoms. Make a set of these for your kitchen or living room or to give as a unique wedding gift.
6. Brightly Colored Crochet Chair Cover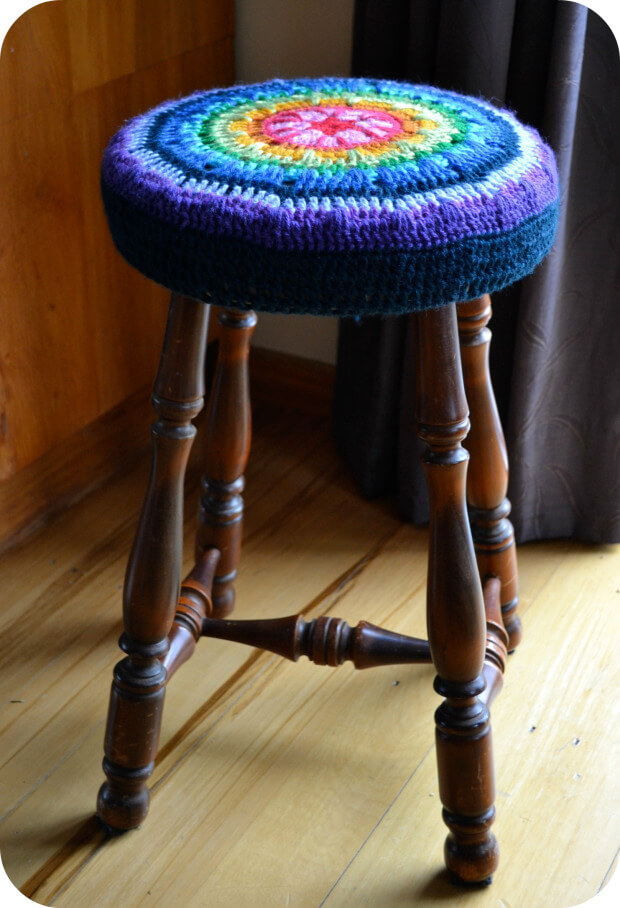 Of all the projects on this list, this one might take the most time, but the reward is so worth it. If you don't know how to crochet, you will want to start there. It is a great skill to have and is surprisingly easy to pick up. Once you have the basics, you can try your hand at crafting beautiful boho-style pieces like this amazing rounded stool cover. The use of soft yarn and fun colors speaks to the bright side of the hippy era, and the psychedelic pattern works well with any bohemian-style furnishings.
7. '70s-Style Pom Pom Chair Project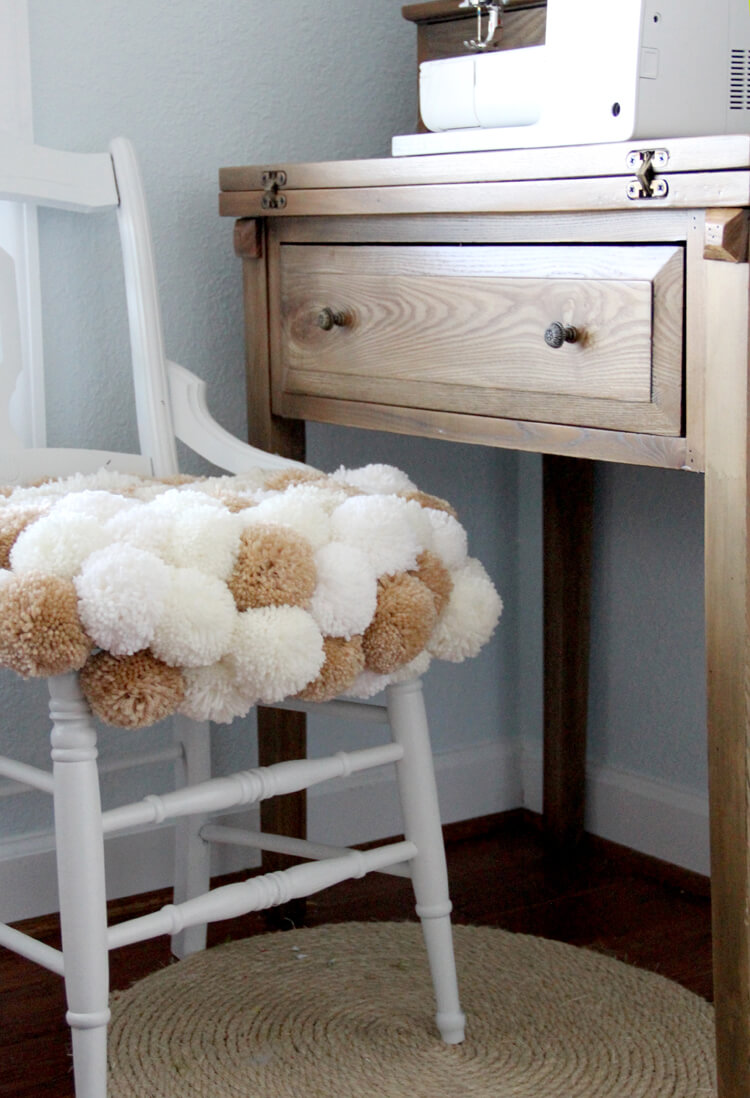 One material that made its mark on the '70s was shag carpets. Now, you may not want to go all out with wall to wall shag, but this pom pom chair cover is a perfect nod to the fluffy fabric and, as a bonus, adds a comfy cushion to those hard wooden seats. Choose a few pom poms of varying colors that go with your space. A monotone look could be interesting, too, but adding a pop of an additional shade or two is always fun. This can be used in your home office, bedroom, or even around your dining room table.
8. Found in Nature Hanging Art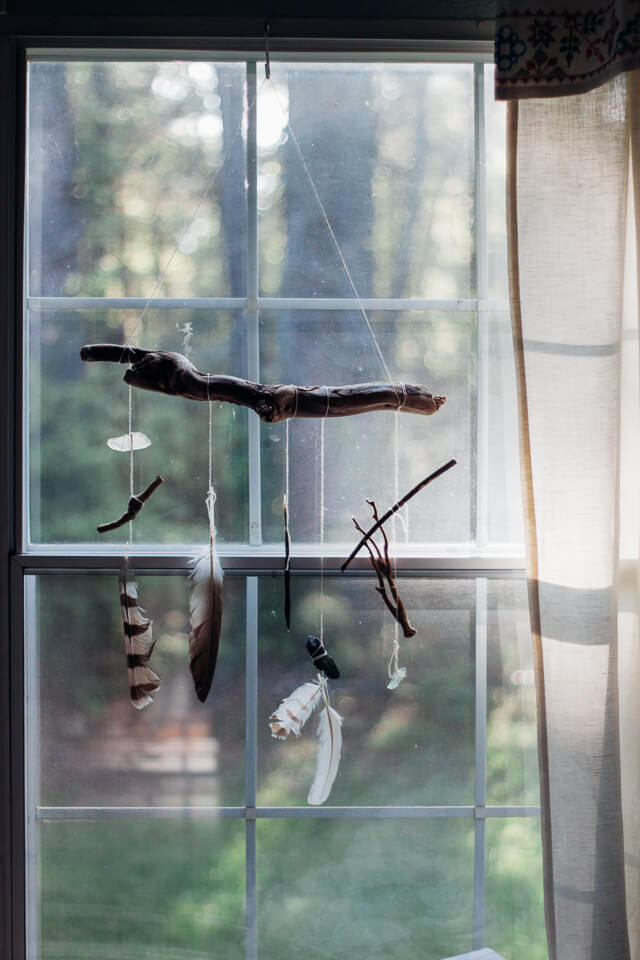 This piece is made from things you can find on an adventure through the park or even your own backyard. It is the best DIY bohemian decor on a tight budget. Not only does it present a great end result, but it is a lot of fun to create, too. If you have been looking for something the kids could help with, this is the perfect project. You can purchase all your items at the craft store, but if you want to keep it more natural, just go out and find them. Just be careful with feathers – those are best left as a craft store purchase.
9. Pretty and Cute Macrame Coasters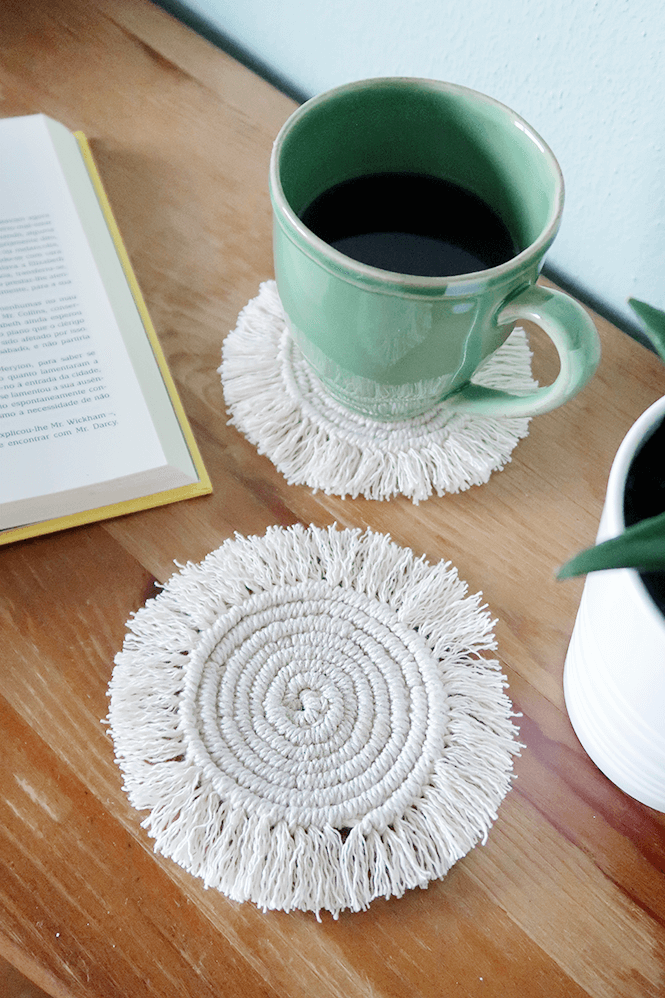 If you are interested in macrame but are not ready to take on a larger hanging project, try your hand at these adorable fringed boho coasters. Not only are they fashionable and sure to go with everything, but they also serve an important functional purpose and will keep your favorite wooden tables ring-free. One of the best things about macrame is that while it has a tight look like knitting or crocheting, you need no tools other than your hands to create it. Be sure to pick up the right material for your project: 3mm cotton cord is suggested for this craft.
10. Primped and Primed Belly Basket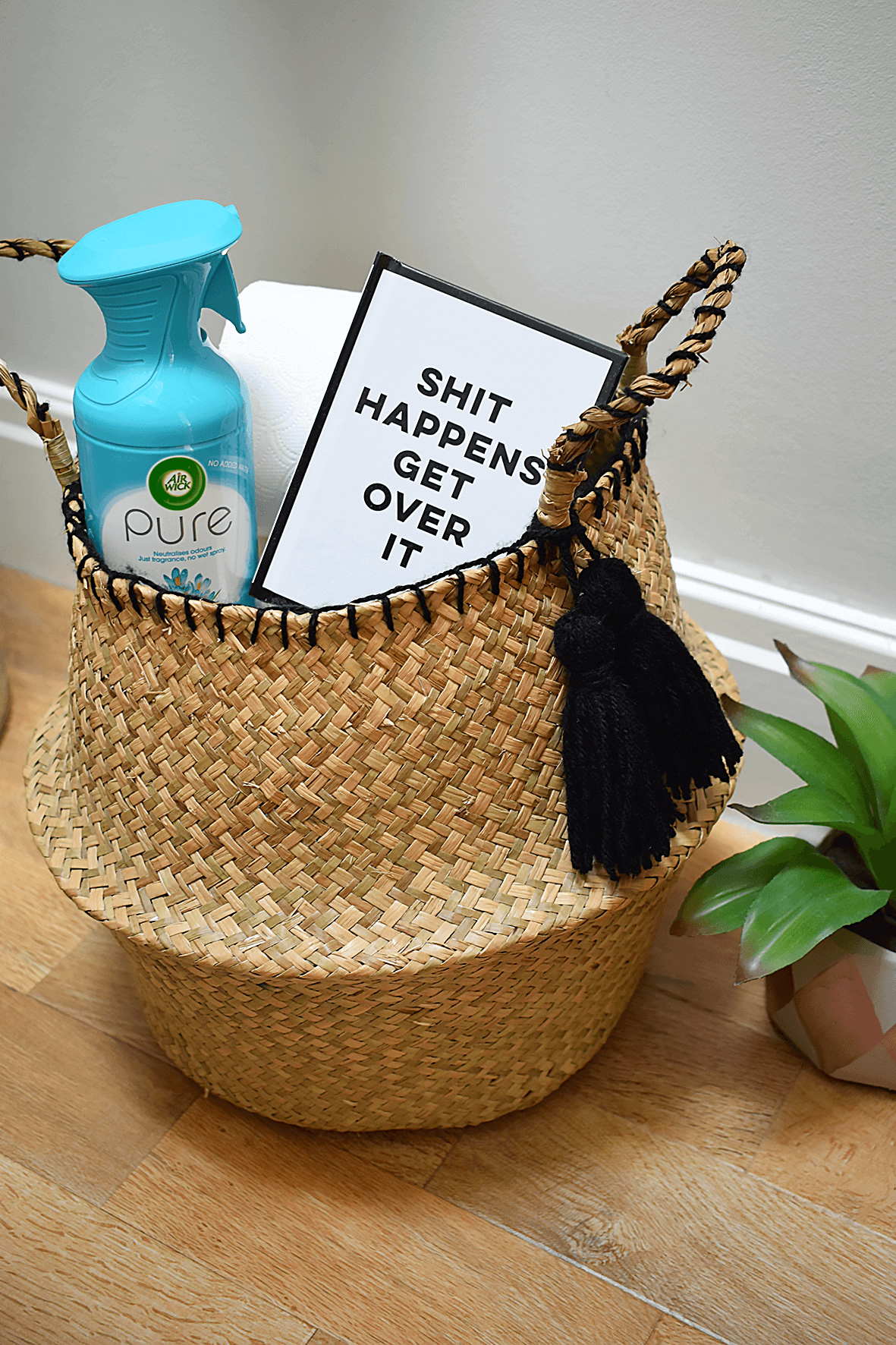 If you are interested in taking up basket weaving, then by all means go for it. However, this DIY is all about taking something great from your favorite store and dressing it up into a unique piece for your home. A few simple ideas featured on this tutorial include adding tassels, contrasting threads, or pom poms. The basket itself is very boho chic, and taking it up a notch is an awesome idea if you want it to have that DIY feel. You can even paint directly over the weaving for an easy elevated look. Whatever you choose to do, have fun and take your time.
11. Professional-Looking Boho Wall Art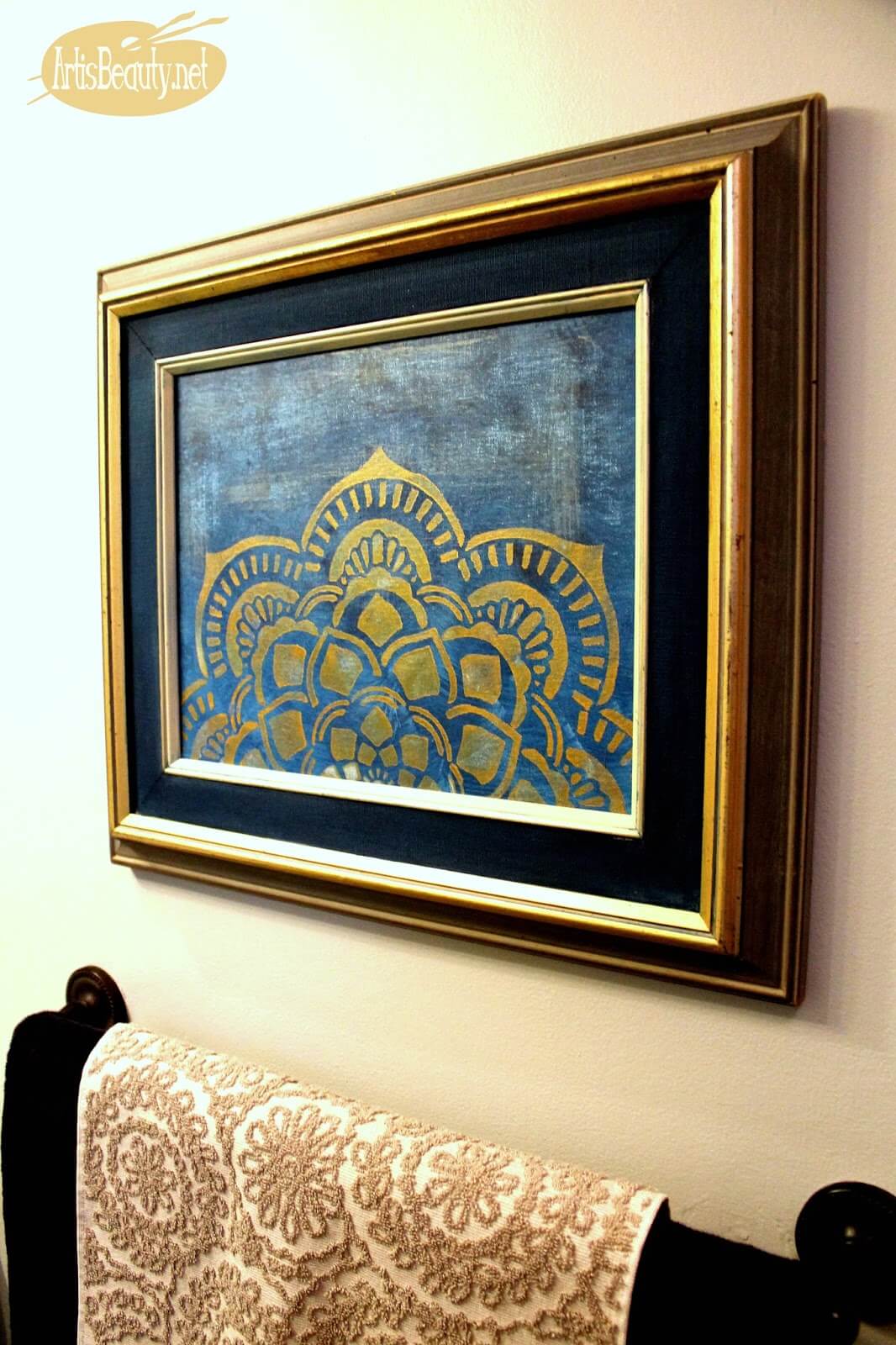 Mandalas are a great addition if you are looking to add boho art to your home. This bohemian design idea features a gorgeous golden mandala and is easier to create than it looks. If you are artsy and bold, you can freehand your own mandala, or if you prefer to keep it a bit simpler, you can pick up a stencil in the size you want. Have fun creating a colorful background that matches the mood you are going for, pick up a vintage art frame from your local second-hand or craft store, and you will soon have your own masterpiece.
12. Fun Sun Burst Style Mirror Design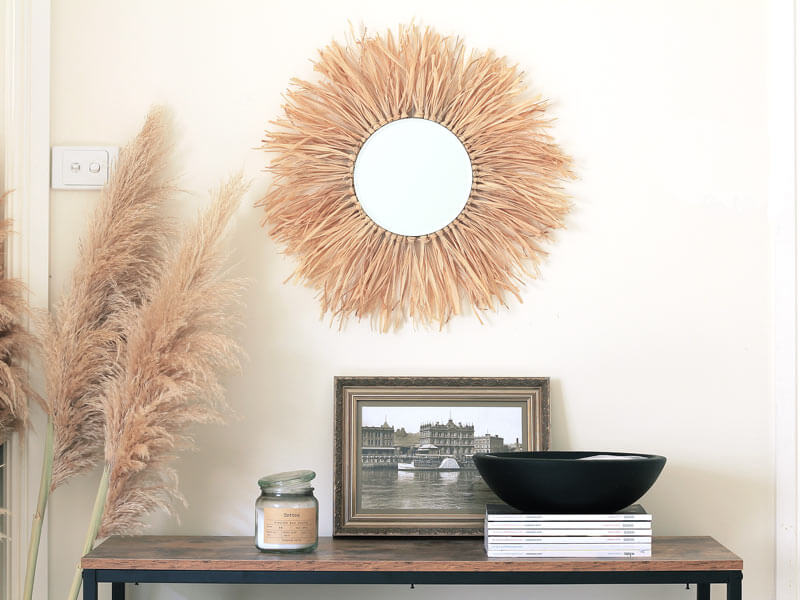 This boho mirror, made from natural raffia, is sure to bring a smile to anyone who visits your home. Since it is made entirely of supplies available at the craft store, you don't have to hunt too much for this cool look. Even though this mirror looks expensive, it is super simple to create on your own. A few things to consider are how wide you want the raffia to spread versus how big you want your mirror. Proportions are everything on a project like this, and you want to make sure your mirror of choice isn't totally swallowed up by your fun sun burst.
13. Pretty Painted Floral Block Letters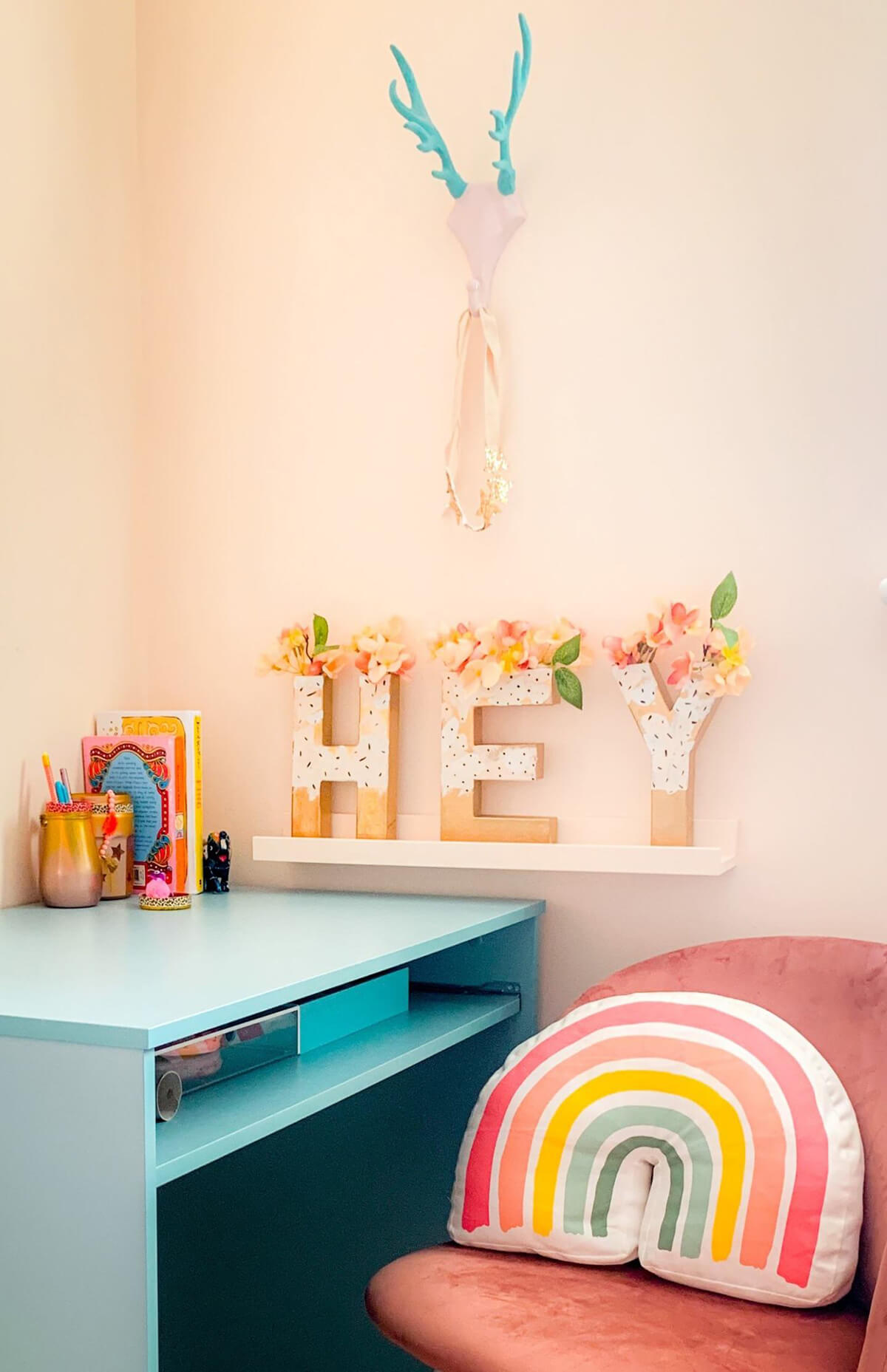 It is easy to find these trendy block letters, but making them your own by adding paint and décor is totally a must for any DIYer. This design incorporates pretty silk flowers that exude the boho vibe with their delicate natural coloring and few bright leaves poking out. The paint is light and fun, and you can play with the design as much as you like. For instance, leaving some of the natural color showing through could be interesting. You could also attempt to make wooden letters into planters, placing live plants in the top to add an even fresher feel.
14. Unique and Joyful Painted Wood Flower Holder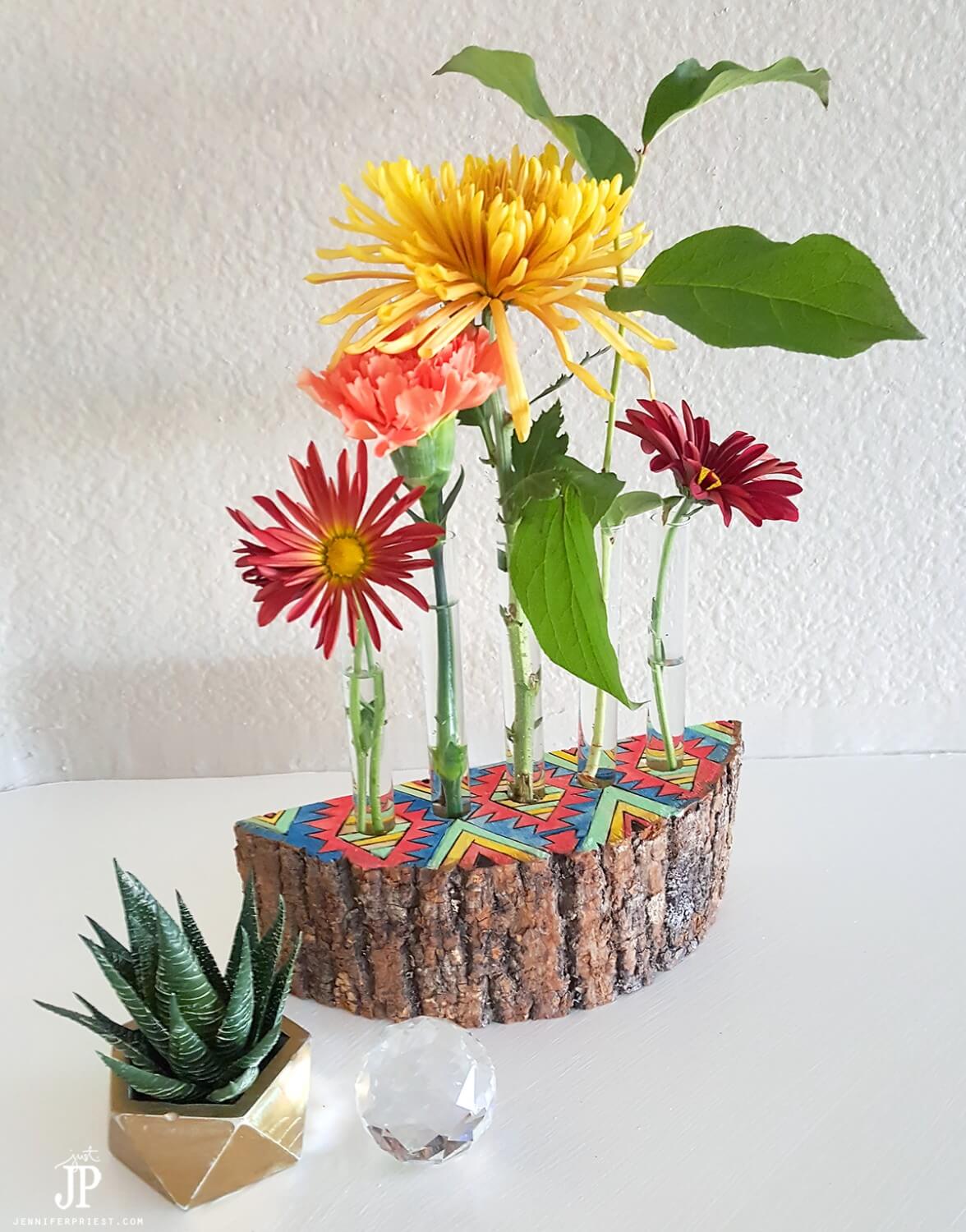 Bringing out the bright colors in nature is such a fun thing to do and makes for some of the best DIY bohemian decor. It is a chance to create something exciting and bright while maintaining a signature look. This piece blends together two natural elements with the dark brown tree bark and the bright happy flowers, seamlessly adding a jolt of color with the painting. In this example, the colors of the painted wood are brought out by the colors in the flowers. Fresh flowers are nice, but if you want to keep the color scheme strong all year, try silk flowers during winter.
15. Amazing Drill Designed Upcycled Dresser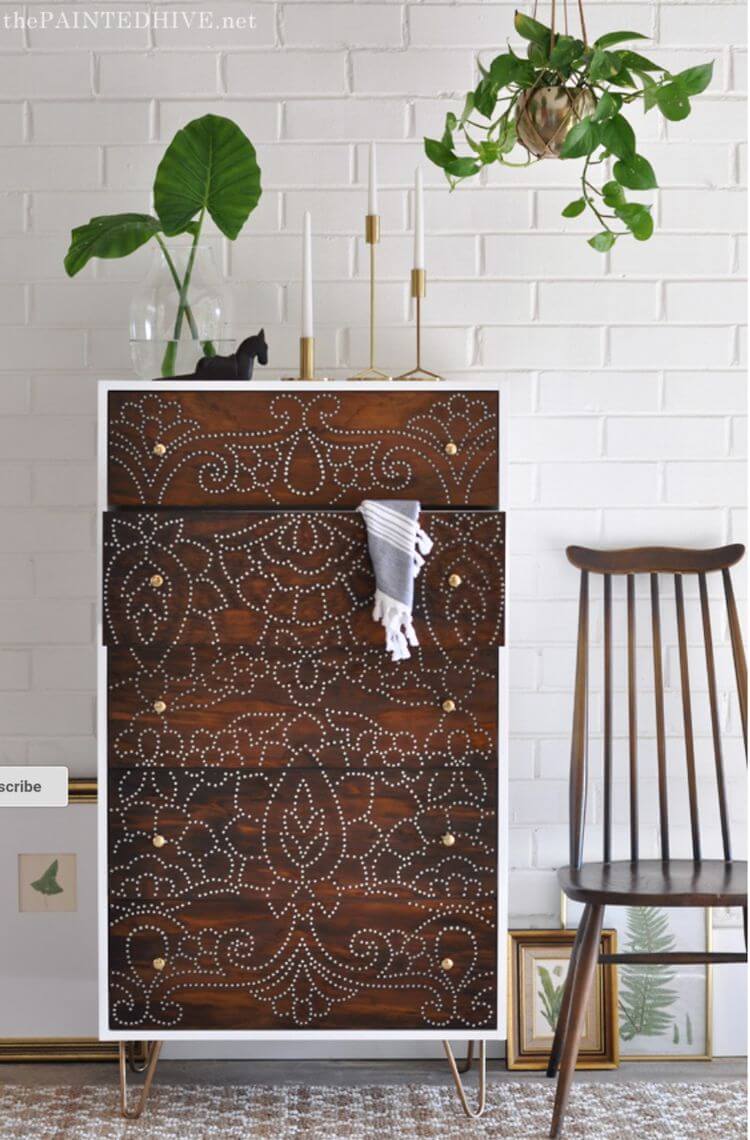 It may seem hard to believe, but this amazing dresser is a DIY project you can try at home. The beautiful panels you see were created and then adhered to the original dresser for this amazing studded boho look. Unlike a few of the items on this list, this project does require the use of some power tools, but if you have them on hand, it is fairly straightforward. As with all projects that require precision, a steady hand and patience will be your best friends. Use a design like this or pattern your own for a more personalized look.
16. About Time for a Boho Update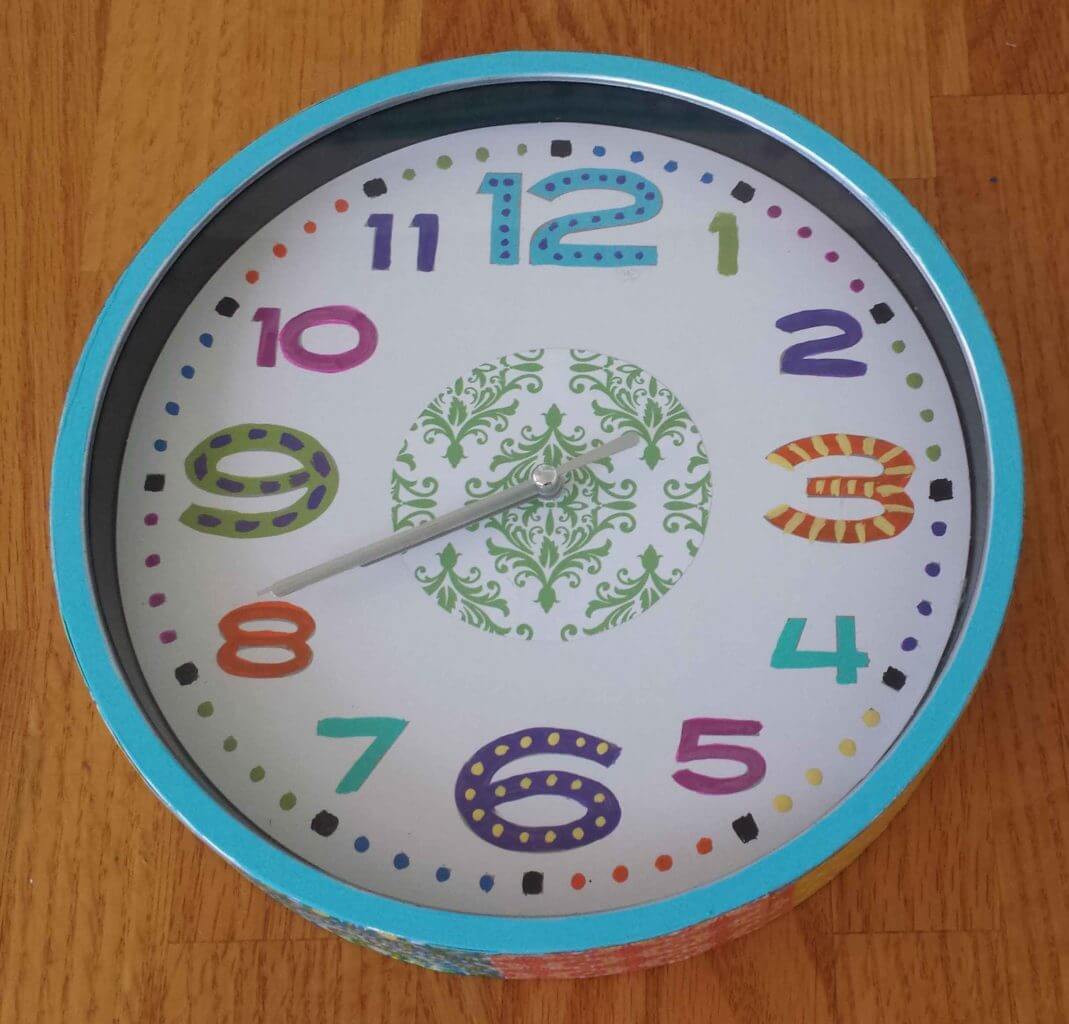 Taking something you already own and creating something new from it is an awesome idea and one of the most satisfying ways to DIY your home décor. This specific project is such a fun one, and you can get as creative as you like with it. You can take the most basic wall clock and Mod Podge a new border, paint on new letters, add interesting details, or even paint a picture behind the hands. The sky is the limit. This is a great project to get the kids in on if you want their input or a fun way to surprise them with a "new" piece.
17. Felt Scalloped Pillow Case for Living Room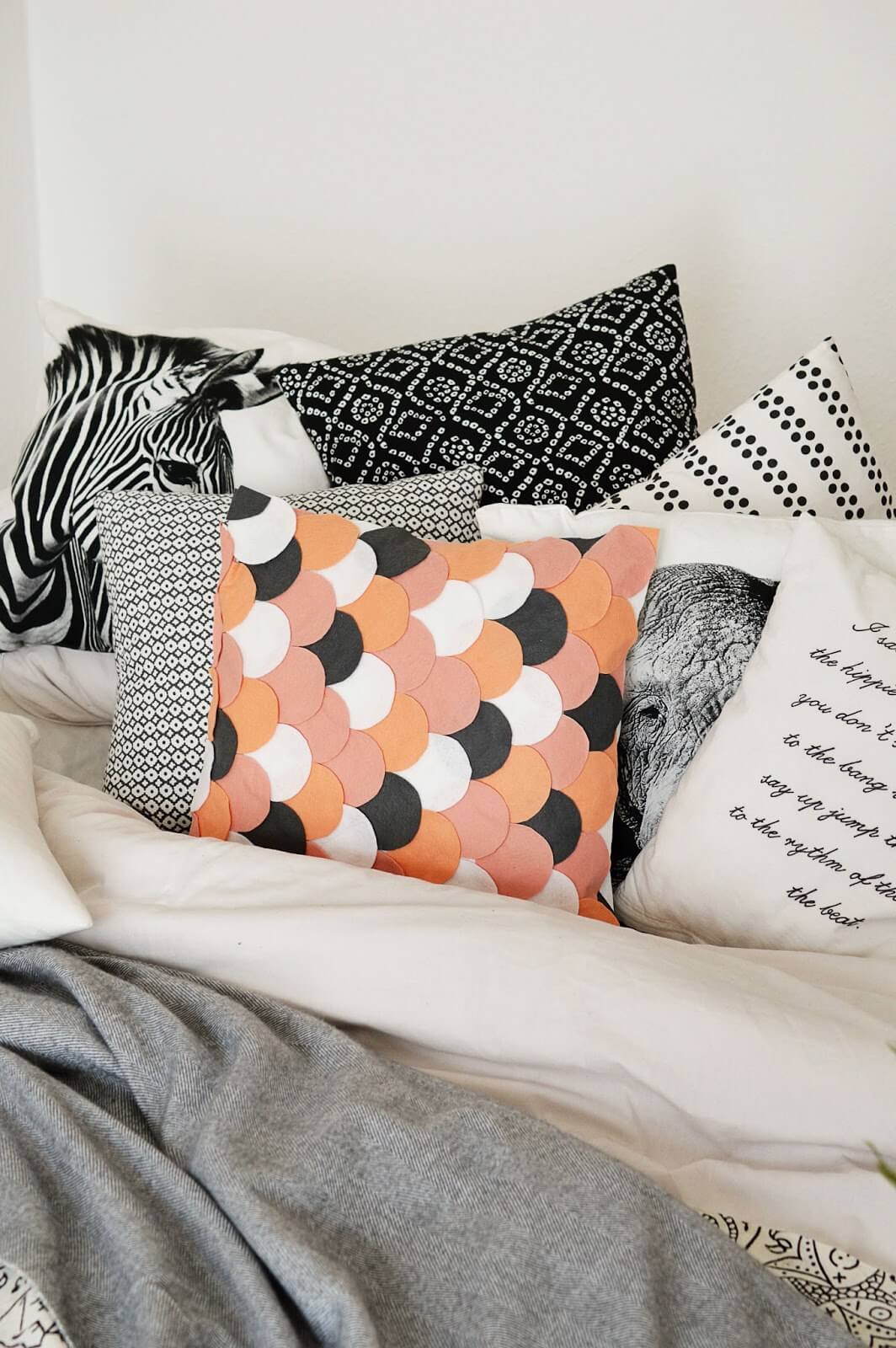 Looking for minimal effort and maximum effect? You're not alone. One wonderful fact about DIY projects is that you do them yourself, meaning you can choose the level of involvement and difficulty. To transform a plain white pillow case – or black, or beige, or whatever – into something boho stunning, all you need is some felt, scissors, and fabric glue. Just use a circular object like a glass to cut out circles, glue them to your pillow case as shown in the photos, and voilà, you've got yourself a new living room item. Play with different colors and sizes of felt for some extra visual interest.
18. Fun Foam Crafted Arrow Décor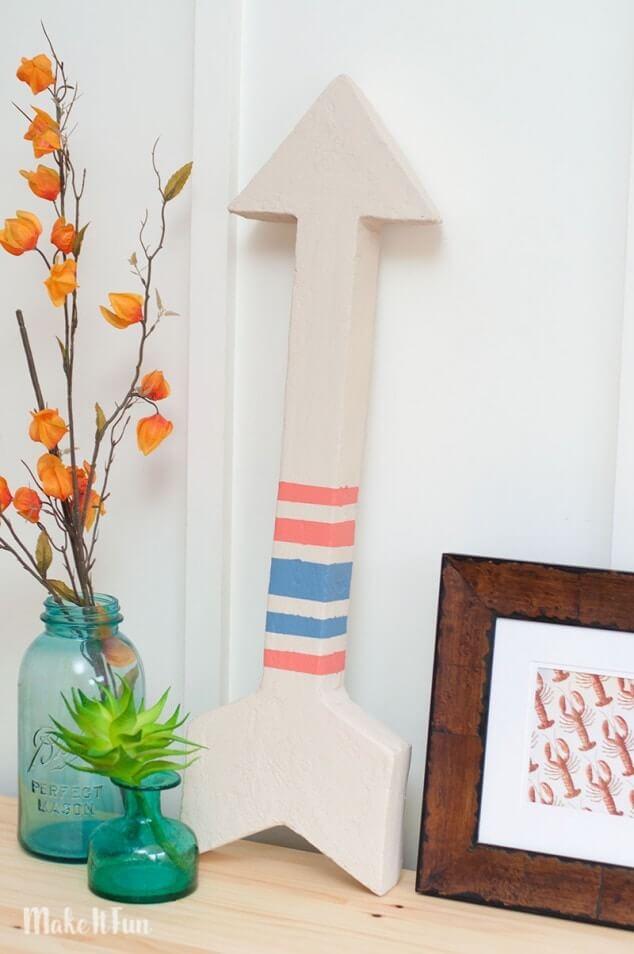 If you are looking for a project that you can run with, this is a good choice. This tutorial will teach you how to craft your own foam arrow, but it also empowers you to create and decorate just about anything you could wish for from foam, which is an inexpensive and versatile material. Arrows are surely a bohemian staple, but that doesn't mean there aren't other cool options to play with. Once you know the right cutting techniques and the proper paints to use on the material, you will have set yourself up for a lifetime of fun foam projects.
19. Guest Room Macrame Luggage Rack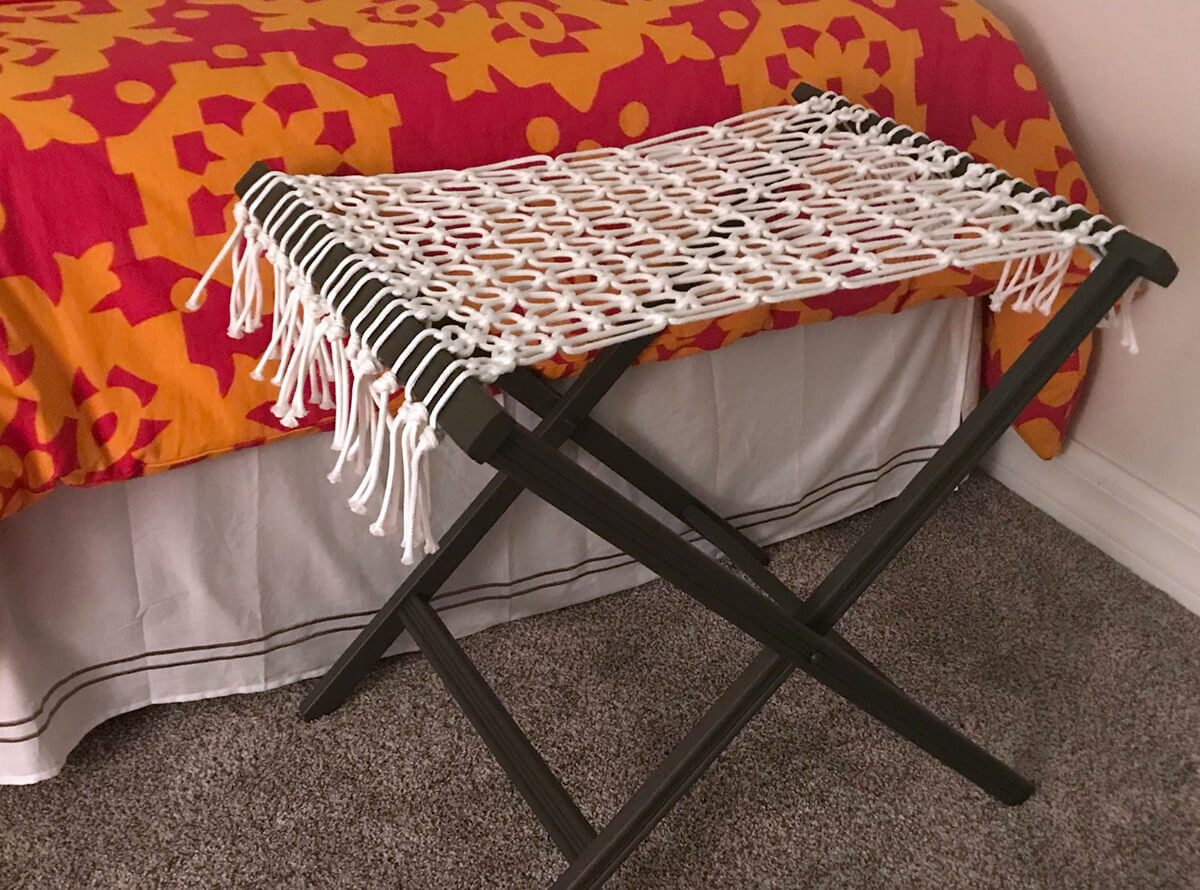 When decorating a guest room, a small but often overlooked piece of furniture is a luggage rack. This can also be useful in your own bedroom, but in a guest room it should be almost an essential item. If you are trying to infuse a little boho style into your extra space, this simple macramé project is a winner. For this project, you only need to know how to tie the most basic macramé knot, and you can use whatever size or style cording you like. Once you improve your macramé skills, you could always attempt to make a more ornate version.
20. Delicate and Pretty Curtains with Fringe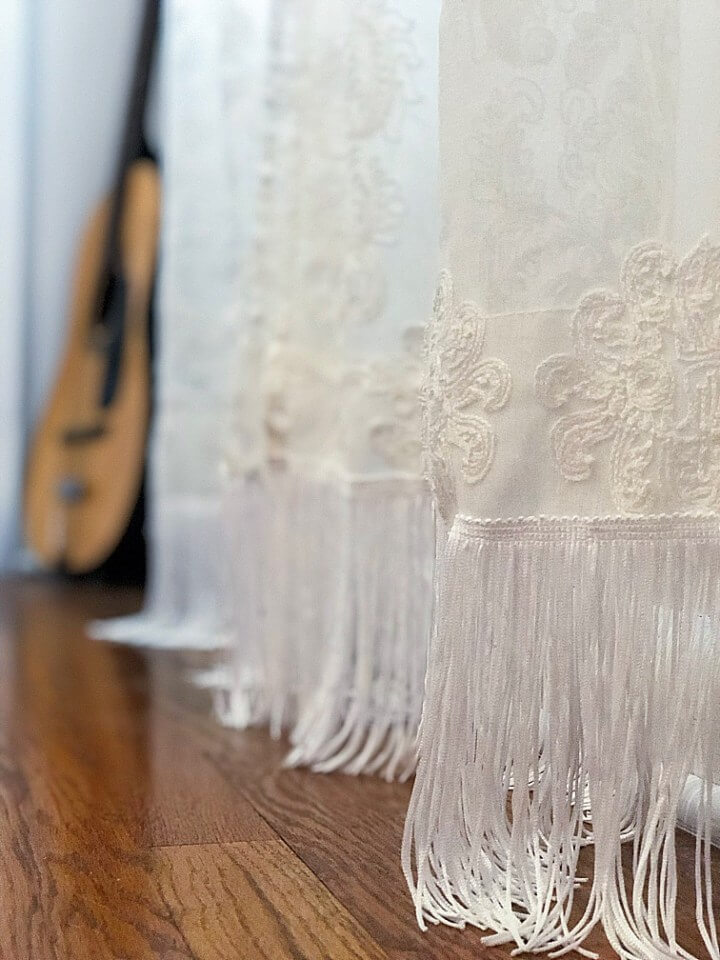 You can't talk about bohemian style without fringe coming up at least once. A staple of the retro look, fringe has recently made a huge comeback – everyone is loving it. This DIY project takes a pretty lace curtain and amps it up a notch by adding a trim of beautiful fringe that matches and complements the curtain perfectly. If you find yourself with a good-looking curtain, bed skirt, or tablecloth that is just a little too short, adding a fringe trim not only gives you the length you are looking for but also effortlessly infuses a space with a bohemian vibe.
21. Simply Gorgeous Macrame Candle Covers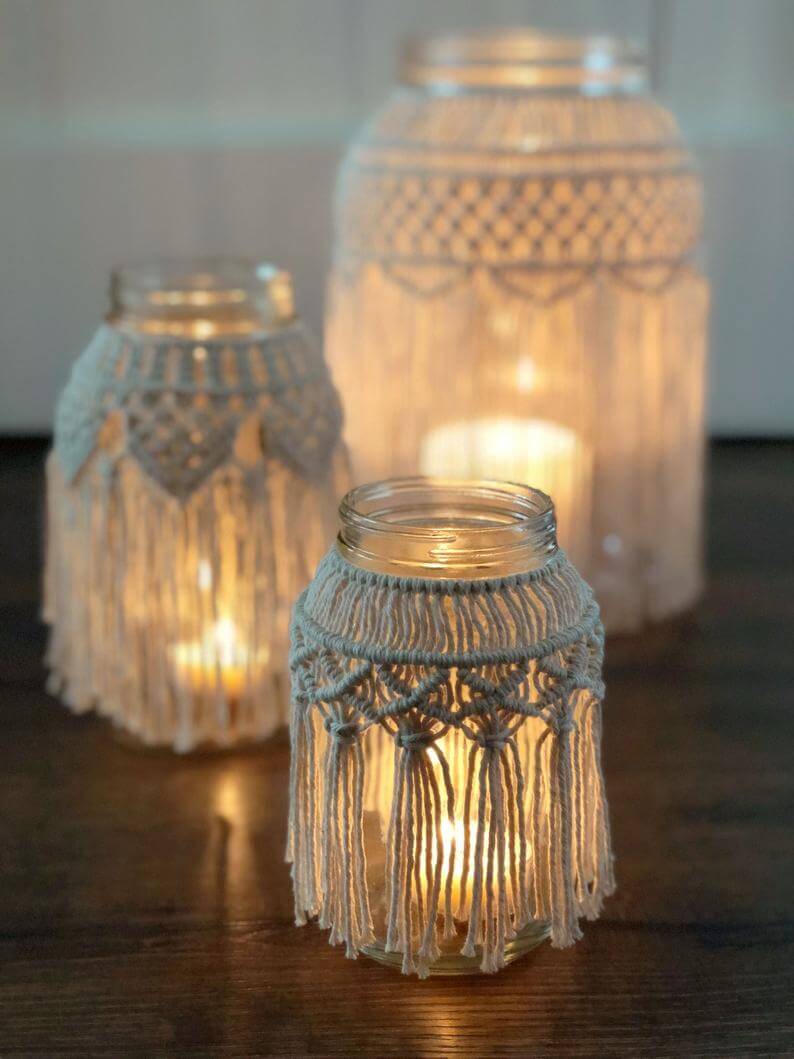 Many of the best DIY bohemian decor ideas capture the effortless elegance and romance of the look. These jar covers are the perfect example of this. There is something so delicate and natural about them that they look as if they have always been there, gently shielding and softening the light from the candle's flame. This is a fun macrame project for someone at any level because you can play with the designs to make them ornate and complicated or simple and sweet. Just take your time and have fun, and before you know it, you will be designing your own.
21 Budget-friendly DIY Bohemian Decorations that will Add Unexpected Charm to Your Home
Crafting your own home décor is not only super satisfying; it is also a great way to let off some creative energy. Whether you are a seasoned artist or have never made anything on your own in your life, there is a project here that is the right pace and level for you. As mentioned, be sure to take your time and enjoy the experience. If the point was to get a new item as quickly and with as little effort as possible, you could just go out to the big box store and buy it. But then it wouldn't be uniquely yours, and it would lose its crafty appeal.
Your first project may not turn out exactly as you envisioned, but don't despair. As with anything DIY, home décor takes time and practice, and in the end, you will be so happy you went for it.
By the way, many of these projects would also make great gifts. If you have friends or family who are into a bohemian look, craft them something by hand to make it an extra special and memorable gift. There is nothing better than sharing your talents with the rest of the world, whether that be in your own home, as a gift, or even maybe someday at a craft sale.