The best boho decor ideas and designs are colorful, inviting, lived in, eclectic, and comprised of things you love. It invites you to come in, sit down, and stay a while. Plenty of comfortable seating is an important part of Boho room décor. Plush sofas and chairs along with floor pillows, poufs, hanging chairs, and even bean bag chairs create a relaxed, informal atmosphere.
29 Conventional Boho Décor Ideas for a Whimsical Interior

Boho home décor is not just colorful, it includes a variety of textures and patterns. Colors can include earthy browns and greens, jewel tones, and metallics. For a bright touch, add orange, purple, or bright blue. For a fun colorful touch, you can paint one piece of furniture in a bright color. To keep it light colored, avoid too much black and use only light-colored woods. You can mix silks, burlap, sisal and patterns from around the world. For the walls, hang tapestries and rugs along with photos and art. Add texture and color by layering throws and rugs. Layer rugs in the same color group but with different patterns. Canopies aren't just for beds but also living spaces. Then, add some pillows, family heirlooms, vintage or handmade items, and items from your travels. Handmade items can incorporate fringe, crocheting, knitting, and macramé. Everything should have a used, not new, feel. Try items in different places around the room until you find the place you like best.
A variety of different light sources is a fun touch, such as vintage and unique table, floor, and hanging lamps. Use interesting and unique lampshades. Add candles for a different mood. Finish off your Bohemian room décor with plants from vines and hanging baskets to philodendron, peace lilies, and cacti. Add scent through candles, potpourri, and oils.
1. Woven Basket Boho Wall Display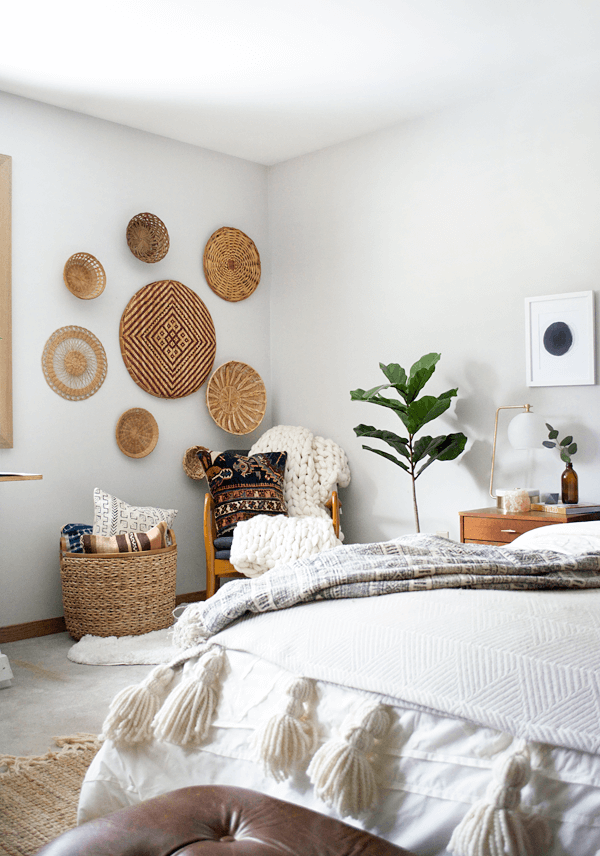 The focal point of this Boho bedroom is the large woven mat and basket wall display. Woven mats and baskets of varying sizes and patterns are arranged in a circle around a center mat. The chair with the bulky knit throw and the pillow cause the eye to travel down and then, over to the woven basket full of pillows with different patterns. Your eye travels forward to the soft comfortable-looking bed with two throws on it. The throws have different patterns but are in the same color group so they blend well. The tassels on the one throw add to the varied texture in the room. Using this image as a guide, you can create your own wall display.
2. Starting to Build Boho Room Décor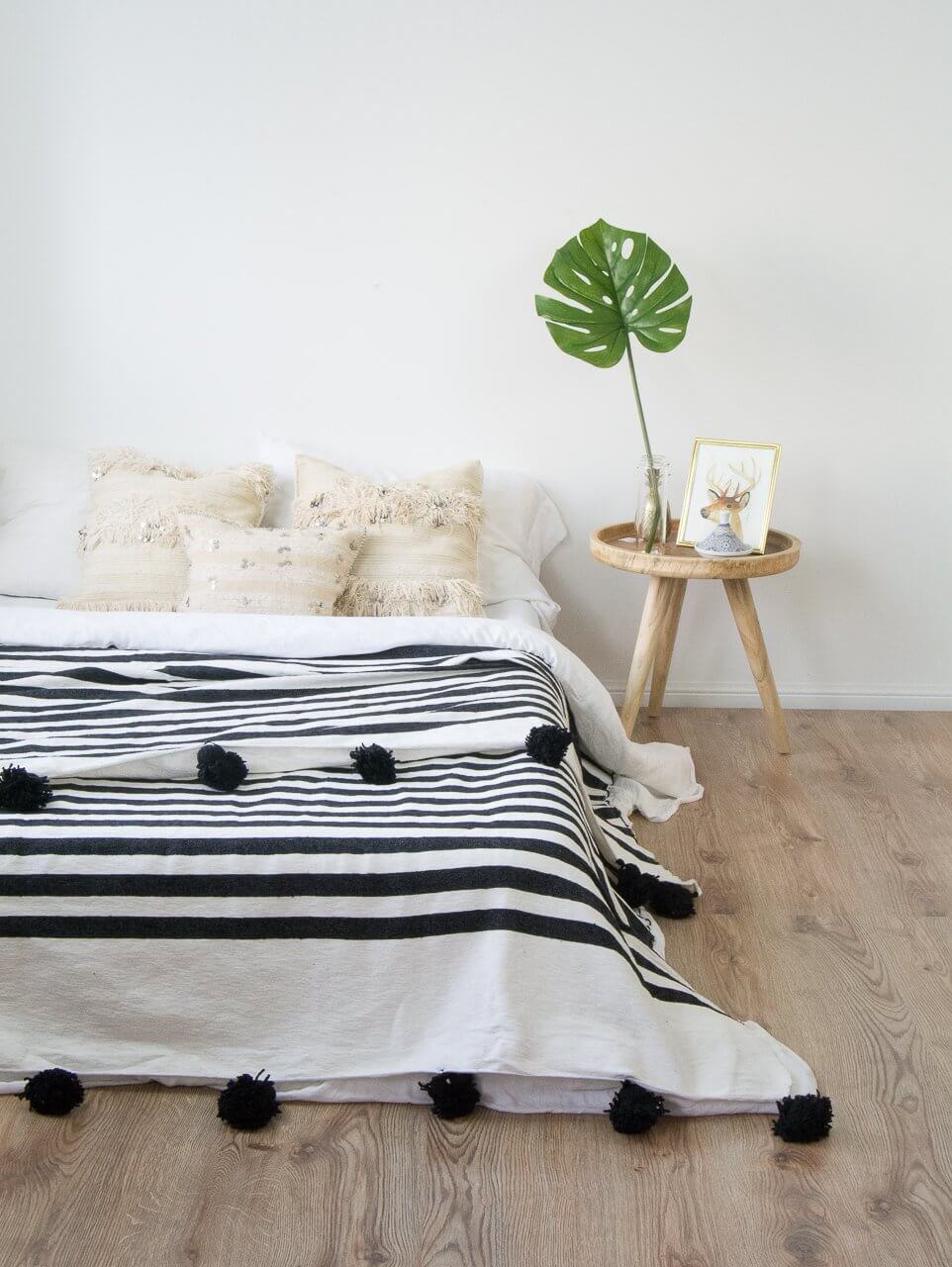 This decor idea is for three groups, for those who want to add a touch of Bohemian style décor to another décor style, such as this minimalist Scandinavian bedroom, you can add a few pieces, such as this Moroccan-style blanket with tassels and the textured pillows. This softens the modern minimalist feel of the room. For those who are starting to create Boho home décor, the idea is to build the items you use over time so that the items are meaningful. If this is your style, you may already have many items that you can use. However, if you are starting to collect from scratch, it may take time to create a fuller look. In the meantime, be sure that the items you start with help you take the room the direction that you desire. The same advice is for those converting to Bohemian décor.
3. Boho Décor Ideas Are Budget-Friendly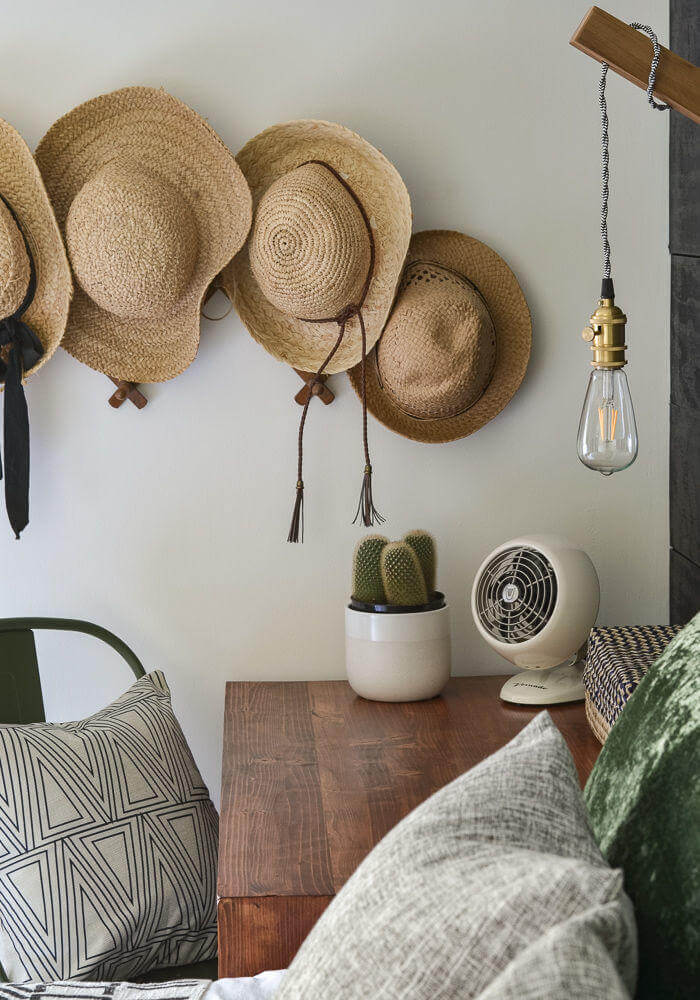 Since Bohemian décor ideas use vintage items, you can use items that are relatively inexpensive, such as these straw hats, to create focal points and wall displays. The collection of hats on the wall are eye-catching, tell a story of a time past, and yet can be found at budget-friendly prices. The desk and chair can also be budget-friendly items from thrift shops. The floor lamp is a unique item that adds character to this area of the room. Using the cactus and the pillows to add some texture and patterns finishes this fun corner in the room providing a stylish look at an affordable price. It also shows that creating a space like this is easy and can be done without hiring a decorator.
4. Creating a Boho-Style Room is Essy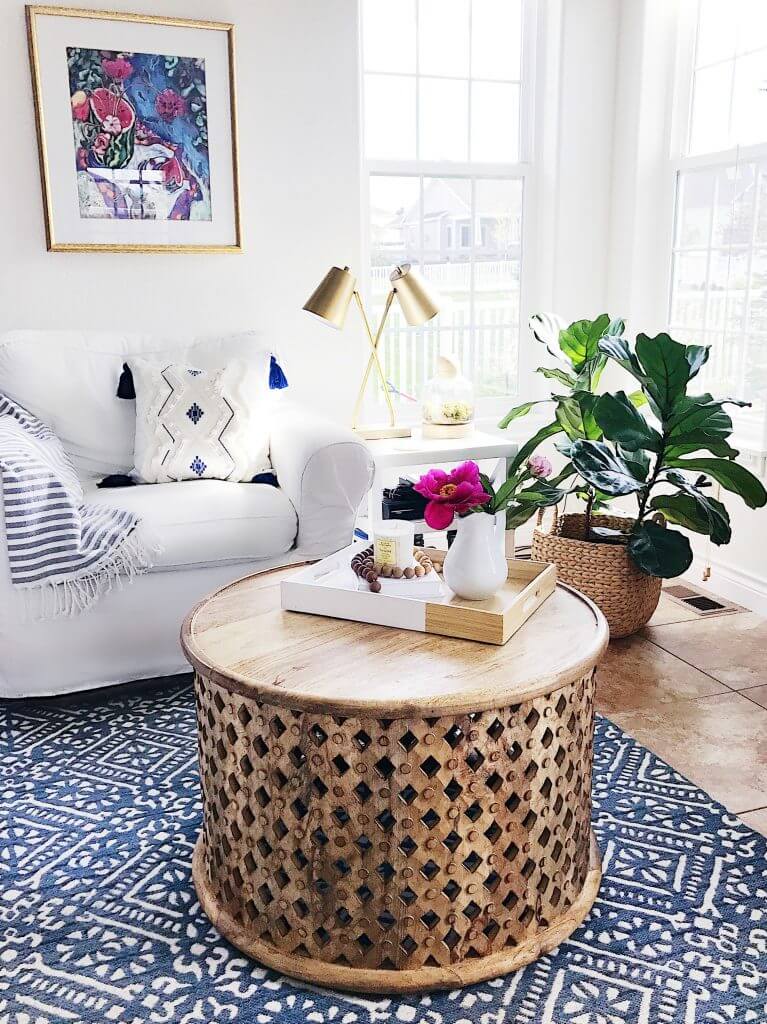 When you are playing with color, patterns, and eclectic items, Boho room décor may seem intimidating. However, since Boho is a relaxed style, it is just a matter of moving an item around the room until you decide where you like it. This room does have some elements that will help you create a unified look in an area. Both the rug and the metal drum table are focal points, but instead of fighting for attention, they blend. The latticework side of the drum table repeats the diamond shape pattern in the rug. The metallic finish on the table complements the blue rug like a piece of jewelry complements an outfit. The diamond pattern is repeated again in the pillows, and the blue from the rug is repeated in the pillows and the art creating the unified look.
5. Unifying Eclectic Items in a Room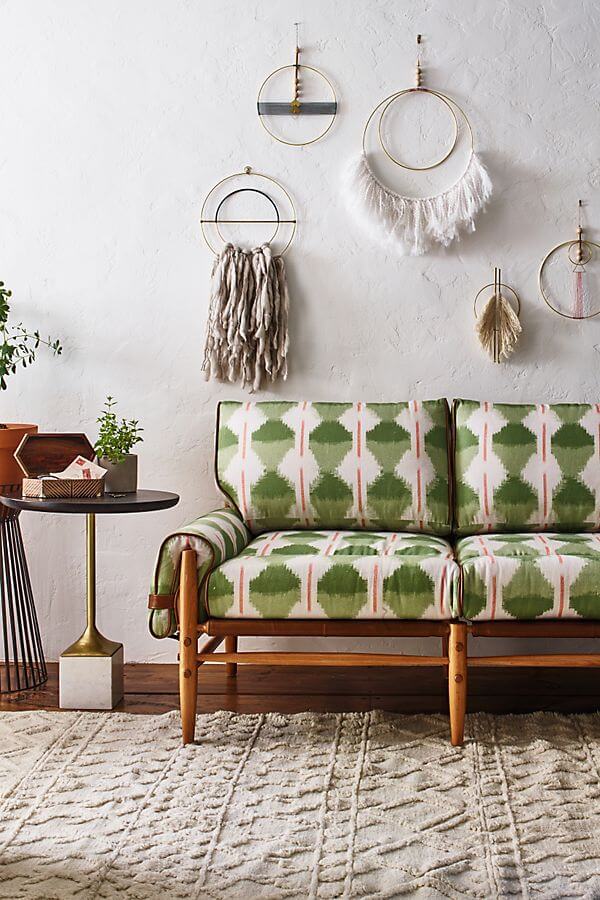 Many individual items in this room could all be focal points. However, combining them creates an area that invites exploration. The sofa could be featured, but the fringed art above it and the bulky rug below it combine to provide equal visual weight to the sofa. Balancing the visual weight of a bright color or bold pattern allows you to use it without it controlling the décor of the rest of the room. The unique plant stand and end table add to the interesting items to explore in this room.
6. Adding Boho Room Décor Ideas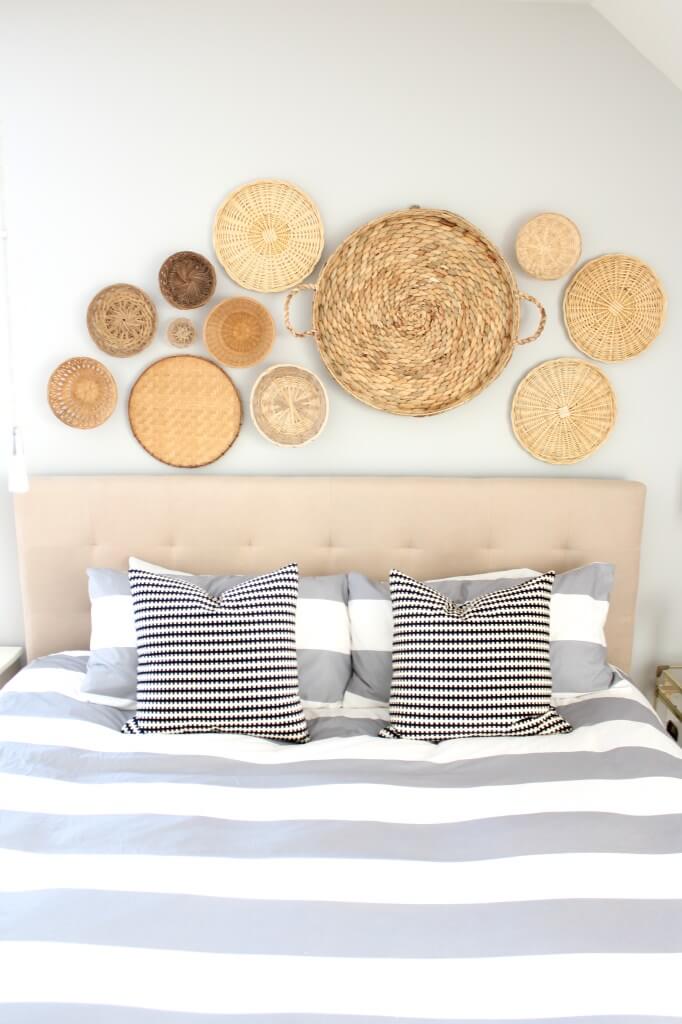 This is another room that shows how you can add touches, build, or transition to Bohemian home décor in a budget-friendly way. Inexpensive woven mats and baskets arranged randomly create an interesting wall display focal point over the bed. For their visual impact, the woven mats are a good economical decorating choice. To add more Boho style décor to this room, you could add a couple of throws and pillows to the bed and layer rugs on the floor. You can take a color from the rugs for the pillows and even paint a piece of furniture that color. This will build the Bohemian décor quickly, and then, you can add more touches over time.
7. Creating a Relaxing Boho Music Corner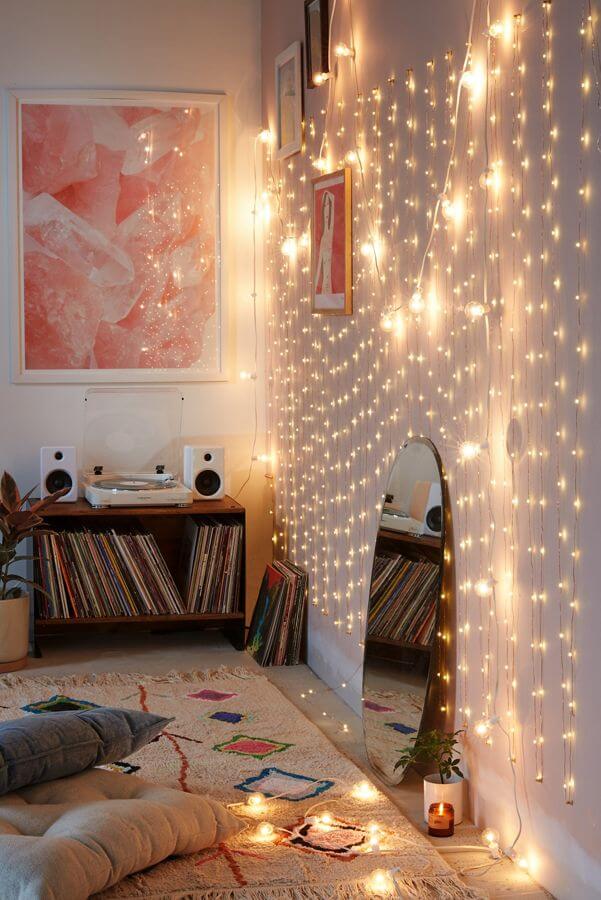 The firefly string lights are a creative way to light an area dedicated to listening to music. Adding candles increases the relaxing mood. This fits in with the varied lighting that is an element of Boho style décor With floor pillows for seats, it encourages people to sit down, talk, and enjoy the music. The vintage records and turntable also contribute to the Boho feel. The visual weight mixture of the firefly lights and the floor rug is another element in Boho style. The colors in the wall art are also found in the rug. All of this contributes to the unification of the room.
8. Picture Perfect Boho Room Décor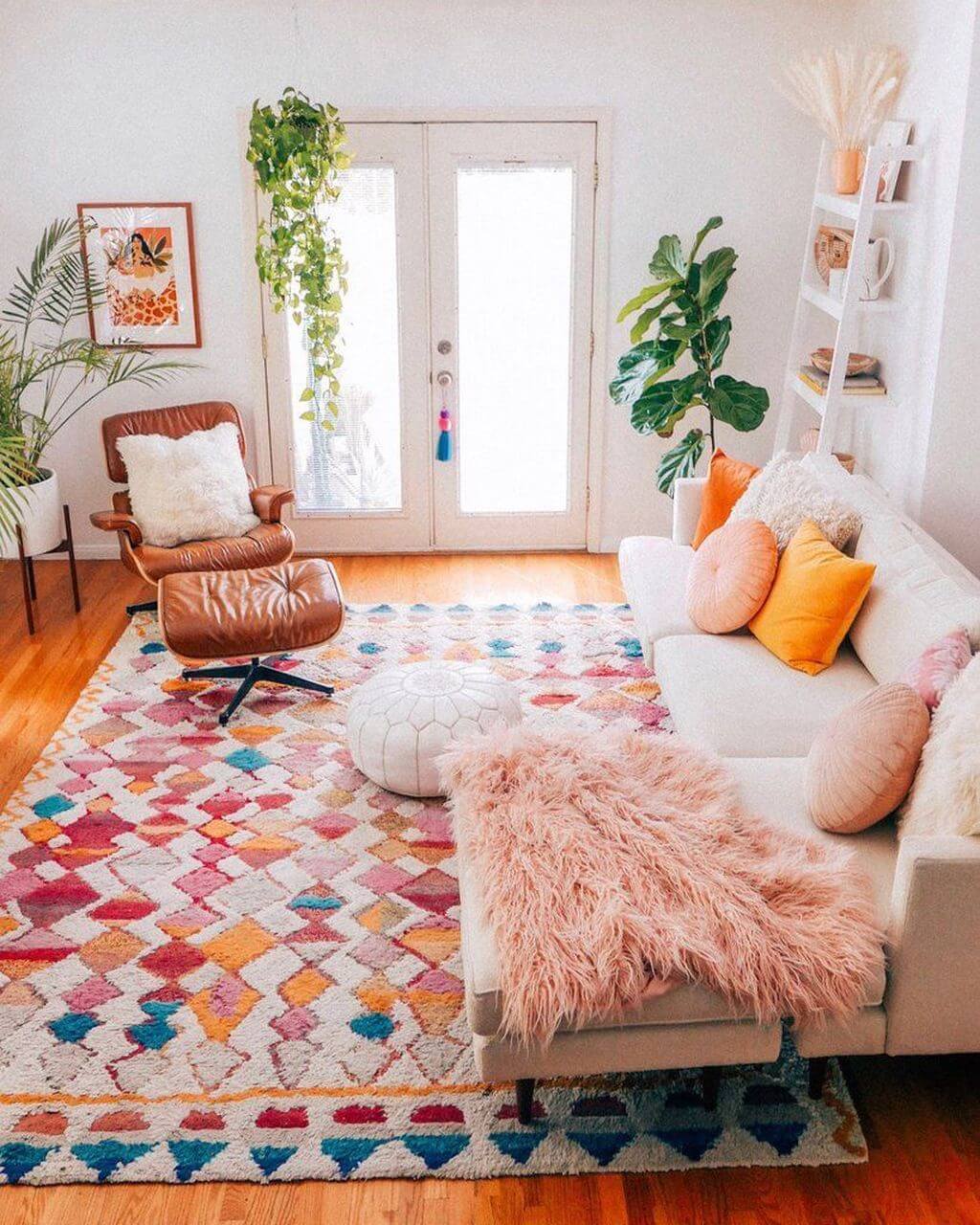 This image provides a clear view of Boho décor ideas with a modern touch. The ample, varied, comfortable seating is one of the noticeable features of the room including the sofa with hassock, the chair with the footrest, and the hassock. The rug adds color that is picked up by the pillows. A throw is included on the sofa. Natural lighting comes in through the doors. A hanging vine, a fern, and another plant are additional features of Boho style. Light wood is used on the floor. Instead of duplicating this room, take these features and use them to create your own Boho style room.
9. Boho Plant and Vase Focal Point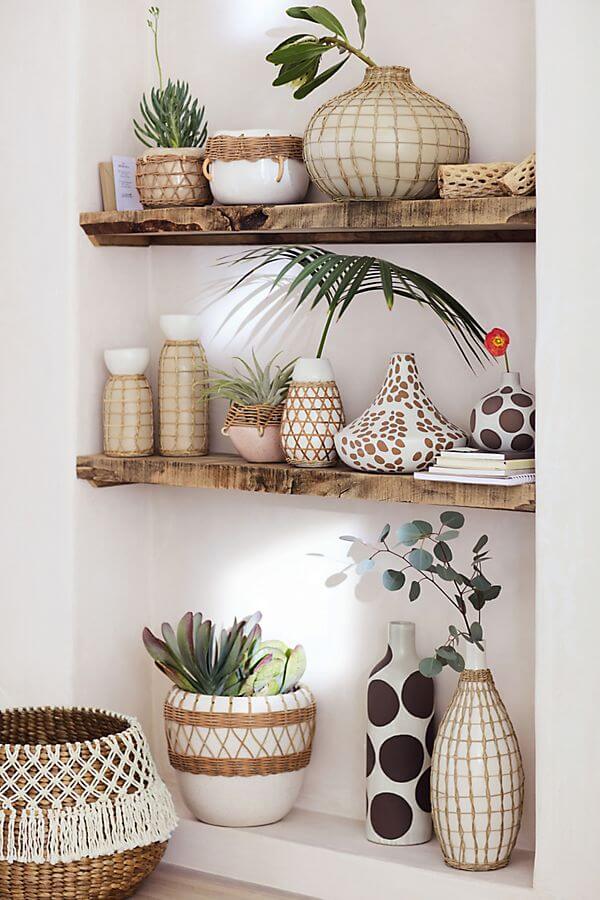 Most of us have vases stored away in a cupboard to be used when we need them. This clever décor idea uses them as a focal point in the room and frees up valuable storage space. The vases have been carefully chosen so that the are in a coordinated color group. However, there are a variety of sizes and shapes to create interest. The vases also include vases that share trim from natural elements such as the woven grass vase, the vases with the woven needle trim, and the vases with the corded trim. Adding plants to some of the vases provides more visual variety than adding plants to every vase.
10. Modern Black and White Boho Home Décor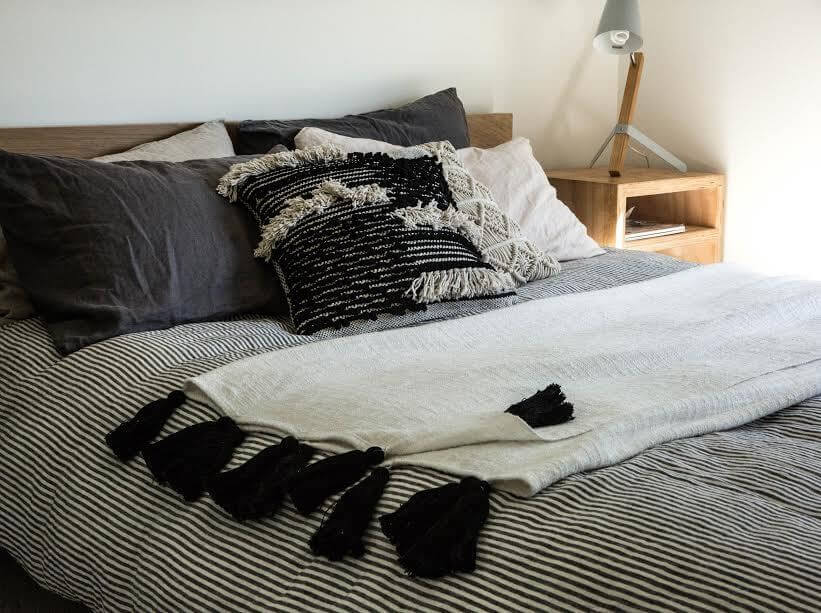 Many people may want to stay with a black and white color scheme rather than use Boho colors. This room can serve as a model to make a black and white room look more Boho than modern. Adding the layers, textures, and patterns is the key. Items like the throw with the tassels, the fringed pillow, and the macramé pillow create the Boho look. Another throw could be added to further the look. Rugs could be layered on the floor. The unique lamp on the nightstand is Boho style. So, all that is needed is some Boho style wall art.
11. A Monochromatic Boho Color Scheme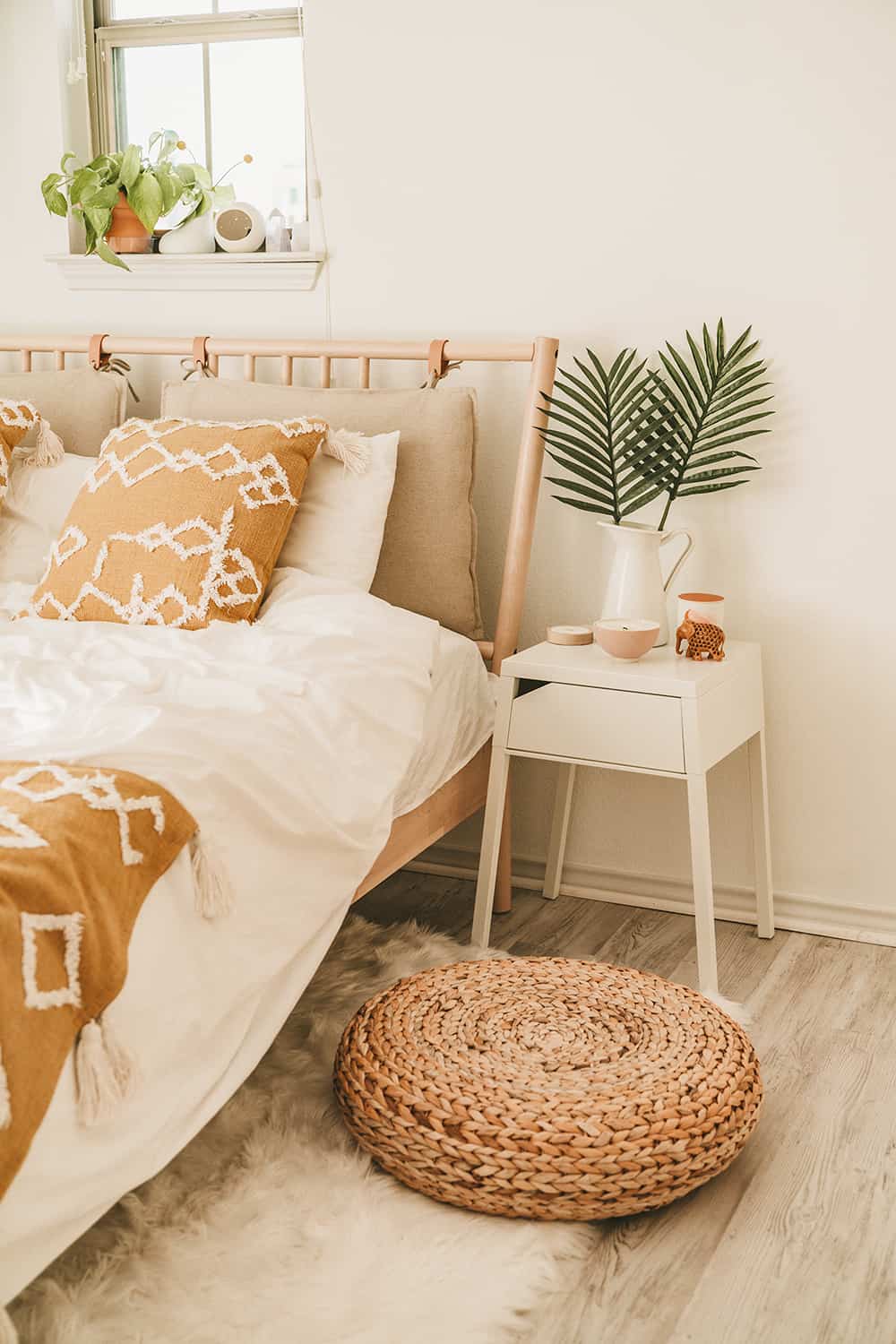 If you are concerned about controlling several bright colors in a Boho color scheme, this room shows how Bohemian style décor can be done with a monochromatic color scheme. The orange bedding is used as the base color for the room. The bulky yarn hassock uses a variegated yarn that blends with the bedding. The bed frame is a lighter shade. The Bohemian touches come from the tufted and tasseled bedding, the fur rug on the floor, the hassock, the unique nightstand, the candles on the nightstand, and the plants on the nightstand and window sill.
12. An Earth Tone Bohemian Style Bedroom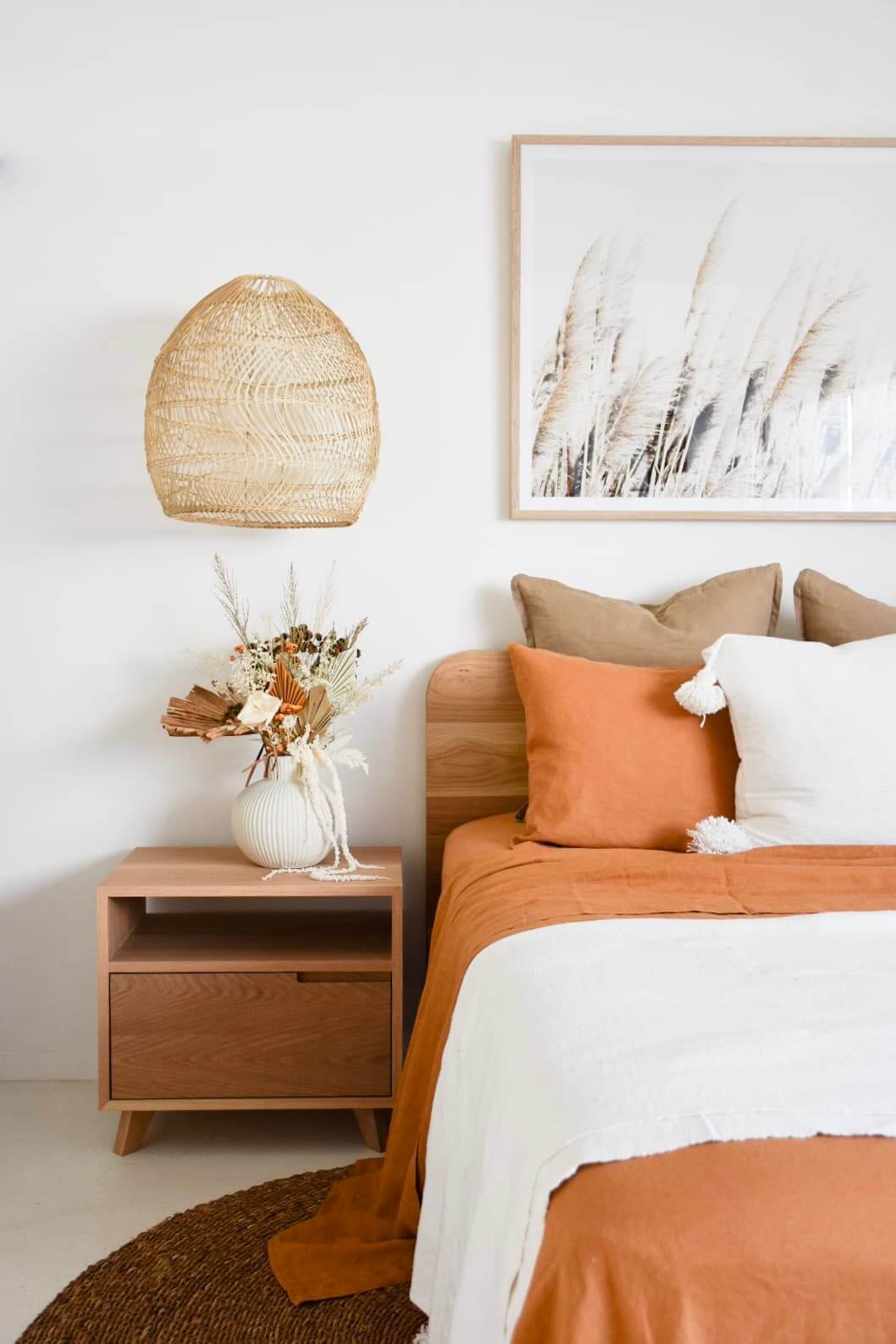 This bedroom is another idea for those who like the Bohemian style but don't want a lot of bright colors. The Bohemian style works well in earth tones. The rust and brown of the bedding and the pillows is also used in the floral arrangement on the nightstand, in the print above the bed, and in the round woven rug. It creates a feel of bringing the colors of nature indoors. Other Bohemian touches include the tasseled pillow and the hanging lamp with the woven lampshade. A throw could be added to the bed with other Bohemian touches throughout the room.
13. Bohemian Style with a Feminine Look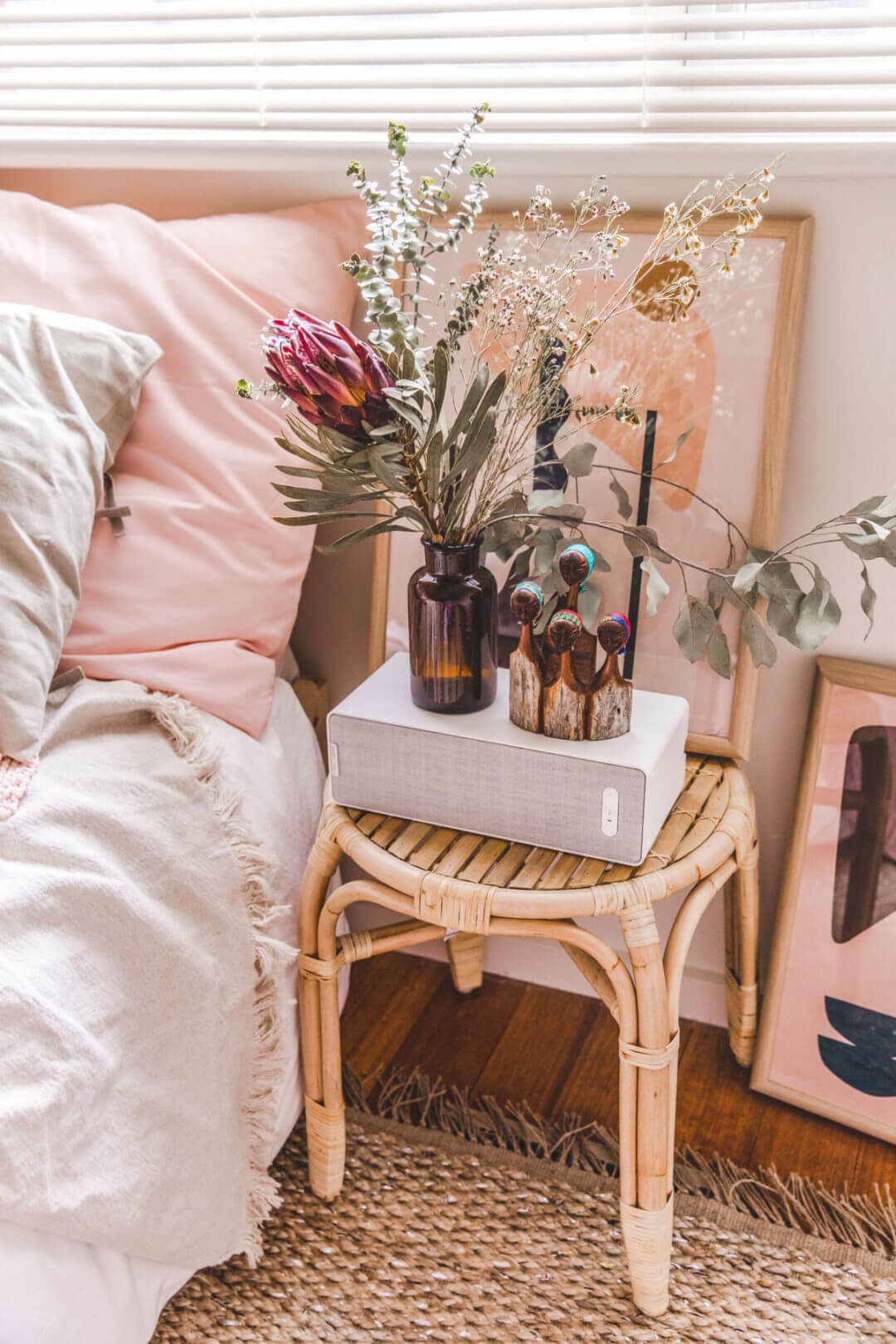 Boho room décor is not generic. It is meant to be personalized, like this bedroom with a feminine flair. The pink color palette, the art, and the floral arrangement give this room a feminine touch. However, the fringed throw, the nightstand, and the fringed woven rug all qualify this as a Bohemian style bedroom. That is one of the Bohemian décor ideas. Items in the room should be things you love. If a feminine or other style room fits your personality, then items in the room can be blended with Boho style décor to reflect that.
14. Just Hanging Out Boho Style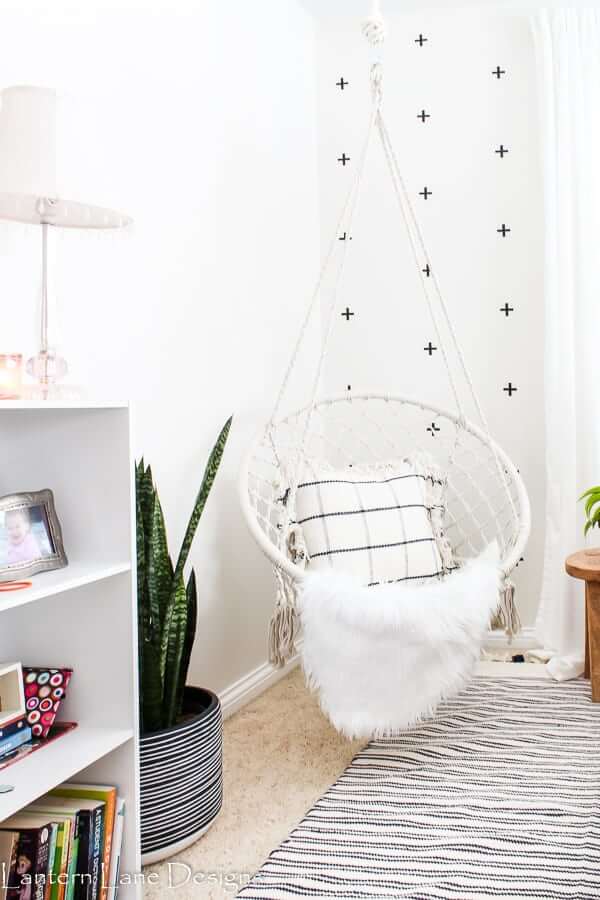 Seating is a key element in Boho home décor and Boho décor offers a lot of fun options. Hanging chairs are one of the most unusual and fun. They immediately draw the eye and an occupant. They can be wicker hung by heavy-duty cord, totally macrame, hammocks, porch swings, and even swing set swings. Since it is Boho, anything goes. If they add other elements such as tassels, all the better. Add cushions, pillows, and throws, and you have created a comfortable focal point. With an interesting table and lighting, you can create a reading area.
15. Wherever I Hang My Hat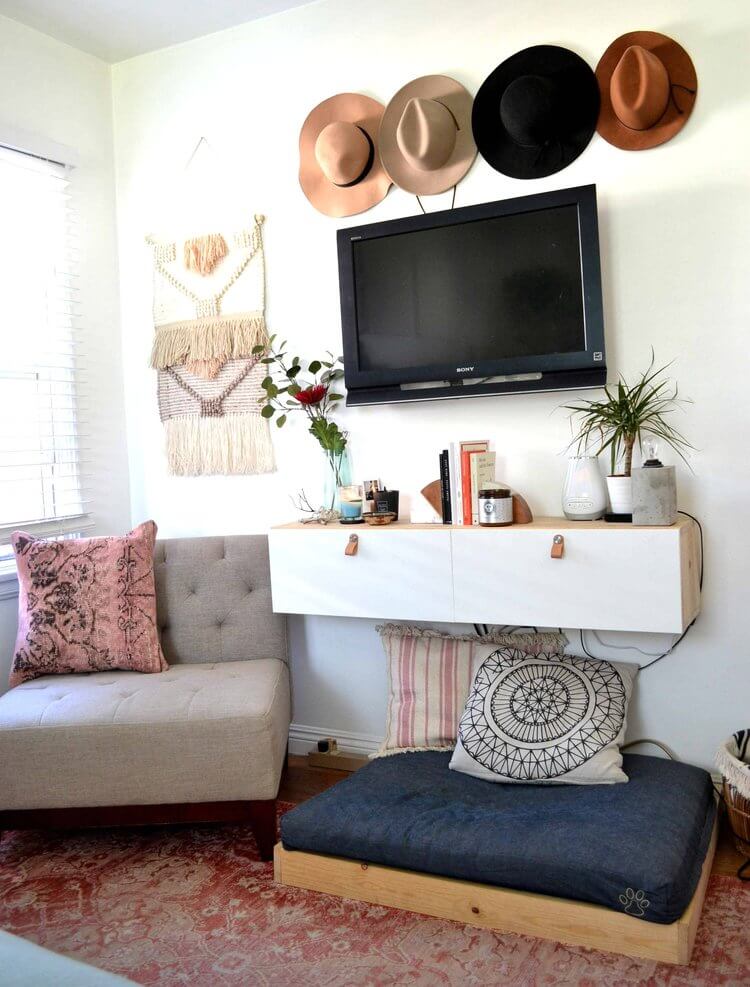 The hats hanging on the wall could be a focal point, but this nook in the corner of the room is so well blended that it becomes one element to explore. If there is a focal point in this nook, it is the shelf with drawers that is in the center. However, the other elements do draw your eye. While it is not very deep, the shelf provides storage and a small desk space. From the shelf, your eye travels to the cushion underneath it, which is actually a dog bed, but it could be extra pull out seating if there is no dog. Then your eye is drawn to the chair, the wall hanging, and finally, the hats. It is a well blended collection of Boho elements that could take you a little time to settle on the final arrangement.
16. What Bohemian Décor Ideas Would You Add?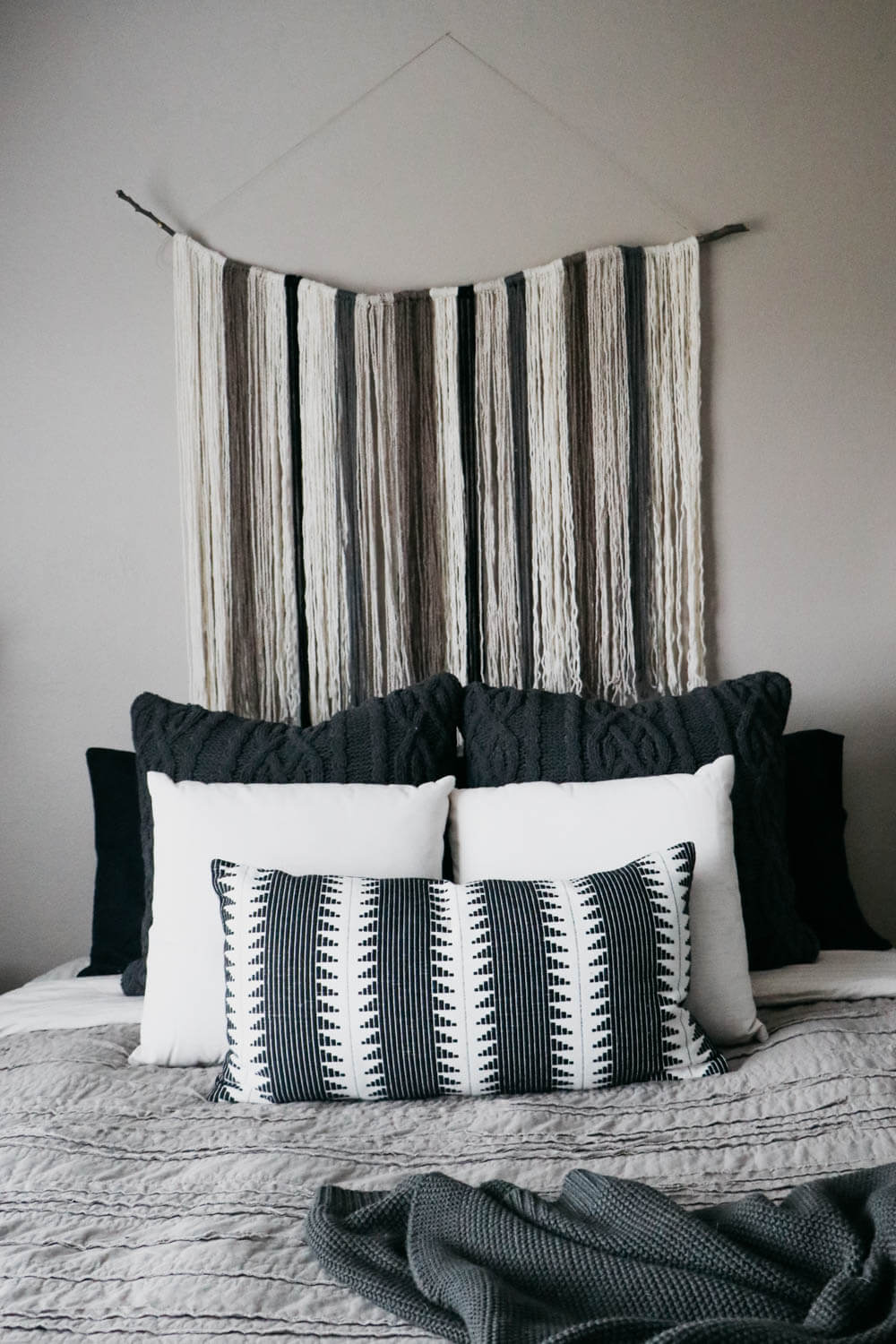 For fun, consider what you would do with this bedroom. You can use items you have or ideas you have seen. Would you add color or patterns to it? Remembering that with Boho décor, there are no right or wrong answers, my choice would be patterns. Now consider seating, maybe a plush chair or hanging chair in the corner? How about a dresser or other furniture? What about rugs — fur or layered? Would you add another throw in the room? What else would you add to the walls? Finally, what lighting would you use? I can think of a lot of lighting options. Now you can use this Boho décor ideas generating practice and apply it to your home.
17. A Completed Boho Style Décor Room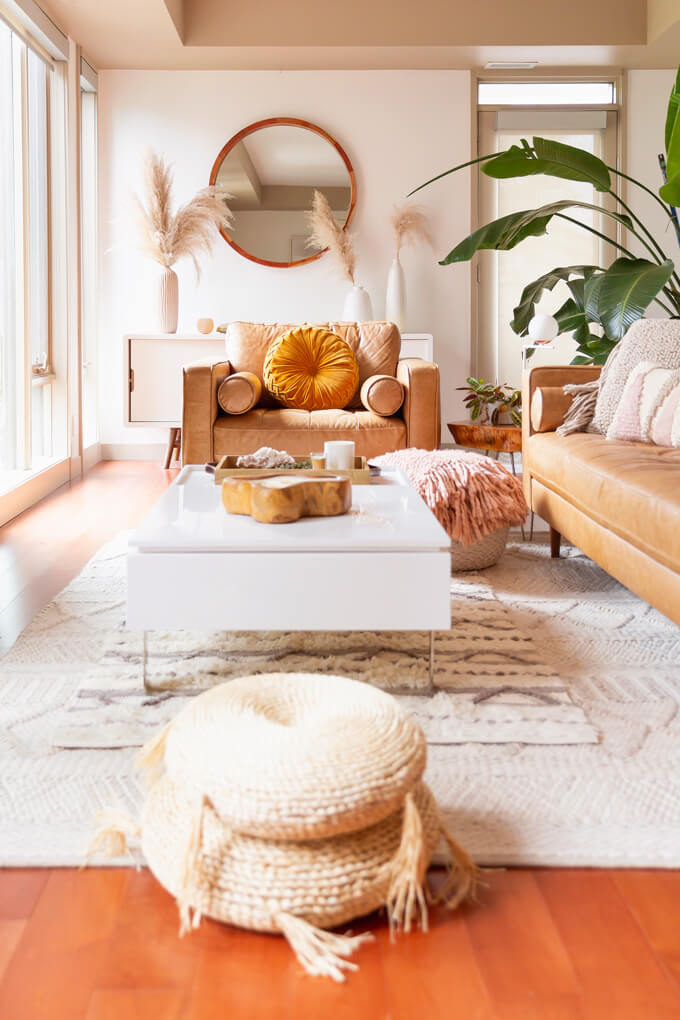 Take a look around this Boho room that has been transitioned for fall and identify the Boho elements. The seating includes the gold sofa, the gold chair, the hassock, and floor pillows on the chair, sofa, and floor. There are two rugs layered on the floor. One of the rugs is textured, and the other rug is patterned. A throw is on top of the hassock. The room has a light wood floor and uses neutral colors with one gold pillow. There is plenty of natural light, and plants and grasses add a touch of nature to the room. This room provides Bohemian décor ideas with a modern touch.
18. Macramé Wall Hanging for Any Boho Room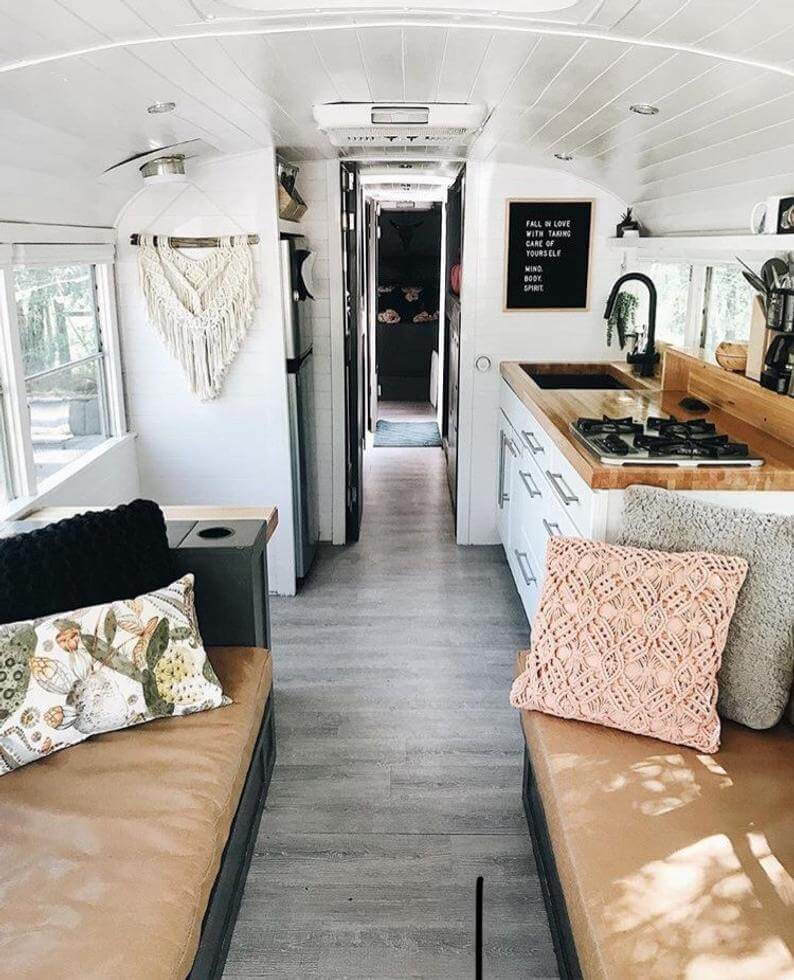 Handcrafted items are an important elements of Boho home décor and macramé is a favorite craft. This macramé wall hanging can be used in any room by itself or as part of a grouping. The driftwood used as the holder provides an added interest. The macramé is made with natural cotton cord. The piece measures 33 inches long from the nail to the bottom center and is tied onto a 19-inches wide piece of driftwood. The macramé pattern adds texture and layers to the area where it is hung.
19. Southwestern Boho Style Denim Pumpkin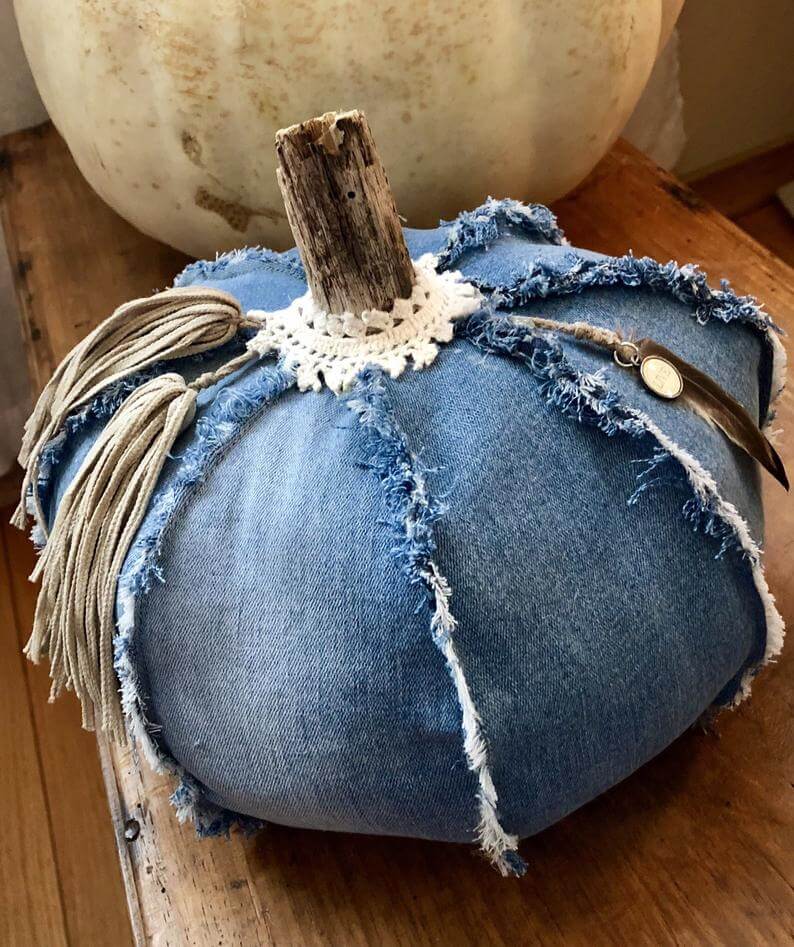 Although this pumpkin may seem like fall décor, it is too unique and interesting to store away the rest of the year. Maybe you can find some way to use it year round. The pumpkin is made from upcycled jean denim with frayed edges for the crevices in the pumpkin. The stem is a piece of a tree branch and cotton lace finishes the stem. The leaves and tendrils are represented by tassels, a feather, and a charm tied on with cord. It is 7.5 inches tall and 8 inches in diameter.
20. Boho Hippie Bath Downloadable Poster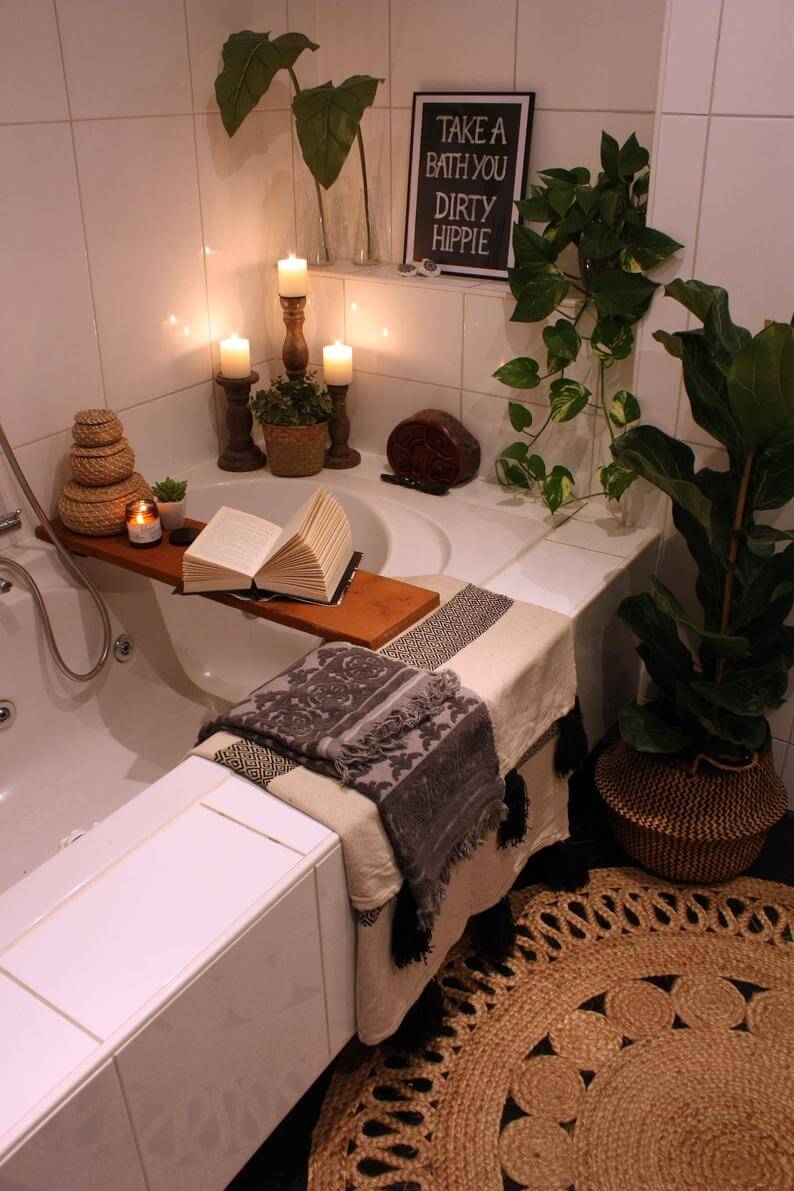 So, you set out to create a Boho bathroom. If there is room you add bench seating. You chose woven baskets and a woven rug. The patterned towels have tassels. On the wall, you have unique vintage items. The lighting is carefully selected in the Boho style, but it provides the necessary light for your make-up routine. You have a tub board or tray for your book or glass of wine. There are lots of plants, scented and unscented candles, and scented oils. So, what is missing? This poster that says, "Take a bath you dirty hippie." The poster is downloadable so that you can print it at home, or you can choose a printed copy.
21. Boho Style Driftwood Jewelry Hangers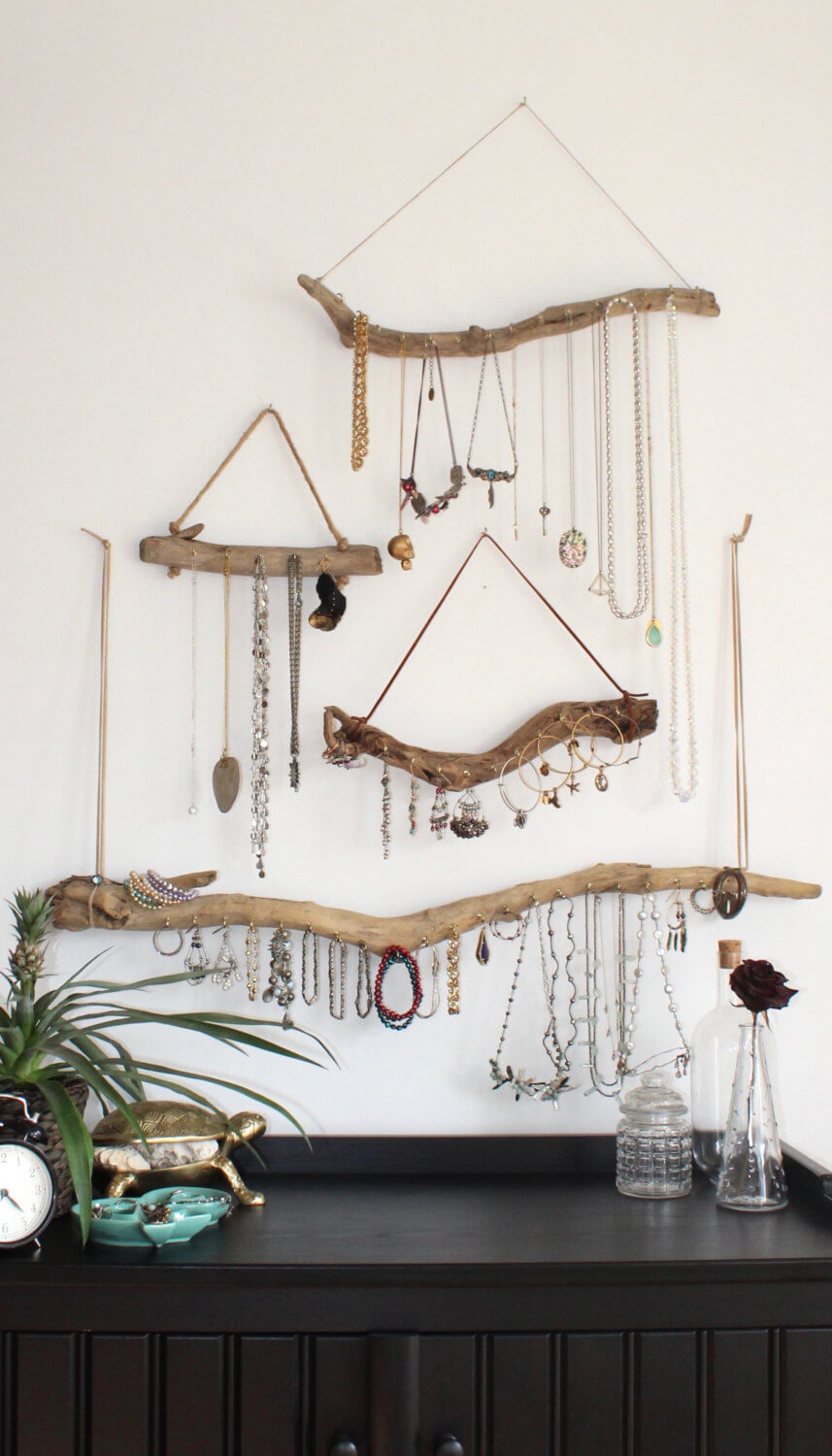 Hanging your jewelry on the wall creates an interesting focal point display, especially with these driftwood hangers. The driftwood comes from the Hudson River across from New York. You can make requests such as the length of the driftwood and whether it is straight or bent. Then, they send you a picture of a normal piece, a thin piece, and a mottled piece for you to make a choice. Hooks are inserted in the driftwood so that you can hang your jewelry easily. Having more than one hanger creates a more interesting display. Hanging your jewelry makes it easily accessible and keeps it from tangling.
22. Focus on This Boho Style Eye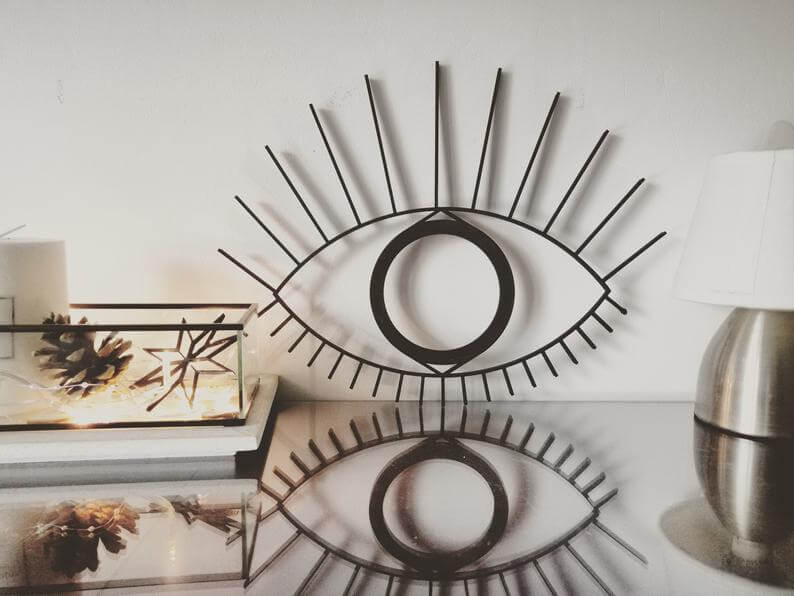 This eye is a combination of Boho and Modern Art. Its interpretation can be very individual, which makes it perfect for Boho décor. Double-sided tape is provided to mount it to the wall, which prevents wall damage when hanging it. It is made from eco-friendly Polylactic Acid (PLA) using a 3D printer. PLA is a corn-based plastic making it durable and biodegradable. It measures 10.2 inches high and 13.4 inches wide. However, since it is printed on a 3D printer the size can be adjusted.
23. By the Light of the Moon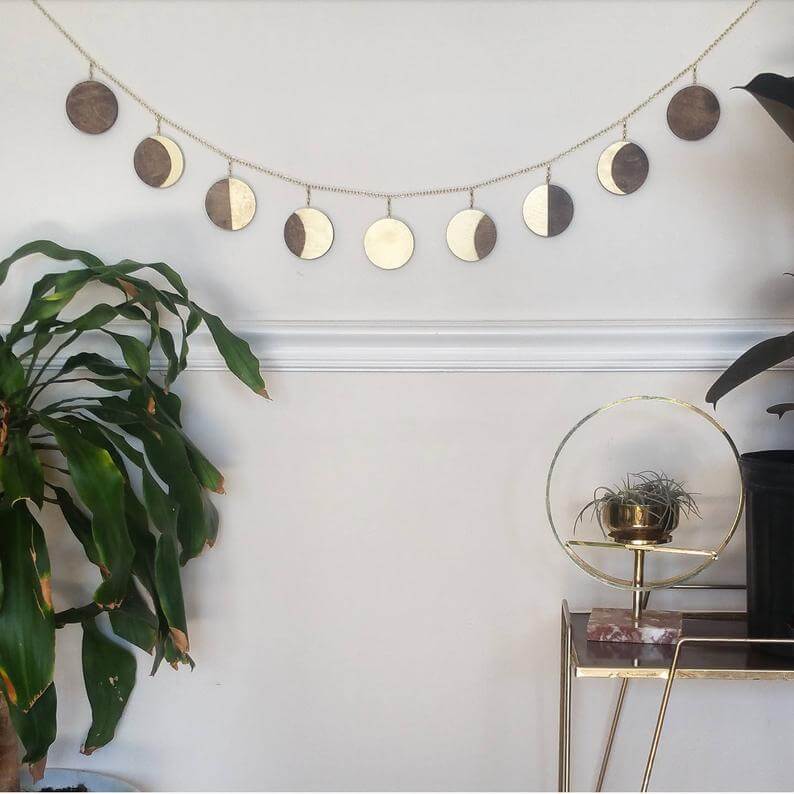 This Moon Phase Garland couldn't be more Boho. The phases of the Moon, or lunar phases, refer to the portion of the moon visible on earth at a specific time due to its position in relation to the Earth and the Earth's position in relation to the Sun. The cycle is approximately 29.53 days. Tis garland is handcrafted, unique, and features a fascinating theme. The 12 wooden discs feature a separate phase of the moon. Each phase is hand painted in gold or silver and hung on a gold or silver chain. The discs are 2.5 inches in diameter and the chain is 52 inches long.
24. Indian Mandala Boho Sofa Throw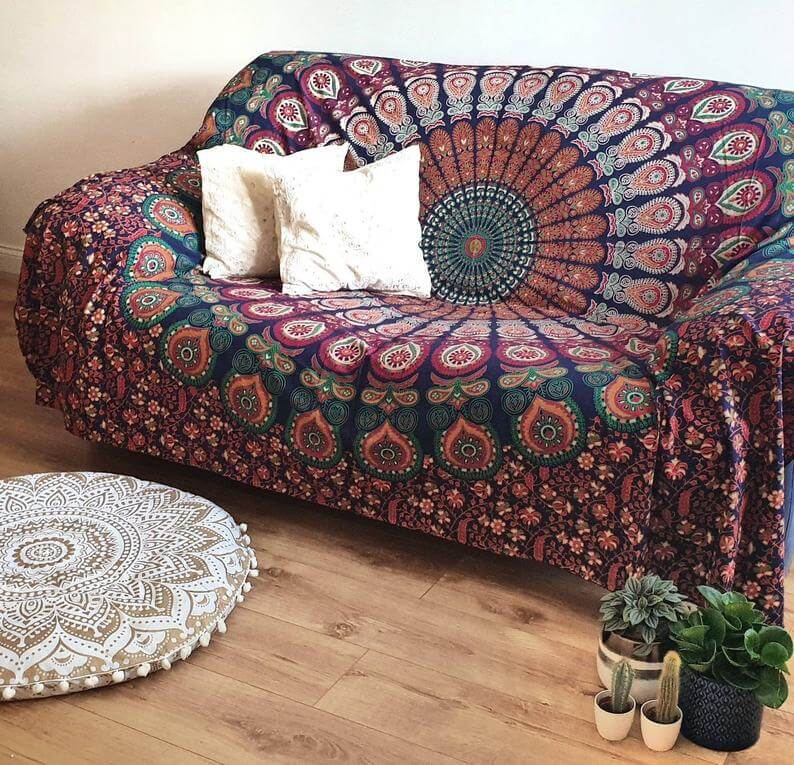 This beautiful cotton throw can be used for more than a sofa. It could be used as a wall hanging, on a bed, as a door curtain, or as curtains, even though it is longer than traditional curtains. It has a traditional Indian Mandala design and is available in four colors. The design of the mandala can be used with other prints on pillows or other items. You can also choose to go with solid colors. It is created using a traditional block printing technique. The throw measures 90 inches long and 79 inches wide.
25. Abstract Minimalistic Boho Bowls Digital Print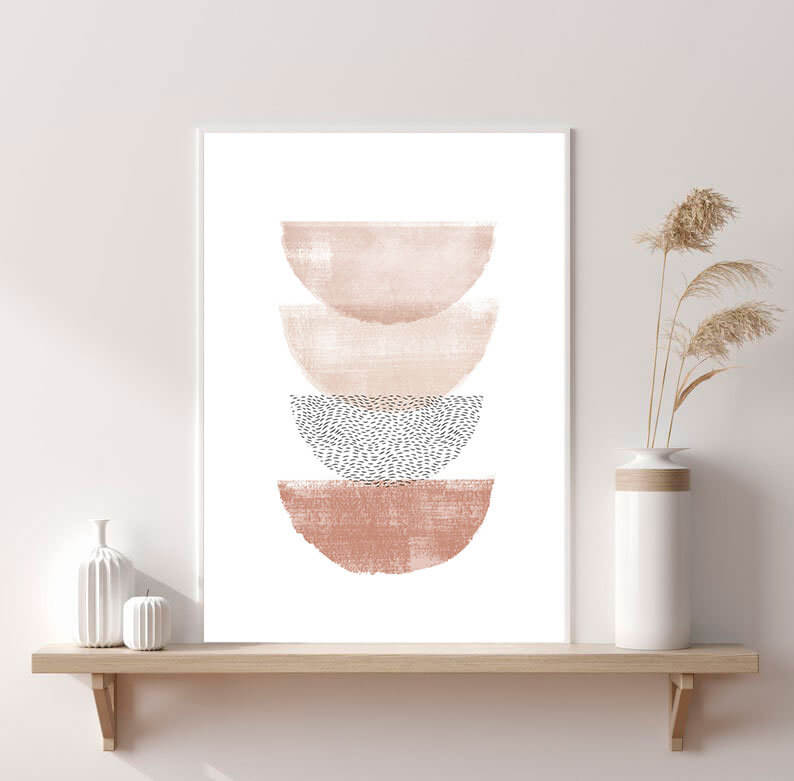 This downloadable digital print takes the simple curved shape of hand-carved wood or hand-shaped pottery bowls and repeats it four times with the look of dark, coconut shell-like wood in the lowest bowl, a black and white animal-like print in the next higher bowl, and lighter wood or metallic looks for the two topmost bowls. The handmade bowls suggested by the print would tie together and act as a focal point for a collection of such bowls scattered throughout the room.
26. Boho Tie-Dye Indian Gauze Cotton Curtains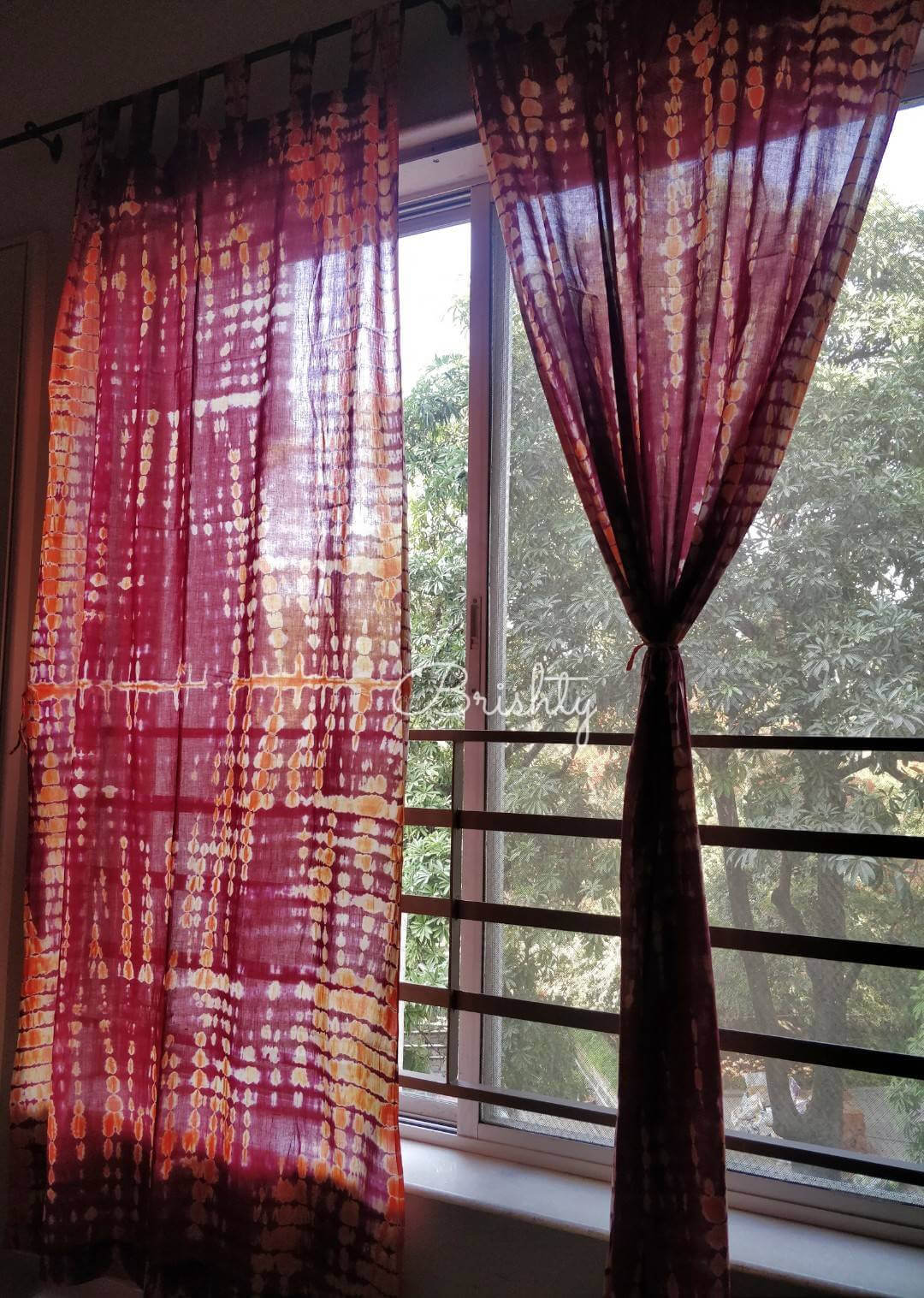 These airy, hand tie-dyed, cotton gauze curtains provide the perfect Boho backdrop for your room. The open weave of the gauze lets in light and air while providing privacy and adding texture. The maroon fabric is tied with string and hand dipped in orange die to produce a striated pattern across the width of the fabric. For more color, you can have a pompom edging in rainbow colors sewn to the vertical edges of each curtain panel. The set includes two full length curtain panels. Matching string tie backs allow you to let in more light and air. The curtains also have tabs sewn at the top so that you can hang them easily. While adding color to your room, these curtains won't overpower other pieces. They would make a great backdrop for rooms containing many of the Boho items we've listed here.
27. Vintage Western Raku Pottery Candleholder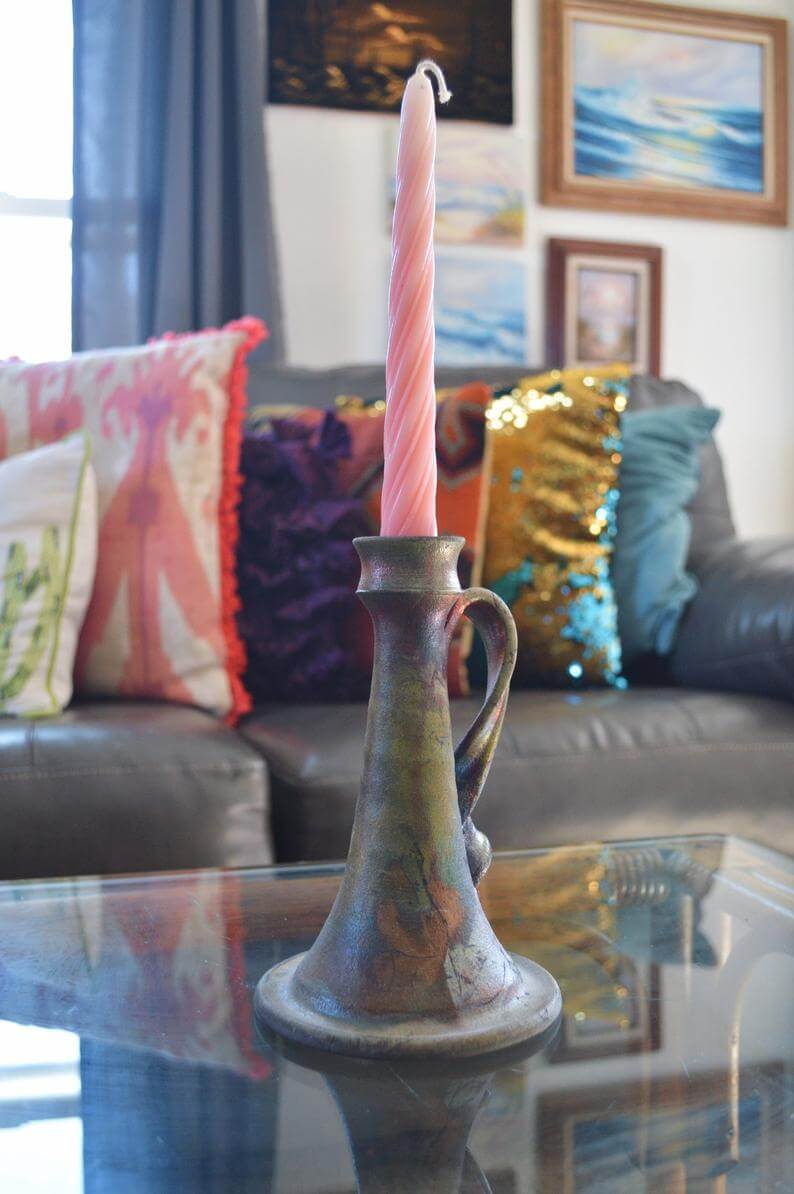 While Japanese Raku pottery is hand-shaped, the intriguing sculptural curves of the handle and the overall look of this piece suggest that it was shaped, Western-style on a potter's wheel. The blackened areas would have been created by applying wax resist to selected areas of the piece to prevent contact with the glaze. Cobalt glazes produce dark blue areas while copper produces either green or red depending on how long the piece stays in the kiln. Red is produced with a longer firing time that reduces the amount of oxygen in the glaze. Quickly cooling the pieces after they're removed from the kiln produces the flashes of color and the lustrous gleam that appear in this candleholder. In totally Boho style, the results of firing and cooling are not completely predictable. As a result, it's unlikely that any two pieces of Raku pottery will be exactly identical. Thus this candleholder, and other pieces of Raku pottery, make eye-catching additions to Boho décor.
28. Tasseled Boho Pillow with Southwestern Block Print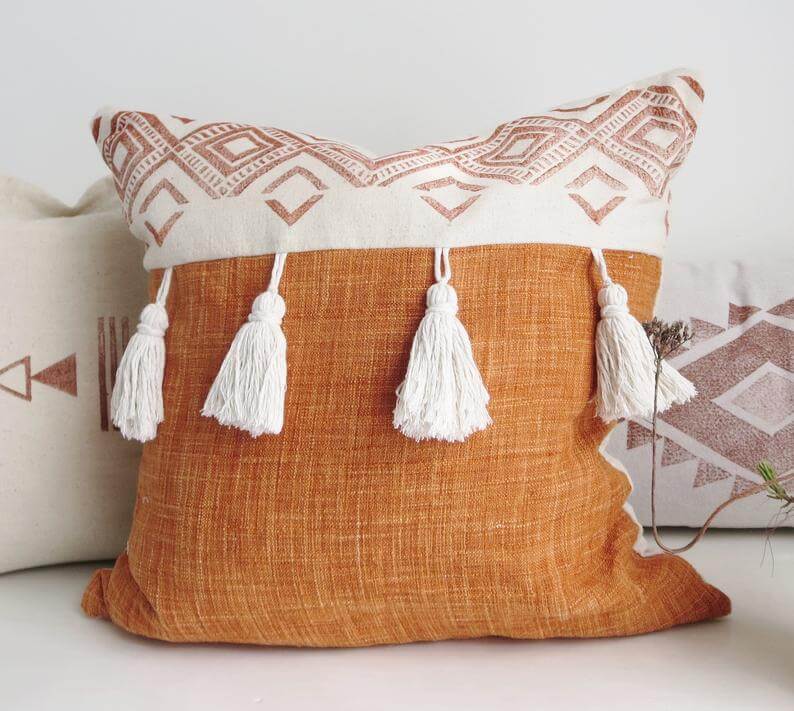 This pillow is everything that Boho is about. It's made from natural linen fabric, and the looser weave adds a rougher texture which recalls handwoven fabrics. The Southwestern design of the print fits in with the Boho emphasis on including a variety of cultural influences in an eclectic way. The block printing itself is another nod to the Boho love of the handmade look. The knotted tassels also have a homemade look. The burnt orange brings the complimentary colors of the sunset into a Boho décor of neutrals and earth tones.
29. Geometric Turquoise Triangles Contrast Boho Softness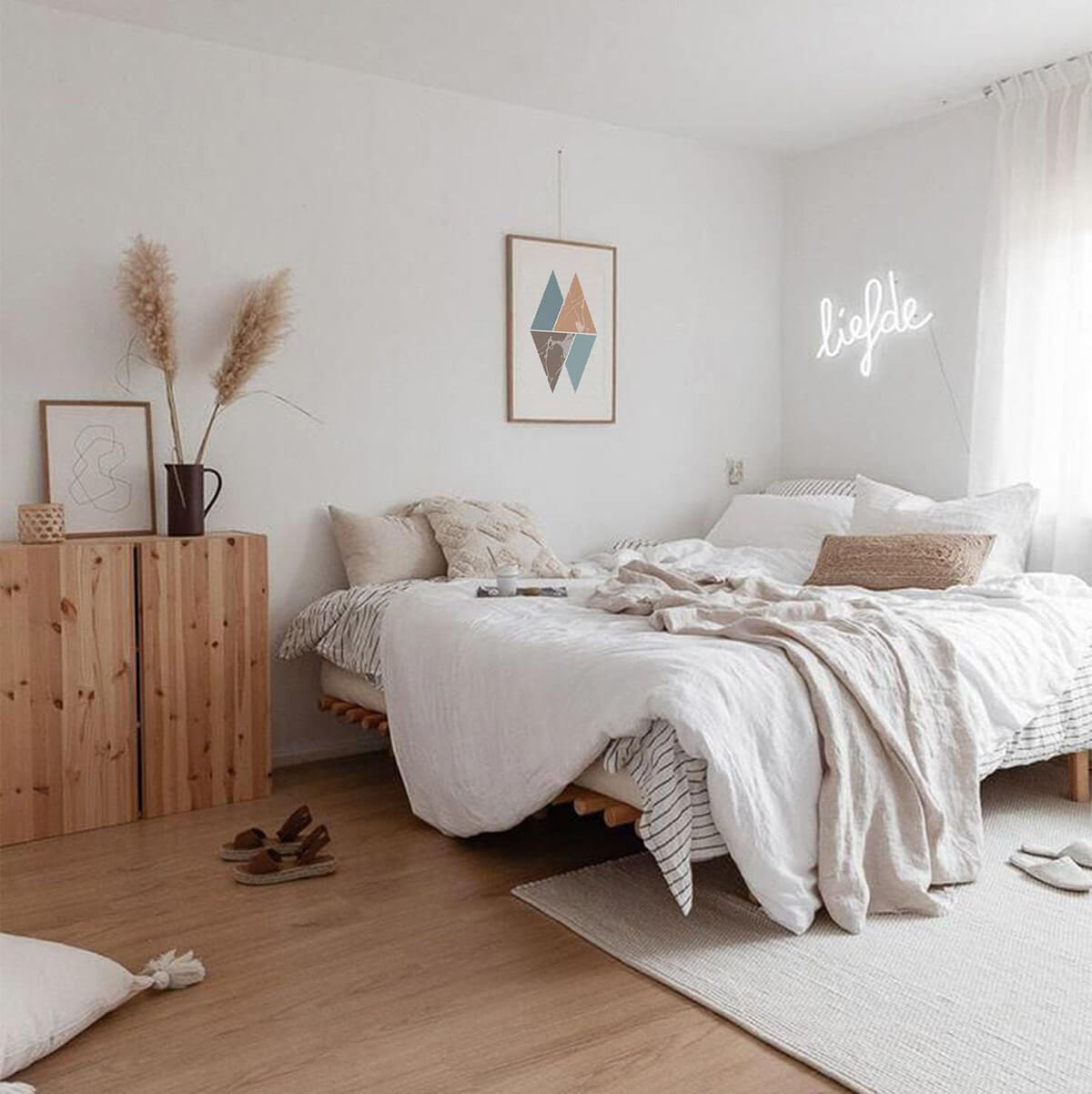 Use this bold, minimalist print to draw attention to the overall geometric prints found in African, Middle Eastern, and Native American designs. An irregular, mineral-like inclusion adds a suggestion of rocky texture to the two earth-toned triangles while the two turquoise triangles introduce a splash of color. Overall, the clean, minimalist style of sharp-edged triangles and the suggestion of a rocky surface enables a two dimensional print to bring a sense of textural contrast to the soft fringes and knitted and crocheted surfaces of Boho style. Hang this print on the wall, and you can draw together an eclectic collection of geometric prints from a number of cultures while adding a strong piece that also can serve as a focal point.
29 Eclectic Boho Décor Ideas to Create Your Own Look
Remember that Boho home décor is intended to be a reflection of you. The decorative items in the room should be selected because you love them, and they have meaning to you. It can also be personalized even more by adding items that give it a more feminine or some other feel. Transitioning can also be done to add seasonal touches.
Then you can add the comfortable seating and choose colors and patterns that coordinate and support each other. Add textures with rugs, throws, pillows, wall art, and handcrafted items such crocheting, knitting, macramé, and woven baskets. Layering rugs and throws allows you to add more texture and color. Creating a visual balance prevents one item or area from detracting from other items.
Lighting is another way of adding interest to the room. Choosing a variety of lighting that includes unique and vintage floor and table lamps along with candles makes Boho style different from other décor styles.
You may have family heirlooms and personal treasures you want to use, but Boho décor is also built over time as you see things that you want to add. In addition, Boho décor is fluid. Some items may be moved around until you find a place where they fit the best. Boho décor is stylish, but, more importantly, it is comfortable. Finishing the room with a selection of plants brings a bit of Mother Nature into the room.