Some of the best colorful painted furniture ideas can completely transform your space without the need to purchase new furnishings or splurge on expensive updates. Maybe you've inherited your grandmother's furniture or found an antique desk you absolutely love, but the brown wood doesn't fit in with your existing décor. Although you may be tempted to replace these items, painting furniture is an easy fix that can give your furniture new life.
17 Ways to Make Your Space Pop with Colorful Painted Furniture

Painted furniture has many benefits. It's a great way to add a pop of color into your home like with a red lamp base or a bright yellow chair. It's also a great way to help your furniture blend in. For example, if you have a white headboard, you can easily paint your nightstands white to match. Painted furniture just has that extra pop and fits nearly any style. From gold detailing or chalk paint to a perfect flat matte or spray paint, there are so many techniques that can be used to create the most incredible painted furniture looks.
A few major paint trends taking over this year include having a flawless matte finish in a dark or black paint color, gold, copper or silver metallic paints, bright colors to add a bold splash to your space, spray painting with fun stencils and distressed furniture. These are all trends that are here to stay.
Whether you are updating your current furniture or re-purposing a well-loved vintage piece, a simple paint job can revive your pieces and give them a new and unique look. There are; however, a few factors to consider before taking on a new paint project. Think about whether the paint will enhance the style of the furniture or distract from it. Will the item look out of place? If it's antique, is there a chance that you might lose the true value of the piece? Take a look at these top colorful painted furniture ideas that will instantly create a more stylish living space.
1. Creating a Painted Faux Vintage Denim Bedside Table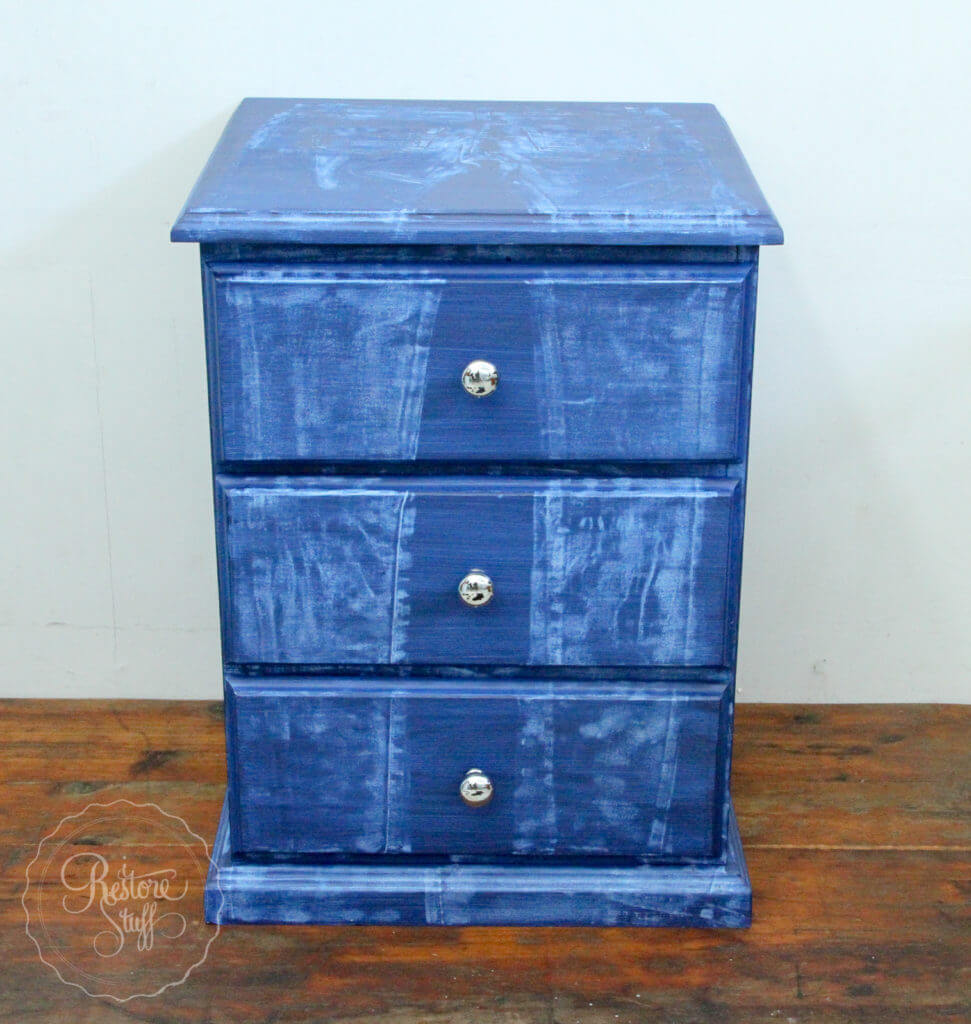 Denim isn't just for clothes. What used to be considered tacky, is now an interior décor trend that's pretty novel. A subtle touch of chambray or denim-inspired pieces can create a casual look that's unique and relaxed. This faux denim bedside table not only has the denim look, but also the complete denim jeans detailing. The top features the backside of jeans while the pant legs are painted all the way down the front of the dresser. This is such a fun and unique look that's sure to add interest and a little country character to any space.
2. Old Fashioned Ombre Painted Floral Transfer Furniture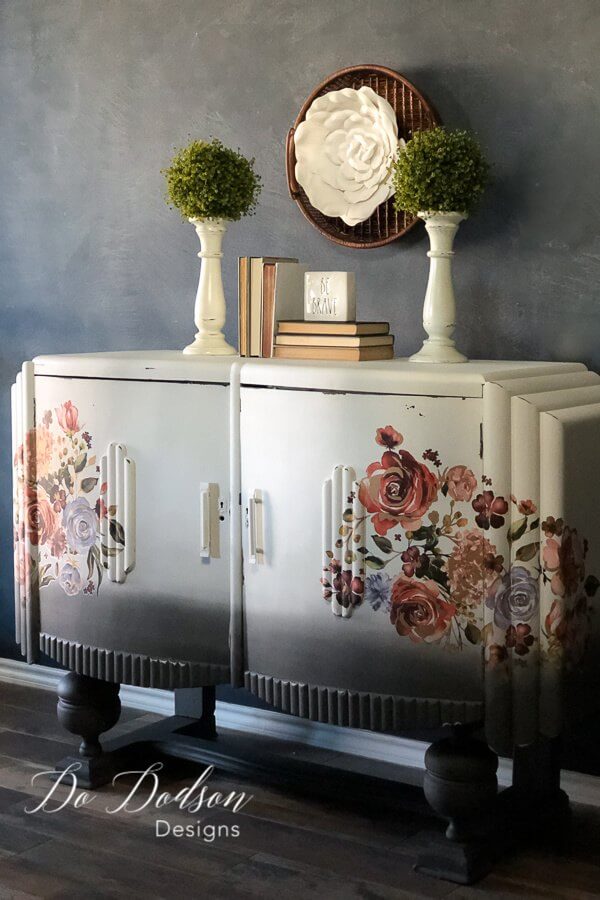 One huge interior design trend to watch this year is the comeback of vintage floral. Of course, we've seen floral accent walls and floral throw pillows, but what we haven't seen a lot of is floral furniture. Floral transfers for furniture have become more and more popular these days and it's easy to see why. The floral prints usually range from quirky and playful to comfier and more elegant prints. For this sweet and curvy antique sideboard, they could have easily stopped at the beautiful ombre paint job. Instead, they spiced it up and took the floral design trend up a notch with this beautiful floral transfer paper. Isn't it gorgeous?
3. A Blue Painted Bookcase for Kids Bedroom Organization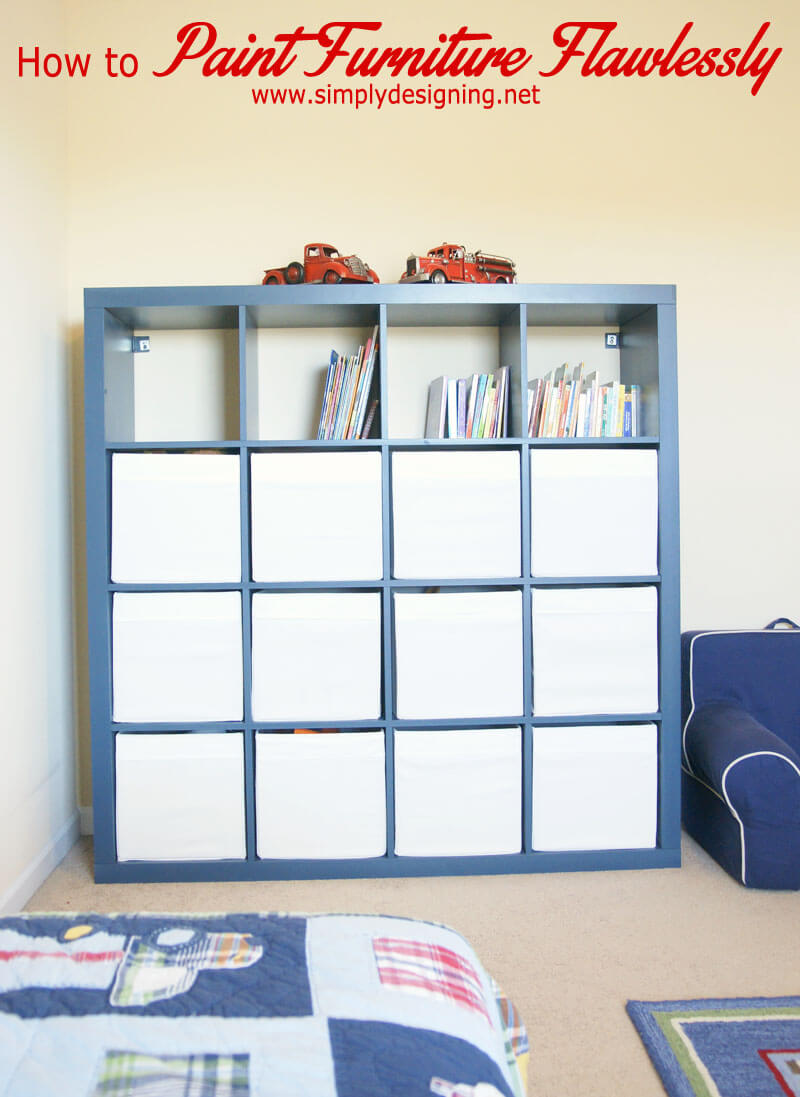 Painting furniture is one of the easiest ways to give new life to a piece. It's also a great way to blend furniture together in a room without one piece standing out more than the other. This blue painted bookcase looks brand new again and now matches the existing décor in the room. It's the perfect shade of blue for a little boy's room and provides so much versatility to the space. If you have furniture in your home that looks out of place or you feel like you may not have a designated space for, consider painting it before you toss or donate it.
4. A Florence Blue Vintage Hutch and Buffet Paint Project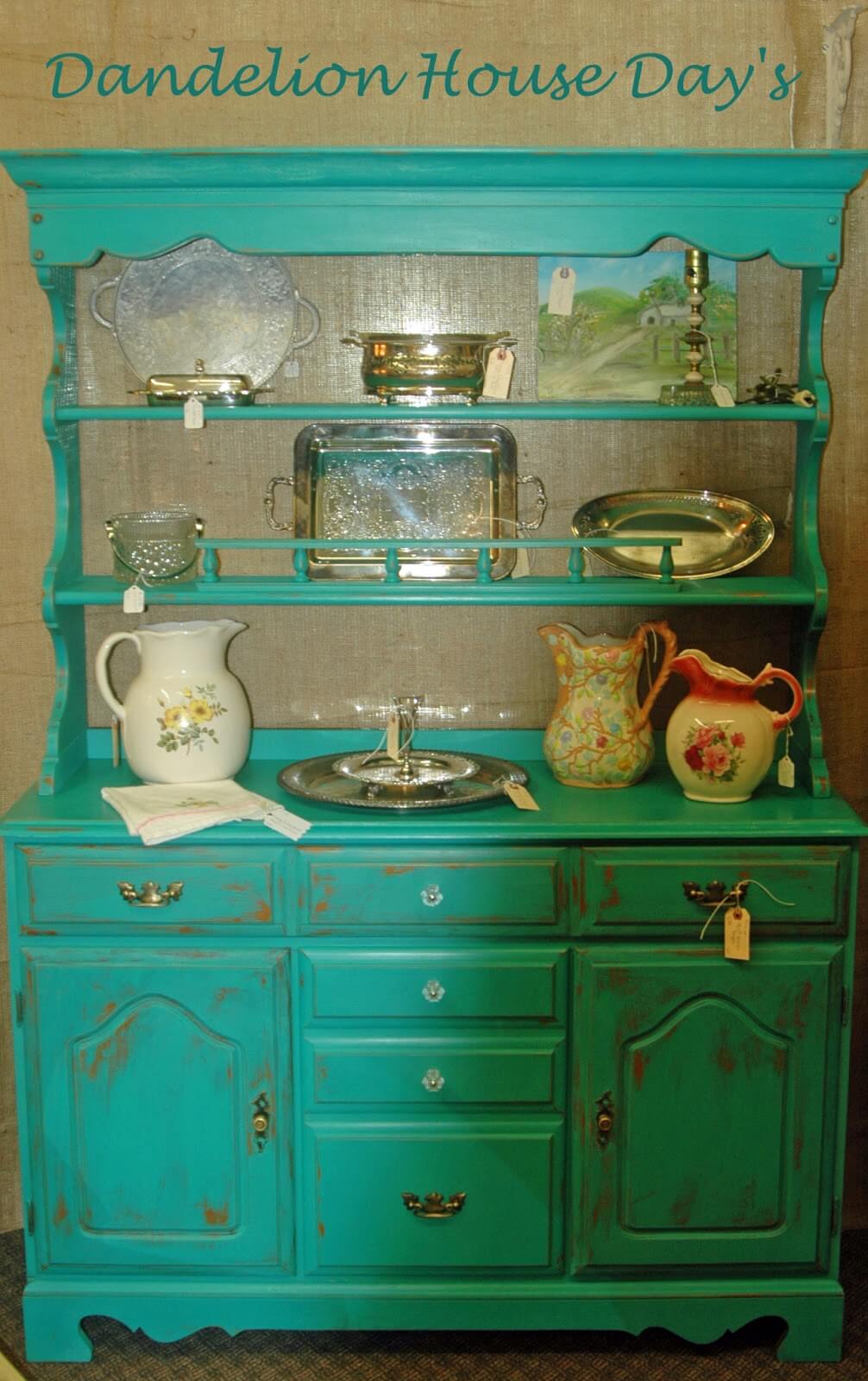 When painting a vintage or antique piece of furniture, it's important to maintain its authentic look while still giving it a refresher. You can do this several ways but using chalk paint and a little sanding after the paint has dried is one of the easiest ways to achieve that traditional vintage look. This darling vintage hutch was painted using a blue chalk paint and features distressed markings throughout. Most of the original hardware was kept maintaining its authentic appearance. This hutch and buffet gives off such an old-fashioned cottage style vibe that will stand out and be a conversational piece for the home.
5. Upcycling an Old Cabinet with Chalk Paint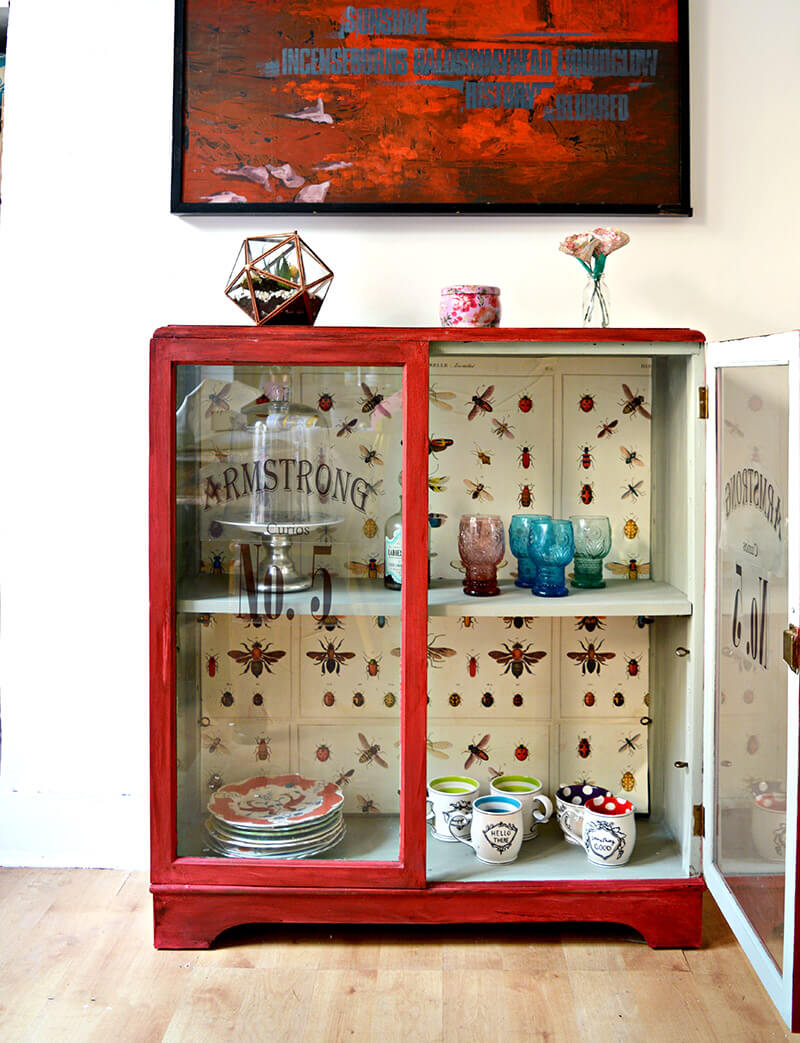 Upcycling furniture is a sustainable, cost-effective way to breathe new life into old or second-hand pieces. It's a fun way to get creative, add personalization and make a one-of-a-kind piece to feature right inside your home. With a minimal budget and a little bit of elbow grease, you can transform outdated furniture into treasured pieces instantly. Before, this cupboard looked like something you'd see on the side of the road ready to be picked up along with the garbage. This upcycled old cabinet was painted with red chalk paint and hand-distressed to create a vintage look. It's the perfect piece to place in the dining room to house your fine china or special dinnerware sets.
6. A Turquoise, Distressed Buffet for a Southwest Style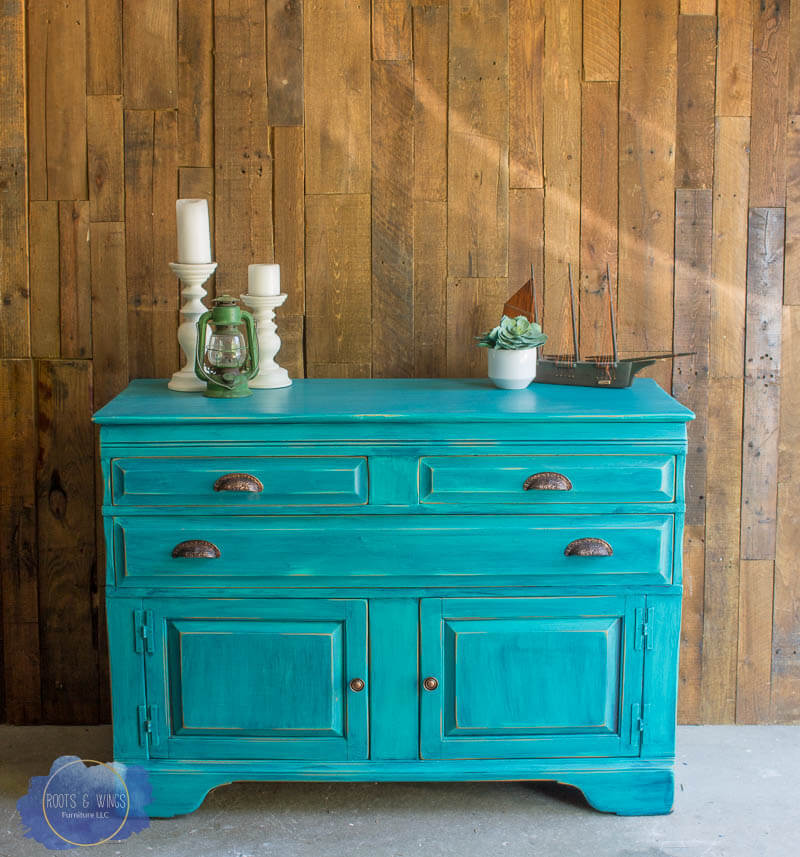 This beautiful Southwest-style buffet was painting using a color washing technique. Color washing is a great way to add layers and textures to a piece. It can be achieved by using rags, brushes or other various tools that blends a faux finish glaze over a piece of furniture. It also provides an aged effect that's great for nearly any room in the home. This turquoise buffet is bright, bold and adds interest. It features a layered look with a bohemian or southwest feel. The owner also replaced the boring pull knobs with detailed cup pulls to pull the look all together.
7. Antique Black Painted Dresser for a Modern Industrial Touch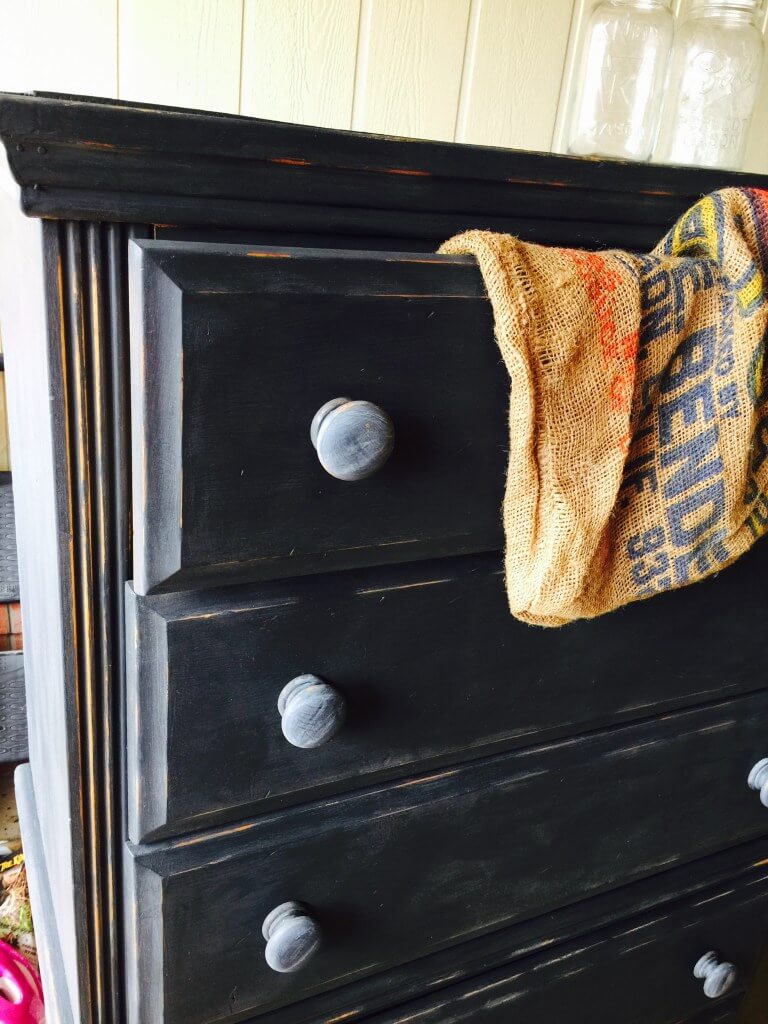 There has been a recent shift in black furniture lately and it's a bit different than the all-white or natural wood trend we're used to seeing. Black furniture offers a punch of modern style and adds contrast to your space without being too overpowering. This distressed black painted dresser creates a grounding effect and warmth. It adds the perfect touch of modern industrial style that will look great in any room of your home. This antique distressed dresser is also a sustainable piece that also follows the new menswear-inspired trend we'll be seeing a lot in the upcoming months.
8. An Adorable Rocking Chair Painted Using Stencils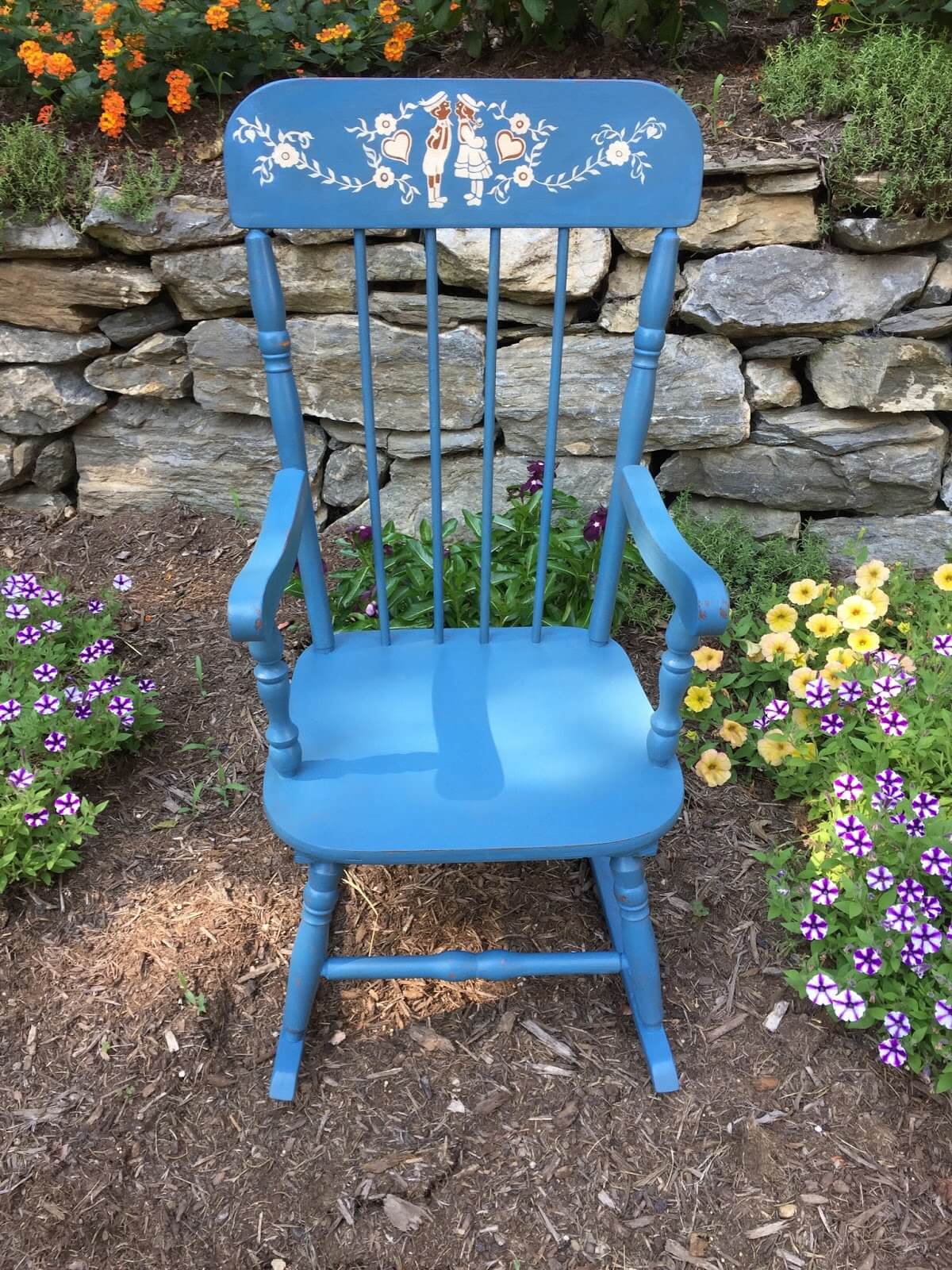 It's amazing what you can find at an antique store or a local garage sale. This vintage kids rocking chair was previously covered in dents, scratches and chunks missing with most of the original stenciling worn off at the top. It was in need of a desperate facelift. With chalk paint and a thin brush for the stenciling, this chair was given new life and looks absolutely adorable. Can't you just picture it in a little kid's bedroom or playroom? If you're one who loves the look of retro furniture and style, you'll love recreating this sweet little wooden antique rocking chair.
9. Cute Upcycled IKEA Lack Table Using Inlay Stencils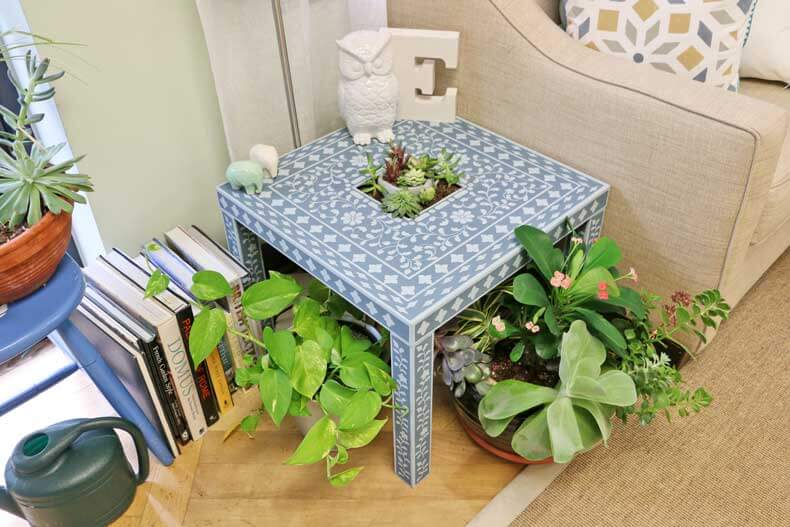 Traditionally, we see these beautiful floral and vine stencils used on accent walls but using them on furniture is a genius idea that takes the whole floral look to the next level. We're seeing more and more decorating enthusiasts using stencils instead of store-bought décor because it's an affordable and easy option to update your home and décor yourself. This inexpensive IKEA table was transformed with an inlay stencil kit and a simple box cutter for the center square. Not only does the beautiful painted artwork make this table stand out, but also the clever built-in succulent planter box really takes this table from ordinary to extraordinary.
10. A Beautiful Painted Antique Cabinet Makeover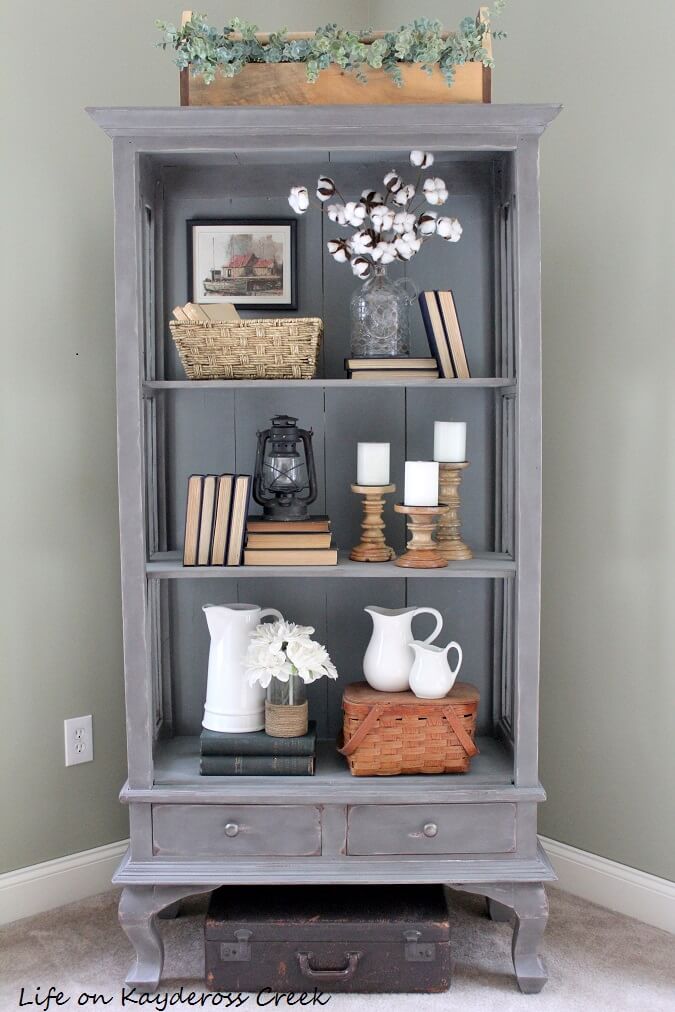 Sometimes we see old pieces of furniture and instantly get inspired. Other times we feel like we've taken on much more than we can really handle. It's unbelievable what a little paint can do to spruce up an old piece of furniture and make it like new again. This antique cabinet originally had doors that just couldn't be replaced. With the doors off, it instantly gave this piece of furniture a face-lift and a more modernized look with the open-shelving concept. The light grey paint used for this antique cabinet allows it to be placed nearly anywhere in the home and blend in perfectly with existing furniture. The distressed edges complete the look for a vintage look that's modern and on-trend.
11. Creating Stylish Outdoor Seating with Spray Paint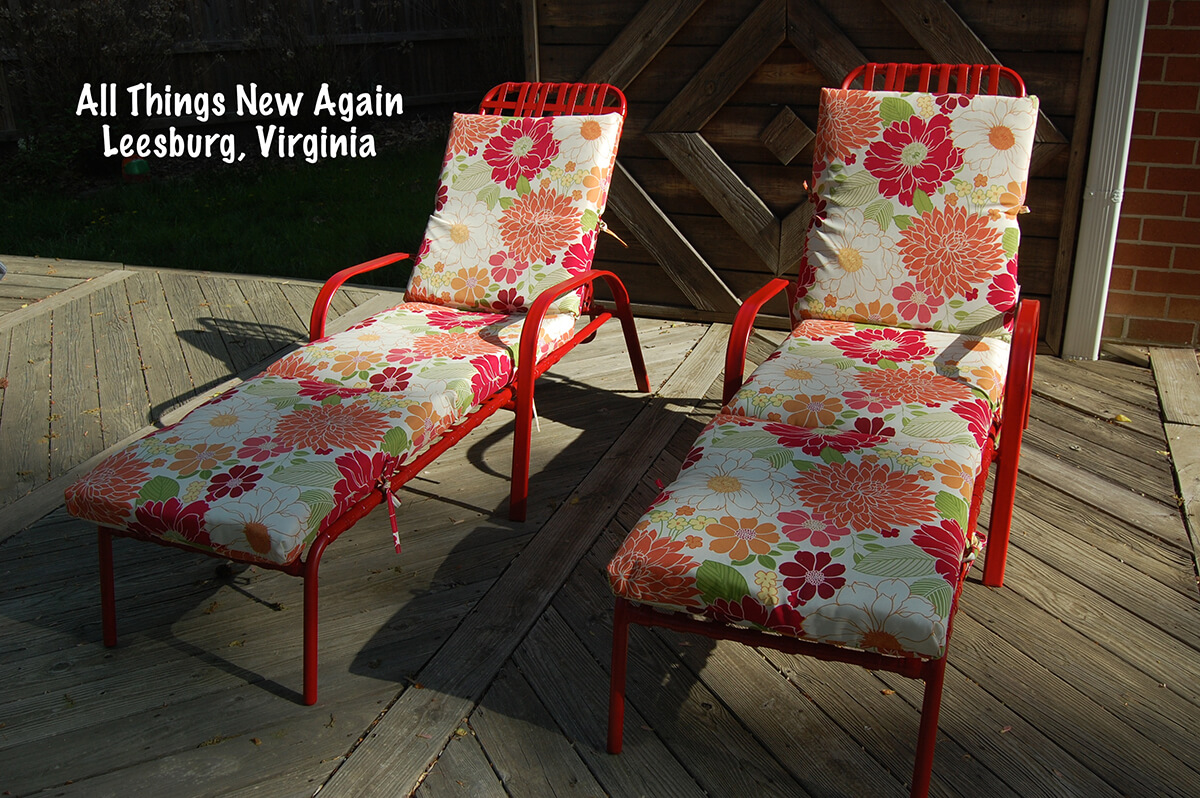 Let's face it, patio furniture can get expensive. Without breaking the bank, you can effectively paint old or second-hand outdoor furniture pieces with ease. These patio love seats were painted using spray paint specifically formulated to use on plastic. Spray paint is great for beginners or simple projects like this one. It gives your furniture a smooth, glossy or matte finish without the need to apply primer or an additional topcoat after painting. These bright red outdoor lounge chairs make a bold statement and would look great in any backyard. They're the perfect pop of color that were updated with minimal cost and effort.
12. A Gorgeous Gray and Pink Buffet Transformation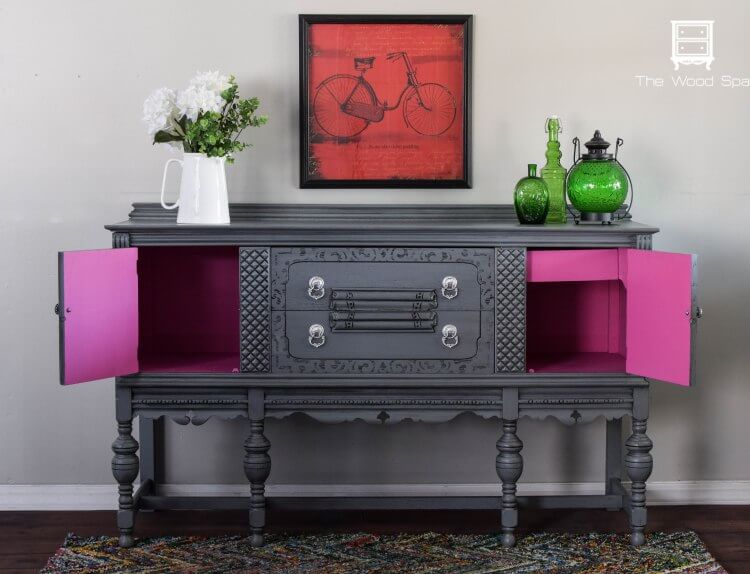 Is your style more on the bold and eclectic side? If so, you can easily transform a piece of furniture you already own and make it a personalized piece that fits your bold style and unique personality. This gorgeous buffet was previously a dark brown color and lacked spunk. Painting it a dark grey and adding silver hardware really made this piece stand out and look quite expensive. The surprise remains inside this buffet. When you open the doors, there's a hidden bright pop of pink that's totally unexpected. It gives this piece an eclectic vibe that is sure to put a big smile on the face of anyone who opens it.
13. Cute and Quirky Painted Chairs for the Dining Room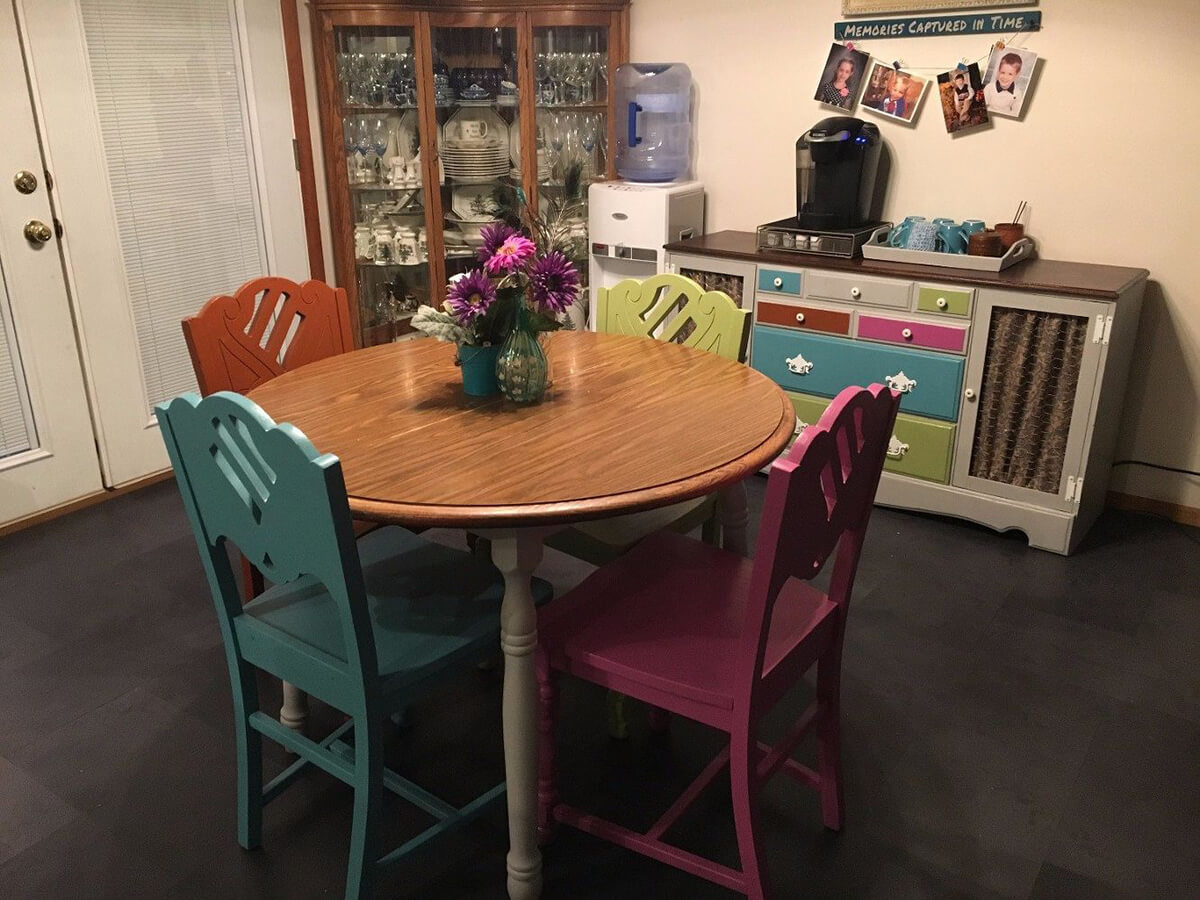 Feeling a little artistic these days? Why not paint your dining room chairs in various bright colors to bring some excitement to your space? Instead of changing up the upholstery of your current dining room chairs, painting them could be an alternative solution that's easy and transformative. If your current dining room is dull or lacking spunk, painting your chairs can be an easy solution. This would also look great in an all-white or natural, minimalist style dining room. The color choices are endless to recreate this unique and exciting paint project. You can also easily strip the paint and paint them again in the future if you switch up your style or just want a new look.
14. A Perfectly Pink and Chic Dresser Makeover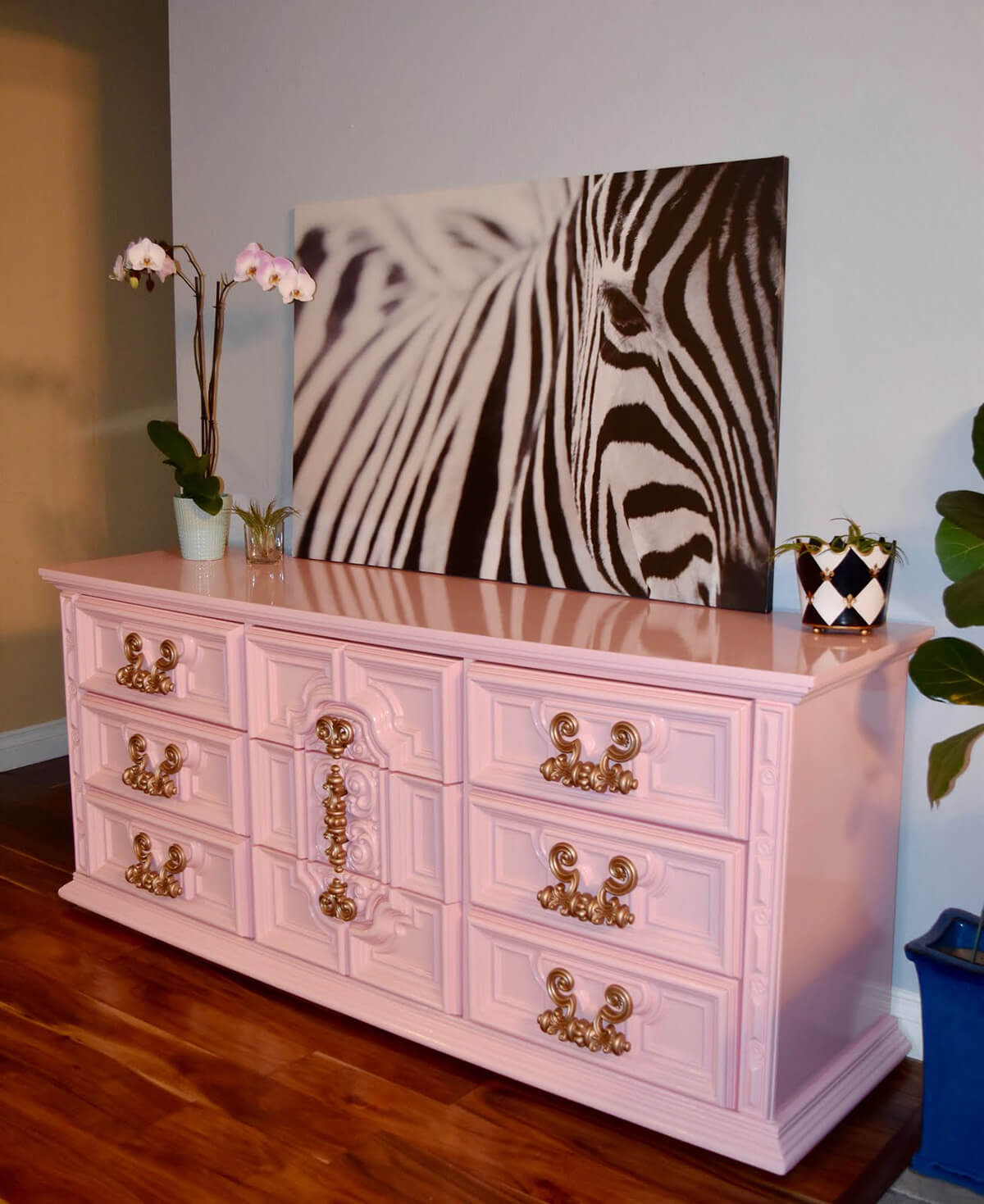 If you're ready to take on a much bigger project, a 1970s dresser might be what you're looking for. This beautiful ballet pink dresser is so chic and girly. It's the perfect furniture piece for a girl of any age. The prep work on this large of a project may seem like a daunting task, but it will be totally worth it in the end. Painting the inside of the drawers is an extra step that really makes this piece pop and stand out. It's an unexpected surprise that adds character to the dresser. The spray-painted gold hardware on this dresser adds a touch of elegance and finishes off this dresser makeover perfectly.
15. An Ombre Bohemian Painted Furniture Upgrade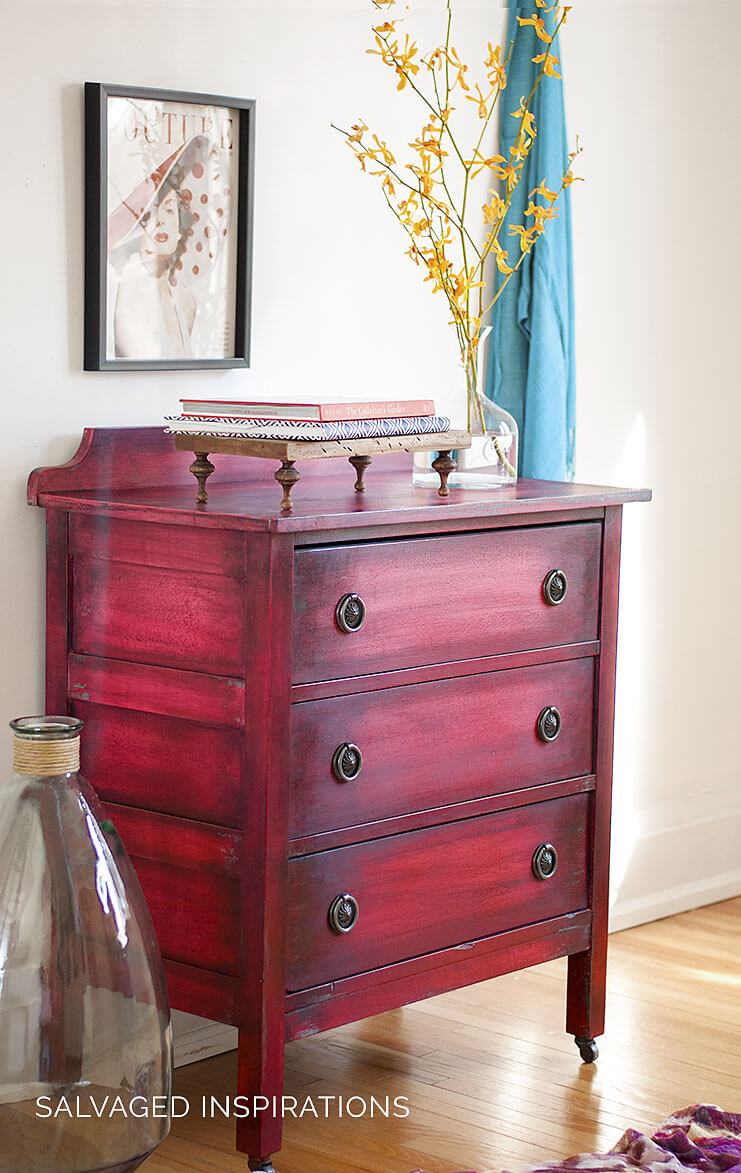 Over the last few years, the ombre color trend has been seen on clothing, hair, wedding cakes and is now emerging even stronger in the interior design arena. From fabrics and wallpaper to curtains and furniture, the ombre look is a beautiful and stylish trend that fits any design style. If you're unfamiliar, ombre is a gradient effect beginning with a light color and slowly transitioning into a darker color or vice versa. This beautiful ombre painted dresser has a fun bohemian twist to it that starts with a lighter shade of red and gets darker as you get towards the bottom of the dresser.
16. Gypsy Style French Dresser in Green and Gold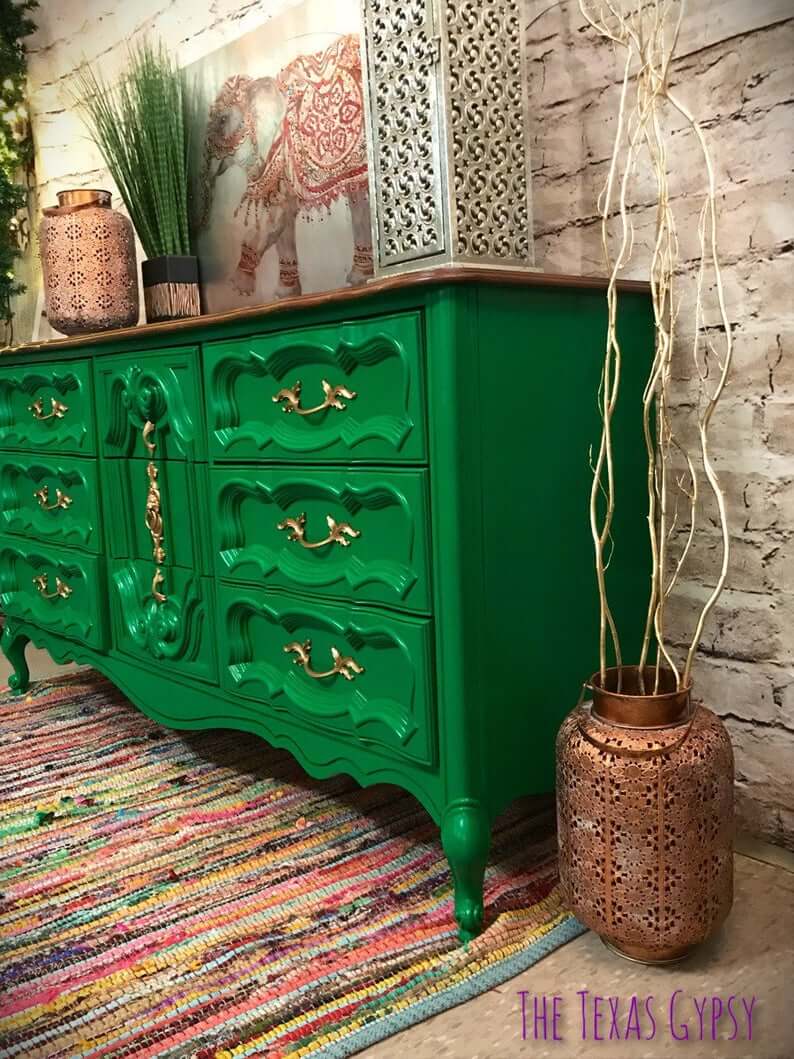 The latest emerging colors that are making a statement this year in the home décor department are emerald green, blue and gray. This jewel-toned green is a powerful paint color that's super stylish, rich and luminous. Velvet green couches and coordinating throw pillows have been the most popular ways to implement this gorgeous green into your home, but by thinking outside the standard décor style box with this beautiful French provincial dresser, your space is sure to look elevated and serene. This hand-painted gypsy style sideboard is a perfect piece with tons of versatility. Use it as a dresser, a buffet, tv console or entryway table.
17. Vintage China Cabinet with Eclectic Paint Finish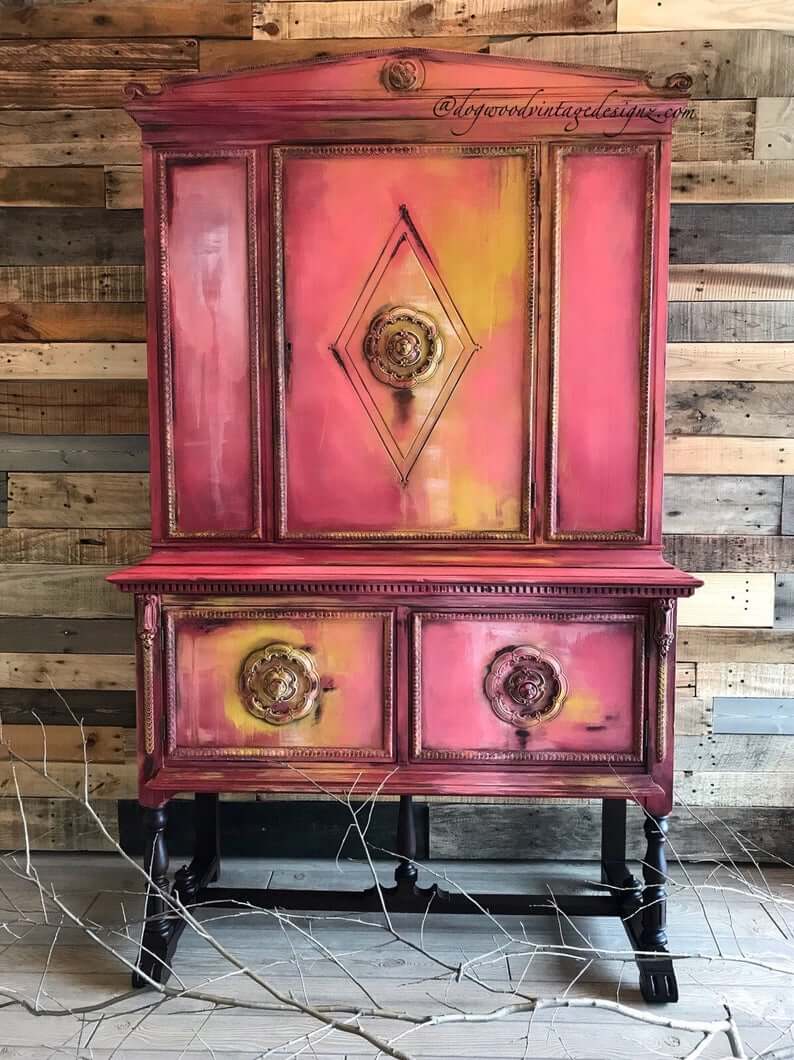 This vintage cabinet is hand-painted using shades of red, pink, yellow and coral. It's an eclectic look with amazing detailing and carving throughout. The inside is painted with a charcoal color and the back of the cabinet features beautiful gift-wrapping paper in a floral print. The bottom legs feature a gorgeous dark original finish that matches perfectly with the inside floral printed paper. It should be noted that the top of this cabinet can detach from the bottom if needed. This is a one-of-a-kind piece that boasts creativity and artistic flair. The attention to detail in this piece is absolutely remarkable.
17 Colorful Painted Furniture Ideas for a Stylish Living Space
From headboards, nightstands, shelves, frames, desks, dressers and cabinets, the possibilities are endless when it comes to painting furniture. Metal and wood are the most frequently painted furniture pieces, but you can also paint wicker and plastic pieces as well.
A few of the top trending paint colors suggested by top designers include a white and yellow color combination, lavender, a pale green-gray, pomegranate red, a slate and oyster white combination, Essex green, a high-gloss red, deep teal and a winter white.
Before painting any piece of furniture, it's important to first properly prep the piece. Be sure to give it a good cleaning, remove any hardware and sand the entire piece to create a smooth surface. After sanding, you'll want to remove any dust or debris with a wet cloth. Prime your furniture and then you're ready to paint! Painting furniture is one of the easiest projects, but it can also be easy to mess up so be sure to plan ahead of time before you start painting your furniture.
I hope these ideas have inspired you to freshen up your furniture with a little paint. Once you've completed your first project, you'll have the confidence to take on more. Whether your style is rustic farmhouse, shabby chic, modern or bold and eclectic, I've shared plenty of furniture concepts you're sure to love.
Our Favorite Farmhouse Furniture to buy on Amazon