"A room without books is like a body without a soul." This quote by Marcus Tullius Cicero certainly sums up how book lovers feel about their books. For both children and adults, books provide a window to the world, allowing one to get lost in faraway places and imaginative stories. They are a key to knowledge, enabling one to learn about any topic one has interest in as well as providing the tools for mastering new skills.
But books are loved not only for the words and ideas they contain, but also for their tangible quality: the feel of the cover, the smell of the paper, the weight in one's hands. A book is a work of art all by itself and as such is worthy of display.
Display Your Books in Style With These 50 Unique Bookshelf Ideas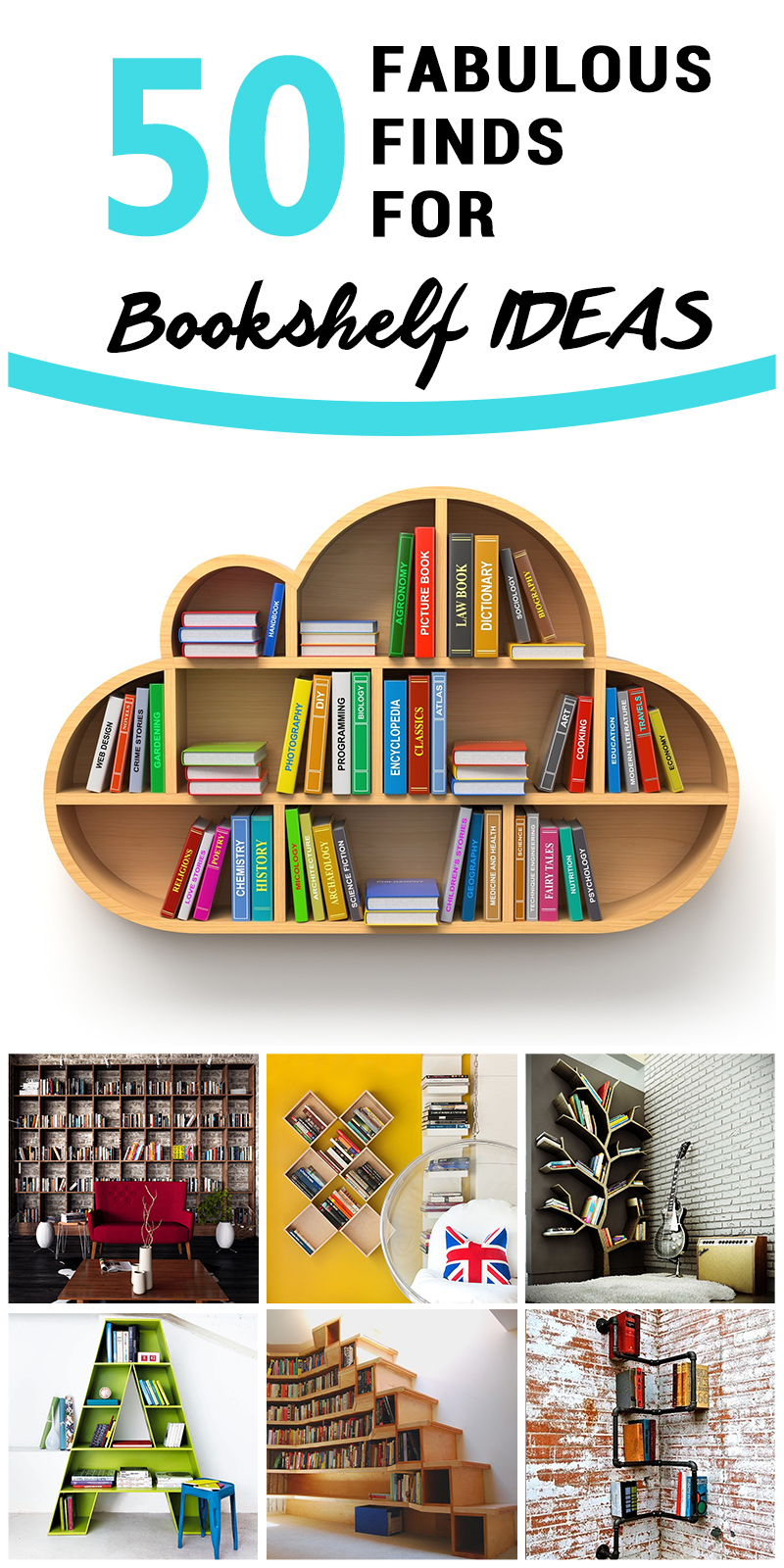 The books contained within a home or office's bookcases can reveal much about their owner – what they love, where they have been, and what they would like to learn more about. For the book lover themselves, they can be a treasure trove of memories, each book bringing back a certain place or time in life in which it was first read. Some books are gifts, inscribed with loving words, inviting the reader to remember both the giver and the moment that was being celebrated.
No matter how many books a book lover owns or how the collection was developed, how to store and organize them is always a challenge. Some keep books organized by topic or author in a traditional bookcase. Due to a lack of adequate storage space, others resort to keeping stacks of books on every flat surface. For those seeking a more artistic way of exhibiting their literary collection, these fifty unique bookshelf ideas are sure to offer some inspiration.
Display Your Books in Style With These 50 Unique Bookshelf Ideas
1. Geometric Tree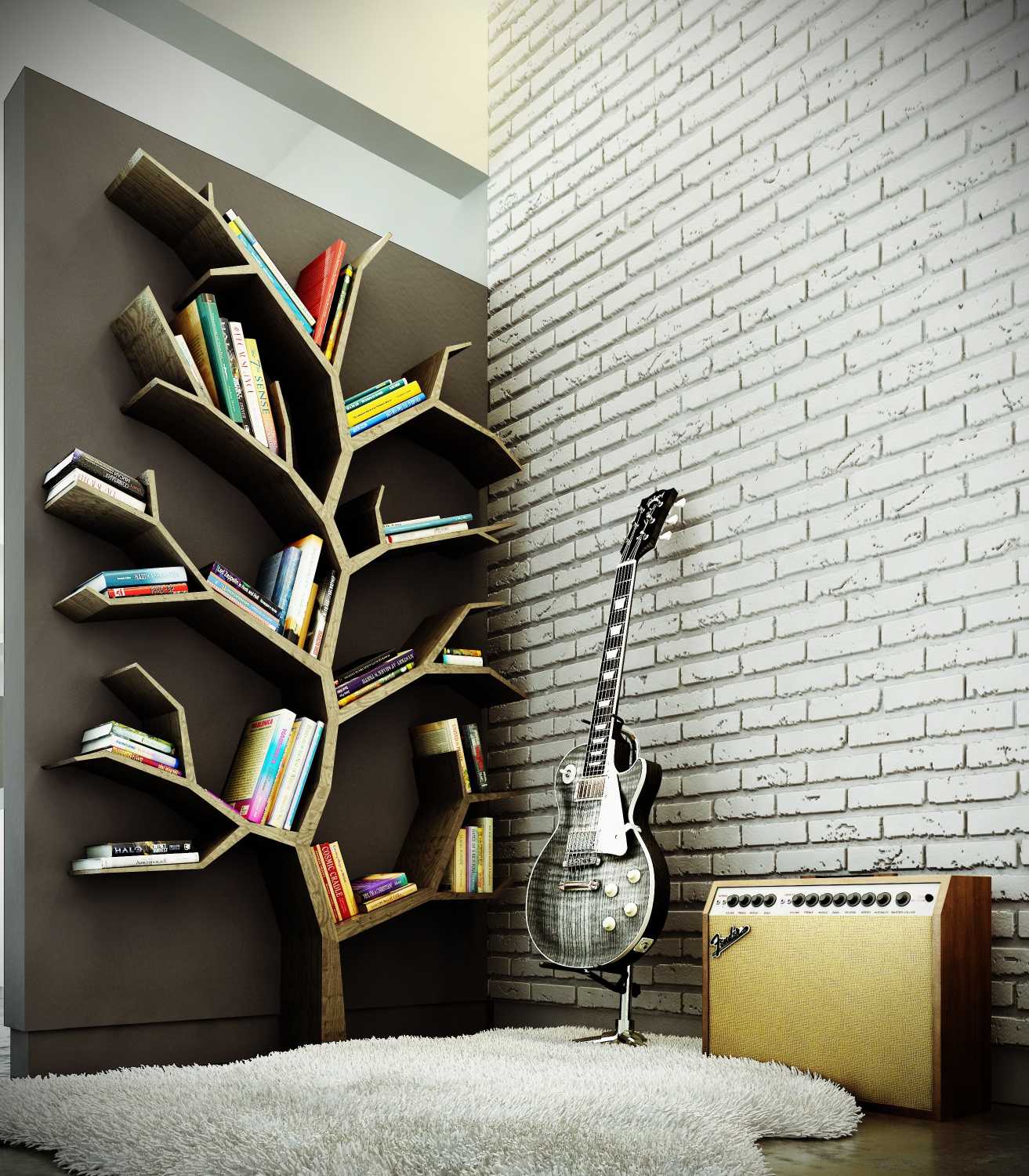 Bring a touch of the outdoors inside with this storage solution built to look like a tree. Its modern style makes an artistic statement while serving the utilitarian purpose of storing and displaying books. The wooden tree is striking contrasted against the black background, although one could paint the supporting wall a neutral color for a softer, more muted look, or a green or blue tone to allude to the colors of a natural setting. The geometric branches are able to support different sizes of books and each limb could be used to display books on a different topic.
2. The Letter Has It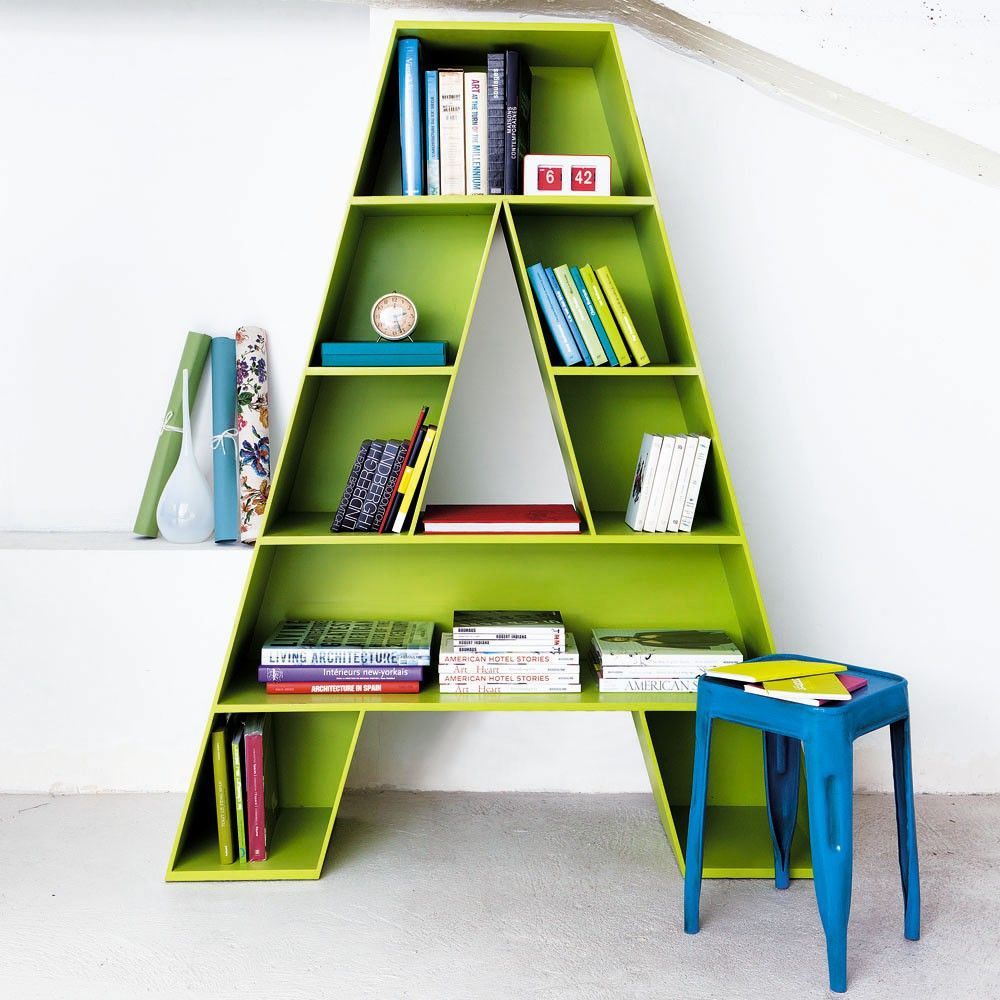 Make an alphabetic statement with this oversize letter "A" bookshelf design. Sturdy shelves with lots of storage space allow books to be stored vertically or horizontally. Even the middle of the letter can be used to store volumes or to show off a favorite collectible. The distinct sections make a strong geometric design, but can also be used to organize a book collection by subject or author. While the lime green packs a visual punch, this large letter would also be arresting in a classic black or white.
3. White Rectangles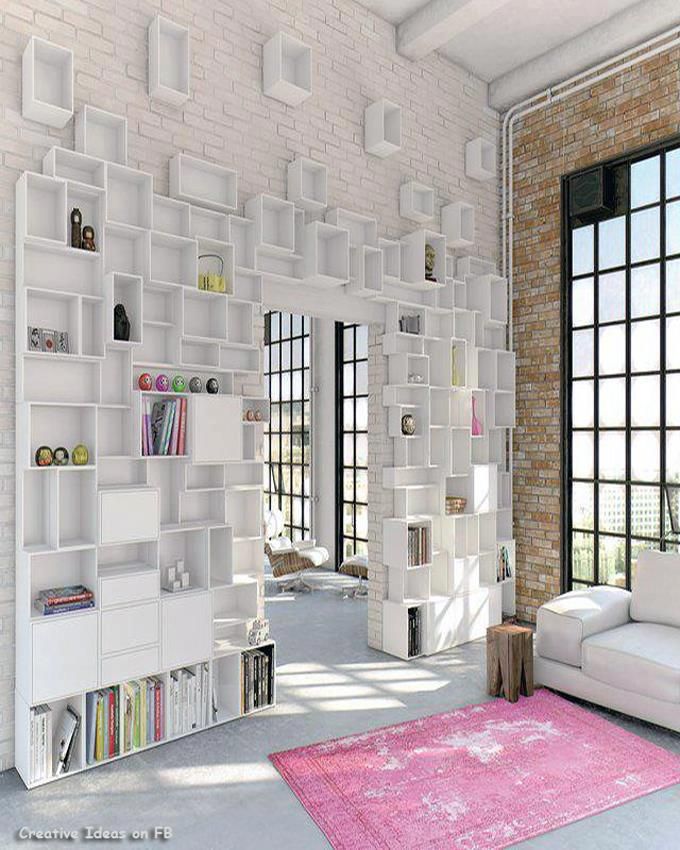 Make the most of your wall space with this geometric bookshelf design. Open spaces of various sizes and shapes enable the storage of a variety of books and collectibles. The white on white is clean and contemporary while providing a visual focal point for a room. The books and collectibles become design items in their own right against the neutral background. Either fill the shelves, taking advantage of all the storage capability, or leave some of the blocks empty for a more minimalist design. The addition of a step stool or rolling ladder will provide easy access to the high shelves.
4. State Structure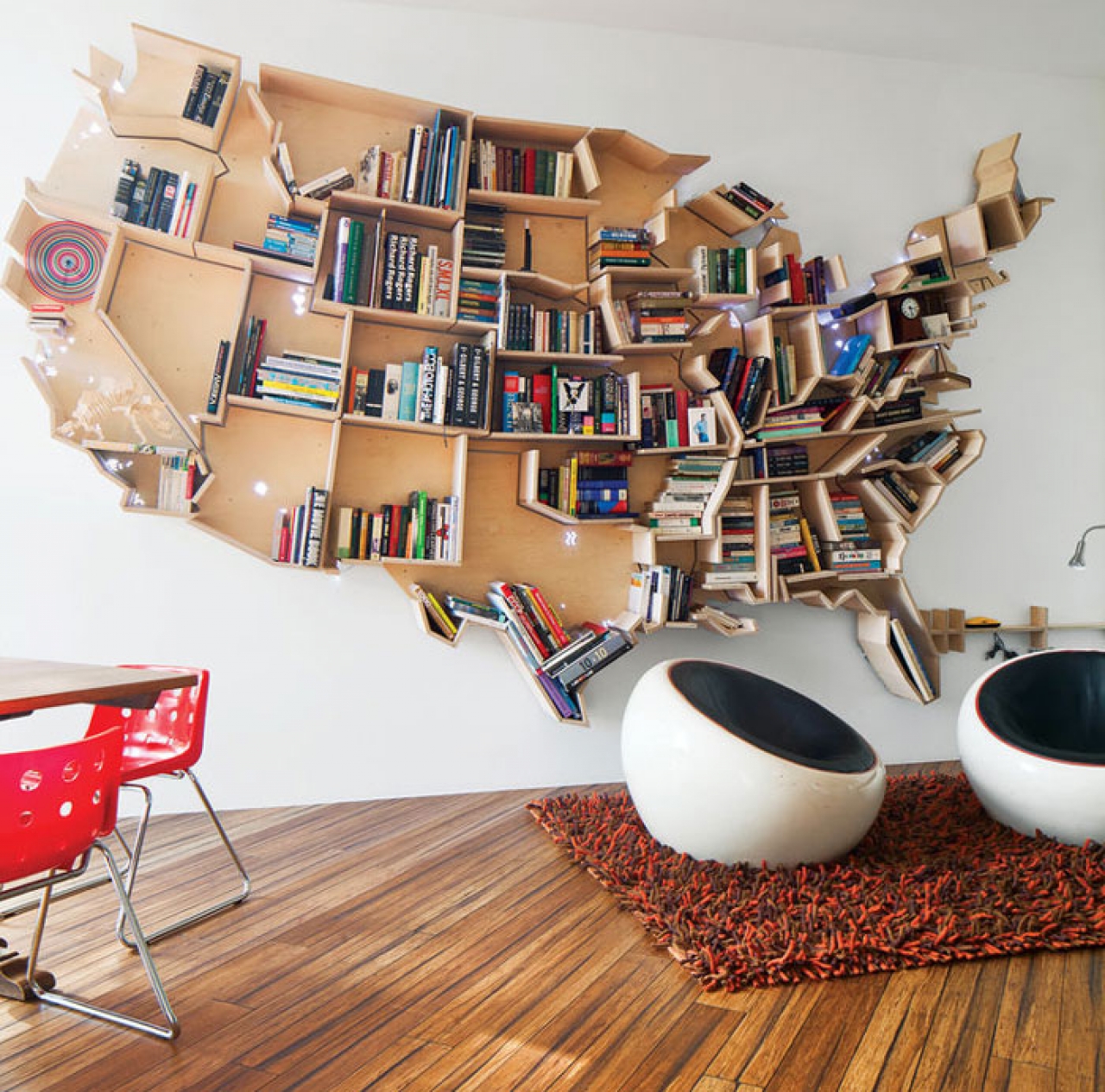 Get a lesson in U.S. geography while displaying your favorite books and collectibles in this unique wall shelf featuring the outline of the 48 contiguous states. The shelves shaped like the individual states provide interesting storage opportunities. The stacked books automatically create attention-grabbing visual patterns. It would be ideal for holding travel books, textbooks, or historical works. The backgrounds of the larger state spaces can also be used to showcase small art pieces, creating additional design opportunities. This piece would be a perfect addition to a study, classroom, or homeschool room. It creates a striking focal point on any wall.
5. Vertical Minimalism
Make the most of a small amount of storage space with this vertical straight-line book support. The small horizontal shelves enable books to be piled on top of each other. This eliminates the need for bookends of any type and allows a maximum amount of books to be displayed in a minimal amount of space. Each shelf can be used to hold books of different subjects or books can be grouped by color to create an eye-catching design element. A contrasting color of bookshelf will attract attention, while painting it to match the background wall will make the books almost appear to be floating in mid-air.
6. Set on a Curve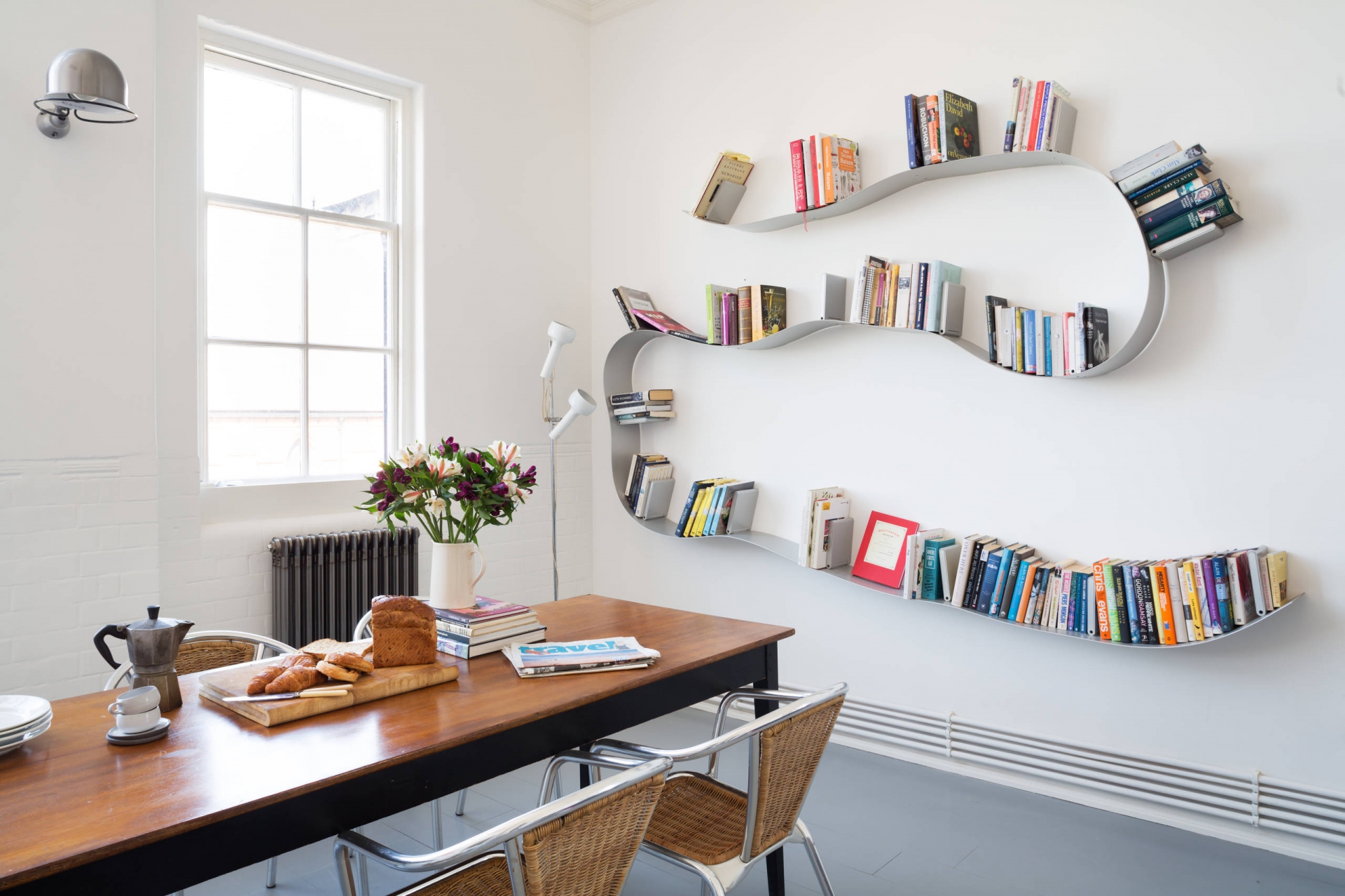 Whoever said books needed to be stored on a flat surface? Embrace the unexpected with this tri-level curved work of art. Built-in bookends hold books at gravity-defying angles. The white metal support is sleek and clean, almost invisible when placed against a white wall. Definitely one of the more unusual bookshelf designs, this piece is made to enhance a minimalist environment. The unusual position of the stored books create a definitive design element, sure to catch the eye of all who enter. Arranging the book spines by color, perhaps with the lightest color on top and darker colors on the bottom, would make even more of a visual impact.
7. Log Landing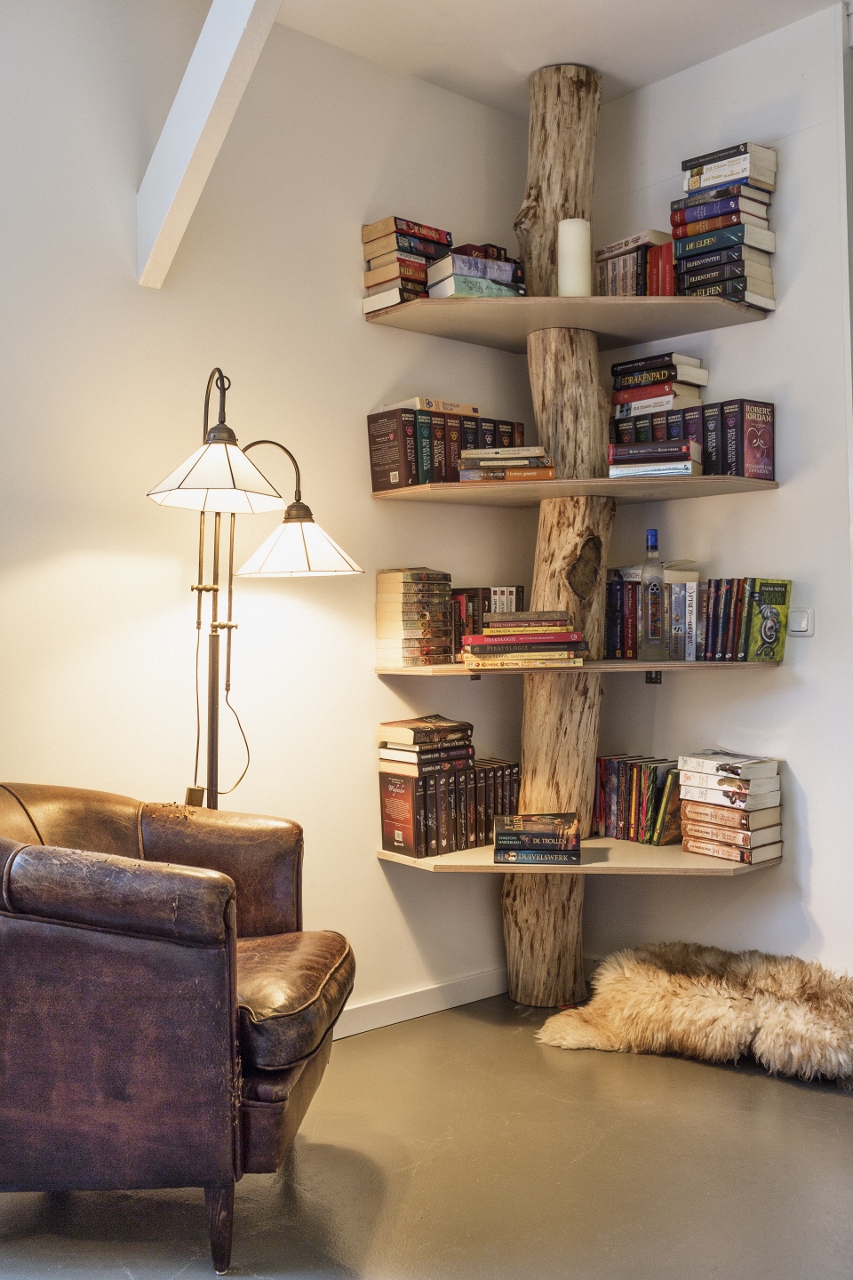 Bring books back to their roots with this bookshelf built around an unhewn log. The shelves are sturdy and spacious, spanning from floor to ceiling, providing plenty of room to display and store a favorite book collection. Books can be stored either horizontally or vertically, or a combination of both to add visual interest. This configuration would be ideal in a rustic setting, such as in a log cabin or seaside bungalow. It would also provide an unexpected accent and a touch of nature in a modern urban location.
8. Stair Storage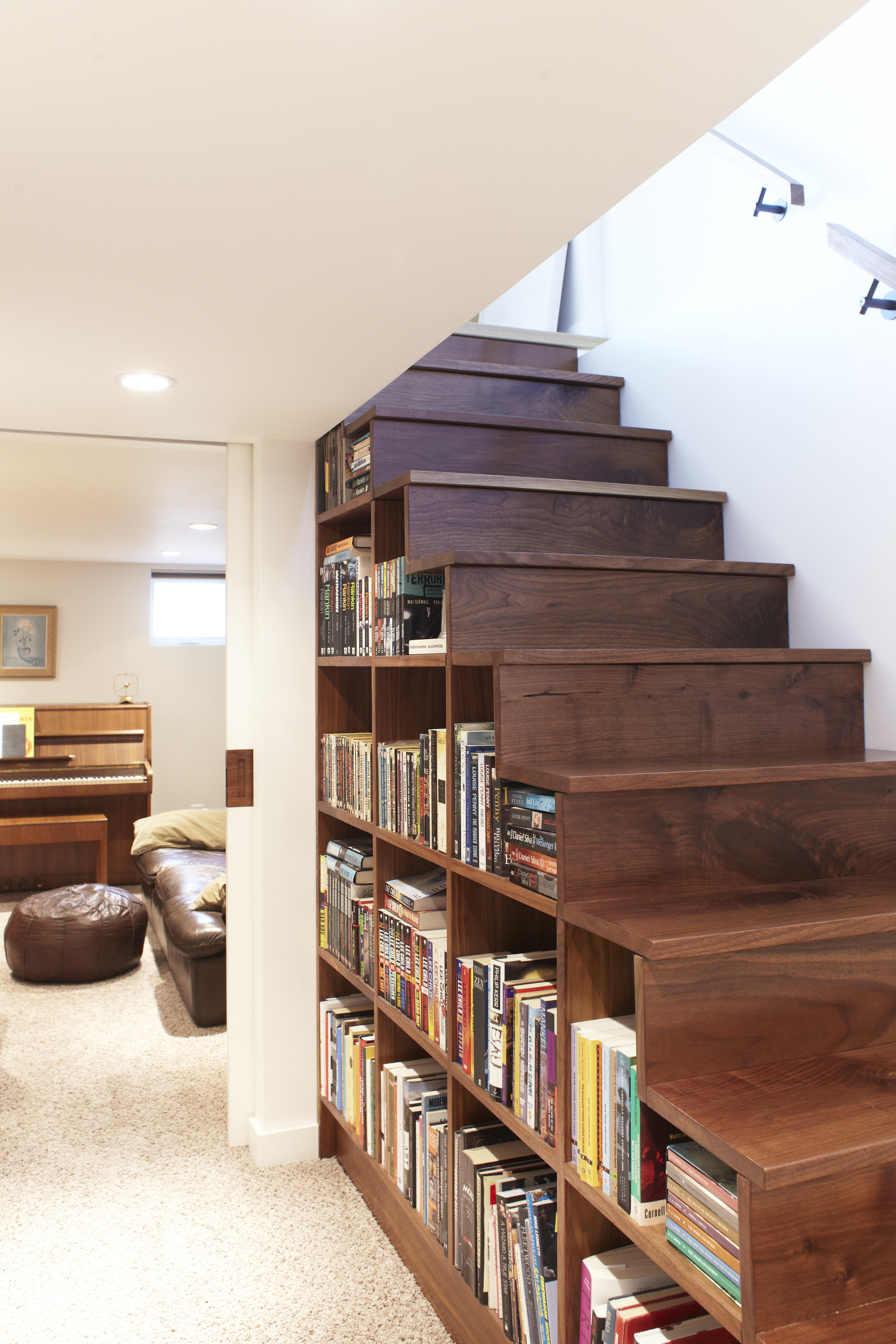 Bookshelf designs that take advantage of space that would otherwise be wasted are especially welcome. This built-in style is both useful and attractive. The stained solid wood creates a classic, homey look while the well-built shelves make the most of available space. Every inch becomes usable with different size shelves accommodating various size books. An excellent combination of form and function, this is a look that could fit into almost any decorating style with ease.
9. Check Yes or No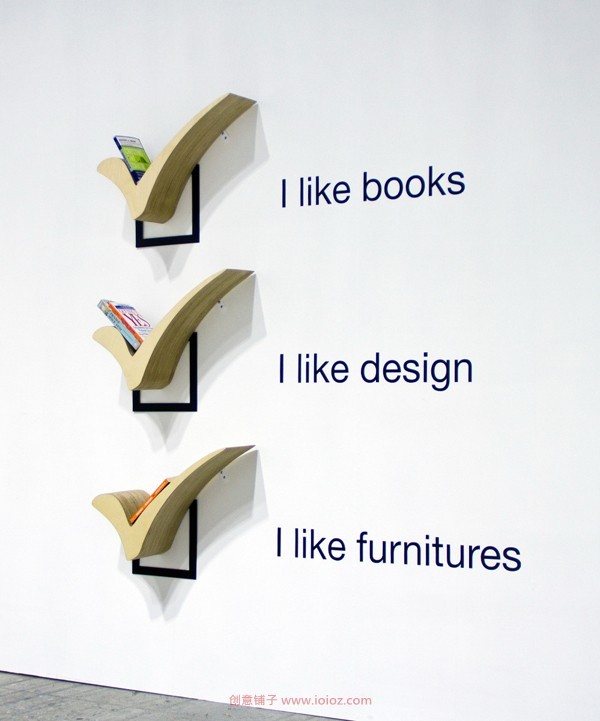 This checkmark bookshelf design is all about the look. While storage capacity is minimal – only a few books can fit on each shelf, there is no question that these checkmarks are made to attract attention. Taking their inspiration from a classic paper form, the combination of the three-dimensional wooden checks and the two-dimensional squares and text creates an original work of art. The text could be changed to reflect the particular room or office building where these shelves were hung, making this a truly one-of-a-kind piece sure to make both a visual and literal statement.
10. A Whale of a Tale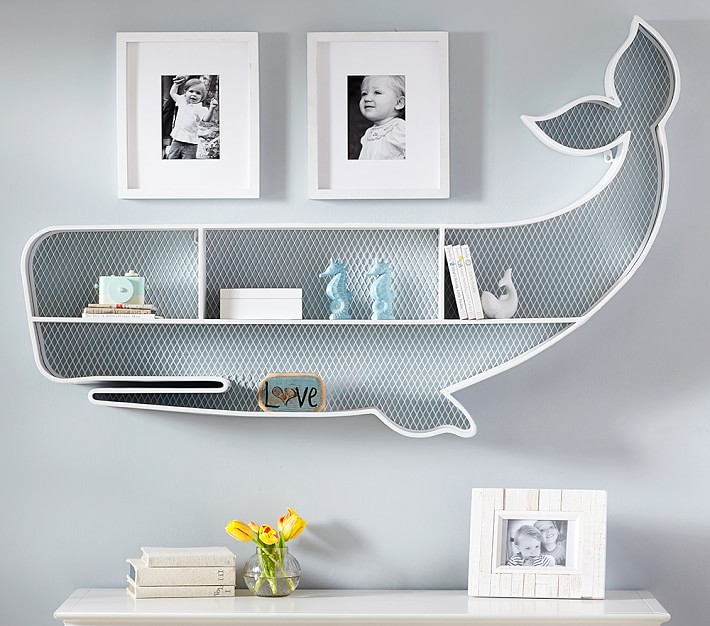 Looking for sea-inspired bookshelf designs? A nautical theme can be just the thing for a child's room, a beach house, or someone who wishes they lived by the ocean. This whale-shaped design with netted background might be just the thing. This shelf can be used to display cherished books, photos, or mementos. The tail shape naturally draws the eye to the space above the whale's body making it an ideal spot to place a favorite work of art or framed family photos. The small fin on the bottom serves a similar purpose, giving attention to whatever shelf or item of furniture may be placed underneath.
11. Full-Wall Coverage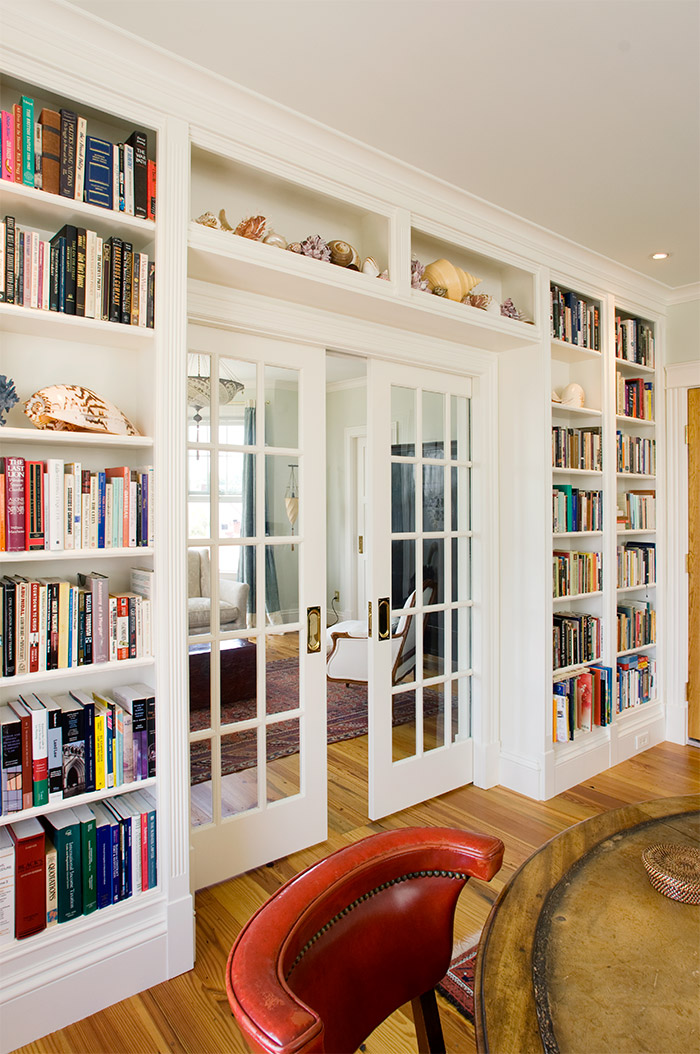 Pocket French doors are a strong design element all by themselves. Frame them with a set of floor-to-ceiling bookcases and you make a dramatic visual statement. These shelves are ideal for an avid book collector or someone with many photographs or small pieces of art to display. There is plenty of space here to house a full collection. The arrangement of the books and other mementos can also change the impact of this configuration. A wall of leather-bound volumes will create quite a different appearance than a more airy, casual grouping of assorted books, photos, and small sculptures. This design allows much room for individualization.
12. Music Magic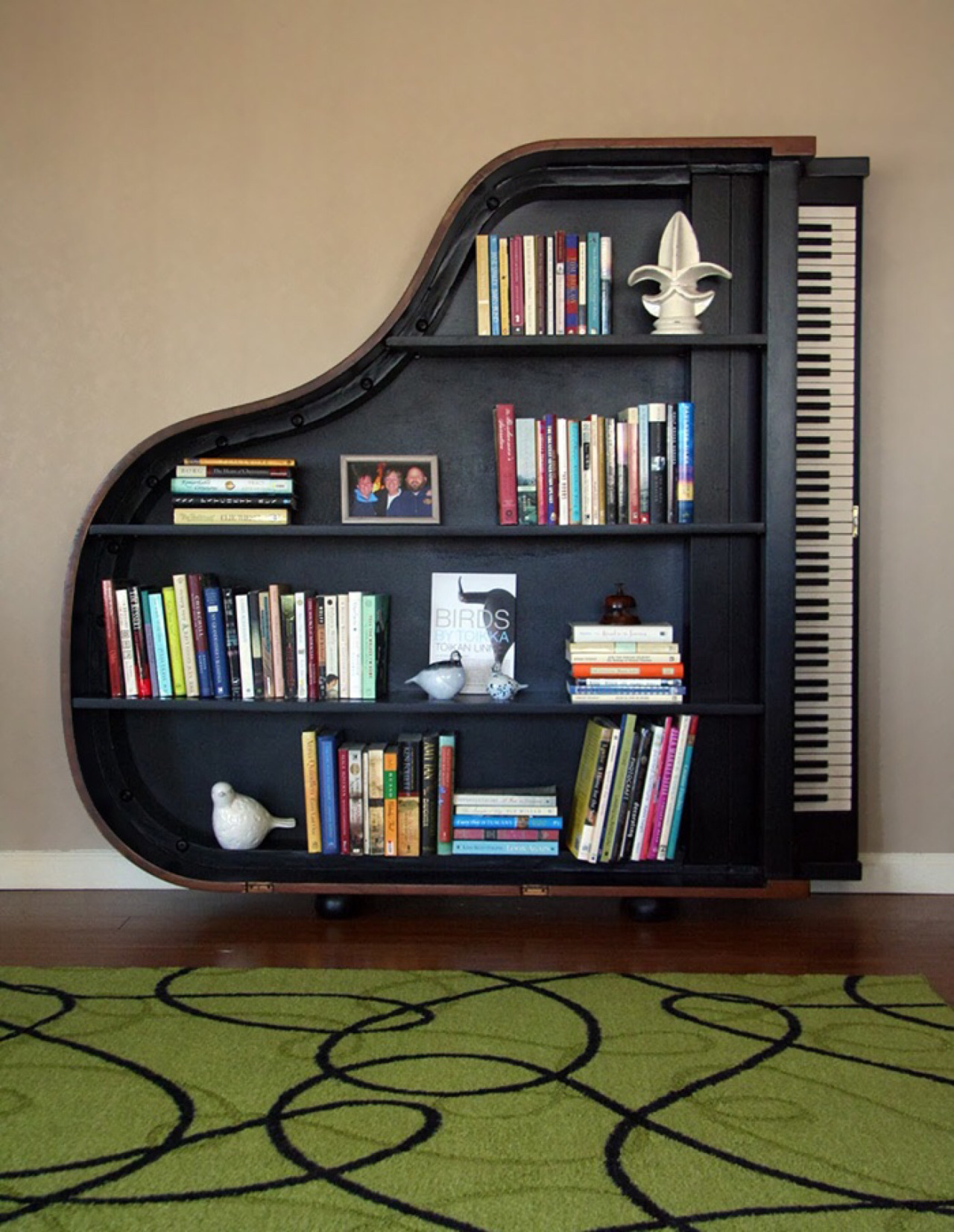 A music-lover would find this piano-inspired piece irresistible. The combination of strong curved and straight lines keeps the eye moving around the bookshelf and frames the collection on display. The shelves are tall and spacious, providing ample space for books of all sizes as well as photos and pieces of art. The dark background adds contrast and highlights the items exhibited within. This shelf would be ideal for a music room or music conservatory and would be a conversation starter in any music aficionado's home.
13. Branch of Books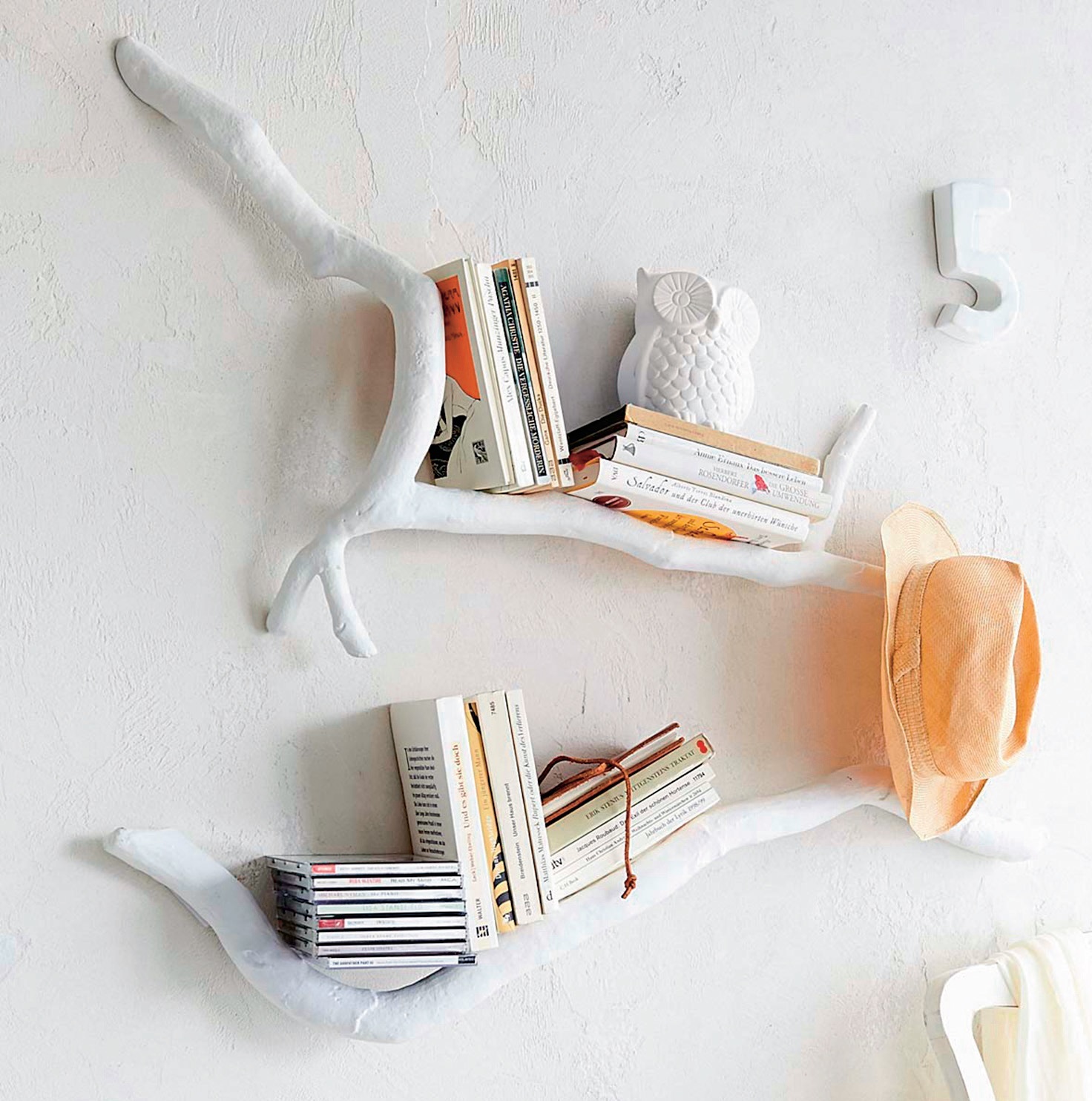 This white branch shelf can hold books as well as serve as a place to hang lightweight items. The branches bring a natural element into a home design, while the white color blends seamlessly with a white background or provides a striking contrast against a darker wall. The innate curves of the limbs provide a resting place for books or small sculptures to lean against the wall while protrusions offer a place to hang a hat, keys, or small umbrella. Multiple branches could be used to create a larger storage area.
14. Cloud Coverage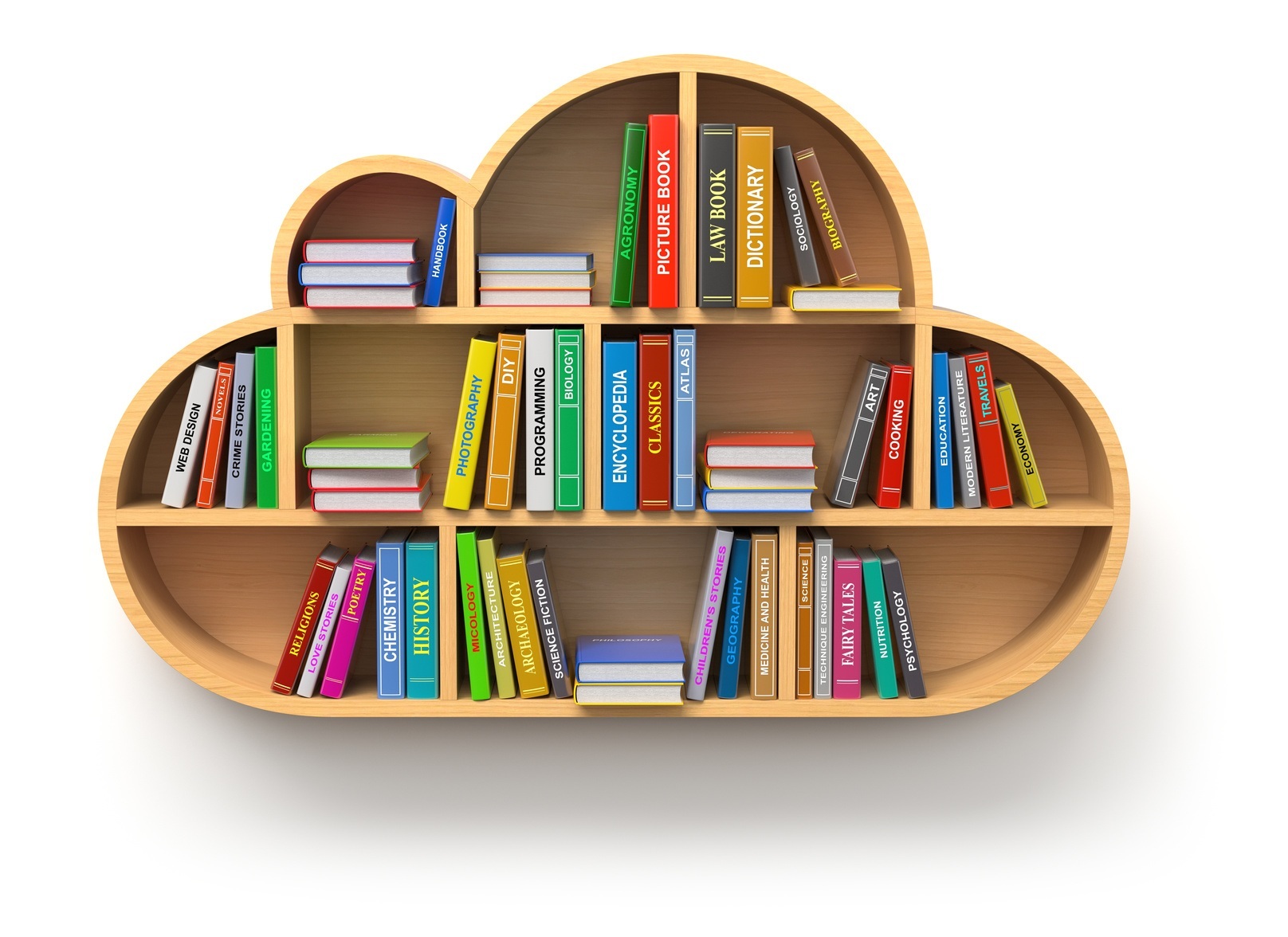 Bookshelf designs need not be stuffy and boring. Fluffy white clouds inspire thoughts of lazy summer days spent laying out on the beach with a great book in hand. Bring a touch of summer into a home or office all year long with this cheerful cloud. The strong wooden construction can support even the heaviest books while the gentle curves frame the outside. It could also be used to exhibit a collection of photographs. One could also use the center rectangular areas for books while using the smaller curved sections to display collectibles. However it is used, this piece is guaranteed to bring a smile wherever it is hung.
More amazing bookshelf ideas on the next page…