Does your home need more space? Do you want a storage that can match nearly any home decor? Bookshelves are a great solution to make the most of any room's storage space. They allow you to use both the horizontal vertical space of a room for storage and can organize much more than books. Picture frames, home decor, children's toys, and personal items can all be stored on bookshelves.
Build Your Own Bookshelf with These 40+ Unique Tutorials

Thanks to the internet, there is no shortage of DIY bookshelf ideas. They are fast, easy, and great DIY projects for beginners. All of them start out with a basic design, the materials you use on each bookshelf will be what will set it apart from others and makes it match your home décor.
If you are looking to add more home storage and need inspiration, the following DIY bookshelf ideas are a great start. They will inspire you to think outside-of-the-box and can add additional, much-needed storage space to any room in your home.
From classy and elegant to rustic and industrial, there is a project on this list that will work perfectly for your needs and style. Mix and match ideas or use an idea as a springboard for your own unique design.
1. Cozy Corner Book Nook with Wooden Shelves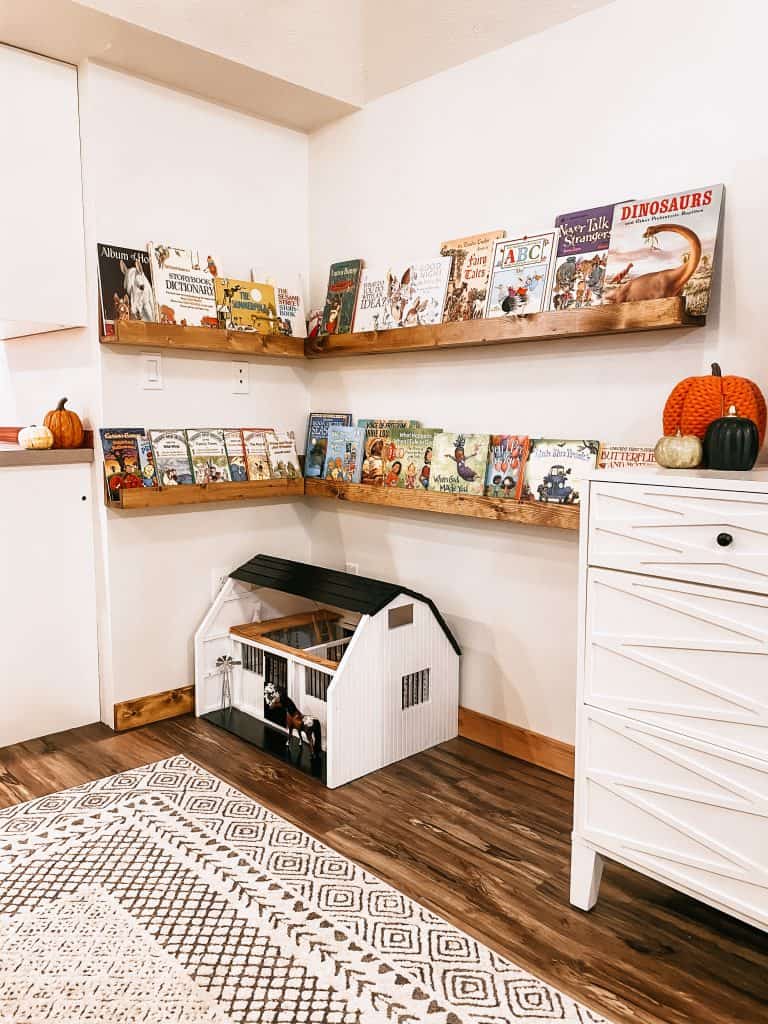 Give a purpose to that dusty corner in your home by creating a cozy book hangout for your family. Your kids will love swapping out their favorite books each season as they put their personal touch on this part of your home. Including them in the process gives them some ownership and encourages them in their lifelong love of reading.
2. Rectangular Reclaimed Wood Geometric DIY Bookshelf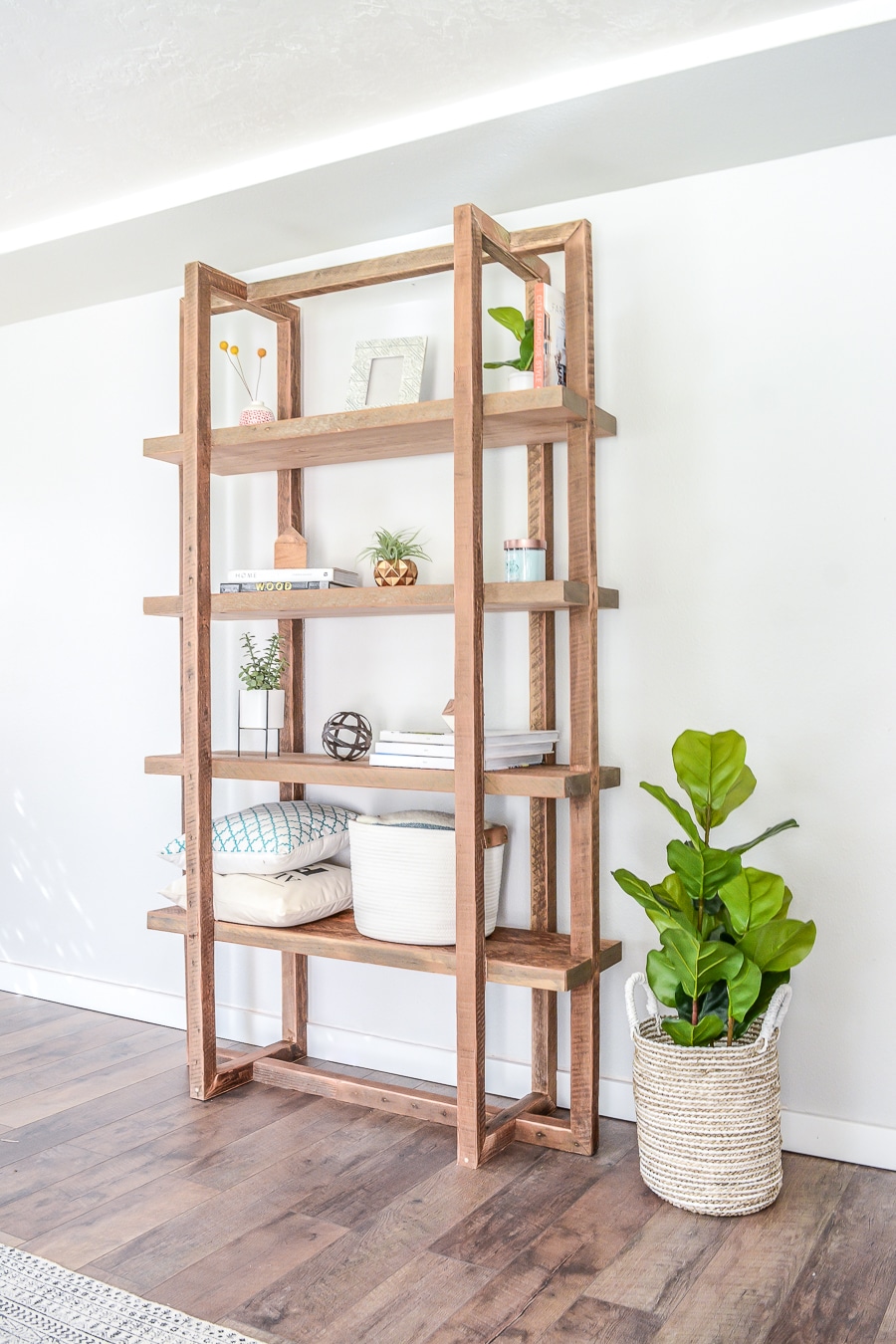 Think outside the box to create this amazing geometric bookshelf. It's a simple DIY project that gives you the shelving space you need in the style you want. The rectangular shapes echo from side to side and top to bottom to project parallel lines from every angle. Amp up the display space and book-shelving possibilities with this interesting geometric bookshelf that's the statement piece for which you've been searching.
3. Easy Access Mid Century Modern DIY Bookcase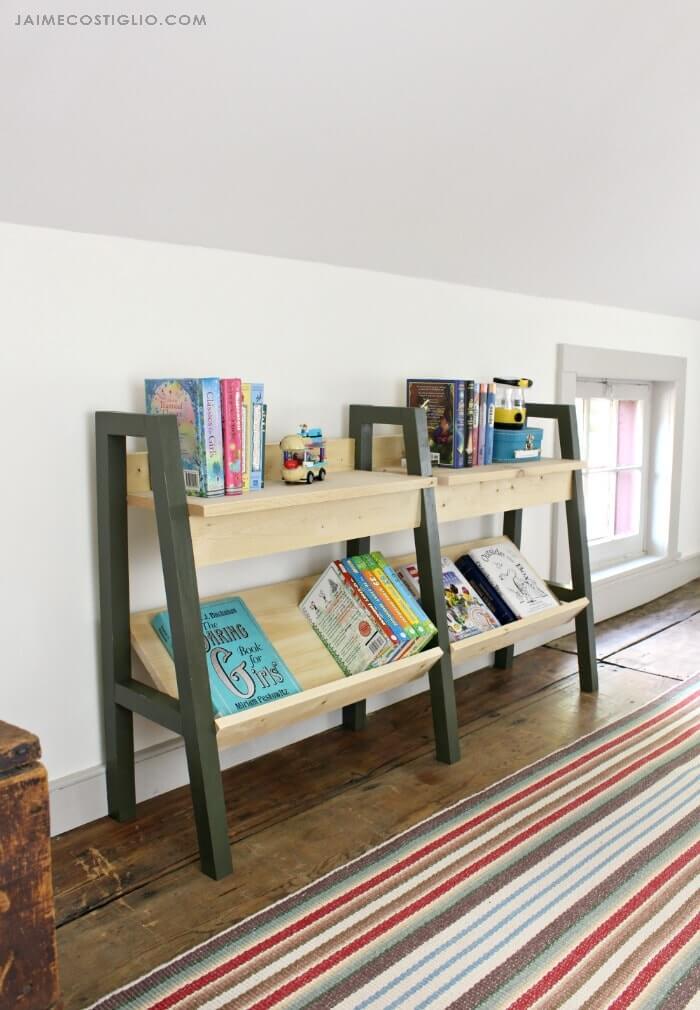 Finding a bookcase that's simple enough for tiny humans to use can be challenging, but with this mod DIY bookcase, your little ones will enjoy getting their hands on books without any assistance. Two shelves provide enough room for arranging your books and even displaying a treasured trinket or two. Nestle them under an eave to make the most of your space.
4. Wonderful Wooden Crate Bookshelf Room Divider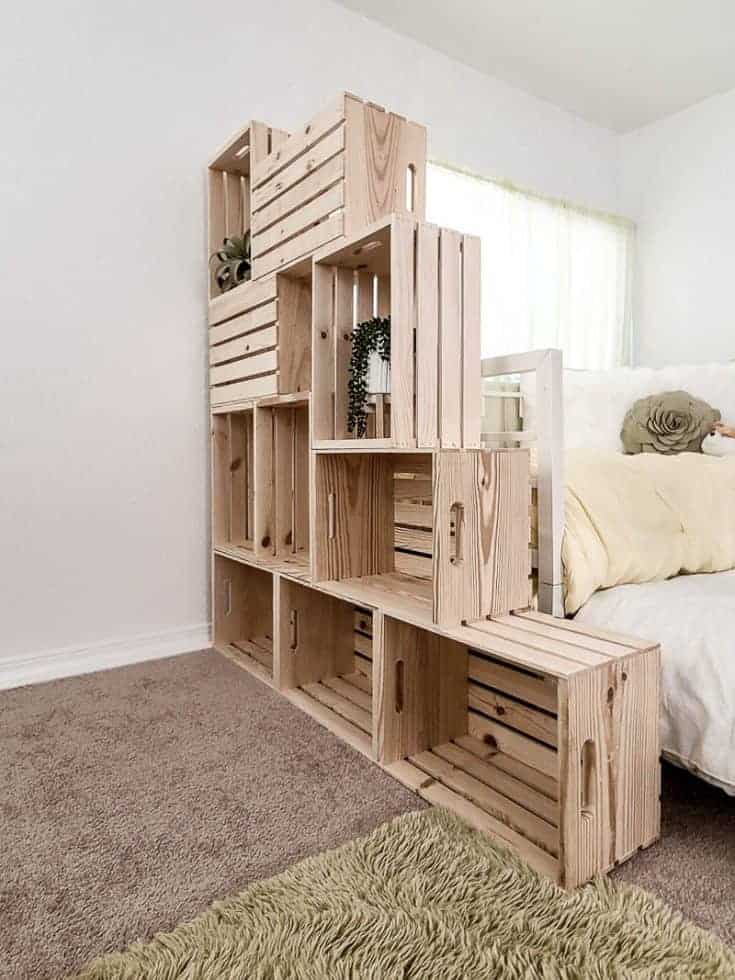 Incorporate some visual interest while adding some organizational madness with these crafty wooden crates. Arrange them to your liking and you'll have plenty of places to store books, trinkets, and houseplants while keeping the other side of the room out of view. As you enter the room, your eye will be drawn to the interesting displays you create in these wooden cubbies while providing definition to your living space.
5. Painted Spice Rack Bookshelves for Playroom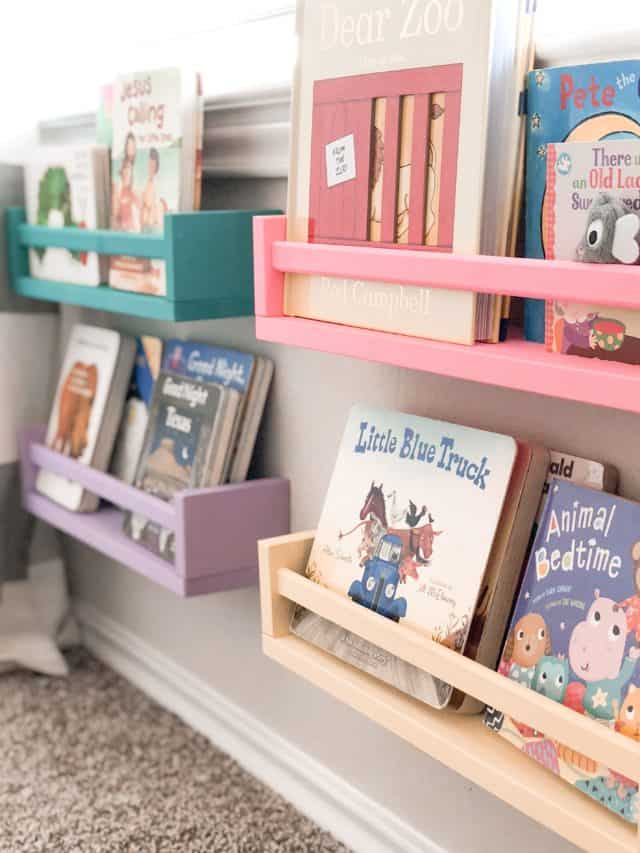 Reimagining is perhaps the spice of life when it comes to frugally adding functional and fun pieces to your home. These spice racks are the perfect size for use in a kid's playroom as bookshelves. A set of four works wonderfully to arrange books by theme, author, or color. Not only does a fresh coat of paint make them look nice, it really gets the ball rolling on their transition from the kitchen to the playroom.
6. Black Industrial Bookshelf with Wooden Shelves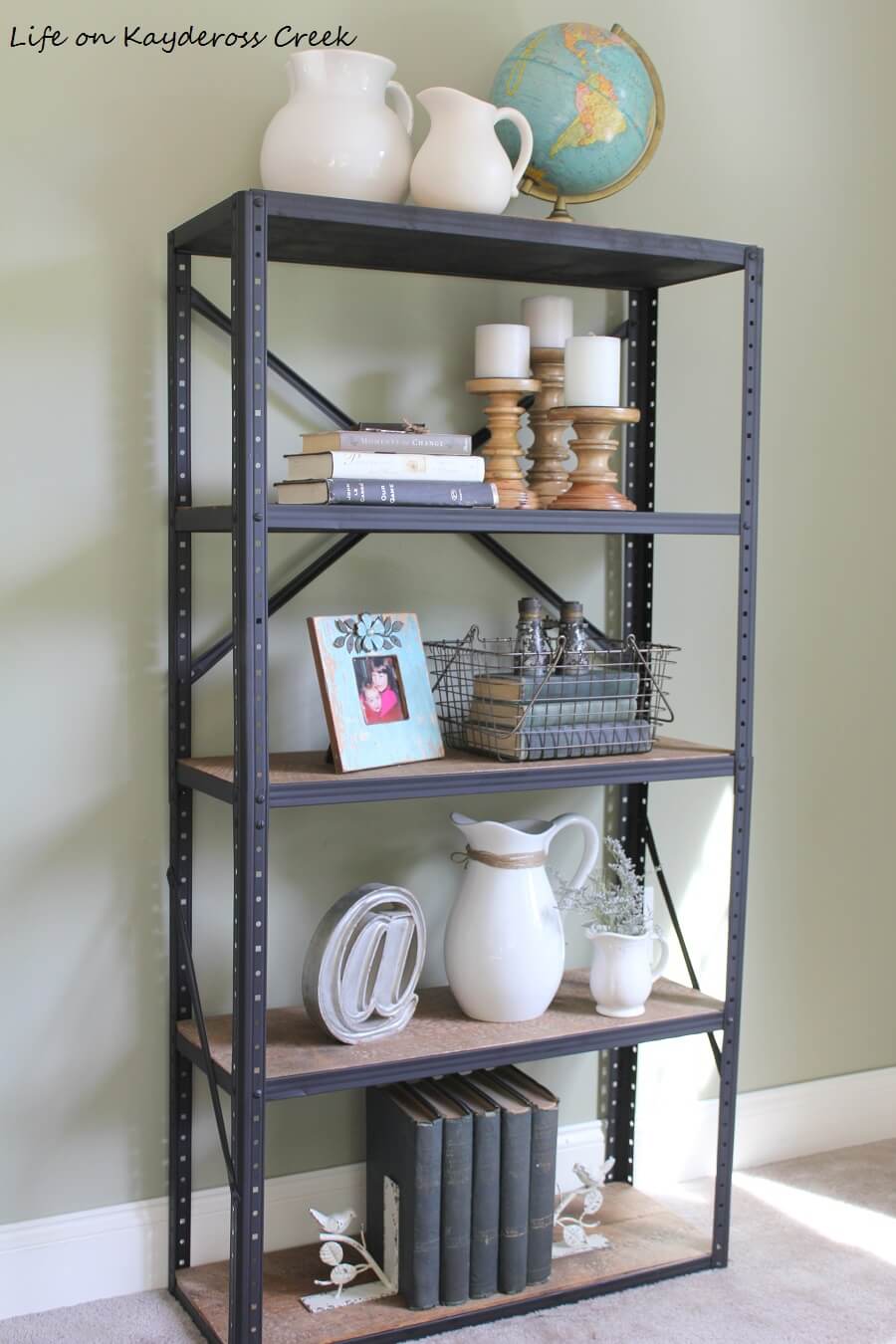 Create a newly imagined piece of furniture for your home with this industrial bookshelf. A hearty coat of flat black paint will do the trick in making it come alive as a new metal bookshelf ready for your living space. Flip it over and use the shallow shelves to hold some stained wooden boards to give it a beautiful new look. Now you have a lot of storage solutions for a little cash.
7. Crate Trio Tower Bedside Bookshelf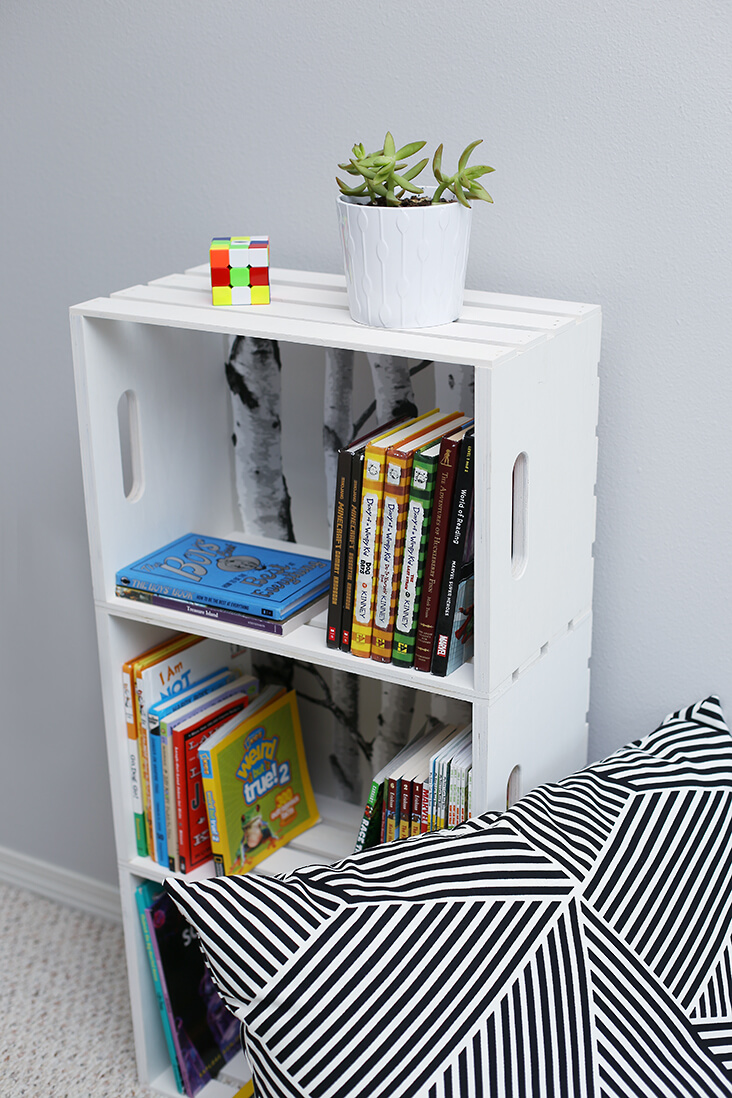 Here's the perfect-sized bookshelf that fits nicely right beside the bed. Three craft crates are stacked horizontally to create this awesome bookshelf. To complete the project, some wallpaper or craft paper has been applied to the back to give the shelves a more polished look and feel. A coat of white paint further completes this handy dandy tower bookshelf that's perfect for any kid's room or guest room alike.
8. Four Levels Wall Mounted Child's Bookshelf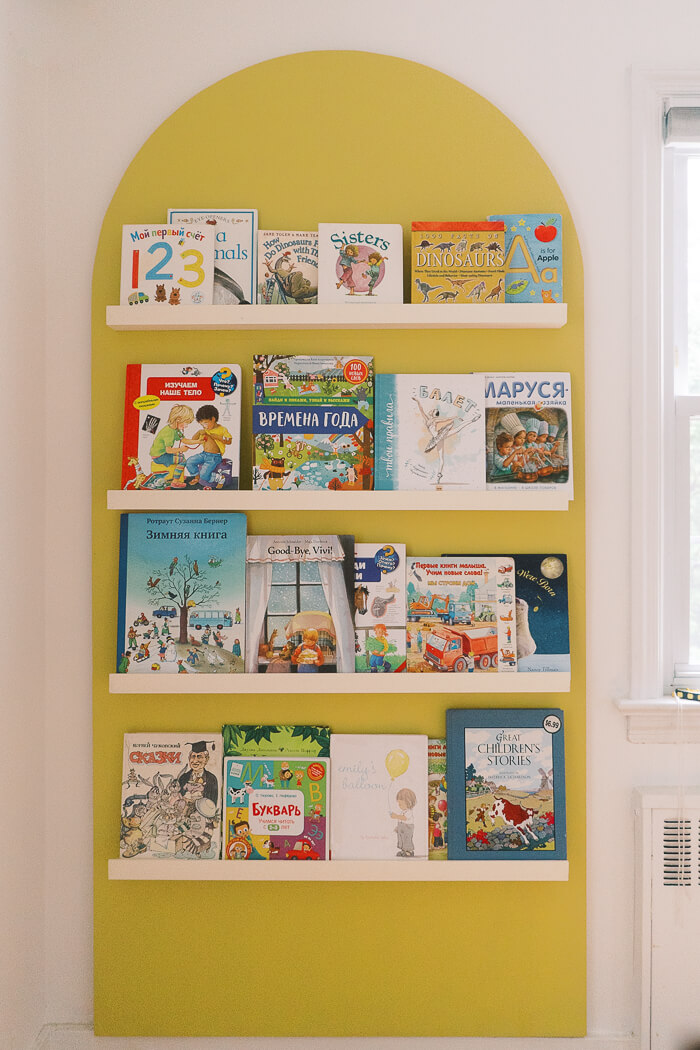 Keep the room neat and tidy by keeping your child's book collection displayed and organized on the wall. With all of his or her favorite books within view, it makes finding the right one easy. The four long wooden shelves provide plenty of storage space while looking amazing as an appealing wall art display. This is a perfect solution for small spaces and works in the bedroom, playroom, or end of the hallway.
9. Really Red Painted Laminate Bookcase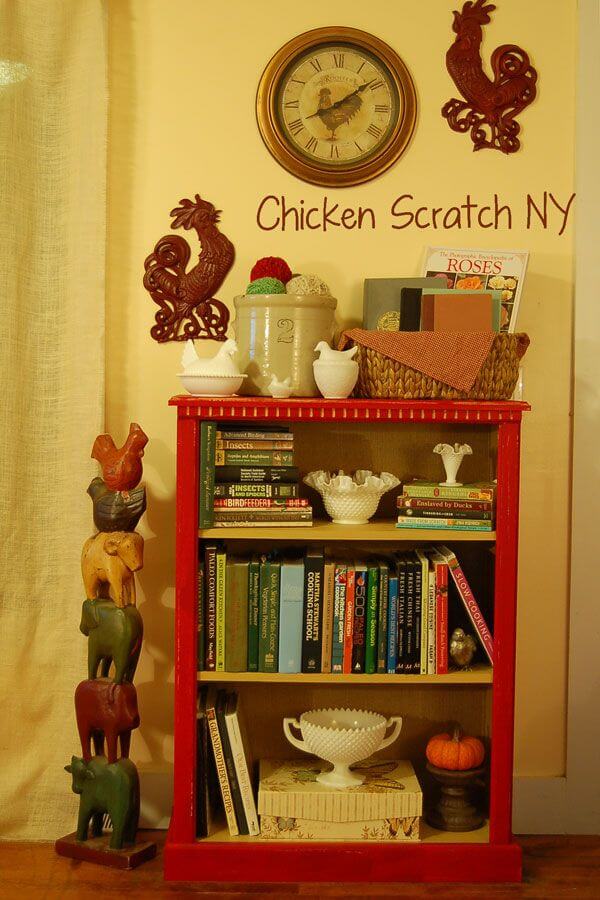 When you're on a shoestring budget, but want to give your bookcase a new look check, out this quick and cheap update. Slapping on a coat of chalkboard paint makes a great companion for an old, low-budget bookcase like this one made from laminate with a pressed board backing. The bold color of red really makes a statement and gives this an entirely new look that's a welcomed breath of fresh air for your home.
10. Small & Unique Tabletop Industrial Pipe Bookshelf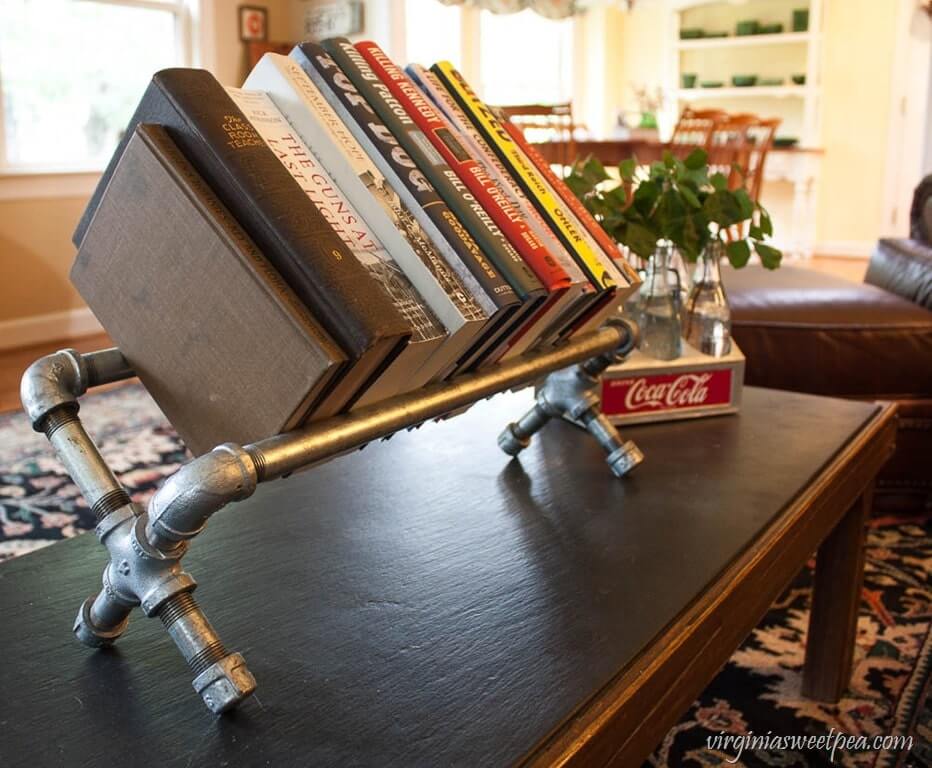 Add some storage and style to the top of your side table with this unconventional and unique bookshelf. It's the perfect size to sit on top of your table and it offers just enough room to hold your top ten favorite books. Keep your reading materials within reach and give your room a little style at the same time. The look of the industrial pipes transforming into this small bookshelf makes an interesting addition to your home.
11. Ceiling to Floor Built-In Home Library Wall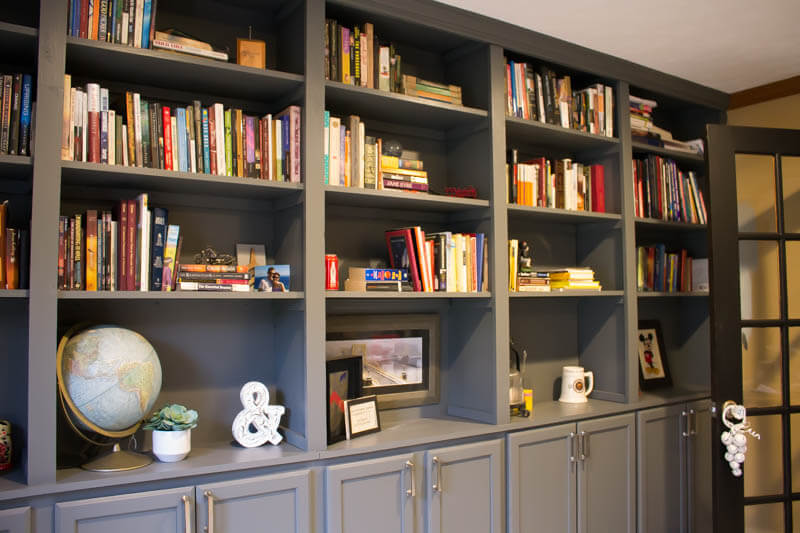 Every bookworm deserves his or her own personal library. And even if you're not much of a page-turner, everyone can use extra storage. This large and in-charge built-in provides just that. There's plenty of storage in the bottom row of cabinets, while the open shelves on top offer extra room to organize and display your treasures. Make the most of unused wall space by converting it into this amazing floor-to-ceiling personal library for your home.
12. Shabby Chic Rustic and Natural DIY Bookshelf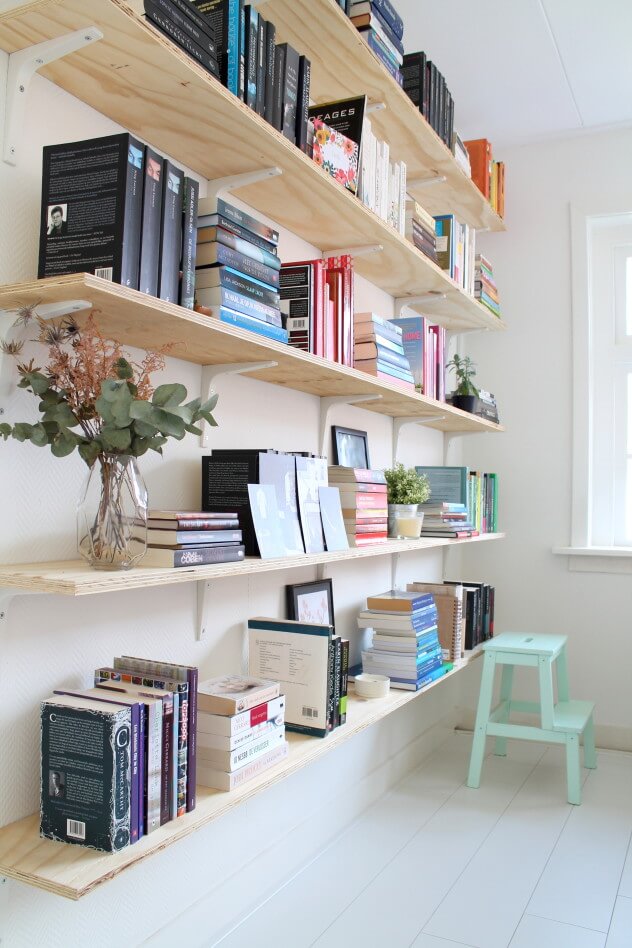 Increase your storage potential with the addition of these simple DIY wooden shelves. Held onto the wall with plain white brackets, your natural blonde wood will certainly hold up its end of the bargain. Long and lean, these wooden shelves are sturdy enough to hold your entire book collection along with some fun and cool decorations. Place these on the wall in your home office for a personal library that makes organizing super simple.
13. White and Wooden 6 Tiered Corner Bookshelf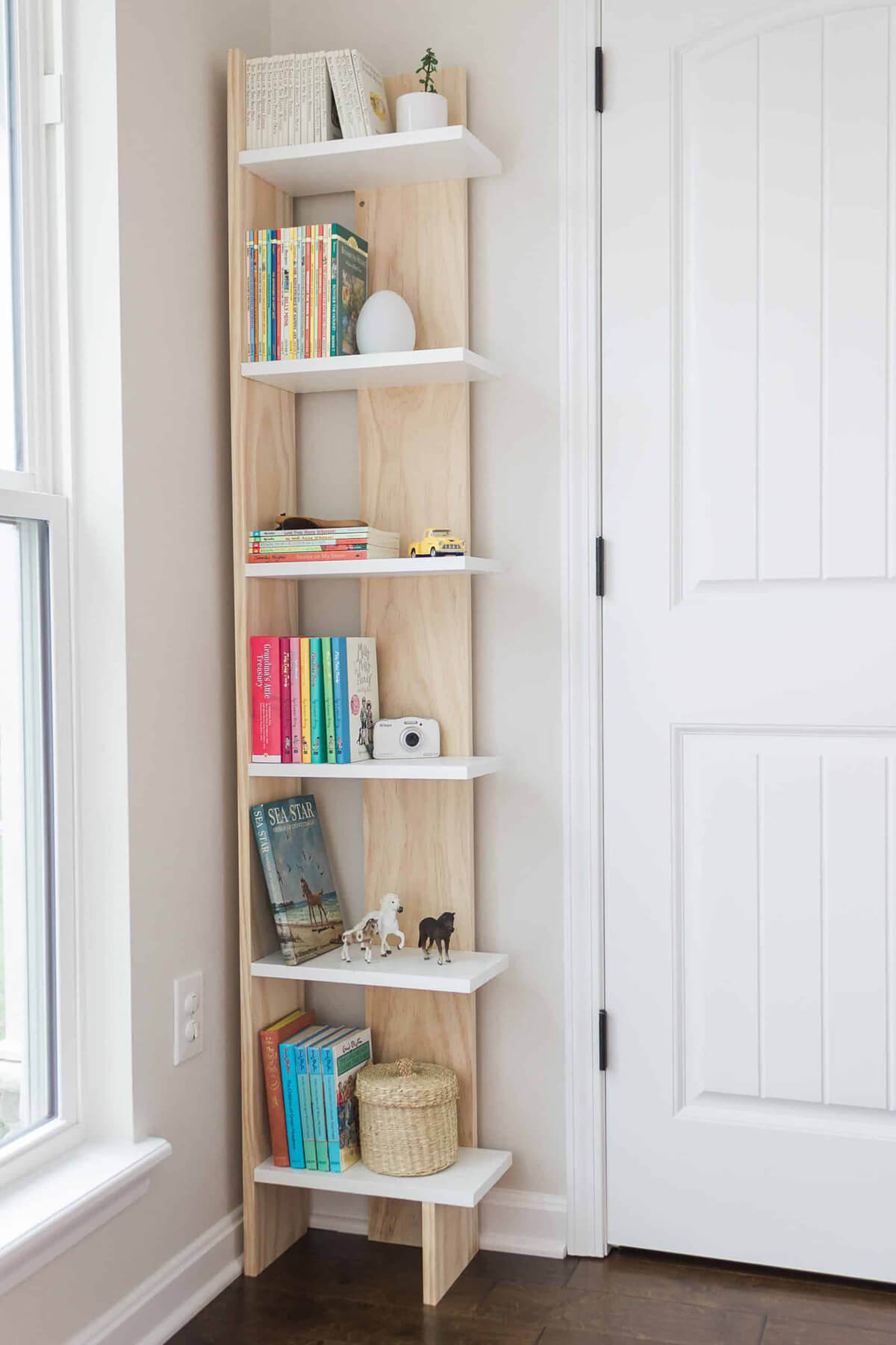 Maximize your space by settling this slim six tiered wooden shelf into an empty corner of your home. It provides a generous amount of storage without taking up much floor space. Stack your collection of classics or modern thrillers on the shelves to make finding your favorite book a breeze. Place this tall and slim piece of furniture in a child's room for the perfect place to increase book storage without rearranging or reorganizing the existing room.
14. Reclaimed Wood and Industrial Pipe Bookcase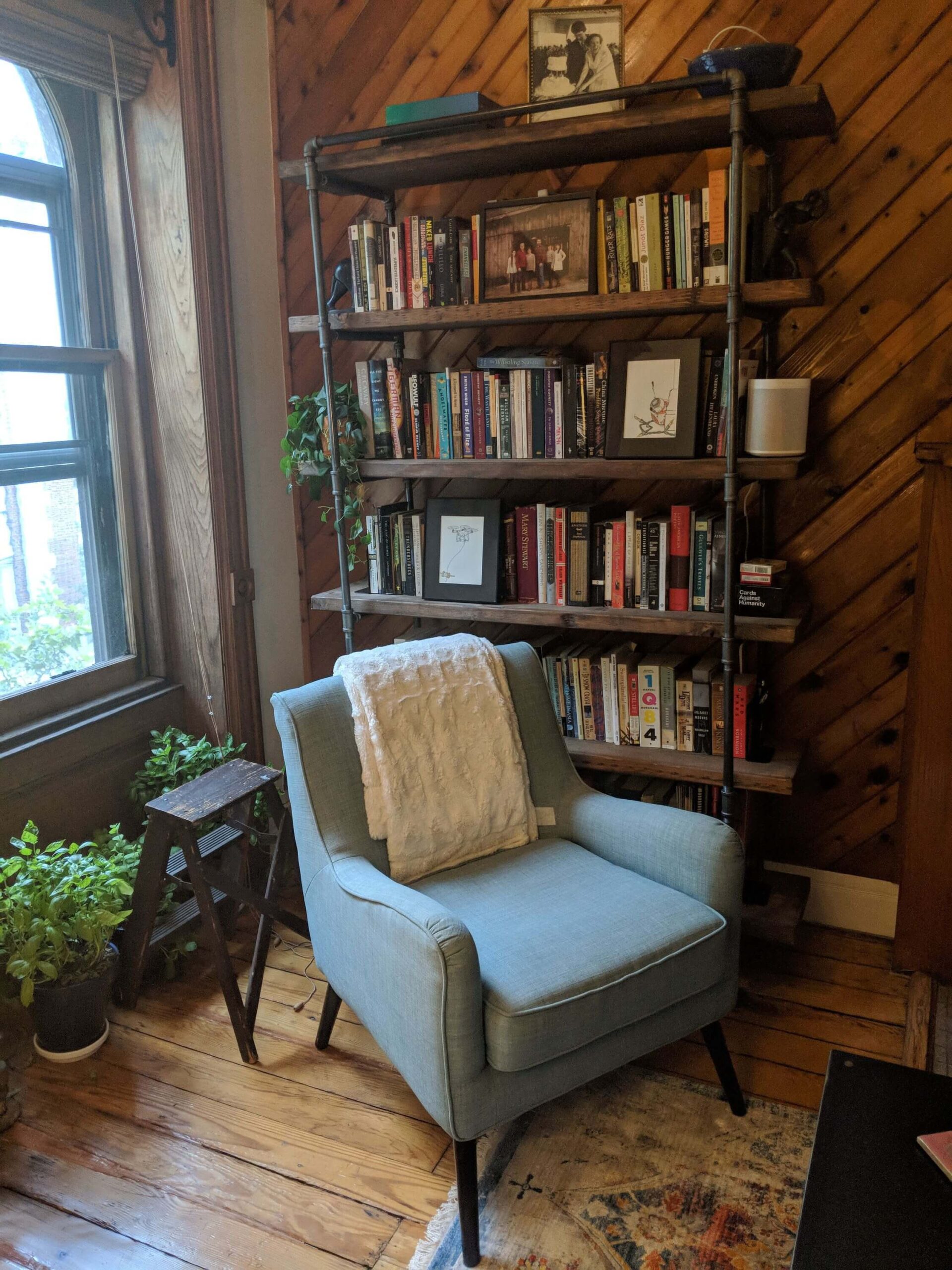 Your home deserves style with purpose so include this industrial bookcase into the mix. Showing off some gorgeous reclaimed wood shelves, this unit is constructed using metal pipes to provide a sturdy foundation for all of your favorite books and decorations. Against the wall and out of the way, all of your books will love their new home on this beautiful and interesting industrial pipe and wood bookcase creation.
15. Awesome Wooden Wall Art Tree Bookshelf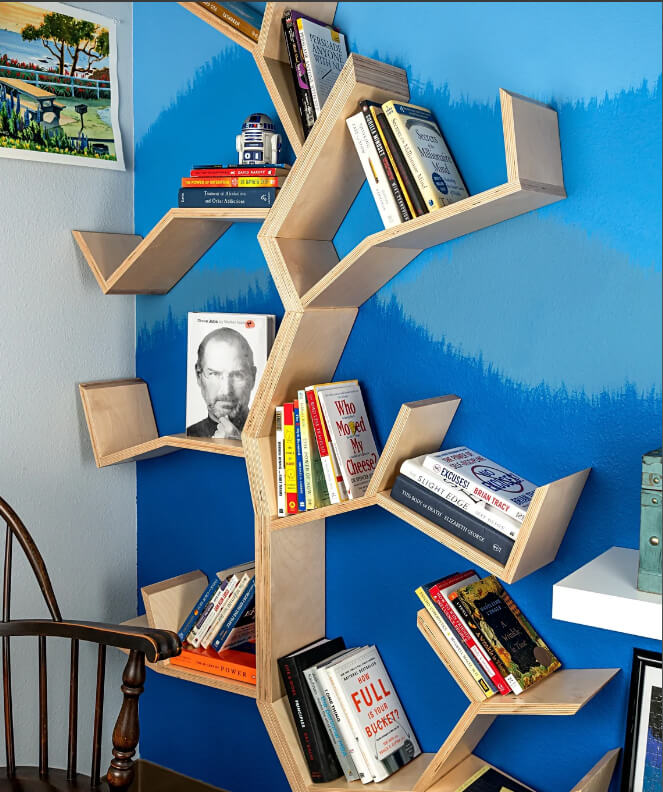 Make a bold statement with this wooden tree bookshelf. As the branches spread out, your book collection will continue to grow. The delicate and artful placement of the branches captivates the eye while the varying levels deliver plenty of book-shelving spaces. It's a fantastic look for your home office, living room, kid's room, or even in the baby's nursery.
16. Small Dowel Rod Nursery Bookshelf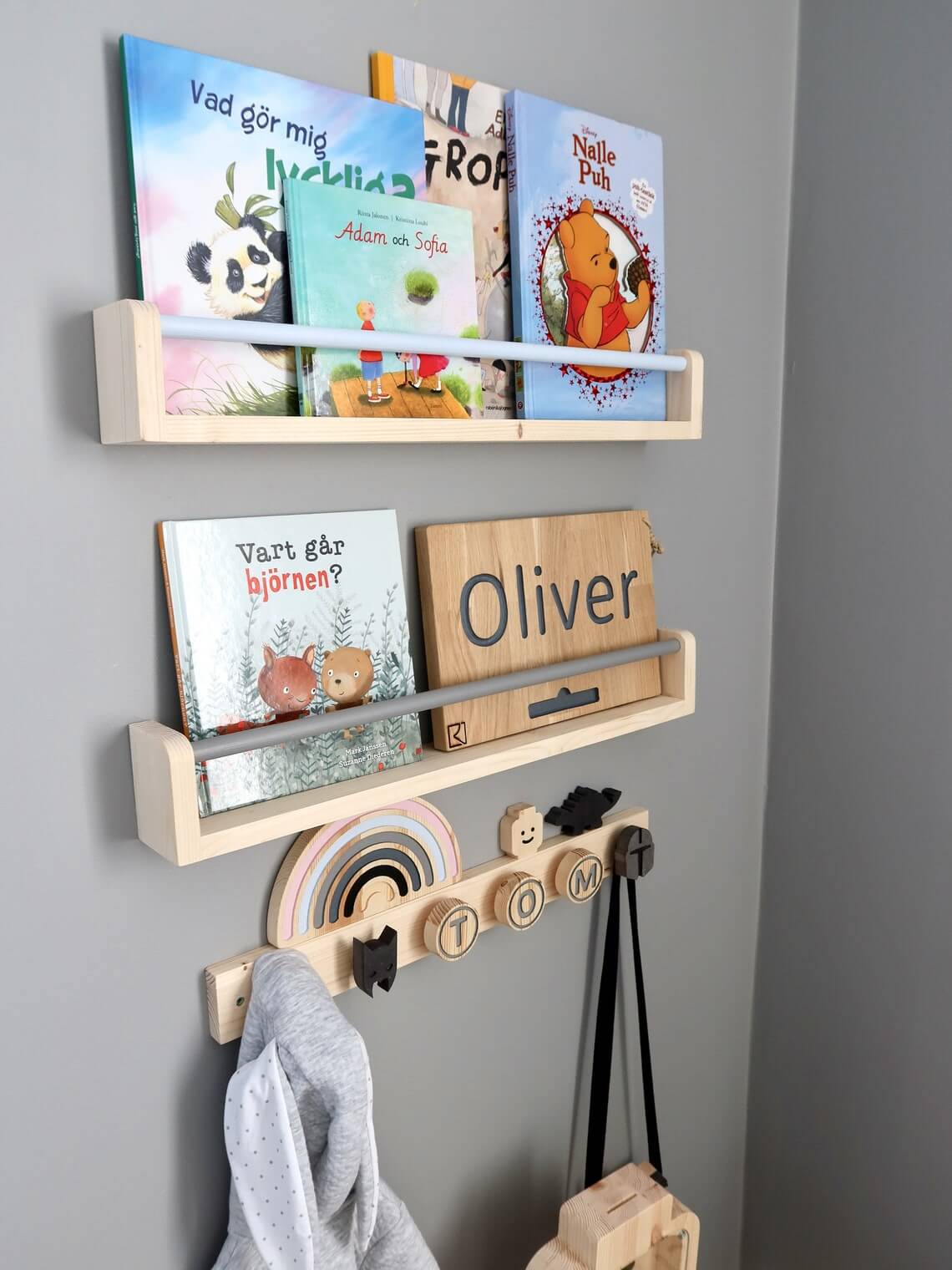 Start your baby on the path to literacy with this small bookshelf that's perfect for decorating the nursery. Your little one will love the ease in seeing great reading choices and the simplicity of the dowel rod and shelf construction further adds to the wonderment of the nursery's overall look and feel. Coordinate the dowel with the nursery's color scheme for a custom design.
17. Modern and Rustic Floating Shelves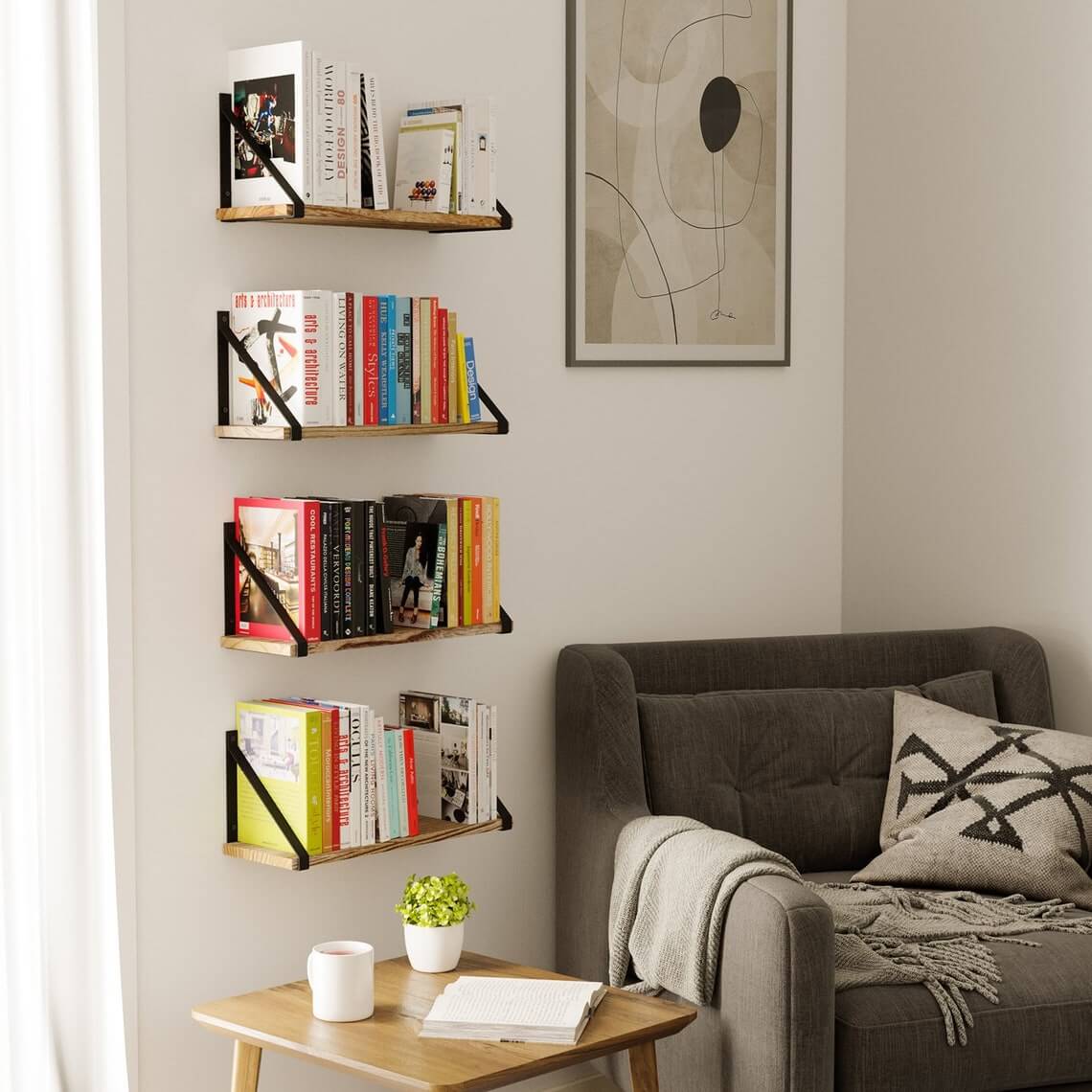 Depending upon your need, one or more of these floating shelves will do the trick in giving your books, DVDs, and houseplants a new place to call home. One beside the bed makes for a sleek and modern wall-mounted nightstand to hold all of your essentials from books to phones. It could be a great charging dock as well. Arranged in a group, these floating shelves come together as a central bookshelf system to organize all of your classic hardbacks and paperbacks neatly in one place.
18. Dark Wooden Tree Book Shelving Rack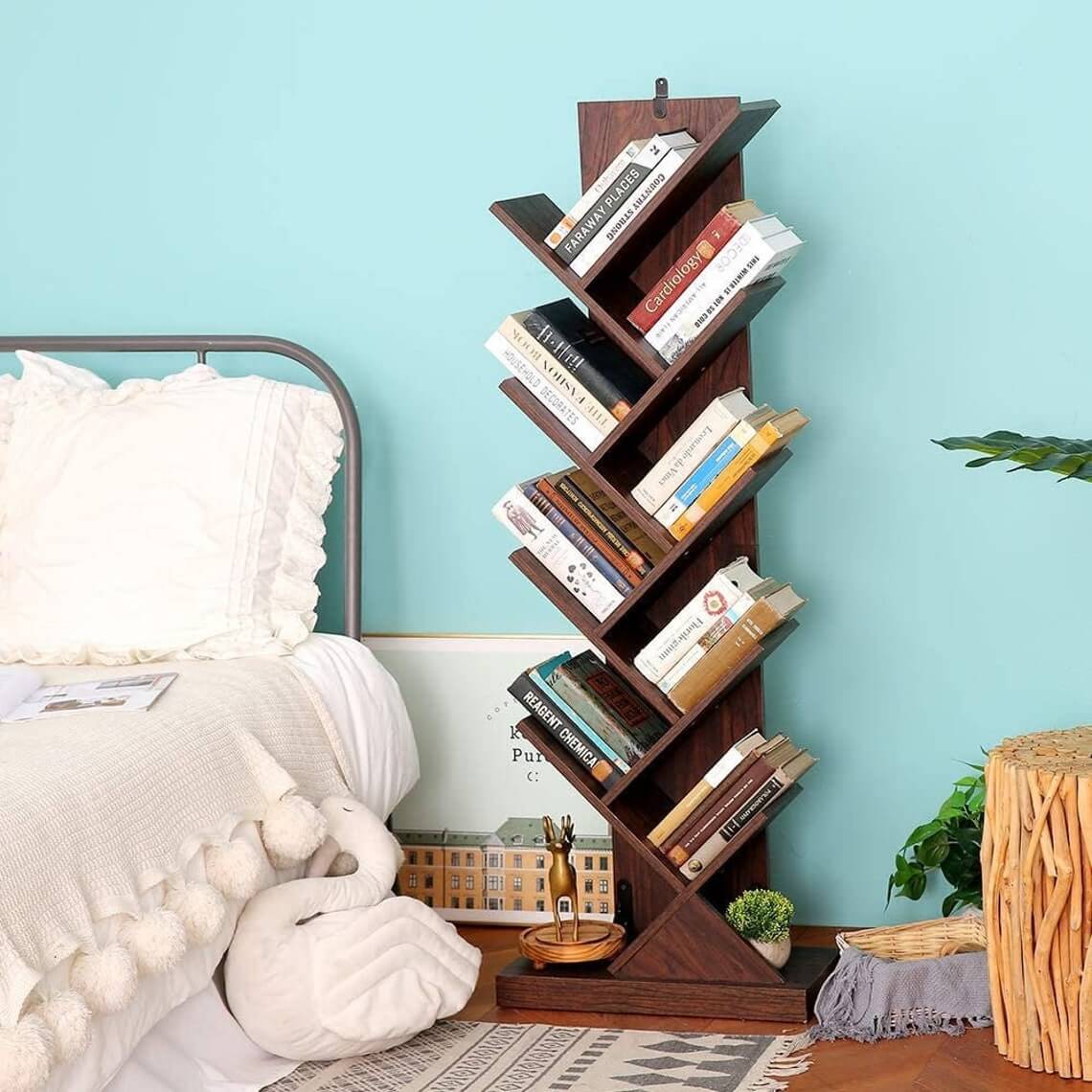 The only thing better than a nightstand beside your bed is this book shelving tree. It's not only a visually appealing accent furniture piece, but it makes grabbing a good book before bed a breeze. The tree limb design makes retrieving and replacing a book easy. And the staggered branches offer some additional interest to your organizational storage needs.
19. Streamlined Vertical White Rectangular Bookshelf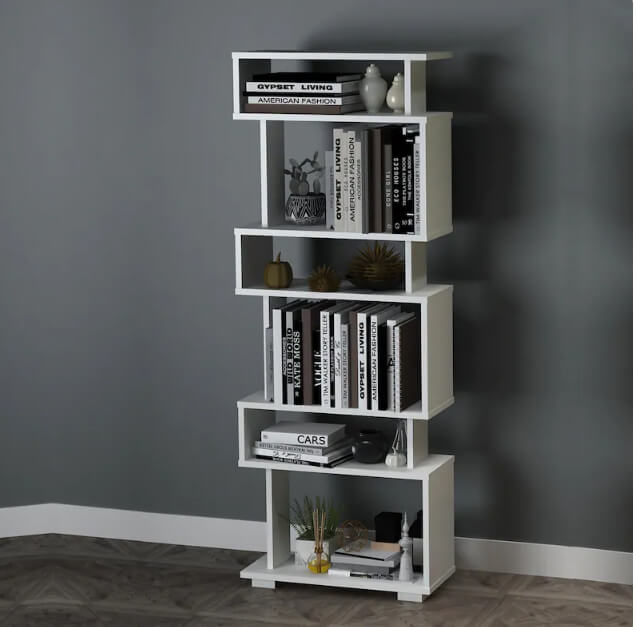 Featuring a pattern of rectangles in its design, this geometric white bookshelf will be a welcomed addition to your home. Its vertical design takes up minimal floor space and the set of rectangular shelf sizes delivers custom spaces for different book shapes and sizes. Any modern trendsetter would be thrilled to show off his/her favorite book collection with this geometric masterpiece.
20. Simply Basic Birch Revolving Bookcase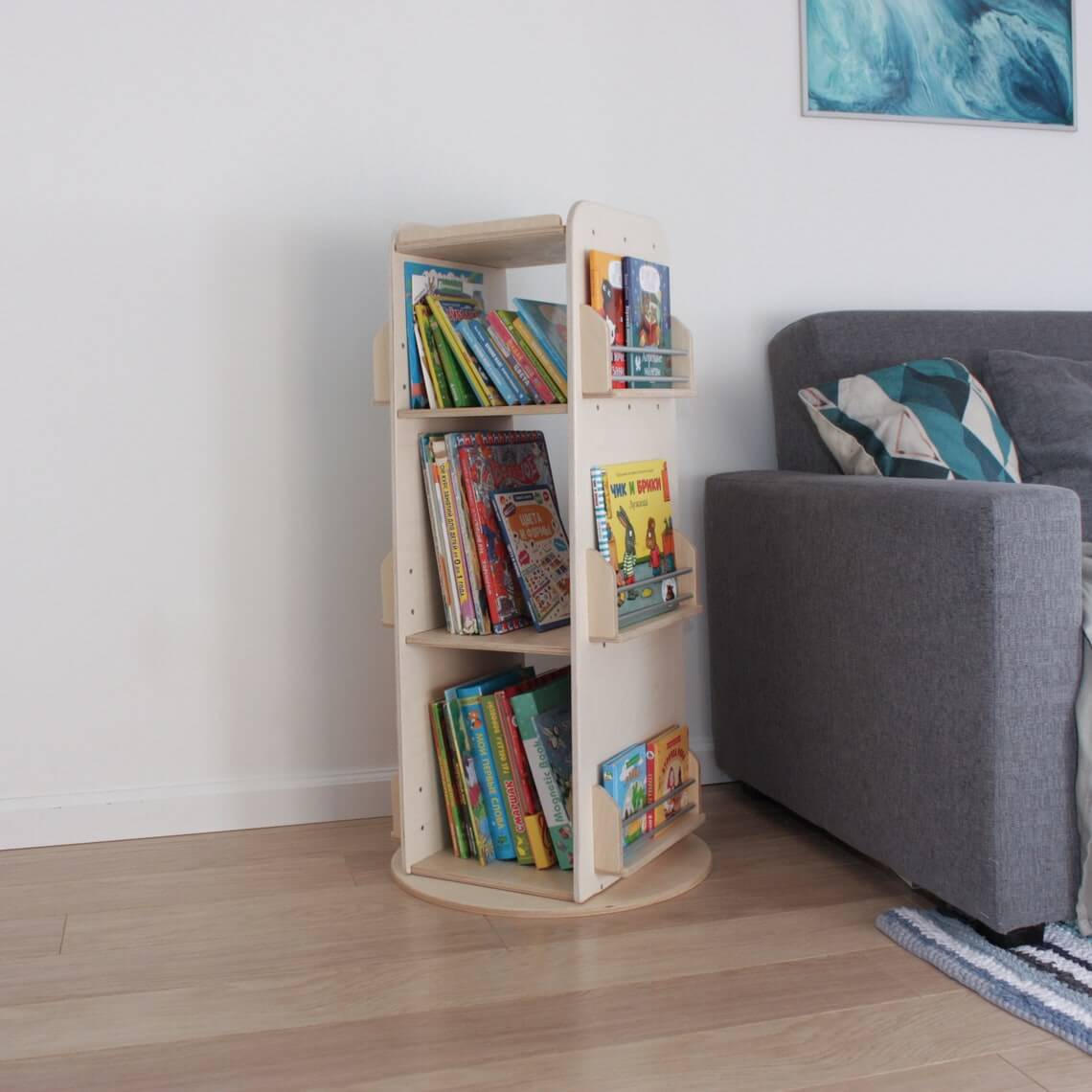 Maximize your space when organizing your books with a revolving bookcase like this one. It's a great size that offers enough space to store several books but doesn't take up much floor space in your home. The openings are large enough for oversized picture books and the ends provide a nice shelf to display some seasonal favorites. Feast your eyes on this miniature home library that's sure to be a kid-approved favorite.
21. Rich Brown Wooden Bookshelf with Thirteen Shelves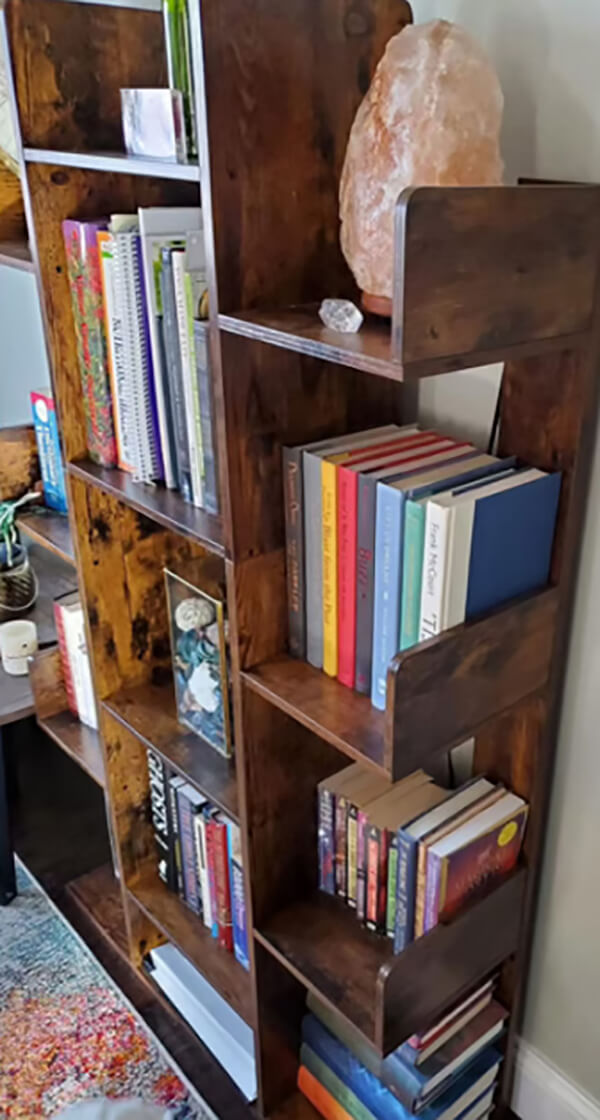 Make efficient use of your home's space with this thirteen-shelved wooden bookcase. Offering large openings, all of your treasured page-turning collections will fit quite nicely into these deep pockets. Every shelf is formed by a large cubby that comfortably holds several books to give you ample space in the thirteen available compartments.
22. Easy and Simple Stacked Crate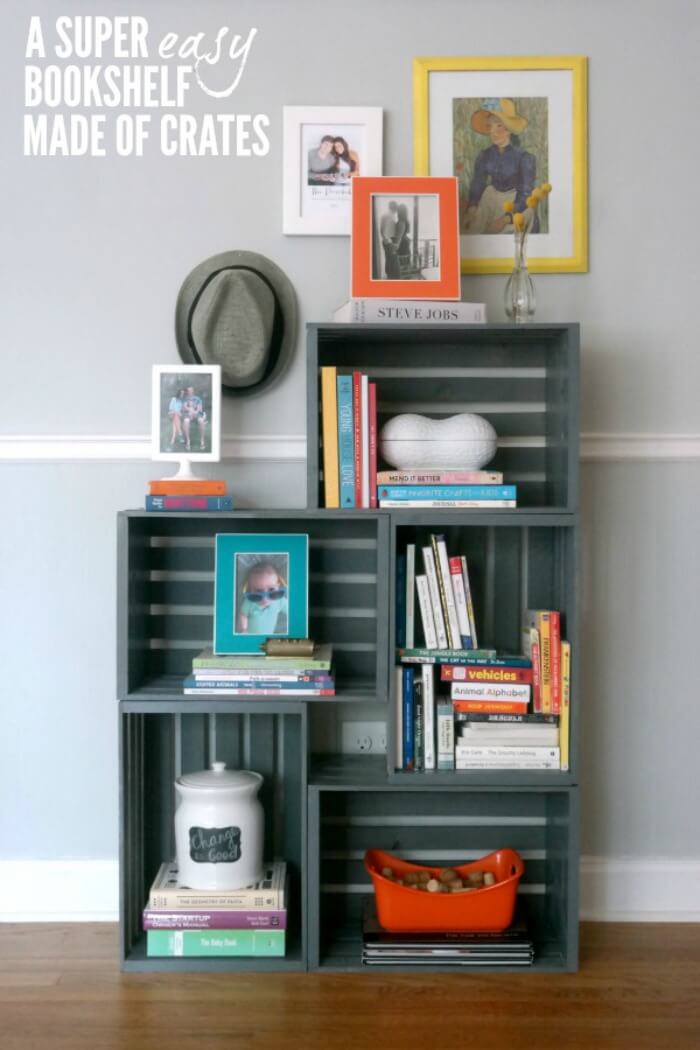 23. Rustic Modern Simpson Strong-Tie Shelf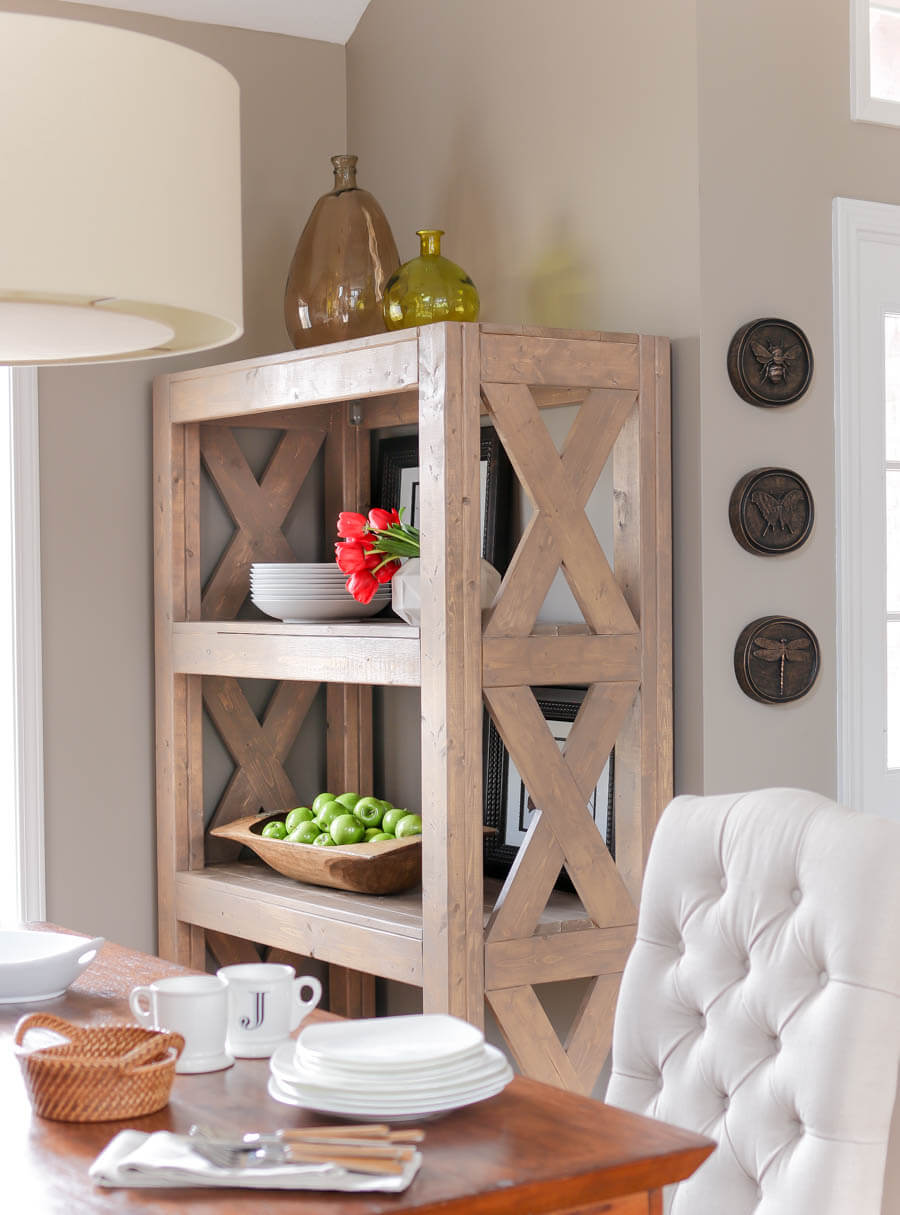 24. Simple Rustic Recycled Pallet DIY Bookshelf Design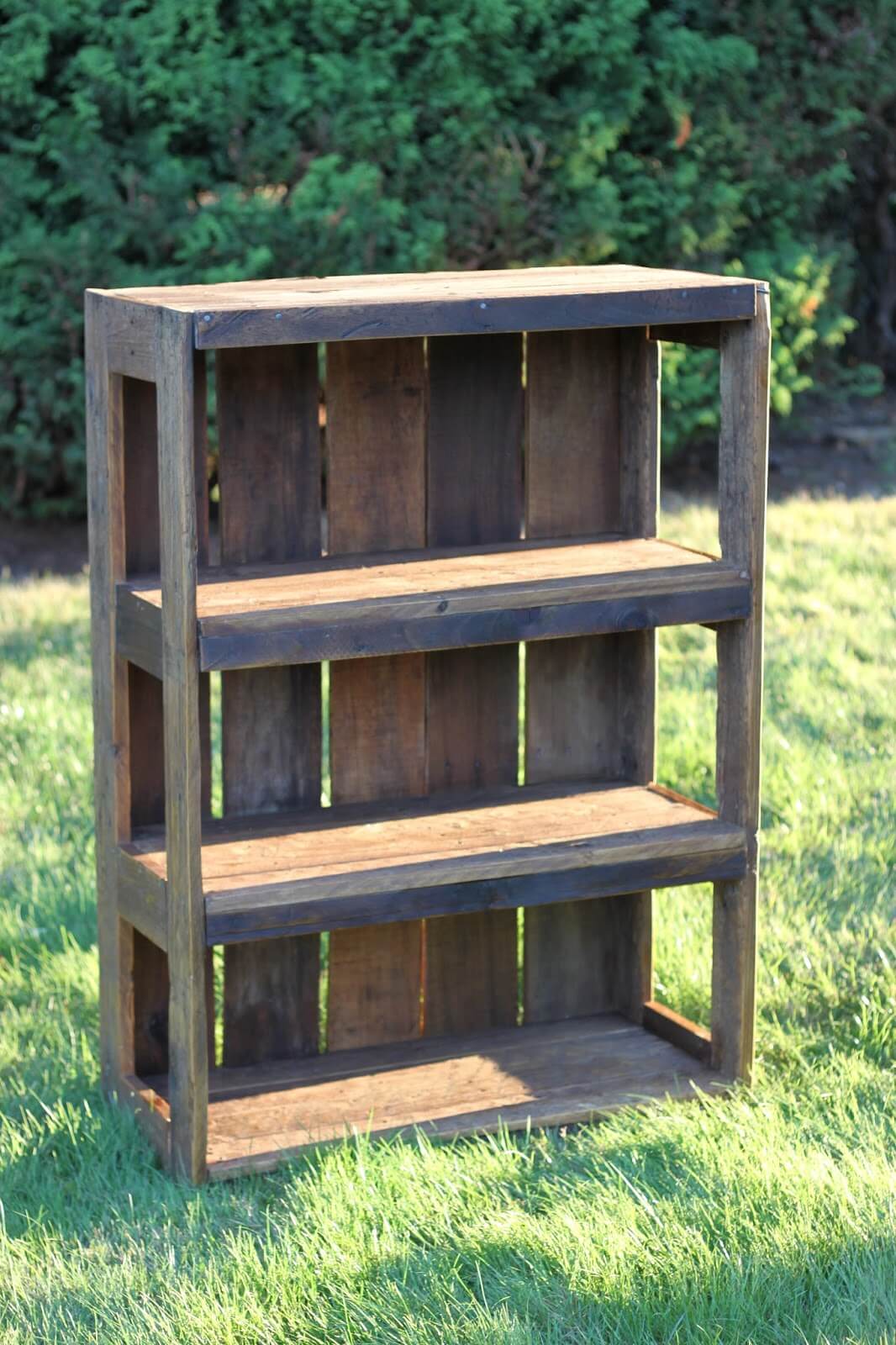 25. Rustic A-Frame DIY Ladder Shelf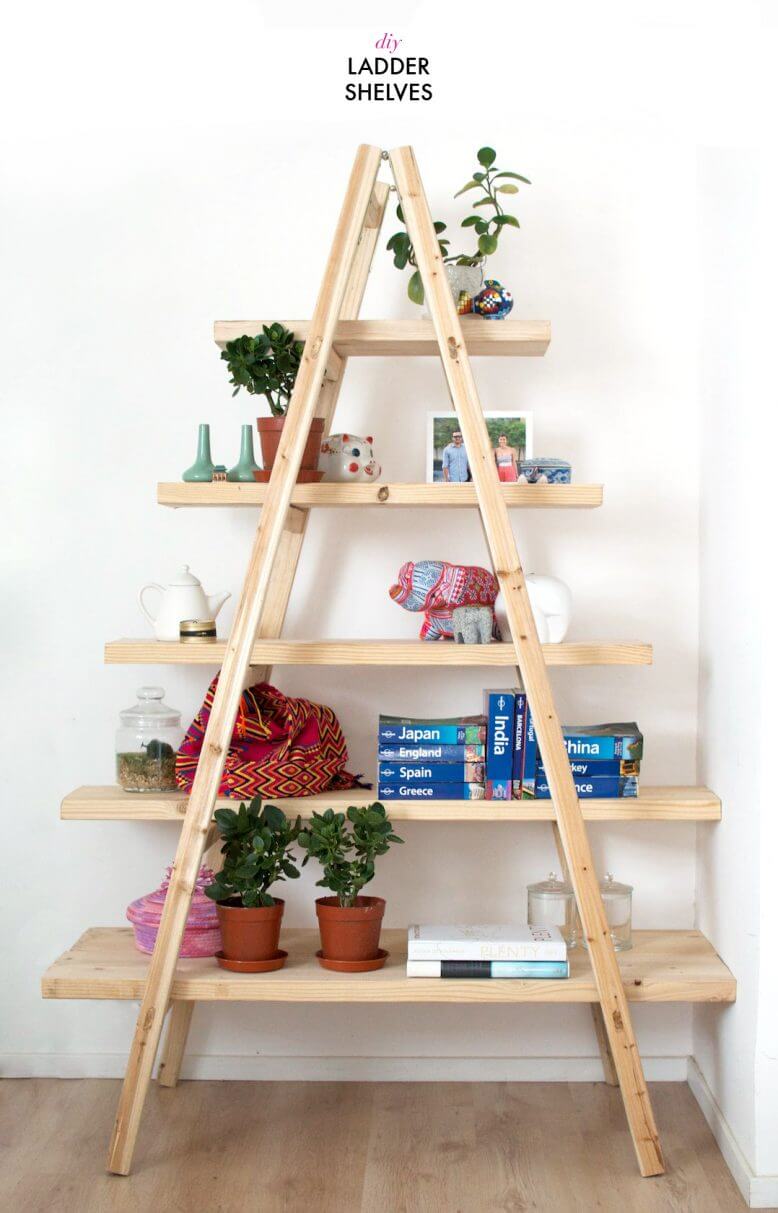 26. Suspended Leather Strap Hanging Design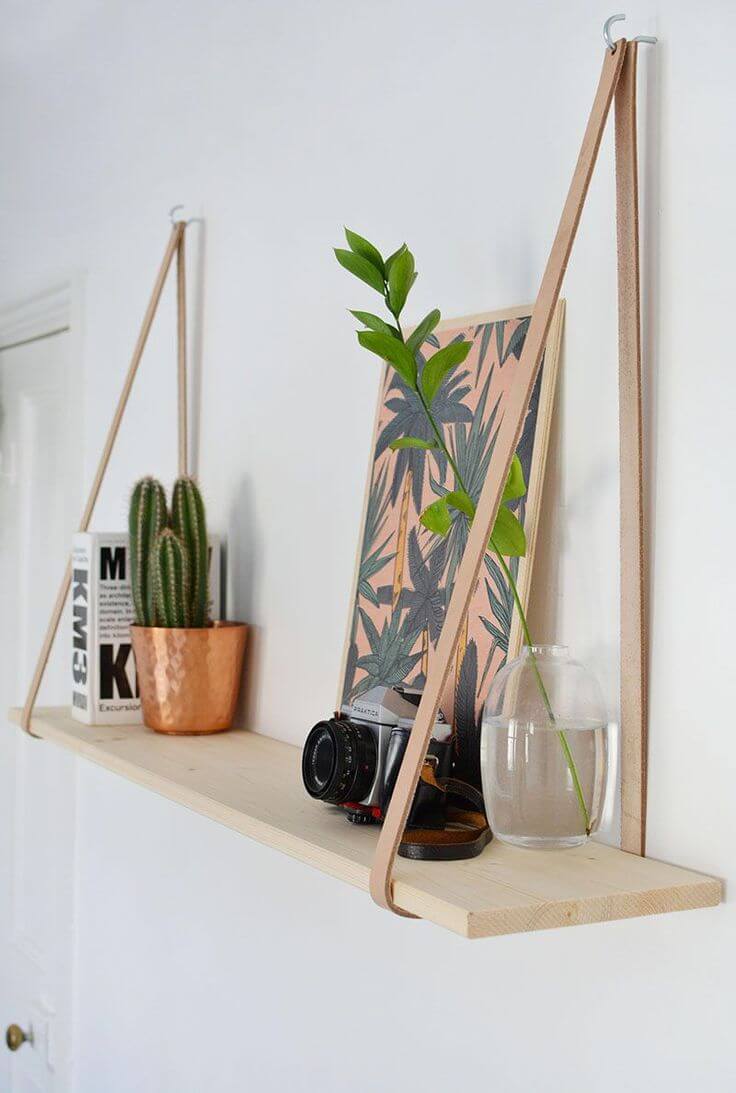 27. Distressed Rustic "Home" Entryway DIY Bookshelves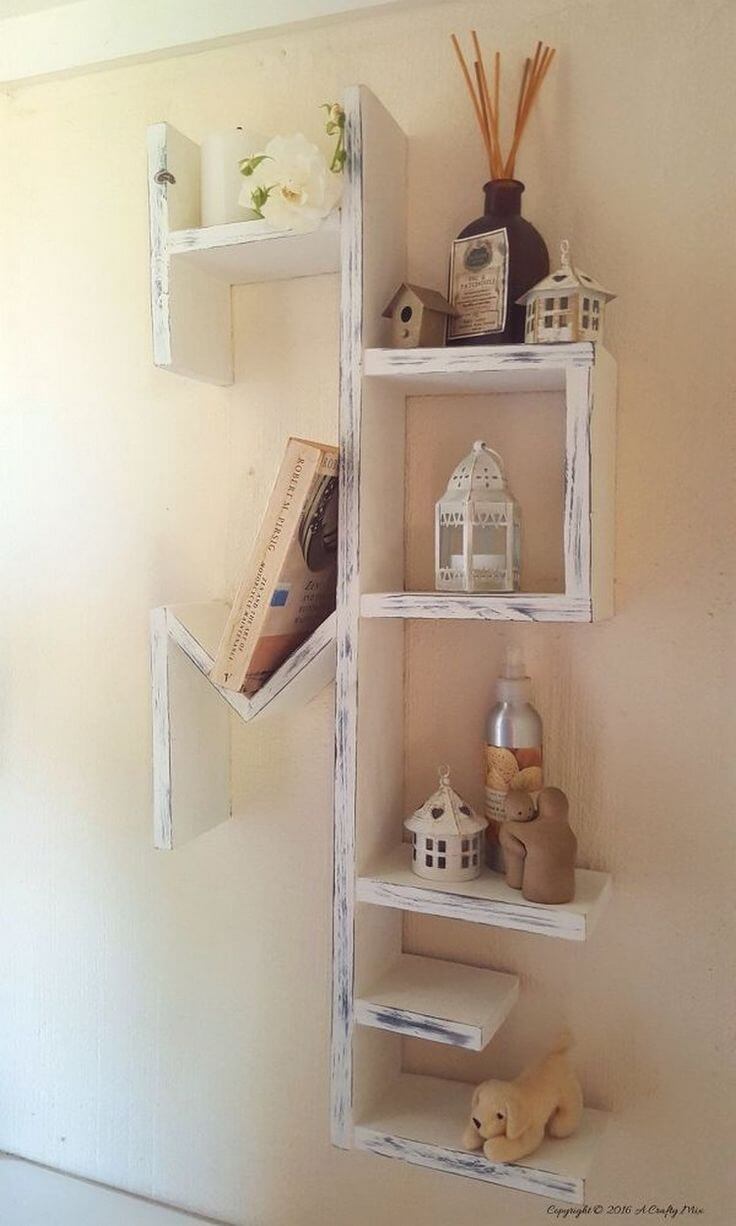 28. Recycled Pallet Bookshelf with Stained Back Detail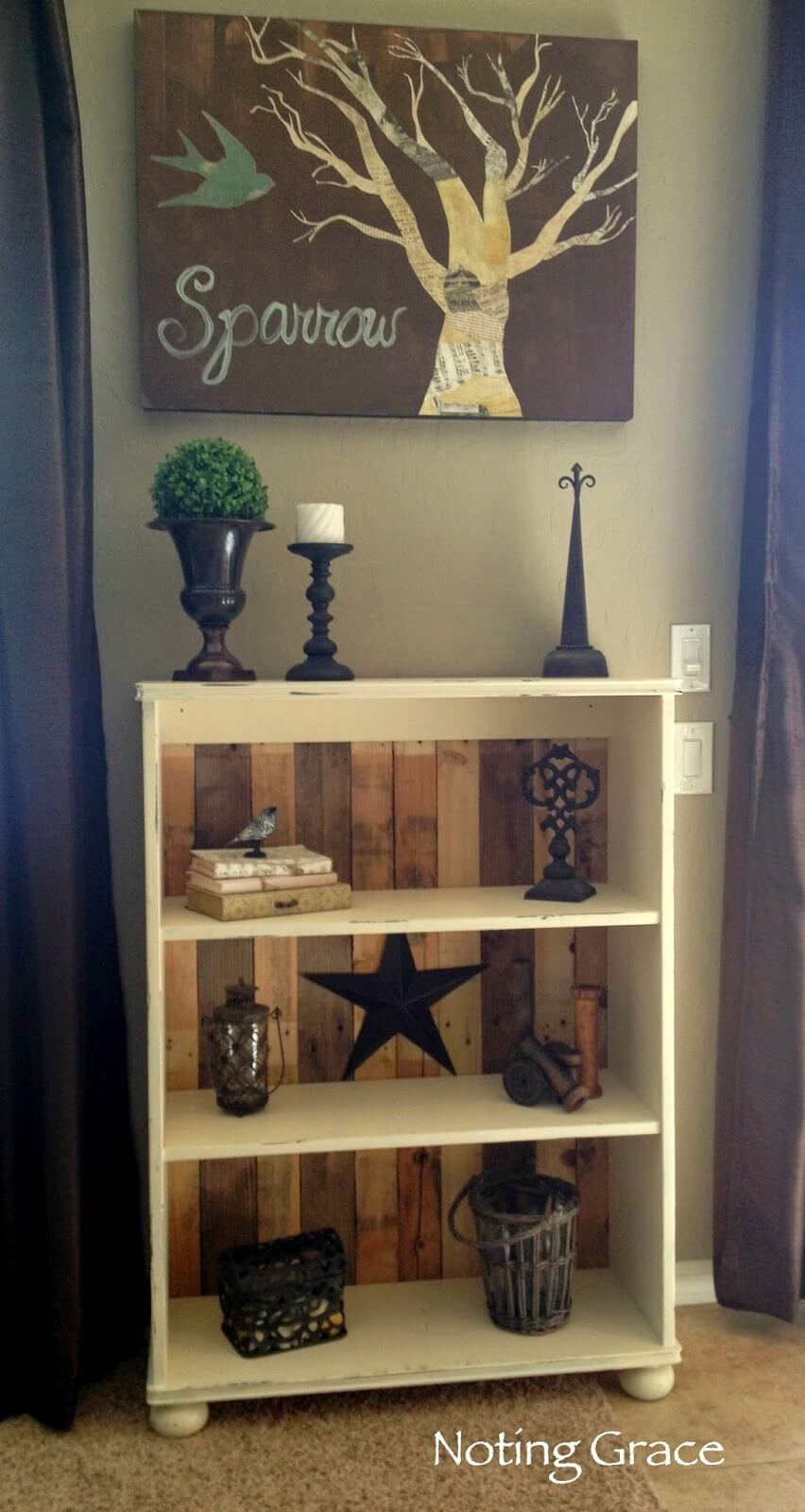 29. Horizontal Stacking and Space Saving Solution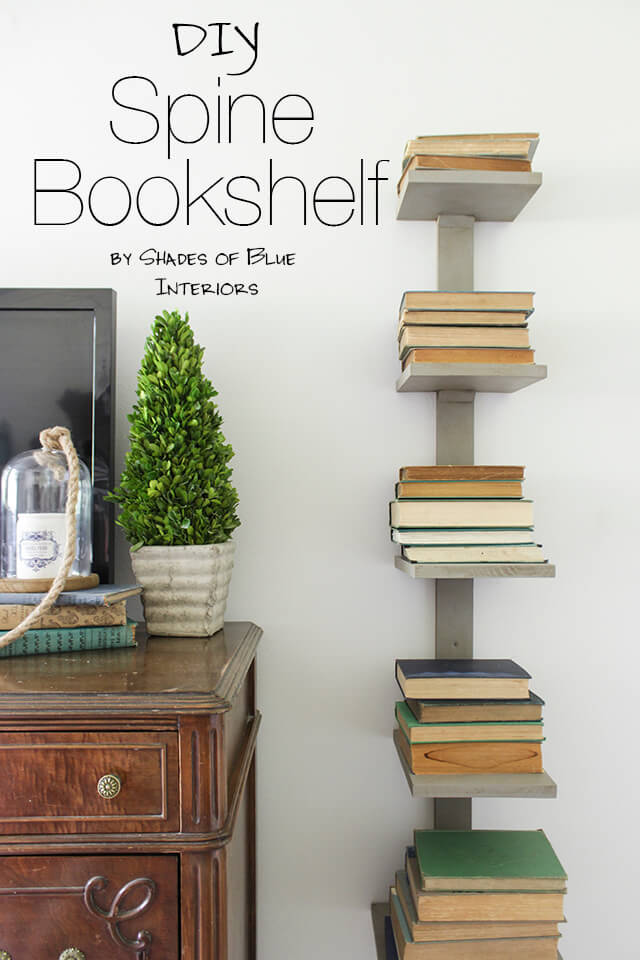 30. Classic White Storage with Wallpapered Back Panel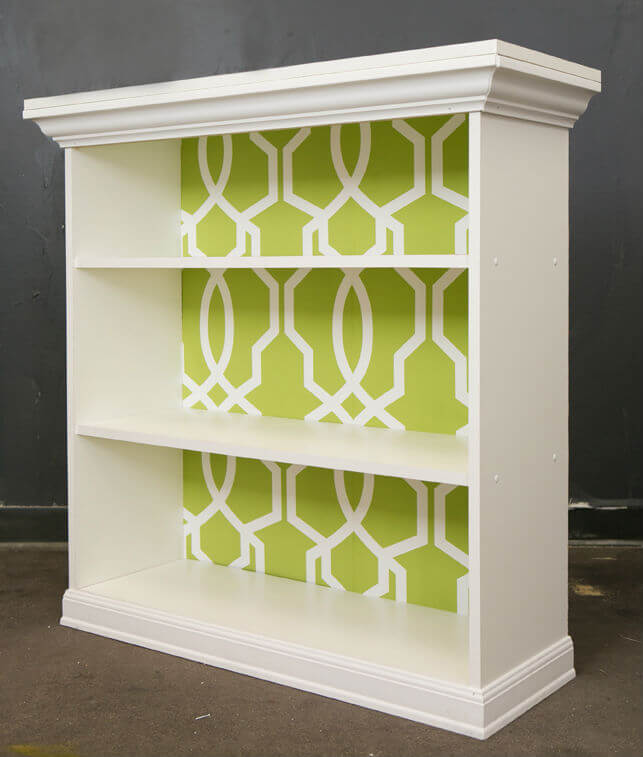 31. Child's Dollhouse DIY Bookshelf with Pitched Roof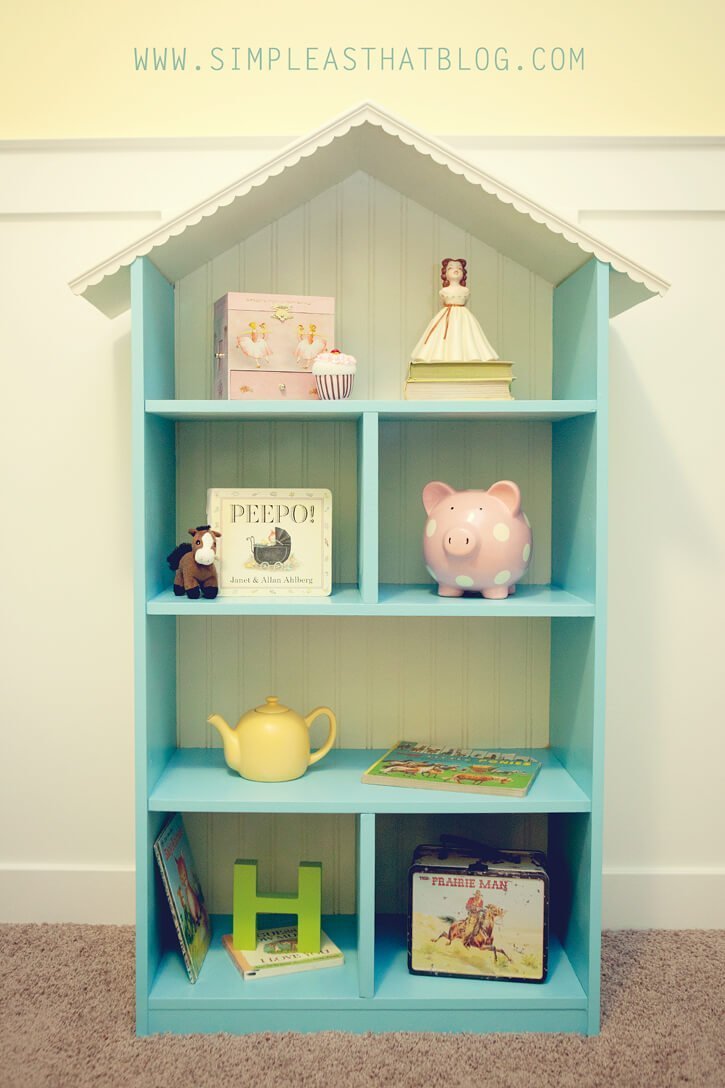 32. DIY Hanging Recycled Skateboard and Rope Storage

33. Earthy Asymmetrical Sandwiched Design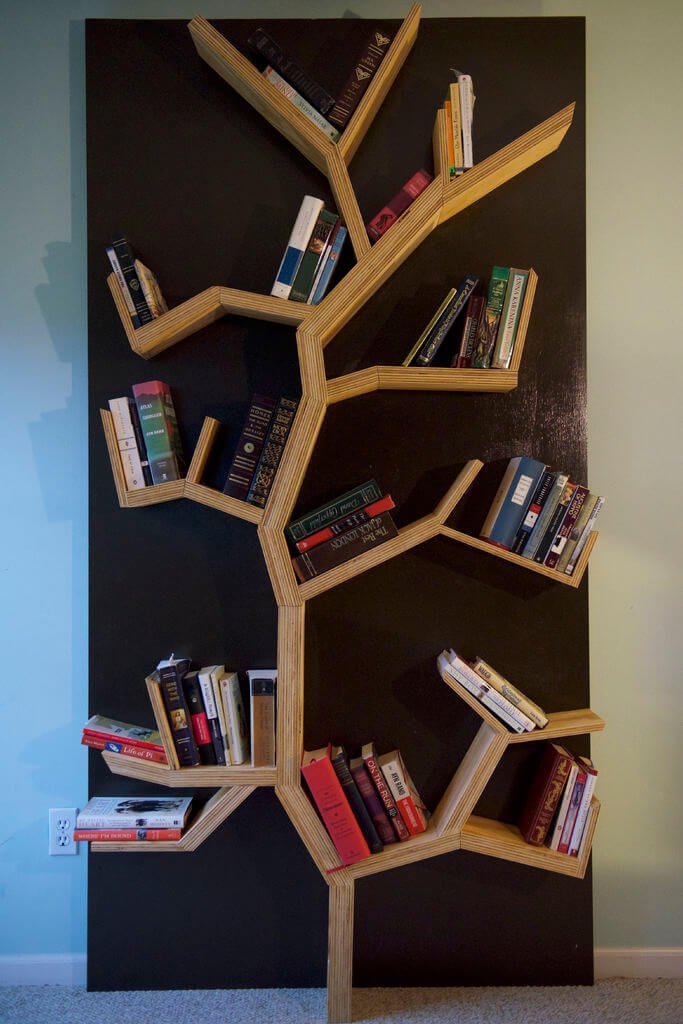 34. Very Easy and Colorful Crate for Children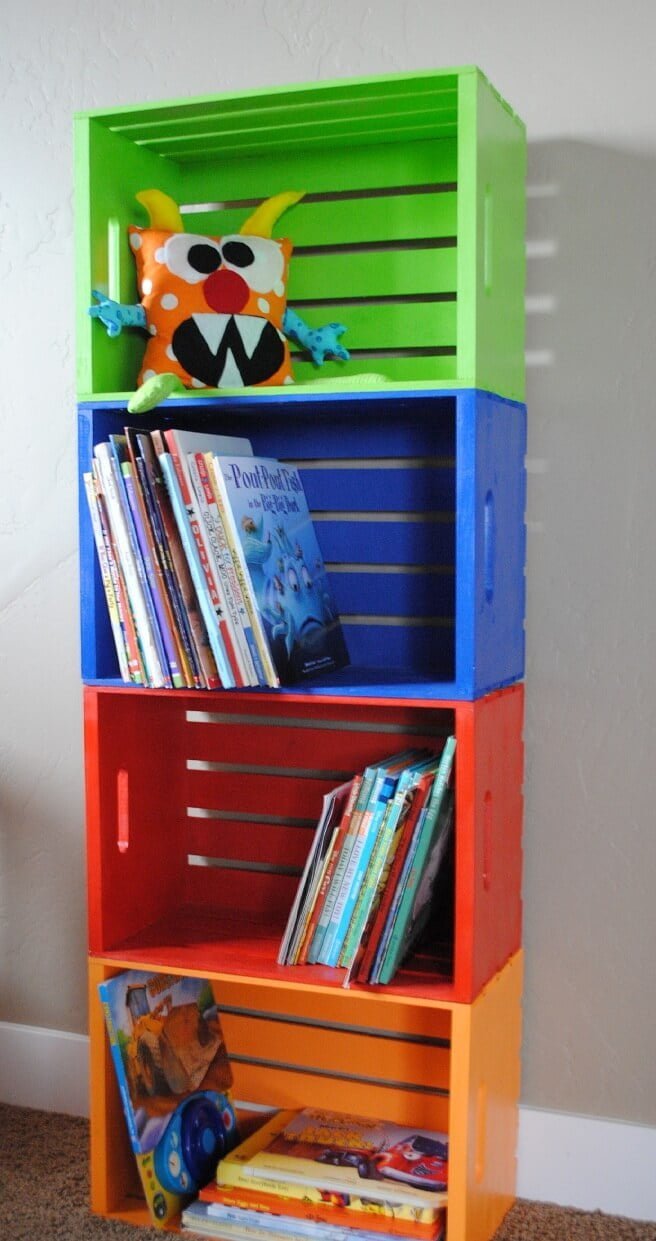 35. Rustic Recycled Wood Ladder Horizontal Bookshelf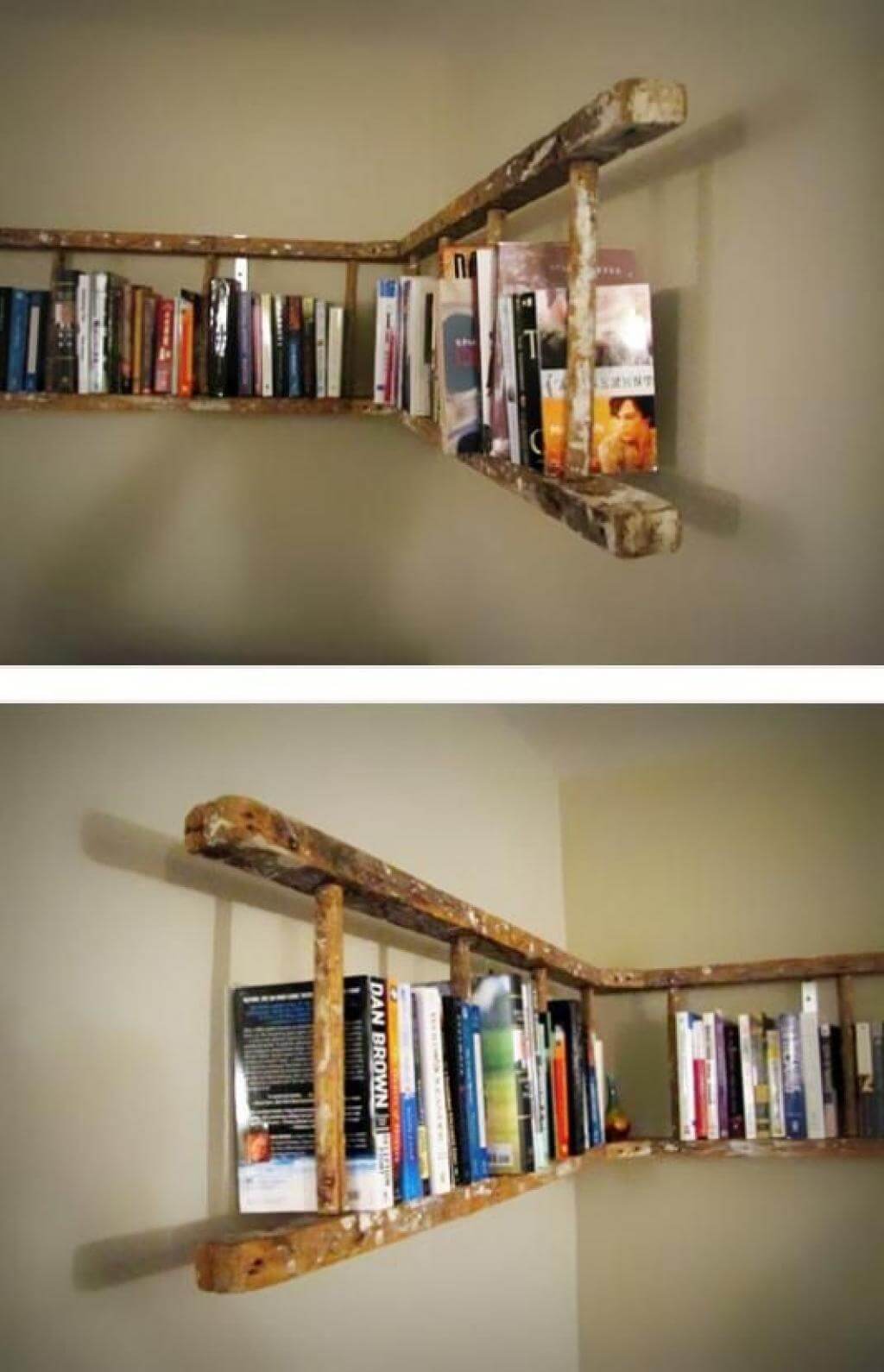 36. Easy Rustic Stained Wood DIY Crate Storage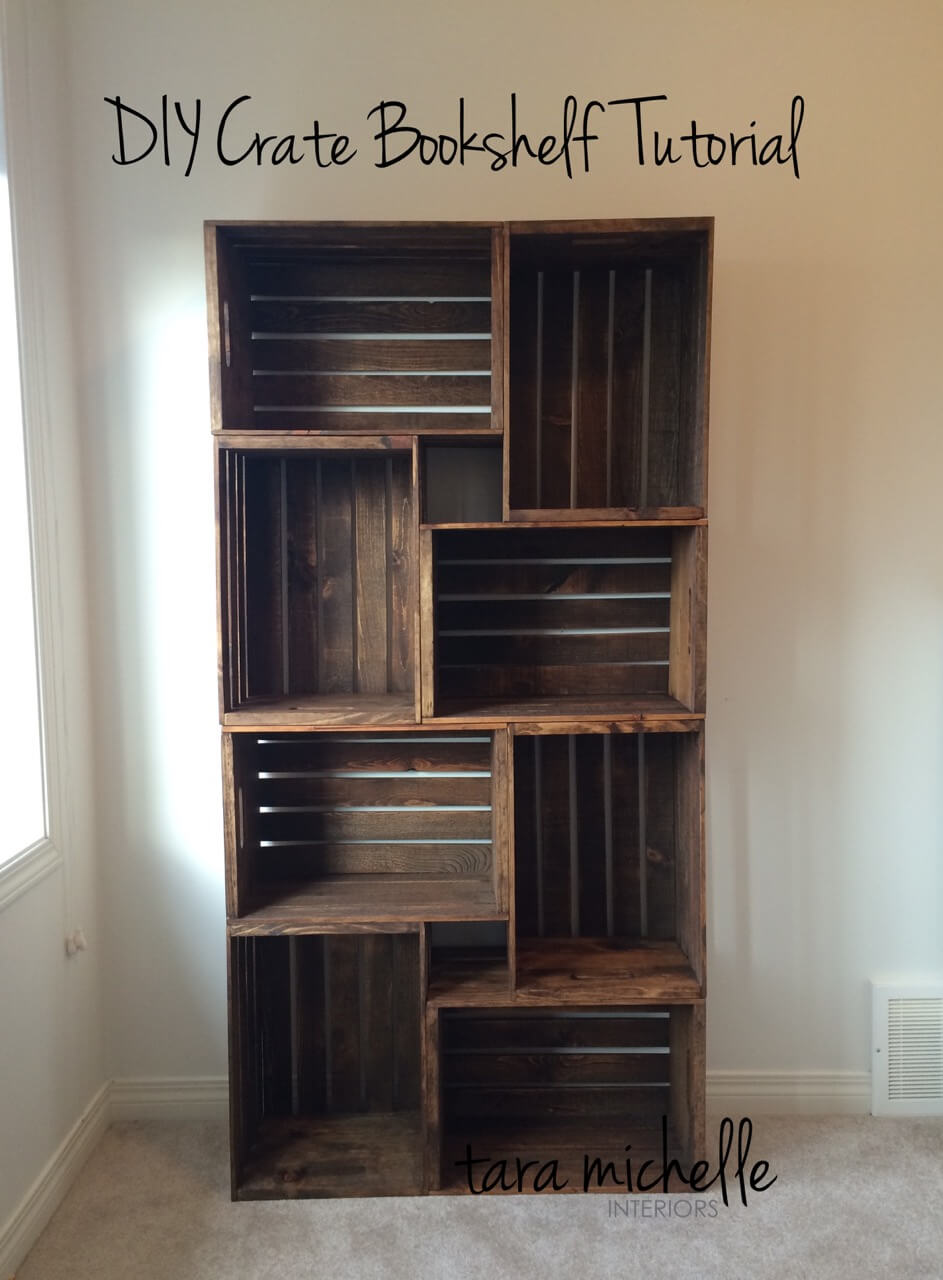 37. Industrial Rustic Brick and Wood Shelf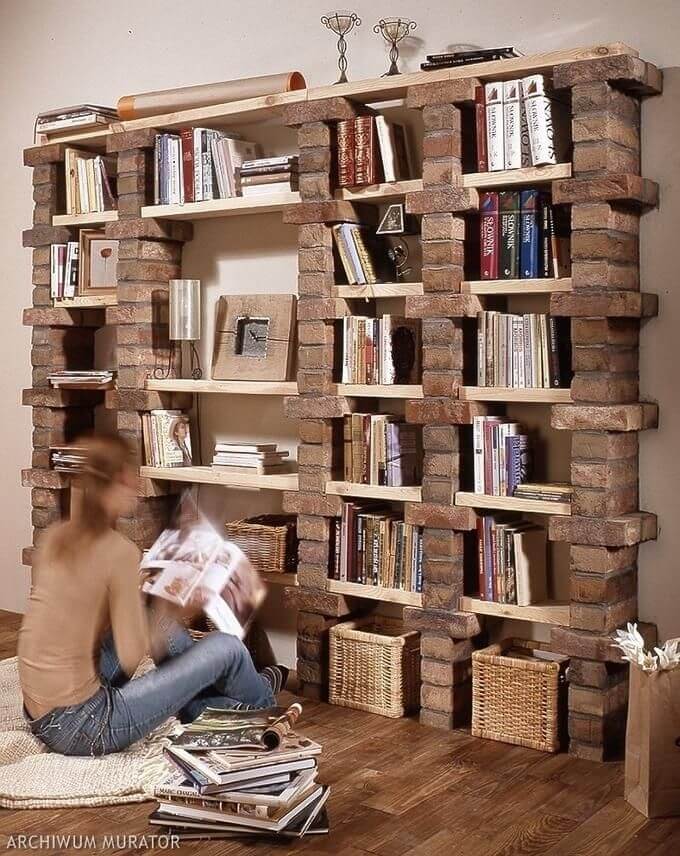 38. Simple Space Saving Behind-the-Door Solution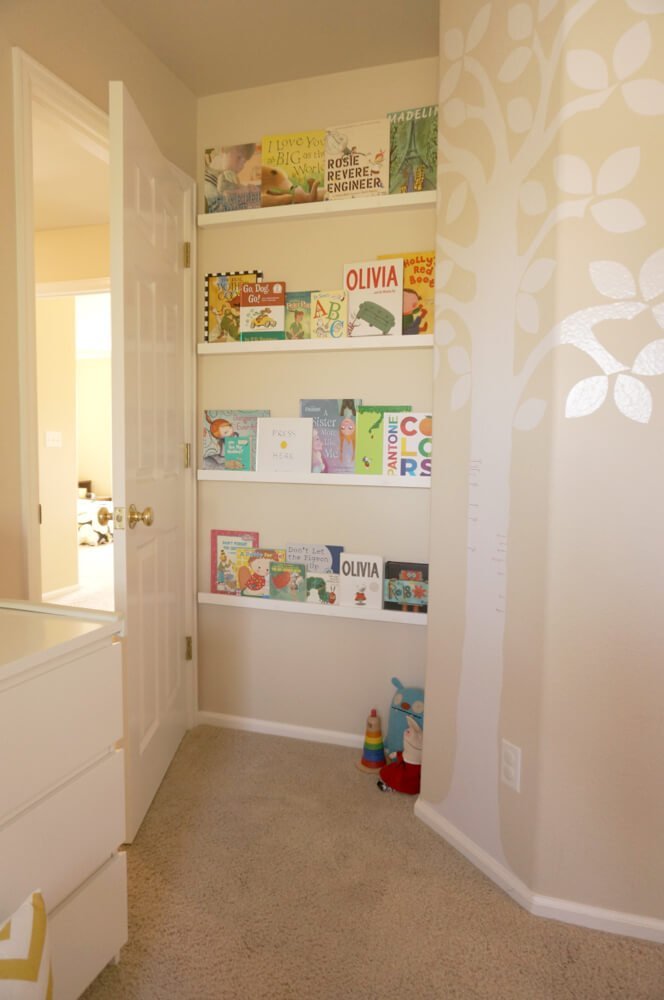 39. Cubist Plywood Box Bookshelf with Binder Clips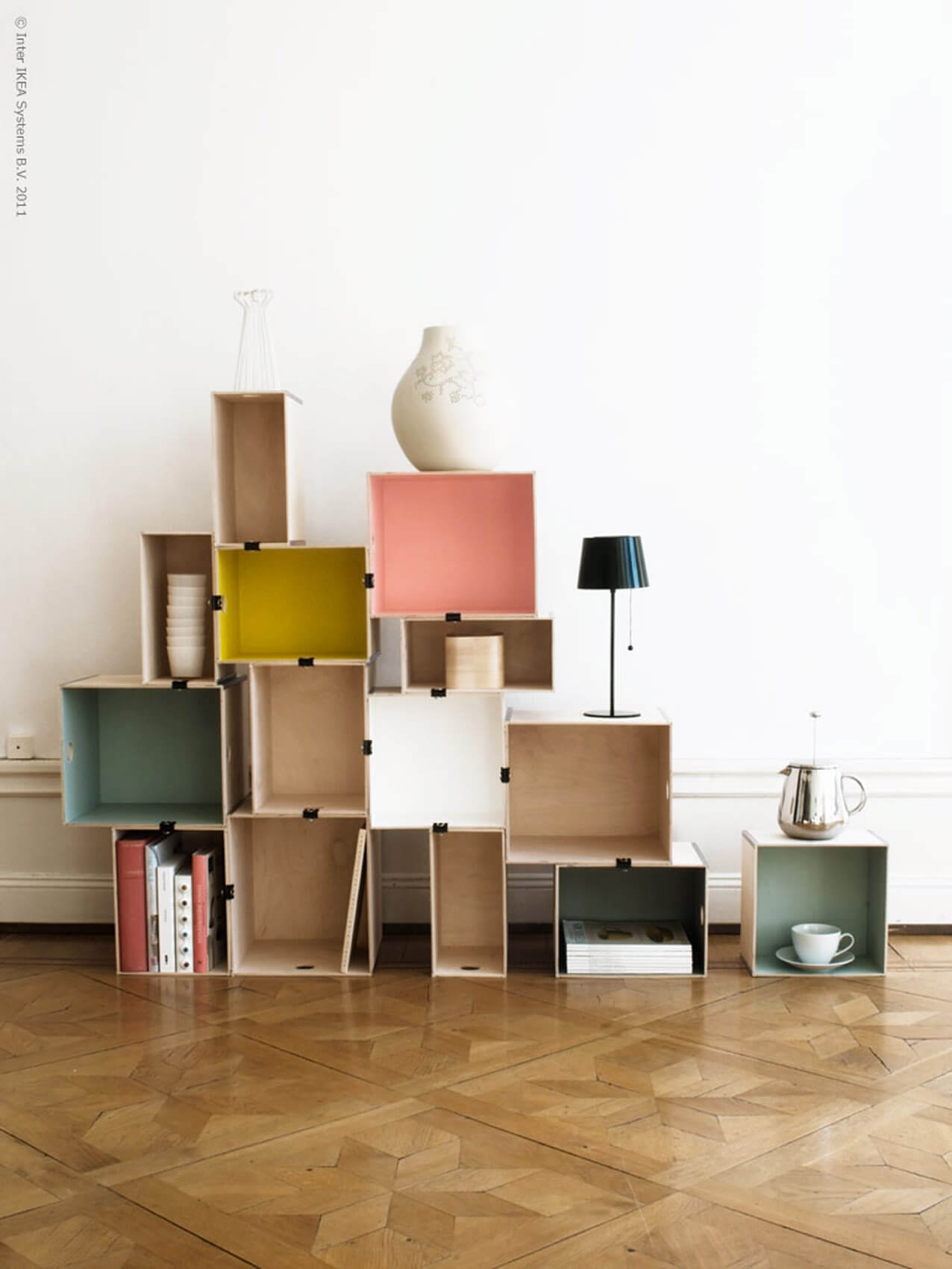 40. Minimalist Invisible Stacking DIY Bookshelves

41. Toscana Rustic Design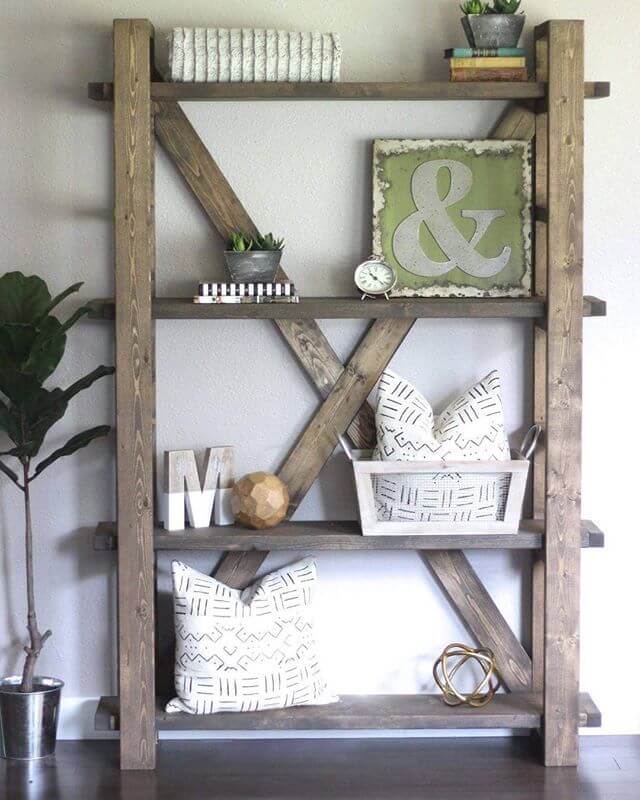 42. DIY Rustic Industrial Plumbing Pipe Bookshelf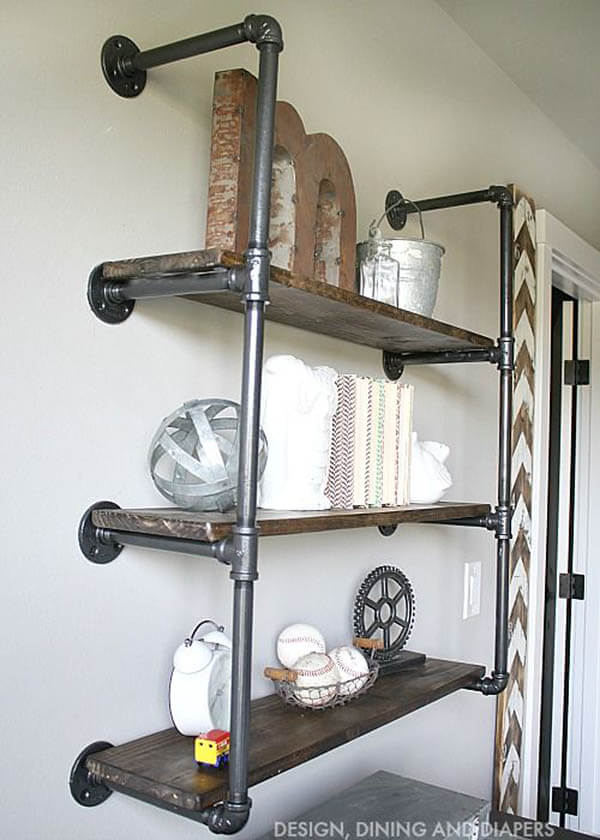 43. Elegant and Classy Idea to Store your Books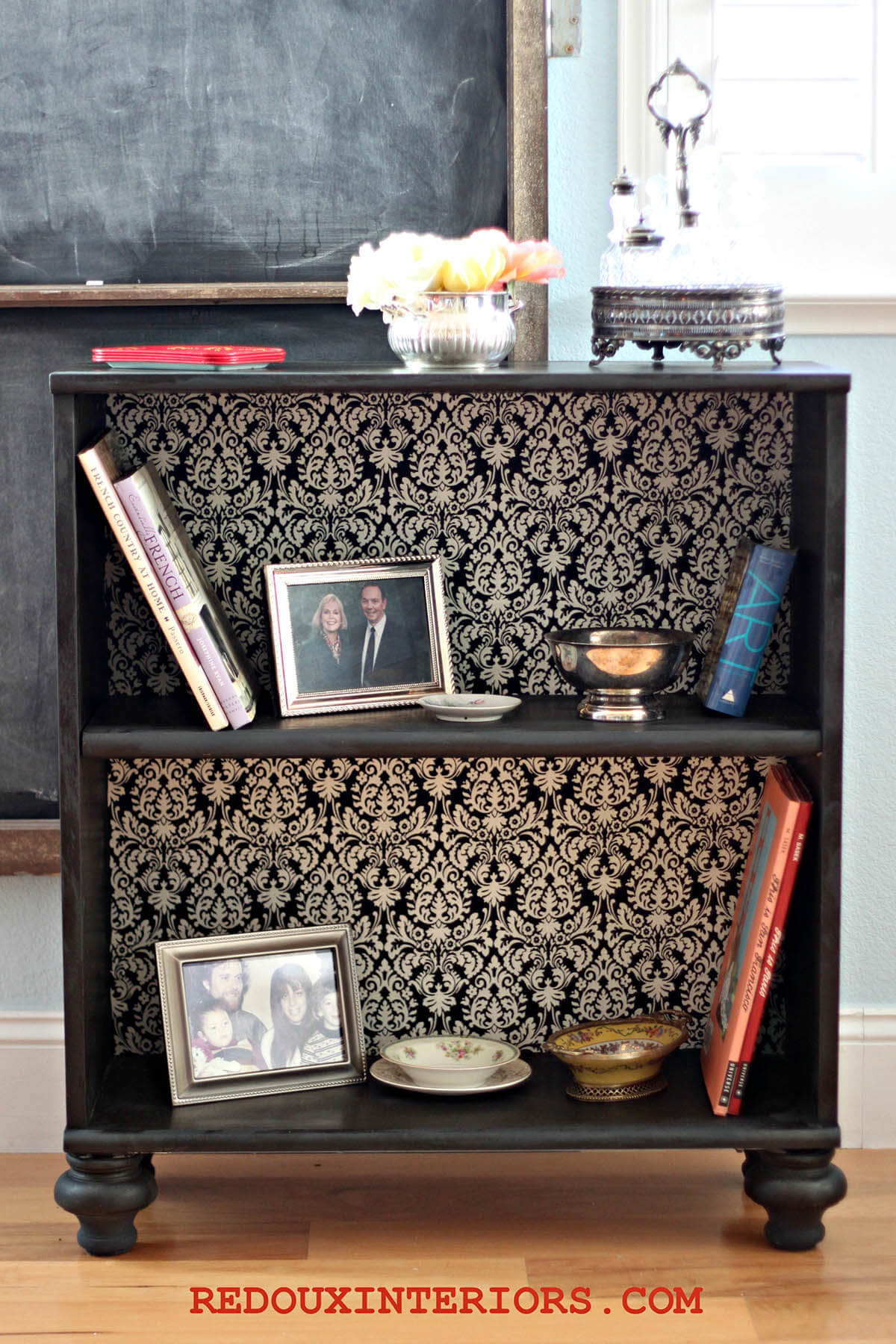 44. Easy DIY Hardware Store Wire Basket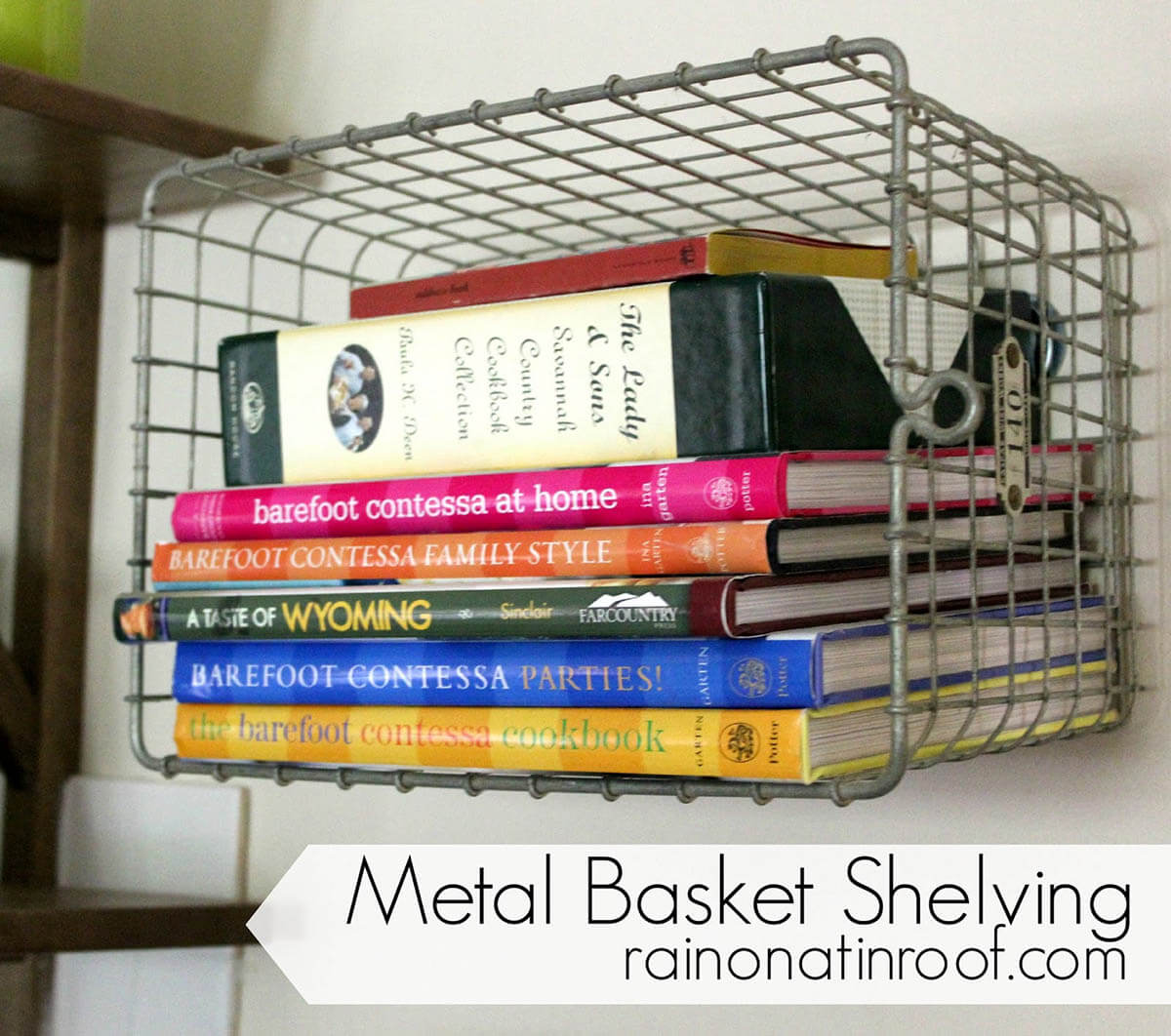 45. Free Standing DIY Gator Tube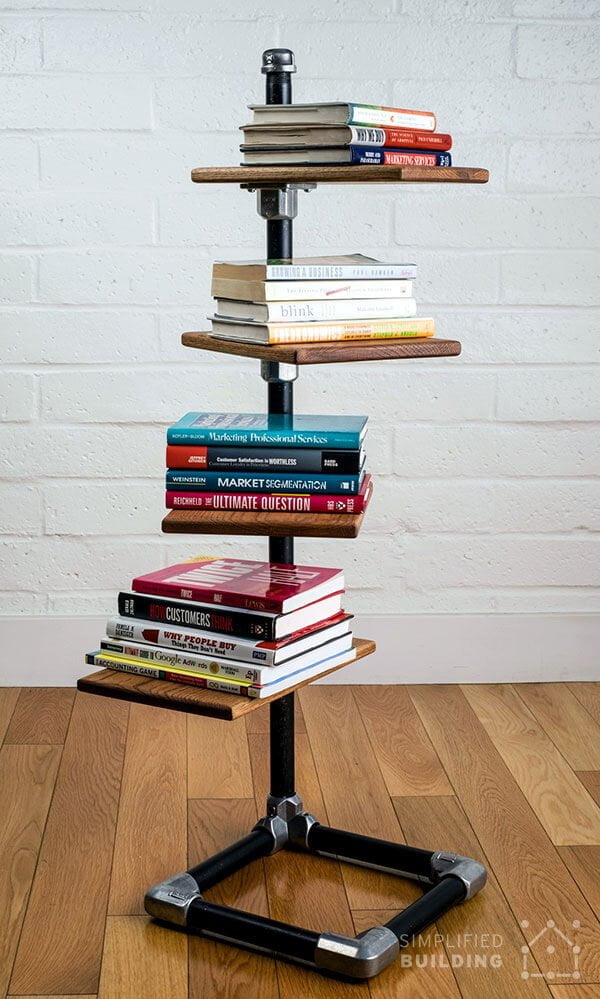 46. Easy DIY Playroom Stepped Crate Bookshelf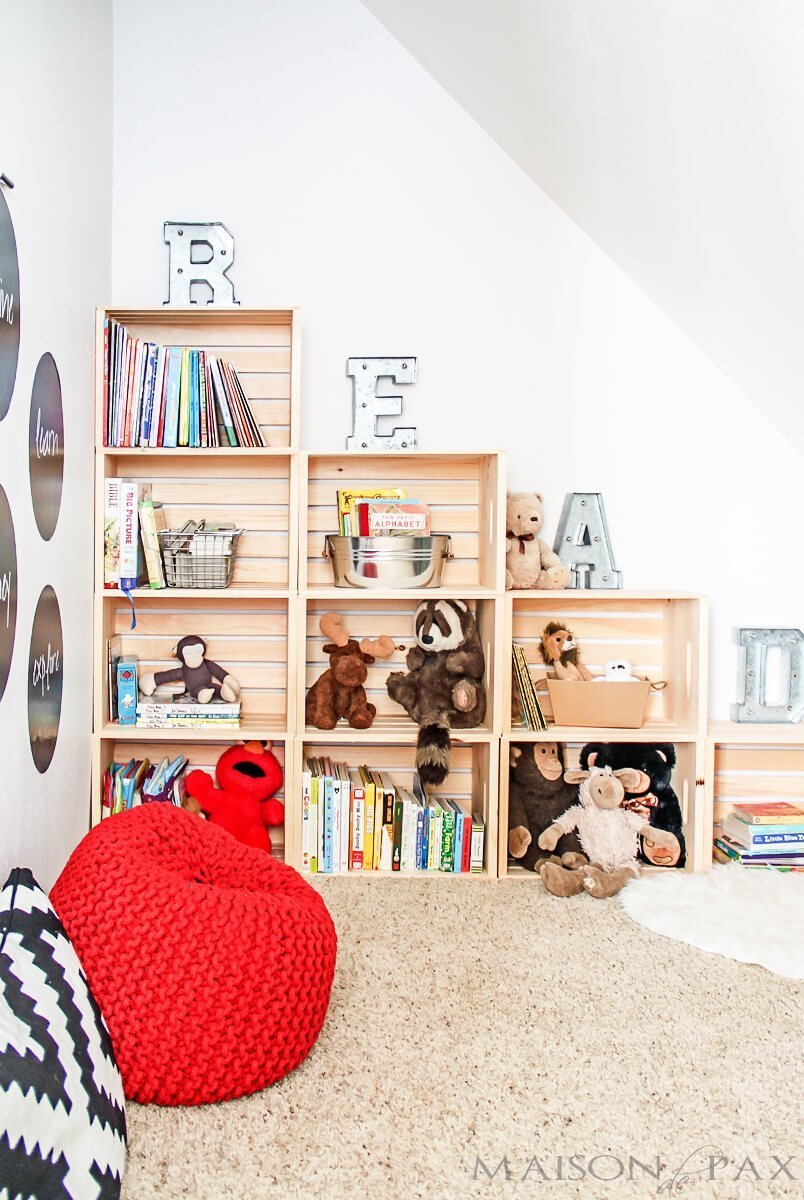 47. Rustic Bookshelf from Crates and Pallet


Our Favorite Farmhouse Furnitures to buy on Amazon