Canopy beds were once a statement of luxury. They were favored through the high society as a glamorous symbolic representation of wealth. Nowadays, canopy beds are rather affordable and surprisingly easy to build yourself. They're also such a fun way to add your own unique personal style to your bedroom.
24 Canopy Bed Ideas for a Charming and Cozy Bedroom

If you're looking for ways to spruce up your bedroom to look more elegant, dreamy or glamorous, purchasing a canopy bed or simply adding a canopy to your existing bed could be the perfect option for you. You spend a significant time of your day in your bedroom, so you want it to be a comfortable and cozy space that you truly enjoy. Whether you wish to add dreamy fairy lights, airy lightweight curtains, or keep it rustic or industrial with exposed beams, you can have the bedroom oasis you've always dreamed about by adding a canopy to your cozy space.
Ready to wake up rejuvenated every morning under a canopy while feeling a bit like royalty? Take a look at these trendy canopy beds that will give you loads of inspiration for a charming, cozy and transformative bedroom. Just imagine all the possibilities you can create with a canopy bed!
1. A Feminine Touch with a DIY Canopy Bed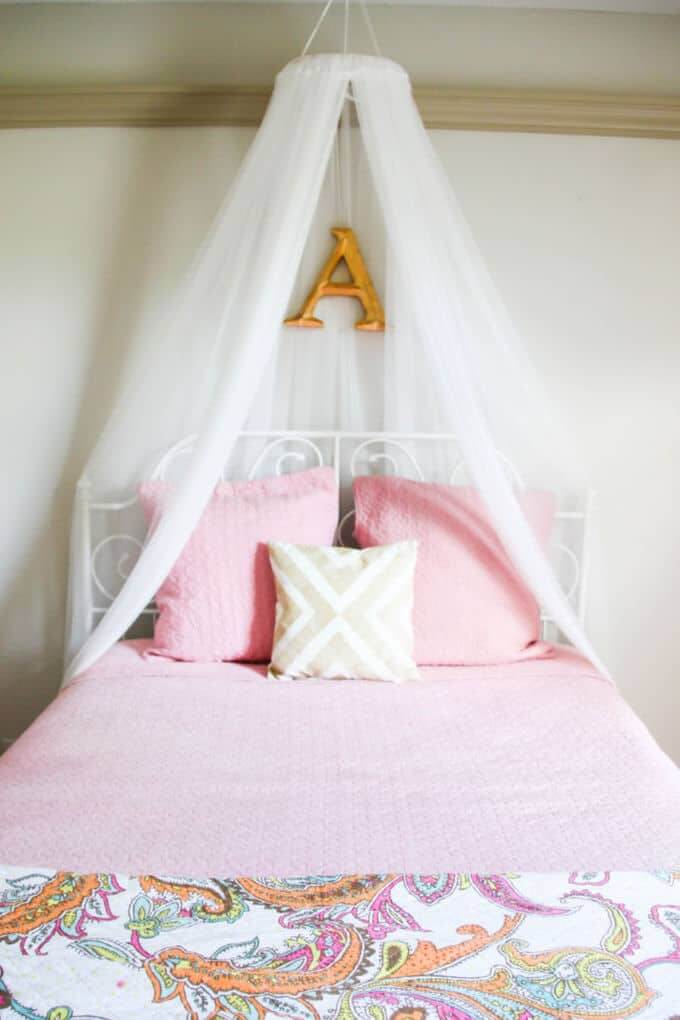 Do you have a little girl or teen who is looking for a little feminine flair to add to their cozy bedroom? This DIY canopy bed is perfection and can easily be made at home with only a few materials. The best part, is that you can customize it any way you'd like to fit their own personal style. You could add fairy lights, pink tulle, a monogrammed letter for a customized backdrop or leave it as is. This is sure to bring your little princess joy.
2. Cedar Wood Canopy with Exposed Beams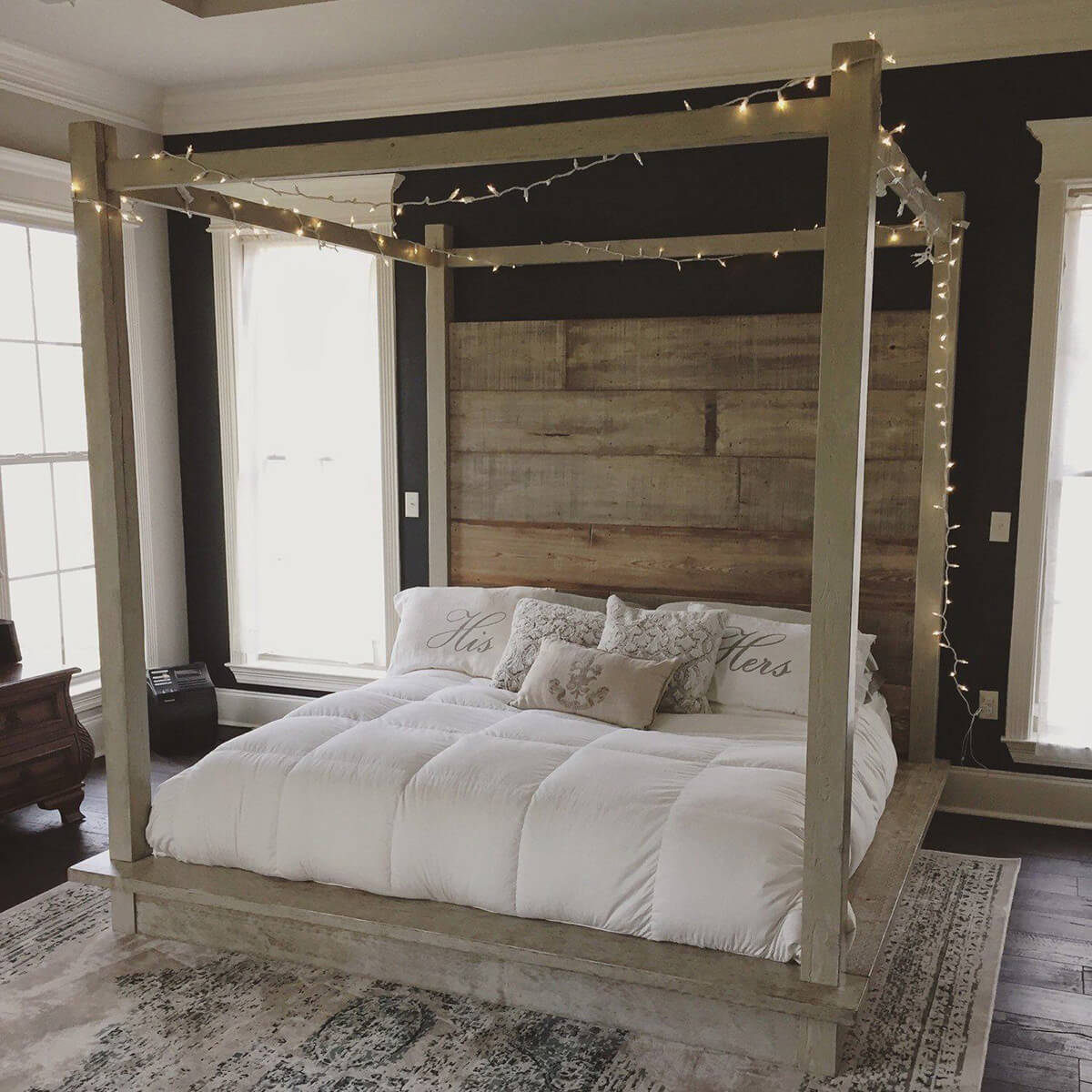 Some like to stick with the classics, which is why this exposed wooden beam canopy is a great alternative option. It provides such a classic look that can be left as is for a minimal look or add curtains in the wintertime to add a little touch of cozy. Whichever way you choose to decorate it, this bed can easily become your next bedroom staple.
3. Repurposed Wooden Ladder Canopy with Curtains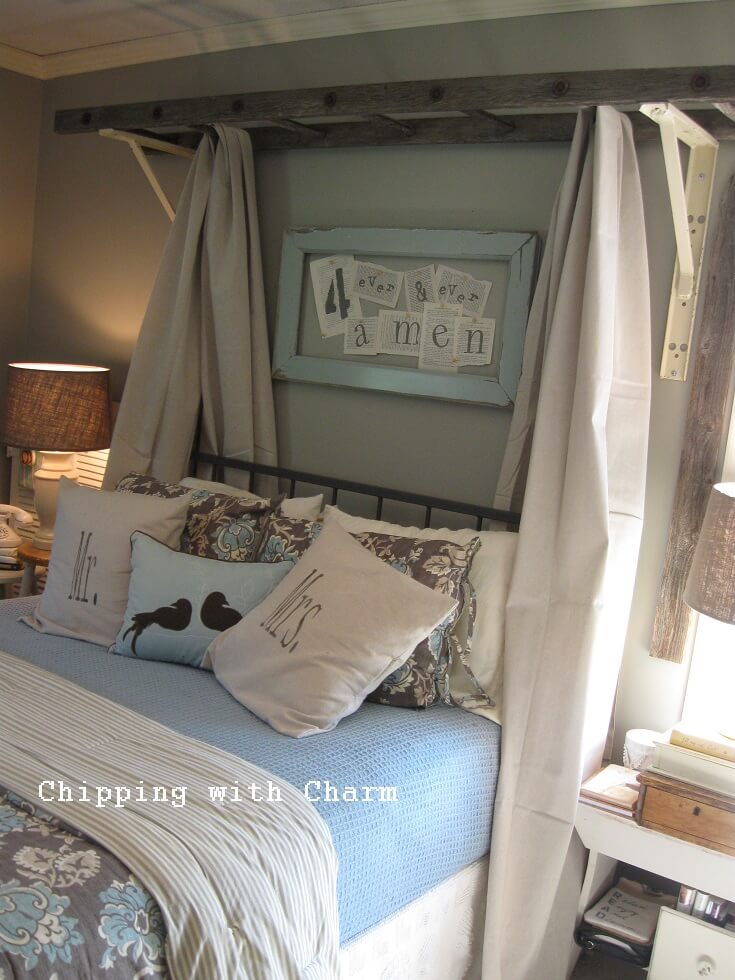 Don't let an old wooden ladder go to waste! Consider repurposing it into this beautiful, rustic canopy over your bed. This floating ladder has curtains added for a relaxed, farmhouse feel. Draw the curtains up a bit for a little privacy or open them up to let in that beautiful natural lighting.
4. Redecorate Your Bedroom Oasis with Sheer Drapes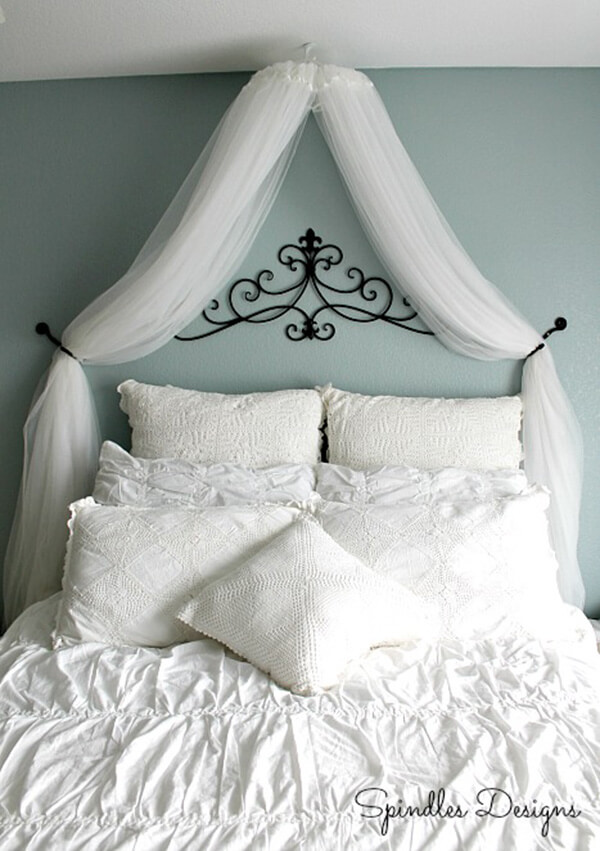 This beautiful, light and airy canopy just screams elegance. This look feels so romantic and the sheer white drapes are perfect for the bedroom. I love how the sides can be held back with the black metal hooks for a contemporary look or let down for a bit of a romantic intimate scene.
5. A Significant Take on a Glamorous Sheer Awning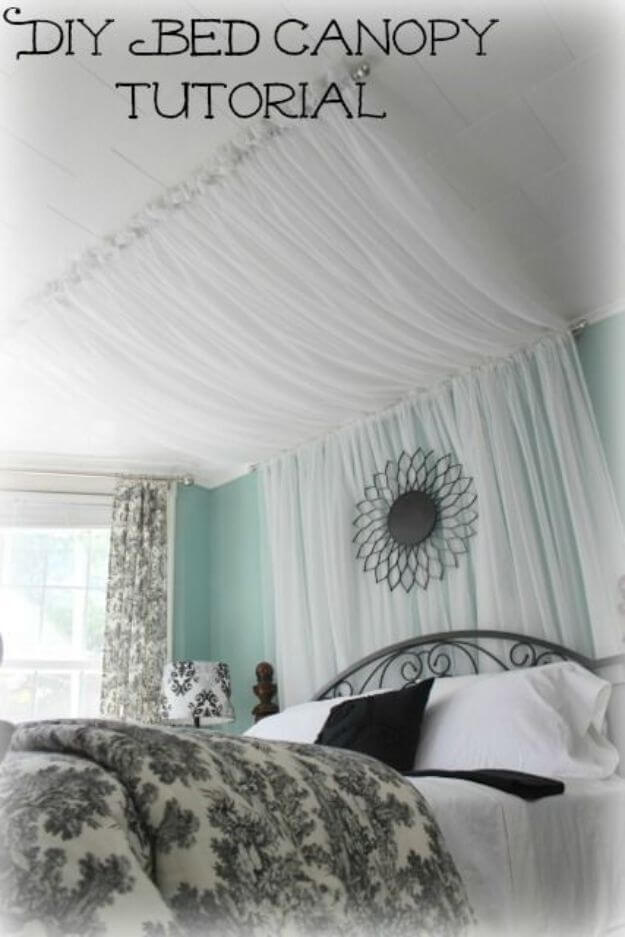 This significant take on a glamorous canopy bed showcases a sheer canopy secured to the ceiling and hung with one panel floating down and then pinned to be used as a backdrop behind the bed. This is such a luxurious look that makes a bold statement yet isn't too overpowering.
6. Mounted Canopy Design Element for the Bedroom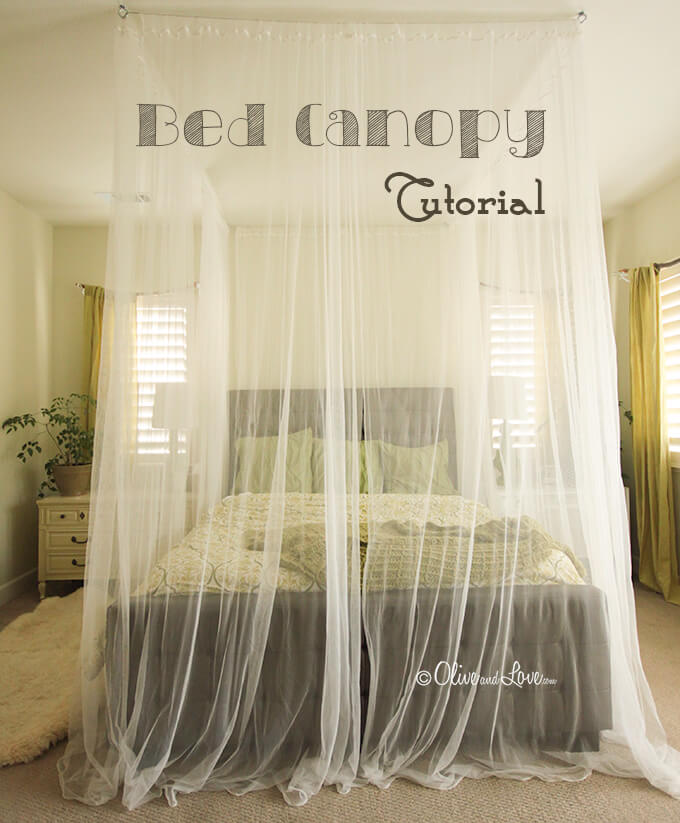 If you don't have the four-post traditional canopy-style bed, not to worry. This canopy is mounted to the ceiling to give off that same cohesive look without the extra price tag. The hook and wire concept makes it easy to move the curtain panels in all directions to open it up or close it off. This is a DIY that is sure to make a statement in your room.
7. Bohemian Style Ombre Bed Canopy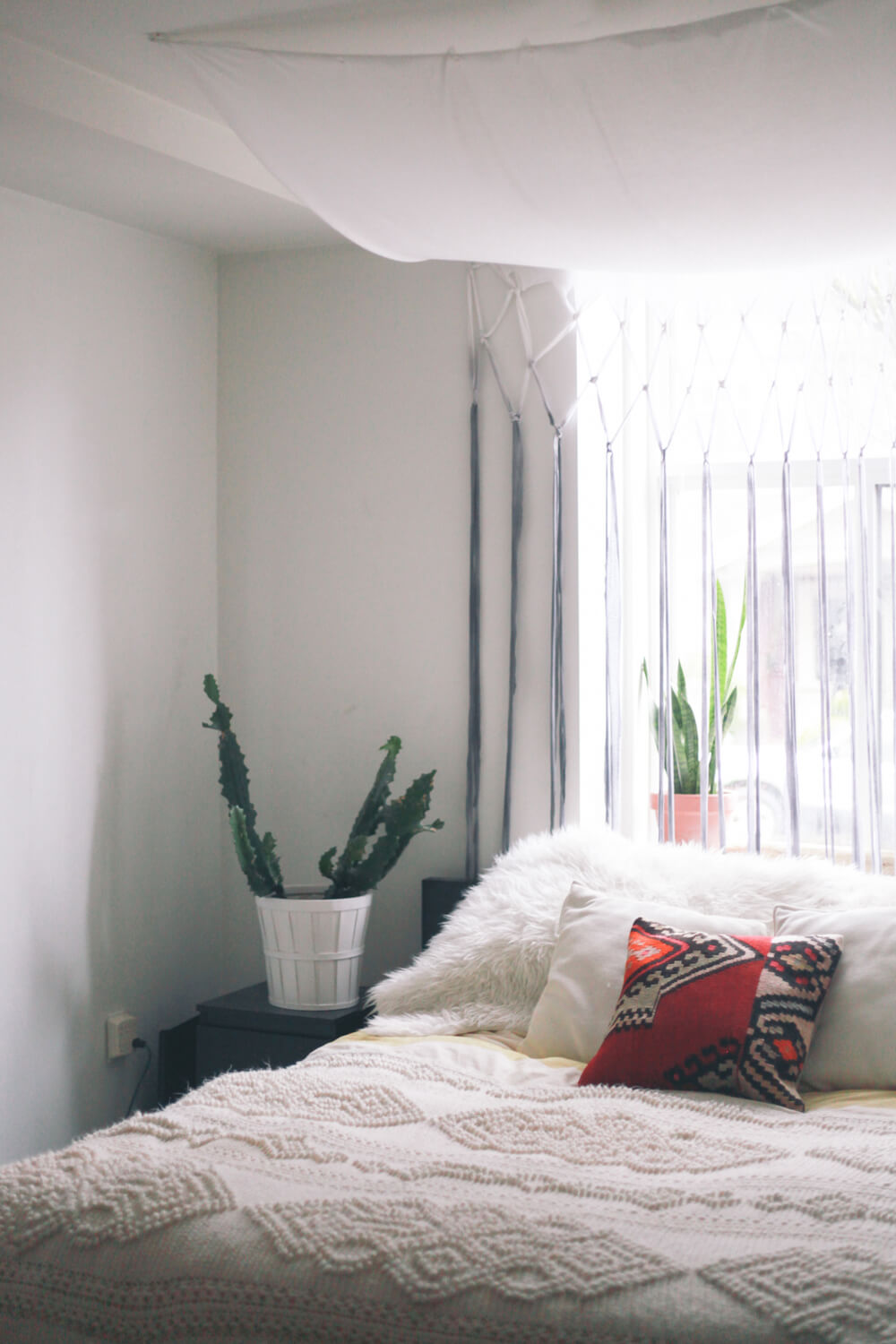 Completely change up your bedroom space with this unique and personalized Bohemian style bed canopy. Get a little crafty with dying fabric any color you choose and make basic knots and ties in whatever patterns and shapes you choose. The ombre colors here really give off that Boho feel along with the macramé and braided detailing.
8. Go All Out with a Glamorous Bedroom Makeover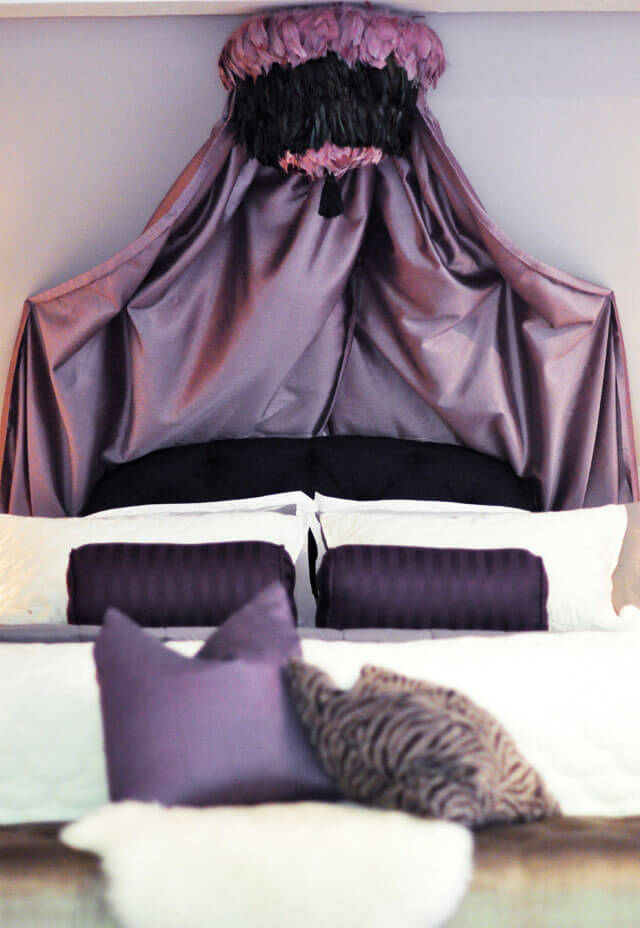 Doesn't this bedroom make you feel more glamorous just by looking at it? The dark, bold colors really spark elegance and warmth while the satin canopy and feathered pendant adds a classy, feminine touch. If you're recreating this look, consider choosing a canopy that matches your existing bedspread for a more dramatic feel.
9. Fairy Light Canopy Perfect for Little Girl's Room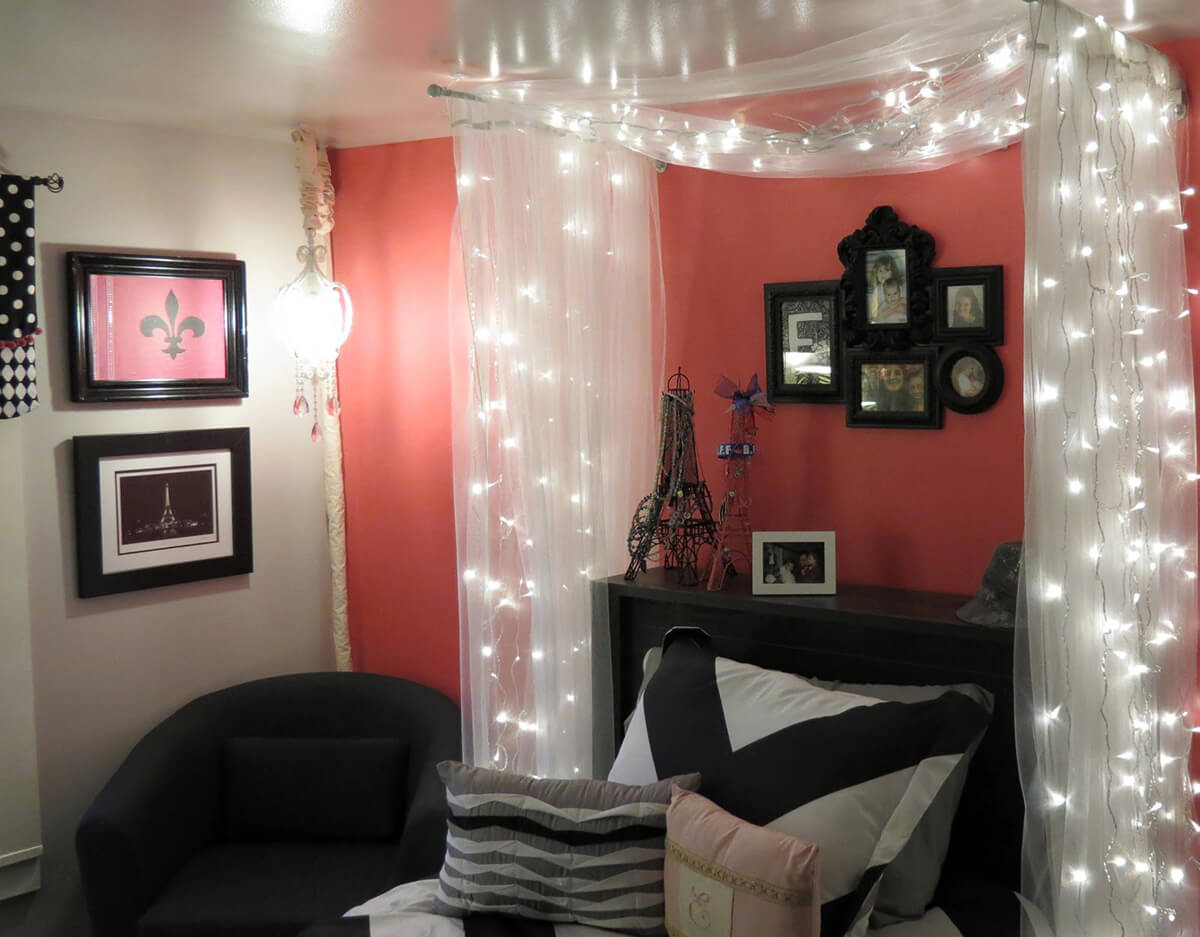 You honestly can't go wrong with those adorable, twinkle lights surrounding your bedroom. This inexpensive canopy DIY is perfect for a little girl's room or even at any age for that matter. The small dainty lights add such an enchanting look. Can you just imagine how beautiful it illuminates at nighttime?
10. Black and White Master Bedroom Remodel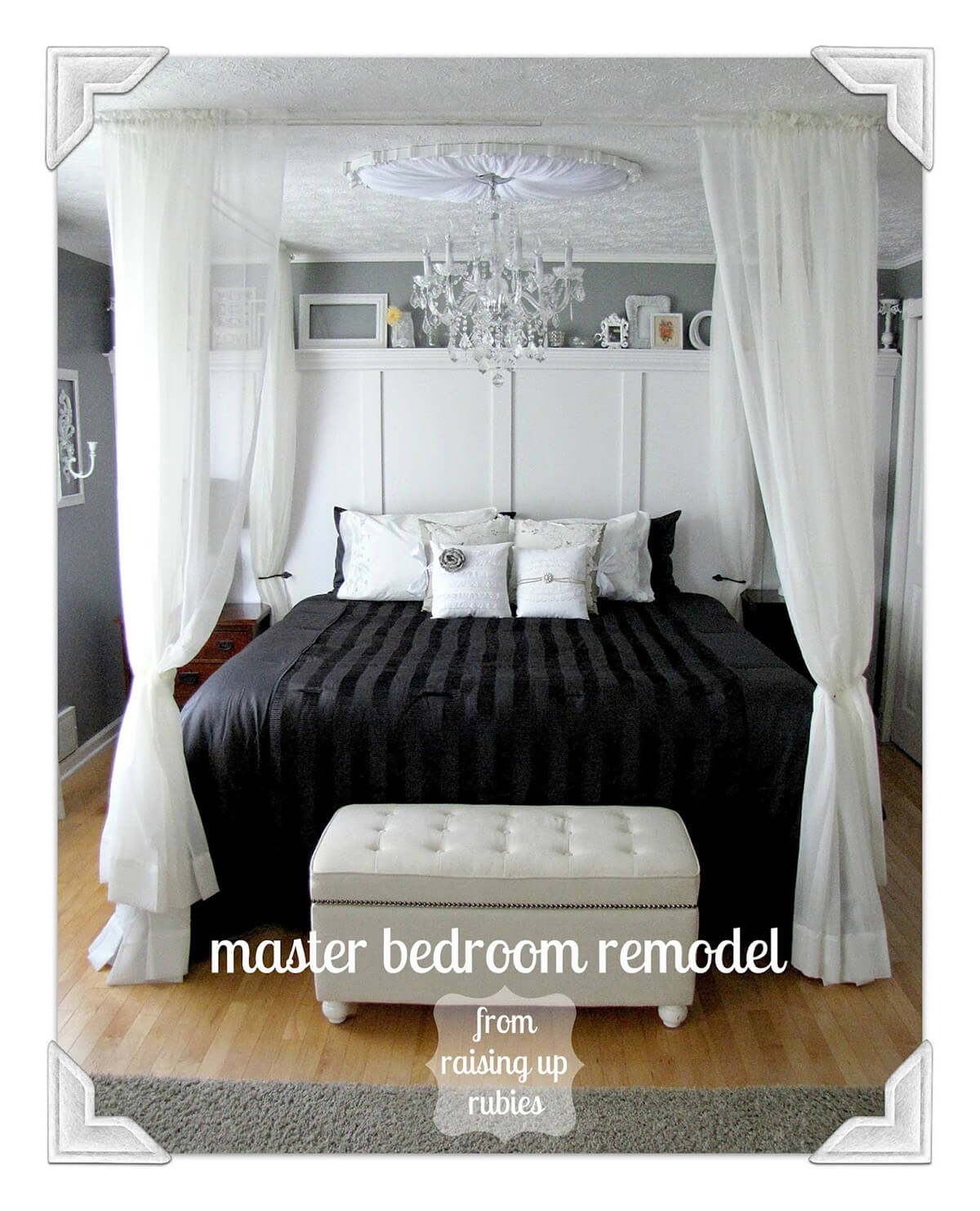 Ready to give your master bedroom a crisp, clean makeover? This black and white themed remodel adds the perfect amount of elegance while not being too overly feminine. The floor length four-panel sheer white canopy provides an airy, cozy vibe that's fit for a queen (and king). The black bedspread really ties this room together for a with a bold pop of color.
11. Create a Beautiful Reading Canopy Nook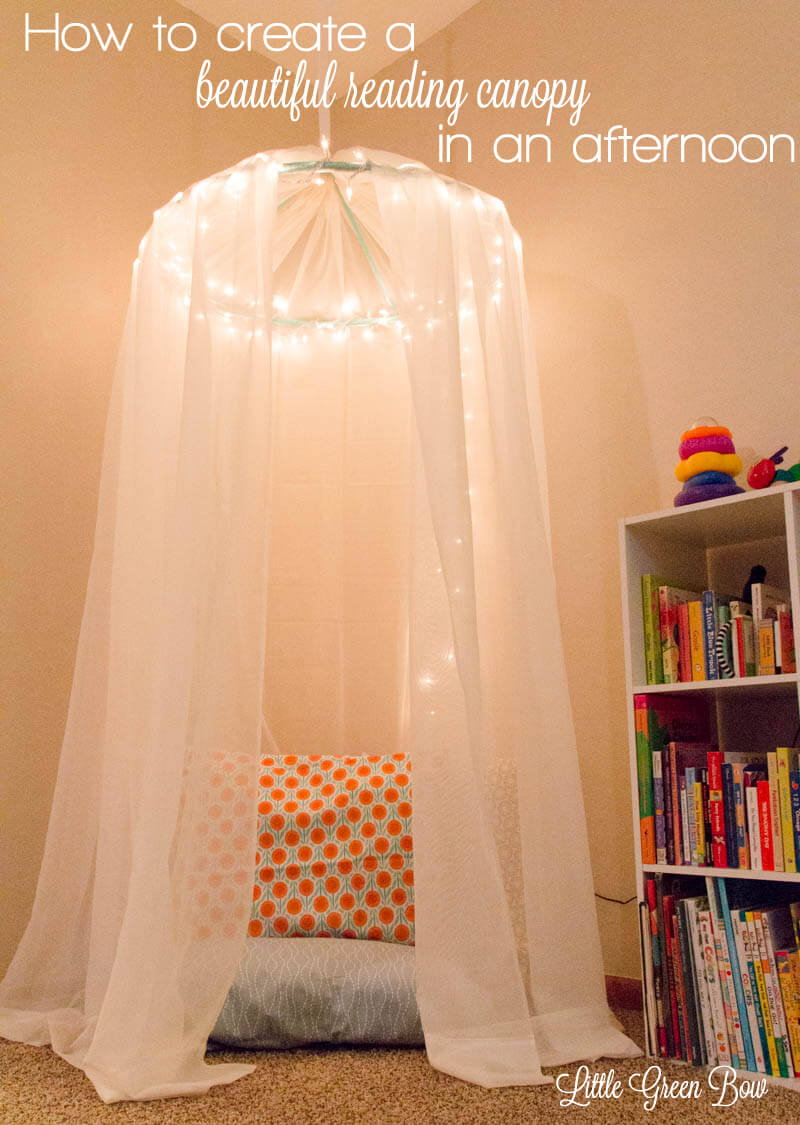 Need a little quiet, quaint place to escape and dive into your favorite book? This super simple DIY is the perfect addition to any corner of your home and provides a little bit of privacy where you can read in peace. The fairy lights around the top allow you to enjoy this cozy nook during any time of the day. Throw down a few pillows and you can lounge in comfort (and style).
12. A Bedroom Fit for a Mermaid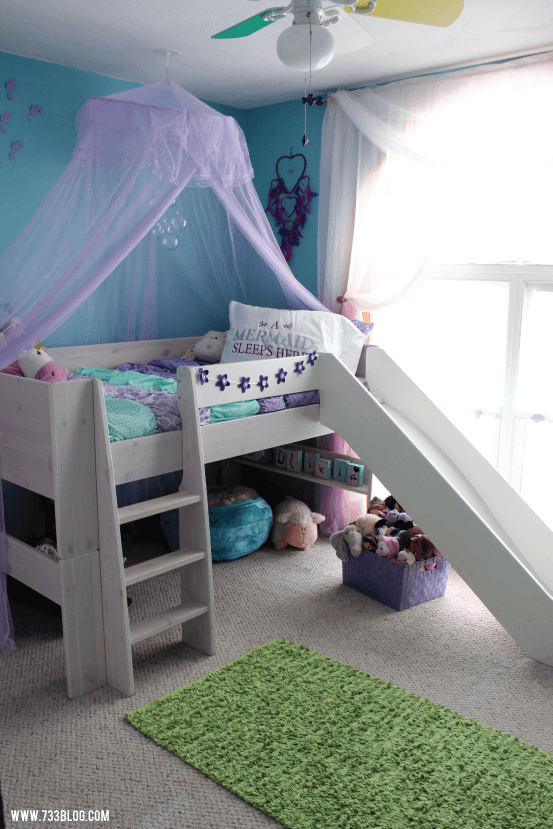 This pretty purple pastel awning is both youthful and dreamy. It really packs a punch in this mermaid-themed bedroom and is the perfect focal point that draws your attention right away. The added bubble decor right in the center compliments this theme very well and goes perfectly with the canopy.
13. Camping Tent Bed for a Little Nature Lover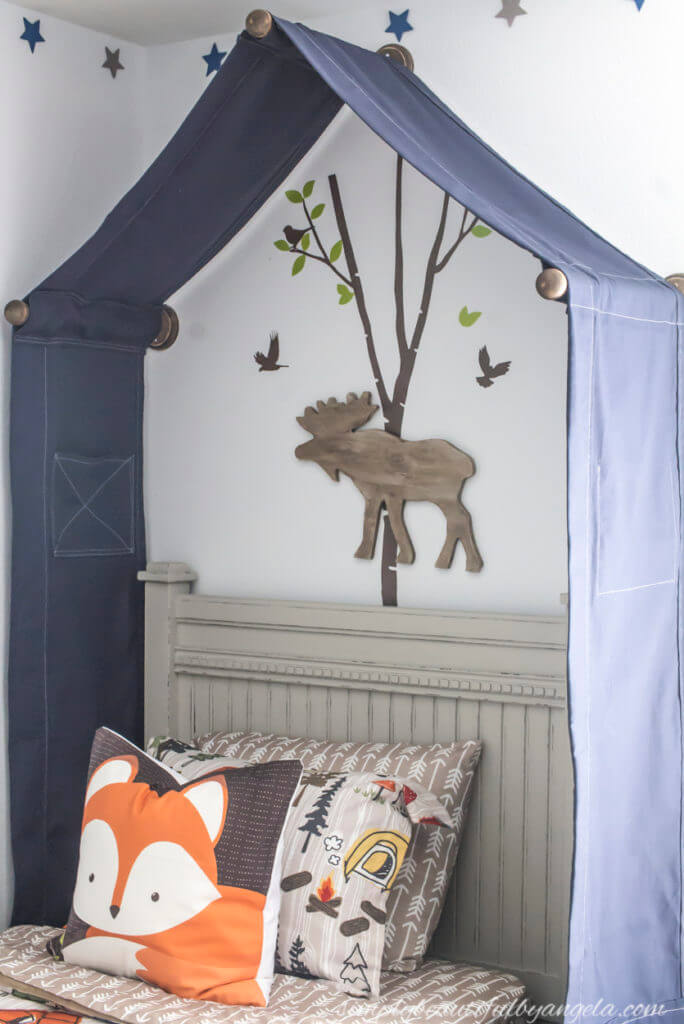 Transform your kids' room into the ultimate little camper's oasis. Using a canvas drop cloth or fabric, you can create a tent canopy right over their bed. This awning is even complete with pockets for extra storage. Keep their favorite books inside for a fun "campout" telling stories right in the comfort of their own bed each night.
14. DIY Bed Canopy Fit for a Princess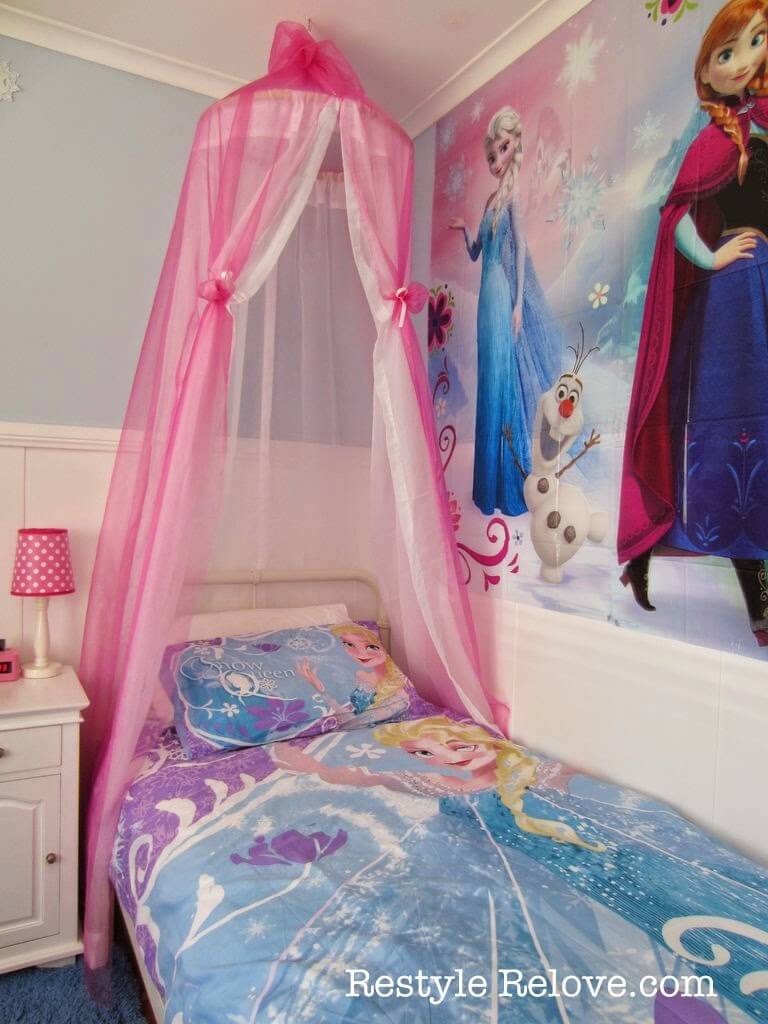 Decorate your little princesses' bed in style with their favorite color sheer awning. This fairy-tale bedroom adds a fun, youthful vibe with the pink and white pops of color. The ribbon ties on both sides add contrast and keeps the awning from covering the bed entirely, which is perfect for little ones to sleep safely and peacefully.
15. Handmade Cot Canopy with String Lights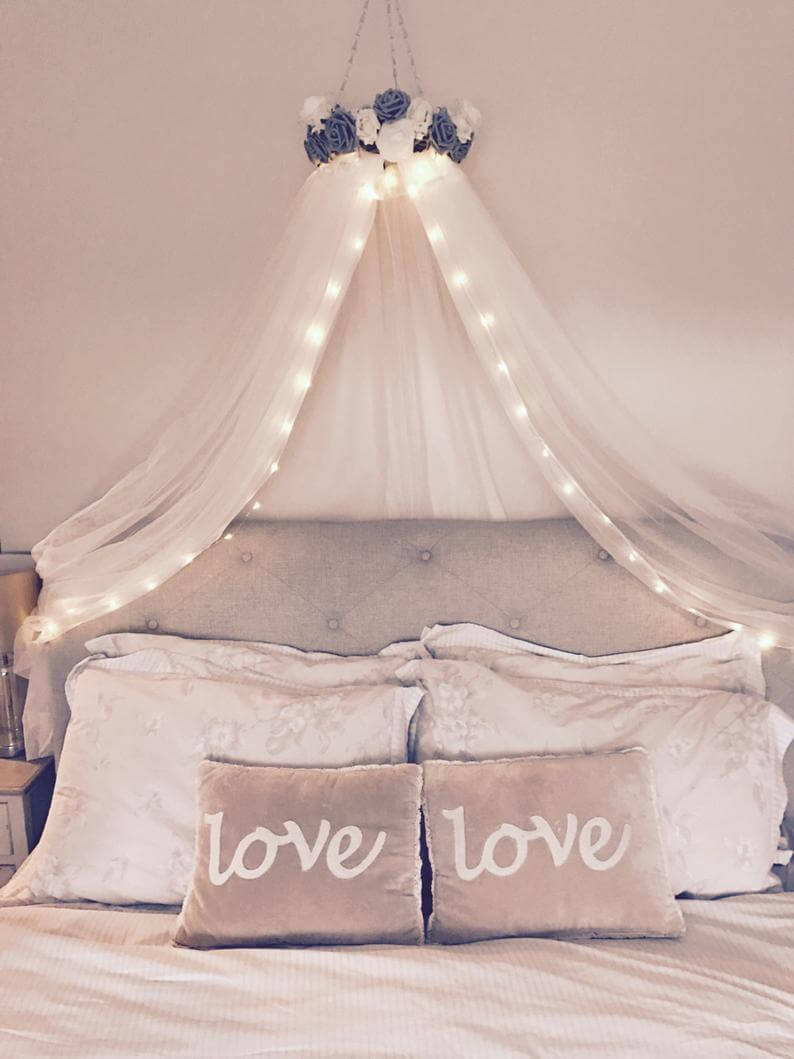 What better way to doll up your little girl's room than with this handmade cot canopy? This darling, sheer white awning drapes perfectly over the headboard and the string lights add that charming detailing we all know and love. Playtime just got dreamier thanks to this gorgeous bedroom decor piece.
16. Dreamy Silk Mosquito Net Bed Canopy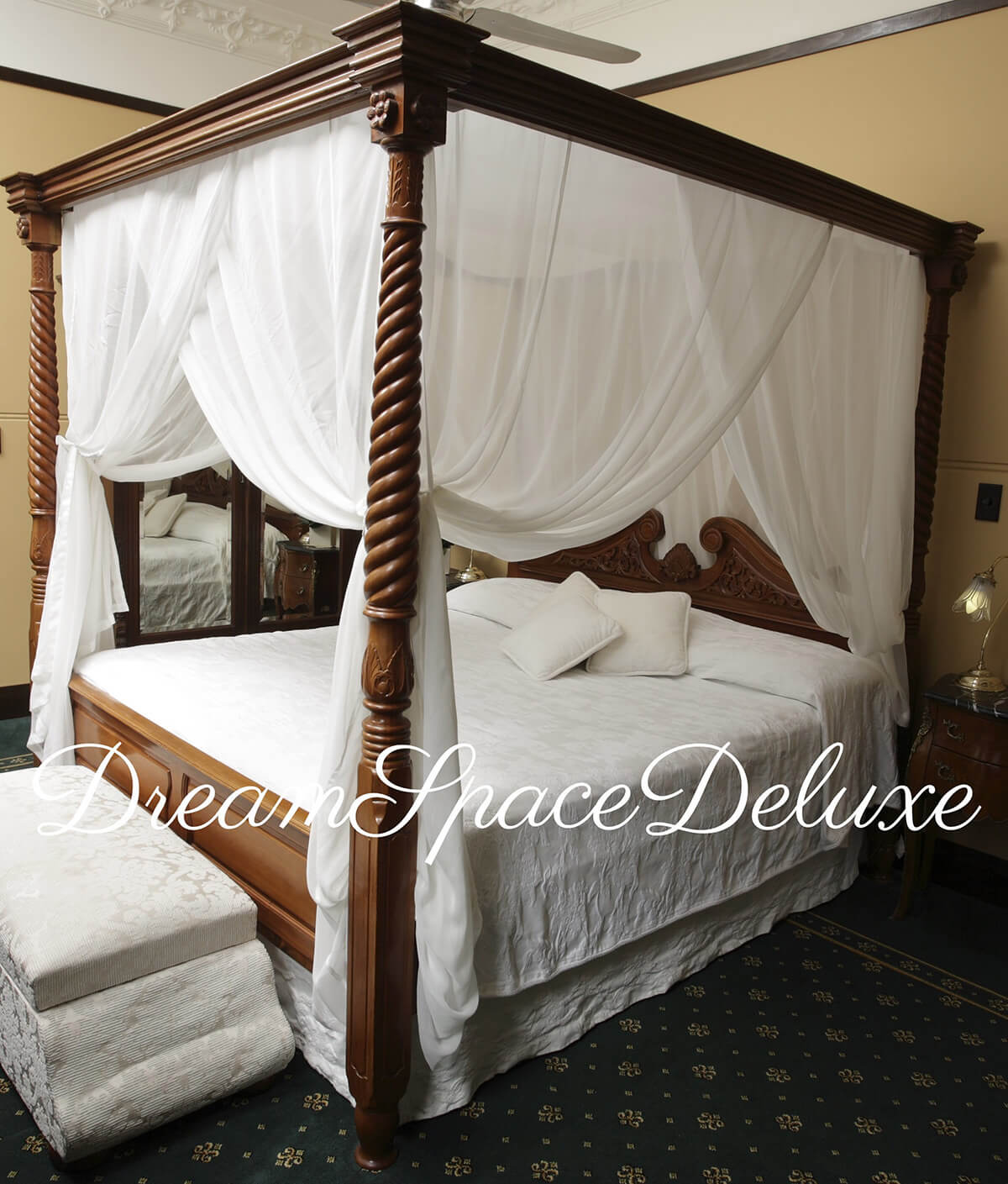 This gorgeous box-shaped mosquito net features a sheer, lightweight, natural and organic silk fabric perfect for attaching to a frame or four poster bed. This is the ultimate bedroom furnishing piece that will transform your bedroom into a dreamy oasis you'll never want to leave. Just imagine the airflow and beauty of this amazing net canopy with the windows open on a beautiful breezy day.
17. A Delicate Custom-Made Flower Canopy Mobile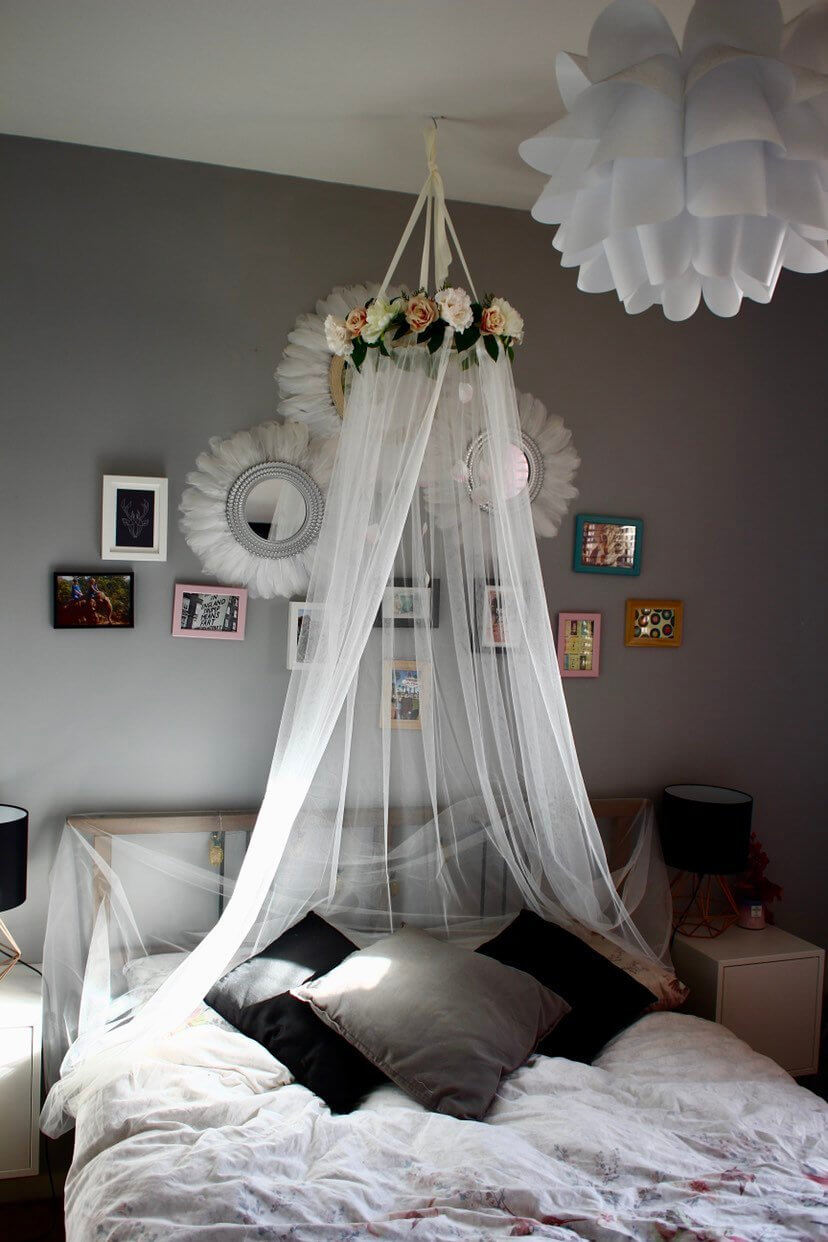 Featuring a soft, breathable voile material that's looped around a wooden hoop, this carefully hand-crafted canopy mobile is the perfect addition to your bedroom area. Whether you choose to use it over the bed or in the corner as a quiet little reading nook, you simply can't go wrong with this canopy mobile.
18. Sweet and Lovely Canopy Netting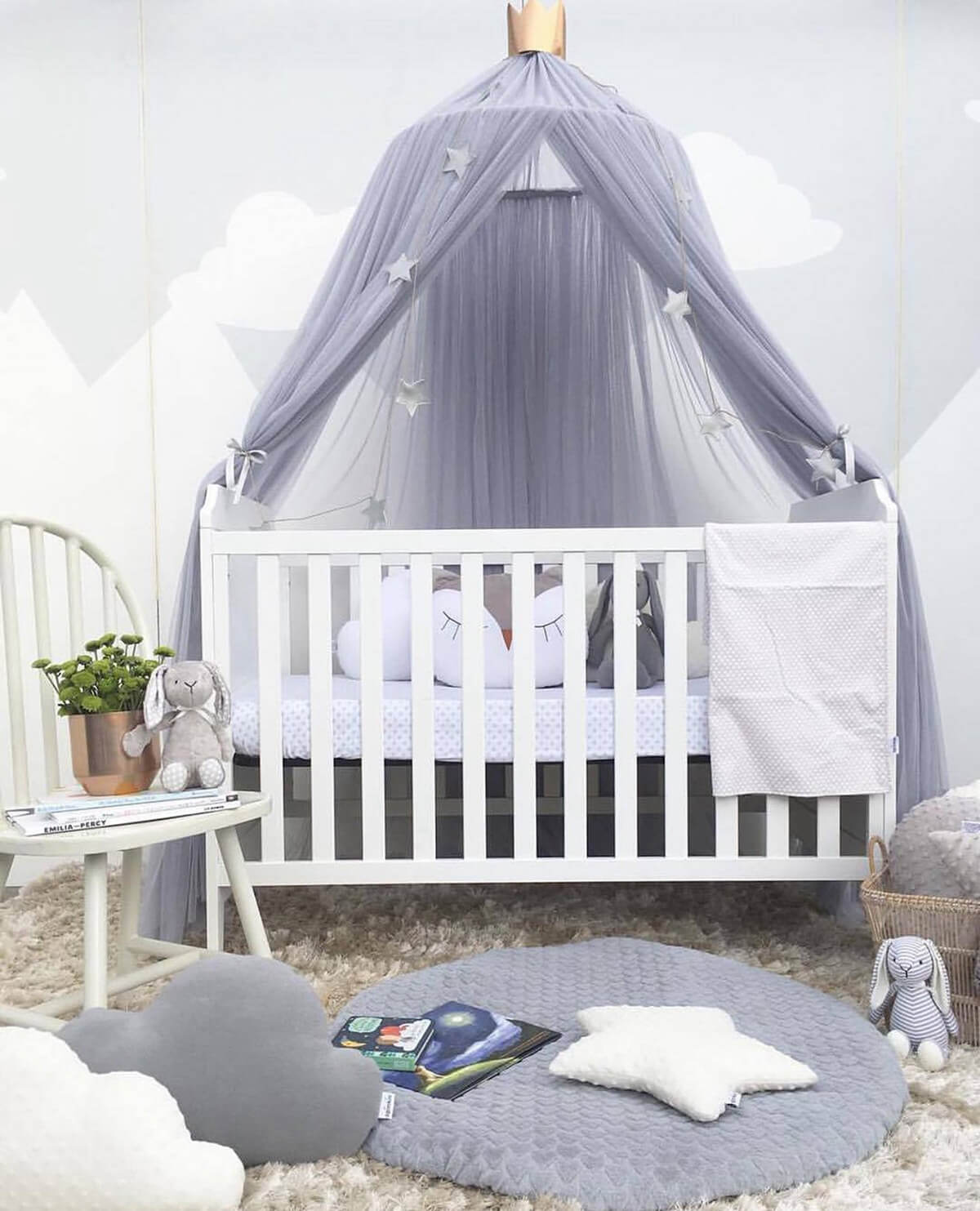 This crib netting is giving us all the princess vibes! Featuring a lovely sheer canopy dome, large opening for easy entrance and the cutest pom decorations, this is sure to make your little one full of excitement and enchantment. Place this above a crib or bed or along the side for a quaint little cozy nook for daytime napping.
19. Drape Elegance with This Stunning Canopy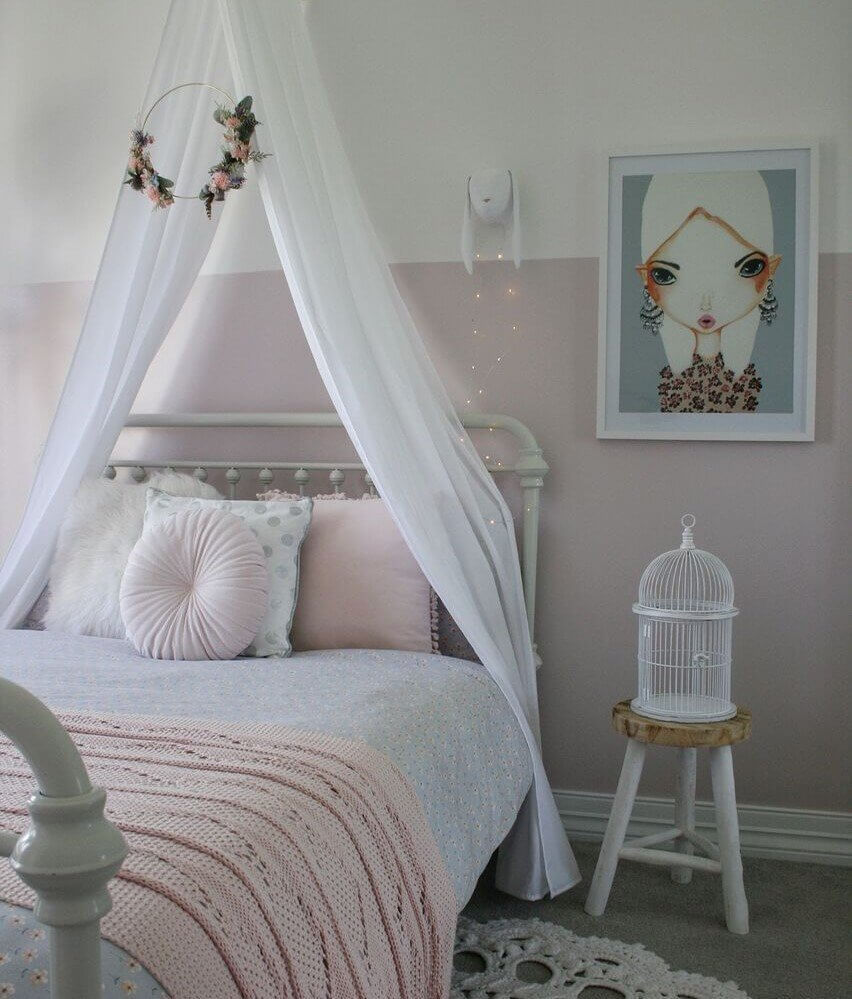 Add elegance and sophistication to any room with this divine draped canopy. This handmade piece is designed to be a one size fits most canopy that will look great in a nursery, toddler room or even above a queen size master bed. It's the perfect magical place to drift off to dream land.
20. Luxury Cotton Mosquito Net with Sunbrella Topper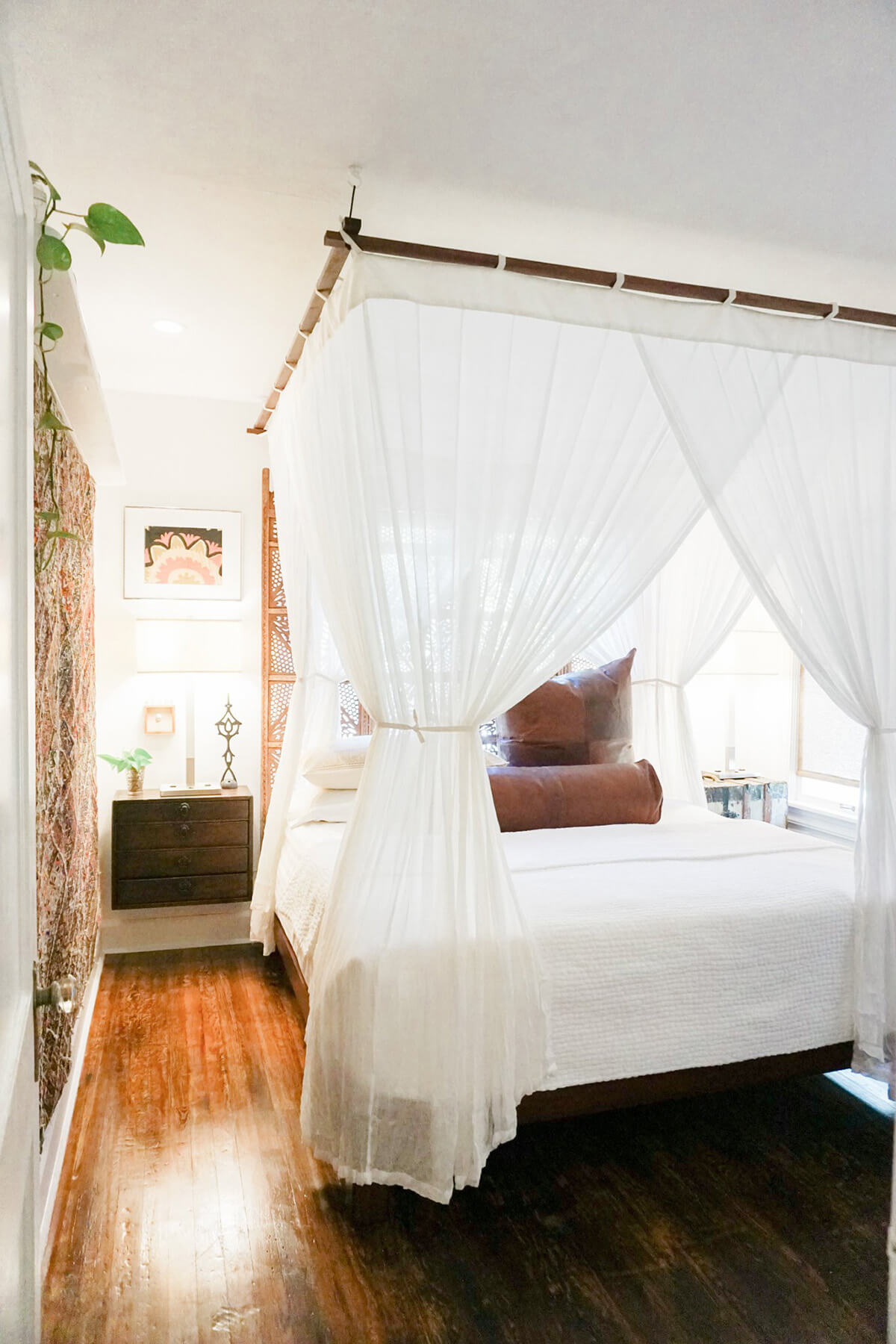 Made from soft, sheer cotton each of these handmade luxury mosquito net canopies can be tied up or drawn down to create the most perfect intimate setting for your bedroom. It's not only used for decoration, but also great for outdoor use on the porch or on a lanai. It's the perfect way to keep pests away if using this beautiful piece outdoors. Only a handful were made, so you'll be lucky if you get your hands on this one!
21. Ivory Juliette Floral Crib Canopy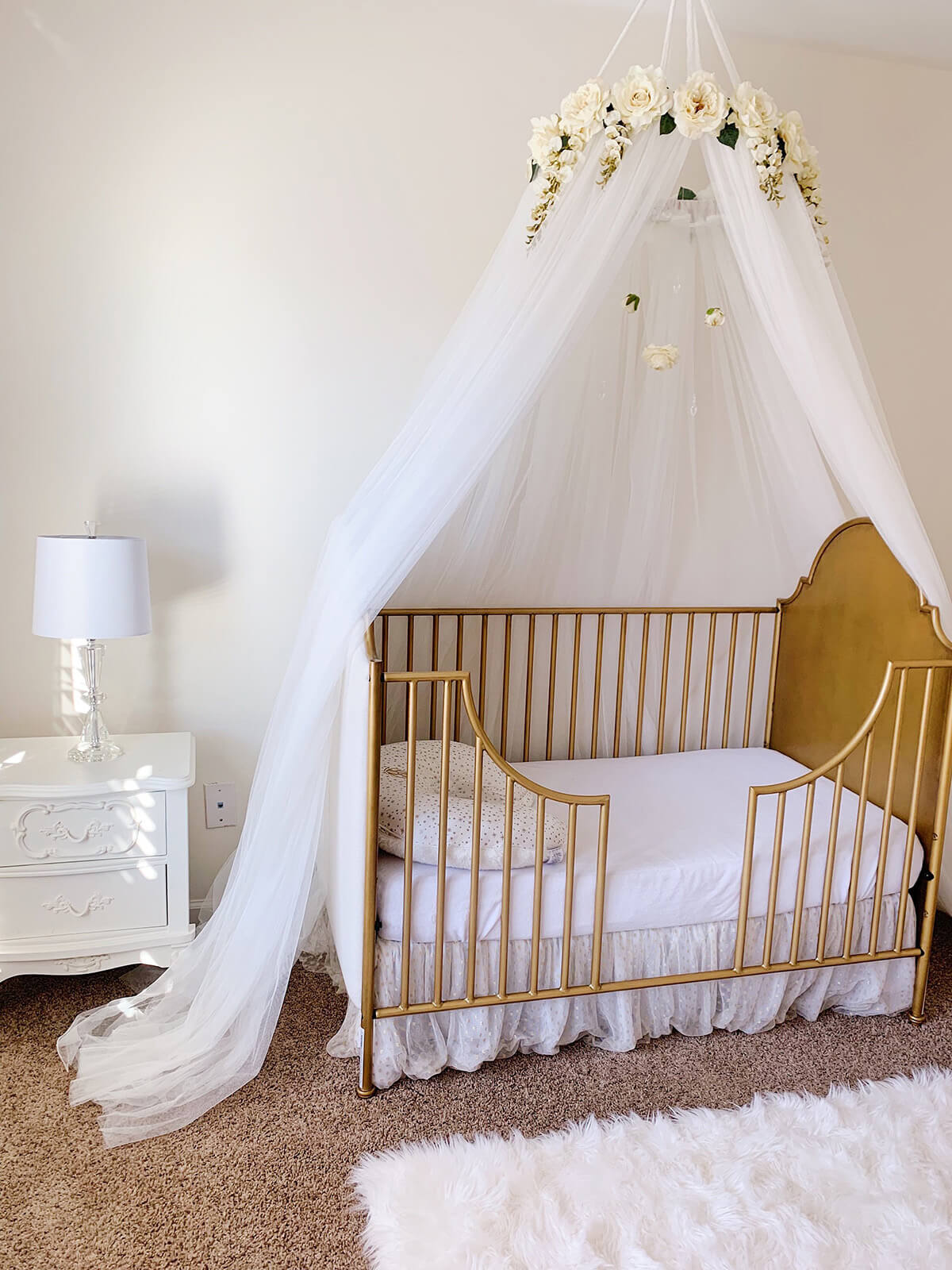 Create a beautiful, serene oasis for your little one to awake in with this ivory Juliette floral canopy crib. The top of the mobile is covered in darling, high-quality ivory roses with hanging greenery and flowers throughout. This will add such a delicate, finishing touch to your little one's sweet nursery.
22. Beige Hanging Canopy for Bed or Reading Nook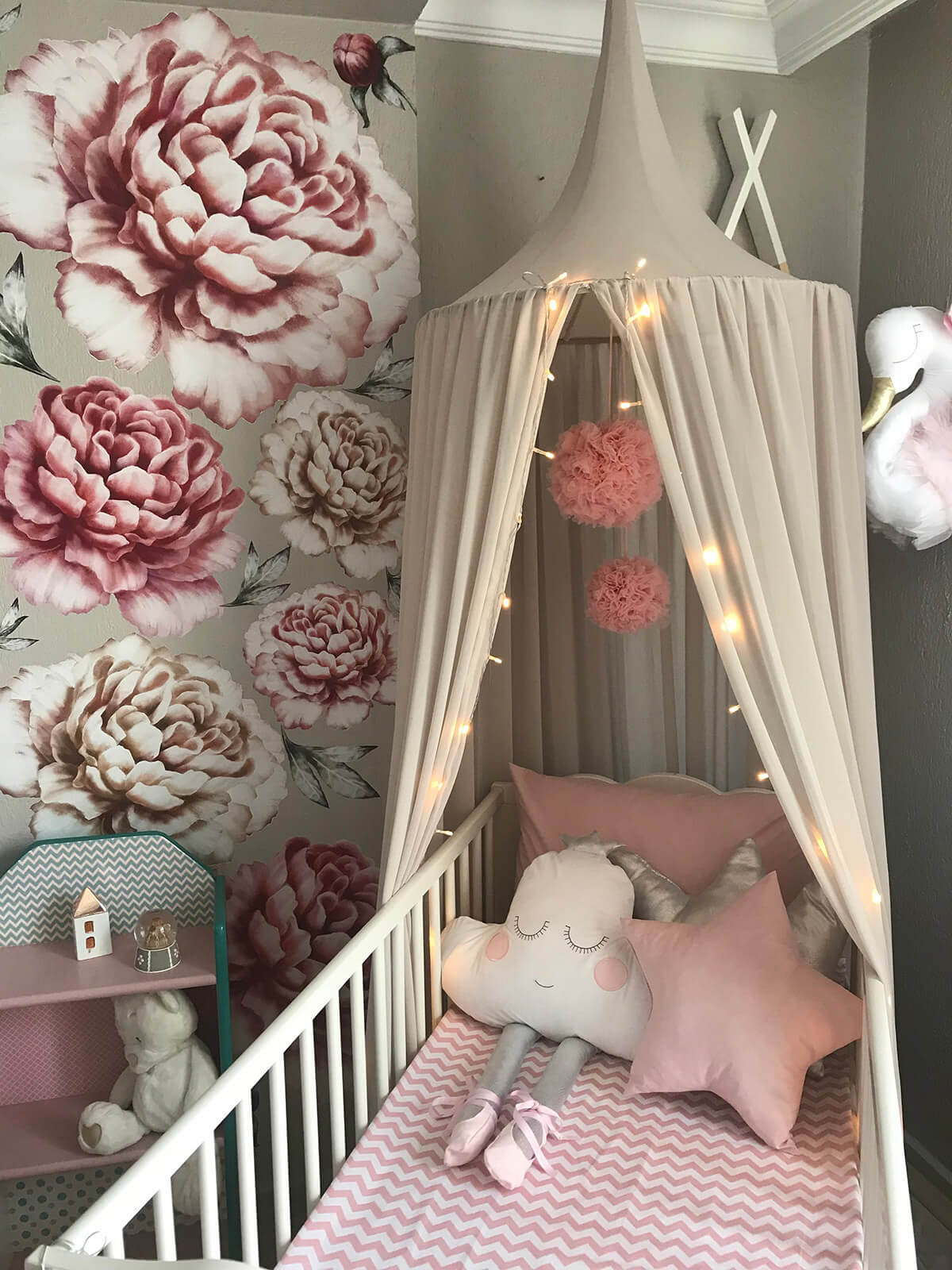 It's all in the details with this beautiful beige hanging canopy. This handmade 100% chiffon canopy features a plastic hoop that allows the canopy to drape nicely over the bed, a loop for easy hanging, and can also be machine washed for easy cleaning. Those who have recently purchased this item were very pleased with its sturdy, beautiful fabric.
23. Artistic Mosquito Net for Any Size Bed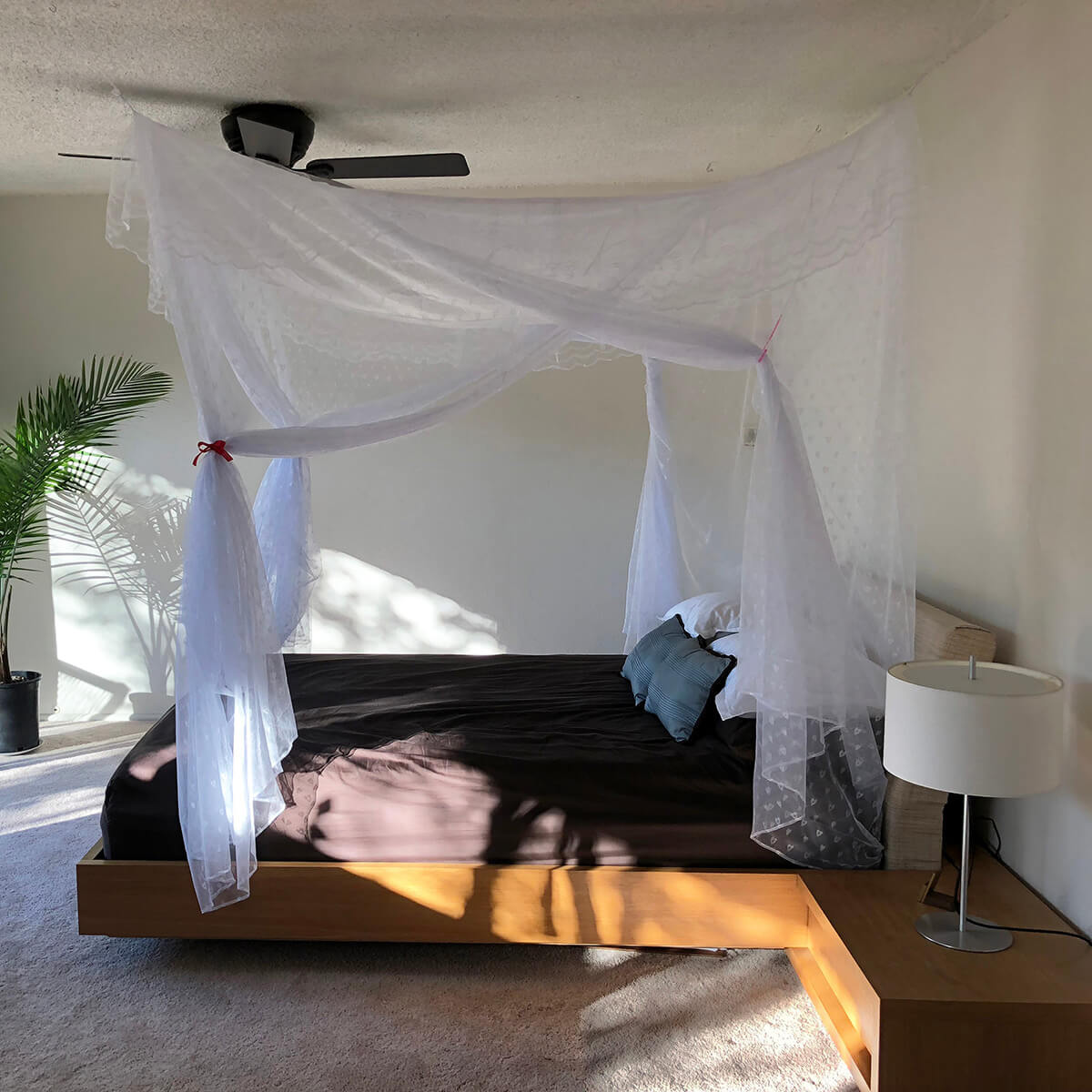 Give your room a romantic touch with this beautiful artistic mosquito net canopy made from recyclable nylon. With the natural mosquito barrier, you are sure to sleep tight and wake up well-rested and ready to start your day refreshed. One purchaser says that this canopy has changed the entire vibe of their bedroom and the details are simply stunning.
24. White Organic Cotton Hanging Canopy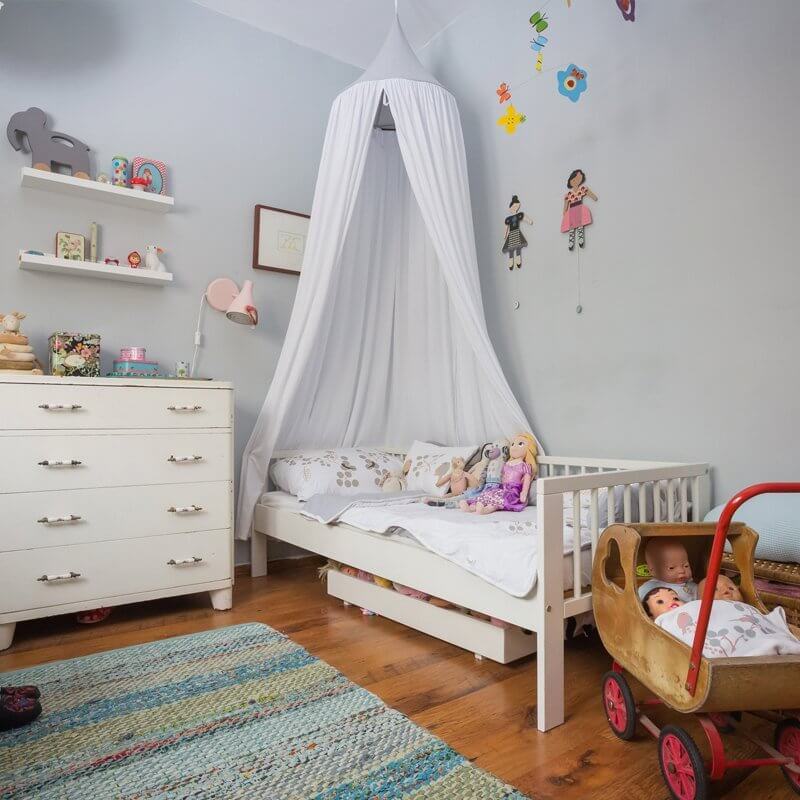 Whether you choose to use this decorative piece in a kids' bedroom, master or other area of your home, this cozy hanging canopy provides an imaginary oasis for stylish home decor. When not in use, this canopy can easily be folded and is machine washable for easy and efficient cleaning. It hangs about 15 feet and you can choose from a variety of colors for a customized listing.