When your decor includes the best ceramic animal planters, you unlock its full potential. First, figure out which animals you would like to feature in your decor. Ceramic planters can add to space decked out in any decor because they can be molded into any form and glazed in a wide variety of colors. Beyond the planter, you will also need to put a little thought into plant pairing. When all these elements work together with your space, you achieve something truly spectacular.
The Top 25 Most Creative Ways to Feature the Best Ceramic Animal Planters to Refresh your Space

Because different animals have different energies, animal selection is one of the most important decisions you will make. While there is nothing wrong with focusing on a favorite animal, this step is more about how an animal planter feels. Which fits better in your space – a funny frog or an elegant elephant? Maybe something unique like a flying pig can develop the atmosphere you have in mind.
From a design perspective, ceramics are full of opportunities to discover your decorating dreams. They can feature a rough, rock-like texture or a smoothly polished finish. Because glaze is actually a thin layer of melted glass, sweeping, cascading waves of color are possible. A well-made ceramic planter can add to your space as much as a piece of fine artwork.
Before you think you are finished with this exciting journey, you need to pick a plant to put in your planter. Decorating with living botanicals is exciting because there are so many different types of succulents, vining plants, and flowers. Will you choose variegated foliage or a plant with lustrous green leaves? Perhaps it will spill over the sides of the planter to give your animal an exuberant hairstyle. As you look through the ceramic animal planter ideas below, imagine how each might look when filled with your favorite plants.
1. Dog, Bunny, and Hedgehog Planter Set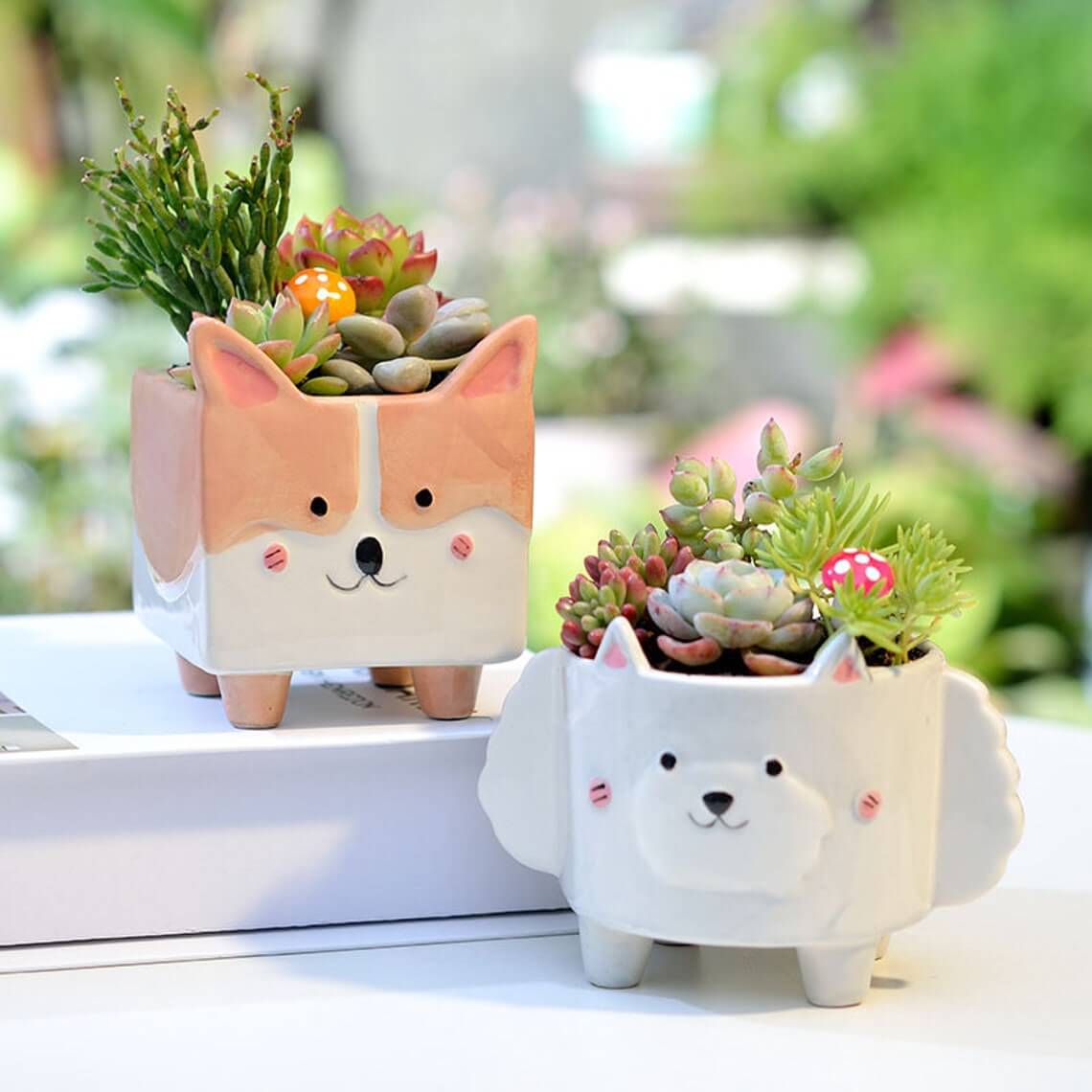 Who could fail to fall in love with these darling animal-themed ceramic planters? This image features the corgi and the cocker spaniel, but the set also includes a white bunny and a lovable hedgehog. With a unique highly stylized design, they will add a good dose of cuteness wherever you decide to place them. Only half the fun is figuring out where to put them – you also get to curate plants to create fur. For the hedgehog, experiment with pointy aloe vera to form tapered spikes. Whichever plants you pick, these four planters will infuse your space with joyful delight.
2. Green Frog Ceramic Planters in Two Sizes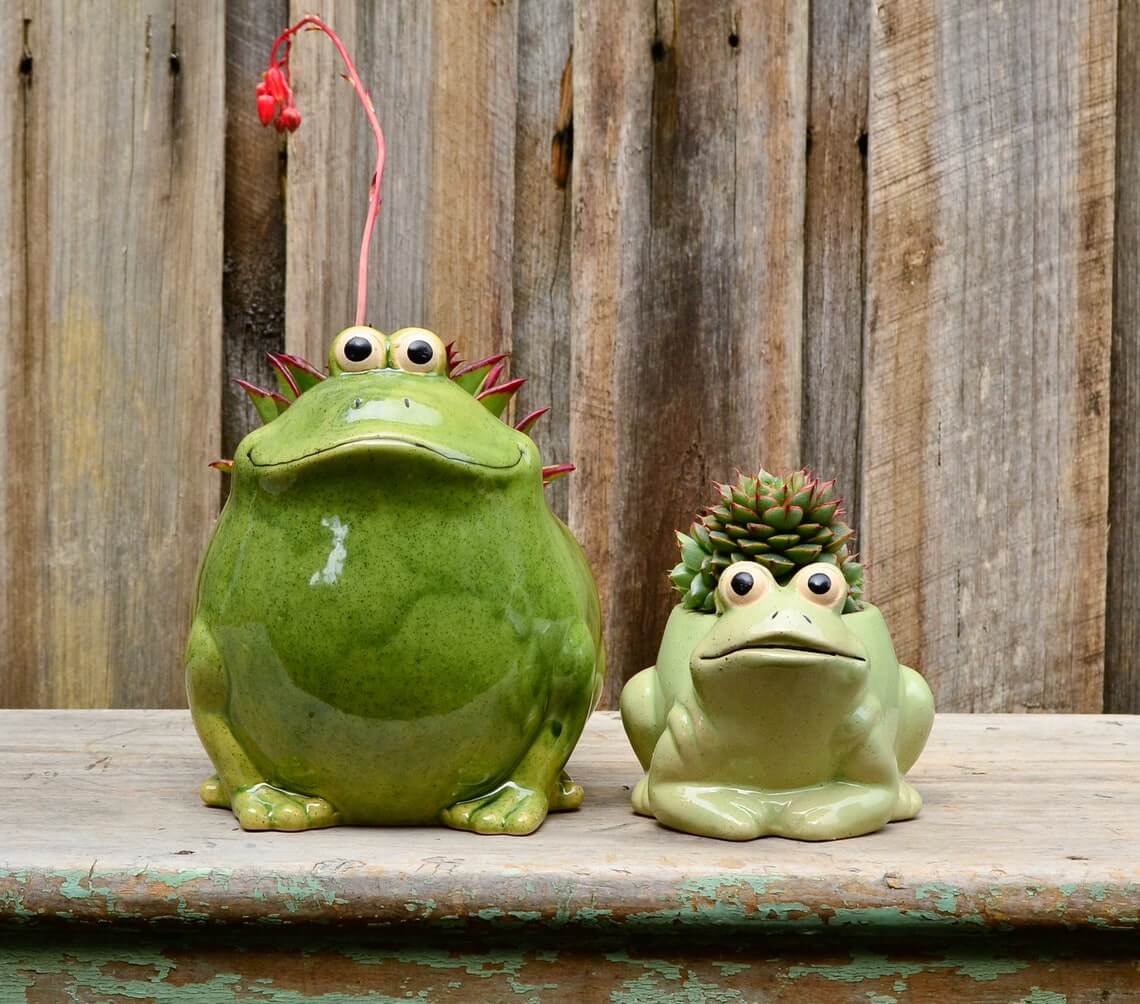 A frog planter or two can supercharge a room or outdoor space with fun energy. Because the two sizes are glazed in different shades of green, they complement each other. That also means that you will need to take color into account when choosing a size. Besides the larger size, the bigger frog's more intense color makes it better suited to serve as a focal point. However, do not discount the smaller frog planter from your decor. With more subdued coloring, it provides a soothing vibe wherever it goes. Use these planters wherever your space yearns for a happy frog.
3. Dinosaur Planters in Shades of Blue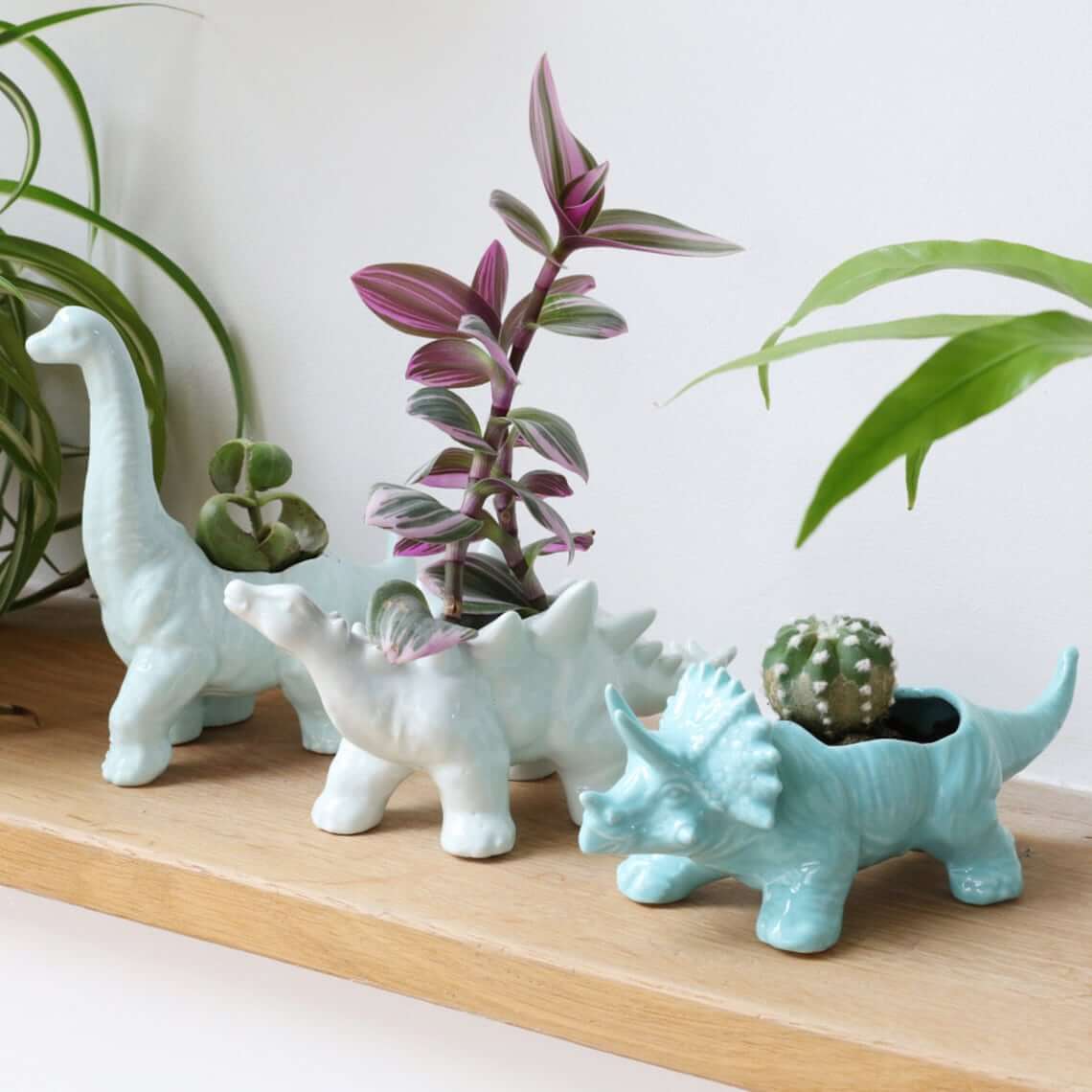 No dinosaur-themed decor is complete without some greenery, and these planters allow you to keep that prehistoric feel flowing. To get started, pick your favorite among a stegosaurus, diplodocus, or triceratops. If you have trouble choosing, consider the color and shape of each. If blue is not an accent color in your decor, the glossy white stegosaurus might be right. For rooms where blue is welcome, the stout stegosaurus is a solid option. As the tallest planter, the diplodocus will complement shorter statuettes, but might compete with taller decorations. For the most delightful dinosaur display, exhibit all three planters together.
4. Cute Cartoon Dog Ceramic Planter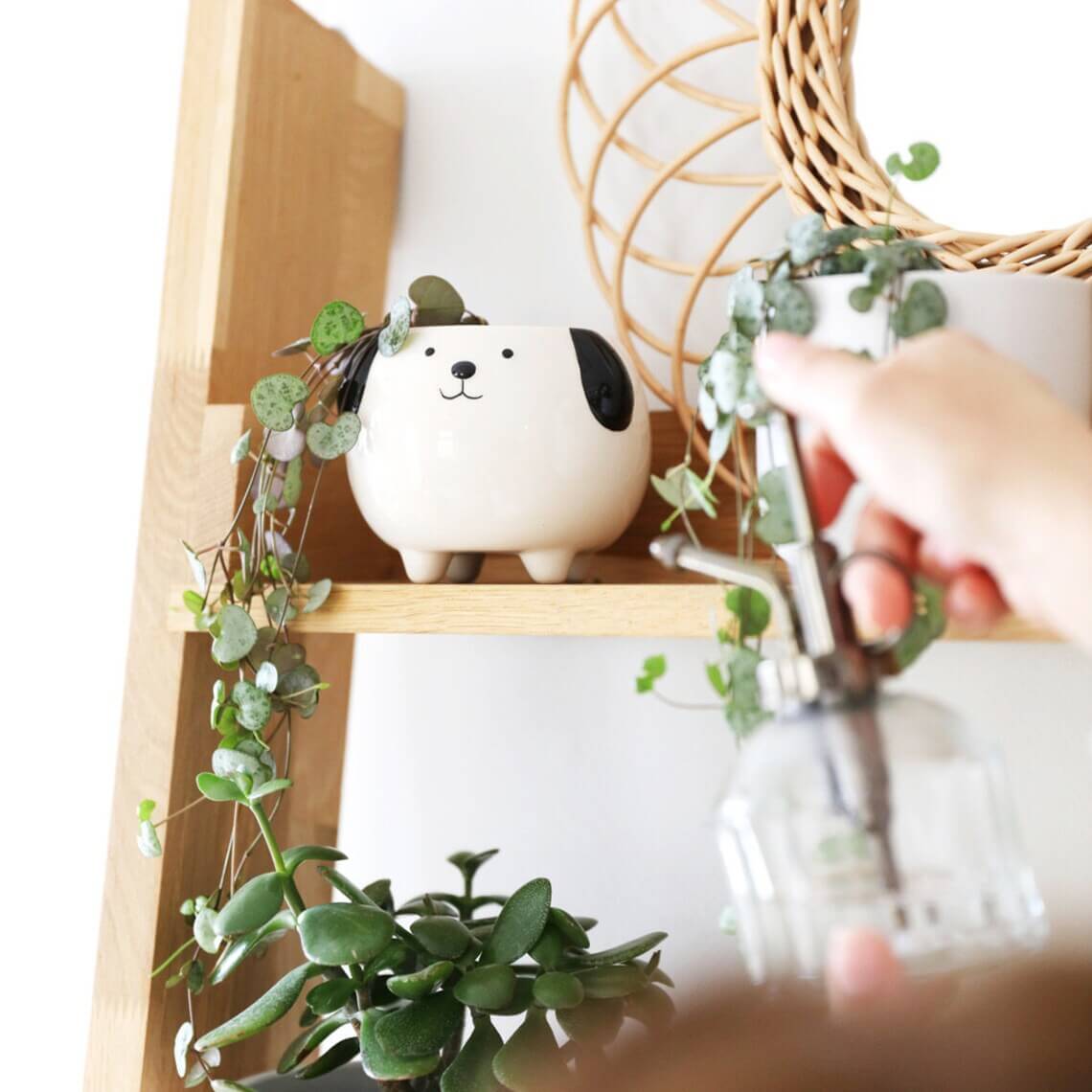 This is one of the best ceramic animal planters for anyone who loves dogs, decor, and greenery. With a pleasant circular shape, a happy face, droopy ears, and darling legs, this planter will provide a sense of playfulness to your space. To emphasize the round shape, choose a plant with rounded leaves. For some crunchy contrast, pick a plant with spiky leaves. From vines to flowers to succulents, this planter will look exquisite with whichever plant you choose to use. With a classic black and white color palette, this glossy planter will look good in nearly any decor.
5. Small Doodled Fox Dolomite Planter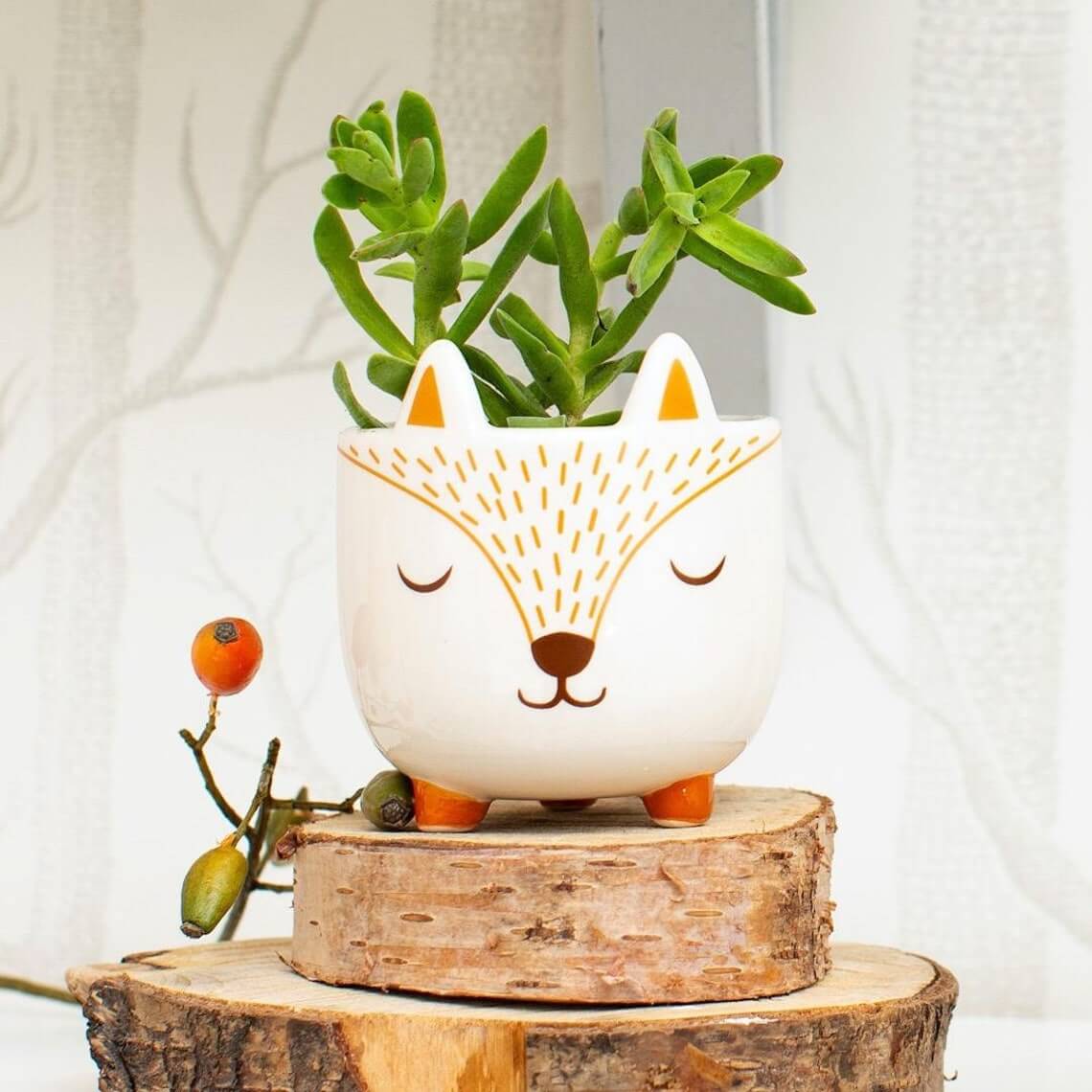 Combined with the softly rounded shape, the playful artistic style imbues this planter with guileless charm. To give that rounded shape extra sturdiness, this planter features legs glazed in a rich orange hue. Embrace the orange by choosing a succulent with orange-tinted foliage. Of course, you could follow the example displayed in this image and pick a succulent with vibrant jade foliage. After all, a palette consisting of white, orange, brown, and green has a great deal of potential. Use this planter to adorn a nursery, bedroom, living space, desk, or anywhere that could use a little slumbering foxy sweetness.
6. Gold Turtle Planter with a Hexagon Pattern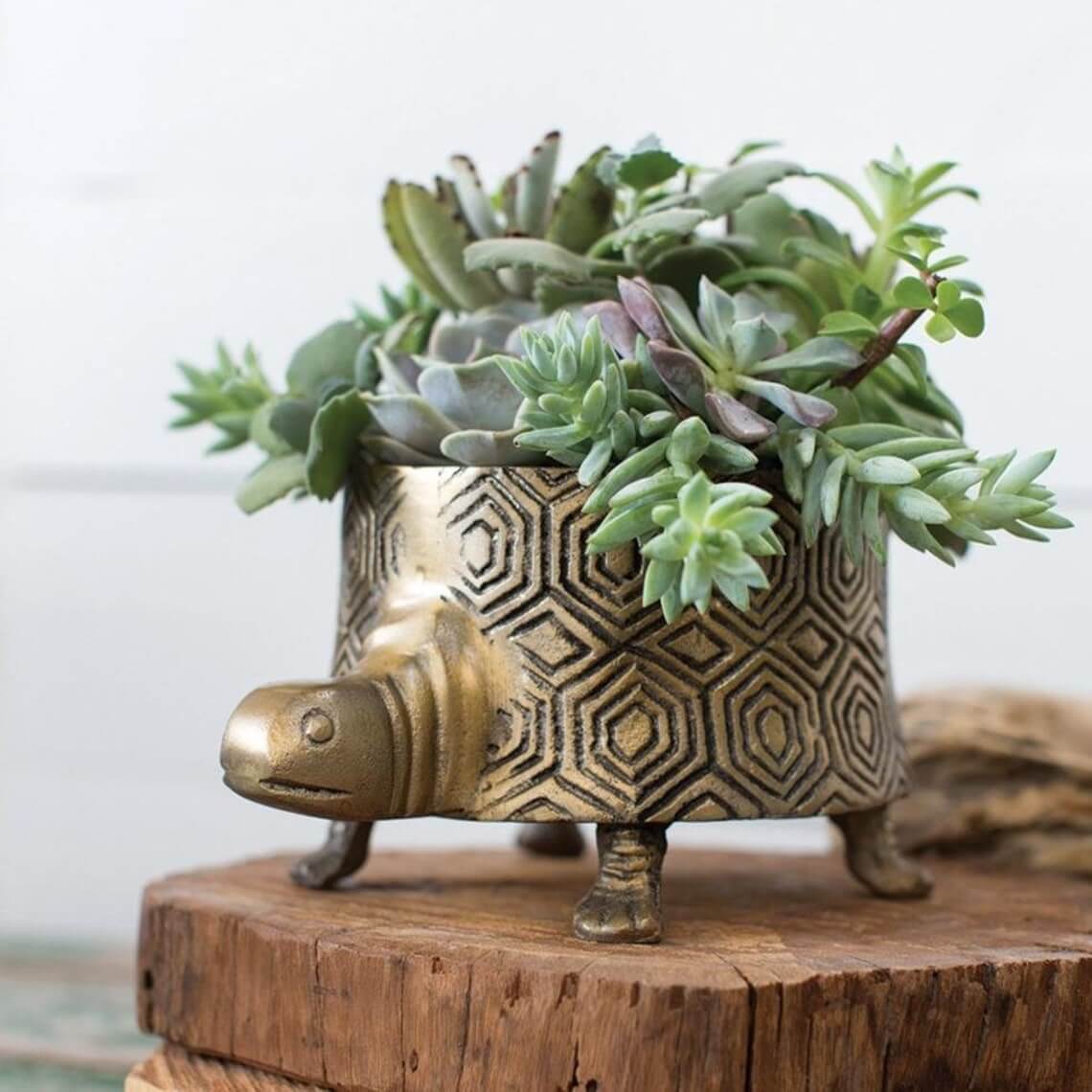 In a spray of abundance, succulents spill over this planter to create a turtle shell. With this planter, you can design your own turtle's shell. For a traditional turtle, stick with green foliage. If you prefer the whimsical to the conventional, experiment with variegated foliage, flowers, or crazily colored succulents. The hexagon pattern and straight lines add energy in any space. The lustrous gold finish is a great addition to glamorous spaces, although this turtle could easily find a home in any style of decor. Because of the metallic finish, it would integrate easily with industrial and even steampunk styles.
7. Little Buddies Ceramic Animal Planter Ideas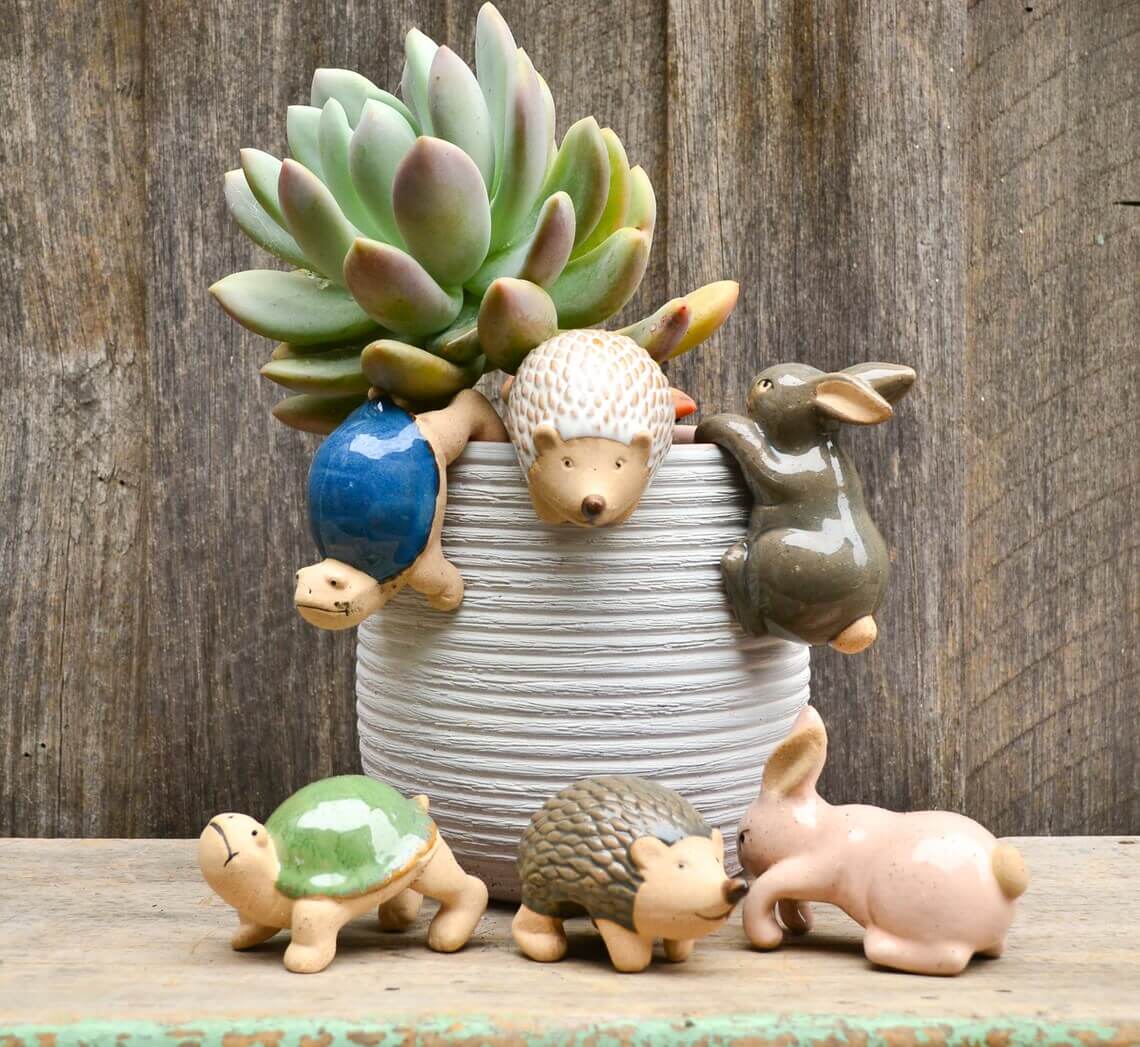 With these beasties, you can spice up your favorite planters. These playful creatures can transform even an unimaginative planter into a focal point. Best of all, there are lots of choices. With three animal options and multiple glaze colors, you can pick the perfect pal for your planter. Instead of repotting into a new planter, you can easily decorate seasonally with a planter pal or two. All of the animals feature warm buff-colored clay along with a swatch of color. Imagine a blue-glazed turtle as an exquisite addition to coastal decor. Pink and brown bunnies can really set the tone for springtime decor.
8. Elegant Cat Face Pedestal Planter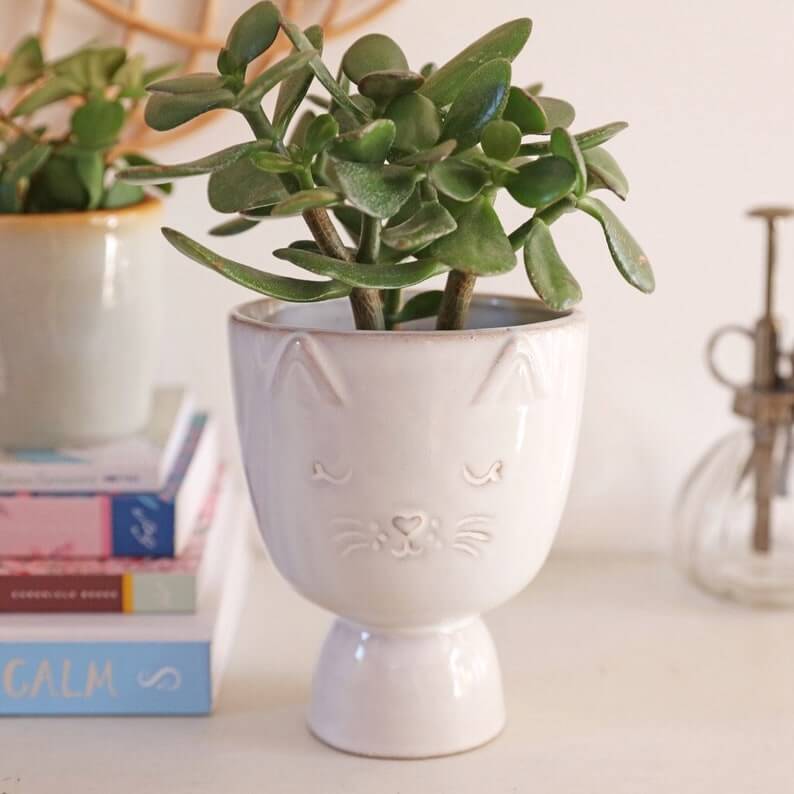 By harnessing a classic silhouette with an unexpected feline twist, this pedestal planter achieves the perfect combination of whimsy and sophistication. A soft white glaze with some speckling makes it feel connected with nature. Depicted in peaceful repose, the feline's face is a reminder to take a deep breath and let the stress flow away. After all, what could be more relaxing than thinking about plants and cats? Place this ceramic planter anywhere that needs a little more serenity. Because the feline face is only on one side, you can rotate this planter to show a sleek and minimalist pedestal.
9. Six Whimsical Yet Wise Owl Planters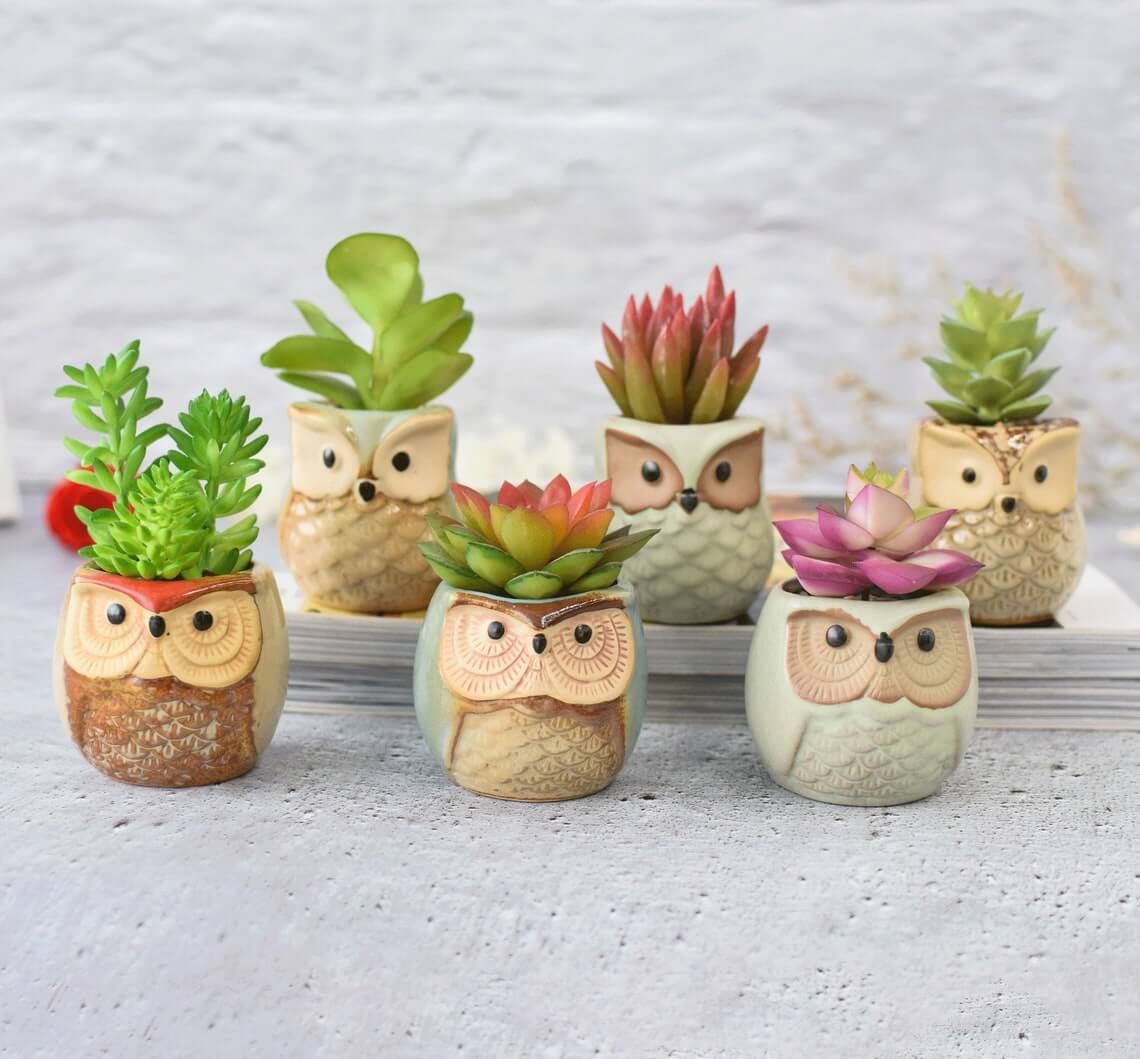 Each owl in this set of six arrives bursting with personality. Although there are only two designs, the variety of glazes results in unique owls. A range of browns, beiges, greens, and even a pop of bright red mean that these owls will tie into a wide variety of decor. Picking your plants is the next step. Showcase your botanical skills with a different succulent or vining plant in each owl. If you use the same succulent in each, you can easily create a cohesive energy throughout your home. When interspersed throughout a room, they can tie the space together.
10. Elegant Elephant Living Sculpture in Three Colors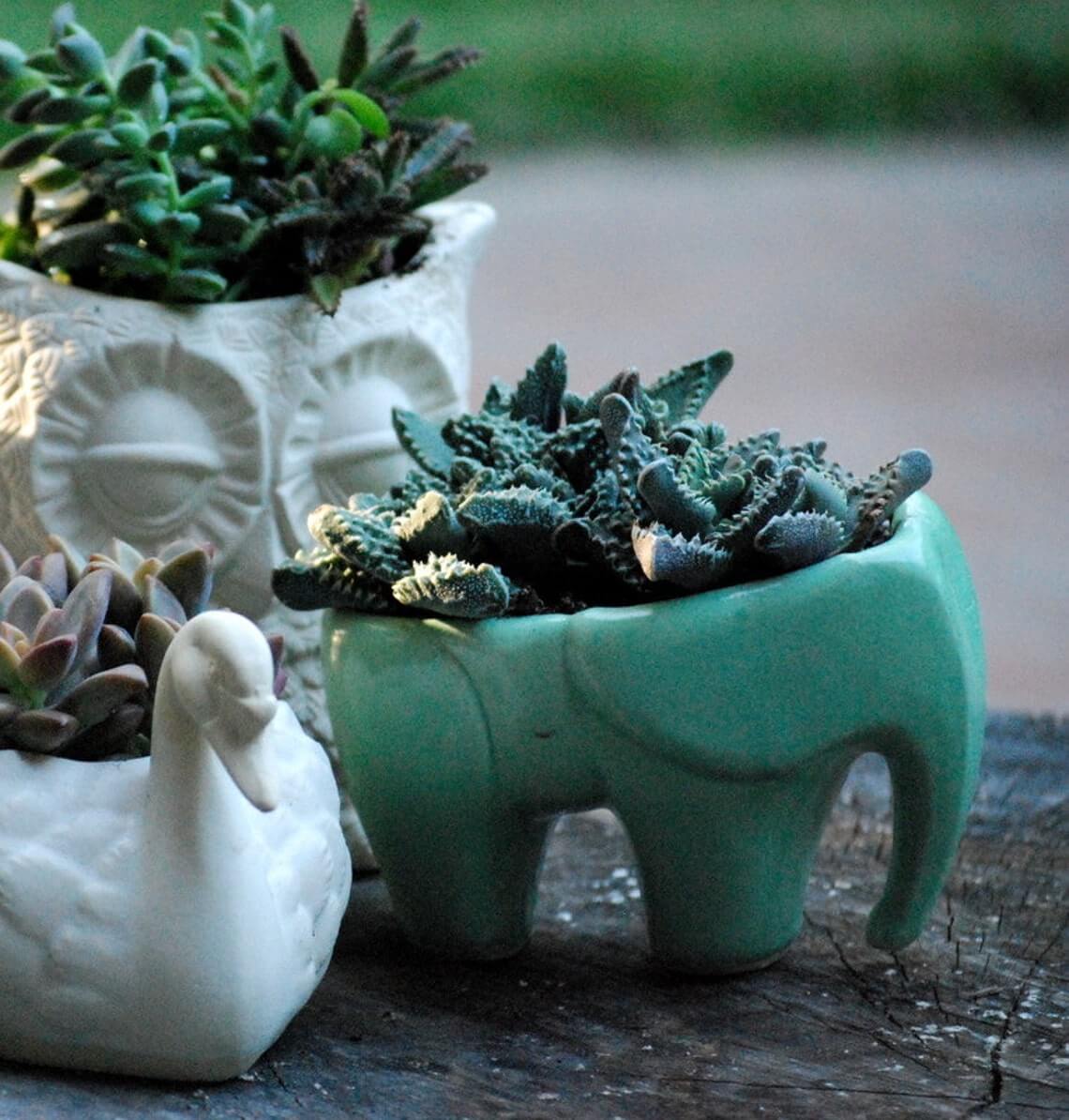 With sleek lines and minimalist detail, this planter transforms an elephant from animal to artwork. Because a living plant bursts from its back, your space will be filled with botanical bounty. Next, you get to choose which color is right for your elephant. Mint green is shown here, but you can also select mottled steel and semi-matte white. Unlike many ceramic animal planter ideas that allow a small amount of root space, this elephant is hollow all the way down to its feet. Because there is no drainage hole, you will want to include a layer of pebbles or some well-draining soil mix.
11. Silently Slumbering Fox Ceramic Planter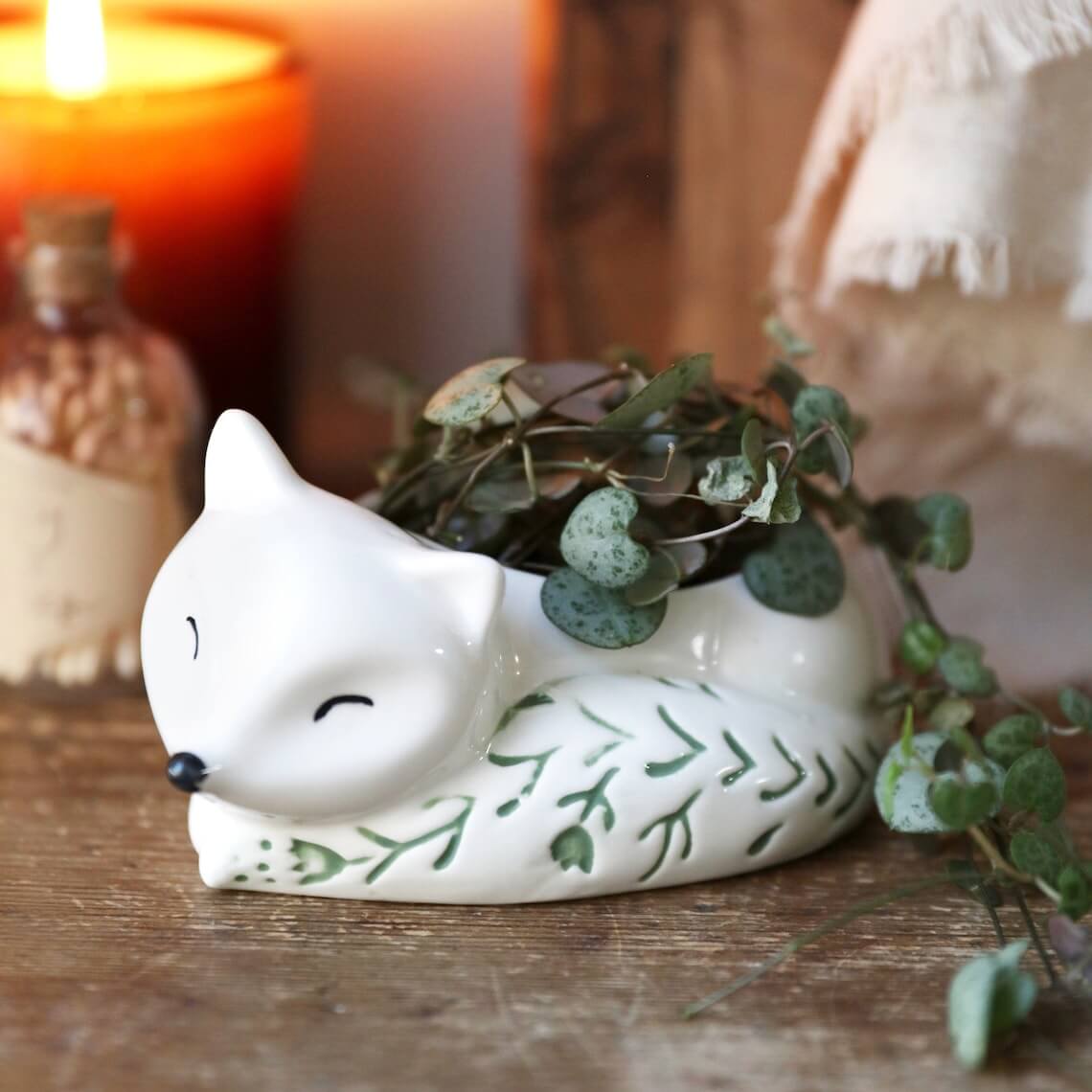 With a sweet pose and happy face, this fox-shaped planter can add a touch of the adorable to your space. A glossy white glaze reflects light and gives this fox an arctic appeal. To help create a cohesiveness, this fox's tail is stamped with a green floral motif. Because this is a petite planter, it will work best with small succulents or dainty vining plants. Depending on how it is styled, this animal pottery planter would look great in a Scandinavian space, a Bohemian dwelling, a farmhouse abode, or a cottage-themed home. It works wonderfully as a gift as well.
12. Unique Big White Bunny Planter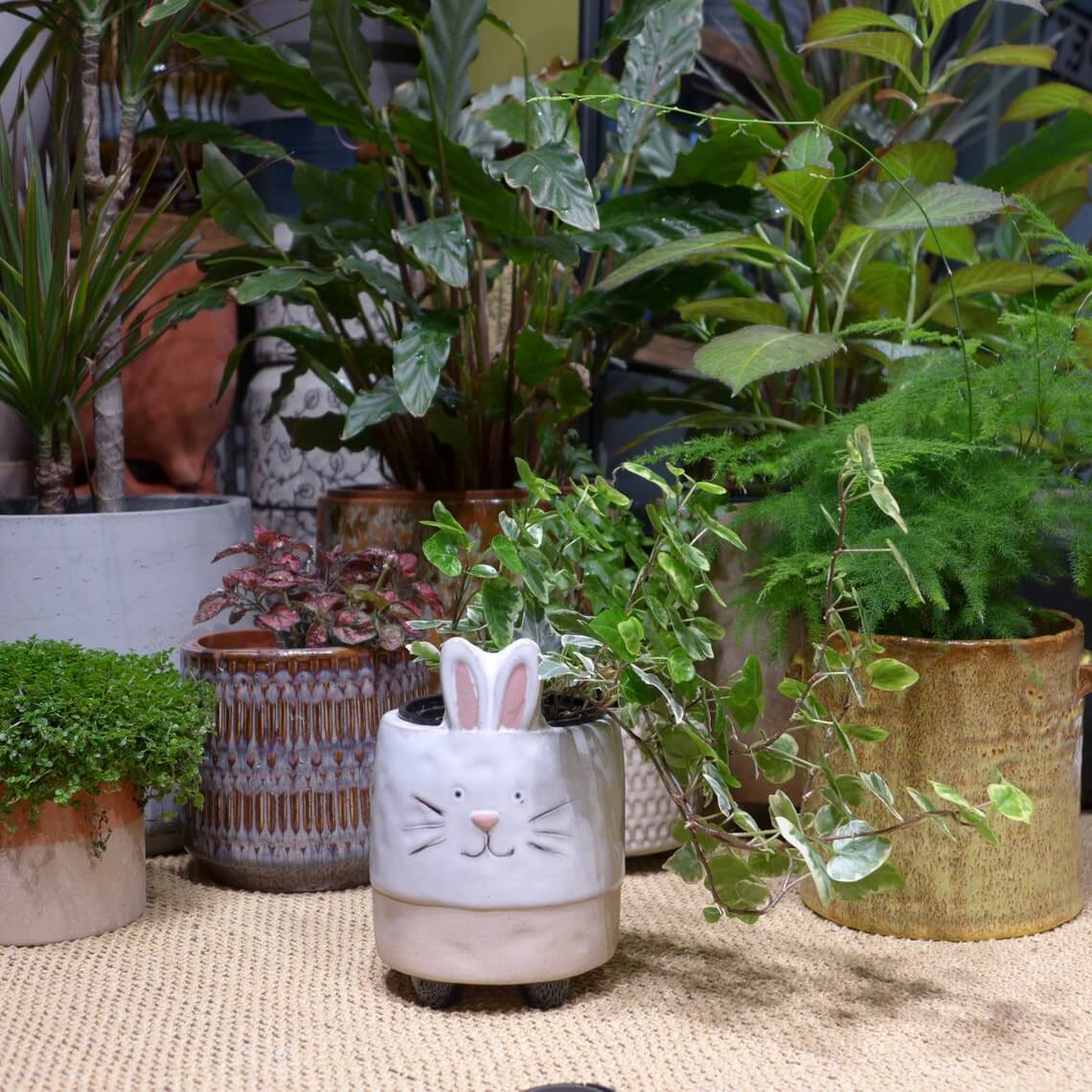 Choosing ceramics-based planters gives you the ability to create a lush textural landscape within your space. To achieve that texture, a generous band of unglazed clay circles the bottom of this cheerful rabbit planter. Because all you need to do is place a plant pot inside, this bunny planter is the perfect choice for seasonal springtime decor. Imagine how this bunny face will add to your Easter festivities. It does not have to be spring to enjoy this playful pottery, however. Anyone who enjoys rabbits in their decor can happily display this rabbit planter throughout the year.
13. Sweetly Slumbering White-Glazed Giraffe Planter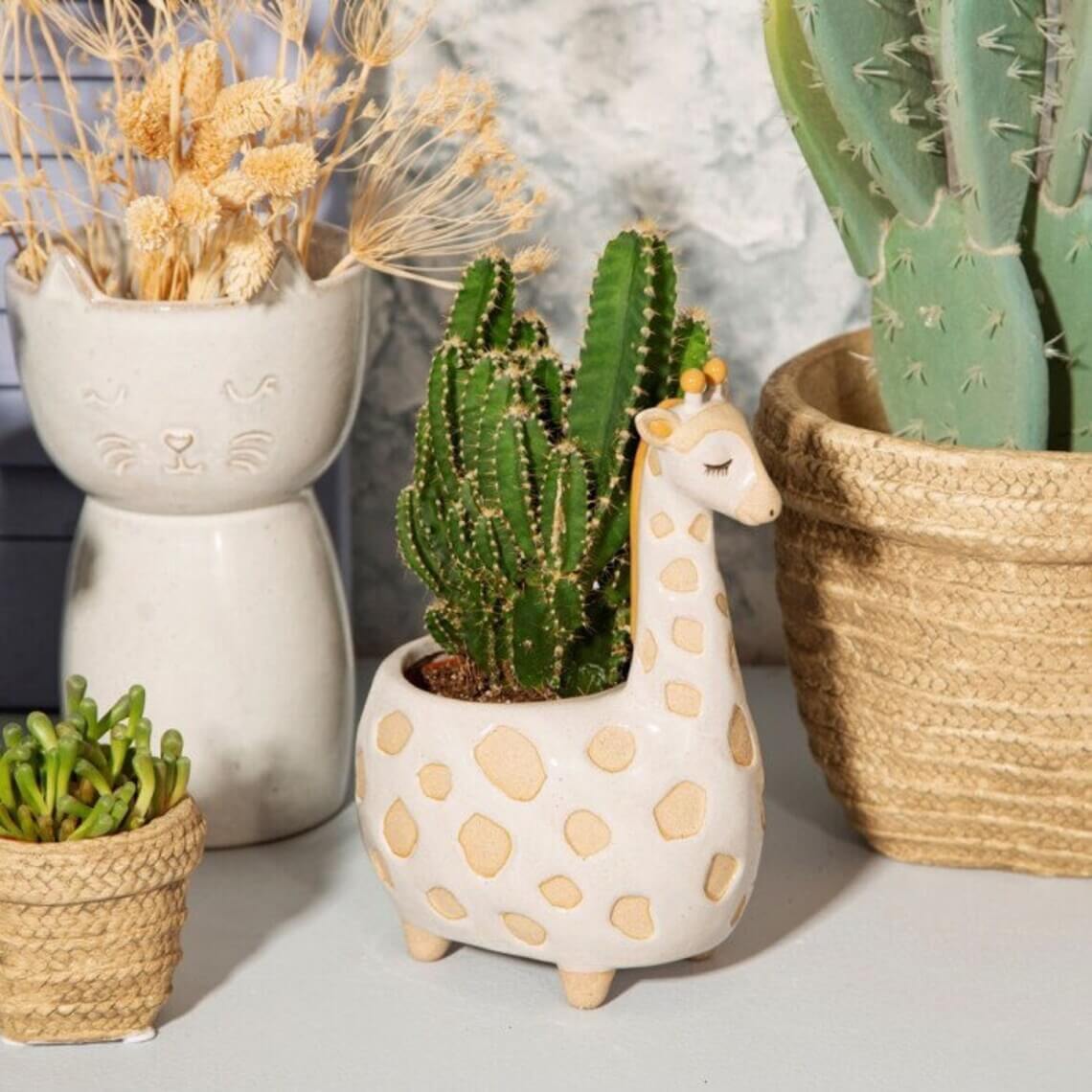 To capture the characteristic giraffe pattern, this ceramic planter features spots of raw clay. Because the clay is a warm buff color, this planter will add an inviting ambiance wherever it goes. The speckled white glaze will fit perfectly with rustic spaces. Without being too forward, the orange mane and ossicones add a bright pop of color. Use it to hold a cactus or to contain a lush, vining plant. The giraffe's tall neck helps provide a sense of balance to taller plants. Whatever your botanical style, this planter comes with the option to include a drain hole or not.
14. Naturally Textured Slumbering Fox Succulent Planters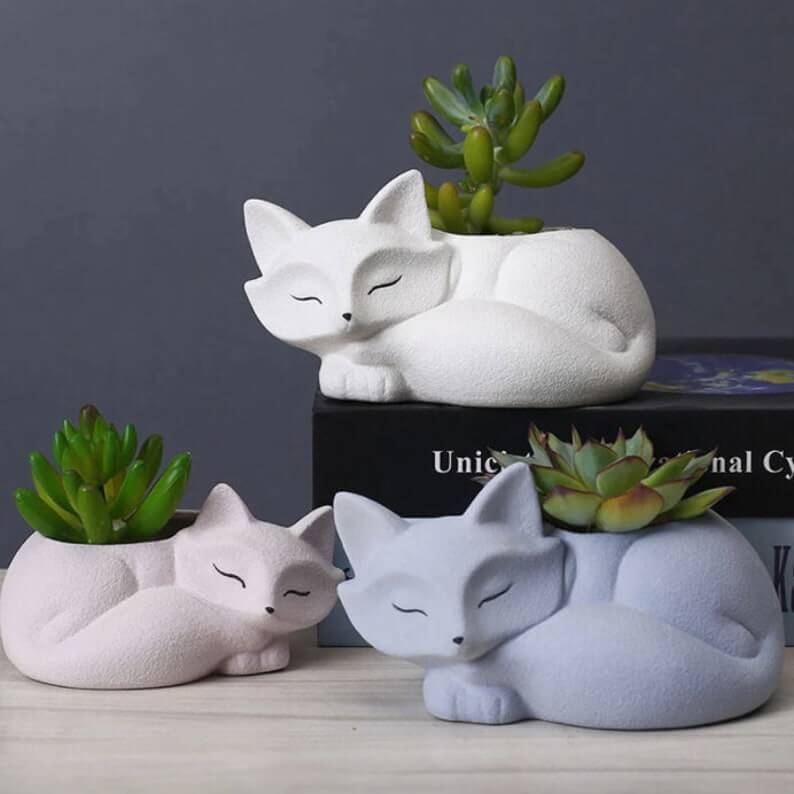 With a textured finish and elegant lines, these napping foxes will add soft sophistication to your home. Because they do not feature a glossy glaze, they are the best ceramic animal planters for decor that emphasizes natural textures. That matte finish also allows them to anchor glitzy decorations. By selecting sleeping foxes, you are giving yourself a reminder to slow down and recharge. While this image shows three foxes, this listing is for the white fox. Because a white fox and green plants can achieve some amazing effects, this planter takes you closer to building a room designed for rejuvenation.
15. Raccoon Air Plant and Succulent Container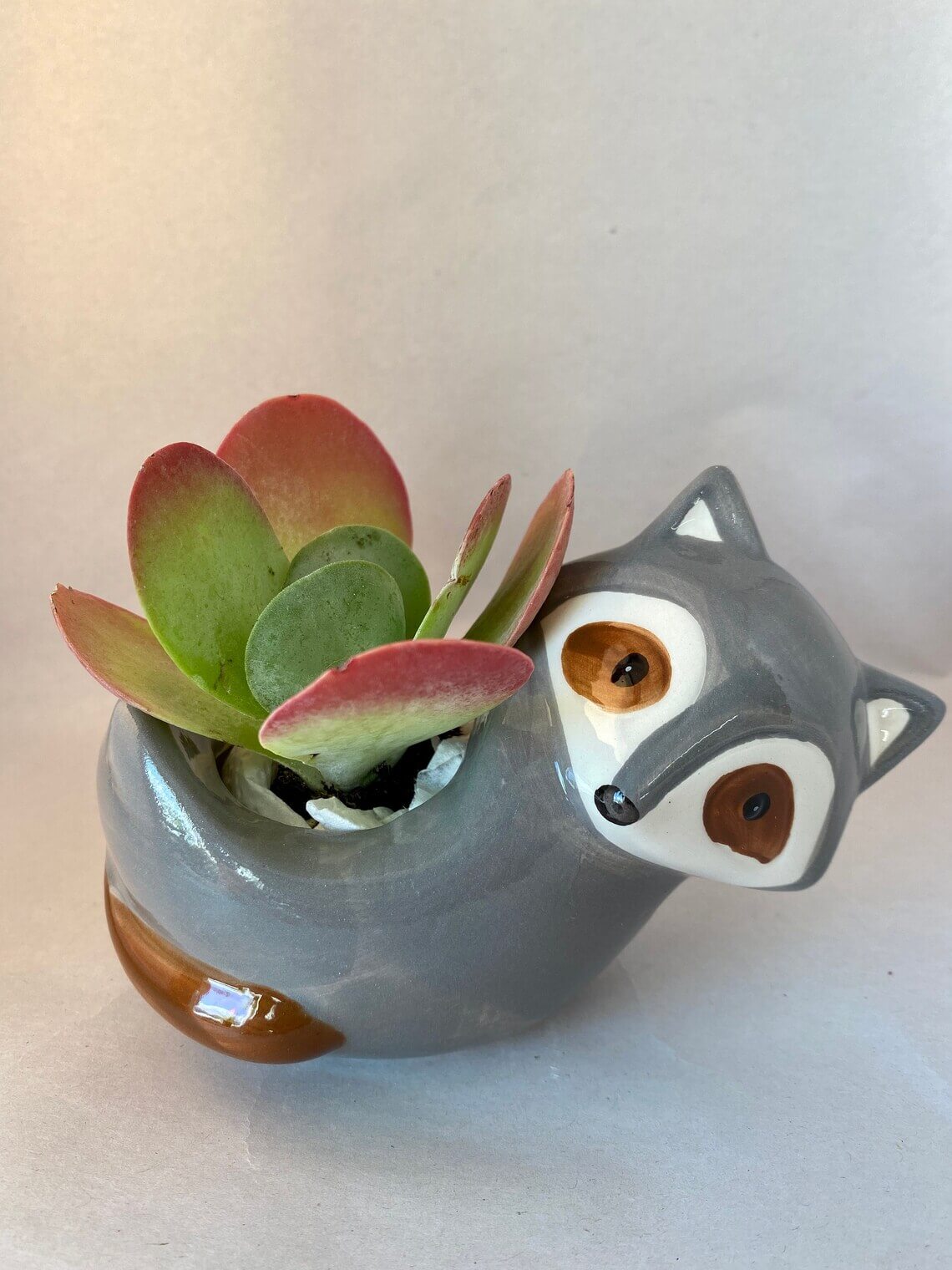 At only four inches tall, this raccoon planter might be the smallest mischief-maker in the room. However, this planter's small size does not mean that it will go unnoticed. With a playful demeanor and an adorable expression, this trickster is sure to make you smile. Use this raccoon as a container for an air plant, small succulent, or artificial plant. If you are not into living plants, imagine using it as a vase for a single silk flower or as a potpourri holder. With a shiny coating of gray and brown, this raccoon will settle comfortably into any decor.
16. Adorable White Dinosaur Planter with Gold Foil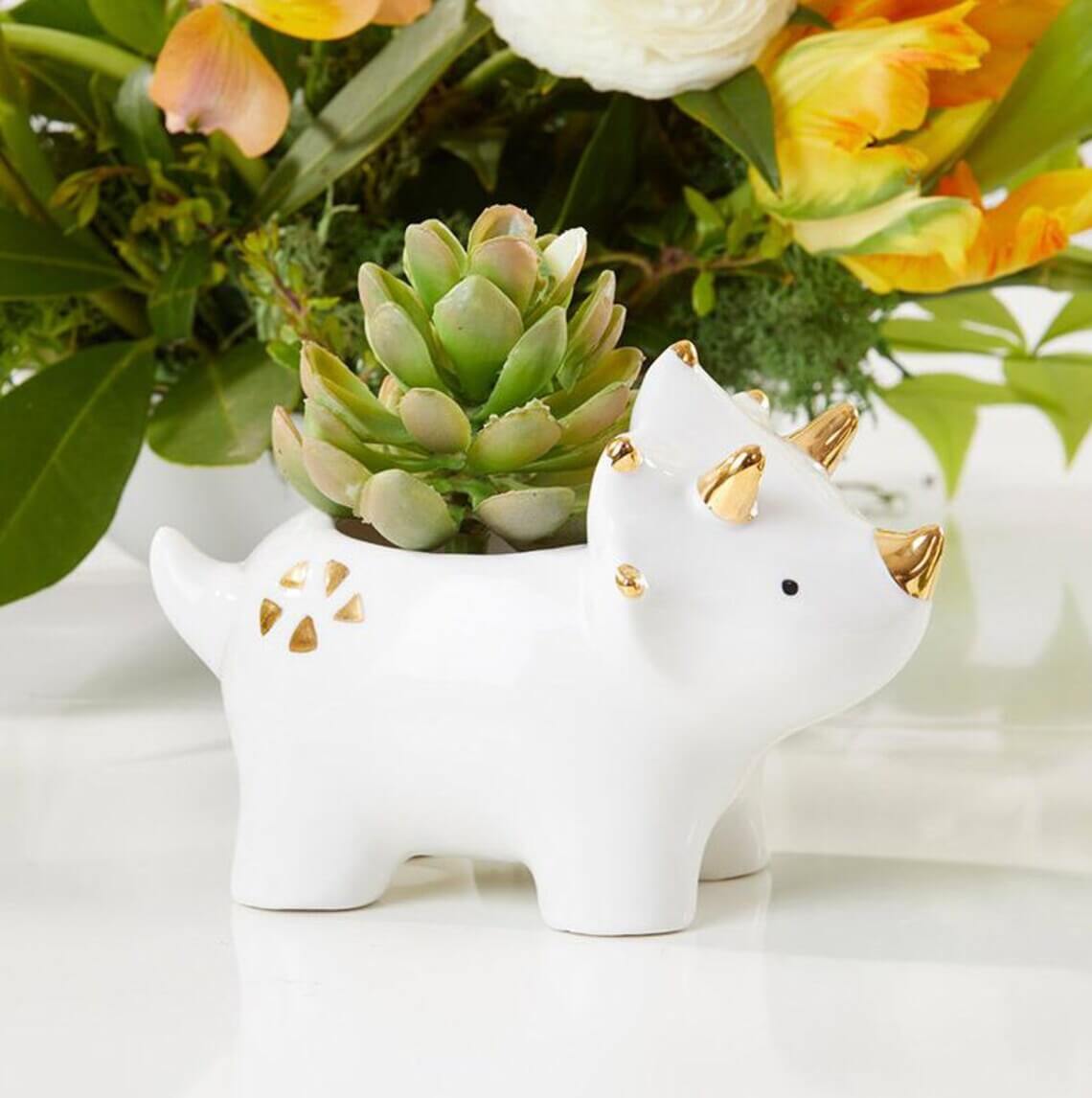 Reflective gold is the perfect touch to this adorable dinosaur planter. Characterized by soft curves and a rounded shape, this dinosaur is definitely more of a lover than a fighter. It will soften any space and will give glamorous settings a little edge. A small golden flower shape on its hip gives it a little extra visual interest. Use this ceramic planter to dress up a nursery, an office, or any space that needs a little extra dinosaur flair. At nearly six inches in length, it will not fade into the background when placed alongside larger decor.
17. Self-Watering Animal Pottery Planter Kits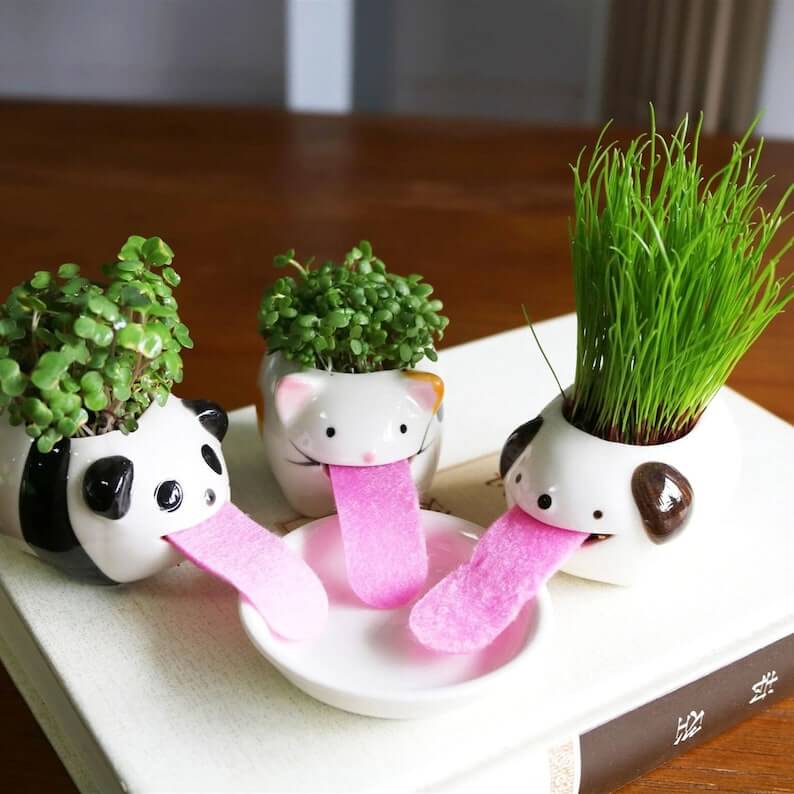 With soft pink tongues to wick water right to the soil, these are the best ceramic animal planters for those who sometimes forget to water their houseplants. If you are inclined to crafting, you could create your own custom felt tongue. When you use your own felt, the planter's tongue can coordinate perfectly with your decor. With options including dogs, cats, pandas, and frogs, there are plenty of possibilities. For varying energies, display them on their own or together. Imagine arranging your own herd of beasties in your decor. Because each planter includes seeds and substrate, these make perfect gifts.
18. Untroubled Hedgehog Ceramic Animal Planter Ideas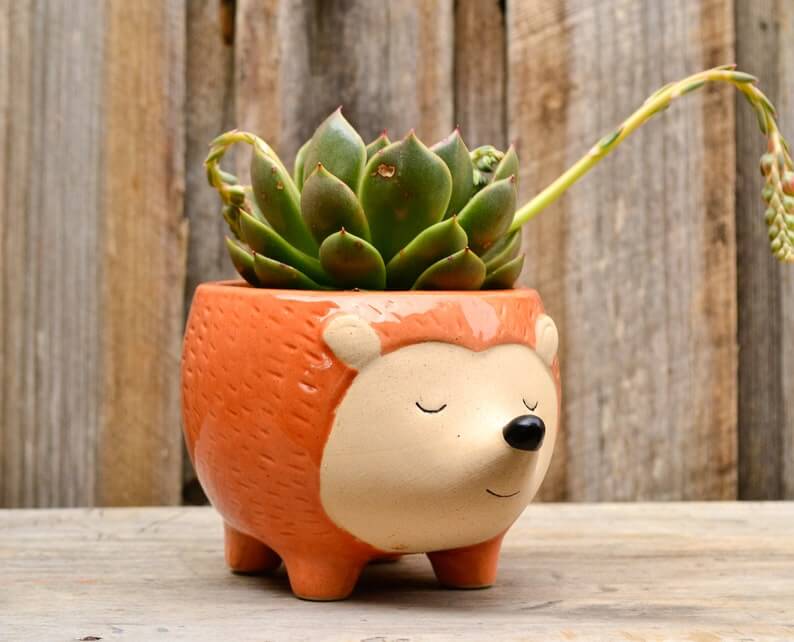 With an expression that reflects true inner peace, this orange hedgehog bestows tranquility to a space. By pairing orange glazed spikes and an unglazed clay face, this hedgehog planter is a feast of textures. The indentations that define the hedgehog's spikes add a little energy to the effect. A larger version in cool navy blue is available on this listing. Pick whichever works better to enjoy a patiently playful planter. To give you the ability to decide whether you want to drain or not to drain, both sizes and colors are available with a silicone stopper in the drain hole.
19. Charcoal Black Stoneware Whale Planter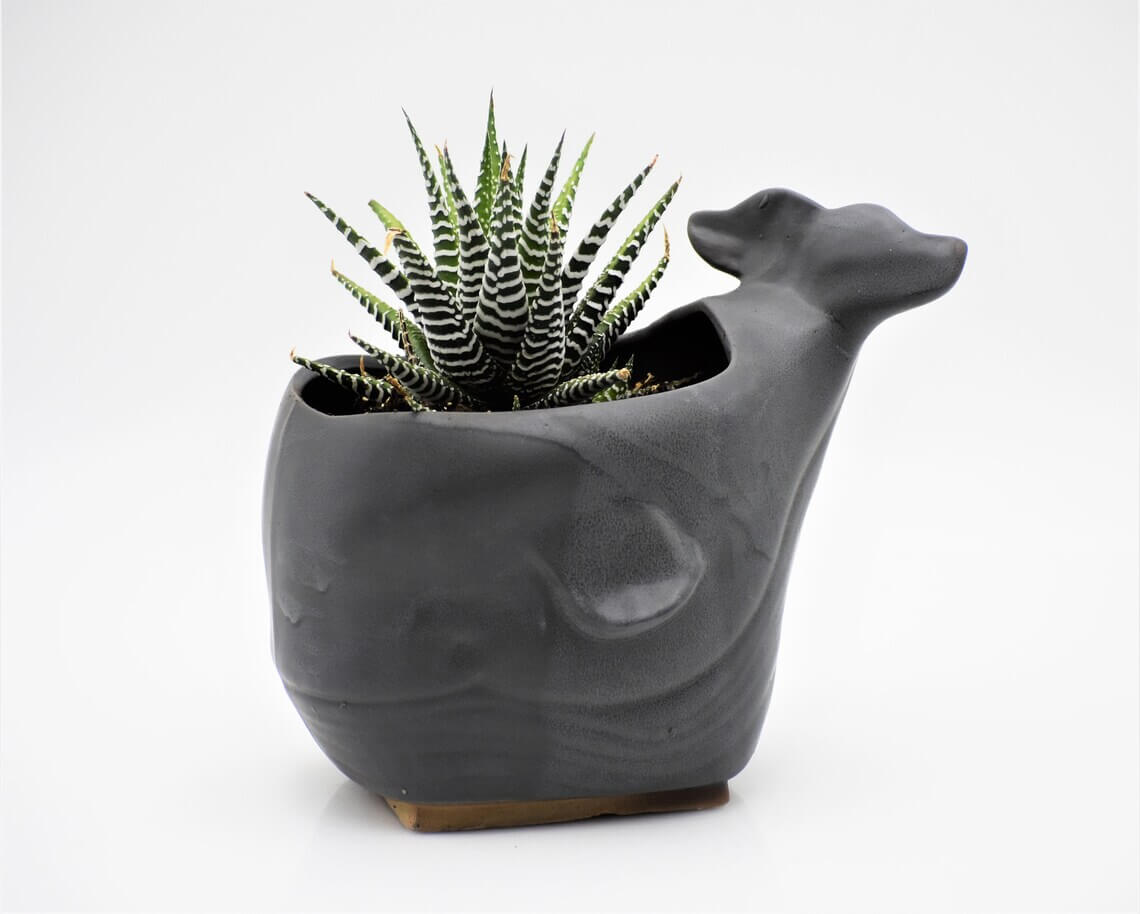 Featuring a softly sculpted style, this whale is a work of art. Cascading waves in the glaze give it a sense of motion as well as an undersea ambiance. To maximize plant space, this wheal features a rounded square shape that avoids aggressive edges. The subdued color gives your plant the chance to shine as a focal point. This whale can happily house any kind of plant. Choose a plant with variegated foliage like the one shown here for some startlingly amazing effects. Whichever plant you end up deciding on, this planter will add grace and elegance to your space.
20. Hanging Sloth in Three Colors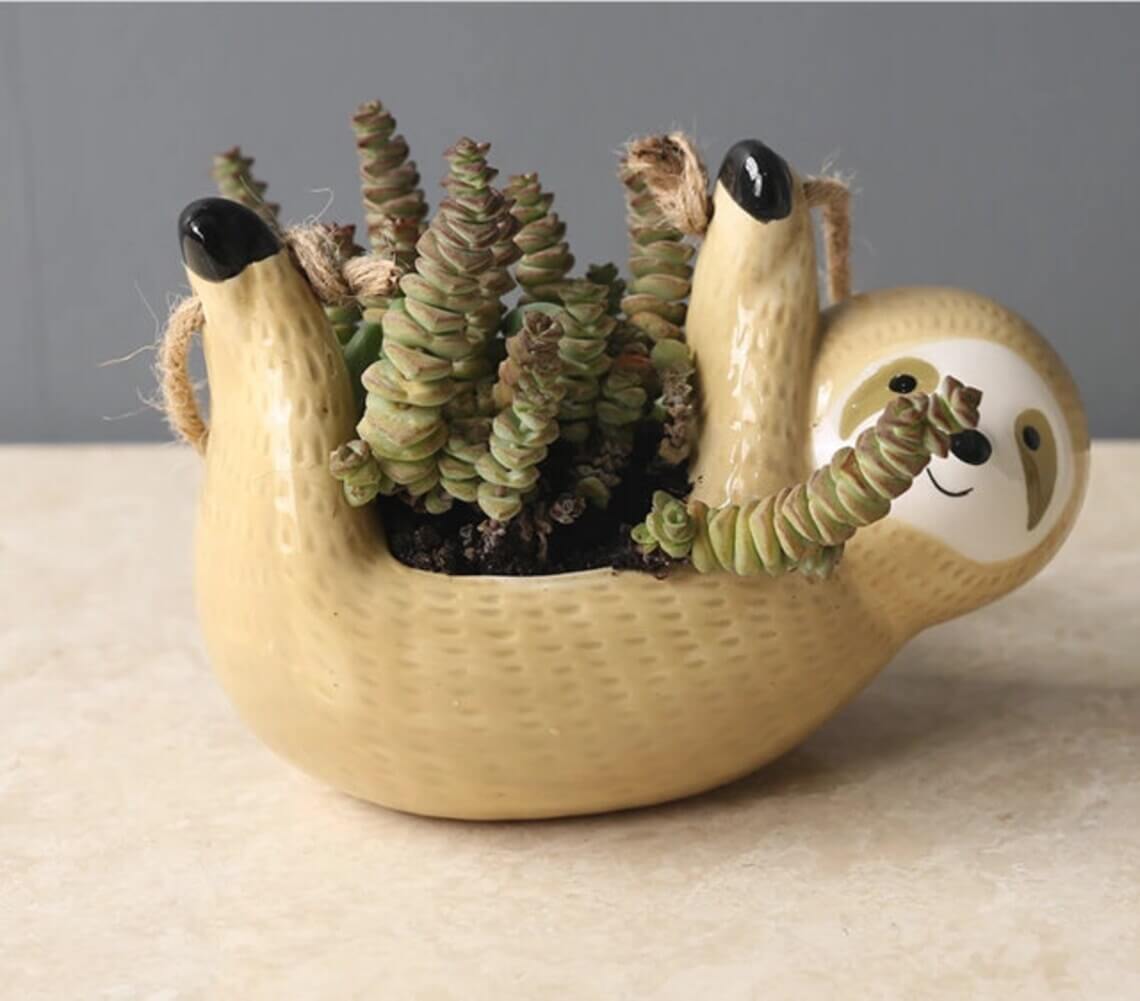 What could be more uplifting and a smiling sloth spilling over with succulents? With the option to display this planter on a flat surface or hanging in the air, the decorating possibilities are endless. Depending on your style, you will be able to choose among cool gray, playful teal, or the warm yellow shown in this image. Because each sloth also features petite black paws, these animal pottery planters pair perfectly with black accents. To give the hint of fur, each sloth is textured with slight indentations. When combined with the glossy glaze, this texture will catch the light in all the best ways.
21. Green Frog Planter Pot Pals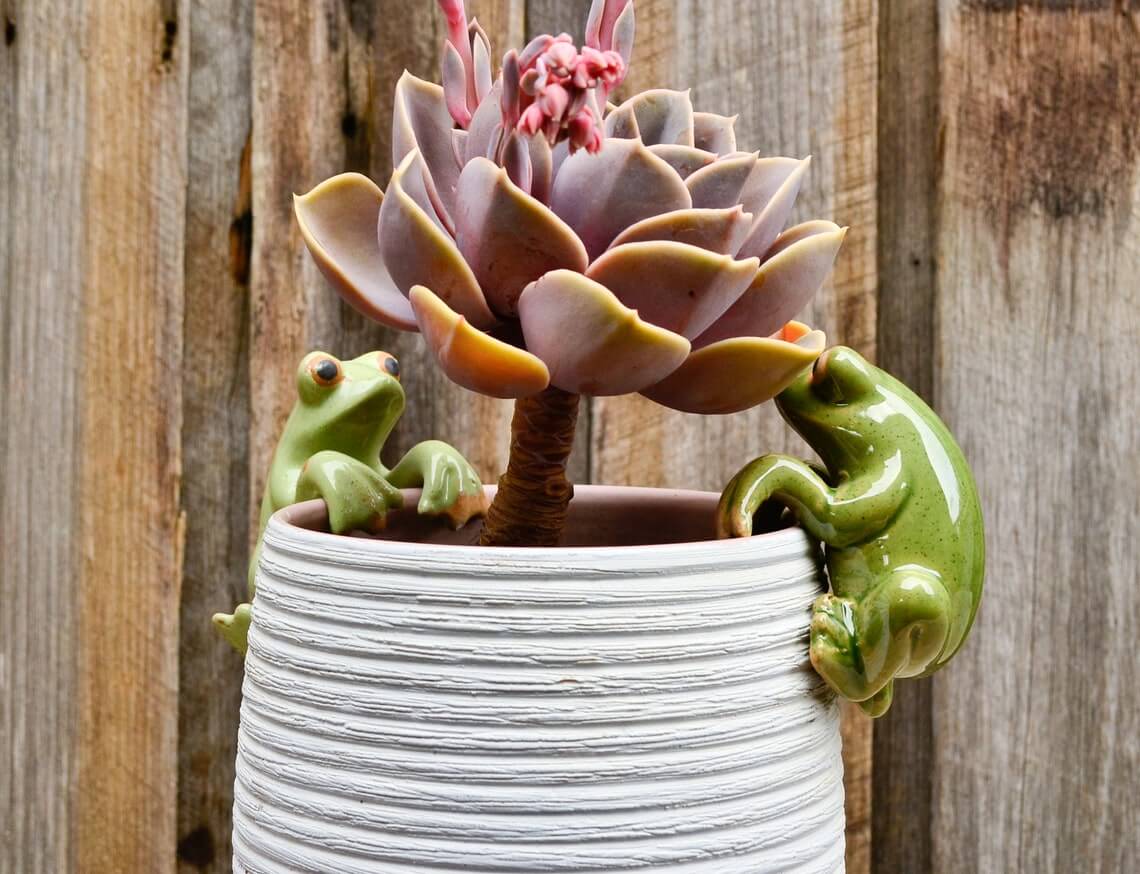 To take your botanical decor to the next level, give your planter a few fun-loving friends. First, choose between a pale green or vibrant lime green. Either will give your room a refreshing pop of color. Add an accent pillow, blanket, or wall hanging to tie these frogs into your decor. While the lighter frog is a consistent mint green, the darker frog features some intriguing dark speckles in its glaze. Each is designed to hang onto any standard-sized plant pot. The best part is how easy they are to move when you are ready to switch up your decor.
22. Large and Small Garden Snails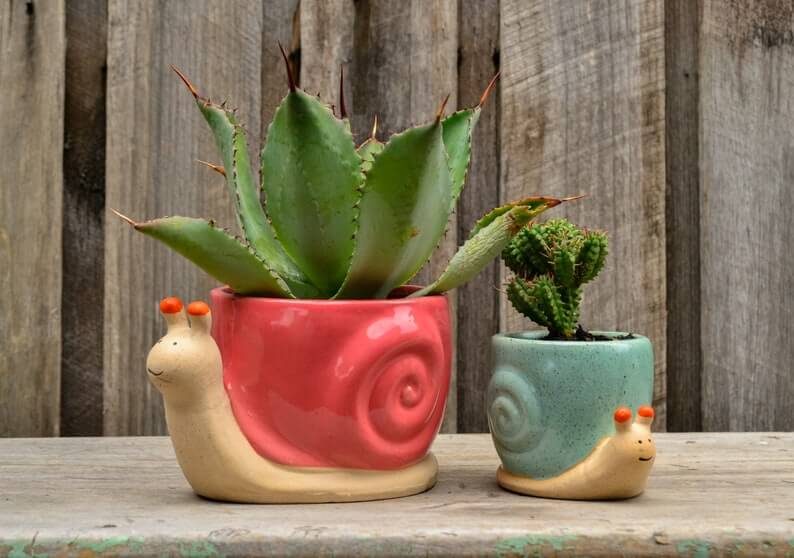 Whether you place these beauties inside or outside, they are pure happiness. Glazed in a watermelon-inspired shade of red, the larger snail will brighten and energize your space. Pick the smaller snail to infuse a space decked out in a cool palette with just as much joy. The teal glaze does feature an intriguing speckle effect that can help tie it into a rustic space. To give your home a taste of the outdoors, the unglazed portion of the snail's body showcases buff-colored clay. Depending on your plants, you can decide whether your snail planters should include a drainage hole.
23. Hand-Painted Smiling Jellyfish Inverted Planters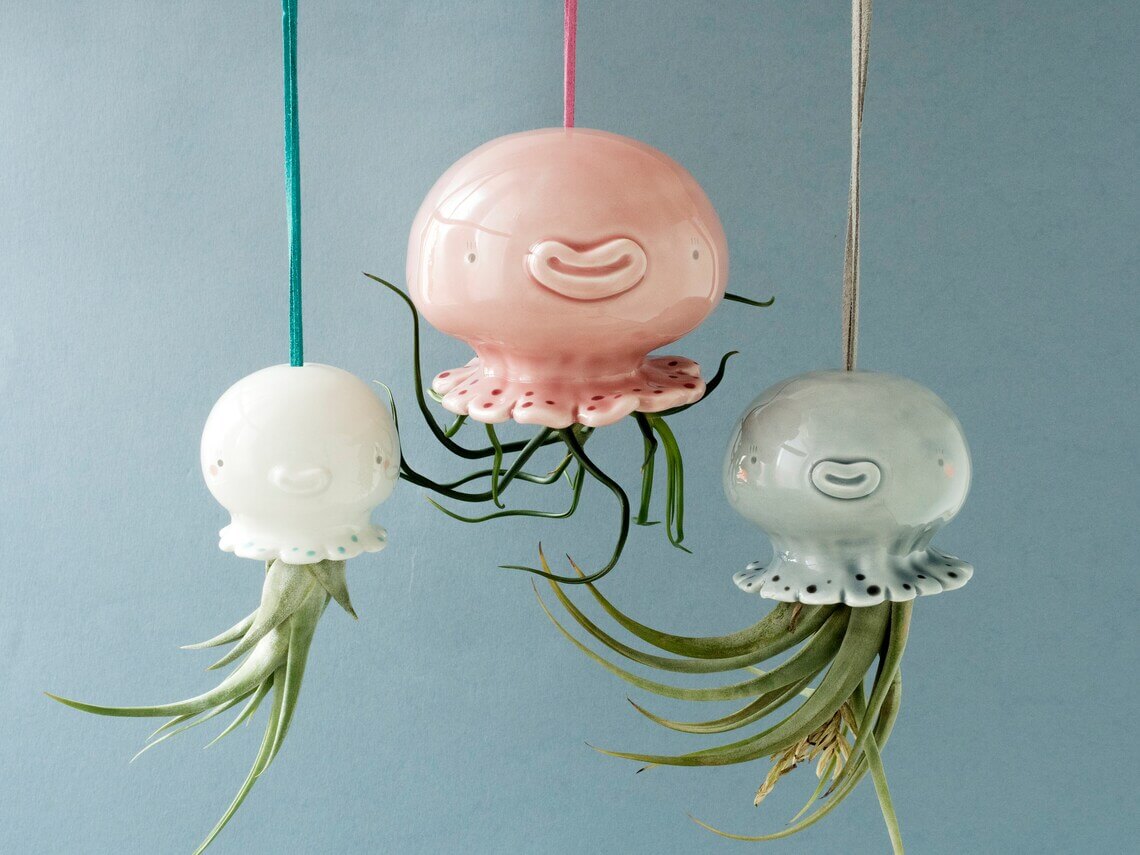 By transforming plants into tentacles, these inverted planters imbue your space with an ethereal underwater beauty. Each jellyfish is hand-formed from Italian clay. To ensure that every jellyfish is unique, the details and expressions are painted by hand. In addition to three size options, you can choose among white, pink, and gray to find the right jellyfish for your plant. Of course, if you cannot decide, consider decking your space out with a swarm of smiling jellyfish. By choosing a variety of sizes and hanging at different heights, you can create a focal point that is nothing short of enchanting.
24. Ram with Sheep Planter Set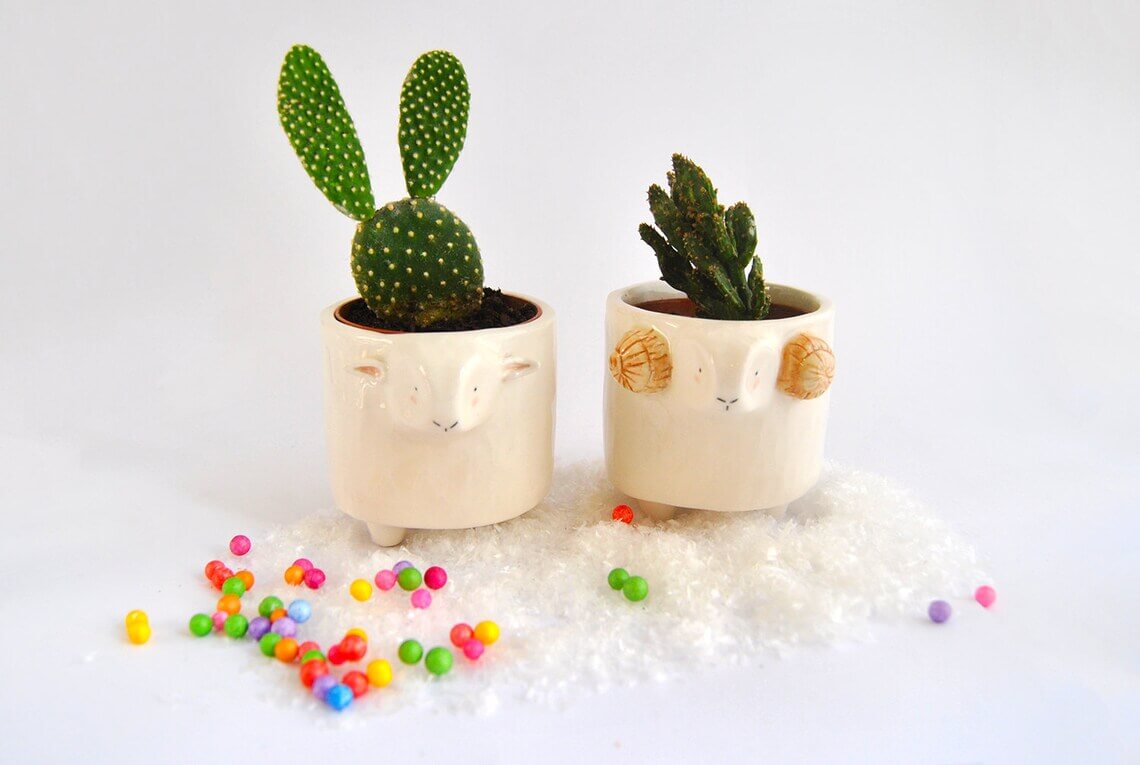 If you or someone you know has a passion for sheep, these highly stylized planters are perfect. Although they appear perfectly smooth at first glance, they are textured with subtle facets to achieve the appearance of wool. The cylindrical shape is intentional and practical, as it allows you to pop a plant pot right inside. As shown here, these sheep planters do not include a drainage hole. Because each set is made to order, you can request a drainage hole for your set should you desire. A food-safe glaze gives you the flexibility to use these earthenware containers with food.
25. Cartoon-Style Flying Pig Planter Pot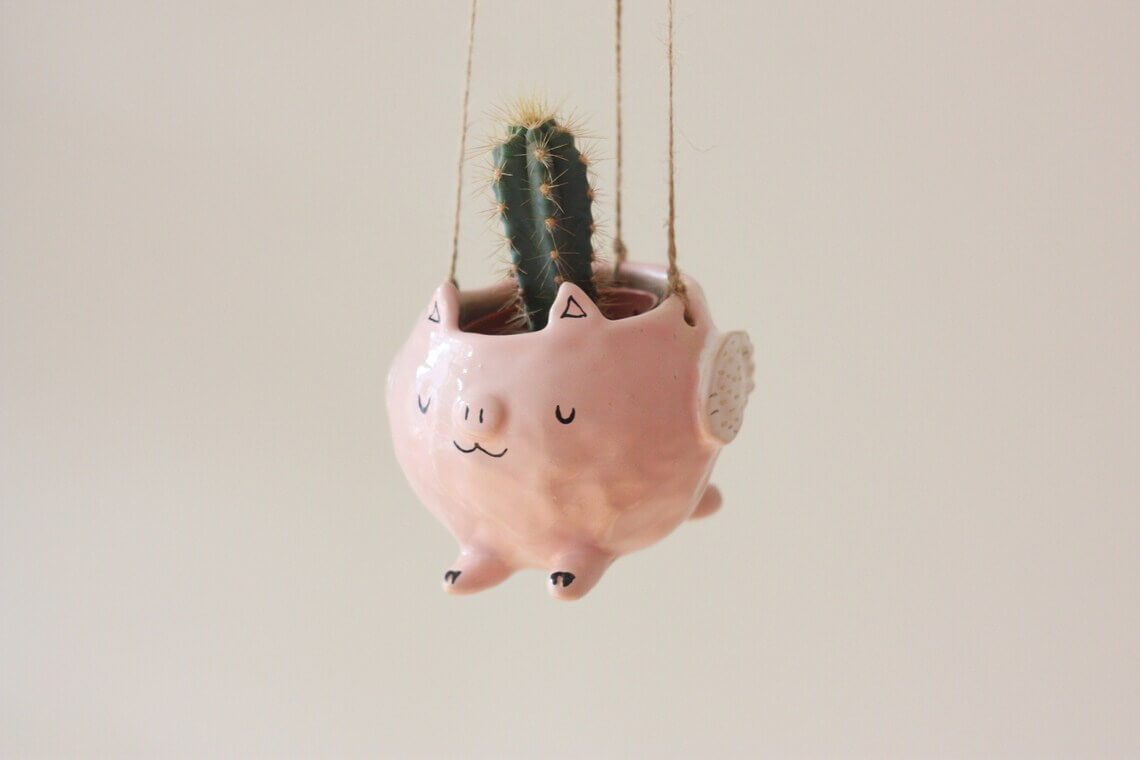 Embrace the magic of the impossible with this whimsical flying pig planter. A serene expression gives this baseball-sized planter an enchanting je ne sais quoi. Gold-accented wings add to the fantastical effect. Because the hanging twine is included, this planter arrives ready to hang wherever you desire. However, as each flying pig is handmade in Russia, it will take a few weeks to arrive. Because no two handmade objects are identical, your flying pig will possess its own unique personality. If hung in a window, you can enjoy the pig flying in the breeze when that window is open.
25 of the Best Ceramic Animal Planters that Will Help You Embrace Your Wild Side
Including ceramics in your decor is an easy way to showcase earth's natural beauty. Before it is fired, clay can be molded to capture the expressive magic of an animal's true nature. Each ceramic artist has a different interpretation of that animal's nature. An adorable cartoon-style animal brings a completely different energy to a space than that same animal in an elegant pose. To achieve the perfect match, pair the expressive potential of ceramics with living plants. There are a few practical concerns such as drainage holes and planter size to remember in your plant selections. Some plants require more space for their roots to spread out than others. Before featuring a planter in your decor, you will want to make sure that your plant and your planter are compatible.
Like any design project, picking an animal pottery planter means that you will get to play with textures, colors, and shapes. With colorful glaze options and its ability to mimic other, clay is an especially fun material to invite into your space. Decorating with ceramic animals may be an ancient art, but, with a little imagination, you can create a look that is fresh, vibrant, and everything you dream about.