Give your room a makeover with the best ceramic home decorations when you are wanting a new look. Is your home ready for a facelift? Maybe you have spent countless hours watching home decorating shows wondering, "Why can't my house look like that?" or you just might have an itch for something different. While everyone's first instinct may be to buy large statement paintings or to grab a bucket of paint, interior decorating doesn't have to be such hard work. Nor does decorating your home have to break the bank.
24 Unique Ceramic Home Decorations to Accessorize Your Home Like A Pro

Sometimes, when making your home a little more cozy or trendy, the beauty is in the details. The best way to add details to a room, you may ask? (No, don't break out the shiplap just yet!) The easiest way to add details to a room is to accessorize it with thoughtful home decor. The right home decor accessories for a room can be just as important as the right accessories for an outfit. One category of home decor is taking off in popularity. Ceramic home decor is quickly becoming a trendy and unique way to spice up an outdated room.
Ceramic material has been around for thousands of years. While ceramic has traditionally been used for function, this material is making a major comeback in home decor.
Not only are most ceramic pieces handmade, but they range from small and quaint to colorful statement pieces. Ceramic is the most versatile home decor material and constantly used by the pros. Some pieces can add lighting to a room, serve as gorgeous artwork, or house those succulents you've always wanted to buy. Whether your style is modern or farmhouse chic, there are plenty of ceramic home decor options to choose from.
Here are 24 stunning ceramic home decor pieces that are just right for accessorizing your room like a pro.
1. Cute Ceramic Dachshund Flower and Succulent Planter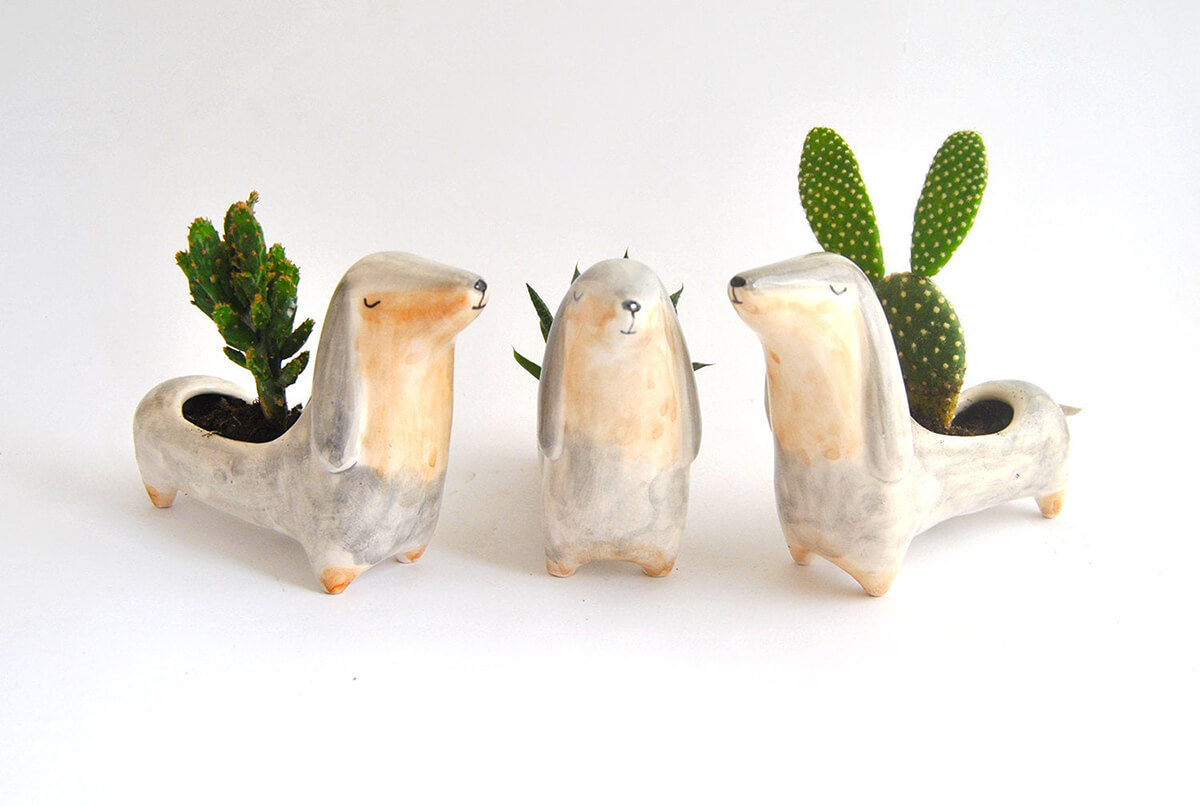 This adorable ceramic puppy dog is the absolute cutest way to showcase your succulents or cactus. At only about five inches tall, he is a compact crowd pleaser. Inside the dachshund planter, there is room for just about any small plant you could imagine. There is no drainage hole in the bottom of the planter to protect whatever surface you choose to display it on, making this best for indoors. Placing this ceramic decor under a lamp will show off the details of his handmade brushed color. If you're not that into plants, this ceramic dog makes an excellent trinket or candy dish as well.
2. Colorful Ceramic House Number Plaque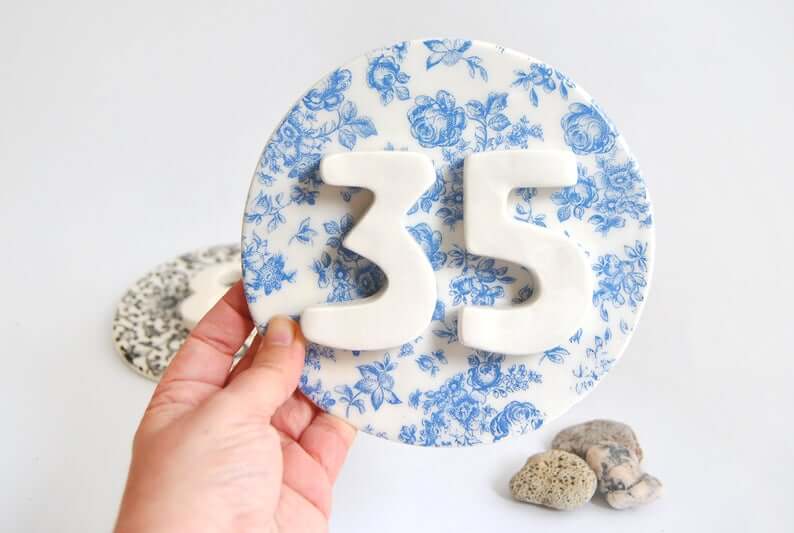 Looking for a way to add some curb appeal to your home? These cool ceramic house number plaques are a colorful yet subtle solution. Each piece is uniquely handmade with your choice of colors, pattern, and house number. This means, absolutely no other home will have the same exact address plaque as yours. You can even customize the hanging fixtures or holes on the sign to suit your home's exterior type. But don't limit the usage of these signs just for your address! They can even make a cute gift to signify an important number or date and be used as indoor decor anywhere in your home.
3. Minimalist Ceramic Wall Art Sculpture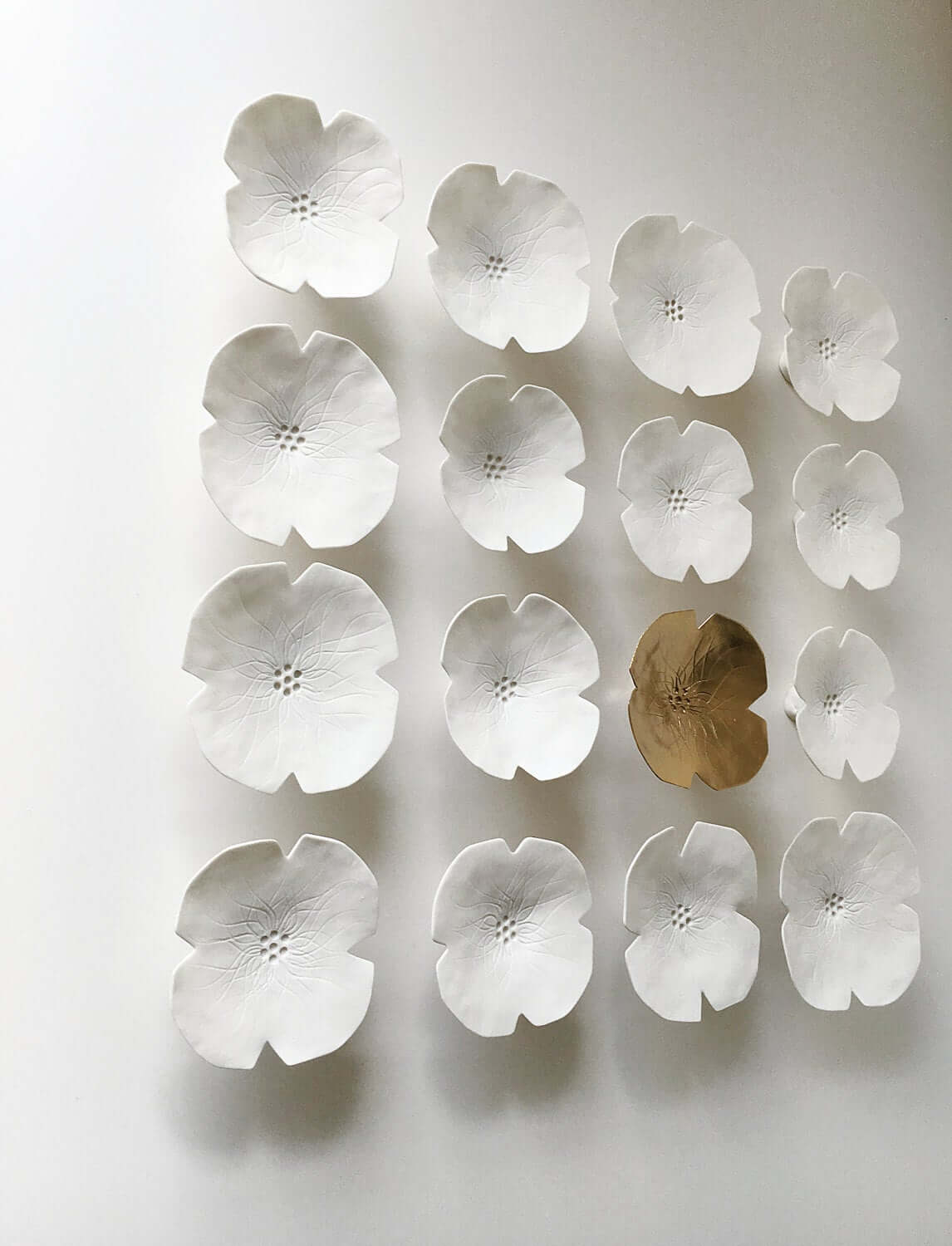 Sometimes the best ceramic home decoration ideas are the most simple ideas. These ceramic flower sculptures look amazing against light walls for a minimalistic and sleek style. Or, to add drama to a room, place these stark white flowers against a rich, dark wall. Either way, the piece comes in at an impressive 20 square inches. The artist will even commission the ceramic sculpture to the size of your preference if you wish for a larger piece. Or, if you are yearning for more color, the flowers can be done in a wide array of hues.
4. Cozy Glowing Ceramic "House" Lantern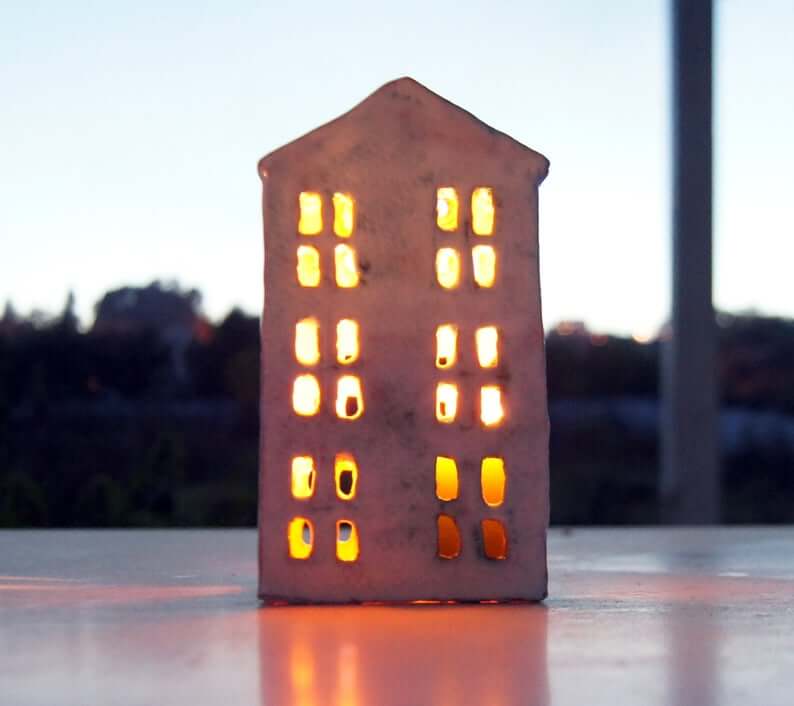 This nostalgic style ceramic home can add a soft touch of glowing light to any home. Whether you choose to nestle this home decoration in the garden or perch it atop a mantel, this tiny house emits comfort. The lantern house is handmade in Russia, making each one unique. Purchase two or more homes to create a cluster of soft lighting in your home. This home also looks great on a window ledge. By placing it in a window, those who pass by your home can enjoy the soft glow, allowing your home to appear welcoming.
5. Simply Elegant Ceramic Flower Vase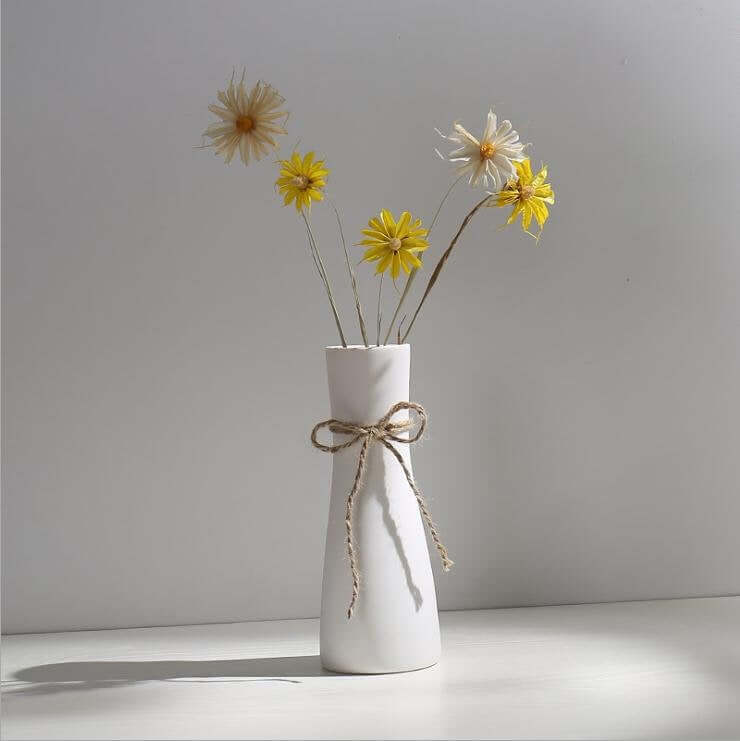 This ceramic home decor idea is ideal for gorgeous spring flowers. Or, if you don't have any fresh flowers on hand, these vases pair perfectly with dried flowers or decorative stems. The tall, slender vases shout to be a centerpiece in any home. Whether you have a long farmhouse style table or a round kitchen nook table, these vases will steal the show. But you don't have to limit yourself to simply flowers to appreciate these ceramic beauties. These elegant ceramic vases could also be great for storing craft or long office supplies. You can choose from up to six variations of the vase or simply buy all six!
6. Whimsical Wild Flower Ceramic Coasters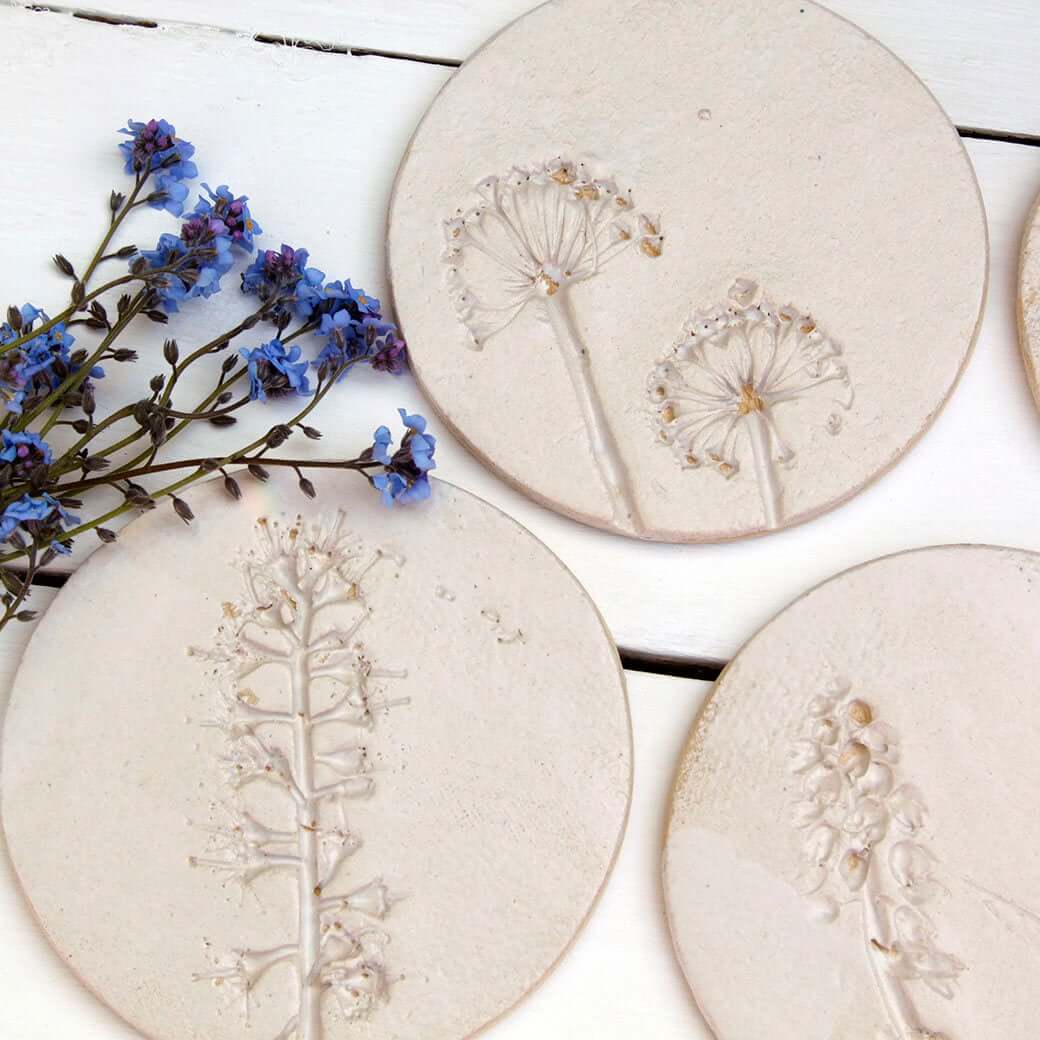 This is the absolute best ceramic home decoration that pays homage to detail. Although not the largest decorative piece on our list, these wildflower coasters are perhaps the most impressive. Each individual coaster is pressed with real wildflowers from the Hampshire countryside in England, making each one uniquely elegant and whimsical. Possible flowers you may find within your coaster include dandelions, bluebells, or honeysuckle. These pieces are wonderfully sweet and make the perfect addition to any table or surface. Can you think of anything better to set your morning coffee on than wildflowers from the lush fields of England? Their backstory also makes them a wonderful conversation piece for guests.
7. Bold and Vibrant Ceramic Mushroom Garden Stakes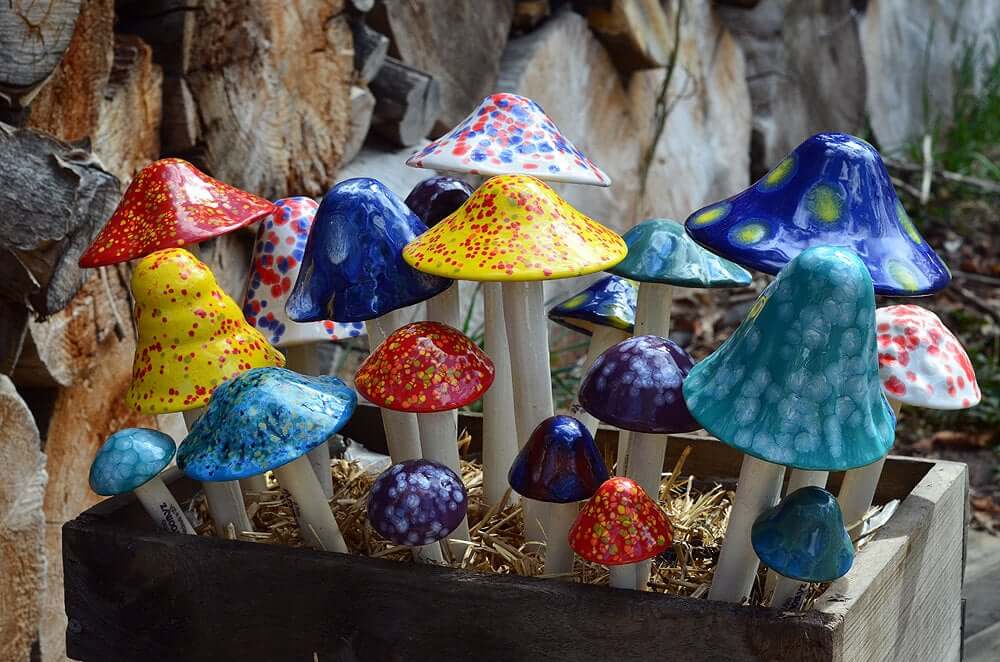 These vibrant mushrooms are perhaps the most unusual form or ceramic decor. These bold garden stakes can add flair to any garden and let's face it, they are just cool to look at. You could place them within a bed of flowers, near your back patio, or practically anywhere in your backyard. If you are looking to be a little bolder, don't be afraid to place these vibrant mushrooms in your front yard landscaping. What makes these fun garden stakes even better is their low maintenance. Due to their glaze, they can be left out all year long without the sun or rain fading them.
8. Intricate Handmade Ceramic Pottery Decor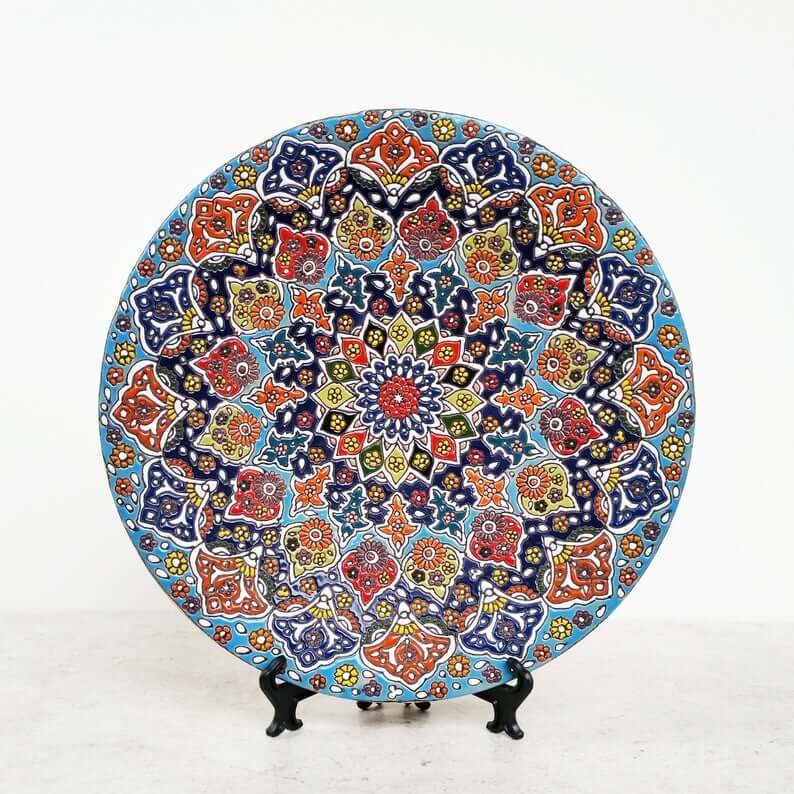 The beauty is in the details of this intricate hand-painted plate. The gorgeous floral pattern can complement a wide array of styles in your home. The plate can be an accent to any niche or table in your home. It's often hard to add fun patterns in the kitchen. This plate could solve that problem easily. Or you could really use your creativity when hanging the plate. Multiple plates hung on the wall together could create a sculpture wall art piece that would be sure to awe any of your guests.
9. Folk Inspired Ceramic Wall Decor Plates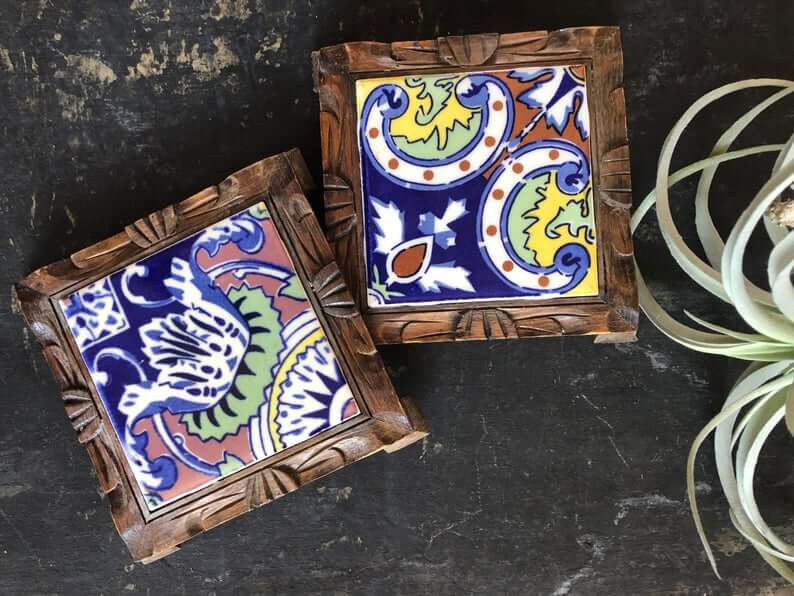 If you are looking for smaller yet equally amazing handcrafted pottery, look no further than these folk-inspired ceramic wall decor plates. These ceramic pieces are perfect for displaying on a small stand or hanging on the wall. Although the seller recommends them for display in the kitchen, they would make a wonderful addition to a boho-inspired bedroom. These vintage pieces were handcrafted in Mexico and framed in beautifully sculpted wood. Antiques such as these plates not only add beauty to a home but character as well. The best ceramic home decoration pieces have a story behind them, and these traditional plates certainly deliver lots of character.
10. Adorable Ceramic Trinket Sunflower Dish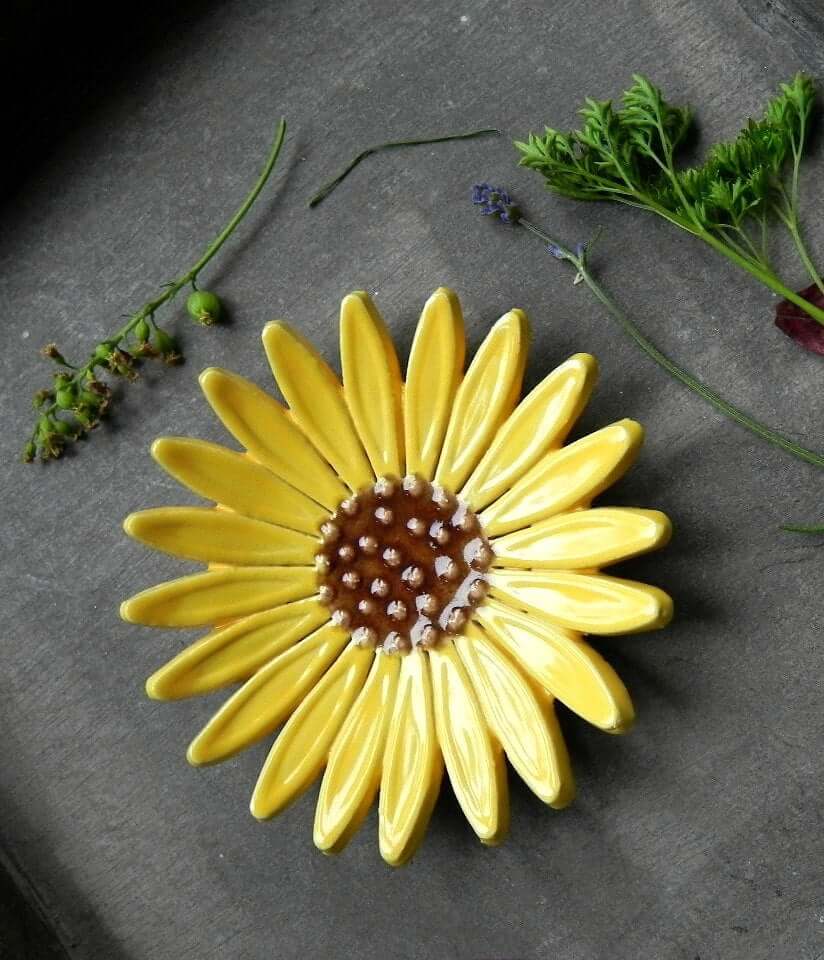 Who doesn't love sunflowers? Sunflowers are becoming popular in not only home decor but fashion as well. While you may not be able to have fresh sunflowers in your home year-round, you can enjoy the beautiful flower through a ceramic trinket dish. This flower is extremely thoughtful as a gift for a new homeowner or just as a gift for yourself! The fun thing about trinket dishes is that you can use them virtually anywhere in your home. Add a touch of summer to your bathroom, kitchen or nightstand by using this adorable ceramic sunflower.
11. Handmade Ceramic Wall Flower Pockets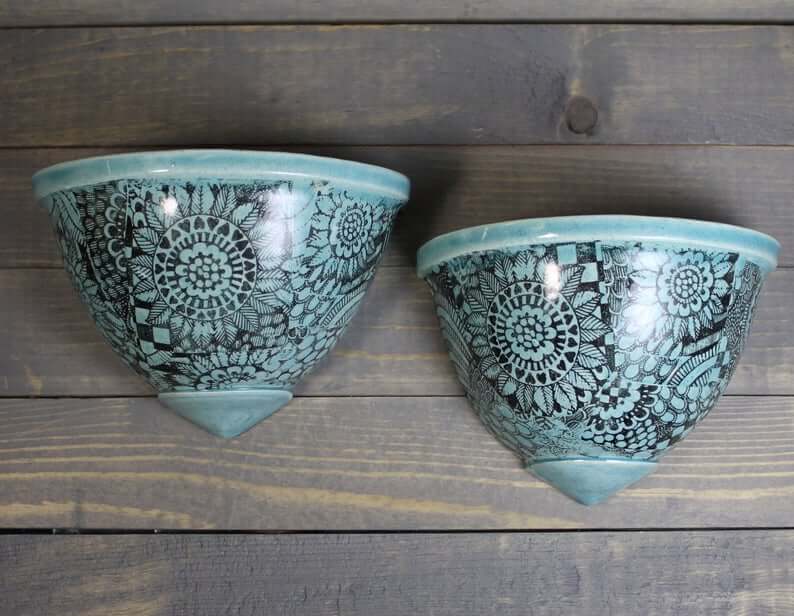 If you would rather have live flowers in your home there is a ceramic home decor piece for that too. Going beyond your standard flower pot, these hanging flower pockets are one of the best ceramic home decoration ideas on this list. These hanging pots can add small fresh flowers or succulents to your home. Give your covered patio a fresh breath of air with these turquoise pockets. Just about everything is better with pockets, why should your home be any different?
12. Farmhouse Style Customized Ceramic Kitchen Sign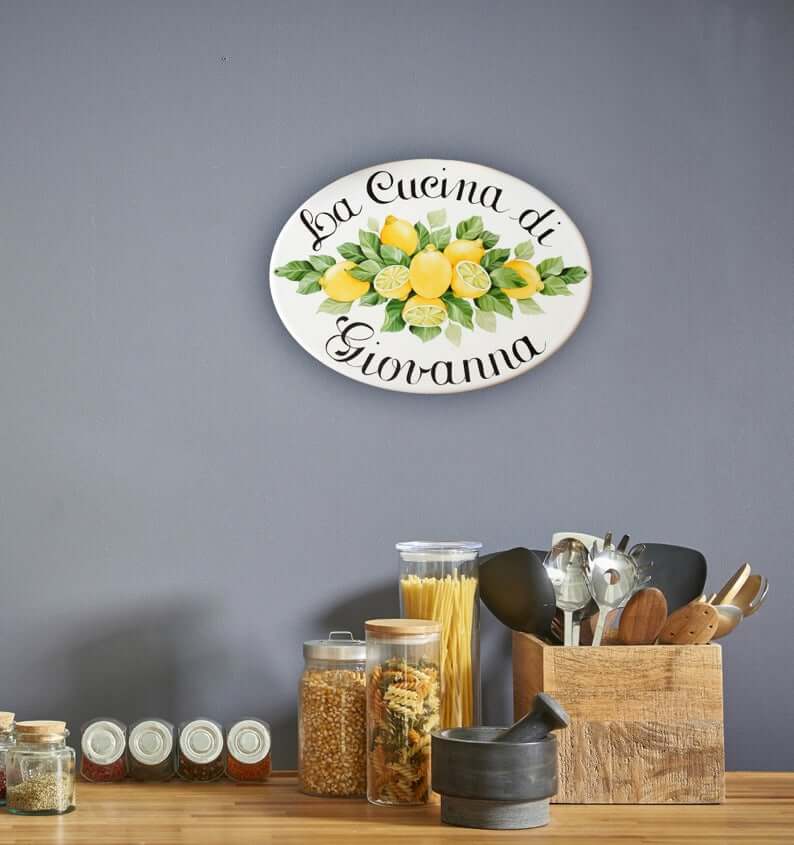 Farmhouse style seems to be trending everywhere. Everyone, from major department stores to specialty home decor shops, is cashing in on the trend. This trend is getting extremely popular for good reason, it is clean, crisp and easy for anyone to accomplish. However, no one wants their home to look exactly like everyone else's. The solution? Use this customized farmhouse style sign to give your home farmhouse flair and originality. Available in over ten different sizes and with the ability to write whatever you wish on your sign, the possibilities for this ceramic gem are endless. Just about any phrase is fitting for the sign, whether you choose your name or a note of southern hospitality, let your creativity run wild with this piece.
13. Ceramic and Mixed Media Abstract Art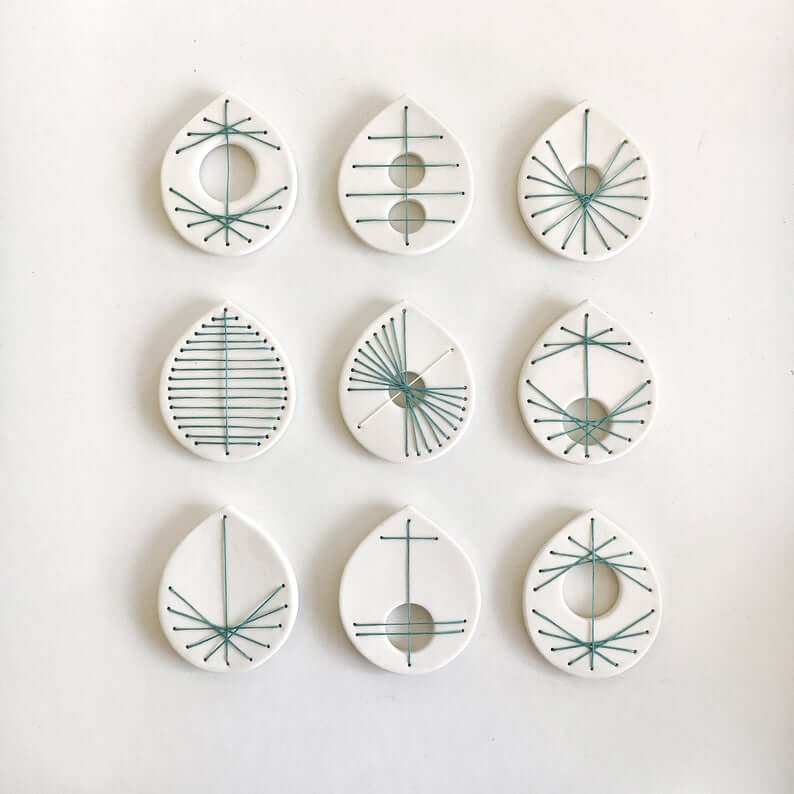 Perhaps you want something interesting in your space, something you couldn't find at the department store down the road. You need a completely unique ceramic home decor idea to fill up that blank wall in your home. These stitched ceramic ornaments with mixed media elements are the perfect solution for those homeowners craving something out of the ordinary. This set of 9 pieces almost look like dew drops that have undergone a makeover. Each piece is handmade and includes elements of green thread and metal to give a three-dimensional look. Arrange them in a cluster for a powerful effect or sprinkle the pieces throughout your home to create a theme, the possibilities for these ornaments are endless.
14. Unique Handmade Ceramic Teapot Set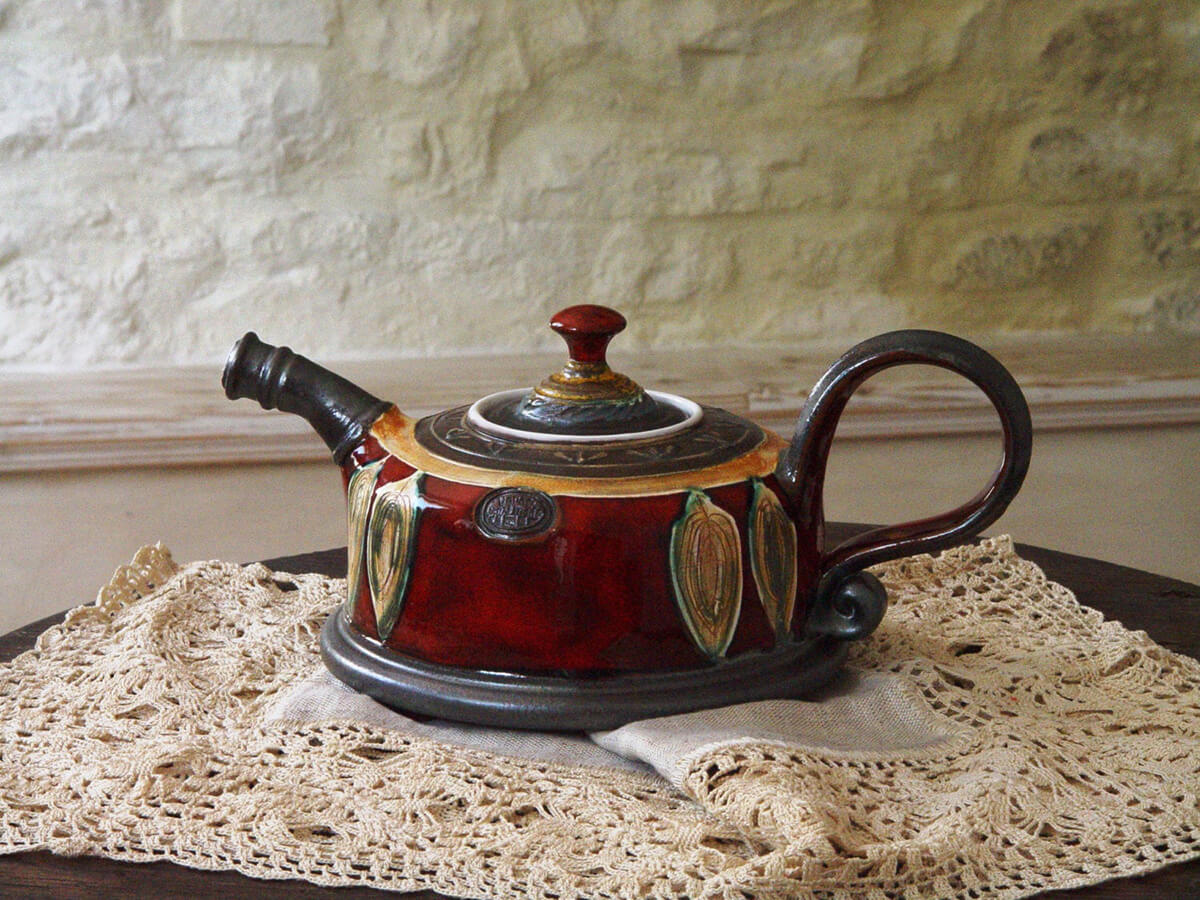 This Bulgarian teapot set is sure to impress guests. Not only a beautiful work of art that you can display in your kitchen, but this ceramic home decor is also truly functional. Serve guests (or yourself!) from a beautifully handcrafted tea set. But be careful not to directly heat the teapot, while it can contain hot liquids it is not safe to heat the teapot itself on the stove! If you don't regularly drink or serve tea, this ceramic teapot can still be for you! Create an interesting piece with plants and the tea set in the garden, leave it on display in the dining room, or even place it upon a rustic shelf for an interesting conversation piece. No matter what you choose to do with this gorgeous decor, it is definitely a crowd-pleaser.
15. Festive Spring Ceramic Ornament Set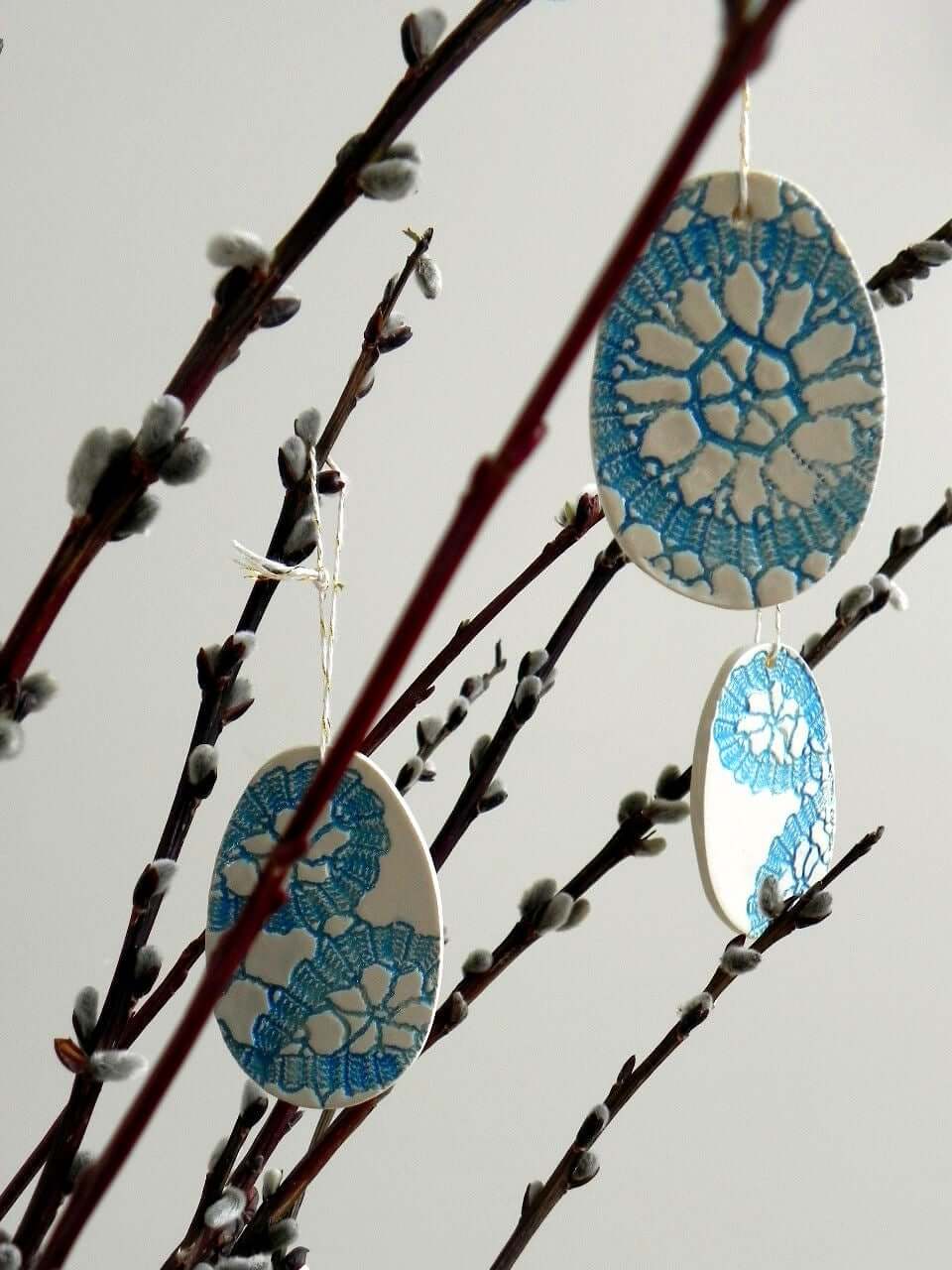 There is no reason for the best ceramic home decoration ideas to be left out during seasonal decorating or the holidays. And nothing says spring like Easter. Although people traditionally decorate much more for Christmas or Halloween, Easter decorations can be versatile enough to leave in your home throughout the spring season. Cool pastel tones seem to go with just about any decor you may already have in your home. Better yet, these precious ornaments have a soft lace pattern embossed on them. One awesome idea is to sprinkle these ornaments throughout your house, similar to a decorative Easter egg hunt of your own. Or if you prefer, leave them out year-round for a soft whimsical touch.
16. Geometric Ceramic Fox Trinket Dish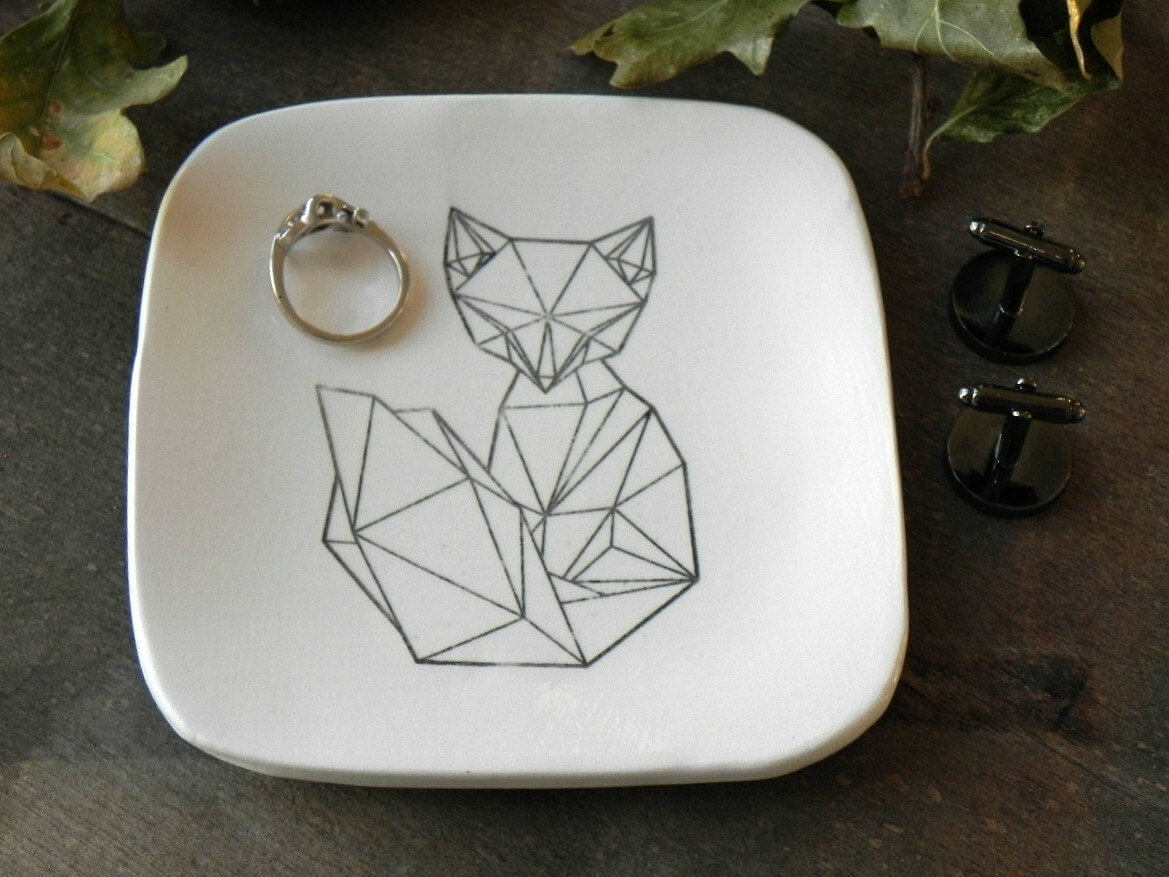 Geometric designs are absolutely trending right now. Even pre-teens and teenagers are keen on this new trend. Woodland designs are also popular throughout homes. Woodland themes are one of the top nursery themes of this year. When you combine these two trending themes you get this amazing ceramic trinket dish with a geometric fox design imprinted in black. The fact that this dish is monochromatic means it will match any interior design. The geometric silhouette makes it great for a refined touch to your teenager or pre-teens room. The fox makes it absolutely adorable for a minimalist or woodland styled nursery. It's perfect to keep those extra pacifiers (in a totally adorable way) or for your teenager to store her jewelry. But if neither of these solutions works for you, who says you can't enjoy it for your own room.
17. Adorable Ceramic Dog Figurine Decor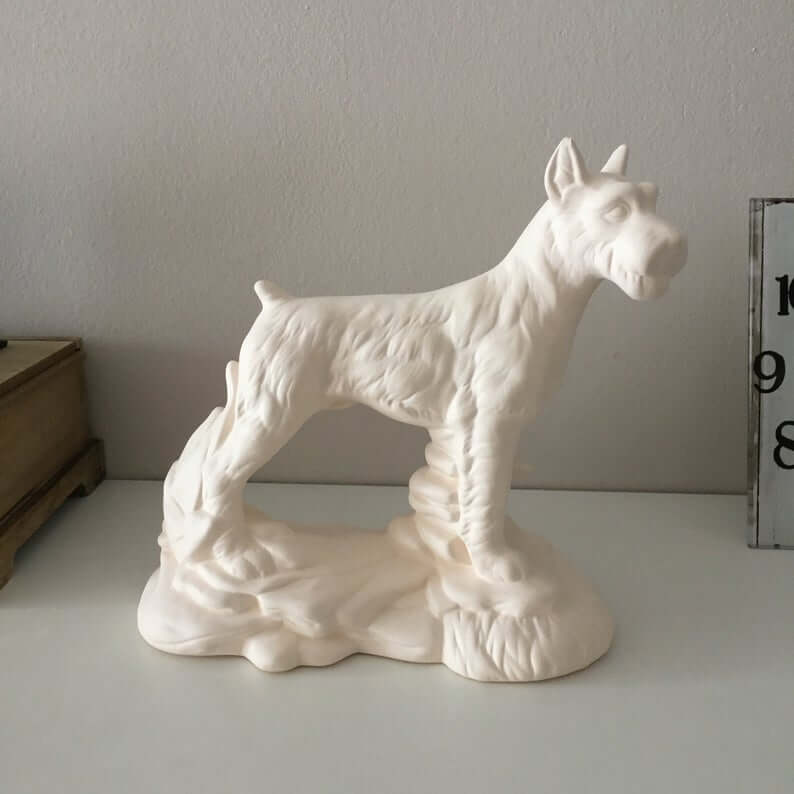 There has been a fair share of dog figurines on this list. However, this ceramic dog figurine is especially fun. Given the type of ceramic that comprises this schnauzer, it is open to complete customization. With a little acrylic paint, you can change the color of the figurine to your liking. So not only does this make an awesome idea for a craft, it is finally a craft worth displaying in your home. If you choose not to paint the figurine, it is equally beautiful in its original chalky white. Display it on an office desk for an added feeling of prominence or elegance in your home.
18. Abstract Ceramic Wall Sculpture Set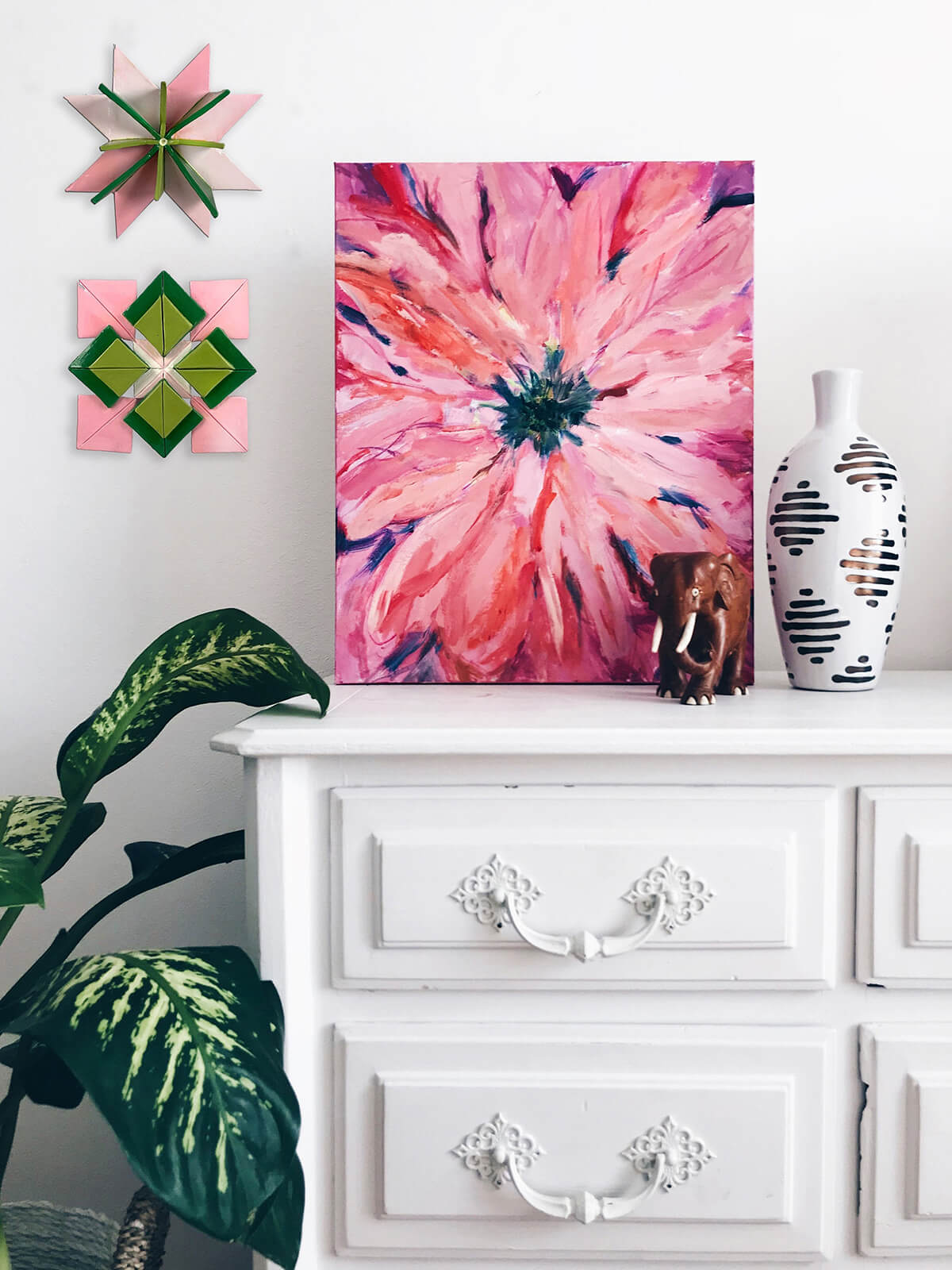 The whole point of interior decorating is to not only please the eye but to draw your attention to various focal points to make a room interesting. These abstract ceramic wall sculptures are certainly a piece to catch the eye. Not only are these pieces attention grabbers, but the sharp lines and geometric designs will keep your eyes pleasantly occupied. They are painted in pastel green and pink. These colors are the perfect choice for the sculpture as they do not overpower the stark lines. By having a set of two, you can create a focal point to last, rather than a piece to simply glance at.
19. European Handmade Ceramic Wind Chimes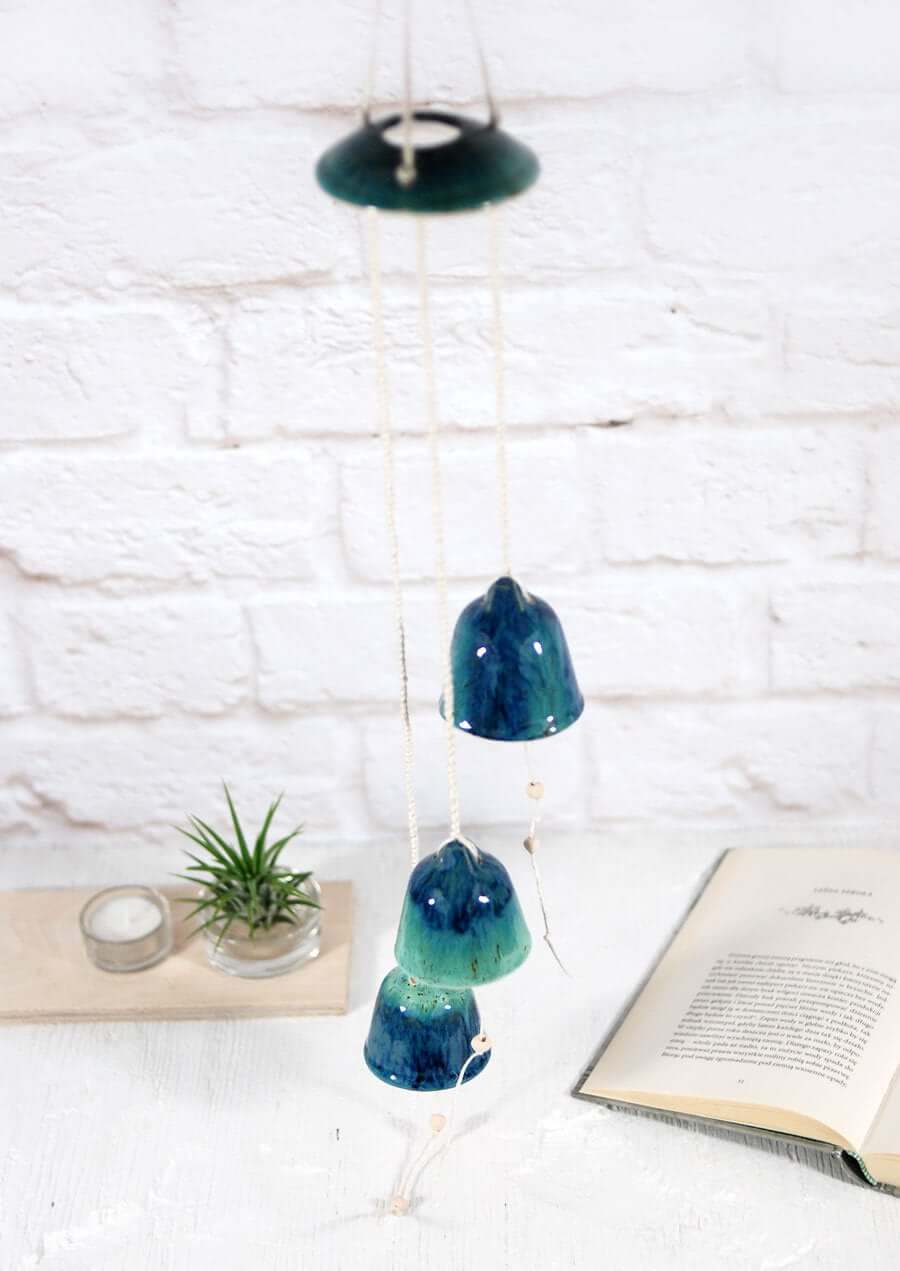 This ceramic sculpture is so beautiful on its own, it is hard to believe that they are windchimes. These bells have a beautiful gloss finish and captivating colors that will blend in with any natural backdrop. Even better, no two bells sound the same. Let the wind create beautiful background noise for your porch, garden, or patio with these custom made wind chimes. With a reasonable price behind them and functionality, these wind chimes are one of the best ceramic home decorations on the list.
20. Nautical Ceramic Fish in Pastel Colors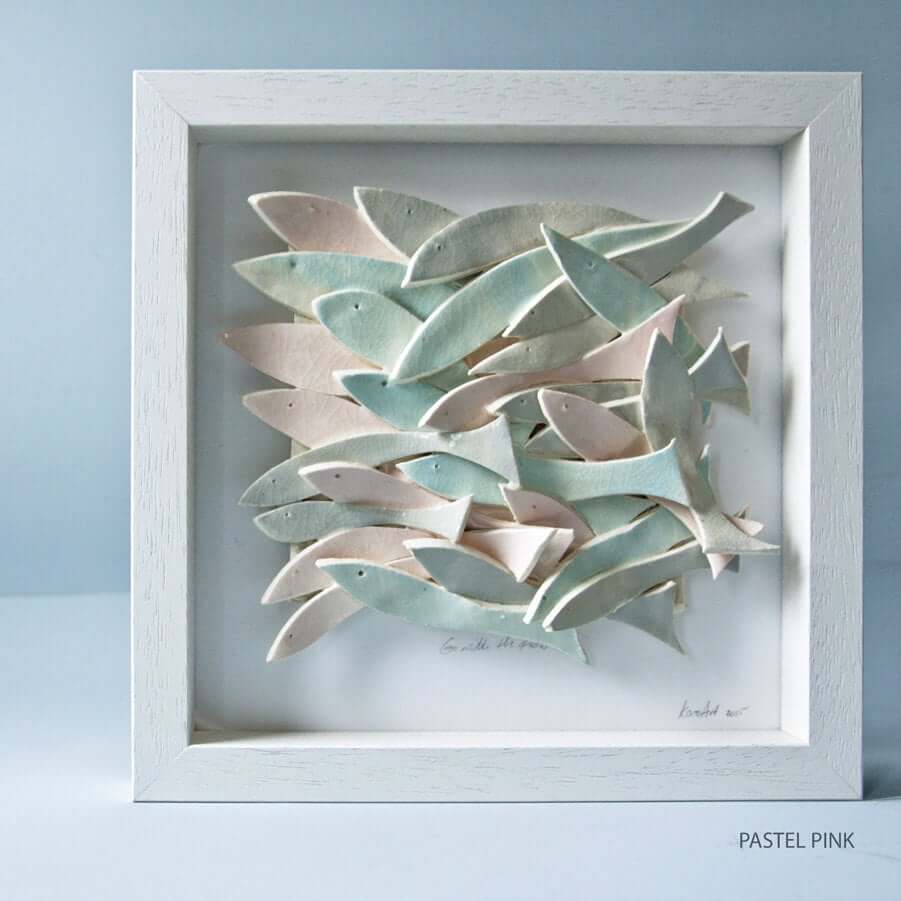 Nautical themes are notoriously popular in bathrooms. Most people think "corny" when they think of nautical. But when done properly, a nautical theme can be a stunning style that belongs in the pages of any magazine. Sadly, finding just the right nautical pieces can be a tiresome and utterly difficult task. Luckily, Ireland is here to help us out. Handcrafted in Ireland, this ceramic tile is a 3D whimsical representation of a school of fish. Even better, it is just the right style of nautical to make you swoon. The pastel colors still give the beach vibe without being overly obvious. The small artist signature in the corner of the tile shows the authenticity and originality of the piece. Hung or propped up on a shelf, this tile is sure to bring the beach to your home.
21. Adorable Miniature Ceramic Basset Hound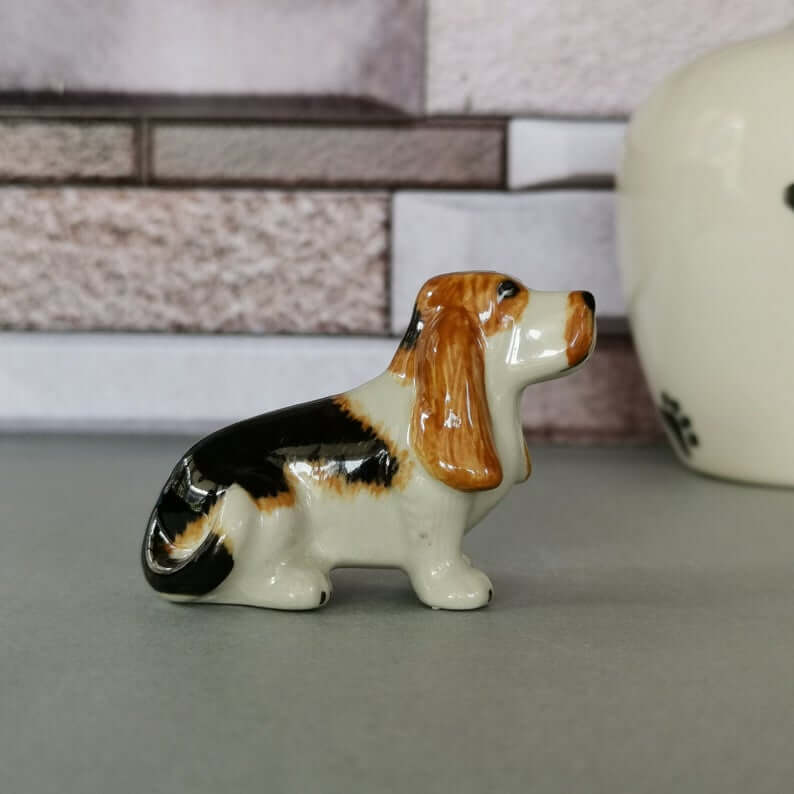 Who isn't a fan of dogs? Even if you aren't normally a fan of dogs, there is no denying how unbelievably cute this miniature basset hound statue is. Coming in at only a few inches tall he won't be the biggest decorative piece in your home. However, there is a lot of cuteness packed into this small package. Bring man's best friend into your decor of any room. He would look especially darling on top of a desk or atop a stack of books. Basset hounds are known to have a big heart and to be extremely loving animals. Bring that big heart into your home through this small and incredibly detailed ceramic figurine.
22. Hand painted Ceramic Kingfisher Garden Bird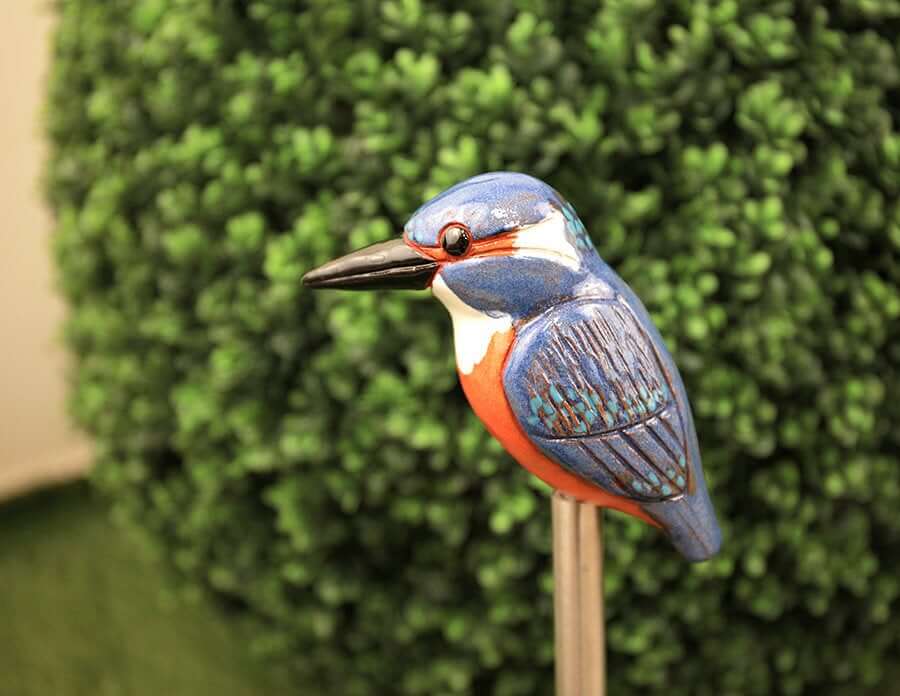 Some of the best ceramic home decor ideas come from the most unlikely of places. Even better, you can place this piece in a wide variety of places. Whether nestled in the bushes, placed in a vase with flowers, or as a stand-alone decor in the spot of your choosing, the beauty of this detailed ceramic kingfisher bird is hard to deny. If you do wish to place this bird in your garden, don't be afraid of how fragile it may appear. The figurine is made to withstand most weather conditions, including rain. Even better, it is versatile enough to keep in the garden for summer or winter. The placement of the bird is simple due to a stainless steel pole being included with your purchase.
23. Beautiful and Elegant Ceramic Candle Holders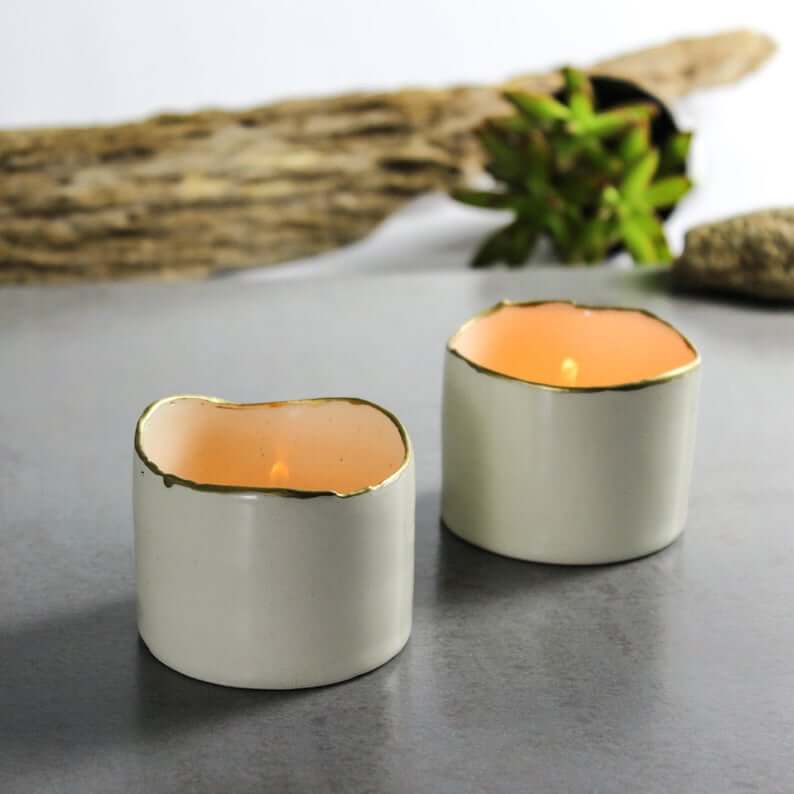 Here is another wonderful ceramic home decor item that can bring the farmhouse flair to your home that is so trendy right now. This set of ceramic candle holders, lined with gold, are simple, elegant, and flow seamlessly with shabby chic decor. If you choose not to use the votives as candle holders there are plenty of other options at your disposal. Some users report using them to hold their rings or as trinket cups in the bedroom. Another awesome idea is to place small plants inside the votives to accentuate a centerpiece. Either way, these are so beautiful and versatile the only thing you will have to decide is how many of these home decorations to order.
24. Metallic Ceramic Sculpture of Swallows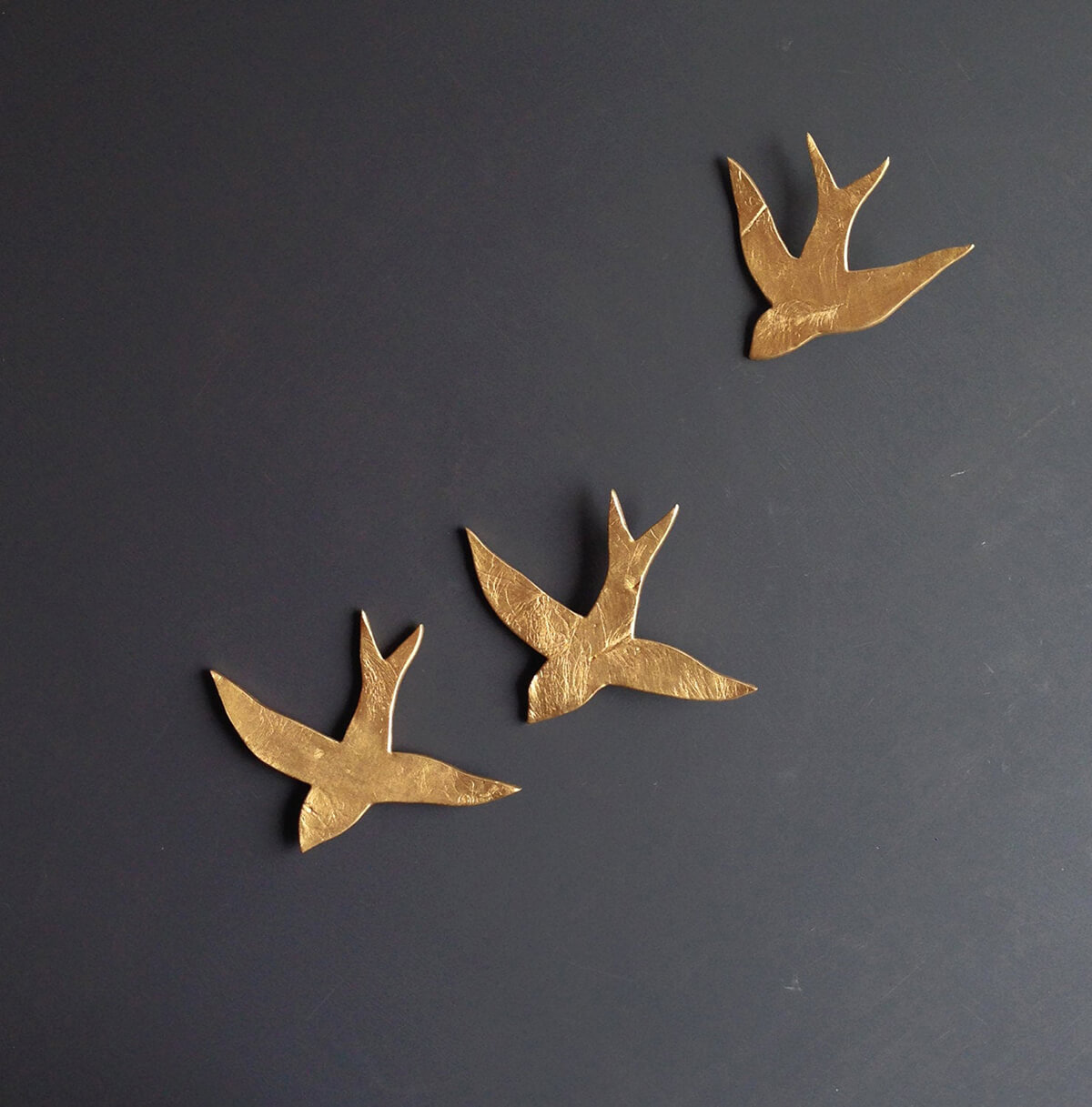 Are you looking to add rich colors to your space but afraid to commit to dramatic pieces or loud shades of paint? Have no worries. With this triage of golden swallows, a rich and dreamy statement can be made without becoming too bold. Each swallow has feather-like imprints upon them and can be hung at virtually almost any angle. The ability to change the angles and position them separately makes them great for those spaces that might be a little tricky to find wall art for. Another great usage for these birds is to place them in your bedroom. Their whimsical feel is the perfect thing to stare at as you drift off to sleep at night.
24 Unique Ceramic Home Decorations to Accessorize Your Home Like A Pro
And that is how you make your home gorgeous, elevated, whimsical, elegant, or rustic with some of the best ceramic home decorations out there!
Whether you only need small trinkets to fill a nook or a larger bold statement piece to create a focal point in your room, ceramics have you covered. Don't let where decor items traditionally belong stop you from placing that teapot in the garden or that garden fixture in the house.
No one knows your space better than you do. No one knows what decor pieces will bring you joy as you do. Updating your home can certainly uplift your spirits, decorating doesn't have to be stressful. As a matter of fact, with pieces like these, there is no reason decorating can't be downright fun. Whether you are tackling a room at a time or like to spontaneously decorate throughout your house, there is a place for ceramic decor.
Although ceramics have been around for thousands of years it is a material not often thought of by the average person decorating today. But rest assured, pieces like these, are used by the pros all too often. So take a pro tip and branch out with the types of art you use to decorate with. As seen above, not all ceramic pieces are just pottery. Ceramic art can include fabric, paint, or even metal. So don't be afraid to take the plunge. Don't be afraid to take time with the details in your home. Don't be afraid to be bold. Use ceramics and while you are at it, borrow an item or two off of this list!