Do you enjoy having unique and different things in your home or garden? If you answered yes, then these super creative DIY chair planters will definitely peak your interest!
12 Unique Chair Planter Ideas to Display Your Flowers in a Whole New Way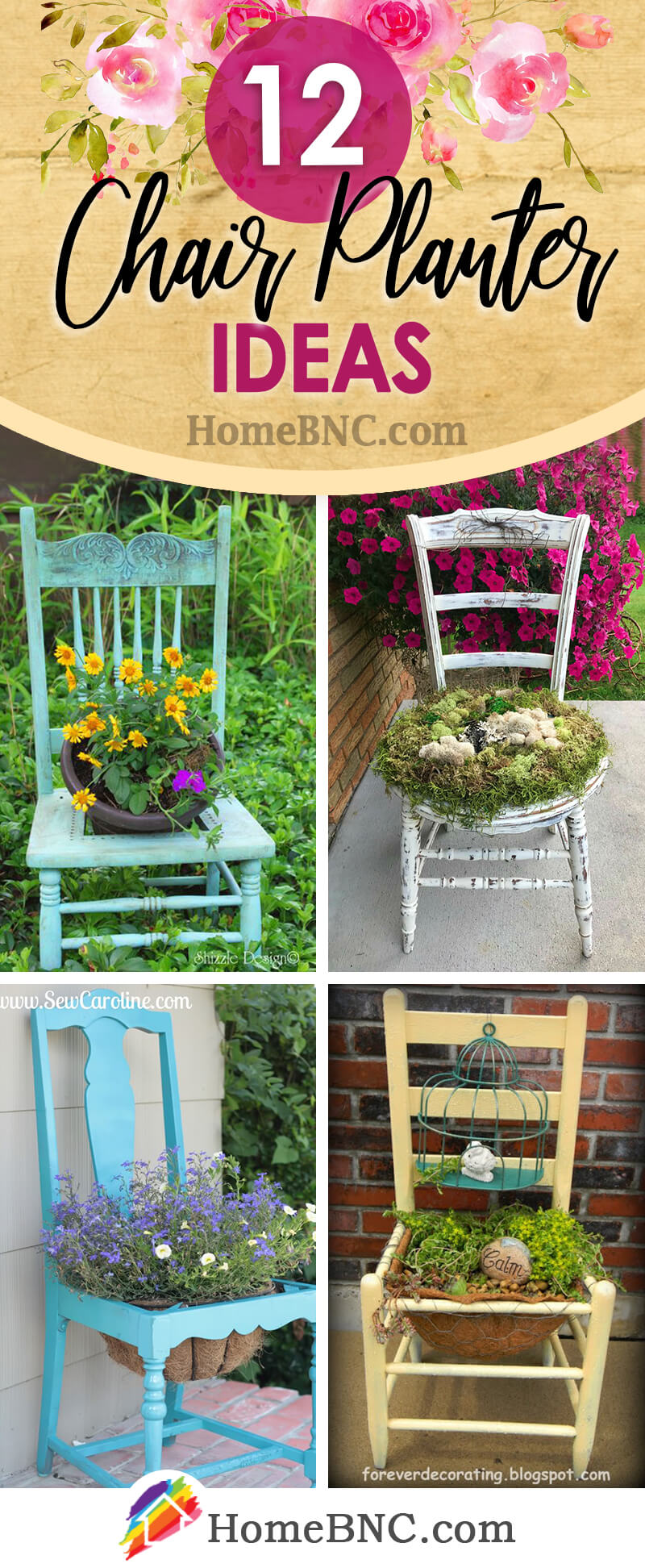 Odds are, if you have an old or unused chair you simply throw them out right? But did you know that you can actually create a fun and quirky plant holder with them? DIY chair planters are such a fun way to add character to your home or garden. Most gardeners fill their landscape with flower beds, but it's much more fun and unusual to add in something that stands out and that's a little unexpected. Salvaging a chair with paint, embellishments and a built-in planter gives a unique statement and focal point to your garden that will have everyone talking. Just imagine all of the wonderful creations you can make with chairs of all sizes, shapes and colors right in your own backyard.
The possibilities don't just have to end there. Bring your creative chair planter indoors for a stylish piece of décor that you can transition through all of the seasons. Whether you create a mini garden of colorful succulents or fill your planter with a combination of your favorite flowers, there are so many ways you can turn your old chair into a beautiful planter with a little imagination and creativity.
Here are a few ways you can transform an old, worn-out chair into an up-cycled stylish piece of décor:
1. Welcome Your Guests with a Chair Planter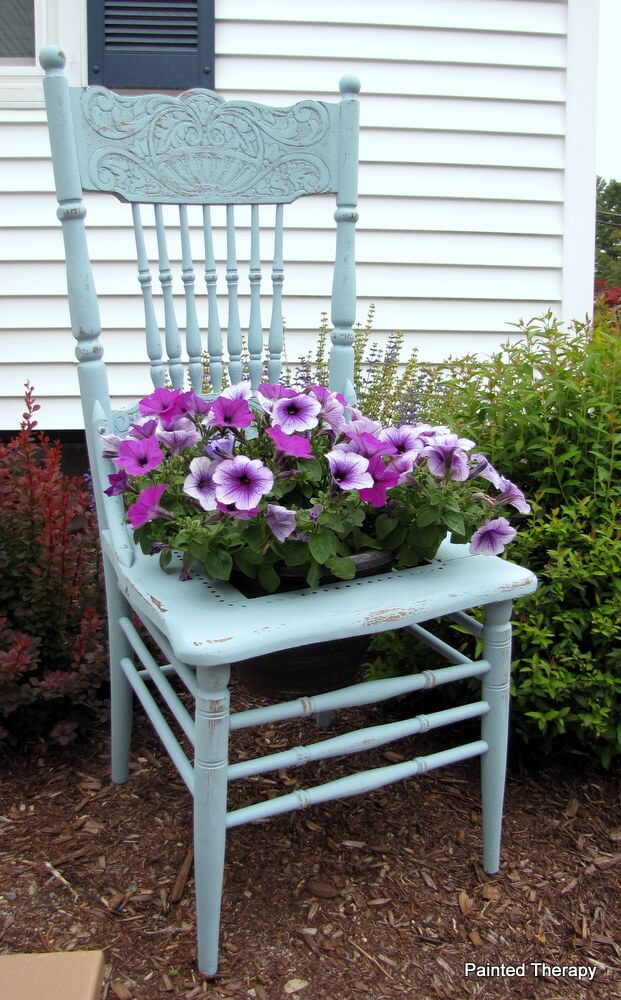 Kick off the warmer months with a gorgeous potted chair right on the front porch to welcome your guests. With a little chalk paint and beautiful petunias, this chair planter is the perfect way to showcase your favorite flowers this season. The great thing about this design is that you can easily switch out your plants by simply removing the entire plot and replacing it with a new one!
2. From Garage Sale to Garden Oasis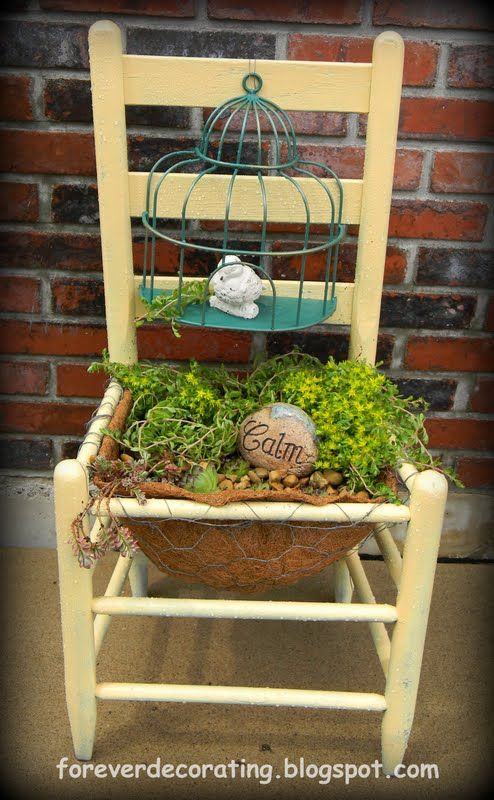 Turn your garage sale finds into a beautiful garden oasis. This old chair found at a local garage sale was re-purposed into a gorgeous succulent flower bed. When crafting your own chair planter, don't be afraid to use what you already have for accent décor. The birdcage and decorative rock really ties it all together nicely.
3. A Little Country Flair with a Chair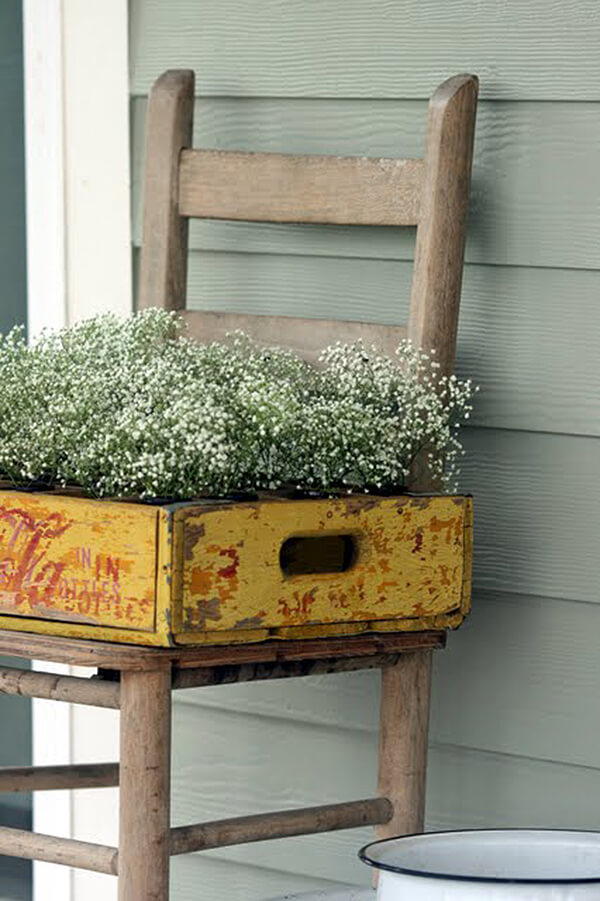 Bring some life into an old chair with a crate of flowers. This simple DIY was created using an antique child's potty chair! Practically any household object can be used for display. The object is to get creative and work with what you have to create the perfect and unique statement piece. This is such a cute addition to the front porch.
4. Make a Statement in Your Garden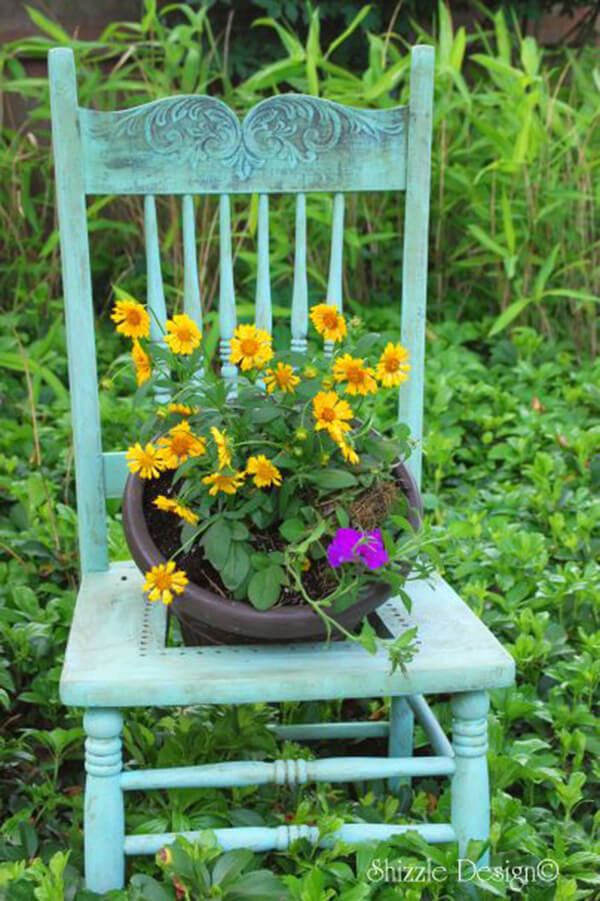 There are so many ways to create a beautiful garden. From choosing the landscaping, the flowers themselves and cute accent pieces to place throughout, it's all up you how you'd like to create your garden retreat. A fun and unique idea is to add a little dimension and height to your garden with a chair planter! Use a paint color of your choice and switch up the plants as often as you'd like.
5. A Succulent Seat Fit for Two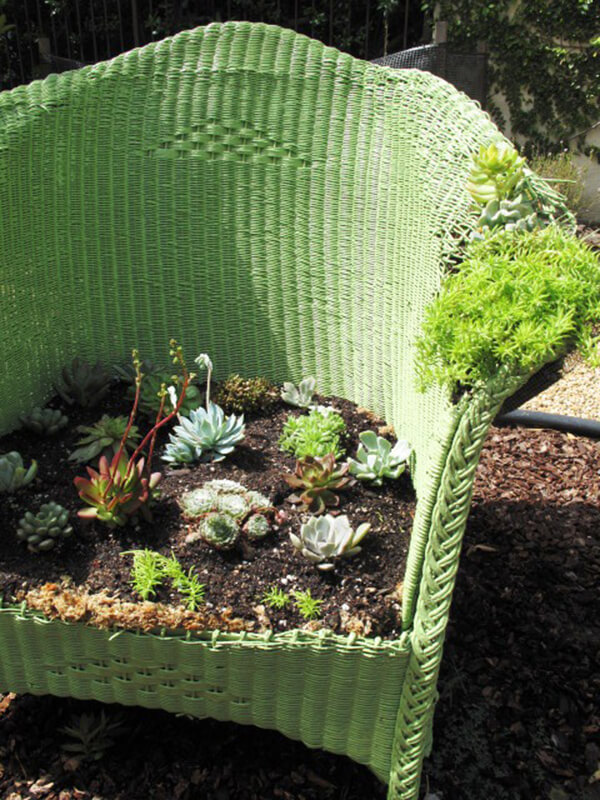 Have a seat, a succulent seat that's both charming and whimsical and sure to spark up some conversation. This unique bed of succulents fixed right on the seat of an old wicker chair is the perfect conversational piece of outdoor décor. The size of your chair planter can be as large or as small as you'd like, so don't be afraid to venture out when creating your own seat of arrangements.
6. Planter Basket in the Seat of Your Chair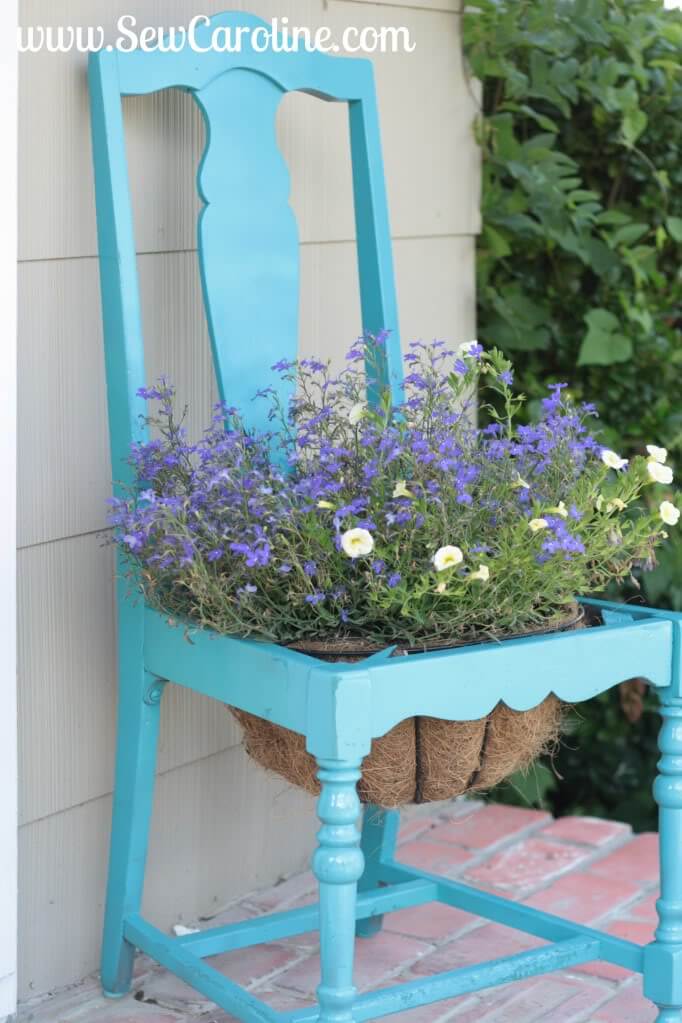 Hang your planter basket in the seat of your chair for a change. It's all about versatility with this bold chair planter. Utilizing a hanging basket for the seat of the chair instead of a pot gives the bottom added dimension and a visually appealing base. Use a bold pop of color for the chair and welcome your guests in style.
7. An Adorable Handmade Wooden Chair Planter
If you don't happen to have an old chair laying around ready to be re-purposed, you can always build your own with a few pieces of wood. This little mini chair is the perfect size for your beautiful arrangement of flowers. Place your chair outside by your front door, in your back yard or even inside by a window.
8. Vintage Farmhouse Chair with Moss Detailing
Unleash your farmhouse flair with a chair planter full of multiple variations of dried moss. This is a great creation or gift for a nature lover and would be perfectly displayed in the garden or sun room. The nice thing about dried moss is that not only is it inexpensive to purchase but also you never have to worry about watering it!
9. Adirondack Chair Planter Table Centerpiece
If the idea of a large chair planter isn't for you, maybe a miniature version as a centerpiece is more your style. This cute and adorable table centerpiece is ideal for featuring a small potted plant. It's such a versatile décor piece that you can move around depending on the occasion. Place it indoors for family gatherings or take it outdoors for backyard festivities.
10. Spruce Up Your Space with a Chair Planter
Let your plants have the best seat in (or out) of the house with this rustic antique chair planter. This planter boasts an array of greenery with pops of colorful flowers. Adding a distressed paint job to the chair itself really brings it all to life and ties it all together nicely.
11. Ring in Spring with a Flower Pot Chair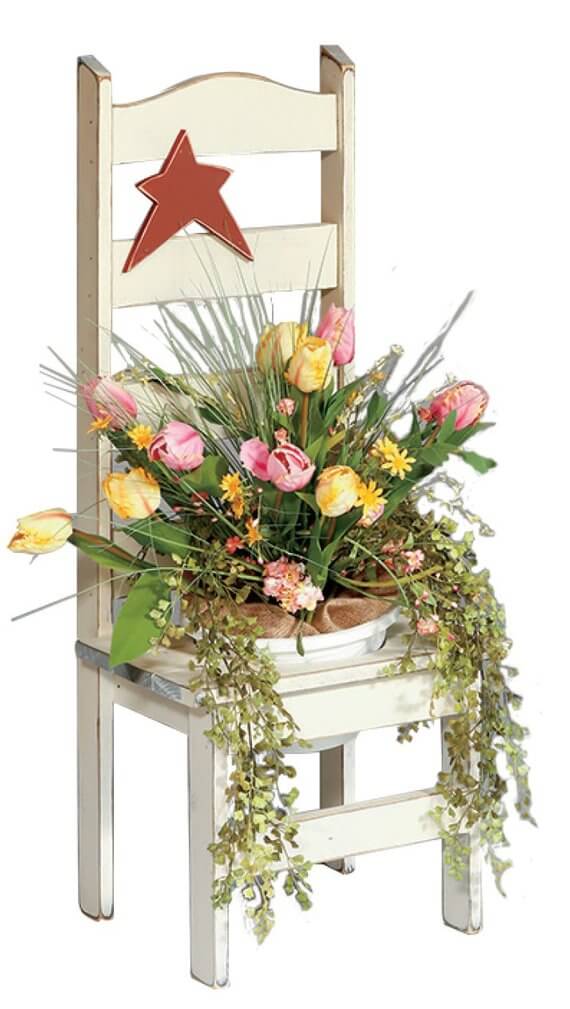 This chair can be the perfect addition to your indoor or outdoor area. Place it on your front porch to spruce up your entryway décor or set it inside your living room for a more rustic touch. Add a tulip arrangement to ring in spring and switch it out as often as you'd like. You could also replace the star with any wooden accent to fit your style and personality.
12. A Floral Extravaganza Garden Chair Planter
Think outside the box (or chair) with this clever floral arrangement that doesn't just stop at the seat of the chair. Instead of a bed of flowers, why not create a chair of flowers with multiple pots surrounding your chair planter. The various heights and colors really make this floral extravaganza stand out.
Our Favorite Outdoor Decor Pots and Planters to buy on Amazon