Is there a room (or two, or three …) in your home that is screaming for a bit of an update. Are you hesitant to enter the realm of interior design? What if there was one item that could makeover a room?
Consider a quick evaluation of the lighting in the room. Are you looking to add drama? Consider chandelier lighting. Are you looking to make the space cozier? Still the same recommendation. Want to bring in a modern feel? Yes, I'll say it again, chandelier lighting is a great place to start. Are you sensing a theme here?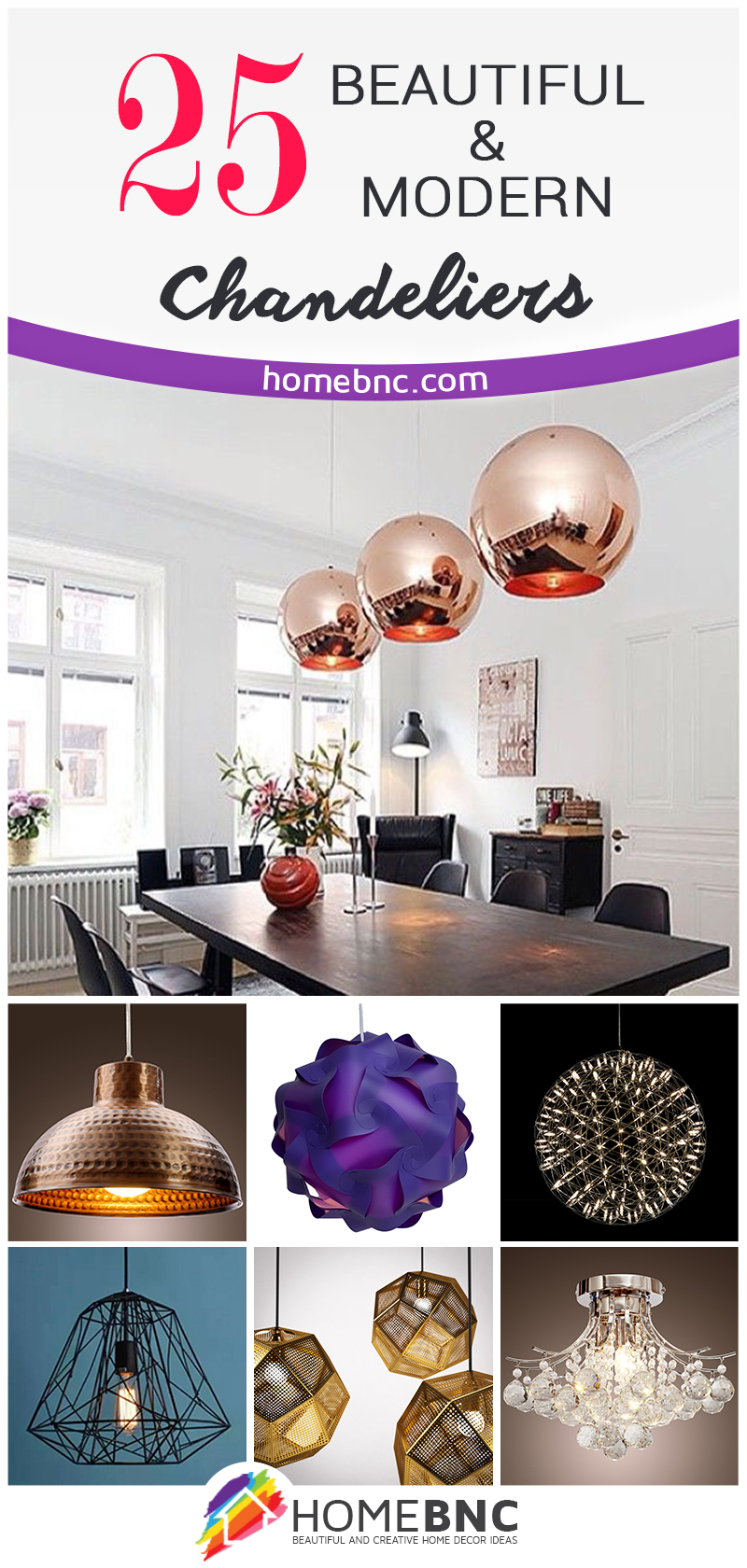 For the longest time I had the antiquated idea that modern chandeliers were only pieces heavy in crystals and designated for grand entry ways with spiral staircases. If I thought harder, I thought they might fit well in ballrooms filled with exquisitely adorned dancers. At the very minimum, it seemed they were more suited for a typical mansion in Beverly Hills. Then I started paying attention. The home design industry has gone leaps and bounds beyond my outdated notion. But don't worry, there are still plenty of crystals involved if you want them!
By definition, chandelier lighting is a 'decorative hanging light with branches for several light bulbs or candles'. So technically, my visions of crystal chandeliers used as grand statements are certainly accurate – but today, chandeliers are that and so much more.
It is amazing what can happen when you take a chance and start replacing some of your hanging lights. Growing up, I think we never changed out the fixtures that came with the house when we bought it. As an adult, I went along with the status quo again, until I changed one hanging light in my kitchen. I was amazed at the difference that one small change made. Now I'm hooked! Ceiling lights are my first target and chandeliers are my new friend.
Here are just a few possibilities that will demonstrate the versatility of this home design item. You're sure to find one (or several) that could represent the perfect, updated design element you're looking for. And you'll likely find several that would work perfectly in your home.
When you think of Chandeliers you think of …
Chandeliers: Up to $50 | $51-$100 | $101-$200 | $200 and above
Chandeliers under $50
1. Puzzle Lamp in Various Colors
Don't let the bright colors on this lamp scare you away. Sure it goes great in a kid's room and it's a style that is really popular in dorm rooms, but this puzzle lamp can add a touch of color to any room. Assembly is required, but use that to your advantage. Consider purchasing a few colors and mixing the pieces to create color combinations that are yours alone. Because this lamp is so lightweight, it is easily hung. It also looks great simply sitting on a desk, mantle or shelving unit. Don't let the kids have all the fun, add some color in an unexpected place. [around $29.99]
2. Floral Pendant Lamp
This lovely floral style piece comes ready to go as a swag style lamp, but is easily converted to a pendant with a pendant kit. The 'petals' disperse the light well, making it a good option over a dining surface or in a bedroom. The floral look makes it a great choice for a young girl's room. But because it looks both feminine and elegant, it could easily remain in a room where the occupant is outgrowing 'little girl' décor and developing more sophisticated tastes. This fixture is a particularly good option for those looking to add a decorative touch without breaking the budget. [around $37.50]
3. Shell Pendant Chandelier
This one is a popular selection for use in a little girl's room or a nursery. Can you just picture this as one of the centerpieces in a mermaid themed room? I recommend, however, that you think beyond, the mermaid. The shimmering shell pieces can also read as sophisticated and modern, particularly when this piece is hung in a foyer or a living room. And as we're learning, modern chandeliers are, if nothing else, versatile! [around $49.50]
4. Vintage Pendant Glass Shade Light
Here we find another terrific option in the current industrial craze. The glass shade adds to the vintage feel. When combined with antique style light bulbs, you are going to love this fixture. Hang this in a kitchen or over a dining table. This affordable pendant looks similar to many high end pieces, but it won't break the bank. This is another great 'entry' piece. For those shy folk who just aren't quite ready to make a big commitment to a statement piece, this quietly makes a beautiful statement without knocking you over the head. [around $39.99]
5. Vintage Pendant with Rubbed Bronze Finish
As with most caged hanging pendants, this fixture is great over a kitchen table. It is fully dimmable, allowing you to adjust the brightness as needed. But don't limit your choices to only one room. When we're talking modern chandeliers, we often think of decorating with a feminine touch, but this would be perfect in a boy's room. It's sleek and definitely has the 'cool' factor. Who knew that what was once factory style lighting would end up being a coveted design choice? There's no denying the impact this light will have on a room! [around $34.99]
6. Billow Light
It's hard to believe that this fixture is the constructed from PVC. It looks like elegantly draped fabric, rolling in waves around the fixture. High end elegance with a price tag that will shock you, it's so reasonable. This is one of those versatile pieces that will find a place in many homes, regardless of the home decor. It looks dreamy in a bedroom, beautiful in a reading nook, cheerful in a sun room or elegant in a kitchen. A great neutral, you don't even have to decide where you'll hang it until after you get it home. [around $44.64]
7. Industrial Kitchen Black Metal Lamp
Geometry is not always sexy … but on this fixture, it works. The partially shaded metal cage and the geometric shapes add to the industrial look and feel of this pendant style light. Although this is designated as a 'kitchen' light, there's one thing we should all remember when it comes to lighting … boundaries are meant to be broken. This works great in a kitchen, but is equally likely to end up in an office or a craft room. [around $46.00]
Modern Chandeliers under $100
8. Copper Mirror Glass Hanging Pendant
This lovely pendant lamp is very contemporary in its style, but don't let that scare you if your home decor is not contemporary. Copper is a great accent color and many already use that as an accent in their kitchen. Even in a more rustic kitchen, this fixture works perfectly above an island. Try grouping more than one over a dining table. For a truly contemporary household, try a grouping of three down a hallway, or hanging above a reading nook. The sleek design allows for this fixture to look equally lovely in a group, or alone. [around $98.00]
9. Sparkling Crystal Chandelier with Chrome Finish
If you like bling, this is the fixture for you. Whether you place it in a bathroom or in the bedroom of your little princess, it is sure to delight. It has a flush mount making it simple to install in place of any existing ceiling lights with similar mounts. If you think this looks great in the picture, know that it is even more beautiful in person. The sweeping arms of crystals create a display that is both beautiful and functional. Modern chandeliers like this one are quite popular, bringing the traditional bling with a less traditional design. [around $88.00]
10. Hammered Copper Pendant
For those who are looking to update their standard recessed ceiling lights in kitchen, this fixture is a great option. The hammered copper look plays into the industrial style that is so popular right now. These sturdy fixtures play equally well against a variety of home design styles, from rustic to modern. The beauty of this type of lighting is that it allows you to convert your recessed lighting into a pendant style light with no special tools or equipment. That's the way to do a makeover with ease – an excellent choice for those who are a bit shy about installing lighting fixtures. [around $59.95]
11. Vintage Barn Metal Pendant
Call it vintage, call it retro, call it beautiful! If you're looking for something with an industrial vibe, this pendant fits the bill. Hang it over your center island in your rustic kitchen, or over your drafting table in your office. Update your current hanging lights with something retro and suddenly the whole room feels new again. This vintage styled piece is so versatile it seems to fit in wherever it is placed. [around $89.99]
12. Fuchsia Mini Chandelier
You absolutely cannot go wrong with this piece in a little girl's room. It's whimsical and fun, not to mention PINK! Don't get caught 'type-casting' this fixture, though. It would look absolutely luxurious hanging over a claw foot bathtub in a spa themed bathroom. Or maybe it's exactly what you need hanging in your office to give you a boost at the end of a long day. Surrounding ourselves in beauty and color is never a bad decision. Wherever you use this fixture, it will be noticed and that's a good thing! [around $86.66]
Chandeliers under $200
13. Crystal Raindrop
This ceiling mounted fixture is a unique take on the more traditional chandelier. The result is a lamp that is classic in its shape, but unique in its presentation. The suspension of the crystals, as they appear to be dangling in mid-air is very contemporary, as the crystals cascade down from the light's base. The shape hints at a classic fleur de lis and lends itself well to a dining room or a living room, where the fixture is meant to draw the eye of those who enter. If you are drawn to the vision of a somewhat traditional fixture with that modern twist, this just might be for you. [around $140.40]
14. Modern Crystal Chandelier
Looking for the perfect modern accent to a bedroom or living room? With chrome tendrils winding out from the base, displaying the multitude of crystals, you'll be amazed at the way the fixture shines. This is a bold piece, ready to, in the most literal sense, brighten up any room. It's a popular fixture to hang in a bedroom, but consider it also for the main light in the center of a larger bathroom space. The light play off of a mirror is amazing. [around $126.99]
15. Pendant Star light Orb
The 'wow' factor is the best way to describe this piece. Looking like stars bursting out all over the orb, this fixture is meant to make a statement and it really speaks. You could hang it in a bedroom and it would be beautiful there. But if you are going for 'wow', I say put it somewhere that is a focal point in the home, somewhere with high visibility. Hang it in the foyer, invite over some guests, and let the compliments flow. [around $150.99]
16. Modern Metal Spike Chandelier
Chrome spikes radiating from a center orb make up the shape of this stunning fixture. This is perfect for the bold, or those striving for a chance to be bold. At the end of each spike, the 18 light bulbs add the finishing touch to this fixture. It's funky but in a rather elegant way. If you don't shy away from bold pieces or modern chandeliers, and you are the type that loves the look of a unique space, this fixture is a great match. [around $135.99]
17. Multi Light Rustic Barn Metal Light
Looking at all of these chandeliers and thinking that you're not creative enough to create grouping out of individual lights? Try this! This one fixture takes the work out of your hands. 5 vintage lights with a black finish, each with a different cage, make this fixture a stunner. The length of each light can be adjusted to work with your space. I love this for a kitchen island or over a rustic dining table. You'll get the credit for being creative, and grouping your chandeliers, while in actuality, this fixture does all the work. [around $149.99]
18. Modern Raindrop Crystal Fixture with Rectangular Mount
This is a new spin on a raindrop chandelier, creating a unique look as the crystals cascade from the rectangular base. Bringing the drama, this piece is an attention getter. Hang it in your dining room, or as the center piece in your bedroom. The elegance level in the room will escalate from the moment this piece is installed. And honestly, who among us can't benefit from having our elegance level escalated? [around $138.64]
Modern Chandeliers above $200
19. Industrial Diamond Ball Light Fixture
This piece classifies as a statement piece. It is bold and modern and industrial all wrapped up into one beautiful pendant. The shadow play off of this fixture is both dramatic and beautiful, reflecting the etched pattern in such a striking way. It is the perfect centerpiece hanging above a formal dining room table. Also consider it for your foyer, greeting your guests as they enter your home. Modern chandeliers are all about light play and architectural design and this piece is no exception. It truly is simply stunning in a multitude of settings. [around $295.80]
20. Gold Geometric Space Ball
Modern, yet simple, this lighting fixture symbolizes what the British designer Tom Dixon is known for: sleek engineering in an innovative form. The mesh-like enclosed cage, geometric in its design, is eye-catching but completely functional. This fixture is even more dramatic when grouped in a series, but don't discount the power of its clean form as a singleton. This fixture is frequently used in a dining room setting, but also works quite nicely in other settings. Many of us have home offices where we want a to present a professional vibe – this fixture can carry that off with ease. [around $240.95]
21. Crystal Ball Raindrop Chandelier
Again in this fixture, we are given the illusion of crystals raining down from above. The lights are mounted in the base, illuminating the dangling crystals below, forming a beautiful silhouette, reminiscent of a glowing crystal ball. Mount the base before you assemble to streamline your installation. You will be amazed at the quality of the crystals in this piece, the light play off the crystals is simply stunning. This fixture will add a new dimension to any room you choose, from the foyer to the bedroom. [around $240.95]
22. Avant Garde Orb
This orb pendant has a bit of a futuristic look to it, but don't be worried about pairing it with home decor that isn't classified as modern. The beauty of this piece is that it is a work of art on its own. It works equally well in a room with rich wood floors, or one that has elegantly patterned, concrete flooring. This four bulb pendant offers a good deal of light, filling even a large foyer area with ample lighting. [around $304.00]
23. Gold Drum Shade Pendant
This is not your mother's lampshade. Though the shape is a nod to the traditional lamp shade, this is really nothing like the picture that conjures in my mind. The silvery-gold wrought iron frame surrounding the inner shade adds just the perfect touch of architectural structure to set this piece apart. At 25 inches across, this fixture is a sizable piece, perfect for a large entry way, or great over a farm style kitchen table. [around $722.00]
24. Polar Ceiling Lamp
Soft light streams from this floating orb, bringing a modern feel to any room. Constructed of painted metal and acrylic, this piece is subtle accent piece, allowing you to add an elegant design element that does not overpower the rest of your home decor. If you're just branching out into the world of lighting, this is a good entry piece. It doesn't feel risky and the benefits are immediate. With an artsy feel, a neutral color and simple lines, you just can't go wrong with this piece. [around $438.00]
25. Linear Crystal Chandelier
Those who have a modern kitchen might feel left out, considering all the rustic or vintage options on the market, but take a look at this elegant piece. The linear design is a natural shape for above an island or table. If you're thinking it's too formal for a kitchen, then consider the beauty this would bring to a formal dining room. As another option, consider the drama it would add to a bedroom. Simple shape, gorgeous lines, perfect fit! [around $297.50]
So this is how to Make a Statement with a Chandelier
Looking through this list of chandeliers, I hope you'll see that there are a variety of options out there fitting most every price point. It's rather enlightening to know that chandeliers are not an antiquated concept and you do not have to break the bank to bring some change into your home. Updating your home is a very personal experience and you want those personal touches to resonate with you at the deepest level. Changing out some hanging lights with a new fixture that evokes something on your beauty radar can bring a meaningful, functional and, dare I say, spiritual change to your home design space.
Take some risks, but if you're nervous, start slow. As we learned earlier, there is no need to get fenced in by boundaries. If you think a kitchen light will look good in your bathroom, it probably will. Most manufacturers give suggestions for placement, but I hope by the time you've browsed through the possibilities listed, you too have come to the conclusion that that home design boundaries are made to be broken. I hope you're imagining some of these very fixtures in your home. And when you do take the step and make a change, be it bold or conservative, enjoy!