Furnishing your home is notoriously expensive — that is until you start shopping at the best cheap furniture stores online. Online stores often use a direct-to-consumer model; since this strategy cuts out expensive physical locations, they can offer beautiful furniture for a fraction of the cost. That means that you can get everything from sofas to bedroom sets without the sticker shock. Whether you're on a college-student budget or you want to upgrade your home without breaking the bank, these great online stores are the perfect place to start the search.
15 Stores that You Need to Know of When Getting New Inexpensive Furniture

1. Lexmod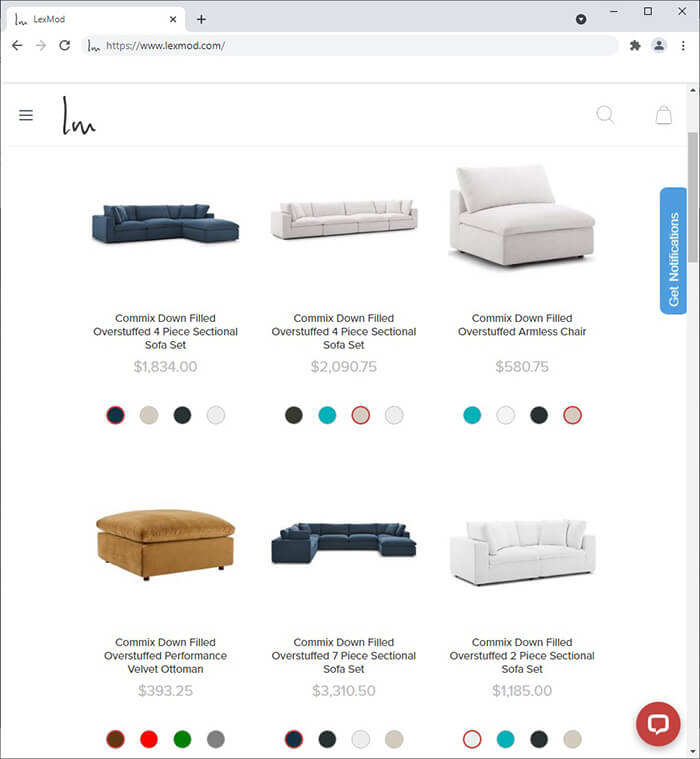 See store: lexmod.com
One of the pitfalls of online furniture shopping is that you don't get the chance to envision how a piece might look in your home. That's where Lexmod comes in. This furniture outlet allows you to order free swatches, so you can test out a color and material before you buy. All you need to do is provide the product number and the shade you have in mind, and the company will send you a sample. Lexmod also offers free shipping on every order, so you don't need to worry about unexpected costs when you're buying a sofa or a heavy dining room table.
Lexmod isn't your average online affordable furniture store — it's committed to beautiful designs. The difference is obvious from the website; every product is carefully photographed to help you picture it in your space. Choose pieces in a wide range of styles, from elegant mid-century modern sofas to rustic farmhouse dressers.
2. Dot & Bo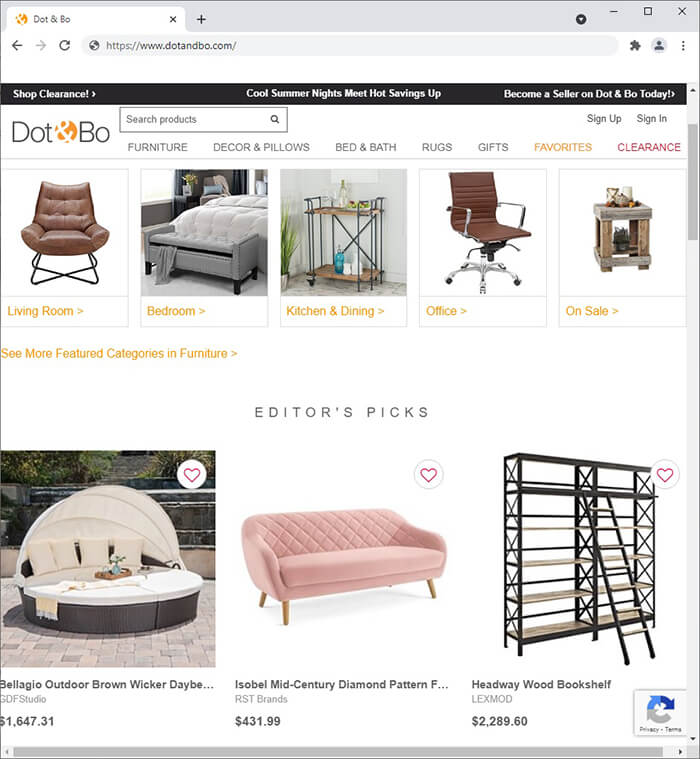 See store: dotandbo.com
Dot & Bo is a one-stop destination for all of your furniture needs. This online affordable furniture store carries products from more than 70,000 different merchants — which means that you have access to any item you can dream of. The company runs frequent sales to help you save money; make sure to check out the ever-changing clearance section to find rock-bottom prices on out-of-season or low-stock pieces.
Shopping at Dot & Bo is easy, thanks to the website's clever filters. Want to see what's trendy in the world of home decor? Click on the "Trending Now" sections. Looking for a sofa that none of your friends will have? Check out the "New Arrivals" page. You can also search the website by the type of furniture you need or refine the options by room. When the price is your top priority, head to the individual sale section for each category. For expensive items, such as sofas, Dot & Bo enables you to group items by price. That way, you don't fall in love with a piece that doesn't fit into your budget.
3. Etsy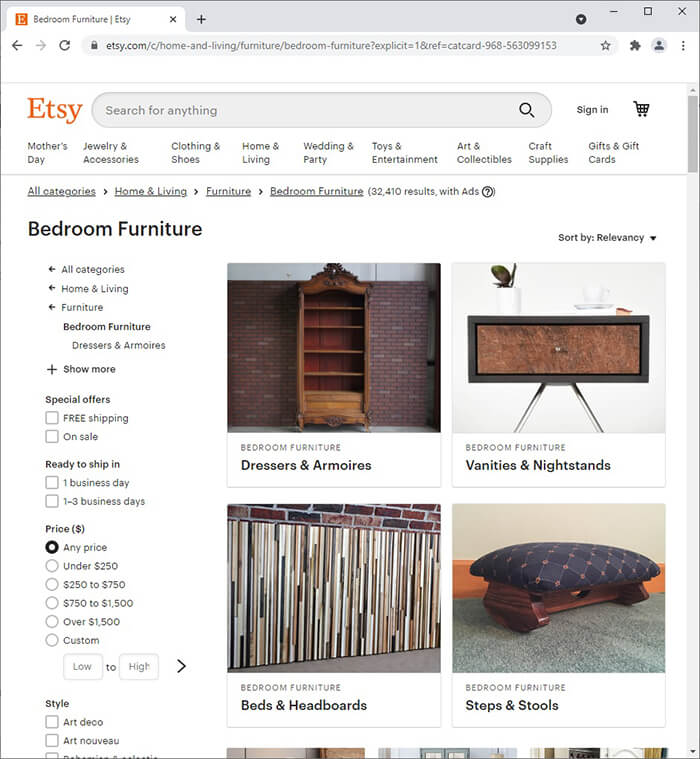 See store: etsy.com
Etsy is a well-known destination for handmade crafts, but it also sells furniture. If you're looking for handcrafted pieces or unique items, this is the place to go. Sellers can offer new, upcycled, and used pieces, so it's a breeze to find a bargain. When you're shopping, keep an eye out for the special discounts and free shipping offers, which are marked in green on every product listing preview.
When it comes to custom furniture, Etsy is a surprisingly affordable place to shop. Some sellers make each piece to order, so you can request modifications to fit your needs. In comparison to traditional custom-made pieces, you can save hundreds of dollars. Some of the best cheap furniture items on Etsy are vintage — sellers buy them at thrift stores and estate sales and refurbish them. Simply select the "handmade" or "vintage" filters to find some of these deals.
4. Overstock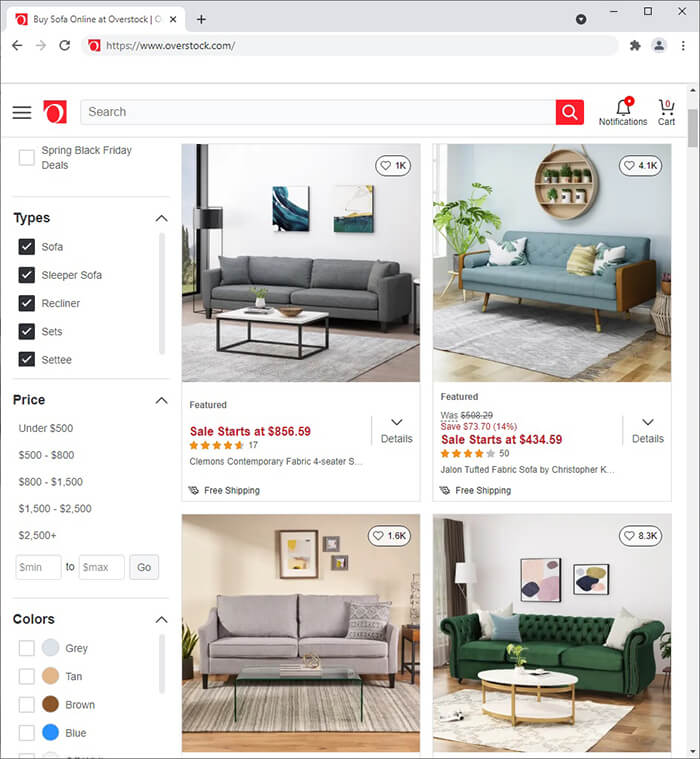 See store: overstock.com
When you want furniture that's both cheap and stylish, head straight to Overstock. Here, you'll find an enormous selection of items, from sofas to patio furniture. Overstock does a good job of keeping up with trends and stocking discounted versions of designer pieces. Whether you want a jewel-tone velvet sofa or a mid-century starburst mirror, you're almost certain to find it on the website. The company's buyers are particularly good at offering furniture in a wide range of colors, so it's easier to find one that adds personality and life to your home.
In terms of budget, Overstock falls in the middle of the spectrum. If a price seems too high for you, wait to buy — the company runs frequent sales, so chances are good that your item will be discounted within a month or two. In addition to site-wide sales, you can head to the general Sale section for any category to save money.
5. Wayfair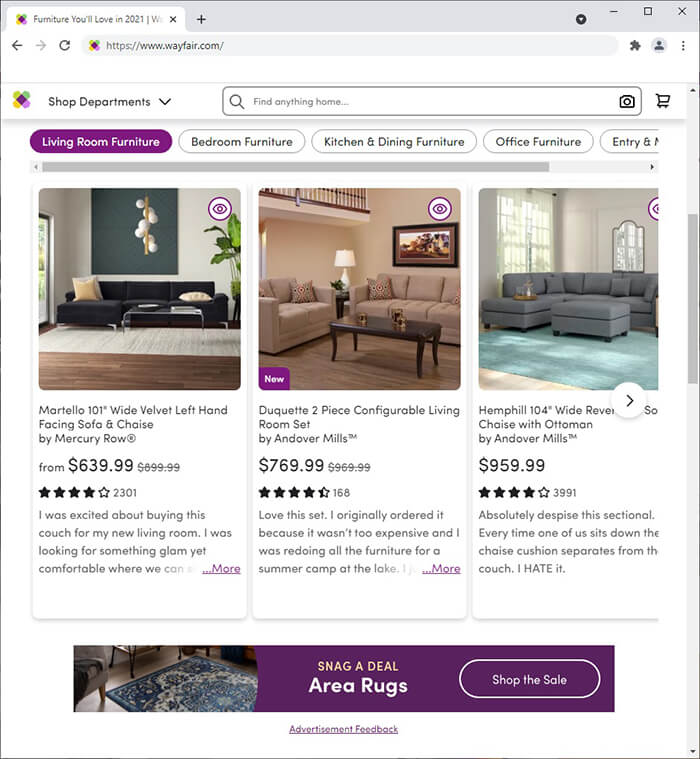 See store: wayfair.com
Wayfair is another of the best affordable furniture website options for style-conscious shoppers. The majority of the inventory caters to a modern, elegant sense of style — think streamlined sofas, distinctive lamps, and statement dressers. In addition to stocking furniture from a wide variety of brands, Wayfair also has a few exclusive in-house brands. These products are only available on the website, and each one has a distinct style to make shopping easier.
When you're shopping on Wayfair, it's common to see many items available at a discount. For some of the best deals, check out the site's Flash Deals, which are available in limited quantities for a limited period of time. Closeout deals are a good way to save on items that have been discontinued. Make sure to check out the Open Box Deals section, too; they feature like-new items that customers have returned. To help you save even more, Wayfair offers free shipping any time to spend more than $35.
6. Ashley Homestore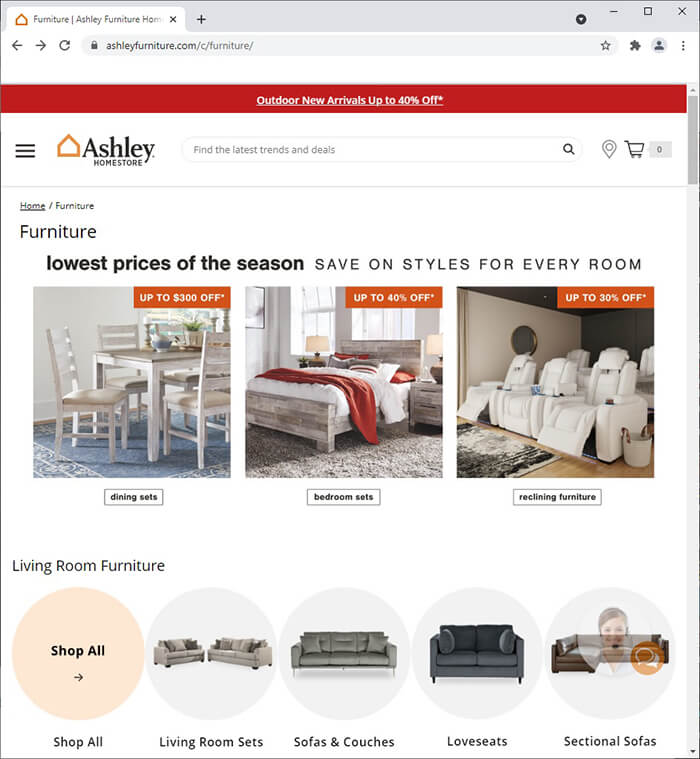 See store: ashleyfurniture.com
If you have a distinct style, Ashley Homestore is one of the best cheap furniture stores online. Everything the company sells is from the Ashley brand — that means that you don't have to sort through thousands of products to find the one in the style you like. After a quick look through the Ashley inventory, you'll know right away if it's the store for you. This legendary American brand tends to produce furniture that offers a modern take on traditional designs. Think of linen upholstered wingback beds, sofas with rolled arms, and tufted storage benches.
Although the furniture from Ashley Homestore looks expensive, it's often available at discount prices. The website drops prices on a regular basis, and you'll often find seasonal discount codes that apply to everything on the site. The company makes deals easy to find, so you never need to hunt for codes to get the best possible deal. Many items come with free shipping, and the company also offers a price match guarantee.
7. World Market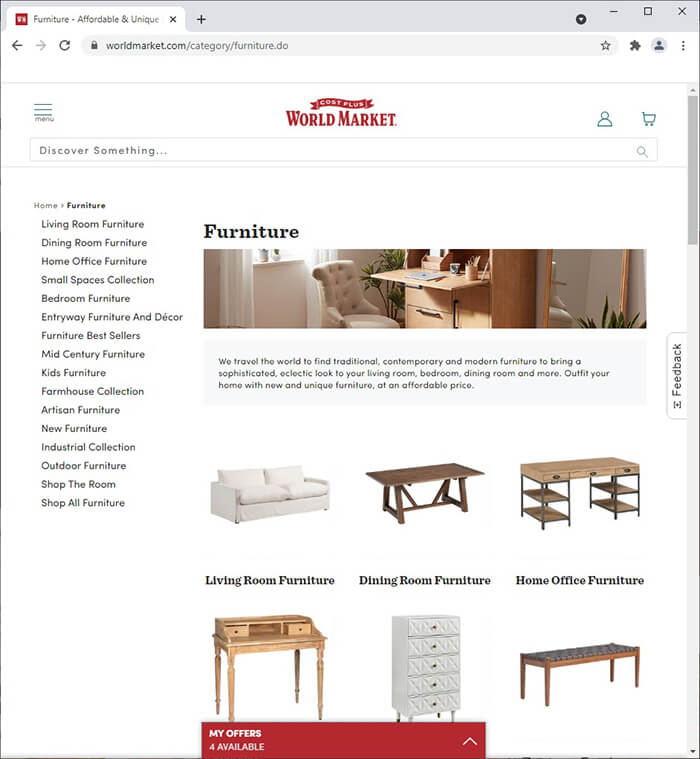 See store: worldmarket.com
If you've ever been inside a World Market store, you can probably guess that the brand's online presence is more than a website with cheap furniture — it's a treasure trove of beautiful, globally inspired pieces. As the company's name suggests, World Market carries furniture with an international flair. It's a great place to find cool coffee tables, funky desks for your home office, and unique accent chairs.
Most furniture at World Market is priced affordably to start, and the company's frequent sales can help you save even more. Head to the coupons page to find current special offers, or check out the clearance and sale items. Before you buy furniture, join the free World Market Rewards program. It comes with a discount code on your first purchase and exclusive, members-only deals. Most large orders include free shipping; if you want your items sooner, you can buy online and schedule a curbside pickup.
8. Amazon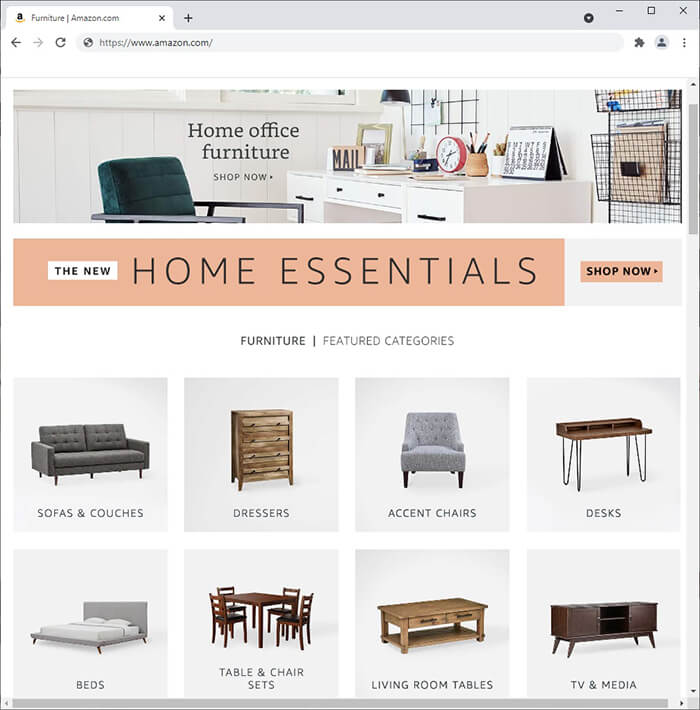 See store: amazon.com
Are you an Amazon Prime member? If so, Amazon is among the best cheap furniture stores online. The furniture selection is surprisingly sophisticated, offering a selection of clean, contemporary basics. Shop here for sleek, simple sofas and supportive desk chairs. Amazon is open to sellers from around the world, which creates plenty of competition and keeps prices low. Keep an eye out for the curated product selections, which include the editors' picks for the most beautiful and well-made items in each category. Before you buy, head to the reviews to check out customer photos; it's a quick way to see how the furniture looks in a real-world setting.
If you already have an Amazon account, ordering is fast and easy. Prime members get free shipping on many items, which adds up to significant savings when you're ordering a heavy or bulky piece. Even without Prime, many sellers offer free shipping.
9. Sofa Mania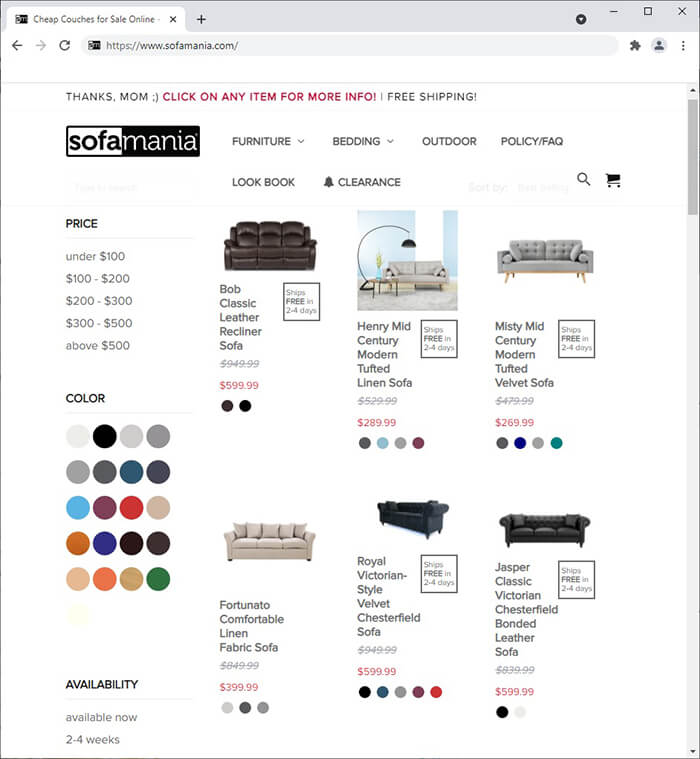 See store: sofamania.com
Don't let the name fool you — seating makes up the majority of the company's inventory, but Sofa Mania sells all types of home furniture. It's the best affordable furniture website to visit when you want a wide range of options, each with serious style. Sofa Mania is all about modern design; most pieces feature low profiles, simple shapes, and elegant finishes. Many items come in multiple finishes for versatile styling. Choose neutral tones to let the rest of your decor shine, or create a focal point with luxe materials and vibrant colors.
For some of the best deals at Sofa Mania, head straight to the sofa section. The discounted prices are almost too good to be true; many sofas are less than $500, which is fantastic when you're furnishing a home on a budget. Save even more with the discount codes that pop up on the home page. Every item on the website ships for free, and the company's customer service team is always available to answer any questions you have.
10. IKEA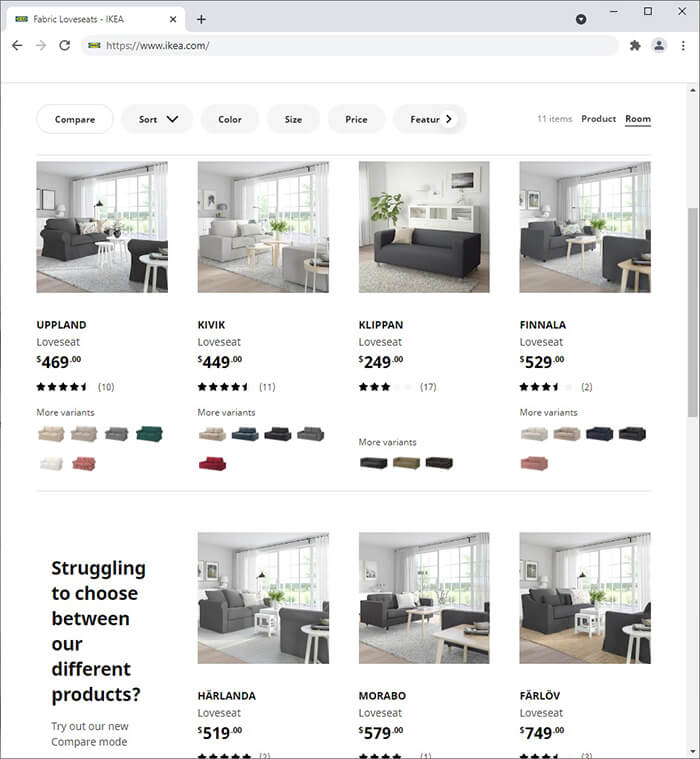 See store: ikea.com
When it comes to price, selection, and design, IKEA is the best affordable furniture website. This Swedish brand is known for combining understated Scandinavian style with rock-bottom prices, which means that you can design a stunning home without breaking the bank. Browse the website to find everything you need for every room of the house. From office chairs to kitchen cabinets to wall art, IKEA has you covered.
The sheer volume of pieces at IKEA can be overwhelming, especially when you're shopping online. To make your life easier, the website offers a free 3-D furnishing tool. Set up the room to resemble your home, and start adding items from the IKEA store. This handy feature helps you mix and match pieces to find the right combination. Need more help? Schedule a free online planning session with a designer. IKEA also offers financing options and affordable delivery.
11. Home Depot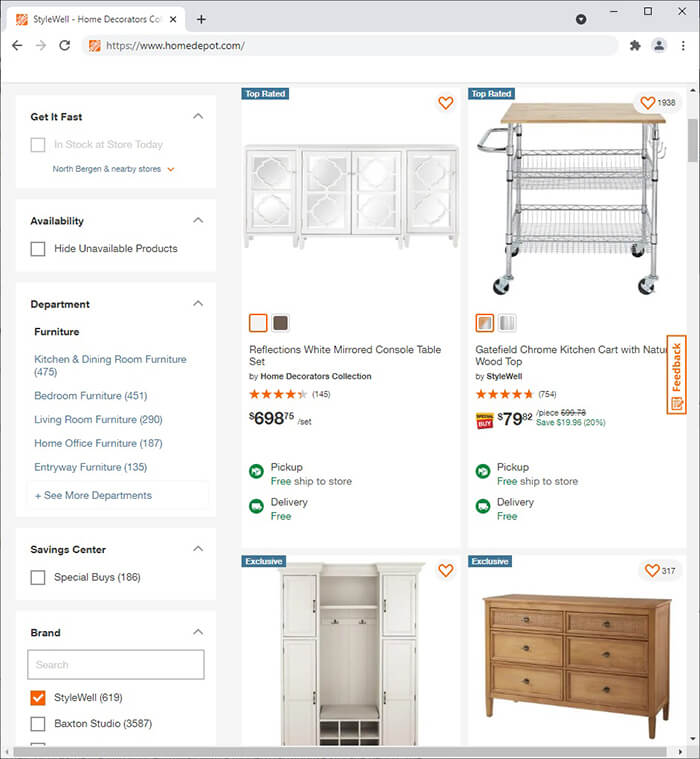 See store: homedepot.com
Home Depot is well-known for its selection of hardware, construction supplies, and appliances — but did you know that it's also one of the best cheap furniture stores online? The Home Depot website offers a huge variety of furniture that's not available in-store. The options are more varied and elegant than you might expect; shop for beautiful velvet-upholstered Chesterfield sofas, tasteful dining room sets, industrial-chic accent tables, and more.
The furniture section of the Home Depot website suits a wide range of budgets, from ultra-cheap to high-end. As you shop, look out for the red and yellow "Special Buy" tag. It marks the best discounts on the site. To see all of these deals, click on the "Shop Savings" link. When you're ready to buy, avoid delivery fees by choosing the free in-store pickup option. The company will ship your purchase to a nearby store and have it ready for curbside pickup. Don't live near a Home Depot location? Look for items with free delivery.
12. Target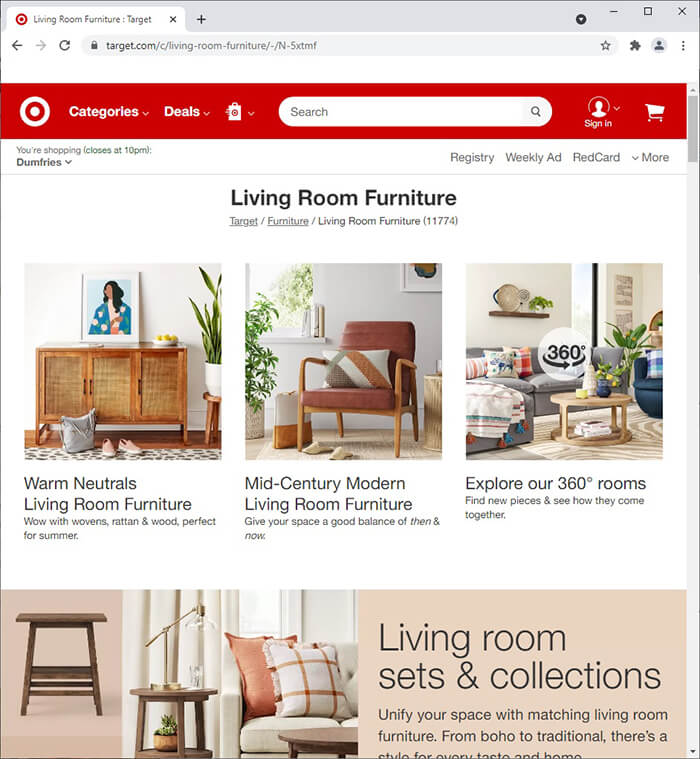 See store: target.com
Target has carved out a niche for itself as a place to buy designer-quality furniture at cheap prices. Looking for a trendy chair or a cool lamp? Target is the perfect place to find it on a budget. Jazz up your home office with a vibrant desk chair, or breathe life into your entryway with a modern farmhouse storage bench. The buyers at Target are tuned into the latest styles and timeless classics, so you can find everything from mid-century modern coffee tables to neon-colored rocking chairs for the nursery. For the most exciting designs, check out the Statement Furniture section.
The Target website features an online affordable furniture store that's packed with pieces you won't find in stores. In fact, many sofas and chairs are available exclusively online. With free shipping on most furniture items, shopping is easy and painless. Ship the item to your local store, and you can retrieve it on your next Target run.
13. Big Lots!
See store: biglots.com
If you're on a strict budget, look no further than Big Lots! Although the company runs traditional brick and mortar locations, it also offers a website with cheap furniture. The prices are almost impossible to beat — even without a sale, Big Lots! furniture is cheaper than most other stores. You'll find the best deals on sets; save money on a dining room table with chairs, or coordinate your living room with a group of matching accent tables.
When you're shopping on the Big Lots! website, check out the Weekly Deals section for current discounts. As long as you spend more than $59, you'll get free shipping. Don't meet that limit? The company also offers free in-store pickup. Before you make a purchase, join the BIG Rewards program for free to get a discount code, exclusive coupons, and rewards. It can take a few hours for the code to reach your email inbox, so allow plenty of time.
14. Birch Lane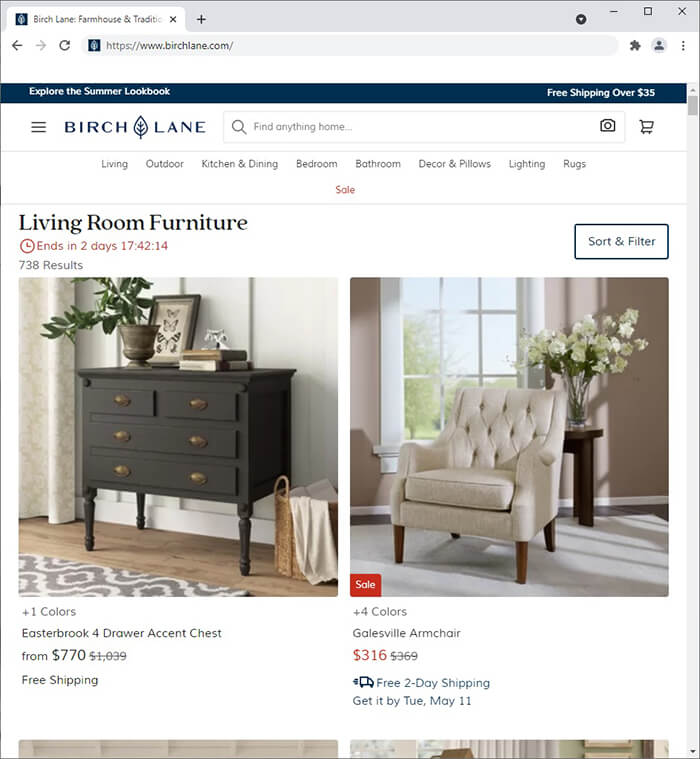 See store: birchlane.com
Shopping for furniture can be overwhelming, especially when you need to search through thousands of items to find the one that matches your decor. Birch Lane takes away all of the hassle — head to the website and locate the Shop By Style section. Click on farmhouse, coastal, traditional, or rustic, and the website will display all of the pieces that fit your chosen vibe. If you don't have a defined style, you can refine the options by type, season, color, or room.
Have you ever wished you could just buy furniture straight out of the photos in a home-decor magazine? Birch Lane recreates that experience online in its Shop the Look section. Explore photos of perfectly curated rooms; when you see one that you like, simply click on any item to buy. Keep in mind that this is a website with cheap furniture and more expensive pieces. Look for the red discount prices and the sale section to spot items that offer the biggest savings.
15. H&M Home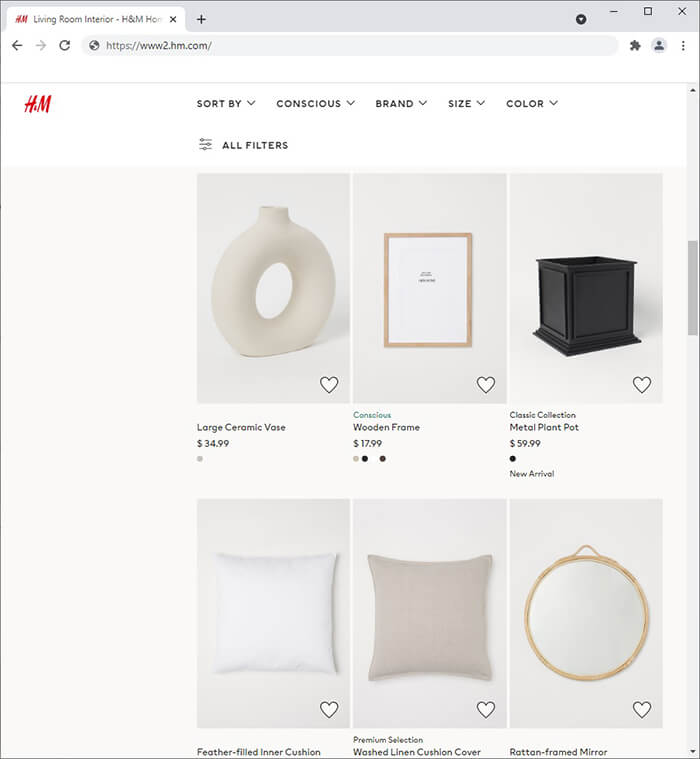 See store: hm.com
H&M Home brings H&M's signature style to furniture; visit the brand's online affordable furniture store to find a range of trendy, Scandi-inspired accessories. Most of the furniture at H&M Home is small — shop here for organizers, shelving, and home office items. This is a fantastic place to indulge in the latest trends on a budget. Instead of spending hundreds of dollars on an edgy storage cupboard that will be out of style in a year, buy a cheap and chic hanging storage basket or a pretty wall hanger. The website makes it easy to shop by room or product; browse the items in the Trending Now section to find inspiration for your own home decor.
The H&M Home website offers low prices on every item. If you want to save even more, join the membership program to get a 10% code. Are you a student? H&M Home offers a special student discount, too. Make sure to check out the Offers & Deals page to find all of the sales items in one spot.
15 Places to Easily Upgrade Your Furniture on a Budget
Whether you're setting up a dorm room or shopping for items for a forever home, furniture is a big investment. That's where the best cheap furniture stores online can help. They sell sofas, beds, dining tables, and more at low prices, so it's easier to stretch your budget. Since many of these stores focus on design as well as affordability, you don't have to sacrifice style to live within your means. When you know where to look, it's possible to find timeless furniture that's always in style or statement items that express your personality, all without breaking the bank.