Everyone wants their house to be more than a home, but for that to happen you need to feel comfortable in the space where you live. However, being comfortable is more than simply having comfortable things. I mean it is that too, but it is more about your house having a certain aesthetic, giving off a certain vibe, feeling right.
Your furniture plays an important part of that feeling. Sure, you want to be able to come home after a hard day of work and be able to sit on a piece of furniture that feels good, but you also want that feeling to permeate the room whether you are currently reclining on your furniture or not. Your furniture makes a statement about your home, whether you want it to or not, and your home, likewise, makes a statement about you.
So what kind of statement do you want to make? Maybe you are into an older, antique style. Those pieces of furniture do have a sense of charm and gravitas, but they far too stuffy for you needs. Perhaps you would prefer something a bit more modern, something chic. While a more contemporary style does have a certain simple elegance, it often runs the risk of being without personality.
This is where the Chesterfield comes into play. Often blending the class of antiquated styles with the grace of more stripped-down contemporary models, the Chesterfield sofa blurs that fine line and can wear many stylistic hats, so to speak.
Originated in the mid-late 18th century, the first piece of furniture to bear this name was a chesterfield sofa commissioned by the fourth earl of Chesterfield – Philip Stanhope. The design is noted for a back and armrests that are generally the same height with a low seat and deep set buttons.
25 Chesterfield Sofas That Are Sure to Really Tie Your Room Together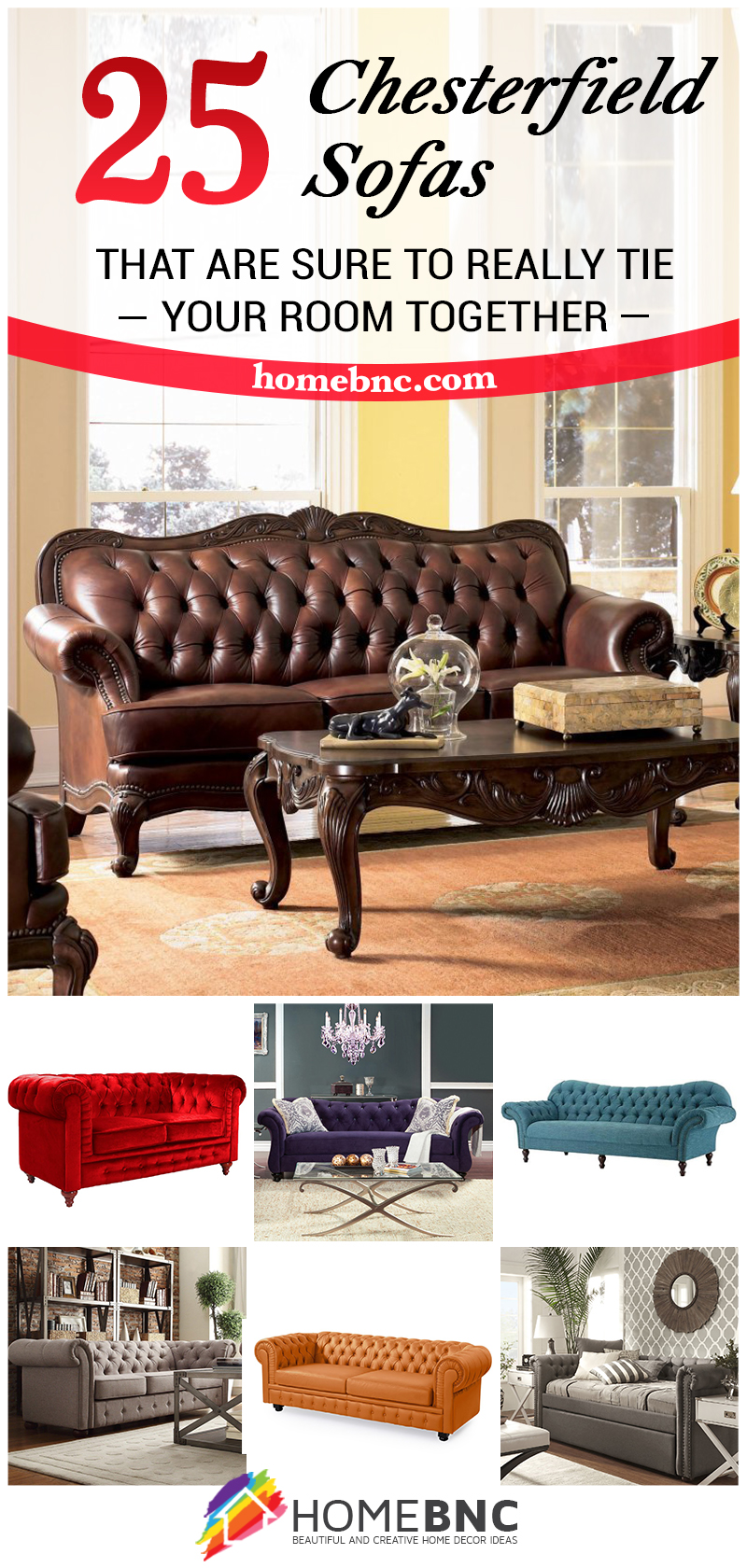 Chesterfield Sofas: Under $500 | $501-$1000 | $1001-$2000 | Above $2000
Chesterfield Sofas Under $500
Classic Modern Scroll Arm Velvet Chesterfield Sofa Love Seat
This is a piece that when placed in your room will scream for attention. It perfectly serves as a statement piece to display a splash of attitude no matter where you put it. Drifting a bit towards the contemporary end of the stylistic spectrum, the scroll style arms still gives this creative design a touch of class. The lush velvet upholstery will glide smoothly along you skin and wrap you up so comfortably, so cozily that you will never want to get up again. However, the detachable foam cushions run a bit on the firmer side which balances out the feel nicely. (Around $445.50)
Classic Scroll Arm Tufted Leather Chesterfield Loveseat
There is something to be said of a design that can blend the styles of new with those of old effortlessly. While many pieces attempt to do just that, few succeed with the ease of this Chesterfield loveseat. Despite being designed for just two people, this sofa provides enough room so that both people could stretch out without bumping into the other. This loveseat would be perfect for a man cave where the striking black color it muted by the simple and straight-forward design. While it still sports the rolled back, tufted buttons, and scroll arms, it does so unobtrusively without clashing with other home decor. (Around $310.50)
Classic Scroll Arm Tufted Button Chesterfield Sofa
This is another fabric Chesterfield sofa that has the potential to fit in with any home design. With a more traditional vertical recline, this piece of chesterfield furniture does not have the accents that force it to be a center piece, but this understated simplicity allows the sofa to work well other pieces of furniture that are not also made in the chesterfield design. However, this lovely sofa still sports the deep tufted buttons and rolling scroll arms and back that make the Chesterfield design so remarkable. Moreover, the dark wooden feet matched with the variety of neutral colors the couch comes in allows this sofa to fit in with most any color scheme. (Around $470.50)
Classic Scroll Arm Tufted Button Leather Chesterfield Sofa
While the design follows a bit more of the less ostentatious design, this piece still manages to stand out with its stark black color. While it may not have the more modern curves of some of the flashier chesterfield couches on this list, the relatively straight-forward lines but characteristic accents that define a piece of Chesterfield furniture allow this sofa to blend in nicely with a bold house design that is not looking to take its risk too far to the point of potentially being gauche. The easy to clean leather provides a touch of chic class without feeling stodgy. The soft, supple leather gives way to a firm seating to balance your seating comfort. (Around $470.50)
Chesterfield Sofa Under $1000
Homelegance Chesterfield Style Love Seat
This piece can also be paired with an accompanying chesterfield couch as part of a set, or it can be used on its own to spice up more traditional home decor. While part of the Chesterfield design entails deep tufted button and a rolling back with scrolled arms to match, this creative fabric chesterfield sofa takes those designs to a whole new level with tapered arms, a swooping back that adds movement to the room, and extra deep buttons to provide a statement piece that is sure to have your house guests talking. This piece's herringbone pattern also provides a sophisticated accent that meshes well with your surrounding design. (Around $699.00)
Coaster Home Furnishings Sofa
This is a very straight-forward Chesterfield couch that carries with it a strong sense of masculinity. Perfect for a den or man's home, this gorgeous leather couch would also pair well with rustic furnishings or a strong, dark wood home design. Departing from many of the other pieces we have seen, this couch's supple leather upholstery is complemented by incredibly soft cushions stuffed with a feather-blend. The refined nail head trim provides a sense of mature class while the diamond shaped tufts adds to the accents that make this piece of furniture robustly handsome. The leather does not glare or shine, and this piece fits into its furnishings like a glove. (Around $659.99)
Baxton Studio Cassandra Modern Classic Rolled Arm Linen Chesterfield Sofa
This is another sofa that is not too flashy and would pair well with any home design. The tufted button on the smooth, yet soft, linen upholstery ensure that this sofa will not only mesh well with your home decor, but it will also remain comfortable and durable for the duration of your ownership. Whereas velvet can bunch or show tears and leather has a tendency to mark or crack with age, the first of our fabric chesterfield sofas is a breeze to clean and care for over the course of its life-span. With two additional accent pillows and black finishing feet, the Cassandra has all of the touches necessary to subtly standout while blending in. (Around $1,035.49)
Arden Club Sofa
Let us just say that this fabric chesterfield sofa is not for everyone. Not only does this piece come in the color peacock, though dark beige is offered, its design is far from traditional or subtle. While this piece will likely not pair well with too much other chesterfield furniture out there, it will be able to speak boldly of your sense of style and home design. Sitting on six wooden legs, carved oak and beveled, the rolling armed open design is far from customary. Coupled with the gentle curves of the back line, of the chesterfield sofas available, this is definitely one of the bolder. You would necessarily need to be decorating your home in a more modern or contemporary style, but this sofa provides the right attitude to truly standout as a strong focal point. (Around $1,199.00)
TRIBECCA HOME Knightsbridge Chesterfield Settee Loveseat
This fabric Chesterfield sofa adds a simple, elegant design with just the right splash of style to make it an exquisitely unique piece. The scroll arms and rolled back are relatively upright, which allows this sofa to blend in with the other pieces of furniture in whichever room you choose to place it. However, this subtle grace ensures that you can put this chesterfield loveseat in any room of your choosing. But this piece is not without its idiosyncratic charm as it offers high arms and a hint of gothic accents at the base of the base of the sofa. Without the need of using plush designs to provide presence, the uncommon height of the sofa gives a sense of being wrapped up by this lovely piece. (Around $919.59)
Baxton Studio Cortland Linen Modern Chesterfield Sofa
This is an incredibly modern sofa, probably the most modern design in this list. But that contemporary style does not diminish the versatility of this piece. It is not often that a simple style would also merit being called creative, but this sofa does just that. While it sports the customary tufted buttons, they are not nearly a deeply set as many other Chesterfield pieces. Moreover, the arms do not have the standard scroll style, nor does the back have the customary roll. However, all of these unique takes on a generally more traditional design leave this beautiful sofa standing in a league of its own. (Around $759.99)
Gordon Chesterfield Sofa
This leather chesterfield sofa is another one that would fit well in a man cave. Why, you may ask? It has many subtle accents, like antiqued brass nail head rivet trim, but there are a couple features that definitely pegs this as a masculine style couch. First, and most prominently, it only has two cushions. While the sofa is more than large enough to comfortably accommodate three people, the two cushion design means that third person would be sitting on the space between the cushions. This may not be comfortable, but if this sofa were used for two people instead of three, then the, male, occupants would have the extra room than men prefer. (Around $999.00)
ModHaus Classic Chesterfield Style Daybed with Trundle
This piece is another creative take on the Chesterfield style, though it might be more appropriate to look at this sofa as a trundle bed with Chesterfield touches. One of the few, true chesterfield sofa beds on the list, this chic design sports a pull-out bed at the foot of the sofa. And while the piece still technically comes with the scroll arms, rolled back, and deep tufted buttons, these features are far less pronounced than in most other models or types of Chesterfield furniture. Still, there is no denying the utility of the trundle, which could also serve as foot rests, combined with the sleek, simple design to provide a modern touch of elegance to any guest room. (Around $779.99)
Chesterfields Under $2000
Victoria Chesterfield Sofa
The Victoria Chesterfield sofa is definitely one of the more traditional and antique styles for chesterfield furniture. However, that does not prevent this piece from being absolutely fabulous. This piece will not go with every arrangement of home decor nor is it appropriate for all room settings, but wherever you end up placing it, it will certainly make a statement to your guests. This piece's smooth, rolling curves provide a gentle sense of elegance and class. With carved wooden trim, this sofa can add a bit of upscale charm to an otherwise unremarkable room. The antiquated design allows this sofa to serve as either a centerpiece to be lavished with attention and compliments or to nicely tie-in a well-designed motif of classic beauty and uncompromising style. (Around $1,470.33)
TOV-NORWALK Navy Velvet Chesterfield Sofa
This is the second velvet piece on this list and it is absolutely stunning. The sumptuous velvet will delight your skin while the modern design allows this sofa to fit in well with a surprising number of arrangements. But this piece is simply too beautiful to try and hide amongst design and definitely deserves to be its own focal point and serve as a conversation piece. With a rather upright design, the standard scroll arms roll down to tasteful dark wood legs which offer this sofa a smart sense of style that can work with a more muted design if desired—especially if you want this piece to make a bold statement. (Around $1,874.99)
Furniture of America Wellington Sofa
This piece is the larger sofa from the Antoinette set earlier on the list. Large enough to function as chesterfield sofa bed, this chesterfield couch with a deep luxurious purple color is a strong enough piece that it can stand on its own as the focal point of a room without the need for a loveseat accompaniment. The rolled arms and elegant accent pillows provide a comfortable sofa that also sports a rolled back with smooth, gentle curves. Furthermore, the tufted buttons only align the back. Not only is this sofa gorgeous, it is not too ostentatious and shows off a sophisticated sense of style that places a high value on comfort and design. (Around $1,994.94)
ModHaus Classic Chesterfield Style Sofa
This Chesterfield couch is another design from ModHaus that blends the elegant simplicity of the modern with the sophisticated charm of the traditional to create a truly versatile style that runs both chic and classy. With scroll arms and rolled back coupled with deeply set tufted buttons, all of the traditional accent boxes are checked, however ModHaus pairs those designs with relatively straight lines to offset the general extravagance of the more traditional Chesterfield style. Moreover, the slate grey color provides an excellent, cool neutral palate to pair with any and all design needs. This sofa could complete most any room where you host people. (Around $1,371.99)
Chesterfield Furniture Above $2000
Kardiel Chesterfield Style Modern Classic Sofa
This simple, yet stylish, design sports a nice wide frame. The beautiful leather is stitched and crafted by hand. It is not necessarily the biggest, nor is it the most ostentatious, but the understated quality of this wonderful piece allows this chesterfield sofa to fit in nicely with most modern and contemporary designs. Because of its somewhat generic essence, this sofa would also pair nicely with other chesterfield furniture, even those pieces that are of another set. Moreover, the stylistic utility of this piece allows it to comfortably fit in on a porch, in a day room, study, living room, or den. The low back also inspires its owner to snuggle low into its firm seats. (Around $2,445.00)
Lazzaro White Leather Sofa
This is another sofa that has a strong sense of style, but there are subtle features which balance it out to provide the utility for this piece to work with numerous settings. The Chesterfield couch has deeply sloping scroll arms with a heavily reclined back, but many of the other frills you might see on other sofas are absent. However, this works to the Lazzaro's advantage allowing it to stand out without screaming for attention. Moreover, the white leather can play dual roles as it will match both neutral and bold color schemes while potentially being able to stand in as a focal piece without necessity. The slicked back of this sofa will also invite long stretches of comfortable leisure. (Around $2,170.00)
Braunton Style Leather Chesterfield Sofa
This is easily one of my favorite pieces for its unique possibilities. With its rich, genuine leather and compact design, this sofa has the feel of a Chesterfield armchair while still providing the additional seating capacity of a love seat. And while there are many different Chesterfield leather sofas out there, few of them have both the traditional quality that could make this piece perfect for a study as well as the brash distressed leather with dark accents that also allow it to be the focal point of numerous rooms and home designs. Moreover, the subtle dip in the back gives it that something extra without jumping the shark. (Around $3,155.00)
TOV Furniture Zahara Silver Leather Sofa
Of course, if you are looking to make a bold statement, there are few options on this list that can do that quite like this Chesterfield leather sofa. This silver sofa will definitely not fit in with where every home décor, but it provides enough modern and classic touches that it is not as pigeon-holed as you might imagine. Still, that does not change the fact the fact that you better have an excellent scheme to complement this sofa's silver color or a sense of bravery that would make Frank Lloyd Wright blush. Excellent for a repurposed loft, the straight lines and luxurious duck down cushions make this a strong piece. (Around $2,114.40)
Gordon Chesterfield Sectional Sofa
Where the previous piece scores points for its unusually unadorned approach to the Chesterfield design, this one follows suit to the opposite end of the spectrum. This creative take on classic style allows this single piece to more or less serve and an entire Chesterfield set. Moreover, the luxurious amount of room afforded by the sectional design provides the possibility for this piece to simultaneously function as a Chesterfield sofa bed as well. Still, unlike the prior sofa, this one carries some of the more customary touches one expects from the Chesterfield style but adds an extra touch of class with the nail head rivet trim with antique brass finish. (Around $2,399.00)
2 Piece Antoinette Collection Purple Chesterfield Love Seat and Sofa Set
This is a Chesterfield set fit for royalty—hence the deep purple color. The luxurious design of this set makes it perfect for a formal entertaining room where its bold elegance can make a statement to house guests who will not be able to stop talking or complimenting you on your keen eye and brave design. Moreover, the sofa of the set is one of the largest in our collection and can more than comfortably serve double duty as a Chesterfield sofa bed. With arms that are both rolled and somewhat upright, lounging full-body on the sofa will provide more than adequate support while the accent pillows match smartly with the rest of the room. (Around $2,200.00)
Furniture of America 2 Piece Corinee Glamorous Sectional Sofa
This is another Chesterfield set, however, this time the chesterfield sofa bed is part of the design. Whereas the previous chesterfield sectional was a more standard blend of traditional and contemporary designs, this set sits squarely in the more traditional realm. With a rich, beautiful plum color, the sectional piece of this set is in and of itself a complete chaise lounge, perfect for those lazy days when you want to take a nap or just in case you would like to put your feet up. With an open-ended design, the sofa section of the set still sports the rolled back, but the arms are not rolled completely to a scroll design. With sophisticated wood accent, this is an astonishing piece. (Around $3,500.00)
Brown Leather Chesterfield Loveseat Vintage Victoria Collection By Lazzaro Leather
This is the second leather Chesterfield sofa that almost feels like a Chesterfield armchair. However, that is where most of the similarities end. However, the overall effect of the piece is quite similar to the Braunton, albeit inverted. To point, this sofa does not truly have scroll arms, but instead is fitted with roll backed arms. Moreover, in a traditional twist, the back, while rolled, does not have the subtle curves graced by the Braunton. Still, both pieces do an excellent job of blending traditional and contemporary approaches to the Chesterfield style. Similarly, this piece boasts a distressed leather, but only of a single color, allowing it to be matched more easily. (Around $2,500.00)
Chesterfield Linen Sofa
This piece takes many elements from different Chesterfield furniture design and blends them together in an exquisitely beautiful sofa that stands out while still being able to mix and match with a variety of room arrangements. The arms are set somewhat high, but they are French rolled to allow easy use while still providing that sense of being wrapped in comfort. Moreover, this couch boasts antique brass polished nail head rivet trim to give a touch of old school class to an otherwise modern take on a traditional design. A hybrid of British and French styles, if appropriately paired, this sofa can really highlight your refined sense of style. (Around $3,400.00)
25 Chesterfield Sofas So Nice, You Will Never Want to Leave You House Again
From contemporary and chic to traditional and classy to refined antique, there are more Chesterfield sofas than you can imagine. Each subtle change to an accent or line completely redesigns your room while still maintaining that sense of cohesion necessary for successful home decor. Whether big or small, classic or modern, there is a Chesterfield out there for you.