Are you interested in transforming your home with a warm, old-fashioned look, but still preserving a touch of class and elegance? Rustic glam décor ideas combine vintage, antique-inspired designs with modern decorations that give off a sense of wealth and glamor. This might seem like a tall order, but with the right decorations and furniture and a careful balancing of decor, you can easily create a rustic glam look in your own home. Many of these pieces seem to fit together naturally, like antique silver candlesticks and new mirrors with rustic frames. "Rustic" and "glam" designs might seem like complete opposites, but with careful planning, they can work together perfectly.
45+ Stunning Rustic Glam Designs for Your Home

Many rustic glam decorations are affordable, with some available online or at craft stores, and others easy to make by hand. In fact, homemade décor often have a certain flair and personality that can't be found with store-bought ones. Rustic glam designs might include mirrors, candlesticks, vases, throw rugs, chandeliers, pillows, wall plaques, and more. Choosing a theme or color scheme will help you keep the design consistent, as it's easy to get lost in the myriad of products and how-to guides. Interested in incorporating rustic glam decorations into your own home? These designs are some of the best you will find.
1. Rustic Glam Cozy Corner Fireplace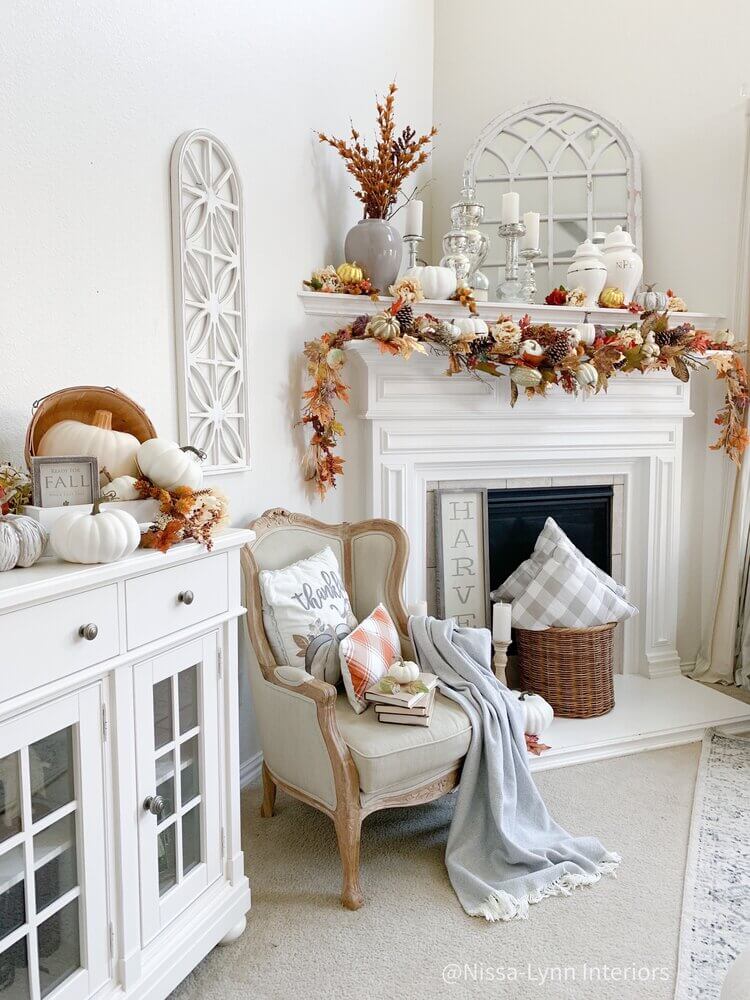 Go glam with an all-white color palette and then gracefully add some rustic, natural elements into your decor to create a gorgeous fall fireplace nook. A cathedral window mirror surrounded by urns and candle holders with silver accents gives such a glamourous feeling to this look. An autumn garland weaves some fall favorites to complete the design.
2. Real and Rustic Modern Southwestern Fall Decor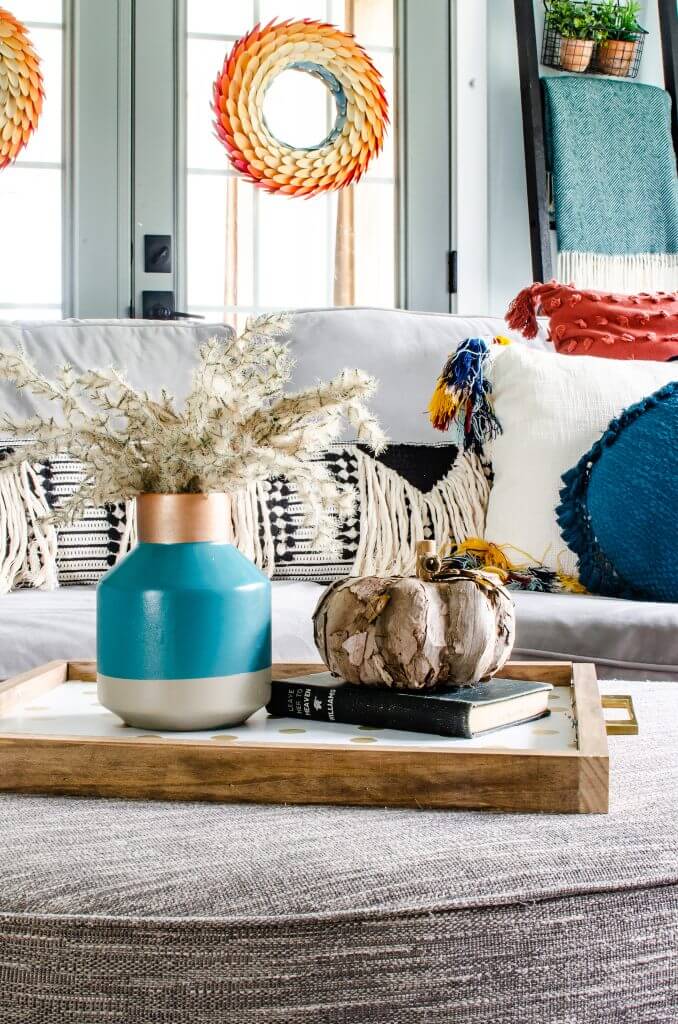 Bring the best of both worlds together when you combine the bold patterns of the Southwest with the modern stylings of suburban life. Top the ottoman with a fun and festive rustic pumpkin to incorporate a little bit of the season. A clean-lined vase adds some more richness and texture to the room.
3. Silver Sprigs and Pinecone Winter Wedding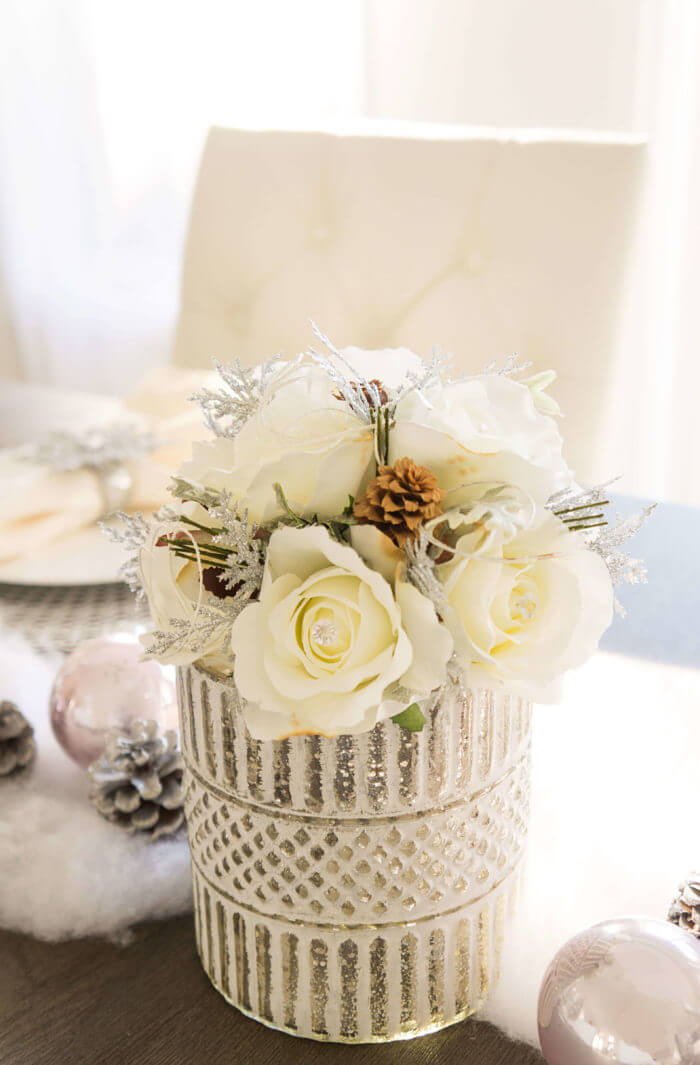 Fill your reception site with a frosty glow as you set the scene for a romantic celebration. Each centerpiece features miniature pinecones to add a natural and rustic element to the beauty and grace afforded by the white roses and glittered sprigs. The canister further continues this shiny silver color to add even more sparkle to the scene.
4. Home is Where the Gold is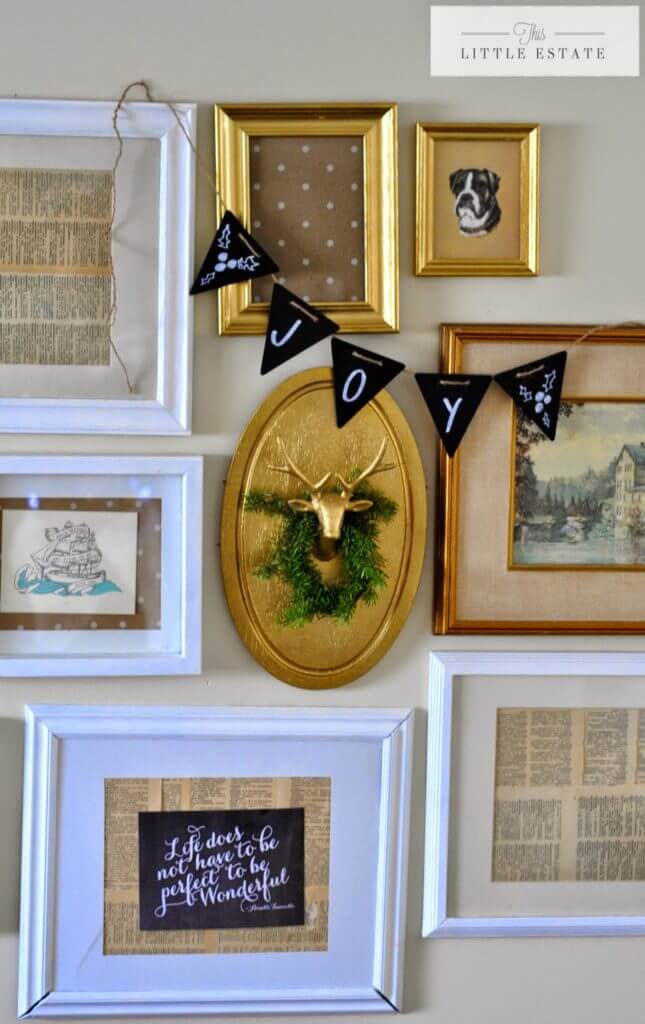 In the heart of your home, you'll delight in the beauty shining through on your gold accent pieces. Adorn a golden decorative deer head with an evergreen wreath and you've magically mixed rustic and glam with minimal effort. A charming pennant garland further adds a cozy and at-home vibe to the room.
5. Worn and Weathered Rustic Farmhouse Decor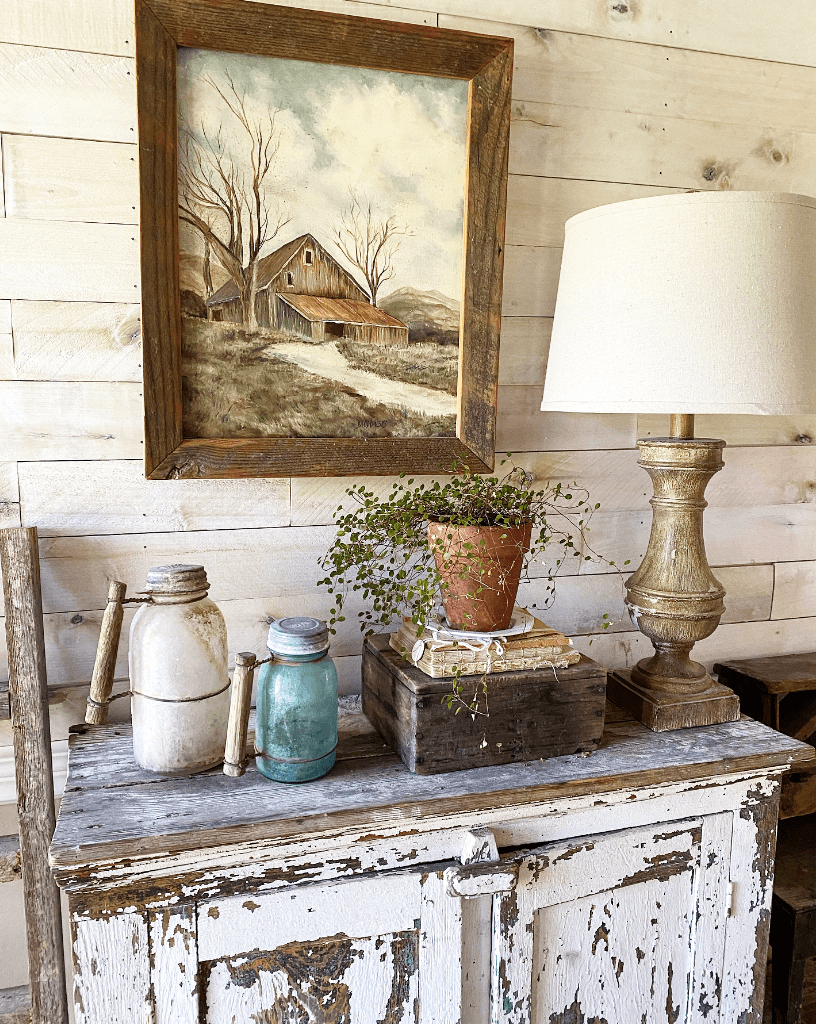 From the distressed white paint on the accent table to the whitewashed shiplap wall, you'll find tons of character in this farmhouse themed home. Mason jars fitted with rustic wooden handles turns them into old fashioned watering canteens and the old barn framed print embodies the character evident throughout this design.
6. Old World Rustic Glam Centerpiece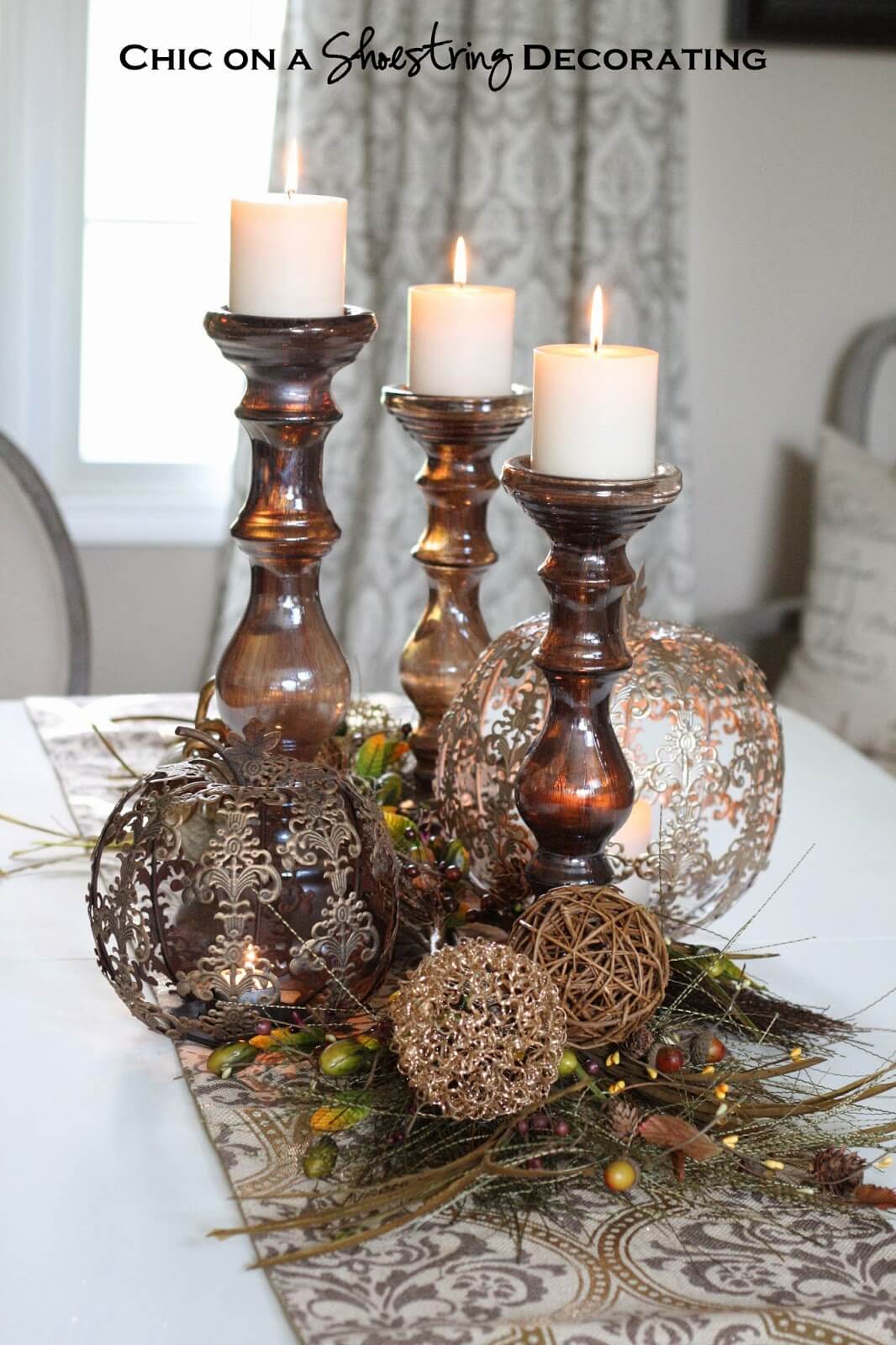 Channel your old world traditional pieces into a refreshing mix of rustic and glam with these ornate spheres and foliage pieces that make the perfect blanket for your trio of candlesticks. The rich, deep earthy brown looks exquisite set amid this simple yet elegant arrangement.
7. Rusty Urn Filled with Gorgeous Fall Bouquet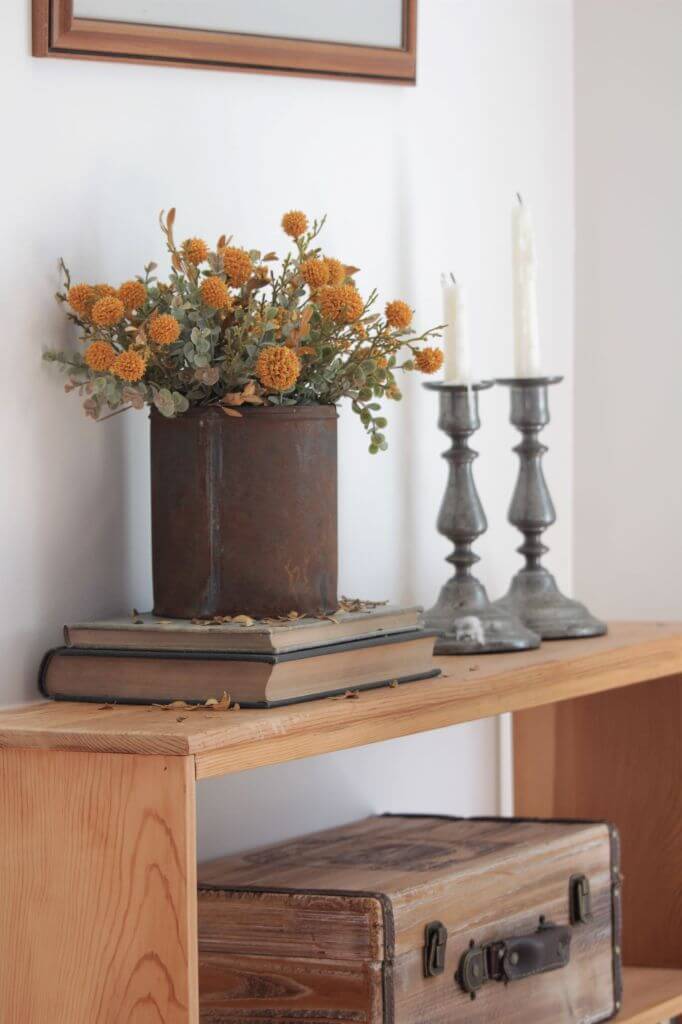 This large abundance of fall flowers looks splendid set within this old and rusty metal urn. Bringing to life the seasonal orange hue intermingled with greenery makes for a pretty fall farmhouse decoration. Place this on a stack of books for added texture and depth to your overall design.
8. Metallic Meets Feathers and Grains Urn Showstopper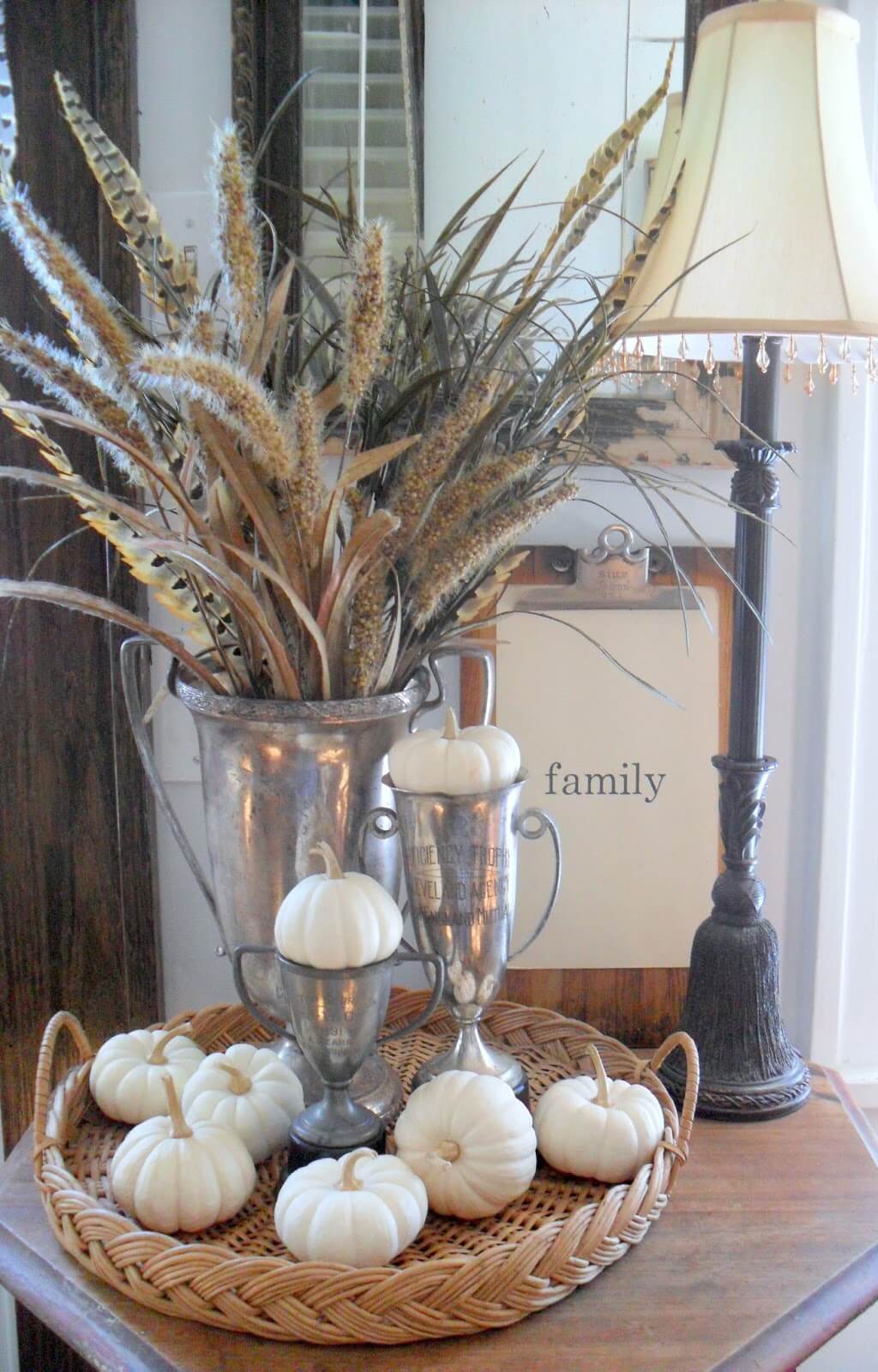 Fill your shiny silver urn with some gorgeous grains and feathers to bring some of the harvests right into your home. The stunning display of textures and the addition of a collection of miniature pumpkins make an eye-pleasing display.
9. Wood Stump Table Top Centerpiece Display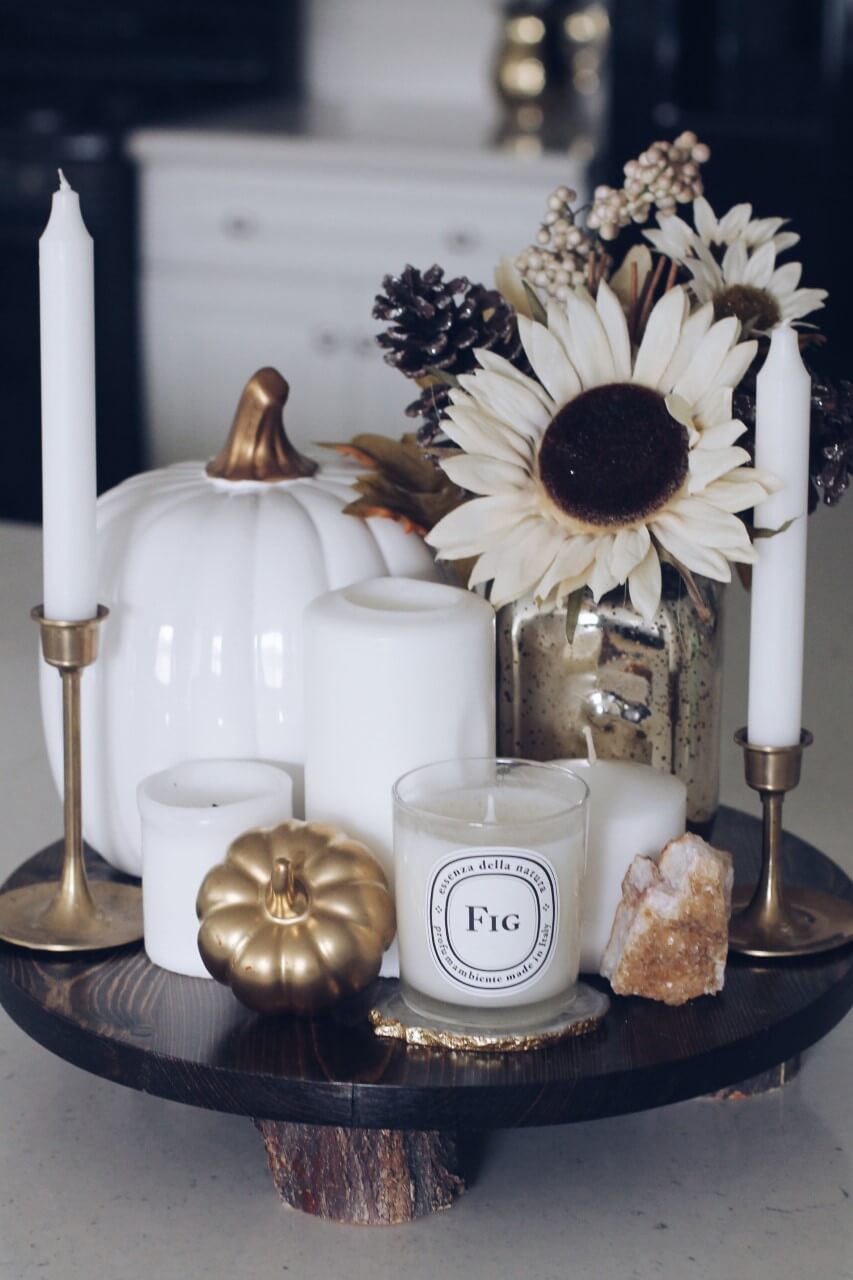 Set the foundation for a beautiful centerpiece collection with this wooden stump that holds your choice of pretty pieces. From a sweet-smelling candle to a ceramic pumpkin and a bunch of fall flowers, you can't go wrong with this simple, yet elegant fall centerpiece to make your feast perfect for your family this fall.
10. Decadent Marble Urn Bowl with Pumpkin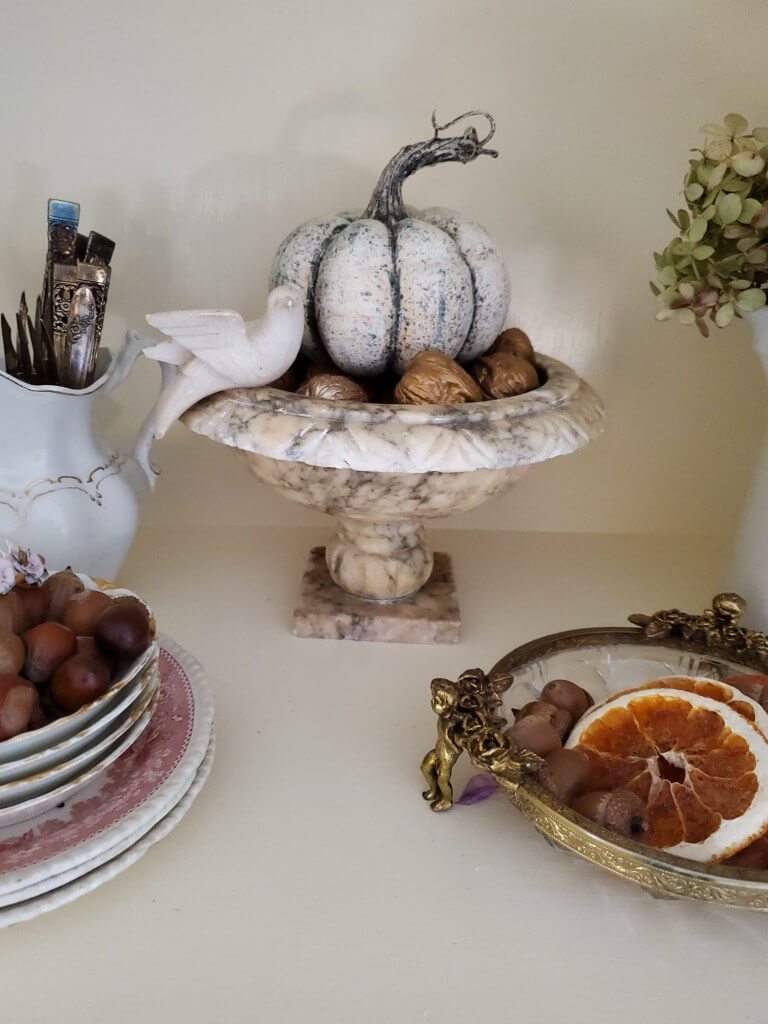 Add a deep marbled urn bowl to your decor to give yourself a great place to store seasonal apples fresh for snacking or a beautiful place to add some fall decor. Whether you use a faux pumpkin and bird to create the home for the grown up's stash of Halloween candy, the wonderful swirls of marble in this design is sure to steal the show.
11. Rustic Rod for Floating Vases Wall Decor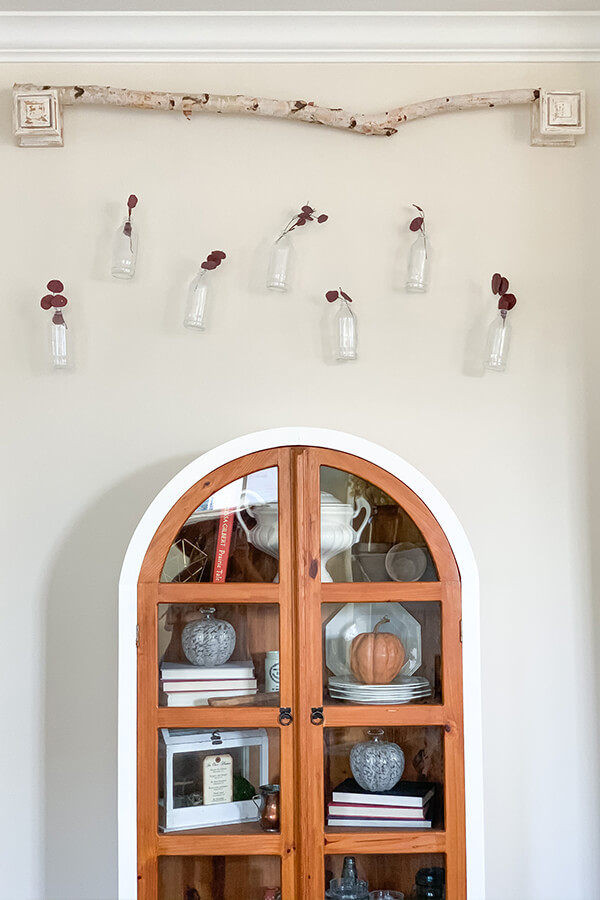 Create a unique and fun floating illusion for a captivating piece of wall art in your home. This rustic branch becomes the ideal rod for holding this collection of suspended clear vases. Fill each vase with some short flowered stems to add just a touch of color to your masterpiece.
12. Mixed Metallic Dreamweaver and Arrow Wall Set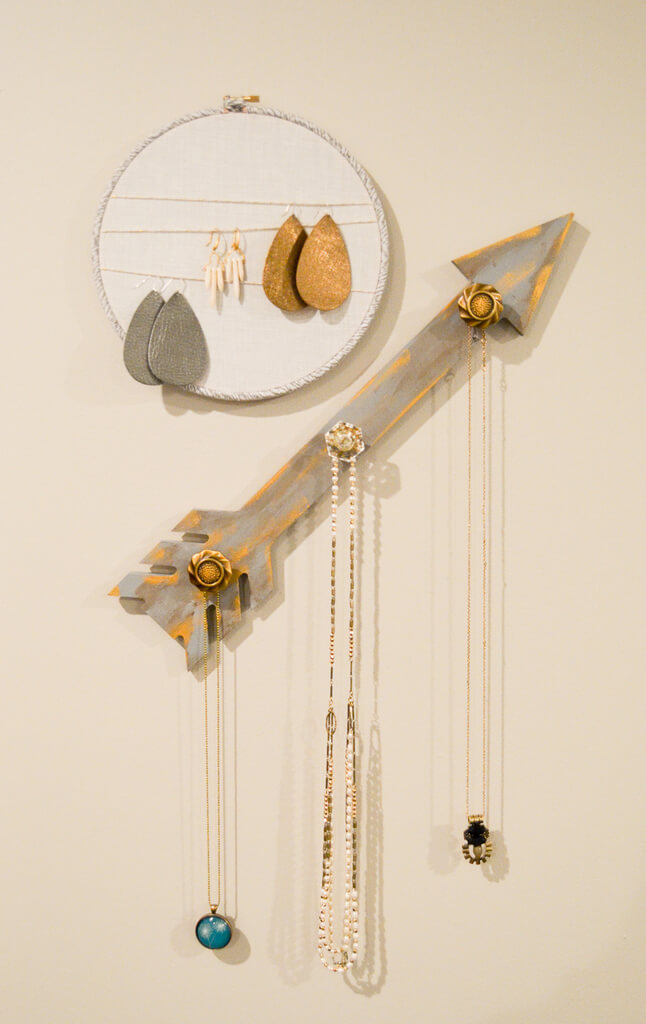 Don't you just love the way silver and gold have fused together in this set of wall art? Featuring a dream weaver holder for your earrings alongside a decorative arrow necklace holder, this set infuses the room with a place for your everyday essentials to call home.
13. Pinecones, Candles, and Overflowing Buckets Decor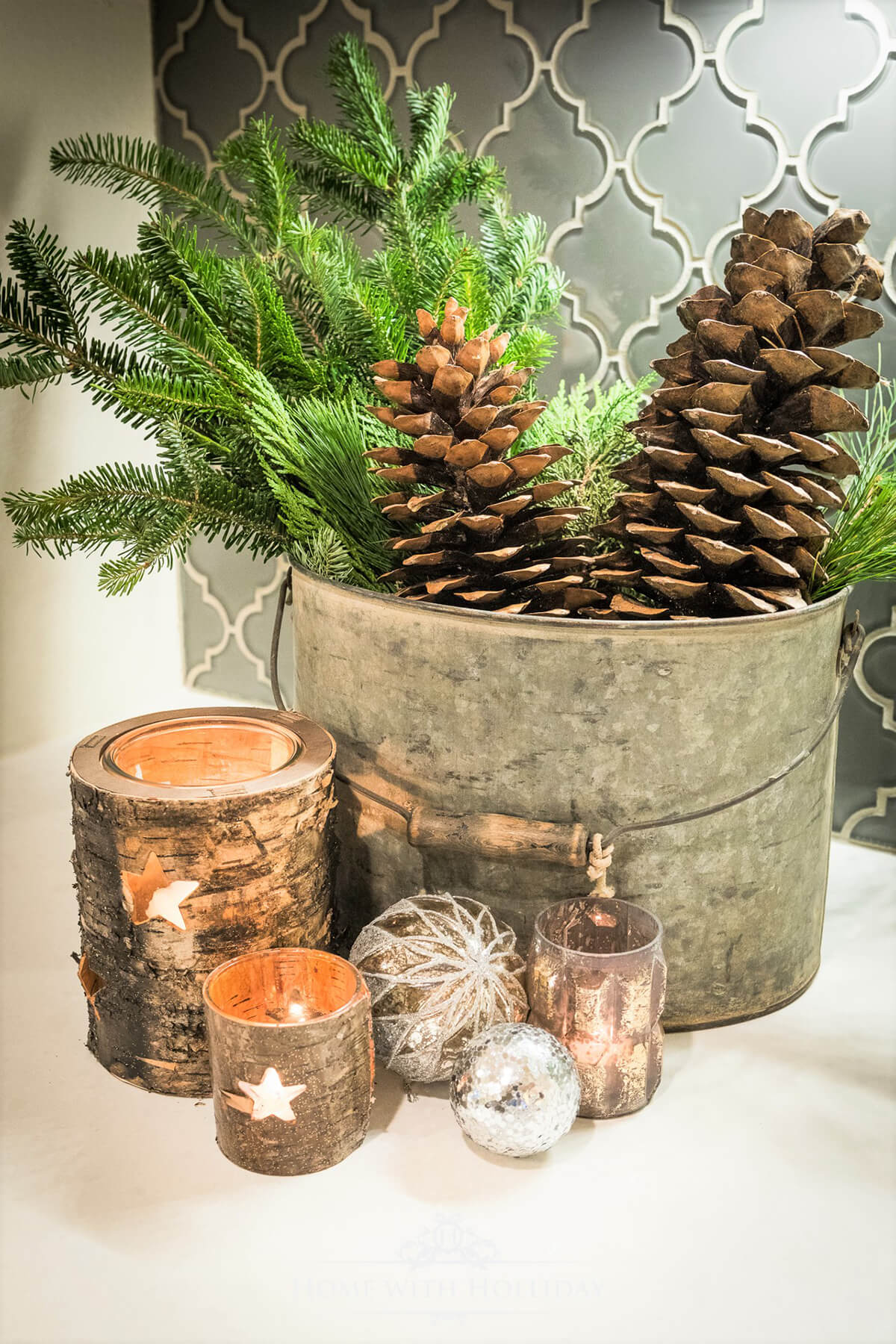 Fill your bucket up to the brim with some of nature's natural scenery. These lush pieces of greenery give the pine cones and branch-inspired candles the perfect backdrop. Light up a special zone in your home to indulge in the gorgeous simplicity of this design.
14. Gorgeous and Glamourous Lighted Winter Table Celebration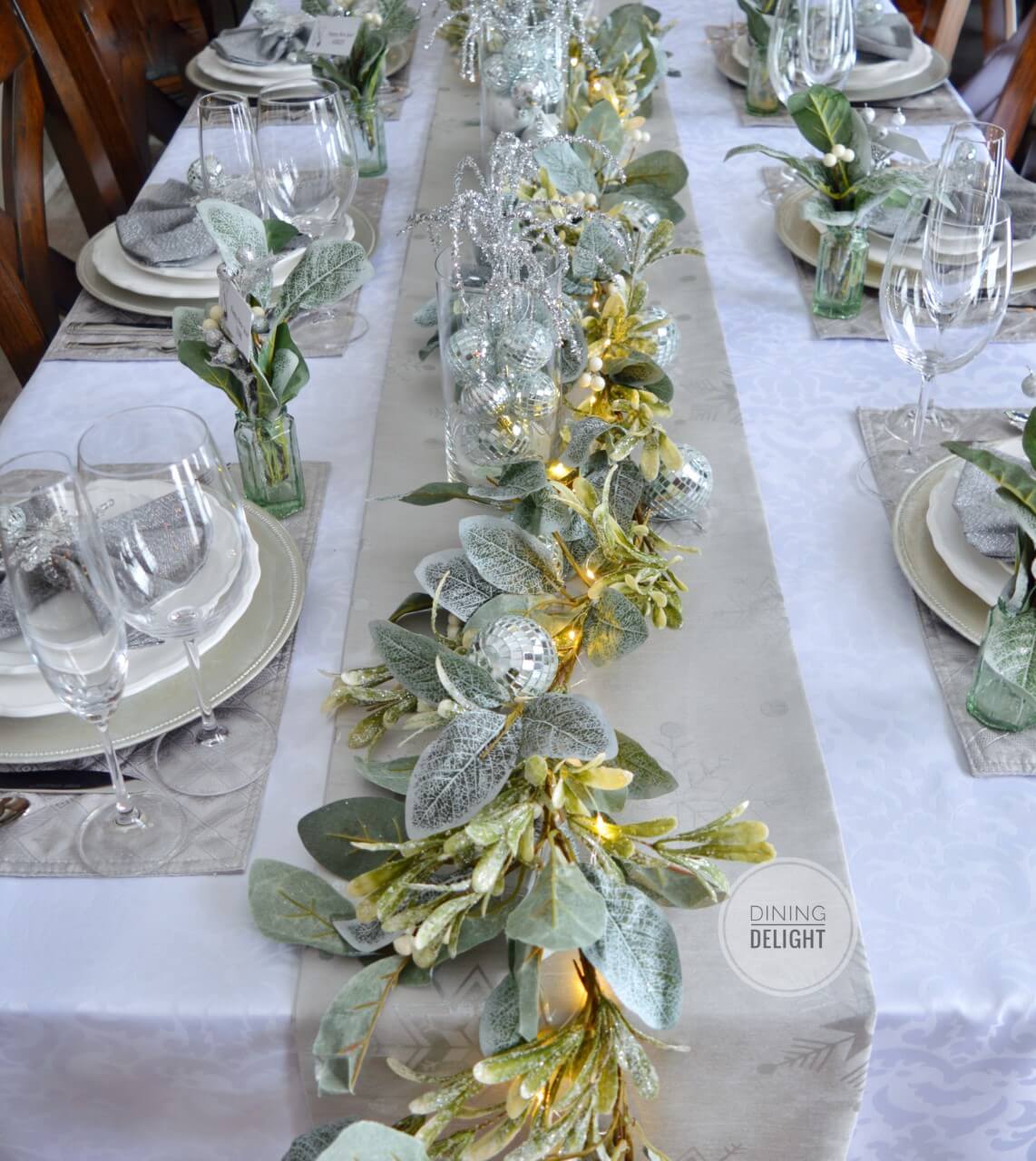 Kick-off your spectacular winter celebration with lights and glamour when you line your long tables with this gorgeous table runner. Every guest will feel special to be seated at such a stunning display. The soft glow of the lights adds to the dynamic sparkle of the disco-esque bulbs and splendor of the muted greenery.
15. Blessed Beach Love Gallery Wall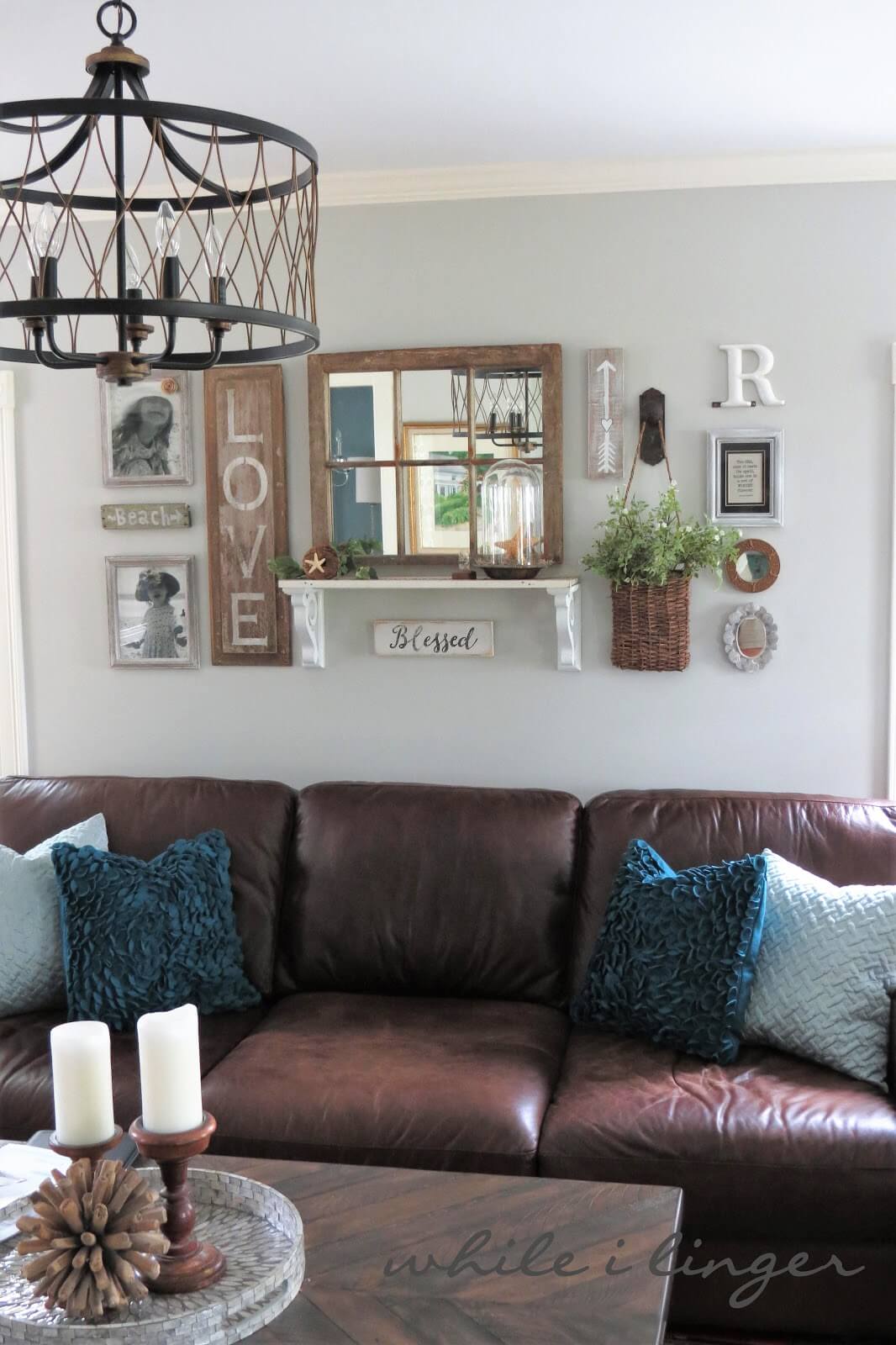 Arrange some of your favorite pieces in one spot with this blessed gallery wall filled with love. The black and white photos coordinate with the neutral color scheme of the arrangement and blend the photos into the display without a hiccup. Make your gallery wall as unique as your family by choosing only a few special pieces your family will treasure for years to come.
16. Rugged Gold Thick Candle Holders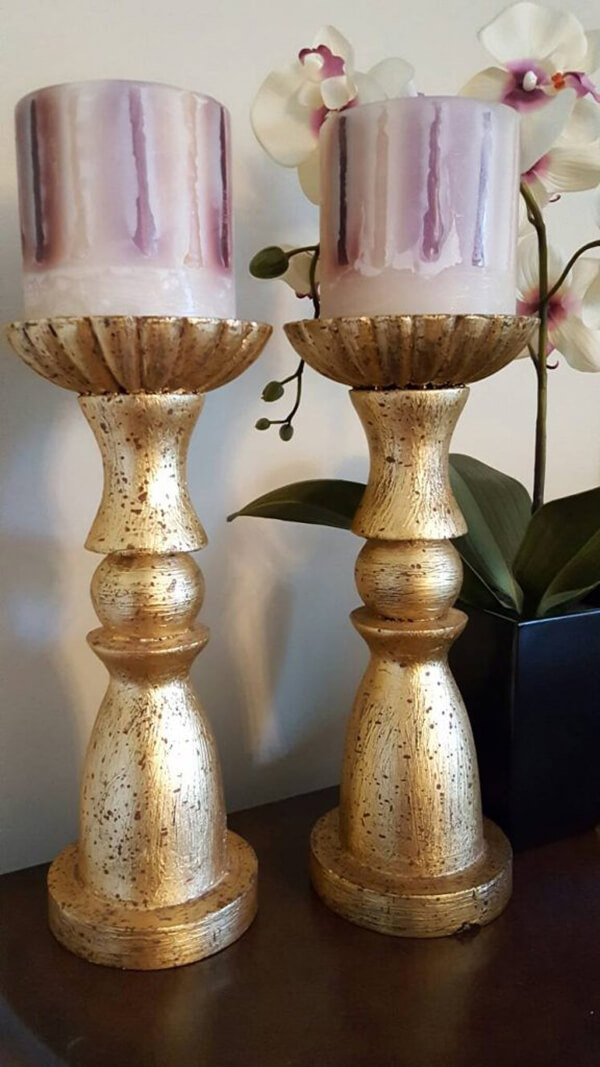 What a firm foundation this set of rugged gold candle holders has become. Their thick stature provides a dynamic nest for your glowing friends to call home. Place them on the mantel or incorporate them into a darling fall centerpiece.
17. Truly Original Birdcage Adorned with Paper Flowers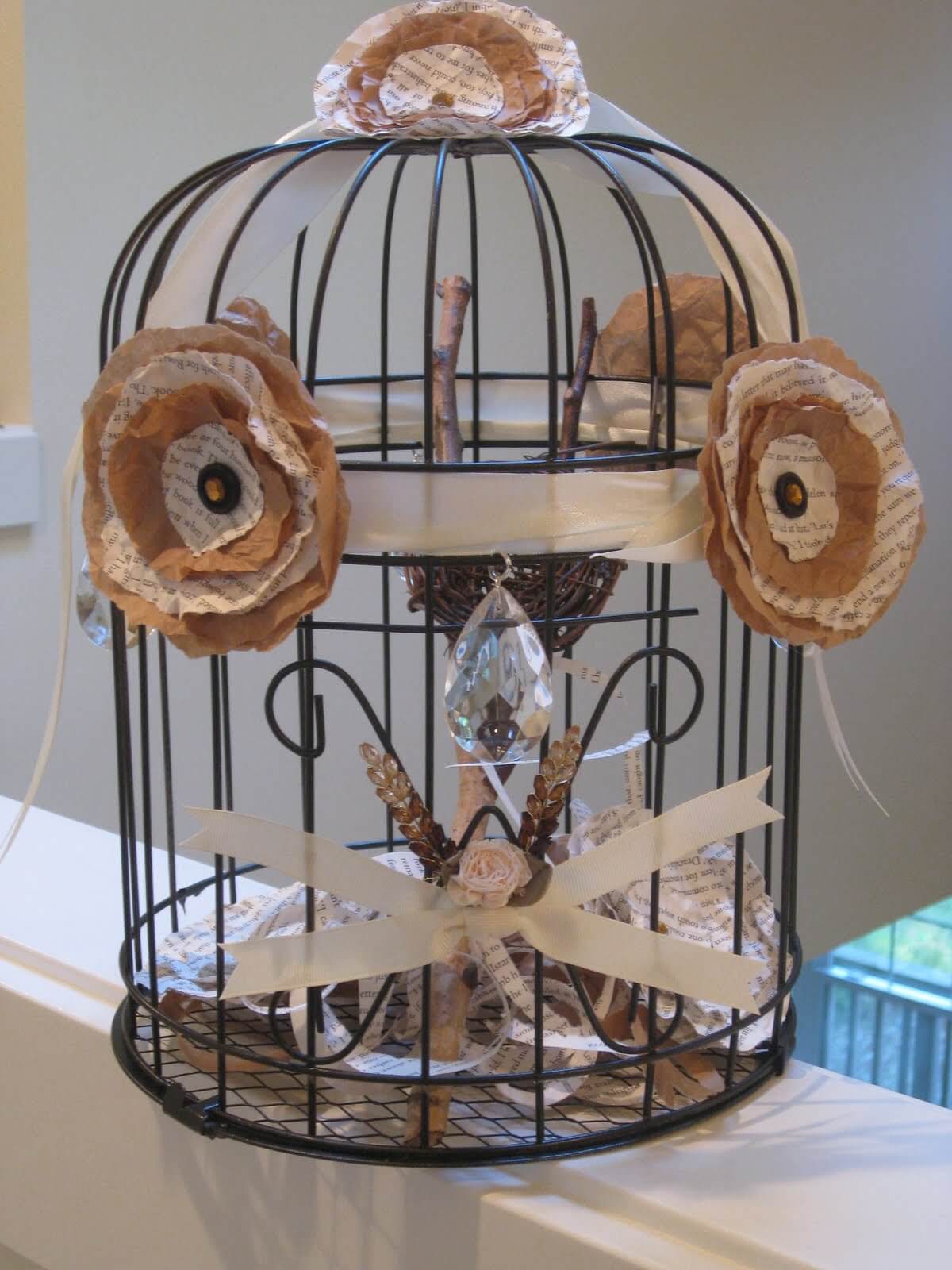 Here's a new take on a tried-and-true birdcage home decoration. Handmade paper flowers are positioned around it and on top while being secured with a ribbon full of luxurious sheen. It's further embellished with a large teardrop crystal and ribbon creation that adds a glam vibe to this shabby chic design.
18. Warm and Ruddy Brown and White Wreath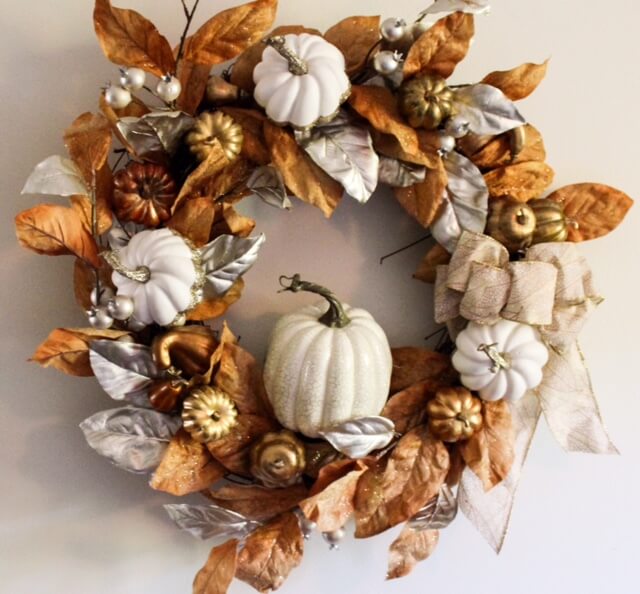 Perhaps the perfect update to your fall decor is this warm and ruddy fall wreath. Hang it on your front door or above your mantel and you'll delight in its simple beauty. The rich and warm brown hues accompanied by the white create a beautiful blend of color and simplicity.
19. Gold Plated Pairings for the Win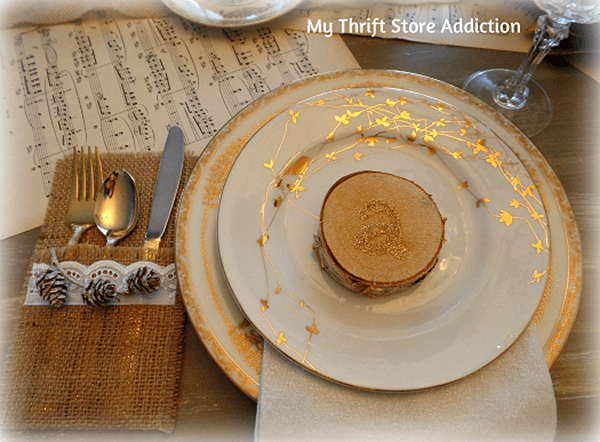 Create a unique and gorgeous tablescape this fall by accenting your design with gold. From gold plated trimmed dishes to burlap and gold-infused utensil holders, you can't go overboard when it comes to style. In lieu of a traditional place card, a wooden stump decorated with a gold glitter initial gets the job done!
20. Scripted Love Set in White Vintage Frame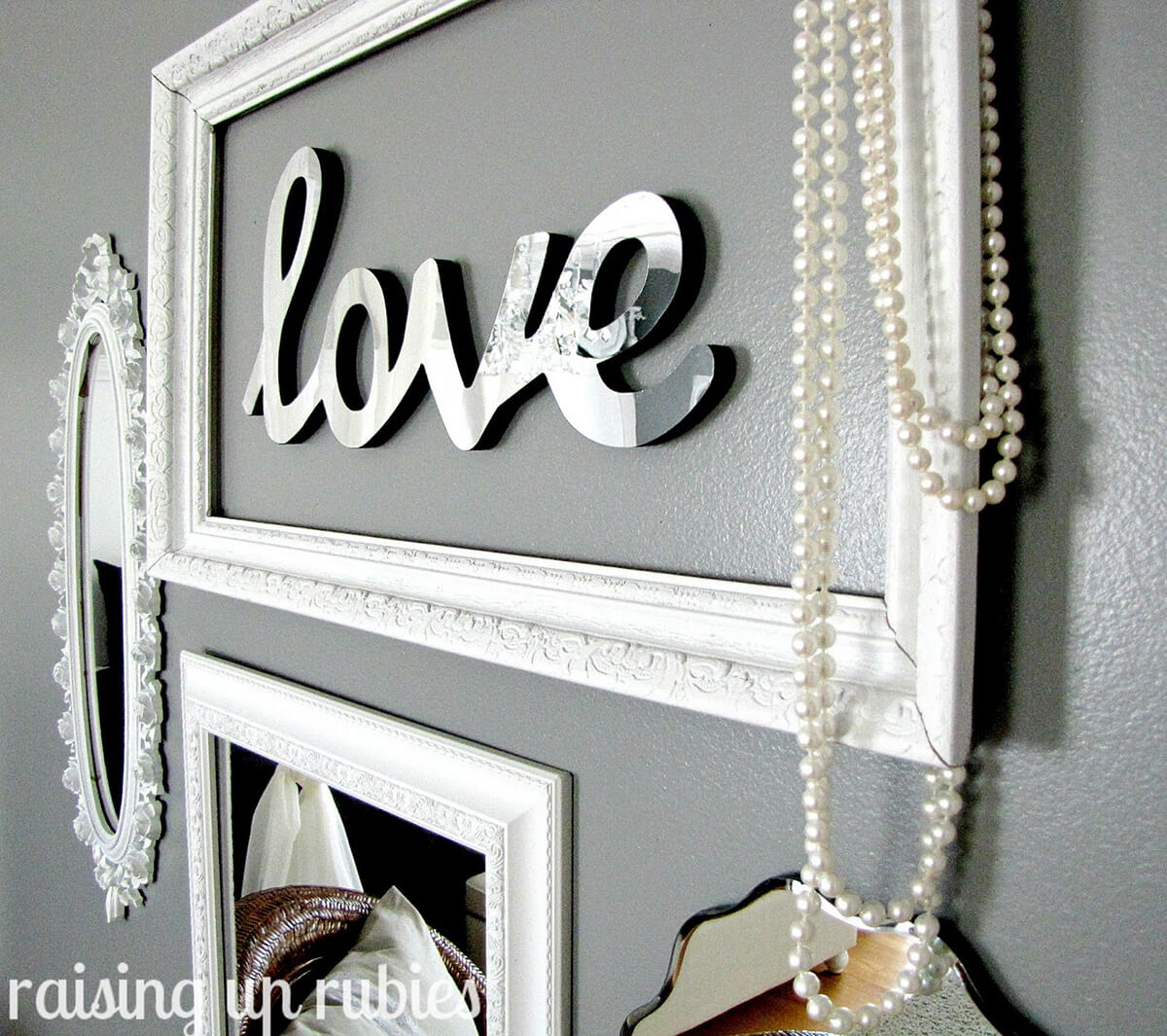 Frame out this most important of all feelings and change the atmosphere in your home. The scripted wall art "love" sets inside a gorgeous and intricately detailed vintage frame for extra appeal. Hang a strand of pearls from the corner and you've capitalized on rustic glam!
21. Deep Blue Velvet Mini Shades Gold Light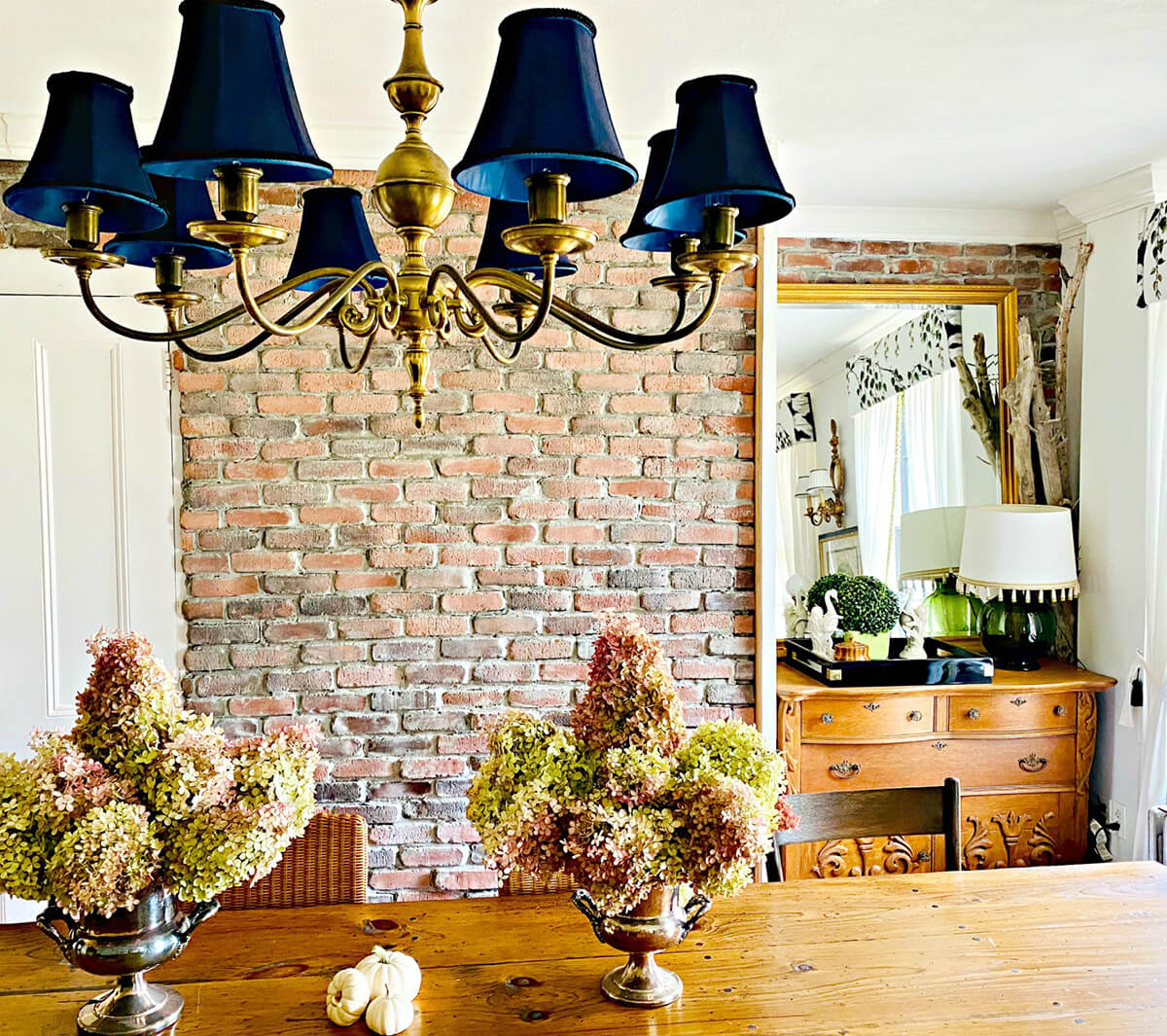 With an exposed brick wall adding some texture and a rustic element to your room, bring in some glamorous gold with an overhead lighting fixture. Trimming it out with antique rich blue velvet miniature lamp shades completes the rustic to glam design you had in mind.
22. Unique and Simple Silver and Gold Wreath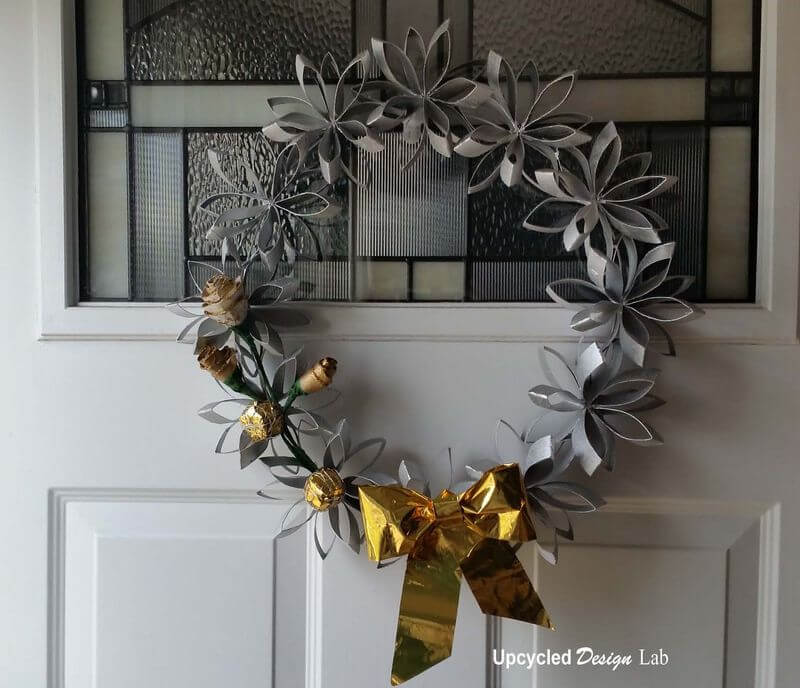 Think outside the box and you might see how a traditional tabletop candle frame makes the most stunning wreath. With just a bow and a few sprigs of paper flowers, the embellishments are just as interesting and original as the wreath itself.
23. Forever My Valentine Heart Wall Art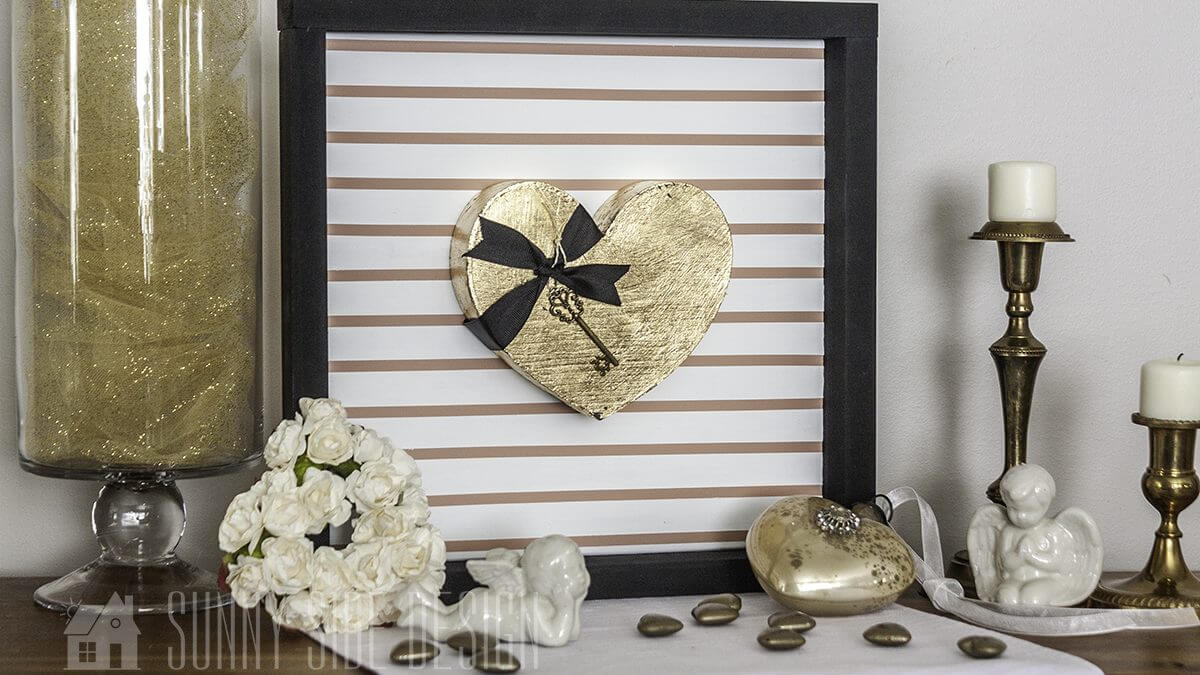 Why only celebrate your love once a year? Add some home decor that keeps the spark alive all year long. This black and white wall art infused with gold accents is a beautiful way to combine that special connection with a designer's modern touch. The antique skeleton key adorning the heart-shaped box tells the world who holds the key to your heart.
24. Distressed and Decorative Shabby Chic Farmhouse Decor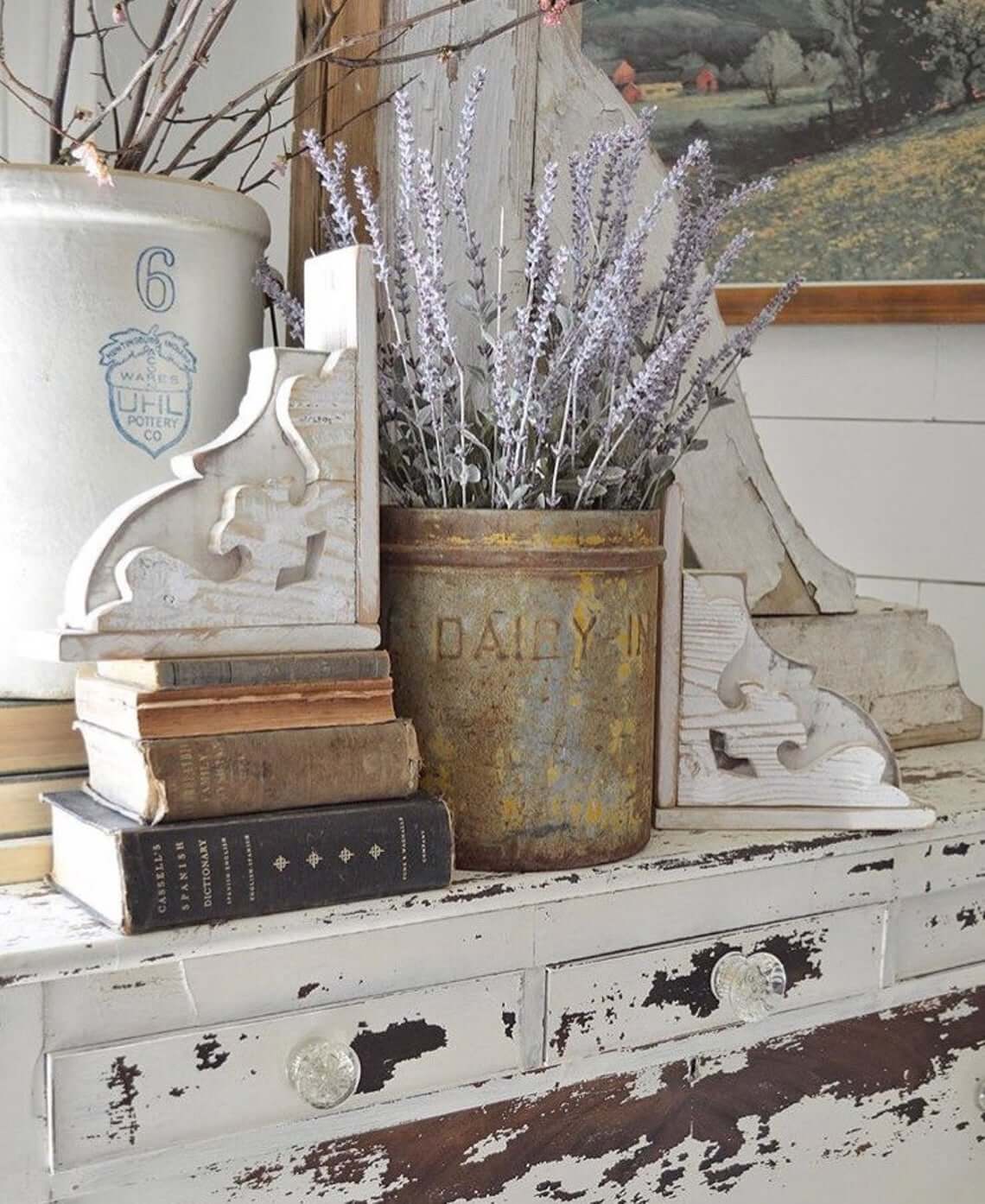 While these pieces may be rough around the edges, their distressed white patina only adds to their character and charm. A set of bookends becomes a simplistic trinket to adorn your hallway table design. Use a large milk canister as a re-imagined oversized vase. Fill it to the brim with rustic flowers and you've completed your overall look.
25. Deerly Beloved Heart Home Accent Piece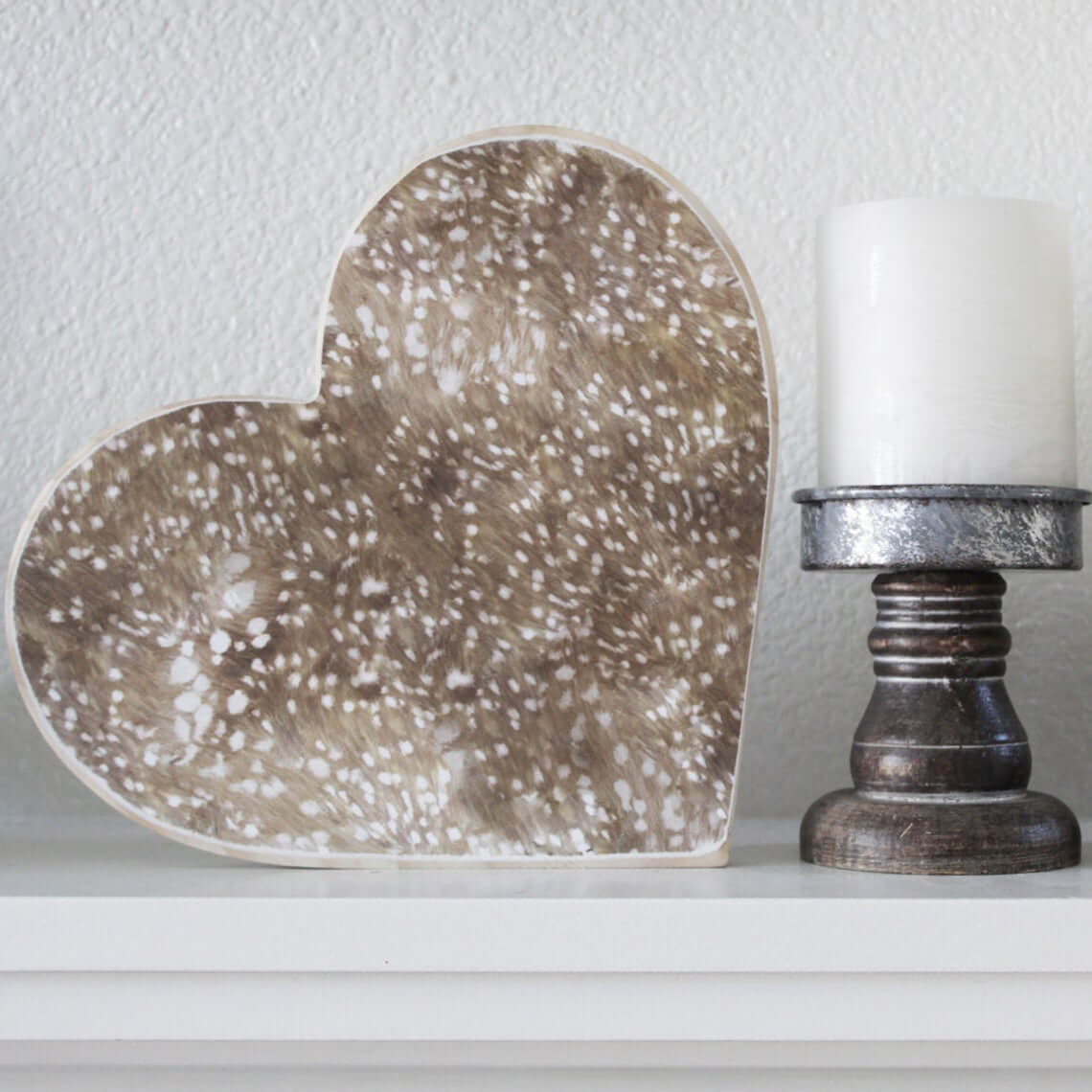 Here's a great way to bring some of your hubby's love of hunting into your home without a massive deer head mounted on your wall. Consider this dainty and delicate heart accent piece that is full of the beauty and grace of a fawn. Imagine the soft and sweet patterns of spots on the baby deer and you'll appreciate the look of this heart's design.
26. Feathered Angel Wings Metallic and White Wreath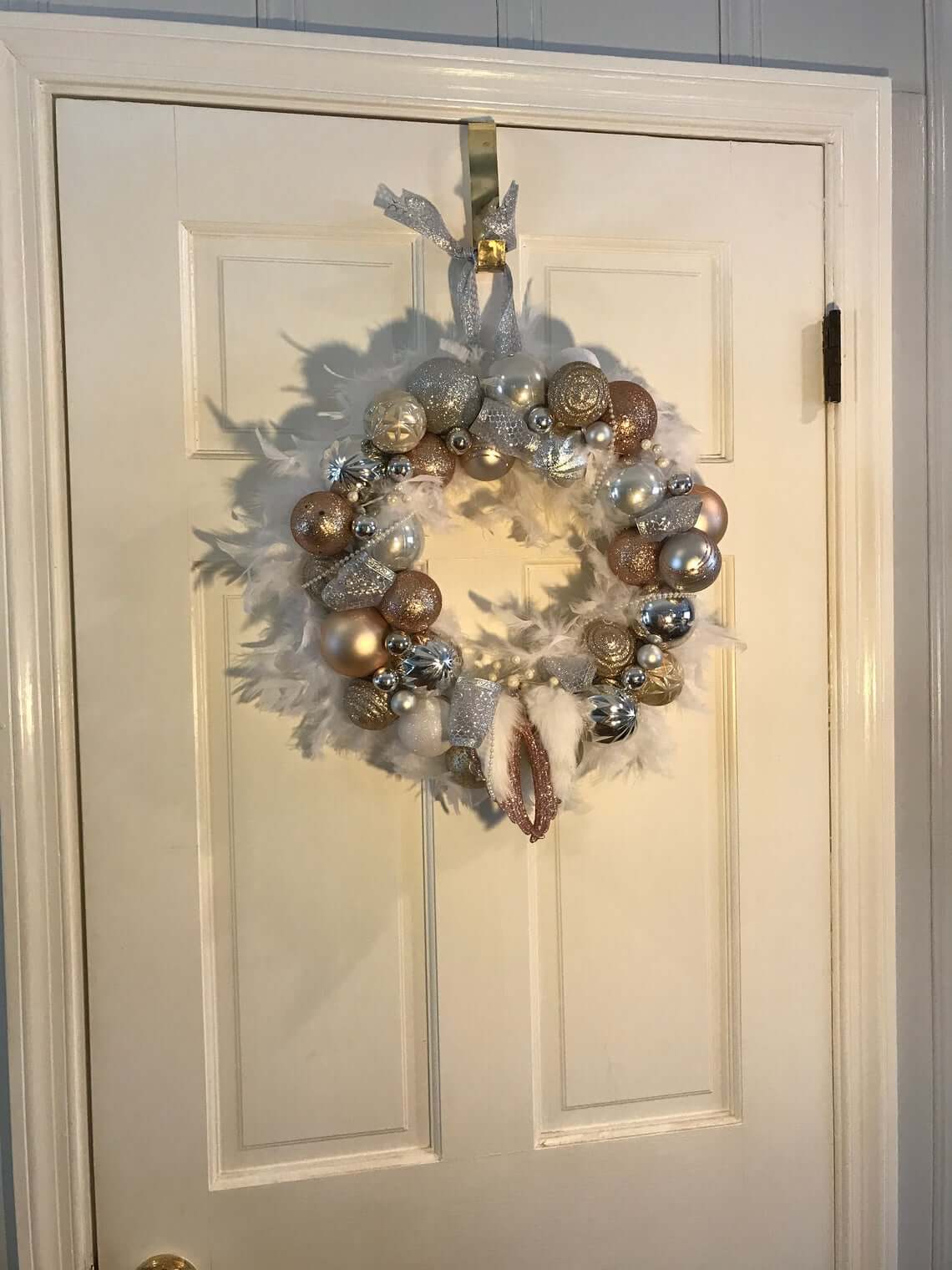 Add a gorgeous wreath to your home while keeping the color scheme classic and elegant. The white feathers that create this wreath form the perfect circle union for founding the gold and silver holiday bulbs to make this wreath a showstopper! At the bottom, the wreath is completed with a small set of angel wings so you'll have a gentle reminder of your guardian angel watching over you.
27. Pop the Top with Golden Glitter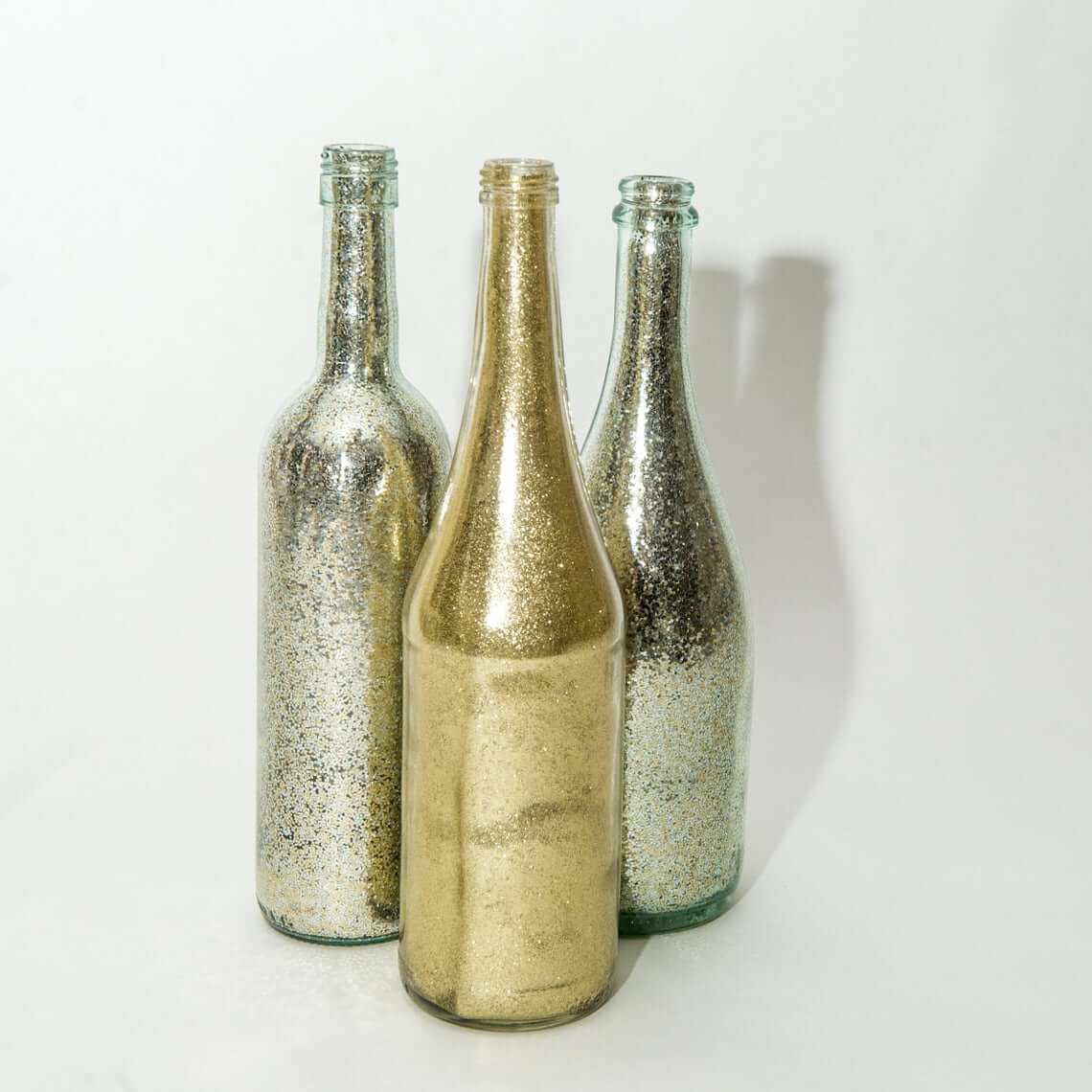 Celebrate in glamourous style without all the mess when you decorate your holiday scene with these glittered bottles. Inside, the glitter has been adhered to the walls to create a stunning effect without the hassle of the confetti mess. Experience the glitz and glam through the safety of these champagne bottles as you raise your glass to another new year!
28. A Tasteful, Elegant Design with a Touch of Vintage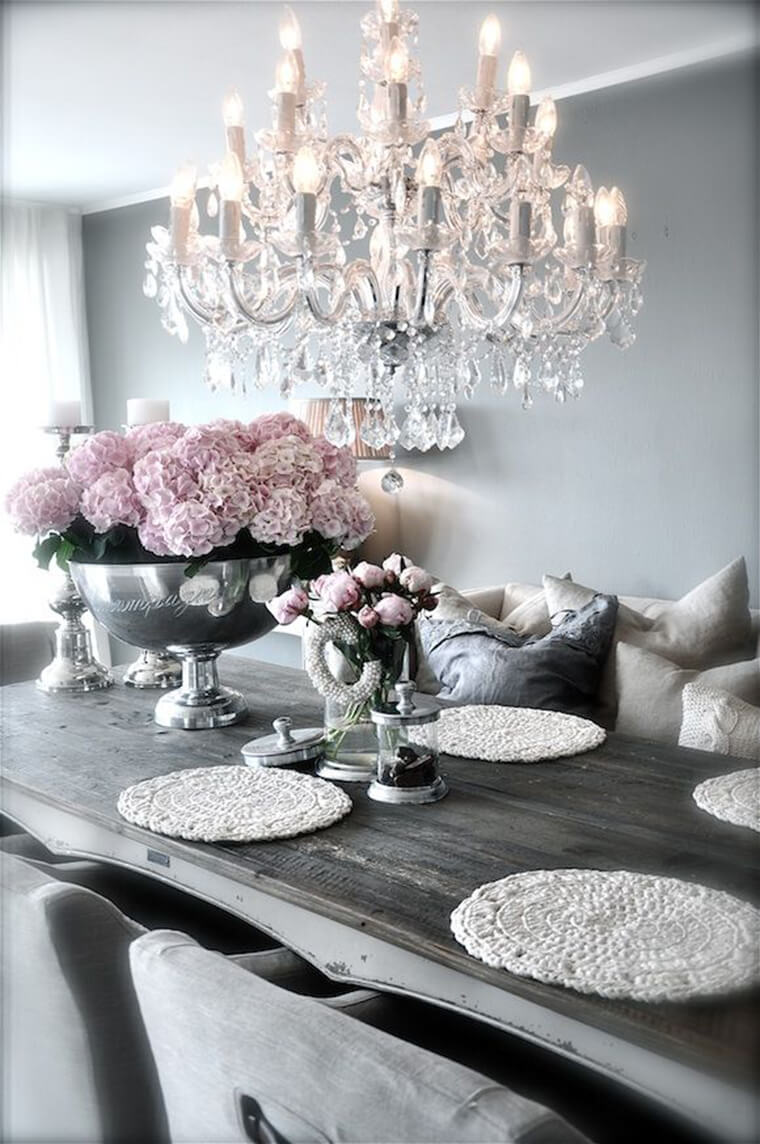 Combine silver plate and pale pink flowers with this attractive table arrangement. A large footed bowl with etched lettering overflows with pink hydrangeas. A smaller jar with peonies holds a letter decoration. Use crocheted doilies on the table. The arrangement complements the ornate chandelier overhead.
29. Simple Rustic Decor with Silvery Accents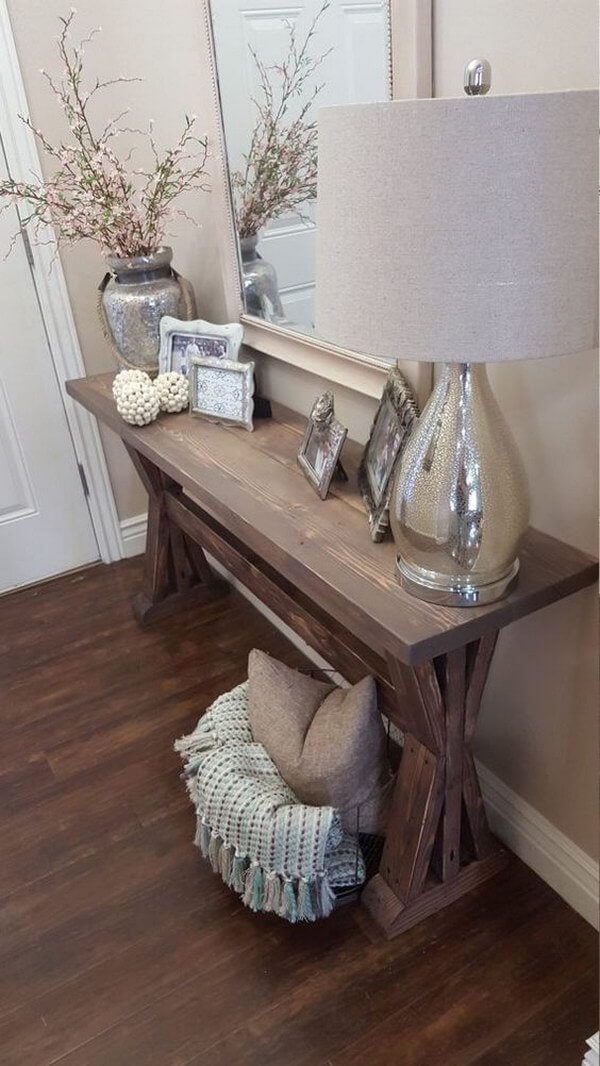 Silver ties this area together. An oversized, shiny lamp and vase bracket the ends of this side table. Pink blossoms provide height. Family photos are framed in white and pewter. The mirror gives depth and dimension to the arrangement. An inviting throw and pillow rest in a basket under the table.
31. Elegant Space with Vintage-Inspired Accents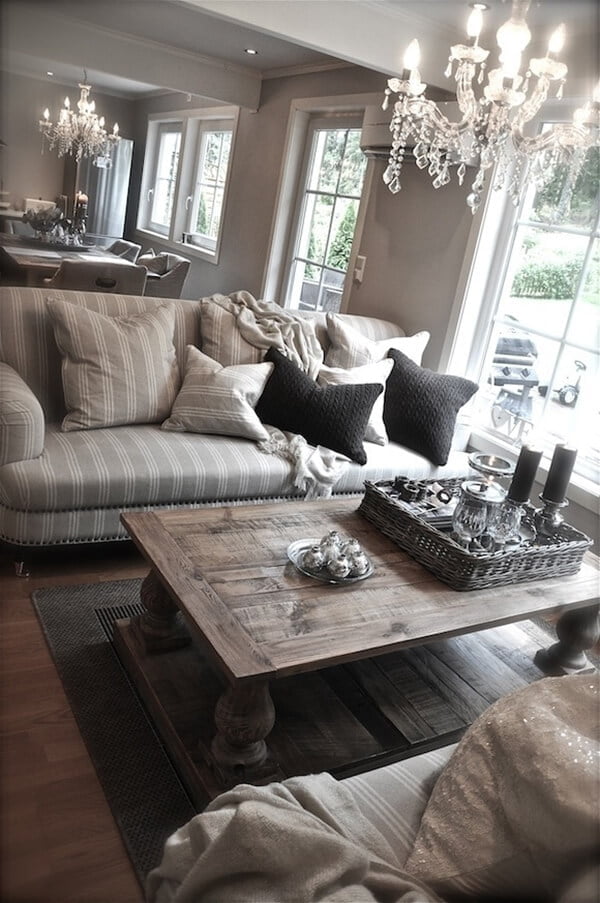 A uniform beige, gray, and silver palette ties this design together. Oversized sofas with large and comfortable pillows invite you to rest. A tray on the coffee table holds silver candlesticks. Sparkling chandeliers bring unity to the living room and dining room.
32. Clean, White Bedroom with Authentic Wood Backdrop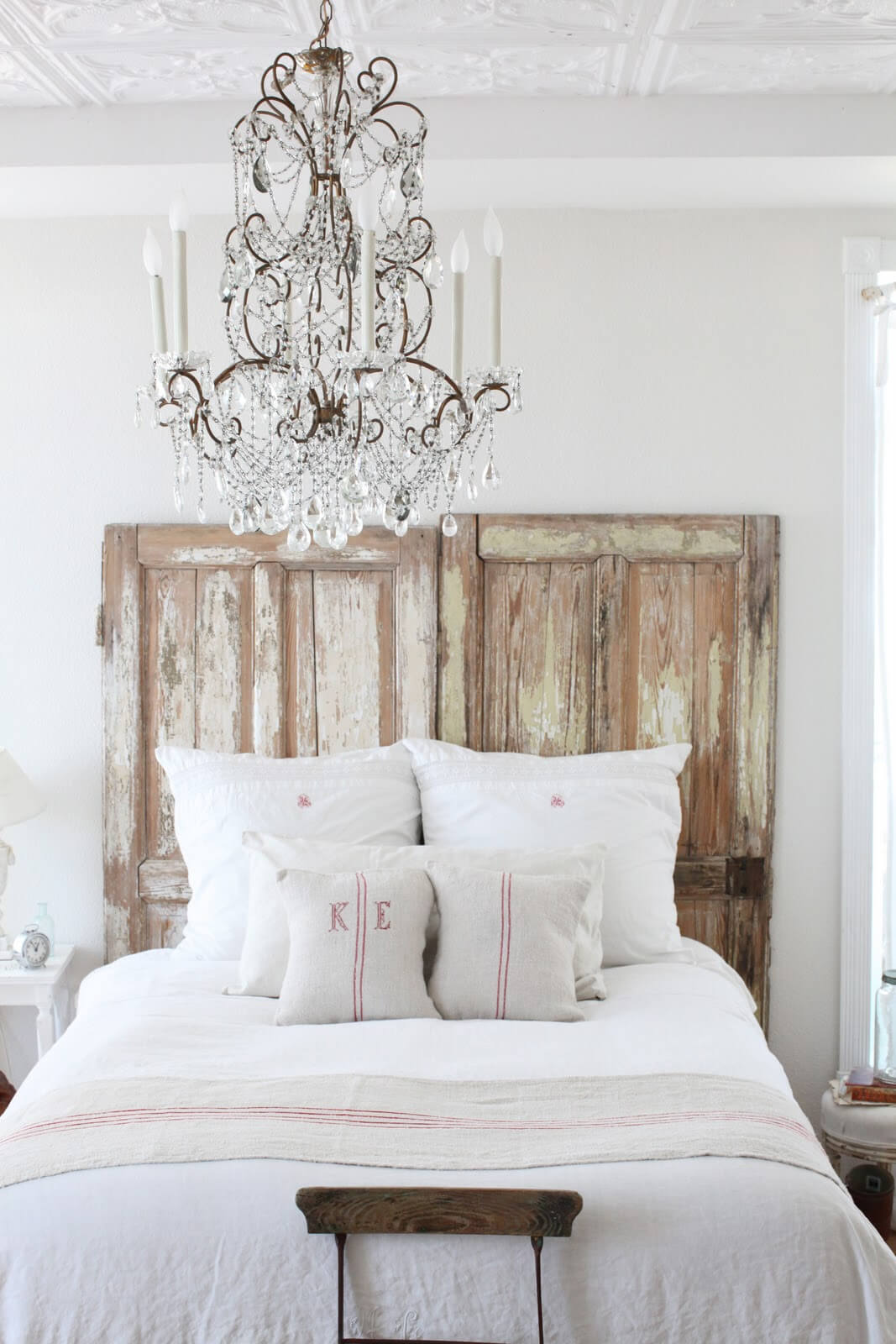 This attractive bedroom features two distressed vintage farmhouse doors as a headboard. The rough texture of the boards contrasts with the smooth, simple white bedding. The room features a charming tin ceiling. A tall, intricate chandelier completes the room.
33. Glass and Silver Decor that Reflects the Candlelight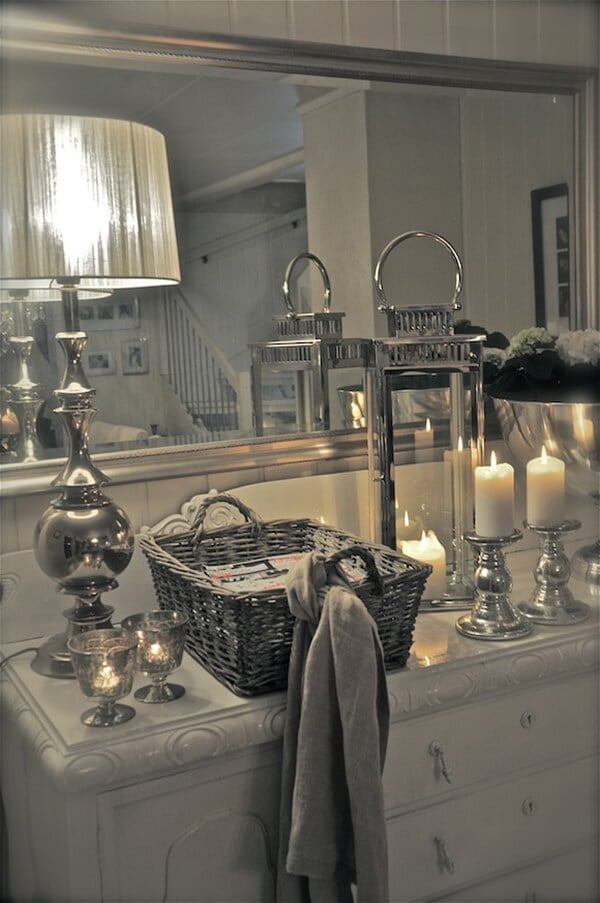 This room takes advantage of the reflective surfaces, both in the mirror and in the accents. Shiny accents multiply the candlelight. Multiple levels of candles are used, from small tea lights to large pillars. A tall silvery lamp makes an elegant focal point.
34. A Comforting Bedroom Layout with Old-Fashioned Accents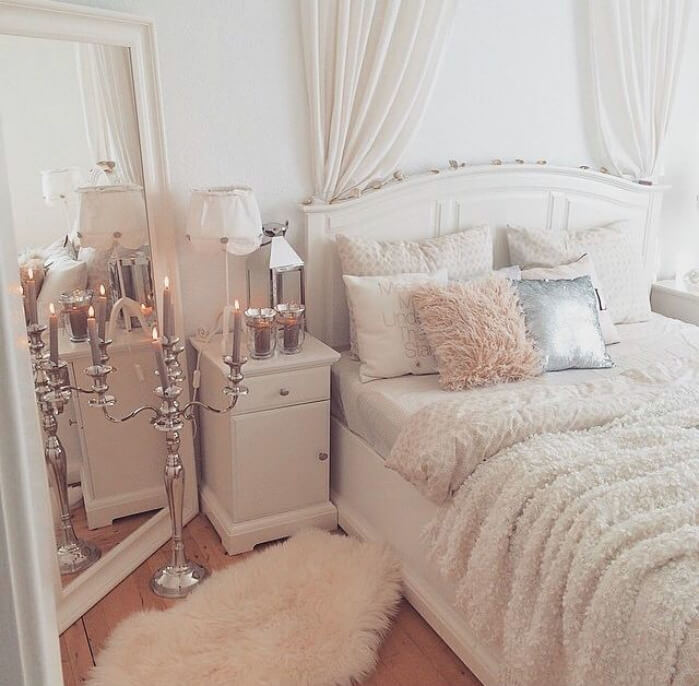 Plush textures surround you in comfort. A mixture of white, pale pink, and silver gives this room a unified look. Again, mirrors and silvery decorations are used together to multiply the effect. Candles glow softly in their tall holder. A fluffy rug and pillow provide whimsical accents.
35. Rustic-Inspired Wall Decor with a Touch of Class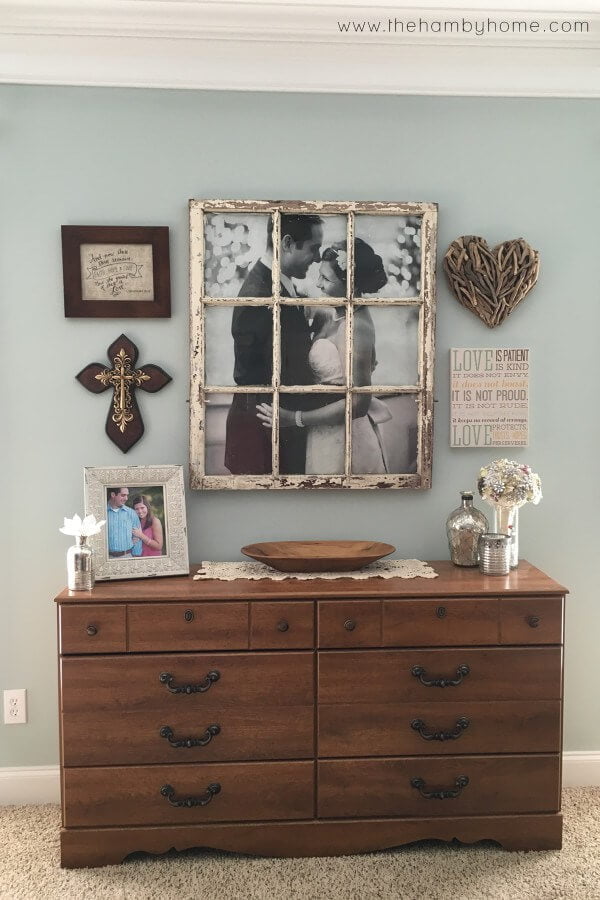 The focal point of this arrangement is a wedding photo displayed behind a vintage window frame. Homey wooden accents surround the photo frame, including a cross that emphasizes the homeowner's strong faith. A touch of silver brightens the corner of the dresser.
36. Antique Candlesticks for a Formal Look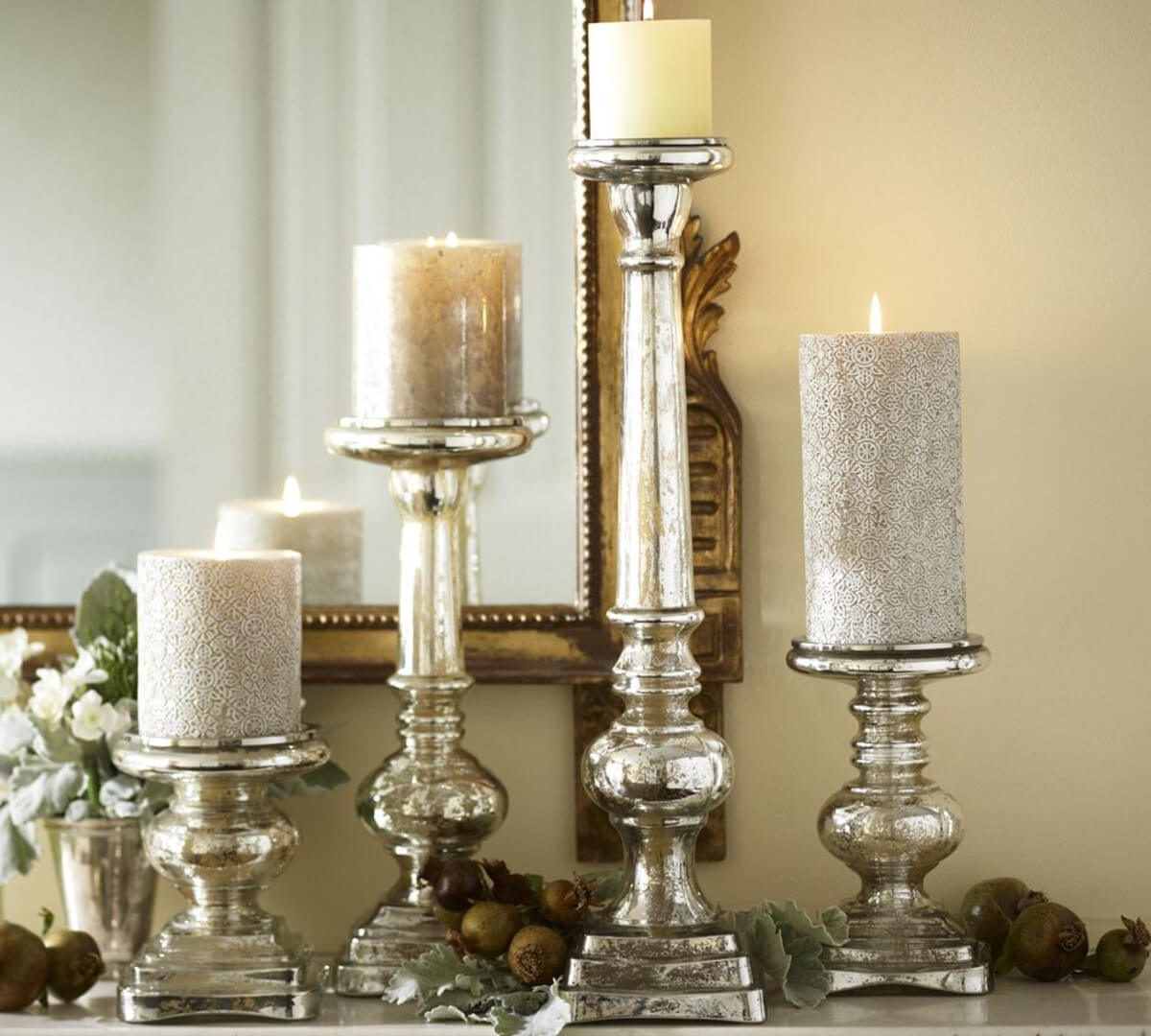 In a variety of heights, these antique candlesticks bring a touch of glamour to the room. The candles are lace textured for an elegant look. The antique gold tone finish on the mirror frame brings out the silver of the candlesticks. Greenery is laid on the ledge.
37. A Unique Spin on Rustic Lighting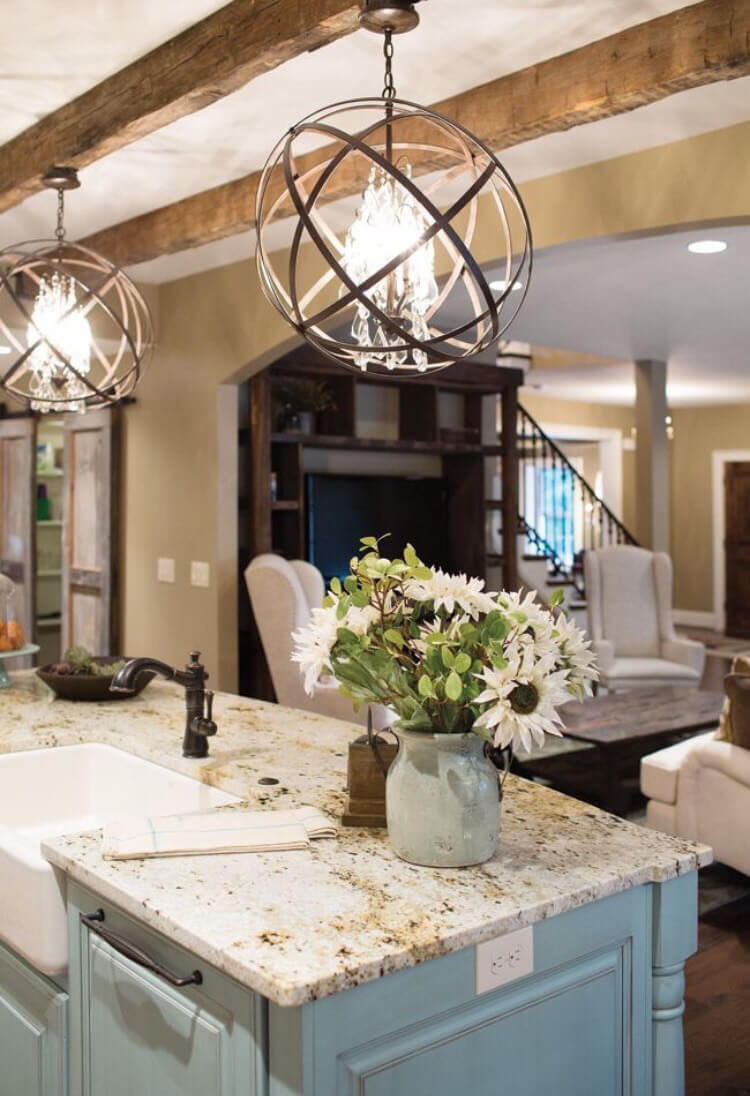 In this elegant kitchen design, unique lamps take pride of place. With a modern hooped design encircling a chandelier, these lamps draw the eye up to the exposed wooden beams. The kitchen cabinets are pale blue and echoed in a pitcher of flowers. The granite countertop completes the look.
38. An Earthy Design with a Quiet Elegance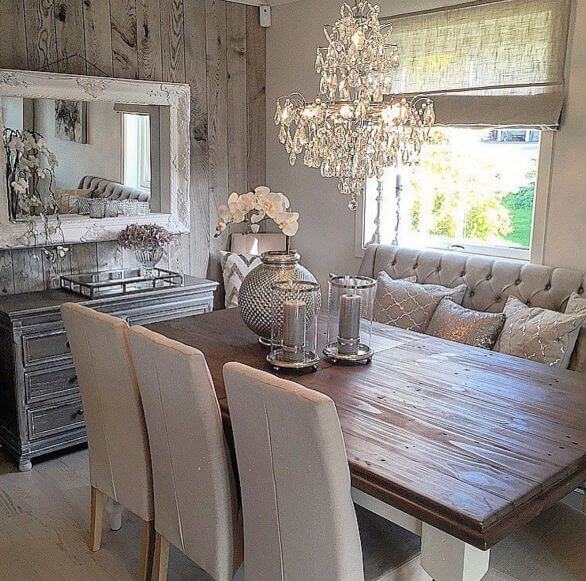 This design features a sophisticated beige and silver color palette. The light wood paneling complements the farmhouse table and sideboard. The look is modernized with an upholstered sofa and large, shimmering cushions. On the table, tall metallic pillar candles are ready to bring a warm glow to the room.
39. Clean, Simple Rustic Glam Décor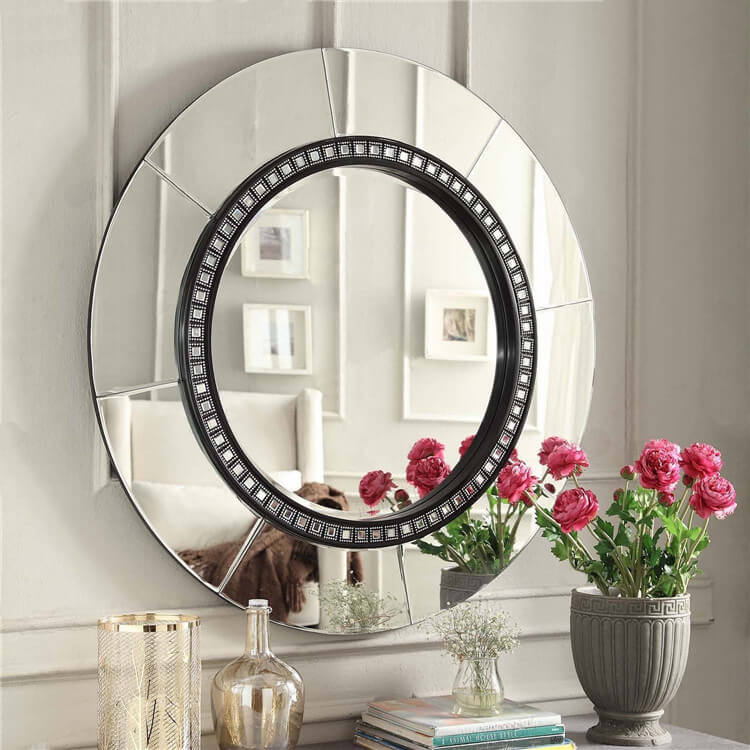 The round, bejeweled mirror is the focal point of this arrangement. Simple and chic, the mirror reflects the light gray and silver accents. The mirror is frameless and reflects the uniform white color palette of the room. A bright pink bouquet provides a pop of contrasting color, enlivening the room.
40. An Artistic Take on the Rustic Glam Look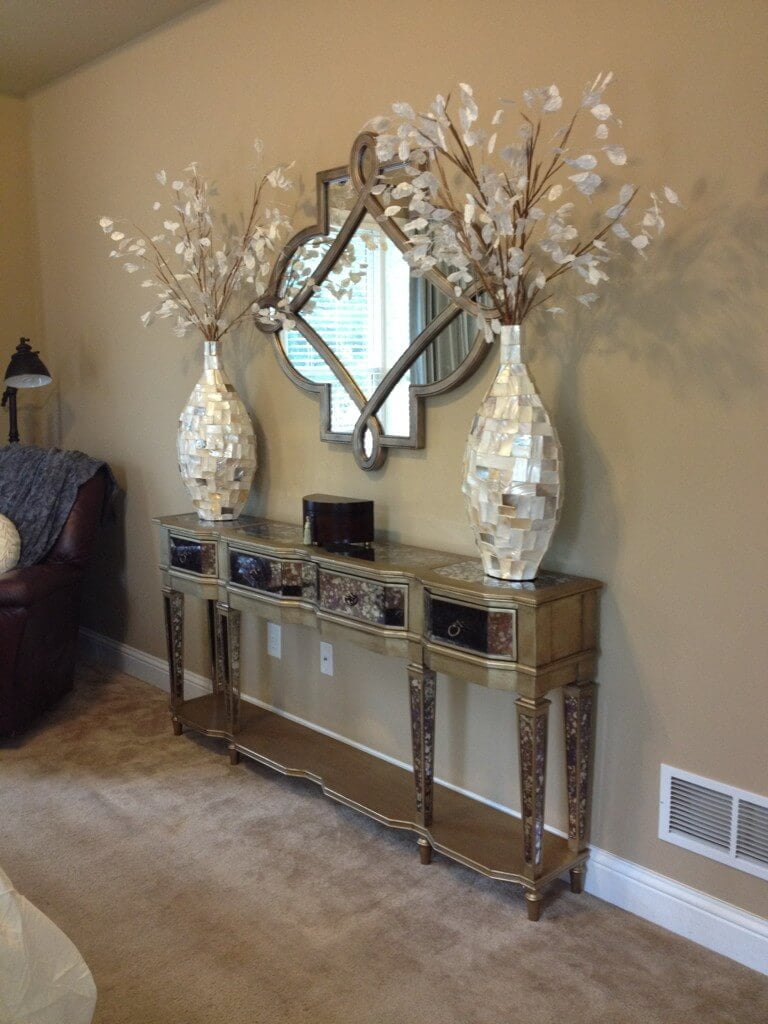 Dramatic mother-of-pearl vases and branches with silver leaves give the room a novel look. The mirror is much less elaborate than the vases, taking a back seat in the décor. The console table also has a pearly finish, bringing a touch of luxury to the room.
41. A Basic Design with Shimmering Beads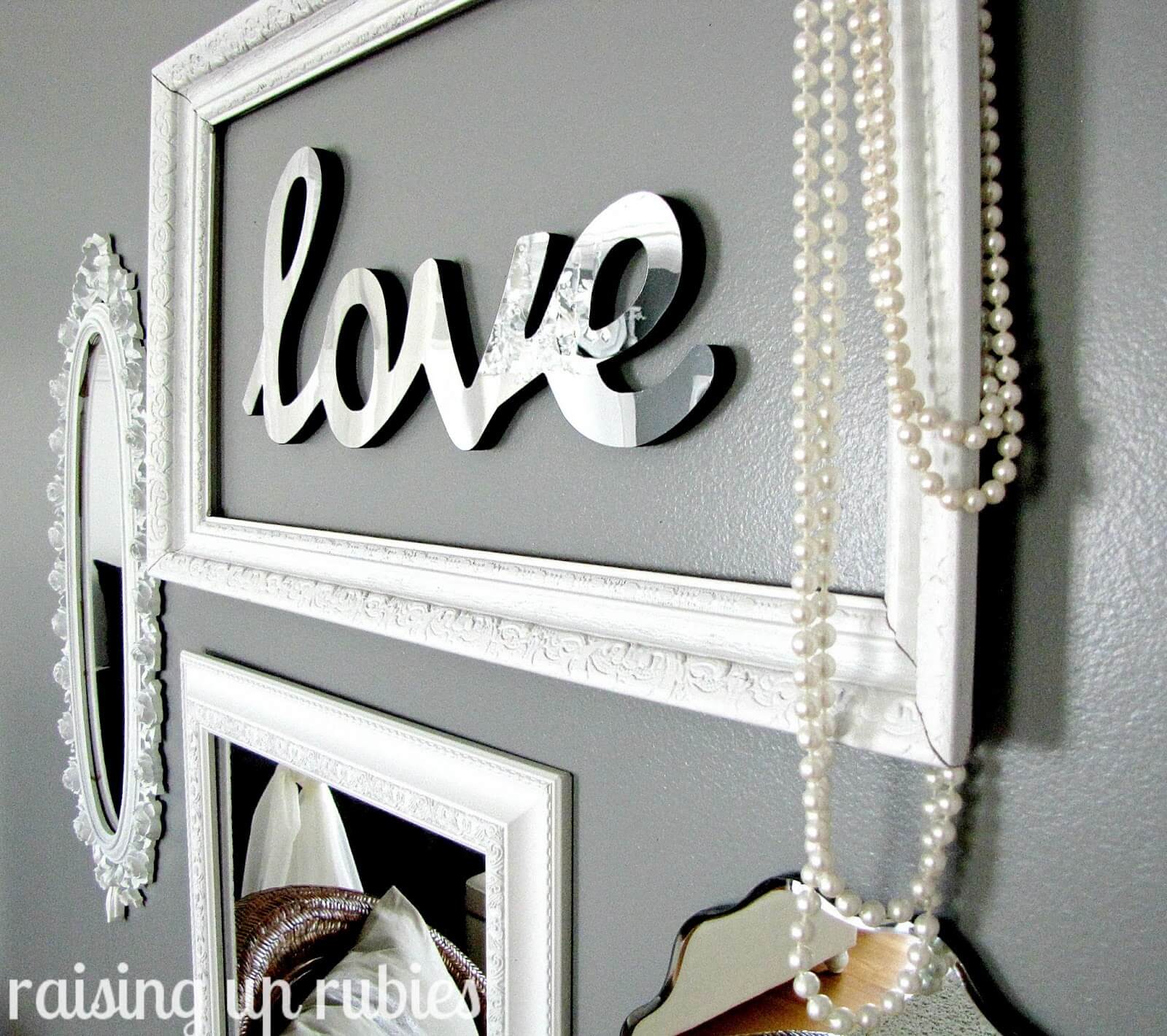 This design takes a silver lettered sign on a gray wall and surrounds it with a frame. The color palette is simple and clear. Multiple mirrors provide reflecting light. Over the corner of the frame hang a set of pearl beads, giving visual interest to the arrangement.
42. A Clean, White Kitchen with Rustic Charm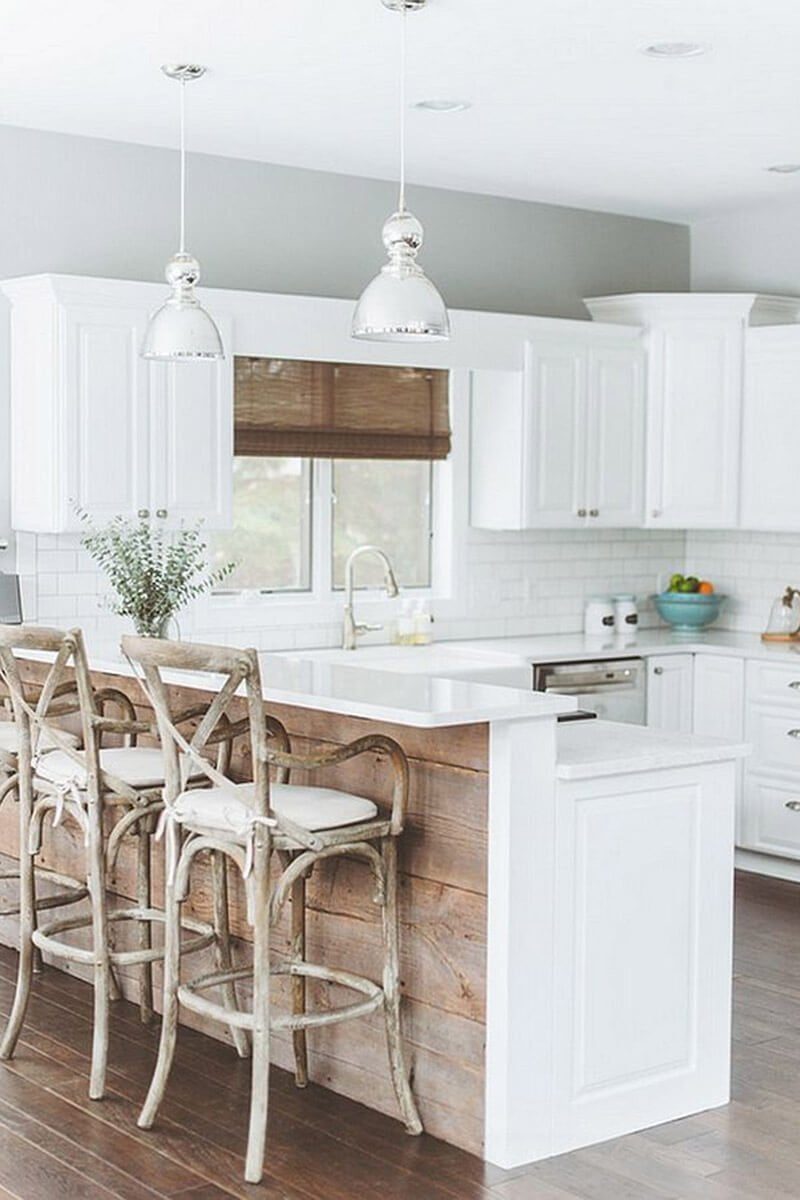 This kitchen has a simple, unified look. Stark white cabinets and countertops provide a neutral backdrop. Rustic wood accents the kitchen, in both the bar stools and the back of the bar itself. The only pop of color in this kitchen is the brightly colored fruit bowl on the countertop.
43. A Warm, Inviting Room with Wealth and Class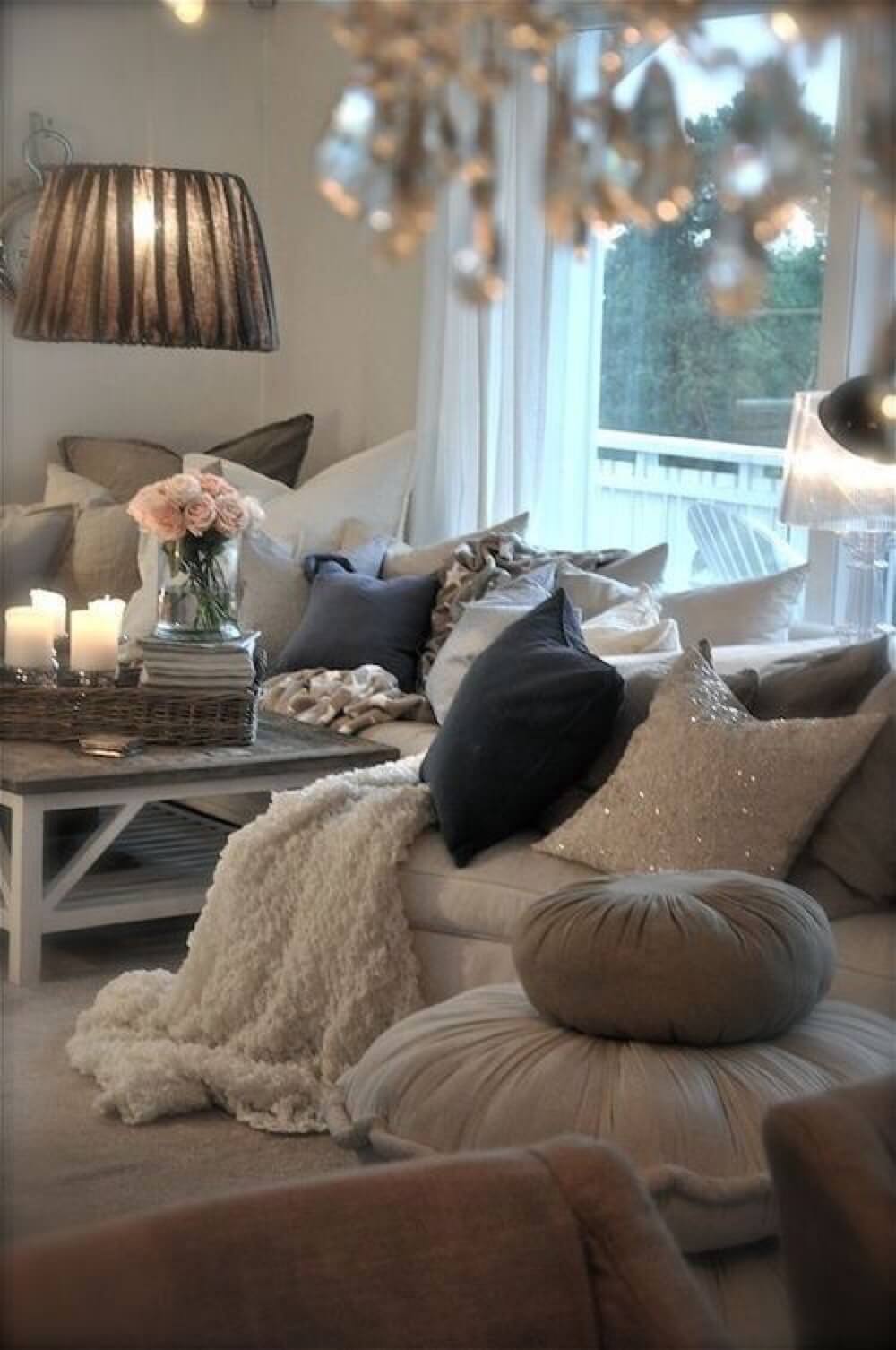 A jumble of pillows and throws in various luxurious fabrics tempts the viewer to sit and relax. The shimmering and velvet fabrics enliven the arrangement. The oversized taupe lampshade contrasts with the shine of the chandelier. A pale bouquet of peonies completes the look.
44. A Cultured Design with Elegant Decor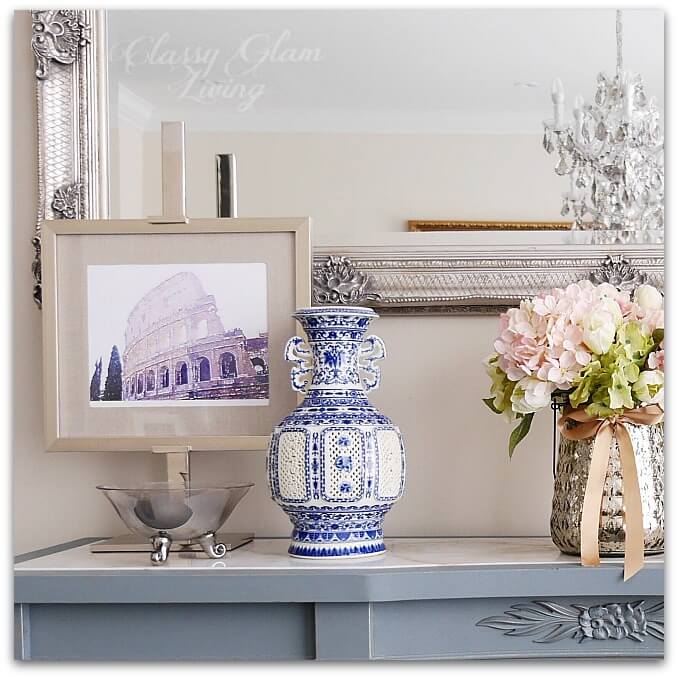 This arrangement combines rustic glam with European flair. A silver pedestal frame holds a photo of historical ruins. The silver framed mirror behind it has an old-fashioned sensibility. The fine porcelain vase and pale pink hydrangeas provide color. A chandelier is reflected in the mirror.
45. A Minimalist Design with Rustic Accents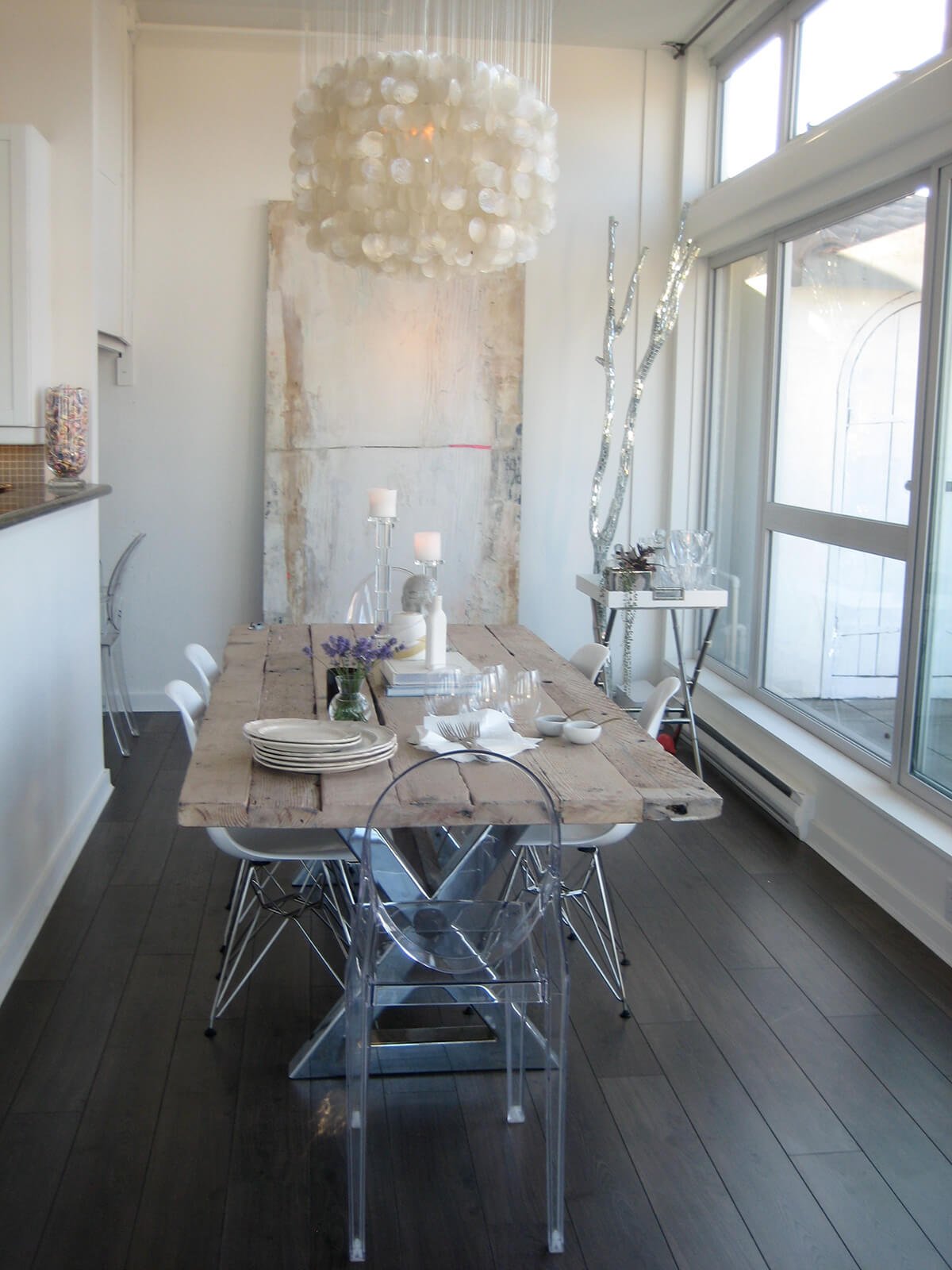 This dining area combines a stripped-down and modern look with the metallic accents of rustic glam. The table itself is a study in contrast, with a worn wooden top and industrial base. A casual, beachy seashell light fixture hangs over the table. Silver-wrapped branches in the corner add visual interest. The dining area is inviting and simple.
46. A Vintage Farmhouse Look with Modern Touches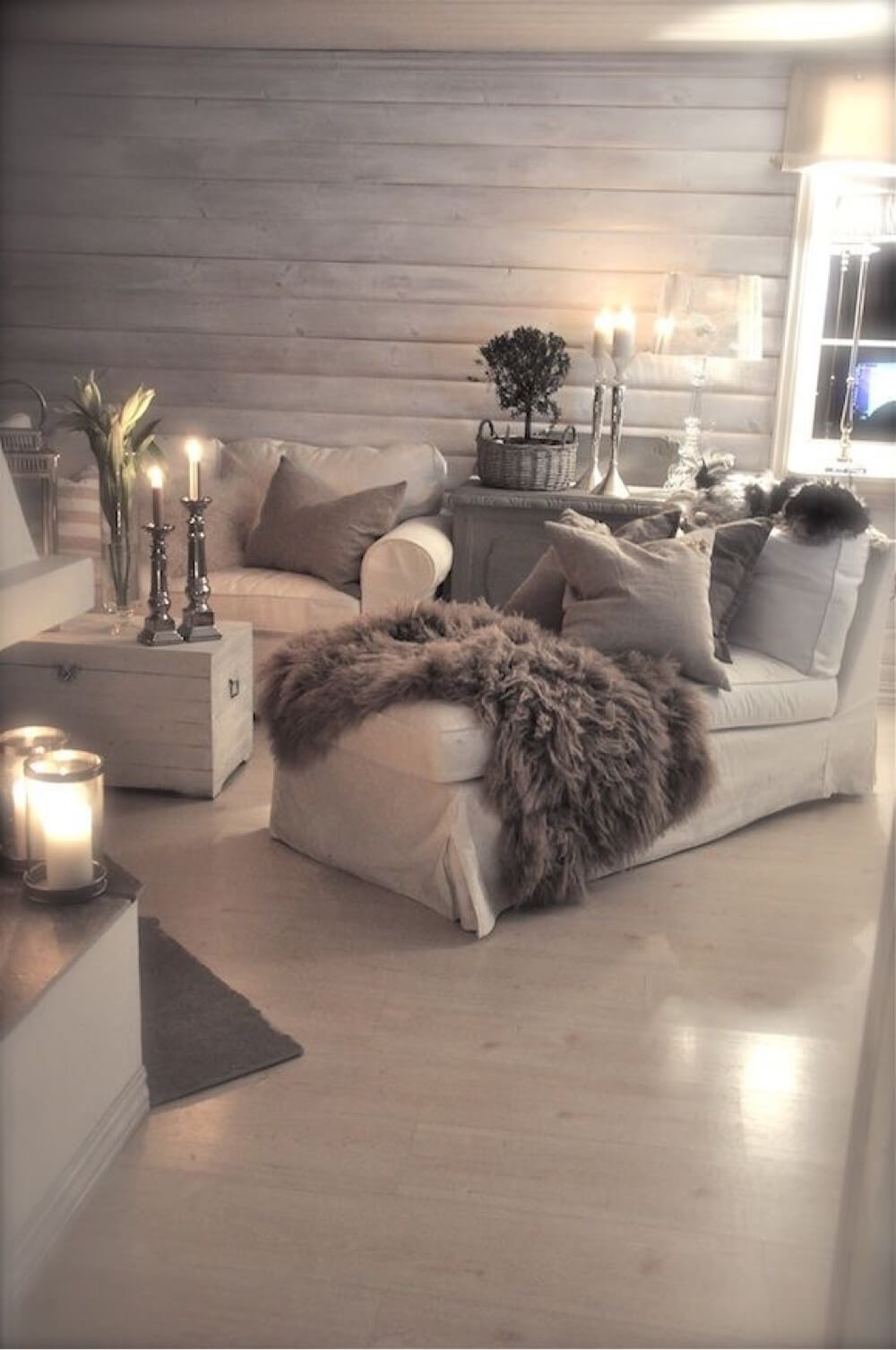 This design marries the farmhouse style with luxurious accents. Plush furniture, cushions, and throws invite relaxation. Candlesticks of various heights provide light and romance. Natural touches come from a topiary tree on the side table and a tall vase of flowers. The coffee table is designed like a traditional hope chest.
47. Lively and Functional Rustic Glam Decorations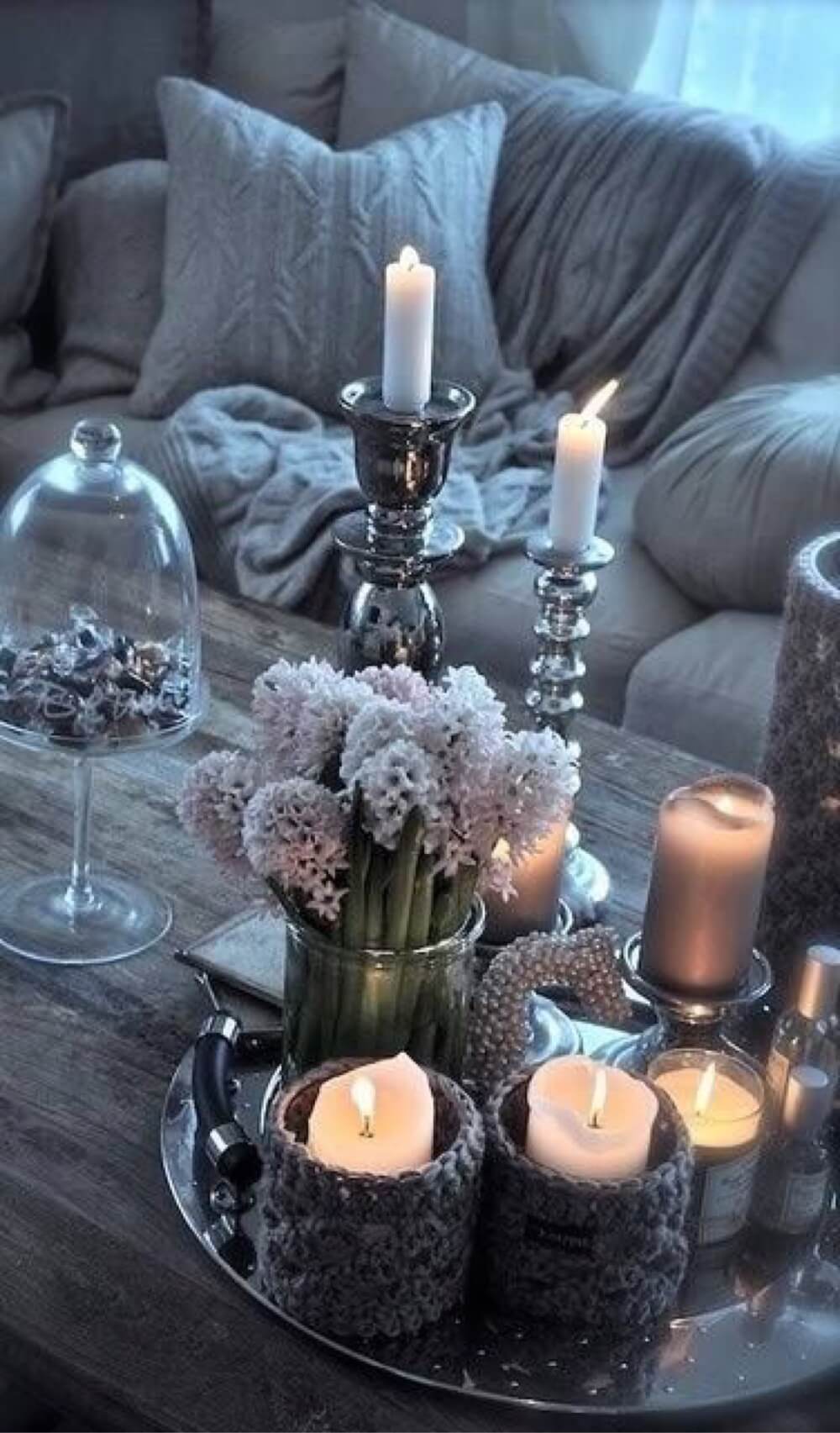 This comfortable seating area in neutral gray tones provides a soothing backdrop for the glimmer of silver accents. Combining various textures from cable knit to smooth mirror glass, this room has a calming quality. The glass and silver magnify the candlelight and give the room a warm glow.
48. A Wide-Open Space with Antique-Inspired Decor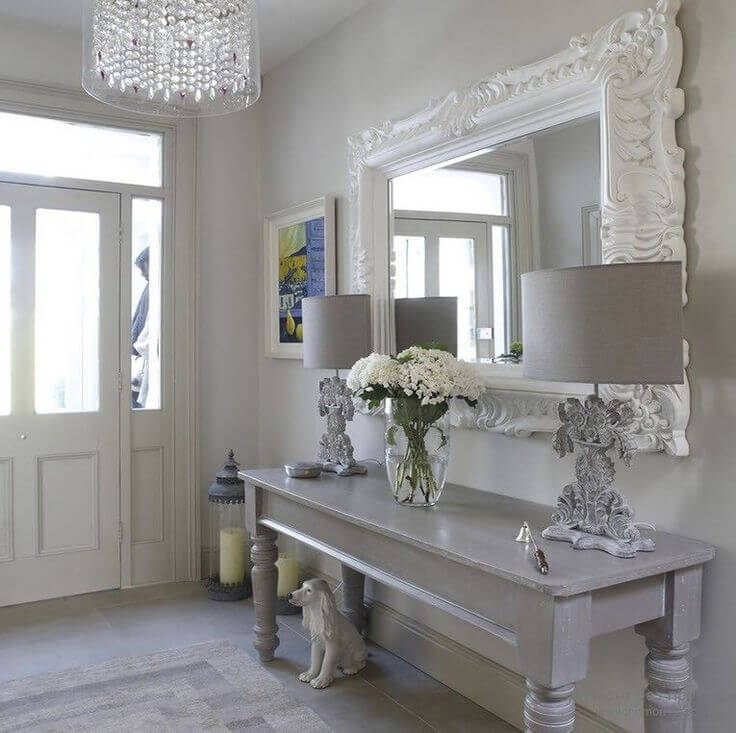 This entryway gives a sophisticated impression to visitors. It is open and clean. An ornate and oversized mirror hangs over the hall table. Two antique style lamps stand on the table to either side. An overflowing vase of white flowers is showcased in the middle. A charming dog sculpture stands under the table, giving a touch of charm. A painting behind the door draws the eye.
49. A Classy, Elegant Look with an Antique Flair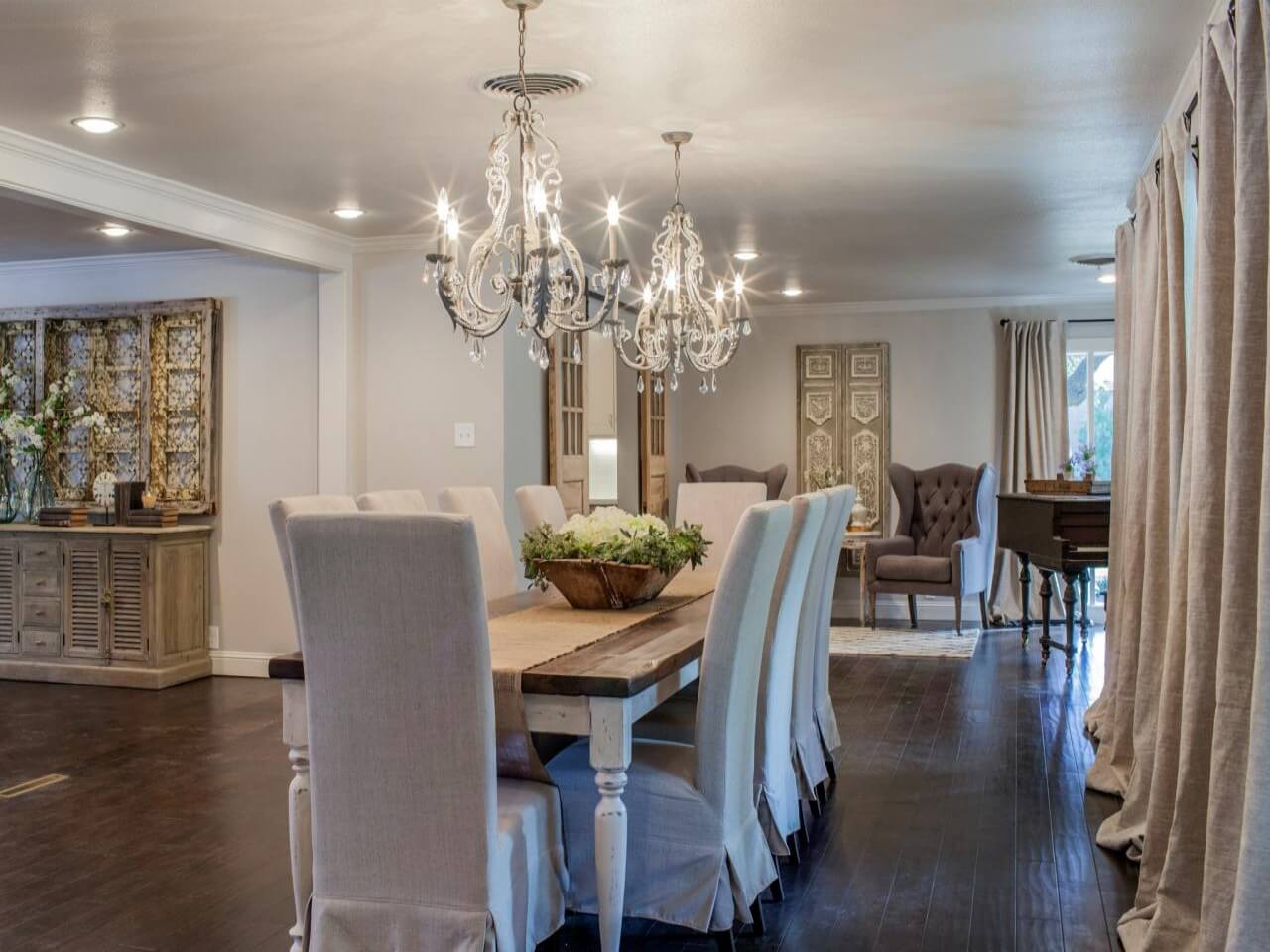 This dining area combines a farmhouse table with comfortable yet elegant chairs. Shades of white, beige, and taupe unify the room. A low, wide flower arrangement draws the eye to the table. Another farmhouse touch comes in the sliding doors to the kitchen. Two simple chandeliers with an understated sparkle hang over the table. At the far end of the room is a seating area with antique-style armchairs.
50. Glamorous Decor with a Rustic Backdrop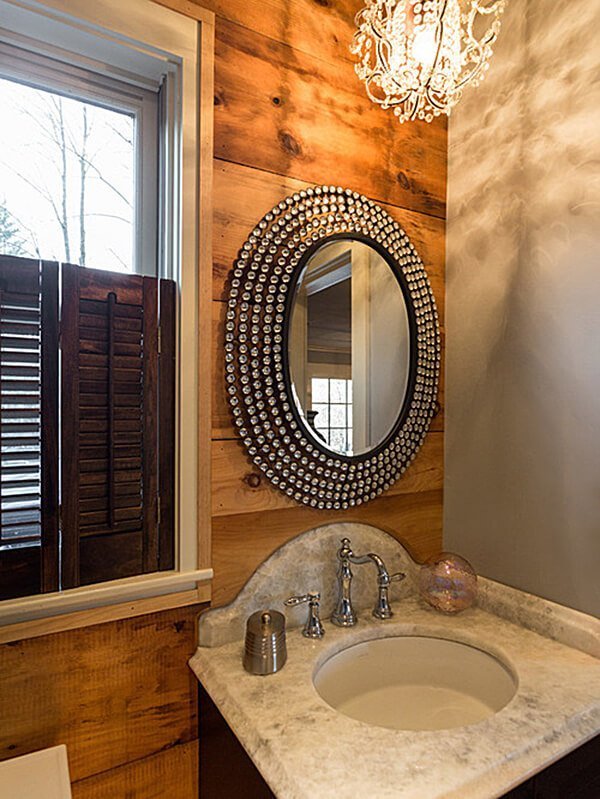 A crystal-embellished mirror hangs over a marble bathroom sink. The simple wooden paneling wall contrasts with the glittering elegance of the mirror and chandelier. The window shutters provide privacy while keeping the design simple. The wooden wall gives the bathroom a sense of warmth. An iridescent glass globe accents the sink.
51. A Simple Design with Grace and Class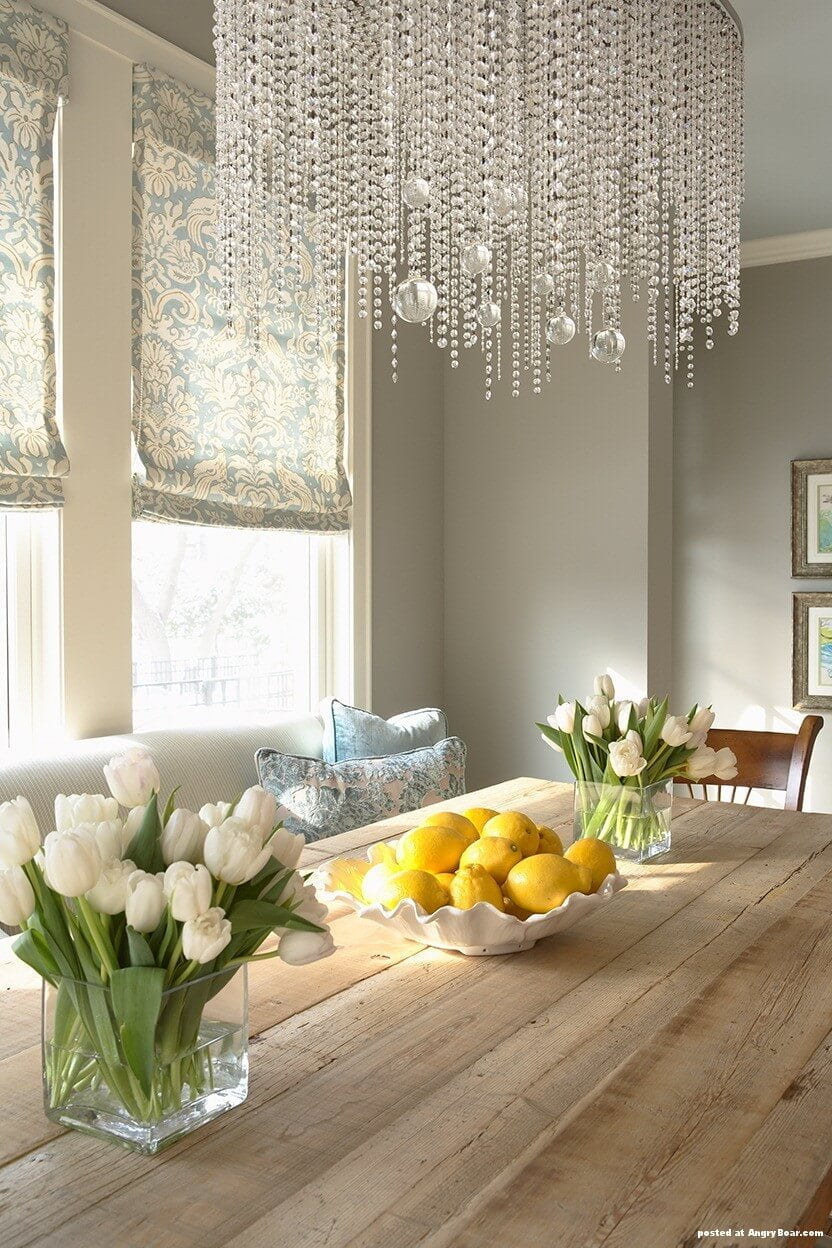 A dramatic chandelier hangs over a simple, rustic table design. Intricately patterned blue fabric accents the window shades and the cushions on the sofa. White tulips and a bowl of lemons provide a focal point for the room. The combination of the sky blue fabric and the brightly colored lemons enlivens the arrangement.
52. Simple Decor with a Lot of Personality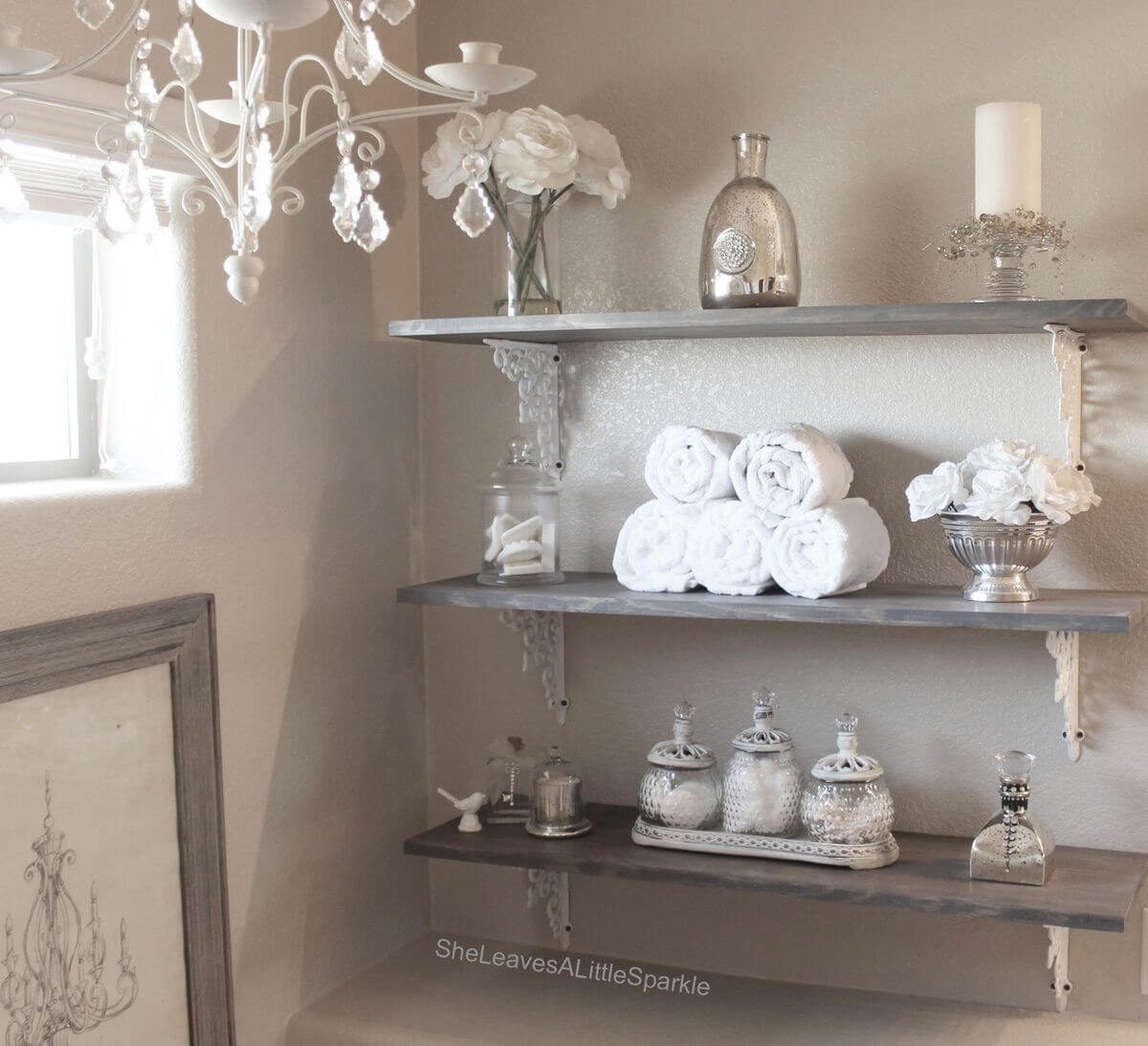 This bathroom corner combines practical storage with pretty metallic and rustic white. Different glass jars contain soap, cotton balls, and cotton swabs. A perfectly rolled set of bath towels stands in the middle of the shelf. A simple chandelier with glass crystals hangs overhead.
53. A Glamorous Floral Arrangement with an Artistic Vase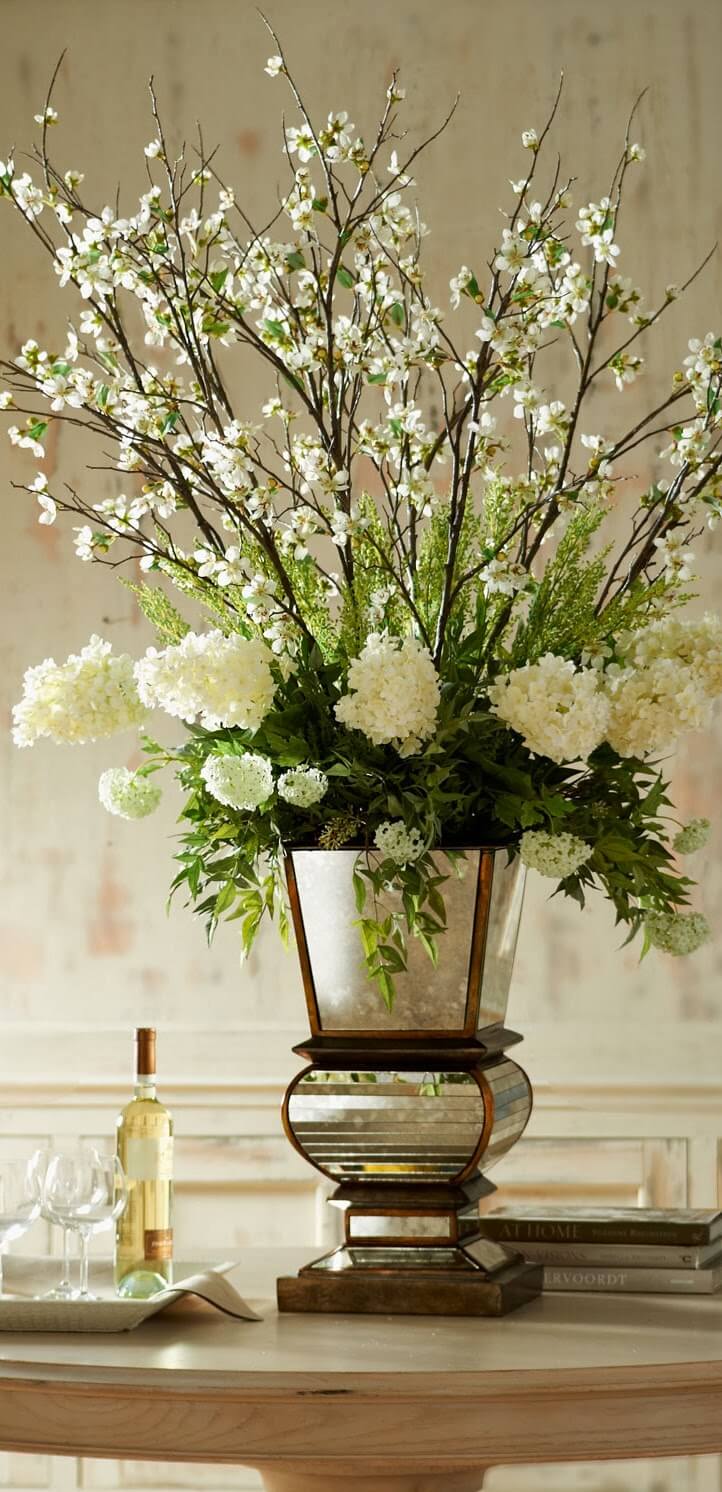 This oversized frosted glass and mirrored vase provides an elegant and dramatic base to this all-white floral arrangement. The various types and textures of the flowers sit against the green background of their foliage. The coffee table books invite the visitor to page through them and be inspired. A tray with wine and glasses makes an inviting addition.
54. A Cozy Room with Farmhouse-Inspired Accents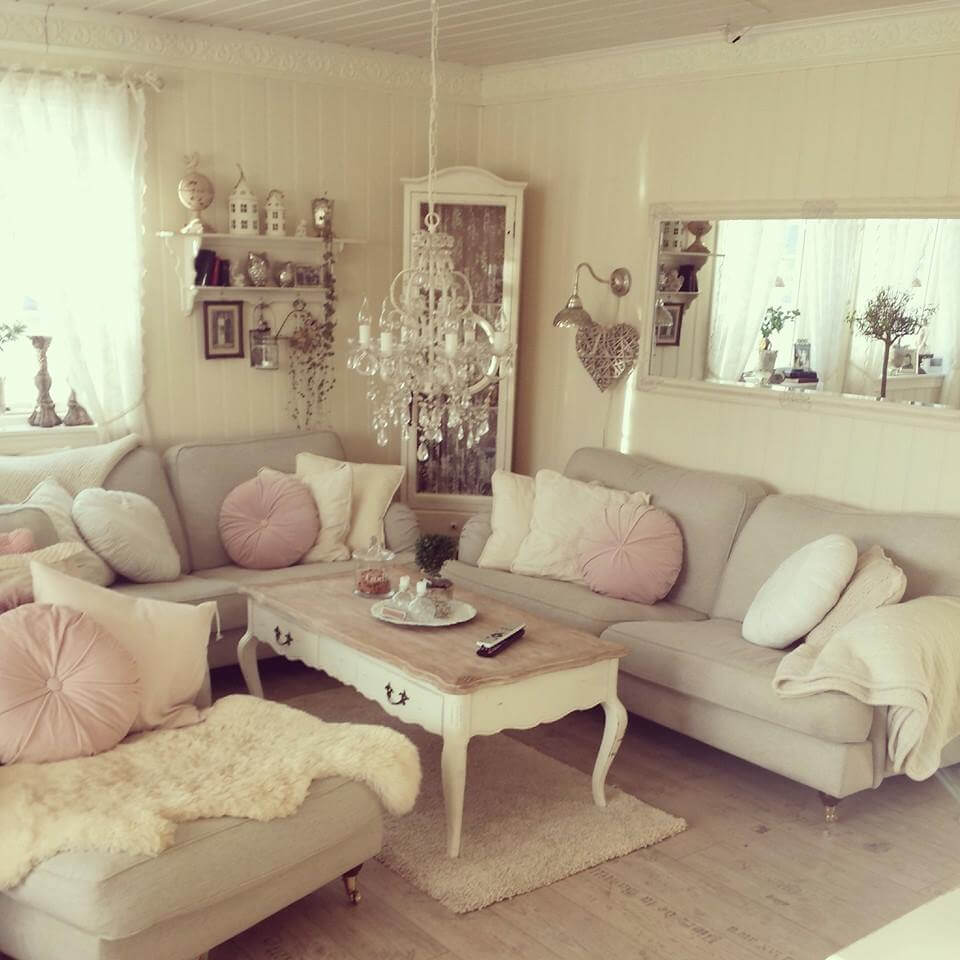 This calming beige living room centers around a farmhouse coffee table. Plush pink cushions and a sheepskin invite the visitor to sit and make himself comfortable. The room is full of country-inspired accents on floating wall shelves. A wire heart draws the eye to the corner of the room. A chandelier hangs low in the middle, bringing the light down to eye level.
55. Flashy Decor on a Subtle Wood Dresser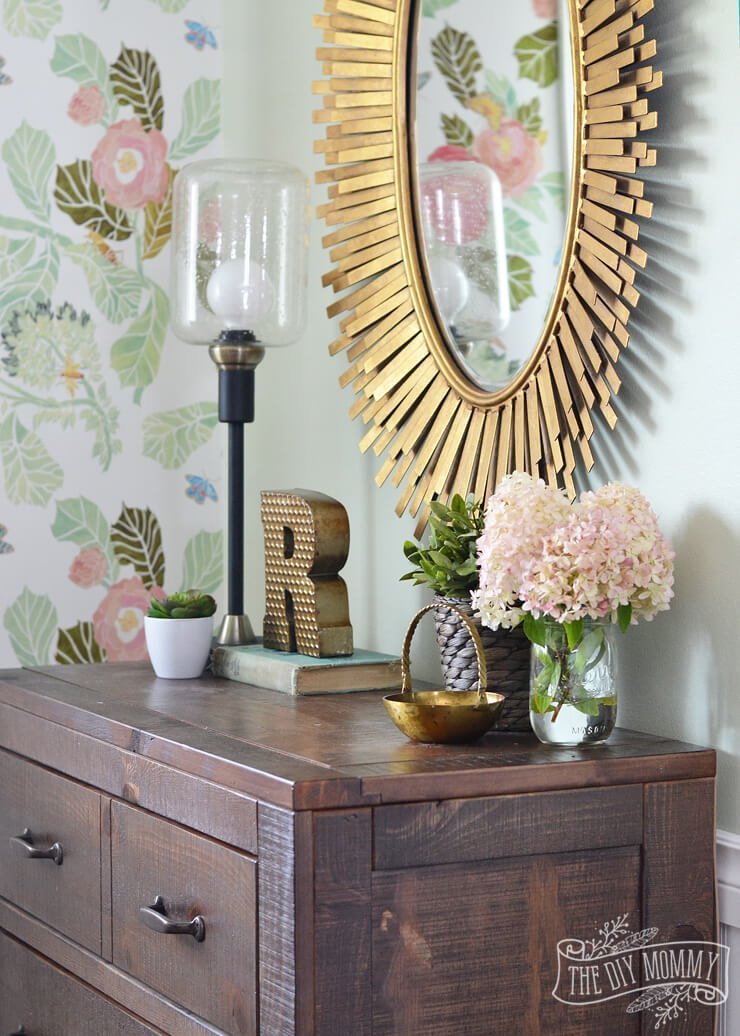 A modern mirror that evokes the sun hangs over a subdued wood dresser. While most of these designs feature silver metallic accents, this one features gold tones. A chunky initial letter gives a distinctive touch. A simple Mason jar is used as a floral vase, contrasting with the bold design of the mirror.
56. A Floral Centerpiece for Weddings and Events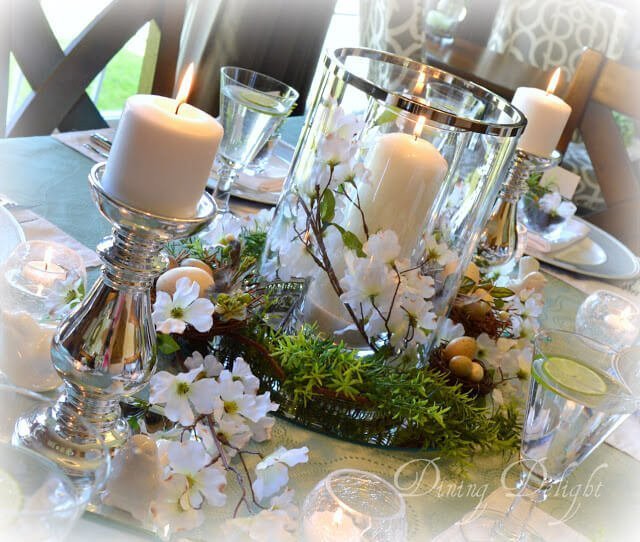 This centerpiece is lovely for any special occasion. Pillar candles stand in glass holders with white blossoms twining around them. For Easter, tiny birds' nests with eggs nestle in the greenery. Silver and glass provide movement of light throughout the arrangement.
57. A Solemn Look with Striking Decor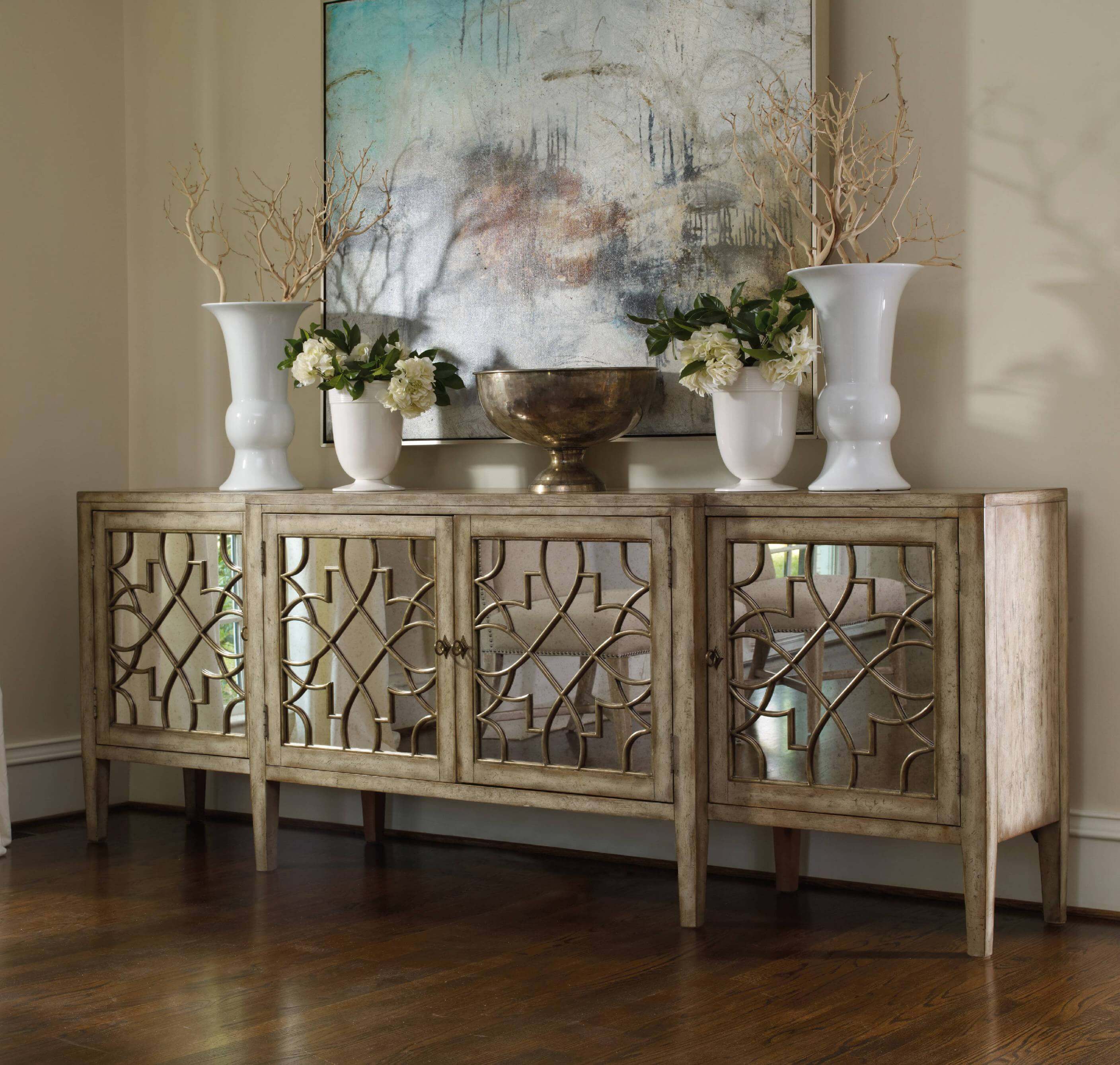 This arrangement highlights the intricately patterned mirror doors of the buffet table. Unlike many of the other arrangements in this article, the vases and bowl are in a symmetrical arrangement. Bare branches bring height to the taller vases. White flowers rest in the shorter vases. A weathered pewter-look bowl stands in the center. The arrangement is backed by a pale blue and brown abstract painting.
Our Favorite Rustic Chic Decorations to buy on Amazon